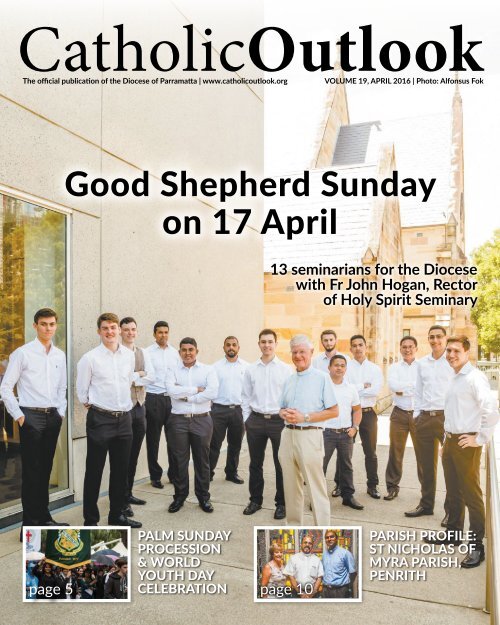 Catholic Outlook April 2016
Create successful ePaper yourself
Turn your PDF publications into a flip-book with our unique Google optimized e-Paper software.
CatholicOutlook

The official publication of the Diocese of Parramatta | www.catholicoutlook.org

VOLUME 19, APRIL 2016 | Photo: Alfonsus Fok

Good Shepherd Sunday

on 17 April

13 seminarians for the Diocese

with Fr John Hogan, Rector

of Holy Spirit Seminary

PALM SUNDAY

PROCESSION

& WORLD

YOUTH DAY

CELEBRATION

page 5 page 10

PARISH PROFILE:

ST NICHOLAS OF

MYRA PARISH,

PENRITH
---
FROM THE DIOCESAN ADMINISTRATOR

Very Rev Peter G Williams

CONTENTS

ECUMENISM

SOCIAL JUSTICE

CATHOLIC YOUTH

DIOCESAN NEWS

FAMILY & LIFE

3

4

5

6

7, 20

Dear Brothers and Sisters,

Once again we are celebrating the great 50

days of Easter, and let this be a time in all

our parishes, agencies and communities

to recognise that the Risen Christ is at the

centre of all that we do as a local Church here

in Western Sydney and the Blue Mountains.

Several weeks ago I was invited to attend

a gathering of young people from various

Eastern Catholic and Orthodox Churches

being sponsored by the Melkite Eparchy,

and held at St Margaret Mary's Parish in

Merrylands.

The purpose of the gathering was to explore

our 'oneness in Christ' and to learn more

of each other's traditions and ways of being

Church. It was very impressive.

One thing that struck me quite forcibly was

that while each Church concluded with a

piece of liturgical music from their rite, sung

for the most part in ancient languages, the

voices of the young people who spoke about

their understanding of Mercy in this Jubilee

Year all had unmistakable Australian accents.

As I reflected on this I realised that the

wonderful cultural diversity we have as

a Church in Australia is a matter of great

rejoicing. And, of course, it simply doesn't

apply to those from these communities. One

of the great strengths of the Roman Catholic

Diocese of Parramatta is the rich ethnic mix

that constitutes our Church.

Since before the Diocese came into

existence some 30 years ago next month,

the Archdiocese of Sydney had already

made provision for the establishment of new

parishes and the building of new church

plant alongside some of our historic parishes,

which were founded in the 19th Century.

The Church could see in the 1950s and

early 1960s that there would be increased

migration, and that many of these migrants

would come from countries which were

largely Catholic in terms of religious

adherence, and the Church needed to act to

make provision for the new Catholic arrivals.

Last month's gathering of young people from Eastern Catholic and Orthodox Churches was an opportunity to

explore our 'oneness in Christ'. Photo: Elizabeth McFarlane.

Subsequently, we have seen people come and

settle from almost every place on the planet.

Like those young Eastern Catholic and

Orthodox Christians, they have brought with

them a wonderful Christian heritage from

their country of origin, and those traditions

now enrich and enliven the Church of

Parramatta through the observance of

various festivals and other activities.

Wisely, the Australian bishops made a

decision to establish ethnic chaplaincies to

assist the new Catholic arrivals to find their

feet and provide a place initially where they

could meet with others from their place

of origin, celebrate liturgy in a familiar

language, and seek support when needed as

they integrated into their new home.

Over the years the new arrivals have

incorporated themselves into the local

parishes and are thus making enormous

and positive contributions to the life of their

Catholic communities.

Their children and no doubt grandchildren

while still proudly celebrating their heritage

now, like the young people at Merrylands

a few weeks ago, also have very Australian

accents!

What does this mean for the future

shape and the substance of the Church of

Parramatta?

While it is probably true that the Church

culture in Australia, until quite recently,

was somewhat mono-cultural, in that

principally the traditions and ways of being

was largely that of Irish Catholicism, that has

disappeared very fast.

With clergy coming from a multiplicity

of nations, and a congregation that might

have as many as 40 different nationalities

represented, something unique and new

is emerging. I think we are still in the

early days of this evolution and perhaps a

distinctive Australian ecclesiastical culture is

still a way off.

What is essential is that we provide capacity

in our parishes and communities to

recognise that we have this potential and

that we allow the Spirit of the Risen Christ

to open our eyes to new possibilities in

the way we present ourselves as Church

communities, with a blend of various

Catholic cultures and traditions given

expression.

While this is happening, we must ensure

though that we do not become too

introspective – Pope Francis continually

reminds us that we must be a Church that is

present at the margins and that our task of

proclaiming the Good News in Jesus Christ

is to bring others into our parishes so that

they too can add to the mix.

It is an exciting and challenging time to

belong to the Diocese and we have much

more to do. As we come to the climax of

the Easter Season with the celebration of

Pentecost may the Holy Spirit that came

upon the Apostles like "tongues of flame"

also inflame our hearts to be the people and

the Church that Christ wants us to become.

With joy in the Risen Lord,

Very Rev Peter G Williams

Diocesan Administrator

NEWS FROM THE CCD

NEW APPOINTMENTS

DIOCESAN PASTORAL

PLAN

PARISH PROFILE

CATHOLIC EDUCATION

CATHOLIC CARE SOCIAL

SERVICES

VOCATIONS

NEWS & EVENTS

YEAR OF MERCY

CALENDAR OF EVENTS

CatholicOutlook

The official publication of the Diocese of Parramatta

Publisher:

Very Rev Peter G Williams

Diocesan Administrator

Tel (02) 8838 3400

Fax (02) 9630 4813

PO Box 3066,

North Parramatta, NSW, 1750

Email: diocese@parra.catholic.org.au

Website: www.parra.catholic.org.au

Editor:

Jane Favotto

Tel (02) 8838 3409

editor@parra.catholic.org.au

PO Box 3066,

North Parramatta, NSW, 1750

Journalists:

Adrian Middeldorp

Elizabeth McFarlane

Designers:

Aphrodite Delaguiado

Sarah Falzon

School news:

Catholic Education Office

Tel (02) 9840 5609

news@parra.catholic.edu.au

Deadlines:

Editorial and advertising

– 10th of the month prior to publication

8

8

9

10-11

12-14

15

16-18

19, 22, 23

21

23

ORDINATION TO THE

PERMANENT DIACONATE

YOU ARE INVITED TO

THE ORDINATION OF

George Bryan as a Permanent Deacon

Sunday 8 May during Mass at 11am

St Patrick's Cathedral, 1 Marist Place, Parramatta

Principal Celebrant Most Rev Peter A Comensoli

Bishop of Broken Bay

Advertising:

Tel (02) 8838 3409

Accounts:

Alfie Ramirez

Tel (02) 8838 3437

ARamirez@parra.catholic.org.au

Printing:

Rural Press Printing, North Richmond

40,500 copies of Catholic Outlook are

distributed monthly through 47 parishes and

86 schools. All material in this publication

is copyright and may not be reproduced

without permission of the editor. Catholic

Outlook is a member of the Australasian

Catholic Press Association.

2 CatholicOutlook | APRIL 2016

www.catholicoutlook.org
---
ECUMENISM

Merrylands Parish co-hosts ecumenical gathering

By Elizabeth McFarlane

Unity can seldom be achieved without

dialogue in a diverse community. This

truth extends to the Church community

and is manifested in the ecumenical

movement.

On 8 March, Eastern and Roman Catholic

and Orthodox Churches were represented

by hundreds of young people at the

'One in Christ' ecumenical gathering at

St Margaret Mary's Parish in Merrylands,

co-hosted with the Melkite Catholic

Church.

This is the second time the event has taken

place, which aims to bring together the

different apostolic churches to discuss

matters of faith and life.

In this Year of Mercy, they embarked on

a night of sharing, focusing on the works

and acts of mercy that unify Christian

Churches.

The night brought together faithful from

the Melkite, Maronite, Coptic Orthodox,

Antiochian Orthodox, Slovenian Catholic

and Assyrian Church of the East to share

these good deeds.

Our Diocesan Administrator, Very Rev

Peter G Williams, and Bishop Robert

Rabbat, leader of the Melkite Eparchy of

The night brought together faithful from the Melkite, Maronite, Coptic Orthodox, Antiochian Orthodox, Slovenian Catholic and Assyrian Church of the East.

Photos: Elizabeth McFarlane.

Australia and New Zealand, as well as 20

other clergy from the many denominations

and apostolic churches, were present on

the night.

Fr Peter said he was impressed to see the

young people from the different churches

"learning more about each other's

traditions and at the same time confirming

unity in Christ by virtue of a common

Baptism."

"The scandal of disunity is felt by all of

us as Christians, and since the Second

Vatican Council, the Roman Catholic

Church has committed to ecumenism as

an essential part of the Church's activity.

"Much of the reason for our disunity,

particularly between the Eastern Orthodox

Churches and ourselves, stems from

ecclesial misunderstandings and also some

doctrinal issues.

"I think it is highly probable that there

will be a rapprochement with the Eastern

Orthodox Churches and that will be a

great blessing to all."

During the Mercy Commitment

Workshop on the night, the young people

present were encouraged to commit to acts

of mercy together.

Amal Sayegh, youth leader of the Saints

Peter and Paul Antiochian Orthodox

Christian Church, said the night

highlighted the ways in which the young

people of her Church could extend

their fellowship activities to the greater

Christian community.

"Our Antiochian brothers and sisters come

together during the Lenten period when

we visit a church once a week and unite in

fellowship," she said.

"Hopefully, in the future we can extend

this to the Eastern and Roman Catholic

Churches so that way we can unite with

them in fellowship, so that we can be

stronger in working together in the one

faith."

Assistant Priest of St Margaret Mary's

Parish, Rev Peter Strohmayer OSPPE,

said it was an honour to have everyone

gathered together and to see the young

people discuss, share and celebrate their

faith.

"I have been professionally guided

and inspired. I look forward to

applying the principles I've learnt

about approaching legal issues to

my own practice one day."

A university as

unique as you.

Notre Dame.

One of

the highest

graduate

employment

rates: 82%

qilt.edu.au

Aspiring lawyer

Bachelor of Laws

Making the transition from school to uni

Parent Info Evening

Tuesday 3 May 6pm

Register now notredame.edu.au

ND1892C | CRICOS PROVIDER CODE: 01032F

www.catholicoutlook.org

CatholicOutlook | APRIL 2016 3
---
SOCIAL JUSTICE

Cycling for Caritas

through Cambodia

By Cecilia Zammit, Director of the CCD

Homes have metal roofs thanks to Caritas.

The group visited the country's ancient temples.

In February this year, I travelled with my husband, Frank,

and 14 fellow Australians on a cycling trip through

Cambodia to raise funds for projects supported by Caritas,

the Catholic Church's overseas aid and development agency.

Unfortunately, I was injured while training before our

departure and could not take part in the ride. The other cyclists

covered more than 350km from Siem Reap in the north, up to

the Thai border and down to Battambong in the west, then on

to Phnom Penh.

We visited many temples, the royal palace, the genocide

museum and ate beautiful Khmer food. The highlight for

me was meeting families in villages that were part of Caritas

projects.

While in Siem Reap we went to the Caritas headquarters

where we were given information about how more than

1000 communities were chosen for Caritas support and the

expectations on them to commit to a plan for development.

Field officers worked closely with families to generate

an income, have a savings plan and to enable them to access

medical services when required.

This introduction was followed by a trip to one of the

remote communities more than 25kms from town along

dry, dusty roads. We met a group of 15 women who had just

finished a meeting discussing their personal plans and holding

on to their savings book.

Cecilia and Frank Zammit helped to raids funds for Caritas projects in

Cambodia.

Through a translator we heard about how some families

who had been in the program for three years had obtained a

pond, a cow, a reliable well, a water filter, a vegetable garden

and chickens. This ensured that the families had a more secure

food source and clean water supplies.

Children were assisted with school supplies and generally

attended primary school from age six for a half day, Monday to

Saturday. Students in secondary classes still had to walk some

distance to another town. (Some families dreamed to own a

family bicycle for easy transport.)

No rain since November last year meant only one rice

crop could be grown. Some parents walked great distances to

forests to collect rattan for weaving baskets to supplement their

income.

They climbed tall palm trees to collect palm oil and cooked

it into palm sugar for sale. A few extra dollars helped them save

for their goals.

Several women showed us their homes, most of which had

metal roofs thanks to Caritas. We also went into a primary

classroom where resources were sparse but I will never forget

the smiles on the children's faces and it was a joy to sing songs

together.

Several days later we arrived in the capital city, Phnom

Penh, where we learnt of a group of very poor Cambodians

who were shifted from the city to an outlying area with very

Palm oil is cooked into palm sugar for sale.

little infrastructure. Their houses were sitting on top of a

sewer and it was only a plank of wood that enabled us to walk

through the compound to meet the families.

This Caritas project focused on assisting the youth to gain

skills such as screen printing, sewing and gardening as well as

being encouraged to advocate for their human rights.

It was a joy to see how proud the parents were and their

hope for the future.

While this trip was confronting at times it was a privilege to

meet the people trying to make a difference.

Seeing this great work that Caritas is doing in partnership

with local agencies made the visiting Australians very proud to

have raised more than $73,000 in fundraising activities prior to

the trip.

Personally, I am grateful to Baiada Poultry, Vellex Transport

and the many family, friends and colleagues who donated to

Caritas as we fundraised $6500.

Be assured that every dollar is needed and well spent in

Cambodia in these Caritas projects. This is a nation that has a

tormented history; people have suffered much and deserve our

help.

Contributing money to Caritas is one way we can do

something to show mercy to people struggling to stay alive.

Donations can be made online at:

http://www.caritas.org.au/donate

4 CatholicOutlook | APRIL 2016

www.catholicoutlook.org
---
CatholicYouthParra @cyp_parramatta @CatholicYouthParra

CATHOLIC YOUTH

Streets fill with flags, palms,

smiles and song

By James Camden, Director of Catholic Youth Parramatta

Catholics from across the Diocese filled the streets of Parramatta for the annual Palm Sunday procession.

Parramatta CBD came to a standstill last

month as hundreds of Catholics from

Western Sydney and the Blue Mountains

filled the streets for the annual Palm Sunday

procession.

The procession commenced at Parramatta

Town Hall with the blessing of palms and

featured groups of young people from Catholic

Education Diocese of Parramatta schools and

youth from parishes across the Diocese.

The procession finished at 6pm with Mass

in St Patrick's Cathedral when approximately

500 young people joined their families, friends

and Cathedral parishioners for our local World

Youth Day celebrations.

Young people bearing national flags joined

our seminarians to led the entrance procession

along with our WYD Chaplains, Chair of the

Youth Council Fr Paul Roberts, Diocesan

Administrator and Principal Celebrant for the

Mass Very Rev Peter Williams and Diocesan

MC Fr John Paul Escarlan.

Music was provided by the 'Lifted' house

band that will lead the worship during our

WYD pilgrimages to Poland in July. This core

group is made up of group leaders and teachers

who will be joined by pilgrims as formation

gets underway. They will split into two teams

for each pilgrimage and come together again

once we are in Krakow for WYD week.

The entrance hymn Blessed are the Merciful

will be the WYD anthem for the next four

months.

After the Palm Sunday Mass, the

congregation was invited to join with pilgrims

for our WYD event in the Cathedral Cloister.

They were treated to performances by Filipino

and Polish dance groups as well as an Aussie

BBQ and Polish donuts. Thanks especially to

the Catenians and Cathedral staff for their

leadership of all the catering.

Pilgrims also received their Pilgrim

Formation Pack, outlining the upcoming

formation nights at Glenmore Park, Stanhope

Gardens and Greystanes beginning in May.

At 8pm, the WYD raffle was drawn by Fr

Andrew Fornal OP and the first pilgrim to

have registered and paid their deposit, Sarah

Agbulos from Stanhope Gardens Parish,

announced each prize winner.

No prize winners were there on the night

but we managed to make a live phone call over

the sound system to speak with the winner of

the car. Coincidently, he is a parishioner at St

Patrick's Cathedral and was extremely excited

about the win.

Congratulations to all prize winners.

First prize – M Alba: Toyota Yaris 5 door

automatic (supplied by Terry Shields Toyota,

Parramatta);

Second prize – A d'Souza: Cosmos

European 2016 Tour for two to the value of

$6000 (donated by Cosmos);

Third prize – D Bent: Apple iPad Mini

(donated by Campion College Australia –

offering Australia's first Catholic BA, in the

Liberal Arts);

Fourth prize – C Tolentino: Cash prize of

$500 (donated by Deloitte Touche Tohmatsu);

and

Fifth prize – S Matic: Apple Watch

(donated by Catholic Church Insurance Ltd).

The Diocese will be taking two pilgrimages

to WYD in Krakow – one via the Philippines

and one via Poland, the homeland of St John

Paul II.

Full travel details, including pricing, are

now available. Young people aged 16-35 are

invited to register online at:

www.parrawyd.org

The group arrived at St Patrick's Cathedral before the sun rose. Photos: Adrian Middeldorp.

Good Friday Night Walk

More than 1200 young people made

the Good Friday Night Walk from

St Patrick's Church in Blacktown to

St Patrick's Cathedral on 25-26 March.

Setting off at 10pm, the group walked

from Blacktown to Our Lady of Lourdes

Parish, Seven Hills, St Anthony's Parish,

Toongabbie, Our Lady of Mt Carmel Parish,

Wentworthville, and St Margaret Mary's Parish,

Merrylands.

The Diocesan Youth Council developed a

program to help deepen our appreciation of

the Year of Mercy in the context of Holy Week

and our diocesan theme, 'Mercy has a Face'.

Proud photography partner of Catholic Outlook

catholicinsurance.org.au

1300 655 003

Home Contents Car Personal Accident Travel Landlord Caravan

www.catholicoutlook.org

CatholicOutlook | APRIL 2016 5
---
DIOCESAN NEWS

Faithful fill St Patrick's Cathedral for Chrism Mass

It was standing room only in St Patrick's Cathedral for this year's Chrism Mass. Photos: Art in Images.

It was standing room only in St

Patrick's Cathedral on 23 March

as the faithful from parishes,

religious orders, migrant chaplaincies

and groups from across the Diocese

of Parramatta came together for the

Chrism Mass.

The principal celebrant for the Mass

was the Apostolic Nuncio in Australia,

His Excellency Most Rev Dr Adolfo

Tito Yllana.

During the Mass, the Oil of the

Catechumens and the Oil of the Sick

were blessed and the Oil of Chrism

was consecrated. Representatives of

each parish, together with the priest,

were called forward to receive the oils

on behalf of their community. The oils

will be used throughout the Diocese

for celebrating the sacraments during

the year.

The Mass was concelebrated by the

Diocesan Administrator, Very Rev

Peter G Williams, Bishop Emeritus of

Parramatta Most Rev Kevin Manning

and the presbyterate of the Diocese

of Parramatta and visiting presbyters.

Deacons from the Diocese assisted.

During the Mass, the priests

renewed their commitment to priestly

service.

A light supper was served in the

Cathedral hall at the conclusion of the

ceremony.

To view a gallery of photos from the

Mass, visit: https://www.flickr.com/

photos/parracatholic/albums

Celebrate the Holy Year of Mercy by supporting priests, religious sisters and brothers wherever the Church is poor, persecuted or threatened

A priest visiting the sick in Peru

*

6 CatholicOutlook | APRIL 2016

www.catholicoutlook.org
---
www.parrafamlife.org.au @parrafamlife parrafamlife

How an outcast became

the first witness of the

Resurrection

By Ben Smith, Director of the Family & Life Office

FAMILY & LIFE

We are now in the season of Easter in

which we ponder the Resurrection

of the Lord. Some key questions to

consider are:

• What is the relevance of the Resurrection

to our modern technological world?

• How does the Resurrection fit with the

Year of Mercy?

To answer these questions it is worth

looking more closely at the events of Easter

Sunday.

One thing that is surprising is that,

according to John's Gospel, St Mary Magdalene

was the first eyewitness of the Risen Jesus.

She did not recognise Him at first, but when

He spoke her name she was moved with such

emotion and surprise that she wouldn't let go

of Him.

Fresh from this experience, she became the

first witness of the Resurrection to the Apostles.

Hence, she came to be called "the apostle of

Apostles" by various theologians and, most

recently, by St John Paul II.

The central importance of St Mary

Magdalene in the Easter story is significant.

One might wonder why Jesus didn't first

appear to Mary, His mother or even St John,

His beloved disciple. They both seemed to be

respectable people in terms of Jewish society.

On the other hand, St Mary Magdalene

would have been seen as an outcast. The

Gospels record that Jesus cast seven demons

out of her during His public ministry. She

would have lived in a state of desolation until

she experienced the healing love of Jesus.

So Jesus' choice of St Mary Magdalene

as the first witness of the Resurrection has a

special significance for people who would be

considered outcasts or sinners, and this gives all

of us hope.

This Easter hope is of relevance for the

modern world. Despite all the progress over the

past century, the legacy of two world wars, the

rise of Nazism and Communism and the social

upheaval since the late 1960s has left modern

man in a state of spiritual desolation.

Pope Francis recently highlighted that:

"The fragility of our era is this … we don't

believe that there is a chance for redemption;

for a hand to raise you up; for an embrace to

save you, forgive you, pick you up, flood you

with infinite, patient, indulgent love; to put you

back on your feet."

Pope Francis sees that people of our era

need concrete experiences of mercy so that we

can really feel forgiven and thus be healed from

the damage caused by sin.

The Resurrection gives us hope that we can

be healed. Central to our faith is our belief in

the bodily resurrection of Jesus. His glorified

body was a witness to new life, transformation

and redemption, but it also bore the wounds of

His crucifixion as St Thomas discovered in the

Upper Room.

His wounds remind us of the image of

St Mary Magdalene was the first eyewitness of the Risen Jesus. Image: LDS Media Library,

(www.lds.org/media-library) © 2016 by Intellectual Reserve, Inc.

Jesus as the wounded Lamb of God who takes

away the sins of the world. Jesus' death and

resurrection destroyed the power of both sin

and death.

The Church's Easter message has a special

relevance in the Year of Mercy. It is also fitting

that the Feast of Divine Mercy is celebrated in

the season of Easter.

The past three Popes have made it an

important part of their ministry. Pope Francis

has made mercy central to his pontificate,

and this has culminated in the Jubilee Year of

Mercy.

Our world is sorely in need of experiencing

God's mercy and the hope of the Resurrection.

St Mary Magdalene's role in proclaiming the

Resurrection should inspire us all.

Catholic Super – providing superannuation

services for more than 40 years

Offices in BrisBane, canBerra, Darwin,

GeelOnG, HOBart, MelBOurne, PertH & syDney

ư Industry super fund returning all profits to members

ư Superior long term investment performance

ư Fees well below Industry average

ư Flexible investment options

ư Superannuation and pension products

ư Low cost personal insurance

ư Financial planning advice

1300 655 002 | csf.com.au

Authorised by CSF Pty Limited (ABN 30 006 169 286; AFSL 246664), the Trustee of the MyLifeMyMoney Superannuation Fund (ABN 50 237 896 957).This information is about the Fund and is general information only.

It has been prepared without taking into account your personal investment objectives, financial situation or needs. It is not intended to be, and should not be construed in any way as, investment, legal or financial advice. CS106 150915

CS106 150915 Catholic Outlook 260wx165h_v1.indd 1

www.catholicoutlook.org

CatholicOutlook | 16/09/2015 APRIL 2016 12:48 pm 7
---
NEWS FROM THE CCD

Parish and Regional Coordinators

come together to plan the year ahead

NEW APPOINTMENTS

By Cecilia Zammit, CCD Director

In February this year, I met with about 60 Parish

Coordinators and the Regional Coordinators in

Blacktown for our first CCD planning day for 2016.

An extended prayer led by Sr Leone Pallisier OSU

focused on the Catechists called to Nurture God's work of

Art. An important question to reflect on was: As a catechist

what are your hopes and dreams for the children – works of

art in the making – entrusted to your care this year?

Parish Coordinators have an important role leading the

Special Religious Educators (SREs), or catechists, in their

parish. They liaise with the parish priest, parish office and the

state schools.

They make sure there are SREs for each class and that

work books are distributed to each teacher. In addition, they

have the responsibility of completing the parish register.

The February meeting was an opportunity to share

diocesan information with the Parish Coordinators on

workbooks for combined classes as well how to respond

to difficult questions asked in the classroom. It was an

opportunity for the Parish Coordinators to meet in regional

groups.

An important agenda item was the training sessions that

the Diocese offers to SREs in various locations across the

Diocese.

Level 1 Training is a requirement for all new SREs:

• Fridays from 10 June at the Institute for Mission in

Blacktown; and

• Fridays from 12 August in Winston Hills.

The training days cover the teaching manual, classroom

management, the Bible, music, child protection and using

smartboards.

The children are 'works of art in the making' entrusted to our care.

Level 2 Training will be offered on Mondays at St Marys

from 25 July, 9.30am to 2.30pm.

Topics will include faith and meaning, Hebrew Scriptures,

Christian Scriptures, lesson preparation and the sacraments.

For inquiries about these training sessions and to

register please contact Maree Collis at the CCD Office in

Parramatta tel (02) 9890 4731 or send an email to mcollis@

ccdparramatta.com.au

For more information about becoming a catechist in the

Diocese of Parramatta visit www.parra.catholic.org.au/ccd

The Diocesan Administrator, Very Rev Peter

G Williams, has confirmed the following

appointments in the Diocese of Parramatta:

Rev Fr Alfonsus Nahak SVD

Assistant Priest

St Bernadette's Parish

Castle Hill

From 1 March 2016

Rev Fr Sumesh Joseph Illikkaparambil OSA

Assistant Priest

Holy Spirit Parish

St Clair

From 4 March 2016

New Diocese of Parramatta website

A new diocesan website has been launched: www.parracatholic.org

Please take five minutes to

tell us what you think at:

www.parracatholic.org

8 CatholicOutlook | APRIL 2016

www.catholicoutlook.org
---
How do we engage our people?

By Richard McMahon, Director of Pastoral Planning & Implementation

We have the same people

turning up every time!

Mary has been the ministry

coordinator for so long, but no one

else wants to take it on. No one seems

interested in what is being offered.

These are just some of the concerns

raised by good people passionate about

involving their communities.

It may be cold comfort to

appreciate that the challenge of

engagement is not isolated to the

Catholic Church. As a soccer coach,

there are always challenges of engaging

parents to help with set up of grounds,

to bring children to training and to

even turn up in time for matches.

It is no different in our workplaces.

Many employees just turn up, with

a 2012 US Gallup State of American

Workplace, Employee Engagement,

indicating only 30% of workers were

showing up engaged and enthusiastic

about their work.

The work of Gallup identifies three

types of employees:

• Engaged – working with

passion and experiencing a strong

connection to their company. They are

full of energy, enthusiasm and ideas,

fully committed.

• Not engaged – employees

are essentially turning up, just getting

through the day, but not passionate

about their work.

• Actively disengaged –

employees are not just discontented

but are acting out their frustration,

undermining the work of their

colleagues.

This surveying has also been

applied to US Christian congregations,

with actively engaged members having

a stronger faith commitment, more

involved in community service and/or

ministries, more likely to invite others,

and contribute more money to the

congregation.

Gallup suggests congregations

respond to four key questions

to increase engagement in faith

communities. The questions are:

* What do I get?

* What can I give?

* Do I belong?

* How do we grow?

They are explained by Albert L

Winseman, D Min., Religion and Social

Trends Editor for Gallup as follows:

"When new members join a faith

community, they first ask, 'What

do I get?' in an attempt to decide

if belonging to this organisation

is worth their investment of time,

effort and self. If they determine that

they will receive enough value from

joining, they will then ask, 'What can

I give?' and look for ways that their

unique talents can contribute to the

congregation. From there they will

ask, 'Do I belong?' as they look for

signs that they are valued. When they

know that they receive something of

value from belonging, that they make

a meaningful contribution to the life

of the congregation, and that they are

valued, they will then look for signs

that the organisation's members are

growing in their faith. Recognising

this process is vitally important for

congregation leaders intent upon

improving engagement levels among

their members."

In short, our faith communities

will be strengthened if we are able to

identify what it is that our people are

seeking, particularly those engaging in

sacramental preparation and new to

our communities.

Once these needs are met, the

movement turns to how we are

engaging people's gifts, and so on.

Sometimes, we are pushing people to

sign up to ministries, when their initial

needs are not met. Equally, if engaged

parishioners have no opportunity to

share ideas, or take on leadership roles,

they may move elsewhere.

The Pastoral Planning Office

assists with all these steps and many

resources are available both from our

own Diocese and nationally. We also

do well to learn from the Catholic

Church's national Pastoral Research

Office. This body spends much time

exploring the questions of what makes

our communities stronger, and backs

up their approaches through tools such

as the National Church Life Survey.

For more information or support

please contact me:

Richard McMahon

Tel (02) 9831 4911

rmcmahon@parra.catholic.org.au

DIOCESAN PASTORAL PLAN

'franciscus'

LAUNCHES ON INSTAGRAM

The first post from 'franciscus' on Instagram

was "Pray for me".

On the feast of St Joseph this

year, Pope Francis launched

his own Instagram account.

The Holy Father's first post under

the account name 'franciscus' (Latin

for Francis) on the photo and video

sharing social network site was

posted on 19 March.

Instagram was founded in

2010 and has more than 400

million users worldwide. The social

media department of the Vatican's

Secretariat for Communications will

be responsible for the management

of the Pope's Instagram account,

which will post not only photos but

also short videos.

In a Vatican statement, Mons

Dario Vigano, Prefect of the

Secretariat for Communications,

noted how, "Instagram will help

recount the Papacy through images,

to enable all those who wish to accompany and know more about Pope Francis'

pontificate to encounter his gestures of tenderness and mercy."

The photographs will be sourced from the Photographic Service of

L'Osservatore Romano. "In this way we can show those aspects of closeness and

inclusion that Pope Francis lives every day," Mons Vigano said.

He said it was not by chance that the Instagram account was inaugurated

during the Year of Mercy, with the jubilee year entering into social media in a very

concrete and natural way.

In February, Pope Francis met with the CEO of Instagram, Kevin Systrom. In a

post after the audience, Systrom said they discussed "the power of images to unite

people across different cultures and languages".

The Holy Father already has a strong presence on social media. His Twitter

account, available in nine languages, has more than 25 million followers whose

numbers are constantly increasing.

Source: Zenit.org

CATHOLIC YOUTH PARRAMATTA

PRESENTS

CANONISATION

OF MOTHER TERESA

A 12 day pilgrimage departs

31st August 2016 to Italy

FR ROB GALEA

LIVE IN CONCERT

FEATURING GARY AND NATASHA PINTO

*Costs have been based on prices as at February 2016 and must remain subject to possible change in the unlikely event of significant

exchange rate variations, airfare increases and minimum group size contingencies. Lic. 2TA 003632

CALL: 1800 819 156

VISIT: harvestjourneys.com

FROM*

$5190

ALL

INCLUSIVE

Don't miss this once in a lifetime opportunity

to be present at the celebration of a Saint who

dedicated her life to serving the poorest of

the poor, the marginalised and the forgotten.

Join us for the Canonisation of Blessed

Mother Teresa of Calcutta.

Featuring: Rome and Assisi

TICKETS AVAILABLE FROM

8839 3399

RIVERSIDEPARRAMATTA.COM.AU

FRIDAY 8 APRIL 2016

7.30PM

RIVERSIDE THEATRES

CNR CHURCH & MARKET STREETS

PARRAMATTA

TICKETS $30.00*

*TRANSACTION FEES MAY APPLY

CATHOLIC PRIEST • SINGER • SONGWRITER • YOUTH WORKER • THE X-FACTOR AUSTRALIA 2015

MAJOR SPONSORS

ENDORSED BY

DIOCESE OF

BROKEN BAY

SOCIAL MEDIA

FRROBGALEA.COM

@FRROBGALEA

Bulk Billing for GP Services

MEDICAL CENTRE OPENING HOURS

Monday-Friday 9.00am-6.00pm

Saturday 9.00am-2.00pm

CLOSED SUNDAYS

NO APPOINTMENT NECESSARY

DOCTOR HOME VISITS AND AFTER

HOURS SERVICES AVAILABLE

Parking on-site available

Pathology on premises

DENTIST

(DR GARIMA MALHOTRA)

• Free initial check-up • 10% discount for seniors

• Veterans' Affairs cover and pensioners

• Dental X-rays

• Patients from all funds welcome

• Medicare Bulk Billing - Health fund claims on the spot

- for eligible children aged

between 2 and 17 years of age

Benefits up to $1000/child

DOCTORS AND PHYSIOTHERAPIST

DR. ARUNTHA JESUTHASAN (Female GP)

DR. CHARLES HAYES (Male GP)

DR. VAN NGUYEN (Male GP)

DILHAN JAYAMANNE (Physiotherapist)

• Children's/Women's/Men's Health

Immunisations Health Assessment

• Heart and Lung Assessment

• Prevention of Chronic Illnesses

• Weight Loss Programme

• Skin Diseases Management

- including Skin Cancer

• Minor Surgical Procedures

• WorkCover

• Pre-employment Medicals

• Travel Medicine

MEDICAL CENTRE

81– 83 Richmond Rd, Blacktown, NSW | 9622 1998

A3-Parra-Concert-2016.indd 1

11/02/2016 2:26 pm

www.catholicoutlook.org

CatholicOutlook | APRIL 2016 9
---
PARISH PROFILE

ST NICHOLAS OF MYRA PARISH, PENRITH

A community 'Grounded in Faith; Growing in Love; Living in Hope'

By Elizabeth McFarlane

Penrith's parish secretary, Lyn Olander, with Fr Mathew Antony MS and Fr Joe Manjaly MS

(right). Photos: Elizabeth McFarlane.

St Nicholas of Myra Church has a contemporary design.

In Penrith stands a contemporary

designed church, circular in build with

the communal altar in the centre of the

congregation.

St Nicholas of Myra Church was opened

and blessed by Cardinal Gilroy on 30 April

1967, but the parish itself dates back to 1839,

when Fr Charles Sumner, the first priest

ordained in Australia, was appointed Parish

Priest.

The fence at the front of the church

along High Street is constructed from the

sandstone of the original church, binding

the community to its roots.

The parish community is close-knit

and during Mass, its members are never

more than eight seats away from the altar,

assembled to seemingly depict the faith

connection of the Penrith people and the

parish over the past 177 years.

The parish secretary, Lyn Olander,

has been a parishioner since 1975. "In

everything we do, we aim to follow our

mission and motto: Grounded in Faith;

Growing in Love; Living in Hope," she said.

The diverse and vibrant population

has been strengthened by the humble

undertakings of many priests, and Lyn feels

privileged to have worked alongside four of

them.

"I have worked with four parish priests:

Fr Geoff Dickinson for two years, Fr Wim

Hoekstra for six years, Fr Chris de Souza

for 10 years and Fr Mathew Antony MS

presently, as well as with numerous assistant

priests. Working with all of them has been

something very special. They have all helped

me grow in my spiritual life," she said.

Serving more than 3000 Catholic

families who live in the area, the parish has a

multicultural heart.

Assistant Priest Fr Joe Manjaly MS

expressed his elation in celebrating with

the many cultures that join together to

worship and praise God: "Every Sunday, it

is wonderful seeing people from different

nationalities, languages, colour and ethnic

groups, worshipping one God and being

renewed in their spiritual life."

The groups that make up the parish

also carry on the mission of the parish,

unrestricted by age.

From the usual youth and social justice

groups to the more distinctive senior

groups.

The Young at Heart group is made up

of about 20 to 30 senior parishioners who

join in fellowship every month, embarking

on bus trips and sharing in morning teas

together. There is even the weekly Knitting

Group for older parishioners.

With a Diploma in Pastoral Care, Lyn is

dedicated to her role as parish secretary and

the people she serves.

"My job is not so much work, as it is

ministry. It is very rewarding and a privilege

to get to know the parishioners and form

lasting bonds with them," she said.

The pastoral element of her role offers

Lyn an opportunity to join with fellow

parishioners in solidarity during the ups and

downs of everyday life.

"I am passionate about the care that is

needed to be shown to families in times of

illness or loss of loved ones. Just being there

can be comforting to someone who may be

isolated through illness, or struggling with

grief," she said.

"You feel their grief and you feel their

joy. The parish secretary is the first person

you see when you come through the door

so it is very important to be welcoming

with a smile. The parish secretary is often a

counsellor and a confidante, sharing your

joys and sorrows.

"It is a joy to be part of the Penrith

parish community."

For information about

St Nicholas of Myra Parish, visit:

www.stnicholasofmyra.org.au

Proudly supporting the Parishes of the Diocese of Parramatta since 1950

www.christimmins.com.au

Phone

9630 9688

Join us on

www.facebook.com/timminsfunerals

10 CatholicOutlook | APRIL 2016

www.catholicoutlook.org
---
Mother's prayers pay off for Penrith priest

By Joseph Younes

Born into a devoutly Syro-Malabar

Catholic family (Eastern Church) in

Kerala, India, Fr Mathew's mother

prayed that one of her eight children would

enter religious life.

"We would pray and say the rosary daily.

This was a common practice for Catholics in

Kerala," Fr Mathew said.

His mother's prayers would be answered

when Fr Mathew entered a seminary at the

tender age of 16 and was ordained a priest in

the Latin Rite in 1987.

"My family was strongly supportive of

me in this vocation. In Kerala at the time

it was customary to have a priest in every

family. Kerala is known as being a strongly

Catholic area."

Now parish priest of St Nicholas of Myra

(since 2012), Fr Mathew Antony MS has

travelled a long way from his subcontinental

beginnings.

"Initially, I studied to be a diocesan

priest. But then, the La Salette Missionaries

came and spoke at our seminary. I decided

to join them and finished my studies and

ordination in the Philippines as a religious

priest," he said.

Having lived and worked in India, the

Philippines and the US, Fr Mathew came to

the Diocese of Parramatta at the invitation of

the then Bishop Kevin Manning.

"First I was assistant priest at Quakers

Hill parish, administrator at Riverstone

Rev Father Mathew Antony MS.

Photo: Elizabeth McFarlane

parish now parish priest at Penrith," he said.

"At first, I was like, 'how would I run such a

big parish?'."

His initial questions of how he would

operate such a large and historical parish

like Penrith (founded 1839) were quickly

overcome when he was made "strongly

welcome, from day one" by the parishioners.

Fr Mathew is also a polyglot and speaks

English, Malayalam, Tagalog, Ilocano and

Hindi. "It is a blessing that I speak so many

languages. It helps make my parishioners feel

at home – for example I can speak Tagalog

and Ilocano with my Filipino parishioners.

At first they were surprised an Indian priest

could speak Filipino languages," he said.

Penrith Parish is a vibrant faith

community. "I have people of Irish-Anglo-

Scottish background, people from the

Philippines, Islanders like Fijians and

Samoans, Middle Easterners, Europeans,

Maltese, Italians and, of course, people from

Indian and Sri Lanka," he said.

"These people are rich in faith, they

are very cooperative and they are open to

helping the parish. I can say, they have been

supportive of me and they have been very

loving.

"The parishioners show up on Sunday

and the committees show up on Tuesday

and they all support the parish. They provide

me with strong inspiration and I have very

supportive staff including my assistant priest

Fr Joe Manjaly MS."

Fr Mathew also draws strength, support

and inspiration from the Eucharist. "My

strength comes from the Eucharist, it

sustains me to keep going, to support people.

By the grace of God, I can say it is a blessing

that I am a priest. I can see how God leads

and carries me to help people."

Forty years after first entering a seminary,

it seems his mother's prayers have well and

truly been answered.

PARISH PROFILE

Missionaries

of Our Lady

of La Salette

The Missionaries of Our Lady of

La Salette (MS - Missionarium

Saletiniensis) were founded 1852,

in La Salette, France.

Focused on reconciliation, they

call on people to know God and

are found in 25 countries around

the world with 1000 active

members.

Penrith is the MS community

hub in the Diocese of Parramatta.

There are 10 members in

Australia: five in the Diocese

of Parramatta, three in the

Diocese of Armidale and two in

the Archdiocese of Canberra &

Goulburn.

Visit

www.lasalette.org

Diocesan Development Fund

Catholic Diocese of Parramatta

Supporting the

growing needs of the

institutions and agencies within

the Catholic Diocese of Parramatta

Put those you love

in the hands

of those who care

www.parra.catholic.org.au/ddf

Disclosure Statement

The Diocesan Development Fund Catholic Diocese of Parramatta (DDF) is not subject to the provisions of the Corporation Act 2001 nor has it been examined or approved

by the Australian Securities and Investments Commission.

Deposits with the DDF are guaranteed by CDPF Limited, a company established by the Australian Catholic Bishops Conference for this purpose.

We welcome your investment with the DDF rather than with a profit oriented commercial organisation as a conscious commitment by you to support the Charitable,

Religious and Educational works of the Catholic Church.

Neither the DDF nor the Trustees of the Roman Catholic Church for the Diocese of Parramatta are prudentially supervised by the Australian Prudential Regulation Authority;

contributions to the DDF do not obtain the benefit of the depositor protection provisions of the Banking Act 1959; the DDF is designed for investors who wish to promote

the charitable purposes of the DDF.

Sydney (02) 9519 5344 | Parramatta (02) 9687 1072

wnbull@wnbull.com | www.wnbull.com.au

www.catholicoutlook.org

CatholicOutlook | APRIL 2016 11
---
CATHOLIC EDUCATION www.parra.catholic.edu.au @CatholicEdParra CatholicEdParra

'I belong, You

belong, We belong'

This year, the theme of

Catholic Schools Week was

'I belong, You belong, We

belong'. It's an inclusive

message that highlights

a real strength of every

great Catholic school

community. But what

does it mean to belong at

school? And what does it

feel like not to belong, to

be left out?

Students on the edge of school communities face many

challenges including socio-economic disadvantage,

disability, language barriers, complex learning needs and

low expectations for academic attainment. For many,

not fitting in at school is part of a broader experience of

social exclusion.

When Neal Murphy from St John of God Health Care

addressed Catholic Education leaders earlier this year,

his theme was 'To belong, I have to be missed'.

In this powerful reflection on the struggle of students

with disabilities to belong in school communities, Neal

identified the inclusive work of schools with the healing

mission of Christ.

Last month, I wrote about the call not just to be Christlike

but to see Christ in all members of our communities,

especially those on the fringes. After all, Christ Himself

was an outsider, even in His own town.

We must go out of our way to listen to the voices of

those who don't 'fit in': they tell us so much about the

need for change, in education and beyond.

Catholic Education Parramatta alumnus Nas Campanella

is one such powerful voice. Nas, who is blind, went

on to a career in journalism and currently works as a

newsreader for Triple J.

She spoke to system leaders in January about the need

to set high expectations for students with disabilities

and to ensure students are part of the conversation

about their own learning, not left on the fringes. She was

fortunate to have one such teacher who listened and

responded to her unique educational needs.

The 'preferential option for the poor' is a basic

principle of Catholic social teaching. In education, it is a

recognition that every student can and must learn. It's

the principle underpinning the Gonski review of school

funding that sought to ensure resources were directed

to schools and to students most in need.

Applying a needs-based funding model is only one part

of the puzzle. It's how the funding is used that makes

the greatest difference. The schools that have made the

best learning gains for 'disadvantaged' students share

something in common: they meet learners where they

are at.

There are still too many children and young people in our

communities who don't know what it feels like to belong.

By providing these students with both personalised

learning and a community that recognises the dignity

and needs of each individual learner, great Catholic

schools have an opportunity not just to transform

learning, but to change the world.

Greg Whitby

Executive Director of Schools

@gregwhitby

blog: bluyonder.wordpress.com

Exploring creativity

By Kim Brownlie

Exploring

creativity

CREATIVITY IS OFTEN HIGHLIGHTED AS ONE OF THE KEY

SKILLS ESSENTIAL FOR SUCCESS IN THE 21ST CENTURY.

Innovation today requires adaptability, leadership,

teamwork, and interpersonal skills. Increasingly, the

capacity to be creative and innovative is linked to

the ability to connect with others and with a facility for

communication and collaboration.

Deputy Executive Director of Schools Sue Walsh said

creativity cannot be seen in isolation and needs to be seen

in the context of other capabilities.

"In his paper 'Great to Excellent', Prof Michael Fullan looks

at the six Cs underpinning the next stage of Ontario's

educational agenda," Sue said. "Creativity needs to be seen

in the context of these other capabilities - citizenship,

character education, communication, critical thinking and

collaboration."

At Delany College, Granville, CAPTIVATE Team

Leader Author Mark of Drive: Hopkins The Surprising and Drama Truth Mentor About What Dr Miranda Motivates

Jefferson Us, Daniel have Pink, worked (2005) notes with that the creative college thinking to focus is on increasingly four

Cs necessary (communication, to accomplish collaboration, goals in the complex, critical interconnected reflection and world.

creativity) Education researchers as the basis and of psychologists a new approach tout the to social, learning emotional, and

teaching cognitive called and professional the Delany benefits Connective of possessing creative abilities.

In an interview with Oprah (2009) Pink said 'the right brain is

Mark finally said being the taken fours seriously'. Cs, in essence, are what make us

human. 'In many professions, what used to matter most were abilities

associated with the left side of the brain: linear, sequential,

"When the forces of communication, collaboration and

spreadsheet kind of faculties. Those still matter, but they're not

critical reflection are being refined and developed then

enough,' Pink said. 'What's important now are the characteristics of

you

the brain's

develop

right

a capacity

hemisphere:

to really

artistry,

think

empathy,

creatively

inventiveness,

and with

bigpicture

thinking.

creativity you get

These

the

skills

possibility

have become

of new

first

knowledge,

among equals

new

in a

ways whole of range approaching of business things, fields.' new ways of seeing things,"

Mark Deputy said. Executive Director Sue Walsh said creativity can't be seen

in isolation and needs to be seen in the context of other capabilities.

Miranda said using the four Cs effectively in the classroom

'In his paper 'Great to Excellent', Professor Michael Fullan looks

can help students open their minds to new ways of

at the six Cs underpinning the next stage of Ontario's educational

learning.

agenda,' Sue said. 'Creativity needs to be seen in the context of these

The other creative capabilities and - performing citizenship, character arts provides education, opportunities communication, for

students critical thinking to develop and collaboration their creative (see skills box right).' that they can then

apply 'Fullan across tells all us that learning the overall areas. purpose of these six Cs is the wellbeing

of the whole student and society,' she said. 'He challenges us

Drama to think literacy about how we use creativity in everyday life to be a global

citizen.'

CAPTIVATE's 'He calls this the Drama 'new entrepreneurial Literacy program spirit' uses which creativity he says is 'a to

enrich spirit characterised student literacy by innovation, learning. risk-taking, commitment and

skilled problem solving in the service of a better future',' Sue said.

Run Innovation in stage today groups, has it a social is designed component to increase and requires literacy adaptability, skills

through leadership, the teamwork medium and of interpersonal drama. Tutors skills. work Increasingly alongside today, the the

classroom capacity to teacher innovate in is linked capacity to the building ability to and connect developing with others

skills and with in communication. a facility for communication In addition and to collaboration. literacy and

communication skills, students develop performance, playbuilding

and role-playing skills.

By Kim Brownlie

St Thomas Aquinas Primary, Springwood, Year 6 teacher

Kate McKenzie said the way she teaches students drama

literacy is to think with their bodies.

"Drama literacy is comprehending the world around us,"

Kate said. "Not using only our minds but our bodies to help

us understand the context of things for our learning and to

improve it."

Having participated in the program for the past three years,

Kate said drama literacy has encouraged both students and

staff to think more creatively about the learning.

CREATIVITY IS OFTEN HIGHLIGHTED AS ONE OF THE KEY SKILLS

ESSENTIAL FOR SUCCESS IN THE 21ST CENTURY.

"You can only be creative if you take risks and every activity

requires some element of stepping out of yourself; being

part of something bigger and challenging your thinking

and the thinking of those around you," she said.

FULLAN'S 6Cs

CHARACTER EDUCATION

Honesty, self-regulation and responsibility, perseverance, empathy

for contributing to the safety and benefit of others, self-confidence,

personal health and well-being, career and life skills.

CITIZENSHIP

Global knowledge, sensitivity to and respect for other cultures,

active involvement in addressing issues of human and

environmental sustainability.

COMMUNICATION

Communicate effectively orally, in writing and with a variety of

digital tools; listening skills.

CRITICAL THINKING & PROBLEM SOLVING

Think critically to design and manage projects, solve problems,

make effective decisions using a variety of digital tools

and resources.

COLLABORATION

Work in teams, learn from and contribute to the learning of others,

social networking skills, empathy in working with diverse others.

CREATIVITY & IMAGINATION

Economic and social entrepreneurialism, considering and

pursuing novel ideas, and leadership for action.

Source: 'Great to Excellent: Launching the Next Stage of

Ontario's Education Agenda', 2013

12 CatholicOutlook | APRIL 2016

www.catholicoutlook.org

UPDATE TERM 4 2015 3
---
www.parra.catholic.edu.au @CatholicEdParra CatholicEdParra

CATHOLIC EDUCATION

Students in the Concert Band program showcase how they harness their creativity in learning.

The Commercial Dance Ensemble junior group show their creative language through dance.

Kate said that her class had built on their work in drama

literacy with students inventing creative ways to show their

learning and to pose questions in other subject areas.

Creativity in music

Research has found that learning music facilitates learning

other subjects and enhances skills that children inevitably

use in other areas.

A 2010 review by Northwestern University pulled together

research from the scientific literature linking musical

training to learning that spills over to skills including

language, speech, memory, attention and even vocal

emotion.

The Concert Band program is taught in class groups in

Years 5 and 6 where CAPTIVATE provides the tutor(s)

required for the first year of delivery of the program and

then coordinates the allocation of tutors across the schools

in the program.

Music Educator Francoise Marrier d'Unienville said the

program sits in different forms across the primary schools

in the Diocese and students learn how to play instruments.

"It's holistic learning in music; you're not just learning

how to play your instrument, you're learning how to read

music, how to count, signs and dynamics and expressive

techniques," Francoise said.

Francoise believes that the program enables students to

foster creativity because music is a language that is not

hindered by a student's ability level in literacy or numeracy.

CAPTIVATE Artistic Director David Russell said the

band program exists to provide every student with the

opportunity to experience and immerse themselves in

some sort of musical activity or musical process.

"Nearly half of our primary schools offer the strings

program or band program, which is providing a musical

performing experience," David said. "It's about how that

links into the way in which students learn and can transfer

it into their learning for numeracy and literacy and even

their physical learning like PDHPE and spatial awareness."

Creativity through dance

The skills developed in dance can be valuable transferable

skills that can be applied to any form of learning. The

confidence gained through achievements in dance helps

to build social skills, increase self esteem and the ability to

communicate well in a group.

The Commercial Dance Ensemble comprises both a junior

(Years 3 to 6) and senior (Years 7 to 12) troupe, which

rehearses weekly at St Agnes Catholic High School, Rooty

Hill.

The ensemble is open to any student with an interest in

dance and covers high-energy routines combining popular

dance and performance styles.

CAPTIVATE Dance Mentor Peta Markham-Ward started

the program with Mark Hopkins in 2010 to give students

the opportunity to dance with students with the same

interests.

She said the dance ensemble enables students to be creative

beyond the physical dance steps.

"It opens their minds to being more creative and to come

up with new and exciting ideas," Peta said.

In fact, throughout Term 4 last year, the ensemble had been

working on a concept video to hone in on a new skillset

and explore their creativity to learn more about production,

storyboarding, video and editing.

Catherine McAuley Westmead Year 9 student Laura

SantaMaria said she has been dancing in the ensemble

since she was in Year 5 in 2011 and it has helped with many

aspects of learning.

"It has definitely helped with confidence because we do a

lot of shows in front of people we don't know and also with

our learning because it has helped us pick up things a lot

quicker," Laura said.

Cerdon Catholic College, Merrylands, Year 10 student

Rochelle Salatino only started dancing last year because of

the opportunity provided by the dance ensemble. She feels

that it has helped her to grow artistically.

"I feel like the dance ensemble has given me the confidence

to help interact and engage more at school," Rochelle said.

Creativity in science

Creativity is not only the domain of painters, singers and

playwrights, according to Robert DeHaan, a retired Emory

University cell biologist who now studies how to teach

creative thinking.

While most people associate creativity with playing music,

performing on stage or painting a picture, Mr DeHaan

believes it can mean dreaming up a solution to a challenge

encountered in a lab.

Chemist Dudley Herschbach of Harvard University said

scientists themselves describe science not as a set of facts

and vocabulary to memorise or a lab report with one 'right'

answer, but as an ongoing journey, a quest for knowledge

about the natural world.

"In science, you actually aren't concerned right off the bat

about getting the right answer — nobody knows what it

is," Prof Herschbach said. "You're exploring a question we

don't have answers to. That's the challenge, the adventure

in it."

Teaching Educator Paul Stenning has been working

with a number of secondary Science teachers across the

Diocese to help students develop collaboration skills and

to think critically about real world science experiments in

astronomy.

Paul highlighted the project called 'Our Solar Siblings' that

has been running for a number of years in which students

have access to working telescopes from around the world.

"This is a project across Years 9 and 10 where students have

access to telescopes as long as it's vetted through the teacher

and then the researcher," Paul said.

There are currently 13 schools active in the program where

students who complete the course in Years 9 and 10 are

ready for the astrophysics option for Year 12 physics.

Recently, Paul worked with teachers to pick images that

students have taken from telescopic readings and created

using software to make a calendar.

The project aimed to give students the ability to access real

world experiments with skills that are transferrable across

all Science disciplines and provides them with a basis to use

the Four Cs.

"That's the thing about Science, you do things you don't

know the answers to, you don't do Science on the things

you do know the answers to, because that's not Science or

creativity," Paul said.

www.catholicoutlook.org

CatholicOutlook | APRIL 2016 13
---
CATHOLIC EDUCATION www.parra.catholic.edu.au @CatholicEdParra CatholicEdParra

Beginning Teachers and Principals Commissioning Ceremony

2016 New Leaders' Breakfast

Beginning teachers and Principals stand with educational leaders from the Diocese of Parramatta.

On 4 February, an afternoon tea and commissioning ceremony was held for beginning teachers

and Principals in the Diocese of Parramatta.

They were joined by family and friends for Mass in St Patrick's Cathedral in Parramatta. The

Diocesan Administrator, Very Rev Peter Williams, was the principal celebrant.

Bridget Mazzella, a beginning teacher at Xavier College, Llandilo, said she was inspired to become

a teacher based on the sense of support and direction she received as a student.

"I look forward to delivering that to the next generation of 21st Century learners," Bridget said.

Science teacher Chiara Grella, who has just started at Gilroy Catholic College, Castle Hill, said she

had been inspired to become a teacher after her experiences tutoring students at university.

"I could see that just giving them one hour a week helped them so much, I thought how much

progress could be achieved if I gave a lot more time," Chiara said. "Eventually, one thing led to

another and God led me to teaching."

Catholic Schools Week

New REC at St Bernadette's Primary, Dundas, Mary

Elliot with her students.

On 24 February, more than 20 newly appointed

Principals, Assistant Principals, Religious

Education Coordinators (RECs) and Team

Leaders attended the annual New Leaders'

Breakfast held at the Catholic Education Office

in Parramatta.

The breakfast provided an opportunity for

newly appointed school leaders to meet with

System Leaders and Directors of Catholic

Education in the Diocese of Parramatta.

The Executive Director of Schools, Greg

Whitby, said the breakfast was a great

opportunity for new leaders to meet with their

peers and be reminded of the importance of

their roles in Catholic schooling.

"I'm excited for our new leaders," Greg said.

"Our school communities will thrive on the

fresh approach they bring to our work of

learning and teaching."

Delegate of the Diocesan Administrator and

Priest Responsible for Education Rev Chris

de Souza spoke to the new cohort about the

expectations of being a leader in Catholic

education.

"In leading the learning, questions will arise

and collectively we can find answers together,

if we remain focused on the mission," Fr Chris

said. "I am my work made in the image and

likeness of God."

New REC, Mary Elliot from St Bernadette's

Primary, Dundas, said she was reminded of

what a privilege it is to work in a Catholic

school.

"Fr Chris reminded us that we are the face of

mercy to all those we meet and reiterated the

importance of working collaboratively with

others 'to lead all people in love'," Mary said.

Jason Scanlon, Assistant Principal at St Patrick's

Marist College, Dundas, said the opportunity to

lead as part of a team of educators is a challenge

that both engages and inspires.

New Principal of St Oliver's Primary, Harris

Park, Barbara Young said the breakfast offered

a meaningful occasion to connect and engage

professionally with her peers.

"As a new leader, and as part of the system I am

connected to, I am challenged to re-imagine

Catholic education for the contemporary

world," Barbara said. "This can only be achieved

through collaboration with my faith and

learning community on a local, diocesan and

global level."

From 6-12 March 2016 Catholic Schools in NSW and ACT celebrated

Catholic Schools Week. Here is a snapshot of events that took place.

Toddler Day at Trinity Catholic Primary, Kemps Creek.

Open Day for families at St Finbar's Primary, Glenbrook.

Stage 3 reading challenge at Holy Trinity Primary, Granville.

Today's learners: tomorrow's leaders

CATHOLIC SCHOOLS

ENROLLING NOW

Sibling discounts available. School based fees may apply. The Byallawa co-contribution scheme for

Aboriginal and Torres Strait Islander families and the Bishop Manning Scholarship Fund have

been established for families in need of financial assistance.

No child will be refused enrolment because of a family's inability to afford school fees.

@catholicedparra catholicedparra

www.parra.catholic.edu.au

14 CatholicOutlook | APRIL 2016

www.catholicoutlook.org
---
www.ccss.org.au

CCSSParramatta

CATHOLICCARE SOCIAL SERVICE

COURSES & EVENTS

Responsible Gambling Support Group ̶ this group is free

and is held every Saturday, 9.30am-11am. CCSS Centre, 38

Prince St, Blacktown. Tel (02) 8822 2222.

Mamre Homestead – a unique social

enterprise bringing communities together

Mamre House was originally part of Rev Samuel Marsden's South Creek farm established in 1804.

Mamre House is set on an 85ha property at Orchard

Hills in Sydney's west. It was originally part of Rev

Samuel Marsden's South Creek farm established in

1804.

CatholicCare Social Services took over the operation of

Mamre Farm from the Sisters of Mercy Parramatta in December

2014.

For the past 30 years, the focus at Mamre has been on social

justice and bringing communities together.

Our Community Work

Mamre's Registered Training Organisation - is open to

people of all abilities, long-term unemployed, older and existing

workers, and migrant and refugee families. It is able to deliver

Certificates II & III qualifications in Hospitality, Horticulture

and Business.

Mamre Farm - plots are provided to refugee families or

larger community groups for a nominal fee. Mamre sees this

as an opportunity for these families to cultivate the produce

they grew up with, learn about Western produce through the

guidance of our Farm Manager and sell some of this produce.

Fresh produce is for sale to the public every Friday, between

noon and 4pm. Mamre Farm also provides work experience for

unemployed people and those with a disability.

Mamre's Refugee program - offers a caring and supportive

community environment where lessons are structured around

our students' needs. English and Australian Citizenship classes

are held weekly.

To assist our learning we have a creche that can accommodate

the childcare needs of parents while they are studying. Pastoral

care is available to families, as well as financial counselling.

Our Hospitality and Social Enterprise teams offer casual

employment when it is available. This gives community

members a chance to contribute to Mamre while gaining

valuable experience and some financial independence.

Disability Services - Mamre offers supported employment to

people with disability through our Garden Services. Employees

are part of an enterprise that offers a rewarding career in

lawncare, garden maintenance and landscaping.

Garden crews work in the community, as well as at Mamre

where they maintain the gardens. They also grow new plants in

our nursery space, which are for sale to the public.

Disability Services offers the opportunity to build

relationships, cross train in other areas such as horticulture and

hospitality and be part of Mamre's larger team. We also offer

a Day Support facility called CreateAbility, which caters for

individuals aged 18-65 living with a disability.

Events - with its beautiful grounds and idyllic setting, Mamre

may be the ideal location for your next event. From conferences

to birthday parties, baby showers to meetings, Mamre has a

package to suit your needs.

For more information about any of Mamre's programs,

please tel (02) 9670 5321.

Celebrating the Early Years Mass

Blacktown Neighbour Aid ̶ can you volunteer one hour

a fortnight to brighten the life of an elderly person in

Blacktown? To find out more tel (02) 8822 2222, bna@ccss.

org.au

Stepping Beyond – is on the last Tuesday of the month,

7.30pm-9.30pm. CCSS Centre, 38 Prince St, Blacktown. Fee:

$5 per meeting. Tel (02) 8822 2222, soloparentservices@

ccss.org.au

Younger Widowed Support Group ̶ third Tuesday of each

month, 7pm-9pm. Our Lady of Lourdes Centre, Parish

Centre, 1 Canyon Rd, Baulkham Hills. Fee $5 per meeting.

Tel (02) 8822 2222, soloparentservices@ccss.org.au

Post Separation Recovery Program ̶ seven sessions held

over seven consecutive Wednesdays from 7.30pm-9.45pm,

11 May to 22 June. CCSS Centre, 38 Prince St, Blacktown.

Cost $80. The program is open to anyone wanting to

move forward from their marriage breakdown in a positive

way. Fee $80. Bookings essential. Tel (02) 8822 2222,

soloparentservices@ccss.org.au

Seminar — Annulment Process in the Catholic Church ̶

Tuesday 3 May. CCSS Centre, 38 Prince St, Blacktown, from

7.30pm-9.30pm. Cost $7. Registrations essential. Tel (02)

8822 2222, email soloparentservices@ccss.org.au

Bereavement Support Program ̶ for men and women who

grieve the death of their spouse or partner. Fortnightly

on Tuesdays, 10.30am-12.30pm, from 5 April to 12 July.

CCSS Centre, 38 Prince St, Blacktown. Fee $5 per meeting.

Bookings essential. Tel (02) 8822 2222, soloparentservices@

ccss.org.au

Natural Fertility Awareness Evening ̶ learn about natural

fertility methods. Wednesday 4 May, 7.30pm, Holy Spirit

Parish, 5 Todd Row, cnr Moore St, St Clair. Free event,

supper provided. To register tel (02) 8822 2222, nfs@ccss.

org.au

Circle of Security ̶ program designed to enhance

attachment security between parents and children. Help

parents raise their children with love, warmth and emotional

intelligence. Thursdays from 28 April – 16 June, 10am-

12.30pm, Blacktown CCSS Centre, 38 Prince St, Blacktown.

Tel (02) 8822 2222.

BLACKTOWN NEIGHBOUR AID

25th Anniversary

Were you, or do you know of anyone who

was involved with Blacktown Neighbour

Aid over the past 25 years? This includes

staff, clients and volunteers.

To commemorate this special anniversary, a

celebratory lunch will be held at Bungarribee Hub,

Blacktown, on Thursday 16 June 2016.

Please contact Deb Woolacott tel (02) 8822 2238 or

deb.woolacott@ccss.org.au

11am on Sunday 1 May 2016

St Patrick's Cathedral, Parramatta

Couples

celebrating

Wedding

Anniversaries

from 1 year to

20 years are

invited

to attend.

A light lunch will be served after the Mass. Families of

couples are very welcome to attend.

RSVP 21 April

Please register at marriage@ccss.com.au

or tel (02) 8822 2222.

Keeping Kids in Mind program ̶ supports parents and

families after separation. Five sessions weekly, starts

Monday 9 May, from 6pm-8.30pm. CCSS Parramatta,

2A Villiers St, Parramatta. Fee $100 (includes handbook).

Bookings essential. Tel (02) 8822 2222.

My Kids and Me ̶ for parents whose children are in outof-home

care or kinship care. Fridays from 10am-1pm, St

Nicholas of Myra Parish Hall, 326 High St, Penrith. Bookings

essential. Tel (02) 8822 2222.

Rollercoasters for Kids ̶ support for children whose parents

have separated or are separating. Mondays from 4pm-

5.15pm, six sessions weekly from 16 May. CCSS Centre,

38 Prince St, Blacktown. Bookings essential. Tel (02) 8822

2222.

Cool Kids ̶ support for families when children are

experiencing high levels of anxiety. Wednesdays from

3.30pm-5pm. In Springwood – venue TBA. For further

information, tel (02) 8822 2222.

Recover Wellbeing ̶ recovery oriented program and

support groups for people living with mental distress.

Monthly get togethers 4Wellbeing include Drum4Wellbeing,

Dance4Wellbeing, Sew4Wellbeing, Create4Wellbeing,

Splash4Wellbeing. Further information tel (02) 8822 2222,

julie.webster@ccss.org.au

Offices at Blacktown, Emerton, Parramatta, Penrith, Springwood, call (02) 8822 2222

www.catholicoutlook.org

CatholicOutlook | APRIL 2016 15
---
GOOD SHEPHERD SUNDAY: 17 APRIL 2016

Fr Pio Yong Ho Jang:

Pray and Stay

By Elizabeth McFarlane

In the Hyehwa-dong Parish in

Seoul, South Korea, an altar

boy watched on in adoration

as the Assistant Priest lifted the

consecrated host.

The young boy was Fr Pio

Yong Ho Jang, who now serves

as Assistant Priest of St Michael's

Parish at Baulkham Hills.

"I was about 10 years old.

On other days, I would often be

distracted by ringing the bell

at the proper time and trying

to communicate with the other

small altar boy," he said.

"But on this particular day,

the priest lifted the consecrated

host and I felt something holy.

There was a strong holiness

attracting my heart. I couldn't

look at anything else but the

consecrated host.

"In that moment I realised

Jesus, the same Jesus in the

consecrated host and the same

Jesus in the person of the priest,

was calling me for something."

Fr Pio's faith was strong

through his primary and high

school years, having been

brought up in a Catholic family,

but the pressures associated with

his schooling made it difficult

for him to find time to practice

his faith.

"School would start at 7.30am

and I wouldn't get home until

10pm. That was my normal

study load."

Due to the pressure to

succeed, Fr Pio decided to

enter university rather than the

seminary.

"At the time, I didn't have

enough courage to respond to

God's call," Fr Pio said.

University proved to be a

"dark time" for Fr Pio. "My faith

went down and sometimes I

didn't even attend Mass," he

explained.

While Fr Pio was studying,

his father migrated to Australia

and he decided to follow him to

Brisbane.

Fr Pio's initial stay was shortlived

due to the language barrier

and the "slower and rural"

nature of Brisbane.

Having gone back to Korea,

after some time studying in

Chicago in the US, Fr Pio

acknowledged something

needed to change.

"I wasn't happy in university.

I came across an article on

vocation and it inspired me to

discern God's calling for me," he

said.

"I began to pray regularly and

it was Our Lady who interceded

and helped my discernment."

Our Lady's strength guided

Fr Pio and taught him not to be

Fr Pio Yong Ho Jang.

Photo: Elizabeth McFarlane.

afraid.

"Her humility directed me

towards Jesus. I discerned I was

being called to the seminary," he

said.

Fr Pio was 29 and despite

wanting to join the seminary, he

wasn't sure if they would accept

him in Korea due to his age.

"I didn't have the humility to

discern clearly earlier in life, but

God was too generous and I was

accepted into the seminary as an

exception," he said.

Fr Pio initially believed he

would be a priest in his mother

country, Korea.

"But I feel I often plan

something and God

accomplishes it in His own way.

That is how I found myself to be

a priest in Australia," he said.

"In Korea there are many

priests. I thought, should I join

where Christ's body is sore or

where Christ's body is healthy?

I hesitated but eventually

I decided I would join the

seminary in Australia. I could

speak English and I had spent

time in Australia already."

Fr Pio was ordained on

24 June 2015 in St Patrick's

Cathedral.

"This is me giving back my

gift to God. I don't think every

person can live this life but

everything is possible with God.

He has given me a special gift

to be able to live this life. I am

really thankful," he said.

When asked what advice

he would give others who are

struggling to discern their

vocation, Fr Pio said, "Just pray.

Fifteen minutes a day is like

1000 years when you are with

God. Spend some time in front

of the Lord through the Blessed

Sacrament.

"St Thomas doubted but I

think he was eventually able to

see Jesus and touch Him because

he stayed with Our Lady.

"It is because he stayed,

despite doubt, that Jesus

appeared to him.

"My advice: Pray and stay."

Several of our permanent deacons and their wives together with couples who are in formation. Pho

Permanent deacons calle

Rev John McSweeney, Priest responsible for Deacons

On 8 May during the

11am Mass in St Patrick's

Cathedral, George Bryan

will be ordained as a permanent

deacon for the Diocese of

Parramatta.

George and his wife, Kaye,

have been preparing for diaconal

ministry for a number of

years; and when Bishop Peter

Comensoli, Bishop of Broken

Bay, lays hands on George's

head and confers the Sacrament

of Orders on him, it will be

a significant moment in the

couple's life – and will signal the

beginning of public ministry by

George for the people of God.

The Diocese of Parramatta

was one of the first dioceses

in Australia to implement the

revised permanent diaconate of

the Church. Bishop Bede Heather

began the process of ordaining

married men as deacons, and this

has been supported and followed

by Bishop Kevin Manning and

Bishop Anthony Fisher OP.

At present there are eight

men who, with their wives as

supporters of their ministry, are

active in various parishes and

chaplaincies as deacons.

The parishes that have a

permanent deacon at present

are St Patrick's Cathedral,

Toongabbie, Glenwood-Stanhope

Gardens, Blacktown, Quakers

Hill, Granville, and North Rocks.

In addition, the Filipino and

Vietnamese chaplaincies have the

service of a deacon.

So, what is the permanent

diaconate? It is an ordained

ministry, sharing in the

Sacrament of Orders, which is

offered to men (most of whom

are already married); and it

involves the deacon serving in

various roles and ministries

throughout the Diocese.

Apart from liturgical

responsibilities in the parishes

to which they are appointed,

these generous men also minister

in different ways to the sick

and the needy – as ministers of

charity; they serve as chaplains

in hospitals and in other services,

including the Police Force.

They are always ready to serve

the bishop in whatever capacity

in order to further the coming of

Fr Pio Yong Ho Jang gives a blessing following his ordination to priesthood

16 CatholicOutlook | APRIL 2016

www.catholicoutlook.org
---
GOOD SHEPHERD SUNDAY: 17 APRIL 2016

Andrew Rooney

enjoys the fraternity

of seminary life

By Elizabeth McFarlane

to: Art in Images.

d to ministry of service

PERMANENT DIACONATE INFORMATION

AFTERNOON

Sunday 1 May 2016 from 2.30pm-5pm

St Anthony's Parish Hall, 27 Aurelia St, Toongabbie

Single men aged 25 and over and married couples

For further details contact Rev Arthur Bridge AM

There was no 'burning bush'

moment for seminarian

Andrew Rooney, who at

22 years old is now in his fourth

year at Holy Spirit Seminary.

"I was hoping for a sign. That

the roof of my house would be

torn off and God would call out,

but it was a subtle attraction and

calling, which over time caused

me to thoroughly explore my

vocation," he explained.

Andrew grew up attending

Mass with his family at Padre

Pio Parish in Glenmore Park.

The second eldest of five

children, with a twin sister and

a doting mother, Andrew was

taught the value of a supportive

and close family, and the

inspiration of a faith-filled

mother.

"My earliest memory of my

mother's faith was when I was

just four years old. My mum had

a children's Bible and she would

read it to us while we sat on

those foam seats for children,"

he said.

"The example, strength,

integrity and faith of my mother

was foundational for my faith."

Andrew attended St

Dominic's College in Penrith

but didn't reflect on the strength

and conviction of St Dominic

Savio until some time after his

graduation.

"I had attended an iWitness

Youth Conference in December

2012. I was looking for a sign to

pursue the priesthood and I was

quite disappointed that I didn't

have an epiphany there," he said.

"I was in Parramatta the

next day and went to Mass in St

Patrick's Cathedral where I came

across a St Dominic Savio prayer

card.

"I went to Theology on Tap

that evening. I prayed the rosary

and for St Dominic Savio's

intercession. It was then that I

came to the realisation that I was

going to join the seminary."

It was through prayer and

the intercession of St Dominic

Savio, followed by discussions

with Fr Warren Edwards, the

diocesan Director of Priestly

Vocations, that Andrew found

the courage to discern the call to

the priesthood as a seminarian.

"Reading about St Dominic

Savio, you can see the courage

he had throughout his whole

life. He would stand up to his

peers and encourage them in the

faith," he said.

"St Dominic Savio is also

the patron saint of choirboys.

I had a lot of involvement in

Church music so I had a lot of

admiration for that patronage."

Andrew began a Bachelor of

Music in classical vocals before

he decided to change paths and

enter the seminary.

"I started my music

degree because I liked music.

But it wasn't until I started

my Philosophy degree in my

seminary year, studying the

aesthetics and rich musical

tradition of the Church, that I

began to love music.

"Music is integral to

the liturgy. There is a great

intelligence in the music of the

Church. It can speak to different

Seminarian Andrew Rooney.

Photo: Elizabeth McFarlane.

people at different levels in a

deep way. It can speak great

theological truths.

"Music goes beyond what it

is to be a Catholic and delves

further into what it is to be a

person.

"When we sing, we rise above

normal conversation. When we

use song in our prayer, it helps

us to express the great dignity

of the act of prayer itself. When

we do that communally, it

communicates to everybody our

devotion to God."

Andrew enjoys the

challenging communal life of the

seminary.

"There are currently 13

seminarians. They're my

brothers. They're my family and

I'm motivated by them every

day," he said.

"The fraternity that you

foster within the seminary is

important to your priesthood

because you want them to keep

you level-headed and hold you

accountable.

"Even if one of us ends up

in Blackheath and another in

Parramatta, our pursuit of the

priesthood together deepens

our relationship, cultivating an

unyielding brotherhood."

Tel (02) 9631 3316, arthur.bridge@parracatholic.org

God's kingdom.

There is a process of formation

which involves the four areas

of spirituality, human growth,

academic requirements and

pastoral work.

A minimum four years of

formation is required before

one of those in formation is

called to candidacy and then to

ordination.

Fr Arthur Bridge AM

(Toongabbie parish) Director

of Vocations to the Permanent

Diaconate and Fr Jolly Chacko

MS (Glenbrook Parish) is

Director of Formation, leading a

very able formation team.

Both weekends and Saturday

mornings are attended by those in

formation, adding to the academic

study, as well as regular spiritual

direction.

The wives of the married

men are included in all activities

(except doing the academic

courses!); indeed, they are integral

to the whole process of formation.

Let us continue to pray for all

those in formation and all who

serve as permanent deacons in

our Diocese. And let us also ask

the Lord of the Harvest to send

more labourers into His harvest.

Andrew Rooney (left) with Deacon Tony Hoban at the start of this year's Palm Sunday procession.

www.catholicoutlook.org

CatholicOutlook | APRIL 2016 17
---
COLLECTOR CARDS

WORLD DAY OF PRAYER FOR VOCATIONS: 17 April 2016

Of nuns, monasteries and

monkeys

Marriage requires

commitment and

fidelity

By Karin Abrams, Coordinator, Marriage Education Support and Enrichment

At the Voortrekker Monument in Pretoria are, from left: Fr Peter, Mother Mary Justin, Sr Thomasina and Bishop

Rose.

"O

f all my kids, it's the one in an

enclosed religious order who's

seen the most of the world!" This

response to the simple question, "So how's

your daughter getting on?" was not one

that would come to the lips of most fathers,

but it has proved true enough for Eddie

Allchurch.

In 2003, his daughter Emma (now

known as Mother Mary Justin) joined the

Tyburn nuns at Riverstone in the Diocese of

Parramatta.

As this is a cloistered Benedictine

congregation, her family never expected to

have trouble keeping track of exactly where

she was …

But the congregation, whose charism

is one of liturgical prayer and perpetual

Eucharistic Adoration, also has an

irrepressible missionary spirit.

This spirit led to the rapid expansion of

the congregation across Australia and NZ,

Europe, South America and now Africa.

Mother Justin now finds herself in the

heart of Kwa-Zulu Natal in South Africa at

the invitation of Bishop Graham Rose of the

Diocese of Dundee.

She has joined a small Tyburn

community that is working to found a

monastic centre of prayer and hospitality.

As South Africa faces crisis on

many levels – political, economic, social

and ecological – the Church's mission

of evangelisation and hope becomes

increasingly imperative.

The sisters in the little Tyburn

community are from different races and

backgrounds. As Benedictine religious, they

are giving themselves totally to helping the

local community.

Their monastery, which is currently

under planning, will be dedicated to

the Holy Family and will be a place of

Eucharistic spirituality, fraternal equality

and natural sanctuary to which all will be

welcome.

The sisters plan to establish the

monastery property according to the

principles of permaculture and hope

that this might become a model for the

surrounding townships and informal

settlements.

They hope to foster nutritional

independence and sustainability in a

punishing climate very similar to Australia,

but with the additional challenge of a

resident family of monkeys on the property!

The sisters have been warmly welcomed

and accommodated by the Dominican

sisters in Blaauwbosch. They feel very much

at home among the predominantly Zulu

parish where already the ministry of prayer

is much appreciated.

However, the sisters are eager to get

on site and are looking to establish simple,

temporary housing to be used over the

next couple of years while the chapel and

monastery are being built.

Holy Mass and Eucharistic Adoration

will begin immediately in a small chapel.

It will also allow for the beginning of the

property development and the oversight of

the construction process.

Funds for the purchase of this basic

accommodation and the upkeep of the little

community are in very short supply. If you

are able to help this new venture of prayer

and hope to become a living reality, the

sisters would be most grateful!

Donations can be sent to:

Tyburn Missions, Tyburn Priory,

325 Garfield Road East,

Riverstone NSW 2765

One vocation that many Catholics

live in their everyday lives is

the vocation of marriage. Pope

Francis explains that Christian marriage

and family life is a real vocation "just like

the priesthood and religious life are. Two

Christians who marry each other have

recognised in their love story the Lord's call,

the vocation to form one flesh, one life from

the two, male and female."

This vocation to marriage is a particular

way of following the Lord, which challenges

a couple to live their marriage in a way that

expresses God's truth and love in the world.

As with all vocations, marriage requires

commitment and fidelity. Living out this

vocation can be a challenge at times,

especially in today's society that does not

value lifelong marital commitment.

In 2013, Pope Francis in an address

to the World Youth Day volunteers,

encouraged them to follow the Lord and

respond to their own vocation.

He went on to say: "God calls each of

us to be holy, to live his life, but he has a

particular path for each one of us. Some are

called to holiness through family life in the

Sacrament of Marriage.

"In a culture of relativism and the

ephemeral, many preach the importance of

'enjoying' the moment. They say that it is

not worth making a lifelong commitment,

making a definitive decision 'forever'."

He went on to say: '… be revolutionaries

I ask you to swim against the tide; yes, I

am asking you to rebel against this culture

that sees everything as temporary and

that ultimately believes you are incapable

of responsibility – that believes you are

incapable of true love."

On Sunday 1 May, many such

revolutionary couples will attend a special

Mass at St Patrick's Cathedral to celebrate

wedding anniversaries of between one and

20 years.

The Diocesan Administrator, Very Rev

Peter G Williams, will be the principal

celebrant for the Celebrating the Early Years

Mass at 11am, organised by CatholicCare.

Any couple celebrating these

anniversaries is welcome to attend the Mass

with their families and join us for a light

lunch in the Cathedral Hall afterwards.

To register your attendance please book

with your parish office or with CatholicCare

tel (02) 8822 2222, marriage@ccss.org.au

KNOW YOUR SAINTS

COMPETITION

Test your knowledge of 10

inspirational Saints and be in the

running to win 1 of 3 Tablets.

SAINTS

COLLECTOR CARDS

S A I N T J O H N P A U L I I

SAINTS

COLLECTOR CARDS

BLESSED MOTHER TERESA

SAINTS

AAP Image

03 of 10

S A I N T T H É R È S E O F L I S I E U X

SAINTS

COLLECTOR CARDS

09 of 10

08 of 10

SCAN

QR CODE

to enter the

competition!

Proudly sponsored by

vocations@parra.catholic.org.au

www.parracatholic.org/vocations

18 CatholicOutlook | APRIL 2016

www.catholicoutlook.org
---
NEWS & EVENTS

Young artists express

Hope for the Future

Family Vacation.

Spirit of Peace.

The overall prizewinning artwork was Nature.

Marist Youth Care (MYC) held

its 9th Art Show at the new

Wentworth Galleries at No

1 Martin Place in Sydney in February.

Forty-two young artists from MYC's

Settlement Services Programs, Out of

Home Care and Educational Supports

Services had a unique opportunity to have

their artworks hung in a public gallery.

All the artworks were a personal

representation of the artists' expression of

the theme, 'Hope for the Future'.

On the day before the art show opened,

the artworks were professionally judged by

Robin Ross (artist), Maria Aitken (gallery

owner) and Anne Johnston (artist).

The overall prizewinning artwork was

Nature. Other prizewinning artworks were

Family Vacation, My Way and Spirit of

Peace. Many of the paintings were sold on

opening night.

The annual art show provides an

opportunity for young people under the

care of MYC to develop their artistic skills.

It encourages them to explore their talents

to create an artwork that is a personal

expression of themselves.

Art materials were provided through

the generous donations of William Blue

Hospitality College students, the overall

Prize of an Apple computer was donated

by sponsor Yellow Edge, and Wentworth

Galleries provided a very special venue

for the opening night and display of the

artworks for the following weekend.

MYC would like to thank Wentworth

Galleries, Yellow Edge, Art Scene and

the judges for their continued support in

providing this wonderful opportunity for

young people.

Calling for nominations

for 3 diocesan awards

Nominations are now open for three diocesan awards:

The Diocesan Medal of Honour

The Diocesan Medal of Honour seeks

to encourage and recognise outstanding

contribution and service by members of the

Parramatta diocesan community in work

on behalf of the Church and society. The

Diocesan Medal of Honour is awarded for

outstanding service to parish, Diocese and

community.

The Diocesan Citation of Merit for Youth

The Diocesan Citation of Merit for Youth seeks to encourage and

recognise youth between the ages of 18 and 25 who have shown

outstanding contribution and service to the parish, Diocese and

community.

The Diocesan Certificate of Recognition

The Diocesan Certificate of Recognition seeks to encourage and recognise

outstanding contribution by non-Catholic members of the Diocese of

Parramatta community, for work supporting the parish, Diocese and

community.

An overview for how to make a nomination and notations are available

from:

Rev Dr Arthur Bridge AM PP

Chairman of the Diocesan Honours Committee

Tel (02) 9631 3316

arthurbridge@arsmusica.org.au

www.catholicoutlook.org

CatholicOutlook | APRIL 2016 19
---
FAMILY & LIFE

Changes announced

to Safe Schools

Coalition program

By Ben Smith, Director of the

Family & Life Office

www.parrafamlife.org.au @parrafamlife parrafamlife

St Joseph's Feast Day Men's Breakfast

By Ben Smith

On 18 March, the Federal Education

Minister, Senator Simon

Birmingham, announced a number

of changes to the Safe Schools Coalition

Australia program as a result of a recent

review.

The program claims to be an antibullying

program. However, the program

coordinator, Roz Ward, recently admitted

that the program was about "supporting

gender and sexual diversity. Not about

celebrating diversity. Not about stopping

bullying."

In other words, it was about advocacy

and social engineering. Some examples of

this content include:

• Teaching girls to bind their chests to

restrict breast development;

• Encouraging cross-dressing;

• Teaching gay and lesbian sexual

techniques; and

• Teaching students that

heterosexuality is not the norm.

More than 500 Australian schools are

members of this program. Eleven of these

schools are located within the geographical

boundaries of the Diocese and they are:

Blaxland High, Bligh Park Public, Colo

High, Glenwood High, Jamison High,

Parramatta High, Parramatta West Public,

Penrith High, St Marys Senior High,

Vardys Road Public and Windsor Park

Public.

The Federal Government has

recommended the following changes to

the program: parental consent be required,

the removal of web content and third party

organisation branding (for sex shops, gay

and lesbian organisations and transgender

organisations), the removal of gender

diversity role playing and the banning of

political advocacy.

For more information about the

program please contact the diocesan

Family & Life Office: famlife@parra.

catholic.org.au

Thursday 21 April 2016

Holy Hour for Vocations

On 19 March, the inaugural diocesan

St Joseph's Feast Day Men's Breakfast

was held at St Patrick's Cathedral,

Parramatta. More than 50 men took part in

the event.

The event started with Mass in the

Cathedral celebrated by Fr Shane Reade

SDB. Fr Shane gave a great sermon on the

importance of the relationship between

fathers and sons.

The event then moved into the Cathedral

Hall where breakfast was served. As the

men were finishing their bacon and eggs the

guest speaker, Paul Ninnes from Real Talk

Australia, began his talk entitled: 'Learning

from St Joseph: Living purity of heart in a

porn saturated culture.'

Paul's talk began with a reflection on the

growing significance of St Joseph in the

life of the Church over the past 150 years.

Paul pointed out that St Joseph's example in

leading the Holy Family through a number

of trials is a great example for Catholic

husbands and fathers who are leading their

families through uncertain times.

Paul spoke about the ubiquity of

pornography in our society and the problems

it causes. One statistic that really stood out

in Paul's talk was that pornography addiction

St Patrick's Cathedral, 1 Marist Place, Parramatta

Everyone is welcome to join the Holy Hour for Vocations from

7pm-8pm on the 3rd Thursday of each month for an hour of

adoration, prayer, music and quiet time in the Blessed Sacrament

Chapel in St Patrick's Cathedral.

To find out more about priesthood in the Diocese of Parramatta

contact Fr Warren Edwards, Director of Priestly Vocations

Tel 0409 172 700 or email vocations@parra.catholic.org.au

20 CatholicOutlook | APRIL 2016

www.catholicoutlook.org

More than 50 men took part in the inaugural St Joseph's Feast Day Men's Breakfast. Photos: Adrian Middeldorp

is a strong contributor in more than 50%

of divorces in the US. Paul emphasised that

pornography addictions "take out" good men

and this has significant consequences for

their families.

Paul put forward some practical strategies

to help men overcome their attraction to

pornography based on his own personal

experience. He proposed the PASS

strategy, which is an acronym for Prayer,

Accountability, Scripture and Sacraments.

Three of the elements of the strategy are

fairly well known but the Accountability

element deals with having trusted mentors to

help men grow in virtue.

The final part of the breakfast offered the

participants a choice of men's groups to join

to help them develop some mentors in their

life.

Representatives from the following groups

gave a short explanation of their mission

and how men could get involved: Brothers

4 Soul (Schoenstatt Men's Fellowship), The

Catenians, Culture Project, Disciples of Jesus,

menALIVE, and the Men of St Joseph.

The feedback was very positive and it is

envisaged that this event will become an

annual feature of the diocesan calendar.

Shrine of Our Lady of Mercy

Penrose Park

Fatima Day: Wednesday April 13

Come and pray for your family and this troubled World!

Exposition 10am, Holy Mass 11am, After Lunch; Procession and

Devotions at Grotto of Our Lady of Lourdes.

Principal Celebrant: Fr Dominik Karnas CSMA

Parish Priest of Horsley Park Parish

Divine Mercy Sunday: April 3

11am Solemn Mass followed by devotions including Chaplet of Divine Mercy.

Fatima Family Sunday: April 17

Holy Mass 11 am with Renewal of Wedding vows, followed by Devotions.

Upcoming celebrations in Our Shrine:

Tuesday May 3rd, Solemnity of Our Lady of Czestochowa

Holy Mass 11 am followed by Devotions.

Pauline Father's Monastery

Address: 120 Hanging Rock Road, Berrima, NSW, 2577 Phone: 02 4878 9192

Email: paulinefathers@yahoo.com.au

Website: www.penrosepark.com.au
---
www.mercyhasaface.org.au

#mercyhasaface

YEAR OF MERCY

Year of Mercy:

24 Hours for the Lord

A young girl makes cigarettes in Bagan, Myanmar. Photo: Angela N Perryman/Shutterstock.com

Human trafficking the result of

economic and social exclusion

In their submission to a Senate inquiry,

Australia's Catholic bishops say human

trafficking and slavery is a terrible consequence

of economic and social exclusion.

Bishop Terry Brady, Chair of the Bishops

Commission for Pastoral Life, said exclusion was

the result of a number of factors. "It is the result of

not recognising the human dignity of each person,

so people are treated as an object or a means to an

end," he said.

"It happens because people are in poverty

and don't have access to adequate education or

employment. It is caused by putting money and

not people at the centre of the economy."

The Commission made the submission in

February to the Parliamentary Joint Committee

on Law Enforcement.

"One approach that should be investigated as

part of a community awareness strategy is the

UK's Modern Slavery Act, which uses information

to shine a light on the exploitation of workers,"

Bishop Brady said.

"Under the UK legislation, businesses that reach

a minimum turnover must issue an annual report

on what they are doing to ensure their business

and supply chain is not involved in human

trafficking and the exploitation of workers.

"Forced marriages are another aspect of

trafficking, difficult to investigate because victims

and witnesses are often afraid of reprisals or of

bringing shame on their families.

"It is much better to try to prevent forced

marriages than try to convict people after the

fact. One important piece of preventative work

is a school education resource developed by

Australian Catholic Religious Against Trafficking

in Humans (ACRATH).

"In 2015, ACRATH worked to ensure the

problem of forced marriages could be more easily

seen by school students and that those students

who may be at risk of forced marriage would

know where to go for help.

"ACRATH ran a 2015 pilot scheme to raise

awareness in schools about forced marriages

and to help children be aware of the protections

offered by the law.

"It is important for schools to have the

opportunity to use this program. The Australian

Catholic Bishops Conference urges the Attorney

General's Department to extend the funding

available to ACRATH.

"Australia also has an important role to play

internationally as an affluent nation. Overseas

aid is an important way in which Australia can

contribute to reducing economic and social

exclusion and, therefore, some of the factors that

put people at risk of being trafficked.

"The Coalition Government has cut Australia's

overseas aid by more than $11 billion since it

was elected in 2013. These funds would have

been a significant boost to aid and humanitarian

programs.

"Australia and Australians have a moral

obligation to share their good fortune with people

less fortunate."

A copy of the submission can be found

at: https://www.catholic.org.au/about-us/

public-policy-office-contact

More than 500 people were at the Mass in St Andrew the Apostle Church at Marayong.

A

special time of prayer and

Reconciliation in the Year

of Mercy took place in St

Patrick's Cathedral and in parishes

across the Diocese of Parramatta

during Lent on 4 and 5 March.

The faithful of St Andrew

the Apostle Parish at Marayong

observed 24 Hours for the Lord in

what was a grace-filled time for the

community.

Assistant Priest Rev Charlie

Al Boustany was assisted in the

organisation by many parishioners,

including members of the Legion

of Mary who decorated the church

and Therese with beautiful flowers.

The 24 hours for the Lord was

embraced by many parishioners,

with more than 500 people in

attendance at Mass.

Visit: www.mercyhasaface.org.au

Members of the parish music ministry team.

Free e-book for computer, e-reader, tablet or iPhone

Son of God:

The Daily Gospel Year C-2

This e-book is authored by Father Ted Tyler, Parish Priest of St Mary of the Cross

MacKillop Parish, Upper Blue Mountains. Copies may be downloaded free of charge

to a computer or e-reader or tablet.

The e-book offers the Gospel for every day of this Liturgical Year C-2 (Sundays Year

C, weekdays Year 2), together with a reflection of some 750 words on each daily

Gospel. This Liturgical Year C-2 continues till November 2016.

The e-book contains the Gospel passages not only for this present Liturgical Year, but

for any C-2 Liturgical Year in the future, together with their reflections.

It may be passed on to friends or acquaintances as desired. It carries the Imprimatur

of Most Rev Anthony Fisher OP, Archbishop of Sydney.

Son of God: The Daily Gospel Year C-2 may be accessed at:

www.catholic-thoughts.info/ebook/

www.catholicoutlook.org

CatholicOutlook | APRIL 2016 21
---
NEWS & EVENTS

Partnership at heart of asylum seeker centre

Arrupe Place in Parramatta

opened its doors just over

a year ago and already

this drop-in centre for asylum

seekers has been recognised for its

innovative work.

At the 2016 Zest Awards

in Sydney in February, Arrupe

Place received the Exceptional

Community Partnership Project in

a Local Government Area Award.

The centre was established by

Jesuit Refugee Service (JRS) in

collaboration with seven other

partners, including the Good

Samaritan Sisters.

The Co-ordinator of Arrupe

Place, Maeve Brown, said it been

a truly collaborative process and

the award recognised the project's

"capacity building, advocacy and

leadership".

"This award is a testament to

our exceptional partners whose

great support has helped Arrupe

Place work."

Maeve said that Arrupe Place

had been established in early 2015

to provide a welcoming space for

people seeking asylum and in need

of essential services in Western

Sydney.

To provide these services

JRS partnered with seven other

organisations: the Sisters of

Mercy Parramatta, the Sisters of

Charity, the Sisters of the Good

Samaritan, Refugee Advice and

Casework Service (RACS), the

Australian Red Cross, Information

and Cultural Exchange (ICE) and

Training for Change.

Two other organisations,

STARTTS (Service for the

Treatment and Rehabilitation of

Torture and Trauma Survivors)

and Baker & McKenzie, have also

provided free support for asylum

seekers.

"We were drawn together with

the common goal of providing

a safe haven that allows asylum

seekers to live with dignity and

become self-sufficient whilst

waiting for their claims for

protection to be assessed," Maeve

said.

"Arrupe Place ensures that

accessing support is easier and less

stressful for those most in need by

housing our many varied services

in this one location in Parramatta."

Currently, Arrupe Place offers

a range of services, including

English language and cooking

classes, a food bank, legal advice

and, significantly, according to

Maeve, "a sense of community".

"Asylum seekers can drop in to

the cottage provided by the Sisters

of Mercy, receive legal advice from

RACS, employment support from

Training for Change, arts and

playgroup programs from ICE,

even emergency aid from the Red

Cross, as well as a cup of tea and

a chat with our JRS caseworkers,"

she said.

"Most importantly, asylum

seekers visiting Arrupe Place have

a place where they feel safe and

less isolated, and where they can

access programs that have led to

increased participation in the local

community."

For Good Samaritan Sr Sarah

Puls, a social worker who leads

the team of JRS caseworkers,

Arrupe Place "is an amazing

thing to be involved in" – and

that's due largely to the effective

partnerships that have been forged

among those working at the

centre.

"It's great to be able to work

together. I think it makes the work

we do so much more achievable,"

Sarah said.

"It's to be able to help our

clients connect with groups in the

community that want to support

them, that want to engage, that

want to see them as valuable

contributing members of the

community.

"It's a great thing to be able

to connect them with those

opportunities."

Some of the Arrupe Place team at the 2016 Zest Awards.

Sarah is one of six permanent

staff at Arrupe Place whose work

is complemented by a team of

more than 50 volunteers under

the coordination of Charity Sister

Margaret Guy.

Among those volunteers are

Good Samaritan Sisters Marie

O'Connor, Veronica McDougall

and Elizabeth Murray, all English

teachers, and Good Samaritan

Oblate Susan Stubenrauch, who

helps to run the foodbank.

In 2015, the staff and

volunteers at Arrupe Place assisted

more than 1500 people seeking

asylum.

If you'd like to assist asylum

seekers and the work of Arrupe

Place:

tel (02) 9098 9336

ST PATRICK'S CATHEDRAL

MASS TIMES AND REGULAR SERVICE

PERMANENT DEACONS BRINGING

CHRIST TO THE WORLD

Weekend Masses

Saturday 8am, 9:30am

(Mass in the Extraordinary Form – Latin),

6pm (Vigil) Sunday 8am, 9.30am (Family

Mass), 11am (Solemn Mass), 6pm

Weekday Masses

Monday to Friday 6.45am,12.30pm

Public Holidays 8am

Adoration of the Blessed Sacrament

Monday to Friday 11.15am-12.20pm

First Friday of the month 6pm-7pm

Sacrament of Penance

Weekdays 11.15am-12.20pm

Saturdays 8.30am-9am, 5pm-5.30pm

Devotions

Morning Prayer of the Church

Monday to Friday 6.30am

Saturday and Sunday 7.30am

Angelus

Monday to Friday noon

Rosary

Monday to Friday after Angelus at noon

Canticle of Our Lady's Marian Movement

Friday 1pm

Christian meditation

Tuesday 9.30am-10.15am

Baptism - Sunday 12.45pm by appointment

Marriages - By appointment

Contact the Parish Secretary

tel (02) 8839 8400 or email

1 Marist Place, Parramatta

Information afternoon on Sunday 1 May

2.30pm-5pm in St Anthony's Parish Hall

27 Aurelia Street, Toongabbie

AN INFORMATION AFTERNOON FOR MARRIED AND

SINGLE MEN WANTING TO KNOW MORE ABOUT THIS

GOD-GIVEN CALLING TO ORDAINED MINISTRY

The Second Vatican Council reinvigorated the ancient order of

deacons, reinstituting the permanent diaconate. By calling and

ordaining deacons the Church is saying something fundamental:

that service is at the heart of the human and divine mystery.

In their active involvement in the community, their outreach

to the poor and marginalised, and their fostering of Eucharistic

communion, deacons sacramentalise the Church's service.

Inquiries to Rev Fr Arthur Bridge AM

Director of Vocations to the Permanent Diaconate

Tel 0411 28 99 54, arthur.bridge@parracatholic.org

22 CatholicOutlook | APRIL 2016

www.catholicoutlook.org
---
Commercial surrogacy in Australia

would exploit women and children

Australia's Catholic bishops

say surrogacy, both

commercial and altruistic,

is flawed, offends human dignity

and that it would be intolerable to

argue harm minimisation to allow

the development of a commercial

surrogacy industry in Australia.

The bishops acknowledged

the pain and sadness couples face

when they cannot have children

because of infertility or the

inability to carry a child to full

term, but pointed out surrogacy

can transfer sadness from the

infertile couple to the surrogate

mother.

The bishops' comments were

made in a submission from the

Bishops Commission for Family,

Youth and Life to the House

of Representatives Standing

Committee on Social Policy and

Legal Affairs, which is holding an

inquiry into surrogacy.

The Bishops Delegate

for Life Issues, Bishop Peter

Comensoli, said surrogacy was

not undertaken with the priorities

and interests of the child in mind,

but rather the interests of the

adults who want a child. "The act

of surrogacy denies the child the

right to be conceived, carried,

born and brought up by his or her

genetic parents," he said.

"Surrogacy is different to

adoption. Where children are

adopted by a mother and a father,

this matches the model a child

should expect of a mother and

a father in marriage as a good

alternative for when a child

cannot be brought up by her or his

natural parents.

"Adoption is a solution to a

situation that has arisen. A child

should never be produced for the

purposes of adoption.

"Surrogacy allows for the

exploitation of the women who

act as surrogate mothers. It

NEWS & EVENTS

requires a woman to deny many

of the significant, integral parts

of the experience of pregnancy,

which could have a longstanding

psychological impact on the

surrogate mother. It gives priority

to the childless woman, man

or commissioning parents over

the woman who is the surrogate

mother.

"Children are not commodities

and should not be bought.

Legalising commercial surrogacy

would allow the introduction of

market values into the intimate

and loving role that women have

of carrying and giving birth to

their child."

A copy of the submission

has been posted on the ACBC's

website: www.catholic.org.au

https://www.catholic.org.au/

acbc-media/downloads/public-

policy/papers/1793-10-february-

2016-inquiry-into-surrogacy/

file

8

9-10

15

15-17

21

1

1

APRIL CALENDAR

FR ROB GALEA LIVE IN CONCERT

See Fr Rob Galea and his Band live in concert at the Riverside

Theatre in Parramatta. Fr Rob is a Catholic priest, singer, songwriter

and youth worker who appeared on X-Factor Australia last year.

Purchase your ticket for $30 at:

www.riversideparramatta.com.au

WONDERFUL WORLD WEEKENDS

This course run by Kevin McDonnell CFC is the first in a series

of three on the topics: Earth, Life in Air, Life on Land. Explore the

wonder and significance of various aspects of the natural world, to

bridge the gap between science and religion, to increase awareness

of the harmony of all creation, and to motivate care for it. Edmund

Rice Retreat & Conference Centre, 1315 Mulgoa Rd, Mulgoa.

Inquiries tel 0419 765 353, klmcdonnell@edmundrice.org

WORLD YOUTH DAY PILGRIM

REGISTRATIONS CLOSE

Register now for the Diocese of Parramatta's pilgrimages to WYD

Krakow in Poland in July. Young people 16-35 are invited to register

online where itineraries & pricing are available:

http://parrawyd.orwg/the-pilgrimage/

IS IT I, LORD? MGL VOCATIONS

DISCERNMENT WEEKEND

For men seeking to know God's will for their life. Come join the

Missionaries of God's Love priests and brothers for a weekend

of prayer, reflection and brotherhood to help you discern your

vocation. Cost: $20 donation, accommodation and meals provided.

From 7pm on Friday to 2pm on Sunday at 6 Boake Plc, Garran, ACT.

Inquiries: frkenmgl@gmail.com or davemgl@yahoo.com.au

www.mglpriestsandbrothers.org

HOLY HOUR FOR VOCATIONS

Everyone is welcome to join the Holy Hour for Vocations from

7pm-8pm for an hour of adoration, prayer, music and quiet time in

St Patrick's Cathedral, 1 Marist Plc, Parramatta.

To find out more about priesthood contact Fr Warren Edwards,

Director of Priestly Vocations, tel 0409 172 700

vocations@parra.catholic.org.au

MAY CALENDAR

PERMANENT DIACONATE INFORMATION

AFTERNOON

Single men aged 25 and over and married couples who are

interested in finding out more about the ordained ministry of the

permanent diaconate are invited to an information afternoon. From

2.30pm-5pm at St Anthony's Parish Hall, 5 Aurelia St, Toongabbie.

Inquiries: Fr Arthur Bridge, Director of Promotions for the

Permanent Diaconate, tel (02) 9631 3316, 0411 289 954,

arthur.bridge@parracatholic.org

CELEBRATING THE EARLY YEARS MASS AND

LUNCH

This annual gathering for young married couples and their

families is hosted by CatholicCare Social Services. Mass at 11am

in St Patrick's Cathedral, Parramatta, followed by a light lunch.

RSVP through your parish or to CatholicCare tel (02) 8822 2222,

marriage@ccss.org.au

For more events visit: http://catholicoutlook.org/event/

"The most beautiful

and visually

compelling film

I have ever seen. I did

not want it to end."

Kim, Brisbane.

Filmed and Edited by

Michael Luke Davies

A unique inside portrait of

the world of the Tyburn Nuns.

"This film takes you into

another realm…"

What is life in a cloistered Benedictine

community really like? Let the Tyburn

Nuns take you to their 9 monasteries

around the world. Witness the nuns' holy

life of prayer and work, centred on the

Eucharist, in this remarkable film.

ORDER ONLINE:

www.tyburnconvent.org.uk

or send cheque/money order for $25

payable to:

Tyburn Priory, 325 Garfield Road East

RIVERSTONE NSW 2765

Name ........................................................

..................................................................

Address .....................................................

..................................................................

..................................................................

..................................................................

www.catholicoutlook.org

CatholicOutlook | APRIL 2016 23
---
DIOCESE OF PARRAMATTA

Philippines Mission

Experience &

World Youth Day

Krakow 2016

Footsteps of

St John Paul II &

World Youth Day

Krakow 2016

Youth 16-35 & Year 11

who are students of

Catholic Education

Diocese of Parramatta

Youth 18-35.

This pilgrimage is not available

to students or teachers of

Catholic Education Diocese of

Parramatta

15 July – 4 August

Philippines & Poland

20 Days

20 July – 4 August

Poland

17 Days

From $7,180.00 per person twin share*

Young adults and youths are invited to join the

pilgrimage of a lifetime to have a mission experience

to Bohol Island in the Philippines which was

devastated by an earthquake in 2013. Pilgrims

will spend four days working with young people in

parishes, schools and orphanages. Following this

mission experience, the group travels to Krakow,

Poland to participate in and celebrate World Youth

Day week with millions of young people ready to pray

in solidarity with Pope Francis at World Youth Day.

From $5,798.00 per person twin share*

Young adults are invited to join the pilgrimage of a

lifetime in the footsteps of a Saint. In 1986 Pope

John Paul II visited Western Sydney and founded the

Diocese of Parramatta. In 2016, you can journey, as he

did so often in his homeland, through all of the places

he loved and lived before you arrive in Krakow, Poland

with millions of young people ready to pray in solidarity

with Pope Francis at World Youth Day.

*A late fee will apply to registrations after 15 April

www.parrawyd.org