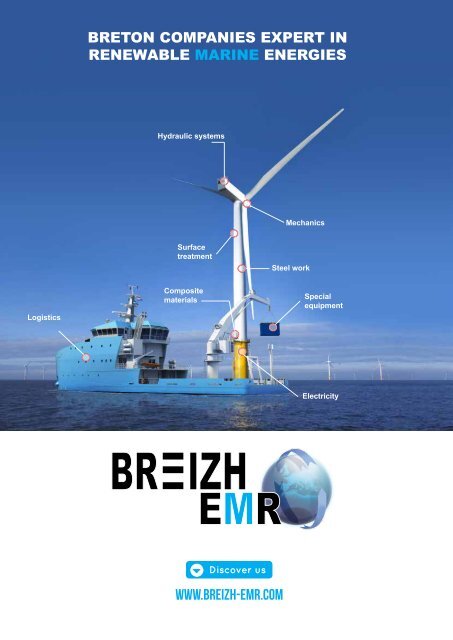 You also want an ePaper? Increase the reach of your titles
YUMPU automatically turns print PDFs into web optimized ePapers that Google loves.
Breton companies Expert in

renewable marine energies

Hydraulic systems

Mechanics

Surface

treatment

Steel work

Logistics

Composite

materials

Special

equipment

Electricity

Discover us

www.breizh-EMR.com
---
An association

of Breton companies

Our added values are:

• network of key business leaders

• dedicated contact person to provide access to

this Industrial Competence Network

• assistance in optimizing supply chain

• our support for co-development business

projects to help you increase your

competitiveness

• transfer of the best technology solutions from

the multi-market expertise of the member firms

The objective of Breizh' EMR is to create a

real regional dynamics around the industry of

renewable energy market, by facilitating the

relationships between its members, creating

commercial and industrial synergies, ultimately

leading to the creation of a high-performance

Breton renewable marine energies industrial

sector.

Expert in :

Electricity

Steel work

Mechanics

Special equipment

Surface treatment

hydraulic systems

Composite materials

Logistics

Transports

…

stindustries.fr

ST Industries, a team of know-how offering wide

subcontracting machining solutions of precision.

Production of mechanical and technical sets, prototypes and

series, all materials including titanium and composites.

damenshiprepairbrest.com

Damen Shiprepair Brest

DSB has three graven dry docks (up to 420 x 80 metres) and

sufficient repair berths. A broad range of services is offered

for any vessel type, including LNG tankers, oil tankers, semisubmersibles,

shuttle tankers, FPSO's, offshore construction

vessels, jack-up rigs, RoRo vessels and ferries.

The highly skilled workforce is particularly well-known for its

LNG tanker expertise.

For the Renewable Energy market, secondary steel work,

assembly of structures/jack-ups and Damen Offshore Wind

license projects are offered.

sameto.com

SAMETO TECHNIFIL is a company specialized in the

production of components and metallic boilermaking

assemblies.

Its know-how in terms of metalwork combined with its

integrated production facilities enable production (per unit or

per serie) of large components of complex geometry.

SAMETO TECHNIFIL is also specialized in the design

and manufacturing of a wide range of logistics facilities

for storage, handling and transportation (container, pallet,

baskets, handling system, wheel bases ....).

yffiplast.com

2mb-international.fr

ouest-composites.com

Specialists in the manufacture of composite parts

Structural parts and large outfitting assemblies

Comprehensive support for every stage of the project:

• Concept and design

• Manufacture

• Choice of materials

Renowned technical expertise that respects the environment:

• Simultaneous projection moulding for perfect control of the

part's weight and thickness

• Contact moulding for more complex parts

• Closed moulding: RTM procedure (resin transfer moulding)

or cold press.

Areas of business: car body work, transport, street furniture,

food processing, health, construction and industry.

Leader : LE DORZE Corinne

Established in 1995, based in Noyal sur Vilaine, 2MB

International is specialized in design, manufacturing and

integration of specific vehicles, structures and special

equipment, CE compliant as needed.

Some of oil and gas offshore product are certified 2-7.1 and

2-7.2 form DNV GL.

Customers : SCHLUMBERGER, AEORONAVALE, AIR

FORCES, GROUND FORCES, SCHINDLER, NEXTER…

2MB International is ISO 9001-2008 certified

Skills : Engineering, Material transformation, Welding

(certified welders), Painting, Electricity (ATEX), Hydraulic,

Integration, Quality.

Overhead cranes (2x 20 T), 2 paint booths (18m x 5m x 6m

of height), covered workshop 12000sq.m.

Created in 1993 for manufacturing workshop essentially

directed in production for technical parts of boats; Ouest

composites began to diversify with industrial markets who

generate, today, 80% of its production in various sectors

of industrie such as bodywork, construction, medical,

agriculture.

We can propose design orientations with realizations of

plans. With the installation of a CNC 5 axis with capacity

of 9*4*2 m associated with a control arm with integrated

scanner, we are able to realize your prototypes, models and

molds and pre-serial.

Our knowledges assure you a global subcontracting of

composites parts. With techniques of diverse and modern

productions such as RTM or infusion associated with the

digital cut and the automated manufacturing, our flexible and

reactive structure allows us to assure you small productions,

average or big series with an industrial spirit.

Our main site situated in Brittany associated with our polish

site offers you an european logistics.
---
fluidap.com

timolor.com

transgb.fr

Fluidap Complete supplier in hydraulics : engineering &

production, trade, maintenance :

Design : engineering, assembly of hydraulic systems,

Sale of components: hydraulic, filtration and instrumentation,

Services: maintenance, repair of components, tubing

hydraulic, fluid management & flushing,

Possible installations in France and all over the world

Historicaly, TIMOLOR is an industrial partner of key

accounts like STX France and DCNS for technical breaks,

ship «careening», ship transformation and refit (military

and civilian ships). Moreover, for industry, TIMOLOR

proposes global solutions for boilermaking, piping (design,

manufacturing, installations, services). These combined

know-how with our services approach are our main assets

to work for wind projects included off shore projects.

Spécialisé en transport exceptionnel, transport de masses

indivisibles, transport matériels tp ou agricoles .

Notre flotte de 80 ensembles, équipés 1ère et 2ème

catégorie comprend :

- des plateaux traditionnels 13m40, rallongeables jusqu'à

44m ou bas avec une hauteur plancher de 1m10 chargeant

des pièces de 3m40 de haut

- des camions remorques avec 7m20 de rampe de plancher

sur le porteur et 8m30 sur la remorque, hauteur plancher

1m10 et 2 remorques extra basses

Nous effectuons des relations sur toute la France depuis

nos 3 dépôts (29) (22) (60).

groupeledu.com

tfe-france.fr

oet.fr

For over 65 years, Group LE DU has been operating on

various energy distribution systems (aerial and underground)

and also offers a wide range of industrial activities (high/

low voltage electrical power, automation, pumping stations,

water works, fluvial equipment etc.).

They also created an in house - manufacturing of electric

poles and concrete-based products and an in-house plastic/

metal boiler making factory, which allows the group to assist

their customers throughout the lifecycle of their projects,

even the more specific.

They have over 350 employees spread over 6 sites in

Brittany.

At TFE Bretagne we specialize in precision metal sheet

cutting and laser cutting.

Since 1974 we are your partner in industrial subcontracting.

We transform various metals, such as steel, aluminium,

stainless steel, galvanized steel and brass into sheets, bars

or tubes of various thicknesses - from fine to average.

We take on your industrial project developments, meet your

requirements from your specifications and/or plans and

manufacture your components.

We provide various services: laser cutting, punching,

bending, welding, assembling, painting and screen printing

processes among others...

Founded in 1975,OET is an independent group with higlydeveloped

skills in electrical engineering, offering a range of

complementary specialisations that address a wide variety

of client requirements. These include electricity, automation,

IT, robotics and pneumatics, as well weighing and metrology

througt is subsidiary, PGC.

With extensive experience in the automation and

management of production processes and continuous

investment in R&D, OET brings a spirit of initiative,

attentiveness and innovative solutions to serve your projects.

prestia.fr

ect-france.com

smb-cm.fr

PRESTIA is an anti-corrosion coating specialist (Hot Dip

Galvanizing + Metal Spray + Painting).

We are specialized in: Hot Dip Galvanising, Spinning,

Metal Spray, Liquid Painting, Powder Coating, Duplex

System (anticorrosion + esthetics) and dedicated logistics.

Our research department recently developed offshore

specific treatment and we have ACQPA and Qualisteelcoat

certification.

9 workshops (located in the North-West of France,

departments 29, 56, 14, 76, 72).

We have a capacity of 100 000 T/year (Hot Dip Galvanizing).

Zinc bath of 16.5*2.1*3 m, zinc bath of 8.4*1.4*3 m, 2 zinc

bathes of 4.5*1.7*3 m. Spinning.

Powder coating furnace 12*3.5*3 m & Liquid Painting 14 *

5 * 5m.

21 Semi trailers

EUROPE COMPOSITE & TECHNOLOGIES is a specialist

in the manufacturing of composite (polyester, vinylester,

epoxy reinforced with fiberglass or carbon…) parts, subsets

and equipment for agriculture, transport (bus and coach

industry), aeronautics, water, biogas and NRE, city furniture,

etc.

ECT runs today 2 industrial facilities, one in Brittany, the

other one in Rhône-Alpes, totalizing over 6.000 m² covered,

a 2014 Turn Over of more than 4.5 M€ for an average staff

of 35.

Each site is equipped with an efficient computer controlled

production system, and an engineering department using

CAD Solidworks software in order to assist his clients. ECT

masters several technologies in the field of thermosetting

polymers (open or closed moulds) and quality and ISO 9001

certification is a priority.

Established in 1926 and headquarted in Ploufragan, in the

Côtes d'Armor, SMB (Metallurgical Company of Brittany) is

a company entirely dedicated to the design and construction

of steel structures, from the simplest to the most complex.

Attached in 2005 to the SOPREMA Group, world leader in

the field of sealing for building, SMB is present in all sectors

of construction : public buildings, theaters, exhibition halls,

sports facilities, industrial buildings, shopping malls, offices,

bridges and footbridges, lock-gates, dam valves, and of

course renewable marine energies.

With the highest level of qualification in its field of activity,

qualification QUALIBAT 2414, SMB is a French leader in the

construction of steel structures construction of outstanding

technicality.

Having the most modern means of production, after a

renovation of its workshops and a complete renewal of its

machines in 2011 and 2012, SMB is more than ever cocked

to imagine and to provide relevant and powerfull solutions

to its customers.
---
Tel : 00 33 (0)2 96 78 62 00

breizh.emr@gmail.com

Association member companies:

ZI de Kerabel

22170 PLOUAGAT

Tel: 00 33 (0)2 96 79 54 00

groupeledu.com

Z.A. de Kerbiquet

22140 CAVAN

Tel: 00 33 (0)2 96 60 90 10

stindustries.fr

7 ZI de Beausoleil

22402 LAMBALLE CEDEX

Tel: 00 33 (0)2 96 31 18 15

tfe-france.fr

70 avenue du General de Gaulle

35532 Noyal sur Vilaine

Tel: 00 33 (0)2 99 25 02 70

2mb-international.fr

70 avenue du General de Gaulle

22120 Yffiniac

Tel: 00 33 (0)2 96 72 74 99

yffiplast.com

Les Champs Blancs

35510 CESSON SEVIGNE

Tel: 00 33 (0)2 23 21 12 00

oet.fr

Port Commerce BP 31112

29211 BREST cedex 1

Tel: 00 33 (0)2 98 43 43 43

damenshiprepairbrest.com

6 rue Bertrand Robinou

22100 DINAN

Tel: 00 33 (0)2 96 87 13 80

sameto.com

La Gare

56460 La Chapelle Caro

Tel: 00 33 (0)2 97 74 76 56

contact@prestia.fr

prestia.fr

zone d'activités de Beg ar C'hra

22810 Plounevez Moedec

Tel: 00 33 (0)2 96 45 30 54

ect-france.com

5 rue Boisjoli

22440 PLOUAGAT

Tel: 00 33 (0)2 96 76 54 54

smb-cm.fr

Arsenal Marine Nationale

56600 LANESTER

Tel: 00 33 (0)2 97 87 15 00

timolor.com

ZI Moustoir

56950 CRACH

Tel: 00 33 (0)2 97 30 26 16

ouest-composites.com

ZI Sud Est, 3 rue de la Tremblaie

35000 Rennes

Tel: 00 33 (0)2 23 30 76 93

fluidap.com

Partners: Chambres de Commerce et d'Industrie de Bretagne, CAD22, Caisse des Dépôts.