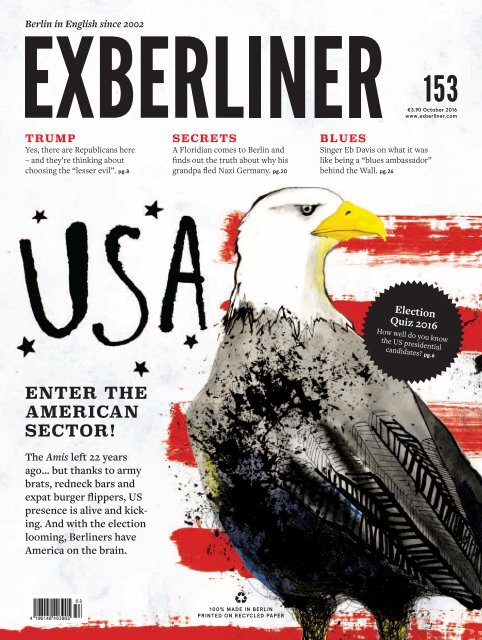 EXBERLINER Issue 153, October 2016
Create successful ePaper yourself
Turn your PDF publications into a flip-book with our unique Google optimized e-Paper software.
Berlin in English since 2002

153

€3.90 October 2016

www.exberliner.com

TRUMP

Yes, there are Republicans here

– and they're thinking about

choosing the "lesser evil". pg.8

SECRETS

A Floridian comes to Berlin and

finds out the truth about why his

grandpa fl ed Nazi Germany. pg.20

BLUES

Singer Eb Davis on what it was

like being a "blues ambassador"

behind the Wall. pg.26

Election

Quiz 2016

How well do you know

the US presidential

candidates? pg.6

The Amis left 22 years

ago... but thanks to army

brats, redneck bars and

expat burger flippers, US

presence is alive and kicking.

And with the election

looming, Berliners have

America on the brain.
---
Martin-Gropius-Bau Berliner Festspiele

16 September 2016 – 9 January 2017

Pina Bausch and

the Dance Theatre

Organizer: An exhibition of the Kunst- und Ausstellungshalle der Bundesrepublik

Deutschland, Bonn. In cooperation with the Pina Bausch Foundation, Wuppertal.

# PinaBausch

Pina Bausch tanzt ein Solo in Danzón (Ausschnitt), Fotografie © Jochen Viehoff

30 September 2016 – 8 January 2017

+ultra.

knowledge & gestaltung

Organizer: Cluster of Excellence »Image Knowledge Gestaltung. An Interdisciplinary

Laboratory«. Supported by the Deutsche Forschungsgemeinschaft

(DFG) and the foundation Stiftung Deutsche Klassenlotterie Berlin (DKLB).

Curator: Nikola Doll in collaboration with Katharina Lee Chichester

# plusultraMGB

David Georges Emmerich: Structure autotendante © Collection FRAC Centre, Orlé ans /

Photographie: Franç ois Lauginie

8 October 2016 – 9 January 2017

The British View:

Germany –

Memories of a Nation

Organizer: Berliner Festspiele / Martin-Gropius-Bau. An exhibition of the

British Museum accompanied by a book of Neil MacGregor. Made possible

by the Federal Government Commissioner for Culture and Media. With kind

support of the The German Historical Museum. Curator: Barrie Cook

# ErinnerungenEinerNation

Gerhard Richter, Betty (Edition 23/25), 1991, Offsetdruck auf Karton, 97,1 × 66,2 cm. Sammlung Olbricht,

© Atelier Gerhard Richter

21 October 2016 – 15 January 2017

Building with Timber –

Paths into the Future

Organizer: Technische Universität München. An exhibition of the Associate

Professorship of Architectural Design and Timber Construction and the

Architekturmuseum der Technischen Universität München in cooperation

with Deutsches Architektur Zentrum DAZ, supported by the German

Federal Environmental Foundation (DBU), the German Wood Council

(DHWR), the German Association of Housing Enterprises and Housing

Cooperatives (GdW) and proHolz Bavaria.

# BauenmitHolzMGB

© Gassner Redolfi KG

Berliner Festspiele

Martin-Gropius-Bau

Niederkirchnerstraße 7, 10963 Berlin

T +49 30 254 86 0

Wed – Mon 10am – 7pm, closed Tue

Online-tickets: www.gropiusbau.de

www.gropiusbau.de
---
CONTENTS

Exberliner 153 – October 2016

Special: America

06

Quiz: Test your US election smarts!

Which candidate said what?

The answers may surprise you!

08

Berliners for Trump?

Yes, there are real, live Republicans

in Berlin, and they've got mixed

opinions about The Donald

10

The angry Americans

Two generations of expats voice

their dissidence

12

The new old guard

Burgers, TV and rock 'n' roll:

The Amis who've changed Berlin's

cultural landscape

14

An American atlas

From the old American sector

to New York bagels, mapping

US influence in Berlin

16

Berlin's army brats

Meet the soldiers' kids who grew up

in a West Berlin American bubble

18

The last cowboy in Reinickendorf

Where have all the German

Americana fanatics gone? A line

dancing cultural expedition

20

Grandpa's secret history

An American comes to Berlin

to discover the real reason his

grandfather left

Regulars

03

Werner's political notebook

Populism isn't that popular

04

Best of Berlin A planetarium

makeover, a Deutschrap bar,

cheap operas and Kotti coffee

23

NEW! Page 23 Girl

Activist Kimberly Emerson on

blue skies, books and Berghain

50

Start-ups Apps that help you work

differently and N26's growing pains

53

The gay Berliner Walter Crasshole

writes a letter to queer Touris

54

Berlin bites American meat

and Dandy Diner's vegan grub

56

Comic Ulli Lust:

Friends of Germany

57

Ask Hans-Torsten

Voting and the Bürgeramt

58

Ask Dr. Dot Your Berlin

sex questions answered

59

Save Berlin When private

art bunkers go public

What's on

26 Interview EB Davis of

How Berlin Got the Blues

28 .............................. Film

32 ........................... Music

36 ................................. Art

40 ............................ Stage

44 Events calendar

46 The Berlin Guide

LOFT.DE

FACEBOOK.COM/LOFTCONCERTS

DUB FX

19.10. HUXLEYS

WARHAUS

19.10. PBHFCLUB

OH PEP!

19.10. PRIVATCLUB

OKTA LOGUE

24.10. LIDO

BIFFY CLYRO

24.10. MAX-SCHMELING-HALLE

BREATHE ATLANTIS

25.10. MUSIK & FRIEDEN

THE CAT EMPIRE

27.10. COLUMBIAHALLE

LLOYD COLE

27.10. HEIMATHAFEN

DIGITALISM

29.10. GRETCHEN

THE LION & THE WOLF

30.10. MONARCH

WARPAINT

1.11. ASTRA

JOHN MORELAND

3.11. KANTINE AM BERGHAIN

TICKETS: KOKA36(.DE)

BOOKA SHADE

4.11. HEIMATHAFEN

MARIAN HILL

5.11. KANTINE AM BERGHAIN

BLAUDZUN

6.11. MUSIK & FRIEDEN

QUILT

9.11. AUSTER-CLUB

HANNAH GEORGAS

9.11. MUSIK & FRIEDEN

JPNSGRLS

9.11. BADEHAUS

MUTUAL BENEFIT

12.11. BADEHAUS

HOW TO DRESS WELL

16.11 GRETCHEN

ROYAL REPUBLIC

25.11. COLUMBIAHALLE

DANIEL LIONEYE

2.12. MUSIK & FRIEDEN

ST. PAUL & THE BROKEN BONES

17.1. COLUMBIA THEATER

THE FLAMING LIPS

24.1. COLUMBIAHALLE

Exhibition

23.09.2016 – 29.01.2017

JUNE 2016 1

Daily 10am – 8pm, Mondays 10am – 10pm jmberlin.de/golem/en

Design: Cee Cee Creative / Bild: Courtesy Joachim Seinfeld / Jewish Museum in Prague
---
DIGITAL

OFFSET

PRINT

Undubbed at

CineStar Original

FROM 13 OCTOBER

INFERNO

Select shows

in English at

IMAX with Laser

In INFERNO, symbologist Robert (Tom Hanks)

teams up with Dr. Brooks (Felicity Jones) in order

to stop a global virus!

And from 27. Oct., meet DOCTOR STRANGE,

Marvel Comic's brainy new super hero – starring

Benedict Cumberbatch, Mads Mikkelsen and Tilda

Swinton! Info and tickets at cinestar.de

WHATEVER YOU NEED.

carbon neutral

natureOffice.com | DE-179-229349

print production

WE ARE FAST!

PRINTPRODUCTION

PRENZLAUER BERG:

Kastanienallee 91 · call 44 02 44 02

Wörther Str. 29 · call 44 03 77 0

visit our website: www.solid-earth.de

´TIL MIDNIGHT

copying

printing

binding

anything
---
Berlin in English since 2002

TRUMP

Yes, there are Republicans here

– and they're thinking about

choosing the "lesser evil". pg.8

SECRETS

A Floridian comes to Berlin and

finds out the truth about why his

grandpa fl ed Nazi Germany. pg.20

€3.90 October 2016

www.exberliner.com

BLUES

Singer Eb Davis on what it was

like being a "blues ambassador"

behind the Wall. pg.26

COLUMN— Political Notebook

Election

Quiz 2016

153

How we l do you know

the US presidential

candidates? pg.6

Populism isn't that popular

Konrad Werner explains German politics.

This month: Why is the AfD winning?

The Amis left 22 years

ago... but thanks to army

brats, redneck bars and

expat burger flippers, US

presence is alive and kicking.

And with the election

looming, Berliners have

America on the brain.

Editor-in-chief

Nadja Vancauwenberghe

Deputy editor

Rachel Glassberg

Web editor

Walter Crasshole

Film

Paul O'Callaghan

Music

Michael Hoh

Art director

Stuart Bell

U1 Cover 153.indd 3 23/09/16 00:14

Cover illustration by

Agata Juszczak

Publishers

Maurice Frank

Nadja Vancauwenberghe

Ioana Veleanu

Editorial

Design

Art

Amanda Ribas Tugwell

Stage

Lily Kelting

Food

Françoise Poilâne

Start-ups

Sophie Atkinson

Feature / Politics

Ruth Schneider

Graphic design

Maria Runarsdottir

This month's contributors

Dani Arbid, Victoria Barnes, Tom Cox, Dyllan

Furness, Anna Gyulai Gaal, Jean-Michel Hauteville,

Ava Johnson, Julyssa Lopez, Kaya Payseno, Kate

Richards. Photography: Karolina Spolniewski, Maria

Runarsdottir, Erica Löfman. Illustration: Catherine

Franck, Ulli Lust, Agata Sasiuk.

Ad sales / Marketing

Maurice Frank (business manager)

Bettina Hajanti (sales)

To discuss advertising please contact us:

Tel 030 4737 2966, ads@exberliner.com

Subscriptions

www.exberliner.com/subscribe

Iomauna Media GmbH

Max-Beer-Straße 48, 10119 Berlin-Mitte

Tel 030 4737 2960, Fax 030 4737 2963

www.exberliner.com, Issn 1610-9015

Icons from flaticon.com

Germany has had five state elections

this year and, since our media is a fevered

gaggle of click-merchants, each

one has been reported as a catastrophe for

Angela Merkel: the German people's angry

verdict on the chancellor's refugee policy.

The reason why reporters reported this is

mainly because the losing candidates fielded

by her party, the Christian Democratic

Union (CDU), went round to

any hack that would listen and

told them that this was why

they lost.

Lorenz Caffier in Mecklenburg-Vorpommern,

Julia

Klöckner in Rheinland-Palatine,

and then Frank Henkel in Berlin

all ran "we're-not-Merkel"

campaigns that featured talk of

burqa bans and "upper limits"

on asylum seekers and ended up STILL

losing voters to the far-right Alternative

für Deutschland party. A moderate exception

was Reiner Haseloff, the state premier

of Sachsen-Anhalt, who led the CDU to a

smaller loss of votes and was re-elected.

Even though the AfD is deciding what politics

is in Germany at the moment (helped

by the media's obsession with one particular

minority group), when the big government

parties pretend they're protest parties –

banging and blaming and coming up with

pointless policies like banning burqas – it

only helps the AfD. No voter wants Diet

Coke when they can get Fat Coke.

The truth is, though, that Germany's "refugee

policy" is actually the most restrictive

it could be under the constitution, whose

Article 16a guarantees the right of asylum

to anyone under political persecution. The

populist-right talk about imposing an "upper

limit" on asylum seekers is – as every single

one of the politicians who keep demanding

it knows – unconstitutional. So the next

best thing, which Merkel has already done, is

extend the list of "safe countries of origin".

That legal amendment, made in 1993, made

it easier to speed up asylum applications and

keep large groups of people out, and thanks

to Merkel's supposedly pro-refugee government,

it's a list that is now longer

than ever – including all of

the Balkan countries and soon

Morocco, Tunisia and Algeria.

Meanwhile, the government

continues to bring in regulations

that will hinder integration – it

is now almost impossible to

bring spouses and children here,

refugees have to help pay for

their own integration courses

and cash allowances have been replaced

by food tokens. You think finding a flat in

Berlin is hard? Try finding a flat, then telling

the landlord they will have to wait four to

six weeks while a local authority processes

your application to move from your statedesignated

home.

In other words, even if the AfD won a

massive 40-percent-plus victory in all the

states in Germany and then went on to

take over the federal government in next

year's general election, they would find

that Merkel has already imposed most of

the changes they would. The rest is noise,

because what "populist" voters are actually

voting for is a political "fuck you". It's a

good feeling for isolated, riled-up people in

Meck-Pom or Sachsen-Anhalt, but it doesn't

have much to do with making laws to administer

problems more easily. Or running the

country, as it's also known. n

LPG BioMarkt Kaiserdamm GmbH, Kaiserdamm 12, 14057 Berlin

8x in Berlin

Charlottenburg: Kaiserdamm 12

Friedenau: Hauptstr. 78

Kreuzberg: Mehringdamm 20

Kreuzberg: Reichenberger Str. 37

Prenzlauer Berg: Kollwitzstr. 17

Steglitz: Albrechtstr. 33

Tempelhof: Viktoriastr. 18

Treptow: Bouchéstr. 12

NEW STORE:

Alt-Moabit 98

(Spreebogen)

Welcome to bio paradise

LPG

BioMarkt

fair & local since 1994

Honey 1kg from 5,99 € *

Wine 0,75l from 2,49 € *

Kiwis 1 piece from 0,25 € *

Bread 1kg from 2,75 € *

Pasta 500g from 0,89 € *

Potatoes 1kg from 1,99 € *

*Permanently reduced prices for members

Check our website for special offers

and a lot more information:

www.lpg-biomarkt.de
---
BEST OF BERLIN — October 2016

BY THE EXBERLINER

EDITORIAL TEAM

Cafés

BEST KOTTI

COFFEE

Kottbusser Tor – yes, Berlin's

most hyped crime hotspot – is

now gaining an improbable

rep as a coffee hub. Just in the past

several months, two shiny new cafés

have opened in courtyards off the scuzzy

main drag of Adalbertstraße. First, a

second branch of decade-old Penzlauer

Berg caffeine scene staple BONANZA.

It's a bigger, grander location: less neighbourhood

hang, more coffee temple.

Here, refurbished vintage roasters lightly

toast the (ethically sourced) beans for

both cafés (and all the other businesses

around town that sell Bonanza coffee),

giving them that acidic, fruity flavour

profile we've come to expect, like in the

€5 bottomless drip. But Bonanza looks

positively antiquated next to THE VISIT

(photo), a newbie roaster down the

street opened by Berliner Cihan Kocak

(also of Mitte coffee shop The Refinery)

and Polish Bonanza alumnus Damian

Durda. Picture an Apple store dedicated

to coffee: polished, white, filled with

futuristic gizmos that gauge the colour

of each roast and help conduct water

through grounds in a million different

ways. The speciality here is "nitro coffee":

cold-brew coffee treated with nitrogen

and served out of a tap. The result is a

Guinness-like concoction, refreshing and

creamy whether served black or white.

At €3.50 it isn't exactly cheap, but then

again, caffeine's still the least expensive

drug sold in the area. — KP

Bonanza Kreuzberg Adalbertstr. 70,

Kreuzberg, Mon-Fri 9-17, Sat-Sun 10-17

The Visit Adalbertstr. 9, Kreuzberg,

Mon-Sun 8-20

Karolina Spolniewski

Frank-Michael Arndt

Science

BEST TREK TO THE STARS

At the newly renovated ZEISS

PLANETARIUM, every show

begins with a rousing overture

of classical music as the moon rises

and sets in a field of 3500 stars. These

stars are really just small streams of

light projected onto a giant, 23-metre

dome, but as you recline your seat and

stare at the simulated sky, you start

wondering: Why are we here? Are we

alone in the universe? And, if you don't

speak German: What the hell are they

saying? Yes, the two-year, €12.8 million

makeover of the futuristic, GDR-era

sphere on Prenzlauer Allee included a

metal screen laser-perforated to form

a perfect dome and a state-of-the-art

HD projector to display the stars that

were previously poked out by hand,

but no English subtitles. An app with

simultaneous translation should be

available this month, so bring your cell

fully charged and a pair of headphones.

Or skip the comprehensive galaxy tour

(€8/6 reduced) for the rockin' laser

show "Queen Heaven" (€9.50/7.50).

With a movie theatre and restaurant

(menu by "star chef" Tim Raue) to

open this winter, the latest incarnation

of the planetarium hopes to be more

of a cultural centre than a grade school

field trip destination – maybe even a

place you'd bring a date. Which might

be why the new credo is "to teach AND

entertain", although we're still unsure

of how Queen fulfils either. — KP

Zeiss-Großplanetarium

Prenzlauer Allee 80, Prenzlauer Berg,

programme at stdb.de

4 EXBERLINER 153
---
BEST OF BERLIN — October 2016

Teen fun

BEST DEUTSCH-

RAP BAR

If you're a German aged 16-20 looking to

piss off your parents, you'll be happy to

hear TRAILERPARK has their own bar in

Berlin. The six-year-old rap label and supergroup

has made a name for itself through

profanity (last single: "Dicks Sucken"),

misogyny and bodily-fluid-filled live shows.

Surprisingly, though, you won't experience

much of this at the Friedrichshain hangout

and merch shop opened in August at the

behest of Berlin-based member Sebastian

"Basti" Krug. The crowd on our visit was

half female and hardly the types you'd

imagine singing along to lyrics like "If your

girlfriend wants to fuck me, I'll buy her."

The vibe might be different when the band

and their labelmates visit for autograph

signings or listening parties, but on most

other nights it's a chill enough space where

you can drink Warsteiner (€2.60/0.3L)

under blown-up portraits of the band on a

boat, or smoke in a cosy back room boasting

a video projector and bass-heavy sound

system. No fancy drinks here, though they

make a pretty great Moscow Mule for €5.50

(as unhesitatingly proffered when we asked

about the Deutschrap equivalent of "gin and

juice"). But let's face it, if you're old enough

to be discerning about your alcohol, you've

already aged out of Trailerpark's target

audience. — AJ

Trailerpark Bar and Shop

Boxhagener Str. 19-20, Friedrichshain,

Tue-Sat 19-close (bar), Mon-Sat 14-19 (shop)

Erica Löfman

OCTOBER 2016

Culture

BEST TWENTY-

SOMETHING

PERK

Okay, maybe it wasn't your first

criteria for settling in, but Berlin is

a capital of high culture with more

concert halls and opera houses than the

city can even sustain thanks to the Mauerera

insistence that there be two of everything.

And those greying institutions want

to get kids hooked with the CLASSIC CARD,

a €15/year pass that enables under-30s to go

to the Staatsballett, the Konzerthaus, performances

by Berlin's Rundfunk ensembles

and all three operas for dirt-cheap. Just

show up an hour before doors open and,

provided the show isn't sold out, you'll only

have to pay €8-10 for seats that normally

cost an arm and a leg. If you're really lucky,

you'll get a box or front row seat reserved

by a season ticket holder who couldn't

make it. So take advantage of your youth,

order a card online or at Dussmann and

check out The Nutcracker at the Deutsche

Oper for just €10. Or, hey, we hear that

Berghain qualifies as high culture now (at

least for tax purposes), so maybe you'll be

able to use the card there? — VB

ClassicCard

See details at www.classiccard.de

Above: The Nutcracker, playing at the Deutsche Oper on

Oct 8, costs €10 with a ClassicCard.

Fernando Marcos

proudly presents:

Wed, Oct 12, 20:00

Two films directed by

Alice Diop

Vers la tendresse

36 min., French with English subtitles

La Permanence

97 min., French with English subtitles

Starts October 13:

American Honey

163 min., English with German subtitles

tip Preview every first

Wednesday of the month,

OV with German subtitles

Since 20 years Berlin's

leading cinema for the

international community

Original language versions

with German subtitles,

German movies

with English subtitles

Programme, info, tickets:

www.hoefekino.de

5
---
AMERICAN BERLIN

TEST

YOUR USA

ELECTION

SMARTS!

They're running to be the

58th President of the US.

They talk a lot. But do you

know who said what?

Research by Kaya Payseno

It doesn't matter whether you can vote

on November 8 or not: America's policies

impact everyone, even us Berliners.

With that in mind, we chose the top

four candidates – not only Democrat Hillary

Clinton and Republican Donald Trump, but

also Green Jill Stein and Libertarian Gary

Johnson – and screened their speeches,

interviews and platforms to find out their

thoughts on the issues we care about.* It's up

to you to guess who said what! (A tip: sometimes,

the same candidates have more than

one opinion.) See next page for answers.

1. Marijuana is still illegal on a federal level,

although medical weed is legal in 24 US

states. Where to go from here?

A — "Legalisation... in some ways I think

it's good and in other ways it's bad. Medical

marijuana? I'm in favour of it a hundred

percent."

B — "Marijuana is dangerous – because it's

illegal. It's not inherently dangerous. It's certainly

less harmful than alcohol and tobacco,

which are perfectly legal."

C — "Marijuana is still used as a gateway drug

and the drug cartels from Latin America use

marijuana to get footholds in states, so there

can't be a total absence of law enforcement."

D — "The parallels between drug policy today

and Prohibition in the 1920s are obvious, as

are the lessons our nation learned. Prohibition

was repealed because it made matters worse."

2. What do they think about us and our

leader over here in Germany... if anything?

A — Germany is moving to a 100 percent

renewable energy economy. The German

Green Party is the reason why Germany is

ahead of America."

B — "I think Merkel is the greatest leader in

Europe; I think she is a great leader globally,

I think she carried Europe on her shoulders

and it wasn't easy."

C — "Merkel is probably the greatest leader

in the world today. She's fantastic..."

D — "You know what a disaster this massive

immigration has been to Germany. Crime

has risen to levels that no one thought they

would ever see."

3. We all love LGBTQ voters...

but what about gay marriage?

A — "We should commit to building an

America where every lesbian, gay, bisexual,

and transgender person can live, work, learn,

raise a family, and marry free from discrimination

or prejudice."

B — "Marriage has got historic, religious and

moral content that goes back to the beginning

of time, and I think a marriage is, as a

marriage has always been, between a man

and a woman."

C — "As your president, I will do everything

in my power to protect LGBTQ citizens."

D — "The government ought to get out of the

marriage business."

4. Ed Snowden is longing to get back home.

What kind of welcome should we give him?

A — "I'd pardon Snowden. Not only pardon

him, but welcome him home as a hero... and

I'd bring him into my administration as a

member of the Cabinet..."

B — "Snowden is a spy who has caused great

damage to the US. A spy in the old days,

when our country was respected and strong,

would be executed."

C — "This is someone who has divulged

information – that the United States government

is spying on all of us as US citizens. I

don't want to see him in prison."

D — "He stole very important information

that has unfortunately fallen into a lot

of the wrong hands. So I don't think he

should be brought home without facing

the music."

5. From Iraq and Afghanistan to Libya to Syria...

how productive is America's war on terror?

A — "Iraq was a mistake"... but "Military action

is critical, in fact I would say essential,

to try to prevent [ISIS'] further advance and

their holding of more territory."

B — "All this has done is create failed states.

Whether you look at the Taliban, the globalisation

of Al-Qaeda or the creation of ISIS,

this has been an utter, unmitigated disaster."

C — "I was against the war in Iraq. I thought

it would destabilise the Middle East, and it

did. All of this tremendous death, destruction...

is just incredible. We're far worse off

today than we were 15 years ago or 10 years

ago in the Middle East."

D — "I initially thought the intervention

in Afghanistan was warranted – we were

attacked and we attacked back – but we've

wiped out Al-Qaeda and here we are; we're

still there."

6. How relevant is NATO in today's world?

A — "NATO is obsolete. When NATO was

formed many decades ago, there was a different

threat, the Soviet Union. But terror today

is the big threat."

B — "Putin already hopes to divide Europe,

so the US needs to strengthen its alliances."

C — "We've got treaties with apparently 69

countries where we are obligated to defend

their borders?"

D — "Who exactly is NATO fighting? … Other

than enemies we invent to give the weapons

industry a reason to sell more stuff."

7. Everyone agrees ISIS is the enemy – but

who's responsible?

A — "ISIS was primarily the result of the

vacuum in Syria caused by Assad, aided and

abetted by Iran and Russia. Let's put responsibility

where it belongs."

B — "Obama is the founder of ISIS. I would

say the co-founder would be crooked Hillary

Clinton."

C — "Terrorism is a response to drones that

sneak up on you in the night. This is where

6

EXBERLINER 153
---
AMERICAN BERLIN

we recruit and enable ISIS and al-Qaeda to

continue expanding..."

D — "The rise of ISIS can actually be traced

back to instability created by our meddling

in the affairs of others. We need to build a

strong military. But we should not use our

military strength to try to solve the world's

problems."

8. The US needs to create jobs. How?

A — "A 'New Deal' which creates an emergency

programme, establishing 20 million livingwage

jobs to green the economy, our energy,

food, and transportation, building critical

infrastructure, restoring ecosystems, etc."

B — "If I could wave a magic wand I would

eliminate corporate tax… If there was a zero

percent corporate tax rate, tens of millions

of jobs would be created."

C — "Put an end to China's illegal export

subsidies and lax labour and environmental

standards. No more sweatshops or pollution

havens stealing jobs from American workers."

D — "We will put Americans to work, building

and modernising our roads, our bridges, our

tunnels, our railways, our ports, our airports.

We are way overdue for this, my friends."

9. Who stands where with Israel and Palestine?

A — "If we're going to negotiate a peace

settlement, which every Israeli wants... I

would like to have the other side think I'm

somewhat neutral to them. It's probably the

toughest negotiation of all time, but maybe

we can get a deal done."

B — "We have encouraged the worst tendencies

of the Israeli government as it pursues

policies of occupation, apartheid, assassination,

illegal settlements... and defiance of

international law."

C — "The United States and Israel must be

closer than ever, stronger than ever... We

must take our alliance to the next level."

D — "You truly have a great prime minister

in Benjamin Netanyahu. Vote for Benjamin –

terrific guy, terrific leader, great for Israel."

10. What about the crisis in Ukraine?

A — "We helped foment a coup where ultranationalists

and ex-Nazis came to power. So

we should be leading the way in establishing

a neutral Ukraine that would allow Russia to

not feel under attack."

B — "We need a tougher response to Russia.

I remain convinced that we need a concerted

effort to really up the costs on Russia, and in

particular on Putin. I think we have not done

enough."

C — "It's a mess. But you know, the people of

Crimea, from what I've heard, would rather

be with Russia than where they were. And

you have to look at that..."

D — "When you look at Ukraine right now, I

think that would be analogous to Russia getting

involved in Puerto Rico. We shouldn't

get involved in Ukraine."

11. Fighting terrorism on US soil: How?

A — "You know, in Israel, they've done an

unbelievable job… They see somebody that's

suspicious, they will profile. They will take

that person in."

B — "Create stricter screenings for visa applicants

who have been to a country in Islamic

State-controlled areas in the last five years."

C — "Share intelligence and information.

That now includes the internet... That means

we have to work more closely with our great

tech companies."

D — "I have a plan. If I win, I don't want to broadcast

to the enemy exactly what my plan is..."

12. We're all involved in Syria. Who are our

foes and allies?

A — "You know, Putin, our arch-enemy Putin,

was actually trying to create a peace process

in Syria... We need to begin talking with Russia

and with other countries."

B — "The best way to help Israel deal with

Iran's growing nuclear capability is to help

the people of Syria overthrow the regime of

Bashar Assad."

C — "The approach of fighting Assad and ISIS

simultaneously was madness, and idiocy.

They're fighting each other, and yet we're

fighting both of them. I'm not saying Assad

is a good man, but our far greater problem is

ISIS... and Russia doesn't like ISIS any better

than we do."

D — "Remove Assad and bring Syria's communities

together to fight ISIS"... "We have

to support Arab and Kurdish fighters. They're

doing the fighting. We're doing the support

and enabling."

13. Bonus round: Election campaigns are expensive.

Who's raised what and where from?

A — About $190 million, 33 percent selffinanced

by the candidate.

B — About $2.6 million with donations averaging

$48 – and no donor allowed to contribute

more than $2700 at a time.

C — About $530 million, including $7 million

from Israeli mogul Haim Saban and $10 million

from Saudi Arabia (via a philanthropic

foundation).

D — About $9 million from individual donors.

*For space reasons, we took the liberty to condense

quotes while remaining loyal to context

and candidates' overall programmes.

ANSWERS

1. A: Trump B: Stein C: Clinton D: Johnson

2. A: Stein B: Clinton C: Trump (2015) D: Trump (2016)

3. A: Clinton (2015) B: Clinton (1997) C: Trump D: Johnson

4. A: Stein B: Trump C: Johnson D: Clinton

5. A: Clinton B: Stein C: Trump D: Johnson

6. A: Trump B: Clinton C: Johnson D: Stein

7. A: Clinton B: Stein C: Johnson D: Trump

8. A: Stein B: Johnson C: Trump D: Clinton

9. A: Trump (2016) B: Stein C: Clinton (2016) D: Trump (2013)

10. A: Stein B: Clinton C: Trump D: Johnson

11. A: Trump (2016) B: Clinton (2015) C: Clintton (2015) D: Trump (2016)

12. A: Stein B: Clinton C: Trump (2016) D: Trump (2015)

13. A: Trump B: Stein C: Clinton D: Johnson

Illustrations by

Catherine Franck

OCTOBER 2016 7
---
AMERICAN BERLIN

Yes, there are Republicans in Berlin. But like many American rightwingers,

they're finding their loyalties tested by the most divisive candidate

in US presidential history. Will they choose the "lesser evil"?

By Tom Cox

At first, trying to find an American

Berliner who's willing to admit

they're voting for Donald Trump

seems like an exercise in futility. For one, it's

a bit tricky to find any outspoken right-wing

expats at all in this liberal city. While the

group Democrats Abroad is thriving, there

is no active Republican branch in Berlin.

Frankfurt-based group Republicans Overseas

Germany claim to have 1500–2000 members

nationwide, but rare meetings in the capital

gather six or seven attendees, at best.

And even the most outspoken right-wingers

are torn on whether to cast their vote for

the ex-reality TV host. Mirroring the dilemma

experienced by their left-wing, Sanders-supporting

counterparts, they're contemplating

whether to choose the "lesser evil", go for a

third party or just refuse to vote altogether.

One of them is Ned Wiley, who came to

Germany to work as a marketing executive

and has lived in Prenzlauer Berg for 15

years. A lifelong Republican, he was vicechair

of Republicans Overseas when Trump

announced his candidacy, and watched as

divisions started to form within the group.

"There were three groups," he says, referring

to the Republican Overseas Whatsapp chat

he took part in. "The Trumpists, which were

very small. On the other side there were the

never-Trumpers. And in the middle were

the people who evolved over the course:

anything-but-Hilary. They gradually came

up with a justification for or came to terms

with the candidate: 'So he's not perfect, but

Hilary is the devil incarnate.' The discussions

started to get really personal and vicious."

Trump becoming the party's official presidential

candidate on July 19 was too extreme

a step for Wiley. "At that point, I said, 'It's

over, I can't possibly play any role in this.'

Just taking out my Republicans Overseas

card was a real embarrassment. Trump's

like a little kid who started playing a game

and then got out of control, and there he is,

running around. The wall is nonsense, he's

not gonna do that. Sending away immigrants

who were responsible for the revolution in

Silicon Valley, like Syrian heads of computer

science companies – these guys are not dangerous

immigrants! We should be encouraging

them to come." A Romney voter in 2012,

Wiley switched to the Libertarians, who hold

no seats in the Senate but are the thirdlargest

party in America, polling at about 10

percent. "I guess I was a closet libertarian

and didn't know it, so I decided to come out

of the closet!" As the chair of new group Libertarians

Abroad, he now speaks in favour of

candidate Gary Johnson and gives interviews

with the local and US press. "Though it's

probably too little, too late," he admits.

"I SAID, 'IT'S OVER.'

JUST TAKING OUT MY

REPUBLICANS OVER-

SEAS CARD WAS A REAL

EMBARRASSMENT."

Chris Roberts, a 27-year-old customer

care agent who came to Berlin a year ago

with his German wife, initially sympathised

with some of Trump's policies, even though

that made him something of a "lone ranger"

here. "My American friends think it's a total

outrage," he admits. His wife still makes him

watch Trump skits on American comedy

shows. He's hesitant about making himself

publicly known as a right-winger in Berlin,

and requested to be called by his middle

name for this article.

Though born in Canada, he moved to San

Diego when he was 14 and has American

citizenship. He says: "With the Mexico wall... I

lived in Texas for a year, so I know of the stories.

A lot of Mexicans die on the way. Coyotes

[smugglers] lead them through the routes,

but a lot of them end up raping them or they

die from exhaustion. The amount of them

coming in and working can cause a problem

– they bring wages down. They've also caught

Middle Eastern people coming in... if a terrorist

wanted to come into the country that way,

they could. Trump wants Mexicans to come

the right way." Roberts believes the candidate

has been unfairly maligned. "When people

hate on Donald Trump, they don't know

what they're talking about. He's never said

anything that I can think of where it's hate

against a particular race." He also relates to

the Republican candidate's anti-establishment

discourse. "Trump breaks the political norm.

People really relate to that. He doesn't feel he

has to be politically correct. People are sick of

scripted politics."

But Roberts became disillusioned by a

series of campaign excesses in July and August,

starting with Trump's criticism of the

parents of a dead Muslim-American soldier

during the Democratic National Convention.

Now, neither option appeals to him. "I don't

like Clinton because I think America has

better candidates than the same old families.

The email scandal is enough. She's too much

part of the establishment." He's still unsure

how he'll cast his vote.

At least one Berlin-based Republican will

stick to his party. Sixty-nine-year-old Hans

Theerman fits into the never-Hillary category.

An American citzen born in Germany but

raised in Missouri, he travelled to east Berlin

in 1993 to open a branch of a Pentecostal

institution offering BAs in Bible studies and

theology, then called ICI University. In 2011

he retired and spent three summers motorcycling

around America; he currently lives a

more sedentary life in Zehlendorf.

Though liberal in his 1960s youth, Theerman

has voted Republican since finishing

college. He claims the party stands for freedom

and individual opportunity – that it was

"anti-slavery" while "the Democratic party

was the party of the Klu Klux Klan". Like

Roberts, he's in favour of stricter immigra-

8

EXBERLINER 153
---
AMERICAN BERLIN

"I'M NOT DOING

THIS SO I CAN

BE A PURIST.

I'M DOING THIS

SO SOMETHING

CAN BE DONE

FOR THE COUN-

TRY. WOULD I

VOTE FOR TRUMP

IN ANY OTHER

SITUATION? I

WOULDN'T VOTE

FOR HIM AS A

DOG CATCHER!"

Hans Theerman is

planning on voting

for Trump in November,

if only to vote

against Clinton.

tion control. "Every country has a right

to say who gets in. When somebody

wants to come in to eat your lunch,

kill your kids and rape your wife, I'm

sorry, but a guy's gotta do something,"

he says in a congenial Missouri twang

over a steaming glass of red fruit tea.

His discourse – "Muslims are synonymous

with terrorism" – clashes rather

colourfully with his choice to meet at a

Kreuzberg Turkish café. But Theerman

sees no contradiction, and he's eager

to stress that he knows many Muslims

in Berlin and has no problem socialising

with them.

This year, he plans to vote Republican

again, albeit unenthusiastically.

"I'm sorry to say I will vote for Trump,

if only to vote against Hillary. Clinton

says absolutely nothing. She has never

accomplished anything successfully.

Look at her record, it's like a failed

state. At least Trump is out there defining

some policy issues and saying what

he would do. He's a buffoon, and we

had 10 other people that would have

been better. But he's what we've got

right now. He's the best of a bad couple,

the least worst. And he's open to influence.

He will accept a lot of help."

Tom Cox

He's virtually the only outspoken

Trump voter in Berlin, but Theerman

has no qualms about speaking his mind

to Germans. He says: "I find among

educated Germans a willingness to

exercise the give and take of vibrant

disputation. Generally speaking, most

seem to really want to know a different

and foreign viewpoint, and are willing

to defer to someone more intimately

connected than themselves."

Like many, Theerman believes that

Trump has successfully brought up

issues that nobody else would touch.

"He's saying what a lot of other people

weren't saying. When you're at rock

bottom, almost anything could be up,"

continues the Berlin reverend. "I'm not

doing this so I can be a purist. I'm doing

this so something can be done for the

country. Would I vote for Trump in any

other situation? I wouldn't vote for him

as a dog catcher!" n

Photo © Claudia Bühler

Gianni Versace's life depicted as a voguing-ball

With Brandt Brauer Frick, Amber Vineyard, Alexander Geist, Claron McFadden, Seth Carico

Director: Martin Butler. World premiere: 1 October 2016

Tischlerei der Deutschen Oper Berlin

Richard-Wagner-Straße / Zillestr., 10585 Berlin

Tickets and Information: +49 [30]-343 84 343

www.deutscheoperberlin.de

OCTOBER 2016

9
---
AMERICAN BERLIN

THE

ANGRY

AMERICANS

Disillusioned by the politics

in their home country, more

and more expats from the US

are voicing their dissidence

here in Berlin. We spoke with

two different generations to

see how they were coping.

By Julyssa Lopez

"

In America, we have this weird superiority

complex. We're in a country built

by genocide and slavery – that's not

just some black militant screaming in Times

Square; this is literally how we were built.

And we think we're superior."

The words sound eerily grave coming from

32-year-old David Hailey, a good-natured comedian

and start-up employee with a billowing

Afro who was cracking jokes and grinning

just moments ago while sitting on the banks

of Kreuzberg's Landwehrkanal. He is usually

upbeat and buoyant, but the California-born

Black Lives Matter activist gets serious when

anyone brings up American politics.

He's unabashed when it comes to reciting

the failings of his home country: an idolisation

of consumer culture, economic disparities

and, most important of all, a violent tradition

of gaping racial inequalities. The political

dissonance he feels has become the main

reason Hailey, who came to Europe at age 19

for college, has decided to make a life abroad.

As an African-American, Hailey has spent a

lot of time thinking about America's troublesome

relationship with race, and that's only

intensified since coming here. He admits that

European countries have their own issues

with race, but he still feels the approach is

more progressive – especially in Berlin. "In

your day-to-day, you don't feel different as a

black person here. And it's a luxury as a black

person living in the West to feel like you can

be you – in the US, you're not seen as an individual,"

he explains. He also adds that police

aggression doesn't exist in Berlin the way it

does in America: "I feel safer here. The cops

aren't going to shoot me in Germany," he says.

Though he's been settled in Berlin since

2013, when he took a job at recruiting startup

Webcrowd, he always keeps close tabs

on what's happening back home. He began

paying special attention around 2013, when

reports of police brutality began reverberating

in news cycles. Hailey observed quietly at

first, thinking that violence against African-

Americans was "nothing new" in the United

States. Still, in 2014, after a jury failed to

indict police officer Darren Wilson for the

shooting of black teenager Michael Brown,

Karolina Spolniewski

"I FEEL SAFER

HERE. THE COPS

AREN'T GOING

TO SHOOT ME IN

GERMANY."

Hailey remembers feeling outraged. On Facebook,

he noticed a few friends were organising

a Black Lives Matter protest outside

Berlin's US embassy. He arrived excitedly,

only to find a meek crew of about five people

gathered awkwardly. One woman held a

small picture of Michael Brown. Someone lit

a candle, then blew it out. It felt pathetic. But

at least he'd made an effort.

The urge to increase those efforts grew

more intense as the names of dead black

people piled up in headlines from the US:

Eric Garner, Tamir Rice, Freddie Gray, Alton

Sterling. Hailey started emailing friends,

angrier each time, and organising Black

Lives Matter rallies in Berlin. He helped

corral more than 200 people for a protest

on Hermannplatz on July 10, where he

was moved to find that supporters weren't

just American; many were from Germany

and other parts of Europe. The Black Lives

Matter message seems to resonate in Berlin

especially, and he says that it helps raise the

profile of the movement. Here, he can wear

his disillusionment on his sleeve and engage

anyone he meets in conversation about the

pitfalls of the United States.

And he's not the only one. In an era of

growing poverty, police brutality, and wars

abroad, combined with Obama disillusionment

and less-than-ideal candidates on both

sides of the two-party electoral spectrum,

many Americans living in Berlin feel ill at

ease with their country. Some, like Hailey,

organise demonstrations. Others, like Richard

and Ellen Rosen, turn to a quieter but no

less effective form of resistance.

Both Jewish and in their seventies, the

Rosens lived and worked in Boston before

their progressive politics brought them to

Berlin in 2009. They had wanted to retire

in a more "socialist-leaning country", and

Richard wanted to be closer to the continent

because he was curious about how the European

Union was evolving. He also wanted to

examine how Germany's attitudes toward the

Jewish community had changed since WWII.

After considering language barriers in Europe,

the Rosens felt that Berlin had a mix of

history and culture they could settle comfortably

into and purchased a home in Prenzlauer

Berg's Husemannstraße.

Don't let the beautiful, massive flat fool you:

"We've been radical through and through,"

Richard jokes. The couple met at Camp

10

EXBERLINER 153
---
AMERICAN BERLIN

Above: Ellen and

Richard Rosen in

their Prenzlauer

Berg home.

Left: Black Lives

Matter activist

David Hailey.

Webatuck, a left-leaning retreat founded

to promote liberal values in kids. Before

working as a professor of sociology

at Massachusetts' Nichols College,

Ellen was an activist who marched on

Washington in 1963 and joined women's

conciousness groups. Richard was a

member of the civil rights group SNCP

as a student at MIT and dedicated his

career to energy policy.

But their optimism began waning in

the 1980s under Reagan, and they've

only grown more frustrated with America

since then. "When we were younger,

we were hopeful things would change,

but it seems like things are neglected,"

Ellen says. "The US is an empire that's

reached its limit. It's gone down and

keeps going slowly downward. The

army is much too big, And more money

just keeps being spent on it."

The couple reads the International

New York Times every morning, and

they find themselves disappointed

with what they see. They question

President Barack Obama's foreign

policy and ability to work with Republicans.

Ellen blames political gridlock,

but Richard is far more critical: "When

he first came in office, he said he would

try to work with Republicans and get

more moderate things through. He

was completely unrealistic... he was

naïve," he says. And with the upcoming

election, the pair, who supported

Bernie Sanders' campaign, has gotten

increasingly disillusioned. "If you vote

OCTOBER 2016

Karolina Spolniewski

for Trump or Hillary, it's not much of a

difference," Ellen says. They talk about

Trump being an embarrassment, but

they're not happy with Clinton either.

Whether with Iraq, Libya or Syria, and

in her approach to the Ukraine crisis,

"she just seems to be gung-ho on war

– she's too confrontational," Richard

says, pointing out that both he and Ellen

were active in the anti-war movement

in their student days. "We've

been on the left since we were born,

certainly since the Civil Rights movement

and the Vietnam War."

Their radical ways have mellowed

with age, but not their convictions:

"Now we have more money and less

energy," Richard says. Although they

do make it out to the occasional demo

(like the one against the EU-US TTIP

trade deal in September), they mostly

try to provoke change directly from

their sunny Prenzlauer Berg apartment.

Their approach is to lend both financial

and volunteer support to organisations

that align with their beliefs, like climate

change research, worker's rights and

social equality. Ellen has been an active

member of the Massachusetts Bail Fund,

designed to help post bail for people who

can't afford it themselves, and is working

on a biography about Frances Perkins

Wilson, the US Secretary of Labor who

established the first minimum wage and

overtime laws for American workers.

Richard, meanwhile, continues to lecture

on energy policy and is involved with

the leftist group Science For the People.

Berlin is an especially good place to be,

he says. "German culture seems far more

interested in energy alternatives".

The couple has also found community

here. They are involved with

American Voices Abroad, a group of

Berlin expats who came together during

the Iraq War to "promote peace,

oppose wars of aggression by the

United States, and take action toward

these ends in relation to US policy."

These days, their demographic skews

older, and they function primarily as

a discussion group. They're currently

making efforts to attract the attention

of younger Americans living in Berlin.

The Rosens return home to Boston

frequently, but Richard says it

hasn't made their views on the US

any less critical. In fact, his forecast is

bleak – but that's nothing new. "Our

opposition has spanned over 50 years,

so Trump and this election is just another

little wrinkle," he says. "To me,

being pessimistic about the United

States is being realistic." n

Uniting

Backgrounds

THEATRE

ON DEMOCRACY

festival

8–23/October/2016

ALL PLAYS WITH

ENGLISH SURTITLES

MAXIM GORKI THEATER

Am Festungsgraben 2, 10117 Berlin

Box Office: 0049 30/ 20 221 115

11

Tickets online: www.gorki.de
---
AMERICAN BERLIN

THE

NEW OLD

GUARD

After the Wall came down but

before Berlin was the place to

be, these Americans came to

town and helped shape the city's

cultural landscape – from

burgers to TV to rock 'n' roll.

THE BURGER KING:

Wally Potts

The name "White Trash Fast Food" says

it all: the product (burgers, tats and rock

music), the give-no-fucks attitude which has

sustained Walter "Wally" Potts' enterprise

through four locations and multiple backlashes,

the dash of irony which, given White

Trash's current incarnation as a sprawling

tourist magnet on the edge of insolvency, has

faded somewhat.

With his huge full beard, handlebar mustache,

tattoos and omnipresent hat, Potts

remains proudly American, although – despite

White Trash's reputation for Englishonly

waitstaff – his German is actually quite

fließend. He first came here on an exchange

programme in 1990, while he was still in art

school; after his graduation, in 1993, he decided

"Berlin was the most interesting place to

be" and came back to what was then the city's

premier destination for arty expats: Mitte.

It was there that Potts, raised between

California and Oklahoma, found his niche.

"I was living in a squat on Auguststraße,

doing Volksküche to make money. When

the Germans were cooking, it was a white

plate. Cabbage, rice, potato. No sauce, just

salt and pepper. I started making Mexican."

In keeping with the DIY spirit of the times,

he opened a pop-up by Hackescher Markt

in 2000. "The DJ played out of a portable

stereo, and we didn't have a liquor license. I

didn't even wash my hands!" Potts jokes, taking

it back a second later.

White Trash's first official location, opened

in 2002 in a former Chinese restaurant on

Torstraße, is the one all the longtime expats

like to reminisce about: an underground,

"members-only" restaurant and club where

Berlin's bohemian crowd (Peaches was an

early regular) gathered for raucous all-night

parties and what were, back then, the city's

only proper hamburgers. But by the time

Potts expanded into a multifloor operation

on Schönhauser Allee, the neighbourhood

was already on its way out. "We had 178

noise complaints!" Potts says angrily. By

2014, the landlord had nearly doubled White

Trash's rent, and that was the last straw.

Rather than simply move house, Potts

created a multiplex shrine to Americana,

located by Badeschiff in Treptow. The latest

White Trash boasts a biergarten, a stateof-the-art

BBQ pit, a 900-capacity concert

hall, a tattoo parlour, a large indoor dining

area and a skateboard ramp. No wonder

Potts had to file for bankruptcy this year.

"It was more like a restructuring," he

maintains. "The bank was asking for their

money back, but we weren't finished with

construction yet."

The underground crowds are long gone,

but the burgers (made from organic Brandenburg

beef), barbecue and Tex-Mex fare

are as satisfying as ever. "If somebody had

once told me that one day I'd be making a

burger restaurant here as an American, I

would've been pissed off," Potts admits. "I'm

not interested in being the best restaurateur

out there. I still feel like I'm faking it. I

guess that's the charm." He pauses, catching

himself midway. "I don't know if it's still

charming." — Dani Arbid/Rene Blixer

THE SCENE MUM:

Melissa Perales

To call Melissa Perales a multitasker would

be putting it lightly. As a booker, promoter,

music supervisor, co-organiser of Torstraßenfestival

and co-founder of the musician support

network Music Pool Berlin, the Berliner

of 21 years fosters the city's indie music scene

while also raising two boys, aged two and 15.

Call it an American thing. "I hated how slow

Berlin was when I first came here," the 46-yearold

Chicago expat admits. "People were

hanging out in the park. Why are these people

so lazy? I was pissed." And so, after "three

or four months of partying," the Columbia

College grad got to work – first organising the

underground film festival Circles of Confusion

at the Volksbühne and Babylon Kino in

1995, then, after a three-year spell back in the

States, joining the collective at the squat and

venue Schokoladen in 1998. Later, in 2002, she

opened the restaurant Urban Comfort Food on

Zionskirchstraße, serving three-course meals

for €7.50. "I like to bring people together," she

says. "Set a scene. Like making a film."

The ultimate way to do that, she discovered,

was through music. On leaving her restaurant

in 2004, she began putting on regular shows at

Schokoladen under the name M:Soundtrack, a

mix of international acts (the Canadian band

Great Lake Swimmers was her first concert)

12
---
AMERICAN BERLIN

Anna Winger is

currently working

on Deutschland

83's follow-up,

Deutschland 86.

I will

be

brief.*

Theatre with English surtitles

Karolina Spolniewski

and underlooked Berlin performers. "Live

music wasn't as appreciated back then compared

to the clubs, so it was a good time to

start helping local acts out," she says.

Helping has been her mission from then

on, both at Schokoladen, "where I can do

experiments with bands that have no following",

and at Music Pool, where she counsels

fledgling musicians on promotion, licensing

and the dreaded GEMA. She was an early

proponent of the band Fenster, who lovingly

refer to her as their "mom". "With some

bands, it's like, I've seen them grow up,"

Perales says. "Some of them even have their

own kids now – that's weird."

She moved out of Schokoladen in 2009

("My son Elvis asked, 'Where am I gonna

have my birthday party now?'") but she still

books around two shows a month there,

and it's where she feels most at home.

"There, I know I have control. I'll greet

people at the door, choose what music

plays before or after the show, do the lights

if I can... it's like setting up a film, and then

the soundtrack starts." — Rene Blixer

THE AMBASSADOR:

Anna Winger

"My seven-year-old daughter came home

from school one day a few years ago saying,

'You know there used to be a wall here?' It

was the science-fiction-like way she described

Berlin's history that made me realise

I had something to write about." While other

US expats import American culture into

Berlin, Anna Winger has done something

different: export Berlin history to the States,

in German no less, in the form of Deutschland

83. Written by Winger and produced

and translated by her husband Jörg, the

Cold War-set TV show is the first Germanlanguage

series aired in the US. And her

Berlin spy story proved to be a huge hit there

– more so than in Germany, even. "To me,

writing a history of Berlin from that period is

also writing an American history of the Cold

War. People there forgot how big of a part

the US played in all this."

It's hard to believe someone now so

connected to Berlin was ambivalent about

coming here. "I never thought I'd ever live

in Germany!" she says. But after meeting

Jörg, she decided to leave New York, where

she'd been working as a photographer for 10

years, and follow him to his home country

in 2002. "Jörg's work was based in Leipzig,

and so Berlin was a happy medium for us."

After settling in on Savignyplatz and giving

birth to two children, Winger could've lived

a typical bourgeoise housewife life – instead,

she turned to writing, penning the

2009 Berlin-set novel This Must Be The Place

and rejuvenating the then-stagnant NPR

Berlin radio station by producing some 150

English-language segments for their Berlin

Stories series. "It was a labour of love – everyone

there was a volunteer. It was a mix of

worlds, generations and cultures."

The one thing Winger's works have in

common is a decidedly down-to-earth, nonhipster

approach to Berlin. "I didn't come to

Berlin for the underground scene. I was 32 by

the time I got here – I had all of my young developmental

experiences in New York. Even

though I have been embraced by the city, I

can also view it very objectively." Also helpful

is that Berlin wasn't her first international

experience. "Both my parents are anthropologists,

and as a child we lived all over, including

Africa and Mexico. My father is American

and my mother is British – I even met my

husband in Chile! I've spent more time living

abroad than I have living in America, but I still

feel very American. I don't know why, but it's

such a hard culture to lose." — Victoria Barnes

»Hedda Gabler«

by Henrik Ibsen

Direction: Thomas Ostermeier

On October 1, 8 pm

»Richard III«

by William Shakespeare

Direction: Thomas Ostermeier

On October 4, 7.30 pm

*»Hamlet«

by William Shakespeare

Direction: Thomas Ostermeier

On October 8, 7.30 pm

»The Invention of the Red Army Faction

by a Manic-Depressive Teenager

in the Summer of 1969«

by Frank Witzel

Direction: Armin Petras

On October 10, 8 pm

»Beware of Pity«

by Stefan Zweig

Direction: Simon McBurney

On October 15 and 16, 8 pm

»TRUST«

Text: Falk Richter

Direction and Choreography:

Falk Richter and Anouk van Dijk

On October 18, 8 pm

»FEAR«

A play by Falk Richter

Text and Direction: Falk Richter

On October 28, 29 and 30, 8 pm

»A Piece of Plastic«

by Marius von Mayenburg

Direction: Marius von Mayenburg

On October 30, 8 pm

OCTOBER 2016

13

Tickets: 030 890023 www.schaubuehne.de
---
AMERICAN BERLIN

THE

FRENCH

SECTOR

THE

BRITISH

SECTOR

R E I N I C K E N D O R F

PA N KOW

The United States' influence is

all over Berlin, if you know where

to look. Here are 14 spots where

the Amis have left their mark.

S PA N DA U

WEDDING

M O A B I T

B R A N D E N B U R G E R T O R

P R E N Z L A U E R

B E R G

By Kaya Payseno and Kate Richards

Z O O L O G I S C H E R

G A R T E N

F R I E D R I C H S -

H A I N

NYU BERLIN

Inside Prenzlauer Berg's Kulturbrauerei, New

York University's Berlin campus (one of 14 satellites

around the world) takes in about 120 NYU

students each semester to study everything from

psychology to German cinema to music tech

start-ups – plus mandatory German for everyone.

Perfect for kids who want to expand their horizons

(and, you know, party) while still enjoying a

not-too-exotic, dorms-and-all college experience.

G R U N E WA L D

C H A R L O T T E N B U R G

– W I L M E R S D O R F

S T E G L I T Z – Z E H L E N D O R F

T E M P E L H O F

– S C H Ö N E B E R G

K R E U Z B E R G

T E M P E L H O F E R

F E L D

NEUKÖLLN

HAUS DER KULTUREN

DER WELT

In 1956, mostly to thumb their noses at the

Soviets, the Americans constructed a massive,

oddly shaped conference centre and concert hall

then known as the Kongresshalle, just metres

away from the border with East Berlin, five years

before the Wall divided the city. The money for

this symbol of Western power was finagled by

American stateswoman Eleanor Dulles who,

through hard bargaining and downright tomfoolery,

raised a total of $1 billion for reconstruction

and employment projects in Berlin. Now serving

as a multimedia art forum focussed on global

issues, HKW is currently closed for repairs till

January 2017, when the "Pregnant Oyster" can get

back to indoctrinating the public with an American

agenda – just kidding, they're funded by the

German government now!

AMERIKA HAUS

Built as an innocuous American reading room

and cultural centre in the 1950s, the building on

Hardenbergstraße found itself a target of anti-

US sentiment around the time of the Vietnam

War, when German students pelted it with eggs

WA N N S E E

and, later, incendiary devices. It was given

over to the German government in 2006

and reopened two years ago as the new

home for C/O (see page 36) after the

prominent photo gallery was gentrified

out of Mitte. It only took 7947 litres of

paint, 27,568 screws, and 241,000 invitations

to make it happen.

US EMBASSY

THE

AMERICAN

SECTOR

As if it weren't enough that the German

government had to divert Ebertstraße to

pacify America's rigorous security demands

when their embassy was moved to

Pariser Platz back in 2008, Ed Snowden

revealed to us in 2013 that the NSA had

been using special rooftop panels on this

beige Brillo pad of a building to listen in on

Angela Merkel's phone calls at the Reichstag

some 600 metres away.

AMERICAN ACADEMY

Today, on the west bank of Wannsee, Rebecca

Boehling from University of Maryland

is investigating the Allies' approach

to de-Nazification, Tom Franklin from

the University of Mississippi is writing

a novel about rural Alabama, and Ioana

Uricaru is making a film about America's

recruitment of German academics after

WWII – just to name a few. Since 1994,

24 American fellows have been coming to

14

EXBERLINER 153
---
AMERICAN BERLIN

LICHTENBERG

BERLIN

WALL

SOVIET

EAST

BERLIN

M A R Z A H N -

H E L L E R S D O R F

T R E P T OW

Illustration by Josh Young

the American Academy each year to conduct

research projects and learn from each other

(and the Germans). For one semester, these

lucky scholars enjoy a room in the upstairs of

the lakeside villa and a €5000/month stipend

mostly funded by the building's original owners,

the Arnolds, a prominent Jewish banking

family who had to flee during World War II.

CHECKPOINT CHARLIE

Here's the only place in town where you can

still have your photo taken with a GI... or an

actor dressed as one, anyway. It's all so touristy

you forget this was the site of a 16-hour

standoff between US and Soviet tanks in 1961.

Nowadays, the recreated American Sector sign

by the onetime border crossing (the original

is at the Allied Museum, see #13) is more an

indicator that you are entering a busy US-style

business district, with buildings designed by

renowned American architects including postmodernist

star Philip Johnson.

AMERIKA-

GEDENKBIBLIOTHEK

Opened in 1954 with the help of a $5 million

donation from the US, the boxy building by

Hallesches Tor was the first public library

in Europe where bookworms could freely

wander the stacks without having to order

books over the counter from a librarian. It's

all about "unlimited freedom of the human

mind", according to the Thomas Jefferson

quote over the entrance. The sign normally

just reads "Gedenkbibliothek", but though

October 13, you can finally see "Amerika"

atop the building courtesy of an artist initiative

co-funded by the US Embassy. Sadly for

American visitors, only a few shelves' worth

of its 900,000 books are in English.

BARCOMI'S

Ami cuisine is all over Berlin today (see page

52), but even before White Trash, there was

Cynthia Barcomi's Kreuzberg café. The New

York pioneer started selling her cheesecake

and bagels in Kreuzberg in 1994; a second

location, the more spacious Barcomi's Deli

in Mitte, followed soon after in 1997. It's still

one of the only places in town where the

bagels are made by hand.

FREE UNIVERSITY

A mini-city of 28,000 in the middle of placid

Dahlem, the Freie Universität was founded

in 1948 under orders from US military commander

Lucius D. Clay, to provide Berlin

students with a place where they could

study "free" from Soviet influence. These

days lots of expat students, including some

550 from the US, come to FU for the nearlyfree

tuition (€304 per semester, but that

includes a BVG pass) and the freedom to

not learn German – 25 masters programmes

are taught in English. You can even get a

bachelor's degree in North American Studies

at the university's JFK Institute, established

in 1963. Germans, for their part, can take

advantage of FU's longstanding exchange

programme with Stanford and study in

California for nearly nothing. Pro tip: FU's

library is home to over 1.75 million-plus

English-language books, and you don't have

to be a student there to check them out.

SILVERWINGS CLUB

Before Tempelhof was a park and refugee

shelter, it was a US military complex. The

only reminder of that time is the 1952-built

Silverwings, now a somewhat cheesy German

nightclub that hosts private parties,

then a place where NCOs went to play

pool, eat a cheeseburger and watch artists

like Johnny Cash. If you had a local

sweetheart, you could bring her by on

weekend "German-American nights". She'd

have to exchange her deutschmarks for US

dollars at the door, but as a military man

you could pick up the tab with "Tempelhof

Tokens", currency distributed to soldiers

to encourage them to stay on base. Times

may have changed, but the décor hasn't –

you can still see the gold lacquered mosaic

from the 1950s, and even the beat-up white

trash can from the 1980s.

ALLIED MUSEUM/

OUTPOST CINEMA

If you want a more legit version of Checkpoint

Charlie, head to this museum in

Dahlem, where you'll find the original

guardhouse building outdoors alongside

the famous "You are leaving the American

sector" sign and a Hastings TG 503 plane

(which transported coal during the Berlin

Airlift). Go inside the former Nicholson Memorial

garrison library and Outpost armed

forces cinema for exhibitions on the history

of Berlin's Western occupation, as well as

the sign that used to flash before every Outpost

screening: "National Anthem is playing

now. Please wait."

TEUFELSBERG

Thank the NSA for the giant, dilapidated

domes protruding above the Berlin skyline

in the west. Built atop a dumping zone for

tens of millions of cubic metres of World

War II rubble, the Teufelsberg spy station

was used by American intelligence to tap

into Soviet, East German, and Warsaw Pact

nations' military communications from

1961 till the fall of the Berlin Wall in 1989.

It's now in the hands of investor Marvin

Schütte, who magnanimously lets you check

out the domes' still-impressive acoustics on

daily guided tours (€7).

COLUMBIA THEATER

Part of a recreation centre for US troops,

the cinema near Tempelhof opened on

October 13, 1951 with a screening of Captain

Horatio Hornblower starring Gregory Peck.

It closed soon after reunification but found

new life in 1998 as a concert hall and event

space; last year it was taken over by a quartet

of Berlin bookers and promoters who

restored its 1950s vibe and classed up the

programme (American indie singer Angel

Olsen hits it this month). n

OCTOBER 2016 15
---
AMERICAN BERLIN

"DON'T YOU SAY MY

MOTHER TONGUE

IS GERMAN. MY

MOTHER TONGUE

IS ENGLISH, AMERI-

CAN ENGLISH!"

BERLIN'S

ARMY

BRATS

While the Wall still stood,

dozens of thousands of US

soldiers were stationed in the

American sector of the divided

capital. Their children lived in

an American bubble, complete

with their own schools, supermarkets

and bowling alleys.

Decades later, many still

call Berlin home.

By Jean-Michel Hauteville

Gardening seems to be all the rage

in Mariendorf. The leafy neighbourhood

just south of Tempelhof

is dotted with over 20 Kleingartenkolonien,

each subdivided into dozens, sometimes

hundreds, of neatly fenced garden allotments

and summer bungalows. Whenever

the weather is good enough, local resident

Gary Planz heads to his own garden plot in

the "Union" colony, a short walk from the

Teltow Canal. But as soon as he gets there,

things take a rather unusual turn.

"The first thing I do every morning is to

raise the flag," Planz cheerfully explains as he

hoists a large star-spangled banner up a tall

white mast in the morning sun. The rotund

61-year-old matter-of-factly describes himself

as "proudly American and very patriotic". But

this proud American patriot, dressed casually

in a T-shirt adorned with stars, stripes and

a picture of a large bald eagle taking flight,

actually lived less than a quarter of his life in

the United States. Planz is an army brat. The

New Jersey-born son of a US soldier spent

his childhood moving to a new base every

couple of years with his stepfather, also a

soldier, and his German mother.

Planz started school in Mannheim, in the

former American-occupied zone of West

Germany, before moving to West Berlin,

where he attended the fourth and fifth

grades at the Thomas A. Roberts (TAR)

School, named after the first American to

have lost his life in the Battle of Berlin in

1944. After a spell in the States, his stepfather

was sent back to Berlin in the 1970s, and

the young Planz went to TAR again – now

located in Dahlem and renamed the Berlin

Karolina Spolniewski

American High School (BAHS). He returned

to Georgia to graduate from high school. "All

the traveling was fantastic, but missing my

friends was hard," Planz recalls. He enjoyed

his teenage years in the German capital so

much that after graduation, he joined the

army himself and gave Berlin as his preferred

stationing place, ahead of Hawaii. The young

private Planz was sent to the McNair army

barracks in Lichterfelde in early 1974 and has

been a Berliner ever since. When the time

came to choose between the army and his

German wife, he chose the latter and stayed

on, working at the now-defunct Reemtsma

tobacco company in Wilmersdorf until he

went into early retirement a few years ago.

He fondly remembers his years as a soldier

as "fantastic!".

* * *

Tina Holmes spent most of her childhood in

Berlin. Born on the Kaiserslautern Air Force

Base in 1975 to a US air traffic controller and

his German wife, she was six years old when

her father started working – and living – at

Tempelhof airport, which back then was

"full of people and full of shops," she vividly

remembers. Holmes and her brother grew up

in a sheltered US Army bubble: they'd go to

the Truman Plaza shopping mall on Clayallee,

where she could "choose between a

million cereal flavours" at the PX shop ("for

us, it was like a big Lidl") and pay for them

in US dollars, then attend a matinee at the

Outpost Theater in Zehlendorf or the Columbia

Theater in Tempelhof. Before the film

started, the American national anthem was

played – and everybody actually stood.

"I thought it was very normal. Only after

the Wall came down did I realize how crazy

it all was," the short-haired brunette says as

she excitedly recalls her teen memories in

what she today calls an "American Disneyland".

Today an IT recruiter, she's thinking

of writing a book about those years. "I

mean, we even had rodeos at the base every

summer, isn't that crazy? My father's from

Philadelphia, he probably saw his first rodeo

here in Berlin too," she laughs.

The number of American soldiers stationed

in Berlin during its 49 years of division

is shrouded in mystery, or possibly a

military secret. There are, however, some

readily accessible records on how many

16

EXBERLINER 153
---
AMERICAN BERLIN

Right: American

Berliner Gary

Planz hoists the

flag outside his

allotment garden

in Mariendorf.

BERLIN'S LITTLE

AMERICA (1945-1989)

children of American soldiers spent

time in Berlin. According to the

online Berlin Brats Alumni Association,

exactly 10,485 kids went either

to the TAR school or to the BAHS.

In the 1970s and 1980s, between 500

and 900 boys and girls were schooled

there each year. However, 43 percent

of them spent just one year in Berlin,

while only nine percent stayed for

four years or longer. But the Brats'

scrupulous record-keeping does not

show the full picture, since many

other sons and daughters of US army

personnel, like Holmes, attended the

John F. Kennedy School, a German-

American institution founded in

Zehlendorf in 1960. In the 1980s,

one-quarter of the school's students

were army brats, its website says.

* * *

Another JFK school alumnus, the

45-year-old Eric Hess, was born at

the US army hospital in Zehlendorf.

His parents, both Americans, had

moved to Berlin where they worked

as linguists for the US Air Force.

Hess remembers his family's regular

shopping trips to East Berlin. "They

sold excellent dictionaries there,

and better music than in the West,

and everything was dirt cheap." The

socialist GDR used to promote blues

and jazz music as propaganda tools

to highlight the oppression of black

people in the West (see page 26), "so

indirectly we were kind of supporting

their propaganda," Hess winks. But

that was nothing serious compared to

one US general's wife who reportedly

bought a piano out East. "That was a

bit too much for the army. Afterwards

The American sector encompassed the entire south

of West Berlin, from Kreuzberg and Neukölln all the

way to Wannsee. With the British and French sectors,

it was besieged by the Soviets in 1948-49 and

then physically cut off from its surroundings when

they erected the Berlin Wall in 1961, at the height of

the Cold War. The Wall fell 28 years later and all the

foreign troops subsequently left Berlin, restored

to its status as the capital of unified Germany.

The Berlin Brigade of the US Army ceased to exist

when it got officially inactivated by President Bill

Clinton, on July 6, 1994. There are no available official

records of how many American soldiers were

stationed in Berlin during those years – estimates

vary between 30,000 and 100,000.

they slowed things down," he laughs.

"Of course we knew we were privileged,"

Hess, now a father of three,

explains. "We had these amazing facilities,

the bowling alleys, the movie

clubs, the yacht clubs, tax-exempt

shops and lots of things for free with

a military ID," all subsidised courtesy

of the German taxpayer. "We were in

denial that it was a very artificial life."

Sometimes things got more artificial

still, like when a German film

crew came to the BAHS looking for

extras for Just a Gigolo, the 1978 film

starring David Bowie and Marlene

Dietrich. Jesse Greene, an army brat

born on the Fort Benning base in

Columbus, Georgia who'd arrived

in Berlin in 1975, was among the

chosen few. The 11th-grade student

had to spend a very long day wearing

a SA uniform, but had a great

time. "Berlin, as a walled-up city, was

extremely cool," the IT manager recalls.

Greene went on to occasionally

DJ at his favourite progressive

rock clubs Bowie and Superfly

near Adenauerplatz in Charlottenburg,

a neighbourhood that was then

the epicentre of West Berlin nightlife.

When he turned 18, the army offered

him a trip back to the US, since his

father had retired. But he declined.

* * *

The Wende caught everybody by surprise.

After a few heady days and wild

November nights where the younger

Berlin brats (like Hess) celebrated

with ecstatic Berliners on top of the

Wall while the older ones (like Planz)

gave away packs of cigarettes or

bottles of alcohol, history was set in

motion. Just as the whole city around

them was changing beyond recognition,

the safe bubble of the US army

barracks was irremediably punctured.

"Actually, after the Wall came down,

many Americans left because their

perfect West Berlin world no longer

existed," Hess says. So did he: feeling

neither German nor American,

he found an escape at the American

University of Paris. After 11 years at

the NATO Headquarters in Brussels

as a translator, he moved back to Berlin

with his family just last summer.

Not all Berlin US army brats are

created equal when it comes to identity,

or even citizenship. Some lucky

ones were able to obtain dual German-American

passports, like Holmes

and Alan Benson, a translator who

came to Berlin as a child in 1965 but

didn't speak proper German for a long

time. Today a member of both the

German SPD and the Berlin chapter of

Democrats Abroad, he's actively taking

part in the political debate of his

two countries, Benson explains over a

milkshake in a McDonald's restaurant

on Ku'damm (where else?). Greene,

however, was never able to obtain

German citizenship without giving up

his US passport, despite having a German

mother. "I've been paying taxes

here all my life, so it would be nice

to be able to vote in local elections at

least," Greene shrugs. As for Berlinborn

Eric Hess, he only has an American

passport, just like his two parents,

although he has been working for the

German Foreign Ministry for over a

decade. As a foreigner, he will never

become a Beamte, a fully-fledged German

civil servant.

Contentedly sitting on his bungalow

porch in Mariendorf next to

his Berliner wife Eveline, Planz says

he is not bothered at all not to have

German citizenship, even though he

grew up speaking only German at

home with his mother and fell behind

at school because his English wasn't

good enough at first. "Don't you say

my mother tongue is German. I'm

too proud of my American heritage

for that. My mother tongue is English,

American English," he says with a

jovial if slightly imperative tone, as he

watches squirrels frolic in the garden.

Planz switches seamlessly to Berliner

dialect with a man who has walked in

unannounced – the head of the local

garden club. "I'm the zweiter Vorsitzende,"

Planz points out in Denglish.

Hey, isn't being the vice-chairman of

a Kleingartenkolonie the epitome of

German-ness? "Look, I love Berlin.

It's a fantastic city. But my heart is

and will always stay American." n

Karolina Spolniewski

OCTOBER 2016

17
---
AMERICAN BERLIN

Karolina Spolniewski

THE LAST

COWBOY IN

REINICKENDORF

Berliners' fascination with Americana and county

music ain't what it used to be. But there's a holdout

of redneck culture in the suburbs: the American

Western Saloon. Rachel Glassberg went for a

visit and gave line dancing a try.

There's a certain perverse pleasure

we US expats get out of seeing our

culture exoticised, exaggerated and

not-so-accurately simulated by Germans.

Who among us hasn't gawked at the caramel

popcorn yogurt and barbecue noodles

offered during "America Week" at Lidl, or

contemplated eating burgers and schnitzel

under portraits of Elvis and Marilyn at

Mitte's Route 66 Diner? But this uncanny

valley of Deutsch-Americana is shrinking, at

least in Berlin. The city's biggest celebration

of "America", the kitschy German-American

Volksfest, was called off in 2016 for the first

time in its 55-year history, officially due to

a lack of space. With that off the table, we

decided to journey to the Wild Northwest –

Reinickendorf, to be exact. There, in the halfbarren

Markisches Viertel, Berliner Frank

Lange has been indulging his obsession with

the USA for over two decades, complete

with country music, €4.50 bottles of Coors

Lite and line dancing four nights a week. Say

howdy to the American Western Saloon.

"Franky" is a lifelong Reinickendorfer,

born in 1956 when the neighbourhood was

still governed by France; he speaks French

and English but is most comfortable in his

native Berlinerisch. His fascination with

America sprang mainly from romanticised

European depictions of it, like Bud Spencer's

spaghetti Westerns and the Wild West tales

of German author Karl May, who famously

never set foot in the States until a few years

before his death.

When he wasn't vacationing in Florida, Tennessee

or Arizona, Lange spent early adulthood

like any red-blooded American man: working

as a truck driver and playing in a Creedence

Clearwater Revival cover band. In 1994, he

opened the first version of his Western Saloon

in Ollenhauer Straße. Six years later, it moved

to the nearby Fontane Haus cultural centre,

where the bar, restaurant and venue has remained

more or less unchanged since.

A WALL-MOUNTED

LED DISPLAYS THE

BAR'S OFFICIAL

SLOGAN: "OUR

BEERS ARE AS COLD

AS YOUR EX-WIFE!"

There are several homages to the American

West in and around Berlin, like Spandau's

"Old Texas Town" and the popular El Dorado

theme park in Brandenburg, but Lange's is

the only one to take an earnest stab at actual

21st-century redneckery. Bras, panties and

stuffed chickens hang from the ceiling alongside

cowboy boots and a mirror-plated 10-gallon

hat. A wall-mounted LED displays the

bar's official slogan: "Our beers are as cold as

your ex-wife!" 1 The 14-page menu offers 335g

burgers, "Brokeback Mountain" salad and the

aforementioned Coors (the cheap alternative

is the house "Moose Beer", actually a

bog-standard pilsner brewed by Wolters). It

also serves as an almanac of truly heinous

Denglish humour ("Onion rings = Zwiebel ruft

an") and advertises t-shirts printed with the

phrase "I pee on toilet seats."

The only thing missing is a Confederate

flag, and in fact, a giant one used to fly

from the roof of the saloon's predecessor in

Ollenhauer Straße. "Until a couple of black

guys walked in and asked if I was a Nazi or

something," Lange recalls. "But here in Germany,

the 'rebel flag' doesn't have anything to

do with Nazism or hating foreigners. It's just

a lifestyle thing." Granted, those attracted

to that lifestyle tend to share certain sentiments,

and it's probably no accident that Berlin's

"Western" restaurants and attractions

are located in its most conservative neighbourhoods.

Reinickendorf, for example, had

one of the highest proportions of right-wing

voters in last month's state elections.

Tonight's short on Confederate flags – or

cowboys at all, for that matter. We're here

for the line dancing, of course, although if

we'd come on a Saturday we could've caught

a show by country-Schlager superstar Larry

Schuba 2 . Tonight's instructor is Natalie

Redlitz, a 29-year-old radiologist who caught

the line dancing bug at age 11 and boasts several

world championship titles as a member

of the Berlin-based dance club InCahoots.

To our group of seven, she patiently demonstrates

the choreography to "Boot Scootin'

18

EXBERLINER 153
---
AMERICAN BERLIN

Boogie": three steps, 24 bars, repeat

for the song's duration or until your

last shred of dignity has vanished. As

we stumble over our own feet and

Brooks & Dunn sing "Heel, toe, do-sido"

for what feels like the 50th time,

the lone man in the group flashes us

a helpless "I've been dragged here by

my wife" kind of look.

The rest of the participants are 40-

and 50-something nurses, teachers

and business consultants, and when

we ask them why they're here we keep

getting the same answer: "Because

you don't need a partner to dance."

Rather than the anticipated peek into

Germany's Western subculture, we're

getting an unvarnished look at life as a

single, middle-aged woman in suburban

Berlin. "Ten years ago, there were

lots of people showing up in cowboy

hats and boots," Redlitz tells us when

we express our puzzlement. "Now

it's women who come here on their

own to make friends, have fun... The

music's getting more modern, too. It's

not just country anymore."

Sure enough, as the night progresses

from "beginner" to "advanced"

and the group swells to about 10, the

music switches over to an electro

cover of "Oh, Susanna!", then to

RedOne's "Don't You Need Somebody".

Unbelievably, we do see one

cowboy-hatted German scooting his

boots to the latter. Michael Künne is a

salesman and recreational horse rider

who also attends country meetups in

Pullman City, the 200,000sqm Westernstadt

in Harz, Bavaria. He started

line dancing here seven years ago and

enjoys it, even though, he says, "I've

met real cowboys in America, and

they've barely even heard of it."

Hobbyists like Künne are an exception

at the Western Saloon these

days, Lange sighs. "Ten, 15 years

ago, they were everywhere, but now

when someone like him comes in,

it's exotic." He's on the patio with

his friend Lars Bethke, a country DJ

and longtime regular, discussing the

future of German country music. "It's

dying out," Lange says 3 . "The only

ones left are dinosaurs. Larry Schuba

is how old, 65? How many more

years does he have?" Is it because

Americans just aren't as fascinating

anymore? Bethke, who grew up in

Steglitz, thinks so. "I remember going

out to the GI clubs, the ones where

you could only pay in dollars and they

only served American beer. They were

playing all these country records I'd

never heard before – you couldn't

buy them anywhere in Germany, but

somehow they were here. It was like

entering another world. But now all

you've got to do is go on Youtube..."

The increasing number of Berlin bars

and restaurants owned by actual US

expats hasn't escaped Lange's notice,

but he has never been to White Trash

Fast Food (see page 12) or The Bird

(page 52). "They don't have a parking

lot, and I'm not much of a walker," he

says. Spoken like a true American.

One reliable highlight of Lange's

year, at least, remains the Country

Music Meeting, a weekend-long

annual gathering of German and

international country and Western

enthusiasts that takes over the entire

Fontane Haus. The next one is in

February 2017, and he hands us a

flyer for it. On the back are lyrics to

a song Irish musician Padraic "Tiny"

McNeela composed for the occasion:

"You can sip Jack Daniels whisky,

wear a hat like Daniel Boone

And if ya wanna 'sit a spell', hit the

Western Saloon

We're off to get some chicken

wings, and a nice cold big Moose beer

And we'd really like to see you all

back again next year..." n

Above: Participants

in Natalie Redlitz´s

intermediate line

dancing course.

1. Lange's own ex-wife's

name is Heike, and he

thanks her quite warmly

in the liner notes to the

2016 compilation CD

AWeSome 15 Years at

the American Western

Saloon.

2. Larry Schuba's discography

comprises 20

albums, all in German,

including Barrooms,

Bedrooms and Bad Bad

Boys and Sex-A-Billy.

3. "Like print magazines,"

Lange adds later,

poking the copy of

Exberliner we gave him.

Karolina Spolniewski

ci

h l

die englischen

j a h r e

5.10.2016 bis

2 7 . 2 . 2 0 1 7

OCTOBER 2016

19

Lucia Moholy: Porträts von »Charlady« (Mrs. Palmer), Edward Garnett

und Patrick Maynard Stuart Blackett, 1936 © VG Bild-Kunst Bonn 2016
---
AMERICAN BERLIN

GRANDPA'S

SECRET

HISTORY

David Shield came to Berlin to find

out more about his beloved grandfather's

life before he fled Nazi

Germany for Florida. He wasn't

prepared for what he'd discover...

As told to Anna Gyulai Gaal

In 2010, Floridian David Shield moved to

Berlin – not for the usual reasons a 27-yearold

budding film composer might do so, but

to learn more about his beloved grandfather. He

knew that Joseph Shield was born Josef Seidel in

the German capital in 1921 and fled the country for

the US in 1944, where he changed his last name.

But Joseph had always been secretive about his

German past. It wasn't until David came to Berlin

that he found out why. Now working as a barista

in a hip Kreuzberg café, he told us his story.

"I adored my grandfather as I was growing up. He

would take me on fishing trips all over Florida,

and we'd sit in a boat for hours – sometimes we'd

even stay out all night. He taught me about plants

and animals and told me so many great stories.

I always thought he'd made them up, but now I

know they were German fairytales.

Grandpa was always a very reserved person. He

wouldn't talk about his difficulties at work or the

fact that he'd been bullied throughout his whole

life because of his very strong accent. He was in

his late twenties when he arrived in the US and

for some reason, he never managed to master the

language. Even my brother would make fun of

him sometimes. I remember really wanting him

to tell me more about his childhood and early life

because all we knew was that he'd come 'from

Europe', but we didn't know why or how.

We often spent weekends at our grandparents'.

One day Grandpa was napping and my

brother and I were sitting in the kitchen drinking

the hot chocolate my grandmother would

always prepare for us – full-fat milk, real dark

cocoa powder, lots of sugar and even marshmallows.

I remember how on that day, after

we nagged her, she finally decided to tell us:

Grandpa was actually a Jew who hid in Germany

until the situation got really bad, and he fled the

country to America. She also said he had lost all

his family in the war. I remember how sorry I

felt for him. My dad knew already, but I think he

just accepted it and didn't necessarily want to

know more details. Neither did my brother. I, on

the other hand, was extremely curious! I was in

sixth grade at the time, and from that day on, I

would proudly tell people that my Grandpa Joseph

was a hero and a survivor, and I was a Jew!

I kept asking my grandmother, but it seemed

she didn't know more about her husband's

previous life either. My grandfather must have experienced

so many terrible things before fleeing,

we thought, that it felt natural that he wouldn't

want to wake those dark memories. Our family

wasn't really into opening Pandora's box, anyway.

Above: A teenage Josef

Seidel (right) and his

cousin, helping out on

his grandfather's farm

in the mid-1930s.

Right: Joseph Shield and

his wife May honeymooning

in Florida in the early

1950s. May was pregnant

with their first child.

20

EXBERLINER 153
---
AMERICAN BERLIN

I remember him sitting on the porch in the

evenings, looking straight into nothing, and

I kept thinking: I'll take him back to Berlin

one day, we'll relive all of his bad and good

memories and he'll open up to me like he'd

never opened up to anyone before! I really

wanted to be that one special grandchild who

had an exceptional connection with him.

But I never got the chance. He died from

cancer in 2008. After that, I gathered the few

documents my grandfather had left. I knew

his original name and I had a few old photos

of him as a kid, surrounded by friends. I

decided to apply for German citizenship – I

knew from friends that as a descendant of

Jews who fled to the US from Germany, I

should have no problem. But they couldn't

find my grandfather's name on the official records.

Apparently he'd been presumed dead

during the war. I told myself that he might

not have wanted to talk about his religion

upon his arrival in the US… I was determined

to find all the answers.

Finally, in the fall of 2010, I came to Berlin.

All my hope rested on the one address where

my family had lived before the war, near

Tiergarten in Mitte. I found the house was

miraculously still standing but, of course,

the people who lived there before were long

gone! So I turned to the American Jewish

Committee for help. They were incredible,

they really put so much work and effort into

trying to unveil the identity of that young

boy and his family. But it was fruitless. One

day, I went to their office on Leipziger Platz

to meet with the lady researching my case.

After looking through all the results, she

stood up and closed the door. She sat back in

her chair and asked me very softly: 'Are you

sure your grandfather was on the victims'

side of this war?' I laughed at her, got very offended

and left the office. I walked for hours

that afternoon in Tiergarten, feeling disgusted.

I was considering leaving right away,

but eventually I decided to stay and find out

more. Otherwise, I knew it would bother me

for the rest of my life.

I waited in lines from one Amt to the

next, dealing with unsympathetic bureaucrats.

I didn't speak any German back

then, and they made little effort to speak

English. But then there were all these

old people who'd invite me in for coffee

and start to show me old photos, which

usually just turned out to be of their own

families and children and grandchildren.

Old people love to talk about their lives,

especially if they're lonely, so I eventually

learned a lot about Berlin during the

war: the bombing, the Nazi concentration

camps in Prenzlauer Berg, how you used to

be able to hear people screaming around

the water tower area… But still nothing

about my own grandfather!

Finally, the Bürgeramt in Prenzlauer

Berg gave me one of my grandfather's last

addresses, where his family had lived till

about 1935, a building on the northern end of

Prenzlauer Allee all the way on the edge of

Weissensee. It was already spring 2011 when

I rang Elizabeth Stock's doorbell. And then...

it turned out she knew my family! She was

young at the time, only seven or eight years

old, but she remembered my grandfather,

"SHE STOOD UP,

CLOSED THE DOOR

AND ASKED ME

VERY SOFTLY: 'ARE

YOU SURE YOUR

GRANDFATHER WAS

ON THE VICTIMS'

SIDE OF THIS WAR?'"

who'd been around 14 then. She befriended

Elke, his sister, who was 10 – they would play

together in the small back garden while their

mothers would share cooking tips. Elizabeth

told me how beautiful my great-grandmother

was, and that my great-grandfather was a very

loud man. They even knew that he was hitting

his kids with his belt – sometimes Joseph

would even show the marks on his side. I

couldn't believe it! She showed me more

photos of the years they'd all lived there. We

talked for hours, and eventually I asked her

about how it had been possible for these Jews

to hide for so long and finally escape. Elizabeth

looked at me with these big, questioning

eyes and she said, 'The Seidels were not

Jewish, my dear. The father and the son both

joined the SS. My father often talked about

them later, saying what a shame it was that

they turned so easily.'

I didn't know what to say. For a moment,

I thought she must be mixing them up with

someone else, or that she had dementia,

or… anything! But she looked so convinced…

After I left her house I called my dad back in

Florida and told him what the lady had said.

He was just as doubtful as I was. Grandpa

was such a gentle, quiet man, he said, donating

to Vietnam War veterans, always giving a

few cents to the homeless in town. He could

have never done anything bad to anyone! It

reassured me, but not for long. The next day

my dad called me crying and said it all made

sense to him somehow. He said Grandpa was

always refusing to watch or read anything

about World War II, especially when it came

to footage of Berlin. He would switch the TV

off. Suddenly, it made sense why he was so

reserved about his past, why he never wanted

to be part of the Jewish community in

OCTOBER 2016

21
---
AMERICAN BERLIN

America even though it would have been

more than safe in Florida.

So I continued researching, going through

Elizabeth to other people who used to know

my family. At the Potsdam public library,

I found a lot of data on Nazi followers

and Hitler's military, notes on attacks and

battles, lists of Jews they rounded up and put

in camps around Berlin and other German

cities and the list of soldiers completing the

orders. From all of these sources and stories

people told, I figured out that Grandpa

Joseph, aka Josef Seidel, had been part of the

Hitler Youth movement. Then, in 1940, he

joined the SS at the age of 19, alongside his

father Hendrik. He took part in several missions

to round up Jews in Germany and force

them into concentration camps. He probably

later fought in Denmark and Norway,

although we couldn't find out for sure. What

was for certain, was that he was a Nazi.

My father eventually also came to Berlin

to help me fill in the blanks. We learned

Joseph's father was killed in the British

bombing of Hamburg in 1943. Joseph would

have returned to Berlin and found his old

flat abandoned and looted. With his father

dead and his mother and sister missing, he

probably started fearing for his own life.

Apparently many SS people got scared at the

beginning of 1944 and were trying to hide

and escape. We heard that if you had some

money, it was possible to get fake papers and

get smuggled through the borders, but there

was no exact information on his escape. He

just disappeared, so they put him on the

list of dead. But he was very much alive for

another 64 years!

How could he keep it a secret for so long?

How could we all not have known about this?

I was devastated for a long time. I actually

kept seeing Elizabeth till the day she died

two years ago. I wanted to hear nice stories

about how they played and that Joseph was a

handsome, kind and generous boy, but very

scared of his father. She told me how, as the

situation got worse in Berlin and the war was

about to begin, their families would share

what they had and they'd often have dinner

together. I slowly accepted the truth. The

truth that the grandfather I had idolised had

followed Hitler. That my grandfather was in

the SS. The truth that he was a Nazi.

I felt ashamed, and it took me years till I was

actually able to tell other people. One person

I never told the truth to is my grandmother.

Somehow she must have suspected something,

but she never wanted to know more. Our family

in general wasn't the curious type, so that's

what we got used to: not to ask." n

"THERE WAS NO

INFORMATION ON

HIS ESCAPE. HE

JUST DISAPPEARED,

SO THEY PUT HIM

ON THE LIST OF

DEAD. BUT HE WAS

VERY MUCH ALIVE

FOR ANOTHER 64

YEARS!"

young

spontaneous

everywhere

sit at the front for a year

opera and ballets for EURO 10

concerts for EURO 8

all advantages for EURO 15 per year

> 030-20 35 45 55

Deutsche Oper Berlin

Deutsches Symphonie-Orchester Berlin

Komische Oper Berlin

Konzerthaus Berlin

RIAS Kammerchor

Rundfunkchor Berlin

Rundfunk-Sinfonieorchester Berlin

Staatsballett Berlin

Staatsoper im Schiller Theater

www.ClassicCard.de

> for all under 30s
---
REGULARS

PAGE 23 GIRL

Blue skies, books

and Berghain

Our brand new series spotlights

Berlin's Powerfrauen. This

month: Kimberly Marteau

Emerson is an American attorney

and human rights activist

(Human Rights Watch), a mum

of three daughters and wife of

US Ambassador to Germany

John B. Emerson.

One sentence that proves you're a woman!

"It makes me feel more powerful to look

good while doing good." I don't agree with

women who think that if you like to dress

stylishly and groom yourself smartly, it

makes you less serious. It's important not to

be self-conscious about style, but to absolutely

embrace this fun and wonderful tool

of self-expression.

How do you define being a feminist

today? Intuitive, self-possessed,

confident, unhindered by gender

norms. Having a seat at the economic

and/or political power table.

Your most treasured possession? My diary.

I started it two and a half years ago, and I

write a few sentences every day. Hopefully

one day it'll be a basis for a book on the

many roles I have played here!

What are you afraid of? The lack of empathy

in the world, and arriving at the tennis court

as it begins to rain.

What's your idea of ultimate freedom? Blue

sky, one metre of fresh powder, tuned skis

and a long, untracked slope in front of me.

Take off!

What superpower would you like to have and

how would you use it? The power to heal

bodies, hearts and minds... and flying would

be cool, too.

What's currently on your bedside table?

Scott Anderson's Lawrence in Arabia: War,

Deceit, Imperial Folly and the Making of the

Modern Middle East, Anthony Doerr's All

the Light We Cannot See, my mobile, iPad, a

bottle of water and earplugs.

Your craziest Berlin adventure: A night

at Berghain with Claire Danes and Hugh

Dancy... That's all I can say. What happens

at Berghain stays at Berghain! n

Emerson speaks at Women & Leadership:

The Path Ahead on Wed, Oct 12, 7pm at

the Volkswagen Group Forum.

The best/worst thing about

being a woman? Best: high

heels. Worst: high heels.

The most sexist question

you've ever been asked?

It's too outrageous to

repeat here.

Who are you named

after? Kim Novak,

the famous American

actress from the 1950s.

Photo: Karolina Spolniewski

Last time you laughed out

loud? I look for the humour

in life, so my hearty laugh can be

heard frequently. A few days ago at

a cocktail party, my girlfriend asked a

server for a glass of champagne. He shook

his head and said, "No, we don't have it."

Then he winked and added: "I want some,

too!" That cracked me up. It's so very Berlin.

An offer you can't say no to? An invitation

to talk about Human Rights Watch... and

almost any opportunity to dance!

EXBERLINER 153

23
---
ADVERTORIAL — Shopping in Berlin

Iittala: Timeless Design

In the market for unique, beautiful houseware that will last a lifetime?

Look no further than Iittala, an outpost of Finnish and Nordic design

with three locations here in Berlin.

Upon entering Iittala's flagship

German store, located on bustling

Friedrichstraße, you are met with

timeless elegance at every angle your curious

head might turn. The home accessories

that garnish the shelves ooze luxury.

They look almost too good to touch. But

be brave – get your fingers on those beautiful

bowls! In fact it's their hardiness and

durability that's the other half of the Iittala

charm. Because that's the company philosophy:

designer home accessories that

will last a lifetime.

The company, named after the small

Finnish town where it was founded back

in 1881, is proud of its design heritage,

and shares this with its customers. With

each collection, you'll find information

about the designer and the year of conception.

In fact, nearly all of their ranges

herald from the 20th century, proving

that the timelessness of the products continues

to transcend.

Products such as their famous Aalto

vase, this year celebrating its 80th

birthday, establish the company concept

perfectly. First designed in 1936 by architect

Alvar Aalto and inspired by Finnish

lakes, the vase is still mouth-blown in

the company's factory in Finland. You

can even visit the factory and have a look

for yourself if you fancy the journey! The

vase is now their best-selling item, and

has grown to become a statement piece.

Below: Iittala's famous

"Aalto" vase celebrates its

80th birthday this year.

24
---
ADVERTORIAL — Shopping in Berlin

Each year Iittala

re-releases the

vase, using bold,

tasteful colours to

reinvent the Aalto

again and again.

Above: Originally designed

in 1964, the Kastehelmi

Votive is still stylish.

Each year the company re-releases the vase,

using bold, tasteful colours to reinvent the Aalto

again and again.

Iittala's mindfulness for the 'right now' is one

of the reasons why customers still put faith in

their products. Constantly staying true to their

designs while constantly making minimal changes

keeps them up-to-date. From their seasonal

ranges to their Moomin collection (featuring

Finland's most famous cartoon export), Iittala

adapts to your wants and needs.

Torben Pahl, manager of Iittala's Friedrichstraße

branch, told us of his own 'love for the

Finnish work ethic, of creating and delivering a

good quality product that speaks for itself. Other

home accessory stores that have a long heritage

tend to stick to a traditional image.' But Iittala

is very much aware of the 21st century, demonstrated

most recently through their collaboration

with Issey Miyake. The famed Japanese designer

has created an exclusive range of textiles and ceramics

that blend his own renowned design style

with Iittala eclecticism. The fusion of Japanese

feng shui with Nordic cool is elegance optimised!

Here in Berlin, they're even having a party to

celebrate on October 29 (10am-7pm), with plenty

of Asian food to go around.

With three outlets here in Berlin alone (Friedrichstraße,

Münzstraße and KaDeWe), Iittala has

been promoting Nordic elegance in design since

it first opened doors here in Germany back in

2008. So indulge, and buy yourself something

that is more than just a product, but a concept

that has been building itself since 1881. n

Above: Torben Pahl, store manager, is passionate

about being involved with the Finnish brand.

Right: The flagship

store in Friedrichstraße

is a mecca

of Finnish design.

TEXT: VICTORIA BARNES. PHOTOS: KAROLINA SPOLNIEWSKI

25
---
WHAT'S ON — How Berlin Got The Blues

HOW BERLIN

GOT THE BLUES

Interview

Film and concert,

Oct 12, 20:00, Babylon

Kino, Mitte

The blues propagandist

Eb Davis in six dates

1943: Born in Elaine,

Arkansas.

1954: Moves to

Memphis and starts

playing music.

1966: Moves to

New York City to

continue his blues

career.

1981: Sent to West

Berlin by the US

military.

1986: Starts playing

music and lecturing

in East Germany.

1994: After leaving

the army, forms the

Eb Davis Superband

in Berlin.

In Cold War Berlin, Arkansas-born musician and

military communications officer Ebylee "Eb" Davis

was sent on special expeditions behind the Wall.

His mission? To bring East Berliners the blues.

By René Blixer. Additional reporting by Dani Arbid.

Davis' unique story is told in

the new documentary How

Berlin Got The Blues. Victoria

Luther's film sees its European

premiere at Babylon on October 12,

followed by a concert from the man

himself, now 73 and performing

with his "Superband". The singer sat

down with us at his house in Zehlendorf

where he lives with his German

wife Nina, a blues pianist herself.

How did you get into the blues?

The first time I heard blues, it was

back home in Arkansas. I was maybe

six or seven years old. There was a

guy living next door to us. He was a

guitar player, singer. I'd come home

from school and he'd be sitting out

there playing, singing... I went to the

house and asked my mother what

he was playing because I'd only ever

heard gospel or country music, and

it didn't touch me like what he was

doing. She said, "Well, that's blues,

you stay away from that."

What was it that touched you so

much? The church was singing

about the pie in the sky, and this

guy was singing, you know, the

pie in the sky is good, but I want

a piece of pie now, with some ice

cream on top of it. That got me

more. And then I moved to Memphis,

and there were guys like BB

King just hanging around... There

was another guy who was a preacher,

but a blues singer at night. One

time I told him, "I've been taught

that you can't serve on both sides."

And he said, "Boy, let me tell you

something. There is no big difference

between gospel and the blues,

only the words." The preacher gets

up and says "Oh God." Then when

you're singing the blues it's "Oh

baby." It's the same thing. It's the

yearning.

But then you joined the army, at

16, even lying about your age to

get in. How come? Back then you'd

get drafted, and then you had no

choice, they just put you somewhere.

If you volunteered, though,

they gave you some choices. So I

chose New Mexico, and I did music

at the same time – I had a band

in the army. When I finished with

those three years, I went back to

Memphis and went full time with

the music. There was a record producer

who took me to New York. I

put together a band there, The Soul

Groovers – we were the house band

at his club in Brooklyn for quite

a while. But then came the disco

boom, and that put us out of work.

All the people said, "Why should I

pay all this money for a band when

I can pay one guy just to stand

there?" Disco killed live music. So I

went back into the military.

26

EXBERLINER 153
---
WHAT'S ON — How Berlin Got The Blues

And that's when you got sent to West

Berlin... I didn't want to come to Berlin!

I wanted to go into southern Germany! I

said, it's a divided city, behind the Wall and

all that stuff. But they said, who asked you?

What did you do here, officially? I got

hired by this unit called the United States

Liaison Mission. It was an interesting unit

because it was the only unit where the

military could cross over the Glienicke

Bridge, now called the Bridge of Spies

[between the American Sector in Wannsee

and Potsdam in East Germany]. We had

what's called a safe house there in the East

– the Russians had theirs in West Germany.

I was just working as a reports civilian. The

guys would go out and get the information,

and I would be one of the people who would

type it up. We had one guy review it, then it

would be transferred over to Langley, to DC.

What was it like to be an African American

in Berlin at the time? It was fantastic!

When I first came I met a lot of older people,

older Germans, and they would explain

the love that they had for black Americans.

Back when they were kids the city was

totally destroyed and they had nothing, so

they'd go up to the US military compounds

to see if they could get something. They

said only the black guys would give them

food – the white guys would chase them

away, throw rocks at them. But that was

back then. Of course, the younger ones

don't remember anything like that today.

You started playing music with a German

group called the Bayou Blues Band... Yeah

it was a nine-piece with horns and stuff

like that. The bandleader made yearly trips

to New Orleans... they'd done their homework!

I sat in with them one night, and

after that he said, "We've been looking for

someone like you." So I started doing the

military thing by day and working the West

Berlin club circuit at night. The majority of

the people at the shows were Germans and

for a lot of them it was just curiosity, to see

a black American doing blues.

Whose idea was it to send you to East

Germany? I was approached by the State

Department, but who exactly invited me,

I don't know. They just said, we notice

you speak pretty good, so we would like

you to go to some of the universities and

give speeches about American culture and

stuff like that, and then you play a little

bit of music after. The first one I did was

at a university in Halle. Did something at

Humboldt, in Leipzig as well. Days before

the Wall came down, I was playing at Palast

der Republik.

OCTOBER 2016

"I knew why I was sent

there. They were all told,

'America is this, America

is that, black people are

still slaves.' I was used to

counteract that."

Did you know you were being used as a

political tool? I knew why I was sent there.

They were all told, "America is this, America

is that, black people are still slaves." I was

used to counteract that. I told my boss, "Sir,

if you think that I'm smart enough that you

put me in this job, don't you think I'm also

smart enough to figure out why y'all sending

me all over the East?" He said, "Well, you

know, my orders come from above, too." But

for me it was okay. It was exciting.

So was it okay with the East Germans

for you to cross over to play? I couldn't

just say "I'm going over." It had to be approved,

of course. When I went over to a

gig I always had to have one American and

two Russian escorts. They would stay there

the whole time, and when the gig was over

they would escort me back to the border to

make sure I stepped over the line without

speaking to anybody.

Did they like the music? Some of them did.

But you couldn't really tell because there

would be some head sergeant or something

standing in front, and when you finished

a song the guy would go like this [lifts up

hands] and then like this [brings hands

down]. Then you'd play the next song. They

were told when to applaud. The guy would

give the applause signal.

What happened to your unit after the

Wall came down? Well, they didn't have any

use for us anymore, so they were giving people

money to leave. They called me into the

office and asked me, "Do you want to take

your chance and stay in, or take the money

and run? If you stay in, we might throw you

out anyway." I said, "Okay, I like money."

Why did you decide to stay in Berlin? I

was quite established in the music scene

here. Plus, I was getting a lot of offers from

Switzerland, Sweden, France, Spain... I

thought I could always go back once a year

for a gig in the US, and that's what we normally

do now. But Berlin is the home base.

In the United States they don't see blues as

an art form; here, they do. n

From Sep. 15th

to October 16th

office

for postidentical

living

(Büro für postidentisches Leben)

A Speculation about Freedom

A German-Spanish-Catalan

team under the direction of

Matthias Rebstock is opening

an OFFICE FOR POST-

IDENTICAL LIVING: here,

seven young creative people

will develop surprising

questions and answers to

what keeps us together at

our core: freedom, borders

and identity.

In English, German and

Spanish – with German

surtitles

neukoellneroper.de

Karl-Marx-Str. 131–133

D-12043 Berlin

Tel.: 030 / 68 89 07 77

tickets@neukoellneroper.de
---
WHAT'S ON — Film

Editor's Choice

Secrets and lies

A trio of this month's releases are built around fiercely

guarded truths and acts of deception. By Paul O'Callaghan

Frantz

Greats by Garrel

All month, Arsenal

presents the first

German retrospective

of work by the French

master Philippe

Garrel, including

collaborations with

Warhol superstar

Nico, his muse and

former partner.

Cult Kung Fu

Fresh from his appearance

at Comic

Con Berlin, legendary

martial artist Taimak

will introduce the film

that made his name,

1985 cult classic The

Last Dragon. Oct 21,

Babylon Kino

A visit from Wenders

On Oct 11, none other

than Wim Wenders

will head to Lichtblick

Kino to introduce

a newly restored

version of his sublime

1977 neo-noir The

American Friend.

European Art Cinema Day

On Oct 9, over 1000

cinemas across Europe

will celebrate the

diversity of European

film with a programme

of previews, old

favourites and kids'

films. Participating

Berlin venues include

every member of the

Yorck group.

Adrien (Pierre Niney), the

mysterious stranger at the

heart of François Ozon's

lavish period melodrama Frantz,

harbours an all-consuming secret.

The young Frenchman's arrival in a

small German town arouses intrigue

and hostility among residents still

processing the fallout of World War

I. The plot thickens when local girl

Anna (Paula Beer) spots Adrien

leaving flowers on the grave of her

late fiancé. Those familiar with

Ozon's back catalogue might think

they know exactly where this is

heading, but after a spot of wilful

misdirection, it becomes apparent

that this is an instance of the

queer auteur playing it straight. By

confiding in Anna, Adrien partially

alleviates his own guilt, but makes

his secret her cross to bear.

Loosely based on Ernst Lubitsch's

Broken Lullaby, the film

does a fine job of evoking the stiff

formality and repressed emotion of

a bygone era. But despite a nuanced

central performance from Beer,

the filmmaking is too mannered

and meticulous to allow much of

an emotional connection. Heavyhanded

visual motifs and a syrupy

string score push things further

towards middlebrow mediocrity.

Perhaps most damaging of all, it's

nigh-on impossible to watch this

monochrome portrait of early-20thcentury

Germany without thinking

back to Michael Haneke's infinitely

more daring The White Ribbon.

While Adrien's motives for

guarding his secret are understandable,

the same can't be said for Edward

Ruscha, the enigmatic subject

of Where is Rocky II? In 1979, the

revered American artist created a

sculpture of a boulder – the "Rocky

II" of the title – and hid it in the

Mojave Desert, where it would be

impossible to spot among real rock

formations. Fellow artist Pierre

Bismuth (see page 30) was fascinated

to find that, decades later,

Ruscha was completely unwilling

to discuss the project. That discovery

planted the seed for this deviously

slippery quasi-documentary,

which sees Bismuth hire a cleancut

private detective to locate the

rock, and a pair of screenwriters

to speculate wildly about what

Ruscha might have to hide.

Bismuth is best known as the

Oscar-winning co-writer of Michel

Gondry's Eternal Sunshine of the Spotless

Mind, and Gondry's influence

can be felt all over the relentlessly

idiosyncratic Swiss Army Man. The

striking feature debut by Dan Kwan

and Daniel Scheinert has become

one of the year's most-discussed

indie films thanks to its outlandish

premise – a man named Hank

(Paul Dano) stranded on a desert

island discovers a flatulent corpse

(Daniel Radcliffe), rides it like a jetski

to safety, and befriends it once

it magically stirs back to life. The

big narrative-driving secret here is

Hank's back story: for the majority

of the time, we're offered no explanation

as to how he ended up in

such dire circumstances. The film's

flashes of inspired originality are too

often outweighed by an irritating

tendency towards whimsy, but once

Hank is forced to confront his own

past, the darker final scenes pack an

unexpected punch. For once, that

hoary critic's cliché bears some truth

– you've never seen something quite

like this before. n

Starts Sep 29 Frantz HH D: François Ozon (France, Germany 2016)

with Paula Beer, Pierre Niney | Starts Oct 13 Swiss Army Man HHH D:

Dan Kwan, Daniel Scheinert (USA 2016) with Paul Dano, Daniel Radcliffe |

Starts Oct 20 Where is Rocky II? HHHH D: Pierre Bismuth (France, Germany,

Belgium, Italy 2016) documentary

28

EXBERLINER 153
---
WHAT'S ON — Film

Review

Notes On Blindness

Worth a thousand words

Documentary festival Doku.Arts returns

with a focus on game-changing essay films.

One of the most reliably compelling shindigs in the Berlin

film calendar is back for a landmark 10th instalment, under

the moniker "Essaydox" and with video essays on the

mind. The fest opens strong with the acclaimed Note on Blindness,

a compassionate, formally daring work which takes the personal

audio recordings of the late Australian theologian John Hull, who

went blind at the age of 45, and brings them to the screen via lipsynched

actors and evocative cinematography. Also screening Oct

7 and 11, it'll be accompanied by English-language narration for

blind audience members and even its own VR app. Closing night

selection Beyond Zero: 1914-1918, the latest by film archaeologist

Bill Morrison, arranges damaged footage from WWI to Aleksandra

Vrebalov's disjointed string compositions, using the degradation

of celluloid to remind us of the otherworldly trauma of war. In

between these tentpole screenings, check out an examination of

Samuel Beckett's foray into filmmaking (Notfilm: a Kino-Essay by

Ross Lipman); a riveting account of ethnographer Ella Maillart's

1939 journey to Afghanistan (Ella Maillart – Double Journey); and a

master class with late American auteur Sidney Lumet (By Sidney

Lumet)... and so much more! — Rory O'Connor

Doku.Arts Oct 6-23 Zeughauskino, Mitte

Peter Middleton/James Spinney

Preview

Tear jerkers

The PornFilmFestival is back, and it's

time to get out the tissues.

Not like that, you perv – you'll need the Kleenex for the

touching, troubling features on offer this year, from the

explicit yet heartwarming Berlinale fave Théo & Hugo to Todd

Verow's heartbreaking tale of artists, gentrification and

loneliness (co-starring Penny Arcade!), This Side of Heaven,

to Europe, She Loves, a take on intimacy during economic

hardship. Documentaries also tug at the soft spots, even for

terrifying reasons, like the excellent Chemsex, about gay sex

and hard drugs. For long-term hope, gay old-age docs Sex and

the Silver Gays and Desert Migration will do the trick. What of

"porn" porn? The feminists are in your face with opening film

The Bedroom and Michelle Flynn's Momentum Vol. 4. Three

focusses take centre stage: AIDS, racial politics and, uh, virtual

reality! A host of lectures, workshops and a party are all there

to stimulate hearts, minds and crotches, so don't miss out.

Full preview at exberliner.com. — Walter Crasshole

PornFilmFestival Oct 26-30 Kino Moviemento, Kreuzberg

OCTOBER 2016
---
Brussels-based artist Pierre Bismuth on his playful

and confounding quasi-documentary Where is Rocky II?

By Paul O'Callaghan

WHAT'S ON — Film

"It was not my intention to

do something this weird!"

Saint Amour

D: Benoît Delépine,

Gustave de Kervern

(France, Belgium, 2016)

HHH

The directors of

Mammuth return with

this broad, silly and

surprisingly touching

riff on Alexander

Payne's Sideways,

featuring Gérard Depardieu's

strongest

performance in years

as an ageing farmer

trying to reconnect

with his feckless son.

Starts Oct 13.

Sausage Party

D: Conrad Vernon, Greg

Tiernan (USA, 2016)

HH

This outlandish

animated tale of sentient

edibles realising

their grim fate offers

a few surprisingly

smart laughs, but

soon gets stuck in a

profanity cul-de-sac.

Starts Oct 6.

What happened to Edward

Ruscha's 1979 sculpture

of a boulder hidden in

California's Mojave Desert, and why

is Ruscha so secretive about the

project now? Bismuth attempts to

find out in a film that deftly explores

the way secrets and intangible truths

stoke the fires of creativity.

When did you first learn about

"Rocky II"? I first read about it in

2006, and I soon realised that no

one in the art world knew about the

piece. I persuaded a friend of mine

to ask Ed Ruscha about it, but Ed

really didn't want to discuss it. So I

thought that was extremely weird. In

2009 I went to London to confront

Ed directly during a press conference.

I felt that if I made the film

without evidence, nobody would

believe the piece existed. The confrontation

was perfect, because you

can see the surprise in his eyes – he's

taken aback by the fact that I know

about it. That was exactly what I

needed to start the movie.

How did you envisage your film at

that point? The initial project was

an art movie, a slow journey into

the desert to look for something

that was impossible to find. Then I

moved towards the idea of a documentary,

but I found myself simultaneously

moving away from the conventions

of the form. The finished

film is really about the different

regime of reality we're confronted

with in TV and film. I'd noticed

that filmmakers often have to add

signs of reality to make the audience

believe that something's genuine. I

decided to respect the documentary

methology of unscripted events, but

hide the signs of reality where possible.

Would the audience still perceive

it as true, or would we destroy

the feeling of authenticity? That was

the game I wanted to play.

And why decide to depict screenwriters

creating fiction based on

the story? There were two questions

I wanted answers to – where is the

piece, and why did this artist decide

to create something that was totally

invisible? When I started casting for

the detective, I found people who'd

be able to find the piece, but wouldn't

necessarily be able to answer the question

of meaning. Because the private

detective is such a common cinematic

element, I realised I already had one

foot in the film world. That led me to

think that the best people to explore

the meaning would be screenwriters.

What was it about Michael Scott

that won him the private detective

role? The main reason is that he was

very square! He's an ex-army officer

and ex-policeman, totally overqualified

for the job. I liked the fact that

he made no judgement about the

case – he didn't think it was stupid.

Did you know in advance that

you'd be pairing him up with Jim

Ganzer, the founder of skate brand

Jimmy'z and inspiration for The

Dude in The Big Lebowski? The

way it appears in the film is exactly

how it was. Michael really wanted

to find Jim after flying to London

and watching him in an old BBC

documentary about Ruscha. And Jim

turned out to be this totally amazing

character. What I didn't expect is

that Michael would somehow fall in

love with him – it was great to watch.

Was it always your goal to make

something this unusual? To be

honest, I just thought I was making

a documentary with a little twist. It

was not my intention to do something

this weird! The strange thing

is if you try and explain the film,

it sounds like something that not

many people would be interested in.

But the reaction we've seen at festivals

is that audiences find it very

entertaining and easy to follow. n

Welcome to Norway!

D: Rune Denstad Langlo

(Norway, 2016)

HHHH

This wonderfully wry

migrant crisis comedy

follows the exploits

of a casually racist

wannabe entrepreneur

as he attempts

to convert his family's

hotel into a refugee

centre. Starts Oct 13.

30

EXBERLINER 153
---
WHAT'S ON — Film

Reviews

his motley crew on a road trip through the

backwaters of the Midwest, with a 16-seater

van as their vessel, and a soundtrack

that spans country, rock, hip-hop and

Rihanna to carry them along. Working once

again with masterly cinematographer Robbie

Ryan, Arnold forges her own raw brand

of Americana and, in the process, delivers

perhaps the freshest film about young

people in America since Larry Clark's Kids

in 1995. A triumph. — ROC

Starts Oct 20

Parched

Starts Sep 29

War Dogs

D: Todd Phillips (USA 2016) with Jonah Hill,

Miles Teller

HHH

Based on a true story first published in

Rolling Stone, War Dogs tells the tale of

two bros who lie, scam and skew their

moral compasses to become big-money

arms dealers for troops in post-9/11 Iraq

and Afghanistan. Phillips (The Hangover)

breaks new ground by helming an amorality

tale that nakedly yearns to be this

generation's Goodfellas: a crime drama

about the warped pursuit of the American

Dream, laced with slick comedic beats

and voiceover narration. He emulates but

fails to equal Scorsese's significantly more

ambitious efforts – the film frequently feels

devoid of substance, and lacks insight

into how governments and corporations

benefit from conflict. Thankfully, Jonah

Hill justifies the price of admission, stealing

the show with his larger-than-life, scenerychewing

turn as a progressively sinister

antihero. — David Mouriquand

Starts Oct 13

American Honey

D: Andrea Arnold (USA 2016) with Sasha Lane,

Shia LaBeouf

HHHHH

Arnold wrestles with the American Dream

in this seductive head-rush of a road

movie, her first film set Stateside. Star

(newcomer Sasha Lane) is a young woman

stuck in a bad relationship and a nowhere

town, until she meets Jake (Shia LaBeouf),

the enigmatic, Bill Sikes-esque ringleader

of a gang of teenage outcasts who sell

dodgy magazine subscriptions. Star joins

OCTOBER 2016

Théo & Hugo

D: Olivier Ducastel, Jacques Martineau

(France 2015) with Geoffrey Couët, François

Nambot

HHH

You don't even realise how deep-rooted

our Disney-enforced notions of romance

are until you see the titular heroes of this

sizzling film d'amour lock eyes for the first

time. The connection is unmistakable, but

the context seems all wrong. Kudos to the

director duo for opening their 90-minute

movie with a near 20-minute orgy in the

basement of a gay sex club, where reason

is drowned out by lust and no names are

involved. Can there be love? Thanks to

skilled, candid writing addressing the proud

but lonely post-AIDS generation, the affirmative

answer doesn't feel lazy or sugarcoated.

If anything, it's characterised by a

tenaciously uncynical tone of voice which,

despite recognising the elusive quest for

happily-ever-afters, wouldn't trade anything

for the ride. — Zhuo-Ning Su

Starts Oct 27

Parched

D: Leena Yadav (India, UK, USA 2015) with

Tannishtha Chatterjee, Radhika Apte, Surveen

Chawla, Lehar Khan

HHH

Filmed on location in the dust-swept

deserts of Rajasthan, Parched is a powerful

portrait of four women – mother and

widow Rani (Chatterjee), childless Lajjo

(Apte), dancer and prostitute Bijli (Chawla)

and Rani's new daughter-in-law Janaki

(Khan) – taking on patriarchy in rural India.

Set against the (male) village elders, drunk

abusive husbands and a new generation

of angry young men, Leena Yadav's film

puts female emancipation firmly in the

hands of women as, through the character

of Rani, the endless cycle of loveless

marriages and conjugal rape is called into

question. It's brash in its schemata of

abuse and exploitation, and sometimes

clumsy in its broad-stroke storytelling.

Nevertheless, Parched packs a punch with

its superb performances, moments of

intimacy and life-affirming league of ladies

defying convention. — Mark Wilshin

Intro, ByteFM & KulturNews präsentieren:

SEKUOIA

Di. 18.10. Einlass 19:00 Prince Charles

virtualnights.com präsentiert:

twocolors

Do. 17.11. Einlass 20:00 Prince Charles

CON BRIO

Mo. 05.12. Einlass 19:00 Maschinenhaus

NICOLAS JAAR

Fr. 09.12. Einlass 19:00 Columbiahalle

Faze, KulturNews & ByteFM präsentieren:

SHOBALEADER ONE

Do. 30.03.2017 Einlass 19:00 Berghain

Infos unter www.mct-agentur.com

tickets > www.tickets.de und 030-6110 1313

verlegt auf

Thu Sep 29 // Maschinenhaus // 8 pm

PATRICIA VONNE

sin city actress & sister of director Robert Rodriguez

with her own mix of tex mex and desert roots rock

Wed Oct 12 // Kesselhaus // 8 pm

MAGMA

the French prog rock pioneers

Fri Oct 14 // Kesselhaus // 8 pm

FEUERENGEL

a tribute to Rammstein

Thu Oct 27 // Maschinenhaus // 8 pm

BÊ IGNACIO

with brand new album "Tropical Soul"

Sun Nov 13 // Kesselhaus // 8 pm

BILLY COBHAM

the drumming jazz icon in concert

Sat Nov 26 // Kesselhaus // 8 pm

SCALA & KOLACNY BROTHERS

20 years SCALA – the stage anniversary

TICKETS 030 44 31 51 00 // WWW.KESSELHAUS.NET
---
WHAT'S ON — Music

Editor's Choice

Scheiß auf deutsche Texte!

Don't know your der from your das? Time to brush up

on Germany's top native-tongue talents. By Michael Hoh

Doctorella

Music news

Reenacting Fichte

From his ethnopoetic

travelogues to his infamous

book reading at

Hamburg's Star Club,

HKW celebrates literary

pop star Hubert

Fichte's work with a

series of films, talks

and performances at

ACUD. Oct 1, 17:00

Better than selfies

Between Oct 9 and

Dec 31, Harald Weiss'

composition Vor dem

Verstummen ("Before

Silence Falls"), which

premiered inside the

Holocaust Memorial in

2008, will be available

again via smartphone

app for visitors to

listen to on-site.

Ode to Joy

On their fourth album

Joy, Berlin's multigenre

wizards Brandt

Brauer Frick once

again infuse their

analogue roots with

digital concoctions

mutually suited for

concert halls and club

venues. Out Oct 28.

You've been attending the

odd Stereo Total gig and you

know an entire verse of "99

Luftballons", but you're still hesitant

to go see some local acts because of

possible language barriers? Disregarding

Die Sterne's advice "Scheiß

auf deutsche Texte" ("Don't give a shit

about German lyrics"), you're missing

out on a world of good music if

you limit yourself to lyrics auf Englisch.

Worry not: with these bands,

you won't need a B2 certificate to

enjoy the show.

Starting out as Die Kleingeldprinzessin

("small change princess")

playing solo gigs in the streets in

the early 2000s, Berlin-based singer

Dota has been spreading her highly

dense poetics for the past decade.

Even if you don't understand what

her lyrics mean, you'll surely notice

her expressive and rhythmic rhyme

patterns, whether coated with

electro pop, folk, bossa nova or, as at

her Volksbühne gig, backed up with a

band and a string ensemble.

Also from Berlin, Sandra and Kerstin

Grether have been leaving their

mark on the German pop discourse

since the 1990s, as avid advocates of

(pop) feminism with riot grrrl influences

aplenty. Apart from their pro-

LGBTQ rights single "Testosteron,

Get It On!", their joint music project

Doctorella concentrates more on the

lighter side of things (compared to,

let's say, Sandra's former band Parole

Trixi), which will make it easier

for you to let lyrics be lyrics. The

attitude alone is worth checking out.

Trickier to get for non-Germans

will be PeterLicht, taking the stage

at Theater am Ku'damm the same

day. No less political than the

Grethers, he appeared on screen

with his existential, synth-heavy debut

single "Sonnendeck" in 2001, and

turned from indie pop sensation

to Feuilleton darling in a heartbeat.

Known for his penchant for poetics,

he conquered the literary world by

winning the Ingeborg Bachmann

Prize in 2007 for his novella The

History of My Assessment at the

Beginning of the Third Millennium.

Between that and albums like Lieder

vom Ende des Kapitalismus ("Songs

about the end of capitalism"), he

skilfully bridges the gaps between

übercool, high culture and political

statement – which you might not

guess from his sometimes cheesy

arrangements. Lyrics vary from

deliberately simplistic to cunningly

complex, so there's something for

every skill level.

So much for the old school. Let's

take a look at some of Germany's

up-and-coming talents whose albums

are fresh off the printing press.

When he's not manically strumming

his guitar on stage with the Stuttgart

noise-rock combo Die Nerven, Max

Rieger certainly seems to enjoy a

bit of gloomy introspection. After

three successful Nerven albums, he

decided to go solo under the moniker

of All diese Gewalt, boasting a

dense and droning post-punk palette

with brooding vocals. Catch him

live on his first ever-tour with his

debut Welt in Klammern ("World in

Braces") at Roter Salon.

Meanwhile, fellow noise-rockers

Friends of Gas have been doing the

toilet tours for about two years

now. With their debut album Fatal

Schwach ("Fatally weak") out on Staat-sakt

on Oct 28, they're due to skyrocket

in no time. And if you need

a little break from all the Deutsche

Texte but aren't ready to toss out

your textbook yet, this might be

your best choice: frontwoman Nina

Walser sings almost half the band's

songs in English. ■

Dota Sun, Oct 9, 20:00 Volksbühne, Mitte | Doctorella Fri, Oct 21, 20:00 Monarch,

Kreuzberg | PeterLicht Fri, Oct 21, 20:00 Theater am Kufürstendamm,

Charlottenburg | All diese Gewalt Mon, Oct 24, 20:00 Roter Salon, Mitte |

Friends of Gas Sat, Oct 29, 20:00 West Germany, Kreuzberg

32

EXBERLINER 153
---
WHAT'S ON — Music

Preview

Bringing buzuk back

Radwan Ghazi Moumneh of Montreal audiovisual

duo Jerusalem In My Heart on his love

affair with the Middle Eastern instrument.

The root of everything we do is something I composed on the

buzuk, even the crazy electronic stuff. The buzuk's pretty

much been our source of inspiration – and frustration,

because of my sometimes limited ability to translate ideas properly

onto the instrument. Music is not a thing in our family. I didn't play

instruments; I knew nothing about it. So, the buzuk seemed like the

one Middle Eastern instrument that I could pick up, compared to say

an oud or a violin or a ney where you have to have formal training.

The instrument itself isn't really common. It's very much a

shepherd's instrument; very basic and lute-like. People always

play it in informal settings. In a typical Middle Eastern orchestra,

you'd never see a buzuk. The Rahbani Brothers, both very accomplished

composers [and playwrights], brought the buzuk back

into popular culture in the 1960s. I remember seeing one of their

plays on TV. The sound was so thin and wiry, and the guy was just

improvising on it. It sounded so beautiful to me.

On stage, I have my buzuk that I got custom-made here in Montreal,

this crazy pedal board with granular delays, pedals that cut

up the sound and a device that converts pitch to midi. Basically

I'm playing all these electronic synthesizers with my buzuk. The

instrument becomes like a tool more than a musical instrument.

So, my relationship with it is constantly changing. — MH

Jerusalem in My Heart Thu, Oct 20, 19:00

Ehemaliges Stummfilmkino Delphi, Weißensee

Clubbing

Black Lives Matter Soli-Party

Berlin's queer, feminist and sex-positive clubbing collectives,

from Mint to Berries, come together to raise money

for Berlin black initiatives at Schwuz. Oct 2, 23:00

Trade

Seeking some mid-week club action? Merge on the

dance floor on Wednesdays at Ohm. Turning from zero to

cutting-edge in a year, Trade presents Jay Boogie, Rasuul

and Luke Isaac this month. Oct 5, 21:00

BeatGeeks WKND SPCL

The fifth edition of this producer-focussed hip hop shindig

at Gretchen sees performances by Dexter, KevBeats

(K.I.Z. producer) and a first: up-and-comer Bluestaeb

complete with band. Oct 14-16, 20:00

OCTOBER 2016

ryan sheridan

very special guest: mrs. greenbird

08.10.16 · Columbia Theater

red fang

+ torche

12.10.16 · Huxleys

watsky

+ jez dior

14.10.16 · Bi Nuu

soja

Jospeh Yarmush

14.10.16 · PBHFCLUB

daughter

+ dan croll

14.10.16 · Columbiahalle

all them witches

+ the great machine

15.10.16 · White Trash

søren juul

16.10.16 · Grüner Salon

toseland

17.10.16 · Musik & Frieden

jaimi faulkner + band

+ belle roscoe

17.10.16 · Auster Club

the mahones

23.10.16 · Musik & Frieden

jamie lidell and

the royal pharaohs

23.10.16 · Astra Kulturhaus

seasick steve

24.10.16 · PBHFCLUB

julia jacklin

24.10.16 · Maze

jay brannan

25.10.16 · Privatclub

drowners

+ the esprits

25.10.16 · Maze

bear's den

+ matthew & the atlas

26.10.16 · Huxleys

the album leaf

27.10.16 · Bi Nuu

the low anthem

+ christopher paul stelling

30.10.16 · Lido

white lies

+ the ramona flowers

31.10.16 · Huxleys

loyle carner

31.10.16 · Lido

silversun pickups

+ pærish

01.11.16 · Columbia Theater

adam green

01.11.16 · Musik & Frieden

lucky chops

02.11.16 · Huxleys

allah-las

02.11.16 · PBHCLUB

doug seegers

03.11.16 · Privatclub

john grant

+ arc iris

03.11.16 · Berghain

slaves

06.11.16 · Frannz

jeremy loops

07.11.16 · PBHFCLUB

jamie t

07.11.16 · Astra Kulturhaus

donavon

frankenreiter

08.11.16 · White Trash

la pegatina

09.11.16 · Lido

iamx

09.11.16 · Heimathafen Neukölln

banks & steelz

14.11.16 · PBHFCLUB

www.trinitymusic.de

the lumineers

+ bahamas

15.11.16 · Tempodrom

the cadillac three

+ tyler bryant & the shakedown

15.11.16 · Frannz

katie melua

16.11.16 · Admiralspalast

archive

+ dr(dr)one

21.11.16 · Admiralspalast

saxon

+ last in line + girlschool

22.11.16 · Huxleys

bizarre ride ii

the pharcyde live

25.11.16 · Cassiopeia

kari bremnes

25.11.16 · Columbia Theater

bastille

+ rationale

25.11.16 · Max-Schmeling-Halle

outlandish

30.11.16 · Bi Nuu

abc

14.12.16 · Huxleys

lindsey stirling

09.03.17 · Max-Schmeling-Halle
---
WHAT'S ON — Music

Interview

"We had trouble removing a 'cunt'."

Hyper-literate Norwegian musician Jenny Hval brings her mix

of experimental pop, performance art and feminist body horror

to Berghain Kantine on October 26. By Rachel Glassberg

Don't miss

DAT Festival

Noise DJs, experimental

beatmakers

and other electroacoustic

weirdos get

together at Kesselhaus

for workshops

and general merriment.

Expect sets

from T.Raumschmiere,

Peter Knoll, Xing and

more. Oct 7-9, 19:00

Angel Olsen

The indie-folker's

latest release My

Woman is a peppier

follow-up to 2014's

excellent countrytinged

Burn Your

Fire for No Witness.

She'll bring her more

upbeat effort to Columbia

Theater. Oct

25, 20:00

Noura Mint Seymali

Hailed as the voice

to bring Mauritania to

the musical forefront,

Noura Mint Seymali

draws on Moorish

tradition and psychedelic

rock. She stops

by Lido to tour her

new album Arbina.

Oct 27, 20:00

Kelly Lee Owens

Coming to Kantine

am Berghain, the

London-based

singer-songwriter/

producer is preparing

to release her new

EP Oleic, an eclectic

collection of dreamy,

ambient-inspired

gems. Oct 30, 20:00

Latest album Blood Bitch (Sacred

Bones) takes on menstruation

and vampirism to

a soundtrack of Gothic organ lines,

motorik beats and spoken-word

collages. Like any Hval record, it

requires careful lyrical unpacking,

so much so that to prepare for our

interview, we made a word map

connecting Blood Bitch's themes

and references: "vagina", "desire",

"Adam Curtis", "Tilda Swinton". We

showed it to her.

Be honest: is any of this on point?

"Dogs"! "Cake", nice. Well, this

looks like what I do. I make these

when I write an album, or when we

record. I have walls filled with this

stuff. Let me show you... [pulls up a

smartphone photo] Ah, it's mostly

in Norwegian. But there's "Europe".

"Jess Franco". "Antonioni". I wrote

this for the press release, probably,

but some of these were there early,

as a sort of conceptual framework

before we started recording. "Club"

would've been there. "No social

commentary". "Getting lost". "Eternal

life" – I'm interested in eternal

life as a club rhythm, something that

feels like it comes out of forever and

goes on forever.

So you interpret your lyrics after

you've written them? A lot of the

more clear themes came after the

album was finished. While I was

writing and recording it, it was more

about just wanting to explore things,

seeing what the word "blood" would

do in a lyric that otherwise would've

seemed like social commentary. Put

in drips of the supernatural. Take

"Female Vampire". The title, the fact

that it's about a mysterious vampire

world, allowed me to write the lyric

"I'm so tired of subjectivity". It's not

just me in my regular clothes, saying,

"I'm so tired of subjectivity, guys!"

Is [co-producer] Lasse Marhaug

involved in your writing process?

Yeah, we decide things like: Should

I say "blood" here? How do we

remove the "cunt" from this lyric?

We had one song, "Conceptual

Romance", where we had trouble

removing a "cunt". It was where

"blood bitch" is now. We were trying

to move out of the more explicit

language and into a more mysterious

investigation.

It's like the opposite of your last

album, Apocalypse Girl, which gets

quite explicit – "soft dick rock"

and all that. It is. That time we

wanted to work with something raw,

and dry. There are several songs on

that album with no reverb, which is

quite unusual for a recorded piece. It

doesn't sound very natural.

If that one's dry, this one's... wet?

It's very wet.

How will you capture that onstage?

Fake blood? No, I've already

done that a lot. I think that was actually

an inspiration for the album, the

fact that I've been covered in blood

paint so much. Lasse and I kept discussing

Carrie. It's a wonderful and

"That was actually

an inspiration for the

album, the fact that

I've been covered in

blood paint so much."

34

EXBERLINER 153
---
WHAT'S ON — Music

terrible way to embody what's inside on

the outside: what if you were menstruating

all over yourself?

Festival

Inga Copeland

You didn't want to be photographed

during this interview. Why not? Casual

photo shoots – I understand why they're

necessary, but I find it very hard to give

something that's meant to be "natural"

and "me", when I don't know what

"natural" and "me" is. Photography, to

me, is a medium that's lying. I kind of

agree with the Australian aborigines...

That we're stealing your soul? Exactly!

Except you're not, because you're

capturing what you think is the soul,

but it's just the surface. So I'm critical

of the overuse of photos. I'm a media

critic, and that's very hard to combine

with being an artist. I'm a media critic

when I can have distance, sit at home

and be like, "Grr!" [imitates pounding

on computer keyboard]. We call it

"thunder speech" in Norwegian. But

then when I actually meet a journalist, I

want to be that nice person... I think the

best way for me to handle the situation

is to see it as surrendering, as a ritual.

You and I are having a ritual. I don't

want to try to control your piece – I'd

rather go work on my songs and say

something with music.

Jenny Hval Oct 26, 20:00

Berghain Kantine, Friedrichshain

Tips

Classical

Internationales Klangkunstfest

Get a healthy dose of contemporary

classical with exhibitions, sound walks

and interactive performances at

Bibliothek am Luisenbad in Wedding.

Oct 6-8, 19:00

Arnold Dreyblatt Ensemble

With Dreyblatt, the second generation

of New York minimal composers

makes an appearance at the BKA Theater's

club concert series together

with The Orchestra of Excited Strings.

Oct 21, 23:30

Trio Mondrian

Trio Mondrian juxtaposes Piano Trio Op.

87 by Johannes Brahms with Diverging

Roads, a new piece by Gilad Hochman,

as part of the ID Festival at Radialsystem

V (see page 42). Oct 22, 18:30

Creamcake's crop

Looking for some arty

with your party? The 3hd

festival won't disappoint.

Always leaning toward the abstract

when they're not bumping Beyonce,

Berlin party organisers Creamcake

launched the first-ever 3hd Festival last year,

an explosion of music, visual art and talks

billed as a "new breed" of festival. This year

seems even more spacey and philosophical:

From Oct 11-15, performances at venues

throughout the city (HAU, OHM and Vierte

Welt, to name a few) will "offer potential

solutions for fixing the problems of the present".

The question mark deployed at the end

of the title "There is nothing but the future?"

strikes up just the right amount of confusion.

Even when their goals are ambiguous, the

Creamcake gang excels when it comes to

solid, multi-faceted music lineups. Former

Hype Williams member and name-changer

extraordinaire Inga Copeland fits into 3hd's

experimental bent with her amorphous,

deconstructed beats. She'll be at HAU2 on

Oct 14 as part of a concert showcasing talent

scoured from the internet, which will also

feature dreamy soundscapes from AGF. A

second performance at HAU2 will include

Berlin's moody synth-pop duo Easter and

meditative sounds from Swiss-born, Nepalese-Tibetan

electronic artist Aïsha Dev.

Music aside, the program boasts other

artsy events, advertised with lots of cryptic

buzzwords like "violent", "oppression",

"boundaries" and "healing". The creative

team DIY Church is working on an abstract

symposium on social sculpture through sound

and silence, whatever that means. If you leave

feeling more uncertain than when you got

there, just dance your anxieties away on the

last night – Uniiqu3, DJ NJ Drone and Geng

will be spinning during the closing bash at

OHM. — Julyssa Lopez

3hd Festival Oct 11-15 Various venues, see

3hd-festival.com for details

Luci Lux / Electronic Beats

WILD BEASTS

20.10. Berlin, Kesselhaus

THE PARLOTONES

Support: KYLES TOLONE

06.10. Berlin, Bi Nuu

BEATY HEART

Credit?

Support: BAYONNE

11.10. Berlin, Berghain Kantine

PARQUET COURTS

Support: PILL

18.10. Berlin, SO36

CALIBRO 35

03.11. Berlin, Lido

MILD HIGH CLUB

28.10. Berlin, Badehaus Szimpla

C DUNCAN

02.11. Berlin, Grüner Salon

ROOSEVELT

30.11. Berlin, Lido

meltbooking.com

facebook.com/wearemeltbooking

KELLY LEE OWENS

Support: HOPE

30.10. Berlin, Berghain Kantine

MURA MASA

Support: BONZAI

06.11. Berlin, Postbahnhof

GLASS ANIMALS

Support: PUMAROSA

07.11. Berlin, Columbia Theater

65 DAYS OF STATIC

Support: THOUGHT FORMS

09.11. Berlin, Columbia Theater

BEAK>

Support: MARIO BATKOVIC

14.11. Berlin, Columbiatheater

PEACHES

plus SPECIAL GUESTS

24.11. Berlin, Columbiahalle

OCTOBER 2016
---
WHAT'S ON — Art

EUROPEAN

MONTH OF

PHOTOGRAPHY

BERLIN

Oct 1-31

Editor's Choice

Picture windows

This month, 129 photo exhibitions invite you into

other worlds and times. By Amanda Ribas Tugwell

Art news

Art's a-brewing

October 22 is the

opening of the KINDL

Centre for Contemporary

Art, adding

1200sqm of art space

to Berlin. The exbrewery's

first exhibitions:

contemporary

group show How Long

Is Now? and a solo of

Berlin-based painter

Eberhard Havekost.

A never-ending

Manifesto

Julien Rosefeldt's

video installation at

the Hamburger Bahnhof,

featuring Cate

Blanchett reading a

variety of manifestos,

has been extended

for a second time,

from September 18 to

November 11. By which

time it'll have been

on for 10 months, so

there's no excuse not

to've seen it.

Money in the scene

At the ABC art fair, the

brand-new OUTSET

museum benefit fund

bought works by GCC

and Dirk Skreber

and donated them

to the Neue Nationalgalerie.

The latter

pictures Skreber's

(non-Muslim) girlfriend

topless in what looks

like a niqab – a bit of a

controversial choice.

Part of a Europe-wide initiative

between photo institutions

in eight cities, locally organised

by Kulturprojekte Berlin (the

same folks behind Long Night of the

Museums and Berlin Art Week), the

biannual European Month of Photography

Berlin feels more like a marketing

angle than a thoughtfully curated

festival. Which doesn't mean there's

nothing to see. The 129 exhibitions

going on from October 1-31 cover

a huge range of venues, places and

times: from photography giant C/O

Berlin to tiny pop-up galleries; from

modern-day Romania to 1900s Mitte.

By now it might be too late to

catch the official kick-off at C/O

(Sep 29-Oct 2). But it's still worth

a trip out west to see the institution's

headlining exhibition of work

by American photographer, filmmaker,

writer and activist Gordon

Parks, titled I am You. His powerful

photos capturing the US civil rights

movement haven't lost any of their

resonance today; they'll be displayed

along with Parks' other work from

the 1940s-70s, including fashion

spreads for Condé Nast and clips

from his cinematic oeuvre (Shaft!).

The Bauhaus Archiv also reaches

into the past to spotlight the unsung

hero of Bauhaus photography, Lucia

Moholy, and the works she made

after fleeing from Berlin to London

at the start of the Nazi era. Another

prolific and historically important

female photographer, Berenice Abbott,

will show her famous large-format

masterpieces of 1930s New York

City at Martin-Gropius-Bau.

Berlin's own history won't be

neglected. Berlinische Galerie is

digging into its collection to present

photos of the city and its inhabitants

from 1900-1980, ranging from Heinz

Hajek-Halke's playful experiments

to Fritz Brill's advertisements, even

to Nazi propaganda from their Volk

und Welt conservative newspaper

archive. Many smaller institutions

have followed suit: the Museum for

Fotografie is showing lesser-known

Mauer-era journalistic street shots

by Bernard Larsson, and architecture

buffs won't want to miss Otto Hagemann's

documentation of Berlin's

iconic buildings from the 1920s-60s

at the Landesarchiv. For those who

want a glimpse into a very different

Prenzlauer Berg, East Berliner Bernd

Heyden's bleak 1960s-era shots are

up at the Willy-Brandt-Haus, alongside

"Berlin Fragments" captured by

architect Rainer König.

Stefan Moses' work at Johanna

Breede Photokunst will offer up

portraits of artists and thinkers who

were influential here, like Hannah

Höch, Otto Dix and Theodor W.

Adorno. Zwitschermaschine's Wild

Wild Berlin brings together three

different artists' takes on Berlin

over three decades, up to Mitte

nightlife circa 2000. Even IMAGO,

housed in Moritzplatz's Aufbau-

Above: Bernard

Larsson, Straßenszene

in Paris (1961)

© Bernard Larsson

Left: Gordon Parks

Homeless Couple,

Harlem, New York,

(1948) © The Gordon

Parks Foundation

36

EXBERLINER 153
---
WHAT'S ON — Art

haus, will open its doors to show life-size

images taken with the 1970s predecessor of

its massive 1:1 camera.

With all that travelling back, what about

going forward? Sprüth Magers has invited

German photo art star Andreas Gursky to

curate work by his MFA students at the

Kunstakademie Düsseldorf, who frame the

world in bizarre, cold landscapes – one even

shooting with an iPhone 5. Swedish artist

Martina Hoogland Ivanow also abstracts

her surroundings in her solo at Grundemark

Nilsson Gallery, and Abigail Reynolds and

Lilly Lulay both independently challenge the

two-dimensionality of the medium in their

solos at Kuckei + Kuckei.

All told, EMoP Berlin's varied shows reaffirm

photography's tenuous position between

document and art object, reality and fiction,

past and present. One thing is for sure –

photographs still offer us some of our best

opportunities to be transported to worlds

that have since vanished, and see through the

eyes of artists long gone. n

European Month of Photography Berlin

Through Oct 31 citywide, see

www.emop-berlin.eu for details

Through Nov 12

Chiharu Shiota:

Uncertain Journey

Blain|Southern, Schöneberg

HHHHH

The Berlin-based Shiota was

dubbed the "most Instagrammed

artist" by Sleek at last month's

Art Week for a reason. Uncertain

Journey, which picks up where

her showstopping Japanese

Pavillion installation at last year's

Venice Biennale left off, is profoundly

complex, utterly beautiful

and a total must-see. Bright

red thread interlocks hundreds

of thousands of times in 3D triangulation,

arching down to the

hollow iron frames of what could

be sunken ships. Awe, confusion,

sadness and connectedness

are woven into the random yet

sophisticated structure, which

brings form to everything from

neural synapses to the circulatory

system, the internet to infinity.

In eight pieces upstairs, the

same threaded triangles find their

way onto canvases and houseshaped

metal frames. At this smaller

scale, lines and density can be

more tangibly contemplated. But

ever-lingering is the subconscious

terrain of the consuming installation,

which, when seen from above

on the first floor, is so dense it's

pure red. A video of the installation

process, which took 10 people

three weeks to complete, will

make its way onto Blain|Southern's

website soon. — ART

Uncertain Journey,

courtesy of

the artist and

Blain|Southern

Christian Glaeser

Berliner Festspiele

Matana Roberts

Michael Schiefel + Wood & Steel Trio

Julia Hülsmann Quartet + Anna-Lena Schnabel

Mette Henriette

Wadada Leo Smith's Great Lakes Quartet

Mary Halvorson + Ingrid Laubrock

Oddarrang

Joshua Redman / Brad Mehldau duo

Globe Unity Orchestra

Myra Melford's Snowy Egret

Ingrid Laubrock + Aki Takase

Yazz Ahmed's Family Hafla

Achim Kaufmann + SKEIN Extended

Angelika Niescier / Florian Weber Quintet

Nik Bärtsch / hr-Bigband

DeJohnette / Coltrane / Garrison

Aki Takase + Charlotte Greve

Lucia Cadotsch Trio

Wadada Leo Smith + Alexander Hawkins

Julia Holter + strings

Steve Lehman Octet

Eve Risser's White Desert Orchestra

In cooperation with radio broadcasters ARD and Deutschlandradio

www.berlinerfestspiele.de
---
WHAT'S ON — Art

Interview

"It's like the future suddenly started"

High-profile digital detective Constant Dullaart wages war with

Facebook in Synthesising the Preferred Inputs. By Amanda Ribas Tugwell

Don't miss

Hicham Berrada

The beauty is in the

details in abstract HD

shots of magnetised

iron particles at WN-

TRP. Through Oct 30.

Yves Scherer

Found objects, paintings

and taxidermy

make a "space collage"

in this rumination on

being single at Galerie

Guido Baudach.

Through Oct 31.

Sinta Werner

See 3D photographs

and the mindblowing

illusion of pixels in

real space at Alexander

Levy. Through

Oct 30.

The British View

Six hundred years'

worth of German

history come to the

Martin-Gropius-Bau

via 200 pieces from

the British Museum's

collection. Through

Jan 9.

Up now at Future Gallery, two

of the Dutch-born, Berlinbased

artist's new bodies

of work delve into hidden systems

within the ever-more corporatised

spaces of the internet. In one,

pattern-seeking AI convolutional

networks "draw" images using data

from the photos we post on Facebook

and Instagram, which are then outsourced

to China to be painted. In the

second, Dullaart incorporates the

third-world-country SIM cards used

to generate the Facebook bot army

he created in his studio last year.

Why make art that involves

Facebook and Instagram? A lot of

people don't know about the whole

business of fake Facebook identities,

but they're huge in politics, and

in quantifying cultural validity. I'm

saying: hey, this is a huge market,

look at how construed and weird

this social validation system is. Even

when I bought 2.5 million Instagram

followers as part of a piece, I actually

thought I was a better

person because more people

"liked" me. It's so easy

to make yourself believe

in this kind of competitive

social validation system.

Of course I see big dangers,

and I think everyone has

to keep their minds open,

educate themselves as

much as they can, and take

a position. I think a lot of

these issues are political,

and yet they are not reflected

in the political debate.

Is your work a warning

to us all? I do see it as

a warning, but I'm not a

preacher or a teacher or

anything. I don't want to be

too didactic, or mansplain.

I sometimes make the

analogy that now there are

more people looking at a

screen than looking out the

window. This contemporary

landscape is so incredibly

complex, and we need comparably

complex reflections on it. We need

to make new contemporary paintings

– we can't just make the same

old paintings of this new landscape.

The iPhone came out in 2007. That's

only nine years ago, not even a generation,

and we all think it's normal.

And there were enormous cultural

shifts, like now everyone can wander

around a strange city and find their

way. That's huge! It's like the future

suddenly started.

Art about digital technology tends

to be relegated to niche categories

– net art, post-internet art,

etc. Why do you think that is?

With every new medium there are

complexities that not everyone understands.

When I started out in the

early 2000s, there were people who

said, "We don't know the dialect

that you're speaking," and I had to

validate my work by saying, "Well,

I've read this Dutch book and I

think it's the best book ever but it's

not translated. I can't ignore that

I think it's one of the best books."

Now even my mom understands

that maybe there's some cultural

relevance to talking about the decisions

that are made within software

and on the internet.

So you're not discouraged by the

categories? I'm just really happy

that I'm a part of the conversation.

It's interesting to speculate about

the potential of how all this technology

is being used, and I think

this is what art should be doing.

We should ask, "What would happen

if somebody used this tool in

that way? That would be weird, or

that would be fucked up." I think

it's a responsibility of artists to

misuse the tools.

Synthesising the Preferred Inputs

Through Oct 15 Future Gallery,

Schöneberg

Karolina Spolniewski

38

EXBERLINER 153
---
WHAT'S ON — Art

Through Oct 22

Roger Ballen and

Asger Carlsen: No Joke

Dittrich & Schlechtriem, Mitte

HHHII

Ballen and Carlsen are showing the results

of their artistic exchange over email and

Skype for the last few years – and they're

pretty disturbing. Black and white, primarily

nude photographs have been drawn on and

digitally collaged, disfiguring body parts and

infusing American Apparel-esque shots with

McCarthy, Basquiat, Kentridge and Sherman.

The works confront the dark corners of the

mind, where alien forms, creepy masks, giant

spiders and dead animals lurk. Drawn figures

loom voyeuristically around young, classically

beautiful female bodies combined with the

ageing bodies of the artists. Due to the flawless

digital collage characteristic of Carlsen's

work everything feels "real" even after it has

met Ballen's charcoal-smudged dark spaces,

which went big with his 2012 Die Antwoord

video "I Fink You Freeky".

The horrifically captivating series of 37 images

is being shown in full for the first time,

and mark the perfect fusion of the two artist's

terribly individual ways of imagining the

intangible world around them. You'll wish you

could un-see them, but you won't be able to

look away. — ART

Right: Roger Ballen

and Asger Carlsen,

courtesy of Dittrich

& Schlechtriem

Top centre: Trisha

Baga, LOAF, Société

Far right: Florian

Misenberg, courtesy

of the artist

and Wentrup

Through Nov 5

Trisha Baga: LOAF

Société, Schöneberg

HHHHI

The NYC artist's solo is visual free association

in high form. Both of her 3D video installations

suck you into her deep curiosity with

subjects and objects. Home-video-style

footage of people, bizarre everyday scenes

of mannequin legs hanging above a clothing

store and taxidermied animals are equally

intriguing through her lens.

Light and darkness vie for screen time, and

in 3D, flashlight beams elevate the leaves of

a bush to a psychedelic vision. In another

darkened room, small spots and black lights

illuminate the surface of an IRL cat scratching

tower turned shelf, holding everything

from hand sanitiser to a rough ceramic

sculpture of a cat. Another bright room with

white carpet covered pedestals showcases

more ceramics, of a printer, a painting and

Wonder Bread. Baga's scattered universe

confidently walks the line between art made

post-internet, and the aesthetics of the material

world. Ultimately it reads as a development

in age old questions: what is real? What

can we truly know? — ART

Through Oct 19

Florian Meisenberg:

"Um, nice guy, good hospitality,

but.. y'know (...)"

Wentrup, Kreuzberg

HHHII

Meisenberg's third solo at Wentrup covers

the walls of a large bright room with

canvases of different shapes – circles,

arches and teardrops – each evoking a

window or an icon from afar. Lines on the

beige-backgrounded paintings create vague

spaces within them, and in the foreground

are abstracted symbols, cartoonish clouds

and figures and even planetary forms.

A 30-minute video shows banal tennis

court scenes, and scrolling on top of it in

large white letters is a meandering monologue

from a secret recording of a banker

complaining on the phone as he commutes

from New Jersey to Wall Street. In front of

the video is a white carpet, and more words

are projected onto it, detailing confidential

content including Hillary's leaked emails.

The exhibition text reveals that the font was

extracted from WikiLeaks docs.

The problem here is that the connecting

points between all these intriguing elements

seem just out of reach. We recommend you

try and decrypt it, but you might leave with

more questions than answers. — ART

Trevor Good

Schloss

Neuhardenberg

in concert

PHOTOS: © ROBERT DAY,

JOHANNES LOVUND, ULRIKE MÖNNIG

Silver Tour

Friend'n Fellow

Saturday, 08. 10. 2016

Switch

Nils Petter Molvær & Band

Saturday, 29. 10. 2016

Only Yule

Flying Pickets

Saturday, 12. 11. 2016

Bookings

schlossneuhardenberg.de

033476 600-750
---
WHAT'S ON — Stage

Editor's Choice

Hexes and history

Sophiensaele's Witch Dance Project unearths and

updates a spooky choreographic classic. By Lily Kelting

Jocelen Janon

Stage news

Waltzing into the ballet

Spanish choreographer

Nacho Duato is

ending his supershort

leadership

of the Staatsballet

Berlin in 2019, to be

replaced by freescene

Berliner Sasha

Waltz. A bit of a

controversial choice,

but we're into it.

Berlin stages on top

In case you needed

proof that Berlin has

the best theatre in

the world: Germany's

Theater heute

magazine calls a tie

between the Maxim

Gorki and the Volksbühne

for "stage of

the year."

Free-scene networking

Looking to crack

into the industry?

Talk shop at the

Branchentreff, the

annual meeting of

Berlin's independent

theatre scene. This

year's conference

will be held October

6-8 at Heimathafen

Neukölln.

Weimar Germany, 1926.

Mary Wigman sits with

her knees bent on a bare

stage, no music. She spreads her fingers

wide and pumps her bent arms

through the air, as if she's swimming,

then opens her knees to a straddle

and stomps forward in a squat, as

though charging the audience. This

dance, Hexentanz II (Witch Dance II),

was the nail in the coffin of classical

ballet. At the time, Wigman was a

fresh young artist who dared to dance

without pointe shoes and move in

angular, expressionist ways. In 2016,

she is known as one of the most important

figures in dance, ever.

Hexentanz II is about two minutes

long – you can watch it on You-

Tube (and I recommend that you

do!). But the short piece's impact is

larger than ever. From October 6-9,

Sophiensaele is hosting the four-day

symposium Witch Dance Project.

It's produced by a group called

Tanzfonds Heritage, a production

company that funds projects bringing

dance history to life. Since 2014,

they've produced both restagings of

and riffs on dance classics so they

don't die out of popular consciousness.

Take Oskar Schlemmer's Bauhaus-era

Triadic Ballet: you could go

your whole life not recognising the

distinctive, geometric costumes – or

you could see the piece and then begin

to see his influence everywhere.

Or Anita Berber – she's known more

for her scandalous biography than

for her gender-blurring dance moves,

which another Tanzfonds Heritage

project attempted to correct.

Even though they're all about heritage,

these projects are ultimately

concerned with the future of these

canonical performances. Even a

relatively straightforward attempt to

stage a historically important piece

runs into a fundamental problem

with dance history: it's kind of an

oxymoron. Dance is ephemeral,

there's no script, no good notation

for movement. Even minor film buffs

can tell their Tarantino from their

Tarkovsky, but only real die-hards

know about someone like Mary Wigman

– which makes events like Witch

Dance Project so important. In the

second half of Hexentanz II, Wigman

lept from her concave crouch into

the air: huge, expansive. But since it

wasn't caught on film, nobody really

knows how it goes. And so much

is lost on film, anyway – her heavy

breathing, the smell of sweat.

All of which is to say: it is so, so

hard to talk about dance. It's easier,

though, to dance about dance, which

is why inviting 10 choreographers to

riff on Hexentanz is a pretty brilliant

way to keep Wigman's impulse alive

and the conversation going. These

10 pieces might not look like the

original, but they're asking the same

question: how does the figure of the

witch disturb ideas about what it

means to move like a woman?

Then there's another question: can

you divorce historical dances from

their historical contexts? What about

the fact that the "natural movement"

that became so important for German

expressionist dance sounds an

awful lot like Nazi descriptions of

the "natural body" that bubbled up

around the same time? Or Wigman's

uneasy appropriation of "primitive"

movements based on a problematicat-best

understanding of non-Western

dance? Here, the Witch Dance

Project team intervenes via its invited

choreographers, many of whom are

queer, feminist and/or non-white. It

makes sense – feminist reclaiming of

witchiness is nothing new. Layer this

on top of a non-European perspective

and you can kind of see where

the Witch Dance Project is coming

from. If the lectures and film screenings

aren't your thing, maybe a modern

wicca workshop by someone who

goes by Warbear might be more your

speed? Understanding the impact of

Hexentanz means looking at dance

history in new ways – maybe even

looking beyond dance itself. ■

Witch Dance Project Oct 6-9

Sophiensaele, Mitte

40

EXBERLINER 153
---
WHAT'S ON — Stage

Preview

AT MARTIN-GROPIUS-BAU

Roma TV

Playing at the Delphi this month,

The Journey/Drom turns the Balkan

migration crisis into a live talk show.

A

story

about the plight of the Roma people, caught between

discrimination in the Western Balkans and rejection in

Germany, has the potential to get pretty bleak. Since Germany

added more Balkan countries to its "safe list" last year, the

chance the community has at gaining asylum here has become

virtually nonexistent. Sounds like the perfect fodder for a serious

documentary or overly sentimental dramatisation, but leave it

to the team at Delphi, the former silent film house turned alt

performance venue, to turn it into something totally unexpected.

An international collaboration helmed by Delphi artistic director

Brina Stinehelfer, The Journey/Drom, illustrates the struggles of

the Roma by assuming the format of an absurdist television talk

show – think "the worst made-for-TV version of the OJ Simpson

trial, combined with Dr. Phil," Stinehelfer says.

The style is a wink at the sensationalised depiction of Roma

people in the media, but an absurd approach might also be one of

the only ways to depict some of the struggles they face. Through

a partnership with Berlin's Roma Trial, Serbia's Kulturanova and

Budapest's Pro Progressione, Stinehelfer and her artistic team

produced the show, making sure they travelled along the Balkan

route themselves to get a first-hand look at the dead ends Roma

people face no matter what direction they go. Germany is a closed

door, and southeastern Europe is almost horrifically hopeless.

"People are living in shacks that they've made themselves out

of scrap metal and cardboard. They have no electricity, they have

no running water, babies get bitten by rats..." Stinehelfer says.

"This is Europe in 2016, and there are people dying of dysentery

because they're eating from the garbage."

The Gorki presented a sneak peek of the show back in April as a

work-in-progress, coinciding with the International Day of the Roma.

Stinehelfer now brings a fully realised version to the Delphi's singular

space, in which theatregoers will double as a live studio audience.

The script, which came directly out of actual experiences with

people in the Balkans, plays with stereotypes and prejudices in

a way Stinehelfer says doesn't fall into the "refugee victim" trap

and brings new depth to trite gypsy images and stories. "Everything

onstage happened to a real person – and everything we're

saying is a theatrical version of the truth," she says. Sounds like

the talk show ideal. — Julyssa Lopez

Nihad Nino Pušija

PINA BAUSCH

and the Tanztheater

until 9 January 2017 in Berlin

Martin-Gropius-Bau, Berlin

Niederkirchnerstraße 7 • D-10963 Berlin

www.pina-bausch-ausstellung.de

21-23 Oct 2016

RADIALSYSTEM V

In Kooperation mit

der Pina Bausch

Foundatioan, Wuppertal

Media partner

www.idfestival.de

Laurent Philippe, performance of the Pina Bausch piece Vollmond © Laurent Philippe

The Journey/Drom Oct 27, 29, 20:00

Ehemaliges Stummfilmkino Delphi, Weißensee

OCTOBER 2016

Migration told through

Israeli-German art
---
WHAT'S ON — Stage

Don't miss

Berlin Burlesque

Festival

Not to be confused

with Burlesque Week,

the fest's expanded

programme brings

together neo-burlesque

and cirque

with old-school

glamorous disrobing.

Oct 20-23, various

venues

Clap.

This piece begins

where most

performances end

– it's an exploration

of applause by the

free-scene group

Objective Spectacle.

Oct 21-23, 20:00,

Ballhaus Ost

Schaubühne for a fiver

Berlin theatre tickets

are always pretty

cheap, but October

10 is "Theatre day",

which means half-off

even the €10 tickets

at the Schaubühne's

English-surtitled

production of The

Invention of the RAF.

No excuses!

Interview

" Where is my family?"

Portland, Oregon-based playwright Andrea Stolowitz

searches for answers about her family in Berlin Diary

– Schlüterstraße 27.

The play is a conversation

between a character named

"Andrea Stolowitz" and her

great-grandfather, Max, as she tracks

down her family members in archives

and graveyards.

Can you tell us a bit about Berlin

Diary? The play is an epic odyssey

that starts in my real life, when I am

handed this diary. My great-grandfather

fled Berlin in 1936 and left a

diary for his grandchildren. Which

I didn't read for a very long time,

because it's half in German with very

small script. After a shooting in my

house when I lived in North Carolina,

I turned back to this question of

"Who is my family, and why is it so

Preview

Jerusalem in our hearts

On Oct 22, the

ensemble Sferraina

will be performing

a combination

of 17th-century

Baroque music

and the Yemenite

music of the same

period.

small?" How is the past the present

and the present the past? So I came

to Berlin and used this diary to track

down the mysteries of the past so I

can solve them.

This feels like a very Berlin story.

There's so much history upon

history upon history – and it's

all labelled. Everything. I mean,

when you think of everything that

has happened in any one spot for

the last 900 years... but then, it's

another level when it's just personal

and there are no signs at the

addresses that you find.

Why base the play on your own

life? I really don't like one-person

shows or confessional memoirs. All

that stuff is really dangerous terrain,

because it's mostly, in my view,

bad. And then the Holocaust itself

is a whole other thing. It feels like

there is nothing you can say about it.

And so that's another writing trap.

"Semi-autobiographical", "one-person

show", "the Holocaust" – these

are all "ugh, not that topic" topics.

So this is a play about now, and what

this historical event means in my

life right now: Where is my family? I

want a family. — LK

Berlin Diary – Schlüterstraße 27

Oct 6-9, 12-15, 20:00 English Theater

Berlin, Kreuzberg

There are parts of Neukölln where the patois of

Hebrew and Arabic might make you think you're in

Tel Aviv. Delve in at the ID Festival at Radialsystem

V: the annual festival showcasing German artists

with an Israeli background. Of which there are

many. The word on everyone's lips: migration! Still,

it seems more than a little tone-deaf to make this

the theme of a festival by and about Israelis. One of

the few pieces which tackles the theme explicitly is

Makembo!, an adaptation of the Joseph story "drawing

on classical rabbinic exegesis" not only featuring

a bunch of Nazi references but with an abused

African refugee as the lead character. We'd say it's

a little on the nose, except that it sounds like an

absolute mess. The more abstract end of the program

looks better, like the visual-art-inspired dance

theatre piece Dancing to the End by the group Total

Brutal. Or No Mad, which places a trombonist and a

dancer into surreal situations both in film projections

and on stage. The chamber music performances,

at the very least, won't offend. — LK

ID Festival Oct 21-23

Radialsystem V, Friedrichshain

Grrr. I'm dancing.

This performance, in

which Mathis Kleinschnittger

wears a fur

coat and becomes a

dancing bear, looks

about as weird and

wonderful as you

would expect. Oct

1-2, 19:00, Dock 11

Neda Navaee

42

EXBERLINER 153
---
ADVERTISING — The Language School Directory

Advertising

The Language School Directory

Find the perfect school for you to learn German

easily in any part of town.

Where it's fun to learn German.

Great German teachers

Join anytime

Exams and certificates

• In the middle of Neukölln

4 weeks

Deutsch

198€

die

deutSCHule

Karl-Marx-Straße 107

12043 Berlin-Neukölln

Voice +49 30 6808 5223

www.die-deutschule.de

INSIDER TIPS

& EXCLUSIVE

GIVEAWAYS

Sign up for the Exberliner

Newsletter at www.exberliner.com

SPRACHwerk

die Sprachschule im Fachwerkhof

Learning languages through fun and play, for children

from 3 years and up. www.kindersprachclub.de

Gls camPus BerlIn

AwArded

star school

GermanY 5 times

German courses

& exams

Kastanienallee 82 :: Prenzlauer Berg

(030) 78 00 89 -12 :: www.gls-Berlin.de

DasAkademie-LanguageDirectory.indd 4 16/06/16 15:27

German language courses, University Pathway & internship programmes in Berlin

With an international vision, we are a leading Swiss group of language schools based in

Montreux, Switzerland, devoted to excellence in teaching languages to enrich students' futures.

With adult schools in Berlin, Freiburg and Lyon, teaching French and German, we also offer

University Pathway and work internship programmes. During the summer we provide English,

French, German and Italian summer courses for 8-17 year olds in top European destinations.

Our mission is to encourage language development through immersion and to expand the horizons

of our students... to inspire their future.

ALPADIA BERLIN – EXAM CENTRE TELC & TESTDAF

ALPADIA BERLIN

Hauptstrasse 23/24,

10827 Berlin (U7 Kleistpark)

T: 781 10 76

info@alpadia.com

www.alpadia.com

WANT TO HAVE YOUR

BUSINESS HERE?

SEND AN EMAIL TO

ADS@EXBERLINER.COM

OCTOBER 2016 43
---
WHAT'S ON

Calendar

October 2016

Picks, highlights and can't-miss events

for this month in Berlin.

Left: The Kills. Above: German Comic Con,

photo by Tobias-Droigk. Right: Pornfilmfestival:

The Bedroom.

SAT

1

Sophie Calle Artist Talk

— Photography At C/O,

the European Month of

Photography (see page 36)

opening continues with the cult

French conceptual artist on her

intimate and sometimes

voyeuristic work. Starts 18:00.

SUN

2

Black Lives Matter

Soli-Party — Party

Dance against racism!

Berlin's queer/feminist/

non-white party scene comes

together to present this all-night

fundraiser for local black

initiatives. Schwuz. Starts 23:00.

MON

3

Day of German Unity

— Holiday Enjoy your

day off to celebrate the

26th anniversary of German

reunification – there'll even be a

funfair at the Brandenburg

Gate! Just don't forget to stock

up at Lidl the Saturday before.

TUE

4

Lucia Moholy: The English

Years — Photography

The European Month of

Photography gives the underappreciated

Bauhaus photographer

the spotlight with an exhibition

showcasing the work she made

after fleeing Nazi Germany for

London. Through Feb 27.

Bauhaus Archiv. Opens 19:00.

WED

5

Gold Panda — Music

With his loud yet

relaxed indie electronica,

British producer/musician

Derwin Schleckers is a perfect

fit for Berghain, even if it is

only Wednesday. Starts 20:00

THU

6

Doku.Arts — Film

The 10th edition of the

international art film

festival (see page 29) delves

into essay cinema. This year

features a great lineup with

many directors present, like at

striking opener Notes on

Blindness. Through Oct 23.

Zeughauskino. Starts 20:00.

Italian Film Festival — Film

The four-day celebration of

cinema Italiano includes a retrospective

on director Paolo

Virzì, who'll be present at the

opening screening of his 1997

comedy Ovosodo. Babylon.

Starts 20:00.

Witch Dance Project — Dance

Discover your inner queer

shaman over four days of

performances, films, readings

and interactive rituals based on

Mary Wigman's groundbreaking

Hexentanz (see page 40).

Through Oct 9. Sophiensaele.

Starts 18:30.

FRI

7

Festival of Lights

— Installation

An upside of it getting

dark earlier: 10 nights of fantastical

light projections illuminating

Berlin's most famous

monuments and landmarks,

plus live music and art events.

Through Oct 16. Starts 19:00.

SAT

8

Lichtspiele Youth Film

Festival — Film Let's

hear it for the kids at

this showcase of shorts made

by children, teens and young

adults. City Kino Wedding.

Starts 11:30.

The British View — Exhibition

How do the Brits see Germany?

Curated by the British Museum,

this show displays 200 objects

that retell German history

through a British lens, from

Albrecht Dürer's Rhinocerus to

Napoleon's hat. Through Jan 9.

Martin-Gropius-Bau.

SUN

9

Easterndaze — Film/Music

Eastern Europe's

fertile, noisy DIY scene

comes to Berlin for 10 days of

concerts and documentaries.

It all wraps up tonight with a

screening of Belgrade music

doc Beograd Underground.

Lichtblick. Starts 20:00.

MON

10

EXBlicks: Rebirth of a

Nation — Film/Party Join

Exberliner and American

Voices Abroad for a pre-election

warm-up with voter registration,

drinks and snacks, then catch the

DJ Spooky remix of one of the

most notorious American films in

history. Lichtblick. Starts 20:00.

TUE

11

3hd Festival — M usic/Art

Screw the future, let's

focus on the present at

the Creamcake collective's music,

performance and visual art fest.

Through Oct 15. Various locations.

Starts 18:00. (see page 35)

WED

12

How Berlin Got the

Blues — Film/Music

A soldier by day and

bluesman by night, Eb Davis

changed the city's musical

landscape pre-Mauerfall. Catch

the European premiere of the

documentary on his life, followed

by a live concert by the

man himself. Babylon Kino.

Starts 20:00. (See page 26)

Women & Leadership: The Path

Ahead — Discussion Panel The spirited

ladies of The American Women's

Club of Berlin have invited

four female executives (from

IBM to Siemens) to share their

experiences. Kimberly Emerson of

44

EXBERLINER 153
---
WHAT'S ON

Human Rights Watch (see page 23)

will open the evening. Volkswagen

Group Forum. Starts 19:00.

FRI

14

Uncertain States — Art

This group exhibition

matches objects from the

likes of Walter Benjamin and

Bertolt Brecht with 25 contemporary

works reflecting crisis, flight,

instability, violence and loss.

Through Jan 15. AdK. Starts 19:00.

SAT

15

German Comic Con

— Conference Get your

cosplay gear ready for

Berlin's first-ever Comic Con,

featuring an impressive guestlist

of nerd-approved names like

Christopher Lloyd, James

Marsters and Robert Englund (aka

Doc, Spike and Freddy). Through

Oct 16. Messe Berlin. Starts 10:00.

TUE

18

The Cure — Music

Who doesn't want to

re-experience those angsty,

dramatic teenaged days when The

Cure was your perfect medicine?

Mercedes Benz Arena. Starts 19:30.

THU Berlin Burlesque Festival

20 — Cabaret Acts from all

over the world spin fire,

do flips and get naked. Whether

you're watching people take their

clothes off or twirling those nipple

tassels yourself, it'll be a blast.

Through Oct 23. Various venues.

FRI

21

ID Festival — Stage

This year's German-Israeli

arts and culture festival

bears the timely theme of "migration"

and "refuge", as explored

through three days of performance.

Through Oct 23. Radialsystem V.

Starts 17:00. (See page 42)

SAT

22

The Kills — Music

Get your post-punk

grunge on with chainsmoking

badass Alison Mosshart

(also of The Dead Weather),

touring latest album Ash & Ice.

Tempodrom. Starts 20:00.

TUE

25

Angel Olsen — Music

Whether backed up by a

rock cacophony or

shockingly sparse folk arrangements,

the indie darling's voice

is always centre stage. She hits

Berlin with her brand-spankingnew

album My Woman. Columbia

Theater. Starts 19:00.

WED

26

Pornfilmfestival — Film

Berlin's raunchiest underground

film festival

returns to Germany's oldest

cinema for the 11th time. Bring

your mom! (Seriously – it's

not all hardcore). Through

Oct 30. Moviemento. (See

page 29)

THU

27

Scores — Art/Music

Toss out your sheet

music at this

audiovisual exhibition, for

which artists like Saâdane

Afif and Ari Benjamin Meyers

created far-out interpretations

of the musical score.

Through Nov 13. Hamburger

Bahnhof. Starts 19:00.

Tacit Futures — Conference

Can movement and borders

be controlled through

democratic processes? The

Berliner Gazette investigates

this question through workshops,

performances, talks

and... cooking! Through Oct

29. Volksbühne.

MON

31

Adia Victoria — Music

Celebrate Halloween

with ghostly Southern

gothic blues courtesy of the

up-and-coming Nashvillebased

singer-songwriter.

Privatclub. Starts 20:00.

October Programme in English

28.9.–8.10. / HAU1, HAU2, HAU3 FESTIVAL

The Aesthetics of

Resistance –

Peter Weiss 100

Festival with Judica Albrecht, Alexand­

Liane, Halil Altındere, Mareike Bernien,

Boris Buden, Guillermo Calderón,

Volkan Cidam, Phil Collins, Ekaterina

Degot, T**lin, Ion Dumitrescu, Nicoleta

Esinencu, Liz Fekete, Oliver Frljić, Bogdan

Georgescu, Alex Gerbaulet, Enna

Gerin, Fabian Hinrichs, Sandra Hüller,

Serhat Karakayali, Jana König, Tomasz

Konicz, Nina Kronjäger, Anja Lemke,

Hannah Lichtenberger, Doris Liebscher,

Agnes Julia Mann, Rabih Mroué, Grigoris

Panoutsopoulos, Mira Partecke,

Miquel Ramos, Raze de Soare, La Resentida,

Stefanie Schüler­Springorum,

Mima Simić, DJ Sohrab, Andreas Spechtl,

Robert Stadlober, Valery Tscheplanowa,

Joseph Vogl, Mark Waschke, Zeev

Sternhell a.o.

11.10. / HAU2 / Concert MUSIC

Mark Ernestus'

Ndagga Rhythm

Force / afterwards: DJ Mark Ernestus

My Perfect Berlin Weekend

New York native and Neuköllner

Brina Stinehelfer is a theatre/performance

artist and the artistic

director of Ehemaliges Stummfilmkino

Delphi, a former silent

film theatre hosting two of this

month's must-sees: musicians

Jerusalem In My Heart (see page

33) and play The Journey/Drom

(see page 41).

Karolina Spolniewski

OCTOBER 2016

FRIDAY

19:00 Dinner at my fave sushi spot Tabibito

(Karl-Marx-Str. 56, Neukölln), a really tiny,

cute and delicious family-owned place. 21:00

See my friends at Engels (Herrfurthstr. 21,

Neukölln) for the Friday drag show. 23:00

Some serious dancing at Schwuz (Rollbergstr.

26, Neukölln) or Sameheads (Richardstr. 10,

Neukölln) – I like to keep it local when I have

work the next day.

SATURDAY

13:00 I go to Ehemaliges Stummfilmkino

Delphi (Gustav-Adolf-Str. 2, Weißensee) to prepare

for the event that night. No matter if it's

theatre, music, dance or a film, it's always a joy

to be in this beautiful space. 20:00 Showtime! I

stay till the bitter end to lock up.

SUNDAY

14:00 If the weather is nice I love grilling in

Hasenheide (Neukölln). 20:00 Either see a

show at HAU (Stresemannstr. 29, Kreuzberg)

or a film at Rollberg Kino (Rollbergstr. 70,

Neukölln).

14.+15.10. / HAU2 MUSIC PERFORMANCE

Creamcake

3hd Festival: There is nothing left

but the Future?

With AGF, Inga Copeland, Soda Plains ft.

Negroma, COOL FOR YOU, Nile Koetting,

Aïsha Devi & Emile Barret, Easter, HVAD,

Kara­Lis Coverdale

16.10. / HAU3 DIALOGUE

Violence of

Inscriptions #0

Sandra Noeth & Arkadi Zaides

21.–23.10. / HAU1 THEATRE

She She Pop

50 Grades of Shame

Ein Bilderbogen nach Wedekinds "Frühlings Erwachen"

German with English surtitles

21.–23.10. / HAU3 DANCE

Adam Linder

Kein Paradiso / English (language no problem)

28.–30.10. / HAU2 THEATRE

Kornél Mundruczó /

Proton Theatre

Látszatélet / Imitation of Life

Hungarian with German and English surtitles

www.hebbel-am-ufer.de
---
ADVERTORIAL — The Berlin Guide

Advertorial

The Berlin Guide

The new directory to help you find your

way around Berlin. To advertise, contact

ads@exberliner.com

and more. The best part? All profits

benefit social projects. Ganghoferstr.

2, U-Bhf Karl-Marx-Str., www.

prachtwerkberlin.com

savour. Sredzkistr. 43, U-Bhf Eberswalder

Str. / Pflügerstr. 25, U-Bhf

Schönleinstr. Tue-Sun 11-23, www.

chutnify.com

CAFÉS

GODSHOT — Prenzlauer Berg

Godshot belongs to the top of the

league, with excellent coffee and

super-friendly staff. Above all, they

know their stuff. Take your time and

enjoy the casual, laid-back atmosphere

of a great neighbourhood and

one of their delicious cakes.

Immanuelkirchstr. 32, U-Bhf Senefelderplatz,

Mon-Fri 8-18, Sat 9-18,

Sun 13-18, www.godshot.de

BARETTINO — Neukölln

The name means "small bar", and

this is a unique combination of great

food and good coffee from Italy and

Brandenburg. Everything is fresh

and made with love: The huge breakfast

selection, Italian dishes, lots

of delicacies, toasted paninis and

homemade cakes… Join our events!

Reuterstr. 59, U-Bhf Hermannplatz,

Tel 0176 6464 5307, Mon-Sun

9-22, www.barettinoberlin.com

NAPOLJONSKA — Mitte

Located just off Zionskirchplatz,

this vegetarian café offers organic

and homemade delicacies. Enjoy a

TO PLACE YOUR

AD HERE CONTACT

ADS@EXBERLINER.COM

range of hearty breakfasts reaching

from spinach omelettes to pancakes

and French breakfast. Here you

can sip your organic latte in a cosy

atmosphere with the young and old,

locals and travellers. Kastanienallee

43, U-Bhf Rosenthaler Platz, Tel

030 3117 0965, Mon, Fri 08.30 -18.00,

Tue-Thu 8.30-16:00 Sat- Sun 09-

19.00, www.napoljonska.de

CAFÉ IM LITERATURHAUS

— Charlottenburg Enjoy a coffee in

one of Berlin's finest cafés, known

for its courteous staff and pleasant

atmosphere in the elegant and

much-loved Literaturhaus villa. The

perfect stop during a shopping trip

on nearby Ku'damm. Fasanenstr.

23, U-Bhf Uhlandstr., Tel 030

8825 414, Mon-Sun 9:30-24, www.

literaturhaus-berlin.de

PRACHTWERK — Neukölln One of

a kind in Neukölln, Prachtwerk is a

spacious café, music venue and gallery.

With a wide variety of local and

organic items, Prachtwerk serves

up Five Elephant Coffee, beer from

Neukölln's Rollberg Brauerei, housemade

baked goods, tasty cocktails

SPLUFFIN STORE — Friedrichshain

Spluffin Store is a new kind of small

bakery specialising in hybrid pastries,

mainly Spluffins, which cross

muffins with Berlin's very own Splitterbrötchen.

The store offers more

than 20 different sweet and savoury

Spluffin variations, and even some

vegan options. Best enjoyed with

a great cup of coffee. Revaler Str.

12, U-Bhf, S-Bhf Warschauer Straße,

Thu-Fri 9-18, Sat-Sun 10-20, www.

spluffin.berlin

KREMANSKI — Kreuzberg

Kremanski offers tasty breakfast,

high-quality coffee, lunch (Mon to

Fri), homemade cakes and icecream,

special beers, drinks, good

music and cultural events. The

friendly and talented staff will make

you feel welcome, inspired and

relaxed. The perfect hangout right

at Kotti, all day long! Adalbertstr.

96, U-Bhf Kottbusser Tor, Mon-Thu

8.30-23, Fri 8.30-2, Sat 12-2, Sun 12-

23, www.kremanski.de

RESTAURANTS

CHUTNIFY — Prenzlauer Berg, Neukölln

Desperate for an alternative to the

usual over-sauced curry? Get set

to rejoice! Boasting a lip-smacking

selection of South Indian fare,

Chutnify is the go-to spot if you're

hunting for authenticity. Be it crispy

dosas, tantalising thalis or zinging

salads, there's a dish for everyone to

CHUPENGA — Mitte

When the lunchtime queue for a

burrito looks like Berghain, you

know there's got to be something

good waiting. Luckily, it moves

quickly, thanks to Chupenga's

efficient production line. You can

pick and choose the ingredients for

your burrito, naked burrito, salad or

tacos for a fixed price. Mohrenstr.

42, Tel 030 239 369 61, U-Bhf

Hausvogteiplatz, Mon-Fri, 11:30-20,

www.chupenga.com

BASTARD — Kreuzberg From Bastard

with love: whether it's breakfast,

lunch or dinner, this restaurant is

not just for those who were born out

of wedlock. Choose from the changing

seasonal menu created with love

for fresh ingredients and fine food.

Our tip: try the homemade stoneoven

bread! Reichen berger Str. 122,

U-Bhf Görlitzer Bahnhof, Tel 030

5482 1866, Mon, Wed-Sun 9-16.30,

www.bastard-berlin.de

AUSTERNBANK — Mitte

Fresh oysters, premium fish and

exceptional meat dishes are served

at Austernbank. Culinary splendor

as well as the extraordinary

architecture make this a must-go-torestaurant.

The former bank vault is

located inside the Humboldt Carré,

one of Berlin's most beautiful buildings.

For gourmets: lobster cocktail

"à la Rosso" is prepared in front of

the guests. Behrenstr. 42, U-Bhf

Französische Str. Tel 030 7677 52724

46

EXBERLINER 153
---
ADVERTORIAL — The Berlin Guide

NO HABLO ESPAÑOL

— Friedrichshain The best Californiastyle

Mexican street food joint in

Friedrichshain. Delicious freshly

made burritos and quesadillas

served by a collection of fun-loving

international people. Once a week,

challenge the NHE team in a game

of rock-paper-scissors and win a

half-price meal! Kopernikusstr. 22,

S+U-Bhf Warschauer Str., Mon-Sun

from 12, www.nohabloespanol.de

CRUNCH KANTINE — Moabit

Crunch Kantine is about quick,

simple, affordable food made from

fresh and cooked with love. Our

philosophy on vegetarian cooking:

everything fresh and delicious and

we hope that meat eaters won't

notice that there is NO meat. 12

dishes on the buffet each day with

80% of them vegan. Siemensstr.

16, S-Beusselstr., Tue-Sat 12-20, Sun

12-17, www.crunchkantine.com

MANI IN PASTA — Kreuzberg

Many restaurants claim to offer

hand-made tagliatelle, but at Mani

in Pasta you can actually see it happening!

The Italian trio prepares and

sells fresh pasta at Markthalle IX.

They also offer daily traditional or

experimental dishes to enjoy on the

spot. Some meaty, some vegetarian,

all delicious! Eisenbahnstr. 42-43,

U-Bhf Görlitzer Bahnhof, Mon, Wed,

Sat 10-18, Tue, Fri, 10-20, Thu 10-22,

www.maniinpasta.de

3 SCHWESTERN — Kreuzberg

Housed in a former hospital

turned art centre, this spacious

restaurant with big windows

overlooking a lovely garden serves

fresh, seasonal German and

continental dishes at reasonable

prices. Breakfast on weekends and

holidays. Live music and parties

start after dessert. Mariannenplatz

2 (Bethanien), U-Bhf Kottbusser

Tor, Tel 030 6003 18600,

Mon-Sat from 11, Sun from 10,

www.3schwestern-berlin.de

DABBAWALLA — Schöneberg

Dabbawalla's tasty vegan lunch

offerings are freshly made and

inspired by the ayurvedic cuisine.

Main dish is the generous Thali

which changes daily; also popular

are the salads, cakes and the sweet

'Chia-dream'. The cosy deli is also a

small health food store. Hohenstaufenstr.

64, U-Nollendorfplatz or

U-Eisenacher Str.; Mo-Sa 11.30h-16h,

www.dabbawalla.berlin

CAFÉ MORGENLAND — Kreuzberg

On weekends and holidays you'll

find a great buffet here, complete

with gourmet cheese, fresh fruit and

veg, crêpes and other vegetarian

dishes, cold cuts, shrimp cocktails

and more. Set menus from €5.

During Happy Hour drinks are just

€3.50 after 20:00. Reservations

suggested. Skalitzer Str. 35, U-Bhf

Görlitzer Bahnhof, Tel 030 6113 291,

Mon-Fri 9-1, Sat-Sun from 10,

www.morgenland-berlin.de

English menus and serve organic

meat. Kantstr. 148, S-Bhf Savignyplatz,

Tel 030 3138 038, Mon-Sun all

day, www.schwarzescafeberlin.de

ZEROSTRESS PIZZA

— Friedrichshain All Italian, delicious

handmade pizza to-go or enjoy

with the relaxed and fun crew.

They have been feeding Berliners at

festivals, parties and markets, and

recently opened their own restaurant

in Friedrichshain. One of the

best pizzas in town, made with love

for food. Vegetarians and vegans

are also welcome! Colbestr. 3,

U-Bhf Samariterstraße, Mon-Sat

12-23, Sun 17.30-23, facebook.com/

zerostresspizza

PUNE — Prenzlauer Berg The place to

go to especially on Sundays for a

great Indian buffet after a stroll on

the nearby Mauerpark fleamarket.

They offer a large menu with various

meaty, vegetarian and vegan dishes,

and daily lunch specials. Don't skip

the cocktail happy hour! Oderberger

Str. 28, U-Bhf Eberswalder Str.,

Tel 030 4404 2762, Mon-Sat 12-24,

Sun 11-24, www.pune-restaurant.de

DOLORES — Mitte & Schöneberg

Founded 10 years ago as a street food pioneer in the German capital,

Dolores serves excellent California-style burritos and quesadillas

– inspired by San Francisco's Mission district. Recommended by

Time Out, New York Times and Lonely Planet. Voted #1 value for

your money by Exberliner readers. Rosa-Luxemburg-Str. 7, S+U-Bhf

Alexanderplatz, Tel 030 2809 9597, Mon-Sat 11:30-22, Sun 13-22.

Bayreuther Str. 36, U-Bhf Wittenbergplatz, Mon-Sun 11-22, www.

dolores-berlin.de

SCHWARZES CAFÉ

— Charlottenburg Since the 1970s,

Schwarzes Café on Savignyplatz has

been a cult favourite among artists,

anarchists, foreigners and Charlottenburgers.

They're open 24/7, have

NALU DINER — Prenzlauer Berg

They call themselves the Homeland

of the Freefill, but Nalu is much

more: here you'll score US-style

breakfasts, comfort food and great

cheeseburgers plus tasty lunch

and dinner specials. Finish your

meal with a malted milkshake or

root beer float! Dunckerstr. 80a,

S-Bhf Prenzlauer Allee, Tel 030

8975 8632, Mon 9-16, Tue-Sun 9-22,

www.nalu-diner.com

OCTOBER 2016 47
---
ADVERTORIAL — The Berlin Guide

TO PLACE YOUR AD HERE

CONTACT ADS@EXBERLINER.COM

SHOPS & SERVICES

BARS & NIGHTLIFE

17-20, S-Bhf Hacke scher Markt,

Mon-Fri from 12, Sat-Sun from 10,

www.kilkenny-pub.de

SOYLENT BAR — Friedrichshain

The bohemian bar with its shabbychic

style, flea-market furniture,

boom boxes and street art collection

is the place to go to knock back a

few cocktails or try the unique selection

of premium vodkas and hear

an eclectic range of music from soul

to electronic in a local and intimate

atmosphere. Gabriel-Max- Str. 3,

S+U-Bhf Warschauer Str. Mon-Sun

18–open end cafesoylent.eu

KUMPELNEST 3000 — Schöneberg

The legendary bar that made the

Berlin nightlife scene what it is

today. This brothel-turned-bar was

Bono's hangout during his visits to

West Berlin 25 years ago. Kumpelnest

hasn't lost any of its authenticity

or wild side over the years. Hipsters

beware! Lützowstr. 23, U-Bhf

Kurfürstenstr., Mon-Fri 19-5, Sat-Sun

from 19, www.kumpelnest3000.com

LPG BIOMARKT — Prenzlauer Berg & Kreuzberg

Your all-organic neighbourhood supermarket supplies fruit and veggies,

vegan groceries, meats, cheese and even cosmetics. They offer a

huge selection of local and regional products, preferably from within

200km from Berlin. Fill your basket with freshly baked bread and treat

yourself to a selection of homemade sweet and savoury goodies. Found

already in 8 locations in Berlin to offer you the fairest, cleanest and

most delicious products nearby, from nearby. Reichenberger Str. 37,

U-Bhf Kottbusser Tor, Mon-Sat 8-21, bakery from 7 Kollwitzstr. 17, U-

Bhf Senefelderplatz, Mon-Sat 9-21, bakery from 7 www.lpg-biomarkt.de

unfussy and original approach to

every kind of event. 0179 1877838,

www.marblesauce.com

HOPS & BARLEY — Friedrichshain

Serving home-brewed pilsner and

dark beer, this is the place to go to

get that proper brew-pub vibe in

Friedrichshain. Cider and wheat

beers are also on tap. Part brewery,

part bar, the interior is beautifully

decorated with antique tiles. Wühlischstr.

22-23, S+U-Bhf Warschauer

Str., Tel 030 2616 918 Mon-Sun 17-2,

www.hopsandbarley-berlin.de

SCHILLERBAR — Neukölln

Fantastic breakfast well into the

afternoon, and great cocktails at

night. Behold the authentic red paint

on the outside wall intended to

threaten the bar upon opening, left

there and affectionately responded

to with hearts stating "Schiller loves

you anyway" (in German, of course).

Herrfurthstr. 7, U-Bhf Boddinstr.,

Tel 0172 9824 427, Mon-Sun 9-2,

www.schillerbar.com

DR. POGO VEGANLADEN

KOLLEKTIV — Neukölln A veganonly

grocery store with a tiny café in

cosy Rixdorf. Vegans will find almost

anything they need. Non-vegans

are welcome to discover interesting

plant-based alternatives and organic

products amongst 2000 items, fresh

vegetables and lots of bulk ware for

small portions. Karl-Marx-Platz 24,

S+U-Bhf Neukölln, Mon-Tue, Thu-

Fri 9-20, Wed 12-20, Sat 9-16,

www.veganladen-kollektiv.net

COMPUTER SERVICE JULIEN

KWAN — Schöneberg Julien Kwan's elegant

store for Apple computers and

other high-tech goodies is the place

for those who want more than just

a shop-and-go experience. Personalised

service makes browsing the

latest technology a true pleasure.

Vorbergstr. 2, U-Bhf Kleistpark,

Tel 030 6170 0510, Mon-Fri 10-14, 16-

19, Sat 12-16, www.deinmac.de

KILKENNY IRISH PUB — Mitte

Natives and visitors alike converge

to drink and party at this pub under

the beautiful Hackescher Markt

station. Enjoy homemade and

international pub grub plus a vast

selection of beers and spirits. Catch

all the international sports on big

screens. Live concerts two to three

nights a week. Easy 24h access to

public transport. Am Zwirngraben

MONSTER RONSON'S ICHIBAN

KARAOKE — Friedrichshain

Monster Ronson's is the world's

craziest karaoke club. Make out on

their super-dark dance floor, get

naked in the private karaoke boxes

and sing your favourite songs all

night. Warschauer Str. 34, S+U-Bhf

Warschauer Str., Mon-Sun from 19,

www.karaokemonster.de

MARBLE SAUCE is a vibrant catering

project in Berlin which focuses

on contemporary cross-over food

culture. Started by Caique Tizzi

alongside a team of cooks and artists,

Marble Sauce takes a unique

and creative approach to event

catering and has tailored its fresh,

HOSENANFERTIGUNG NICOLA

GEBHARD — Friedrichshain

The talented master tailor makes

trousers with a perfect fit according

to your wishes and measurements.

Go in, get measured, choose the

48

EXBERLINER 153
---
ADVERTORIAL — The Berlin Guide

fabric, and receive the best trousers

of your life at her Berlin workshop.

Her focus on detail guarantees that

you will leave a happy customer.

Schreinerstr.21, U-Bhf Samariterstr,

Tel 030 293 687 37, www.nicola-gebhard-hosenanfertigung.de

comes to life! Expect the unexpected!

Rosenthaler Str. 39, S-Bhf Hackescher

Markt, Thu 18.30-21.30, Fri-Sat 16.30-

21.30, www.monsterkabinett.de

TIB-SPORTZENTRUM — Tempelhof

At Berlin's oldest sport club you'll find

sports for young and old. Baseball,

softball, ultimate frisbee, tennis, dance

and more. Their sport centre has a

gym, sport courses, 8 badminton and 2

tennis indoor courts, and a sauna.

Columbiadamm 111, U-Bhf Südstern,

Mon-Fri 8-23:30, Sat 9-20:30, Sun

9-23:30, www.tib1848ev.de

HUMBOLDT-INSTITUT — Mitte Total

beginner or advanced learner: the

Humboldt-Institut has the right course

for everyone. Small classes with intensive

tuition ensure swift and effective

learning. Intensive German courses

are also available with accommodation

on campus. Or choose a part-time

course in the morning, evening or on

Saturdays. Invalidenstr. 19, S-Bhf

Nordbahnhof, Tel 030 5551 3221, www.

humboldt-institut.org

IITTALA SHOPS — Mitte, Schöneberg

The Finnish brand Iittala designs timeless homeware which oozes luxury

and elegance. The company founded in the 19th century is loyal to many

classic and famous designs, but manages to combine them with modern

graphics, bold colours and fresh ideas. The designs are meant for special

moments or for everyday use, and to last a lifetime. Their colourful

bowls, plates and cups let you enjoy your meals on a whole new level,

and those beautiful candle votives will light up your autumn nights.

Münzstr. 7, U-Bhf Weinmeisterstraße Friedrichstr. 158-164, S+U-Bhf

Friedrichstraße KaDeWe Tauentzienstr. 21-24, U-Bhf Wittenbergplatz

MONSTERKABINETT — Mitte

Join us on a trip to Berlin's underground

art scene! A unique theme park

inhabited by automatic, singing, dancing

monsters. Your guides: our performance

artists from Transylvania. Visitors

of all ages are invited to enjoy an

invaluable art event where technology

AMORE STORE — Kreuzberg

The contemporary mom-and-pop

store offers traditional Italian products

but with a fun touch. Make great

discoveries varying from cheese graters

to freshly baked bread, and from

colourful cotton socks to organic

olive oil. All items sold are picked

specifically to match the concept

of the store: traditional Italian

delicatessen and goods, with a pinch

of pop culture and of course amore!

Sanderstr. 12, U-Bhf Schönleinstr.,

Tue-Fri 12-20, Sat 12-18

ROLLBERG KINO — Neukölln With

five screens, Babylon Kreuzberg's

bigger but lesser-known sister boasts

one of the largest original language

movie selections in Berlin. Located

on the U8 near Hermannstraße in

the Kindl Boulevard shopping centre.

Rollbergstr. 70, U-Bhf Boddinstr.,

Tel 030 6270 4645, www.yorck.de

TO PLACE YOUR

AD HERE CONTACT

ADS@EXBERLINER.COM

CULTURE, REPORTAGE, POLITICS...

WE'VE GOT BERLIN COVERED!

Get Exberliner Magazine delivered to your doorstep

every month and receive a free restaurant voucher or a

pair of tickets to select exhibitions.*

*Subject to availability. Subscribers in Germany only.

OCTOBER 2016 49
---
REGULARS

Start-ups

By Sophie Atkinson

Working

the system

A day of custom

shoemaking is

one of the many

Descapes on offer.

Looking to escape the daily, fulltime

grind? Whether you're looking

to try on a new career or share your

job with a buddy, Berlin start-ups

Descape and Tandemploy promise

to solve your work woes... how

convincingly, though? By Sophie Atkinson

Descape

If you're anything like yours truly, the onset

of autumn is giving you some heavy

back-to-school vibes and with them,

renewed focus on all things career-related.

You're in Berlin, you're part of the digital native

generation, so there's every chance you

might look to start-ups for salvation.

Descape offers work placements across the

globe for money. Yup, you heard that right:

you're paying to work on your holiday. This

is theoretically because the jobs on offer are

dream jobs. This isn't you fetching coffees

and doing photocopying for a marketing

department, but the opportunity to "try out"

being a chocolatier, a llama breeder, a sailor, a

vintner or even a ranger at a game reserve in

Namibia. Plus, as co-founder Lena Felixberger

clarifies, while the experience is authentic ("If

you do a Descape at a bakery, obviously you

have to get up early"), you shouldn't be doing

the gruntwork. "The idea is that you get an

insight but you also have a really good experience

because you paid for it."

Markus Hoffmann is the co-founder of the

Costa Rica-based project Aiko Logi Tours,

which offers Descape guests the chance to

become rainforest rangers: planting trees,

maintaining paths and reintegrating different

kinds of animals. He argues that Descape

works well for both sides: "It helps finance

the rainforest preservation, but Descapers

also show a special interest in our work.

Since many Descapers stay for extended

time periods, we can give them real projects,

which in turn also speeds up our work."

Still, chasing your bliss doesn't always

come cheap. The cheapest Descape costs

only €35, but the job's not exactly thrilling:

you're paying to squat a cabin and cook for

hikers in France for a day. Compare this

with the most expensive work placement,

which offers Descapers the opportunity to

make their own pair of shoes in Baden-Baden

for €2880 – ouch. But the role that really

induced a spasm of eye-rolling was "barista".

You can pay the Berlin School of Coffee €260

to learn how to make, well, coffee. Dude,

ask your closest barista friend (it's Berlin,

This isn't you doing

photocopying for a marketing

department, but

the opportunity to "try

out" being a chocolatier

or a llama breeder.

we all have one) for tips instead and spend

the money you've saved on a trip to Rome to

suck down some really impressive caffeine.

This said, most Descapes seem to be priced

around the €200 mark, which isn't that big of

a sum to invest towards some Oprah-esque

dream following, or a holiday spent with

exotic animals.

If you're looking for a longer-term work

solution, Tandemploy might prove a tempting

alternative. The premise: split a full-time job

with another person so that you can do interesting,

fulfilling work while still having time

to do... whatever else it is you do in Berlin.

Co-founder Jana Tepe set up the company after

working in recruitment, and her lightbulb

moment came when two candidates made

a "tandem" application for one role: they

would both work the job part-time, creating

one full-time candidate. Two days later Tepe

and her colleague Anna Kaiser quit their jobs

at the recruitment company to found their

own startup, hoping to popularise a more

flexible form of working.

The free service offers vacancies from

companies across Germany that are open to

tandem workers, and allows people to team

up and apply for jobs with fellow workers

in their industry. Tepe argues this benefits

employers every bit as much as it does

employees, with employers getting "what recruiters

usually look for: someone who can

speak five languages, who's really creative

but can also be analytical" by filling the one

role with two candidates. It's also pretty

good for the employees: part-time roles, by

law in Germany, all come with the health

insurance, holiday leave and sick leave you'd

associate with a non-freelance position. The

number of days of paid leave assigned is proportional

to how much you work, so you'd

only get half the normal amount of holiday

if you split the job 50-50, but who needs

holidays if you're only working half time,

anyway? Plus, 20 of the companies who use

the service are based in Berlin so you won't

have to relocate for your new part-time

working life. So far, so blissful.

50

EXBERLINER 153
---
REGULARS

On the other hand, the interesting jobs

don't look so interesting: you won't be

applying for the role of scriptwriter on

Deutschland 86 or something. They're

mostly office jobs: marketing, sales, HR

and a sprinkling of tech, though Outfittery

does offer Berlin-based fashion roles if

you're an aspiring stylist.

Count Anna Kollenberg and Jens Landmann

among Tandemploy's success stories. The

two work together in an account manager

role at Skill Hero, which Kollenberg stresses

is "very well paid by Berlin standards". Their

job is mostly based around customer service

– training customers to use Skill Hero's apps

and filling the apps with content – but also

has marketing and sales components and,

given its complexity, Kollenberg believes it

can be helpful to have a second person who

knows exactly what she should be covering.

Kollenberg referred to multiple occasions

when she or Landmann acted to preempt

each other's mistakes – her failure to book

a restaurant for a coding workshop she was

organising, his idea to stage a workshop at

their stall at a business fair that wasn't open

to spontaneous presentations. But it's not all

plain sailing. Kollenberg stresses, "Communication

is a really tough thing in tandem." She

recalls a day when, thanks to a miscommunication,

she ended up working from the wrong

document, losing a day's work and riling the

CEO, who couldn't understand why she was

asking all the same questions Landmann had

asked in a meeting a few days earlier.

However, it sounds like the extra communication

was well worth it for the pair

– Kollenberg has used her spare time to

become a part-time philosopher, offering

"analytic thinking" philosophical seminars

and workshops while Landmann volunteers

at a refugee project where he is mentoring a

young Afghan man and "helping him a bit to

manage his day-to-day life here in Germany."

While we'd all love to become Lebenskünstler,

with rising costs of living in Berlin, it's

a lucky few who can find jobs well-compensated

enough to allow for halving working

hours. If you're really hoping for a working

revolution, maybe the smartest option isn't

a start-up at all, but campaigning for the

Pirate Party-supported unconditional basic

income. But until that happens, if you need

something to take the edge off the death

throes of late capitalism, Descape or Tandemploy

will have to do for now. ■

AZ_B_Exberliner_Okt.16.indd 1 13.09.16 10:42

Karolina Spolniewski

Jana Tepe and Anna Kaiser of tandem working start-up Tandemploy (left, centre)

and Lena Felixberger of paid work placement company Descape (right).

OCTOBER 2016
---
REGULARS

Start-ups

By Sophie Atkinson

N26's growing pains

Berlin's fintech start-up N26 is now an honest-togoodness

bank – ATM fees included. Is this really the

future of banking? By Dyllan Furness

Located on the top two floors of an old

Stasi spy centre in Mitte, N26's office

space looks like a successful start-up

starter pack: ergonomic chairs, bald and

bearded product developers, a concrete wall

graffitied by local artists. The custom-made

carpeting is stitched with lines of code.

As newbies in an industry as old as money,

the banking app is on a mission improbable

in Berlin and Europe at large, where

big banks still roam like dinosaurs. Since its

launch in January 2015, the start-up has progressed

inch by inch, grown by tens of users

at a time, and established itself as a digital

alternative to antique institutions.

But, up until two months ago, "Europe's

most modern bank" wasn't even a bank.

Number26 customers' money was handled by

Wirecard Bank, who held the banking license

and eased the regulatory headache for the

Berlin-based startup. Then, in July, with a

customer base of over 200,000 and tens of

millions of euros in investments, Number26

earned its banking license and started batting

in the big leagues. To celebrate the event, it

simplified its name (a reference to the number

of dice in a Rubik's Cube) to N26.

The banking license came as a metamorphosis

for the start-up. The Wirecard partnership

had limited how quickly N26 could expand

but gave it a sense of security, enabling it

to develop its IT system, infrastructure, user

interface, and – perhaps most importantly –

its relationship with its customers.

"Banks have suffered as brands of trust since

the financial crisis," co-founder and CEO Valentin

Stalf said. "But today, with all the transparency

on the web, you can create a brand

and create trust quite quickly." He pointed to

his company's 4.5-star App Store rating.

N26 builds its relationships in many

ways. For one, it takes just eight minutes to

register for an account online (in English,

if you want) – a godsend for newbie expats

intimidated by the prospect of walking into

a Sparkasse. The mobile app is seamless

and intuitive, and N26's hip, digital brand

provides a stark contrast to the concrete

aesthetic of traditional banks – never mind

that Trump-supporting German-American

billionaire Peter Thiel is one of its most

prominent investors.

But the start-up's biggest draw, for Berliners

at least, was its lack of fees. This changed

in July, when N26 started charging for cash

withdrawals in Germany – a feature that

was previously free and unlimited from

any Mastercard ATM. In its Fair Use policy,

customers who have their salary paid directly

into their N26 account, who deposit at least

€1000 into the account per month or who

are younger than 26 are given five free ATM

withdrawals per month; all others are offered

three free withdrawals. After that, users have

to fork up €2 per transaction. With plenty of

traditional German banks offering free cash

withdrawal and banking apps of their own,

N26 no longer looked quite as sexy.

From a business perspective, the move was

necessary. For over a year, N26 swallowed

the costs of its customers' ATM withdrawals,

as high as €2 per transaction in Germany. But

cash is king in this country, and the constant

withdrawal charges weren't viable. For many

customers who'd grown accustomed to freebies,

the change felt like betrayal.

As a matter of consequence, the start-up

encourages its customers to pay with their

card as much as possible. "It's much better

for our society to not use cash in terms of

overall costs and fairness," Stalf said, citing

the "black money" system commonly used

in Berlin restaurants and cafés. "Anyone

who isn't a criminal would benefit from

getting rid of cash… And there will be much

more effort from the EU to stop issuing

cash to control issues like taxation and terrorist

financing. The less cash there is, the

more transparency there is."

Going cashless is a pretty tall order in

Berlin, though. To walk his company's talk,

N26's CTO Christian Rebernik decided to

abandon cash and pay only with his bank

card in March. "I like the transparency and

I like the security of cards," he says, but the

effort came with inconveniences. Rebernik's

neighbourhood bakery and Späti only accept

cash, so he began to buy his bread and beer

at the supermarket. He had to ask a friend

to cover the tab at a cash-only bar. "I didn't

know what I was getting into," he admits.

And N26's transparency may come at

the cost of security. It's not always obvious

which online actions are secure and which

may be compromised. When you sign up

for an account online, for example, you're

directed to a third party webcam chat to

verify ID by snapping a screenshot of their

face and passport – a modern process that

feels somewhat intrusive. N26 also retains

data about spending habits and locations,

which Rebernik insists is kept for the sole

goal of giving customers insight into their

own transaction trends.

Only a week after it earned its banking

license, the start-up began to stretch its

wings, partnering with Frankfurt investment

start-up Vaamo to launch N26 Invest. The intuitive

tool lures users into the stock market

by letting them choose from three portfolio

profiles – "cautious, balanced, or bold" – and

invest with just a few clicks. In the coming

months, N26 plans to introduce savings and

credit features as well. As the app increasingly

begins to resemble established banks,

only time will tell if Berliners stick around

for N26's vision of the future. ■

52

EXBERLINER 153
---
COLUMN— The Gay Berliner

Letter to

gay Touris

Walter Crasshole empties his fag bag and vents

on the issues of the day. This month: queer

tourist do's and don'ts.

Summer has officially drawn to a close and with it, the end of

tourist hook-up season. In some ways, I'll be sad. And in a

lot of ways, I'm shitting rainbows of happiness at all the stuff

I won't have to put up with for at least the next six months. Like

that message on Grindr from "English visitor" I got in early September:

"I want you to breed me," with an accompanying picture

of his asshole. That's often a not-so-subtle code for chemsex: fucking

on drugs like crystal meth or GHB without a rubber. "I don't do

drugs," I told him – which is a lie, but I knew where this was going.

And subsequent messages proved me right. I'm not the judgmental

type – if that's your thing, that's your thing. But the truth is,

I rarely get that kind of message in Berlin unless it's high tourist

season. Seems that visitors get the wrong impression from reading

too much of the "gay sex mecca" hype! So on that note, here's an

open letter to next summer's batch of Touris.

Dear gay tourist: Welcome to our city. You make it brighter and

more diverse, and are the lifeblood of much of our economy. Many

of you don't remain tourists for very long and decide to stay, contributing

to the colourful shimmery fabric that makes Berlin different.

On a gayer note, you fill up my Grindr grid so it's not just the

same 12 guys at Kottbusser Tor every night. That said, you're not a

Berliner yet, and it wouldn't kill you to keep a few things in mind...

Germans, and by extension Berliners, are a punctual folk. Assimilate

a little and instead of trying to make a sex date for between

6-9pm (or am!): commit, damn it. We're not waiting on an IKEA

desk delivery.

I expect that you have a job back home, so why don't you expect

we have one here? I know it's a common myth that we don't work,

but we do. So just because we were up until dawn Saturday night/

Sunday morning, don't get butthurt that I can't meet at 2am

Wednesday night.

Be upfront about leaving the next day. Berliners may be hard,

and its gays nonchalant about dating, but this isn't just a petting

zoo. Letting me know that you have a plane to catch in 18 hours

informs how we play the game.

Our lives don't revolve around Berghain. Do you really need to

spend all your time in the world's most famous darkroom? How

about a walk down Engeldamm? Even if romance isn't in the cards,

we can always duck into a bush.

And chemsex: I've seen the documentary. I'm for whatever

substances you indulge in, but at the same time, I've no desire to

see Berlin turn into London. Otherwise I'd live in London, being

a banker during the week and slamming tina come Friday. Berlin's

got its own kind of hedonism. Luckily, it seems our two cities have

different ideas about being "open-minded" (another strangely

ironic code for chemsex).

And I've got an open mind for you, kids. Come, play, socialise

and fraternise, build new communities and enjoy our city. Just

don't be an asshole. Or send me any more snapshots of yours. ■

Learning

german!

goethe.de/berlin

OCTOBER 2016

Sprache. Kultur. Deutschland.
---
REGULARS

Food

By François Poilâne

Meat the Americans

Get your barbecue, burger and beer fix at three recent

restaurants that beef up Berlin's US food scene.

The Pit

If you're wondering why Dallas native Adam

Ramirez charges an extra euro for barbecue

sauce, it's because he doesn't want you to use

it. This is BBQ Texas-style, where the flavour

comes from the meat (high-grade wagyu beef

shipped in from Nebraska; pork from Brandenburg)

and the oakwood smoke, imparted

overnight via a room-sized custom-built

smoker stashed in Marzahn. One bite of brisket

and this August's transition from pop-up

to brick-and-mortar makes sense: it's almost

obscenely tender and juicy, with a pitch-black

outer crust ("bark") that's addictive, if highly

carcinogenic. That and the pork belly are so

rich that we were begging for mercy by the

end of our mixed platter (€38.50/two people),

which also came with a slice of cornbread, a

heap of coleslaw and a bowl of sweet-spicy

beans stewed with leftover brisket ends. You'll

likely need a Stone IPA (€4.90) to cut through

it all. Texans' only authenticity quibble will be

with the price – the much-beloved Wednesday

short rib special runs €9 per 100g, and

that's without any sides! But good meat

should be expensive, and for the sake of

your own health, you ought to make this a

once-every-six-months indulgence anyway.

— JS Reichenberger Str. 120, Kreuzberg,

Wed-Sun 18-22

The Bird Express

Originally conceived as a compact, take-outfriendly

version of Berlin's premier gourmet

burger emporium (thus the "Express" in the

name), The Bird's newest location is actually

a rather expansive sit-down bar and grill that

took over Mitte's hip hop club Kurvenstar in

February. The menu's expanded as well, from

burgers to BBQ. Thanks to a smoker shipped

over from Nashville, the dinner menu boasts

American Angus brisket and pulled pork,

available plain or in a sandwich (for which

they use actual buns and not those English

muffins that continue to ineffectually contain

their burgers). Co-owners Jonathan Cook,

from New York, and Michael Heiden, from

Cologne, don't pretend to be purists and

offer a near-infinite array of sauces, from

mustard to vinegar to salsa verde (hot, albeit

one-note). We needed some to moisten up

the dry-ish pulled pork, but the brisket (€16

including bread, pickles and a side of beans

or coleslaw) stood on its own, as did the

Iberico pork loin ribs (€14), basted in a sweet

Kansas-style glaze. It can't compete with

The Pit's wagyu, but it's solid barbecue. The

menu still includes burgers (around €12), also

available in miniature "slider" form at a competitive

price (€2-3.50), appealing to Mitte

business lunchers who don't want to spend

Karolina Spolniewski

Above: Ribs,

brisket, pulled pork

and sliders from

The Bird Express

in Mitte.

Left: A brisket and

pork belly platter

from The Pit in

Kreuzberg.

the rest of the day's pitch meetings staving

off the meat sweats. Vegans, rejoice: there's

even a beetroot-bean "Lousy Hunter" version,

guaranteed animal-free. — JS Kleine

Präsidentenstr. 3, Mitte, daily noon-midnight

Stone Brewing Berlin

Last month, at their year-old European brew

hub in far-west Mariendorf, the San Diegan

makers of Arrogant Bastard Ale unveiled their

giant World Bistro and Gardens. It's a meaty

venture indeed: think upscale, sanitised White

Trash with a spacious indoor dining area and

tastefully landscaped California-esque outdoor

patio. On tap are dozens of Stone's palettebending

ales, stouts and other medicinalstrength

concoctions, like the 9.5 percent alcohol,

Belgian-style "Victory Brewing Golden

Monkey" (€5.80/0.3L). Food-wise, it's all

gastropub gourmet with that rough-aroundthe-edges

quality you'd expect from bearded

craft brewers. Stuff like "Chai-Spiced Moroccan

Beef" with couscous (€18). The "chai" was

hard to identify (it's supposedly a blend of

cinnamon, cardamom, star anise, ginger and

saffron), but the organic beef was undeniably

tasty. Then there are the homemade beef and

pork merguez-style sausages (lamb and veal

don't jibe with their "philosophy", €14) with

braised onions, fried potatoes and mustard infused

with Stone Ruination IPA. Yum. For the

meat-averse, there's stir-fried German-made

"local tofu" with braised pairs and a decent

homemade kimchi (€12)... With beers so far

away from the German mainstream, Stone's

menu, while not cheap, could play a key role in

getting locals to come back for seconds. — SG

Im Marienpark 23, Mariendorf, daily noonmidnight

(kitchen until 22)

Maria Runarsdottir

Updates on the Berlin food scene, in your inbox every

two weeks. Sign up at exberliner.com/newsletter

54

54 EXBERLINER 150 153
---
REGULARS

Review

Dandy Diner:

Fast vegan in Neukölln

The pink neon sign with a pig's

face on Karl-Marx-Straße is

misleading: is this a butcher or a

street food place serving pulled pork?

The word "vegan" is invisible from the

outside, and is found just once in tiny

letters on the menu above the counter.

Dandy Diner – weirdly, an offshoot

of men's fashion blog Dandy Diary –

opened last April with a widely ridiculed

hipster PR stunt gone wrong, their offer

of free food on social media resulting in

a veritable mob of thousands gathering

outside. Nestled amidst Spätis and kebab

shops, the cruelty-free burger joint

attracts far fewer fans today. Around

7pm on a recent Monday, only six or

seven seats were filled. The interior is

more pleasant than the exterior lets on.

Vintage Tribe Called Quest is playing

loud; a mellow pink light envelops a

massive communal cast-concrete table.

The menu is simple, like a welldesigned

app: on the left, vegan burgers,

Dandy Diner's

vegan cheeseburger:

You want

some chia pudding

with that?

on the right, vegan sandwiches. Our order

came within a few minutes, and the

Asian burger (marinated tofu, kimchi,

daikon radish, crunchy nori and wakame

topped with teriyaki sauce, €5.50) was a

spicy bundle of flavour. The Italian one,

though (shiitake-red bean patty with

vegan cheese and aubergine sauce, €5.50)

was formless, mushy and – sorry Dandy –

a little boring.

As for the sandwiches, served on hip

chia-seed toast, they punch above their

weight: small but dense. The avocado

(€4.50) is just avo, chilli and radish on

crunchy bread, a people-pleasing nobrainer.

But the virtuoso of the night,

which has sadly since been discontinued,

was the pork-free "pulled mushroom"

(€6.50): marinated, shredded 'shroom

topped with coleslaw, baby spinach and

chipotle mayo. This was vegan food at its

best, and we can only hope its replacement

on the menu, "Berlin's first vegan

ceviche sandwich", lives up to the same

standard. Pile on a portion of decent fries

(€2) and/or the excellent slaw made with

egg-free mayo (€2.50), and your tummy

will be perfectly happy going home without

their chia pudding (€3).

One significant criticism: Dandy's

claim is to be animal-free, not environmentally

friendly. But still, does a vegan

dinner have to generate so much waste?

A tray full of burger boxes, sandwich

paper and chip bags doesn't really gel

with the high eco-ethical standards set

by veganism, does it? Dandy, you should

work on that. — SG

Dandy Diner Karl-Marx-Str. 9,

Neukölln, Sun-Thu 12-22, Fri-Sat 12-23
---
COMIC —Ulli Lust

56

EXBERLINER 153
---
NOW IN BERLIN

COLUMN — Ask Hans-Torsten

Voting for Amis

Hans-Torsten Richter answers your questions

on surviving and thriving in Berlin.

Write to hanstorsten@exberliner.com.

GOOD IDEAS FOR

EVERYDAY LIFE

Q

Dear Hans-Torsten: I'm an American

who lived in a couple different

states before coming to Berlin – I'm not

actually sure which one I'm registered to

vote in. Still, I'd like to vote in the upcoming

elections. How do I do that? And will my

vote be counted for my ex-home-state, or in

a separate pool of "overseas" votes? —Nicole

A

Dear Nicole: I guess this is the

"American" issue, so I will ausnahmsweise

answer a question about the tangled

laws of your strangely organised democracy.

The first thing to know is that the laws

governing the election of POTUS are local –

every state has its own peculiarities. But one

thing seems to be clear: Americans living

overseas should register in their last state

of residence. You can register and request

an absentee ballot quite effortlessly at www.

votefromabroad.org, a nonpartisan website

run by the group Democrats Abroad. A tool

will create a "Voter Registration and Absentee

Ballot Request" which you can print and

send, fax or email (depending on local regulations).

The "find answers" page will tell

you the deadlines to submit registration and

Write in and win!

Don Giovanni

Confused by German bureaucracy? Baffled

by native customs? Send in your question

to Hans-Torsten by noon on October 15

and you could win two free tickets to a live

high-definition broadcast of Mozart's Don

Giovanni performed at the Metropolitan

Opera New York at Cinestar Original Potsdamer

Platz on October 22, 19:00.

For giveaway terms and conditions see

www.exberliner.com/terms

ballot requests, and whether or not documents

can be submitted electronically or

only by post. Does your vote end up in some

mysterious pile of overseas ballots? No, it

counts towards the votes in your ex-homestate,

obviously somewhat demotivating if

your state isn't a "swing" state.

Q

Dear Hans-Torsten: I moved here to

work as an app developer for a start-up.

This city is supposed to be leading the way

into a high-tech future, but you still can't pay

by credit card anywhere. And what about the

Bürgeramt?? You are required to register to be

able to do anything, even get a bank account.

Yet there are no appointments available

online till December... arrgh. — Ken

A

Dear Ken: Sadly, not all of life can be

remote-controlled with an app, though

I agree the state of Berlin needs to rapidly do

something about its overloaded, antiquated

Bürgeramt registration system. The city is

growing at a rate of 40,000 people per year

and the authorities can't keep up. These

days there are myriad ways of proving your

identity online without actually showing your

passport to a grumpy bureaucrat with dozens

of kitten photos on her desk. Until that happens,

though, one trick is to just show up at a

Bürgeramt (any one will do, preferably one at

the edge of the city, like in Pankow-Buch) and

"bring some time with you" as we Germans

say. They can't kick you out if you show up

during opening hours.

Alternatively, as a high-earning developer

you might be able to afford the €95

all-inclusive service offered by the start-up

www.buergeramt-termine.de. You don't

need to go anywhere, they actually go to the

Amt for you. But if you savour the challenge

of "cheating" a little bit in the dog-eat-dog

competition for appointments, consider

monitoring Berlin's official online calendar

for openings using a browser plug-in like

Check4Change for Firefox or PageMonitor

for Chrome. If set up correctly, the software

will inform you when someone cancels an

appointment – a cue for you to swoop in

and snap it up for yourself.

Workshops | Classes | Talks

in English & German

SELECTIVE ARTISTS PRÄSENTIERT IM ADMIRALSPALAST

LUBOMYR MELNYK

www.lubomyr.com

Classroom & Shop

Lychener Str. 7, 10437 Berlin

WWW.THESCHOOLOFLIFE.COM/BERLIN

+ GUESTS

+ GREGORY ALAN ISAKOV

+ BABY KREUZBERG

+ FOG

JOSÉ GONZÁLEZ

& THE STRING THEORY

06.12.2016 17.01.2017

www.jose-gonzalez.com

WWW.ADMIRALSPALAST.DE WWW.SELECTIVEARTISTS.DE WWW.TICKETMASTER.DE

0382_AZ_Exberliner_BIG_03.indd 1 21.09.16 15:

OCTOBER 2016
---
COLUMN — Sex

Ask Dr. Dot

Our sex columnist answers

your hard, pressing questions

about doin' it in Berlin.

Drinking problem?

You are not alone!

alcoholics-anonymous-berlin.de

030 787 5188 or 01803-AA HELP

Meetings in English

Find a flat

in Berlin!

We're here to help

• friendly service

• 13 years of experience

• furnished and unfurnished

flats across Berlin

Register online today!

www.exberlinerflatrentals.com

Tel: 0049 30 47372964,

Max-Beer-Str. 48, 10119 Berlin

Office hours: 10.00 to 14.00

58

Q

I am a Texan girl living here in Berlin

for work. I've been dating a German

guy for four years; he's 30 and I'm 38. I'm

crazy in love, but we break up and reconcile

over and over again. I catch him cheating

with other girls online, and when I confront

him, he gets super angry and leaves me. Just

as I've started to heal, he returns with a vengeance:

flowers, poems, promises and lots of

cunnilingus. So I take him back and we have

a few months of bliss, until my inner voice

urges me to check his iPhone and I see the

same old bullshit again. Am I crazy for taking

him back? Please lay it down straight for me.

— Taste of Texas

A

Reading this reminds me of the film

Groundhog Day. Same shit over and

over again; a leopard never

changes his spots. Staying

with him will merely age

you faster and turn you into

a suspicious, vicious shrew,

which is unappealing. The

next time this happens, shut

the door behind him and

never take him back. Avoid

alcohol, love songs and romantic movies for

at least six months, as they will only make

you susceptible to his pleas. Try dating older

men, who are usually grateful and have most

of that hunting shit out of their system.

Q

Is it normal to have a cock that

points downwards, even when it's

hard? Mine looks like he is hanging his head

in shame all the time. It's embarrassing.

— Downward Doug

A

Cocks, like tits, come in all shapes

and sizes and point in every direction.

Some curve to the side, some

upwards (like a coat rack) and some

downwards. There is no "norm" with pink

parts. If you feel like your downward dick

is a minus, try to make up for it: be funnier,

more generous and give your partner plenty

of firm foot rubs and they will let the odd

shape slide. Consider yourself lucky if that

is your main worry in life.

Q

Send all questions

or problems, whatever

they are, to:

drdot@drdot.com

What do you have to do in Berlin to

keep a guy's eyes just on you? I am 23,

from Holland, and know that I am very hot.

But still any guy I date or fuck is chasing

other girls – either on the street, in person,

or on their phones. Does true love not exist

here, or what? —Dutch Delight

A

Sorry to break the news to you, but

you are pretty much correct. Thanks

to the internet, romance, love and giving

someone your undivided attention have all

left the building. Fuck the phone ninjas!

Men live for challenge; this is why they

play sports and fight wars. But dating is no

longer a challenge now. No more calling a

landline to see if their sweetheart is home.

No yearning to see their lover or wondering

how sex might be – they just

open an app and shop for

another lover or watch porn

online. It's not just Berlin,

it's a worldwide dilemma.

So perhaps you should try

to find a guy who does NOT

have a smartphone or Facebook

page, and you might

find what you are looking for: real interaction

from a grateful partner.

Q

Ciao, I am an Italian who has lived

in Berlin for eight years. Lately, all

of my female Italian friends have noticed

that the men we date are bragging a lot,

straight away, about how "great" they are

at oral sex. Is this now normal behaviour?

Men selling themselves like a product?

We find it very off-putting. What are your

thoughts? — Modest Monica

A

Short and blunt about this one: Men

who brag about giving amazing oral

sex before they have even had sex with you

usually have a tiny dick. In other words "I

have a small penis but I can make up for

it with my oral techniques". If you don't

believe me, try one of those bragging idiots

out and get back to me. It's the quiet, confident

ones that are always the best in the

sack. Fact.

EXBERLINER 153
---
REGULARS

High art for the

little people

Dan Borden on the ulterior motives

behind the city's private art bunkers.

Save Berlin

By Dan Borden

Does a painting exist if no one can see

it? Today's art collectors are confronting

that existential question head on,

throwing open their doors to the public to

maximise eyeballs on their once-vaulted art.

They're also changing the cultural face of

cities worldwide by creating landmark buildings

– see the around-the-block lines at Los

Angeles' new Broad Collection.

As with many things, Berlin set the trend...

200 years ago. In 1815, Prussia's King Friedrich

Wilhelm III gave his subjects a one-time

look at his royal art hoard. The exhibition

was such a hit, he made it permanent – and

Berlin's Museum Island was born.

Like today's collectors, there was more to

the king's generosity than meets the eye. He

was celebrating his triumph over Napoleon

and showing off the war booty his troops

had hauled back from Paris. Today's magnanimous

Berlin collectors get substantial

tax benefits and a boost in value by "branding"

their collections. Still, it's an artful

win-win: These open-door collections raise

Berlin's cultural profile and invent smart

new uses for unloved-but-historic buildings

that might otherwise face demolition.

While these collectors

soak up good karma,

they also take comfort in

knowing their treasures

are still their own.

The Boros bunker

houses works by

Ólafur Elíasson,

Alicia Kwade,

Ai Weiwei and

myriad others.

The duke and duchess of

Scheunenviertel

As West German art lovers Rolf and Erika

Hoffmann watched Germany's peaceful

revolution of 1989, they hatched a vision of

East Berlin as Europe's new capital of Kunst.

By the mid-1990s, they were lording it over

Mitte's arty makeover from atop their refurbished

machine factory on Sophienstraße. At

street level: art galleries and the beloved Barcomi's

café. Upstairs: artists' studios and loft

apartments. The topper was a luxurious new

glass penthouse by architects Becker Gewers

Kühn & Kühn where the Hoffmanns could

live among modern artworks by premium

names like Andy Warhol, Frank Stella and

Bruce Nauman. The Sammlung Hoffmann

not only jump-started Mitte's transformation

into an international art centre, it was

also the first collection to open its doors to

the public. Since 1997, tours are available by

reservation every Saturday.

Your bunker is my castle

Taking his lead from the Hoffmanns, communications

magnate Christian Boros moved

his West German collection into the heart

of Mitte, but picked a building with a much

higher profile. The castle-like Reichsbahnbunker

(photo) was built in 1943 to shelter

train passengers from Allied bombs. When

Boros bought it in 2003, the windowless

concrete behemoth hosted a techno club

and weekly sex parties. This ultimate white

elephant got a genius makeover by designers

Jens Casper, Petra Petersson and Andrew

Strickland with galleries highlighting 21stcentury

conceptual art (which even Herr Boros

admits he doesn't entirely understand)

and, once again, a glass penthouse on the

roof. The Boros Collection has eclipsed the

Hoffmanns as Berlin's must-see art mecca,

with tours Thursday through Sunday booked

out months in advance.

Subterranean zen

Berlin's latest private museum is Désiré

Feuerle's stunning reuse of another World

War II bunker. The shelter was built to

protect S-Bahn electrical panels, but became

flooded in 1945 when missiles punched a

hole in an adjacent S-Bahn tunnel under the

nearby Landwehr Canal. British architect

John Pawson's minimal re-do exploits the

bunker's otherworldly serenity, even keeping

some of that water as an underground pond.

Feuerle's collection of ancient Asian artefacts

contrasts with cleverly chosen contemporary

work. Open for previews since April,

the Feuerle Collection officially opens for

weekend tours this month.

While these collectors soak up good karma

by putting their treasures in the public eye,

they also take comfort in knowing those

treasures are still their own. That beats the

old way of sharing art: donating it to museums.

These savvy collectors get to share

their cake and keep it, too. And those doors

that swung open to the little people can just

as quickly slam shut. It's no coincidence

that these collections sit in isolated, even

fortified buildings. They provide the ideal

shelters for these multimillionaires to safely

watch, surrounded by their treasures, when

the next revolution comes. n

NOSHE

OCTOBER 2016

59
---
REGULARS

Advertorial

Berlin essentials

Stuff and events selected from the

best of what the city has to offer.

Rock 'n' roll turkey

Are you an American looking for a taste of home,

or has reading this issue gotten you hungry for that

most Ami of meals? Every year Hard Rock Café Berlin

serves a traditional Thanksgiving menu. On November

24 they offer a full three-course menu, which includes

a corn chowder soup, a freshly carved turkey

(served with traditional stuffing, mashed potatoes,

fresh vegetables, gravy and cranberry sauce) and

pumpkin pie with whipped cream. You can enjoy the

whole three-course dinner for €25.95 or just select

your favourite part. Reserve your spot now! Hard

Rock Cafe Berlin, Kurfürstendamm 224, Charlottenburg,

reservations at berlin_events@hardrock.

com or 030 884 620

Eye spy

Sick of the same €99-and-under glasses brands overtaking

Berlin? Treat yourself to an exceptional specs

experience at eyeLounge.berlin. The optician and glasses

store on Winterfeldtplatz celebrated its grand opening

in July. It's a chic, cozy space where you can chill

with a drink while shopping for new frames and getting

your eyes examined. Check out German and European

designer brands like Lindberg, Markus T., Munic Eyewear

and Berlin's own Mykita. Get custom lenses made for you

by German glass supplier Rupp + Hubrach or get fitted

for daily, weekly or monthly contact lenses. Either way,

you'll see better and come away with a brand-new look!.

eyeLounge. berlin, Winterfeldtstr. 52, Schöneberg,

Mon-Fri 11-19, Sat 11-16

Picture this

Want to learn more about photography than just how to take perfect

selfies and instagram pics? Then PopUp GPP Berlin is for you! On the

last weekend of October, Berliners get the chance to learn from four

top photographers what it takes to get a good photo. Joe McNally, Zack

Arias, Gregory Heisler and David Hobby share their insights and get you

inspired at their intensive sessions held at Babylon Kino. Whether you

want to learn about technique, boost your creativity and career or hear

the stories behind some famous shots, the weekend offers something

for everyone from beginners to pros. Get your camera ready and book

your ticket at popupgpp.com for €299. PopUp GPP, October 29-30,

9:30-18, Babylon Kino, Rosa-Luxemburg-Str. 30, Mitte

Halloween heroines

Halloween falls on a school night this year, so on October 29, the

Heroine Artists are jumping the gun at Bassy Club. This time, Berlin's

most sexy indie-rock-wave-music party enters the club with a live

band: Eat Lipstick. The crazy, drunk and trashy punk rock group

fronted by the drag queen bastard child of Divine and Vivienne Westwood,

Anita Drink, is set to put on a glitter-and-stardust-covered

show to blow you off your high heels. Once you've recovered, you

can dance your ass off to the best of rock, punk, new wave, NDW

and electro served by DJ The Shredder and Damon Zurawski. Plus

a special performance by Valentina DeMonia, sexy shot girls Betty

Dynamite & Vega Vargas & a special guest performer Come dressed

up and you'll save money and have fun! Oct 29, 21:00, Bassy Club,

Schönhauser Allee 176a, Prenzlauer Berg

To be featured on this page, contact ads@exberliner.com

60

EXBERLINER 153
---
14|10

A Night for

LILI BOULANGER

LILI BOULANGER | PAUL HINDEMITH

ARNOLD SCHÖNBERG | GYÖRGY LIGETI

MAX REGER | FREDERICK DELIUS

Phillip Moll Piano

Michael Alber Conductor

Friday | October 14 2016 | 20:00

Philharmonie Berlin Kammermusiksaal

Tickets: +49 (0)30 20 29 87 25

www.rias-kammerchor.de

#rias

ein Ensemble der

Foto © aiisha
---
Poster series inspired by an idea of AlexandLiane / Design: Jürgen Fehrmann / Photo: Dorothea Tuch

➞ www.hebbel-am-ufer.de