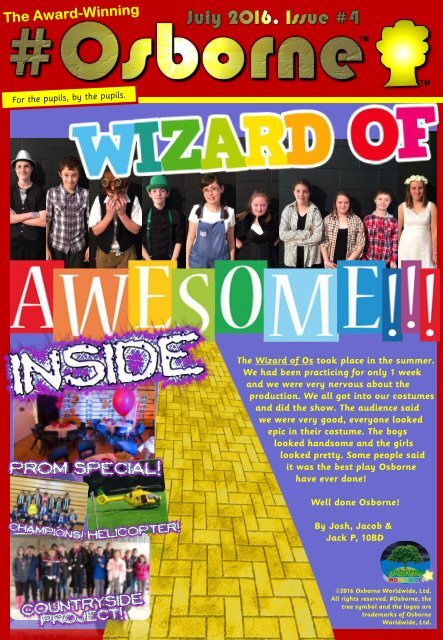 Do you know the secret to free website traffic?
Use this trick to increase the number of new potential customers.
The Wizard of Os took place in the summer.

We had been practicing for only 1 week

and we were very nervous about the

production. We all got into our costumes

and did the show. The audience said

we were very good, everyone looked

epic in their costume. The boys

looked handsome and the girls

looked pretty. Some people said

it was the best play Osborne

have ever done!

Well done Osborne!

By Josh, Jacob &

Jack P, 10BD

©2016 Osborne Worldwide, Ltd.

All rights reserved. #Osborne, the

tree symbol and the logos are

trademarks of Osborne

Worldwide, Ltd.
---
By Ellie &

Natalie,

8LH
---
By Stacey, 10BD

We went to the BIC to perform a

midsummer nights' dream. We were

the only school there to perform and

we did a run through before we went

on the stage. It was great

fun to perform on stage

and the weather was great.

On the bus I sat on my

own and I went on my iPad

and played some games.

I also talked to my friends. Hannah

our director talked on the stage like a

celebrity off of the TV.
---
We went to a

Shakespeare workshop

yesterday and we did a

warm up to start. We

went in a circle and we

said a midsummer nights

dream lines.

By Josh, 10BD
---
By Max, 11SL (with Sandra)

The ambulance flew down on the field. The helicopter was loud and I

couldn't hear myself. I was stood outside on the balcony waiting for it

to arrive. I was excited when it came. Someone said they wanted to

touch the helicopter. Everyone was taking pictures. They were clapping.

We went down in the lift. Then the helicopter had to leave. They were

here for the work experience in year 11.
---
By Ella, 11SL

I went singing with Rubik's

cube. We sang in front of

lots of people.

I was nervous. We were

standing on the grass in a

really big tent.

I felt a bit embarrassed. I

had a good time it was

really great to sing with my

friends.

By Kayleigh & Connor, 10BD

We went on the bus to go to

Birmingham and we were listening to

music on the radio. Later we had lunch

on the bus then we went off the bus to

go to MFY. Next we went to watch

people singing. Then we went to a

room to sing. Then we went on the

stage and sung. Next we listened to

the feedback. Then we went on the bus

to go back to school. We watched a

film and it was good. After the film

we watched pixels. Later we went back

to school.
---
By Josh and Lewis,

10BD

On Monday we went to Wales and we stayed on the bus for 3 hours. Then we got

there and unpacked all of our stuff and we got our wet suit and walking boots on.

After we had dinner, it was pizza then we had a walk around Wales.

Tuesday we got up at 7:30 to eat breakfast. We got our wet suits on to go

canoeing but the funny thing was 4 people fell in the water!! A lot of boats came

passed and we had to park on the side of the grass to let the boats come passed

us. We then came out of the water to put all the boats to the side and then we got

back at 4:15, put all our wet clothes in the drying room. We had dinner at 6:30

then we played some games, then went to bed.

Wednesday we had breakfast, made our lunch then we went on the bus to go

rock climbing. It was raining all day, the rocks were very slippery to climb. People

kept falling off the rocks then we went back to the house and put all of our stuff

away then we relaxed. We waited for the dinner, the dinner was curry then we

went for a night walk then we went to bed at 10:30.

Thursday we got up at 7:30 and it was sunny all day so group 1 went out to the

mountain walk. It was the biggest mountain then we got very hot and very windy

then we had a rest for a bit then we started to go again then we had lunch then

we walked down the steps then we waited for the bus and it came then we went

back to the house and we waited for the fish and chips and sausages then we

packed for Friday.

Friday we got ready to go and then we packed a bit more stuff
---
On April 20 th 2016 we went to

Eastleigh football club to play our

football tournament. We played a

range of schools like Markway

School, Baycroft School

we also played St

Georges school. On one

of the games I was on the bench.

Osborne were drawing with Dove

House, it was 0-0 and then we made

a sub and I came and I scored!!

Shea Calder hugged me and

Osborne scored and the score was

Osborne 1-0 Dove House.

By Dylan, Osborne College

We all so played Great Oak School

and Osborne won 3-0. In the Mark

Way game Sam Jamison scored 3

goals, Sam got his hat trick. In the

second game we played Boycroft

School.

Shea scored 2 goals and Luke scored

1 goal. In the third game we played

we played Dove house and I scored

1 goal and it was the winning goal.

And in the last game we played it

was Great Oak school. Luke scored

2 goals, Sam scored 1 goal. It is

good to be a winner when we won

the trophy we were very happy.
---
5 years….to now!

By Thomas, #Osborne Editor 2015-2016

I would like to talk to you about my time at Osborne school starting from Year 7 to now. When I first started at

Osborne I was really shy and I wasn't really doing well in certain subjects. I remember the first day I started I

went to the wrong classroom and I didn't have a clue where to go. My time in year 7 was amazing I learnt so

much from all the lessons we did and I made so many new friends which at the time when I started I only really

knew 6 people at the school. I have got to thank my class mates for really sticking by me for the whole of year 7

even up to now.

Now Year 8 was a really weird time for me and the whole class. We had 2 teachers that actually were meant to

be our teachers that was because the actual teacher we had left. I was still working hard and doing the best I

could but I was just very unsettled having different teachers. Football in Year 8 was really keeping me happy and

taking my mind of all the stress at the time.

Year 9 was a lot better than year 8 we had only 1 teacher this time and nothing went wrong. This was the year

when I realised I was very good at maths and solving questions. I was also good at English as well structuring my

sentences and knowing what to put in my sentences. In year 9 I got a main part in the Christmas production

which was really cool and at the same time really nerve-racking. I was thinking what if I mess up my lines while

loads of people are watching? It turns out I did really well and I didn't mess up any of my lines. In year 9 I went

on the Wales trip for the first time and it was action packed I did something I thought I would never do and I did

some really fun activities. We did mountain walking which was the most fun and the most challenging. I had to

climb with a group up the second tallest mountain in wales. It was breath-taking when we got to the top. On the

trip I didn't get much sleep that was because everyone was hyper and excited.

Year 10 has to be up there as one of my favourite years in the whole time I have been at this school. I remember

the induction day we had. We went to the Big Bang Solent in Southampton. I had so much fun looking and trying

out all of the stuff they had there. My football really improved and we had a tough test coming up were we had

to go to Samuel Cody. We had such I time and we did so well. Kyle, our star goalkeeper, kept out every shot that

came his way. I was Captain that day which felt amazing. We didn't have a presentation for the winners because

there was not the right amount of schools that turned up. So we had to wait for next time to see if we won and

qualified for a special tournament that I will took more about in the next part of the essay.

Year 11 has been really enjoyable but very stressful. It's been a really important year for me, getting ready for my

GCSE's and getting all my course work done. At the start of the year we went to Samuel Cody again which I

talked about on the last paragraph. This time it meant something if we came first or second we qualify for the

county finals which is the special tournament I mentioned about. Long story short we won all of our games and

qualified for the tournament. Few months later we made it to the tournament. We got to the place where the

tournament was taking place. The first thing that came into my head was please don't mess up. We got settled

and got into the games. They were really nerve racking but we played to are fullest. We won the tournament and

the trophy was ours! When we won and I got to pick up the trophy for the team I was on cloud 9.

In conclusion, my time at Osborne School has been filled with ups and downs. I have really got to thank all the

staff, past and present that have been here since I started for being so supportive of all the pupils and for giving

them all the courage and determination to succeed in every subject and at everything. I have some words of

advice for every one of the pupils here at the moment. Enjoy all the moments that you have here and don't go

wishing your days by because if you do you might just regret that you didn't spend more time making moments

that you will remember for years and years. And another thing as well. If you try you're hardest and if you put

the time and effort in you will succeed. I am really going to miss Osborne School for what it's helped me with.

Year 7 Year 11
---
Have you enjoyed

teaching?

Luke, Osborne College

Oh yes. I

have been so

fortunate to

have met

and taught

so many

young

people, it is

the best job

in the world.

How long does it take

you to put your make

up on?

Jan

30 seconds – that

includes getting the

lipstick out of my

handbag.

What will you miss

about working?

Joe, Osborne College

I will miss the buzz

of Osborne. The fun

& laughter. I will

miss the students &

the staff. You are

all amazing!

Monopoly

What is your

favourite board

x game?

Jordan, 10ALP

What are you going

to do all day?

George, 10HH

I am going to have

some lie ins and

then I'll do some

more gardening. I

am going to look

after my grandson

one day a week. I

also want to play

the piano.

Will you be

claiming

your bus

pass?

Betty

I think I will have

to wait until I'm

66. That's a long

way off.

How long have you been

working at Osborne

school?

Zach, 8LH

13 years –

when the school

was brand new!
---
What is your

favourite country?

Harry, Osborne College

Joseph Guerrier

10LR

My favourite country

is England. Then

Germany!

What is your

favourite

memory of

Osborne?

Liam, 11SL

Going to the Royal

Albert Hall. I also have

lots of memories of

students who have

done well at Osborne.

Ella

10lr

Will you

miss us

when you

leave?

Ella, 11SL

Yes, very much. Osborne

is the best school and

the best place to work.

I am still going to work

with FOS, so I will still

be coming to school.
---
In the Summer by Jay, 11BD

What shall I do this glorious summer holiday?

I will see my mates and go on my second date but I may be a bit late!

I will slouch on the couch and do one big belch

I'm really smart and I won't grow apart because I still eat apple tarts

In the summer,

In the summer.

What shall I do this exciting summer holiday?

In the summer in the summer I will get a bit dumber, as school days are no longer

And it's a real bummer

In the summer, in the summer had so much fun at school but now I'm with my Dad,

he's a silly little fool but he's still really cool

In the summer.

What shall I do this long summer holiday?

I shall be really lazy and pick some daisies ,

I shall make a chain and not ride down the second lane.

In the summer.
---
Max in Year 9 completed his cinema project – demonstrating his ability to use Publisher,

Paint.net, Excel, Word, Access and Internet Explorer to create and run a fictional cinema.
---
By Antony, 11BD

By Antony, 11BD

Need for speed is a

ok film but it not as

good fast &

furious franchise

I give it 4/5

I think that fast five is

the best film I have

watched so far in the

fast & furious

franchise. 5/5.

By Joel, 11SL

I like Power Rangers. It is a fun TV show.

Power rangers has fighting and they are

trying to save the world. The enemies

are trying to destroy the Power

Rangers and take over the world.

I like the action and violence. I like

all the jokes. I love the characters suits.

I think that everyone should watch

power rangers. I give it 5 stars.

Captain America Civil War

is a thriller and an intense

movie. Its one of the best

adventures of all time, an

all-star cast the government

want to put the averages

on a registration act. Iron man works

with the government because of his

events with Ultron.

By Jack, 10BD

By Tyler Morgan

The good

dinosaur is

about a

dinosaur called

Arlo. He lives

on the family

farm . It's a

good movie.
---
Book Review

Fungus the Bogeyman By Jess Scott

Its funny and it makes me laugh.

He goes into peoples houses, he takes

things from their gardens. I think it

should have 5 stars.

By Connor, 11SL
---
Sport day

By Josh & Jacob, 10BD

Everyone took part in activities

like cricket, football, and golf.

After we had lunch and got ready

for the races. We did relay races

and running race and two laps

around the field. One lap around

the field and we had a staff race.

By Luke, 11SL

WILL LIVERPOOL BE

IN

CHAMPIONS

LEAGUE

THIS SEASON??

Liverpool have an

amazing chance to

be in Champions

league for the next

season if they get

through the Semifinal

of the Europa

League if they beat

Villarreal the

Europa league

By Shea & Sam
---
1. Who is Batman? George Clooney or

Homer? Choose wisely!

2. Who is Spiderman in real life? Jackie

Chan, Homer or Peter Parker?

3. Which Superman do you like?

Christopher Reed or the other guy?

4. Which Doctor Who do you like?

Sylvester McCoy, Peter Davidson, John

Pertwee, Tom Baker, Patrick Troughton

or William Hartnell?

5. What is the bowling alley called in The

Simpsons?

6. What is the name of the supermarket

in The Simpsons?

Post your answers to 10BD in

December to win a prize.
---
Winner of a 'Highly commended' Award

at the Shine School Media Awards 2016

Vines was on his way to collect his

weapon of jungle.

Issue 4

Vine has reached his destination to

become 'The master of Jungle'.

By Mr C Rivron

The weapon was lying on a long

swingy tree branch with some sunlight.

This way

Vines. We are

nearly there…

Vines needs to swing and collect the weapon to

become 'The master of Jungle'.

SUDDENLY - Demon Spiders jumped out and attacked

the Guardian of Jungle. BOM! BOM! BOM!

Claim your

Weapon vines and

become who

you are!

Vines quickly ran and swung to the

weapon…

…Vines got closer, grabbed the weapon

and became….

MASTER OF JUNGLE!!

Almost got it….

The demon spiders were defeated for now and Vines has

Become the master of Jungle!

Well done

Vines!!

Vines quest may be over, but the other heroes must become

the master of their element.

Now lets see how

FLAME claims his

weapon to become

the master of FIRE!

Issue 5 coming soon….

TM & ©2016 Christians Films, Ltd.