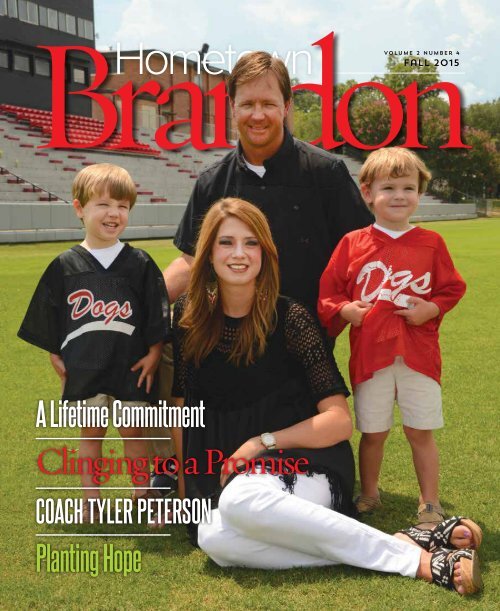 Hometown Brandon - Fall 2015
You also want an ePaper? Increase the reach of your titles
YUMPU automatically turns print PDFs into web optimized ePapers that Google loves.
volume 2 number 4

Fall 2015

A Lifetime Commitment

______________________

Clinging to a Promise

______________________

Coach tyler peterson

______________________

Planting Hope
---
Call us to schedule

your next visit.

(601) 825-3368

Sarah Langston, DMD

14 Woodgate Drive

Brandon, Mississippi 39042

2 • Fall 2015
---
Whether your dental needs include a complete

exam and cleaning, full-mouth restorations,

or anything in between, we promise to provide

you with exceptional care as we enhance the

natural beauty of your smile!

Our Services:

• Sedation Dentistry

• Dental Implants

• Porcelain Veneers

• Cosmetic Dentistry

• Bridges

• Porcelain Crowns

• Root Canal Therapy

• Preventative Dentistry

• Children's Dentistry

• Teeth Whitening

• Oral Cancer Screenings

• Dentures and Partials

• Restorative Dentistry

• Composite Fillings

• Clear Correct

• Dental Extractions

• Emergency Dental Care

• Periodontal Therapy

Our Dentists:

• Lance Welch, DMD • Jonathan Germany, DMD

*Dr. Germany and Dr. Welch are general dentists.

Our Hours:

7:45 am - 5 pm Mon

7:45 am - 5 pm Wed

7:45 am - 7 pm Tues

7:45 am - 7 pm Thurs

7:45 am - 12 pm Fri

$

50 OFF

No Dental Insurance? No Problem!

One Annual Fee, No Waiting Period.

Germany Dental is pleased to offer the Germany Dental Benefit Plan. The Germany

Dental Benefit Plan was designed to give individuals without dental insurance an

affordable solution for the entire family. With this plan, you eliminate monthly

deductibles and only pay when you have dental work done.

WITH ONE LOW ANNUAL FEE YOU WILL RECEIVE:

• Two basic cleanings a year* • No cap • Any X-rays necessary

• No waiting period

• Discounted fees for all dental work

Your Next

Cosmetic Procedure

* Not all patients will qualify for a regular cleaning. Call for more details. Certain restrictions apply.

BONUS: Whitening trays for signing up.

ANNUAL MEMBERSHIP RATES:

• Annual Enrollment $299 • Additional Family Member $100

No matter how long it's been since your last dental appointment, you're welcome at Germany Dental.

New and Existing Patient Special

New Patient Special

FREE

Exam and X-rays

NO CASH VALUE. Patient's account will be credited with $50 off to use toward

Includes complete dental exam, periapical and bitewing X-rays,

any cosmetic dental procedure including whitening and veneers. Offer can be

and any other service the dentist deems necessary to complete

used in combination with new patient special. Expires 3/31/2015. 12/31/2015.

your exam. For new patients only. Expires 3/31/2015. 12/31/2015.

2004 Courtside Drive • Brandon, MS 39042 • (601) 866-5709 866-5735 • thegermanydental.com

Hometown Brandon • 3
---
4 • Summer 2014
---
Publisher & Editor

Tahya Dobbs

CFO

Kevin Dobbs

CONSULTANT

Mary Ann Kirby

Account Executives

Alicia Adams

Rachel Lombardo

LeeAnn Evans

Misty Taylor

Staff Photographer

Othel Anding

Contributing

Photographer

Onsby Vinson

Layout Design & Production

Daniel Thomas • 3dt

Contributing Writers

Camille Anding

Olivia Halverson

Charla Jordan

Mary Ann Kirby

K'anne Mcgaughy

Melanie McMillan

Susan Marquez

www.facebook.com

/hometownbrandonmagazine

www.HTMags.com

"Where Are They Now?" is a new addition to this issue – thanks to one of our interns, Olivia

Halverson, who introduced the idea. She's now a freshman at Samford University in Birmingham

and excited about pursuing her journalism major. We'll miss her!

The article's question is relevant to all of us. In this issue you'll read about Jami Watson and her

battle with cancer as well as Coach Peterson and his family welcoming a new family member coming

from thousands of miles away. Both articles will speak to that question of where they are now.

Ms. Milbrandt will carry us back thirty-plus years all the way to where she is now – quite an

interesting trip!

I feel like I could write my own article with that same title – "Where is She Now?" Our oldest child

pledged her devotion to her mate and our new son-in-law in July. Try that experience for a new level

of emotion. One week prior to that big day, our family watched our baby, CandyLee, march to "Pomp

and Circumstance" as a high school graduate. That song can bring you to tears even without a loved

one in the processional. Kevin and I thought we were spent with emotion until we moved our son,

Carson, to Ole Miss in early August as a junior transfer. Ask me how many tissues it takes to travel

from Oxford to Brandon.

Where am I now? Very busy with publishing a magazine that keeps me

up to my neck in "busy-ness" and, boy, am I EVER grateful! Our empty nest

swooped on us like a full-blown hurricane. I've definitely needed the

medicinal and emotional help that Hometown Brandon has given me in this

issue. My thanks, as always, to our wonderful advertisers and for all you

readers who remember to do business with them. As members of a wonderful

hometown, we have to stick together in our families, churches, businesses,

and communities. It will certainly make an impact on where

we'll be tomorrow.

Contact us at

info@htmags.com

601.706.4059

26 Eastgate Drive, Suite F

Brandon, MS 39042

• • •

Hometown Brandon is published by

Hometown Magazines.

All rights reserved.

No portion of Hometown Brandon

may be reproduced without written

permission from the publisher.

The management of Hometown Brandon

is not responsible for opinions expressed

by its writers or editors.

All communications sent to our

editorial staff are subject to publication

and the unrestricted right to be refused,

or to be edited and/or editorially

commented on.

All advertisements are subject

to approval by the publisher.

The production of Hometown Brandon

is funded by advertising.

In this issue The Way We Were .....................6

A Familiar Light on a Foreign Path..... 1 0

A Lifetime Commitment.............. 14

Clinging to a Promise ...............22

Planting Hope ....................... 28

Bulldog Bash........................ 38

Coach Tyler Peterson................ 44

A Kindergarten Legend .............. 50

Where Are They Now?............... 60

Hometown Brandon • 5
---
The

way

we

were.

Cynthia & Gary Simons

Cynthia and Gary Simons will celebrate their

forty-first wedding anniversary on August 18,

but after spending just a portion of time with

them, it's obvious that celebration is a way of

life for the Type A couple.

They first saw each other at a college business

meeting their senior year at Mississippi State

University. Gary found out that she was dating

three different guys at the same time. But that

didn't stop him from asking her for a date. Her

response was, "No, you're not my type!"

Gary waited for another opportunity and

asked her again–this time in February of 1974.

Cynthia agreed. They laugh as they remember

that first date. Cynthia said, "He carried me to

Cy Thompson's Steak House, and we ordered

steak. There were pictures of cows along the

wall, and Gary named all the different breeds."

"I was trying to impress her," Gary added,

but evidently Cynthia was already impressed

with his personality and good looks. Gary shared

that he didn't kiss her until after their eighth

date because he wanted to show her that he

wasn't just attracted to her physically but was

drawn to her godly life style.

Gary explained, "I started looking at life

hard my senior year. I asked myself, 'Who am

I going to spend the rest of my life with.'" He

had been watching Cynthia and saw qualities

he wanted in a mate.

6 • Fall 2015
---
Six months later, the two promised each

other "for better or worse" in their wedding

ceremony at Meadow Grove Baptist Church,

and the two became one.

They each had one remaining semester to

complete before graduating–so that semester,

on a newlywed budget, in family housing, made

for some memorable experiences. They made

their own trick or treats for their first Halloween

together–thirty popcorn balls. But the trick or

treaters missed out, because Cynthia and Gary

ate them all.

Kroger sold four packs of cinnamon rolls for

a dollar. That grocery special was kind to their

budget. They remember eating cinnamon rolls

three times a day.

The two opened Gary's Carpets in Brandon

in 1979. Brandon would become their hometown

where they would raise their two children,

Hayden and Laura. Cynthia is quick to admit

that working together in the same business can

have its challenges, but Cynthia and Gary have

met them all. Gary's philosophy at the end of

each work day, "Let's leave that on Hwy 471,"

has helped to make it work.

With their obvious romance still in full

bloom, one would question their secret. Cynthia's

eyes sparkled as she responded, "I first thought

marriage would be a 50/50 relationship. But it's

not; you have to give all 100%, build on a

Christian foundation, and always put God first."

Gary's broad smile turned more reflective as

he said that he's thought a lot more about his

wedding vows now than when he first repeated

them. "For better or worse...when the end does

come and you get right down to it, it's my wife

that will be there for me. Cynthia will always

care most."

The exemplary couple appears to be the

poster couple for what God designed for

marriage. They obviously see it as a treasure

exactly what God intended. ■

"

I first thought marriage would

be a 50/50 relationship.

But it's not; you have to give

all 100%.

"

Hometown Brandon • 7
---
SunglaSS HeadquarterS

Many great

styles

to suit

your

taste or

any mood.

Brandon: (601) 825-8300

Canton: (601) 859-3464

Madison: (601) 605-2259

Ridgeland: (601) 957-9292

Yazoo City: (662) 746-4312

8 • Fall 2015
---
Hometown Brandon • 9
---
A

Familiar

Light

on a

Foreign

Path

10 • Fall 2014
---
Grayson Orman believed God's Word – even the verse in Jeremiah

where God asks, "Do I not fill the heavens and the earth?" However,

like a lot of believers, he had a tendency to compartmentalize his faith.

Grayson knew that Christ met him in the church building for worship.

Every believer knows that, but does He meet us in our work place?

In a mysterious and miraculous experience while Grayson was writing

his final paper before graduating from Belhaven, he got confirmation that he

would indeed live out his faith on foreign soil. Slowly and methodically over

the next seven years, God would teach Grayson that Jesus was truly the

center of his universe, but it would be a gentle and unhurried process –

especially for Grayson's wife, Karen. His mysterious experience would take

time for it to include her.

While Grayson continued working in the family jewelry store after his

encounter with God, the couple began to see that debt and the desire to own

"things" were robbing their freedom and denying them the abundant life

that God wanted for them. Even though Grayson and Karen weren't sure

what God was doing, they felt compelled to downsize their lifestyles and

possessions so they could be freed up to be His servants when and wherever.

They even named their new venture: Mobilization for Christ.

The couple prayed, studied, and implemented their venture over the

next few years. Grayson confessed, "God worked miracles in our lives."

They downsized in their accumulation of "things" and went from a large,

family-size home to a much more modest version. When they felt God was

about to relocate them, they decided to sell their home. A customer, looking

for an engagement ring, prompted Grayson to question the customer about

where he and his new wife planned to live.

The customer just happened to be looking for a modest home. Within

one week, he became the new owner of the Orman home without Grayson

ever putting a "For Sale" sign in his yard.

Today Grayson, Karen and nine-year-old daughter, Cali, make their

home in Southeast Asia where they live out their faith in the midst of a

foreign culture. They operate an art gallery near a college campus where

they also offer dance and art classes with future plans for music classes.

Nine different countries are represented in their art exhibits, and the

Ormans are excited to have entertained and toured visitors from over thirty

origins. They've also hosted Bible studies in their home that began with

three and grew to over 120.

In a city that makes Brandon look miniscule, this young family is

working and living in a foreign culture that desperately needs the Light. In

order to meet that need, the Ormans simply let their lights shine everyday

as all believers are meant to do. They would be quick to confess that Light

always prevails. ■

______________________________________________________________________________________________

The Ormans are presently on medical leave for extensive dental surgery that

Karen is undergoing. While here they are active in their former church home,

Crossgates Baptist in Brandon.

Hometown Brandon • 11
---
A Community of Faith called to

Love others the way God loves us

Worship with us EACH Sunday at

8:30am & 10:30am

w/ Strength for the Journey 6:30-7pm

It all kicks off with

on the church grounds THEN Lunch

FOLLOWED BY more fun with…

Silent Auction | live entertainment

Mission market place | fall photo op

Fun zone for only $3 | tailgating

HAYRIDE to Pumpkin patch | Bake sale

pacesetters country store

PROCEEDS GO TOWARD MISSIONS

So Come one, come all!!

23 Crossgates Drive | Brandon, MS 39042

601.825.8677 | crossgatesumc.org

12 • Fall 2015
---
Rotary/Kiwanis

Luncheon

Hometown Brandon • 13
---
14 • Fall 2015
---
A Lifetime

Commitment

Melanie McMillan

Dr. Richard Randolph

has been practicing medicine

in Brandon for 30 years–

and has no intentions of

quitting any time soon. . .

Please tell us about where you grew up and your

childhood in Mississippi.

I grew up on a Panola County cotton farm in North Mississippi.

My dad is a retired engineer who worked at Tallahatchie Valley

Electric Power Association in Batesville, and my late mom taught

science and home economics classes at the junior high and high

school level. My identity was shaped by a viable rural community

with enviable simplicity and camaraderie, led by men and women of

faith. I was gainfully employed in my early years by my uncle on the

farm. It was understood that I would ultimately run my grandfather's

farm which he started in the 1930's along the edge of the

Delta in the Yocona River lowlands. That all began to change

during my junior year in high school when I contracted pneumonia

and spent a considerable amount of time with Dr. Edward Steward,

our family doctor in Batesville. He suggested that I would find his

vocation both challenging and rewarding, and he asked me to give it

some serious thought.

Why did you decide to become a physician?

This was an insidious process that required a great deal of

transformation from my childhood aspirations. While I dearly

loved working with the soil, I couldn't help but appreciate what my

doctor did for me in high school. I began to think of the great

privilege it would be for me to be able to help people in such

situations. As I began my undergraduate work at Mississippi State, I

discovered that I actually enjoyed the challenge to understand the

complexities of biology and chemistry. It was during those years that

my relationship with my God began to take center stage, and the

intrigue and privilege became a calling.

What are some of the common illnesses you treat?

I've been a family doctor in Brandon for all of my 30 years in

practice. As a result, I've walked many long roads with quite a few

folks. We treat patients who have a wide variety of acute and chronic

diseases. We do lots of wellness exams and routine immunizations.

We treat patients from school age to geriatrics. A big story in our

community over the years has been Merit Health Rankin (known as

Rankin General Hospital in 1985 when I moved to Brandon) and

its valuable contribution to our community. In addition, the Jackson

metro area has continually provided a wide array of consultants.

Hometown Brandon • 15
---
What have the last 30 years taught you?

Being a healthcare provider and overseeing a sole proprietorship

have been formidable challenges, though I have found that I was

fashioned for this adventure. I have learned the importance of having an

exceptional staff, and I have been very fortunate to have hard-working,

caring office personnel. These 30 years have provided many opportunities

to meet a lot of people at their greatest point of need. This has

been a huge privilege; it is very humbling to me that someone would

trust that I might be able to point them in the right direction, or ease

their pain. I've learned that the responsibility is even greater than I

had imagined – it has required a great deal of discipline to be as

prepared as possible in order to help.

I've also learned quite a bit about people over the years. Life on

this side of heaven isn't always fair, and some have been dealt a lot

more blows than others. I've noticed that pain and disease bring

humility and a new perspective for most. There are tons of needs

and there are at least that many people who are very grateful for help.

It may just be our beloved Rankin County, but I've learned that there

are lots of very kind and loving individuals who live here, and I've been

blessed to have known them.

What do you hope for in the next 30 years?

At 57, I have no reason to rock this boat – I'm in the trenches and

I love what I do. My health is good. I'm pressing forward. A number

of my Rankin County predecessors practiced medicine into their 70's

and beyond. Besides, Rae Anne believes I would explode or something

if I slow down, and she's probably right.

What do you and your family like to do around Brandon?

We love spending time with our grandchildren, attending church

activities and enjoying the delicious food at our local restaurants.

Where do you go to church?

We attend Crossgates Baptist Church.

What would you tell a new physician about his career

choice?

Cherish the unique opportunity you have been given to help

people. Be deliberate to connect with those who entrust themselves

to you, and don't ever stop learning.

What are your hobbies? Favorite pastimes?

This may sound strange, but I really enjoy reading about trends

in my profession. Learning about the new frontiers in healthcare and

keeping up with the current standard of care are very intriguing to me.

I dream about the days of my youth that I spent hunting and fishing,

but I just don't do much of that any more. Also, golf is definitely not a

good walk spoiled, now that I no longer pay attention to my score.

Are there any awards or accolades from your career that

you'd like to share?

I am board certified by the American Board of Family Medicine

and a Fellow in the American Academy of Family Physicians.

Tell us about your family.

Apart from the day I walked an aisle at a church revival in high

school, the best day of my life came when I met my wife, Rae Anne.

We were both attending a college fellowship at First Presbyterian

Church in Jackson. I was still at UMMC, and she was finishing her

bachelor's degree at Belhaven. She remains the most important person

in my life – she really is the 'better half', and those who know her will

agree. Our son and two daughters are out of the nest and on their own:

Megan (and husband Dustin), a housewife and mother of my two

grandchildren, Jonathan (and wife Lacy), a pro golfer finishing his first

year on the PGA Tour, and Miriam (and husband Josh), an RN at the

Blair Batson Children's Hospital in Jackson, also training to be a nurse

practitioner. I have been richly blessed through these individuals, all of

whom still live nearby.

Are there any organizations or causes you support that

you'd like to share information about with readers?

Rae Anne and I have supported the Center for Pregnancy Choices

for a number of years. I've been involved in prison ministry through

the Chaplain's Department at CMCF since 1991.

Who do you look to for advice and inspiration?

As a Christian, I first and continually look up and look to the

Word. Humanly speaking, my single most strategic mentor and

advisor has always been my dad, now 89, who still resides in my

childhood home. Also, I am close to a number of very wise men in our

community whom I trust a great deal. ■

16 • Fall 2014
---
Cherish the unique

opportunity you have

been given to help people.

Be deliberate to connect

with those who entrust

themselves to you, and

don't ever stop learning.

Hometown Brandon • 17
---
Helmets

& Heels

August ???, 2015

Brandon High School

18 • Fall 2015
---
Hometown Brandon • 19
---
IS YOUR

INSURANCE AGENT

FREE TO GET YOU

A BETTER DEAL?

AN INDEPENDENT AGENT

HAS FREEDOM OF CHOICE.

With access to many different providers, Trusted Choice ® Independent Agents have more

options at their fingertips. They can competitively shop around for you and put together

a plan that suits both your needs and your budget. The only one they answer to is you.

Find your independent agent. Find a better deal at trustedchoice.com

Free to do what's right for you ṢM

LET'S TALK ABOUT WHAT

FREEDOM OF CHOICE CAN DO FOR YOU.

Insurance Associates

of Rankin County

Steven Wallace | 601-825-5242

1301 West Government Street, Suite 105

Brandon, Mississippi

20 • Fall 2015
---
Don't Blink-It GoesByFast

Mary Ann Kirby

Fall is here. School is back in session and I

already miss the lazy summertime days with

my family; particularly my ever-growing

12-year-old. Time is going so fast.

As adults, we've always known that "time

flies" – but just a couple of weeks ago, my own

child commented on how fast the weekends

seem to go by. I didn't know kids had much

concept of time beyond, "how much longer is it"

and "are we there yet?" Call me crazy, but I'm

pretty sure that time is going by faster than it

used to. And I doubt that the warp-speed

hyper-scheduling we all endure helps much.

The morning that I wrote this, the Kenny

Chesney song Don't Blink came on the radio

and made me teary. (Note: it doesn't take much

to get me all blubbery and choked up. They say

having kids does that to a person. I believe it.)

The song refers to a man turning 102 years old.

He's being interviewed and is asked what he

considers to be the secret of life. He answered,

"Don't blink. 100 years goes by faster than

you think."

It got me to thinking (and writing)–am I so

busy running, trying to keep up, that I'm missing

the most important part of it all? Kenny's

fictitious centenarian says to, "Best start putting

first things first . . . 'cause when your hourglass

runs out of sand, you can't flip it over and start

again. Take every breath God gives you for what

it's worth."

With that in mind, I've made a mid-life

resolution.. I want to do things differently.

I want to notice more–and to appreciate more.

I not only want to step out of my box and go

places I've never been, see things I've never

seen, eat places I've never eaten and do things

I've never done–but I want to see the things

around me, differently.

Erma Bombeck is one of my all-time

favorite columnists. Back in 1979, she wrote a

column called, "If I Had My Life to Live Over." It

reiterates that the time we have should be

appreciated and used wisely. She was 52

when she wrote it–basically, my age. We

should all take it as excellent advice in today's

high-velocity environment. She says:

"Someone asked me the other day if I had

my life to live over, would I change anything.

My answer was no, but then I thought about it,

and changed my mind.

n If I had my life to live over, I would have

talked less and listened more.

n Instead of wishing away nine months of

pregnancy, and complaining about the shadow

over my feet, I'd have cherished every minute of

it and realized that the wonderment growing

inside me was my only chance in life to assist

God in a miracle.

n I would have never insisted the car windows

be rolled up on a summer day because my hair

had just been teased and sprayed.

n I would have invited friends over to dinner

even if the carpet was stained and the sofa

faded.

n I would have eaten popcorn in the 'good'

living room and worried less about the dirt

when you lit a fire in the fireplace.

n I would have taken the time to listen to my

grandfather ramble about his youth.

n I would have burned the pink candle

sculpted like a rose before it melted in storage.

n I would have sat cross-legged on the lawn

with my children and never worried about

grass stains.

n I would have cried and laughed less while

watching TV–and more while watching life.

n I would have shared more of the

responsibility carried by my husband, which

I took for granted.

n I would have

eaten less cottage

cheese and more ice

cream.

n I would have gone

to bed when I was sick

instead of pretending the

Earth would go into a holding

pattern if I weren't there for a day.

n I would never have bought ANYTHING

just because it was practical/wouldn't

show soil/guaranteed to last a lifetime.

n When my kids kissed me impetuously,

I would never have said, 'Later. Now go get washed

up for dinner.'

n There would have been more 'I love yous' ... more

'I'm sorrys' ... more "I'm listenings' ... but mostly, given

another shot at life, I would seize every minute ...

look at it and really see it ... try it on ... live it ...

exhaust it ... and never give that minute back

until there was nothing left of it."

Is there any way to say it better?

It's a great lesson for me about

life–and time–and the

passage of time,

particularly as we

embark upon a new

season. I plan

to begin living

life more

deliberately–

and I'm

starting

today.

Don't blink.

Hometown Brandon • 21
---
22 • Fall 2015
---
Clinging

to a

Promise

Olivia Halverson

Every day seems to bring about a new tragic diagnoses.

Today, everybody knows somebody who has been affected

by cancer. Still, the diagnoses of a dear friend or family

member never fails to surprise and devastate. What people

often forget to consider is their personal vulnerability to

disease and mortality. Despite seeing so many sick and

hurting people around them, humans continue to tell

themselves, "that could never happen to me." Then, it

happens. One day, a young woman's relaxing bath entails

her most feared discovery–2 unnatural growths beneath

her skin, a most certain sign of breast cancer.

"There is no way this is cancer," the doctor told Jami,

"you are too young." At 33 years of age, Jami Watson, a

studied and trained radiologic technologist, wife, and busy

mother of two, knew better than to accept this doctor's

diagnosis. She called another physician who recommended

an immediate mammogram and ultrasound.

The results yielded a diagnosis of Stage 0 Ductal

Carcinoma In Situ (DCIS), a noninvasive state of breast

cancer that, if not treated quickly, can become invasive.

Fortunately, Jami had detected her cancer at the earliest

possible stage allowing doctors to effectively remove the

tumors and practically eliminate the chances of the same

cancer ever reoccurring in Jami.

Oncologists insisted that there was no need for chemo

if Jami underwent a bilateral mastectomy. In short order,

Jami was having surgery before her 34th birthday. Jami's

operations took place at Woman's Hospital in Flowood,

Mississippi where Dr. Steven Paterson performed her

general surgery and Dr. Shelby Brantley did Jami's

reconstructive work. Jami's overnight stay was less than 23

hours with a quick recovery to follow. Post-surgery, all of

Jami's tests came back negative and she was allowed to

return home. As Jami was leaving the hospital, doctors

said with a smile, "We hope we never see you here again."

For Jami and her family, 2010 proved to be a busy

year. In addition to keeping up with two young and very

involved children, Jami and her husband, David worked

tirelessly on the start of David's new veterinary practice,

Brandon Veterinary Clinic. While cancer did make a rude

interruption in Jami's life, her experience was quicker and

less painful than others due to the early discovery of her

Hometown Brandon • 23
---
tumors. "After my surgery," Jami said "we just

picked up and went back to life as usual."

For almost four years, Jami continued

working at Premier Medical Group, helping

her husband with the clinic, and doing what

she loved most— being a full time mom. Her

son, Connor, took up a love for running and

athleticism in cross country and triathlons.

Macie, Jami's daughter is active in gymnastics,

tumbling, and competitive swimming. In that

time, the Watson family grew closer with their

Pinelake Church congregation and really

began to feel settled in their weekly routines.

Life was good.

In April of 2014, Jami found herself back

in a nightmare she had lived once before,

surrounded by the same team of doctors and

surgeons. Jami's cancer had returned, this time

more aggressively in the exact area it had

appeared in before. Invasive Stage 2 Ductal Carcinoma had entered

one of Jami's lymph nodes— an extremely unexpected outcome as

only 1% of breast tissue remained after her previous surgery.

Cancer came crashing down on Jami and her family once again,

stronger and more violent than before. Jami armored herself for a

battle, knowing the only way to combat such a storm was to match it

with an even greater strength–undeniable faith in a Savior. With God

by her side, Jami endured another surgery, a biopsy, 5 long months of

sickening chemotherapy and 6 weeks of radiation. Not long into

treatment, Jami began to see the physical effects of chemo on her body.

Her long brown hair thinned and fell out. Before long, Jami was the

bald, beautiful epitome of a stage 2 breast cancer patient. Inside,

Jami not only fought a battle with disease but an emotional battle as

she mourned the loss of what so many women identify with–long,

beautiful hair. Still, Jami's faith ran even deeper than the hurt and pain.

She clung to a promise from God in Jeremiah 29:11, "For I know the

plans I have for you," declares the Lord, "plans to prosper you and not

to harm you, plans to give you hope and a

future." Jami weathered the storm with this

verse on her heart, knowing soon her sickness

would end and she would return to fulfill a

greater purpose.

When Jami was diagnosed for the second

time, her friends and family helped in every way

they could. Constant prayer and encouragement

were among the bountiful offerings, in addition

to deliciously prepared meals delivered right to

the Watsons' home. Jami's family even attempted

to take on the mom-jobs that Jami was unable

to do, and in doing so, gained a lot of valuable

life skills such as cooking and doing laundry.

"We all shared the love," Jami said. Prayer

Warriors from Pinelake called Jami every

week with love and encouragement. Even in

her darkest days, Jami was never left alone.

Therein lies the power of faith–with God,

one is never ever alone.

Now a year later, Jami is a stunning cancer free woman with newly

opened eyes and an agenda. Being a mom is what Jami missed most

of all during her treatment. As she regains her strength and energy,

Jami is focused on being an active part of her children's futures. Macie

is excelling greatly in competitive swimming and Connor will be a

sophomore in high school. Outside of her family, Jami feels a calling to

give back what was given to her by preparing and delivering meals to

other cancer patients saying, "I've taken that on as my mission to give

back to others." Knowing the fears and pain of being a cancer patient,

Jami hopes to ease others who are suffering the same nightmare.

Looking back on her experience, Jami realized "Cancer makes

you think, 'live life with no regrets.'" A life lived in love and service is

not one Jami will regret. After all, there is no promise for tomorrow.

In the meantime, take this advice from a woman who has fought and

won a treacherous battle, "Put God first in your life, love your family,

and enjoy every single day." ■

24 • Fall 2015
---
Hometown Brandon • 25
---
26 • Fall 2015
---
SAVE THE DATE!!

Thursday,

October 29, 2015

Clyde Muse Center

Pearl, MS

Rankin County Chamber

www.facebook.com/RankinGlowRun

Hometown Brandon • 27
---
Hope

PlantingCamille Anding

28 • Fall 2015
---
Few creatures in the world match the

beauty and grace of the Monarch butterfly.

Local master gardener, Renate Hunt, has spent many years studying the delicate species.

Her involvement with the Master Gardeners of Rankin County has provided an outlet for

her interest by allowing her to give informative lectures about Monarch butterflies.

The primary goal of her lectures is to inform listeners of people's environmental impact on Monarchs

and to teach people how they can easily nurture and restore this shrinking species.

The Backstory

Beginning as tiny eggs no

bigger than the head of a pin,

Monarchs hatch into small,

colorful caterpillars that eat

their way through the leaves of

milkweed plants—the insect's

plant host and source of vital

nutrients. The caterpillars spin

a green cocoon which slowly

loses its hue as the butterfly

inside matures. Just before

hatching, the cocoon appears

black and orange, and the fiery

orange wings of a born-again

creature erupt from the

encasement. Weighing less

than one-fifth of an ounce

with wings spanning 4 inches

wide, these delicate creatures

prepare themselves for an

incredible migration of 2,500

miles. At each stop along the

migration, parent butterflies

die after the females lay their

eggs, and a new generation of

butterflies rises to continue

the journey. Four generations

of butterflies make up this

process before reaching the

end of migration. Many

dangerous obstacles threaten

Monarch butterflies during

their travels including

rainstorms, cold temperatures,

and perhaps worst of all,

human intervention and

habitat destruction.

Why Monarchs

are Disappearing

Milkweed is a staple for

the birth and growth of the

Monarch caterpillars. For

years, people have treated

milkweed like regular weeds,

killing them with pesticides.

Many farmers and livestockowning

families exterminate

milkweed as soon as possible

due to its toxicity when

consumed. What many do not

know is that milkweed is the

only plant Monarch butterflies

can lay their eggs on and the

Hometown Brandon • 29
---
Restoring the Monarch

only plant Monarch caterpillars can eat.

Therefore, as the amount of milkweed

has diminished, equally have the amount

of Monarch Butterflies.

According to the research of the U.S.

Fish and Wildlife Service, more than 970

million butterflies have vanished since

1990 as a result of dangerous herbicides

contaminating and killing milkweed.

Gardeners and butterfly enthusiasts have

taken upon themselves the responsibility

to keep Monarch Butterflies off of the

endangered species list. Protecting and

sustaining this species is not as

difficult as one might think.

Population

According to Renate, the first step to

seeing more monarchs in the community

starts with an abundance of nectar

producing flowers (Petunias, Sunflowers,

Zinnias, etc.) When the Monarchs make

their migration through the southern

United States, they are attracted to areas

with lots of flowers that they may feed

on. The secret to keeping the butterflies

around, however, is milkweed. Adult

butterflies sustain themselves on nectar

flowers, and the females lay the next

generation of eggs beneath the leaves of

milkweed plants. The adult generation

then dies, and the new generation of

butterflies begins their metamorphosis

so that they may continue the migration

into Mexico. Renate Hunt has become

an advocate of the monarch in her own

garden by planting an assortment of

nectar producing flowers in addition to

maintaining a large crop of milkweed.

Every summer, Monarchs take refuge in

Renate's garden. Her heart is full at the

sight of new butterflies spreading their

wings and flying confidently out of her

garden on to the next part of the journey.

Her hope is that others will find

excitement in providing a resting and

replenishing haven for these beautiful

creatures and join her efforts in helping

the Monarch

butterfly population

take flight once again. ■

30 • Fall 2015
---
Hometown Brandon • 31
---
32 • Fall 2015
---
H o m e t o w n L o v e

brandon

K'anne McGaughy

My family moved every two years from the

time I was five years old until my tenth grade year.

We stayed long enough to get involved in the local

Baptist church and make a few friends before it

was time to pack up and move again. There

were lots of positive experiences that shaped

me, but the concept of "home" was foreign.

My Papaw & Mamaw Jarvis lived in Brandon.

We would travel there on every major holiday

and take turns spending two weeks of the

summer there. Every summer during our visit

to Brandon, we went to vacation bible school

at FBC, ate fried chicken at Little Joe's and pizza

at Silver Dollar. We learned how to pick tomatoes

and shell peas from my grandparents' garden,

and we played in the creek with the other

neighborhood kids on Danbar Street.

In the tenth grade, we were living in

Madisonville, KY when my parents announced

that we were moving to Brandon. Even though

I wasn't thrilled to be leaving in the middle of

my tenth grade year, I knew somehow this move

would be different. We settled into school, church

at FBC Brandon, and our neighborhood,

Easthaven Estates. Right away, the youth at FBC,

who had grown up in Brandon, included me as if

they had known me my entire life. Several of my

new friends were on the annual staff at Brandon

High School. They invited me to come and meet

the annual staff sponsor, Mrs. Lee Tucker. Mrs.

Tucker took me under her wing and taught me

how to put together an annual. She also taught

me a lot about life.

One of my best friends on the annual staff,

Lynn Walker, lived on Jasper Street. We would

drink Coke Icees and drive around Brandon for

hours solving all the problems of the world, or at

least as many as we had as 16 year olds.

About a year later, another family, the

McGaughy's, moved to town with three boys.

They too had moved every two years growing

up. Several years later, after I graduated from

BHS, I ended up dating one of those new boys.

We dated long distance from Brandon to Ole

Miss. After college graduation, Robby McGaughy

and I married in the sanctuary of FBC Brandon

on College Street, surrounded by our family

and friends. We immediately moved to

Memphis to spread our wings and see the

world. My husband tells everyone I cried all

the way to Memphis.

Three years later, we moved again to Dallas,

TX. We worked all week and played all weekend.

We saw every sporting event, movie, play and

concert, traveled, and experienced life. But our

carefree lifestyle came to a screeching halt

when we found out we were expecting twins.

God began to change our mindset. We no

longer cared about seeing the world and

experiencing life. We wanted to raise our

children in the safety of a small town where

they would grow up with lifelong friends,

where they would know people by name, where

manners and respect for others were a way of

life. A place where God, family and friends, in

that order, came first. We wanted our children

to live in Brandon, the place we called HOME.

Before they were born, we began to pray

about our desire to move home. God answered

that prayer when they were 9 months old. Beth

and Sarah are now twelve and have grown up

with the help of FBC Brandon children and

youth ministries, FUMC preschool, Rouse,

Stonebridge, Brandon Elementary and now

Brandon Middle School. We have also added

another little one to our family, named Grant.

Robby and I are thrilled our children have

lived in Brandon most of their lives. We had no

idea how important that would be until our

son was born with special needs. Grant is

developmentally delayed and cannot

communicate the same way typical children

do. He often sings loudly, fails to recognize

boundaries, bumps into people, runs without

abandon, and can tantrum when misunderstood.

The people of Brandon have opened their arms

to make us feel comfortable, accepted and

supported. What a blessing it is to go to our

local Kroger where employees call him by name,

to eat at local restaurants, like McAlister's, and

see other special needs adults and teens

working there, to attend church at FBC Brandon

and feel the safe haven of God's love and the

love of others who volunteer to shadow Grant

every Sunday morning, so he too can

experience worship and learn about God.

Robby and I are thankful that God led both

our families home to Brandon, not only as

teenagers, but again as new parents. According

to Webster's dictionary, the definition of

"hometown" is the place where one was born

or grew up. Although, Robby and I were not

born in Brandon, we definitely grew up here–

as teenagers, young adults, and now parents.

With God's help we are raising the next

generation, the fourth in my family, to love

our hometown of Brandon. ■

Hometown Brandon • 33
---
34 • Fall 2015
---
– wedding–

Lauren Gail Glass

& John Madison Sisco

Lauren Gail Glass and John Madison Sisco were united in marriage at First

Baptist Church of Jackson on May 2, 2015. The ceremony was officiated by the

father of the bride, Larry Dale Glass.

The bride is the daughter of Larry and Mary Glass of Flowood, Mississippi

and is a former resident of Brandon, Mississippi. The groom is the son of Betty

Tarver Sisco of Brookhaven, Mississippi and the late Madison Sisco.

Nuptial music was presented by pianist Pam Brown of Swanannoa, North

Carolina with scripture read by Karen Bonds, of Charleston, South Carolina.

Both are close friends of the bride from her former church while employed in

the area of Black Mountain, North Carolina.

Given in marriage by her father and assisted by the uncle of the bride, Rev.

Jerry Glass, of Star, Mississippi, the bride wore a gown of rich lace appliquéd

on soft netting with a sculpted neckline featuring scalloped straps and keyhole

back. The empire waist was accented with Swarovski crystal detail. Her veil

was her mother's, worn on her wedding day forty-two years ago, along with the

train–also part of her mother's dress. Her bouquet was a spring arrangement

complimenting the kelly green floor-length chiffon dresses worn by the bridal

attendants. They carried complimenting arrangements.

Matrons of honor were Cara Deweese Shroyer of Cumming, Georgia,

sister-in-law of the bride Bevin Chase Glass of Star, Mississippi, and Brooke

Eversmeyer Jarrell of Little Elm, Texas. Kathryn Gray Glass of Star, niece of the

bride, was flower girl.

Best men were brother of the bride Ryan Christopher Glass of Star,

Mississippi, Mitchell Douglas Stuart of Morton, Mississippi and nephew of the

groom William Dwayne Rutland, of Brookhaven, Mississippi. Serving as ushers

were Edward Winslow Chase IV, of Terry, Mississippi and William Paul

Armstrong of Brandon, Mississippi. Program attendants were Hanna Grace

Allen and Addison Bessonette, both of Brookhaven, Mississippi.

Following the ceremony, the bride's parents hosted a reception in the

fellowship hall of the church. A lovely and meaningful bridesmaid's luncheon

was hosted in the home of Mrs. William L. Waller the day before the wedding

and given by Mrs. Waller, Mrs. Marc Rich, Mrs. Lee Cope, and Mrs. Brian

Fortenberry. On the eve of the wedding, following the rehearsal, a dinner was

hosted by the mother of the bride and family members of the groom in the

Christian Life Center Church dining room.

The couple is at home in Madison following a wedding trip to Costa Rica.

The bride is preschool minister at Broadmoor Baptist Church and the groom is

a senior systems analyst with Southern Farm Bureau Life Insurance Company.

​

Hometown Brandon • 35
---
36 • Fall 2015
---
Brandon

Musicians

The City of Brandon's Senior Services

hosts a music group on Monday mornings

at 9:30. All types of musical instruments

are played and anyone at any musical

level is welcomed to join the group.

If you play an instrument, like

to sing, or you just want to listen,

then come join the fun at

the Brandon Senior Center.

Hometown Brandon • 37
---
Back to School

BASH

38 • Fall 2015
---
Hometown Brandon • 39
---
40 • Fall 2014 2015
---
Hometown Brandon • 41
---
serving our community

Gary Hunn

brandon Fire Department

Why did you decide to become

a fireman?

Basically I enjoyed helping people and

spending time listening to my grandparents

talk about their lives. It was rewarding to

them to know that I cared, which made

me feel great about what I was doing. As

an adult I realized that I could do the same

things as a fireman and also continue a

legacy of firemen within my family.

How long have you been with the

Brandon Fire Department?

15 years

Tell us about your family.

I have three absolutely amazing kids.

Twin girls and a son.

What is the toughest thing you

have experienced in your job?

The first really serious call I had to go to,

I had to pull the body of a six year old out

from underneath a vehicle because he

wasn't wearing a seatbelt. The rest of the

family walked away without a scratch.

What are three things on your

bucket list?

Move to Belize, take a 6 month long

European vacation, and skydive.

Where do you see yourself ten years

from now?

Retired and living in Belize.

If you could give one piece of

advice to a young person, what

would it be?

Take you education seriously and never

stop learning.

What is the biggest mistake you

think young people make today?

Acting like they are owed something just

because.

What is your favorite thing about

the city of Brandon?

Aside from its citizens I would have to say

the current Mayor. It's refreshing to have a

leader who puts all aspects of the city ahead

of his own agenda.

Share some things you enjoy doing

in your spare time?

Spending time with my kids, of course.

Going to God's Country (a.k.a. Oxford, Miss.)

to watch my Rebels...errrr Black bears play

football. Playing golf and softball along with

iRacing.

42 • Fall 2015
---
BRANDon's finest

Officer Seth Brown

brandon police Department

Why did you decide to become

a policeman?

When I started dispatching at Brandon Police

Department, and was able to observe the

officers working, I knew for sure that's what

I wanted to do with my life.

How long have you been with the

Brandon Police Department?

Almost two years. I was sworn in as a police

officer in September of 2013.

What do you enjoy most about

your typical day as a policeman?

The people I work with. I couldn't ask to be at a

better department, or on a better shift.

What is the toughest thing you have

experienced as a policeman?

The hardest thing I have had to see as a police

officer is the mistreatment of children.

Tell us about your family.

I have been married to my beautiful wife

Danielle for five years. We have a son named

Kyler, and a baby girl on the way, and I could

not be more excited.

Share some things that you enjoy

in your spare time.

I enjoy spending time with my family, hunting

fishing, and watching football with my friends.

Roll Tide!!

What are three things on your

bucket list?

1-I just hope to make it to retirement.

2-I want to be able to send both of my children

to college.

3-I want to own a Ford Bronco. I know that

seems a bit insignificant for a bucket list, but

I've wanted one my entire life.

What do you consider your greatest

achievement/accomplishments

and why?

I would have to say my children and my

marriage first and foremost. Graduating Basic

Training, graduating Air Force Survival School,

graduating from MLEOTA, and being named

Brandon Police Department's Officer of the

Year my first year on the job.

Who is someone you admire and why?

My father. I am proud to be his son, and anyone

who knows me can tell you I brag about it quite

a bit.

What is your favorite holiday and why?

Christmas. There is nothing like waking up

on Christmas morning to watch my son's face

light up.

If you could give one piece of advice

to a young person, what would it be?

Stay in school Focus on your schoolwork and

not what is or is not cool. There is nothing

about the clothes you're wearing or the vehicle

you're driving that will get you anywhere later

in life.

What is most rewarding about

your job?

Being able to help people and actually see

changes in their life. It is hard to watch so many

people make mistake after mistake, but the

feeling you get when you see people turn

themselves around and do something with

their life is ultimately why we do this job.

Where do you see yourself ten years

from now?

I would like to still be at Brandon Police

Department. I love this department and the

people I work with. I hope to one day move

up to a supervisory role, or become an

investigator.

Hometown Brandon • 43
---
PetersonMelanie McMillan

Coach

Tyler
---
new school year is underway

and with it comes the

excitement of Friday night

football. As the Brandon

Bulldogs take the field,

they do so under the leadership of a

new head coach. Tyler Peterson has

joined the Brandon High School family

from Northwest Rankin, bringing with

him years of coaching experience from

all over the south.

A native of Louisville, Mississippi,

Coach Peterson knew from an early

age that he wanted to be a coach. "As far

back as I can remember, that's what I've

always wanted to do", he says. "I was

the kid on the playground getting

everybody lined up, telling them where

to go and what to do, and deciding who

was going to kick or hit the ball where.

My dad and his brothers were in

construction and it didn't take long to

realize that I didn't want to do that.

Sports seemed like a lot more fun."

Growing up, playing sports was

truly a family affair for Tyler. Family

gatherings provided opportunities for

playing ball, whatever the season.

"There were a lot of boy cousins our

age and that's just what we always did.

Whatever the season was, that was the

sport we played." Two of those cousin

"teammates" were Brad and Chris

Peterson, both successful high school

coaches. Tyler coached with Brad at

Louisville and succeeded

him at Brandon, and Brad's brother,

Chris, is the head coach at Gautier

High School.

After graduating from Louisville

High School, Coach Peterson went on

to play football at the University of

North Alabama. His first coaching job

after college was at the University of

Tennessee at Chattanooga, followed

by a graduate assistant position at his

Hometown Brandon • 45
---
alma mater at North Alabama. Following

a stint at the University of Arkansas-

Monticello, Tyler returned to Louisville,

where cousin Brad was the head coach.

Head coaching positions at Noxapater,

Kosciusko and Northwest Rankin

followed, and with each move, Tyler

proved that he had what it took to

develop and maintain a strong football

program. It's no surprise, then, that he

was chosen to be the head coach at

Brandon.

When asked what surprised him

the most when he began his coaching

career, Tyler said that most people don't

realize how much time is involved.

From cleaning locker rooms to doing

laundry to cutting grass, there are many

things involved in coaching besides

practices and games. Family time is

often sacrificed, particularly during

football season, so family support is

imperative. In this area, Coach

Peterson acknowledges that he is

blessed.

Introduced by mutual friends,

he and his wife Erica have been married

for five years. Erica, a native of

Philadelphia, Mississippi, is a speech

therapist but for now is enjoying time

at home with the couple's two boys,

Camden, age four, and Case, age three.

Their family of four will soon be

growing however, as they are in the

process of adopting a daughter, Evie

Joy, who turned a year old in May. The

Petersons are waiting to receive a

travel date to go to China to meet their

daughter. Although Tyler did not know

a lot about the adoption process, he

was open to the idea, knowing how

much it meant to his wife. "When you

start doing your research," he says,

"you realize how many children out

there are in need. We live in our little

bubble sometimes and think that

everyone is blessed and fortunate and

that's just not the case."

Although family time can be

limited in the Fall, Tyler is grateful

for a job where his family can be

an integral part. Close friendships

among the coaches and their families

are common, as so much time is spent

together. And as his children grow, he

looks forward to having them on the

sidelines and involving his family as

much as he can.

The Petersons are already feeling

very at-home in the Brandon family.

Tyler says, "Everyone has been so

helpful and everyone supports the

school. My wife and I are both small

town people and Brandon has that

small town feel where everybody

knows everybody. There aren't many

towns anymore where there's one

school in the town. I am proud and

excited to be here, and I look forward

to my children growing up here." ■
---
Hometown Brandon • 47
---
48 • Fall 2015
---
people - warm, caring, and loving

fellowship - laughter and joy

along with strength and encouragement

ministry - telling people about God's

love, forgiveness, and grace

growth - inside and out

a road map - helping to show people the way to Jesus Christ

celebration - worshiping God for His work and mercy

Sunday Worship Times:

8:15 a.m. and 10:45 a.m.—Worship Service

9:30 a.m.— Sunday School

6:00 p.m.—Evening Worship

in our lives through Jesus Christ

Youth Website:

www.brandonbaptiststudents.com

Twitter: @BrandonBCMS

Facebook:

www.facebook.com/brandonbcms

people - warm, caring, and loving

fellowship - laughter and joy

along with strength and encouragement

ministry - telling people about God's

love, forgiveness, and grace

growth - inside and out

a road map - helping to show people the way to Jesus Christ

celebration - worshiping God for His work and mercy

Sunday Worship Times:

8:15 a.m. and 10:45 a.m.—Worship Service

9:30 a.m.— Sunday School

6:00 p.m.—Evening Worship

in our lives through Jesus Christ

Youth Website:

www.brandonbaptiststudents.com

Twitter: @BrandonBCMS

Facebook:

www.facebook.com/brandonbcms

people - warm, caring, and loving

fellowship - laughter and joy

along with strength and encouragement

ministry - telling people about God's

love, forgiveness, and grace

growth - inside and out

a road map - helping to show people the way to Jesus Christ

celebration - worshiping God for His work and mercy

Sunday Worship Times:

8:15 a.m. and 10:45 a.m.—Worship Service

9:30 a.m.— Sunday School

6:00 p.m.—Evening Worship

in our lives through Jesus Christ

Youth Website:

www.brandonbaptiststudents.com

Twitter: @BrandonBCMS

Facebook:

www.facebook.com/brandonbcms

Hometown Brandon • 49
---
50 • Summer 2014
---
A K indergarten Legend Camille

Anding

We never forget the things or people we love.

For Bonnie Milbrandt, it's the children she

loved for the thirty years she was a kindergarten

teacher in Brookhaven, Mississippi. Her story

is an endearing one.

Bonnie grew up in Mendenhall, Mississippi

with her two older brothers and younger twin

brother and sister. She earned her elementary

education degree from University of Southern

Mississippi and had nothing but a teaching job

on her mind when she accompanied her mother

on a grocery run one Saturday morning in

Mendenhall.

She still remembers going to the apple

display at the front of Jitney Jungle to select a

dozen apples for her mother. A young Penn

State grad drove by with a friend of Bonnie's

and spotted the 5'9" beauty in the window.

He was shopping too—and at that moment,

found the apple of his eye. He stopped and

sent his friend in to request permission to let

Bonnie join them.

When friend Thelma explained that her

friend, Allen Carl Milbrandt was from

Pennsylvania and just acquired a job as a soil

conservationist in Mississippi, Mrs. Crosby,

Bonnie's mother, agreed to let her go. One

year later, Bonnie and Allen were married.

A job transfer for Allen to Brookhaven

carried them to their new home that would be

their permanent one. For the next thirty years,

Ms. Milbrandt would teach kindergarten

classes—nineteen at the Presbyterian Church,

and at the Methodist Church for eleven.

Bonnie Milbrandt's bright green eyes

sparkled as she shared her love for the young

lives she had touched and molded. Her

conversation was fixed on the days and hours

that brought her such joy.

"They knew I loved them," she said of all

her students. Bonnie was dogmatic about the

key to being a successful teacher; "You've got

to love your job and the children. And you

need patience. You don't scold little children.

Never use a harsh voice."

When asked about her means of discipline,

she confessed that she never really had any

need for punishment. In her soft voice, she

always encouraged them to "act like big boys

and girls because you'll soon be first graders."

Her world of teaching that seems so far

removed from the present began in a circle

where she read a daily Bible story. She taught

them the Lord's Prayer, ABC's, numbers to 100

and saved time for coloring and outdoor play.

The year would include field trips to local

fun places with Ms. Milbrandt leading the line

of little "ducks." "Sometimes the mamas would

be late in picking up their child," she said, "but

I didn't mind. I would just sit and talk to the

little one about what we had learned that day."

She added that so many children had given

her such lovely gifts. One dad gave her two

acres and the oil rights that still provide her

monthly oil checks.

"Little children will tell you everything if

you let them," she continued. "Once a little boy

told me he wanted to share what his daddy

said. I asked him if it was kind. 'Oh, no,' he

said. So I told him let's don't talk about it."

Even at ninety-two, Bonnie still felt the

impact that adults have on little children.

"They need your help," she said with emotion.

"That's a little life!"

Another child reported that his daddy mowed

their lawn on Sundays. When Bonnie told the

child that Sunday was supposed to be for

worship and rest, her student admonished

his dad for working on Sunday. According to

another report, the daddy stopped his Sunday

mowing.

In 1989, a fall at her daughter Vickie Smith's

suspended her days of living alone as a widow.

She recovered from her broken hip and now

enjoys her days at Peach Tree Village Assisted

Living. "I love people," she says, "and I've just

got to help others."

Then she turned her attention to Lanette

Williams, her friend and executive director of

the facility. "She's the nicest person I've ever

met," Bonnie said about Lanette. "I tell her

that. In fact, I don't believe people ought to

stand over a casket and brag about what a

good person he or she was. They need to tell

them before they die!"

I paused outside the Village after my long

conversation with Bonnie. Amazing was my

summation. Her inner beauty of love and

tenderness still radiated from her ageless face.

I thought of the thirty years and the twenty-five

to thirty-four students that she loved

and taught every year, and the things she

taught their parents.

Then it came to me; word should spread

and Ms. Milbrandt should be deluged with

mail, thanking her for her life of love and

molding. I agree with Bonnie—looking over

a casket is a poor place to pay compliments. ■

Hometown Brandon • 51
---
BRANDON PUBLIC LIBRARY

1475 W. GOV. ST • (601) 825-2672 • brandonatcmrls.lib.ms.us

Sept-Oct-Nov Events

Displays for September

Decorative Tins of Marie Jackson

Airplane Collection of Dirk Vanderleest

The Brandon Library is participating in Red Friday. Wear Red to the

library on Friday during football season and check out one item. You

will be entered into a weekly drawing for a $10 coupon to a Brandon

eatery - new sign-up and prize every week. All entries go into a grand

prize drawing at the end of the season for an iPad Mini! Sponsored by

the Friends of the Brandon Library.

Weekly Events

Mondays - 10:30am Toddler Time

Come join us for stories. Songs and finger plays for ages 0-2 years.

Mondays - 6pm Dulcimer Group *In lieu of Labor Day the Dulcimer Group

will meet Tuesday 9/8 at 6pm.

Tuesdays - 9am Computer Classes Free. Pre-registration requested.

September 15, 22, 29 - Basic Computer Classes

October 6, 13, 20, 27 - Application Classes Word, Excel, Power Point

November 3 - Using the Computer to Evaluate Prescription D Plans

Presented by David Fisher

November 10 - eBooks and Freegal Music: Learn to use the CMRLS

ebooks. Learn to download free music from our website using Freegal.

November 17 - How to buy a computer. What should you look for when

buying a computer or tablet.

Tuesdays 4pm - Kid Connection

1st & 3rd Tuesdays Grades K-6 afterschool story and craft hour.

2nd & 4th Tuesdays Chess Lessons for K-6.

September 29 Allergy & Asthma Awareness Month with Magnolia Health

Wednesdays & Thursdays - 10:30am Preschool Story Time Songs,

stories, and crafts for preschoolers aged 3-5.

Thursdays at 1pm - BYOP Bring Your Own Project crafting group.

Thursdays at 6pm - Creative Crafters Learn and craft together.

Monthly Events and Meetings

Second Monday of the Month

The New Brandon Book Club - 10:30am

September 14 A Walk in the Woods by Bill Bryson

October 12 Rogue Warrior Task Force Blue by Richard Marcinko

November 9 Girl on a Train by Paula Hawkins

Beading Class - 4 & 6pm Please register

September 14 Halloween earrings using super duos. Supply cost $5.

October 12 Triangle earrings using size 11 seed beads. Supply cost $3.

November 9 Elegant Ring. Supply cost $4.

Second and Fourth Mondays of the month

Extra-Ordinary Writers' Club - 6 pm

Join other local writers as we get together, read each other's work, and

help each other improve. This group is open to teens and young adults.

Second and Fourth Tuesdays of the month

Adult Chess Lessons - 6:00pm Please register.

First Wednesday of the month

Gardening at Your Library - 10:30am

Join the Master Gardeners as they discuss various gardening topics

September 2 Terrarium Demonstration by Suzette McInnis

October 7 How to make a cheap seed-starting box by Cindy Pannier

and Kathleen Shuller

November 4 Seasonal Arrangement Demonstration using corkscrew

willow by Renata Hunt.

Second Wednesday of the month

V.V.A. Meeting - September 9 and October 14 - 10:30am

Join local veterans for their monthly meeting.

First Thursday of the month

Genealogy Club - 10:30 am Genealogy topics and assistance are the

topic of the day.

Coin Club - 6 pm Love old and new currency? Join the Brandon Coin

Club for their monthly meeting.

First or second Saturday of the month

Community Quilt Workdays

Saturdays, September 5, October 10, November 7 - 10 am

Come by and watch, ask questions, or help us!

Sponsored by the Brandon Quilters.

Third Saturday of the month

Teens & Young Adult Gaming Day Saturdays at 12 noon

September 19 WiiU Smash Brothers Tournament

October 17 & November 21 Call for the latest details and to register.

Special Events

Brandon Quilters Cozy up with the Brandon Quilters for their meeting.

Mondays, September 14, October 5, and November 9 - 6pm

(Note - dates different than normal.)

Begin Your Family Tree Tuesday, September 15 - 10:30am

How to begin your family tree, what records are online, when to go to the

courthouse, and how to organize your information. For questions, call the

library or email Anne Vanderleest at brgenatcmrls.lib.ms.us.

TEEN NIGHT: Movie Making with Curtis Everitt of Saint Studios Films

Monday, September 14 - 5 pm

Brandon Genealogical & Rankin County Historical Society

Tuesday, September 15 - 7 pm Join us for History and Fellowship.

The public is invited. Refreshments provided. Contact Anne Vanderleest

or brgenatcmrls.lib.ms.us or Penny Schooler 601-824-1860.

AARP Safe Driver Course - Wednesday, September 16 - 12 pm

AARP Smart Driver Course helps drivers over 50 become safer, more

aware drivers. Check with your insurance company to see if you will

qualify for available discounts. Material costs - $15 for AARP members,

$20 for non-AARP members. Call Allison Wood at 601-208-6525 to

reserve your place.

Teen Game Night Monday - September 21 - 5pm Play Apples to Apples,

Man Bites Dog and more! Join us for snacks, drinks, and fun!

Family Night Thursday - September 24 - 6pm

Learn how to play the clarinet from Mr. H. G. Hagen.

Boomer University Saturday - September 26 - 10am-3pm

AARP for all of us born from 1945 to 1964. Lunch will be provided. There

is no cost but you must register by calling the library. Topics include:

Discussion about Social Security, 10 Steps to Retirement Security, How to

Protect Yourself from Fraud, Life Reimagined

Social Security "What you don't know could hurt you"

Tuesday September 29 - 6pm This informative session will answer

many of your questions and clear up many of your concerns. Presented

by Roy and Diane Thompson. Call to register.

Coin Show - Saturday October 3 - 10am-4pm

Sign Language Class Saturday - October 3 - 10:30am Learn to speak

with your hands! Free class. Pre-registration suggested.

Teen Game Night - Monday, October 5 - 5pm

Munch on History - October 13 - 12noon

Mississippi Archives and History and the Rankin County Historical

Society present A Photographic Revisit of Rankin County – Then and

Now by Paul Davis. Bring your lunch, we will provide drinks and dessert.

Teen Craft Night - Monday, October 19 - 5pm Pumpkin decorating just

in time for Halloween.

Family Night-Fall Festival Thursday, October 29 - 6pm

It's time for our Annual Fall Festival with games, prizes, treats, and more.

BOOK SALE! It's the BIG ONE!

Friday, October 30, 10-5 & Saturday, October 31, 10-4

Bag Day ($5 a bag or $10 a box) – Monday, November 2, 10-8

Garland Wreath - Thursday, November 12 at 6pm

Presented by Polly Agee. Call for supply list to bring. Free class.

Teen Game Night - Monday, November 16 at 5pm

Painting with Carla - Monday, November 16 at 6pm

Enjoy a seasonal painting with Carla Nations. $6 fee. Please register.

Family Night - Thursday, November 19 at 6 pm

Fall stories, games & activities for the whole family.

Teen Craft Night - Monday, November 30 at 5 pm

Make Mod Podge boxes for Christmas gifts.

The library will be closed: Monday, September 7 for Labor Day

Wednesday, November 11 for Veterans Day

Thursday, November 26 for Thanksgiving Day

______________________________________________________

Brandon Public Library is part of the Central Mississippi Regional Library System, which serves

Rankin, Scott, Simpson, and Smith Counties.

52 • Fall 2015
---
Hometown Brandon • 53
---
City of Brandon EVENTS

Sep 19

Brandon Opry

Brandon Civic Center

6pm • $5 Admission

Oct 17

Brandon Opry presents

The Blackwood Quarter

Tickets $10

Oct 24

Mother-Son Dance

Nov 7

Military Ball

Nov 11

Veterans Breakfast

Brandon Garden Club

Blue Star Memorial

Marker Dedication

at the Rankin County

Justice Center after breakfast.

For more information visit www.cityofbrandon.net or call 601.825.5021

54 • Fall 2015
---
Shirley Botkin, Pat Robinson

John Thompson, Elan Brown, Ruth Thompson

Justin Haris, Barbara Magee, Treazure Washington

Grandparents

Day

Ernestine Crawford, Laura Swanson

Yvonne Bianchi

Brandon Senior Center

June 12, 2015

Mary Bailey, Collin Washington

Georgia Henry, Aniyah Fleming

Jo Parkerson, Popfeener Wooten

Joyce Edmondson, Virginia Goff

Taya Stratton, Lee Mary Burton, Taylor Stratton

Jamie Moak, Rose McKay

James Ward

Jim Moulds, Vladik Moulds, Moulds

Linette Williams, Diana Meredith, Chris

Kay Davis, Bill & Rosemary Hoffa

Hometown Brandon • 55
---
Everything's

Coming Up

This year spring quickly turned into the

usual hot Mississippi summer, with children and

adults searching for a fun daytime activity. The

2015-2016 members of the Brandon Garden Club

(BGC) executive committee decided to host an

early-morning garden party for their

grandchildren and "grandfriends," all ten-years

of age and younger. Adults and children alike

enjoyed a laid-back, bright summer day before

the mid-morning heat chased everyone indoors

to one of life's best inventions, air conditioning.

The garden party was held at the home of

Suzanne Ross. While the hostesses made final

preparations, Suzanne introduced the children

to herbs and other plants in the mini French

courtyard-style garden. They picked and tasted

parsley and rosemary, rubbed pieces of mint on

their hands, but declined to pick or taste garlic

chives. The success of this small garden tour

was best expressed by Fallon Frisby, who said "I

really want a garden when I grow-up."

All children like to give flowers to their

Moms, Nanas, Mimis, and even Suzies, so the

next activity was chosen to help make those

gifts happen. BGC used an idea demonstrated

by The Garden Club of Jackson at the spring

Natchez Trace District Workshops - a small

floral design formula using three components:

thriller, spiller and filler.

With a little adult guidance to know the

difference in plants, each of the nine children

made floral arrangements in a variety of

containers from candlesticks to empty bubble

bath bottles to take home to very special

people.

And you can't have a party without food.

The menu and table decorations were chosen to

be easy and child friendly. Red tablecloths,

green and white dishes, and a centerpiece

containing potted plants enhanced the

plantings in patio area. The small arrangements

were added to the table while guests and BCG

executive committee members enjoyed chicken

salad sandwiches, watermelon, carrots and

celery with peanut butter and Nutella dip, and

plenty of lemonade and water to wash it all

down. The eye-catching and delicious ice

cream flower pot desserts were made by new

executive committee member Marion McKee.

The best testimonial came from Mary

Ainsley Zischke, who said "This was a FUN day,

Maymay!" ■

Front row - Debbie Zischke, Lily Chapman, Kameron Jordan, Fallon Frisby.

Middle row - Ross Gaskin, Anna Reagan McKee, Dylan Chapman, Mason Jordan, Charla Jordan.

Back row - Suzanne Ross, Mary Ainsley Zischke, Ethan Chapman, Delena Hamel, Ginger Parker, Marion McKee.

56 • Fall 2015
---
Mary Ainsley Zischke

granddaughter of Debbie Zischke

Ross Gaskin

grandson of Suzanne Ross

Kameron Jordan

granddaughter of Charla Jordan

Anna Reagan McKee

granddaughter of Marion McKee

Dylan Chapman

grandson of Delena Hamel

Lily Chapman

granddaughter of Delena Hamel

Mason Jordan

grandson of Charla Jordan

Fallon Frisby

friend of Ginger Parker

Ethan Chapman

grandson of Delena Hamel

Hometown Brandon • 57
---
Curry Chicken Salad

Roses, Recipes, and Reflections; Something Special

Brandon Garden Club First Tablescapes Luncheon,

2008

• 3 to 4 cups chicken breast, cooked and diced

• 1 cup celery, diced

• 2 tablespoons lemon juice

• 1/2 cup mayonnaise

• 2 cups green seedless grapes, halved

• 1/2 cup slivered almonds

• 1-1/2 teaspoons curry powder

• salt and pepper

In a bowl, mix all ingredients.

Refrigerate at least 2 hours before serving.

To serve as a salad, sprinkle with paprika and

serve on a lettuce leaf. Serves 8.

To serve as a sandwich, cut grapes in quarters

instead of halves. Remove crusts from bread.

Spread mayonnaise on bread before adding

chicken salad. Optional: Sprinkle with paprika.

Cut into triangles after assembly.

Flower Pot Ice Cream Dessert

• 1 pound cake, store bought or homemade

• 1/2 gallon ice cream, your favorite flavor

• 1 package chocolate sandwich cookies

(we used Oreos)

You will also need:

• 8 small plastic or clay flower pots (lead free)

• 8 straws, cut 1/2 inch taller than the pot

• Fresh flowers

Slice the pound cake 1" thick. Cut with a cookie

cutter to fit the bottom of the pot. Place pound

cake round in the pot. (Substitution: Use a vanilla

wafer.) This keeps melting ice cream from

dripping through the hole in the pot.

Hold a straw in the center of the pot. Surround

the straw with softened ice cream almost to the

rim. Clean the rim with a damp paper towel.

Place in freezer until firm.

In a food processor, pulse the cookies until they

resemble rich topsoil. (You can also crush them

in a plastic bag with a rolling pin.)

Remove pots from the freezer. Spoon the crushed

cookies on top of the ice cream to the rim of the

pot. Place a fresh flower in the straw and serve

immediately.

Brandon Garden Club welcomes volunteers for both small and large projects.

For information, visit thebrandongardenclub.com.

_______________________________________________ ________________________________________________

Charla Jordan, President, Brandon Garden Club; Public Relations Chairman and Photographer,

The Garden Clubs of Mississippi, Inc., National Garden Clubs, Inc.

Suzanne Ross, Chairman, Brandon Garden Club Civic Projects; Natchez Trace District Director,

The Garden Clubs of Mississippi, Inc., National Garden Clubs, Inc.

58 • Fall 2014
---
Crestview

memorial

gardens

• 24-Month Interest-free Financing •

• Discount on four or more burial spaces •

• 50% Discount for Veterans with DD214 •

MURPHY ADKINS • DEBBIE ALLEN • LEE BARLOW

1106 Star Rd • Brandon, MS • 601-825-4240 • info@cmgardens.com

Growing to meet our community's needs.

Brandon Nursing and Rehabilitation Center's new therapy gym

is now open for inpatient and outpatient therapy.

335 Crossgates Blvd • Brandon Ms

601.825.3192 •Fax 601.825.6398

Don't Miss Our Next Issue

Winter 2015

Hometown Brandon • 59
---
WhereAreTheyNow?

Olivia Halverson

Megan Williams is a Class of 2007

graduate of Brandon High School.

During her time as a Brandon Bulldog,

Megan participated in a number of

extracurricular activities which she credits

for cultivating in her a love for working

with others. The students Megan studied

with at BHS she described as "top-notch."

Since graduating, Megan has sought to

surround herself with similarly skilled

individuals who inspire and nurture her

desire to learn. Today, Megan resides in

Washington, D.C. where she works as

an investment operations associate for

Cambridge Associates.

With her she always carries the

wisdom she gained from Brandon High

School. "Most importantly," Megan says,

"the faculty at Brandon High School

encouraged me to not only have pride in

who I am and where I'm from, but also

to continuously look for ways to expose

myself to a new way of thinking."

Emily Eichelberger Blalock

graduated from Brandon High School

with the Class of 2000. She played varsity

basketball throughout her entire high

school career, which helped influence her

personality and professional drive. Emily's

geography teacher, Mrs. Hollis, inspired a

desire to travel in Emily. "She gave me the

initial idea that anything was possible for

a young woman seeking adventure with a

thirst for knowledge."

Carrying with her lessons in trusting

others, maintaining humility, perseverance

and dedication, Emily moved on from

Brandon to the University of Georgia

where she traveled to West Africa five

times to help African women establish

business and trade. During her time as a

UGA student, Emily also trained teachers

in Honduras, worked in an Ecuadorian

textile factory, and studied fashion

production in China. Today, Emily and

her husband Brent have accepted jobs

at an international school in Shanghai

China. Brent will be an elementary art

teacher and Emily will be the high school

college counselor. Emily says, "We are

excited to live in the biggest city in the

world and study a culture so different

from our own."

Nathan McLaurin graduated from

Brandon High School in 1999. He says,

"The community and school system

played a vital role in who I am and what

I do today." Nathan returned to his alma

mater years later where he works today

as a psychology teacher, assistant football

coach, and head coach for the boys track

and field team. Nathan has found that the

principles instilled in him as a Brandon

High School student remain with him

today. Now as a teacher, he tries to instill

the same in all of the students he

encounters. Today Nathan lives happily

in his hometown with his wife, Adonya

McLaurin and their two children who

also attend Brandon schools.

60 • Fall 2015
---
? ?

Brett Baer is a 2008 graduate of

Brandon High School. During his high

school career, Brett was very involved

in athletics and extracurricular activities

that led him to his future career path in

physical therapy. Brett currently resides

in Austin, TX where he attends physical

therapy school at the University of St.

Augustine. He is engaged to Lauren

Breaux, and their wedding is set for

August 22nd.

In his future career, Brett will encounter

people from all walks of life. He says,

"Attending BHS helped prepare the

way for me to be able to interact with

everyone." While one can find a good

education anywhere, Brandon High

School stands out among other schools

because of its diversity and priority of

people skills. "If I could rewind my life,"

Brett says, "I would choose Brandon High

School 100 out of 100 times."

Meredith Burgess graduated from

Brandon High School with the Class

of 2004. After attending college at the

University of Mississippi, Meredith's

natural desire for wanderlust led her to

joining the Peace Corps as a volunteer in

the Costa Rican jungle. From Brandon,

to Oxford, to Costa Rica, Meredith made

a new home for herself in each new

community she encountered carrying

with her the earliest lessons she learned

growing up in Brandon. Today, Meredith

has settled into a brand new community,

the belly of the beast–New York City.

She sells music licenses in Manhattan,

in addition to simply enjoying and

experiencing "city-life" and culture.

Everywhere she goes, Meredith

maintains connections with friends she

has met along her travels. She speaks to

Costa Rican community members at least

once a week, and always keeps in touch

with her friends and family at home in

Mississippi. Meredith says, "Living in

many different places has strengthened my

affinity for Mississippi and its simplicity.

Who wouldn't want to call such a place

home?"

Mark Storm graduated from Brandon

High School with the Class of 1997.

During high school he played soccer and

swam competitively with the swim team.

In addition to his extracurricular activities,

Mark also worked as a lifeguard. Following

high school, Mark sought a degree in

mechanical engineering from Mississippi

State University. His degree led him to a

short-term job in California, which he left

so he could hike the Appalachian Trail.

Mark says, "The education in history

I received from Brandon High School

really had an impact on me and where

I am today." Mark experienced world

history first hand, traveling to Thailand

for 6 months and Nepal for 5 years to do

missionary work. Now, he is back home

in the United States where he works in

Atlanta, Georgia as a financial advisor

with Edward Jones.

Hometown Brandon • 61
---
The Metropolitan Supper Club

Susan Marquez

Barbara and John Collier waited until they were both

in their early 40's to get engaged in the summer of 1993.

John enjoyed cutting a rug on the dance floor, Barbara not

so much. But when John's cousin invited the couple to join

a supper club that centered on dancing, they jumped at the

chance. "We attended mainly for the fellowship, but

I ended up enjoying the dancing more than I thought I

would," said Barbara Collier.

The Colliers have been members of the Metropolitan

Supper Club ever since. "We've made some wonderful

friends over the years," Collier said. "We see several of

them outside of the supper club. We've been through all

kinds of things together."

The Metropolitan Supper Club was started by Stuart

C. Irby, Jr. and Dudley Hughes in 1992 to promote dancing

to live music in a 1940s supper club atmosphere. It was

organized to provide a place to listen and dance to big

band music, enjoy a good meal, and to have fellowship

with friends. Over the years, the club has met at various

locations and as often as three times a week.

Currently the club meets eight times a year at the Capital

Club in downtown Jackson. The dance is held on a Friday

night from 7:00 to 10:30pm. A buffet dinner is served,

and a cash bar is available. But the main attraction is the

music, always provided by a live band. The bands are the

Jackson All Stars, led by Dave Schommer, and The Sessions,

led by Bob Davidson. The two bands alternate each month.

When the club was organized, the membership

consisted of over 100 couples. In recent years, however,

the membership has not grown in proportion to the

number of aging members who have dropped out due to

ill health, moving or death. Today the club has 36 couples

from Brandon, Clinton, Madison, Canton and Jackson

who are members, with several potential memberships

pending. Membership is contingent upon being approved

by the board of directors. A couple may come as a guest one

time at a cost of $52. After the first visit, a couple may come

as a guest for $90 each time. The board of directors will not

approve those whose behavior makes others uncomfortable.

The cost to join the club is $240 per year. In addition,

the cost of the buffet meal with gratuity is $52 per couple

each time the couple attends. Reservations are made in

advance. There are two formal dances a year, one in March

and the other in December. Black tie is requested for the

formal dances, but not required. Dress for the other dances

during the year is coat and tie for men, while women may

wear a dressy pantsuit or a Sunday dress.

Being involved with the Metropolitan Supper Club

has been a joy for Barbara Collier. "It's been so much fun.

We look forward to it each month!" Collier said she wishes

more young people would get involved. "It's such a fun

activity for young couples, and like us, you grow old with

friends you meet in the supper club. Unfortunately, it's a

well-kept secret, but we're trying to get the word out!" ■

For more information on the Metropolitan Supper Club, visit their website at www.metsupclub.com.

62 • Fall 2015
---
DELTA

STATE

Working toward the next big idea, together.

www.deltastate.edu/visit

@DELTASTATE • FACEBOOK.COM/DELTASTATEUNIVERSITY

Hometown Brandon • 63
---
Jim Balgard, Bob Hutson

Alderwoman Monica Corley,

Alderman Bob Morrow

Alderman Cris Vinson,

Lt. Col. Cregg Puckett

Alderman James Morris,

Yvonne Bianchi

Don & Jane Cunningham, Abbie Cunningham

Bob Whitley, Jerry Burke, Bob Catlett

Charla Jordan, Mayor Butch Lee, Lori Farrar

Chief Terry Wages, Alderman Harry Williams, Richard Fortune

Maggie Harper

Shirley Dear, Yvonne Bianchi, Eddie Dear

Savannah, Tamara, Patrick Robinson

Lauren, Michael, & Ruby Smith

64 • Fall 2015
---
Richard Stamper & Richard Catlett Hayden Gibbons, Olivia Garrett Kyle Brown, Alderman Bobby Christopher Rep. Mark Baker & Marty Miller

Remembering

Our Fallen

Eddie & Jenny Smith

June 15

Brandon Civic Center

Hayden Gibbons

Esther Fabbricante, Carol Gallagher, Kay Davis

Carolyn Palmer, Diana Meredith

Hometown Brandon • 65
---
Camille Anding

The Time Coin

The last days of summer are not

only stealing away all the flower

gardens, they're sending students

off to college in pursuit of higher education.

Delta State University probably looks

nothing like it did in the fall of '63, but

some of the pain I felt after being left there

by my family must still be bouncing around

the walls. They call it adulthood, maturity, cutting the apron strings.

It felt more like open heart surgery with no anesthetic.

It was a strange campus in a strange land that I struggled to

appreciate. I missed the red hills and tree-lined highways of north

Mississippi. I unpacked my suitcases in a lifeless steel-gray room and

set up home with a roommate that I had only met by letter. I was

appalled that I was leaving a family of seventeen years to re-locate

in an unfamiliar building and hang my toothbrush next to a perfect

stranger. Would she be a new adult friend for life, or would she turn

schizophrenic at midnight? Only time would tell.

I relived some of those same emotions when we helped move

our own children to their freshman dorms. Optimism attempted to

remind me that college days were better with this generation, and

everyone had cell phones.

Optimism fled when we said our final

goodbyes, and my jaw, that I had clinched with

my teeth, didn't hurt as badly as my heart.

My trip home was a tearful "cry-down."

By the time we reached home, my

composure had returned along with a positive

mindset about the blessings of going to college

and minds that could learn. Then I stepped

into the back door and met the lingering fragrance of our daughter's

favorite perfume.

A pain that can't be rubbed away encompassed me.

But suddenly I was lifted out of gloom to joy when I realized that

our children's fragrances had always been a sweet aroma to their

parents. Their cologne and perfume fragrances were reminders of the

blessed aromas of their lives that would always fill our home.

We all leave behind aromas—sweet or bitter, kind or harsh, friendly

or alien, generous or selfish . . . and the choices go on and on. Aromas are

a part of all of our lives. Whether we leave the room, leave for college,

or leave this life, we all leave some kind of aroma. An occasional "sniff"

test might be in order for each of us. n

66 • Fall 2015
---
CELEBRATING 115 YEARS OF LASTING IMPRESSIONS

No matter where our location – from above a Chinese Laundry, to East Pearl Street,

to 500 Steed Road, our door is always open.

Offering full-color printing to specialty finishes, to addressing postcards and providing

complete variable one-to-one marketing campaigns, Hederman Brothers is your one door shop.

If you are looking for a marketing partner and not just a print vendor, call Hederman

Brothers at 601-853-7300 and let us open the door to creative and innovative solutions.

PRINT

CROSS

DIRECT DIGITAL GREEN DESIGN

MEDIA

500 Steed Road • Post Office Box 6100 • Ridgeland, MS 39158

601. 853. 7300 • f 601.853.7335 • www.hederman.com
---
Because there's Merit

in faster care.

In a medical emergency, every minute matters. So, at Merit Health, you'll

find faster care in the emergency room. We work diligently

to have you initially seen by a medical professional* in 30 minutes –

or less. And, with a team of dedicated medical specialists, we can provide a

lot more care, if you need it.

The 30-Minutes-Or-Less E.R. Service Pledge – at Merit Health.

Central

Madison

Rankin

River Oaks

River Region

*Medical professionals may include physicians, physician assistants and nurse practitioners.

MyMeritHealth.com