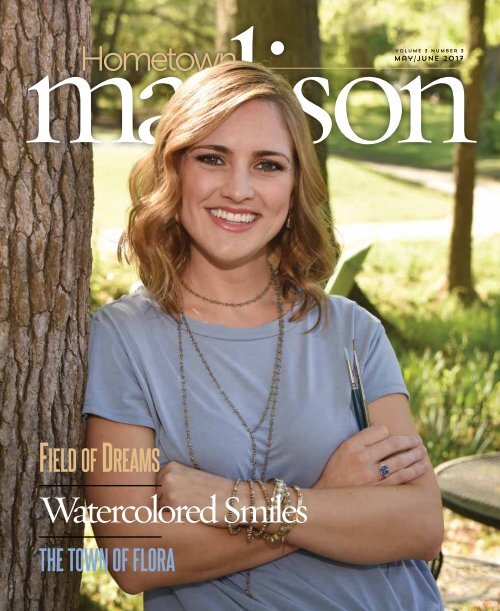 Hometown Madison - May & June 2017
Create successful ePaper yourself
Turn your PDF publications into a flip-book with our unique Google optimized e-Paper software.
Volume 3 Number 3

may/june 2017

Field of Dreams

____________________

Watercolored Smiles

____________________

the town of flora
---
WROUGHT IRON DOORS

Transform your average home to extraordinary

Pro Tech is the only company in the nation that offers the famous Tuscan low profile doors that are the

leading architectural choice for homeowners, builders, and architects everywhere. Our unmatched, handforged,

decorative doors (iron or steel) grace the entrances of homes, wine cellars, and entryways. These

doors set the mood for any architectural design. Let our master craftsman bring your ideas and style to life

through custom designing your new entry door.

Owner: Greg Giles

Pro Tech

DOOR & WINDOW

Security Doors | Security Window Screens | Wrought Iron Entry Doors

LOUISIANA

225.953.3665

7516 Bluebonnet Blvd. Suite 151

Baton Rouge, LA
---
MYSECURITYDOORS.COM

An elegant way to greet friends, a safe way to meet strangers

Cameron

Landry

Arlington

Bastrop

Conti

Sacramento

SECURITY SCREENS

What exactly is a

security screen?

We have been asked this on more than

one occasion. Let me first clarify that

security screens are not security bars,

although they perform the same duty,

security bars give a home or business

an institutional appearance. Security

window screens, on the other hand,

do not take away from the curb appeal

that most people are seeking as well as

feeling safe while at home or away.

SECURITY

STORM DOORS

Beauty and elegance with the

strength of steel!

Pro Tech security storm doors are

"outside doors" allowing you to open

any door and greet a stranger with

peace of mind. Pro Tech is the ONLY

company in Mississippi that offers a

complete steel frame with every security

storm door.

30%

OFF

Starting at

$2,400

installed

WAS $3,700

OVER 600 DOORS IN STOCK

• We guarantee you will find a door

that fits the style of your home.

• Every door that we create is unique

and customized according to your

specifications, making your home

one of a kind.

• These doors will undoubtably

generate some of the best first

impressions any visitor will

ever give you.

• The elegance of the design adds a

dimension of appeal to your home

that will give your home that WOW

factor!

CALL 1.800.270.3028

MISSISSIPPI

601.856.0506

7048 Old Canton Rd. Suite 1005

Ridgeland, MS

Pro Tech

DOOR & WINDOW

Security Doors | Security Window Screens | Wrought Iron Entry Doors
---
4 • May/June 2017
---
publisher & Editor

Tahya A. Dobbs

CFO

Kevin W. Dobbs

Consulting editor

Mary Ann Kirby

Account Executives

Dacia Durr Amis

Contributing Writers

Camille Anding

Mary Ann Kirby

Susan Marquez

Holly Perkins

Abigail Walker

staff Photographer

Othel Anding

Contributing Photographer

LeeAnn Culp

Administrative Assistants

Alisha Floyd

Brenda McCall

Layout Design

Daniel Thomas - 3dt

Advertising Design

Leah Mitchener

Spring is a reminder of a lot of things, but two of high priority have to be the celebration of mothers

and fathers in May and June.

It's almost impossible to summarize all the duties that go into being a parent. Only a parent

understands the immensity of the assignment. When I think back on the roles my parents played in

my life, I remember their hard work in their photography studio and the weekends that they were

always working. However, the times that they were with me are the memories that hold the most joy.

I remember the times my dad would have the school secretary call my name in my classroom,

"Tahya, please come to the office. Your dad is here to pick you up." It wasn't for a doctor's appointment

or a haircut. It was a date! We would drive to town – twelve miles away and shop for a new outfit and

have hamburgers for lunch. It was never scheduled but a treat I have never forgotten.

After school, I remember sitting on the kitchen counter and watching my mother stir up the evening

meal or add cinnamon to the pot of apple butter on the stove. She would listen as I told her about what

happened at school or the drama that was going on among my friends. She was

in-tune with my feelings and devoted to keeping me on the "right" path.

Now that I'm a parent I still find that the days of hard work mesh into the

past, but the times spent with my children are singular joys that I will always

treasure. My parents always told me that TIME was the most valuable

commodity that I was given – and to use it wisely. I fully agree.

There's no doubt that work is necessary, too. And we know that. A heartfelt

thank-you goes to all our readers and advertisers. We at Hometown Magazines

hope you all enjoy Mother's Day and Father's Day weekends

and celebrate the time you have together.

• • •

On the cover: Stephanie Stanford Keith

www.facebook.com

/hometownmadisonmagazine

For subscription information

visit www.htmags.com

Contact us at info@HTMags.com

601.706.4059

26 Eastgate Drive, Suite F

Brandon MS 39042

• • •

All rights reserved. No portion of Hometown Madison

may be reproduced without written permission from

the publisher. The management of Hometown Madison

is not responsible for opinions expressed by its

writers or editors. Hometown Madison maintains the

unrestricted right to edit or refuse all submitted

material. All advertisements are subject to approval by

the publisher. The production of Hometown Madison

is funded by advertising.

In this issue From One Generation to the Next 9

The Moments That Matter Most 16

Field of Dreams 20

Mother's Day Tips 24

Watercolored Smiles 28

Mannsdale Kids Q&A 34

Of Medicine & Murder 40

A Swanky Cookie Affair 46

The Town of Flora, Mississippi 54

Mississippi Euro Fest 68

Hometown madison • 5
---
Health Plus

Connecting You to Health and Wellness

St. Dominic's Health Plus is a program designed to provide

assistance into St. Dominic's broad array of health and wellness

services through the St. Dominic's Health Plus navigator.

St. Dominic's Health Plus Program Components:

• Heart Health

• Weight Management/Loss

Solutions

• Bariatric Surgery Solutions

• Diabetes Management

• Exercise Programs

• Blood Pressure Management

• Cholesterol Control

• Stress Management

• Physical Therapy Needs

• Health Screening

• Health Coaching

For more information call St. Dominic's Health Plus Navigator at 601-200-3333.

Market Street in Flowood | Renaissance in Ridgeland

Square in Oxford | Turtle Creek Crossing in Hattiesburg

Shopmaterialgirls.com

6 • May/June 2017
---
Medical & Laser Skincare | Injectables | Coolsculpting | Facials

**Virtually Painless Laser Hair Removal Available In Madison.**

The non-invasive way to lose unwanted bulges...

No surgery. No anesthesia. No downtime.

At

Mon Ami Spa

of Madison

THE Sculpting Center

601.790.9821

Performing Coolsculpting since 2012

Over 2,000 treated at Mon Ami Spa to date

ONE SESSION. ONE HOUR.

NO SURGERY. NO DOWNTIME.

TREATABLE AREAS:

Love Handles

Muffin Tops

Flanks

Abdomen

Double Chin

Inner & Outer Thighs

BEFORE

AFTER

PHOTO OF ACTUAL MON AMI SPA CLIENT

Madison Location:

Mon Ami – The Sculpting Center

501 Baptist Drive, Suite #140

Madison, MS 39110

Jackson Location:

Mon Ami Spa & Laser Center

Highland Village

4500 I-55 North, Suite #128

601.366.7721

601.790.9821

www.MonAmiSpa.com

Hometown madison • 7
---
NOW OPEN

GLUCKSTADT

ANY PIZZA, PANINI, OR SALAD FOR $7.99

ON THE CORNER OF CHURCH RD & CALHOUN STATION PKWY | ACROSS FROM GERMANTOWN HS

8 • May/June 2017
---
From One

Generation

to the Next

Camille Anding

It was an observant person who understood families and said,

"They're like fudge – mostly sweet with a few nuts." And while it's for

certain a few "nuts" are scattered throughout all our families, for the

majority of these God-ordained collection of humans,

we stick like glue or hair and bubble gum!

This Mother's Day, we're pleased to feature a multi-generational family

from right here in our own backyard. You'll see some similarities,

and some vast changes, but there's one constant–and that's love.

That's the key ingredient that binds families together

from "start to finish."

Hometown madison • 9
---
Marcee Perkins Messer

Graduated from

Madison Central

in 1997

Sheila Hubbard Perkins

Graduated from

Louisville High School

in 1973

Mollee Brooke Messer

2nd Grade at

Madison Avenue

Lower Elementary

Margie Thweatt

Hubbard

Graduated from

Clarksdale High School

in 1945

10 • May/June 2017
---
What was your favorite childhood game?

Margie Hide and seek.

Sheila I loved being outside. I was always playing

basketball.

Marcee Roller skating and riding bikes.

Mollee Candy Land.

Describe a typical high school outfit

you would wear to school.

Margie A dress and saddle oxfords.

Sheila Usually a dress or skirt/blouse. Probably

knee socks and some kind of loafer.

Marcee Jeans or skirt.

What age were you allowed to begin

dating?

Margie Didn't really have an age but I met my

future husband at 19 and we married at 20.

Sheila I was pretty shy and really didn't have a

boyfriend until I met Wayne in college.

Marcee 15

Describe a date night during your

generation.

Margie Visiting with family.

Sheila Movies and watching TV at your parents'

house and dinner dates.

Marcee Dinner and a movie.

As a child, what was your favorite

sweet treat?

Margie Strawberries and tea cakes.

Sheila Orange push-ups and ice cream sandwiches.

Marcee Homemade iced sugar cookies.

Mollee Gummy bears!

Who was your favorite movie star?

Margie We didn't have TV but I really liked

John Wayne.

Sheila Shirley Temple.

Marcee Julia Roberts.

Briefly describe a typical church service

you remember as a child.

Sheila My dad was always the music director and

mom sang in the choir, so we would have to sit

close to the front so my parents could keep an eye

on us.

Marcee We always went to church as a family and

sat in the same spot. We have been members of

FBC Madison since the '80s so I've always loved the

consistency of worship and the people around us.

What was your favorite family vacation

growing up?

Margie We would go to Oxford and Water Valley

to visit relatives.

Sheila Our family, along with another family, went

to Six Flags Over Texas together. It was the first

real amusement park I had ever seen.

Marcee Colorado snow skiing.

Mollee Colorado ski trips.

What do you think was the most

important value your parents taught

you?

Margie Be a good person. Treat others as you

want to be treated.

Sheila Be kind and treat others the way you would

like to be treated. Also my Christian values–

trusting Jesus as my Lord.

Marcee Christian values and work ethic.

Mollee Never lie.

How did you celebrate birthdays

as a child?

Margie Mama would fix my favorite meal.

Sheila I have a Halloween birthday so I would

sometimes have a cake at school. But usually I just

celebrated with family at home.

Marcee With small parties and close friends.

Mollee Sleepovers and parties with friends.

What was a favorite Christmas memory?

Margie Apples and oranges and nuts in our socks.

Sheila Circling toys in the Sears catalog and

putting out socks (not stockings) for Santa to

leave our fruit.

Marcee Christmas Eve with our closest

family friends.

Mollee Christmas Eve service at FBC Madison.

What was a family tradition that you

insist or insisted on passing down?

Margie Cooking vegetable soup for my family.

My mama made great vegetable soup in her big

black cast-iron pot.

Sheila Taking family vacations.

Marcee Taking family vacations.

What chore did you most dislike

as a teenager?

Margie Washing dishes.

Sheila Doing dishes after family dinners.

Marcee Laundry. And I still hate it! Clothes end

up in a pile.

Hometown madison • 11
---
A TRUE BANKING ORIGINAL

NMLS# 642317

Welcoming Matt Wilson

With his genuine dedication to homebuyers,

Matt brings years of experience to our already

strong Mortgage Lending team.

Contact him today!

www.Origin.bank/MattWilson

mwilson@origin.bank

office: 601.856.1244 ∙ cell: 601.500.1783

"Every single person on staff is so caring!

I highly recommend this office!" - Stephanie

Origin Bank NMLS# 455990

MEMBER FDIC

Call today for a free consultation!

Jackson | Ridgeland | 601.856.3054 | BVOrtho.com

12 • May/June 2017

17ORIGIN050_WelcomeMattWilson_4x10.indd 1

3/31/17 2:27 PM
---
I choose Merit.

Phillip Ley, M.D., FACS

Board-Certified Surgeon

Specialist in Cancer Surgery

Because there's Merit

in providing specialized care.

Surgical oncologist Phillip Ley, M.D., FACS, has joined the team at Merit Health. With more than 20 years of experience, Dr. Ley

has special expertise in breast cancer surgery. He provides minimally invasive biopsy, breast cancer management, hereditary

cancer risk assessment, and oncoplastic breast cancer surgery. An advocate for breast cancer prevention and research, he is

continually exploring new options for patients, such as genetic testing and clinical research for those with a family history of

breast cancer. Dr. Ley is also experienced in treating melanoma, soft tissue sarcoma, and thyroid and parathyroid disease.

Dr. Ley brings his patients the benefits of advanced research,

training and techniques. For more information, call 601-326-2175.

Talk with your physician about a referral to Dr. Ley.

Member of the Medical Staff at Merit Health River Oaks and Merit Health Woman's Hospital.

1030 N. Flowood Dr.

Suite C • Flowood, MS

MyMeritDoctor.com
---
Gift Guide

The Corner Market

Ole Miss Rebel

Abbye Grey

Lollia Handcremes, Bath & Shower Gels, Candles

Hook & Bullet Outfitters

Hari Mari flip flops

Shayna's Boutique

Ashley Nicole Designs

Protea Dekor

White Yoki Ceramic Chip & Dip (the Corner Market, Flora)

Deviney Equipment

Variety of Yeti Products

Super Shakes

Shake Wear, Super Gear,

Sample Packets & Snacks

Flora Feed & Farm Supply

Texas Wildlife Supply Deer Stands

Mon Ami Spa

Obagi Products

14 • May/June 2017
---
od

and

rd

Hattiesburg

om

Material Girls

Old Soul Jewelry

Madison Marketplace

Madison Pillow

LuLu's Sweet Shop

Assortment of Petit Fours

Body Anew

Capri Blue Candles

Janie Pillow

Cotton Wreath

Runnels Center

Microblading Everlasting Brows

Jackson Eye Associates

RayBan Sunglasses

Bicycle Revolution

Authorized Cannondale dealer

selling kids, road, mountain and hybrid

bicycles starting at $260

Hometown madison • 15
---
The

Moments

that

Matter

Most

Mary Ann Kirby

16 • May/June 2017
---
Having a child grow

and change so rapidly

creates a sense of nostalgia

(and sometimes panic)

in me like few things do

and I often find myself

reflecting back on my own

childhood as a measure of

comparison. There are

particular memories that

stick out in my mind–

like sitting at the kitchen

table with my grandmother

playing endless hands of

double solitaire and learning

how to fry chicken in her

cast iron skillet–that I hold

near and dear to my heart.

Then I think about the life

that my husband and I have

created for our son and

wonder, of all the memories

(good and bad) that he's

sure to have, what will he

actually hold onto?

I have to remind myself, on a near-constant basis, that I am actually contributing

to a narrative that my son could possibly play in his mind for the rest of

his life. And that one day, he'll be creating and instilling memories and moments

and traditions, God-willing, into his own children based on that narrative.

No one has to be reminded that life is short. I already feel the personal

pressure of not "maximizing" my time here on earth as I have tendencies of

taking the same paths over and over again and have made, admittedly, little effort

to change it. I get into these epic ruts where days or even months may pass and

then I look up and it's Christmas again! I start to calculate how many Christmases

I have left–and I again worry that I've wasted precious time. Why do we do this

to ourselves? Or maybe it's just me.

I really do have good intentions, though, and know I need to do better.

So, in the spirit of spring renewal, I am becoming more intentional about

making the most of every minute and creating the kind of legacy that will

endure long after I'm gone. I'm gonna live like I'm dying, as Tim McGraw

would say! (A quick side note, I'm not dying. I'm just middle-aged, hormonal,

and waxing philosophical.) Hopefully it will serve as an important way to stay

focused on what matters most.

As parents, we tend to stress about things that don't matter all that much,

don't we? Our kids probably aren't going to remember every detail of our home

decor or how perfectly the beds were made. They likely won't remember that

time the laundry was all piled up on the laundry room floor or whether our

refrigerator was stocked with name brands or generics. And if that's the case,

and I hope it is, then what will they remember?

Well, I think they'll remember traditions . . .

Despite my own parents divorcing when I was four and living full-time with

my mom, there are some really specific things that I remember about my dad's

parents. I remember that they were tall. My dad is 6'6" and his dad was 6'5".

And I know that they loved to play golf and his mother made "trash" every year

at Christmas. So several years ago, I decided to start making trash during the

holidays, too. I went out and bought a huge glass canister with a lid that would

hold up to two gallons of the savory homemade snack mix and, despite having

no idea if the recipe was even remotely similar to that which I'd had so many

years before, it turned out deliciously and my son now totally identifies it with

Christmas–just like I did all those years ago.

Kids have deep need for predictability. They'll remember, with great fondness,

the traditions you establish—whether it's a weekly game night, places you

regularly travel for family getaways, or, in our case, Sunday dinners around the

table, a custom started by my own maternal grandmother. Be deliberate

about creating some traditions that they'll want to pass on to their own children

someday.

Continued on page 18

Hometown madison • 17
---
I think they'll remember the times they felt safe...

There's a vulnerability and a need for protection in the heart

of every child, regardless of their age. Our kids will remember

the times we chased the monsters from under their bed, kept

calm during a storm, or talked them through a tough situation

they encountered at school. When children feel safe and

secure, they learn to trust other people. And when they

learn that they can trust the adults around them, it helps them

grow up happy, healthy, and better able to enjoy the world.

I think they'll remember the times we gave them our undivided

attention...

"Watch this! Mom, watch this!" Lord, how many times can

we "watch this?" But kids measure love basically by our

attentiveness to them. The times you stop what you're doing

to watch them–or when you go outside to throw the ball or

actually jump on the trampoline–those will be the memories

etched into their hearts and minds forever. Take the time to

do the little things with your kids, because in the end, those

will be the moments that matter most.

I think they'll remember the way we interacted with our spouses...

We laugh a lot in our house–thank goodness! And,

unbeknownst to him, my child is forming his views of love and

relationships, in large part, by watching how my husband and

I treat each other. I hope to have the kind of marriage that

would make him excited to get married someday–and in the

meantime, it's nice that he actually still enjoys being around us.

They'll remember our words of affirmation–and our words of

criticism...

A child's heart is like wet cement and the impressions

made early in life will harden and become permanent over

time. They'll base their sense of identity, capability, and even

self-worth largely upon the words we speak to them. And

certainly while part of our job as parents is to correct and

discipline them, our words must be full of love, encouragement,

and positive reinforcement, even when we're angry.

We must be encouragers. The world certainly has enough

critics already.

So, time marches on. We can't stop it, rewind it, or fast

forward it. But don't be fooled by all the pages of a calendar–

there are only as many days of the year as we make use of.

Appreciate every second to the fullest extent possible–and

make every moment count. Even if you're just starting today.

DONT

MISS

OUR

NEXT

ISSUE

JULY

2017

18 • May/June 2017
---
Hometown madison • 19
---
20 • May/June 2017

of

Central

Mississippi
---
Field of Dreams

Abigail Walker

As an avid baseball fan, Joseph Voynik

spends a lot of time watching his favorite sport

on television. But when he saw a commercial

for The Miracle League during a Pittsburgh

Pirates game several years ago, he realized a

need in his community and wanted to meet it.

The Miracle League "removes the barriers

that keep children with mental and physical

disabilities off the baseball field and lets

them experience the joy of America's favorite

pastime." There are over 250 Miracle League

fields in the United States, and Joseph

decided to add another by starting The Miracle

League of Central Mississippi.

"Though there are plenty of great fields

in the area," says Joseph's mother, Tammy

Voynik, who uses a wheelchair, "there is not

one handicapped-accessible field."

Over the past three years, the 15-year-old

Jackson Prep student has raised around

$395,000 to build the first Miracle League

field in Mississippi.

Joseph, at the time a 7th grader, presented

the idea to his leadership class, and they set out

to help by hosting the Miracle Mile fundraising

walk. Joseph began visiting businesses, seeking

out sponsorships and gaining support for his

vision of a baseball field that would bridge

gaps and allow kids and adults with disabilities

to enjoy a beloved sport.

About $450,000 is needed to begin the

reconstruction of one of the fields at Hite

Wolcott Park in Ridgeland into a speciallydesigned

Miracle League field. The field will

be made of rubber cement for a flat, barrierfree

surface to accommodate wheelchairs,

canes, and other devices. Dugouts, bathrooms,

and parking will also be accessible.

The Miracle League field will be part of a

quad with three already-existing fields for

able-bodied players. Joseph says it's important

that the new field feels inclusive. "I want

everyone to have the same game day experience,"

he says. "And the people at the other fields

will see what's happening and want to be a

part of it."

"The community has really gotten behind

this," Joseph adds. "People from all over want

to get involved." Sponsors have included

Methodist Rehabilitation Center and

BankPlus, but there are many who can't wait

to participate. College students are already

offering to volunteer with players.

Joseph has worked closely with the City of

Ridgeland's Recreation and Parks to make this

dream a reality. A groundbreaking ceremony

on October 31, 2016, was held where Joseph

announced the field would be named after

Zeita and Wayne Parker, a key sponsor of

the Miracle League of Central Mississippi

and lifelong advocates for children with

special needs.

"We are hoping to start construction this

summer," Joseph says. "It should take about

four months to complete." However, it all

depends on financial support in the coming

months.

"I'm most excited to see the kids playing

and having fun," Joseph adds. "So many great

relationships will be built between the players

and the volunteers."

Through three years of campaigning and

starting a nonprofit, Joseph has grown his

business skills. "I've learned relationships are

really important," he says. He adds that

speaking in front of a crowd at the groundbreaking

ceremony and talking to sponsors

has gotten him out of his comfort zone.

"He has a good heart," says Tammy.

"When he sets his mind to something, he

really goes after it. I've seen this process grow

his confidence."

Though it's taken a while for this project

to develop, Tammy says once the Miracle

League field is open, it won't take long for the

community to see the impact and want more.

"This field will be the first of many," she says.

To donate for the Miracle League field,

visit www.miracleleagueofcentralms.com.

Hometown madison • 21
---
Why take your business or your skills anywhere

else? As the leading independent staffing agency

in the market, we consistently attract the

finest candidates and match them with the best

companies in the area. And because we've always

been locally owned, you'll be dealing with staffing

experts who are invested in, and responsive to, the

local business community.

STAY LOCAL. SEE RESULTS.

As the largest independently owned

staffing service in Mississippi, we

can customize a wide range of

solutions for our clients and provide

a plethora of opportunities for our

employees. We're large enough to

provide services to big corporations

but just the right size for smaller

companies, too.

Whether you're looking

for work or need

employees, we can

assist you with a variety

of positions, including:

- forklift

- assembly

- warehouse

- janitorial

IF YOU'RE

READY TO GET ON

BOARD, CONTACT

US TODAY!

- administrative

- call center

- accounting & finance

- marketing & sales

and much more...

JACKSON 601-353-4200 | CANTON 601-859-8860 | MCCOMB 601-250-0800

www.tempstaff.net

22 • May/June 2017
---
1/2 PRICE WING TUESDAYS® • 21 SIGNATURE SAUCES & SEASONINGS • BONELESS THURSDAYS®

BIG SCREEN HD TVS • ALL THE SPORTS ACTION • DINE-IN OR TAKEOUT • KIDS MEALS • HAPPY HOUR

808 LAKE HARBOUR DRIVE // RIDGELAND // 601.856.0789

COMING SOON TO 766 MACKENZIE LANE // FLOWOOD

©2016 BUFFALO WILD WINGS, INC. BWW2016-4063

Hometown madison • 23
---
Mother's

Day Tips

Holly Perkins

Mississippi Community Education Center

At Families First for Mississippi, we offer programming in several

different areas, including youth development, job readiness,

workforce development, education, literacy, and parenting.

In honor of Mother's Day, I thought I'd share some of my

favorite tips from our parenting classes to help make the job

of being a mom (or dad!) a little easier.

24 • May/June 2017
---
Tip #1

Communicate with your child.

The concept of communication is one of the most important

things we cover in parenting classes. Communication should start

from the time a child is only a few months old and continue into

adulthood. If your child is an infant, imitate the sounds they make

and try expanding their understanding of consonants like "M" and

"B" by having them focus on the shape of your mouth as you

make the sounds. As they grow into toddlers, have conversations

with your child about things they're learning such as colors and

shapes. Into adolescence and teen years, make sure to stay

engaged in their lives, their friendships and how they feel about

daily happenings in their lives. This casual dialogue will open

channels of communication so your child feels more comfortable

sharing if they need to communicate a more serious issue. It will

also help to foster a relationship of mutual respect, which is

helpful in many aspects of parenting, specifically regarding

matters of discipline.

Tip #2

Get to know your child.

This concept is simple when children are young, but as they

grow older stay in touch with their interests, hobbies and

personality. Show interest in the things that they care about and

take the time to bond with your child one-on-one. If you have

multiple children, this could mean setting aside time for each child

individually or equally encouraging their separate hobbies. This

will help your child feel like what they care about matters. Also,

the better you know your child the easier it is to pick up on

changes in mood or behavior, which will help you tend to their

needs more directly.

Tip #3

Don't get discouraged in comparing yourself to

"perfect parents".

We all know that "perfect parent". The one with the curated

social media posts with pictures of their perfectly clean house and

well-dressed children with A+ report cards who tell stories of how

"easy" their children are and how "lucky" they feel. If that's your

reality, that's wonderful! However, if it's not your reality and

you're a parent with mountains of laundry whose children refuse

to change out of their pajamas each day or you have a teenager

who struggles in school, you're not alone and you're no lesser of a

parent than anyone else. Each child is different and each parent is

different. As long as you're doing the best you can for your child,

don't get caught up in comparing yourself, because there's no

such thing as "perfect".

Tip #4

Have fun with your child.

There are so many things you can do with your child to make

parenting fun. Here are some examples of some of my favorite

activities to do with children:

Have a picnic. Make dinner together or pick up some food, lay

out a blanket in the yard and enjoy being outside! If you can't be

outdoors, put a blanket on the floor in your house and have an

indoor picnic. This change of scene for dinner can create a fun

time to engage with your child.

Have a scavenger hunt. Set up clues in each room of the house

that lead to a reward. This can also be a fun way to have kids do

chores, with a task in each room that leads them to clues and a

final reward. It's also helpful to have them learn to earn things

and work for them if you were planning on gifting them with

something anyway.

Dance. Almost every child I've ever worked with has loved to

dance. I am the first to admit that I'm not a great dancer, but

don't be afraid to look silly. Let your child teach you a new dance

or just jump around to a song you both enjoy. Letting your guard

down in this way with your child is a great way to bond.

Think of the things that you love and ways you can engage

your child in them. If you enjoy cooking, let them help by doing

age-appropriate tasks while preparing a meal. If you love

basketball, teach your child how to dribble. If you love art, let

them paint or draw with you. There are lots of ways children can

be involved in the things you enjoy.

Hometown madison • 25
---
26 • May/June 2017
---
Hometown madison • 27
---
Watercolored

Smiles

Susan Marquez

When Stephanie Stanford Keith took an art class in the

second grade, she did it for the joy she got out of

creating pretty pictures. In the eighth and ninth grade,

her school in Grenada offered art as an elective. "We really

didn't learn much about art," she recalled. "I remember that

we did projects, like papier mache and such."

Despite not having a strong education in art, Keith painted

regularly for many years. "I've done acrylic work since I was

twelve." But when she went to school to be a physician's

assistant, there wasn't time for painting or anything else.

"It's a very rigorous program and I stayed busy all the time."

Keith graduated from PA school in December and began

work as a physician's assistant at Baptist Medical Clinic in

Madison in February. The Madison resident began painting

again about eight months ago when her niece, Blake, was

born. "My sister-in-law knew I painted, and she wanted

original art in the baby's nursery. But instead of acrylics, she

wanted me to give watercolors a try."

28 • May/June 2017
---
Hometown madison • 29
---
Keith's husband is into art as well, and the two of them decided to

give working with watercolors a go. "We sat down together and

began painting. When I finished, he looked at it and told me it was

really good, which gave me confidence," she said. The more she

painted with watercolors, the more her work improved.

"One of the things I said I'd never do is to paint faces," laughed

Keith. "But I did a Miss Mississippi top five portrait on a 5 x 7 card

and posted it on Facebook and I sold it within five minutes!" Keith

has a history with the pageant, having been a contestant at one time,

and performing in last year's pageant. She sang in a trio while she

was a student at Mississippi College.

Because of her success in selling the top five portrait, Keith began

painting more faces. "The internet is a wonderful thing. I watch

YouTube videos to learn different painting techniques. And my

husband is my best critic. His comments really help me do a better

job. I also post on the Mississippi Artist Facebook page, and that's a

great place to get feedback from professional artists. Now painting

faces is my main thing!"

Painting children is one of Keith's favorite subjects. "If you can

capture a child's expression, you capture the essence of their

personality. It's so exciting when the parents tell me that I've nailed

the way their eyes look or that I got their smile just right."

Despite the fact that she's only been painting portraits for about

eight months, Keith said she is booked beyond Mother's Day.

"I just posted some portraits I've done on Facebook and people

started contacting me." She has not only painted children, but also

families and pets. "I am really enjoying it. I've found something

that's marketable and something that makes others happy."

Painting with watercolor has been an interesting transition for

Keith, who said that she's had to learn to control the paint on paper.

30 • May/June 2017
---
"It's really different from working with acrylics." Her artist studio

doubles as a dining room. "I don't use an easel. I just tape the paper

down on my dining room table and paint right there!" Her new job

has her working 8am to 5pm during the week, so her painting time is

mainly on the weekends. "I do paint in the evenings sometimes, as a

way to wind down. My job can be stressful, talking to people all day, so

sometimes it's nice to sit down and paint as a way to de-stress. But

some days I come home and don't want to do anything!"

In addition to portraits, Keith has painted a few weddings, as well

as houses and save-the-date cards. "It's been such a blessing to me

when people appreciate my work. It's nice to paint something that

evokes such an emotional response." n

Keith's work can be seen on a Facebook page dedicated to her art.

To view, search for Stephanie Keith Art.

Hometown madison • 31
---
32 • May/June 2017
---
Hometown madison • 33
---
Ashley Turner

I'd like to but I can't because

it's too much money, but I'd

give him a new truck.

Chandler Sisk

A blue kayak

with two seats.

Braylee Williams

I would get him a day where

he didn't have to go to work

and spend time with us.

If you could give your daddy anything

in the world, what would it be?

Bryton Jones

A hug.

Mallory Mulhollen

Coffee because he needs it

to wake him up

Hayes Marsh

An iPad because

I broke his on accident.

34 • May/June 2017
---
Linley Fisher

He plays with me

and my sister a lot.

Rhett Taylor

He pushes me really hard to

be good in sports, and spends

time with me playing sports.

Presley Elkins

He's fun – he plays

with me a lot.

What's your favorite thing

about your daddy?

Hayes Flowerday

He plays my video games and

throws the football with me.

Jude Taylor

He comes home around 5

so he has time to play with

me before I go to bed.

Ava Grace Long

He's always a good sport

if we're playing a game.

He always says,

"Awesome job girl"

even when I beat him.

Mabry Taylor He snuggles me.

Hometown madison • 35
---
serving our community

Firefighter Jason Tucker

madison Fire Department

Why did you decide to be a firefighter?

I started as a volunteer at the age of 17 with

Flora Fire Department. I enjoyed being able to

help people in their time of need and decided

to make it my career.

How long have you been with the

Madison Fire Department?

12 years this past December.

Tell us about your family.

I have been married for 10 years to my

wonderful wife who has been by my side

throughout my career. My dad is a retired

lieutenant for Madison County Sheriff's Office.

My mom and dad divorced when I was young

but they were both an integral part of my

growing up. When I was 6, my dad remarried.

My stepmother is a retired highway patrol

captain. She has been a great second mother

to me and stepped up when my mom passed

away in 2003.

What is the toughest thing you have

experienced in your job?

Loss of life is always the hardest especially

when it could have been prevented.

Share some things you enjoy doing in

your spare time.

My wife and I enjoy going to car shows and

taking cruises.

What are three things on your

bucket list?

I would love to own a 1969 Camaro Z28 or a

custom '57 Chevy. I want to go to Hawaii and

visit Pearl Harbor. I want to go to Europe to

drive the Autobahn.

Who is someone you admire and why?

That's a tough one. My dad would definitely

be up there at the top because of the strong

man he is and taught me to be. I also would

have to say the officers I have had in my career

as a firefighter because they have taught me

what I know and how to do my job safely.

Where do you see yourself ten years

from now?

Still working for Madison Fire Department and

enjoying my career.

If you could give one piece of advice

to a young person, what would it be?

Unglue your eyes from your phone or tablet

and pay attention to the older generation.

You might could learn something.

What is a favorite childhood memory?

Riding bikes with my buddies around town

during the summertime.

What is the biggest mistake you think

young people make today?

I feel the younger generation doesn't show

respect to their elders as they should.

What is your favorite thing about the

City of Madison?

The people. They are very friendly, generous,

and caring for the fire department and the

men and women who work there.

36 • May/June 2017
---
flora's finest

Officer Kenny White

flora police Department

Why did you decide to be a policeman?

To follow in my father's footsteps who was a

deputy sheriff with the Yazoo County Sheriff's

Department.

How long have you been with the

Flora Police Department?

Since November 1, 2013.

Tell us about your family.

I'm married and have three grown children.

What is the toughest thing you have

experienced in your job?

Watching good families battling drug

addiction with their children.

Share some things you enjoy doing

in your spare time.

Fishing and hunting old bottles.

What are three things on your

bucket list?

Continue my law enforcement training,

purchase a new vehicle, and go see the

Grand Canyon.

Who is someone you admire and why?

Both my parents for being able to raise six

children and passing down the knowledge for

me to do the same.

Where do you see yourself ten years

from now?

Retired and enjoying family along with some

traveling.

If you could give one piece of advice

to a young person, what would it be?

Get a good education, find something you

enjoy doing and stick with it.

What is a favorite childhood memory?

Spending holidays with family members and

remembering how happy we all were.

What is the biggest mistake you think

young people make today?

Not putting enough thought into what they

want in life and not being their own person.

What is your favorite thing about the

City of Flora?

Knowing that the citizens in Flora support their

law enforcement officers.

Hometown madison • 37
---
38 • May/June 2017
---
C

M

Y

CM

MY

CY

CMY

K

Hometown madison • 39
---
40 • Nov/Dec 2016

40 • May/June 2017
---
Of

Medicine

&

Murder

Courtney Lange

The term "Renaissance Man" might come to mind when you hear the

name Darden North. A native of the Mississippi Delta, North is not only a

board-certified physician in obstetrics and gynecology, he is also a national

award-winning mystery and thriller novelist.

He's a physician partner at Jackson Healthcare for Women and is a daVinci

robotic surgeon in gynecology. He is active in his profession, serving as the

local director of the American Institute of

Minimally Invasive Surgery and as a

member of the editorial advisory board

of the Journal of the Mississippi State

Medical Association and as an associate

editor the Obstetrics & Gynecology

International Journal. He also serves as

chairman of the board of the Mississippi

Public Broadcasting Foundation.

But North is different from most doctors–you can actually read his

writing. He has authored five books to date including Points of Origin, which

received recognition in Southern Fiction by the Independent Publisher

Book Awards. North's novel, House Call, was recognized as a finalist in

Mystery/Suspense by the Next Generation Indie Book Awards. The

screenplay of his third book, Fresh Frozen, is currently in film development

and his most recent novel, Wiggle Room, has been described as an "actionpacked,

medical thriller."

"Although my books are classified as medical thrillers, they are different

than what you might think of when you hear the term," North said. "Most

medical thrillers center on a medical procedure or virus or something that

is technical in some way. My books focus on the characters, many of whom

happen to work in the medical field or profession. I think, for that reason,

these books have a broad appeal and offer something different."

His new novel, The Five Manners of Death, is a contemporary thriller set in

Jackson and Oxford. The book begins when a construction worker uncovers

a skull dating back to the 1960s, on the University of Mississippi campus,

and follows a woman's desperate attempt to erase history as she counts

down the five ways to die. Suicide, accidental death, natural causes, and

cause-undetermined are soon crossed off the list–leaving the woman to

believe that only homicide remains.

Hometown madison • 41
---
North said that his most recent book actually began with a different title in

mind, but his mother Evelyn, who was a long time high school English instructor

and who has a strong background in literature, suggested a different title, after

having read the novel. North said he often leans on his mother to answer questions

on grammar and as a proofreader.

"If there is a gene for literature–if it is something that can be inherited, it came

to me from my mother," North said.

North's writing and publishing career sprung its roots early in his life when he

won a book cover contest for Charlotte's Web in junior high school and later at the

University of Mississippi, as editor-in-chief of the 1978 Ole Miss yearbook and

1982 Medic. Prior to attending medical school, North graduated magna cum laude

from the University of Mississippi, where he also served as vice-president

of the Associated Student Body, president of the Interfraternity Council, and

Order of Omega. He was a member of the Kappa Alpha Order, Omicron Delta

Kappa and Mortar Board. North was also named to the University of Mississippi

Hall of Fame.

In addition to being a physician and author, North leads workshops on

constructing mysteries and thrillers at writing seminars and has participated in

several author panels at author conferences including Killer Nashville, Murder

on the Menu, and Murder in the Magic City. He is also available for appearances, book

signings, and book clubs.

He lives in Jackson with his wife, Sally, who is a realtor with Nix-Tann &

Associates. The two met, became friends, and fell in love on the yearbook staff at

Ole Miss. The couple has two adult children, William and Anderson, who work

in the medical field, two dogs, and two grand-dogs. His son, William, is getting

married this summer and moving back to Jackson with wife Kelsey to join the

Runnels Plastic Surgery Center practice. His daughter Anderson is a registered

nurse currently working towards her nurse practitionership in Florida. In his

spare time, he walks to stay fit, travels with family, spends time with friends,

gardens, hunts, watches Ole Miss football, reads and listens to fiction and, of

course, imagines his next novel.

The Five Manners of Death will be available for purchase in June, but can be

pre-ordered online or at your favorite local bookstore.

For more information, visit dardennorth.com and follow him on Twitter, Instagram or Facebook at

/DardenNorthAuthor or email at darden@dardennorth.com.

42 • May/June 2017
---
APRIL

MAY

JUNE

JULY

BASEBALL

AUGUST

ALL GAME TIMES ARE CST

AND SUBJECT TO CHANGE.

SEPTEMBER

SOUTHERN LEAGUE TEAMS

BIR BLX CHA JAX JXN MOB MTG PNS TNS

STAY CONNECTED

LISTEN ALL SEASON

LONG ON 103.9 WYAB FM

Hometown madison • 43
---
I FOUND

COMPASSION

As soon as we stepped beyond the gated entrance, I knew that

St. Catherine's Village was the right place for mom. That she would

receive the personalized attention she needed. And would retain her

dignity with person-centered care to support her emotional, social,

intellectual, and spiritual…as well as physical…well being.

You know what else I found?

Living here is unexpectedly within reach.

Supportive Environment

SPECIALIZED SKILLED NURSING

NAMED BEST NURSING HOME IN MISSISSIPPI **

• Semi-private

and private rooms

• 24-hour nursing care

and on-duty security

• Assistance with

day-to-day activities

• Three meals served daily

• Regular housekeeping

CONTINUING

LIFE CARE

Independent • Assisted

Memory • Skilled

(601) 856-0123

www.StCatherinesVillage.com

**By the Clarion-Ledger.

Proudly CARF-CCAC

Accredited

44 • May/June 2017
---
Hometown Madison

Reader

SPOTLIGHT

Nicole May

Kitchens

Why did you decide to make Madison

your home?

Having lived outside of Starkville for several years,

my husband and I wanted to move nearer to where

we were both raised. We love the positive opportunities

for growth that Madison has to offer. We looked

at land and houses in Madison County for a few

years before finding the perfect house on acreage

that suited our outdoor lifestyle. As a former

professor in wood products at MSU, my husband

felt the calling to start his own company and that

freed us to move so that we could be closer to friends

and family. Almost a year ago, we were blessed to

find what we can now call our home, between the

Town of Flora and the Livingston community. We

love the small town feel of Flora that incorporates

a sense of community and family values, but we are

close to the Madison the City as well.

Tell us about your family.

My husband Shane and I have been married for

almost 6 years. Both single and in our 40's, we were

introduced by our best friends in 2011. As an older

Christian couple, we both knew that we immediately

wanted a family but encountered fertility issues due

to my age. Then, in 2014, our daughter, Maggie

May was born. We call her our 'miracle' and she has

been the biggest blessing to us. When Maggie was

born, I left 15 years of employment in natural

resources and wildland fire management with the

U.S.D.A. to become a stay-home mom and also

returned to college to find a career path that would

allow me to travel less.

What is your favorite memory so far of

living in Madison?

Since we are fairly new here, I have to say that our

best memory so far has been closing on our new

home. One of the things that sold us on the house

was that the former owners had laid a bible in the

foundation of the house when they built it in the

early '90s, with inscriptions in concrete that read,

"Soli Deo Gloria!" (Latin for Glory to God Alone).

We love to spend our evenings sitting out on the

back patio watching the sunsets and observing

nature with our toddler daughter and our two rat

terrier dogs, Gus and Bertie. Sunsets in the

Highlands of Madison are amazing!

Where are your favorite places to eat

in Madison?

Being in Flora, we love to eat at Bill's, T'Beaux's

and the Flora Butcher, to name a few. One of my

favorite places for sweets is Campbell's Bakery in

Madison. You cannot beat their almond cookies

or petit fours.

What are some fun things you enjoy doing

in Madison on the weekends?

We love taking Maggie to Liberty Park in Madison,

frequenting the shops and businesses in Flora and

Madison, and attending church. The market in

Livingston is a great highlight, too, on Thursdays.

Where are some things you enjoy doing

in your spare time.

We love spending time outdoors (hunting, fishing,

observing wildlife), teaching our daughter about the

elements of nature and gardening. We raise our own

chickens for eggs, and like to can our own fruit and

vegetables. When we got married, we had two white

doves at our wedding. Not wanting to release them,

our flock has grown, and we now have about 20!

What are three things on your bucket list?

To enjoy watching our daughter grow and see who

she will become, to visit the historical gardens of

England, Scotland, and Italy, and to find a need

and meet that need in serving the community.

Who is someone that you admire and why?

I greatly admire my Mom, Jeannine May. She and

my father, Ronnie, instilled within me the love of

Christ and a great respect and appreciation for the

environment at a very early age. Upon retiring

from federal service a few years ago, she began a

movement to improve water quality and

community beautification efforts on the Barnett

Reservoir, forming the affiliate Keep the Reservoir

Beautiful (a non-profit affiliate of Keep Mississippi

and Keep America Beautiful). Since, she has brought

people from all over the Madison, Ridgeland, and

Brandon areas to volunteer in community restoration

and beautification efforts. She never stops, and

continues to serve the community through her

passion for the environment.

Where do you see yourself in 10 years?

My hopes are that 10 years from now, as a family,

we will have become more involved in serving the

community and our church through finding a need

and meeting it within the Flora/Madison community.

I personally hope to expand my new business,

GrowForth Garden, in horticulture therapy, which

involves using plant-based activities to work with

individuals of all ages who have a need in rehabilitative,

vocational, or community settings. In a small

way, this is how I can help others and share my love

for plants and gardening. I also want to serve my

new community of Flora through Keep Flora

Beautiful by implementing community-based

efforts such as beautification, greening and

environmental awareness, trash/litter prevention,

and recycling.

If you could give us one quote, what

would it be?

"I always wondered why somebody didn't do

something about that and then, I realized I was

'somebody'" – Lilly Tomlin

What is your favorite thing about

Hometown Magazines?

I love that Hometown Magazines cover many

communities, towns and cities throughout the

area. Hometown Magazines opens the doors for

citizens and readers to connect as a local community

and become a family, of sorts, by highlighting

individuals and businesses throughout the

local area. n

Hometown madison • 45
---
Desserts

A

Swanky

Cookie

Affair

Susan Marquez

First

Everyone loves Girl Scout cookies, but imagine desserts created by

top chefs using Girl Scout cookies as the main ingredient. That's the

premise behind Desserts First, a swanky affair held annually at the

Yacht Club of Jackson. Presented by the Tall Pines Council of the Girl

Scouts of Mississippi, the event was held recently for the third time,

with nine chefs from area restaurants competing for the grand prize.

The event was the brainchild of Gus Argrett, a food technician for

Sanderson Farms. These kind of events are held around the country,"

he said. "It's a fun way to celebrate and invite the public in to learn

more about Girl Scouts. It provides people with a way to view Girl

Scouts through a different lens than just selling cookies."

His wife, Sekila Holmes Argrett, is a leader of a Girl Scout troop.

"Our troop has girls from just about every school in Madison County,

and a few from Jackson," she said. "We have 29 girls, and the troop

is very diverse. Our troop likes to travel, and we've been to Disney

World, Savannah, Little Rock, New Orleans and many other places.

46 • May/June 2017
---
Celebrating 100 Years of Girl Scout Cookies / March 4, 2017 / Jackson Yacht Club

Hometown madison • 47
---
48 • May/June 2017
---
Each time we go somewhere, the girls are exposed to things they would not have

been exposed to, otherwise. We went diamond mining in Arkansas, and we did a

taste testing of Cajun/Creole foods at a restaurant in New Orleans."

Argrett's troop is part of the Tall Pines Council which encompasses most of

Madison County. Mary Brinson, communications director of the council office in

Jackson said that her office serves Girl Scouts in 45 Mississippi counties. "We

oversee cookies sales throughout our service area." Nationally, nearly one million Girl

Scouts participate in the Girl Scout Cookie Program, generating almost $800

million in cookie sales during an average season. All of the net revenue through the

Girl Scout Cookie Program stays with the local council and troops. Girl Scout

cookies not only help Girl Scouts earn money for fun, educational activities and

community projects, but also play a huge role in guiding girls to discover their inner

G.I.R.L. (go-getter, innovator, risk-taker, leader) as they learn essential life skills that

will stay with them forever.

Each year that the Tall Pines Council has presented the Desserts First event,

they feature a different Girl Scout cookie. "The first year it was Samoas, last year it

was Thin Mints, and this year it was Trefoils shortbread cookies," explained Argrett.

Chefs are required to come up with a dessert that uses the featured cookie as an

ingredient. This year's winner was Louis LaRose, owner/chef at Lou's Full Serv in

Jackson. The dessert was a white chocolate bread pudding with a Trefoil and toffee

streusel topped with caramel and brown sugar ice cream. "It's a fun event to do,"

said LaRose. "I love helping out the Girl Scouts. We try to get involved to help with

events in the community like this whenever we can."

The event featured live music by Chris Gill and the Soul Shakers and the master

of ceremonies was Chuck Stinson of the Mississippi Organ Recovery Center. There

was a live auction as well.

"Desserts First is an adult event that raises money to support girls who can't

afford the expense to be a Girl Scout," said Argrett. "Most of them are not

mandatory expenses, but the girls want to feel included. We don't want to turn

anyone away who may not be able to participate, otherwise. We also award a lifetime

membership to graduating girls and we support girls in a number of other ways."

Being a Girl Scout leader is something Argrett says she was destined to be. "I

was in a great troop when I was growing up in Alabama, and another one when our

family moved to Virginia. I'm a second-generation Girl Scout, and I wanted my own

girls to have the same wonderful experiences I had and my mother had. I love doing

what I do."

To keep up with plans for next year's Desserts First event, like the Facebook

page for the event: www.facebook.com/dessertsfirsttallpines.

Hometown madison • 49
---
50 • May/June 2017

April 8-9 & 14-15 • Freedom Ridge Park
---
Hometown madison • 51
---
Flora

The Town

of

Mississippi

Nestled in the western tip of Madison County is a small

town known as Flora. It is best known for its small-town flair

and down-to-earth values. The 3.4 square miles of quiet

streets and subdivisions on any given day will be teamed

with families walking, riding bikes or taking afternoon strolls.

It is a place where knowing your neighbor is a part of everyday

life and a place where families have lived for generations.

Its downtown is reminiscing of an old-town atmosphere.

It's a place where the community comes together to cheer on

their favorite sports team and support the youth at local school

events. On quiet afternoons when you feel the seasons

changing, you can venture onto your front porch and listen

to First Baptist Church of Flora bells chiming from the church

tower at noon each day and on special holidays throughout

the year.

It's a community that shares its love for family and friends

that is involved in keeping up the home-town feel and welcomes

those who want to be part of a caring and growing community.

Flora is a place where many have called home, where many

have lived their entire lives and where many who have left and

ventured out into the world have come back to raise their own

families so that their children will have instilled in them the

old-town values that only a small town like Flora can offer.

Flora–there's no place like home.

52 • May/June 2017
---
FLORA

Hometown madison • 53
---
54 • May/June 2017
---
Hometown madison • 55
---
A Look

Back

in Time

Susan Marquez

Originally published in June 2016

56 • May/June 2017
---
FLORA

At one time, when rail travel was more prevalent,

small train depots were seen at each town along the railroad tracks.

It was the place where journeys began and ended, loved ones bid farewell

or where they looked forward to seeing them again after they'd been away

for a while. As rail service decreased and the popularity of the automobile

increased, many of the train depots were abandoned and

fell into disrepair before disappearing altogether.

That is not the case with the train depot in

Flora. Located adjacent to the tracks that carry folks

from New Orleans to Chicago and back again, the

Flora train depot looks much like it did when it was

built in 1883, thanks mainly to the efforts by the

Flora Area Historical Society, who acquired the

little depot in 2006. They've put a lot of work into

not only restoring the building, but in adding a

museum where folks can learn more about the area

and what life was like in the 1800s.

Presley Posey is a member of the Historical

Society in Flora and says that many of the local

items were donated by families who have lived in

the area for generations. "Not everything in the

museum is local, but they are all period pieces that

tell the story of what life must have been like in

Flora when the town was founded and when folks

traveled by rail to go to other towns."

The depot sits on land that was donated by the

Jones family. Flora was founded in 1882 when it was

chosen as the site for a depot of the Illinois Central

Railroad. J.C. Clark was the general manager in

charge of surveys and construction for the Illinois

Central and he determined that a rail line from

Hometown madison • 57
---
It's a beautiful

building and

an asset to the

town of Flora

Canton to Yazoo City would be ideal as a feeder line for the

area, which was a very productive cotton-growing area.

Instead, the route they built was from Jackson to Yazoo City,

and it passed right through Flora. The depot was named

after Jones' wife, Flora Mann Jones, and subsequently,

the city, which was chartered and incorporated in 1886,

was named after her as well.

Posey says that some of the more interesting items in the

museum include an 1830s bell from the Flora Methodist

Church and a surveying set used by a local man in the

1920s. There is also an extensive bottle collection from

the Barnes family. "We have lots of old photographs from

around town, and of course, plenty of train memorabilia,"

says Posey.

The little depot ceased being a functioning depot in

the 1960s. About seven or eight years ago, the waiting

room area for the depot was renovated and is now

used as the offices for the Flora Chamber of Commerce.

"It's a beautiful building and an asset to the town of Flora,"

says chamber director Abby Enfinger.

The museum is open the first and third Saturday of

each month, from 10am to 2pm. A member of the Flora

Area Historical Society is always on hand to talk about

the displays and to answer questions. "There's not always

a big rush of folks waiting to get in each time we're opened,"

laughs Posey, "but we do get some tour groups from time to

time and those who happen to wander in on their way to

the Petrified Forest."

A visit to the Train Depot Museum in Flora is worth

the trip, especially when you pair it with a delicious burger

from The Blue Rooster, anything from Bill's Creole and

Steak Depot, or T'Beaux's in nearby Pocahontas. n

58 • May/June 2017
---
FLORA

Hometown madison • 59
---
60 • May/June 2017
---
471 Railroad Avenue • Flora, MS

601-879-7296

o

Sunday – 3pm - 9pm

Wednesday – 3pm - 9pm

Thursday – 3pm - 9pm

Friday – 3pm - 10pm

Saturday – 3pm - 10pm

Hometown madison • 61
---
A

Preserved

Past

Susan

Marquez

Originally published in January 2016

62 • May/June 2017
---
FLORA

Located in the hills of Madison County with ravines

hollowed out by nature during the past century, the size

of the now millions-year old petrified logs that lie there

in repose indicates that as living trees, they were

one hundred feet tall.

If the state flower is the magnolia, and the state bird is the mockingbird, what

might the state stone be? Surprisingly, the official stone for the state of Mississippi

is petrified wood, which is found in abundance at the Mississippi Petrified Forest

in Flora. With fewer than twenty of these geological occurrences in the world, the

Petrified Forest is a real treasure.

You may have seen the signs along the highway with a woodpecker sporting

a crushed beak because he can't drill holes into the petrified wood. I've seen them

for years, and actually had my first experience in the Petrified Forest during an

elementary school field trip in 1964, the year after the attraction first opened to the

public. I visited each spring on subsequent field trips for the next five years. After

that, I took a 25-year or so break before rediscovering the Petrified Forest in 1996

when I visited the attraction with my Leadership Madison County class. It was

our "quality of life" day, and we visited unique places around the county. At the

Petrified Forest, we walked the trails and enjoyed a picnic lunch on the grounds

before heading on to our next destination. Ever since, any out of town visitors to

our home get a side trip to the Mississippi Petrified Forest.

A National Natural Landmark, the Mississippi Petrified Forest is a privately

owned family business. Two diehard rockhounds, R.J. "Bob" and Shirl Schabilion

acquired the Petrified Forest in August 1962. They were concerned that the area

might be lost to development, and they also recognized that the 36-million year old

trees needed to be preserved into the future. Today the venue features a ½ mile long

nature trail that showcases the petrified trees, as well as a visitor's center with a

world-class earth science museum displaying spectacular and rare mineral, fossil

and petrified wood specimens from around the world.

The gift shop is a rock lover's paradise, with unique souvenirs, and a vast array

of minerals, fossils, seashells and natural gemstone jewelry for sale. On the rock

patio, kids of every age can enjoy the adventure of "fluming" for colorful stones.

Bob Dellar has been working at the Petrified Forest for nine years. "It's an

interesting place," he says. "It's an ideal place for me because I've always been

interested in rocks and nature. It's a great place to come and experience peace

and quiet, not that far from the city."

Dellar says that the attraction draws about 12,000

visitors each year, and most years there are visitors

from all 50 states and from 30 to 45 different countries.

"It's been designated a Southern Travel Treasure by

AAA's Southern Traveler magazine," Dellar says,

"and it has been featured in Reader's Digest's 'Off the Beaten

Path,' as well as 'Roadside America' and '101 American

Geo-Sites You Gotta See.'"

Adjacent to the grounds is a beautiful wooded campground with full RV hookups

and primitive tent sites with electricity and water. The large covered pavilion is ideal

for family reunions and church picnics. The pavilion is available at no charge to

school groups on field trips. "We've even hosted a few weddings out here," says Dellar.

Open daily except Christmas and Thanksgiving, the Mississippi Petrified Forest

is pet friendly and handicap accessible. Dellar says it's still a favorite destination for

school field trips. n

For more information, visit the Mississippi Petrified Forest website or call 601-879-8189.

Hometown madison • 63
---
64 • May/June 2017
---
NOW OPEN!

1052 Pocahontas Road

Pocahontas, MS

• Tuesday-Thursday

11am-2pm & 5pm-9pm

• Friday-Saturday

11am-10pm

• Sunday

11am-7pm

CLINTON • BYRAM

POCAHONTAS • VICKSBURG

Crawfish ousside! How bow dah?!

Best of Jackson award winner for Best Crawfish!

• Family owned for 25 years • Menu online at TBeauxs.com •

Find us on Facebook and Instagram!

Hometown madison • 65
---
66 • May/June 2017
---
Hometown madison • 67
---
THE MISSISSIPPI EURO FEST SERIES

European engineering and beauty combined with Southern

hospitality will be kicked-off this year with The Mississippi Euro Fest

Series in Natchez, Mississippi on April 8; in Oxford, Mississippi

on May 28; and in Ridgeland, Mississippi at Renaissance at Colony

Park on October, 7, 2017. These automotive and motorcycle

events are free, fun, and family oriented and will be held to help

celebrate the state's bicentennial.

The event will open to the public at 9:00 a.m. with the

awards presentation at 4:00 p.m., featuring a total of 42 awards

in 16 classes. Rare and significant European automobiles and

motorcycles, twenty-five years and older, are expected to participate

from several Southeastern states. Also expected are some various

regional European auto clubs conducting a showcase corral of

their members' newer autos.

Due to the great success of the original Renaissance Euro Fest,

first held in 2008 in Ridgeland, the City of Natchez asked that a

like event be conducted to help celebrate their 300th anniversary

in April of 2016. Once again, the inaugural event exceeded all

expectations as it did again in April of this year. Fast forward to

Oxford where the second show of the series will be held Sunday,

May 28th on the lawn of the community pavilion, on the corner

of University and Bramlett. This free, fun, family event will also

feature European autos and motorcycles 25 years or older, starting

at 9:00am until awards presentation at 4:00pm.

On Saturday, October 7, the ninth annual Renaissance Euro

Fest will be held at the Renaissance at Colony Park in Ridgeland,

starting at 9:00am and concluding after the awards presentation,

which starts at 4:00pm. Like all other Euro Fest events, this show

will be free as well. In eight years, it has attracted over 100,000

spectators and over 1,000 entries from 10 different states. Many

of the great automotive names of the world, such as Ferrari,

Rolls-Royce, Bentley, Mercedes-Benz, Alfa Romeo, Jaguar,

Austin Healey, Rover, Maserati, Porsche, MG, Triumph, etc. will

be on view along with motorcycles like BMW, Norton, Ducatti,

BSA, Vincent, Vickers and others.

68 • May/June 2017
---
Classic European

Automobile & Motorcycle Shows

For more information go to ww.euro-fest.net or contact mike_marsh@bellsouth.net

Hometown madison • 69
---
The CHALKBOARD

MADISON COUNTY SCHOOLS

Germantown

9th grade Night In The Spotlight winners

10th grade Night In The Spotlight winners

11th grade Night In The Spotlight winners

Madison Central

12th grade Night In The Spotlight winners

Paige McKay, a 2012 Madison Central graduate, recently met with U.S. Senator

Roger Wicker during his weekly "Mississippi Morning" breakfast in Washington, D.C.

Paige graduated from MSU in 2016 with a degree in public relations and is currently

working for U.S. Representative Steven Palazzo.

2017 Mr. and Miss Madison Central High School,

Harrison McKinnis and Kate Russell Snopek.

70 • May/June 2017
---
Senior Class Favorites

(Back row L-R) Stephen Fowler, Harrison McKinnis,

Parker Lick, Trey Cotton, Blake Collins, Connor P. Jones,

Patrick Geary, J' Sean Pittman, Jack Walker

and Zain Shaheen.

(Front row L-R) Allyn Hackman, Maggie Overby,

Amelia Jarvis, Courtney Johnson, Anna Hill, Sarah Elkin,

Abby Johnston, Logan Hollins, Kate Russell Snopek

and Tori Lee.

Junior Class Favorites

(Back rowL-R) Cedric Beal, Stroud Tolleson,

John Walker Webb, Will Stanard, Corbin Kirkland,

Tucker Richmond, Truett Bourne and Kobe Cole.

(Front row L-R) Isabella Wade, Mary Ranie Miller,

Sara Whitehead, Megan Humphreys, Cayden Shirley,

Blake Butler, Brooke Thomas, Mary Catherine Files,

Catherine Whitten and Sidney Dean.

Sophomore Class Favorites

(Back row L-R) Jack Thoms, Westbrooks Ross,

Wyatt Blalock, Myles Hopson, Jake Monk, Bailen Haynie,

Michael Zhang and Haaris Patel.

(Front row L-R) Katie King, Hallie Atkinson,

Ashton McKinnon, Hannah Brady, Elle Muirhead,

Amber McAlpin, Sydney Storm, Bonnie Hill

and Cara Dale Palmer.

Submissions provided by local officials from each individual district and not to be considered editorial opinion.

Hometown madison • 71
---
The CHALKBOARD

MADISON COUNTY SCHOOLS

Madison-Ridgeland Academy

MRA Presenting Disney's Beauty and the Beast, Jr.,

April 7-8, 2017. MRA's cast of "Beauty and the Beast Jr."

opened car doors for kindergarten and elementary

students. The cast was busy getting prepared for the

musical. The cast was also preparing for "Belle's Enchanted

Tea Party", on April 8th, where children were able to meet

and take pictures with the cast.

Above Left: Holly Ware and Samuel Smylie

(Lumiere in the musical)

Above Right: Emma Kate Roundtree (villager in the musical)

and Ann Austin Smith.

Fourth grade students at Madison-Ridgeland Academy recently invited family

members in the medical field to set up for "What's Up Doc Day." They

interviewed each person and learned about their profession. Chris Wallace, Lynn

Gaddis, Luly Johnson from Methodist Rehab set up orthotics and prosthetics.

Pictured: Chris Wallace, Lynn Gaddis, Luly Johnson from Methodist Rehab, Ford Johnson

Madison Station Elementary

Overall MCS Teacher of the Year and MSE Teacher of the Year is kindergarten teacher, Mrs. Kim Carlisle. Mrs. Carlisle has served a remarkable

35 years in the elementary classroom with the last 25 years at Madison Station. Madison Station turns 25 this year and Mrs. Carlisle has been part

of the magic since day one. Mrs. Carlisle has taught many grades, but kindergarten is her favorite. "I love coming to school. I'm from Madison,

my children went through our schools, and one of my daughters teaches for Madison County, too." Mrs. Carlisle has shared her classroom for the

past fourteen years with her treasured assistant and friend, Rhonda Twitty.

72 • May/June 2017
---
Hometown madison • 73
---
The Time Coin

Juicy Fruit chewing gum and smiles

always partner with my husband. It's

because his grandmother kept an ample

supply in her car and when her grandkids

rode with her, the aroma of Juicy Fruit rode

along. In addition, she was generous in

passing out that treat along with other

candies and sweets.

"She was one of the kindest people I ever knew," he says often when

remembering her, and her fragrances of love and generosity still linger

through her tokens of love, especially Juicy Fruit!

I can still picture my daddy standing in front of the sink and

medicine cabinet mirror in our childhood home with his face lathered

in soap and his muscular arm moving the razor in smooth paths down

his jaws. A rinse of cold water and a brisk towel-dry would make for the

last step – a splash of Old Spice cologne.

That wonderful, masculine aroma drifted out of the bathroom and

down the hall. It followed him to the kitchen and to goodbye hugs.

I've seen a few recent Old Spice ads and they, like most, tilt heavily

to the sexual appeal. That's really not necessary. The cologne's strong

manly scent can stand on its own and lasts

decades in a child's memory. It will always

remain one of my favorite fragrances.

Another special fragrance is the jonquil.

I grew up thinking it had to be the state

flower because Mother planted hundreds

of bulbs every spring for years. They bloomed

in between rocks, in the back yard, front yard, lower front yard and on

both sides beneath the family home. Our den always had fresh

bouquets of spring jonquils permeating the air, chasing out the stale

winter odors. Some of those jonquil bulbs moved with us to Brandon,

and their aroma still lifts my spirits and relocates me to childhood joys

with my mother.

A verse from II Corinthians is one of my favorites. It speaks of

God's children diffusing the fragrance of His knowledge in every place.

When I think about fragrances that delight us and are radiated

around us, I try to imagine the fragrance of kindness, generosity, or

courtesy. Does respect leave an aroma? Can even a smile have a

fragrance or what about sacrifice? What an arsenal of "aromas" we

possess and what an assault we could make on life's harsh pollutions. n

74 • May/June 2017
---
Y O UR LIF E O U T DOOR S

We specialize in the construction and modernization of decks, patios, pergolas,

cabanas, outdoor fireplaces and kitchens. Fresh air never looked so good.

PRO VISIO NDESIGNS .COM | 601 -57 3-1 9 7 1

Hometown madison • 75
---
(

(

Longer Lasting THAN JUVéDERM

Soften & smooth moderate to severe facial lines and wrinkles.

Swift recovery time. Moves naturally with expressions.

Lasts up to 18 Months.

voted

The Clarion-Ledger's

Best of 2015 and 2016

RUNNELS

C E N T E R

Breast Resizing • Body Lifts • Tummy Tuck • Liposuction • HydraFacial MD

Volbella • Kybella • Botox • Juvéderm • Everlasting Brows • Laser Treatments • Peels & Facials

Scott Runnels, MD, FACS

Diplomat, American Board of Plastic Surgery

River Oaks Dr. • Metro Jackson • 601.939.2457 • www.runnelscenter.com

DiaMonD LeveL

Top 1% of physicians nationwide performing facial and breast

procedures using Botox, Juvéderm & Natrelle Breast Implants.

skin ∆¬e Spa

Member

AMERICAN SOCIETY

OF PLASTIC SURGEONS