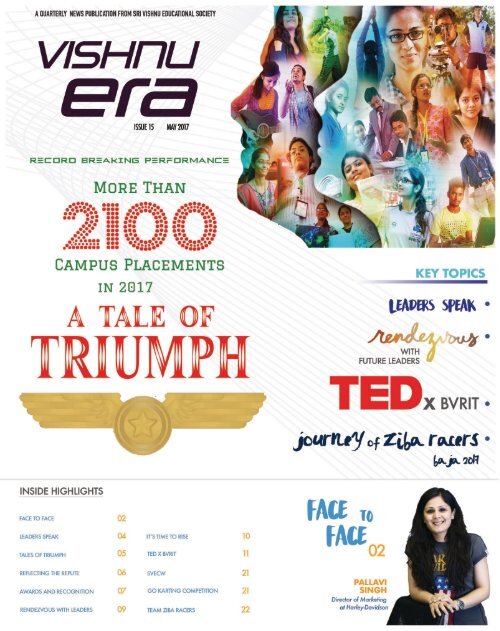 You also want an ePaper? Increase the reach of your titles
YUMPU automatically turns print PDFs into web optimized ePapers that Google loves.
2

FACE

TO

FACE

A QUARTERLY NEWS PUBLICATION BY SRI VISHNU EDUCATIONAL SOCITY

WITH

PALLAVI

SINGH

Director of Marketing

at Harley-Davidson

At Harley-Davidson

Motor Company, India.

v

Pallavi Singh is Director Marketing at Harley-Davidson India,

where she provides strategic direction to marketing and brand

communication initiatives of Harley-Davidson India. She was recognized

for her outstanding work at the company with the Black

level HDI Continuous Improvement Recognition Award in January

2013. A marketing professional, with intensive experience in the

Premium Market Segment, she has demonstrated acumen in managing

large scale projects, teams and marketing programs.

Pallavi was a part of the founding team at Harley-Davidson India

since its inception in 2009. She has played a pivotal role in building

the brand in India, capturing mindshare of wide-spread stakeholders

and laying down systems that have become the foundation

of the company.

She has been responsible for driving and facilitating all marketing initiatives. In addition

to being actively being involved in experiential events(HOG) and consumer engagement

activities she is also developing a strategic vision for the company in terms of long-term

planning, brand development, Establishing the HOG Program and nurturing strategic alliances

and contributing towards the business direction & focus of the organization.

Prior to this, Pallavi worked with India YAMAHA Motor Pvt. Ltd where she had been responsible

for planning and execution of brand activations across India. Her stint involved

developing deeper consumer insights that aided in the successful launch of renowned Yamaha

brands in India

Pallavi holds an MBA from Birla Institute of Management & Technology and a Bachelor's in

commerce from Sri Guru Gobind Singh College. A celebrated athlete, Pallavi has been a national

level basketball player and a gymnast. In her leisure time, she likes to read and travel.
---
ISSUE 15 MAY 2017

Below are the excerpts of the Interview.

• Could you please tell us about your journey

as a Commerce Student at Guru Gobind Singh

College to Director- Marketing @ Harley-Davidson

India?

I hold an MBA from the Birla Institute of Management

& Technology and a Bachelor's in commerce

from Sri Guru Gobind Singh College. From there

on I worked with India YAMAHA Motor Pvt. Ltd

where I was responsible for planning and execution

of brand activations across India. This stint

involved developing deeper consumer insights

that aided in the successful launch of renowned

Yamaha brands in India.

In 2009, I joined Harley-Davidson India and was

part of the founding team. My journey till date

has been one hell of ride (as we say at Harley). I

have been associated with the world's most iconic

brand and had the opportunity to be a part of the

success story of Harley-Davidson India. Where

else do you get to ride a thumping Harley-Davidson

with hundreds of other passionate H.O.G.

(Harley Owners Group) members as part of work?

I get to live my passion for motorcycles and riding

every day, I truly couldn't have asked for more.

• Motor biking is mostly male dominated subject

in India and even globally what made you

choose this field?

I have been working with the brand since its

inception in India and have been riding a Harley-Davidson

since 2009. Owning or working for

Harley-Davidson is a passion that transcends all

stereotypical notions of age and gender. The passion

for motorcycles and riding is paramount and

takes precedence over everything.

• How has the journey for Harley Davidson

been in India since its launch in India seven

years ago?

Ever since Harley-Davidson was launched in India,

we have succeeded in pioneering and establishing

the sport of leisure riding. More importantly,

in the last seven years, we have helped

people see the relevance of Harley-Davidson in

their own lives. With every year passing, consumers

have turned to Harley-Davidson for authentic

and inspiring ways of self-expression – be it

through our motorcycles, motor clothes, customization

options or rallies and events.

As we progress, extending the reach of our brand

continues to remain our key priority. We are dialing

things up and remain committed to delivering

high-demand, profitable products and premium

retail experiences; being a leader in the marketplace,

extending the brand's reach beyond core

customers and markets and cultivating great talent,

leadership and culture for a sustainable future.

• How challenging was it to bring the Harley

culture to India and build the foundation

of it here?

Our biggest challenge was to establish a culture

of leisure motorcycling that previously

did not exist in India. This was overcome

by investing in creating experiential events

throughout the country and focusing on providing

customers a taste of the Harley-Davidson

lifestyle. . We've led the way for leisure

motorcycling since we entered the country 7

years ago. We're also deeply invested, in giving

our customers more and more reasons

to hit the road on their motorcycles, through

our zonal H.O.G. (Harley Owners Group) rallies

and music festival Harley Rock Riders

• How does the king of heavyweight motorcycling

(H-D) keep its fans so loyal?

The popularity that the brand enjoys today is

a result of the hard work and our relentless

efforts to provide our customers with unparalleled

riding experience – a practice that

began in 1903 and continues to inspire us

till date. Our entire team at Harley-Davidson

has been relentless at driving improvements

throughout the organization that enable us—

as a customer-led company—to design, build

and deliver motorcycles with unprecedented

speed, efficiency, safety and quality. This

enables us to inspire both longtime and new

riders to experience our brand.

Our relationship with the customer does not

end with the sale of the motorcycle. It actually

begins with that. To provide an experience

of the true Harley-Davidson spirit and culture,

we do a number of experiential events

at both company and dealer levels like Harley

Rock Riders, zonal and national H.O.G. Rides

and Boot Camps where enthusiasts can come

learn about the history, heritage and lifestyle

of Harley- Davidson

• In the present-day scenario, innovation

is the key to success for any company.

What's your take on this?

The field of marketing is exhilarating and extremely

challenging. It is especially true in

today's day and age when you are as good as

your last campaign. Every brand is vying for a

little piece of customer's attention that is ever

changing and evolving. Marketing allows you

to push the envelope a little bit more with every

new initiative, every campaign, and every

event that you implement and gives you the

customer interface unlike any other field. Innovation

naturally becomes a part of this.

• What motivates you to get out of bed in

the morning?

At Harley-Davidson, we aim at fulfilling

dreams of personal freedom for our customers,

and that has been the governing principle

for everything we do. Our inspiration

comes from our customers – the rides they

do, the motorcycles they customize, the stories

they tell. Where else do you get to ride a

Harley-Davidson with hundreds of other passionate

Harley owners as part of work!

• One of the key characteristic of your marvelous

career is leadership. What traits

must a leader possess in the 21st century

organizations? Also, the areas of your expertise

deal with a lot of people. How challenging

is that, considering the diverse

nature of the people you deal with?

Leadership for me means taking on situations

head on and leading from the front. A

good leader is also a good listener and understands

the pulse of the team. She/he is a

strong team player and stands by the team

for better or for worse. Creating an environment

of trust, right values and freedom are

critical for leaders to manage brands. Developing

a work place where everyone's feels

passionate about the brand and the product

they are endorsing is the leadership's primary

responsibility

• In January 2013, you were awarded the

Black level HDI Continuous Improvement

Recognition Award. What significance

does this award hold in your life and how

did you stand out different from the others

in achieving it?

This award is given for outstanding performance

and it holds great importance but also

responsibility. It's always about teamwork

and anything one achieves it's because of

good work done by a team.

• Do sports have a role to play in getting

you where you are today and making you

the person you are?

Basketball and gymnastics are sports that

help me to channelize my energies and calm

my thoughts. I also enjoy running, a yoga session,

mountain hiking or simply listening to

music. These are activities that boost my productivity.

• On a personal note, what does Pallavi

Singh like to ride? Your favourite Indian

road stretch to ride on?

The passion for motorcycles and riding is

paramount and takes precedence over everything.

I get to live my passion for motorcycles

on my Dark Custom themed Iron 883. I enjoy

riding in the open roads of

Rajasthan

3
---
4

A QUARTERLY NEWS PUBLICATION BY SRI VISHNU EDUCATIONAL SOCITY

LEADERS

SPEAK

Dr. Keerthilatha M Pai

Head of Dept. of Oral Medicine and

Radiology at Manipal University

Dr. Keerthilatha M Pai is A Professor and Head of Dept. of Oral Medicine and Radiology at Manipal University.

As a Senior Professor with rich academic and administrative experience, she assists and guides in the smooth

conduct of the departmental activities. She trains the students in clinical and diagnostic skills and guides them

in their dissertations and project work. She is an excellent clinician and teacher and has been awarded the best

teacher award twice in her academic career. Integrating research into her routine job, she has published more

than 50 research papers in journals of national and international repute. Her paper won the Best Article Award

in the Journal of Indian Academy of Oral Medicine and Radiology, Dec 2007. As a doctor she provides quality and

personalized dental care to patients.

This is an interview of Dr. Keerthilatha M Pai with Dr. V. Rama Devi-Professor and Head, Department of Basic Science,

Mr. N. Pavan Kumar-Assistant Professor of English, and Ms. V. Harshitha and Ms. S.S.N. Deepika-Students of I

ECE, Vishnu Institute of Technology.

1. Could you walk us through your journey to Manipal University through Dentistry?

LEADERS SPEAK

It was way back in 1988 that I completed my BDS. After I got married, as my husband was doing post graduation in Manipal University I had to move to Manipal. Initially I

was very skeptical of joining Manipal because when I was young I visited Manipal, I used to see a lot of foreign students and I was really not prepared to be in such a kind

of atmosphere. . But then when I joined Manipal, I realized they were not as bad as I was scared of and then I joined in PG in Oral Medicine and Radiology. At that point of

time Manipal college of Dental sciences was affiliated to Bangalore University and in 1993 Manipal became a Deemed University. So I became a part of Manipal University.

After my post graduation I got into academics and my journey has been very smooth from the day I joined Manipal University and the Department of Oral Medicine. I was

the first person in the department, then I became the in-charge, slowly I progressed and I became the Head of the Department and also I went to become an Associate Dean.

Later I gave up that post but my journey in Manipal has been very smooth.

2. What motivated you to choose dentistry?

Actually at that time when I joined dentistry, I took it as my second option but now looking back I think I am very happy that I chose dentistry, because dentistry definitely

was much easier for women and I can balance my work and my personal life very well.

3. As non medical people, we have little awareness about oral medicine. You are a professor in oral medicine. How exactly do you cater to the people?

Oral medicine is a very unique branch in dentistry. Oral medicine also combines oral radiology. Oral radiology is the use of x-ray and it works like our third eye, so we get to

see what is hidden, we get to see what cannot be seen by an eye. In medicine there is no department where there is a combination of medicine and radiology; they have to

separate specialties in medicine. So, in oral medicine, it is the first point of visit for the Dental patient. We always have to first go through the oral diagnosis to see all the patients

that come to the dental hospital and we try to create awareness among them about oral health because that is very important part of overall health. We try to combine

dental health with overall health.

4. When it comes to oral examination, what are the things that you do?

We do a very comprehensive oral examination and oral examination is always part of the general examination. We don't take only the mouth as a part to be examined but

we look at the patient as a whole. So, whatever treatment we do in the mouth for a patient having some oral problem, may have impact on the whole body. We take both into

consideration.

5. Is dentistry, according to you, an art or a science?

I think dentistry is both. We need to have a very strong base of science, and we have to develop our skills deeply. As we are working on small and supporting structures of art

in dentistry, we have to be really into artistry. It is a very good combination.

6. What are the other professional activities of yours, if any?

I have been in Manipal for 8 years and very much involved in the quality management system of the institution. We got the ISO certification and I was the quality manager,

and was also directing the student affairs. I am responsible for resource utilization, procedures, information, education, health and safety of the staff, students and patients.

7. What challenges are you looking for in combining dentistry and academics?

Challenges…... Now because of information technology most of the students are preferring Google instead of books. When we ask them to prepare for some seminars most of

the students are not referring the text books and they simply Google. It is for us to make them realize that all that is there in Google is not the correct information or complete

information. It is important to know the authentic source of information. Even in Wikipedia, information may be there, but it can be edited. People may not be able to get the

complete authentic information on the internet. Right now this is one of my challenges -- to make students refer text books instead of googling.

8. What are the possibilities for engineering students to collaborate with dental?

There is a very good scope for the engineering students to collaborate with dental. In dentistry we use many tools and everything comes out by engineering whether it is the material

or the machines. It is the engineers who do it. You engineers should know what our requirements are, so that you can collaborate with dentists and develop tools and materials

for use in rural areas.

9. How do you feel about our Sri Vishnu educational Society?

I am really impressed by Sir Vishnu Educational Society. I see that the management has provided a very good infrastructure, and emphasizes on providing very good educational

facilities to all the students. Hats off to Vishnu group of Institutions.

10. Your advice to us?

There is no short cut in education and you should work hard. Students should not worry about failure because failing is common in every student's life. So, don't think about the

failures and move your step to success.
---
ISSUE 15 MAY 2017

5

THE TALE OF

TRIuMPH

There are many factors that determine the quality and success of an Educational

Institution. Good Institutions have excellent infrastructure, faculty, reputation

and what not. However, a success of an institution is strongly reflected by the

jobs that students secure at the campus. Placements are one of the most important

criteria that differentiate some of these good colleges from others. Sri Vishnu

Educational Society is known for its outstanding placements record. Since

its establishment twenty years ago, SVES has achieved high altitudes of success.

Placements have always been the strength of all its institutions. The vigorous

efforts put in by the Management, Placements team, the faculty and most importantly

the students are reflected in the placement statistics. This year, over 2221

students have already been placed in more than 144 companies, the season has

not yet ended.

For years, children are taken care by their parents, who strive to make sure that they receive proper education. In this journey of a student, from kindergarten to

graduation, parents, teachers, well-wishers and guardians have always provided the fuel for his/her wagon to success. Placement season is the time to make them

proud and prove that all their efforts didn't go in vain. It is the dream of every student to grab a call letter from a reputed company before leaving the college. All

those years of hard work, determination, patience and self motivation comes down to one final challenge that is of securing a good job. Nothing can match the

contentment that one gets after receiving the first call letter and that incredible feeling of standing on one's feet. It boosts the spirit of students and gives them

confidence before entering the cut-throat corporate world for the first time independently. Each year, at various institutions of SVES, thousands of students live

this dream.

When we talk about SVES performing exceedingly well in placements, it is important to understand the tremendous amount of ground work and background

activities that complement the success of the students. The reputation that SVES has built over the years is an added advantage, which attracts many top MNCs

to hire fresh talent.

SVES has been skillful in creating new opportunities not only from Hyderabad but from all over India. A centralized Industry Relations Cell is established at Hyderabad

which in turn works in coordination with the Training & Placement cell of all the SVES institutions. This cell is headed by Mr.Satish Paruchuri, Director

(Industry Relations) taking care of training & placements, internship opportunities, higher education aspirations, career guidance of the students. Also the IR

Cell has Industry Liaison Officers (ILOs) deputed at Chennai, Pune, Bangalore, Gurgaon and Vadodara (coming up) to pursue the core and IT companies from

those regions. This initiative by the SVES has proved to be very effective (and unique of its own) as it has increased the number of companies visiting the campus.

While Industry Relations cell is instrumental in bringing opportunities for the students and taking active measures for their skill and personality development,

the plans have to be executed well in order to get the results. This is where the facilities and faculty at different institutions come into picture. All the institutes at

SVES have top class facilities that help students to discover and pursue their interests. Centres of Excellence, Special labs, Innovation centers, Career development

cells, etc. are the key differentiators that make the institutes of SVES stand out when compared to its competitors. In addition, the society gives prime importance

to the quality of teaching. All its institutes have the highly committed and qualified faculty at all the institutes provides incredible teaching – learning environment.

VEDIC (Vishnu Educational Development and Innovation Center) enhances the quality of teaching methodology for faculty and bring the best out of them.

Almost all the lecturers are trained here on teaching techniques, student's psychology and other teaching-learning mechanisms

The special labs at the respective institutes have always had an immense contribution in establishing a bright career for the students. Labs like Assistive technology

lab, IBM center for excellence, Jay Robotix Center of Excellence, Microsoft Innovation Center, Center for VLSI design, etc. have nurtured the creativity of the

students over the years and have helped them in designing various solutions addressing real life problems. These labs play a key role in filling the gap between

academics and real time industry hence making the students industry ready.

In addition to various special labs and centers of excellence the institutes of SVES are also very active at conducting various certification courses and training

programs for students as well as faculty. Various certification courses by CDAC, SAP, PEGA, etc are integral parts of academic life at these institutes.

Through Pega's University Academic Program (UAP) students qualify for internships or seek employment with leading, local Global 2000 firms who transform

their businesses with Pega technology. BVRIT Narsapur and VIT Bhimavaram are among 8 engineering colleges selected for the program, from all over India

The stupendous success at Vishnu Dental college is because of some innovative teaching learning methods such as student mentor ship, problem based learning

etc. Students at BVRICE are encouraged to rise beyond the confines of printed leaves and learn through practical experience. Both postgraduate and undergraduate

students are instructed to undergo summer internships at reputed companies and industries for hands-on-experience that help them in dexterous acquisition

of knowledge.

VIPER is the only pharmaceutical education institute in Telangana has state-of-the-art "Centre for molecular and cancer research (CMCR)" and "Cognitive Science"

laboratories. These Labs are significant value additions to the students of VIPER.

Mission R&D at SVECW aims to transform intelligent, hardworking, motivated students to realize their full potential and prepare them for a great R&D career

at major global corporations. Some major multi-national and start-up companies are signing up to interview the students for R&D roles, immediately after they

complete the program.

One of the main focus areas of the society is the institutionalization of early-stage small businesses by creating an ecosystem of resources and infrastructure to

promote entrepreneurship amongst students. To realize this, a Technology Business Incubator has been set up under the aegis of Ministry of Micro, Small and

Medium Enterprises, Government Of India to support entrepreneurial and managerial development of MSMEs through incubators. Through these incubators

students are given an opportunity to incubate new ideas relating to cutting edge technologies, develop hands-on skills and, as a logical corollary, increase their

employability indices/levels

(Full details of Placements of SVES on the last page)
---
6

REFLECTING THE REPUTE

A QUARTERLY NEWS PUBLICATION BY SRI VISHNU EDUCATIONAL SOCITY

What BVRITians at corporate say about BVRIT

Pratima Kumari, NSETECH

Dubaka Trilok Navya, CSE

I joined BVRIT with many hopes and ambitions.

It is a dream of every student to get

placed in a good company. In my first three

years of engineering life, I always used to

think about my first job offer and in the final

year, my journey towards securing it

started. We underwent rigorous training for

cracking the first round of recruitment process.

The Placement team made sure that

classes run according to the plan. During

this preparation time, I had a very unstable

mind, I used to get worried about my performance.

But the placement team helped

me to overcome all the fears and encouraged

me to fight for myself. We all plunged

into our preparation for Day One Company.

We were in a healthy competitive atmosphere

helping each other. When Day One

Company came to recruit on campus, thankfully,

I cracked the first round and eventually

other rounds as well. We were waiting for

our results the next day and company representatives

started announcing the names

of placed students. When I heard my name,

tears rolled down my cheeks and it was a

priceless moment for me when I passed this

information to my mother. I still get goose

bumps thinking of it.

Then I realized that our first job

offer will give us lot of confidence and that

investing our efforts only in the final year

will not work, there should be persistence

in our learning from the first year itself. The

interviewer will look for the differentiators

in a student's resume. BVRIT is known for

its special labs. Apart from regular classes,

working in special labs in our college helped

me to learn the core subjects and their real-time

implementation as well, which made

me stand out. I was able to crack my second

job interview with the knowledge I gained

in special labs. The skills you develop in special

labs make the key points in a student's

resume. I managed to crack my third interview

as well and finally placement season

came to an end for me.

All this was possible only because

of the motivation and guidance which I received

from the placement team and faculty.

There are no words to express my gratitude

to the placement team, for their time

and mighty efforts. We are blessed to have

amazing people around us, who constantly

monitor us and help us if something goes

wrong. Teachers, who guided me during my

engineering at BVRIT, are true professionals

K.Manisha,EEE, Tech Mahindra

I think having the feeling of gratitude

towards something and not expressing

it is like wrapping a present and

not giving it. I want to express my

gratitude towards our Chairman sir

and our wonderful placement team.

Because it is them, who supported us

always and helped us continuously to

get a good job on campus.

I am very thankful to everyone, from

the bottom of my heart, who stood by

us even though we were hard to deal

with. Thank you BVRIT for making

these golden days of our lives even

more beautiful..

VANDANA PN, Mechanical Engg

SKF Experience :

I got placement in a SKF company

because of the excellent support

provided by the placement team of

our college. Every faculty gave unique

attention to each and every student.

Whenever I was facing any trouble,

I could approach any sir without

any hesitation. They would patiently

listen to my worries and answer them

accordingly. They made sure we felt

comfortable in front of them. The

training sessions strengthened my

communication skills and increased

my self confidence

Anoop Reddy Banapuram,

Tech Mahindra

I learned a lot of things during my four

years of engineering, paving golden

steps to build my precious career. Over

the years, BVRIT nurtured me into a

fearless, confident and an honest person.

These factors aided me in cracking

the interview and securing a job in

Tech Mahindra.

Simpi Kumari, ECE,Tech Mahindra

I have always found myself fortunate

to have joined in BVRIT. Each

day spent here tells a story for itself.

All these days were exciting and

were accompanied with invaluable

assets, my friends who were very

supportive. The cheeriness of all the

lectures always helped me attain self

motivation and reach my goals.

*Dedication* to work

*Commitment* to achieve

*Hard work* to gather us

*Motivation* by the team

*Future vision* shown by team to

succeed

All the efforts put in by the placement

team helped us in getting

placed in reputed companies!

Thank you BVRIT and all the people

whom I have met in these four

years..

Kartheek,

Careator technologies

It has been a wonderful journey for

me at BVRIT No words can express

how grateful I am to be in BVRIT,

where I learned a lot of things which

helped me and will continue to

help me in the future. The toughest

part of my final year was attending

PLACEMENTS. I have gone through

the recruitment process of almost

all of the companies that had visited

BVRIT starting from day one company.

I haven't cleared my first round

in any of the recruitment processes.

Even though everyone around me

got placed, I did not lose confidence

as I had faith in myself. I was always

taught that hard work pays off and

I believe that good things happen to

those who wait.Finally, the day has

come for which I have been waiting

for six long months where I cleared

all the rounds and got placed. Don't

miss any opportunity, participate in

each and every company until you

get placed. My special thanks to the

placement team for their unforgettable

support, which placed me where

I am right now. I would like to thank

my friends who stood by me all the

time. I always feel grateful to my

parents who believed in me during

my tough times and always supported

me

BVRIT has played a fundamental

role in shaping the person I am

today. Its excellent infrastructure

and student-friendly environment

helped me to improve my all round

performance, in academics as well

as co-curricular activities. The

college has a wide variety of special

labs such as Assistive Technology

Lab, Randy Paush Robotics Education

Center, Center for VLSI Design,

Microsoft Innovation Center and

many more. These labs provide a

much needed platform where one

can convert what is learnt in books

and classrooms into some real

applications. Apart from this BVRIT

gave me the opportunity to participate

in various events ranging

from technical symposia to sports

competitions. Extremely supportive

faculty is one of the greatest assets

of BVRIT and also a key player in

students' success.

Being at a respectable position in a

reputed firm today, I am truly thankful

to BVRIT for all my achievements.

I am proud to be a BVRITian

Deepika Ravuri,

ECE John Deere

In addition to technical learning, I

utilize my time in Club Inquizitive

for learning new skills. I am the

Student Lead of English Reader's

Club which inculcates the habit of

reading books among the students

to enhance their English Language

Skills. All these helped me to

shape myself as a confident person

and I feel this natural process as a

preparation for job interview.

To describe the job interview

process:

In the interview, they asked me

logical questions, gave some

problems to solve and programs to

code. I was successful in answering

90% of the questions. However,

I felt the recruiters were more

concerned about the approach.

I feel that all these secondary

factors cumulatively helped me in

earning a job @ John Deere, the

primary factor being my family for

their encouragement, support and

love!
---
ISSUE 15 MAY 2017

7

AWARDS AND RECOGNITIONS

Vishnu Dental College received Dr. D. N. Kapoor

Award from International College

of Dentists (ICD) for the best Community

Dentistry Project in the country for the year

2016. The award was conferred at ICD Annual

Convocation & Award Function held at

Hotel Hyatt Regency, Chennai on 18th December

2016.

The department of Oral Medicine & Radiology,

Vishnu Dental College received IAOMR

Best Community Services Award 2016

from Indian Academy of Oral Medicine &

Radiology during the National Conference

held at Kanyakumari from 13th to 15th December

2016.

Dr. B. Jaya Bharathi, an Intern, received "Certificate

of Excellence" from

Dr. Dibyendu Mazumder-President, Dental

Council of India, New Delhi for securing highest

marks in final year BDS 2015-16 during

the 1st National Dental Students Workshop

held at Ahmedabad on 7th and 8th January

2017

BEST PAPER AWARD from IEEE

ICCIC 2016

A research paper on "Knowledge Representation

of Natural Language in High Performance

Linguistics Scheme" by Dr. D. Suryanarayana,

Mr. S. Mahaboob Hussain, Ms. Prathyusha

Kanakam and Dr. Sumit Gupta of VIT won BEST

PAPER AWARD in IEEE International Conference

2016 on Computational Intelligence and

Computing Research (ICCIC) held at Chennai

from 15th Dec to 17th Dec, 2016

• Dr. K. Roja Reddy, along with 2nd year PG

student, Department of Oral Medicine & Radiology,

VDC won Best Paper Award in "Showcase

2017" held at Saveetha Dental College &

Hospital, Chennai on 10 February 2017

Women's Day @ BVRIT N & VIPER

International women's day was celebrated in VIPER & BVRIT N on

8th March, 2017. Smt.Anu Radha Vishnu Raju was the chief guest

for the event. The events are Blood donation camp, Plantations in

Medicinal plant garden and Inspirational speeches by the dignitaries

to girl students.
---
8

ACHIEVEMENTS

• Dr. M. Anudeep, 3rd year PG student, Department of Periodontics,

VDC won Best Paper Award in "Showcase 2017"

held at Saveetha Dental College & Hospital, Chennai on 10

February 2017

A QUARTERLY NEWS PUBLICATION BY SRI VISHNU EDUCATIONAL SOCITY

• Dr. S. Suresh, Associate Professor, Department of Public Health Dentistry

won Best Paper Award for the session in staff category in the "21st

National Conference of Indian Association of Public Health Dentistry" held

at Bhubaneswar on 18th November 2016 for his paper presentation titled

"Strength Weakness Opportunity Threat (SWOT) Analysis of Public Health

Dentistry in India"

• Dr. K. Pradeep, Senior Lecturer, Department of

Orthodontics and Dentofacial Orthopedics of VDC

won the Best Paper Award in "Showcase 2017" held

at Saveetha Dental College & Hospital, Chennai on 10

February 2017

• Dr. J. Ananth, 3rd year PG student,

Department of Orthodontics and Dentofacial

Orthopedics won 2nd Prize

in E-Poster Clinical Category held

at Ramachandra Orthodontic Accelerated

Review - 2017, Chennai

from 5 to 7 January 2017

SPORTS

AND GAMES

• Mr. S. Deepak Kumar, III BDS, VDC has been selected as a team player for Senior Nationals Andhra Pradesh Basket Ball Team. He represented Andhra Pradesh in

67th All India Senior National Basket Ball Championship held at Pondicherry in the month of January 2017

• Mr. S. Deepak Kumar & Mr. Nalam Tarun, III BDS students of VDC , have been selected for Dr. N.T. R. University Basket Ball (Men). They participated in South Zone

Basket Ball (Men) held at Madras University, Madras from 26th to 31st December 2016

• Ms.B.Kavya of final year BVRIT H, got 1st prize in KICK BOXING at state level competition

• Ms. Sushmitha, Ms. Spandana and Ms. Samrin of III ECE of BVRIT H participated in Open House Project Competition organized by VNR VJIET on 27 Feb 2017 and

won third prize for the project "Signaling Jacket" under the guidance of R. Priyakanth, Assistant Professor

• Ms. D. Priyanka, Ms. K. Praveena of IV ECE of BVRIT H designed Satellite Communication Model – 3D Model and are won I prize in 3D Sculpting competition,

Medhanvesh-17

• Ms. Nandini, III CSE and Ms. Mounika III ECE of BVRIT H, won second and Third Prize in IT Olympiad conducted National Wide at Pune College of Engineering

on 21st January 2017
---
ISSUE 15 MAY 2017

9

Model UN conference @BVRIT-N

BVRIT Narsapur organized an interaction with fifteen recently selected young IAS officers at BVRIT Campus

Narsapur. The two-hour long session enriched the students, especially those aspiring for Civil Service

examinations. After listening to the IAS recruits, students had cross questioning.

Question-answer session remained the most interesting part of the interaction wherein young

students, who are preparing themselves for the Civil Services examinations, clarified their

views with regard to selection of optionals, prepa- ration and time

management in the examinations. The ob-

jective of this

interaction is to provide Civil Service

aspirants

a platform to enrich themselves

w i t h

the experiences of success- f u l

IAS recruits. These leaders o f

the future ended the session

b y

pointing out that passion and

integrity make a successful

IAS officer, bringing an enlightening

interaction to a sobering

conclusion

with

FUTURE

LEADERS

The first ever Intra Model United Nations Conference was successfully conducted in BVRIT Narsapur on 17th

& 18th February, 2017.

A Model UN conference is an academic simulation of the United Nations, with the primary objective of educating the

youth on matters of international importance, and helping them develop skills such as leadership, oratory, public speak- ing, and

diplomacy.

Model United Nation Conferences have become prestigious competitions throughout our country held in different universities and colleges. Hence we

believe our college, having an Intra MUN Conference is an initial step towards a bigger vision.

More than two hundred delegates participated in the MUN, who were divided into three different councils – the United Nations General Assembly - Disarmament

and International Security, the United Nations - Security Council and the United Nations- Human Rights Council

UNGA (United Nations General Assembly)

The first committee of the General Assembly had discussions on the agenda "Arms Race and Disarmament with emphasis on South Asia and Middle East". Most

of the delegates would agree that this was the most active and indulging committee wherein the ideas proposed and the level of debate clearly stood apart

and that's only because of the delegates' sheer interest and enthusiasm

throughout the conference. The delegates deliberated on various topics

such as the need of arms and weapons and the Non Prolifera-

tion Treaty (NPT). The Executive Board Members, Mr. Prajwal

and Mr. Sai Ram made the first time MUN experience of

almost all the delegates a memorable one and enkindled

in them the fire to participate in many more such

MUNs.

UNHRC (United Nations Human Rights Council)

This committee's agenda stood true to its name

i.e. "protection of women rights with emphasis

on South Asia", as we saw a healthy debate

and solutions put forth by the delegates that

not only reflected the need of the hour but

also emphasized on the impact it has on the

youth of this generation. Active participa-

tion and thorough guidance by the executive

board members Mr.Vansh Narula and

Ms. Anusha were the highlights of this

committee.

UNSC (United Nations Security Council)

United Nations Security Council was a

double delegation, wherein delegates

formed a team of 2 and represented one

country. The delegates discussed on

the agenda "Situation in Kashmir". This

council had 40 delegates representing

20 countries and underwent complex debates which included making Kashmir

a sovereign nation, reforms in trea-

ties which would help the situation

over there and discussed laws such

as AFSPA.

The MUN conference was a

great learning experience for all the

delegates

BVRITians' First Student Conclave

For the first time in BVRIT, a student conclave was held on 28

platform for the students to express their views and voice their opinions. The conclave

the Vishnu Raju Garu (Chairman-SVES), Ravichandran Rajagopal Garu (Vice-Chairman,

(Director, VEDIC) and Ram Kumar Garu (Director).

March 2017 as an open

was presided over by

SVES), Sundarrajan Garu
---
10

A QUARTERLY NEWS PUBLICATION BY SRI VISHNU EDUCATIONAL SOCITY

BVRIT Student Conclave is an initiative to establish an effective mechanism in order to look

for ways to improve the student community and taking steps for overall development of an

individual at BVRIT. There were segregated categories where students who had the same

concerns were pooled together. This was done based on the responses of the Google forms

which were circulated earlier in the month. Every group had voiced their opinion and views

through one representative from the group. Every problem was addressed​ by the Chairman

and possible solutions were immediately proposed. Categories such as Sports, Technical

Clubs, Initiatives, Educational re-forms were discussed under the same roof

Students expressed their perspective of the various issues faced in the college. They had

also come up with innovative ideas and solutions to mark the overall development of a student

at BVRIT. In the open discussion various speakers voiced their opinions on the same

category leading to a broader understanding of the issues.

The BVRITians' Student Conclave, a first of its kind was a major breakthrough in

breaking the stereotype of an engineering college in the twin cities. The issues discussed

were taken into account and all the possible solutions and initiatives are taking shape. So

it is fair enough to say that with the guidance and leadership of the Vice Chairman and the

Organizing Committee of the conclave, the student conclave will have a significant impact

on the future of BVRIT

It's Time to RISE

AARAMBH – 2017 - Student Clubs – Curtain Raiser

Aarambh became the event which gave way to a lot of talent uprising, the main motto of the event being "to bring out the internal talents and

interests of students". A great response was received from the students and the event organizers surely would owe the success of Aarambh

to the students. The event was an amazing idea to help students to revive their passion and get groomed by well known personalities.

Additional support and suggestions from the management was the major reason for success of the event, making Aarambh a platform for

several groups of talented people rising up and showing how culturally active they are

It's a great pleasure to be a part of *AARAMBH*. As a crew member, everyone had difficulties while organizing but team work made it

possible to handle the event successfully. Interaction with speakers was amazing. Their experiences taught us many things. Aarambh

is one of the best examples to prove that team work always gives the best result

- Parushuram

The two day program which we have organized has become a grand success and crew team has got very good response from

the students and staff. I have learnt new things like how to work in a team and how should we provide good hospitality to

the visitors. And from the program I have learnt different things which are helpful in our life. From each and every program

from photography, fashion designing, film making, digital marketing we have learnt new things how will they be in practical

World

It was an amazing experience hosting the event where I could utilize my skills and at

the same time learn something new from every field. An amazing crew was there

to guide the participants and different experts in various fields who enlightened

us with their insight. As a whole, Aarambh was true to its name, as it gave participants

an opportunity to explore their talents!

- Jeffrey

Many a time, I have been asked about why people trek. "What is the point of struggling to get all the

way to the top of the mountain, carrying a heavy load, while almost always, a vehicle can take you to

the top?" this question always baffles me. So here are my thoughts and experience with the MyBVRIT

Team and Hyderabad trekking club members

Fit-

ness doesn't always come easy. And sometimes, you have to go the distance simply to get fit. For a lot of

fitness

freaks, trekking is a great incentive. Why walk on a treadmill when you can walk on the mountains? The road to

fitness requires a positive mindset and a great amount of motivation, which trekking offers.

Guides were cheery throughout, so much that by the end we bonded strongly with them, and left with a genuine appreciation from our

side. The interactions with the MyBVRIT team are excellent and they have unique ideas. Others have exaggerated on the difficulty of this

trek. On the contrary, I found it one of the most comfortable treks, even for someone with very basic outdoors experience. "Trekking is

a unique surface, different from all other jobs or events."

- Prudwish

PIXEL ARMY was there to teach all of us about photography. The students loved the session and they were enthusiastic throughout the

session. Photography followed by dramatics, RJ talk show and Director's cut session. I feel very obliged to be a part of the crew of such a

wonderful event. The idea was a great initiative by the My BVRIT media. The two day "Aarambh" was undoubtedly a big hit. And we are

all extremely happy for the success of the event.

- Aashritha Auradkar.
---
ISSUE 15 MAY 2017

It was really great and exciting to work with the crew members. It was good to see that everyone had put equal efforts to make Aarambh a successful

event. Meeting the speakers and listening to their life experiences was an eye opener. Being the crew member it was definitely an amazing

experience. I look forward for many more speakers to come and motivate us.

-Sreeja

11

Our future exists in our present. One such initiative to set an example is "AARAMBH " - it's time to rise ". Every situation is a new learning experience

in the journey of life and such clubs would help embrace it .We all were more than a team, with high spirit like an excited storm as always.

It's always a Challenging role to be a team leader. When we thought of this event, we were not sure this

could be such a huge success.

I believe in Team work and I would like to thank each and everyone who worked effectively for this

beautiful beginning to Aarambh. It's a great pleasure to our team to have Director Mr. Srinivasan

Sundarrajan sir with us for encouraging and motivating arts and culture, and our beloved Chairman Mr.

Vishnu Raju Sir and very supportive Vice Chairman Mr.Ravichandran Rajagopal sir. We all started our

journey with a vision and it's always a great pleasure to have our Dynamic principal Dr. Ch. Venkateshwarlu.

On behalf of my team I would like to thank Mr. A L Kishore Sir, the Faculty Lead for bearing our

efforts equally as a backbone. Mr. Bapi Raju sir and Mr. Ashok Reddy sir for tremendous support and

encouragement

-Akhil Reddy (Student team Lead, Aarambh)z

- Hruday

TEDx BVRIT event held on 8th April, 2017 at BVRIT-Narsapur was an event full of enthusiasm and was an enriching learning experience. The TEDx at

BVRIT is unique in itself because the event witnessed speakers from diversified backgrounds aging from 9 years to 60 years. Starting off with ever so

curious attendees from different colleges, the event began with "Sowmya Bhaskar" speaking about how a person should not give up in the face of adversities

through her life experiences. Followed by that was a talk by the born prodigy "Hemang Vellore" who taught everyone that age is just a number

and not a criterion to rock the world. Then came "Andy Silveira" who shared his broad-minded approach on transgender biases.

Continuing to inspire in the talk show, we had "Dr.Sujaritha", Guinness record hold in Kuchipudi, inspiring the audience how she took up the challenge

of teaching 'differently enabled' children to dance, as her passion. It was appreciable for the efforts she has put in to train the physically challenged

and was applaudable when we experienced it live. Seeking for a unique identity in the society with his stand-up comedy, there came next speaker

"Rohit Swain", the standup comedian making everyone laugh with great sense of humor." "Always tell-Never sell.", Next came "Rahul Tamada", CEO

of Tamada media. He taught everyone the importance of online presence for a student to be recruited and have an overall development in one's career."Hemanth

Satyanarayana" was next on the speakers' list, enlightening everyone about

revolutionizing education and defense through augmented reality and virtual reality technologies.

The next was a motivational talk on Entrepreneurship and innovation in today's world

by Mr.Ananth Rao. Before the arrival of the surprise speaker, Mr.Lawrence Mohanraj drove

everyone into the world of Internet of Things (IOT). And to everyone's astonishment the surprise

speaker turned out to be Jahanavi Sriperembuduru, an Indian mountaineer. She started

her mountaineering career at a very tender age of 10 months, along with her parents Dr. S.

Krishna Rao (Father) and Mrs. S. Saraswathi (Mother). By the age 3 years, she used to accompany

her father in different Treks and Expeditions along with other children

and be her father's Assistant in helping him during the Trek

Thus, with the support of our chairman, Sri K.V Vishnu Raju Garu and Vice

Chairman Sri.Ravichandran Rajagopal Garu, the event went on to become full

of life along with learning. Kudos to TEDx BVRIT team: Surendhar Reddy,Y

ash Zauwar,G Saranya,Sravan Reddy,Ravi chandhra Reddy,Surya Teja Varma,Simpi

kumari,Dinesh Kamble,Sai Kumar Reddy,Shrihari Shetty,G Sreeja

and Akash. The event would not have been successful without the faculty coordinator

Mr.A L Kishore, Associate Professor for his indomitable support during

the entire event

X BVRIT
---
12

IT'S FUN ALL THE WAY...

hostel day Celebrations

A QUARTERLY NEWS PUBLICATION BY SRI VISHNU EDUCATIONAL SOCITY

B.V.Raju Institute of Technology organizes Hostel Day every year under the guidance of the management.

The intention behind it is to encourage the hostellers to come together and to be united. Hostellers showcase

their talents through various stage events like plays, singing, dancing, ramp walk and all sorts of fun

stuff.

This year the Hostel Day 2017 was celebrated on 11th of March at Open Auditorium within the campus.

Gracious presence of Chairman Sri K V Vishnu Raju made us have a great experience. He carries the torch

of vision of his grandfather. He believes that it is inactivity and not activity that wears down the body and

spirit. Vishnu sir is known for his leadership acumen especially for his motivational speeches and empowering

students in the society. On the occasion he assured the students of making the campus more vibrant

to have a better learning experience.

Many sports and cultural events were conducted as a part of this event. Students participated with great

vigor and enthusiasm. This was followed by the prize distribution for the winners and runners of the sports

events and Academic toppers from the respective hostels

KUNG FU BELT EXAMINATION on Feb 28th, 2017

Srinivasa Ramanujam Foundation (SRF) Talent WINNERS @ VHS

Mini Science Exhibition on Feb 23rd, 2017

Inauguration of Research Center

Inauguration of Research Center for Process Intensification developed

under DST – FIST Program on 21st January, 2017 by our Chairman Sri

K V Vishnu Raju garu

MICROSOFT INNOVATION CENTER @ BVRIT N

161 students got certified with Microsoft Technology Associate (MTA) under Microsoft Innovation Center (MIC).
---
ISSUE 15 MAY 2017

13

International Conference on Research Advancements

in Computer Science and Communication (ICRACSC-2016)

Dr. Amar Sharma (CEO of WOIR S/W India Pvt. Ltd, Hyderabad) was the keynote speaker of the International

Conference which was hosted by Department of CSE & IT, BVRIT Narsapur, held on 29th and

30th December 2016. On the second day the Keynote address on "Big Data Analytics" was presented by

Dr. T.Venu Gopal, Prof.&HoD, CSE, JNTUCE Sulthanpur. Around 120 members from industry and academy

participated in the inaugural function. Mr. Ravichandran Rajagopal,VC-SVES, expressed the importance

of conference and journal publications for research scholars and faculty in their research career.

The response for the conference was high as 168 papers were received from multiple states like TN, AP,

MH, KT and WB. After peer review by the eminent professors lead by Dr.C.R.K Reddy, a total of 80 high

quality papers have been published in the conference proceedings. Dr.Jagan, Convener has appreciated

efforts of Dr. Amjan Shaik, Dr.M.Neelakantappa and Mr. K.Karthik for successfully organizing the conference

which got good response from research scholars specifically from renowned universities.

NITMUN

(National Institute of Technology Model United Nations):

IT INNOVATIVE CLUB(ITIC)

Mr. Anirudh and Mr. Pratheek of II B.Tech IT represented

BVRITN in NITW-MUN

Prize Distribution to Faculty

• To encourage the hidden talents of the students

in both technical & co-curricular activities, on the

eve of Republic Day, IT Innovative club of IT Department

conducted JAM, Technical quiz and also

cultural activities Music, Dance, Arts and Craft on

Training Programs/Seminars

• IT Department has organized 2-Day Workshop on "Ethical Hacking" on 27th and 28th

February 2017 in the Seminar Hall, BVRIT, Narsapur. Eminent Resource Person Mr. Sai Sathish, Founder & CEO

of Indian Servers-Hyderabad, has given training on the core topic "Ethical Hacking".

• The response for the workshop from the outside colleges was excellent. Totally 161 participants from MGIT,

Sreenidhi, Geethanjali, MallaReddy colleges along with BVRIT Narsapur students have attended this workshop

and learnt the topics Whatsapp, facebook hacking, Email and website hacking, Metasploit, Wifi hacking, Malware

analysis and Kalilinux during the workshop

Participation Certificates received by non-BVRIT Participants

Mr. Anirudh and Mr. Pratheek of II B.Tech IT, attended as delegates of BVRITN in NITW-MUN(Model United Nations)

at Warangal and presented the issues of our home country facing today. They have presented the policies

to be followed and outcomes of the policies to face these problems.

BVRIT sport

Geeth Surya and

Varun of II B.Tech

IT representing

KHO-KHO Team of

BVRITN : Runners

of Intercollegiate

Tournament held

at Anurag Campus,

Hyd in January 2017

Geeth Surya, Naveen,

Sai Chander of IT

representing KHO-

KHO Team of BVRITN

: Runners of Intercollegiate

Tournament

held at VNR VJIET

Campus, Hyd in February

2017

Mr. Slavin of II B.Tech IT

representing Football

team of BVRITN has

won II prize in Intercollegiate

Sports Tournament

held at VNR VJIET,

Hyderabad in February

2017
---
14

A QUARTERLY NEWS PUBLICATION BY SRI VISHNU EDUCATIONAL SOCITY

Ms. Rushma of II B.Tech IT representing ThrowBall Team of BVRITN won First Prize in BVRIT-ARENA held in January 2017

ANNUAL DAY

CELEBRATIONS

@ BVRIT N on

March 31st, 2017

VIPER

CONFERENCES ATTENDED

5K RUN

@ BVRIT on

March 18th, 2017

Twenty (20) members from final years and six (6) members from third year were selected as Volunteers for 68th IPC held

in Visakhapatnam from 16th to 18th of December, 2016. 15 students presented posters.

TRAINING PROGRAMS IN VIPER

DRL Employees training

We have successfully conducted training program for 23 batches employees of Dr.Reddy's Laboratories Ltd in which Total

number of 707 Employees have been trained till date.
---
ISSUE 15 MAY 2017

15

FACULTY

• Dr.A.RAMESH has been selected as organizing committee member in PEAR-2017

"Pharmaceutical Education-Academia Relation to Industry-Current Scenario" held at Jawaharlal Nehru Auditorium, JNTU, Hyderabad on 17th & 18th March, 2017

• Dr.V.V.S.Rajendra Prasad and Dr.K.Vanitha are also nominated as Scientific committee member and Advisory committee member respectively for PEAR-2017.

• Mrs.Nafiza Bhanu received second prize on the topic entitled "Neuroprotective effect and attenuation of Dementia by Diltiazem in ICV-FTZ induced sporadic Alzheimer's

disease model ion rat model" in IPC-2016 Organized by Andhra University in December, 2016.

EVENTS

• Mr. Teja Phanindra of III yr won gold in medal in Hockey from

JNTUH Team, Hyderabad.

STUDENTS ACHIEVEMENTS (ACADEMICS)

•Five of our final year students got placed in Nakoda Chemicals.

•Ms.Habeeba of third year ranked first in National level GPAT

Mock Talent test conducted by Masters Academy., Hyderabad

STUDENTS ACHIEVEMENTS (GPAT) - 8 students were

qualified in GPAT 2017 STUDENTS ACHIEVEMENTS

(SPORTS)

STUDENT ACTIVITIES

NSS PROGRAM

We have conducted an awareness program on the digital payment to the village people at Ramachandrapuram

village, Narsapur mandal, Medak (Dt)

BVRIT H

BUSTLING EEE

• A Two day workshop was conducted for II B.Tech EEE students on "PCB DESIGN" from 5th Dec, 2016 to

6th Dec, 2016 under IE(I)& Deeptha –Department Technical Association, Dept of EEE, BVRIT exposing students

to a simulated in house training environment. The workshop emphasized the use of computer aided tools to

design a PCB and fabricate the PCB.

One day Workshop was conducted for II B.Tech Electrical Engineering students on "DESIGN & HANDS ON

MAKING OF TRANSFORMERS" on 7th January 2017 by M.Sudheerkumar, Asst. prof, EEE dept, BVRITH which

helped Students acquire knowledge on practical calculations of windings, choosing a gauge etc.

Practicals at PCB Design workshop

Practicals on "DESIGN & HANDS ON MAKING OF TRANSFORMERS"
---
16

A QUARTERLY NEWS PUBLICATION BY SRI VISHNU EDUCATIONAL SOCITY

Faculty Development Program:

A one week National level Faculty Development Program

on "SOLAR PV GRID CONNECTED POWER PLANT"

was organized by the department of EEE in association

with National Training Centre for solar Technology,

Karnataka from 5th to 10th December,2016 in which 42

faculty members from various colleges participated. Dr

Sunil kumar, HOD, EEE Dept and Mr. Guruswamy Revana,

Asso. Prof were the conveners of the same.

An industrial visit to 'HBL Powersystems' and 'Re-

Newsys Pvt.Ltd' and a field trip to BVRIT Narsapur was

also organized as a part of this one week FDP.

The workshop covered the fundamental aspects of

grid-connected solar power generation using solar

photovoltaic such as Site Selection and System Design,

Inverters, Charge Controllers, Battery Banks, Wiring

and Electrical Fundamentals Sizing of Solar Systems, Installation,

Commissioning, Operation and Maintenance

Standards Safety in Installation and Commissioning

Earthing of solar plants etc.

Participants from various reputed colleges on "SOLAR PV

GRID-CONNECTED POWER PLANT" FDP WORKSHOP"

Dr. H. Naganagouda, Director, National Training Centre for Solar Technology

and Shri. H. JAYAKUMAR, Joint Director (Retd.), CPRI

BOUNCY ECE

• A project on "Adaptive Security System for Electronic Devices" was presented by Keerthana, Ms. Navaneetha, Ms. Ramya and Ms. Priyanka of III ECE, under

the guidance of Dr. J. Naga Vishnu Vardhan, Professor and HOD –ECE , in the event Techgium held on 7th February 2017 at Bangalore organized by L&T

• Paper on "A Systematic Study of Estimation of Ionospheric Delay Errors in GPS" and "Delay Estimation of an Electromagnetic Wave Propagating Through

Ionosphere Using Total Electron Content in GPS" by Ms K Tejaswini of IVyear ECE in association with Asst. Professor K Mahesh Babu and Asst. Professor R

Priyakanth was published in " International Journal of Scientific and Research Publications "

•Students of II, III and IV year ECE participated in 30th International Conference

on VLSI Design held from 7 to 11 January 2017 along with Anwar Basha Pattan,

Asst. Professor
---
ISSUE 15 MAY 2017

SBSP

21st IPSGM-2016-2017

The students of Smt. B. Seetha Polytechnic participated in

district wise Inter Polytechnic Sports and Games meet (IPS-

GM), held at Swarnandhra College of Engineering & Technology,

Seetharampuram, Narsapuram from 10th December

to 12th December 2016 and won prizes in the following

events...

17

• GAMES CHAMPIONSHIP FOR BOYS, OVERALL GAMES AND

SPORTS CHAMPIONSHIP FOR BOYS & HATTRICK WINNER

IN VOLLEYBALL BOYS

Winners in Volleyball, Table Tennis (singles), Table Tennis

(Doubles), Chess, Shuttle Badminton (Singles), Shuttle Badminton

(Doubles), Tennikoit (Doubles) & Discuss Throw.

• The students of Smt. B. Seetha Polytechnic also participated in a state level IPSGM – 2017, held at AANM

&VVRSR Polytechnic, Gudlavalleru from 20th December to 22nd December 2016.

• GAMES CHAMPIONSHIP FOR BOYS

• GAMES CHAMPIONSHIP FOR GIRLS

• VOLLEYBALL WINNERS (BOYS)

• BADMINTON (Singles) WINNERS GIRLS

•The students of SBSP participated in a fest conducted by Swarnandhra Institute of Engineering and Technology, Seetharampuram on 22 February 2017. S.VEER-

ENDRA KUMAR & M.RAVI TEJA of 2nd DEEE got 1st prize in THERMAL POWER PLANT PROJECT. K. LAVANYA & CH.SIRISHA of 2nd DCME got 2nd prize in a paper

presentation on CLOUD COMPUTING. Y.ROJA of 3rd DEEE won 1st prize in CLASSICAL DANCE.

SERVING SOCIETY

S.D.JAYA BABU, a student of 2nd DEEE student of Smt. B. Seetha Polytechnic volunteered as a C.P.O (Community Police Officer). He assisted Traffic Constables and

also investigation teams. He received Best Candidate Award and Merit Certificate from Superintendent of Police for his services.

• It is a matter of pride S.D. JAYABABU the student of Smt. B. Seetha Polytechnic, won 1st prize for the events MOVIE MAKING & PUZZLE SHOCK in a symposium

held at Grandhi Varalakshmi Venkatarao Institute of Technology on 2nd & 3rd March 2017.

• Ms.M.Nandini, VI Pharm. D of SVCP won Best Oral Presentation Award in IPC conducted at Andhra University, Visakhapatnam in the month of December 2016

and was given a cash prize of Rs.10,000 by Eisai Pharma Ltd., Visakhapatnam.

ACT OF ASSISTANCE - United Hands

'SEETHA UNITED HANDS' team of SBSP gave a helping hand by contributing an amount of

Rs. 10,000 to Ch. Chandra Kiran 1st DCME, for his eye operation and also an amount of Rs.

10,000 to P. Hari Kishore, 1st DEEE for his leg operation .

ANNUAL DAY

Smt. B. Seetha Polytechnic celebrated Annual Day on 28th February

2017 . It was presided over by the Chief Guest, Mr. A. Nirmal

Kumar Priya, Secretary (FAC) of SBTET (State Board of Technical

Education and Training, Andhra Pradesh). On this occasion few

faculty members were felicitated for the successful completion of

a decade of services and association with Sri Vishnu Educational

Society.
---
18

VDC ACADEMICS

Elsevier Foundation for Excellence in

Dentistry conducted MCQs Competition

in the subject of Pharmacology

on 14 February 2017. BDS students

of Vishnu Dental College A. Sandhya

Sree, K. Divya Sree and D. Abhilash

secured prizes in the competition

A QUARTERLY NEWS PUBLICATION BY SRI VISHNU EDUCATIONAL SOCITY

CONTINUING DENTAL EDUCATION PROGRAMME:

Department of Conservative Dentistry & Endodontics organized a CDE programme on "Innovations for Effortless Dentistry" by Dr. Chandramouli,

Manager, Academic & Scientific Affairs, GC on 20 January 2017 at Vishnu Dental College

ORIENTATION PROGRAMME:

1. Dr. P. Revathi, Executive Committee Member, Dental Council of India, New Delhi visited Vishnu Dental College on 24 January 2017. She sensitized all the students

regarding the consequences of Ragging

2. Department of Public Health Dentistry, Vishnu Dental College organized an Orientation program on Swasthya Vidya Vahini on 23 December 2016 to create awareness.

All the 2nd, 3rd, and Final BDS students and interns attended the orientation programme.

NATIONAL SERVICE SCHEME

1. An Elocution competition on "What is Patriotism?"

was conducted On the occasion of "68th Republic

day" by NSS Unit and Department of Public Health Dentistry,

Vishnu Dental College Best ten participants were

given an opportunity to present the same on Radio Vishnu

90.4. (a community radio).

2. Dr. N. T. R. University of Health Sciences, NSS

Unit and Department of Public Health Dentistry, Vishnu

Dental College organized an Awareness program on Digital

Payments on 17 January 2017. All the students were

sensitized on making digital payments through various modes like card/internet banking/mobile banking/wallets and newly launched app of Government of India,

BHIM. Demonstration was given by NSS program officer, Vishnu Dental College to the students regarding how to make digital payments.

CO-CURRICULAR ACTIVITIES:

On the occasion of World AIDS Day, the department of Public Health Dentistry organized an Awareness Talk by Dr. M. Begum and Dr. Hima Naga Lakshmi, Interns and

was broadcasted on Radio Vishnu 90.4 at 7 am and 6 pm on 1 December 2016.

PERIO – AVALOKAN:

The Department of Periodontics & Implantology, Vishnu Dental College conducted Perio Avalokan – A Rapid Review programme for postgraduate students of Periodontology

on 27, 28 February & 1 March 2017. About 100 postgraduate students from Andhra Pradesh, Telangana and Chhattisgarh participated in the programme.

Fourteen Senior Resource persons from Andhra Pradesh, Telangana, Karnataka and Tamil Nadu gave lectures and held panel discussions on important topics in the

field of Periodontology & Implantology. Only one of its kind in the state, this program was held for third consecutive year. All the participants gave excellent feedback

of the programme, which they said was very helpful to prepare for the ensuing university examinations.
---
ISSUE 15 MAY 2017

19

VIT

Vishnu Nitro Championship-2k17 (VNC-2k17)

VIT stands apart by taking initiative to conduct the event Vishnu Nitro Championship – 2017 (as a part of VALIANT 2K17- National Level Technical Symposium)

for the first time in the region of coastal Andhra Pradesh that gave platform to the students from different parts of the country to understand

about chassis design, steering and suspension mechanisms.

Team F1 PACERS from N.B. Navale Sinhgad College of Engineering, Solapur, Maharashtra won first prize. Team RAHUL KEDARE from Lovely Professional

University, Phagwara, Punjab was the Runner-up team. Team MUGEN-SEIKI from Dr. D. Y. Patil College of Engineering, Pune, Mahrashtra, was the winner

of performance round.

VALIANT 2K17 - National Level Technical Symposium

VALIANT, Vishnu's Active Learning In Advanced New Trends, is

the annual technical fest of Vishnu Institute of Technology started

in the year 2011. VALIANT 2K17 was held with splendor on

22 and 23 February 2017. This technical symposium proffered

a platform for sharing the insights of the budding engineers in

matters of technology and for actualization of out of the box ideas

presented in the projects.

The inaugural ceremony was graceful with the presence of the

Chief Guest-Sri K.V. Vishnu Raju, Chairman-Sri Vishnu Educational

Society. Dr. D. Suryanarayana, Director and Principal of Vishnu

Institute of Technology gave overview of the institute's achievements.

Sri K.V. Vishnu Raju congratulated the faculty and the students of the institute for its continuous progress. The two-day symposium gave them an opportunity

to showcase their talents which was even a great fusion of events like Nitro Racing Championship, Chat-Bot Building, Coding Tourney, Terrain Bot, Amphibian Bot,

Project Expo, E-Amalgam Engender, Bot Exotica, Circuit Solving, Software Debugging, Building Mania, CAD-War, MAD-AD, Paper presentations, Poster presentations,

etc

Two-Day Workshop on Financial Markets

A Two-Day Workshop on "Financial Markets" was conducted by Department of Management Studies on 16 and 17 February 2017. The Resource Persons, Mr. Narasinga

Rao, Manager -Technical Research, and Mr. Srinivas Bobba, Asst.Manager -Technical Research, Karvy Stock Broking Ltd, Hyderabad helped students to understand

various practical issues in Equity Markets, Derivative Markets, Depository services, Mutual Funds and Ratio Analysis. Books on 'Basics of Financial Markets'

were distributed to the participants by M/S Karvy Stock Broking Ltd, Hyderabad.

IETE Students Day celebrations

Electronics and Communication Engineering department organized "IETE Students Day" on 1 February 2017. The event created competitive spirit and enthusiasm

as it was a great combination of technical events.
---
20

BVRICE

A QUARTERLY NEWS PUBLICATION BY SRI VISHNU EDUCATIONAL SOCITY

Recent Advances in Physics:

The department of Physics of Dr. B.V. Raju Institute of Computer Education conducted a

one-day symposium on 'Recent Advances in Physics', on 23rd February 2017. The Director

- Dr. D. Suryanarayana was the Guest of Honor for this symposium. Dr. Md. Hussain,

Head of Physics Department, SV University-Tirupati acted as the Chief Guest of this programme.

Dr. Ch. V. Srinivas, Principal of Dr. B.V. Raju Institute of Computer Education was

the Chairman of the program. Dr.I.R. Krishnam Raju, Principal, BV Raju College (MCA),

Mr. Ch.S.V.Satyanarayana-Vice Principal, BVRICE, Mr. B. Kiran, Head of the department,

Physics and Electronics and the Program Convener, Mr. Y. Kiran Kumar and all other staff

members participated in the program.

Dr. M. Hussain delivered speech on 'Nano Materials'. The Chairman of the symposium

- Dr. Ch. V. Srinivas delivered speech on 'LASERS'. Dr. Brahmanandam, Professor of

Physics, Shri Vishnu Engineering College for Women gave a lecture on 'Geo-Stationary

Satellites'.

Aspire

Dr. B.V. Raju Institute of Computer Education conducted a technical symposium 'ASPIRE'

for B.Sc., B.Com. (Voc), and MCA students on 15th February 2017. Paper Presentations,

Poster Presentation and Technical Quiz were conducted as a part of the program. Total

number of 192 students from 21 different colleges, in and around Bhimavaram participated

SVCP

1 Shri Vishnu College of Pharmacy sent the following 4

Pharm.D students along with one staff member to USA

to observe Pharmacy Practice in various settings of the

University of Findlay,USA, for four weeks. The visit was

scheduled from March 11 – April 9, 2017.

Mr.Perusomula Rajashekar - Associate Professor, and the

students Ms.Kamatham Pushpa Tryphena, Ms.Peddisetti

Veda Pranathi, Ms.Syamala Suvarchala, Ms.Kasimsetty

Bhavya

2. Graduation day for the third batch Pharm. D students (2010-2016 batch) was held on 21 February 2017. The Chief Guest of this event Sri P.Nagabhushanam,

Ex-Director, Drug Control Authority, A.P. lauded the management and staff for providing the course with high values and standards. Sri K.V Vishnu Raju

–Chairman, Shri Vishnu Educational Society presided over the function

3. Shri Vishnu College of Pharmacy celebrated Annual day on 21 February 2017. Sri. K.V. Vishnu Raju- Chairman, SVES presided over the function.

4. Shri Vishnu College of Pharmacy conducted "Promilan -2017" a National Conference on 17 and 18 February 2017. The theme of the conference was "Nutraceuticals-Adjunct

to Pharmaceuticals-Prevention Driven".

Mr. Dhananjay Panigrahi, R&D Head, Pellets Pharma Ltd, Hyderabad the Chief Guest of the event shared his knowledge of "Pharmaceutical Product Development".

V.Krishna Sashidhar, Analytical R&D Lead, was the chief speaker on 17 Feb 2016. He delivered a Lecture on "Analytical Method Development by HPLC". The

programme was followed by a placement conclave and "e-poster" presentations by the students from Shri Vishnu College of Pharmacy and other pharmacy

colleges of the state.

Dr. M. Srinivasa Reddy, MD, Elmira Pvt. Ltd., Hyderabad was the Chief Guest on 18 February 2017. He spoke on "The Research and Status of Nutraceuticals in

India". Dr. G. Ramakrishna, Laila Nutraceuticals delivered a speech on Importance of Nutraceuticals in Our Daily Life. He highlighted the relation between the

nutrients in the daily food and nutraceutical research.

Dr. K. Prasad, Principal of Shri Vishnu College of Pharmacy enlightened the students about the importance of scientific seminars in increasing the knowledge

at student level.

5. Shri Vishnu College of Pharmacy organized Swine Flu Awareness Camp as a part of NSS activities on 12 Feb 2017 at Durgapuram Village.

6. Seven students of IV year B. Pharmacy (2016-17) and two students I year M. Pharmacy qualified in the Graduate Pharmacy Aptitude Test-2017 (GPAT-

2017).
---
ISSUE 15 MAY 2017

21

7. Mr. Korada Anil Babu and Ms. A.S.B. Sravani Students of M.Pharm and Ms. Chellubonia Rani, Ms. P. Nireesha and B. Harini Priya Pharm. D students

got selected as Senior Researchers in the campus inter- views conducted by GLOBAL DATA RESEARCH on 12 December 2016.

8. Ms.M.Sri Chandana (faculty) and the students Ms. M. Harshitha, Ms. K. Sankeerthana, Ms. K.V. Nagamani, & Ms.

K.Lakshmi Kowsalya participated in National

Women's Parliament and were a part of the Network of All-round

and Spirited Women of India - held from 10th

to 12th February 2017 at Amaravathi organized by Legislative

Assembly, Andhra Pradesh.

9. An Awareness Camp on Swine-flu and sunstroke was organized by NSS volunteers and staff members

of Shri Vishnu College of Pharmacy at Durgapuram village on 5th March 2017.

09. Thirty student volunteers actively par- ticipated and educated the people about the importance

of personal hygiene and cleanliness of the

surroundings in preventing the propagation of Swine-Flu

and care to be taken to avoid sunstroke.

10. Ms. V.N. Sravya Gayathri of IV year B. Pharm received First prize for PowerPoint Presentation

on "TABLETS: Manufacturing, Absorption, Dis-

tribution and Metabolism" on NATIONAL SCIENCE

DAY EVENT @ ISTE student chapter held on 15

February 2017 held at Shri Vishnu Engineering

College for Women, Bhimavaram.

11. The students of SVCP Ms. D. Geethanjali and Mr. SK Dada Khalandar won Silver Medal at All India

Pharma Quiz in association with MYBO, Visakhapatnam

held at St. George Institute of Pharmaceutical

Sciences, Markapur.

12. Shri T. Jaipal Reddy, Chairman St. Peters Institute of Pharmaceutical Sciences, Warangal and Managing Director,

Teach Global Solutions Pvt. Ltd. visited Shri Vishnu College of Pharmacy on 7

March 2017. He, along with his staff members

Dr. Anu Rao demonstrated a Mobile Application called 'Teach Global', devel-

oped by them. This app facilitates the students

to subscribe to their respective year and get access to study material and top-

ic wise video lectures according to the University

syllabus. It also provides information on Job opportunities and new advancements

in Pharma.

SVECW

Vishnu Karting Championship-2017

From Cart to Kart

A National level "Vishnu Karting Championship 2017"

was organized by Shri Vishnu Engineering College for Women from 27th to 30th

of January 2017 which provided an excellent and an exciting platform for a great

number of 772 students from various colleges and universities across the country to

showcase their enthusiasm in designing Karts that are safe, economical and one more

step ahead in fabricating engines to race and compete in motorsports. All the participants

mesmerized spectators with their expertise and created infectious enthusiasm.

Worth 2.5 lakh rupees cash prizes were given to the winners of various categories.

Sri Bhaskarbhushan, Superintendent of Police, West Godavari District was the chief guest of this mega

event. Special thanks to from MRF, Honda Engines, Republic Motors, Sieger Technologies, Canara Bank for being the

sponsors. Mr.Sagar Chikks, Mr. Vikas Kumar and Mr. Manoneet Kumar as organizing secretaries put heart and soul to make

it a grand success.
---
22

A QUARTERLY NEWS PUBLICATION BY SRI VISHNU EDUCATIONAL SOCITY

JOURNEY OF ZIBA RACERS

BAJA 2017

A team of Women Mechanical Engineering students from Shri Vishnu Engineering

College for Women made the event BAJA 2017 a remarkable one by

erasing the notions that Mechanical or automobile are the branches of engineering

meant for boys and proved "The Woman is an all Rounder"

BAJA SAE is an intercollegiate design competition run by the Society of Automotive

Engineers was originated at the University of South Carolina in 1976

under the supervision of Dr.J.F. Stevens . The event has spanned across six

countries – USA, Mexico, South Africa, Korea, Brazil and India. The BAJA

SAE tasks the students to design, fabricate and validate a single seater fourwheeled

off road vehicle to take part in series of events spread over a course

of 3 days.

ZIBA RACERS

'Ziba' , a team of eighteen girl students armed with will power and determination

from Shri Vishnu Engineering college for Women participated competing 415

teams from various parts of the country.

"WE MAY WIN OR WE MAY DEFEAT BUT WE

MOVE FORWARD UNTIL WE SUCCEED."

INTERNET OF THINGS

A four-day workshop on 'The Internet of Things'

was conducted by the Department of Information

Technology for II B.Tech ECE, EEE and Mechanical

students during 14th and 17th December 2016 as

well as for II B.Tech CSE and IT students during 27th

and 30th December 2017. Various industry experts

shared their insights, real life scenarios, practical

case studies and their solutions on the 'Internet of

Things'. One of them was Mr.U.Vinay, Founder of

Things net solutions.

International Day FOR

People with Disabilities

International Day for People with Disabilities was

observed on 3rd December 2016. ATL projects

were distributed to the beneficiaries and ATL projects

were showcased for the students of Sri Vishnu

Educational Society, Bhimavaram. 17 Products

were distributed to the clients and 12 products were

displayed in the exhibition.

FICCI-Higher Educational

Summit-2016 @

New Delhi

A team of two faculty mentors represented the

FICCI-Higher Educational Summit 2016 at New

Delhi and displayed the projects "Auto Braille"-

The Braille printer for visually challenged people

and "E-Snake and Ladder Game"-A game

for visually challenged people. As a result of

showcasing such products, the AP Innovation

society came forward to accelerate our Projects

to be brought out as products.
---
ISSUE 15 MAY 2017

StartAP Fest

23

Mad about Ideas is a big ideathon organized by the Government of Andhra Pradesh. Out of 2500 entries

submitted, 200 entries were shortlisted and four of our ATL projects were among them. All these four

teams were given training for one day on making out a business proposal for their project. Then, based

on the virtual presentations of the business proposals they picked up top 15 entries and our ATL project

"Object Locator for Visually Challenged" was among them. Then they had a final round of competition

in which they presented their business proposal to the jury in person. "Object Locator" got third prize.

A cash prize will be given to the team by the honorable Chief Minister of A.P. Sri N. Chandra Babu Naidu

and one month training by A.P Innovation Society.

The team would be awarded a cash prize from the hands of Honorable Chief Minister of A. P Sri.

N. Chandra Babu Naidu and they would be given training for one month so as to accelerate their product

by A.P Innovation Society at Tirupati and finally, their product would be incubated by Government of

Andhra Pradesh. The team members of the project "Object Locator" are Mr.P. SriLekhya of IIICSE and

Ms. I.Anusha of III ECE. The mentors for this project were: Mr. T. Sairam Vamsi and Mr. P. Rohit Reddy.

SVECW RECEIVES 'AA' GRADE For its NPTEL-Local

Chapter

Shri Vishnu Engineering College for Women has been identified as one of the top performing NPTEL Local Chapters in

the country. SVCEW has received 'AA' grade and listed in top 100 engineering colleges in the Country.

Two students received Gold Certificates , 95 received elite certificates and 69 were successful. A total number of 193

appeared for the exam in Sept, 2016

SVECW'S STRENGTH IS ITS FACULTY

Chairing International Conference at K L University

Dr. P V V Rama Rao Professor and Head of the Department of EEE, SVECW acted as

a chair for the track "Power System Operation, Control &Protection" in the Second

International conference on Smart Electric Grid conducted on 22nd and 23rd December

2016 at KL University.

Dr P.Kiran Sree, Professor , department of CSE, SVECW acted as a Panel Judge for

Technical Paper Presentation Contest, GECFEST'17 at Gudlavalleru Engineering College

on 13th February 2017.

Presentations

Dr. P V V Rama Rao, Presented a paper on "Effective Teaching methodologies for

Teaching Digital Controller subject" in the Fourth International Conference on "Transformations in Engineering Education" conducted on January

11&12,2017 at Jaipur. He also reviewed papers sent for this conference and he received a certificate of appreciation for his contribution.

Mr.N Venkata Ramana from the Department of EEE, SVECW presented a paper on "Impact of Smart Grid on Utility, Consumers and Society" in the

Second International conference on "Smart Electric Grid" held on 22nd and 23rd December 2016 at KL University

INTELLIGENT AUTONOMOUS SOLAR AREATORS FOR POND

AQUA-CULTURe:

Aqua Culture is developing day by day and had become

very popular in Godavari districts. Automation for aeration

based on the dissolved oxygen levels of water is important

for supporting Aqua life. Therefore, taking up the

challenge, students of Shri Vishnu Enginveering College

for Women, Ms.Mahalakshmi Mudunuri, Ms.T.K.Durga

Kusampudi, Ms.Sai Tejaswini Pathi, and Ms.Ramya Sri Yerra

under the Guidance of Dr. Sankar Peddapati, Associate

Professor in the Department of EEE developed an "Intelligent

Autonomous Solar Aerator"
---
24

A QUARTERLY NEWS PUBLICATION BY SRI VISHNU EDUCATIONAL SOCITY

RISING HIGH

Sudha Devi YV (Language Editor)