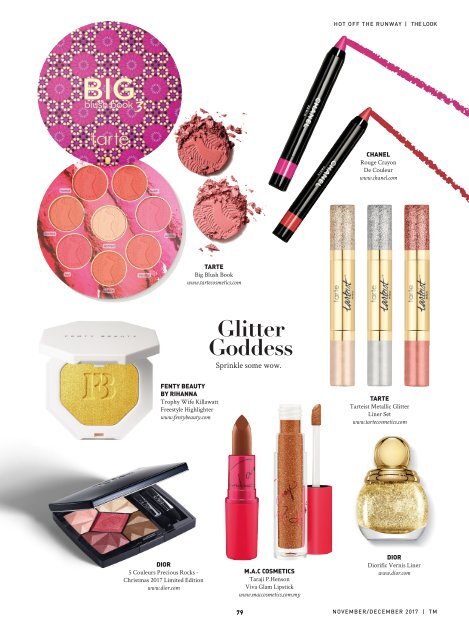 Tropicana Magazine Nov-Dec 2017 #115: Lessons in Resilience
Season's greetings to one and all, this issue brings the heart back home with the Classics. Doyenne of Insurance Winnie Tay shares her life lessons and try some gift wrapping tips in our Dark & Decadent section. Joyeux Noelle~!
HOT OFF THE RUNWAY | THE LOOK

CHANEL

Rouge Crayon

De Couleur

www.chanel.com

TARTE

Big Blush Book

www.tartecosmetics.com

Glitter

Goddess

Sprinkle some wow.

FENTY BEAUTY

BY RIHANNA

Trophy Wife Killawatt

Freestyle Highlighter

www.fentybeauty.com

TARTE

Tarteist Metallic Glitter

Liner Set

www.tartecosmetics.com

DIOR

5 Couleurs Precious Rocks -

Christmas 2017 Limited Edition

www.dior.com

M.A.C COSMETICS

Taraji P.Henson

Viva Glam Lipstick

www.maccosmetics.com.my

DIOR

Diorific Vernis Liner

www.dior.com

79

NOVEMBER/DECEMBER 2017 | TM
More magazines by this user