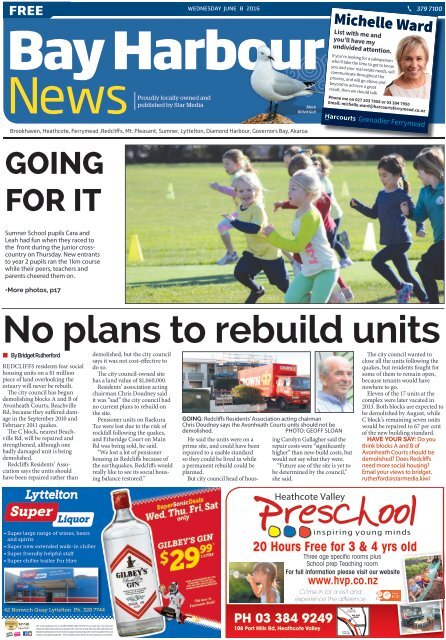 Bay Harbour: June 08, 2016
Do you know the secret to free website traffic?
Use this trick to increase the number of new potential customers.
FREE

Wednesday JUne 8 2016 379 7100

Bay Harbour

News

Proudly locally owned and

published by Star Media

Black

Billed Gull

Michelle Ward

List with me and

you'll have my

undivided attention.

If you're looking for a salesperson

who'll take the time to get to know

you and your real estate needs, will

communicate throughout the

process, and will go above and

beyond to achieve a great

result, then we should talk.

Phone me on 027 203 7858 or 03 384 7950

Email: michelle.ward@harcourtsferrymead.co.nz

Grenadier Ferrymead

Four Seasons Realty

Brookhaven, Heathcote, Ferrymead ,Redcliffs, Mt. Pleasant, Sumner, Lyttelton, Diamond Harbour, Governors Bay, Akaroa

GOING

FOR IT

Sumner School pupils Cara and

Leah had fun when they raced to

the front during the junior crosscountry

on Thursday. New entrants

to year 2 pupils ran the 1km course

while their peers, teachers and

parents cheered them on.

•More photos, p17

No plans to rebuild units

• By Bridget Rutherford

REDCLIFFS residents fear social

housing units on a $1 million

piece of land overlooking the

estuary will never be rebuilt.

The city council has begun

demolishing blocks A and B of

Avonheath Courts, Beachville

Rd, because they suffered damage

in the September 2010 and

February 2011 quakes.

The C block, nearest Beachville

Rd, will be repaired and

strengthened, although one

badly damaged unit is being

demolished.

Redcliffs Residents' Association

says the units should

have been repaired rather than

demolished, but the city council

says it was not cost-effective to

do so.

The city council-owned site

has a land value of $1,060,000.

Residents' association acting

chairman Chris Doudney said

it was "sad" the city council had

no current plans to rebuild on

the site.

Pensioner units on Raekura

Tce were lost due to the risk of

rockfall following the quakes,

and Etheridge Court on Main

Rd was being sold, he said.

"We lost a lot of pensioner

housing in Redcliffs because of

the earthquakes. Redcliffs would

really like to see its social housing

balance restored."

GOING: Redcliffs Residents' Association acting chairman

Chris Doudney says the Avonheath Courts units should not be

demolished.

PHOTO: GEOFF SLOAN

He said the units were on a

prime site, and could have been

repaired to a usable standard

so they could be lived in while

a permanent rebuild could be

planned.

But city council head of housing

Carolyn Gallagher said the

repair costs were "significantly

higher" than new-build costs, but

would not say what they were.

"Future use of the site is yet to

be determined by the council,"

she said.

The city council wanted to

close all the units following the

quakes, but residents fought for

some of them to remain open,

because tenants would have

nowhere to go.

Eleven of the 17 units at the

complex were later vacated in

2013. Both blocks are expected to

be demolished by August, while

C block's remaining seven units

would be repaired to 67 per cent

of the new building standard.

HAVE YOUR SAY: Do you

think blocks A and B of

Avonheath Courts should be

demolished? Does Redcliffs

need more social housing?

Email your views to bridget.

rutherford@starmedia.kiwi

Lyttelton

Heathcote Valley

• Super large range of wines, beers

and spirits

• Super new extended walk-in chiller

• Super friendly helpful staff

• Super chiller trailer For Hire

inspiring young minds

20 Hours Free for 3 & 4 yrs old

Three age specific rooms plus

School prep Teaching room

For full information please visit our website

www.hvp.co.nz

Come in for a visit and

experience the difference

42 Norwich Quay Lyttelton Ph. 328 7744

Visit: www.superliquor.co.nz or call 0800 SUPERL (0800 787 375) for your local store. Over 120 stores

nationwide, 100% locally owned and operated. Offer ends close of trade 11th June 2016, while stocks last.

Available at participating stores only. Limits may apply at participating outlets. Trade not supplied. Terms and

conditions may apply. Available 8th – 11th June 2016 inclusive. Please see www.superliquor.co.nz for details.

Ph 03 384 9249

108 Port hills Rd, heathcote Valley

Lyttelton

Tunnel

Ferrymead

Heritage Park

Port Hills Rd

Tunnel Rd

We are

here

Bridle Path Rd

Martindales Rd
---
PAGE 2 BAY HARBOUR

Wednesday June 8 2016

FROM

THE

EDITOR'S

DESK

Inside

News.................................3, 4, 5

WE CELEBRATED those

among us who have achieved

something special over the

long weekend. The Queen's

Birthday Honours List has been

released with a Sumner sports

broadcaster and chairman of

Koukourarata Rūnanga, Port

Levy, among them. See our

coverage on page 5, 14 and 15.

Otautahi Creative Spaces

Trust manager Kim Morton is

also someone adding value to

our community. The Lyttelton

resident made the shift from

training as a lawyer after the

February 22, 2011 earthquake

to using art as a therapy to

reduce social isolation. Read

about her in Our People.

Last week's rain could be

welcome news for those living

near Lake Forsyth, see page 3.

– Shelley Robinson

CONTACT US

NEWS Bridget Rutherford

Ph: 371 0778 • bridget.rutherford@starmedia.kiwi

ADVERTISING

Rob Davison

Ph: 021 225 8584 • rob.davison@starmedia.kiwi

Javier Balcazar

Ph: 982 9308 • javier.balcazar@starmedia.kiwi

DISTRIBUTION Mark Coulthard

Ph: 379-7100 • mark.coulthard@starmedia.kiwi

Talent on show at Sumner School

MOVING MISHAPS AT ECAN OFFICE

Moving can be a pain – but at least two

Environment Canterbury staff members

felt it more than most when the regional

council shifted into its new Tuam St

offices in April.

Within the first two weeks, one

person walked into the glass surround

of the revolving door on the ground

level, receiving a bruised temple

and a headache.

NEWS 17

A second person walked into the glass

balustrade on the ground floor stairs

bruising their upper arm. Both were put

on light duties for two days.

ECan spokeswoman Katherine

Trought said moving 406 staff into a new

office building was a little like moving

into a new house, "where you bump

into things until you work out how to

navigate your way around."

Free Trip To

RARO!

Sell With Me

Fly For FREE...*

Seriously

it's 30

degrees in

July you'll

LOVE it!

Matt Clayton 0212 233 998

matt.clayton@raywhite.com

Ferrymead office 03 384 4179

Prier Manson Real Estate LICENSED

(REAA 2008)

Ask me about

SELLING YOUR

HOME today!!

*Terms & conditions apply

Your Local Views......... 8

Our People.................. 12-13

Honours....................14-15

Sport..........................................18

Health & Beauty......... 21

Community Events......22

Real Estate.....................25

Ferrymead Drycleaners

Beside Casual & Country

(03) 384 5015 | 1027 Ferry road

A cosy

home is

furry nice

indeed...

Come and

watch a fire

master build

a smoke-free

fire.

Fine-tune your

burning technique –

you'll be warmer,

save on firewood and

have a smoke-free fire!

WHEN

Friday 10 June

1.30pm and 3.30pm

WHERE

Harris Home Fires

41 Braddon St, Christchurch

For more information contact

demo@warmercheaper.co.nz

Imagic JUL=ECAN/7191/STAR
---
Wednesday June 8 2016

News

BAY HARBOUR

PAGE 3

Lake quality improves

• By Bridget Rutherford

LAKE FORSYTH'S condition

has improved "remarkably"

with the recent rainfall after

recurring toxic algal blooms

flared up, killing animals.

Banks Peninsula Water Zone

Committee chairman Steve

Lowndes said the rainfall had

had a positive impact on the

lake's water quality and condition.

"The water in the lake has

improved remarkably since the

rain and bad weather.

"It breaks up the algal bloom

and the wind has been blowing

left, right and centre."

Last week, from Monday

night to Wednesday morning

the Cooptown weather station

near Little River recorded about

65ml of rain.

Mr Lowndes lives next to the

lake, which runs from Birdlings

Flat towards Little River.

The lake's quality came under

fire in April when the algal

bloom flared up after a run of

dry weather.

The water was green with

toxic slime, and it was reported

30 sheep had died after drinking

it.

Environment Canterbury

AT ITS FINEST: Environment Canterbury expects to see Lake

Forsyth's condition improve further in the coming weeks, so

its health warning can be lifted.

science water manager Tim

Davie said the latest results from

sampling were from May 24.

"The concentrations of nodularia

(the toxic cyanobacteria) as

of May 24 have declined but are

still high enough to warrant a

health warning," he said.

"We expect these to decline

significantly in the next two

weeks given the cold weather

and significant rain but at

present we have advised Canterbury

District Health Board of

the need for a continued health

warning."

Wairewa Runanga and the

city council were granted a consent

in March to continue using

the pilot opening from the lake

to the sea for 35 years.

Lake Forsyth, or Wairewa, is

the only customary lake in the

South Island.

Ngai Tahu has the customary

title over it, meaning only iwi

members can fish for eel from

the lake.

In Brief

ACTION ON INTERSECTION

A city council committee has

asked staff to make the St

Andrews Hill and Bridle Path

Rds intersection a priority.

The infrastructure, Transport

and Environment Committee

asked city council staff last

week to investigate, as a priority,

options to improve the usability

and safety of the intersection,

particularly the turning from

St Andrews Hill Rd. Staff will

report back to the committee

in six to eight weeks. It comes

after the Hagley-Ferrymead

Community Board called for

changes after a report criticised

its lay-out and a cyclist was

knocked off his bike there last

month. Residents are urged to

report any accidents to the city

council on 941 8999.

SPEED LIMIT CHANGES

The speed limit on part of Mt

Pleasant Rd could be lowered

from 70km/h to 50km/h as

part of a review of speed limits

across the city. The proposed

new limit would begin 300m

east of Moncks Spur Rd to

50m south of Upper Major

Hornbrook Rd. The city council

is proposing the changes to 31

streets across the city, including

two in the central city, because

they are new growth areas.

People can have their say on the

plan until June 21 on the city

council website.

CAFES SMOKE-FREE

Café Metro Ferrymead, Joe's

Garage Sumner and Coffee Culture

Sumner are among 18 cafes

that will make their outdoor

dining areas smoke-free this

summer. The businesses have

agreed to be part of the Cancer

Society and Canterbury District

Health Board's Fresh Air

Project which gets businesses

in the hospitality sector to trial

smoke-free outdoor dining for a

six month period. The trial will

begin on November 1. Compliance

is voluntary and not

enforced by the city council.

BIRDLINGS FLAT CENTRE

The Akaroa-Wairewa Community

Board will decide today

whether to grant a deed of lease

to the Little River Wairewa

Community Trust for the new

Birdlings Flat Community Centre.

The new centre, which will

be built next to the playground

on Poranui Beach Rd, will be

Birdlings Flat's first community

facility. The term of lease, if

approved today, will be for 33

years, as a peppercorn rental.

JEEPNEY

Bar • Grill • Resto

THE ONLY

NZ9416

NEW ZEALAND - PHILI PINES

FILIPINO CHARCOAL GRILL

& BOODLE FIGHT RESTO

IN CHRISTCHURCH

23 Dublin St. Lyttelton, Christchurch

For FOR reservations

RESERVATION

PLEASE CALL US ON

03-3289213

Building or

renovating?

• Kitchens

• Wardrobes

• Vanities

• Custom Made

022 087 9918 | info@dynamicjoinery.co.nz

www.dynamicjoinery.co.nz

BUY OF THE MONTH

18ct white gold diamond ring with 0.46ct tdw

For an amazing $2,995* or $58.65 wkly

NO DEPOSIT 12 MONTHS INTEREST FREE

(Conditions apply) * Doesn't apply to insurance claims

level 1, 10a athelstan st.

barrington jewellery centre

phone 982 2982 or 0800 4 rings

www.claritydiamonds.co.nz

ONE ONLY

®

TREE TROUBLE?

Call the

TREE PEOPLE

0800 4 SEASONS

384 9630

QUalIFIeD

aRBORIStS

LANDSCAPING & PLANTING

WWW.FOURSEASONSTREECARE.CO.NZ

mosaic pearl blush duvet set

bauen patchwork cushion

dove comfort blanket

icey blues & soft

hues for winter

canisters

guarida copper lamp

american oak low stool

probe woven cushion

jacquard dusk towels

kali ceramics

curtains • blinds • cushions • wallpaper • fabric • furniture • bedlinen • homewares • gifts • café

1027 Ferry Rd, Ferrymead • Ph. 384 4880 • Open: Mon-Fri 9am-5.30pm Sat-Sun 10am-4pm • www.casualandcountry.co.nz
---
PAGE 4 BAY HARBOUR

Wednesday June 8 2016

News

Ohinetahi

tracks open

ALL OF Ohinetahi Reserve's

walking tracks are now open

after being closed since the

earthquakes.

The 150 ha reserve above

Governors Bay is owned by the

Summit Road Society.

Following the February 2011

earthquake, the tracks had to be

closed until a geotechnical study

had been carried out to assess the

risk of rockfall.

A lot of the tracks were

reopened late last year, but the

remainder of the tracks are now

ready for use.

A large, car-sized rock was

removed from a bluff overlooking

Faulkners Track, so the track

could be reopened.

The reserve was bought by the

society in the early 1990s from

the O'Farrell estate, before being

turned into a reserve.

Since then it has been managed

by a team of volunteers, who

built and maintained a network

of tracks.

The main access to the reserve

is off Ernest Adams Drive and

Bay View Heights in Governors

Bay.

Access is also available from

Summit Rd, south of the Sign of

the Takahe.

Fantastic Home Show returns

THERE IS less than a month to

go until the doors open on the

The Star Home & Leisure Show.

More than 12,000 people

visited the show last year, which

runs over Friday, Saturday and

Sunday, July 1 to 3.

The show features the latest

trends and technology for home

building or renovation, as well

as special deals on everything

from spa pools to campervans.

You can talk directly with the

experts there to get advice or

tips, or take the opportunity to

try new products or technology.

There will also be plenty of

prizes on offer, including a

$25,000 central heating system,

thanks to Central Heating NZ.

•The show will be held at

Horncastle Arena from

July 1-3 from 10am to 5pm.

For more information, visit

www.starhomeshow.co.nz

SHOW

HAVING A remote control

home is no longer the stuff of

science fiction.

If you have the technology,

you can now turn your heating

on while you're on your way

home, set a crock-pot to start

your dinner cooking, and check

up instantly on your home if a

security or fire alarm goes off to

see if it's a danger or just a false

alarm.

Although the technology has

existed for several years, it has

been expensive and complicated

to install.

Startup company Morepork's

goal is to make the technology

accessible to anyone.

Chief executive Gemma

Croombs said its systems could

be installed simply yourself,

with simple plug in cameras

and control panels and wireless

alarms and sensors.

"People have the perception

IN YOUR HAND: Chief executive Gemma Croombs using

the Morepork app, which allows you to remotely control

your security system and home automation technology. ​

you can only have them if

you're building and you can put

cable all through your home,

but it doesn't have to be like that

anymore."

The company, which was

backed by Spark, launched in

August last year, but she said

the technology was already

growing.

"One of the things we're testing

at the moment is a smart

door bell which sets up voice

call, so if someone's there to

drop off a package you can say

just drop off, don't leave me to

pick it up from the depot on my

weekend. Or if you have a smart

lock, you can just remotely open

the door and let them in."

As new technology was developed,

she said it could be added

on to the same system.

She plans to be at The Star

Home & Leisure Show with her

team, with several systems set

up for people to play with there,

and special deals on offer.

Do you have a leaky home?

The Financial Assistance Package, which

helps people with a contribution to repair

leaky homes, is closing to new claims on

23 July 2016.

To give time for an assessment to be

undertaken, applications should be with

MBIE by 27 June 2016.

Go to building.govt.nz/FAP for

more information or to apply for

financial assistance.

FAP001CS
---
Wednesday June 8 2016

News

BAY HARBOUR

PAGE 5

Queen honours locals

HISTORY: Charles Crofts was a negotiator for Ngai Tahu in the deed of settlement. He is

pictured here sharing a hongi with minister in charge of Treaty of Waitangi negotiations Doug

Graham, after the settlement was signed. ​

A SUMNER sports broadcaster

and a man who led Ngai Tahu

through the critical stages of the

deed of settlement have both

been recognised in the Queen's

Birthday Honours list.

Lesley Murdoch and Charles

Crofts were both made officers

of the New Zealand Order of

Merit on Monday. They were

among 13 Cantabrians to be

named.

Mrs Murdoch was recognised

for services to sport.

She has been a sports broadcaster

for more than three

decades, after representing New

Zealand in hockey and cricket.

She is a netball and hockey

commentator and hosts a

weekly Saturday morning sports

talk-back show for Newstalk ZB.

Mrs Murdoch served on the

Board of New Zealand Cricket,

a term on the Board of New

Zealand Hockey, and is currently

on the Netball New Zealand

Board, with a focus on sport in

Canterbury post-quake.

She was also a member of the

committee which undertook a

sweeping review of New Zealand

Cricket in 1995.

Mr Crofts was recognised for

services to Maori.

He is currently chairman of

Koukourarata Rūnanga, Port

Levy, and director of Koukourarata

Development Company.

Mr Crofts led Ngai Tahu

through the critical stages of the

Ngai Tahu Deed of Settlement

between 1993 and 1996.

He was mandated by Te

Runanga o Ngai Tahu to manage

the negotiations process,

and personally charged with

maintaining tribal cohesion.

The Ngāi Tahu Settlement Act

was signed in 1998.

•Recipients, page 14-15

In Brief

BUS FARE HIKE DROPPED

Bus fares, including Diamond

Harbour Ferry, will only increase

by 2.5 per cent, rather than

the originally proposed 10 per

cent. Environment Canterbury

announced last week that it had

taken on board the communities'

feedback about the proposed 10

per cent rise in its draft annual

plan. Detail on the timing and

exact fares for bus users will

be released before the fare rises

come into effect in July.

INTERSECTION FEEDBACK

Diamond Harbour residents have

until June 16 to have their say on

plans to make safety improvements

to the Marine Drive and

Ranui Crescent east intersection.

The city council wants to

install a no right turning sign

from Marine Drive onto Ranui

Crescent. A right turn onto Ranui

Crescent will be maintained via

the Marine Drive, Ranui Crescent

west intersection. It comes after

residents were concerned about

the lack of visibility at the intersection.

Submissions can be made

on the city council website.

REDCLIFFS DECISION DUE

Education Minister Hekia Parata

is expected to make her final

decision on whether to close

Redcliffs School this month. Representatives

from the school met

with Minister Parata in Christchurch

last month to go over the

key points and messages in the

school's submission. Minster

Parata told the representatives she

would deliver a decision in June.

ENERGY HELP EXTENDED

A community project has just

reached its three-year target

of improving 250 homes, six

months ahead of schedule. The

Repair Well project, funded by

New Zealand Red Cross and

implemented by Community

Energy Action Charitable Trust

installs extra energy efficiency

measures during earthquake

repairs for vulnerable homeowners.

As CEA has completed the

project ahead of time and under

budget, the organisation is able to

help households needing earthquake

repairs until December.

GODLEY QUAY WORK

Stronger Christchurch Infrastructure

Rebuild Team started a

three-month job in Lyttelton yesterday

replacing an earthquakedamaged

water main along

Godley Quay, between Cyrus

Williams Quay and Voelas Rd.

The work will be done in sections

and will start at the northern end

of Godley Quay. Temporary traffic

lights are being put in place to

maintain two-way traffic flow.

$5,000

holiday of your choice

SAMSUNG S7

Meadow Fresh Yoghurt

or Dairy Food 6 Pack

(excludes Divine Desserts)

$

3 99 pk

PANASONIC

55" Ultra HD TV & 3D Blu-ray Player

with Pioneer/Acclaim Home Theatre

Persil Laundry

Powder 1kg

$

5 99 ea

Palmolive Naturals

Shampoo, Conditioner

or Shower Gel 350-500ml

$

3 99 ea

Buy selected products to enter weekly prize draws

Specials and prize draws available South Island only from Monday 6th June until Sunday 12th June 2016, or while stocks last.

Entry forms with purchase. Conditions apply. See www.foursquare.co.nz for details.
---
PAGE 6 BAY HARBOUR

Wednesday June 8 2016

Your Local Views

Latest Budget missed

the big issues

Port Hills

Labour MP

Ruth Dyson

says the

Government's

Budget is

disappointing

Every year the Government

presents a Budget – the allocation

of funding to all Government

department and agencies.

This signals the priorities that

the Government thinks need addressing

over the coming years.

It shows the surplus or deficit

the Government is running and

gives economic forecasts.

There is always a clamber prior

to the Budget, with different

groups calling for different priorities

– one of the many advantages

of living in a democracy

with freedom of the press. And

we know that not all those calls

can be met.

But even with that caveat, I

think this Budget has been a

big disappointment. There are

some burning issues that need a

bucket of water, and they barely

rated a trickle.

There is no commitment to

fix the housing crisis. Selling

our state houses to community

providers does not increase the

LIVE

ENTERTAINMENT

6PM FRIDAY

IAN

MAC

7PM SATURDAY

ROBBIE

DREW

social housing available, and that

increase is desperately needed.

Canterbury health funding

continues to fall behind the level

of funding other parts of the

country get – and undoubtedly

we have an increased need with

post-quake stress issues still

evident.

All schools have had their

operational grant funding level

frozen. This is deeply distressing;

particularly for those schools

which had their decile level

increased in the recent review

and have lost thousands of dollars

because of this already. With

a frozen fund, they will just fall

behind every year and I know

that there is no spare money in

those budgets currently.

The Budget was a bit of a hotch

potch of policies which didn't really

give any indication of a plan

to make New Zealand fairer or

stronger. The National Government

failed to invest so that the

opportunities to buy a house, get

a job and build a future would be

available to everyone.

That's the sort of society New

Zealand has always prided itself

on being and with the right

investment in the Budget, it's the

sort of society New Zealand can

become once again.

The newly refurbished

Woolston Club...

A classic, contemporary

club experience

Dining, bar, entertainment,

sport, and so much more!

Cafe open from 11am

Happy Hour 4.30pm - 5.30pm

TAB & Gaming, Function Facilities,

HOUSIE Tuesday, Thursday, Saturday

SHUTTLE Tuesday - Sunday

The city council is asking

people to submit their

ideas on what Sumner's

new community centre,

library and museum should

be called. Bay Harbour

News asked its readers what

they would like the facility to

be called:

Beth Redmond:

A few suggestions for the community

centre name are below.

• Eke Ngaru: Sumner Community

Centre (a surfing community)

• Te Mana Whenua: Sumner

Community Centre (translated

'The Landing', based on Sumner

being one of the first Christchurch

settlements)

• Wharariki: Sumner Community

Centre (to reflect the coastal

location)

• Harakoa: Sumner Community

Centre (a place of happiness,

joy, high spirits)

• Tatahi: Sumner Community

Centre (seaside community, a

place where everyone can enjoy

the beach and all it has to offer)

• Hapori: Sumner Community

Centre (a sense of community)

• Hui hui: Sumner Community

Centre (a place to congregate,

meet)

• Tahuaroa (Ocean, a community

formed around the ocean)

Sheryn Macdonald:

'Seacliffe' Centre.

Newly renovated

Open 7 Days

Restaurant open

from 5.30pm!

With a selection of

main meals for $20

Retro Roast Lunch

12pm Wednesdays

$10 Members/$12 Non

Roast of the Day

$16.00 Members

$18.00 Non

Bay Harbour News asked its

readers what changes they

would like made to the St

Andrews Hill and Bridle Path

Rds intersection:

Kathy Kerr:

I live in Sumner and work in

Lyttelton. On several occasions

I have been cut off by drivers

coming down fast off St Andrews

Hill and failing to give way at the

sign. I have been turning left into

Bridle Path Rd on a green light

at the time. At the very least, I

would like to see a 'Stop' sign

on St Andrews Hill Rd instead

of the 'Give Way sign' which

is there at the moment. Lights

would be better.

A. Edwards:

This corner is a disaster and

it is only a matter of time before

there is a really serious accident

and/or fatality. This intersection

design can only have been

completed by people who sit in

a room without windows and

never go outside. Yes, lights

at the foot of St Andrews Hill

LEATHER...

the recommended 3rd & 9th

Wedding Anniversary Gift

Why not a handcrafted, hand stitched leather bag or belt…

something they'll treasure for a lifetime.

Large range of styles, colours and sizes to choose from!

would assist. But as well they

need to lose the triangular

island shown at the right of

your photo. If it is actually

necessary to have traffic lights

there they should be suspended

from overhead cables. The traffic

light poles on this island are a

hazard in themselves. Removing

the island would allow another

lane to be formed for the traffic

flowing along Bridle Path Rd, i.e

travelling towards the estuary. So

that would provide two left turning

lanes for both traffic flows, i.e

Bridle Path and St Andrews Hill

Rds, which should allow each

phase to clear without backing

up.

Michael Chapman:

Traffic signals at the base of St

Andrews Hill Rd would be a big

improvement, but only if there

is proper synchronisation with

the lights at Ferry Rd and Bridle

Path Rd. That synchronisation

needs to ensure that traffic will

flow in a smooth and coherent

manner through the light, and

that blockages will not occur.

"Exclusive range of

pottery, furniture,

handcrafts,

stoneware

& gifts"

Village Leathercraft

Hand Crafted leather Goods

Peter O'Brien • 153 Port Hills Road

Heathcote Valley • Phone 027 221 4066

395 Brougham St,

Christchurch

Ph (03) 365-3411

Open 7 days

Mon-Fri 10-4.30pm

Weekends 10-4pm

HOT OUTLET STORE DEALS

SAVANNAH

SG610 PLAYER

SERIES GUITAR

Traditional dreadnought

style with a fantastic

sound

Was $199.00

LESS 25%

$149

MAKALA WATERMAN UKELELE

The high quality take anywhere Waterman. ukulele that

sounds great and stays in tune.

$45

WOODEN

RECORDER

$4 each

rockitCHCH

ONE FREE

'rockitCHCH'

LESSON

with every Ukelele, Guitar

or Drum Kit Sold.

AXL 30W

GUITAR AMP

Was $299.00

SALE

$229

HERO 1931 BLUES HARP

New Vintage Style model Comes in case.

Looks and sounds fantastic!

SALE $20

Cnr Wordsworth & Brisbane Sts, Christchurch.

Free On-Site Parking off Brisbane Street. Ph: 366 1949

www.beggsmusic.net.nz

IRIG VOICE

Colourful handheld vocal microphone. Music

on iPhone, iPad, iPod touch or Android device

SALE $75
---
Wednesday June 8 2016

BAY HARBOUR

PAGE 7

We're on the home straight

SCIRT's programme of repairs to pipes, roads, bridges and retaining walls will

be completed by December this year.

After SCIRT, The Christchurch City Council and NZ Transport Agency will

continue their programmes of ongoing repairs.

Your support is helping us to get the job done, thank you from the SCIRT team.

We're now 89% of the way through our programme of repairs.

THE SCIRT PROGRAMME

IS 89% COMPLETE

86 % 97 %

of underground pipes are fixed

82 % 84 %

of retaining walls are repaired

of bridge repair work is done

of road repairs are complete

• Shane Soulsby, Site Engineer with SCIRT's McConnell

Dowell team.

SCIRT progress in your neighbourhood

Residents of Lyttelton will know that millions of dollars are being spent

in the Banks Peninsula repairing, rebuilding and strengthening retaining

walls this year. There is also a substantial programme of repairs of the

wastewater, storm water, fresh water and road networks in the area.

• Watermain repairs are currently underway in Governors Bay and will be

completed by August this year.

• Rebuilding the Beachville Road Seawall in Redcliffs and roading is due

to finish in September.

• Extensive repairs works in Mt Pleasant to underground pipes, retaining

walls and roads will continue until the end of the year.

• Lyttelton is still busy with ongoing retaining wall repairs which are due

to be completed in September, underground pipe and roading repairs

will continue through in the area to the end of the year.

Need more info?

Email:

info@scirt.co.nz

Phone:

941 8999

Find out about work in your area:

www.scirt.co.nz

Email us on info@scirt.co.nz to get our:

Weekly Traffic Update

Monthly e-Newsletter

Follow us on Twitter:

@SCIRT_info #chchtraffic

Programme funded by
---
PAGE 8 BAY HARBOUR

Wednesday June 8 2016

Your Local Views

Readers respond to Richard

Suggate's Soap Box column

about the Diamond Harbour

Ferry:

Erica Henderson:

Re: your request for feedback

on whether the Diamond Harbour

Ferry links well with the

bus timetable.

I regularly use the ferry to

travel to and from work. It works

fine in the mornings, but the

return journey home is a bit hit

and miss. I have regularly had

to sprint to the ferry and on a

couple of occasions have missed

it completely – sometimes its an

hour until the next one.

I always ask the driver to

radio through to the ferry, some

do and some don't. Having said

that, on one occasion recently,

the bus driver radioed through

several times but the ferry pilot

didn't respond. On that occasion

it was the passengers on the ferry

that alerted the pilot that there

were passengers sprinting from

the bus.

I feel the problem has several

angles:

• Traffic in the evenings means

the buses are always running up

to 10min late when leaving the

exchange. Sometimes they make

the time up, but not always.

• The ferry and the bus services

see themselves as two separate

services, rather than one service

being offered by two companies.

Therefore neither company takes

responsibility for providing a

seamless service for its Diamond

Harbour commuters. It would

be a simple matter for both ferry

pilot and bus driver to always call

ahead to check if there are passengers

for the ferry.

• The time the journey takes

– if I took my car to work I

could be there and at my desk in

45min. With the bus, it is over an

hour when I include the time to

drive to the ferry from Charteris

Bay. Added to that the lack of

flexibility to do things after work

and the unreliability of the ferry

connection. If there was an express

bus during peak periods, it

would make the commute much

more attractive.

• Bus route out of the tunnel

– if the bus went straight to the

ferry then dropped off Lyttelton

passengers, rather than doing the

Lyttelton circuit first, it would

save several minutes – vital when

trying to make those connections.

Just a few thoughts to ponder –

I really enjoy taking the ferry and

would really love a solution to

this ongoing problem. It doesn't

seem that hard

Jane Wade:

As a commuter a few months

post-knee surgery (and so less

mobile than most of the commuters)

using the Diamond Harbour

Ferry/Metro Bus service to travel

to work most weekdays I have

the following observations: the

disability-friendly route between

ferry and bus is longer than

the route taken by able-bodied

travellers as a consequence when

walking from the ferry to the bus

stop, I am well behind the other

commuters walking to the bus

stop, even though I am walking

my fastest.

This is stressful as there is

the potential for me to miss my

connecting bus. Returning from

town on the bus to catch the ferry

on two recent occasions when the

bus has been running late I have

asked the bus driver to radio the

ferry to advise there are bus passengers

coming. The bus drivers

radio, with no response from the

ferry. On both occasions when

asked, the ferry skippers had not

heard the bus driver's call. As the

ferry skippers cannot now see the

bus letting off passengers, I rely

on the co-ordination between

the bus and the ferry in order to

catch the ferry the bus is timed

to meet. Equally when the ferry

skipper tries to radio the bus, I

find that the bus driver has not

heard the call.

Governors Bay residents are

calling for a lower speed

limit and more signage to

try and help curb boy racer

problems in the area.

Roseanna Smith:

My husband and I live in Cass

Bay and we are frequently woken

at all hours of the night by loud

car noise from boy racers. They

are going at a tremendous speed

around the corners.

We fear that one day they will

go over the hill. Not only could

they kill or injure themselves, but

they could injury others with cars

smashing into houses. I seriously

doubt whether lower speed limits

or more signage will have any

deterrent effect on these people.

They have no regard for speed

limits whatsoever. What is

needed is speed cameras and

increased police presence.

Information for visitors

to Burwood Hospital

New facilities opening from Monday 13 June

Our fantastic new facilities for Older Persons' Health and Rehabilitation at Burwood

Hospital will be opening from Monday 13 June. The new facilities include three new ward blocks,

a brand-new and fully equipped radiology department, and a new outpatients department which

will be fully open by Wednesday 15 June. Between 13 June and 16 June, Older Persons' Health

wards will be relocated from The Princess Margaret Hospital.

Patients and visitors should enter the hospital at the new main entrance at 300 Burwood Road –

unless your appointment letter tells you otherwise.

There's plenty of parking, or you can catch the bus – it'll drop you close to the new front door.

CDHBMay001CS

Please note that Burwood Hospital does not have an accident and emergency department.

In an emergency phone 111. Call your general practice team 24/7 for all other healthcare.

For more information visit

cdhb.health.nz/Burwood
---
Wednesday June 8 2016

BAY HARBOUR

PAGE 9

over 7000m 2 of slightly

imperfect stock to be cleared

all carpet and vinyl

being cleared from

$10 per sqm

full rolls available

craZy prices on all carpet & vinyl remnants

312 Wilsons Road North, Waltham Phone 366 0070

www.carpetkingdom.co.nz

Mon - Fri 8am - 5pm | Sat 10am - 1pm

Q Card Finance Now Available

FREE no obligation measure & quote (conditions apply.)
---
PAGE 10 BAY HARBOUR

Wednesday June 8 2016

NEW RELEASES

GREAT NEW

READS

INSTORE

JUST

$36 99

JUST

$26 00

JUST

$32 99

JUST

$38 00

JUST

$34 99

JUST

$15 00

JUST

$39 99

JUST

$95 00

JUST

$24 99

JUST

$36 99

JUST

$37 99

JUST

$29 99

JUST

$49 99

JUST

$37 00

JUST

$24 99

JUST

$24 99

JUST

$29 99

JUST

$37 99

JUST

$34 99

JUST

$35 00

JUST

$26 00

JUST

$39 99

JUST

$59 99

JUST

$39 99

JUST

$37 00

JUST

$49 99

JUST

$49 99

JUST

$44 99

JUST

$29 99

JUST

$32 99

JUST

$55 00

JUST

$39 99

JUST

$34 99

JUST

$36 99

JUST

$32 99

FOOD BOOKS

JUST

$49 99

JUST

$50 00

JUST

$49 99

JUST

$29 99

JUST

$39 99

JUST

$19 99

JUST

$24 99

JUST

$24 99

JUST

$29 99

JUST

$19 99

JUST

$39 99

JUST

$14 99

JUST

$14 99

JUST

$14 99

JUST

$39 99

JUST

$24 99

JUST

$24 99

JUST

$49 99

1005 Ferry rd

Ph 384 2063

while stocks last (see instore for terms and conditions)

Barry & kerry
---
2

Wednesday June 8 2016

[EDITION DATE]

BAY HARBOUR

PAGE 11

Postal and banking

services now

offered in Ferrymead

PostShop manager Carrie, left, and her assistants Kim and Sharmaine

Take Note Ferrymead have a full range of NZ Post services, plus books, stationery, cards and so much more.

Residents from Woolston through

to Sumner now have the benefit of

local NZ Post and Kiwibank services

seven days a week, thanks to Take

Note in Ferrymead.

The popular book and stationery store

has taken on the franchise for the postal and

banking services, with the new franchise

operation, Take Note Ferrymead PostShop and

Kiwibank, open for business as of May 19.

"Being open seven days a week means we'll be

available when people need us," says PostShop

manager Carrie.

"By opening at the weekend we're catering

to working people who can't get to the bank or

Post Office during the week."

Carrie brings 11 years' experience managing

PostShops to her new Ferrymead role, while

her two assistants, Kim and Sharmaine, are also

experienced PostShop staff.

Take Note owners Barry and Kerry moved

their business from neighbouring premises

into the former Video Ezy site several months

ago in preparation for setting up the NZ Post

and Kiwibank franchise, as they were keen to

provide an even wider range of services for their

customers.

PostShop facilities include bill paying for telco

companies, power companies and The Press,

vehicle registration and diesel miles. Kiwibank

customers can set up bank accounts, automatic

bill payments and deposit and withdraw cash,

while those wanting to enquire about obtaining

a Kiwibank mortgage can have an appointment

arranged with a mobile mortgage manager at a

time to suit.

Since establishing Take Note Ferrymead

(formerly Paper Plus Ferrymead) 14 years ago,

Barry and Kerry have built up a strong and loyal

customer base from across the Bay Harbour

News readership area by offering friendly

service and an extensive selection of books,

magazines, stationery, toys, gifts, greeting cards

and wrapping paper.

The wide range of book titles includes travel

books, recipe books, novels and children's

books. Home and office stationery supplies

include everything from printing paper and

ink cartridges to notepads and exercise books,

filing systems and paper clips.

Customers can browse through an

attractive range of gift items, including locally

manufactured items, or alternatively there are

gift cards and Prezzy Cards in a range of values.

Ferrymead is one of the city's fastest-growing

retail and business areas, and Take Note

Ferrymead PostShop and Kiwibank is ideally

located among a mix of other business outlets

including hardware, supermarket, cafes and

professional services.

There is extensive off-street parking available

at the front and rear of the store and a bus stop

close by on Ferry Road.

Opening hours are Monday to Friday,

8.30am to 5.30pm, Saturday 9am to 5.30pm

and Sunday 10am to 5pm.

KIWIBANK IS NOW IN FERRYMEAD

NZ POST SERVICES

Domestic parcels

Postage included bags and tickets for

sending parcels within New Zealand.

International parcels

Bags, boxes, stickers, custom declarations

and notes for sending parcels overseas.

Prezzy card & gifts

Prezzy® cards, commemorative coins

and stamps for you to purchase online.

Packaging

Boxes, bags and bubble wrap to be used for

sending overseas and within New Zealand.

Postage stamps

Postage stamps in definitive and (KiwiStamp)

non-denominated to send NZ & internationally.

Envelopes

Envelopes for sending your letters, documents

and parcels within NZ or internationally.

Directories & guides

NZ Post directories & guides for postcodes

& information on international services.
---
PAGE 12 BAY HARBOUR

Wednesday June 8 2016

Our People

Kim Morton

Lawyer's new ambition: to help the

Otautahi Creative

Spaces Trust manager

Kim Morton talks to

Fraser Walker-Pearce

about reducing social

isolation through art,

training as a lawyer and

her favourite place in

the city

Kim, tell me a bit about

what you do for the Otautahi

Creative Spaces Trust.

I guess I lead the programme

and we run art programmes. At

the moment we run at Phillipstown

and Aranui Libraries but

we are looking to expand across

the city into other community

hubs. Our mission is using art to

boost people's wellbeing. We're

especially looking to work with

people that have experienced

mental illness, earthquake

trauma and social isolation. We

provide opportunities for people

to connect with their community

as well.

How long has it been running?

It's been going for just over a

year now, but we had a low profile

for our first six months. But

since the start of the year we've

had quite a surge of interest in

our programmes. We're very

excited because it means we need

to expand them now, and we're

looking for support to do that.

Where is the programme

based?

The base is Phillipstown

Community Hub, in the old Phillipstown

School, which closed at

the end of 2014. We're here along

with a whole lot of other fantastic

EXCITED:

Kim Morton

is the

manager

of Otautahi

Creative

Spaces

Trust, and

teaches

creative art

classes.

community initiatives. Aranui

also presents a great opportunity

because the team there is really

passionate about serving their

community. We know libraries are

the living room of communities

and people go there because they

feel welcome and it's a free space.

And the feedback you've

received has been positive?

The feedback has been fantastic.

What people love is that it's participant

driven, so artists choose

the art forms they're interested

in, and they do that. The environment

they're in is without any

pressure to produce, just heaps of

encouragement. People have said

it's a really inspiring environment

to be in. It's not a structured class

as such, anyone could be working

on anything – like sculptures,

printmaking, and calligraphy.

Sometimes the participants will

need encouragement and suggestions,

but most people settle

in to what they want to be doing.

If someone's stuck we help them

though.

Has the programme been successful

for the artists?

Some people have come in and

worked in this space, and they've

had work feature in national

exhibitions. We've had three

people gain scholarships through

The Learning Connexion but

also people are feeling like they

have a sense of belonging to

something creative and belonging

to a new community. They've

said they've made friends. And

from that they're more engaged

in their community.

Has this project been set up

by the city council, or independently?

It's an independent community

charitable trust. We have

had great support from Creative

New Zealand, the city council

and the Rata Foundation. Not

only that but we are finding that

we are being given a lot of support

in terms of art materials,

which is a fabulous endorsement

for the trust.

How full are your classes?

Funny you should say that actually,

we have a waiting list for

the Phillipstown groups. There's

currently a lot of work being

done looking at whether a

PAINTING FOR GOD

Two artists, one known, one emerging.

Both from unique and isolated South

Island settlements, Banks Peninsula and

Port Chalmers. Exhibiting in a combined

exhibition expressing a transcendental

theme, 'Painting for God'.

James, experienced, former winner of the

prestigious Wallace Award and with work in

Christchurch Art Gallery's collection as well

as international collections.

Michael, successful emerging painter,

winner of the Otago Art Society Edinburgh

Art Award and work in the Wallace Collection.

James' work, emotive, abstract, subtle and

textural. Michael's work, primitive, intuitive,

contextual and expressive.

'Silent Prayer' by James Robinson

'Of Light' by James Robinson

Each bringing life and meaning on to canvas

and challenging us on our own internal

journeys to evoke a passionate response as

we ponder the vagaries of our own lives as we

look between the layers of their work.

Are You Feeling

Cold & Uncomfortable?

A painting by Michael Springer

A painting by Michael Springer

Be warm and comfortable on a Dreamwool Bed,

with 100% natural fillings.

Free from hot foams, polyester and glue, enjoy the year round

superior comfort of our Latex or Pocketspring mattresses.

For the very best investment you can make in a mattress...

for under $2000!!

22 Kennaway Rd • www.dreamwool.com • Ph 343-5105
---
Wednesday June 8 2016

BAY HARBOUR

PAGE 13

community through teaching art

community hub could be set

up in the closed Central New

Brighton School, and we're hoping

we might be able to share a

space in that facility.

So how did this all come

about?

About 20 years ago I managed

a community art space in

Masterton and I'd been aware

of the gap in Christchurch for

some time, but it was only after

the earthquakes that it kind of

galvanised my energy and so I

decided to kick-start something

here. There's a network of spaces

like this around the country, so I

had good relationships with the

people involved there and then

we did some research which was

funded by Creative New Zealand,

and it looked at the need and how

something should be set up here.

It's not something you can just

transplant from one city to the

other, Masterton is a small town.

In post-earthquake Christchurch,

opportunities to connect with

others creatively in your local

community seemed more important.

How long have you been in

Christchurch then?

I've been here for 15 years,

and was in Masterton before, for

about three years, but I was born

in Auckland. I've lived in lots of

different places, but Christchurch

is home now.

Oh good to hear. Where are

your favourite spots?

My favourite in Christchurch is

Taylors Mistake. But in New Zealand,

it'd be the Cavalli Islands in

Northland.

Do you have any family down

here?

I have two boys, who are 17

and 13. They keep me on my toes.

They're both at Hagley Community

College, and they're enjoying

that. I'm not sure what they want

to do, but as long as they do what

they're passionate about, I'm

good with that.

And where in the city are you

guys based?

We're in Lyttelton. The kids

love it because of the hills and the

sea, and the great landscape.

That's a bit of a trek to work

each day?

Yes that's a point, I don't live

in the communities I'm working

in. That means that it's even

more important to have a strong

relationship with the community.

We've designed some projects

that are around the identity and

stories of Phillipstown – photography

and poetry projects that

combine with Ara Institute of

Canterbury, and local residents,

and what Phillipstown means for

them. That's only just started.

Where did you go to

school then?

I went to school in Auckland,

to Westlake Girls High School. It

was just the one up the road from

where we lived at the time.

Did you ever have a mentor, or

a big influence that taught you

art?

Some people do have an outstanding

person in their life, but

this is hard for me. I guess mine

was Sue McBride, who was an

outstanding art teacher. I really

enjoyed art at school because of

her, so that probably did sow the

seed.

What did you do after that?

I've had quite a few different

aspects of my work. One is in

law, I trained for law, and didn't

know if I'd take it further after I

studied it. I specialised in social

justice and community law. And

in a way there's quite a connection

between those studies and

what I do now.

DISCUSSIONS:

Kim Morton and

Creative New

Zealand's Chris

Archer discuss

the future of

the Otautahi

Creative Spaces

Trust.

And did you use the degree?

Did you have any law jobs?

Yes, I did. I guess it must have

been 20 years on and off using

it. The earthquakes made me

question what I was doing, and

I decided to put my energy into

creativity and wellbeing projects.

Life's short, if I can make a difference,

then I should. And for me

it was around this idea of art and

creativity in Christchurch that

was the best way I could do that.

EVERY DAY 11.30AM TO 2.30PM

LUNCH AT WINNIES

PASTA OF THE DAY $14

SALAD OF THE DAY $14

Have you looked at your

underfloor repairs?

We are seeing worse examples than

this done by EQC and insurers.

MINNIE WINNIE $12

MEDIUM TRADITIONAL PIZZA $15

SMALL GOURMET PIZZA $14

2 WATERMAN PL. PH (03) 376 4900 | WWW.WINNIEBAGOES.CO.NZ

AutuMn & wIntER

ARE A GREAt tIME

to sEll youR HoME!

It may be true that there are fewer buyers and sellers in

the winter marketplace but the ones that are there are

serious and have a sense

of urgency to purchase.

If you're considering selling and would like some honest,

professional advice, give me a call today – it costs

nothing to talk!

Chris Moores

Harcourts Grenadier Ferrymead

1020 Ferry Road

P: 03 384 7950 | M: 027 588 4440

E: chris.moores@harcourts.co.nz

licensed sales Consultant REAA 2008

GRENADIER

We do inspections and much more.

Act now – for peace of mind.

Ph: 03 377 8855 | 127 Ferry Road, Christchurch City

E: reception@earthquakeservices.co.nz | W: www.earthquakeservices.co.nz

NO WIN

NO FEE
---
PAGE 14 BAY HARBOUR

Wednesday June 8 2016

Queen's Birthday honours List

This year saw 13 Cantabrians receive Queen's

service medals. Find out more about these

local heroes below. In total, 177 Kiwis were

honoured in the Queen's 90th birthday

celebration.

Officer of The New

Zealand Order of Merit –

ONZM

Stewart Barnett, of St

Albans – for services

to agriculture and

businesses: Chief executive

officer for

Silver Fern

Farms ltd,

Mr Barnett

(right) has

been involved

with New

Zealand's

meat

industry.

Charles Crofts, of

Halswell – for services

to Maori: In 1998, Mr Crofts

was instrumental in helping to

keep the peace between Maori

tribes while working for more

than six years establishing the

Ngai Tahu Settlement Act.

Lesley

Murdoch

MBE, of

Sumner –

for services

to sport:

Currently a board member

of Netball New Zealand, Mrs

Murdoch had a big part in

the review of cricket in 1995.

She also has a radio show on

Saturdays on Newstalk ZB.

Annette

Purvis,of

Halswell

– for services

to

athletics:

The current

chairwoman

of

Athletics

New Zealand, Mrs Purvis

(right) has been involved in

all levels of athletics around

the country. She is also in her

second term serving on the

International Association of

Athletics Foundation.

Steven Sumner, of

Merivale

– for

services to

football:

One of the

greatest

footballing

products in

the country, Mr Sumner was

an All White from 1976 to

1988, playing for New Zealand

105 times. He scored twice

at New Zealand's first FIFA

World Cup appearance in

1982. He has been the president

of Mainland Football

since 2008.

Member of The New

Zealand Order of Merit –

MNZM

Norman Dewes, of

Mairehau – for services

to Maori and the community:

An advocate for underprivileged

and disadvantaged

children for a number of years,

Mr Dewes has represented

many Maori boards, and

established Te Runanga o Nga

Maata Waka in 1989.

Jacqueline Duncan, of

St Albans – for services

to education: After 44

years of teaching, 29 of those

as principal,

Mrs Duncan

(right) has

worked

in special,

secondary

and tertiary

education. She

was principal

of Cashmere

Primary School for 15 years.

Murray Ellis, of Harewood

– for services to

rugby: A die-hard rugby

fanatic, Mr

Ellis (right)

has been

involved

with rugby

his whole

life. From

playing at

club and

representative

level, to

refereeing

and administration later in his

career. Mr Ellis was made a

life member of the Crusaders

last year.

Julie Hawke, of Papanui

– for services to Highland

dance: A teacher of Highland

dancing, Mrs Hawke

has taught and administrated

Highland dance in Canterbury

for the past 35 years. She

also runs the biggest Highland

dancing school in New Zealand.

Kenneth Sowden, of

Halswell – for services to

paralympic sport: Whenever

New Zealand and Australia

play each other in wheelchair

rugby, they compete for the

Ken Sowden Cup. Mr Sowden

has been involved with disability

sport in Canterbury

since 1993.

The Queen's Service

Medal – QSM

Jennifer Gallagher JP,

of Darfield – for services

to the community: A community

guardian for Darfield

to Kirwee, Mrs Gallagher has

received many awards for her

community services. This includes

raising $40,000 for new

tennis courts in Kirwee, organising

sports tournaments,

and catering at functions.

Lynda Macdonald JP,

of St Martins – for services

to the community:

Instrumental in the setting

up of a Plunket Home Visiting

Scheme in Linwood and

Avonside. Lynda Macdonald

has contributed to the social

welfare of her community for

many years.

Selma Scott, of

Prebbleton – for services

to the Pacific community:

A barrister and solicitor who

applies her skills to help the

Pacific community, Mrs

Scott has done so since the

late 1990s. She is also the

chairwoman of Pacific Trust

Canterbury, and is also a

member of the Human Rights

Review Tribunal.

From left to right: Hope, Grant & Kellie

OPEN SAT & SUN

Full Service Pharmacy

including...

• Passports Photos

• Revlon Cosmetics and Revlon Club

• Gifts and Gift Wrapping

• Ear Piercing

• Extensive Natural Health range

• Scarves, Hats and Sunglasses

• Focus on Natural Organic Skincare including Trilogy,

Antipodes and Sukin

Dispensary Service

• Medico Packs

• Quit Smoking Quitcards

• Emergency

Contraceptive Pill

• Delivery Service

Owned and operated by

your phamacist, Grant Bell

NEW

INSTORE CAFÉ

OPENING

SOON

1005 Ferry Road, Ferrymead.

Email: grant@ferrymeadpharmacy.co.nz

Phone: 943 9635 Fax: 943 9636

Monday to Friday 8.30am to 6.00pm

Saturday 9.00am to 4.00pm

Sunday 10.00am to 4.00pm
---
Wednesday June 8 2016

BAY HARBOUR

PAGE 15

Queen's Birthday honours List

Star Media chairman honoured

• By Gabrielle Stuart

STAR MEDIA chairman Nick

Smith has been recognised in

the Queen's Birthday Honours

for more than 50 years work in

media and sport.

He was named an officer of the

New Zealand Order of Merit on

Monday.

Star Media is the publisher

of the Bay Harbour News, several

community newspapers

in Christchurch, The Star and

magazines. The company also

broadcasts CTV.

Mr Smith started work at the

Christchurch Star in 1965, as an

advertising cadet.

"It was the heyday of newspapers.

You weren't competing for eyeballs.

I spent two and a half years there,

and it was fantastic. I still have a

lot of friends from those days, we

had a lot of fun together. We used

to have boxing tournaments in the

lunchroom," he said.

He went on to become a director

of Allied Press, publisher

of the Otago Daily Times, and

chairman of CTV.

Although he was a major

shareholder, he said he stayed

in the background at CTV

for several years, leaving the

running of the company to

managing director Murray

Wood.

But when Mr Wood was killed

in the collapse of the building in

the February 2011 earthquake,

Mr Smith said he was suddenly

thrust into management of the

station.

He remembered the first meeting

the day after the earthquake,

sitting in a dark room without

power talking about the future

with his distraught staff.

"It would have

made more sense to take the insurance

money and close the station,

but to me that would mean

we let the staff and the victims'

families down. That to me was

the deciding factor."

He has also played a key

role in sport over the years, helping

to develop Hagley Park, form

the University Oval Redevelopment

Trust and raise $2 million

to establish the first cricket

ground in Dunedin.

He has also sponsored and

donated to many community

groups and organisations working

in the South Island.

"My philosophy has always

been what's good for the

province is what's good for the

business, and what's good for

the company is good for the

province."

RECOGNISED: Star Media chairman Nick Smith was named an officer of the New Zealand Order

of Merit in the Queen's Birthday Honours on Monday.

Remove

bathroom smells

and steam!

Ventilation Equipment

Suppliers to trade and retail

Have you lifted

your carpets?

We are finding cracks even bigger than this

at homes 'repaired' by EQC and insurers.

Remote extraction fans

● Domestic

● Commercial

● Industrial

Wall or ceiling

mounted fans

Smooth-Air has a wide range

of ventilation equipment to

bring fresh air into your home

Let us lift your carpets. If we find no damage,

you pay nothing - and get peace of mind.

NO WIN

NO FEE

0800 SMOOTH (0800 766 684)

www.smooth-air.co.nz

sales@smooth-air.co.nz

264 Annex Road, Riccarton

Christchurch 8024, NZ

Ph +64 3 343 6184

Mon - Fri 7.30am - 5pm

Ph: 03 377 8855 | 127 Ferry Road, Christchurch City

E: reception@earthquakeservices.co.nz | W: www.earthquakeservices.co.nz
---
PAGE 16 BAY HARBOUR

Wednesday June 8 2016

SCHOOLS

RUNNERS: The Our Lady Star of the Sea School pupils

competed at the Zones Cross Country Championships held in

Ferrymead recently. Pictured is Frances Dougherty, Macklan

Robertson, Ruby Froggatt (front) Billy McLoughlin, Flynn Greig,

Charlie Cameron and Nico Heather (rear). ​

Redcliffs School pupils

have had a busy term

so far, with Year 6

camp, the beginning

of Hagley winter sport,

south east zones

cross country, and an

inquiry quiz about

sustainability.

MAKING A DIFFERENCE: Redcliffs

School's four senior leaders

Claudia Peck, Tom Barker, Zack

Waite and Emilia Crooks, delivered

boxes of food to Christchurch

City Mission recently to go to less

fortunate families as it goes into

winter. The pupils meet regularly

to discuss ways they can lead in

school, but also make a difference

in the community. They will also

hold a sausage sizzle for Ronald

McDonald House, and the school

choir are going to sing to the

residents at Edith Cavell at Sumner. ​

Busy term for Redcliffs pupils

FOCUS: Junior pupils Noah

Drumm, Billie Feaver-

Banks, Charlie Davis and

Luke Cleugh get into their

sustainability inquiry quiz.

FUN: Sophie Didymus, Jade

Timbrell and Jorja Williams get

outdoors at the Year 6 camp.

GENEROUS: Ferrymead Rotary donated dictionaries to

Bromley School pupils recently to help them with their

English. Room 10 pupil Grace said the dictionaries were

"so cool". "They are so easy to use at home – I love it." Each

Room 10 pupil got their own dictionary to take home with

them. Heather Fear, of Ferrymead Rotary, said the club

was thrilled the children were enjoying the dictionaries. "It is

evident that the children really enjoy these books – maybe

they are the only books they have at home." Ferrymead

Rotary has given dictionaries to several schools in the area.

The cost of the dictionaries is subsidised by the Bill and

Lorna Boyd Charitable Trust and the Lois Dalley Trust. ​

THEY'RE OFF: Pupils take off in the south

east zones cross country, where Redcliffs

pupils Charlie Bailey and Sam Clark won the

year 6 and year 8 boys races.

MUSIC: Redcliffs pupils David Wayne, Andrew

McLauchlan, Ollie Tinkler, Sophie Davis and

Annabelle Barker perform at their recorder recital.

be into win

one of ten $500

millen gift voucher when

you purchase millen water

heater or induction

cooktop within this June.

232 Main South Rd - Christchurch

0800 MILLEN

Millen induction

cooktop

+ free pot

was $ 200 now $ 129

Open 7 Days

Mon - Fri 9.00 - 5.30, Sat 9.30 - 4.00, Sun 10.00 - 3.00

0800 MILLEN | www.millen.co.nz | 03 348 8678

in/OutDOOr lpg

10 litre gas Water Heater

at an amazing price

with 3 years warranty.

2016 winter sale on now

SOMETHING FUN FOR EVERYONE

UNDER NEW OWNERSHIP

9 HOLE

GOLF cOURSE

DRIVING

RANGE

STILL ROcK

OUTDOOR MINI PUTT

BOOKINGS ESSENTIAL | 50 FERRYMEAD PARK DR, FERRYMEAD

PH 376-5350 | WWW.FERRYMEADGOLF.cO.Nz
---
ISSN 1174-8656

100%

Wednesday June 8 2016

BAY HARBOUR

PAGE 17

HEAD

BANGER:

Alex rocks

out on the

drums.

Young talent at Sumner

WINNER: Hamish sang Little

Talks while playing guitar.

WOF $35

Full Workshop Repairs

(exhaust repairs by appointment)

Complete

Tyre and

Auto

Bookings Advisable

TYRES

All popular

sizes available

Canterbury owned and operated

464 Ferry Rd, 03 389 5370

ctawoolston@yahoo.co.nz

8.00am-5.00pm Mon-Fri,

9.00am-1.00pm Sat

New & Used Tyres • Puncture Repairs

Batteries • WOF • Balancing

Mechanical Repairs • Lube & Servicing

Wheel Alignment

SUMNER SCHOOL'S got talent.

Pupils battled it out last week

in the final of the school's talent

show.

Prior to that there had been

two weeks of lunchtime auditions

to whittle the talent down to five

or six performances at each year

level.

The event was organised by

members of the student council

and the judges were Fiona Pears

a well-known violinist and Phil

Johnston, Bandmaster of the New

Zealand Army Band.

In the Year 3 & 4 section first

place went to Bella who sang Lollipop.

In the Year 5 & 6 section first

place went to Aurora who recited

the poem Tyger, Tyger and Hamish

won the Year 7 &8 category,

singing Little Talks while playing

it on the guitar.

A BRANCH OF

DIVA: Bella won the Year 3 &4

section, singing Lollipop. ​

Sumner juniors on the run

Sumner School Year 0 - 2

pupils and their parents

and teachers were glad to

see the sun come out on

Thursday for the junior cross

country. The pupils, dressed

in their house colours, ran

about 1km while they were

cheered on by parents and

older siblings.

Have you checked your

underfloor repairs?

This is the sort of 'repair' by both

EQC and insurers we are finding.

We're for every gardener

autumn planting • moon calendar • the lone pine • plant doctor

We're for every gardener

FlAnders PoPPy

Its significant story

InsPIred by

AustrAlIA

Ideas from Melbourne

International Flower

& Garden Show

$5.90 incl. GST

Issue 413 | April 16 – April 29, 2015

What it means

to be

KIWI

mAke It eAsy

Low-maintenance

gardening

Projects to

remember

Making wreaths

and poppies

SUBSCRIPTIONS

FREEPHONE 0800 77 77 10

subs@gardener.kiwi

100%

12 ISSUES

delivered

to your door

FROm ONly

$

49. 00

Michael Toomey

mft@younghunter.co.nz

Proudly providing

legal advice to

the community

for 25 years

Michelle Rossiter

mjr@younghunter.co.nz

P. 384-5350

www.younghunter.co.nz

We will go under your house and give you

peace of mind for free.

Ph: 03 377 8855 | 127 Ferry Road, Christchurch City

E: reception@earthquakeservices.co.nz | W: www.earthquakeservices.co.nz

NO WIN

NO FEE
---
PAGE 18 BAY HARBOUR

Wednesday June 8 2016

Winter running

• By Fraser Walker-Pearce

EVEN AS the days get colder

and darker, the Sumner

Running Club is still getting out

into the wintry conditions to get

involved in races.

Recently the club took part in

both a road race event, held at

the A&P Showgrounds, and a

cross-country race, at Halswell

Quarry.

Young runners from Sumner

represented their high schools

in the competitions, with varying

results.

Sumner had eight runners

partake in the events, with

members running for Christchurch

Girls' High School, St

Margaret's College, Christ's

College, Burnside High School

and Marian College.

The best performer over the

two days was Lili Ovendale,

who ran for Christchurch Girls'

in the under 14 girls section,

and was second in the road race

and fourth in the cross-country.

Her school took out both teams

titles.

Sumner Running Club junior

co-ordinator Ann Wells said

the two races couldn't have been

run in more than contrasting

conditions.

"The road race had a warm

wind and was a mild 15 deg C,

compared to the cross-country

with 8 deg C and worsening

rain conditions, the latter

providing true cross-country

running conditions," she said.

Abby Theobald ran for St

Margaret's in the under 15 race,

and finished sixth in both races.

Christ's College's John Wells

ran in the under 14 races and

finished ninth and 10th respectively.

His school finished third

in both teams races.

Max McLachlan, of Burnside

High School, returned from a

broken collarbone to produce

a good performance, finishing

ninth in the road race, and sixth

SPORTS

DETERMINED: Abby Theobald took sixth spot in the under 15 race. While Beth Hunter finished

10th in the under 14 race for Rangi Ruru Girls' School.

in the cross country.

In the senior girls, Marian

College sisters, Jess and Meg

Fahey, had to contend with

torrential rain which made for

slippery conditions underfoot.

They finished sixth and 13th,

respectively.

In Brief

AKAROA TO DUNEDIN

Akaroa Area School pupils have

been selected to compete at the

New Zealand Area Schools sports

tournament in July. Nine pupils

will represent the Top of the

South Island area school's team,

which will travel to Dunedin to

compete. Moses Bygate Smith for

basketball and volleyball, Josh

Little for rugby, Robin Enosi for

rugby, Tommi Hopkins for rugby

and football, Sean Hopkins for

football and ki-o-rahi, Hannah

Kiely and Faith McLauchlan-

Robinson for netball, and

Sapphire Jordan and Drew

Wilson for ki-o-rahi. The Akaroa-

Wairewa Community Board will

decide today whether to grant the

school $1000 to go towards the

cost of competing at the event in

Dunedin.

BAYS TEAMS LOSSES

Rugby and football scorelines

were not pleasant for those supporting

the bay area teams on

the weekend. Sumner's premier

rugby side lost to Christchurch

25-6 at Christchurch Park. Nik

Cumming scored the only points

for Sumner from the boot. Ferrymead

Bays' top side also lost

away to Nelson Suburbs at Saxton

Fields 4-2. Bays have now played

12 games and have secured just

13 points. A consolation for the

bay area was Banks Peninsula's

premier rugby side, who overcame

Rolleston 24-22 at Little River.

Tries went to Jared Buckley, two

for Tom Power and one for Jack

Sanders.
---
Wednesday June 8 2016

BAY HARBOUR

PAGE 19

gET sORTEd

FOR WINTER!

Number 8

Oil Column Heater

One heat setting. Adjustable

thermostat. Compact design.

650 Watt.

279317

Number 8

Ceramic Fan Heater

Two heat settings. Adjustable

thermostat. Safety tip-over

switch. Overheat protection.

1.5kW.

279323

NOUVEAU

Micathermic Heater

Two heat settings. Quick heat up. Adjustable thermostat. 2kW.

279438

$

29 98 Goldair

EXCLUsIVE

EXCLUsIVE

$

38 99 $ 99

EXCLUsIVE

Delonghi

Convector Heater

Three heat settings. Adjustable

thermostat. Compact and wall

mountable. 2kW.

279334

EXCLUsIVE

Number 8

Panel Heater

Eco-friendly. Wall mountable. Paintable surface.

White. 425 Watt. 279435

Goldair

Panel Heater

Two heat settings. Adjustable

thermostat. Wall mountable.

1.5kW. 2 year warranty.

279428

$

177

$

78 96

$

68

$

28 67 $

49 87

$

15 99 $ 189

Woodsman

Brunner MKII Wood Fire

Radiant Heater

Heats 3-4 bedroom home (up to 190m2).

Two heat settings. Safety tilt switch. Grey.

NES and ECAN clean air approved.

800 Watt. 2 year warranty.

(Flue kit and shield not included.)

279414

Made in New Zealand. 19.6kW output.

15 year warranty on firebox. 229210

$

157 $

1999

$

49 98

Goldair

Tui

Eco Panel

Firewood

Heater

Dry, multi sized,

500 watt.

NZ sourced offcuts.

2 year warranty.

8kg minimum.

279422

2805333

280482

Dimplex

Mini Cube Flame

Effect Fire

Two heat settings. Flame effect can be

used independent of heat source.

1.5kW. 2 year warranty. 121604

Goldair

Electric Blanket

Tie down. Three heat settings. Single fixed controller.

Single. 2 year warranty.

191609

EXCLUsIVE

EXCLUsIVE

Ecofan

Original Wood Fire Fan

Circulates warm air. Reduces fuel

consumption. Heat powered.

Pushes up to 100 cubic feet

per minute.

EXCLUsIVE

Ferrymead

1005 Ferry Road

Phone: 366 6306

Opening Hours:

Monday–Friday: 7:00am–7pm

Saturday, Sunday and

Public Holidays: 8:00am–6:00pm

mitre10mega.co.nz

If you find a lower price on an identical

stocked product locally we will beat it by 15%.

If you find the same product cheaper from another

Mitre 10 store or Mitre 10 website we'll match that price.

Excludes trade and special quotes, stock liquidations

and commercial quantities. The in-store price may be

lower than that advertised.

Offers available at Mitre 10 Mega Ferrymead only, until Wednesday June 15 2016, one week only! While stocks last.
---
PAGE 20 BAY HARBOUR

Wednesday June 8 2016

WIN!

Competition runs from 23rd May until 19th June 2016. For more information and terms and conditions go to SuperValue.co.nz

Fresh Tegel NZ Chicken Tenderloins

Dole Philippine or Ecuadorian

Loose Bananas

$

12 99

kg

$

2 49

kg

Fresh NZ Beef Topside Roast/Steak

Country Fresh

Washed White

Potatoes 4kg

$

13 99

kg

$

5 99

bag

Bluebird Original/Thick/Thinly Cut

Chips 140-150g/Pepsi 1.5L

Keri Fruit Drink/

Juice 2.4-3L

Whittaker's Chocolate Block 250g

$

1 49

each

$

3 99

each

$

4 49

each

Speight's Gold Medal Ale/Summit

12 x 330ml Bottles

Stoneleigh

750ml

(Excludes Rapaura/Latitude/Wild Valley)

Cold Power Ultra Laundry Powder

500g

Please drink

responsibly

$

17 99

pack

$

12 99

each

$

2 00

each

svbhn0806

Specials available from Wednesday, 8th June 2016 until Sunday, 12th June 2016 or while stocks last. Certain products may not be available in all stores.

SuperValue Lyttelton: 17 London Street, Lyttelton. Phone 328 7368. Open 7am-9pm, 7 days.

SuperValue Sumner: 3 Village Mall, Sumner. Phone 326 5688. Open 7am-9pm, 7 days.

Go to to

our our website

for for more

chances

to to win!

supervalue.co.nz

www.supervalue.co.nz
---
2

[Edition datE]

Wednesday June 8 2016

HEALTH & BEAUTY

Get educated,

get empowered and

get motivated

BAY HARBOUR

PAGE 21

It's all too easy to hibernate winter away,

enjoying comfort food as you avoid the bad

weather and think that you'll start a diet

to get ready for summer sometime soon.

However the team at The apothecary at

The tannery believe nothing should get in

the way of educating ourselves to a healthy

lifestyle and achieving the right weight for

us.

Their six week course – Weight loss

101 – runs for an hour every Wednesday

evening starting on 20 th July. Its aim is to

teach the science that lies behind managing

weight so that we can make choices about

what we eat that are informed, rather than

relying on sound bites and gossip about the

latest trendy diet. They cover topics such

as what macro and micro nutrients are and

the benefits and drawbacks of each; the

importance of regulating blood sugar and

how it actually affects your body; how the

body works, and how it is affected by what

we eat. The course is highly motivational

and run in a supportive group environment

which helps keep those attending on their

toes, and the facilitators are highly trained

professionals who know how to make this

topic interesting and relevant to you and

your lifestyle.

The Internet is full of tips and short cuts

on the latest ways to lose weight, but Weight

loss 101 gives you the knowledge to be able

to separate the fads that are founded in fact

from those that are no more than a gimmick.

You will learn how to manage your weight

effectively so that once it's been lost, it stays

lost. It is not about going on a diet - it's

about learning what a healthy diet is and the

difference it can make to you, your energy

and your whole attitude to life. Because they

know that the course is packed full of useful

information, a course booklet is provided

Cardiovascular Health

Are you at Risk?

Wednesday, June 22nd, 6:00pm

which contains everything you

need to know. Costing only

$240 (working out at only $40

per seminar), it's a perfect way

to leave yo-yo diets behind and

embrace good health. You will

receive a free sugar Destroyer worth $25)

a formula used for thousands of years to

support healthy blood sugar levels), and

if you book before June 30th you will get

the early bird discount which is $220 per

person.

Weight loss 101 is just one of an ongoing

series of seminars run by the team of

qualified herbalists and naturopaths at

The apothecary. They draw on their

knowledge and years of experience to help

their patients with a range of ailments, and

believe that with the right education, many

common problems can be avoided.

to book your space, visit

www.the-apothecary.co.nzeducation.

• Find out what you need to know about cardiovascular risk factors

• What types of foods benefit the cardiovascular system?

• What are the signs of cardiovascular disease

• What is the cardiovascular system and why are so many of us having

cardiovascular events?

Come along to this 1 hour class find out what your risk factors are.

$30 per person ~ collect a voucher on the night and receive a

THE

EST. 2012

handout with take home information

The Tannery

19/3 Garlands Road, Woolston, Christchurch|Ph. 389 0857

info@the-apothecary.co.nz|www.the-apothecary.co.nz/education

HEALTH PROFESSIONALS | HERBAL MEDICINE | NUTRITION EDUCATION | PREVENTION

NATIONAL

STREET APPEAL

FRIDAY 10TH JUNE

Our school

Our choice

Our future
---
PAGE 22 BAY HARBOUR

Wednesday June 8 2016

Matariki in Sumner

There will be a series of

events and activities held in

Sumner to celebrate Matariki

Friday, 4pm-6pm - Lantern

Making Creative Workshop, old

school hall, Wiggins St. $10 per

person and booking is essential.

Saturday, 5pm-7pm - Fire Performance

and Lamb Spit Shared

Kai will be held at Sumner Beach

near the picnic table. It is free

entry, and $7 per person if they

would like food. Make sure to

wrap up warm, and you can take

along a lantern.

Sunday, 2pm-4pm - 3D Star

Decoration Creative Workshop,

old school hall, Wiggins St. It will

be $10 per person and booking is

essential.

June 26, 5.30am-7am - Cultural

Astronomy Tour - Make sure to

wrap up warm and head along to

watch Matariki rising just before

dawn, with Mary Bell. Meet at

the row of pines on Summit Rd at

the top of Richmond Hill. $5 per

person, and under 18s are free.

June 26, 2pm-4pm - Seed Bomb

Making Creative Workshop, old

school hall, Wiggins St. $10 per

person and you will need to book

a place. To book places email

events@sumnerresidents.co.nz, or

for more information visit www.

sumnerhub.nz

Community

Events

Email

Fijian Beach Party

Saturday, 7pm

A fundraiser Fijian beach

party and disco will be held in

Little River to raise money for

Tokou Village, which was hit by

Cyclone Winston. Fijian beach

wear is essential.

Little River Rugby Club Rooms,

tickets are $10 and are available

at Little River Craft Station

Sumner Bridge Club lessons

Begins June 16

Here's one for the diary, Sumner

Bridge Club will hold a series

of 10 bridge lessons beginning in

June. All 10 lessons will cost $50,

but students will receive a free

subscription to the club for the

bridget.rutherford@starmedia.kiwi

by 5pm each Wednesday

Markets

remainder of the year. The instructor

will be Shirley Newton

57 Dryden St, Sumner. Phone

Julie Cunningham on 384 5401 or

email her at jujucat23@me.com

for more information

Redcliffs TribalDive Belly

Dance

Wednesdays, 6.30pm-7.30pm

Redcliffs TribalDiva Belly

Dance class is fun and good for

fitness and confidence, as well as

a chance to make new friends.

TribalDiva Studios, at 40A

Taupata St, Redcliffs. For full

class details or to register, email:

tribaldiva.bellydancers@hotmail.

co.nz, call 027 756 4460 or visit

www.tribaldiva.co.nz

Mt Pleasant Farmers Market: The market has temporarily

moved to the western end of the McCormacks Bay

Reserve. You will find it at the intersection of McCormacks

Bay and Main Rd. Every Saturday, 9.30am-12.30pm.

Lyttelton: Every Saturday, 10am-1pm, London St.

Sumner: Every Sunday, 10am on the corner of Esplanade

and Marriner St.

CELEBRATION: Lyttelton's annual Festival of Lights is rolling

around for another year, and will run from June 18-26. There

will be just over a week of activities and celebrations, with the

popular street party happening on June 24. Lyttelton residents

are encouraged to join in by lighting up their letterbox or trees.

They can then take a photo and share it on Facebook, tagging

Lyttelton Harbour Festival of Lights, or on Instagram, with the

tag lovelylyttetlon. Those taking part can then text their street

address to 021 023 18196 to receive a spot prize. Pickup a

programme at all Christchurch City Libraries and around town

or view the full list of events at www.lyttelton.net.nz/festivals/

festival-of-lights ​
---
Wednesday June 8 2016

BAY HARBOUR

PAGE 23

Grenadier Ferrymead

Four Seasons realty

Mt Pleasant

19 Michael Avenue

With magnificent views over the whole of Canterbury, from the estuary right to the Southern Alps, there's a

stunning vista to enjoy here from morning to night, sunrise to sunset. This prime position faces North West so

enjoys sun and shelter from predominant winds.

Deadline Sale: 16 June at 5pm.

View at: www.harcourts.co.nz ID#FM4873

Michelle Ward

Ph 027 203 7858

3 1 2 2 Mt Pleasant

2 2 2 2

32 The Brae

"As is, where is". The Brae - arguably one of the most highly sought and desirable addresses on the lower slopes of

St Andrews Hill, Mt Pleasant. The reasons, as to why, are very clear when you step through the front door at number

32. Holding an elite position tucked off St Andrews Hill Road, the property is a short stroll to the array of café's,

restaurants and shops at Ferrymead, has unobstructed intimate yet expansive water and city views, plus all day sun.

Auction: 16 June 2016 from 1pm.

View at: www.harcourts.co.nz ID#FM4891

Deb Beesley

Ph 027 280 8837

Spreydon 28 Bolton Avenue

Woolston 19a Catherine Street

Woolston 50 Tabart Street

Linwood 170 Tancred Street

3 1 1

Auction: 16 June 2016 from 1pm

unless sold prior.

View at: www.harcourts.co.nz

ID#FM4889

Kirsty McLeod Ph 027 226 5893

Allie McDonald Ph 027 279 7174

2

3 1 1 1 3 2 1 1

Auction: 9 June 2016 from 1pm

unless sold prior.

View at: www.harcourts.co.nz ID#FM4887

David Searle

Ph 021 565 950

Auction: 9 June 2016 from 1pm

unless sold prior.

View at: www.harcourts.co.nz ID#FM4888

David Searle

Ph 021 565 950

3 1 2

Auction: 9 June 2016 from 1pm

unless sold prior.

View at: www.harcourts.co.nz

ID#FM4875

Kirsty McLeod Ph 027 226 5893

Allie McDonald Ph 027 279 7174

2

Woolston 39 Silvester Street

Mt Pleasant 9B Toledo Place

Sumner 52 Nayland Street

Linwood 2/24 Wellington Street

3 1 1 2 2 1 1 1

3 3 2 2

Auction: 9 June 2016 from 1pm.

View at: www.harcourts.co.nz ID#FM4885

Mari Crampton

Ph 027 230 1098

Auction: 30 June 2016 from 1pm.

View at: www.harcourts.co.nz ID#FM4916

Deb Beesley

Ph 027 280 8837

Price: $935,000

View at: www.harcourts.co.nz ID#FM4915

Alison Carter

Ph 0274 318 960

2 1 1 1

Price: $267,000

View at: www.harcourts.co.nz ID#FM4897

Chris Moores

Ph 027588 4440

Greg Powell

Branch Manager

027 274 6157

Alison

Carter

0274 318 960

Michelle

Ward

027 203 7858

Deb

Beesley

027 280 8837

Joy

Butel

021 353 280

Chris

Moores

027 588 4440

Allie

McDonald

027 279 7174

Kirsty

McLeod

027 226 5893

Liz

Lewis

0274 530 952

Maree

Hood

027 497 8891

David

Searle

021 565 950

Mari

Crampton

027 230 1098

Catherine

Dougall

027 588 6844

Dave

Elston

0274 593 165

Chris

Smart

021 871 100

Craig

Todd

027 642 1075

Lisa

Ny

0276 225 060

Megan

Jarratt

027 841 2335

Ferrymead

1020 Ferry Rd Ferrymead • Ph 384 7950 • harcourtsgrenadier.co.nz

Grenadier Real Estate Ltd MREINZ is a Licensed Agent Under the

Real Estate Agents Act 2008
---
PAGE 24 BAY HARBOUR

Wednesday June 8 2016

SHOW

Showcase your products and services to

more than 20,000 people over three days

2016

HORNCASTLE ARENA

1ST-3RD JULY

10AM - 5PM

starhomeshow.kiwi

EXHIBIT NOW!

Contact Vanessa Fleming

vanessa.fleming@starmedia.kiwi 021 914 565
---
2

[Edition datE]

Wednesday June 8 2016

BAY HARBOUR

PAGE 25

As new EcoTech harbour home

3 Hunters Road, Church Bay

$419,000

2 bedrooms | 2 bathrooms | 1 living rooms | Listing #: 2105

Something a little different, very

stylish and very practical. This

2.5-year-old EcoTech home is

full of surprises and very cleverly

designed to utilise space exceptionally

well.

With two generous double bedrooms,

a full sized bathroom with a bath plus an

ensuite spacious living and huge deck for

entertaining with access off both bedrooms

and the living area.

A house immaculate throughout, and

appealing as new kitchen, lovely harbour

and hill views, north/northwest facing

for maximum sun and sheltered from the

easterly.

Well engineered and insulated and

double glazed, this is an extremely easy

home to maintain and very economical to

run being very warm and easy to heat. Your

power bills will be dramatically reduced.

Plenty of parking and set on a 703m2

section, nicely planted but with scope to

add your own touch. Close to the school

and local store, this intriguing home

would be perfect as a permanent home or

holiday home. For more information on

EcoTech Homes please visit the website

http://www.ecotechhomes.co.nz.

Open home date: Sunday, June 12,

2.30pm to 3pm. See you at the open

home or for a private viewing, contact

Tim Dunningham of Min Sarginson

Real Estate (Licensed Agent REAA 2008),

phone 027 651 5474 or 329 4161.

Dyers Road Landscape

& Garden Supplies

• Barks • Peastraw • Composts - we supply the best available

• Aggregates - Chip, Round and Basecourse

• Pavers & Schist products • Pungas

• Decorative Stones & Landscaping Rocks

• Trailer Hire first hour free with purchase

• Bag & Bulk - pick up or delivered

David, Carol & Mike

We will deliver!

SOIL

AND

HARDFILL

DUMPING

Phone: 03 384 6540

183 Dyers Rd, Bromley • OPEN 7 DAYS

Weekdays 7.30am-5pm. Weekends 8.30am-3pm

www.dyersroadandlandscapes.co.nz

Visit our new website: www.min.nz

With thriving communities and

picturesque views,

the bays are truly spectacular

COASTAL REAL ESTATE SPECIALISTS

We'll help you live the dream.

Min Sarginson Real Estate Ltd. specialises in homes, sections and

rental properties in the spectacular Lyttelton Harbour bays, and

coastal suburbs of Christchurch, New Zealand.

We'll make it so easy for you. All our sales consultants live in the

area – we can give you valuable insights into life in our thriving

coastal communities.

This is an exciting time; of promise, optimism, and opportunities

never anticipated pre-quakes. Beachfront, or hillside with

grandstand views, find the property of your dreams:

Lyttelton | Diamond Harbour | Governors Bay | Cass Bay

Charteris Bay | Church Bay | Purau Bay | Port Levy | Northshore

Southshore | New Brighton | Heathcote | Sumner | Redcliffs

Scarborough | Mount Pleasant | Clifton

Call Min Sarginson Real Estate Ltd. for free, no-obligation advice. Lyttelton: 03 329 4161, lyttelton@min.nz or Church Bay: 03 328 7273, churchbay@min.nz
---
PAGE 26 BAY HARBOUR

Wednesday June 8 2016

Classifieds Contact us today Phone our local team 03 379 1100

Adult Information

LIVE ADULT CHAT

Explicit Naughty

Kiwi Babes 1 on 1

0900 77 747

Asian Babes 1 on 1

0900 88 100

XXX Listen

0900 69 100

Chat $3.99 - Listen $1.99/min+gst

Free VOIP & downloads

www.kiwibabes.co.nz

PHONE NOW!!

Caravans, Motorhomes

& Traliers

Computers

ALL

YOUR

COMPUTER

WORRIES SOLVED!

*$30.00 off your first

service with this coupon!*

No problem too big or

small from home PC's to

business networks. PC

slow? An end to Viruses,

Spyware, and Clogged

Systems. Safe secure

hassle-free computing.

Lost files recovered.

Microsoft Certified,

MCSE, MCP+l. 30 years

experience. Call Andrew

Buxton this week on 326-

6740 or 027 435-7596

for $30.00 off* Custom

Computers Christchurch

Firewood

FIREWOOD Bagged

delivered. Trade Me

Advert 563340295.

Tel 03 3129100.

Gardening

& Supplies

Landscape

and Garden

Services

If you need help

getting your garden

back in order after

repairs, need any

type of landscape

construction work or

garden restoration.

Ph 021 272 0303

A GARDEN OR

LANDSCAPING TIDY

UP? Shrub, hedge & tree

pruning, Lawns, Gardening,

consistently reliable general

property upkeep, Dip. Hort.

10 yrs experience, One

off tidy ups or on-going

service. Nick's Property

Maintenance. Keeping

your garden beautiful. Free

Quote. Ph. 942-4440

GARDENER - Need your

home or commercial garden

tidied up or renovated

or require long term

assistance. Phone Ruth 326-

6663 or 021 272-0303

Holiday

Accommodation

QUEENSLAND SUN-

SHINE COAST AUSTRA-

LIA Resort, Ocean Views,

Balconies, Self Contained,

1 or 2 B/R Ensuite,

Heated Pool, Spa, Sauna,

Free Internet, Shops,

Restaurants, Tennis, Surf

Club & Patrolled Beach,

Public Transport at door.

Ask for our SEASONAL

SPECIALS. Phone 61 7

544-35011 Email: reception@mandolin.com.au

www.mandolin.com.au

Public Notices

Rexellent Rentals

Cars, Vans, Brisbane , Coolangatta

FREE CALL

0800 601 508

www.rexellent.com.au

Situations Vacant

CA$H

Strippers

& Podium

Dancers

Wanted!

18+ TO APPLY

NEISHA

021 193 0118

Storage

Professional

Movers

Making Local

& International

Moving Easy

0800 4 world

(03) 341 2060

www.worldmoving.co.nz

Finance

ADD SOME

Trades & Services

Driveways

We Repair

Cracks

and Apply

Factiostone

on top of

your Interior

and Exterior

Substrates

saving Time,

Money, Stress

& Mess.

Spec-Tec /

Factio

Free QuoTe

0212209603

plANtSMAN

ANDREW CUMMINS

PHONE 021 775 468 AH (03) 377 7627

ANDREW www.redtree.nz CUMMINS

PHONE 03 377 7627

www.redtree.nz

COLOUR

TO YOUR ADVERT!

KEA

CONTRACTING

Specialising in concrete

and small structure

removal.

From private to

commercial, a small

friendly team have it all

covered!

FREE QUOTES

Call Nick

027 432 4124

LANDSCAPING/

STONE WORK

All forms of landscaping,

fences, decking & paving.

Phone Mike

Stoneage Landscapes

021 1499 733

Trades & Services

Landscaping

& Driveways

• All paving

• Retaining Walls

• Lawns

• Planting

• Brick & Block Laying

• All timber work

• Fences, Pergolas etc

30 yrs experience

For free plan & quote

Call Brendan

338 9349 or

027 447 9707

IF IT'S PLUMBING YOU NEED

10%

WE CAN

Discount

HELP!

With This Ad

0800 217 5862

Landlord Special Service

cAll free

Gas Fitting & Hot Water System

Bathroom & Kitchen Renovations

0800

www.a1plumbing.co.nz

217 5862

We fIX IT All

Hot Water Problems,

Showers, Taps, Toilets,

New Installations

www.a1plumbing.co.nz

BRICKLAYER

George Lockyer. Over

30 years bricklaying

experience. UK trained.

Licensed Building

Practitioner number

BP105608. Insurance

work. EQC repairs.

Heritage brickwork a

speciality. No job too

small. Governors Bay.

Home 329-9344, Cell

027 684-4046, email

georgelockyer@xtra.co.nz

CARPET & VInYL

Laying. Repairs, uplifting,

relaying, restretching,

Email: jflattery@xtra.

co.nz, ph 0800 003 181 or

027 2407416

CARPETLAYER -

Laying and Repairs, 40 yrs

experience, ph Peter 326-

7711 or 027 240-6532

COnCRETE

Decorative Concrete

Placing, Canterbury

owned & operated

for over 10 years,

competitive rates, full

excavation, coloured,

exposed, stamped, call

Paul 027 322 6119

COnCRETE CUTTInG

AND GRINDING Cutting

of walls and floors; Small

break and remove jobs;

Grinding concrete level;

Cracks filled; Concrete

polishing and sealing. Call

Danny at Stoneshine on

021 063 8833

FURnITURE

REMOVALS Large

Trucks $95 + GST per hour

7 day NZ wide, packing

& moving, Professional

Company, Professional

Service. Canterbury

Relocations Ltd. ph 0800

359 9313

LAnDSCAPE

CONSTRUCTION

Lawns, paving, water

features, irrigation,

planting, decks,

driveways, kerbing, ponds,

retainer walls, fencing.

Free quotes, Phone Tony

021-034-8555

Trades & Services

PAInTER

Experienced tradesman,

quality work, free quotes,

ph Simon 027 389-1351 or

03 328-7280

PAInTER

Top quality work, interior/

exterior, pensioners

discount, free quotes, 30

years experience, I stand

by Canterbury, ph Wayne

your friendly painter

03 385-4348 or 027 274-

3541

PLASTERERInG

INTERIOR, no job too

big or too small, specialise

in repair work & new

houses, free quotes given,

over 20 yrs plasterering

experience, ph 027 221-

4066 or 384-2574

ROOFInG QUALIFIED

& Licenced Practitioner.

Re-Roof & Repairs,

all types. Member

New Zealand Roofing

Association. Over 35 years

experience. Phone John

027 432-3822 or 351-9147

email johnmill@ihug.

co.nz

STOnEMASOn,

BRICK

&

BLOCKLAYER,

Earthquake Repairs, Grind

Out & Repoint, River/

Oamaru stone, Schist,

Volcanic Rock, Paving,

all Alterations new & old,

Quality Workmanship,

visit www.featureworks.

co.nz or ph 027 601-3145

VHS VIDEO TAPES

& all camera tapes

converted to DVD, video

taping, weddings, twenty

firsts, special occasions,

www.grahamsvideo.co.nz

ph 03 338-1655

WATERBLASTInG

Moss treatments, roof

painting. Experienced

tradesman. Ph 020 410

67205

WInDOW CLEAnInG

"Your Windows are the

eyes of your Home", for

a free no obligation quote,

call Greg Brown, Crystal

Clear Window Cleaning

ph 384-2661 or 027 616-

0331 Local Resident

To Let

HOUSESITTER

Awesome housesitter

available to look after your

home / pets. Fab refs. Call

Val 021 0247 2650

Wanted To Buy

AAAAAAAAA

GOOD PRICES

paid for estate lots,

antiques and good

quality furniture.

Ph Rick 347 4493

or 021 376 883

A+ Household effects,

fridges, freezers, washing

machines, ovens. Good

cash paid. Ph Paul 022

0891 671

A Records and Hi-Fi

gear wanted, excellent

prices paid for good

records especially kiwi

and overseas bands 60's

- 90's PennyLane 430

Colombo St Sydenham

7 days www.pennylane.

co.nz ph 3663278 or 021

2226144

Trades & Services

LAND

REINFORCEMENT

SPECIALISTS

RETAINING WALLS – repaired/new timber/

block/concrete/reviews/assessments/

valuations for insurance purposes/in ground

retaining walls for slope stabilisation

LAND REMEDIATION – under runners/

slip remediation/drainage/hill sites/river or

stream banks a speciality/house re-levelled/

new foundations

Call Duncan Laing on 021 320 400

or David Campbell on 021 466 144

DESIGNED, CONSENTED, BUILT AND SIGNED OFF

Laing Technical Ltd

Consultants/Project Managers/Contractors

www.laingtechnical.co.nz

9 Ernlea Terrace, Cashmere Ph: 980 5947

35 YEARS IN THE BUSINESS IN CHRISTCHURCH

• Cut to size plastic • Sheet sales

• Brochure displays

Easyfix Double Glazing System

No more running windows

DIY and save OR get a quote to install

Showroom at 42 Wordsworth Street, Sydenham

www.awardplastics.co.nz

Phone 03 374 5500 or 0800 426 292

Check out

Personals

JOin OTher neW ZealanDers

lOOKinG FOr ThaT sOmeOne sPeCial

Place your

advertisement now

Only $10.00

yearly membershiP

FOr FUll DeTails,

PhOne 341 3888

Phone for further details

(03) 379 1100

ADVERTISE YOUR

BUSINESS HERE
---
PROUDLY

PROUDLY

CHRISTCHURCH

CHRISTCHURCH

OWNED

OWNED TUESDaY, aUGUST 27, 2013 PROUDLY 384

384 CHRISTCHURCH 0600

0600

PROUDLY CHRISTCHURCH OWNED MONDaY JUNE 24, 2013

OWNED WEDENSDaY 10 JULY, 2013 384 0600

384 0600

A Mainland

Media Publication

Kea

(Nestor Notabilis)

Ladbrooks, Tai Tapu, Leeston, Lincoln, Southbridge, Prebbleton, Halswell, Rolleston, Templeton, Burnham, West Melton, Darfield, Arthurs Pass

Mainland

Press Newspaper

Sumner, Redcliffs, Mt. Pleasant, Ferrymead, Woolston, Lyttelton & Akaroa Harbours

Black Billed

Gull

A Mainland

Press Newspaper

Linwood, Avonside, Richmond, Shirley, Burwood, Dallington, Wainoni, Bromley, Aranui, Avondale, Bexley, New Brighton, Northshore, Queenspark, Parklands, South Brighton

PROUDLY CHRISTCHURCH OWNED MONDaY JULY 15, 2013 PROUDLY 384 CHRISTCHURCH 0600

OWNED MONDaY 12 aUGUST, 2013 PROUDLY 384 CHRISTCHURCH 0600

OWNED MONDaY JUNE 24, 2013 384 0600

A Mainland

Press Newspaper

Fantail

(Piwakawaka)

A Mainland

Newspaper

Harewood, Burnside, Bishopdale, Bryndwr, Fendalton, Merivale, St Albans, Mairehau, Papanui, Casebrook, Redwood, Regents Park, Styx Mill, Northwood, Spreydon, Belfast Hoon Hay, Hillmorton, Cracroft, Cashmere, St Martins, Somerfield, Sydenham, Addington, Waltham, Opawa, Beckenham, Huntsbury, Woolston

Bellbird

(Korimako)

A Mainland

Press Newspaper

New Zealand

Swamp Hen (Pukeko)

New Zealand

Pigeon (Kereru)

Templeton, Islington, Hei Hei, Broomfield, Halswell, Oaklands, Westlake, Hornby, Wigram, Sockburn, Church Corner, Ilam, Russley, Hyde Park, Avonhead, Riccarton Park, Riccarton

Wednesday June 8 2016

BAY HARBOUR

PAGE 27

Classifieds Contact us today Phone our local team 03 379 1100

Public Notices

NOTIFICATION OF LIFTING OF

RESTRICTED FIRE SEASON

(IMPOSED PURSUANT TO SECTION

22(2) OF THE FOREST AND RURAL

FIRES ACT 1977)

CHRISTCHURCH CITY RURAL FIRE AREA

INCLUDING BANKS PENINSULA

Notice is hereby given that the restricted fire season

currently imposed by the Christchurch City Council

over the rural fire area for which the Council is the

Fire Authority is lifted from midnight Saturday 4 June

2016, to be replaced by an OPEN FIRE SEASON.

Fires may now be lit in the open air in rural areas

without permit. Restrictions may be reimposed at a

later date if weather conditions create a potentially

dangerous fire situation.

All residents are requested to take care when lighting

open fires. Before lighting fires in the open air,

careful consideration must be given to weather

conditions, adequacy of fire breaks, availability of

water, and the patrolling of fires until completely out.

Fires are not to be left burning after dark.

NOTE: Resource Consent conditions imposed by

Environment Canterbury may still apply.

Property owners within the Department of

Conservation Fire Safety Margin require a

permit all year round. Relevant authorities

should be contacted prior to any burning.

Darrin Woods

PRINCIPAL RURAL FIRE OFFICER

www.ccc.govt.nz

Call us & we'll help

you place your

classified advert in our

community papers

Nobody knows

Christchurch

like a local

We're local, we're

in Christchurch, we

speak your language!

Phone: 379 1100

Selwyn

Times

Nor'West

News

Bay Harbour

A

News

Southern

Pegasus

Post

Western

View Press

News

Classifieds

Our community papers are published every

Tuesday (Bay Harbour, Wednesdays) focusing

on local issues & local people.

watch local | support local | shop local

WEEKDAYS AT

12PM, 5PM & 9PM

Freeview HD 40 and online

For enquiries, contact Geoff Moreton: 021 1066 177

Public Notices

June 11-12 2016

Pioneer Stadium

www.babyexpos.co.nz

ADVERTISE YOUR BUSINESS HERE

Phone for further details

(03) 379 1100
---
PAGE 28 BAY HARBOUR

Wednesday June 8 2016

NEW GYM FOR CHILDREN

OPENING SOON IN

FERRYMEAD….

Helping Christchurch kids live fit!

We offer dedicated classes for kids from 6 weeks

right up to 13 years. This means your child is

developing skills they need, at an appropriate time,

alongside kids their age. We aim to get them

interested in fitness from an early age, in a secure

and fun environment. You and your child can

bond and play together, or we can take care of

them while you run errands or have some time

to yourself!

Our Range Of Classes

Moving Moas A class for parents and bubs aged 6

weeks to 6 months.

Tui Tots Introduces basic movement skills for little

ones aged 6 to 12 months.

Wiggly Wetas Builds movement skills for

toddlers aged 12 to 24 months.

Cheeky Keas Introduces basic gymnastic movements for

toddlers aged 2 to 3 years.

Perky Pukekos Introduces a variety of fitness activities for

children aged 3.5 to 5 years.

Kakapo Kids Develops fitness components for children aged

5.5 to 7.5 years.

Rising Rurus Improves fitness levels and encourages

teamwork for kids aged 8 to 10 years.

Flying Kiwis Challenges individual fitness levels for children

aged 11 to 13 years.

Hip Hop 5 - 13 years A class to inspire children and allow

them express themselves through hip hop dance.

Birthday Parties My First Gym gives your birthday kid and

their friends the full run of the facility, filling the celebration

with instructor-led games, music, and fun! You don't even

have to worry about setup or cleanup, making it that much

more fun for everyone!

What Your Child Will

Do In Our Classes

For babies and toddlers:

• Parents and bubs classes - bond over

exercise

• Introduction to balance and coordination

• Spatial awareness and movement

control

• Singing and dancing

• Introduction to gymnastics

For little big kids aged 5-13:

• Continued motor skill development

• Improve teamwork

• Build coordination, speed and strength

• Improve fitness levels

• Strengthen their hearts, lungs, muscles

and bones

All of our classes are designed to build your child's

confidence, imagination, problem solving and socialisation

skills through fun activities such as song and dance, obstacle

courses, and gentle exercises to develop their motor skills

and coordination. See our wide range of classes …

CALL TODAY!

TO SECURE YOUR MEMBERSHIP

My first

gym

ACTIVE KIDs

1005 Ferry Road, Ferrymead

Phone 0800 MY CADENCE

Mobile 021 148 0904

www.myfirstgym.co.nz