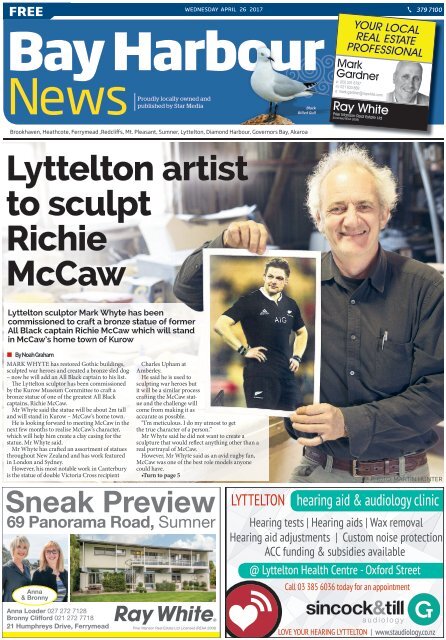 Bay Harbour: April 26, 2017
Do you know the secret to free website traffic?
Use this trick to increase the number of new potential customers.
FREE

Wednesday aPRIL 26 2017 379 7100

Bay Harbour

News

Proudly locally owned and

published by Star Media

Black

Billed Gull

YOUR LOCAL

REAL ESTATE

PROFESSIONAL

Mark

Gardner

p: (03) 331 6757

m: 021 633 669

e: mark.gardner@raywhite.com

Prier Manson Real Estate Ltd

(Licensed REAA 2008)

Brookhaven, Heathcote, Ferrymead ,Redcliffs, Mt. Pleasant, Sumner, Lyttelton, Diamond Harbour, Governors Bay, Akaroa

Lyttelton artist

to sculpt

Richie

McCaw

Lyttelton sculptor Mark Whyte has been

commissioned to craft a bronze statue of former

All Black captain Richie McCaw which will stand

in McCaw's home town of Kurow

• By Noah Graham

MARK WHYTE has restored Gothic buildings,

sculpted war heroes and created a bronze sled dog

– now he will add an All Black captain to his list.

The Lyttelton sculptor has been commissioned

by the Kurow Museum Committee to craft a

bronze statue of one of the greatest All Black

captains, Richie McCaw.

Mr Whyte said the statue will be about 2m tall

and will stand in Kurow – McCaw's home town.

He is looking forward to meeting McCaw in the

next few months to realise McCaw's character,

which will help him create a clay casing for the

statue, Mr Whyte said.

Mr Whyte has crafted an assortment of statues

throughout New Zealand and has work featured

in London and Sydney.

However, his most notable work in Canterbury

is the statue of double Victoria Cross recipient

Sneak Preview

69 Panorama Road, Sumner

Anna

& Bronny

Charles Upham at

Amberley.

He said he is used to

sculpting war heroes but

it will be a similar process

crafting the McCaw statue

and the challenge will

come from making it as

accurate as possible.

"I'm meticulous. I do my utmost to get

the true character of a person."

Mr Whyte said he did not want to create a

sculpture that would reflect anything other than a

real portrayal of McCaw.

However, Mr Whyte said as an avid rugby fan,

McCaw was one of the best role models anyone

could have.

•Turn to page 5

LYTTELTON

PHOTO: MARTIN HUNTER

hearing aid & audiology clinic

Hearing tests | Hearing aids | Wax removal

Hearing aid adjustments | Custom noise protection

ACC funding & subsidies available

@ Lyttelton Health Centre - Oxford Street

Call 03 385 6036 today for an appointment

Anna Loader 027 272 7128

Bronny Clifford 021 272 7718

21 Humphreys Drive, Ferrymead

Prier Manson Real Estate Ltd Licensed (REAA 2008)

LOVE YOUR HEARING LYTTELTON | www.staudiology.co.nz
---
PAGE 2 BAY HARBOUR Latest Christchurch news at www. .kiwi

Wednesday April 26 2017

FROM

THE

EDITOR'S

DESK

Inside

News.......................................3-5

Rakaia has a fish – Kurow will

have a McCaw.

He is one of the biggest names

in rugby history and now a

Lyttelton sculptor has been

tasked with creating a bronze

replica of the big man (front

page).

Mark Whyte will craft a 2m

sculpture of former All Black

captain and Crusader Richie

McCaw which will stand in the

Kurow – McCaw's home town,

seems fair.

Interesting article by Bridget

Rutherford over on page 3. It

turns out that several intersections

in a township need to be

upgraded because they are not

up to standard – but because it

is going to cost so much and the

city council can't afford to pay

for it all in one hit, it is asking

residents which should be done

first.

Hei kona, Shelley Robinson

Passion for helping Pasifika

community

15

OUR PEOPLE 6

Sport.................................... 8

Linwood College.............9

Travel................................. 13

Keep it Local......................14

Community Events... 17

Real Estate...........................18

GET IN TOUCH

General Enquiries Ph 379-7100

Classified Advertising Ph 379-1100

The Christchurch Star Company Ltd. PO box 1467 - Christchurch

starmedia.kiwi

NEWS

Caitlin Miles

Ph: 364 7442

caitlin.miles@starmedia.kiwi

ADVERTISING

Javier Balcazar

Ph: 982 9308

javier.balcazar@starmedia.kiwi

ADVERTISING

Rob Davison

Ph: 021 225 8584

rob.davison@starmedia.kiwi

OUR ESTUARY

NEEDS YOUR HELP!

We need your comments on

the future of the estuary!

The Avon-Heathcote Estuary

Ihutai Trust is a not for profit

organisation formed by the

community to coordinate

management of the estuary.

The Trust has developed a

draft Ecological Management

Plan for the estuary. But are

we on the right track? Come

and have your say.

Trust Board members will

present the draft plan and

ask for your comments

Date: Tues, 2 May 2017

Venue: New Brighton Club

– 202 Marine Parade

– Upstairs in the JC

Walsh Lounge

Time: 7:30pm

OR

Date: Thurs, 4 May 2017

Venue: Mt Pleasant

Community Centre –

3 McCormacks Bay Rd

Time: 7:30pm

No need to book - FREE - ample carparking at both venues

For more information contact: info@estuary.org.nz
---
Wednesday April 26 2017

Latest Christchurch news at www.

.kiwi

BAY HARBOUR

PAGE 3

News

Upgrade for Akaroa intersections

In Brief

• By Bridget Rutherford

SEVEN AKAROA intersections

need to be upgraded after a

review found they were not up

to standard – but due to the

cost, the improvements will be

made over time.

A recent review of the

township's accessibility and

pedestrian facilities showed

there were seven intersections

that did not comply with

the New Zealand Transport

Agency's guidelines.

The majority of the safety

issues related to there being

no tactile paving, which are

textured yellow surfaces that

aid pedestrians who are visually

impaired. It is proposed that all

seven intersections would now

have them installed.

The city council says if it were

to address all the non-compliant

facilities at once, it would be

"very costly".

Because of that, it aimed to

upgrade them over time.

Some car parking would have

to be removed to make way for

no stopping lines.

It is proposed the intersection

of Rue Lavaud and Rue Viard

will have a landscaped kerb

built to narrow the crossing

distance and improve visibility.

The current give way control

would be replaced with a stop

sign.

Where Rue Lavaud and Rue

Brittan meet, there would be

a kerb cut down, and lines

would be painted to show the

difference between the road and

footpath.

The Rue Lavaud and Rue

Croix intersection would also

get a painted line edge.

So would Rue Lavaud and Rue

Balguerie in the interim, but

more investigation will be done

to see how to further improve it.

The Beach Rd and Rue Jolie

intersection would get tactile

pavers, while Beach Rd's intersection

with Church St would

see a kerb reduction and a

painted edge line.

The pedestrian crossing on

Rue Jolie will get tactile paving

and no stopping lines painted.

The city council says the

upgrades would support Akaroa

becoming more accessible and

safer.

CHANGES:

An artist's

impression

of what the

proposed line

marking, and

tactile paving

would look

like at the

intersection of

Rue Lavaud

and Rue Brittan. ​

Public consultation on the

proposed changes closes on

May 10, and after the feedback

is reviewed, a decision would

be made at a Banks Peninsula

Community Board meeting.

It is hoped work would begin

in either June or July.

•HAVE YOUR SAY: Do you

think these intersections are

dangerous for pedestrians?

Email caitlin.miles@starmedia.kiwi

HEAT PUMP FOR HALL

Te Mata Hapuku Community Hall

in Birdlings Flat will be one step

closer to staying warm through

the winter after receiving a grant.

The Banks Peninsula Community

Board approved a grant of $2000

towards a heat pump for the centre.

The building has finished with an

opening ceremony planned for

June 23

RESERVE PLAN

A draft landscape plan for

Governors Bay Reserve is expected

to be presented to the public next

month. The plan for Governors

Bay Reserve was shown to the

Banks Peninsula Community

Board for feedback prior to public

consultation. The proposed

landscape plan will be publicly

available during consultation

from May 8 to May 29. The

community board will then

consider whether to approve it in

July. Construction is planned for

late this year.

TRAFFIC ISLAND GO-AHEAD

A traffic island will be installed

on Ferry Rd at the intersection of

Charlesworth St. The Linwood-

Central-Heathcote Community

Board has approved the crossing

to go in place to improve safety for

pedestrians and make it easier to

cross the road.

NEW LOCATION

13b Parkhouse Rd, CHRISTCHURCH

All

Tapware

up to

50% off

Selected Freestanding Baths 15-20% off

Limited Stock

M2650ULPG

26L per min Califont

External with anti frost

$999

JSD12-6DH

6L per min Califont

Internal, Battery Power

$199

End of Line Vanity Clearance up to 50% OFF

OPEn 7 DAyS

Mon-Fri 9am - 5.30pm | Sat 9.30am - 4pm | Sun 10am-3pm

0800 MILLEN | www.millen.co.nz | 03 348 8678

Paying too much?

If you think your accounting costs are too high, see us at

Ferrymead Accounting. We charge a fair rate and are

up-front and transparent about our fees.

CALL US TODAY!

We specialise in:

- Business & Management Advice

- Owner Managed Businesses

- Individual's Tax affairs

- Investment & Rental Properties

- Business Start-Ups

- Accountancy and Tax Compliance

Your local independent MYOB Approved Partner

and Xero Certified Advisor in Ferrymead

11F Settlers Cres. Ferrymead P. 03 384 8179 M. 022 354 8218 E. info@ferrymeadaccounting.co.nz www.ferrymeadaccounting.co.nz
---
PAGE 4 BAY HARBOUR Latest Christchurch news at www. .kiwi

Wednesday April 26 2017

News

HERITAGE: Stoddart Cottage Trust member John Riminton cut the ribbon to open the cottage. ​

Historic cottage back in business

• By Caitlin Miles

THE OLDEST building in

Diamond Harbour – Stoddart

Cottage has officially reopened.

The cottage was closed for

repairs and restoration work

from the February 22, 2011,

earthquake but it was officially

opened by the Stoddart Cottage

Trust last week.

The ribbon was cut on the

heritage-listed building by trust

member John Riminton.

The cottage, situated just above

the Diamond Harbour Domain,

received stabilisation work while

funding was gathered for more

extensive repairs.

The building was closed in

April last year to begin the work.

The city council spend $444,000

on the project.

Trust chairwoman Paula Smith

said it was sad having it closed

for the year while the works were

completed but it is nice to have

it reopened for the community's

benefit.

Banks Peninsula councillor

and Deputy Mayor Andrew

Turner said while it was a small

cottage it has "a big story to tell."

The cottage was built by Mark

POPULAR: The opening was well attended.

Stoddart, an early settler in the

area in 1861. He lived there with

his family until 1877.

One of his daughters, Margaret

Stoddart became a well-known

New Zealand painter, in 1913 she

painted Old Cottage, Diamond

Harbour, in honour of the house

she grew up in.

Repairs to cracks in the walls,

ceilings and floors were carried

out along with repairs to cracks

and loose slates in the veranda

roof. Additional water tightening

was done to the corrugated iron

roof, repairing weatherboards

and repainting the exterior of the

cottage was also carried out.

The three chimneys had to

be deconstructed and rebuilt

around structural steel as well.

Now the repairs have been

finished Ms Smith said she

hopes it will encourage people to

come from the city to enjoy the

harbour.

"It's nice to just sit on the

veranda or relax in the cottage,

we hope more people come to see

it," she said.

Part of the cottage is a gallery

of work and the remainder of the

cottage is used as a space for the

community.

•Watch the video at www.

star.kiwi

Visit our new website: www.min.nz

From bare land to luxury abodes

min sarginson

is the ideal coastal realtor

COASTAL REAL ESTATE SPECIALISTS

We'll help you live the dream.

Min Sarginson Real Estate Ltd. specialises in homes, sections and

rental properties in the spectacular Lyttelton Harbour bays, and

coastal suburbs of Christchurch, New Zealand.

We'll make it so easy for you. All our sales consultants live in the

area – we can give you valuable insights into life in our thriving

coastal communities.

This is an exciting time; of promise, optimism, and opportunities

never anticipated pre-quakes. Beachfront, or hillside with

grandstand views, find the property of your dreams:

Lyttelton | Diamond Harbour | Governors Bay | Cass Bay

Charteris Bay | Church Bay | Purau Bay | Port Levy | Northshore

Southshore | New Brighton | Heathcote | Sumner | Redcliffs

Scarborough | Mount Pleasant | Clifton

Call Min Sarginson Real Estate Ltd. for free, no-obligation advice. Lyttelton: 03 329 4161, lyttelton@min.nz or Church Bay: 03 328 7273, churchbay@min.nz
---
Wednesday April 26 2017

Latest Christchurch news at www.

News

Governors Bay could pilot

speed reduction measures

• By Julia Evans

GOVERNORS BAY could

be a used as a pilot to

launch speed reduction

methods around the rest of

the peninsula.

Drivers struggle to see

smaller settlements ahead

of them due to thick,

overgrown trees and a lack

of bold signage. As a result,

vehicles speed through the

settlements, according to

the Governors Bay Road

Safety Working Group.

Members Rosie Belton

and Robin Anderson made

a deputation to the Banks

Peninsula Community

Board on ways to make

Governors Bay Rd safer for

residents.

The board is looking at

using ideas from the deputation

as a starting point

to address similar issues

across the ward.

The main issue the working

group has is that it is

very hard to tell the difference

between open road

and settlements.

"It doesn't look like

you're coming into a community,

it's often hard

to tell because there's no

defined difference," Mrs

Belton said.

At the board meeting,

the group proposed improving

signage at settlement

boundaries, another

set of signs to reinforce

the speed limit, 50km/h

road markings and speed

activated signs to be moved

throughout the peninsula.

"The signage just needs

to be more noticeable,"

Mrs Belton said.

The working group also

suggested lowering entry

speeds into settlements

from 100km/h down to

70km/h.

Mrs Belton has been

campaigning for lower

speed limits and safer

roads in the area for more

than a year.

The working group was

happy with the outcome of

the meeting.

"The (board members)

were very responsive. We

came away feeling they

were definitely going to

action something," Mr

Anderson said.

City council staff estimate

making the suggested

changes – excluding a reduction

in the speed limits

– may cost about $22,000.

McCaw immortalised in bronze

•From page 1

He said the determination

that is needed by

someone to captain the All

Blacks so successfully was

commendable.

"It is a humongous

amount of pressure to experience

and you can't get

a better rugby player than

Richie McCaw.

"He's a bloody good guy."

The statue was announced

last August and

Oamaru artist Don Paterson

was removed from the

project earlier this year.

Mr Whyte said once the

project starts getting under

way it will take three to

fours months to create the

clay casing and about half

a year for the statue to be

completed.

.kiwi

Broccoli

Product of New Zealand

Fresh NZ Quality

Mark Prime Beef Mince

$

1 79 ea

$

10 99 kg

Just Juice

Fruit Juice

1 Litre

$

2 49 ea

Speight's

24 Pack 330ml Bottles pk

WHITTAKER'S FAIRTRADE

CREAMY MILK BLOCK

$

4 49 250g

ea

NEW

SEASON

Love Apples

Eve Apples Loose

Product of New Zealand

Meadow Fresh

Cheese 1kg

Mild, Edam & Colby

BAY HARBOUR

PAGE 5

$

2 99

kg

$

9 99

ea

any3 FOR

Wattie's

Baked Beans or

Spaghetti 420g

(excludes Meat and Flavours)

$

3 99

Wither Hills 750ml

(excludes Pinot Noir)

$

$

31 99 12 99

ea

Mitsubishi Electric FH50 Hypercore 6kW

includes FREE installation*

$3,299*

*includes cost of back to back install only, conditions apply

www.foursquare.co.nz

Proud installers of

Call now for a free quote - 0800 324 678

www.dcis.co.nz

facebook.com/FourSquareNZ

Specials available South Island only from Monday 24th April until Sunday 30th April

2017 or while stocks last. Wine and beer available at stores with an off licence.

Wine and beer purchases restricted to persons aged 18 years old and over.
---
PAGE 6 BAY HARBOUR Latest Christchurch news at www. .kiwi

Wednesday April 26 2017

Our People

Wesley Mauafu

Passion for helping Pasifika community

Sumner rugby centre

Wesley Mauafu is

passionate about helping

Pasifika young people,

whether it's fighting high

suicide rates or inspiring

them to have a voice in

politics. Last week he was

invited to Parliament to

receive a New Zealand

Youth Award for his work.

He spoke to Gabrielle

Stuart

Why is the issue of suicide so

important to you personally?

It started four years ago, when

I did my first suicide prevention

training. I went as a fresh-faced

young guy, and to be honest, I

was so oblivious to the horrific

statistics of my own Pasifika

young people. They have so

much potential and so much

to give to the community as a

whole, so when I found out we

were perishing and struggling

with our well-being it hit home

a lot. From that day, every time

I have seen a programme or

initiative aimed at well-being, I

am always keen to put my hand

up and say yes, let's do this. Our

group, PYLET, is the council for

Pacific Youth Leadership and

Transformation. Through this,

we are seriously saving Pasifika

young people's lives. That's the

motivation for me.

Do you approach things differently

when you're working

specifically with Pasifika youth?

I definitely think we do. It's

little things like understanding

our values. We're brought up in

our family environment with

LEADER:

Wesley

Mauafu

chaired

the first

meeting

of PULSE

– Pasifika

United

to Lead

Suicide

Prevention

Education –

last year.

fa'aaloalo, which is the Samoan

word for respect, and tautua,

which means service. So service

comes into the community

work that we do, and respect

means respecting our elders.

Understanding our cultural

values helps us work better with

Pasifika youth.

The Pasifika community in

Christchurch is quite tight-knit,

right? Is that a strength, when

you're fighting something like

suicide?

Well, we originally held three

suicide prevention workshops

and something we found was,

yes, we do have a very strong

community, but within Pacific

cultures there are also a lot of

stigmas we had to try to get rid

of before we could talk about the

actual issues. They were things

like we should sweep it under the

rug, because if we talk to young

people about suicide it might

plant the seed of suicide in their

mind. We also have to bring

down the stigma that you should

feel ashamed if someone in your

family has taken their own life.

We need to communicate with

our young people and our elders

that it's okay to talk about it and

there is no shame in it, because

we are all going through hard

times. The next question is, how

do you talk to people about it?

That's what we're trying now

to impart to our Pasifika community.

style

noun

elegance and sophistication.

synonyms: flair, grace, poise,

polish, suaveness, urbanity,

chic, finesse, taste, class,

comfort, luxury, affluence,

wealth, opulence, lavishness.

At Whitehead Plumbing & Gas Ltd

we have a great team of loyal staff

offering a diverse range of skills.

Serving Canterbury for over 35

years, we do everything from

domestic maintenance to new

homes and commercial buildings.

Plumbing.

Gasfitting.

Drainlaying.

Magazine & TV | sTyle.kiwi

Make us your first call today.

03 379 0711

whiteheadplumbing.co.nz

Tuesday, 9th May 2017

Principal's address 10:00am
---
Wednesday April 26 2017

Latest Christchurch news at www.

.kiwi

BAY HARBOUR

PAGE 7

and battling suicide earns youth award

That must be particularly important

since the earthquakes?

Definitely. We're over-represented

when it comes to things

like mental health problems and

depression. A lot of our Pasifika

young people and community

live on the east side, and a lot of

us in the red zone felt we were

treated unfairly – not myself personally,

but it's something I hear

a lot. It took a long time for the

Canterbury rebuild to make its

way to the east side, for our roads

to be fixed, for our houses to be

fixed. The feeling was, does our

city really care about us, when

it looked like the more well-off

on the other side of the city were

being taken care of first.

So what was the experience at

Parliament like?

It was fantastic. We met with

National MP Nuk Korako and

went to the gallery in Parliament

to watch David Cunliffe's valedictory

speech, which was awesome.

It was actually my second time

going to Parliament, but the first

time going with my mum and my

sister, which was fantastic to do.

The best thing was that child-like

feeling, when I looked at my

mum and thought, yes, my mum

thinks I'm cool. In terms of the

community work I do, I guess my

friends and family know what I

do, but I don't really talk in depth

about it. For my family, the only

time they really hear what I do is

when I get an award, so it's pretty

special. And I'm a 'mumma's

boy', so I just think if my mum

thinks I'm cool, I'm doing something

right in my life.

If it was your second time at

Parliament, when was the first?

I was part of a group presenting

to the Standing Orders Select

Committee, which sets the rules

that dictate how Parliament runs.

We went there saying if you want

more young people to vote and

be involved in democracy, you

need to make changes. They were

things like better utilisation of

Parliament TV and being able

to use your cellphones in Parliament.

And tell me a bit about your

life and interests outside of this

work?

To be honest, this takes a lot of

my life, and I really enjoy doing

TACKLE:

Wesley

plays rugby

for Sumner,

and hopes

his rugby

skills will

be a ticket

to travel

the world

one day.

PHOTO:

ROZELLE

MAY

this. But I do have other interests.

I play rugby for the Sumner

division 1 team. I've always loved

rugby. And I'm an engineering

student at Canterbury University,

currently second year in the civil

engineering department. Hopefully,

I should be done next year.

So you're planning a career as

an engineer?

I still haven't fully figured out

what kind of engineering I want

to do, but long term, yes, I want

to be a civil engineer. Short term,

I would love to travel, maybe

use the fact I can play rugby to

see the world, if I could play for

a European team somewhere.

I'd like to widen my experience

and then bring that back home.

But short and long term, I want

to keep working for my Pasifika

young people, in whatever capacity

I'm in.

And for the average person on

the street, is there anything we

can do day-to-day to help fight

suicide and mental illness?

It seems like such an airy-fairy

answer, but just a smile and a

bit of kindness goes a long way.

Having the courage to step out

in faith and ask someone if they

are okay, even if you don't know

them, whether it's an outlier in

a crowd, or if it's a friend who

seems to be acting a tiny bit different.

These are signs, invitations

we call them, to go and talk to

them. Ask them, are you okay?

But at the same time, don't expect

to be the answer and save their

life, just be there to listen and to

guide them to an actual professional

or counsellor. Don't feel

the burden, because if something

does go wrong it's not your fault.

Whatever you can give to a person,

your time or your presence,

is enough.

Masters

HOLLYWOOD 3

www.hollywoodcinema.co.nz

28 Marriner St,

Sumner

Phone:

03 326 6102

Thursday 20 April - Wednesday 26 April

THEIR FINEST (M) Sex scenes and offensive language

Thu/FRI/SAT: 6.00pm, 8.15pm SuN: 3.45pm, 6.00pm,

MON: 1.30pm, 3.45pm, 6.00pm TuE/WED: 1.30pm, 6.00pm, 8.15pm

BOSS BABY (G)

Thu: 10.00am, 12.15pm, 2.10pm FRI: 10.00am, 11.50am, 1.45pm

SAT: 4.00pm

DENIAL (M) Adult themes

SAT: 1.30pm, 3.40pm SuN/MON: 3.30pm

RULES DON'T APPLY (M) offensive language and sexual references

Thu/FRI/SAT/TuE/WED: 6.00pm, 8.20pm SuN/MON: 6.00pm

ROMEO ET JULIETTE (MET) (TBA)

FRI/MON: 11.00am SuN/TuE/WED: 1.00pm

GOING IN STYLE (M) Offensive language

Thu/FR: 1.30pm, 6.00pm SAT: 4.00pm, 6.00pm SuN: 4.45pm

MON: 2.00pm, 4.30pm TuE/WED: 2.00pm, 6.00pm

HANDSOME DEVIL (M) violence and offensive language

Thu/FRI/SAT/TuE/WED: 8.00pm SuN/MON: 6.30pm

SMURFS: THE LOST VILLAGE (G)

Thu: 10.00am, 11.45am, 1.30pm FRI: 10.00am, 11.45am

SAT: 1.30pm

STATE OF THE ART HIGH DEFINITION, LICENSED BAR

CAFE

open from 11am

TAB & Gaming

Function Facilities

HOUSIE

Tues, Thurs, Sat

SATURDAY'S JACKPOT

Be in to WIN up to $80

SHUTTLE

Tues - Sat

DAVEY BACKYARD

7PM FRIDAY in Whitfords Bar

BOBBY BROWN

liveENTERTAINMENT

7PM SATURDAY in Whitfords Bar

CONGRATuLATIONs TO F45 FERRYMEAD 8-WEEk CHALLENGE WINNERs!

Next F45 8-Week Challenge starts 1 st May!

• 8 weeks of unlimited training

• Each workout supervised by Personal Trainers

• Daily meal plans & recipes

• Weekly nutritional tips and videos

• Online seminars

• 45-point plan to guarantee results!

• One on One consultation with F45 Trainer

• Before and After body composition testing

Only $499

The F45 Challenge can help you DEFINE a fitter and healthier you.

TEAM TRAINING LIFE CHANGING

Before After Before After

For more info contact us TODAY at: ferrymead@f45training.co.nz & 022 188 0850 or christchurch@f45training.co.nz & 022 657 9433
---
PAGE 8 BAY HARBOUR Latest Christchurch news at www. .kiwi

Wednesday April 26 2017

Sumner score first win

• By Gordon Findlater

SUMNER celebrated their first

home game of the season with

a win in an 11-try blockbuster

against University at St Leonards

Square on Saturday.

The confidence-booster could

be just what the doctor ordered

going into the weekend's big

clash against New Brighton in

the annual battle of the beaches.

The 42-35 victory over University

was also Sumner's first win

this season. However, it took a

big second half effort after Sumner

were trailing by 13 late in the

first half.

"We just weren't competing

in the first half, we were letting

them boss us around," said Sumner

coach Martin Dodgson.

"We had a really good serious

hard chat at half time and then

the boys just came out and fired."

Sumner came out looking like

Bays victory puts

them second in

Mainland league

Sumner resident Seb Sacht helped

Ferrymead Bays secure their fifth win

this season with a 1-0 victory over

Western in the latest round of the

Mainland Premier League. After seven

rounds Bays is just one point behind

competition leader Coastal Spirit, and

have a game in hand.

an all-new beast and turned the

tide early in the second half with

two tries in a matter of minutes

to take the lead. First-five Nik

Cumming set up Tom McFarlane

after throwing a dummy and

drawing the last man, before

Archie McBride and Poasa

Waqanibau combined near the

half-way line before the big Fijian

ran away and scored under the

posts.

Cumming crossed the line

midway through the second 40

to extend Sumner's lead before

University answered back with a

try of their own.

Resilient defence in the final 15

minutes paid dividends for the

home side, enabling Sumner to

celebrate their first home game

with the right result.

Some explosive running and

dialled-in penalty kicking from

Cumming was key to the team's

success.

"He's a great little runner," said

Dodgson. "He really can spot a

gap and put others through as

well. (Cumming) had a blinder

for us."

New Brighton will offer a firm

test on Saturday. Last year's

Hawkins Cup winner dealt to

SPORTS

BIG TACKLE: Sumner

first-five Nik Cumming

(tackling) was instrumental

in Sumner's win against

University. He was not only

excellent on attack, but also

on defence.

PHOTO: ROZELLE MAY ​

Linwood 45-13 at the weekend

and will come to St Leonards

Square as the favourite.

"We want to respect the

history of the game and we'll

welcome our brothers from New

Brighton with open arms, but all

I'll ask is that we're competing

with energy and enthusiasm. If

I see that, then we'll get it done,"

said Dodgson.

Lavell takes out

champions title

John Lavell, of the Sumner club, won

the Bowls Canterbury Champion of

Champions men's singles title at the

Woolston Club at the weekend. He

defeated Belfast's Nathan Glassons

21-11 in the final to claim the title.

Lavell qualified for the tournament by

winning Sumner's men's singles title

earlier this year.

community early learning centre inc

• Community based, not-for-profit,

care and education from 0-6 years

• Low ratios and very low

teacher turnover

• Flexible hours between 8am and 5pm

We have an open door policy at

Moa Kids. Please come and visit

us at a time that suits you.

Cave Terrace

Barnett

Park

Moa Kids

Early

•

Learning

Centre

Wakatu Ave

Main Road

Moncks

Bay

Opening Hours:

8am-5pm Mon-Fri

03 384 1910

admin@moakids.org.nz

www.moakids.org.nz

Inside Barnett Park,

Main Road, Redcliffs

are you considering selling

before winter arrives?

The weather may be cooling but the property market in the seaside

suburbs certainly isn't!

Find out what your home could be worth to eager buyers actively

trying to find their next home with a free property appraisal. I look

forward to guiding you through your options for selling and advising

on latest marketing ideas available.

for this professional advice and

more call chris Moores today.

chris Moores

Harcourts Grenadier Ferrymead

1020 Ferry Road

P: 03 384 7950 | M: 027 588 4440

E: chris.moores@harcourts.co.nz

GRENADIER

Licensed Sales Consultant REAA 2008
---
Wednesday April 26 2017

Linwood College

Latest Christchurch news at www.

.kiwi

BAY HARBOUR

PAGE 9

PERSONALISED PATHWAYS TO SUCCESS

2018 Student Leaders: 1st Row: Vai Mariner, Crystal Mehlhopt, Jenna Hollis, Leeah Mullany, Sarah Moana Wooff-Smyth

2nd Row: Eden Pettigrew, Adonai Schwenke, Anaru Gray, Cole Barrie

3rd Row: Havana Aaifou, Thomas McHutchison, Sapana Kharal, William Paulden, Sean Robertson-Wright, Makayla Austin

Enrolling now for 2018

Message from the Principal

Kia ora koutou. Talofa.

Kia Orana. Malo e lelei.

Bula. Fakaalofa atu.

Namaste. Kumusta.

Haere mai ki te kura.

Warm greetings to

the Linwood College

community.

It is good to be able to report to our

community of the successes of Term One.

What is particularly pleasing is the increased

involvement of students in co-curricular

activities and the already close monitoring

of 2017 NCEA achievement. This means that

students achieving well are acknowledged

and further encouraged while students

with any early achievement 'wobbles' are

promptly noted, with student-family-school

conversations occurring. This is important to

us as we value the dual concepts of personal

pathways and personal excellence.

Connected to these student pathways is

another very pleasing development that has

occurred over Term One - the Community

of Learning (COL). COLs are schools

collaborating to ensure the student is at

the centre of all activity, but not just in the

individual school that they are in at the time,

but as students progress through their

education. Linwood College is already in

Dramatic Flair

Festival of Nations

For two days in March, Linwood College was on show

- in all its glory as communities from forty-seven

countries came together to take part in its very first

Festival of Nations. The idea was to create a multi-ethnic

celebration that reflected the contemporary Linwood

reality.

The event kicked off with a colourful Parade of Nations,

with students and communities, proudly marching in

their ethnic gear, preceded by their flag and placard

bearer.

"The range of colourful costumes worn by our students,

staff and community, was simply breath-taking,' said

Navjot McCormack, Head of Linwood College's English

Language Learning Department, the festival organisers.

The festival concluded with a Cultural Evening, a night

of spectacular entertainment. "One parent said that it

felt as if they were entering another world. I quite agree",

said Mrs McCormack.

the Tamai COL. These schools are LC, Te

Waka Unua, Linwood North, Linwood Ave,

Bromley, Tamariki and Bamford. A few

weeks ago the Bays cluster of schools –

Sumner, Our Lady Star of the Sea, Redcliffs,

Mt Pleasant, Heathcote Valley – made an

application to become a COL with Linwood

College as their partnership secondary

school and this has been accepted by the

Minister of Education.

A practical example of how COLs are good

news is when Heathcote Valley's Year 7-8s

stay after their regular Technology class

at LC to have enrichment Science, brain

dissection amongst other things! Another

enrichment programme that is occurring

for both COLs is debating and oratory.

Mrs Jac Yoder, our HOLA English; Mrs

Rose McInerney, Redcliffs Principal and

Ms Janeane Reid, Te Waka Unua Principal

have brought together our top debaters

and orators in Years 6-8 to work together

in an eight-week programme. Personal

excellence in action.

Nga mihi nui to our community as we close

Term One and prepare for the further

positive activity of Term Two. If any member

of the community wishes to talk to me about

anything, my door is open.

Richard Edmundson - Tumuaki-Principal

Year 10 students have recently

finished Commedia Dell'Arte

performances. This is an Italian form

of theatre which focuses on themes

such as Love, Food and Money.

2017 PRODUCTION: WOLFSTOCK

We are very excited to present

our production Wolfstock to our

community. With auditions now

completed, this will be performed

during the third term.

Taster Day 2017

Polyfest 2017

Linwood College students

represented the College

superbly during the recent

Polyfest 2017 event. This

was a day of celebration for

all Pasifika students living in

Christchurch.

The Polynesian festival

is a practical opportunity

to strengthen students'

knowledge of their cultural

heritage while showcasing

their dancing and

performance skills.

Linwood College Cactus Training

A new school is coming

Make it yours

OPEN NIGHT

Thursday 18 May 6pm-7.30pm

• Taster Open Afternoon for

Year 6 & 8 students:

Tuesday 16 May 1pm-3pm

• Meet the Principal appointments:

Monday 15 - Wednesday 17 May

5.30pm-9pm

Taster Day offered students the

opportunity to see a range of different

out-of-class activities that are on offer at

Linwood College.

Some of these activities include:

community garden club, volleyball,

futsal/football, league, Pasifika, theatre

sports, young enterprise, cricket, kapa

haka, debating, car club, Mindfulness,

Duke of Edinburgh Awards, Cactus,

board games, rock bands, netball,

basketball, maths club, Robotics, Ki o

Rahi and choir.

More than sixty Linwood College

students have passed through the

rigorous 'Cactus' Program.

Cactus is a big commitment both

physically and mentally, challenging

the students from Years 7 to 13 to

test their limits with training starting

at 6.30am. Recently the Woolston

Fire Brigade supported the program

by providing onsite training at the

Woolston Fire Training Centre.

Linwood College • Phone: 982-0100 • Email: office@linwoodcollege.school.nz • www.linwoodcollege.school.nz
---
Page 10

BaY HaRBOUR

WEDNESDAY APRIL 26 2017

40% OFF ALL

SISTEMA LARGE STORAGE

SNAP

DEAL

Props not included

GET IT BEFORE IT'S GONE.

$9 98

Fish Bin

Durable plastic construction.

Black. 54 litre.

113992 2

$12 99

each

EXCLUSIVE

Number 8

79 Litre Storage

Tote & Lid

Can be nested. Clip lid. Perfect storage solution for

garage, laundry or basement. Assorted colours.

296812 17

$19 95

NEW PRODUCT

Jobmate

6-Piece Wall Mounted

Storage Bins Kit

Heavy duty steel rack with 5 plastic stacking bins. Mounting

hardware included. W: 609.5mm, D:165mm, H: 100mm.

297660 21

$24 95

NEW PRODUCT

Jobmate

5-Piece Wall Organiser Kit

Heavy duty steel. Easily mounted onto most walls.

Mounting hardware included.

W: 609.5mm, D:265mm, H: 115mm.

9 Piece Kit $39.95

297632 20 297631 15

from

$8 each

EXCLUSIVE

Number 8

Rolling Organisers

Durable plastic construction. Clip lid.

Handles and wheels for easy moving.

Assorted sizes.

299818 7

$49 95

from each

NEW PRODUCT

Whitmor

Supreme Shelving Units

Heavy duty black epoxy steel.

Adjustable levelling feet.

Easy, no-tool assembly. Black.

10 year warranty.

300975 54

$

79

Jobmate

Mobile Tool Box

Large storage compartment.

Telescopic metal handle and

heavy duty metal latches.

2 year warranty.

300773 19

$79 98

EXCLUSIVE

Muscle Rack

Shelving Unit

4 shelves. Ready to assemble.

300kg per shelf capacity.

H: 1535mm, W: 910mm, D: 460mm.

174170 13

$239

2 Door Steel Cabinet

Adjustable shelves.

Powder coated. Lockable.

H: 1680mm, W: 762mm, D: 381mm.

121797 3

SNAP

DEAL

GET IT BEFORE IT'S GONE.

Ferrymead

Ashburton

1005 81 West Ferry Street Road,

Phone: 366 3086306

5119

FCB 0629 ASL

Opening Opening Hours Hours:

Monday Monday–Friday: - 7.00am 7:00am–7pm

- 6.00pm

Saturday: Saturday, 8.00am Sunday - 6.00pm and Public Holidays: 8:00am–6:00pm

Sunday & Public Holidays: 8.00am - 5.00pm

Offers available at Mitre10 Mega Ferrymead only, valid 26th April to 3rd May, while stocks last.
---
WEDNESDAY APRIL 26 2017

BaY HaRBOUR

Page 11

NEW PRODUCT

LOW PRICE

$

16 50 Jobmate

100 Litre Heavy Duty

Storage Tote & Lid

Durable plastic and sturdy design.

Stackable & nesting.

Snap-on lockable lid.

299758 24

LOW PRICE

$

99

EXCLUSIVE

Muscle Rack

Heavy Duty Wire

Shelving Unit

5 shelves. 350kg per shelf capacity.

Keyhole locking system.

Can be assembled as a workbench.

H: 1830mm, W: 1220mm, D: 610mm.

289773 14

LOW PRICE

Whitmor

$

99 98 Double Rod Closet

5 strong shelves, 2 hanging bars.

Ready to assemble. Black/chrome.

H: 1728mm, W:1149mm, D: 490mm.

135581 52

$99

Whitmor

Chrome Garment Rack

Heavy duty metal frame and shelves.

Ready to assemble. 4 plastic caster

wheels (2 lockable). Props not included.

H: 1784mm, W: 914mm.

113852 51

$259

EXCLUSIVE

Nouveau

400mm Wardrobe Organiser

Includes 2x adjustable telescopic hanging rails, all

mounting hardware and components. Ready to assemble.

Fits wardrobes 1010mm - 2400mm. 5 year warranty.

600mm $279.00

183280 22 183281 23

25% OFF ALL

PRODUCTS

$99

EXCLUSIVE

Nouveau

Overhead Cupboard

Adjustable shelf for custom storage. White.

H: 600mm, W: 795mm, D: 295mm. 2 year warranty.

246981 5

$139

EXCLUSIVE

Nouveau

Base Cupboard

Adjustable shelf for custom storage. White.

H: 900mm, W: 800mm, D: 415mm. 2 year warranty.

246980 4

LOW PRICE

$210 pack

Elfa

Wardrobe Starter Pack

Additional pieces can be added

at any time. Fully adjustable.

Ready to assemble. Suitable for

wardrobes up to 2m wide. White.

111355 1

$69 90

EXCLUSIVE

Buy Right

600mm Storage Cupboard

2 door melamine cupboard, 3 shelves, 1 fixed.

Ready to assemble. Made in New Zealand. Gloss white.

H: 1800mm, W: 600mm, D: 412mm.

213330 26

$399

Mr Shelf

Cupboard

Fully assembled. Melamine finish with heavy duty

hardware fittings. Made in New Zealand. White.

H: 1950mm, W: 1000mm, D: 420mm. 5 year warranty.

124172 25

$

Earn triple

Airpoints 19 98 Dollars

Nouveau

2 Tier Stackable Shoe Rack

on all storage products *

Holds up to 9 pairs of shoes.

Length adjusts from 63cm 112cm.

279874

*Airpoints terms and conditions apply. See in store for details.

We accept the

following cards

* If you find a lower price on an identical stocked product locally we will beat it by 15%.

FCB 0629 ASR

If you find the same product cheaper from another Mitre 10 store or Mitre 10 website we'll match that price.

Excludes trade and special quotes, stock liquidations and commercial quantities. The in-store price may be

lower than that advertised

Available from XXXXX XXth - XXXXX XXth May 2017, while stocks last. MY1310

find us

mitre10.co.nz
---
PAGE 12 BAY HARBOUR Latest Christchurch news at www. .kiwi

Wednesday April 26 2017

NEW LISTING

A DELIGHTFUL SUMNER PROPERTY

39 Campbell Street

A lovely home in a quiet location perfect for your Sumner lifestyle. Set down a private driveway, sheltered, warm, sunny,

fully fenced and safe for children. A well-landscaped garden with established trees, a variety of fruit trees and vegetable

garden. Feel the peaceful surroundings and enjoy the sound of the birds. The house has been fully repaired since the

earthquakes including brick recladding and insulation. With excellent sunlight hours, north facing open-plan living and

central heating you will discover the magic of this home. The stylish well-designed new kitchen and spacious living has

bi-fold doors that open out to the large deck, lawn and barbeque area. Upon entering you are greeted with a warm

feeling, original polished wood floors from hallways to living and three sunny bedrooms, loads of storage and a central

bathroom. You will not regret being involved in this neighbourhood, so close to St Leonards Park with playground,

sportsgrounds and an easy walk to the beach. Owners have purchased elsewhere don't miss this opportunity.

Sumner

Auction

From 12pm, Fri 19 May 2017 (unless sold prior)

3 Deans Ave, Chch

View Thurs/Sun 12.15-1pm

www.bayleys.co.nz/554481

Marilyn Still

M 027 229 8769

B 03 595 2844

marilyn.still@bayleys.co.nz

WHALAN AND PARTNERS LTD, BAYLEYS,

LICENSED UNDER THE REA ACT 2008.

EUROPEAN INFLUENCES WITH SEA VIEWS - VENDOR IS KEEN TO NEGOTIATE

2 Gazelle Lane

This superbly appointed, 270m² home boasts breath-taking vistas spanning from the Estuary below, to the Alps and

Kaikoura Ranges. An open-plan kitchen with granite work spaces and plentiful storage connects to a dining-sitting room

plus formal living room; both are spacious, light and feature a dual-sided gas fire. Bi-fold doors provide seamless flow to

two of the multiple balconies. All three bedrooms are serviced by their own, fully tiled ensuite with the main enjoying a

spa bath positioned to enjoy the magnificent views. Located on the lower level, bedroom three is very spacious and with

its own kitchenette - is perfect for guests, Airbnb or as a teen retreat. Separate laundry, an office and guest powder

room plus an optional gym or second office off the double garage. Fully repaired with new internal paint, carpet and LED

lighting. Under-floor heating optional throughout the home. Presented 'as new' and sheltered from the easterly.

Redcliffs

For Sale

Negotiable over $1,150,000

View Sat 3-3.30pm or anytime by appointment

www.bayleys.co.nz/553798

Rosemarie de Jong

M 027 240 8005

B 03 375 4700

rosemarie.dejong@bayleys.co.nz

WHALAN AND PARTNERS LTD, BAYLEYS,

LICENSED UNDER THE REA ACT 2008.

553798

www.bayleys.co.nz

All companies within this composite are Members of Bayleys Realty Group
---
Wednesday April 26 2017

Latest Christchurch news at www.

.kiwi

BAY HARBOUR

PAGE 13

Travel

Visiting the mystical city of Edoras

• By Mike Yardley

IT'S THE type of scenery that

screensavers are made for – Mt

Sunday, deep in the heart of the

Canterbury high country.

I always find it fascinating to

experience your own turf through

the lens of a tourist, gleaning fresh

perspectives from the outside

world on the place you call home.

Better known to movie-fans

as the mystical city of Edoras, I

recently joined a guided journey

to this spectacular cinematic location

with Hassle-free Tours.

Heading south of Christchurch,

in a comfortable six-wheel Toyota

Land Cruiser, with elevated seating

and panoramic windows, our

driver-guide, Hammond, set sail

on his illuminating, chatty commentary

on the two-hour drive.

We entered the Hakatere

Conservation Park, flanked by

the alpine lakes of Camp and

Clearwater and their tight cluster

of rustic batches. A quick photostop

to soak up the expansive

high country vistas served merely

as an appetiser for the majesty

that lay ahead.

On a heavily rutted gravel

Hakatere-Potts Rd, bracketed

in golden hills of snow tussock,

matagouri and toetoe, the most

celestial viewpoint appeared at

the Mt Potts Cutting, stretching

across the broad basin of the

Rangitata Valley, buttressed by

heroically high mountains and

sheer cliffs.

Welcome to the Kingdom of

Rohan. Much of the land belongs

to Mt Potts Station, however, in

SPECTACLE: Mt Sunday-Edoras.

the wake of the Lord of the Ringsinspired

popularity, DOC created

an easement to Mt Sunday aka

Edoras.

From the public car park, it's a

15min walk up the southern spur

of Mt Sunday. However, one of

the many advantages of taking

the journey with Hassle-free

Tours is that it is the only operator

with a concession to drive past

the car park, fording the gin-clear

streams and up part of the mountain,

using the rutted track on the

northern spur, which the land

cruiser made light work of.

From there, it's a rather effortless

stroll to the summit. Sixhundred

metres above sea level,

this rocky, protruding jewel in the

middle of this insanely photogenic

valley beckoned us like a

beacon. After we'd mounted the

summit, the 360deg alpine panorama

is so enthrallingly kaleidoscopic,

so jaw-droppingly epic,

not even a month of Sundays

basking in this perspective would

become boring.

There's Erewhon Station of

Clydesdales-fame, the serpentine

braids of the Rangitata River, the

Southern Alps, the expansive valley

plain and the silvery, slinking

trail of Potts River. The air was

so crisp and clear, the mountains

seemed magnified with sharp

edges and spectacular shingle fans.

Only the sound of happilyclicking

shutters, competed

against the strengthening howls

of the wind. The wind-speed

reached 72km/h as we took in the

summit spectacle and endured an

involuntary facial exfoliation.

Notorious for wind gusts, Hammond

remarked that at the time

of shooting, the Rings crew were

buffeted by wind gusts as high as

180km/h. The real beauty of the

Hassle-free tour is all the insightful

behind-the-scenes nuggets.

On one particularly windy day,

Sir Peter Jackson's glasses flew off

his face, over the cliff, never to be

seen again. There's a movie relic

to hunt for.

Sir Peter stumbled upon this

cinematic location by sheer accident.

His location scouts were

choppering down to the West

MAJESTIC: Rutted gravel

roads are no problem to the

Hassle-free Land Cruiser.

(Below) – Mt Sunday and the

Rohan sword.

Coast, but were forced to fly east

due to bad weather, chancing

upon Mt Sunday by a stroke of

sheer luck. Many of the riders of

Rohan were actually women from

pony clubs in mid-Canterbury.

Hammond also explained

how the construction of the city

of Edoras took nine months,

showing us photos of the elaborate

sets, including Golden Hall,

which graced this rocky outcrop.

The cast and crew only spent 11

days actually shooting on sight.

In spite of the alpine location,

miraculously, they didn't see one

drop of rain. Hammond also was

equipped with an arsenal of replica

weaponry and flags from the

movie, which we had great fun

posing with for obligatory photos.

A variety of movie featurettes

were played to our group, including

some cracking bloopers.

What really shone through was

how much the cast genuinely fell

in love with Mt Sunday. Driving

back to Christchurch, Hammond

finally revealed that he was Hammond

Peek, the double Oscarwinner,

who sound engineered

the Rings trilogy.

After 36 years in film and

television, since 2006, Hammond

has been a driver-guide for

Hassle-free Tours. He only works

a couple of days a week, so you

may want to request a date when

he's behind the wheel.

Location is the pixie dust of

movie dreams and Mt Sunday

is a star specimen in our own

backyard.

FAST FACTS

•For over a decade,

the award-winning

Christchurch-based tour

company has been setjetting

enthusiasts to

their cinematic dreams,

bringing to life one of

the most wondrous film

locations in the Rings trilogy,

deep in the Rangitata

Valley. Explore the region

with the incomparable

experience that Hassle-

Free Tours provides. www.

hasslefreetours.co.nz

Visit www.star.kiwi

anytime, anywhere!

Breaking news,

delivered to your pocket.

•news •CTV •sport •districts •schools •lifestyle •opinion •what's on

Fire rages, homes at risk

www.star.kiwi
---
2

[Edition datE]

BAY HARBOUR Latest Christchurch news at www. .kiwi

PAGE 14 Wednesday April 26 2017

itLocal

Bay Harbour

News

Keep

Tutors' commitment brings

results for students

A genuine commitment to helping

students achieve in education and concern

for what happens to them are what brings

the results for children tutored at Kip

McGrath Ferrymead, says franchise owner

Helen Hudson.

"As they progress through the sessions we

see them blossom and grow in confidence

with their learning and that's so rewarding,"

Helen says.

The other key factors that set Kip McGrath

apart and contribute to students' success are

that all tutors have to be qualified teachers,

and that students have the same tutor every

time they attend, Helen says.

"This allows the tutors to build a rapport

with their students. They work on an

individualised programme within a small

group of three to five students."

Communication with

parents is another important

aspect, Helen points out.

"We have to be meeting the

needs of the children as the

parents see it, as well as what

we see is needed."

Kip McGrath Ferrymead

has six tutors offering students

from Year 1-13 tutoring in

maths and English – covering

a broad spectrum of spelling,

writing and reading, with

the tutors fully conversant

with NCEA requirements.

Chemistry and physics

tutoring is available for Year

11, 12 and 13 students.

"With the senior students

we work alongside them, but

they are really the leader of

the lesson, which is tailormade

to their needs," Helen

says.

There is also a focus on

children with learning

difficulties, such as dyslexia,

and for accelerant students,

who need extra challenges.

Each tutoring session lasts one

hour 20 minutes, with about six different

activities included each time. Sessions are

run outside school hours, either before or

after school, with most students attending

once a week.

"We also offer one-on-one tutoring for

adult students, who may need to improve

their English or maths skills for work they

want to apply for."

There are several funding subsidies

Kip McGrath Ferrymead franchise owner Helen

Hudson helping a student

available for Kip McGrath tutoring.

Registered Ngai Tahu members receive

some funding, as do registered members

of the Rotorua-based Tauhara No. 2 Trust.

Fletchers also provide funding subsidies for

family members of their employees.

Free assessments are offered, and students

can enroll at any time of the year.

Kip McGrath Ferrymead is located at

Unit 1, 27 Waterman Place, Ferrymead,

phone 384 1188.

DOES

YOUR CHILD

NEED SOME HELP?

ENROL THEM TODAY!

NEW HUNTER JUNIOR

WITH COLOURED STRIPED GUSSET

Childrens sizes 7-13 & 1-2

Great price from $99.95

And great colour range

Adult styles also available

47c Garlands Road, Woolston

Phone 389 3431

www.thefootwearfactory.co.nz

Open Monday - Friday 6am-5pm

& Saturday 7am-3pm

8 Norwich Quay, Lyttelton

Phone: 03 328 9004

RECYCLED CLOTHING

BOUTIQUE

The best in recycled designer

clothes, shoes & accessories.

Thou Shall Not Pay Retail.

Accepting winter stock now.

OPEN 7 DAYS

Shop 2, Sumner Village Mall

Christchurch | 03 326 7246

www.facebook.com/SumnerTimeAndTimeAgain

FERRYMEAD

• Mathematics

• Reading

• Spelling

• English

• Sciences

• NCEA Subjects Y11-13

• Preparation for school

entrance test

FREE

AssEssmEnt

Unit 1/27 Waterman Place, Ferrymead

(just off Ferry Rd) | Phone 384 1188

www.kipmcgrath.co.nz

SPACE

AVAILABLE

If you're reading this ad chances are thousands

of other local Bay Harbour readers be will also

Are you interested in advertising on our

'Keep it Local' page and for less than $100

per month and also includes an advertorial

Stuck for a

birthday gift?

Why not a handcrafted, hand stitched leather bag or belt…

something they'll treasure for a lifetime.

Large range of styles, colours and sizes to choose from!

Ferry Good Cleaning

Ferry Good Service

Ferry Nice People

You are ferry welcome to

call on us at our new home.

Contact Rob Davison 021 225 8584

or Javier Balcazar 021 225 8221

Village Leathercraft

Hand Crafted leather Goods

Peter O'Brien • 153 Port Hills Road

Heathcote Valley

Phone 027 221 4066

Phone: 03 384 5015

Kite lane, 1027 Ferry Rd

Behind Casual & Country

Advertising enquiries Javier Balcazar | Ph: 021 225 8221 | javier.balcazar@starmedia.kiwi
---
Wednesday April 26 2017

Latest Christchurch news at www.

.kiwi

BAY HARBOUR

PAGE 15

cnr Montreal & St Asaph Streets, Christchurch.

Sales, Service & Parts: 03 379 0588

LIMITED OFFER

ONLY

$

12,990

2015

AVAILABLE ON

1/3 1/3 1/3

NO INTEREST FINANCE OFFER

For a little car, the Mirage XLS is carrying a whole lot of features. There's a sharp body kit, stunning

colour choices, 5 star safety, 15" alloys, Active Stability Control, Bluetooth TM , just for starters. And when

you consider the fun you and your family will get out of it, it's pretty hard to go past and that's before you

consider the price. So don't miss out on this unique opportunity to own a quality pre-owned Mirage for

only $12,990.

Normal lending and credit criteria apply. $4,330 + $250 fees (which includes PPSR and documentation fees) are payable on delivery, $4,330 in 12 months and $4,300 in 24 Months from delivery date.

Total cost including Fees and ORC's $13,240. Offer available while stocks last.

4 . 9L

/100KM

MORE SPACE

FOR MORE

ADVENTURE.

Planning a road trip? Going hiking? Or just got a whole

lot of shopping to do?

The new MINI Countryman is perfect for any occasion. Featuring

improved driving comfort, a remarkably roomy interior and ALL4

all-wheel drive the new MINI Countryman is the ultimate all-rounder,

ready to tackle whatever road your story takes you on.

Grab your sense of adventure and get behind the wheel from $44,900 * .

Book a test drive now at Christchurch MINI Garage.

CHRISTCHURCH MINI GARAGE.

30 Manchester Street. Christchurch, 8011. 03 363 7240.

MINI.CO.NZ

THE NEW MINI COUNTRYMAN.

ADD STORIES.

*

Recommended Retail Price based on a standard MINI Countryman Cooper, includes

GST, excludes on-road costs. Model shown with optional extras. See mini.co.nz or

your local MINI Garage for more information.
---
PAGE 16 BAY HARBOUR Latest Christchurch news at www. .kiwi

Wednesday April 26 2017

Our fresh promise

If it's not fresh, we'll replace & refund.

Fresh NZ Chicken Drumsticks

Chilean Red Seedless Grapes 500g

$

4 99

kg

$

3 99

pack

Signature Range Mild/Colby/Edam Cheese 1kg

Whittaker's

Chocolate Block

250g

$

8 99

each

$

4 29

each

Fresh NZ Beef Blade Steak/Bolar Roast

Loose Carrots

Wattie's Very Special Soup 520-535g/

Big Hearty Soup

535g

$

13 99

kg

Speight's Gold Medal Ale/Summit

12 x 330ml Bottles

$

1 69

kg

Shingle Peak

750ml

(Excludes Reserve/Pinot Noir)

$

2 79

each

Coke/Sprite/

Fanta/Lift/L&P

1.5L

Please drink

responsibly

$

17 99

pack

$

9 99

each

2 for

$

5 00

svbhn2604

SuperValueNZ

SuperValue Lyttelton: 17 London Street, Lyttelton. Phone 328 7368. Open 7am-9pm, 7 days.

SuperValue Sumner: 3 Village Mall, Sumner. Phone 326 5688. Open 7am-9pm, 7 days.

SuperValue.co.nz

Specials available from Wednesday, 26th April until Sunday, 30th April 2017 or while stocks last. We reserve the right to limit quantities. All limits specified apply per customer per day.

Trade not supplied. Prepared meals are serving suggestions only. Props not included. Certain products may not be available in all stores. Proprietary brands not for resale.

Customer Support Freephone 0800 40 40 40.
---
Wednesday April 26 2017

Latest Christchurch news at www.

.kiwi

BAY HARBOUR

PAGE 17

Email caitlin.miles@starmedia.kiwi

by 5pm each Wednesday

2Graves

Wednesday to April 29

The Lyttelton Arts Factory is

back with another show. This

time the story involves a darts

world championship and a father

and son mixed in with some

revenge. The show features Tom

Trevella, who has previously

performed at the Court Theatre.

For more information go to

http://www.laf.co.nz/

Lyttelton Arts Factory. 34

Oxford St. Tickets from $20

Create 'n' Connect

Thursday, 9.30am-noon

If you're crafty or want to start

getting crafty, go along to this

group. Phone Beth on 022 678

1252 for more information.

St Andrews Anglican Church,

148 Main Rd, Redcliffs. Free entry

Leaf House

Thursday and Friday, 2-4pm

and Saturday, 11am-4pm

This is an exhibition of

paintings by Jennifer Rendall. It

finishes on Saturday.

50 Works Gallery, Lyttelton

Babytimes

Friday, 10.30-11am

This event allows parents and

caregivers to interact with each

other while the babies learn.

At these sessions, babies learn

through language, rhymes,

songs, stories and play.

Lyttelton Library, 18

Canterbury St. Free entry

Rythym and Bubs

Friday, from 9.30-11.45am

If you're looking to engage

your baby or pre-schooler in

music, go along to this event,

run every Friday morning, for

a series of 30-minute sessions.

The sessions allow for children,

parents and caregivers to meet

one another and interact with

others around the Sumner,

Redcliffs and Mt Pleasant areas.

Call Hazel on 384 1965 or 021

077 1264 for more information.

St Andrews Church, 148 Main

Rd, Redcliffs

Storytimes

Tuesday, 11-11.30am

Encourage reading in your

pre-schoolers.Storytimes has

interactive programmes, which

include stories, songs, rhymes

and play. Pick up some library

books to read to them at home.

Lyttelton Library, 18

Canterbury St. Free entry

NATURE: Get involved in the community and help clean

up Drayton Reserve in Mt Pleasant. This working bee

will be held on Saturday at 2pm. Meet at the waterfall

lookout, located half-way up the valley. Wear a sun hat

and suitable clothes, footwear and gloves for clearing

weeds. Feel free to take your own tools if you prefer.

Once all of the weeds have been cleared, new planting

will be done. Make sure to pack a water bottle. Some

city council-owned tools will be provided. For further

information, phone Dave Bryce 021 363 498. ​

Markets:

The weekly markets have

many different attractions

and delicious treats on

offer from fresh produce to

freshly baked breads,

cheeses and free range

eggs.

Lyttelton Farmers'

Market: Every Saturday,

10am-1pm, London St

Mt Pleasant Farmers'

Market: Every Saturday,

9.30am-12.30pm, 3

McCormacks Bay Rd

Wakefield Ave

Akaroa Farmers' Market:

Saturday, 9.30am-1pm,

Madeira Car Park

3 Garlands Road, Woolston

DeluxeCinemas.co.nz

Christchurch's Premium Cinema Experience

Phone Bookings | Free Parking | Cafe/Licensed Bar

03 389 5360 Online Bookings | Cinema Club | Hot Nuts/ Cheeses

tHeIr FINeSt Bill Nighy

WED: 11:00am, 1:15pm, 6:00pm, 8:15pm THU/FRI: 11:00am, 1:20pm,

3:40pm, 6:00pm, 8:20pm SAT: 11:00am, 1:20pm, 5:45pm, 8:00pm

SUN: 10:45am, 3:00pm, 5:15pm, 7:30pm MON/TUE: 11:00am, 1:20pm,

3:40pm, 6:00pm, 8:20pm

HANDSOMe DevIl In the tradition of Sing Street

THU/FRI/SAT: 2:20pm, 4:15pm, 8:30pm SUN: 2:20pm, 4:15pm, 8:20pm

MON/TUE: 2:20pm, 4:15pm, 8:30pm

DeNIAl Based on a true story

WED: 11:45am, 4:20pm THU/FRI/SAT: 12:10pm, 6:15pm

SUN: 12:10pm, 6:10pm MON/TUE: 12:10pm, 6:15pm

tHe prINCeSS BrIDe - SAT: 3:40pm SUN: 1:00pm

tHe INNOCeNtS Based on a true story

WED: 9.35am THU/FRI/SAT/SUN/MON/TUE: 10:00am

tHe SAleSMAN Best Foreign film - WED: 1:55pm, 8:30pm

BeAUtY AND tHe BeASt Disney Classic - WED: 3:30pm

COMING SOON

May 11th Viceroy's House

May 18th Pecking Order

MAY 18th The Sense Of An Ending

MAY 25th The Hippopotamus

SpeCIAl eveNtS/retrO

teD tAlKS May 3rd, 7th, 10th

tHe prINCeSS BrIDe April 29th, 30th

MYSterY SCreeNING

May 6th 8:30pm R18

THEIR FINEST M Sex scenes and offensive language HANDSOME DEVIL M Violence and offensive language DENIAL

M Adult themes THE PRINCESS BRIDE PG Younger children may require parental guidance THE INNOCENTS M

Sexual violence, suicide & content that may disturb THE SALESMAN M BEAUTY AND THE BEAST PG

NEW: SERVING FREE MORNING TEA ENjOY A FREE TEA, COFFEE & A FRESHLY BAkED BISCUIT WITH

EVERY MORNING SHOW

A BRANCH OF

Still Pedalling!

EXHIBITORS

BOOK NOW

Michael Toomey

mft@younghunter.co.nz

Proudly providing

legal advice to

the community

for 25 years

Michelle Rossiter

mjr@younghunter.co.nz

P. 384-5350

www.younghunter.co.nz

Trevor Crowe's been involved with cars for a

while. You can benefit from his experience at...

Subaru Specialists

Full Workshop services

WOF's | Service Checks | Wheel

Alignment | Brakes | Clutches | Tyres etc

Great range of Subarus & other

makes from $5,000 - $35,000

View at www.crowesport.co.nz

518 Moorhouse Ave (East end)

Phone 379 7615 or

email: service@crowesport.co.nz

Showcase your

products or

services to more

than 20,000

customers

Home &

Leisure

SHOW

30 TH JuNE – 2 Nd JuLy 2017

HorncaStle arena

BOOKINGS

VANESSA FLEMING | P 03 379 7100 | M 021 914 565

vanessa.fleming@starmedia.kiwi

starhomeshow.kiwi

A Star Media Event
---
PAGE 18 BAY HARBOUR Latest Christchurch news at www. .kiwi

Wednesday April 26 2017

REAL ESTATE

Snug as a Bug

20 Colenso Street, Sumner

Auction: Thursday 11th May 2017 Unless Sold Prior

2 bedrooms | 1 bathroom | 1 toilet | 1 living room | 1 dining room | 1 carport | 1 off-street park | Listing # FM5144

This gorgeous character cottage has been

lovingly maintained and is beautifully

presented both inside and out. This property

combines the best of traditional and

contemporary with double glazing keeping

you toasty warm throughout the winter

months.

An open plan area incorporates living,

dining, and kitchen and forms the heart of

the home. Original polished wood floors

add a warm natural feel, while a new pellet

fire and heat pump keep the heat locked in.

A sunroom adjoining the main living area

is ideal for an extra sitting room or sundrenched

office space.

Light, modern decor in warm tones

creates a homely feel throughout, while high

ceilings add to the sense of space. There are

two bedrooms, both of which have heat

pumps to keep everyone comfortable all

year round, and there is a separate studio at

the back of the home. The roomy bathroom

has a beautiful free standing claw-foot bath

and separate shower.

A large wooden deck overlooking the

private and sunny back garden is directly

accessible from the kitchen and enjoys

lovely views of the Port Hills, and a serene,

leafy environment. The rear garden is a

pleasant surprise for those venturing along

the pathway and past the studio, where

another large space awaits, complete with a

vege garden and loads of fruit trees.

With covered parking space for one

vehicle and plenty of off street parking, and

situated just a short stroll from all the local

shops and amenities, this home has a little

bit of everything and plenty to make you

smile.

Open homes Wednesdays 5:00 p.m.

- 5:45 p.m. and Sundays 3:00 p.m. - 3:45

p.m. until auction day. See you at the

open homes or for a private viewing

appointment – contact Michelle Ward

of Harcourts Grenadier Ferrymead

(Licensed Agent REAA 2008) on 384 7950

or mobile 027 203 7858

Computers

ALL

YOUR

COMPUTER

WORRIES SOLVED!

*$30.00 off your first

service with this coupon!*

No problem too big or

small from home PC's to

business networks. PC

slow? An end to Viruses,

Spyware, and Clogged

Systems. Safe secure

hassle-free computing.

Lost files recovered.

Microsoft Certified,

MCSE, MCP+l. 30 years

experience. Call Andrew

Buxton this week on 326-

6740 or 027 435-7596

for $30.00 off* Custom

Computers Christchurch

Funeral Directors

Direct Cremation

Provider

Service without

the funeral

0800 000 121

www.cremorials.co.nz

Wanted To Buy

A+ Household effects,

fridges, freezers, washing

machines, ovens. Good

cash paid. Ph Paul 022

0891 671

Holiday

Accommodation

SUMNER Holiday

Accom 027 600 6076

www.kotaresumner.nz

Gardening

& Supplies

Landscape

and Garden

Services

If you need help

getting your garden

back in order after

repairs, need any

type of landscape

construction work or

garden restoration.

Ph 021 272 0303

GARDENER - Need

your home or commercial

garden tidied up or

renovated or require long

term assistance. Phone

Ruth 326-6663 or 021

272-0303

Holiday

Accommodation

QUEENSLAND SUN-

SHINE COAST AUSTRA-

LIA Resort, Ocean Views,

Balconies, Self Contained,

1 or 2 B/R Ensuite,

Heated Pool, Spa, Sauna,

Free Internet, Shops,

Restaurants, Tennis, Surf

Club & Patrolled Beach,

Public Transport at door.

Ask for our SEASONAL

SPECIALS. Phone 61 7

544-35011 Email: reception@mandolin.com.au

www.mandolin.com.au

Trades & Services

RE-ROOFING

QUALITY ROOFING AT THE

BEST PRICE AROUND

Protect your home with a new Colorsteel roof.

Call for a friendly, FREE assessment and quote.

• Roofing

• Spouting and Downpipe

• Safety rails

• Licensed Building

Practitioner

Ph: 347 9045 or 021 165 1682

Email: Robinsonroofing99@gmail.com

Public Notices

Redcliffs School

Board of Trustees

By-Election

Declaration of Parent

Representative

By-Election Results

Parent representative

votes:

Bernard, Wesley 36

Jansen, Greg 36

Kilkelly, Bernice 3

Shields, Brian 8

Invalid Votes 0

As two candidates

received an equal

number of votes

the result was

determined by a

lot. I hereby declare

WESLEY BERNARD

the winner of the

lot and therefore I

hereby declare him

duly elected.

Rachael Davis

Returning Officer

Trades & Services

Plumbing Drainage

Plumbing & Drainage

PLUMBING & DRAINAGE

Local business for all

plumbing MTPD and drainage

Call Local Morgan business work. - 0223758506 for all

plumbing and drainage

Morgan Thomas Plumbing & Drainage Ltd

Local business for all plumbing and

drainage work.

Freework.

Free Quotes

Quotes

Free Quotes

New SkyVac

Gutter Cleaning Machine

New SkyVac

Revolutionary Gutter cleaning system.

Gutter Cleaning Machine

No job too big or too small!

Revolutionary Gutter cleaning system.

MORGAN THOMAS PLUMBING & DRAINAGE LTD

No job

Calltoo Morgan

big0223758506

or too small!

MORGAN Visit our THOMAS website PLUMBING - www.mtpd.co.nz

& DRAINAGE LTD

Email Call-Morgan morgan@mtpd.co.nz

0223758506

Visit our website - www.mtpd.co.nz

Trades & Services A PAINTER Email AvAIlAblE - morgan@mtpd.co.nz

DRAINlYER

rapid response, quality Reg,all types, 20 yrs hill work

work guaranteed, interior/ exp, ph 028 408-0121

exterior, roofs, spraypainting, ElECTRICIAN

waterblasting, Ph Graeme for a

ROOF

JMP Electrical. Experienced

free quote, 027 318 2614 & registered. Expert in all

PAINTING bRICKlAYER

home electrical repairs &

George Lockyer. Over 30 maintenance. Call James 027

Rope & harness years bricklaying experience. 4401715

a speciality, UK trained. Licensed Building

FURNITURE REMOvAlS

Practitioner number BP105608.

no scaffolding

Large Trucks $95 + GST per

Insurance work. EQC

required,

hour 7 day NZ wide, packing

repairs. Heritage brickwork a

& moving, Professional

30 years of speciality. No job too small.

Company, Professional Service.

breathtaking

Governors Bay. Home 329-

Canterbury Relocations Ltd. ph

9344, Cell 027 684-4046, email

experience.

0800 359 9313

georgelockyer@xtra.co.nz

FREE QUOTES CARPET & vINYl lAYINg PAINTER/PlASTERER

Repairs, uplifting, relaying, Experienced tradesman, quality

Exterior staining, restretching. Email jflattery@ work, free quotes, ph Simon

exterior painting, xtra.co.nz, ph 0800 003 181 or 027 389-1351 or 03 328-7280

moss and mould 027 2407416

PAINTINg

CONCRETE

& PLASTERING Free quotes.

treatment and

Decopave Ltd, Canterbury Int/ext & roof painting Family

waterblasting owned & operated for over run business, work guaranteed.

10 years, competitive rates, Pensioner discounts. Ph

Phone Kevin full excavation, coloured, Kerin or Paul 022 191 7877

027 561 4629 exposed, stamped, call Paul or 379-1281. Website www.

027 322 6119

swedekiwipainting.co.nz

Trades & Services

DINING

TakeawaySpecial

$15 Curry & Rice & Naan

Dine In Special

$22 Curry & Rice & Naan & glass of house

wine, house beer or soft drink

Specials Tues & Wed only

Fully Licensed Restaurant and Bar.

1 Wakefield Avenue Sumner, Christchurch

Bookings are welcome | Ph: 326 7917

PAINTINg SERvICES

Mature, reliable,

conscientious &

experienced, reasonable

rates, no job too small!

Call Ron 027 434-1400

PAINT

See our unique range of

1/2 Ltr packs from only

$1, 360 Ferry Rd, 7 Days

PH 381 2012

PlASTERERINg

INTERIOR, no job too big

or too small, specialise in

repair work & new houses,

free quotes given, over 20

yrs plastering experience,

ph 027 221-4066 or 384-

2574

ROOFINg

Qualified & Licenced

Practitioner. Re-Roof &

Repairs, all types. Member

New Zealand Roofing

Association. Over 35 years

experience. Phone John

027 432-3822 or 351-9147

email

co.nz

johnmill@ihug.

TIlER

25 yrs exp. All aspects of

tiling professionally done.

Ph Greg 027 434 9160

TREES

BIG OR SMALL, tree

removal, trimming, stump

grinding, shelterbelt clean

up, section clearing,

rubbish removals,

excavation work, ph Trees

Big or Small, for a free

quote, 021 061 4783

vHS vIDEO TAPES

& all camera tapes

converted to DVD, video

taping special occasions,

www.grahamsvideo.co.nz

ph 03 338-1655

WINDOW ClEANINg

"Your Windows are the

eyes of your Home", for

a free no obligation quote,

call Greg Brown, Crystal

Clear Window Cleaning

ph 384-2661 or 027 616-

0331 Local Resident
---
Wednesday April 26 2017

Latest Christchurch news at www.

.kiwi

BAY HARBOUR

PAGE 19

YOUR LOCAL TRADES & PROfESSiOnAL

SERviCE bUSinESSES

Appears every

month in

Support theSe locAl buSineSSeS

Nails by Sean Alexandra

Beautiful hands, feet and nails start now!

Qualified and professionally trained Nail

Technician. Expert nail care advice, quality

products and services and trending nail art

options including full service manicures and

pedicures, hard gel and acrylic nail enhancements

and custom nail art.

Sean Alexandra - Governors Bay

Ph 021 024 97351 email seanalexandra1@gmail.com

www.seanalexandra.wixsite.com/nails

Qualified Nail Technician in the heart of the bay

Owned and operated by Sean

Alexandra (Pronounced "Sharn")

the salon is a private haven for

relaxation dedicated to boutiquestyle

hand, feet and nail services

including mens hand and feet

grooming and care.

If you're sick of being treated

like 'just a number' or being on the

receiving end of a painful or over

zealous, damaging and hurried

manicure service then you've come

to the right place because Sean

Alexandra endeavours to make your

experience safe, relaxing, enjoyable

and an indulgence every time.

As well as beautiful looking nails,

a priority for Sean is to ensure

hygienic services that do not hurt or

damage your natural nails.

Remind MUM how

special she is this

Mother's day, TReaT

HeR:

• Gel Polish Mani $30

• Gel Polish Mani &

Pedi $50 (Value $80)

• Ultimate Indulgence

Pedicure $60

(Value $85)

• Manicure & Ultimate

Indulgence Pedicure

$80 (Value $120)

$20 OFF GIFT CERTIFICATES until 15 May.

Eftpos available. call/text 021 024 97351 or

book online www.seanalexandra.wixsite.com/

nails/book-online.

Join me on Facebook @nailsbyseanalexandra

You'll be amazed at what a multi-purpose

room your garage becomes when you add

carpet and it only costs around $35m 2 .

Part of the Protecta Coatings Group

We only use New Zealand made,

100% UV resistant specialised carpet.

We also paint garage and workshop floors.

www.protectafloorings.co.nz

Call now 021 488 025

Lyttelton Physiotherapy

A friendly team of 4 experienced physiotherapists

• Back and neck problems

• Sports physiotherapy

• Post operative rehabilitation

• Work related injuries

• Gym Based programs, small gym on-site

• Injury prevention

• Elderly care

• Acupuncture and dry needling

• Massage and myofascial release

Physiotherapists

Heather Bushaway, Andrew Abakhan,

Leila Shahtahmasebi, Richard Hopkins

ACC ENDORSED PROVIDER | NO DR's REFERRAL NECESSARY

LYTTELTON HEALTH CENTRE

18 Oxford St, Lyttelton

Hours: Monday–Friday 8am – 7pm

Phone: 03 3288111 Fax: 03 3288901

Email: lytteltonphysio@gmail.com

Lyttelton Physiotherapy

Located at 18 Oxford Street, Lyttelton Physiotherapy is

ACC accredited and open from 8am – 7pm,

Monday to Friday. Phone 328 8111.

Owner and physiotherapist Heather Bushaway has been at the helm of Lyttelton Physiotherapy for the past

18 years and says personal, and hands–on treatment that sets them apart from other practices.

"We're a very friendly, community-oriented practice where you can make a cup of tea when you come in,"

says Heather. "We spend time with our clients assessing their needs and tailoring the treatment individually."

Our physiotherapy team is well experienced and we continually improve our skills and services offered.

As staff turnover is low you will always see a friendly face that remembers you.

Andrew Abakhan, for the past 12 years has worked in the clinic and with a variety of sports teams

providing physiotherapy and strength conditioning training. Andrew is also trained in Myofascial release

techniques to get your muscles ready for the next workout.

Heather Bushaway specialises in spinal care, headaches and acupuncture She also works in the community

providing falls prevention programmes.

Leila Shahtahmasebi has 8 years experienced having worked overseas specialising in trigger point therapy,

dry needling and also works with Parkinson and Multiple Sclerosis sufferers.

Richard Hopkins brings a wealth of experience to our team having 30years experience in private practice,

occupational health and teaching post graduates in manipulative physiotherapy.

A small onsite gym overlooking Lyttelton harbour is perfect to do customised gym programmes to aid

recovery and return the body to balance.

ROOF

PAINTING

Rope & harness a speciality, no

scaffolding required, 30 years

of breathtaking experience.

FREE QUOTES

Exterior staining, exterior

painting, moss and

mould treatment and

waterblasting.

Phone Kevin 027 561 4629

Landscape

and Garden

Services

If you need help getting your

garden back in order after

repairs, need any type of

landscape construction work

or garden restoration.

Phone 021 272 0303

Counselling for:

• Anxiety • Depression • Grief

• Low self-esteem • Relationships

• Neck/Head Massage:

Stiff/sore neck

• 20 years experience

• 30% off 1st appointment

• Price: $80 per hour

Call Gina Luke

Pascha Therapist/

Massage Therapist

021 570 757

6 Elgin Street, Sydenham

Level 1, 20 Bealey Ave, Merivale

Ph: 03 943 1950 M: 021 937 949

E: craig@craigroberts.co.nz

I will be available on the Peninsula one day

a week and can travel to see you or meet in

Little River, please phone for an appointment

We Build Great

Retaining

Walls

All types, all sizes

Gabion, Pole, Concrete,

Wood, Block

SOLVEIG

CONSTRUCTION

Call 027 431 5289

Monday-Friday 8 to 5
---
PAGE 20 BAY HARBOUR Latest Christchurch news at www. .kiwi

Wednesday April 26 2017

Fall into the

new season

Savour the new season with these flavoursome

favourites - perfect for Autumn evenings!

Look out for our

Out Now

STEINLAGER

CLASSIC

24 x 330ml Bottles

HOT DEAL!

$

37 99

SPEIGHT'S, LION

RED OR WAIKATO

SWAPPA CRATES

12 x 745ml Bottles

*Deposit fee

may apply

GORDON'S

1 Litre

HOT DEAL!

$

37 99 $ 47 99 $ 59 99

$

34 99

JOHNNIE

WALKER

RED

1 Litre

JOHNNIE

WALKER

BLACK

700ml

JOHNNIE

WALKER

DOUBLE BLACK

700ml

BECK'S

12 x 330ml Bottles

HOT DEAL!

HOT DEAL!

$

34

$ 99 17 99

TOP DROP!

WAIPARA HILLS

750ml

$

12 99 $

24 99

SMIRNOFF ICE DOUBLE BLACK

12 x 250ml Cans, 7%

130+ STORES NATIONWIDE, 100% LOCALLY OWNED & OPERATED

Amberley | Ashburton | Barrington | Belfast | Blenheim Road | Brighton | Brougham | Burnside | Colombo Street

Eastgate | Edgeware | Elmwood | Ferrymead | Halswell | Hanmer Springs | Hillmorton | Hornby | Ilam | Kaiapoi

Leeston | Lincoln | Lyttelton | Pages Road | Papanui | Parklands | Rangiora | Seaside | Shirley | Woodend | Woolston

superliquor.co.nz | 0800 SUPERL (0800 787 375)

Offers end close of trade 7th May 2017, while stocks last. Available at participating stores only. Varietals may vary by store. Limits may apply.

Trade not supplied. Terms and conditions may apply. Available 24th April - 7th May 2017 inclusive. Please see www.superliquor.co.nz for details.

SUP0377_CHCH