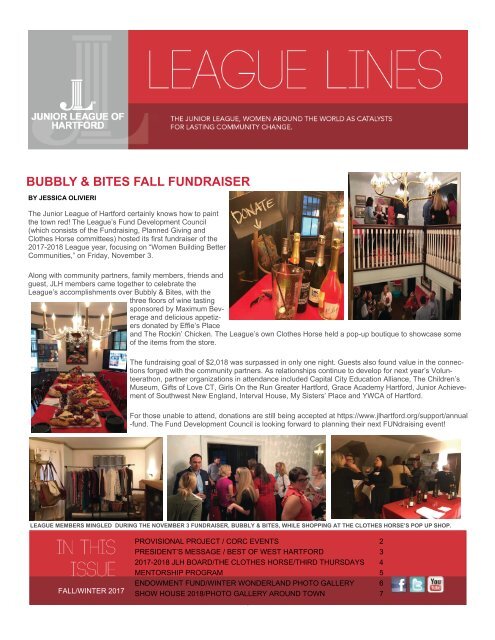 JLH League Lines - Fall Winter 2017 - FINAL
Create successful ePaper yourself
Turn your PDF publications into a flip-book with our unique Google optimized e-Paper software.
BUBBLY & BITES FALL FUNDRAISER

BY JESSICA OLIVIERI

The Junior League of Hartford certainly knows how to paint

the town red! The League's Fund Development Council

(which consists of the Fundraising, Planned Giving and

Clothes Horse committees) hosted its first fundraiser of the

2017-2018 League year, focusing on "Women Building Better

Communities," on Friday, November 3.

Along with community partners, family members, friends and

guest, JLH members came together to celebrate the

League's accomplishments over Bubbly & Bites, with the

three floors of wine tasting

sponsored by Maximum Beverage

and delicious appetizers

donated by Effie's Place

and The Rockin' Chicken. The League's own Clothes Horse held a pop-up boutique to showcase some

of the items from the store.

The fundraising goal of $2,018 was surpassed in only one night. Guests also found value in the connections

forged with the community partners. As relationships continue to develop for next year's Volunteerathon,

partner organizations in attendance included Capital City Education Alliance, The Children's

Museum, Gifts of Love CT, Girls On the Run Greater Hartford, Grace Academy Hartford, Junior Achievement

of Southwest New England, Interval House, My Sisters' Place and YWCA of Hartford.

For those unable to attend, donations are still being accepted at https://www.jlhartford.org/support/annual

-fund. The Fund Development Council is looking forward to planning their next FUNdraising event!

LEAGUE MEMBERS MINGLED DURING THE NOVEMBER 3 FUNDRAISER, BUBBLY & BITES, WHILE SHOPPING AT THE CLOTHES HORSE'S POP UP SHOP.

FALL/WINTER 2017

PROVISIONAL PROJECT / CORC EVENTS 2

PRESIDENT'S MESSAGE / BEST OF WEST HARTFORD 3

2017-2018 JLH BOARD/THE CLOTHES HORSE/THIRD THURSDAYS 4

MENTORSHIP PROGRAM 5

ENDOWMENT FUND/WINTER WONDERLAND PHOTO GALLERY 6

SHOW HOUSE 2018/PHOTO GALLERY AROUND TOWN 7

1
---
The Junior League of Hartford, Inc.

BOARD OF DIRECTORS

2017-2018

OFFICERS

PRESIDENT

PRESIDENT ELECT

SECRETARY

TREASURER

ASST. TREASURER

Molly Towne

Whitney Sweeney

Stacey Clark

Anissa Berasi

Jessica Pieri

COUNCIL DIRECTORS

COMMUNICATIONS Elizabeth Paige

Fierman

COMMUNITY SERVICE Jocelyn O'Brien

Hawkins

FUND DEVELOPMENT Demetria Wright

MEMBERSHIP Sarah Needham

SUSTAINERS Roza Kogan

Julie Krug

NOMINATING &

PLACEMENT

SHOW HOUSE

Taylor Shea

Meghan Guerrera

Lissa Johnson

MISSION

The Junior League of Hartford is an organization

of women committed to promoting voluntarism,

developing the potential of women and

improving communities through the effective

action and leadership of trained volunteers. Its

purpose is exclusively educational and

charitable.

The Junior League of Hartford, Inc.

is located at:

993 Farmington Avenue, Suite 208

West Hartford, CT 06107

TELEPHONE: 860.233.4300

TELEFAX: 860.570.0823

WEB: www.JLHartford.org

EMAIL: info@jlhartford.org

League Lines Committee

CO-CHAIRS

Emily Deans

Kathryn Joerg

COMMITTEE Tina Macca

Julie Paquette

PROVISIONAL PROJECT: GIRLS ON THE RUN

BY BRITTNEY MIHALICH

On December 3, the 2017-2018 provisional

class partnered with Greater Hartford's

branch of Girls on the Run to cheer on the

young athletes as they completed the Blue

Back Mitten Run 5K in West Hartford Center.

The class honed in on their creativity to

create signs and planned race-morning

activities for the girls, including face painting,

a photo booth and distribution of

healthy snacks and goodie bags. Everyone

was thrilled to encourage and support

the racers throughout the course as they

complete this momentous milestone.

Girls on the Run is a nationwide nonprofit

girls empowerment program that builds

confidence and teaches life skills through

running. The program serves girls from

third through eighth grade through weekly

small group workouts to train for each season's culminating 5K run. Since the expansion

of GOTR Hartford in 2016, members of the Junior League have become

increasingly involved in the organization's mission.

COMMUNITY OUTREACH COMMITTEE EVENTS

BY MEAGHAN MARY COOPER AND JENNIFER MILLER

SIGNS CREATED BY THE JUNIOR LEAGUE OF

HARTFORD ENCOURAGED THE RUNNERS FROM

GIRLS ON THE RUN GREATER HARTFORD DUR-

ING THE BLUE BACK MITTEN RUN 5K IN WEST

HARTFORD ON DECEMBER 3.

The Community Outreach Committee (CORC) teamed up with My Sisters' Place to

throw their annual kids' Halloween Party. As part of the fun-filled evening, Junior

League members served Halloween-themed dinner to the families, helped the children

play games and decorate cupcakes, watched them bob for apples and handed out

candy as the kids trick-or- treated through the building.

The children were decked out in costumes ranging from a Tootsie Roll to Moana. All

the kids, parents and volunteers had a blast. The Junior League of Hartford looks forward

to continuing its

longstanding relationship with

My Sisters' Place through a

variety events in the coming

months.

CORC also recently organized

a breakfast for residents at

Interval House, preparing a

beautiful spread and dining

with the women and children

in attendance. After breakfast,

they colored and played with

the children—it's a toss up

who enjoyed the coloring and

games more!

MEMBERS OF THE JUNIOR LEAGUE OF HARTFORD

DRESSED UP TO BRING HALLOWEEN CHEER TO THE CHIL-

DREN AND FAMILIES AT MY SISTERS' PLACE.

2
---
PRESIDENT'S MESSAGE

BY MOLLY TOWNE

For 97 years the Junior League of Hartford has made an incredible impact in the

Greater Hartford community. Our members are engaged and committed to the community

impact area of our league: Empowering Women and Young Girls.

As you know, the mission of the Junior League of Hartford is to promote volunteerism,

develop the potential of women and improve our community through the effective action

and leadership of trained volunteers. To give you some examples of where we

have made an impact:

• Our Done in a Day Committee (DIAD) and Community Outreach Committee

(CORC) partner with area nonprofits, which allow our volunteers to help improve

our community through a variety of programs, events and volunteer opportunities.

• These opportunities have already impacted women and young girls at Grace

Academy, My Sisters Place, Interval House, Houston, TX Diaper Bank, Connecticut

Children's Medical Center, the Clothes Horse (The Junior League of Harford's

Thrift Shop) and Junior Achievement through our Career Connections for Young

Women program.

• Career Connections for Young Women (CCYW) is our joint endeavor with Junior

Achievement (JA) of Southwest New England. This program highlights how we

are developing the potential of women and young girls as well as training our volunteers.

Annually, we work with JA to mentor over 20 high school girls on college

& career preparation in a 10-week after school academy. Our members receive

training in each area they volunteer to teach, including: conflict management and

communication, personal finance, personal branding, dangers of social media,

public speaking and more.

None of these great programs would be possible without fundraising efforts and community support and 2018 will be no different. We are

entering an exciting year and one of our big events is the 14th Decorator Show House happening in May. The last 13 Show Houses have

raised over $1.35 million for the impact area and mission of our league. We hope to see you there (and don't worry, our Volunteerathon

will be back in fall 2018)!

Our league hopes to continue to do all of this and much more, so mark your calendars and keep a lookout for more information on our

website and through our social media channels including Facebook, Twitter and Instagram.

All the best,

THE JLH SELECTED AS CHARITY PARTNER FOR BEST OF

WEST HARTFORD EVENT

BY JESSICA PIERI

The Junior League of Hartford was thrilled to be

selected as the charity partner of the 2017 Best of

West Hartford event, held on September 27 at

Cinepolis at Blue Back Square. In addition to providing

volunteers for the third annual event, members

of the JLH participated in all the fun festivities of the

evening, as well.

L TO R: KRISTEN FRITZ, MARTA ROBINSON, ALISON PERRY, DEMETRIA WRIGHT, JESSICA

PIERI AND CHEYNEY BARRIEAU AT THE BEST OF WEST HARTFORD EVENT.

3
---
THE 2017-2018 JLH BOARD OF DIRECTORS. PHOTO COURTESY OF CHEYNEY BARRIEAU PHOTOGRAPHY.

MEET THE 2017-2018 JUNIOR LEAGUE OF HARTFORD

BOARD OF DIRECTORS

The Junior League of Hartford would like to introduce its 2017-2018 Board of Directors:

President – Molly Towne

President-Elect – Whitney Sweeney

Secretary – Stacey Clark

Treasurer – Anissa Berasi

Assistant Treasurer – Jessica Pieri

Sustainer Council Directors — Roza Kogan, Julie Krug

Communications Council Director – Elizabeth Paige Fierman

Community Service Council Director – Jocelyn O'Brien Hawkins

Fund Development Council Director – Demetria Wright

Membership Council Director – Sarah Needham

Nominating & Placement Council Director – Taylor Shea

Show House Directors — Meghan Guerrera, Lissa Johnson

THE CLOTHES HORSE

BY ALLISON HONEYMAN

On Thursday, November 9, The Clothes Horse

held its annual Customer Appreciation Night. Loyal

customers shopped til they dropped with fun instore

activations.

THIRD THURSDAY SOCIALS

"Third Thursday Socials" are new monthly gatherings for JLH members.

These events are a welcome opportunity to meet other members in a fun

social atmosphere while trying out some great local restaurants. Members

are also encouraged to bring friends and coworkers potentially interested

in learning more about the League.

This fall, The Clothes Horse began accepting consignment

handbags in new or gently used condition;

gently used vintage handbags are also acceptable.

They will be priced at 25-50% of their

retail value as determined by The Clothes Horse

staff. Handbags can be brought in on Wednesdays.

On Thursday, December 14, The Clothes Horse

partnered with Kimberly Boutique for a Clothing

Donation event. Kimberly Boutique is located at

968 Farmington Avenue in West Hartford Center.

Participants who made a clothing donation to The

Clothes Horse during the event then received 10%

off their Kimberly Boutique purchase that evening.

LEAGUE MEMBERS CONNECTING AT VINTED IN WEST HARTFORD.

4
---
JLH MENTORSHIP PROGRAM CONNECTS NEW & SEASONED MEMBERS

BY JESSICA GAGNON AND JEN BYRNE

A desire to cultivate a deeper understanding of the mission of the Junior League of Hartford, make a difference in the community, develop

leadership skills and forge friendships drew 24 women together on November 14 to kick off the JLH's Mentorship Program at First

& Last Bakery Cafe in Hartford. The program aims to increase member retention in a way that engages new members by offering them

support from seasoned members and inspires them to own the mission of the League, becoming League ambassadors in the community,

in the process.

This is the first year the JLH has implemented a mentoring program and 20 women signed up to participate, 10 as mentors and 10 as

mentees. The JLH Training Committee is spearheading the program and used an interest survey to match mentees, who are new

members or transfers from other leagues with mentors, who have been in the League for at least four years. Both members of each

pairing had similar interests and goals, whether it was to find more ways to get involved in the community, develop leadership skills and

join the JLH Board of Directors, grow their network within the League or balance work, family, and volunteering.

The pairs met for the first time in person at the kickoff event, which included introductory remarks about the goals of the program, expectations

for participation, a group ice breaker and time to meet one-on-one to establish their own goals for the coming year. Pairs will

meet on their own over the next two months and the broader group will reconvene in February. Also in attendance at the kickoff were

members of the Training Committee and Board of Directors.

MEMBERS CONNECTED AT THE MENTORING PROGRAM'S KICK-OFF EVENT AT FIRST & LAST BAKERY CAFÉ IN HARTFORD ON NOVEMBER 14. PARTICI-

PANTS JOINED IN ICEBREAKERS AND CONVERSATION LED BY TRAINING COMMITTEE CHAIRS JEN BYRNE AND JESSICA GAGNON (PICTURED R ABOVE).

5
---
JLH PLANNED GIVING: ENDOWMENT FUND INFORMATION

BY BRIA DAY

The Junior League of Hartford's Endowment Fund, managed by the Hartford Foundation for Public Giving, is extremely important to our

League's future and sustainability. The Fund was started in 2011 by a few Sustainers and, with the support of other Sustainers, Actives

and Provisionals, has grown tremendously. The Endowment Fund is vital for the long-term success and continuity of the Junior League

of Hartford. By contributing to the JLH, donors can help ensure that the JLH has income possibilities in the future.

You can support the Endowment Fund with a donation of any amount. Whether your donation is $10 or $5,000, all support helps grow

the Endowment Fund to support the JLH and its activities in the Greater Hartford community.

Here are ways you can donate:

Donations to the Fund may be made by check, payable to "HFPG, Inc." noting "JLH Endowment Fund" on the memo line. Checks can

be sent to the Junior League of Hartford office or directly to:

Hartford Foundation for Public Giving

10 Columbus Boulevard, 8th Floor

Hartford, CT 06106

For donations charged to a credit card, please call the Hartford Foundation for Public Giving at (860) 548-1888 or to pay via credit card

online, please visit HFPG.org/donate

If you are interested in making a bequest, please contact the Junior League office for more information. To contact, please call (860)

233-4300 or email info@jlhartford.org.

PHOTO GALLERY: 2017 WINTER WONDERLAND

DURING WINTER WONDERLAND, A FAVORITE ANNUAL EVENT, JLH MEM-

BERS HEADED OUT INTO THE COMMUNITY TO DECORATE OUR PARTNERS'

SPACES FOR THE HOLIDAYS ON SATURDAY, DECEMBER 9. THE TOP LEFT

SCENE WAS INSTALLED AT THE VILLAGE FOR CHILDREN & FAMILIES,

WHILE THE BOTTOM LEFT AND ABOVE PHOTOS WERE TAKEN AT THE

CHRYSALIS CENTER, BOTH IN HARTFORD.

6
---
COMING IN SPRING 2018: 14TH DECORATOR SHOW HOUSE

BY 2018 SHOW HOUSE COUNCIL

What is the Decorator Show House?

Every three years, the Junior League of Hartford takes over a notable home or estate in the Greater Hartford area and selects designers,

local and regional, to make over the interior spaces and surrounding grounds, a process that takes months to accomplish. During

April and May, the public is invited to view the grand home that has been transformed both inside and out. Funds are raised through

tour ticket sales, special event ticket sales, individual and corporate sponsorships and program advertisements.

When is Show House 2018?

Decorator hours will begin March 19 through April 16. The house will then be open to the public from April 27 through May 20.

Where is Show House 2018?

The location for Show House 2018 has not yet been selected. The search is a lengthy one that requires the Junior League of Hartford

to find a house that fits all event logistics as well as a homeowner willing to meet all requirements stated on the lease. Once a house is

selected, there will be a reveal to all Junior League of Hartford members and the community.

PHOTO GALLERY: JUNIOR LEAGUE AROUND TOWN

HELPING ONE OF THE JLH'S COMMUNITY PARTNERS, MEMBERS HELPED

DECORATE FOR AN ANNUAL HOLIDAY PARTY AT HARTFORD HOSPITAL ON

SUNDAY, DECEMBER 17. THEY STRUNG LIGHTS, MADE STUFFED ANIMAL

GOODIE BAGS, MADE CENTERPIECES AND CREATED A PHOTO BOOTH.

MEMBERS OF THE COMMUNICATIONS COUNCIL CAME TOGETHER FOR A

SMALL GROUP MEETING IN NOVEMBER AT THE NOAH WEBSTER LIBRARY IN

BLUE BACK SQUARE IN WEST HARTFORD. THEY DISCUSSED LEADERSHIP

OPPORTUNITIES WITHIN THE JUNIOR LEAGUE OF HARTFORD.

MEMBERS PARTICIPATED IN A HOLIDAY COOKIE COMPETITION AT THE ANNU-

AL JLH HOLIDAY PARTY ON DECEMBER 6. HERE ARE THE WINNING TREATS:

CHINESE NEW YEAR COOKIES MADE WITH CHOCOLATE, BUTTERSCOTCH,

PEANUTS, CHOW MEIN NOODLES AND FESTIVE SPRINKLES. OF THE 11 SUB-

MISSIONS, THEY CAME OUT ON TOP!

THE ANNUAL JLH HOLIDAY PARTY WAS HELD AT REAL ARTWAYS IN HART-

FORD ON DECEMBER 6 AND WAS FULL OF COOKIES, MINGLING AND HEAR-

ING FROM COMMUNITY PARTNER MY SISTERS' PLACE ABOUT ALL THE GOOD

THEY DO IN THE GREATER HARTFORD COMMUNITY.

7
---
NON-PROFIT

ORGANIZATION

US POSTAGE

PAID

WATERBURY, CT

PERMIT NO. 1522

Junior League of Hartford

993 Farmington Avenue, Suite 208

West Hartford, CT 06107

Since 1921, the Junior League has been making the Greater Hartford community a better place to live by promoting

voluntarism, developing the potential of women and improving our community through the effective action and

leadership of trained volunteers. We are a 501(c) 3 not-for-profit organization whose purpose is exclusively educational

and charitable. The Junior League of Hartford is a member of the Association of Junior Leagues International

(AJLI).

MAKE A DONATION: JLH ANNUAL FUND

Thank you for making our work possible.

OUR MISSION

The Junior League of Hartford, Inc. is an

organization of women committed to

promoting voluntarism, developing the

potential of women, and improving communities

through the effective action and

leadership of trained volunteers. Its purpose

is exclusively educational and

charitable.

Your support is critical to our continued success, and we invite you

to join us with a gift to our Annual Fund. Donations to the Annual

Fund provide unrestricted funds to the Junior League of Hartford,

Inc., which enhances our ability to provide quality community services

projects and trained volunteers who serve the needs of the

Greater Hartford community.

The Junior League of Hartford, Inc. is a 501(c)(3) non-profit organization.

Your gift is tax-deductible to the fullest extent of the law.

Please donate online (www.jlhartford.org/give) or by sending a

check, made payable to the Junior League of Hartford, Inc., to 993

Farmington Avenue, West Hartford, CT 06117), with the notation

"Annual Fund donation."

If you have questions about donations to the Junior League of Hartford,

please contact us at info@jlhartford.org.