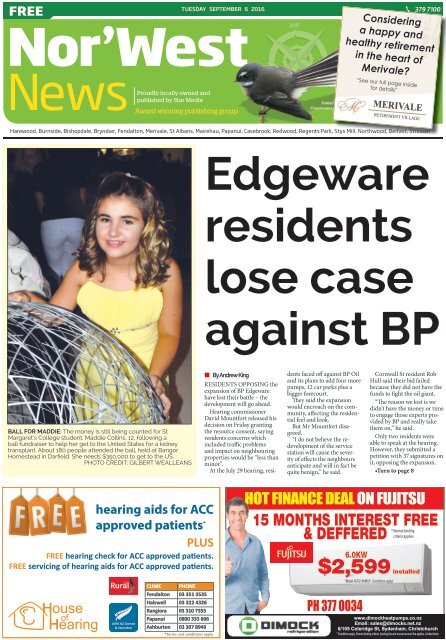 Nor'West News: September 06, 2016
Create successful ePaper yourself
Turn your PDF publications into a flip-book with our unique Google optimized e-Paper software.
FREE

TUESDAY SEPTEMBER 6 2016 379 7100

Considering

a happy and

healthy retirement

in the heart of

Merivale?

Proudly locally owned and

published by Star Media

Award winning publishing group

Fantail

(Piwakawaka)

"See our full page inside

for details"

MERIVALE

RETIREMENT VILLAGE

Harewood, Burnside, Bishopdale, Bryndwr, Fendalton, Merivale, St Albans, Mairehau, Papanui, Casebrook, Redwood, Regents Park, Styx Mill, Northwood, Belfast, Strowan

Edgeware

residents

lose case

against BP

BALL FOR MADDIE: The money is still being counted for St

Margaret's College student, Maddie Collins, 12, following a

ball fundraiser to help her get to the United States for a kidney

transplant. About 180 people attended the ball, held at Bangor

Homestead in Darfield. She needs $350,000 to get to the US.

PHOTO CREDIT: GILBERT WEALLEANS

• By Andrew King

RESIDENTS OPPOSING the

expansion of BP Edgeware

have lost their battle – the

development will go ahead.

Hearing commissioner

David Mountfort released his

decision on Friday granting

the resource consent, saying

residents concerns which

included traffic problems

and impact on neighbouring

properties would be "less than

minor".

At the July 29 hearing, residents

faced off against BP Oil

and its plans to add four more

pumps, 12 car parks plus a

bigger forecourt.

They said the expansion

would encroach on the community,

affecting the residential

feel and look.

But Mr Mountfort disagreed.

"I do not believe the redevelopment

of the service

station will cause the severity

of effects the neighbours

anticipate and will in fact be

quite benign," he said.

Cornwall St resident Rob

Hull said their bid failed

because they did not have the

funds to fight the oil giant.

"The reason we lost is we

didn't have the money or time

to engage those experts provided

by BP and really take

them on," he said.

Only two residents were

able to speak at the hearing.

However, they submitted a

petition with 37 signatures on

it, opposing the expansion.

•Turn to page 8

House

of

Hearing

100% NZ Owned

& Operated

CLINIC PHONE

Fendalton 03 351 3535

Halswell 03 322 4326

Rangiora 03 310 7355

Papanui 0800 333 606

Ashburton 03 307 8949

hot finance deal on fujitsu

Hot Hot De

on 8KW Heat

15 months interest free

* Normal lending

& deffered criteria applies

Fujitsu ASTG24L 8 KW

Heat Pump for Just

6.0KW

$2,999

Fully Installed*

$2,599 installed

Six Year

"Model ASTG18KMCA" (Conditions apply)

Warranty

PH 377 0034 Ph 377 OR 0034 0800 800 734

Installed back

run and electr

www.dimockheatpumps.co.nz

Email: sales@dimocks.net.nz

6/105 Coleridge St, Sydenham, Christchurch

* Conditions apply. Normal lending criteria, booking fee and annual account fee applies. Limited stock.

www.di

Email:
---
2

Tuesday September 6 2016

Inside

NOR'WEST NEWS

FROM

THE

EDITOR'S

DESK News...................3, 5, 8 & 16

On our front page today, we have

St Margaret's College student

Maddie Collins who is battling

kidney failure. At the weekend, a

ball was held to fundraise some

of the $350,000 needed to get

Maddie to the United States for

a transplant. If you would like

to help, head over to Givealittle

https://givealittle.co.nz/cause/

givethegiftoflifetomaddie.

Our coverage of the troublesome

Breens, Gardiners and Harewood

Rds intersection continues with

Pauline Uhr, 91, recalling cars

destroying her fence and even the

time four priests rolled their vehicle

on Christmas Day (page 3).

Finally, look at your election ballots

very closely in October – there

are two Rod Camerons going for

the Harewood Ward, with only a

middle initial the difference. If you

are intending to vote for a Rodney

make sure you get the right one!

Hei kona, Shelley Robinson

Papanui pupils shine at cultural festival

SCHOOLS 9

Your Local Views.........4

Our People.......................6-7

Schools.......................9-10

Sport..................................15-16

Health & Beauty.........20

Community Events......21

Senior Living..........21-23

Classifieds....................25-26

GET IN TOUCH

General Enquiries Ph 379-7100

Classified Advertising Ph 379-1100

starmedia.kiwi

NEWS

Andrew King

Ph: 371 0777

andrew.king@starmedia.kiwi

ADVERTISING

Richard McCombie

Ph: 364 7472

richard.mccombie@starmedia.kiwi

ADVERTISING

Monique Maynard

Ph: 364 7474

monique.maynard@starmedia.kiwi

New dog rules start in spring

New rules around dogs, and what their owners

are required to do, are in effect from Thursday

1 September 2016.

Experience a tiny hearing aid that

outperforms normal hearing in

challenging listening environments*

A virtually invisible German engineered hearing aid that

enables wearers to understand speech in difficult listening

situations like busy restaurants, and reduces listening effort

throughout your day.*

Easy to operate with excellent sound quality and audibility.

Major changes to the general rules include:

• All dog owners must carry plastic bags to clean up dog

poo when in public places.

• When dog owners have their dog off-leash in a

public place, they must have it "under effective

control", which means being aware of where their

dog is and what it is doing, and ensuring it is

responsive to commands and not creating a nuisance.

For full details on the new policy and bylaw, please visit

www.ccc.govt.nz/dogbylaw

For further information or to book an

appointment for a free hearing screening

and hearing aid demonstration

Phone: 356 2324 Consultations by appointment only.

Completely disappears

*Clinically proven in two independent studies to provide better than normal hearing in certain demanding listening environments.

*Special conditions apply

Merivale Hearing Clinic

24b Church Lane, Merivale. Call: 356 2324

Greg Foote, Audiologist
---
NOR'WEST NEWS Tuesday September 6 2016 3

News

91-year-old joins call for

changes to intersection

• By Andrew King

AFTER 59 years living on

the corner of a troublesome

Harewood intersection, Pauline

Uhr, 91, has seen it all.

Vehicles through her fence,

a friend's car destroyed and

countless traffic jams – she even

saw four priests roll their vehicle

on Christmas Day a number

of years ago at the Breens,

Gardiners and Harewood Rds

intersection.

"I told them there must be

someone watching out for

them," she said.

The intersection has been a

serious concern for residents

and parents whose children

need to cross it to get to school,

also for motorists trying to get

across it.

The Nor'West News reported

in April, the Fendalton-Waimairi

Community Board was

looking at an urgent solution,

such as a temporary pedestrian

crossing, after resident Julie

Grant alerted them to the situation.

Deputy chairman David

CHANGE NEEDED: Pauline Uhr has seen most things in her

59 years living on the corner of Gardiners and Harewood Rds

– now she says it is time the intersection was changed.

PHOTO: ANDREW KING

Cartwright said city council

traffic staff are doing everything

that they can do to find a solution.

"I have confidence in the city

council team and while they

can't do it as quickly as we want,

they are working on it and it has

not been forgotten," he said.

Mrs Uhr said the increase of

traffic and the speed vehicles

travel along Harewood Rd is

why she believes the intersection

needs to be changed, and

quickly.

"I look out my kitchen window

and see all the cars lined

up. There is always a small collision

out there,'' he said.

She had three cars crash

through her fence over the

past few years, all of which she

has had to pay for because none

of the drivers had insurance.

One of them hit her friends

car before coming through the

fence before resting up against

her house.

"There was a couple of gins

drunk after that experience,"

she said.

She welcomed a petition

started by Shirley-Papanui

Community Board deputy

chairman Aaron Keown to get

lights installed.

Mr Keown said it was amazing

how much feedback he had

received.

"I've never had this many

phone calls and emails on the

same thing before," he said.

He said he will gather all his

petitions this week and work

out how many had signed,

before presenting it to the city

council.

•HAVE YOUR SAY: Does

the intersection need lights

or can the traffic and pedestrian

issues be solved

another way? Share your

views with us. Email andrew.

king@starmedia.kiwi

In Brief

FUNDING APPROVED

A heritage incentive grant

of more than $3000 will

be used to help pay for the

conservation and maintenance

of the war memorial in

Fendalton. The memorial,

owned by Christchurch

Boys' High School Board

of Trustees, was built in the

1920s and dedicated to the 142

former pupils of the school

who died during World War

1. The names of the fallen

are inscribed on two bronze

panels within the monument.

The grants were approved by

city council's communities,

housing and economic

development committee on

Thursday.

POSTAL SERVICES

Papertree Bishopdale will open

next month and take over the

running of postal and banking

services for the area. Papertree

will provide Kiwibank services

at its shop at 31 Bishopdale

Court as well as postal, courier,

bill payment and post office

box services. While it is

undergoing rennovations, it

will be tremporarily closed and

customers will be able to access

banking and postal services

at the Papanui or Avonhead

PostShops.

NEW & RECYCLED

CLOTHING

SHOPS AT:

14 Yaldhurst Rd, Ph 03 341 5379

251 Ferry Rd, Ph 03 381 3089

94 Victoria St, Rangiora, Ph 03 310 7421

Open: Mon-Fri 10am-4.30pm, Sat 10am-2pm

SUPER STORE:

320 Manchester Street (Bealey Ave end)

Phone 03 365 2051.

Clothes, shoes, whiteware, furniture,

linen and homeware.

Open: Mon-Fri 9am-5pm, Sat 9am-3pm

Donations of furniture and homewares

welcome during shop hours.

One stop shop for

all your dental needs

Warm, friendly & affordable dental care for the whole family...

We provide a full range of modern dental services

and ensure the highest level of care.

ACC Treatment Provider | WINZ Quotes |Student Discounts

Free Dental for Adolescents | Same Day Emergency Treatment

(03) 355 3888

DENTISTS

DAVID

ROWLEY

JENNY

KIM

Merivale Dental Group

welcomes hygienist

Megan Smith to the team

Level 1, 184 Papanui Rd

(opposite Merivale Mall)

www.merivaledental.co.nz

Vote Rod Cameron

Infrastructure.

Community.

Finance.

Vote Best Value

for Harewood

This advertising has been authorised by

Rod Cameron, 57A Ngaio Street, Christchurch.

Cameron, Rod (S)

Winter Brand

Sale 30% off

Open 7 days | twO lOcatiOns

7d Mandeville st, Opp placeMakers

ph 03 366 4166

dressMart hOrnby, Main sOuth rd

ph 03 344 5304
---
4

Tuesday September 6 2016

Your Local Views

NOR'WEST NEWS

FLAME FILES

Check the heat lamp

in your bathroom

• By Mark Thomas – Fire Risk

Management Officer

NOT EVERYONE will be

aware that the Fire Service are

responding with St John to

serious illness incidents.

Apparently some people have

been quite upset to see a great

big fire truck arrive in their time

of need, possibly thinking their

call has been misunderstood

and the wrong service has arrived.

That's not the case. Both

services will be sent. Sometimes

that means our crew will arrive

first.

We're not paramedics but we

are all first-aid trained and there

are times our crews' input is

utterly invaluable to our ambulance

colleagues.

Every bit of help might just

make the difference.

Twenty-one calls this week

were in this category, one fifth

of all our call-outs.

A bit of a blast from the past

in Halswell this week, where

a three-way light/heat-lamp/

extractor in a bathroom ceiling

caught on fire.

Some years ago this problem

was more prevalent.

New installations require the

fan to automatically operate

when the heat-lamp is turned

on, but previously, and obviously

in the unit in Halswell, the

heat-lamps could be turned on

alone.

They tended to overheat the

surrounding plastic and sometimes

ignite.

If you have one of these, check

it. If both functions don't operate

together, make sure they are

both on every time you use the

heat-lamp and consider getting

your electrician to make the

alteration.

Might save some tears.

Spring is here.

That's a reason to feel good.

Keep fire safe as we head

toward another summer.

Readers respond to a

recent opinion piece about

fluoridation

Alastair Watson,

Harewood

Good to see common sense

and a fact-based argument in

this anti-fluoridation discussion.

I fully support Nick King's

response. As he says, the repeated

anti-scientific, anti-medical

and passion-filled retorts about

fluoridation and health (dental)

care do not 'hold water'. The

anti-fluoridation argument has

been solidly rebutted and proven

fallacious in knowledgeable

communities around the world,

based on peer-reviewed, detailed

scientific studies. Nick made

these points well, and indeed

the "dose makes the poison".

Another example (among

many) is radiation. We've all

probably had a minute dose of

x-rays through beneficial dental

or medical diagnostic tests, no

worries, yet those in Hiroshima

received massive toxic and fatal

doses 71 years ago. Let us not

deny the dental benefits for our

growing children because of

being swayed by the deniers and

the conspiracy converts about

false dangers of the minuscule

amounts of 'fluoride' in our

drinking water, and those who

are rankled by governments and

city councils carrying out their

mission of safe-guarding our

water supply and protection for

all. One wonders what the antichlorination

proponents must

be thinking now in Hawke's Bay.

Do we have to wait until a similar

community-wide tragedy strikes

Christchurch before we plead

for action and our water safety?

Thankfully, we should remember

the stronger-than-usual chlorine

smell in our water immediately

post-earthquake. Was John Verd

protesting then! Yes, we live in

our cherished democracy, which

also means we transfer to the

elected central administration,

the responsibility of particular

national, or city-wide, mandates.

We should encourage our elected

representatives to fulfil their

responsibly of taking care of the

people.

Janice Baardman

We shouldn't allow fluoridation

of our water. There is staggering

evidence against water fluoridation.

Please educate yourselves

on this for the sake of your

families. There is a lot of great

information on the Fluoride Free

NZ website and they are also on

Facebook. I totally agree with

the article written by John Verd.

There is already natural fluoride

in water; it is extremely foolish

to add more. Fluoride affects the

whole body not just teeth. If fluoride

works at all, it is supposed

to work topically on the teeth,

not ingested into the body. There

have been many studies where

children in non-fluoridated areas

have very good teeth. There are

other ways of dealing with dental

hygiene, and mass medicating

everyone without their consent is

unethical and undemocratic.

I live it, I love it, I sell it

Bishopdale and surrounding areas

• Local knowledge and experience

• Points of difference from other major

real estate companies

• Superior Marketing

• Successful Mike Pero Brand

WE SPECIALISE IN THE CARE AND

PRESERVATION OF TREES

• Pruning

• Expert Tree Felling

• Fully Insured

• Free Quotes

• Powerline Clearing

• Branch Chipping

• Competitive Rates

• Orion Approved Contractor

FULLY

QUALIFIED

ARBORISTS

Mike Pero Real Estate Ltd Licensed REAA (2008)

Ian Falconer

027 849 0404

ian.falconer@mikepero.com

0800 PERO O5 (0800 7376 05)

Member of NZ Arboriculture Association

For quotes and enquiries phone 03 349 7143 | For urgent enquiries phone 027 272-6710

Email: office@arbor-tek.co.nz

www.arbor–tek.co.nz

Want to be elected?

• Local Council

• Community Board

• Ecan

• CDHB

You need to talk to Star Media

about your campaign today.

Let us help you.

Call Richard McCombie

P. 03 364 7472 | M. 021 914 335

E. richard.mccombie@starmedia.kiwi
---
NOR'WEST NEWS Tuesday September 6 2016 5

News

What's in a name?

Two Rodney

Camerons vie for

Elections 16

Harewood seat

• By Andrew King

HAREWOOD RESIDENTS will

have to look closely at their ballot

forms – there are two Rodney

Camerons standing in the ward.

Rodney S Cameron and

Rodney D Cameron are two of

five candidates vying for a seat

around the city council table in

October. The only difference is

their middle names.

Both say they are concerned

that voters may be a bit confused

about who is who and may vote

for the opponent.

Said Rodney S Cameron: "I

have tried to be as different as

possible. I have put my middle

initial in all of my advertising

and on all my billboards."

Rodney D Cameron said there

is the possibility that a few votes

could go his opponents way, and

vice versa.

"It does concern me . . . they

can't put photos on the voting

ballots so we have gone with

putting in our middle names,"

he said.

Rodney D Cameron

A city council spokesperson

confirmed there would be no

photos on the forms.

"The voting paper will state

the surname name, first names

and affiliation," she said.

Both candidates said they hope

voters will look closely at their

profiles and make an informed

decision.

Rodney S Cameron

The Harewood Ward is

the most contested in the

city with five competing for one

seat.

Former city councillor Aaron

Keown, Fendalton-Waimairi

Community Board member

Faimeh Burke and Harewood

resident Brian Gargiulo are also

running.

Historic bridge over

Avon River reopens

THE CITY'S only surviving

19th-century timber bridge, in

Helmores Lane, has reopened

after five months of earthquake

repairs.

Sheep were herded across the

150-year-old bridge in a reenactment

of one of its original uses

–stock being driven to the yards

of the Riccarton market.

City councillor Jamie Gough

cut the ribbon allowing pedestrians,

cyclists and sheep, use of

the bridge.

Stronger Christchurch Infrastructure

Rebuild Team used

30 bridge piles, made of jarrah

(Australian hardwood), brought

from the Waitaki District Council

for the cost of a donation,

which was a lot less expensive

than importing new hardwood

from Australia for the repairs.

Using reclaimed timber fit

the conservation practice of

sourcing material as close as

possible to the original for the

repair and restoration of heritage

structures.

Helmores Lane bridge is listed

as category 11 by Heritage New

Zealand and is the only remaining

example of a propped beam

timber bridge in Christchurch.

Built in 1866, the picturesque

bridge spans the Avon River in

Little Hagley Park and was originally

constructed by barrister

and solicitor Joseph Cornish

Helmore who owned a 50 acre

block on the north bank of the

river. He lived in Helmores lane.
---
6

Tuesday September 6 2016

Kay Newton spends

her spare time in

safety gear speeding

around a track on

roller skates. She

spoke to Caitlin Miles

about how she got

into roller derbies and

her time representing

New Zealand at world

cup competitions

NOR'WEST NEWS

Our People

Espresso maker by day – world

FIRSTLY I have to ask what

your roller derby name is?

It's Evilknevil, I picked it

because it just worked really well

with the fact my name is Kay.

Can you tell me why you decided

to get into roller derbies?

There was myself and a couple

of others talking about it one day

and we decided to go to watch

a practice and see what was

involved and it just seemed really

fun so we thought we would

do it.

Can you explain to me what

is involved in a roller derby?

Well, it's played on an oval

track and you have 14 people

from each team on the side lines.

But there are only five people on

the track at any one time. But

players rotate throughout the

game so that's why there is so

many. There is a jammer who

is the one designated to score

points by lapping people on the

opposite team and then the other

four are blockers. Most people

can be blockers, you can have

any body type really, but jammers

are usually a bit slighter

built and have good stamina.

Jams, which are the sessions,

have a time limit of two minutes

SKATER: New Brighton's Kay Newton has been involved in roller derbies

since 2009 and goes by the name Evilknevil when she's on the roller

derby track.

PHOTOS: PHILLIPA O'BRIEN AND CRAIG CREW

as well. It's hard to explain, but

it's a lot of fun.

Are you a jammer?

I was for a few years. Not any

more though, because we have a

lot of jammers in our team so we

need more blockers.

Is being a blocker quite

violent?

I would avoid using the word

violent. It's not as brutal as

people think.
---
TM

NOR'WEST NEWS Tuesday September 6 2016 7

roller derby expert after hours

There are a lot of referees involved

in the game and, if they

catch you doing something intentional

towards another player

that can hurt them, you'll be

given a penalty or possibly taken

off. There is only a certain area

on the body where you can hit

people and that's not above the

shoulders and it's not below the

knees. You can't elbow people or

punch people, or anything like

that. It's like any contact sport,

you can get hurt. But I have had

worse injuries from soccer than

from roller derbies believe it or

not.

Really? I always thought it

was very violent?

A lot of people do, but we have

a lot of protective gear as well.

Have you had any bad hits?

None that have made me want

to stop playing. I have had a few

where I've thought, oh, that's a

goodie or that's going to hurt

later, but I've always got back

into it.

Could you roller skate before

getting into roller derbies?

Yeah, I have been roller skating

ever since I was a kid, so I had

the skills before getting involved.

I thought it would be a fun

chance to do something I really

enjoyed as a kid.

How long have you been

IN ACTION: Kay Newton (left) has been competing in roller

derbies since 2009.

involved in roller derbies?

Since September of 2009. I

have played for the same team

the whole time as well. There

were quite a few of us just discovering

what roller derby was.

Where you nervous before

your first game?

It was so long ago now I can't

really remember, but yeah, I

think I would have been. I mean

who wouldn't be? I think it's the

same feeling before playing in

any sport. I was nervous and

anxious, but I was excited too.

It's basically the same feeling

before any game I think. But you

practice and train before, so you

are prepared for the game.

How do you train?

I don't want to give too many

secrets away about our training.

We practice layouts and tactics

and things like that, making sure

the team works well and everyone

is on the same page. But we

have a really strong core team,

so we already work really well

together.

Do you balance work with

training?

I work for Vivace Espresso. I

drive around the city teaching

people how to make coffee so

they can keep Christchurch caffeinated

basically.

Has much changed in the

game over the years?

The rules have changed a bit

over the years. Our rules come

from the American roller derby

league. So when they make

changes or alter the rules of the

game or safety rules or something,

we do the same. So there

have been small changes over the

years.

Have you noticed roller derby

change in popularity?

I can't really say if the sport

has gained or lost popularity, but

our team has always done well.

We have had members come and

go for various reasons; they don't

want to do this anymore, or they

want to pursue different things,

or they decide to have a family,

so they come and go throughout

the sport, but we always have a

great team.

What are some of your

highlights from roller derby?

There have been a couple.

I don't want to blow my own

trumpet, but I represented New

Zealand at the 2011 World Cup

in Toronto and the 2014 World

Cup in Dallas. That required a

lot of fundraising because it's

not a cheap event to take part

in. I was really shocked actually

because my team presented me

with a cheque to help me out. I

cried when they did that. I was

really surprised and couldn't

believe they had given me that

support. They are some of my

really close friends.

You've got a big roller derby

meet coming up as well, right?

Yeah, this weekend actually.

We're facing off against Wellington,

which will be a really good

game. We are currently ranked

third in New Zealand and they

are number one. We played them

previously and they beat us by

150 points, so we really want

to redeem that. Really looking

forward to facing off.

Providing Custom Framing of all Artworks

Brian Gargiulo

HELPING US,

HELPS THE

COMMUNITY

Drop off or buy

2 family stores in your community

30 Main North Rd,

Ph 352 4581

520 Cranford St,

Ph 352 0515

Gallery Space with large Range of Original work

Including CHCH Scenes, L/Edition Prints, Posters

Photography & Sporting Memorabilia

6 Main North Road | Ph 352 7594

(Next to SBS Bank)

www.artworkspictureframing.co.nz

Open Mon-Fri 9am-5pm

Closed weekends

Your CDHB Board Member

An independent voice for

the Canterbury District

who cares about the people.

Authirised by B. Gargiulo, 11 Ron Place

THINKING OF RENOVATING?

ENJOY IT WITH US!

From concept to completion, enjoy the experience of a full service

renovation company.

Whatever the scope of your extension or renovation, with your

dreams and our experience we can realise your home's potential.

WE MAKE IT EASY WITH OUR THREE SIMPLE STEPS...

With 5 offices in Christchurch,

let's start the conversation call

0800 764 846

or visit smith-sons.co.nz
---
8

Tuesday September 6 2016

'CEREC' & cosmetic dentistry

Wisdom tooth removal

Painless, high quality dentistry

Sedation dentistry

Experienced, conscientious team

Experienced hygienists

OPEN SATURDAYS

355 9380

144 Cranford Street

www.stalbansdentalcentre.co.nz

6 ISSUES

delivered to your door

FROm ONly

$

44. 50

SUBSCRIPTIONS FREEPHONE

0800 77 77 10

rugbynews.co.nz

News

Girls' High chefs award

winning crispy chicken

• By Caitlin Miles

TWO Christchurch Girls'

High School students have

taken gold in a national

culinary competition.

Emily Perkins, of Hororata,

and Bridget James, of Whitecliffs,

competed in the National

Secondary Schools Culinary

Challenge in Auckland last

week.

The girls took third place

and received a gold medal,

with a score of 92/100.

The pair qualified for the

national competition after

winning the Christchurch

regional final.

The competition involved

creating four portions of an

entree and a main dish in 90

minutes.

Hospitality teacher Holy

Caird helped them prepare for

the competition.

Miss Caird said she was

proud of how the girls performed

under pressure in the

busy kitchen.

"Myself and the school are

immensely proud of the girls,

they have done really well."

Miss Caird said.

The girls faced off against

HEAT PUMP

SALE NOW ON!

Amazin' spring Specials!!

• We will offer you the best quality brands and

option of heat pump for your home/business

• Providing Heat Pump solutions for over 14 years to Cantabrians

• We personally guarantee all our products & installs for 5 years

(providing annual maintenance has been completed)

Phone us today for your free consultation & quote

41A SHAKESPEARE RD, WALTHAM

PHONE 03 366 0525

www.enviromaster.co.nz

"A local team for local people"

PROUD: Mark Wylie and Glenn Fulcher with Emily Perkins

and Bridget James.

PHOTO CREDIT: TOPIC PHOTOGRAPHY

eight teams.

As an entree, they made herbed

silverbeet and feta galette

rested on carved venison loin,

with beetroot, pinot noir and

balsamic reduction, crispy

salad of rainbow chard stems,

finished with silverbeet flakes.

For a main, they made crispy

skin chicken breast stuffed

with mozzarella, semi-dried

tomatoes and basil served with

potato gnocchi, grilled baby

bell peppers and pancetta, and

caramelised brussels sprouts

on corn cream sauce.

Miss Caird said the competition

was like an episode out of

a cooking programme, with

the judges questioning the girls

as they cooked and the tasting

took place in a different room.

Emily plans to take a hospitality

course once she leaves

school. Bridget is currently

unsure what she plans to study,

but will definitely looking at

hospitality as an option.

For a Safe, Vibrant

& Sustainable

Christchurch For All

NOR'WEST NEWS

BP decision

•From page 1

Resident Kazu Kano said it

would be far too expensive to

take the fight to the Environment

Court, and when asked

if he may move from the area

because of the decision he said

"possibly".

Commissioner Mountfort

said he acknowledged the

neighbours concerns.

"They presented their concerns

clearly and with great

sincerity," he said.

BP Oil spokesperson Shelley

Brady said the expansion was

not to attract new customers,

rather improve the experience

for those who are currently using

the site.

"This will mean fewer trucks

are needed to visit the site to

replenish product [fuel] because

we will have larger tanks," she

said.

She said BP respected the

resource consent process and

would make sure the new

expansion complied with all

the rules.

Ms Brady said there is no

current construction plan, but

expected one in the next couple

of weeks.

HAVE YOUR SAY: Do

residents get a fair go

when trying to stop large

companies redeveloping in

their area? Email: andrew.

king@starmedia.kiwi

TRAFFIC LIGHTS FOR

HAREWOOD/BREENS/GARDINERS ROAD INTERSECTIONS

VOTE

Faimeh Burke

Councillor for Harewood - Independant

I am always available to

listen to your concerns.

faimeh@gmail.com

021453466

www.facebook.com/FaimehBurke

Authorised by Bruce Tulloch, 11 Trafford Street, Harewood, Christchurch 8051

www.hagley.school.nz
---
1 2 3 4 5 6 7 8 9 10 11 12 13 14

1 2 3 4 5 1 6 72 8 3 9 4 10 5 611 7 12 8 13 9 14 10 11 12 13 14

1 2 3 4 5 6 7 8 9 10 11 12 13 14

1 2 3 4 5 6 7 8 9 10 11

1 2 3 4 5 1 6 72 8 3 9 4 10 5 611 7 12 8 13 9 14 10 11 12 13 14

1 2 3 4 5 6 7 8 9 10 11 12 13 14

NOR'WEST NEWS Tuesday September 6 2016 9

SCHOOLS

in

Gorgeous

green

CULTURE CELEBRATION: Sixteen north-west schools

participated in the Christchurch Primary Schools'

Cultural Festival last week. The festival offered pupils a

multicultural experience on a city-wide scale. St Albans

Catholic School, St Albans School, Harewood School,

Bishopdale Primary School, Papanui Primary School,

Ferndale School, Breens Intermediate, Casebrook

Intermediate School, Paparoa Street School, Cobham

Intermediate, Cotswold School, St Joseph's School,

Papanui Primary School, Mairehau Primary School,

Burnside Primary School, Belfast School and Rangi Ruru

Girls' School all entered teams. The festival featured a

showcase of multicultural performances, a visual art

exhibition and wearable art pageants.

PHOTOS: GEOFF SLOAN

FASHION: Breens Intermediate pupils participate

in the wearable arts show.

GROUP EFFORT: Papanui Primary School's

kapa haka group performs.

NZ Designer

Label

Sizes 6 – 22

WAKA: Breens Intermediate's wearable arts entry is taken for a paddle

on stage.

LAWyerS

We have over 40 years' experience

to assist you with…

• Buying and Selling Houses and

Commercial Property

• Wills, Trusts and Estate matters

• All issues facing you and your business;

• Employment Law matters;

• Traffic matters;

• Earthquake related issues; and

• Advice regarding Retirement Villages

Call John, Brendan or Andrew

today on 03 366 8996 to find

out how we can help you.

Email. lawyers@mclegal.co.nz

Airport Business Park

92 Russley Road

Christchurch 8042

Burwood & Redwood

HOME OF THE

$

40 SERVICE

CREATIVE DESIGNS: Breens Intermediate pupils

showcase their finest wearable arts.

Ph: 383 2114

269 Burwood Rd, Burwood

Ph: 354 4022

290 Main North Rd, Redwood

SHOP HOURS

Mon-Fri 8.30am-5.30pm. Sat 9.00am-4.00pm

3

Layby available

NO. 13 See HARCOURTS us on www.starlive.kiwi NEW ZEALAND 2012-2013

Waimak Real Estate

Alison Helms

Alison is a well-known identity in the real estate

world, helping her clients for over 15 years.

She looks forward to working with past and new

clients in the north west and the surrounding areas.

Call Alison anytime for a chat.

Alison Helms

Sales Consultant

Licensed Salesperson REAA 2008

Dress to impress; whatever the occasion

SMITH & BOSTON

Prebbleton Village | Christchurch

Ph: 03 349 5646

www.smithandboston.co.nz

027 431 3586 • 03 423 1535

+ Admin

2.95% + GST

Email: alison.helms@waimakrealestate.co.nz Commission

Land size

Bedroom

Bathroom

Lounge

Dining

Toilet

Shower

Study

Land size

Bedroom

Bathroom

Lounge

Dining

Toilet

Land size

Land size Bedroom

BedroomBathroom

Land

Bathroom

size Lounge Bedroom

Lounge Dining Bathroom

Dining Toilet

Lounge Shower Garage Toilet

Study Dining

Shower Carport

Toilet

Study

Car Shower pad

Study Boat pad

Pool

Tennis court

Land size

Land size Bedroom

BedroomBathroom

Land

Bathroom

size Lounge Bedroom

Lounge Dining Bathroom

Dining Toilet

Lounge Shower Garage Toilet

Study Dining

Shower Carport

Toilet

Study

Car Shower pad

Study Boat pad

Pool

Garage

Garage

Carport

Carport

Car Garage pad

Boat Carport pad

Car pad

Pool Car pad

Boat pad

Tennis court Boat pad

Pool

Tennis court

Pool

Tennis court

Garage

Garage

Carport

Carport

Car Garage pad

Boat Carport pad

Car pad

Pool Car pad

Boat pad

Tennis court Boat pad

Pool

Tennis court

Pool

Tennis court

850m

4

2

1

2.5

850m

4

2

1

2.5

850m 4 2

850m 4

$230 MILLIO N IN

1850m2.5

2 1

4 2

2.5

1

2.5

850m 4

850m

2

4

1850m2.5

2 1

4 2

2.5

1

2.5

OVER

SALES

H A R C O U R T S

G O L D
---
10

TEAM WORK:

Looking for

weeds in

their green

space.

Tuesday September 6 2016

SCHOOLS

Pupils plant

native garden

AWARDS: Two

north-west students have

been honoured with the

Duke of Edinburgh's Hillary

Awards. Rangi Ruru Girls'

School student Molly Halpine

(left) and St Andrew's

College student Katherine

Lewis were presented the

awards on Thursday by

Mayor Lianne Dalziel in front

of parents and principals.

There were 23 recipients

from eight different schools.

They included Rangi Ruru,

St Andrew's, Aranui High

School, Catholic Cathedral

College, Canterbury Home

Educators, Ellesmere

College, Linwood College

and Marian College.

NOR'WEST NEWS

BURNSIDE PRIMARY School

pupils have created their own

native garden.

What started out as picking

rubbish up on the school

grounds, developed into a weekly

weeding and reading session.

Teacher Claire Mouat said it

was important to teach the pupils

about looking after nature.

"We are kaitiaki, or guardians

of the space. While we are here,

[we] learn to work and play in

the area with little impact on the

native fauna and flora," she said.

She, along with the pupils,

have worked together to re-plant

areas, extend the native garden

with annual planting to attract

more native animals, as well as

water and take care of the plants.

She said: "We encourage all

students to use different spaces

for different purposes; to build

huts, natural toys [and] imaginative

play. [This] includes a sand

pit, orienteering, play areas,

encouraging respectful use for

students of all ages."

Pupil-led monitors and a timetable

will be established to ensure

they know how to use the native

garden as a positive space to enjoy

during their own time.

BREAKFAST PARTY: Cotswold Preschool and Nursery held their annual breakfast recently.

Geethi Roy and her pupils enjoyed their morning meal in pyjamas. It wasn't just the pupils

who made the most of this opportunity – the teachers also dressed up. They all enjoyed

pancakes, fruit kebabs and milo for breakfast.

Smarty Pants

has you

covered this

summer!

UPF 50+ Swimwear

for ages 0-12

Funscreen SPF50+

55 Nottingham Ave, Halswell | Phone 021 142 6152

Email: smartstuff@smartypants.kiwi | www.smartypants.kiwi

Proud installers of

Get a Mitsubishi Electric GE42 5.4kW

Heat Pump including FREE installation* for just

$2,399*

*includes cost of back to back install only, conditions apply

Phone 0800 324 678

Call now for a free quote

HOT OUTLET STORE DEALS

SAVANNAH

SG610 PLAYER

SERIES GUITAR

Traditional dreadnought

style with a fantastic

sound

Was $199.00

LESS 25%

$149

GUITAR PACk

Fender Squirer Strat, AXL Amp,

Tuner, Lead, Strap and pics.

$399

rockitCHCH

ONE FREE

MUSIC

LESSON

with every Ukelele, Guitar

or Drum Kit sold.

kEYboARd

with FREE microphone

– Sonata LP5420 54

keys, record & playback,

single plus muli finger

chord, 10 tones, 10

rhythms

Just $95

SoNATA LP6210C

kEYboARd

Including free keyboard stand ($69)

Free Samson headphones ($30)

3 x free beginners books ($60)

1 x free Kapok guitar ($99)

$399

SoNATA LP8880

dIGITAL PIANo

Full 88 note piano keyboard,

fully weighted keys, includes

stand and 3 x pedals

Bonus offer- 1 x free Kapok

guitar, free Samson

headphones, 3 x free

beginners books

Was $1499.00

LESS 20%

$1199

Cnr Wordsworth & Brisbane Sts, Christchurch.

Free On-Site Parking off Brisbane Street. Ph: 366 1949

www.beggsmusic.net.nz
---
NOR'WEST NEWS Tuesday September 6 2016 11
---
12

Tuesday September 6 2016

NOR'WEST NEWS

Considering A Happy And Healthy

Retirement In The Heart Of Merivale?

Also available

Stunning 1 & 2

Bed Apartments

Palazzo Suites

We have available,

stunning 1 & 2 bedroom

apartments, set in the heart

of our Palazzo apartment

community at Merivale

Retirement Village.

A unique opportunity has arisen to

purchase a stunning 2-bedroom

villa, set in the tranquil heart of

Merivale Retirement Village.

The property boasts a sunny north facing lounge and

generous ensuite master bedroom, a large double garage

plus off street parking, a fully equipped modern kitchen

and a separate laundry.

The property is close to our croquet lawn, our Garden

House and just a stone's throw away from Merivale

shops. This really is retirement living at its best, where

independence and comfort go hand in hand with luxury

and peace of mind.

The apartments boast all

modern conveniences,

spacious walk in ensuite

bathrooms, generous

bedrooms and a

comfortable living / dining

area.

These apartments would

be an ideal choice for

those not wishing to make a

compromise in maintaining

their independence with

having a sense of security.

We provide the peace of

mind knowing that help is

just a call away.

Merivale Retirement Village really is an amazing retirement

community, where genuine friendships are fostered.

You'll also have the reassurance that, should you require

it, tailor made care packages are available providing you

with everything you will need for a healthy and happy

retirement. A viewing for this property is a must for anyone

seriously considering luxury retirement living in the heart of

Merivale.

MERIVALE

RETIREMENT VILLAGE

Call us to arrange a personal visit: 375 4117

60 Browns Road, Merivale

www.merivaleretirement.co.nz

When only the best is good enough Villas • Apartments • Studios • Rest Home • Hospital
---
NOR'WEST NEWS Tuesday September 6 2016 13

[Edition datE]

2

Neighbour

Hello

Ma Baker - Simply

great Kiwi Cuisine

Ma Baker is one hundred percent Kiwi

owned and operated. Paul and Nicky opened

their first bakery in 1995 and 20 years

later still have a huge following of regular

customers. They sell basic Kiwi tucker at a

good basic price making it affordable to buy

breakfast, lunches and teas every day. They

take pride in what's made and know what it

takes to make quality baked goods and have

a very high standard when it comes to both

their food and looking after their customers.

The shops are always busy, so they have a

high turnover, therefore the stock is always

fresh.

The team start early in the morning to

bring their customers fresh bread products

daily and once the bread is cool enough,

it is made into their famous rolls and

sandwiches, with the rest put on shelves for

purchase. They are not just well known for

their fresh bread, filled rolls, sandwiches,

scones, tarts and cake slices, but also for

their sophisticated offerings like donuts

injected with continental custard, filos,

paninis and quiches. Then there's the tradie

favourites – pies, stuffed sausages, filled

potatoes, saveloy toasties, sticky buns and

cinnamon cream donuts. They cater for

everyone's tastes and they introduce new

products all the time. The deli bars are

packed full of ideas for dinners and afternoon

teas, such as family fruit pies, large bacon and

egg pies, iced cakes, cream sponges, savoury

packs and popular authentic Southland

cheese roll ups. They offer a large range of

biscuits made with real butter.

Ma Baker have a master baker with 41

years baking experience joining their team

in mid September, who will be assisting them

by using his skills and complimenting to the

already extensive range of delicious food on

offer.

Their team of well trained, friendly

staff provide excellent customer service

and convenient, easy parking just

outside the door is a real bonus. Customers

can rush in, be served and out the door in

super quick time. Alternatively, customers

can relax and enjoy a the tasty food matched

with a delicious hot coffee or tea, perhaps

even an iced tea, frappe, milkshake or a

smoothie on those hot days.

Ma Baker has two busy locations,

Bishopdale Village Mall, Farrington Ave

and Edgeware Village on the corner of

Edgeware Rd & Colombo St.

Ma Baker is open 7am –

5.30pm seven days a week.

S E p TEm BER C OLOUR S p ECIAL

Spring into September with

a BEAUTIFUL NEW COLOUR

and receive a FREE hairstyle

and deluxe conditioning

treatment with Amber.

Condions apply. Valid until 30 sept.

Book your appointment today!

Unit 2, 159 Cranford St, St Albans | Ph: 03 355 2125

I live it, I love it, I sell it

Bishopdale and surrounding areas

• Local knowledge and experience

• Points of difference from other major

real estate companies

• Superior Marketing

• Successful Mike Pero Brand

Mike Pero Real Estate Ltd Licensed REAA (2008)

Ian Falconer

027 849 0404

ian.falconer@mikepero.com

0800 PERO O5 (0800 7376 05)

Quality Childcare

• Flexible booking hours

• Open 7.30 to 5.30

• Large outdoor area

• Friendly and welcoming

with open door policy.

First 4 weeks

FREE

Phone: 385 8311 | 262 Westminister St, Mairehau

mairehau@firstlearners.co.nz | www.firstlearners.co.nz
---
14

Tuesday September 6 2016

NOR'WEST NEWS

COME DOWN AND

SEE THE NEWLY

RENOVATED

COASTERS TAVERN

RECEIVE A

25% DISCOUNT

UP TO THE VALUE

OF $35

(Conditions apply).

Must book between Sunday to Thursday, only one voucher per table.

Expires October 6th. You must bring in this coupon.

WHERE THE WEST COAST MEETS THE EAST COAST

TUESDAY

Pizza + Pint

or

house wine

$15

WEDNESDAY

ChiCken

winGs

$6 DOzEN

siX flaVouRs

to Choose fRoM

Coasters Tavern is a modern replica of a true West Coaster's Bar. It's friendly

with loads of locals that all look after each other and new people also.

Originally opened in 1995 it brought the West Coast to meet the East Coast,

making the locals feel at home on the other side of the hill – with warm and

welcoming staff that treat you as you wish to be treated.

Great food and great people is what Coasters Tavern is all about. We also

offer a fantastic social club that has numerous events, including Golf, Horse

Racing, Christmas Functions, Mystery Bus Trips, Bottle Draws, Raffles and

Fishing Club events.

We offer a loyalty programme called Goldi, with our partner venues Carlton

and Casa Publica. With your Goldi card you can enjoy great benefits on food

and beverage.

We have full T.A.B facilities and a gaming lounge with 18 machines. Choose

to enjoy a wager or two, or simply just sit back and watch your favourite

sporting event on one of the many TV's around the place.

We have a great north facing courtyard where you can enjoy the sun but stay

warm and dry as it is heated and able to be enclosed. You don't even need

to miss the game you are watching as there is TV's out there as well!

Oh, and when you arrive, bring your car off the street as we have plenty of

parking available at the rear of the building.

• New Additions • 17 New TV's • 18 Pokies

• Completely New Layout • Full TAB Facilities

THURSDAY

soCial

Club

Raffles

1 Daniels Rd, Redwood, Christchurch • Phone: 03-352 8355

GOOD TIMES, GREAT FOOD, A WARM WELCOME

SATURDAY

fishinG Club

Raffles +

liVe MusiC

fRoM 8.30PM

COME CELEBRATE

COASTERS TAVERN

TURNING 21!

SATURDAY SEPTEMBER 10

for new additions and

21st birthday Party.

Re-Opening Brunch with an extensive

menu, plus live music from 4.30pm.

Cutting of the cake and

nibbles at 7.30pm.

GREAT COMBO MEAL

$20 Roast +

Soup or Dessert

or $25 for all 3!

Sunday only
---
NOR'WEST NEWS Tuesday September 6 2016 15

Big future for Lopas

SPORTS

CHRISTCHURCH Boys'

High School's Jack Lopas is a

rower with "tonnes of promise"

following his world junior

rowing gold medal.

Canterbury Rowing regional

manger John Wylie praised

the 17-year-old's performance,

saying he is one to look out for

in the future.

"He has tonnes of power. He's

got good technique and he is

somebody who we believe is

going to continue to improve,"

he said.

Lopas and rowing partner

Lenny Jenkins, of Whakatane,

won gold in the double sculls

final on the last night of the

junior championships at the

Willem-Alexander Baan

Rowing Course in Rotterdam,

Netherlands.

The gold medal added to

five other medals won by New

Zealand representatives at the

combined junior, under-23

and senior world rowing

championships.

Former Christchurch Boys'

High School student Tom Clyma

got bronze in the men's coxless

four; former Christ's College

student Cameron Smith placed

fourth in the junior men's eight;

former Christ's College student

Hugo Elworthy got bronze in

the men's coxless four and Sam

Bosworth won gold in the men's

coxed four.

Tough weather conditions in

the final race was no match for

Lopas and Jenkins who earned

the world championship title

after fighting hard to come back

from third place.

The Kiwis were behind

Belarus and Germany. But by

the halfway point, Belarus had

dropped off, giving Lopas and

Jenkins the chance to surge past.

They went on to overtake

Germany and clinch the

gold medal with a time of 6m,

26.19s.

Earlier in the year, Lopas won

the national under-19 double

WORLD CHAMPS: Little

River rower Jack Lopas

(left) and partner Lenny

Jenkins, of Whakatane,

won gold in the double

sculls A final at the

World Rowing Junior

Championships in the

Netherlands on Monday

night.

sculls, under-18 double sculls,

and under-18 single sculls

titles, earning himself a trial to

represent New Zealand.

During the trial, Lopas set a

national record for a 2km erg,

beating Olympic gold medallist

Hamish Bond's time of 6.03s by

almost a half second.

Lifeguard

memorabilia

sought

• By Ian Stuart

NORTH BEACH surf lifeguards

have put their hands up for help.

The North Beach Surf Lifesaving

Club will celebrate 100 years

of service to the community

later this year and is looking for

former members

and memorabilia for

its centennial celebrations

at Labour

weekend.

Chairman Roger

Smith (right) said

the club had contacted

former members but many

could not be found.

"We are extraordinarily proud

of our record of never having

had a drowning in the patrolled

area of our beach since we began

patrols in 1916," he said.

"The North Beach community

has been incredibly supportive

of the club over the years and we

are asking locals to help us track

down former members."

The club has patrolled the beach

every weekend during the summer

and carried out thousands of

rescues and preventive actions.

For further information please

phone Mr Smith on 027 366 6195.
---
16

Tuesday September 6 2016

NOR'WEST NEWS

Belfast's top junior players

The Belfast Rugby Club's

junior awards were

presented recently with

a huge turn out of young

players eager to see who

would take home the top

honours. More than 65

awards were handed out at

their March Pl clubrooms to

players in the under-6 team

right up to the under-15

squad.

Under-6 Cobras

Player of the year: Emma Corry

Most improved player: George Rich

Fair play award: Jacob Robertson

Under-6 Pythons

Player of the year: Izack Paku

Most improved player: Louis Allen

Fair play award: Zach Broomhall

Under-6 Rattlesnakes

Player of the year: Jayde Inglis

Most improved player: Camryn

Inglis

Fair play award: Noah Wilson

Under-6 Vipers

Player of the year: Decan Ineson

Most improved player: Ethan

Clarke

Fair play award: Tyson Cole

Under-7 Cobras

Player of the year: Thomas

McPherson

Most improved player: Daniel

Wordsworth

Fair play award: Peter Delaney

Under-7 Rattlesnakes

Player of the year: Monty Fostia

Most improved player: Kade Briggs

Fair play award: Kaiden Collins

Under-8 Green

Player of the year: Ethan Rhodes

Most improved player: Macy Hern

Fair play award: Tahny McCann

Under-8 Gold

Player of the year: Jesse Brunton-

Pamment

Most improved player: Jacoby

Golding

TOP PLAYER:

Charlie Rich

won the Mike

Siave Trophy

for being the

team player of

the year.

Fair play award: Taylah Blank

Under-9 Gold

Player of the year: Nikau Nepia

Most improved player: Daniel

McPherson

Fair play award: Noah Whitfield

Under-9 Green

Player of the year: Luke Spanjer

Most improved player: Max Corry

Fair play award: Kody Ballagh

Under-9 Black

Player of the year: Tyson Ord

Most improved player: Travis Rose

Fair play award: Zanda Nutbrown

Under-10 Green

Player of the year: Oscar Cox

Most improved player: Tyler Doyle

Fair play award: Fletcher Leigh

Under-10 Gold

Player of the year: Caleb Stevens

Most improved player: Cohan Max

Fair play award: Spencer Ford

Under-10 Black

Player of the year: Cooper Ronan

Most improved player: Keegan

Arlidge

Fair play award: Rory Attwood

Under-11 Green

Forward of the year: Jamie Hastings

Back of the year: Connor Stewart

Fair play award: Boyd Johnson

Most improved player: Te Bell

Under-11 Gold

Forward of the year: Isaak Atkinson

Back of the year: Liam Boyd

Fair play award: Riley Broomhall

Most improved player: Joshua

Whales

Under-12

Forward of the year: Jack Wolfe

Back of the year: Declan van Wyk

Fair play award: Rhys Tacon

Most improved player: Ethan

Allison

Under-13

Forward of the year: Kane James

SPORTS

HARD WORKER: Cooper

Ronan won the chairman's

award.

Back of the year: Luke Bryant

Fair play award: Jacob Saunders

Most improved player: Leroi Fosita

Under-15

Forward of the year: Leo Fosita

Back of the year: Ben Slade

Fair play award: Jack Baker

Most improved player: William

Avery

Chairman's award: Cooper Ronan

Club captain's award: Leo Fosita

Eugene Waaka Cup – coaches of the

year: Kris Lancaster and Ian Newman

(under-15)

Mike Siave Trophy – team player of

the year: Charlie Rich

THE HOME OF GOOD BAKING

SOUTHERN

PLAINS BREAD

VARIETIES

CARAMEL SLICE

Gooey caramel

lathered between

shortcake and

coated in choc

icing.

ONLY

$

$ 2 FOR 5 349

00

EA

TRAY PACK

BISCUITS

Afghan, Apricot

Yoghurt, Choc

Anzac, Choc

Chip, Choc

Shortbread,

Jaffa, Peanut,

Super Choc

Chip.

ONLY

$

2 99

EA

PURCHASE 2 x 2L DAIRY DALE

MILK TO ENTER THE DRAW TO

WIN A BBQ & ACCESSORIES PACK

WORTH $1000 FOR YOUR FAMILY!

25 WINNERS - 1 PER STORE

Promotion valid 1st - 30th September 2016. Winners

will be contacted Friday 7th October 2016. Terms &

conditions apply. Full terms & conditions can be found

at www.couplands.co.nz

MILK

Dairy Dale 2L varieties.

$

5 98

2 FOR or $3.19 each

FROZEN MEALS $

3 49

Assorted flavours.

EA

Promotional pricing available while stocks last from 05/09/16 to 11/09/16.

Images are serving suggestions only.

Open 7 days | 8 Convenient local locations

Hornby • Barrington • Ferry Rd • Papanui • Riccarton • Upper Riccarton • New Brighton • Rangiora

BAKERIES

www.couplands.co.nz
---
NOR'WEST NEWS Tuesday September 6 2016 17

Barrington Jewellery Centre

YouR oNe sTop JeWelleRY shop

Offering a combined expertise in jewellery of over 100 years.

Opened in 1999 Barrington Jewellery Centre offers unique service where you can purchase

your engagement, wedding rings and remakes, have jewellery repaired, ring resizing and

restoration completed, as well as your precious items of jewellery valued.

Remade Ring

Before

After

Clarity Diamonds

We specialize in wedding rings, diamond rings and remaking jewellery.

LOVE

NOW AVAILABLE

IN BLACK

WE STOCK ONE OF THE

LARGEST SELECTIONS

OF MEN'S RINGS IN NZ

Professional

service from

professional

people

Craig Anderson – Goldsmith / Manufacturing Jeweller

With 38 years experience at the workbench Craig specialises in jewellery repair and restoration.

A member of the Goldsmiths Guild of New Zealand, Craig completed his apprenticeship in

Wellington and attained his Trade Certificate in Manufacturing Jewellery in 1978. Jewellery repairs,

ring resizing and restorations are carried out by Craig in his workshop on the premises. Craig will

discuss the best available options to you in regards repairs as well as advice on the care and

maintenance of your precious jewellery items. Whilst no appointment is necessary Craig can be

contacted on (03) 337 6576 if you wish to make a time to see him.

BARRINGTON MALL

The Warehouse

BARRINGTON

Jewellery Centre

Edwin Edmonds

Clarity Diamonds

GIA Diamond Cert.

Craig Anderson

Goldsmith /

Manufacturing

Jeweller

Member Goldsmiths

Guild of N.Z.

NZTCMJ

JVC Valuers

1st Fl/10a Athelstan Street,

Barrington

Christchurch

Ph:

Fax:

03 332 4233

03 982 4234

Email: jim@jvcvaluers.co.nz

Client Name:

Valuation Number:

Ruby Ring

JC12-7834Ad

Valuation for Insurance

Item: 1 SOLITAIRE RING

Alloy: 18ct yellow gold, Stamped : (18ct/1.00), Manufacture: assembled cast, Maker Designer: na, Setting:

tapered six claw, Underrail: straight, Shoulders diamond set extended and pointed cross over,

Shank/Band: narrow, near flat and slightly tapered.

DIAMOND.. one claw set, round brilliant cut diamond measuring 5.37 - 5.29 mm, estimated total weight

0.58 carats, with apparent averaged quality of; Colour: I-J, Clarity: low SI2, Make: medium good.

DIAMOND.. Fourteen channel set, round brilliant cut diamonds measuring 1.93 - 1.95 mm, estimated

total weight 0.42 carats, with apparent averaged quality of; Colour: H-I, Clarity: SI2-I1, Make: medium.

DiamondLink #L049M- www.diamondlink.co.nz

Item Weight:

Condition:

Durability:

510

Good

Good

Valuer: Jim Young, GIA: Diamonds Graduate GIA: ADG

Authorised signature:

Economic Factors:

grams

NRV- New Replacement Value......

$6,275.00

VALUERS DECLARATION - I hereby certify that the above item was personally examined by me on the date shown

and has been valued for the purpose of Insurance. This report does not constitute a warranty or guarantee. This

report should be read in conjunction with the attached schedule

20 July 2012

$NZ Exchange Rates US$ 0.7775 Metal Prices (NZ$/ounce) Gold 2055.16 Platinum 1857.87 Palladium

785.52 Silver 36.09

www.claritydiamonds.co.nz

www.titaniumweddingrings.co.nz

Ph: (03) 982 2982 or 0800 4 RINGS

Email: edwin@claritydiamonds.co.nz

®

ATHELSTAN STREET

JVC Valuers, Jewellery Valuation Specialists

Craig Anderson NZTCMJ

Goldsmith

Jewellery Manufacture, Repair & Restoration

Ph: (03) 337 6576

Email: gold.smith@clear.net.nz

BARRINGTON

JEWELLERY

CENTRE

ENTRANCE

Why use JVC ? See why JVC Valuers, jewellery valuation specialists are leading

the industry in jewellery valuation services.

1. EXPERIENCE. As we value more precious jewellery than anyone else in NZ, our

valuation team have unrivalled expertise. We can value all types of jewellery,

diamonds and gemstones. We value antique watches, antique jewellery, Asian

22 carat or 24 carat gold jewellery.

2. QUALITY. Our valuations meet Insurance Company standards. Your jewellery

will be clearly described, cleaned, photographed and valued. (see sample in

advertisement)

3. PRICE. We offer fair and transparent pricing based on the work we do, not the

value of your jewellery. So there's no hidden fees.

4. SECURITY. Your jewellery stays on our premises, all our valuations are

completed in house.

5. CONVENIENT. JVC Valuers has four valuation centres conveniently located

in Auckland, Tauranga, Wellington & Christchurch (Christchurch, 1st floor 10a

Athelstan Street-next to medical centre).

6. SERVICE. By appointment you can make a booking at our special Valuation

Days, to have your jewellery valued within the same day. Please Phone 332 4233.

7. Check us out. www.jvcvaluers.co.nz

Monday to Friday 9:00am – 5:30pm. Clarity Diamonds only: Saturdays 10:00am – 2:00pm

LeveL 1 - 10a atheLstan street, BarringtOn, ChristChurCh

www.jvcvaluers.co.nz

Ph: (03) 332 4233

Email: jim@jvcvaluers.co.nz

Barrington St Barrington St

Barrington

jewellery

Centre

Frank leigh St

Jim Young

JVC Valuers

Senior Valuer

GIA: Diamonds

Graduate

Bei Kong

JVC Valuers

FGA: Gemmogolist

GIA: Diamond

Grading

Barrington

Shopping

Centre

athelStan St

WE ARE

HERE

SiMeon St

Barrington

Medical

Milton St
---
18

Tuesday September 6 2016

NOR'WEST NEWS

Fresh NZ Beef Rump Steak

$

13 99

kg

Dole Philippine/Ecuadorian

Loose Bananas

$

2 29

kg

cANtERBuRY

RuGBY PlAYERS

iNStoRE!

WEDNESDAY 7 th SEPtEMBER

4 – 5PM

$

1 99

each

Arnott's Tim Tam/

Mint Slice 165-200g

PlAYERS Will AlSo

PAck YouR GRocERiES!

GEt YouR Photo

tAkEN With YouR

fAvouRitE PlAYERS!

fREE tickEt

GivEAWAYS!

Speight's Gold Medal Ale/

Summit

12 x 330ml Bottles

$

16 99

pack

Prices apply from Tuesday 6th September to Sunday 11th

September 2016, or while stocks last.

freshchoice a proud

sponsor of canterbury

Rugby take a kid to footy.

TAKE A KID

TO FOOTY

FCNO0609

Shopping just got easier

Best deals are here!

Certain products may not be available in all stores. Savings are based

on non-promotional price. Limits may apply.

FreshChoice Merivale

189 Papanui Road, Christchurch.

Open 7am – 9pm, 7 days.

FreshChoice.co.nz

FreshChoiceNZ

Owned &

operated

by locals

355 4432

FreshChoice Merivale

Terms & Conditions apply.

merivale
---
NOR'WEST NEWS Tuesday September 6 2016 19

News

Papanui bungalows hold history

• By Murray Williams, Papanui

Heritage Group

IN SPITE of the depression in

the early 1930s, the period from

1920 to 1940 saw the addition of

a large number of new houses in

the streets of south Papanui.

Empty lots in Dormer, Perry,

Proctor, Mary and Horner Sts,

as well as Rayburn and St James

Aves were filled with the popular

Californian bungalow and its

immediate successor the English

bungalow.

These houses were built of

timber – the former had a

double gable usually accentuated

with wooden shingles.

The English variant had a

hipped roof rather than pronounced

gables and a shallow

front door porch.

Frederick Halford was a

builder who specialised in the

construction of these types

of houses in both Shirley and

Papanui.

He built bungalows in

Chancellor and Slater Sts and

then in St James Ave, a street

which was the result of an amalgamation

of Park Rd and James

Ave in 1924.

Eventually, in 1932, Halford

built a house at 49 St James Ave

for his daughter and son-in-law

in time for them to begin their

married life.

Halford's granddaughter,

Natalie Wetherall, has happy

memories of family life in this

house, which was a standard

Californian bungalow with two

bedrooms and a sun room which

was used as an extra bedroom.

The original section was large

enough to cater for an extensive

orchard.

They also enjoyed the facilities

at the adjacent St James Park,

which was developed after the

city council purchased the land

in 1924.

The park was attractively

planted with a selection of exotic

trees, most of which still exist.

Another powerful memory

of Natalie's childhood was her

recollection of the 'big snow'

of July 1945, when the family

awoke to snow piled up almost

to the window ledges outside her

bedroom.

Natalie also recalls the children

in the street building carts

from cast-off bits and pieces and

holding soap box derbies on St

James Ave.

The relative lack of traffic in

that era made this pursuit less

dangerous than it would be

BOOM: The period

between 1920

and 1940 saw

the addition of a

large number of

new houses in the

streets of south

Papanui. ​

today.

St James Ave still retains

plenty of evidence of the interwar

building boom.

A recent analysis revealed

there are still 24 houses from

this period in the street, most

of which have been well

maintained, although infill

development has now reduced

the size of some of the original

sections.

THE RUSSLEY VILLAGE

HOLLY LEA VILLAGE

TWICE AS MANY CHOICES FOR EXCEPTIONAL RETIREMENT LIVING

Making your retirement move is even more accommodating, with a choice

of two sought-after locations in Christchurch. The Russley Village, is set

within 8 acres of award-winning gardens, creating the benchmark for

quality over the past 5 years. Enquire now about the Sefton Apartments,

this building will also contain the indoor swimming pool complex.

Holly Lea Village is nestled in the heart of Fendalton within beautifully

tailored grounds with an extensive range of facilities including restaurant,

café, garden lounge, cinema, library and hair salon. The village offers a

range of care and extra support services delivered to your apartment.

We currently have a beautiful selection of studio, one and two bedroom

apartments available.

russleyvillage.co.nz | 03 982 8280

73 Roydvale Avenue, Christchurch

For sales enquiries contact

Nola Lamb

"Now, twice the options for

residents with care, quality and

unparalleled locations"

Judy Bailey

hollylea.co.nz | 03 351 2679

123 Fendalton Road, Christchurch

For sales enquiries contact

Nola Lamb
---
20

Tuesday September 6 2016

HEALTH & BEAUTY

NOR'WEST NEWS

Effective treatment for many

types of pain

Complementary medicine is becoming

increasingly sought after in New Zealand

as people become aware of the many

different methods of treating pain and ill

health that are available here.

Christchurch-based Chinese health

practitioner Lan Xiao has developed a

method of treatment, which she says has

as an immediate affect on a wide variety of

pains and health conditions. It is known

as 'acupuncture without needles'.

Lan describes it as being similar to

reflexology in that the problem area on

the body is determined through pressure,

but is much more accurate.

Trained as a medical practitioner in

China, Lan came to New Zealand in 1992

and began practising acupuncture in

1995. From that discipline she created her

acupuncture without needles, and uses

it to treat people of all ages with many

different types of pain in all parts of the

body. This can include arthritic pain, MS,

and pain from injury.

"For example, the treatment has been

very successful for people who have

painful joints caused by arthritis," Lan

says.

Acupuncture without needles is also

effective in restoring energy levels,

she says.

"As people age their energy is reduced,

and this can lead to other health

problems. The acupuncture without

needles treatment is like the body's

battery being charged up again, so their

energy levels are restored, which in turn

helps overcome their health problems."

Lan also uses it to treat depression

and anxiety, and says it can help with

addiction problems as well.

"After the treatment the person has no

cravings – because it treats the cause of

the addiction."

She says the results are immediate,

though people may need several

treatments, depending on the extent

of their health problem, and while it

is slightly painful for few moments,

everyone can tolerate it.

Lan Xiao's website, www.

drlansreflexologynetwork.co.nz, includes

videos of people whose health problems

have been overcome after receiving the

treatment.

Her clinic is located at 108 Sawyers

Arms Road, and her hours are Monday,

Wednesday and Friday from 12pm to

5pm. To discuss your health issues or

make an appointment, phone 323 4168

or 027 231 8388.

Lan describes it as

being similar to

reflexology in that the

problem area on the

body is determined

through pressure, but

is much more accurate.

Acupuncture

Dr Lan Xiao

A unique UNIQUE PoweRFuL POWERFUL

tReAtment TREATMENT wiLL WILL Give GIVE

you YOU PAin PAIN ReLieF RELIEF in IN

juSt JUST A Few FEW SeConDS SECONDS

without needles

• Relieve all kinds of body pain

• • Relieve all asthma kinds and of body hay fever pain

• Relieve • Fantastic asthma weight and loss hayfever results

• Fantastic • Great results weight for loss insomnia, results dyslexia

• Great

depression

results

and

for

low

insomnia,

energy

• Stop cravings for cigarettes, alcohol,

depression

sweet foods

and

and

low

drugs

energy

instantly

• Stop cravings for cigarettes, alcohol,

sweet foods and drugs instantly

WATCh our Free Trial

insTAnT resulTs

Available

Free Trial Available *

videos online

*Conditions apply

*

*Conditions apply

108 Sawyers Arms Rd, Papanui

108 Sawyers (inside Melrose Arms Building) Rd, Papanui

Phone: 03 (inside 323 4168 Melrose • Cell: Building) 027 231 8388

Phone: www.drlansreflexologynetwork.co.nz

03 323 4168 • Cell: 027 231 8388

SHEEPSKIN

SALE

Women's Slippers

Children's

Slippers $

35 $

40

Footwear can be exchanged

GOLDEN FLEECE

New address

U.S. Boots

$

85

Men's Slippers

$

45

Sheepskin Rugs

$

55

10 Cass Street

Mon-Fri 9am-5pm, Sat 9am-12.30pm

ph 366 5705

lovebite.com
---
NOR'WEST NEWS Tuesday September 6 2016 21

SENIOR LIVING

Amazing Island

Storytimes – Wā Kōrero

Today, 10.30-11am

Go along to the library

for a storytime session.

The programme includes

stories, music, movement

and rhymes. Best-suited

for pre-school children.

Fendalton Library, cnr of

Clyde and Jeffreys Rds

Senior Citizens

Join them for euchre/

whist on Monday or

indoor bowls on Tuesday.

An old-time dance is

held on the first and third

Saturday of each month.

For more information,

phone Vonnie on 383 4682

or Beth on 388 2375.

Scottish Society Hall, 136

Caledonian Rd, St Albans

Reading to Dogs

Thursday, 3.30-4.30pm

The programme uses

dogs who are pets of

the city council animal

management team. These

furry friends have all

been trained and tested

for health, safety and

temperament. The dogs

can increase a child's

relaxation while reading.

Library staff and a dog

handler will be present at

all times to help facilitate

the sessions which are 15

minutes long. Admission

is free.

Papanui Library, cnr of

Langdons Rd and Restell St

Rummikub

Thursday, 1.30-3pm

Go along to the library

and play rummikub –

an exciting, interactive

strategy game. The

programme is suited for

all ages.

Fendalton Library, cnr of

Jeffreys and Clyde Rds

Learn to play mahjong

Friday, 2-4pm

Go along to the library

and learn to play mahjong

– a game that will

stimulate your brain and

keep you on your toes.

Fendalton Library, cnr of

Jeffreys and Clyde Rds

Super Saturday

Storytimes

Every Saturday, 11-

11.45am

Enjoy a storytime

session followed by

fun craft activities. The

programme runs during

the school term and is

for children between the

ages of two and seven.

Admission is free.

CAT SHOW: The

Canterbury All

Breeds Cat Club

Spring Show is

on Sunday at

Papanui High

School. Doors will

open from 10am

and the show

will run to 4pm.

Admission is $5

for adults, $2 for

children and $10

for families. For

more information,

phone the show's

secretary Barbie

Muller on 355

6462.

Shirley Library, 36

Marshland Rd, Shirley

Christchurch Girls'

High School 139th

Birthday

Sunday, 4-6pm

The Christchurch

Girls' High School

Old Girls' Association

invites past students to

an afternoon in honour

of the school's 139th

birthday. To confirm a

place at this event and for

catering purposes, please

phone 355 8836. General

admission is $20 or $15 for

members.

Christchurch Girls' High

School, 10 Matai St East,

Riccarton

Roald Dahl 100th

Birthday Celebration

Tuesday, September 13,

3.30-4.30pm

Celebrate Roald Dahl's

100th birthday. A fun

event for primary school

children with games,

quizzes, colouring-in and

giveaways. No bookings

necessary. Caregiver

required. For more

information, phone 941

7923. Free event.

Shirley Public Library, 36

Marshland Rd, Shirley

Miracle Oil

Revered for centuries by

is commonly used on most skin

Polynesians and Southeast Asians for ailments including rosacea, pimples,

its remarkable skin anti-aging and ulcers and sores, acne and acne scars,

healing properties, Dilo oil comes psoriasis, eczema, dermatitis, rashes,

from the nut of the sacred Dilo tree, blisters, skin eruptions, warts, insect

"the tree of a thousand virtues". The bites and stings, athlete's foot, burns,

Dilo tree draws its sustenance directly sunburn, cuts and cracks, nappy rash,

from the nutrient rich warm waters of and many more often with incredible

the Pacific Ocean.

results. Also it is used for joint and

Dilo oil is also called "the beauty muscular pain and may even help

oil" as it can penetrate all three layers stimulate healing.

of the skin offering exceptional cell Further information is available

hydration and regeneration. It has a from the Natural Health Advisers

unique ability to stimulate the growth at Marshall's Health & Natural

of healthy skin cells and the formation Therapy, 110 Seaview Road, New

of new tissue giving it powerful antiaging

properties that can help reduce We are Always Happy to Help!

Brighton, Phone: 388-5757.

lines, blemishes, scars, stretchmarks,

dry or scaly skin, skin redness and

repair damaged skin.

It also possesses anti-inflammatory,

antimicrobial, antifungal, antioxidant

and sun protective properties and

you can stop him

snoring with a

SNOREX

Why put up with a broken

night's sleep?

Ph 377-4318 or 027 682 1752

DENISE LIM

FOR A FREE INFO PACK

Website: www.snorex.co.nz

AMAZING ISLAND MIRACLE OIL

As seen on Rachel Hunter's Tour of Beauty

Revered for centuries by Polynesians & Southeast Asians for its remarkable

skin anti-aging & healing properties, Dilo oil comes from the nut of the sacred

Dilo tree, "the tree of a thousand virtues". Dilo oil is often called the beauty oil

as it can penetrate all three layers of the skin offering exceptional cell hydration

& regeneration. It has a unique ability to stimulate the growth of healthy skin

cells & this gives it powerful anti-aging & healing properties that can help

reduce lines, blemishes, scars & damage to the skin. It also possesses antiinflammatory,

antimicrobial, antifungal & antioxidant properties.

Dilo Oil Supports

• Anti-aging & skin regeneration, helps reduce lines, blemishes, scars &

stretch marks

• Skin hydration

• Skin repair & growth, helps feed the skin & stimulate healthy new cells

• Wound healing & skin protection from bacteria, viruses & fungus

• Most skin problems, rosacea, pimples, ulcers & sores, acne, psoriasis,

eczema, dermatitis, rashes, blisters, skin eruptions, warts, insect bites &

stings, athlete's foot, burns, nappy rash etc.

• Joint & muscular pain

Bringing You the Best in Natural Health

AMAZING

PRICES

100% PURE & ORGANIC

50ml

only $19.90

only $29.90

100ml

POWERFUL

NATURAL BEAUTY

& HEALING OIL

- WE ARE ALWAYS HAPPY TO HELP! -

MAIL ORDER AVAILABLE

MARSHALLS HEALTH & NATURAL THERAPY

CONSULTING - PRESCRIBING - DISPENSING - MANUFACTURING - MEDICAL HERBALISTS

110 SEAVIEW RD, NEW BRIGHTON • PH 03 388 5757 • Email: enquiry@marshallshealthshop.co.nz
---
22

Tuesday September 6 2016

SENIOR LIVING

Eat, Talk, Smile

Devices

With eight clinics throughout the

Christchurch, there are hundreds

of people who can now EAT, TALK

and SMILE with complete assurance,

thanks to the team at Duchenne

Dental.

Their talented clinical and technical

teams believe in providing advanced

denture care so that their patients

can leave with dentures that feel

comfortable, look perfectly natural

and are suitably secure.

They use current, state of the art

technology. So whether you need full

or partial dentures, replacements or

brand new, they will create dentures

that are a precise fit for you. They

combine digital scanning technology

and injection moulding techniques

with hand crafting to make sure

that their patients leave them with

dentures that won't cause ongoing

painful ulcers or slip in their mouths.

Their kind and encouraging service

leaves their customers "feeling like a

celebrity ... and their follow up care

is exceptional." Some clients turn to

them in desperation but leave feeling

"transformed".

If you too want to EAT, TALK,

SMILE with confidence, phone (03)

375 4444 or visit www.duchenne.

co.nz to find the clinic closest to

you and book your complimentary

consultation.

The Leisure Centre

at McKenzie

Lifestyle Village

At the centre of the McKenzie Lifestyle Village

is the brand-new McKenzie Leisure Centre. This

multi-purpose complex has everything to meet

the social and leisure needs of residents and their

invited guests. It includes:

• An indoor heated swimming pool with spa pool

alongside.

• A fully-equipped gymnasium sporting

exercycles, treadmills, rowing machine, etc.

• The library is stocked with hundreds of books, a

computer and the daily paper.

• A well-appointed crafts room for those residents

keen on arts and crafts.

• A multi-function room with comfortable seating

for meetings, cinema or chapel.

NOR'WEST NEWS

• The main lounge offers a big-screen TV, cosy gas

fireplace, comfortable seating, bar area, pool table

and dart board for your enjoyment.

• Alongside the lounge is a kitchen and dining

area. The latter can be used for indoor bowls or Tai

Chi, Zumba etc.

• A consulting room available for health services.

• A hairdressing and beauty salon.

• Outside amenities include a bowling green,

petanque rink, mini-golf, putting green and a

children's playground. Further from the Leisure

Centre there are garden allotments, workshop (aka

men's shed) and caravan and campervan parking.

EAT

TALK

SMILE

Live life

confidently with

advanced dental

and denture care.

8 CONVENIENT CHRISTCHURCH

LOCATIONS:

Merivale 03 375 4444

Beckenham 03 375 4443

Fendalton 03 375 4449

Linwood 03 375 4448

Kaiapoi 03 375 4442

QEII Dental 03 388 0881

Dentistry with a Smile 03 338 8210

Halswell Dental 03 322 9577

Canterbury's leading company specialising

in complete denture services.

www.duchenne.co.nz

Third Age Tours

Small Group Tours

for the over 50's

Domestic and International

Great Prices!

england/Wales & Yorkshire Dales

24 August - 23 September 2017

enchanting Ireland & Scotland

1 June - 26 June 2017

Treasures of Turkey

On Hold & TBA

captivating croatia, Slovenia

montenegro & Venice

16 June - 10 July 2017

Vietnam & cambodia

3 - 25 October 2017

Beautiful norfolk Island

22 - 29 October 2017

Sicily, rome & Southern Italy

neW October 2017

South Island Tours

Glorious Autumn in Arrowtown

20 - 25 April 2017

catlins/Stewart Island

9 - 17 February 2017

PluS oTher

DeSTInATIonS!

For a Free InFormATIon PAck

contact Brenda

Third Age Tours

Ph 03 379 3799 or 03 312 7050

Freephone: 0800 927 725

sunshineone@xtra.co.nz

www.thirdagetours.co.nz
---
NOR'WEST NEWS Tuesday September 6 2016 23

SENIOR LIVING

Essential nutrients

for health & vitality

Easy access to

health & mobility

After noticing patients were experiencing

gut, bowel and digestive issues that

often led to more serious chronic

health conditions, two Australian

Naturopaths conducted extensive

research. This revealed that

although the patients were

generally eating good food, they

were not obtaining all the nutrients

required for good health, with one of

the main problems being the digestive

system.

Also, with the soils crops are grown in

being depleted of many trace elements and

other essential nutrients, the crops are also

depleted.

If we do not obtain all the required

nutrients, our body will compensate

to some degree, but a lack of too many

nutrients will eventually lead to health

issues. Knowing this, the naturopaths

developed Vital Greens, a nutrient-dense

powdered formula that provides superior

absorption and comprehensive nutrition.

Vital Greens contains a balanced blend

of nutritionally rich vegetables, fruits,

minerals, vitamins, essential fatty acids,

plant and herbal extracts, superfoods,

powerful antioxidants, probiotics, essential

amino acids, digestive enzymes and fibre,

plus an alkalising pea protein.

Anyone can benefit from it, including

people in poor health, those recovering

from injury or sickness, children, athletes,

poor eaters and the elderly. It is gluten,

wheat and dairy free, and provides more

energy and endurance, better sleep, a more

positive mood, improved eyesight and

overall better health.

Further information is available from

Marshall's Health & Natural Therapy,

110 Seaview Road, New Brighton, Phone

388-5757.

We are Always Happy to Help!

products

Nurse Maude's Health

& Mobility Shop in

Wairakei Road has long

been the go to shop

for those who need

specialised products that

allow them to live as

independently as possible

in their own home.

Now Nurse Maude's

second Health & Mobility

Shop has opened in

Rangiora in the High

Street opposite the BNZ.

"We've been hearing a lot of people say

that it was about time we headed out this

way," says Sue Bramwell, general manager

marketing at Nurse Maude, "so we were

delighted to open the doors to our second

shop late last month."

Customers now have three options

for their health and mobility needs,

the Wairakei Road shop, our Rangiora

shop and Maudes Online at www.

nursemaudeshop.org.nz

The staff at Nurse Maude's Health &

Mobility Shops work closely with Nurse

Maude's nurses and suppliers to make sure

the expertise and support customers may

need is readily available.

Paulger Courts Retirement Village

(in association with George Manning House Rest Home and Hospital)

AVAILABLE

NOW

1-bedroom unit

$180,000

2 bedroom unit

$260,000

Enquiries welcome.

Please ring

Robyn MacDonald

on 338-9164

weekdays

Spreydon, Christchurch

''

VITAL GREENS has been developed to provide superior nutritional support to your

body. It is near impossible to obtain all the nutrients your body requires from a

modern diet. VITAL GREENS contains 76 vital nutrients in a balanced & highly

absorbable form to help you receive all the nutrients you require for optimum

health. It consists of a blend of nutrient dense greens, vegetables, fruits, plus

additional herbs, vitamins & minerals, powerful antioxidants, prebiotics &

probiotics, essential fatty acids, fibre, plus a uniquely alkalising pea protein.

VITAL GREENS Supports:

- Increased Energy & Endurance

- Better Digestion

- Optimised Immune Function

- Reduced Brain Fog

- More Balanced Blood Sugar

- 76 Vital Nutrients to Support

Optimal Health

Family owned and oriented

Retirement Village for independent

living in a supportive environment.

ARE YOU RECEIVING ALL THE NUTRIENTS YOU REQUIRE?

TAKE THE VITAL GREENS 12 DAY CHALLENGE TO BETTER HEALTH

- Superior to a Multivitamin Tablet

- Wheat, Dairy & Gluten Free,

Vegan Friendly

- Gently Detoxifies, Cleanses &

Energises Every Cell in Our Body

Super Special

120g only $19.95, save $14.95

300g only $55.50, save $19.50

600g only $99.90, save $39.10

1kg only $138.90, save $60.10

120g (55+) only $19.90,

save $14.95

MAIL ORDER

AVAILABLE

Bringing You the Best in Natural Health!

- WE ARE ALWAYS HAPPY TO HELP! -

''

MARSHALLS HEALTH & NATURAL THERAPY

CONSULTING - PRESCRIBING - DISPENSING - MANUFACTURING - MEDICAL HERBALISTS

110 SEAVIEW RD, NEW BRIGHTON • PH 03 388 5757 • Email: enquiry@marshallshealthshop.co.nz
---
24

Tuesday September 6 2016

REAL ESTATE

Sumner Lifestyle

2 Whitfield Street, Sumner

4 bedrooms | 1 bathroom | 1 living room | 1 car garage | Listing # SMT1835

Looking for a beach home in Sumner?

Located in sought after Sumner and

across the road from Sumner School

this ideal four-bedroom home is located

on a corner site capturing both the

morning and afternoon sunshine.

The open planned sizeable kitchen

dining, and living area welcomes the

morning sunshine and offers a homely

feel. The kitchen has a bi-fold window

an added bonus while barbequing on

the wrap around deck.

With four double bedrooms of which

one could serve as a separate living

room with French doors flowing out to

the decking area.

The home is kept warm with the heat

pump plus ceiling insulation.

The 410m2 section with space for the

children to play is fully fenced.

Single garage plus off street parking.

Make the most of the summer days

resting on the beach swimming or

surfing. The Sumner Village along with

Restaurants, Cafes, Picture Theatres,

Arts and Crafts are all within walking

distance. Sumner Village a unique

lifestyle! Will be SOLD!

Open Homes: Saturdays 11 to 11.45

or for an appointment to view contact

Debra Hakaraia of Smart Real Estate

(Licensed Agent REAA 2008) on 027

562 0420 or 384 8600 or visit our

website www.smartrealestate.co.nz

NOR'WEST NEWS

ON DEMAND AT WWW.stylE.kiWi

from magazine

to screen

storiEs givEn nEW liFE

Watch EvEry thursday at

7.30pm

rEpEats Friday at

11am & 4.30pm

ExclusivE intErviEWs

Andrea Allen meets the locals

coming to toWn

A look at what's on

Fashion Focus

Trends to follow

the ultimate guides

ExpErts sharE tips

StyleTV_StarAd_June_HP_001_2016

Freeview HD 40 | Live on ctv.co.nz
---
NOR'WEST NEWS Tuesday September 6 2016 25

Business for Sale

PART TIME Mowing

round with ride on mower

for sale, contact Mark 027

244 2982

Caravans, Motorhomes

& Traliers

CARAVAN Or Poptop

wanted ph 027 306 6544

TRAILER Briford or

similar wanted ph 027 306

6544

Car Parts

TYRES Secondhand,

most sizes, from $30 fitted,

217 Waltham Road, 027

476 2404

Computers

Curtains

www.curtainfabric-outlet.com

Fashion Designs & Colours

Discontinued Designs

End of Lines Bargain Prices

Call at Our Shop

CURTAIN FABRIC OUTLET

71 Hawdon St Sydenham

Ph 366-5026

Gardening

& Supplies

A GARDEN OR

LANDSCAPING TIDY

UP? Rose & Fruit Tree

Pruning, Shrub, hedge

& tree pruning, Lawns,

Gardening, consistently

reliable general property

upkeep, Dip. Hort. 10

yrs experience, One off

tidy ups or on-going

service. Nick's Property

Maintenance. Keeping

your garden beautiful.

Free Quote. Ph. 942-4440

GARDENING By mature

female, very particular,

honest & reliable $18

per hr, Northcote &

surrounding areas, plse ph

03 352-2590

LAWNMOWING,

Gardening, Green Waste

Removal. For a free quote

phone Peter, Northwest

Mowing & Gardens, 359-

6130 or 021 114-2471

ADD

SOME

COLOUR

TO YOUR ADVERT!

Classifieds Contact us today Phone our local team 03 379 1100

Holiday

Accommodation

QUEENSLAND SUN-

SHINE COAST AUSTRA-

LIA Resort, Ocean Views,

Balconies, Self Contained,

1 or 2 B/R Ensuite,

Heated Pool, Spa, Sauna,

Free Internet, Shops,

Restaurants, Tennis, Surf

Club & Patrolled Beach,

Public Transport at door.

Ask for our SEASONAL

SPECIALS. Phone 61 7

544-35011 Email: reception@mandolin.com.au

www.mandolin.com.au

ALL

YOUR

COMPUTER

Celebrant

WORRIES SOLVED! WEDDINGS, Civil

*$30.00 off your first Union Ceremonies,

service with this coupon!* Renewal of Vows, Naming

No problem too big or Ceremonies, Funerals

small from home PC's to and Unveilings - Jenni

business networks. PC Gibson Ph/Fax 324-8332,

slow? An end to Viruses, 021 723-089. www.

Spyware, and Clogged celebrantservices.net.nz

Systems. Safe secure

hassle-free computing. Pets & Supplies

Lost files recovered.

Microsoft Certified, AFFORDABLE Dog

MCSE, MCP+l. 30 years Grooming $44 small,

experience. Call Andrew $52 med, experienced

Buxton this week on 326- and qualified groomer/

6740 or 027 435-7596 veterinary nurse,

for $30.00 off* Custom Redwood, ph June 03 354-

Computers Christchurch 6414 or 027 746-5295

To Let

HOUSEME

Portable sleepout or office

available to rent

Insulated and value for

money at $75.00 per week,

you wouldn't live in

anything else. Contact

Amanda

today on 0279570920 or

houseme2015@xtra.co.nz

Tours

Rexellent

Rentals

Cars, Vans, Brisbane, Coolangatta

FREE CALL

0800 601 508

e: rexellent@bigpond.com

Trades & Services

Appliance Sales & Service

388 4780

Appliance Services

14 Brighton Mall, New Brighton

Trades & Services

CARPET CLEANING

CARPET: QUICK DRY technology / Stain Treatments

SCOTCH GUARDING

UPHOLSTERY – DRAPE CLEANING

MATTRESS CLEAN / ALLERGY TREATMENTS

ALLERGY / ASTHMA, dust mite treatments

RENTAL CARPETS, clean/stain removal

RESIDENTIAL / COMMERCIAL

FLOOD RESTORATION

INSURANCE

0800 333 181 | www.cavendishcarpetcare.co.nz

Trades & Services

eqc cASH SeTTLeMeNT

EQC CASH SETTLEMENT

We will re-scope your property to ensure

you have been paid in full to cover

all your repair costs.

After 5 years of scoping for EQC claims

we have found that most claims

have been under paid.

Examples of Clients EQC Payments:

Payment Initially $3,800 after our re-scope

payment received $46,320

Payment Initially $7,575 after our re-scope

payment received $38,182

Payment Initially $19,827 after re-scope

payment received $60,273

For re-scoping and all earthquake repairs

including painting and redecorating.

Enquire now Phone 021-667-444

landscape design

T: 03 421 8460

M: 021 433 418

E: office@xteriorscapes.co.nz

W: xteriorscapes.co.nz

Trades & Services

MUSGROVES

Buyers & sellers of New

& recycled Building

Materials & Joinery

Check out our vast selection of..

• Wooden & aluminium windows

• French doors & ranchsliders

• Corrugated iron and roofing tiles

• New and recycled timber

• rimu & beech T&g flooring

Musgroves

Ph 322 7922

WWW.Musgroves.Co.NZ

Trades & Services

DRIVEWAYS & PAVING

FREE QUOTES

Professional, friendly

Service Always

Ph. 03 329 4806

or 027 827 0505

CAP CONSTRUCTION LTD

TIMBER DECK CLEANING

Before

Trades & Services

PAINTER

Michael Kelly Painters

Locally owned and

operated family

business.

25+ years Experience

• Painting • Wallpapering

• Interior • Exterior

Free Quotes

Phone

Paul 0276 475 755

Michael 0212 649 492

michaelkellypainter@hotmail.co.nz

• Alarm systems & servicing

• Access control

• Safes

• Keys

• Padlocks

• Door & window locks

inquiry@rossgalt.co.nz

www.rossgalt.co.nz

SECURITY

RESIDENTIAL & COMMERCIAL

CITY BRANCH

95 Kingsley Street

(cnr of Kingsley St and Waltham Rd)

Ph: (03) 365 0298

• CCTV systems & servicing

• 24x7 monitoring

• 24x7 emergency service

• Window & door hardware

• Car & garage door remotes

Trades & Services

HORNBY BRANCH

The Branston Centre

(Shop 12 393a Main South Rd)

Ph: (03) 349 4119

• Timber decks rejuvinated

• Polished floors scrubbed

• Polished concrete scrubbed

After

Also do: gym floors, halls, restaurants,

bars, offices and churches

Ray Anderson

Owner Operator

027 323 5190 | 03 323 5190

* Arbitration Advisory Consultant for Floor Sanding

Trades & Services

MDC

BUILDERS

Renovations & Repairs

All forms of Home

Maintenance

Bathrooms & Kitchens

Site clears

Excavating Driveways

& Paths

All forms of Foundations

Free Quotes

Give me a call today

Ph 022 407 8581

mdcbuildersnz@gmail.com

15% Discount with this Advert

Trades & Services

• Replacement/new roofing

• Colour Steel gutter & fascia

• Flue & log burner installs

• Skytube/light installs

• Earthquake repairs

Licence Building

Practitioner LBP

Member of the Roofing

Association

DCM ROOFING LTD

The Roofing Specialists

PHONE IAIN

027 445 5597

iain@dcmroofing.co.nz

Trades & Services

ROOF

PAINTING

Rope & harness

a speciality,

no scaffolding

required,

30 years of

breathtaking

experience.

FREE QUOTES

Exterior staining,

exterior painting,

moss and mould

treatment and

waterblasting

Phone Kevin

027 561 4629

Trades & Services

DRIVEWAYS

Replace, repair or new.

We are a local company

with over 10 yrs exp.

We also operate a

digger for all other

earthworks.

Ph. R.M. Solutions

021 02866981

for a free quote.

Trades & Services

DrAInLAyer

Blocked drains, Repairs

to drains, New drains &

sumps. All work overseen

by Registered Drainlayer.

Contact Glen at Y45

Drainage - 0800 945 900

DrAInLAyer

Reg, all types incld soak

holes & culverts etc

ph 028 408-0121

eLeCtrICIAn

regIStereD

for all electrical

installations & repairs Ph

03 322 4209 or 021 026

73375

eLeCtrICAL &

HeAtpUMpS

Full service including

pressure & performance

test $60 + GST. Affordable

electrical services, wiring

alterations & repairs,

LED conversions. Motel

Maintenance Specialist Ph

326 4992 or 0274 329755.

FenCe pAIntIng

Staining Quality at a

reasonable price. Free

quotes. Phone Warren

today on 980-1676 or 027

2014713

FUrnItUre

reMOVALS

Large Trucks $95 +

GST per hour 7 day NZ

wide, packing & moving,

Trades & Services

AAA CArpentry

licensed builder

practitioner all property

maintenance small job Professional Company,

expert by tradesman /

handyman free quotes city

Professional

Canterbury

Service.

Relocations

wide call now 03 387- Ltd. ph 0800 359 9313

0770 or 027 245 5226 pAInter

ciey@xtra.co.nz

Top quality work, interior/

BUILDer

exterior, pensioners

For all building work

but specialist in bathroom

discount, free quotes, 30

years experience, I stand

renovations, 30 yrs by Canterbury, ph Wayne

experience, with service your friendly painter

and integrity. Free Quotes. 03 385-4348 or

Ph Lachlan 383-1723 or 027 274-3541

0274 367-067.

pAInter

BUILDer LICenSeD Available, All aspects

available for all aspects of in painting. Very

building. Please call 027

241-7471 or 335-0265

competitive in roofs and

fences. Please call 027

CArpenter

241-7471 or 335-0265

HAnDyMAn

pAIntIng

Small Job Specialists, DeCOrAtIng

Carpentry, Repairs, interior & exterior,

Decking & Maintenance, gib fixing, plastering,

40 years experience, no paperhanging, Est 50 yrs

job too small, Ph Warren

03 322-1103 or 027 697-

in ChCh, ph Wingfields

Ltd, ph Mark 021 171-

8541

1586 or 355-5994

CArrIer

Local, experienced,

pAInter

Qualified, 25 years

friendly, trade-me experience, interior &

purchases, single items exterior, high quality, up

to truck loads, furniture to your expectations, for a

to whatever, removals &

trade deliveries a specialty.

Ph GEH 341-5069

free quote, call Mike 021

023-91148

pLASterer

CArpenter

Gib Stopping, Small

All maintenance and job specialty. 30 + years

alterations, fences, experience. Ring 0800

pergolas. Trade certified.

No job too small. 35 yrs

exp. Ph Lindsay 03 323-

387-369

pLUMBer

For prompt service for all

5534 or 021 206 4245 plumbing maintenance,

CArpet & VInyL repairs and alterations.

LAyIng

Phone Michael 364 7080

Repairs, uplifting, or 027 438 3943

relaying, restretching,

E mail jflattery@xtra.

co.nz,

ph 0800 003 181
---
26

Tuesday September 6 2016

NOR'WEST NEWS

Classifieds Contact us today Phone our local team 03 379 1100

Trades & Services

Trades & Services

Vehicles Wanted

Situations Vacant

Situations Vacant

PLUMBER

ALF THORPE

PLUMBING Certifying

Plumber for all types of

plumbing, maintenance,

spouting, alterations etc.

Phone 352-7402 or 0274-

350-231

PLUMBER

A Top Plumbing job

completed at a fair price,

prompt service, all work

guaranteed, Ph Brian 960-

7673 or 021 112-3492

ROOFING

Qualified & Licenced

Practitioner. Re-Roof &

Repairs, all types. Member

New Zealand Roofing

Association. Over 35 years

experience. Phone John

027 432-3822 or 351-9147

email johnmill@ihug.

co.nz

SHOE REPAIRS

Belfast engraving.Shoe

repairs,key cutting &

engraving.(10 yrs exp)683

Main North Rd

ph 027 3113423

SPOUTING CLEANING

Spouting Unblocked,

Cleaned Out and Flushed

Out. Also Full Handyman

Services Available. Call

Trevor 332 8949 or 021

043-2034

TILER

Phone Paul 022 151 9242,

981-2802

TREES BIG OR SMALL

tree removal, trimming,

stump grinding, shelterbelt

clean up, section clearing,

rubbish removals,

excavation work, ph Trees

Big or Small, for a free

quote, 021 061 4783

TREE WORK

Hedge trimming, stump

grinding, rubbish

removed, small job

specialty Ph Andrew 03

322-8341 or 027 435-8759

T.V. SERVICE CENTRE

Repairs, tvs, microwaves,

stereos, DVD. Aerial

installations and

kitsets, 480 Moorhouse

Ave, ph 03 379 1400

UPHOLSTERER

Dining Chairs, Lounge

suites, Caravan Squabs etc.

recovered. Free Quotes.

Phone Graeme 383-1448

VHS VIDEO TAPES

& all camera tapes

converted to DVD, video

taping, weddings, twenty

firsts, special occasions,

www.grahamsvideo.co.nz

ph 03 338-1655

WATERBLASTING

Quality Job, Quick Service

by skilled tradesman, Ph

Richard Severin at Jet-X

0800 538 969 Free quotes,

visit www.jetx.co.nz

WINDOWS & DOORS

Joiner 25 yrs experience,

Repair of rot or full

replacement of sashes

& existing windows &

doors, Glazing, door

locks, security stays

fitted, New house

installation of doors &

hardware, ph Mykle 027

399 1673

Tuition

PILATES Beginner &

Intermediate classes,

Tuesday & Wednesday

nights. Fendalton Croquet

Club, Makora Street.

Phone Julie 351-2100

VEHICLES

ANY CONDITION

WANTED

FOR CASH

$ $ $

Ph 347 9354 or

027 476 2404

Wanted To Buy

AAA Buying goods

quality furniture,

Beds, Stoves, Washing

machines, Fridge Freezers.

Same day service. Selwyn

Dealers. Phone 980 5812

or 027 313 8156

A+ Household effects,

fridges, freezers, washing

machines, ovens. Good

cash paid. Ph Paul 022

0891 671

TOOLS Garden,

garage, woodworking,

mechanical, engineering,

sawbenches, lathes, cash

buyer, ph 355-2045

Public Notices

FUNDING OFFICER

The Combined Services Museum Board of

Trustees is looking for a passionate person to

join our team of volunteers as our Funding

Officer. You would be responsible for fund

raising activities and applying for grants.

Previous experience in these fields would be

helpful but not mandatory but you would

need to be able to achieve qualifying officer

status with the Charities Commission. You

would also need to attend meetings on the first

Monday of each month. We are looking for a

person who is genuine about the preservation

and protection of military history. Attributes

we are looking for are honesty, motivation,

out-going, organized, a team player and an

excellent communicator.

If this voluntary position sounds like

you please contact: LEANNE PAGE

Email: tigris-63@hotmail.com

Public Notices

DEMOLITION

With care and respect we

will remove your dwelling.

Our policy is to recycle as

much as we can. We are a

local company specialising

in residential properties. We

will endeavor to cater for

your individual needs.

Ph. R.M. Solutions

021 02866981

for a free quote.

Situations Vacant

CA$H

Strippers

& Podium

Dancers

Wanted!

18+ TO APPLY

NEISHA

021 193 0118

DELIVERY DRIVER

REQUIRED

The Star is looking for a contract driver to

join its delivery team. The work involves

delivering The Star to our runners & retail

outlets on a Thursday morning.

The hours of work will be approximately

3:30am-11:30am,with a degree of flexibility

required. You must have your own reliable

vehicle (light van) and a clean license.

Applicants will need to be honest, reliable &

have a good general knowledge of the City.

For further information call Mark Coulthard

Phone: 364-7453 or 021 800 809.

Email: mark@starmedia.kiwi

RESEARCH.

SEARCH.

PURCHASE.

ALL IN ONE PLACE

THE

NEW PLACE

TO

BUY & SELL

CARS

NEWS / REVIEWS / LISTINGS
---
NOR'WEST NEWS Tuesday September 6 2016 27

'Famous for their roasts!'

RESTAURANT & CAFÉ

Open daily from 6.30am - Breakfast, Lunch & Dinner

H ORNBY

WORKINGMEN'S

CLUB

ALL BLACKS v SOUTH AFRICA

PRE-TEST LUNCHEON

FRIDAY 16th SEPTEMBER 2016

Supporting Rugby Youth

Coaching Programmes

Guest speakers:

Former All Blacks

Grant Fox &

Stu Wilson

Great entertainment,

Auctions, Raffles

SEATED BY 12 NOON

Tickets $100

Table of ten = $1000

ticket price includes

buffet meal &

selected drinks

To book phone 03 344 4724 or

email ray@hornbywmc.co.nz

Cheques payable to:

Cantabrian Rugby Football Club

Direct Credit: Cantabrian RFC

03 0802 0105146 00

«WHAT'S ON«

SATURDAY 10 SEPT, 7PM

TONY ATWOOD

& THE

C-BAY BAND

NEXT SATURDAY

17 SEPTEMBER

4.30PM

BARROSS

8PM

IAN MAC

«COMING UP«

FRIDAY 30 SEPT, 8pm

Madsen promotions presents

EAGLES, BEEGEES,

QUEEN

TRIBUTE SHOW

TICKETS $20

SATURDAY 8 OCT, 7.30PM

ANTHONY'S

JUKEBOX

PRE-SALE TICKETS $18

DOOR SALES $20

Hornby Workingmen's Club | ph 03 349 9026 | 17 Carmen Rd | Hornby

www.hornbyworkingmensclub.co.nz | Members, guests & affiliates welcome

Treat the Kids!

Kids

2 course

special

from

$10

We are family friendly.

Great Kids menu plus

designated play area.

Seniors SPECIAL

Two courses Soup/Roast or

Roast/Dessert

$20

Special available lunch only

Monday - Saturday 12pm - 2.30pm

Conditions apply.

Racecourse Hotel Motorlodge

118 Racecourse Rd, Sockburn, Christchurch. Ph 03 342 7150

www.racecoursehotel.co.nz (opposite Riccarton Raceway)

The Woolston

Club...

A classic, contemporary

club experience

Cafe open from 11am

TAB & Gaming

Function Facilities

HOUSIE

Tuesday, Thursday, Saturday

SHUTTLE

Tuesday - Saturday

What's On...

7PM SATURDAY

ROBBIE DREW

Whitfords Bar

ALL BLACKS V ARGENTINA

7.35PM SATURDAY

Kellaway Bar

NEW SEASON MENU

OUT NOW!

Open 7 Days

Restaurant open from 5.30pm!

RETRO ROAST LUNCH

12PM-1.30PM

WEDNESDAYS

$10 Members / $12 Non

SUNDAY ROAST

12PM-2PM SUNDAY

JOIN

A CLUB BY

THE SEA!

NOW SERVING

available

from

9am

Breakfast

HAPPY

HOUR

5PM - 7PM

DAILY

LIVE

Lunch & Dinner

All you can eat, 7 days

Bookings Essential

PH 386 0088

fb.com/GardenHotelRestaurant

www.gardenhotel.co.nz

SIMA & VAEIO

6PM FRIDAY 9th September

MUSIC

PHONE 385 8880 FIND US ON FACEBOOK fb.com/GBCCHCH

THE GARDEN HOTEL COMPLEX | 110 MARSHLAND RD

www.gardenhotel.co.nz | phone 385 3132

WHAT'S

ON

TAB POD

- downstairs -

ClubBISTRO

Open Tuesday

to Saturday

12pm-2pm

and from 5pm.

Midweek

SPECIAL

$10

ROAST

Available Tuesday,

Wednesday,

& Thursday

www.newbrightonclub.co.nz

TUESDAYS & THURSDAYS

Members Lucky Card Draw

7.35PM SATURDAY

ALL BLACKS v

ARGENTINA

SUNDAY

BRUNCH!

By the Seaside!

10.30am-2.30pm

- upstairs -

PIERVIEW

Restaurant

Quality a la carte

with a view!

Open FRIDAY,

SATURDAY,

& SUNDAY

from 5.30pm

FRIDAY SPECIAL:

BBQ PORK RIBS...

$19.50!

for a limited time

SUNDAY SPECIAL

$25 3-Course Feast

SUNDAY 25 SEP

Sumptuous BUFFET

$25... BOOK NOW!

SHUTTLE RUNNING Tues, Thurs, Fri & Sat

202 Marine Parade | Ph 388-9416

Members, guests and affiliates welcome
---
28

Tuesday September 6 2016

NOR'WEST NEWS

Top

Jenni Rolton

ST ALBANS

02

Chris Lewis

FENDALTON

03

Grant Milligan

FENDALTON

04

Corina Grey

ILAM

05

Don Yee

ILAM

06

Juliet Lill

ST ALBANS

07

Blair

Williams

COMMERCIAL

08

Tracy

Thomson

ST ALBANS

09 11

David

Canning

ILAM 2

10

Chris

Campbell

ILAM

Cindy-Lee

Sinclair

MERIVALE

12

Paul Costigan

ST ALBANS

13

Claire Daly

ST ALBANS

14

John Wright

Peter

ILAM 2

15

Brian

Buckingham

ILAM 2

16

Hampton

ST ALBANS

17

Rosemary

Paul

Beckett

MERIVALE

18

Cathy Carter

FENDALTON

19

Nichols

FENDALTON

20

Ian

Richardson

COMMERCIAL

Congratulations to Holmwood's Top 20 for August 2016

20 TOP REASONS

Whether you're selling your property or searching for your perfect new home, talk to Holmwood. The dedication, drive and

expertise of our leading consultants and professionals, backed by the support and systems of the most powerful brand in

real estate, is a winning combination that delivers success time after time. For outstanding results or to find that brilliant

new home, talk to a Holmwood consultant today.

Contact one of our top performers today or visit us online at holmwood.co.nz

Fendalton: 03 355 6116

Ilam: 03 351 6556

llam 2: 03 351 3002

Merivale: 03 355 6677 St Albans: 03 377 0377