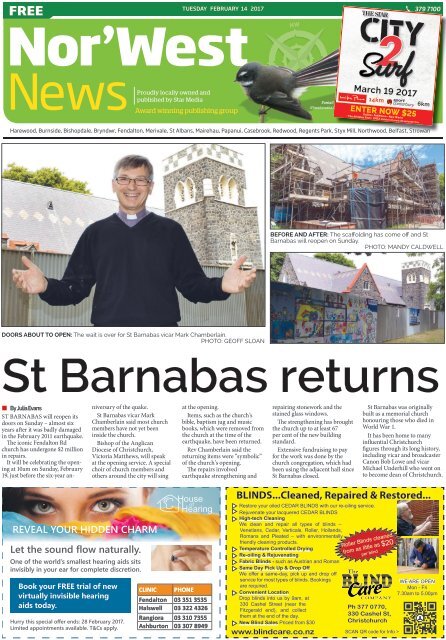 Nor'West News: February 14, 2017
Create successful ePaper yourself
Turn your PDF publications into a flip-book with our unique Google optimized e-Paper software.
FREE

TUESDAY FEbRUARY 14 2017 379 7100

Proudly locally owned and

published by Star Media

Award winning publishing group

Fantail

(Piwakawaka)

March 19 2017

14km 6km

ENTER NOW $25

Online • PakNSave • New World

• The Athletes Foot • YMCA Children 10 years old and under free

Harewood, Burnside, Bishopdale, Bryndwr, Fendalton, Merivale, St Albans, Mairehau, Papanui, Casebrook, Redwood, Regents Park, Styx Mill, Northwood, Belfast, Strowan

BEFORE AND AFTER: The scaffolding has come off and St

Barnabas will reopen on Sunday.

PHOTO: MANDY CALDWELL

DOORS ABOUT TO OPEN: The wait is over for St Barnabas vicar Mark Chamberlain.

PHOTO: GEOFF SLOAN

St Barnabas returns

• By Julia Evans

ST BARNABAS will reopen its

doors on Sunday – almost six

years after it was badly damaged

in the February 2011 earthquake.

The iconic Fendalton Rd

church has undergone $2 million

in repairs.

It will be celebrating the opening

at 10am on Sunday, February

19, just before the six-year anniversary

of the quake.

St Barnabas vicar Mark

Chamberlain said most church

members have not yet been

inside the church.

Bishop of the Anglican

Diocese of Christchurch,

Victoria Matthews, will speak

at the opening service. A special

choir of church members and

others around the city will sing

at the opening.

Items, such as the church's

bible, baptism jug and music

books, which were removed from

the church at the time of the

earthquake, have been returned.

Rev Chamberlain said the

returning items were "symbolic"

of the church's opening.

The repairs involved

earthquake strengthening and

repairing stonework and the

stained glass windows.

The strengthening has brought

the church up to at least 67

per cent of the new building

standard.

Extensive fundraising to pay

for the work was done by the

church congregation, which had

been using the adjacent hall since

St Barnabas closed.

St Barnabas was originally

built as a memorial church

honouring those who died in

World War 1.

It has been home to many

influential Christchurch

figures through its long history,

including vicar and broadcaster

Canon Bob Lowe and vicar

Michael Underhill who went on

to become dean of Christchurch.

ouse

of

earing

CLINIC PHONE

Fendalton 03 351 3535

Halswell 03 322 4326

Rangiora 03 310 7355

Ashburton 03 307 8949

BLINDS...Cleaned, Repaired & Restored...

Restore your oiled CEDAR BLINDS with our re-oiling service.

Rejuvenate your lacquered CEDAR BLINDS

High-tech Cleaning

We clean and repair all types of blinds –

Venetians, Cedar, Verticals, Roller, Hollands,

Romans and Pleated – with environmentally

friendly cleaning products.

Temperature Controlled Drying

Re-oiling & Rejuvenating

Fabric Blinds - such as Austrian and Roman

Same Day Pick Up & Drop Off

We offer a same-day, pick up and drop off

service for most types of blinds. Bookings

are required.

Convenient Location

Drop blinds into us by 9am, at

330 Cashel Street (near the

Fitzgerald end), and collect

them at the end of the day.

New Blind Sales Priced from $30

www.blindcare.co.nz

Roller Blinds cleaned

from as little as $20

per blind

Ph 377 0770,

330 Cashel St,

Christchurch

SCAN QR code for Info >

WE ARE OPEN

Mon - Fri

7.30am to 5.00pm
---
2

Tuesday February 14 2017

Inside

FROM

THE

EDITOR'S

DESK

NOR'WEST NEWS

News.......................................3-8

SUNDAY WILL be a big day in

the Nor'west, and indeed across

Christchurch – St Barnabas

reopens.

The earthquake repairs have

been six years in the making,

and seeing one of the city's older

buildings restored to its former

glory is simply great.

St Barnabas is obviously a treasure

for those who use it for worship,

weddings and other things.

But is also pleasing on the eye

asthetically for those who don't

stop but are travelling to and from

the airport.

On page 3 today we have the

latest update on Aaron Keown's

bid to get lights in at the intersection

of Harewood, Gardiners and

Breens Rd.

Keown has this issue by the tail

and he's not letting go.

And he still has that $100 he

has pledged to give away in his

pocket. - Barry Clarke

Local gardeners rake in top awards News 4-6

Schools.............................. 9

Sport..........................12, 15, 17

Community Events...16

Real Estate...........................18

Health & Beauty.........19

Automotive.........................20

Entertainment..............23

GET IN TOUCH

General Enquiries Ph 379-7100

Classified Advertising Ph 379-1100

The Christchurch Star Company Ltd. PO box 1467 - Christchurch

starmedia.kiwi

NEWS

Andrew King

Ph: 371 0777

andrew.king@starmedia.kiwi

Joan Smith

Ph: 943 4359

joan.smith@starmedia.kiwi

ADVERTISING

ADVERTISING

Monique Maynard

Ph: 364 7474

monique.maynard@starmedia.kiwi

You can't see it, but you

can hear the difference!

Ultra discreet

hearing solution

Latest technology

Ready to wear in

one visit

Comfortable,

secure fit

EASY TO USE!

Merivale Hearing Clinic

24b Church Lane.

Call now: 356 2324

Greg Foote, Audiologist

Hearing Clinics available:

Christchurch, Rangiora, Ashburton and West Coast

Consultations by Appointment only.

Freephone 0800 72 73 66.

FREE

Experience a

virtually invisible

hearing aid*

Book today, limited offer

* Conditions apply.

Offer valid till April 30th 2017

MEALS, SALADS AND SWEET TREATS

All $10 or Less

Delivered Free to your home

or workplace

Visit our website

www.healthkicks.nz

Shop 4, 104 Staverley Street

Phone: 03 342 9541

NEW LOCATION ADVERT.pdf 1 1/05/2014 11:51:35 a.m.

VISIT OUR NEW LOCATION LOCATION

430 ST ASAPH STREET!

Hours of Business: 7am-4.30pm Mon-Thurs

Fri 8am to midday

or by appointment with Keith 027 566 3909

'CEREC' & cosmetic dentistry

Wisdom tooth removal

Painless, high quality dentistry

Sedation dentistry

Experienced, conscientious team

Experienced hygienists

OPEN SATURDAYS

355 9380

144 Cranford Street

www.stalbansdentalcentre.co.nz

RECOVER YOUR LOVED FURNITURE

No job too big or small

Still able to offer

you the finest top

quality new furniture

Visit us online

www.qualityfurniture.co.nz

P. 371 7500

QUALITY FURNITURE SPECIALISTS

RE - UPHOLSTERY SPECIALISTS KEITH HARTSHORNE 0275 663 909
---
NOR'WEST NEWS Tuesday February 14 2017 3

News

Keown steps up campaign

• By Julia Evans

CITY COUNCILLOR Aaron

Keown's campaign to get

traffic lights at the Harewood,

Gardiners and Breens Rds

intersection led to a public

turnout of almost 100 people

last week.

Cr Keown held a public

meeting at the site and was

surprised at the turnout.

Most residents were "dumbfounded"

that a set of lights

had not been put at the intersection

and the remedy was

"ridiculously obvious," he said.

One person was against the

idea of lights, but everyone

else was in support of them, he

said.

Cr Keown said doing it the

"opposite way around" and

• By Julia Evans

using the wisdom of the local

community to drive the design

requirements made the evening

a real success.

He said having a meeting on

a roadside to get design ideas

is not the "norm" and plans

would usually be made by city

council staff then presented to

the public. His last chance to

get the intersection in the city

council's annual budget is next

week's city council meeting,

but Cr Keown said he needs

public support.

Cr Keown campaigned for

improvements to the intersection

in the run up to last year's

local body elections.

"I've got to get the community

to turn up . . . it's really,

really important that people

submit," he said.

AARON KEOWN still has

the $100 he promised to give

the person who could identify

a worse intersection than the

Harewood, Gardiners and

Breens Rds injunction.

Cr Keown issued the challenge

in a bid to strengthen his

belief the Bishopdale intersection

was the worst in the city.

Two people, Ashley Harvey

and Hamish Middleton, both

of Northwood, came forward

to claim the $100. They said

the Neill St, Canterbury St and

Main South Rd intersection in

Hornby met the requirements.

But Cr Keown said that

intersection was no worse than

the Harewood, Gardiners and

UNSAFE: A meeting about the intersection of Harewood,

Breens and Gardiners Rds was attended by almost 100 people.

PHOTO: GEOFF SLOAN

$100 intersection challenge still for the taking

Breens Rds junction, so therefore

no payout.

"It's got to be worse, it can't

just be the same. More lanes to

cross or more kids in the area,"

he said.

The intersection covers 10

lanes like the Bishopdale intersection

and is near The Hub

Hornby and Sockburn School.

"That intersection isn't on the

radar for a change, maybe that's

why it's been a suggestion . . .

I'm interested to look at it next."

In Brief

ABBERLEY PARK CONCERN

St Albans residents are unhappy

with Abberley Park's announced

playground upgrade. The

Friends of Abberley Park group

has made a submission to the

Fendalton-Waimairi-Harewood

Community Board expressing

its concern over the loss of green

space and "special character" of

the park in favour of playground

extensions.

TOY LIBRARY FUNDING

The Papanui-Innes Community

Board has approved $3000 of

funding for the Shirley Toy

Library. The funding will go

towards librarian wages. The

board stressed the importance

of the library to the community,

which operates out of

Hammersley Park School. It has

been running since the Burwood

and St Albans toy libraries

merged in 2009.

NO STOPPING

The Papanui-Innes Community

Board has decided to install

no-stopping restrictions on the

corner of Main North Rd and

Tuckers Rd. It will prevent cars

parking near the corner on the

northern side of the road in an

effort to reduce the build up of

traffic turning right from Tuckers

Rd onto Main North Rd.

Exciting NEW café just opened!

Burwood & Redwood

HOME OF THE

$

40 SERVICE

Ph: 383 2114

269 Burwood Rd, Burwood

Ph: 354 4022

290 Main North Rd, Redwood

SHOP HOURS

Mon-Fri 8.30am-5.30pm. Sat 9.00am-4.00pm

Layby available

See us on www.starlive.kiwi

HELPING US,

HELPS THE

COMMUNITY

Drop off or buy

2 family stores in your community

30 Main North Rd,

Ph 352 4581

520 Cranford St,

Ph 352 0515

café promising to deliver

beautiful food.

Having lived and worked as a Chef in Melbourne

for the last 5 years, and also working with

Shannon Bennet, a regular guest judge on

MasterChef Australia, we have moved home to

fulfil our dream of opening our own cafe.

UnCommon adjective

not common; rare; exceptional;

above the ordinary; remarkable.

262 Tuam Street | uncommonchch@gmail.com

OPEN HOME

Fri 17th & Sat 18th Feb, 1-4pm

Great Location and Outstanding Care

If you need a little more help with daily living, St Albans is the

perfect retirement village for you! We have a Serviced Apartment

and Studio available to view, so why not pop in for afternoon tea

and a chat this Friday 17th or Saturday 18th February. We would

love to show you around our friendly and caring retirement village.

41 Caledonian Rd, St Albans, Christchurch

Phone Jude on 021 227 1776 for more information

www.stalbansretirement.co.nz
---
4

Tuesday February 14 2017

News

NOR'WEST NEWS

Lawrence shows he still has

Three north-west gardens have won awards

at the Christchurch Beautifying Association

summer garden competition. Julia Evans reports

NORTHWOOD'S Peter

Lawrence had a bulldozer

through his property early last

year but downsizing hasn't

stopped him from adding

another premier garden award to

his 80-strong collection.

Mr Lawrence won four awards

in the Christchurch Beautifying

Association's summer garden

competition, including the Ruske

and Walsh cups for garden cultivation

and maintenance.

His new garden still looked

"pretty good" but he was surprised

to win the association's

top award, the Ruske Cup.

Behind his modesty, a lot

of time is spent creating and

maintaining his gardens. Mr

Lawrence said he is out there

each day.

"Starting with a water first

thing each morning . . . every day

is a new challenge."

Mr Lawrence said it was "good

for the community and good for

the individual" to take pride in

their garden, especially because

Christchurch is the garden city.

In between maintaining his

own property, Mr Lawrence also

runs a gardening club and has

judged the street and garden

awards across the city.

Association president

Ron Andrew said in spite of

downsizing his garden by

half, Mr Lawrence deserved the

win.

"He sets an example for the

other members and the standard

is extremely high," Mr Andrew

said.

Although Mr Lawrence wins

a lot of awards, new gardeners

were not discouraged from

entering the garden competition.

There were more entries this year

than any other.

Northwood residents Janet

and Brian Lovelock also won

seven awards in the competition.

This included the best display

of flowers and colour impact;

outdoor living; residential

driveway display and the

continuing standard awards.

Mrs Lovelock said they were

thrilled to have won.

Since retiring, the pair have

spent all their time together

in the garden, but that doesn't

always make for a relaxing day.

"It's full pressure, but it's

still enjoyable or we wouldn't

compete," said Mrs Lovelock.

For them, the real beauty

comes from encouraging new

gardeners, and Mrs Lovelock

said if their garden inspires other

people "it's worth it."

They have been competing in

the garden competition for six

years since moving into their

new house but have already lost

count of the awards they've won.

Another north-west resident,

Peter Van der Zee, also won a

pair of awards.

His gold in the best tree/

shrub category and silver in the

Herbert Cup will now sit next

to Mr Van der Zee's 251 other

gardening awards collected over

the past 30 years.

Although he has a massive

collection of gardening titles, Mr

Van der Zee said winning now is

still as exciting as when he won

GOLD: Peter

Lawrence's

garden has

taken another

top prize in the

Christchurch

Beautifying

Association

summer

garden

competition.

PHOTO:

GEOFF SLOAN

his first award, which was for

best novice garden.

He spends a few hours every

day in his garden and said the

awards are "just the icing on the

cake" to his favourite past time.

Gardening was a passion of his

which was passed down from his

grandfather and parents.

Mr Van der Zee said he will

buy a drink for anyone who can

spot his grandfather's old push

mower still hidden in his garden.

•Results, pages 5-6

WE SPECIALISE IN THE CARE AND

PRESERVATION OF TREES

• Pruning

• Expert Tree Felling

• Fully Insured

• Free Quotes

• Powerline Clearing

• Branch Chipping

• Competitive Rates

• Orion Approved Contractor

FULLY

QUALIFIED

ARBORISTS

Member of NZ Arboriculture Association

For quotes and enquiries phone 03 349 7143 | For urgent enquiries phone 027 272-6710

Email: office@arbor-tek.co.nz

www.arbor–tek.co.nz

Craig anderson

Goldsmith

has moved

Craig Anderson – Goldsmith formerly of the Barrington

Jewellery Centre has moved, but will continue to offer

Jewellery Manufacture, Restoration and Repair by

appointment only. Craig wishes to thank his customers

for their support whilst based in Barrington.

To make an appointment Craig can be

contacted either by Mobile: 021 844 649

Email: goldsmithnz@gmail.com

One stop shop for

all your dental needs

Warm, friendly & affordable dental care for the whole family...

We provide a full range of modern dental services

and ensure the highest level of care.

ACC Treatment Provider | WINZ Quotes |Student Discounts

Free Dental for Adolescents | Same Day Emergency Treatment

(03) 355 3888

DENTISTS

DAVID

ROWLEY

JENNY

KIM

Merivale Dental Group

welcomes hygienist

Megan Smith to the team

Level 1, 184 Papanui Rd

(opposite Merivale Mall)

www.merivaledental.co.nz

SKILL

STANDS

OUT

N0.1

CONSULTANT FOR

HARCOURTS

CANTERBURY

SINCE 2012

RECENT

SALES
---
NOR'WEST NEWS Tuesday February 14 2017 5

the city's top home garden

Home gardens

Ruske Cup (premier

garden) – Peter Lawrence.

1 Watermill Boulevard, Styx

Mill.

H.M. Taylor Cup (first

year of entry) – First:

Mrs J R Brown. 22 Hinau

St, Riccarton. Second:

Ros Chamberlain. 145 Te

Rito St, Prestons. Third: Alli

Robertson. 4 Daniels Rd,

Redwood.

Herbert Cup (under-18m

frontage) – First: Ron and

Glyn Andrew. 23 Molesworth

Pl, Cashmere. Second: Peter

Van der Zee. 9 Clipper Pl,

Redwood. Third: Del and

Val Smith. 470 Main South

Rd, Hornby. Certificate of

merit. Ursula Schmidtke. 25

Molesworth Pl, Cashmere.

Sladen Cup (more than

18m frontage) – First: Peter

Lawrence. 1 Watermill

Boulevard, Styx Mill. Second:

R and J Stanbury. 48

Woodhurst Dr, Casebrook.

Third: Colleen and Brian

Briggs. 5 Waimokihi Pl,

Cashmere. Certificate of

merit. M and G Schumacher.

3 Coronado Pl, Russley.

Anne Offwood. 18 Watermill

THE MORE THE MERRIER: Janet and Brian Lovelock won seven prizes in the Christchurch

Beautifying Association summer garden competition.

Boulevard, Styx Mill. Ian

Foster. 190 Gayhurst Rd,

Burwood.

Howman Cup (flats and

townhouses) – First: Fred

Ralfe. Villa 3, 350 Selwyn St,

Addington. Second: Peter

Gooding. 14/73 Roydvale

Ave, Burnside.

Betty Hart Trophy (back

section) – First: Norma

Edwards. 15b Broadbent St,

Riccarton.

Secret Garden – First:

Brian and Janet Lovelock.

32 Applefield Court. Styx

Mill. Second: Carol and Ray

Skinner. 26 Applefield Court,

Styx Mill. Third: Dr Vicki

Fowler and Bernie Smulders.

17 Mauger Dr Heathcote.

Certificate of merit: Mary

Kelman, 241 Ashgrove Tce,

Cashmere.

Tillman Cup (new homes

under five years) – First:

Mike Key. 53 Brookwater

Ave, Northwood. Second:

Tom Reed. 42 Bickerton St,

Wainoni.

CBA Trophy continuing

standard (previous winners

of home garden class)

– First: Brian and Janet

Lovelock. 32 Applefield

Court, Styx Mill. Second:

Croydon Thomas. 3

Larnach St, Waimairi Beach.

Third: Claire Hamilton. 63

Applefield Court. Styx Mill.

Comercial gradens

AA Lawrence Memorial

Trophy (premier award) –

Lady Wigram Retirement

Home, 95 Corsair Dr,

Wigram.

Watling Cup (more than

82.5m) – First: John Rhind

Ltd. 19 London St, Richmond.

More results, page 6

If you are looking to sell your property

now

is the perfect time

The Team at Smart Real Estate

Utilize Smart Marketing Options and

Offer a professional service

Phone Debra Hakaraia

027 562 0420 or 03 384 8600

Licensed Agent

REAA 2008 MREINZ

Debra Hakaraia

10% DISCOUNT

EVERYDAY

USING

*EXCLUDES PRESCRIPTIONS & SALE STOCK

SPECIALLY FORMULATED FOR

NEW ZEALAND WOMEN BY

$29 .00 - All Moisture Mist Foundations

*Offer available for a limited time, while

stocks last. Not in conjunction with any other

offer. Promotion excludes gift sets, value

packs, discounted or promotional items,

sponges and tools.

BARRINGTON PHARMACY

NEXT TO COUPLANDS,

256 BARRINGTON ST

PH 332 3156
---
6

Tuesday February 14 2017

News

NOR'WEST NEWS

Award-winning summer gardens

Jefferies Trophy (hotels

and motels) – First: Commodore

Airport Hotel. 449

Memorial Ave, Burnside.

CBA Rosebowl (restricted

area) – First: Foodstuffs

SI Ltd. 167 Main North Rd,

Papanui.

Peter Lawrence Challenge

Trophy (rest and retirement

homes) – First: Lady Wigram

Retirement Home. 95 Corsair

Dr, Wigram. Second: Alpine

View Lifestyle Village. 448

Prestons Rd, Burwood. Third:

Golden Age Rest Home. 96

Harewood Rd, Papanui. Certificate

of merit: Elmswood

Retirement Village. 131

Wairakei Rd, Bryndwr. Essie

Summers Retirement Village.

222 Colombo St, Beckenham.

Dianna Isaac Retirement

Village. 1 Lady Isaac

Way, Mairehau. Merivale

Retirement Village. 60

Browns Rd, Merivale. Woodcote

Retirement Village. 29

Woodcote Ave, Hornby. St

Albans Retirement Village.

41 Caledonian Rd, St Albans.

The Oaks Lifestyle Care and

Village. 88 Main South Rd,

Upper Riccarton.

CBA Trophy (continuing

WINNERS: Janet and Brian Lovelock took home seven awards for their Northwood garden.

standard) – First: Avon City

Motel. 402 Main North Rd.

Redwood. Second: Anthony

Wilding Retirement Village.

5 Corbett Cres, Halswell.

Third: Styx Mill Country

Club. 160 Hussey Rd, Styx

Mill. Certificate of merit.

Woolston Club. 43 Hargood

St, Woolston.

Residential specials

Outdoor Living – First:

Peter Lawrence. 1 Watermill

Boulevard, Styx Mill. Brian

and Janet Lovelock. 32 Applefield

Court, Styx Mill.

Ron Proctor Memorial Cup

(trees an shrubs) – Peter

Van der Zee. 9 Clipper Pl,

Redwood.

Florinid Trophy (best

lawn) – R and J Stanbury. 48

Woodhurst Dr, Casebrook.

Redwood Trophy (best

display of flowers and

colour impact) – Brian and

Janet Lovelock. 32 Applefield

Court, Styx Mill.

Charlotte Harris Trophy

(residential driveway

display) – Brian and Janet

Lovelock. 32 Applefield

Court, Styx Mill.

Walsh Trophy

(best cultivation and

maintenance) – Peter

Lawrence, 1 Watermill

Boulevard, Styx Mill.

Gower Trophy (most

meritorious feature) – Brian

and Janet Lovelock. 32

Applefield Court, Styx Mill.

McMaster Cup (non

conventional garden of

modern style) – Ursula

PHOTO: GEOFF SLOAN

Schmidtke. 25 Molesworth

Pl, Cashmere.

Dobson Cup (garden

the most uplifts their

surroundings) – Croydon

Thomas. 3 Larnach St, North

Shore.

Hack Cup (serviced by

public conveyance) – Del

and Val Smith. 470 Main

South Rd, Hornby.

Fitzroy Cup (area with

underground wiring) – Brian

and Janet Lovelock. 32

Applefield Court, Styx Mill.

• Driveways

• Earthquake repairs

• New Home Specialists

• Patios & Paths

tel: 0508 873 7483

email: sales@affordableconcrete.co.nz

www.affordableconcrete.co.nz
---
NOR'WEST NEWS Tuesday February 14 2017 7

News

Head students who will lead the way

Head boys and girls have been named at local high

schools. In the case of Mairehau High, two girls have

outpointed their male rivals.

Papanui High School

Head girl: Britney Aldridge

Britney said

she is proud to

be head girl at

Papanui High

School for 2017.

Her main goal

as head girl is to

encourage and

foster school spirit.

Britney has been a representative

of the New Zealand karate

team since 2009, when she first

competed in the World Karate

Cup. She will complete at the

junior world under 21 karate

competitions in Spain in October

this year.

Her academic aim is to achieve

NCEA level 3 and to study for a

Bachelor of Applied Sports Science

at Ara in 2018.

Head boy:

Mikael Ewans

Mikael said it

is a privilege to

be head boy at

Papanui High

School this year.

His main goal as head boy is

to support and reinforce the inclusive

nature of the school and

wider community.

He is currently training towards

his black belt in karate.

His academic aim is to achieve

NCEA level 3 with excellence

and study for a Bachelor of Engineering

at Canterbury University

in 2018.

St Andrew's College

Head girl: Elizabeth Stevenson

Elizabeth is

a former New

Zealand

trampoline

champion, and

has received

awards from

AMP and the

North Canterbury Sportsperson

of the Year.

She plays the piano, is a member

of the college's Maadi Cup

rowing squad, and has provided

voluntary help for a number of

local charities.

She was also a Strowan Scottish

scholarship recipient in 2016.

Head boy -

Angus Syme

Angus is a

national swimming

champion

and a member

of the high performance

New

Zealand swim team.

He has completed his Silver

Duke of Edinburgh award and

was awarded the Strowan Scottish

Scholarship in 2016, travelling

to Scotland for five weeks to

visit a number of schools.

Mairehau High School

Heads of school: Shilah Norman

and Kodie North

Shilah (right)

chaired the

Mairehau High

School Student

Council in 2016.

Under her leadership,

many new

school initiatives and projects

were successfully introduced,

including a new school jacket.

Both girls volunteered their

time in the community as part

of the Student Volunteer Army,

and were involved in leadership

opportunities outside of school,

such as Canterbury University's

leadership day and the Deloittes

Grow programme.

Shilah and

Kodie (right) are

well-rounded

young women

who excel in

their academic

endeavours, both

gaining their NCEA certificates

with endorsement in 2016. Shilah

has particular strengths in physical

education, while Kodie excels

in art and photography.

Rangi Ruru Girls' School

Head of school: Meg Dutton

As Head Girl

of Rangi Ruru

for 2017, I am

privileged to

have the opportunity

to be involved

with and

work alongside a

diverse range of girls within the

school.

Our theme for this year is 'be

bold and break barriers.' Being

bold includes encouraging girls

to step outside of their comfort

zone and back themselves by saying

"yes" to new opportunities.

I can't wait to see what barriers

we break together and the

impact that we can have on our

community in the future.

Burnside High School

Head girl: Izzy Prasad

Head boy: Sam Burt

Deputy head girl: Jess Cliffe

Deputy head boy: Ali Abbari

St Bede's College

Head boy - Harry Staples

It is incredibly humbling being

chosen to lead St Bede's College

in 2017. Often you'll find me involved

in initiatives that support

the community and embracing

the unique values of St Bede's, or

out on the sidelines of sports fields

coaching, captaining, playing or

training for the sports I love.

Deputy head boy: Adam

Lyons

Music and sport is important

to who I am as a person. I take

pride in my college playing both

the saxophone and guitar as

well as playing football in the St

Bede's College first XI.

Deputy head boy: Jake McKay

I'm all about the whole school

pride and passion side of the

college. I can't get enough of

the drama, I find that being on

stage is the best thing since sliced

bread. Most of all chanting my

heart out on the side line to get

the boys hyped for the Rugby!
---
8

News

FLAME FILES

• By Mark Thomas – Fire

Risk Management Officer

Tuesday February 14 2017

Heed near misses to

avoid another tragedy

MOST PEOPLE will have read

of the horrendous death of the

young man in Woodham Rd

from catching his clothing on

fire. The final cause is still being

investigated but this is a good

example of something I have

come to realise over years of

being a fire investigator.

That is the number of 'near

misses' is many, many times the

number of incidents we attend.

Most of these 'near misses' occur

without anyone being aware they

have happened. But every now

and then a perfect series of circumstances

line up in a row and

the result is fire. Sometimes, like

in Woodham Rd, with a tragic

outcome.

A less serious outcome in

Oram Ave, New Brighton, is

a good example. It's summer

time. So the placing of a picture

frame on the top of a freestanding

fireplace is not unusual or

even dangerous. Until we get

an unseasonal cold snap and

someone lights the fire to warm

the house. Then goes out. In

this case the result was only a

smokelogged house. But one or

two more circumstances, like it

being bedtime, and perhaps a few

drinks and we could have had

another tragedy.

A slightly closer near miss on

the same day in Bishopdale saw

some sleeping occupants remaining

fast asleep as their smoke

alarm shrieked. In this case it

was food left cooking on the

stove. The alarm was overheard

by a neighbour and 111 called.

Without the call? Who knows?

MATT DOOCEY

MP FOR WAIMAKARIRI

Victory for residents as

contractor moves out

• By Julia Evans

A CONTRACTING company

which had Richmond residents

up in arms has now vacated

their site.

Worthington Contracting had

occupied the address in Guild

St since the February 22, 2011

earthquake, after the Government

put emergency legislation

in place allowing contractors

access to residential areas.

After nearly six years residents

were ready to see the back of

the company and laid several

complaints about dust plumes

and sediment to Environment

Canterbury.

However, after a "collaborative

conversation" between

neighbours and the company,

Worthington Contracting has

now made a new premises home

in North Canterbury.

Founder Russell Worthington

said they weren't there to annoy

the residents, it was a matter of

proximity to their jobs, which

have largely been in the east.

"We're listening to what

they're saying," he said.

They have now moved away.

Although the company had

GONE: Worthington Contractors have vacated this lot in

suburban Richmond for a new North Canterbury site.

Photo: Martin Hunter

the city council's support to stay

in its Guild St location, "we just

NOR'WEST NEWS

were trying to be human about

it," Mr Worthington said.

GIVE YOUR DOG

THE GIFT OF HEALTH

CHAT WITH MATT

Communities will have a chance

to chat directly to Minister for the

Community and Voluntary Sector

Alfred Ngaro when I bring him to the

Waimak on 2 March for a number

of public meetings titled 'Building

Stronger Communities'. This is part

of my commitment to bring relevant

ministers into the electorate so your

voices can be heard. The first meeting

will be held at the Belfast Rugby

Football Club from 10am to 11am.

Come and be involved.

Northern Christchurch residents

will notice a new road layout for the

next stage of the Western Belfast

Bypass and I urge everyone to drive

carefully. I am advocating for a third

southbound lane over the Waimak

Bridge to be included in the current

Funded by Parliamentary Service and authorised by

Matt Doocey MP, 130A Percival St, Rangiora.

work to fully benefit from the gains

the Bypass and Northern Corridor

will deliver. I have spoken to the

Transport Minister and have written

to the regional director of NZTA in

support of a third southbound lane.

I am interested in your views, so

please get in touch.

Government's announcement

that ultra-fast broadband is being

extended to 21 more towns in

Canterbury was great for our region.

Connectivity is essential for business

productivity as we continue to build

on the success of our region's profile.

With about 85 per cent of all New

Zealanders anticipated to have access

to fibre by the end of 2024, we will

be among the leaders in the OECD for

access to fibre.

formulated

for dogs

• Pure meat • No Chemicals • No Fillers

• Dogs love Essentials • Convenient chilled roll

• Affordable $1 a day for a medium dog

Shop 33, Bishopdale Mall Ph: 359 5118

www.thefeedshack.co.nz | thefeedshackbishopdale@gmail.com

Mon-Sat 9.00am - 5.30pm. Closed Sundays & Public Holidays.

44 Newnham St, Southbrook, Rangiora Ph: (03) 313 3016

www.thefeedshack.co.nz | thefeedshack@orcon.net.nz

Mon-Fri 9am-5.00pm. Sat 9am-12.30pm Closed Sundays & Public Holidays
---
NOR'WEST NEWS Tuesday February 14 2017 9

FREE 11mm HIGH DENSITY LUXURY UNDERLAY

ON SELECTED PRODUCTS *

FREE

UNDERLAY

Fairfields

• 48 oz wool plus

• Extra heavy duty + stairs

• Cut pile

• 3 colours

While stocks last, crazy price

NOW

$120.00

FREE

UNDERLAY

Horizon

• 36 oz solution dyed

nylon

• Extra heavy duty

• slightly imperfect

• 1 colour - smoke

NOW

$99.90

3.65m WidE Rolls

3.65m WidE Rolls

FREE

UNDERLAY

Royal Palace

• 67 oz polyprop

• Extra heavy duty

• Cut pile

• 2 colours

FREE

UNDERLAY

York Street

• Pure wool

• Commercial grade

• loop pile

• slightly imperfect

NOW

$99.90

NOW

$99.90

3.65m WidE Rolls

3.65m WidE Rolls

FREE

UNDERLAY

Madison

• Pure wool

• Commercial grade

• loop pile

• imperfect

FREE

UNDERLAY

Cable Bay

• 36 oz solution dyed

nylon

• Extra heavy duty

• slightly imperfect

NOW

$89.90

NOW

$99.90

3.65m WidE Rolls

3.65m WidE Rolls

FREE

UNDERLAY

Carterville

• 50 oz polyester

• Extra heavy duty

• slightly imperfect

FREE

UNDERLAY

Wyoming

• 50 oz polyester

• Extra heavy duty

• Cut pile

• 3 colours

NOW

$89.90

NOW

$125.00

3.65m WidE Rolls

3.65m WidE Rolls

*Conditions apply.

312 Wilsons Road North, Waltham | Phone 366 0070

Mon to Fri 8am - 5pm and Sat 10am -1pm

www.carpetkingdom.co.nz

FREE no obligation measure & quote (conditions apply)

Q Card Finance Now Available
---
10

Tuesday February 14 2017

NOR'WEST NEWS

WORK

WITH THE

BEST!

Inspirational Women

FROM

GRAPES TO

GREAT

ESTATES!
---
NOR'WEST NEWS Tuesday February 14 2017 11

Rangi Ruru students join

global technology project

SCHOOLS

• By Julia Evans

SIX RANGI Ruru Girls' School

students have become New

Zealand's only representatives

selected for an international

science, technology, engineering

and mathematics project.

From more than 4000

applications worldwide, and 13

across New Zealand, the Rangi

Ruru students were selected to

take part in the project, which is

being run by the Junior Academy

Programme.

Jocelyn Bradley and Penny

Dray, year 13, and Sam

Summerfield, Amber Spurway,

Sarah Lawrence and Lucy

Anderson, year 11, were all

selected for the project.

The academy is a group of

problem solvers made up of

students; science, technology,

engineering and mathematics

experts; and companies from

around the world, which

are dedicated to designing

innovative solutions to global

challenges.

Each student has been put

in a different team with other

teenagers from around the

world.

Amber's group will be working

with multi-national corporation

PepsiCo to look into nutritional

problems in developing

WORLD CLASS: Rangi Ruru students Lucy Anderson (left),

Sarah Lawrence, Sam Summerfield, Penny Dray, Jocelyn

Bradley and Amber Spurway are part of a global technology

programme.

countries.

"Our team has decided

to build a rudimentary

spectrophotometer to be used

with our mobile phones, which

will be able to measure iron

levels in foods and soil levels,"

Amber said.

"This can be used in countries

with acute malnutrition, so they

can be informed on whether they

are lacking iron."

She said her group was doing

well at the moment, but there

was quite a lot of time pressure.

Once finished, the students

will receive certificates of

completion and gain access to a

global network of students

and professionals, including

the New York Academy of

Science.

HELPING OUT: Mairehau High students Niko Smith and Erin

Mander gave up their holiday time to install new computers.

Mairehau High tech upgrade

MAIREHAU HIGH School

received new desktop computers

during the summer break as

part of a planned upgrade.

A lot of work was involved in

setting up the new computers

and disposing of the old ones.

Students rallied to help with

the upgrade rather than spend

the remaining days of their

school holidays relaxing.

"It was wonderful to see the

energy, enthusiasm and commitment

to the task shown by

these students over the course

of two hot summer days," said

assistant principal Rebecca

Swanson.

"Mairehau High School is also

grateful to Youthtown for its

generous donation of $10,000

towards the purchase of new

chromebooks. The extra resourcing

has been key in introducing

BYOD (bring your own

device) at year 9 this year, whilst

ensuring that every student has

access to the technology."

Kapuka Lane, Kennedys Bush

1500m² to 3983m² and priced from $349,000 to $495,000

sold

sold

sold

sold

sold

Here is a special opportunity to build your own mini estate

in the boutique subdivision of Kapuka Lane set in Kennedys

Bush. Each section will offer commanding views of the rural

country side and winery below. Each site has been designed

with care to protect the view from the building platform

and with the spaciousness of each site you can select where

to place your new home to ensure maximum sunshine with

maximum views. This is a chance to have a taste of country

life with city living benefits. Kapuka Lane consists of eleven

sections (two of which are sold), each having a gently

sloping building platform and facing to bask in the evening

sun. The majority of the sections are gently sloping with the

larger sections that have a steeper part still retaining a large

potential easier sloping area to build your home. Ranging

in price from $349,000 to $495,000 and in size from 1500m²

to 3983m² and each title issued, immediate possession is

available to give you the opportunity to begin your new

dream home.

Your agent, Your home, Your future

LICENSED SALES CONSULTANT REAA 2008

P 0800 DEBBIE

027 777 0411
---
12

SPORTS

Tuesday February 14 2017

Burnside pair

in NZ bowls

development

squad

BURNSIDE'S CAIT Bassett

and Richard Hocking are both

in the New Zealand bowls

development squad for 2017.

The pair are the only Cantabrians

selected for the 14-strong

squad, which was named following

last month's national open

championships.

From this squad, a 10-person

team will be selected for June's

series against Australia on the

Gold Coast.

Bassett was runner-up to fellow

squad member Ashleigh Jeffcoat,

of Waikato, in the national

under-21 championships.

Hocking is joined in the men's

team by the likes of 16-year-old

Seamus Curtin, of Wellington,

who was a singles silver medallist

at the 2015 Youth Commonwealth

Games and is the current

under-18 national champion.

The upcoming under-18 and

under-21 championships now

take on added importance as

they will certainly influence the

selectors thoughts when naming

the 10-strong squad for the Gold

Coast.

Windsurfer 'stoked' with success

• By Noah Graham

MERIVALE HOUSE of

Travel owner Annie Crombie

is revelling in success after

winning the windsurfing slalom

national championships for the

ninth time.

Crombie faced five other

competitors and battled through

10 rounds of slalom races to

finish with seven wins and was

ahead by three seconds on the

clock, which secured her title

win.

Crombie said the competition

was tough and made her "puff a

lot" but it was the first time since

she started windsurfing competitively

that she did not have

nerves before the races

in spite of the strong competition.

The 49-year-old has

windsurfed for more than 25

years and started competing in

2007.

The races were harder this

year than they ever had been,

Crombie said.

She said 19-year-old Lyttelton

resident Fenella Bowater raced

alongside and pushed her to the

limit.

The competitors this year were

exceptional both on and off the

water as they got along well inbetween

races, often talking and

having some fun, Crombie said.

In the under-20 youth

women's event, Bowater took

first spot and another Lyttelton

competitor, 15-year-old Meg

Rennie, came second.

In the under-20 youth men's

event, a former Christ's College

student Thomas O'Neill and

current student Ben Davie took

the second and third spots.

Terry Crombie, Annie's

husband, also competed in

the men's open and was

winning for two days before

Maui's Peter John passed from

behind.

Crombie said windsurfing

runs through her family's genes.

Her 15-year-old daughter,

Kate, is also a keen windsurfer.

NOR'WEST NEWS

SUCCESS:

Annie Crombie

claimed her

ninth national

windsurfing title

last weekend.

She competed

against five of

New Zealand's

best women

windsurfers.

Crombie said her family was

incredibly proud and she was

proud of herself as well.

"I feel stoked, I feel proud. I

raced at national level and it's

really satisfying to do."

She said the 10th title is in her

sights but Bowater will not make

it easy. •More sport, pg 15

DESIGNER

FASHION

AT OUTLET

PRICES

SMART

BRANDS

SMARTER

PRICES

HORNBY 409 Main South Road | Open 10am–5pm, 7 days
---
NOR'WEST NEWS Tuesday February 14 2017 13

raNGiora • Northwood • st martiNs • tower juNctioN • BishoPdaLe • raNGiora • Northwood

Northwood • st martiNs • tower juNctioN • BishoPdaLe • raNGiora • Northwood • st martiNs • tower juNctioN • BishoPdaLe •

MEGA

BUY TWO,

SAVE

20%

EVERYDAY

inks

Locations

www.paper-tree.co.nz

UP TO 75% OFF RRP ON ALL BOOKS

PICTURE BOOKS

JUST $3.99 EACH!

BOOK

SALE

BARGAIN BOOKS

40% OFF!

PAPERBACKS

JUST $4.99 EACH!

*Discounts only apply to fantastic price books instore and stock will vary from store-to-store.

tower junction, off Clarence St, Riccarton

Bishopdale, 31 Bishopdale Court, Bishopdale

rangiora, 206 High Street, Rangiora

Northwood supa centre, Main North Road, Belfast

st martins shopping centre, Wilsons Road, St Martins

Follow us on Facebook @papertreestores

• st martiNs • tower juNctioN • BishoPdaLe • raNGiora • Northwood • st martiNs • tower juNctioN • BishoPdaLe • raNGiora
---
14

Tuesday February 14 2017

NOR'WEST NEWS

See instore for

Valentine's Day

Savings

$

11 99

kg

Fresh Tegel NZ Skinless

Chicken Breast Fillets

5 for

$

4 00

Sweetcorn

Bluebird Burger Rings/

Twisties/Cheezels/

Rashuns 110-120g

$

1 00

each

$

4 99

kg

Delicious Nectarines

$

3 00

each

Wattie's Mixed Vegetables/Garden Peas 1kg/

Wok Range 400g/ Fries 900g/1kg

$

3 99

each

Alpine Butter 500g

$

5 99

each

Kellogg's Nutri-Grain/Special K/Sultana Bran/Coco Pops

500-730g

$

23 99

pack

Steinlager Classic 15 x 330ml Bottles/Heineken

12 x 330ml Bottles

(Excludes Light)

$

8 99

each

Jacob's Creek Sparkling 750ml

(Excludes Reserve)

2

for

$

3 00

Pepsi/7UP/Mountain Dew 1.5L

FreshChoice Merivale

189 Papanui Road, Christchurch

Open 7am – 9pm, 7 days.

FreshChoice.co.nz FreshChoiceNZ 355 4432

FreshChoice Merivale

Certain products may not be available in all stores. Savings are based on non-promotional price. Limits may apply.

Prices apply from Tuesday 14th February to Sunday 19th February 2017, or while stocks last.

Owned and

operated

by locals

FCNO1402
---
NOR'WEST NEWS Tuesday February 14 2017 15

Clinton to meet NBA stars

• By Gordon Findlater

QUINN CLINTON will

test his skills against some

of the world's top young

basketballers in New Orleans

at the weekend.

Clinton, 18, won a spot

at the Basketball Without

Borders global event after he

was named the all-star game

MVP at the BWB Asia camp

in Melbourne last year.

"It will be a step up from

Melbourne because it's now

the best guys in the world. It

will be really cool to see how I

match up against guys my age

from different countries," said

Clinton.

The former Christchurch

Boys' High School student

will also get to experience the

NBA All-Star game, which

the BWB camp coincides

with.

"It's going to be pretty special

seeing all of those guys,

who are the best in the world

essentially. I'll be like a kid in

a candy shop," said Clinton.

The guard will get to see

the likes of LeBron James,

Steph Curry and Kevin

Durant in action in Sunday's

all star game as well as the

three-point contest and dunk

contest on Saturday.

He will be one of two Kiwis

at the camp, joined by Wellington's

Taane Samuel.

"I'm really looking forward

to this experience. It's going

to be great for Taane and

I to represent our country

together and help promote

New Zealand basketball on

the world stage. I'm keen to

learn as much as I can from

the NBA coaches and players,

and get an insight into what

it means to play at this higher

level," said Clinton.

In December, Clinton

played a crucial role in New

Zealand's 57-51 win over

Australia in the final of the

under-18 FIBA Oceania

Championship, which saw

them qualify for the inder-19

World Championship in

Egypt in July.

Clinton, the Junior Tall

Blacks captain, top scored for

New Zealand in the final with

14 points.

After a much-deserved

break over the Christmas

period, Clinton is now fully

focused on preparing himself

for the upcoming NBL season

with the Canterbury Rams.

He is currently training every

day of the week ahead of the

season opener on March 19.

Following the NBL season,

Clinton will move to Albuquerque,

New Mexico, in August

to begin his basketball

scholarship at the University

of New Mexico.

SPORTS

SHOT: Quinn Clinton will play against the world's best

juniors and watch the top NBA players in New Orleans at

the weekend.

Host Families

Urgently Required

NZIIU requires kind & caring

families to host Japanese

students 13-28 March and

Thai students 18 April –

7 May.

Both groups will attend an

NZIIU programme based

at Papanui High School.

Remuneration applies.

For more information please

contact Michelle Tel: 354 9323

or email: chc.office@nziiu.co.nz
---
16

Tuesday February 14 2017

NOR'WEST NEWS

Social Indoor Bowls

Today, 10am

Do you enjoy playing indoor

bowls? If so, come along to the

Bishopdale Community Trust

and play a fun version with our

happy group of players. Free

entry.

Sundbye House, 100 Farrington

Ave, Bishopdale

Bishopdale Walking Group

Wednesday, 10.30-11.30am

Take a gentle walk around the

local area. Walks are on average

30 minutes long. The group is

very friendly and open to all

abilities. They have a walk 'n'

talk approach. Stay for a cuppa

and chat afterwards. Gold coin

donation.

Sundbye House, 100 Farrington

Ave, Bishopdale

.

Science Snippets in the

Library

Wednesday, 3.30-4.30pm

Free and fun science education

activities will be provided by

Science Alive. These activities

will run weekly during term time

for children aged five to 10.

Shirley Library, 36 Marshland

Rd, Shirley

Knit and Yarn

Thursday, 2-3.30pm

Take your knitting to

the library. This is a way of

enjoying your craft in a social

environment. Share your skills

and tricks with other knitters or

learn something new while you're

there. This is a weekly group

but there's no pressure to attend

every session.

Fendalton Library, 4 Jefferies

Rd, Burnside

Meditation and Buddhism

Thursday, 7.30-9.30pm

These classes are based on

Buddha's teachings about the

mind, but you do not need to

be a Buddhist to attend or to

benefit from them. Each

class consists of two guided

meditations and an explanatory

talk. The classes run for

90 minutes. Anyone can

practice meditation and

everyone is welcome to attend.

St Albans Community Centre,

1049 Colombo St, St Albans

Free Computer Help

Friday, 10-11am

Technology misbehaving?

Need some advice? The team

at Geeks on Wheels will offer

up their time and expertise to

the Papanui community in the

form of free drop-in computer

help sessions at the Shirley

LEARNING: Reading to dogs will be held from 3.30-4.30pm on Tuesdays at the Shirley Library,

36 Marshlands Rd. The dogs encourage children to practice and improve their reading skills,

as well as develop a love of reading. It provides a relaxing atmosphere with dogs who are the

beloved pets of the city council animal management team. They have all been trained and

tested for health, safety and temperament. Each session will be 15 minutes long. Library staff

and a dog handler will be there to facilitate the session. It is essential to book a spot, so phone

941 7923 to secure a place.

Library. The geeks are extremely

knowledgeable about a myriad

of different technical devices,

so bring along your computer,

laptop, tablet or phone and

get some help from the

experts.

Shirley Library, 36 Marshland

Rd, Shirley

Laughter Club

Sunday, 11am-noon

Feel like a laugh? There aren't

any jokes or funny stories at

the laughter club, instead it's a

chance to laugh at nothing and

relax with other people.

Scottish Society Hall, cnr of

Edgeware and Caledonian Rds

Scrabble Club

Wednesday, 1.30-3.30pm

Come along to the Scrabble

Club. There is no obligation to

play or join, just come along

when you can and join the

friendly group.

Shirley Library, 36 Marshland

Rd

The magazine for

gardeners who

like To geT Their

hands dirTy

www.gardener.kiwi

100%

Still Pedalling!

Full Workshop Services:

• WOF's • Service Checks

• Wheel Alignment • Brakes

• Clutches • Tyres etc

All makes & models

Trevor Crowe's been

involved with cars for a

while. You can benefit

from his experience at...

Subaru Specialists

518 Moorhouse Ave (East end) | P: 379 7615

W: crowesport.co.nz | E: service@crowesport.co.nz

sellOut

up tO

18 mOnths

interest

free!

sAVe

up tO60%

Open 7 Days Mon - Fri 9 - 5.30pm Sat - Sun 10 - 4pm

nZ

mADe

BeDs lOCAllY

OWneD

7 Open

DAYs

242 Ferry Rd Along From Old Ami Stadium | Phone 377 8887 | www.bedworld.co.nz
---
NOR'WEST NEWS Tuesday February 14 2017 17

SPORTS

KIDSTUFF

Progress counts

in maths class

CHAMPIONS: The Linwood Keas defeated the Hornby Panthers to take out the

Crosbie Nines.

Keas win Crosbie Nines

• By Gordon Findlater

LINWOOD Keas took

the spoils at the annual

Crosbie Nines on

Saturday.

The tournament, hosted

by the Riccarton Knights

at Crosbie Park, is now

in its third year and was

played in perfect conditions.

The 16-team tournament

featured some of the

South Island's top clubs,

as well as teams put together

specifically for the

tournament.

"It was a great day, the

first game was at nine in

the morning and the final

finished up just before six.

The tournament's great

for bringing everyone

together. We had nearly

all the premiership teams

there and some out-oftown

teams from Nelson

and Timaru," said former

Kinghts president, Tony

Grenfell.

The Keas went unbeaten

through pool play before

going on to defeat the

Hornby Panthers 17-12 in

the grand-final.

"It was really pleasing

after a long day. It's tough

to get through six games

but the boys dug deep and

got the result we wanted,"

said Keas coach Andrew

Auimatagi.

The plate competition

was won by the Bro XIII

club which defeated Hamo

Boyz in their final.

Crosbie Park saw a

large turnout from club

supporters and Grenfell

felt the tournament was

becoming more popular

each year.

"It was quite a big punt

to begin with; we kind of

went in blind but we were

overwhelmed with

how well it went," said

Grenfell.

"The second year went

even better and now we're

able to fine tune things a

little bit to help improve

the tournament each

year."

The top clubs will now

turn their attention to the

club premiership, which

starts on April 1.

If you're a parent of school-aged children, chances are

that there is a subject they just don't like. And for many

kids, that subject is maths.

Like many parents, Dale and Kirsty found that their

daughter Sayler, 8, just didn't understand maths and it

was proving difficult to keep up at school. So, Dale and

Kirsty decided it was time to give Sayler that extra help she

needed and enrolled her in the Kumon Maths Programme

at their local centre in Fendalton. It was during the August

Free Trial, and so they decided to see if their older son Zach

might enjoy Kumon Maths also.

Six months later and both children are still doing daily

worksheets with Kumon. Maths is now one of Zach's

favourite subjects and Sayler has demonstrated a real

motivation for improving in her studies. That Kumon

worksheets are timed makes this easy for Sayler to see, 'She

is really keen to beat her time. I think having those little

goals certainly help' said Dale.

A sense of achievement can go a long way when it comes

to engaging with maths. 'Everyone likes it when they have

success, don't they? Being able to see that progress is great'

said Kirsty.

'Kumon focuses on maths skills - exclusively and

expertly' said Marette Wells who runs the Kumon

Fendalton Education Centre. 'The ability of the student

does not matter; Kumon brings confidence as they grow

into their potential'.

Kumon follows a method that develops self-learning in

children which is important to parents like Kirsty. 'I think

it's really important that our children know that if they

need to find out how to do something then they have the

skills to work it out.'

For more information contact your local Kumon

Education Centre or visit our website nz.kumonglobal.com

Back to school with confidence

At Kumon, students begin study at a level that allows them to build

confidence from day one. Students progress through the programmes

based on their ability rather than their age. Over time, students can study

advanced material confidently and independently for success in school

and everyday life.

Contact your local Kumon Centre to hear how we can support your

child's learning.

Rangi Ruru Girls' School's premier tennis team have won the Christchurch

qualifying tournament for next month's South Island secondary school

championships. Ava Willimann, Kyla Otway, Jade Feneon, Tessa McCann and

Luka Simmers beat Christchurch Girls' High School 6-0 and St Margaret's

College 4-2 in the tournament. Anne Bissland, Rangi Ruru's premier tennis

convener, said the girls' played very well but have a busy competition

schedule ahead of them this term. Last week's result at Wilding Park means

they will compete in the South Island tournament in Timaru on March 3-5,

where they will also have the chance to qualify for a shot at a national title.

KUMON FENDALTON EDUCATION CENTRE

Instructor: Marette Wells

email: kumon.fendalton@gmail.com

tel: 03 351 1106

KUMON ILAM EDUCATION CENTRE

Instructor: Nilawati Tjahjono

email: kumon.ilam@gmail.com

tel: 021 301 087 / 03 341 5099

KUMON PAPANUI EDUCATION CENTRE

Instructor: Saree Lawler

email: kumon.papanui@gmail.com

tel: 022 356 4305

http://nz.kumonglobal.com
---
18

Tuesday February 14 2017

REAL ESTATE

Enviable Fendalton address

26 Hinau Street, Fendalton

Deadline Sale - all offers will be presented 28th February 2017 unless sold prior.

4 bedrooms | 2 bathrooms | 1 living room | 1 dining room | 2 car-garage | 2 off-street carparks | Listing # SMT10078

Situated in the heart of this popular

part of the city, this beautifully renovated

home has been moderinised with families

in mind. Encompassing four bedrooms

and two bathrooms, generous off street

parking, a sunny north facing family

sized section plus contemporary master

bedroom combined parents retreat with

its own ensuite complimented by a private

secluded garden and outdoor deck.

Our vendors have seamlessly blended

design elements with the timeless features

of this classic home. The contemporary

kitchen - complete with engineered stone

surfaces and European appliances- is a real

highlight, while the sun-soaked living and

dining spaces offer ample room for families

to enjoy.

This character bungalow has been

modernised throughout including

insulation, a double-glazed retro fit, new

plumbing, and new roof while enduring

features such as timber floors and French

doors help to retain the appeal.

Outside, the large 908m2 section

along with the sun-soaked patio area is

an entertainer's delight with manicured

lawns offering plenty of space for growing

families.

Double garaging and a generous

driveway with plenty of off-street parking

complete the package.

The location is exceptional, with zoning

for the ever-popular Girls' and Boys' High

School, St Thomas', St Patrick's and close

distance to Medbury, Rangi Ruru and St

Andrews', underpinning your investment

and the proximity to the Westfields and

the Fendalton Village shopping precinct

and an easy stroll to the Riccarton Farmers

Market - not to mention cafes, parks and

key public transport routes - ensuring

you'll want for nothing.

My owners are sad to be leaving this

fabulous spot which has served their family

well but resolute in their decision, and a

change of ownership is imminent. Interest

will invariably be high and immediate

action is advised.

Please phone for viewing times or

for a private viewing contact Debra

Hakaraia of Smart Real Estate (Licensed

Agent REAA 2008) on 027 562 0420 or

384 8600 or email Debra on enquiries.

christchurch@smartrealestate.co.nz or

visit our website www.smartrealestate.

co.nz.

NOR'WEST NEWS

Visit www.star.kiwi

anytime, anywhere!

Breaking news,

delivered to

your pocket.

Fire rages, homes at risk

•news •CTV •sport •districts •schools •lifestyle •opinion •what's on

www.star.kiwi
---
NOR'WEST NEWS Tuesday February 14 2017 19

HEALTH & BEAUTY

Varicose veins treated

quickly and effectively

Transform Clinic in Mandeville Street

Riccarton boasts a team of dedicated

professionals, who include the clinic's doctor,

Ian Little, registered nurses and qualified

beauty therapists, providing a wide range

of appearance medicine and beauty therapy

treatments for their clients.

One of their main specialties is nonsurgical

varicose vein removal. This is a

simple, quick and effective walk-in walk-out

treatment with no time off work required.

Clients seeking advice about their varicose

veins first undergo a free assessment, which

enables the health professional to determine

if they need treatment, and if so, what the

most appropriate type would be.

Two methods are offered – endo-venous

laser treatment, which is used for both

smaller and larger veins, and ultrasound

guided sclerotherapy. Following the

treatment, clients need to wear support

stockings for two weeks. International travel

is not recommended for four weeks after

treatment.

Transform Clinic has an affiliation

with health provider Southern Cross and

relationships with several other health

insurance companies, which means clients

may be covered for varicose vein treatment,

providing it is included in their policy.

Appearance medicine is another key

aspect of Transform Clinic's therapy options,

with skin rejuvenation and skin-tightening

treatments designed to improve skin quality

as well as enhance self-esteem.

Treatments include the Vampire Face Lift,

which uses Platelet Rich Plasma or PRP, and

Fraxel laser treatment. These treatments can

be combined to achieve the desired results.

Sclerotherapy is also used to remove

superficial veins on the legs and face. In

addition, the clinic offers mole mapping,

mole removal and primary skin cancer

removal.

The Transform Clinic website,

www.transformclinic.co.nz, has a wealth of

information on the various treatments and

regularly has special offers and promotions.

They also suggest you 'like' their Facebook

page, to keep up to date with what they

are offering.

The Transform Clinic is discreetly

located at 52a Mandeville Street. Opening

hours are Monday to Friday from 8.30am,

with late nights on Tuesday and Thursday,

and Saturday from 9am to 3pm. Phone

343-2880 to enquire about treatments or

make an appointment.

Varicose Vein Treatment

Non-surgical Vein Laser Treatments available

Free Assessment

Tired of aching and unsightly veins?

No surgery, no scars, no stitches. No time off work

- continue normal daily activities. An affiliated provider to

Southern Cross Health Society (medical necessity

criteria apply) - check your policy for cover.

Enjoy skirts, short and cropped pants again.

Payment plans available (Conditions apply)

www.transformclinic.co.nz | 52A Mandeville | 52A Mandeville St | Riccarton St | Riccarton 0800 2 Look Good | 08002lookgood or 246 654 | | 03 343 2880

Clients seeking advice about their varicose veins first undergo a free

assessment, which enables the health professional to determine

if they need treatment.

watch local | support local | shop local

Join our host

marissa stephen on

sKy ChaNNeL 83

Thursday 7.30pm

repeaTs friday

1.30am & 7.30am

ACCESS TV FOR NZ

SKY CHANNEL 083

WWW.STAR.KIWI

for enquiries, contact Geoff moreton: 021 1066 177
---
20

Tuesday February 14 2017

AUTOMOTIVE PROFESSIONALS

An extensive range

of lights

Braxton Car Lights is part

of the BE Group, one of

the largest importers of

car, commercial and truck

parts in New Zealand.

Specialising in car lights, Braxton

covers the entire South Island and

the combination of their huge

on-site range, national and

international networks, and a computerised

system to search and try to assist most any

request to the correct replacements makes

them the place to visit for all your vehicle

lighting requirements.

Conveniently located in Sydenham, they

have an extensive range of replacement

light fittings for most makes and models of

Japanese, European and New Zealand new

vehicles, both new and secondhand. They are

fully checked and in perfect working order,

and Braxton guarantee that all their fittings

are warrantable.

They import and export both new and used

car parts so that whatever make or model

your vehicle is, they may be able to help.

Containers arrive monthly from abroad, full

of new and used lamps, and within the BE

Group, over 100,000 lamps are available.

The team at Braxton Car Lights also

specialises in repairs for light adjuster and

light conversion of American car lights, and

their repair service includes plastic welding,

drying out and resealing, re-silvering and

lens refurbishment. They work closely with

garage workshops, and their services can be

arranged through your own local garage on

your behalf.

Sales manager Richard Vernimmen says

that their team is dedicated to saving their

customers' money, whether on late model

cars with expensive parts or early models

where replacements are hard to find. The team

of three expert professionals at Braxton have

over 60 years of experience between them

in the automotive industry to help you with

your needs.

Their aim at Braxton is to supply their

customers the parts that they require

at a pocket-friendly price. And with

heaps of available stock, they will do

everything to provide a solution to their car

light-searching exercise.

Stop by to see them at 325 Brougham

Street, between Buchan and Gasson streets.

Email them on carlights@carlights.co.nz or

phone them on 0800 225 483.

NOR'WEST NEWS

The Automotive Lamp

Specialists

New and Used Lamps for

Cars, Trucks, Vans, 4WD

and Motorhomes

PH 0800 225 483

325 Brougham Street

CHRISTCHURCH

s

m

a

r

t

mall

edium

Fast

turnaround

utomotive

epair

echniques

• Paintless dent removal

• Minor paint repairs

Smart repairS (NZ) Limited

automotive refinishers

272 Lichfield St (Fitzgerald Ave end)

Ph 377-0409

Full mechanical servicing

for BMWs

Dismantling BMW's

Purchasing pre-loved & damaged BMWs

65 McAlpine Ave, Sockburn, Christchurch

Ph (03) 341 6678 | eurorec@clear.net.nz

A division of

Free Check & Assessment

ROSES

AUTO ELECTRICAL

vonhead

utomotive

A A

free

6 months roadside assist

with any vehicle servicing

• automatic transmission

flushing service

• Wof • tune-ups • suspension

• batteries • neW tyres • oil &

lube service • courtesy cars

• full mechanical repairs

oPen 6 days (sat until 1pm)

126 racecourse road

Ph 342 7123 or 027 495 6600

PARKER

AUTOMOTIVE

■ All Automotive Repairs and

Servicing including 4WD

■ Suspension Brakes & Cambelts

■ WOF, Tyres, Batteries

■ Courtesy Car

55 Lincoln Rd, behind Caltex

(Cnr Lincoln & Torrens Rd)

Ph 03 982 4268

Mob 027 331 0382

Email: parkerauto@clear.net.nz

new & near new

tyres

Excellent range

at great prices!

Brand new

location

343 0099 or 027 22 63 805

www.jcmdirect.co.nz

8c Birmingham Drive, Middleton

Next to Addington Raceway

Your central city workshop

WOF,

REPAIRS &

SERVICING

CALL US NOW

0800 624 477

127a Peterborough Street
---
NOR'WEST NEWS Tuesday February 14 2017 21

Classifieds Contact us today Phone our local team 03 379 1100

Community Events

ALCOHOLICS

ANONYMOUS, If you

want to have a drink that's

your business. If you want

to stop, we can help. Phone

0800 229-6757

ALCOHOLICS

ANONYMOUS, If you

want to have a drink that's

your business. If you want

to stop, we can help. Phone

0800 229-6757

Computers

ALL

YOUR

COMPUTER

WORRIES SOLVED!

*$30.00 off your first

service with this coupon!*

No problem too big or

small from home PC's to

business networks. PC

slow? An end to Viruses,

Spyware, and Clogged

Systems. Safe secure

hassle-free computing.

Lost files recovered.

Microsoft Certified,

MCSE, MCP+l. 30 years

experience. Call Andrew

Buxton this week on 326-

6740 or 027 435-7596

for $30.00 off* Custom

Computers Christchurch

Curtains

www.curtainfabric-outlet.com

Fashion Designs & Colours

Discontinued Designs

End of Lines Bargain Prices

Call at Our Shop

CURTAIN FABRIC OUTLET

71 Hawdon St Sydenham

Ph 366-5026

Gardening

& Supplies

A GARDEN OR

LANDSCAPING TIDY

UP? Shrub, hedge &

tree pruning, Lawns,

Gardening, consistently

reliable general property

upkeep, Dip. Hort. 10

yrs experience, One off

tidy ups or on-going

service. Nick's Property

Maintenance. Keeping

your garden beautiful.

Free Quote. Ph. 942-4440

Holiday

Accommodation

QUEENSLAND SUN-

SHINE COAST AUSTRA-

LIA Resort, Ocean Views,

Balconies, Self Contained,

1 or 2 B/R Ensuite,

Heated Pool, Spa, Sauna,

Free Internet, Shops,

Restaurants, Tennis, Surf

Club & Patrolled Beach,

Public Transport at door.

Ask for our SEASONAL

SPECIALS. Phone 61 7

544-35011 Email: reception@mandolin.com.au

www.mandolin.com.au

Personals

MALE 31 seeks female

for relationship, ph/txt 022

312 3327

Situations Vacant

Centennial Manager

12 months (Term time)

fixed-term

15-20 hours per week

This is an exciting opportunity for an experienced event

or PR professional to help us co-ordinate our 2018

Centennial. You'll be part of a small but dedicated team

who are working toward making this event something

truly special.

We are looking for someone who:

• Is self-motivated

• Has lots of initiative

• Is a great communicator and writer

• Has proven experience in the areas of event

management and communications/PR

• Has a 'solutions-focussed' worldview

• Can work unsupervised

• Is able to juggle many tasks and still meet deadlines

• Has an eye for detail

• Loves to laugh!

A full job description is available on our website under

'staff vacancies': www.villa.school.nz

Applications close Wednesday 22 February, 2017.

Please email your CV, covering letter and contacts for

two referees to:

Judi Wilson

Development Officer

Villa Maria College

jwi@villa.school.nz

Public Notices

Weka Pass Railway

Waipara, North Canterbury

We are RUNNING

SUNDAY 19th FEBRUARY

Running 1st & 3rd

Sunday of every month

Infoline Chch 96 22 999

Depart Glenmark Station

11.30am & 2.00pm

www.wekapassrailway.co.nz

DEMOLITION

With care and respect we

will remove your dwelling.

Our policy is to recycle as

much as we can. We are a

local company specialising

in residential properties. We

will endeavor to cater for

your individual needs.

Ph. R.M. Solutions

021 02866981

for a free quote.

To Let

RENT NEED MORE ME!

SPACE?

NO BOND THIS MONTH

Ideal as an extra

bedroom or office.

Three convenient sizes

from $70 p/w:

Standard 3.6m x 2.4m

Large 4.2m x 2.4m

Extra-large 4.8m x 2.4m

Visit our display cabins at

470 Cranford Street or call

0211277227 for a free brochure

www.justcabins.co.nz

ADVERTISE

YOUR

BUSINESS

HERE

Phone for further details

(03) 379 1100

MUMS & DADS

Would you like your children to

exercise more and earn some money?

DELIVERY

PEOPLE

WANTED

The Star requires

delivery personnel

in all areas of

Christchurch.

The work involves

door-to-door

delivery of The Star

newspaper.

Please call

Leanne Lucas 364-7451 or

Mark Coulthard 364 7453

email: deliveries@starmedia.kiwi

Trades & Services

& Property Maintenance

Paving

Patio - Pathways - Driveways

Lawns and Gardens

Planting - Raised Vege Gardens

Readylawn - Irrigation - Fencing

General Maintenance

Water Blasting - Gutter Cleaning

Rental Property Maintenance

Section Clearing - Weed Spraying

20 Years Experience

Locally owned and operated

Free Quotes - Competitive Pricing

Blair Gibson 027 699 5815

• Replacement/new roofing

• Colour Steel gutter & fascia

• Flue & log burner installs

• Skytube/light installs

• Earthquake repairs

Licence Building

Practitioner LBP

Member of the Roofing

Association

DCM ROOFING LTD

The Roofing Specialists

PHONE IAIN

027 445 5597

iain@dcmroofing.co.nz

ADD SOME

Trades & Services

PAINTING &

WALLPAPERING

• Satisfaction

guaranteed

• Over 30 years

experience

• Reliable &

honest

Please call

Ray Martin Ltd

021 770 551

or 359 5520

r.martin@globe.net.nz

TV AERIAL

SATELLITE

TECHNOLOGY

Household and

Motorhomes. Supply

and install TV aerials,

satellite dishes,

decoders (12/240v),

TV Wall Mounts, extra

outlets, TV, DVD,

Portable satellite kits,

Ph 022 081 0928

www.sattech.co.nz

COLOUR

TO YOUR ADVERT!

Trades & Services

GLAZING

Stephen Thom

Glazing 2012 Ltd.

(Under New Management)

• Mirrors

• New Glazing

• Pet Door

Specialists

• Frameless

Showers

• Splashbacks

9155874AA

WE CAN DO YOUR

WORK NOW

ALL BROKEN

WINDOWS

Phone Cushla

03 352 6225

or 027 352 6225

Trades & Services

ROOF

PAINTING

Rope & harness

a speciality,

no scaffolding

required,

30 years of

breathtaking

experience.

FREE QUOTES

Exterior staining,

exterior painting,

moss and mould

treatment and

waterblasting

Phone Kevin

027 561 4629

BEST BATHROOMS

full renovation specialists,

LBP, repairs &

maintenance ph 03 387-

0770 or 027 245-5226

BRICKLAYER

George Lockyer. Over

30 years bricklaying

experience. UK trained.

Licensed Building

Practitioner number

BP105608. Insurance

work. EQC repairs.

Heritage brickwork a

speciality. No job too

small. Governors Bay.

Home 329-9344, Cell

027 684-4046, email

karengeorge@xtra.co.nz

Trades & Services

BUILDER

For all building work

but specialist in bathroom

renovations, 30 yrs

experience, with service

and integrity. Free Quotes.

Ph Lachlan 383-1723 or

0274 367-067.

BUILDER LICENSED

available for all aspects of

building. Please call 027

241-7471 or 335-0265

deliveries a specialty. Ph

CARRIER LOCAL

experienced, friendly,

trade-me purchases, single

items to truck loads,

furniture to whatever,

removals & trade

GEH 341-5069

****************

CARPET & VINYL

Laying. Repairs, uplifting,

relaying, restretching.

Email jflattery@xtra.

co.nz, ph 0800 003 181 or

027 2407416

DRIVEWAYS

Replace, repair or new.

We are a local company

with over 10 yrs exp.

We also operate a

digger for all other

earthworks.

Ph. R.M. Solutions

021 02866981

for a free quote.

ELECTRICIAN

REGISTERED for all

electrical installations &

repairs Ph 03 322 4209 or

021 026 73375

ELECTRICIAN

REGISTERED for all

your electrical needs,

reliable & friendly, oven

repairs done, free quotes,

ph 027 333 3768 or 03

390 0221 www.jme.co.nz

ELECTRICIAN

Rewire specialists. Some

old wiring, some new,

get a free appraisal and

quote. Switch boards, LED

lighting, garages, spas you

name it we do it. Give the

boys at Turned On a ring,

phone Muzza 022 6177-

275

GST per hour 7 day NZ

wide, packing & moving,

FURNITURE REMOVALS

Large Trucks $95 +

Professional Company,

Professional Service.

Canterbury Relocations

Ltd. ph 0800 359 9313

GAS, PLUMBING

DRAINAGE &

HEATING. 24/7 service.

Ph Mike Cairns Gas &

Plumbing 021 132 8929

HANDYMAN

Silver Threads. A

bunch of nice friendly

mature tradies, builders,

tidying. Ring for a free

electricians, painters,

landscapers, section

quote 022 140-7852

LANDSCAPING

Mini Digger hire for

drainage & section

development. Ph Silver

Threads 022 140 7852
---
22

Tuesday February 14 2017

NOR'WEST NEWS

Classifieds Contact us today Phone our local team 03 379 1100

Trades & Services

Trades & Services

Trades & Services

Trades & Services

Vehicles Wanted

LAWNMOWING

• Small lawns

from $10

• Fast Professional

Service

Phone Mark

022 307 7176

LED / DOWNLIGHT

replacement. Huge new

year special, get those

troublesome downlights

replaced wih modern LED

lights from $38 + GST

inclusive. Ring the boys at

Turned On for free advice

& quotes. Call Muzza 022

6177 275

OVEN CLEANING

Professional cleans $50.00.

Gift Vouchers avail. Phone

0800 683-6253 or 027 228-

0025

PAINTER AVAILAbLE

All aspects in painting.

Very competitive in roofs

and fences. Please call 027

241-7471 or 335-0265

PAINTING

30 years experience,

workmanship guaranteed,

pensioners discounts, free

quotes, ph Robert 021 026-

30757

PAINTER

Top quality work, interior/

exterior, pensioners

discount, free quotes, 30

years experience, I stand

by Canterbury, ph Wayne

your friendly painter 03

385-4348 or 027 274-3541

eqc cASH SeTTLeMeNT

EQC CASH SETTLEMENT

We will re-scope your property to ensure

you have been paid in full to cover

all your repair costs.

After 5 years of scoping for EQC claims

we have found that most claims

have been under paid.

Examples of Clients EQC Payments:

Payment Initially $3,800 after our re-scope

payment received $46,320

Payment Initially $7,575 after our re-scope

payment received $38,182

Payment Initially $19,827 after re-scope

payment received $60,273

For re-scoping and all earthquake repairs

including painting and redecorating.

Enquire now Phone 021-667-444

PAINTING

& PLASTERING.

Excellent finish. Domestic

& Commercial. Ph Chris

027 223 8542

PAINTING

& PLASTERING.

Excellent finish. Domestic

& Commercial. Ph Chris

027 223 8542

PLASTERER

Gib Stopping, Small

job specialty. 30 + years

experience. Ring 0800

387-369

PLUMbER

For prompt service for all

plumbing maintenance,

repairs and alterations.

Phone Michael 364 7080

or 027 438 3943

PLUMbER

ALF

THORPE

PLUMBING Certifying

Plumber for all types of

plumbing, maintenance,

spouting, alterations etc.

Phone 352-7402 or 0274-

350-231

PLUMbER

A Top Plumbing job

completed at a fair price,

prompt service, all work

guaranteed, Ph Brian 960-

7673 or 021 112-3492

ROOFING

Qualified & Licenced

Practitioner. Re-Roof &

Repairs, all types. Member

New Zealand Roofing

Association. Over 35 years

experience. Phone John

027 432-3822 or 351-9147

email johnmill@ihug.co.nz

PAINTER

Michael Kelly Painters

Locally owned and

operated family

business.

25+ years Experience

• Painting • Wallpapering

• Interior • Exterior

Free Quotes

Phone

Michael 0212 649 492

michaelkellypainter@hotmail.co.nz

RUbbISH REMOVAL

From Kleensacks to truck

loads, the messier th better.

Trees, flat clean ups. Call

Silver Threads 022 1407-

852

SPOUTING CLEANING

Spouting Unblocked,

Cleaned Out and Flushed

Out. Also Full Handyman

Services Available. Call

Trevor 332 8949 or 021

043-2034

STONEMASON

BRICK & BLOCKLAYER,

Earthquake Repairs, Grind

Out & Repoint, River/

Oamaru stone, Schist,

Volcanic Rock, Paving,

all Alterations new & old,

Quality Workmanship,

visit www.featureworks.

co.nz or ph 027 601-3145

TILER/CARPENTER

35 years exp, no job

too small. Ph Ross 027

4311440.

TREE

WORK

Hedge trimming, stump

grinding, rubbish removed,

small job specialty Ph

Andrew 03 322-8341 or

027 435-8759

T.V. SERVICE CENTRE

Repairs, tvs, microwaves,

stereos, DVD. Aerial

installations and kitsets,

480 Moorhouse Ave, ph 03

379 1400

UPHOLSTERER

Dining Chairs, Lounge

suites, Caravan Squabs etc.

recovered. Free Quotes.

Phone Graeme 383-1448

WINDOW TINTING

tintawindow

advanced film solutions

99% uv block

fade protection

heat control

reduce glare

25 Years Experience

privacy films

frosting designs

non-darkening films

Workmanship Guaranteed

Lifetime Warranties on Most Films

UV

block

Free Quotes Canterbury and Districts

03 365 3653 0800 368 468

VHS VIDEO TAPES

& all camera tapes

converted to DVD, video

taping special occasions,

www.grahamsvideo.co.nz

ph 03 338-1655

WATERbLASTING

Quality Job, Quick Service

by skilled tradesman, Ph

Richard Severin at Jet-X

0800 538 969 Free quotes,

visit www.jetx.co.nz

WINDOW CLEANING

Average 3 bdrm house

inside or out $40. Both $70.

Phone Trevor 344-2170

WINDOW CLEANING

Average 3 bdrm house

inside or out $40. Both $70.

Phone Trevor 344-2170

GLAZING

Stephen Thom

Glazing 2012 Ltd.

(Under New Management)

• Mirrors

• New Glazing

• Pet Door

Specialists

• Frameless

Showers

• Splashbacks

WE CAN DO YOUR

WORK NOW

ALL BROKEN

WINDOWS

Phone Cushla

03 352 6225

or 027 352 6225

9155874AA

CARS Wanted. Fair

prices paid, quick and

easy process, money paid

directly into your bank

account, friendly local

service, call Tim Koller ph

03 390 1717

valuemycar.co.nz

Wanted To Buy

CASH FOR

STAMPS

Do you have an Old

Stamp Collection

tucked away

somewhere?

It could be worth

a fortune!

We are currently buying

old collections and can

come to you for larger

collections or if you are

unable to come in.

Call Matt Power

0800 239 325

The Stamp Exchange

Dealers. Phone 980 5812

fridges, freezers, washing

cash paid. Ph Paul 022

sawbenches, lathes, cash

AAA Buying goods

quality furniture,

Beds, Stoves, Washing

machines, Fridge Freezers.

Same day service. Selwyn

or 027 313 8156

A+ Household effects,

machines, ovens. Good

0891 671

TOOLS Garden,

garage, woodworking,

mechanical, engineering,

buyer, ph 355-2045
---
NOR'WEST NEWS Tuesday February 14 2017 23

'Famous for their roasts!'

Start your

day with us

AN ECLECTIC ESTABLISHMENT

As featured in February STYLE Taste: Vanessa Ortynsky discovers

Urban Corner Cafe has much more to offer than initially meets the eye.

ON the former site of the Bower Hotel

in New Brighton stands the Urban

Corner Cafe (alongside with e

Bower), which is one of the most

eclectic establishments in the city.

Urban Corner is uniquely

Christchurch in that it's constructed of

18 shipping containers. It's a standout

on the landscape, situated near the

residential red zone and overlooking

the Avon River. Upon setting foot

inside this spacious establishment, you

immediately forget about its modular

construction methods.

With its warm and family-friendly

vibe, Urban Corner has become a

community hub for New Brighton

locals. e restaurant serves up brunch, lunch and

dinner on a daily basis. Menu items are seasonal and

the Pork Belly Burger served with coleslaw and

cranberry sauce is a must-try for summer.

ere's also a kids menu and a playground outside,

catering to mums looking for a place to bring the little

ones for a play date. ere's Farmyard Animal Day with

pony rides on the last Sunday of every month in

summer, weather permitting, which includes a Llama

with a bad haircut and ponies of all sizes. As well as a

separate shipping container that can be hired for kids

parties.

With plenty of entertainment for the older crowd as

well, 'Stitch n Bitch' is hosted by a local

artists and is every second Monday.

It's an excellent spot to discover new

Kiwi artists and local talent.

e dining room is adorned with

brightly-coloured kitschy decor. You

can purchase any of the art that lines

the walls of this establishment. You're

sure to get a laugh out of some of the

quirky tongue-in-cheek posters and

signage.

Sharing the premises with e

Bower proves advantageous as Urban

Corner features an extensive beer and

wine list without the central-city price

tag. e Friday menu comes with a

$20 price tag, there is always events

and special deals - including Wednesday and ursday

feed the family of four for $50. Keep an eye on their

Facebook page for even more stellar specials. If you are

looking for a takeaway, there is a full range of cabinet

available too.

A little bit different from your traditional cafe and

bar, this friendly place is sure to delight. If you're

looking for a local eatery, or keen to experience the

warmth and hospitality of the eastern suburbs. Urban

Corner is a sure bet.

Urban Corner - 487 New Brighton Rd, phone 03 388

3649. Open 7 days, 9am until late.

www.urbancorner.co.nz

RESTAURANT & CAFÉ

Kid's SPECIAL

Two courses

Seniors SPECIAL

Two courses

$10

We are family friendly. Great Kids menu plus designated play area.

Soup/Roast or

Roast/Dessert

CAFE

open from 11am

TAB & Gaming

Function Facilities

HOUSIE

Tues, Thurs, Sat

Special available lunch only

Monday - Saturday 12pm - 2.30pm

$20

TUESDAY 14th FEBRUARY

in Whitford's Restaurant

Valentines Day

2 COURSE

SPECIAL

We are open from 6.30am

Cooked

breakfasts

$18

Check out our extensive

breakfast menu from

Continental to Cooked

The

RACECOURSE HOTEL

& Motorlodge

118 Racecourse Rd, Sockburn,

Christchurch. Ph 03 342 7150

www.racecoursehotel.co.nz

WHAT'S ON

$30

pp

LIVE MUSIC

I

ALONE

7PM THIS SATURDAY

in Whitfords Bar

SHUTTLE

Tues - Sat

Open 7 Days from 5.30pm

Lunch & Dinner

All you can eat, 7 days

NOW SERVING

available

from

9am

Breakfast

HAPPY

HOUR

5PM - 7PM

DAILY

Bookings Essential PH 386 0088

fb.com/GardenHotelRestaurant www.gardenhotel.co.nz

Live Music:

Vintage Blue

6PM.FRI.17 FEB

PHONE 385 8880 FIND US ON FACEBOOK fb.com/GBCCHCH

THE GARDEN HOTEL COMPLEX | 110 MARSHLAND RD

www.gardenhotel.co.nz | phone 385 3132

www.newbrightonclub.co.nz

GREAT

DINING

- downstairs -

ClubBISTRO

Open Tuesday to Saturday

12pm-2pm and from 5pm

Midweek $10

SPECIAL ROAST

Available Tuesday,

Wednesday, & Thursday

TUESDAYS &

THURSDAYS

Members Lucky

Card Draw

TAB POD

GAMING ROOM

FUNCTION ROOMS

SHUTTLE RUNNING

Tues, Thurs, Fri & Sat

SUNDAY

26th February

ALL YOU

CAN EAT

BUFFET

$25

BOOK NOW!

PIERVIEW RESTAURANT

GREAT

DINING

- upstairs -

PIERVIEW

Restaurant

Quality a la carte

with a view!

Open from 5.30pm

FRIDAY, SATURDAY

& SUNDAY

FRIDAY SPECIAL:

SIRLOIN STEAK

or

CHICKEN BREAST

WITH JACKET POTATO

& SALAD BAR

$22!

SUNDAY SPECIAL:

3 courses

$25

NOW OPEN FOR

SUNDAY

BRUNCH

By the Seaside!

10.30am-2.30pm

202 Marine Parade

Ph 388-9416

Members, guests and affiliates welcome

H ORNBY

WORKINGMEN'S

CLUB

«WHAT'S ON«

WESTVIEW LOUNGE

FRIDAY 17 FEB, 7PM

ROBBIE DREW

SATURDAY 18 FEB, 4.30PM

MARION'S OUTLAWS

8PM SHA-LOW

SPORTS HALL

SATURDAY 18 FEB, 7.30PM

RETRO ROCKIN'

WITH

ANTHONY

EASTERBROOK -CARTER

& BACKPACK

PRE-SALE TICKETS $20.

DOOR SALES $25.

Club

CAFE

OPEN 7 DAYS LUNCH & DINNER

Gluten Free & Vegetarian options

Hornby WMC

17 Carmen Rd, Hornby

Phone 03 349 9026

www.hornbyworkingmensclub.co.nz

Members, guests & affiliates welcome
---
®

24

Tuesday February 14 2017

NOR'WEST NEWS

Christchurch

Lantern Festival

Sat urday 18

& Sun day 19

February

5pm -10.30pm

North

Hagley Park

Free

summertimes.co.nz

®

FREE MUSIC IN THE PARK

3–4.30PM, ARCHERY LAWN

CHRISTCHURCH

POPS CHOIR

sunday 19 february

The 50 piece choir bring to

the stage pop, rock, jazz,

musical theatre, swing, soul

and even some traditional

classics creating an exciting

mix for performers and

audiences alike.

KATIE THOMPSON

sunday 26 february

Katie Thompson has been

carving her pathway within

the country music scene

in New Zealand, although

her sound transcends the

singer-songwriter "format",

bleeding into genres as

diverse as rock, pop, folk

and more.

summertimes.co.nz

Proudly produced by