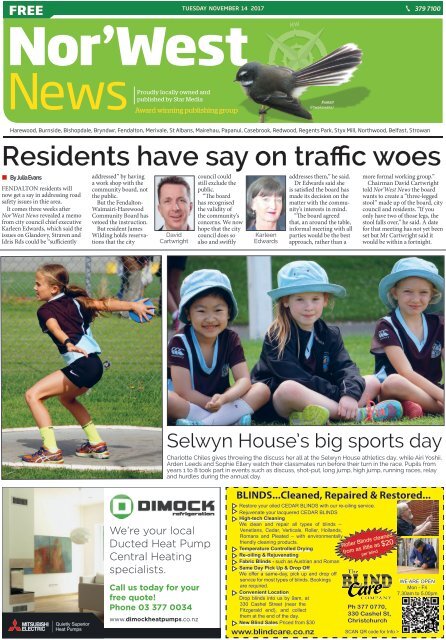 Nor'West News: November 14, 2017
You also want an ePaper? Increase the reach of your titles
YUMPU automatically turns print PDFs into web optimized ePapers that Google loves.
FREE

TUESDAY NOVEMBER 14 2017 379 7100

Proudly locally owned and

published by Star Media

Award winning publishing group

Fantail

(Piwakawaka)

Harewood, Burnside, Bishopdale, Bryndwr, Fendalton, Merivale, St Albans, Mairehau, Papanui, Casebrook, Redwood, Regents Park, Styx Mill, Northwood, Belfast, Strowan

Residents have say on traffic woes

• By Julia Evans

FENDALTON residents will

now get a say in addressing road

safety issues in thie area.

It comes three weeks after

Nor'West News revealed a memo

from city council chief executive

Karleen Edwards, which said the

issues on Glandovy, Straven and

Idris Rds could be "sufficiently

addressed" by having

a work shop with the

community board, not

the public.

But the Fendalton-

Waimairi-Harewood

Community Board has

vetoed the instruction.

But resident James

Wilding holds reservations

that the city

David

Cartwright

council could

still exclude the

public.

"The board

has recognised

the validity of

the community's

concerns. We now

hope that the city

council does so

also and swiftly

Karleen

Edwards

addresses them," he said.

Dr Edwards said she

is satisfied the board has

made its decision on the

matter with the community's

interests in mind.

"The board agreed

that, an around the table,

informal meeting with all

parties would be the best

approach, rather than a

more formal working group."

Chairman David Cartwright

told Nor'West News the board

wants to create a "three-legged

stool" made up of the board, city

council and residents. "If you

only have two of those legs, the

stool falls over," he said. A date

for that meeting has not yet been

set but Mr Cartwright said it

would be within a fortnight.

Selwyn House's big sports day

Charlotte Chiles gives throwing the discuss her all at the Selwyn House athletics day, while Airi Yoshii,

Arden Leeds and Sophie Ellery watch their classmates run before their turn in the race. Pupils from

years 1 to 8 took part in events such as discuss, shot-put, long jump, high jump, running races, relay

and hurdles during the annual day.

BLINDS...Cleaned, Repaired & Restored...

Restore your oiled CEDAR BLINDS with our re-oiling service.

Rejuvenate your lacquered CEDAR BLINDS

High-tech Cleaning

We clean and repair all types of blinds –

Venetians, Cedar, Verticals, Roller, Hollands,

We're your We're local your local Ducted Heat Pump

Ducted Heat Central Pump Heating specialists.

Central Heating Call us today for your free quote!

specialists. Phone 03 377 0034

Call us today www.dimockheatpumps.co.nz

for your

free quote!

Phone 03 377 0034

www.dimockheatpumps.co.nz

Romans and Pleated – with environmentally

friendly cleaning products.

Temperature Controlled Drying

Re-oiling & Rejuvenating

Fabric Blinds - such as Austrian and Roman

Same Day Pick Up & Drop Off

We offer a same-day, pick up and drop off

service for most types of blinds. Bookings

are required.

Convenient Location

Drop blinds into us by 9am, at

330 Cashel Street (near the

Fitzgerald end), and collect

them at the end of the day.

New Blind Sales Priced from $30

Roller Blinds cleaned

from as little as $20

per blind

Ph 377 0770,

330 Cashel St,

Christchurch

www.blindcare.co.nz SCAN QR code for Info >

WE ARE OPEN

Mon - Fri

7.30am to 5.00pm
---
2

Latest Christchurch news at www.star.kiwi

Tuesday November 14 2017

Inside

FROM

THE

EDITOR'S

DESK

NOR'WEST NEWS

News........................................3-7

TOP MARKS to the Fendalton-

Waimairi-Harewood Community

Board for getting behind residents

and their traffic problems

(see page 1).

Karleen Edwards, the city council's

chief executive, and one very

powerful individual, decided on

the back of a staff recommendation

to stop residents getting too involved

in solving the traffic issues.

That went down like a lead

balloon with residents which

Nor'West News reported three

weeks ago.

Now the community board has

stood up to Dr Edwards and council

staff and said residents should

be a part of solving the problems.

That means the issue won't

be thrashed out by an exclusive

elected members club and their

private workshops with few people

knowing what has been said or

discussed. Commonsense has prevailed.

- Barry Clarke

How to barbecue perfect ribeye FOOD 15

Local Views......................4

Schools...................................8

Community Events....11

Kidstuff...................................14

Sport...........................16-17

Health............................18-20

GET IN TOUCH

General Enquiries Ph 379-7100

Classified Advertising Ph 379-1100

The Christchurch Star Company Ltd. PO box 1467 - Christchurch

starmedia.kiwi

NEWS

Julia Evans

Ph: 021 914 742

julia.evans@starmedia.kiwi

ADVERTISING

Javier Balcazar

Ph: 982 9308

javier.balcazar@starmedia.kiwi

ADVERTISING

Monique Maynard

Ph: 364 7474

monique.maynard@starmedia.kiwi

Your way, your

time, your choice

Sunday 19 November

11am – 2pm

Bishopdale Park

However you like to get in touch, your

Customer Services team is here to help.

Call, email or Facebook us 24/7

You can also drop into your local Customer

Service Centre during business hours.

Cancelled if wet. Visit the Newstalk ZB website for cancellation.

FREE

ENTRY

ACTIVITIES

LIVE PERFORMANCES

ARTS AND CRAFTS

FOOD AND MORE!

ccc.govt.nz/contact-us
---
NOR'WEST NEWS Latest Christchurch news at www.star.kiwi

Tuesday November 14 2017 3

News

Skate park sites revealed

• By Julia Evans

SITES IN the Papanui Ward

have been identified for a skate

park but it could be up to 12

years before anyone gets to use

it.

City council staff narrowed

the search for the suitable location

for a park to Bridgewater

Drainage Reserve, Craighead

Reserve and Edgar Macintosh

Park in Papanui or Owen

Mitchell Park and Redwood

Park in Redwood.

The report said Owen Mitchell

Park on Grimseys Rd is the

St Andrew's students

play leading role

in film awards

The top two awards at the Canterbury

Secondary Schools' Film Festival were

taken out by St Andrew's College students.

Twenty two films were screened at Hoyts

last week, with two films from St Andrew's

– Beginners, written, directed and edited

by Grace Dephoff, and Buddy, written,

directed and edited by Logan McAllister.

Beginners won best director as well as

the supreme award for best overall film.

Buddy won best screenplay and runnerup

in the supreme award.

most suitable.

"There is space between the

public toilet and playground

that has suitable separation

and natural surveillance from

neighbours."

More than 20 other sites were

identified, including Papanui

High School, but were ruled out

due to proximity to neighbours

or space issues.

The investigation came after

the Papanui-Innes Community

Board responded to calls from

young people for a skate park in

the area.

"Papanui is very short of

youth recreation facilities,"

board chairwoman Ali Jones

said.

Currently, skaters have to go

to St Albans, Burnside, Bishopdale

or Belfast to find the closest

park.

Ms Jones said the board is

throwing around the idea of

expanding the concept into a

larger indoor youth facility that

would include a skate park.

She said that is something

that would be looked into

further before pitching the

proposal for the city council's

2019-29 Long Term Plan.

An estimate of required funding

for the skate park would be

about $360,000 over three years.

In year one, $20,000 would be

required for site investigation

and selection, engagement with

the public and preliminary

design.

The second would require

$40,000 for more community

engagement, detailed design

and resource consent.

Construction of the park itself

would be about $300,000, which

includes free wi-fi. The cost

would change if a larger facility

was approved.

CREATIVE: New Zealand Broadcasting School head Tony Simons with St

Andrew's College students Jen Wells, Grace Dephoff and Elliot Wood..

In Brief

JELLIE PARK UPGRADE

Jellie Park Recreation and Sport

Centre is set for an upgrade and

repairs starting next month. The

pools will be repaired and the

indoor hydroslide will be replaced.

Other work includes fixing cracks,

painting and repairs to flooring,

walls and ceilings, as well as upgrading

fire systems and replacing

wet area flooring with a non-slip,

hard-wearing material. It will be

done in stages over 18 months.

ACCESS TO THE GROYNES

Work on widening the road access

to The Groynes Reserve is almost

finished. Work is continuing on

the replacement and upgrading of

an existing culvert where it crosses

the causeway at the entrance to the

reserve. Widening of the road will

allow for two-way traffic, as well as

pedestrian access on both sides of

the road over the causeway.

MAIN NORTH RD PROPOSAL

Public feedback on the city

council's plan to overhaul Main

North Rd is open until Friday.

The proposal is to prioritise public

transport down the street in a

bid to decrease congestion with

a variety of upgrades, including

a full-time bus lane. A "have

your say" can be found on the

city council's website before the

proposal goes to the planning

stage.

THE JEwEllEry

ValuaTion SpEcialiSTS

Caring for your jewellery since 1990

• Personal service with your

professional valuer

• Qualified, experienced

gemologist & diamond graders

• All valuations completed on

premises

• Validate + Research +

Knowledge = Value

New Location: 2/301 Lincoln Road

www.jvcvaluers.co.nz | (03) 332 4233 | jim@jvcvaluers.co.nz

Follow us on Facebook

@Dream Doors Christchurch

for design inspiration

Amazing

Kitchen

Facelifts!

• Replacement doors

• Drawer fronts

• panels & bench tops

• or a complete brand

new kitchen, all

made to measure.

Ph 03 338 1081 adrian@dreamdoors.co.nz

2017 Winner

RookieStoreof the Year

Sorted

GIFT CARD

GIFT CARDS

now instore

Super Liquor Elmwood

The Super Liquor Annual Awards evening recognises store owners and

managers, who uphold Super Liquor's brand pillars - Super Service,

Super Range, Super Deals, Super Convenient.

Super Liquor Elmwood picked up the Rookie Store of the Year Award

recognising the work of the Super Liquor Elmwood team since the store

opened a year ago.

CHATELLE, CITY

OF LONDON GIN

OR DEWAR'S

1 Litre

$ 34

99

EACH

now open!

SUPER LIQUOR

ELMWOOD

1 Normans Road

P 03 355 1170

Offers end close of trade 19th November 2017, while stocks last. Available

at participating stores only. Limits may apply. Trade not supplied. Terms and

conditions may apply. Please see www.superliquor.co.nz for details.
---
4 Tuesday November 14 2017

Latest Christchurch news at www.star.kiwi

NOR'WEST NEWS

Your Local Views

McMaster & Heap

Veterinary practice

A DAY IN THE LIFE OF VET

MICHELE

Last month, our super vet nurse Megan wrote

about what a nurses day is like at our clinic so I

thought I'd give you a little insight into one of

my marathon 12 hour Tuesdays, that must start

with a flat white!

I typically arrive in after 9am due to organizing

our teenage lads for school in the morning and

walking Lola before our big 12 hour Tuesday.

I will then assess, liase with the hospital nurse

and devise a plan for any of my sick hospital

patients from the previous day. Sometimes I

will pass an intensive care patient of mine onto

Catherine if my day is full surgically. If there

is time before consulting I will phone clients

with patient updates or call them in the early

afternoon when I've finished consulting.

Typically I consult seeing patients for 3-4

hours in the morning and then again another 3

hours during the evening. By the time Tuesdays

rock around my consulting schedule is almost

full so when distressed clients phone with a very

sick pet, obviously we will see them but they

have to be squeezed into an already full block of

consulting. If on arrival they are in urgent need

of attention, either I will see them or one of our

expert nurses will triage the patient, often take

bloods, place a catheter and advise me of their

findings. Every patient that rings is seen that

day and often we see patients from other clinics

because they cant be seen that day at their own

Practice.

It is common place that during my morning

consults I have admitted sick patients for either

blood testing, intravenous fluids, xrays or

ultrasounds, dentistry, exploratory surgeries, or

just observation. I will check on these patients

progress, review any blood test results or

findings, ring their owners if necessary and work

out a treatment plan with the hospital nurse for

that day.

Once the sickies are dealt with, I turn my

attention to the surgical board in which all my

surgeries are highlighted in green pen!

This past Tuesday was a little insane...

Heres my list for that day-

1. Right Stifle surgery in a sweet 1 year old

Golden Retriever called "Bonnie" to repair

ruptured ACL ligaments. Bonnie blew her ACL

ligaments in both stifles while out exercising

with other dogs, so the left is yet to be repaired

in 2 weeks depending on how she's coping after

this surgery.

2. A right femoral pinning

and wiring in a young

cat "Simba" to repair a

fractured femur probably

caused by a collision with

a car.

3. Full shoulder and

elbow, spinal, lumbar

and hip xrays in Murphy,

a 12 year old chocolate

Labrador with an

annoying persistent right

foreleg lameness.

4. A sick, lethargic Chinchilla called Pickles who

needed syringe feeding through the day.

5. A Caesarian in a 2 year old Pug called

"Geraldine", who gave birth to 1 live puppy, with

2 unfortunately dying.

All in all I have absolutely no time to eat, drink

or get into any trouble!! All the above need to be

finished with and owners rung by 4pm when I

start all over again with consults.

Oh I forgot to mention that somewhere in the

day I have

a board

full of

messages

to call

clients

regarding

their pets

blood or

pathology

results,

medications requirements, booking in surgeries,

queries from other vets or just general advice

inquiries.

We also look after sick animals for the SPCA

and Cats Protection league. We will get a call

alerting us to how far away they are and what

sort of patient we are seeing, whether a medical

or surgical case. That can happen anytime in

our day so we fit these consultations around

everything else. I feel very good being able to

help these less fortunate animals and hopefully

give them a chance at recovery and a great life.

A day in MY LIFE is a hugely busy, fast paced

one where I need to make so many important

decisions in a day on the health and well being

of the patients in my care. There is no time to

second guess yourself, communication between

my staff and my clients is key and I need to

be very organized and able to prioritise all the

patients in my care needing my help. We are so

fortunate at McMaster & Heap to have such a

highly skilled, clever and practical group of vets

and nurses to be able to bounce ideas off when

a difficult case needs a plan.

Honestly I LOVE my job – actually it's a

priviledge to be able to help animals in the way

we can and do. As you can see, every day is

extremely different, very challenging at times

with difficult medical cases or surgeries but the

buck stops with

me so to speak.

I leave after my

12 hour shift very

tired and hungry!

But with a big

smile on my face

knowing that I've

made a difference

in many animals

lives that day

and so have my

fabulous team.

Geraldine and her one little puppy.

Readers respond to

the story regarding

businesses on Main

North Rd upset the

city council has

proposed to take

away on-street

parking

Chrys Horn – Change

is scary but lack of change

is even more scary given

how much our car habit

is costing all ratepayers

in congestion, anger,

frustration, not to mention

climate change, ill health

and lack of traffic safety

and the rates needed to

build parking buildings.

There is no such thing as a

free park.

James David Foote –

Less parks on the road will

make the area much safer.

Mia Griffiths – Stupid

idea.

Pamela Neil – It is a

very congested area and it

will be better for drivers as

well as the buses.

Rich Brown – The city

council is always full of

great ideas as long as somebody

else pays.

Ray Boyer – You can

never get a park there any

way?

AND

Stella Li of China Kitchen and Tim Sieg of Super Liquor

are upset with new bus lanes on Main North Rd.

Stephan Lance

Gardiner – I think they

don't understand how

bus lanes work. And no

parking is not going to stop

business.

Kyle Falcon – It is bad

enough for parking there

now.

Maraea Cracknell –

The parking behind mobile

garage area need to be

addressed too. Pot holes

after poles.

Readers respond to

the article regarding

Grassmere St

residents' concerns

regarding access to

their street

We are delighted to announce that as at 1

November 2017, the teams at Waimak Law

and Onlinelawyers will have joined forces

to offer Canterbury a 21st century consumer

oriented and forward thinking legal service.

Led by the experienced Donna Cherry and

John Shingleton, the firm will be delivering

conveyancing services and legal assistance

in Business, Employment, Immigration,

Dorothy Suckling –

Notice the concerns on

Grassmere St, Papanui.

For those wanting to make

a left turn from Grassmere

St onto Main North Rd,

there is no provision. If

a cautious driver wants

to make a right turn

onto Main North Rd it is

impossible, so you can wait

a very long time to turn

left. There is quite a lot of

cars coming from

the rest home wanting

to turn left at that corner

and one car wanting to

turn right can hold up

quite a few. You have to

be quick and forceful to

push your way in. Trust

something will be able fix

the problem.

a perfect blend

of the traditional

and the

contemporary.

Trusts, Civil Litigation and Asset Protection,

all at affordable prices with a streamlined

delivery.

We offer fixed quotes and we will not charge

you any of our office expenses. You can

work with us online or come to our offices

in Addington, Papanui or Oxford, or we will

come to you. We have a mobile Registered

Legal Executive working from Haswell.

Please call us on (03) 354 8224 or email us at either donna@waimaklaw.co.nz

or john@onlinelawyers.nz if you have any queries.

MAINLAND

STOCKCAR

TEAM CHAMPS

SAT 18 TH NOvEMbER

7PM START

Open 7 days

Cnr Hoon Hay & Coppell place

phone 338 2534, Fax 339 8624

e. mcmasterandheap@yahoo.co.nz

www.mcmasterheap.co.nz

McMaster & Heap

ADULTS $20 Seniors $10

FAMILY PASS $40

Children $5 Under 5yrs free

(2 adults & up to

4 children 14yrs & under)

DOUbLEDAYS ROAD KAIAPOI

INfOLINE 03 364 8833

www.wOODfORDgLEN.CO.Nz
---
NOR'WEST NEWS Latest Christchurch news at www.star.kiwi

Tuesday November 14 2017 5

News

Teen picks up award for invention

• By Julia Evans

MICHAEL HANN decided

he'd skip the Papanui High

School senior prize-giving last

Tuesday.

Flying up to Auckland to

attend the ASB Bright Sparks

awards evening was a better offer

and it was worth the trip.

Michael, 18, and his natural

disaster security device TEMS

won first place in the senior

engineering category.

Michael saw a problem he

could solve when medication

and hearing equipment was stolen

from a North New Brighton

home during the tsunami

evacuation after the Kaikoura

earthquake last November.

So he designed a security system

to be deployed in a natural

disaster when the power goes

out. The invention acts as a battery

charger for devices and a

place to keep belongings locked

inside during a disaster. It also

has an alarm to keep houses

safe when evacuated. It is triggered

by the rocking caused by

an earthquake and lights up an

exit path.

Michael's now working on

connecting TEMS to an app

which would send a text if

someone breaks in.

Although he'd checked out

BRIGHT SPARK: Michael Hann with a prototype of his

security device which won a Bright Sparks engineering

award.

PHOTO: MARTIN HUNTER

the competition, Michael wasn't

expecting them to read out

his name. "It was really cool

. . . I had a working protoype,

so I was hoping that would be

enough," he said. He attended

the evening with his father, a bit

of an inventor himself.

"We didn't get to go out and

celebrate. We had to fly back to

Christchurch the same night,"

Michael said.

The top prize came with a

new mobile phone and a cheque

for $400.

Even though he was absent at

his school prize-giving, Michael

was awarded $1000 by Papanui

High as well.

He said it was a good night all

round, one he'd never forget.

The success doesn't stop there

– Burnside High School year 11

student Felix Backhouse came

second in the Bright Sparks

engineering category for his

invention Birds iView.

The device is a drone which

monitors bird populations with

hyper spectral imaging.

Burnside year 13 student Jack

Breurkes also won the software

category with his Mobile Physics

Game, a tool to help NCEA

level two students study for

physics exams.

ASB head of innovation and

commercialisation Leigh

Angus said the company is

proud to be involved in a programme

that nurtures brilliant

young minds.

Local

News

Now

• By Julia Evans

THE BATTLE to get traffic lights

at the corner of Breens, Harewood

and Gardiners Rds continues.

The Fendalton-

Waimairi-Harewood

Community Board,

led by city councillor

Aaron Keown, has

been pushing for an

upgrade at the contentious

intersection

all year.

Cr Keown said he

Fire rages, homes at risk

Another bid

for lights at

intersection

Aaron

Keown

has been contacted about the issue

more than any other over his 10

years of being elected. But funding

for the upgrade failed to make it

into the city council's Annual Plan,

not gaining enough support from

city councillors around the table.

However, the board has confirmed

it will be including yet

another bid to get money allocated

in the upcoming Long Term Plan.

A city council staff report said

the city council was aware of the

board's plan.

"The board will continue to

advocate for this project to be

a priority," the report said. The

board is hoping the project will be

completed as soon as possible.

'CEREC' & cosmetic dentistry

Helping us,

Helps tHe

community

Drop off or buy

3 family stores in your community

4 Restell Street, Papanui

Ph 03 352 0515

50 Charles St, Kaiapoi

Ph 03 903 0017

Wisdom tooth removal

Painless, high quality dentistry

Sedation dentistry

Experienced, conscientious team

Experienced hygienists

OPEN SATURDAYS

355 9380

144 Cranford Street

www.stalbansdentalcentre.co.nz

Taking Care of Business

Buying or selling commercial or residential property, leases,

employment contracts, building contracts, we take care of it for you,

so you can take care of business.

3 locations: New Brighton, Styx Mill & Kaiapoi

www.pierlaw.co.nz
---
6 Tuesday November 14 2017

Latest Christchurch news at www.star.kiwi

NOR'WEST NEWS

Now Open

Introducing our brand new

purpose built retirement village

in the heart of Shirley.

Retirement just started looking a whole lot

better in Shirley! The Village Palms offers

affordable luxury and first class care.

• One bedroom serviced apartments

starting at $285,000

• Two serviced studio apartments for sale

at $255,000

• Studio care rooms certified up to hospital

level care $155,000

Call us on

022 321 1872

or Freephone

0800 THE VILLAGE

for your own

personal

guided tour

At The Village Palms, we also offer the full continuum

of care, with care suites, Rest Home & Hospital level rooms

available with care delivered 24 hours a day by Registered

Nurses and experienced staff.

The Village Palms Where new memories are made
---
OVER $250 MILLION IN SALES

NOR'WEST NEWS Latest Christchurch news at www.star.kiwi

Tuesday November 14 2017 7

News

Merivale's famous Traiteur

butchery turns 25-years-old

• By Julia Evans

SOMETIMES Maarten and

Anthea Loeffen work 18-hour

days but they say it has all been

worth it.

Tomorrow marks 25 years

since the pair first opened the

iconic European butchery,

Traiteur, on the corner of

Aikmans and Papanui Rds.

Mr Loeffen said over that time,

the business has become part of

the family.

"Our three daughters all work

in the shop part time . . . staff

and their families, too, we all

look after each other," he said.

There are several celebrations

on the cards. Long-serving

suppliers will be personally

thanked, and customers will get

a day of coffee and muffins.

The butchery's staff and the

Loeffen family are all planning

a dinner out, even though Mr

Loeffen said they hadn't decided

where yet.

"It's Show Week so everywhere

is busy," he said.

According to Mr Loeffen, the

secret to Traiteur's success is:

"We always say yes."

Every customer has their

favourites: A slice of cake, fresh

HAPPY BIRTHDAY: Merivale's iconic European butchery

Traiteur, run by Anthea and Maarten Loeffen, is about to

celebrate 25 years of business. PHOTO: MARTIN HUNTER

salad, piece of bacon and egg

pie, gourmet sausage or a rack of

lamb.

But Mr Loeffen said his

personal favourite is pork

schnitzel – something close

to his heart being from the

Netherlands.

Over the last 25 years, people

have become "more busy", he

said. So in turn, the butchery

is selling more and more preprepared

meals.

Although he wasn't sure

whether people really knew what

busy was.

"When I go to work at 2am,

the busy people are still asleep

and by the time I get home at

8pm, the busy people are already

watching television with their

feet up," he said.

MEDBURY SCHOOL has a new

headmaster joining the team

next year.

Ian Macpherson, who is

currently head of middle school

at Brisbane Boys' College,

will make the move across the

Tasman.

Prior to that, he held the

positions of deputy headmaster –

operations and head of

middle school at Anglican

Church Grammar School in

Brisbane.

He and his wife, Elizabeth, will

both move to Christchurch in

January.

Medbury trust board

chairman David Hiatt said the

Local

News

Now

Fire rages, homes at risk

NEW FACE:

Head boy

Jacob

Clements and

Medbury trust

board chairman

David Hiatt

(right) show Ian

Macpherson

around

Medbury

School.

PHOTO: KEN

BAKER ​

New headmaster to lead

Medbury School into 2018

school was very impressed with

Mr Macpherson and listed his

credentials.

"His experience, his ability

to inspire, his understanding

of the unique learning needs

of boys, as well as his passion

for encouraging creative young

minds," Mr Hiatt said.

He said he was looking

forward to Mr Macpherson

joining the team next year.

"Mr Macpherson has a

strong vision for learning,

which balances Medbury's

unique traditions and Christian

underpinnings, alongside

innovative strategies and

technology," Mr Hiatt said.

Providing custom framing of all artworks

Quentin Doig photography

6 Main North Road | Ph 352 7594

(Next to SBS Bank)

www.artworkspictureframing.co.nz

Open Mon-Fri 9am-5pm

Closed weekends

Beautiful Teeth

Meet the

Owner

Ryan Carlton

Natural Smile

Free Consultation, No Obligation

• Full Dentures • Dentures Repaired • Implant Assisted Dentures

• Injection Moulded Flexible Partials • Relines

• Mouthguards • Additions/Repairs

• Purchase cleaning and care products from our website.

All dentures personally

designed and created to ensure

a comfortable natural fit.

DENTURES PLUS (2014) LTD

Denture Clinic and Laboratory

396 Innes Road, St Albans. Phone 385 5517.

Email: denturesplus@paradise.net.nz

www.denturesplus.co.nz

Orbiter Bus stops Innes Road

AUCTION

AUCTION

H A R C O U R TS G O L D
---
8 Tuesday November 14 2017

Latest Christchurch news at www.star.kiwi

NOR'WEST NEWS

SHOWTIME: The cast from Rangi Ruru Girls' School and Christ's College will perform their

version of High School Musical next week. ​

Extra night announced for

Rangi, Christ's sell-out show

WHEN DISNEY'S High School

Musical hit television screens

11 years ago, millions of people

tuned in.

While not as many will see the

Rangi Ruru Girls' School and

Christ's College version, all six

shows sold out in one day.

Director Hannah Clarkson

confirmed an extra show has

been added to the season.

Rangi Ruru director of theatre

arts Peter Rutherford said he's

thrilled with the speedy sell-out.

"High School Musical remains

one of the world's most popular

television films ever and I am

sure that has played a significant

part in tickets selling out in a

day," he said.

Musical director Henare Kaa

said everyone has been humming

the music since rehearsals began.

"The songs are really catchy,

I can't get them out of my head.

The cast and crew are having a

ball in rehearsals and we can't

wait until opening night."

With a plot described by the

author and numerous critics as

a modern adaptation of Romeo

and Juliet, High School Musical

is a story about two high school

juniors from rival groups – Troy

Bolton, captain of the basketball

team, and Gabriella Montez, a

shy transfer student who excels

in mathematics and science.

A additional matinee

performance is being planned

and will take place before

November 22.

•Tickets will be available at

www.rangiruru.school.nz or

at the school office

• By Julia Evans

THE COUNTRY'S top speller

headed back to her former

classroom to let Selwyn House

pupils in on her secret to success.

St Margaret's College student

Lucy Jessup won the New

Zealand Spelling Bee in October.

But her love for words started

long before then.

"I've always loved reading

and writing from a young age.

By the time I was about fouryears-old

my granddad and I

would read child encyclopaedias

together, and my grandma has

always given me books and

recommendations," she said.

The classroom at Selwyn was

really where Lucy began to hone

SCHOOLS

NZ's top speller back

where it all started

the craft. She puts her success

down to reading.

"The best way to improve your

spelling is to read a wide range

of books that you enjoy. If you

enjoy what you are reading and

are interested by it, it is easier to

become interested in the words

themselves."

Selwyn House team leader for

years 1 to 3, Gill Patterson-Kerr,

said it was fabulous that the year

3 pupils could welcome and

spend time with Lucy.

"All the girls reflected upon

their spelling programme

and could imagine that the

result of their efforts could see

them achieve at this level," Ms

Patterson-Kerr said.

BRIGHT: Lucy Jessup teaches Selwyn House year 3 pupils

Emma Geddes (left), Runika Ramezanian and Alice Gourley.

THE RUSSLEY VILLAGE

HOLLY LEA VILLAGE

russleyvillage.co.nz

03 357 9392

73 Roydvale Ave,

Christchurch

For enquiries contact

Nola Lamb

STYLISH DESIGN,

CONTEMPORARY RETIREMENT LIVING

Making your retirement move is easy when its to one of these sought after locations.

Located on the site of the old Russley Hotel,

the Russley Village is set within eight acres

of award-winning gardens and grounds.

The Russley Village has recently opened its

purpose built resident community facility,

The Homestead. Inside The Homestead you

will find Abode Café & Brasserie, a boutique

cinema, library, arts & crafts space, hair salon

and wellness rooms.

Holly Lea Village is nestled in the heart of

Fendalton within beautifully tailored grounds

with an extensive range of facilities including

restaurant, garden lounge, cinema, library, hair

salon and the newly renovated dining room.

The village offers a range of care and extra

support services delivered to your apartment.

We currently have a beautiful selection of

studio and one bedroom apartments available.

hollylea.co.nz

03 351 2679

123 Fendalton Rd,

Christchurch

For enquiries contact

Juliane Brand
---
NOR'WEST NEWS Latest Christchurch news at www.star.kiwi

Tuesday November 14 2017 9

Delicious Gourmet

Pizza & Pasta

1 Free

Dessert

When a main

is purchased

(Excludes $13 lunch menu,

expires 15th Dec 2017)

Plus lots more

Including:

• Tasty burgers

• Crisp fresh salads

• Savoury tarts

• Decadent desserts

$13

Weekday

Lunch

Menu

Dine in our stylish indoor space

or gorgeous alfresco setting &

yes, we do takeaways!

Friendly Team • Great Service

Delicious Food

8 Prestons Rd (Next to The Redwood Bar)

Ph: 03-352 2559 to book

Open Sun-Thu 11.30am-8pm, Fri-Sat 11.30am-9.30pm

Enjoy GREAT

atmosphere

& hospitality

At Redwood Bar

OPEN 7 DAYS

from 11am

Call in today

340 Main North Rd,

Ph: 03-352 9165

WHAT'S

COMING UP

LIVE SPORT

RUGBY LEAGUE

WORLD CUP

NZ Games Live

on the Big Screen

LIVE MUSIC

OLD SKOOL

Friday 1 December

from 7pm

SOCIAL CLUB

Active social club with

great benefits

We sell both

DB & Lion tap beer
---
10 Tuesday November 14 2017

Latest Christchurch news at www.star.kiwi

NOR'WEST NEWS

ARTYNS

outdoor Power

& equipment centre ltd

FOR

SEE US AT THE A&P SHOW - SITE E68

HUSQVARNA ZERO-TURN mOWERS

FROm$5,499

HUSQVARNA gARdEN TRACTORS

FROm$3,499

HUSQVARNA RIdERS

FROm$6,999

COmE SEE OUR OTHER SPECIALS AS WELL!

Chainsaws from $299, Line Trimmers from $194

12B Normans Road, Strowan, Christchurch

Phone 03 355 9323 www.martyns.co.nz

Q Card Finance Available:

30 mONTH INTEREST FREE
---
NOR'WEST NEWS Latest Christchurch news at www.star.kiwi

Tuesday November 14 2017 11

Email julia.evans@starmedia.kiwi

by 5pm each Wednesday

The Honour Ring

All week, 9am-3pm

The Honour Ring is an exhibition

of well known New Zealand

print makers, plus some emerging

print makers from Pukekohe

High and Rangi Ruru Girls'

School (year 13 students).

Rangi Ruru artist in residence,

upstairs in the art department on

Hewitts Rd and Merivale Lane

Scrabble Group

Tuesday, 9.45am-noon

Go along and play scrabble

with the friendly weekly group.

Exercise your brain and have

fun.

Gold coin donation. Sundbye

House, 100 Farrington Ave

Fun Football

Tuesday, 12.10-1pm

Social kick around of football

at Nunweek Park. They play

every Tuesday and Friday from

12.10pm. It's free and anyone is

welcome. Email Christchurch.

soccer@gmail.com for more

information.

Nunweek Park, Harewood Rd

GenConnect

Tuesday, 12.10-12.40pm

Connecting generations by

sharing knowledge. Do you have

questions about your iPad, smart

phone or tablet? Or maybe you

want to know how to use Skype,

Facebook, or share your photos

with family or friends? Ask an

expert. Papanui High School students

will be available every

Tuesday during term time from

12.10-12.40pm to help you find

answers to all your questions

Papanui Library, 35 Langdons

Rd

Reading to Dogs

Tuesday, 3.30-4.30pm

These sessions have been designed

to provide a relaxed and

non-threatening atmosphere to

encourage children to practice

their reading skills and develop a

love of reading. This programme

uses dogs which are the pets of

the city council animal management

team and have been

trained and tested for health,

safety and temperament. Sessions

are 15min. Phone 941 7923

to book a spot.

Shirley Library, 36 Marshland

Rd

Fendalton Library Book Discussion

Group

Wednesday, 11am-noon

For those who love reading

and want to share in discussion

with other friendly book lovers.

There is a cost involved, so phone

941 7923 for more information.

Held on the second Wednesday

Check out the Guinea Pigs on Show. Enter your pet Guinea Pig in the public show for $6

(includes the fastest eater competition and guinea pig fancy dress). Fancy dress theme is 'a

summer Christmas'. Come earlier to see the pedigree guinea pigs judged in the standards

based show. Email gardencitycavyclub@gmail.com for information. Gold coin entry. St Paul's

Anglican Church, 1 Harewood Rd. Saturday, 10am-2pm.

of every month.

Fendalton Library, 4 Jeffreys Rd

Bishopdale Bridge Club

Wednesday, 11am-2.30pm

Go along and join this social

group who meet every Wednesday

for a game or two of bridge.

Table fees are $5. Phone Janet for

more information on 352 1440.

Ōrauwhata: Bishopdale Library

and Community Centre, 13 Bishopdale

Court

Super Saturday Storytimes

Saturday, 11-11.45am

Encourage learning through

a love for stories and craft.

Storytimes is an interactive

programme including stories,

songs, rhymes and play. This is a

free session.

Shirley Library, 36 Marshland

Rd

piper

heidsieck

ANGUS

THE BULL

JULES

TAYLOR

MUMM

nv brut

750ml pimm's 750ml deutz 750ml

ORANJEBOOM 750ml

750ml

750ml

$ 19

99

$ 19

99

12 x 330ml Bottles

$ 49

99

$

$ 19

99 49 99 $

34 99 $

19 99

LION ICE

maker's

mark

1 litre

15 x 330ml Bottles

$ 19

99

$

54 99 corona

12 x 355ml

Bottles

GORDON'S

1 Litre

BOMBAY

SAPPHIRE

1 Litre

$ 34

99

$ 44

99

$

24 99 macs

range $

11 99

each

6 pack Bottles

Super

Location

Sorted

GIFT CARD

GIFT CARDS

now instore

Maidstone Rd

Waimairi Rd

SUPER LIQUOR

ILAM

213 Waimairi Road

P 03 358 5487

Offers end end close close of trade of trade 5th November 19th November 2017, while 2017, stocks while last. stocks Available last. at Available participating at participating stores only. Limits stores may only. apply. Limits Trade may not apply. supplied.

Trade not supplied. Terms and Terms conditions and conditions may apply. apply. Please Please see www.superliquor.co.nz see www.superliquor.co.nz for details. for details.
---
Oxford Tce

Oxford Tce

12 TUESDAY NOVEMBER 14 2017

Latest Christchurch news at www.star.kiwi

Nor' West NEWS

Bealey Ave

Bealey Ave

Bealey Ave

Victoria St

Montreal St

Durham St

Colombo St

Manchester St

Madras St

Barbadoes St

AVON LOOP:

TE PAPA ŌTĀKARO

AVON RIVER PRECINCT

Park Tce

Salisbury St

Salisbury St

Salisbury St

Peterborough St

Peterborough St

Peterborough St

Victoria St

Kilmore St

Kilmore St

Cranmer Square

Cambridge Tce

Chester St

North

Hagley Park

Armagh St

Armagh St

Armagh St

EAST FRAME

MINI GOLF

Rolleston Ave

Gloucester St

Worcester Blvd

Hereford St

Cashel St

CONVENTION CENTRE

Cambridge Tce

Montreal St

Oxford Tce

Cashel St

Lichfield St

Gloucester St

Cathedral Square Worcester St

Colombo St

Hereford St

High St

Manchester St

EAST FRAME

EAST FRAME

EAST FRAME

Latimer Square

RAUORA PARK

Madras St

EAST FRAME

STADIUM

SPRAY CANS

Barbadoes St

Gloucester St

Worcester St

Hereford St

Cashel St

Lichfield St

Fitzgerald Ave

South

Hagley Park

Tuam St

Tuam St

Tuam St

SOUTH FRAME

SOUTH FRAME

SOUTH FRAME

EVOLUTION SQUARE

St. Asaph St

St. Asaph St

St. Asaph St

St. Asaph St

Hagley Ave

METRO

SPORTS

FACILITY

Antigua St

Montreal St

Durham St

Colombo St

Manchester St

Madras St

Barbadoes St

Ferry Rd

Fitzgerald Ave

Moorhouse Ave

Moorhouse Ave

Moorhouse Ave
---
Nor' west NEWS

Latest Christchurch news at www.star.kiwi

TUESDAY NOVEMBER 14 2017 13
---
14 Tuesday November 14 2017

Latest Christchurch news at www.star.kiwi

KIDSTUFF

News

NOR'WEST NEWS

Kids love CASPA!

CASPA (Creative After School knowing their kids are safe and enjoying

Programmed Activities) incorporating the benefits of a quality after school

PAPA JACKS offers children the programme. Some parents and caregivers

opportunity to be creative, make new also enjoy government subsidies for

friends and try new experiences all within a

safe, nurturing environment. CASPA offers

working parents an affordable after school

and school holiday programme that their

kids just love!

CASPA attributes its success to the

variety of activities on offer as well as the

CASPA. CASPA is Child Youth and Family

approved for the OSCAR Subsidy and in

some circumstances, the full CASPA fee

will be covered by the subsidy.

For more information or to enrol, call

Caroline, Rachel or Tania on 349 9260 or

visit www.caspa.org.nz

convenience and affordability for parents.

CASPA kids enjoy an exciting range of

activities including sports, music, games,

drama, arts and craft as well as fun trips. • Sports • Music

Previous themes and activities have included • Games• Drama

a Karaoke Dance Party, CASPA Fear Factor, • Arts and craft

Healthy Art, Out of Africa and hundreds of

other amazing themes/activities!

• Fun trips

CASPA parents enjoy peace of mind,

Lindisfarne Nursery School

Lindisfarne Nursery School was

established by Tricia Cuthbert in 1987 and

remains part of the Cuthbert family today.

We are committed to Christchurch, to our

community, our Lindisfarne families, and

most importantly the futures and happiness

of our children.

We believe in developing children's

feelings of self-worth, and encouraging

tolerance and understanding of others.

Our teachers all hold a Diploma of

Teaching in Early Childhood, and one

holds a Diploma of Teaching in Primary

as well as early childhood. She prepares

home away

from home

UNDER NEW MANAGEMENT!

FREE hAlF DAy 20 hoURs ECE

OPEN 7.30-5.30pm ALL YEAR

call us

noW

SpaceS

available

0-6 years

facebook.com/

The Enchanted Garden

255 Greers Rd, Burnside

Phone: 03 359 7944

www.theenchantedgarden.co.nz

CASPA

After School

& Holiday Programme

Creative

After

School

Programmed

Activities

P: 349 9260 or 027 352 1638

E: info@caspa.org.nz

W: www.caspa.org.nz

the four year olds for school through an

informal and brief daily 'lesson' time which

the children love to take part in.

We have a separate nursery with an

outdoor area where the children discover

and explore.

We are a strong multi-cultural centre

with committed teachers who embrace and

celebrate diversity for our families.

Morning and afternoon tea and a cooked

lunch are provided, and we welcome

visitors.

Check us out at www.lindisfarnenursery.

school.nz or phone 389 2483

• Central location

• Cooked healthy heart meals

• Large private outdoor play area

• Casual care available

• Enrolments available now

• 7.30am - 5.30pm Monday to Friday

EST 1987

389 2483

375 Worcester Street • Christchurch

Your friendly childcare solution

• We provide a safe, creative

environment for 5-13 year olds

• Our staff are trained

• A range of fun activities

• 7.15-8.30am and 3-6pm Mon-Fri

• 8am-6pm Holidays

• Kids just LOVE it!

Incorporating

Subsidies

Apply

New

owner,

familiar

faces

Burnside-based preschool and nursery,

The Enchanted Garden, was handed over

to new owner-operator Debbie Taylor in

October. She has been in early childhood

management for over seven years and has

three children of her own. Along with the

familiar faces of long-time staff, Debbie's

vision is to continue the high quality care

and reputation that The Enchanted Garden

has maintained since 1995.

The centre offers children a home away

from home, with a philosophy based on

holistic, individualised care. They engage

higher teacher-to-child ratios to allow

better care and attention. The centre

is staffed with a team of professional

educators and nurturers who are highly

trained and passionate about creating

happy experiences.

The setting is warm and home-like in

nature while the playground and indoor

environment have been designed to allow

children to safely explore and learn with

confidence. This is supported by a strong

curriculum designed for active and exciting

play.

With 10 spaces in their nursery, and

23 spaces in their preschool, the centre

provides the complete early childhood

service. The fluidity of care allows children

to form close bonds while families enjoy

peace of mind.

Phone: (03) 359 7944

Website: www.theenchantedgarden.

co.nz

Would you like

to promote your

Business?

For local features

please contact

Bev Stanger

03 364 7407

bev.stanger@starmedia.kiwi

TRANSPORT: Residents struggling

to walk home from the bus stop

outside Northlands Shopping

Centre are unlikely to get a another

installed. PHOTO: GEOFF SLOAN

Wheels

come off

battle for

extra

Papanui

bus stop

• By Julia Evans

A BID to get an additional bus stop in

Papanui has hit a road block.

City councillor Mike Davidson asked

staff to investigate the possibility of

another stop on Main North Rd after

fielding calls from elderly residents living

around Northlands Shopping Centre.

The residents told Cr

Davidson they struggle to

walk home from the super

stop outside the mall and

the next bus stop on Main

North Rd is too far.

Cr Davidson suggested

a new stop be put between

the super stop and Vagues

Rd.

He said there is more

Mike

Davidson

than 600m between the current northbound

stops but city council regulation

is 500m.

A new bus stop would replace one

which was removed from outside

Countdown during construction of the

Papanui Parallel cycleway.

However, city council staff recommended

the idea not go ahead.

A staff report said a bus stop between

Grassmere St and Sawyers Arms Rd

would result in most of the on-street

parking being removed, which would be

of concern to shops on the corner.

The report said it would also be unsafe

due to the proximity of the cycleway and

add significant delays to bus times.

"This would be at odds with the primary

purpose of the Main North bus priority

project, which is to improve public

transport reliability along this section of

the network," the report said.

A stop between Sawyers Arms and

Vagues Rds "would not reduce the current

walk distance" as it could only be

placed outside 107 Main North Rd, the

report said.

Another reason given was that a second

bus stop on the opposite side of the

road would need to be installed.

"As a general note it is not recommended

to install a single bus stop. Bus

stops are installed in pairs," it said.
---
NOR'WEST NEWS Latest Christchurch news at www.star.kiwi

Tuesday November 14 2017 15

GREAT food

BROUGHT TO YOU BY...

Your fresh food people

HOW TO BARBECUE

PERFECT RIBEYE STEAK

Ingredients

Ribeye steaks, at least an 1.5

inches thick

Olive oil

Salt

Fresh ground black pepper

Directions

Preheat your grill to high heat.

If you have a sear burner and a

steak that is more than an inch

thick, get one side of the grill

going at about medium-high in

case you need to cook it through

a little more after the sear.

Remove the ribeye steaks from

their packaging and rub them

down with some olive oil and

then coat a generous amount

of salt and freshly ground black

pepper. The olive oil provides

just enough fat to help the salt

and pepper create a great, caramelised

crust.

Clean and lubricate your grill

grates with some cooking oil on

a rolled up piece of paper towel

(using tongs, of course).

Place the ribeye steaks on the

hottest part of the grill and then

stand ready with the tongs.

At this point, you are on flareup

watch. The fat dripping off of

the steaks could create a flare-up.

If a flare-up occurs and doesn't

go away in a few seconds, simply

use your tongs to slide the steaks

away from the open flame until

the flame dies down and then

move them back over the heat.

Continue to grill with the lid

open for about 4-6min.

Flip the steaks over onto the

other side, still over the hottest

part of the grill.

Grill the ribeye steaks for an

additional 4-6min on the other

side, lid open, for a medium-rare

delicious steak.

Remove the steaks from the

grill and allow to rest for 5min

before serving. The resting

period is important so that the

juices don't run out when you cut

into the ribeye, so be patient.

AVOCADO AND

CARAMELISED PINEAPPLE

SALAD

Ingredients

2 Tbsp Brown sugar

½ Pineapple, peeled

2 Tbsp Butter

3 Avocados, firm but ripe

½ Red onion

100g Blue cheese, creamy

½ Red chilli

2 cups Salad leaves, washed

Dressing

1 Orange, zest and juice

1 Chilli, finely chopped

1 tsp Ground cumin

4 Tbsp Avocado oil

1 to taste Salt & freshly ground

pepper

Directions

Prepare all the ingredients.

Core the pineapple, then cut

the flesh into 3cm cubes and

sprinkle with the brown sugar.

Put a frying pan on to heat, then

add the butter. When the butter

is starting to sizzle, add the pineapple

pieces and fry over a gentle

heat until they are caramelised

on all sides.

Cool. Cut the avocados into

2-3cm cubes. Break the cheese

into small pieces and slice the

onion paper-thin. Slice the chilli

into thin pieces. Make the dressing

by shaking all the ingredients

together in a jar.

To serve, line a flat serving

plate with the fresh salad leaves.

Toss the avocado, pineapple,

cheese, chilli and red onion

together on top of the leaves.

Drizzle over the dressing and

serve at once.

Bananas ........................................... 1 .99

kg

Large Avocados............................. 1 .49

each

Classic Medley or

Sunburst Tomatoes ............... 1 .99

Jersey Benne Potatoes....... 5 .99

box

NEW SEASON

punnet

Beef Ribeye Steak ................... 29 .99

kg

Lamb Shoulder Chops ........ 11 .99

kg

Waitoa free range

Chicken kebabs (8pk) ........... 7 .99

pack

All our fresh meat is 100% NZ FARMED.

specials VAlid 13th november - 19th november 2017. ONLY AVAILABLE AT

RAEWARD FRESH HAREWOOD RD, TOWER JUNCTION & MARSHLAND RD

At

we have...

Christmas Hams &

Crozier's Free Range

Turkeys

FREE RANGE

TURKEY

● 100% free range

● supreme fLavour

● grown in canterbury

CHRISTMAS HAM

● 100% NZ Pork

● Free Farmed

● Manuka Smoked,

Traditional Recipe

● Gluten Free

harewood rd Mon–Fri 8.00am–6.30pm Sat–Sun 8.00am–6pm

Tower junction Mon–Fri 8.00am–6.30pm Sat–Sun 8.30am–6pm

MARSHLAND RD Mon–Sun 8.00am–6:00pm

WWW.

.CO.NZ
---
16 Tuesday November 14 2017

Latest Christchurch news at www.star.kiwi

Selwyn House and Medbury

team saddled up for second

SPORTS

• By Andrew King

A COMBINED Selwyn House

and Medbury schools team

finished second at the inaugural

primary show jumping event in

the senior section.

The event was held at the

National Equestrian Centre,

McLeans Island.

Meg Glassey, Eva Johnston

and Sophie Thomas, of Selwyn

House, and Harry Burt and

Robbie Cochrane, of Medbury,

rode in two different categories,

which were split up by height.

The team's mascot – a pug

named Danger Mouse – was also

at the event to support them.

Eva, riding Double Take,

and Harry, riding Kennebrook

Whispering Sand, both competed

in the 65cm section.

Sophie, on Toffee De Lux;

Meg, on Willowmead Playboy;

and Robbie, on Inspector

Gadget, competed in the 80cm

section.

Each rider competed in four

rounds of show jumping, with

the course slightly altering each

time.

SUPPORT: Selwyn House pupil Eva Johnston holds onto the

team mascot Danger Mouse.

The judges take the four best

scores, two from 65cm and two

from 80cm, from each round

and the team with the lowest

penalties is crowned the winner

A team from Villa Maria won

the event.

Team manager Belinda

Thomas said it was great to see

an event like this start up for

young riders.

"It gives the kids, who are

very committed to this sport,

an opportunity to ride for their

schools," she said.

"The Selwyn House-Medbury

team did extremely well

finishing second, with loads of

clear rounds very close to the

optimum time. Technically,

they rode extremely well. The

top three teams were only three

marks apart. So the competition

was tough."

Volleyball girls

take out division

for St Andrew's

• By Andrew King

THE ST Andrew's College girls

team won their division at the

junior volleyball championships

at the weekend.

They only needed two sets in

the division one final against

Burnside High to claim the title

at Pioneer Stadium on Sunday,

25-12 and 25-18.

It was an improvement on last

year's fourth-place finish.

St Margaret's finished third

and Christchurch Girls' High

finished fourth in the same division.

The division one and two boys

competition was won by Shirley

Boys' High with Christchurch

Boys' High finishing fifth in division

one and St Andrew's fifth

in division two.

Final results:

•Boys division one:

Shirley BHS, 1; Middleton

Grange year 10, 2; Riccarton

A, 3; Haeata Community

Campus, 4; CBHS, 5; St

Andrew's junior A, 6; Catholic

Cathedral, 7; Burnside High

year 10, 8; St Thomas' Saints,

9; Lincoln High 10.

NOR'WEST NEWS

•Girls division one:

St Andrew's junior A,

1; Burnside High year 10

white, 2; St Margaret's A, 3;

CGHS, 4; Lincoln High year

10, 5; Riccarton junior A,

6; Burnside year 10 green,

7; Rangiora High year 10

A, 8; Cashmere High A,

9; Rangi Ruru Girls', 10;

Middleton Grange year 10,

11; Cashmere junior B, 12.

•Boys division two:

Shirley BHS year 9, 1;

Riccarton High B, 2; Shirley

BHS B, 3; Rangiora New Life

School, 4; St Andrew's year

9, 5.

•Girls division two:

Catholic Cathedral,

1; Hillview Christian, 2;

Villa Maria, 3; Rangiora

New Life, 4; Riccarton

High junior B, 5; Lincoln

High year 9, 6; Papanui

High, 7; St Margaret's B,

8; St Andrew's year 10, 9;

Burnside High year 9 white,

10; Rangiora High year 9

A, 11; St Andrew's year 9

A, 12; Riccarton year 9, 13;

Middleton Grange year 9, 14.

Want a career in

Construction?

Southern Institute of Technology (SIT)

offers a multitude of courses for students

looking to begin a qualification and

career, in the industry of their choice.

Available areas of study at the

Christchurch campus include, Automotive

and Collision Repair, Social Services

and Mental Health, Construction,

Electrotechnology, Hairdressing, Project

Management, Sport, Exercise and

Personal Training.

The new Construction qualification

offered at SIT's Christchurch campus

from 2018 is the New Zealand Certificate

in Construction Trade Skills (Level 3) –

Carpentry. This programme is designed

to provide the wider construction trades

sector with work-ready people able to

enter the construction trades as a labourer

or an apprentice.

If you are new to the Construction

industry and intending to train to become

an apprentice, then this is the perfect

course for you. Skills involved include

health, safety and compliance, effective

communication, plans and specifications,

calculations, carpentry terminology

and concepts, building terminology,

carpentry processes and concepts,

building foundations and flooring,

structural elements and building

interior.

This new programme is subject

to accreditation and approval but

once confirmed will be offered from

next year onwards. Enquire now

by contacting SIT's Christchurch

campus at sit@sit.ac.nz or on 0800

TO STUDY (0800 867 883).

LAUNCH YOUR FUTURE @ SIT

CHRISTCHURCH

º Automotive

º Collision Repair

º Construction

º Electrical Engineering

º Group Fitness

º Hairdressing

º Mental Health Support Work

º Personal Training

º Project Management

º Refrigeration and Air Conditioning

Call today or email sit@sit.ac.nz

0800 TO STUDY

www.sit.ac.nz
---
NOR'WEST NEWS Latest Christchurch news at www.star.kiwi

Tuesday November 14 2017 17

Hockey star scores St Margaret's awards

• By Andrew King

ST MARGARET'S student

Emily Wium cleaned up at the

school's sports awards taking

home sportswoman of the

year and outstanding sporting

achievement.

The event was hosted by

former Silver Ferns captain Julie

Seymour and former Black Stick,

Gemma McCaw, was a guest

speaker.

Emily, 18, has had a standout

year, winning Canterbury

Hockey's outstanding young

female player of the year award

last month for her sensational

efforts on the turf.

During 2017, she was a part

of the New Zealand junior

hockey world cup team, the New

Zealand under-18 development

camp, the Canterbury Cats,

Canterbury under-18 regional

women's side, and the St

Margaret's College first XI which

came third in the Federation

Cup.

School director of sport

Helen Belcher said the holistic

approach the school takes to

sports allows girls like Emily to

excel.

"Emily has been in our first

XI since year 9 and she's worked

incredibly hard the whole of her

time here at St Margaret's, always

very focused on her hockey," she

said.

LAwyERS

We have over 40 years' experience

to assist you with…

• Buying and Selling Houses and

Commercial Property

• Wills, Trusts and Estate matters

• All issues facing you

and your business;

• Employment Law

matters;

• Traffic matters;

• Advice regarding

Retirement Villages

• General Legal Advice on all matters

Call John, Brendan or Andrew today

03 366 8996

Email. lawyers@mclegal.co.nz

Airport Business Park

92 Russley Road, Christchurch 8042

fall in

Love

with your

favourite

furniture

all over again.

30 YEARS

"She's an athlete that leads

by example, working really

hard both on and off the turf

and taking opportunities

whenever they are

presented."

She said with more

than 35 sports available

at the school, there's plenty of

opportunity to participate

and continue to build

and excel at all levels

and age groups.

Full list of the

winners on the

night:

•Hiatt

Cup for

outstanding

sporting

achievement:

Emily

Wium,

hockey.

•Reeves

Trophy for

sportswoman of the

year: Emily Wium.

•Cup for

outstanding

junior sporting

achievement:

Jenna Borthwick,

three gold and one

silver medal at the

national track cycling

championships.

•College Cup for

junior sportswoman

of the year: Violette

Perry, athletics,

EXCELLENT

RANGE OF FABRICS

Recover your couches and chairs and save money!

Still Pedalling!

Full Workshop Services:

• WOF's • Service Checks

• Wheel Alignment • Brakes

• Clutches • Tyres etc

All makes & models

Trevor Crowe's been

involved with cars for a

while. You can benefit

from his experience at...

Subaru Specialists

518 Moorhouse Ave (East end) | P: 379 7615

W: crowesport.co.nz | E: service@crowesport.co.nz

BEFORE

AFTER

EXPERIENCEFREE

QUOTES

Somerfield Upholstery Ltd

FURNITURE RECOVERY SPECIALIST

10 Calgary Place, Hornby | Ph 021 251 6200 | 349 0456

VISIT OUR SHOWROOM | QUALITY WORKMANSHIP GUARANTEED

www.somerfieldupholstery.co.nz

Paul Tainui

TOP ATHLETE:

Emily

Wium won

sportswoman

of the

year and

outstanding

sporting

achievement.

netball, orienteering,

swimming and water polo.

•Sally Mene Tanoa award

for aspiring leadership:

Jemima Vaughan.

•Jocelyn Freeman Rose

Bowl for leadership and

dedication to sport: Ella

Wells, netball, rowing, sports

council and coaching.

SPORTS

BEST TEAM: (Back) - Lucy Davidson (cox), Ella Wells, Alice

Elworthy, Olivia Hutton, Gaby McKellar, (front) Emma Roberts,

Olivia Hughes, Kate Harris and Ilaria Earl make up the St

Margaret's under-18 coxed eight rowing team which won the

Chris Arthur Cup for best team performance.

It was an absolute honour and a

privilege to be sworn in last week

as the Member of Parliament for

Waimakariri and a Member of the

52nd Parliament of New Zealand.

I'm committed to working hard

for the people of Waimakariri and

Canterbury to ensure your voices

continue to be heard in Parliament

this term.

Being appointed Spokesperson for

Greater Christchurch Regeneration

and for Mental Health was a great

result for me and I am looking

forward to working in these roles.

Two of my biggest drivers for

getting into politics have been

mental health and supporting

our region of Canterbury. Mental

health is a newly created position

and having a career, before

politics, in mental health, I am

committed to improving mentalhealth

outcomes. As a born and

bred Cantabrian, I am eager

Funded by Parliamentary Service and authorised by

Matt Doocey MP, 130A Percival St, Rangiora.

•Mollie Copper Cup for

sportsmanship and service

to sport: Stephanie Beattie,

rowing and netball.

•Chris Arthur Cup for

best team performance:

Under-18 eight rowing team.

•Excellence in Sport Cup:

Melanie Puckett, hockey,

rugby, sevens and touch.

to continue the work on the

regeneration of our region post

earthquakes.

It was exciting to drive on the

new Western Belfast Bypass for

the first time as our community

celebrates the opening to traffic

of this $122 million project. I have

walked alongside our community

from start to finish on this exciting

project – from the sod-turning

with Simon Bridges in 2015 to

checking on progress with John

Key in 2016 to attending the

open day with my family last

month. Residents joined me at

the open day to walk or cycle

over the bypass before it opened

to traffic and it was great to see

how the bypass fits in with the

other motorway projects as an

integrated traffic solution and

provides better walking and

cycling connections.
---
18 Tuesday November 14 2017

Latest Christchurch news at www.star.kiwi

HEALTH & AWARENESS

NOR'WEST NEWS

Hip pain: Do I have arthritis or

could it be mainly my muscles?

The team at Physical Sense in

Sydenham sees clients with a

range of symptoms but many

of their middle-aged and senior

clients visit complaining of pain in one or

both hips.

Physiotherapist Ietje van Stolk suggests

that a major part of the pain could be due

to muscle pain rather than simply arthritis.

"Even if an x-ray shows arthritis, the reason

for the pain may be the muscles around

the joint," she explains. Alternatively, a back

muscle could also be the cause, as shown in

the image.

Ietje recalls one case where an 89 year old

client with severe arthritis who walked with

a stick, told her, "I will end up in a wheelchair,

I cannot put any weight through my right

leg due to pain in my hip and buttock".

"Within 4 treatments, she was walking with

her stick but without the severe pain," says

Ietje. "The arthritis was one of the factors

that made her muscles spasm but the other

was that older people move less and the

flexed position the hip is in when we sit is

particularly bad for the hip." Ietje is happy

with the fact that although the client was 89

and could have been "given up on" or told to

live with the pain, she made a difference to

Hip muscle that causes hip pain

(the crosses are the areas of the muscle spasms, the red areas is where the pain is felt)

her health and wellbeing.

At Physical Sense, hands-on techniques

(massage and triggerpoint deactivation

techniques) are used to release the muscles.

The client also gets a home exercise program

designed to mobilize and stretch the hip,

strengthen the important core muscles and

increase general strength and balance. They

teach a movement sequence that stretches

the hip in all directions whilst the client is

able to lie safely on their bed, perfect for

older or less mobile clients.

In many cases having the muscles

released and being taught how to maintain

it, is enough to stay on top of the problem. If

severe arthritis is the underlying cause, some

Back hip muscle that causes hip pain

maintenance therapy may be necessary, but

that is often more affordable and, for older

patients, better tolerated than surgery. In

very few treatments the client will know if

it is going to work for them or not, without

financial commitment.

Physical Sense Gym and Physio is located at 300 Colombo Street, Sydenham. The Blue Line Bus stops in front of the door and there is ample

parking. To enquire about specialised exercise classes or physiotherapy treatment, phone 377-2577 or visit www.triggerpoints.co.nz

NEW ZEALAND RED CROSS

GLOBAL LEADERS IN FIRST AID TRAINING

Christchurch Course Dates 2017

Venue: 32 Birmingham Drive, Middleton

First Aid Revalidation Course (6 hours)

Cost $130.00 per person (certificates must not have

expired for more than 3 months)

Time: 8.30am – 3.15pm

Monday

13 Nov

27 Nov

Tuesday

21 Nov

5 Dec

Wednesday

16 Nov

20 Dec

Friday

24 Nov

8 Dec

Sunday

26 Nov

3 Dec

M Learning Workplace Revalidation Course (4 hours)

Cost $130.00 per person (certificates must not have

expired for more than 3 months)

Time: 8.30am – 12.45pm

Tuesday

11 Nov

Monday

20 Nov

Wednesday

6 Dec

For bookings please call 0800 REDCROSS or 339-7111

Book online at www.redcross.org.nz

USE THE RED CROSS ADVANTAGE - COMPREHENSIVE FIRST AID, ESSENTIAL FIRST AID,

REVALIDATION OR TAILORED TRAINING TO SUIT yOU AT yOUR PLACE OR OURS.

RED CROSS

Ensuring a safe work place

Learning first aid is not only a part of ensuring a safe

work place, but also an integral part of our engagement with the

wider community. We all learn the necessary skills to ensure that

in times of emergency we are able to assist our work colleagues,

but are we able to take these skills home, into the community or

on to the sports field?

not all work places are the same and the injury risk for each place

can be wide and variable. The office attended by administrators

does not carry the same risk as those people working with heavy

machinery, or perhaps at some distance from a regular ambulance

service. it is therefore essential that you pick the right first aid

course to suit all of your activities – both professional and social.

take, for example, an office worker who does not have a high

risk work environment and whose concern might be to ensure that

they can deal with minor cuts and superficial injuries, or the ability

to perform effective CPr. These skills can be achieved on a course

of eight hours duration and would generally fit into low to medium

risk area. But take this same person on to a sports field either as a

spectator or player when a higher level injury occurs. The eight

hour course covering unit standards 6402 and 6401 (or 26551 and

26552) does not cover head neck and spinal injuries, eye injuries,

hypothermia and poisonings.

The majority of injuries occur outside of the work place, in

fact one in three injuries occurs in the home, making it the most

common place for injuries to happen. new Zealand children

are twice as likely to die through injury as children who live in

australia. They mostly die as a result of motor vehicles accidents

or falls in the home. fatalities from leisure and sport are not far

behind those in the workplace.

The wider 12 hour course teaches the additional unit standard

6400 and provides a wide knowledge base for medium to high risk

environments. This course covers many of the skills required to

deal with the most common injuries, such as falls (which can result

in head, neck and spinal injuries) and dealing with complex scenes

such as motor vehicle accidents.

if you are not sure on the course best suited to your needs, ask

your accredited first aid training provider. They can explain the

course content and give you options that will best suit your needs.

Look beyond the workplace and consider your family and your

location. Check that you have a good quality first aid kit that is

up-to-date with replenished items, and that everyone knows where

it is located.

USE THE RED CROSS ADVANTAGE -

COMPREHENSIVE FIRST AID,

ESSENTIAl FIRST AID, REVAlIDATION

OR TAIlORED TRAINING TO SUIT YOU

AT YOUR PlACE OR OURS.

16 Hours Thursday/Friday

23 & 24 November

NEW ZEALAND RED CROSS - GLOBAL LEADERS IN FIRST AID TRAINING

CHRISTCHURCH COURSE DATES 2017 • VENUE: 32 BIRMINGHAM DRIVE, MIDDLETON

Comprehensive First Aid PLUS Course (16hrs or 4hr upgrade)

Unit Standard 6402, 6401, 6400 and 25411 or 26552, 26551, 6400 and 25411

Cost $275.00 per person incl FA Manual & GST for 16 hours or $85.00 per

person for upgrade following completion of CFA

Time: Day One 8.30am – 5.30pm Day Two 8.30am – 5pm

Friday 4 Hours 1.15pm-5.00pm

24 Nov

Comprehensive First Aid Course (12hrs)

Unit Standard 6402, 6401, 6400 or 26552, 26551, 6400

Cost $225.00 per person incl FA Manual & GST

Time: Day One & Day Two 8.30am - 3.15pm Time: Day One 8.30am - 5.30pm

2 x Monday

20 & 27 Nov

2 x Tuesday

28 Nov & 5 Dec

12 & 19 Dec

2 x Wednesdays

15 & 22 Nov

Thursday/Friday

30 Nov & 1 Dec

7 & 8 Dec

Day Two 8.30am - 12.45pm

Thursday/Friday

24 & 24 Nov

Weekends

25 & 26 Nov

2 & 3 Dec

Essential First Aid Course (8hrs)

Unit Standard 6402, 6401 or 26551, 26552

Cost $155.00 per person Time: 8.30am – 5.30pm

Monday

20 Nov

Tuesday

12 Dec

Wednesday

15 Nov

M Learning (App.) First Aid Courses

Practical First Aid

Unit Standards 6402, 6401

Cost $155.00 per person

Time: 4 hours 8.30am-12.45pm

Tuesday 14 Nov

Saturday 9 Dec

Workplace First Aid

Unit Standards 6400, 6401, 6402

Cost $225.00 per person

Time: 8 hours 8.30am-5.30pm

Tuesday 14 Nov

Saturday 9 Dec

Thursday

30 Nov

7 Dec

FOR BOOKINGS PLEASE CALL 0800 REDCROSS OR 339-7111 • BOOK ONLINE AT WWW.REDCROSS.ORG.NZ

Saturday

25 Nov

2 Dec
---
2

NOR'WEST [Edition NEWS datE]

Latest Christchurch news at www.star.kiwi

Tuesday November 14 2017 19

HEALTH & BEAUTY

Experience comfort! Experience

technology!!!

Dr Keith Chiang and his team at

Fendalton Dental Surgery are excited to

offer the very latest in dental imaging

technology. They have taken delivery of

several sophisticated dental equipment

over the recent months. All designed

to enhance patient diagnosis, improve

their comfort and safety during dental

procedures by upgrading to the latest

available. Keith believes in constantly

updating himself with recent advances

by attending several courses in NZ

and overseas. "Each course teaches me

something new and makes me revisit

Dentistry with a renewed passion".

Keith with

the CBCT

The newest arrival is the Cone Beam

Computed Tomograph (CBCT), which

provides a 3D image of the patient's

jaws and teeth through the latest digital

imaging technology. As Keith explains,

the current digital X-rays shows only

a 2D image. The image is crisper but

it sometimes leaves a few questions

unanswered. Now with the complete 3D

technology, he is able to have a much

better understanding of problems in

the patient's mouth. "It's a huge game

changer and takes diagnostic imaging

to a totally different level. It's like having

Superman's extra pair of eyes to help with

the diagnosis," he says. "And it saves time

as patients do not have to be referred

elsewhere for the scans as we have the

CBCT machine in our practice and the

scan costs cheaper comparatively too".

The Surgery has also acquired a stateof-the-art

patient sedation monitoring

system, Capnograph, which is used for

patients under IV sedation. Surgical or

Dental treatment under IV sedation is an

area of special interest for Keith, who is

a dental surgeon, and he has carried out

more than 1800 IV procedures since 2008.

"Patient safety is our utmost priority when

they are under sedation. Our Capnograph

monitors their vital signs namely the

respiratory gaseous exchange of oxygen

and carbon dioxide levels, heart rate and

Non-invasive intermittent blood pressure

throughout the procedure. This not only

benefits the patient, but also gives the

dentist a sense of reassurance."

Associate dentist, Dr Zohnia McNeill

has a keen focus in cosmetic and

restorative dentistry, restoring the smile

for people of all ages and from all walks

of life. She shares the same passion for

dentistry and is happy to put a smile

back on the patients face. Oral Health

Therapist, Amy Lee is dedicated to

looking after the Oral hygiene of the

patients. Her role involves treating gum

diseases, educate people about care of

The Fendalton Dental team

their teeth and gums to help prevent oral

diseases and maintain good oral health as

well as overall general health.

The Fendalton Dental Surgery

provides General dental services with

a focus on Surgical and Restorative

Dentistry. The team warmly welcomes

you to enjoy the friendly environment

and the experience the new technology

they provide. The Surgery is located

on the high-profile corner of Idris and

Glandovey roads. For an appointment

please call them on 03 351 1188.

Discover this

unique Emporium

Metal art - gifts - hoMewares

water features - pottery

Mirrors - candles

wall hangings & More

722 Marshland Road, Top end Styx

Open 7 Days

Ph: 03 323 9781

www.hitchingpost.co.nz

Shop online

with the in

store special

prices!

Discount code:

Goat

themohairstore

140 Colombo Street, Beckenham

Phone 03 943 1639

www.themohairstore.co.nz

Magazine & TV | sTyle.kiwi

style

noun

elegance and sophistication.

synonyms: flair, grace, poise,

polish, suaveness, urbanity,

chic, finesse, taste, class,

comfort, luxury, affluence,

wealth, opulence, lavishness.

Full exam &

two xrays

Only $69

with Dr. Zohnia McNeill *

• General Dentistry • Emergency Appointments

• Cosmetic Fillings • Dental Implants • Crowns

• Partial/Full Dentures • Root Canals • Veneers

• New Patients Welcome

99a GLANDOVEY RD (Entrance via Idris Rd)

FENDALTON, CHRISTCHURCH 8052

PHONE: 03 351 1188 FAX: 03 351 1138

Monday to Thursday 8.30am-5pm

Friday 8.30am-4pm We now accept Q Card

*

Special ends December 21 st 2017

www.fendaltondental.co.nz

tHe tRuSteD nAme in fAbRicS

"Specialists in real value

apparel and upholstery fabrics"

BLENHEIM RD

ANNEX RD

BIRMINGHAM DRIVE

47

MATIPO ST

HARALDS

47 Birmingham Drive, Middleton | Phone 338 7700 | Open Mon-Sat 10-4
---
20 Tuesday [Edition datE] November 14 2017

Latest Christchurch news at www.star.kiwi

2

AUTOMOTIVE PROFESSIONALS

NOR'WEST NEWS

Specialised machines used to

identify auto electrical problems

Auto electricAl specialists, roses

Auto electrical, are experts in repairing

and maintaining all aspects of the

electrical and electronic componentry

found in today's highly sophisticated

commercial and passenger vehicles.

Their cranford Street workshop

boasts a suite of highly specialised

diagnostic machines, which enable the

team to quickly identify any electrical or

electronic problems in most makes and

models of vehicle and repair them, saving

time for the technicians and cost for the

customer.

roses Auto electrical offer a full range

of electrical services including batteries,

(they are a Battery town agent), which

are fitted free of charge. They also provide

free battery, alternator and starter checks

and install and repair car stereo systems,

alarms, air conditioning, ASB brake

systems and traction control systems.

A recent acquisition for roses Auto

electrical was the Autologic european

Diagnostics machine

This specialised and highly

sophisticated equipment is used to

diagnose most (if not all) electrical and

electronic faults in european vehicles.

The machine's digital interface interacts

with the vehicle's active components,

programming and coding. Depending

on the model of the vehicle, it reads

and clears all Diagnostic trouble codes

(Dtcs) to identify the faults. it also

reads live vehicle data such as engine

temperature, engine speed, vehicle

speed and suspension height data. Plus,

roses Auto electrical have the back-up a

worldwide european support base.

The Autologic european Diagnostics

machine covers vehicles from 1995

onwards, so for owners of out-of-warranty

european vehicles, it ensures all their

auto-electrical repair and replacement

needs can be ascertained and catered for.

The customer comes first for the

friendly, professional team at roses

Auto electrical, and by having their

vehicle serviced there motorists can have

confidence in its performance.

Roses Auto Electrical are located

at 518 Cranford Street, Papanui.

Phone 352 5090 to book in for

service for repairs, or visit their

website www.roseselectrical.co.nz

for more information.

European

Car Owners

NEW DIAGNOSTIC EQUIPMENT!

We can identify ANY electrical

fault & reduce repair work

with our NEW European Car

Specific Diagnostic Equipment

ROSES

AUTO ELECTRICAL

Enquiries welcome

CH 352 5090

s

m

a

r

t

mall

edium

Fast

turnaround

utomotive

epair

echniques

• Paintless dent removal

• Minor paint repairs

Smart repairS (NZ) Limited

automotive refinishers

272 Lichfield St (Fitzgerald Ave end)

Ph 377-0409

PARKER

AUTOMOTIVE

■ All Automotive Repairs and

Servicing including 4WD

■ Suspension Brakes & Cambelts

■ WOF, Tyres, Batteries

■ Courtesy Car

55 Lincoln Rd, behind Caltex

(Cnr Lincoln & Torrens Rd)

Ph 03 982 4268

Mob 027 331 0382

Email: parkerauto@clear.net.nz

The Automotive

Lamp Specialists

New and Used Lamps for Cars, Trucks,

Vans, 4WD and Motorhomes

325 Brougham Street, CHRISTCHURCH

PH 0800 225 483

• new & quality

secondhand tyres

• alloy wheels

• replacement rims

• puncture repairs

WITH A MASSIVE RANGE OF TYRES IN STORE,

WHY NOT POP IN AND SEE US TODAY!

8c Birmingham Drive,

(Cnr Hands & Birmingham Drive)

Ph: 03 343 0099 Cell: 027 226 3805

Website: www.jcmdirect.co.nz

• W.O.F • Servicing

• Repairs • Batteries

• Auto Electrical • Tyres

• Clutch • Cambelt

• Diagnostic Equipment

YOUR LOCAL

AUTOMOTIVE SHOP

287 Hoon Hay Road

Christchurch

Open Mon-Fri

Ph. 982 0405

®

A vonhead

utomotive

free

6 months roadside assist

with any vehicle servicing

• automatic transmission

flushing service

• Wof • tune-ups • suspension

• batteries • neW tyres • oil &

lube service • courtesy cars

• full mechanical repairs

oPen 6 days (sat until 1pm)

126 racecourse road

Ph 342 7123 or 027 495 6600
---
NOR'WEST NEWS Latest Christchurch news at www.star.kiwi

Tuesday November 14 2017 21

REAL ESTATE

Perfect in Papanui

109 Condell Ave, Papanui

Price on Application

3 bedrooms | 1 bathroom | 1 living room | 2 car-garage I 2 off street parks | Property ID: 3463GT

Classifieds Contact us today Phone our local team 03 379 1100

Perfect for everyone who seeks a home of quality and style. The combination of red brick,

ali joinery and tile is again on show. The choice of décor and quality , offers a warm welcome

and restful atmosphere. Elegant lounge with a joining dining from an up-to-date kitchen.

Living flows out to a covered paved relaxing area. The 3 bed-rooms are serviced by a bright

pristine bathroom that features shower, bath and vanity. Separate W.C. A home with an

interior that captures your admiration with a very pleasant indoor/outdoor flow. Delightful,

colourful green features evergreens and sheltered garden bench, Internal access from a

big double garage and a covered tool shed completes the picture. Close to Papanui Bowls,

Greers Rd, shops, both Northlands and Bishopdale Mall. Off street parking for visitors.

Contact Gavin Topp 027 431 7470 or 03 359 5595 of Harveys Topp Realtors (Topp

Realtors Ltd Licensed Agents REAA Act 2008).

Classifieds Contact us today Phone our local team 03 379 1100

Trades & Services

Trades & Services

Trades & Services

Trades & Services

ELECTRICIAN

house and garden

MAINTENANCE

PAINTER

• Water heater repairs

• Alterations • New Housing

• Heatpump Installations

• Maintenance & Installations

• Commercial & Industrial

Ph: (03) 359 4523

Mob: 0274 333 458

dke@xtra.co.nz

home

cleaning

gardening

services available

throughout

christchurch

your one stop shop for home services

www.anextrapairofhands.co.nz

info@anextrapairofhands.co.nz

0800 535 355

Doctor

Fixit

• Carpentry • Repairs &

Maintenance

• Doors & Windows

• Fencing

• Painting & Plastering

• Tiling

• Outdoor Maintenance

• Renovations

• Decks & Pergolas

Norm McRae

027 222 3060 | 03 312 0082

www.doctorfixit.nz

Michael Kelly Painters

Locally owned and

operated family

business.

25+ years Experience

• Painting • Wallpapering

• Interior • Exterior

Free Quotes

Phone

Michael 0212 649 492

michaelkellypainter@hotmail.co.nz

real estate

ROOF RESTORATIONS

spouting

VIDEO PRODUCTION

"When experience counts"

Residential & Business Brokers

Free appraisals/no obligation

competitive commission rates

JOHN BENTLEY areinz

Ph. 352-2457/021 386 001

jbentley@actrix.co.nz

Bentley Realty MREINZ

Licensed agent REAA 2008

• 25+ years

experience

• Personal service

• $1000 donation to

your sports club/

team/charity etc

(special conditions

apply)

• Roof Restoration

• Painting/Decorating

• Moss Treatments

• Gutter Cleaning

• Leaks

Paul Jefferies - 021 235 9552

allaspectsroofpaint@gmail.com

www.superiorspouting.co.nz

Ph. Jem 0277 515 250

0800 751 525

business video

PRoduCTion

A video will bring your business alive & into your

customers mind.

Promote your services or business with a

professionally created video with us

• Corporate and Business

video a speciality

• Competitive rates

• 25 years experience

• Start to finished product

• Professional quality

guaranteed

PHone KeRRY 021 635 083
---
22

Latest Christchurch news at www.star.kiwi

Tuesday November 14 2017

NOR'WEST NEWS

Classifieds Contact us today Phone our local team 03 379 1100

Trades & Services

Trades & Services

Trades & Services

Computers

Public Notices

WINDOW TINTING

tintawindow

advanced film solutions

99% uv block

fade protection

heat control

reduce glare

25 Years Experience

privacy films

frosting designs

non-darkening films

Workmanship Guaranteed

Lifetime Warranties on Most Films

UV

block

Free Quotes Canterbury and Districts

03 365 3653 0800 368 468

Trades & Services

BLOCKED

DRAINS?

• VIDEO INSPECTION

• WATERBLASTING

• LIQUID WASTE

PH: 03 365 7960

24 hours // 7 days

info@h20jet.co.nz

www.h20jet.co.nz

Trades & Services

HOUSE

CLEARING

Are you

moving house

or trying to

downsize?

Call All Clear

Canterbury. We work

with you to recycle,

sell and dispose of

unwanted items.

Ph: 03 260 0934

or 021 078 4553

raewynlcooke@gmail.com

www.allclearcanterbury.co.nz

• Hot water cylinder repair/replacement

• Leaky taps, blocked toilets

• New housing

• All plumbing alterations

• Mains pressure hot water

• Fire and wetback installation

• Digger/tipper excavation and hire

• Watermain replacement/repair

• Free quotes

• Certified craftsman plumber

Trades & Services

& Property Maintenance

Paving

Patio - Pathways - Driveways

Lawns and Gardens

Planting - Raised Vege Gardens

Readylawn - Irrigation - Fencing

General Maintenance

Water Blasting - Gutter Cleaning

Rental Property Maintenance

Section Clearing - Weed Spraying

20 Years Experience

Locally owned and operated

Free Quotes - Competitive Pricing

Blair Gibson 027 699 5815

ROOF

PAINTING

Rope & harness

a speciality,

no scaffolding

required,

30 years of

breathtaking

experience.

FREE QUOTES

Exterior staining,

exterior painting,

moss and mould

treatment and

waterblasting

Phone Kevin

027 561 4629

Trades & Services

BEST BATHRooMS

full renovation specialists,

LBP, repairs &

maintenance ph 03 387-

0770 or 027 245-5226

10% prompT paymenT disCounT*

same day serviCe*

*conditions apply

Call/Text 027 245 5100

Freephone: 0508 426 269

BRICKLAYER

George Lockyer. Over

35 years bricklaying

experience. UK trained.

Licensed Building

Practitioner number

BP105608. Insurance

work. EQC repairs.

Heritage brickwork and

stonework a speciality. No

job too small. Governors

Bay. Home 329-9344,

Cell 027 684 4046, email

georgelockyer@xtra.co.nz

BUILDER

For all building work

but specialist in bathroom

renovations, 30 yrs

experience, with service

and integrity. Free Quotes.

Ph Lachlan 383-1723 or

0274 367-067.

BUILDER LICENSED

available for all aspects of

building. Please call 027

241-7471 or 335-0265

****************

CARPET & VINYL

LAYINg

Repairs, uplifting,

relaying, restretching,

E mail jflattery@xtra.

co.nz

ph 0800 003 181

or 027 2407416

Christchurch's

premier Eco

Friendly cleaning

company

• Eco Friendly

• Gear Supplied

• Professional

• Guaranteed

Contact us today!

Freddie

020 4143 7007

www.snapclean.co.nz

FENCE PAINTINg

Staining Quality at a

reasonable price. Free

quotes. Phone Warren

today on 980-1676 or 027

2014713

PAINTER

Quality work, I stand by

Canterbury Ph Wayne

03 385-4348 or 027 274

3541

PAINTINg DECoRATINg

Wingfields Contracting,

all interior & exterior

painting & all forms of

interior plastering & jib

fixing, ph Mark 021 171-

1586 or 355-5994

PAINTER

Available, All aspects in

painting. Very competitive

in roofs and fences. Please

call 027 241-7471 or 335-

0265

PLASTERER

Gib Stopping, Small

job specialty. 30 + years

experience. Ring 0800

387-369

PLUMBER

For prompt service for all

plumbing maintenance,

repairs and alterations.

Phone Michael 364 7080

or 027 438 3943

PLUMBER

ALF THORPE

PLUMBING Certifying

Plumber for all types of

plumbing, maintenance,

spouting, alterations etc.

Phone 352-7402 or 0274-

350-231

SHoE REPAIRS

Belfast engraving.Shoe

repairs,key cutting &

engraving.(10 yrs exp)683

Main North Rd

ph 027 3113423

TILER/CARPENTER

35 years exp, no job

too small. Ph Ross 027

4311440.

VHS VIDEo TAPES

& all camera tapes

converted to DVD, video

taping special occasions,

www.grahamsvideo.co.nz

ph 03 338-1655

WINDoW CLEANINg

Average 3 bdrm house

inside or out $40. Both

$70. Phone Trevor 344-

2170

Caravans, Motorhomes

& Traliers

CARAVAN Or Poptop

wanted ph 027 306 6544

TRAILER Briford or

similar wanted ph 027 306

6544

Community Events

ALCOHOLICS

ANONYMOUS, If you

want to have a drink thats

your business. If you want

to stop, we can help. Phone

0800 229-6757

Building & roofing

log fire inSTAllATionS

• Bricklaying & Blocklaying

(30 yrs experience)

logfires

• log fire installation & maintenance

• chimney cleaning

• standard logfire installations $600 + gsT +

permit + parts if applicable

• My scaffolding no charge

fencing

• Brick, block, timber or any combination

roofing repairs

• concrete tile, metal chip tile, corrugated iron

landscape Builds

• retaining walls, decks, BBQs, planter boxes

Jim Gardner Trade Services

Member NZ Home Heating Association

Ph 03 343 4044 or 0274 375 619

Email teamgardner@xtra.co.nz

ALL

YOUR

COMPUTER

WORRIES SOLVED!

*$30.00 off your first

service with this coupon!*

No problem too big or

small from home PC's to

business networks. PC

slow? An end to Viruses,

Spyware, and Clogged

Systems. Safe secure

hassle-free computing.

Lost files recovered.

Microsoft Certified,

MCSE, MCP+l. 30 years

experience. Call Andrew

Buxton this week on 326-

6740 or 027 435-7596

for $30.00 off* Custom

Computers Christchurch

Curtains

www.curtainfabric-outlet.com

Fashion Designs & Colours

Discontinued Designs

End of Lines Bargain Prices

Call at Our Shop

CURTAIN FABRIC OUTLET

71 Hawdon St Sydenham

Ph 366-5026

Gardening

& Supplies

A GARDEN OR

LANDSCAPING TIDY

UP? Shrub, hedge &

tree pruning, Lawns,

Gardening, consistently

reliable general property

upkeep, Dip. Hort. 10

yrs experience, One off

tidy ups or on-going

service. Nick's Property

Maintenance. Keeping

your garden beautiful.

Free Quote. Ph. 942-4440

Holiday

Accommodation

QUEENSLAND SUN-

SHINE COAST AUSTRA-

LIA Resort, Ocean Views,

Balconies, Self Contained,

1 or 2 B/R Ensuite,

Heated Pool, Spa, Sauna,

Free Internet, Shops,

Restaurants, Tennis, Surf

Club & Patrolled Beach,

Public Transport at door.

Ask for our SEASONAL

SPECIALS. Phone 61 7

544-35011 Email: reception@mandolin.com.au

www.mandolin.com.au

Real Estate

HOME WANTED.

Home 2-3 bedroom,

wanted for my Mum by

private cash buyer.

I am looking to relocate

my Mum closer to us in

Christchurch.

We are looking for a 2-3

bedroom house or unit

in the Papanui, Strowan,

Bryndwr or Ilam areas.

I am a cash buyer (up to

450k) and want a clean

repaired home or unit for

her.

(No over 60's units please)

Phone Steve 021 372 479

Entertainment

Weka Pass Railway

Waipara, North Canterbury

We are RUNNING

SUNDAY 19th November

Running 1st & 3rd

Sunday of every month

Phone 0800wekapass

Depart Glenmark Station

11.30am & 2.00pm

www.wekapassrailway.co.nz

To Let

NEED MORE

SPACE?

WARMER THAN A CARAVAN

NO BOND

Ideal as an extra

bedroom or office

Three convenient sizes

from $70 p/w:

Standard 3.6m x 2.4m

Large 4.2m x 2.4m

Extra-large 4.8m x 2.4m

Visit our display cabins at

470 Cranford Street or call

0211277227 for a free brochure

www.justcabins.co.nz

To Let

HOMESITTERS

reqd Xmas 2-3 wks.

Lovely homes / pets. Ph

Lisa 359-2323 www.

townandcountryhomesit.

co.nz

Wanted To Buy

AAA Buying goods

quality furniture,

Beds, Stoves, Washing

machines, Fridge Freezers.

Same day service. Selwyn

Dealers. Phone 980 5812

or 027 313 8156

A+ Household effects,

fridges, freezers, washing

machines, ovens. Good

cash paid. Ph Paul 022

0891 671

TOOLS Garden,

garage, woodworking,

mechanical, engineering,

sawbenches, lathes, cash

buyer, ph 355-2045

ADVERTISE YOUR BUSINESS HERE

Phone for further details

Situations Vacant

KIWI FAMILY TRUST

are seeking volunteers to

help us with Christmas

wrapping in malls as a fund

raiser. Phone Gayle on

0508543375 or via email

gayle@kiwifamilytrust.

org

(03) 379 1100
---
NOR'WEST NEWS Latest Christchurch news at www.star.kiwi

Tuesday November 14 2017 23

What's On

Entertainment

To advertise, contact

Jo Fuller 027 458 8590

jo.fuller@starmedia.kiwi

Start your day

with us

We are open from 6.30am

every day

COOKED

BREAFASTS

from

$

18

Join us for

Race Day

Breakfast

RESTAURANT & CAFÉ

'Famous for

their roasts!'

FAMILY FRIENDLY

Kid's Special

Two courses

Great Kids menu plus designated play area.

SENIORS SPECIAL

Two courses:

Soup/Roast or Roast/Dessert

Special available lunch only

Monday - Saturday 12pm - 2.30pm. Conditions apply

$

10

$

20

Christchurch's only

SEASIDE CLUB

LIVE MUSIC

7PM THIS SATURDAY

DINE BY THE SEA!

UPSTAIRS

Pierview A la Carte Restaurant.

The restaurant is open from 5.30pm

Friday, Saturday and Sunday, and for

Sunday Brunch from 10.30am to 2pm.

SORRY, PIERVIEW CLOSED

THIS FRIDAY 17th NOVEMBER

SUNDAY NIGHT BUFFET

LAST SUNDAY OF THE MONTH

NEXT BUFFET:

Sunday 26th Nov, from 5.30pm

DOWNSTAIRS : CLUB BISTRO

Open Tuesday to Saturday

from 12pm - 2pm & from 5pm.

TUESDAYS & THURSDAYS

MEMBERS LUCKY CARD DRAW

New Brighton Club

FUNCTION ROOMS | GAMING ROOM 202 Marine Pde | Ph 388-9416

www.newbrightonclub.co.nz

SHUTTLE SERVICE Tues, Thurs, Fri, Sat

Members, guests and affiliates welcome

'TIS THE

SEASON

TO BE

JOLLY

Open daily from 6.30am - Breakfast, Lunch & Dinner

The

RACECOURSE HOTEL

& Motorlodge

118 Racecourse Rd, Sockburn,

Christchurch. Ph 03 342 7150

www.racecoursehotel.co.nz

CHRISTMAS

IN THE

BUFFET

RESTAURANT

Lunch & Dinner

All you can eat, 7 days

H ORNBY

WORKINGMEN'S

CLUB

LET US

ENTERTAIN

YOU!

WESTVIEW LOUNGE

THIS SATURDAY, 4.30PM:

SHALOW

8PM:

ROBBIE

DREW

Chalmers

Restaurant

DINNER

Fri, Sat, Sun

FREE DESSERT

EXTENSIVE CARVERY 5.30PM & 6.30PM PRICED AT

ONLY $22.50 PER PERSON AND DESSERT'S ON US!

The Hornby Club | ph 03 349 9026 | 17 Carmen Rd | Hornby

www.hornbywmc.co.nz | Members, guests & affiliates welcome

BUFFET LUNCH

Sunday 12pm

SUNDAY BUFFET : FRIDAYS & SATURDAYS

LUNCH $25 12PM | DINNER $27 5PM

GROUPS WELCOME. BOOKINGS ESSENTIAL.

PRE CHRISTMAS BUFFETS

SUNDAY 3, 10, 17 DECEMBER

LUNCH & DINNER BUFFETS : $30 PP

LIVE MUSIC with NEVILLE BARRIE

DINE & DANCE : SATURDAY 16 DEC

SATURDAY 16 DECEMBER

BUFFET DINNER & SHOW : $45PP

MADSEN PROMOTIONS present

THE MUSIC OF THE BEACH BOYS

Club CAFE

OPEN 7 DAYS

LUNCH &

DINNER

Gluten Free &

Vege options

Bookings Essential

PH 386 0088

fb.com/GardenHotelRestaurant

www.gardenhotel.co.nz

SERVING

HAPPY HOUR

5PM - 7PM DAILY

OUR CABINET ITEMS

ARE HOMEMADE

CREATED FRESH ON SITE DAILY

$12

LUNCH

SPECIALS

Live Music:

6PM.THURSDAY16 NOV

COFFEE

HAPPY

H O U R

2PM-4PM

DAILY

$3.50

Offer available for a limited time

and includes tea, hot chocolate

MON: ROAST MEAL

TUE: FISH & CHIPS

WED: FISH BURGER

THU: ROAST MEAL

SAT: FISH & CHIPS

AVAILABLE

FROM

11.30AM-2PM

FOR A

LIMITED TIME

Eddie Simon

PHONE 385 8880 FIND US ON FACEBOOK fb.com/GBCCHCH

THE GARDEN HOTEL COMPLEX | 110 MARSHLAND RD

www.gardenhotel.co.nz | phone 385 3132
---
24 Tuesday November 14 2017

Latest Christchurch news at www.star.kiwi

NOR'WEST NEWS

TOP

02

03

04

Chris Lewis

FENDALTON

Don Yee

ILAM

Richard Dawson

ILAM 2

David Canning

ILAM 2

05

06

07

08

Steven Marshall

FENDALTON

Fiona Nankivell

ILAM 2

Peter Hampton

ST ALBANS

Grant Milligan

FENDALTON

09

10

11

12

Tracy Thomson

ST ALBANS

Chris Campbell

ILAM

Paul Nichols

FENDALTON

Corina Grey

ILAM

13

14

15

16

Phil Holt

COMMERCIAL

Janine Laney

ILAM 2

Nerina Higgins

ILAM 2

Peter

Fitzhardinge

ILAM 2

17

18

19

20

Mike Tapley

ILAM 2

Cindy-Lee

Sinclair

MERIVALE

Allicia Beirne

ST ALBANS

Jenni Rolton

ST ALBANS

Win-Win

Congratulations to our Top 20 Consultants for October 2017

It's an unquestionable truth – the success of our clients is directly tied to the

success of our people. That's why it's their triumphs we celebrate as much as

those of the individuals you see here.

We want to thank our clients for their trust in us. We wish to congratulate our high

achievers for their passion and dedication, their unique expertise and exemplary

service. We look forward to further success with you in the years to come.

Contact one of our top

performers today:

Fendalton 03 355 6116

Ilam 03 351 6556

Ilam 2 03 351 3002

Merivale 03 355 6677

St Albans 03 377 0377

holmwood.co.nz