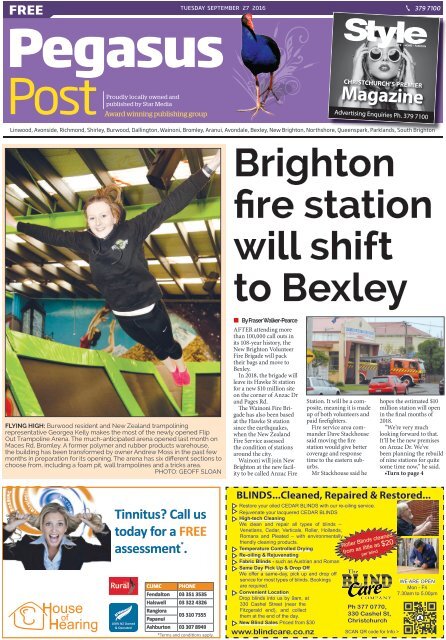 Pegasus Post: September 27, 2016
Do you know the secret to free website traffic?
Use this trick to increase the number of new potential customers.
FREE

TUESDAY SEPTEMBER 27 2016

379 7100

Pegasus

Post

Proudly locally owned and

published by Star Media

Award winning publishing group

Magazine

CHRISTCHURCH'S PREMIER

Advertising Enquiries Ph. 379 7100

Linwood, Avonside, Richmond, Shirley, Burwood, Dallington, Wainoni, Bromley, Aranui, Avondale, Bexley, New Brighton, Northshore, Queenspark, Parklands, South Brighton

Brighton

fire station

will shift

to Bexley

FLYING HIGH: Burwood resident and New Zealand trampolining

representative Georgea Kelly makes the most of the newly opened Flip

Out Trampoline Arena. The much-anticipated arena opened last month on

Maces Rd, Bromley. A former polymer and rubber products warehouse,

the building has been transformed by owner Andrew Moss in the past few

months in preparation for its opening. The arena has six different sections to

choose from, including a foam pit, wall trampolines and a tricks area.

PHOTO: GEOFF SLOAN

• By Fraser Walker-Pearce

AFTER attending more

than 100,000 call outs in

its 108-year history, the

New Brighton Volunteer

Fire Brigade will pack

their bags and move to

Bexley.

In 2018, the brigade will

leave its Hawke St station

for a new $10 million site

on the corner of Anzac Dr

and Pages Rd.

The Wainoni Fire Brigade

has also been based

at the Hawke St station

since the earthquakes,

when the New Zealand

Fire Service assessed

the condition of stations

around the city.

Wainoni will join New

Brighton at the new facility

to be called Anzac Fire

Station. It will be a composite,

meaning it is made

up of both volunteers and

paid firefighters.

Fire service area commander

Dave Stackhouse

said moving the fire

station would give better

coverage and response

time to the eastern suburbs.

Mr Stackhouse said he

hopes the estimated $10

million station will open

in the final months of

2018.

"We're very much

looking forward to that.

It'll be the new premises

on Anzac Dr. We've

been planning the rebuild

of nine stations for quite

some time now," he said.

•Turn to page 4

BLINDS...Cleaned, Repaired & Restored...

House

of

Hearing

100% NZ Owned

& Operated

CLINIC PHONE

Fendalton 03 351 3535

Halswell 03 322 4326

Rangiora

Papanui

03 310 7355

Ashburton 03 307 8949

Restore your oiled CEDAR BLINDS with our re-oiling service.

Rejuvenate your lacquered CEDAR BLINDS

High-tech Cleaning

We clean and repair all types of blinds –

Venetians, Cedar, Verticals, Roller, Hollands,

Romans and Pleated – with environmentally

friendly cleaning products.

Temperature Controlled Drying

Re-oiling & Rejuvenating

Fabric Blinds - such as Austrian and Roman

Same Day Pick Up & Drop Off

We offer a same-day, pick up and drop off

service for most types of blinds. Bookings

are required.

Convenient Location

Drop blinds into us by 9am, at

330 Cashel Street (near the

Fitzgerald end), and collect

them at the end of the day.

New Blind Sales Priced from $30

www.blindcare.co.nz

Roller Blinds cleaned

from as little as $20

per blind

Ph 377 0770,

330 Cashel St,

Christchurch

SCAN QR code for Info >

WE ARE OPEN

Mon - Fri

7.30am to 5.00pm
---
2

Tuesday September 27 2016

Inside

FROM

THE

EDITOR'S

DESK

PEGASUS POST

News..........................3, 4, 5, 6

THERE IS some good news

coming out of Parklands – $1.5

million worth in fact. Two clubs

are joining forces to try and build

a new sports hub that could have

futsal, basketball, netball, bowls

and petanque. Check out page 3.

The Burwood-Pegasus Community

Board is fired up after

receiving a letter from Mayor

Lianne Dalziel. The letter outlined

what it did and did not get funding

for (page 5). Out of 21 projects,

it received funding for just five.

Members told the Pegasus Post,

they wonder why they even bothered

to put in their submission to

the city council.

Finally, if any of you are still

making up your mind who to vote

for in the local body election, page

6 could help. We ask Burwood

Ward candidates what should be

prioritised – roading and bridges

or decisions on the residential red

zone? Hei kona, Shelley Robinson

Apprentice painter wins national award

ACHIEVERS 11

Our People....................... 8

Aranui HS................................9

Mairehau HS..........12, 13

Shop Local...........................14

Keep it Local................. 17

Community Events......18

Health & Beauty.........19

Real Estate..........................20

GET IN TOUCH

General Enquiries Ph 379-7100

Classified Advertising Ph 379-1100

The Christchurch Star Company Ltd. PO box 1467 - Christchurch

starmedia.kiwi

NEWS

Fraser Walker-Pearce

Ph: 364 7424

fraser.walker@starmedia.kiwi

ADVERTISING

Mark Sinclair

Ph: 364 7461

mark.sinclair@starmedia.kiwi

DAVIDS

FOR COUNCIL

LINWOOD WARD

This election is a very important one for the Linwood Ward. It is a choice between

more of the same, or me, a new independent Councillor with the passion and enthusiasm to

drive the change we need. Your vote matters, please don't forget to vote!

I'm:

31 years old and I live on

Ferry Road. I grew up in our Ward

Deputy Chair of the

Hagley/Ferrymead Community Board

On the board of the Graeme

Dingle Foundation (formerly

the Foundation for Youth

Development)

Aims to inspire all school age children

to reach their full potential through

programmes that help build

self-esteem, promote good values

and which teach valuable lessons in

life, education and health.

On the board of Canterbury

Neighborhood Support

Aims to make our homes, streets,

neighbourhoods and communities safer

and more caring places in which to live.

Work for the Battered Women's Trust

Works to raise public awareness of violence

against women and children, promoting the

prevention and elimination of violence, and

the rights of women and children to care

and protection.

Chair of Keep Christchurch Beautiful

Deputy Chair of Keep New Zealand Beautiful

Keep Christchurch Beautiful encourages

civic pride and the promotion of beautiful

Christchurch, the promotion of waste

management and minimisation, as well as

providing educational materials, programmes

and support services.

Keep New Zealand Beautiful is dedicated

to keeping our communities clean, safe and

beautiful. Our work includes graffiti removal

and reduction and waste minimisation and

recycling initiatives. Our wider environmental

projects include community beautification

and clean-up events, tree and garden planting

and waterways and highway restoration.

What I stand for:

Change – enough's enough!

• A new and enthusiastic Councillor

• Our fair share of resources

• Recreation facilities for our Ward

• Fixing our broken roads

• Cleaning up our waterways

• Clamping down on crime

• Community engagement

• Less talk and much more action

• Results

DON'T

FORGET TO

VOTE!

Voting papers need to be in

the post by 4 th October.

E: davids.alexandra@gmail.com | P: 021 308 440

This is our chance

for change!
---
PEGASUS POST Tuesday September 27 2016 3

News

NEW PLAN: The Parklands bowling and rugby clubs have revealed plans for a new community sports hub.

PHOTO: GERAINT HOWELLS, CREATIVE INTENTIONS

Clubs team up for new sports hub

• By Fraser Walker-Pearce

TWO CLUBS are joining forces

to bring a $1.5 million sports

hub to Parklands.

Parklands bowling and rugby

clubs have plans to build the

hub – which will include indoor

and outdoor facilities – at

Chadbury St beside Parkview

School.

The bowling club is currently

based in Chadbury St.

The proposal will see the car

park upgraded, with the greens

remaining, and the addition

of two adjacent pieces of land

owned by the city council but

leased to the clubs.

There are also plans to

relocate two classrooms from

the former Freeville School as

a club house and sports hall.

Representatives from a

working group presented

a development plan to the

Burwood-Pegasus Community

Board last Monday.

Sports that could be played

at the facility may include

petanque, futsal, basketball,

netball as well as indoor and

outdoor bowls.

The project needs funding

from grants and public

donations to cover costs for the

relocation, placement, wiring

and plumbing of the two

buildings.

It is expected to cost about

$1.5 million.

The plans were approved

at the meeting and backed

by community board members.

The clubs received letters of

support from Mayor Lianne

Dalziel and two schools.

The two clubs have joined

forces for the last three years

after they were both hit hard in

the earthquakes.

Parklands Bowling Club vice

president Wayne Eden said

one positive feature of having

a large joint membership is the

help and support received from

within the clubs and the local

community.

"Help has already been offered

from people with a range of

skills and experience, which

will make a huge contribution

towards us achieving the

ultimate goal," he said.

Working group chairman

Maurice Lawlor said, with help

from the Ministry of Education,

the clubs hope to get the two

classrooms in as soon as

possible.

The clubs are looking for

financial support to get their

project off the ground. For more

information, get in touch with

Mr Eden at wayne.eden@xtra.

co.nz

In Brief

REGENERATION HUB

A new community hub opened

its doors in New Brighton Mall

yesterday. Its purpose is to give

residents access to information on

the area's regeneration and plans.

The hub is staffed by agencies like

the city council, Development

Christchurch Ltd, and Regenerate

Christchurch. The hub will be

open Monday to Friday, from

10am to 4pm.

FLASHER IN SOUTHSHORE

Information is wanted by New

Brighton police on a man seen

flashing a woman and her

children in Southshore recently.

On September 18, a man was

seen driving over sand dunes

in Southshore and was spotted

flashing woman and children

soon after. Senior Sergeant Dave

Robertson said there has been

reports of people being flashed

around the sand dunes before.

If anyone has information, they

should phone police on 363 7400.

CAR CHARGING STATIONS

Two electric vehicle charging

stations are on their way to New

Brighton after a report from city

council staff was adopted by the

Burwood-Pegasus Community

Board last week. The two charging

ports will be installed in angled

parking spaces outside the New

Brighton Library building. Vehicles

will be restricted to 60min use.

Post your vote now for the

People's Choice team

A fun, free, festival of arts,

science and creativity for all ages!

10am–2pm

1&2 October

2016

All Fun Palaces will be at Central

Library Peterborough.

Visit christchurchcitylibraries.com

Robots, MineCraft,

HTC VIVE virtual

reality, 3D printing

and more!

Brian Gargiulo 1

Your CDHB Board Member

An independent voice for

the Canterbury District

who cares about the people.

Vote me number 1

Authorised by B. Gargiulo, 11 Ron Place
---
4

Tuesday September 27 2016

News

PEGASUS POST

Unfortunately, we just can't

know it all and that is why

having veterinarians with extra

qualifications in a field ( who are

only to willing to offer help and

advice), is of enormous value

when we are faced with a difficult,

challenging cases.

McMaster & Heap

Veterinary practice

REFERRAL VETERINARY SERVICES

Recently I referred a 7 year old

English Springer Spaniel to an

orthopaedic surgeon at VSA in

Auckland for spinal surgery. I have

had personal experience with the

team at VSA and great results in the

past. Dusty is a patient we have seen

a lot of recently. He was recently

neutered and treated for an enlarged

prostate and more recently I have

examined and treated Dusty for what we believed

to be unrelenting lower back pain.

Dusty is the perfect patient, amenable to a lot of

manipulation and palpation, although he now

often freezes and drops when he sees me coming.

Previously Dusty has had CT scans, radiographs

and blood testing to try to understand why at

times he seems crippled with pain. He is unable to

run with other dogs, play vigorously, jump, swim

for long periods of time – in other words, "just be a

dog". His onset of pain

is quick and he wears

his pain on his little

face. We have treated

Dusty with numerous

types of pain and

inflammation

modifying drugs

with no real

success, as well as

physiotherapy and

hydrotherapy.

Dusty's owner

and I discussed in depth our next step

which had to be an MRI at St Georges Hospital

to determine whether Dusty was a surgical

candidate or not. Dusty's owner is a nurse herself

and fully understands an accurate diagnosis is

crucial if we are to understand Dusty's pain better

and do the best for him. Luckily it also helps to

have pet insurance, as MRI diagnostics and spinal

surgery are right up there in cost for the average

client. Dusty may make the move to the UK soon,

so I wanted to make real sure we were doing all

we could for him.

The staff at St Georges are helpful, knowledgable

and lovely with our canine patients. I regularly

travel with patients to sedate and monitor them

for their MRI which can

take up to an hour. It isn't

painful but they have to

lie

Open 7 days

Cnr Hoon Hay & Coppell place

phone 338 2534, Fax 339 8624

e. mcmasterandheap@yahoo.co.nz

www.mcmasterheap.co.nz

very still in order for the

radiologist to get good

pictures. Ear plugs are

inserted as the machinery

is very noisy.

In Dusty's case, even I

could see the cause of

his severe pain. He had a

severe disc prolapse and

soft tissue hypertrophy at

the lumbosacral junction

( L7-S1) causing spinal

cord compression. His

L6-L7 disc space was also

moderately prolapsed.

The radiologist also

noted a congenital

abnormality of his aorta, an

incidental finding.

The surgeon in Auckland had access to this

MRI and could read the images. He concluded

that Dusty would benefit from spinal cord

decompression and stabilisation of the

lumbosacral disc space, which would allow Dusty

a far better quality of life.

The surgeon liased with Dusty's owner

immediately and within weeks Dusty was flown

to Auckland for a referral consultation, operated

on successfully and is now

rehabilitating in Auckland post

operatively for 6 weeks, until the

follow up xrays show that there is

bony healing and stability of the

plates and screws. Dusty is also

receiving physiotherapy to help with

a quicker recovery.

A real success story for Dusty and his

family and it just goes to show that

the best veterinary medicine is often

a collaborative team effort, where our

primary objective is to successfully

cure, heal and care for our patients.

At McMaster & Heap we are also extremely lucky

to have the expertise and knowledge of Steve

Heap, in diagnosing and treating patients with Eye

diseases and Catherine Morganti, who regularly

preforms ultrasounds and endoscopy on cats

and dogs, allowing us more diagnostic options

to working up a sick patient. We also employ a

registered veterinary dentist, when required, to

perform root canal surgeries and pulpotomies on

teeth, when clients would rather save their dogs

teeth than us perform extractions.

Steve's caseload at McMaster & Heap would be

80% eye referral work and much of this ends up

being operated on. Steve also

travels to Dunedin every 3 months

for 2 jammed packed days of eye

referral work and surgery. These

vets have invested time to develop

certain skills, knowledge and

expertise in a specialised area of

veterinary medicine and are of huge

help to us primary vets in providing

solutions and treatments with our

patients. We find our clients want

the best for their pets ( as we do) and

welcome referral vet services.

For any referral advice please contact

our Practice.

Dr Michele McMaster

McMaster & Heap

NEW LOOK: A concept design of what the Anzac Fire Station could look like

when it is built in late 2018. ​

Fire station move

•From page 1

New Brighton Volunteer

Fire Brigade secretary

Ruth Kenny said it was

sad to be moving away

from Hawke St, where the

station had been since the

1960s.

"It's been quite a while.

We've actually been in

New Brighton since 1908.

So we have a very proud

history of being here, one

of our guys said we're not

leaving, we're just moving

house," she said.

Mrs Kenny said the

community had taken the

Do you know if you have

serious damage?

Are you struggling with

your insurer?

Have you been

cash settled?

Do you live in a damaged

hillside property?

Do you own a TC3

damaged property?

Have you had a repair

undertaken that you are

not satisfied with?

move positively.

"Even though they've

lost a lot, they've been

pretty positive and we're

very excited too. At the

end of the day, it will help

us provide a better service

to them," she said.

Meanwhile, the New

Brighton station also

ran a charity car wash

fundraiser to help a fellow

firefighter on Saturday.

The New Brighton station

jumped at the chance

to raise funds for a cure

to mitochondrial disease

to help out Hamilton firefighter

John Parker.

Mitochondrial disease

is an illness which

causes loss of control over

muscles and physical disabilities,

and is the reason

Mr Parker's son died

recently. There is currently

no known cure for the

disease.

New Brighton was one

of 16 brigades around the

country to get involved

with the charity car

washes.

The brigade raised $1526

for Starship Hospital in the

hope of curing the disease.

EARTHQUAKE SOLUTIONS SEMINAR

KSL AUDIT PRESENTS

In association with Aurum Property Systems Ltd

& Simplexity Construction Ltd

VENUE:

DATE:

TIME:

RSVP:

PROTOCOL

2 Colombo Street, Cashmere

Wednesday, 5th October

7pm

Please email office@ksl.co.nz

or contact Emma - 365 4460

Please join us for a night of discussion.

KSL Audit is here to help you negotiate a

claim on your behalf and will outline the

process we have used for settling in excess

of 150 claims, 60% are either hillside

property and TC3.

Aurum will outline how they can help you

as the interface between you, your insurer

and the builder. Aurum has successfully

managed the rebuild of over 100 houses

through their process since 2011 ranging

from $300,000 to $2.3 million

Simplexity Construction will demonstrate

how they can assist homeowners from

scoping the damage, preparing the

reinstatement methodology through to

constructing your repair or rebuild.

PROVIDING THE CLAIMS REVIEW YOU DESERVE
---
PEGASUS POST Tuesday September 27 2016 5

News

Mayor cops criticism

• By Fraser Walker-Pearce

BURWOOD-Pegasus

Community Board members

have hit out at Mayor Lianne

Dalziel in frustration at a bid to

get more projects in the east up

and running.

The board's submission to the

Annual Plan, which allocates

funding, included 21 projects

and problems for the eastern

suburbs that it wanted fixed.

Ms Dalziel sent a letter to

the board in response to their

submission, which was read at a

recent board meeting.

Of the 21 projects put forward,

only five were granted.

They included – $600,000 for

Marine Pde repairs, Waitikiri

Square landscaping, traffic

management around schools,

money from sale of 11.5 ha QE II

Park to Ministry of Education for

future developments; flexibility

over extra pool at the former QE

II site.

Board members said Ms Dalziel

showed very little support for its

proposals leaving the board "utterly

disappointed."

Those projects that missed out

included upgrades of estuary

stop banks, a motor home dump

station in South New Brighton,

ring-fencing funds for additional

facilities at the Eastern Recreation

and Sports Centre.

HOT TOPIC: The stop banks lining the estuary will not have a

budget assigned to them until next year. Inset: Lianne Dalziel ​

Community board chairwoman

Andrea Cummings said there need," she said.

Santa's lap asking for stuff we

were more road blocks put in Ms Dalziel said it was a "fair

front of projects than there was comment".

progress made.

"But it doesn't seem to take

"[I'm] disappointed that we've into account all the projects that

only just got the information were approved in the Annual

now, and there was a lot of disappointing

results. I thought our Ward. There will be a much bet-

Plan for the Burwood-Pegasus

submission was pragmatic and ter process next year," she said.

reasoned.

Burwood-Pegasus Ward city

"We didn't get anything we councillors Glenn Livingstone

actually asked for really. Makes and David East would not comment

specifically on their views

me wonder why we went to the

effort," she said.

of Ms Dalziel's letter.

Board member Linda Stewart Cr Livingstone said this year's

said the board was "utterly disappointed"

with the outcome of the blame, and was in parts "sham-

Annual Plan process was to

letter.

bolic".

"What we did get was from Cr East said it is the board

historical submissions, not what members who make the submission

on the plan, and it was

we wanted. A dump station in

New Brighton is a sensible decision.

We feel like kids sitting on

better to be "seen not to be in the

mixer."

IN ACTION: A group of five North Beach rowers took to the

water for an 87km fundraiser at the weekend.

12hr rowing fundraiser

• By Fraser Walker-Pearce

FIVE NORTH Beach lifesavers

took 12 hours to complete an

epic 87km row – and raised

money to help save endangered

dolphins in the process.

The group took a 7m

traditional surf lifesaving row

boat to Akaroa on Saturday, and

made their way back to North

Beach.

Led by North Beach Surf

Lifesaving Club member Rob

McCaib, the group had a $3000

goal for the "kiwis of the sea",

the hector's dolphin and maui's

dolphin.

"We have the North Beach

Surf Lifesaving Club's 100th

anniversary in October, so [the

row was] sort of tied in with that,

and we're also raising money to

save maui's dolphins," he said.

But they've well surpassed

their goal, as the team's current

total sits at $9893, which

includes a $4500 donation from

Aqualine, a sponsor of the row.

Mr McCaib thought the row

could be the first time it has been

done in a surf lifesaving row

boat in a single day.

"I don't know of anyone who

has done it before, at least not

in one day. It took us about 12

hours. At the halfway point we

swapped the driver, who steers

the boat, at Okains Bay and

then carried on from there," he

said.

Through their row, the group

hope to gain exposure and draw

people to the givealittle page,

where they can donate to their

cause. Go to www.givealittle.

co.nz and search for saving our

kiwi of the sea.

dairydale

milk

special

offers!

$

2 .99 99c

each

bread

2 for

$

2

bluebird

chips 40gm

15a BERESFORD ST,

NEW BRIGHTON

(next to Super Liquor)

PH. 382-1144

Wainoni

& PANDA'S PIZZA

Buy 2 pizzas

& get the 3rd

FREE

Only available with this coupon

Mon - Thurs 4pm-9.30pm

Fri - Sun 12 noon-9.30pm

Valid until 31st December, 2016

175 Wainoni Road, Wainoni

(opp Pak 'n Save) • Phone 388 4373

SCHOOL

HOLIDAY

FUN!

Week Two

PUTT IT!

Monday 3 - Friday 7 October

11.00am - 3.00pm

Perfect your putting technique on our

mini golf course located in the playzone.

Spot prizes for a hole in one!

Week One

BUILD IT!

Monday 26 - Friday 30 September

11.00am - 3.00pm

Build the best fort with our new

pop up playground and be in to

win a $100 Gift Card!

LOOK OUT FOR THE PLAYZONE NEXT TO LIFE PHARMACY

Bookings, terms and conditions apply. Visit thepalms.co.nz for more details.

Find us on Social Media

or visit thepalms.co.nz
---
6

Tuesday September 27 2016

News

Candidates rebuild priorities

Which do you think should take priority in the

rebuild of the Burwood Ward – roading and

bridges, or decisions being made about the

future of the residential red zone? And why?

Which of these two options do you think the city

council will prioritise? And why?

Cruize

Erueti:

Burwood

Ward city

council

candidate

We have

all seen the

progress for

our roads and

bridges, whether we are happy

or unhappy about it, the decision

has already been made to prioritise

these works. We now have

an awesome opportunity to start

afresh and prioritise the red zone.

I stand in favour of an investment

into this zone and of supporting

great initiatives to lead our city

forward into a future of innovation

and self-sustainability, while

being aware of our carbon footprint.

If we manage to support

the right candidates into council,

we will have the means to push

forward into the future that our

city wants. This will take a strong

voice and work with the people.

Glenn

Livingstone:

Burwood

Ward city

councillor

candidate

Attending to

the basics first,

roading and

bridges should

take priority, although in some

cases, both go hand-in-hand.

New Brighton Rd, for instance,

may have to be pulled back and

elevated away from the river, in

conjunction with permanent stop

banks, as part of residential red

zone decisions. The council will

prioritise roads and bridges, in

association with NZTA, as joint

funders, as that is a core responsibility.

Though the council is

integrally bound up in decisions

over future residential red zone

use, it is Regeneration Christchurch's

role to formulate plans, in

partnership with the community

and council.

Elections 16

Tim Baker:

Burwood

Ward

community

board

candidate

The city

council

doesn't own

the red zone,

so decisions on this are not

ours. The city council can have

opinions and the board can be

involved with decisions. The city

council will need stop banks and

storm water retention basins

etc in the red zone. However, it

may be five years before the red

zone is physically started, or if

earlier in parts, it will be in small

parts of the red zone, possibly

Southshore. Therefore, in the immediate

future, the priority will

be roads.

Sela

Faletolu-

Fasi:

Burwood

Ward

community

board

candidate

The priority

of the rebuild

of the Burwood Ward should be

roading and bridges because it is

key to our transport infrastructure.

It is used by all residents

and others outside of the ward

to travel to and from work, and

bring together our community,

family and friends. Getting the

roads and bridges fixed first will

reduce transit times, congestion,

and bring a sense of normality

back to the area. I believe

city council will prioritise the

roads and bridges for the same

reasons, knowing that the red

zone is already in the process of

consultation and planning for

the future.

PEGASUS POST

Linda

Stewart:

Burwood

Ward

community

board

candidate

Avondale

and Gayhurst

bridges rebuilt

leaves red zone/residential

edges and footbridges to evaluate.

Dallington and Avondale

need purpose-built community

centres. Top priority must be the

red-zoned land decisions to end

uncertainty, reconnect communities

again and realise achievable

recreational aspirations

floated, i.e. the rowing lake.

Balance between our eastern

lifestyle and mooted projects

need transparent community

consultation to work. I'm interested

in evaluating the rowing

lake because of opportunities to

attract water sports and its potential

to address local flooding

concerns. Last term's experience

tells me council will place more

importance on minimal investment.

6 ISSUES

delivered to your door

FROm ONly

HELPING US,

HELPS THE

$

44. 50 COMMUNITY

Drop off or buy

SUBSCRIPTIONS FREEPHONE

0800 77 77 10

rugbynews.co.nz

Previously

United Travel

2 family stores in your community

30 Main North Rd,

Ph 352 4581

520 Cranford St,

Ph 352 0515

NOW OPEN

DAN'S

PRODUCE

FRESH PRODUCE

DAILY SPECIALS

231 Stanmore Road,

Richmond. Ph 389 9570

A NEW MUSICAL

COMEDY

Book by Marshall Brickman and

Rick Elice. Music and lyrics by

Andrew Lippa. Based on

characters created by

Charles Addams.

28 SEPTEMBER TO 7 OCTOBER

FOR SHOW TIMES & BOOKINGS PH 338 4699 OR VISIT

WWW.RICCARTONPLAYERS.CO.NZ

BY ARRANGEMENT WITH ORiGiN THEATRICAL ON BEHALF OF

THEATRICAL RIGHTS WORLDWIDE, NEW YORK. www.origintheatrical.com.au

LA Thrill, Fiji Chill

$100

DUTY FREE

VOUCHER

for every new booking*

4 Nights Los Angeles + 4 Nights Fiji

from

$

2399 *

4 Nights Anaheim

4 Nights 'Double Tree' by Hilton Fiji (includes breakfast daily)

Return airport transfers

per person twin share, return flights ex CHCH

YOU Travel Ferrymead Unit 5, 960 Ferry Road, Ferrymead 03 384 2700 @ melissa@youferrymead.co.nz

YOU Travel Tower Junction 3/4 Troup Drive, Addington 03 341 8965 @ sandra@youtowerjunction.co.nz

Pricing is based on low season and travel block outs 18-20 November 2016, 24-28 November 2016, 24 December 2016 - 2 January 2017. The 4 night combinations may vary depending on month of

travel due to airline schedules changing. The $100 voucher will apply to any new bookings made for a minimum of 2 people or more and must include air and land content to a minimum spend of $3,000.

This promotion applies to bookings made from 20/8/16 - 30/9/16.
---
PEGASUS POST Tuesday September 27 2016 7

free 11mm

high density

luxury underlay

Bonita

• 48oz solution dyed

nylon

• extra heavy duty

+ stairs

• Cut pile

• 2 Colours

NOW

$139.90

3.65m

3.65m

Wide

Wide

Rolls

Rolls

WiTH

FREE

UNdeRlAY

Toulon

• Wool plus

• extra heavy duty

+ stairs

• Cut pile

• 1 Colour

• slightly imperfect

NOW

$95.00

WiTH

FREE

UNdeRlAY

Fairfields

• 48oz Wool plus

• extra heavy duty

+ stairs

• Cut pile

• 3 Colours

NOW

$159.90

3.65m Wide Wide Rolls

3.65m 3.65m Wide Wide Rolls Rolls

WiTH

FREE

UNdeRlAY

Sanctuary

• 55oz Polyester

• extra heavy duty

• Cut pile

• 1 Colour

• slightly imperfect

WiTH

FREE

UNdeRlAY

Tiburon

• 40oz Wool

• extra heavy duty

+ stairs

• loop pile

• 1 Colour

WiTH

FREE

UNdeRlAY

Carterville

• 50 oz Polyester

• extra heavy duty

• Cut pile

• 1 Colour

• slightly imperfect

WiTH

FREE

UNdeRlAY

NOW

$115.00

NOW

$95.00

NOW

$105.00

3.65m Wide Rolls

3.65m Wide Rolls 3.65m Wide Rolls

Horizon

• 36oz solution dyed

nylon

• extra heavy duty

• Cut pile

• 2 Colours

WiTH

FREE

UNdeRlAY

Madison

• 48oz Wool

• Commercial grade

• loop pile

• 1 imperfect colour

WiTH

FREE

UNdeRlAY

Newport

• solution dyed

nylon

• Commercial

grade

• loop pile

• 2 Colours

WiTH

FREE

UNdeRlAY

NOW

$125.00

3.65m Wide Rolls

NOW

$89.90

3.65m Wide Rolls

NOW

$115.00

3.65m Wide Rolls

Garage

carpet

from $15 per sqm

All carpet remnants

priced to clear from

$5 per piece

Conditions apply

Clearing vinyl

FROM

$30 per metre

(2 metre wide vinyl)

312 Wilsons Road North, Waltham Phone 366 0070

www.carpetkingdom.co.nz | Mon - Fri 8am - 5pm | Sat 10am -1pm

Q Card Finance Now Available

FREE no obligation measure & quote (conditions apply.)
---
8

Tuesday September 27 2016

Our People

PEGASUS POST

Helping high school students excel

April McLennan is 19-years-old and has set up

her own trust to help high school students to

pursue and excel in work they are passionate

about. She spoke to Georgia O'Connor-Harding

about setting up her own social enterprise, life

being home-schooled and her trip to the Global

Entrepreneurship Summit in Palo Alto, United

States

You have set up an initiative to

help other Christchurch high

school students. Why did you

set up Limitless Charitable

Trust?

Last year was my final year of

school and I noticed so many

people I knew were overwhelmed

with career and study path options

and were unsure on what

way to go. At the same time I

knew people who did work they

were really passionate about and

were working to their strengths

and they could talk about their

jobs all day. I just thought how

cool it would be if we could all

do work we are that passionate

about.

How will this initiative set

you up for your ideal career?

Basically we have a two-part

programme and it is designed

to equip students with the confidence,

awareness and opportunities

to pursue what they are

passionate about. We are starting

year 10 students with a Limitless

Charitable Trust two-day conference

in October. That includes

talking to inspiring speakers.

We will have a diverse range of

speakers including Kiwibank

Young New Zealander of the

Year for 2015 Guy Ryan, Prime

Minister John Key's chief science

adviser Dr Victoria Metcalf and

entrepreneur Hannah Duder.

The Zion Dance Studios will be

performing. After the conference

we will connect people to an

online portal. It will connect students

to opportunities that are

relevant to them. For instance if

they were passionate about the

environment and are looking for

work experience we can connect

them to the organisation.

Are high schools setting

students up well enough for the

workforce?

I think it is really challengingwe

do live in a world that is

rapidly changing. The workforce

is changing and it can be difficult

for a traditional school to keep

up with that. I feel that knowing

who you are, what your strengths

are and what your values are

important. It should be a priority

and that is why we are focusing

on that area. I think it is important

for students to know what it

is like to go to university.

Do you have a view on

NCEA?

Being home-schooled I haven't

done NCEA but I feel that

maybe the biggest issue facing

education is that it is not just

academics that matters. It is your

people skills, it is your ability to

adapt which will be increasingly

relevant. I feel there is a real need

for a system that holistically addresses

all areas.

What was it like being homeschooled?

I guess it was really different.

I enjoyed it. I think the reason

I enjoyed it was because it gave

me the freedom to explore what I

was interested in. My high school

years were more like university.

Do you feel like you missed

out on the social side of high

school?

Being involved with lots of

groups and clubs didn't mean I

missed out. It gives you an opportunity

to meet people from a wide

range of ages, backgrounds and

perspectives. You make an effort

to be part of those groups. I was

involved in World Vision New

Zealand groups which I meet a lot

of cool people through.

How has arranging the conference

been going?

It really stuck me in starting

INSPIRING: April McLennan, 19, has set up her own trust to

help high school students pursue jobs they are passionate

about.

PHOTO: MARTIN HUNTER

Limitless how many generous

people are. We have got about

50 people who are speaking and

volunteering their time at the

conference. We are also a charitable

trust. I have three trustees

who have great experience in

their respective professions.

What got you interested in

social enterprise?

I went to the Festival For The

Future programme last year.

They bring together a whole

group of people who are innovators

or thinkers passionate about

a better future. Social enterprise

was talked a lot about there. A

lead-on from the Festival of the

Future was the programme Live

the Dream which is a social enterprise

accelerator programme.

You go into the programme with

a problem you see in the world

and in nine weeks they help you

develop a solution. Limitless is

what I developed over the summer

with the programme.

Tell me about your trip to

Palo Alto in June?

It was amazing. There were

incredible speakers. US President

Barack Obama and CEO of

Facebook Mark Zuckerberg

spoke. I also enjoyed meeting

entrepreneurs from around the

world and hearing about their

experiences. It was amazing

in spite of our differences how

much we have in common. After

the programme I connected with

people including a guy from

Montreal and a lady in Jordan

who had really similar enterprises

to Limitless.

What was the most inspiring

story or person you came

across?

I think meeting this lady from

Jordan who had been working

on a similar concept to Limitless.

Wanting to get girls on a

course she had been working on

for 15 years. She started with a

business that was separate to the

education system and now she is

creating curriculums that are being

used in the education system

and works with a big team. It was

cool how one idea has developed

and made an awesome impact.

Also hearing President Obama

was an obvious stand-out. A key

moment in my life. He spoke

about the biggest issues of today

and how he sees the entrepreneurial

spirit of being able to

start your own business to create

solutions to problems to where

you live. He spoke about how the

Government needs to step up

and make it easier for people to

start their own businesses.

What do you like to do in

your spare time when you are

not setting up new businesses?

I quite enjoy playing hockey

and photography and I am still

involved with World Vision. Just

spending time outdoors with

friends is what I love.

•Registrations are open for

the Limitless conference. To

register go to www.limitless.

org.nz

sellOut

Montego Firm or Medium Mattress & Base

• Classic 8 inch Pocket Spring technology which minimizes partners

disturbance as each individual coil reacts separately.

• Comfort Foam Edge support.

• Naturally Healthier Latex. Pure New Zealand luxurious wool

• 10 Year Warranty - Made in Christchurch.

Open 7 Days Mon - Fri 9 - 5.30pm Sat - Sun 10 - 4pm

QUEEN

$1899

KING

$2199

up tO

18 mOnths

interest

free!

SUPER KING

$2399

242 Ferry Rd Along From Old Ami Stadium | Phone 377 8887 | www.bedworld.co.nz

SAVE

uP to

$2000
---
PEGASUS POST Tuesday September 27 2016 9

In a league of their own

During the week August 29 to

September 2, our Senior League

Team, pictured at right, played in

the National Secondary School

League tournament in Auckland.

The tournament organisers

awarded the team the "Team of

the Tournament" as they were

Ski trip

known as the team that never

gave up, even when the score was

against them.

On top of that distinction, our

teacher, Caley McLean, was

awarded the "Trainer of the

Tournament Award". He is shown

Awards presented

The Services Academy attended a function at the

Christchurch Mayor's office on Thursday, September 1,

to recognise the achievements of four students – Tutama

Tukaki, Mikayla Scott, Shardae Kauhou and Josh Creedon

– in their tremendous efforts of obtaining their Duke Of

Edinburgh Silver Tramp Award. This programme is run in

conjunction with Chris Allen from the Joshua Foundation.

Pictured: (back row) Bert Knops (Deputy Principal),

Rawiri Waaka (Services Academy Director). Front row:

Tutama Tukaki, Maree Furness (Principal), Lianne Dalzell

(Mayor), Mikayla Scott, Shardae Kauhou, and Chris Allen

(Joshua Foundation).

UPCOMING EVENTS

October

10 .......................................................................... First day Term 4

18 .......................................................Board of Trustees Meeting

21 ..................................................................Past Pupils Assembly

24 ....................................................................... Labour Weekend

25 – 28 ...............................................Junior Assessment Week

November

4 ....................... Junior Volleyball Canterbury Championships

7 ............Year 13 Graduation/Prizegiving Ceremony/last day

8 ............Year 11 Graduation/Prizegiving Ceremony/last day

9 .......... Year 12 Graduation/Prizegiving Ceremony/last day

9 ........................................................... NCEA Exams commence

11 .....................................................................................Show Day

15 .......................................................Board of Trustees Meeting

21 – 25 .....South Island Volleyball Championships (Nelson)

25 ......................................................Big day Out, Year 9 and 10

December

2 ............Year 10 Graduation/Prizegiving Ceremony/last day

2 ....................................................................................Fia Fia Night

5 ..............Year 9 Graduation/Prizegiving Ceremony/last day

6 ....................................................................Academic Prizegiving

8 .........................................................Board of Trustees Meeting

15 ..................................Final Blessing of Aranui High School –

Present/Past/Community Celebration

receiving his award, at left.

The team came 14th overall in the

tournament.

The team were also hosted to a

special dinner at the invitation of

Mr Rohs, Principal of Papakura

High School.

Sunny skies, mild temperatures and good snow made for another

great day for the annual Aranui High School ski and snowboard

trip to Mt Hutt. Students enjoyed the magic carpet ride on the

learners slope and some ventured higher up the mountain after a

lesson. Everyone enjoyed experiencing the mountain environment

and having fun in the snow.

Tongan Language Week celebrated

Malo e lelei. This year has been a

special year for Aranui as this is the

first time the school has celebrated

Tongan Language Week. There are

currently seven Tongan students and

one Tongan teacher at Aranui High.

There was a lot of help from students

and teachers who wanted to

be a part of the Tongan community,

which was awesome. The group

performed two Tongan songs at assembly.

It was very touching as this

is Aranui High School's last year and

our first ever Tongan Language Week

celebration. Our Tongan community

has really made us proud.

Comedy duo tells of realising their dream

The 2016 Aranui High School formal

took place at the Linfield Rugby Clubrooms

on Friday, September 9.

This year's theme was "Into the

Woods" and the venue was transformed

into a forest wonderland.

Students and staff enjoyed a night of

awesome music and food as well as

the chance to get down on the dance

floor and make some lasting memories

to take away.

The students looked amazing in their

finery and the teachers didn't look

to shabby either. Much thanks to all

who helped make the night one to

remember.

A comedy duo called The Laughing Samoans visited Aranui

High School on Friday, September 16.

The whole school attended the performance, along with

students and staff from Wainoni School.

The duo, Ete and Tofiga, told their story of how they've

managed to achieve their dreams of being fulltime entertainers

through determination, perseverance and teamwork.

This message, along with the performance of a very funny

skit from their latest hit show called "Island Time", was very

well received. The hour-long session was enjoyed by staff

and students, who all left the hall with huge smiles from the

experience.

Formal enjoyed by students and staff
---
10

Tuesday September 27 2016

PEGASUS POST

EQC UPDATE KEEPING YOU INFORMED | SEPTEMBER 2016

EQC confirms Canterbury staff numbers for 2017

The Earthquake Commission (EQC) has

confirmed the shape of the organisation

for 2017, including the number of positions

in Canterbury.

"As our work in Canterbury enters its final phase

in 2017, we will obviously need to be smaller.

From January 2017, EQC will be an organisation

of about 458 people. Of these, at least 216 will

be based in Christchurch," EQC Chief Executive

Ian Simpson says.

"The new structure retains a core of specialist staff

who will continue to meet the needs of our

remaining Canterbury customers.

"In 2017, EQC will continue to resolve remedial

inquiries on properties where we have managed a

repair, and to resolve claims for drains damaged by

the earthquakes. There is also a range of

administrative and financial tasks to be completed,"

Mr Simpson says.

Remedial inquiries

An important focus for EQC in 2017 will be resolving

the remaining remedial inquiries from Canterbury

customers who have had a managed repair.

With about 68,000 managed repairs carried out as

part of the Canterbury Home Repair Programme

(CHRP) largely completed, EQC and Fletcher EQR

have jointly agreed a new approach to completing

the remaining remedial work in Canterbury.

From January 2017, EQC will expand its role

managing all remedial inquiries to include

management of any resulting remedial repairs.

This means it will liaise with customers and

contractors to complete any additional work, where

it's required.

"The new approach will streamline decision making

by bringing all the elements of resolving remedial

inquiries into one organisation," Mr Simpson says.

Fletcher has agreed to continue its role in 2017 but

likely with a smaller team and a focus on managing

any underfloor work arising from the joint CHRP

subfloor review. More detailed proposals on this

will be finalised over the next month or two.

As well as its work in Canterbury for 2017, EQC

needs to be ready to respond to any future natural

disaster events anywhere in New Zealand and

continue its work of negotiating and managing

natural disaster reinsurance for the country. EQC

will also continue settling the average 5,000 to

EQC Chief Executive Ian Simpson

8,000 natural disaster claims received nationally

each year, funding research to the tune of $16

million per year, and educating the public on

natural hazards and how to mitigate them.

3,000 kids descend on the Alpine Fault

Expert Sam and teacher Shelley talk about tsunami risk on the West Coast.

EQC's newest virtual field trip,

"Geohazards", was launched

last month with 130 classes

taking part (that's over 3,000

Kiwi kids). The CORE Education

LEARNZ virtual field trips allow

New Zealand's school children to

visit some of our most fascinating

locations without having to leave

the classroom. From Cape

Reinga to the Bluff – we've got

you covered.

A LEARNZ teacher travels alongside

subject experts to go on location

and communicate their

experiences with students through

online video and audio feeds.

The trips are designed to help

improve understanding of

geohazards, how we as a nation

manage those hazards, and to raise

awareness of EQC's role in helping

build New Zealand's resilience.

Last month's trip was the ninth

funded by EQC and it explored

earthquakes, landslips and tsunami

on the West Coast as well as what

might happen when the Alpine

Fault next ruptures.

On the Coast, LEARNZ teacher

Shelley Hersey joined Alistair

Davies, a natural hazards PhD

student from the University of

Canterbury, and Dr Sam Hampton,

organiser of geology field

programmes in New Zealand and

University of Canterbury lecturer.

They showed students where you

can see the Alpine Fault in the

landscape, they pointed out scars

created by past earthquakes and

explained how tsunami, in lakes as

well as the sea, could be triggered

by quakes.

All our field trips are created so

that teachers can continue to use

them anytime. To experience this

virtual field trip and more, visit

www.learnz.org.nz

$25million paid out for Feb 2016 quake claims

The Earthquake Commission has passed the

halfway mark for settling the February 2016

earthquake claims, says EQC's February

2016 Event Response Manager, Jayne Lapin.

Ms Lapin says that of the total 14,574

claims received for the 14 and 29 February

earthquakes this year, followed by the

aftershocks, EQC has resolved 8,595

by cash settlement of just over $25 million

as at 19 September.

"You can tell that Cantabrians know what is

and isn't earthquake damage, because up to

75% of the claims received so far have been

accepted, and average $4,761 per claim.

"With the help of customers providing most

information up front – claims are taking an

average of three weeks to reach settlement."

she said.

Ms Lapin says it is heartening to see that the new

approach which uses both on site and phonebased

assessments has empowered customers to

provide their earthquake damage data,

supported by photographs, was working well.

"We have been surveying every customer who

has been through the process and whose claims

have been resolved – whether their claims were

accepted or declined. We wanted to see how

the process worked so we could make changes

as we went where we needed to.

"To date, 87% agreed that EQC valued and used

their time wisely when dealing with them

through the claims process.

EQC will have contacted almost every customer

to discuss the details of their February claims by

the end of September to book their assessment.

"This means that, other than people who delay

their claim or whom we can't get hold of, we will

meet our target to resolve all claims by the end of

2016, hopefully earlier," Ms Lapin said.

EQC is continuing to work with customers who

have lodged claims from the Canterbury sequence

earthquakes, including those in the Canterbury

Home Repair (CHRP) and land programmes, and

the settlement of the February claims will not slow

the progress of these programmes.

EQC sets out

process for

remedial requests

The Earthquake Commission (EQC) has streamlined

its process for handling new remedial requests from

customers received from 1 August, 2016.

EQC's Head of Dwelling Settlement, Michael Price, says

the new process aims for faster resolution with customers

having the opportunity to provide information upfront and

state their preference for a cash settlement or a managed

repair where remedial work is required.

The changes have been introduced after positive

customer feedback on the process used to manage

claims from the February 2016 earthquake, where

customers had the opportunity to submit more

information upfront to enable quicker turnaround.

"Many customers going through the February 2016

claims management process are positive or very positive

about their experience," Mr Price says.

"EQC will now use this approach for new remedial

requests, and customers will be asked to send in

information such as photographs and builders' quotes."

Mr Price says while cash settlement will provide a quicker

resolution, it may not suit everyone.

"So if a customer prefers that a contractor do the work,

then EQC will arrange for that to happen during 2017.

EQC's Community Contact Team and independent

customer advocate groups will be available to support

any cash-settled customers who aren't confident in

sourcing their own contractors," says Mr Price.

Of the approximate 6,900 open remedial requests

currently on EQC's books, 3,000 properties have been

identified as not being able to have any remedial repair

completed before 2017. The new process, while largely

designed for new remedial requests, will be available to

these customers also and EQC is making contact with

them to ask if they would prefer a cash settlement or wait

for a managed repair during 2017.

CONTACT EQC AT 0800 DAMAGE (0800 326 243) OR VISIT WWW.EQC.GOVT.NZ
---
PEGASUS POST Tuesday September 27 2016 11

Apprentice wins national award

NATALIE THORNTON of Linwood

has won a national award for

outstanding work as an apprentice

painter.

Ms Thornton won the award as

part of the Hays National Association

of Women in Construction excellence

awards night.

The national awards ceremony was

held in Wellington recently, at the

Mac's Function Centre.

Ms Thornton works for City Decorators

and took out the apprentice

and student award in the trades

category.

She took up the apprenticeship with

the desire to create a better life for her

family. She is now in the final stages

of her apprenticeship, and wants to

eventually lead her own crew.

The awards celebrate the outstanding

achievements women are making

in New Zealand's construction

industry.

ACHIEVERS

Other winners were:

Karen Sanderson from Beca was

a joint winner in the professional

woman of the year award for her role

in setting up an architectural team in

the city following the earthquakes.

Lynne Makepeace of Fletcher

Construction jointly won the award

with Ms Sanderson. Ms Makepeace

won the award for the construction

category and Ms Sanderson for the

professional category.

Vanessa Carswell of Warren

and Mahoney and Gemma Collins

of Fletcher Construction were

named joint winners of the

outstanding achievement in design

award.

SCHOOLS

TOP PAINTER: Natalie Thornton of Linwood

was named the apprentice of the year at a

recent awards ceremony, celebrating women

in construction. ​

New entrants

This Weekend!

October 1-2

Jackson Kauri Leon Marcel Max Oscar Paris-Leah

Banks Avenue School celebrated the arrival of seven new faces recently.

The group of new entrants have settled in and are looking forward to reading, drawing and writing.

Has your child recently started school? Send your photos to fraser.walker@starmedia.kiwi

$35 WOF

Tyres & Repairs

extended HOURS

Tuesday & Wednesday

8.00am-7.00pm

Saturday 9am-3pm

Complete

Tyre and

Auto

Canterbury owned and operated

464 Ferry Rd, 03 389 5370

ctawoolston@yahoo.co.nz

8.00am-5.00pm Mon-Thurs Fri

New & Used Tyres • Puncture Repairs

Batteries • WOF • Balancing

Mechanical Repairs • Lube & Servicing

Wheel Alignment

Community Clinics

I will be coming to your neighbourhood every month

to hear your concerns.

First Monday of every month

9:00am – 9:40am - Linwood

Linwood Avenue – outside the Salvation Army

9:50am – 10:30am Dallington

Cnr of Gayhurst Road and Claydon Place

10:40am – 11:20am Stanmore/Richmond

Stanmore Road opposite New World at the Park at

Richmond Playground

11:30am – 12:10am Shirley

Cnr of Marshlands Road and Hammersley Avenue

First Friday of every month

9:00am – 9:40am Bromley, Bromley Road, outside

the Community Centre

9:50am – 10:30am Wainoni/Aranui

Wainoni Road (near Shortland Street West)

10:40am – 11:20am Burwood

17 Parnwell Road next to the Education centre

11:30am – 12:10am Parklands

Queenspark Drive - outside Harcourts

Dyers Road Landscape

& Garden Supplies

• Barks • Peastraw • Composts - we supply the best available

• Aggregates - Chip, Round and Basecourse

• Pavers & Schist products • Pungas

• Decorative Stones & Landscaping Rocks

• Trailer Hire first hour free with purchase

• Bag & Bulk - pick up or delivered

David, Carol & Mike

We will deliver!

SOIL

AND

HARDFILL

DUMPING

Phone: 03 384 6540

183 Dyers Rd, Bromley • OPEN 7 DAYS

Weekdays 7.30am-5pm. Weekends 8.30am-3pm

www.dyersroadandlandscapes.co.nz

Pianos

Inspired by old world craftsmanship and the artistry of Italian design,

Palatino takes its name from a central hill in Rome where ancient emperors

built their palaces. Palatino builds pianos based on the pursuit of "Quality

not Quantity." With this mission in mind, we have imported the highest

quality components from around the world.

Canadian white spruce is imported for soundboards, Roslau strings from

Germany; beech wood from France for grand piano rims and Renner

hammers from Germany on the Concert Series pianos. These are all

components found in some of the most expensive pianos in the world.

Play one and see for yourself – from design to construction, from the

studio to the concert hall, Palatino is truly a World Class Piano.

5' Classic Grand

Ebony Polish Piano

• AAA Canadian White Solid Spruce

Soundboard

• High Quality German Renner

Hammers – Reinforced and

T-Pinned

• Roslau Strings

(Germany)

• Sostenuto

Center Pedal

• Solid Brass

Casters &

Hardware

• Slow Close Fallboard

• 10 year warranty

126cm Vertical

Ebony Polish Piano

• Solid Spruce Soundboard

• Roslau Strings (Germany)

• High Quality German Hammers

• Solid Brass Casters & Hardware

• 10 year warranty

$7,995 $5,995

120cm Vertical

Ebony Polish Piano

• Solid Spruce Soundboard

• Roslau Strings (Germany)

• High Quality German Hammers

• Solid Brass Casters & Hardware

• Slow Close Fallboard

• 10 year warranty

Cnr Wordsworth & Brisbane Sts, Christchurch.

Ph: 366 1949 | www.beggsmusic.net.nz

Free On-Site

Parking off

Brisbane Street.
---
12 TUESDAY SEPTEMBER 27 2016

SELWYN TIMES

Mairehau

high School

Encouraging ExcEllEncE in our community

From the Deputy

Principal's Desk

Whanau Evening

on Thursday 1 September, the school hosted over

110 people at a very significant Whanau and families

evening in the school hall.

The school's 'Building on Success' Focus Team of

teachers, superbly led by Ms angela Marshall (art

and gaTe), designed, consulted about, and prepared

this evening as part of their work in engaging our

families, and building our relationships with them.

The focus, of course, is always to improve

communications with whanau and families, as we all

work to meet the learning, cultural, and other needs of our students.

The particular focus for this event was on strengthening our bonds with our Maori and

Pacific communities, including cook islands, Samoan, Tongan and Fijian indian families.

The evening began with a formal welcome to

everyone from Mr. Bell, Deputy Principal, and

Phoenix Neilson

then an introduction to our student leaders

for the evening, Kavita Pillay (Fijian indian

New Zealander), anahera Koopu (NZ Maori),

Phoenix Neilson (NZ Maori), and Sebastian

anae-ah Sue (Samoan New Zealander).

These young leaders ran the evening with

confidence and style, introducing items

and guest speakers, presenting karakia

(prayer) and orders of service for an amazing

three course meal, and, finally, providing

acknowledgments at the end.

Staff pitched in to help with food purchasing, preparation and service, the setting of

tables in the hall, and the all-important clean-up at the end of the evening.

our guests, henare Te aika (teacher at Te Kura Kaupapa Maori o Te Whanau Tahi and

ex-pupil of Mairehau high) and alana Batcheler (Pacific liaison officer at university of

canterbury), spoke eloquently about their own learning journeys as Maori and Pasifika

respectively, and encouraged our students to set lofty but attainable goals.

a number of our students and their families contributed with musical items, which

enhanced a truly memorable evening.

Families spoke with humility and appreciation about the school's genuine efforts to

connect with them. The hope now is for the school to have an evening of this scale every

two years in order to support the learning aspirations of our Maori and Pacific youth.

The school acknowledges the wonderful work of Ms. Marshall and the team of teachers,

trainee teachers, support staff and students who made this evening possible.

Mark Bell

Deputy Principal

Mark Bell, Deputy Principal

Kavita Pillay, left (Fijian Indian) with her family. 2nd left is Ariana Johanssen, Maori Liason

University of Canterbury, 3rd left Alana Batchelor, Pasifika Liason University of Canterbury.

OKAZAKI NISHI

School Visit

We enjoyed having a group of 15 students

from okazaki Nishi School visit us between

august 3 and august 15. They had eSol

(english for speakers of other languages)

classes here at school and attended our other

subject classes along with their kiwi buddies.

They enjoyed performing in our talent quest

and we had a farewell party on august 12.

Thank you to the students who acted as

buddies, to the homestay families, and to our

staff for ensuring that this visit was a success.

Year 9 student, Sarah heydon, chose to

make a paper mache mask during her

Flexible learning Time (FlT).

Sarah's mask is proudly mounted on the

wall of her Dean's office, Mr greig cowley.

Mairehau High School, Hills Road, Christchurch P. 385 3145 F. 385 3143 admin@mairehau.school.nz www.mairehau.school.nz
---
SELWYN TIMES

TUESDAY SEPTEMBER 27 2016 13

Mairehau

high School

Encouraging ExcEllEncE in our community

Wallace Secondary School

Art Award Finalists

We are pleased to congratulate

two of our level 3 Painting

students for having been

selected as finalists for the TSB

Bank Wallace Secondary Schools

art awards 2016.

Kavita Pillay and Jake Jeffries

were the only christchurch students who had their work

selected from 500 entries.

Their work has been sent to auckland to be exhibited at Pah

homestead. This is an historic home located in the suburb of

hillsborough in auckland, New Zealand. it is owned by the

auckland council, and is currently used as an art gallery, housing

the James Wallace art Trust's collection of New Zealand art.

This is a great achievement for both students, who are very

passionate and talented in the Visual arts.

Kavita Pillay

Mixed Media Portrait

Pencil, Watercolour, Paint

Jake Jeffries

Mixed Media Portrait

Pencil, White Paint

HOT OFF

THE PRESS!

Voices of Canterbury

Well done to the choir who performed on august 30 at the

Voices of canterbury Festival. congratulations especially to

lorne Joblin and Josh Wade for the excellence award for

their solo singing and to rebekah Williams, ella rerekura and

Tammy raynard who were also soloists. We also gained an

excellence award for overall Musical Presentation.

You were all great.

Music Tour 2016

This year our annual music tour visited rawhiti School where

we gave an hour long concert to a large and enthusiastic

audience. it was great to see our ex-student Jenny Payne

(Melling) who teaches singing there and we really enjoyed

the rawhiti student band and choir items, as well.

in the afternoon we performed to another large and keen

audience at Pegasus School, before staying the night in

hanmer. our final concert was at Waiau School and their

performance for us at the end of our concert is always a

highlight.

our music tour is open to all our students who are involved

with music in some form at school, including choir, group

and solo performances, orchestra, dance and lighting and

sound engineering.

Thank you to all our staff and students who performed so

well. Participants included the following:

concert band, heck i Don't Know -Tammy, ella and rachel,

Year 10 group, rachel Nolan, Tammy raynard and ella

Peoples, Year 11 Band, Maddy Bouma and holly Boardman,

Jakob callender and ella rerekura ,Tyler and the collins,

rebekah Williams, Year 13 class, Jazz band.choir and lorne

Joblin, Kaisie Van Dyk and Fale Polo.

A huge thanks to

BP MAIREHAU

WORKSHOP

at the end of last year, our school was very kindly

donated a 7 seater van for use in the careers Department.

BP Mairehau has always been a strong supporter of

our school with our students able to carry out work

experience in their workshop. BP Mairehau has now

offered to sponsor our van with free WoF's and servicing.

Thank you Dean and Darryl.

Their contact details are 435 innes road (just down from

our school) and the phone number is 385 3477 if you

require their services.

Josh Wade and Lorne Joblin - Excellence Award, Voices of

Canterbury.

The judging of The Wallace Secondary School

art award was held in auckland on Tuesday 14th

September.

First Place:

Falefia Roache, epsom girls high School

second Place:

Lui Fuataga, Kelston Boys high School

third Place:

George Li, King's college

highly commended:

Kavita Pillay, Mairehau high School

We are thrilled to hear of Kavita's recognition.

Well done to both Kavita and Jake for making it into

the finals of this prestigious NZ award.

Mairehau High School, Hills Road, Christchurch P. 385 3145 F. 385 3143 admin@mairehau.school.nz www.mairehau.school.nz
---
14 2

Tuesday [Edition datE] September 27 2016

PEGASUS POST

Shop Local, Shop PARKLANDS

Parklands Post – A

team you can trust

Stop by and visit Parklands

Lotto and Post for more than just

your postal needs. If you play

the lottery they have a winning

track record. Their shop has been

responsible in selling the winning

tickets totalling more than $8.3

million dollars for lucky winners.

The team at Parklands Lotto

and Post are dedicated, friendly

professionals with years of

experience between them.

Their goal is to make your

visit as simple and carefree as

possible. Located at the Parklands

shopping centre it is an easy

drive from the new Prestons'

subdivision and they are centrally

located to both Burwood

and the North New Brighton

communities.

Parklands Post is lovely and

bright, with the no space left

unturned. Come and meet their

cheerful staff: Alan, Debbie,

Yvonne, Denise, Jo-Anne,

Georgia, Reece, Michelle and

Ellie. A majority of the team

have been around for a number

of years, so the ambiance and

environment feel homey and

inviting. Feels like your visiting

friends while running your

errands.

They are also "Famous in the

East" for their great range of gifts

and Wall Art. Ranges change

regularly, and the regulars love

coming in to see "what's new".

Many of the ranges are different

to what is seen elsewhere, as these

are sourced on trips to Trade

Shows during the year.

Parklands Post offers

extensive services:

- Car registration and change of

car ownership

- If your car is off the road don't

incur fines, put the registration

on hold

- Pay centre for energy and phone

bill payments

- Western union transfers

- Kiwibank over the counter

transactions

- Full postal services; including

bags and accessories

- International postal services

including tracked services

- Photocopy and fax service

- Wall art

- Gift range – stationary,

children's books, paperbacks,

phone cards, sim cards

- Maxwell Drycleaners agent –

clothing to curtains

Stop by the full service offerings

at Parklands Post today, running

errands never was so easy.

Shop Hours

Mon, Tues, Thurs, Fri

8.30 – 5.30pm

Wed, 8.30 to 6.30,

Sat - 9.00 – 7.00pm

Health, Gifts, Beauty needs, Professional Advice,

Unichem Parklands Pharmacy - your one stop shop

Shop 4-6, Parklands Shopping Complex, 60 Queenspark Drive

Phone: (03) 3831330

Open: Monday to Friday 8.30am until 6pm. Saturday 9.30am until 2pm.

The Best

Indian

Restaurant

IN PARKLANDS

Phone orders welcome

60 Queenspark Drive, Parklands

Phone 383 6263 | Open 7 Days

Lunch: Tues-Sun, 11.30am-2pm

Dinner: Mon-Sun, from 4.30pm till late

www.everestindian.co.nz

LUNCH SPECIAL

Takeaway $7.99 | Dine-in $9.99

FREE HOME

DELIVERY

(Dinner only, Mon, Tues, Wed. 5km radius only)

• Dine-in or takeaway

• Bookings available for parties

and functions

• Fully licensed

• Discount available

Try our new

Nepalese

Food with the

best Mango

Lassi in town

Spring Stock Arrived

Parklands Lotto,

Post & Kiwibank

Animal

Planters

$49.99

Solar Little Girl

& Boy Garden

Ornament

$69.99

60 Queenspark Drive, Parklands Shopping Centre

Ph 383 0303

Late Nights: Wednesdays & Saturdays

wINteR meNU exciting

blackboard

ASIAN

STYLE mEALS

Takeaway or Dine In

UNDER

$

20 .00

bAR & bISTRo

qUEENSPARK

200gm

RUmP STEAK,

SALAD &

FRIES

$

12 .00

$

13 .50 LUNCH

monday-Thursday

Specials

SPECIALS

DAILY

come IN, dINe & watch the RUGBY

60 Queenspark Drive | CHCH | P. 383 2606
---
PEGASUS POST Tuesday September 27 2016 15

Raltan

3 Piece Cafe Setting

288869

Jack and Jill

Pacific Hardwood

Setting

248065

Whitford

3 Piece Steel

Setting

202058

$

229

Como

3 Piece Cafe

Setting

!88003

$

479

Contempo

Egg Chair

With Cushion

248424

$

97 $

299

Pacific

3 Piece

Bench Setting

1500 x 900mm table and

2 bench seats. Eucalyptus hardwood.

Bench Cushions Included.

!88195

$

599 Siena

3 Piece Pod Setting

Throw cushions included.

288902

$

1299

$

689

Contempo

Day Bed

Aluminium

and Wicker

With

Cushion.

289088

$

1499

Contempo

4 Piece Lounge Setting

Wicker 288901

Contempo

4 Piece Wicker Lounge Setting

1700 x 840mm sectional lounger, one

footrest and glass top coffee table. Black

powder-coated aluminum frame. Polyester

cushions included.

248421

Ravenna

4 Piece Wicker Lounge Setting

Rust resistant powder-coated aluminium

frame. All weather wicker.

288872

Sienna

4 Piece Lounge Setting

Grey wicker.

288907

$

3299

$

1499

$

1999

$

2999

Gasmate

Column Heater

Electric 2000w.

248398

$

299

Gasmate

Outdoor Gas Fire

293936

$

899

30 Seconds

BBQ Cleaner

1L Spray Bottle

082534

$

9 95

Grillman

2 Piece BBQ

Tool Set

202238

Premium

BBQ Mat

Rectangular

279634

$

79 98

!88015

$

14 98

Charmate

Charcoal

Smoker

and Grill

236304

BBQ Pizza Oven

Fire Box

292702

$

128

BBQ 3 Burner

With Wooden Trays

289049

$

399

Gasmate

Portable BBQ

Powder Coated Ranger.

202319

Weber

Portable Gas BBQ

!88015

$

549

$

99

$

349

Cart sold

separately

239465

$

249

Gemini

4 Burner BBQ

Hooded, Black

288996

$

499 $

599

Gemini

6 Burner BBQ

Hooded, Black

288997

Maestro

6 Burner BBQ

Hooded.

248607

$

799 $

999

Masport

Graphite

4 Burner BBQ

Hooded.

248612

Horizon

6 Burner BBQ

Hooded,

stainless

Steel.

229235

$

1099

Ferrymead

1005 Ferry Road, Phone: 366 6306

Opening Hours: Monday–Friday: 7:00am–7pm

Saturday, Sunday and Public Holidays: 8:00am–6:00pm

Offers available at Mitre10 Mega Ferrymead only, until the 2nd of October, while stocks last.

mitre10mega.co.nz

If you find a lower price on an identical stocked

product locally we will beat it by 15%.

find us

mitre10.co.nz

If you find the same product cheaper from another Mitre 10 store or Mitre 10 website we'll match that price. Excludes trade

and special quotes, stock liquidations and commercial quantities. The in-store price may be lower than that advertised.
---
16

Tuesday September 27 2016

PEGASUS POST

Jo Hayes National List MP based in Christchurch East

Overhaul of family violence laws

The Government's review of the 20-year-old Domestic

Violence Act is resulting in sweeping changes to family

violence legislation.

Ministers and departments across 16 portfolios are

working together to redesign how New Zealand's system

prevents and responds to family violence, Jo Hayes said.

"The fact is that we need to act sooner to keep victims

safe, and we need to act earlier to change perpetrator

behaviour."

While reducing family violence incidents requires all

New Zealanders to think differently, Jo Hayes says that

the Government is taking the lead to drive change.

The legislation is intended to be introduced to Parliament

in early 2017.

Boost for Enviroschools

The Government is continuing to back its environmental

focus by confirming a further six-years' funding to the

amount of $11.4 million for the Toimata Foundation,

which implements the Enviroschools and Te Aho Tu Roa

programmes.

Minister for the Environment Hon. Dr Nick Smith made

the announcement at Christchurch East's Waitakiri School

on 30 August, with Associate Minister of Conservation

Hon. Nicky Wagner and Jo Hayes in attendance.

At the same time, the government released a refreshed

National Strategy for Environmental Education for public

feedback.

"The strategy focuses on strengthening environmental

work through science and linking to environmental

work outside of schools," Jo Hayes said.

To have your say on the strategy, visit www.doc.govt.nz.

I'm Jo Hayes, National's list MP based in Christchurch East.

I love being a part of this wonderful, tight-knit Christchurch East

community. There's so much going on that I just want to share a few

highlights with you of what our community and Government are

working on achieving together.

Politicians make a sporting difference

Politicians ditched their suits for rugby shorts and netball skirts

in Christchurch on 3 September, to raise money for charity.

Parliamentary invitational

teams played Canterbury

Legends Teams in the

two sports, hosted at

Christ's College. More

than $20,000 was raised

for local Christchurch

charities Hohepa Trust

and 0800 Hungry.

Christchurch East's bumpy roads on CCC's agenda

About a third of the $2.2 billion cost of fixing Christchurch's

earthquake-damaged infrastructure has been spent in the city's

east. About 10 per cent of the total bill has been spent on roads.

Whilst SCIRT will wind up at year's end, Christchurch City Council

has budgeted $100 million over the next 10-years to smooth the

most bumpy roads across the city.

Get out and vote!

Your voting papers for local government elections should have

arrived in the post, and are due by 8 October. Jo Hayes says

it's important to vote. "This is your opportunity to choose a local

government that will make big decisions about Christchurch over

the next three years, so you need to know who you are voting for."

There's even an app for that: visit www.ccc.govt.nz and download

"Celect" to access candidate profiles from your phone.

Celebrating culture in Christchurch

Jo Hayes was thrilled to

be invited to the national

launch of New Zealand

Chinese Language Week

at Avonhead School

on 11 September. "It's

wonderful to see such

a bright and vibrant

celebration of the

different cultures and

ethnicities in our country."

Let's talk

Please come along and see me. I'll be

parked in my van on 30 September at:

1) Preston`s subdivision

By Marshlands School

on Te Korari Street

Time: 8.30 - 9.30am

2) Parklands

Outside sports field,

opposite shopping centre

Time: 10-11am

3) Shirley

Burwood Park by Shirley Rugby

Grounds, New Brighton Road

Time: 11.30am -12.30pm

4) New Brighton

Next to Ray White offices

Time: 12.45 - 1.45pm

5) Wainoni

Marae on Pages Road (out the front)

Time: 2-3pm

6) Richmond

Stanmore Road, outside of the park

and opposite New World

Time: 3.30-4.30pm

Please phone our office on

03 384 9459 to book. See you there!

Authorised by Jo Hayes, National MP,

Unit 6/975 Ferry Road, Ferrymead
---
PEGASUS POST Tuesday September 27 2016 17

Pegasus Post

Keep itLocal

Thank you – Happy

Birthday Motortech

Motortech, the premiere motor mechanics shop of New Brighton

is celebrating their first year.

Motortech, the premiere motor

mechanics shop of New Brighton is

celebrating their first year.

"As we approach one year since our

doors first opened, we have exceeded our

expectations and it's all because of you,

our customers. We wish to thank you

for trusting us with your business and

referring your friends and family our

way. Motortech has grown so fast that

we have added a third auto expert to join

our team." Says owner Chris Sullivan.

Motortech prides themselves in living

their business ethos and staying current

with the latest automotive technology

and motor technical advances to make

the repairs for your car as effective,

efficient and simple as possible.

Motortech – Motor Experts in:

• Motortech is an authorised Bosch

Car Service dealership and has the

expertise to repair anything from simple

repairs to complicated diagnostics.

• Bosch Car Service Technicians have

the necessary training and equipment to

get your car back on the road, fixed right

the first time. As complicated as cars are

today, don't trust them to just any shop,

trust a Bosch Car Service authorised

dealer.

• Dealership level diagnostic

equipment for BMW's, Audi, and

Volkswagen.

• Multi-purpose automotive scanning

tools – suitable for other makes of

vehicles.

• State-of-the-art workshop fitted out

for all kinds of mechanical and electrical

repairs.

• WOF and servicing.

• Batteries, oil, etc. to make your wait

time as short as possible.

• Should they need your car overnight,

Motortech will provide you with one of

their loaner cars for your convenience.

No matter what you drive Motortech

can identify your need, recommend a

solution and repair the situation. If not,

they will be honest with you and not

waste your time or money.

Call Motortech today 03 388 5750

to book your appointment or if you're

in the neighborhood stop by the

Motortech shop at 18e Bower Avenue,

New Brighton.

Motortech - put yourself in the

hands of the motor repair experts

Chris, owner (middle),

Peter (left) and Mark (right).

NEW LOCAL

MECHANIC

& now a Bosch car care centre

Full Mechanical Repairs

Full Auto Electrical Repairs

18E Bower Avenue, New Brighton

Phone 388 5750

We use & recommend

All About Hair

& Beauty

(True Vanity

027 450 4150)

We pride ourselves

in listening to our

clients needs, either

professional advice or

advice on home care

products

for hair & scalp.

We are trained in all

aspects of hairdressing

& beauty & always up

for a challenge.

Ring today, a chat will

cost only your time.

Ph 03 388-8009

169 Bowhill Rd, Christchurch

Tues-Sat 9am-5pm

Late nights: Tues-Thurs 9am-8pm

www.allabouthair.co.nz

Gold Card rates Tues & Wed

INDIAN FOOD MArT

we Are bACk

• 100% Halal Meat

• Fresh Vegetable

• Lentils, Spices & Herbs

• Nuts Almonds, Cashews

• Groceries

205C Hills Road, Edgeware,

Ph 03-3860111.

Shop 4, 103 Stanmore Road,

Linwood, Ph 03-3816163.

Email: spiceheaven123@gmail.com

www.spiceheaven.co.nz

• Indian

• Fiji

• Filippino

• Samoan

• Mediterian

• Thai

• brazilian

• Asian

• Pacific Islands

SuPER

LOW PRICES!

Over 60 health products

on special every day.

Locally owned and operated.

Giving health advice since 1992.

The Palms: 385 0364

The Hub Hornby: 349 5150

Bush Inn Centre: 348 7867
---
18

Tuesday September 27 2016

PEGASUS POST

Email fraser.walker@starmedia.kiwi

by 5pm each Wednesday

School Holiday Fun at The

Palms

Until Friday, September 30,

11am-3pm

Children can book in to the

'Build It' competition at The

Palms Shopping Centre and try

their luck at building the best fort

with the new pop up playground.

The playzone will be located next

to Life Pharmacy. Also, from

Monday 3 to Friday October 7,

children can book in to the 'Putt

It' mini golf course at The Palms

and try their luck at getting a

hole in one. The playzone is also

located next to Life Pharmacy.

The Palms Shopping Centre,

Corner of Marshland and Shirley

Rds. Free entry

Animates Linwood - School

Holiday Activities

Thursday, September 29 to

Thursday October 6, 11am to

noon

The school holidays are upon

us and once again, Animates

Linwood is hosting activities

to keep kids entertained. From

purring to barking, go along to

the Animates store to learn all

about cats and dogs. The sessions

are a great way to introduce

children to the skills they need to

become a nurturing pet parent.

Each child that attends will also

receive a certificate to take home.

No bookings are required, but be

sure to get in early.

Animates, 248 Linwood Ave.

Free entry

New Brighton Seaside Market

Every Saturday, from 10am-

2pm

Every Saturday, New Brighton's

pedestrian mall is filled with

colour and creativity. Go along

to the seaside and enjoy live

entertainment, food, fresh

produce, arts, crafts, jewellery

and more. There will be a bouncy

castle and free face painting for

the kids. For inquiries, email

seasidemarket@mail.com.

New Brighton Pedestrian Mall.

Free entry

Gruffalo Explorers Wild

Wednesday

Wednesday, September 28,

9.30am-12.30pm

Go for a walk with Mouse

from The Gruffalo as he explores

the deep dark wood to meet his

friends including Snake, Fox

Owl, a few special New Zealand

species, and the Gruffalo. Enjoy

storytelling, some Gruffalo

activities, and then finish off

the afternoon by taking part

in hut-building. Approximate

distance of 1.5 to 2.3km. For

more information, go to www.

walkingfestival.co.nz

Bottle Lake Forest Park,

Waitikiri Drive. Free entry

HOLIDAY EVENT: Get the kids out of the house these holidays, and take them to try spring

blossom painting. The event will take place on Monday, September 26, from 10.30 to 11.30am.

Step back in time and experience the ancient art of chinese blossom painting. Celebrate spring

using ink, and create a simple cherry blossom painting to take home, while also learning more

about Chinese culture. This event is ideal for all children ages five years and up. All materials

are supplied. Bookings are not necessary, but a caregiver is required. For more information,

phone 941 7923. At the Shirley Public Library, 36 Marshland Rd. Free entry. ​

Pukeko Stomp

Wednesday, October 5, 10am-

1pm

Skip, hop, walk and stomp

around Travis Country Dr to

find Perky the Pukeko and his

friends. Be entertained with

stories about Perky at the halfway

point at Travis Information

Centre and enjoy some tasty fruit

kebabs along the walk through

the wetlands while singing songs

and learning about Perky's life.

Scooters aren't suitable but bikes

are. Parking available on the

reserve. Dogs are not allowed.

For more information go to

www.walkingfestival.co.nz. Rain

date Thursday, October 6.

Clarevale Reserve, Travis

Country Drive. Free entry

***

Grandparents Storytimes

Tuesday September 27,

10.30am-11.30am

Stories, songs, rhymes and

craft for children – all celebrating

grandparents. Grandmothers

and nanas, grandpas and poppas

bring your grand-kids in for

school holidays' storytimes.

Parents, grandparents, and

caregivers all welcome. An ideal

event for children aged two to

seven. For more information,

phone 941 7923.

Shirley Public Library, 36

Marshland Rd. Free entry

Plunket Babysitting Course

for Teens

Friday, October 7, 9am-3pm

Whether you're already

babysitting the neighbour's kids

or looking for credibility when

applying for babysitting jobs, this

day is for you. The course covers

the expectations of a babysitter,

the child and family, safety, play

and basic first aid by a trained

Plunket facilitator. Register now

at www.yat.org.nz or phone 388

1001.

Youth Alive Trust, 111 Seaview

Rd, New Brighton. $25 each.

THE HOME OF GOOD BAKING

SOUTHERN

PLAINS BREAD

VARIETIES

2 FOR

$

5 00

CARAMEL

LOUISE SLICE

A shortcake

base, smothered

with creamy

caramel topped

with coconut

ONLY

Soft white rolls

generously

topped with

cheese and

perfect for

lunches.

$

3 49

meringue. $

1 99

EA

LAST DAYS

TO ENTER

CHEESE

ROUNDS 4PK

ONLY

PURCHASE 2 x 2L DAIRY DALE

MILK TO ENTER THE DRAW TO

WIN A BBQ & ACCESSORIES PACK

WORTH $1000 FOR YOUR FAMILY!

25 WINNERS - 1 PER STORE

Promotion valid 1st - 30th September 2016. Winners

will be contacted Friday 7th October 2016. Terms &

conditions apply. Full terms & conditions can be found

at www.couplands.co.nz

MILK

Dairy Dale 2L varieties.

$

5 98

2 FOR or $3.19 each

JUMBO BISCUITS

$

5 00

4 FOR

Promotional pricing available while stocks last from 26/09/16 to 02/10/16.

Images are serving suggestions only.

Open 7 days | 8 Convenient local locations

Hornby • Barrington • Ferry Rd • Papanui • Riccarton • Upper Riccarton • New Brighton • Rangiora

BAKERIES

www.couplands.co.nz
---
2

PEGASUS [Edition POST datE]

Tuesday September 27 2016 19

HEALTH & BEAUTY

Tips for untreated

hearing loss

Hearing is a sense that many of us

take for granted. Throughout our lives, we

subject our ears to loud sounds–music,

power tools, lawn mowers, air travel–

without using ear protection. regrettably,

this can cause hearing loss. also, the

natural aging process generally results

in hearing loss. even certain illnesses

and medications can adversely affect our

hearing. Unfortunately, hearing loss that

occurs from such causes is permanent.

The good news is, even if you already

have a little hearing loss, it's never too

late to preserve your hearing for the

years ahead. The first thing you can do is

protect your ears in noisy environments.

also, avoid using cotton swabs to clean

your ears. and, make it a priority to get

a baseline hearing screening to see if

hearing loss has already occurred.

if hearing loss is found during your

hearing evaluation, it could be due to

excess ear wax or infection. This type of

hearing loss is reversible. if hearing loss

stems from chronic exposure to loud

noise, aging, or certain illnesses and

medications, hearing aids are the best way

to preserve your good hearing.

The great news about today's hearing

aids is how small and easy to wear they

are. Modern digital hearing aids use

super-tiny microprocessor technology–

making them virtually invisible when

worn. Hearing aids can help almost all

degrees of hearing loss–from a little to a

lot. and, by stimulating your brain with

sound that might not otherwise reach it,

hearing aids help keep your brain active,

which lowers your risk for cognitive

diseases, such as dementia.

if you suspect you may have hearing

loss, don't ignore it. neglecting a hearing

loss can have a snowball effect–making it

grow bigger, faster than necessary.

Here are 10 ways you can limit hearing

damage and preserve good hearing:

1. Understand the sound levels of the

noises in your environment.

2. Learn about proper ear protection.

There are many kinds on the market

today, ranging from custom ear molds to

foam plugs and more.

3. Put physical distance between you

and loud noise when it is present. if

possible, stand at an angle from the noise,

not directly in front of it.

4. Take breaks when you are exposed

to noise.

5. When listening to music through

headphones or earbuds, keep the volume

low-to-medium.

6. Know the signs of hearing loss, and

measure yourself against them.

7. schedule a baseline hearing

evaluation. Hearing loss is on the rise

among Baby Boomers and young people.

it's never too early to get your hearing

checked, but don't wait past age 50.

8. Have your hearing evaluated by a

professional licensed by your state.

9. if you have hearing loss caused by a

reversible condition, take steps to

correct it.

10. if any permanent hearing loss is

diagnosed, choose hearing aids to slow it

down, and preserve good hearing.

it's never too early to get your

hearing checked, but don't wait

past age 50.

Playing a round of

golf this week?

Did you know almost half of

golfers get injured?

We can help with:

• Sports physiotherapy –

common golfer injuries include

back, shoulder, elbow, wrist

and knee

• New Functional Training

Studio to enhance your

performance

• No GP referral needed

musclepeople.co.nz

Call us today 360 3606

Three Muscle People Physio Clinics:

Bishopdale Clinic

13a Bishopdale Court

Ph 360 3606

City Clinic

12 Hereford St

Ph 961 0236

Wigram Skies Clinic

67 Skyhawk Rd

Ph 322 9400
---
20

Tuesday September 27 2016

REAL ESTATE

But wait…there's more

PEGASUS POST

21 Whareora Terrace, Cashmere

Auction Date: Thursday 6 Oct 2016 - unless sold prior

5 bedrooms | 4 bathrooms | 4 toilets | 3 living rooms | 2 dining rooms | 2 offices/studies | 2 car-garage | 2 carports | 6 off-street parks | Listing # BE192677

This stunning home is for those who want

a life less ordinary. Refurbished to a high

standard, with a state of the art kitchen,

this is an entertainers delight. Leading

off the kitchen dining area is a large patio

with barbecue. This has been completely

encased at the front with frameless glass to

ensure no matter what the wind you can

enjoy these summer evenings to come. The

views have been made the centre piece of

each of the living rooms, then to add to

the space there is a purpose built room

for entertaining/gym/teenage retreat with

its own butlers sink and bar area. There

is easily room for a pool table here. The

main house has three double bedrooms

and three bathrooms. Extensive decks

allow you to choose where you will sit to

follow the sun around during the day. As

they say on the TV ads 'but wait there is

more' so it is for this home. A completely

self-contained flat is on the lower level.

This has its own kitchen, large living, two

bedrooms, bathroom & laundry. Access

to this is via the lower driveway and there

is double enclosed carport plus ample

parking at this level. And yet even more:

with the upper level access you have a

double garage, and an office - this garage

and office must have some of the best views

on the hill. And yet again ample off street

parking and room for a boat as well! Open

Homes Saturday and Sunday 11:00 a.m. -

11:45 a.m. until auction.

Make sure you come visit at one of

the open homes, or to arrange a private

viewing of this property call Debbie

Pettigrew from Harcourts Grenadier

Beckenham (Licensed Agent REAA

2008) now on 337 1316 or 027 777 0411

Location Location Location

Ground Floor Close to the Airport

This is 325.2 square meters of prime commercial floor

space in a modern building.

• Off street parking.

• Well appointed kitchen, staffroom and bathroom facilities.

• Office area consists of a welcoming reception area,

several offices, studios and an area suitable for retail

showroom or storage.

This high profile building situated on Wairakei Road presents

a perfect opportunity for office, retail or production facilities.

Upstairs may also be available on negotiation.

Get qualified in horticulture

from your own garden

Learn about the theory and practical skills behind gardening.

Our horticulture courses will provide you with the skills and

knowledge you need to get started in horticulture. Flexible

study by distance or in tutor-led workshops.

Grow your horticulture career with

support workshops

Gain practical skills and experience during our

workshop sessions. Available in your area now.

Limited spaces available

Call Ryan Young on 021 222 9678

email ryan@florascapes.co.nz

fee free*

Visit openpolytechnic.ac.nz/hortworkshop

*Terms and conditions apply

To make arrangements to view the premises:

Contact Gary Anderson

0275 333 227 any time
---
PEGASUS POST Tuesday September 27 2016 21

Antiques

NEED a new car? and

need finance we can help.

Call us today Learners

lcs, past credit issues

been bankrupt or new to

New Zealand! Call Leon

022 625 2232

Computer

Services

IT is in

my name

Bolitho

Computing

PC Repair &

maintenance

by your friendly

qualified IT guy.

• No job too small

• I will come to you

• No call out fee

• No travel charge

(within Christchurch)

• Competitive rates

• I won't geek speak

• Discount for 65+

Ph Andrew

027 739 7933

Computers

ALL

YOUR

COMPUTER

WORRIES SOLVED!

*$30.00 off your first

service with this coupon!*

No problem too big or

small from home PC's to

business networks. PC

slow? An end to Viruses,

Spyware, and Clogged

Systems. Safe secure

hassle-free computing.

Lost files recovered.

Microsoft Certified,

MCSE, MCP+l. 30 years

experience. Call Andrew

Buxton this week on 326-

6740 or 027 435-7596

for $30.00 off* Custom

Computers Christchurch

Curtains

www.curtainfabric-outlet.com

Fashion Designs & Colours

Discontinued Designs

End of Lines Bargain Prices

Call at Our Shop

CURTAIN FABRIC OUTLET

71 Hawdon St Sydenham

Ph 366-5026

Classifieds Contact us today Phone our local team 03 379 1100

Gardening

& Supplies

ANTIQUE

A GARDEN

Mahogony wall

PROFESSIONAL

bookcase.Exc

NEEDED? Qualified

cond,45inches tall x 28

Horticulturist, offering

inches wide ,5 shelves.

expert pruning, garden

$300. Ph Chch 352 4067

makeovers, garden design

and landscaping, for free

Cars

quotes call Bryce 027 688-

$4,001 - $8,000 8196 or 0508 242-733

A GARDEN OR

LANDSCAPING TIDY

UP? Rose & Fruit Tree

Pruning, Shrub, hedge

& tree pruning, Lawns,

Gardening, consistently

reliable general property

upkeep, Dip. Hort. 10

yrs experience, One off

tidy ups or on-going

service. Nick's Property

Maintenance. Keeping

your garden beautiful.

Free Quote. Ph. 942-4440

Holiday

Accommodation

QUEENSLAND SUN-

SHINE COAST AUSTRA-

LIA Resort, Ocean Views,

Balconies, Self Contained,

1 or 2 B/R Ensuite,

Heated Pool, Spa, Sauna,

Free Internet, Shops,

Restaurants, Tennis, Surf

Club & Patrolled Beach,

Public Transport at door.

Ask for our SEASONAL

SPECIALS. Phone 61 7

544-35011 Email: reception@mandolin.com.au

www.mandolin.com.au

To Let

HOUSEME

Portable sleepout or office

available to rent

Insulated and value for

money at $75.00 per week,

you wouldn't live in

anything else. Contact

Amanda

today on 0279570920 or

houseme2015@xtra.co.nz

Tours

Rexellent

Rentals

Cars, Vans, Brisbane, Coolangatta

FREE CALL

0800 601 508

e: rexellent@bigpond.com

Trades & Services

ARCHGOLA

Enjoy outdoor living all year round

15 months

INTEREST FREE

Normal lending criteria apply

• House, deck, carport & window canopy etc

• Warm & dry in winter

• UV protection for summer

• Customised & Tailored

• Café curtains fitted

• 5 year warranty

Chris Thorndycroft

Ph 0800 27 24 46 | www.archgola.co.nz

Trades & Services

FINANCE

Overdue

Overdue

bills

bills

need

need

paying?

paying?

It's nice to know you can rely on

It's SCL nice Finance to know to help. you can Isn't rely it? on

SCL Finance to help. Isn't it?

Ph 0800 725 725

Ph 0800 725 725

* Subject to normal lending criteria

* Subject to normal lending criteria

Appliance Sales & Service

388 4780

Appliance Services

14 Brighton Mall, New Brighton

Trades & Services

MDC

BUILDERS

Renovations & Repairs

All forms of Home

Maintenance

Bathrooms & Kitchens

Site clears

Excavating Driveways

& Paths

All forms of Foundations

Free Quotes

Give me a call today

Ph 022 407 8581

mdcbuildersnz@gmail.com

15% Discount with this Advert

Trades & Services

FOR ALL YOUR

★Garden Clean-ups

★Pruning

★Lawn Mowing

★Garden Maintenance

Call us today for a FREE quote

PH 0800 4 546 546

(0800 4 JIMJIM)

Trades & Services

• Replacement/new roofing

• Colour Steel gutter & fascia

• Flue & log burner installs

• Skytube/light installs

• Earthquake repairs

Licence Building

Practitioner LBP

Member of the Roofing

Association

DCM ROOFING LTD

The Roofing Specialists

PHONE IAIN

027 445 5597

iain@dcmroofing.co.nz

Trades & Services

Trades & Services

BEST BATHROOMS

full renovation specialists,

LBP, repairs &

maintenance ph 03 387-

0770 or 027 245-5226

Trades & Services

Trades & Services

BRICKLAYER

George Lockyer. Over

30 years bricklaying

experience. UK trained.

Licensed Building

Practitioner number

BP105608. Insurance

work. EQC repairs.

Heritage brickwork a

speciality. No job too

small. Governors Bay.

Home 329-9344, Cell

027 684 4046, email

karengeorge@xtra.co.nz

BUILDER

For all building work

but specialist in bathroom

renovations, 30 yrs

experience, with service

and integrity. Free Quotes.

Ph Lachlan 383-1723 or

0274 367-067.

BUILDER

LICENSED, available for

all aspects of building.

Please call 027 241-7471

or 335-0265

CARRIER

Local, experienced,

friendly, trade-me

purchases, single items

to truck loads, furniture

to whatever, removals &

trade deliveries a specialty.

Ph GEH 341-5069

CARPETLAYER

Laying and Repairs, 40 yrs

experience, ph Peter 326-

7711 or 027 240-6532

CARPET & VInYL

LAYIng

Repairs, uplifting,

relaying, restretching,

E mail jflattery@xtra.

co.nz,

ph 0800 003 181

or 027 2407416

DRIVEWAYS

Replace, repair or new.

We are a local company

with over 10 yrs exp.

We also operate a

digger for all other

earthworks.

Ph. R.M. Solutions

021 02866981

for a free quote.

Trades & Services

ELECTRICAL

Affordable electrical

services, wiring,

alterations & repairs,

LED conversions.

HEATPUMPS

full service including

pressure & performance

test $60 + GST. Ph 326

4992 or 0274 329755.

ROOF REPAIRS

Locally owned & operated with

over 30 years experience.

• Extensions & repair • Roof coating

• Concrete & clay tiles • Butynol

• Malthoid • Asbestos Certified

• Coloursteel • Old iron • Guttering

Phone Dave 981 0278

or 021 223 4200

E: dave@beaumontroofing.co.nz

BEAUMONT ROOFING LTD

Trades & Services

FEnCIng

All styles and shapes,

gates, wooden, ph

Mark 027 331-3223

FEnCE PAInTIng

Staining Quality at a

reasonable price. Free

quotes. Phone Warren

today on 980-1676 or 027

2014713

FENCING

Paling, picket,

iron, trellis

Demolition and

removal

Phone Bevan

021 231 1860

Fencing Uprite

Your Eastside

Specialist

FURnITURE

REMOVALS

Large Trucks $95 +

GST per hour 7 day NZ

wide, packing & moving,

Professional Company,

Professional Service.

Canterbury Relocations

Ltd. ph 0800 359 9313

gLAZIER

Window repairs, pet

doors, new glazing, double

glazing, conservatory

roofs. Experienced

tradesman. Call Bill on

981-1903 or 022 413-3504

LAnDSCAPE

COnSTRUCTIOn

Lawns, paving, water

features, irrigation,

planting, decks,

driveways, kerbing, ponds,

retainer walls, fencing.

Free quotes, Phone Tony

021-034-8555

PAInTIng

DECORATIng

Qualified tradesman,

over 30 yrs exp with refs.

EQC registered/project

managed EQR clients. For

a free no obligation quaote

call Karl 021 1138 266 or

03 359 5030

PAInTER

Top quality work, interior/

exterior, pensioners

discount, free quotes, 30

years experience, I stand

by Canterbury, ph Wayne

your friendly painter

03 385-4348 or 027 274-

3541

PAInTER

Available, All aspects in

painting. Very competitive

in roofs and fences. Please

call 027 241-7471 or 335-

0265

PAInTIng

DECORATIng

interior & exterior,

gib fixing, plastering,

paperhanging, Est 50 yrs

in ChCh, ph Wingfields

Ltd, ph Mark 021 171-

1586 or 355-5994

PLUMBER

For prompt service for all

plumbing maintenance,

repairs and alterations.

Phone Michael 364 7080

or 027 438 3943

PLUMBER

ALF THORPE

PLUMBING Certifying

Plumber for all types of

plumbing, maintenance,

spouting, alterations etc.

Phone 352-7402 or 0274-

350-231

Trades & Services

ROOFIng

Qualified & Licenced

Practitioner. Re-Roof &

Repairs, all types. Member

New Zealand Roofing

Association. Over 35 years

experience. Phone John

027 432-3822 or 351-9147

email johnmill@ihug.

co.nz

SPOUTIng CLEAnIng

Spouting Unblocked,

Cleaned Out and Flushed

Out. Also Full Handyman

Services Available. Call

Trevor 332 8949 or 021

043-2034

STOnEMASOn

BRICK

&

BLOCKLAYER,

Earthquake Repairs, Grind

Out & Repoint, River/

Oamaru stone, Schist,

Volcanic Rock, Paving,

all Alterations new & old,

Quality Workmanship,

visit www.featureworks.

co.nz or ph 027 601-3145

TREES

BIg OR SMALL

tree removal, trimming,

stump grinding, shelterbelt

clean up, section clearing,

rubbish removals,

excavation work, ph Trees

Big or Small, for a free

quote, 021 061 4783

TREE WORK

Hedge trimming, stump

grinding, rubbish removed,

small job specialty Ph

Andrew 03 322-8341 or

027 435-8759

T.V. SERVICE

CEnTRE

Repairs, tvs, microwaves,

stereos, DVD. Aerial

installations and kitsets,

480 Moorhouse Ave, ph 03

379 1400

UPHOLSTERER

Dining Chairs, Lounge

suites, Caravan Squabs

etc. recovered. Free

Quotes. Phone Graeme

383-1448

VHS VIDEO TAPES

& all camera tapes

converted to DVD, video

taping, weddings, twenty

firsts, special occasions,

www.grahamsvideo.co.nz

ph 03 338-1655

WATERBLASTIng

Quality Job, Quick Service

by skilled tradesman, Ph

Richard Severin at Jet-X

0800 538 969 Free quotes,

visit www.jetx.co.nz

WInDOW CLEAnIng

Average 3 bdrm house

inside or out $40. Both

$70. Phone Trevor 344-

2170

Public Notices

Wanted To Buy

AAA Buying goods

quality furniture,

Beds, Stoves, Washing

machines, Fridge Freezers.

Same day service. Selwyn

Dealers. Phone 980 5812

or 027 313 8156

A+ Household effects,

fridges, freezers, washing

machines, ovens. Good

cash paid. Ph Paul 022

0891 671

TOOLS

Garden, garage,

woodworking,

mechanical, engineering,

sawbenches, lathes, cash

buyer, ph 355-2045

Public Notices

Weka Pass Railway

Waipara, North Canterbury

We Are Running

SunDAY 2nd October

Running 1st & 3rd

Sundays of every month

Phone 0800WEKAPASS

Depart Glenmark Station

11.30am & 2.00pm

www.wekapassrailway.co.nz

Public Notices

DEMOLITION

With care and respect we

will remove your dwelling.

Our policy is to recycle as

much as we can. We are a

local company specialising

in residential properties. We

will endeavor to cater for

your individual needs.

Ph. R.M. Solutions

021 02866981

for a free quote.

Situations Vacant

CA$H

Strippers

& Podium

Dancers

Wanted!

18+ TO APPLY

NEISHA

021 193 0118

business video

PRoduCTion

A video will bring your business

alive & into your customers mind.

Promote your

services or business

with a professionally

created video with us

• Corporate and

Business video a speciality

• Competitive rates

• 25 years experience

• Start to finished product

• Professional quality guaranteed

PHone KeRRY 021 635 083
---
PROUDLY

PROUDLY

CHRISTCHURCH

CHRISTCHURCH

OWNED

OWNED TUESDaY, aUGUST 27, 2013 PROUDLY 384

384 CHRISTCHURCH 0600

0600

PROUDLY CHRISTCHURCH OWNED MONDaY JUNE 24, 2013

OWNED WEDENSDaY 10 JULY, 2013 384 0600

384 0600

A Mainland

Media Publication

Kea

(Nestor Notabilis)

Ladbrooks, Tai Tapu, Leeston, Lincoln, Southbridge, Prebbleton, Halswell, Rolleston, Templeton, Burnham, West Melton, Darfield, Arthurs Pass

Mainland

Press Newspaper

Sumner, Redcliffs, Mt. Pleasant, Ferrymead, Woolston, Lyttelton & Akaroa Harbours

Black Billed

Gull

A Mainland

New Zealand

Press Newspaper

Swamp Hen (Pukeko)

Linwood, Avonside, Richmond, Shirley, Burwood, Dallington, Wainoni, Bromley, Aranui, Avondale, Bexley, New Brighton, Northshore, Queenspark, Parklands, South Brighton

PROUDLY CHRISTCHURCH OWNED MONDaY JULY 15, 2013 PROUDLY 384 CHRISTCHURCH 0600

OWNED MONDaY 12 aUGUST, 2013 PROUDLY 384 CHRISTCHURCH 0600

OWNED MONDaY JUNE 24, 2013 384 0600

Bellbird

(Korimako)

A Mainland

A Mainland

New Zealand

Fantail

A Mainland

Pigeon (Kereru)

Press Newspaper

(Piwakawaka)

Newspaper

Press Newspaper

Harewood, Burnside, Bishopdale, Bryndwr, Fendalton, Merivale, St Albans, Mairehau, Papanui, Casebrook, Redwood, Regents Park, Styx Mill, Northwood, Spreydon, Belfast Hoon Hay, Hillmorton, Cracroft, Cashmere, St Martins, Somerfield, Sydenham, Addington, Waltham, Opawa, Beckenham, Huntsbury, Woolston Templeton, Islington, Hei Hei, Broomfield, Halswell, Oaklands, Westlake, Hornby, Wigram, Sockburn, Church Corner, Ilam, Russley, Hyde Park, Avonhead, Riccarton Park, Riccarton

Proudly locally owned and

published by Star Media

Award winning publishing group

locally owned and

published by Star Media

Award winning publishing group

Fantail

(Piwakawaka)

locally owned and

published by Star Media

Award winning publishing group

locally owned and

published by Star Media

Award winning publishing group

Bellbird

(Korimako)

New Zealand

Pigeon (Kereru)

locally owned and

published by Star Media

Award winning publishing group

Black

Billed Gull

Kea

(Nestor Notabilis)

22

Tuesday September 27 2016

Call us & we'll help

you place your

classified advert in our

community papers

Nobody knows

Christchurch

like a local

We're local, we're

in Christchurch, we

speak your language!

Phone: 379 1100

Selwyn

Times

Nor'West

News

Public Notices

Bay Harbour

A

News

Southern

View Press

Classifieds

Our community papers are published every

Tuesday (Bay Harbour, Wednesdays) focusing

on local issues & local people.

DELIVERY

PEOPLE

The Star requires

delivery personnel

in all areas of

Christchurch.

The work involves

door-to-door

delivery of The Star

newspaper.

Classifieds

Pegasus

Post

Western

News

advertising rates

Star Media take great pride in producing

quality and innovative publications for

our readers and advertisers. We deliver

clients fantastic value and results from

their advertising investment with us. We

have established a portfolio of products

that are leaders in their respective

marketplaces.

As we continue to invest in our

publications, we aim to increase our

audiences of our publications against

industry trends. All our publications are

a must-read for the people they serve.

We are proud of the fact that our

business is locally owned and operated

right here in Christchurch by local

people.

With our substantial investments

made & the huge extra value we now

offer combined with cost increases it

is necessary from 1st October 2016 to

increase advertising rates by 3%.

* Note: will not apply to contract

advertisers until the term of your

contract is expired.

Pegasus

Post

Proudly

Situations Vacant

Please call

Leanne Lucas 364-7451 or

Mark Coulthard 364 7453

email: deliveries@starmedia.kiwi

Southern

View

Proudly

Western

News

Proudly

Public Notices

Bay Harbour

News

Proudly

Selwyn

Proudly locally owned and

published by Star Media

Times

MUMS & DADS

Would you like your children to

exercise more and earn some money?

WANTED

THE shared title of the Christchurch Casino "The

Jazz Library" Charity Poker Event champion for

2016 went to REACH Child Cancer represented by

Nick Henare and to Heart Kids Canterbury

represented by Pat Lodge. Lynne Taylor took an

admirable third place on behalf of the Diabetes

Christchurch Inc.

The Jazz Library Charity Poker Event was held

by Christchurch Casino with $10,000 up for grabs

for the eleven deserving charities to play for. The

event was held on Thursday 15th September in

Sixty6 on Peterborough. The multipurpose

function venue had a prohibition theme with a

library at the front entrance and a speak-easy

below, including "Myrtle", the 1929 Austin 7C- Cab

Van from by Happy Tours and scintillating

dancing and entertainment throughout the

evening by the talented Epic Entertainment team.

The invited guests in their 1920's & 30's

ensembles relaxed with the sultry jazz tones of the

"River City Jazz Men" and enjoyed learning to play

black jack and roulette with some even testing

their croupier skills, all of which combined to

create a fun atmosphere throughout the evening

and a memorable occasion. Mike King was a

masterful MC, adding humour, energy and poker

knowledge to the tournament.

With $10,000 at stake for three lucky charities,

competition at the tables was fierce as even though

this was a fun gaming event the players soon

realised they were playing in a structured poker

tournament and got their game faces on! The top

eleven players then competed at the final table to

play off for the top three spots to take home the

cash for their charity; finalists only found out

who they were playing on behalf of once they had

played their last chip – creating an exciting energy

amongst players and viewers alike.

The eleven charities who were represented at

this event were the Cystic Fibrosis Association,

Ronald McDonald House, Child Cancer

RESTAURANT & CAFÉ

'Famous for their roasts!'

The

Woolston Club...

A classic, contemporary

club experience

Cafe open from 11am

TAB & Gaming, Function Facilities,

HOUSIE Tuesday, Thursday, Saturday

SHUTTLE Tuesday - Saturday

School's Out

FAMILY FRIENDLY

Kid's Special

Two courses

Great Kids menu plus designated play area.

SENIORS SPECIAL $

20

Two courses:

Soup/Roast or Roast/Dessert

Special available lunch only

Monday - Saturday 12pm - 2.30pm. Conditions apply

Open 7 Days

Restaurant open

from 5.30pm!

RETRO ROAST LUNCH

12PM-1.30PM

WEDNESDAYS

$10 Members / $12 Non

PEGASUS POST

Christchurch Casino "The Jazz Library" Poker Event

Charities take home $10,000!

Foundation, Cholmondeley, Canterbury Charity

Hospital Trust, Diabetes Christchurch Inc.,

Canterbury Down Syndrome Association,

Christchurch Children's Holiday Camps Trust,

Heart Kids Canterbury, Key to Life, REACH Child

Cancer.

Christchurch Casino CEO, Brett Anderson says

"Another great charity poker night, this time held

in Sixty6 on Peterborough with eleven deserving

charities and their supporters in attendance. For

the Casino it is a pleasure to host such an event

and talk to those involved with the charities and

get a better understanding of the challenges faced

by them. Congratulations to REACH Child Cancer,

Heart Kids Canterbury and Diabetes Christchurch

Inc."

Results: 1st shared place went to Reach Child

Cancer (played on behalf of by Nick Henare) who

received $4,000 and to Heart Kids Canterbury

(played on behalf of by Pat Lodge) who received

$4,000 and 3rd place went to Diabetes

Christchurch Inc. (played on behalf of by Lynne

Taylor,) who received $2,000.

All charities received a charity auction pack

with a fun gaming night from Christchurch Casino

and a voucher from Champs-Elysées Day Spa.

Open daily from 6.30am - Breakfast, Lunch & Dinner

The

RACECOURSE HOTEL

& Motorlodge

118 Racecourse Rd, Sockburn,

Christchurch. Ph 03 342 7150

www.racecoursehotel.co.nz

SUNDAY ROAST 12PM-2PM SUNDAY

What's On...

7PM FRIDAY

EDDIE SIMON

7PM SATURDAY

HI ROLLERS

Treat

the Kids

$

10
---
PEGASUS POST Tuesday September 27 2016 23

JOIN

A CLUB BY

THE SEA!

www.newbrightonclub.co.nz

WHAT'S ON

TUESDAYS &

THURSDAYS

Members

Lucky Card Draw

TAB POD

SUNDAY

BRUNCH!

By the Seaside!

10.30am-2.30pm

- downstairs -

ClubBISTRO

Open Tuesday

to Saturday

12pm-2pm

and from 5pm.

Midweek

SPECIAL

$10

ROAST

Available Tuesday,

Wednesday,

& Thursday

- upstairs -

PIERVIEW

Restaurant

Quality a la carte

with a view!

Open FRIDAY,

SATURDAY,

& SUNDAY

from 5.30pm

FRIDAY SPECIAL:

BBQ PORK RIBS...

$19.50!

for a limited time

SUNDAY SPECIAL

$25 3-Course Feast

SUNDAY 30 OCT

Sumptuous BUFFET

$25... BOOK NOW!

SHUTTLE RUNNING

Tues, Thurs, Fri & Sat

202 Marine Parade

Ph 388-9416

Members, guests and affiliates welcome

H ORNBY

WORKINGMEN'S

CLUB

«WHAT'S ON«

THURSDAY 29 SEPT

Gary McCormick

& Tim Shadbolt

TICKETS $25

FRIDAY 30 SEPT, 8pm

Madsen promotions presents

EAGLES, BEEGEES,

SOLD OUT

QUEEN TRIBUTE SHOW

SATURDAY 1 OCTOBER

4.30PM THE BUSKER

8PM TH' ART OF CHEESE

«COMING UP«

SATURDAY 8 OCT, 7.30PM

ANTHONY'S

JUKEBOX SHOW

«

PRE-SALE TICKETS $18

DOOR SALES $20

Hornby WMC, 17 Carmen Road, Hornby

phone 03 349 9026

www.hornbyworkingmensclub.co.nz

Members, guests & affiliates welcome

NOW SERVING

available

from

9am

Breakfast

HAPPY

HOUR

5PM - 7PM

DAILY

LIVE

Lunch & Dinner

All you can eat, 7 days

Bookings Essential

PH 386 0088

fb.com/GardenHotelRestaurant

www.gardenhotel.co.nz

Sima and Vaieo

6PM FRIDAY 30th September

MUSIC

PHONE 385 8880 FIND US ON FACEBOOK fb.com/GBCCHCH

THE GARDEN HOTEL COMPLEX | 110 MARSHLAND RD

www.gardenhotel.co.nz | phone 385 3132
---
24

Tuesday September 27 2016

PEGASUS POST

New Season Bunched

Asparagus

$

10 99

kg

$

2 99

bunch

Fresh NZ Lamb Leg Roast

3for

$

5 00

3for

Just Juice 1L/H2GO

Water 700/750ml

$

5 00

Griffin's Wines/

Arrowroot/Malt/

Gingernut/Krispie 250g

$

7 00

each

Flora Pro-Activ Spread

500g

$

21 99

pack

Heineken

12 x 330ml Bottles

(Excludes Light)

$

4 90

each

4for

$

5 00

Tip Top Ice Cream 2L

Wattie's Canned Fruit

400-420g

(Excludes Tropical)

Shopping just got easier

Best deals are here!

FreshChoice Parklands

60 Queenspark Drive, Christchurch.

Open 7am-11pm, 7 days.

Prices apply from Tuesday 27th September to

Sunday 2nd October 2016, or while stocks last.

FreshChoice.co.nz

FreshChoiceNZ

383 1004

FreshChoice Parklands

Owned and

operated

by locals

Certain products may not be

available in all stores. Savings

are based on non-promotional

price. Limits may apply.

FCPP2709
---
YOGURT

LOVERS