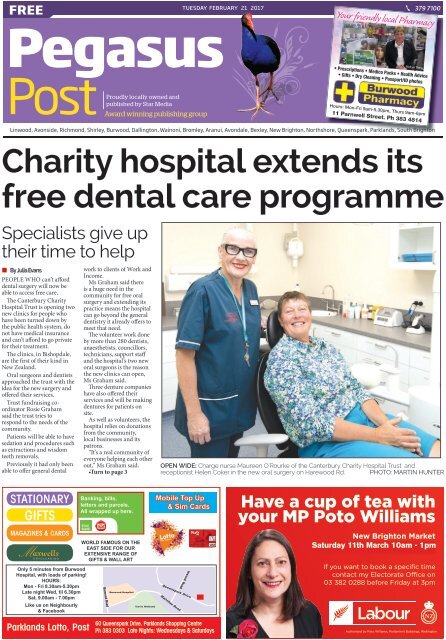 Pegasus Post: February 21, 2017
You also want an ePaper? Increase the reach of your titles
YUMPU automatically turns print PDFs into web optimized ePapers that Google loves.
FREE

TUESDAY FEBRUARY 21 2017

Pegasus

"We have lost a lot of good friends

but we still have a close community"

379 7100

Your friendly local Pharmacy

• Prescriptions • Medico Packs • Health Advice

Robyn Thew

Post

Proudly locally owned and

published by Star Media

Award winning publishing group

• Gifts • Dry Cleaning • Passport/ID photos

HEALTH ADVICE MEDICINES

Hours: Mon-Fri 9am-5.30pm, Thurs 9am-6pm

11 Parnwell Street. Ph 383 4814

PRESCRIPTIONS

FREE LOCAL DELIVERY

BURWOOD / AVONDALE

Linwood, Avonside, Richmond, Shirley, Burwood, Dallington, Wainoni, Bromley, Aranui, Avondale, Bexley, New Brighton, Northshore, Queenspark, Parklands, South Brighton

PASSPORT/ID

PHOTOS

Charity hospital extends its

free dental care programme

DRY CLEANING

SERVICES

COSMETICS

QUIT SMOKING

GREAT RANGE

OF GIFTS

Specialists give up

their time to help

• By Julia Evans

PEOPLE WHO can't afford

dental surgery will now be

able to access free care.

The Canterbury Charity

Hospital Trust is opening two

new clinics for people who

have been turned down by

the public health system, do

not have medical insurance

and can't afford to go private

for their treatment.

The clinics, in Bishopdale,

are the first of their kind in

New Zealand.

Oral surgeons and dentists

approached the trust with the

idea for the new surgery and

offered their services.

Trust fundraising coordinator

Rosie Graham

said the trust tries to

respond to the needs of the

community.

Patients will be able to have

sedation and procedures such

as extractions and wisdom

teeth removals.

Previously it had only been

able to offer general dental

work to clients of Work and

Income.

Ms Graham said there

is a huge need in the

community for free oral

surgery and extending its

practice means the hospital

can go beyond the general

dentistry it already offers to

meet that need.

The volunteer work done

by more than 280 dentists,

anaesthetists, councillors,

technicians, support staff

and the hospital's two new

oral surgeons is the reason

the new clinics can open,

Ms Graham said.

Three denture companies

have also offered their

services and will be making

dentures for patients on

site.

As well as volunteers, the

hospital relies on donations

from the community,

local businesses and its

patrons.

"It's a real community of

everyone helping each other

out," Ms Graham said.

•Turn to page 3

OPEN WIDE: Charge nurse Maureen O'Rourke of the Canterbury Charity Hospital Trust and

receptionist Helen Coker in the new oral surgery on Harewood Rd. PHOTO: MARTIN HUNTER

STATIONARY

gIFTS

MAgAzINeS & CARDS

Only 5 minutes from Burwood

Hospital, with loads of parking!

HOURS:

Mon - Fri 8.30am-5.30pm

Late night Wed, til 6.30pm

Sat, 9.00am - 7.00pm

Like us on Neighbourly

& Facebook

Banking, bills,

letters and parcels.

All wrapped up here.

WORLD FAMOUS ON THE

EAST SIDE FOR OUR

EXTENSIVE RANGE OF

GIFTS & WALL ART

Burwood Road

Burwood Hospital

Travis Wetland

Mobile Top Up

& Sim Cards

Mairehau Road

Inwood Road

Queenspark Drive

Have a cup of tea with

your MP Poto Williams

New Brighton Market

Saturday 11th 5 March 10am - 1pm

If you want to book a specific time

contact my Electorate Office on

03 382 0288 before Friday at 3pm

Parklands Lotto, Post

60 Queenspark Drive, Parklands Shopping Centre

Ph 383 0303 Late Nights: Wednesdays & Saturdays

Authorised by Poto Williams, Parliament Buildings, Wellington
---
2

Tuesday February 21 2017

Inside

FROM

THE

EDITOR'S

DESK

PEGASUS POST

News.......................................3-5

A GREAT initiative for

Canterbury opens this weekend.

The Canterbury Charity Hospital

Trust is opening two new

clinics for people who can't afford

dental surgery.

As we reveal on page 1, the clinic

will cater for people who have

been turned down by the public

health system, do not have medical

insurance and can't afford to go

private for their treatment.

And that I suspect means many,

many people. Huge credit must

go to the medical specialists who

are giving their time to make sure

people get treatment that they otherwise

wouldn't be able to afford.

On page 15-16, we feature young

surf coach Ella Lewis-Sandford in

the Our People profile.

Ella got the surfing bug from her

dad Mike – an old mate of mine

– and a fairly useful all-round

sportsman in his day.

– Barry Clarke

Surf coach has dream job

OUR PEOPLE 15

Local Views..................... 6

Achievers.................................9

Our People..............15-16

Health................................ 17-18

Bridal Show...................20

Entertainment...................23

GET IN TOUCH

General Enquiries Ph 379-7100

Classified Advertising Ph 379-1100

The Christchurch Star Company Ltd. PO box 1467 - Christchurch

starmedia.kiwi

NEWS

Caitlin Miles

Ph: 364 7442

caitlin.miles@starmedia.kiwi

ADVERTISING

Mark Sinclair

Ph: 364 7461

mark.sinclair@starmedia.kiwi

now bigger than ever

The magazine for gardeners who

like to get their hands dirty

growing with you

SprIng Is here –

It'S Sow Time

how to get the best results from

seeds and seedlings

100% NatIve In

The capItal

Unravelling the secrets of

Otari-wilton Bush

The New Zealand

landscape awards

The people behind

the projects

SubScribe from

$43. 50*

$7.90 incl. GST

*6 issues/6 months

ISSN 2423-0219

Save our roSeS

How a rose register is protecting our heritage

September 2016 | 100%

It's time

to grow!

New look and more

content than ever!

MeeT LeSTer Brice

A Garden coach

auckland Botanic GardenS

Why we love our public grounds

NEW BRIGHTON TALENT SHOW

Saturday 25th February, 10-2PM

BLACK BOARD ENTRY ON THE DAY

027 517 4250

SUBSCRIPTIONS FREEPHONE

0800 77 77 10

www.gaRdENER.kIwI
---
®

PEGASUS POST Tuesday February 21 2017 3

News

Teen's 'surreal' trip to UN

• By Caitlin Miles

TEI DRIVER never thought she

would be sitting in the United

Nations headquarters as a

18-year-old.

It was one of many surreal

moments she had when she

went on a 28-day trip to

Europe and New York as part

of a United Nations Youth

event.

Tei went on the UN Global

Development Tour with 21

other teenagers from around

the country to learn more about

how the UN works and global

development.

The development tour aims

to connect young people with

policy-makers, businesses and

non-profit organisations. The

group went to the Red Cross

headquarters, UN Educational,

Scientific and Cultural Organisation,

European Union Parliament,

School of Economics and

UN headquarters.

The group travelled to

London, Paris, Geneva,

Brussels, Copenhagen and

finished at the UN headquarters

in New York.

"All of the places were special

for different reasons, it's so hard

to pick a favourite," Tei said.

She spent her 18th-birthday

celebrating in London and had

several "love affairs" with the

cities of Geneva and Copenhagen

and visiting family in the

United States.

"Geneva was the first time I

saw the UN. That was special,"

she said.

When the group went to

New York they met with other

young people from around the

world. President Donald Trump

became a key discussion point

at nearly every meeting.

"At least people are engaging

so much with what is going

on, people are talking about it

and standing up for what they

believe in," she said.

However, meeting former

New Zealand Prime Minister

and current UN development

programme leader, Helen Clark,

blew her away.

"It was a very surreal moment,

there were just so many admirable

people we got to meet," she

said.

Tei is the co-chairperson for

the UN Youth this year and

wants to apply the things she

has learnt on the tour to development

within the organisation.

She will also start studying law,

politics and Spanish at Canterbury

University this year.

AMAZED: Tei Driver said a visit to the UN headquarters was

special.

Free dental

care

extended

•From page 1

The hospital had worked

towards opening these clinics

for more than a year and Ms

Graham said it had been a

drawn-out process so it's good

to see the clinics finally opening

for people to get the help they

need.

Since opening in 2007, the

hospital has also offered free

general surgery, orthopaedic

care, family planning and

counselling services to people

who could not otherwise access

them.

The new clinics will be

opened by Canterbury Charity

Hospital Trust patron and former

Governor General Sir Jerry

Mateparae.

The opening on Saturday will

be attended by Mayor Lianne

Dalziel, city councillor Aaron

Keown and Fendalton-Waimairi-Harewood

Community

Board member Aaron Campbell

as well as volunteer oral

surgeons, dentists and support

staff. It will be held between

10.15 and 11.45am, at 349-353

Harewood Rd.

Fully Installed*

$2,999

Six Year

Warranty

HELPING US,

HELPS THE

COMMUNITY

Drop off or buy

2 family stores in your community

30 Main North Rd,

Ph 352 4581

520 Cranford St,

Ph 352 0515

Don't Wait, Get reaDy

for Winter noW

Fujitsu ASTG24L 8 KW

Heat Pump for Just

Hot Hot Deal

on 8KW Heat PumP

Fujitsu ASTG24L 8 KW

$2,999 Heat Pump for Just

Fully Installed*

Great offer LimiteD time

Six Year

Warranty

PH 377 0034 OR 0800 800 734

PH 377 0034 or 0800 800 734

Installed back to back, up to 3 metre pIpe run and electrIcal supply wIthIn 6 metres.

www.dimockheatpumps.co.nz

Email: sales@dimocks.net.nz

6/105 Coleridge St, Sydenham, Christchurch

* Conditions apply. Normal lending criteria, booking fee and annual account fee applies. Limited stock.

UPCOMING EVENTS

Ingham's lazy sundays

katie thompson, August Fields & Volts

sunday 26 february, 3 – 4.30pm, archery

lawn, botanic gardens

Join us for the final Ingham's Lazy Sundays

session for summer. Christchurch pop rockers

August Fields and emerging trio Volts will join

country singer-songwriter Katie Thompson for

this special three act finale.

children's day

sunday 5 march, 11am – 3pm

cnr new brighton road and locksley ave

Celebrate Te Ra O Te Tamariki – Children's Day

in this new Crown owned land green space

with your family for a day of free fun games,

rides and craft activities. A main stage will

feature performances from our talented young

people. Make Children's day a new tradition

for your family.

FOR MORE INFORMATION VISIT SUMMERTIMES.CO.NZ

Installed back to back, up to 3 metre pIpe

run and electrIcal supply wIthIn 6 metres.

www.dimockheatpumps.co.nz

Email: sales@dimocks.net.nz

10 5 only

BE QUICK

Proudly produced by
---
4

Tuesday February 21 2017

News

PEGASUS POST

Images from the east featured in

• By Ashleigh Monk

A GIRL hula hooping in her

living room while her heavily

tattooed father plays with her

little brother; the local tattoo

artist in full moko and even

two women taking their horse

for a ride at the New Brighton

Seaside Market.

These are the images captured

by three Canterbury

University students, as part of

a photo documentary, which

tell the story of the community

that stretches from Southshore

to Waimairi Beach.

Janneth Gil, Tegan Hollis-

Ristow and Rachel Pugh spent

a year taking thousands of

photos, to make The Edge of the

East.

Ms Hollis-Ristow said she

had not witnessed something

as close as the community in

New Brighton.

"They have a really interesting

spirit," said Ms Hollis-

Ristow.

"They're almost segregated

out from Christchurch because

they're really communityminded.

No one in the community

is really anonymous."

The documentary was part

of a five-year photo project in

collaboration with Christchurch

City Libraries. A different

area is explored each year in

an effort to showcase the postearthquake

city.

"Before we started the project,

I had a not very accurate

vision of New Brighton. I

would never go there except for

the market," said Ms Gil.

"But now there's just so many

events and things happening,

and I really love the place, I

love the people."

Halswell was the subject of

the series in 2015, and next

year's project would look at the

north of the city.

•To view the photo

documentary go to https://

my.christchurchcitylibraries.

com/the-christchurchdocumentary-project/

watch local | support local | shop local

Join our host

marissa stephen on

sKy ChaNNeL 83

Thursday 7.30pm

repeaTs friday

1.30am & 7.30am

Beautiful Teeth

Meet the

Owner

Ryan Carlton

Natural Smile

Free Consultation, No Obligation

• Full Dentures • Dentures Repaired • Implant Assisted Dentures

• Injection Moulded Flexible Partials • Relines

• Mouthguards • Additions/Repairs

• Purchase cleaning and care products from our website.

All dentures personally

designed and created to ensure

a comfortable natural fit.

DENTURES PLUS (2014) LTD

Denture Clinic and Laboratory

396 Innes Road, St Albans. Phone 385 5517.

Email: denturesplus@paradise.net.nz

www.denturesplus.co.nz

Orbiter Bus stops Innes Road

HEAT PUMP

SALE NOW ON!

Amazin' SUMMER Specials!!

ACCESS TV FOR NZ

SKY CHANNEL 083

WWW.STAR.KIWI

for enquiries, contact Geoff moreton: 021 1066 177

• We will offer you the best quality brands and

option of heat pump for your home/business

• Providing Heat Pump solutions for over 14 years to Cantabrians

• We personally guarantee all our products & installs for 5 years

(providing annual maintenance has been completed)

Phone us today for your free consultation & quote

41A SHAKESPEARE RD, WALTHAM

PHONE 03 366 0525

www.enviromaster.co.nz

"A local team for local people"
---
PEGASUS POST Tuesday February 21 2017 5

documentary by uni students

PHOTOS:

JANNETH

GIL, TEGAN

HOLLIS-

RISTOW

AND

RACHEL

PUGH

Introducing Ray White

Citywide Property Management

We've been entrusted to look after over $99 million of property throughout Christchurch.

You can trust us to look after yours too. Call today.

start

Property Manager of

the Year NZ 2015/16

Ray Hastie

Manager

027 448 8225

Paula Hastie -

Assistant Property

Manager

Local Experts – Citywide Knowledge

Nicola Flanagan

Property Manager

021 914 332

Phone (03) 331 6755

www.propertymanagementchristchurch.com

Rebekah Whalley

Accounts Administrator

03 331 6755

Abbey Nolan

Property Manager

027 379 5021

Prier Manson Real Estate Ltd Licensed (REAA 2008)

NO JOINING FEE

JOIN NOW

wherewe.co.nz

Pools, Fitness Centres,

Classes and more

Recreation &

Sport Centres
---
6

Tuesday February 21 2017

Your Local Views

PEGASUS POST

War memorial deserves better

New Brighton

resident Linda

Street has

criticised

the city

council's plan

to cover the

war memorial

on Marine Pde with polyglass

panels

I have never read anything so

shaming as the proposal to place

the New Brighton War Memorial

in a plastic box in a bid to prevent

graffiti.

The city council has attempted

to remove the graffiti using various

means, which have not been

successful.

The memorial is showing other

signs of damage from exposure to

the elements, so maybe it is time

for a makeover and there are plenty

of stonemasons working on the

Arts Centre who could be diverted

to this.

The New Brighton War

Memorial could be made a lot

more meaningful to future

Diversity enriches city in age of 'conflict and chaos'

City councillor

Yani Johanson

writes about

the value of

diversity in our

society

At a time when the world is

coming closer together through

cheaper long distance travel

and greater connectivity via the

internet, it feels like there is more

conflict and chaos than ever

before.

Whether it's the huge number

of refugees fleeing war zones or

the fear-based politics of Donald

Trump and Brexit, it is a time of

great concern for where we are

heading as humans.

As such, I believe we have

to ask ourselves why is this

happening? And, more

generations by including the names

of soldiers on the memorial who

had a connection to New Brighton.

Seeing the names of the dead

inscribed on the memorial

would make it more apparent that

this is essentially their gravestone,

and maybe this would deter people

tempted to vandalise it.

New Brighton Library has

several folders of information,

which has been compiled by

library staff, with the names

and details of soldiers who

had a connection to New Brighton.

Some of these men had their

names memorialised on the

honours board of the Central New

Brighton School, but this school

no longer exists, so how do we

now remember these men? This is

importantly, how can we stop

this from happening?

Last week, in my role as city

councillor, I had the privilege of

being involved in two positive

things to address this.

First, at the city council

we have signed off on a

multicultural strategy, which

recognises "the council has

a leadership role in making

Christchurch a city where

diversity is welcomed and

celebrated."

This strategy has been long

overdue and is a fantastic start

on a journey towards being a

more inclusive place.

Second, I was asked to speak

at the opening of the Friendship

Force national conference.

Friendship Force is a voluntary

group with mission values

including mutual respect,

NEW LOCATION ADVERT.pdf 1 1/05/2014 11:51:35 a.m.

another reason to have their names

added to the war memorial.

In addition to the names of the

dead, there is also ample room

on the surrounding block wall on

which more information could

be added, such as the battles in

which the first New Zealand

Expeditionary Force took part and

the inclusion of other wars.

This would make the war

memorial a more thoughtful

and informative experience, as

currently the only words on it are a

few place names and the words pro

patria (meaning 'for one's country).

I think in these centenary

anniversary years of World War 1,

and with the city council hopefully

embarking on a revamp of the

New Brighton foreshore area in

conjunction with its master plan,

we can do better than encasing our

war memorial in polyglass.

HAVE YOUR SAY: What

are your views on the city

council's plan to cover the

New Brighton War Memorial in

polyglass panels? Email caitlin.

miles@starmedia.kiwi

cultural diversity, cultural

exploration and service.

Its members do this by

opening their homes and

hearts to host visitors from

other cities and countries

POLYGLASS: The city council plans to cover the New

Brighton War Memorial in protective panels to prevent

graffiti.

PHOTO: GEOFF SLOAN

PHOTO: DEB WILSON

throughout the world. They have

done an amazing job bringing

people to our city even after

the devastating impact of the

earthquakes.

The work they do and the work

the city council has done on the

multicultural strategy is based

on a simple premise that we all

have a common bond of being

human and that we all deserve

to be treated with dignity and

respect.

In my view, when people

are afraid of the unknown,

scared of difference or lacking

understanding, I believe the

world is fundamentally a worse

off place to live.

And yet, when we provide

opportunities for dialogue and

communication, for living and

learning and for understanding

and sharing, we are creating a

better world, a better country

and a better city.

In essence, we are creating a

community that celebrates and

cherishes difference rather than

being scared of it.

VISIT OUR NEW LOCATION LOCATION

430 ST ASAPH STREET!

Hours of Business: 7am-4.30pm Mon-Thurs

Fri 8am to midday

or by appointment with Keith 027 566 3909

RECOVER YOUR LOVED FURNITURE

No job too big or small

Still able to offer

you the finest top

quality new furniture

Visit us online

www.qualityfurniture.co.nz

P. 371 7500

QUALITY FURNITURE SPECIALISTS

RE - UPHOLSTERY SPECIALISTS KEITH HARTSHORNE 0275 663 909

Dyers Road Landscape

& Garden Supplies

• Barks • Peastraw • Composts - we supply the best available

• Aggregates - Chip, Round and Basecourse

• Pavers & Schist products • Pungas

• Decorative Stones & Landscaping Rocks

• Trailer Hire first hour free with purchase

• Bag & Bulk - pick up or delivered

David, Carol & Mike

We will deliver!

SOIL

AND

HARDFILL

DUMPING

Phone: 03 384 6540

183 Dyers Rd, Bromley • OPEN 7 DAYS

Weekdays 7.30am-5pm. Weekends 8.30am-3pm

www.dyersroadandlandscapes.co.nz
---
PEGASUS POST Tuesday February 21 2017 7

JO HAYES

NEWS UPDATE

CHRISTCHURCH EAST

I'm Jo Hayes, National's list MP based in Christchurch East.

I love being a part of this wonderful, tight-knit Christchurch East community. There's so much

going on that I just want to share a few highlights with you of what our community and

Government are working on achieving together. Nga mihi mahana.

The country stands with you

Our hearts go out to those affected by the devastating

fires that have raged on the Port Hills, and more locally

too on Anzac Drive and at the New Brighton sand

dunes, last week.

I'm always inspired by the resolve, tenacity and mettle

of Cantabrians in times like this, especially as we also

remember the 185 victims of the 22 February 2011

earthquake this month.

Kia kaha, Christchurch. The country stands with you.

I'm continuing to run my van around

Christchurch East on the last Friday of

each month, and my team and I would

love to have you stop in and chat about

any concerns, feedback, or ways that

we can work together for the benefit of

Christchurch East and its people.

PM visits Christchurch East

It's a great privilege

to work with our new

Prime Minister, the

Right Honourable Bill

English as my boss.

The Prime Minister

made Christchurch

East his first

electorate visit of the

year, in late January,

reflecting how

important the area and its constituents are. He headed

to Christchurch Golf Club in Shirley for a business lunch,

stopped in at The Palms mall to chat with locals, visited

with the hard workers at Rylock Windows and dropped

in to see the progress being made on the new multipurpose

sports facility at Celebration Lions Sports Trust

in Wainoni. It was a great chance for people to get to

know the new PM, and a day that we all thoroughly

enjoyed.

More boys in blue on the way

New Zealand is the fourth-safest country in the world,

but we want to make it number one!

That's why Prime Minister Bill English's announcement

this month that the Government will boost New

Zealand's police force by 10 per cent by 2020 is great

news for Kiwis.

This equates to a quicker police response to

emergencies, as well as a focus on youth offending,

burglaries, and community crime.

The half-billion dollar Safer Communities package will

provide an extra 1125 police staff, including 880 sworn

police officers, taking total police numbers to more than

13,000 by 2020.

Honouring Waitangi

Each year I visit

Waitangi on

Waitangi Day,

and this year I was

honoured to attend

with our deputy

Prime Minister,

Paula Bennett.

It's particularly

poignant to reflect

on the treaty this

year, with the

Government working hard to settle all outstanding treaty

claims with Iwi who wish to settle by the end of 2017.

NZ least corrupt country in the

world

We Kiwis can pat ourselves on the back and reward ourselves

with a chocolate fish for this one: we have reclaimed our status

as number one at the top of the global transparency rankings.

That makes us the least corrupt country in the world, first equal

with Denmark.

This is a stunning achievement for New Zealand, and it reflects

our zero-tolerance of bribery and corruption as well as the hard

work the Government has put into anti-corruption initiatives.

Results like this help boost our reputation as a great country to

do business with. Well done us!

New preschool for Prestons

It was a beautiful, sunny day in

Christchurch East when I attended

the opening of Educare Preschool

in Prestons earlier this month. I then

got to head along to New Brighton

Market and the finish line for the

Longest Day Coast to Coast with

Blair Hughes, owner of Paper Plus

New Brighton. Then I was pleased

to support the Rawhiti School fundraiser for playground

equipment. All in all, the East turned on a stunning day!

More support for low income

earners

The Government is raising the minimum wage by 3.3 percent -

from $15.25 to $15.75 an hour from 1 April. This means that almost

120,000 workers will have more money in their back pockets.

It will make our minimum wage more than 50 per cent of the

average hourly wage - one of the highest ratios in the OECD!

It's also sustainable growth, as opposed to the touted living

wage, the cost of which gets passed on to Kiwis as higher

inflation, less competitive businesses and fewer jobs.

Let's talk

Please come along and see me. I'll

be parked in my van on Friday 24

February at:

1) Preston`s subdivision

By Marshlands School

on Te Korari Street

Time: 8.30 - 9.30am

2) Parklands

Outside sports field,

opposite shopping centre

Time: 10-11am

3) Shirley

Burwood Park by Shirley Rugby

Grounds, New Brighton Road

Time: 11.30am -12.30pm

4) New Brighton

Next to Ray White offices

Time: 12.45 - 1.45pm

5) Wainoni

Marae on Pages Road (out the front)

Time: 2-3pm

6) Richmond

Stanmore Road, outside of the park

and opposite New World

Time: 3.30-4.30pm

Please phone our office on

03 384 9459 to book. See you there!

Contact me anytime

P 03 384 9459

M +64 021 620 316

E joanne.hayes@parliament.govt.nz

W www.johayes.co.nz

Jo Hayes

National List MP based in

Christchurch East

Bill English

Right Honourable Prime

Minister of New Zealand

www.national.org.nz

Authorised by Jo Hayes, National MP,

Unit 6/975 Ferry Road, Ferrymead
---
8

Tuesday February 21 2017

PEGASUS POST

Have you been declined surgery or

medical treatment by your DHB ?

If so, we may be able to help you.

Cantabrians in need, who meet our criteria,

can be offered treatment FREE of charge.

Who can access our services?

• People who have been turned down in writing for treatment by the DHB

• People who do not have medical insurance nor the means to pay for treatment

privately (this is means tested)

What services do we provide?

The types of services include:

• General surgery (abdominal, rectal etc)

• Colonoscopy

• Vascular (severe varicose veins)

• Gynaecology and women's health

• Upper limb orthopaedics

• Oral surgery and dentistry (conditions apply)

• Cataract surgery

• Counselling services (self-referral)

What do I need to do if I think I qualify for help

from the Charity Hospital?

Ask your GP or dentist to refer you to the Canterbury Charity Hospital. Although

most GPs are aware of the referral process, you might want to take this article with

you when you visit them.

Please do not contact the hospital directly.

Where can I get more information?

Visit our website www.charityhospital.org.nz

All services provided by the hospital are free of charge thanks to the generosity of

our unpaid volunteer surgeons, nurses and supporters. The Charity Hospital does

not receive any Government funding.

I don't need help, but would like to help

If you are a health professional and can offer your time or if you can assist

financially we would love to hear from you via email to:

reception@charityhospital.org.nz
---
PEGASUS POST Tuesday February 21 2017 9

ACHIEVERS

News

SUCCESS:

Molls Dolls

dance team

members

Stacy

Goldsworthy

(left), Carol

Stevenson,

Sharon

Timms,

Hayley

Toso, Kay

MacDonald,

Sarah-Jane

Haywood,

Sarah van

Hoof, Becs

Abraham-

Boon, Jo Neil,

Sue Gledhill

and Kate

Podmore.

Tap dancing masters

• By Georgia O'Connor-Harding

TWO ALL-WOMEN dance

troupes have tapped their way

to gold and silver at a national

sports competition.

The Chapman School of

Dance teams, Stepping Out

and Molls Dolls, won first and

second respectively in the dance

category at the New Zealand

Masters Games in Wanganui

recently.

The choreographers behind

the success of the two tap dancing

teams are Bromley residents

Hayden Joseph Withers and his

mother, Molly Chapman, 58,

who runs the dance school and

is a member of Molls Dolls.

"They were just amazing – I

was so proud of them," Chapman

said.

The dancers are all aged between

36 and 64.

A majority of the women had

not competed in a dance competition

for more than 40 years.

The New Zealand Masters

Games is an annual 10-day

event comprising 50 different

sports and more than 2400 individual

events.

Molls Dolls was formed about

a year ago and competed in

last year's masters games in

Dunedin.

Charities receive

Countdown goods

A train carrying more than $400,000 of Countdown products

was trapped on damaged rail lines after the November 14,

2016, Kaikoura earthquake. Most non-perishables have been

retrieved and were donated to the Kaikoura community.

However, Countdown also donated more than 20 pallets of

groceries to three Christchurch organisations – 0800 Hungry,

Salvation Army and the City Mission. The goods were handed

over last week. With some of the items are the Salvation Army

team of Major David Moody (left), Major Wendy Andrews and

Major Glenda Bezzant.

Central City Transport

Projects Update

If you haven't been along Manchester or Durham Streets lately,

take a closer look. For people who drive these streets regularly,

thank you for your patience.

2

3

1

Hospital Corner

– Tuam Street (Durham to Antigua

Streets) and St Asaph Street

(Hagley Avenue to Antigua Street)

Starting Feb/Mar 2017

• Work on the remaining blocks begins on

27 February. There will be separated

cycle lanes and more street lighting and

plantings on both of these key east–west

one-way streets.

• On Tuam Street a high quality bus stop

between Hagley Avenue and Antigua

Street adjacent to the hospital will

provide better public transport amenities

at the busiest stop in the city.

2

Durham Street

– Kilmore to Tuam Street

Finishing late 2017

• This street will have two lanes of

southbound traffic and on-street parking

on the western side. There will be a

shared path for cyclists and pedestrians

on the eastern side beside the Ōtākaro/

Avon River.

• Trees, landscaping and rain gardens will

improve the streetscape and suit the

slower speed environment.

3

Manchester Street

– Lichfield to Kilmore Street

Finishing late 2017

• This section of Manchester Street is

becoming a tree-lined boulevard beside

the East Frame residential development.

• It will be the main north-south public

transport corridor in the central city,

with bus priority and a high quality

bus stop.

• Widening the street by nine metres

will provide room for cars, buses and a

wide shared pavement for pedestrians

and cyclists.

• Changes to the traffic directions around

Hospital Corner and the closure of 600

metres of Oxford Terrace near the

1

PLAN AHEAD FOR PARKING BY VISITING CCC.GOVT.NZ

(SEARCH 'PARKING').

Thank you for your patience.

Please keep supporting central city businesses.

Antigua Boatsheds were finished in 2015.

Work starts soon to

improve traffic flow,

cycle and pedestrian

access, and introduce

trees, landscaping and

rain gardens.

Cross-section showing how Durham Street

will look when finished.

Artist impression giving a sense of how

Manchester Street will look when finished.

For information about other transport projects and impacts visit

Transport for Christchurch at tfc.govt.nz

E: info@otakaroltd.co.nz

P: 03 357 6300

W: otakaroltd.co.nz

Manchester Street taking shape – looking

north from Hereford Street intersection.

New paving installed on Manchester Street

– looking north.
---
10

Tuesday February 21 2017

PEGASUS POST

DEADLINE SALE

DEADLINE SALE

Burnside 229 Memorial Avenue

Empty Nest Syndrome

Sue Roberts & Gemma Roberts

M 027 440 1282 or 027 223 6471 P 03 323 6045

Harcourts Twiss-Keir Realty / Belfast Licensed Agent REAA 2008

FOR AUCTION SALE

5 2 2

Harcourts ID: BF27632

Hot to the market and requiring immediate action, is an opportunity to purchase a family home

on a 900m2 section in heartland Burnside. Close to shops, schools, Burnside park, golf course and

main arterial routes. Bedrooms and bathrooms both up and downstairs, plus sized garaging and

workshop - with plenty of room to tinker.

Deadline Sale: All offers invited on or before

2 nd March at 4.00pm

View: Phone for viewing times.

Dallington 11 McBratneys Road

First Home Buyers Look At This!

Anne Davis

M 027 492 7694 P 03 323 6045

Harcourts Twiss-Keir Realty / Belfast Licensed Agent REAA 2008

FOR SALE

3 1 2

Harcourts ID: BF27587

If you are looking for a beautifully renovated home, then be quick, you must view. Beautiful

kitchen, stunning polished floors, gorgeous tiled bathroom, woodburner + two heatpumps.

Outdoor patio for entertaining. Room to enhance the 812m² grounds with your own style of

landscaping. Great location close to good schools, cafes, Restaurants, and The Palms.

Deadline Sale: All offers invited on or before

21 st February at 4.00pm

View: Phone for viewing times.

Kainga 125 Riverlea Estate Drive

Rural Feel On City Fringe!

2 12 13

Harcourts ID: KI6878

Completely revamped two bedroom + study home. Bespoke black lacquer kitchen has lots of

hidden extras like under bench fridges, fully tiled bathroom, 50" 3D TV & Cerwin Vega surround

sound system all included in the price. 90m² of deck around the property that is able to be sealed

off from and weather and yet still room to park several vehicles and a motor home. Be quick!

Kei Kei Kaikoura 1390 State Highway 1

Nature's Retreat... Make It Yours Too!

5 2 2

Harcourts ID: BF27267

With DOC bush at the back and the beach 25 meters in front and a stream beside. The perfect location.

Five double bedrooms with sea views. Great covered entertaining area, double lockable garage to

store boats and equipment and plenty of parking area. Immediately adjacent to the Marine Reserve.

Immediate possession available and furnishings available.

Christina Summerhayes

M 027 249 0880 P 03 327 5379

Harcourts Twiss-Keir Realty / Kaiapoi Licensed Agent REAA 2008

For Sale: $405,000

View: Phone for viewing times.

Bill Dowle

M 029 358 3175 P 03 323 6045

Harcourts Twiss-Keir Realty / Belfast Licensed Agent REAA 2008

Price: $385,000

View: Phone for viewing times.

AUCTION

AUCTION

Linwood 1-4 469 Worcester Street (4x)

Developers Require Urgent Sale

Harcourts ID: BF27572

Four brand new town-houses, providing an exceptional opportunity for individual buyers, or an

investor to purchase one or more. Buyers will appreciate all the benefits of buying new - including

full insulation, double-glazing, heat-pump, modern appliances, internal-access garaging - all within

a well-designed contemporary 2-storey layout which provides open-plan living and outdoor-flow.

Mitchell Roberts & Mana Tai

M 027 413 0797 or 027 626 2824 P 03 323 6045

Harcourts Twiss-Keir Realty / Belfast Licensed Agent REAA 2008

Contributor to www.realestate.co.nz

2 1 1

Auction: Wednesday 22 nd February at 3.00pm

Russley Golf Course (unless sold prior)

View: Phone for viewing times.

Northwood 8 Redfern Street

Family Friendly In Northwood

Harcourts ID: BF27655

Generous sized, comprising of four double bedrooms, ensuite, study, interconnected kitchendining-family

room, separate lounge, study + a 2nd lounge/teenagers retreat, which could also

double as a hobbies room, or work from home. Enjoy the leafy park aspect from the covered

outdoor entertaining area of the mature private back garden of your new family home.

Geoff Barclay

M 0275 239 953 P 03 323 6045

Harcourts Twiss-Keir Realty / Belfast Licensed Agent REAA 2008

4 2 2

Auction: Wednesday 8 th March at 3.00pm

Russley Golf Course (unless sold prior)

View: Phone for viewing times.

www.twisskeir.co.nz
---
PEGASUS POST Tuesday February 21 2017 11

Stunning Home Must Be SOLD!

140 Straven Road, Fendalton

4 Bedrooms | 3 Bathrooms | 3 Car Garage | Off Street Parking | Property ID: BF27562

The build has been dutifully completed,

and with the property vacant - the

vendors have given extremely clear

instructions that it must be sold, and it

must be sold QUICKLY.

This brand-new property is a stunning

example of contemporary design,

utilising clean lines, paired with quality

materials throughout - whilst still

managing to achieve a sense of softness

and homely comfort. Living quarters and

outdoor areas are easily integrated, or

closed off at will when needed, and the

bedrooms have been smartly ensured

with good separation of space, extended

storage facilities and lovely secondfloor

views of the surrounding urban

environment.

Comprising of four double bedrooms,

main with ensuite and walk in robe.

European kitchen + scullery, open plan

living areas and a second separate living

area. Warmth is assured throughout with

gas fire and two heat pumps. The home

has loads of extras, too many to list.

A property likely suited towards the

sophisticated and busy purchasers, who

demand true beauty and comfort from

their home.

Situated in one of Christchurch's most

iconic suburbs, provides metropolitan

convenience for inhabitants, with close

proximity to extremely desired schools,

Riccarton Bush, Hagley Park & Mona

Vale, and all the amenities of Riccarton

shopping district.

Auction Wednesday 22 Feb @ 3.00 pm,

Russley Golf Club (unless sold prior).

For more information contact Mitchell

Roberts & Mana Tai on 03 323 6045 or

027 413 0797. Licensed Agent REAA 2008.

Mitch &

Mana

9 th Top Selling Agents

Harcourts Canterbury

Year To Date

Top Selling Agents

Harcourts Twiss-Keir

Realty 2016

Average Selling Time

29 days on the market YTD

Properties Available To Rent In Christchurch

1/560 Hereford Street, Linwood $320.00 p/w

2 bedroom unit refreshed with new paint, carpet, lino and curtains.

Own courtyard, 1 bathroom and single garage.

19 Alpine View Lane, Parklands $410.00 p/w

3 Bedroom home with good size kitchen/dining and separate living.

115 Baker Street, New Brighton $400.00 p/w

Large 3 bedroom home with heatpump and double garage + w/shop.

47 Ascot Avenue, New Brighton $310.00 p/w

Tidy 3 bedroom home with modern bathroom.

Mitchell Roberts & Mana Tai

M 027 413 0797 or 027 626 2824

E mitchandmana@harcourts.co.nz

FB facebook.com/mitchandmana

Harcourts Twiss-Keir Realty / Belfast

Licensed Agent REAA 2008

Contributor to www.realestate.co.nz

For local knowledge and service, Call me today!

Jill Andrews

P. 03 323 6045

E. tkrentals@harcourts.co.nz

www.twisskeir.co.nz
---
12 TUESDAY FEBRUARY 21 2017

PEGASUS POST

SuPEr ruGBY

Landscape Supplies

now at

• Bark

• Compost

• Garden Gro

• Vege Gro

• Soil

• Shingle

• Bulk & Bags

• Peastraw

• Float & Trailer Hire

• Horse & Feed Supplies

• Eukanuba & Iams

• Coprice Dog Food

• Rabbit & Guinea Pig Food

• Chook Food

• Bird Seed

• Treats/Toys

• Cages/Hutches

• Straw/ Hay

BURWOOD PRODUCE

172 Mairehau Rd, Christchurch, Ph (03) 383 1115

Hours: 9-5pm Tues to Sat, Closed Sun & Mon

HAVE YOU GOT

YOUR VEHICLE

CHECKED?

Full mechanical

servicing & repairs.

Courtesy car avaliable.

round 1 round 2 round 3 roun

tHursday 23 fEBruary

19:45 Rebels v Blues

friday 24 fEBruary

19:00 Reds v Sharks

19:35 Highlanders v Chiefs

saturday 25 fEBruary

13:15 Sunwolves v Hurricanes

15:05 Cheetahs v Lions

17:15 Kings v Jaguares

19:30 Stormers v Bulls

19:35 Crusaders v Brumbies

19:45 Waratahs v Force

tHursday 2 marcH

18:30 Force v Reds

friday 3 marcH

19:35 Chiefs v Blues

saturday 4 marcH

15:05 Lions v Waratahs

17:15 Hurricanes v Rebels

17:15 Stormers v Jaguares

18:55 Sunwolves v Kings

19:30 Cheetahs v Bulls

19:35 Highlanders v Crusaders

19:45 Brumbies v Sharks

friday 10 marcH

19:00 Sharks v Waratahs

19:35 Chiefs v Hurricanes

19:45 Brumbies v Force

saturday 11 marcH

16:40 Jaguares v Lions

17:15 Cheetahs v Sunwolves

18:45 Reds v Crusaders

19:30 Kings v Stormers

19:35 Blues v Highlanders

ByEs

Bulls, Rebels

friday 17 marcH

19:00 Bulls v Sunw

19:35 Crusaders v

19:45 Rebels v Chie

saturday 18 ma

16:40 Jaguares v C

17:15 Lions v Reds

19:30 Sharks v King

19:35 Hurricanes v

19:45 Waratahs v B

ByEs

Force, Stormers

round 8 round 9 round 10 roun

03 383 1836 | 027 437 4514

247 Burwood Road, Christchurch

burwoodroadmotors@xtra.co.nz

naTiVe planT

nursery

Trees for CanTerbury

friday 14 april

19:35 Crusaders v Sunwolves

saturday 15 april

15:05 Reds v Kings

15:05 Cheetahs v Chiefs

17:15 Stormers v Lions

19:30 Bulls v Jaguares

19:35 Blues v Hurricanes

19:45 Rebels v Brumbies

ByEs

Force, Highlanders, Sharks, Waratahs

friday 21 april

19:00 Lions v Jaguares

19:35 Hurricanes v Brumbies

saturday 22 april

17:15 Highlanders v Sunwolves

17:15 Bulls v Cheetahs

19:30 Sharks v Rebels

19:35 Crusaders v Stormers

19:45 Waratahs v Kings

19:55 Force v Chiefs

ByEs

Blues, Reds

friday 28 april

19:35 Highlanders v Stormers

saturday 29 april

16:40 Jaguares v Sharks

17:15 Cheetahs v Crusaders

19:30 Kings v Rebels

19:35 Chiefs v Sunwolves

19:45 Reds v Waratahs

19:55 Force v Lions

sunday 30 april

16:05 Brumbies v Blues

ByEs

Bulls, Hurricanes

friday 5 may

19:00 Cheetahs v H

19:35 Hurricanes v

saturday 6 may

15:00 Rebels v Lion

15:05 Sharks v Forc

17:15 Bulls v Crusa

18:40 Jaguares v Su

19:35 Chiefs v Red

19:45 Waratahs v B

ByEs

Brumbies, Kings

round 15 round 16 round 17 quAli

speCialisTs in

• Groundcovers

• Ferns

• Grasses

• Small to big

sized shrubs

• Shelterbelts

• ALL grades

• Expert advice

• Planting now

Ask us about Super

Gold Card discounts

Helping our community grow

42 Charlesworth Street

Ph/Fax (03) 982-1028

OPEN 7 DAYS

www.treesforcanterbury.org.nz

friday 2 junE (aus & nZ Only)

19:35 Blues v Reds

saturday 3 junE

14:35 Crusaders v Highlanders

17:05 Chiefs v Waratahs

19:45 Brumbies v Rebels

19:55 Force v Hurricanes

friday 30 junE (sa1 & sa2 Only)

23:05 Jaguares v Kings

saturday 1 july

14:30 Lions v Sunwolves

15:05 Cheetahs v Stormers

17:15 Sharks v Bulls

friday 9 junE (nZc Only)

19:35 Hurricanes v Chiefs

ByEs

Blues, Crusaders, Highlanders

friday 7 july (ac, sa1 & sa2 Only)

19:45 Reds v Brumbies

19:55 Force v Rebels

saturday 8 july

17:15 Bulls v Kings

19:30 Stormers v Sunwolves

19:45 Waratahs v Jaguares

ByEs

Cheetahs, Lions, Sharks

friday 14 july

19:00 Kings v Cheetahs

19:35 Highlanders v Reds

19:45 Rebels v Jaguares

saturday 15 july

12:05 Sunwolves v Blues

17:15 Chiefs v Brumbies

17:15 Sharks v Lions

19:30 Bulls v Stormers

19:35 Hurricanes v Crusaders

19:55 Force v Waratahs

friday 21 july

TBC v TBC

TBC v TBC

saturday 22 jul

TBC v TBC

TBC v TBC

DISCOUNTS ON ALREADY

DISCOUNTED TYRES!

eND OF LINe • LIMITeD STOCK

175 / 65 / 14 - $65

195 / 60 / 15 - $70

215 / 45 / 17 - $80

215 / 60 / 16 - $80

PRICE INCLUDES FITTING & GST

Complete

Tyre and

Auto

Canterbury owned and operated

464 Ferry Rd, 03 389 5370

ctawoolston@yahoo.co.nz

8am-7pm Tues-Wed

8am - 5pm Mon Thurs Fri | 9am-3pm Sat

New & Used Tyres • Puncture Repairs

Batteries • WOF • Balancing

Mechanical Repairs • Lube & Servicing

Wheel Alignment

A1 Tree STump

removAl

• We remove Tree Stumps and Tree Roots

• Debris can be recycled as mulch in most cases

• Guarantee to arrive on time

• We leave your site tidy

• We are fast and efficient

• We have 3 different size machines

• No stump too large, no stump too small

ONLINE QUOTE

Fast, easy, instant

www.a1treestumps.co.nz

Ph: 322 6928 Cell: 027 4322 190

info@a1treestumps.co.nz

Owner operator covering Canterbury

for 2017 season

meeting dates

check out

www.woodfordglen.co.nz

the place to be

this summer!

Season passes available at the Woodford Glen Shop,

129 North Avon Road, ChCh | Ph (03) 385-1515
---
PEGASUS POST

2017 drAW

TUESDAY FEBRUARY 21 2017 13

The Automotive Lamp

Specialists

olves

Blues

fs

d 4 round 5 round 6 round 7

rcH

heetahs

s

Highlanders

rumbies

friday 24 marcH

19:35 Crusaders v Force

19:45 Rebels v Waratahs

saturday 25 marcH

15:05 Kings v Lions

17:15 Cheetahs v Sharks

18:40 Jaguares v Reds

18.55 Sunwolves v Stormers

19:35 Blues v Bulls

19:45 Brumbies v Highlanders

ByEs

Chiefs, Hurricanes

friday 31 marcH

19:35 Highlanders v Rebels

saturday 1 april

15:05 Stormers v Cheetahs

17:15 Blues v Force

17:15 Lions v Sharks

18:45 Reds v Hurricanes

19:35 Chiefs v Bulls

sunday 2 april

16:05 Waratahs v Crusaders

ByEs

Brumbies, Jaguares, Kings, Sunwolves

friday 7 april

19:35 Hurricanes v Waratahs

saturday 8 april

14:15 Sunwolves v Bulls

15:05 Sharks v Jaguares

17:15 Stormers v Chiefs

19:35 Highlanders v Blues

19:45 Brumbies v Reds

sunday 9 april

14:05 Force v Kings

ByEs

Cheetahs, Crusaders, Lions, Rebels

d 11 round 12 round 13 round 14

New and Used Lamps for

Cars, Trucks, Vans, 4WD

and Motorhomes

Butler

PH 0800 225 483

325 Brougham Street

CHRISTCHURCH

Auto MArt

Auto PArts ProfessionAls

STOCKISTS OF NEW PARTS

FOR MOTOR VEHICLES

FROM 1930 - 2017

Radiator Hoses, Water Pumps,

Wheel Cylinders, Belts, Electrical

Components, Suspension Parts,

Bearings, Specialised Classic Parts

+ 100's of other parts!

ighlanders

Stormers

s

e

ders

nwolves

s

lues

y

fiErS

friday 12 may

19:35 Blues v Cheetahs

19:45 Brumbies v Lions

saturday 13 may

15:05 Bulls v Highlanders

17:15 Kings v Sharks

18:40 Jaguares v Force

19:35 Crusaders v Hurricanes

19:45 Rebels v Reds

ByEs

Chiefs, Stormers, Sunwolves, Waratahs

SEMi finAlS

friday 19 may

19:00 Stormers v Blues

19:35 Chiefs v Crusaders

saturday 20 may

15:05 Kings v Brumbies

17:15 Lions v Bulls

17:45 Force v Highlanders

19:35 Hurricanes v Cheetahs

19:55 Sunwolves v Sharks

sunday 21 may

16:05 Waratahs v Rebels

ByEs

Jaguares, Reds

friday 28 july - TBC v TBC

saturday 29 july - TBC v TBC

friday 26 may

19:35 Blues v Chiefs

19:45 Reds v Force

saturday 27 may

14:15 Sunwolves v Cheetahs

15:05 Bulls v Hurricanes

17:15 Sharks v Stormers

18:40 Jaguares v Brumbies

19:35 Highlanders v Waratahs

19:45 Rebels v Crusaders

sunday 28 may

14:30 Lions v Kings

CHRISTCHURCH BRANCHES

261 Stanmore Road, Richmond

407 Colombo Street, Sydenham

4 Brynley Street, Hornby

Ph (03) 389 8830

Email: butler.auto@xtra.co.nz

www.butlerautomart.co.nz

Get Your Butt Down to Butler Auto Mart!!

Musgroves

From bricks and blocks to

raised veggie boxes, T&G

flooring to roofing, and almost

everything in between. Check

out our sharp prices on new

timber, trellis, ply, plasterboard

and coloursteel roofing.

Buyers and Sellers of Recycled and New

Building Materials and Joinery Since 1969

finAl

saturday 5 auGust - tBc v tBc

www.musgroves.co.nz

NEW ENTRANCE:

3 Musgrove Close (off Wigram Road)

Phone 322 7922

Open Hours:

Monday-Friday 8am-5pm | Saturday 8am-4pm

PReMiUM

tyReS &

AUtO

drive

away be

happy

tWO LOCAtiONS!

222 LiNWOOd AVe (Beside Burger King)

245 dyeRS ROAd (Cnr Wickham St)

• Vehicle servicing from $75

• Punctures only $25 for most vehicles

• Brake pads from only $110

• New & secondhand tyres on sale now

• WOFs • Lubes • Alignments

CALL NOW! HOURS:

MON - FRi

8am - 5pm

SAtURdAy

9am - 2pm

(03) 380 50 20

(Linwood)

New Zealand Post, Kiwi Bank & NZTA Registration Services

(Licensing, Change of Ownership, RUCLA)

Available 7 days a week

72 New Brighton Mall, New Brighton

03 388 1809

The only Book and Stationery store

with Fly Buys and Big Deal VIP Rewards

Monday to Friday 8.30 to 5.30

Saturday 9.00 to 5.30

Sunday 10.00 to 4.00

paperplus.co.nz

City South

Van Spares

NOW AT 166 MAces Rd, BROMley

100%

owned & operated

OPeN sATURdAy 9AM-1PM

We Buy, Sell & Dismantle Vans & Cars

Back Packer Vehicles

Available WITH

Guaranteed Buy Back

We Pick

Up Out Of

Christchurch

Now

Incorporating

City South

Tyres

New & Used Tyres For

As Little As $30 Fitted

• Provide Full Workshop Facilities

• Full Servicing & WOF Repairs

• Towing Available • Good Hourly Rate

• Same Day Clutch Replacement

• 2 Day Engine Replacement

• Mechanical & Exhaust Repairs

P. 384 8744 or A/H 027 222 3241

THE CHAIN MAN LTD

Canterbury owned and operated

keeping your family safe

YOUR LOCAL 4X4

& SNOWCHAIN

SPECIALIST

• Transport

• Farming

• Demolition

Unit 1 - 1 Cass Street. SYDENHAM. CHCH

PH: 03 366 1528

E: sales@chainman.co.nz

www.chainman.co.nz
---
plete and attach to clothing bag for

14

Tuesday February 21 2017

14km

6km

PEGASUS POST

name

signed

2017

14km

6km

19 March 2017

This

emergency

contact number

2017

sticker is valid for entry into either

distance. Must be worn during the event,

to claim prizes, and for free entry into

Ferrymead Heritage Park.

OFFICIAL ENTRY NUMBER:

This

Moving with you for 43 years!

existing

medical condition

19name

th March 2017 • Prize Giving Ferrymead

emergency

Park.

signed

contact number

existing

medical condition

19 th March 2017 • Prize Giving Ferrymead Park.

dist

to c

Ferr

OF

ENTER NOW $25

ENTRIES NOW OPEN!

$20 Early bird available online

Online • PakNSave • New World • The Athletes Foot • YMCA

Children 10 years old and under free

Be in to win return flights for two,

thanks to Singapore Airlines

A Star Media Event

Are you up for it?

The Star Photo Archive: 1983

city2surf.co.nz
---
PEGASUS POST Tuesday February 21 2017 15

Our People

Ella Lewis-Sandford

Surf's up – coach has the dream job

Ella Lewis-Sandford

has been surfing since

she was nine or 10,

now the Cashmere

19-year-old is a surf

coach at Christchurch

School of Surf, passing

on her passion to

others. She spoke to

Caitlin Miles about her

dream job

So how old where you when you

first started surfing?

I was about nine or 10.

What made you want to get

into surfing?

My dad was always into it,

since he was a kid I guess. He

grew up in the New Brighton

area and was always down at the

beach, he was a skateboarder

and a surfer. When he had me,

because I'm an only child, he

just decided to take me into the

surfing culture. So it was always

around but it wasn't until I was

nine or 10 that I got into it.

Was it a special thing that you

and your dad did together?

Yes, it was, he used to take me

down to a club in New Brighton,

that was every Thursday and

Saturday and I'd learn to surf.

Did you think it was going to

be hard when you first got on a

surf board?

I definitely thought it was going

to be easier than it was, like it was

a lot harder than I thought but

as a kid I could pick it up pretty

quickly. You've got to have a lot of

SURFER:

Ella Lewis-

Sandford

is a coach

at the

Christchurch

Surf School, it

is her dream

job at the

moment.

arm strength and core strength

to be able to jump up and get

straight to your feet.

Did you ever get frustrated

when you were first learning?

Yes, definitely. I'd scream at

dad and say I can't do it. A lot

of the time I would give up and

he would say, no, keep going.

It helped when he wasn't in the

water. It was easier when I was

with other people, not my dad.

What is it like when you get

on your board and sit in the

water?

You feel like you're the only

one out there and you've got a

lot of time to think. It's just

really peaceful and nothing feels

like a worry. It's a feeling that's

hard to explain. Like, I went out

the other day and I didn't catch

anything it was just nice to be out

there.

Have you ever had any bad

accidents?

I had the fin on my board go

into my head once. I was about 13.

I had to go to Accident and Emergency

and get that stitched up. I

don't even know how it happened.

I mucked up somehow and it was

quite shallow, I didn't go deep

enough so the board was where

my head was and the fins are really

sharp so it just cut through.

Do you compete in competitions?

I did when I was a kid but I

stopped when I got older.

•Turn to page 16

DESIGNER

FASHION

AT OUTLET

PRICES

SMART

BRANDS

SMARTER

PRICES

HORNBY 409 Main South Road | Open 10am–5pm, 7 days
---
16

Tuesday February 21 2017

Our People

PEGASUS POST

Father a big influence

•From page 15

Why was that?

There just weren't enough

girls when I was younger. Like

the competitions always had the

three or four girls so it just got

boring. But now there seems to

be heaps of girls doing it. That's

what we're trying to encourage

more at the surf school.

Did you ever sneak out of

school to go surfing?

No, not really, I went to Cashmere

High and I couldn't drive so

getting to the beach was a little bit

hard. It was definitely dad's dedication

to take me down there all the

time that made me stick with it.

Is your dad proud of the fact

you're now a surf coach?

He loves it. He tells everybody.

How did you get involved in

becoming a coach?

Just from people I knew really.

As I got to know all the surfers

around the Sumner community

they kind of put me in contact

with other people. My (now)

boss, Donna Henderson, was

looking to set up a surf school

who was looking to set up a

woman's surf school. You don't

get that many chicks that are

kind of into it.

What is it like being round so

many females passionate about

surfing? [Edition datE]

2

PASSIONATE: Ella in the water with a student. (Right). Her father, Mike, was the reason she starting surfing.

Oh, it's awesome being around

woman who are so positive about

life really. They always want to

get out and do stuff and it's just a

cool environment to be around.

My boss is really passionate about

getting more girls into surfing

and changing people's minds that

it is not just for guys.

How long have you been a

coach?

This would be my third summer.

As a surf coach what are the

ages you teach, is it mainly kids?

We can teach any age range,

between six probably right up

to 60. We have more children

aged between six and 6. A lot of

them come every week but then

we have the odd lesson on the

weekend or later in the week for

adults for a private lesson. Really

just anybody.

What's your favourite part of

coaching?

Definitely seeing the smile on

their face when they jump up

when they've been struggling

and it finally clicks and they can

stand and ride it (the wave) all the

way in. We're cheering, they're

cheering, it's just really cool.

Have you got any funny stories

from your time coaching?

Someone turned up once ready

for their surf lesson with flippers

on, a swimming cap on and goggles

on. It was hilarious but I had

to try not to laugh so they didn't

catch on. I had to politely say,

unfortunately you can't surf in

your flippers. I don't know how

they thought they were going to

stand up with flippers on.

What do you do when you

don't have any lessons?

I work two other jobs as well.

I'm a lifeguard at Jellie Park and

I work at Vbase, the event and

venue hire company.

Do you have any other hobbies?

In the winter I ski and snowboard

too. I'm full on with that

too.

How did you get into skiing

and snowboarding?

Dad as well. I started skiing

when I was three. So I've been

doing that in the winter every

weekend since I was really little.

Is surf coaching your dream

job?

Right now it's pretty up there

with being my dream job. I wake

up and I'm like, yay I've got work

and I get paid to do it. I've always

wanted to do something to do

with the World Surf League,

which is where the top surf

pros go around the world or

work for top surfing brands like

Roxy or Ripcurl promoting surf

competitions. I'm saving up to

go travelling because I'm a level

one coach, I might go overseas

and pick up a job and go surfing.

Hawaii is the number one spot I

want to go.

CONTINUING EDUCATION

Christchurch School of Music

The Christchurch School of Music is a family-oriented

community aimed at providing quality music education in and

around Christchurch.

We have an exciting offer for all new enrolments for 2017,

where you will receive $775 worth of lessons for just $450! All

you have to do is click here to enrol before January 15th, 2017:

http://www.csm.org.nz/enrol/

This deal includes: 1 year of group lessons for beginners on

recorder, flute, clarinet, violin, ukulele, guitar or voice (worth

$525), FREE instrument hire where instruments are available

(worth $110), FREE joining of a performance ensemble for the

second semester (worth $140).

We also have individual lessons and ensembles for a wide

range of instruments available too, for any age and from

beginner through to experienced - explore our website www.

csm.org.nz to learn more.

CSM is a not-for-profit organisation with a strong focus on

community. On a Saturday morning the whole family can find

something to suit. Preschool children can start their musical

journey by joining in our experiential "Take Off with Music"

while older children and adults may opt for group or individual

lessons on a specific instrument (including voice). Those who

USE THE RED CROSS ADVANTAGE -

COMPREHENSIVE FIRST AID,

ESSENTIAl FIRST AID, REVAlIDATION

OR TAIlORED TRAINING TO SUIT YOU

AT YOUR PlACE OR OURS.

already play are welcome to join in one of the great ensembles

which all take part in regular concerts including Saturday

soirees and the popular annual Showcase Concert. Recitals

where individuals can perform are also held regularly.

CSM also provides a comprehensive music education to

participating primary schools via its Outreach programmes.

With programmes offered in band, strings, recorder and ukulele

in a wide range of Christchurch schools this is an area of the

School, which has grown fast over the last few years.

Another area that has grown rapidly over the last few years

is the Late Starters programme where adults approaching

retirement with more time on their hands have really enjoyed

learning an instrument they never had the chance to play in

their early years and join an ensemble with other like-minded

adults.

If Saturday isn't an option, CSM also offers a range of

weekday opportunities for learning and playing music.

If affordability is an issue, CSM may be able to offer a

discount through funding provided by the Rata Foundation.

Please contact us via our website www.csm.org.nz and let

us start you on a musical journey that will bring pleasure for

a lifetime.

16 Hours Thursday/Friday

20 & 21 April

16 Hours Saturday/Sunday

18 & 19 March

NEW ZEALAND RED CROSS - GLOBAL LEADERS IN FIRST AID TRAINING

CHRISTCHURCH COURSE DATES 2017 • VENUE: 32 BIRMINGHAM DRIVE, MIDDLETON

Comprehensive First Aid PLUS Course (16hrs or 4hr upgrade)

Unit Standard 6402, 6401, 6400 and 25411 or 26552, 26551, 6400 and 25411

Cost $285.00 per person incl FA Manual & GST for 16 hours or $85.00 per

person for upgrade following completion of CFA

Time: Day One 8.30am – 5.30pm Day Two 8.30am – 5pm

4 Hours Friday 1.15pm-5pm

21 April

4 Hours Sunday

19 March

Comprehensive First Aid Course (12hrs)

Unit Standard 6402, 6401, 6400 or 26552, 26551, 6400

Cost $225.00 per person incl FA Manual & GST

Time: Day One & Day Two 8.30am - 3.15pm Time: Day One 8.30am - 5.30pm

2 x Monday

6 & 13 March

2 x Tuesday

21 & 28 March

4 & 11 April

2 x Wednesdays

1 & 8 March

15 & 22 March

Thursday/Friday

23 & 24 February

2 & 3 March

Day Two 8.30am - 12.45pm

Thursday/Friday

20 & 21 April

Weekends

25 & 26 February

18 & 19 March

Essential First Aid Course (8hrs)

Unit Standard 6402, 6401 or 26551, 26552

Cost $155.00 per person Time: 8.30am – 5.30pm

Monday

6 March

Monday

27 February

13 March

Tuesday

21 March

4 April

Tuesday

28 March

11 April

Wednesday

15 March

26 April

M Learning (App.) First Aid Courses

Practical First Aid

Unit Standards 6402, 6401

Cost $155.00 per person

Time: 4 hours 8.30am-12.45pm

Wednesday 8 March

Workplace First Aid

Unit Standards 6400, 6401, 6402

Cost $225.00 per person

Time: 8 hours 8.30am-5.30pm

Tuesday 28 March

NEW ZEALAND RED CROSS

GLOBAL LEADERS IN FIRST AID TRAINING

Christchurch Course Dates 2017

Venue: 32 Birmingham Drive, Middleton

First Aid Revalidation Course (6 hours)

Cost $130.00 per person (certificates must not have

expired for more than 3 months)

Time: 8.30am – 3.15pm

Wednesday

8 March

22 March

Friday

3 March

17 March

For bookings please call 0800 REDCROSS or 339-7111

Book online at www.redcross.org.nz

USE THE RED CROSS ADVANTAGE - COMPREHENSIVE FIRST AID, ESSENTIAL FIRST AID,

REVALIDATION OR TAILORED TRAINING TO SUIT yOU AT yOUR PLACE OR OURS.

Thursday

2 March

30 March

FOR BOOKINGS PLEASE CALL 0800 REDCROSS OR 339-7111 • BOOK ONLINE AT WWW.REDCROSS.ORG.NZ

Sunday

26 February

19 March

M Learning Workplace Revalidation Course (4 hours)

Cost $130.00 per person (certificates must not have

expired for more than 3 months)

Time: 8.30am – 12.45pm

Tuesday

28 February

Friday

24 March

Saturday

11 March

Saturday

25 February

18 March
---
PEGASUS POST Tuesday February 21 2017 17

FOCUS ON HEALTH

The power of chlorophyll

Chlorophyll is a truly amazing substance

with powerful health benefits. It is the green

pigment found in plants they use to make

energy through photosynthesis. It is a rich

source of natural minerals, vitamins, amino

acids and antioxidants, which are essential

in balancing and maintaining the alkalinity

of the body. Ideally we want our body to

be slightly alkaline as an acidic body is

prone to unhealthy organisms that can

damage organs, the immune system and

may lead to allergies, asthma, congestion,

fatigue, frequent colds, headaches,

inflammation, joint and muscle pain, skin

problems, ulcers, weight gain and over

the long term arthritis, cancer, diabetes,

fibromyalgia, heart disease, multiple

sclerosis, osteoporosis and stroke. The

biggest contributor to acidity in the body is

our modern diet. Excess acidity is caused

by eating processed foods, too much animal

protein, dairy products and processed

grains such as corn and wheat. Normally

the kidneys maintain our acid/alkaline

balance by adjusting the electrolyte levels

in the body. The electrolytes are calcium,

magnesium, potassium and sodium. The

best source of these electrolytes is raw

fruits and vegetables as cooking depletes

alkalising minerals. Green drinks made

with fresh vegetables or powders are very

alkalising as they contain chlorophyll.

Chlorophyll is structurally similar to our

own blood and alkalises the blood.

Chlorophyll is available in concentrated

liquid form and is an ideal way to help

alkalise and mineralise the body. Generally

5-15ml is taken straight or diluted in

water or juice. Chlorophyll is a powerful

cleansing and detoxifying agent for the

body and blood. It acts as a natural internal

deodoriser, helping with body odour, bad

breath, promoting good digestive function

and supporting overall health and wellbeing.

Chlorophyll supports efficient

oxygen transportation by the blood and as

a result can improve energy and make you

feel more refreshed and invigorated.

Marshall's Health & Natural Therapy

have premium GO-CHLOROPHYLL

CLEANSE liquid on special at $23.90

saving you $6.00 for the 500ml bottle.

Please call or contact our friendly Natural

Health Advisers for more information.

03 388 5757

We are Always Happy to Help!

Miracle Weight Loss Fruit

An extract of a small pumpkin-like fruit

called Garcinia Cambogia from India &

Asia has shown itself to greatly assist weight

management & overall health. In fact many

have found it to increase fat loss by 2 to 3

times greater than normal. T.V. Dr. Oz has

said it is the most effective & fastest working

natural supplement to support weight loss.

Even without exercise & diet changes

many have found it beneficial, although even

better & quicker results are often obtained

with extra exercise & an improved diet.

The extract of this amazing fruit is called

Hydroxycitric Acid (HCA) or CitriMax.

Research has shown HCA to help suppress

the appetite, reduce cravings, feel fuller

for longer, increase energy levels, help

prevent fat from being made & stored in the

body, increase lean muscle mass, increase

serotonin levels in the brain that help

control mood & sleep (great for emotional

eaters), improve cholesterol levels that

may help reduce the chances of strokes &

cardiovascular disease, help prevent sugar

spikes as well as other health benefits.

It is considered a very safe supplement

(although check first if you are on

medication) as it has been used for centuries

as a flavouring agent & digestive aid.

To obtain reliable results it is important to

SUPER CitriMax

CLINICAL STRENGTH GARCINIA CAMBOGIA

According to Dr. Oz an extract of Garcinia Cambogia, (a small

pumpkin-like fruit) called Hydroxycitric Acid (HCA) or CitriMax,

is the most effective & fastest working natural supplement to

support weight loss.

Researchers found it:

• Helps stop fat being made & stored in the body

• Suppresses appetite & cravings. Feel fuller for longer

• Increases energy levels & lean muscle mass

• Increases Serotonin levels in the brain, especially good for

emotional eaters. Serotonin may also improve mood & sleep.

• Improves cholesterol & blood lipid levels

Swanson Super CitriMax is a unique patented extract that

is highly bio-available & clinically proven for reliable results.

Bringing You the Best in Natural Health

take a product that contains a standardized

extract of 60% HCA & also take the

recommended amount as used in the clinical

research. Some supplements also contain

ChromeMate, a well-researched form of

niacin-bound chromium to help improve

the results even more.

Further information & advice is

available in store at Marshall's Health &

Natural Therapy, 110 Seaview Road, New

Brighton, Phone: 388-5757. Call in & talk

to our naturopath & medical herbalist or

one of our helpful natural health advisers.

We are Always Happy

to Help!

FREE GUIDE

How to lose

weight fast &

permanently!

(Available in store)

Natural Weight Management

& Appetite Control

SUPER

SPECIAL

120 Capsules

only $39.90

240 Capsules

only $69.90

MAIL ORDER AVAILABLE

MARSHALLS HEALTH & NATURAL THERAPY

CONSULTING - PRESCRIBING - DISPENSING - MANUFACTURING - MEDICAL HERBALISTS

110 SEAVIEW RD, NEW BRIGHTON • PH 03 388 5757 • Email: enquiry@marshallshealthshop.co.nz

- WE ARE ALWAYS HAPPY TO HELP! -

The Leisure Centre at

McKenzie Lifestyle Village

At the centre of the McKenzie Lifestyle

Village is the brand-new McKenzie Leisure

Centre. This multi-purpose complex has

everything to meet the social and leisure

needs of residents and their invited guests.

It includes:

• An indoor heated swimming pool with

spa pool alongside.

• A fully-equipped gymnasium sporting

exercycles, treadmills, rowing machine, etc.

• The library is stocked with hundreds of

books, a computer and the daily paper.

• A well-appointed crafts room for those

residents keen on arts and crafts.

• A multi-function room with

comfortable seating for meetings, cinema

or chapel.

Detox for FREE when you buy two heavily discounted selected top selling

GO-HEALTHY products for only $20.00 each. Receive a FREE bottle

of premium GO CHLOROPHYLL CLEANSE worth $29.90

with every two products purchased while stocks last.

- WE ARE ALWAYS HAPPY TO HELP! -

• The main lounge offers a big-screen TV,

cosy gas fireplace, comfortable seating, bar

area, pool table and dart board for your

enjoyment.

• Alongside the lounge is a kitchen and

dining area. The latter can be used for

indoor bowls or Tai Chi, Zumba etc.

• A consulting room available for health

services.

• A hairdressing and beauty salon.

• Outside amenities include a bowling

green, petanque rink, mini-golf, putting

green and a children's playground. Further

from the Leisure Centre there are garden

allotments, workshop (aka men's shed) and

caravan and campervan parking.

FREE CHLOROPHYLL CLEANSE DEAL!

& AMAZING LOW PRICES on GO-HEALTHY!

CHOOSE FROM: (All Only $20.00 each)

• GO-MAGNESIUM, 500mg, 60's, save $14.90

• GO-COQ10, 400mg, 30's, save $19.90

• GO-SLIM GARCINIA GOLD, 60's, save $14.90

• GO-MAGNESIUM SLEEP, 60's, save $12.90

• GO-FISH OIL, 2000mg High Potency, 230's, save $19.90

• GO-STRESS REMEDY, 30's, save $9.90

• GO-MULTI EVERYDAY, High Potency, 60's, save $19.90

• GO-B COMPLEX, High Potency, 60's, save $19.90

• GO-ADRENAL SUPPORT, 60's, save $16.90

Bringing You

the Best in

Natural Health

MAIL ORDER

AVAILABLE

• GO-SUGAR BLOCK, 60's, save $17.90

Chlorophyll is refreshing, pleasant tasting, & naturally rich in vitamins, minerals, amino acids & antioxidants as well as a powerful

cleansing agent. Chlorophyll cleanses & detoxifies the body & blood. It acts as a natural internal deodoriser, helping with body odour,

bad breath & promoting good digestive function.

MARSHALLS HEALTH & NATURAL THERAPY

CONSULTING - PRESCRIBING - DISPENSING - MANUFACTURING - MEDICAL HERBALISTS

110 SEAVIEW RD, NEW BRIGHTON • PH 03 388 5757 • Email: enquiry@marshallshealthshop.co.nz
---
18

Tuesday February 21 2017

PEGASUS POST

Hip pain: Do I have arthritis or

could it be mainly my muscles?

The team at Physical Sense in

Sydenham sees clients with a

range of symptoms but many

of their middle-aged and senior

clients visit complaining of pain in one or

both hips.

Physiotherapist Ietje van Stolk suggests

that a major part of the pain could be due

to muscle pain rather than simply arthritis.

"Even if an x-ray shows arthritis, the reason

for the pain may be the muscles around

the joint," she explains. Alternatively, a back

muscle could also be the cause, as shown in

the image.

Ietje recalls one case where an 89 year old

client with severe arthritis who walked with

a stick, told her, "I will end up in a wheelchair,

I cannot put any weight through my right

leg due to pain in my hip and buttock".

"Within 4 treatments, she was walking with

her stick but without the severe pain," says

Ietje. "The arthritis was one of the factors

that made her muscles spasm but the other

was that older people move less and the

flexed position the hip is in when we sit is

particularly bad for the hip." Ietje is happy

with the fact that although the client was 89

and could have been "given up on" or told

to live with the pain, she made a difference

to her health and wellbeing.

At Physical Sense, hands-on techniques

(massage and triggerpoint deactivation

techniques) are used to release the muscles.

The client also gets a home exercise program

designed to mobilize and stretch the hip,

strengthen the important core muscles and

increase general strength and balance. They

teach a movement sequence that stretches

the hip in all directions whilst the client is

able to lie safely on their bed, perfect for

older or less mobile clients.

In many cases having the muscles

released and being taught how to maintain

Hip muscle that causes hip pain

(the crosses are the areas of the muscle spasms, the red areas is where the pain is felt)

it, is enough to stay on top of the problem.

If severe arthritis is the underlying cause,

some maintenance therapy may be

necessary, but that is often more affordable

and, for older patients, better tolerated than

surgery. In very few treatments the client

will know if it is going to work for them or

not, without financial commitment.

Physical Sense Gym & Physio is located

at 300 Colombo Street, Sydenham. There is

Back hip muscle that causes hip pain

a bus stop in front of the door and there is

ample parking. To enquire about specialised

exercise classes or physiotherapy treatment,

phone 377-2577 or visit www.triggerpoints.

co.nz.

Special SuperGold Card offer

Try our classes,

first four sessions FREE

PLUS

Come for a FREE ASSESSMENT

on Monday 27th February at 11.30am

and get a

FREE

PEDOMETER

just for giving it a try

HYSICAL SENSE

Ph: 377 2577

300 Colombo St, Sydenham

www.oos.co.nz/classes

lovebite.com

Want to improve

your Core Strength?

Join our programme!

• Our Dynamic Spines programme

increases core strength and

improves posture

• Improves key movement patterns

• Two level small group exercise

programme led by a physiotherapist

• Held at Bishopdale and

Hereford Street with free parking

musclepeople.co.nz

Call us today on 961 0236

Muscle People Physiotherapy Clinics

in Wigram Skies, Bishopdale & Central City
---
PEGASUS POST Tuesday February 21 2017 19

REAL ESTATE

Swing an iron or sink a putt...

1/23 Orlando Crescent, Waimairi Beach

Auction: 01 Mar 2017 Unless Sold Prior

3 bedrooms | 2 bathrooms | 3 toilets | 2 living rooms | 1 dining room | 2 car-garage | 3 off-street parks | Listing # ST7105

That's right, consider the perfect setting

for your next home - lazy evenings on the

deck and when you wake every morning,

spectacular uninterrupted views of

Waimairi Beach Golf Course and it's just a

short walk to the beach.

Orientated north this home flows

seamlessly from the stunning kitchen area

to the living and dining which coupled

with a gas fire ensures the home is a warm

space in the cooler nights. Maximise your

views with sheltered and private areas

for outdoor leisure the backyard is set to

become the perfect spot for entertaining.

Completing the floor plan all bedrooms

are generous doubles while the master

enjoys its own ensuite.

Your inspection will soon reveal why our

subject property is so rare and so popular.

Whether you looking for your children

to play & grow, play golf, enjoy the bike

trails of Bottle Lake or the surf at Waimairi

Beach it's all right here at your doorstep.

The future of this unique proposition now

lies in your hands.

Our very motivated owners have given

us clear instructions - the home is to be

sold. Don't miss this opportunity to secure

a lifestyle like no other.

Auction Wednesday 1st March, from

10:00am at Holmwood Auction Rooms,

Russley Golf Club, 428 Memorial Avenue

(unless sold prior).

Open Home Dates: Thursday 23 Feb

5:30 p.m. - 6:00 p.m. and Sunday 26 Feb

1:00 p.m. - 1:30 p.m. See you at the Open

Homes or for a private viewing contact

Peter or Kathryn Hampton of Harcourts

St Albans - Holmwood (Licensed Agent

REAA 2008) on 377 0377 or Peter

mobile 021 367 761 or Kathryn mobile

021 889 903

Visit www.star.kiwi

anytime, anywhere!

Breaking news,

delivered to

your pocket.

Fire rages, homes at risk

•news •CTV •sport •districts •schools •lifestyle •opinion •what's on

www.star.kiwi
---
20

Tuesday February 21 2017

PEGASUS POST

Bridalshow

save the date

Sun 27th Aug

10am to 3pm

air Force Museum

45 Harvard Ave

Wigram, Chch

Tickets: $20.00

A Star Media Event
---
PEGASUS POST Tuesday February 21 2017 21

Classifieds Contact us today Phone our local team 03 379 1100

Hire

REntal

Free Delivery

and Installation

Terms and conditions apply

NEED A

FRIDGE • WASHER

TV • FURNITURE ?

Call Mr Rental - 0800 111 313

Visit www.mrrental.co.nz

123 Blenheim Road, Riccarton

Open Monday to Saturday

Computers

ALL

YOUR

COMPUTER

WORRIES SOLVED!

*$30.00 off your first

service with this coupon!*

No problem too big or

small from home PC's to

business networks. PC

slow? An end to Viruses,

Spyware, and Clogged

Systems. Safe secure

hassle-free computing.

Lost files recovered.

Microsoft Certified,

MCSE, MCP+l. 30 years

experience. Call Andrew

Buxton this week on 326-

6740 or 027 435-7596

for $30.00 off* Custom

Computers Christchurch

Curtains

www.curtainfabric-outlet.com

Half Price Sale

from $5 per mtre

Call at Our Shop

CURTAIN FABRIC OUTLET

71 Hawdon St Sydenham

Ph 366-5026

ADD SOME

COLOUR

TO YOUR ADVERT!

Fairs & Markets

BROMLEY FAIR.

Sat 25 Feb 11am -2pm.

Bromley Community

Centre, 45 Bromley Rd.

Food,entertainment, free

rides, bric a brac, crafts,

free sausage sizzle

Gardening

& Supplies

A GARDEN

PROFESSIONAL

NEEDED? Qualified

Horticulturist, offering

expert pruning, garden

makeovers, garden design

and landscaping, for free

quotes call Bryce 027 688-

8196 or 0508 242-733

A GARDEN OR

LANDSCAPING TIDY

UP? Shrub, hedge &

tree pruning, Lawns,

Gardening, consistently

reliable general property

upkeep, Dip. Hort. 10

yrs experience, One off

tidy ups or on-going

service. Nick's Property

Maintenance. Keeping

your garden beautiful.

Free Quote. Ph. 942-4440

Public Notices

DEMOLITION

With care and respect we

will remove your dwelling.

Our policy is to recycle as

much as we can. We are a

local company specialising

in residential properties. We

will endeavor to cater for

your individual needs.

Ph. R.M. Solutions

021 02866981

for a free quote.

Holiday

Accommodation

QUEENSLAND SUN-

SHINE COAST AUSTRA-

LIA Resort, Ocean Views,

Balconies, Self Contained,

1 or 2 B/R Ensuite,

Heated Pool, Spa, Sauna,

Free Internet, Shops,

Restaurants, Tennis, Surf

Club & Patrolled Beach,

Public Transport at door.

Ask for our SEASONAL

SPECIALS. Phone 61 7

544-35011 Email: reception@mandolin.com.au

www.mandolin.com.au

Situations Vacant

Wanted

Wanted noW

Busy people, home

parents, working

class, social media

lovers.

Register your

interest today with

lioness Kat

022 136 0536

or visit

www.lionessbusiness

buildingnz.com

To Let

RENT NEED MORE ME!

SPACE?

NO BOND THIS MONTH

Ideal as an extra

bedroom or office.

Three convenient sizes

from $70 p/w:

Standard 3.6m x 2.4m

Large 4.2m x 2.4m

Extra-large 4.8m x 2.4m

Visit our display cabins at

470 Cranford Street or call

0211277227 for a free brochure

www.justcabins.co.nz

Trades & Services

FOR ALL YOUR

★Garden Clean-ups

★Pruning

★Lawn Mowing

★Garden Maintenance

Call us today for a FREE quote

PH 0800 4 546 546

(0800 4 JIMJIM)

Trades & Services

& Property Maintenance

Paving

Patio - Pathways - Driveways

Lawns and Gardens

Planting - Raised Vege Gardens

Readylawn - Irrigation - Fencing

General Maintenance

Water Blasting - Gutter Cleaning

Rental Property Maintenance

Section Clearing - Weed Spraying

20 Years Experience

Locally owned and operated

Free Quotes - Competitive Pricing

Blair Gibson 027 699 5815

• Replacement/new roofing

• Colour Steel gutter & fascia

• Flue & log burner installs

• Skytube/light installs

• Earthquake repairs

Licence Building

Practitioner LBP

Member of the Roofing

Association

DCM ROOFING LTD

The Roofing Specialists

PHONE IAIN

027 445 5597

iain@dcmroofing.co.nz

DRIVEWAYS

Replace, repair or new.

We are a local company

with over 10 yrs exp.

We also operate a

digger for all other

earthworks.

Ph. R.M. Solutions

021 02866981

for a free quote.

PLUMBER

Michael

Gale

Plumbing Ltd

PROMPT SERVICE

For all

Plumbing

•Roofing/

spouting

•Maintenance

•Installations

8790441AA

Trades & Services

Small work

no problem

Ph 364 7080 (24 hour)

Mob 027 438 3943

GLAZING

Stephen Thom

Glazing 2012 Ltd.

(Under New Management)

• Mirrors

• New Glazing

• Pet Door

Specialists

• Frameless

Showers

• Splashbacks

WE CAN DO YOUR

WORK NOW

9155874AA

ALL BROKEN

WINDOWS

Phone Cushla

03 352 6225

or 027 352 6225

Trades & Services

Lawns, Gardens

& Home Cleaning

9185885AA

Free Quotes

Professional, personalised

service. Regular &

one-offs. Fixed price.

Ph: 377-5814

For all your property and

cleaning requirements

Trained, insured & security

screened owner/operators

Multi-award winning

systems & Franchises

Franchises Available

www.fviphomeservices.co.nz

AAA CArpentry

licensed builder

practitioner all property

maintenance small job

expert by tradesman /

handyman free quotes city

wide call now 03 387-

0770 or 027 245 5226

ciey@xtra.co.nz

BUILDer

For all building work

but specialist in bathroom

renovations, 30 yrs

experience, with service

and integrity. Free Quotes.

Ph Lachlan 383-1723 or

0274 367-067.

BUILDer LICenSeD

available for all aspects of

building. Please call 027

241-7471 or 335-0265
---
22

Tuesday February 21 2017

Classifieds

PEGASUS POST

Trades & Services

Trades & Services

Tuition

CARPENTER

HANDYMAN - Small

Job Specialists, Carpentry,

Repairs, Decking &

Maintenance, 40 years

experience, no job too

small, Ph Warren 03 322-

1103 or 027 697-8541

CARRIER LoCAL

experienced, friendly,

trade-me purchases, single

items to truck loads,

furniture to whatever,

removals & trade

deliveries a specialty. Ph

GEH 341-5069

*****************

CARPET & VINyL

Laying. Repairs, uplifting,

relaying, restretching.

Email jflattery@xtra.

co.nz, ph 0800 003 181 or

027 2407416

DRIVEWAYS

Replace, repair or new.

We are a local company

with over 10 yrs exp.

We also operate a

digger for all other

earthworks.

Ph. R.M. Solutions

021 02866981

for a free quote.

ELECTRICIAN

Rewire specialists. Some

old wiring, some new,

get a free appraisal and

quote. Switch boards, LED

lighting, garages, spas you

name it we do it. Give the

boys at Turned On a ring,

phone Muzza 022 6177-

275

FENCING

All styles and shapes,

gates, wooden, ph Mark

027 331-3223

FURNITURE REMoVALS

Large Trucks $95 +

GST per hour 7 day NZ

wide, packing & moving,

Professional Company,

Professional Service.

Canterbury Relocations

Ltd. ph 0800 359 9313

HANDyMAN

Silver Threads. A

bunch of nice friendly

mature tradies, builders,

electricians, painters,

landscapers, section

tidying. Ring for a free

quote 022 140-7852

LANDSCAPING

Mini Digger hire for

drainage & section

development. Ph Silver

Threads 022 140 7852

LANDSCAPE

CONSTRUCTION

Lawns, paving, water

features, irrigation,

planting, decks,

driveways, kerbing, ponds,

retainer walls, fencing.

Free quotes, Phone Tony

021-034-8555

LED / DoWNLIGHT

replacement. Huge new

year special, get those

troublesome downlights

replaced wih modern LED

lights from $38 + GST

inclusive. Ring the boys at

Turned On for free advice

& quotes. Call Muzza 022

6177 275

PAINTER AVAILAbLE

All aspects in painting.

Very competitive in roofs

and fences. Please call 027

241-7471 or 335-0265

ROOF REPAIRS

Locally owned & operated with

over 30 years experience.

• Extensions & repair • Roof coating

• Concrete & clay tiles • Butynol

• Malthoid • Asbestos Certified

• Coloursteel • Old iron • Guttering

Phone Dave 981 0278

or 021 223 4200

E: dave@beaumontroofing.co.nz

BEAUMONT ROOFING LTD

rubbish removal

tRAiLER SKiP HiRE

• 2 or 5 cubic metre

• Household Rubbish

• Green Waste

• Yard Clean ups

• Load it yourself or hire us

• Locally owned and operated

bin co

Phone: 383-0646

027 2131 733

PAINTER

Top quality work, interior/

exterior, pensioners

discount, free quotes, 30

years experience, I stand

by Canterbury, ph Wayne

your friendly painter 03

385-4348 or 027 274-3541

PAINTING

& Decorating Wingfields

Contracting, all interior

& exterior painting & all

forms of interior plastering

& jib fixing, ph Mark 021

171-1586 or 355-5994

PLASTERING

Stopping / skimming. 30

yrs exp, all work large &

small. Contact Tony 027

222 2993 or Earl 027 345

0561

PLUMbER

ALF THORPE

PLUMBING Certifying

Plumber for all types of

plumbing, maintenance,

spouting, alterations etc.

Phone 352-7402 or 0274-

350-231

RooFING

Qualified & Licenced

Practitioner. Re-Roof &

Repairs, all types. Member

New Zealand Roofing

Association. Over 35 years

experience. Phone John

027 432-3822 or 351-9147

email johnmill@ihug.

co.nz

RUbbISH REMoVAL

From Kleensacks to truck

loads, the messier th better.

Trees, flat clean ups. Call

Silver Threads 022 1407-

852

SPoUTING CLEANING

Spouting Unblocked,

Cleaned Out and Flushed

Out. Also Full Handyman

Services Available. Call

Trevor 332 8949 or 021

043-2034

SPoUTING CLEANING

Spouting Unblocked,

Cleaned Out and Flushed

Out. Also Full Handyman

Services Available. Call

Trevor 332 8949 or 021

043-2034

TILER

For all your tiling

needs, new, existing &

replacement of tiles, free

quotes, ph Jared 021 023

58414

TILER/CARPENTER

35 years exp, no job

too small. Ph Ross 027

4311440.

TREE WoRK

Hedge trimming, stump

grinding, rubbish removed,

small job specialty Ph

Andrew 03 322-8341 or

027 435-8759

T.V. SERVICE CENTRE

Repairs, tvs, microwaves,

stereos, DVD. Aerial

installations and kitsets,

480 Moorhouse Ave, ph 03

379 1400

UPHoLSTERER

Dining Chairs, Lounge

suites, Caravan Squabs

etc. recovered. Free

Quotes. Phone Graeme

383-1448

VHS VIDEo TAPES

& all camera tapes

converted to DVD, video

taping special occasions,

www.grahamsvideo.co.nz

ph 03 338-1655

WATERbLASTING

Quality Job, Quick Service

by skilled tradesman, Ph

Richard Severin at Jet-X

0800 538 969 Free quotes,

visit www.jetx.co.nz

Piano

Raewyn Clegg

Registered Teacher of

Piano and Theory of

Music.

29 Lancewood Drive

Halswell

Ph 322-9377

Vehicles Wanted

CARS Wanted. Fair

prices paid, quick and

easy process, money paid

directly into your bank

account, friendly local

service, call Tim Koller ph

03 390 1717

valuemycar.co.nz

Wanted To Buy

CASH FOR

STAMPS

Do you have an Old

Stamp Collection

tucked away

somewhere?

It could be worth

a fortune!

We are currently buying

old collections and can

come to you for larger

collections or if you are

unable to come in.

Call Matt Power

0800 239 325

The Stamp Exchange

AAA Buying goods

quality furniture,

Beds, Stoves, Washing

machines, Fridge Freezers.

Same day service. Selwyn

Dealers. Phone 980 5812

or 027 313 8156

A+ Household effects,

fridges, freezers, washing

machines, ovens. Good

cash paid. Ph Paul 022

0891 671

TOOLS Garden,

garage, woodworking,

mechanical, engineering,

sawbenches, lathes, cash

buyer, ph 355-2045

Cafe open from 11am

SHUTTLE

Tuesday - Saturday

www.newbrightonclub.co.nz

GREAT

DINING

- downstairs -

ClubBISTRO

Open Tuesday to Saturday

12pm-2pm and from 5pm

Midweek $10

SPECIAL ROAST

Available Tuesday,

Wednesday, & Thursday

TUESDAYS &

THURSDAYS

Members Lucky

Card Draw

TAB POD

GAMING ROOM

FUNCTION ROOMS

SHUTTLE RUNNING

Tues, Thurs, Fri & Sat

TAB & Gaming

Function Facilities

HOUSIE

Tuesday, Thursday,

Saturday

SUNDAY 26 FEB, 1.30PM

SUNDAY

26th February

ALL YOU

CAN EAT

BUFFET

$25

BOOK NOW!

PIERVIEW RESTAURANT

GREAT

DINING

- upstairs -

PIERVIEW

Restaurant

Quality a la carte

with a view!

Open from 5.30pm

FRIDAY, SATURDAY

& SUNDAY

FRIDAY SPECIAL:

SIRLOIN STEAK

or

CHICKEN BREAST

WITH JACKET POTATO

& SALAD BAR

$22!

SUNDAY SPECIAL:

3 courses

$25

NOW OPEN FOR

SUNDAY

BRUNCH

By the Seaside!

10.30am-2.30pm

202 Marine Parade

Ph 388-9416

Members, guests and affiliates welcome

Open 7 Days from 5.30pm

WHAT'S ON

RECKLESS

7PM THIS FRIDAY

in Whitfords Bar

The ROCK BAND

7PM THIS SATURDAY

in Whitfords Bar

SUPER RUGBY IS BACK!

MATCHES SHOWN IN WHITFORDS!

WEDNESDAYS

RETRO ROAST

LUNCH

12PM-1.30PM

$10 Members / $12 Non

H ORNBY

WORKINGMEN'S

CLUB

«WHAT'S ON«

THIS WEEKEND

FRIDAY 24 FEB, 7.30PM

THE DIXIE PRIX

SUMMER HOE-DOWN

TICKETS $15

SATURDAY 25 FEB, 4.30PM

THE BUSKER

8PM IAN MAC

SUNDAY 26 FEB, 1.30PM

ANNETTE'S HEART

OF THE COUNTRY

$6 ENTRY

Club

CAFE

OPEN 7 DAYS LUNCH & DINNER

Gluten Free & Vegetarian options

Hornby WMC

17 Carmen Rd, Hornby

Phone 03 349 9026

www.hornbyworkingmensclub.co.nz

Members, guests & affiliates welcome
---
PEGASUS POST Tuesday February 21 2017 23

'Famous for their roasts!'

RESTAURANT & CAFÉ

Kid's SPECIAL

Two courses

Seniors SPECIAL

Two courses

$10

We are family friendly. Great Kids menu plus designated play area.

Soup/Roast or

Roast/Dessert

Special available lunch only

Monday - Saturday 12pm - 2.30pm

$20

Start your

day with us

We are open from 6.30am

Cooked

breakfasts

$18

Check out our extensive

breakfast menu from

Continental to Cooked

The

RACECOURSE HOTEL

& Motorlodge

118 Racecourse Rd, Sockburn,

Christchurch. Ph 03 342 7150

www.racecoursehotel.co.nz

Lunch & Dinner

All you can eat, 7 days

Bookings Essential PH 386 0088

fb.com/GardenHotelRestaurant www.gardenhotel.co.nz

NOW SERVING

available

from

9am

Breakfast

HAPPY

HOUR

5PM - 7PM

DAILY

Live Music:

Mandi Miller

6PM.FRI.24 FEB

PHONE 385 8880 FIND US ON FACEBOOK fb.com/GBCCHCH

THE GARDEN HOTEL COMPLEX | 110 MARSHLAND RD

www.gardenhotel.co.nz | phone 385 3132
---
24

Tuesday February 21 2017

PEGASUS POST

$

8 99

kg

Fresh NZ Lamb

Shoulder Chops

99 c head

Fresh Cut Broccoli

2for

$

5 00

Coke/Sprite/Fanta/Lift/L&P 1.5L

$

2 99

kg

New Season NZ

Beauty Apples

$

4 99

each

Tip Top Ice Cream 2L

3

for

$

5 00

Griffin's Wines/Arrowroot/Malt/Gingernuts/Krispie 250g

$

9 00

each

Alpine Mild/Colby/Edam Cheese 1kg

$

31 99

pack

DB/Export Gold/Tui

24 x 330ml Bottles

$

13 99

each

Villa Maria Cellar Selection 750ml

(Excludes Pinot Noir/Syrah)

2

for

$

30 00

Huggies Nappy Pants 26-31 Pack/Bulk Pack Nappies

30-54 Pack

FreshChoice Parklands

60 Queenspark Drive, Christchurch.

Open 7am-11pm, 7 days.

FreshChoice.co.nz FreshChoiceNZ 383 1004

FreshChoice Parklands

Certain products may not be available in all stores. Savings are based on non-promotional price. Limits may apply.

Prices apply from Tuesday 21st February to Sunday 26th February 2017, or while stocks last.

Owned and

operated

by locals

FCPP2102