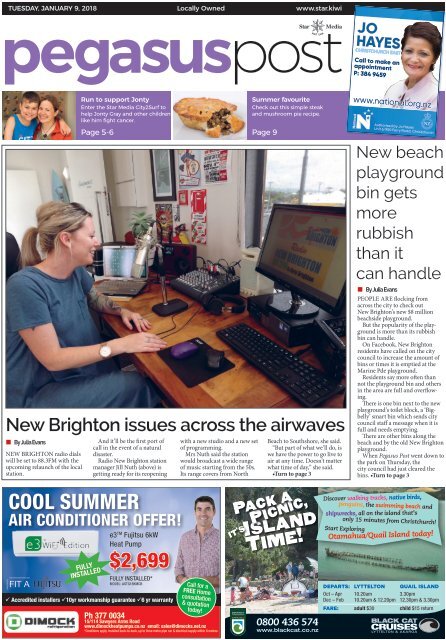 Pegasus Post: January 09, 2018
Do you know the secret to free website traffic?
Use this trick to increase the number of new potential customers.
TUESDAY, JANUARY 9, 2018

Locally Owned

www.star.kiwi

jo

hayes

christchurch east

Call to make an

appointment

P: 384 9459

• By Julia Evans

NEW BRIGHTON radio dials

will be set to 88.3FM with the

upcoming relaunch of the local

station.

Run to support Jonty

Enter the Star Media City2Surf to

help Jonty Gray and other children

like him fight cancer.

Page 5-6 Page 9

And it'll be the first port of

call in the event of a natural

disaster.

Radio New Brighton station

manager Jill Nuth (above) is

getting ready for its reopening

with a new studio and a new set

of programming.

Mrs Nuth said the station

would broadcast a wide range

of music starting from the 50s.

Its range covers from North

Summer favourite

Check out this simple steak

and mushroom pie recipe.

New Brighton issues across the airwaves

Beach to Southshore, she said.

"But part of what we'll do, is

we have the power to go live to

air at any time. Doesn't matter

what time of day," she said.

•Turn to page 3

www.national.org.nz

Authorised by Jo Hayes

Unit 6/950 Ferry Road, Christchurch

New beach

playground

bin gets

more

rubbish

than it

can handle

• By Julia Evans

PEOPLE ARE flocking from

across the city to check out

New Brighton's new $8 million

beachside playground.

But the popularity of the playground

is more than its rubbish

bin can handle.

On Facebook, New Brighton

residents have called on the city

council to increase the amount of

bins or times it is emptied at the

Marine Pde playground.

Residents say more often than

not the playground bin and others

in the area are full and overflowing.

There is one bin next to the new

playground's toilet block, a 'Bigbelly'

smart bin which sends city

council staff a message when it is

full and needs emptying.

There are other bins along the

beach and by the old New Brighton

playground.

When Pegasus Post went down to

the park on Thursday, the

city council had just cleared the

bins. •Turn to page 3

COOL SUMMER

AIR CONDITIONER OFFER!

e3 TM Fujitsu 6kW

Heat Pump

$2,699

FULLY

INSTALLED

FULLY INSTALLED*

MODEL: ASTG18KMCB

Accredited installers 10yr workmanship guarantee 6 yr warranty

Call for a

FREE Home

consultation

& quotation

today!

Ph 377 0034

15/114 Sawyers Arms Road

www.dimockheatpumps.co.nz email: sales@dimocks.net.nz

*Conditions apply. Installed back-to-back, up to three metre pipe run & electrical supply within 6 metres.

Pack a

it ' s

Picnic,

Island

Time!

0800 436 574

www.blackcat.co.nz

Discover walking tracks, native birds,

penguins, the swimming beach and

shipwrecks, all on the island that's

only 15 minutes from Christchurch!

Start Exploring

Otamahua/Quail Island today!

DEPARTS: LYTTELTON QUAIL ISLAND

Oct – Apr 10.20am 3.30pm

Dec – Feb 10.20am & 12.20pm 12.30pm & 3.30pm

FARE: adult $30 child $15 return

CRUISES

LYTTELTON & AKAROA
---
0800 84 55 24.

2 Tuesday January 9 2018

Latest Christchurch news at www.star.kiwi

get in touch

from the editor's desk

SALE

20% - 60% OFF STOREWIDE

So comfortable, so relaxing.

Massive savings

GENERAL ENQUIRIES on all Stress Ph 379 7100

Free and

CLASSIFIED Zedere ADVERTISING chairs Ph 379 1100

Stress Free

The Christchurch Star Company Ltd

PO box 1467,

$1,499

Christchurch

Zedere

starmedia.kiwi

$1,999

New year

WHEN THE unexpected strikes it may

not be a case of who ya gonna call – more

of who ya gonna listen to.

Radio New Brighton is getting set to

reopen (see page 1) and it'll be more

than just a station that plays music and

promotes local events and views.

After the February 2011 quake, the station was set up to assist

locals with information. But in the event of another big one or

other civil emergencies, it intends to broadcast from the get go.

That's great news from a hyper-local point of view.

On another note on page 1, there's only one rubbish bin at the

new beachside playground. It's a hot topic on social media.

Looks like you'll have to bag it and take it home.

–Barry Clarke

THE GIFT FROM

THE GODS

LEATHER

LOUNGE

SUITE EXPO

FAMOUS

INTERNATIONAL

BRANDS IN

STORE NOW

UP

TO 50% OFF

Gaston Leather Suite

3 + 2 Seater

Variety of colours

$5,999 $3,999

They have taken their services on the

road and out into communities, meeting

people in their environments to make PEGASUS POST

daily living easier. Aspire Mobile is a

senior response to the living need to reconnect, giving

disabled people easier access to services

McKenzie and introducing Lifestyle them to new Village products

which can make their lives more enjoyable

Enjoy

and provide

the bowling

them with

green,

a

swimming

sense of inclusion

pool, spa, gym,

for community,

craft

disab

room,

in the

library

wider community.

and lounge area at this modern retirement

organisations.

village.

They will show you how to choose a For more informat

walker or walking stick that is the correct www.aspirecanterbu

height, provide information about both 03 366 6189 mobiles

their services and other resources available aspirecanterbury.org

Page 10

bridal show

With This Ring coming in March

Get your tickets now for the With This Ring Bridal Show.

Don't miss this Star Media event which brings all the experts

under one roof at the Air Force Museum of NZ.

Page 12

new year sales

20-60% off furniture

Find a bargain at Simply Furniture on Cranford St in its

storewide sale.

NEWS

Sophie Cornish

THE Ph: LATEST 364 7437 LOOK

INDUSTRIAL

sophie.cornish@starmedia.kiwi

HAS

JUST ARRIVED

Inspired by French Vintage Furniture,

our new Industrial range is crafted from

wood and metal. The raw and rustic

ADVERTISING

Elaine Moon

Ph: 364 7436

elaine.moon@starmedia.kiwi

detailing reminds us of the furniture

workshops founded at the beginning of

the Industrial age.

FOR LIMITED

TIME ONLY

SAVE

25%

Style at the

best price

Page 16

The best-read local newspaper, delivered to

15,657 homes every Tuesday

Linwood, Avonside, Richmond, Shirley, Burwood, Dallington,

Wainoni, Bromley, Aranui, Avondale, Bexley, New Brighton,

Northshore, Queenspark, Parklands, South Brighton.

CRANFORD CENTRAL

CHILDCARE

AVAILABLE

484 CRANFORD STREET 03 354 5026

Homebased and Affordable

Devon, in Wainoni, is excited to open

her home to both under and over 2 year

QUEENSTOWN

olds REMARKABLES from Jan PARK 2018, TOWN full CENTRE or part 03 442 time. 3435

Working with Stems, a fully licensed

private provider, means your child will

have amazing individualised learning

experiences with Devon.

20 hours FREE for 3/4/5 year olds and

$6.50 per hour for 2 years and under

with WINZ available.

NELSON

109 TRAFALGAR STREET 03 546 7057

Poto WILLIAMS

MP for Christchurch East

For information and advice:

P 03 382 0288

E poto.williams.mp@parliament.govt.nz

Electorate office: 133 Brighton Mall

PO Box 18898

New Brighton 8641

Office Hours

Monday - Friday

9:30 - 3:00pm

www.stemsfromhome.co.nz

0800 78 33 78

emma@stemsfromhome.co.nz

Authorised by Poto Williams, Parliament Buildings, Wellington

Limited

Spaces Available
---
PEGASUS POST Latest Christchurch news at www.star.kiwi

Tuesday January 9 2018 3

News

Playground rubbish bin overflows

•From page 1

Janine Watson took her

children and a picnic to spend

the afternoon at the playground.

She thought the number of

bins was enough for the area,

but said the people using them

should be more considerate.

Mrs Watson said it was a

shame the bins were left in a

"disgusting" state.

However, she said it should

"not (be) the city council's job"

to increase the amount at the

park.

"The city council spent enough

money on this great playground,

they don't need to spend more

on extra bins."

Mrs Watson said she had no

intention of leaving her rubbish

there.

Her message to others using

the playground: "Take your

rubbish home with you. If you're

going to bring a lot of rubbish

with you, you should just take it

home as well."

Mrs Watson said even if

there were more bins, they would

end up full and overflowing as

well.

"If anything, it would be nice

to have a bin for recycling. But

people would just end up putting

rubbish in there too."

People would likely end up

putting their household rubbish

FULL: New Brighton residents are calling for more bins, more frequent emptying times, or for

people to take their rubbish home with them at the beachside playground. ​

in the bins if they were collected

too often, she said.

Janna Lee, said it was a shame

people were dumping their

rubbish.

Development Christchurch

chief executive Rob Hall said

the playground has been very

'If you're going to bring a

lot of rubbish with you, you

should just take it home as

well' – Janine Watson

popular since it opened.

"In April/May, more play

equipment will be added and

we'll have the opportunity to

see how people are using the

playground and respond," Mr

Hall said.

"The use of rubbish bins onsite

and around the playground

is being monitored, with plans

to bring in more bins if these are

required."

He said based on the usage

since the playground opened

before Christmas, it is likely that

another bin will be required.

Local

News

Now

Fire rages, homes at risk

New Brighton

issues across

the airwaves

•From page 1

Long-serving radio DJ Chris

Diack is working with Ms Nuth to

set up Radio New Brighton.

He said the station, which has

been eight years in the making,

will have a strong focus on local

programming and civil defence

matters.

"We will have the ability to go

to air instantaneously in the event

of another quake as we did in

Kaikoura," Mr Diack said.

He set up a temporary studio

broadcasting to New Brighton

and Bexley after the February 22,

2011, earthquake.

He did the same in Kaikoura

following the November 14, 2016,

earthquake, after hitching a ride

up on a helicopter.

It was a matter of local voices

letting people know where they

were going to get their next hot

shower or where working toilets

were, he said.

There will be an official opening

and launch at the studio on

Marine Pde in the next couple of

weeks. But details have not been

finalised, Mr Diack said.

The station has also locked in a

second frequency, Country Radio

106.8FM, that would also broadcast

local content, he said.

Helping us,

Helps tHe

community

Drop off or buy

Paul and the team at

Somerfield Upholstery want

to thank all their customers for

their support and wish them

a Very Happy Christmas

and Prosperous 2018

30 YEARS

3 family stores in your community

4 Restell Street, Papanui

Ph 03 352 0515

50 Charles St, Kaiapoi

Ph 03 903 0017

Closed 20th December 2017

Reopens 19th January 2018

EXCELLENT

RANGE OF FABRICS

EXPERIENCEFREE

Recover your couches and chairs and save money!

BEFORE

AFTER

QUOTES

Somerfield Upholstery Ltd

FURNITURE RECOVERY SPECIALIST

10 Calgary Place, Hornby | Ph 021 251 6200 | 349 0456

VISIT OUR SHOWROOM | QUALITY WORKMANSHIP GUARANTEED

www.somerfieldupholstery.co.nz

31091 PEG

On Resene Premium Paints,

Wood Stains, Primers, Sealers,

Wallpaper, Decorating Accessories

and Cleaning Products

Come in and see us today at your local Resene ColorShop!

Shirley: 38 Marshland Road, (03) 385 5082

Buy Resene Premium Paints, Wood Stains, Primers, Sealers, Wallpaper, Decorating Accessories and Cleaning

Products and get the GST (15% off the full retail price) off at Resene ColorShops and participating resellers. The

GST reduction will be calculated on the normal retail price OR if you have a Resene ColorShop or DIY Card you

can get the Save the GST sale discount and an extra 5% off. Excludes WallPrint, decals, Crown, trade and industrial

products, PaintWise levy and account sales. Paint offer also available at participating Mitre 10 MEGA and Mitre 10

stores. Not available in conjunction with any other offer. Offer ends 30 January 2018.

Paul Tainui

water saving

tip#2

Target water to

plants that

really

need it.

Use a trigger gun nozzle on a

hand-held hose, or a watering can.

Check for water restrictions

before any outdoor water use.

Visit ccc.govt.nz

for easy water saving tips.
---
4 Tuesday January 9 2018

Latest Christchurch news at www.star.kiwi

PEGASUS POST

GREAT

SUMMER READING

INSTORE NOW

paperbacks

titles may vary

selected titles $9.99 each or

3 for $25

lucinda riley

$9.99 each

1005 Ferry rd

Ph 384 2063

while stocks last (see instore for terms and conditions)

Barry & kerry
---
PEGASUS POST Latest Christchurch news at www.star.kiwi

Tuesday January 9 2018 5

ews

Watch Jonty's story at www.star.kiwi

Fun run to support cancer kids

UPBEAT: Star Media events manager Vanessa Fleming and

Jonty out for a run.

When you run, walk,

jog, rollerblade, or

push your friends on a

bed at the Star Media

City2Surf in March you'll

be helping 10-yearold

Jonty Gray and

other children like him.

Andrew King reports

IN MARCH last year, Juliet and

Hamish Gray got some of the

worst news a parent could receive

– their eight-year-old son had

cancer.

Jonty Gray had been "offcolour"

for a few weeks and

was having regular headaches. On

a family trip over Easter weekend

last year he became breathless

while walking up a hill and

developed bruises on his body.

His family returned from

Wanaka and took him to

Christchurch Hospital where

he was diagnosed with T-cell

leukaemia.

Fast-forward 21 months and

the 10-year-old's outcome is

looking positive after numerous

hospital visits, about six to

nine months of intensive

chemotherapy, and plenty of

support from his family, friends

and hospital staff.

In March next year, Jonty has

been asked to sound the horn

which will start thousands of

participants off in the Star Media

City2Surf fun run.

It seems fitting considering

his role as an ambassador with

partner charity, the Child Cancer

Foundation.

Participants will be able to start

their own fundraising pages or

join the 'courage team', which

will be fundraising on the day, or

make a one-off donation.

Those who have signed up for

the event can also visit the Child

Cancer Foundation tent and

receive a post-run sports massage

by giving a donation.

Mrs Gray, who is a dentist,

said Jonty is responding well to

chemotherapy, which he will

finish in July 2019.

Then doctors will monitor his

bone marrow and watch for any

side effects from the medication

used to treat his cancer.

When he first started showing

signs of being unwell, it wasn't

apparent at the start just how sick

he was.

"We just told him to drink

more water and go to bed

earlier," Mrs Gray said as he was

complaining of headaches.

When he was admitted to

hospital, he was diagnosed

straight away. "You think it

can't be happening to your

family, but then that is not true

as two to three children are

diagnosed with cancer each

week," she said.

About a week later, Jonty

started his treatment, but he

wasn't letting it get him down.

The creative boy came up with

ways to amuse himself while in

hospital.

•Turn to page 6

Make this year

your year.

It's a new year, how about

a new direction?

If you're a Year 12, 13

or adult student, check

out Hagley for 2018.

Wherever you want to

be, you'll get there with

Hagley!

ENROLMENT DAYS

31st Jan & 1st Feb

10am-2:30pm

Year 12, 13 Courses

Specialist Courses

Tertiary Pathways

Limited

Spaces Available

Phone us on (03) 364 5156 or

visit www.hagley.school.nz

for more information and what

you need to enrol.
---
6 Tuesday January 9 2018

Latest Christchurch news at www.star.kiwi

News

Local

News

Now

PEGASUS POST

Fire rages, homes at risk

Child Cancer Foundation's great work

•From page 5

"I had a game with another

patient where we would try

to do the most crazy thing we

could think of while attached to

the pump. So I scooted around

the wards with it. But then she

brought in a unicycle and carried

a baby around while attached

to her pump. That was hard to

beat," he laughed.

He also has fun with the

hospital staff.

"We play a game with the

anaesthetist where he will set a

total for me to count to before I

fall asleep," he said.

He said he had beaten the

anaesthetist a few times, but

sometimes he would cheat.

"I would pretend to push the

button that started the drugs and

start counting, by time they had

realised that I hadn't pushed it

I had already counted to about

10," he laughed.

Jonty attends Cashmere

Primary School and will be

starting year six next year. He

loves to draw and has taken to

designing houses. Earlier in the

year, he designed new railroad

lines for Kaikoura to replace

theose earthquake-damaged.

While he does get tired easy,

he loves to get out and play

sports including touch for his

school and hockey for Southern

United.

"I like hitting balls and scoring

goals and blocking them," he

said.

HELP:

Jonty Gray

and mum

Juliet have

been blown

away by

the support

they have

received

from the

Child Cancer

Foundation,

friends and

hospital staff

during his

battle with

leukaemia.

PHOTOS:

MARTIN

HUNTER

The one thing that really gets

under his skin is he can't eat

sushi, unless it is freshly made,

because of his low immunity.

"It annoys me. I love sushi," he

said.

Jonty has an older brother and

sister.

Olivia, 20, recently raised more

than $2800 for the foundation

by running in the Dunedin

Marathon.​ His brother Angus,

18, who he just calls 'Gus', is an

idol of Jonty's.

•To enter the Star Media

City2Surf, visit

www.city2surf.co.nz/

•The City2Surf on March 18

will be split into 6km

and 14km sections.

•The 14km fun run will start

at Centennial Park, Spreydon,

at 9am.

•The Sport Canterbury 6km

fun run will start at Hansen

Park, Opawa, at 10am.

•Both events will finish

at the Ferrymead playing

fields.

•There will be

entertainment with live music,

food and free children's

entertainment following the

event.

WE SERVICE

WHAT WE SELL

HealtHy Heat

& eat meals

delivered to your door

Discover this

unique Emporium

"the best oil that

money can buy"

WAYNE HILL CARS

313 LINCOLN RD

ADDINGTON CHRISTCHURCH

Ph. (03) 338 3255 E. hillcars@es.co.nz

Convenient, Healthy,

Fresh Meals.

Simple to Store,

Heat and Eat.

Pick Up or

Delivered Weekly.

9 Raycroft St, Opawa

P. 03 420 0722

orders@eatl8r.co.nz

www.eatl8r.co.nz

Metal art - gifts - hoMewares

water features - pottery

Mirrors - candles

wall hangings & More

722 Marshland Road, Top end Styx

Open 7 Days

Ph: 03 323 9781

www.hitchingpost.co.nz

Shop online

with the in

store special

prices!

Discount code:

Goat

themohairstore

140 Colombo Street, Beckenham

Phone 03 943 1639

www.themohairstore.co.nz

Best

Motorbuys

TM

ANYTHING WITH A MOTOR!

The South Island's leading motoring publication

FREE every Friday at hundreds of locations

around the South Island, and it's available online!

www.bestmotorbuys.co.nz

For advertising enquiries, ph Lea Godfrey 021 277 3086

watch local | support local | shop local

Join our hosts

Geoff & Renee on

SKY CHANNEL 83

THURSDAY 7.30PM

REPEATS FRIDAY

1.30AM & 7.30AM

WE SHARE YOUR VISION

SKY 083 + On Demand

WWW.STAR.KIWI

For enquiries, contact Geoff Moreton: 021 1066 177
---
PEGASUS POST Latest Christchurch news at www.star.kiwi

Tuesday January 9 2018 7

FLOORING CLEARANCE

NOW

ON

Sierra

• Pure Wool

• Extra Heavy Duty

• Loop pile

• Slightly Imperfect

• PRICED TO CLEAR AT

$59.90

RRP $119.90

per

metre

Highland

• Pure Wool

• Extra Heavy Duty

• Loop Pile

• PRICED TO CLEAR AT

per

metre

$89.90

Sanctuary

• Extra Heavy Duty

• 50 oz Luxury Polyester

• Cut Pile

• Great Colour

• PRICED TO CLEAR AT

per

metre

$99.90

Boucle

• Extra Heavy Duty

+ Stairs

• 80/20 Wool Plus

• 48 oz

• 1 Colour

• PRICED TO CLEAR AT

per

metre

$99.90

Vinyl

• 2m wide

• Selected patterns

• 1000s metres

to clear

• PRICED TO CLEAR AT

From

$25.00

per

metre

FREE

LAYING

On all 3M wide stock

domestic vinyl

Conditions apply

Cartersville

Luxury

• Extra Heavy Duty

• Luxury Polyester

• Cut Pile

• Slightly Imperfect

• PRICED TO CLEAR AT

$79.90

per

metre

Royal

Palace

• Extra Heavy Duty

• Luxury Polyester

• Cut Pile

• PRICED TO CLEAR AT

$79.90

per

metre

312 Wilsons Road North, Waltham Phone 366 0070

www.carpetkingdom.co.nz | Mon - Fri 8am - 5pm | Sat 10am -1pm

Q Card Finance Now Available

FREE no obligation measure & quote (conditions apply.)
---
8 Tuesday January 9 2018

Latest Christchurch news at www.star.kiwi

PEGASUS POST

A Star Media Event

Star

Media

Sunday 18 March

#Areyouupforit?

EntEr NOW!

Entry $25 (children 10 and under free)

Available online now from city2surf.co.nz or at these outlets from 1st February
---
PEGASUS POST Latest Christchurch news at www.star.kiwi

Tuesday January 9 2018 9

GREAT food

BROUGHT TO YOU BY...

Your fresh food people

HOW TO COOK BARBECUE

GRILLED BUTTERFLIED

WHOLE CHICKEN

Ingredients

1 whole butterflied chicken

1 to taste salt & freshly ground

pepper

Barbecue sauce

Directions

Preheat grill to medium. Get

surface temperature to about 200

deg C.

Clean and oil well. Clean the

chicken if you desire and pat dry.

Cut the backbone out of the

chicken with sharp kitchen

scissors. You could use a knife,

but the scissors are much safer

and work great.

With a large knife, give the

breastbone a large nick in the

front of the chicken to help the

bird lay flat.

Rinse the inside of the bird out,

trim any loose fat and extra skin.

Pat dry again. Give the bird a

good sprinkle of salt and pepper.

You could use any seasoning you

want here.

Place skin down on the

grill. Flip after you get a nice

browning on the skin after about

12-15min.

Give the chicken a good

brushing of barbecue sauce.

Grill another 3-4min until

the sauce is browning well.

Total grilling on the second side

should take 20-25min.

Let set for 5min then cut and

serve.

STEAK AND MUSHROOM

PIE

Ingredients

4 large portobello mushrooms,

sliced

800g tri-tip

steak, cut

into 2cm

pieces

20g butter

2 Tbsp oil

1 onion, chopped

2 cloves garlic,

crushed

1 serving flour, seasoned, for

dusting

2 cups beef stock

½ tsp mixed herbs

½ cup red wine

1 Tbsp flour, mixed with 1 Tbsp

melted butter for the thickening

1 sheet short pastry (savoury)

1 sheet puff pastry

1 egg, for glazing

Directions

Heat oven to 180 deg C. Heat

half the butter and oil in a medium

sized pot. Fry the onions and

garlic for 5min until softened.

Dust the meat generously with

flour and shake off the excess.

Heat the remaining butter and

oil in a frying pan. Brown the

meat in batches then add to the

onions. Add a little of the stock

to the pan to deglaze then pour

into the pot.

Add the remaining stock to

the meat along with the herbs,

red wine and mushrooms.

Cook on a low heat

for 1 hour or until

the meat is tender.

Remove ¼ cup

of the liquid

and add to

the thickening,

combine

then tip back into the

pot and stir to thicken. Check the

seasoning (add salt and pepper

if you wish). Cool the mixture to

room temperature.

Line a 23cm pie tin with the

short pastry and trim the edges.

Line with baking paper and rice

and bake blind for 15-20min

until just cooked. Remove the

paper. Fill the pastry with the

meat mixture. Dampen the edges,

and top with the puff pastry,

pressing gently to seal. Use any

extra pastry for decoration. Make

a few slits in the top with a knife

to release steam during baking.

Brush the top with egg. Place

into the oven for 35-40min until

the pastry is risen and golden.

Remove and serve hot.

Loose Tomatoes ................................ 1

Loose Portobello

Mushrooms................................................... 9

NEW SEASON

Beans ........................................................................ 3

NZ Rock Melon ........................................... 3

NZ Watermelon ................................... 4

Whole Beef Fillet .......................... 32

Butterflied Lamb Legs .......... 18

Butterflied Chickens ............... 7

Beef Tri Tip Steak ............................ 14

.99

kg

.99

kg

.99

kg

.49

each

.99

each

.99

kg

.99

kg

.99

each

.99

kg

At

we have...

burger recipes

K iwi La mb Bu rger Patties

Ingredients

600g – 800g la mb or beef mince

1 onion, finely chopped

1 clove ga rlic, cru shed

1 egg, lightly beaten

1 slice of toa st, cut into s mall pieces a nd soa ked in

1 Tbsp milk

1/2 cu p mint, finely chopped

1 tbsp rose ma ry, finely chopped

1 tbsp tomato pa ste

1/4 tsp salt a nd pepper

Method

Preheat oven grill or BBQ to high.

Pla ce all the patty ingredients into a bowl a nd combine.

Sha pe into 4-6 patties, then cover a nd refrigerate for

15 minutes.

Bru sh patties with oil on both sides a nd cook on both

sides u ntil brown a nd cooked throu gh.

Prepa re desired sala ds, sa u ce for bu rgers, a sse mble

a nd enjoy.

All our fresh meat is 100% NZ FARMED.

specials VAlid 8th january - 14th january 2017. ONLY AVAILABLE AT

RAEWARD FRESH HAREWOOD RD, TOWER JUNCTION.

harewood rd Wednesday 27th-8am-6:30pm, Thursday 28th-8am-6:30pm,

Friday 29th - 8am-6:30pm, Saturday 30th-8am-6pm, Sunday 31st-8am-6pm

Tower junction Wednesday 27th - 9am-6pm, Thursday 28th - 9am-6pm,

Friday 29th - 9am-6pm, Saturday 30th - 9am - 6pm, Sunday 31st 9am-6pm

WWW.

.CO.NZ
---
10 Tuesday January 9 2018

Latest Christchurch news at www.star.kiwi

SENIOR LIVING

Plenty to do at McKenzie

Lifestyle Village

The last stage is under construction at

McKenzie Lifestyle Village but there are still

good sites available. We also have a number

of affordable villas ready for immediate

occupation. Prices range from $330,000

and our monthly outgoing fees are fixed for

life.

Our beautiful Leisure Centre is very

popular with the residents who make

full use of the swimming and spa pools,

gymnasium, craft room, library and lounge

area. Outside, the Bowling Green is also

popular along with Petanque, Mini-golf and

you can stop him

snoring with a

SNOREX

Why put up with a broken

night's sleep?

Ph 377-4318 or 027 682 1752

DENISE LIM

FOR A FREE INFO PACK

Website: www.snorex.co.nz

Table Bowls. This coming summer will see

Croquet being played on our Village Green.

The residents' monthly activities calendar

boasts the following; bowls events, concert

going (Operatunity), shopping trips, lunch

outings, yoga, housie, Qigong (Tai Chi),

happy hour, knitting, quiz nights, cards

and games, book club, Bible discussion,

craft sessions, and there are regular visits by

the hairdresser, massage therapist and the

podiatrist.

Geraldine is a great little town with a

very pleasant microclimate. There is plenty

to do in and around the town with art

galleries, theatre and cinema, interesting

shops and boutiques, two museums and a

wide range of good places to eat. For the

more adventurous there are river and forest

walks nearby, opportunities for biking and a

choice of two local golf clubs.

For more information you can

talk to David Connolly about this on

0800 84 55 24.

Aspire

Canterbury

Mobile

Aspire Canterbury is a not-for-profit

community-focused organisation

committed to meeting the needs of older

persons with mobility issues and disabled

persons. Their aim is to assist people in

making informed decisions about accessing

services or choosing products that will

assist them in their daily lives.

They have taken their services on the

road and out into communities, meeting

people in their environments to make

daily living easier. Aspire Mobile is a

response to the need to reconnect, giving

disabled people easier access to services

and introducing them to new products

which can make their lives more enjoyable

and provide them with a sense of inclusion

in the wider community.

They will show you how to choose a

walker or walking stick that is the correct

height, provide information about both

their services and other resources available

[Edition PEGASUS datE] POST 3

for community, disability and health

organisations.

For more information visit

www.aspirecanterbury.org.nz,

03 366 6189 mobileservices@

aspirecanterbury.org.nz We can help.

Support and Resources for Independent Living

Can we help you or someone you support?

walkers to

purchase

(FroM $230)

or hire

$20

Disability Information Service – a 'one stop

information service' which offers unbiased

advice to assist people navigate their way to

organisations or services that can provide them

with support or advice.

Aspire Canterbury Shop – shop online or call in

to our shop at 314 Worcester Street and view our

range of easier living products We also hire out

wheelchairs, ramps and walkers.

Total Mobility Discounted Taxi Service – a scheme

which provides 50% discounts on taxi journeys to

eligible people in the Christchurch area who, due

to health conditions, are unable to access public

transport. Contact us for more information on

03 366 9093 or visit our website.

per week Mobile Service – Fun interactive presentations of

our information, services and easier living

equipment. We come to you! To book our

presenter to speak to your group call Richard

at numbers below or email mobileservices@

aspirecanterbury.org.nz

Mobility scooter demonstrations available.

Aspire Canterbury is a not-for-profit organisation

providing services to the community since 1981

Physical Address:

314 Worcester Street

Linwood Christchurch

Postal Address:

PO Box 32074

Christchurch 8147

2015 NZ Disability

Information Centre

of the Year

Ph: 03 366 6189

Freephone: 0800 347 242

Ph: (Total Mobility) 03 366 9093

Mobile Service: 027 588 9700

E: admin@aspirecanterbury.org.nz

W: www.aspirecanterbury.org.nz

Third Age Tours eST

Small Group Tours for the over 50's

Domestic and International

Great Prices!

england/Wales & Yorkshire Dales

23 August - 24 September 2018

enchanting Ireland & Scotland 31 May - 27 June 2018

curiosities of cuba 25 April - 21 May 2018

Treasures of Turkey 1 - 25 September 2018

captivating croatia, Slovenia

montenegro & Venice

1 June - 25 June 2018

Vietnam & cambodia 4 - 26 October 2018

Beautiful norfolk Island 4 - 11 November 2018

Sicily, rome & Southern Italy 29 September - 24 October 2018

South Island Tours

Glorious Autumn in Arrowtown 17 - 22 April 2018

catlins/Stewart Island 22 Feb - 2 Mar 2018

White herons, Glaciers & Alpine loop Tour

28 January - 2 February 2018

PluS oTher DeSTInATIonS!

For a Free InFormATIon PAck contact Brenda

Third Age Tours

1999

Ph 03 379 3799 or 03 312 7050 | Freephone: 0800 927 725

sunshineone@xtra.co.nz | www.thirdagetours.co.nz

Follow us on Facebook
---
PEGASUS POST Latest Christchurch news at www.star.kiwi

Tuesday January 9 2018 11

SENIOR LIVING

1 in 2 people

deficient in B12

Emerging research has shown as many as 50% of older adults and

as many as 25% of younger adults are deficient in vitamin B12.

Scientists at Rush University Medical

Center found those most deficient

in vitamin B12 to have the smallest

brain mass & the lowest scores on

tests measuring short-term memory,

concentration & brain performance.

Another study showed that older people

with higher levels of B12 in their blood

have bigger, healthier brains & score higher

on cognitive tests than those with lower

levels. Yet another recent landmark study

showed that B12 supplementation slows

the accelerated rate of brain shrinkage

& declining cognitive function. B12 is

essential for energy production, cell

health, regulation of mood & sleep cycles,

nerve health & repair, & prevention of

homocysteine a serious cardiovascular

risk factor that is known to cause damage

& plaque in the blood vessels. It can also

increase the chances of a stroke. Harvard

researchers found a

34% decrease risk

of vision loss in a

study of participants

aged 40+ who

supplemented with

B12. Another study

linked a higher risk of

hearing loss in subjects in their 60's who

were low in B12.

The reason so many people lack B12

appears to be our body's ability to absorb

it declining with age as the digestive

system becomes less efficient. Anti-reflux

medication & other drugs further reduce

B12 absorption. The good news is B12 in

the form of Methylcobalamin sublingual

tablets that are dissolved in the mouth &

thru bypassing the digestive tract have

been shown to effectively raise B12 levels in

the body.

Further detailed information is

available from the Natural Health

Advisers at Marshall's Health & Natural

Therapy, 110 Seaview Road, New

Brighton, Phone: 388-5757. We are always

happy to help!

Dilo Oil – The Remarkable

Skin Rejuvenator

Until Rachel

Hunter's popular

TV series "TOUR

OF BEAUTY" Dilo

Oil was relatively

unknown, being one

of the best-kept secrets

of the Pacific Islands. It

may however be the number

one natural beauty oil available

as it possesses powerful natural skin

regeneration and healing properties.

According to ethnobotanist Chris

Kilham, Dilo (pronounced dee-lo)

Oil is a powerful skin regenerator as

it is one of the most effective agents

in promoting the regeneration and

formation of new tissue, thereby

accelerating wound healing and

the growth of healthy skin. Dilo

Oil is super-absorbing and can

penetrate all three layers of the

skin, offering exceptional cell

hydration and regeneration.

As well as this, Dilo Oil has

potent anti-inflammatory,

antimicrobial, antifungal and

antioxidant properties.

Traditionally, Dilo Oil is used to keep the

skin young and youthful and for just about

any skin complaint. Some of the conditions

for which it is considered helpful include

abrasions, cuts and cracks, acne and

acne scars, pimples, blemishes, stretch

marks, wrinkles, blisters, burns (including

chemical and radiation), diabetic sores,

rashes, shaving irritation, dry or scaly skin,

eczema, psoriasis,

dermatitis, herpes

sores (cold-sores),

insect bites and

stings, rheumatism,

pain, sciatica,

shingles, sunburn,

rosacea, athlete's foot, skin

eruptions, warts, skin ulcers

and sores, nappy rash and almost

any other skin ailment and often with

incredible results.

Many beauty and skincare products

on the market today contain unnatural

ingredients that can be toxic and may

even contribute to disease. Generally

the benefits are exaggerated

and often only temporary or

camouflage. Marshall's Dilo Oil is

100% pure and certified organic.

It has been cold-pressed from the

Dilo nut and contains absolutely

no additives. Polynesians and

Southeast Asians have revered

Dilo Oil for centuries believing it

to be a sacred gift of nature and

the Gods. Dilo oil stimulates

and supports the skins natural

healing process through the growth of new

healthy skin tissue. I personally believe

it is a remarkable product and highly

recommend it to everyone. A 50ml bottle is

$19.90 and 100ml only $29.90.

Further information is available from

the Natural Health Advisers at Marshall's

Health & Natural Therapy in New

Brighton. We are always Happy to help!

IS YOUR BRAIN SHRINKING?

BRAIN FOG, FORGETFUL, FEELING OLD, LOW ENERGY, MOOD SWINGS,

DIFFICULTY SLEEPING, PINS & NEEDLES, NUMBNESS IN LEGS

Up to 1 in 2 people may have a shrinking brain due to a lack of vitamin B12.

Supplementation of methylcobalamin B12 has been shown to reduce the rate of brain

shrinkage & support memory & brain function. B12 is also known to protect against

homocysteine a serious cardiovascular risk factor that can also damage the hearing,

eyesight & affect the mood. B12 is essential for energy, cell health & nerve function.

B12 SupportS:

• Memory & Brain Performance

• Helps protect brain from shrinking

• Energy & Recovery

• Nerve Function

• Helps protect blood vessels from damage

• Sleep

• Cellular Health & Repair

• Vegetarian's Diet

• Good Health

• Cardiovascular Health

SEE A DIFFERENCE

IN AS LITTLE AS 48

HOURS!

SUPER PRICE OFFER

Superior Methylcobalamin B12

(High Absorption Sublingual Lozenges)

100 Lozenges

Only $ 32 .90

200 Lozenges

Only $ 59 .80

MAIL ORDER AVAILABLE

Bringing You the Best in Natural Health

MARSHALLS HEALTH & NATURAL THERAPY

CONSULTING - PRESCRIBING - DISPENSING - MANUFACTURING - MEDICAL HERBALISTS

110 SEAVIEW RD, NEW BRIGHTON • PH 03 388 5757 • Email: enquiry@marshallshealthshop.co.nz

- WE ARE ALWAYS HAPPY TO HELP! -

NATURAL HEALING & BEAUTY OIL

As seen on Rachel Hunter's Tour of Beauty

Revered for centuries by Polynesians & Southeast Asians for its remarkable

skin anti-aging & healing properties, Dilo oil comes from the nut of the sacred

Dilo tree, "the tree of a thousand virtues". Dilo oil is often called the beauty oil

as it can penetrate all three layers of the skin offering exceptional cell hydration

& regeneration. It has a unique ability to stimulate the growth of healthy skin

cells & this gives it powerful anti-aging & healing properties that can help

reduce lines, blemishes, scars & damage to the skin. It also possesses

anti-inflammatory, antimicrobial, antifungal & antioxidant properties.

Dilo Oil Supports

• Anti-aging & skin regeneration, helps reduce lines, blemishes, scars &

stretch marks

• Skin hydration

• Skin repair & growth, helps feed the skin & stimulate healthy new cells

• Wound healing & skin protection from bacteria, viruses & fungus

• Most skin problems, rosacea, pimples, ulcers & sores, acne, psoriasis,

eczema, dermatitis, rashes, blisters, skin eruptions, warts, insect bites &

stings, athlete's foot, burns, nappy rash etc.

• Joint & muscular pain

Bringing You the Best in Natural Health

AMAZING

PRICES

100% PURE & ORGANIC

50ml

only $19.90

only $29.90

100ml

AMAZING ISLAND

MIRACLE OIL

- WE ARE ALWAYS HAPPY TO HELP! -

MAIL ORDER AVAILABLE

MARSHALLS HEALTH & NATURAL THERAPY

CONSULTING - PRESCRIBING - DISPENSING - MANUFACTURING - MEDICAL HERBALISTS

110 SEAVIEW RD, NEW BRIGHTON • PH 03 388 5757 • Email: enquiry@marshallshealthshop.co.nz

121 Skyhawk Road

ARE YOU READY

TO DOWNSIZE?

Paying rates for a house that's

too big? Paying maintenance and

heating costs for space you don't use?

A move to one of our

architecturally designed villas

at McKenzie Lifestyle Village in

Geraldine will cut those costs.

Three villas are available for

occupation now, priced from

$355,000.

Talk to David Connolly today

on 0800 84 55 24.
---
12 Tuesday January 9 2018

Latest Christchurch news at www.star.kiwi

PEGASUS POST

BridalsHoW

25th March, 2018

25th March, 2018

10am – 3pm

10am – 3pm

Air Force Museum of NZ

Air Force 45 Harvard Museum Ave, of Wigram, NZ

45 Harvard Christchurch Ave, Wigram,

Christchurch

2x Fashion parades showcasing

All the experts the latest under Bridal one styles. roof.

www.withthisring.kiwi All the experts under for one roof.

tickets.

www.withthisring.kiwi for tickets

a honeymoon prize of

5 nights in Fiji

With proud support from:
---
PEGASUS POST Latest Christchurch news at www.star.kiwi

Tuesday January 9 2018 13

REAL ESTATE

Panoramic views, sun and privacy

5 Garden Hill Lane, Redcliffs

4 bedrooms | 2 bathrooms | 3 toilets | 1 living room | 1 dining room | 2 car-garage | 2 off-street parks | Listing Number: FM5290

This sensational property has that instant

'fall in love" effect...

I'm not sure if it is the beautiful expansive

water view, the private position or simply the

home? Most likely it's a combination of all that

makes this a very special property.

Modern, stylish and spacious, this home is

soaked in sun, enjoys fabulous views.

The home has been quality built, with

an architectural appeal that will ideally suit

families and professional couples who are

seeking something a little different and a lot

special.

The property is tucked away, yet offers easy

access, good off street parking and internal

garaging. The home itself boasts a versatile

floor plan, to cater for growing families or

those who chose to work from home, or

simply love to entertain.

Generous open plan kitchen and dining

plus a separate lounge with a floor to ceiling

picture window invites the view inside

dominates the first level and open to a deck

that provides the ideal spot to soak in the view

and relax with a wine or good book after a

busy day. Also on this level is the master suite,

complete with ensuite and walk in robe.

Head downstairs and you will find a further

three bedrooms, all with great storage and the

main bathroom.

This property is one that must be viewed to

appreciate, come and see for yourself.

I recommend astute buyers enquire for

further information or for a private viewing

contact Deb Beesley of Harcourts Grenadier

Ferrymead (Licensed Agent REAA 2008)

on 384 7950 or mob 027 280 8837.

• Screened Soil

• Vege/Zoom Grow

• Bio Blend

• Garden Grow

bulk Compost, lawn mix,

aggregates and stones

The new Ferrymead Mitre10 Trade Centre and Landscaping Zone

has everything you need to complete your projects.

• Turf Mix

• Tree Mulch

• Black Mulch

• Standard Bark Nuggets

• Premium Bark Nuggets

• Builders Mix

• AP20 Shingle

• AP40 Shingle

• Plastering Sand

• Brick Sand

• Bedding Sand

• Crusher Dust

ask about our delivery service

and Free loan trailers today!

Dyers Road Landscape

& Garden Supplies

• Barks • Peastraw • Composts - we supply the best available

• Aggregates - Chip, Round and Basecourse

• Pavers & Schist products • Pungas

• Decorative Stones & Landscaping Rocks

• Trailer Hire first hour free with purchase

• Bag & Bulk - pick up or delivered

David, Carol & Mike

• Round Stones

• Driveway Chip

• Teddington Chip

We will deliver!

SOIL

AND

HARDFILL

DUMPING

Phone: 03 384 6540

183 Dyers Rd, Bromley • OPEN 7 DAYS

Weekdays 7.30am-5pm. Weekends 8.30am-3pm

www.dyersroadandlandscapes.co.nz

all new landsCape zone

Conditions apply

Ferrymead 987 Ferry Road Phone 373 6550

mitre10.co.nz/trade
---
ISSN 2423-0219

14

Latest Christchurch news at www.star.kiwi

Tuesday January 9 2018

PEGASUS POST

Classifieds Contact us today Phone our local team 03 379 1100

Appliances (Whiteware)

SAVE big $$$

ON WHITEWARe

NOW!

MAKE

AN OFFER SALE

492 Moorhouse Ave • 1014 Ferry Road

Health & Beauty

FOOTCARE

OASIS

Senior Citizens Foot Care

25 Conway Street, Spreydon

Treating hard thick nails, calluses

and corns finishing with a foot massage

Price $30 Allow 45 mins

Home Visits available by appointment

Therapist – Amanda

(30 years experience)

Ph. 942-6036 for an appointment

HOURS ARE FLEXIBLE

Trades & Services

junk

Why go to the Dump? Junkman comes to you!

Items too big for the rubbish bin?

Or too heavy for you to move?

Junkman comes to FROM

you & takes it away $

65 *

*Prices vary depending on items and volume – minimum charge $65

0800 586 5626

www.junkman.co.nz office@junkman.co.nz

Caravans, Motorhomes

& Traliers

CARAVAN Wanted to

buy. Up to $5000 cash

today 027 488-5284.

Computers

ALL

YOUR

COMPUTER

WORRIES SOLVED!

*$30.00 off your first

service with this coupon!*

No problem too big or

small from home PC's to

business networks. PC

slow? An end to Viruses,

Spyware, and Clogged

Systems. Safe secure

hassle-free computing.

Lost files recovered.

Microsoft Certified,

MCSE, MCP+l. 30 years

experience. Call Andrew

Buxton this week on 326-

6740 or 027 435-7596

for $30.00 off* Custom

Computers Christchurch

Entertainment

Weka Pass Railway

Waipara, North Canterbury

Trains run

every Sunday

in January

Phone 0800wekapass

Depart Glenmark Station

11.30am & 2.00pm

www.wekapassrailway.co.nz

Gardening

& Supplies

A GARDEN OR

LANDSCAPING TIDY

UP? Shrub, hedge &

tree pruning, Lawns,

Gardening, consistently

reliable general property

upkeep, Dip. Hort. 10

yrs experience, One off

tidy ups or on-going

service. Nick's Property

Maintenance. Keeping

your garden beautiful.

Free Quote. Ph. 942-4440

LANDSCAPE GARDEN

PROFESSIONAL

Qualified Horticulturist,

offering expert, garden

makeovers, design and

landscaping, for free

quotes call Bryce 027 688-

8196 or 0508 242-733

Holiday

Accommodation

QUEENSLAND SUN-

SHINE COAST AUSTRA-

LIA Resort, Ocean Views,

Balconies, Self Contained,

1 or 2 B/R Ensuite,

Heated Pool, Spa, Sauna,

Free Internet, Shops,

Restaurants, Tennis, Surf

Club & Patrolled Beach,

Public Transport at door.

Ask for our SEASONAL

SPECIALS. Phone 61 7

544-35011 Email: reception@mandolin.com.au

www.mandolin.com.au

Trades & Services

FOR ALL YOUR

★Garden Clean-ups

★Pruning

★Lawn Mowing

★Garden Maintenance

Call us today for a FREE quote

PH 0800 4 546 546

(0800 4 JIMJIM)

Lawns, Gardens

& Home Cleaning

9185885AA

Free Quotes

Professional, personalised

service. Regular &

one-offs. Fixed price.

Ph: 377-5814

For all your property and

cleaning requirements

Trained, insured & security

screened owner/operators

Multi-award winning

systems & Franchises

Franchises Available

www.fviphomeservices.co.nz

BEST BATHROOMS

full renovation specialists,

LBP, repairs &

maintenance ph 03 387-

0770 or 027 245-5226

Trades & Services

ROOF REPAIRS

Locally owned & operated with

over 30 years experience.

• Extensions & repair • Roof coating

• Concrete & clay tiles • Butynol

• Malthoid • Asbestos Certified

• Coloursteel • Old iron • Guttering

Phone Dave 981 0278

or 021 223 4200

E: dave@beaumontroofing.co.nz

BEAUMONT ROOFING LTD

BRICKLAYER

George Lockyer. Over

35 years bricklaying

experience. UK trained.

Licensed Building

Practitioner number

BP105608. Insurance

work. EQC repairs.

Heritage brickwork and

stonework a speciality. No

job too small. Governors

Bay. Home 329-9344,

Cell 027 684 4046, email

georgelockyer@xtra.co.nz

*****************

CARPET & VINYL

LAYINg Repairs, uplifting,

relaying, restretching,

Email jflattery@xtra.co.nz,

ph 0800 003 181 or 027

2407416

gLAZIER

Window repairs, pet

doors, new glazing, double

glazing, conservatory

roofs. Experienced

tradesman. Call Bill on

981-1903 or 022 413-3504

PAINTER

Quality work, I stand by

Canterbury Ph Wayne, 03

385-4348 or 027 274 3541

PAINTINg

&

DECORATINg

Wingfields Contracting,

all interior & exterior

painting & all forms of

interior plastering & jib

fixing, ph Mark 021 171-

1586 or 355-5994

PAINTER

Available, All aspects in

painting. Very competitive

in roofs and fences. Please

call 027 241-7471 or 335-

0265

BUILDER

For all building work

PLUMBER

but specialist in bathroom

ALF THORPE

renovations, 30 yrs

PLUMBING Certifying

experience, with service

Plumber for all types of

and integrity. Free Quotes.

plumbing, maintenance,

Ph Lachlan 383-1723 or

spouting, alterations etc.

0274 367-067.

Phone 352-7402 or 0274-

350-231

BUILDER LICENSED

T.V. SERVICE CENTRE

available for all aspects of

Repairs, tvs, microwaves,

building. Please call 027

stereos, DVD. Aerial

241-7471 or 335-0265

installations and kitsets,

480 Moorhouse Ave, ph 03

379 1400

VHS VIDEO TAPES

& all camera tapes

converted to DVD, video

taping special occasions,

www.grahamsvideo.co.nz

ph 03 338-1655

WINDOW CLEANINg

Average 3 bdrm house

inside or out $40. Both

$70. Phone Trevor 344-

2170

Star

Media

A Star Media Event

Sunday 18 March 2018

#areyouupforit? 14km, 6km Community Fun Run Event

Entries NOW OPEN

$20 Early bird tickets available from www.city2surf.co.nz

Wanted To Buy

AAA Buying goods

quality furniture,

Beds, Stoves, Washing

machines, Fridge Freezers.

Same day service. Selwyn

Dealers. Phone 980 5812

or 027 313 8156

TOOLS

Garden, garage,

woodworking,

mechanical, engineering,

sawbenches, lathes, cash

buyer, ph 355-2045

growing with you

SprIng Is here –

It'S Sow Time

how to get the best results from

seeds and seedlings

100% NatIve In

The capItal

Unravelling the secrets of

Otari-wilton Bush

The New Zealand

landscape awards

The people behind

the projects

$7.90 incl. GST

Save our roSeS

How a rose register is protecting our heritage

September 2016 | 100%

It's time

to grow!

New look and more

content than ever!

MeeT LeSTer Brice

A Garden coach

auckland Botanic GardenS

Why we love our public grounds

now bigger than ever

The magazine for

gardeners who like to get

their hands dirty

SubScribe from

$43. 50*

*6 issues/6 months

SUBSCRIPTIONS FREEPHONE

0800 77 77 10

www.gaRdeNER.kiwI
---
PEGASUS POST Latest Christchurch news at www.star.kiwi

Tuesday January 9 2018 15

What's On

Entertainment

SERVING

HAPPY HOUR

5PM - 7PM DAILY

What's On

TUESDAYS & THURSDAYS

MEMBERS LUCKY

CARD DRAW

DOWNSTAIRS

CLUB BISTRO

Open Tuesday to Saturday

from 12pm - 2pm

& from 5pm.

To advertise, contact

Jo Fuller 027 458 8590

jo.fuller@starmedia.kiwi

Lunch & Dinner

All you can eat, 7 days

Bookings Essential PH 386 0088

fb.com/GardenHotelRestaurant www.gardenhotel.co.nz

OUR CABINET ITEMS

ARE HOMEMADE

CREATED FRESH ON SITE DAILY

$12

LUNCH

SPECIALS

COFFEE

HAPPY

H O U R

2PM-4PM

DAILY

DINE BY THE SEA!

UPSTAIRS

$3.50

Offer available for a limited time

and includes tea, hot chocolate

MON: ROAST MEAL

TUE: FISH & CHIPS

WED: FISH BURGER

THU: ROAST MEAL

SAT: FISH & CHIPS

Pierview Restaurant

AVAILABLE

FROM

11.30AM-2PM

FOR A

LIMITED TIME

Live Music returns

in February

PHONE 385 8880 FIND US ON FACEBOOK fb.com/GBCCHCH

THE GARDEN HOTEL COMPLEX | 110 MARSHLAND RD

www.gardenhotel.co.nz | phone 385 3132

Open from 5.30pm Friday, Saturday

and Sunday, and for

Sunday Brunch from 10.30am to 2pm.

SUNDAY NIGHT BUFFET

LAST SUNDAY OF THE MONTH

SUNDAY BUFFET : $25pp

Sunday 28th Jan, from 5.30pm

NEXT BUFFET : BOOK NOW!

202 Marine Pde | Ph 388 9416 | www.newbrightonclub.co.nz | Members, guests & affiliates welcome

H ORNBY

WORKINGMEN'S

CLUB

LIVE ENTERTAINMENT

BARROSS

COUNTRY

SAT.13.JAN, 4.30PM

FREE

BIG

DADDY

SAT.13.JAN, 8PM

FREE

COMING UP

SAT.20.JAN, 4.30PM

IAN MAC

SAT.20.JAN, 8PM

EASY COME, EASY GO

SONGWRITERS RETREAT NZ

A NEW ZEALAND FIRST

SINGER-songwriter Charlotte Yates prepares to deliver New

Zealand's first songwriting retreat in Hanmer Springs,

Waitangi Weekend, Feb 2-6, 2018.

A professional songwriter for over 25 years, Charlotte also

coaches songwriting students individually through her

service, Song Doctor. Charlotte has designed and presented

small group based songwriting programmes for workshops

and following her own study through the Berklee College of

Music recently, more intensive clinics.

e Songwriters Retreat NZ has developed out of several

shorter successful Songwriting Clinics held throughout the

South Island over the last two years.

Held over five days, the inaugural Songwriters Retreat NZ

is an opportunity for songwriters to create and present new

work in a clear, well designed practical programme,

including one on one coaching, tutor and peer feedback and

co-writing sessions.

Songwriters Retreat NZ offers tried and tested methods

for stimulating inspiration and turning it into real songs

people want to hear. A maximum of12 places are available

– enough to allow supportive musical connection, but also

enough time for individual mentoring.

Go from thinking about songwriting to doing it. Go from

wanting to be a songwriter to being one.

For more information, bookings and full programme go

to www.songdoctor.co.nz.

Club CAFE

NEW SUMMER

MENU

LUNCH & DINNER DAILY

GF & V options available

Chalmers

Restaurant

REOPENS THIS FRIDAY

EARLY BIRD SPECIAL

FREE DESSERT

FRIDAYS & SATURDAYS

EXTENSIVE CARVERY FROM 5.30PM-6.30PM

PRICED AT ONLY $22.50 PER PERSON AND

DESSERT'S ON US!

The Hornby Club | ph 03 349 9026 | 17 Carmen Rd | Hornby

www.hornbywmc.co.nz | Members, guests & affiliates welcome

COOKED

BREAFASTS

from

$18

SCHOOL'S OUT

TREAT THE

KIDS

ACCOMMODATION

$10

FRIENDS

FAMILY

&

STAYING?

2 course

special

We have

GREAT SUMMER

HOLIDAY RATES

on Studio Units

The

RACECOURSE HOTEL

& Motorlodge

118 Racecourse Rd, Sockburn | Ph 03 342 7150

www.racecoursehotel.co.nz
---
16 Tuesday January 9 2018

Latest Christchurch news at www.star.kiwi

PEGASUS POST

New year

SALE

20% - 60% OFF STOREWIDE

THE GIFT FROM

THE GODS

So comfortable, so relaxing.

Massive savings

on all Stress

Free and

Zedere chairs

Stress Free

$1,499

Zedere

$1,999

LEATHER

LOUNGE

SUITE EXPO

FAMOUS

INTERNATIONAL

BRANDS IN

STORE NOW

UP

TO 50% OFF

Gaston Leather Suite

3 + 2 Seater

Variety of colours

$5,999 $3,999

THE LATEST LOOK

INDUSTRIAL HAS

JUST ARRIVED

Inspired by French Vintage Furniture,

our new Industrial range is crafted from

wood and metal. The raw and rustic

detailing reminds us of the furniture

workshops founded at the beginning of

the Industrial age.

FOR LIMITED

TIME ONLY

SAVE

25%

Style at the

best price

CRANFORD CENTRAL

484 CRANFORD STREET 03 354 5026

QUEENSTOWN

REMARKABLES PARK TOWN CENTRE 03 442 3435

NELSON

109 TRAFALGAR STREET 03 546 7057