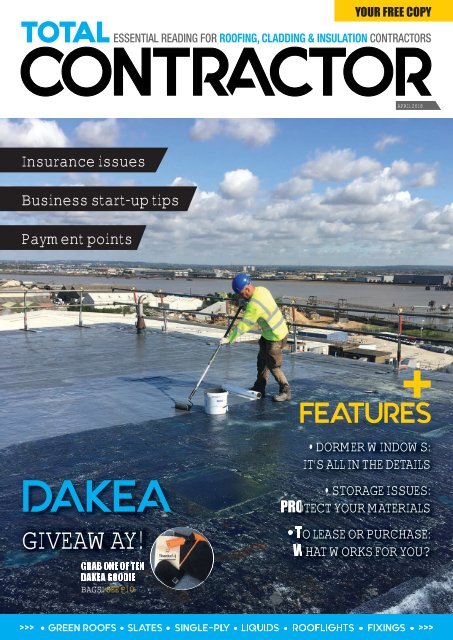 Do you know the secret to free website traffic?
Use this trick to increase the number of new potential customers.
APRIL 2018

Insurance issues

Business start-up tips

Payment points

FEATURES

DAKEA

GIVEAWAY!

GRAB ONE OF TEN

DAKEA GOODIE

BAGS! SEE P10

• DORMER WINDOWS:

IT'S ALL IN THE DETAILS

• STORAGE ISSUES:

PROTECT YOUR MATERIALS

• TO LEASE OR PURCHASE:

WHAT WORKS FOR YOU?

>>> • GREEN ROOFS • SLATES • SINGLE-PLY • LIQUIDS • ROOFLIGHTS • FIXINGS • >>>
---
For Best Practice...

Best Use Best Products

EJOT's manufacturing standards ensure that high-performance,

quality and safety are engineered into all of our products.

Our product range is matched by our knowledge of industry

standards and installation requirements… you won't find better

technical support - on or off site!

EJOT ® The Quality Connection

Tel: 01977 68 70 40

Email: info@ejot.co.uk

REGISTER ONLINE

Register online for webshop prices. Visit ejot.co.uk

FOR WE

PRICES
---
Editor's Comment

MATT DOWNS

EDITORIAL DIRECTOR

MATTDOWNS@MEDIA-NOW.CO.UK

COVER PIC:

COURTESY OF

KEMPER SYSTEM

The demise of Carillion has brought the issue of payment front

and centre for specialist contractors; Carillion's collapse

reportedly left 30,000+ small businesses with money still owed

to them, and the construction giant was said to have in excess of

£1.5bn worth of outstanding payments whilst having issued three

profit warnings in just five months.

Unfortunately, there will be many casualties from this disaster and the

ripples will be felt for years to come, but we all know payment is a

perennial problem for specialist contractors, one that they have to

negotiate from project to project. It's a problem that associations and

construction bodies have tried to address throughout the years but

with little success; is this because when you have a supply chain with

somebody at the top, more often than not, someone gets squeezed?

Even if there is an inevitability when it comes to poor payment practice,

this shouldn't mean the people who can do something about it should

stop looking for solutions, and it certainly won't stop us debating the

topic in Total Contractor. As such, we have input from two experienced

roofing contractors in this issue with Jason Wright discussing some of

the situations he's found himself in on projects over the years (p68),

and Simon Smith outlining the many hurdles a specialist contractor has

to clear – away from the installation side of projects – just to get paid

on time and in full (p72). Perhaps it won't make pleasant reading, but

I'd say it's important reading for any contractor looking to focus on what

they do best, rather than worrying about getting paid.

NEW

B

A PRIC CE

C£C£OMP£GET £AY£DA£O£T£D£ARISO £PA ON

A

* P

£T

Matt

Roofing contractor Garhigh Southern carried out renovation works at ADM

Milling penthouse using Kemper System's Kemperol 2K-PUR: See p42

FOLLOW US @TOTCONTRACTORUK

SIGN UP FOR YOUR WEEKLY E-BLAST AT

WWW.TOTAL-CONTRACTOR.CO.UK

Advertising

Publishing Director: Andy Dunn:

DD: 01892 732 047

Mob: 07963 330777

Email: andydunn@media-now.co.uk

Registered office: 1 Forstal Road, Aylesford, Kent, ME20 7AU

Commercial Manager: Jake Roxborough

DD: 01892 732 047

Mob: 07956 133314

Email: jakeroxborough@media-now.co.uk

The content of Total Contractor magazine (and website) does not necessarily reflect the views of the editor or publishers and

are the views of its contributors and advertisers. The digital edition may include hyperlinks to third-party content, advertising,

or websites, provided for the sake of convenience and interest. The publishers accept no legal responsibility for loss arising

from information in this publication and do not endorse any advertising or products available from external sources. No part

of this publication may be reproduced or stored in a retrieval system without the written consent of the publishers. All rights

reserved.

OW

LOW PRICE FROM N ONL

*

Be

choose Made for Trade

Aluminium Bi-Fold D

Y

£345

per leaf

Including

delivery

er leaf price is unglazed and may vary depending on size and specification of the door. L

ead time is based on a standard colour

r.

10 LY

Supported by:

ORDER TO DELIVERY FROM A FAST

Days Lead

0 Working

Time*

Email: bif

ade.co

Call: 01642 610799

oors olds@madefortr

Fax: 01642 671026

www.madefw

.madefortrade.co

APRIL 2018 TC 3
---
Contents

ON THE COVER

10 DAKEA GIVEAWAY

Find out how to grab one of ten goodie bags

courtesy of Dakea!

20 BE SURE TO INSURE

Looking to diversify? Paul Young says make

sure you're covered

32 DORMER DETAILS

There are many types of dormer windows, and

each requires its own specific detailing...

36 AN INSPECTOR CALLS

Icopal's Inspector explains how poor storage of

materials can cost both time and money

38

FEATURES

14 THE HEIGHT OF SAFETY

NFRC's Gary Walpole answers questions on safety

when working at height

62

24 AMBASSADORIAL DUTIES

We talk to Sarah Spink about her role as a construction

ambassador, training and perceptions of roofing

28 THE SPECIFICS

Philip Ferguson says the importance of quality

workmanship can never be underestimated

30 UK ROOFING AWARDS

The finalists have been announced and it's almost time

for the big day!

44 GO GREEN

Karl Moxon outlines the key considerations to make

when embarking on a green roof installation

52 DON'T GET IN A FIX

With the poor weather we've experienced recently, Jason

Wood says always think about your fixings and location

4 TC APRIL 2018
---
REGULARS

18 CONTRACT TALK

Thinking about setting up on your own? Janine

Brady offers advice on how to get started

70 TOTAL VEHICLES

To lease or buy? that is the question and we

take a look at the various options open to you

INDUSTRY NEWS

06 LIQUID GROWTH

As the liquid sector continues to grow, issues remain

around certification with some 'off the shelf' products

12 BRAND AWARENESS

Wienerberger offers 'a visual snap-shot' of its mission

and values to stakeholders with its new brand campaign

72 PAY PALS?

Simon Smith looks at the many hurdles you

have to clear in the hope of getting paid

74 RECRUITMENT

Looking to move on in your career? We've got a

selection of the latest vacancies

70

SECTIONS

WWW.TOTAL-CONTRACTOR.CO.UK

32

TOTAL

ROOFING

48 TOTAL

CLADDING

56 TOTAL

INSULATION

44

APRIL 2018 TC 5
---
Industry News

PLANNING AHEAD

Following the announcement by Prime

Minister Theresa May of a reform to the

national planning policy in an attempt to

encourage developers to stop sitting on

land and build more homes, Russell Roof

Tiles MD Andrew Hayward has welcomed

this development but questioned whether

the plans go far enough.

Andrew explained: "Any focus at Senior

Government Level which gives attention to all

relevant parties and the need for speed and

efficiency in the UK housing market can only

be a good thing. However, it is not as simple

as pointing fingers at developers who have

not built on approved land.

"This is because a number of factors may

have a significant impact on the speed and

delays in builds. This can include a lack of

employee skillsets and the availability of

skilled trades, the cost of the build, value for

money as well as planning obstacles.

"While it is good to hear plans to speed up

the planning process even further, I suspect

streamlining the criteria and process is key to

its success.

"For contractors, the unlocking of potential

new sites for housebuilding could also lead to

an increase in business for many contractors

supplying housebuilding developments and

these changes may also see a quicker

process required, with developers now

requiring building materials sooner rather

than later.

"We, as a country, should look at other

strong economic countries within Europe,

with regard to speed and efficiency in

planning and construction, irrespective of

Brexit, and see what we can implement

quickly to meet the 300,000 annual

targets."

'OFF THE SHELF' ISSUES AS LIQUIDS GROW

Research undertaken by the

Liquid Roofing and Waterproofing

Association (LRWA) shows that

the liquid applied roofing sector

has grown by more than 30%

since 2013, making it "the fastest

growing part of the flat roofing

market".

own issues with the influx of new

manufacturers and roofing

contractors emerging into the

market, and it's important to ensure

high standards are still being met.

Sarah Spink, CEO of the LRWA "In 2018, one of our key targets is

to help make contractors more

aware when choosing 'off the shelf products' sold

Recent figures from the LRWA's research

through distribution networks, which in some

recorded a 35% growth in its members' turnover cases are imports from overseas. Whilst there are

– measured in m² – for liquid-applied

some good liquid products available through

waterproofing in the last four years.

distribution networks or builders' merchants,

there has increasingly been issues with many

The LRWA also points to a rise in membership

being sold without any testing or certification, and

which it says reflects sector growth, with an

simply do not meet an acceptable standard.

increase from 16 manufacturer members in

Contractors using unproven products bought

2013, to 25 in 2016.

through a distributor could result in them having

Despite sector success, the association does add more liability than they realise. This not only

a note of caution with regard to an increase of creates a headache for contractors, but poor

new products emerging onto the market to meet product performance also devalues the high

demand being sold without testing or certification. standards in our industry. It's important for

This, the association points out, creates liability contractors to remember there is plenty of advice

issues for contractors.

and guidance available from trade associations –

like the LRWA – to help protect them from a

Sarah Spink, CEO of the LRWA believes the issue

potentially very costly roofing or waterproofing

will continue well into 2018 and potentially

project."

increase in severity once the UK leaves the EU

and opens up the market to new liquid products Sarah concluded: "Despite these challenges,

imported from across the globe. She explained: 2018 looks set to be another positive year for the

"The successes of rapid growth do present their liquid market."

ONE WARRANTY PROVES APPEALING

Uptake of SIG Roofing's ONE Warranty has Steve Pearson, Procurement Director, explained:

reportedly more than doubled in the last 12 "The growth in the usage of ONE Warranty

months, with the specialist roofing supplier reflects the fact that it covers the widest range of

putting this increase down to the roofing pitched roof coverings from the UK's leading

sector's demand for "no strings attached" manufacturers – and there are no strings

warranties.

attached.

The company says it recorded a 139% rise in "There is no hidden agenda; we just wanted to

2017 compared to the previous year, and believes provide a warranty that is easy to understand and

that the clarity and transparency of ONE Warranty even easier to use and covers pitched roof product

is the key reason for its appeal, with no

performance for 15 years in a single warranty to

unexpected surprises hiding in the small print. cover all of the key elements of a roof."

6 TC APRIL 2018
---
Insulation

Flat roof insulation all wrapped up

Find the perfect solution to your flat roofing problems with the new

®

Kingspan

Roofing System.

A vacuum insulation panel is encapsulated

in a high performance PIR insulation

board, offering complete protection

during installation, while a lambda

value of 0.009 W/m . K ensures

optimum thermal performance.

Accompanied by a supporting design service, the Kingspan

®

Roofing System has flat roofing all wrapped up.

Visit www.kingspaninsulation.co.uk/optim-r-e

Further information on the Kingspan

range is available on:

+44 (0) 1544 387 384

literature@kingspaninsulation.co.uk

www.kingspaninsulation.co.uk

Pembridge, Leominster, Herefordshire HR6 9LA, UK

® Kingspan, OPTIM-R and the Lion Device are Registered Trademarks of

the Kingspan Group plc in the UK and other countries. All rights reserved.
---
Industry News

EXPLORING THE

POSSIBILITIES

The A. Proctor Group says it was delighted to

welcome adventurer and explorer, Sir Ranulph

Fiennes, and 70 industry guests to its 2018

Spring Social event in London.

This year the event was held on the luxurious

Sunborn London Yacht Hotel in the historic

Royal Victoria Dock.

On-board the Sunborn, guests were invited to

take in the city views from the unique vantage

point atop the open-air Sky Lounge deck, before

being treated to a three-course dinner in the

stately wood-panelled West India Dock room.

Keira Proctor, A. Proctor Group Managing

Director, began the evening with an engaging

introduction to the A. Proctor Group and its

80+ year history as a family-run business.

During her talk, she described the risks the

business has taken to transform the once

agriculture-focused company into today's

internationally respected construction materials

brand. Keira also talked about the steps the

company is now taking to develop new,

innovative products and establish the A.

Proctor Group as the experts on HAMM

Principles (Heat, Air and Moisture

Movement).

Shortly after dinner, Sir Ranulph

commandeered the microphone and took the

audience on a 60-minute adventure ride

describing some of the most gruelling

challenges and world-record setting

experiences of his career to date as an explorer.

Trying to keep up with the pace of Sir Ranulph's

talk seemed to make the audience breathless;

at times from laughing at his poker-faced

delivery of jokes and the not so occasional dig

at his long-term challengers, the Norwegians,

and at other times simply out of awe and

wonder at the superhuman tests he had

faced, endured and overcome.

MASTIC ASPHALT STILL 'HIGHLY RELEVANT'

At an event held by the Mastic Asphalt Council

to celebrate the use of mastic asphalt in

modern construction, green architect and TV

presenter Charlie Luxton told those assembled

that mastic asphalt is a "highly relevant"

building material for today.

More than 40 contractors and architects had

gathered for the event at the crypt of St Paul's

Cathedral, which itself used mastic asphalt for

the refurbishment of the dome gallery.

Charlie told those assembled that he was using

mastic asphalt on the construction of his own

home. Specifically on the build of a complex stair

detail where the stairs descend through a flower

bed. Mastic asphalt was used to form stairs,

upstands, sumps and drainage outlets – a

"hugely complex 3D object," according to Charlie.

"This is what mastic asphalt can offer –

waterproofing, a durable surface, even a

decorative finish," he said.

"In some ways mastic asphalt might be perceived

as an old fashioned building material. But there is

a reason it has been around so long. Many of you

The availability of stock and its ability to fulfil

orders quickly were the combination of factors

behind the strong sales growth at SR Timber,

according to Trading Director Shaun Revill.

Shaun explained: "Fundamentally, Premium Gold

is a fantastic product, and the roofing industry is

responding to it because they can rely on it – in

terms of both its quality and performance. And,

crucially, it's fully graded and compliant to BS 5534.

Charlie Luxton (second from right) discusses the

waterproofing on the walkway of the dome gallery at St

Paul's Cathedral, which has recently been protected with

mastic asphalt

probably don't even think about it as relevant to

you in modern practice but like many long-lasting,

tried and tested materials, it is being re-imagined

and modified and re-examined as a highly

relevant building material for today," continued

Charlie

When introduced by MAC chairman Keith Collins,

Charlie admitted: "When asked to do this talk I

was relieved because sometimes I'm asked to

talk on things I know nothing about, and more

importantly have no opinion about. But in this

case I am a paid-up member of the mastic

asphalt fan club."

STRONG SUPPLY CHAIN, STRONG RESULTS

"Sales to our existing customers continue to rise,

but what was most pleasing in 2017 was the fact

that we were able to introduce Premium Gold to

contractors, roofers and builders who hadn't used

it before – and not only were they very impressed

with it, it also translated into repeat orders.

"However, it's not just about having great

products that helps drive sales – our ability to

process and deliver orders is setting us apart as

a reliable supplier of a quality product. We are

only as strong as our supply chain, and we

continually test the strength of every link in our

supply chain so that it stands up to scrutiny,

ensuring that we have plentiful supplies of timber

roofing batten."

Left: Shaun Revill, SR Timber's Trading director

8 TC APRIL 2018
---
ALL ALUMINIUM LANTERN ROOF

FITTED IN

MINUTES

GLAZED IN SECONDS

FASTEST

Glazed in seconds

No cutting or drilling onsite,

without silicone, clip fit

finishing caps – Fastest fit on

the market

As featured at the FITShow,

search for our YouTube

video and see the

Korniche fully fitted

in under 6 minutes

Under

6 mins

SLIMMEST

Uninterrupted Sight

Lines

Patent pending end boss

enabling hips to merge into ridge

Traditional features in

contemporary design give

'Timber' like looks suitable for all

properties

Narrowest external ridge profile

STRONGEST

Performance

Engineering

Ability to withstand 'Live' loads

over twice that of the leading

competitor. A 6x4m roof can

support up to 8 tonnes

Up to 3m x 2.5m with

no rafters

No tie bars required

Email: sales@korniche.co.uk

Tel: 01642 610799

Fax: 01642 615854

www.korniche.co.uk

3.5kN

/m2

SUPPORT

Best for specifiers -

the ideal trade

lantern

Brand, point of sale and

marketing support helping save

time and maximise profit from

sales and on-site.

TM

Online trade KwikQuote tool

WARMEST

Fully thermally

broken construction

Thermal PVC T Bar, Thermally

broken eaves beam and industry

leading Q-Lon Gaskets.

U Value from 1.2

PLUS

ONLY 5

WORKING

DAYS LEAD

TIME

FULL SALES

SUPPORT AND

NATIONWIDE

DELIVERY

CONTACT US TODAY

FOR A QUOTE
---
Industry News

CONTRACTORS NEED TO BE AWARE OF REVISIONS TO BS 5534

New revisions have been announced to BS

5534 which have seen it updated to include

the new BS 8612 Dry Fix Standard.

BS 5534: 2014 + A2:2018 was published on

28th February 2018, and following a four-month

transition period for those in the industry to get up

to speed, it will be effective from 1st July 2018.

Key changes are said to include:

• A widening of the scope to make it absolutely

clear that re-roofing and repairs are covered

under BS 5534.

• The updates have also made things clearer

regarding old roofs, and especially for historically

or architecturally important buildings where the

British Standard may not be appropriate. It

advises those working on these projects to consult

with the local planning authority for

repair or replacement of these roofs.

•BS 8612: Dry-fixed ridge, hip and

verge systems for slating and tiling

spec has now been added to BS 5534

along with BS 8000-0: Workmanship on

construction sites.

•A revised clause concerning temporary weather

protection before the installation of the primary

roof covering, aimed at protecting underlay

exposure to UV light has been included.

•Improved interpretation of the results from the

test method for determining the resistance to wind

uplift of roof tile clips.

• New definitions for low water vapour resistance

(type LR) and air permeable underlays.

Left: Stuart Nicholson, Marley Eternit: "It is

important that roofing contractors and

specifiers are aware of the extent of the

revisions."

•New definitions for continuous and

discontinuous ceilings.

Roof tile manufacturer Marley Eternit has

said it welcomes the revisions. Stuart Nicholson,

Roof Systems Director at Marley Eternit,

explained: "This is the second amendment to BS

5534 since major revisions were introduced in

2014.

"We were expecting to see the inclusion of the

new Dry-fix Standard, but it also includes further

changes, particularly addressing some concerns

about the application of roof underlays. It is

important that roofing contractors and specifiers

are aware of the extent of the revisions."

GRAB ONE OF TEN DAKEA GOODIE BAGS!

GET YOUR GOODIE BAG

Dakea has teamed up with Total Contractor

and is giving away TEN prize bundles that

include a hat, jacket and water bottle to keep

you warm and hydrated on those chilly spring

mornings! See right for how to get your hands

on one Dakea's goodie bags!

About Dakea and Dakea Ultima:

Dakea roof windows are engineered to provide

superior quality and ease of installation – the

result of over 75 years' experience of window

design and manufacturing. Dakea products are

made in Europe from the highest quality

components and undergo rigorous testing to

ensure they will stand the test of time.

The Dakea Ultima window has an innovative

noise reduction system, which reduces external

noise 50% more effectively than comparable

windows.

Outstanding energy efficiency is provided by

superior, krypton filled glazing and two lowemission

coatings that deliver ultra low heat loss

of just 1.2 W/m²K. The glazing preserves warmth

in winter, prevents overheating in the summer

and blocks 95% of harmful UV radiation.

Its toughened external pane is extra thick

and includes a lifetime warranty

against hail damage. The

lamination on the internal

pane ensures full impact

protection and safety for

homeowners.

To ensure peace of mind,

Ultima has been tested against

hurricane force winds, 50kg impacts

and 600 litres of water falling in just one hour –

the equivalent of the annual rainfall per square

metre in London.

All of this is backed up by a 20-year warranty,

exceptional customer service and guaranteed

next day delivery.

For more information on the Dakea range visit:

www.dakea.com.

To be in with a chance of claiming your

Dakea goodie bag, which includes a hat,

jacket and water bottle, simply head to

our Twitter feed @TotContractorUK, follow

us, and retweet the pinned tweet. It

really couldn't be easier to get

your hands on one of ten

Dakea goodie bags!

The competition runs until

11th May 2018, when ten

lucky winners will be chosen

at random, and once we have

received the contact details, the

goodie bags will be sent directly out!

It's easy to win!

1. Visit @TotContractorUK

2. Follow @TotContractorUK

3. Retweet the pinned Tweet!

T&C's: You have 2 weeks from contact to send us your

contact details so we can send out the prizes. Ten

winners will be chosen at random on 11th May. There is

no cash equivalent.

10 TC APRIL 2018
---
Handrails:- EasyGuard

free-standing Guardrails

*CurveyGuard – an aesthetically pleasing curved rail.

*EasyGuard – raked or straight legs dependant on

application. *FoldGuard – folding handrail.

Trip hazard reduction – long thin base-plates with

Counterweights used on un-secured ends only. Placed at 2m

centres maximum to enable use for leading edge protection.

Galvanised or powder coated finish. Protective mats 5mm

bonded to the base plates.

Standards – Exceeds Class A EN13374- Class A; For

leading edge protection HSE/SR 15, September 1988.

Nationwide delivery or contract installation. – Free material

quantifying service – info@safetyworksandsolutions.co.uk

Ladders:- Easy Fit

Compliant to both BS/EN 5395 and 14122 –

To comply with the standards for

permanent ladders all mild steel then hot

dipped galvanised to BS/EN 1461.

All typical ladders bespoke – email

info@safetyworksandsolutions.co.uk for a

survey check sheet.

Easy Fit, all ladder components are Easy

to assembly; in manageable parts Easy to

handle and install.

Rest Platforms and ladders with special

fixing requirements; solutions provided by

Safetyworks in house.

(All components for British Standard

compliant ladders require steel components

with timber and aluminium recommended

for temporary use only)

HANDRAILS

-

LIFELINES

-

WALKWAYS

-

FALL GUARDS

-

FLEXIDECK

-

DEMARKATION

-

LADDERS

-

STEELWORK

-

Tel: 01487 841400

www.safetyworksandsolutions.co.uk
---
Industry News

NEW BRAND

CAMPAIGN VIDEO

In an attempt to forge further meaningful

connections with the entire construction

supply chain, Wienerberger says it has

unveiled a new brand campaign video as an

added asset to its communications strategy.

The new video is said to visually represent

the company's overall mission and values.

Focusing on the ethos of Wienerberger

working to positively impact people's lives,

the video promotes an emotional connection

with its audience as it brings the company's

four cornerstones to life; quality and

expertise, value, innovation and

sustainability. The video, narrated by British

television presenter Dan Cruickshank,

includes footage taken from Wienerberger's

factories, quarries and Head Office, as well

as a wide range of stunning case studies.

Annette Forster, Marketing Director at

Wienerberger, commented: "We believe that

in such a fast-paced, digital world, it's

essential that we offer a visual snapshot of

our mission to all of our stakeholders, and

our new brand campaign does exactly that.

By showcasing our wide range of products

and services available, as well as an insight

into our projects, case studies and customer

support, the video offers an accurate

reflection of Wienerberger today and will be

regularly updated over the coming months."

View the video here:

https://www.youtube.com/watch?v=8hBpGkS

FtUc&feature=youtu.be

REBRAND FITS WITH "CHANGING" SECTOR

The NFRC launched its new logo as part of its

rebrand at Ecobuild 2018.

The UK's largest roofing trade association

explained that its members can use the logo once

they have passed the NFRC's strict Code of

Conduct and standards of quality. As such, the

association says it is a powerful mark of approval

which singles out NFRC members as trustworthy,

dependable and reliable roofing contractors to

their customers.

Amanda Brackey, Head of Marketing and

Communications, who led the rebranding

initiative in consultation with NFRC stakeholders,

explained that the result is a modern design

which reflects the aspirations of NFRC and the

sector: "Our logo is the most important element of

our identity and is prized by our members.

"NFRC has been promoting contractors and

championing best practice in our industry for

more than 125 years. While we need to retain its

history and long-established reputation for

improving quality, safety and skills, we want to be

identified as genuinely progressive and inspiring."

In what it describes as a move to "underpin

its customer-centric approach and

commitment to driving innovation in the built

environment", Knauf Insulation has launched

a new brand identity: 'challenge. create. care.'

The insulation manufacturer says the new brand

identity, which is being rolled out globally, reflects

the business' expanded aspirations and

NFRC also explained it has a strategy for growth,

with services in areas like accreditation,

recruitment, skills development and digital

knowledge sharing being key areas for future

development.

James Talman, NFRC Chief Executive, explained:

"The roofing industry is changing fast. New

technology and new ways of working are having

a huge impact; so are big challenges around

skills, materials and legislation. What never

changes is the demand for quality. This rebrand

reflects our key credentials for raising standards,

delivering great service, sharing expertise,

supporting the industry and looking to the

future."

A roll-out of the new branding to NFRC members

started on 2nd April 2018.

NEW IDENTITY FOR KNAUF INSULATION

Visit Knauf Insulation's new website: www.knaufinsulation.co.uk

Above: The NFRC's new logo is part of a rebrand that reflects

the aspirations of the NFRC and the sector

ambitious vision for the future, whilst building on

its successful past.

Vanessa Rae, Marketing Director at Knauf

Insulation Northern Europe, explained: "Our aim

is to be the world's most trusted insulation

partner, providing high performance, smart

insulation solutions and services for a better

world. By challenging conventional thinking and

working in real partnership with our customers

and stakeholders, we will create innovative

insulation solutions that go beyond energy

efficiency and really change the way we live and

build. We're committed to leading this change

across the industry; the new brand identity

underlines our position and is a clear statement

of intent."

12 TC APRIL 2018
---
fit it, clip it

job done

Suitable

for most

tiles in

the market

As the UK's leading merchant of roofing solutions

and services, our Tile Clips are designed to

meet your standards of usability, quality and price.

Ideal for use with the majority of roof tiles from the

UK's leading manufacturers.

■ Single piece, galvanised carbon steel construction

■ Conform to BS 5534:2014

■ Easy to fit, no nail or clip threading required

■ Suitable for all exposures throughout the UK

■ 15 Year Warranty

■ Part of SIG Roofing's ONE Warranty

TIL-R - the right solution for the job.

Visit your local SIG Roofing branch for more info

or find out more at www.sigroofing.co.uk

www.sigroofing.co.uk

PITCHED ROOFING

FLAT ROOFING

INDUSTRIAL ROOFING
---
Working at Height

MAKE SURE YOU USE YOUR HEAD

WHEN WORKING AT HEIGHT

The National Federation of Roofing Contractors (NFRC) receives regular queries from its

members on safety, legislation and technical advice. In this regular feature, the association

will share some of its most frequently asked questions along with the advice given. This

month Gary Walpole, technical officer, answers questions on working at height.

Q.Is enough being done by our industry to

tackle the large number of people who

die as a result from falling from height?

A: For the industry, this is a key issue in keeping

roofers safe and one that needs to be continually

addressed. We've got the Work at Height

Regulations (2005) in place and many are doing

good work to reduce accidents, but there's still a

lack of awareness among smaller companies and

especially homeowners. Ultimately, the

regulations and their enforcement have not

changed behaviour sufficiently enough, so we

have to work co-operatively to find new ways of

influencing a change in culture.

In fact, just two months ago, the All Party

Parliamentary Group (APPG) for Working at Height

launched with an inquiry into injuries and

fatalities caused by falls from height and falling

objects.

It followed damning statistics

published by the HSE in 2017,

which found that falls from

height were the most

common cause of fatal injury

of workers in the past five

years, with just under half of

those fatalities happening in

construction. NFRC has submitted its

response and we look forward to the APPG's

final conclusions.

"Schemes such as the

forthcoming

accredited roofer

scheme, will certainly

help clients make

informed decisions"

Left: Gary Walpole, technical officer at

the NFRC

Q: What do you believe are

the main causes and

solutions to the problem?

A: A critical issue is the lack of

control of who carries out the works

at height, what training is required, and how to

verify relevant skills, knowledge and

experience.

There's also a lack of understanding about

hazards.

For example, engineers servicing M&E on flat

roofs may be blissfully unaware about the

dangers of fragile surfaces or open edges.

There is also a common assumption that a task

which only takes a minute to complete is
---
Rooflight Specification

Driving You

Barking Mad?

Now you can place your orders with

complete confidence, thanks to RUFUS, the

clever new specifier tool from Whitesales.

Visit your nearest Whitesales merchant today,

or find out more at:

whitesales.co.uk/RUFUS

When it comes to ordering rooflights, access hatches

and smoke vents, RUFUS is top dog.

www.whitesales.co.uk

sales@whitesales.co.uk

01483 271371
---
Working at Height

somehow less risky, which leads to safety being

ignored.

We therefore need to better communicate to

clients, principal designers, contractors and

workers that to comply with regulations and

reduce accidents you must first plan the work,

then use the right equipment, and then use

competent contractors.

If these three things are followed, then we will

see a reduction in accidents.

Simplifying the narrative for smaller businesses

that don't have the in-house expertise would also

help them to understand the legislation.

There are also some specific measures we could

be taking to prevent falls, or falling objects from

height which are not currently required by law.

A working at height training programme, which is

accredited to the operative and renewed on an

ongoing basis, is one place to start.

This could build upon the working at height

section of the CITB Health, Safety and

Environment Test, while training should be

required for working with specific equipment such

as mobile towers.

The client and building owners also need a better

understanding of the dangers and their legal

responsibility when selecting suitable contractors.

Designing-in safety such as higher parapets

would also make the building more maintenancefriendly,

and the use of drones or high-definition

aerial photography could help at the inspection

and survey stage.

Digital technologies will increasingly have a role

to play. For example, specialists can offer

photographic surveys and reports that calculate

roof length, pitch, and additional features on both

"A critical issue is the

lack of control of who

carries out the works at

height"

"There is also a

common assumption

that a task which only

takes a minute to

complete is somehow

less risky"

residential and commercial properties without the

need to access the roof.

Then there are Virtual Reality headsets that might

give trainees a better understanding of the

hazards they will face early on.

As smart glasses technology evolves, an

operative on a roof could share something that

they see or are worried about and transmit this

directly to an experienced safety manager who is

not on site. This will allow them to advise the

operatives on how to proceed and update any

amendments to risk assessment immediately.

Q: How can we broadcast the fact that we

adhere to health and safety legislation when it

comes to falls from height?

A: A contractor must be able to show that they

have the skills, knowledge, experience and for

organisations, it's the capability to carry out the

work safely and without risk to health.

Similarly, when a contractor employs or appoints

an individual to carry out work, they must make

sure the individual has the skills, knowledge,

experience and training to carry out the work in a

way that secures health and safety, or is in the

process of obtaining them.

The required level of skills, knowledge and

experience (and training where required) should

be proportionate to the complexity of the work and

the range and nature of the risks involved.

NFRC, in conjunction with the CITB, is beginning

the process of launching an accredited roofing

scheme which will place safe working practices

at its core by ensuring an accredited workforce

have the necessary skills to carry out work at

height.

Schemes such as the forthcoming accredited

roofer scheme will certainly help clients make

informed decisions when choosing a contractor,

much in the same way that most homeowners

will get Gas Safe-accredited plumbers to install

and service their boilers.

Contact the NFRC

020 7638 7663

www.nfrc.co.uk

@TheNFRC

16 TC APRIL 2018
---
ALUMINIUM, RELY ON

THE BUILDING MATERIAL

OF THE FUTURE

ALUMINIUM ROOF & FAÇADE SYSTEMS

For us, aluminium is the most flexible material used in construction

engineering. Not least because the material has excellent folding properties.

Thanks to a refined alloy, aluminium is pliable and extremely flexible

to work with even in extreme temperatures below freezing point.

The time needed at the construction site is significantly reduced too. We

deliver the material to you in a perfectly prepared condition. In addition,

with the appropriate technical expertise, our products can be quickly and

easily mounted (on a roof pitch exceeding just 3°).

Lightweight, robust, long-lasting, environmentally-friendly, ideal to work

with, versatile in design – aluminium possesses all the characteristics that

you could wish for in a material.

office.uk@prefa.com

www.prefa.com

10 GOOD REASONS FOR CHOOSING PREFA

! STORM-PROOF

! RUST-PROOF

! BREAK-PROOF

! LIGHT

! BEAUTIFUL

! COLOUR-FAST SURFACE

! GREAT FOR RENOVATIONS

! COMPLETE SYSTEM

! ENVIRONMENTALLY FRIENDLY

! 40-YEAR GUARANTEE

* The colour guarantee ensures that the painted surface is protected

from chips and blistering under the terms specified in the guarantee

certificate. You can find more information about the material and

colour guarantee at www.prefa.com/guarantee

WWW.PREFA.COM
---
Contract Talk

TAKING THOSE FIRST STEPS INTO

ESTABLISHING YOUR OWN BUSINESS

To support our readers, Total Contractor has asked SIG Roofing to cover different aspects of

setting up and running a business as a roofing contractor in our Contract Talk section.

Janine Brady, Marketing Manager, starts at the beginning by looking at some of the things

that those who are thinking about starting out on their own need to consider.

nlike a lot of other routes to starting a new

business – such as franchising, where

investors can buy an established

business with little or no prior experience –

starting your own roofing business appeals

because you've already got the skills and

experience from being on the tools.

It's the logical next step if you want to be your

own boss, run projects your way and, most

appealing of all, potentially earn more money.

So what are the steps you need to follow if you're

planning to branch out on your own?

Make a plan

It may sound like we're stating the obvious, but

making plans helps to make things real –

especially if you write things down.

Business plans can be as little as one page of A4

paper, as long as they have the right things in

them. Here are some suggested headings, which

start with a vision that becomes a series of bitesized

action points.

•Vision – this is a single statement about where

you want the business to be in the future. For

example: I want to be the best slating and tiling

business in St Ives.

•Mission – this only has to be a couple of points

about how you're going to achieve the vision. For

example: I will use SIG Roofing's ONE Warranty

scheme to offer customers a 15-year single

package warranty on all my work.

•Objectives – these will be a couple of key

milestones for the business in the first few years.

For example: I would like a full order book within

the first three months.

•Strategies – these will be up to six strands of

activity about how you will go about getting a full

order book. For example: I will become part of a

trusted trader scheme.

•Actions – these will include a series of

individual actions to achieve each element of the

strategy. For example: I will compile a portfolio of

the roofing projects I have worked on to use as

part of my submission to a trusted trader

scheme.

Once the plan is on paper, it's amazing how

quickly your business will start to come to life.

Tell everyone

It's probably not appropriate to tell your current

boss, but tell everyone else who matters because

they'll all be willing you on to make a success of

it, and they'll also help on the days when you

have second thoughts. Be prepared for these, as

every business has them!

Who's on your side?

Telling everyone will hopefully help you to begin to

find people and businesses that will help you to

get off to a flying start – from local builders who

can recommend you as a specialist roofing

contractor, to social media experts who can help

you to run effective, low-cost marketing

campaigns on platforms such as Facebook and

LinkedIn to promote your business.

When it comes to suppliers of materials, then of

course there's an SIG Roofing branch local to

most places in the UK that can not only get you

the right materials for the job, but can also

support you in other ways with schemes such as

Trade Club.

Know who you're up against

The last point to make in this article is sizing up

who you'll be up against when competing for

projects. You may already know a lot of the firms

in your area, but making a detailed list will come

in handy. Once you've narrowed down the list to

the firms that you'll most likely come up against

when quoting for jobs, if possible, try to get an

idea of how they quote. I've known of friends and

family of a business owner inviting other trades

around for quotes to get an idea of the price for a

project, the timescale for getting a job done and

the warranties on a job.

Hopefully, this is a good starting point and

provides you with plenty to think about if you

want to set up your own business as a roofing

contractor. In the coming editions of Total

Contractor, we'll cover a range of issues linked to

the business side of contracting, from finding

customers and taking on staff or subbies, to

managing cash flow.

If there's anything else you'd like us to cover, then

get in touch on Twitter at @SIGRoofing and

remember to use #ContractTalk.

Contact SIG Roofing

0845 612 4304

www.sigroofing.co.uk

@SIGRoofing

18 TC APRIL 2018
---
Project

Derby Arena

Contractor

Keyclad

Fixing

SLS2 25-S16

Specialist fixings for

award winning arenas

01242 265 100

fixingpoint.com
---
Insurance Focus

"A CHANGING BUSINESS REQUIRES

CHANGING INSURANCE"

By Paul Young, Underwriting Manager, ECIC, the specialist insurer for the contracting

industry.

Business diversification, encompassing a

wider mix of disciplines, can be a great

way for contractors to develop and grow

their operation. For example, a roofing contractor

may choose to extend their contract opportunities

by broadening their skills base, working at

different locations or embracing new

technologies. But it's important to

remember that expansion and

diversification also leads

to a changing risk

profile. And

contractors are

obliged to disclose

those new and

changing risks to their

insurer or broker.

The Insurance Act 2015,

which came into force in August

2016, has afforded contractors greater

protection. However, in order to maximise these

benefits, policyholders are under a duty to make

'a fair presentation of risk' to their insurer. This

includes disclosing every material circumstance

they know and that they ought to know.

"For most, if not all

contractors, insurance

cover can hardly be

expected to be front of

mind"

In respect of business diversification this could

include reviewing exposures and disclosure

processes. It also means ensuring steps are in

place to maintain up-to-date internal records of

the names and roles of individuals responsible for

arranging insurance cover, as well as members of

senior management who should

always be involved in any

disclosures made.

For smaller roofing contractors

this can be reasonably straight

forward. However, for mid to large

sized businesses which have

undergone a period of growth or

those that have diversified

into new skills and

services, this can be

much more complex.

With diversification

insurance risk

changes, and the

importance of declaring

any significant changes in

the types of contracts being

undertaken or business growth to

your insurer or broker should not be

underestimated. In order to maintain insurance

cover and ensure it keeps pace with the types of

risk the business is exposed to, it is crucial that

the correct and up to date information is

disclosed at all times.

Front of mind?

For most, if not all contractors, insurance cover

can hardly be expected to be front of mind,

especially considering today's challenging climate

with the industry-wide skills shortage and ever

growing concerns in the wake of the Carillion

collapse. However, roofing contractors have an

obligation to ensure all information known or

ought to be known by them which could influence

an insurer's view of risk is declared.

Roofing contractors should work with their insurer

or broker to ensure all relevant information has

been disclosed. This enables the

insurer to prepare a

comprehensive insurance

contract or if needed, ask

further questions based on the

information provided.

Taking time to understand the specifics

of your insurance contract is key to ensuring

you're aware of any relevant restrictions,

exclusions or terms and conditions with which

you need to comply. This is where an insurance

broker can have real value.

An insurance broker deals with insurance

contracts on a daily basis which means they are

easily able to explain the contract specifics in

great detail. An insurance broker can help roofing

contractors understand the exact risk profile of their

business and make certain that when committing to

a period of growth, expanding into new areas of

expertise or diversifying into new markets, the

correct information is disclosed to the insurer.

The roofing sector today comprises a wide mix of

different disciplines creating plenty of scope for

business diversification for those contractors

keen to develop and grow their business.

However, it's crucial that roofing contractors take

the time to understand the importance of

declaring any business diversification and growth

to their insurer or broker – there's no such thing

as too much information. And the more

conversations you have with your insurer or

insurance broker, the more confident you can be

that your insurance cover keeps pace with

business changes.

Contact ECIC

0330 221 0250

www.ecic.co.uk

20 TC APRIL 2018
---
QUICK,

COST EFFECTIVE

ROOF REPORTS

A CLEARER

VISION FOR

YOUR BUSINESS

When tendering for roofing contracts, accurate

aerial measurement can be the difference between

profit and loss. With EagleView, you can have

complete confidence in the measurements you base

your tender on.

By combining multi-angle aerial images with

advanced analytics, our reports provide precise area,

pitch and length measurements. Colour coding

distinguishes every detail, from ridges, hips and

valleys to verges, eaves and flashings.

Premium Report

06/09/2017

123 Main St., Tadworth, A1B2 C3D Report: 12345678

TABLE OF CONTENTS

Fast report turnaround saves you time. High

resolution aerial views and 3D diagrams make your

bid stand out. And accurate material ordering helps

protect your profit.

To see more, visit eagleview.co.uk

or call 0800-069-8405

Images .....................................................................1

Length Diagram .........................................................4

Pitch Diagram ............................................................5

Area Diagram ............................................................6

Notes Diagram...........................................................7

Penetrations Diagram.................................................8

Report Summary........................................................9

MEASUREMENTS

Total Roof Area =467.95 sq m

Total Roof Facets =24

Predominant Pitch =45°

Number of Storeys >1

Total Ridges/Hips =84.43 m

Total Valleys =17.07 m

Total Verges =14.63 m

s =111.86 m
---
M25

M25

1.

Measurements provided by www.eagleview.com

www.eagleview.com/Guarantee.aspx

© 2008-2017 Eagle View Technologies, Inc. and Pictometry International Corp. – All Rights Reserved – Covered by one or more of U.S. Patent Nos. 8,078,436; 8,145,578; 8,170,840; 8,209,152; 8,515,125; 8,825,454; 9,135,737; 8,670,961;

9,514,568; 8,818,770; 8,542,880; 9,244,589; 9,329,749. Other Patents Pending.

Premium Report

06/09/2017

Report:

TABLE OF CONTENTS

Images .....................................................................1

Length Diagram .........................................................4

Pitch Diagram ............................................................5

Area Diagram ............................................................6

Notes Diagram..........................................................

...........................................................7

Penetrations Diagram...............................................

.................................................8

Report Summary.......................................................

........................................................9

MEASUREMENTS

Total Roof Area =467.95 sq m

Total Roof Facets =24

Predominant Pitch =45°

Number of Storeys >1

Total Ridges/Hips

=84.43 m

Total Valleys =17.07 m

Total Verges =14.63 m

Total Eaves =111.86 m

In this 3D model, facets appear as semi-transparent to reveal overhangs.

Total Penetrations

=14

Total Penetrations Perimeter = 34.75 m

Total Penetrations

Area = 9.48 sq m

321 King St.

London, A1 B2C

555-555-5555

Measurements provided bywww.eagleview.com

www.eagleview.com/Guarantee.aspx

International Corp. – All Rights Reserved – Covered by one or more of U.S. Patent Nos. 8,078,436; 8,145,578;

8,170,840; 8,209,152; 8,515,125; 8,825,454; 9,135,737; 8,670,961;

9,514,568; 8,818,770; 8,542,880; 9,244,589; 9,329,749. Other Patents Pending.

EAGLEVIEW IN FOCUS

The hi-res imagery that's

re-engineering roofing

By Kay Rose FIoR National Sales Director, EagleView.

If you're a roofing professional, imagine

how much easier your job would be if

you had a full overview of the roof even

before visiting the site.

Imagine if – with just a few clicks of

your mouse – you could order a full roof

measurement report that includes high-resolution

images and precise dimensions

of all the areas. Imagine being able to

order materials without the worry of

over- or under-ordering – no need to do

a "guesstimate and

add some" to cover

yourself.

EagleView ® makes

all of this a reality.

Established in the

US in 2008 and

launched in the UK

in November 2017,

the world's first-ever

remote aerial roof

LONDON

measurement service

COVERAGE

MAP

creates 3D models that

deliver highly accurate

and detailed roof

measurements.

Proven

technology

PREMIUM ROOF REPORT PREPARATION

HIGH RESOLUTION

At its core lies the

patented Pictometry ®

technology which

produces high-resolution

imagery

showing the fronts and sides of

buildings. Pictometry imagery

provides oblique perspectives

from 40 to 45-degree angles as

well as an overhead view.

These images are then stored

and, when an EagleView

roofing report is requested,

advanced algorithms and data

analytics are used to translate

them into a highly accurate

model of the property in

question. These models then

enable detailed structural

measurements to be derived –

including eaves, flashing, hips,

verges, ridges and valleys. The reports are

produced quickly – in a matter of hours –

and available in a variety of file formats.

TOTAL LINE LENGTHS

Ridges 30.48 m

Hips 53.95 m

Valleys 17.07 m

Verges 14.63 m

Reducing risk, saving time

Conducting a manual roof survey involves

time travelling to and from the site,

getting safe access to the roof and taking

measurements, and then further time to create

precise dimensional drawings. By replacing

this manual approach with an EagleView

PremiumReport , that time is freed up for

managing active contracts and pursuing new

leads. And, not only does an EagleView

11.1m

4.6m

8.6m

8.6m

4.6m

2.8m

1.8m

1.8m

1.8m

5.5m

3.2m

5.5m

3.4m

5.3m

5.9m

2.8m

8.2m

3.9m

2.8m

1.8m

3.1m

6.2m

6.6m

3.0m

6.6m

6.2m

9.8m

7.1m

6.3m

1.0m

3.8m

7.1m

4.9m

6.2m

5.6m

7.0m

6.2m

18.6m

4.9m

5.0m

2.0m

MATERIALS CALCULATION

10.1m

ROOF DIAGRAMS

Premium Report

06/09/2017

123 Main St., Tadworth, A1B2 C3D Report: 12345678

In this 3D model, facets appear as semi-transparent to reveal overhangs.

PREPARED FOR

Contact:

Company:

Exteriors Company

Address:

321 King St.

London, A1 B2C

Phone: 555-555-5555

TABLE OF CONTENTS

PremiumReport accelerate workflow, its

accuracy greatly reduces the risk of costly

material miscalculations.

Wider impact

Images .....................................................................1

Length Diagram .........................................................4

Pitch Diagram ............................................................5

REPORT PREPARATION IN PROGRESS

Area Diagram ............................................................6

Notes Diagram...........................................................7

Penetrations Diagram.................................................8

Report Summary........................................................9

TOTAL LINE LENGTHS

Eaves

111.86

MEASUREMENTS

Total Roof Area =467.95 sq m

Flashing 14.63 m

Total Roof Facets =24

Predominant Pitch =45° Step flash 26.21 m

Number of Storeys >1

Total Ridges/Hips =84.43 m

Parapets 38.10 m

Total Valleys =17.07 m

Total Verges =14.63 m

Total Eaves =111.86 m

Total Penetrations =14

Total Penetrations Perimeter = 34.75 m

Total Penetrations Area = 9.48 sq m

In the few years since EagleView was first

established in the US, it has become the

industry standard in aerial roof measurements.

Roofing contractors throughout North

America have quickly caught on to the

resource and safety benefits,

and increased number of

contracts they win by using

EagleView PremiumReports.

Insurance companies and

adjusters across the US have

also embraced EagleView

PremiumReports. In fact,

following the wildfires that

ravaged much of California

during December 2017,

EagleView captured and

delivered high-resolution

aerial images of the

devastation in San Diego

County so quickly that its

insurance carrier partners

were able to start viewing

and responding to areas

of severe need before the

residents had even returned

home.

First in the UK

The EagleView

PremiumReport is a ground-breaking

new offering, and there's nothing else

like it in the UK. It's currently available

for sites across London (within the

M25), and Bristol and other major

cities are following close behind. It's

a truly pioneering technology that

stands to benefit anyone involved in

the roofing industry. However, as with

any successful technology, it's the early

adopters that will gain a competitive

advantage.

To find out more about EagleView

Premium Reports go to eagleview.co.uk

or call 0800 069 8405.

CERTIFIED

ACCURATE
---
Construction Ambassadors

PERCEPTIONS AND ATTRACTING

THE NEXT GENERATION

Total Contractor talks to Sarah Spink, CEO of the LRWA, about her role as a Construction

Ambassador and attracting youngsters into roofing.

TC: What does your role as a Construction

Ambassador involve?

SS: Construction Ambassadors play a vital role in

supporting and promoting careers in the

construction industry.

A Construction Ambassador is someone who

inspires potential new entrants about the industry

and is able to convey what it's actually like to

work in construction. Very often they provide the

first introduction to the construction industry for

many young individuals who are considering their

future career choices. By reaching out to local

communities and highlighting the many fantastic

opportunities available within construction, they

can help to inspire the next generation of new

entrants at events such as careers fairs, provide

mock interviews and presentations.

TC: How did you get involved with this

initiative?

SS: I saw an advert for a construction

ambassador's course that was organised at

Roofing House. It is something that I am

passionate about so I signed up!

TC: The experience you've built up

throughout your career leading to your

current position as CEO of the LRWA must

be invaluable in the role as a Construction

Ambassador; are there Ambassadors from

all levels of the construction supply chain –

"The main thing we

need to do is enthuse

and start the

conversation about

roofing"

contractors, manufacturers,

surveyors etc.?

SS: On our course we had

product suppliers, roofing

contractors, operatives, and at

the careers fair I attended recently,

we had a training provider and large

Main Contractor, Eric Wright. All you need to be

able to do is talk to people of different ages – e.g

teenagers and parents – about construction and

the opportunities available.

"It was always

expected that you

remain in education.

Schools' attitudes have

changed for the better"

TC: How do the schools respond to you

approaching them to speak to the kids –

over the years I've heard of some

resistance to people from the roofing

sector getting in to schools to speak to the

children, the idea being that schools often

have a vested interest in keeping kids in

education – is this something you've ever

experienced or heard of?

SS: The schools actually request for a

Construction Ambassador to attend one of their

events and the invite gets sent to all the

ambassadors in the area by Go Construct. The

actual careers fair was then coordinated by the

Lancashire chamber of commerce for the recent

event I attended.

I think things have changed massively since I

was at school (mid-nineties), we never got a

chance to speak to people from local companies

about industry, it was always

expected that you remain in

education. Schools' attitudes

have changed for the better.

TC: What age groups are

you generally speaking to?

SS: Those in year 9 who are taking options

and year 11 school leavers.

TC: What sort of the response do you get

from the girls and boys?

SS: I was amazed at how many girls were open

minded and interested in talking to us! I think it

helped that there were females on the stand for

them to talk to. It was really great to see how

many girls said that their favourite subjects were

science and maths and that they would like to

look at opportunities in construction. We talked a

lot about the design side of construction with the

girls.

Many boys who came to the stand were more

practical and wanted to see what opportunities

were available, studying and earning whilst

gaining practical skills being the most appealing

option. There were also boys who were interested

in IT and what opportunities were available,

something that the industry needs to address

moving forward and BIM / off site manufacturing

may help.

Many parents were interested in the

apprenticeships available now, including higher

level apprenticeships and looking at alternative

career paths to university.

In all cases the Go Construct personality quiz and

roles in construction info were used to try to get

across the message that there are many areas of

construction that you can go into.

24 TC APRIL 2018
---
YOU MAY NOT NOTICE ALL THE

IMPROVEMENTS TO RAPID DRYVERGE

WHEN IT'S UP ON THE ROOF SO WE'VE

PUT THEM BELOW

• Improved interlocking design for added strength • New drainage channels to prevent streaking

• Improved aesthetics for cleaner, straighter lines on the roof

• 4 fi xing points for greater vertical and horizontal wind-loading resistance

• Performance meets BS 8612

Completely re-engineered using High Impact PolyStyrene, our new Rapid DryVerge comes

in two designs – to complement large format and thin leading edge tiles – and three

colours: Charcoal Grey, Slate Grey, and Rust. There's one thing you should notice on the

roof – it's even easier to fi t. Perhaps we should've called it Even More Rapid DryVerge.

Look up more at Redland.co.uk

Part of BMI GROUP

YOU'RE BETTER COVERED
---
Construction Ambassadors

TC: Are the children perhaps shocked and

excited by the variety of options and

different roles open to them that they

perhaps didn't know about?

SS: They're amazed, I think a lot of people

literally think that you have to work outside on

site to be in construction.

TC: When I was at school, the idea of a

career working with my hands, being part of

building something was quite exciting and

appealed to a number of my class mates

who went on to forge successful careers in

the construction sector; but with reality TV,

social media and the digital environment

children grow up with today, do you think

the perceived career of working outdoors in

all weathers on construction sites puts too

many children off?

SS: Yes, I do believe that it can put off a lot of

kids, which is why we need the message to get

out there that construction can offer a variety of

roles because the skills shortage is across the

industry. We need good technical people,

estimators, etc.

Come what may we need a variety of skills for the

industry to thrive, we need to appeal to a broader

audience.

Interestingly, one of the busiest stands at the

recent event I attended had a bricklaying

competition. This was very heartening.

TC: Do you think some parents need

educating about the benefits a career in

roofing / construction could offer their

children? Is there still may be a bit of

misplaced snobbery on behalf of some

parents?

SS: I think that there could be. The parents I have

spoken to have all been pretty open minded, but

what about the ones I didn't speak to? It was

great to speak to a teacher who was attending

with her son who said that due to tuition fees now

she would think twice about going to university,

and she was impressed by the many

opportunities there were to get into construction

and progress a career path with minimal debt. In

that instance I think it did help to have a large

local main contractor talking about career

progression within Eric Wright.

TC: The Construction Ambassador

initiative seems like a great tool to help

change the outdated perceptions of a

career in roofing – are we winning the

battle to present roofing as viable option

for school leavers?

SS: Not yet. I believe that we are at the start and

that every roofing contractor, main contractor, and

manufacturer should be getting involved with

their local schools via the Construction

Ambassador programme to talk to kids about

construction. Very few of us at that age had a full

picture of the opportunities available.

This is also an easy way to find apprentices,

because many of the kids we spoke to were

interested in current job opportunities. We

directed them to the Government apprenticeship

website (https://www.gov.uk/applyapprenticeship)

where they are all listed.

TC: Those that work in the roofing sector

are well aware of the brilliant work and

fantastic opportunities a career in this

industry can offer. Do we perhaps have to

get better at letting those on the outside

know more about it? If so, how can we do

this?

SS: Yes we do. Go Construct is the best way of

doing it and getting all areas of roofing involved in

their local community. Many people start in the

manufacturer's side of construction and then go

into roof contracting and vice versa. I have known

people start as building surveyors and move into

roof contracting or working for manufacturers. I

started as a marketer at a large manufacturer

with a post graduate qualification in international

marketing, then went into a technical product role

and now run a trade association in roofing. I fell

into roofing, but I truly love it.

The main thing we need to do is enthuse and

start the conversation about roofing and how

amazing the industry is.

TC: If any of our readers are interested in

becoming a Construction Ambassador,

how do they go about this?

SS: Apply online at www.goconstruct.org or watch

out for industry training events that are being

organised. A course was organised before the

recent Women In Roofing Conference which was

well attended.

In my role for LRWA, I will be promoting this as

well to members.

The route for children leaving school can often be confusing, but the more that consider a career in roofing, the better

Contact the LRWA

0207 448 3859

www.lrwa.org.uk

@LRWAssociation

26 TC APRIL 2018
---
Go Further with SupaLite

SupaLite design &

manufacture more

than just roofs?

It's true, we are the market leader in lightweight replacement

conservatory roofs, but we are experts in much more.

Our revolutionary FLAT ROOF ORANGERY is installed within

hours with amazing thermal properties. Our LANTERNS are the

most stylish available, and our VERANDAS are proving to be a

very popular and extremely flexible choice.

U-Value

as low as

0.15

W/m 2 K

SupaLite Tiled Roofs

Flat Roof Orangeries

Modular

Design

Lanterns

Elegant Verandas

Every SupaLite product

is precision made to

ensure a perfect fit for

any configuration.

BUILDING CONTROL

SupaLite will optionally facilitate building control on your behalf

ENERGY EFFICIENT

Designed for ultimate performance

TRIED & TESTED

10 year guarantee as standard

01772 82 80 60

www.supaliteroof.co.uk
---
Training Focus

SKILLED-UP ROOFERS

Philip Fergusson, Managing Director of National Construction Training Services (NCTS),

looks at workmanship in the roofing trade and the importance of education in proper

installation techniques specific to the roof being installed.

he causes of roof failure are as varied as

they are destructive – everything from wind

uplift damage to inappropriate design,

faulty materials to poor flashing details – but one

thing is for certain, if a roof is to withstand the

worst of the UK weather in the ensuing years,

then the quality of workmanship is absolutely

vital for the long-term performance of any new

roofing system.

In a marketplace filled with a wide array of types

and styles of roofing, whichever solution is

specified needs to look good both at the time of

installation and for years to come. While the

chosen material plays a huge part in the longevity

of a roof, so do the skills and training of the roofer

to ensure it is installed to the highest standards

expected within the construction industry.

A place in history

They have been a feature of British homes since

the early 1800s, but the distinctive red finish of

clay tiles has ensured its place as a roofing

stalwart. Slate is also steeped in history, and is

favoured as the solution of choice for many roofs

across the country due to its class and elegance.

Like clay, slate is a traditional product that can be

costly but it should always be sorted, graded and

installed by experienced contractors.

One of the most common materials used to

manufacture tiles in the UK, concrete is often the

solution of choice for many when it comes to

roofing as it is low maintenance, long-lasting and

affordable. While concrete tiles offer considerable

benefits, they are also heavy, breakable and

prone to weathering.

When it comes to training in the application of

clay, slate and concrete tiles, the Roof Slate & Tile

NVQ Level 2 offers the opportunity to qualify

experienced staff through the On Site Assessment

and Training (OSAT) programme.

In addition, a Specialist

Apprenticeship

Programme (SAP)

combines block

training and on-site

training with an

employer to

demonstrate the

practical and theory

skills to installing slate

and tiles to a high standard.

"Skills and training

are vital for anyone

wanting to stay ahead

of the game – the

quality of a roofing

system is only as good

as the installation"

The world of metal

Traditional hard metals including copper, zinc,

stainless steel and aluminium offer exceptional

longevity and are lightweight compared to tiles.

Lead is a softer metal that has also been used

over the centuries, and can still be seen today in

good condition on many heritage sites.

NVQ2 and NVQ3 in Traditional Metal Roofing and

the FTMRC (Federation of Traditional Metal

Roofing Contractors) Craft Development Courses,

all provide modules which educate and instil best

practice in the installation of these traditional

hard metals for roof sheeting and cladding.

Flat out

A flat roof offers design versatility, affordability,

flexibility and a number of options in terms of

roofing materials including felt,

asphalt, single ply and liquid.

Extremely durable and

designed to survive the

elements, the

application of a flat

roofing system is

complex but achievable

with the appropriate

training, experience and

safety precautions.

Training for an NVQ level 2 for flat

roofs includes demonstrating skills relating

to installing built-up bituminous roof coverings,

repairs and maintenance.

Roofs are in the frontline every day, and while it's

important that a roofing material can withstand

anything that Mother Nature throws at it, the

lifespan of the roof will be shortened if it's poorly

installed in the first place. Skills and training are

vital for anyone wanting to stay ahead of the

game. After all, the quality of a roofing system is

only as good as the quality of its installation.

About NCTS

NCTS is a provider of training for the roofing

industry. We are dedicated to ensuring an

outstanding level of training across the many

roofing disciplines in metal, flat and pitched

roofing. Working with roofing federations, roofing

training groups, manufacturers and employers

from across the industry, we can offer a variety of

comprehensive training courses designed to fit

with your needs, no matter your level of skill.

Contact NCTS

01480 501011

www.ncts.org.uk

@NCTS_2017

28 TC APRIL 2018
---
LEVATO MONO

Porcelain paver system

and coordinating internal tiling

The Deck Tile Co's new website www.surface360.co.uk now has +150 colours and

finishes in their Levato Mono 20mm porcelain ranges plus co-ordinating internal tiling –

enabling seamless visual transition between internal and external spaces.

20mm porcelain pavers 40x80 45x90 60x60 75x75 80x80 30x120

40x120 60x120

'Floating floor' – installation over single ply membranes

Eternal product - zero maintenance required – offering massive overlife

savings

Highly abrasion and stain resistant

Highly slip resistant ; R11 AB+C

Lightweight – 45kgs per m 2

High load bearing and impact resistance

Timber, stone & cementitious effects

Completely non porous

Ideal for balconies, roof terraces and piazzas, for both commercial and

residential use

Frost proof

Height adjustable/slope correcting support system ranging from 9mm

up to 550mm

INTRODUCING OUR NEW WEBSITE:

WWW.SURFACE360.CO.UK
---
UK Roofing Awards 2018

IT'S ALMOST AWARDS SEASON...

With the UK Roofing Awards – sponsored by SIG Roofing – just around the corner,

Total Contractor takes a look at which projects have been shortlisted as finalists...

The finalists for the 2018 UK Roofing

Awards have been announced, with the

judges bringing together a shortlist of

projects which they say incorporates "beautiful

structures, outstanding workmanship, superior

problem solving, environmental qualities plus

provide a positive contribution to the built

environment."

The shortlisted projects in each category are:

Small Scale Project (Under £25k):

•The Little Chapel – Polyroof working with Sarnian

Roofing

•Richmond Road – Longworth Building Services

•Rose Cottage – Polyroof working with Cure Roofing

•Imagine, 126 Panorama Road – Eclipse Roofing &

Waterproofing

Large Scale Project (Over £250k):

•NHS Dumfries & Galloway Royal Infirmary –

Longworth Building Services

•55 Colmore Row – NRA Roofing and Flooring

Services

•New Bracken House – Partnering Contractors

Roofing

•Urmston Grammar School – Allied Roofing &

Construction

Innovation Award – Sponsored by

EagleView:

•Lloyd BMW car park – BriggsAmasco

•Clapham Park – Bauder working with E J

Roberts Roofing

•Oat Errish Farm – DANOSA UK working with

County Flat Roofing UK

•Dylon Works – Axter with Tilbury Contracts

Reinforced Bitumen Membranes:

•Highgate Wood School – IKO PLC working with

Russell Trew

•MTV Studios – M&J Group

•Girdlestone Estate – Langley Waterproofing

Systems working with Opus Waterproofing

Solutions

•Lacy House – Richard Soan Roofing Services

Liquid Applied Waterproofing & Hot-Melt:

•The Little Chapel – Polyroof working with

Sarnian Roofing

•Lancaster University Chaplaincy – Sika Liquid

Plastics working with Permicoat

•Rochdale Exchange Car Park – Everlast Group

•Bloomberg London – Prater working with

Radmat Building Products

Mastic Asphalt:

•St Paul's Cathedral – IKO PLC working with

Sussex Asphalte

•Bodiam Castle – North West Tower – Sussex

Asphalte

•Hurst Castle – IKO PLC working with Infallible

Systems

•New Covent Garden Market – BriggsAmasco

Fully Supported Metal:

•Royal Victoria Pavilion – Full Metal Jacket

•The Bund – Longworth Building Services

•NHS Dumfries and Galloway Royal Infirmary –

Longworth Building Services

•Lawn Tennis Association – Richardson Roofing

Sheeting & Cladding / Rainscreen:

•Liverpool Life Sciences Accelerator - Longworth

Building Services

•Fenwick Bracknell – Prater working with Bailey

Total Building Envelope

•Furness General Hospital Maternity Unit – MAC

Roofing & Contracting

•Hungerford Fire Station – Malone Roofing

(Newbury)

Lead Roofing – Sponsored by Chandlers

Roofing Supplies:

•British Museum – Islamic Galleries – Full Metal

Jacket

•55 Colmore Row – NRA Roofing and Flooring

Services

•Lawrence Sheriff School Clifton – NRA Roofing

and Flooring Services

•Canterbury Cathedral – The Old Library –

Clarke Roofing Southern

Heritage Roofing – Sponsored by Klober:

•The Retreat – Geoff Neal (Roofing)

•Tredegar House – Ellis and Company

(Restoration and Building)

30 TC APRIL 2018
---
•LLwyn Celyn – Rowlands Roofing

•St Peters Hamsey – Clarke Roofing Southern

Green Roofing:

•Clapham Park – Bauder working with E J

Roberts Roofing

•Fjordhus – Isle of Harris – Bridgman and

Bridgman LLP

•The World War II Decoy Bunker – Alumasc

Roofing Systems working with Span Roofing

Contractors

•Chester Bus Station – Alumasc Roofing

Systems working with Blackdown Greenroofs

Single Ply Roofing:

•Royal Russell School – DANOSA UK working

with Industrial Construction (Sussex)

•Alderley Edge School for Girls – Gymnasium –

Richmond Roofing Single Ply

•Scoil Phadraig – Bauder working with Priority

Roofing & Cladding

•Hawthorns Care Home – Ithaca Roofing

Roof Slating:

•Marshals Yard Development – Claude N Smith

•Sion Cottage Marford – Greenough & Sons

Roofing Contractors

•Grade II* Listed Building – Anderson Roofing

Services

•The Boathouse – Stormforce Roofing &

Maintenance

Roof Tiling – Sponsored by ECIC:

•Shettleston New Parish Church – Redland

working with DM Roofing and Roughcasting

•Donisthorpe Primary School – M&J Group

James Talman, Chief Executive of the NFRC, explained: "This year the

standard of entries was exceptional and the judges had a very hard time

whittling it down to create this spectacular shortlist.

"Our congratulations go to each and every one of those finalists who

should be proud of their achievement. We have some extremely talented,

dedicated and ambitious roofing professionals in the UK, and this goes

some way towards highlighting their achievements and showcasing best

practice and quality in the sector.

"We would like to wish everyone the very best of luck for the finals."

The National Federation of Roofing

Contractors (NFRC), the host of the awards,

has teamed up with headline sponsor SIG

Roofing to celebrate all the good things that

roofing contractors do to help their local

communities and charities.

Janine Brady, SIG Roofing's Marketing Manager,

said that the UK Roofing Awards excel when it

comes to showcasing projects that genuinely

demonstrate the very best of roofing, including

elements such as aesthetics, problem-solving,

health and safety, workmanship and

environmental standards.

However, she believes there is an opportunity to

recognise some of the great achievements of the

roofing community that often go unheard.

"As the leading specialist supplier of roofing and

services, the staff in our branches get to hear

about some of the fantastic things that their

roofing contractor customers get up to that so

often get overlooked," explained Janine.

James Talman, CEO of

the NFRC

DO YOU KNOW AN

'UNSUNG HERO?'

something we really want to help draw attention

to and celebrate. And what better place to do it

than at the UK Roofing Awards, one of the

pinnacles of the roofing year?

"The Local Hero Award will bring an extra

dimension to the awards and will allow us to

showcase both the excellent standards of roofing

projects completed each year and the way roofers

work so hard to help those in need."

Amanda Brackey, Head of Marketing and

Communications at the NFRC, commented: "It's

important that the UK Roofing Awards continually

evolve to reflect the achievements of the industry,

and a key part of that is listening to our partners,

who have some great ideas to continue making

the awards relevant to our sector.

"SIG Roofing has been the headline sponsor for

more than ten years and it's a testament to their

commitment and the roofing community working

together that these awards keep going from

strength to strength."

•Gorse Hill Infants & Junior School – Davis

Roofing

•Fair Mile Chapel – Bracknell Roofing.

The winners will be announced at a gala awards

luncheon – hosted by Dan Walker – on Friday

11th May 2018 at the Park Plaza Westminster

Bridge Hotel.

"They hear about contractors raising money for

charities and other good causes, about those who

give up their spare time to work on community

projects or to help young people and those in

need.

"There are a lot of excellent people working in

roofing that do a lot of good things and that is

To nominate a local hero visit:

www.sigroofing.co.uk/local-hero. The closing date

for nominations is April 20th.

Find out more about the UK Roofing Awards 2018

www.nfrc.co.uk/uk-roofing-awards/

@UKRoofingAwards

APRIL 2018 TC 31
---
Dormer Windows

GET YOUR DORMER DETAILS RIGHT

The Technical Team at Marley Eternit explain how to get the key details for valleys and side

abutments correct and ensure your dormer window installation is right first time.

Dormer windows are becoming increasingly

popular as a way of increasing usable

space in the loft, as well as to create

more visually interesting roof designs. There are

many different types of dormer, ranging from the

most common gable fronted, through to hip

dormers and the more specialist eyebrow dormer.

For roofing contractors, each dormer will require

its own particular detailing, depending on roofing

material, location and how it is framed. However,

most dormers will include common roof details

such as valleys, side abutments, eaves, ridges or

cloak verges.

Here, we focus specifically on design details for

valleys and side abutments, using clay plain tiles

as an example.

Valleys

Most dormers create valleys on either side; this

means a higher volume of water runs through

them as they are collecting the rainwater from the

two roof slopes. Therefore flashing and

weathering is very important.

The following design steps should be followed:

1 - The width of an open valley trough should be

determined in accordance with BS 5534, which

takes into account the volume of rainwater at

specified flow rates draining from plan areas and

roof pitches.

2 - When designing the valley construction, it is

important to set the timber boards for valley

linings and troughs on noggings between the

rafters, so that the face is flush with the top of

the adjacent rafters.

3 - The width of the boards needs to be wider than

the determined valley width, to accommodate the

ends of the slating or tiling battens and any tilting

fillets used for metal valley linings.

Below: Detailing – Curved clay valleys

265 x 165mm

Marley Eternit Clay Plain Tile

H60/120

Marley Eternit Curved Valley Tiles

H60/630

Tiling Batten

H60/245

Underlay batten

H60/240

Timber valley board, 4mm ply lining

H71/630

G20/311/770

4 - Valleys for clay plain tile dormers can be

created using lead, a GRP dry valley system or

purpose made clay valley tiles (for pitches 30-50

degrees) – see detailing diagrams above.

Side abutments

Some dormer windows will also feature side

abutments. An abutment occurs where the edge

of the roof slope meets a wall that rises above it.

Normally, on a side abutment, this is at right

angles to the eaves or ridge.

1 - It is best practice to ensure that rainwater

runs away from a side abutment, but where this

is not possible, an inclined valley should be

created which is designed to cater for the water

flow. These should be formed with a suitable

flashing, usually lead soakers, which can provide

the required weather protection and accommodate

any thermal movement that may occur.

2 - Cavity trays and dpcs in the masonry wall

should be designed so that they allow any

flashings to be inserted below them, thereby

maintaining their weatherproofing function.

3 - Side abutments using flat tiles and slates are

particularly vulnerable to wind driven rain, and

should therefore be designed with secret gutters

and / or soakers and cover flashings, which

provide suitable protection.

Further design detailing for ridges, eaves and

cloak verges is available at

www.marleyeternit.co.uk

Below: Detailing – GRP Valley

265 x 165mm

Marley Eternit Clay Plain Tile

H60/120

265 x 248mm

Marley Eternit Clay Plain Tile-anda-half

tile. H60/120

Tile-and-a-half-tile cut to angle

of the valley

Tiling batten. H60/245

Underlay

G20/311/770

Marley Eternit GRP dry valley

trough, low profile. Code

30422). H65/606

Timber valley board, 4mm ply lining

H71/606

G20/311/770

Below: Design detailing – side abutment with clay plain tiles

265 x 165mm

Marley Eternit Clay Plain Tile

H60/120

Code 4 stepped lead cover flashing

H71/310

Code 3 lead soakers

Tiling batten. H60/245

265 x 248mm

Marley Eternit Clay Plain Tile & Half Tile

Underlay. H60/240

General advice on tiling dormers

When it comes to flashing and weathering, tiled

dormer roofs should be treated in a similar way to

the main roof work. However, single lap tiling is

less suitable for small covered areas and for a

dormer, it is generally preferable to adopt an

alternative form of covering.

If dormer cheeks are tile hung, close cut vertical

tiles to rake of roof over a flashing fixed to side of

dormer and dress well into the adjacent tiles.

A special note on eyebrow dormers

Eyebrow dormers feature a curved roof and

usually require highly skilled roofing expertise. As

the tiles often reduce in pitch, they sometimes

need a functional sub roof with the tiles just used

for aesthetic purposes.

With this type of dormer, the transition between

eyebrow and the rest of the roof should be

regarded as a valley and precautions should be

taken (see above) to prevent water leaks.

Contact Marley Eternit's Technical Team

01283 722588

www.marleyeternit.co.uk

@MarleyEternit

32 TC APRIL 2018
---
Whatever your flat roofing requirement,

you will be safe in the knowledge that a

RubberBond FleeceBack installation will

provide you with the highest quality,

long term flat roofing solution.

n Strength of FleeceBack Single Ply EPDM

n Speed of Factory Applied Tape

n Clean - No mixing of chemicals or liquids

n Versatile - Install on new build or

refurbishment projects

n Smooth, slate grey finish

n Simple application - No heat or welding

Contact us for:

Contractor training or to

request your sample pack.

Tel: 01494 448792

Email: enq@flex-r.co.uk

Flat Roofing Solutions
---
Slate Roofing

FROM QUARRY TO SITE INSTALL

Natural slate has a rigorous production process to ensure the high quality and beautiful

product that we see on many different roofs all over the world. Here, Julian Gomez, Director

of Marketing at CUPA PIZARRAS, explains each factor involved in producing and delivering

the versatile material, plus offers some top tips to roofing contractors installing the product.

Initially, the process begins with the deposit

phase. This is the exploitation process that

begins once the geological, mineral and

geotechnical surveys have been completed.

Alongside this, critical prospection work and

sample testing also take place to determine the

precise quality of the slate and the potential

reserves of the deposit.

There are two exploitation systems, which are

open quarries and underground mines. Frequent

tests are carried out during the life of the

exploitation and always have the intent to prepare

for the future of the quarry or mine. This helps to

guarantee an ongoing supply of the highest

quality slate.

The second stage is the extraction procedure,

which begins after completing the disassembly

operations. The natural slate is then extracted in

large blocks that are cut with a diamond blade.

The blocks are then taken to the processing plant

where water is used as a coolant and base

material for removing rubble. This highlights the

environmentally friendliness of the product, as

the water used for this is then recycled and

purified to prevent it from being wasted.

Next is the processing phase – this aspect is

crucial, and the slate goes through three stages in

this part of the process prior to being packaged.

This includes sawing, to cut the slate from the

large blocks to the correct size, and shaping,

which involves cutting the blocks by hand into

sheets. Water issued here ensures blocks do not

dry out. Lastly, each slate corner is bevelled to

facilitate the passage of water over the slate once

in place on the roof.

The final stage at the CUPA PIZARRAS warehouse

in Spain is the packaging stage, where

all the slates are placed on wooden

pallets for delivery after being

counted and packaged up

securely. Each pallet will have a

label that displays every precise

detail about the slate being sent,

including the quarry it originated from,

slate format and the results of trials performed on

the product. This is a unique personalised process

for the customer, and the tracking barcodes on

packages can also ensure a quick and safe delivery.

Full traceability

Roofing contractors should be aware of the

importance of traceability. In the case of CUPA

PIZARRAS for example, there are no label changes

and the slate is never rebranded by importers.

Thus, when the roofer chooses the slate he

wants, he receives this exact slate. In

comparison, other brands sometimes offer

products dependent on availability, meaning that

the roofer is 'blind' to what they receive. The

feature of full traceability ensures that if a roof

needs to be replaced or fixed in the future, the

exact slate that was used can be used again by

tracing back the order.

Sorting

When slate pallets arrive on site, the slates

should be sorted into their different levels of

thickness, and roofing contractors should note

that the slates are laid on the long side with

battens between the layers. Safety and quality

control must also be carried out through a range

of tests such as checking for any imperfections

and tapping each slate to examine and establish

overall soundness and depth.

Julian Gomez, Director of Marketing at

CUPA PIZARRAS

Fixing

The installation can finally start

after all slates have been

securely and properly tested. The

two methods of nailing and hook

fixing are the most common and are

preferred by many roofing contractors, but it is

always important to have a good understanding of

them both. For the nailing technique, CUPA

PIZARRAS can supply slates pre-holed for

convenience.

Installation can start once all slates have been securely and

properly tested

The journey that slate undertakes from quarry to

roof is an extensive and detailed one, but this

ensures that the highest quality product is

created from the deposit, exploitation, extraction

and processing phases. On the construction site,

the roofing contractors need to be thorough with

quality control, and then the installation can be

equally as sound. Despite the amount of work

involved here, all of these aspects are carried out

at no harm to the environment, which is an

advantage to all involved.

Contact CUPA PIZARRAS

01312 253 111

www.cupapizarras.com/uk

@CUPAPIZARRAS_en

34 TC APRIL 2018
---
Standard

CitiDeck

AntiSlipPlus

Take FireSafeit as Red

Red

Fully Graded Roofing Battens

The new British Standard for the design, materials, application, installation and performance of slates,

tiles, shingles and shakes is clear: roofing battens must be graded to BS 5534.

This means that battens delivered to site should be graded and marked in accordance with the new

standard and have supporting documentation.

There's no grey area on BS 5534, so take it as Red that roofing battens from Marley Eternit are

fully compliant.

For more information or to request a brochure:

Call 01283 722588 or visit marleyeternit.co.uk/timber
---
An Inspector Calls

STORAGE OF MATERIALS ON SITE

In a new, regular monthly column – 'An Inspector Calls' – Total Contractor has teamed up

with the experts at Icopal to help you achieve roofing success and avoid the common pitfalls

that can often cost you both time and money.

This month the Inspector takes a look at

the issue of incorrect material storage:

Incorrect storage of materials is a common issue

in the industry and it can have a negative impact

on a project's success from both short and long

term perspectives. Materials are often delivered to

a project in its early stages and it is therefore

essential that they are stored in the correct manner

to ensure they perform to their maximum potential,

and to achieve trouble-free installation.

Storage on sites can be limited and storage space

may come at a premium. However, it is

paramount to the project's success that

materials are at least stored correctly. Arguably

the most important issue is keeping them dry.

Although many products are used for building

protection, some cannot fulfill this role until they

are actually installed. Simply because a product is

considered 'waterproof' does not necessarily mean

it is suitable to be left exposed to the elements

prior to its application without any consequence.

Many materials have natural waterproofing

properties but they may still have the ability to

absorb or retain moisture prior to being installed.

This can then become a problem if the moisture

becomes trapped within the system following the

product's application. Trapped moisture within a

membrane can lead to a number of issues such as

blistering, lap breaches and insufficient bond

strengths.

Additionally, some products, such as insulation,

"Just remember,

correct storage is the

first step to success"

will become unusable should

they be exposed to moisture

(see pic, right). This will

reduce the product's ability

to perform as intended from

a thermal perspective and the

material will retain this moisture,

again trapping it within the newly

installed waterproofing system. Although

insulation, along with a number of other products,

may be supplied in shrink-wrap, this is not a

reliable protection method when delivered to site.

Shrink-wrapping is only used to protect the

materials in transit, and the safe and correct

storage of materials, once it reaches its

destination, lies solely with the contractor.

"Wet insulation should

be disposed of

immediately and

should not in any

circumstances be used

on a project"

Wet insulation should be disposed of immediately

and should not in any circumstances be used on

a project. With the increase of insulation material

costs across the industry, it is in everybody's

interest to ensure the product is kept dry and stored

correctly. The last thing any contractor wants is to

incur additional costs in replacement materials.

Moisture retention in membranes may not be

visible to the naked eye, so it's difficult to tell if

the product has retained any moisture during its

exposure. The product may well be installed with

no sign of compromise. However, defects could

become evident months after installation as the

trapped moisture expands and

contracts through UV

exposure and temperature

variation. This can lead to

blistering and the resulting

pressure could affect the

integrity of the membrane's side

and head laps. The project could then

suffer aesthetically and the contractor could suffer

financially having to carry out repairs, something

that could have been avoided had the materials

been stored correctly at the start.

It is also important that materials are stored at

the correct temperature and out of direct sunlight.

For example, some bitumen-based products can

soften if left exposed to UV and left out in high

temperatures, so they should be sheltered from

heat and potential solar gain. In contrast, some

products, such as cold applied liquids, must be

stored above certain temperatures to ensure they

can be installed without any compromise to their

performance.

Product literature and labelling will always give

recommended storage guidance.

Ideally, all products should be safely stored in a

container or at least in a dry and cool place.

When space is unavailable, the minimum

requirement would be to store the materials off

the ground and covered with a suitable temporary

protection measure such as a tarpaulin or similar.

Just remember, correct storage is the first step to

success.

Contact Icopal's Technical Team

0161 865 4444

www.icopal.co.uk

@Icopal_UK

36 TC APRIL 2018
---
HIGH PERFORMANCE LIQUID

WATERPROOFING SYSTEM

BENEFITS & PRODUCT

INFORMATION

BBA certified for life in excess of 25 years.

NHBC and Green Roof Approval.

ULTRAFLEX can be used on new or existing

roofs, walkways, balconies, gutters etc.

Ready to use straight out of the tin, application

with solvent resistant roller.

Use fully reinforced with ULTRAFLEX matting

ensures easy 'wet on wet' application.

Can be used all year round – moisture curing.

Fully trafficable when cured.

Instantly rain resistant after application.

Once installed, forms a seamless membrane.

Exellent adhesion to different substrates: plywood,

bitumen membranes, asphalt, metals,

brick, concrete, wood etc.

Fresh concrete must be cured for 28 days.

On EPDM and TPO it is recommended to install

patch test to check compatibility.

Do not use silicone sealants. Always use PU

based mastics.
---
Single-Ply Systems

A GUIDE TO CORRECT INSTALLATION

By Steve Hatcher, Field Technician at Sika

When considering single-ply membranes

for a roofing application, many things

need to be taken into account: is the

roof an exposed application? Is it a ballasted or

green roof? Is it heavily trafficked or even a

situation where the aesthetics are the most

important factor? Choosing the right membrane

and roofing system for the right application is the

first most important step. Within Sika-Trocal there

are different membrane types to suit all of these

applications, but it is important to choose the

right one as the substrate can also determine the

type of roof system.

Secondly, you can become a Sika-Trocal licensed

contractor once you have trained at our academy.

Sign-off inspections take place on site before

guarantees are issued, reassuring clients that the

products are being installed correctly and by

trained contractors.

Watertight at once

Once on site, the first step for the roofing

contractor is to install the VCL. This is primarily

installed to restrict the amount of moisture

"Nothing should be

taken for granted when

it comes to their

installation in order to

guarantee long-term

performance"

vapour being transmitted into the roof

construction from inside the building. Depending

on the type of system used, this may be a looselaid

VCL or a fully-adhered VCL. It might be that a

fully-adhered vapour barrier such as Sika Trocal's

SVap 5000E may be installed in order to make the

building watertight as quickly as possible so that

work can commence internally.

Whichever type is used, it is important that it is

fully-sealed at all laps, perimeters and

penetrations before the insulation is installed to

ensure it also acts as an appropriate air barrier

Next is the insulation. This can either be a flat

insulation board or a tapered system and will

have different methods of attachment. BS 6229 –

flat roofs with continuously supported coverings –

is the head code for the design of roofs and

states all roof falls should be designed to achieve

a minimum finished fall of 1:80. This can either

be in the roof construction or within the

insulation. The thickness of the insulation will

depend on the results of the thermal calculations

carried out on the building and will need to

achieve the necessary U-value, as required by

Building Regulations. This is used to limit the

amount of heat loss from the building and reduce

carbon emissions. Compatibility with the roofing

system also needs to be considered, with some

insulation being designed for mechanical

fastening systems, and others for adhered

applications. Insulation requiring mechanical

fastening will most likely now use thermallybroken

fasteners in order to reduce the amount of

cold bridging caused by the fasteners, thus

reducing the thickness of insulation required.

Select for success

Choosing the correct single-ply membrane also

depends on a number of factors. A mechanicallyfastened

system may be used on a large roof area

for speed of installation, such as the Sika-Trocal

Type 'S' system, where fasteners restrain both the

membrane and the insulation in a single fix. If an

application has a concrete substrate then an

adhered membrane such as Sika-Trocal Type SGK

could be used to limit the amount of mechanical

fastening into the concrete. It may be a feature

roof such as a barrel-style roof, again where

adhered Sika-Trocal type SGK could be used

where the aesthetics of the roofing system are

very important. Ballasted or green roofs – as

stated – have their own dedicated membrane in

the Sika range with Sika-Trocal type SGmA.

Once the membrane is installed it is then time to

seal the laps to make it watertight. This is

38 TC APRIL 2018
---
normally achieved through heat welding with

most single-ply systems, but with Sika-Trocal

membranes this is also usually carried out with

solvent welding, making the process much

quicker and more efficient. In all situations, a

wind uplift calculation will need to be carried out

to determine the number of fasteners required, or

to establish if it is safe to install an adhered

system. Sika-Trocal licensed contractors can log

into the Sika-Trocal web-based programme where

they can generate their own wind uplift

calculations, all in accordance with the latest

European codes of practice.

Good outlets

Sika-Trocal single-ply membranes, especially the

mechanically-fastened type S system, will use

membrane-laminated profile metals at all

perimeters and change of angles within the

roofing system to restrain the membrane. Again,

these should be designed in accordance with BS

6229, therefore at upstand junctions the

minimum height should be 150mm above finish

roof surface. Once the main roof is complete, the

outlets and any penetrations can be completed.

Roof outlets will normally be supplied in rigid PVC

so the membrane can be fully-welded to these in

the same way as the laps of the membrane,

creating a watertight seal. Penetrations can also

be detailed using rigid PVC units or Sika-Trocal

"A wind uplift

calculation will need to

be carried out to

determine the number

of fasteners required,

or to establish if it is

safe to install an

adhered system"

laminated metals formed to suit the size and

shape of the detail. Standard UPVC pipes –

such as SVP pipes – can be detailed using

single-ply membrane and fully-welded to

ensure they are watertight. Any services or

freestanding plant that is to be located on the

roof surface will need sacrificial protection

layers installed to ensure the roofing membrane

is protected and to ensure there are no issues

with compatibility with the support feet and

pads of the units, plus the roofing membrane

itself.

The final step

To complete the roof, it may be required to install

a slip-resistant walkway in order to protect the

roofing system or keep foot traffic to a safe area

of the roof. These can be fully-welded to the

roofing systems, using various thicknesses such

as Sika-Trocal WBP20 or the HD walkway for

more frequent foot traffic.

Further items, such as lightning conductor

systems, are available using semi-rigid PVC

pads that simply weld down to the roofing sheets

at the required centres, making a very quick and

simple method of attachment. Fall arrest

systems are also manufactured using PVC

coated units in order to be fully-sealed to the

roofing membranes, again providing an easy

application.

Single-ply membranes are increasingly seen as a

simple, modern solution for the watertight

protection of a range of roofing applications.

However, nothing should be taken for granted

when it comes to their installation in order to

guarantee long-term performance.

Hopefully, this guide helps highlight a number of

seemingly smaller details which should be fullyaddressed

to ensure a single-ply membrane lives

up to its billing as the quality, roofing solution for

today and years to come.

Contact Sika-Trocal

01707 394444

gbr.sika-trocal.sika.com

@SikaTrocal

APRIL 2018 TC 39
---
Single-Ply Systems

MORE THAN ONE SOLUTION...

By Dave Maginnis, Managing Director at BriggsAmasco

Whatever the project, whether it be the

design of a new road system or putting

together a team of staff to implement a

change of working practice, its success relies

upon putting the right people and procedures in

place. This takes good planning; doing the

necessary homework to ensure potential

challenges can be overcome with the skills and

solutions at your disposal. The same thorough,

strategical process should be employed when

selecting a single-ply roof to guarantee reliable,

long-term performance. Matching the right

membrane with the right application will go a long

way to achieving that target.

Single-ply roofing, comprising one layer of roof

waterproofing, offers many benefits to the

installer and end user, which is why for three

decades it has been regarded as a modern

waterproof solution.

Quick and easy to apply with the potential to

prefabricate, the issues regarding the

membrane's durability when it was introduced to

the market in the 1960s have long since been

overcome. It's resulted in a high-performance,

long-term roofing system that is a perfect fit for

21st century building needs.

For installers, single-ply roofing's strength lies in

its flexibility. The clean, lightweight membranes

can be used for a range of applications. Flat or

pitched roofs, barrelled, vaulted or vertical

surfaces, single-ply is a waterproof solution for

commercial and domestic projects large or small,

simple or complex.

"Matching the right

membrane with the

right application will

go a long way to

achieving that target"

"Single-ply roofing has

many benefits, but

perhaps the most

obvious to the

bystander or passer-by

is the aesthetic quality

it brings to buildings"

Popular choice

PVC or TPW is a widely-used single-ply option,

and one which BriggsAmasco has successfully

employed in all manner of situations since the

system's commercial availability. Polymer

membranes are joined and detailed using hot air

welding. As with all single-ply materials, the

membranes are cold-applied. This eliminates the

need for hot work certificates and results in an

installation that is safer than other traditional

roofing methods. PVC membranes are strong and

flexible, with a life expectancy of 30 years or

more. Available in a range of colours to suit the

end user's aesthetic tastes, their adaptability

enables the introduction of additional works such

as walkways, which allow for the easy completion

of inspections or site visits. This feature proves

particularly useful when part of a commercial

application such as a retail or entertainment

complex. This is due to it enabling routine

maintenance to be carried out without

interruption to business, as it eliminates the need

for the erection of complex scaffolding and other

exterior equipment.

Resistant in the extreme

Ethylene propylene diene terpolymer monomer

(EPDM) is a synthetic rubber single-ply

membrane comprising large sheets which can be

prefabricated under factory conditions before

being transported to site, which considerably

speeds-up installation time. The membrane's

Aberdeen Airport

joints are usually adhesive-bonded, giving it

superb resistance to weathering, ultraviolet

radiation, ozone thermal shock and cyclic fatigue,

making it an ideal option for buildings situated in

climatic extremes. EDPM has an excellent service

life of between 20 and 30 years.

Single-ply roofing has many benefits, but perhaps

the most obvious to the bystander or passer-by is

the aesthetic quality it brings to buildings of all

types. At street level, it presents a crisp, clean

finish to all sides, whilst from above its uniformity

is unencumbered by the array of plant materials

its strength and flexibility allows.

"The (EPDM)

membrane's joints are

usually adhesivebonded,

giving it

superb resistance"

Light, but durable; easy to apply and flexible,

there are a number of reasons why contractors

and end users have taken so strongly to singleply

roof membranes, enshrining its status as a

strong, reliable, simple weathertight roofing

solution for many years to come.

Contact BriggsAmasco

0121 502 9600

www.briggsamasco.co.uk

40 TC APRIL 2018
---
Complete Building

Envelope Solutions

featuring Kingspan RW

Pitched Roof System

Superior build

speed

Options for PV

integration

Precision extruded

daylighting

LPCB-approved membranelined

insulated gutters

Height safety and

fall arrest systems

Specialist support from

Kingspan Technical Services

Bespoke flashings and

fabrications for design flexibility

Kingspan's own complete range

of structural steel products

Kingspan Insulated Panels RW Roof system is a factory-engineered single

component system for very fast installation.

The system comprises a complete range of structural steel products, high performance panels,

insulated gutters, superior polycarbonate daylighting, height-safety systems and a bespoke

range of corners and flashings. As a manufacturer of the complete roof system including all

components, we're with you all the way with services to help save time and maximise project

value and performance.

The system can be protected by the Kingspan Warranty.

Kingspan Insulated Panels

Greenfield Business Park No.2, Holywell, Flintshire CH8 7GJ

Tel: +44 (0) 1352 716100 www.kingspanpanels.co.uk
---
Liquid Systems

PROJECT FOCUS: ADM MILLING SITE

Stuart Hicks, from cold-applied liquid waterproofing specialist Kemper System, explains the

challenges surrounding the renovation of this penthouse roof at a food processing plant

located at an exposed site in London.

Any roof refurbishment can present its

challenges for contractors. From working

at height to ensuring safe transportation

of materials to site.

Yet, these challenges were exacerbated during the

repair of a 40-metre high penthouse roof area

above an oil refinery at a food processing plant in

Erith, London.

The 1,000m² roof at the ADM Milling penthouse,

adjacent to the River Thames in London, was

experiencing water ingress and presented many

key challenges for architects and contractors; its

exposed location, the height of the building and

access considerations for

operatives, the busy and

occupied nature of the food

milling plant, and the

requirement for a quick and easy

waterproofing solution.

Specification considerations

Working closely with Northfall Design Associates,

the highly experienced and knowledgeable team

at Kemper System helped to devise a successful

conservation programme at the ADM Milling

penthouse to address water ingress caused by

severe deterioration.

The oil refinery is housed within the

ADM penthouse building and is

more than 100-years-old.

The flat roof area which required

refurbishment sits above the oil

refinery with steeply pitched mansards,

dormers and concrete gutters which also needed

to be refurbished.

A quick, yet durable waterproofing solution was

required as the food milling plant was occupied

and needed to remain fully functioning throughout

the project. After a consultation process, Kemper

System's Kemperol 2K-PUR solvent-free and

The 1,000m² roof at the ADM Milling

penthouse, adjacent to the River

Thames in London, required

refurbishment

42 TC APRIL 2018
---
odourless waterproofing membrane was specified.

Roofing contractor Garhigh Southern was able to

install the Kemperol 2K-PUR system in a single,

wet-on-wet process after removing, cleaning and

priming the existing concrete substrate.

Steep mansard and dormer repairs

Concrete repairs were also required on the steep

mansards and dormers prior to installation, and

on the flat roof area to address disused venting

outlets and to obtain optimum thickness of the

concrete substrate prior to installation of the

Kemperol 2K-PUR system.

Application

The Kemperol 2K-PUR liquid waterproofing was

then applied using a roller, with a reinforcement

fleece laid directly into the wet resin, immediately

followed by more resin on top to ensure complete

saturation of the fleece. The cured solution then

forms a seamless, elastomeric waterproof

membrane that cannot delaminate and is UV

"The handling and

laying of sheet

membrane materials

would not have been

practical and

increased the

safety risk"

stable – directly addressing the issues of water

leaking into the building.

Detailing and obstacles

The works also demanded complex detailing

around the disused vents, several outlets and

plant on the main roof area. Because of the

nature of the building, the food processing mill

was still occupied during the works, which also

included a steam release from the oil refinery

several times a day. This meant contractors had

to work during weekend hours when the mill was

closed to avoid any potential health and safety

risks, as well as being flexible around the working

processes of the plant.

Despite this challenge, contractors were able to

install Kemper System's liquid waterproofing

quickly and with ease thanks to its versatile liquid

application technique.

Below: Kemper System's Kemperol 2K-PUR solvent-free &

odourless waterproofing membrane was specified to

refurbish the ADM Milling penthouse

Access issues and practical systems

Gary Buckman, director at Garhigh Southern,

said: "Kemperol liquid waterproofing was an ideal

choice on this project for many reasons. One

main challenge was access to site as not only

was the complex roof area 40-metres high, but

the client requested for there to be no scaffolding

from the ground and up the building. Therefore,

we devised a plan to erect hanging scaffolding

out of the dormer windows. The ease of

application of the Kemperol 2K-PUR ensured

installation ran as smoothly as possible."

Gary continued: "In addition, because of the

exposed location of the building – next to London's

River Thames – operatives were also faced with

high winds during installation being completely

exposed to the elements, and the steam released

from the plant was also a potential health and

safety hazard. The handling and laying of sheet

membrane materials would not have been

practical and increased the safety risk further for

installers and employees. Therefore, Kemper

System's two-component liquid applied system

was ideally suited to these conditions."

This project presented many design and

installation challenges which were overcome

thanks to the Kemperol 2K-PUR waterproofing

solution applied by skilled contractors. The level

of variation and detail of the substrates that

required refurbishment showcases the versatility

of the liquid applied resin, and contractors were

able to safely install the system to the extremely

steep mansard as well as guttering and detailing

around the roof area.

The fact Kemper System's waterproofing solution

is eco-friendly and odourless was an added bonus

for the client operating within the food-sector, and

work was able to be carried out whilst the building

was still occupied with little disruption.

Contact Kemper System

01925 445532

www.kemper-system.com

@KemperSystemUK

APRIL 2018 TC 43
---
Green Roofs

GOING GREEN: IT'S EASY IF YOU

KNOW HOW...

Karl Moxon, Bid Manager at Prater, looks at the factors contributing to the growing trend for

green roof systems in the commercial market, and the key considerations contractors should

make when it comes to final installation.

For commercial projects, the demand for

green roofs has been growing steadily for

the last ten years, significantly increasing

since 2015. So what has caused this increasing

trend for green roofing?

Policies such as the Mayor's London

Infrastructure Plan 2050 – which targets big

businesses through the capital business

improvement districts (BIDs) – are helping to

focus future builds on the impact they will have

on the environment.

Audits of London's BIDs have already identified

that potentially 25% to 32% of the land area in

central London could be retrofitted with green

roofs, without significant change to the existing

buildings.

With the green agenda now high on the list of

government priorities and space for development

at a premium, green roof installations have

become a condition of planning permission for

certain types of projects –

particularly public and

commercial.

For clients and architects, a

green roof is seen as a way to

maximise the use and experience

of the space in either a public,

commercial or residential urban environment. In

addition to extended space, green urban spaces

have the potential to help us all achieve

sustainability criteria – such as BREEAM and

LEED – as well as support an organisation's

Left: Karl Moxon is Bid Manager

at Prater

wider corporate social

responsibility goals. There are

often many more benefits to the

installation of green roofs than its

intended end user requirements. Many

green roof installations are often designed to

enhance environmental benefits by promoting and

supporting wildlife, habitat and migration, plant

colonisation, air quality and pollutant reduction,

water management, rainwater run-off and

drainage benefits – all using environmentally

sustainable resources.

Opposite, we've listed the key considerations

contractors should make when installing a green

roof:

Left: The Alder Hey Children's Hospital in Liverpool features

a fantastic green roof. Below: The sewage works at Green

Haven benefits from this green roof which blends in with the

South Downs

44 TC APRIL 2018
---
What type of green roof?

There are three main classifications of green roof: semi-intensive,

intensive and extensive. Semi-intensive roofs will typically require a

deeper level of substrate, but as a result a wider range of plants can be

incorporated into the design. Intensive green roofs are predominantly

built for recreational use – such as providing additional outside space –

and often require regular maintenance and irrigation. Extensive green

roofs provide environmental benefits to society, such as reducing CO2

levels, and reduce whole lifecycle costs to the end client.

Logistics, logistics, logistics

Contractors who have installed green roofing systems before will be

well aware that careful planning and close co-ordination between

all parties is absolutely paramount before work begins to ensure

that the materials can be delivered to site, off-loaded and

transported to the end location exactly when needed. Some

installations, such as sedum green roofing, ideally needs to be

installed within 24 hours of delivery to prevent damage to the

vegetation.

Challenges of installation

Green roof systems can present a particular challenge when it comes to

the transfer of materials for installation. The roofing area is often large

and therefore the volume of substrate material means that equipment

must be utilised to ensure the safe delivery of the system. Installed green

roofs are difficult to physically protect from a live construction

environment and are therefore often installed towards the end of the

construction programme. Early engagement with experienced contractors

is essential in overcoming the logistical and physical challenges.

Carry that weight

Green roof systems are also heavier than traditional roofs and

installing a green roof will add between 50kg – 200kg/m². In

retrofitted applications, it is crucial that contractors are aware of

the load-bearing capabilities of the building's structure. In

addition, the roof should account for the saturated weight of the

green roof, snow loads and any imposed service loads such as

pedestrian access loads and point loads from water features and

large trees.

Consider windloads

Contractors should ensure that wind loads are calculated according to

BS EN 1991-1-4: 2005+A1:2010. The system should resist uplift from

wind forces either by anchoring the installation to the main structure, or

by having sufficient self-weight to prevent uplifting and displacement in

windy conditions.

Check the pitch

Depending on the pitch, the green roof build-up may be different. Pitches

of 10° or more will have different requirements to flat and low-pitched

roofs. On roofs above 10°, there is a risk of the substrates being exposed

due to excessive shear forces. Measures such as retention baffle

systems and slip barriers should be considered at the design phase.

Insulation and waterproofing

It is crucial to ensure that the roofing system works hand in hand with

the green roofing system for both the application and longevity of the

building. Engaging with a specialist contractor through the initial design

and specification process is key to ensuring that the roof membrane

design and green roofing systems are compatible for the application.

Selecting a membrane that protects the roof's waterproof covering by

preventing plant roots from growing through it will ensure the longevity

of the system and reduce the need for costly remedial work.

Consider the cost

Long-term and regular maintenance of a green roof should be

factored into the specification process. Whilst extensive green roofs

are generally robust and considered low maintenance, the type of

installation can affect the level of maintenance required. For

example, installing an intensive or semi-intensive classified roof

will often require sophisticated irrigation and regular maintenance

cycles.

The Solution

Specifying and installing a green roof can be an extremely complicated process. As such, early engagement

is recommended to ensure that the designs are in line with the client and end user requirements in terms of

aesthetics, technical performance, sustainability and ecology. By considering all factors prior to installation,

contractors can ensure delivery to the highest possible standard.

Contact Prater

01737 772 331

www.prater.co.uk

@praterltd

APRIL 2018 TC 45
---
Roofing Updates

For further info on all these roofing updates and more, visit www.total-contractor.co.uk

BLUE ROOF THINKING

FROM BAUDER

As the conversation surrounding Sustainable Urban Drainage Systems heightens, Bauder has

approached the challenges of localised flooding and standing water head-on by developing

BauderBLUE for rooftop and podium solutions. The blue roof system manages rainwater

discharge by attenuating water and releasing at a steady rate within a 24-hour window.

The BauderBLUE Flow restrictor

Each BauderBLUE roofing solution is unique, as calculations for the flow restrictor are specific to each project

to ensure that the water run-off during storm conditions meet the requirements of local planning authorities, whilst ensuring structural integrity.

Nigel Blacklock, technical director at Bauder, explained: "With the introduction of the SuDS legislation, the evolution of our ever-popular green roof system was a

natural process. Using rooftop and podium solutions will address the excess water issue at source by providing the necessary drainage along with regulation

compliance and optimal waterproofing." www.bauder.co.uk/blue-roofs

SURE-FOOTED WITH SOLID GEAR

The ONE GTX from Solid Gear is a superbly constructed safety shoe with seven integrated

layers to deliver excellent comfort and protection.

With a GORE-TEX SURROUND membrane they're fully breathable and ideal for warmer weather

and combined indoor/outdoor activities. The shoe's stretchable upper is water-resistant and

what's more, it has a honeycombed sole for enhanced grip and a composite midsole. It also has

a stabilising heel support to minimise injuries from twisting. The ONE GTX also comes with Solid

Gear's newly developed NANO Toe-Cap. www.solidgearfootwear.com

EXTENSIVE RANGE CATALOGUED

SFS has published a new catalogue for its flat roofing product range.

Now available to download at www.sfsintec.co.uk and to request as a printed catalogue, the

new 200+ page Flat Roofing Catalogue is a comprehensive update to the previous issue to

reflect the extensive range of products and systems offered by SFS. The catalogue details the

innovative solutions available for the three main SFS systems – the isofast fully metallic

system, the isotak thermal break fastening system and the isoweld induction welding system.

www.sfsliterature.com

BLUE/BLACK SLATES TURN HEADS

Cembrit Moorland Blue/Black slates have been used on phase two of St Modwen's newbuild

housing development in Dursley, Gloucestershire.

The Moorland Blue/Black slates provide a contrast with the light coloured fascia materials and

surrounding greenery. This clean appearance is enhanced by the first class installation work carried

out by McDonnell-Price across the development, which features roofs with Velux windows and many

vents and valleys, alongside several pitch variants. Moorland 600x300 slates were fixed with two copper

nails at the top of each slate, with a copper rivet supporting the bottom of each slate. www.cembrit.co.uk

46 TC APRIL 2018
---
FASTER DRY VERGE FIX

Redland has launched two new dry verge products to coincide with the publication of BS 8612: Dryfixed

ridge, hip and verge systems for slating and tiling.

The new dry verges – DryVerge and Rapid DryVerge – are specifically designed to not only meet the

requirements of BS 8612, but also to be best in class. Moreover, the dry verges have been designed to be

even easier and faster to fix than their predecessors. The verges feature a particularly effective stop-ended starter unit that makes it far harder to get fitting

wrong – minimising the risk of corrections and call-backs.

The streamlined design also adds to the aesthetics of a roof, with a straight bottom line that mimics the look of an undercloak with traditional mortar. And

while some dry verges allow water to run back onto the wall, which can lead to unsightly damp staining, Redland's new products incorporate special drainage

features that direct the water away from the gable. The new units are 'handed', coming in left and right-handed options; with each pack containing 18 of each,

along with stainless steels screws and a set of installation instructions: another basic requirement of BS 8612.

The new products differ in material – one being ABS, and the other high impact polystyrene (HIPS) – and colour options. www.redland.co.uk/dryverge

CURVED DETAILS DELIVERED

Marley Alutec has supplied its products to Magnolia House, a new purpose-built

£1million support centre at Birmingham Children's Hospital.

Marley Alutec worked closely with the contractor Marshdale. The company's products were

specified by the architect because of their abilities to be curved, as well as their highperformance

values. Products from Marley Alutec's Evoke fascia and soffit range were used

throughout the project. Also installed at the project was Marley Alutec's Aligator Boxer boltless

guttering and Flush-fit downpipes. www.marleyalutec.co.uk

HARDWORKING HOODIES

Snickers Hoodies have long been favourites among professional craftsmen and women – so the new range of

knitted Hoodies is bound to be a big hit.

There's a 'Full Zip' or 'Over-Head' option and they're the ideal combination with Snickers' First and Second Layer Undergarments

and can comfortably be worn under a jacket on chilly days. With a contemporary design, four colour options and a double-lined

hood for extra warmth, these hardworking Hoodies are great for all trades on site. Made from a cosy, durable fabric for extra

ruggedness, they've got an adjustable drawstring in the hood plus kangaroo handwarmer pockets at the front. They also feature

an unmistakable 3D-printed Snickers logo and are ideal for company profiling. www.snickersworkwear.co.uk

CLEVER STUFF WINS AWARD

Wienerberger has snapped up a new Building Information Modelling (BIM) award

following the BIM Show Live, 2018.

Up against stiff competition, Wienerberger, working together with PCSG, snapped up the 'Clever

Stuff' award with their winning entry of the Viability tool; an innovative application that enables a

user to search for any location in the UK by coordinates, postcode or by browsing, and quickly

retrieves information that is required to consider the social, resource and commercial viability of a

development. www.wienerberger.co.uk

APRIL 2018 TC 47
---
Rooflights

SHEDDING LIGHT ON ROOFLIGHTS

By Andy Veater, Field Services Engineer South at Kingspan Light + Air

There are lots of benefits to introducing more

natural light into buildings. From a practical

point of view, it reduces the need to switch

on lights during the day, saving energy and

helping to keep electricity bills down. There has

also been lots of research that has shown

exposure to daylight can have a positive effect on

people's health, wellbeing and productivity in a

variety of settings; from schools and hospitals to

workplace environments. In light of this growing

demand, it is important for roofing contractors to

understand the different types of rooflights

available, how they are installed and what

advantages they can offer.

In-plane vs. out-of-plane

As more building owners recognise the benefits of

daylighting, it is not only new buildings which are

being designed with the introduction of skylights

in mind, but retrofit applications are becoming

increasingly popular too. As such, it is important

to consider how certain rooflight designs can be

integrated within existing roof systems.

There are two key types of roof profiles. 'In-plane'

rooflights, such as the polycarbonate strips often

seen on the roofs of industrial units, sit

seamlessly within a roof system. They are often

preferred by designers, particularly on low or

visible roofs, as they maintain a smooth sightline.

However, unless they're specifically

manufactured to integrate with the rest of the roof

system, these rooflights can be difficult to

properly seal and make weathertight, especially

in retrofit applications.

'Out-of-plane' rooflights, which sit above the

roofline, often offer a more robust solution. These

rooflights are typically mounted and fixed over a

prefabricated kerb. This kerb can be fitted into

openings cut in the existing roofing system, and

quickly and easily sealed with factory-fitted tape

and weather sweep flipper gaskets. This allows

for more of a margin of error when cutting and

means the rooflights can be installed

after the roof has already been

installed – perfect for retrofit

applications and speedy

delivery.

Daylighting design

As 'out-of-plane' rooflights don't

have to match the profile of the roof,

more innovative designs can be used to get a

better overall performance of the rooflight. For

example, the Kingspan Day-Lite Kapture skylight

has a unique design using semi-spherical domes.

This unusual shape has been fine-tuned to

capture as much light as possible, even when the

sun is low in the sky in the early morning or late

evening.

The rooflight has another innovation: a layer of

glazing made up from microscopic prisms. These

so called 'nanoprisms' are really effective at

dispersing natural light. This not only prevents

uncomfortable glare or hot spots forming in the

room below, but it also enables daylighting to be

predictably modelled, like a light fitting, to

achieve the necessary daylight levels. As well as

making life easier for installers, precisely tailoring

the area of the roof dedicated to rooflights

(without losing out on that valuable daylight) can

also help to make the building more energy

efficient. Whilst rooflights typically have a worse

U-value than the area of roof around them,

increasing the amount of daylight that can enter

the building should mean lights can be kept off

for longer – cutting the electricity demand.

Getting the balance right makes all the

difference.

As a final benefit, the domed shape can also help

to transfer loads such as snow or leaves to the

side of the rooflight, preventing it from settling

and obscuring the natural light. Taking into

account the weather in the UK last month, this is

an important consideration!

Image: 'Out-of-plane' rooflights are typically

mounted and fixed over a prefabricated

kerb, offering a robust and weathertight

solution.

Safety measures

Whilst it is important to ensure

that any rooflight installed

meets the correct non-fragility

standards, an 'out-of-plane' rooflight

can also provide additional safety benefits.

Not least the fact that it is clearly visible, making

it unlikely for anyone to accidentally walk or trip

onto one.

A steel-welded security mesh that is fixed within

the dome of the rooflight is also recommended to

ensure it meets the highest safety standards

possible. Tested to the same non-fragility

standards as the rooflight, this mesh serves two

purposes: in the event of something, such as a

fallen tree in a storm, or someone dropping onto

and damaging the rooflight dome, or if it is

removed for maintenance, the mesh will prevent

anything from falling through it and causing

further damage or injury in the space underneath.

It also provides a visual deterrent for intruders

looking to gain access to the property via the roof.

Powder-coated white, the mesh does not affect

the light transmission.

Lighting the way

Rooflight designs are changing and improving all

the time. By taking advantage of the latest

developments – such as Kapture – installers can

make installations easier and safer whilst also

delivering a better end-result for customers. Win,

win for everyone!

Contact Kingspan Light + Air

01352 716100

www.kingspanlightandair.co.uk

@KingspanLandA

48 TC APRIL 2018
---
Protective

casing

Wraptite ®

Wraptite, a strong robust external air barrier designed to keep buildings airtight

and dry. Easy to install, it combines the best properties of a vapour permeable

membrane and an airtight membrane in one affordable, self-adhering product.

Ladybird - Their bright colouring is used as a defence mechanism and

their antennae and eyes can be drawn back into the pronotum:

a protective casing.

Get in touch to find out more about Wraptite

☎ 01250 872 261 ✉ contact@proctorgroup.com

www.proctorgroup.com

14/5153

Group
---
Safety Focus

NON-FRAGILITY ROOF GUIDANCE

MEANS NO SAFETY COMPROMISE

By Carlton Jones, Director of MCRMA

Working at heights is rarely out of the

news and it is therefore essential that

all involved in the roofing industry

understand the specific requirements for roof

access and maintenance. In its guidance

document Non-fragility of roofs: a checklist, the

Metal Cladding and Roofing Manufacturers

Association (MCRMA) gives detailed advice for

anyone who has to access a roof, whilst ensuring

that there is no compromise on safety.

As in all building work, good safety standards are

essential to prevent accidents. In accordance

with the Health and Safety at Work Act and the

Construction (Design and Management) or CDM

Regulations, buildings must be designed with

safety in mind, not only for the construction

period itself, but also throughout the normal life of

the building. This will include considering the

safety of people involved in maintenance,

installation of PVs, forming of penetrations,

inspections, repair and even demolition. For

example, it might mean as part of the design

process providing permanent access to the roof

via a fixed ladder and hatch, or walkways and

parapets.

This requirement links to the 2005 Work at Height

Regulations (WAHR) which applies to all work at

"Are any of the

fasteners missing or

not attached to the

purlins? If yes, the roof

is FRAGILE"

height where there is any risk of a fall liable to

cause injury. It places duties on employers, the

self-employed and any person who controls the

work of others, such as facilities managers or

building owners.

A safe system of work

Work on a roof during the construction and

installation phase and the subsequent

operational phase must be undertaken with

extreme caution by experienced and competent

people.

Contractors and those planning to work on the

roof must meticulously plan and document a safe

system of work, including a specific risk

assessment and method statement before

starting construction, installation, inspections or

50 TC APRIL 2018
---
maintenance.

MCRMA and its members work closely with the

Advisory Committee for Roofsafety (ACR) to

ensure that all those involved in roof work

construction have access to the most up to date

advice on safe working practices, and also the

legal requirements.

Modern metal-based industrial and commercial

roofing systems incorporating rooflights and

components which have been tested and

assessed for non-fragility and installed in

accordance with manufacturer's installation

instructions can provide a suitable platform for

work. However, the use of safety netting, edge

protection and safety line systems with attached

safety harnesses should always form part of the

safe system of work.

A degree of responsibility

In addition to guidance provided by MCRMA

members, it is incumbent on all those who need

to work at heights to accept a degree of

responsibility for their own safety. The contracting

company, individual workers and the building

owner or occupier all have a part to play to

ensure that the work is conducted in a safe

manner. The following checklist must be

considered before accessing any roof:

•The roof should be declared FRAGILE unless there

is documentation to confirm its current non-fragility.

•Could the building's external or internal

environment have an adverse influence on the

durability of the materials, systems or assemblies

used in the construction?

• Before accessing the roof, the condition of the

roof should be assessed from the inside of the

building for the following:

– Are any of the fasteners missing or not

attached to the purlins? If yes, the roof is

FRAGILE.

– Count the number of fasteners per sheet or the

panel width per bearing end. If there are less than

3, the roof is FRAGILE.

– If corrosion is visible on the liner or inside face

"It is incumbent on all

those who need to work

at heights to accept a

degree of

responsibility for their

own safety

of the panel, the roof is FRAGILE.

– If the joints in the liner or sandwich panels are

not in close contact with the purlins, the roof is

FRAGILE.

•If roof access is unavoidable, where possible

always use a fall restraint and / or fall arrest

system. If no safety line system is available or

the safety line system has not got a current test

certificate, do not access the roof.

•Before connecting to the fall restraint and / or

fall arrest system, check that it has been tested

and certified within the last 12 months.

•Check that the fall restraint and / or fall arrest

system posts are not corroded: if there are signs

of corrosion do NOT use and do NOT access the

roof.

•Before accessing any roof, ensure that a

specific assessment and method statement has

been prepared and issued.

"Roof safety goes

beyond establishing

non-fragility of the roof

area & component

parts"

Images. Opposite page: A typical walkway system. Image

courtesy of M R Site Services; Left: Roofsafe rail installation on

a trapezoidal roof. Image courtesy of Capital Safety; Below:

Latchways Constant Force fall protection and WalkSafe system

on Kalzip standing seam roof. Image courtesy of Latchways.

•If in any doubt, do NOT access the roof until

further checks can be made by a competent

person.

MCRMA member companies can advise on the

suitability and performance of materials, systems

and assemblies which may be used within a

tested and rated non-fragile roof assembly. In

addition, the MCRMA Safety Lines Group has

been formed to address industry concerns that

the specific requirements for safe work at height;

that is, access, inspection and maintenance, is

still not fully understood in certain sectors of the

market place. Specific guidance can be found at

http://mcrma.co.uk/safety-lines-group/

Roof safety goes beyond establishing non-fragility

of the roof area and component parts and it

encompasses many other aspects during the

various phases of construction. The published

information by the ACR is wide reaching and the

material standards, good practice guides and

information sheets can all be easily accessed

directly or via the MCRMA roof safety page at

http://mcrma.co.uk/roof-safety/

Contact MCRMA

01633 895633

www.mcrma.co.uk

@MCRMA1

APRIL 2018 TC 51
---
Fixings & Fasteners

BEST PRACTICE FOR YOUR PROJECT

By Jason Wood, Contracts Director at Fixing Point

The last few weeks has seen some of the

most extreme cold weather in the UK in

years. The arrival of the 'beast from the

east' and Storm Emma in March is said to have

had the biggest financial impact on the economy

since December 2010.

Transport networks were forced to grind to a halt

and retailers had to stop trading and close their

doors completely in some cases.

The construction industry, however, has been hit

harder than any other sector, with an estimated

loss of around £2bn over the three worst days of

weather in early March.

But it's not just the financial cost of delays that

can result in real problems for contractors on site

during bad weather. Using the wrong fixings or

applications can seriously increase the risk of

damage to a building, particularly in high winds

and very low temperatures.

Choosing the right fixings and fasteners is about

more than just ticking a box. The immediate

surrounding environment, the full specification of

a building and the location of a site all play a

crucial part in the decisions you need to make

about the materials you use.

These are our top tips for choosing the right

fixings and fasteners for your project.

Making sense of specifications

Understanding the specification for a fixing and

its application is crucial for ensuring a structure

holds together securely and validates long-term

warranties. Yet, contractors can often find this

"It is important to

provide all the

information about the

building materials and

construction"

"Establishing the final

material the fixing will

be going into is always

our primary focus"

information to be a confusing and frustrating

obstacle.

You should always ask to see the technical

performance sheet for any chosen fixing, but it is

important to provide all the information about the

building materials and construction at this stage so

that appropriate recommendations can be made.

In most building structures, for example, a roof

will be more affected by wind uplifts than a wall,

so roof fixings would normally require a larger

washer than wall fixings.

The ultimate pull-out grade of a particular fixing

is dependent on the final thickness or type of

material it is going into, and the size of washer

recommended will be determined by the area of

the building.

A structural engineer should be able to advise on

how many fixings are required per square metre

to meet the required structural specification of

the building project before final orders are placed.

If in doubt, contractors should always seek advice

from their fixings supplier on technical

performance specifications.

For us, establishing the final material the fixing

will be going into is always our primary focus

before we make any recommendations to

contractors.

Direct impact from weather and

surrounding environment

The next major factor to consider when choosing

the appropriate fixings and fasteners for any

given structure is its immediate environment and

likely exposure to extreme weather.

Coastal, chemical and high wind locations, for

example, always carry a higher risk of structural

damage and corrosion exposure than other areas.

It is therefore really important to understand how

much force a particular fixing can take and its

resistance to the corrosive elements once you

have established the area, application and

material thickness.

In adverse conditions like the severe weather of

the last month, high wind force can cause

pressure and suction loads on the sheet

material, which could result in the sheet pulling

over the washer if incorrectly specified. This

might not only cause damage to the building but

could also mean a serious risk to health and

safety.

Exposure to strong winds, rain and snow will also

have an impact on the number of fixings required

per square metre. This should always be

determined by a structural engineer, and extra

care should be taken to ensure all laps and

sheets are sealed using the correct mastics to

prevent leakages and movement of the roof and

wall sheets after installation.

Sites near the coast or in areas of chemical

exposure, such as buildings located near the sea

shore, heavy industrial plants, airports and train

stations, need a different set of specifications

altogether when it comes to choosing the right

fixings. Carbon, for example, might be the right

choice for inner city shopping centres or office

units, but it is not recommended as a long-lasting

solution for corrosive environments.

Carbon v stainless steel

In any given project the pressure is always on to

meet strict budgets and work to tight schedules.

But if your work is put on hold because of severe

weather conditions, the last thing you want to be

worrying about is the reliability of the building

materials you've chosen to use.

52 TC APRIL 2018
---
"Exposure to strong winds, rain and

snow will also have an impact on the

number of fixings required per

square metre"

T ruck

& T rack

mount

specialist

Safe, cost effective &

innovative solutions

for working at height.

It might be tempting to try and cut costs where possible and make a few

savings with your fixings and fasteners, particularly given that stainless steel

fasteners roughly cost four times as much as carbon equivalents. This

decision can, however, end up costing you much more further down the line.

We sometimes find that contractors budget only for carbon fixings and do not

consider the impact of weather and corrosion in their decision-making

process, but rushing this process to meet time constraints may result in

important specifications being missed at tender stage.

Stainless steel is much more durable than carbon and can ensure the overall

stability of a structure is maintained over time.

If carbon fixings are your only viable option however, using them with

moulded plastic heads can improve their life expectancy as the nylon

protects the head of the carbon steel fastener.

It is also worth noting though, that 25-year warranties do not apply for

carbon fixings, even in low corrosive areas.

At Fixing Point, our main priority is to provide our clients with accurate and

reliable advice based on the specifications and demands of each individual

project. In short, we need to make sure we supply a fixing that will stay in

place and do its job. In order to offer the best advice however, it is crucial

that contractors provide us with all the relevant information about the fixing

application, location and environment from the outset.

Contact Fixing Point

01242 265100

www.fixingpoint.com

@FixingPoint

TRAFFIC MANAGEMENT

SITE SURVEY

VEYS

24/7 WORKING HOURS

TELECOMS SPECIFIC WOR RKING PACKAGES

FAMILIARISATION VIDEOS

LONG TERM HIRE

call 0844 288 9338

visit wilsonaccess.co.uk

APRIL 2018 TC 53
---
Cladding Updates

THRUWALL DELIVERS

A new external envelope system from Etex Building Performance is set to "reduce

uncertainty around building performance and speed up the specification and

construction phases of projects."

For further info on all these cladding updates and more, visit www.total-contractor.co.uk

The Thruwall system from Etex Building Performance is a single solution for the building

envelope. It combines elements from the company's three lightweight construction brands,

Siniat, Promat and EOS Facades, to remove the need for project teams to procure three separate

building products, saving them time, money and the need to review previously disparate

performance data from materials providers. Thruwall is guaranteed under one 30-year warranty,

providing regulatory compliance and assured technical performance for the construction supply

chain and building users. The non-loadbearing in-fill system combines Siniat's Weather Defence

external sheathing board, light gauge steel framing from EOS and internal wall linings, drawing

on Promat's expertise in passive fire protection. www.etexgroup.com

"THRUWALL IS

GUARANTEED UNDER ONE

30-YEAR WARRANTY"

THE NATURAL APPROACH

Pura Facades, has seen its business grow by a 34% in the last 12 months, increasing its

turnover to £6 million.

Pura focuses mainly on the provision of glass fibre reinforced concrete (GRC), terracotta and brick

slip façade cladding panels. Director, James Butler, explained: "We founded the business four years

ago to satisfy the growing demand for truly sustainable construction materials from architects and

specifiers alike. The use of natural materials on new buildings has been growing over the last five

years and this is a trend that looks set to feed into other areas." www.purafacades.co.uk

WEATHERED WITH TIME

Thermally modified American ash was used for the exterior walls of Copperwood, an

energy efficient, modern house in Indianna, designed by architects HAUS.

The owner of the house chose not to protect the thermally modified material through oils or lacquer

and instead let the material naturally weather into a darker grey. HAUS were set on detailing the

wall as a rainscreen system, and Woodhaven, who supplied the timber, offered a clip / furring

system supporting that approach, allowing water to drain out of the wall cavity. In the Indiana

climate, the architects expect the material to last about 25 years. www.americanhardwood.org

CORDLESS TOOLS GO LONGER

TRUMPF has added 18V-Li-ion technology and brushless, low-wear motors to its range

of battery-driven power tools.

The new cordless TruTool models – shears, slitting shears, nibblers, profile nibblers, seam

lockers and power fasteners – also incorporate the TRUMPF battery-optimised aluminium

gear head which, in combination with the other new features provide up to 60% longer run

time after each full charge.

www.trumpf.com

54 TC APRIL 2018
---
Note : Plywood Stoped Short

To Ensure Linearlight Flex

Can Be Slotted Through

3mm Aluminium

18 Plywood

Wraped in Vasqueen DPC

T-Section

16mm Bar

M10 Round

Head Socket

Screw BZP

TITLE

DESCRIPTION

Is

Noteest

loaded weight = 1250kg (All loading weights and structural calculations to be checked by others)

est weight of planter = 150kg

Coordination With External Lighting

To Be Reviewed With Phoenix

Corners To Be Welded And Dressed

Farrin

Unless oth

specified dim

are in mill

angles

decimal dim

± 2m

Cappings - Copings - Fascias

Soffits – Flashings - Bullnose

Free Site Surveyed Measures

01223 440044 info@lasermetals.co.uk www.lasermetals.co.uk
---
Market Overview

"IMPORTED PRICES RISING"

Want to know what's happening in – and on the horizon for – the Building Insulation

Market? Keith Taylor, Director of AMA Research, talks through some of the key points from

the Building Insulation Products Market Report UK 2017-2021.

The building insulation market has

experienced significant change since 2013.

Recent performance in the market has been

mixed – while 2016 showed some improvement,

the market value fell by 2% in 2017, reflecting a

slowdown in the residential sector in particular,

with growth in 2018 also expected to be modest.

Government subsidies cut

Changes to Government regulation and volatile

energy costs have both played a part in

destabilising the market, however, the most

significant factor causing change in recent years

is the fall in Government-subsidised retrofitting

activity following the end of initiatives such as

CERT and CESP in 2012 and the scrapping of The

Green Deal in 2015.

Key influences

Key market influences include Building

Regulations and energy prices, as well as the

relative health of the construction market and the

general economic situation. In the new build

sector in particular, Building Regulations will be

the main tool for reducing emissions. The Building

Regulations Part L 2013 have been updated with

an aim of reducing carbon emissions by a further

6% on top of the 2010 standard for new domestic

buildings, and by 9% for new nondomestic

buildings.

Higher end product prices

Although industrial energy costs

have fallen recently, over the

longer-term energy prices are

forecast to rise, which is likely to result

in higher end product prices for insulation

products. This is likely to be exacerbated by the

falling value of the pound, leading to increased

import prices for many materials used in the

insulation industry.

Most important market

The recent changes to the market have had a

significant impact on the market mix by end use

sector. The dramatic fall in demand under the

Green Deal and ECO has meant that the most

important market is no longer domestic retrofit,

which now accounts for less than one third of the

"In the new build sector

in particular, Building

Regulations will be the

main tool for reducing

emissions"

market by area installed. The new

housebuilding sector has a

similar share, this is higher

than in recent years due to

steadily rising numbers of

housing starts and completions.

The non-domestic market, which

consists of mainly flat roofs and site-built

metal cladding and roofing systems, has now

become the largest end use sector with a share of

around 36%.

Cavity Walls and lofts are key

Within the residential retrofit sector, the key areas

of demand by application remains cavity walls

and lofts, though the volume of insulation

products sold into this sector has decreased

significantly in recent years. In 2014 the amount

of insulation material retrofitted installed was at

43 million m², whereas the residential retrofit

market was only around 18 million m² installed in

2016, so this is a substantial reduction. Despite

this, the potential for retrofitted insulation to

Britain's existing housing stock is enormous, with

nearly 8 million uninsulated dwellings with solid

walls, almost 6 million with lofts and several

millions with uninsulated cavity walls. In addition,

there is also a substantial area of non-domestic

flat roofs that have no or inadequate insulation.

Left: UK Building Market by Value

(£m at MSP) 2013-2019

Product mix

The building insulation product mix has also

experienced change in recent years. PUR / PIR

products now have the largest market share of

insulation products, accounting for around 40%

of the market by value. This improvement has

been driven by the high perceived thermal

efficiency and effectiveness of rigid foam boards

in building applications and their higher value

56 TC APRIL 2018
---
Market Overview

than mineral wool. Conversely, the market value

of mineral wool products has fallen, mainly due to

the fall in demand for such products under the

Green Deal and ECO, but they still account for

almost 30% of the total market in the UK.

The impact of fire retardancy

The issue of fire-retardancy has become

increasingly prominent in the building industry,

and this may be a factor influencing the

insulation market to a greater extent going

forward – particularly in shared accommodation

applications – but whether there will be a

material impact on the product mix remains to be

seen.

Supply structure

The building and technical insulation products

industry is reasonably fragmented in terms of

supply structure and comprises a number of

distinct sub-sectors. Some of the larger

manufacturers and suppliers operate across

several of these, while smaller companies tend to

focus on just one or two. The key supply route for

insulation products are specialist distributors.

Builders merchants account for approximately

one fifth of the market, while the remainder is

split between direct sales to installers, direct

sales to external wall insulation systems

companies, converters and DIY stores.

Market prospects

In terms of market prospects, the market value of

insulation products is likely to show only modest

growth over the next few years, following a fairly

flat market in 2017. Growth is likely to remain

between 1-2% in the short term, with stronger

growth expected towards the end of the forecast

period, something which should help the building

insulation market comfortably exceed its 2012

value by 2020.

Threats to growth

Further falls in volume demand from the

retrofitting sector will lead to lower growth

levels going forward. A decline in output for key

non-domestic construction sectors, such as

offices, as well as slower growth in new

housebuilding is also likely to limit growth, and

Imported prices are expected to rise on both finished products and components

Further falls in volume demand from the retrofitting sector

could lead to lower growth levels going forward, whilst

limited Government funding for this area of the market could

also have a negative impact

the market may also be negatively impacted by

limitations in Government funding for

retrofitting activity, with many homeowners

reluctant to implement insulation-based energy

saving measures without a strong financial

incentive.

Drivers for growth

Of course, there are also positive factors which

will help support growth. Demand for housing

remains strong, and construction levels are

expected to improve, albeit slowly. Rising gas and

electric prices will stimulate demand for relatively

inexpensive means of insulation in the domestic

market such as loft and cavity wall insulation.

"The deteriorating

value of the pound

Sterling will also have

an impact with

imported prices rising

on both finished

products and

components"

Added value solutions will also potentially add

substance to the market, with the introduction

and growth of certain products with claimed high

thermal insulation values creating growth in some

sectors.

Rising imported prices

The deteriorating value of the pound Sterling will

also have an impact with imported prices rising

on both finished products and components or

chemicals, and in turn may lead to some market

value growth, even if volume growth remains

relatively depressed.

Contact AMA Research

01242 235724

www.amaresearch.co.uk

@AMAResearch

58 TC APRIL 2018
---
For fu

rther inf formation

or a hire quotation call

SPARTAN PROMENADE

iles td

Based in Colchester, Essex, we have had the pleasure of working with hundreds of businesses,

an of which return e and e again ro ands End to ohn o roats, we operate

naonwide aiing to oer ou the soluon ou need

Custom price based upon requirements

Environmentall friendl opons available, so ou can help the environment and sll achieve the

look oure aer

01206 230 553

APRIL 2018 TC 59
---
Inverted Roofs

HOW TO DELIVER CORRECT

THERMAL PERFORMANCE

Karen Everitt at Ravatherm UK – manufacturer of Polyfoam XPS insulation – explains the

issues surrounding inverted roof U-value calculations and the importance of getting it right.

To achieve accurate thermal performance on

any building project, key considerations

must be made not only at design stage, but

during installation, too. Ensuring a thermally

efficient building which forms the basis of any

energy or carbon reduction performance

assessment is paramount in today's construction

and refurbishment arena to meet Building

Regulation compliance.

For inverted roof schemes, there are a number of

important areas to consider – such as the

building's location, the effects of rainwater

cooling and ensuring the product's 'design'

thermal conductivity is used. Ignoring these vital

aspects on a project can lead to misleading U-

value calculations and a shortfall in the building's

performance.

Declared and design thermal conductivity

The declared thermal conductivity of an insulation

product refers to the value that is obtained for

90% of production, with a 90% confidence level.

In essence, it is the thermal conductivity of the

product when it leaves the factory.

In practice though, the insulation in an inverted

roof is subjected to environmental conditions

such as rainfall, as well as freeze thaw and

moisture absorption by diffusion – which can

have an effect on the efficiency of the thermal

insulation.

European Technical Approval Guidance (ETAG

031-1) therefore requires the declared thermal

conductivity of any insulant being used in an

inverted roof be corrected in accordance with BS

EN ISO 10456. The insulation is then assigned a

design thermal conductivity, it is this value that

should be used in inverted roof U-value

calculations.

Technical guidance

It is always advisable for

contractors to seek technical

guidance when it comes to

insulation specification and

installation for inverted roof

projects. European Technical

Approval Guidance (ETAG 031-1) sets out

the performance requirements for Inverted Roof

Insulation Kits (systems), and is a guide to

achieving European Technical Approval (ETA) on

thermal insulation that is fully supported above a

waterproofing layer, for both new and existing flat

roofs. The guidance was issued to ensure

consistent standards of assessment for inverted

roof systems throughout Europe.

An Inverted Roof Insulation Kit or System includes

thermal insulation with either one or more filter

layers, a separation layer or a water-flow

reduction layer. It also offers advice on methods

of verification, assessment criteria, and

presumed conditions for design and

application.

Rainwater cooling and location

On an inverted roof project, insulation is installed

on top of the waterproofing layer. Whilst this can

provide a number of advantages for the finished

design of a building, consideration must be given

to rainwater that reaches the waterproofing

membrane through the inverted roof system. Any

rainwater that reaches this waterproof layer will

temporarily increase the rate of heat loss from

the roof.

The level of heat loss will be dependent upon the

average rainfall in the location of the building,

and the percentage of that rainfall which reaches

the waterproofing layer. This is known as the

Karen Everitt, Ravatherm UK –

manufacturer of Polyfoam XPS

'rainwater cooling effect' and

must be considered when

calculating the U-value by

adding a rainwater correction

factor.

The amount of water reaching the waterproof

layer can be reduced by adding a water control

layer over the insulation and beneath the ballast

layer which is an essential component of the

insulation system.

Uniformity for the future

Ensuring correct thermal efficiency on a building

project should not be a complicated issue in

today's market, and there is software available

which can help formulate the correct U-value for

inverted roof projects, if used by a

knowledgeable and experienced technical

manager to ensure an accurate result. This can

be done for contractors and specifiers by liaising

with a reputable insulation manufacturer prior to

installation.

To ensure quality and consistency is maintained

throughout the industry, insulation

manufacturers should also take the lead and

only provide the correctly complied U-value

calculations in line with ETAG 031 and Building

Regulations, and incorporate the design thermal

conductivity value. This is vital to reliably

achieve correct U-value calculations and

ensure the building performs as per the

specification.

Contact Ravatherm UK

01429 855100

www.ravatherm.co.uk

@RavathermUK

60 TC APRIL 2018
---
Advertorial

NEW SFS ISOTAK BS-4,8 FASTENER

Martyn Holloway of SFS explains why a newly improved fastener provides enhanced

performance and a more cost-effective solution for installers.

The use of thermally broken fasteners to

secure the waterproof membrane and

insulation layers has become the norm in

most UK new build and refurbishment flat roof

applications. Ten years ago SFS launched the

isotak fastener range, encouraging the change

from all metal to thermally broken polypropylene

sleeves and 4,8mm diameter steel fasteners.

Now, this sleeve and fastener solution has

evolved with a fundamental improvement.

SFS has focused specifically on the fastener

element of the fixing which has resulted in the

development of the new and significantly

improved isotak BS-4,8 self-drilling fastener.

Being the manufacturer of both the fastener and

the appropriate polypropylene sleeves, SFS has

been able to improve this product to provide

optimum performance. The new SFS isotak BS-

4,8 provides significantly improved pull-out

performance. Compared to its predecessor, the

new version offers 40% improvement for steel

deck and 20% improvement for timber deck

applications, thanks to the new optimised thread

geometry. This means fewer fasteners per square

metre for many projects, which offers the roofing

contractor an even more cost effective

installation. With its new, improved drill point BS-

4,8 now provides for faster installation, improved

reliability and more cost-effective installations.

BS-4,8 is ideal for thin decks from 0,63mm

through to 1,2mm. The drilling capacity is 2 x

1.25mm and the fastener can self-drill through a

single layer of up to 2mm-thick steel. The new

characteristic values are available from European

Technical Approval (ETA) 08/0262. Corrosion

protection on the new BS-4,8 is also improved

with extensive laboratory testing proving that the

surface coating provides enhanced corrosion

resistance. The new isotak BS-4,8 is fully tested

and approved by FM and Sintef and through ETA

08/0262 the product carries the CE mark. The

proven strong and durable SFS isotak R45, R48

and the R75 products remain market leading

sleeves, and when combined with the new BS-

4,8 fastener offer excellent value and

performance. Whilst others have focused upon

relatively minor adjustments to their

polypropylene sleeves, SFS has revised the main

fastening element, the screw! This ensures the

new isotak BS-4,8 fastener "raises the bar" with

respect to thermally broken fastener solutions.

New

isotak ®

BS-4,8

fastener

•

Improved pull-out performance

• Faster, easier installation

• Better corrosion protection

Find out more at

www.sfsintec.co.uk

or call us on 0113 2085 500

APRIL 2018 TC 61
---
MEES Focus

THE IMPORTANCE OF MAKING MEES

MATTER FOR THE MARKET

By Mark Harris, Divisional Building Technology Director, Kingspan Insulated Panels.

The 1st April may not seem like the best date

to introduce a major piece of legislation, but

for landlords the new Minimum Energy

Efficiency Standards (MEES) are no laughing

matter. Put simply, MEES are designed to stop

landlords in England and Wales from leasing

substandard buildings. With the standard set to

affect thousands of properties over the next few

years, there's a clear opportunity for contractors

to step-forward and provide retrofit solutions.

What are the requirements?

MEES are contained within the catchily named

'Energy Efficiency (Private Rented Property)

(England and Wales) Regulations 2015'. The key

points are:

•That landlords of private properties in England

and Wales will be prevented from granting or

renewing tenancies if a building's Energy

Performance Certificate (EPC) rating is lower than

an E.

Below: Kingspan says its QuadCore insulated core is the

first closed cell insulation to be certified to FM4882

"In many cases the

original cladding for

these buildings will

feature little, if any,

insulation"

•This will become compulsory for all privately

rented properties from 2023.

Fines for non-compliance on non-domestic

buildings can rise as high as £150,000, so this is

an issue that landlords cannot afford to ignore.

It's also important to be aware of how this fits

into the bigger legislative picture. Near the end of

last year, the government released its Clean

Growth Strategy which included a commitment to

consult "on raising minimum standards of energy

efficiency for rented commercial buildings".

In the same document, the government made

clear that it aims to raise 'as many homes as

possible' to an EPC of C by 2035. To properly

futureproof their buildings against the need for

further work and disruption, it makes sense for

landlords of all buildings to target this level of

performance where possible.

Whilst there are a variety of ways to go about

improving the EPC of a building, the best place to

start is usually by taking a good look at the

building envelope. This is particularly true for

warehousing and distribution centres. In many

cases the original cladding for these buildings will

feature little, if any, insulation meaning it takes

huge amounts of energy to keep them warm. For

these buildings, the best solution is often to strip

back the original cladding and fit an entirely new

system such as a metal faced insulated panel

system.

A new start

Over the past couple of decades, installers have

become well acquainted with the benefits these

insulated panel systems can bring to both new

62 TC APRIL 2018
---
ideal for use on conservatory

conversions, outbuildings

and commercial projects

A unique premium quality lightweight roofing

tile available in a choice of three colours

specifically developed for the UK market.

The smaller ExtraLight ridge and hips are

designed to be more aesthetically pleasing

and in-keeping with a conservatory style roof.

Priced in Kits or Pallet Quantities

Next Day Delivery in Mainland UK

Over Half a Million Pounds Worth

of Tiles in Stock

Wider Range of Accessories

compared to other Lightweight

Roof System Companies

New Range of Wall Soakers

35% Extra Superior Base Coat

PREMIUM

LIGHTWEIGHT

ROOF TILES

superior natural stone finish

registered

Registered Details

CERTIFICATE 17/5463 : ROSS ROOF GROUP

ask for your free tile sample

charcoal

ember

walnut

50 Year

TILE WARRANTY

20 Year

COATING WARRANTY

UV Protection for

Permanent Beauty

Non Combustible

Class A Fire Rating

Marine Environments

Weatherproof

Lightweight

Easy Installation

High Wind and

Hurricane Resistant

Environmentally

Sustainable

50 Year Warranty

on the Tile Product

20 Year Warranty

on the Tile Coating

www.extralight.co.uk

Tel: 01772 80 20 22

Email: sales@extralight.co.uk

Unit 4 | Croft Street | Preston | Lancashire | PR1 8ST
---
MEES Focus

and existing buildings. The single-component

design means that once the original cladding is

stripped, you can quickly and easily get the

panels installed and make the building

weathertight. In roof applications, this fast-track

approach can reduce the amount of time spent

working at height, particularly as each time a new

panel is secured it creates a safe, walkable

surface for installers.

Modern insulated panel systems also offer

excellent thermal performance. The latest

generation of insulated cores can achieve thermal

conductivities as low as 0.018 W/mk. This allows

the U-value to be achieved with a thinner, lighter

panel – crucial when dealing with existing

buildings to keep structural loading to a

minimum. The factory engineered jointing can

also help to create a highly airtight structure,

further reducing the building's energy usage.

Insulated panels with rigid thermoset insulation

cores can also deliver excellent fire performance.

Systems are available that meet the demanding

requirements of insurance industry tests such as

Loss Prevention Standard LPS 1181 and Factory

Mutual FM 4880/4881, as well as BS 8414 for

buildings over 18 metres. In addition, Kingspan's

new QuadCore insulated core is the first closed

Below: Daylighting panels can now be installed between the

insulated panels, boosting natural light in the space below,

and solar PV arrays integrated to generate energy

cell insulation to be certified to FM4882 – the FM

Global standard assessing whether wall and

ceiling materials are suitable for use in smokesensitive

occupancies.

"Modern insulated

panel systems also

offer excellent thermal

performance"

Above: Kingspan insulated panel systems are available with

purpose-made ancillaries that can further improve the

energy performance of a building

Beyond the performance of the panels

themselves, insulated panel systems are also

typically available with a number of purposemade

ancillaries that can further improve the

energy performance of the building. These

include solar PV arrays and daylighting panels

that can be installed simply between the

insulated panels, boosting natural light in the

space below. By ordering all these components

from a single supplier, it is possible to reduce

the number of deliveries to site, limit

installation issues and cut down the amount of

waste.

Staying ahead

The government has made it clear that improving

the energy efficiency of existing buildings will be a

priority over the coming years. Insulated panel

systems can provide a fast, safe and highperformance

solution in cases where the existing

envelope needs to be tackled – helping to deliver

long-term energy and cost savings for building

owners along with the all-important improved

EPC rating.

Kingspan Insulated Panels

01352 717 251

www.kingspanpanels.co.uk

@KingspanIP_UK

64 TC APRIL 2018
---
Looking for safe

rapid access?

Then get our

Easi-Dec systems

Easi-Dec is the cost saving alternative to

For further information call 01767 691812

or email info@easi-dec.com

at www.easi-dec.co.uk

APRIL 2018 TC 65
---
Insulation Updates

For further info on all these insulation updates and more, visit www.total-contractor.co.uk

A HIGH QUALITY, COST

EFFICIENT BUILD

webertherm XM, the lightweight External Wall Insulation (EWI) system from Saint-Gobain Weber, was

specified for a new-build development in the heart of Dublin.

The Binary Hub is Dublin's largest, purpose-built student accommodation and will ease pressure on the

city's student housing shortage. The Binary Hub was opened in 2016 by the Student Housing Company

working with main contractor Bennett Construction. SPS wall and flooring panels were used in the

construction of the Binary Hub with webertherm XM external wall insulation system applied to the façade,

achieving a high quality, cost efficient build, with improved speed of construction and high thermal

performance. The application of webertherm XM has contributed to a striking, stylish and modern

appearance to the Binary Hub and will make a significant contribution to the creation of a high performance

and sustainable building. www.netweber.co.uk.

"THE BINARY HUB WAS

OPENED IN 2016"

Image courtesy of Bennett Construction

MERCHANT TEAM APPOINTMENT

As part of its continued commitment to independent merchants through its Choice

initiative, Encon Insulation has welcomed Tristan Hickey to its dedicated Merchant

Team. Tristan has been appointed Merchant Area Sales Executive in the Midlands.

Encon says he brings with him a clear understanding of the needs of its merchant customers

and technical product expertise. Speaking about his new role, Tristan said: "I'll be drawing on

my previous experience to add real value for our merchant customers, helping them develop

their business and ensuring they have the best products." www.merchantchoice.co.uk

SUPPORT INCREASED

Rob Firman has joined the Ravatherm UK team as a Technical and Specification Manager.

Rob will work closely with architects, specifiers, contractors and distributors to troubleshoot

specification queries as part of the technical support team which offers a quick turnaround service

for all customers, whether they require assistance over email, telephone or face-to-face. He will

also complete U-value calculations and condensation risk analysis for projects, plus develop

technical specification documents and advise specifiers on the correct XPS products for different

construction projects, as well as deliver technical training and CPDs. www.ravatherm.co.uk

THE NEXT GENERATION

FLIR Systems has launched the new third generation FLIR ONE and FLIR ONE Pro

thermal imaging cameras.

Powered by FLIR's Lepton thermal microcamera core, the FLIR ONE builds upon a legacy of

enabling thermal imaging on smartphones. The latest FLIR ONE is FLIR's most affordable

smartphone thermal camera, while the first edition FLIR ONE Pro is the most advanced FLIR

ONE to date. Like their predecessors, both new FLIR ONEs come equipped with a thermal and

a high-definition visible camera. www.flir.com/FLIRONE

66 TC APRIL 2018
---
S &

S

SAFETYWORKS & Solutions Ltd

...the complete fall protection & access providers

Double gantry and single 4m ladder

Easyguard free standing handrails - standard galvanised finish

Handrails Lifelines Ladders

Flat roof security with free

standing handrails

Easyguard free standing handrails

- powder coated black

Suitable F for roof perimeters

or the designation of access

ways for both retrofit and

new build projects. Available

galvanised finished or powder

coated.

• Easyguard Handrail system

- permanent freestanding

handrail.

• Easyguard II - clamp-on

handrail system for modern

standing seam roofs

• Bespoke systems also

available

Uniline horizontal and

vertical wire-based fall

restraint and fall arrest

lifeline systems.

Provides secure, hands-free

access over high-level areas

where solid barriers cannot

be achieved.

Lifelines are waterproof,

chemical resistant and

available in orange, black or

grey.

Access and CAT ladders for

safe access from inside the

building.

Up & Over step units

provide safe access over

roof top plant.

Staircases and ships ladders

for industrial, commercial

and domestic uses.

Steel ladders manufactured

and supplied with cage or

arrest system for

permanent safe access.

HANDRAILS LIFELINES WALKWAYS FALL GUARDS FLEXIDECK DEMARKATION LADDERS STEELWORKS

Tel: 01487 841400

www.safetyworksandsolutions.co.uk
---
Opinion

"SQUEEZING THE SMALL

CONTRACTOR"

The collapse of Carillion and subsequent impact on suppliers and contractors has certainly

brought the perennial problem of poor payment practice sharply into focus. Below, Jason

Wright, of J Wright Roofing, gives his thoughts on the out-dated practices and very real

problems facing roofing contractors today.

With the recent demise of Carillion and the

usual Government and Industry reaction

of "how could this happen?", my

concern is what about all the unfinished

contracts? Could something have been done

sooner to stop this happening?

Now, please don't call me a cynic, but this has

been on the cards for years and not just over the

past few months, and I'd say this will not be the

last big name to go under.

Why? I hear you ask; well I believe this is all down

to buying contracts, cutting down on costs and

ultimately "subbie bashing"; or even worse, not

paying contractors and suppliers altogether.

With Carillion the warning signs were flashing first

last summer with a profit warning, and again in

October. But what did the Government do? Oh,

just hand them several more large contracts

worth Billions, while they are still not paying the

small contractors and suppliers. It's a total

disgrace and I'm probably not the only one who

feels heads should roll for this.

If we as a small roofing contractor had been

flagged up as a risk to one of our Local authority

clients, then we would not win an outside toilet to

re-roof, let alone multi million pound contracts.

"We soon found that

later in the contract

our valuations started

being paid short each

month"

"This is all down to

buying contracts,

cutting down on costs

and ultimately 'subbie

bashing'"

Short change

The problem we have found from brutal experience

is that certain medium to large national contractors

– I say contractors but in reality they have no direct

contractors of note, just layers upon layers of site

managers, project managers, Health & Safety

managers, admin staff and of course a myriad of

Quantity Surveyors (QS) whose sole job we have

found is to invent a variety of ways to withhold

payments or short change you at any cost.

We have recently experienced this with a Main

Contractor on a large contract for a well-respected

Local Authority. Despite starting with good

intentions and the contract going well, delivered

on time and initial payments all good, we soon

found that later in the contract our valuations

started being paid short each month; not a lot at

first, but this gradually increased into the tens of

thousands. When our accounts queried this, the

original QS had been moved to another project

and you are suddenly left explaining to a new QS

your concerns. This goes round and around until

another QS gets involved as the previous QS has

also been moved on.

Speaking with other contractors it's clear we are

not alone. It's almost as if they all have a mantra

to work to and have all been schooled in the art of

squeezing the small contractor so the Main

Contractor can claw back extra profits.

Any answers?

So what is the answer? Well the Carillion effect is

already being felt with Government, and in turn

Local Authorities, looking at how contracts can be

awarded better with the goal being that the small

man at the end of the chain can be looked after

better, as it is invariably us at the end of the chain

who always bears the brunt of any collapse; As

we know, it's certainly not the Directors or middle

management, and certainly not any QS.

We have found that better direct relationships

with the client can be more beneficial, but this

also comes with costs and extra bureaucracy for

the smaller companies such as ours, but the longterm

benefits are tremendous; as Del Boy used to

say "He Who Dares Wins, Rodders"...

Roofing contractors take all the risk

We know we are not alone in this situation and

are fed up with some of these so called

contractors, when in reality we as roofing

contractors take all the risk, outlay all the initial

costs, manage the contracts, provide the

warranties, Building Regulation certification, and

sign the jobs off only to then wait up to 90 days

to be short-changed, and desperately hoping they

don't do a Carillion on you before the final

account is settled.

Contact J Wright Roofing

0115 9717 591

www.jwrightroofing.co.uk

68 TC APRIL 2018
---
Contractor's Day 2018

coming soon!
---
Vehicle Acquisitions

TO LEASE OR BUY A VAN: WHAT'S

BEST FOR YOUR COMPANY?

In this month's Total Vehicles feature, we take a look at the various options available to

contractors when they are looking to acquire a vehicle; it's clear there's no one set rule for

all, but it's important to do your research and find out what the best fit is for your business.

When it comes to acquiring a vehicle,

the route chosen is a matter of

personal preference and, of course,

the ability to pay. Outright purchase, lease, hire

purchase – there is no wrong or right answer.

So, considering that we're talking about a key

part of a tradesman's business – after all, no van

generally means no work – what are the options?

The differences

Before we can move on, it's important to note the

differences between buying and leasing a van.

Buying

There are some who like to own their assets

rather than pay to use them. For them, outright

purchase, either with cash held or a bank loan, is

the way to go. They, however, will be responsible

"Outright purchase

means no contractual

restrictions on what

the owner can do with

the van, either in use or

aesthetic changes"

for maintenance, repair of any damage and will

take the hit on the depreciation over time of the

vehicle. That said, once bought the van cannot

ordinarily be taken away – owners will be free of

any contracts or regular payments (if bought with

cash held).

Outright purchase means no contractual

restrictions on what the owner can do with the

van, either in use or aesthetic changes – such as

wrapping or sign writing – or modifications –

such as extra locks or racking. Also, and this may

be important if there's a slowdown in work, the

owner is entirely at liberty to sell the vehicle as

there are no contractual issues or payments to

worry about.

But of course, there's a question over the cost of

cash used to buy the van. Even though interest

rates are low, it's possible to get a better return

on the cash through other investments and

savings accounts compared to buying a

depreciating asset such as a vehicle.

Leasing

By definition, leasing is radically different to

outright purchase, as it's a contract to use rather

than own a vehicle in exchange for a regular,

normally monthly, fee. And this monthly fee is the

70 TC APRIL 2018
---
critical factor for some, as it means that a van

can be acquired without the need to tie up

working cash that can be better employed

elsewhere.

The cost of usage – because ownership is not a

consideration – is spread over the term of the

agreement; all that is needed is a good credit

reference and the deposit which will invariably

equate to three payments upfront.

Most, but not all, leases include the cost of

maintenance and servicing, as well as the cost of

exceeding a defined mileage – but this is

something that needs the right agreement to be

put in place.

But as with anything, leasing isn't straightforward

because some leases (termed 'lease purchase')

can give the user the option to buy the vehicle at

the end of the agreement.

There are two options here. The first is called hire

purchase. Here, the contract requires a deposit

followed by monthly payments. At the end of the

agreement, the ownership of the van transfers to

the user. Overall the cost will be, by definition,

higher than for a pure 'use-only' lease.

Alternatively, it's possible to sign up to a balloon

hire purchase agreement. With these agreements,

smaller monthly payments are made and at the

end of the agreement the user either hands back

the keys or makes a larger 'balloon' payment to

take ownership of the vehicle.

With both of these options, however, it's

important to not lose sight of the overall cost of

acquisition which will almost certainly be higher

than an outright purchase.

Lastly, it's important to remember that a leasing

"This monthly fee is the

critical factor for some

as it means that a van

can be acquired

without the need to tie

up working cash"

agreement is just that – it's an agreement to take

a vehicle for a given amount of time in exchange

for an agreed set of payments. Leases can be

restrictive for those with possibly changing needs.

Tax advantages of…

Considering that the UK's tax system is as clear

as mud it's perfectly reasonable to expect that

buying or leasing a van follows different tax rules.

In essence, the cost of buying a van can be set

against the business tax bill – income tax for the

self-employed, corporation tax for those running a

limited company. There are different rules for

doing this depending on the accounting process

used by the business. The VAT on the purchase

can be reclaimed if the van is used solely for

business purposes.

With leasing, as with outright purchase, the

monthly payments can be set off against income

or corporation tax bills. In contrast when leasing a

van, assuming the business is VAT registered, all

of the VAT charged can be reclaimed on the

monthly fee. But this too only applies if the van is

for purely business use.

New or used?

The next question to consider is new or used?

Sure, a shiny new van is a thing of beauty and

pride, but businesses shouldn't lose sight of the

fact that it's a working tool and is bound to get

mucky, scratched or dented. It's inevitable.

New vans come with a price premium, and for

many it's much better to buy a good used van

that someone else has taken the depreciation hit

on. And as long as time is invested in researching

"New vans come with a

price premium and for

many it's much better

to buy a good used van

that someone else has

taken the depreciation

hit on"

vans – looking at price, reliability and running

costs – it shouldn't be too hard to make a saving

here. And so long as the sales invoice notes the

VAT paid and the seller's VAT number, the VAT

can be reclaimed – but again, only if the van is

used solely for business purposes.

But for some, buying new is the only option – they

want the warranty and the comfort of knowing the

history of the vehicle. The same principles to

research apply but remember one more thing; see

if it's possible to time a purchase with when the

dealership's quarter or year-end is close. The

pressure to hit targets will be that much greater

and it's entirely possible to find a dealer willing to

sell a vehicle at almost no profit. Why? Because if

sales targets are hit they may get a manufacturer

bonus on everything it's sold to others.

"There is no perfect

solution to acquiring a

van as it's all down to

personal preference

and views on risk and

business performance"

To conclude

There is no perfect solution to acquiring a van as

it's all down to personal preference and views on

risk and business performance. But no matter

which route is taken, good advice from an

accountant is key, because the tax rules in this

area are too complex to consider in full here.

Got any pictures of your first van? Tweet us

@TotalContractorUK

APRIL 2018 TC 71
---
Payment Pains

DEALING WITH THE CHALLENGE OF

POOR PAYMENT PRACTICES

In his regular column Simon Smith, of Bracknell Roofing, highlights the hurdles a specialist

contractor has to clear just to get paid on time and in full.

Alarge portion of my career in the roofing

industry was spent in roofing material

sales, and in my experience it's fair to say

in that world getting paid for goods and services

supplied is pretty straightforward. However, in the

world of a specialist contractor it's a totally

different ball-game.

So what challenges does a specialist contractor

face when it comes to getting paid? There are

numerous, so below I will focus on a few key

points.

Payment terms

Firstly, for many roofing contractors almost every

sale is governed by detailed and strict contract

terms and conditions issued by the customer,

which are often bespoke for every project.

Sometimes these terms and conditions mirror

without any scaling those of other contracts in

place further up the project chain, such as those

issued to the principal contractor

by the project client. In some

cases individual project

terms and conditions are

also governed by an over

arching framework

agreement in place for a

fixed-term. Consequently the

acceptance of an order can be a

very detailed and time-consuming

affair, because every new project contract has to

be carefully reviewed.

Payment terms are different from contract to

contract, so sub-contractors like us have to have

systems in place to manage their sales ledger

and debtor ageing bespoke for every contract or

customer. Compounding the challenge of varying

payment terms is the issue of application or

billing cut-off dates required under the contract

or by the customer. Cut-off dates are extremely

Simon Smith is Divisional Director

of Bracknell Roofing. Read his previous

columns on:

www.total-contractor.co.uk

varied across the piece,

ranging from mid-month to

just after month-end, so

we have to be on the ball to

avoid late billing, which results

in an extended payment timeline.

Then there is the issue of self-billing, which

is a process adopted by some very important

customers in the market-place. Whilst self-billing

systems do present both benefits and

disadvantages to sub-contractors, it nevertheless

requires further tailoring of business process and

sales ledger management if payment issues are

to be avoided.

Validation of completed supply

The next challenge is in completed works sign-off.

Understandably many of our customers have

sign-off systems in place because production is

dealt with by one department and contract budget

management and payments are dealt with by

another department, so sign-off sheets are

required to validate satisfactory completion of

works invoiced. In principle this is a perfectly

logical system to work with, but where it becomes

a challenge is in the logistics of getting work

signed-off by the right person, in time, and then

ensuring that copy of the sign-off sheet is

supplied to the right person or department within

the customer's organisation in time to meet any

monthly cut-off deadline in place. Bearing in

mind that in many cases the sign-off sheet has to

be signed on site, it is no mean feat to make sure

this part of the process of getting paid is actioned

correctly and on time to avoid delay in payment.

72 TC APRIL 2018
---
"The bodies that

represent construction

trades, could, should

and must do more to

achieve the ultimate

goal of fair payment

for all"

Paperwork and communication

This leads me onto the issue of paperwork and

communication. After having measured our

works, generated our application / billing

document on time, got the works signed-off by

the right person in time and sent the monthly

billing pack to the customer before their cut-off

date, there is still the issue of how and to whom

the information is sent. Some require hard copy

sent by post, some require electronic copy sent by

email, some require hand delivery and some

require a combination of these methods. So when

you think you've got everything done on time, you

still need systems in place to make sure the

information gets to the right person or

department, in the right format/s before the

monthly deadline expires. And even after having

achieved all that, when requesting payment

certification and confirmation of payment date

the following month or whenever the contract

terms require post billing, on occasion we get a

response of "I never received it", or "it was sent

in the wrong format", or "this document was

missing", or "it wasn't passed on to me on time".

Many of our customers are not unreasonable in

these circumstances but the point remains, they

could be if they wanted to be, so relationship is

vital in these situations.

Retentions

Finally, and potentially the most challenging of all

payment issues and practices a specialist

contractor has to deal with, is the issue of

contract retention. This is money held back from

invoicing by the customer at an agreed

percentage or sum for a period of time set-out

under the contract, for the purpose – in theory –

of providing a form of surety in respect of works

defects. The period between the first retention

deduction on a contract and final release of

retention held is often, if not usually, measured in

years. The longer retention is held and owed, the

greater the risk of delayed or non-payment when

it finally becomes due. Customer insolvency and

spurious or incorrectly allocated defects are

common causes behind late and non-payment.

The issue of retentions is well documented and at

this point I am reminded that back in 2014 NSCC

conducted – in partnership with FMB – a

payment survey, which involved 719 respondents

from within the specialist contractor sector. The

subsequent report titled "Credit where Credit isn't

Due", revealed that approximately £198 million of

retention held was overdue and approximately

£54 million had to be written-off. NSCC has now

moved on to become part of Build UK, which

continues to campaign against retention as a

vertical issue for the construction industry, with

the aim of "implementing an industry-led

roadmap to phase out the use of cash retentions

in construction by 2023". But that's five years

from now and may or may not happen, and I

wonder what the retention held, overdue and

write-off position is today, four years on from the

NSCC/FMB survey in 2014, and after what has

been a considerably more active period for

specialist contractors in the meanwhile? I also

wonder what effect the demise of Carrillion is

having on the amount of retention having to be

written-off this year – thankfully nothing for

Bracknell Roofing but I sincerely feel for anyone

legitimately owed retention that will see very little

if any of it land in their bank account.

Latterly 60 trade bodies across a broad spectrum

of the supply chain have come together in support

of the Aldous Bill to reform retentions. Hopefully

this will result in more urgent, effective and

definitive improvement in the rules and process

around cash retentions, particularly where

customer insolvency is concerned. The suggestion

of having retention accounts held in trust seems

a very logical solution to the insolvency issue, but

I wonder how this might work in the event of a

"Cut-off dates are

varied across the

piece, ranging from

mid-month to just after

month-end, so we have

to be on the ball to

avoid late billing"

simple dispute as to alleged works defects or

quantum owed? Would it make the collection

process more or less complicated. Some food for

thought, which hopefully the Aldous Bill might

deal with.

Alongside retentions is the issue of contract setoff

clauses. These enable customers to contra

charge live contracts with claims against legacy

projects for alleged latent defects and so on,

which begs the questions why is this necessary

given the purpose of retention?, and is this a fair

'safety net' or just another opportunity to pass-on

cost fairly or otherwise? Don't get me wrong, I can

see the customer's side on this issue but these

clauses nevertheless cause more potential for

payment dispute.

The up-shot of all of this for Bracknell Roofing has

resulted in significant investment of money and

resources in developing our people, systems and

customer base, but the job of getting paid in full and

on time remains a constant challenge and we rise

to that challenge every day. We may never reach the

'pot of gold at the end of the rainbow', but I learned

some extremely valuable lessons in my first few

weeks as a roofing contractor, and I am surrounded

by some excellent people so we are well organised

to deal with the challenge. That said, specialist

contractors need all the help they can get and in my

opinion the bodies that represent construction

trades, could, should and must do more to achieve

the ultimate goal of fair payment for all.

Contact Bracknell Roofing

08705 626800

www.bracknellroofing.com

@BracknellUK

APRIL 2018 TC 73
---
Total Recruitment

The d t o

Succ cRoad ess i s al

ways

Under Co ons

tru

uction

TRADES

LABOUR

M&E

PLANT

OPERATI

IVES

GB Staffing was set up with the

sole aim of becom ming one of the most

consistently

reliable and truste ed agencies in the construction

sect

or.

We offer innovative, high end recruitment solutio ons with a

cost-effective approach.

T 020 8508 9480 E info@gbstaffing.c o.uk W gbstaffing.co.uk

74 TC APRIL 2018
---
Sponsored by

We supply nationwide.

Labourers up to site managers,

general and specialist trades.

• Every candidate is referenced, qualified &

holds relevant CSCS/CPCS accreditation.

• Quick Supply with Fair prices.

• 30-60 day monthly account.

• Single, dedicated point of contact with

24 hour service.

01708 898686

www.ricohsitesolutions.co.uk | info@ricohsitesolutions.co.uk

Birmingham based agency

with a hands on approach.

Local and National coverage.

General Trades & Labour

Painters & Decorators

CSCS carded cleaners

Daily Requirements or Long Term, large scale jobs

Over 20 years combined experience

in the construction sector.

01216 982107

hello@millennialrecruit.co.uk

www.millennialrecruit.co.uk

A preferred supplier to many with direct links to established roofers throughout the UK.

Founded by experienced recruiters and Construction specialists with over 30 years' experience.

We know the industry and understand your business needs.

• General Trades & Labour to Specialist Roofers, Metalworkers and Management

• Small, daily requirements up to complete site solutions.

• Flexible Terms

• Nationwide Coverage with Local Service

• Hands on approach with site visits.

www.core-staffing.co.uk T: 07837 616515 E: info@core-staffing.co.uk

APRIL 2018 TC 75
---
LIQUID APPLIED FLAT ROOF

WATERPROOFING (BBA CERTIFIED)

METAL ROOF REFURBISHMENT

COATINGS (BBA CERTIFIED)

ROOFLOCK TWELVE

FOR FLAT ROOFS

BBA CERTIFIED FOR 25 YEARS

NEW BUILD AND REFURBISHMENT

GREEN ROOFS AND PODIUMS

ROOFLOCK TAPE

GRAVELLOCK GREEN ROOF

RETENTION SYSTEM

FASTEC FASTENERS

SPECIALIST FASTENERS

RAINWATER DRAINAGE

YOUR COMPLETE SUPPLY CHAIN

ROOFLOCK TWELVE

BBA CERTIFIED

CAN BE SPRAY APPLIED

ALSO TREATS CUT EDGE CORROSION

INNOVATION. EXPERTISE. INTEGRITY.

PERSONAL TECHNICAL SUPPORT NEXT DAY DELIVERY EXTENSIVE PRODUCT RANGE

Get the answers to

your questions fast

Order by 4pm for

next day delivery

Over 2000

products

TELEPHONE

0161 956 2400

ONLINE

www.rooflock.com

info@rooflock.com