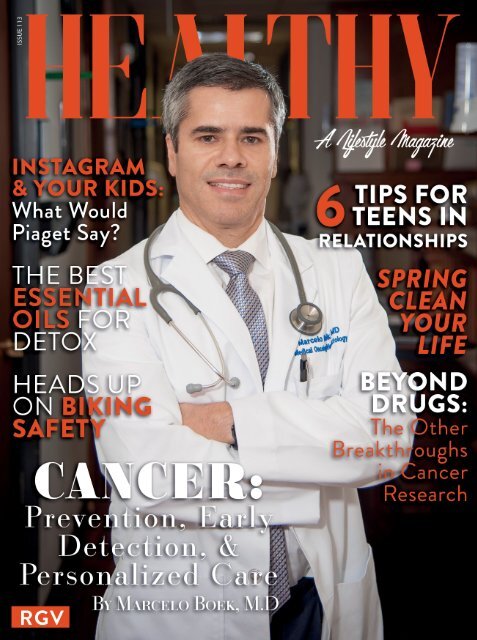 Do you know the secret to free website traffic?
Use this trick to increase the number of new potential customers.
ISSUE 113

EDITORIAL CONTENT

6 RELATIONSHIP TIPS FOR MY TEEN

THE MEDICINAL BENEFITS OF

PHYSICAL ACTIVITY FOR KIDS

INSTAGRAM & YOUR KIDS: WHAT

WOULD PIAGET SAY?

WHY SUPPORTING YOUR CHILD'S

DECISION TO PURSUE A PERFORMING

ARTS DEGREE MATTERS

CANCER: PREVENTION, EARLY

DETECTION, & PERSONALIZED CARE

BEYOND DRUGS: THE OTHER

BREAKTHROUGHS IN CANCER RESEARCH

SLOW EATING

HEALTH BENEFITS OF SLEEP

FIVE NEW TYPES OF DIABETES COULD

MEAN TARGETED TREATMENT FOR

THOUSANDS OF PATIENTS

SPRING CLEAN YOUR LIFE

HEADS UP ON BIKING SAFETY

WHY YOU SHOULDN'T SKIP BREAKFAST

THE BEST ESSENTIAL OILS FOR DETOX

THE CORRELATION BETWEEN DRINKING

HEAVILY AND BRAIN HEALTH

THE BEST PALEO CAULIFLOWER RECIPE

6

8

10

12

14

21

23

24

26

28

30

32

34

36

38

contact@healthymagazine.com

ph. 305-900-7009 | www.healthymagazine.com
---
PUBLISHER

Mauricio Portillo

EDITOR IN CHIEF

Claudia Portillo

"Being

healthy and

fit is no longer

a fad or a trend

it's a Lifestyle."

MARKETING DIRECTOR

Arnaldo Del Valle

COPY EDITOR

Lora Incardona

ASSISTANT COPY EDITOR

Andres Portillo

WEBSITE DIRECTOR

Maria Alejandra Wehdeking

ART AND DESIGN

Carolina Pedraza

PHOTOGRAPHY

Cesar Tobon

SOCIAL MEDIA DIRECTOR

Maria Alejandra Wehdeking

CONTRIBUTING WRITERS

Marcelo Boek, MD

Guillermo Lazo, MD

Shannon Day

Meg Meeker

Claudia Portillo

Cassandra Claude

Eilleen Smith

Vanessa Jackson

Sarah Wester

Julianna Lowe

Andres Portillo

Harold Levi

Alan Freeman

Sharon Lowell

Claudia Portillo

Editor in Chief

Spring has sprung. Visions of pastel colors, warmer temps, and blooming flowers fill our heads this time of year, and

with good reason. Spring is a time of renewal. Time to clear the clutter, stow away our heavy winter gear, ramp up

our workout routines in preparation for beach weather, and rejoice in sunnier days, but while we're in the mood to

start fresh, consider decluttering our minds.

This month for me, as a busy editor, working mom, and adoring wife, every nook and cranny of my brain is scrawled

with lists of things that must get done. I'm in a constant state of I have so much to do and not enough time in my

day. I tell myself time and time again, that next month or next year will be different, but that time never comes. This

Spring, I've decided to move myself from the backburner and make my mental health a priority, so taking a cue from

the annual Spring purge, I am pausing for some much-needed self-care, and I hope you'll join me on this wellness

hiatus from a constant state of controlled chaos.

On this journey this month we will get rid of the 'toxic waste' in our lives. It's time to say goodbye to the

relationships that bring us down. Cut off anyone or anything that doesn't bring you joy and doesn't add any value to

your life. We don't need them. If it doesn't fill our soul with good vibes, it's time for a change.

When clearing out the physical clutter, you're essentially getting a two-for-one deal. The act of cleaning out your

closet or clearing off your desk also removes feelings of stress and anxiety for your life. It gives you and your spaces

a fresh start. A do-over, if you will. Take a few minutes or dedicate a weekend if you have time to tackle the junk

drawers, the closets, or the attic. You'd be surprised what a difference it could make.

Let go of your emotional attachments to your stuff. Do you really need the tattered photograph of the man who

broke your heart twenty years ago? Probably not. The feather you found at the petting zoo when you were five

probably isn't worth a dime. Let it go.

I know it's difficult to even begin thinking about taking time just for you, but trust me, it will do all of us a world of

good. As we bask in the warmer temps and fill in our already busy schedules with new appointments and priorities,

don't forget to pencil in self-care. Mindfulness isn't something you want to skimp on. It's a way of showing yourself

you deserve a break. You've earned it. Now, go out and get it and let's finally celebrate the art of enjoying every

blessed moment we're given.

cportillo@healthymagazine.com

/HEALTHYMAGAZINE

@HEALTHYVALLEY

/HEALTHYMAGAZINEONLINE

/ HEALTHYMAG08

contact@healthymagazine.com | ph. 305-900-7009 | www.healthymagazine.com

Healthy Magazine is a free monthly publication. All contents are protected by copyright and may not be reproduced without written consent from the publisher. The material

in this magazine is intended to be of general informational use and is not intended to constitute medical advice, probable diagnosis, or recommended treatments. Healthy

Magazine and its contributors accept no responsibility for inaccuracies, and the advertiser is solely responsible for ad content and holds publisher harmless from any error.
---
Only one heart.

Only one you.

INDIVIDUALIZED HEART CARE,

DEVOTED TO YOU.

No two hearts are exactly the same.

That's why the cardiovascular

specialists of Valley Baptist Health

System pursue an individualized

care plan for every single heart we

encounter. From preventative care to

treating heart conditions, every

element is designed to take care

of our first priority: you.

To learn more about our services or to find a cardiologist near you

call (844) 614-9386 or visit ValleyHearts.com/onlyone

1040 W Jefferson St.

Brownsville, TX 78520

2101 Pease St.

Harlingen, TX 78550
---
HEALTHY KIDS · APRIL 2018

6 RELATIONSHIP

TIPS FOR MY TEEN

This won't be a smooth ride so get ready

to hang on, steer, and use your brakes.

Know there will be tears and

disappointments which, though painful,

will make you a stronger and wiser

person. There will also be friendships,

experiences, and accomplishments that

you will cherish for a lifetime. There will

be laughter, silliness, and creations you'll

feel proud of.

Oh, and there will be people to fall in love

with.

And you will fall in love, more than once,

in the years to come.

So, before this happens, I thought I'd

offer up a few hard-earned words of

wisdom.

When it comes to relationships and love,

always remember:

NEVER PUT

01 YOURSELF DOWN.

When you are in a new relationship, or in

the presence of someone you'd like to be

in a relationship with, avoid pointing out

personal insecurities or perceived flaws.

Don't hate on any part of yourself in front

of them. Hold your head up, and use full

eye-contact (no looking at the ground).

Reason being? If you want to attract

someone who is respectful, you need to

model what you expect from them. You

do not expect to be talked down to, or to

have negative things said to you or about

you, right? So don't talk down to or speak

negatively about yourself. Of course,

as time goes by, you should be able to

share some of your more vulnerable stuff

within your relationship, but not in the

beginning.

*Note: When you have insecurities

(and everyone does) talk them out with

friends or family, instead.

DATE SOMEONE

02 YOU NEVER

THOUGHT YOU'D DATE.

Go on, do it! Even if it only

proves you were right, they

weren't the one for you.

Spending time with someone

really different than you means

getting to view life (or at least

a few experiences) from a new

perspective. Going off your

usual path helps you get to

know yourself, which is what

these years are all about. You

can better discover who you are,

and what you need, by spending

time with different types of

personalities and seeing how

they impact you.

*Note: Every person you

spend time with can teach you

something. Keep your eyes open

for what you can learn.

DON'T LOSE

03 YOURSELF.

This happens when you become

more a reflection of your partner

than of the person you were

when you met (i.e., You take on

their style in fashion. You like the

same movies, music, and sports.

You may use the same words and

sayings). Some of this is natural,

but don't forget to stay in tune

with your own interests, too.

If you aren't sure what your

own interests are right now,

make time to figure it out. Stay

grounded in what makes you

tick and what makes you, you.

Anyone worth spending time

with should be open to what you

like and willing to invest time

taking part in those things, as

well. Relationships go both ways

and should not be something

that you simply go along with.

*Note: If you do feel like you're

losing yourself, don't worry: you

can always get back to you.

DON'T DITCH

04 YOUR FRIENDS.

Even if you're in a relationship

and you are so loved-up you

want to spend every waking

hour together, don't forget to

prioritize your own friendships.

Because, quite simply, life is

better when good people who

get you surround you. In order

to keep yourself surrounded by

good people who get you, you

need to treat people well and

be there for them. This means,

making time for your friends, no

matter what.

*Note: Good friends should lift

each other up, support each

other's goals, and have each

other's best interests at heart.

Be sure these are the kinds of

friends you have. Otherwise,

move on and find new ones.

THE DECISION TO

05 HAVE SEX, OR NOT,

IS ALWAYS YOURS.

Whether to have sex or not is

always your choice. When it

happens, how it happens, if it

stops partway through – your

choice. If you change your mind

before it begins or you want

something different to happen

during – your choice.

You are in charge of your body,

no matter what the situation

is. Choose to be intimate with

people who respect you and

whom you are comfortable

with. Sex, with the right person,

can be a positive thing. Sex with

someone who lacks respect for

you… is the opposite.

*Note: Be safe. (Every. Time.)

YOUR MISTAKES

06DON'T DEFINE YOU.

Now, remember: you will make

mistakes when it comes to love,

sex, and relationships. But know

this: Those mistakes do not

define who you are. Those whatwas-I-thinking

choices can help

you grow. Sometimes, life can

feel really hard, and scary, and

you will feel lost at times. But,

you are never alone.

*Note: Your mistakes don't

define you, but they do help you

better define what you want and

need in the future.

Shannon Day is coauthor

of the funny and

heartwarming book/

martini guide 'Martinis

& Motherhood: Tales of

Wonder, Woe & WTF?!'

6 HEALTHY MAGAZINE
---
"

Among the most

sacred gifts you can

give your child is the

gift of health. This

gift is best given by

example.

"

— Dr. Rand Olson

WWW.HEALTHYMAGAZINE.COM
---
HEALTHY KIDS · APRIL 2018

THE

MEDICINAL

BENEFITS

OF PHYSICAL

ACTIVITY

FOR KIDS

Doctors have long touted the

benefits of regular exercise, but

not until more recently have

they found a direct correlation

between the amount of physical

activity that children get and their overall

health. Like their adult counterparts, children

simply don't get enough exercise. With the

advent of Internet-connected everything,

what once used to allow time for outside,

recreational play, has since been replaced by

a sedentary lifestyle. This is true for children

as young as six years old as well.

Doctors recommend a minimum of 150

minutes of regular physical activity per week.

In addition to computer-centric activities,

school systems nationwide have been

forced to make drastic cuts to the physical

education programs. Some have eliminated

PE and recess altogether. In some parts of

the country, only about 15% of schools offer

physical education at least three days per

week. These factors in addition to other

lifestyle choices lend to an increase in serious

health problems like heart disease, diabetes,

some cancers and other issues.

Science has now proven that regular exercise

has many benefits for people of all ages,

but especially for children. For instance, it

helps to build strong muscles and bones. It

improves the aging process by easing some

symptoms. It can boost your mood. That's

not to mention the increased muscle mass

and flexibility and elevated levels of energy.

The United States National

Institutes of Health (NIH)

has begun to perform a major

study that will focus on what

happens when a body is in

motion through exercise. It is

designed to prove once and for

all that regular exercise is good

medicine.

This six-year-long project will include a group

of 3000 mostly sedentary people between

the ages of eleven and elderly folks. They'll

have a full medical workup before the

project begins. Their blood, fat, and muscle

mass will be studied before and after every

workout. They'll break up the large group

into two: a group that doesn't work out

and the group that does to measure the

differences.

The hope is that this study will help doctors

prescribe a detailed workout plan for their

patients that won't be taxing on their joints

and muscles and won't cause any other longterm

problems. With specific measurements

in mind, they hope to be able to lead the way

and guide their patients to better health and

wellness, regardless of their age or socioeconomic

status.

Unlike diets that force you to eat certain

foods and restrict calories, this study hopes

to devise an individualized plan for their

young patients. That includes giving them

the tools they need to restore muscles that

may have become weak due to non-activity

or injury and to make regular exercise a habit

that they will benefit from for many years to

come.

In time, they hope that schools and parents

will see the importance of regular exercise

and will advocate having physical education

and recess added back into the normal

school day because exercise is the best

medicine for a healthy body.

By Eileen Smith

8 HEALTHY MAGAZINE
---
HEALTHY KIDS · APRIL 2018

INSTAGRAM

& YOUR KIDS:

What Would Piaget Say?

WHAT WOULD PIAGET SAY?

Amy is a junior at an Ivy League University. She recently commented

that many of her friends spend time and money glamming up for

shots to post on Snapchat or Instagram. The point? To get "Likes"

of course.

The power of that one click word in the lives of coeds in toptier

colleges, troubled teens, and adolescents of all stripes gains

momentum daily. Interestingly, the word isn't "respect, love or

admire" – it is "like." What a silly, meaningless word. But it is

changing the personalities and identities of our teens and young

adults everywhere.

The word is trouble for teens and young adults and here's why. The

great psychologist Jean Piaget posited years ago that there are four

stages of cognitive development children experience before they

become adults. These stages are: sensorimotor stage (0-2), preoperational

stage (2-7), concrete operational stage (7-11) and the

formal operational stage (12 and up.)

In this fourth stage, Piaget describes what he calls the adolescent

imaginary audience. This is the condition where the immature mind

conceives that everyone outside of them watches their every move.

You remember this. At 16, you were embarrassed by acne because

you believed that the moment you walked into class, all eyes would

stare at the lone pimple on your chin. Or the high school soccer

star who practiced endlessly in his backyard to millions of imaginary

cheering fans. It felt at once wonderful but awful. All eyes are on you

because you are so significant and yet, those same eyes see your

greatness (usually imaginary too) as well as your flaws.

ALLOWING OUR KIDS' FRAGILE EGOS

TO BE SHOVELED 'LIKES' OR 'DISLIKES'

DAY AFTER DAY IS CRUEL.

What Piaget didn't foretell was that his theories

were going to become reality. The elusive

imaginary adolescent audience would dissolve

into a quasi-imaginary audience in the form of

Instagram, Snapchat, and Twitter where anyone

could see any teen at any time. We could call

the audience real but in fact, it isn't wholly

real. Yes, real people view pictures and posts,

but they do so in a dangerous vacuum. Their

responses are dissociated from relationships,

feelings or exchange of truth. Most significantly,

they feed the adolescent ego that craves

attention from the imaginary audience. And

herein lies the real danger. Piaget described

a stage that teens move through in order to

mature into psychologically healthy adults who

can think beyond their own egos and learn

compassion, empathy, and generosity.

Instagram and the like trap young adults and teens

in this fourth stage by reaffirming the ego's need

to be fed hour after hour, day in and day out. That

attention is the tiny icon thumb pointing up or

pointing down.

The elusive imaginary adolescent audience has

dissolved into a quasi-imaginary audience in the

form of Instagram, Snapchat, and Twitter.

As good parents, we need to understand that

Piaget was right. Allowing our kids' fragile egos

to be shoveled 'likes' or 'dislikes' day after day

is cruel. It prevents them from becoming fully

formed, clear-thinking and happy adults. In fact,

do something bold today. Ask yourself why you

are on Instagram and social media? The truth

is, it makes each of us feel better when we look

happier/more successful/prettier etc. than our

peers. Snapchat and Instagram are nothing but

'show-off' zones for the insecure. And I'll admit

– I'm insecure. If you and I as mature adults feel

better or worse with likes or dislikes, think how

much more profoundly a young teen feels with

them? Are you willing to post a photo of yourself

without your makeup or when you just got out of

bed? I didn't think so.

Snapchat and Instagram are nothing but 'show-off'

zones for the insecure.

Shrinking the ego to its healthy size takes years,

so help your kids. Their minds and intellects are

nothing to fool around with. Either keep them off

social media altogether (yes this can be done and I

have many mothers in my practice who can prove

it) or limit your kids' – particularly your daughters'

– participation in it to 30 minutes a day. You will be

amazed how much better they will feel about life,

themselves and yes, how much healthier they will

be psychologically.

That's what Jean Piaget would do.

By Meg Meeker

10 HEALTHY MAGAZINE
---
HEALTHY KIDS · APRIL 2018

WHY SUPPORTING YOUR

CHILD'S DECISION TO

PURSUE A PERFORMING

ARTS DEGREE MATTERS

In my career as a voice teacher, I've had the pleasure of working with

talented young students who are driven to succeed in the arts. After

countless hours of lessons, years of perfecting their craft, and pure

dedication, a seismic shift happens in about their junior or senior year

of high school. Fear overshadows confidence and pride takes a back seat

to uncertainty and doubt. While these emotions are understandable and in

some cases inevitable, thoughts filled with 'what if I don't make it' and 'what if

I can't make a career out of this' becomes growing pressure if parents affirm

the fear and doubt.

Choosing to major in any one

discipline is a tough decision on its

own. Deciding to pursue a degree in

the performing arts often gives rise

to questions about how your talents

translate to marketable skills that will

support you in your adult life.

Parents decide on the day their child

is born to guide them through life,

give them advice, and help them

see their way through decisions.

When they learn of their child's

endeavor to pursue the arts, it can

often paralyze them with fear. They

wonder what the future can possibly

hold for the child they nurtured and

supported all their young lives. Of

course, it's a given that they want the

very best for their child. They want

to set them up for success. Parents

do so in the best way they know

how and that often means swaying

them to go in another direction, to

pursue a more practical discipline,

something that, in their minds, will

be a conduit to success.

I know from years of

experience and countless

hours spent watching these

young men and women

come into their own and

ultimately thrive that no

matter what your child

chooses to pursue, there

are many life lessons to be

learned, and not all of them

will be easy. To survive in this

complex world and become

a productive citizen, they

must learn the meaning of

hard work; learn to accept

responsibility, and must learn

about personal productivity

and how to manage it

for themselves while also

managing self-acceptance.

Parents, there are things you

cannot and should not try to

shield them from. They must

learn to thrive on their own.

No matter what happens,

they must learn to follow

their hearts and pursue

endeavors that make them

happy.

Forcing their

hands or pushing

your personal

agenda does

nothing for them.

It teaches them

to conform to a

norm that just

may not be in

keeping with who

they truly are.

If a lesson is to be learned,

and it often is, then allow

them to take the path of

their choosing. Allow them

to live in that moment. Don't

encourage them to give in to

fear, doubt, and insecurities.

Are there 100% guarantees

that the path they choose

will be the right one—of

course not. But there is a

much higher probability that

they will be better served

by allowing them to choose

their own destiny. If they

find happiness and success

along the way, they will have

earned it. Encouraging them

to live in fear is essentially

stymieing their growth,

impeding their success,

and ensuring that the only

thing they learn is that

they're incapable of handling

challenges, striving for their

dreams, and conquering

obstacles that may block

their path to wherever it is

they want to go in life.

When they announce their

decision to pursue the arts,

take pride in knowing you

raised a confident child with

an innate entrepreneurial

spirit and the tenacity to

prosper in life. Support all

that is unique and special

about your child. Trust that

they will find success and

happiness on their terms. Be

there to offer support and

encouragement. The journey

in studying the performing

arts is filled with rewards, big

and small. Your unwavering

support and trust in their

decision is a message

they will carry with them

throughout their lives. Why

not give them that? They've

earned it.

By Cassandra Claude

12 HEALTHY MAGAZINE
---
"

To keep the body in good

health is a duty… otherwise

we shall not be able to keep

our mind strong and clear.

"

— Buddha

WWW.HEALTHYMAGAZINE.COM
---
HEALTHY LIFESTYLE · APRIL 2018

Prevention,

Early Detection,

& Personalized Care

We live in the so called Information Age where

statistical figures abound. But when it comes to

the breadth and scope of cancer, putting those

statistics into perspective is helpful. For example,

the American Cancer Society (ACS) estimates

that more than 1.73 million new cancer cases will

be identified in the U.S. this year. Sounds like a

lot. But what if I told you 1.73 million people is

just over the size of the city populations of San

Antonio, Waco, and Temple, Texas, combined?

Here's another one: An estimated 164,690

men will learn they have prostate cancer this

year. That's more people than fit into a Dallas

Cowboys football game and a Texas Tech Red

Raiders football game at capacity, combined.

Cancer-related statistics tell an important

story about prevention, treatment options,

and survivorship. Putting the statistics into

perspective is key, as information is important

to knowing with confidence steps you can take

to manage your health.

14 HEALTHY MAGAZINE
---
COVER STORY · APRIL 2018

Simply put: Eat right.

Exercise. Don't smoke.

Prevention

The ACS notes that 42 percent of newly

diagnosed cancers in the U.S. are preventable.

You might ask, what does that mean for me?

The important lesson in that information

point is all about what you can do to reduce

your cancer risk. Excess body weight, physical

inactivity, excess alcohol consumption,

tobacco use, and poor nutrition are known

causes of cancer. All are behaviors you can

control – limiting bad behavior and leaning

into positive steps.

ACS data suggests many people have

adopted this approach, as an estimated 2.3

million cancer deaths have been prevented in

the U.S. since 1991 – thanks to healthy habits

that start long before cancer is top of mind.

Whatever your age, it's never too late for

healthy habits to make a difference.

Tobacco: Eighty percent of lung cancer

mortalities are smoking related, and half

of lifetime smokers will die from tobaccorelated

disease. Research consistently shows

that smoking cessation is paramount to lung

health. Smokers who quit are more likely to

live healthier, longer lives, while decreasing

lung cancer risk.

Nutrition: Managing your weight and

eating a balanced diet may bolster your

body's defenses against cancer and other

illnesses. It's important to reduce calories,

limit the intake of sugars, saturated fats,

trans fats and alcohol, and to eat nutritious

foods like fresh produce. The following

nutritional guidelines are recommended:

• Substitute whole grains for refined or

processed grains.

• Limit processed and red meats, and

foods high in salt and fat.

• Have no more than one alcoholic drink

daily for women and two for men.

• Eat at least 2 ½ cups of fruits and

vegetables daily.

• Select dark, leafy greens and a variety

of seasonal fruits and cruciferous

vegetables

• Drink plenty of water.

Exercise: Whether you prefer hiking,

biking, playing outside with the kids, or

an indoor option, it's easy to stay active

year-round. Many types of cancer, including

colon, postmenopausal breast, endometrial,

kidney, pancreatic and esophageal cancers,

are associated with obesity and lack of

physical activity.

Early Detection

Healthy living also means following

recommended guidelines for cancer

screening. Early detection – finding cancer

before its symptoms are apparent, and when

it is most treatable – remains key to fighting

the disease. Symptoms for many cancers are

not obvious until the disease has reached an

advanced and more difficult to fight stage.

Screening guidelines vary according to age,

family history, and gender, but everyone

can fight cancer by staying current on their

screenings, and starting a habit of monthly

self-checks for skin and breast or testicular

cancer.

According to ACS, colon cancer is the

second most common cancer diagnosed in

both men and women, but 9 out of 10 times

it can be treated successfully when caught

early. The math lesson here: colonoscopies

save lives.

Cancer screenings, even uncomfortable ones,

are necessary. They also can result in less

invasive treatment in the instance of a cancer

diagnosis. Staying current on screenings

and annual exams can increase the odds of

detecting cancer early, before it has had a

chance to spread. This is especially important

if you have a personal or family history of

cancer.

Personalized Care

Doing the math when it comes to cancer,

ultimately comes down to this number: One.

Each patient is one patient – an individual

with a unique personal and clinical situation

that becomes the focus of medical teams

and loved ones gathered together in a

community of support. At Texas Oncology,

two important numbers are: more than 176 –

that's how many locations we have, and more

than 4,000 – that's the size of our combined

team delivering advanced, innovative

care without compromise to patients in

communities all across our state.

MARCELO BOEK, M.D

Marcelo Boek, M.D., is a hematologist and medical oncologist at Texas Oncology–Brownsville, 2150 N. Expressway 83, in Brownsville,

Texas. To learn more about exciting advancements in cancer treatment, visit www.TexasOncology.com or call 1-888-864-I CAN (4226).

15 HEALTHY MAGAZINE
---
HEALTHY LIFESTYLE · APRIL 2018

BEYOND DRUGS:

The Other Breakthroughs

in Cancer Research

We usually associate cancer

research and clinical trials

with new cancer medicine.

But evidence-based

cancer care goes far

beyond providing drug therapies to patients.

Exciting research developments that are

unrelated to cancer medicines are improving

patients' outcomes and quality of life.

Breakthroughs include technology to

improve cancer screening, ways to minimize

the side effects of cancer treatment, and

tools to determine best approaches for

treatment. We're increasingly able to use

and analyze data to customize cancer care

for specific patients. Clinical research drives

each of these non-medicine advancements.

Better Prevention and Screening

01 Research that helps identify causes

and risk factors leads to better cancer

prevention. Better screening and earlier

detection enables physicians to treat cancer

sooner with greater success. Research is

underway to find better screening tools for a

variety of cancers.

One example of such research is already

making a difference. Mammograms

traditionally are the most reliable way to

discover breast abnormalities. Traditional

mammograms, however, are sometimes

unable to identify concerning areas in

women with dense breast tissue. Researchers

developed a newer technology called 3-D

mammography, which takes many lowdose

X-rays to create a three-dimensional

picture of the breast. Also called digital

tomosynthesis, the procedure helps doctors

locate and better examine suspicious areas

in dense breast tissue beyond traditional

mammograms.

Reduced Side Effects from

02 Cancer Treatment

Chemotherapy is the most common form

of cancer treatment. Unfortunately, the

treatment sometimes has negative side

effects, including nausea and hair loss.

Reducing side effects can improve patients'

quality of life. Many years ago, research that

developed better nausea medications now

has helped thousands of patients relieve

symptoms of this side effect and spurred

transferring most delivery of chemotherapy

from a hospital to an outpatient setting,

enabling patients to be more comfortable at

home with their families.

More recently, researchers developed a

"cooling cap" to combat chemo-induced

hair loss. The cooling cap reduces scalp

temperature to reduce the blood flow to

hair follicles before, during, and after chemo

treatment, which helps prevent hair loss.

Although currently FDA-approved for limited

cancer types, research indicates that about

half of patients who use a cooling cap will

successfully retain their hair through chemo

treatments.

More Precise Radiation

03 Treatment

Most people know that radiation therapy

often accompanies drug treatments such

as chemotherapy, but many don't realize

that radiation therapy has ongoing clinical

trials too. Such research has improved

the precision of radiation beams to more

exactly target tumors and minimize damage

to surrounding tissues. Texas Oncology's

participation in the Radiation Therapy

Oncology Group gives patients access to

many promising radiation trials.

Improved Patient Outcomes and

04 Experiences

Researchers comb mountains of data to

discern the most effective treatments and

patient experiences for specific types of

cancer. That research, in turn, benefits

many future patients. Texas Oncology

participates in evidence-based pathways,

which uses research and data to inform

doctors which therapeutic interventions

are most appropriate for each individual

patient's case. For example, we now can

customize some treatments for breast

cancer patients based on how patients with

similar molecular profiling have responded to

certain approaches. By treating patients with

the right treatment at the right time, we can

improve outcomes.

Drug therapies will always be a vital part of

cancer care. But thanks to new research and

technology, cancer care continues to expand

beyond drugs to improve outcomes and

patient experiences.

GUILLERMO LAZO, M.D.

Guillermo Lazo, M.D., is a medical

oncologist at Texas Oncology—

McAllen, 1901 South 2nd Street, in

McAllen, Texas.

To learn more about exciting

advancements in cancer treatment,

visit www.TexasOncology.com

or call 1-888-864-I CAN (4226).

16 HEALTHY MAGAZINE
---
Weslaco

Texas Oncology delivers high-quality cancer care with leading-edge technology and advanced treatment

options to help patients achieve "More breakthroughs. More victories." in their fights against cancer.

Texas Oncology, a pioneer in community-based cancer care, is an independent oncology

practice with sites of service throughout Texas and southeastern New Mexico. Texas

Oncology patients have the opportunity to take part in some of the most

promising clinical trials in the nation for a broad range of cancers. In

fact, Texas Oncology has played an integral role in gaining Food

and Drug Administration (FDA) approval for 29 of the

latest cancer therapies.

Habib Ghaddar, MD, FACP

Medical Oncology/Hematology

Dr. Ghaddar specializes in medical oncology and hematology. He is board-certified by the American Board of

Internal Medicine in hematology and medical oncology. He received his medical degree from the American

University of Beirut in Beirut, Lebanon. He completed his internship and residency in internal medicine at the Good

Samaritan Hospital/John Hopkins University in Baltimore, Maryland. He completed his fellowship in

hematology/oncology at The University of Texas MD Anderson Cancer Center in Houston, TX. He has been in

practice with Texas Oncology since 1995.

Daniel Farray, MD

Medical Oncology/Hematology

Dr. Farray is board-certified in medical oncology, hematology, and internal medicine. He received his medical

degree in 1998 from the Universidad Nacional Pedro Henriquez Urena in the Dominican Republic and completed

his residency in internal medicine at the Cleveland Clinic Foundation in Cleveland, Ohio. He completed his

fellowship in medical oncology and hematology in 2006 at Cardinal Bernardin Cancer Center/Loyola University

Chicago. Dr. Farray ranked first in his medical school class. He is a member of the American Society of Clinical

Oncology and American College of Physicians.

Weslaco 1330 East 6th Street, Suite 204 Weslaco, Texas 78596 PH: 956.969.0021 FAX: 956.968.9744

www.TexasOncology.com
---
Harlingen

Marco A. Araneda, MD

Medical Oncology/Hematology

Dr. Araneda specializes in medical oncology and is board-certified in internal medicine and medical

oncology. He received his medical degree from San Carlos University in Guatemala and completed a

medical oncology fellowship at East Tennessee State University, Johnson City, Tennessee, as well as a

fellowship in bone marrow transplantation at the University of Florida, Gainesville, Florida. He has special

interests in breast cancer, gastrointestinal malignancies, hematologic malignancies, and molecular

targeted therapy.

Nabeel Sarhill

Medical Oncology/Hematology

Dr. Nabeel Sarhill is board-certified in hematology, medical oncology, and internal medicine. He earned his

medical doctorate from the University of Tishreen Medical School in Lattakia, Syria, and completed his

residency in internal medicine at Case Wester Reserve University in Cleveland, Ohio. His fellowship in

hematology was completed at the University of Texas Health Science Center in San Antonio, Texas, and his

clinical research fellowship in medicine and symptoms management at The Harry R. Horvitz Center for

Palliative Medicine in Cleveland, Ohio. Dr. Nabeel Sarhill is a member of the American Society of Clinical

Oncology, American Society of Hematology, Syrian Medical Association, Syrian Ministry of Health, American

Board of Hematology, American Board of Medical Oncology, and the American Board of Internal Medicine.

Benjamin West, MD

Radiation Oncology

Dr. West is a board-certified radiation oncologist. He was a physicist prior to becoming a physician.

Hayan Moualla, MD

Medical Oncology/Hematology

Dr. Moualla completed his Internal Medicine residency followed by a fellowship in Geriatrics and later a

fellowship in Hematology and Medical Oncology at the University of New Mexico in Albuquerque. For

almost 5 years before joining Texas Oncology, Dr. Moualla practiced in beautiful southern Virginia. He is

Board Certified in Hematology and Medical Oncology with special interest in elderly cancer and blood

disorders. His emphasis is making sure that all patient understand their conditions well and have a good

idea about available options. Dr. Moualla is married and has a boy and twin girls. His biggest pleasure is

spending time with family. He also enjoys soccer, ping pong, badminton and swimming.

Harlingen 2121 Pease Street, Suite 101 Harlingen, Texas 78550 PH: 956.425.8845 FAX: 956.364.6793

www.TexasOncology.com
---
McALLEN

Billie J. Marek, MD, FACP

Medical Oncology/Hematology

Dr. Marek is board-certified and specializes in medical oncology and heamatology. He currently serves as a

director of Texas Oncology and is the medical director for Texas Oncology-McAllen. He has served the Rio

Grande Valley for the past 22 years as a medical oncologist and hematologist, has been recognized as a

"Super Doctor" in oncology for five years in a row, and was recognized as Doctor of The Year for Rio

Grande Regional. Dr. Marek received his medical degree from The University of Texas Medical School at

San Antonio. He completed his fellowship at The University of Texas M. D. Anderson Cancer Center.

Alvaro Restrepo, MD

Medical Oncology/Hematology

"I can be part of your team... and together we can fight the battle." Dr. Restrepo specializes in, medical

oncology and hematology. He completed his fellowship at the University of Miami. He also serves on the

reast Cancer Committee of US Oncology and has completed a fellowship in breast cancer treatment.

Through the Life Beyond Cancer Fundation he established the Texas Oncology–McAllen Breast Cancer

Ride/Walk undraiser to raise funds for Rio Grande Valley cancer patients. To date approximately $30,000 has

been donated to cancer patients in the Rio Grande Valley.

Suresh Ratnam, MD, FACP

Medical Oncology/Hematology

Dr. Ratnam has been with Texas Oncology-McAllen for 13 years, which he joined after completing his

fellowship at the renowned National Cancer Institute at the National Institutes of Health. He has

co-authored several research publications and is passionate about cutting-edge oncology care. He currently

serves on the Pharmacy and Therapeutics Committee of US Oncology and chairman of the Credentials

Committee for South Texas Health System.

Guillermo Lazo, MD

Medical Oncology/Hematology

Dr. Lazo specializes in medical oncology and hematology. He completed his fellowship at The University of

Texas MD Anderson Cancer Center. He is a recipient of several awards including the American Society of

Clinical Oncology Merit Award and is the author of several peer-reviewed medical publications as well as

book chapters. He received the highest honors on the professional examination for his medical doctorate

degree.

McAllen 1901 South 2nd Street McAllen, Texas 78503 PH: 956.687.5150 FAX: 956.687.9546

www.TexasOncology.com
---
Nurul Wahid, MD

Medical Oncology/Hematology

Dr. Wahid was fellowship-trained in medical oncology and hematology at Columbia University College of

Physicians and Surgeons in New York. He is board certified in Hematology and Oncology. He has been

recognized as Physician of the Year at Rio Grande State Center in Harlingen where he has served as senior

attending physician for the past 13 years.

Rogelio Salinas, MD

Radiation Oncology

Dr. Salinas is a board-certified radiation oncologist. He completed his residency training at Memorial

Sloan–Kettering Cancer Center in New York followed by his fellowship at The University of Texas MD Anderson

Cancer Center.

Joseph Litam, MD

Medical Oncology/Hematology

Dr. Litam was fellowship-trained at The University of Texas MD Anderson Cancer Center in Houston. He is well

known in the community and was in private practice for 27 years before joining Texas Oncology. He has special

interest in treating solid tumors.

Benjamin West, MD

Radiation Oncology

Dr. West is board-certified radiation oncologist. He was physicist prior to becoming a physician.

Phoebe Verano, RN, FNP-BC

Nurse Practitioner

Phoebe Cepeda Verano is a certified Family Nurse Practioner, Advanced Practice Registered Nurse, who

received her Masters degree at the University of Texas- Pan American (UTPA) in 2013. She has more than

30 years of experience as a registered nurse, most of it in an adult critical care setting. As a nurse

practitioner, she has the compassion to be a part of a patient's journey through cancer care and believes

that patient education is an important first step following diagnosis and treatment plan development. "I

am committed to preparing cancer patients for their journeys and assuring they know that we are always

here to support them."

Cristelita Parrocho, RN, BSN,CCRN,MSN,FNP-C

Nurse Practicioner

Cristy graduated as a Family Nurse Practitioner from Charles R. Drew University of Medicine and Science in

California. She is also a certified Adult Critical Care Registered Nurse. Before joining Texas Oncology-McAllen

she was a hospitalist with IPC Healthcare. "Cancer is brutal but I believe loving and actually feeling while you

care for these patients will somehow bring upon sunshine in the darkest moments of their lives. It is not

how much time but how much love you put into it."

McAllen 1901 South 2nd Street McAllen, Texas 78503 PH: 956.687.5150 FAX: 956.687.9546

www.TexasOncology.com
---
Brownsville

Balesh Sharma, MD

Medical Oncology/Hematology

Balesh Sharma, MD specializes in internal medicine, medical oncology and hematology. He is board certified by in

medical oncology. Dr. Sharma received an MD Delhi University in New Delhi, India, in 1990, where he also

completed his residency in Anesthesia and Critical Care in 1991. He completed his medical internship at Lincoln

Medical Center in New York in 1992-93. Dr. Sharma completed his residency in internal medicine at St. Vincent's

Medical Center in affiliation with Yale University School of Medicine, Connecticut. In 1998, he completed a

fellowship in hematology and oncology from University of Texas Southwestern Medical Center in Dallas, and has

been in private practice since then.

Marcelo Boek, MD

Medical Oncology/Hematology

Dr Marcelo M Boek specializes in Internal Medicine and Medical Oncology/Hematology. He is board certified in

Medical Oncology and Hematology. He received his medical degree from Federal University of Rio Grande do Sul

in Brazil. He also completed his Internal Medicine residency at Jackson Memorial Hospital- University of Miami.

In 2003 he completed his Fellowship in Medical Oncology and Hematology at John Strogger- Cook County

Hospital in Chicago. Dr Boek then worked as a Medical Oncologist at The Saskatchewan Cancer Agency at The

Allan Blair Cancer Centre in Regina, Saskatchewan, Canada, and as an investigator affiliated with The North

Central Cancer Treatment Group and the National Cancer Institute of Canada. He was also appointed as a Clinical

Assistant Professor with the Division of Oncology, College of Medicine at the University of Saskatchewan and

held this job until he moved back to the United States. Dr Boek joined Texas Oncology in 2006

Carlos Gonzalez-Angulo, MD

Radiation Oncology

Dr. Gonzalez specializes in radiation oncology and internal medicine. He is certified by the American Board of

Internal Medicine as well as the American Board of Radiology, and is a member of the American Society of

Therapeutic Radiation Oncology (ASTRO), American College of Radiation Oncology (ACRO). He completed his

fellowship in radiation oncology at Roswell Park Cancer Institute, in Buffalo, New York, and also completed a

second residency in radiation oncology at Jackson Memorial Hospital/Sylvester Comprehensive Cancer Center,

in Miami, Florida. Aside from his medical practice, Dr. Gonzalez is a Christian lay minister and a student of

ancient Greek.

Mariza D. Oliver, MSN, APRN, FNP-C

Advanced Practice Provider

Mariza is a certified Family Nurse Practitioner, Advanced Practice Registered Nurse, and has a Masters degree in

Nursing Administration. She has over 17 years experience in nursing and has worked in healthcare areas such as

medical-surgical, post-partum, hospice, and home health. She has extensive experience in providing care for the

adult and geriatric population of the Rio Grande Valley.

2150 N. Expressway 83 Brownsville, TX 78521 PH: 956-548-0810 FAX: 956-548-2239 www.TexasOncology.com
---
FITNESS & BEAUTY · APRIL 2018

SLOW EATING

Your mother always told you to slow down and enjoy your food

when you were young and eager to go out to play with your friends,

but did you know there are actual real benefits to slow eating?

Taking your time promotes better digestion, better hydration, great

satisfaction with your meals, easier weight loss or maintenance. Conversely,

when you eat too quickly, it can lead to digestion problems, weight gain, and

makes meals less palatable and the experience of eating less pleasurable.

You're probably wondering how

you'll ever find time to slow down

and eat. With everyone in the family

on different schedules, it can be

incredibly tricky trying to figure out

how to get from one activity to the

next. How you eat is the last thing on

your mind when you can't remember

when was the last time you actually

had something to eat. But when you

consider all the health benefits of

eating slowly, it might be worth the

time and effort to take your time.

When you eat too fast, besides

the very real possibility that you

could end up choking on your food,

you're also not giving your brain

time to catch up with your food

consumption and could throw

your system out of balance. How

do you know that you're full if you

stuff food into your mouth without

thinking? The reality is slowing down

your eating will help you to avoid

overeating.

In order for your body to achieve a

sensation of fullness, two things have

to happen. One is the hormones

that signal to your stomach that you

are full must spring into action. The

other is that the stretch receptors in

your stomach have to expand fully.

If neither of those

factors occur,

your body (brain)

has no idea that

it's reached its

maximum capacity.

If those factors become

faulty (i.e., when ingesting

food at rapid speed), you

invite the overconsumption

of calories and create

unnecessary digestion issues.

These issues lead to gas,

indigestion, weight gain,

bloating, cramps, and a host

of other issues. Long-term it

can lead to significant weight

gain.

Eating too quickly also

doesn't allow enough time

for your stomach to fully

digest the food. Food can

become lodged in your

stomach, or even worse, can

be aspirated in the lungs.

Eating slower eliminates

many if not all of those

risks. It allows you time

to thoroughly enjoy your

meal and get all the proper

benefits of eating better

for your waistline and your

stomach. Take the time

to savor every bite and

thoroughly enjoy a good

meal.

Take in the atmosphere

and avoid unnecessary

distractions. Slow down,

have a pleasant conversation,

relish in the moment, pay

attention to your tablemates,

and know that what you're

doing will not only make

your stomach feel good,

it gives you much-needed

respite in your busy life.

By Vanessa Jackson

23 HEALTHY MAGAZINE
---
HEALTHY LIFESTYLE · APRIL 2018

HEALTH

BENEFITS

OF SLEEP

Missing the health benefits

of sleep? No longer! We're

here to help you find them

and get the most out of

them.

You know that sleep just makes you feel

great, but its benefits go beyond preventing

yourself from nodding off during the

workday. It can help boost your mood and

can even have lasting benefits on your heart

health, your weight, mind, and your cells. It's

the wonder drug, minus the drug.

For as long as we can remember, we've been

told to work, work, work. 'No rest for the

weary' as they say. We learned we had to

work hard to get ahead, and while that's true

to some extent, it's taken a toll on us. Medical

researchers have studied the benefits of

sleep and what they've discovered may

amaze you.

SLEEP CAN:

Help improve your memory.

You wouldn't believe how

much your mind can

accomplish while you're

catching up on your zzz's. Your mind goes

through a process of consolidation. In this

process, it works out skills that we learned

when we were awake. Their studies have

shown that if you want to learn something,

study it right before bed and while you're

asleep, your mind will process it and help lock

it in.

If you suffer from lack of

sleep, we already know that

it's associated with a shorter

lifespan. If you sleep too

much, that too can also

shorten your lifespan, but if you sleep the

right amount of time- the recommended

hours of sleep- you could prolong your life.

Getting proper rest can

also reduce inflammation

in your body. Inflammation

is directly linked to heart

disease, diabetes, stroke,

premature aging, and arthritis. People who

get six or fewer hours of sleep have been

shown to have higher levels of inflammatory

blood proteins in their bodies.

Did you know that sleep

can spark creativity? Sleep

consolidates memories,

or makes them stronger.

Your brain reorganizes and

restructures your memories which leads to

more creativity.

It can also increase your

stamina and improve your

game. Good sleep = better

sports performance.

Getting enough sleep can

also improve your school

performance.

It will lower

your stress levels and erase

irritability.

Prevent you

from overindulging in sweets

or fattening foods. That

leads to improved weight.

It will make you more alert

and lessen the probability of you having

accidents on the road.

By Sarah Wester

24 HEALTHY MAGAZINE
---
HEALTHY LIFESTYLE · APRIL 2018

drinking can't kill brain cells as previously believed,

but it does damage the dendrites. These are

the branch-like ends of the brain cells. They

are key components in passing messages from

one neuron to another. Any degradation of

the dendrites may cause significant cognitive

impairment.

The research also suggests that any

dendrite damage may be reverse

with specific, targeted therapies and

training, but there are no guarantees

that those treatments will work in every

case. Differing levels have damage can

result in different outcomes.

FIVE NEW TYPES OF DIABETES

Could Mean Targeted Treatment

for Thousands of Patients

For decades, diabetes has been classified as either Type 1 or Type 2 diabetes, but recently

Swedish researchers have identified five distinct types of the disease and offers the

possibility of targeted treatments for patients. Some of these five types can be more

dangerous than the types of diabetes we've long known about. The study dug deeper to

look for specific characteristics.

Together, researchers have created a new

classification system to help medical professionals

identify those who would be at most risk for

complications and may one day allow medical

professionals to treat patients on a more

personalized scale with much more effective

treatments.

From the researchers' analysis, they were able

to identify five distinct clusters of diabetes that

have distinct characteristics. SIRD, Severe Insulin-

Resistant Diabetes, involved the highest levels

of insulin resistance and offered the highest risk

of diabetic kidney disease. MOD, Mild Obesity-

Related Diabetes, is the most benign of the new

classifications of diabetes. MARD, Mild Age-Related

Diabetes, is another benign form of diabetes.

SIDD, Severe Insulin-Deficient Diabetes solely

effects young adults with poor metabolic control.

Finally, Severe Autoimmune Diabetes overlaps

with what we currently know as Type 1 Diabetes.

What these new classifications tell us is that it is

possible to help identify those people at higher

risk of complication and will give doctors a

better guide for their treatment choice for their

patients, especially for those suffering from the

most severe forms of this disease – SIDD, Severe

Insulin Deficient Diabetes, and SIRD, Severe

Insulin-Resistant Diabetes. The risk of kidney

complications is substantially increased with SIRD.

With SIDD, the risk of diabetic retinopathy is

higher. With this new-found knowledge, doctors

could target individuals who fall into these

categories and intensify their treatment regimes.

In addition to those who meet the criteria for

these classifications, a new classification system

could benefit those who've suffered with diabetes

1 or 2 for many years. It would allow doctors

to specifically target certain segments of their

disease and could give them a clearer path

forward.

This new classification system promotes the

combination of different measurements to form

a much more specific diagnosis and a targeted

treatment plan by going beyond the simple

glucose levels and looking at other factors. It is a

precision oriented finding that could have lasting

results for thousands of people around the world.

In their opinion, this new system could represent

a bold, new step in identifying and managing this

deadly disease. The potential benefits for patients

could be life-changing for patients worldwide.

THE CORRELATION BETWEEN DRINKING

HEAVILY AND BRAIN HEALTH (ALCOHOL

AWARENESS MONTH):

For years, research scientists and the medical

community have known that there are negative

long-term effects of heavy alcohol consumption,

but until recently, they'd not yet studied with

overconsumption of alcohol does to the brain

long-term. Recent studies have pointed to

significant brain damage as a result of heavy

alcohol consumption. They've found that heavy

Wernicke-Korsakoff Syndrome is another brain

disorder that alcoholics could suffer from. In

this condition, memory impairment, significant

confusion, eye paralysis, and decreasing levels

of muscle coordination significantly lessens the

quality of life for those affected. In contrast to

the previously discussed condition, this syndrome

does not lead to brain cell death because it isn't

the result of the alcohol specifically. It occurs due

to a thiamine deficiency.

Thiamine, an important B vitamin, is crucial

to neuron health. Consuming large quantities

of alcohol leads to a thiamine deficiency

by disrupting the body's ability to absorb

it. Alcoholics tend to drink more of their

calories, thus, making them malnourished. That

malnourishment adds to the depletion of thiamine

reserves in the body.

For years, we've been led to believe that brain cells

are destroyed with high alcohol consumption.

That's a myth. There's no evidence that moderate

alcohol consumption kills brain cells or damages

them in any way. In order to actually kill brain

cells, one would have to consume a fatal amount

of alcohol, thus, killing themselves in the process.

While it's now noted that there can be significant

brain damage, none of the current evidence points

to any actual brain cell damage. However, as noted

previously, there is a strong correlation between

consuming large quantities of alcohol and major

impairments. There is also strong evidence that

heavy consumption of alcohol leads to a vast array

of social and socioeconomic problems.

As with any potential harmful substance, there

are risks that need to be considered. Follow the

healthcare guidelines to avoid these complications.

If you believe you might have an alcohol problem,

seek help before it's too late. Much of the damage

done as a result of heavy drinking cannot be

reversed. Be proactive in your healthcare and seek

help when needed. Rampant alcohol consumption

may be seen as a harmless norm, but healthcare

professionals and those struck with significant

impairments know all too well just how life-altering

the seemingly harmless substance can be. For

more information about alcohol and how it can

affect you, seek counsel from your healthcare

provider and get the answers and resources you

need to live a long, full life.

26 HEALTHY MAGAZINE
---
HEALTHY LIFESTYLE · APRIL 2018

SPRING

CLEAN

YOUR

LIFE

Spring is a time for renewal.

Flowers begin to bloom. Our

long-sleeved sweaters become

a bit too heavy for the season.

We're anxious to open the

windows and let in some fresh

air before the summer heat sets in soon. Our

moods lift. Our spirits are high. As they say,

Spring is in the air. But more parts of our lives

could use a refresh button.

For starters, you can begin

with your fitness routine.

With the sun shining longer

and the weather warming up

nicely, you no longer have to

work out indoors. You can

rev up your workout routine

with a jaunt outdoors.

Go big. Sign up for a Couch to 5k or go even

bigger and gather a group of friends or

coworkers and sign up for a 10k. Set a goal

and start taking steps to make it happen.

Getting out in the elements will boost your

self-esteem, give your endorphins a jolt, and

help you get in tip-top shape for the summer.

Why not go for a little relaxation this

Spring? You're probably in need of a little

R&R. What better way to get it than to take

some time to soothe your mind and soul with

relaxation techniques like yoga or meditation?

Meditation is the ultimate way to focus on

things that matter. It fosters positivity, love,

and light. It takes you away from the hustle

and bustle of everyday life and gives you time

to rejuvenate your soul. Yoga has many of the

same benefits, but with a bonus: Yoga helps

your physical health as well.

Rebuild or strengthen your relationships with those you care about. Take some

time to focus on your friendships and find ways to reconnect. If it feels like work or seems

overwhelming to reconnect and rebuild those bridges, springtime is the perfect time to

rethink those bonds. If that connection invites negativity into your life, let it go. Just like you

declutter your desk, you can declutter the muck in other aspects of your life.

This is a biggie. Unplug your devices.

Lock them in a drawer. Shut them off. Do

whatever you have to do to enjoy the season.

Yes, social media is fun – sometimes – but

it's not the end all be all. You don't need it as

much as you think you do. Reclaim your time.

You'll be happier for it.

Spring is the perfect time of year to empty

the junk drawer, rid your closets of clothes

you haven't warn in a long time, clean off

your desk, clean your garage and attack. It's

just stuff after all. Do you really need it or can

you take a photo of it and let it go? In fact,

you can make some money off your old stuff.

Put it up on eBay or Etsy and make a few

bucks in the process. Or if you're not techsavvy,

have a yard sale and let other people

take it home for a few dollars. Easy-peasy!

Are you over the calorie-laden desserts of

the holiday season? Are you ready for cute

shorts or sexy skirts? Now is the perfect

time to say goodbye to comfort food and

say hello to fresh fruits and vegetables. Try

new healthier versions of your favorite meals.

Plant a garden. Experiment with new-to-you

foods. Who knows? You might even lose a

little weight in the process.

Revamp your budget. Now that the holiday

bills are out of the way, set your budget

for the rest of the year. If you've already

emptied out the garage or the attic, you've

undoubtedly found items you forgot you

owned. That's good news. You won't need

to rebuy it. Give up the overspending. Wear

what you have. Give up your fancy coffee

habit. Open a savings account for this year's

holidays. Do something to get your finances

in order.

By Claudia Portillo

28 HEALTHY MAGAZINE
---
If you suspect your child has

a concussion, contact your

physician and give him

or her plenty of rest. "A

concussion causes torn or

stretched brain cells that

need the body's energy to

heal. So, rest is essential,"

Asuaje says. "Beyond rest, the

most beneficial treatment of a

concussion is to slowly reintroduce

simple physical and cognitive activities

into your child's life with the help of a

healthcare professional."

According to Asuaje, even if your child is a

daredevil, there are several easy ways to help

prevent concussions and other brain injuries

while your child is riding a bike:

HEADS UP ON

BIKING SAFETY

From paper boys hustling through their

paper routes at the crack of dawn to

families taking a Sunday afternoon

cruise through the neighborhood, bike riding

is one of America's favorite past times. But

every year, according to the Centers for

Disease Control and Prevention, 26,000

bicycle-related injuries to children and

adolescents result in traumatic brain injuries.

"A brain injury suffered by a child has a

more devastating impact than the same

severity of brain injury suffered by an adult,"

says Dr. Juan Asuaje, Medical Director of

Weslaco Regional Rehabilitation Hospital.

"Unlike an adult's brain, a child's brain is

continuously undergoing development, so

it's more susceptible to injury. The brain

develops rapidly during the first five years

of life and continues to mature late into

adolescent years. When a child experiences a

brain injury, it can alter, or even halt, certain

developments of the brain. A lot of times,

however, the effects of a brain injury suffered

by a child don't become apparent until later

in life when more critical thinking and social

interaction is required."

Defined by the Brain Injury Association of

America, a brain injury is any disruption of

the normal function of the brain, usually

caused by a blow or jolt to the head. The

most common brain injury, especially in

children, is a concussion.

SYMPTOMS OF A

CONCUSSION MAY INCLUDE:

• Difficulty thinking clearly,

concentrating, or remembering

things

• Feeling "slowed down," tired,

having no energy

• Blurry vision

• Headaches

• Nausea or vomiting (close to

when the injury occurs)

• Dizziness and balance problems

• Sensitivity to light

• Irritability, sadness,

nervousness, or in general,

more emotional than usual

• Change in sleeping habits -

more or less than usual, or

having trouble falling asleep

1. Properly Fitted Helmet - wearing a

properly fitted helmet every time you

and your child ride a bike is the main way

to prevent brain injury.

2. Follow the Rules of the Road - by

teaching your child to go with the flow

of traffic on the right-side of the road,

what hand signals to use and when,

and what the different traffic signs and

signals mean can help your child stay

safe.

3. Reflectors - attach a front headlight and

a rear red reflector to your child's bike.

If your child is riding beyond daylight

hours, have him or her wear reflective

clothing, as well.

"If your child doesn't want to wear a helmet,

try to figure out why," Asuaje says. "He or

she may be uncomfortable with the helmet

because of its size, unattractiveness, or if it's

too hot. If so, find a helmet that your child is

comfortable wearing."

"Be a role-model to your child," Asuaje

continues. "Go biking as a family and practice

biking skills and safety together. Wear your

properly fitted helmet, follow the rules of the

road, and attach reflectors to your own bike

so that your child can witness biking safety

first-hand. By using these safety precautions,

you can help prevent brain injuries in not

only your child, but yourself, as well."

30 HEALTHY MAGAZINE
---
Top 10% in Nation - It Matters!

Bringing the highest level of rehabilitative care

available in the United States to our own communities.

STRH.ERNESTHEALTH.COM

425 E Alton Gloor Blvd • Brownsville, TX 78526

956.554.6000 956.350.6150 Follow Us

WRRH.ERNESTHEALTH.COM

906 S. James Street • Weslaco, TX 78596

956.969.2222 956.969.2221 Follow Us
---
FITNESS & BEAUTY · APRIL 2018

WHY YOU SHOULDN'T

SKIP BREAKFAST

Heart disease researchers

have found that factors

like where you live, how

many children you have,

and your socioeconomic

status can influence your cardiovascular

health. In the United States, the number

one killer of both men and women

is heart disease. More than 610,000

Americans die as a result of heart

disease every year. That amounts to

roughly one in every four deaths in the

United States of America alone.

The risk factors are well

known by now. They include

high blood pressure, high cholesterol,

obesity, lack of physical activity, and

smoking. Researchers have found that

there is one often overlooked risk

factor that can play a major role in

heart health. It is one that might not

be so obvious to the average person or

medical professional – eating breakfast.

Studies suggest that those who eat

breakfast regularly tend to have lower

rates of heart disease. They also

have lower cholesterol levels, blood

pressures well within normal range, and

make better food choices, thus, helping

them keep their weight under control.

All of this information is according to

studies performed by the American

Heart Association.

When you skip breakfast, you increase

the likelihood of developing diabetes,

high cholesterol levels, increased weight

gain, and increased obesity levels. This

happens because inevitably hunger

pangs will disrupt your day by midmorning.

That triggers our brains to

search for food. At that time of day,

with our brain and stomachs telling

us to hunt and gather nourishment,

we naturally reach for something

convenient. Those convenience foods

are more likely to be sugar-laden,

carb-filled, and processed or we reach for far

more food that we actually need to satiate our

ravenous appetite. By doing this, we consume a

large number of calories at once, and chances

are, those calories are empty. It begins a cycle

of bad food choices that, unless controlled,

continues throughout the day. Soon, you'll find

that you've consumed three to four times your

daily recommended caloric intake.

That is unless you're eating breakfast every

morning. (There's a caveat. It must be a healthy

breakfast. Don't reach for sugary cereals or

a box of doughnuts. It must be a healthy,

nutritious meal that includes healthy doses of

proteins and good carbohydrates.)

Another benefit of eating breakfast is that

it allows you an opportunity to sit with your

family and make sure you're on the same page

or know what's on the agenda for the day.

Breakfast fuels you for the day ahead. It helps

you to prepare for the day ahead.

For kids and teens, eating

breakfast helps them to have

more energy for school.

Studies show that kids who

eat a nutritious breakfast do

better in school, perform

better on tests, and can better

concentrate. A good breakfast

keeps the feelings of negativity,

restlessness, and fatigue at bay.

When you skip breakfast, your body essentially

goes into panic mode. Muscle glycogen levels

are at their lowest when you first wake up

in the morning because your body has just

experienced an overnight fast. By skipping

breakfast, you're throwing your body's natural

rhythms off, and that creates a negative chain

reaction.

By Julianna Lowe

32 HEALTHY MAGAZINE
---
HEALTHY LIFESTYLE · APRIL 2018

THE BEST

ESSENTIAL OILS

FOR DETOX

By Andres Portillo

Let's face it, we all want healthy, glowing skin, especially after a long

season of overindulging and gathering around the dinner table for

large family meals. We now find ourselves wanting to get rid of the

excess and wanting to get back to our gorgeous selves. A simple

and effective way to do that is to add essential oils to your daily skincare

routine. With minimal effort, you can help your body repair cells while

removing harmful toxins from your skin and body. The key is to find the

right ingredients. This is where quality over quantity matters because if

you're consistently using the wrong products, you're inviting a host of other

problems. Make sure you choose the best for yourself. You want grade "A"

essential oils for excellence.

We've gathered your "A-Team" of

essential oils to help support the

natural systems of elimination in

your lymph, skin, liver, colon, and

kidneys.

Lemon is king (or queen)

01 where detoxifying is

concerned. It not only helps to rid

the body of harmful toxins, but

it also aids in the regeneration of

essential properties in your body.

Grapefruit is an antiviral, an

02 antiseptic, and a diuretic.

The sweet scent

03 of lavender isn't

all this lovely flower

has to offer. It's a

calming agent that

eliminates nervous

exhaustion.

Lemongrass is an

04 anti-fungal, an

antioxidant, and an analgesic

that promotes healing.

05

Oregano is

a powerful

anti-bacterial

and is high in antioxidants.

06

Peppermint

cleanses the

lymphatic system and acts as

an anti-inflammatory.

07

Fennel helps

with nausea,

flatulence,

and constipation.

Juniper helps the body

08 to rid toxic wastes.

09 Wild

Orange

is number one in

energizing and

revitalizing the skin and body.

Ginger aids

10 in digestion,

as well as helping

eliminate motion

sickness and

nausea.

Take a trip to your local health

food store or anywhere

quality essential oils are sold

and begin your journey to

healthy, glowing skin and a

healthy body with systems

that are ready to work for you.

Keeping your body healthy

should be your number one

goal. Essential oils make that

task a lot easier.

34 HEALTHY MAGAZINE
---
"

Rest when you're weary.

Refresh and renew

yourself, your body,

your mind, your spirit.

Then get back to work.

"

— Ralph Marston

WWW.HEALTHYMAGAZINE.COM
---
FITNESS & BEAUTY · APRIL 2018

For years, research scientists and

the medical community have

known that there are negative

long-term effects of heavy alcohol

consumption, but until recently,

they'd not yet studied with overconsumption

of alcohol does to the brain long-term.

Recent studies have pointed to significant

brain damage as a result of heavy alcohol

consumption. They've found that heavy

drinking can't kill brain cells as previously

believed, but it does damage the dendrites.

These are the branch-like ends of the brain

cells. They are key components in passing

messages from one neuron to another.

Any degradation of the dendrites may

cause significant cognitive impairment. The

research also suggests that any dendrite

damage may be reverse with specific,

targeted therapies and training, but there

are no guarantees that those treatments

will work in every case. Differing levels have

damage can result in different outcomes.

Wernicke-Korsakoff Syndrome is another

brain disorder that alcoholics could suffer

from. In this condition, memory impairment,

significant confusion, eye paralysis, and

decreasing levels of muscle coordination

significantly lessens the quality of life for

those affected. In contrast to the previously

discussed condition, this syndrome does not

lead to brain cell death because it isn't the

result of the alcohol specifically. It occurs due

to a thiamine deficiency.

Thiamine, an important B vitamin, is crucial

to neuron health. Consuming large quantities

of alcohol leads to a thiamine deficiency

by disrupting the body's ability to absorb

it. Alcoholics tend to drink more of their

calories, thus, making them malnourished.

That malnourishment adds to the depletion

of thiamine reserves in the body.

For years, we've been led to believe that

brain cells are destroyed with high alcohol

consumption. That's a myth. There's no

evidence that moderate alcohol consumption

kills brain cells or damages them in any way.

In order to actually kill brain cells, one would

have to consume a fatal amount of alcohol,

thus, killing themselves in the process. While

it's now noted that there can be significant

brain damage, none of the current evidence

points to any actual brain cell damage.

However, as noted previously, there is a

strong correlation between consuming large

quantities of alcohol and major impairments.

There is also strong evidence that

heavy consumption of alcohol

leads to a vast array of social and

socioeconomic problems.

As with any potential

harmful substance, there

are risks that need to be

considered. Follow the

healthcare guidelines to

avoid these complications.

If you believe you might

have an alcohol problem, seek help before

it's too late. Much of the damage done as a

result of heavy drinking cannot be reversed.

Be proactive in your healthcare and seek help

when needed. Rampant alcohol consumption

may be seen as a harmless norm, but

healthcare professionals and those struck

with significant impairments know all too well

just how life-altering the seemingly harmless

substance can be. For more information

about alcohol and how it can affect you, seek

counsel from your healthcare provider and

get the answers and resources you need to

live a long, full life.

By Harold Levi

36 HEALTHY MAGAZINE
---
FITNESS & BEAUTY · APRIL 2018

THE

BEST PALEO

CAULIFLOWER

RECIPE

Are you looking for a way to spice up you're your steamed

rice meal? Are you ready to take your cauliflower rice

dish to the next level? Well, boy, have we got something

for you, and the best part – it's out of this world

delicious!

Let's face it, eating the same

steamed rice dish week-in and

week-out can be boring. Good

for you, but boring isn't exactly a

winning combination. It doesn't

make you want to march into the

kitchen and get your meal on. So,

if you want to still enjoy all the

benefits of a light meal, but have

it packed with fiber and enough

to satisfies your carb cravings,

why not try something that easily

works as a side for your Mexican

night fair or makes perfect sense

for your Middle Eastern night or

can stand on its own for your light

and scrumptious meal?

We're talking about dressing up

your favorite grain with flair. Add

some key ingredients to make it

shine. This version of cauliflower

rice is an ode to our favorite

Chipotle-style rice. It's made with

plenty of garlic, onions, lime, and

cumin to spice up your meal and

is by far THE best way to enjoy a

Paleo-friendly dinner or side dish

without any guilt. Enjoy it with

any variety of main dishes like

garam masala. Add it to a garam

masala vegetable soup, and you'll

hit a home run every time. Or if

you're feeling brave, why not pair

it with another Paleo-friendly dish

like the Cantonese crispy chicken

things and call it good?

The list of Paleo dishes is endless.

Experiment a little. You're sure

to find a flavor combination you

love. Take a tour of the world with

scrumptious steamy cauliflower

rice combinations.

Here's another you're guaranteed

to want to eat for every meal:

Cumin Cilantro Lime Cauliflower

Rice. We kid you not. You'll

want to eat this dish over

and over again.

Here's the recipe:

(Adapted from

Ready or Not:

150+ Make Ahead,

Make-Over, and

Make-Now

Recipes by

Nom Nom

Paleo by

Michelle

Tam and

Henry

Fong,

copyright

© 2017,

Published

by Andrews

McMeel

Publishing, LLC.

This recipe makes 6

servings.

CUMIN CILANTRO LIME

CAULIFLOWER RICE:

INGREDIENTS:

ɩɩ

2 Tablespoons neutral oil, like refined

coconut or avocado oil

ɩɩ

3 garlic cloves, minced

ɩɩ

1 teaspoon cumin

ɩɩ

1 small yellow or white onion, finely diced

ɩɩ

1 ½ teaspoons kosher salt

ɩɩ

½ cup minced cilantro

ɩɩ

Zest and juice of 2 limes

ɩɩ

1 medium cauliflower head, riced (or 20

ounces fresh or frozen riced cauliflower

INSTRUCTIONS:

Add oil to a large skillet over medium heat.

When the oil begins to shimmer, add the

diced onions and cook for 8 – 10 minutes,

stirring occasionally or until rice softens. Add

garlic, cumin, and salt. Stir and cook for 30

seconds or until you smell the fragrance of

garlic and the spices. Add the riced cauliflower

and stir well. Cover and cook for five minutes

or until tender, but not mushy. Then, add the

cilantro, lime zest, and juice and season to

taste with salt, if needed. Serve hot and enjoy!

By Sharon Lowell

38 HEALTHY MAGAZINE