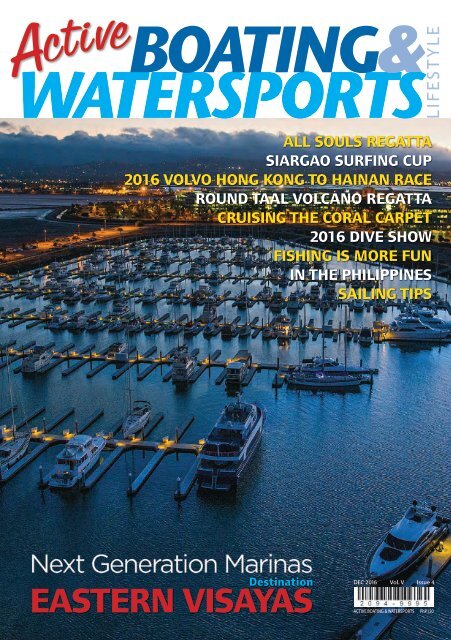 Create successful ePaper yourself
Turn your PDF publications into a flip-book with our unique Google optimized e-Paper software.
ALL SOULS REGATTA

SIARGAO SURFING CUP

2016 VOLVO HONG KONG TO HAINAN RACE

ROUND TAAL VOLCANO REGATTA

CRUISING THE CORAL CARPET

2016 DIVE SHOW

FISHING IS MORE FUN

IN THE PHILIPPINES

SAILING TIPS

Destination

EASTERN VISAYAS ACTIVE

DEC 2016 Vol. V Issue 4

BOATING & WATERSPORTS PhP120

1
---
2

NOW AVAILABLE AT
---
3
---
Introduction by BARRY DAWSON

In keeping with

PGYC tradition

all racing was

done on a

pursuit basis,

with slowest

boats starting

first. This

worked to

perfection

with the fleet

finishing within

a time frame of

approximately

30 minutes.

Within the Philippine sailing calendar there are many bewitching regattas where idyllic scenery, elegantly

graceful yachts and a friendly competitive spirit are combined with a robust joie de vivre. The Royal Cargo 'All

Souls Regatta' held each year at Puerto Galera is among the best of them. Even before getting there, the seaward

approach to Puerto Galera via Verde Island and the Batangas Channel is one of the most photographed, and most

photogenic, sights in the archipelago and all visitors to the Philippines should witness it at least once.

This year the 'All Souls Regatta' was held between October 29 and 31. For a comprehensive wrap of the

racing, please see the following story by former commodore of the Puerto Galera Yacht Club, Tony Stephens.

Those yachties who like to combine a spot of benign sailing in delightful surroundings followed by more than a

few drinks among like minded companions will do well to keep an eye on the PGYC website for the 2017 regatta

dates. And, just for the sheer hell of it, throw in a fancy dress costume or two to get the most out of the Halloween

party.

Words by TONY STEPHENS

Photographs by TERRY DUCKHAM

With a record number of 31 entries the

Puerto Galera Yacht Club's 2016 All Souls

Regatta has been voted the best yet. Coinciding

with the Club's 25th Anniversary, the Royal Cargo

sponsored event attracted entries from as far afield

as Hong Kong, Australia, Germany and France to

name just a few of the countries.

The weather Gods smiled on competitors with winds

averaging around 15 knots, which allowed courses to

include a 23 mile passage race around Verde Island.

This race proved a serious challenge for navigators

4
---
Regatta

All Souls

Soars to New Heights5
---
6

with boats being given the option of rounding

the island either clockwise or anti clockwise. As it

happened Anthea, skippered by Oliver Gully, was the

boat which made the best tactical decisions, coming

in a comfortable First. They were followed home by

Redshift, with Bella Uno, Third.

New courses for the race were planned months in

advance in consultation with some of Asia's most

experienced yachtsmen, including Chris Pooley and

John Berry from Hong Kong. Water operations over

the three-day event were in experienced hands with

internationally recognized official, Jerry Rollin, as

Principal Race Officer and former commodore of

PGYC, Tony Stephens, as official handicapper.

In keeping with PGYC tradition all racing was done on

a pursuit basis, with slowest boats starting first. This

worked to perfection with the fleet finishing within a

time frame of approximately 30 minutes.

Major sponsor was the ever faithful Royal Cargo,

which has supported the regatta for many years.

Sponsor numbers were at an all time high this year

with several newcomers that included the government

body, the Philippine Retirement Authority, sea plane

agent Air Juan, Hyde Sails, Papaya Cove Yacht Charter

Services, and Rayomarine. Other major sponsors

included Broadwater Marine, Tricom Projects, Lane

Archives, and Asia Tiger.

The racing was divided into three classes, Multi hulls,

Racing division and Cruising division.

Competitors from Subic included Selma Star, Princess

Arieta, Dale Godkin, Bella Uno, Michiel Brinkers the

multi hull Kerida, Garry Kingshot and the new sports

boat Redshift skippered by Austen Chamberlain.

Each night at prize giving, bottles of fine rum were

handed out to the class winner and place getters and
---
on the final night, beautifully carved marble items

from Romblon Island were presented to the class

winners.

Overall winner of the regatta was the Multi hull MYG2

skippered by Vincent Ruais. Second overall was Bella

Uno skippered by Michiel Brinkers, third was Hanafe,

skippered by Peter Stevens.

In concert with the All Souls Regatta was a PGYC

Junior Sailing regatta held the week before the main

event. The juniors' prizes were presented by the

Governor of Mindoro, The Honorable Alfonso Umali

Jnr. on the opening night of All Souls.

The All Souls Regatta was not just about racing,

with the club in full-on party mode each night.

Entertainment included live music, traditional Filipino

folk dancing courtesy of the local high school, and

of course the inevitable karaoke. Halloween night

was celebrated with crews competing for prizes by

dressing in ghostly and in some cases totally

outrageous costumes.

8
---
FROM THE EDITOR'S DESK

Time is moving on far too quickly as we see another year fly by.

So again we wish all our readers all the best for the festive season and

the coming of 2017.

2016 showed us some amazing sailing events and records being

broken all over the Philippines. With the Hobie challenge that seen

newcomers Kerlie and Ali from Australia taking honors. The arrival

of the Yachts from Hong Kong in the Rolex China Sea race. To the 3

island challenge in Romblon, cliff diving in Punta Fuego to All Souls

Regatta in Puerto Galera, all culminated in a great year of sailing, that

can only point to bigger and better events in 2017.

In our destination we reveal all the hidden secrets that Samar and

Leyte have to offer, with a multitude of activities and fun to be had,

Samar all the way to Maasin in Southern Leyte. This is truly an island

worth visiting, and should be included in your things to do list.

Once again all from Active Boating and Watersports wish all of our

readers A Merry Christmas and a Prosperous New Year.

WHAT'S INSIDE?

All Souls Regatta Soars to New Heights 4

Sandon Steps Up at 12

Siargao Surfing Cup

2016 Volvo Hong Kong to Hainan 18

Uitemate Joins Zambales 24

2016 Dive Show 28

Cruising the Coral Carpet 34

Destination -EASTERN VISAYAS 42

Fishing is More Fun 66

in the Philippines

Sailing Tips 72

Round Taal Volcano Regatta 76

Destination: Eastern Visayas, page 42

Photos courtesy of DOT and Yorko Summer

Next Generation Marinas

Cover photo courtesy of Rayomarine

The views expressed and advertisements published in Active Boating & Watersports

are those of the authors and advertisers, and not Rodbar Publishing.

Rodbar Publishing does not accept any liability whatsoever for errors or omissions.

9
---
The New Image of

"A more

professional

approach to

operations is

already reaping

customer

benefits and

a new

perspective

on pricing has

seen prices

dropping on

major capital

purchases

such as generators,

life

rafts, outboard

motors and

RIBs etc."

Words by

BARRY

DAWSON

Broadwater Marine, a name synonymous for its

service to the boating industry is now under

new management and is expanding even more with

more distributorships lower prices and more outlets

to bring the boating fraternity a higher quality

service than it is already noted for, with a larger

range of products from the world's leading suppliers

such as Garmin, Fusion, DeBug, Red Paddleboard,

Boat Models, API Marine engine parts and much more.

Since operations commenced in early 2005

Broadwater Marine has always strived to provide

top quality products and service at realistic prices.

Now with new ownership this is going to get even

better Peter Baird the new owner and Managing

Director of Broadwater Marine said.

"A more professional approach to operations is

already reaping customer benefits and a new

perspective on pricing has seen prices dropping

on major capital purchases such as generators, life

rafts, outboard motors and RIBs etc."

This continual growth will also see another new

showroom opening in Puerto Princesa, Palawan in

early 2017, and with showrooms already established

in Subic Bay, Manila, Cebu, Boracay, and Samal

Island, Davao this new showroom can only increase

the quality of service to the boating industry right

across the Philippine archipelago.

New suppliers introduced into the already impressive

range of quality products stocked by Broadwater

Marine are the Garmin Range of electronic equipment.

Garmin is noted as one of the market leaders in high

quality GPS, Fishfinders and Radar etc. and now the

full range is available at all Broadwater Showrooms.

For the highest possible quality sound and

entertainment equipment Broadwater have

introduced the Fusion range of audio. You can test

the impressive quality of these units at any of the

Broadwater Showrooms.

For a higher fuel efficiency De Bug has also been

introduced into the Broadwater Range of quality

products, De Bug is designed to keep your fuel clean

of all fuel bug contamination giving you cleaner fuel

and cleaner fuel system that results in higher fuel

efficiency.

Other products introduced to enhance the range of

supplies are API Marine Engine Parts giving Broadwater

clients a far wider selection of readily available

engine starter motors and alternators.

Red Paddleboard increasing your choice of water

sport toys.

For fond memories of your prized possession you

can now have a replica model made to have place

of honour in your display cabinet Boat Models will

make you a scaled replica of you pride and joy for

an enticing price.

With all that has happened to increase quality and

services at a more realistic price in the short time

Peter Baird took over Broadwater Marine, we can

only look forward to bigger and better things to

come from the Philippines leading marine

equipment dealer.

BROADWATER

MARINE

10
---
YACHT PARTS SALES AND SERVICE

Under

New

Management

New Brands. Lower Prices. Greater Value.

➤ SUBIC BAY 0939-922-3238

➤ MANILA 0918-963-8148

➤ CEBU 0939-902-0494

➤ BORACAY 0918-963-8155

➤ SAMAL ISLAND 0918-963-8151

➤ PUERTO PRINCESA (opening soon)

11
---
Sandon Whittaker

at the Finals

SANDON

Crowd at Cloud 9

STEPS UP AT

S

12
---
September is a busy month for water sports

enthusiasts in the Philippines. And one of the

most eagerly awaited events is the World Surf League

(WSL) Siargao Surfing Cup Qualifying Series (QS)

1,500, held annually at Cloud 9. This internationally

sanctioned competition brings mostly young surfers

from many countries to Siargao to embark on an

almost gladiatorial challenge. The winner of this multileg

competition gets the chance to compete with the

big boys and girls in the pro league of surfers; matching

skills with past, current and future world champion

surfers on the international circuit.

Of course, you need a series of half decent waves

to hold a successful surfing competition, but those

waves were conspicuously absent on Day One,

forcing organizers to call a lay day. For the most part

the surfers ran through their routines, waxed their

boards and tested their gear in preparation for the

promised waves which, hopefully, would arrive the

next day. They also checked out the island's many

excellent facilities, mingling with the crowds of

spectators while avoiding, as far as possible, the

coterie of adults and officials acting as chaperones.

"Coming up

against Philmar

was scary

because local

knowledge is so

important here.

I've seen him

switch-footing in

barrels and doing

all sorts of crazy

stuff so I knew it

would be tough."

Sandon

Whittaker

Words by

BARRY

DAWSON

Photographs

as credited

The contingent of 64 international and local surfers,

as well as the event organizers, pored over the weather

forecast which showed a typhoon swirling around

in the Pacific. This same typhoon was expected to

deliver the much anticipated swell that culminates

in the perfect barreling waves for which Cloud 9 is

famous. And on the afternoon of Day Two the waves

arrived, rolling, tumbling, surging towards the shore,

oblivious to the crowd waiting anxiously for their

iargao

arrival. Somehow, within seconds, it seemed that

every surfer on the island from the beginners to the

pros was in the water, paddling furiously to catch a

wave or two before the contest began.

SURFING CUP

13
---
Me and Dad getting our Hobie cat ready

Above: Board

breaking tradition

Right: General Luna

Mayor Rusillion

22nd Siargao

Surfing Cup

Opening Ceremony

Contest Director Gerry Degan sent out a call to the

surfers to be in the Cloud 9 Tower at 5 am the following

day, ready to start Round One of the competition.

"It will be mid tide tomorrow at about sunrise, so we

want to run as many heats as we can as the tide is going

out," said Degan. "If the swell isn't too big, we'll be

able to run through the low tide and get a full day

of competition in. We're hoping the swell gives us at

least two or two and a half days of pumping waves,

which is what we need to complete the event, so we'll

run as long as we can each day," he explained.

With a total prize purse of US$50,000 on the line,

as well as important WSL Qualifying Series and ASC

Championship points up for grabs, competition was

expected to be be fierce but fair. Local surfers know

the Cloud 9 wave so well they could almost catch it

blindfolded, so the international competitors had to

find something special as they chased the elusive prize

money and points.

The first heat of Round One, pitched last year's winner,

local boy John Mark Tokong, with Manuel Selman

from Chile, recent Quiksilver Young Guns winner Rio

Waida from Indonesia, and local Glenn Figueron.

In Heat Two, current ASC rankings leader Dede

Suryana from West Java (Indonesia) was up against

Fraser Dovell from Australia, Joe Keogh from Hong

Kong, and local Philmar Alipayo, who recently won

the ASC sanctioned West Sumbawa Pro at Supersucks

in Indonesia.

14
---
It was an epic tube fest with some high flying aerials

and deep hacks to keep the judges busy, the

spectators entertained, and the media outlets and

photographers ever alert for that special moment.

Sandon Whittaker

Sandon Whittaker surfed a great final day making the

most of the waves on offer at Cloud 9. He utilized the

lefts and rights, walls and barrels to post solid scores

throughout the event. His lightning quick backhand

snaps saw him post a heat total of 12.85 (out of a

possible 20) to win the Final. "This is a dream come

true," said Central Coast surfer Whittaker. "This is only

my third QS event so I had low expectations, especially

being a 16-year-old with all the older guys, it doesn't

feel real. Coming up against Philmar was scary because

local knowledge is so important here. I've seen him

switch-footing in barrels and doing all sorts of crazy

stuff so I knew it would be tough. With this win I'm

keen to look toward more QS events and try and get

into the QS6,000's next year."

The young goofy-footer not only had to overcome 63

other hungry competitors but a viral illness that almost

forced him to pull out of the event before the final.

This win is not only the perfect remedy for Whittaker

but the best result of his young career.

Mitchell James Bennett

"When my heat was coming up yesterday I could

hear the announcer calling my name and I was still at

my hotel ready to give up because I felt so sick. The

people I'm staying with were all showing me so much

support, along with my dad, so I thought I'd have a go

and have a crack and not disappoint them. I'm feeling

a lot better now, just an amazing vibe."

Local surfer Alipayo was the crowd favorite all day

and proved he can really mix it with guys who follow

the QS. His backhand tube-riding was something to

be admired as was his air game. Whittaker's competitive

awareness and use of priority left Alipayo hunting

smaller inside waves during the final. He was unable

to overcome the young Aussie in the end but still came

out with the best result of his career.

Philmar Alipayo

"I'm stoked I made it to the final – it's the best

result and day of my career," Alipayo said. "I'm still

disappointed that I did not win but Sandon is an amazing

surfer and has an epic backhand. Without the barrels

he was going to be hard to beat. It's been a really good

day and I can't wait for next year."

On the way to the final, Alipayo ousted Australasia

QS Championship hopeful Shane Holmes. Holmes

displayed raw power all contest and the Semi-final was

no different. Holmes threw his trademark power hacks

earning him a stranglehold on the heat; until, in the

dying seconds Alipayo found a set, took off deep and

weaved through a tight tube getting spat out of the

end. This got him the nod from the judges earning a

near excellent 7.87. Holmes took off on the next wave

15
---
Philmar Alipayo and

Shane Holmes

Starting to Fire

but it didn't offer enough to retain the lead and

finished the event with a respectable equal 3rd place

to go with his two seconds for 2016.

It's annoying to go out like that in the dying seconds,"

Holmes said. "Third is still a good result so I'm really

happy with it but would have liked the waves to pump

the whole time. The two previous days had amazing

waves and today was still okay, that's just surfing I

guess. I'm turning my focus towards the Taiwan Open

of Surfing now, hopefully I can get the win there."

About the World Surf League

Contributed by Tom Bennett, WSL Australasia Media/

Communications Officer

The World Surf League (WSL), formerly the Association

of Surfing Professionals (ASP), is dedicated to

celebrating the world's best surfing on the world's best

waves through a variety of best-in-class audience platforms.

The League, headquartered in Santa Monica, is a truly

global sport with regional offices in Australasia, Africa,

North America, South America, Hawaii, Japan and Europe.

The WSL has been championing the world's best surfing

since 1976, running global events across the Samsung

Galaxy Men's and Women's Championship Tours, the

Big Wave Tour, Qualifying Series, Junior and Longboard

Championships, as well as the WSL Big Wave

Awards. The League possesses a deep appreciation for

the sport's rich heritage while promoting progression,

innovation and performance at the highest levels.

Showcasing the world's best surfing on its digital platform

at WorldSurfLeague.com as well as the free WSL app,

the WSL has a passionate global fan base with millions

tuning in to see world-class athletes like Mick Fanning,

John John Florence, Stephanie Gilmore, Greg Long,

Gabriel Medina, Carissa Moore, Makua Rothman, Kelly

Slater, Adriano de Souza and more battle on the most

unpredictable and dynamic field of play of any sport

in the world.

For more information, please visit WorldSurfLeague.

com.

16
---
17
---
2016 Volvo Hong

"The highs: it's

terrific to rush

to sail down

the waves and

be out there

in the open

water! The

biggest high

was when we

arrived as we

had not realized

we had

won!"

-Anthony Root

Words by

KOKO MUELER/

RHKYC

Photographs by

RHKYC/

GUY NOWELL

It was clear blue skies and a 6-7 knot north-easterly

breeze for the start of the 390nm Category 1

offshore Volvo Hong Kong to Hainan Race which

started today, [3 November], at 1320 hours. Race

Officer Simon Boyde set a committee boat start line

to the north of the RHKYC main clubhouse at Kellett

Island, with the warning signal sounding at 1310

hours. Most boats seemed to favour the pin end of

the line. It was only the 100ft super maxi Scallywag

that favoured the committee boat end; possibly to

make sure to keep clear of the other boats.

With all boats getting away cleanly at the start, they

tacked their way through Victoria Harbour. Scallywag

was the first to make it through the Lei Yue Mun

Gap, followed by the TP52s Standard Insurance Centennial

and FreeFire. Next through the Gap was the

Ker Custom 42 Black Baza with Jo Aleh on board. Jo

won a gold medal and a silver medal at the London

and Rio Olympics for New Zealand. Surprisingly this

was Jo's first offshore race and she said, "I am looking

forward to sending her downwind, hopefully the

forecast stays in so we get to Sanya quickly!"

The last boat to make it through the gap was the

Sun Fast 3600 Ymir which was the smallest boat in

the fleet. Crew member Darren Catterall said, "We

may be the smallest boat in the fleet but the boat is

built for downwind, hopefully we arrive in Sanya in

one piece before the beer runs out."

Once through Lei Yue Mun Gap, the fleet headed

south-east towards Waglan Island then bore away

towards the north-east tip of the Dangan Liedo Island

rounding it to starboard, with the rest of the Lema

Islands. Once past the Lema Islands the fleet headed

south-west to Sanya on the southern tip of Hainan

Island in China.

The current race record for the Volvo Hong Kong

to Hainan Race is 25h 54m 33s set in 2014 by Karl

Kwok's Beau Geste. Everyone, including FreeFire

owner Sam Chan, was looking to Scallywag breaking

the record. Says Chan, "If we can do it in 24 hours,

they can do it in 12 … and definitely under 18."

18
---
Kong to Hainan

19
---
All boats carried Yellowbrick trackers, which

updated live tracking information at 30 minute

intervals throughout the race, and this could have

been viewed at http://www.rhkyc.org.hk/hkhainantracking.aspx.

Fans could also take part in the race through www.

sailonline.org who bring the virtual version of the

Volvo Hong Kong to Hainan Race to armchair sailors

around the world. This enabled them to pit their

navigational skills against the real fleet, with the

feed from the Yellowbrick tracker showing the position

of the real yachts overlaid on the virtual race screen.

The challenge was expected to be negotiating the

conditions; Sailonline uses almost real-time weather

downloaded from NOAA and the boat physics are

considered to be the most life-like of any online

simulation.

After the arrival of Scallywag at 12:51:52 yesterday

and their record breaking race with a Line Honours

win of 23h 31m 52s. The next boat to arrive was

Sam Chan's TP52 FreeFire; she crossed the line at

20:19:54 cementing her position as First in IRC Racer

0, and Second in IRC Racer Overall.

Owner Sam Chan commented on the race, "The race

was fast … well, not as fast as last time but still fast.

We had lighter wind to begin with but very good

wind offshore. We were sailing a VMG around 12 to

13 knots and a much bigger boat speed. We ended

up jibing around four or five times. My top boat

speed was 23.2 knots but another crew member

got 23.8 knots. I think the top wind speed we saw

was close to 3 knots. Yes it was a good race and

I enjoyed it!"

After FreeFire, and ahead of the other TP52 last

night, was Anthony Roots' Ker Custom 42 Black

Baza finishing at 23:09:54; giving her the win in IRC

Racer Overall and the win in her division, IRC Racer

1. Black Baza has added this victory to her previous

wins in IRC Overall in the 2016 Rolex China Sea Race

and the 2015 Hong Kong to Vietnam Race!

Anthony Root commented on the highs and lows

of the race, "I think the lows of the race were easy,

we had some troubles with various types of gear on

the boat that we had to overcome; there was a point

that we couldn't get our spinnaker down. The highs;

it's a terrific to rush to sail down the waves and be

out there in the open water! The biggest high was

when we arrived as we had not realized we had won!

Top boat speed was around 23 knots."

The last boat to arrive in the IRC Racer 0 Division was

TP52 Standard Insurance Centennial at 00:23:23.

Owner Ernesto 'Judes' Echauz said, "It was a very

20
---
2016 LUXURY JET BOATS

Distributed by Rayomarine Inc.

The Leading Luxury Motorboat and

Sailboat Distributors in the Philippines

27/F World Center Building

330 Sen. G. Puyat Avenue

Makati City Philippines

Tel no: =632 867-8603

info@rayomarine,com

sales@rayomarine.com

21
---
good race although we got caught in some fishing

nets at 1823 hours on the first evening out. Getting

the nets off was a big challenge as we had to pull

the net up on a halyard with people on the grinders

and then try to cut it off. There were many fishing

nets where we got caught [and] it took us quite a

while to find our way out; we had to go north, then

we had to go west. It was a good thing we had the

Yellow Brick tracker so people knew what we were

doing. Besides the nets it was fantastic sailing; the

wind was very strong downwind and consistent, and

I have never experienced this type of sailing before."

After the arrival of Standard Insurance Centennial,

the race management team were able to get a bit

of shut eye before the arrival of Fred Kinmonth and

Nick Burns' Sydney GTS 42 Mandrake III at 9:14:31

next morning morning. Mandrake III went further

offshore than any of the other boats in the fleet

and was able to stay with a great breeze right until

Luhuitou Jiao Point where it turned into a bit of a

drifter for about three hours before they finished.

Fred Kinmonth spoke about the race, "Overall it was

great race, really windy and we had a lovely time.

Everything went absolutely fine although we blew

up three spinnakers, but apart from that we had

great ride down, absolutely no trouble at all. There

was great rapport amongst the crew; most of us

have sailed together for about 14 years."

With the breeze changing direction, Mark Whitehead

and Andy Lam's Mills 40 Straight Up came into

Sanya Harbour with the kite up, only changing to

the headsail right before the finish as the breeze

shifted. Straight Up crossed the line at 13:11:43 giving

them a Third in IRC Racer 1.

The final two boats still racing in the Volvo Hong

Kong to Hainan Race were Outlaw and Ymir, which

were estimated to arrive around 1800 hours and

2300 hours respectively.

All boats have now safely crossed the finish line in

the 390nm Category 1 offshore Volvo Hong Kong to

Hainan Race.

The smallest and final boat in the fleet from the

IRC Racer 2 Division to finish was Kjartan Furset's

Sunfast 3600 Ymir arriving at 23:04:00 on Saturday

night. Also from IRC Racer 2, Adrian Bell's Azuree

46 Outlaw crossed the line some 5 hours 30 minutes

before Ymir at 17:39:10, taking the win in their

division. Outlaw had a very nice breeze coming into

Sanya of 8-10 knots, unlike the earlier arrivals into Sanya.

Kjartan Furset said, "The race was a bit tough in the

beginning; very bumpy seas. It took a bit to get used

to the boat in these conditions as it was our first real

big downwind race. Surprisingly it wasn't very wet

on board — the Rolex China Sea Race was far wetter

this year. The first night was a bit rough but the rest

of the sail was beautiful. The highlight of our race

was surfing down the waves in the big rolling swell.

Our top speed was around 18 or 19 knots. One thing

I wish we had done before the race was spend more

time on crew training; we tore a spinnaker and it

would have been good to be more prepared for this.

The last two days of the race were absolutely beautiful,

nice breeze, very, very nice sailing."

IRC Racer 0 was won by Sam Chan's TP52 FreeFire

on corrected time of 1d 18h 24m 21s after a fantastic

run. Seng Huang Lee's 100ft Super Maxi Scallywag

came in second in IRC 0, took Line Honours and

cemented themselves in the record books with a record

of 25h 22m 33s after a very quick race with top

speeds of 34 knots!

IRC Overall and IRC Racer 1 was won by Anthony

Root's Ker Custom 42 Black Baza. After a cracking

race they arrived at 23:09:5 4 on Friday night ahead

of the last IRC 0 boat, Ernesto Echauz's TP52

Standard Insurance Centennial.

22
---
The Leading Luxury

Yacht Distributor

in the Philippines

Rayomarine Premium Sail Boats and Yachts. Explore our extensive range of boat for sale in Philippines.Our brands consists

of Flybridge & V Class Yachts, Sailing Yachts and Catamarans, Sport Cruisers, Ski Wakeboard boats, and Sport Fishing vessels.

Our range of water crafts are built to the highest world class standards in quality, design, durability and engineering, with

only safety, performance, efficiency and depandability in mind.

Robalo

Robalo's heavy-duty construction and efficient bottom design pays off with a

smooth, comfortable and controllable ride. Whether you choose a Center Console,

Dual Console or Walkaround model, Robalo is the most reliable, durable and

technically designed SUV on the water

Our Partners

Princess

Since the launch of their first 31-footer in 1965, Princess Yachts have been quietly

rewriting the rules of luxury cruising. From their legendary Flybridge range and

thrilling V-Class sports yachts, to their long-range Motor Yachts and ground-breaking

M-Class superyachts. All are unmistakeably Princess.

Hobie

Novurania

As the leading manufacturer of luxury yacht tenders, innovation is apparent in every

model of our comprehensive line of boats. Our in-house engineers, equipped with the

most advanced hardware and software applications, continue to introduce new

models based on the needs of our direct clientele. Leading industry through innovation

has always been paramount at NOVURANIA.

It seems incredible that one man's vision could provide so much fun for watermen and women

the world over, but in that department, Hobie Alter stands alone. He didn't just create toys,

he created a way of life, a new way of looking at our watery world. The dream born on the

beach in 1950 has become reality not just for Hobie but for new generations of dreamers, all of

whom continue to spell fun in the sun, the surf and the sand with a flying capital H.

Distributed by Rayomarine Inc. The Leading Luxury Motorboat and Sailboat Distributor in the Philippines

27/F World Center Bldg, 330 Sen. G. Puyat Avenue, Makati City, Philippines

info@rayomarine. com I sales@rayomarine.com

Phone: +632 867 8603 I www.rayomarine.com

23
---
Uitemate Join

The Society of

Water Rescue

and Survival

Research has

numerous

documented

examples of

non-swimmers

surviving using

their "Uitemate"

system,

with a number

having survived

the 2011 Tsunami

in Japan.

Uitemate 2016 was conducted at the YMCA

Offices in Ermita Manila on November 12 –

13 and presented by The Society of Water Rescue

and Survival Research from Nagaoka University of

Technology, Nigata, Japan. Bestowed by professors:

Hidetoshi Saitoh and Takahiko Kimura.

Due to their constant commitment to water safety

and drowning prevention, Mr. Roger Bound of

Zambales Lifesaving Inc. was invited to attend this

event, he was also requested to bring potential

candidates to become "Uitemate" Instructors.

Uitemate (pronounced Ui-te-ma-te) from is a

composition derived from 2 Japanese words, "Uite",

meaning to "float on ones back" and "Mate" meaning

"waiting for assistance to come".

In English "float and wait (to survive)", or in Filipino

"lumutang at magantay (upang manatiling buhay)".

The program was conducted over 2 days. Day one was

composed of lectures and presentations including a

presentation given by Mr. Bound on Water Accident

prevention activities, along with the program Swim-safe

held by Zambales Lifesaving Inc. His performance was

based on years of experience with the lifeguard training.

The Swim-safe program which was designed by them

also on the "float to survive" principal is almost

exactly the same as the Uitemate program.

Day 2 was in water demonstrations, practical training

and assessment of participants as to who would be

issued with Instructor Certificates, 6 of which were

from Zambales Lifesaving Inc.

24
---
ins s Zambales

25
---
Old Jack

We asked Mr. Bound his opinion and comments on

the program, --"the program is very good, in fact

very similar to the program we designed and piloted

this last summer for elementary school children, one

of the interesting things that they did, was to let the

students to use plastic bottles for floatation aids

to start with, thus giving them more confidence,

then to discard the floatation assistance once more

comfortable.

This is a very good idea and we will incorporate

into our program. If a person is a complete nonswimmer,

but knows how to float, they can survive

an aquatic accident. The Society of Water Rescue

and Survival Research has numerous documented

examples of non-swimmers surviving using their

"Uitemate" system, with a number having survived

the 2011 Tsunami in Japan. This program has been

taught to thousands of people in Japan over the last

several years.

26

It is really encouraging to know that we are defiantly

on the right track with our program, which was

featured in the June Edition of your magazine, I had

a copy with me that I presented to Professor Saitoh,

he was quite impressed and very happy to receive it.

Lastly I congratulate the Society of Water Rescue

and Survival Research, that they are interested to

travel to other countries, such as the Philippines

which have such alarming drowning statistics and

share their knowledge and information for free.
---
Live bait fishing

The next event on the Zambales Life Saving calendar

is the Standard Insurance 6th Zambales Lifeguard

Challenge to be held at the Rama International Resort,

Botolan Zambales on January 14th & 15th 2017. A

number of teams from other parts of the Philippines

will be there to compete in the challenge. Also with

Zambales Lifeguard Challenge now being confirmed

as an International event we can expect to see a lot

more international teams competing including the

confirmed entry of a Lifesaving Team from Griffith

University, on Queensland's Gold Coast in Australia.

If you want further information on how to increase

water safety in your area contact Roger Bound on

+63918-922-2863 or email slszambales@gmail.

com.

27
---
2016 Div

The show offers

the local

market greater

opportunities,

not only to

promote the

Philippines as

a top diving

destination,

but to also

advertise their

own business to

a much wider

audience.

Words by

BARRY

DAWSON

Photographs

as credited

28
---
e Show

The Philippines, which has some of the best

diving sites in the world, hosted the second

Diving & Resort Travel Expo. This 3 day event was

held from 9th September to the 11th September

2016 at the SM Megatrade Hall in Pasay, Philippines.

This event showcases products from Marine & Boat,

Travel & Tourism industries, and promotes the ever

growing diving industry in the Philippines.

The DRT Show is considered to be the largest gathering

for diving enthusiasts, marine conservationists and

anyone with a passion for the underwater world.

The DRT Show considered to be one of the major

gatherings in Asia Pacific for diving enthusiasts,

marine conservationists and anyone with a passion

for the underwater world, has now been met with

an overwhelming response as an important regional

event. And is fully supported by the Department

of Tourism, top-level exhibitors and leading dive

equipment manufacturers, water sport equipment

manufacturers, dive resorts, tourism boards, marine

conservation and diving organizations. DRT Show

greatly promotes trading and export business and

has become the most important and 'MUST VISIT'

diving equipment and diving destination event in

the Philippines.

29
---
C

M

Y

CM

MY

CY

The diving industry in the Philippines is far from

new, with scuba diving operators being around for

more than 30 years. Experiencing a massive growth

over the past six years which has been noticed and

promoted by Active Boating and Watersports Magazine

The Philippines was more than ready for a

comprehensive Dive expo and came to the notice of

the organizers and the inaugural show was held in

2015 with a huge and resounding success.

CMY

K

30

The show offers the local market greater opportunities,

not only to promote the Philippines as a top diving

destination, but to also advertise their own business to

a much wider audience. There are a few facts which

might come as a surprise to some people. Such as,

the local middle class, even though small compared

to the western world, is plentiful. The locals just

need to be offered the right packages that they will

find attractive. The expat community in Manila is

huge as well. This community has a lot of spare time

on their hands and grabs every opportunity they see

to visit new and exciting places in the country. Many

of the expats are here on 2 or 3 years contracts,

working for big companies, and they want to make

the most of it while they are here. The dive show has

now given these people the opportunity to see what

is on offer all under one roof.
---
Organized by:

Supported by:

Media Partners:

Sponsor:

31
---
32

All of the exhibitors at this year's expo were keen to

get the word out and a huge amount of promotional

bargains were on offer from top exhibitors such

as Raid, Amundo, Scuba Gear and the many dive

resorts. 2016 was a resounding success and we can

look forward to an even bigger and better event

on the 8th to 10th September 2017 featuring

exhibitors such as dive equipment and manufacturers,

water sport equipment and suppliers, wholesalers,

exporters, retailers, dive organizations and institutions,

diver training certification agencies, dive clubs,

travel agencies, tourism board, hotels and dive resorts,

live-aboard dive operators, underwater photography

and videography and commercial diving companies.

Plus much more. So be sure to put the 2017 DRT

show on your must to do list. Further information

and updates can be found at: http://www.philippinesdiveexpo.com/thedrtshow.php
---
33
---
Cruisingt

Of the

7,100+

islands in

the country

4000 are

inhabited by

humans. By

contrast, in

Japan there

are an estimated

6,852

islands, but

only 400 are

inhabited.

Words by

BRUCE

CURRAN

Photographs

as credited

Along the "Bamboo Corridor" the sailing

grounds are as good as anywhere on our

planet. The sea passages begin off Myanmar, continue

down the west coasts of Thailand and Malaysia, then

cross east through the northern tip of the Indonesian

archipelago and along the north coast of Borneo with

Sarawak, Brunei and Sabah as well as offshore islands

as great destinations, before the tropical magic of the

Philippine islands takes you further into cruising

paradise. The "Bamboo Corridor" should be on everyone's

cruising list.

The cruise along the northern coastline of Sabah

going east from Kota Kinabalu City is a unique

experience, since you get a magnificent view of the

highest mountain in South East Asia looming high and

mighty inland … Mount Kinabalu especially at sunset or

sunrise it is a truly soulful and spiritual encounter.

It is 30 miles from the last Malaysian island to the

first one in Philippine waters, with Balabac Island lying

off the southern tip of the main Palawan Island.

Palawan actually sports 1,780 islands in all, which

makes up a ¼ of all the islands in the Philippine

archipelago totalling 7,107.

There is a suitable anchorage on the south eastern

side of Balabac Island off Cape Melville, which has a

magnificent Spanish lighthouse built in the 1890s to

welcome you with its majestic and classical European

light tower at the start of your visit.

Then there is the choice of cruising up the Palawan

Passage to the West of the main island, or to trip

through some reef areas and islands off the East coast.

The WEST COAST Route:

The deep Palawan Passage (watch out for whale

sightings) is a major shipping route.

Sailing in the main passage takes you offshore and

away from the continuous reefs that run all along the

west coastline, but after several hours it is possible to sail

closer to the shoreline and several anchorages exist that

are best taken if the winds are blowing offshore.

Then the perfectly sheltered long and inviting Ulugan

Bay is a good resting spot.

Just up the coast from here is one of the newly declared

'Wonders of the Natural World', named the St Paul's

Underground River by a British ship Captain, since the

main stalactite and stalagmite cavern reminded him of

St Paul's Cathedral in London. Now they like to call it

the Puerto Princesa Underground River. Either way it

is an essential visit, with a possible anchorage off the

beach near the entrance, where the river runs several

kilometres under the mountain and can be accessed with

34
---
Coral

Carpet

the

35
---
guides by paddle boats, after you have passed the area

where wild monkeys and large monitor lizards hang out

and will enhance your experience in this amazing area of

the "Bamboo Corridor".

To the north lies a set of islands surrounding Port Barton,

worthy of a stop with some protected anchorage areas

and a number of restaurants and bars in a resort or three.

Further up lies the longest single beach in the entire

country on the edge of Imuran Bay, with many good

anchorage spots and all with the beautiful backdrop of

the main Palawan Island riddled with mountainous and

forested scenery.

Next comes the Malampaya Sound, being brackish

water due to being fed by umpteen rivers and streams,

and is home to the only pod of Irrawaddy Dolphins

that live in the country.

Then begins some real magic, with the cruise into the

endless scenic attractions fuelled by mountainous limestone

cliffs on a multitude of islands in the area known

as El Nido, which is a true cruising paradise. There are

anchorages galore, island and mainland resorts to suit all

pockets, and the whole area has a magic all of its own.

Paradise doesn't stop here, and after a scenic cruise

to the northern tip of the main Palawan island, you

enter a group of 128 islands known as the Calamian

Islands, which I have named "the Jewel in the Crown"

of the Philippine Islands in my cruising guide book

titled 'Combing the Coral Carpet'.

Besides having ¼ of all the islands in the Philippines,

Palawan is inhabited by only 1% of the total population

36
---
SEE YOU AT THE

SEPT. 9-11, 2016 SM MEGAMALL

37
---
in the country estimated at just over 100,000,000. Of

the 7,100+ islands in the country 4000 are inhabited by

humans. By contrast, in Japan there are an estimated

6,852 islands, but only 400 are inhabited.

There are a plethora of all sorts of exotic anchorages,

as well as many resorts on islands big and small in this

veritable cruising ground. Near the coast off the south

eastern end of Busuanga Island there are hot volcanic

springs which are an ideal place to rest weary cruising

limbs before taking off on the next session of water

cruising.

To the NE of Busuanga Island lies the famed and well

protected Apo Reef, preserved for nature for many many

moons already, where the coral and the underwater life

has a chance to thrive provided responsible shipping

does not run aground.

Best to hire a dive boat to go there, available from

several resorts and dive operations in Busuanga, and

even from Mindoro Island in and around Pandan Island.

Pandan Island has a neat resort, 'foreign' owned. They

know the area intimately if you need the inside edge!

Paluan Bay on the NW tip of Mindoro island is a pleasant

anchorage surrounded by nature and just the locals.

Through the Calavite Channel brings you to the ancient

Spanish favoured anchorage of Puerto Galera on the NE

tip of Mindoro. The welcoming Puerto Galera Yacht Club

is the focus for the cruising fraternity wishing to glean

more about where to go to experience more and more

of this endless paradise.

•Going north from here you head towards Manila, or

further north still to Subic Bay.

•Going East and south you start to explore the magic

islands within the Sibuyan Sea.

This end of the "Bamboo Corridor" is truly a pleasure

and a rich treasure for all those who are willing and able

and committed to experience sail cruising at its very best.

The advice is …. Go close those doors on land and raise

those sails at sea … and tune in to nature at its finest!

38
---
39
---
40
---
41
---
EASTERN

42
---
DESTINATION

VISAYAS

Words by

BARRY

DAWSON

Photographs

as credited

Many visitors to the Philippines will be

familiar with the main islands of the

Eastern Visayas — Samar, Leyte and the much

smaller Biliran — without actually having been

there. Known in local government parlance as

Region VIII it faces the Philippine Sea to the east

and further east lies the Pacific Ocean, source of

a great deal of anguish during the typhoon season.

For most of the year, however, the weather is

benign with bright, sunny skies of a vibrant

blue, occasionally broken by a few clouds, scudding

playfully before a gentle breeze.

Samar itself is the easternmost island in the Visayas,

and the third largest island in the Philippines.

It is separated from Leyte by the San Juanico

Strait, which at its narrowest point is only about

two km across. This strait, with its whirlpools

and a smattering of islets offering magnificent

views is crossed by the San Juanico Bridge, the

country's longest. For the geographically challenged,

Samar is southeast of Luzon's Bicol Peninsula

and is separated from the country's largest island

by the San Bernadino Strait.

Take an exciting

river ride in a

dug-out boat at

the Ulot Watershed

Ecotourism

Loop in Paranas.

Or be thrilled as

expert boatmen

maneuver a

torpedo boat

between imposing

rocks as they

progress up and

down stream on

the Ulot River.

43
---
EASTERN VISAYAS

Calbayog Zipline

To the south of Samar is the Leyte Gulf, the site of

the Battle of Leyte Gulf, one of the most decisive

Pacific theater naval battles during the Second

World War. The gulf opens into the Philippine Sea.

As the commercial and cultural center of Eastern

Visayas, Tacloban City on Leyte provides easy

access to several of the island's magnificent whitesand

beaches, which lure growing number of local

and overseas tourists each year without ever seeming

to be crowded.

Samar province, too, has her share of nature's

bounty. Among the jewels which entice visitors

and locals are the unexplored mountains and caves

with their exotic wildlife, pristine shores rimmed

by unspoiled coral reefs, cloud-hidden lakes of

blue surrounded by multi-colored flowers and

beautiful beaches and waterfalls nestled beside a

mountain.

Malajog Zip Line

The Malajog Ridge Zipline and Nature Park, is

Calbayog City's newest tourist attraction. The

Nature Park was opened to the public on March

27th, 2016, and the zipline adventure ride was

opened not long after. Zip from Malajog Ridge

Point across the ocean to Daraga Islet, one of

those harmless little specks of land which serves

no purpose other than the amusement of man,

(although I dare say the flora and the marine life

may not agree), opposite Malajog Beach.

As splendid as all that seems, there is a bit of work

to be done to reach the zip line starting point.

There's no avoiding the trek along the Malajog

Ridge nature trail which crosses volcanic and

limestone formations and passes through dense

jungle that conceals many crevices, hidden caves

and some simply stunning views along the way.

The length of the eco-trail is about 1,850 meters

and there are over 830 steps to be clambered up

before reaching the zip line summit, where the

line begins. It is hot and tiring work and visitors

are urged to bring plenty of water, apply a liberal

coat of sunscreen and be sensible enough not

to undertake this trek without being certain of

finishing it in one piece. It may be hard work to

reach the zip line but the ride back down is simply

exhilarating.

The zip line, which costs about P200, covers a

distance of some 850 meters and is considered

the country's first "mountain to island" zip line

by local experts: it is also one of the longest in

the country. The zip trip lasts nearly 1 minute and

10 seconds. The zip line and nature trail are part

of the Malajog Tourism Development Project. The

nature trail provides four separate areas along the

trail for picnics, to rest, or for shelter from the

elements should the weather suddenly turn nasty.

It is sure to be fun for the entire family, but there

is a cautionary note. The Zip line is not available

to persons under the age of 15 years old.

44
---
45
---
VI-

Lo-ok Beach in

Calbayog

Ulot RiverEASTERN

On the western side of Samar, nature-lovers will

find unusual landscapes and a whole lot of spelunking

sites; after all they don't call Samar the "Caving

Center of the Philippines" for nothing!

The more adventurous traveller will become giddy

at the thought of Samar's numerous cave systems

and the chance to get up close ad personal with

them. Among its most famous are the Sohoton

Caves, a two-hour trip from the town of Basey.

The 840-hectare park, which surrounds the cave

system, features limestone walls, a natural rock

bridge, underground rivers, lush forests and caves

with stunning and expansive interiors. There's

also the Langun-Gobingub Cave in Calbiga, one

of the largest karst caves in Southeast Asia.

Swimming spots, too, are generously spread

throughout the area. The biggest problem most

newcomers face is deciding where to go first,

which isn't a bad problem to have. Lo-ok Beach

in Calbayog City boasts icy blue waters facing the

Samar Sea and natural rock formations that present

a more rugged beach-going experience.

Remember to pick up a ticog mat, (they're

surprisingly cheap, comfortable and are generally

quite durable), to place over the sand for those

seaside picnics; ticog is made from a local weed

that, when woven, makes smooth and supple

mats, tote bags, and home and office furnishings.

Take an exciting river ride in a dug-out boat at

the Ulot Watershed Ecotourism Loop in Paranas.

Or be thrilled as expert boatmen maneuver a

torpedo boat between imposing rocks as they

progress up and down stream on the Ulot River.

And dare to plunge into the waters by leaping

from one of the huge boulders.

46

Bahandi 700/Wikimedia Commons
---
Lawrence Ruiz/Wikimedia Commons

Those in the mood for something with more

kick should check out Samar's waterfalls. The

Bangon-Bugtong Falls cascade elegantly into a

large circular pool, while the fun Mawacat Slide

lets all comers zoom down a mossy passageway

into the sparkling waters below. A highlight of

the Lulugayan Falls and Rapids is the strong and

thundering current that feeds into the Calbiga

River and makes for thrillingly enjoyable white

water rafting.

And while here, make sure not to bypass the quiet

towns of Marabut and Daram. Marabut rewards its

visitors with islets fit for snorkelling and diving, as

well as the rock islands that artfully jut out from

the sea, as if carefully placed by an unseen sculptor.

Have a close encounter of the best kind with

colourful fish and rare giant clams while snorkelling

at Agutay Island in Daram.

Sohoton Caves

The Sohoton Caves, located within the Sohoton

National Park, is a cathedral-like dome with an

entrance that's almost a parabolic arch about fiftymeters

high. There is a flat, open area near the

entrance, about twenty meters wide and fiftymeters

long. Spike-shaped crystalline stalactites

reach languorously down from the ceiling and

the rustic and cavernous walls while stalagmites

jut up perkily from the cave floor. At the far end

of the cave are a Juliet-like window cum balcony

overlooking the natural swimming pool below.

Experiencing Sohoton Caves is like a flashback to

a very distant time, or being marooned in a galaxy

far, far away.

Sohoton Caves, or more accurately, (to give it

its correct title), the Sohoton Natural Bridge

National Park, can be found at Rawis near Basey,

Samar. Within the 840 hectare park, fascinating

geological features such as caves, limestone

boulders, rock-holes, weathered formation rocks

and underground rivers form an uneasy alliance

with nature. The National Park is reached by

chartering a boat in Tacloban or, more cheaply, in

Basey, Samar.

Basey is about 45 minutes by car from Tacloban.

Tours to the National Park start at the Basey pier,

where a pump boat, tour guide, and light men

Entrance to

Sohoton Cave

Stalactites inside

Sohoton Cave

47
---
48
---
49
---
EASTERN VISAYAS

Sto. Niño Shrine and

Heritage Museum

Langun-Gobingub Cave

50

are rented, before the 45-minute ride by boat up

a winding river, passing through small villages;

gracefully swaying nipa palms line the banks as a

motley parade of river craft ply their trade up and

down the river. Nearer to the park, the scenery

changes rather dramatically as river banks with

magnificent limestone walls and overhangs come

into view.

Tacloban

Known as the pearl of Leyte, Tacloban was nearly

destroyed by Typhoon Yolanda in November 2013,

when pictures of the devastation were beamed

live around the world by news hungry media eager

to capitalise on the suffering and heartbreak of

the local residents. Today, however, when walking

through the center of Tacloban, it is almost

impossible to imagine the extent of the destruction

that greeted the citizens on that fateful morning.

Since then, the city center has largely been rebuilt

and re-building continues still. Hotels have been

repaired or rebuilt; the bars are finally filling up

with locals and tourists instead of just the relief

workers from many parts of the globe, who

generously offered their assistance in rebuilding

what remained of the city. And, with credit to the

local citizens, Tacloban has now resumed its role

as the commercial heart of both Leyte and Samar.

Sto. Niño Shrine and Heritage Museum

The shrine is actually a mansion located in Real

Street, Tacloban, and is one of the mansions the

late president, Ferdinand Marcos, built for his

wife, Imelda Romualdez Marcos, during his sometimes

turbulent, and often controversial, regime. While

Super Typhoon Yolanda caused some damage to

the shrine, the grandeur and extravagance of the

mansion can still be seen by the many visitors

who flock here each day. There is an entrance fee

to the site that is valid for three people, where

sightseers can explore the mansion at a gentle

pace, and bask in the reflected luxury of a bygone

presidential era. Take photos of the decor and listen

to stories — some of which may even be true —

about the Marcoses and the Romualdez family

from the guide/escort on a progress through the

various state and family rooms, the grand ballroom,

past expensive furniture, antiques and other

collections assembled by the Marcos family during

their time in power. For more than a few years

many of those visiting the heritage museum

have been struck by just how much kitsch can be

assembled in one place by those who have the

money to acquire it and the room to house it: a

sort of tasteless conspicuous consumption run rampant.
---
51
---
EASTERN VISAYAS

The long and winding

San Juanico Bridge

52

Sto. Niño de

Leyte Fiesta

San Juanico Bridge

With a length of 2.16 km it is the longest bridge

in the Philippines, connecting the islands of Samar

and Leyte. The bridge can be reached from downtown

Tacloban in 10-15 minutes by bus, passenger

jeepney, multi-cab or private vehicle. Those who

are reasonably fit can enjoy a walk across the

bridge from end to end and experience the vibrations

when a bus or truck passes by. The bridge has a

lane for walkers, joggers and runners on either

side, so pedestrians can enjoy the walk and the

views without being unduly troubled by the passing

traffic. But road traffic in the Philippines is always

a little chaotic, so it's best to take extra care when

setting up a selfie. The best times to cross the

San Juanico Bridge are in the early morning or

late afternoon when the heat of the sun is not as

excruciating as it is when at its peak.

The Grand Festival of Festivals

Tacloban doesn't only celebrate its fiesta (Sto.

Niño de Leyte Fiesta: June 30) in a single day,

but Taclobañons and their visitors enjoy several

events related to it throughout June. During

these days, the city becomes just that bit livelier:

parks are transformed into dining outlets and live

performances from various local artists and rock

bands reverberate through the evening, as many

tourists flock to the city to witness the colorful

festivals. A few days before the grand fiesta, tourists

can enjoy the Sangyaw Festival. The grand event

of the Sangyaw Festival is a parade held on the

streets of Tacloban attended by various local

tribes, and participated in by local women and girls

dancing in the streets, wearing colorful costumes and

accessories. There are contests for street dancing

and awards are given for those best in costume,
---
53
---
EASTERN VISAYAS

54

McArthur

Landing

Memorial

Park

Original

photo of the

supposed A

Day Landing

best in music and of course for the Sangyaw

Festival Grand Champion.

The Pintados-Kasadyaan Festival of Festivals is

organized by the province of Leyte. Delegates

from other famous Philippine festivals, specifically

the Maskara Festival of Bacolod, the Sinulog Festival

of Cebu and the Buyogan Festival of Abuyog also

participate and perform during the Festival of

Festivals to make the event more spectacular. The

Sangyaw Festival and the Pintados Kasadyaan are

just two of the festivals celebrated in Tacloban

that showcase the talent of the residents in terms

of dancing and costumes. These festivals also

provide onlookers with an experience straight

from the pages of history and a chance, however

fleetingly, to experience the culture of Visayas.

MacArthur Landing Memorial Park

The MacArthur Landing Memorial Park is located

in the town of Palo. The memorial park commemorates

one of the most important sea battles of all time

and, also, the legendary words of General Douglas

MacArthur, who famously proclaimed, "I shall return",

as he was ordered to leave Corregidor to board a

waiting submarine bound for Australia. The Battle

of Leyte Gulf, (October 23–26, 1944), is generally

considered to be the largest naval battle of World

War II and the largest naval battle in history in

terms of the total tonnage of the participating

ships. The monuments of General Douglas

MacArthur, President Sergio Osmeña, Brigadier

General Carlos P. Romulo and others mark the

spot where they landed, with the American

Liberation Forces, on 20 October 1944, to begin

the Battle of Leyte Gulf and thence to liberate the

Philippines from Japanese forces.

The memorial is not only one of the most famous

in country, but also in the world, as it symbolizes

the beginning of the end of World War II in the

Pacific. Leyteños and veterans from all over the

world annually celebrate the Leyte Landing

Anniversary. The government of Leyte organize

various activities throughout October, including

a re-enactment of the Leyte Gulf Landing,

commemorative awards for the surviving veterans,

a memorial ceremony for Japanese veterans,

and other observance programs. There's also a

marathon or fun run, but that's for the more

sprightly. To witness the annual re-enactment of

the Leyte Landing, go to Palo in October. Visitors

can, of course, spend some quiet, reflection

time at the monuments and the memorial park

throughout the year.

Kananga

Kananga is a first class municipality in the province

of Leyte. The majority of Kananga's economic

activity has historically been concentrated in

agriculture. Some are engaged in commerce and
---
trade since the town is geographically close to

the commercially progressive nearby city of Ormoc

and coastal town of Palompon, Leyte. The town's

main crops are coconut and rice.

Palompon, Leyte

Palompon is a port city serving the region of north

western Leyte. The port itself has undergone some

much needed modernisation recently, making it

busier, more relevant to shippers and a leading

generator of employment in the area. Available

figures point to there being a net outflow of

citizens, i.e. emigration to Cebu and Manila, or

even abroad, as there is simply insufficient local

employment to meet demand, which is something

of a problem throughout Region VIII.

The education programs offered by the highly

acclaimed Palompon Institute of Technology,

(PIT), which focus on marine transportation and

engineering are, unintentionally, contributing to

this trend by producing highly trained and qualified

graduates with little prospect of work close to

home. Chronic underemployment is, however,

a nation wide problem and arguably the single

most significant factor preventing the country

from achieving its full economic potential.

The city is easy to get around and local residents

go about their business without undue haste

or concern in the rather colorful and attractive

business center.

There is not a lot to do in Palompon. Some of the

older 'historic' sites around the city were sacrificed

to the gods of modernization in an era when

preserving history for posterity was seriously out

of favor with swaggering politicians and unscrupulous

developers. The Palompon Liberty Park remains

largely unscathed and is a favorite spot for residents

and visitors to relax and spend time in quiet

contemplation as others stride purposefully by,

barking into their cellular phones.

While the Justinians may have been the first of

the Spanish to land here some time around 1737,

it wasn't long before they were supplanted by

the Augustinians, although it's unlikely the local

tribes noticed much in the way of improvement in

their daily life. A useful legacy of the Augustinians

is what is now Leyte's oldest church, completed

here in 1784 after 44 years of hard labor.

There is also a canon in the town plaza to

commemorate the week long battle between the

local townspeople, who sought shelter in the

recently completed church, and Moro raiders,

which took place in the late 17th century.

Try to visit in early November so and be part

of the exciting Abre Grande Festival. Activities

Kayak Racing in

Palompon

Kalanggaman

Island in Palompon

55
---
EASTERN VISAYAS

56

Kalanggaman

Sandbar

included in the festival are two tri-sport events,

and a 15km kayak marathon. Abre Grande marks

the beginning of a series of festivities that lead

up to the Palompon Lawig Festival in December.

There are environmental, cultural and social

activities such as a coastal clean-up, an iron-man

triathlon race where competitors swim a set

distance before a lengthy bicycle ride, which in

turn is followed by a rather gruelling run. There's

the somewhat less taxing 'fun for all combo race'

including kayaks and SUP's, a single boat race,

a pedicab race and, of course, culminating with

a lively concert. This festival presents a fantastic

opportunity to enjoy a variety of competitive

sports on the pristine beaches and picturesque

hills of this beautiful part of Leyte.

Kalanggaman Island

Kalanggaman has been described as the 'quintessential

tropical island' with its sweeping sandbar and

clear water. The island is an escapists dream

as there are no hotels. Most visitors prefer to

pitch a tent and camp on the beach and let

nature's soothing spirit and rather stunning

sea views by day and by night surround them.

The island is about an hour's boat ride from

Palompon. It is important for visitors to check

details, costs and facilities at the Palompon

Office for Eco-Tourism, which is found near the

Municipal Hall, adjacent to Liberty Park. Summer

visitors should wear appropriate clothing against

the sun, sun screen, and to prepare both mentally

and physically for the relentless heat. Then be

enchanted by the beauty that this island has to

offer.

Lantaw

This is the ideal spot for a perfect view of the

sunset over Palompon. Lantaw, with its viewing

platform, is built on a hill beside the road from

Palompon to Isabel. There's a walk of 100m from

the road, but when this majestic place is reached

there is a perfect, unobstructed view over Palompon

and the sea. There is a pleasant terrace with tables

and chairs for rent, with food and drinks available

for the peckish and the thirsty. Simply sit back

and enjoy delicious satē and cold beer while basking

in the glorious sunset.

Ormoc, Leyte

The coastal City of Ormoc, more generally

referred to as simply Ormoc, is the center of

commerce and industry of western Leyte. It is a

showcase of progress and development despite

its somewhat turbulent past as a 'whipping boy'

for Moro pirates keen to plunder the sea trade

local residents had steadily built with Malay and

Chinese merchants.

From its unimposing beginnings as a small town of

mainly dirt roads interspersed with a few asphalt

streets in the center of town during the 1950s,
---
57
---
EASTERN VISAYAS

Queen pineapple

plantation in

Kanaga-Ormoc

58

Ormoc has metamorphosed into a modern, urban

environment replete with concrete and glass

buildings and some much needed and meaningful

infrastructure. Wide, well maintained roads and

bridges mean that Ormoc has, for the most

part, avoided the frustrating rush-hour delays

that plague most of the country's leading cities.

There are well-equipped government and private

hospitals and clinics to cater for the sick, a more

than serviceable airport, banking and financing

institutions, commercial organisations, housing

projects, factories and industrial plants … ample

evidence of what a provincial city can achieve

when people work together to get things done,

rather than bicker endlessly over how the revenue

pie will be distributed. Ormoc is now fast becoming

a regional development hub. With its strategic

geographical location, it serves as a gateway to

the Eastern Visayas, and this has led to further

economic growth and opportunity. Although the

city's initial early and rapid development was

largely attributed to the many peripheral activities

spawned by the PNOC Geothermal Power production

project in Tongonan, few will argue against that

development, which was necessary to accommodate

the rising number of people and businesses

in the area.

Today, Ormoc City is a picture of steady progress

and stability. Each year more and more investors

are coming to the city, and the vast majority of

them like what they see, which contributed to Ormoc

being judged some years ago as the '2005 Most

Business-Friendly City in the Visayas' by the

prestigious Philippine Chamber of Commerce and

Industry. And although the city has embarked on a

programme of planned modernization, it has also

kept in tune with its environmentally responsible

protection programs. To this end Ormoc has been

a consistent 'Cleanest and Greenest City' awardee

in Region VIII and one of the Cleanest and Greenest

Cities in the country. This prestigious award is a

leading tribute to showcase Ormoc as a "beauty

by the bay", a wonderful place to visit for business

or pleasure.

Hang out at local watering holes like cozy cafés,

restobars, snackbars, and restaurants at the Ormoc

City Plaza, near Ormoc City Superdome and the

old Executive Building — or head to the public

market and try native fare like pacdol, (a clear
---
oth with carabao knee meat), at Doro's

carinderia. And for the most mouthwatering BBQ

in the Philippines, a visit to the Ormoc Bus

Terminal any evening is de rigeur. There are two

terminals and after 6pm terminal one closes and

becomes the venue for what is, by any standard,

a pretty good BBQ.

Lake Danao

The violin-shaped Lake Danao, a pristine

148-hectare inland lake is surrounded by the

verdant mountains and invigorating cool air of a

Natural Park and just a thirty minute drive from

the city. Enjoy a picnic and banca ride or go

biking and examine local flora and fauna, all

the while soaking up the area's hard-to-beat

tranquility. The lake is also quite popular for boating,

kayaking and a spot of fishing, although visiting

fishermen should release any fish they catch in

the lake.

Lakes Kasudsuran and Janagdan complete the

three beautiful lakes of Ormoc. The 5-hectare

Lake Kasudsuran is located 27 kms northeast of

Ormoc City on the fringe of virgin forest around

barangay Ga-as. Lake Kasudsuran is also a place

to explore for visitors to Ormoc. The lake is a

Pintados

Kasadyaan

Festival

Aerial view of Tacloban

59
---
VISAYAS

Lake Kasudsuran

Lake DanaoEASTERN

beauty to behold with surrounding fresh green

trees and vegetation, and a calm and serene

atmosphere.The lake is only accessible by foot.

Mt. Janagdan, sits rather majestically atop a plateau

1,000 m. above sea level.

Queen Pineapple

The 'Queen' pineapple was, apparently, named

in honor of Queen Victoria. This seems unlikely

as many experts have described the queen

pineapple as 'small and juicy' and it has been a

long time since either adjective sat comfortably with

modern images of the queen … perhaps when

she was younger. The name, like the pineapple

itself, was imported and both have remained firm

favorites within the Philippines.

The Queen Pineapple is Ormoc's most famous

product and an essential purchase for pasalubong,

(gifts for friends at home). Savor its unparalleled

sweetness with juicy slices fresh from the pineapple

plantations north of the city in Kananga, which

can be visited providing arrangements are made

beforehand.

Important commercial varieties of pineapple include

"Smooth Cayenne", which is the most popular

pineapple used in the canning industry, the yellow

"Queen", which is cultivated for eating fresh, as

well as those varieties in the Spanish group, "Red

Spanish" likewise being suitable for eating fresh.

Baybay City, Leyte

Baybay City is a major port on the central west

coast of the province of Leyte. Fondly known

as, "A Place of Discovery, Beauty, and Serenity",

Baybay is one of the major transportation hubs

for the region, as the port has ferries running to

Cebu and to other islands in the Visayas. For those

who want to see more of the countryside they're

passing through, air-conditioned buses regularly

depart the main terminal and then spread like

veins through the Eastern Visayas to Tacloban,

Ormoc, Southern Leyte, north to Manila, and as

far south as Davao.

Baybay is an easy 93km drive from Tacloban, and

proudly displays its many beautiful, historic, cultural,

and natural attractions for those who take the

time to come here. The Seaside Promenade is one

of Baybays' historical landmarks, and one of the

best places on Leyte to see the magnificent Visayan

sunsets, with many locals and tourists gathering

on the promenade to pay homage. While walking

around the city, the Veterans' Memorial, the

park, the church, and the heritage houses which

are within the central district of the city are quite

noticeable.

Baybay literally means beach, so it stands to reason

that its major tourist magnet is a stretch of beach

that would shame some of the country's better

known beaches. Baybay may not be as wellknown

as other popular white sand island beaches

60
---
61
---
EASTERN VISAYAS

Mt. Pangasugan

62

in a country somewhat over endowed with

spectacular beaches coated in fine, powder-like

sand, but what it offers is its natural charm and

privacy far from the madding crowd.

Mt. Pangasugan

Is one of the recognized mountains in Leyte. Mt.

Pangasugan stands approximately 1,150m tall

and is considered as "the last forest frontier in

Eastern Visayas." Many years ago, this mountain

was the venue of the Visayas Mountain Festival

organized by the Mountaineering Federation of the

Philippines, Inc. Those who are fit and experienced

can trek to the summit of Mt. Pangasungan, but

its somewhat isolated location means it is not a

recommended trek for beginners.

Bakwitan River and Falls

Is for the more adventurous, those who wish to

explore the cavernous chambers of Lintaon Cave,

take a refreshing dip in the rejuvenating waters

of the Bakwitan Falls, or paddle down Ambacan

River.

Visayas State University

VSU-Isabel is located in the progressive town of

Isabel, Leyte, which is 76 km northwest of the

VSU main campus which is sited in Baybay.

The Visayas State University (VSU) is a premier

university of science and technology in the Visayas.

It has qualified for Level IV Reaccreditation from

the Accrediting Agency for Chartered Colleges

and Universities in the Philippines, Inc. (AACCUP)

in its eight academic programs including Bachelor

of Animal Science, Bachelor of Science in Agribusiness,

Bachelor of Elementary Education, Bachelor of

Secondary Education, Masters of Science in Agriculture,

and in Education, Masters of Agricultural

Development in Agriculture, and in Education.

It was established in June 20, 1971 as Isabel Rural High

School by virtue of Republic Act 4583. Seven

years after its inception, the school was converted

into Isabel National Agricultural and Vocational

School (INAVS). The establishment of the Leyte

Industrial Development Estate, a Special Economic

Zone that has the Philippine Phosphate Fertilizer Inc.

(PhilPhos) and the Philippine Associated Smelting

and Refining Corporation (PASAR) has spurred

the flourishing of the industries in the locality.

Based within the campus are several agricultural

research and training centers: the Philippine Root

Crop Research and Training Center, (PhilRootcrops);

National Abaca Research Center (NARC);

National Coconut Research Center (NCRC) -

Visayas; Farm and Resource Management Institute

(FARMI); Philippine Carabao Center (PCC); and

Agricultural Training Institute - National Training

Center (ATI-NTC) - Visayas.

Maasin

Legend has it that navigator and explorer

Ferdinand Magellan, on his way from Limasawa

to Cebu, dropped anchor in the Canturing River

in 1521 to replenish his dwindling stock of fresh

water. His men found the taste of the water salty,

which led to the name Maasin.

The Jesuits founded the Maasin Settlement in

1700; and once again the Augustinians then took

over from 1848-1896. Ancient Maasin soon

became the hub of business and government

activity from Palompon to Hinunangan after

becoming a town in 1755. A fiscal's office, a court

of First Instance, ("Administrador de Hacienda"),

which is equivalent to the office of Treasurer today

was then established in the newly minted town.

When Southern Leyte became a province, Maasin

was made the provincial capital and seat of the

lone congressional district. The municipality was

elevated to city status on August 10, 2000.
---
Now, a budding city discovering its potential

and many advantages, Maasin City is opening

its doors with the promise of a memorable

experience for tourists, travellers, and entrepreneurs.

Some of the city's more interesting spots are: the

City Forest Park, which is currently being groomed

to be the city's convention capital; the Cacao

Mountain Resort; the beach resorts dotting the

coastline from Barangay Pugaling to Ma. Clara;

the country's tallest shrine of the Assumption of

Mary on Jalleca Hills in Barangay Mantahan; and

of course, the triple eco-treat of Cagnituan —

a huge subterranean cave, cool waterfall, and a

refreshing lagoon. This wonderfully impressive

grotto can be found in Barangay Cagnituan,

15 km from the city and 276m above sea level;

it's a bit of a climb but well worth the effort.

Entrepreneurs might also appreciate the current

construction of an integrated public market — an

addition to the city's developing economic zones.

Visayas State University

63
---
EASTERN VISAYAS

Cagnituan

subterranian river

64

Sogod

Sogod (pronounced "suɡud"), officially the

municipality of Sogod, is a municipality in the

province of Southern Leyte, Philippines. The

name has its origins in the Cebuano word, sogod,

meaning "to start." Founded as a Catholic mission

station by the Society of Jesus in 1601, Sogod

became a regular municipality on June 10, 1853.

According to the 2015 National Statistics Office

(NSO) census, it has a population of 44,986

inhabitants.

Sogod is to be found on the Southern Leyte

section of the Pan-Philippine Highway, 126 km

south of Tacloban City. Rugged mountains envelop

most of the town's northern terrain with many rivers

winding through the southern lowlands. These

rivers sustain the production of rice, corn,

coconuts, tobacco, abaca and root crops. Quarrying

firms in the river of Subangdaku greatly affect the

economic performance of Sogod.

The municipality is home to Southern Leyte State

University (SLSU) Main Campus and Saint Thomas

Aquinas College (STAC), one of the oldest parochial

schools in the province, established in 1946.

Sogod is becoming increasingly popular with divers

for the range and diversity of its marine life.

Diving in Sogod

Sogod Bay is an underwater paradise. These gentle

waters host a profusion of beautiful marine life —

all waiting to be explored in uncrowded dive sites.

With exceptional reefs, divers revel in gardens of

coral, steep drop-offs, shelves and walls, as well as

black sand teeming with macro life.

With dedication to marine conservation, the Sogod

Bay Scuba Resort has sponsored various Marine

Protected Areas throughout Sogod Bay. The

bio-diversity of the marine ecosystem offers visitors

an unforgettable experience. In addition to a

vast array of both soft and hard coral, Sogod Bay

supports aquatic life from tiny pygmy seahorses,

nudi-branches and pipefish to turtles, frogfish,

napoleon wrasse, and even, at the right time of

year, whale sharks. All responsible water sports

enthusiasts are invited and welcome to discover

the pristine waters, virgin reefs and abundant marine

life of Sogod Bay, a place most visitors want to

return to again and again.
---
Where to Stay

Where ever your travels take you in Samar and

Leyte there are numerous resorts and hotels all

offering an array of services to fit your taste and

budget and very easily located.

Where to Eat

Each Barangay or township has restaurants and

cafes catering for all types of cuisine. Our advice

is to look where the locals go, as usually the food

is delicious and inexpensive. One of the best local

places we encountered in Leyte was the evening

BBQ at Ormoc bus terminal.

towns the bus passes through en-route through

Samar, Tacloban, Ormoc, Baybay and Maasin.

Another way of reaching Maasin is to fly into Tacloban

and hop onto an air-conditioned bus to Maasin.

Then again, Philippine Airlines have a daily flight

to Surigao Mindanao, where you can connect

with a ferry to Maasin.

Whichever mode of transport is preferred to

reach these magnificent islands, the end result

will be the same: a memorable holiday among

friendly locals, largely unspoilt scenery, abundant

water sports and spectacular views that will remain

engraved in 'the little grey cells' forever.

How to Get There

Depending on the first port of call in the Eastern

Visayas there are a variety of ways to reach Samar

and Leyte, with a number of flights daily to the

islands.

To Samar: Philippine Airlines have 6 flights a week

to Calbayog. For those who want to take in more

of the country and can tolerate a long-ish road

journey, a number of bus operators such as Philtranco

run a daily service.

To get to Tacloban: Cebu Pacific, Air Asia and

Philippine Airlines fly there daily, and with over

9 flights a day getting there is not a problem.

Alternatively the bus trip is long and sometimes

beomes a bit tiring, but well worth it to take in

some of the Philippine scenery en-route.

When catching a bus from Manila destined for

Davao, travellers can select any of the cities and

65
---
Fishing

Is More Fun In

the Philippines

Fishing in the

Philippines is

just as enjoyable

here in

the Philippines

as it is

back home

and you can

use the same

techniques

as you have

become used

to at home.

Words by

JAMES

WEBSTER

Photographs

as credited

If you loved fishing in your native country

and have retired to the Philippines, don't

despair. The Philippines waters are abundant in

most of the species you are used to with a few

more thrown in.

Its 7,107 islands with almost 11,000 miles of

coastline provide a limitless diversity of fishing

possibilities. Species such as Marlin. Barracuda

and Mackerel can be found from deep oceans and

reefs to inland lakes and rivers. In many cases,

species such as Mahi Mahi (Dolphin Fish or Darado)

and Snapper that you had to hit the open waters to

catch back home, can be hooked from the shore

here in the Philippines. March and April are the

best months at most sites for good results, however

there are many all year prospects.

If Manila was your choice of abode when moving

to the Philippines, then just 57 mile away is

Calatagan, Batangas, an excellent fishing spot.

The tepid waters and coral reefs of Balayan Bay

and the Verde Island Passage offer a great locale

for huge Giant Trevally and a species you may not

have heard of, the African Pompano which can

grow to 20 kilo.

100 mile from Manila is Subic Bay where sports'

fishing has grown at a great rate in recent years.

Designated fishing areas along the banks of Subic

Bay offer an extensive variety of bottom fish

including Grouper and Snapper and even pelagic

species such as Dorado. By hiring a boat, which

incidentally comes with your own captain, you

are able to venture into open sea and tackle the

66

Lake Caliraya fishing
---
67
---
likes of the larger Sail Fish, Blue Marlin, Dorado

and Spanish Mackerel. By asking the operators of

the hotel you are staying or local fisherman for

advice, you will quickly be pointed in the right

direction of endeavor.

Those of you in and around Cebu are in luck

as Cebu is a fisherman's paradise. Because of a

constant year round water temperature of 27°C-

29°C, no fish species are seasonal with only some

of the smaller fish affected by the slight change

in water temperatures. A 20 kilometer trip from

Cebu City will take you to Naga Baywalk, an

excellent destination for most species of fish,

including Spanish Mackerel, Barracuda and

Dorado. Mactan Island, just a few kilometers off

the coast of Cebu City is one of the Philippines

chief draw cards for both recreational and commercial

fisherman. Bounded by reefs, channels and open

waters, Mactan is home to the most assorted collection

of game fish in the Philippines. It would be no

surprise to venture home with good sized Trevally,

Mackerel, Dorado, Wahoo or Tuna in your bag.

Fishing under the moon is especially fruitful with

reef species such as Grouper feeding more prolifically

during nocturnal hours.

The inland, neighboring freshwater lakes of

Caliraya and Lumot in Cavinti on Luzon provide

a fishing experience unique to Asia. While both

lakes are manmade they harbor prolific numbers

of introduced American Large Mouth Bass with

catches of up to 5 kilos being taken. Both lakes

are wide and deep with yearly Bass Fishing contest

Malabar

Grouper

caught off

Mactan Island

68
---
Fishing in

Subic Bay

69
---
eing held on Lake Lumot. They both will provide

an abundance of Tilapia for your dinner table.

Another highly sought after fish species that

are delectable to the palate is the Barramundi

(Apahap in Philippines). They can also be found

in most coastal Philippines waters, estuaries and

rivers. So, the fishing in the Philippines is just

as enjoyable here in the Philippines as it is back

home and you can use the same techniques as

you have become used to at home. No need

to retire from your pastimes because you have

retired to the Philippines.

For the best fishing spots close to your area, and

the spots mentioned here are just the tip of the

iceberg, contact your local fishing club and they

will gladly provide you with all the information you

need including the best places to acquire your fishing

tackle. Most fishing locales have hotels and resorts

nearby and they also will provide information on

best areas for a successful days fishing.

fishingthephilippines.files.wordpress.com

70
---
Sailing Tips

There should

be a strong

fastening

point near the

hatchway so

that harness

lines can be

slipped on

before the

crew leaves

the cabin.

You've always been interested to sail, but you know little about boat parts, the confusing technobabble,

and what little you know is making your head spin in four different directions! Worry no

more. This continuing series of articles is for you: it covers tips regarding hardware present on most boats,

as well as common sailing techniques, terms and definitions, the names of the different pieces of hardware,

and much more. This will keep you informed about most things you will need before you begin your own

sailing excursion. Be sure to consult with an experienced sailor and someone knowlegeable about boats.

Article

excerpts

reprinted

from

the book

CRUISER

HANDLING

by BOB BOND

& STEVE

SLEIGHT

A boat correctly

secured in alongside

berth with the warps

rigged both bow

and stern

72

Fender types

Equipment for Berthing

Your boat is probably going to have to spend a good

deal of its life berthed alongside a quay or pontoon.

It is therefore crucial to know how to secure it properly

to prevent it from moving around and damaging

both itself and other craft. You will also need the

proper equipment with which to secure it – good

quality rope warps fenders of a suitable size and

shape for your boat that are strong enough to withstand

chafe on rough walls, and cleats and fairleads

fixed to your boat, sturdily made and securely bolted

on. All the equipment should be checked regularly

for signs of wear and tear, if you do not wish to

find yourself adrift one night in the middle of a

gale. In normal circumstances, you would choose a

berth which is sheltered from the full force of wind

and waves, but now and again you may have no

alternative. Any equipment must be strong enough

to withstand considerable pressure. Make sure that

any knots you tie will not come undone.
---
Fenders

Fenders are usually made of plastic, although

you do get rope ones occasionally. They are hung

over the side of the boat, tied to stanchions or

grabrails, and are carefully positioned to prevent the

boat from rubbing against the sides of the berth, or

another boat. They come in a variety of shapes and

sizes to suit the needs of different boats and berthing

situations. You will need at least four large fenders on

board, preferably more, they are however bulky and

take up a lot of space. Since only the widest part of

the boat normally touches the side of the berth, you

need only to position them where the side of

the boat and berth meet. If you are berthed up

alongside an uneven quay wall, you may find it best

to hang a fender board (a wooden plank) outside

the fenders, to spread the load correctly and protect

the boat.

Cleats and fairleads

The cleats on your boat should be as large as possible,

since the larger the cleat the less wear this is on the

warp. There should be no sharp edges to it, and every

boat should be equipped with at least four deck

cleats which can be used for mooring. Bigger boats

will need more. If the warps are under great strain,

you should have a Sampson post. Your boat should

have a fairlead on either side, at the bow and stern,

so that the warps do not rub against the stanchions

or the rigging. The fairleads can be open or closed

at the top, although the closed type are safer since

the warp cannot slip out accidently.

coming alongside. The bow and the stern lines have

to be strong enough to carry the main load of the

boat and long enough to allow for any rise and fall

of the tide, roughly three times the tidal range. Two

other warps, rigged as springs, prevent the boat from

moving backwards and forwards, and from rubbing

against the side of the berth. These don't need to

be as long as the bow and stern lines; one and a half

times the tidal range is sufficient. The bow and stern

lines and the springs need adjusting as the tide rises

and falls. The bow and stern lines, provided they are

long enough, need only be adjusted at half tide; the

springs may need more adjustment. If you are going

to leave your boat unattended for some time, you

must make sure you have left enough length on the

lines to allow for the tidal range. When lying alongside

a quay or wall do not lead the springs through or

under the rails, but take them instead through the

fairleads and then outside the rigging.

Preventing chafe

No matter how strong your warps, you will find

that they chafe against the sides of the boat and

berth unless adequately protected. Since warps are

expensive to replace, make sure you cover the parts

likely to get worn with plastic tubing. Although the

tension on the line should keep the tubing in place,

you can lash it in place with a light line if you prefer.

Warps

The warps used for berthing a boat serve different

functions. Two warps, which form the bow and stern

lines, position the boat correctly in the berth, and

are used by the crew to control the boats sped when

Use plastic tubing to

prevent chafing

Left: Deck layout

with cleats and

sampson post

Lower left: A fender

board positioned

correctly outside the

fenders

Inset: Use at least

three fenders

73
---
74
---
75
---
Round Taal Vol

There should

be a strong

fastening

point near the

hatchway so

that harness

lines can be

slipped on

before the

crew leaves

the cabin.

Words by

BARRY

DAWSON

Photographs

as credited:

76

Sixteen years ago, Peter Capotosto and members

had to decide which weekend to choose, for

Taal Lake Yacht Club's most important event. They

picked the 3rd weekend in November. The Northeast

monsoon is past its fickle entry stage, decidedly

overpowering the Southwest Monsoon, but it's still

in its early, weaker stage. Winds will be 8-15 knots,

rather than the overpowering 25 knot winds that we

often see in late December thru February. This year

was no exception, with ten Hobies, one multihull

and eight oz goose from home-builts competing

made for a good competitive weekend. There were

seven races, over two days, for the Hobie 16s, and 6

for the other boats, with everyone getting one drop.
---
lcano Regatta

It is a particularly important event for the Hobies,

because the RTV counts for points in the PHINSAF

Travellers Series.

With perfect sailing conditions for the 'Round Taal

Volcano Regatta. The first day got off to a great

start and featured two special races, with awards

that would be presented at the first awards dinner,

at Balai Isabel, a successful growing resort community,

that has been the Regatta's sponsor for the past

decade.

77
---
The Governors Cup:

The Governor's Cup, which is for the Hobie 16 class,

a race around Volcano Island, is the main trophy up

for grabs.

The club promotes other classes too. Many of them

are too small to go around the island and still make

it to Balai Isabel for lunch, so their "Governors Cup"

course is a bit shorter. This year embedded in the

other classes, was a group of sailors from "Sailability",

a group representing the sport of disabled sailing.

They sailed surprisingly well, with one sailor even

coming second in the OZ Goose class, the class

that this year, even outnumbered the Hobie 16s, in

number of boats.

By far the most exciting part of the RTV was the

huge jump in the capability of the Oz Goose sailors.

The amazing thing was in the six races; even though

many skippers were either relatively new or sailing

the Oz Goose practically for the first time, there

were only two capsizes. Both recovered quickly and

finished their races.

The new racers were visibly improving race by race

in the rough conditions, graduating from dashing

about during countdown to confidently sitting

relaxed and depowered near the start line, keeping

their places despite the rising winds. Starts improved

with everyone crossing on time, better course

understanding and just about everyone had a good

race result or two.

78
---
79
---
A large part of this was due to the good work done

the week before in the regular club race, with Roy

Espiritu having rounded up recreational sailors

to show up. November's 2nd Sunday race for the

PY fleet became a brilliant Goose fleet coaching

session, thanks to TLYC Commodore Peter Capotosto.

He ran short back to back races to hone everyone on

critically needed skills - timing starts, mark rounding,

efficiently getting their Geese upwind at speed, plus

an impromptu lunchtime lecture on a bunch of basic

racing stuff.

Some of which I had to work on too! I was having real

problems remembering how many laps I had done in

the RTV and getting the details of the course right.

In this particularly trying conditions we noted the

well-sailed two-crew Oz Geese were quite capable

of mixing it with singlehanded Geese. A two-hander

sailed by Paralympic sailor Cherrie Pinpin with crew

Cholo Espritu ended coming in second overall while

para sailors Clytie Bernardo and Joy Habana gamely

sailed with adventurous crew before sailing together

on Sunday to take 5th place out of 9 boats.

80

That evening after the first day's events the

traditional awards dinner was hosted by Sponsors of

the RTV Balai Isabel, where again a sumptuous feast

was enjoyed by all and major awards given out for

the day's events. Like the Governor's cup and the

Noel Lim Cup. The winners were in the Hobie 16 class

the ever popular and regular winner again showing
---
81
---
his expertise with the Hobies was Michael Ngu with

Boyet Magsanay, with another regular crew on the

awards podium was Maria and Joe Hagedorn taking

second place while avid supporter and Hobie dealer

Monchu Garcia took out third place with the

assistance of his daughter Bianca. The same three

teams took out the Masters with Monchu & Bianca

in first place, Maria & Joe Hagedorn kept the average

going with another second with Michael and Boyet

in third place. In the B fleet section the winner was

Jose Gonzales and Sara Black coming first in both

Governors cup and over winners for the weekend,

while Jolada Pablo and Noki Jarvata came in second,

there were only two placings in this division because

of the diminished numbers of entrants.

In the Oz Goose and handicap there was a huge

increase in entrants with Michael Storer taking out

first place while Job Ferranco secured secon spot

and the ever present Cherrie Pinpin representing

the handicapped sailors came in third with crew

Cholo Espiritu.

The 'Round Taal Volcano Regatta" (RTV) is the only

event during the year that considers handicap racing.

Although the courses are not the same for all classes,

there is one part of the course for each class, that

overlaps the courses of everyone else, and they all

race on it, at approximately the same time. The time

over that section is calculated, and the Noel Lim Cup

is awarded for that "all Classes" section of the course.

After the awards were over it was back to party time

where everyone enjoyed the hospitality of the Balai

Isabel, and basking in the comradeship of all present

at this year's event.

The second day's racing also got off to a good start

with ideal sailing conditions, with 5 races being

completed, again with the traditional delicious BBQ

luncheon sponsored again by Broadwater Marine.

After the days racing was completed awards were

presented to the overall winners before enjoying a

few cold ones then heading home and looking forward

to an even bigger and better RTV in 2017.

82
---
83
---
84