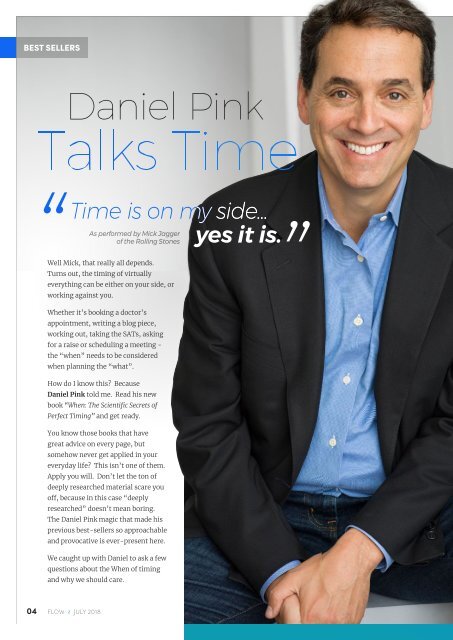 Create successful ePaper yourself
Turn your PDF publications into a flip-book with our unique Google optimized e-Paper software.
BEST SELLERS

Daniel Pink

Time is on my side...

As performed by Mick Jagger

of the Rolling Stones yes it is.

Well Mick, that really all depends.

Turns out, the timing of virtually

everything can be either on your side, or

working against you.

Whether it's booking a doctor's

appointment, writing a blog piece,

working out, taking the SATs, asking

for a raise or scheduling a meeting -

the "when" needs to be considered

when planning the "what".

How do I know this? Because

Daniel Pink told me. Read his new

book "When: The Scientific Secrets of

Perfect Timing" and get ready.

You know those books that have

great advice on every page, but

somehow never get applied in your

everyday life? This isn't one of them.

Apply you will. Don't let the ton of

deeply researched material scare you

off, because in this case "deeply

researched" doesn't mean boring.

The Daniel Pink magic that made his

previous best-sellers so approachable

and provocative is ever-present here.

We caught up with Daniel to ask a few

questions about the When of timing

and why we should care.

04 FLOW JULY 2018

~
---
"FLOW"

PROTOYPE REV 1.7
---
DAY-TO-DAY WHEN

Q: About 30 pages into When, a mounting sense

of lost opportunity waved over me as I realized

I've been doing it wrong all these years (damn

you, late afternoon meetings with Finance!).

This may well be one of the best books on

optimization I've read in years (and I've read a

lot of them). There are practical, executable

tips throughout.

With that in mind, how has your work routine

changed post-research compared to

pre-research for the book, if at all?

Daniel: It's changed may own routines in several

ways. Let me offer two.

First, once I began understanding the research

on peaks, troughs, and recoveries, I reorganized

my day. Since I'm a more of a lark than an owl,

my peak is the morning. That's when I'm best

doing analytic work - like conjuring words and

trying to make them march in formation. So

early in the writing of the book, I took a new

approach. Every morning, I came into my office

- the garage behind my house - around 830. I

gave myself a word count - usually around 700

or 800 words. And I didn't do anything else until

I wrote the required number of words. No

checking email. No watching sports highlights.

Nothing. I didn't even bring my phone into the

office. By doing that every day - 700 words

today, 800 words the next

day, another 800 the day after

that - the pages begin piling

up. And, believe it or not, this

book on timing was the first

book I ever delivered on time!

Second, I've become more

systematic about taking

breaks. Each day, on my list of

things to do, I try to schedule

at least one afternoon break.

And those breaks almost

always abide by the design

principles that science tells us

make breaks most effective -

moving, outside, social, and

fully detached. So in the

afternoon, you might see me

walking around my neighborhood - often with

my wife, but never with my phone. I used to

think that amateurs take breaks and

professionals don't. Now I understand that the

truth is the opposite: Professionals take breaks.

It's the amateurs who ignore breaks.

COLLABORATION WHEN

DQ: aniel, as I mentioned, this book has

optimization tips throughout. If you and I had

the opportunity to walk the National Mall for

30 minutes chatting about When and its

relationship to the collaborative process,

what's one actionable tip I would take away?

Daniel: I'd ask us to spend 15 of those minutes

talking not about how to collaborate more

effectively and instead talking about why we're

collaborating in the first place. What are we

trying to accomplish? Why are we doing this in

the first place? What's the point of the exercise?

Then I'd schedule a separate time for a

pre-mortem. In this technique, created by

psychologist Gary Klein, we look out, say, one

year from now and imagine that our shared

project is a bust. Then we try to figure out what

went wrong. And then, returning to the present

day, we set up ways to avoid those pitfalls. I'd

much rather make mistakes in my head in

advance than in real time on a real project.

SINGING WHEN

Q: When has received a lot of press and reviews

since it came out and landed on the best-seller

list. Is there anything in the book that you

thought would receive more attention, but

hasn't?

Daniel: I thought the material on choral singing

- the fact that it's basically as good for us as

physical exercise - would have gotten more

attention. That said, there's still, er, time!

Looking for more from Daniel? Check out his

fantastic Ted Talk on motivation below or visit

DanPink.com to connect with him on social media

and read more about When and his five other books,

including other New York Times bestsellers A Whole

New Mind, Drive and To Sell is Human.

The Puzzle

of Motivation

Dan Pink

~

05
---
COLLABORATORS

in the kitchen

Collaboration

&

Q A

with Chef Eric Ripert

My Dad held up his glass to mine and proclaimed

"to easily one of the best meals I've ever had".

~~~~~~~~~

Perhaps predictable when dining at Le Bernardin, the revered

Michelin three-star restaurant in New York, but to this day that

experience (a treat from my Dad on our first trip to New York back

in 2014) stands out as a truly memorable culinary event for both

of us.

The evening was a study in collaboration and creativity.

From the first step in the door the team produced a

seamless flow of exceptional hospitality, ambience,

service and food.

As the chef and co-owner of Le Bernardin, Eric Ripert's

part in this orchestra of teamwork is not insignificant.

We caught up with Chef Ripert to talk creativity,

collaboration and a surprising new option that

needed both to make the menu.

Q: Chef Ripert, can you talk the collaborative

process at Le Bernardin? And the evolution, if

any, in how you approach collaborating today

vs. when you first began your career?

Chef: Teamwork at Le Bernardin is everything.

Whether creatively collaborating on a new

dish or ensuring an evening in the dining

room runs smoothly, our employees are our

family and must all work together with

respect and harmony. We have an

unbelievably loyal team - many of the

members have been with us for more than

20 years! We have a warm relationship and

overwhelming dedication that makes it

easy for them to understand and share our

vision with every guest who joins us at Le

Bernardin.

06 FLOW JULY 2018

~
---
Previously, I used to be a very authoritative

chef. I would yell at my cooks and had very

little tolerance and patience. It was the style

of management that I learned from other

chefs during my early years of training.

Around 2000, I started to contemplate the

kitchen's atmosphere; we were losing a lot

of employees and I was confused. I decide to

re-evaluate the way I manage people

and I realized something in

myself - I couldn't be

happy if I was

angry; those emotions

can't coexist. Now, we

don't yell at Le Bernardin,

there is no drama. Today

we have arrived at a certain

level of management where

the team is happy to work

together, and even during

our busiest times, we have

a peaceful environment.

Q: Le Bernardin recently

introduced a vegetarian

tasting menu option. Can

you take us through the

creative process you and your team went through as

you designed this new option.

Chef: In January of 2018, for the first time ever, Le

Bernardin created a Vegetarian Tasting Menu. The goal

of this menu is to highlight vegetables in the same

focused and dedica ted way that we've always treated

fish – to simply elevate the quality and freshness of

each ingredient. The creative process is not something

you can control and you never know when inspiration

will hit.

To develop this menu, as with any of our other dishes,

we rely on teamwork and collaboration. What I ask my

sous chefs, and also impose on myself, is to take notes

whenever they have an idea. I write it down on

whatever piece of paper I have nearby. Eventually, I

bring all of the papers together; I carve out a spot

conducive to creativity – calm, quiet, clutter-free.

Sometimes, an idea sounds really good and we're

excited to pursue it, but when we try it, we realize it's

not at all what we expected. We don't rush ourselves.

We work on new dishes and sometimes we get lucky

and it only takes us a few days to master them, and

other times it takes months.

A best-selling author, TV host and regular guest on a variety

of food-focused programs, Eric Ripert has built a reputation

as one of the world's preeminent chefs. His flagship

restaurant, Le Bernardin is consistently ranked amongst the

best dining establishments in the world.

Keep up with Eric on Twitter (Eric Ripert) and Le Bernardin

~

07
---
CREATIVITY

Sasha DiGiulian talks

in climbing

As she summits a towering 2,300-foot granite dome

in Madagascar, Sasha DiGiulian books another in a

list of impressive "firsts", this one the first

female ascent of Mora Mora, ranked as one of

the most difficult climbing routes in the world.

I knew who Sarah was before Mora Mora, but

reading about that climb dialed me in. I had

a chance to connect with this top

American climber to talk collaboration,

creativity and inspiration.

08 FLOW JULY 2018

~
---
Q: Sasha, what does collaboration look like when

prepping for a climb? And what does it look like when

you're on the climb?

Sasha: While climbing is an intrinsically individual

sport, more often than not it is not possible without

a climbing partner. I have a really special

relationship with each climbing partner that I

have because there is a lot of trust built into

this dynamic.

Currently, my climbing partner (Edu

Marin) and I are prepping for a

two-month long trip in the Canadian

Rockies around the Banff region. We

have three big walls of the most

challenging technical faces that we

want to complete, each in one day. In

order to prepare for this project we have

been mapping out the gear that we

need; from ropes, to trad and sport

gear, to the on-the-wall sleeping

gear, etc.

Q: What role does creativity play

when you're on a climb?

Watch Sasha completing the first female ascent of

American Hustle in Oliana, Spain

A Columbia University grad, when Sasha's not ascending a

grade 9a, 5.14d (as the first North American woman to climb

what is recognized as one of the hardest sport climbs

achieved by a female), she gives her time to organizations

that inspire the pursuit and access to sports, and female

empowerment. She is on the Board of the Women's Sports

Foundation and serves as a Global Athlete Ambassador for

Right to Play, Up2Us Sports, and the American Alpine Club.

Check out what's she up to today - Sasha DiGiulian

Sasha: Climbing is all about solving a

gigantic jigsaw puzzle; putting

individual pieces of the puzzle together

in order to "send" or "summit" the

climb. The creative process mainly

happens during the climb - there is an

element of visualization and

thoughtfulness that happens beforehand

but a lot of the creativity is packaged

within the flow experience of climbing.

Q: What inspired you to start climbing and

what's inspired you to keep climbing?

Sasha: I started climbing when I saw six; I

loved the fact that I was in control of how I

moved up the wall.

Climbing is this input-output formula; what you

put into it is what you get out of it. This varies at

times - the effort that I put towards training,

exploration, and big projects, but what has

remained constant is my passion for it. I love how

climbing has taken me around the world, given me a

lens to experience remote corners and interact with

different cultures.

I love the process of not knowing I am capable of doing

something, physically, then revealing to myself what I

am capable of when I figure out the mental side. There

are many aspects of climbing that I love; the sheer

physical experience, the mental puzzle-solving, and

the community.

~

09
---
CREATIVITY

Creativity

with

Michael Bierut

I'm sitting on a park bench on an

unseasonably warm fall afternoon,

with a book and an iced coffee.

The park? Central, around 68th on

the upper west side. The book? How

to use graphic design to sell things,

explain things, make things look better,

make people laugh, make people cry

and (every one in a while) change the

world... by Michael Bierut. The

coffee? Hazelnut, from Sensuous

Bean on 70th.

~~~~~~

in design

The symmetry of reading a Michael

Bierut book in New York City was not

lost on me. Well beyond their

physical address, Michael, and

Pentagram, the design studio he's

called home for close to 30 years, are

part of the city's esthetic, flow and

story.

From guiding pedestrians via the

expansive wayfinding system,

signage and graphics for the New

York Times headquarters, Saks Fifth

Avenue bags, the Penn Station

Concourse graphics, the New York

Botanical Gardens logo, working with

the New York Jets and more – a walk

in the city is, in many ways, a walk

with an iconic studio and a graphic

design legend.

We didn't have a chance to go for a

walk, but we did connect with

Michael to talk design.

10 FLOW JULY 2018

~
---
Q: Michael, what's the collaborative process for you and

your team when you start working on a new project?

Michael: Every partner at Pentagram manages their own

small team, and I've noticed that every team approaches

collaboration a little differently. When I get a new

assignment, I usually bring in one of my designers to work

with me on it. That designer will take the lead on the

project management and ultimately has the responsibility

to see that it's going to be done right.

Sometimes a project is complex and will require a bigger

team. For instance, if a project combines identity and

environmental graphics, I might bring in two designers,

one for each area. Other times one designer takes a lead

and others are pulled in, often to provide specialized

assistance for a specific part of the job. Because we all work

together in a big open plan office, people are making

connections informally on a continuous basis.

Q: To follow up on that, can you provide an example of an

ideal collaborative experience with a client?

Michael: Having a client participate in the creative process

is a way to increase the chances that they'll understand,

and fully commit to, the final recommendation. Because so

much work depends on the quality of its ongoing

implementation - work that is often done in house, or by

other agencies - we invest a lot of time in making sure the

client sees the solution as something they can take full

possession of. That said, our clients seldom expect to be

"co-designing" with us: they come to Pentagram because

they respect our expertise and look to us for leadership.

In my experience the key is to avoid "presentation mode"

- those sessions when salesmanship overtakes empathy -

and keep actively listening through the whole process.

Q: How has your creative process evolved over the years

when working on identity design projects?

Michael: Although the technological context of brand

identity has changed radically in every possible way since I

began in 1980, I honestly can't say my creative process has

changed that much. I think as I've gotten more mature,

I've come to realize that clever solutions sometimes work

beautifully at the moment of launch but don't stand up to

the test of time. Simple ideas tend to endure, and it takes

restraint and even humility to stay simple.

Q: From what I can remember, 20 years ago, when an

established company changed their logo, it barely

registered outside the design community. Not so today.

What's changed? Is it a function of social media?

Michael: It may not be only social media, but it is

technology. Logos are no longer just things that people

encounter (and usually pay no attention to) on the sides of

trucks or the ends of commercials. Instead, they're icons

~

11
---
Watch as Michael Bierut and Joe Poesner explain how a simple mark ends up

meaning something big as a great logo.

that they press their fingers on dozens a time a day

(or an hour).

After decades of brands hoping that consumers will

adopt them as badges of personal identification, that

dream is coming true to a somewhat scary degree. So

people increasingly feel that they own the brands as

much as the entities that the brand identities purport

to represent.

And thanks to social media, they've been invited to

talk directly to those brands, most of whom

desperately wanted this degree of intimacy, and

many of whom got more than they bargained for.

Michael Bierut, a partner at Pentagram since 1990, is

a senior critic in graphic design at the Yale School of

Art and a lecturer in the practice of design and

management at the Yale School of Management.

He is a co-founder of the popular and informative

website Design Observer and the author of several

books, including his newest, Now You See It, his

collection of essays, published in fall 2017.

10 FLOW JULY 2018

~