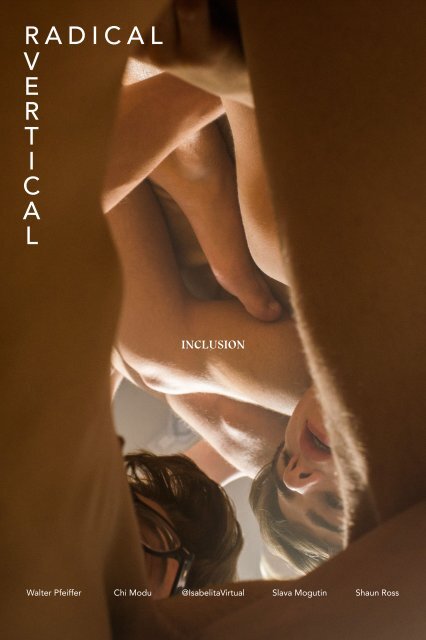 Radical Vertical
The magazine is published in collaboration between radicalvertical, Berlin, kulturspace, Los Angeles & LAFFF.
The magazine is published in collaboration between radicalvertical, Berlin, kulturspace, Los Angeles & LAFFF.
SHOW MORE
SHOW LESS
You also want an ePaper? Increase the reach of your titles
YUMPU automatically turns print PDFs into web optimized ePapers that Google loves.
RADICAL

V

ERTI

C

A

L

Walter Pfeiffer @IsabelitaVirtual Shaun Ross

INCLUSION

Chi Modu

Slava Mogutin
---
Celebrity: Jake Gyllenhaal, Brand: Cartier, Product: Cartier Santos, Emmanuelle Guillon, Nicolas Guiramand, Elodie Thiele Hubsch, Helene Duval, Agency: Publicis 133, CD: Antoine Bonodot, Agency Team: Christine Bouffort, Amandine Ribiero, Jeremy

Givord, Iris Decoux, Photographer: Matthew Brookes @ CLM, CLM UK: Thu & Anna, Production: @Wandaprint @ Wanda - Park Pictures, Artbuying: Wandaprint, Executive Producer: Charles Denis, Line Producer: Yannick Lebot, Antonin Lemoine
---
WITH WALTER PFEIFFER

WALTER PFEIFFER AND ROMAN BY CLAUDE GASSER
---
Contents 12-13

4

15-17

18-21

22-23

24-27

28-29

30-31

32-37

38-41

42-45

46

47-50

51-57

58-63

64-71

72-77

78-85

86-91

92-97

98

What's that jacket,

Margiela?*

We can be heroes

just for one day

Que será, será

Who's NEXT?

Ménage à trois -

Threesome

Shaun Ross :

Rebel with a cause

Chez Arman

Material Girls

One of these days

these boots are gonna

walk all over you

I am not from your tribe

F for Fashion Film

is the Future

From Los Angeles

with LAFFF

Paradise Lost

Les Fleurs du Mal

The Real McCoy

Sneaker Pig &

Sock Monkey

Angel Face

Love, like the light,

silently wrapping all!

RIP LA

LAws of Style

Contents
---
T H E R E I S O N L Y A W A Y T H A T

L E A D S T O T H E F U T U R E , A N D

I T I S G R E E N .

www.mdsarmy.com
---
Editor's

Letter

Stranger, if you passing

meet me and desire

to speak to me,

why should you not

speak to me?

And why should I not

speak to you?

- Walt Whitman

It took 126 years, or in other words, more than 2,800 titles, for Tyler Mitchell to be the first

African-American photographer ever to shoot a cover of US Vogue. The choice of Tyler Mitchell

as a photographer for the last September issue, however, is only due to the fact that Beyoncé

insisted on his participation. This story is more of a reason to be ashamed however, since whole

generations of commercially successful black photographers, including Carrie Mae Weems, Awol

Erizku, Mickalene Thomas, Micaiah Carter, and Shaniqwa Jarvis, have simply been ignored by

the world's most important printed fashion title.

For hundreds of years, a great part of American history has been defined by the

struggle of Afro Americans to be recognized as full members of this society. A frustrating struggle

for them, as the (white) American culture has developed a society that simply cannot accept

inclusion for all its citizens. This fight continues to this day. But equality and integration is required

for a healthy and stable democracy. The government of a country that breeds fear of other races

and condones exclusion will inevitably be stripped of those valuable and elementary principles

that are necessary to establish an intact and humane society. If we commit to human dignity

and equality for all, we must also create spaces in which we not only recognize our equality,

but allow differences. Only because of our equality and differences, dialogue and exchange will

become necessary and even possible. Building bridges between different cultures and different

ways of thinking is an indispensable added value for every society, and an increment for every

individual who is part of it.

The most important space for personal (self) expression is art. But the world of art is far

from being a space where equality and inclusion prevail: similar to the fashion world, minorities

also have to fight to become equal. In this issue of RADICALVERTICAL, equality and difference

take centre stage in the aesthetics, content, and authorship of the featured contributions.

For years, Walter Pfeiffer was denied recognition in his homeland of Switzerland due to his

controversial early work

as a photographer and

chronicler of the Zurich

gay underground scene.

Until 10 years ago, thanks

to a retrospective at the

Fotomuseum Winterthur

(2008), Pfeiffer, now in his

early seventies, achieved the long overdue

international recognition, making him one of

the most sought-after fashion photographers

of our time.

With

Uncategorized, Chi

Modu created his own

format to make his

art more accessible to a wider audience:

"The art world tends to

be very exclusive 7

and full of obstacles for both the artists

and the public. My goal is to make

art more inclusive by pulling an end run

on the galleries and the museums, breaking

down the barriers, and

bringing the art directly

to the people."

Dotan Saguy, born in a small kibbutz

near the Israeli border,

grew up in a Paris suburb,

then emigrated to the

US, where he lived in

Lower Manhattan during

the events of September

11, 2001, before moving to Los Angeles in 2003.

His works, partly shown in the magazine, are

compelling documents of the fascinating character of Venice Beach. Its uniqueness lies in the

diversity of those living there, but faces an uncertain future with luxury refurbishments and greed

for profit threatening the lifestyle that has been the trademark of Venice Beach for decades,

where the misfits of American society sought refuge.

Ryan James Caruthers' stature and physical condition are the exact opposite of what

American society expects of her members, especially in terms of athleticism. His condition, which

did not wholly identify with the stereotypes most commonly attributed to men, increasingly

isolated him. Caruthers, 24, won the prestigious BJP Breakthrough Award one year later for

his emotional series Tryouts. He photographed himself in full sports outfits in various sports

scenarios and recreated motifs which related to just the kind of activities he never joined as a

student. In those almost poetic images, however, interfaces between homosexuality, masculinity,

identity and athleticism become impressively visible.

The amazing thing about Laura Aguilar's (1959-2018) very personal style of photography

is that she took things as they were, and apparently captured what was happening right in

front of her camera—the staging of her own big naked body included—without any judgment,

thereby emphasizing the character of difference or otherness. You will find her photography

impressively straightforward and of an unmistakable integrity, as well as with an openness

to each pictured motive. Whether you associate her work with a feminist, Latin American, or

lesbian agenda, you may decide for yourself. But Aguilar was not a theoretical artist; she was

a narrator with unmistakable images originating in her own incomparable aesthetic, which has

indelibly marked her personality and life within our collective memory. I hope a look at her and

all other works of the creatives united in the RADICALVERTICAL "inclusion" issue will leave a

lasting impression on you.

– Holger Homann

EDITOR'S LETTER
---
THE

TECHNICOLOR

EXPERIENCE

CENTER

The Technicolor Experience Center is about

what happens when creativity meets emerging

technologies. It's about the partnerships that discover

how stories can be told and delivered in new and ever

more immersive ways. And, it's about making the

impossible possible, and doing it together.

THETEC@TECHNICOLOR.COM TWITTER: @TEC_TECHNICOLOR INSTAGRAM: @TEC_TECHNICOLOR

TEC.TECHNICOLOR.COM
---
Con

Chi Modu

Chi developed relationships with the biggest

icons of the hip hop movement, including

Tupac Shakur, Notorious B.I.G., Mary J. Blige,

and L-L Cool J, most of whom were not yet

famous at the time. His photos include some

of the most groundbreaking, memorable

images of that era which have graced the

covers of Rolling Stone Magazine and Jazz

Times, and album covers for Snoop, Method

Man, Mobb Deep, Mad Lion, and Christian

McBride. We are very proud to be able to

share some of them with you.

Ryan James Caruthers

Since graduating from Parsons the New

School for Design in 2016, LA-based

photographer Ryan James Caruthers has

not only won the 2017 British Journal of

Photography's Breakthrough Awards, but has

also been busy shooting editorials for Dazed,

Coeval, FY!, New York Magazine and many

more. We thank him for providing us with an

intimate portfolio of almost poetic images

of intersections of age, race, class, gender,

and body type.

Zohar Winner

Zohar Winner is an incredibly talented graphic

artist based in Berlin. She works across the

mediums of illustration, graphic design and

set design. After graduating at the Bezalel

Academy of Art & Design in Jerusalem, she

worked predominantly as an art director in

the fashion field. Since we consider a good

illustration to be the cherry on the cake

for any magazine, Zohar didn't hesitate to

provide the much-needed complement

for the magazine.

Walter Pfeiffer

Walter Pfeiffer is a Zürich-based photographer

whose portraits of friends, lovers, still life

and scenery, always taken with a large dose

of fun, not only inspired a generation of

photographers, but also contributed a far

more varied and modern view of what it

means to be queer. Together with Julian

Zigerli, Pfeiffer shot Roman, one of his 'Walter

Boys', especially for his Autumn Winter

2018 collection.

tribu

Shaun Ross

Shaun Ross's newest music video, filmed

at Popsicle LA, features the model-turnedmusician

emerging breaking out of a chrysalis.

Of course it is the breaking out that the lyrics

refer to. It is also a song about the beauty of

transforming into the truest version of yourself.

Since transformation and triumph always

seem to be the biggest points of Shaun's life

we were glad he gave us some very personal

insight on those important topics.

Slava Mogutin

Slava Mogutin focuses on the more universal

themes of desire and estrangement while

letting his camera range over seemingly

spontaneous situations and marginal scenes

to capture the urban gay subculture in

particular. Since the sneaker market is really

taking off, we felt Slava's work would be the

best to illustrate what has also become a

fetish for the $65 billion footwear industry.

tors

Symone Ridgell

2018 summertime heat called for a little—or

a lot of—vintage glamour. We reached out

to Symone Ridgell, LA Video producer at

PAPER magazine, to add some of the late

80s vibes and glam to our magazine before

the inevitable autumn approaches, and the

bright and shiny colors mute and begin to

darken our souls. In that aim, we thank her for

achieving the radical chic which will now shine

through our pages.

CONTRIBUTORS
---
LOS ANGELES

A new

LA

concept

studio

built for

social

content

creators

BRAND COLLABS

RENTAL

COMMUNITY

EVENTS SPACE

socialset.com
---
Radical

Vertical

The magazine is published in collaboration between

radicalvertical, Berlin, kulturspace, Los Angeles & LAFFF.

Editor-In-Chief

& Creative Director:

Art Director:

Fashion Editor:

Copy Editor:

Holger Homann

Ryan Ying

Elliott-Alfred Attia

Lindy Siu

Publisher:

Project Manager:

Sales & Partnerships:

Special Thanks to:

Justin Raymond Merino

Natasha Siemaszko

Alex Holz

Leslie Bedolla

Contributors:

Alexis Borges

Chris Francis

Douglas Hand

Simone Heift

Ryan James

Caruthers

Matt Lambert

Andy Lee

Jamie Luca

Chi Modu

Slava Mogutin

Arman Naféei

Walter Pfeiffer

Symone Ridgell

Shaun Ross

Dotan Saguy

Lindy Siu

@IsabelitaVirtual

Zohar Winner

Julian Zigerli

1

1

Cover by Matt Lambert

Published by: The kulturspace Foundation

1920 Hillhurst Ave V921

Los Angeles, CA 90027 USA

www.radicalvertical.com

www.kulturspace.com

www.lafashionfilmfest.com

MASTHEAD
---
What's that jacket, Margiela?*

* Kayne West Lyric from "N****** in Paris."

Streetwear is about to dominate fashion.

Generations Y and Z are already the

main growth drivers of the luxury goods

market, contributing 85 percent of luxury

purchases. Sneakers and sweatpants are

boosting luxury brand profits even more

than custom tailoring and evening wear.

It is no coincidence that Louis Vuitton

appointed Virgil Abloh as artistic director

of menswear: streetwear is getting hotter

than ever. For the last few years, the rise of

streetwear has been more than just another

big storyline in fashion. In 2017, Supreme

was reportedly valued at $1 billion, which

underlined that the success of Supreme,

and streetwear in general, are definitively

to be considered game changers in terms

of fashion and culture.

Clothes are becoming

1

more and more casual, inspired by

2 the growing momentum for healthy STREETWEAR - THE

END OF FASHION?

and sporty lifestyles, generating

unprecedented popularity of items such

as sneakers and sweatshirts. Hip-hop has

grown from a subculture into the most

successful genre of the music industry in

the US, surpassing rock. Generation Y and

Z represent a large and growing share of

fashion consumers, and what they want is

community and authenticity. Streetwear

ties to hip-hop but in terms of fashion, what

is left besides its signature casual clothes

like hoodies and tees, graphic logos and

the fixation on sneakers? We asked Simone

Heift, Buying Director of the KaDeWe

Group—one of the most prominent and

distinguished international department

stores, offering over 60,000 square meters

of international designer goods and

exclusive brands—why, even as streetwear

grows into a billion-dollar business, it's

still not perceived as prestigious, and still

doesn't signify luxury the way fashion

traditionally has.

WHAT'S THAT JACKET, MARGIELA?*

HH In the German press—and not only there—it has been said

that "Streetwear has become the driver of fashion". Fact is, hoodies and

sneakers have left Haute Couture behind. Everyday suitability triumphs

over aesthetics (at least for the moment). Where does streetwear drive

fashion in your opinion?

SH Streetwear has had a major impact on fashion in the past,

with NEIL BARRETT and GIVENCHY by Ricardo Tisci already known as

Luxury Streetwear, filling the gap between Contemporary and Luxury

Formal looks. The creation is part of a high-low aesthetic of lifestyles

of the West Coast, Californian kind. Currently, streetwear influences are

clearly leading the way. The fusion with luxury not only brings a whole

new look, but conventional boundaries are resolved. Designers rely on

sneakers, hoodies and tracksuits. Logomania everywhere—not a brand

new, rather, ongoing mega-trend but more present and important than

ever—especially labels like Balenciaga and Off / White, even Valentino

follows the hype. Collaboration follows one another at ultimate speed,

limited editions and new brands become a must-have.

What is changing is mainly that a whole new audience is in

focus—the young ones, informed, with incredible brand awareness and

purchasing power—the millennials are flocking to the luxury brands.

Fashion is increasingly becoming a status symbol, and the leading

labels have mastered the game of desire. The run on various It Pieces

is enormous; they are quickly replaced by new ones. The more limited

the better. Even though streetwear dominates and is authoritative
---
Simone Heift

Fashion

Interview by Holger Homann

inspiration, without the "ugly & sporty", nothing works. The wave hasn't

reached its peak yet. Nothing is final; fashion is constantly changing.

HH Zalando has been selling a collection by Karl Lagerfeld, which

was developed exclusively for the Berlin online fashion platform. The

collection "combines the trademark of Karl Lagerfeld with a streetwear

influence," Zalando said in a press release. What is the meaning of

"under streetwear influence"? Or is "Streetwear" just the train that

everyone seems to be jumping on?

SH Two very different positions got together here, effective in the

media and determined to be a commercial success. As a mass market

retailer, Zalando serves a wide range of customers and accordingly has

a very different view of streetwear. In addition to his successful work

at Chanel and Fendi, Karl Lagerfeld Collection has always focused

on casual suits and apparel as a brand. Therefore, this is a natural

collaboration in tune with the times.

HH In the mainly white world of fashion, Virgil Abloh is the first

black man in a top position with the world's most prestigious luxury

brand, Louis Vuitton, to display a mix of streetwear and luxury clothing

in his debut collection. Is this a creative decision by the house of

Louis Vuitton, or was the marketing department unable to resist the

temptation thanks to Abloh's appeal to get an even bigger chunk of

"coolness", rather than just a cooperation like the one with Supreme?

SH The appointment of Virgil Abloh for menswear designer is a

perfectly thought-through move—from every point of view. I doubt that

the skin color played any role here, and so it should be. Rather, worked

the "hype" factor around his personality. Everything that touches Virgil

turns gold—the label Off / White and his numerous collabs—and is

decisive. Virgil is one of the most influential designers of his time, with

strong connections to the music and design industries. Virgil Superstar:

an all-round genius—he epitomizes the zeitgeist like no other.

Workaholic and Party Animal. No other can skilfully blur the boundaries

between street style and luxury as he does—he is the undisputed king

of coolness and the perfect choice for Louis Vuitton, making the label

even more desirable and open, especially for the most sought-after fan

base. I trust him to not only lead Louis Vuitton to commercial success,

but to manifest a new kind of lifestyle. Fashion is more than tailoring;

it is a complex, multi-layered interaction. Today, above all, the overall

concept is decisive. He will put his stamp on the house.

HH Does this step help open the door to a rather whitedominated

industry which they were previously denied? It was surely

for a reason that students from Abloh's Art and Design Academy were

invited by him to attend the show. True to the motto: If I can do this, you

can do it too.

SH I wish that skin color as well as gender, religion, origin,

or even sexual orientation, were generally no longer obstacles to

achieving goals of any kind—not only in fashion, not just in the job.

Virgil's debut for Louis Vuitton was more than a show—it was a clear

statement of diversity, tolerance and freedom. Everyone should be

able to go their own way without being discriminated against in any

way. Unfortunately, today we are often further away than we think—it

is even more important to fight for it. I can do that; you can too. Abloh

not only invited the entire LV design studio to the show but students

from various Parisian fashion schools also attended. This element

of social inclusiveness is new to LV and is an excellent strategy to

reach a wider audience.

HH In the New York Times, Abloh's debut collection has already

been called the end of the "créateur de mode". How do you judge the

future of the classic fashion designer à la Dior, Chanel, Balenciaga, or

will they mutate into just labels of a global operating corporate?

SH A very disillusioning and one-sided headline; I can not and

do not want to share that. Many voices of criticism in the run-up turned

silent after his emotional debut for Louis Vuitton anyway. For fashion

has lost its meaning, is not true, because is not exactly this freedom

and individuality the new—or rather rediscovered—real meaning

behind it? Fashion today moves in all imaginable directions; we no

longer strictly follow a single dictation. Everything is possible. The hype

about streetwear and Virgil at Louis Vuitton is far from the only thing

that makes fashion fashionable today. Alessandro Michele breaks all

conventions and shapes a very own aesthetic of maximalism, Céline

sets with Hedi Slimane on the extreme contrast to Phoebe Philo and

ultimately Givench breaks Givenchy obviously with Tisci's streetwear

influences, the list is endless. There is more diversity and change than

ever before—that is the zeitgeist. The time of the great couturiers may

be over. However, they are followed by brilliant, innovative visionaries

with a view of the whole and beyond, which is more important today.

HH Kim Jones, the 38-year-old predecessor of Abloh, is now with

Dior, making the menswear there. Only a few models have worn classic

shoes and boots on his debut collection. Does the shoe industry have

to worry? Will we only wear sneakers in the future—the item that seems

to have become the new fashion fetish?

SH Sneakers have undoubtedly become a statement piece

and now one of the strongest categories in the footwear segment.

In KaDeWe alone, about 70% of sales in the men's shoe department

are generated from sneakers, which have thus overtaken the formal

shoe. Designer sneakers from luxury brands such as Balenciaga, Gucci,

Alexander McQueen and Saint Laurent are an important part of our

range, as well as classic manufacturers such as Santoni or John Lobb

who have expanded their collections through various sneaker models.

Here we notice that the sneaker models of the brands, which are

actually specialized in classic shoe models, are selling almost as well, if

not better. Streetwear brands are taking advantage of the scarcity of the

product and the social media hype to reinforce the traditional supply

and demand model.

HH Burberry boss Marco Gobbetti justified his decision in

March to have former Givenchy designer Ricardo Tisci appointed as

creative director of Burberry with the statement "His ability to combine

streetwear with high fashion is extremely relevant for today's

luxury customer. " Similarly, Michael Burke, chief executive of

Louis Vuitton, commented on the appointment of Virgil Abloh:

"Virgil is incredibly good at creating bridges between the classic

and the zeitgeist of the moment." Are brands such as Burberry and

Louis Vuitton no longer viable without these connections? Or are

they being completely redefined with streetwear fashion styles?

1

3

SH Without a doubt, Riccardo Tisci established Givenchy during

his 12 years with the brand—he was the first to combine streetwear

with high fashion in a unique way, but Riccardo's visions are also

contemporary elegance and bizarre romance. Burberry approached

the topic of luxury street style in cooperation with Gosha Rubchinsky

before. With mastermind Tisci Burberry, I think it's the perfect formula.

He is enormously versatile, you can not reduce it purely to his street

style coolness factor. I look forward to Riccardo's (at least partially

ironic) interpretation of the heritage of the British cult label and his

typical game of opposites, because he masters this like no other. As

always, Marco Gobbetti proves the right nose here. Although far less

experienced, Virgil Abloh is also cornered too much. The man just has

it. He sets signs and clear statements, even though tailoring admittedly

is not one of his strengths. Carefully thought through to the smallest

detail, he puts everything in a nutshell, pursuing his vision undeterred—

few couturiers are capable of doing so.

HH As a buyer of one of the most important international

department stores that offers international designers and top-class

brands on over 60,000 square meters of retail space, these changes

will certainly have an influence on brand selection and communication.

How does KaDeWe react to these trends?

SH It's exciting to get the new, well-publicized target group into

the stores. Not only do they have a passion for logo and street style, they

are primarily interested in the new and the unconventional, and that is

the basic meaning of fashion. It is important not only to focus on wellknown

Collaborations, Limited Editions and the Big Names—above all,

of course, Off / White. Especially in this segment, you can constantly

discover new brands to offer this very informed crowd a unique mix

and sometimes to stay one step ahead. Labels such as A Cold Wall, Y

/ Project, Heron Preston and Unravel are among them. Dynamic is the

"key"—in every sense of the word—a conscious departure from the

mainstream, much faster in terms of assortment and communication,

much more spontaneous.

WHAT'S THAT JACKET, MARGIELA?*
---
MARCELL VON BERLIN

Fashion

Words by Lindy Siu

We can be heroes

just for one day

MARCELL VON BERLIN:

Street Couture,

With a Berlin Edge

True to its Berlin DNA, MARCELL VON BERLIN embodies progressive diversity and urban

glamour in its distinctive street couture. The label's interpretation of edgy urban styles using

the finest quality Italian fabrics offers a delightful integration between casual streetwear

and exclusive luxury.

The merging of the two contrasting worlds is further underscored with the

inspired placement of an in-store Späti—a signature Berlin late-night convenience store—

in the brand's flagship store on Friedrichstrasse in Berlin, which offers guests an

assortment of typical German candies and sweet treats. That's one cool way of putting the

street in haute couture.

As a designer, MARCELL VON BERLIN is as versatile as he is creative. His

creations have been worn to grace many a red carpet, standing out with his signature

geometric cuts and innovative materials. As the brand continues to pave the way towards

fashion that's more inclusive and accessible, MARCELL VON BERLIN prepares to open its

first international store on Melrose Avenue, Los Angeles, before the end of the year—a

fittingly funky, trend-setting neighbourhood for the street couture label's first US store. A

natural progression in the brand's evolution since its inception in 2011, the label's high-end

street style is an ideal fit with the laidback, trendy LA vibe.

Its iconic Berlin Boy and Berlin Girl series—a tribute to Berlin's urban

charm—features a provocative combination of street style imagery and old

German typography. In conjunction with its LA store opening, this quintessential

line of ready-to-wear sweaters and t-shirts will be adapted and launched as

LA Boy and LA Girl, with distinctive design elements symbolizing the close connections

shared by the two sister cities. Swimwear and sliders will also be included in the LA edition

for those warm summer days.

Further preserving its authentic Berlin heritage and staying true to its brand

identity, the LA store will also have an in-store Späti for non-Berliners to get a taste of the

city's unique street culture.

Let's applaud the fall of the couture wall.

1

5

WE CAN BE HEROES JUST FOR ONE DAY
---
WE CAN BE HEROES JUST FOR ONE DAY
---
1

8
---
Que será,

será

@IsabelitaVirtual on the rise of the

digital world and the extinction of

the printed matter

The future's not

ours to see

In a world where influencers have become the new

trendsetters, the question of where fashion publications

stand in terms of relevance and potential for commerce

is more important than ever to marketers and publishers

alike. The question is no longer if and when luxury brands

should embrace the digital opportunity, but how they

should go about doing it.

@IsabelitaVirtual aka Isabel Martinez is a young

Spanish creative whose universe has enchanted the world

of social networks. Born and raised in Barcelona, Isabel

is an award-winning creative director and photographer

who has collaborated with brands such as Dior, Hermès,

Kenzo, Tiffany & Co, Coach, & Other Stories, Sony, Viktor

& Rolf, Boucheron, Delpozo, and The Moscow Ballet. Her

popularity on Instagram has grown exponentially with over

680 thousand followers. The co-founder of Instagram,

Kevin Systrom, named her one of his 3 favorite fashion

accounts in an interview with i-D Magazine.

In 2018, the @IsabelitaVirtual Instagram

Gallery was honored by the Webby Awards

(hailed as "the internet's highest honor" by The

New York Times) in the category of Best Social Content

in Art & Culture alongside powerhouse cultural

institutions such as The Metropolitan Museum of Art,

the Guggenheim, and LACMA.

Martinez, who has to-date not posted a single

selfie, recently called for 12 different artists—who follow

her on Instagram and whom she believes connect with

her artistic vision on some level—to create portraits of

her based solely on the images on her Instagram account,

without knowing anything about her physical self.

Since Isabel Martinez also has numerous

collaborations with famous magazines, W magazine

amongst them, we were keen for some words of advice

on how to avoid the extinction of iconic print titles. Recent

examples include the legendary Interview magazine

which closed down just 6 months ago; Village Voice, the

independent weekly New York City newspaper which will

cease to be in print; and even Teen Vogue. Condé Nast—

owner of Teen Vogue, with a reported loss of about $120

million in 2017—will also end its print publication, with plans

to sell three of its titles: Brides, Golf Digest, and W, based

on a recommendation by the Boston Consulting Group.

1

9

QUE SERÁ, SERÁ
---
@IsabelitaVirtual

Fashion

Interview by Holger Homann

HH In the current climate when

magazine publishers are reporting vastly

declining circulation, even of the most

prestigious titles, (with sales of the top 100

magazines in UK and Ireland having declined

by over 50% since 2000),

would you consider the

printed fashion magazine

to be an endangered

species? Or in short:

is print dead?

the experience of reading.

The ritual of spending time

and enjoying the moment.

On digital platforms,

we have access to

millions of images

and articles, which

2

0

fulfils the voracity for

content. In print it's

not about quantity but

always about quality.

This leads us to the second

reason, which is focused

on the object itself. Today,

print magazines should be

the haute couture of fashion

editorials, to keep this

glamour that attracted fans

IV I don't think

so. Obviously it's been

hard for some magazines,

particularly the ones that

were not so appealing

in their print version to

compel readers to spend

money on them. Why

should I buy a magazine

when I can get the same

content for free? Well, I

find at least 2 powerful

reasons: the first one is

from all over the world

and of course, to win

followers in social media.

On the other hand, we

should turn our heads to

the rise of independent

fashion and lifestyle

magazines, focused on

niche audiences with a

high interest in the issues

they are related to.

HH The hottest

topic in the media

business right now is the

unexpected growth in paid

subscriptions. If the growth

of subscriptions is driven in

part by frustration with the

pervasive advertising we

are subject to, is the fashion magazine mainly

financed by the sales of advertisement fit for

the future, or the reason for its decline?

IV The growth in paid subscriptions

is the evidence that magazines have "real

lovers". Advertisers should take advantage

of this fact now, more than ever, and invest to

touch the hearts (and wallets) of readers. There

is an enormous opportunity for advertisers

and publishers to not do conventional ads but

interesting content. Since the beginning of

their creation, magazines

have been a catalogue

for brands. Net-a-Porter

was the evolution of this

idea in a very honest way.

Print magazines should

collaborate with brands

to explain relevant fashion

stories. In digital, it's the

natural way of doing it, but

in print, advertising was

always the annoying price

that readers paid. Now

the relationship between

advertisers and editors

is evolving into valuable

content and an invaluable

increase of fans.

language of the brand/

titles and the digital

language.

HH Teen Vogue,

once a prized brand in

Condé Nast's portfolio,

has been cut down to four

issues per year. Teen Vogue

will now become an onlineonly

publication. Is this the

proof of a continued trend

as younger audiences and

digital natives move away

from print?

HH

What could

be the best strategy for a

publisher deeply rooted in

printed titles to adapt to

the digital economy?

IV There is

probably not a unique

solution that works for

all titles. However, there

are some common

points that are a must

to build a community:

time and money. Quite

obvious, right? But there

are still companies that

don't understand this.

Also to find the correct

balance between the own

IV Younger audiences

have less purchasing

power but they are willing

to spend it on products/

services they are in love with. Even online

magazines like Rookie are editing books.

HH Is the reinvention of magazine

brands online such as Teen Vogue the only

solution to help replace the fall of print in

terms of advertisement revenues?

IV Advertisers are where audiences

are. So the question should be how to make

your audience grow.

HH

On the other hand, independent

magazines are seeing a

rise in readership through

a hybrid of print and

online publications. What

went wrong in terms of

developing adequate

strategies to bridge once

prestigious and successful

printed titles such as

Details and Teen Vogue

with the digital era?

IV I see a tendency

of forgetting what is the

real DNA of printed

magazines in the transition

to digital. Most of them

are very similar to each

other and there is a lack

of personality.

HH As our dependence on

social media grows, and it becomes

more integrated into our lives, we're

becoming more influenced by what

we see online than ever—how do

you consider the effects on fashion?

IV We are witnessing

something unprecedented. Regular

people are turning into trends

prescribers. This is amazing and it's

forcing the fashion establishment

to be more innovative. However,

all of us are subjected to what we

call the "dictatorship of likes".

Brands repeat what audiences

like the most, which is normal,

taking into account the market

but it's not that

healthy for

opening minds and

bringing in something new.

HH Fashion was

presented to us in the

past mainly through glossy

magazines such as Vogue.

Fashion in that way was

kept exclusive, determined

by designers and magazine

editors. With platforms like

Instagram, we have the

chance to become our

own magazine editors,

sharing our personal style

with potentially millions

of users. To what extent

do you think this will

change the way fashion

is perceived and how

brands connect with their core audience in

the future? Will the printed fashion magazine

stay in the picture?

IV Democracy has arrived in fashion.

It's true that everyone can post content but we

need to keep in mind that the content an ego-

QUE SERÁ, SERÁ
---
Illustrations by @ConradRoset, @CarlaFuentesArt, @Cristina daura _@CDaura, @GilButton, @AgataWierzbicka, @Velwyn, @OneEyeGirl,

@Laura_Laine, @FebruaryJames, @juan_cris_smiley, @YaelHupert

blogger posts and the content a professional

journalist offers is not the same. A magazine

shouldn't compete with influencers in these

terms but should offer a point of view about

other issues. For instance Vice has a clear

editorial line which is very

different from, for example,

Hello Mr. (a Brooklyn-based

gay men's magazine) or

Wallpaper. So what printed

fashion magazines should

do is to be stronger in what

defines them.

HH Does that mean

that magazines and advertising

campaigns don't

have the influence they

once did?

IV Ten years ago,

magazines and big

advertisers were the only

players in the game. Now

the game has different

rules. Thousands

of creative people

are challenging the

big names of fashion with no budget

but with ideas and enthusiasm.

HH Of Instagram's total

audience, 200 million users follow at

least one fashion account which allows

fashion companies to interact with

their customers on a level that they

could never do previously. Instagram

has become a platform for fashion

brands to connect with their audience

directly, rather than through a catwalk

show or print advertising campaign,

opening up a whole new world for

fashion marketers. Where do you see

adapting yourself in regards to that

new world?

followers. In regards to brands' relationships

with influencers to increase social reach and

maximise followers, do you see a risk of the

creatives of the brand becoming just another

marketing tool?

On the other

hand, the lack of concept

is a big issue. There is a

Spanish saying for this,

"bread for today and

hunger for tomorrow".

They are not planning

long-term strategies. To

focus on quantity (of

likes, followers, comments,

retweets and so on) has

nothing to do with quality.

HH Social networks

are not only a place

where users can express

themselves but also a

large-scale platform for

IV The strategy of

well-known brands (fashion

labels or editorials) is to

identify and collaborate

with creative people not

so much for their strong

fan base, but more so for

their very special point

of view. But the term

"collaborate" is tricky.

This means all too often,

to work almost for free

with visibility as the only

remuneration. Powerful

brands that are aiming to

be patrons of young people

are not paying them for

their creativity.

one sole picture are two basic rules.

HH The Social Media Marketing

market is growing and new platforms and

services appear every day to simplify the

lives of influencers and

advertisers. In terms of

that trend, where do

you see a chance for a

magazine publisher to

contribute to the future

world of fashion?

IV The fashion

industry has the connections,

the power, and

what is more important,

the glamour aura that

makes fashion aspirational.

I'd encourage them

to take more risks and

to work closely with

technological startups to

create relevant content.

Some time ago I was

talking with the Head of

Digital of a very well-known

"Maison". He wanted to

invest in digital, beyond

celebrities, and I

asked why he couldn't

do it. He told me an

anecdote: When the 2

maison was looking

for someone to take

over his position,

1

the job requirements

included "at least 10

years of experience with

Instagram", but Instagram

was launched in 2011...

This is a very illustrative

example of old mentality.

IV Isabelita Virtual

was born on Instagram, but

the platform is evolving so

fast that what worked six

years ago maybe doesn't

work today. I'm always

trying to be loyal to my

own vision, to evolve

my aesthetic but trying

not to copy others and

also to expand the limits

of the platform which is

something really important

to me. Instagram is plenty

of bold images fighting

to gain the attention

of viewers in a second.

Sometimes I find a lack of

concept. I want something

that goes further than a

couple of impacting photos.

HH In terms of influencers claiming

to generate a wider conversation around

fashion brands, any profile that can add

value to a brand can be involved. This value

is generally measured by the volume of

promotion, advertising,

and selling. This means

that influencers play an

important role in this

industry and their influence

will grow further.

But almost 50% of the

industry considered microinfluencers,

with 10k-100k

followers, as the most

effective for their campaigns.

Only 11% chose celebrity

influencers with 1.5 million

followers as the most

effective marketing partners.

How can a brand find the

right influencer?

IV They should

think about what they

want to reach. We are used to seeing

celebrity influencers selling a Dior bag today

and a Chanel one tomorrow. In this way it's

complicated to create a real link between the

brand and the influencer's values.

So to have a mid-term

relationship and to think of content beyond

We're in between two

generations and the

transition to digital is

not always easy. I feel

really lucky collaborating

with brands like Delpozo

and his Creative Director

Josep Font and their

team, who have pristine

ideas about the importance

of extending a

brand's values to social

media. Regarding magazines,

people like Alessia

Glaviano or Chiara

Nonino from Vogue Italia

are doing excellent

work, also Sarah Leon

in W Magazine. These

are just some examples

of professionals doing their best to stay

relevant not just in printed magazines but also

in digital.

QUE SERÁ, SERÁ
---
Who's NEXT?

THE NEW BREED

OF RUNWAY

President of Next Model Management Los

Angeles, Alexis Borges, who spotted Lucky

Blue Smith's potential at age 10, shares his

thoughts on the future of the catwalk. Lucky

Blue Smith has become the world's most

famous male supermodel with over 3.3m

Instagram followers. Despite that, more

non-white, plus-size, trans, non-binary, and

over-50s models walked the Spring 2018

runways than in any other season, with New

York leading as the most racially diverse

city. Yet it took 20 years to have another

black model open a Prada runway show, the

last being Naomi Campbell in 1997! If color

doesn't matter anymore—does gender,

age, or size? Are African and transgender

models simply 2018's flavor and just

fashion's way of capitalizing on popular

public trends? How radical an entire industry

becomes when it's desperate to reach the

Gen Zs while still sticking to the (outdated)

concept of "seasons", and "menswear" vs

"womenswear". And what does it mean for

scouting the new breed of models?

WHO'S NEXT?
---
Alexis Borges

Fashion

Interview by Holger Homann

talent that is being pushed out. I don't scout models based on trends,

I scout models that I believe would appeal to my fashion peers. There

are models that will be able to cross over and do men's or women's,

but there are models that simply will never cross, nor should they

have to. There is a difference between a female physique and a male

physique. Within this gender identification, there will also always

be different builds that will appeal to a more athletic consumer, or a

high fashion consumer.

HH I consider Bryce a good example of a rather "gender fluid"

cast. Is the line-up of future models at Next to be perceived as a

reflection of the diversity of our society in terms of gender, religion,

race, sex etc. rather than an ideal of just "beauty" and how the industry

defines the ideal of beauty?

HH You once spotted a 10-year-old Utah boy who then got signed

by the age of 12 and became one of the most popular male models:

Lucky Blue Smith. How often does it happen, that you see such potential

in a future model, when that person is perceived by others as simply

a good-looking kid?

AB It happens a couple of time a year for sure, but there are a lot of

factors that come into play. Finding them is one thing, however, whether

or not they reach their potential is a whole other thing. It all depends

on such things as school trajectory, religion, geographic location, family

dynamics, family beliefs and many other things, but mainly they have

to want it and work hard for it. I can't want it for them, you know what I

mean? I pride myself on my keen eye for spotting potential models—it

goes way past whether they are a good-looking kid or not. Most are not

so good-looking or obvious "models" as they are young and may be

holding on to baby weight, or acne and all the other wonderful things

we have to go through as teens. When I spot a kid with potential, I'm

looking at them from head to toe, I'm looking at cheekbones, length of

arms and legs, how they hold their shoulders, how they stand out or not

stand out in a group if they are with friends, etc.

HH In terms of fashion's relationship with inclusion—do you

consider the growing casting of diverse models as just a trend or a

commitment of an industry to a more modern, more open society?

AB Well this time, I hope it's not a trend. I have seen this wave of

"inclusion" in fashion many times before, throughout my 30 plus years

as a manager. I think as human beings, fashion or not, we should have

evolved by now, in something so simple as being inclusive of all beings

regardless of race, color, religion, or sexual preference. I hope this time

it sticks, and in the near future there will be no need for talks of inclusion

as it will be the norm. That would be ideal!

HH Do you see any progress within the fashion industry in terms

of the creators and business people of the industry becoming more

diverse—in making model decisions rather than who's on the runway?

AB In editorial, fashion shows and fashion advertising, yes, I see a

difference, but unfortunately we are only just seeing an increase mainly

in African American models. There has been little to no noticeable

increase in Latin/Hispanic, Asian, Indian and other models. And when

it comes to e-commerce, we still get breakdowns that say looking for

1 African American girl or boy. Yet they feature dozens of Caucasians

models. Also they usually offer a lower rate, which is just messed up. The

fashion industry has a long way to go, as far as I'm concerned.

HH In regard to the topic of gender fluidity, do you think model

agencies will also increasingly refer to trends within the society and its

needs to explore the concept of individuality in general, rather than just

matching the demands of the sometimes capsuled world of fashion,

which still sticks to the rules of, e.g., menswear vs womenswear?

AB I have been representing gender neutral to transgender

models since the late 80's with iconic people like Connie Girl, and

costume designer Zaldy. I think agencies shouldn't follow trends; we

are the managers, and we are a big part of the contribution of the

AB Very good question, however, the answer is yes to both. We

have to cater to the consumers as well as the industry needs, while

retaining our creative power to sign talent we believe are worthy of

our management. What we look for is always changing and evolving.

What we make sure is always to stay on brand, on our mission of what

fashion and beauty means to NEXT. We will always push for diversity and

equality. That's in our DNA.

HH In times of technical achievements turning the smartphone

into a camera, everyone seems to have turned into a photographer

nowadays. Is the next step happening that everyone can become

a model?

AB No, not at all. I think what we are seeing is that there are a lot

more opportunities for these potential models to be discovered, and as

we know there has also been a lot more opportunities for truly talented

people to get noticed.

HH I have a very distinctive opinion about what one needs

to be called a photographer. Can you explain what one needs

to be a model?

AB Height, fitness, personality, and ultimately how

they photograph, and their ability to feel comfortable in front

of the camera.

HH I've had the pleasure to meet Cindy Crawford, Claudia Schiffer

and Christy Turlington: do you think we will experience a revival of the

Supermodel mania like in the pre-digital era?

AB In my opinion that era has come and gone. Those girls will

always remain the reason I got into the industry to begin with. Today's

consumer doesn't seem to have the attention span to remain influenced

only by a small crop of models that at the time dominated the industry.

With that said, there will always be a few girls that rise above their peers

and will be in demand. How long they will reign is still in question.

HH Talking digital era: how important is street casting still, and

how important have the social networks become in scouting?

AB Digital casting is important for sure, and for the most part,

easier than pounding the pavement, scouting for talent in a mall, airport

or amusement park. But to me, there is nothing like street casting.

Seeing the person in the flesh and getting an immediate feel for how

they truly carry themselves without the pressure of a camera presence

and the pressure of social media and the power of photoshop. I will

always prefer street casting over social media casting.

HH Since we will face not just a new generation of consumers but

also buyers for retail worldwide: do you think we will still have runways

as the most important stage to present a fashion brand's new collection,

or in times of AR and VR, do you think these new technologies will

take over soon?

AB I think it will look very different down the road, shows will be

more for "show purpose" and the theatrics and creative outlet of the

designers. They will remain important for brand awareness, but not

catered to the consumers. AR and VR and new technologies will take

over—it's inevitable. It may feel weird and different now, but it's our

future and part of our evolution.

2

3

WHO'S NEXT?
---
Ménage à trois -

Threesome

2

4

MÉNAGE À TROIS - THREESOME
---
Walter Pfeiffer

Fashion

Words by Holger Homann

Photo by Claude Gasser

Models: Walter Pfeiffer,

Roman & Julian Zigerli

An artistic collaboration

Yves Saint Laurent's love of painting culminated in 1965 in a kind of tribute to the Dutch

painter Piet Mondrian, whose geometric paintings became the pattern of his autumn winter

collection shown in Paris. The fashion show was a triumph. The dresses, cleverly designed

and tailored with all the finesse of haute couture, were dubbed "the best collection" by

Diana Vreeland in The New York Times. The Mondrian line was an international success

and a personal triumph for Yves Saint Laurent, who became the "King of Paris". In the

same year, the Mondrian dress also made it to the front page of ELLE, followed by Harper's

Bazaar and Vogue. Originals from this iconic collection—the blueprint for any future

collaboration of art and fashion—can now be seen in the Rijksmuseum in Amsterdam,

the V & A Museum in London, and the Metropolitan Museum of Art in New York.

2

In retrospect however, at least from my perspective, the most striking

collaboration in 2017 was The Artist Series by Helmut Lang: a project that continues the 5

over two-decade-long tradition of the brand's collaboration with artists. The diverse

collection features works by Peter Hujar, Carrie Mae Weems, Martine Syms, Andrew Miksys

and Mark Morrisroe in the form of limited edition posters, t-shirts and other products.

The series was launched with a collaboration with Walter Pfeiffer, whose shown

works dates back to the period of his career in Zurich in the 1980s. Those "golden years," as

Walter describes them, are also the subject of the documentary "Chasing Beauty" by Iwan

Schumacher, which premiered in autumn 2017. Towards the later part of the 1980s, Walter

Pfeiffer retired from photography, again focusing on drawing and painting, disciplines in

which he finally began his artistic career. A long overdue showcase of Pfeiffer's graphic work,

which weaves a rich dialogue with his photographic works, is scheduled to be published in

October this year, in an artist's book by the Edition Patrick Frey with the title 'Bildrausch.

Drawings 1966 - 2018.' It was also the Swiss publisher Patrick Frey who introduced Pfeiffer

to a wider audience in the early 2000s. The two published the book "Welcome Aboard"

featuring his most beautiful photographic works. Walter, almost 60, having spent the last three

decades as a photographer, suddenly found that his photos were more popular than ever.

For his 15th collection, Julian Zigerli—an eponymous brand renowned for

unique collaborations with artists, taking inspiration from their evocative work to inspire

his own bold aesthetic—celebrates its history by turning to its archives for key shapes

for A/W18. Julian approached Walter Pfeiffer, whose portraits of friends, lovers, still life

and scenery are always taken with a large dose of fun, to artistically translate his colourful

vision of the male form into a collection for both men and women. Known for exploring the

fluidity of gender and sexuality in relation to the male body, this collaboration with Julian

Zigerli exudes a sense of liberation that you would expect.

MÉNAGE À TROIS - THREESOME
---
2

6

MÉNAGE À TROIS - THREESOME
---
Photos by Walter Pfeiffer

2

7

MÉNAGE À TROIS - THREESOME
---
Shaun Ross :

Rebel

with a cause

2

8

Transformation and

Triumph of a Misfit

Shaun Ross not only paved the way for albino models within the industry. He also starred

in campaigns for the likes of Alexander McQueen, Givenchy, and Nike (just to name a

few), and appeared in Beyoncé's "Pretty Hurts" music video. After the release of his debut

single "Symmetry", he is now determined to make his mark on the music industry with his

second single "Chrysalis," a song about the beauty of transforming into the truest version

of yourself. We asked Ross to share his views about transitioning from the runway to the

recording studio, and what to expect from him in the near future.

SHAUN ROSS: REBEL WITH A CAUSE
---
Shaun Ross

People

Interview by Elliott-Alfred Attia

Photo by Johnny Kitsune

EA You've been a prominent frontrunner

for inclusion within the fashion industry

for quite some time now. What have you learnt

most from your personal career journey, and

what advice would you give to others joining

the fashion industry?

SR My dream was never to jump into

the fashion industry, at first my passion was

dance. I was very inspired for years about

being a performer, and fashion found me.

I had no idea what I was getting myself into and

I've made mistakes not knowing so along the

way. I would definitely tell someone inquiring

about the fashion industry to be cautious of

the relationships you create and nurture them

as if you know them well. Never fear others'

opinions they may place upon you, and stay

true to the vision.

EA Who are your role models, or who

inspires you within and also outside the

fashion industry?

SR I get mainly inspired by those

around me who sometimes chime in to give

their opinion on what I'm trying to do, in

inspiring the world we live in, and to create a

better and brighter future for diverse cultures.

EA What is the biggest challenge you

have had to face so far and how did you

overcome it?

SR I used to have issues with validation

from an industry I wasn't accepted into,

therefore I would always look past it, allowing

myself to push my face in the spaces where

it wasn't wanted. I then noticed that I was

valid and had my own personality, so why not

continue.

EA H&M made waves in late May

when it launched its first ever Pride collection,

featuring a range of items with rainbows and

pro-LGBTQ+ phrases. You were involved as

a model. How important do you think your

display of pride is to your following? What has

the response been to this?

SR It was amazing working with the

team at H&M. They have a great eye for

diversity. They've always been inclusive

towards others and I wanted to be a part of

this matter. The response has been amazing

from fans all over.

EA At the end of 2017, you debuted

your first single 'SYMMETRY". How

challenging has it been establishing yourself in

this new creative outlet—did you always know

the direction you wanted to go in, if you were

to delve into making music?

SR At first, I thought it would be

extremely complicated due to the fact that

most people know me from fashion, so I was

a little bit hesitant. Then I realized that it's all a

part of the creative process, so I decided to do

it anyway, no matter what people say or think.

It was very nerve-racking, I must admit.

EA Do you think there is a difference in

making a career in fashion vs the music industry?

SR They are both two different

industries underneath the same umbrella

of entertainment. They are both extremely

different but also the same; they both take

creative power and thought.

EA You have been a face to many

campaigns, videos, runway shows—often

collaborating with the creators. What has been

your favorite collaboration in your career/

personal life?

SR Honestly, I don't have a favorite—

they've all been a part of my life/career, some

better than others but more importantly, I'm

happy to make an impact on the world.

EA Do you think the fashion industry has

in fact become more diverse on and beyond

the runways, or has it just picked a trend?

SR When I started in fashion, models

like myself and Diandra Forrest created this

shift in today's fashion industry in looking at

sexuality differently. We just knew how to be

ourselves and it was just us at that moment in

time. I think the fashion industry loves a good

trend and charity story, which is fine because

it sells, but I do believe they should take more

time to try and understand it to the core,

and they don't.

EA You claim transformation (and

triumph) as one of the essential cornerstones

of your life—can you give us more insights into

the meaning of this in conjunction with your

own biography and "Chrysalis"?

In terms of transformation—what

kind of effect does "Chrysalis" have in regard

to your own life, and what do you wish it to

have for the audience?

SR I've completely transformed in so

many ways, even down to the way I inspire

the world. Some things don't take

that much of a touch and it shouldn't.

I used to feel so insecure, not about my

look, but the way others perceived it. 2

I learned to understand people will

think what they want and it's okay,

it's their logic.

9

EA I have the impression that

"Chrysalis" is just the overture of something

bigger or more to come. Do you think you have

finally found your own way or "language", so

to speak, to express yourself and the topics

which seem important to you to share with

your audience?

SR Absolutely not, but I'm getting

closer by the day, and it feels good to figure

out my own voice and language to connect

with people in.

SHAUN ROSS: REBEL WITH A CAUSE
---
Chez Arman

Our Man of Music

3

0

In 2010, Arman Nafeei was appointed by Mr. Balazs as the Music Director of all his properties—including

Sunset Beach on Shelter Island and his three New York properties—to create a musical signature for

those iconic venues. The man who made The Boom Boom Room boom with his eclectic sound mixture

and hosts "Chez Arman" on dublab—a radio show introducing listeners to sounds, interviewees and

poetry from around the world—is to open and run the new bar at celebrity favorite Chateau Marmont

in Los Angeles. Having left Europe to make a career in New York and now living in Los Angeles,

we chatted with Arman about his past, present and future.

CHEZ ARMAN
---
Arman Nafeei

People

Interview by Holger Homann

Photo by Arman Nafeei

HH How did you become a Music

Director at the Standard Hotel Group?

AN When I was a student in London, I

was active in the art world and also worked

as a DJ in various clubs and events. At some

point I started to work more and more with

Jay Jopling's White Cube gallery. When I

completed my studies, I was desperate to

move to New York to work in the legendary

Boom Boom room, which was the coolest club

describe yourself in terms of your profession?

AN Entertainer certainly describes what

I actually do much better. I've been working

as a DJ since I was 16. Nevertheless, I wasn't

too happy about calling myself a DJ because

I never intentionally planned to become just a

DJ, considering it to be too monotonous and

pretty exhausting as well after a while. Of

course it's lots of fun, but also full of ups and

downs. In my current situation, I can choose to

do fewer but more distinguished

gigs. I love to host and entertain

people. Be it at a dinner, a gig or any

other event—I enjoy that as much as

I do.

HH Someone who works at

Chateau Marmont is in daily contact

with VIPs. Are there any personal

relationships or friendships that

have emerged from your job?

AN Yes, of course, but that

happens quite naturally as you get

to know people. Celebrity or not

doesn't matter to me. The main

thing is whether it clicks. I have met

many celebrities over the years and

there have been disappointments as

well as positive surprises.

HH For some time

now you have your own radio

format ("Chez Arman": a radio

show introducing listeners

to sounds, interviewees

and poetry from around the

world). What do you like

about this work especially in

relation to the job of a DJ?

3

1

in the world back then. I didn't know Andre

but fortunately it turned out that Jay was very

good friends with him. It took a few months,

but Jay finally convinced Andre to give me a

chance, and I think both of them were happy

with the way things turned out. I certainly was!

HH You then left New York for Los

Angeles to work as a "Directeur d'ambiance"

at the Chateau Marmont. Why this title?

AN Andre had been calling me his

Director of Ambience for years, which I never

liked too much since my official title was

Music Director. But after a while, I got more

and more used to it, and due to my wideranging

experiences in the Music business far

beyond the usual tasks of a Music Director,

the title seemed to fit much better as I grew

more comfortable in the role. I decided to

translate the title into French though—it is

so much funnier.

HH In my opinion, you are more of an

entertainer rather than a DJ. How would you

AN The radio show actually

happened quite spontaneously. I

was once a guest at Dublab radio,

which is a very cool underground

station in LA. I got talking with

the people who run the station—

et voila two weeks later they

offered me a small slot in their

program. The show is pretty easy to handle for

me because I have no fixed date and so

I can adjust it to my actual schedule. The

name of the show and the concept turned

out to be almost like being a guest in my

home for one hour—entertained by music,

by other people or texts.

HH Which project currently occupies

you most?

AN The biggest project I've been

working on for almost two years is the opening

of my own club in the chateau, which should

hopefully be completed by the end of this year!

HH Could you also imagine doing

something completely different? Imagine

being able to wish for anything at all!

AN There is a lot I can think of. Like

opening my own spa, cinema or a beach club.

But it can also be a completely different thing,

where I choose to move to the countryside and

become an organic farmer.

CHEZ ARMAN
---
Material

Girls

3

2

The Vintage Glamour

of the Work of

Symone Ridgell

While watching "Channel Surfing" and

marvelling at its outstanding aesthetics

thanks to the casting of Peyton Knight

and Elizabeth Ayodele, with its artistically

crafted "vintage glamour" yet modern

vibe, we went behind the scenes with

Symone Ridgell. She shares her ideas and

ideals about the making of a fashion film,

with a narrative derived from her personal

career, revealing her standards of what she

considers to be a film of value.

MATERIAL GIRLS
---
Symone Ridgell

Fashion

Interview by Holger Homann

Photos by Symone Ridgell

3

6

HH The New York Times once described

you as having a "late-80s, early-90s thing"—

watching "Channel Surfing", I can see you

stick to the glam—what is so fascinating about

that time period you never lived in? How does

it affect your daily life?

SR I'm not sure at all. I have a theory

that the decade one's born into is constantly

looking at least two decades before them,

because that's the age group that was cool

when they were kids. Sort of how "Dazed

and Confused", "Boogie Nights", and

"The Wedding Singer" were so successful

repeating the 70s/80s in the 90s. There's this

strange transition that happened to film after

video emerged that I'm interested in mixing

together, rather than keeping apart (especially

in the digital/web-based era of video).

HH How would you describe

"vintage glamour"?

SR I'd describe it as Helmut Newton's

"Cold Eye" mixed with your Mom's

old headshot.

HH You are Director/Editor | Video

Producer at PAPER magazine—tell us more

about PAPER magazine and your contributions

for that medium.

SR PAPER gave me my jumping-off

point and from there sparked a symbiotic

relationship between the brand and my

personal taste.

HH Please tell us about the casting

process for those shorts—did you have

freedom of choice?

SR I worked closely with the casting

director and stylist, Ella Cepeda, who has a

natural eye for both. I can't take any credit.

She just showed me her choices and I loved

them both.

HH You studied at the Parsons School

of Art and Design. How important would

you rate your academic background in terms

of your current work, and how much more

important has the actual experience become?

SR I couldn't imagine there being any

other route for myself academically. I use

everything I learned in my time spent there in

all facets of my life.

HH How important is the influence

of photography in general, and fashion

in specific?

SR For me, very important. Fashion is

where you create the character. It's the same

as wardrobing on a narrative feature.

HH How important would you say

Music and Pop plays in conjunction with

your own work?

SR Music is major. I don't think I

would've ever dove as deep into film without

it. As a kid I would sit in the passenger seat of

my Grandpa's car listening to my iPod classic

and think up music videos for each song

playing that didn't already have one.

Sound is an incredibly manipulative source.

With it, you can change the entire scope of an

image with one good or bad move.

HH You mentioned Gia and Sofia

Coppola having a major influence on you

for their storytelling styles. In terms of your

own work—would you consider that you've

achieved your own style?

SR I do. I, however, don't think it's

completely manifested, but I'm not sure I'd

like it to. I'd like to constantly be changing

themes within that style. I really look to

Kubrick in that sense. He's a director whose

motifs followed throughout most of his work

no matter the changing themes.

HH In terms of influence by other

directors, is there any European director you

may claim to have an impact on your work?

SR I've never thought about it like

this, but I guess that all depends on if I'm

shooting color or black and white. I come

from a photographic background, so the two

mediums are very separate in my mind. When

I'm shooting black and white, it's got to be

Fellini and Resnais. It took me a second after

starting college to make the transition from

photo to film. So anything that can work as a

still image really captures my attention when

it then chooses to move.

I found myself looking a lot to Dario

Argento's "Suspiria" during the filming of

"Channel Surfing" for his vivid use of colors

through unmotivated lighting.

HH As a female director looking back

at your own experience—do you feel the

fashion industry should become more diverse

in the direction of decision makers in terms of

business and creative decisions?

SR Absolutely. Yes. Speaking as a

young, female, African-American, that's a

no brainer.

HH Working in the west, east and south

of the US—if you could choose, which would

be your preferred city to work in?

SR I prefer to write in the midwest, film

in the east, and take a breather in the south.

I grew up between Michigan and Florida,

so bits and pieces of me belong to certain

regions. Living in New York and not being

able to have the parts of the other cities I

call home readily available has been tough

to navigate. Though, I've found ways to still

create without having to travel miles to get

there. New York is such a surprising place. You

can find the suburbs and the beach amongst

the city if you look for them.

HH

Can you tell us about your next project?

SR I just wrapped two projects coming

out this September. The first is a music video

for the artist Mafalda. She's got an incredibly

smooth dark-pop sound. We met two years

ago when I first started at PAPER on a

shoot and this will be her first music video.

The second is a piece highlighting several

northeast based sex workers. I chose to film

it in a 1970s porno homage, but instead

of the sex workers playing their assumed

roles, I flipped the script and gave them the

role of the director on a porn set. I wanted

to highlight their ability to direct

their own careers.

MATERIAL GIRLS
---
1

8
---
One of these days

these boots are gonna

walk all over you

3

8

Chris Francis sees fashion as art and does not have any intention to separate those worlds.

After watching a shoemaker from France making shoes all night, he started trying to make

his own the next day. By the end of the week, he had his first pair made. Encouraged

by the results of his first attempts, he then turned his kitchen into a workshop, making

more and more pairs of shoes—or shall I say "pieces of art made for walking"—inspired

by the paintings of Kazimir Malevich, Bauhaus and some of them with hints of glam. As

Los Angeles–based Chris Francis explains, a shoe is not only an architectural piece that's

supporting vertical human weight, but it's also supporting a mechanical load. Therefore

it has to move with the body, support the body, and still—look beautiful. We interviewed

Chris to find out more about how shoes became his way to express himself.

ONE OF THESE DAYS THESE BOOTS ARE GONNA WALK ALL OVER YOU
---
Chris Francis Fashion Interview by Elliott-Alfred Attia

Photos by Chris Francis

Chris Francis'

radical way

of making

ready-to-wear

shoes

EA How important is the process of

creating the shoe for you?

CF I enjoy the process often times

more than the result. I'm just trying to relax

an overactive mind and nothing else seems

to work. Designing and making shoes

involves a complex thought process where

every decision must be well orchestrated and

strategically executed. My mind operates

more efficiently when I'm in the studio. It's like

I've been given a race car and it only operates

on high octane fuel and doesn't operate to

its full potential while driving on city streets—

it needs a track.

The studio is my metaphoric race

track; I can run wide open and for me that is

very relaxing.

EA What is your favourite part of

the process?

CF Winning a game of chess against

myself and seeing creations come to life that

I can display as trophies. When a new design

happens that has not been seen by myself

or the rest of the world, I feel victorious but

it's hard to achieve that. My favorite designs

end up being the unconventional ones. I find

shoe designs that are already known to the

world less challenging for me, because I can

already see examples of them, therefore I

anticipate the success of their creation. I love

the idea that I may fail. If I feel like the design

is too easy and there is not enough risk I'll

be apprehensive to go on a journey with it;

I'd rather crash and burn than chew my arm

off over some boring design that I don't want

on my shelf.

EA What is the most challenging aspect

when creating these shoes? Do you ever have

creative block?

CF Feeling the need to contribute

my own design and expression, and achieve

unique results when so much has already been

done with this form. I hit creative blocks that

are extremely frustrating and usually they

arrive when I compare myself to others. The

moment I stop and think about how a designer

I admire has previously done something, or

I realize that I have already done something

with this form to break barriers, I start

to hit a block.

I start to ask myself, "What's the

point, why push this any further, is there

anything left to contribute?"

I look at my shelves and realize

that I have contributed; there are shoes

there that don't exist anywhere else than

from my own mind and seeing that pulls me

back to creativity.

When I'm building a collection, I

refuse to look at other shoes or shoe books.

I don't want any subliminal influence or

anything to compare myself to.

EA

Who is your ideal client?

CF A kind one. I'm not intentionally

exclusive to anyone. My neighbor gets the

same dedication and quality as a superstar and

it's the same price no matter who walks through

the door. My clients are all characters—it's a

mix of celebrities and creative people who

just want a special pair of shoes; everyone is

welcomed.

EA

Who do you make shoes for?

CF People who aren't afraid to stand

out and who don't need the crowd's approval.

My clients aren't afraid to wear one-of-akind

designs and probably prefer to, and

that's why they come. They know they can

come to me and get something that isn't

mass produced. I don't deal with too many

people who are following the trends or the

rules and if they are, they probably don't

know my name. I know every single customer.

It's like a family, I run this like a proper Italian

restaurant and when you are here you are part

of the family, names stay behind closed doors,

I like it old school.

EA What is your biggest struggle in

terms of the process?

CF

Dealing with everyone who works here.

The maker and the designer don't

get along, the designer is uptight and very

demanding while the maker is like a disheveled

anarchist, he can't stand rules or being told

what to do at all and thinks his ideas are better

than the designer's. The artist here is too

thoughtful, he'll sit and stare at the creation

all day long while trying to make one decision

only to make a change that doesn't amount

to anything. There's the "architect"—he's got

no credentials as an architect but he thinks he

knows better than everyone else in the house

and that structural engineering surpasses

design and art; he thinks he comes first. All of

these characters get ahold of the phone and

write posts on social media but the business

guy erases all of them and tries to keep these

guys quiet! None of us get along but we

are all the same person, and it's this friction

combined with a seemingly endless amount of

fuel that keeps the creations coming.

EA What is your most prominent

creative influence in terms of these shoes?

CF Probably music? I visualize music

where most people only hear it—many of

my shoes are the result of this ability. Colors,

shapes and ideas are usually generated by my

way of processing sound. I once listened to

Modest Mouse while making a pair of shoes

and the pair unintentionally came out all grey

and gloomy—there was no contrast, just cold

grey tones. I love their music though

and find it rich with creativity and

depth, but it mostly looks cold and grey

visually. I listen to them when it rains.

During the Ten Acts of

Brutalism collection, I pretty much only

listened to Grandmaster Flash and the

Furious Five. That collection was raw,

3

9

coarse and real; it was heavy and I needed

the sound of the Furious Five to lift ideas like

that off the ground. The whole collection was

made of concrete, steel and raw materials:

they were shoes that looked like high rise

housing projects. I don't think I would have

arrived at the same collection had I listened to

anyone else.

EA You have very eclectic influences—

ranging from pop music to art. Tell us more

about your landscape of influence?

CF I have no limitations upon myself

when it comes to exploration of music and

culture, I want and need all influences. I'm not

part of any scene so I don't stand judgement

for venturing out of the boundaries usually

found within scenes. I'm listening to a punk

band one minute and a pop band the next,

rap, folk, country, gospel, hardcore, metal,

there are no boundaries, no scenes, no rules,

no one else to entertain other than myself. I

enjoy some buildings and I've always tried to

love art even though I'm not usually moved

by it as much as I should be. Usually I am

looking at art, trying to figure out what in the

hell I'm looking at, and I include my own work

in the statement.

I studied shoemaking by following

the outdated curriculum of the Bauhaus

School. I put myself through the four year

program and rigorously exposed myself to

all types of building materials, architecture,

craft, fine arts, textiles, drawing, painting,

ONE OF THESE DAYS THESE BOOTS ARE GONNA WALK ALL OVER YOU
---
nothing was out of bounds.

EA

CF

EA Do you ever

get approached by

brands for collaboration?

CF I recently

worked with a house

helping to create their

designs for a runway show

in Cannes but we are not

calling it collaboration.

Things get tricky once

a collaboration is

announced, it starts to

involve red tape.

EA Can you

imagine your work

4 ever extending to

0

In regard to the almost sculptural

shape of your shoes which are one-of-a-kind.

Do you consider them more as a piece of art

or a piece of design/fashion?

I bridge both fashion and art and I'm

equally in both worlds, but I'm mostly in my

own world and that's where I want to be. I'm

making expressive objects that are wearable

to various definitions of wearability. It's hard

to separate art from fashion in the bulk of my

work and I think that's exactly what I want. My

shoes walk high fashion runways and show

in art museums, they

appeal to both audiences

and those audiences are

beginning to be one

and the same, which is

fantastic!

other items of

accessories, bags,

jewelry?

CF It has. I started

by making leather

jackets, then moved

on to handbags before

shoes. I enjoy making

handbags, they have

a lot of characteristics

similar to shoes that

engage my interest. Both

shoes and handbags are

structural, functional and

three-dimensional and

both are complex to

create. Handbags have

multiple compartments

and demand clever

design, they share

construction techniques

with shoemaking. I enjoy

them. Jewelry design

I'm not sure if I would

ever enter, it's not my

thing. I enjoy jewelry on

other people but not on me, I'm very simple

in regards to my style. I just think it would be

extremely difficult to be a jeweler, working so

small and precise would be a challenge that

I'm not cut out for.

EA What does success mean to you?

How do you achieve this?

CF Success to me is a happy life with

the people I love. I don't need fancy cars or

flashy brands to wear, I don't need much. If I

had unlimited funds I probably wouldn't live

very differently than I do now. I'd travel more.

I feel like I have achieved success, I'm happy.

I didn't inherit anything except for a stack of

punk rock records, I just worked really hard to

achieve my goals and they were set in reality

which made them obtainable.

My operation started from an idea

while hanging from a 73-story building, then

became a reality while making my creations

from a park bench. I have since exhibited in

five museums, multiple galleries and on stages

around the world. The shoes have shown

in Paris and have walked French runways

alongside the most respected fashion houses.

I think what I have built is a great example of a

success model. There has never been outside

backing. The operation is entirely independent

making its own creations in-house, by hand,

without corporate influence or investors. I am

able to keep art alive in my creations because

of my lack of obligation to investors. This is a

beautiful model of happiness, I'm proud of it!

EA In terms of growing a business

in the fashion industry, do you think

there is a growing need for the creator's

mind rather than the franchised and

industrialized collection?

CF Growing a business in the fashion

industry is very competitive and difficult, most

fail. I don't know if there is a growing need for

the creator's mind. If you are a creator for a

corporate brand you certainly won't be able to

use your mind outside of your hired task and

you won't be encouraged to be a free thinker.

You will make their products, sign your ideas

away, while being locked into a strict NDA.

The average consumer wants

something affordable and quick, and they

really don't care how it's made as long as it is

of a quality that fits the price.

The price point of a luxury

handmade good typically renders the product

exclusive, therefore the

creator's business must

compete with other

exclusive businesses that

may have reputations that

date back to the1800's,

whose logo is a symbol of

worth and validity.

I am seeing a

huge interest in people

wanting to make and

people taking on trades

such as shoemaking

as hobbies. Surviving

by doing it, I see very

few. I survive by making

shoes and in one of

the most expensive

cities in the world, that's

my job, it's what I do, I

play a real life game of

chess. Everything is up

to the consumer. They

decide the fate of

handmade goods versus

mass produced corporate

goods and to be honest,

the average consumer

is choosing mass

produced fashion.

EA Have you

ever thought of hiring

workers/apprentices to

increase the number

of creations?

CF I'd like to have

a team, I think ideas

would lift off the ground

better with a team. I'd

have others offering input

and that often makes

for stronger designs. I'm

realistic and understand

the demand for custom

shoes, growing in that

way could be more of a

financial obligation than

a gain. On the bright

side, not many houses

can put a flag in the

ground and say that the designer is the sole

creator of every single piece produced by the

house. I enjoy being able to do that, but it is

getting to the point to where the workload is

overwhelming.

EA What's the best advice you have

received? (In terms of your career and

being a creative)

And in reverse, what's your advice?

CF An old man in the shoe business

told me "If you can find anything else to do in

ONE OF THESE DAYS THESE BOOTS ARE GONNA WALK ALL OVER YOU
---
your life to earn money go do it and leave this

as a hobby, because you are committing to a

hard life by taking this on and you are building

a Spruce Goose, it's never going to fly." After

he told me this I sort of felt defeated and my

way of dealing with it was by developing the

attitude of "Well I'll just become a pilot of this

Spruce Goose and fly my wild plane all over

the place" and that's exactly what I did.

That old man put a spark in me

because he told me that what I was doing was

incapable of being done, so me being me, I

worked extra hard to prove him wrong.

After all I've seen and done, I will

say that he was mostly right except for the fact

that my idea flew. I've

flown it all over the map,

but it was his advice that

probably helped me to fly.

My advice

to anyone wishing to

make it as an artist, and

I mean actually survive

and pay your bills as an

artist, is to skip art school

and instead major in

business or demand for

your art school to offer

business courses! The art

and fashion worlds are

business worlds. Your art

can be beautiful and as

important as the greatest

art ever made, but it's

the artist who knows and

understands business

that will very likely be the

one who succeeds.

EA I see you have

a love for RUN DMC. Is

this a potential influence

of work to come?

CF They play

regularly in the shop.

Early punk and early Hip

Hop are influential to

what's been made and

what's to come for sure.

I grew up with punk and

it gave me my bullshit

detector. Early rap and

hip hop had the same

bones about it so I see it

all as the same stuff.

I liked these

styles before they

became products, before

they lost their guts and

became about bling

and twerking or selling

rebellion in shopping

malls. Both punk and

rap became such

massive moneymakers,

a capitalist's dream, it's

now all about selling records and image. I

love RUN DMC, but they opened the door

for fashion and brand promotion in Hip Hop,

they were one of the firsts to really have an

image that fashion could latch on to. They

were marketable, with a real cool look and a

sound that bridged rock and rap. They were

one of the first in that world to promote

fashion brands in songs which exploded in to

the situation we have now—the multi-million

dollar branding and marketing machine.

What I love about early rap is that a

couple guys from project housing towers with

no money could set up a turntable, hook it to

a city light pole with no other instruments but

their voices and have insane creativity with

unfiltered self-expression—the early stuff is

so sincere. I appreciate anything that is done

with that level of sincerity. I'm not seeing that

in modern music, none that's been brought

to my attention.

I'm kind of like the shoe shop that's

plugged in to the city light pole in a way?

I'm keeping handmade, grassroots fashion

and art alive in my little shop, I'm rooted

to old ways and I'm invested in keeping

an old trade from dying by the progress of

the modern world.

I've turned down involvement with

leading corporate fashion brands in order to

keep the guts of this and declare the house

independent. I could be in the shopping malls

and be a mass producer, the opportunity has

been on my table. I've stuck to my guns, I

believe in underground fashion, I came from

punk rock and punk as a movement still

influences all of my work and my reasons

for creating it.

EA What is the DNA of your collection

in your very own words?

CF It's not a line or a brand; it's an

independent house where all creations are

designed and made entirely in-house without

outsourcing artisanship. Art and expression

comes before product; the house is not

obligated to seasons or market trends.

EA Is there any collaboration with a

brand that you'd love to do?

CF

None I can think of.

EA What is your opinion on the rise of

'streetwear' across the fashion industry and

how Hip Hop has influenced culture?

CF I'm not

sure if I'm qualified

to answer this?

I'm not involved with the

Hip Hop or Streetwear

industry enough to

offer my opinion, but

streetwear was born from

the punk movement and

skate culture and I grew

up in that. Streetwear

back then was handmade

and unavailable in

stores, at least that was

the case for me. I often

made my own shirts with

spray paint back when

streetwear was raw and

DIY. Now you can buy

studded leather jackets

at Forever 21, punk is

over and has lost

its edge, what was

once anti-product

and anti-fashion is 4

now the basis of

modern fashion. I

will say that I think

1

calling a thousand -

dollar wallet with some

brand's logo on it

streetwear seems absurd.

I just think streetwear

should be more about

being DIY and from the

real streets than from

Rodeo Drive, otherwise

call it Drivewear, and

that's just my opinion

since you asked. Hip

Hop has influenced that

dynamic though, it's now

cool to spend thousands

of dollars on logos—lyrics

validate that and give

these products demand.

It's a multimillion-dollar

industry; fashion is

getting rich from Hip

Hop and Punk, in my

opinion it's not a positive

influence on the culture.

What I'm saying is that the Hip Hop

that I respect, the voice of the streets, urban

folk, urban truth, replaced by brand promotion

and adoration for products is not positive, it's

keeping people poor. Kids from the hood

have to drop a couple grand on their outfits

in order to be cool and I'd rather the kids plug

back in to the light poles and tell it like it is,

that's way more cool!

ONE OF THESE DAYS THESE BOOTS ARE GONNA WALK ALL OVER YOU
---
1

7

SNEAKER PIG
---
Jamie Luca People Interview by Holger Homann

Photos by Jamie Luca

I

am

not

from

your

tribe

The

candid

camera

of

Jamie

Luca

4

3

Jamie Luca has a whole catalogue of unpublished analog

film that he's taken throughout his career, which he is

sharing on Instagram as @proluca. It's all the models

he shot upon arriving at or leaving his shoots.. In his

words, "very, very candid" photos where you see their

personality in the images.

At this current point of his career, he is more

interested in the individuals he is shooting and their

nuances and personalities. For LA-based Jamie, that's the

most attractive aspect about a person: "Yes, the traditional

physical attributes that make someone attractive is still

the norm . . . however, I strive to photograph someone's

imperfections and someone showing his or her vulnerability—

that for me, is attractive." That remark led to more questions

from our side and enlightening insights into why High Fashion

and Hollywood now goes hand in hand while LA remains

"a different beast."

HH When did you decide to become a

photographer and why?

JL My older sister is a photographer

and I was always a big fan of her work. When I

went to University, I knew that I wanted to be

as good as her, though at that point, I didn't

know it was going to be a career for me. When

I moved to NYC in 1998, I guess that's when

it all started as a career for me and I started

referring to myself as a photographer.

HH Where did you learn to become

a photographer?

JL I went to University in the suburbs of

Los Angeles. I was on the school newspaper as

a photojournalist.

HH What do you consider to be the

most important skill as a photographer?

JL Technique. I guess I can call myself

"old school" since I learned photography

when analog film was still being used. I think

having that background and knowledge

really helps in the day-to-day work process.

I AM NOT FROM YOUR TRIBE
---
Also, communication skills . . . It is really

important to express and communicate what

you offer to clients and vice versa. I work

in fashion, so interacting with different personalities

and people, conveying your ideas and

concepts is a key part in a successful shoot.

Communicating a clear point of view to the

team is crucial.

HH Looking back at the time when

you started photography: what changes

have taken place that you consider to be

the most significant?

JL Education. These days, you don't

have to have a college degree to become

a photographer. You can watch YouTube or

sign up for seminars to learn photography.

Now, the saturation in the market with

photographers makes it really hard to stand

out these days. But, that's the evolution of

photography, I guess . . . you can shoot with

an iPhone these days and filter it and it's just

as good as a DSLR.

It's funny though . . . I guess there's a

counter to all these new fangled technologies .

. . the trend these days is to revert to analog—

or making your images look not so crisp and

clean and more like film. I have no idea. I'm

just happy to be working after all these years

in the business.

HH Which of those changes had a major

effect on your own career?

JL Clients and day rates. With the

saturation of photographers in the market,

clients take full advantage of that.

They can have a rookie photographer

with all the skills and pay them half

4

4

or even nothing.

Being relevant in this day and age

is what has changed. The attention

span of clients and people have been

scrubbed down to almost nothing. Even being

technically good at what you do doesn't give

you an edge anymore. You have to have a

gimmick for people to pay attention to you.

Moreover, photography on its own

doesn't provide a main source of income

anymore. You have to wear different hats and

do different things to entice clients. Back in my

day, it was ride or die to be a photographer.

Nowadays, even amazing photographers

have day jobs, and photography is

just a weekend thing!

Also, INDIVIDUALITY is what's

missing. I think photographers jump on the

latest trends in filters and don't really hone

their own individual style. Or COPY CATS. I get

a lot of requests from young photographers

willing to pay me to teach them my technique.

That for me is very offensive and degrading. I

think a lot of young photographers just want

the glitz and glamour and not want to work for

it. Or even discover on their own what they're

capable of . . . they want it now!

HH You decided to work as a

photographer in the fashion industry—what

was the main reason for that decision?

JL The main reason: I love FASHION.

I love the fantasy of fashion. Although I

have evolved into the fashion portraiture

side of things, I just love that you can create

anything in your head and transform it into

photography. Honestly, the main reason was

when I moved to NYC from Los Angeles, I had

no choice. I had to make money to pay rent.

So, that summer in 1999, I was lucky enough

to work with top modeling agencies like

IMG and Elite in NY and I just tested models

and worked on building my portfolio.

Along the way, I started earning money and I

guess that's when I could start calling myself

a fashion photographer—when I started

getting paid!

HH You are LA-based. In terms of

fashion, Paris, Milan, London and New York

claim to be the capital cities of the industry. Do

you see a growing importance of and interest

in fashion here in LA?

JL LA is a different beast. Although,

these days, LA is the place to be. A lot of A-list

designers are based in LA now . . . while 5 or

6 years ago, LA was only known for Hollywood

and commercials. High Fashion and Hollywood

now goes hand in hand. Hollywood has the

money to afford those clothes so designers

are now catering to that. Though, it's still not

a Fashion Capital . . . there are pockets in LA

where you see young creatives producing

amazing work. That's what I love about LA—

it's still a bit underground. It's almost like you

have to know someone in the "IN" to let you

into their world.

HH Having worked with models for so

many years, do you see changes in terms of

castings and new faces?

JL Absolutely! There's more diversity,

not just ethnicity-wise, but in sizes and shapes.

It's long overdue. And I love that . . . because I

want to see my color represented out there!

HH Is the recent diversity on the runway

a lasting game changer or just another

(fashion) trend?

JL It's here to stay . . . with the political

climate in the US and in Europe, I think

designers and/or casting directors are very

conscious of it. And consumers as well are

demanding diversity.

HH Do you think future casting will

reflect the multi-spectrum of individuals of a

global society rather than create or project

the ideal beauty?

JL Perhaps in the West, there's a

trend for diversity. However, I think in Asia,

there's still a homogeneous way of looking at

beauty—WHITE.

HH Looking at those images, you seem

more interested in the individuals you were

shooting and their nuances and personalities

rather than just their pretty faces— has

personality found increased value within the

fashion industry too?

JL I think these days, just being pretty

isn't enough for clients. You have to bring

something else to the table to stand out. I think

clients have such extensive variety of models

going to castings that they are looking at

everything now. No one wants a model who's

constantly on his/her phone whilst shooting

and not interacting with the crew. They want a

model who can interact with everyone on set,

which reflects on the images produced as well.

I think major brands want authenticity; they

don't want mannequins.

HH

Do you think that the norm of

traditional physical attributes that make

someone attractive still applies and how

important are they?

JL Of course it does. However, by

showing a diverse range of people on

advertisements, perhaps we can change

people's perception of beauty and not just

be bombarded with the same Ken and Barbie

dolls every season.

HH We see parts of unpublished analog

films you've taken throughout your career.

Some of them are published on digital networks

such as Instagram. Do you think there is a

significant difference whether a photograph is

being printed or just uploaded to be seen on

the small screen of a smartphone?

JL Honestly, I don't know how to

answer that question. I think for me, I just like

going through my archives and reminiscing.

Perhaps I am having a nostalgic moment in my

career right now, or perhaps I am evolving my

work to be a little bit more raw and unfiltered. I

think we are so bombarded with highly curated

and well polished work that I'm just bored of

seeing the same thing over and over again.

I respect a photograph more when I see a

little bit of humanity in the face. Nonetheless,

whichever platform whether digital or print—I

think we live in a time where sharing content is

the new normal.

HH How do you think analog and digital

can work together—for the benefits of the

photographer and the viewer, if there is any

future in analog photography at all?

JL Of course there is a future in analog. I

think these days, a lot more photographers are

experimenting with analog. There's a realness

and texture to film that digital cannot mimic

and produce. There's also spontaneity to

shooting film and that's the beauty of it. Also,

it really hones your skills as a photographer,

because you really have to be technical to

shoot film. When young photographers

ask me how to do film photography, I say,

GO TO SCHOOL!

HH Since the main titles of printed

fashion magazines are struggling to

survive—where do you see your own future

in photography?

JL I see myself still grinding away like

Sisyphus. Still rolling that rock to the top of

the mountain. Although I have been in the

business for a long time, I still have so many

things to learn. But, I want to evolve into an

Art Director in the near future.

HH How did you match the quotes

with those portraits—do they have a personal

connection to the person, or are they chosen

at random?

JL Honestly, it's all random. I pulled

those quotes from my favorite musical artists

like Tori Amos, Morrissey, New Order, Peter

Murphy, The Cocteau Twins and the Smiths.

These artists inspired me in my teenage years.

Perhaps it's my subconscious working when I

choose a quote and place it with an image . . .

it tells a story, but honestly, there's no rhyme or

reason to it. I just like the graphic nature of the

font on top of the image and what it creates.

Moreover, I am really inspired by Barbara

Kruger with her graphics on her paintings.

I AM NOT FROM YOUR TRIBE
---
I AM NOT FROM YOUR TRIBE
---
Andy Lee Fashion Words by Andy Lee

F for

Fashion

Film

is the

Future

2

HEARING INNER VOICES THAT AREN'T MEN'S.

Yes, sometimes being 'whimsical' is a fallback of

the unthoughtful but at least it's not some middleaged

man sitting in a car looking silently into space

for 5 minutes. After watching any random number

of fashion films you realise how few female

voiceovers you hear elsewhere, especially in

mainstream cinema.

5

TALKING TO PEOPLE THAT DIDN'T THINK

THEY'D EVER MAKE A FILM TELLING ME

THEY'RE WINNING AN AWARD FOR DIRECTING

ONE. Studying filmmaking is wonderful, film schools

are great, cameras are fascinating but there's more

to a film than lenses, dollies and the latest 4K blah

blah. The democratising of production through the

lower cost of equipment and mobile technology has

allowed people to break through in ways that would

have been unheard of 20 years ago.

8

WATCHING MORE SHORT FORM FILMMAKING

BEING CELEBRATED. The global Fashion Film

community is buzzing, from LA to Bucharest,

committed and passionate people are cheering

on each others' work. Gathering to discuss and

understand film in different more open ways than

you might see at traditional film festivals. Shooting

a written script, or having a music track to work from

is arguably often easier than formulating and telling

the story of a brand or a garment and it's heartening

to see work so widely lauded and supported.

10 reasons

to make a

fashion film &

10 ways

to make it

a good one

3

BEING ABLE TO FOLLOW A THREAD THAT'S

MORE DIVERSE IN CONTENT THAN MUSIC

PROMOS. Music Video, in their heyday were the

last time short film met new platforms to the same

extent as Fashion Film in the internet age. Yes, they

should sell product, but there's a freedom to many

Fashion Film productions that naturally crosses

over into other creative spaces. The greatest of the

most celebrated gatefold double 70's rock concept

albums, or enormo-budget 80's music promo

have nothing on the scale and depth of Beyonce's

Lemonade for instance and it's this genre-defying

embrace of style, identity and commerciality that

makes the genre exciting.

6

WITNESSING NARRATIVE BEING TAKEN

SERIOUSLY. Enough with the models swirling

around in fields already - it's to the 2010s what the

slow cross dissolve was to the noughties, or what

a band playing 'live' on an empty sound stage

was to the 80's and 90's. Embracing structure and

understanding the importance of story has engaged

audiences widely. Still, be careful with only furnishing

the actors with clothes and then shooting a straight

short film. That's cool, but it's just a short film. A

successful Fashion Film shouldn't be easily mistaken

for anything else.

9

SEEING MORE DIVERSITY. We're getting there.

Are we? It took 73 years before Donyale Luna got

the cover of British Vogue, and 82 before Beverly

Johnson in America. Fashion Film hasn't taken as

long to traffic in diversity, in multiple perspectives,

with multiple influences. But there are still more

voices to hear, more stories to tell. Think about how

you're casting and crewing your films.

Andy Lee is Subject Leader for Fashion Film

Practice at the London School for Fashion

1

NOT HAVING TO REMIND PEOPLE TO ONLY

SHOOT LANDSCAPE. 10 years of my life was spent

telling fashion photographers to avoid the instinct

to turn their camera around for a full length shot.

Since we now spend all our time looking at portrait,

vertical screens, I can finally shut up and they can get

a full length shot against a roll of backdrop without

masking it off in post production. Everything's a

screen, fill them how you please.

4

SEEING THE WORDS "DIRECTED BY"

FOLLOWED BY A WOMAN'S NAME. Of

course women have contributed a huge amount

to filmmaking during the century of cinema,

often unsung (look up the editors credit for Jaws,

Memento, ET, The Force Awakens, Bonnie & Clyde,

Lawrence of Arabia and pretty much all of Scorsese

and Tarantino for starters) but film sets, have been so

painfully a male-dominated domain.

7

WITNESSING PRODUCTION TECHNIQUES

BEING TAKEN SERIOUSLY. Successfully

understanding film production techniques is

enabling better stories and more complex visuals

(and drones help too). Mostly gone are the days of

rocking up with a DSLR and just shooting something

that moves. But though approaches to crewing and

storyboards and permissions etc. are very important

and over a century old, don't forget to develop in

ways fit for the 21st Century. Crews can be more

nimble and multi-task sometimes, just pay them

and feed them properly. But perhaps don't have

a third of your running time as credits, I know it

makes it look like 'a film', but that was before 24/7

connectivity, save your time for some more visuals!

10

KNOWING THAT THE FUTURE OF IMMERSIVE

MEDIA SUITS FASHION FILM LIKE A GLOVE.

As the age of mixed reality quickly approaches,

the themes of identity and the intimacy of

clothing puts fashion and technology centre

stage. We're on the brink of a next generation of

visual storytelling - it's Prada not Panasonic that'll

be putting the cameras on our bodies in the

21st Century and it means capital F Fashion Film

is the future.

F FOR FASHION FILM IS THE FUTURE
---
From

Los

Angeles

with

Los Angeles Fashion

Film Festival: Inclusion

LAFFF

Welcome to Radical Vertical, and by extension, the

LA Fashion Film Festival community. Essentially

LAFFF in print, Radical Vertical chronicles inclusive

views of a diverse group of industry influencers and

key figures.

What started out a year ago as a coffee discussion

with Leslie Bedolla in Berlin about style, life,

spirituality, and the need to create community in

LA, has culminated in this first edition of LAFFF.

Our goal is simple: to build an open, creative and

inclusive society that connects like-minded brands,

filmmakers and consumers. Everywhere we look,

boundaries are disappearing.

The future is inclusive, and we are all connected,

especially you, the consumer.

LAFFF is one of the cultural initiatives by

kulturspace—the LA & Berlin-based creative

consultancy I founded five years ago—and a

nonprofit project by The kulturspace Foundation.

The kulturspace DNA can be summed up in three

simple words: collaborative, creative, and organic.

Besides LAFFF, we've spearheaded and produced

cultural and creative projects such as the Berlin

Student Film Festival, Behance Adobe Portfolio

Reviews, Show Us Your Type LA & Berlin, and the

U-Bahn Berlin book, with more in the making.

The idea behind LAFFF is to shine the spotlight on

LA as an international fashion and culture capital,

besides advocating for greater inclusion and diversity

in the industry. A lot of selfless work has gone into

realizing this vision, and we couldn't have done it

without my wonderful partners: Leslie Bedolla,

Founding Partner; Holger Homann, Publishing

Partner; Alex Holz, Partnerships & Business Partner;

and the rest of the team who've worked tirelessly to

realize this grassroots concept.

On behalf of the team, advisors, sponsors, and

jurors, we are thrilled to bring fashion film to the

doorstep of the entertainment capital of the world:

Los Angeles. We look forward to connecting with

you in person at the festival.

Creatively yours,

Justin Raymond Merino

Founder, kulturspace

FROM LOS ANGELES WITH LAFFF
---
LAFFF Program 2018

OCTOBER 5, 2018

AT FRED SEGAL -

SUNSET BLVD

Welcome to LAFFF 2018 - Social

10:00 AM - 10:30 AM

Kick off #LAFFF2018 Day I with a coffee, "Morning

Mix", and be one of the first to read our magazine:

Radical Vertical.

The Laws of Style - Panel

MODERATOR: DOUGLAS HAND

10:30 AM - 11:30 AM

Notable fashion attorney, fashion law professor and

sharp dressed man, Douglas Hand, will moderate a

panel of menswear designers. Topics of discussion

will range from the design process and inspiration,

the state of the menswear industry today, formal

dress and the casualization of the business uniform,

and the challenges for emerging brands and

personal presentation, followed by a book signing.

Who said Fashion Film? - Panel

MODERATOR: JUSTIN RAYMOND MERINO

SPECIAL GUEST: MATTHEW FROST

12:00 PM - 1:00 PM

What do we consider to be a fashion film? What

makes a film a fashion film and when is it not

considered one? Is fashion film for everyone? The

panel will discuss the definition of fashion in a

cinematic context: what is fashion film, what is the

purpose of it, what makes it what it is, and who

defines it.

The Role of Fashion & Style - Panel

MODERATOR: LESLIE BEDOLLA

SPECIAL GUEST: SHAUN ROSS

01:30 PM - 02:30 PM

What is the role of Fashion in the process of

questioning identity? We will start the panel with

talks about personal experience and storytelling and

we will go to a more anthropological understanding

of how fashion can be a tool in the identity search

and inclusion process.

Tribal Markers - Body Art - Experience

03:00 PM - 03:45 PM

SPECIAL GUEST: AMIR MAGAL

Join and/or witness Amir and his team of artists apply

tribal body art for a live performance on attendees

who want to be adorned. Artist and creator of the

Tribal Body Marker, Amir Magal, is inspiring tribes

and communities all over the world to take a breath

and spark deep soul connections through the sacred

art of Tribal BodyMarking.

Spiritual & Sustainable Fashion - Panel

MODERATOR: LESLIE BEDOLLA

SPECIAL GUEST: DR HABIB SADEGHI

04:15 PM - 05:15 PM

Why do we have the need as consumers to go

for a more spiritual and sustainable fashion?

This panel seeks to understand this new form of

consciousness from different perspectives. In a

society where fashion is a prominent influence, we

will talk to people for whom fashion is more than

clothing or commerce, people for whom fashion is

a way of contributing to a collective experience of

life, and a way to influence what and who we value

in our society.

That Kind of Future - Panel

MODERATOR: HOLGER HOMANN

SPECIAL GUEST: VIKTORIA MODESTA

05:45 PM - 06:45 PM

Where do new technologies stand in fashion and

art? Where are we now? Why and how have new

technologies changed fashion and art? Where are

we going? What are the next technologies? How do

we see the future? Viktoria Modesta is here with us.

She will explain why and how new technologies are

important to her work, and what is her vision of the

future. We will also have an expert expound various

forms of technology in fashion, and we will find out

what we can look forward to in the years to come.

AKA Poolside Screening - Screening & Social

7:00 PM - 9:00 PM

We'll screen some of the best film submissions

while enjoying the sunset, a refreshing drink from

our sponsor Duvel in hand, and the amazing view

of Los Angeles from the poolside of the AKA West

Hollywood. Network, connect, socialize, and get to

know your audience.

ALL-DAY/

SEGMENTED EVENTS

b8ta - Experience

10:00 AM - 7:00 PM

Come for a hands-on exploration of some of b8ta's

most innovative products! The b8ta Santa Monica

team will be on hand to engage festival guests in

interactive demos of their latest must-haves at the

b8ta tech corner.

Browns - Screening

10:00 AM - 7:00 PM

A selection of films to be screened at the Browns

pop-up space.

GIF/Selfie Greenery Wall - Experience

10:00 AM - 7:00 PM

Snap a GIF or selfie in front of our LAFFF green

foliage wall. Capture your LAFFF memories and text

or email your photos/GIF's right from the screen!

AKA Cinema - Screening

10:00 AM - 7:00 PM

An intimate 16-seat cinema at the AKA West

Hollywood, where festival guests can pop in to catch

fashion films and micro discussions throughout

the day.

OCTOBER 6, 2018

AT TECHNICOLOR

EXPERIENCE CENTER

Weekend Start - Social & Experience

11:00 AM - 11:30 PM

Kick off #LAFFF2018 Day II with a coffee, "Morning

Mix", and be one of the first to read our magazine:

Radical Vertical.

Late Morning Film Screening - Screening

11:30 AM - 12:15 PM

We'll screen some of the best film submissions on

the TEC stage. Lights, camera, fashion, action!

Radical Vertical - Panel

12:45 PM - 1:45 PM

How to build a brands' DNA with the use of social

media platforms and new immersive technologies?

The question is no longer if and when brands

should embrace digital opportunities and immersive

experiences, but how they should do so, considering

that by 2019, global consumer Internet traffic will

account for 80% of all Internet traffic.

The Future Consumer: A Cultural Hackathon -

Workshop

2:00 PM - 4:00 PM

We'll be hosting a cultural hackathon, bringing

together thought leaders, educators, connected

consumers and brands on one stage here at The

Technicolor Experience Center in Los Angeles for a

one-day deep dive into the "The Future Consumer."

Afternoon Film Screening - Screening

4:15 PM - 5:15 PM

We'll screen some of the best film submissions on

the TEC stage. Lights, camera, fashion, action!

Courtyard Social & Awards - Social

5:15 PM - 7:00 PM

It's a wrap! Join us for a sundowner, network,

connect, socialize and get to know your audience.

We'll also announce the #LAFFF2018 winners!

ALL-DAY/

SEGMENTED EVENTS

Immersive Experiences - Experience

11:00 AM - 7:00 PM

Curated experiences include showcasing the

merging of fashion and beauty technologies via

immersive demos, and innovative displays exploring

Virtual Reality (VR) and Augmented Reality (AR)

technologies. Join us.

Courtyard Pop-up - Social & Experience

11:00 AM - 7:00 PM

A blend of fashion pop-ups, food truck, light bar

by Duvel and beats to keep the mood flowing

throughout the day.

Panels begin with a film screening and end with a

10-minute Q&A session.

Program is subject to change.

RSVP is encouraged.

More info at lafashionfilmfest.com

VIP bags provided by LOQI

SPECIAL GUESTS

Viktoria Modesta

Shaun Ross

FROM LOS ANGELES WITH LAFFF
---
Illustration by Zohar Winner

EXHIBITION SPACE

Gallery Regen Projects

6750 Santa Monica Blvd, Los Angeles,

CA 90038

THEATRE

Kirk Douglas Theatre

9820 Washington Blvd, Culver City,

CA 90232

VENUE

A: Fred Segal & AKA

8500 Sunset Blvd West Hollywood,

CA 90069

B: Technicolor Experience Centre

3237 S La Cienega Blvd, Los Angeles,

CA 90016

HOTEL

Chateau Marmont

8221 Sunset Blvd, West Hollywood,

CA 90046

The Jeremy

8490 Sunset Blvd, West Hollywood,

CA 90069

FOOD

The Black Cat

8100 Melrose Ave, Los Angeles,

CA 90046

Lokal Sandwich Shop

10433 National Blvd #1A, Los Angeles,

CA 90034

Catch LA

8715 Melrose Ave, West Hollywood,

CA 90069

Norah

8279 Santa Monica Blvd, West Hollywood,

CA 90046

Boardwalk 11 Bar And Grill

903 North La Cienega Blvd, Los Angeles,

CA 90069

Sun Cafe

10820 Ventura Blvd, Studio City,

CA 91604

BAR

Barbette

7511 Santa Monica Blvd, West Hollywood,

CA 90046

La Fête

8277 Santa Monica Blvd, West Hollywood,

CA 90046

Ollies Duck And Dive

29169 Heathercliff Road, Suite 102 Malibu,

CA 90265

Fiesta Cantina

8865 Santa Monica Blvd. West Hollywood,

CA 90069

ICE CREAM

Coolhaus Icecream

8588 Washington Blvd, Culver City,

CA 90232

Grom

6801 Hollywood Blvd, Los Angeles,

CA 90028

COFFEE

The Verve

833 S Spring St, Los Angeles,

CA 90014

PARTNERS & SUPPORTERS
---
OFFICIAL SELECTIONS

A

B

C

D

E

F

G

A Fashion Fairytale - Style - HENRIK STEEN/

A perfum for every you - Campaign - IBON

LANDA/ ALIUD - Glam - HADI MOUSSALLY/

AWAKENING - Direction - RAMON J. GONI

BE YOUR NATURE - Direction, Style -

NUTTAPHON SORNCHUMSIANG/beyond

- Style - CHRISTOPHER STARK/ Bowl Of

Cherries - Documentary - HADI MOUSSALLY/

Butt Muscle - Music - MATT LAMBERT

CASAMORATI - Direction - MICHELE BIZZI/

Channel Surfing: Elizabeth - Direction - SYMONE

RIDGELL/ Channel Surfing: Peyton - Direction

- SYMONE RIDGELL/ Cocoon: Beyond The

Light - Documentary - FREDERICO STAUFFER

& MARCO DE ORNELLA & MARIA BURNS

Diagonales - Emerging - ROMÁN REYES/

Different ways of loving John Marras

- Campaign, Direction, Cinematography -

GIULIA ACHENZA/ DIVA - Cinematography,

Music, Emerging - ADAM CSOKA KELLER

essence of life - Style - CHRISTOPHER STARK/

ETRO ROOTS - Campaign - PIETRO COPPO/

Everyone can be beautiful - Cinematography

- JAN MANTANAKORN

FaFa Fashion film - Innovation - BARTEK

KALINOWSKI/ FOLLOW ME - Emerging -

MAREN LANGER

Georgetown Optician "The Eye Ball" -

Direction - DEAN ALEXANDER/ giudicare -

Emerging - ANTONIO SEMERARO/ Glommy

Planets - Music - IBON LANDA/ God Save The

Youth - Emerging - DAVEION THOMPSON/

Gucci in Bloom - Direction - MATT LAMBERT/

Guide for the Good Wife - Emerging -

IGNACIO SEPÚLVEDA/ Gypsy - Emerging -

PAULA MONETA

SUBMISSIONS

H

I

J

K

L

M

N

O

How I Faked My Way to The Top of Paris

Fashion Week - Documentary - FLORENCE

BARKWAY/ How To Be A Winner - Campaign

- JACOPO MARIA CINTI

I Am An Individual - Direction - AMBER

MOELTER, LUIS / I Had A Dream - Direction -

SIQIN BIAN/ Increase The Life Span Of Your

Clothes - Emerging - EMILIA KURYLOWICZ

& ALA SOWIAR/ Integration - Emerging -

J.J. TORRES

Jillian - Documentary - DANILO LAURIA

Karl Lagerfeld x Jaspal - Direction -

DEAN ALEXANDER

Le Fix - Happy Nothing - Direction, Emerging

- IAN ISAK/ LOLA'S MANIFESTO - Direction -

GSUS LOPEZ & CRISTIAN VELASCO

MARCELL VON BERLIN Campaign Film

FW 18/19 - Campaign - MARCELL VON

BERLIN/ Meta-Gaze - Innovation - TONY

ASSI/ Mirage - Emerging - IVON SKULA/

Mondrian Doha - Our Time Is Now -

Campaign, Cinematography, Glam - JUSTIN

KRAMER/ Mr Tom Ford's Six Rules Of

Style - Campaign - JACOPO MARIA CINTI/

Mrs. Poucheau - Emerging - AMANDA LAGO

Not(e) for a Dreamer - Cinematography,

Direction, Music - ENRICO POLI/ NüSTALGIA -

Music, Style - OLIVIA DOYON

Oliver Peoples, In Conversation with

Tasya Van Ree - Campaign - IVAN OLITA/

OVERDOSE - Glam - JUANMA MOTA &

REBEKA ARCE

Visit the 'LAFFF Studio'

lafashionfilmfest.com/lafff-studio

P

R

S

T

U

Y

Perfect In Her Own Right - Campaign -

CHRISTINA MACGILLIVRAY/ Positive - Glam -

HADI MOUSSALLY/ Proclamation Punctuation

- Glam - SEWRA G KIDANE

RED - Cinematography - LAIA GIL/

REFLECTIONS - Campaign, Glam, Style -

MASASHI MUTO/ Rouge 66 - Documentary -

RYAN MAXEY

Santos by Cartier - Cinematography,

Direction, Music, Style - SEB EDWARDS/

Skater Girl - Style - REPETTO STUDIO/ SOUL

LAND - Cinematography - MEETO GREVSEN/

Start the Buzz - Campaign, Style - GIACOMO

BOERI & MATTEO GRIMALDI

Tattoo in Seoul X MONTBLANC KOREA

(Director's Cut) - Campaign - JEEYOUNG

YOON/ Terry White / Summon Crazy Horse

- Campaign - MANUEL PORTILLO/ The

Beginning - Campaign - JULIAN PROLMAN&

ROGER SPY/ THE ENCOUNTER - Direction

- JOHN-MICHAEL TRIANA/ The Feeling -

Cinematography - MATT LAMBERT/ The

Greatest Luxury - Documentary - KATHRYN

FERGUSON/ The Lollipop Girls Struggle

on the Hard Earth - Style - DENISE PRINCE/

THE UNIVERSE - Cinematography, Direction,

Music - DAĞHAN CELAYIR/ There is no exit

- Emerging - TAJANA BUNTON-WILLIAMS/

Timeless - Lacoste - Cinematography,

Direction, Music, Style - SEB EDWARDS

Uncertainty - Campaign - CRISTINA

STRECIWIK/ Urban Revivo Spring 2018 -

Campaign - TIM WONG

Ya es Primavera - Direction - VICTOR CLARAMUNT

Widow|Ghosts - Campaign - JIL GUYON/ Are you ok? - Campaign - MARKO TARDITO/ Wanderlust -

Documentary - ANNEBEL HUIJBOOM/ Never Look Back! - Campaign - ROHAT TÜRK/ ONE AND ONLY -

Campaign - FABRIZIO AZZELLINI & KRISTINE CIEMATNIECE/ Teatime Ponderer - Campaign - AMIN SHAIKH/

In A Made-Up World - Emerging - STEVEN PERKINS/ Kill Your Darlings - Direction - PASCAL BAILLIEN/

Chris Francis: Shoes - Documentary - VIRGINIA LEE HUNTER/ Pink Story - Style - CHARLOTTE ANDERSEN

& HENRIK STEEN/ Urban Revivo Winter 2017 - Campaign - TIM WONG/ Urban Revivo Summer 2018 -

Campaign - TIM WONG/ OXGN - Direction - DAMIAN PRADO/ Balance of Power - Emerging - ABDUL MALIK

ABBOTT/ RUNAWAY BABY - Emerging - LOLA BESSIS/ NF5M - Emerging - LUCAS MAETHGER & SERVULO

MENDEZ/ CHROMATIC - Emerging - MONICA LILAC/ Who's A Fly Bird? - Emerging - BIANCA TOMCHIN

& MATHEW HARVEY/ Break the Rules - Emerging - SIMON WALTI/ I Am An Individual - Direction - AMBER

MOELTER & LUIS/ Girl Gang - Style - WESLEE KATE/ The Other Side - Direction - LEO ADEF/ Mood Swing -

Campaign - LEO ADEF/ Tomboy - Emerging - ROMÁN REYES/ RSEA - Direction - SOPHIA BANKS/ Anine Bing

- Direction - SOPHIA BANKS/ Savage Rose - Direction - SOPHIA BANKS/ TOME Super8 - Direction - SOPHIA

BANKS/ Venia: Innuo - Campaign - GOVIND RAE & SAMUEL MIRON/ Frontline Fashion II - Campaign -

LINDSAY ROBERTSON & SIMON YIN/ The Letter - Emerging - WESLEY SUN/ Hibernation - Cinematography,

Music - DOMINIC PACKULAT & CHRISTINA HASENAUER/ PARADISE 3000 - Direction, Emerging, Innovation

- PEPPER LEVAIN/ Embellir - Documentary - TAKUMI SAITOH/ MDS Green Army - Direction - COXY CHIARA

RODONI/ The Perfect Parisienne - Direction - VICTOR CLARAMUNT/ Dare To Be Bold - Direction - MITCHELL

LAZAR/ Team H.A.R.D. Vs The Athleisurist - Direction - JORDAN ANSTATT/ #unofficial - Documentary -

GREG FERRO/ Comme des Garcons: Infinity 8 88 - Cinematography, Direction, Emerging, Glam, Innovation,

Style - KRISTY FUNG/ dé-jà-vu - Campaign, Glam, Style - MASASHI MUTO/ Just Friends - Emerging - MARC

LESPERUT/ R Magazine Spring '18 - Cinematography - BLACKOUT/ RISE - Emerging - AMBER CURRY/

Matches - Style - MATT LAMBERT/ The Collar - Style - VIKTORIA RUNTSOVA/ Isabelle - Cinematography,

Direction - JUSTIN COUPE & ALVARO G. HUEZO/ Liquid Sorb - Music - TONY ASSI/ I contain multitudes -

Emerging - FRANCESCO ALESSANDRO COGLIATI & ILARIA DE LORENZI/ Like A Virgin - Style - SIRIPHONG

TIPAYAKESORN/ Leonidya Kushev - Emerging - MARK TAYLOR & LEONIDYA KUSHEV/ Love Potion - Music

- ANDREA LIN (SUPERDOLL)/ LITOST - Direction - GSUS LOPEZ/ The Style of illusion - Glam - MARIA MILLAN/

The12Project - Style - HADI MOUSSALLY/ HÀNA - Cinematography - LUEY NOHUT/ Ein Traum - Direction -

WARUT WIMOLKUNARAK/ Dark Paradise - Emerging - LUYIN ZHAO/ Rage: The Inner Thoughts of a Black

Woman - Style - CHENAY BARNES/ Utopia - Emerging - LUIZ FURTADO & PEDRO CANTELMO/ Dancer On

The Roof - Style - REPETTO STUDIO/ The Holy Ghost - Campaign - TÁINE KING/ In The Heat of Summer -

Cinematography, Direction, Emerging - BENJAMIN J. RICHARDSON/ Lemons - Emerging - LEILAH FRANKLIN &

EMILY ROSENSTEIN / The New Gaze - Emerging - TONY ASSI/ Run - Emerging - TAJANA BUNTON-WILLIAMS

LAFFF TEAM

ALEX HOLZ, Partnerships & Business Partner/ CARLA MARBOEUF, Program Coordinator/ ELLIOTT-ALFRED

ATTIA, Fashion Editor/ HOLGER HOMANN, Publishing Partner/ JUSTIN RAYMOND MERINO, Founding &

Managing Partner/ KIM KRISTY, LA Creative Services Director/ LESLIE BEDOLLA, Founding Partner/ LINDY SIU,

Brand Communications/ NATASHA SIEMASZKO, Creative Services Coordinator/ REBECCA LIU, Consultant/

RYAN YING, Art Director

JURORS

ALEXIS BORGES, President of NEXT Management

Los Angeles/ ALICE BOTTARO, Creative Director

for Mercedes-Benz at antoni Berlin/ ANA FINEL

HONIGMAN, Art and Fashion Writer/ ANDREW

VAN WYK, Storyteller & VR Specialist - Creative

Coordinator, River Road Entertainment/ ANDY LEE,

Senior Lecturer Film Practice, London College of

Fashion/ BLAINE HALVORSON, Designer & Owner

of Made Worn/ CAISA AIRMET, Digital Marketing

Creative, and Fashion Stylist/ CATHERINE LE GOFF,

Commissioning Editor at ARTE/ DAMIEN MERINO,

Bay Area Creative/ HOLGER HOMANN, Publisher

& Creative Director/ @ISABELITAVIRTUAL, Creative

Director & Photographer/ JOY C. MITCHELL,

Screenwriter, Journalist, Storyteller/ JUUL VAN

ALPHEN, Producer and Creative Consultant/

LAURA SERRA ESTORCH, Producer at CANADA/

LUCA FINOTTI, Director & Filmmaker/ MICHELLE

MCCOOL, Stylist, Creative Director/ MURIELLE

VICTORINE SCHERRE, Filmmaker, Designer & Owner

of la fille d'O/ NATALIE LONG, Creative Director/ PER

ZENNSTRÖM, Fashion Photographer & Filmmaker/

SARA SOZZANI MAINO, Deputy editor-in-chief of

Vogue Italia and head of Vogue Talents/ SEBASTIEN

MEUNIER, Artistic Director at Ann Demeulemeester/

STEPHEN GALLOWAY, Creative Movement Director

and Creative Consultant/ VANESSA KINCAID, Chief

Creative Officer, Littlstar

ADVISORS

CHRISTOPHER SIBLEY, Writer, Director, & Virtual

Reality Producer/ FABIO MASTROIANNI, Design

Thinking & Business Development/ MATTHEW

COLLADO, Co-Founder/Chief Content Officer of

Littlstar/ SUZANNE EDWARDS, The kulturspace

Foundation Board Member/ TORSTEN WIDARZIK,

Creative & Strategy/ WINY BERNARD, Communicator

& Connector

FROM LOS ANGELES WITH LAFFF
---
Dotan Saguy Portfolio Photos by Dotan Saguy

PARADISE

L

O

ST

5

1

Light up and

fade away:

the last sparks of

Venice Beach

In capturing the revelations of Venice Beach,

Dotan Saguy has created a body of work

with unexpected, enthusiastic surprise which

documented what could be a lost society.

PARADISE LOST
---
Les

5

8

du

The new seed

of porn

LA native Matt Lambert, who splits his time between

London, Paris, Berlin, and LA in his profession as a filmmaker,

planted a new flower in the desert of Porn Valley (aka San

Fernando Valley), where the business migrated to in 2002

because of low rents and easy access to the mainstream

movie business, becoming the adult entertainment capital

of the world. In his videos as well as his photography, Matt

Lambert quite often tackles the topics of gay intimacy and

themes like "sexual pluralism, multiculturalism, gender

equality, and female empowerment." His new documentary

and powerful exploration of queer culture in South Africa

"Out of This World", hosted by rapper, performance

artist, poet and activist Mykki Blanco, is a typical example

Last year, he also shot a 17-minute X-rated film entitled

"Flower", which Out magazine described as "a dreamy

sexual lullaby of a film". Styled rather like a documentary,

it follows five friends as they "redefine the line between

intimacy, friendship and sex" to challenge the norms of

traditional porn and create an artistic version of the genre.

Why take such a risk as an acclaimed filmmaker? Whether

this excursion into the porn industry will be short-lived, we

were keen to find out—here are the answers to these and

many more questions.

LES FLEURS DU MAL
---
Fleurs

5

9

Mal

LES FLEURS DU MAL
---
Matt Lambert

People

Interview by Holger Homann

Photos by Matt Lambert

6

0

HH In regard to your debut of Flower

within the porn genre, I read that you nearly

adopted a pseudonym to release Flower.

Why is that?

ML I'd considered it as it's something

done often by directors, editors, etc. when

working on explicit projects. Bruce LaBruce

once told me to never shoot anal penetration

as it'd kill my chances of commercial success.

However, I struggled with the hypocrisy of

making work that celebrated sexuality and

denounced shame, to only go and hide

myself from the work. If I was to practice what

I preached, I needed to be as proud and

celebratory as the characters I portrayed.

HH You once partnered with your

husband Jannis Birsner to create Vitium, an

erotic, sexually-explicit punk zine. In regard to

that project, Flower could almost be seen as a

successor. Is there more to come?

ML Yea, it was the beginning of a

playful and irreverent body of explicit work.

I suppose my film and zine, Butt Muscle,

with Rick Owens, also falls into that camp

as does elements of other projects here

and there. I definitely intend to do more in

the Vitium publishing series with Jannis,

as well as continue to explore explicit

storytelling in film.

HH You once mentioned in an interview

that people, especially now more than ever,

learn about their sexuality through porn.

How do you consider your contributions

different from what you perceive to be

typical gay porn?

ML I shy away from the term 'porn'

even when I can. For me, it's something that's

reductive and treats its characters as objects

rather than subjects. While 'porn' is an

impossible word to escape when discussing

'Flower', I see it as a short film with explicit sex

scenes. My goal was to capture the lightness,

playfulness, humor, honesty and irreverence

of gay sex when coming-of-age. I wanted

to capture the essence of its characters and

celebrate them as humans, while still making

it something that's sexy and provocative.

While there's surely a lot of sex in it, I see

intimacy as the subject more than just sex. That's

a layer that I often feel is missing from your

typical 'gay porn'.

HH Considering Helix, the production

company that produced Flower, is a gay porn

studio—what is the difference between Helix

and what the genre offers in general?

ML I worked with Helix because I loved

them as people and felt they had the utmost

respect for their talent. I also really wanted to

work with both Blake and Sean as they had

something different from what I had typically

seen. It was more about the personalities and

relationships behind the scenes that attracted

me, but I think that warmth and playfulness

often comes across in the work they do.

HH What do you suggest needs

to be different to create art rather than

traditional porn?

ML For me it becomes art when it causes

you to question the way you'd perceived the

genre in the past, and when it challenges the

way you relate to your own identity/sexuality.

HH In terms of artistic freedom—to

what extent did Helix allow you to direct and

edit the film the way you wished to pull it off?

ML Total freedom. They were

supportive and collaborative when I needed

it, but they more or less let me make the film I

wanted to make.

HH In terms of authenticity, how much

of what we see in Flower can you claim to be

real, and what is staged?

ML It's a hard one to answer. I had a

story and knew what I wanted to capture, but

many of the moments are completely genuine

and unscripted. Which ones, I'd rather leave

up for guessing ;)

HH Since Flower has been produced

with full credit to your name—can you talk

about the reaction within the agencies which

represent you for other purposes than doing

porn, and the perception by the actual

audience it was targeting?

ML I had full support from everyone

around me. Part of my journey in finding the

right representation has been finding people

who support me in everything I do and are

able to see the joy and art in all my work,

rather than reducing them to their worst-case

buzzword. The audience it was intended for

reacted better than I could have imagined,

and got love from people I'd never expected

to even see it.

HH In regard to our main topic

of inclusion, do you consider—looking

backwards—projects such as Vitium and

Flower as inclusive pieces of your body of

work, or rather misfits?

ML Almost everything I make is about

intimacy and finding new ways to tell these

stories either in who or how.

LES FLEURS DU MAL
---
The Real

McCoy

"People are

best in

photographs

when they are

really true to

who they are."

- Chi Modu

Chi's most recent project began in August 2013, when

massive images of his started appearing on the exterior

walls of select NYC buildings, as part of an ongoing

installation called Uncategorized.

6

According to Modu, "The art world tends

to be very exclusive and full of obstacles for both the 5

artists and the public. My goal is to make art more

inclusive by pulling an end run on the galleries and the

museums, breaking down the barriers, and bringing the art

directly to the people. Like graffiti, but legal."

As to why he calls the exhibit Uncategorized—

"People always want to put art and artists into neat little

boxes. My work does not fit into any one stereotype

and neither do I. I wanted to create something that is

the opposite of putting labels on everything and make a

statement against stereotyping in general. I don't see this

as just an exhibit. I want to start a movement."

Chi Modu not only chronicled and defined

the most important phase of the hip hop movement,

now a global force, he was also able to define the artists

and show them as real people, rather than onedimensional

celebrities.

I met Chi on the occasion of the opening of

his exhibit UNCATEGORIZED at HVW8, Berlin. Alongside

images of hip-hop royalty including Tupac, Biggie, Nas

and ODB, the show also features previously unseen gems

from Chi's photographic archive. To learn more about the

man behind the lens of such iconic images of those hip hop

legends, we took the chance to ask a couple of questions.

THE REAL MCCOY
---
Chi Modu

People

Interview by Holger Homann

Photos by Chi Modu

6

6

"What kind of

gangsta rapper

has a stylist?

A stylist?!" - Ice T

HH In your career as a photographer,

you've had the chance to capture the steady

rise of hip-hop culture from almost its

beginning for almost three decades, and shot

portraits of the genre's most famous figures

including Biggie, Tupac, Nas, ODB, and many

others. When did all this start and how did you

get so close to them?

CM Well, my first work as a photographer

was freelance work at the Amsterdam News—a

small newspaper in Harlem, New York in the

early '90s. I think it was like 1990. And that was

right around the time that the founders from

Harvard moved down to New York and started

to bring The Source Magazine to a more

national level. I went down to the magazine

and had a visit with them. And they didn't

really have anybody on staff that actually really

understood photography. At that time, I was

already printing my own prints in my own dark

room, so I was really ready to rock.

This is now post-college. I went to

Rutgers University in New Jersey, I moved

up towards New York City, which is when I

started playing around with my own darkroom

supplies and enlarger that I'd purchased.

From there, my prints got better. I did the

work at the newspaper, then I segued into The

Source since they didn't really have anyone

that was at the ready. I had a beeper at the

time. So if you called me I would show up. So I

was basically the on-call guy for the magazine.

And then the artists started to see me as the

guy. So they knew if they would sit for my

camera, cooperate, they'll probably end up

in the magazine. I was always pretty sound

technically, and I brought a higher level of

technical ability to the space, which I think

lifted the whole thing up a bit. This was right

around the early '90s. And then I had a run

of about seven years of having my bit of time

to shape the space visually and shape how

people perceived hip hop.

HH In regard to all those personal

encounters, are there any that stand out as

most memorable?

CM It's tough to single out any one. But

you can imagine, most of them probably are

memorable. We were young men and women

in our 20s, and we were at the front end

of this movement that no one really knew

where it was going. But people knew it had

a lot of energy.

We were running free and running

wild, but we were actually also producing

something that ended up being the

foundation for the multi-billion dollar industry

of hip hop. It kind of rocked the whole globe.

It was important not to get distracted by the

enormity of what we were doing so the work

would stay pure.

So Tupac was always a good subject and quite

cooperative and understood the camera. So it

wasn't hard to get him for photo shoots and

to perform or just be himself and not perform.

And it worked out well.

Biggie was a good friend of mine

because he's from the east coast, so he would

always come and cooperate. I did Snoop's

first album. So I definitely worked with a lot

of these guys early in their career. I'd say all of

them were actually quite memorable.

HH Who was the most difficult to

work with?

CM As a photographer, you don't really

know what you're dealing with when you roll

up on a subject. So as far as difficult, everyone

can be at times... Most people don't really

like having their picture taken. So it's our job

to make them comfortable and help them to

relax. But it's also our job to not leave without

a photograph. So I had to bend a lot of

people's arms over the years to eventually do

a picture after they said they weren't going to

when I arrived.

The most difficult one was probably

Mike Tyson, because I remember I showed

up at his place in Youngstown, Ohio, and he

was training for a fight. It must have been

1996 or so. And Mike showed up and said,

"I'm not taking any pictures today." And you

can imagine what that's like, right? I knew

I was going to get him to take a picture

no matter what.

I softened him up with conversation,

got him to sit down, we ate some food, we

talked for a bit, he cooperated and I was

able to get my images. We saw each other a

year later and laughed about the experience

and we ended up as friends. So I think that

when subjects are difficult, it's usually other

things in their world that make them difficult.

Photographers know not to take it personally,

and adjust to whatever the challenges are

in any situation, but more importantly, we

must leave with a photograph. That's priority

one for a photographer. If you don't leave

with a photograph, you didn't do your job.

If you don't do your job, you probably won't

be hired again.

HH In these times when almost

everybody seems to have the technology for

taking photographs in their hands, what does

one need, to be considered a photographer

from your perspective?

CM Well, the fact that cameras have

become ubiquitous ... I actually like the fact

that everybody has a camera because what

it's done for photography is it's made people

appreciate the skills required more, because

more people now see how hard it is to do it.

And it's not really about the equipment; it's

always about how you see the world and

your composition. You can get the technical

aspects of photography behind you fairly

quickly if you focus on them. But that's not

entirely what creates a good picture. A good

picture still consists of the photographer

deciding what stays or leaves the rectangle.

I think that's what people have learned now

that they all have cameras.

So to be a good photographer, I

think you really have to know how to look in

those four corners and make that decision in

a millisecond of what you want in and what

you want out, and then you press your shutter.

Once you get that down, and the more

often you're able to do that and not just get

lucky periodically, then, okay, now you're a

good photographer.

It doesn't matter whether it's a

camera phone, like a Sony a7, or a 4x5, it's

all still the same process. Light exposing film

or exposing a sensor, timing, composition—

that's photography.

HH What does a photo need, to

become iconic?

CM I think a number of things have

to line up. I can really speak from a music

photography space. There is something to

be said about superstar artists who pass away

at a young age, because they are preserved

in the photographs that we have of them. So

when people look at pictures of Tupac and

pictures of Biggie, they use the word iconic

around them because they haven't been here

for about 20-something years.

But I think it's not just the subject,

but it's the combination of the subject and

how the photographer chose to portray them,

because a lot of times people's image is really

how the photographer saw them. They're the

ones looking at the subject. So we look at you,

and we decide when to press the shutter to

capture you where you're looking right.

That's kind of our job. We're your

mirror, in a way. If you are "that" person, we

have to know how to see you as that and

then press the shutter to capture you at your

best. If you line those things up where you

capture someone as they are, and that person

to the public is a superstar or someone the

public believes in—if you line all that up with

a well-exposed image, that's how you create

THE REAL MCCOY
---
THE REAL MCCOY
---
an iconic photograph that'll stay forever, ala the Che Guevara iconic

photograph, or the pictures of Tupac tying his bandana.

It's not just that the subject is good-looking. They also have

to have some brand, and energy behind them, that comes across

in photographs. And that's why people want them for years and

years to come.

HH Comparing hip-hop artists today to artists in the past, are

there any differences that affect your work?

CM Well, I don't really spend that much time photographing

artists of today. I get a lot of requests and I know I have a lot of fans

among younger rappers. But I really feel that there are a lot of quality

photographers out there shooting from this generation that can

capture them quite well.

With rappers today, a big difference that I notice from the past

is that they don't really let the cameras into their worlds that much. It

seems like the images are a little bit more on the surface. You can list

them: Drake, Kendrick, a lot of big time stars, Beyonce. You know them

as a performer but you don't really know that much about them visually.

And you don't really know the rest of their world.

I think over the long haul, that affects artists because once you

leave the public eye, meaning once your music is no longer hitting, all

people have to recall of you is what they already know about you. And

what they know about you is really about your private life.

But it's very, very tricky, because part of why Tupac has so

much love from the public is, he lived his life on his sleeves. You knew

what he was going through at every moment. So you could either dislike

him or like him, but I think both things are with equal intensity. So the

people that like him, really believed in him. And that's part of why he's

still here, 20-something years later.

So there is something to be said about being a little bit more

open about both your successes and your flaws. It's more really being

who you are and letting the public decide whether they're going to

take to that or not.

HH In the times of Instagram, artists seem very much focused

on how they look. Looking at your work from the past, do you think

authenticity has become a rare commodity nowadays and is more

difficult to achieve?

CM I think authenticity is the same as it's always been. If

you're authentic, people will know. You can't fake authenticity. So as

far as looking good in photographs, it depends on what you call

good, because I find that when you have pictures of artists and

they're overly styled, it's more about the style than the subject.

And we know styles change.

It's this whole argument about 'is fashion art'? I actually think

fashion is art but not the same way a lot of people think of it as art. I

think that people who come up with the really creative pieces are the

ones who actually are the artists in fashion, like the one who made the

Nehru jacket, the person who designed the pencil skirt, the original

black pump. That's the artist.

And the reason why is that fashion changes twice a year. It's

supposed to in the spring and the fall, right? So if something is supposed

to change twice a year, it's not really meant to be permanent, whereas

visual art is actually quite permanent.

If you're spending too much energy in defining your fashion

and your look, well, it's going to change in six months. It's going to

change in a year. So I find for people to really follow you, they need

to know that you're going to be consistent six months out and not

change with the seasons.

So it's not really about your surface, your clothes, your brand,

your image. It's really about you. And that doesn't really change with the

styles. That stays consistent, decades out, much like how my work has.

HH In regard to the recent trend within the fashion industry aiming

to embrace the cultural power of American Hip-Hop—for obvious

reasons since it is one of America's greatest cultural exports—do you

consider Hip-Hop as a lifestyle now, rather than the art form it started

as ages ago?

CM That right there is a big challenge and debate that's going

on in hip hop, I think, because ... I'll tell you where I draw the line on it.

I don't call hip hop a culture. I don't quite understand what that

means when people say the culture, because I think 'culture' grays it

out too much.

Hip hop is really the message and the voice of the people.

And you have to be very clear. And a voice can't always say dumb things.

A voice has to actually say some smart things at times.

So I think that it's good that other people embrace hip hop,

but it's not just about making up words that sound good together. It is still

about delivering a message. That's the base of hip hop. Of course, you

can have different versions along the way. But you should not really have

chart-topping music not staying true to its core, because that means

eventually it's going to die out. And that may be what we're starting to

see, and will witness over the next 30 years. When you look at the charts

and the famous rappers don't look anything like the people that started

it, like what we have with the DJs today, that is the beginning of the

dilution of an art form.

HH How much do you consider the importance of clothing styles,

which seems an important signature of the hip-hop genre?

CM Well, if you look at Louis Vuitton and Balenciaga making

sneakers, now you have an idea of what hip hop has done to the world.

We've basically completely turned upside down how people look at

fashion. And it's not just for us. You see a lot more people wearing

high-end sneakers than you ever did before. But we've been wearing

sneakers for 40 years.

And so it's just funny to see how we're on the front end of a lot

of this change. And the fashion world eventually taps into it, but we just

did hear that Vogue hasn't hired a black photographer in its 126-year

history. So that's what we've been dealing with. And that's part of why

we created hip hop, because we weren't actually welcome. And we're

barely even still welcome. But we're driving the globe. And since we're

driving the globe, you have to pay attention to us.

But, they want to take certain elements of hip hop influence

without you, and that's where hip hop has to be careful, because, yeah,

Louis Vuitton can make sneakers and Balenciaga can also do the same,

but if you're pricing them at $1,500, that's not really hip hop.

HH You once mentioned some references in terms of your

photography going back to the 1920's. Everyone now seems to live

in the moment not knowing anything about the "roots" - whether it is

about fashion, film, music or photography. Are we losing our past and is

there only enlightenment in the moment?

CM No, we only lose the past by choice. And I think why

people like to eliminate the past is because they don't want

to be compared to the past which sometimes makes people

want to break away from their roots. But, there's a challenge of

breaking away from the past, because the past actually has some

foundational qualities that you're tapping into, whether on a

conscious or subconscious level. So the past is still there whether

you acknowledge it or not.

I think the mistake that is often made is that we don't give

enough credit to the past. When I see many photographs of rappers

today, I can see influences of my photo styles from 20 years ago being

used by younger photographers today, and it's a good thing. It's

supposed to happen like that. But a lot of them don't know where it

came from, but eventually they'll figure it out.

And that's, I guess, what the beauty of Instagram is, because

as I've been sharing my work, it's allowed people to really see my

collection over the past three years. I've been putting up a photo daily

and it's been quite successful because it's very different from a magazine

or a newspaper publishing your work periodically. They can only publish

your work every now and then but on Instagram, I can put a new picture

up every day that no one has ever seen before, so it's quite a tool.

If you have quality work now, you cannot be hidden. In the

past, even if you had the work, an editor could decide not to hire you

or a gallery could decide never to show your work. But now if you have

the work, there's nowhere to hide. People will find you. So it's changed

the game a lot.

HH In that conjecture, can going back also become part of the

future, and how does that work?

CM Well, you're basically watching it in real-time, right? My

photographs are 20 to 25 years old. And a lot of people look at my

photographs like I took them yesterday, because my photography style

is somewhat timeless even though my subjects are older. And like I say

a lot, I'm not a big fan of nostalgia. Even though I work with pictures

from the '90s, I make them relevant today. It's not like a throwback, or

a " I wish I was there" thing I'm doing. I'm saying, no, these pictures

still matter by today's standards. These artists are still powerful, even by

today's standards. And that's what so remarkable about the era I covered,

because here we are 25 years later, and the people I photographed

are actually larger stars than some of the people that are around today.

That's hip hop.

6

9

THE REAL MCCOY
---
THE REAL MCCOY
---
Sneaker Pig &

Sock Monkey

The new fetish

of the

fashion industry

7

2

SNEAKER PIG & SOCK MONKEY

Many leading luxury brands have followed consumers

toward less formal dress, which these days means a lot

of athletic wear, especially sneakers. Louis Vuitton hired

fashion designer Virgil Abloh, known for his streetwear

leanings, to design its menswear. Balenciaga's creative

director, Demna Gvasalia, has found success with items

such as sneakers and hoodies. Women are ditching

heels and formal black shoes that have ruled the world.

Instead, they are turning to sneakers—the new fetish

of the fashion industry.

Slava Mogutin was prosecuted for his articles

and interviews dealing with gay issues and the war in

Chechnya, at the time when homosexuality was an absolute

taboo in the Russian media and the Russian society.

The artwork of the provocative New York-based Russian-

American multimedia artist, filmmaker and writer has

been exhibited worldwide. Over the past decade he's

also done plenty of personal and commissioned projects

that involve fashion. His new book, Bros & Brosephines,

merges his studio and fashion photography, portraits and

unseen early work but also continues to explore fetishes—

such as sneakers and socks.
---
SNEAKER PIG & SOCK MONKEY
---
Slava Mogutin

Fashion

Interview by Holger Homann

Photos by Slava Mogutin

1

3

HH When limited edition sneakers are

released, people camp in line for days to

get their hands on a pair. It can even turn to

violence: In 2015, a Brooklyn teenager was

shot in his foot(!) for cutting in line. Can you

enlighten us on how the desire for a pair of

sneakers can turn into an obsession?

SM To each their own, as they say. Some

people are obsessed with expensive cars,

gadgets or pets, some with designer sneakers.

Everyone has a fetish for something—unless

they lack any fantasy or imagination. I wouldn't

call myself a sneaker fetishist but I do use lots

of sneakers and athletic gear in my pictures.

I actually get all my sneakers for free and I'd

never wait online for any fetish items—there

are so many fetishes to choose from!

HH Pornhub—the world's biggest porn

site—found Pornhub Gay users to be more

likely to search for sneaker-related porn. 1,124

percent more likely, in fact—with men more

likely to search for sneaker-porn than women

overall. Feet make their first appearance in 6th

with "heels", followed closely by "socks" in

7th. "Boots" walk in at 13th, and "sneakers"

sneak into the top 20 at 19th. Overall, the

most popular sneaker-related search term

is "sneaker worship,"—does any of this

surprise you?

SM Thanks for the fascinating insights!

I'm not a big porn consumer; I'd much rather

take my own pictures and let others analyze

them once they're published. I use porn as a

reference in my work but I do it in an ironic

way because most of porn is so serious.

HH You mentioned having been

engaged in the porn industry as a

photographer for magazines like Honcho,

Inches, and Playgirl. In terms of that genesis

of your career as a photographer and in terms

of aesthetics and chosen subjects of your

current work, do you consider that this still

gains influence?

SM It's up to critics to discuss the

genesis of my career. Working in porn was

an interesting experience and I got to meet

and photograph lots of beautiful and talented

people, some of whom remain my friends

to this day. Human form and emotion are

central to my work. Unfortunately, there's a

common misconception that nudity equals

sex and sex equals porn. Those are three

SNEAKER PIG & SOCK MONKEY
---
SNEAKER PIG & SOCK MONKEY
---
SNEAKER PIG & SOCK MONKEY
---
different animals, and sometimes those

misconceptions prevent people from seeing

past nudity. I think Germans have a healthy

attitude towards nudity because there's a

long tradition of nudism and naturism. I had

so many great moments at the nudist lakes

and parks in Berlin; it's a healthy alternative

to the dreadful app dating, which leaves very

little room for romance.

"Everyone has a fetish

for something unless

they lack any fantasy

or imagination"

HH In geographic terms, the Polish

capital Warsaw is where most people hunt

for sneaker-related porn, followed by Berlin.

Is Berlin and its fetish scene where you first

discovered your affection for sneakers?

SM It's fascinating how some teenagers

from the former Eastern Bloc find sneakers

and sports gear sexually appealing. Coming

from the Soviet Union, I can understand it

because I grew up at the time when you

couldn't even buy any foreign brand sneakers,

maybe with the exception of Adidas. So you

fetishize and totally fixate on something your

really want but then go a bit further and

end up sniffing someone's dirty sneakers

in someone's online chat room. My first

introduction to sneaker fetish was through my

Berlin gay skinhead friends, Andre and Tobias,

whom I photographed for Lost Boys. They

had a crazy sneaker collection and engaged

in fetish roleplay in front of their online

subscribers, who sent them more and more

sneakers. They also introduced me to other

Berlin sneaker skinheads. That was shortly

after I did Skin Flick with Bruce LaBruce, so I

was greeted as a hero at gay skinhead parties.

I do appreciate the Berlin fetish scene. I've

been documenting it for many years.

HH Has any sneaker brand ever

approached you in terms of a collaboration

for an advertisement campaign? Would you

consider working with such brands?

7

7

SM Let's just say there were several

campaigns based on my pictures but I'm still

waiting for my royalties.

HH In your work as a writer and

photographer, you seem to be able to touch

on the darkest subjects with wit and humor—

where is that sense of humor derived from?

SM I guess humor is a part of my survival

mechanism, coming all the way from Siberia

to New York. Sometimes it's twisted and dark,

but it always helps me to find comfort in chaos

and beauty in the most unexpected places,

the darkest corners of human nature.

HH My last question is in conjunction

with another interview where you claimed

that people don't need to go to an expensive

art school and get a degree to have a vision.

You also said everyone is born creative but

some forget how. As a creative, can you tell

us about your vision?

SM Ever since I started writing and

taking pictures, I've always wanted to express

myself in the most uncompromising and

honest way. Whether it's a book, a show,

a performance, or a magazine project, all

my work is about queer insurgency and

claiming your own identity. It's about love in

different shapes and forms. In the end, it's

about universal humanistic values that we all

so desperately need in order to peacefully

coexist with one another.

SNEAKER PIG & SOCK MONKEY
---
A

N

GEL

F

A

CE

7

8

T-shirt ATELIER ROSENBAUM

ANGELFACE
---
Photos by Holger Homann

Styling by Elliott-Alfred Attia

7

9

ANGELFACE
---
Sweater CALVIN KLEIN

Jeans LEVI'S

Shoes ADIDAS BY RAF SIMONS

8

0

ANGELFACE
---
2 stripe shirt COMME DES GARCONS

Necklace Photographer's own

2 stripe shirt COMME DES GARCONS
---
T-shirt LUTZ HUELLE

Messenger Bag GUCCI

Trousers BALENCIAGA

Shoes ADIDAS BY RAF SIMONS

ANGELFACE
---
Trousers BALENCIAGA

Sweater BALENCIAGA

Shoes ADIDAS BY RAF SIMONS
---
1

8

SNEAKER PIG
---
1

7

Parka L'OFFICINE GENERALE

Bucket Hat BURBERRY

T-shirt NIKE

Raincoat BURBERRY

Jean's LEVI'S

Backpack EASTPACK

Shoes NIKE

ANGELFACE
---
Ryan James Caruthers

Portfolio

Photos by Ryan James Caruthers

LOVE, LIKE THE LIGHT, SILENTLY WRAPPING ALL!
---
Love,

like the light,

silently wrapping all!

Cowboys

8

7

LOVE, LIKE THE LIGHT, SILENTLY WRAPPING ALL!
---
LOVE, LIKE THE LIGHT, SILENTLY WRAPPING ALL!

Tucson
---
Patricia

LOVE, LIKE THE LIGHT, SILENTLY WRAPPING ALL!
---
LOVE, LIKE THE LIGHT, SILENTLY WRAPPING ALL!

Mother
---
Dylan

LOVE, LIKE THE LIGHT, SILENTLY WRAPPING ALL!
---
9

2

RIP LA
---
Laura Aguilar Portfolio Photos by Laura Aguilar

RIP LA

"Laura's work a lot of time

represents people that are

marginalized and people that

are oppressed or people that

are invisible. Poor, large women

of color — they tend to be

invisible in society. Nobody

sees them. They're not represented

in media, they are

discriminated against because

we have issues with color, we

have issues with obesity. And

so for a woman like herself to

put herself front and center in

the conversation, that's pretty

brave. That's pretty amazing

because there's nobody out

there that looks like her that's

saying anything like that."

- Sybil Venegas (Curator),

LA WEEKLY

9

3

Remembering the

body of work of

Mexican-American

artist Laura Aguilar

(1959-2018)

which redefined

the landscape of

queer aesthetics

RIP LA
---
Douglas Hand

Fashion

Words by Douglas Hand

Ten commandments

to achieve the best

and avoid the worst

2.

LAws of Style

1.

9

8

The Professional

Gentleman shall

dress in a manner

that is elegant

and capable.

4.

3.

The Professional

Gentleman shall

not dress

more affluently

than his clients.

The Professional

Gentleman shall

always dress

more formally

than his clients.

"They're all wearing

casual clothes, yoga

pants, T-shirts, jeans,"

- Tom Ford

6.

We find ourselves in a period of distinct change—a cultural shift. More

and more men who have achieved professional success are measuring

achievement not just financially, but creatively in other spheres of their

lives. This is a good thing—a great thing actually. We are also living

at a time—an aesthetic inflection point—where norms in manners

of dress are changing. Casual Friday has given way to the full-time

casual workplace in many industries. This has thrown many men (not to

mention many menswear brands) into a state of generalized confusion.

Sadly, for many, the default reaction to this state of affairs is apathy. In

sartorial terms, the phrase business casual is an oxymoron. Like most

oxymoronic statements, it came about as an attempt to put a label on

a bad idea. That bad idea was rooted in the notion that looking casual

can mean looking ready for business. When someone works for me,

I don't want them taking it casually. When I work for someone else, I

don't take it casually. I take it very seriously.

I truly believe that style is a form of self-respect. Respect

yourself. Respect your appearance. And by the transitive property

of equality—respect the clothes you wear. As an attorney – I am

somewhat compelled to live by laws. As a human being – I believe

true style (and therefore a form of self-actualization) only comes from

breaking laws. So therefore, a few of The Laws of Style germane to the

current overcasualization we are seeing across certain industries and, in

some cases, particularly in the fair City of Angels follows.

10.

The Professional

Gentleman shall

feel comfortable

and confident in

his clothing if he

9.

is to succeed.

The Professional

Gentleman shall

not be recognized

as "fashionable."

5.

The Professional

Gentleman shall

properly maintain

his shoes.

The Professional

Gentleman shall

have many ties to

choose from and

shall mix them

into his wardrobe.

7.

The Professional

Gentleman shall

not take "business

casual" casually.

The Professional

Gentleman shall

not have more than

a single whimsical

accessory item on

his person at one

time, and such item

should (i) have a

personal

connection to him

and/or (ii)

be notionally

a useful item.

8.

The Professional

Gentleman need

not mix and match

patterns and

textures, but in

doing so properly,

he shall attain

degrees of style.

LAWS OF STYLE
---
LA Flagship Store Opening

November 2018

8619 Melrose Ave

West Hollywood, CA 90069

marcellvonberlin.com