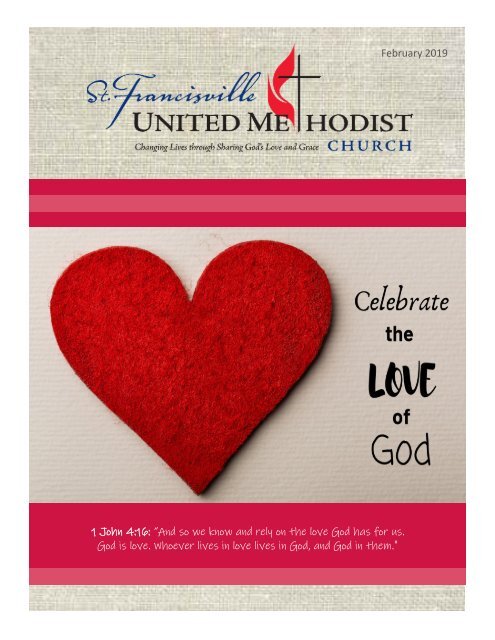 February 2019 newsletter print
Do you know the secret to free website traffic?
Use this trick to increase the number of new potential customers.
1 John 4:16: "And so we know and rely on the love God has for us.

God is love. Whoever lives in love lives in God, and God in them."

February 2019
---
FROM THE PASTOR

Dear Church Family,

Have you felt God calling you?

When Jesus passed through Galilee, he spoke to fishermen and a tax collector and he said to them "Come,

follow me!" And amazingly enough, they did. Maybe they had heard all about him already and were

jumping at the change to walk with Jesus. Maybe there was something about his voice or the way he

carried himself that they found they couldn't resist.

Jesus calls us all to follow him, and a Christian is one who has responded to his call. Even after making the

decision to follow him, the calls keep coming. He calls some to be parents and some to be teachers; he calls

some to serve in the leadership of the local church or to become healers; he calls many to the married life,

and some to be pastors. Jesus calls us to many different ministries and vocations throughout our lives of

faith. How might he be calling you?

In our church we are looking for leaders to help coordinate our Youth and Children's ministry, as well as

our Men's ministry. Might that be you? There are families who are hurting in our communities who've lost

loved ones. Is he calling you to reach out? The church needs pastors and missionaries and chaplain - could

he be calling you to that ministry?

"I can hear the Savior calling," says the old hymn. Have you given some prayerful thought lately to how

our Savior is calling you to follow him in this new year?

May the Lord Jesus Christ bless and keep you+

-Daniel

For God is not unjust. He will not forget how hard you have worked for him and

how you have shown your love to him by caring for other believers, as you still do.
---
WHAT'S HAPPENING
---
WHAT'S HAPPENING

-Give Thanks Always-

Thank you to our acolytes that faithfully bring the light of Christ into worship each Sunday.

This is a great opportunity for our children to take part in worship and service to the church.

Thank you to the lay liturgists that assist Rev. Daniel with worship services. Your

commitment and dependability are much appreciated by all.

Thank you to UMM for preparing a meal for the youth group. Sharing your love for our

youth through service is wonderful!

A special thank you to Jerry Beauchamp for your commitment to the church as our Lay

Leader. The time you give in all areas of the church is commendable and greatly

appreciated.

New Eagle Scouts

BSA Troop 61 is pleased to announce that two scouts earned the rank of Eagle Scout in

January, Caleb Dixon and David Slater. Caleb is the son of Trenell Dixon and the late Melissa

Turner. He is a member of the Healing Place Church in St. Francisville. David is the son of

Wayne & Ann Slater and a member of SFUMC. Both scouts have been members of Troop 61

since 2013. Both are in the 11 th grade at WFHS where Caleb is a LT. Junior Grade and the

Operations officer in the NJROTC program and David is a member of the cross-country and

soccer teams.

To earn the Eagle Scout rank, the highest advancement rank in Scouting, a Boy Scout must

fulfill requirements in the areas of leadership, service, and outdoor skills; only five out of 100

Scouts ever earn this rank. Caleb and David have held many different leadership positions in

the troop. They both spent a week in the Boundary Waters wilderness area at the BSA

Northern Tier High Adventure base in Ely, MN in the summer of 2018. Caleb is now an Asst.

Scoutmaster and David is a Junior Asst. Scoutmaster in Troop 61; helping other boys in their

scouting journey. Troop 61 is sponsored by the SFUMC-UMM.
---
ADULT MINISTRY
---
CHILDREN'S MINISTRY
---
YOUTH MINISTRY

YOUTH GROUP VOLUNTEERS

Date Group Assistant Meal Prep & Serve

Feb. 7 Nancy Bailey Nancy Bailey

Feb. 14 Stacey King Stacey King

Feb. 21 Ada Lord Tracey Mascagni

Feb. 28

Mar. 7

William & Laura

Beth Lott

Haley Green &

Tudy McCann

No Youth Group-Mardi Gras

Mar. 14 Maggie Kleinpeter Caroline Alberstadt

Mar. 21 Amanda McKinney Amanda McKinney

Mar. 28 Sara Cooper Sara Cooper
---
February 2019

SUNDAY MONDAY TUESDAY WEDNESDAY THURSDAY FRIDAY SATURDAY

1 2

7:30 am

UMM Prayer

Breakfast (FH)

9am CHASE In-

Service (FH)

3

8:30 am Worship (S-N)

9:30 am Fellowship (FH)

9:45 am Sunday School

10:45 am Worship (S-N)

4 5

6

9 am Ladies Bible Study

(RH)

7

8 9

7:30 pm AA (FH)

6 pm Adult Studies (RH)

6 pm Children's Unity

Night (FH room 211)

5:45 pm Youth

Group (FH)

10

8:30 am Worship (S-N)

9:30 am Fellowship (FH)

9:45 am Sunday School

10:45 am Worship (S-N)

11

5:30 pm Board

of Trustees (RH)

12

5:15 pm Care &

Nurture

Committee (RH)

7:30 pm AA (FH)

13

6 pm Adult Studies (RH)

14

5:45 pm Youth

Group (FH)

15 16

17

8:30 am Worship (S-N)

9:30 am Fellowship (FH)

9:45 am Sunday School

10:45 am Worship (S-N)

18 19

11:30 am ACTS

Luncheon (FH)

20

21

22 23

7:30 pm AA (FH)

6 pm Adult Studies (RH)

5:45 pm Youth

Group (FH)

24

8:30 am Worship (S-N)

9:30 am Fellowship (FH)

9:45 am Sunday School

10:45 am Worship (S-N)

25 26

27

28

7:30 pm AA (FH)

6 pm Adult Studies (RH)

5:45 pm Youth

Group (FH)

Notes

S-Sanctuary

N-Nursery Provided

RH-Robb House

FH-Fellowship Hall
---
Pray For Each Another (James 5:16)

"As members of St. Francisville United Methodist Church, we faithfully

participate in its ministries by our prayers, our presence, our gifts, our service

and our witness."

Prayers for Healing &

Comfort:

John Dallas Andries

Janet Bickham

James Blake

Jane Breland

Tanya Smith Brooks

Pete Bryant

Ruth Bryant

Kevin Bustamante

Albert Caldwell

Jean Caldwell

Billy Calhoun

Elvis Calhoun

Sheila Clausen

Cathy Combs

Gail Cooper

Ken Cooper

Sandra Cothren

Amy Counce

Don Crankshaw

David Daniel

Judy Daniel

Lois Daniel

Sarah Daniel

Walter Darnell, Jr.

Nora Davis

Delilah DeLee

Patsy Dreher

A. J. Ferguson

Rob Fischer

Jesse Lane Fudge

Ann Garris

Jana Smith Gillespie

Jesse Grant

Gertrude Graves

Joe Hahn

Debbie Hammack

Billy Honeycutt

Emily Honeycutt

Randy Jarreau

Christopher Jenkins

Janet Kendrick

Blake Kennedy

Nancy Kennedy

Peggy King

June Lewis

Peter Major

Mary Malone

Faye Martin

Ronnie Martin

Donna Morrison

Crystal Musgrow

Allison Netterville

Tommie Jo Netterville

Travis Norsworthy

Nellie Partin

Richard Peabody

Janice Piper

Pete Pittman

Laura Polis

Mamie Rawlins

Natalie Rawlins

Jimmy Ritchie

Katherine Salter

Joe Salter

Scott Sanchez

Ken Smith

Tom Temple

Paul Theriot

Marcel Valois

Roger Waddill

Prayers for Those in the

Military: ** Deployed

PO2 Beau Broussard

Col. Stuart Burruss

Lt.Cpl. Bret Cain

Lt.Col. Walker M. Field

Sgt. Bryce Kennedy

2nd Lt. Travis Odom

**Byron Turner

Prayers for Those Fighting

Cancer:

Jeannette Barron

Gerald Bates

Tammy Benjamin

Isabella Bertucci

Mary Beth Britt

Donald Broussard

David Burruss

Dawn Caldwell

Dennis Castleberry

Aaryn Olivia Chase

Clara Clemons

Jessica Enfinger

Sandy Fiser

Glory Folse

Stacie Guidry

Stewart Hardie

Donald Hartung

Mary Heine

Lori Jarreau

Elaine Joseph

Bob Kennedy

KC Leach

Daryl Miller

Kim Miller

Pam Morrison

Jimmye Norwood

Martha Robertson

Mel Robinson

Jody Smith

Sonny Sykes

Paul Thibodeaux

Sharon Tycer

Jim Waddill

Patricia Wells

Cathy Yaap

Prayers for Those in

College:

Barrow Clement

Caroline Cochran

Anna Field

Elizabeth Field

Walker Field, Jr.

Hagen Kirby

Kyle Kirby

Libby Leake

Claire Leming

Mary Quin Louviere

Catherine McKinney

Brittany Mott

Madison O'Brien

Jordan Percy

Claudia Posey

Emily Slater

Harrison Smith

Hunter Smith

Ben Souther

Emily Spillman

Chandler Sullivan

Taylor Sullivan

Avery Thomas

Everitt Williamson

Zoe Williamson

Prayers for Sympathy:

Family of Butch Rawlins

Family of Trey Luneau

Family of Ed Duhe

Family of Randy Waddill

Family of Betty Carlin

Family of Alvin Hall

Family of Carol Ratcliff

-Names in BOLD are new to

the prayer list. If you know of

someone that needs to be

updated, please let the church

office know.

LORD, Please walk beside me through this day. Clear the heavy air with the lightness of Your Presence.

Guide my hands and steady my heart that I may give comfort when I cannot give hope, that I may give

relief when I do not have a cure, and that I may radiate Your healing peace when the limits of science,

time, and the human body overwhelm. Amen.
---
WHAT'S HAPPENING

February 3 February 10 February 17 February 24

Snacks Green & McCann Ashley Family Estep Family King & Holmes

Flowers Haley Green Kennedy Family Ladnier Family Julie Bordelon

8:30 Liturgist Dot Temple Christene Hixon Lorraine Kirk Abby Cochran

10:45 Liturgist Sue Catchings Kerry Everitt Lee R. Smith Theresa Stevens

8:30

Acolytes

10:45

Acolytes

Peyton Daniel Brylee Broussard Alexander King Lida Stallone

Collin D'Aquilla Mae Hazlip Taylor Smith Ian Alberstadt

Children's

Sunday School

Linda Holmes &

Kelly D'Aquilla

Liz Hazlip &

Ann Andries

Corey Gilfoil &

Liza Bryant

Pam Rabb &

Tudy McCann
---
WHAT'S HAPPENING

February Birthdays

This year marks the

175th anniversary

of the St.

Francisville United

Methodist Church.

We are planning

some exciting events to celebrate this

important milestone in the life of our church. If

you would like to be involved in the planning,

please contact the church office at 225-635-

3763 or email stfrumc@bellsouth.net.

February 2

February 4

February 5

February 6

February 8

February 9

February 10

February 13

February 15

February 17

February 19

February 20

February 22

February 23

February 25

February 27

February 28

Braden Corkern

Thomas Temple

Jon Elise Sturgeon

Evie Bryant, Cain Cooper,

Lori Temple

Peyton Crawford, Ava Claire

Robertson

Cathy Burruss, Aiden Smith

Debra Davis, Nancy Dreher

Bruce Smith

Amy Louviere

Gray Varnedoe

Mandy Monistere, Rusty

Patterson, Maddie Posey

Miles Bryant, Abby Cochran,

Sam Gilfoil, Danielle Ritchie

Ava Branton

Kevin Odom, Heidi Pittman

Bess Kelley

Richard Peabody

Cody Barron, Nancy Bickham,

Shellee Harvey

January 6

8:30 am—79

10:45 am—113

Total—192

January 13

8:30 am—68

10:45 am—103

Total—171

Worship Attendance

January 20

8:30 am—61

10:45 am—53

Total—114

January 27

8:30 am—83

10:45 am—98

Total—181

Mo Avg

181

YTD Avg

165
---
March 2

March 3

March 4

March 5

March 6

March 7

March 9

March 10

March 11

March 12

March 13

March 14

March 15

March 17

March 18

March 19

March 20

March 21

March 24

March 25

March 27

March 28

March 31

March DATES TO NOTE

UMM Prayer Breakfast

4H Contest Day

Sunday Worship Services

Church Office Closed

Mardi Gras Day

Church Office Closed

Ash Wednesday Service

Youth Group

Church Workday

Sunday Worship Services

Daylight Savings Time Begins

Board of Trustees Meeting

Care & Nurture Committee Meeting

Adult Studies

Children's Unity Night

Valentine's Day

Youth Group

Pilgrimage Hymn Sing

Sunday Worship Services

Finance Committee Meeting

ACTS Luncheon

Adult Studies

Youth Group

Sunday Worship Services

Bethlehem Olive Wood Carvers

Church Council Meeting

Adult Studies

Youth Group

Sunday Worship Services

5th Sunday Potluck

St. Francisville United Methodist Church Non Profit Organization

P.O. Box 2908

U.S. Postage Paid

St. Francisville, LA 70775 St. Francisville, LA 70775

Permit # 11

Address Service Requested

February 2019

St. Francisville

United Methodist Church

Sunday

Worship Schedule

8:30 AM Early Worship Service

9:30 AM Fellowship Time

9:45 AM Sunday School

10:45 AM Late Worship Service

Church Office Hours:

8:30 a.m. to 4:30 p.m. Mon - Thu

Closed Fri, Sat & Sun

P.O. Box 2908

9866 Royal Street

St. Francisville, LA 70775

(225) 635-3763 office

stfrumc@bellsouth.net

www.stfrumc.org

Pastor:

Rev. Daniel Hixon

Cell Phone: (318) 791-3486

revhixon@gmail.com

Church Office Manager:

Tudy McCann

Cell Phone: 225-572-3329

stfrumc@bellsouth.net

Facilities & Janitorial Manager:

John Bel

Cell Phone: 985-969-5787

fbcateens@yahoo.com