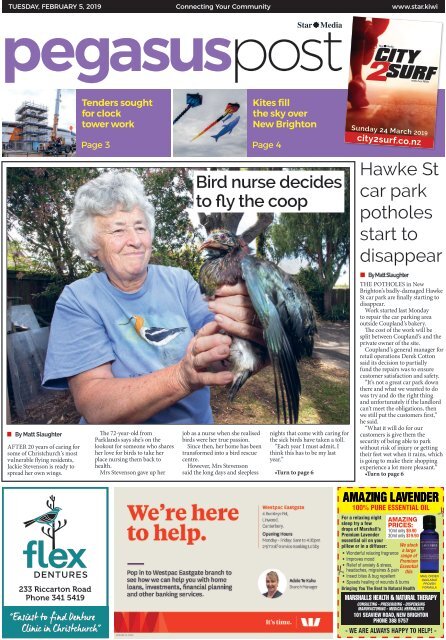 Pegasus Post: February 05, 2019
Do you know the secret to free website traffic?
Use this trick to increase the number of new potential customers.
TUESDAY, FEBRUARY 5, 2019

Connecting Your Community

www.star.kiwi

CITY

2SURF

with Les Mills

• By Matt Slaughter

AFTER 20 years of caring for

some of Christchurch's most

vulnerable flying residents,

Jackie Stevenson is ready to

spread her own wings.

Tenders sought

for clock

tower work

Page 3 Page 4

The 72-year-old from

Parklands says she's on the

lookout for someone who shares

her love for birds to take her

place nursing them back to

health.

Mrs Stevenson gave up her

job as a nurse when she realised

birds were her true passion.

Since then, her home has been

transformed into a bird rescue

centre.

However, Mrs Stevenson

said the long days and sleepless

Kites fill

the sky over

New Brighton

Bird nurse decides

to fly the coop

nights that come with caring for

the sick birds have taken a toll.

"Each year I must admit, I

think this has to be my last

year."

•Turn to page 6

CITY

2

2SURF

Sunday 24 March 2019

city2surf.co.nz

with Les Mills

Hawke St

car park

potholes

start to

disappear

• By Matt Slaughter

THE POTHOLES in New

Brighton's badly-damaged Hawke

St car park are finally starting to

disappear.

Work started last Monday

to repair the car parking area

outside Coupland's bakery.

The cost of the work will be

split between Coupland's and the

private owner of the site.

Coupland's general manager for

retail operations Derek Cotton

said its decision to partially

fund the repairs was to ensure

customer satisfaction and safety.

"It's not a great car park down

there and what we wanted to do

was try and do the right thing

and unfortunately if the landlord

can't meet the obligations, then

we still put the customers first,"

he said.

"What it will do for our

customers is give them the

security of being able to park

without risk of injury or getting

their feet wet when it rains, which

is going to make their shopping

experience a lot more pleasant."

•Turn to page 6

233 Riccarton Road

Phone 341 5419

"Easiest to find Denture

Clinic in Christchurch"

AMAZING LAVENDER

100% PURE ESSENTIAL OIL

For a relaxing night

AMAZING

sleep try a few

PRICES:

drops of Marshall's 10ml only $9.90

Premium Lavender 30ml only $19.90

essential oil on your

pillow or in a diffuser: We stock

a large

••

Wonderful•relaxing•fragrance•

range of

••

Improves•mood

Premium

••

Relief•of•anxiety•&•stress,• Essential

headaches,•migraines•&•pain Oils

••

Insect•bites•&•bug•repellent

••

Speeds•healing•of•wounds•&•burns•

Bringing You The Best In Natural Health

MAIL ORDER

AVAILABLE

PROVEN

FORMULA

MARSHALLS HEALTH & NATURAL THERAPY

CONSULTING - PRESCRIBING - DISPENSING

MANUFACTURING - MEDICAL HERBALISTS

101 seaVIeW roaD, NeW BrIGHToN

pHoNe 388 5757

- We are alWaYs HappY To Help! -
---
2

get in touch

Tuesday February 5 2019

from the editor's desk

GOOD ON Coupland's for taking a

lead over the ongoing problem of repairing

potholes in the Hawke St car park

(see page 1).

The car park has been a problem for

years, so finally it is great to see something

happening. There are about 10-12 businesses and their

landlords who are responsible for maintaining various parts of

the car park.

So good on Coupland's and the landlord who is sharing the

cost of the repairs. Says Derek Cotton from Coupland's: "What

it will do for our customers is give them the security of being

able to park without risk of injury or getting their feet wet when

it rains, which is going to make their shopping experience a lot

more pleasant." Can't argue with that.

– Barry Clarke

GENERAL INQUIRIES Ph 379 7100

CLASSIFIED ADVERTISING Ph 379 1100

Star Media, a division of Allied Press Ltd

PO box 1467, Christchurch

starmedia.kiwi

Latest Christchurch news at www.star.kiwi

news

Concerns growing over trees

Strong wind has led to more safety concerns over the trees

along the South Brighton Domain estuary.

Page 5

news

Toy library open day

Head down to the Seaside Toy Library open day at St Luke's

Church on March 9.

Page 14

community events

PEGASUS POST

Multi-cultural festival

Check out the I Love New Brighton festival on Waitangi Day at

Thomson Park from 11am-3pm.

NEWS

Matt Slaughter

Ph: 021 910 788

matt.slaughter@starmedia.kiwi

ADVERTISING

Elaine Moon

Ph: 364 7436

elaine.moon@starmedia.kiwi

Page 17

The best-read local newspaper, delivered to

15,657 homes every Tuesday

Linwood, Avonside, Richmond, Shirley, Burwood, Dallington,

Wainoni, Bromley, Aranui, Avondale, Bexley, New Brighton,

Northshore, Queenspark, Parklands, South Brighton.

Lazy Sundays

Featuring Yurt Party

FREE

Sunday 10 February, 3–4.30pm

Archery Lawn, Botanic Gardens

ccc.govt.nz/summertimes

Seven friendly villages

in Canterbury

Key

• Ryman village

• Proposed village

Rangiora

• Charles Upham

Christchurch

• Anthony Wilding, Aidanfield

• Diana Isaac, Mairehau

• Essie Summers, Beckenham

• Margaret Stoddart, Riccarton

• Ngaio Marsh, Papanui

• Park Terrace, Central City

• Woodcote, Hornby

0800 588 222

8984
---
PEGASUS POST Latest Christchurch news at www.star.kiwi

Tuesday February 5 2019 3

News

Tenders sought to fix clock tower

But New Brighton business owner says

delays have been too costly

• By Matt Slaughter

TENDERS ARE being called

for to repair the earthquakedamaged

New Brighton Clock

Tower.

The city council wants to

appoint one contractor to

undertake repairs on the New

Brighton and Scarborough clock

towers.

However, a New Brighton

business owner says this is

bitter-sweet considering how

long scaffolding has been in place

around the tower. ​

The scaffolding is costing

ratepayers $1500 a month and has

been up since March.

"I do have to ask the reasoning

behind why you would pay

money for no reason?" said Paper

Plus New Brighton owner Blair

Hughes.

However, a city council

spokesperson told Pegasus Post

in December "the scaffold was

required to enable the engineers

and project team to fully assess

the damage."

But Mr Hughes said the repair

of the clock tower and other

projects in the east had simply

taken too long to complete.

"We know what we have to do,

we just need to get on with it."

"I would have to say the

strength of the community is

amazing considering how hard

they've had to fight for just their

basic rights."

City council head of parks

Andrew Rutledge was confident

its repair strategy would save

ratepayers by having one

contractor handle both the

New Brighton and Scarborough

towers.

"We believe the cost for

keeping the scaffold up is minor,

considering the cost efficiencies

in packaging both projects

together. The tenderers also

require the scaffold to be up to

fully inspect the structure and

damage so that they can price

their tender."

Repairs were due to be made

to the New Brighton tower

in September, but following

investigations, including the

removal of paint from the

structure, the extent of the

damage became more apparent.

Repair work has not started on

either tower.

Once a contractor has been

secured, the repairs are expected

to take six months to complete.

Dyers Road Landscape

& Garden Supplies

• Barks • Peastraw • Composts - we supply the best available

• Aggregates - Chip, Round and Basecourse

• Pavers & Schist products • Pungas

• Decorative Stones & Landscaping Rocks

• Trailer Hire first hour free with purchase

• Bag & Bulk - pick up or delivered

David, Carol & Mike

We will deliver!

SOIL

WAITING: The New Brighton Clock Tower and scaffolding

(top) in August. The tower now.

AND

HARDFILL

DUMPING

Phone: 03 384 6540

183 Dyers Rd, Bromley • OPEN 7 DAYS

Weekdays 7.30am-5pm. Weekends 8.30am-3pm

www.dyersroadandlandscapes.co.nz

Fall in love

with your

favourite furniture

all over again!

• Recover your chairs and couches

and save money!

• Excellent range of fabrics

• Quality workmanship guaranteed

• Free quotes available

• Over 30 years experience

BEFORE

Local

News

Now

In Brief

Somerfield Upholstery Ltd

FURNITURE RECOVERY SPECIALIST

Fire rages, homes at risk

HOT POOLS' PREPARATION

The land for the New Brighton

hot pools is being prepared

so construction can start. The

planned pools between the

Beachside Playground and the

North Ramp car park have

an estimated 12-month build

time. The construction site has

been cleared and Development

Christchurch Ltd is set to

conduct a site blessing and

sod-turning ceremony on

Monday.

PEGASUS BAY TRACK SIGN

City council park Rangers

have installed signage at the

Pegasus Bay walking track,

north of Broad Park. The signage

indicates the track is for both

walkers and cyclists. It was put

in place because the Coastal-

Burwood Community Board

wanted to clear up confusion

over whether the track was for

only walkers or cyclists.

DONNELL PARK COURTS

A resource consent is being

processed by the city council

for a project to fix the

earthquake-damaged tennis

and basketball courts at Donnell

Sports Park in Burwood and

provide a new toilet facility.

The plan is to have the work

completed in about the last week

of May.

AFTER

10 Calgary Place, Hornby | Ph 021 251 6200 | 349 0456

QUALITY WORKMANSHIP GUARANTEED www.somerfieldupholstery.co.nz

26x BULK BINS

COMPOST, LAWN MIx, BUILDING AGGREGATES AND STONES

The Ferrymead Mitre10 Trade Centre and Landscaping Zone has everything you need to complete your projects.

• Screened Soil

• Mega Grow

• Bio Blend

• Garden Grow

• Tree Mulch

GET yOUR SUMMER SORTED!

• Black Mulch

• Builders Mix

• AP20 Shingle

• AP40 Shingle

• Plastering Sand

• Brick Sand

• Bedding Sand

• Crusher Dust

• Teddington Chip

• Lime Chip

• Tailings

• 15mm White Ice

• 30mm White Ice

• Oamaru Pebble

• Gabion Boulders

Ask about our delivery and

FREE courtesy trailers today!

Conditions apply

Ferrymead 987 Ferry Road Phone 373 6550

• Glacier White

Pebble

• Firewood

• 13mm Chip

• 13mm Rounds

• Standard Bark

Nuggets

• Premium Bark

Nuggets

mitre10.co.nz/trade
---
4 Tuesday February 5 2019

Latest Christchurch news at www.star.kiwi

News

PEGASUS POST

Let's go fly a kite in Brighton

Beach-goers

were met with a

sky full of kites at

the Deep South

Kite Day. New

Brighton beach

was packed with

children and

adults flying kites

of all different

shapes, sizes and

colours.
---
PEGASUS POST Latest Christchurch news at www.star.kiwi

Tuesday February 5 2019 5

Local

News

Now

Fire rages, homes at risk

FALLEN: Several trees came down or were damaged along the South Brighton Domain estuary

edge as a result of the high wind on January 23.

Concerns grow over estuary trees

• By Matt Slaughter

SAFETY CONCERNS have

increased after several trees

were left straddling walking

paths along the South Brighton

Domain estuary edge following

recent strong wind.

Residents say they are worried

about the stability of the trees

which were left standing after the

wind.

Coastal-Burwood Community

Board chairman Tim Sintes said

concerns have been raised with

city council in the past about how

these trees would fare in an event

like the one experienced two

weeks ago.

City council staff had visited

the estuary edge and reassured

people if the trees fell, they

would fall away from the

nearby walking track and South

Brighton Holiday Park.

However, Mr Sintes

said this was the opposite

of what happened.

"Our strong winds

are from the south and

it's been proven over

and over again that a

lot of them tend to fall

backwards, back over

towards the track."

Mr Sintes said he went

down to view the damage after

the wind and most of the fallen

trees were rotted through.

He said there was a good

chance those still standing would

be rotten too.

Tim Sintes

"Some of them that came down

from the outside looked like they

were an okay tree, but when they

come down you realise there's

nothing inside them, just

dust."

Mr Sintes said this was

because of water from the

estuary flooding its banks

and getting into tree roots.

"As we've lost the

protection of the estuary

edge and the reno

mattresses that were once

there, the wave action is

getting into the sandy banks and

undermining the tree roots."

The damage to these protective

barriers happened during the

earthquakes.

Mr Sintes said they had not yet

been repaired or replaced by the

city council.

City council head of parks

Andrew Rutledge said it was

currently

looking into

options to

protect the

estuary edge.

But the damaged

barriers around

the estuary were

not unsafe, he

said.

"An

assessment of

Andrew

Rutledge

the site is taking place with the

aim of developing options for

coastal edge management."

"The structures were

compromised during the

earthquakes. However, they do

not present any safety risk to the

public".

South Brighton Holiday Park

owner Sam Hawkins said there

was potential for more damage.

"One tree that fell would have

been at least 8m tall or more and

it went right across a pathway."

Mr Hawkins believes out of

the trees still standing along the

estuary, there are 50 or 60 with

the potential to fall in a storm.

Mr Rutledge said six trees

were cut down last Tuesday due

to this risk. Mr Hawkins said

if dangerous trees close to the

holiday park were not removed,

this would cause him to not feel

"safe to send guests or tourists

through that area."

HEAT PUMP

SALE NOW ON!

Amazin' summer Specials!!

• We will offer you the best quality brands and

option of heat pump for your home/business

• Providing Heat Pump solutions for over 16 years to Cantabrians

• We personally guarantee all our products & installs for 5 years

(providing annual maintenance has been completed)

Phone us today for your free consultation & quote

41A SHAKESPEARE RD, WALTHAM

PHONE 03 366 0525

www.enviromaster.co.nz

"A local team for local people"

Your local friendly Bar

200gm Steak, Salad & Fries

Just $15.50 or 2 for $25

With a drink purchase on Monday nights

Buy a main meal & get another

for $5 Sunday nights. Conditions Apply

Chats Bar

251 Travis Road,

QEII Shopping Centre

Ph: 388 1566

Tuesday quiz nights

Wednesday karaoke

Thursday live music

Sky Sports

Courtesy van
---
6 Tuesday February 5 2019

Latest Christchurch news at www.star.kiwi

News

Work gets

under way

to repair

car park

•From page 1

The car parking area was

badly-damaged in the 2010 and

2011 earthquakes.

Coastal Ward city councillor

David East said between

10 and 12 private owners

are responsible for the

maintenance of different parts

of the car park.

Cr East said very little

work has been done to fix the

damage and complaints about

it had been "going on for years."

He said injuries at the site

were common.

"There's been the odd person

that has tripped in the potholes

and elderly people have even

probably had breaks of some

sort."

New Brighton Business and

Landowners Association's Paul

Lonsdale said pressure had

been put on the landlords who

owned different parts of the car

park to repair their sites over

summer.

Mr Cotton said repairs to

Coupland's car park would

be finished in the next two to

three weeks.

•From page 1

"I'm getting older and each

year's getting harder. It's quite

physical work," Mrs Stevenson

said.

She said for all of the birds she

had managed to save, many died

in her care and it had made her

job even harder.

Her husband supported the

decision to seek someone to take

over her role.

"He hates coming home and

seeing me so tired, so I've got to

think of him too." Mrs Stevenson

estimates she cared for about 200

birds last year. All of her work

has been voluntary, with some

financial support coming from

donations.

Mrs Stevenson received $100

in petrol vouchers a year from

the Department of Conservation,

and dog and cat biscuits to mash

up and feed to the birds from the

SPCA and Dogwatch.

She said cats were the main

cause of injuries to birds. But

recently the number of injuries

caused by vehicles had increased.

The number of native wood

pigeons brought to her with

injuries was also increasing. The

birds commonly received injuries

from flying into car windows.

She also cares for a lot of native

fantails.

Mrs Stevenson said there are a

few simple things people can do

to make her job easier.

"One of the main things is

not picking birds up that don't

Local

News

Now

PEGASUS POST

Bird nurse ready to spread her wings

KIWIS CAN'T FLY – BUT THESE DEALS WILL!

Fire rages, homes at risk

Mairehau Primary School teacher

Jenny Postles reads to the new

entrant pupils who have started at

the school.

PHOTO: MARTIN HUNTER

need to be picked up. With most

birds, even if they can't fly, they

can get up trees, they can get out

of reach of cats." She said it was

about "knowing their needs and

knowing when to intervene."

•Anyone interested

in taking over from Mrs

Stevenson can get in

touch directly through the

New Zealand Bird Rescue

Charitable Trust website

– www.birdrescue.org.nz/

rescuing-a-bird/

Jim Beam Gold / Canadian Club Premium

7% 330ml 6 pk cans

$13 .99 ea

Matua Regional

range (ex PN)

$11. 99 ea

Mudhouse range (ex PN)

$11. 99 ea

Jim Beam Devils Cut 700ml,

Teachers,Chatelle,Old Crow, 1ltrs

$35. 99 ea

Jim Beam & Cola / Canadian Club (incl zero)

4.8% 10 pk cans Jim Beam gold 7% 8pk cans

$19. 99 ea

Stoneleigh Marlborough

Lighter ranges

$12.

99 ea

Jim Beam, CC (including spiced) 1ltr,

& JB Black 700mls

$38. 99 ea

Villa Maria Private Bin

Range (ex PN&Syrah)

$12. 99 ea

Woodstock 5% bottles, Cruiser 7%

cans, Codys 7% cans, all 12pks

$21.

99 ea

Woodstock 7% 250ml 12pk cans

(incl zero) $22. 99 ea

Smirnoff Ice Double Black 7%

12 pk can range

$23. 99 ea

Long White 10 pk range

$23. 99 ea

Double Jack 375ml 10pk cans

$27. 99

Larios 1ltr,Jim Beam Honey, Apple, Red Stag

700mls

$33. 99 ea

Kopparberg 10pk cans

Tiger 12pks Somersby 12pk Bottles

$18. 99

Billymaverick 7%

18pk cans

$28. 99

Huntaway Reserve range

19 Crimes range

Brown Brothers

Moscato Range

$14. 99 $14. 99 ea

Malibu / Kahlúa 1Ltrs

ea

$ .99 ea

Blackheart 1 ltr

12 $34. 99 ea

$34. 99

Bombay Saphire 1ltr

Absolut Vodka, Beefeater, Ballantines 1ltrs

$22. 99 $22. 99

$39. 99 $45. 99

$39. 99 ea

Johnnie Walker Red 1L

$23.

Jagermeister 700ml

$32. 99

Monteiths cider & beer 12 pk bottle range

$24. 99 ea

Mac's cider and beer 12pk range

$24. 99 ea

www.thirstyliquor.co.nz

398 High Street, Rangiora

03 313 7207

1275 Main North Road, Bridgend

03 323 8833

Heineken 15pk bottles

Tui, Export Gold or DB Draught 24pk bottles Export 33 - 24 pk bottles

$29. 99

Peroni / Asahi 12 pk bottles

Steinlager 24 pks

$24. 99 ea

$24. 99 ea

$35. 99 ea

$38. 99 $42. 99

OVER 155 STORES NATIONWIDE!

www.facebook.com/ThirstyLiquorandBlackBullLiquor

Available from 1st – 28th February. Specials while stocks last. Available at participating stores.

Lion Red, Speights, Waikato or Summit 15 pk bottles

585 Springs Rd, Prebbleton

03 349 6031

45 South Terrace, Darfield

03 317 9499

1147 West Coast Rd, West Melton

03 347 8460

670 Main South Rd, Islington

03 349 7337

Main Rd, Lake Tekapo

03 680 6242

42 Waimate Highway, St Andrews

RD24 03 612 6740

69 Main St, Fairlie

03 685 8061

21 Aldwins Road, Linwood

03 982 1753

9 Parnwell St, Burwood

03 383 2564

495 Papanui Rd, Christchurch

03 260 2380

65 Victoria St, Christchurch CBD

03 260 1155
---
PEGASUS POST Latest Christchurch news at www.star.kiwi

Tuesday February 5 2019 7
---
8

Tuesday February 5 2019

News

Latest Christchurch news at www.star.kiwi

Local

News

Now

PEGASUS POST

Fire rages, homes at risk

Helping people

Sorting out transport

get into politics

• Matt Slaughter

CHRISTCHURCH East MP Poto

Williams has started hosting

meetings for people who are

interested in the ways they can

make their political mark.

Four people attended the first

meeting, which was held at her

home on Sunday.

Discussion took place on

what was involved in running,

supporting and funding a

campaign.

The meeting "certainly

sent a couple of people away

thinking about things," Ms

Williams said.

The meetings cater to

those who want to know

how to get involved in policy

discussion, what's involved

in being a candidate, or those

just interested in meeting likeminded

people. She said with

local body elections in October,

now was the perfect time to start

educating people.

"It's really about just talking

to people who might want to

get involved in politics from the

view that they might want to be a

candidate."

Poto

Williams

"It's also for people who

might want to get involved in

supporting a candidate or helping

run a campaign."

Ms Willams said after a

successful first meeting, she

wanted them to take place once

a month and venues would

be organised once she knew

how many more people were

interested. She said meetings

like these would have helped

her when she first got into

politics.

"I know as an elected

representative I didn't know

a lot about what would be

involved in standing before I

asked somebody."

She said the support and

advice she had since received

throughout her political career

had been one of the main reasons

she had been able to get to where

she is today.

"My local Labour electorate

committee have been very, very

supportive from the moment I

started."

Ms Williams said she "can not

say enough for what happens

locally" when these sorts of

support networks are in place.

Environment Canterbury

senior manager public

transport Stewart

Gibbon responds

to the article

last week about

the ongoing

battle Diana

Isaac Retirement

Village residents

are having over the axing of

the bus service

Environment Canterbury

introduced the idea of a

Community Vehicle Trust for

Diana Isaac Retirement Village

in November and has had two

conversations with Graham

Tate and other residents on the

matter, including the January

meeting.

Throughout Canterbury, where

traditional scheduled public

transport is unavailable, the

Community Vehicle Trust model

has proven to be highly successful

in delivering accessible,

flexible and affordable transport

options to defined geographical

communities. We are focused on

identifying a solution that is sustainable

and will meet the longer

term needs of the residents. The

transport needs of the residents,

and the flexible, close proximity

and community nature of the

OPTION: ECan is investigating a service to transport retirement

village residents now that the Orbiter bus no longer stops

outside the village.

Community Vehicle Trust model

appears to align well with the

current and future transport

needs of the residents.

We are still exploring the

viability of the option with the

residents and Ryman Healthcare.

However, discussions to date

have been positive and focused

on running a trial period of up

to six months, to validate the

feasibility of the idea in this

specific urban context. ECan

would provide support to the retirement

village in setting up its

Community Vehicle Trust, then

all operational matters moving

forward would be managed by

the trust, such as determining

vehicle size and type, destinations

and trip times.

Community Vehicle Trusts

receive annual grant funding

from ECan and the New Zealand

Transport Agency, and obtain

grant funding from other

sources. They also receive funds

from customer usage of the

service to cover the cost of the

journeys taken. These funding

sources combined enable the

trust to procure and manage

their vehicles and associated

administrative functions.

You can have this Paramount Pool

installed in your back yard

for less than $20,000*

Receive a

FREE pool cover

valued up to $1,200

when ordering a pool

package before

28th February.

Do you have doubts your

earthquake repairs have

been done properly?

An inground swimming pool

doesn't have to cost a fortune!

75 Blenheim Road, Christchurch

Freephone: 0800 POOL QUIP

Phone: 03 343 3441

Email: paramount.chc@xtra.co.nz

Hours: Monday to Friday 8.30am-5pm

and Saturday 9am-1pm

www.paramountpools.co.nz

Paramount Pools and Poolquip NZ

*Based on actual costs of the pictured pool (6.1m X 3.7m) including Paramount Pool package** ($8,600), installation & landscaping.

**All packages come complete with ladder, pump, filter, plumbing and accessories.

Don't leave it until it's too late.

Sign up with us for a free foundation report.

Claims Resolution Service Ltd

Ph: 03 377 8855 | 130 Ferry Road, Christchurch

E: reception@earthquakeservices.co.nz | W: www.earthquakeservices.co.nz

NO WIN

NO FEE
---
PEGASUS POST Latest Christchurch news at www.star.kiwi

Tuesday February 5 2019 9

www.studywithus.co.nz

Make your vision

your future

We have courses in:

FREe

CoURSES!

ARTS & DESIGN

LAST CHANCE TO

ENROL FOR FEB START

Text 'STUDY'

To: 027 557 8839

*conditions apply

Phone: 0800 834 834

50 Hazeldean Road,

Addington
---
10 2 Tuesday [Edition datE] February 5 2019

Latest Christchurch news at www.star.kiwi

Discover

New Brighton

PEGASUS POST

What's on...

Wednesday 6 February

I Love New Brighton

11am to 3pm

Thomson Park,

Marine Parade,

North New Brighton

Sunday 17 February

Summer Latin Market

10am to 4pm

New Brighton Mall,

Seaview Road,

New Brighton

Every Saturday

New Brighton Seaside Market

10am to 2pm

Pedestrian Mall,

cnr of Marine Pde and Beresford St

Learning computer

skills simple and fun

While today's technology can seem

daunting to those that haven't been exposed

to it, gaining computer skills is not only

simpler than you might think, it can also

open up a whole new world of knowledge,

convenience and enjoyment.

For those aged 55 and over, Seniornet

New Brighton offers a range of computer

courses provided by skilled tutors, in a

friendly, relaxed environment. The topics

include: An introduction to computers,

learning to use an iPad or other tablet, using

email, Facebook and Trade Me, as well

as photography courses where you learn

how to enhance your digital photos using

Lightroom software. The tutors are hoping

Photoshop software will be available for

classes in the next few weeks.

They also teach Publisher, a software

programme that enables you to produce

newsletters, flyers etc.

Classes run from 10am-12pm, Tuesday,

Wednesday and Thursday, with this year's

classes starting on Tuesday February 12.

You are invited to bring your own device

– laptop, tablet or smartphone – although

there are desktop computers available if

required.

Get confident with technology

Opening 5th February

COFFEE MORNING 15 FEB 10-12am

Getting to know your device • Emailing

Working on line • Files & Folders • Publisher

Enhancing photographs • Spreadsheets

Greeting cards • Powerpoint • Photocopying

On bus route • Morning tea

Comfortable, airy, warm room

Small classes • Bring own device

Also Apple assistance • Afternoons by arrangement

SeniorNet New Brighton

202 Marine Parade, New Brighton

Email. seniornetnb@xtra.co.nz

Ph. 03 382 6048

www.seniornet.co.nz

The annual fee to join SeniorNet is $30,

with a small fee per class, which includes

morning tea. Members also receive regular

newsletters.

On Friday, February 15 Seniornet New

Brighton is holding a coffee morning from

10am-12pm, giving you the opportunity to

meet the tutors and find out more about the

classes and what ones would be the most

beneficial for you.

As increasing numbers of people already

have some general

computer knowledge,

SeniorNet New Brighton

also offers one-on-one

help time, where you can

have individual tutoring

on any area in which you

would like to improve your

skills.

They are also on

the lookout for new

tutors to join the team.

Computer skills are not

necessary as training is

provided, though good

organisational skills are

required to run the classes.

SeniorNet New Brighton operates in the

New Brighton Club building, 202 Marine

Parade, with access through the door along

from the club's main entrance – wheelchairs

and walkers welcome. Off-street parking is

available next to the club building, and it is

also on the bus route.

To enquire about joining any of the

courses, phone 382-6048 and leave a

message or email seniornetnb@xtra.co.nz.

A SeniorNet New Brighton tutor teaches

a group of enthusiastic learners.

Womens, Men & Childrens Clothing and Footwear

Best Selection, Best Prices

Finders Keepers

Quality Preloved Clothing

Check us out on Facebook

105 New Brighton Mall

Mon - Fri 10am - 5pm Sat 10am - 4pm Sunday 10am - 3pm

Cnr Keyes & Bowhill Rd

North New Brighton

Ph: 382 0867

Email: info@framencopy.co.nz

www.framencopy.co.nz

Design & Print

Business Cards

Flyers

Photocopying

Typing

Binding

Scanning

Laminating

up to A0 Plan Printing

T-Shirt Printing

Signage

Picture Framing

and so much more…….

FOR ALL YOUR PRINTING REQUIREMENTS

YOUR LOCAL GARAGE

• All vehicle repairs

• Oil changes and services

• Brakes • Loan car available

• Tyres, punctures & batteries

• W.O.F • Tune up

Your LocaL GaraGe

VERY FRIENDLY SERVICE AND ADVICE

NEW BRIGHTON AUTOMOTIVE

Phone: 03 388 3630

40 Hawke St (behind Z Petrol Station)
---
PEGASUS POST Latest Christchurch news at www.star.kiwi

Tuesday February [Edition 5 datE] 2019 11 3

Discover

New Brighton

Young players

strongly supported

at local rugby club

Junior players at the New Brighton

Rugby Club will be eagerly awaiting

the start of the 2019 season, which

kicks off in early April.

The club has 250 junior players,

aged from as young as four up to

13, and seeing them take to the field

in their black and gold jerseys on a

Saturday morning makes the club's

committee members, the coaches

and the parents feel very proud, says

Junior Club captain, Cara Stewart.

Cara's husband Dougie is also a

Junior Club captain at New Brighton,

and both their sons play for the club.

"Belonging to the club is a great

opportunity for young people to get

involved and be part of something –

everyone enjoys that," Cara says.

The club is very supportive of the

young players and encourages them,

whatever their skill level, she says.

The 11-13 year-olds have two

practice nights a week, and the 8-10

year-olds practise once a week, playing

at the club's two grounds – Thompson

Park and Rawhiti Domain.

Inter-club rugby is played on

Saturday mornings, with matches

taking place at club grounds right

around the city.

"It can be a very busy time for

parents, especially if they have two or

three youngsters playing at different

venues," Cara says.

A team night for the junior players is

held once a season, a family occasion

at which the young club members

are introduced to the senior New

Brighton players, who are all very

supportive of their young club-mates.

New Brighton was also fortunate

to have All Black Ryan Crotty, who

played his junior rugby at New

Brighton and retains close ties with

the club, and Crusader Ollie Jager

attend their Junior Club Day last

season, with the pair presenting

Player of the Day medals and signing

banners for the young players.

Jager, who represents both

Canterbury and the Crusaders, has

played for the club's Premier Colts

and Senior Division One team in

recent seasons, while Canterbury and

Crusaders player Billy Harmon was

another New Brighton Club member.

"We're very proud of the New

Brighton Club, but it wouldn't be the

success it is without the support of the

coaches, the committee and of course,

the parents," Cara says.

To enquire about joining the New

Brighton Rugby Club, contact Cara

Stewart, phone 021 490 947, email

carastewart@outlook.co.nz

huge selection

of second hand

books

Barnabas Books

121 New Brighton Mall (next to Happy Feet)

Tues-Fri 10am-4pm Sat 10am-3pm

• Key Cutting

• Trophies

• 21st Keys

• Zippo Lighters

Crispy Crunchy Batter

Serving the Community for over

23 years with passion and pride

* Specialty fish cooked to order… Blue Cod, Gurnard, Sole, Hoki, and more!

Try a tasty crispy chicken

souvlaki today!

GOURMET SEAFOODS QEII

Ph: 388 2531, QEII Shopping Centre, 251 Travis Rd

Mon - Wed 11.30am - 8.30pm (Tues from 4.30pm), Thurs - Sat 11.30am - 9.00pm

Sun 12noon - 8.30pm, Daily break 3.15 - 4.30pm

The best

in the

business

since

1988

• Shoe Repairs

• Engraving

• Watch Services

• Bag Repairs

Plus we stock a full range of

polishes, dyes and laces

121 New Brighton Mall Ph: 03 382 0399

Web: happyfeetchch.co.nz

Email: info@happyfeetchch.co.nz

TradeMe: 1249562/mothersuperior

NEW BRIGHTON

JUNIOR RUGBY 2019

U6 - U7 RIPPA RUGBY

U8 - U13 TACKLE

2019 REGISTRATION

SUNDAY 10th FEB 3:00 - 5pm

MONDAY 11th FEB 5:30 - 7pm

SUNDAY 17th FEB 3:00 - 5pm

MONDAY 18th FEB 5:30 - 7pm

Upstairs at the Club Rooms, Rawhiti Ave, New Brighton.

New players ID is required (Birth Cert or Passport)

SUBS- $70 per child, includes team photo

$110 per family up to three children, then $35 each child after.

All fully paid subs will include a team photo and a New Brighton Rugby Hoodie

Discounted socks will be available

Email: juniors@nbrfc.co.nz | Contact: Cara Stewart 021 490 947

www.newbrightonrugby.co.nz/jnr-club/
---
12

Tuesday February 5 2019

Latest Christchurch news at www.star.kiwi

PEGASUS POST

8932658AA

C

FUN School Holiday &

After School Activities

Phone 349 9260

Email: info@caspa.org.nz

Website: www.caspa.org.nz

CASPA

says

Only

go with

people you

know and

trust.

Never

go with

strangers!

D

Dental implants

are a wonderful

way to replace

missing teeth...

Wear your mouthguard

when you play sport so

you won't need them.

1st Floor Merivale Mall, Phone 355 8297

dentistry@merivale.co.nz

www.dentistryonmerivale.co.nz

Everyone needs to

take care of their skin.

Always remember to

Ewear your sunblock.

Euphoria

body & beauty clinic

Harewood Road, Bishopdale (inside the YMCA)

Phone 359 3445

www.euphoriabodybeauty.com

FFIRST

AID KIT

$37.50

Based on our own

experiences of

mishaps with the

family, this kit helps

deal with those minor

scrapes, burns and

prickles so you can

get back to enjoying

what matters most.

Find out more at redcrossshop.org.nz

Global Leaders in First Aid Training

K

Keep medicines up

high out of the

reach of children

DIESEL

- Doctor -

repairs &

servicing.

288 Lincoln Rd (opp ANZ)

Ph: 338 8884 • www.dieseldoctor.co.nz

L

Look both

ways

before

crossing

the road

PH 0800 225 483

95 Gasson Street, CHRISTCHURCH

M N

MASH provides a safe, secure and

exciting environment for your kids before

and after school as well as in the holidays

Nurtured

kids are

safe kids

Phone: 03 377 2540

www.playcentre.org.nz

S

Sunglasses

save your

sight

BARRINGTON - 256 Barrington Street

PH 332 1730 | www.suckling.co.nz

T

Take care when reversing

out of the driveway

waTCh FoR ChildRen.

Car City

EST. 1973 ChCh

Cnr Moorhouse & Ferry Road

Ph (03) 379 4254

U

YOU CAN KEEP

YOUR CHILDREN

SMOKEFREE.

PLEA$E $MOKE OUT$IDE

(We Can Help You QUIT)

RICCARTON CLINIC

www.riccartonclinic.co.nz

VVegeland says

Eat fresh fruit

and veggies to

grow healthy

bodies and

minds

vegeland

310 Marshland Road, Chch

Phone 03 385 3718
---
PEGASUS POST Latest Christchurch news at www.star.kiwi

Tuesday February 5 2019 13

Bis for Booster

A

Avonside Early

Childhood

Centre providing

excellence for

the children of

our community

since 1943

43 Woodham Rd

(03) 389 8473

www.avonsidekids.co.nz

Up to their 7th birthday,

children are legally

required to be in a child

restraint or booster.

From 7 years up, research

shows they are best

protected in a booster

until 148cm in height.

For advice on which

booster is right for your

child, contact your

local child restraint

technicians at

Christchurch North

515 Wairakei Rd, Burnside

Ph 960 9752

Christchurch Central

87a Gasson St, Sydenham

Ph 421 3243

G

Go slow

around

children,

drive safely

on the roads

32 Moorhouse Ave,

Christchurch

Phone 366 7768

H

Have you got

your Will sorted?

Protect your

child's future today!

J

Just remember to

look both ways before

you cross the road

Just Cuts Hornby,

The Hub, Christchurch

8987425AA

"South Island's largest range of

vehicles on one site"

03 352 2293 | www.harmans.co.nz

O

Value the wellbeing

of children

Put tamariki first

P

Need someone to talk to

about your parenting issue?

Free Parenting Helpline

Friendly advice and support

Positive and practical strategies

Anonymous and non-judgmental

Q

Quick thinking

saves lives -

In emergencies

dial 111

R

Riding

your bike

always

wear a

helmet

www.orangatamariki.govt.nz

Call us today

0800 568 856

www.parenthelp.org.nz

Phone 379 7100

359 Lincoln Road, Christchurch

Cycle Trading Co

23 Elgin St, Sydenham

(opposite The Colombo)

Phone: (03) 366 3760

www.cycletrading.co.nz

W

Water Safety

Be safe around water.

Come to Wharenui Swim Club

for all your lessons.

X

OUT

FAMILY

VIOLENCE

Kids need a happy,

safe home

Y

Your children are

precious cargo - get

your vehicles tyres

checked at

ZStay safe with high viz fabric from Haralds.

Z is for zips -

we have

over 10,000

of them!

Half price zips

and zip slider

replacements when

you show this ad!

is for high

VIZ fabric

348 6488

learntoswim@wharenui.co.nz

161 Pages Rd, Wainoni, Christchurch 8061

or reception@hewakatapu.org.nz

Complete

Tyre and

Auto

Canterbury owned and operated

395 Ferry Rd, 03 389 5395

464 Ferry Rd, 03 389 5370

ctawoolston@yahoo.co.nz

New & Used Tyres • Puncture Repairs

Batteries • WOF • Balancing

Mechanical Repairs • Lube & Servicing

Wheel Alignment

"THE TRUSTED NAME IN FABRICS"

47 Birmingham Drive, Middleton

Phone 338 7700

Open Monday to Saturday 10am-4pm
---
14

News

• By Matt Slaughter

Tuesday February 5 2019

Photography exhibition

showcases the

'many faces' of Linwood

ALASDAIR WRIGHT is

combining his 55-year love affair

with cameras and photography

with his love for the area he

lives in.

The Linwood

resident is one of 12

photographers with

work on display at an

exhibition focusing on

the community and its

diversity.

The Many Faces of the

Inner City East/Linwood

exhibition was set to

open yesterday at the

Linwood Community

Arts Centre and Eastside Gallery.

Wright, 59, said he has been

living in Linwood for seven years

and has seen it go through huge

changes since the earthquakes.

He said the aim of his

photographs is to document

what Linwood was like before the

changes occurred and the past is

forgotten.

"It's important to record things

because when you think I'll

take that photo now and don't

have a camera and go back a few

days or years later, the case may

Alasdair Wright

be that they're gone." Wright

said Linwood's population

and landscape has changed.

He said showcasing this in the

photographs was key.

"It's important to see the

changing face of Linwood because

we've got a wide gamut of

society around here."

"You can travel the

world without even

having to leave home."

Linwood Community

Arts Centre and Eastside

Gallery exhibition coordinator

Shirley Scarlett

said the display was

about Linwood residents

like Wright "defining

the neighbourhood on their own

terms."

Ms Scarlett said the exhibition

was also about breaking down the

stereotypes that could sometimes

have a negative effect on how

others viewed Linwood.

"The exhibition focuses on

celebrating and delving deeper

into a community that doesn't

always get the best coverage."

It was about "capturing the

good and the beautiful alongside

the challenges and concerns" of

the community, she said

Latest Christchurch news at www.star.kiwi

• Matt Slaughter

THE SEASIDE Toy Library

hopes an open day will make it

a haven for toy lovers and their

families.

The library, which operates

out of St Luke's Church in South

New Brighton, will host the

event on March 9 from 9.30amnoon.

It aims to promote the library

to people in the area and attract

new members.

Seaside Toy Library chairman

Andy Dimond said it was one

of many businesses in the east

that had a hard time after the

earthquakes.

"The library did struggle

financially and struggled with

attracting membership and

volunteers."

Since then, Mr Dimond said

the toy library had employed a

part-time librarian and this had

helped it gain some stability.

However, he said word needed

to get out if the library should be

used to its full potential.

"There are a lot of young

families in the area who don't

know about the toy library,

how much it costs and when

we operate, so this is a good

opportunity to promote

the library and also build

relationships in the local area,"

he said.

The toy library's committee

will meeting on February 14 to

Local

News

Now

PEGASUS POST

Toy library open day

Fire rages, homes at risk

PLAY TIME: Seaside Toy Library, which runs out of St Luke's

Church in South New Brighton will host an open day to attract

new visitors and get to know the community.

discuss further details about

the day, including the sorts of

entertainment and food that will

be offered.

It's our

45th

Anniversary

year!

#areyouupforit

45th Anniversary

Retro T-shirt

available when

entries open on

1st December 2018

Sunday 24th March, 2019 www.city2surf.co.nz
---
PEGASUS POST Latest Christchurch news at www.star.kiwi

Tuesday February 5 2019 15

FANTASTIC FEBRUARY SALE!

20 % OFF

THE CARDRONA

LOUNGE SUITE

THE TE ANAU

SINGLE SEATER

THE SHOT OVER

SOFA BED

YOU

CHOOSE

THE GLENORCHY

LOUNGE SUITE

A LARGE VARIETY OF

COLOURS AND FABRICS AVAILABLE

SIMPLYFURNITURE.CO.NZ

484 Cranford Street, Christchurch - 03 354 5026 | 12 Hawthorne Drive, Queenstown - 03 442 3435
---
16

Tuesday February 5 2019

Latest Christchurch news at www.star.kiwi

2

PEGASUS POST

A

EVENT

CITY2SURF

with Les Mills

Sunday 24 March

#Areyouupforit?

14km, 6km Community

Fun Run Event

It's our

45th

Anniversary Year!

ENTER NOW

www.city2surf.co.nz

City 2 Surf 2019_Entries Available
---
PEGASUS POST Latest Christchurch news at www.star.kiwi

Tuesday February 5 2019 17

Email matt.slaughter@starmedia.kiwi by

5pm each Wednesday

SAYGo Steady As You Go

Falls Prevention Exercise Class

Tuesday, 10am

This is a specially-designed

class to help you prevent a

dangerous fall. No bookings

required, but $2 donation to

enter. Those interested are invited

to turn up on the day and see

what the class can do for them.

Parklands Community Centre,

opposite Queenspark Drive shops

JP Clinic at Shirley Library

Tuesday, 10am-1pm

A justice of the peace will

be available to members of

the community to witness

signatures and documents,

certify document copies, hear

oaths, declarations, affidavits

or affirmations as well as sign

citizenship, sponsorship or rates

rebates applications. No charge.

Shirley Library, 36 Marshland

Rd

Technology help drop-in

sessions

Thursday, 3.30-4.30pm

Go along to a drop-in session

for help with email, searching

the internet, using the library

catalogue, eBooks, and general

computer queries.

Shirley Library, 36 Marshland

Rd

Cards Club

Friday, 1.30–3.30pm

This weekly club is on every

Friday, just go along and join the

fun. Free, no bookings required.

Shirley Library, 36 Marshland

Rd

Shirley Library's Culture

Exchange

Friday, 3.45-4.45pm

Go along and make new

friends, practice English and

learn about New Zealand and

Christchurch.

Shirley Library, 36 Marshland

Rd

New Brighton Seaside Market

Saturday, 10am-2pm

Held at Brighton mall every

Saturday, just across the road

from the beach and the new

children's playground.

New Brighton Pedestrian Mall

Super Saturday Storytimes

Saturday, 11am-1.30am

Go and enjoy Storytimes, an

interactive programme including

stories, songs, rhymes and play.

This is a free session.

Shirley Library, 36 Marshland Rd

Mahjong Group

Saturday, 2-4pm

Learn to play Mahjong at the

Shirley Library. For beginners

I Love New Brighton is a festival which celebrates everything about the seaside suburb. The

festival will be on Waitangi Day at Thomson Park, Marine Pde, from 11am-3pm. There will be free

activities, sports, market stalls, food stalls, bouncy castles, face-painting, games and a live stage.

and advanced players. If you

have your own set, please bring it

along, otherwise come along and

join in a friendly game.

Shirley Library, 36 Marshland

Rd

The Inner City East Multi-

Cultural Festival

Saturday, 11am-3pm

Get involved in a celebration of

cultural diversity. There will be

food, children's entertainment,

ethnic stalls and a main stage.

A hangi will be available from

noon.

Linwood Community Arts

Centre and Doris Lusk Reserve

Wā Kōrero/Storytimes

Monday, 10.30-11am

Go along for an interactive

programme including stories,

songs, rhymes and play. Free.

New Brighton Library, 213

Marine Pde

Golden Oldies Movie

Screening – Tammy and the

Bachelor

Monday, 1.30pm

Debbie Reynolds and

Walter Brennan star in this 1957

romantic comedy where

an unsophisticated young

woman from Mississippi falls

in love with an unconventional

southern gentleman. Running

time is 1hr 49min. Arrive

early for a cuppa and a chat. $2

donation.

New Brighton

Museum, corner of Hardy St and

Seaview Rd

The Monday Makers Club

Monday, 3.30-4.30pm

Go along to a weekly after

school making sessions for kids.

A range of activities varying in

theme, week by week. Free, no

booking required.

New Brighton Library, 213

Marine Pde

Activity Zone

Monday, 3.45-4.45pm

Go and have fun at Activity

Zone, the Shirley Library after

school club. There will be

technology, games, crafts and

books. Suitable for ages six to 10.

Caregivers, please remain in the

library during the session.​Free,

no bookings required.

Shirley Library, 36 Marshland

Rd
---
18 Tuesday February 5 2019

Latest Christchurch news at www.star.kiwi

SENIOR LIVING

PEGASUS POST

Centuries old folk remedy supports

good health!

A fermented liquid health

tonic offers an array of

powerful health benefits. It is

none other than the popular

apple cider vinegar or ACV.

Since the time of Hippocrates – the "Father

of Medicine" – ACV has been renowned for its

curative properties.

In his popular book "ARTHRITIS & FOLK

MEDICINE", DR. D.C. Jarvis reports how he

found that Vermonters who regularly consumed

ACV and Honey had excellent health with

many putting in a vigorous day's work on the

farm even when well into their eighties. He also

noted the effects of ACV and H on arthritis to be

remarkable with many patients reporting almost

total relief after taking a course of the

mixture. Dr. Jarvis surmised that

the acid and potassium in cider

vinegar counteracted calcium

deposits and helped the body

control calcium use. He also noted

that Vermonters who consumed

ACV and H around meal time

had excellent blood pressure and

circulation. The reason he found

was that protein foods thickened

the blood and vinegar thinned it.

As the blood thickens it cannot

pass as easily and quickly through

the blood vessels and capillaries. This

poor blood flow would reduce cellular

health by limiting nutrients to the cells

as well as waste elimination from the cells.

To prevent cell damage the body naturally

increases blood pressure but this puts more stress

on the blood vessels, organs and heart. Having

ACV and H with meals will help prevent protein

raising the blood pressure. It also contributes

to a feeling of greater well-being because the

thinner blood circulates quickly and more easily

through the blood vessels. Dr. Jarvis found regular

consumption of CV and H to be an excellent

health tonic with numerous Health attributes.

ACV is highly nutritious as it contains all the

goodness of the apple in a form that is readily

accepted by the bodyGood health starts with good

digestion and assimilation of nutrients. ACV taken

before food will stimulate and promote healthy

digestion and assimilation of vital nutrients for

good health. A well-functioning digestive system

helps prevent disease by neutralising any toxic

substances that enter the body.

It is important to note not all ACV is produced

in the traditional way and results are likely to

prove disappointing with these other vinegars.

Marshall's Premium ACV & ACV with 20%

Manuka Honey is produced in Canterbury from

Organic whole apples in the traditional way. It is

double strength so you can use less.

Further information is available from the

Natural Health Advisers at Marshall's Health

& Natural Therapy, 101 Seaview Road, New

Brighton, Phone: 388-5757. We are always

happy to help!

COLLAGEN - ThE BOdy's yOuTh PrOTEiN

hAir - sKiN - NAiLs - JOiNTs - BONEs

Collagen is the primary structural component for all tissue in the body,

providing the strength & resilience associated with youth, beauty &

wellness. The body's natural collagen production decreases with age

resulting in many signs of aging, such as flaccid skin, wrinkles, ligament &

tendon injuries & aching joints. Collagen supplementation is one of the most

fundamental things a person can do to prevent premature aging & promote

youthful vitality. NEOCELL collagen has undergone advanced enzymatic

hydrolyzation for superior results.

NEOCELL COLLAGEN SUPPORTS:

• Reduction in lines & wrinkles - improved skin elasticity

• Strong hair & nails, may help reduce hair loss

• Supports bone, ligaments, tendons & joint health

• Lean muscle & weight loss

• Youthful vitality & slowing of the aging process

NEOCELL PREMIUM COLLAGEN IS CLINICALLY

RESEARCHED FOR SUPERIOR RESULTS

Super

Prices

120 tablets only

$36.90 Save

$5.75

Bringing You the Best in Natural Health!

250 tablets only

$56.90 Save

$9.75

500 tablets only

$99.90 Save

$33.40

198 gram powder

$36.90 Save

$5.75

- WE ARE ALWAYS HAPPY TO HELP! -

MAIL ORDER AVAILABLE

MARSHALLS HEALTH & NATURAL THERAPY

CONSULTING - PRESCRIBING - DISPENSING - MANUFACTURING - MEDICAL HERBALISTS

101 SEAVIEW RD, NEW BRIGHTON • PH 03 388 5757 • Email: enquiry@marshallshealthshop.co.nz

Apple Cider VinegAr - Powerful Natural Health Tonic

ACV is a highly nutritious with all the goodness of apples (one of our most health-giving fruits) in a form that is readily

accepted by the body. It promotes healthy digestion, assimilation of nutrients & elimination of wastes. Detoxifying

& purifying & supports the function of vital organs like the kidneys, bladder, liver & heart. Helps neutralise toxic

substances & harmful bacteria in food. A time-honoured natural remedy to improve health & longevity.

ACV SUPPORTS

• Healthy digestion, assimilation of nutrients, elimination of wastes

• Energy – Vitality – Endurance

• Elimination of viruses, bacteria, fungus & parasites

• Powerful antioxidant

• Cardiovascular health, blood flow & healthy blood pressure

• Diabetes – improves insulin sensitivity

• Arthritis & joint support • Longevity & improved health

• Settles the stomach & reduces reflux

• Weight Loss

ALWAYS INSIST ON MARSHALL'S TRUE APPLE CIDER VINEGAR FOR

MAXIMUM NUTRITIONAL VALUE & HEALTH BENEFITS!

Bringing You the Best in Natural Health

MARSHALLS HEALTH & NATURAL THERAPY

CONSULTING - PRESCRIBING - DISPENSING - MANUFACTURING - MEDICAL HERBALISTS

101 SEAVIEW RD, NEW BRIGHTON • PH 03 388 5757 • Email: enquiry@marshallshealthshop.co.nz

- WE ARE ALWAYS HAPPY TO HELP! -

Super price

Premium QuALity N.Z. DoubLe

StreNgth, orgANic APPLe

ciDer ViNegAr:

750ml only $9.90, 2ltr only $19.90

With 20% mANukA hoNey ADDeD:

750ml only $14.90, 2ltr only $29.90

MAIL ORDER

AVAILABLE

Available villas Make 2019 your fresh start - call to view today!

Orari Villa - 96m 2 BRAND NEW!

2 bedrooms, open plan living/dining, bathroom with separate toilet,

single garage, lovely north facing terrace. Choose your soft furnishings to

make this your own.

Belfield Villa - 108m 2

2 bedrooms, fully refurbished, spacious living, modern kitchen,

single car garage, north facing to soak up the sun.

33 CONNOLLY STREET, GERALDINE 7930

FREEPHONE. 0800 845 524 LANDLINE. 03 693 8340

WEBSITE mlv.org.nz

ACCREDITED VILLAGE OF THE RVA
---
PEGASUS POST Latest Christchurch news at www.star.kiwi

Tuesday February [Edition 5 datE] 2019 193

SENIOR LIVING

Device to prevent

snoring

Why put up with broken sleep, when

help is at hand with Snorex, an appliance

that prevents snoring, sleep apnoea, and

dry and raw throats.

Snorex is custom-fitted to your mouth

for comfort, and a follow up service is

provided.

Denise Lim has been involved with

Snores for 22 years and has had a 98%

success rate with

people using the

appliance. Snoring

can be a health

hazard, causing

sleep apnoea, where

the person actually

stops breathing for

short periods.

It can cause

short-term memory

loss, tiredness and

contribute to high

blood pressure.

The Snorex

device does not feel

restrictive, is noninvasive

and carries

a money-back

guarantee.

Many people are referred by ear, nose

and throat specialists, however, anyone can

phone for an appointment.

For an information pack or to discuss

the Snorex further, phone Denise Lim on

377 4318 or check out the website

www.snorex.co.nz

A Leader in

Healthcare

Excellence for

the Older Person

Collagen

The Body's Youth Protein

Collagen is the primary protein in the

body. It is a major component of skin,

hair, nails, muscles, tendons, ligaments,

joint cartilage, bones, gums, teeth, eyes,

and blood vessels.

In fact collagen is the primary

structural component for all tissue

in the body, providing the strength

and resilience associated with youth,

beauty and wellness. The body's natural

collagen production decreases with

age resulting in many signs of aging,

such as flaccid skin, wrinkles, ligament

and tendon injuries and aching joints.

Collagen supplementation is one of

the most fundamental things a person

can do to prevent premature aging and

promote youthful vitality.

NEOCELL are the industry leaders

in research on collagen supplementation.

Through advanced research they have

perfected a way to hydrolyse collagen and

effectively reduce its molecular weight this

improving the absorption of collagen into

the blood stream by over 90%.

A clinical study on NEOCELL

COLLAGEN has shown skin hydration to

increase an average of 21% and up to 50%,

with 92% of test subjects experiencing

firmer, softer skin. Most people taking

NEOCELL COLLAGEN reported seeing

visible improvements within two weeks.

Collagen supplementation provides

the nutrients necessary to support the

body's collagen supply. It can help reduce

fine lines and wrinkles and improve skin

elasticity, support building of strong bones

and teeth, strengthen the nails and hair,

and is vital for muscle growth, It also

assists weight loss by helping burn fat

for energy, promotes wound healing by

supporting the regeneration of healthy

tissue as well as help support overall

health.

NEOCELL COLLAGEN and further

information is available from the

Natural Health Advisers at Marshall's

Health & Natural Therapy, 101 Seaview

Road, New Brighton, Phone: 388-5757.

We are always happy to help!

2015 NZ Disability

Information Centre

of the Year

Support and Resources for Independent Living

Can we help you or someone you support?

Brookhaven

Retirement Village

29 Alport Place

Woolston

Phone 03 384 5046

Golden Age

Retirement Village

96 Harewood Road

Papanui

Phone 03 375 0720

Disability Information Service – a 'one stop

information service' which offers unbiased

advice to assist people navigate their way to

organisations or services that can provide them

with support or advice.

you can stop him

snoring with a

SNOREX

Why put up with a broken

night's sleep?

Ph 377-4318 or 027 682 1752

DENISE LIM

FOR A FREE INFO PACK

Website: www.snorex.co.nz

Albarosa

Dementia

80 Harewood Road

Papanui

Phone 03 375 0727

Somerfield

Dementia

137 Barrington Street

Somerfield

Phone 03 332 5897

Camellia Court

Dementia

84 Harewood Road

Papanui

Phone 03 375 0722

Hoon Hay

Dementia

16 Anvers Place

Hoon Hay

Phone 03 379 7825

www.goldenhealthcare.co.nz

Lady Wigram

Retirement Village

Sarah Jacobson

Village Manager

210 Kittyhawk Ave,

Wigram

Phone 027 3411 464

walkers to

purchase

(FroM $230)

or hire

$20

per week

Aspire Canterbury is a not-for-profit organisation

providing services to the community since 1981

Physical Address:

314 Worcester Street

Linwood Christchurch

Aspire Canterbury Shop – shop online or call in

to our shop at 314 Worcester Street and view our

range of easier living products We also hire out

wheelchairs, ramps and walkers.

Total Mobility Discounted Taxi Service – a scheme

which provides 50% discounts on taxi journeys to

eligible people in the Christchurch area who, due

to health conditions, are unable to access public

transport. Contact us for more information on

03 366 9093 or visit our website.

Mobile Service – Fun interactive

presentations of our information,

services and easier living equipment.

We come to you!

Call Kylie Taylor on 022 676 5851 or email

mobileservices@aspirecanterbury.org.nz

Postal Address:

PO Box 32074

Christchurch 8147

Ph: 03 366 6189

Freephone: 0800 347 242

Ph: (Total Mobility) 03 366 9093

E: admin@aspirecanterbury.org.nz

W: www.aspirecanterbury.org.nz
---
20

Tuesday February 5 2019

Latest Christchurch news at www.star.kiwi

PEGASUS POST

Exhibitors

Book now

Don't miss your opportunity to

showcase your business in front of

10,000+ qualified attendees

Jon.Holmes@starmedia.kiwi or 021 225 8225
---
PEGASUS POST Latest Christchurch news at www.star.kiwi

Tuesday February 5 2019 21

REAL ESTATE

A sense of community in Church Bay

5 Taimana Lane, Church Bay

Price: $585,000

3 bedrooms | 2 bathrooms | 2 car-garage | Listing Number: 8481

On the easy slopes of a tranquil secluded

lane this home is nestled amongst other quality

contemporary homes in this close knit little

community.

For retirees it offers security and friendship,

for families the excellent local school is just

down the road as is the local supermarket and

soon to be vibrant commercial hub.

This home offers a host of living possibilities.

There are 3 double bedrooms, main with en

suite and cosy open-plan living. In addition a

semi self-contained studio room with en suite

and kitchenette for use as a fourth bedroom,

home office, or just extra living space to spread

out.

There is a carport and double garage plus

excellent under house basement for storage

which offers additional options for work or

play.

The grounds are immaculately landscaped

and weekend friendly.

This represents excellent value for any

discerning buyer.

Only 30 minutes scenic drive from the

bottom of Colombo Street. Local amenities

are many and varied to indulge in and in

the pipeline are a cinema, supermarket and

additional shops, as well as the development

of the Te Ana Marina at Lyttelton stage 1

complete. The local school and Kidsfirst centre

have an excellent reputation and the zoned

high school is Cashmere.

Open Home 2.30 to 3pm Sunday 10th Feb

See you at the Open Home or for a private

viewing, please contact Min of Min Sarginson

Real Estate (Licensed Agent REAA 2008),

phone 027 432 0327 or 329 4161

growing with you June 2018 | 100%

Plants For

winter wow

Cool Choices

For Colour

& Contrast

From swamp

to sea views

The journey

begins with sarah

the Gardener

$7.90 incl. GST

Snap it up

Enter our annual

Birdlife Photo

Competition to win

great prizes!

clear the air

Why groWing

indoor PLAnTs is

so good for you

give it a grow

from gArLic

To chinese

ArTichokes,

We hAve your

groWing TiPs

covered

the latest releases

into the rose world

+ rose care

through winter

The magazine for

gardeners who like to get

their hands dirty

SUBSCRIBE FROM

$43. 50*

*6 issues/6 months

SUBSCRIPTIONS FREEPHONE

0800 77 77 10

WWW.GARDENER.KIWI
---
22 Tuesday February 5 2019

Latest Christchurch news at www.star.kiwi

PEGASUS POST

If you want more information about an item or to contact a

seller, visit www.postanote.co.nz and search the ID#

Husqvarna Chainsaw

2009 Subaru Imprezza

Raleigh Assault

Economical Honda

Walnut Coffee Table

Austin A70 Pick Up

$100

ID 22184

$7,600

ID 26485

$25

ID 26532

$4,200

ID 26280

$250

ID 26518

$44,000

ID 12768

Porcelain Dolls

6 Metal Frame Wooden Chairs

Toyota Reflet X Starlet

Brass Light Fitting

2 Deck Chairs

Skoda

See Seller

ID 26504

$100

ID 26503

$3,000

ID 21544

$50

ID 26500

$30

ID 26499

$2,500

ID 26514

New Season Lucerne Bales/Bailage!

1971 MG BGT

Dining Room Suite

Bailey Pegasus Verona Caravan

Mahogany Dining Table & Chairs

Ford Laser Frontal Damage

$75

ID 26493

$9,750

ID 26557

$1,600

ID 26440

$45,000

ID 26607

$1,300

ID 26523

$250

ID 26131

Mazda MX-5

Honda 50 Stepthrough

Air Hockey Table

Goat Wethers

Cobar Explorer Kayak

Oven

$12,500

ID 26396

$1,500

ID 26353

$80

ID 26379

$50

ID 26374

$650

ID 26373

$150

ID 26372

1996 Toyota Celica Auto 2.0

Fish Tank

Little Green Beastie

Portable Tefal Oven

SL 250 Motorsport

Nissan Navara

$2,000

ID 26368

$50

ID 26365

$10,495

ID 21867

$150

ID 26354

$1,500

ID 26352

$19,000

ID 20229

Pottery Coffee Mugs

3-Person Sofa & 2 Chairs

CSB Huntsman Dorado

Ford Falcon G6E

Set of Outdoor Chairs

Martin Acoustic Guitar with Hard Case

$15

ID 24238

$200

ID 26236

$26,500

ID 25965

$20,250

ID 24482

$125

ID 26227

$1,100

ID 26208

Dresser

Toyota Prado

Cobra Eliminator Kayak

Samsung Washing Machine

Skope Chiller

2007 Ford Mondeo S/W

$200

ID 20872

$9,500

ID 25881

$800

ID 26166

$180

ID 26157

$600

ID 26151

$5,500

ID 26147

2119003chch
---
PEGASUS POST Latest Christchurch news at www.star.kiwi

Tuesday February 5 2019 23

Classifieds Contact us today Phone our local team 03 379 1100

Caravans, Motorhomes

& Traliers

CARAVAN Wanted to

buy. Up to $5000 cash

today 027 488-5284.

Collision Repairs

QEII Collision Repairs.

Free Courtesy Cars

(conditions apply),All

Insurance work,Rust

Repairs &Private work.

Spray-painting.

Free pickup & delivery.

Ph. 03 388 5187

Community Events

ALCOHOLICS

ANONYMOUS, If you

want to have a drink that's

your business. If you want

to stop, we can help. Phone

0800 229-6757

Computer

Services

SeniorNet

Mac

Apple tuition & help

for any age group.

Apple computers, iPad,

iPhone and watch.

41 Essex Street

Mon, Wed and Fri

10am-12 Noon

Further details phone

365 1979

Holiday

Accommodation

Australia QLD

SUNSHINE

COAST

RESORT

ALEXANDRA HEADLAND

All Units Have Ocean Views.

Heated Pools, Spa & Sauna,

Free Wifi, Tennis

& Mini Golf.

CHECK OUR GREAT

WINTER SPECIALS

www.mandolin.com.au

0061 7 5443 5011

JUNE to AUG temps 20C

ADD SOME

COLOUR

TO YOUR ADVERT!

OVER 50'S SPECIAL ONLY $45

Footcare

Deluxe Package

Footpod offers a complete array of

footcare services to help you overcome

problems and maintain healthy feet.

. Athletes foot

. Fungus nails

. Ingrown toenails

Tours

ROOF REPAIRS

Locally owned & operated with

over 30 years experience.

• Extensions & repair • Roof coating

• Concrete & clay tiles • Butynol

• Malthoid • Asbestos Certified

• Coloursteel • Old iron • Guttering

Phone Dave 981 0278

or 021 223 4200

E: dave@beaumontroofing.co.nz

BEAUMONT ROOFING LTD

Health & Beauty

Trades & Services

BUILDER

• New Builds

• Renovations, extensions

• Repairs and maintenance

• Plastering and painting

Ring Mark

027 229 7310

for a free quote

www.longsilverconstruction.com

. Warts, corns,

calluses & bunions

. General foot care

021 900 977

27 Forfar St, CHCH | www.footpod.co.nz

Trades & Services

FOR ALL YOUR

★Garden Clean-ups

★Pruning

★Lawn Mowing

★Garden Maintenance

Call us today for a FREE quote

PH 0800 4 546 546

(0800 4 JIMJIM)

CARPET

CLEANING & FREE

DEODORISING

3 rooms &

hallway

from $59.00

Quick drying

Over 20yrs experience

Our guarantee is your

satisfaction

ALRIGHT CARPET

CLEANING

Ph. 027 220 2256

HOUSE

CLEARING

Are you

moving house

or trying to

downsize?

Call All Clear

Canterbury. We work

with you to recycle,

sell and dispose of

unwanted items.

Ph: 03 260 0934

or 021 078 4553

raewynlcooke@gmail.com

www.allclearcanterbury.co.nz

Trades & Services

AAA HANDYMAN

licensed carpenter

LBP, all property and

building maintenance,

repairs, bathroom/shower

installations, with free

quotes 03 383 1927 or 027

245 5226 ciey@xtra.co.nz

BRICKLAYER

George Lockyer. Over

35 years bricklaying

experience. UK trained.

Insurance work. EQC

repairs. Heritage

brickwork and stonework

a speciality. No job too

small. Governors Bay.

Home 329-9344, Cell

027 684 4046, email

georgelockyer@xtra.co.nz

BUILDER QUALIFIED

Decks, T & G Flooring,

Villa Restoring, New

Homes, Weatherboards.

Free Quotes. Bennet &

Sons Ltd Sam 027 496-

9362 or Tony 027 224-

0374

*****************

CARPET & VINYL

LAYING

Exp Repairs, uplifting,

relaying, restretching.

Email jflattery@xtra.co.nz

ph John on 0800 003 181

or 027 2407416

FENCING

All styles and shapes,

gates, wooden, ph Mark

0273 313-223

GLAZIER

Glass repairs - pet doors

- conservatory roofs. Exp

Tradesman. Call Bill on

022 413 3504 or 981-1903

Trades & Services

LAWNMOWING

You Grow I Mow. Free

quotes. Ph / text Chris 021

252 1801

PAINTER

DECORATOR

All int /ext painting.

Comp rates. I stand by

Canterbury. Wayne 385-

4348, 027 274 3541

PLUMBER

ALF THORPE

PLUMBING Certifying

Plumber for all types of

plumbing, maintenance,

spouting, alterations etc.

Phone 352-7402 or 0274-

350-231

SPOUTING CLEANING

Trades & Services

RUbbiSH

REMoVAL

Get a Bin Co trailer

skip bin for your

green/garden waste

and general rubbish.

We load your

rubbish, we do

the work for you

EASY!

or you load it,

we dump it.

Give us a try

bin co

Ph: 383-0646

027 2131 733

Spouting Unblocked, House & Garden

Cleaned Out and Flushed Property services Ltd

Out. Call Trevor 332 8949

or 021 043 2034

Tree and shrub pruning

Hedge trimming

Garden maintenance

STONEMASON, BRICK

Build raised gardens

& BLOCKLAYER, Lawnmowing

Earthquake Repairs, Grind

Out & Repoint, River/ CALL us 021 405 277

Oamaru stone, Schist,

Volcanic Rock, Paving,

all Alterations new & old,

Quality Workmanship,

visit www.featureworks.

co.nz or ph 027 601-3145

STUMP GRINDING

Best price guarantee Tony

0275 588 895

TILER/CARPENTER

Wanted To Buy

35 years exp, no job AAA Buying goods

too small. Ph Ross 027 quality furniture, beds,

4311440.

T.V. SERVICE

CENTRE

Repairs, tvs, microwaves,

audio amps, soundbars.

stoves, washing machines,

fridge freezers. Same day

service. Selwyn Dealers.

Phone 980 5812 or 027

313 8156

.Aerial & satellite A+ Household effects,

installations, kitsets, 480D

Moorhouse Ave, ph 03 379

1400

VHS VIDEO TAPES

fridges, freezers, washing

machines, ovens. Good

cash paid. Ph Paul 022

0891 671

& all camera tapes TOOLS Garden,

converted to DVD, video garage, woodworking,

taping special occasions, mechanical, engineering,

www.grahamsvideo.co.nz

ph 03 338-1655

sawbenches, lathes, cash

buyer, ph 355-2045

ADVERTISE YOUR BUSINESS HERE

Phone for further details

(03) 379 1100

VIDEO PRODUCTION

business video

PRoduCTion

A video will bring your business alive & into your

customers mind.

Promote your services or business with a

professionally created video with us

• Corporate and Business

video a speciality

• Competitive rates

• 25 years experience

• Start to finished product

• Professional quality

guaranteed

PHone KeRRY 021 635 083
---
24 Tuesday February 5 2019

Latest Christchurch news at www.star.kiwi

PEGASUS POST

RiCHMonD DiSCoUnT

Furniture and Bedding - The Best little Furniture Shop in Town

BEDRooM FURniTURE

beds, tallboys, mirrors, cabinets, chests & more!

Jasmine Queen

Frame &

Mattress

Ther-a-pedic Mattress & Base

Reversible pillowtop innersprung

lowboy

6 Drawer

1130x410x820

Duchess with

Mirror

1090x410x820

NZ MADE

Solid Timber

Free

Standing

Mirror

only

$599

SinglE $499

king SinglE/DBlE/ 3/4 $599

QUEEn $699

only

$449

only

$549

WaS $169

only

$129

Midi 7 Drawer

Scotch Chest

975x760x410

With metal runners.

Also available in Black.

Bedside Cabinet

540x460

With metal runners.

Also available

in Black.

7 Drawer

Scotch Chest

1140x800x410

Also available in black.

Jumbo 4

Drawer Chest

1140x800x400

NZ MADE. Metal runners.

Also available in black.

Tallboy 4 Drawer

600x400x900

Towerboy 6

Drawer

1260x460x410

With metal

runners.

Also

available

in Black.

Bombay

Chest

only

$349

only

$269

FRoM

$130

only

$299

only

$269

only

$199

only

$220

Bombay

Bedside

only

$129 EaCH

FURniTURE

storage shelves, bookcases, buffet units, dining tables, hall tables, side cabinets & more!

Display Cabinet

1800hx900wx400d

Foundry Display

Cabinet

900x1800x420

Timber Bookcase

600x320x1200

Buffet Unit

1500x800x420

Buffet

Unit

1175x

430x840

nest of Tables

Entertainment

Unit

1530x520x660

Solid Timber.

Buffet Unit

with Wine Rack

1300x840x430

only

$599

only

$599

only

$199

only

$549

only

$399

EaCH

only

$149

only

$499

Tundra Coffee Table

1200x700x400h

2 Draw Entertainment Unit

1200x600x450

Entertainment Unit

1100x400x480

Entertainment Unit

980x600x460

Solid Timber.

Hall Tables

2 Drawers

only

$279

only

$449

only

$399

only

$299

only

$299

3 Piece

Dining Suite

600x600

2 Draw Hall Table

1200x810x420

only

$379

Side Cabinet

600x600x450

only

$199

Hall Table

1500x800x420

only

$449

Coffee Tables

Solid Timber.

only

$169

1200x600

only

$329

Coffee Table

1200x400x600

only

$399

only

$399

Hall Tables

3 Drawers

only

$349

7 Drawer TV/DVD Chest

760x1140

x410

(Gap 150)

Corner TV Unit

1000x750x550

Tundra Entertainment Unit

1600x420x450h

Solid

Timber

Buffet

Units

Buffet

700x

320x

1070

only

$299

only

$299

only

$699

only

$299

only

$299

233 STANMORE ROAD • PHONE 03 389 0536

WE aCCEPT EFTPoS, ViSa anD MaSTERCaRD... PaRking aT REaR