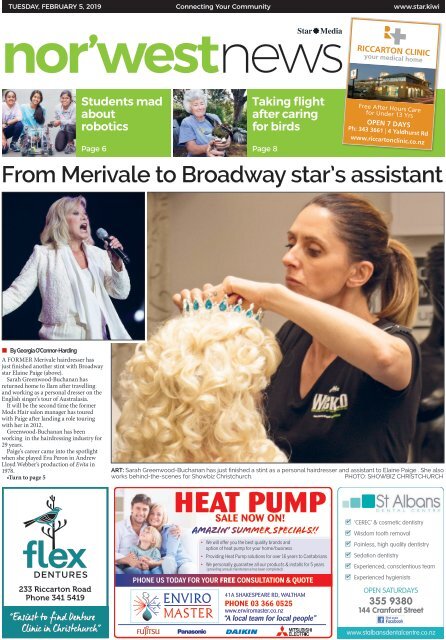 Nor'West News: February 05, 2019
Create successful ePaper yourself
Turn your PDF publications into a flip-book with our unique Google optimized e-Paper software.
TUESDAY, FEBRUARY 5, 2019

Connecting Your Community

www.star.kiwi

Students mad

about

robotics

Taking flight

after caring

for birds

Free After Hours Care

for Under 13 Yrs

OPEN 7 DAYS

Ph: 343 3661 | 4 Yaldhurst Rd

Page 6 Page 8

www.riccartonclinic.co.nz

From Merivale to Broadway star's assistant

• By Georgia O'Connor-Harding

A FORMER Merivale hairdresser has

just finished another stint with Broadway

star Elaine Paige (above).

Sarah Greenwood-Buchanan has

returned home to Ilam after travelling

and working as a personal dresser on the

English singer's tour of Australasia.

It will be the second time the former

Mods Hair salon manager has toured

with Paige after landing a role touring

with her in 2012.

Greenwood-Buchanan has been

working in the hairdressing industry for

29 years.

Paige's career came into the spotlight

when she played Eva Peron in Andrew

Lloyd Webber's production of Evita in

1978.

•Turn to page 5

ART: Sarah Greenwood-Buchanan has just finished a stint as a personal hairdresser and assistant to Elaine Paige . She also

works behind-the-scenes for Showbiz Christchurch.

PHOTO: SHOWBIZ CHRISTCHURCH

233 Riccarton Road

Phone 341 5419

"Easiest to find Denture

Clinic in Christchurch"

HEAT PUMP

SALE NOW ON!

Amazin' summer Specials!!

• We will offer you the best quality brands and

option of heat pump for your home/business

• Providing Heat Pump solutions for over 16 years to Cantabrians

• We personally guarantee all our products & installs for 5 years

(providing annual maintenance has been completed)

Phone us today for your free consultation & quote

41A SHAKESPEARE RD, WALTHAM

PHONE 03 366 0525

www.enviromaster.co.nz

"A local team for local people"

'CEREC' & cosmetic dentistry

Wisdom tooth removal

Painless, high quality dentistry

Sedation dentistry

Experienced, conscientious team

Experienced hygienists

OPEN SATURDAYS

355 9380

144 Cranford Street

www.stalbansdentalcentre.co.nz
---
2 Tuesday February 5 2019

Latest Christchurch news at www.star.kiwi

get in touch

from the editor's desk

MORE THIS week on promising young

sports people (page 14).

Rangi Ruru's Ashlee Strawbridge is in

Auckland trialling for the New Zealand

under-17 basketball team.

Rangi's director of sport, Mandy Anderson, says Ashlee has

huge potential and is a standout performer which does augur

well for her prospects of making the team,

The side will compete at FIBA Oceania's, in Noumea, New

Caledonia in August, which is a qualifying tournament for the

Asia Cup. Former St Bede's student Jake Ratcliffe has secured his

third rookie of the week award playing ice hockey for Westfield

State University in the United States.

The accolades shows what a talent Ratcliffe is, and what a

future he has in the professional sport.

- Barry Clarke

GENERAL INQUIRIES Ph 379 7100

CLASSIFIED ADVERTISING Ph 379 1100

Star Media, a division of Allied Press Ltd

PO Box 1467, Christchurch

starmedia.kiwi

news

Page 5

sport

Page 14

community events

NOR'WEST NEWS

Boarders settling in

Three sets of twins, three Zaras and seven Kates are part of a

full boarding house at Rangi Ruru this year.

Rookie of the week

How many times has Jake Ratcliffe won ice hockey rookie of

the week in the last month?

Fun with board games

Want to play scrabble or mahjong? Check out one of these

social groups at your local library.

NEWS

Jess Gibson

Ph: 021 914 169

jess.gibson@starmedia.kiwi

ADVERTISING

Monique Maynard

Ph: 364 7474

monique.maynard@

starmedia.kiwi

Geoff Moreton

Ph: 353 4595

geoff.moreton@

starmedia.kiwi

Page 17

The best-read local newspaper, delivered to

16,717 homes every Tuesday

Harewood, Burnside, Bishopdale, Bryndwr, Fendalton, Merivale,

St Albans, Mairehau, Papanui, Casebrook, Redwood, Regents

Park, Styx Mill, Northwood, Belfast, Strowan.

Lazy Sundays

Featuring Yurt Party

FREE

Sunday 10 February, 3–4.30pm

Archery Lawn, Botanic Gardens

ccc.govt.nz/summertimes
---
NOR'WEST NEWS Latest Christchurch news at www.star.kiwi

Tuesday February 5 2019 3

News

St Margaret's giving back

THE ST Margaret's College

school year has started on a

charitable note.

Staff have built 20 bicycles

and donated them to Heart Kids

families and also donated 150

lunches to those in need through

the Eat My Lunch initiative.

Said St Margaret's College

principal Diana Patchett: "It was

very emotional to see the pure

joy on the children's faces when

they came to collect their bikes."

Parents of four-year-old heart

child Harri Brown, Rod and Mel

Brown said the generosity shown

meant a lot to them and their

son. "It's overwhelming that the

amazing people who work at St

Margaret's wanted to support

Heart Kids NZ and our son Harri

by assembling and gifting him

a wonderful bike to ride with a

cool helmet, lock and bandana.

He loves it, thank you."

Heart Kids is the only New

Zealand charity that provides

support to those with congenital

heart defects and childhood

heart disease.

Heart Kids regional family

support co-ordinator Margaret

Hewett-Hawker said: "Canterbury

Heart Kids NZ are deeply

moved and grateful for the kindness,

generosity and thoughtfulness

of the St Margaret's staff for

GIVING: Staff from St Margaret's College built 20 bicycles to donate to children with heart conditions.

They also donated 150 lunches to children in need through the Eat My Lunch initiative.

supporting our heart children."

"Having the opportunity to

support Heart Kids, endorsing

philanthropy and generosity of

spirit, while also providing our

staff with a valuable team building

experience was the perfect

way to kick off the school year,"

Mrs Patchett said. The school

also supported the Eat My Lunch

programme by giving each staff

member an Eat My Lunch meal.

"We traditionally all eat

together at the beginning of the

year and this year we decided to

extend this by providing food to

those who otherwise would be

going hungry," she said.

With every lunch bought, the

charity donates another to a

child in need.

Local

News

Now

In Brief

Fire rages, homes at risk

SUSPICIOUS FIRES

A 10 sq m bush and grass fire

at Burnside High School is

being treated as suspicious. A

crew from the Harewood Fire

Station and police attended

the fire about 7.40pm. Police

were also called to a car fire

in Edgeware, which is being

treated as suspicious. A crew

from the Christchurch City Fire

Station attended the incident on

Geraldine St about 3.30am to

find the car well-involved. Police

are making inquiries.

ST ALBANS PARK OPENS

The official opening for St

Albans Park will be held on

March 31 from 2pm. The park

has had a major overhaul after

drainage issues left the field

unable to be used. The city

council installed a new drainage

system, replaced the turf and

built a new pavilion. Staff

will report back with more

information about the event to

the Papanui-Innes Community

Board.

INJURIES AFTER CRASH

A woman was taken to hospital

with moderate injuries following

a two-car crash on the corner

of Greers and Harewood Rds.

St John spokesman Gerard

Campbell said it was called to

the incident about 7.40am.

Summer

Wedding?

Dress to Impress!

PROBLEMS HEARING?

Belfast

Community Trust

Applications open on 4th February 2019

to appropriate charitable organisations in

Belfast. The grant is for the purpose of

benefiting the residents of Belfast.

For more info and to apply, please refer

to our website: www.perpetualguardian.

co.nz/philanthropy/grants-and-scholarships

Completed forms are due no later than

5pm Friday 8th March 2019.

Designer garments for

special occasions.

Sizes 6 - 22.

SMITH & BOSTON

Prebbleton Village | Christchurch

Ph: 03 349 5646

www.smithandboston.co.nz

Perhaps its time for a

FREE Hearing Check!

Trial the latest Hearing Aid Technology

Book your appointment today

Merivale

Hearing Clinic

24b Church Lane

Call now: 356 2324
---
4 Tuesday February 5 2019

Latest Christchurch news at www.star.kiwi

NOR'WEST NEWS

News

Life's a beach for kite-flyers

Beach-goers

were met with a

sky full of kites at

the Deep South

Kite Day. New

Brighton beach

was packed with

children and

adults flying kites

of all different

shapes, sizes and

colours.

CAMERON BAILEY

Testimonial

"Heather and I would like to convey to you and your personal assistants Samantha and Lisa,

our appreciation for your input and management for the marketing of the Waltham Street units.

Truly a class act – the photography and descriptions were superb, we were kept informed,

were given the opportunity to have input where appropriate, and ended up with a fantastic

result! Thank you, sincerely, and best wishes."

Allan and Heather Burgess

NO.1 HARCOURTS CANTERBURY 2012-2018

NO.1 HARCOURTS NEW ZEALAND 2017-2018

NO.1 HARCOURTS INTERNATIONAL 2017-2018
---
NOR'WEST NEWS Latest Christchurch news at www.star.kiwi

5

Tuesday February 5 2019

Local

News

Now

Fire rages, homes at risk

Zaras, Kates and twins at Rangi

THREE SETS of twins, three

Zaras and seven Kates are part

of a full boarding house at

Rangi Ruru Girls' School this

year.

Director of boarding Kyleigh

Lyth said it's been a fantastic

first few days with the new

girls arriving and the returning

boarders catching up with their

friends and housemates.

"The weather has been

fabulous," said Mrs Lyth. "The

programme has been a real

hit with the girls. They have

enjoyed pottery, an ice cream

sundae parlour, a movie night, a

visit to the gondola, and a walk

finishing at Corsair Bay for a

barbecue and swim."

Of the 138 girls in the house,

there are 36 year 9 boarders and

40 new girls. One of the points

of difference about boarding at

Rangi Ruru is the opportunity

senior boarders have to "go

flatting" within the boarding

house. The older girls are

looking forward to experiencing

the extra independence this

gives them.

"They love it. As well as

learning about budgeting and

other important parts of living

together, once a term the girls

are encouraged to host a flat

dinner party and are welcome

to invite friends. At one last year

I was lucky enough to attend,

we had a wonderful Thai dinner

in the flat. It's a great way to

introduce the girls to flatting

while still having a full support

network around them," Mrs

Lyth said.

As the boarders settle in,

there's a lot of positive energy

and talk bouncing around

the walls of the Rangi Ruru

boarding house.

FULL HOUSE: Year 9 boarders at Rangi Ruru Girls' School.

Life on the road with a

musical theatre legend

The revolution

in heat pumps

is here now!

DREAM JOB: Sarah Greenwood-Buchanan has been working as

a personal hairdresser, tour companion and assistant for Elaine

Paige. (Right) – She is also a member of The Startlets.

The revolution in heat pumps is here now!

The Fujitsu e3series

The brilliant

heat pumps from Fujitsu

e1 : efficiency

e2 : environment

e3 : economy

Website: www.pshc.co.nz

The brilliant e3 series

heat pumps from Fujitsu

e1 : efficiency

e2 : environment

e3 : economy

NEW ZEALAND'S FAVOURITE AIR

•From page 1

Greenwood-Buchanan said she

was "very privileged" to be asked

back to work as Paige's personal

hairdresser, tour companion and

personal assistant.

"I think she likes me because

we like a lot of the same things

. . . the fact I can help her with

her hair and make-up is a bit of a

treat for her because she usually

always does it herself. We just get

on really well," she said.

While Greenwood-Buchanan

was in charge of setting up

Paige's dressing room, she said

the star preferred to get ready and

decide what to wear by herself.

She described Paige as a "classy

lady" who knows how to make

herself look a "million dollars."

"She is absolutely lovely. She

is very down to earth, she has a

Fujitsu's Catechin Filters are

approved by the Asthma and

Respiratory Foundation NZ's

Sensitive Choice ® programme.

fantastic sense of humour. We

have a lot of laughs," Greenwood-

Buchanan said.

She said it was a "career

highlight" to work with Paige.

"I remember listening to her

songs in the 80s . . . I was in awe

of her voice, her presence and

persona."

Touring with Paige in 2012

"kicked off a massive career"

for Greenwood-Buchanan who

"didn't really know" what she

was going to do after 29 years as a

hairdresser.

She has since been involved

in sourcing and styling wigs,

hairdressing, make-up and

managing wardrobes backstage

for shows. Following her first

tour with Paige, Greenwood-

Buchanan was contacted by one

of The Court Theatre's leading

directors and asked to work on

wigs and hair backstage.

"I haven't looked back really.

I have been contracted to do

this work ever since . . . it is a

whole new career," she said.

Greenwood-Buchanan has also

led an exciting career on stage,

playing the lead role of Velma

Kelly in Showbiz Christchurch's

production of Chicago in 2008.

She is also a co-director and

co-performer in vocal trio The

Starlets, and hopes to perform

more for the public this year.

Hon Nicky Wagner

National List MP

Come and visit us at our new

office at 922 Colombo Street

A

E

P

W

922 Colombo Street

Central Christchurch

PO Box 21359

Christchurch 8143

chch.office@parliament.govt.nz

03 365 8297

nickywagner.co.nz

FREE consultation from your local

Accredited Heat Pump Expert

Phone today: 03 381 6950

INSERT DEALER DETAILS HERE

Email: info@pshc.co.nz

Funded by the Parliamentary Service and authorised by

Nicky Wagner, 922 Colombo Street, Christchurch.
---
6 Tuesday February 5 2019

Latest Christchurch news at www.star.kiwi

News

NOR'WEST NEWS

Local

News

Now

Fire rages, homes at risk

Students nuts and bolts about robots

• By Georgia O'Connor-Harding

BURNSIDE HIGH School

students with a flair for

electronics will take their own

robot to a national competition.

Aditi Sharma, Alisha Sangwan

and Aarya Advilkar have spent

hours joining wheels, axles,

motors and gears to create their

own robotic machine.

But the hard work has paid

off, with the students travelling

to the Vex Robotics National

Competition in Auckland later

this month.

The competition requires

students to build and

programme a robot, which

will then undertake a series of

challenges.

The students have designed

their robot to launch balls

through a catapult design, go up

onto platforms and flip flags.

It is controlled by a remote

controller.

Aditi, 15, said it is an

opportunity for them as they can

meet other people who share the

same interests.

They have been working on

building the robot since January

last year and have spent time in

their school holidays working on

the project.

BUILDERS: Burnside High School students Alisha Sangwan, Aditi Sharma and Aarya Advilkar will

be taking their robot to the Vex Robotics National Competition

Alisha, 13, said the students

are hoping to earn a good

placing in the competition.

"Top 50 would be good, but the

least would be getting experience

and new ideas of what other

OPTION ONE

people think," she said.

All three students share an

interest in electronics and how

robotics could impact society in

the future.

Alisha said while she doesn't

think "robots are going to take

over the world" learning about

them is helpful if you want

to go into different types of

technology.

She said the programming

for the robot has similarities to

science, technology, engineering

and mathematics.

Aarya, 14, said she "likes

robotics so much" and thinks

it will help her in the future as

she is considering becoming an

architect.

"I like to plan ideas for the

robots and how it can compete

in the game and how it can fulfil

the task within the game," she

said.

Aditi said she is taking three

technology subjects this year and

is interested in pursuing a career

in engineering.

"I think robots would be a

good part of society, they can

help in so many ways. They can

do things humans can't," she

said.

About 80 teams from around

New Zealand are taking part in

the event which aims to increase

the awareness of robotics in

school communities.

What are your plans this year?

Here's some great FREE EDUCATION at

COMMUNITY COLLEGE

NORTH CANTERBURY

FREE

Education

FOR

16-19

YEARS.

EMERGE

New Zealand Certificates in Foundation Skills Level 1 & 2

NCEA Level 1

NCEA LEVEL

1 & 2

HOSPITALITY

New Zealand Certificate in Hospitality Entry Skills

(Café) Level 2

NCEA Level 1 & 2

EQUINE

New Zealand Certificate in Equine Skills Level 2 & 3

NCEA Level 1 & 2

ph: 03 313 5874

txt: 029 770 5423

e: faye.gread@comcol.ac.nz

www.comcol.ac.nz

SPORT & RECREATION

New Zealand Certificate in Foundation Skills in

Sport, Recreation & Coaching Level 2

NCEA Level 1 & 2

Achieve with us!

18B MAIN NORTH RD, PAPANUI | PH 354 6000 | WWW.SHOSHA.NZ

Restoring your confidence through your smile

Full service Denture Clinic

and Laboratory

Caldent Denture Cleaner

Free Consultation

No Obligation

Ph: 385 5517 + 396 Innes Road, St Albans

admin@denturesplus.co.nz

+ denturesplus.co.nz
---
NOR'WEST NEWS Latest Christchurch news at www.star.kiwi

Tuesday February 5 2019 7

You're invited...

Selling your

home seminar

Presented by Joy Butel from

Harcourts Grenadier Real Estate*

Monday 11 February, 1pm

Ngaio Marsh Retirement Village

Learn about the current property market, smart ways to

present your home for sale, how to market and list your

property, and how a home auction works.

It's a great opportunity to obtain information,

get advice, and if you're interested in retirement

living learn more about our village lifestyle.

The presentation will be followed by

complimentary refreshments.

For more information phone

Marie on 354 6608

95 Grants Road, Papanui

Investor

Presentation

Tuesday 12 February, 2pm

Diana Isaac Retirement Village

We warmly invite you to hear from Michelle Perkins,

Investor Relations Manager at Ryman Healthcare.

Michelle will provide an update on Ryman Healthcare,

what drives the company, and how we intend to grow

while keeping care at the heart of what we do.

The presentation will be followed by afternoon tea.

To book your place please phone

Adrienne or Lynne on 385 3518

1 Lady Isaac Way, Mairehau

1085

*Licensed Agent REAA 2008
---
8

Tuesday February 5 2019

News

Latest Christchurch news at www.star.kiwi

NOR'WEST NEWS

Local

News

Now

Fire rages, homes at risk

Bird nurse spreading her wings

• By Matt Slaughter

AFTER 20 years of caring for

some of Christchurch's most

vulnerable, flying residents Jackie

Stevenson is ready to spread her

own wings.

The 72-year-old Parklands

resident says she's on the lookout

for someone who shares her love

for birds to take her place nursing

them back to health.

Mrs Stevenson gave up her job

as a nurse when she realised birds

were her true passion.

Since then, her home has been

transformed into a bird rescue

centre.

However, Mrs Stevenson

said the long days and sleepless

nights, which came with caring

for sick birds had taken their toll.

"Each year I must admit, I

think this has to be my last year."

"I'm getting older and each

year's getting harder. It's quite

physical work."

Mrs Stevenson said for all of

the birds she had managed to

save, many died in her care and it

had made her job even harder.

She said her decision to seek

someone to take over her role had

also been made for her husband.

"He hates coming home and

seeing me so tired, so I've got to

think of him too."

Mrs Stevenson said she

estimated that she had cared for

about 200 birds last year.

All of her work had been

voluntary, with some financial

support coming in the form of

donations from the public.

Mrs Stevenson received

$100 in petrol vouchers a

year from the Department of

Conservation and dog and cat

biscuits to mash up and feed to

the birds from the SPCA and

FLY AWAY:

Jackie Stevenson

with an injured

8-week-old

wood pigeon.

Dogwatch.

She said cats were the main

cause of injuries to birds.

But recently the number of

injuries caused by vehicles had

increased.

Mrs Stevenson said she had

treated a number of species of

birds.

However, the number of native

wood pigeons that had been

brought to her with injuries was

increasing.

These birds most commonly

received their injuries from flying

into car windows.

Amongst those also commonly

in her care were New Zealand

native fantails.

As Mrs Stevenson continued

to search for someone to train to

take over her role, she said there

were a few easy things people

could do to make her job easier.

"One of the main things is not

picking birds up that don't need

to be picked up."

"With most birds, even if they

can't fly they can get up trees,

they can get out of reach of cats."

She said it was about "knowing

their needs and knowing when to

intervene."

Mrs Stevenson said those who

were interested in taking over

from her could get in touch

directly through the Bird Rescue

Centres, part of New Zealand

Bird Rescue Charitable

Trust's website www.birdrescue.

org.nz/rescuing-a-bird/

Positive steps to solve bus issue

Environment Canterbury

senior manager

public transport

Stewart Gibbon

responds to the

article last week

about Diana

Isaac Retirement

Village residents'

transport issue

Environment Canterbury

introduced the idea of a Community

Vehicle Trust for Diana Isaac

Retirement Village in November

and has had two conversations

with Graham Tate and other

residents on the matter, including

the January meeting. Throughout

Canterbury, where traditional

scheduled public transport is

unavailable, the Community Vehicle

Trust model has proven to

be highly successful in delivering

accessible, flexible and affordable

transport options to defined

geographical communities. We

are focused on identifying a solution

that is sustainable and will

meet the longer term needs of the

residents. The transport needs

of the residents, and the flexible,

close proximity and community

nature of the Community

Vehicle Trust model appears to

align well with the current and

future transport needs of the

residents. We are still exploring

the viability of the option

with the residents and Ryman

Healthcare. However, discussions

to date have been positive and

focused on running a trial period

of up to six months, to validate

the feasibility of the idea in this

specific urban context. ECan

would provide support to the

retirement village in setting up its

Community Vehicle Trust, then

all operational matters moving

forward would be managed by

the trust, such as determining

vehicle size and type, destinations

and trip times. Community

Vehicle Trusts receive annual

grant funding from ECan and

the New Zealand Transport

Agency, and obtain grant funding

from other sources. They

also receive funds from customer

usage of the service to cover the

cost of the journeys taken. These

funding sources combined enable

the trust to procure and manage

their vehicles and associated

administrative functions.

OPTION: ECan is investigating a service to transport retirement

village residents now that the Orbiter bus no longer stops

outside the village.

Letterbox Advertising

Flyers and Newspaper Inserts

DESIGN

We offer professional

design services.

PRINT

We print your gloss

mailers and letterbox

flyers.

Delivery

Canterbury wide

coverage or targeted

zone deliveries.

FREE QUOTES Contact: Michaela Malloch

P: (03) 379 7100 or 021 932 177

E: michaela.malloch@starmedia.kiwi
---
NOR'WEST NEWS Latest Christchurch news at www.star.kiwi

Tuesday February 5 2019 9

New reasons to enjoy popular local bar

For decades, the Brewers in

Merivale has been a popular

meeting place for locals as well as

customers from around the city to

get together and enjoy food, drinks

and live entertainment in a relaxed

environment.

Now there is even more reason to be

part of Brewers' unpretentious village

vibe and charm. The Brewers has

new owners, and a young, friendly,

energetic team waiting to serve

you. Plus, the bar has had a major

makeover, with a smart new fit-out,

which optimises the comfortable

dining and drinking areas, both inside

and in the courtyard.

Beer lovers are spoilt for choice with

15 beers on tap, and there is a wide

selection of well-priced wines and

spirits, with Happy Hour every week

night from 3.30pm-5pm.

New chef, Robert, has designed a

gastro-style menu with an extensive

selection of tasty dishes, all at

competitive prices. On Wednesday

nights from 5pm, you can take

advantage of the two-for-one steak

deal – $30 for a 200-grm sirloin steak

for each person, served with chips

and salad and a choice of peppercorn

or mushroom sauce, or garlic butter.

No bookings – just walk in.

You won't miss any of the big games,

with big-screen TVs inside, and in the

courtyard. And what better way to

spend a relaxing Sunday afternoon

than enjoying drinks and snacks

while you listen to live music in the

courtyard from 2pm.

Tuesday night is Quiz Night at the

Brewers, starting at 6.30pm, while

on Sunday and Monday nights,

schools and sports groups have the

opportunity to run fund-raising quiz

nights.

And keep Saturday night, Feburary

16 free – popular entertainer Gary

McCormack is teaming up with

recently knighted Sir Tim Shadbolt for

a special comedy night. Tickets are

$30, and can be purchased at the

bar.

Brewers is conveniently located in

the heart of Merivale, with off-street

customer parking… so much to enjoy,

it's sure to become your regular

haunt.

Refurbished

& ready for you!

• New interior décor and courtyard.

• New chef/New menu.

• 15 tap beers, large wine & spirit selection

at great prices.

• Gary McCormack & Sir Tim Shadbolt

Comedy night. Saturday February 16th,

Tickets $30 at the bar.

• Enjoy music in the courtyard, Sundays 2pm.

• Quiz nights Tuesdays, 6.30pm.

• Meat raffles, happy hours & more.

2 for 1 $30

Steak nights

Wednesdays from 5pm

200gm Sirloin with chips & salad

Where locals meet to enjoy great food, drink & entertainment

177 Papanui Road, Merivale

Ph. 355 3377 www.thebrewers.co.nz
---
10 Tuesday February 5 2019

Latest Christchurch news at www.star.kiwi

NOR'WEST NEWS
---
NOR'WEST NEWS Latest Christchurch news at www.star.kiwi

Tuesday February 5 2019 11

North-west bowlers' finals success

SPORTS

• By Gordon Findlater

ELMWOOD PARK, Burnside

and Canterbury 2017 bowling

clubs were dominant at the

recent Bowls Canterbury centre

finals day.

Elmwood took out the most

tiles of any club with six.

Burnside captured four titles,

while Canterbury won two.

The biggest event of the finals

weekend was the men's 3x4

Pennant Series – a relatively

new trophy introduced by Bowls

Canterbury – which sees the

winner decided by the overall

aggregate score across three

fours matches.

The final was contested

between Burnside and Elmwood

Park, who accounted for Belfast

and Parklands in their respective

semi-finals.

Burnside won two of the three

ties 18-16, 19-15, 16-18 to win

53-49.

Burnside also had titles go

to Angela Boyd, Kirsten Rowe,

Tessa Lee and Rachel Davies in

the women's fours.

In the final they defeated

Canterbury's Kim Rowlands,

Donelda Scott, Faye Dodd and

Annabel Walmisley 20-10. In

SQUAD: Burnside won the men's 3x4 Pennant Series trophy by defeating Elmwood Park 53-49 on

aggregate. ​Canterbury 2017's Chris Bates won the over 60s singles title (right) and Mary Ann

Johnstone and Joyce McKinnel defeated a talnted Burnside duo to win the women's pairs.

the men's pairs final Burnside

duo Richard Hocking and Geoff

Clarke defeated Redcliffs Mt

Pleasant's Lance Main and Greg

Reed 18-6.

In the women's singles it was

an all Burnside final which saw

Cait Bassett prevail over Alex

Wilkinson 21-11.

Elmwood's six titles went

to Mary Ann Johnstone and

Joyce McKinnel who defeated

Burnside's Tayla Bruce and Cait

Bassett 20-5 to win the women's

pairs. John Mears, Bruce

Humphreys and Don Baker won

the over 60s triples by defeating

Halswell's Rex Carpinter, John

Connolly and John Topham

18-4.

The mixed pairs went to Paul

McKinnel and Pam Phair who

fended off Bev Morel and Jason

Dunn 10-7.

Chris Kibblewhite, Fiona

Frew and Theresa Woodham

won the women's triples against

Burnside's Tayla Bruce, Tessa

Less and Alex Wilkinson 16-10.

The men's triple title went to

Rodney Greaney, Stephen Ditfort

and Ian Rule who beat Burnside's

Mike Small, Barry Williams and

Richard Hocking.

While the under eights title

was won by Bruce Humphreys

who defeated Halswell's Phil

Austin 21-15.

Canterbury's two titles

were won by Rick Day and

Jim Stenhouse who defeated

Sumner's Graeme Taggart and

Roger Glendinning 21-10 in the

over 60'spairs final.

Chris Bates won the over

60s singles title by defeating

Hawarden's Brett Gardiner

21-14.

KIWIS CAN'T FLY – BUT THESE DEALS WILL!

Jim Beam Gold / Canadian Club Premium

7% 330ml 6 pk cans

$13 .99 ea

Matua Regional

range (ex PN)

$11. 99 ea

Mudhouse range (ex PN)

$11. 99 ea

Jim Beam Devils Cut 700ml,

Teachers,Chatelle,Old Crow, 1ltrs

$35. 99 ea

Jim Beam & Cola / Canadian Club (incl zero)

4.8% 10 pk cans Jim Beam gold 7% 8pk cans

$19. 99 ea

Stoneleigh Marlborough

Lighter ranges

$12.

99 ea

Jim Beam, CC (including spiced) 1ltr,

& JB Black 700mls

$38. 99 ea

Villa Maria Private Bin

Range (ex PN&Syrah)

$12. 99 ea

Woodstock 5% bottles, Cruiser 7%

cans, Codys 7% cans, all 12pks

$21.

99 ea

Woodstock 7% 250ml 12pk cans

(incl zero) $22. 99 ea

Smirnoff Ice Double Black 7%

12 pk can range

$23. 99 ea

Long White 10 pk range

$23. 99 ea

Double Jack 375ml 10pk cans

$27. 99

Larios 1ltr,Jim Beam Honey, Apple, Red Stag

700mls

$33. 99 ea

Kopparberg 10pk cans

Tiger 12pks Somersby 12pk Bottles

$18. 99

Billymaverick 7%

18pk cans

$28. 99

Huntaway Reserve range

19 Crimes range

Brown Brothers

Moscato Range

$14. 99 $14. 99 ea

Malibu / Kahlúa 1Ltrs

ea

$ .99 ea

Blackheart 1 ltr

12 $34. 99 ea

$34. 99

Bombay Saphire 1ltr

Absolut Vodka, Beefeater, Ballantines 1ltrs

$22. 99 $22. 99

$39. 99 $45. 99

$39. 99 ea

Johnnie Walker Red 1L

$23.

Jagermeister 700ml

$32. 99

Monteiths cider & beer 12 pk bottle range

$24. 99 ea

Mac's cider and beer 12pk range

$24. 99 ea

www.thirstyliquor.co.nz

398 High Street, Rangiora

03 313 7207

1275 Main North Road, Bridgend

03 323 8833

Lion Red, Speights, Waikato or Summit 15 pk bottles

Peroni / Asahi 12 pk bottles

$24. 99 ea

$24. 99 ea

OVER 155 STORES NATIONWIDE!

585 Springs Rd, Prebbleton

03 349 6031

45 South Terrace, Darfield

03 317 9499

Heineken 15pk bottles

Tui, Export Gold or DB Draught 24pk bottles Export 33 - 24 pk bottles

$29. 99 $35. 99 ea

Available from 1st – 28th February. Specials while stocks last. Available at participating stores.

1147 West Coast Rd, West Melton

03 347 8460

670 Main South Rd, Islington

03 349 7337

Main Rd, Lake Tekapo

03 680 6242

42 Waimate Highway, St Andrews

RD24 03 612 6740

$38. 99

Steinlager 24 pks

$42. 99

www.facebook.com/ThirstyLiquorandBlackBullLiquor

69 Main St, Fairlie

03 685 8061

21 Aldwins Road, Linwood

03 982 1753

9 Parnwell St, Burwood

03 383 2564

495 Papanui Rd, Christchurch

03 260 2380

65 Victoria St, Christchurch CBD

03 260 1155
---
12

Tuesday February 5 2019

Latest Christchurch news at www.star.kiwi

NOR'WEST NEWS

8932658AA

C

FUN School Holiday &

After School Activities

Phone 349 9260

Email: info@caspa.org.nz

Website: www.caspa.org.nz

CASPA

says

Only

go with

people you

know and

trust.

Never

go with

strangers!

D

Dental implants

are a wonderful

way to replace

missing teeth...

Wear your mouthguard

when you play sport so

you won't need them.

1st Floor Merivale Mall, Phone 355 8297

dentistry@merivale.co.nz

www.dentistryonmerivale.co.nz

Everyone needs to

take care of their skin.

Always remember to

Ewear your sunblock.

Euphoria

body & beauty clinic

Harewood Road, Bishopdale (inside the YMCA)

Phone 359 3445

www.euphoriabodybeauty.com

FFIRST

AID KIT

$37.50

Based on our own

experiences of

mishaps with the

family, this kit helps

deal with those minor

scrapes, burns and

prickles so you can

get back to enjoying

what matters most.

Find out more at redcrossshop.org.nz

Global Leaders in First Aid Training

K

Keep medicines up

high out of the

reach of children

DIESEL

- Doctor -

repairs &

servicing.

288 Lincoln Rd (opp ANZ)

Ph: 338 8884 • www.dieseldoctor.co.nz

L

Look both

ways

before

crossing

the road

PH 0800 225 483

95 Gasson Street, CHRISTCHURCH

M N

MASH provides a safe, secure and

exciting environment for your kids before

and after school as well as in the holidays

Nurtured

kids are

safe kids

Phone: 03 377 2540

www.playcentre.org.nz

S

Sunglasses

save your

sight

BARRINGTON - 256 Barrington Street

PH 332 1730 | www.suckling.co.nz

T

Take care when reversing

out of the driveway

waTCh FoR ChildRen.

Car City

EST. 1973 ChCh

Cnr Moorhouse & Ferry Road

Ph (03) 379 4254

U

YOU CAN KEEP

YOUR CHILDREN

SMOKEFREE.

PLEA$E $MOKE OUT$IDE

(We Can Help You QUIT)

RICCARTON CLINIC

www.riccartonclinic.co.nz

VVegeland says

Eat fresh fruit

and veggies to

grow healthy

bodies and

minds

vegeland

310 Marshland Road, Chch

Phone 03 385 3718
---
NOR'WEST NEWS Latest Christchurch news at www.star.kiwi

Tuesday February 5 2019 13

Bis for Booster

A

Avonside Early

Childhood

Centre providing

excellence for

the children of

our community

since 1943

43 Woodham Rd

(03) 389 8473

www.avonsidekids.co.nz

Up to their 7th birthday,

children are legally

required to be in a child

restraint or booster.

From 7 years up, research

shows they are best

protected in a booster

until 148cm in height.

For advice on which

booster is right for your

child, contact your

local child restraint

technicians at

Christchurch North

515 Wairakei Rd, Burnside

Ph 960 9752

Christchurch Central

87a Gasson St, Sydenham

Ph 421 3243

G

Go slow

around

children,

drive safely

on the roads

32 Moorhouse Ave,

Christchurch

Phone 366 7768

H

Have you got

your Will sorted?

Protect your

child's future today!

J

Just remember to

look both ways before

you cross the road

Just Cuts Hornby,

The Hub, Christchurch

8987425AA

"South Island's largest range of

vehicles on one site"

03 352 2293 | www.harmans.co.nz

O

Value the wellbeing

of children

Put tamariki first

P

Need someone to talk to

about your parenting issue?

Free Parenting Helpline

Friendly advice and support

Positive and practical strategies

Anonymous and non-judgmental

Q

Quick thinking

saves lives -

In emergencies

dial 111

R

Riding

your bike

always

wear a

helmet

www.orangatamariki.govt.nz

Call us today

0800 568 856

www.parenthelp.org.nz

Phone 379 7100

359 Lincoln Road, Christchurch

Cycle Trading Co

23 Elgin St, Sydenham

(opposite The Colombo)

Phone: (03) 366 3760

www.cycletrading.co.nz

W

Water Safety

Be safe around water.

Come to Wharenui Swim Club

for all your lessons.

X

OUT

FAMILY

VIOLENCE

Kids need a happy,

safe home

Y

Your children are

precious cargo - get

your vehicles tyres

checked at

ZStay safe with high viz fabric from Haralds.

Z is for zips -

we have

over 10,000

of them!

Half price zips

and zip slider

replacements when

you show this ad!

is for high

VIZ fabric

348 6488

learntoswim@wharenui.co.nz

161 Pages Rd, Wainoni, Christchurch 8061

or reception@hewakatapu.org.nz

Complete

Tyre and

Auto

Canterbury owned and operated

395 Ferry Rd, 03 389 5395

464 Ferry Rd, 03 389 5370

ctawoolston@yahoo.co.nz

New & Used Tyres • Puncture Repairs

Batteries • WOF • Balancing

Mechanical Repairs • Lube & Servicing

Wheel Alignment

"THE TRUSTED NAME IN FABRICS"

47 Birmingham Drive, Middleton

Phone 338 7700

Open Monday to Saturday 10am-4pm
---
14

Tuesday February 5 2019

Latest Christchurch news at www.star.kiwi

NOR'WEST NEWS

Ratcliffe picks up three

rookie awards in US

TRIALIST: Ashlee Strawbridge hopes to represent New

Zealand's under-17 women's team in New Caledonia in August. ​

Basketballer trials

for New Zealand

RANGI RURU year 13 student

Ashlee Strawbridge has been

named to trial for the New

Zealand under-17 basketball

team.

Seventy-five basketballers from

across the country will attend

the trials this week at the Bruce

Pulman Arena in Auckland,

before the team competes at the

FIBA Oceania's in Noumea, New

Caledonia in August. The aim is

to qualify for the FIBA Asia Cup.

Rangi Ruru Girls' School

director of sport Mandy Anderson

said Ashlee is a standout

performer and a player with huge

future potential.

"The under-17 group provides

a large number of potential team

members and that together with

North Island dominance in basketball,

really underlines Ashlee's

significant achievement being

selected for trials."

Ashlee celebrated her 17th

birthday the day she found out

about her selection.

She said she is "stoked" to be

trialling.

"I will be working and training

with every bit of energy and drive

I have to represent my country,"

she said. The team to play in

New Caledonia is expected to be

named by March.

FORMER St Bede's College

student Jake Ratcliffe is on a

roll in the United States after

recently picking up his third

rookie of the week award

playing ice hockey for Westfield

State University.

The 21-year-old became

the first New Zealand man to

play NCAA ice hockey when

he joined Westfield State in

Massachusetts in August.

In his first season to date,

Ratcliffe has tallied a

team-leading nine goals.

He also adding seven assists

for a total of 16 points to be the

second highest points scorer on

the team.

He scored three gamewinning

goals, two of them in

big conference games.

"I love it. I was excited to get

back into school after taking

three years off to play junior

hockey," said Ratcliffe.

"It's been everything I

expected and more . . . it's been

a lot of fun."

Ratcliffe's breakout rookie

season has also come to the

delight of his coach.

"We brought Jake in to be a

point-producer and he exceeded

our expectations," said Westfield

State coach Bob Miele.

"He has a bright future ahead

of him."

Ratcliffe – who is majoring in

business at Westfield – made his

New Zealand Ice Blacks debut at

17-years-old and has spent time

at the Canadian International

SPORTS

ICE: Jake Ratcliffe (left) is proving to be a star for Westfield State

University in the United States. ​

Hockey Academy, which is

near Ottawa. He follows in the

footsteps of Aucklander Grace

Harrison has an ice hockey

scholarship at St Lawrence

University in upstate New York.

It's our

45th

Anniversary

year!

#areyouupforit

45th Anniversary

Retro T-shirt

available when

entries open on

1st December 2018

Sunday 24th March, 2019 www.city2surf.co.nz
---
NOR'WEST NEWS Latest Christchurch news at www.star.kiwi

Tuesday February 5 2019 15

FANTASTIC FEBRUARY SALE!

20 % OFF

THE CARDRONA

LOUNGE SUITE

THE TE ANAU

SINGLE SEATER

THE SHOT OVER

SOFA BED

YOU

CHOOSE

THE GLENORCHY

LOUNGE SUITE

A LARGE VARIETY OF

COLOURS AND FABRICS AVAILABLE

SIMPLYFURNITURE.CO.NZ

484 Cranford Street, Christchurch - 03 354 5026 | 12 Hawthorne Drive, Queenstown - 03 442 3435
---
16

Tuesday February 5 2019

Latest Christchurch news at www.star.kiwi

2

NOR'WEST NEWS

A

EVENT

CITY2SURF

with Les Mills

Sunday 24 March

#Areyouupforit?

14km, 6km Community

Fun Run Event

It's our

45th

Anniversary Year!

ENTER NOW

www.city2surf.co.nz

City 2 Surf 2019_Entries Available
---
NOR'WEST NEWS Latest Christchurch news at www.star.kiwi

Tuesday February 5 2019 17

Email jess.gibson@starmedia.kiwi by

5pm each Wednesday

GAMES: Want to learn how to play Mahjong? If you are interested, join this free, fun and social

group on Monday, 2-4pm at the Papanui Library.

Scrabble Group

Today, 10.30am-noon,

Wednesday, 1-3pm

Go along and play Scrabble

with a friendly group. Just head

down when you can

as no bookings required.

All materials are supplied at

this free event.

Redwood Library,

today, Bishopdale Library,

Wednesday

JP Clinic at Shirley Library

Tuesday, Wednesday, Thursday,

10am-1pm

A justice of the peace will

be available to members of

the community to witness

signatures and documents,

certify document copies, hear

oaths, declarations, affidavits

or affirmations as well as sign

citizenship, sponsorship or rates

rebates applications. No charge.

Shirley Library, 36 Marshland

Rd

Knit 'n' Yarn

Today, 1-3pm, Wednesday,

1-2.30pm, Thursday, 2-3.30pm,

Friday, 10am-noon

Take your knitting, crochet or

another craft project and have

fun with this social group.

Bishopdale Library,

today, Redwood Library,

Wednesday, Fendalton Library,

Thursday, Papanui Library,

Friday

Rummikub

Thursday, 1-3pm, Monday,

1-3pm

All ages are invited to go

along and play rummikub – an

exciting, interactive strategy

game.

Fendalton Library,

Thursday, Bishopdale Library,

Monday

Technology Help Drop-In

Session

Thursday, 3.30-4.30pm

Go along to a drop-in

sessions for help with

email, searching the internet,

using the library catalogue,

eBooks, and general computer

queries.

Shirley Library, 36 Marshland

Rd

Card Club

Friday, 1.30-3.30pm

This weekly club is held

every Friday, just go along and

join the fun. Free, no bookings

required.

Shirley Library, 36 Marshland

Rd
---
18 Tuesday February 5 2019

Latest Christchurch news at www.star.kiwi

SENIOR LIVING

NOR'WEST NEWS

Centuries old folk remedy supports

good health!

A fermented liquid health

tonic offers an array of

powerful health benefits. It is

none other than the popular

apple cider vinegar or ACV.

Since the time of Hippocrates – the "Father

of Medicine" – ACV has been renowned for its

curative properties.

In his popular book "ARTHRITIS & FOLK

MEDICINE", DR. D.C. Jarvis reports how he

found that Vermonters who regularly consumed

ACV and Honey had excellent health with

many putting in a vigorous day's work on the

farm even when well into their eighties. He also

noted the effects of ACV and H on arthritis to be

remarkable with many patients reporting almost

total relief after taking a course of the

mixture. Dr. Jarvis surmised that

the acid and potassium in cider

vinegar counteracted calcium

deposits and helped the body

control calcium use. He also noted

that Vermonters who consumed

ACV and H around meal time

had excellent blood pressure and

circulation. The reason he found

was that protein foods thickened

the blood and vinegar thinned it.

As the blood thickens it cannot

pass as easily and quickly through

the blood vessels and capillaries. This

poor blood flow would reduce cellular

health by limiting nutrients to the cells

as well as waste elimination from the cells.

To prevent cell damage the body naturally

increases blood pressure but this puts more stress

on the blood vessels, organs and heart. Having

ACV and H with meals will help prevent protein

raising the blood pressure. It also contributes

to a feeling of greater well-being because the

thinner blood circulates quickly and more easily

through the blood vessels. Dr. Jarvis found regular

consumption of CV and H to be an excellent

health tonic with numerous Health attributes.

ACV is highly nutritious as it contains all the

goodness of the apple in a form that is readily

accepted by the bodyGood health starts with good

digestion and assimilation of nutrients. ACV taken

before food will stimulate and promote healthy

digestion and assimilation of vital nutrients for

good health. A well-functioning digestive system

helps prevent disease by neutralising any toxic

substances that enter the body.

It is important to note not all ACV is produced

in the traditional way and results are likely to

prove disappointing with these other vinegars.

Marshall's Premium ACV & ACV with 20%

Manuka Honey is produced in Canterbury from

Organic whole apples in the traditional way. It is

double strength so you can use less.

Further information is available from the

Natural Health Advisers at Marshall's Health

& Natural Therapy, 101 Seaview Road, New

Brighton, Phone: 388-5757. We are always

happy to help!

COLLAGEN - ThE BOdy's yOuTh PrOTEiN

hAir - sKiN - NAiLs - JOiNTs - BONEs

Collagen is the primary structural component for all tissue in the body,

providing the strength & resilience associated with youth, beauty &

wellness. The body's natural collagen production decreases with age

resulting in many signs of aging, such as flaccid skin, wrinkles, ligament &

tendon injuries & aching joints. Collagen supplementation is one of the most

fundamental things a person can do to prevent premature aging & promote

youthful vitality. NEOCELL collagen has undergone advanced enzymatic

hydrolyzation for superior results.

NEOCELL COLLAGEN SUPPORTS:

• Reduction in lines & wrinkles - improved skin elasticity

• Strong hair & nails, may help reduce hair loss

• Supports bone, ligaments, tendons & joint health

• Lean muscle & weight loss

• Youthful vitality & slowing of the aging process

NEOCELL PREMIUM COLLAGEN IS CLINICALLY

RESEARCHED FOR SUPERIOR RESULTS

Super

Prices

120 tablets only

$36.90 Save

$5.75

Bringing You the Best in Natural Health!

250 tablets only

$56.90 Save

$9.75

500 tablets only

$99.90 Save

$33.40

198 gram powder

$36.90 Save

$5.75

- WE ARE ALWAYS HAPPY TO HELP! -

MAIL ORDER AVAILABLE

MARSHALLS HEALTH & NATURAL THERAPY

CONSULTING - PRESCRIBING - DISPENSING - MANUFACTURING - MEDICAL HERBALISTS

101 SEAVIEW RD, NEW BRIGHTON • PH 03 388 5757 • Email: enquiry@marshallshealthshop.co.nz

Apple Cider VinegAr - Powerful Natural Health Tonic

ACV is a highly nutritious with all the goodness of apples (one of our most health-giving fruits) in a form that is readily

accepted by the body. It promotes healthy digestion, assimilation of nutrients & elimination of wastes. Detoxifying

& purifying & supports the function of vital organs like the kidneys, bladder, liver & heart. Helps neutralise toxic

substances & harmful bacteria in food. A time-honoured natural remedy to improve health & longevity.

ACV SUPPORTS

• Healthy digestion, assimilation of nutrients, elimination of wastes

• Energy – Vitality – Endurance

• Elimination of viruses, bacteria, fungus & parasites

• Powerful antioxidant

• Cardiovascular health, blood flow & healthy blood pressure

• Diabetes – improves insulin sensitivity

• Arthritis & joint support • Longevity & improved health

• Settles the stomach & reduces reflux

• Weight Loss

ALWAYS INSIST ON MARSHALL'S TRUE APPLE CIDER VINEGAR FOR

MAXIMUM NUTRITIONAL VALUE & HEALTH BENEFITS!

Bringing You the Best in Natural Health

MARSHALLS HEALTH & NATURAL THERAPY

CONSULTING - PRESCRIBING - DISPENSING - MANUFACTURING - MEDICAL HERBALISTS

101 SEAVIEW RD, NEW BRIGHTON • PH 03 388 5757 • Email: enquiry@marshallshealthshop.co.nz

- WE ARE ALWAYS HAPPY TO HELP! -

Super price

Premium QuALity N.Z. DoubLe

StreNgth, orgANic APPLe

ciDer ViNegAr:

750ml only $9.90, 2ltr only $19.90

With 20% mANukA hoNey ADDeD:

750ml only $14.90, 2ltr only $29.90

MAIL ORDER

AVAILABLE

Available villas Make 2019 your fresh start - call to view today!

Orari Villa - 96m 2 BRAND NEW!

2 bedrooms, open plan living/dining, bathroom with separate toilet,

single garage, lovely north facing terrace. Choose your soft furnishings to

make this your own.

Belfield Villa - 108m 2

2 bedrooms, fully refurbished, spacious living, modern kitchen,

single car garage, north facing to soak up the sun.

33 CONNOLLY STREET, GERALDINE 7930

FREEPHONE. 0800 845 524 LANDLINE. 03 693 8340

WEBSITE mlv.org.nz

ACCREDITED VILLAGE OF THE RVA
---
NOR'WEST NEWS Latest Christchurch news at www.star.kiwi

Tuesday February [Edition 5 datE] 2019 193

SENIOR LIVING

Device to prevent

snoring

Why put up with broken sleep, when

help is at hand with Snorex, an appliance

that prevents snoring, sleep apnoea, and

dry and raw throats.

Snorex is custom-fitted to your mouth

for comfort, and a follow up service is

provided.

Denise Lim has been involved with

Snores for 22 years and has had a 98%

success rate with

people using the

appliance. Snoring

can be a health

hazard, causing

sleep apnoea, where

the person actually

stops breathing for

short periods.

It can cause

short-term memory

loss, tiredness and

contribute to high

blood pressure.

The Snorex

device does not feel

restrictive, is noninvasive

and carries

a money-back

guarantee.

Many people are referred by ear, nose

and throat specialists, however, anyone can

phone for an appointment.

For an information pack or to discuss

the Snorex further, phone Denise Lim on

377 4318 or check out the website

www.snorex.co.nz

A Leader in

Healthcare

Excellence for

the Older Person

Collagen

The Body's Youth Protein

Collagen is the primary protein in the

body. It is a major component of skin,

hair, nails, muscles, tendons, ligaments,

joint cartilage, bones, gums, teeth, eyes,

and blood vessels.

In fact collagen is the primary

structural component for all tissue

in the body, providing the strength

and resilience associated with youth,

beauty and wellness. The body's natural

collagen production decreases with

age resulting in many signs of aging,

such as flaccid skin, wrinkles, ligament

and tendon injuries and aching joints.

Collagen supplementation is one of

the most fundamental things a person

can do to prevent premature aging and

promote youthful vitality.

NEOCELL are the industry leaders

in research on collagen supplementation.

Through advanced research they have

perfected a way to hydrolyse collagen and

effectively reduce its molecular weight this

improving the absorption of collagen into

the blood stream by over 90%.

A clinical study on NEOCELL

COLLAGEN has shown skin hydration to

increase an average of 21% and up to 50%,

with 92% of test subjects experiencing

firmer, softer skin. Most people taking

NEOCELL COLLAGEN reported seeing

visible improvements within two weeks.

Collagen supplementation provides

the nutrients necessary to support the

body's collagen supply. It can help reduce

fine lines and wrinkles and improve skin

elasticity, support building of strong bones

and teeth, strengthen the nails and hair,

and is vital for muscle growth, It also

assists weight loss by helping burn fat

for energy, promotes wound healing by

supporting the regeneration of healthy

tissue as well as help support overall

health.

NEOCELL COLLAGEN and further

information is available from the

Natural Health Advisers at Marshall's

Health & Natural Therapy, 101 Seaview

Road, New Brighton, Phone: 388-5757.

We are always happy to help!

2015 NZ Disability

Information Centre

of the Year

Support and Resources for Independent Living

Can we help you or someone you support?

Brookhaven

Retirement Village

29 Alport Place

Woolston

Phone 03 384 5046

Golden Age

Retirement Village

96 Harewood Road

Papanui

Phone 03 375 0720

Disability Information Service – a 'one stop

information service' which offers unbiased

advice to assist people navigate their way to

organisations or services that can provide them

with support or advice.

you can stop him

snoring with a

SNOREX

Why put up with a broken

night's sleep?

Ph 377-4318 or 027 682 1752

DENISE LIM

FOR A FREE INFO PACK

Website: www.snorex.co.nz

Albarosa

Dementia

80 Harewood Road

Papanui

Phone 03 375 0727

Somerfield

Dementia

137 Barrington Street

Somerfield

Phone 03 332 5897

Camellia Court

Dementia

84 Harewood Road

Papanui

Phone 03 375 0722

Hoon Hay

Dementia

16 Anvers Place

Hoon Hay

Phone 03 379 7825

www.goldenhealthcare.co.nz

Lady Wigram

Retirement Village

Sarah Jacobson

Village Manager

210 Kittyhawk Ave,

Wigram

Phone 027 3411 464

walkers to

purchase

(FroM $230)

or hire

$20

per week

Aspire Canterbury is a not-for-profit organisation

providing services to the community since 1981

Physical Address:

314 Worcester Street

Linwood Christchurch

Aspire Canterbury Shop – shop online or call in

to our shop at 314 Worcester Street and view our

range of easier living products We also hire out

wheelchairs, ramps and walkers.

Total Mobility Discounted Taxi Service – a scheme

which provides 50% discounts on taxi journeys to

eligible people in the Christchurch area who, due

to health conditions, are unable to access public

transport. Contact us for more information on

03 366 9093 or visit our website.

Mobile Service – Fun interactive

presentations of our information,

services and easier living equipment.

We come to you!

Call Kylie Taylor on 022 676 5851 or email

mobileservices@aspirecanterbury.org.nz

Postal Address:

PO Box 32074

Christchurch 8147

Ph: 03 366 6189

Freephone: 0800 347 242

Ph: (Total Mobility) 03 366 9093

E: admin@aspirecanterbury.org.nz

W: www.aspirecanterbury.org.nz
---
20

Tuesday February 5 2019

Latest Christchurch news at www.star.kiwi

NOR'WEST NEWS

Exhibitors

Book now

Don't miss your opportunity to

showcase your business in front of

10,000+ qualified attendees

Jon.Holmes@starmedia.kiwi or 021 225 8225
---
NOR'WEST NEWS Latest Christchurch news at www.star.kiwi

Tuesday February 5 2019 21

REAL ESTATE

A sense of community in Church Bay

5 Taimana Lane, Church Bay

Price: $585,000

3 bedrooms | 2 bathrooms | 2 car-garage | Listing Number: 8481

On the easy slopes of a tranquil secluded

lane this home is nestled amongst other quality

contemporary homes in this close knit little

community.

For retirees it offers security and friendship,

for families the excellent local school is just

down the road as is the local supermarket and

soon to be vibrant commercial hub.

This home offers a host of living possibilities.

There are 3 double bedrooms, main with en

suite and cosy open-plan living. In addition a

semi self-contained studio room with en suite

and kitchenette for use as a fourth bedroom,

home office, or just extra living space to spread

out.

There is a carport and double garage plus

excellent under house basement for storage

which offers additional options for work or

play.

The grounds are immaculately landscaped

and weekend friendly.

This represents excellent value for any

discerning buyer.

Only 30 minutes scenic drive from the

bottom of Colombo Street. Local amenities

are many and varied to indulge in and in

the pipeline are a cinema, supermarket and

additional shops, as well as the development

of the Te Ana Marina at Lyttelton stage 1

complete. The local school and Kidsfirst centre

have an excellent reputation and the zoned

high school is Cashmere.

Open Home 2.30 to 3pm Sunday 10th Feb

See you at the Open Home or for a private

viewing, please contact Min of Min Sarginson

Real Estate (Licensed Agent REAA 2008),

phone 027 432 0327 or 329 4161

growing with you June 2018 | 100%

Plants For

winter wow

Cool Choices

For Colour

& Contrast

From swamp

to sea views

The journey

begins with sarah

the Gardener

$7.90 incl. GST

Snap it up

Enter our annual

Birdlife Photo

Competition to win

great prizes!

clear the air

Why groWing

indoor PLAnTs is

so good for you

give it a grow

from gArLic

To chinese

ArTichokes,

We hAve your

groWing TiPs

covered

the latest releases

into the rose world

+ rose care

through winter

The magazine for

gardeners who like to get

their hands dirty

SUBSCRIBE FROM

$43. 50*

*6 issues/6 months

SUBSCRIPTIONS FREEPHONE

0800 77 77 10

WWW.GARDENER.KIWI
---
22 Tuesday February 5 2019

Latest Christchurch news at www.star.kiwi

NOR'WEST NEWS

If you want more information about an item or to contact a

seller, visit www.postanote.co.nz and search the ID#

Husqvarna Chainsaw

2009 Subaru Imprezza

Raleigh Assault

Economical Honda

Walnut Coffee Table

Austin A70 Pick Up

$100

ID 22184

$7,600

ID 26485

$25

ID 26532

$4,200

ID 26280

$250

ID 26518

$44,000

ID 12768

Porcelain Dolls

6 Metal Frame Wooden Chairs

Toyota Reflet X Starlet

Brass Light Fitting

2 Deck Chairs

Skoda

See Seller

ID 26504

$100

ID 26503

$3,000

ID 21544

$50

ID 26500

$30

ID 26499

$2,500

ID 26514

New Season Lucerne Bales/Bailage!

1971 MG BGT

Dining Room Suite

Bailey Pegasus Verona Caravan

Mahogany Dining Table & Chairs

Ford Laser Frontal Damage

$75

ID 26493

$9,750

ID 26557

$1,600

ID 26440

$45,000

ID 26607

$1,300

ID 26523

$250

ID 26131

Mazda MX-5

Honda 50 Stepthrough

Air Hockey Table

Goat Wethers

Cobar Explorer Kayak

Oven

$12,500

ID 26396

$1,500

ID 26353

$80

ID 26379

$50

ID 26374

$650

ID 26373

$150

ID 26372

1996 Toyota Celica Auto 2.0

Fish Tank

Little Green Beastie

Portable Tefal Oven

SL 250 Motorsport

Nissan Navara

$2,000

ID 26368

$50

ID 26365

$10,495

ID 21867

$150

ID 26354

$1,500

ID 26352

$19,000

ID 20229

Pottery Coffee Mugs

3-Person Sofa & 2 Chairs

CSB Huntsman Dorado

Ford Falcon G6E

Set of Outdoor Chairs

Martin Acoustic Guitar with Hard Case

$15

ID 24238

$200

ID 26236

$26,500

ID 25965

$20,250

ID 24482

$125

ID 26227

$1,100

ID 26208

Dresser

Toyota Prado

Cobra Eliminator Kayak

Samsung Washing Machine

Skope Chiller

2007 Ford Mondeo S/W

$200

ID 20872

$9,500

ID 25881

$800

ID 26166

$180

ID 26157

$600

ID 26151

$5,500

ID 26147

2119003chch
---
NOR'WEST NEWS Latest Christchurch news at www.star.kiwi

Tuesday February 5 2019 23

Classifieds Contact us today Phone our local team 03 379 1100

Storage

Storage UnitS

26 Belfast Road

Various sizes available in this

very tidy and safe complex.

• Power / lighting available in

large units and include large

door access (over 3.5 metres)

• Individually alarmed

• Surveillance cameras on site

• Vermin controlled

• Toilet on site

Phone 021 810 433

Community Events

ALCOHOLICS

ANONYMOUS, If you

want to have a drink that's

your business. If you want

to stop, we can help. Phone

0800 229-6757

Computer

Services

SeniorNet

Mac

Apple tuition & help

for any age group.

Apple computers, iPad,

iPhone and watch.

41 Essex Street

Mon, Wed and Fri

10am-12 Noon

Further details phone

365 1979

Unit Sizes:

13.5m x 3.5m

13.5m x 4m

8.5m x 4m

Double 6m x 6m

Single 6m x 3m

Holiday

Accommodation

Australia QLD

SUNSHINE

COAST

RESORT

ALEXANDRA HEADLAND

All Units Have Ocean Views.

Heated Pools, Spa & Sauna,

Free Wifi, Tennis

& Mini Golf.

CHECK OUR GREAT

WINTER SPECIALS

www.mandolin.com.au

0061 7 5443 5011

JUNE to AUG temps 20C

Vehicles Wanted

CASH/CASH for any

unwanted vehicles, ph

347 9354 or 027 476 2404

Trades & Services

DRIVEWAYS

Exposed Aggregate

Stamped Concrete Plain

Concrete Resurfacing

Things we offer...

Competitive/affordable pricing

Attention to detail

Professional service

free quotes/insurance scopes

Cell 0278 145 848

www.drivecrete.co.nz

Wanted To Buy

CASH FOR

STAMPS

Do you have an

Old Stamp or Coin

collection tucked away

somewhere? It could

be worth a fortune!

We are currently Buying

old collections in the

Christchurch area to stock

our retail shop in Riccarton.

Free Appraisal and Cash

Offers on most items.

Call Matt Power

0800 39 24 26

The Stamp Exchange

134a Riccarton Road. Opposite

the Mall carpark.

Wanted To Rent

PROFESSIONAL

COUPLE.3 bdrm house,

NW area, Mid March, exc

ref's. Ph 021 083 36893

SURF'S UP SCOTTY RAZOR ROBERTSON PROFILE

APRIL 2018

TJ'S

CHASING

GREAT

ONE

MORE

COVER

The power

LINE

of Perenara

SUPER

RUGBY'S

G.O.A.T

CORY JANE

6 issues (1 year) $44.50

12 issues (2 years) $79

18 issues (3 years) $115

Social Media Animal

+

PLUS...

RRP $9.95

KEEPING

WHO

TABS ON

MATSON

CALEB

CLARKE

Chip off the

old block

1ST XVs

PLAY LIKE PROS

A school boy rugby

investigation

SUBSCRIPTIONS FREEPHONE

0800 77 Chief 77 10

Tabai's

rugbynews.co.nz

Tron tribe

Wanted To Buy

AAA Buying goods

quality furniture,

Beds, Stoves, Washing

machines, Fridge Freezers.

Same day service. Selwyn

Dealers. Phone 980 5812

or 027 313 8156

TOOLS Garden,

garage, woodworking,

mechanical, engineering,

sawbenches, lathes, cash

buyer, ph 355-2045

WHO WILL

MAKE THE

AB CUT?

Trades & Services

junk

Why go to the Dump? Junkman comes to you!

Items too big for the rubbish bin?

Or too heavy for you to move?

Junkman comes to FROM

you & takes it away $

65 *

*Prices vary depending on items and volume – minimum charge $65

plumber

Call your local plumber

0508 AQUA PRO | aquaproplumbing.nz

PLUMBING | DRAINAGE | GAS FITTING | SOLAR

HOUSE

CLEARING

Are you

moving house

or trying to

downsize?

Call All Clear

Canterbury. We work

with you to recycle,

sell and dispose of

unwanted items.

Ph: 03 260 0934

or 021 078 4553

raewynlcooke@gmail.com

www.allclearcanterbury.co.nz

repairs. Heritage

brickwork and stonework

a speciality. No job too

small. Governors Bay.

Home 329-9344, Cell

027 684 4046, email

georgelockyer@xtra.co.nz

****************

CARPET & VINYL

Laying. Exp. Repairs,

uplifting, relaying,

restretching. Email

jflattery@xtra.co.nz ph

John on 0800 003 181 or

027 2407416

0800 586 5626

www.junkman.co.nz office@junkman.co.nz

Whether you're

looking for advice,

maintenance,

urgent repairs or a

FREE quote contact

Aquapro now.

Lawns, Gardens

& Home Cleaning

Free Quotes

Professional, personalised

service. Regular &

one-offs. Fixed price.

Ph: 377-5814

For all your property and

cleaning requirements

Trained, insured & security

screened owner/operators

Multi-award winning

systems & Franchises

Franchises Available

www.viphomeservices.co.nz

AAA HANDYMAN

licensed carpenter

LBP, all property and

building maintenance,

repairs, bathroom/shower

installations, with free

quotes 03 383 1927 or 027

245 5226 ciey@xtra.co.nz

ELECTRICIAN

Registered, electrical

BATHROOM

installation and repairs,

Renovations, complete Gorbie Electrical, ph 021

service from start to finish, 026 73375 or 03 322 4209

free quotes, ph Dave 027

334 4125

ELECTRICIAN

Prompt & reliable

BRICKLAYER

registered electrician

George Lockyer. Over with 24 years experience

35 years bricklaying for all residential and

experience. UK trained. commercial work, new

Insurance work. EQC housing and switch board

replacements. Phone Chris

027 516 0669

PAINTER

DECORATOR

All int /ext painting.

Comp rates. I stand by

Canterbury. Wayne 385-

4348, 027 274 3541

PLASTERER

Gib Stopping, Small

job specialty. 30 + years

experience. Ring 0800

387-369

PLUMBER

NEED A PLUMBER

Call us now for fast friendly service.

Get your problems sorted out

quick smart - on time!!

Phone for a

FREE

quote now.

Phone 03 377 1280 | Mobile 021 898 380

ROOF

PAINTING

Rope & harness

a speciality,

no scaffolding

required,

30 years of

breathtaking

experience.

FREE QUOTES

Exterior staining,

exterior painting,

moss and mould

treatment and

waterblasting

Phone Kevin

027 561 4629

PAINTER

Wanting Work

• Reasonable rates

• Call for quotes

Ph Rose or Brian

021 0835 5204

021 0231 6806

PLASTERER

Gib Stopping, Small

job specialty. 30 + years

experience. Ring 0800 387-

369

PLUMBER

ALF THORPE PLUMBING

Certifying Plumber for

all types of plumbing,

maintenance, spouting,

alterations etc. Phone 352-

7402 or 0274-350-231

ROOFING REPAIRS

Fully qualified, over 40 yrs

experience. Ph John 027

432-3822 or 351-9147 email

johnchmill@outlook.com

ROOFING REPAIRS

Fully qualified, over 40

yrs experience. Ph John

027 432-3822 or 351-

9147 email johnchmill@

outlook.com

SHOE REPAIRS

Belfast engraving. Shoe

repairs, key cutting &

engraving. (10 yrs exp)683

Main North Rd, ph 027

3113423

SPOUTING CLEANING

Spouting Unblocked,

Cleaned Out and Flushed

Out. Call Trevor 332 8949

or 021 043 2034

STONEMASON

BRICK

&

BLOCKLAYER,

Earthquake Repairs, Grind

Out & Repoint, River/

Oamaru stone, Schist,

Volcanic Rock, Paving,

all Alterations new & old,

Quality Workmanship,

visit www.featureworks.

co.nz or ph 027 601-3145

STUMP GRINDING

Best price guarantee Tony

0275 588 895

TILER/CARPENTER

35 years exp, no job

too small. Ph Ross 027

4311440.

TILING

Flooring - Splashbacks -

Wall incl tile removal, reg

master tiler, ph Dave 027

334 4125

T.V. SERVICE CENTRE

Repairs, tvs, microwaves,

audio amps, soundbars.

.Aerial & satellite

installations, kitsets, 480D

Moorhouse Ave, ph 03 379

1400

VHS VIDEO TAPES

& all camera tapes

converted to DVD, video

taping special occasions,

www.grahamsvideo.co.nz

ph 03 338-1655
---
24 Tuesday February 5 2019

Latest Christchurch news at www.star.kiwi

NOR'WEST NEWS

www.studywithus.co.nz

Make your vision

your future

We have courses in:

FREe

CoURSES!

ARTS & DESIGN

LAST CHANCE TO

ENROL FOR FEB START

Text 'STUDY'

To: 027 557 8839

*conditions apply

Phone: 0800 834 834

50 Hazeldean Road,

Addington