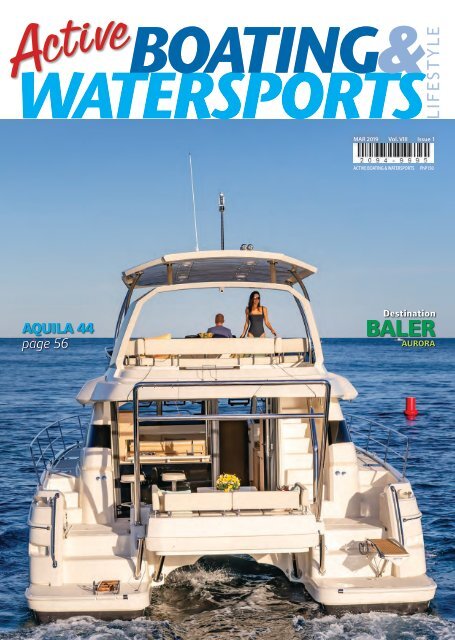 Create successful ePaper yourself
Turn your PDF publications into a flip-book with our unique Google optimized e-Paper software.
MAR 2019 Vol. VIII Issue 1

ACTIVE BOATING & WATERSPORTS

PhP150

AQUILA 44

page 56

Destination

BALER

AURORA

1
---
2
---
AVAILABLE AT

DESIGN + PERFORMANCE TM

P H I L I P P I N E S

YACHT PARTS, SALES and SERVICE

SUBIC BAY 0939 922 3238

MANILA 0918 963 8148

CEBU 0939 902 0494

BORACAY 0918 963 8155

DAVAO 0918 963 8151

PUERTO PRINCESA 0912 309 6305

Sunbrella® is a registered trademark of Glen Raven, Inc.

1
---
featured featured model

model

MY44

44-FOOT 44-FOOT MOTOR MOTOR YACHT

YACHT

STOCK STOCK AVAILABLE AVAILABLE JULY JULY JULY 2019 2019 2019

MOTOR MOTOR MOTOR YACHT YACHT YACHT MODELS MODELS MODELS

37, 37, 40, 37, 40, 44, 40, 44, 67 44, 67 67

SAILING SAILING SAILING YACHT YACHT YACHT MODELS MODELS MODELS

40,42,45,47,50,58,67,80

EXCLUSIVE EXCLUSIVE DEALER DEALER DEALER OF OF FOUNTAINE OF FOUNTAINE PAJOT PAJOT PAJOT IN IN THE IN THE PHILIPPINES

THE PHILIPPINES

2
---
T. +63 T. +63 2 T. 795 +63 2 795 2433 2 795 2433 2433

M. +63 M. +63 M. 949 +63 48949 8161 489 8161 8161

www.asiayachting.net

9F Net 9F Net Park, 9F Net Park, 5th Park, 5th Avenue, 5th Avenue, Avenue, Bonifacio Bonifacio Bonifacio Global Global City, Global City, Taguig City, Taguig 1634 Taguig 1634 1634

3
---
FROM THE EDITOR'S DESK

With 2019 now here new challenges face us which we are meeting

head on. Our growth rate is still escalating with the December edition

reaching a milestone of 100 pages. New goals and challenges will be

met with enthusiasm so we can continue to improve your favourite

magazine.

In this issue we have featured the province of Baler/Aurora the

birthplace of surfing in the Philippines. This is one place our readers

should really put on their bucket list, as it features great places to surf

and swim.

In our next edition we will be exposing the other great places of Bicol

to visit, places like Misibis bay and the Calugas Island plus many other

places of interest in the awesome part of the Philippines. We are

also looking at starting a letters to the editor page for our readers to

express their opinions on their favourite magazine email us at info@

activeboatingwatersports.com to express your interest in this. We

look forward to your remarks in helping make 2019 a special year for

Active Boating and Watersports Magazine.

Barry Dawson Editor

WHAT'S INSIDE?

Punta Fuego's Double Weekend 6

Regatta 2019

Dreamline Italian Luxury Yachts 8

Anilao Underwater Shootout 2018 16

El Galleon Leads the Way in 22

Environmental Protection

The Might of the Pacific Ocean 28

1st Talisay Fiesta Regatta 32

Destination: Malapascua, Philippines 38

Subic Sailing Club Awarded "Outstanding 42

International Contribution of the Year"

by China Cup

Subic Sailing Wins 3rd Place Overall 45

in the Inaugural Macau Cup Regatta

The Siargao World Game Fishing 52

Tournament

Destination - BALER, AURORA 58

ABW Events Calendar 69

Chairman's Cup Regatta 78

Bringing The Love Of The Sea 82

Back to Cebuanos

Sailing Tips - Deck Equipment 86

Zambales Lifesaving Inc. - Lifesaving 88

Champions at Phuket, Thailand

Surf Lifesaving Championships

Destination -

BALER,

AURORA

Aquila 44

Cover photo courtesy of Simpson Marine

Dreamline

Italian Luxury Yacht

page 8

4

Published quarterly by: ABW PUBLISHING

House 16, Madrigal Compound, 2550 Roxas Blvd., Pasay City

Editor & Production: BARRY DAWSON

Associate Editor: ROY ESPIRITU

Layout & Design: MAR SUBA

Contributing Writers: BRUCE CURRAN & JAMES WEBSTER

Contributing Photographers: TERRY DUCKHAM & JOHNNY MARTINEZ

Advertising: 8551-4587/ 0928-714-4461/ 0917-871-8547

Email: info@activeboatingwatersports.com

Website: www.activeboatingwatersports.com

Printed by: House Printers, Taytay, Rizal, Philippines

Active Boating and Watersports is a copyright© production

No part can be copied or reproduced without the express

permission of the publishers.

The views expressed and advertisements published in Active Boating & Watersports

are those of the authors and advertisers, and not ABW Publishing.

ABW Publishing does not accept any liability whatsoever for errors or omissions.
---
5
---
Punta Fuego's

Double Weekend

Regatta 2019

17th Punta Fuego Regatta

Weekend 1, January 19-20

Words by: ROY ESPIRITU

Photographs as credited

NOz Goose sailboats participated

in the event. Officiating the races

was internationally accredited

racing official Jerry Rollin assisted

by sailing professionals and

athletes from the Philippine Sailing

Association (PSA).

ow on its 17th year, the small boat edition of the

annual Punta Fuego Regatta attracted racing

sailors to sail in pristine waters of Nasugbu Bay.

Ten Hobie 16s, three Hobie Getaways and three

With a low pressure area happening in the visayas, winds

were forecasted to be gusting above 23 knots on that

weekend and a prevailing easterly wind of 14 to 16 knots.

On the first day most sailors were glad to see that it was

little lighter than forecasted. Pre-race briefing started

promptly at 10 and racing started a 11am. Just as last year

the first race of the regatta was the long race with each class

taking a different course.

The Hobie 16's were to do the 16 nautical mile(nm) Fortune

Island course, the Hobie getaways were to do the 13nm

Malagaya Beach course while the Oz Goose are to do the

The Oz Goose fleet found

themselves lost as the two

other sailors opted to play

follow the leader, all three geese

ended up in the wrong cove.

6.5nm Looc cove course. As always, winds were shifty around

the peninsula, making for challenging sailing conditions, the

easterly wind seemed to be coming from the southeast as

it bounced of cliffs and hills, this meant it was a downwind

start for all the boats.

Hobie 16s went first, followed by the

Getaways then the Oz Geese. With

winds blowing well above 14 knots and

gusting above the 20 range, capsizes

among the 16s and Geese were the

flavor of the day, all crews recovered

and sailed on to finish their respective races, except for Rich

Pellicer on an Oz Goose who capsized less than 50 meters

from the finish line and was too exhausted from righting

the boat and trying to get back in and opted for a rescue

instead.

The first race of the series for the Hobie 16s was won by last

year's Round the Volcano regatta champion Mike Ngu. Mike

was so far ahead of everyone else that the race committee

thought he failed to round a mark and was even disqualified

in the provisional results. This was rectified after it was proven

that Mike was indeed much faster than everyone else.

6
---
The Oz Goose fleet found themselves lost as the two other

sailors opted to play follow the leader, all three geese ended

up in the wrong cove. A safety boat informed them of their

error and two of the boats were able to round the mark in

the correct cove eventually, while the other one chose to

retire. Only Paulo Topacio was able to finish the first Oz

Goose race and was able to catch up to Rich after recovering

from a capsize of his own.

The Hobie Getaway known for its tame manner and cruising

pedigree had a fun but uneventful race to a mark fronting

Malagaya beach. Veteran sailor Pablum Lobregat won the

first race in the Getaway class and every race after that.

The variable wind conditions around the Punta Fuego

peninsula, the smaller "playground" than the racing sailors

were accustomed to on Taal Lake, combined with the

narrower finish gate of the windward - leeward courses

made for challenging racing. Racers found themselves

stalling at the narrow finish gate, rubbing into buoys, as well

as colliding with other boats. The Hobie 16s were able to

complete three races on the first day of the series while the

Getaways and the Geese completed two.

Weather on the second day was lighter than forecasted and

winds shifting from north to east constantly, giving the race

committee a difficult time in setting the marks. In the end,

they decided on island races instead of around the cans for

the first race of the second day. The Hobies were to go around

the twin islands and the Geese were to round Loren island.

The 16's started first, followed by the Getaways, then the

Geese. The lighter conditions allowed the Getaways to catch

up with the 16s on the way to the Twin Islands, then the wind

picked up as the Hobies rounded the islands and the 16's

pulled away from the Getaways. The team of Ed Legarda and

Edwin Lucero finished first in this race, while Paulo Topacio

finished first in the Oz Goose race around Loren Island.

After the Island races the wind settled to a light northerly,

allowing the race committee to set a short windward-leeward

course. Dwindling conditions a few minutes into the races, the

race committee decided to shorten course and call it a day.

The final results of the 2019 are as follows: Hobie 16s,

first -Ed Legarda, second- Ramon Azanza, third-

Monchu Garcia; Hobie Getaways, first- Pablum

Lobregat, second-Denise Celdran, third-Martin

Marty; Oz Goose - first-Cherrie Pinpin, second-

Paulo Topacio, third-Rich Pellicer.

7
---
Carla Kramer

Carla Kramer

Clockwise from left: 17th Punta Fuego Regatta winners, L-R, Justin Casambre

& Cherrie Pinpin (Oz Goose), Aniceto Rivera and Pablum Lobregat (Hobie

Getaway), Eddie Legarda & Edwin Lucero (Hobie 16);

A collision between a Hobie16 and an Oz Goose caught on camera;

Race official Jerry Rollin giving racers a pre-race briefing;

Hobie start race 4_2;

One of the capsizes that happened during the Punta Fuego Regatta

17th Punta Fuego Regatta

Weekend 2, January 26-27

Words by: BARRY DAWSON

One of the greater incentives of the Punta Fuego Regatta

was to split the regatta over 2 weekends, small sail boats,

Hobies, Oz Goose and dinghies on the

first weekend with the racing yachts and

multi-hulls on the second weekend, a

formula that has proven successful and

the 2019 regatta was no exception.

With 14 boats competing and excellent

sailing winds, the scene was set for a

great weekend of competitive sailing,

and with Jerry Rollin being the ever

staunch and reliable race officer, no one was disappointed.

Broadwater Marine, a staunch supporter of all the Philippine

sailing events was here supporting the event and ready to

12

An emergency rescue

got underway, as staff

boats raced out to

Fortune Island, where

an unknown speedboat

capsized.

supply on the spot, much need spares that are usually needed

in the case of a mishap or something breaking, and Punta

Fuego Yacht Club thank them for their continued support.

Competing in the two day event there was in the cruising

class, the ever popular David Wheeler in Freewheeler.

Ramon Augustines in Michell, Captain Napoleon in Captain

Napoleon while Renie Tizson Of PYCS had two entries

Papaya I and Papaya II. The Racing Class was represented by

Ray Ordoveza in Karakoa, Bobby Benares in Sabad, James

Villareal –Wild Honey, Pablum Lobregat – Plus Altra and

Allan Burrell with Sandoway. Unfortunately Sandoway had

some problems and was forced to retire

from racing. In the Ocean Going Multi

Hulls, seen again the ever supportive Gary

Kingshott with his popular boat Kerida

along with Monchu Garcia on Carino, Eric

Puno with Querida Mia and Ernil Dylin

sailing Avitas.

With 15 to 20 knot winds the start was

a brisk and competitive, and good sailing

was enjoyed by all crews for the entire day. After a good day

of exciting racing it was back to the club house for some

liquid refreshment and reminiscing of whys and wherefores

of the days racing.
---
13
---
While enjoying the afternoon, an emergency rescue got

under way, as staff boats raced out to Fortune Island, where

an unknown speedboat came to grief when it capsized and

sank dumping all seven that were on board into the turbulent

waters that surround this area. Thankfully the quick action

of the Punta Fuego Marina staff resulted in all seven, five

Koreans and two Filipinos being rescued, without any major

injuries, with the only casualty being the boat, which quickly

sank to the depths of the ocean. No one knew where the

boat and its crew came from; the seven persons rescued

were taken to Nasugbu then transported back to Manila.

In the evening of the first day a delicious smorgasbord

dinner was served at the San Diego Restaurant at the main

clubhouse. After the celebrations and a few cold ones it was

time to retire and prepare for the final days' fray.

The Sundays was another day with the wind gods

being exceptionally kind and winds up to 25 knots were

experienced giving way to another day of great racing.

Papaya I and II came close to an altercation but good sailing

from both skippers avoided any mishaps.

After another day of great racing it was back to the Barracuda

Bar at the Marina to enjoy a delicious luncheon while

awaiting for the official

Papaya I and II came

close to an altercation

but good sailing from

both skippers avoided

any mishaps.

results and awarding for

the weekend's events.

Officiating the awards

was Jerry Rollin and the

award winners were in

the Cruising Class in 3rd

place was Papaya I, 2nd

place went to Freewheeler and in first place outshining his

boss Renie Tizson with 3 wins and a second was Papaya II

taking the honors and winning first place.

14

In the Racing Class James Villareal's Wild Honey secured third

place, while Bobby Benares Sabad was second and coming

in first was Ray Ordoveza and his team on Karakoa. In The

Multi Hulls Eric Puno and Querida Mia Secured third place,

while Garry Kingshott and Kerida snaffled second place an

Monchu Garcia and crew of Carino were full of smiles as

they accepted their trophy for their well-deserved first place.

After the awards it was time to leave this beautiful Yacht

Club and go back to the daily routine with smiles on our

faces after enjoying another fantastic weekend of sailing.
---
Underwater

Shootout

2018

Marc Stephen De Leon

16
---
Action Camera or Smart Phone

It's the perfect location

for what is considered

to be the "World Cup of

underwater photography

competitions".

Blackwater

Cai Songda

Ria Crucero

Words by ROY ESPIRITU

Photographs as credited

The world over, Anilao, Mabini, Batangas is known

as the mecca of scuba diving, primarily because

of the unrivalled biodiversity underneath its

waters; making it the perfect location for

what is considered to be the "World Cup of underwater

photography competitions". The Anilao Underwater

Shootout (AUS) now on its 6th iteration, attracted more

than 240 professional and amateur participants from

around 25 countries to compete in the event.

The international event has been organized by the

Department of Tourism (DOT) since 2013, in line with the

identification of diving as a priority tourism product in the

National Tourism Development Plan (NTDP). The event is

unrivalled in taking action towards the sustainability of dive

tourism in the destination by putting in place guidelines to

help ensure the protection and conservation of marine life

17
---
during the competition proper, with registered guides and

spotters required to attend a safety briefing and sign a "Code

of Conduct."

Henley Spiers

According to Undersecretary for Tourism Development,

Benito C. Bengzon, Jr., a certified diver himself: "Through the

support and cooperation of the Mabini local government and

the Resort Owners

"We ensure the

enhancement and

attractiveness of Anilao as

a leading dive destination

in the world," explains

Usec. Bengzon.

Association of

Mabini (ROAM),

we are able

implement a strict

No Marine Life

Manipulation

policy by

employing the

assistance of

spotters and

dive guides in monitoring and reporting untoward behavior

underwater. With the involvement of local stakeholders,

we ensure the enhancement and attractiveness of Anilao

as a leading dive destination in the world," explains Usec.

Bengzon.

Dennis Corpuz

Brook Peterson

Yun Na Thing

Cai Heng

18

Bebot Esteban

Cai Heng
---
Peri Paleracio

This year's panel of judges had some of the most respected

names in underwater photography, namely, widely published

French naturalist photographer and marine biologist Laurent

Ballesta; award-winning Belgian underwater and wildlife

photographer Ellen Cuylaerts; macro photography expert and

2015 Wildlife Photographer of the Year Indra Swari; renowned

Singapore-based underwater photographer William Tan;

and Underwater360 founder and Asia Dive Expo's official

organizer John Thet.

The competition had two classes: Open Class for participants

with any type of camera and accessories, in which published

and professional photographers will automatically be placed;

and Compact Class, exclusively for participants using cameras

without interchangeable camera lenses. Mirror-less, SLR, and

similar types of cameras are not permitted in this class. The

categories for the competition will be: Macro/Super-macro,

Marine Behavior, Nudi branch, Fish Portrait, and Cephalopod.

Two special categories will also offered at this year's

competition: Blackwater and Bonfire, which must feature

animals found and photographed by doing either blackwater

and bonfire dives.

The compact class opened up the competition to amateur

enthusiasts using simple equipment such as GoPro action

cameras as well as smartphones. More than 40,000 US

dollars' worth of dive packages, dive and underwater

photography equipment, gears and accessories were awarded

to the contest winners and their respective dive guides.

AUS Winners

In the Open Class, Macro/Supermacro category, winners are:

in 1st place, Yun Na Thing from Indonesia, with a photo of a

wide-eyed fish, its vibrant orange color stand stark against

the blurry background; China's Cai Heng, 2nd place; and UK

and France's Henley Spiers, 3rd place.

PJ Aristorenas Kam Moon Lai
---
Ex Liao

In the Open-Marine Behavior, Dennis Corpuz from the

Philippines took home the 1st prize for his photo of a shrimp

struggling from the grip of the cephalopod's tentacles; Brook

Peterson from the US, 2nd; and Cai Heng from China, 3rd.

Philippines' Bebot Esteban bagged first prize in the

Nudibranch category with her shot of a pastel-colored

nudibranch. Taking the next two spots are Hong Kong's Lai

Kam Moon, 2nd place; and Malaysia's

Mohan Thanabalan, 3rd place.

In the Fish Portrait category, Peri

Paleracio of the Philippines bagged first

place for his photo of a vibrant red fish

with glowing eyes lurking in the shadows;

PJ Aristorenas from the Philippines and

Marco Steiner from Austria won 2nd and

3rd prizes, respectively.

For the Compact Class, the Macro/

Supermacro category winners were Ericson Yee from the

Philippines, 1st place; Narumon Pimsirinath of Thailand, 2nd

place; and Philippines' Ex Liao in 3rd place.

For Marine Behavior, Maria Nerissa Fajardo of the Philippines

won 1st place for her photo of a translucent cephalopod

In the Fish Portrait

category, Peri Paleracio

of the Philippines

bagged first place for his

photo of a vibrant red

fish with glowing eyes

lurking in the shadows.

against the pitch black waters; Jayson Apostol from the

Philippines took home 2nd place, and Korea's Gyoungmi Lee

settled for 3rd place.

In the Compact-Nudibranch category, 1st place went to the

Philippines' Marc Stephen De Leon for his beautiful closeup

shot of a glowing nudibranch "dancing" in the darkness;

China's Haojie Lin, 2nd place, and Ronald Dalawampo, 3rd

place, complete the winners' circle.

In the Fish Portrait category, the fish

opens its eyes and mouth wide open in

the photograph snapped by Philippines'

Regie Casia, 1st place. The two other

winners were Sudong Lim from the US in

2nd place, and Indonesia's Ajiex Dharma

in 3rd place.

Special prizes were won by Ria Crucero of

the Philippines in the Special Beginners

category; and China's Cai Songda in the Blackwater/Bonfire

category.

The Philippines took both titles for the DOT-PAL Photographers

of the Year with Dennis Corpuz for his Open-Marine Behavior

entry, and Regie Casia for his Compact-Fish Portrait photo.

Judges deliberating on AUS2018 entries

Lin Haojie

20
---
--6 BROADWATER

-r;,:;ff/, MARINE

"°..o ,,

1 tvf '' YACHT PARTS SALES AND SERVICE

-o

GET YOUR BOAT BACK TO HOW YOU WANT IT TO BE!

> Inboard & Outboard Repairs & Service

> Electronic Installation & Repairs

> Fiberglass & Gelcoat Repairs

> Marine Carpentry & Teak Deck Repairs

> Carpet & Upholstery

> Aluminium Boat Repair & Refinishing

> Colour Restoration

,.... Propspeed Services

> Transom Repairs & Replacement

> Metal Work & Welding

> Anti-Fouling

> Striping and Decals

> Trailer Repairs or Replacement

> Sail Repairs

ALL WORK GUARANTEED

Phone: 04 7-252-5468/0939-922-3238

www.broadwatermarine.com

SUBIC BAY

MANILA

CEBU

BORACAY

DAVAO

> PUERTO PRINCESA

Tele/fax: (04 7) 252-5468 Mob: 0939-922-3238 (Smart) 0917-829-3507 (Globe)

Tele/fax: (02) 8551-1813 Mob: 0918-963-8148 (Smart) 0917-829-3508 (Globe)

Ph: (032) 341-0474

Mob: 0939-902-0494 (Smart) 0917-327-7931 (Globe)

Ph: (036) 288-2709 Mob: 0918-963-8155 (Smart) 0917-327-7933 (Globe)

Mob: 0918-963-8151 (Smart) 0917-659-7537 (Globe)

(048) 433-2467 Mob: 0912-309-6305 (Smart) 0917-832-3449 (Globe)

21
---
El Galleon Leads

The Way In

Environmental

Protection

To keep the reef healthy

means educating the local

people on environmental

issues to recognise its

importance in their lives.

22
---
A

El Galleon/Asia Divers Environmental Vision

sia Divers/El Galleon has approximately 50

residents from our area working in the resort and

dive centre. Most of these folks have families to

support. The whole community depends on tourism and the

income that is generated from all aspects of it. From the resort

staff, jeepney drivers, boat crews, vendors, builders, shop

owners and their employees, they all make a living through

tourism in some way. Scuba divers from all over the world

come to Puerto Galera for the spectacular diving on a healthy

reef full of fish and corals. To keep the reef healthy means

educating the local people on environmental issues to

recognise its importance in their lives. It also means

that businesses and the whole community have

to do their part for the environment as well.

Due to the lack of infrastructure Puerto

Galera offers, El Galleon realised that

to survive and to be responsible, El

Galleon has to become independent

in the way it operates and improve

the way the resort can help be

environmentally friendly. Some of

these are the construction of an

23
---
Beth Watson

above ground septic system. This system was suggested by

the DENR as a way of managing waste grey water. El Galleon

built this over twenty years ago and has just recently enlarged

this system. It works by pumping your septic tank grey water

to the above ground treatment system. This system is built

with chambers and partly filled by using layers of sand

and river stones. The river stones are

placed based on size, layers of large

to small, and as river stones are porous

the stones collect bacteria and small

particles as the water filters through

and as it works its way through the

large stones thought the small stones

and sand it cleans itself before entering

back into the water table. Our laundry

water we use a leak system at first filter

It works by pumping

your septic tank grey

water to the above

ground treatment

system.

and treat the water before it's pumped into the above ground

septic system to filters back into the ground water. Laundry

water is filled with chemicals and is much harder to treat

than grey septic water. Using a similar system as grey water

we manage to greatly reduce the affects that many ignore.

El Galleon had applied for a zero discharge permit and during

the process we were inspected by the DENR engineering

department. After the DENR submitted their report we

were given a discharge permit without having to submit

the influent test result due to having zero discharge, this

was attested by an independent accredited DENR engineer

laboratory report. We understand by talking

with the DENR that El Galleon Resort is the

only resort in Puerto Galera with this type

of discharge permit.

In an effort to conserve water that is a

serious problem for many business and

household families in Puerto Galera. El

Galleon took on the project of building

its own Reverse Osmosis (RO) Machine.

The project was somewhat a trial and error project at the

beginning but as of today El Galleon can now produce

around twenty-six cubic meters a day and hope very soon to

double that amount with the second RO unit being installed

now.

24
---
Although El Galleon is heavily dependent on its two large

generators to power the resort, El Galleon has small ongoing

project that use solar and battery systems to power

some of its rooms. Today the entire lighting system on the

dive deck is powered by solar. El Galleon is not located in the

best place for solar but El Galleon is committed to using as

much space as we have and as many different methods as

possible to reduce the need for generated power.

There are many other small things we can do to reduce

the waste to the environment; El Galleon has taken on a

no plastic straw policy for one. On top of that we provide

an incentive to all our guests to reduce the number of

purchased water bottles used during their stay. We offer a

very low priced refillable water bottle that they can purchase

on arrival. They can refuel any time at our water stations.

A small 10 peso fee is charged in which 50% of the refill

charge goes as a donation to Project AWARE. This saves

them money on buying bottled water and more important

it's saving the environment by greatly reducing the number

of plastic bottles used.

Asia Divers has been actively involved in the Project Aware

International Clean-up day for many years. We also conduct

underwater clean-up dives at least once a month as we are

involved in Project AWARE Adopt a dive site. All candidates

who are in training to become instructors at Asia Divers learn

how to organise Project AWARE Dive Against Debris and use

the data to change habits - such as a change from plastic

straws to metal/paper, reduce the use of plastic and spread

the message across borders. We also report our data is great

detail so it can be used for policy development. Throughout

the years we have been working along with local schools for

environmental education conducting beach clean-ups along

with presentations about environmental awareness & the

importance of keeping the beach clean.

In the kitchen we recycle our cooking oil and use it for

candles around the resort mixing it with citronella oil to

reduce mosquitoes around the restaurant. The kitchen also

uses a compose pit for much of its waste and this compose is

then used to fertilise the garden.

25
---
The local government has a trash separation system that they

require all resorts to follow. Puerto Galera has passed a rule

that there be no plastic bags, a ruling that El Galleon strongly

stands by. Asia Divers/El Galleon has been separating refuse

for over many years now. Plastics, paper products and

biodegradables and plastic bottles are all put into separate

containers for disposal and or recycling.

Other things we're doing for the environment are: We started

converting high energy use appliances, e.g. aircon units to

inverter models in our classrooms as well as resort rooms.

Whenever there is

a boat to repair/

We also conduct

underwater clean-up dives

at least once a month as

we are involved in Project

AWARE Adopt a dive site.

repaint, we are extra

conscious about

any chemicals

used and also use

sliders to prevent

any material from

ending up in the

ocean. El Galleon

has been designed and constructed in a way to blend in with

the tropical environment. We used many native products such

as bamboo, nipa, stone and rattan to make our setting more

natural and friendly to our environment.

As a resort that is much focused on scuba diving and protecting

our reef Asia Divers Instructors and Dive-masters teach all

courses in Neutral Buoyancy – right from the beginning. Not

only does this give our divers more confidence underwater,

but it helps the awareness of staying off the bottom at all

times, protecting coral reefs and self. Experienced instructors

and Dive-masters lead all of our dives. Detailed briefings

including naturalist aspects are always included. We as

role models for our divers make sure to promote: general

underwater awareness, body and equipment placement, no

touching or collection of shells and corals allowed, buoyancy

awareness and promotion of PADI's Peak Performance

Buoyancy course, continuing education to our local staff, our

customers and our own instructors.

El Galleon and Asia Divers are committed to working to

protect the environment not only here in Puerto Galera, but in

the world in general. Some nine years ago two of the owners

of El Galleon/Asia Divers, Allan Nash and Tommy Soderstrom

road motor bikes around Australia to raise money for charity

and promote awareness of the oceans by supporting PADI's

project Aware "Ocean Debris" project. With the help of

PADI Project Aware both Allan and Tommy organised and

executed beach and underwater clean-ups in every capital

city and gave presentations along with their sponsors, Cressi,

Waterproof Wetsuits, Tusa, Surface Marker Buoy and PADI,

who offered prizes to lucky raffle winners.

A very valuable lesson should have been learnt with the Boracay

fiasco and what can happen if you ignore this. Government

Departments, local councils and Resorts everywhere should

be implementing this type of plan to protect the environment

and their province including the educating of local residents.

Everyone, especially local government bodies and residents

should be doing everything possible to protect their part of

the environment. Anyone who wants further information

to help them establish a protocol can call Alan Nash at El

Galleon / Asia Divers Resort.

26
---
Divilican

Elevation of Luzon Pacific Ocean Coast

The best time to

circumnavigate would

probably be from late

March into April, while

the NE winds still blow

but not too strongly.

The Might of the

Words by BRUCE CURRAN

Photographs as credited

Pacific

28
---
Jay E Jallorina

Palanan

Sierra Madre mountain range

The island of Luzon, the largest in the Philippines

archipelago, measures at just over 1,400 nautical

miles for a sailing round trip. The trick in sailing

around, is determining the right time of year to set

out. The main typhoon season gets into full swing by June

and runs into late October. The NE monsoon winds, the so

called 'amihan', kick in by November and run strongly in

December through March. The best time to circumnavigate

would probably be from late March into April, while the NE

winds still blow but not too strongly.

The most exposed piece of sailing is on the Pacific Ocean

side, primarily from the NE tip of Luzon after swinging

around Cape Engano and on past Escarpada Point. The first

75 miles is a coastline without shelter from the east, and if

the weather is kind there are many great anchorages. 55

miles down the coast Valley Cove gives a little protection

from the NE in 16 metres. In fact, the northernmost of the

cove's four small arms is rated as "an excellent typhoon

shelter for craft up to 40 feet (12.2 metres)". Anchorage

Ocean

Pacific Ocean and a search for an anchorage between Valley

Cove and the Ilang River would be a real treat, if the wind

and sea allowed it.

The alternative could mean a surge in the NE monsoon,

which would build a swell and moderate to rough seas. Since

the sea has come out of the open ocean, there will probably

be a long, smooth, rolling ocean swell, with no short sharp

breaking seas unless one is over the coastal shelf, in which

case the sea would become choppy and confused. The wise

way to sail in these conditions would be further offshore to

avoid a lee shore.

The first chance of real shelter from easterlies comes south

of Divilican Bay, west of little Estagno island, but a more

likely shelter is another seven miles south around the corner

behind a protruding peninsula. South across Palanan Bay

lies a river mouth from where bancas motor 30 minutes

upstream to Palanan town, a thriving community. In this

area a Dutch couple have previously been involved in

can be in depths here of just two to five fathoms (four to 10

metres), with a mud bottom.

The Sierra Madre Mountains run steep directly to this

coastline and provide a spectacular backdrop in an area

where no roads reach the coastline from the interior. One of

the 10 best preserved low land forests on earth thrives in this

area. One stretch of 100 miles along this coast is estimated

to be home to just 700 people. A few rivers run into the

assisting with a turtle hatchery project. They flew once up

the coast in a light aircraft and spotted a pod of whales, and

counted over 200 whales in this one group. This coastline is

so isolated nature is clearly thriving at many levels from the

mountains deep into the open ocean.

A couple of small bays further south offer some chance

of light shelter from easterlies and south-easterlies, but

the first real shelter comes in the Casiguran Sound, tucked

29
---
Sailing out in the ocean

Ocean view

As far as the boater is

concerned, going south

from here is a sailor's

paradise, since there are

many islands to explore.

neatly in behind

the 15-mile-long

San Ildefonso

Peninsula

running SW/NE.

Mountains to the

west and hills to

the east on the

peninsula break

up the stiffest of breezes and no open sea can penetrate

deep into the protective arm. Bottoms are soft mud and clay.

From here on south, anchorages even good enough for

sheltering from typhoons abound, and are reachable within

less than half a day's sail.

The ongoing coastline south of the Casiguran Sound is well

known for its surfing spots. Baler town is the surfing capital

of the area, and the beach area is also well known for being

featured in the 1979 war movie "Apocalyse Now". Marlon

Brando was a major character in the film, with Robert Duvall,

and a local well known film extra, Henry Strzalkowski played

his part and is currently manager of the popular bar in Makati

called 'Heckle and Jeckle'.

Baler is the first town with good road access to the interior

of Luzon, and thereby linked up with the rest of the island.

Down across Baler Bay nestles the town of Baler, one mile

west of the Baler river and a little inland. Port Aurora half

a mile east of the river is in a small cove. A detached shoal

with a minimum depth of 0.9 metres lies about half a mile

ENE of Baler Point. The entrance to Port Aurora lies between

this shoal and the eastern side of the reef that fringes Baler

Point. Poor holding, exposed to the NE with a sand and

rock bottom in 15 metres, lies where the entrance to the

Baler River looks open at a bearing of 180 degrees. At Port

Aurora itself anchorage is in nine metres, but still exposed

from the NE.

As far as the boater is concerned, going south from here is a

sailor's paradise, since there are many islands to explore and

an abundance of suitable anchorages to suit all conditions.

The Might of the Pacific Ocean still has control, but the

sailor can tuck in out of harms way in many places from here

on, and relax while cruising amiably on to the south.

Cape Engano

30
---
31
---
1st Talisay

Fiesta Regatta

Words by ROY ESPIRITU

Photographs by

EDWIN BARRON

& CARLA KRAMER

32
---
3

February 2019 was a historic date for the town of

Talisay and sailing in the Philippines, for the first

time ever the local government of Talisay, Batangas

requested to have a sailing regatta to be part of the

annual celebration of the town fiesta. Being the supportive

sailors that they are, the Taal

Lake Yacht Club (TLYC) Hobie

16 and Oz Goose fleets happily

obliged. A total of eight Hobie16

teams and ten Oz Goose sailboats

participated in the regatta.

For the first time ever the local

government of Talisay, Batangas

requested to have a sailing

regatta to be part of the annual

celebration of the town fiesta.

The race course format conceived for this event was that

of stadium racing, complete with a blow-by-blow account

provided by TLYC's Peter Capotosto. This was done to

address the perception that sailing is not a spectators' sport.

Special awards were set for skippers who were residents

of Talisay and persons with

disabilities (PWD). TLYC staff

who were also residents of the

town were selected to participate

in both sailboat classes and

compete for the Talisay residents'

trophy, PWD's led by paralympic

33
---
sailor Cherrie Pinpin were there in full force sailing Oz Geese,

demonstrating to the audience that sailing is an inclusive

sport that anyone can do.

The location of the windward mark was in front of the Talisay

town market and the finish line placed less than a hundred

meters from shore for best effect. The first race was from

TLYC to the start

The "L" flag flown from

the race committee boat

usually means "come to

me" but this time it meant

"lunch" will be served.

line and leeward

mark located in

front of Balai

Isabel. The Oz

Geese started

first followed by

the Hobie16s.

Upon conclusion

of the first race, three windward-leeward races were to follow,

and were to conclude with a downwind race back to TLYC.

Unlike the regular regattas organized at TLYC there was no

lunch break, meals provided by the Talisay Mayor's office

were instead delivered to crews on their respective boats

by the TLYC rescue boat. The "L" flag flown from the race

committee boat usually means "come to me" but this time it

meant "lunch" will be served.

The weather was just right for the race, blowing between 8

to 12 knots and racing went on without a hitch. The most

challenging part of the course was the approach to the finish

mark near the shore where the wind tended to shift. Lunch

delivery was paused for a while when the rescue boat had to

look into a Hobie16 capsize that happened while the L flag

was flying. The team was able to do a textbook recovery and

lunch delivery and racing resumed.

The most exciting race was the downwind leg from the

From the top: 1st Talisay Fiesta Regatta participants getting a pre-race briefing

from Peter Capotosto

Downwind drag race of Oz Geese back to TLYC

TLYC's Peter Capotosto giving a blow-by-blow commentary by the boardwalk

during the races.

Oz Geese approaching the finish line in front of the Talisay Market.

Below: Three Hobie16s and one Oz Goose heading for the finish

34
---
Boat owners and skippers the

world over who love their boats use

Propspeed, the original marine propeller

and running gear coating that

offers premium performance.

Now Available at

www.broadwatermarine.com

35
---
Balai Isabel mark back to TLYC. What was expected to be

a boring downwind run turned to a broad reach when the

wind shifted from an easterly to a north easterly, the Oz

Goose fleet found themselves flying in a tight drag race back

to the club. The downwind leg was equally exciting for the

Hobie16s, with the several finishes decided only through

a review of footage taken by Peter

Capotosto, a literal photo finish.

Winning 3rd place in the Hobie16

class was Ed Legarda with Edwin

Lucero, 2nd place was Mike Ngu

with Lindo Pahayahay and in First

place was Maria Vidoeira with Bong

Bendole. 3rd Place in the Oz Goose

Class was Paulo Topacio, 2nd was Job Ferranco both of

whom were sailing single handed and winning first place was

Cherrie Pinpin with Justin Casambre. Proving that the extra

weight of crew on an Oz Goose does not really matter when

sailing in moderate winds.

Nestor Rosero sailing a Goose won third in the Talisay

residents' trophy. Second and first was a tight race between

Boyet Mendoza sailing a Hobie 16 and Jason Antonio sailing

When the wind shifted

from an easterly to a north

easterly, the Oz Goose fleet

found themselves flying in a

tight drag race back to the

club.

an Oz Goose, both came in fourth

place in their respective classes and

both tied in the number of points.

Jason Antonio eventually won the

countback when it was found that

he had one more higher place finish

than Boyet.

In the PWD class, Joy Habana with

Jun Samadan won third, Clytie Bernardo with Leo Po won

second and Cherrie with Justin who also came in first overall

in the class won first.

Winners of the 1st Talisay Fiesta Regatta from L to R: Peter Capotosto (TLYC),

Ed Legarda, Clytie Bernardo, Len Barba (Talisay Tourism), Cherrie Pinpin, Joy

Habana, Job Ferranco, Paulo Topacio, Maria Vidoeira (seated)

Awards for the winners

36
---
37
---
Destination: Malap

Words & Photos by

HEATHER FRANCIS

When planning a trip, average travellers looks at

flight prices, hotel recommendations and local

attractions at their destination. When traveling

by yacht, however, you see things from a

different angle. Sailors decide to visit places not because

of availability of hotel rooms but by looking at potential

anchorages.

Malapascua is famous

for its white sand

beaches, crystal clear

water and the yearround,

world-class

diving with thresher

sharks.

A safe anchorage has a

few basic requirements.

It should be easy to sail

in and out of, provides

protection from the

predicted winds and

swell, and has good

holding in not too deep

water. The Philippines is

home to 7107 islands,

which can make finding

your next anchorage both an easy task, and completely

overwhelming. On the chart the island of Malapascua

looked like a perfect spot to stop.

We arrived on the south side of the island just after midday

and after setting the anchor in a patch of sand off a local

beach strewn with fishing boats. We took our time tidying

up from the day's sail, waiting to make sure that the anchor

would hold. Happy that the boat was secure we put the

outboard on the dinghy and went ashore to explore.

Following the local boat traffic, we motored the dinghy

down the coast and into a large, shallow and very busy

bay. The beach was a confusion of boats and bodies, with

everyone jockeying to get one of the last parking spots

on the sand before the tide receded. Knowing that there

were large tides and a slowly shoaling bottom we decided

to anchor the dinghy off the beach, away from the crowd,

strip down to our bathing suits and swim ashore.

Malapascua is famous for its white sand beaches, crystal

clear water and the year-round, world-class diving with

thresher sharks. The island has been a vacation hot spot

enjoyed by international tourist for years, but it is the local

tourists that cause the island to overflow one weekend in

May. We happened to drop the hook the day the bangkas

from the mainland started to arrive.

and balloons on every corner and carried on the breeze was

the familiar, mouth-watering aroma of lechon; a whole pig

spit-roasted over coals, a specialty of the Cebu area.

Wandering around we came upon a large, white church and

finally learned what all the commotion was about. It was

the Annual Fiesta of the Virgin de los Desamparados, the

patron saint of Malapascua. Judging from what we'd seen

on the island so far, we'd stumbled into what was shaping

up as the party weekend of the year.

Later that afternoon we found a stool and a cold San Mig

at a bar over looking the beach. While watching the sunset

and the tide recede we discussed our sail plan. We had only

intended to over overnight in Malapascua, but the weather

looked favourable and we rarely sail on strict schedule. We

decided to stay and enjoy the festivities.

The next morning, while enjoying coffee in the cockpit,

we were treated to a front row seat to watch the parade

of sail. Bangkas large and small were decorated and driven

down the coast. Merry-makers old and young filled the

decks, dressed for the occasion, singing and waving as they

passed our stern. The most important boat in the parade

was a large, elegant, white bangka that carried a statue of

the Virgin de los Desamparados, blessing the island and the

surrounding waters for the coming year.

Hoping that there would be more to see and do ashore,

we hopped in the dinghy to treat ourselves to lunch on

the beach. Before we even hit the sand, we stumbled on

another, exciting display put on by the local boat owners: a

high speed bangka race around the harbour.

We anchored the dinghy and joined the crowd of Filipinos

huddled under the shade of the palm trees, trying to escape

the scorching midday sun. Three boats at a time were lined

up at the shoreline and readied for the next race to begin.

The island parish

Walking around the small island we were greeted with

smiling faces everywhere we turned. Pop up stalls crowded

the narrow streets close to the beach selling everything from

pots and pans to blow-up beach toys. There were banners

38
---
ascua, Philippines

BIO-Heather Francis is originally from Nova Scotia,

Canada. For over a decade she has travelled the world

living and working on the boats. In 2008 she and her

Aussie partner Steve bought their Newport 41', Kate, and

have been sailing her full time since. You can follow their

adventures at www.yachtkate.com.

39
---
Before and After, anchoring the dinghy out

These were not the average boats used by the island's

fishing fleet but sleek, small vessels barely big enough for

one man.

Starting the loud, four-stroke inboard engines using a pull

cord the drivers were at the ready. With a rooster tail of

spray following them the three boats

speed off across the turquois water,

rounding two marks and then rocketing

back to shore. The winner had a large

lead and plenty of finesse. He was

definitely the crowd favourite. As one

of his competition arrived across the

finish line he drove elegant pirouettes

around him, much to the delight of the

onlookers.

It was only after they crowned the winner did I realize that

the race boats were not only small, they had no rudder.

The driver used only his body to navigate the boat around

the course. Those tight, high-speed circles were made

by subtly shifting his body weight. It was an even more

impressive feat of seamanship.

That evening, from our favourite barstool above the beach,

we watched as the weekend crowd arrived by the last ferry

of the day. Low tide meant a long walk to shore through

When we returned to the

dinghy for a sunset ride

home it was high and

dry, but those same boys

offered to help us drag it

out into deep water.

the tangle of seaweed and kids that played in the shallows.

Extra people meant extra supplies, and as the light faded

an endless procession of boys carried water, beer, bed rolls

and food ashore on their shoulders, like ants stocking up

for the winter. When we returned to the dinghy for a sunset

ride home it was high and dry, but those same boys offered

to help us drag it out into deep water.

The festive atmosphere continued into

Sunday. More people arrived, more

pigs were roasted, and space was made

for more boats in the already crowded

harbour. That evening it seemed like the

whole island gathered at the stone church

for the sunset service. Worshippers filled

the courtyard and spilled out onto the

streets. Coloured buntings, balloons and

strings of lights filled the sky. Voices raised in song drifted on

the breeze as we dinghied back to Kate.

We decided to depart Malapascua the next morning. The

weather forecast predicted clear skies for the next few days,

not to mention a little bit of favourable wind to take us to

our next safe anchorage. It is never an easy decision to leave

when you're been so warmly welcomed but Malapascua

had whet our appetites, and now we wondered what new

adventure awaited us on the next island on the chart.

40

Bangka races Smell of lechon in the air Bringing supplies ashore
---
41
---
Subic SailingC

Outstanding International

Words by IHCA

Photographs by ADAMO AONO

This World Championship

was the largest Hansa

Class Worlds ever held,

with 191 competitors

from 24 Nations. Each

fleet boasted record

numbers of entrants, with

52 entrants in the 303

doubles alone.

42
---
Club Awarded

l Contribution of of the the Year Year

Words & Photos by

SUBIC SAILING

Last November 9, 2018 at the China Cup 2018 Sailing

Spirit Grand Ceremony held at the Historic Dapeng

Fortress in Shenzhen, Subic Sailing Club (SSC) was

awarded by the China Cup Organizing Committee as

an "Outstanding International Contribution of the Year" to

the sports and development of sailing in the Region along

with the Clipper 2017-18 Around the World Race, The Royal

Hong Kong Yacht Club and The Far East Cup. SSC Founder

and Commodore Jun

The relationship grew

from there as ssC

competed in Beneteau

First 40.7, Soto 27 and

Far East 28R one design

classes in the succeeding

years thereafter.

Avecilla received the

prestigious award on

behalf of the Club.

The China Cup

International

Regatta(CCIR) and

Subic Sailing Club's

(SSC) association date

back 12 years ago

when Subic Sailing Club, (then called the Saturday Afternoon

Gentlemen Sailing Club or "SAGS") co- founder Jun Avecilla

joined the inaugural CCIR in his Beneteau First 36.7 Selma

Star representing Team Philippines. The relationship grew

from there as SSC competed in Beneteau First 40.7, Soto 27

and Far East 28R one design classes in the succeeding years

thereafter. In fact, SSC has participated in 8 of the 12 years

of CCIR's existence fostering goodwill and friendship.

A partnership and Joint Cooperation Agreement between

Subic Sailing Club, organizer of two Philippine premier

international yacht racing events that are part of the

Asian Yachting Grand Prix Circuit namely the Subic Bay to

Boracay Race and the Boracay Cup Regatta (SBBRBCR),

and the Commodores Cup Regatta (CCR), under the helm

of former Subic Bay Yacht Club Commodore Ricky Sandoval

and SAGS/SSC Founder Jun Avecilla was forged with Mr

David Zhong (Deputy Secretary General of the Organizing

Committee of China Cup International Regatta (CCI ROC)/

Chinese Yachting Association Club Management) in 2014.

Thereafter an expanded agreement was signed with CCI

ROC/Shenzhen across Four Oceans Sailing Club in 2017, in

the spirit of cooperation to participate in reciprocal regattas

and activities and develop sailing between the two countries.

To jointly promote the branded sailing events organized by

both parties, expand the sailing sports' influence in the

Asian regions.

43
---
44

As an endorsement to the Partnership and Cooperation

Agreement, witness to the signing were Hong Kong/China

sailing legend Frank Pong and Philippine Sailing Association

(PSA) President Judes Echauz who for the past 3 years

has competed in the China Cup in his TP 52 Centennial III

and fielded top PSA team composed of National sailors

in the Fareast 28R. They are the defending Champions in

the respective Division having won last year. This year the

Standard Insurance PSA Sailing Team is the overall winner

for the IRC A division as well as the Asian Sailing Federation

One Design Class once again!
---
Subic Sailing Wins 3rd Place Overall

in the Inaugural Macau Cup Regatta

SIt was participated by 10 countries

composed of Japan, Germany,

Australia, France, Russia, UAE, Canada,

Singapore, Estonia and the Philippines.

This event was in conjunction with

the Guangdong-Hong Kong Macao

Greater Bay Area Cup which was also

participated by another 10 teams

from Macao, Hong Kong, Shenzhen

and Guangzhou with over 300 sailors

participating.

ubic Sailing-Turquoise Team headed by Jun Avecilla

won 3rd place overall in the One Design Beneteau

40.7 Class in Macao Cup International Regatta

(MCIR) last January 10-13.

The Subic Sailing-Turquoise 10-man Team is composed

of Zed and Marcus Avecilla, Seymour Saldavia, Philippine

It was a very tight

competition up to the

last race of the series

which became a shootout

between Germany, France

and the Philippines for the

overall title.

Sailing Association 470 SEA Games Medalist Emerson

Villena and Lester Tayong together with the Japanese

Turquoise Team composed of Yukie Ikawa, Yoshiya Sasaki,

Kim Taesoo and Hiroki Maeda.

In line with the Macao Greater Bay

Area development plan, the Sports

Bureau of the Macao SAR Government,

Across Four Oceans Sailing Event

Management, Marine and Water

Bureau of Macao and Macao Sailing

Association jointly organize these

events as part of China's effort and

commitment in developing the sport

of sailing not only in China but also in Macau which is a

Special Administrative Region of the People's Republic of

China. The organizers are looking to nurture marine sports

in Macao, to enrich local sport events, and to support

Words & Photos by

SUBIC SAILING

45
---
46
---
the work in consolidating Macao as the "World Centre of

Tourism and Leisure".

During the opening ceremony held at the Macau Fisherman's

Wharf, Christine Lam, acting president of the Macau Sports

Bureau which spearheads the prestigious Macao Grand Prix

said, "This is the first time for Macau to host a large-scale

international regatta, ushering in a new era for water sports

in Macau at an international level," adding, "It also plays an

active role to facilitate the development of water sports."

She also noted a great lineup of international top-notch

sailors which includes French Sailing Legend, Lionel Péan,

winner of the 1986 Whitbread Round the World Race which is

now known as the Volvo Ocean Race. Other well-experienced

sailors includes German skipper Albert Diesch, 6m World

Champion Gold Medalist and his experienced League Sailors;

Estonia skipper Alar Volmer, ORC World Champion; Russian

Skipper Igors Bukovskis and his team of professional sailors

who have experienced in several world championship events

including the China Cup and the Giraglia Rolex Cup.

The four-day regatta was held in the waters around Hac

Sa Beach. A total of eight races with geometric courses

completed the series for the MCIR. Wind condition was

fairly light to moderate with temperature of 15-17 degrees

Celsius. Some teams found it challenging to compete

in the city's recent weather due to low visibility and light

wind condition. As part of the event and in order to allow

spectators "to appreciate the spectacular skills of worldclass

sailboat racers in close proximity on shore, and to

experience the thrills of sailing and breaking the waves,

six Nacra 17s staged an exhibition race everyday along the

waterfront between the Macau Tower and the Macau Inner

Harbour. There was also a Parade of Sail during the opening

and closing days of the regatta, from Fisherman's Wharf to

the Macau Tower and back again.

Subic Sailing Turquoise Team, after a great first day

performance with 6 points tied with Germany and France,

dropped their position on the second day having difficulty

with the super light wind conditions, but was able to catch

up by winning 1st place on the 3rd day. It was a very tight

competition up to the last race of the series which became a

shootout between Germany, France and the Philippines for

the overall title.

However, it was Team Estonia 100 and Russian Team Sukpai-

Four Wind who got first and second place respectively

after a very close battle between the top leading teams

Germany, France and Philippines. As the dust settles, Team

WYC Lake Constance (GER) won just by one point ahead

of Marenostrom Racing Club (FRA) having a tied score

with Subic Sailing Turquoise Team by the end of the series.

Unfortunately, losing in the count back to France and

grabbing 3rd Place Overall. "The competition was tough,

and we started the last day with a slim lead which we worked

hard to defend. This was good quality competition, and we

are very happy to be the winners."

It was a great competition and experience for the Subic

Sailing Turquoise Team and a great inaugural event for

Macau. Congratulations to all the participants and organizers

for a wonderful regatta."We look forward to being back here

next year for another tilt at the trophy," said Jun Avecilla,

skipper of the Subic Sailing Turquoise Team.

47
---
48
---
49
---
Fountaine Pajot

Mr. Olivier Besson, CEO Asia Yachting

Scarab

50

Monte Carlo Yacht

Leading

Hong Kong

Luxury

Yacht Dealer

ASIA YACHTING

Sails into the

Philippines

Nautique
---
Hong-Kong based yacht company Asia Yachting is

expanding its dealership and brokerage business

to Philippine shores to give Filipinos a chance to

experience its top-of-the-line products and services.

"With its more than 7,100 islands, beautiful waters, and warm

weather, the Philippines is a haven for watersports as well as an

exciting destination for sailing and yachting - comparable to

other prime locations in the region and around the world," said

Olivier Besson, Asia Yachting CEO. After partnering with a new

technology company in Paris, Olivier migrated to Hong Kong.

By combining his passion of yachting and engineering, Olivier

brings the French Riviera yacht lifestyle to Asia while creating

an exclusive private yachting dealership and brokerage.

"Filipinos are naturally drawn to the water regardless of age or

sociology-economic status, and we look forward to offering

our brands to this new and promising market," he continued.

Founded in 2007, Asia Yachting has established itself as

a trusted brand in Asia, with services covering new boat

ownership, brokerage, and boat management. It has an

extensive and diverse brand portfolio, from multi-functional

boats and luxury mega-yachts, to specialized wake-surfing

boats and jet-boats, plus second-hand boats.

According to Bianca Jison, Asia Yachting Philippines Sales

Director, their products fit every taste and budget. "When it

comes to new boats, we only offer vessels from world-famous

shipyards from Italy, France, and the US that are functional,

versatile, and beautifully made. Our vast selection of used

yachts from Hong Kong also offer excellent value for money

as they are in generally well maintained with low engine

hours, making them perfect for resorts or first time owners."

Asia Yachting has five exclusive dealerships in the Philippines.

Monte Carlo Yachts are semi-custom Italian yachts - the

"Bentley" equivalent; Prestige, built in France by Beneteau,

the world's largest yacht builder; Fountaine Pajot, the worldfamous

catamarans from France known for building the

most luxurious and best performing sailing catamarans and

amazing motor catamarans; Nautique, the most awarded and

best wake-surfing boat in the world; and Scarab jetboats,

available in speedboat or center-console versions.

Asia Yachting aims to replicate its successful Hong Kong business

model in the Philippines by setting up an advanced marine

service center staffed by experienced maritime technicians

and specialists whose focus is on preventative maintenance to

ensure yachts' excellent condition and functionality.

The company prides itself in providing superior and personalized

after sales services, which drove their success in Hong Kong,

where Asia Yachting operates its own shipyards with highly

qualified engineering teams looking after their clients' vessels.

"Our relationship with the owner does not end when we sell

them the boat. Instead, that's where it begins. The high number

of satisfied repeat clients is testimony to that," Besson noted.

For more information about Asia Yachting and its products,

please visit its website www.asiayachting.net. (30).

Editorial &

Photography

Courtesy of

ASIA YACHTING

Prestige

51
---
Siargao

The

World Game

Fishing

Words by JAMES WEBSTER

Photographs as credited

Tournament

52
---
S

iargao sits in the Philippine Sea. This tear drop

shape island, about 800 kilometres southeast of

Manila and in the province of Surigao del Norte

had been a closely guarded secret by locals as a

beautiful surfing and fishing haven with waves that could

not be matched anywhere else in the world. Its tourism was

nil until the late 1980's when two foreign surfers ventured

to the island looking for the perfect wave and they found

it in the municipality of General Luna and named it the

"Jacking Horse" which was later to be

known as Cloud 9.

News spread fast of this surfer's

paradise and surfers from all over the

world came to Siargao to test their

skills until in 1992 a famous surfing

photographer took photos of world

class surfers testing their prowess. The

photos were published in surfing magazines worldwide and

Siargao became a major tourist spot in the Philippines, soon

to be known as the surfing capital of the Philippines.

This right-breaking reef wave with a reputation for thick,

hollow tubes is now the site of the annual Siargao Cup, a

domestic and international surfing competition sponsored

by the provincial government of Surigao del Norte.

Siargao's unique

location also make it

one of the most exciting

fishing locations in all

of Asia if not the world.

The Philippines, being an archipelago surrounded by water

make it not surprising that it boasts world class surfing waves

such as those found in Siargao. However, Siargao's unique

locations on the periphery of the world's second deepest

ocean trench also make it one of the most exciting fishing

locations in all of Asia if not the world.

Siargao's sport fishing areas encompass all the reefs that

border and protect the island's east coast. The waters present

first-rate sport fishing, which abound with

Sailfish, Marlin, Yellow-Fin Tuna, Wahoo,

Giant Trevally and Dorado.

While sports' fishing has been an elite

recreational sport in the Philippines since

the 1970's it wasn't until 2008 that the

first Game Fishing Tournament in the

Philippines was launched. The first Siargao

Game Fishing Tournament attracted some 64 anglers from 10

countries to an event running from 16-20th of April, 2008.

Siargao's weather is unique in that it is so predictable all year

round, particularly from April to October, making it beneficial

to a tournament, anglers and their families, founded as a

tourist event to create economic opportunities for island

businesses. With the continued support of local government

53
---
the Siargao World Game Fishing Tournament has become

an important date on the International professional fishing

calendar.

The number of entrants have fluctuated through the years

but always remained above 50. Its name has also changed

from its inaugural

year to The Siargao

The Siargao World Game

Fishing Tournament

has become an

important date on

the International

professional fishing

calendar.

International Sports

Fishing Tournament

and to what it was

billed as in 2018,

"The 11th Siargao

World Game Fishing

Tournament."

The 2018 Tournament,

held from April 12-16,

2018, was dominated by Filipino anglers with 64 professional

contestants from the United States, Canada, Japan, Taiwan,

Australia, UK, Mexico, Germany, Singapore, Norway, Hungary,

Spain and other European and Asian Countries.

There were many great catches in all categories with Filipino

angler Mar Lonzon producing the largest catch and taking

out the largest sailfish category with a massive 44.1 kilo

(97.22 pound) Sailfish.

54

Siargao is now not only the top tourist spot in the Philippines,

it is also known as the Surfing capital of the Philippines and

the Fishing Capital of the Philippines. I wonder why.
---
55
---
SIMPSON MARINE Appointed

Editorial & Photos

courtesy of

SIMPSON MARINE

in in Asia Asia and and Fairline in in H

Simpson Marine, Asia's largest yacht dealership and

Services Company has recently become the official

representative for Aquila Power Catamarans in Asia.

The company currently offers the full line of Aquila

yachts from 36ft-48ft in Hong Kong, China, Taiwan, Thailand,

Singapore, Philippines, Malaysia, Vietnam, Cambodia and

Indonesia.

"Adding to the portfolio of our five prestigious brands with

Sanlorenzo, Monte Carlo Yachts, Lagoon, Beneteau and Viking,

Aquila Power Catamarans is a great addition to the lineup of

yachts we represent and fills the gap in our product portfolio

to cater for the growing Power Cat market. Aquila will certainly

appeal to customers by its modern design, high quality of

build and finish along with their innovative and very userfriendly

comfort and handling features", explains Richard Allen,

Simpson Marine Group Sales Director.

Simpson Marine is also delighted to announce the addition

of Fairline Yachts to its brand portfolio in Hong Kong and the

Philippines.

With a history spanning more than 50 years, UK based Fairline

has a long-standing international reputation for its award-

winning range of yachts, comprising the newly announced

express-cruiser F-line, the modern and performance motor

cruiser Targa line (43-63') and the luxury flybridge Squadron

line (48-64'). The three ranges have been entirely redesigned

by Alberto Mancini, the reputed Italian designer, who has

worked with many of the most iconic yacht designers and

motor-yacht builders in the world. Mancini has indeed injected

his inspiration from the mega yacht field into all the new

Fairline models, while upholding the ethos of Fairline's timeless

understated elegance, comfort and performance.

"Appointing Simpson Marine, Asia's most established and

trusted yacht Dealership Company is an important milestone

for Fairline's growth in Asia. With several yachts already based in

Hong Kong and more on the way, Simpson Marine will certainly

provide first class service support to our owners and future

buyers. The company is widely recognized for its stability and

integrity and these are the values we highly respect at Fairline

Yachts", explains Karl Gilding, Fairline' Business Development

Director.

This acquisition of Fairline distributorship completes Simpson

Marine's brands portfolio with Sanlorenzo, Monte Carlo Yachts

(excl. HK), Beneteau, Lagoon, Viking and Aquila in Asia.

Aquila 44
---
d or for Aquila Power Catamarans

HK and and the the Philippines

Squadron 48 by FAIRLINE

Squadron 48 Interior

ABOUT SIMPSON MARINE

SIMPSON MARINE was founded in 1984 in Hong Kong by

Mike Simpson as a yacht sales and charter company focused on

meeting the needs of the developing marine industry in Asia.

By the end of the 1980's the company had been appointed

regional distributor for several leading European yacht brands,

and had recruited an expanding team of sales and after sales

service professionals around the region.

Today the company employs over 100 professional staff and has

a well-established sales and service network across Asia with

seventeen offices spread within: Mainland China, Hong Kong,

Taiwan, Singapore, Malaysia, Thailand and Indonesia. Simpson

Marine represents some of Europe's and the United States'

most prestigious yacht brands and with 33 years of experience

in Asia, has developed a reputation for delivering exceptional

service for prospective, current and past clients in all aspects of

yacht purchase and ownership.

SIMPSON MARINE is Asia's leading international yacht

dealership, brokerage and service company and is considered to

have played a pioneering role in the development of the yachting

industry in Asia. The company possess its own Superyacht

Division based in Hong Kong and Charter Company in Thailand.

For more information visit www.simpsonmarine.com.

Aquila 44

Aquila 44
---
DESTINATION

Words by BARRY DAWSON

BALER

Photographs as credited

Aurora

B

aler in Aurora Province, the birth place of surfing

in the Philippines is one of Luzon's hidden gems.

Located 231 kilometres north-east of Manila, it

is only a leisurely five-hour ride from the nation's

capital. Baler is the capital of Aurora Province. It is located at

about the midpoint, on the east coast of the main island of

Luzon. The town faces the deep blue of the Pacific Ocean,

which gives it the surf that it is renowned for.

Aurora province has borders with the provinces of Isabela,

Quirino to the north, Nueva Vizcaya

and Nueva Ecija to the North West and

west and Bulacan and Quezon to the

south west and the south.

It is host to spectacular geographic

formations and is situated on a vast

plain at the south end of Baler Bay,

a contiguous segment of the Sea.

Dubbed the birthplace of surfing in the

Baler has more to

offer than just surfing

— there's history in

every corner and other

places to explore.

Philippines, it was first known for its waves that can reach

up to 2.7 meters tall. This surfers' paradise is just so because

the town's coast faces the Pacific Ocean with its strong

winds and large waves. But Baler has more to offer than just

surfing — there's history in every corner and other places

to explore.

The town of Baler bears witness to the Spanish colonial

period and its influence on Filipino culture. At the Museo

De Baler, one can catch a glimpse of this period in history,

with various artefacts such as Chinese

porcelain from the galleon ships, photos

about traveling on a galleon ship, as well

as artefacts about the Siege of Baler, said

to be the final stand of Spanish soldiers

during the Spanish-American war. Take

a walk in time and see places like the

ancestral house of Aurora Aragon-Quezon

is located only a few steps away from the

Museo De Baler. Aurora Aragon was born

Surfing in Cemento Beach

58
---
59
---
Baler Municipal Government buildings and the plaza

BALER

in Baler to Pedro Aragon and Zenaida Molina. She married

Manuel L. Quezon, who later became the second President

of the Philippine Republic, making her the second First

Lady of the Philippines. The house stands

on land that is owned by the Aragon family

and its structure reflects classic Philippine

architecture reminiscent of the "bahay

kubo," a simple hut made of wood and nipa

(Palmer's grass) for roofing. The house is

said to be an extension of the Museo De

Baler, as this is where the restored cars

of late President Manuel L. Quezon are

displayed. The town's greatest son.

In 1609, seven Franciscan missionaries, led by Fray Blas

Palomino, founded the settlement of Baler, which was later

converted into a pueblo (town) by the Augustinians and the

A new community

sprang into what is

now the Poblacion

of Baler, leaving

"Kinagunasan," the

place of devastation.

Recollects in 1658. Due to scarcity of religious missionaries,

the Franciscans again took over the administration of the

settlement in 1703.

On 27 December 1735, a great storm came

and a huge wave called tromba marina

devastated the old town settlement,

then located in Barrio Sabang. Among

the survivors were the Angaras, Bijasas,

Bitongs, Lumasacs, Carrascos, and

Pobletes who swam toward the nearby

Ermita Hill. A new community sprang

into what is now the Poblacion of Baler,

leaving "Kinagunasan," the place of devastation. A mural

depicting this wave can be found in the Museo de Baler in

town. People with connections to the town are referred to

as Balerenos. Prior to the arrival of Spanish missionaries in

Baler in 1609, settlements by Aeta people and Ilongot in

Baler's coast and mountain areas already exists. Tagalogs,

some originating from Palanan and Infanta, Quezon, came

in to the area to trade by boat. Some Tagalogs settled in

Baler and married with the Aeta and Ilongots. The Spanish

brought in Filipino acolytes from other areas of Luzon from

1609 to 1899. During this period, Baler can only be access

by sea though the town saw increase migration from other

parts of Luzon such as Laguna, Tayabas, and Bicol from the

south. The opening of the Baler-Bongabon Road allowed

easier migration of people from Ilocos and Isabela areas

from the north. The road also allowed Igorot people and

Batangueños to settle in Baler.

San Luis Obispo de Tolosa Church

60

On 27 June 1898, 15 days after the Philippine Declaration

of Independence, 54 Spanish soldiers of the Baler garrison,
---
61
---
under the command of Captain Enrique de las Morenas y

Fossi, made San Luis Obispo de Tolosa Church, named in

Spanish for Louis of Toulouse, their barracks. When de las

Morenas died on 22 November 1898, Lieutenant Saturnino

Martín Cerezo replaced him. On 2 June 1899, the last

Spanish garrison in the Philippines surrendered after the

Siege of Baler, effectively ending over 300 years of Spanish

rule in the country. The plaque displayed outside the church

tells the story of the siege.

BALER

"A Spanish Garrison of four officers and fifty men was

besieged in this church by Filipino insurgents from June 27,

1898, to June 2, 1899. Offers of peace and demands for

surrender were refused on five occasions.

From newspapers dropped into the court

by an emissary of General Rios on May 29,

the garrison learned for the first time that

the Philippines had been lost to Spain and

for many months there had been no Spanish

flag in Luzon, except the one waving over

Baler Church. Broken by starvation and

tropical diseases, the depleted command

arranged a truce with the insurgents

and marched out of this church across

the mountains to Manila on June 2, 1899. Of the original

garrison two officers, the priest and twelve men had died

from disease; two men had been killed by insurgent bullets;

two men had been executed; two officers and fourteen men

had been wounded; six men had deserted. The fortitude of

the garrison was praised by General Aguinaldo in a public

document issued at Tarlac on June 20,1899. Upon their

return to Spain, the survivors were rewarded by the Queen

Regent in the name of Alfonso XII and the Spanish Nation."

Ermita Hill

As the tsunami

ravaged the town,

the few surviving

families made their

way to Ermita Hill to

seek refuge.

Ermita Hill is located in Barangay Zabali, Baler and while it

may not have artefacts like the museum and the ancestral

house, it does commemorate a catastrophic tsunami that

occurred in 1735 that wiped out the settlements in town.

As the tsunami ravaged the town, the few

surviving families made their way to Ermita

Hill to seek refuge. They survived and

joined the local parish priest in rebuilding

the town. As visitors go up the hill, they will

see a set of statues of people helping each

other up the hill, put up as a remembrance

to the tsunami survivors. Upon reaching

the top of the hill, visitors will be rewarded

with a view of Baler Bay, Sabang Beach,

and the Pacific Ocean. Picnic facilities, a

chapel, and gazebos are also available for visitors to stay a

while and enjoy the view.

Ermita Hill

62
---
Buoyancy Watersports

Even when adventure isn't in the town proper, it isn't hard

to travel to other parts of Baler. You can visit Ermita Hill,

the highest point of Baler, and see the beauty of Baler Bay,

Sabang Beach, and the Pacific Ocean from the top. And

since you're already in Barangay Zabali, why not get a taste

of their water, too? At the Baler Fish-port, you can try out

Buoyancy Water Sports Baler's UFO Couch, Banana Boat,

Flyfish and the exciting Jumbo Ride.

Dicasalarin Cove

Dicasalarin Cove is a stunning cove that is privately-owned

by the Angaras, who also own Costa Pacifica. If you want to

come here and get a discount on the entrance fee of 6 USD,

you must be a guest of Costa Pacifica. Tours to the cove

can be easily arranged with the hotel, and the entrance fee

will be slashed to just 2 USD. The cove is known for having

one of the best vistas of Baler, which can be seen from

the modern lighthouse in the cove, or the nearby weather

station. Going to the cove, one must take a four-by-four

vehicle as the road is steep.

Dicasalarin Cove

the more daring and adventurous traveller, you can also try

your hand at diving and exploring the reefs nearby. A visit

here can be done together with a day trip to Diguisit Beach,

which is nearby.

This hidden gem has the visitors so much to offer. And was

officially the surfing capitol of the Philippines. Surfing in

Baler is dependent on what the weather is doing. It can have

some of the best surfing in Luzon. When the might of the

Pacific Ocean stirs it can dump some might big swells on to

the coastline of Aurora. There is a wave just about all year

in Baler, but the peak periods for consistent good quality

waves is from October to February.

It would be remiss of me not to mention how the sport of

surfing became popular in the small town of Baler. Part of

San Luis Obispo De Tolosa Church

Dimadimalangat Islet

Marking the southernmost tip of Baler Bay this inlet has

to be on your bucket list, and during low tide, visitors can

walk to the islet and explore its interesting surroundings.

Discover what kind of marine and plant life can be found

in the islet, you may end up spending some time here. For

63
---
Surfing in Cemento Reef

BALER

the film Apocalypse Now was filmed in Baler at Charlie'

Point. If you remember a surf scene where US soldiers were

catching some waves, you would be

viewing Baler. When the film crew

departed they left their surfboards

behind, igniting a local passion for

surfing.

Surfing in Aurora is limited by your

access to the sites that are there. For

perfect surf you need not look to far,

but should you want to hire an banca

and do some exploring, then I'm sure

you will not be disappointed.

It is known for its

medium quality righthand

and left-hand break

waves on a sandy and

gravel bottom.

These are some of the more popular surf breaks in Baler:

Cemento Reef

This right handed reef break is not for

the beginner. It is about a 45 minute

walk south of Baler, or the easy option

is to catch a banca to the reef, about

10 minutes. Cemento Reef can cope

well with big swell and if you are game

and experienced a nice 4.5 metre

barrel will greet you. You will find that

Cemento is usually the spot for the

annual Aurora Surfing Cup.

Charlie's Point

Charlie's Point, locally known as "Kagewad," derives its

name from the movie Apocalypse Now where part of the

film was shot in the late 1970's. It is known for its medium

quality right-hand and left-hand break waves on a sandy

and gravel bottom (left hand wave: a wave that breaks from

right to left from the point of view of the surfer, requiring

the surfer to turn left to catch the wave).

At Charlie's Point, a river mouth break, can be found where

the Aguang River meets the Philippine Sea. So if your forte

is for calmer waters, then try your hand at Paddle Boarding

in the pleasant calm of the Aguang River.

64

Charlie's Point
---
65
---
Surfing in Sabang Beach

Located at Barangay Reserva, Charlie's Point is within a few

minutes' tricycle ride from Baler town proper on the north

end of Sabang beach. On foot, it is about a half hour's easy

walk from Bay's Inn Lodging & Restaurant at Sabang Beach.

BALER

Lindy's Point

Found north of Baler, Lindy's Point

was created when the mouth of Baler

Bay was opened up to prevent floods

during the wet season. The actual

break runs left and right.

Sabang Beach

Just a five to ten minute drive from Baler CBD, Sabang Beach

is famed for surfing in Baler. Since Filipinos did not know the

sport, it was said to have been introduced by Americans who

filmed the Vietnam War movie "Apocalypse Now" in Baler.

When they left, most of them left behind their surfboards,

which were picked up by locals who went on to continue

the sport, and why it is known as the birth place of surfing

in the Philippines. You can go ahead and rent a board for

an hour of hanging ten. Or if you don't know how to surf,

get a few lessons in; there are several surf schools along the

beach with experienced instructors. Sabang Beach is perfect

for beginners because its soft sand will make your spills and

wipe-outs easier. There are several hotels and resorts lining

and near the beach, making it easier for surfers to get up

early to catch some waves. The waves here are seasonal.

They arrive during the months of October to February and it

is an ideal spot for first time and learner surfers. As the swell

66

Sabang Beach is

perfect for beginners

because its soft sand

will make your spills

and wipe-outs easier.

gets bigger more experienced riders can have an absolute

ball. It breaks on sand and is a left and right pleasing both

natural footers and goofy's alike. Sabang beach is must visit

on your bucket list when in Baler.

Diguisit Beach

Surfers who want a more challenging

surfing experience should go to

Diguisit Beach, located 14.9 mi (24

kilometres) away from the town

centre, along Baler Bay. The waves

here are much harsher than Sabang,

and the rocky beach makes it all the

more challenging. If you are not a

surfer, however, you can go to Diguisit to admire its rock

formations called Lukso-Lukso islets. This pair of rock

formations show visitors how powerful the wind and sea

Diguisit Beach

Maui Sanvictores
---
NORTHERN LIGHTS Generators

Words by

STEPHEN WHITING

Photographs as Credited

Premiere Manufacturer Of

Quality Marine Solutions

ASK

BROADWATER

ABOUT OUR

INSTALLATION CAPABILITY

I

In the early 1980's Northern Lights began designing

and manufacturing propulsion engines and marine

generators. Expanding into the larger engines and

generators gave the company unlimited international

market potential.

The 1990's saw a growing market for the quality Northern

Lights products, with Northern Lights' track record of

reliable, durable systems, they became the obvious choice

for the larger pleasure craft owner and builders.

Northern Lights generators are

thoroughly factory tested and go

through a complete quality control

program to ensure your total satisfaction

their design philosophy allows them to

provide comprehensive solutions to any

power production needs. Because engine

room space is always at a premium,

Northern Lights offers Low-Profile generators that save

valuable inches where you need it most. The available line

of options and accessories are designed to integrate into a

total power system specifically built for your vessel. PTO's,

sound enclosures and custom panels are among the options

that make your power system as unique as your boat.

The Electronic System Profiler or "ESP" is a window to your

set's real-time operating condition. The ECU that controls

the electronic fuel injection gives you a SAE J1939 data

stream of engine information that can be shown on an

optional system monitor panel. The integrated freshwater

cooling system has two thermostats for safety and quicker

warm-ups.

The available line of

options and accessories

are designed to

integrate into a total

power system.

Heat exchanger cooling includes: Gear driven, flexible impeller

seawater pump combined with an easy to clean, tube-type

heat exchanger made from cupro-nickel for long life, cast iron

expansion tank with brass filler neck for easy filling and the

cast-iron exhaust manifold has double pass freshwater flow

for even temperature, fast warm-up and no hot spots.

The standard, S-3B remote mount control panel with NEMA

enclosure has engine hour meter, coolant temperature gauge,

oil pressure gauge, DC voltmeter, start-stop and shutdown

bypass switches. Low oil pressure and high

coolant temperature safety shutdown system.

The Northern Lights ESP supplies SAE J1939

data stream through a CAN bus plug for

optional engine monitoring and the negative

ground, 12-volt DC system has circuit breaker,

starter motor and battery charging alternator

with regulator. All this makes for a reliable

relay-based DC system that is easy to trouble

shoot and repair. No "printed circuit board" to fail. Relays

allow multiple panel installations up to 110 feet from set.

Engine and panel are pre-wired with terminal strips.

All this makes the Northern Lights generators one of the

best and most reliable power producing platforms for all

aspects of the marine environment, suitable for both power

and sail, commercial and recreational craft.

Please contact the team at Broadwater Marine For all your

supply, installation and servicing needs as we are available

to offer the best advice on the correct Northern Lights

generators to suit your individual power needs.

M50T13 M843NW3 M1064T2

67
---
pinastraveler.wordpress.com

(42.67 m) waterfall, fed by the Sierra Madre Mountains. You

can reward yourself with a cool dip after a tiring trek. Locals

are very strict about visitors not bringing any food during

the trek to prevent littering. A donation is requested, which

goes to the maintenance of the falls and its surroundings.

Allow for a full day to enjoy this to the fullest as the trip

will take up to six hours, to get there, witness the falls and

return to your hotel.

Balete Tree

Aniao Islets

BALER

can be. You can choose to do some rock climbing in one of

the islets, or just enjoy a dip in the clear waters of this white

sand beach.

Besides the awesome surfing you will

experience in this amazing part of the

Philippines, there are so many other

things to see and so. For instance, If you

get tired of the sand and sea, go for the

cool mountain-fed waters of Ditumabo

Waterfalls. You need to leave the town of

Baler for the next town, San Luis, where

Ditumabo Falls is located. This adventure, however, would

require you to be a bit physically fit, as it requires an hour

long trek that is rocky and rough, taking you through several

river crossings. The Mother Falls is an imposing 140-foot

The 600-year old

Balete Tree in the town

of Maria Aurora next

to Baler, towers more

than five stories high.

It's strange how something so seemingly ordinary can alter

your outlook about a destination. Like a simple but unusual

tree for instance. There are times when you get disillusioned

about different tourist spots in a province; especially if it is

either your first time you've visited the area. Commonly in the

Philippines beaches are everywhere and here is no different,

and also in Baler there is surfing. What if you are here with

your family and your wife is not partial to surfing? What does

your family do while you are enjoying the waves? Sit at the

hotel waiting for you or enjoy the other wonders that are on

offer in this friendly part of the Philippines?

Then, you come face to face with a massive

tree that seems right out of a children's

fantasy storybook. The 600-year old Balete

Tree in the town of Maria Aurora next to

Baler, towers more than five stories high. I

was told by my tourism guide that it would

take over 50 people holding hands with arms

outstretched to encircle it. The locals also lay claim that it's

the largest tree of its kind in Asia. The tree has been dubbed

"The Millennium Tree" and is now the province of Aurora's

most visited attraction.

Massive old Balete tree

rock-cafe.info

68
---
69
---
Mother Falls or Ditumabo Falls

Balete Trees (relatives of the Banyan tree) are infamous in

Pinoy folklore for being the homes of enkanto, mystical

beings who can cast spells on unsuspecting people. In some

provinces, people believe that Balete Trees are dwelling

places of supernatural creatures like kapre (tree demon) or

tikbalang (demon horse). Interestingly, some superstitious

folk believe that small Balete trees (which are used as

decorative houseplants and bonsai) should not even be

brought into the house because they can attract ghosts.

BALER

The true nature of the Balete Tree is just as disturbing as

superstitious beliefs. A number of Balete trees are known

as strangler figs. They find a host tree, attach themselves

to it, ensnare it in a tight hold of roots, and choke the host

to death. Other Balete Trees start as air plants and grow as

Climbing a balete tree from within its network of trunks

ann-d-explorer.com

hanging roots that eventually reach the ground, encircling

and suffocating the host tree in the process.

All of the facts and superstitions are fascinating. But what is

even more fascinating is being able to enter and climb inside

70
---
and up the centre of the tree. There's a gap in the base

of the Balete tree here just big enough for one person to

enter at a time. The entrance here actually leads to a hollow

chamber that can fit several people. As you look up, you can

see the glimmer of light from all the gaps in the woven web

of tangled roots.

Entering the tree is like being inside a strange twisted

tunnel. A maze of gnarled roots snake up inside and all

around providing a natural stairway that you can climb up

like a beanstalk. Not everyone can fit inside through the

roots though. Some parts can be a tight squeeze. Especially

for a larger boned foreigner like me. Another option is to

climb the roots outside the tree itself.

Throughout history children's fantasy stories are full of

mystical magic and sentinel trees exist in some of these

stories, either as guides or guardians and even sometimes

are enemies in one's quest. As you gaze at this gigantic

tree, you may even envisage this tree

as a distant relative of the Whomping

Willow tree growing on the grounds of

Hogwarts, in the Harry Potter movies,

which tried to destroy the flying car

containing Harry and Ron. Or could

it be another off-spring of the Tree of

Protection in The Chronicles of Narnia.

For some reason, this enchanting tree

in Baler rekindles in us all a sense

of wonder you may have thought I

thought was lost in your childhood years. There must still

be magic left in this world if something so mysterious and

bewitching can exist.

Coco-Sabutan Festival

Baler's Coco Sabutan

Festival started in 2001

and revolves around

its two most important

products – the coconut

and the sabutan.

Baler comes alive in August with three significant celebrations

of the local townspeople – the feast of its patron saint,

San Luis Obispo de Tolosa, who died

on August 19 1297, and the birth

anniversary of Manuel Luis Quezon,

president of the commonwealth of the

Philippines from 1935 to 1944, which

also falls on August 19th. These are

important components of Baler's Coco

Sabutan Festival which was started in

2001 and revolves around its two most

important products – the coconut

and the sabutan. It is usually held in

mid-August with an array of events including a drum and

lyre band competition, surfing competitions, art exhibits,

Coco Sabutan festival

71
---
spectacular aspect of a festival. The Coco Sabutan Festival

street dancing parade goes through the main streets of

the town proper and is participated in mostly by students,

dressed in spectacular and colourful costumes designed

locally as they parade and dance on the streets in a frenzy

of excitement not to be missed.

Cultural Arts and Crafts

parades, shows, a beauty pageant, a trade fair and a talent

competition. A tiangge offering products from clothes to

local crafts is also

part of the festival.

The Sabutan grow

in abundance in the

province of Aurora,

and its leaves are

traditionally woven

into mats and hats.

These "modern"

components were

scheduled side-byside

traditional fiesta

features such as the

sayawang bayan or

town dance, and the

making of welcome

arches. The welcome

arch has been a ubiquitous piece of decoration during fiestas

along with buntings, which has been slowly vanishing, in

revving this festive decoration Baler holds a competition

for the best arches. Like most festivals in the Philippines,

the street dancing competition remains to be the most

It is always a beautiful gesture to bring family and loved

ones a gift (Pasalubong) back from a place you have visited.

And what better gift than local handcrafts and products

of the area. The towns of Baler and San Luis are known

for making Sabutan crafts. The Sabutan or the thatch

screwpine grow in abundance in the province of Aurora, and

its leaves are traditionally woven into mats and hats. The

process of gathering and preparing the leaves includes alit,

the cutting of the leaves, ibutol, the trimming of the thorny

edges; bulay, stripping, drying, flattening and moulding.

After these, the sabutan strips are ready for weaving. In

recent years they have developed new ways and uses for the

sabutan, including the making of bags, coin purses, slippers,

place mats, and other souvenir gift items for you to get for

family and loved ones.

Zabali Hanging Bridge

The Teodoro Querijero Street which starts at the town

proper, ends at the Zabali Hanging Bridge in the barangay

of Zabali. The suspension footbridge of steel cables, wire

mesh and planks of wood spans over the Zabali-Pingit

River, which flows out to Baler Bay. Meant for residents

Baler's most precious

handicraft

72
---
73
---
House where Doña Aurora was born

follows the Spanish Colonial layout of the town square. This

is where Baler's historical marker, depicting the arrival of

Lieutenant James Gilmore, the commander of the gunboat

USS Yorktown on April 12th 1899. At the other end of the

plaza, the prominent 40 foot Baler 400 monument stands,

which commemorates the town's 400 year history.

BALER

of communities on both sides of the river, the bridge has

become a tourist attraction because of the bucolic scenery

of the river and estuary. It is also a thrill

and experience for a visitor just to walk

across this ingenuity of construction.

City Sites of Interest

Baler has many beautiful sites and

buildings of interest to any visitor to

the town, when not surfing or enjoying

a day at the beach, have fun on the

water or visiting the falls, take time to check out some of

the sites of interest, like the Baler Municipal Plaza, location

of the city hall and other executive offices. As with most

Philippine towns and cities, the Baler Municipal plaza

The bridge has

become a tourist

attraction because of

the bucolic scenery

of the river and

estuary.

ACROSS THE OPN PLAZA FROM THE Municipal hall is the

San Luis Obispo Parish church of Baler, and is dedicated to

the town's patron saint, Saint Louis, the bishop of Toulouse.

The present stone church was built in the mid 1700s and was

declared a National Historical Landmark On February 29, 2000.

Just outside the plaza on the corner of Rizal and San Luis

Streets is the replicate house of Pedro Aragon, where his

famous daughter Aurora was born on February 19 1888,

and was popularly known as the wife of President Manuel

Quezon. The province of Aurora was

named in her honor.

Places to Eat

There are many different types of

restaurants servicing tourist and local

residents in the town of Baler, catering

for every type of taste, from traditional

Filipino Fare to a European cuisine . For

the more tradition style food there is Yolly's Ihaw-Ihaw and

seafood restaurant in Quezon street. Gerry s Picnic Place

and the Baler Surfer Grill where the actual grill is inside of

the front boot of a red VW beetle car.

Baler's hanging bridge

74
---
ate. The staff are friendly and go out of their way to make

you feel welcome.

How to get there

By Bus; Genesis has air-conditioned daily buses en route to

Baler from their Cubao Bus Terminal. Daily trips run from

3:00 AM to 7:30 AM (5-6 trips daily, 1 hour interval). Travel

time 6-7 hours .

Places to Stay

Baler Museum

By car; From Manila take the NLEX to Tarlac exit and just

follow the signs to Aurora/Baler, depending on traffic

conditions., the trip is pleasant and will take 5-6 hours.

The town of Balers was the birth place of surfing in

the Philippines so there are many and varied types of

accommodation available to please everyone's taste and

budget from the magnificent Costa Pacifica to more sedate

for the budget councious. ABW was accommodated at the

Nature Green Forest Resort, this place is very well appointed

with wifi, cable TV and a swimming pool at a very reasonable

Escape to Baler: sand, surf, sea, and so much more

Slowly, Baler is becoming a tourist destination of choice, not

only for surfers but also for those who love an adventure.

Its proximity to the city makes it all the more appealing for

a quick weekend trip. It provides a quiet escape from the

hustle and bustle of the city, one that will truly help you

relax and unwind.

Baler

AURORA

Map of Baler, Aurora Province

75
---
Swim-safe 2019

T

located in the Subic Freeport, this

came about through a conversation

with Zambales Lifesaving Inc President,

Mr. Roger Bound and Dr. Ong about

water safety during a routine check

up for Mr. Bound who is a long time

patient of the clinic. Dr. Ong's children

attended the event and he has advised

that he will support the program for

the Zambales South (Olongapo) area

on a continuing annual basis.

76

he Zambales Lifesaving Inc. Swim-safe program for

Zambales South was concluded on February 24,

this year saw a new supporter in Dr. Johann Ong

of Smile Concepts dental clinic

The program

emphasizes that poor

or non-swimmers

never enter the water

to assist a person in

trouble, and must

"Reach or Throw, but

never go!"

Coupled with long time supporter Lighthouse Marina Resort

in the Subic Bay Freeport saw some 200 children and their

parents attend the sessions, which were run morning and

afternoons on weekend since February 10.

The program, now in its 4th year

emphasizes that poor or non-swimmers

should never enter the water to assist

a person in trouble, but should instead

"Reach or Throw, but never go!". Part of

the program are games where the children

have to find things in the immediate area

that will do, such as a leaf skimmer pole,

shade umbrella post, towel, shirt or other

item that can be reached out to the person
---
Words by BARRY DAWSON

Photographs as Credited

so they can be pulled to safety, or anything that will float

that they can hold to stay afloat, such as a chair cushion,

lifejacket or even an empty water container. Part of the

program also is a short Powerpoint / Video presentation

that deals with dangers that may occur at the beach, pool

and inland swimming destinations, it teaches how to spot

and avoid such dangers and also how to deal with many

dangers such as rip currents and other hazards should you

get caught in them.

Olongapo was also a huge success as through Barry Dawson

of ABW Mr. Bound was able to meet with the project

director of Sustainable Charters Inc., Mr. Mom Nardone

who has also committed to supporting the program for

the central Zambales area, which is this year supported by

local Iba computer business Ally Dot Com, this additional

assistance could greatly increase the number of those that

the program can currently sustain.

The Central Zambales dates are now being finalized so as

not to clash with other events etc that may be being held

in the area, if anyone would like an update for the Central

Zambales Program, which will be held as usual at long

time supporter, Palmera Gardens Beach Resort and Hotel

in Bangantalinga Iba, they can also contact Mr. Bound on

0918 922 2863 or Email slszambales@gmail.com, or you

can also check on the Zambales Lifesaving Facebook page

for upcoming news and events.

77
---
Regatta

Chairman's Cup

Words by BARRY DAWSON

Photographs as Credited

78
---
S

Subic Bay, Philippines. Setting the course to another

season of the Philippine Sailing Grand Prix, the

"Chairman's Cup Regatta" debuts in 2019, in honour

of the leaders or helms of the Subic Bay. Metropolitan

Authority (SBMA), who have played a significant role in the

development of the Subic Bay Freeport and the Special

Economic Zone. The present Chairperson and Administrator

of SBMA who is also the 1st woman to

hold the distinguished position is none

other than Atty. Wilma "Amy" T. Eisma

The Chairman's Cup

Regatta 2019 will

take the place of

the Commodores'

Cup Regatta (CCR)

scheduled on April

26-30, 2019

The Chairman's Cup Regatta 2019 will

take the place of the Commodores'

Cup Regatta (CCR) scheduled on April

26-30, 2019, after the inaugural Hong

Kong to Puerto Galera Yacht Race 2019.

The passage race, that will start in Hong

Kong on April 16 and 17 ends on Easter

Sunday, April 21. The 1st edition of the

Hong Kong to Puerto Galera Yacht Race is classic 650nm

Category 1 passage race. Currently, the Subic Sailing Club

is considering a feeder race that will encourage participating

boats from Hong Kong to another round of racing in Subic

Bay before heading back to Hong Kong.

The Chairman's Cup Regatta also in its 1st Edition will

continue what the Commodores" Cup has started and is

envisioned to be the paragon of the development of sailing

in the country as well as a reminder to every Filipino of our

maritime wealth and culture. "We hope that this event will

not only produce a new generation of Filipino sailors but

also give honour to our rich maritime heritage," said Zed

Avecilla, Executive Director of the Subic

Sailing Club.

The CCR was a mere Subic Sailing Club

event way back ten years ago but has

become an international sailing event for a

decade as part of the Asian Yachting Circuit

when then Commodore. Ricky Sandoval of

the Subic Bay Yacht Club and Subic Sailing

Founder Jun Avecilla moved the event

after the China Sea Race from Hong Kong

to Subic Bay to give the participants of

that regatta an inshore race competition as there has been

no scheduled event during that time. It has then filled the

Asian Yachting Calendar up to this year.

79
---
The highlight of the Chairman's Cup Regatta (CCR) is the

Fareast 28R One-Design Race with eight boats in the

division. Other Keel Boat divisions will include IRC Class 1,

IRC Class 2 and Cruising Class. There will also be a Dinghy

Division composed of the Optimist Class,

Mirror Class, Flying Fifteen Class, and

Streaker Class which will take place on

April 25-26, 2018.

Subic Bay is an excellent harbour and

geographical location serves as the

premier yacht racing destination in the

Philippines. As a sailing haven, regular

regattas are held in Subic Bay to enhance

yachtsman-ship for international competitions and foster

camaraderie among sailors. It has become a playground

for Grand Prix keelboats from various countries as they

compete in the prestigious international regattas hosted

here in our country.

As a sailing haven,

regular regattas are

held in Subic Bay to

enhance yachtsmanship

for international

competitions.

Subic Bay Freeport plays an important role in our country

which drives maritime heritage, environmental protection and

economic growth aside from the continuous development

of sailing here in the Philippines.

The projection of this 5-day event will

attract many Filipino and foreign amateur

and professional sailing enthusiasts as well

as non-sailors alike to the most exciting and

competitive world of yacht racing in the

country with among the top-notch sailors

around the globe. It also aims to encourage

the general public to know more information

about the sport as well as the Philippine's

maritime industry and hopefully encourage more people to

explore our maritime roots.

80
---
81
---
Bringing t

Love of t

Island Buzz provides paddling

and sailing tours for tourists as

well as organizing free paddle

clinics to locals in cooperation

with local government units

and the department of tourism,

coaching locals correct posture

and paddle technique to

maximize the experience.

Back t

The Philippines is well known to have a seafaring

heritage, the country's islands have been populated

long before the Spanish arrived on its shores some

500 years ago. Paddling and sailing in those days

was a way of life and was the only way to travel from island

to island other than swimming.

Awareness of this maritime tradition has been in steady

decline over centuries, with most Filipinos these days

preferring land based leisure activities over watersports,

despite the abundance of coastlines and waterways all over

the country's more than 7000 islands. In fact, many Filipinos

never learned how to swim. Similarly, those who rely on the

sea for their living seem to have forgotten maritime tradition

of free energy propulsion, preferring to rely instead on

modern technology to propel their watercraft.

82

A group in Cebu called Island Buzz Philippines led by

Buzzy Budlong a well-known watersports enthusiast are

looking bring back the love the sea to Cebuanos as well

as revive paddling as a practical and everyday leisure

activity to better appreciate the islands. They have made

it their mission to make Cebu the paddling capital of the

Philippines.

Buzzy Budlong is considered a living legend among outdoor

enthusiasts. His prominence started 10 years ago when he

and Singaporean Khoo Swee Chiao paddled kayaks from

Sarangani Province to Pagudpud in Ilocos Norte in 88 days.

The epic trip of 3,025 km across 24 provinces through six

typhoons and several squalls in between. Buzzy has since

made several notable trips after then but non as epic as that

88 day kayak trip.
---
the

Words by ROY ESPIRITU

Photographs as credited

the Sea

o to Cebuanos

Buzzy together with fellow paddling and sailing enthusiasts

of Island Buzz Philippines are looking to bring back to

the islands of the Visayas the enjoyment of free energy

watersports. Watercraft they use include; stand up paddle

(SUP) boards, visayan outrigger canoes like the baruto,

and the bigiw which primarily uses a sail but is maneuvered

with a paddle rather than a rudder. The latest addition

to their fleet is locally built Polynesian 6-Person Ocean

Canoe (OC6) which Buzzy named Maharlika Big6. These

watercraft are built by Island Buzz using local labor and

materials.

Island Buzz provides paddling and sailing tours for tourists as

well as organizing free paddle clinics to locals in cooperation

with local government units and the department of tourism,

coaching locals correct posture and paddle technique to

maximize the experience. The aim is to drive awareness

on how rich our water resources are, and for the locals

to appreciate our paddling culture and to revive the local

Visayan sailing watercraft, like the bigiw. They also organize

the annual Bigiw-Bugsay race in celebration of the Ocean

Month in May. Island Buzz Philippines also organizes

coastal cleanups using various watercrafts to help promote

a clean marine environment in Cebu.

Genealogic, archeological and linguistic evidence has

shown that Polynesia and Islands of the pacific were

originally populated by people from the Philippines and

Taiwan. Inspired by this, Island Buzz Philippines built the

Philippines' first OC6 Canoe.

83
---
84

Savanah
---
The OC6 canoe was built in partnership with corporate

sponsors and volunteer organizations, A renowned Hawaiian

elder and respected ocean canoe paddler and voyager,

Kimokeo Kapapahulehua was even on hand at the its launch

and gave The Maharlika

The ocean canoe—

through paddling and

racing—can help trace

our roots as islanders

and appreciate this kind

of culture," Budlong

added.

Big6 Ocean canoe a

traditional Polynesian

blessing.

Members from Island

Buzz Philippines along

with Buzzy Budlong

helped the Hawaiian

elder lead the solemn

ceremony amid the

drizzling weather brought by tropical depression Samuel (*at

the Chateau by the Sea, Lapu-lapu City. )

Budlong said that the OC6 launch and blessing aims to promote

ocean canoe paddling as a free-energy and eco-friendly water

sport in the country. He believes that Cebu has a huge potential

to be a venue for paddle training and racing of ocean canoes,

which will help promote Cebu's islander culture and the art of

paddling and canoe-making.

"As a paddler, I've been searching for our cultural ties with the

water and our crafts. We are living in an archipelago and our

islands are interconnected by water and yet we don't live the

islander lifestyle. The ocean canoe—through paddling and

racing—can help trace our roots as islanders and appreciate

this kind of culture," Budlong added.

Kapapahulehua, on the other hand, stressed that the OC6

should not only be treated as a vessel for races but one that

preserves the country's heritage and the environment.

Ocean canoe paddling is a widely known lifestyle in Hawaii

and other neighboring islands. Other ASEAN countries like

Singapore and Hong Kong organize racing events for 6-person

Ocean Canoes as well as other Ocean Canoe variants.

85
---
Article excerpts reprinted from the book

CRUISER HANDLING

by BOB BOND & STEVE SLEIGHT

Sailing Tips

You've always been interested to sail, but you know little about boat parts, the confusing techno-babble, and what

little you know is making your head spin in four different directions! Worry no more. This continuing series of

articles is for you: it covers tips regarding hardware present on most boats, as well as common sailing techniques,

terms and definitions, the names of the different pieces of hardware, and much more. This will keep you informed

about most things you will need before you begin your own sailing excursion. Be sure to consult with an experienced sailor

and someone knowledgeable about boats.

334208 p t 640x480

Almost every modern cruising boat is fitted with an engine –

usually an inboard on larger boats and an outboard on smaller

boats. The engine is normally only used for manoeuvring in

harbours, or for making a port if the wind drops. The engine

is also a useful safety precaution – it can be used to get a

cruising boat out of trouble, when fighting a foul tide or

trying to reach a port before a storm. Cruising skippers should

beware of relying on their engines, and should certainly feel

confident that they can handle the boat under sail in any of

the situations in which they might use the engine, in case of

unexpected engine failure. If you are using the engine make

sure that the sails are ready for immediate hoisting and the

anchor is also made ready in case of just such an emergency

Types of engine

You have a choice of inboard or outboard engine for your

boat. Normally larger boats have an inboard, and smaller one

an outboard. The former is often mounted under the cockpit

floor, and the latter on the transom of the boat. Both types

need proper attention, regular servicing and maintenance. As

with all machinery, you should take care when using it. The

86

outboard engine is more vulnerable to the elements than

the inboard (and to possible damage) but these days solidstate

ignitions and improved combustion, coupled with better

resistance to corrosion, have improve the reliability of both

types of engine. Your engine should have a handbook which

gives detailed illustrations of the parts and the main servicing

points. Keep the handbook on board in an accessible place

and make sure that any servicing instructions are carried out.

Keep an adequate stock of spares on board. Engines are either

two-stroke, using a petrol mixture or four-stroke, using petrol

diesel fuel. Take care to use the right fuel for the engine and, in

the case of the two-stroke, the right ratio of petrol to oil. Apart

from regular servicing and maintenance while the engine is in

use in the sailing season, you will have to take care of it in the

winter months when not using the boat. The engine should

be overhauled, drained and cleaned and laid up in a warm dry

place with a protective cover. When you recommission the

engine, take care to follow the instructions.

PROPEller effects

The action of the blades of the propeller in the water produces
---
BOAT HANDLING UNDER POWER

both forward movement and a certain amount of lateral

movement as well. This lateral movement is usually described

as prop walk. It follows the direction in which the propeller

rotates, so a boat with a clockwiserotating

propeller will find its stern moving

to starboard a little as it goes forward.

Since the propeller blades turn in the

opposite direction in reverse, you will find

that the stern moves to port in reverse

gear. You will find that the effect of prop

walk is most pronounced at slow speeds,

and in reverse. It is vital to know which

direction the prop walk on your engine

takes, so that you can make allowances

for it when berthing your boat.

Using an engine

You can use the prop walk on your boat to your advantage

since the boat turns a tighter circle in the opposite direction to

that in which the propeller rotates – if you have a clockwiserotating

propeller your boat will turn a tighter circle to port

than to starboard. The effect is even more pronounced in

reverse gear, to the point where the opposite applies; you may

actually find it difficult to make a turn in the same direction

as the propeller rotates, unless you have quite a lot of way on.

If this is the case, your only solution is to manoeuvre the boat

using alternate short hard bursts on the throttle in forward gear

with ones in reverse gear, keeping the tiller or wheel hard over

in the same direction throughout the manoeuvre. Don't forget

that at slow speeds your boat will have a tendency to drift as

well, and you have to take this into account in your planning.

Don't forget that at

slow speeds your boat

will have a tendency

to drift as well, and

you have to take this

into account in your

planning.

If the propeller shaft is not positioned centrally, but more to

one side of the boat or the other, then you will find that there

is a pronounced tendency for the bows of the boat to turn

away from the side on which the propeller

is mounted when in forward gear, and for

the boat to do the opposite in reverse. If

your boat has this problem, then make

sure the propeller rotates in the opposite

direction so that it counterbalances the

off-centre effect rather than exacerbates

it – in other words, for example, don't

put a clockwise-rotating propeller on a

starboard mounted propeller shaft and

vice versa! If you are trying out a new

engine or steering an unfamiliar boat

under engine, try out its paces first in

open water, to establish its characteristics before using it in

congested waters.

Inboard motor

Engine type stern-1

Twin Cruise 700

640x426xTwin-F350-

outboards

Jet drives

Searay

87
---
Zambales Lif

At At Phuket (Thailand) Surf Surf L

LIFESAVING C

Words by BARRY DAWSON

Photographs as credited

88
---
fesaving Inc.

CHAMPIONS

Lifesaving Championships

Mr. Roger Bound, an Australian

and long time resident of the

Philippines, had worked since

2004 to make Zambales safer for

locals and visitors alike through

the training of lifeguards for

resorts.

Lifesaving Sports are relatively new to the Philippines,

but have a long History in other countries, especially

Australia where it commenced in the 1950's.

Lifesaving sport was created primarily to encourage

lifesavers to develop, maintain and improve the essential

physical and mental skills needed to save lives in the aquatic

environment. Lifesaving competitions consist of a variety of

events to further develop and demonstrate lifesaving skills,

fitness, and motivation, it is the only sport in the world that

is based on humanitarian grounds.

However a number of competitions are now organized

annually in the Philippines, the fastest growing of these is the

Zambales Lifeguard Challenge, sponsored by the Standard

Insurance Co. Inc. an annual event commenced in 2012 by

Zambales Lifesaving, commenced by Mr. Roger Bound, an

Australian and long time resident of the Philippines, had

worked since 2004 to make Zambales safer for locals and

visitors alike through the training of lifeguards for resorts.

After retiring in late 2013 Mr. Bound formed Zambales

Lifesaving Inc. a non-stock, non-profit organization to carry

on his advocacy for water safety in Zambales, with drowning

prevention and awareness programs for children through

their "Swim-safe" a free to the public program for children 12

and below accompanied by a parent and lifeguard training,

for which Zambales Lifesaving Inc. is accredited by the

Philippine Coast Guard to both train and certify lifeguards

pursuant with RA-9993 and PCG MC 03-14.

One of the successes of the Zambales Lifesaving program has

been the ability of Mr. Bound to bring together the lifesaving,

swimming and surfing communities which has enabled him to

get an active Junior Lifesaving program together, for children

from five years of age, thus commenced in 2012 at the Great

Titan Lifesaving Sports event at Negros with just 3 young

girls, his daughter and 2 of her friends, from this it has now

grown to more than 40 participants and has since last event

become a whole day program held following the Zambales

Lifeguard Challenge with will be on Saturday March 2nd.

2019 and the Junior competition on Sunday March 3rd. at

Palmera Garden in Bangantalinga Iba Zambales, entry is free

for spectators. Much of this growth is due to the efforts of Mr.

William Asturias, more commonly known as Coach Biboy who

has been a driving force is the development of competitive

89
---
swimming in Zambales and assists with the junior program of

Zambales Lifesaving Inc. as sports director for the Zambales

Lifesaving Inc. junior events.

Since 2012 lifeguards from Zambales Lifesaving Inc. have

competed in many competitions Nationally, such as in

Bacolod and Sipalay in Negros, Mactan and Bantayan Island

in Cebu with great success, in 2016 Zambales Lifesaving with

the assistance of the Zambales Provincial Government and

sponsors ventured into its first International Competition

in Patong Beach on Phuket Island in Thailand, at their first

attempt they tied for first place against teams from 13

countries, but were awarded second after a count back,

they again attended in 2017 and again finished second, by

a single point, so this year they decided to again try for

a win at Phuket, plan was a team of 3 male competitors,

however upon raising the necessary funds there was a small

surplus and upon suggestion of Coach Biboy they invite

also 2 under 18 females to join for the under 18 individual

events, 2 of the under 18 Females were approached, Lovely

Pauline Floresca, one of the original 3 that started in 2012

and Heather Colleen Sanguyo a promising swimmer and

junior lifeguard, both of these also assisted in raising funds

to attend.

90

So early morning of Saturday December 1st. five members

of the Zambales contingent departed from Manila to

Phuket Thailand, being Isaac Emmanuelle Daylo, Mark

Anthony Jereza and Carlos Miguel Villamin, who had just

left the junior ranks to become a senior lifeguard, for the
---
Men's team and Lovely and Colleen for the under 18 female

events, accompanied by Mr. Roger Bound as Coach / team

manager and his wife Marichu as escort for the junior girls.

After arrival and settling into the MY Hotel, who had

also assisted with special rates for the team, it was off to

check out the venue

Upon raising the

necessary funds there

was a small surplus that

resulted to 2 of the

under 18 females being

invited to compete.

followed by some rest

to be ready for an

early start on Sunday.

Upon registration the

organizers requested

that our 2 girls,

despite being eligible

for the under 18's form

as a team and compete in the Open Women's division as

they appeared far more experienced than the Thai juniors,

the majority of which were 12 years or less and only just

starting out, everyone was in agreement with this, in fact

the girls were eager to compete against the over 18 girls,

so Zambales and the Philippines now had representation in

both the men's and women's open team events.

All started well with Zambales winning the first events in

both the men's and the women's open category, a great

start, at the end of the day's events it was success for

Zambales in both the men's and women's open classes

with both teams being crowned Champions, plus Isaac

Daylo being crowned Ironman Championship and Colleen

Sanguyo the Ironwoman Champion.

91
---
The really big credit though belongs to our 2 junior girls, as

despite being considered the underdogs, played hard and

fair, winning outright 6 of their 7 events and finishing a close

Big credit though

belongs to our 2 junior

girls who played hard and

fair, winning outright 6

of their 7 events despite

being the underdogs.

second in the other

giving them a total

of 54 points from the

56 points available.

Our congratulations

to Surf Lifesaving

Thailand a very fair

and well run event,

also to the officials

for their courtesy of dealing with our team members in English

during the pre-briefing for all events, also for all competitors

for the experiences shared and friendships gained.

Official results: (Points for each event were awarded as

follows 8, 6, 4, 2 & 1 for first to 5th.)

The events Zambales competed in and the placing's were:

Surf Race, Zambales First in both men and women's divisions.

Beach Sprint, men's division, third and women's division, first.

Rescue Tube Rescue, First in both men and women's divisions

Beach Flags, men's division second, women's division first.

Board Race Relay, men' division third, women's division, first.

Iron Man/Woman, first in both men and women's divisions.

Board Rescue, men's division, fourth, women's division, second.

92
---
Men's Open Division

1st. (40 Points) Zambales Lifesaving Inc. Philippines.

3 competitors, one 16 years old.

2nd. (27 Points) Le Meridian Phuket Hotel Beach Resort.

6 Competitors, all over 18 including 2 Russians. 3rd. (21

points) Sabah (Malaysia) 3 Competitors all over 18.

Women's Open Division

1st. (54 points) Zambales Lifesaving Inc. Philippines.

2 competitors, both 16 years old.

2nd.(44) Le Meridian Phuket Hotel Beach Resort.

3 Competitors, all over 18.

3rd. (24) ATUS (A University group) 3 competitors, all over 18.

Ironman Competition;

Men's division winner Team Zambales Lifesaving Inc.

Philippines, Isaac Daylo.

Women's division winner Team Zambales Lifesaving Inc.

Philippines, Colleen Sanguyo.

We would like to acknowledge all that supported this venture;

Provincial Government of Zambales, Standard Insurance Co. Inc.

RP Energy, Ally.com, Active Boating and Watersports Magazine,

Broadwater Marine, Mope Beach Resort, RDH Marine, Rama

International Beach Resort, Tees and Prints, Surf Life Saving Far

North Coast (Australia), Philippine Coast Guard and the Local

Government Units of Botolan, Iba and San Narciso.

93
---
HILIPPINE YACHT CLUB DIRECTORY

94
---
95

HILIPPINE YACHT CLUB DIRECTORY
---
Philippine based 1069 Registration

SHORE MARINE SURVEYORS

Hull Ultrasounds / Moisture Readings

Full Member of the Institute of Marine Surveyors UK

Specializing in Small Ships & Yachts

INSURANCE SURVEYS PRE-SALE SURVEYS ENGINEERING SURVEYS DAMAGE SURVEYS

END OF WARRANTY SURVEYS

MARINE INVESTIGATIONS

VESSEL DELIVERIES

SPECIALIST ADVICE AND ASSISTANCE WITH PROJECT SUPERVISION

WHY DO I NEED MARINE SURVEYORS?

Buying and owning a boat, is very much like buying a house, you need to know the

background of the boat the same as you would the foundations of a house as something

overlooked or not nnoticed can be a very costly exercise.

Some of the worst maritime incidents in history may have been prevented by third party

marine surveyors being appointed to observe the build or repair processes on boats,

yachts & ships of all sizes, from: areas resulting in inappropriate development or repair;

using incorrect materials; and, previous damage that has been covered up.

Whether you own a vessel that needs attention or are thinking of buying a vessel (new, or

one that has not been surveyed for some time), you may save your bank balance and your

reputation by calling on the professional services of Shore Marine Surveyors.

Find out how we can help in your project to protect your investment.

Shore Marine Surveyors are located in Subic Bay Philippines cover all aspects of Marine

Surveys covering the whole of the Philippines and are ready to travel within Asia.

Although Shore Marine attend to all aspects/sizes of vessel surveying, they specialize in

Commercial and pleasure vessels in the under 40 meter class under the IIMS surveyors

credentials and Lloyd's certiied as small vessel inspectors.

They also encourage owners to have a management program on repair issues and

engineering, while in dry dock or on the water, a complete check-up status in lieu of a full

survey. A 3 or 6 monthly check, much like the regular service on your car can and will save

you many thousands in costly repairs and to also follow up crew activities in your absence

to make sure it is "being done right" by qualiied masters and engineers.

Lloyds Maritime Diploma Small Ship Surveying (Hons)

New Zealand Commercial Master

New Zealand Certiied Marine Engineering 1

Building 662 Taft Street Subic Bay Freeport Zone Phone: +63917-522-2971

EMAIL: shoremarinesurveyors@gmail.com
---
97
---
P H I L I P P I N E S

YACHT PARTS, SALES and SERVICE

98