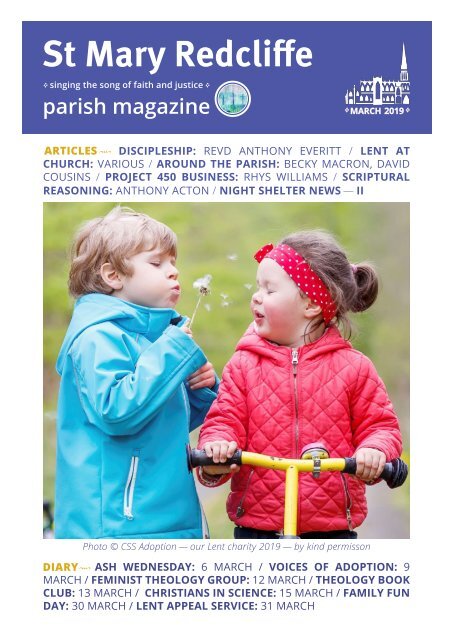 St Mary Redcliffe Parish Magazine March 2019
You also want an ePaper? Increase the reach of your titles
YUMPU automatically turns print PDFs into web optimized ePapers that Google loves.
St Mary Redcliffe

St Mary Redcliffe

+ singing the song of faith and justice+

singing the song of faith and justice

Parish parish magazine Magazine

…

march 2019

ARTICLES DISCIPLESHIP: REVD ANTHONY EVERITT / LENT AT

CHURCH: VARIOUS / AROUND THE PARISH: BECKY MACRON, DAVID

COUSINS / PROJECT 450 BUSINESS: RHYS WILLIAMS / SCRIPTURAL

REASONING: ANTHONY ACTON / NIGHT SHELTER NEWS — II

Photo © CSS Adoption — our Lent charity 2019 — by kind permisson

DIARY ASH WEDNESDAY: 6 MARCH / VOICES OF ADOPTION: 9

MARCH / FEMINIST THEOLOGY GROUP: 12 MARCH / THEOLOGY BOOK

CLUB: 13 MARCH / CHRISTIANS IN SCIENCE: 15 MARCH / FAMILY FUN

DAY: 30 MARCH / LENT APPEAL SERVICE: 31 MARCH
---
St Mary Redcliffe

With Temple, Bristol & St John the Baptist, Bedminster

THE PARISH OFFICE: 12 Colston Parade, Redcliffe, Bristol BS1 6RA. Tel: 0117-231 0060

email: parish.office@stmaryredcliffe.co.uk — anyone on this page may also be contacted

via the parish office and its staff *

SMR ONLINE: please visit us at www.stmaryredcliffe.co.uk

CHURCH WARDENS

Richard James — 0117-966 2291

richard@bristolbound.co.uk

Elizabeth Shanahan — 07808 505977

eshanahan21@googlemail.com

operations manager

Peter Rignall — 0117-231 0073

peter.rignall@stmaryredcliffe.co.uk

ADMIN ASSOCIATE*

Pat Terry — 0117-231 0063

pat.terry@stmaryredcliffe.co.uk

ADMIN ASSISTANT*

Ros Houseago — 0117-231 0063

ros.houseago@stmaryredcliffe.co.uk

VERGERS

Vergers' office — 0117-231 0061

verger@stmaryredcliffe.co.uk

Matthew Buckmaster — Head Verger

matthew.buckmaster@stmaryredcliffe.co.uk

Judith Reading, Paul Thomas — Vergers

VICAR

Revd Dan Tyndall — 0117-231 0067

email: dan.tyndall@stmaryredcliffe.co.uk

ASSOCIATE VICAR

Revd Kat Campion-Spall — 0117-231 0070

email: kat.campion-spall@stmaryredcliffe.co.uk

ASSOCIATE MINISTER

Revd Anthony Everitt

email: anthony.everitt@stmaryredcliffe.co.uk

ASSOCIATE CLERGY

Revd Canon Neville Boundy, Revd Peter Dill

DIRECTOR OF MUSIC

Andrew Kirk — 0117-231 0065

andrew.kirk@stmaryredcliffe.co.uk

ASSISTANT ORGANISTS

Claire and Graham Alsop

RESEARCH ASSISTANT

Rhys Williams — 0117-231 0068

rhys.williams@stmaryredcliffe.co.uk

FAMILIES & YOUTH MINISTER

Becky Macron — 07387 909343

sunday.school@stmaryredcliffe.co.uk

EDUCATION OFFICER

Sarah Yates — 0117-231 0072

sarah.yates@stmaryredcliffe.co.uk

COMMUNITY DEVELOPMENT WORKER

Rachel Varley — 0117-231 0071

rachel.varley@stmaryredcliffe.co.uk

COMMUNITY YOUTH WORKER

David Cousins — 0117-231 0067

david.cousins@stmaryredcliffe.co.uk

vicar's letter

DISCIPLESHIP

— REVD ANTHONY EVERITT

ASSOCIATE MINISTER

WE ARE ABOUT TO START LENT, the

season in which we remember the

time Jesus spent in the wilderness;

those forty days in which he worked through

who he was, his relationship to the Father, and

what his ministry, his life, was to be. In that

time Jesus developed the discipline of following

God, discerning His will and identifying and

resisting the falsehoods and deceits with which

people are faced. We mark those forty days in

Lent by trying to develop and exercise discipline

in our own faith lives. Traditionally that has been done by the means of

attempting to fast. Many of us, I suspect, are more noble in the intent than

we are successful in the achievement.

In Lent we read of Jesus' journey towards Jerusalem, of his teaching of the

disciples, and of their discipleship of him. We learn about what they got

right and what they got wrong. We see how they developed and became

closer to God as they followed Jesus. The forty days of Lent are, then,

about much more than the discipline of the Fast. They are a key time for

us to think about our own discipleship of Jesus; discipleship in response

to His being Saviour and Redeemer for all.

A disciple is a follower and a learner. The disciple enquires, listens, seeks,

questions, debates and reads. Disciples are active in their discipleship;

positively following, not passively waiting. As we enter Lent; as we turn to

Jerusalem and later prepare for the Upper Room, the wait in Gethsemane

and the tragedy of the Cross at Calvary, each of us can usefully spend

time considering our discipleship of Jesus.

Where are the marks, the signs of your discipleship of Christ? Are you

developing and growing in your faith and understanding of him? Do you
---
ead the Bible regularly and enquiringly? Do you pray with expectation

and seek answers to your prayer? Are the fruits of discipleship of Jesus

evident in your life for others to perceive and for you to enjoy? Is your life

as a disciple truly distinctive?

As we enter the season of Lent let us pray for one another, that each

of us may develop as faithful disciples of Christ and may grow in our

knowledge and love of him. Pray also that, as Lent turns into Holy Week

and reaches the Cross on Good Friday, each of us may come to know

more surely that through the Cross we are freed from the slavery of sin

and can enjoy the full, open, redeemed life to which we are called by God.

Revd Anthony Everitt

— Associate Minister

from the diocese of bristol

Read Kat's invitation to the Service of Celebration marking

the 25th anniversary of the ordination of women, and visit the

link below to Bristol cathedral's website for further details

25TH ANNIVERSARY OF THE ORDINATION OF WOMEN

https://bristol-cathedral.co.uk/whats-on/the-25th-anniversary-of-the-ordination-ofwomen-priests

ON 12TH MARCH 1994

the first women priests

in the Church of England

were ordained in Bristol Cathedral

by the then Bishop of Bristol,

Barry Rogerson. This was a

key moment in the church's

acknowledgment that God's call

is not limited by a person's

gender. It took a further twenty

years for the Church of England to pass legislation to enable women to

be bishops, and last year Bristol became the fourth diocese to appoint a

female Diocesan Bishop.

WATCH (Women and the Church) have just published an annual review of

how women are deployed in leadership and ministry roles, both lay and

ordained, across the Church of England. Twenty-five years on, for example, in

Bristol Diocese 28% of incumbents or incumbent-status clergy are women,

whereas 14% of Area Deans are women. If you're interested, you can find

out more on the WATCH website — womenandthechurch.org

Image: detail from "The Three Marys", 3rd painting of Hogarth's altarpiece; drawing EJL

2019; with thanks for access to staff at St Nicholas church

Although there is still a long way to go before women and men are

represented equally at every level of the work and ministry of the church,

this 25th anniversary is an occasion for great celebration. There will be a

special Service of Celebration on Sunday 17th March at 3.30pm at Bristol

Cathedral. Bishop Viv, who was among that first wave of women to be

ordained as priests in 1994, will be preaching and you are most welcome

to attend.

Revd Kat Campion-Spall
---
at church

LENT APPEAL 2019

CSS Adoption

AT LENT THIS YEAR we partner with

CCS Adoption, a Bristol-based charity,

who for 115 years have been finding permanent,

loving families for children who

need them, and providing ongoing support

for adoptive families for as long as they

need it — you can find out more on their

website at ccsadoption.org

We were delighted to hear from CSS Adoption at our 9.30am Service

on Sunday 10 February, and in Sunday School, and this is to remind

you all of the wonderful opportunities to help the charity via the

events we're hosting at church — and, as always, we encourage you

to support them! Here are the dates and details:

• Saturday 9 March 7pm — Voices of Adoption: An event to

launch the appeal with an opportunity to explore the CCS

exhibition in the South Transept and a panel discussion giving

voice to different people involved in the adoption journey.

• Saturday 30 March 1–4pm: CCS Family Fun Day, with Melody

Makers Choir. Come and enjoy music from Melody Makers,

afternoon tea, games, activities and fun for all ages.

• Sunday 31 March 6.30pm: Lent Appeal evening service with a

speaker from CCS.

We love our youngsters — let's give CSS our best support!

NB: Learn how we're helping the youngsters on our watch in Becky and David's

article Around the Parish on pages 14–19. Have a look at the pictures — see if

you can spot... youngsters making slime, at a Redcliffe festival, playing basketball,

doing Calisthenics; plus Japanese Drumming, baby Toby's baptism card (and

cake!), team-work on a felt Banner... and a four-legged helper! [Photo permissions:

thanks to CSS for the photos above, and to Becky & David for the photos on pp14–19]

Sunday School events will include a Secret Cinema, Community

Cooking and Sunday event… look out for more details! Also look

out for the 2019 40 Days of Lent booklet to help your Lenten

devotions.

A huge thanks to everyone who's offered help so far and here's a

reminder of ways to get involved: run a stall at the Family Fun Day; help

at the Voices of Adoption event; hold a fundraising event at your workplace,

school or in your social group — or how about a coffee morning? Get

planning! Please let Kat know if you'd like to get involved
---
LENT GROUPS 2019

THIS YEAR'S LENT COURSE is based on the 2004 film

The Terminal. The course uses the film as a starting

point to look at themes from Christ's passion of identity,

loneliness and promises and of punishment and forgiveness.

Each session will focus on a short clip of the film and

lead into discussion around a Biblical theme, reflection and

prayer.

The course will run in parallel on Tuesday afternoons and

Thursday evenings, and will begin with an opportunity to watch

the whole film.

Daytime: film showing Tuesday 12th March at 2.00pm at the

Vicarage; Groups Tuesday 19th and 26th March and 2nd and

9th April at 2.00pm in the Parish Office. Led by Peter Dill.

Evening: film showing Thursday 7th March at 7.00pm Vicarage;

Groups Thursday 14th, 21st and 28th March and 4th April; 7.30pm

Vicarage. Led by Dan Tyndall and Kat Campion-Spall.

LENT PILGRIM

Cecile Gillard writes: Join us on the #LentPilgrim journey this year—sign

up at www.churchofengland.org/pilgrim I have followed some of the Church

of England's previous seasonal daily reflections, including those for Advent

2018, and found them very helpful. The above is their Lent 2019 series

From the website:

REFLECT: Welcome to this 40-day journey. Like the first disciples, we are

making time to listen to the words of Jesus. At the beginning of the most

famous sermon in history — known as the Sermon on the Mount — Jesus

commends eight beautiful qualities. These are almost his first words and

the very heart of his teaching. Still your mind. Take time to listen to the

words of Jesus and repeat them several times with the rhythm of your

breathing

at church learning and engagement

THEOLOGY BOOK CLUB: book title, and change of March date

This month's meeting of the Theology Book Club will be at 8pm on

Wednesday 13th March at John Rogan's house in lieu of the 3rd

Tuesday of the month as advertised in last month's issue of the

magazine. Over the next few meetings we shall be looking at

Speaking of Sin: the Lost Language of Salvation by Barbara

Brown Taylor — discussing whether religious vocabulary is understandable

to many people, copies of which are available at a cost of

£7.99 each. Please also note that we aim to keep to the '3rd Tuesday'

pattern although there may be the occasional month when we shall

need to find an alternative date.

— Simon Goodman

Please note that Simon is away during March; for John's address please contact

the Parish Office, and for more information contact either the Parish Office or

Parish Magazine (see the inside front & rear covers for contact details)

WONDERFUL PENTECOST WORKSHOPS — CAN YOU HELP?

Sarah Yates, our Education Officer, writes —

IN MAY I have 2 classes from St Mary Redcliffe Primary School

visiting church to do Art Workshops on the theme of Pentecost.

Our idea is for an exhibition in church of their work!

The workshops are on Tuesday 7 May — one in the morning; one in

the afternoon. The workshops will be full-on and busy as the children

will be weaving and printing in both sessions!

It would be wonderful to have a few extra volunteers to assist with

the workshops, and wonderful if you could offer to help at either or

both sessions. And if you are interested in helping with the preparation

prior to the day... that would be wonderful too!

thank you!

— Sarah

— if you would like to know more please get in touch me at the parish office

on tel: 0117-2310060, or email me at: sarah.yates@stmaryredcliffe.co.uk
---
at church development

DURING THE COURSE OF 2019, P450 architects Purcell will

create a masterplan for the development of new facilities at St

Mary Redcliffe that will move the church's architectural planning to

RIBA (Royal Institute of British Architects) Level 3: Developed Design. The

core objectives of RIBA Level 3 are summarised by RIBA as follows:

Prepare a developed design, including coordinated and updated

proposals for structural design, building services systems, outline

specifications, cost information and project strategies in accordance

with the design programme.

This design will take into account the following pieces of work that have

been carried out during the last couple of years:

• Heritage asset review

• Community consultation

• Interpretation and learning strategy

• Fundraising strategy and plan

• Options appraisal

• Feasibility study

PROJECT 450 BUSINESS PLANNING

— RHYS WILLIAMS

RESEARCH ASSISTANT

As well as these, Purcell will take into account a crucial piece of work — the

Project 450 Business Plan — that is currently being worked on by Glevum

Consultants. Glevum has a highly experienced heritage business

consulting team, which has worked closely with heritage and cultural

organisations — including Winchester Cathedral and St Alfrege's Church,

Greenwich — to deliver a variety of complex projects.

Since 2002 the organisation has helped secure £70 million of HLF

(Heritage Lottery Fund) and private donor funding, and directly helped

deliver £40 million of capital projects and activity plans.

Simon Hawkins, Director of Glevum Consulting, has also recently been

involved in project-managing Bristol Old Vic Theatre's highly successful

transformation.

Simon is currently looking in detail at the church's potential for generating

income from activities including:

• Tours of the church, belltower and roof

• Wedding receptions and group catering

• An improved retail and hospitality offer

• An enhanced events programme

• Conferences and meeting room hire

• An enhanced exhibition programme, possibly including

William Hogarth's St Mary Redcliffe altarpiece

Once the potential for income generation has been fully assessed by

Simon through the Business Plan, Purcell will look at the impact of its

findings on the architectural plans. For example, if the business plan finds

that the average wedding party is a particular size, then the proposed

south churchyard building that will be used for wedding receptions will

need to be designed to accommodate a similar number of guests.

Again, if the business plan finds that Hogarth's altarpiece can add value

to the project by attracting additional visitors, generating revenue, and

enabling partnerships that will raise the profile of the church, then the

masterplan will need to include accommodation for the altarpiece. The

possibility of the Hogarth becoming part of the scheme has already been

investigated by Purcell using a generous £9,600 funding award from the

National Churches Trust, made specifically for this purpose.

As well as providing information that can be fed into Purcell's planning for

the new buildings and spaces, Glevum is looking at how a phased approach

to business development can enable the church to begin to make shortterm

improvements to its offer that don't require new buildings.

For example, with a relatively small financial commitment, the church

might be in a position to offer roof and tower tours that can begin to start

generating revenue during the planning stage for the capital project.
---
This phased approach would allow improvements to the visitor experience,

and the development of income-generating elements of the organisation

such as the shop to be made incrementally, in a fore-planned and structured

manner, allowing the church to make projections about how much

income is likely to be generated at each stage. The income generated at

stage one, would then allow further improvements to be made at phase 2,

and so on.

Image: Hogarth section

A first draft of the business plan will be presented to the P450 Project

Board on Monday 11 March and is available on request for viewing by

members of the congregation who are interested in finding out more.

While the business plan is being finalised, Purcell will continue to look at

options for the various new buildings and spaces, including the exhibition

space that would be needed for the Hogarth in the event of its inclusion

in Project 450.

Rhys Williams

Research Assistant

tel: 0117 231 0068

email: rhys.williams@stmaryredcliffe.co.uk

Image: SMR North elevation

Further information:

If you would like more information about Project 450

or are interested in looking in more detail at documents

relating to the various ongoing workstreams, please

contact Rhys Williams as above, and visit SMR online at

stmaryredcliffe.co.uk/development. For information on

Glevum Consulting please visit glevumconsulting.co.uk

Image:

SMR South elevation
---
soundbites music at redcliffe

CHORAL VOICES

— ANDREW KIRK, DIRECTOR OF MUSIC

— Favourite Choral Composers?

I think Howells has to be my favourite choral composer; his music isn't

always easy to sing but I always find it evocative and beautiful. His hymn

tune "Michael" (All my hope on God is founded) is a favourite of mine. Edward

Bairstow comes a close second, with I sat down and Blessed City among my

favourite choral pieces. I've also loved singing works by living composers

Philip Wilby, Oliver Tarney and Cecilia McDowall.

— Which instruments do you play?

I started my musical education as a pianist. In the past I've also dabbled in

recorder, ukulele, flute, and kazoo.

— Apart from music, do you have any other hobbies?

Baking is something I enjoy — and my flatmates and fellow choristers at SMR

don't seem to mind either! I've become a lot more careful about how much

flour ends up covering the kitchen now that I have to clean it up myself!

— When and where was your first experience of singing in church?

I was brought up in the Anglican tradition, and wanted to sing with the

robed choir at St. Andrew's, Chippenham, for many years before I was

finally allowed to join as a treble at the age of ten.

Our Music Scholars (left–right) — Matt, Ned, Izzy, Adam & Joe. Photo: Andrew Kirk

— ANDREW KIRK talks to

Choral Scholar ADAM LLOYD

Andrew — Adam, what attracted you to applying for a choral scholarship?

Adam — Initially I auditioned because my singing teacher recommended

that I'd like SMR; now I'm in my third year with the choir!

— Do you like Eucharist, Mattins or Evensong best and why?

Perhaps you can't beat a good candlelit Evensong, but our living tradition

of Choral Mattins is rare and certainly worth preserving and growing. One

of my favourite pieces in the SMR repertoire is Bairstow's beautiful setting

of The Lamentations, which we sing at Mattins during Passiontide. Although it's

very different from our usual Mattins services, Rush Sunday is undoubtedly

the year's most exciting choral service outside of Christmastide.

— Who has been a big influence on your musical development?

Although I never met him, Canon Gervase Markham MBE who founded the

Morland Choristers' Camp. I've attended every year for almost a decade,

and it was at Morland that I had my first taste of the cathedral repertoire

we sing at St. Mary Redcliffe. The Camp really helped to encourage me to

keep singing even when I was the only young person in the St. Andrew's

choir, and as my voice changed.

— Why is singing in a church choir a good thing?

St. Mary Redcliffe is a really beautiful space to sing in, and its excellent

organ enhances the experience too. Ultimately, though, our purpose as

a church choir is to offer music to the glory of God, and help to lead

the congregation in meaningful worship. I really hope we achieve this,

because I think the difference in context compared to other performances

singers might give is quite important.

— Andrew Kirk & Adam Lloyd
---
....around the parish

see page 6 for a note on the photos

What's

David been

up to

lately?

Hmm

what's Becky

up to these

days?

WOOF

(tr: come on)

let's go and

see!
---
at sunday school...

WE'VE CERTAINLY HAD A

busy few weeks in Sunday

School and Youth Group...

In Sunday School, our resources

are based on the Lectionary, so,

when we're in the Undercroft, we

follow the same readings as the

rest of the congregation up in

church. Our youth group, which

currently takes place three Sundays

a month, follows a very different

structure. Our activities

are based around themes taken

from my very much loved "Boring

Bible" book, which I've had for

many many years. Over the last

two months, we've been looking

at "Strange but True" stories from

the bible. Natasheya, our needlefelting

expert has been working

with the children to put together

a wall hanging of the fascinating

bible stories we've been reading.

Look out for their great creation

which will soon be hanging in the

Children's Area in church. For

those who like a challenge, there

is a little task: see if you can name

the chapter and verse of all the

stories in the picture! There is a

prize for you if you can!

...EXCITING TIMES

— BECKY MACRON

FAMILIES & YOUTH MINISTER

We now have a group of very talented

and enthusiastic helpers to help run

our youth group and we are preparing

for our launch day on Sunday

17th March. If you would like to find

out more, please get in touch.

It's been equally as exciting (and

busy!) in Sunday School. This year

we've had a steady increase in

the number of children attending

Sunday School each week, which

is lovely. Our annual prayer day

back in January was a success and

it was nice to welcome members of

the congregation to our first Stay

and Pray. We are looking forward

to the next Stay and Pray, which will

be held on our Bible day in May — we

will be working together with our

good neighbours from the Arc

Café (ARA)

who will be

joining us

to talk to us

about the

important

work that

they do.

In the whole time I have been involved

in Children's Ministry at

Redcliffe, I don't think I've ever

known a service which has received

such positive comments as baby

Toby's baptism on 24th February.

It was a truly special service. One

of the visitors (who happens to be

a Families and Children's Worker)

commented on how nice it was to

see all the children fully integrated

in the church, taking part in the

baptism service with the rest of

the church family.

You'll notice that for this

month's article, my title has

now changed! It was an absolute

delight to be taken on for the role

of Families and Youth Minister at

Redcliffe just before Christmas. I

am incredibly excited about the

plans to develop our ministry for the

people of Redcliffe. Amongst other

things, before the summer I hope to

begin a toddler group in church.

I officially began my new role at the

start of January and I have really

enjoyed getting to know the rest of

the team at Redcliffe Church; the

staff have been incredibly friendly

and welcoming, and I am very

much looking forward to working

with them on various ventures.

As you will know from my previous

articles, I thoroughly enjoyed

every moment of my role as Sunday

School Co-ordinator over the

past few years, and it continues to

be a real pleasure to be working

alongside the people and families

of Redcliffe. As the famous

quote (which is often attributed

to Confucius, although to be honest,

I heard it from Chris Evans on

his breakfast show) goes… when

you've found your dream job, you

will never have to work another

day in your life. Well, I for one am

certainly looking forward to never

going to work again!

— Becky Macron
---
in the community...

The children's festival in the Autumn

was a lovely community-organised

event — we organised activities in the

main square to encourage children

who may not otherwise have gone to

get involved.

...BRILLIANT THINGS

— DAVID COUSINS

YOUTH DEVELOPMENT WORKER

IT'S BEEN A WHILE

since I've last written in

here so there's a lot to tell

you about as we've been

working on some brilliant

things with children and

young people across the

parish of Redcliffe!

A significant development

has been the start of the

Redcliffe Youth Club, aimed

at 9–15-year-olds. We've had

great fun making slime,

cooking, playing games and giving this age

group a space to relax and talk to their friends

and trusted adults. We had helped decorate a

community tree for Treefest and it was nice to

be able take the children into the church on

the evening for fantastic food and to see all

the fabulous decorations.

children to promote the benefits of

healthy eating andexercise. This has

now evolved into a cooking group

for parents and their children and

the local Children's Centre. We'd

love to have more parents involved

so contact me if you know anyone

who'd be interested.

The Redcliffe Autumn Festival

was a good chance to offer young

people the opportunity to try

new things — we had a Japanese

Drummer, an interactive pirate

theatre and a Calisthenics instructor

ran workshops.

I'd like to congratulate Phil George,

our new Youth Support Worker,

who was successful after a rigorous

interview process involving a group

of twelve local young people from

the school. He had been volunteering

with us for a few months

and officially started his new role

in December.

The basketball session we run on

local courts continued through the

winter as we managed to borrow a

floodlight to keep going in the dark

nights. We went along with a couple

of young people to the local basketball

club to get them involved.

the local trampoline park. We also

ran a Sports Day with the help of

the SMRT and the local police, with

34 local children playing different

games in the fantastic facilities at

the school.

There's lots to look forward to leading

up to Easter. As part of the Calmer

Llama Easter Trail organised by the

Methodist Church the youth club will

be decorating a cardboard cut-out

llama. Keep an eye out for it around

Broadmead!

We'll also be working in the secondary

school and sixth form on a project to

get young people to create a piece

of journalism, photography, poetry,

music or artwork about the local area.

Please pray for the success of our work

and for the young people and families

of Redcliffe, and keep them in your

thoughts over the coming months

— David Cousins

We worked with Jumpstart and Playing

Out at the end of Summer to run some

Food and Fitness sessions for local

Half-term was a busy time for us as

we took a group of young people to
---
community learning

SCRIPTURAL REASONING

— AN INTERFAITH EXPERIMENT

— ANTHONY ACTON

IWAS RECENTLY INVITED to take part in an evening of "Scriptural

Reasoning" held at the mosque in Bath. Scriptural Reasoning is the

name given to a programme for improving understanding between

religions which was developed at leading universities in the 1990s. It

involves placing alongside each other two comparable passages from

the holy books of two different religions. A small group of people drawn

from both faiths then reflect together on these scriptures. What began

as a purely academic exercise was soon found to be much more than

that: participants who came to learn about someone else's religion went

away having discovered new riches in their own.

Our group consisted of five young Muslim men from Palestine, Lebanon

and Syria, studying at university in Bath, a Rabbi from Bristol and another

Jewish lady, and three Christians: a priest from Bath Abbey, a retired

Methodist minister, and me. The Imam of the Bath mosque (a young man

with degrees from Cairo and Cambridge) acted as our facilitator. These

are the passages we had before us:

Surah 2: 30-33 (the Cow)

30 [Prophet]: when your Lord told the angels "I am putting a successor

on earth" they said "How can You put someone there who will cause

damage and bloodshed, when we celebrate Your praise and proclaim

Your holiness?" but He said "I know things you do not." 31: He taught

Adam all the names [of things], then He showed them to the angels

and said "Tell me the names of these if you truly [think you can]." They

said "May You be glorified! We have knowledge only of what you have

taught us. You are the All Knowing and the All Wise." 33: Then He said

"Adam, tell them the names of these." When he told them their names,

God said "Did I not tell you that I know what is hidden in the heavens

and the earth, and that I know what you reveal and what you conceal?"

Genesis 2: 16–25

And the Lord God commanded the man "You are free to eat from any

tree in the garden; but you must not eat from the tree of the knowledge

of good and evil, for when you eat from it you will certainly die." The

Lord God said "It is not good for man to be alone. I will make a helper

suitable for him." Now the Lord God had formed out of the ground all

the wild animals and all the birds in the sky. He brought them to the

man to see what he would name them; and whatever the man called

each living creature, that was its name. So the man gave names to all

the livestock, the birds in the sky and all the wild animals. But for Adam

no suitable helper was found. So the Lord God caused the man to fall

into a deep sleep; and while he was sleeping, he took one of the man's

ribs and then closed up the place with flesh. Then the Lord God made a

woman from the rib he had taken out of the man, and he brought her to

the man. The man said "This is now bone of my bones, and flesh of my

flesh; She shall be called 'woman', for she was taken out of man." That

is why a man leaves his father and mother and is united to his wife, and

they become one flesh. Adam and his wife were both naked, and they

felt no shame.

The Scriptures: metaphor or history?

The Genesis passage was read to us in Hebrew by Rabbi Monique and

then in English, and the Qu'ran passage was intoned in Arabic by one of

the students, entirely from memory, before it too was read in English.

To hear these scriptures in their original tongues was deeply moving.

The Imam then asked each of us whether these stories were, to us, literally

true, or metaphor. We polled as follows — Metaphor: 5 (3 Christians, 2

Jews); History: 5 (5 Muslims). The Imam then explained that every Muslim

believes that the Qu'ran contains the literal truth, and that for Muslims

Qu'ran stories such as that set out above are real history. (Though this, he

said, can be problematic for them.)

What are these Scriptures about?

The Genesis passage was seen by the Christians as being about God's relationship

to human beings, man's relationship to woman, humanity's re-
---
lationship with the environment, and an explanation of our fallible nature

(i.e. "the fall" in Christian theology). The Jews saw Genesis in much the

same way except they see the knowledge of good and evil as being about

humanity acquiring moral responsibility rather than inherent sinfulness.

The Muslims were puzzled how it could ever be wrong to know good from

evil. They saw their passage as being about God's gift of intellectual ability

to human beings. We were all agreed that both passages warn us against

elevating human wisdom above God's wisdom.

Eve: Adam's side-kick or equal partner?

The rabbi explained that the word translated as "helper" in our Genesis

passage is eizer k'negdo in the original Hebrew. "Eizer" indeed means helper.

But the second part, "k'negdo", means "alongside or in sight of" — i.e. Eve

is not subordinate to Adam; her skills and abilities are complementary

to his, and each plays to the other's strengths. The word also carries the

sense of "as if opposite" — i.e. each partner can bounce ideas off the other,

and re-think or even oppose where necessary.

The human race and the environment

The Jewish view of Genesis 1:28 (humankind to subdue/dominate the

earth) is that although those English words do correctly translate the

Hebrew word k-v-sh, that verse must not be read in isolation. In Genesis

2:15 Adam is put in the Garden of Eden to till and tend it, and even when

Adam and Eve are expelled from the Garden, they (and by extension, we)

retain those responsibilities. The Muslims explained their Arabic word for

"stewardship", which is their concept of our responsibilities towards the

earth and all its creatures, based on our God-given ability to reason and

to invent. The Christians emphasised the spiritual aspects of being human,

and made the point that of all God's creatures Adam alone was the one

into whom God himself breathed life. We all agreed that human beings

are called to be God's stewards of his creation.

Conclusions

The Imam had spoken of wanting to offer us both intellectual and practical

hospitality. He and his five devout but cheerful young Muslim students

certainly did that in spades. The whole evening was conducted in an

atmosphere of harmony and friendship. The contributions to our discussions

made by very able clergy from all three religions enabled us to avoid

woolly generalisations. If it felt strange to be doing a sort of Bible study

with people who do not have the Gospel, I also felt how vitally necessary it

is that religions learn to talk to each other, and that through his Spirit our

Lord surely was present with us as we tried to do that.

Anthony Acton

— For further information

readers may be interested to visit the Scriptural Reading website at

http://www.scripturalreasoning.org — Ed

community arts

LENT, LISTINGS & ARTLOVERS!

DEAR READERS... A note to say that

the pieces overleaf caught my eye. I

find that the arts (all of them) open up

our understanding on many a level,

and that these in particular resonate

with the season of Lent.

The first article is about a painting by

RAPHAEL titled The Mond Crucifixion,

and is from an online resource for

parish magazines (which I was rather

intrigued to find!), and has a

thoughtful commentary.

The second/third are downloaded

from mainstream art and church

contexts in London featuring the

work of contemporary artist BILL

VIOLA — Bill Viola / Michelangelo,

the current exhibition at the Royal

Academy (ends 31st March); and

Martyrs, a video installation by Viola

that is on long-term loan at St Paul's

Cathedral. Inspiring?

A note also to say that you will need

to access the relevant images online

(follow the links), or in print of course,

as I am unable to reproduce them

here — but the words are thoughtprovoking

so I hope you will find the

entries stimulating. And if you are

in town this month you can see all

three listings at one go!

— Eleanor

Ps: thinking about the famous Renaissance

artist trio, a reminder about the exhibition

of Leonardo's drawings at Bristol City

Museum (on till 6 May).
---
The Mond Crucifixion —

Raphael (1483–1520)

https://www.nationalgallery.org.uk/paintings/raphael-the-mondcrucifixion

THIS MONTH'S PAINTING in the National Gallery

is known as the Mond Crucifixion. It has an interesting

history, because Ludwig Mond, the German born

scientist and industrialist, offered to lend the painting

to the Gallery in 1892. The trustees for some reason

declined the offer. Ludwig Mond was undeterred and at

his death in 1909 he bequeathed to the Gallery over 40 paintings. It was an

amazingly generous gift, and included this Crucifixion by Raphael.

It belongs to the artist's early years and was painted when he was just 20, for

a church altarpiece in Urbino in 1503. On Good Friday we hear those words

from Lamentations, "Is it nothing to you who pass by? — look and see." We

might look on the cross of Jesus and see a sign of agony and death. But here

in the Mond Crucifixion, all seems serene and still. It is a far cry from the

harshness and cruelty of the Gospel accounts. Look at the angels with their

ribbons and feet resting on the clouds, the hands and feet of the four

bystanders so delicately painted, and beyond, the softly lit Umbrian landscape

with a river, trees and low hills stretching away into the distance.

It is as if Raphael has frozen this moment of death on his canvas to tell us

that here is an enduring message of love and generosity for Mary, John, Mary

Magdalene and Jerome gathered below. Our Lady and John look at us,

inviting us to discover there the solemn beauty that moves their lives and

that can move us.

In our worship on Good Friday we encounter this paradox of the cross — a

sign of suffering and death, but a sign also of generosity. We can think of the

generosity of Ludwig Mond, the generosity of Raphael sharing his gifts with

us, but above all the generosity of our Prince of Glory. Here, in the words of

Isaac Watts' hymn, we see how "love so amazing, so divine, demands my soul,

my life, my all."

Article by Revd Michael Burgess who says: "The National Gallery at Trafalgar Square in

London houses one of the finest collections of European paintings in the world, with some

2,300 works ... we journey through the gallery to explore one of those treasures each month".

Article downloaded from https://www.parishpump.co.uk

.

BILL VIOLA / MICHELANGELO

Life Death Rebirth

26 January to 31 March 2019

https://www.royalacademy.org.uk/exhibition/bill-viola-michelangelo

MICHELANGELO is best known for

the Sistine Chapel and for his large

sculptures. Yet his smaller, more

intimate drawings take us closer to

the spiritual and emotional power of

his work. They were created for his

private use, or as gifts of love, and

would soon become known as "drawings

the likes of which was never

seen". In 2006, the pioneering video

artist Bill Viola saw a collection of

these works at Windsor Castle. He

was moved by their ability to convey

fundamental human experiences and

emotions, and by Michelangelo's use

of the body to give shape to spirituality.

Viola's large-scale video installations

are likewise works of profound

emotional impact. They combine

sound and moving image to create

absorbing works which slow us down

and invite us to experience and reflect.

These works are shown alongside

Michelangelo drawings, which

are on display in the UK for the first

time in almost a decade. This exhibition

– created in close collaboration

with Bill Viola Studio – is a unique

opportunity to experience two artists,

born centuries apart, in a new light.

All ticket prices include £2.50 for a printed gallery guide. Exhibition organised by the

Royal Academy of Arts, London in partnership with Royal Collection Trust and with the

collaboration of Bill Viola Studio. [All texts above from Royal Academy website.]

MARTYRS

St Paul's Cathedral

https://www.stpauls.co.uk/history-collections/the-collections/arts-programme/bill-viola

Martyrs: Earth, Air, Fire, Water — the first of two large-scale

permanent video installations by internationally acclaimed artist

Bill Viola.

Created by Bill Viola and Kira Perov and opened in May 2014, Martyrs shows

four individuals, across four colour vertical plasma screens, being martyred

by the four classical elements. The work has no sound. It lasts for seven minutes.

Bill Viola's commission for St Paul's Cathedral follows the great historical

tradition of commissions for spiritual centres that has resulted in a priceless

heritage of art around the world.
---
The result of this commission sees St Paul's Cathedral, which has always

spearheaded the engagement of great artists, house a resonant work of art

for our times. Martyrs (and later Mary), will play an important role in connecting

contemporary issues with the timeless themes embodied in the cathedral.

Through the relationship between St Paul's and Tate Modern, visitors

to both sites will become aware of the possibilities available on either

site and it is hoped that this will lead to new audiences for both. With

the symbolic link of the Millennium Bridge, two great institutions will be

connected through art. Martyrs was joined in 2016 by a second piece

entitled Mary. The installations have been gifted to Tate, and are on

long-term loan to St Paul's Cathedral.

Bill Viola says:

As the work opens, four individuals are shown in stasis, a pause from their

suffering. Gradually there is movement in each scene as an element of nature

begins to disturb their stillness. Flames rain down, winds begin to lash, water

cascades, and earth flies up. As the elements rage, each martyr's resolve

remains unchanged. In their most violent assault, the elements represent the

darkest hour of the martyr's passage through death into the light.

The Reverend Canon Mark Oakley says:

Good art, like good religion, questions our answers more than answering our

questions and with a form and language that resist cheap paraphrase.

Our visitors are able to encounter the universal spiritual questions of life and

death that this extraordinary work lays before us. A contemporary medium

that so often controls mass culture is slowed and shaped to unravel that

control, allowing us to face ourselves alone in our fragility and potential. The

rumour of God is very loud in the work, as enigmatic as it is profound, and I

have no doubt the work will be a spiritual encouragement to those who spend

time with it.

Today martyrdom is often spoken of in terms of what people kill themselves

for and others with them. It is more authentically a word that focuses on

what a human being might be willing to die for — faith, conscience, justice,

love of others. This work deepens our perceptions by slowing them down.

We see the courage and resilience of the human in the face of all that would

destroy what is true and good. We each have been given the gift of being.

The gift we have to offer in return is who we become and how our lives, and

deaths, might transform the world.

[All text from the St Paul's Cathedral website]

c0mmunity board notes & mssgs

The Magazine remembers Lester Clements who died last month —

WE SAY FAREWELL TO LESTER CLEMENTS who

passed away on Saturday 9th February. We

hold his family in our prayers.

In addition to the tributes to him from his family and

colleagues at the Thanksgiving Service held in his

memory on Wednesday 27th February, our readers will

remember Lester's contributions to the parish

magazine — most recently the start of a new series of articles on aspects

of church life that interested him, a goodly supply of jokes (which we

hope to continue!), and most notably the "Forgotten Voices" column that

spanned the Centenary years of the First World War.

As readers know, "Voices" was series of recollections — appearing in editions

of the magazine on a monthly basis from 2014 to 2018 — written both by

serving soldiers and by others caught up in the conflict. Their testimonies

remain a moving tribute to a generation who lost their lives and loved ones,

and a record of our ensuing histories, and at the magazine we're grateful to

Lester for continuing the compilation that had been begun by others at the

start of the Centenary in July 2014.

Opposite is the moving prayer that Lester

included in his final piece for "Voices" at

the 2018 Armistice —

If readers have memories of Lester that

they would like to share in the magazine,

please get in contact

— with thanks, Editor

O Risen Lord,

O Shepherd of our dead,

whose cross has brought them

and whose staff leads;

in glorious hope

their proud and sorrowing

land commits her children

to thy glorious hand.
---
BRISTOL CHURCHES WINTER NIGHT SHELTER: NEWS AND

THANKS — II Paul Sylvester and Sarah Yates have been coordinating

the Winter Night Shelter provision for SMR at Faithspace; Sarah writes this

month with Night Shelter news, and says a big thank you from the organising

team to everyone who participated in this year's provision —

Dear everyone

PAUL SYLVESTER and I were asked to organise and

run the Friday-Saturday part of the Bristol Churches

Winter Night Shelter at Faithspace that took place every Friday

evening to Saturday morning for the first six weeks of

this year. There were six other venues running for the other

nights of the week across Bristol in Phase One. The project

has now moved into Phase Two and seven different churches

have taken over as night shelter venues.

We had a wonderful team of volunteers. There were 35 of us who

volunteered in total, with ten people on duty during the evening

session to make the beds, set the table, help with welcoming and

chatting to the guests. We had two teams of chefs who alternated

cooking the evening meals and even did a cooked breakfast on

the final morning. The guests and volunteers all sat down to eat

together so that we had a large table seating up to 25 people. There

were four volunteers staying overnight (two awake; two asleep at

any one time) and six people coming in to help with the breakfast,

take out the mattresses which had to be moved to the next venue

and generally tidy up. We had a team of four people each week

doing the laundry.

We were able to accommodate up to twelve male guests and

most weeks had about ten people staying. Four of the guests

have stayed with the project since the very first week, which

was at the Salvation Army in Easton. They are hoping to save

money during the three months of the project, so that they can

secure accommodation at the end of the time.

We have some good news about some of the other guests who

started the project at the beginning of January:

• two guests have left the project as they gained accommodation

and work.

• two guests gained employment and so left to stay at a different

shelter.

• one guest is moving on at the end of this week as he

has work and somewhere to stay outside of Bristol.

• three guests are working whilst staying at the shelter

and are often up at 5am to go to work.

• one guest has started a course in IT and business skills.

OUR THANKS TO —

Paul and I would like to thank everyone from St Mary

Redcliffe who helped by volunteering at the Night Shelter.

We'd also like to thank Eleanor Vousden for her beautiful

Christmas Card design and Marcus and Jane Ashman for

facilitating the printing of the design and coordinating the

sale of the Cards. THIS ENDEAVOUR raised over £800 which

paid for all the food, towels and cooking utensils that we

needed to buy.

We'd like to thank too everyone who purchased and donated

clothing and toiletries for the men who stayed with us. They

really appreciated all of the things you kindly gave them.

S

arah Yates

Joint Co-ordinator for BCWNS at Faithspace

POSTSCRIPT from BCWNS — With Phase 2 starting,

please pray that our guests settle in well and adjust to a

new pattern and new volunteers. Please pray for sensitivity

on the part of our volunteers and wisdom in their interactions

with guests, and for all churches hosting for the first time.
---
poetry

corner

ELECTORAL ROLL RENEWAL: 2019 is a year in which we

have to replace our entire Electoral Roll. To be on the roll

after 14 April, please complete a new application form

before 7 April and place it in the box provided at the back

of Church; forms are by the box.

Geoffrey Robinson —

Ring out the old,

Ring in the new —

Bring out your dead,

Admire the new.

HAPPY NEW YEAH

What is forthcoming,

No-one can know,

Just keep on living,

Wait for the blow.

PARISH MAGAZINE — MAGAZINE SURVEY NEWS:

A note to confirm that our Reader Survey is in the pipeline. A

small number of us have met to discuss and review the magazine to

assess what level of support and funding we are able to give it — as

a voluntary initiative — and our findings have informed the ground

for the questions we would like you to consider in the Survey forms

we shall be providing. To recap, broadly speaking these will cover

the purpose and content of the magazine as well as such things as

its cost, production values, frequency of publication. We expect to

be ready to distribute the forms next month in church and online,

but in the meantime if you have any questions please get in touch

with Eleanor or myself, and thanks again for your continuing interest.

Revd Kat Campion-Spall

CHRISTIANS IN SCIENCE (CiS) — LECTURE SERIES 2018–2019

CARING FOR THE EARTH — 3

Friday 15 March 2019; 7pm for 7.30pm

Dr John Weaver — Sustainable energy including renewable

resources, nuclear and fracking

Venue: Redland Church Hall, Redland Green Rd, Bristol BS6 7HE. Free

entry; donations to cover costs welcome (suggested amount £5). No

need to book. Refreshments provided. Travel: no 9 bus or by train to

Redland Station.

OUR FRAGILE PLANET — A CHRISTIAN PERSPECTIVE: 8 lectures looking at

the Biblical mandate for caring for our world and the science that lies behind

the challenges we face. Please email Christina Biggs at cmbbiggs@gmail.com for

further details.

Seize the day,

Beware of the dog,

Caveat emptor,

Go the whole hog.

Live life to the full,

Look death in the face,

Rely on God's mercy,

His love and His grace.
---
Laetare!

rere

seasonal...

...A barman notices

that every evening,

without fail, a

customer comes in

and orders three

pints of beer.

After several weeks

of noticing the

pattern the barman

asks the man why

he always orders

three pints. The

man says, "I have

two brothers and

both of them have

moved to different

countries.

We promised each

other we'd always

order an extra

two pints whenever

we drank as a

way of keeping up

the family bond."

Several weeks

later, noticing

that the man only

ordered two pints,

the barman said,

"Please accept my

condolences on

the death of one

of your brothers.

You know, the two

beers and all…"

The man replied,

"You'll be happy

to hear that my

brothers are alive

and well… It's just

that I, myself,

have decided to

give up drinking

for Lent."

diary dates March 1st-April 6th

please note that all entries in the diary are correct at the time of going to print given the

information supplied. please note also that, in addition to the listings below, which vary

in frequency or other details, the following events happen every week in this period —

Tues

Tues

Weds

Thurs

Fri

lineup: i) & iii) rw et al, ii) ask me...

Faithspace Coffee Morning // 10am–12 noon — Faithspace Community

Centre (FCC)

Christian Meditation // 6.15–7.00pm — Parish Office

Jazz in the Undercroft // 7.30–10.00pm

Redcliffe Gardening Group // 10.00am–12.00 noon — Somerset Square

Police Beat Surgery Drop-in // 1.00–2.00pm — FCC

1 Women's World Day of Prayer // 2.00pm — Bedminster Methodist Church,

British Rd

2 Wedding of Christopher Jones and Megan Gibson // Revd Anthony Everitt

4 Pot Luck Lunches // 12:30pm — at Rosemary Cooper's

4 Postcard Club // 7.30pm — FCC

:)... Q: who was the greatest comedian in the

bible? A: Samson — he brought the house down...

um... Q: where was Solomon's temple located?

A: On the side of his head...

5 Holy Communion // 12:30pm — Revd Kat Campion-Spall

MARCH

6 Redcliffe Lunch Club // 12.00 noon — Chair yoga & shoulder massage with

Helen — FCC

6 Hymn Singalong // 11:00am — Rosemary Kingsford — SMR South Transept

6 Redcliffe Film Club // 2.00pm — Amelie — FCC

6 Ash Wednesday Service // 7.30pm — with incense

7 Holy Communion // 12:30pm — Revd Peter Dill

7 Organ Recital // 1:15pm — Pavlos Triantaris; Bristol

7 Lent Group // 7:00pm — Vicarage — film showing: Terminal

8 Lent Exhibition set-up

9 Lent Appeal — Voices of Adoption // 6:30–9:00pm — Panel of Adoptive

Parents, and Professionals

12 Holy Communion // 12:30pm — Revd Peter Dill

12 Lent Group // 2:00pm — Vicarage — film showing: Terminal

12 Compline // 7:30pm — Revd Anthony Everitt

12 Feminist Theology Group // 8:00pm — at Revd Kat Campion-Spall's

13 Redcliffe Lunch Club // 12.00 noon — Yvonne's Quiz; with prizes — FCC

13 Mothers' Union // 2.30pm — Communion and AGM

13 Theology Book Club // 8:00pm — at Canon John Rogan's

14 Eucharist with prayer for healing // 12:30pm — Revd Kat Campion-Spall

14 Organ Recital // 1:15pm — Graham Alsop; St Mary Redcliffe

14 Lent Group // 7:30pm — Vicarage — discussion of Terminal

15 Christians in Science // 7:30pm — Revd Dr John Weaver on "Sustainable

energy" — Redland Church Hall, Redland Green

16 Wedding Preparation Group Session // 10:00am — church Undercroft —

Revd Kat Campion-Spall; Revd Dan Tyndall

19 Holy Communion // 12:30pm — Revd Dan Tyndall

19 Lent Group // 2:00pm — Parish Office — discussion; Revd Peter Dill

19 Compline // 7:30pm — Revd Kat Campion-Spall

20 Redcliffe Lunch Club // 12.00 noon — talk by Margo Cevik — FCC

20 Redcliffe Film Club // 2.00pm — Strictly Ballroom — FCC

21 Holy Communion // 12:30pm — Revd Peter Dill

21 Organ Recital // 1:15pm — Richard Walker; St Chad's Shrewsbury

21 Lent Group // 7:30pm — Vicarage — discussion of Terminal

22 Deadline for articles for March magazine // please send to Eleanor Vousden

at editor.mag@stmaryredcliffe.co.uk
---
25 PCC meeting // 7.30pm — Mercure Hotel

26 Holy Communion // 12:30pm — Revd Dan Tyndall

26 Lent Group // 2:00pm — Parish Office — discussion; Revd Peter Dill

27 Redcliffe Lunch Club // 12.00 noon — FCC

28 Eucharist with prayer for healing // 12:30pm — Revd Peter Dill

28 Organ Recital // 1:15pm — Andrew Kirk; St Mary Redcliffe

28 Lent Group // 7:30pm — Vicarage — discussion of Terminal

1 Pot Luck Lunches // 12:30pm — at the Pickards'

1 Postcard Club // FCC

2 Holy Communion // 12:30pm — Revd Kat Campion-Spall

2 Lent Group // 2:00pm — Parish Office — discussion; Revd Peter Dill

2 Compline // 7:30pm — Revd Kat Campion-Spall

3 Hymn Singalong // 11.00am — Rosemary Kingsford — FCC

3 Redcliffe Lunch Club // 12.00 noon — FCC

3 Redcliffe Film Club // 2.00pm — Musical (tbc) — FCC

4 Holy Communion // 12:30pm — Revd Peter Dill

4 Organ Recital // 1:15pm — Samuel Bristow; Birmingham

4 Lent Group // 7:30pm — Vicarage — discussion of Terminal

6 Stainer's Crucifixion // 4:00pm — performed by Bath Abbey & SMR Choirs

Parish register & Sunday records February 2019

BAPTISMS

Ronnie Shaun Collins

Toby Robin Hoyle King

FUNERALS

Lester Philip Clements

died 9th February 2019 aged 88

SUNDAY CHURCH SERVICE COLLECTIONS

Period: 18 November – 23 December 2018

10th February 2019

24th February 2019

27th February 2019

18 Nov 25 Nov 2 Dec 9 Dec 16 Dec 23 Dec -

£511.64 £421.23 £306.54 £236.60 £456.14 £297.87 -

APRIL

SUNDAY CHURCH SERVICE ATTENDANCE

Date 2019 27 Jan 3 Feb 10 Feb 17 Feb † -

Adult Child Adult Child Adult Child Adult Child Adult Child

8.00am 8 - 8 - 7 - 6 - - -

9.30am 114 40 87 37 97 40 101 21 - -

11.15am 12 - 13 - 20 2 24 - - -

6.30pm 18 1 28 - 36 - 49 3 - -

— NB: Attendance figures refer to congregation

not to clergy, servers, choir or vergers. Collection figures refer only to planned giving and

loose collectionCollection figures refer only to planned giving and loose collection

editor's note

email: editor.mag@stmaryredcliffe.co.uk

THINKING ALOUD... Lent, and hope going forward

Thank you to all this month for some informative pieces and doubleacts:

to Andrew Kirk and Adam Lloyd for an insight into SMR Choristers'

work; to Becky Macron and David Cousins for the 'footprint' of their work

of supporting families, children and young people in the parish; to Rhys

Williams for continuing to provide us with Project 450 updates ("essential"

information as one of our readers has said), and to Anthony Acton for his

excellent and exceptionally interesting piece on Scriptural Reading (very

good to see this in the magazine say the clergy). And regarding the magazine,

work on the Reader Survey is ongoing and we expect to be ready

with our Questionnaires next month.

I offer an apology for errors in production last month, notably in insetting

Geoffrey Robinson's poem, which I have published again this month

error-free. A note to say that mistakes occur after not before the proofread

as with such a quick turnaround there are often

last minute changes to be made, so my apologies also

go to the magazine's superb proof-readers.

Our farewells again to Lester Clements, whose

Thanksgiving Service we attended last month.

— best wishes, Eleanor

Tel: 0117-9634856 (direct) or 0117-2310060 (Parish Office)

The deadline for the April issue is Friday 23rd March

Corbel; SMR
---
prayers for March

groups within the church

For Lent

Almighty God,

give us reverence for all creation

and respect for every person,

that we may mirror your likeness

in Jesus Christ our Lord. Amen

For those who have died

Almighty and merciful God,

from whose love in Christ we cannot be parted,

either by death or life:

hear our prayers and thanksgivings

for all whom we remember this day;

fulfil in them the purpose of your love;

and bring us all, with them, to your eternal joy;

through Jesus Christ our Lord. Amen

The regular congregation is large, active and involved. If you would like to

join one of the many groups connected with the Church, please contact the

appropriate group leader

Head Server

Head Sidesman

PCC Secretary

PCC Treasurer

PCC Safeguarding

PCC Recorder

Sunday School

Faithspace Centre

Lunch Club

Dean Barry

Graham Marsh

Keith Donoghue

David Harrowes

Stephen Brooke

c /o Parish Office

Becky Macron

Sarah James

c/o Parish Office

0117-9099862

01275-832770

0117-9422539

0117-9779823

0117-3311260

0117-2310060

07387 909343

0117-9258331

0117-2310060

For refugees

Almighty and merciful God,

whose Son became a refugee and had no place to call his own;

look with mercy on those who today are fleeing from danger,

homeless and hungry.

Bless those who work to bring them relief;

inspire generosity and compassion in all our hearts;

Meditation

Mothers Union

Church Flowers

Coffee Rota

Bell Ringers

Canynges Society

Lewis Semple

Hilda Watts

Mildred Ford

Christine Bush

Gareth Lawson

Pat Terry

0117-9255763

01275-543588

0117-9359064

0117-9773023

07798 621834

0117-2310060

and guide the nations of the world towards that day when all will rejoice

in your Kingdom of justice and of peace;

through Jesus Christ our Lord. Amen

Journey into Science

Magazine Editor

Eric Albone

Eleanor Vousden

0117-9247664

0117-9634856

Prayer request

Please pray for the success of our work and for the young people and families of

Redcliffe and keep them in your thoughts over the coming month — David Cousins,

SMR Youth Development Worker

The Prayers are from the Church of England, at: https://www.churchofengland.org/prayerand-worship/topical-prayers

Candelabra sketch: Kendra Lindegaard; at age 9

If you or one of your family are sick or have gone into hospital, please let us

know — contact the Clergy or Vergers as soon as possible.

Please consult the Parish Office before making any arrangements for

baptisms, weddings or funerals.

NB — the opinions voiced in the body of the magazine are not necessarily those of the Editor
---
sunday services

8.00am holy communion

9.30am sung eucharist

with crèche and Sunday School / followed by coffee

11.15am choral mattins

6.30pm sung evensong

weekday services

holy communion

Tuesdays and Thursdays at 12.30pm

2nd and 4th Thursdays at 12.30pm with prayers for healing

morning and evening prayer

Monday to Friday at 8.30am and 4.30pm in the Lady Chapel

opening times

weekdays all year round from 8.30am–5.00pm

bank holidays 9.00am–4.00pm, except New Year's Day

Sundays 8.00am–8.00pm

the church is occasionally closed for special events and services

The Arc Café in the Undercroft

serving home-made refreshments all day

opening hours:

Monday to Friday 8.00am–3.00pm

lunch served from 12.00 noon–2.30pm

tel: 0117-929 8658