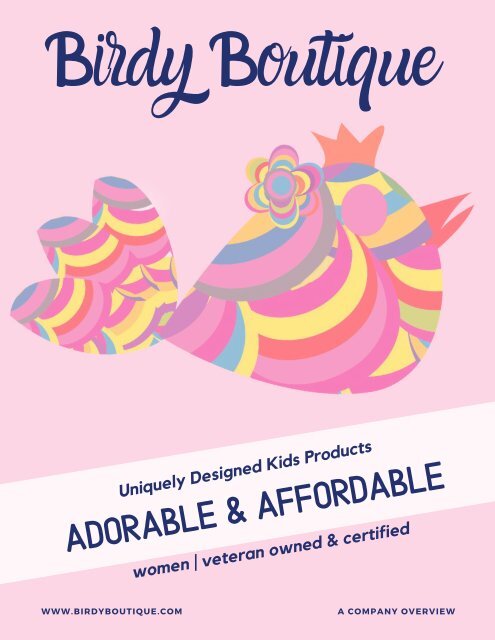 Birdy Boutique Q3
Adorable and affordable birthday sets, bow ties, crowns, car seat ponchos & more proudly designed and manufactured from a women & disabled veteran owned business.
Adorable and affordable birthday sets, bow ties, crowns, car seat ponchos & more proudly designed and manufactured from a women & disabled veteran owned business.
SHOW MORE
SHOW LESS
Create successful ePaper yourself
Turn your PDF publications into a flip-book with our unique Google optimized e-Paper software.
Birdy Boutique

Uniquely Designed Kids Products

ADORABLE & AFFORDABLE

women | veteran owned & certified

WWW.BIRDYBOUTIQUE.COM

A COMPANY OVERVIEW
---
Inside

Y O U R G U I D E

History

Certifications

Product Overview

Testing & Certification

Sales Growth

Line Sheets

Factory Process

Reviews

Contact

www.birdyboutique.com
---
BIRDY BOUTIQUE

Email. shop@birdyboutique.com

Tel. 912.704.2751

Web. birdyboutique.com

Dear Reader,

Birdy Boutique is a children's clothing and accessory retail shop owned by two

sisters. We design and test every product ourselves and subsequently have a

dependable manufacturing and delivery method. We primarily sell to baby and

toddler moms, both boys and girls, via convenient online selling platforms which

reach our targeted demographic.

Our catalog of uniquely designed products and printed patterns include

milestone outfits, unique crowns, educational apparel and car seat ponchos,

which are our main product. The car seat poncho is a hooded blanket that is

primarily used in the car seat because it allows the child to be buckled under the

poncho instead of over a coat. This prevents bulkiness and allows for safer,

warmer travel, without dangerously interfering with the safety harness. Our

poncho has many other benefits: less time to get dressed and ready to get out of

the house, promotes independence as kids can put it on themselves, easier

buckling in the car, a variety of uses outside of the car such as strollers, walks,

hanging out at home, etc. Our brand trademark is pending completion for late

summer 2019.

Thank you for your interest in our entrepreneurial journey. Through creativity and

determination, we plan to expand and increase our product line and sales even

further.

Sincerely,

Joanna Serra & Barbara Kent

Owners | Sisters | Moms
---
Adorable + Affordable

HISTORY

BUSINESS HISTORY

Joanna Jozwik Serra and Barbara Jozwik

Kent immigrated to the United States from

Poland as children in 1988. Watching their

mother perform hard physical work to put

food on the table, they learned that hard

work and determination equals success.

Education was of utmost importance and

both sisters pursued college degrees and

began conventional jobs immediately after

graduation.

Barbara Kent is a retired Army officer, a

mom to two extremely lively children, and a

wife to an active duty Army officer

stationed at Fort Belvoir, Virginia. The

family currently resides in Springfield,

Virginia after a recent move from Hawaii.

Barbara graduated from the United States

Military Academy at West Point in 1999.

She went on to honorably serve in the US

Army Military Police Corps for 13 years,

after which she was medically retired and

disabled by the Department of Veterans

Affairs. She consequently pursued work in

government contracting but eventually

turned to forming and developing Birdy

Boutique in order to work for herself.

Joanna Serra is a mom of two toddlers and a

wife to Dominic Serra, an entrepreneur who

started and runs a proprietary network ISP.

The family resides in a farming community

in Michigan.

Joanna graduated from Wayne State

University with a Bachelor of Science in

Elementary Education; she also began her

Master of Art in Educational Leadership at

the University of Michigan. She taught

elementary aged children and during this

tenure, she earned some of the highest and

most distinguished awards in her field at the

state level. Her initiative and determination,

combined with love for her field, allowed

her to be a leader in every working

environment she took part in. She now runs

two businesses; an ISP business with her

husband and Birdy Boutique with her sister.

Both sisters faced an uphill battle growing

up in very underprivileged circumstances.

The grit and determination that allowed

them to move up and away from that

environment has become an extremely

useful tool in achieving many life goals.

After each faced a massive life change, they

both decided to work for themselves and

start a business together. Birdy Boutique

officially came to life in February of 2014

after months of brainstorming and planning;

the name came from the sisters' love for

birds! The first product was created from

Barbara's passion for sewing and Joanna's

desire to keep kids safe while traveling;

designing, sewing and later mass producing

a product called a "car seat poncho" which

allows children Take to be a buckled peek into into a day car seats

safely with the belt in the snug life against of budding their

bodies versus allowing artist Stella for gaps Young, with

traditional puffy and winter how she coats. improves Slowly, their

variety of self-designed

her

and

craft

printed items

started to sell to local moms and quickly

grew to be solid sellers on platforms such as

Amazon. The company has now expanded to

sell not only car seat ponchos in a variety of

designs but also crowns, bow ties, and

birthday outfits with accessories. Many

children's clothing companies simply resell

others' designs and products, but Birdy

Boutique uniquely designs, prints and

creates their own products from choosing

patterns all the way to stitching decisions,

making it a true brand.

Currently, the company is run as an e-

commerce business selling on multiple

online platforms including its own website,

etsy, eBay, Amazon and Walmart. The

headquarters and warehouse are in

Madison Heights, MI, and working space is

in Armada, MI, in a renovated barn museum.
---
We Are Certified!
---
H i g h e s t

Q u a l i t y

P r o d u c t s ,

P e r i o d

U n i q u e

D e s i g n s &

P a t t e r n s ,

A l w a y s

O r i g i n a l

HE BIRDY

T

IFFERENCE

D

E x c e l l e n t

R e v i e w s

f r o m

P a r e n t s

S a f e t y &

C r a s h

T e s t e d , F u l l y

C o m p l i a n t

Y e a r R o u n d

S e l l i n g

S e a s o n s

C e r t i f i e d b y

M u l t i p l e

O r g a n i z a t i o n s

D e d i c a t e d

F a m i l y

B u s i n e s s

E x t r e m e l y

A f f o r d a b l e

P r i c i n g
---
C O M M U N I T Y

As moms and business owners in

our communities, collaboration

with both local and national

organizations are important to us.

In life, we all experience times of

hardship and a need for our

community. Throughout our

business workings, we have

partnered, sponsored,

volunteered, and contributed to

various organizations. It is

moments like these that personal

gain is set aside and the true

reward can be received. Some

organizations we have had the

privilege of working with and

contributing to are:

Local schools

After school clubs

Community fundraisers

Salvation Army

American Heart Association

YMCA

Audubon Society

249 Engineer Battalion Family

Readiness Group

Army Engineer Spouses Club
---
Product

Overview

CAR SEAT PONCHOS | B-DAY SETS | CROWNS
---
car seat ponchos
---
the winter coat in the car problem

Solves

proper and safe buckling without the

Encourages

bulkiness of coats and jackets

dangerous

quality, amazing reviews, affordable price

Excellent

than bulky layers of clothing

Safer

crash tested in a certified facility according to

Car

standards - results same as wearing no bulky

NHTSA

clothing

of extremely soft and warm fleece

Made

and faster to get in and out of car

Easier

independence; kids can dress themselves

Promotes

be used indoors for reading, playing, nap, etc.

Can

and easy for in stroller use as a hooded blanket

Warm

for going on walks or playing outside

Great

patterns for Fall 2019 including gender neutral options

7

designs and printed patterns

Unique

size - 6 months to 6 years old - grows with child and

One

for years; several seasons of use

lasts

to and compliant with CPSC/CPSIA

Tested

is vacuum sealed in a plastic bag and tagged

Product

a Birdy Boutique hang tag

with

season: Best Seller - Gray Arrow Poncho

2018

car seat ponchos
---
-day sets
---
stress, no pressure birthday parties with

Zero

put together birthday outfits

already

outfit possibilities in each set

Multiple

easily adaptable to various party

Outfits

themes

of 100% softest high quality breathable

Made

appliques and patterns are custom

cotton;

for each set

designed

outfit uniquely designed to offer

Every

and quality

versatility

for cake smashes

Perfect

5 piece outfits including appliqued onesie,

Full

of leg warmers, bib, and diaper cover

pair

out from traditional screen print option,

Stands

even have leather bow ties

some

designs and prints on all of our fabrics

Unique

shoulders on onesie slip easily

Expandable

head and reinforced three snap closure

over

birthday sets

allows for ease during dressing and diapering
---
accessories
---
designed to enhance and complete

Uniquely

birthday look

the

of options available to accommodate

Variety

party themes

various

and parents love our

Photographers

not only because they stand out

accessories

also because they can be used again

but

touch to birthday photos

Special

comfortable with stretchy bands that

Super

on stay

independence, very easy for a child

Promote

put on and pull off

to

keepsake beyond the party

Excellent

used for dress up and imagination play

Often

quality craftsmanship for long life

Highest

and unique fabrics and 3D accents

Beautiful

looks that create timeless memories

Classy

reviews and feedback from families

Amazing

crowns
---
CRASH TESTED

& COMPLIANT
---
Seat Car

Safety

now. We also know that so many parents,

know

buckle their children improperly in

unknowingly,

- 95% misuse rate with clothing and car

75%

seats.

agree, too. When we know better,

Technicians)

do better. This is why our company, Birdy

we

designs and offers car seat ponchos;

Boutique,

will help put your mind at ease.

we

pursue the poncho for our own kids to wear,

to

and be safe in.

play

Did you know you're NOT supposed to buckle

your child over a coat in their car seat? Well, we

car seats, and that makes all the difference in the

event of a crash. It's not a myth. In fact, there is a

It's just not safe to buckle a child into a car seat

over a coat, period. The AAP (American Academy

of Pediatrics) and CPSTs (Child Passenger Safety

The car seat poncho is recommended by various

car seat safety organizations as a safer way for

children to travel in car seats versus wearing

thick winter coats, which can add 4 dangerous

inches of slack into the harness straps. Car seat

ponchos do not in any way interfere with the

harness and therefore are completely safe in the

event of an accident. These are uniquely

designed by us and can't be found in these prints

or fleeces anywhere else. This is why we decided
---
they have others uses too like for strollers, park

Plus,

chilly evenings, even for the couch as they are

visits,

seen other ponchos, how are ours different?

You've

are not experts but what do moms love to do;

We

We researched in depth and found the

research!?

technical experts to help us test and

appropriate

Equipment that is purchased to use

crashworthiness.

or in the car seat is normally not crash tested as

with

the perfect wearable hooded blanket! In fact, your

children may not want to take them off at all, it could

be their favorite safety accessory; one less thing to

worry about. Most importantly, you can rest

peacefully knowing your baby or toddler will be safe

in their car seat using a car seat poncho.

certify that what we were making and offering truly

does keep babies, toddlers and all children safe in

their car seats. We wanted it to be simple and

without stress for moms, but kid friendly, functional,

and adorable too.

All car seat crash test facilities are legally bound to

comply with Federal Motor Vehicle Safety Standard

213 (FMVSS 213). This standard outlines in detail all

the requirements that replicate the conditions of a

car seat car crash; in other words, restraint

there is no legal requirement to do so. As safety in

the car seat can prevent serious injury and death, we

here at Birdy Boutique decided to invest in crash

testing our car seat poncho. We found a testing

facility that is primarily used by the government and

major car seat manufacturers to crash test different

types of car seats on different "age" dummies.
---
By following the above standard, the facility conducted a thorough crash test on a

1-year old dummy in a properly installed car seat. Our results were just as we

expected; our poncho easily surpassed the safety standards outlined in FMVSS 213.

The reason why our ponchos are awesome? They are pulled on your child OVER

the car seat belts so that there is no chance of extra space from bulky coats

between the child and the belts. The harness is right against the child's chest, as if

not wearing a coat at all.

For the most updated research data, check out the Federal Motor Vehicle Safety

Standard Website. Car crashes are the leading cause of death for children ages 1 to

13, and that fact is hard to ignore.
---
All of our products go through rigorous testing in a government certified

laboratory and as a result we can proudly say that our products are safe for

use by children. This testing is composed of several different phases and

parts as various requirements have to be satisfied. One toy, for example,

may be tested for lead content, lead-containing paint, and small parts ban

for children under 3. Another toy may need a completely different set of

tests for different requirements.

After the testing is complete and we receive the laboratory report, we

extract all the pertinent data and put it into a simpler report that everyone

can find, read, and understand. This report is called a Children's Product

Certificate and is a part of our reporting protocol.

It took us a while to perfect the design and we made countless attempts

and trials while sewing pieces of fleece together in different shapes and

sizes; practice makes perfect. Our sewing machine wasn't happy, but we

finally decided on the current design we create for babies and toddlers to

use today. Here are some car seat poncho highlights:
---
PONCHOS: Safer than a coat in the car seat, double-layered, reversible, warm,

cozy, in uniquely designed patterns. Promote toddler independence while

keeping your little one safe without buckling them over bulky coats this winter

in the car. They grow with your child and fit 6 months to 6 years +. These are

the SAFER way to travel year round!

SAFE: No more worries about safety when buckling your baby over bulky coats

or clothing with our traveling poncho! It simply goes on your child over the

buckles and seat belts without worries of extra slack. It's easy: take your child

out into the car wearing the poncho, sit them in the car seat, flip the back part

of poncho over the top of car seat, hold the front up while you buckle your

child, and place the poncho over buckled seat belts.

QUICK: Save time getting in and out of the car, easily slips on over your child's

head, allows for extra room for a hat if needed, rest of poncho spreads over

your child's body for full coverage and warmth. The poncho is made of super

warm soft fleece, it's rectangular and long enough to provide warmth. Kids

have the freedom to move their arms or keep them under the blanket for

warmth.

WARM: Highest quality, thick fleece is double layered to provide warmth and

coziness. Whether you live in Michigan, Wisconsin, Illinois, or even Alaska, this

poncho's fleece layers get the job done right; baby stays warm in car seat,

stroller or on walks! We have even had numerous parents from warm(er) states,

such as Florida and Georgia, let us know that they use them on chilly mornings

and evening outings.

SIZING: One Size, the poncho fits kids 6-12 months old in a car seat and up to 6

year old walkers in their convertible car seats, growing with them! What is

better than buying something for your child that keeps up with their growth?

MOMMY MADE: Designed in the USA by a small company in Michigan!

UNIQUE: Custom printed fleece! Every pattern you see on our ponchos was

carefully thought out, designed, and printed just for Birdy Boutique. You won't

see these patterns or fleeces anywhere else!
---
Publications Say About Car Safety:

What

Show

TODAY

"It's a mistake any parent can easily make in winter: putting your child in a

car seat bundled up in a winter coat. And it could be deadly."

Car Seats for the Littles

"There are a number of poncho options that work well with car seats. The key

feature is that the poncho doesn't interfere with the harness."

TODAY Show II

"When a child is wearing a winter coat, it may feel they are strapped snugly

into a car seat when the straps are actually dangerously loose."

Consumer Reports

"As a general rule, winter coats should not be worn underneath a car seat

harness because that can leave the harness too loose to be effective in a

crash."

Scary Mommy

"Most winter coats and snowsuits add about 4 inches of bulk to the car seat

harness straps."

The Car Seat Lady

"What difference does 4 inches make? The average coat adds 4 inches of

slack into the child's harness straps…that's like wearing 38 inch waist pants

when you are a 34!"

Business Insider

"There is an up to 95% misuse rate with clothing and car seats."

American Academy of Pediatrics

"Use something that goes over the car seat harness straps only, not

underneath."
---
TESTING & CERTIFICATION PROCESS

CPSC/CPSIA TESTED & COMPLIANT

The Consumer Product Safety Commission, CPSC, requires that all children's

products are subject to a set of federal safety rules, called children's product

safety rules. This means that all manufacturers are required by law to ensure

their products go through rigorous testing that will deem their items safe to

use.

The Consumer Product Safety Improvement Act, CPSIA, allows the CPSC to

be more stringent on product safety requirements. Each one of our ponchos,

along with all other Birdy Boutique products, have been rigorously tested by

a CPSC approved laboratory and all CPSIA standards have been met. This

means that all the materials used in manufacturing our products were tested

and are safe to use for you and for your child. We went through this lengthy

process because safety is a priority we care about! Our ponchos are SAFE

and CPSC and CPSIA compliant! The laboratory that we utilized has been

government certified and operational for 10 years. Our ponchos are tested to

all CPSC children's product standards.

CRASH TESTING FACILITY

We researched and chose to use a government certified and government

utilized crash test laboratory to test the safety of our ponchos. This was a

significant financial investment to our small business so we had to choose

wisely. This test facility, located in Virginia, specializes in testing many of the

most popular car seat brands for the National Highway Traffic Safety

Administration, the US Government's authority on car seat safety. Results:

Our crash test showed that using our poncho in a car seat allows for the seat

belts to be properly tightened against the child's body, with no unsafe slack

of bulky clothing.
---
FACTORY

The associate and owner of the factory we utilize has been in business for 6 years. This

factory that manufactures our goods is located in Shaoxing City, Zhejiang Province of China

and it employs around 30 personnel aging from 25-50 years of age.

The factory specializes in the production of various soft textile items and it is fully certified

for business with the government of China. We have been working with this company for

four years and have received consistent, reliable and high quality products. The quality

control process is solid and is utilized on a regular basis to ensure that steady production

and quality of products remains unwavering. The highest safety risk to a textile factory is a

chance of a fire and that is the very reason why this factory undergoes multiple internal

and external government inspections through random unscheduled checks by the Chinese

Department of Public Security and Fire Control; during the high season these inspections

occur about once or twice a month. All new employees are thoroughly trained on safety

procedures in the first 3 months of their employment. All factory equipment is inspected in

detail for safety and operational soundness before and after every order. Fire equipment

is inspected biannually.

We recently had the opportunity to visit and inspect the factory and meet the employees.

The environment was bright, clean and well organized with updated equipment and tools.
---
Reviews & Testimonials
---
WHO

WOMEN

IT OWN

Featured On

& many more...
---
Seat Poncho

L I N E S H E E T

Car

Dinosaur Poncho

Model#: PON106-DINO-BOY

MSRP: $39.99

Wholesale: $14.50

Min Order: 5,000

Size: OSFA

Mermaid Poncho

Model#: PON105-MER-GIRL

MSRP: $39.99

Wholesale: $14.50

Min Order: 5,000

Size: OSFA

Gray Arrow Poncho

Model#: PON201-OS-ARROW

MSRP: $39.99

Wholesale: $14.50

Min Order: 5,000

Size: OSFA

Unicorn Poncho

Model#: PON104-UNI-GIRL

MSRP: $39.99

Wholesale: $14.50

Min Order: 5,000

Size: OSFA

Lumberjack Poncho

Model#: PON103-LB-BOY

MSRP: $39.99

Wholesale: $14.50

Min Order: 5,000

Size: OSFA

Cupcake Poncho

Model#: PON102-CC-GIRL

MSRP: $39.99

Wholesale: $14.50

Min Order: 5,000

Size: OSFA

Lead Time for manufacturing + delivery: 50-70 days
---
Lead Time for manufacturing + delivery: 45-70 days

Sets

L I N E S H E E T

Birthday

Colorful Monster Onesie

5 piece Set

Model#: BDY19-12MnthoneColors

MSRP: $29.99

Wholesale: $12.50

Min Order: 5,000

Sizes: 6/12 mnths + 12/18 mnths

Classy Black Bow Tie

5 Piece Onesie Set

Model#: BDY20-12MnthoneBlkWht

MSRP: $29.99

Wholesale: $12.50

Min Order: 5,000

Sizes: 6/12 mnths + 12/18 mnths

Lumberjack Onesie Set

Model#: BDY18-12Mnth-

BdayLumberjack

MSRP: $29.99

Wholesale: $12.50

Min Order: 5,000

Sizes: 6/12 mnths + 12/18 mnths
---
GEARS

Sales

Growth

We have been selling car seat ponchos

for three years and each year our sales

and the feedback from parents,

grandparents and kids is more awesome

than the last. The growth in popularity

and sales increased by about 300% each

year. Every year we learn lessons, make

improvements, and reach farther out of

our comfort zone. It seems that from

year to year we make massive upgrades

to the way we advertise, promote and

sell our products, and we cannot wait to

see what the next few years bring about.
---
K E E P I N T O U C H

email

S H O P @ B I R D Y B O U T I Q U E . C O M

call

9 1 2 . 7 0 4 . 2 7 5 1

visit

W W W . B I R D Y B O U T I Q U E . C O M
---
K E E P I N T O U C H

email

S H O P @ B I R D Y B O U T I Q U E . C O M

call

9 1 2 . 7 0 4 . 2 7 5 1

visit

W W W . B I R D Y B O U T I Q U E . C O M