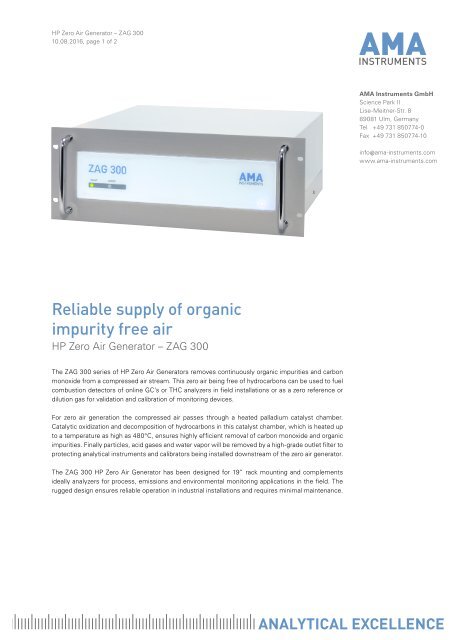 You also want an ePaper? Increase the reach of your titles
YUMPU automatically turns print PDFs into web optimized ePapers that Google loves.
HP Zero Air Generator – ZAG 300

10.08.2016, page 1 of 2

AMA Instruments GmbH

Science Park II

Lise-Meitner-Str. 8

89081 Ulm, Germany

Tel +49 731 850774-0

Fax +49 731 850774-10

info@ama-instruments.com

www.ama-instruments.com

Reliable supply of organic

impurity free air

HP Zero Air Generator – ZAG 300

The ZAG 300 series of HP Zero Air Generators removes continuously organic impurities and carbon

monoxide from a compressed air stream. This zero air being free of hydrocarbons can be used to fuel

combustion detectors of online GC's or THC analyzers in field installations or as a zero reference or

dilution gas for validation and calibration of monitoring devices.

For zero air generation the compressed air passes through a heated palladium catalyst chamber.

Catalytic oxidization and decomposition of hydrocarbons in this catalyst chamber, which is heated up

to a temperature as high as 480°C, ensures highly efficient removal of carbon monoxide and organic

impurities. Finally particles, acid gases and water vapor will be removed by a high-grade outlet filter to

protecting analytical instruments and calibrators being installed downstream of the zero air generator.

The ZAG 300 HP Zero Air Generator has been designed for 19" rack mounting and complements

ideally analyzers for process, emissions and environmental monitoring applications in the field. The

rugged design ensures reliable operation in industrial installations and requires minimal maintenance.
---
HP Zero Air Generator – ZAG 300

10.08.2016, page 2 of 2

TECHNICAL DATA

General

Enclosure

19" plug-in case

Height

4 height units

Depth

460 mm

Weight

11 kg

Mounting

designed for cabinet / rack mounting

Ambient temperature 5°C to 35°C

Humidity

5% to 80% relative humidity, non-condensing

EMC

CE-marking, conformity with EMC-guidelines 2004/108/EC

HC removal

high performance heated platinum catalyst

Start-up time

50 min

Instrument status

"READY" and "ERROR" status LED's on front panel

AMA Instruments GmbH

Science Park II

Lise-Meitner-Str. 8

89081 Ulm, Germany

Tel +49 731 850774-0

Fax +49 731 850774-10

info@ama-instruments.com

www.ama-instruments.com

Zero air specifications

Flow rate / versions

Purity

Delivery pressure

max. 6 l / min

< 0,05 ppm HC, free of hydrocarbons ≥ C2

max. 6,5 bar

Instrument supply

Power supply

Line frequency

Power consumption

Inlet air quality

220-250 VAC, 100-120 VAC (optional)

50 to 60 Hz

max. 600 W

clean and dry compressed air, free of oil, dew point < -20°C,

HC content max. 100 ppm

Connections

Compressed air inlet

Zero air outlet

1/4" bulkhead union, stainless steel

1/4" bulkhead union, stainless steel

Communication

Communication ports

2 x RS-485 for field bus communication via Modbus RTU