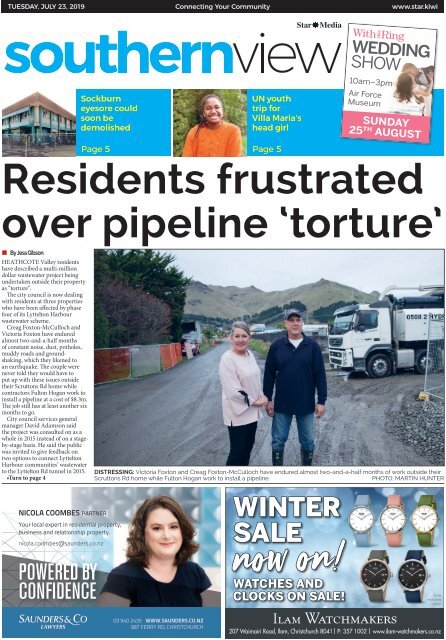 Southern View: July 23, 2019
You also want an ePaper? Increase the reach of your titles
YUMPU automatically turns print PDFs into web optimized ePapers that Google loves.
TUESDAY, JULY 23, 2019

Connecting Your Community

www.star.kiwi

wedding

show

Sockburn

eyesore could

soon be

demolished

UN youth

trip for

Villa Maria's

head girl

10am–3pm

Air Force

Museum

sundAy

25 th August

Page 5 Page 5

Residents frustrated

over pipeline 'torture'

• By Jess Gibson

HEATHCOTE Valley residents

have described a multi-million

dollar wastewater project being

undertaken outside their property

as "torture".

THe city council is now dealing

with residents at three properties

who have been affected by phase

four of its Lyttelton Harbour

wastewater scheme.

Creag Foxton-McCulloch and

Victoria Foxton have endured

almost two-and-a-half months

of constant noise, dust, potholes,

muddy roads and groundshaking,

which they likened to

an earthquake. The couple were

never told they would have to

put up with these issues outside

their Scruttons Rd home while

contractors Fulton Hogan work to

install a pipeline at a cost of $8.3m.

The job still has at least another six

months to go.

City council services general

manager David Adamson said

the project was consulted on as a

whole in 2015 instead of on a stageby-stage

basis. He said the public

was invited to give feedback on

two options to connect Lyttelton

Harbour communities' wastewater

to the Lyttelton Rd tunnel in 2015.

•Turn to page 4

DISTRESSING: Victoria Foxton and Creag Foxton-McCulloch have endured almost two-and-a-half months of work outside their

Scruttons Rd home while Fulton Hogan work to install a pipeline.

PHOTO: MARTIN HUNTER

Winter

Sale

now on!

WatcheS and

clockS on Sale!

*

Some

exclusions

apply.

Ilam Watchmakers

207 Waimairi Road, Ilam, Christchurch 8041| P: 357 1002 | www.ilam-watchmakers.co.nz
---
2 Tuesday July 23 2019

Latest Christchurch news at www.star.kiwi

get in touch

from the editor's desk

YOU HAVE to sympathise with Heathcote

Valley residents currently enduring the

noise, vibrations and shaking that goes

with a major infrastructure project (see

page 1).

Creag Foxton-McCulloch and Victoria

Foxton have gone public in Southern View to air their

frustrations over the Heathcote Valley part of the $53 million

Lyttelton pipeline.

The city council consulted with the public back in 2015 over

what lay ahead. But Creag and Victoria say they weren't aware

what was going to happen in their part of the valley until work

started a few months ago.

The couple, and others, will unfortunately have to endure it for

another several months. Fulton Hogan, the company contracted

to do the work, isn't responding to our questions.

No surprises there.

– Barry Clarke

GENERAL INQUIRIES Ph 379 7100

CLASSIFIED ADVERTISING Ph 379 1100

Star Media, a division of Allied Press Ltd

PO box 1467, Christchurch

starmedia.kiwi

news

Progress at workingmen's club

Work on the final stage of the $12.9 million Richmond Working

Men's Club rebuild has started.

Page 10

news

Teen circus performers wow crowds

Check out the photos from the Christchurch Circus Trust's

performances of Circus Berserkus.

Page 13

tasty bites

SOUTHERN VIEW

Sweet spud

The kumara is popular with Kiwis, try some of our tasty

recipes.

NEWS

Georgia O'Connor-Harding

Ph: 364 7438

georgia.oconnor@starmedia.kiwi

ADVERTISING

Mark Sinclair

Ph: 364 7461

mark.sinclair@starmedia.kiwi

Page 19

The best-read local newspaper, delivered to

15,826 homes every Tuesday

Spreydon, Hoon Hay, Hillmorton, Cracroft, Cashmere,

St Martins, Somerfield, Sydenham, Addington, Waltham,

Opawa, Beckenham, Huntsbury, Woolston.

School's not

studywithus.co.nz

for everyone!

Is school not working for your teen?

GAIN

NCEA

CREDITS

TXT

'STUDY' TO:

027 557 8839

career

Ultimate

Security

digital media

decider

& forces

prep

Business Admin

Early Childhood

Web Development

Software Design

ENROL

NOW!

50 Hazeldean Road, Addington

0800 834 834 www.studywithus.co.nz

*conditions apply
---
SOUTHERN VIEW Latest Christchurch news at www.star.kiwi

Tuesday July 23 2019 3

News

No progress finding MDF solution at Owaka site

• By Georgia O'Connor-Harding

ONGOING: A resource consent has been lodged to mix the

MDF at the Owaka site in with soil. Owaka Holdings director

Alan Edge said mixing the MDF in with soil is a "safer" option.

THE ONGOING saga to get

medium density fibre removed

from the contentious Owaka site

is in limbo.

Owaka Holdings Ltd lodged a

resource consent application to

combine about 6800m of MDF

with a similar amount of soil

to form a bund at its site on 59

Owaka Rd.

The bund is proposed to be

covered with topsoil and planted

with vegetation and grass.

If approved, the MDF would

no longer need to be removed

from the site.

The site has been a contentious

issue for years and came to a

head when the MDF spontaneously

caught alight spreading

thick smoke and taking weeks to

contain.

The city council issued Owaka

Holdings an abatement notice in

April 2015, which said all MDF

had to be removed by April 2016.

The city council did not reimpose

it after it lapsed because it

started a compliance investigation.

In April last year, the city

council threatened Environment

Court action over Owaka Holdings

Ltd failing to comply with

removing the MDF.

City council head of regulatory

compliance Tracey Weston told

Southern View this week enforcement

action is on hold pending

the outcome of the application.

The resource consent was

lodged on November 27 and city

council staff is currently waiting

on more information before

proceeding the application.

It is waiting for further information

relating to stormwater,

transmission lines, contamination

and approval from Orion,

which is adjacent to the site.

Ms Weston said the last

notification the city council

received regarding the MDF

being removed was between the

period of January-May, 2017.

So far, 539.49 tonnes have been

removed.

In April last year, a city

council investigation found the

stockpiles of MDF were not permitted

by the District Plan and

not authorised by a resource

consent. MDF is an engineered

wood product made by breaking

down hardwood or softwood

residuals.

Owaka Holdings director

Alan Edge said he thinks the

proposal is a safer option.

When asked by Southern View

if the proposal would save the

company the expense of removing

the MDF from the site, Mr

Edge said "not really."

"The amount of money the

consultants and scientists have

done on the MDF has not been

cheap," he said.

The Owaka site has been

a contentious issue with the

Halswell-Hornby-Riccarton

Community Board for years.

But city councillor Jimmy

Chen, board chairman Mike

Mora and deputy chairwoman

Helen Broughton were unaware

the resource consent had been

lodged.

Mrs Broughton said she only

found out because she kept asking

council staff for updates on

the removal of the MDF.

"We were promised a briefing

every two months and we

haven't had any briefings . . . I

got told there was no need for a

briefing because it was no longer

an issue of the MDF being taken

away."

Mrs Broughton said she was

concerned because she thought

the MDF was being taken away

and it is not.

Cr Chen said he has not seen

a copy of the resource consent

but is trusting city council

planners will follow the process

to determine the safety of the

proposal. An assessment of

environmental effects found

the proposal had considerable

positive effects in providing an

on-site solution to the MDF

material.

Orion, which is adjacent to

the site, was consulted on the

proposal. Its works delivery

manager Anthony O'Donnell

said Orion was concerned

about stormwater run-off

entering their property. Orion

is in ongoing discussions about

matters raised in the proposed

plans.

Local

News

Now

In Brief

Fire rages, homes at risk

FACILITY IDEAS SOUGHT

The city council will gather ideas

on the new Hornby Library,

Service Centre and South

West Pool at the next Greater

Hornby Residents' Association

meeting. City council staff will be

attending the meeting to discuss

options for the new facility and

scope of the building. It is after

the Halswell-Hornby-Riccarton

Community Board approved the

reclassification of part of Kyle

Park and made management plan

amendments to allow the facility

to be built. The meeting will be

held at the Hornby Rugby Club on

Sunday, 2pm.

NO STOPPING RESTRICTIONS

No stopping restrictions could be

installed across from retirement

village Summerset in Wigram.

The Halswell-Hornby-Riccarton

Community Board will look to

approve the restrictions adjacent

to the vehicular access point at

Summerset at its board meeting

today.

BOTTLE STORE HEARING

The hearing over the Bottle-O

Halswell application for an offlicence

liquor store at 29 Ensign

St will be held next week. The

hearing is a result of the Halswell

Residents' Association appealing

against the decision allowing

Bottle-O to open the store.

stubbies

a season of short shorts!

4 exceptional one act plays

for 3 nights only!

The revolution

in heat pumps

is here now!

7.30pm Thurs 25 to Sat 27 July

The Drama Theatre, Rangi Ruru Girls' School,

Merivale Lane, Christchurch. Tickets $15/$20

to book phone 338 4699 or via

www.riccartonplayers.co.nz

The revolution in heat pumps is here now!

The Fujitsu e3series

The brilliant

heat pumps from Fujitsu

e1 : efficiency

e2 : environment

e3 : economy

Website: www.pshc.co.nz

Finance available

FREE consultation from your local

Accredited Heat Pump Expert

Phone today: 03 381 6950

INSERT DEALER DETAILS HERE

The brilliant e3 series

heat pumps from Fujitsu

e1 : efficiency

e2 : environment

e3 : economy

Fujitsu's Catechin Filters are

approved by the Asthma and

Respiratory Foundation NZ's

Sensitive Choice ® programme.

Email: info@pshc.co.nz

5 Warning Signs of Spinal Stress!

André Grob,

Dr of Chiropractic,

has had over

15 years

experience of

specialty spinal

care in Australia

and New Zealand.

A healthy spine is vital to

your wellbeing.

Specialist spinal therapy

at Southern Chiropractic

consists of:

• Manual manipulative therapy

• Soft tissue Massage

• Low level Laser therapy

• Exercise and postural

education

Telephone 322 1432

www.southernchiropractic.co.nz

Email dre.nik@xtra.co.nz

SCIATIC PAIN

Southern Chiropractic Ltd

NEW PREMISES

Unit 4, 3 Kennedys Bush Road, Halswell

(Down the drive beside Pringle Homes offices)

HEADACHES

NECK PAIN

AND TENSION

MID BACK PAIN

AND TENSION

LOW BACK PAIN

FOR BETTER SPINAL HEALTH

ACT NOW… RING 322-1432

Halswell Jct Road

Halswell

Road

Kennedys

Bush Road

3 Kennedys

Bush Road

Sparks Road
---
4 Tuesday July 23 2019

Latest Christchurch news at www.star.kiwi

SOUTHERN VIEW

News

No objections to ownership

change at Henry's Hornby

• By Georgia O'Connor-Harding

NO OBJECTIONS have been

lodged against a liquor store

application which is located in

the same complex as a Work and

Income office in Hornby.

Skudar Ltd lodged

the new application for

the current off-licence

Henrys Hornby on 21

Shands Rd. The new

application is sought

due to a change of

ownership at the site.

The store is currently

operating under

Imperial Discount

Liquor Ltd.

If approved, it would operate

Monday-Sunday, 8am-10pm,

under the name of Henry's BWS

Hornby.

The application received

mixed views at the Greater

Hornby Residents' Association

meeting recently due to the store

being located a few doors down

from Work and Income.

Chairman Marc Duff said he

hadn't heard of any problems

as a result of the store's location

before, and it "doesn't really

stick out that it is there."

"I think if it was a new liquor

store you would see a stronger

community feeling . . . I think I

Marc Duff

Loss of income and damage concern to property

•From page 1

However, regardless of outcome,

the plan to lay a pipeline through

Heathcote and Woolston would

have remained the same.

"We're addressing each

complaint individually and

working with our contractor

to find a solution for residents.

Complaints are followed up with

emails or phone calls from the

project manager and face-to-face

engagement with the contractor,"

Mr Adamson said.

Mr Foxton-McCulloch, who is

the ex-chairman of the Heathcote

Valley Community Association,

was not aware of the consultation

or the drop-in session in 2015.

would have a stronger

view if it wasn't a renewal

but it is a renewal so it is a bit

different."

Member Mark Peters said the

close proximity of the store to

the Work and Income office,

operated by the Ministry

of Social Development,

was "unfortunate."

"It is a one-stop shop.

You go in and get your

benefit and then you

wander into a liquor

store. That is not really an

ideal situation," he said.

But he said he

decided not to make an

objection.

This is because when a new

licence application is made

due to a change of ownership,

the suitability of the licensee

is the only ground in what an

objection can be made.

Mr Peters said he is in two

minds because Henry's is

operated by Foodstuffs South

Island Ltd – and is probably one

of the better liquor stores.

But a location such as

The Hub Hornby may have been

more appropriate, he said.

MSD regional commissioner

Shane Carter would not

comment on the application.

The only mention of Scruttons

Rd in the consultation document

was to say that the pipeline would

be installed there, as well as in

Godley, Simeon, Norwich and

Gladstone Quays and Port Hills,

and Ferry Rds. It did not mention

anything about disruption to

nearby properties during the

installation of the pipeline.

The city council received 44

submissions in response to the

consultation, five opposed the

project and there was no mention

of Scruttons Rd.

Instead, Mr Foxton-

McCulloch said he found out

about the work which was going

to be done when he saw people

Fine Wine and Spirits

store gets green light

• By Jess Gibson

THE REDCLIFFS Fine Wine

and Spirits store will go ahead.

No appeals were made to the

alcohol regulatory and licensing

committee against the district

licensing committee's decision to

grant an off-licence at 1/87 Main

Rd.

Submitters who opposed

Rizak Enterprises Ltd's initial

working outside his property and

called the city council.

In an email to the city council,

Mr Foxton-McCulloch said "the

appalling lack of communication

between the city council, those

who you subcontract with and

the people who pay all of your

wages is staggering."

Mr Foxton-McCulloch and Ms

Foxton have had to temporarily

shut their home-based business

Castle Rock Estate due to the

ongoing disturbance, resulting in

a "massive loss of income."

"We even left to get away for

a week of sanity," Mr Foxton-

McCulloch said.

Mr Foxton-McCulloch is

application to open the store

were given 10 working days

to appeal an amended version

under the Sale and Supply of

Alcohol Act 2012.

But because none were made,

Rizak Enterprises Ltd can start

refitting the store in preparation

for its opening.

The amended application

included the enforcement of

guidelines like labelling the store

concerned that the work may

eventually lead to damage to their

property with all of the shaking

and banging.

He is also concerned over the

use of a temporary Bailey bridge

to replace the old Scruttons Rd

bridge.

"To have a Bailey bridge

brought up from Timaru to

be thrown over the old bridge

just until the job is finished

seems a huge waste of time

and ratepayer money when

the bridge is supposedly due to be

upgraded next year."

THe pipeline will run from

the Heathcote side of Tunnel

Rd, under Bridle Path Rd and

LIQUOR:

The Fine

Wine and

Spirits store

at 1/87

Main Rd,

Redcliffs,

has been

granted its

off-licence.

Redcliffs Fine Wine and Spirits,

instead of Thirsty Liquor, CCTV

security inside and outside the

store and no alcohol advertising

outside the building.

These changes were made to

satisfy more than 100 people

who were not satisfied with the

original proposal.

The store will be open

from 9am-9pm, Monday to

Sunday.

through Port Hills Rd to Mauger

Drive and Scruttons Rd.

It will go under the councilowned

paddocks parallel to Tunnel

Rd, under the Heathcote River and

connect to the Woolston pump

station in Alport Place.

"It's a necessary evil but the

way they have gone about it

is totally wrong," Mr Foxton-

McCulloch said.

Fulton Hogan refused to

comment.

•HAVE YOUR SAY: What

do you think about the city

council's lack of consultation

for its project? Email your

thoughts to jess.gibson@

starmedia.kiwi

Congratulations

CAMERON BAILEY

Just announced as this years Number 1!

2019

No.1 Harcourts International

No.1 Harcourts New Zealand

No.1 Harcourts Christchurch
---
SOUTHERN VIEW Latest Christchurch news at www.star.kiwi

5

Tuesday July 23 2019

Local

News

Now

Eyesore could soon be demolished

Fire rages, homes at risk

• By Georgia O'Connor-Harding

A LONG-TERM eyesore

in Sockburn could soon be

demolished.

The city council is undertaking

asbestos surveys at the old

Sockburn Service Centre to determine

the extent of the asbestos

removal required to allow for the

demolition to go ahead.

City council's

head of facilities, property and

planning Bruce Rendall said a

final date for the service centre

will not be known until the

extent of the asbestos removal is

known.

The former service centre,

on Main South Rd, has been a

source of tension for years with

residents unhappy with the state

of the site.

It was closed in 2012 due to

earthquake damage and has been

vacant ever since.

Greater Hornby Residents'

Association chairman Marc

Duff said it is encouraging

to hear the city council is making

progress by looking at the

asbestos.

He said it is understandable

the city council wants to undertake

asbestos testing to make

sure the building has a safe

demolition.

It comes as the city council

demolished the old Sockburn

VTNZ building and storage shed

last month.

Mr Duff said it was really

positive the city council had

made progress in bringing the

old Sockburn VTNZ building

down.

Currently, the service centre is

covered in graffiti, the windows

are smashed and others are

boarded up.

Halswell-Hornby-Riccarton

Community Board chairman

Mike Mora said he is hoping the

building can come down as soon

as possible.

A year ago, a report went to the

board recommending the city

council retain the land, but not

the building.

Mr Rendall said there have

been no changes since then and

the land will be used for water

supply and recreation.

•HAVE YOUR SAY: Are you

pleased to see the old

Sockburn Service Centre go?

Email your views to georgia.

oconnor@starmedia.kiwi

UNSIGHTLY: The city council is carrying out asbestos testing

at the former Sockburn service centre to determine how much

asbestos needs to be removed before it is demolished.

UN youth trip for Villa Maria head girl

• By Georgia O'Connor-Harding

ONE OF the biggest messages

Villa Maria College's head girl

Eadaoin Roughan tries to pass

onto her fellow students is to

"give everything a try".

"Giving it a go won't hurt

anyone, you can only grow and

learn from it," she said.

So while Eadaoin, 17, didn't

know a lot about the United

Nations Youth New Zealand's

Global Development Tour 2020,

she decided to take her own

advice by applying for the trip.

She is now one of 22 students

from across the country selected

for a month-long tour of Europe

and New York to learn about the

UN's Sustainable Development

Goals in action.

Eadaoin has been chosen

alongside Lincoln High School's

Maria Mendoza Nieto and

Sujean In of St Margaret's

College.

The tour, which begins in

January, will see the delegation

travel to London, Rome, Vienna,

Berlin and Paris.

The Sustainable Development

Goals are the UN's blueprint

addressing global challenges

including poverty, inequality,

climate, environmental

degradation and justice.

On the tour, the delegation

will meet with policy-makers,

non-profit organisations and

other institutions critical in

the formation of achieving the

goals.

Eadaoin said she was happy,

excited and overwhelmed when

she found out she was chosen.

"Just the thought of being

able to go across the world to see

how countries work with

the Sustainable Development

Goals was mind-blowing," she

said.

Eadaoin said she is most

looking forward to attending

the Columbia Model United

Nations Conference and

Exposition in New York – one of

the leading UN conferences in

the high school circuit.

Eadaoin said she decided to

apply after a friend of hers asked

her to go to a talk on the tour.

"Although there were

only seven days left be the

registration closed, I thought

why not try, I'm not going to

lose anything major if I try, I

could gain so much," she said.

Having a passion for serving

her community, Eadaoin helps

feed the homeless on a Sunday

at the Oxford Terrace Baptist

Church.

She said the thing she loves

most about being head girl

is listening to other student's

stories or concerns to see how

she can help them.

"Even if it is small, I love how

they can approach me and tell

me anything".

Next year, Eadaoin plans

to study at biochemistry at

university, but this could change

when she returns from the tour.

BRIGHT FUTURE: Villa Maria

College head girl Eadaoin

Roughan has been selected

to take part in the United

Nations Youth New Zealand's

Global Development Tour

2020 next year.

PHOTO: MARTIN HUNTER

Fabulous

haircuts for the

entire family

Our fully qualified stylists can

provide the latest styles and trends

EVERY 8 TH

HAIRCUT

IS FREE!

With your

loyalty card

Open 7 Days - no appointment necessary

Bush Inn Cnr. Riccarton & Waimairi Rds. Ph 03 348 7008

South City 555 Colombo St. Ph 03 366 0619
---
6

Tuesday July 23 2019

Latest Christchurch news at www.star.kiwi

SOUTHERN VIEW

Keeping kids busy at the Youth Alive Trust

The school holidays have

been packed with action

for Logan Bakker and

Lily McCambridge (left).

They spent time at the

New Brighton Beachside

Playground as part of the

Youth Alive Trust's junior and

senior holiday programmes.

About 80 children took part

in activities, including trips to

Timezone, Inflatable World

and the Margaret Mahy

Playground.

CREATE: Skye Young, Alice Martin, Naomi

Yappa, Emily Tipper and Shannon Brennan

at the Youth Alive Trust headquarters in New

Brighton.

GLADIATORS: Toby Maxwell and Ben Pearson

at Inflatable World.

SLIDE:

Tyreece

Clayton-

Marquet,

Shyla

McGregor

and Lucy

Fairweather

at the

Margaret

Mahy

Playground.

GAMES: Emily Tipper, Skye Young and Alice

Martin at Timezone.

Curios and collections, a cluster of local artists exhibit

their treasures over the month of August at Little River

Gallery. Lee-Ann Dixon, Jane Downes, David Lloyd,

Blanche Fryer and Anthony Savill exhibit covetable and

collectable, tiny and contained artworks that will tug at

your heart strings and capture your imagination.

CANTERBURY

READERSHIP UP

Check out NEW

items on the

Super Sale rack

Check out NEW items

on the Super Sale rack

Jane Downes'

Dragonfly on leaf

David Lloyd's whimsical

scaled tools of timber

and copper

Blanche Fryer's

big egg issue

Lee-Ann Dixon serves up a

dainty Cicada dish

Silver serving trays offer up creatures faithfully

rendered in oils. A ceramic worlds of intrigue burst

from their timber-salvaged frame while giant metal

insects 'steel' about. The miniature copper and timber

tools conjure up an industrious Lilliputian community

and clusters of curios from the past are repurposed for

your visual pleasure.

Little River Gallery open 7 days, Main Road, Akaroa Highway.

Reach 164,000* readers

with just one ad.

*Source: Nielsen CMI Q2 18 – Q1 19.

Elemental

Clusters • Collections • Curios

27 JULY – 21 AUG 2019 Main Rd, Little River

Lee-Ann Dixon | Jane Downes | David Lloyd | Blanche Fryer | Anthony Savill

03 325 1944

art@littlerivergallery.com

For further details and to

advertise, contact:

Shane Victor

shane@starmedia.kiwi

021 318 765

Fashion

Easy Parking • Laybuy Welcome

Easy 17 Parking Lillian Street, • Laybuy Halswell Welcome

17 Lillian 03 322 Street, 4548 Halswell

Open Mon-Fri 03 322 9.30am 4548

- 5.00pm

Saturday 10.00am - 1.00pm

Open Mon-Fri 9.30am - 5.00pm

Saturday 10.00am - 1.00pm
---
CCRT_Newspaper Ad_370mm263mm_170719_FA.pdf 1 17/07/19 11:48 AM

SOUTHERN VIEW Latest Christchurch news at www.star.kiwi

Tuesday July 23 2019 7
---
8

Tuesday July 23 2019

Latest Christchurch news at www.star.kiwi

SOUTHERN VIEW

BIRTHDAY

BED SALE

Birthday

Super

Buy

Sale

Prices

on all

Sanctuary

Beds

SLEEPYHEAD - MAKING

BEDS IN NEW ZEALAND

SINCE 1935

Made by Kiwis for Kiwis.

10 YEAR WARRANTY

Quality you can trust...

we guarantee it!

Great

Price

Top

Seller

Huge

Range of

Pocket

Spring

beds on

Sale!
---
SOUTHERN VIEW Latest Christchurch news at www.star.kiwi

Tuesday July 23 2019 9

News

Local

News

Now

Fire rages, homes at risk

Kids' market popular

Budding entrepreneurs put their best selling

pitches forward at the popular Selwyn

Kids' Market recently. Children had the

opportunity to sell or buy old toys, books

and sports gear at the Lincoln Event Centre.

HAPPY: Barry Botherway, 80, of Halswell, bought

a kitchen set for one of his 16 grandchildren.

PHOTOS: MARTIN HUNTER

TIME OUT: Gabriella Wakelin, 3, of Halswell,

rests after a big day shopping.

NEW HOME: Wainoni Avonside Community Services Trust

co-ordinator Betty Chapman outside the trust's new home

behind the Burwood Christian Centre.

New home found for

community group

• By Matt Slaughter

THE WAINONI Avonside

Community Services Trust has

found its new home.

The trust will move from its

old headquarters at Wainoni

Methodist Church on Avonside

Drive to the second floor of a

newly constructed, two-storey

building behind the Burwood

Christian Centre at 52 Bassett St.

Trust co-ordinator Betty

Chapman said it hoped to move

in by the end of August, but this

would happen after a lift was

installed to help members who

struggled with stairs.

Mrs Chapman said she had

been searching for a new site for

the trust for more than a year.

Earlier this year, Land Information

New Zealand decided

the earthquake-damaged, leaky

Wainoni Methodist Church site

was unsafe to work in.

It was originally thought the

trust would move into All Saints

Anglican Church in Burwood,

but Mrs Chapman said the rent

would have been too expensive.

"They put the rent up to $300,

plus power, plus phone. We

couldn't afford that."

The rent at its new site will cost

the same as it did at Wainoni

Methodist Church, $200 a week.

In spite of securing a new site

meaning the trust's future was

safe, Mrs Chapman said moving

would be hard on the about 200

people who used its services and

attended its events.

The trust's new headquarters is

only a short distance from its old

one, but she still expected the

move would result in the loss of

some members.

"It is hard because the elderly

don't like change . . . they don't

want to shift.

"It's hard on elderly to move."

The trust has been operating

out of Wainoni Methodist

Church for more than 17 years

and Mrs Chapman said some

were struggling with the idea of

leaving.

However, a visit to the new site

on Wednesday had seen reluctant

members change their tune.

"Everyone's finding it hard.

"But, yesterday after the walk

through, I got a lot of positive

vibes, so I'm quite relieved."

She said, ultimately, it would

be great to be in a building that

didn't leak.

Wainoni Methodist Church

will be demolished once the

trust moves.

Want to be

elected?

• Local Council

• Community Board

• Ecan

• CDHB

Star Media can help you.

Talk to us today about your campaign.

Contact: Mark Sinclair

03 364 7461

021 913 566

mark.sinclair@starmedia.kiwi

Hook UP witH tHE snow CHain

sPECialist

FREE

FittinG

& aDViCE

THE CHAIN MAN LTD

100% NZ OWNED AND OPERATED

keeping your family safe

Unit 1 - 1 Cass st. sYDEnHaM. CHCH

PH: 03 366 1528

E: sales@chainman.co.nz • www.chainman.co.nz

wE sEll & Fit

snow CHains

to anY

VEHiClE

bUYinG

snow CHains

FRoM Us

is as CHEaP

as HiRinG
---
10 Tuesday July 23 2019

Latest Christchurch news at www.star.kiwi

News

Cycleway plan

changes after

consultation

SIGNIFICANT CHANGES have

been made to the South Express

Major Cycle Route after the city

council received more than 600

submissions on the proposal.

City council staff are recommending

amendments based on

public feedback, including providing

more car-parking, connecting

with the Selwyn District

Council's planned shared path

and introducing a slow speed

zone along Matipo St.

City council transport planning

and delivery manager

Lynette Ellis said: "We received

a lot of detailed feedback on the

route and have made a lot of

changes to address the concerns

and opportunities raised by the

community".

Of the 642 public submissions

received, 49 per cent of submitters

supported the cycleway, 23

per cent supported it but had

specific feedback which needed

further consideration, and 23 per

cent opposed the cycleway.

Hearings for the cycleway were

scheduled to begin yesterday.

Alternative designs are

proposed on Elizabeth St, Lochee

Rd, Craven St, Taggart Pl and on

bus stops around the intersection

of Buchanans Rd and Hei Hei

Rd.

GROUND-BREAKING: Richmond Working Men's Club president Chris Taylor starts the final stage of the rebuild.

Workingmen's club rebuild continues

• By Claire Booker

WORK ON the final stage of

the $12.9 million rebuild of the

earthquake-damaged Richmond

Working Men's Club has started.

Club president Chris Taylor

broke the ground with a ceremonial

spade last week before

construction workers moved in

to start the project.

Work will be finished in July

next year.

The final stage of the construction

will be a new function venue

that will accommodate weddings,

corporate dinners, show

events and other functions.

The completed complex

will have three high-grade

squash courts, a new restaurant

and bistro, a TAB terminal and

game room, and plenty of parking.

The first part of the rebuild is

finished, so the club is open for

meetings and events.

Mr Taylor has been the president

of the club for the last three

years and has been a member of

the committee for 17 years.

"It's been a long road, but we're

finally under way," he said.

Cook Brothers Construction

won the bid for the construction

of the project after going through

the robust tender process which

was run by the club.

The design of the new

clubroom was decided by way

of input and discussions which

involved all club members as well

SOUTHERN VIEW

Local

News

Now

Fire rages, homes at risk

as the committee.

The Richmond club, which has

been around for more than 100

years, is one of the oldest clubs

in New Zealand and it is hoped

that the new design will blow its

members away.

The plan for the club is to

secure its future with strong

strategies around its food and

beverage offerings, with a

focus on the local community

and perhaps targeting a wider

demographic.

Up to $450

dual fuel

business

credit*

What if

there was

a better way

to get gas?

Switch to Genesis and we'll give you our best deal for

Christchurch businesses.

• We'll take care of the switch and remove your old bottles

• Enjoy a prompt payment discount when you pay your bill in full and on time

• If you have your electricity with us too, enjoy one bill and extra benefits

T's and C's apply.

Visit genesisenergy.co.nz/abetterway

*Eligibility criteria and terms and conditions apply. Offer applies on a 24 month LPGFreeze and PowerFreeze plan. Account credit is calculated accordingly to your usage. Exit fee of $650 per fuel type applies.
---
SOUTHERN VIEW Latest Christchurch news at www.star.kiwi

Tuesday July 23 2019 11

HEALTH & AWARENESS

Joint pain: Do I have arthritis or

could it be mainly my muscles?

The team at Physical Sense in Sydenham sees clients with

a range of symptoms but many of their middle-aged and

senior clients visit complaining of pain in one of their joints.

Physiotherapist Ietje van Stolk suggests

that a major part of the pain could be due

to muscle pain rather than simply arthritis.

"Even if an x-ray shows arthritis, the reason

for the pain may be the muscles around

the joint," she explains. The images show

how a muscle knot (the crosses) in a back

muscle can give hip pain (aches and pain

are the red areas in the drawings), a knot

in a muscle on the back of the shoulder

blade can give a deep pain in the front of

the shoulder and a muscle knot all the way

near the groin can give an ache in the knee

(especially at night in bed).

Ietje recalls one case where an 89 year

old client with severe arthritis who walked

with a stick, told her, "I will end up in

a wheelchair, I cannot put any weight

through my right leg due to pain in my hip

and buttock". "Within 4 treatments, she

was walking with her stick but without the

severe pain," says Ietje. "The arthritis was

one of the factors that made her muscles

spasm but the other was that older people

move less and the flexed position the hip

is in when we sit is particularly bad for

the hip." Ietje is happy with the fact that

although the client was 89 and could have

been "given up on" or told to live with the

pain, she made a difference to her health

and wellbeing.

The same lack of movement can be the

reason for your knee pain or your shoulder

pain and the same few treatments could

make a huge difference for you.

At Physical Sense, hands-on techniques

(massage and triggerpoint deactivation

techniques) are used to release the muscles.

The client also gets a home exercise

program designed to mobilize and stretch

the joint, strengthen the important core

muscles and increase general strength and

SHOULDER

PAIN

KNEE PAIN

balance. They teach a movement sequence

that stretches the joint in all directions

whilst the client is able to lie safely on their

bed, perfect for older or less mobile clients.

In many cases having the muscles

released and being taught how to maintain

it, is enough to stay on top of the problem.

HIP PAIN

(the crosses are the areas of the muscle spasms, the red areas is where the pain is felt)

If severe arthritis is the underlying cause,

some maintenance therapy may be

necessary, but that is often more affordable

and, for older patients, better tolerated than

surgery. In very few treatments the client

will know if it is going to work for them or

not, without financial commitment.

Physical Sense Gym and Physio is located at 300 Colombo Street, Sydenham. The Blue Line Bus stops in front of the door and there is ample

parking. To enquire about specialised exercise classes or physiotherapy treatment, phone 377-2577 or visit www.triggerpoints.co.nz

Titled Sections Available Now

New Release Coming Soon

Register Your Interest Now

03 281 7517 | sections@prof.co.nz | presonspark.co.nz
---
12

Tuesday July 23 2019

Latest Christchurch news at www.star.kiwi

SOUTHERN VIEW

WHY CHoose

for Your next VeHICLe?

It's in our name

- Value!

A vehicle from

Value Cars will have

the best presentation,

best mileage and best

price combination.

We have been

trusted in Canterbury

for over 25 years and a

majority of our customers

are referral or repeat

customers. We stand by

every vehicle and we are

proud of our service.

One location for

every type of vehicle

and under cover makes

for a pleasant buying

experience. Our colour

and low mileage selection

is something we work

hard to provide.

CANTERBURY OWNED

& OPERATED

ESTABLIShED 1993

VALUE

REPUTATION

SELECTION

TRUSTED

CHeCk out our Huge rAnge of HAtCHbACks!

PLUS

REGISTRATION

2010 toyota iq

$7,999

An amazing little car with an NCAP 5 star safety rating

and some very innovative design features that make

it safe, economical and extremely maneuverable, 1.0

litre engine, automatic trans, very low kms, stands

out finished in red, keyless entry, rear wiper, ABS, T/C

and multiple airbags, great buying at this price!

PLUS

REGISTRATION

2010 bmw 116i

$10,999

A RWD European hatch, looks stylish and sporty, 1.6 litre

engine, tiptronic trans, 4 star fuel efficiency, stunning in

white, body kit styling, driving lights, 16" alloys, black

interior complimented by stunning red leather seats, push

button start, reverse camera, rear wiper, low kms, safety

of ABS, T/C, multiple airbags, you won't be disappointed!

PLUS

REGISTRATION

2014 honda fit

$13,999

Popular, versatile and economical 5 door hatch,

current model, 1.3L engine with idle stop, automatic

trans, 5.5 star fuel efficiency, stands out in yellow

with chrome detailing, stylish black interior, very low

kms, push button start, reverse camera, rear wiper,

ABS, T/C and airbags, inspection won't disappoint!

PLUS

REGISTRATION

2018 nissan march

$13,999

The March is a light steering, easy to drive, popular,

economical and surprisingly spacious 5 door hatch,

features a 1.2 litre engine with automatic trans and

5 star fuel efficiency, travelled very low kms, looks

sharp in silver, keyless entry, rear wiper, ABS, T/C

and airbags, fantastic buying for a near new vehicle!

PLUS

REGISTRATION

2009 mazda aXeLa

$13,999

The Axela has quickly become a very popular mid-sized

family hatch and preferred in it's class by many, 2.0 litre

engine with i-stop, tiptronic trans, paddleshift option,

4.5 star fuel efficiency, stands out in electric blue with

driving lights and 16" alloys, push button start, low

kms, safety of ABS, T/C and 6 airbags, nice car!

PLUS

REGISTRATION

2012 mitsubishi mirage

$8,999

Surprisingly spacious 5 door hatch, features an

economical 1.0 litre engine with idle stop and

automatic trans returning 5.5 star fuel efficiency,

sure stands out finished in yellow metallic, travelled

very low kms, push button start, rear wiper, ABS

and airbags, worth a look!

PLUS

REGISTRATION

2016 toyota vitz

$13,999

Current model, features an economical 1.0L

engine with automatic trans, looks great and

stands out in blue with stylish dark interior,

travelled very low kms, keyless entry, rear wiper,

ABS, T/C and airbags, well worth a look - fantastic

buying!

PLUS

REGISTRATION

2014 toyota ractis

$12,999

A stylish, nippy, good handling and spacious vehicle,

features an economical 1.5 litre engine with tiptronic

trans and 5 star fuel efficiency, stands out finished

in red with stylish black interior, cruise control, push

button start, rear wiper, very low kms, safety of

ABS, T/C and 8 airbags, will sell fast so don't delay!

PLUS

REGISTRATION

2008 toyota rumion

$8,999

Stylish family hatch, features a 1.8 litre engine with

tiptronic trans, looks great in white with subtle factory

body kit and driving lights, black interior, reverse

camera, push button start, rear wiper, good kms, ABS

and 8 airbags, upgrade your family vehicle today!

PLUS

REGISTRATION

2010 toyota raum

$8,999

A crossover between a wagon and hatch the Raum

is a versatile family vehicle with many appealing

features, wide unhindered pillarless access to curbside

seating and curbside powered sliding door, economical

1.5 litre engine automatic trans, low kms, silver with

15" alloys, driving lights, ABS and airbags, view now!

PLUS

REGISTRATION

2013 Renault Lutecia

$13,999

'Supermini' European hatch, features a 1.2 litre turbo

charged engine with tiptronic trans, looks really good

in white with factory body kit and stylish black interior,

cruise control, push button start, rear wiper, low kms,

ABS and 4 airbags, very stylish vehicle, inspection

won't disappoint!

PLUS

REGISTRATION

2006 volkswagen goLf

$8,999

The Golf is a comfortable and stylish European 5

door hatch, features a 2.0L engine with tiptronic

trans, travelled low kms, looks great in silver with

driving lights and 16" alloys, keyless entry, rear

wiper, safety of ABS, and 12 airbags, great vehicle

and great buying!

PLUS

REGISTRATION

2013 suzuki spLash

$10,999

The Splash is an economical yet peppy 5 door hatch,

features a 1.2 litre engine with automatic trans and

5 star fuel efficiency, looks good in blue with driving

lights and 15" alloys, smart keyless ignition, rear

wiper, very low kms, ABS, T/C and multiple airbags,

great around town vehicle!

PLUS

REGISTRATION

2005 audi a3

$9,999

Sporty and popular 5 door European hatch, features

a 2.0 litre engine with tiptronic trans and 4 star fuel

efficiency, really stands out in red with driving lights

and 16" alloys, keyless entry, rear wiper, low kms,

safety of ABS, T/C and 6 airbags, inspection won't

disappoint!

PLUS

REGISTRATION

2010 fiat 500c

$13,999

Stylish European fixed profile convertible with folding

roof, seats 4, economical 1.2 litre engine with semi

automatic/tiptronic type trans, looks great in white

with folding back roof, 15" alloys, stylish two tone

dark red and cream interior, keyless entry, low kms,

ABS, T/C, 6 airbags, will sell quickly so don't delay!

Registration for 6 months is $301

Value Cars Warehouse

4.72

32 Moorhouse Ave, P: (03) 366 7768 IMVDA

www.valuecarswarehouse.co.nz
---
SOUTHERN VIEW Latest Christchurch news at www.star.kiwi

13

News

Tuesday July 23 2019

Local

News

Now

Teens show circus skills

Fire rages, homes at risk

• By Matt Slaughter

TEENAGE CIRCUS performers

have wowed crowds.

The Christchurch Circus Trust

put on three performances of

Circus Berserkus at Roy Stokes

Hall in New Brighton, with 14

performers showing off their

skills.

Producer Chris Carrow

said the performers rehearsed

for about four months to put

the show together and were

supported by two backstage

crew members during the

shows.

He said a range of talents were

showcased and enjoyed by about

500 audience members over

three nights.

The shows included aerial

acrobatics, balancing acts,

contortion, juggling and

clowning.

Said Mr Carrow: "We had

some people say, you're better

than Cirque du Soleil."

"Sometimes, you would say

well, a local circus, it's just going

to be something high schoolish,

but we surpass that."

Mr Carrow said those

involved in Circus Berserkus

had done more than just improve

their skills as performers by

taking part.

"Because most of them have

been together for a while, there's

a bit of a family sort of feel

around the troop.

"They're really supportive

of each other and because of

that the performance comes

together as this really joyful

experience."

Most of the performers have

been involved with the trust

for three to four years and have

performed in other shows.

Mr Carrow said in spite of the

difficult skills they demonstrated,

most people could learn to do

them with practice.

ENTERTAINER: Hillsborough's Ben Purdie clowns around on

stage with an audience member at Circus Berserkus.

PHOTOS: MALCOLM LOCKE

ACROBATIC: Fendalton's Kate Reynolds, Sarah Nurkka, of

Spreydon, and Amy McGreggor, of St Albans. (Right) – New

Brighton's Ella Erikson, Ben Purdie, of Hillsborough, and Kate

Reynolds, of Fendalton.
---
14

Tuesday July 23 2019

Latest Christchurch news at www.star.kiwi

SOUTHERN VIEW

URBAN AUTO

Quality Cars Great Prices

$7,995& UNDER SELECTION

SALE

2006 TOyOTA AURis

FUel eFFiCieNT, eAsy TO PARk

1490cc auto, ABS brakes, climate control, airbags,

NZ stereo, nav, reverse camera.

$5,995

2002 FORd esCAPe XlT

sUPeRB PRiCed V6 AWd sUV!

3000cc auto, all electrics, centre diff lock, Pioneer

bluetooth stereo, towbar, alloys.

$4,995

2011 sUZUki sPlAsH

sUPeR eCONOMiCAl

1242cc auto, split & folding rear seat, NZ stereo with

CD & USB, air con.

$6,995

$5,995

2005 FORd FAlCON BA XR6

VeRy CleAN CAR, Be QUiCk

4000cc auto, airbags, alloys, EFI, cruise control,

towbar, ABS, spoiler, air cond.

$6,995

2002 AUdi A3

TURBO, sAMe NZ OWNeR 8 yeARs

1800cc auto, ABS, climate control, all electrics, alloys,

intercooler, cambelt replaced.

$4,995 $3,995

2005 TOyOTA klUgeR

sPACiOUs eCONOMiCAl sUV

2400cc auto, ABS brakes, climate control, airbags,

EFI, alloys, folding rear seats.

$7,995

2006 sUBARU legACy B-sPORT

AWd, PeRFeCT FOR ski seAsON!

2000cc, auto, wagon, ABS brakes, all electrics, alloys,

roof rails, spot lights, tints, EFI.

$5,995

2006 AUdi A4

+ 1 yR AUTOsURe WARRANTy

2000cc auto wagon, alloys, airbags, tinted windows,

cambelt replaced, new tyres.

$7,995

SALE

2006 AUdi A4

+ 1 yR AUTOsURe WARRANTy

200cc auto wagon, NZ stereo, alloys, EFI, all electrics,

new tyres, cambelt replaced.

$7,995

2006 sUBARU OUTBACk

sHARP, AWd WAgON

2500cc auto, climate control, spoiler, EFI, towbar,

alloys, tints, cambelt replaced.

$7,495

2010 NissAN MiCRA

sMART lOOk iN eleCTRiC BlUe

1400cc auto, 73,887kms, alloys, Pioneer radio/CD

with Aux input, climate control.

$6,995

2006 sUBARU legACy gT

sPORTy TURBO, ONly 60,329kMs

1994cc auto, reverse camera, 17" alloys, all electrics,

airbags, intercooler.

$9,995

$7,995

2003 VOlksWAgeN POlO

CUTe eCONOMiCAl HATCH

1400cc auto, all electrics, alloys, air cond, Panasonic

CD player with Aux input, ABS.

$3,995

2005 HyUNdAi sANTA Fe

NZ NeW, 4Wd sUV

2700cc auto, towbar, climate control, leather, airbags,

spot lights, cambelt replaced.

$5,995

Heaps more to choose from

Come and see our amazing

selection of vehicles today!

2002 MAZdA 6 sPORT lTd

NZ NeW liFTBACk WiTH leATHeR

2300cc, auto, sunroof, alloys, 8 airbags, cruise,

multi function steering wheel.

$6,995

2009 VOlksWAgeN POlO gTi

sPORTy & FUN, 1 yR WARRANTy

1800cc, 5 speed manual, turbo, Pioneer bluetooth

stereo, alloys, air cond, spoiler.

$7,995

• Every vehicle prepared properly regardless of price

• Every vehicle has registration, new WOF, service and

groom and is ready to drive away today

• Quick and easy finance options

393 Ferry Rd, Christchurch. Ph (03) 389 6108

www.urbanauto.co.nz

Hours: Mon-Fri 8.30am-5.30pm,

Sat 9.00am-5.00pm, Sun closed
---
SOUTHERN VIEW Latest Christchurch news at www.star.kiwi

Tuesday July 23 2019 15

National tournament for Cashmere students

• By Jacob Page

CASHMERE HIGH School

hockey player, Matthew Fairhall

continues to prove he is a talent

for the future by being the only

year 9 player named in the

Canterbury under-15 team for

their national tournament in

September.

The 14-year-old will head to

Whangarei after making the

team following five weeks of

trials.

"I really hoped I would make

it, but knew I was pretty young

at the same time, but when I

found out I had made it, it really

felt like I'd achieved something,"

he said.

Matthew had made the year

7 and 8 Canterbury Hatch

Cup team in previous years,

alongside Cashmere teammate

Hamish Sherratt making the

Canterbury B team which will

travel to Wanganui at the same

time.

Matthew, who plays centre

half said he felt he was suited to

the position.

"I try be a very determined

player on the turf, I've been told

I'm a good dispatcher of the ball

and that I can use my vision to

free up other players around

me."

Matthew said he first

remembers playing the sport

in a six-a-side team at the old

Rangi Ruru Turf as a six-yearold.

SPORT

"It's great because I still play

with some of my mates from

that far back in year 2," he said.

He said his aim at the

tournament would be to do his

main role well while limiting

mistakes.

"Overall, I want to enjoy the

experience and improve my

game as much as I can."

Cashmere coach Chez Parore

said both players deserved the

recognition.

Matthew is a very dedicated

player and Hamish has

persevered and shown what he

is capable of," he said.

TALENT: Cashmere High

School hockey players

Hamish Sherratt and

Matthew Fairhall will

represent Canterbury at

age-group level at national

tournaments in September.

Technical

girls team

beaten in

penalty

shootout

THE CASHMERE Technical

Blue 12 grade girls team

finished second at the Alan

Fraser Memorial tournament

at Kaiapoi's Kendall Park.

The two-day tournament

hosted by the Waimakiriri

Football Club is an annual

fixture and draws teams from

as far north as Nelson and as

far south as Dunedin.

The team were runners-up

to Dunedin's Green Island.

The team cruised through

pool play with a 7-0 win over

Waimakiriri United, a 6-0 win

over Parklands and a 6-0 win

over Waitaki.

They were able to overcome

FC Nelson in their semi-final

however, the final with Green

Island, went to a penalty shoot

out.

After an entertaining

and even final, Cashmere

Technical's Savannah Olsen

was named the golden boot

winner for the tournament

while Caitlin Oregan was

named the team's most

valuable player.

Many services provided for families

through Plunket

Garden maintenance is carried out

by volunteers at Plunket clinics, but

more are needed.

For families with young children, getting help and support from people

with knowledge and expertise can be a hugely beneficial, for both

parents and children.

The Royal New Zealand Plunket Trust offers a variety of services for children

under five and their whanau, from Well Child appointments with one of their

highly qualified and friendly Plunket Nurses through to Playgroups and

Parenting Education classes.

What most people don't realise is that Plunket, a non-for-profit

organisation, is only partially funded through a contract with the Ministry

of Health. Other financial support comes from the generosity of grants

and donations from the community and fund-raising activities.

Plunket provides a number of Community Services, which rely on money

from fundraising, grants and donations, with a dedicated team of staff and

volunteers. While administered and led at a Canterbury Area level, these

Community Services are run for and by the communities where they are

based, responding directly to community need.

Through Community Services, services for families are provided for free

or at a minimal cost. They include:

Helping out at a working bee at the

Papanui Merivale Plunket grounds.

• Parenting Education (PEPE)

• Toddler groups such

as 'Toes and Giggles'

• Coffee/Support/Parent Groups

• Playgroups

• Toy Libraries

Can you help?

Plunket is currently looking for volunteers to help support with some

maintenance of their properties, such as mowing lawns, maintaining a

garden, painting a fence or the odd handy-man job like fixing something

to the wall.

For example, there are two retired ladies that enjoy a catch-up while

doing a bit of gardening at a local Plunket clinic, where staff say it is a

'win-win' for both them and Plunket.

If you know of anyone, from an able and willing retiree to a local Service

Group that could help out, Plunket would be grateful if you would

pass this on to them. For anyone who is interested or would like more

information please phone or text Rebecca on 021 713 692.

Like them on Facebook and keep up to date with what's happening in

Plunket around Canterbury at www.facebook.com/canterburyplunket

A massage session for young babies

at the Fendalton Plunket clinic.
---
16

Tuesday July 23 2019

Latest Christchurch news at www.star.kiwi

SOUTHERN VIEW

on trend...

More on

trend items

on sale in

store!

MEMPHIS DARK

ON SALE

3 Drawer Bedside $ 179

Queen Bed $

459

5 Drawer Tallboy $

399

8 Drawer Chest $

499

Shop

Online

Nationwide

Delivery

Finance

Options

targetfurniture.co.nz

Cnr Blenheim & Curletts Rds, Christchurch

Ph: 0800 TARGET (0800 827438)

Offers and product prices advertised here expire 29/07/19.

Sale excludes Manchester and Accessories.

On Trend On Sale now on. Ends 29.07.19. In store and online.
---
SOUTHERN VIEW Latest Christchurch news at www.star.kiwi

Tuesday July 23 2019 17

Email georgia.oconnor@starmedia.kiwi

by 5pm each Wednesday

JP Clinic

Today, 10am-1pm

A justice of the peace will be

available to witness signatures,

certify documents, take oaths,

declarations, affidavits or

affirmations, applications for

citizenship or rates rebates.

South, Linwood and Te

Hapua: Halswell Centre

libraries

Technology Help Drop-in

Sessions

Today, 10.30-11.30am at

Spreydon, 2-3pm at Halswell,

and tomorrow, 11am-noon at

Spreydon

These free drop-in sessions

are available to help you with

specific issues, such as using

email, searching the internet,

using the library catalogue, using

electronic resources and any

other general computer-related

queries. Go along with your

laptop, tablet, smartphone or

use one of the library's desktop

computers if you need help with

anything digital.

Te Hapua: Halswell Centre

and Spreydon Library

Citizens Advice Bureau

Today, 11am-2pm

The Citizens Advice Bureau

provides free and confidential

advice to everyone. It takes

the time to listen to you and

equip you with information,

options and support.

Linwood Library

Makerspace

Today at South, 3.30-4.30pm

and Monday, 3.30-4pm at

Spreydon.

Drop-in for fun activities every

week at the Makerspace. There

will be a variety of activities for

all. Free.

South and Spreydon libraries

Mainly Music

Wednesday, 10-11.30am

Go along for fun and learning

with music for mums with

children aged up to five. The first

visit is free and $4 per family

after this. Held each Wednesday,

10-11.30am, in school terms.

Morning tea provided.

St Johns Anglican Church,

Woolston, corner of St Johns St

and Ferry Rd

Knit 'n' Yarn

Wednesday, 10.30am-1pm at

Linwood, Thursday, 1pm-3pm

at Halswell, and 1.30-3.30pm

at South, Saturday, 1pm-3pm at

Halswell.

Head along for a craft

corner session. Take your

This weekend from Friday- Monday Te Hapua: Halswell Centre will host the smaller version

of the discovery wall that is found at Turanga. Local heritage comes to life with this unique

interactive touchscreen technology that lets you explore the history of Christchurch.

knitting, crochet or other craft

projects. Free and beginners are

welcome.

Linwood, Halswell and South

libraries.

Creative Writing on

Sundays

Sunday, 1pm-3pm

Group leaders work with

members to craft, create and

develop their own work. Take

along pens, paper and ideas.

Bring with you to the group

some pens or pencils, (even a

laptop), paper, and any of your

wonderful ideas, story-telling,

or art.

Linwood Library

Scrabble Club

Wednesday, 1.30-3.30pm at

Halswell, and Friday, 10.30am-

12.30pm at Linwood

No obligation to go, just

head along to join in on the

friendly games.

Te Hapua: Halswell Centre and

Linwood Library.

Rummikub Club

Thursday, 10am-noon

Go and join in a game

of rummikub, a tile-based

game for two to four players,

which combines elements of the

card game rummy and

mahjong.

Linwood Library

Game Zone

Thursday, 3.30-4.30pm

Go along and play

minecraft, charades, connect

four, pictionary and more.

Take your friends or meet

some new ones. All children

aged eight to 13 welcome,

no bookings or payment

needed.

Linwood Library
---
18 Tuesday July 23 2019

Latest Christchurch news at www.star.kiwi

Be in to

SOUTHERN VIEW

BOOK

ONLINE

NOW AND

SAVE!

WIN your

dream

honeymoon

Pre-purchase your

tickets from

withthisring.kiwi

for only $10pp

or get a ticket on

the day for $20pp

weddingshow

sunday 25th August, 2019, 10am–3pm, Air Force Museum, Christchurch
---
SOUTHERN VIEW Latest Christchurch news at www.star.kiwi

Tuesday July 23 2019 19

Tasty Bites

Local

News

Now

Fire rages, homes at risk

Sweet as: Appreciating the kumara

Of all the

wonderful

vegetables we

have available

to us, kumara –

or sweet potato

as its known

in other parts

of the world – would have

to be a favourite for Kiwis.

Deanna Copland provides

an example of a hearty

winter soup, which is sure to

please

Spiced kumara soup with

almonds

Ingredients

2 Tbsp coconut oil

6-8 medium kumara, ends

removed, scrubbed and grated

3 cloves garlic, crushed

2 tsp ground cumin

2 tsp ground coriander

Sea salt and black pepper

1-litre chicken or vegetable stock

2 cups unsweetened almond milk

½ cup natural flaked almonds

2 Tbsp dukkah

Directions

Heat a tablespoon of coconut

oil in a large pot over high heat.

Add the kumara, garlic, cumin,

coriander, salt and pepper and

cook, stirring, for 5min or until

the kumara has softened.

Add the stock and almond

milk. Cover and bring to the boil.

Reduce the heat to medium and

cook for 15min until the soup

has reduced slightly.

While the soup is cooking,

heat the remaining oil in a small

fry pan over high heat. Add the

almonds and dukkah and cook,

stirring until golden and crisp.

Divide the soup among four

bowls and top with the almond

mixture.

Serve with a slice of crusty

pumpkin seed sourdough for the

ultimate winter meal.

Enjoy a healthy salad with

your kumara. For this recipe,

soak your spelt overnight

ready to eat the following

evening. Perfect eaten warm,

this salad also keeps well

in the fridge for a couple of

days, so save those leftovers

for weekday lunches

Roasted carrot, pearled

spelt and orange salad

Ingredients

1 red onion, chopped

300g baby carrots, greens intact

2 Tbsp extra virgin olive oil, plus

extra for drizzling

200g (1 cup) dry spelt (soaked

overnight in cold water)

1 medium orange

2 generous handfuls of kale,

finely shredded

2 Tbsp apple cider vinegar

6 whole dried figs, finely chopped

A fistful of crushed roasted

Hazelnuts

Sea salt and cracked

Black pepper

Directions

Heat the oven to 200 deg C.

Place the red onion on a baking

tray with the carrots (greens

removed and set aside) and a

drizzle of olive oil. Season with

salt and pepper and roast for

20min.

Once the carrots and red

onion have gone into the oven,

thoroughly rinse the soaked spelt

and boil over a medium heat for

20min as well.

Grate the zest from the orange

and set aside. Squeeze the juice

from the orange.

Place the shredded kale in a

large bowl along with the two

tablespoons of olive oil, apple

cider vinegar and orange juice,

massaging it into the kale for

5min.

Add the cooked spelt, roasted

carrots and onion and carrot

greens to the bowl with the kale.

Toss in the orange zest, finely

chopped dried figs and crushed

hazelnuts. Give everything a

good mix and feel free to season

further with cracked black

pepper and sea salt, before

drizzling with a little extra olive

oil.

style

noun

elegance and sophistication.

synonyms: flair, grace, poise,

polish, suaveness, urbanity, chic,

finesse, taste, class, comfort,

luxury, affluence, wealth,

opulence, lavishness.

MAGAZINE

STYLE.KIWI
---
20

Tuesday July 23 2019

Latest Christchurch news at www.star.kiwi

SOUTHERN VIEW

CANtAbRIANS

ouR

NEWSPAPERS

Canterbury

readership up

14 %

INCREASE

Reach 164,000* readers

with just one ad in our

Star Max Circ Package.

For advertising enquiries

please contact Shane Victor

Phone: 021 381 765

Email: shane@starmedia.kiwi

*Source: Nielsen CMI Q2 18 – Q1 19.
---
SOUTHERN VIEW Latest Christchurch news at www.star.kiwi

Tuesday July 23 2019 21

REAL ESTATE

No ordinary life

18 Carlton Mill Road, Merivale

2 bedroom apartments from $699,000 - $749,000 - 2 bedrooms | 1 bathroom | 1 living room | 1 dining room | 1 car-garage | 1 lift

Penthouse $1,495,000 - 2 bedrooms | 2 bathrooms | 3 living rooms | 1 dining room | 1 study | 2 car-garage | 1 lift

Recent refurbishments have seen

the iconic Kamahi Apartments utterly

transformed to meet the needs of

contemporary lives. Now earthquakestrengthened

to 100% of the National

Building Standard, this development

offers an extraordinary lifestyle in a

setting second-to-none. Right alongside

the Avon River, with views across

picturesque Hagley Park, it is zoned for

top public schools (with a wide choice

of private schools also nearby) and is

strolling distance to Victoria Street

restaurants or a short drive to Merivale

Village.

Apartments range from ground floor,

levels 1 to 3 and then the Penthouse. All

feature open-plan living and dining and

some ground floor units open to outdoor

living, set within a private courtyard

garden. Warmed by a heat pump and

decorated in neutral contemporary tones,

this is a beautiful space for relaxing and

entertaining. The kitchen alongside is

a sleek and sophisticated workspace,

with high-spec appliances including

under-bench oven and ceramic cooktop.

Two bedrooms share a stunning new

bathroom, while a basement carpark

and storage locker ensure the utmost

practicality. Lift access and shared use of

a beautifully landscaped garden elevate

this property to an exceptional standard.

Zoning for Elmwood School, Heaton

Intermediate, Boys' High and Girls'

High underpins the value of this highly

desirable blue-chip location. Don't miss

the opportunity to be part of an icon.

To arrange a private viewing phone

Cameron Bailey on 352 6166 or mobile

0275 557 079 of Harcourts Gold Papanui

(Licensed Agent REAA 2008)

growing with you June 2018 | 100%

Plants For

winter wow

Cool Choices

For Colour

& Contrast

From swamp

to sea views

The journey

begins with sarah

the Gardener

$7.90 incl. GST

Snap it up

Enter our annual

Birdlife Photo

Competition to win

great prizes!

clear the air

Why groWing

indoor PLAnTs is

so good for you

give it a grow

from gArLic

To chinese

ArTichokes,

We hAve your

groWing TiPs

covered

the latest releases

into the rose world

+ rose care

through winter

The magazine for

gardeners who like to get

their hands dirty

SUBSCRIBE FROM

$43. 50*

*6 issues/6 months

SUBSCRIPTIONS FREEPHONE

0800 77 77 10

WWW.GARDENER.KIWI
---
22

Tuesday July 23 2019

Latest Christchurch news at www.star.kiwi

SOUTHERN VIEW

If you want more information about an item or to contact a

seller, visit www.postanote.co.nz and search the ID#

2004 BMW 730i

John Deere 131 Front Mower Conditioner

John Deere 730 Mower Conditioner

HeVa 6.3m Folding Roller

1997 Honda Legend

Galucho 6.3m Folding Roller

$7,200

ID 29972

$12,000

ID 29880

$15,000

ID 29883

$14,000

ID 21671

$2,000

ID 29798

$14,500

ID 21672

PowerLine V5 (Fruit/Vege slicers Grater)

Recycled Rimu Chest of Drawers

Yamaha NS 2000 Speaker System

Yamaha TTR90

Pinking Shears (22cm)

Isuzu Bighorn

See Seller

ID 30012

$500

ID 29989

$1,700

ID 26257

$1,000

ID 29943

See Seller

ID 18919

$4,500

ID 29655

Lounge Suite

Petrol Shredder/Chipper

Chinese Fan Palms

Steel Stepladder

Vase & Milk Jug

Holden Commodore Ute

$150

ID 29633

$1,000

ID 29508

$25

ID 29854

$70

ID 29590

$5

ID 10012

$5,500

ID 29315

McSkimming Hand Basin

2006 Subaru Legacy GT B

Datsun 260Z Motor

Oil Containers (Full)

Cobra Eliminator Kayak

Yardman Model GLX92RA

FREE!

ID 29930

$8,000

ID 29912

$1,200

ID 19063

$50

ID 29884

$800

ID 26166

$1,450

ID 29875

1988 Volvo 740 GLE Cedar Wooden Blinds

MX5 Convertable

2007 CanAm 4-wheeler 650cc

Dark Green Suede Lounge Suite

Honda Accord

$4,000

ID 29870

$60

ID 21475

$3,500

ID 29833

$5,200

ID 28130

$250

ID 29947

800

ID 29965

Trestle Table

2005 Volkswagen Touareg ABT Sporstline

1995 Suzuki Escudo G-LTD

ABBA Arrival LP

Oil Pourers

Honda Accord Euro CL 9

$150

ID 26229

$10,500

ID 25196

$4,800

ID 29909

$20

ID 29815

$75 ONO

ID 29805

$8,000

ID 29801

Hutch Dresser

Toyota Sprinter

TV Cabinet

Whitebait Net

Nissan Navara

2002 Ford Explorer

$150

ID 29793

$2,000

ID 29790

$70

ID 29789

$950

ID 29773

$3,500

ID 29769

$8,500

ID 28671

0719h04chch
---
SOUTHERN VIEW Latest Christchurch news at www.star.kiwi

Tuesday July 23 2019 23

Classifieds Contact us today Phone our local team 03 379 1100

Car Parts

TYRES Secondhand,

most szs from $30 - $70

fitted, Also batteries, 217

Waltham Road, 027 476

2404

Gardening

& Supplies

A GARDEN OR

LANDSCAPING TIDY

UP? Shrub, hedge &

tree pruning, Lawns,

Gardening, consistently

reliable general property

upkeep, Dip. Hort. 10

yrs experience, One off

tidy ups or on-going

service. Nick's Garden

Maintenance. Keeping

your garden beautiful.

Free Quote. Ph. 942-4440

& 022 264 7452

GARDENER

AVAILABLE.For

weeding, pruning,

tidying.30 yrs exp,

qual..$25 per hr. Ph

Richard 349 4022 or 0274

918234

Holiday

Accommodation

Australia QLD

SUNSHINE

COAST

RESORT

ALEXANDRA HEADLAND

All Units Have Ocean Views.

Heated Pools, Spa & Sauna,

Free Wifi, Tennis

& Mini Golf.

CHECK OUR GREAT

WINTER SPECIALS

www.mandolin.com.au

0061 7 5443 5011

JUNE to AUG temps 20C

ADD SOME

COLOUR

TO YOUR ADVERT!

Lost & Found

WALLET LOST

Ladies large wallet lost

Ferry Road New World

supermarket in the

checkout or entry area or

their carpark on Monday

15th July 12.30 - 12.45pm.

Urgently needed. If you

have found please contact

police or call owner on

384-0431 or work 364-

7419.. Thanks.

Trades & Services

DRIVEWAYS

Experienced

Mechanic Wanted

Who has worked on all types of diesel

and petrol vehicles. Please contact

the new owners for an interview.

E: service@dieseldrpetrol.co.nz

Painters and Decorators Ltd

Canterbury Owned and Operated

A husband and wife team

Specializing in:

• Roof Painting

• Interior/exterior

residential

• Small commercial

painting

MECHANIC

DIESEL DOCTOR & PETROL

Christchurch Ltd

PAINTERS

Noel 027-411-3596

kemp.painters@gmail.com

kemp painters and decorators

Exposed Aggregate

Stamped Concrete Plain

Concrete Resurfacing

Things we offer...

Competitive/affordable pricing

Attention to detail

Professional service

free quotes/insurance scopes

Cell 0278 145 848

www.drivecrete.co.nz

Trades & Services

PAINTING & TILING

• PAINTING • TILING

• PLASTERING

• WALLPAPERING

Phone Kevin Steel

288 Lincoln Rd,

Addington

P: 338 8884

We offer

free quotes

Quality not

Quantity

• Interior/Exterior

• New Homes & Repaints

• Quality workmanship assured

• Correct preparation always undertaken

• 20+ years experience

• Earthquake repairs

(Painting/Plastering/Wallpapering/Tiling)

Ph 381 7417 or 027 216 8946

www.facebook.com/kevinsteelpainters&decorators

VIDEO PRODUCTION

business video

PRoduCTion

A video will bring your business alive & into your

customers mind.

Promote your services or business with a

professionally created video with us

• Corporate and Business

video a speciality

• Competitive rates

• 25 years experience

• Start to finished product

• Professional quality

guaranteed

PHone KeRRY 021 635 083

WINDOW TINTING

tintawindow

advanced film solutions

99% uv block

fade protection

heat control

reduce glare

25 Years Experience

privacy films

frosting designs

non-darkening films

Workmanship Guaranteed

Lifetime Warranties on Most Films

UV

block

Free Quotes Canterbury and Districts

03 365 3653 0800 368 468

Trades & Services

FOR ALL YOUR

★Garden Clean-ups

★Pruning

★Lawn Mowing

★Garden Maintenance

Call us today for a FREE quote

PH 0800 4 546 546

(0800 4 JIMJIM)

BLOCKED

DRAINS?

• Video inspection

• Waterblasting

• liquid Waste

pH: 03 365 7960

24 hours // 7 days

info@h20jet.co.nz

www.h20jet.co.nz

Trades & Services

Trades & Services

AAA HAnDYMAn

licensed carpenter

LBP, all property and

building maintenance,

repairs, bathroom/shower

installations, with free

quotes 03 383 1927 or 027

245 5226 ciey@xtra.co.nz

Trades & Services

Trades & Services

BRICKLAYER

George Lockyer. Over

40 years bricklaying

experience.Uk trained.

Insurance work, EQC

repairs. Heritage

brickwork & stonework

a speciality. No job too

small. Governers Bay.

Home 329 9344. Cell

027 684 4046. E mail

georgelockyer@xtra.co.nz

BUILDER QUALIfIED

& licenced. Now availble

for repairs, additions,

alterations, EQ repair

work. 35 yrs exp. Ph Ian

021 350-509

CARPET & VInYL

LAYIng

Exp. Repairs, uplifting,

relaying, restretching.

Email jflattery@xtra.co.nz

ph John on 0800 003 181

or 027 2407416

CARPETLAYER

35yrs experience. Special

rates for seniors. Prompt

service. Ph 021 046 0231

PAInTIng

Indoor / Outdoor, over 30

yrs exp, same day quotes,

ph Steve 021 255 7968

PAInTIng

DECoRATIng

Wingfields Contracting, all

interior & exterior painting

& all forms of interior

plastering & jib fixing, ph

Mark 021 171-1586

PAInTERS

DECoRAToRS

Qualified and experienced

painters and plasterers

available to undertake

any size job. Member

of Master Painters NZ.

Ph Chris 0800 438 152.

New Image Painters &

Decorators

PLUMBER

A Top Plumbing job

completed at a fair price,

prompt service, all work

guaranteed, Ph Brian 960-

7673 or 021 112-3492

SPoUTIng

CLEAnIng

Spouting Unblocked,

Cleaned Out and Flushed

Out. Call Trevor 332 8949

or 021 043 2034

STUMP gRInDIng

Best price guarantee Tony

0275 588 895

TILER/CARPEnTER

35 years exp, no job

too small. Ph Ross 027

4311440.

T.V. SERVICE

CEnTRE

Repairs, tvs, microwaves,

audio amps, soundbars.

.Aerial & satellite

installations, kitsets, 480D

Moorhouse Ave, ph 03 379

1400

Trades & Services

VHS VIDEo TAPES

& all camera tapes

converted to DVD, video

taping special occasions,

www.grahamsvideo.co.nz

ph 03 338-1655

Public Notices

WALLET LOST

Ladies large wallet lost

Ferry Road New World

supermarket in the

checkout or entry area or

their carpark on Monday

15th July 12.30 - 12.45pm.

Urgently needed. If you

have found please contact

police or call owner on

384-0431 or work 364-

7419.. Thanks.

Public Notices

Wanted To Buy

AAA Buying goods

quality furniture,

Beds, Stoves, Washing

machines, Fridge Freezers.

Same day service. Selwyn

Dealers. Phone 980 5812

or 027 313 8156

CASH/CASH for any

unwanted vehicles, ph

347 9354 or 027 476 2404

TOOLS Garden,

garage, woodworking,

mechanical, engineering,

sawbenches, lathes, cash

buyer, ph 355-2045

ADVERTISE YOUR BUSINESS HERE

Public Notices

Phone for further details

(03) 379 1100

oN sAle Now!

Now only

$35.80

Plus $5 P&H per copy

AvAilAble from stAr mediA:

Level One, 359 Lincoln Road

Addington, Christchurch

Phone 379 7100
---
24 Tuesday July 23 2019

Latest Christchurch news at www.star.kiwi

SOUTHERN VIEW

Fresh NZ Skinless

Chicken Breast Fillets

Loose Seedless

Satsuma Mandarins

$

9 90

kg

CHECK OUT OUR

$

4 80

kg

22 nd – 28 th july 2019

BEST DEALS!

WW Mild, Colby or

Edam Cheese 1kg

Heartland Wave Cut Chips 150g

(Excludes Crafted)

$

1 80

ea

ww Ice Cream 2L

$

4 50

ea

$

9 00

ea

$

19 00

pk

$

14 90

kg

Fresh NZ Beef

Schnitzel Plain

or Crumbed

$

4 00

pk

Meadows Portabello or Chef's

Choice Mushrooms 250g

Speight's Gold Medal Ale, Summit Ultra,

Carlsberg, Sol, Wakachangi beer, Orchard

Thieves Apple Cider or Tiger

(Excludes Crystal)

12 x 330ml Bottles

Get these deals and

more delivered to you!

Shop online now at

FreshChoiceYourWay.co.nz

Barrington

Open 7am – 11pm, 7 days a week.

City Market

Open 7am – 9pm, 7 days a week.

FreshChoiceNZ

OWNED &

OPERATED BY

LOCALS

fcsv2307

Prices apply from Monday 22nd July to Sunday 28th July 2019, or while stocks last at FreshChoice City Market & Barrington only. Limits may apply.