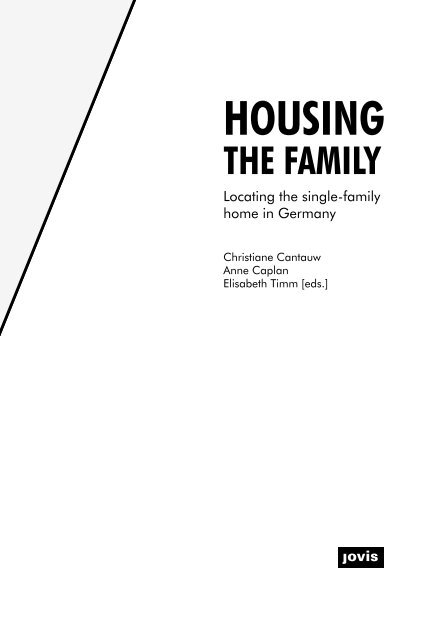 Housing the Family
ISBN 978-3-86859-543-7
ISBN 978-3-86859-543-7
SHOW MORE
SHOW LESS
Create successful ePaper yourself
Turn your PDF publications into a flip-book with our unique Google optimized e-Paper software.
HOUSING

THE FAMILY

Locating the single-family

home in Germany

Christiane Cantauw

Anne Caplan

Elisabeth Timm [eds.]


---
INTRODUCTION

Preface 6

Christiane Cantauw, Anne Caplan, and Elisabeth Timm

The single-family home between politics, consumerism, 12

and the everyday: locating the West German case

Elisabeth Timm

BUILT AND INHABITED: LIVING IN A SINGLE-FAMILY HOME

Building a house of our own: three middle-class variants 30

of settling and living in northwestern Germany today

Katherin Wagenknecht

'Young family with child' or 'where is it the greenest'? 60

Folke Köbberling

Comparing family housing in Düsseldorf and Neuss-Aller heiligen: 84

new aspects, stable qualities, and increasing challenges

regarding everyday life in the suburb and the city

Inken Tintemann

Build or buy? A qualitative comparison of housing preferences 102

in single-family home areas in northwestern Germany

Anne Caplan and Katherin Wagenknecht

HOME TREASURES: MINING THE SINGLE-FAMILY HOUSE

Old houses become single-family homes: Bausparkassen, 126

Denkmalpflege and conversion architecture, 1977–2002

Johannes Warda

'Of course, it's not all finished.' The conversion of existing 142

real estate between networking, appropriation practice

and long-term project work

Christiane Cantauw

Renting is wasting: on the popular economy of home 162

ownership in Germany

Jakob Smigla-Zywocki
---
Single-family houses as urban mines – terra incognita 184

of resource management

Sabine Flamme and Gotthard Walter

KNOWING AND SHOWING: DOCUMENTING AND EXHIBITING HOUSES

AND HOMES

Modern traditions: the modernist apartment and the 200

detached single-family house in early post-war conceptions

of the ideal home in West Germany

Johanna Hartmann

Dream House Factories. What happened to the dream 218

of the factory-made house?

Julia Gill

Sunshine Boulevard, in the middle of nowhere: 230

single-family homes and carports – advertising in the

prefab industry in Germany

Anne Caplan

COMPARATIVE AND ANALYTICAL PERSPECTIVES: REGIONAL CASES OF THE

SINGLE-FAMILY HOME AS A GLOBAL FORM

California dreaming in West German suburbia: modernist 264

bungalow architecture and its middle-class aspirations

Carola Ebert

Two homes: revisiting a French type of dwelling 282

Sophie Chevalier

From rooms to houses: multi-family and single-family 292

houses among the Minangkabau in Sumatra, Indonesia

Marcel Vellinga

Authors 316

Imprint 325


---
Preface

Christiane Cantauw

Anne Caplan

Elisabeth Timm

6
---
In times when investors successfully turn inner-city housing into a commodity

with prices skyrocketing under the very auspices of municipalities, urbanists,

architects, anthropologists, sociologists, and critical geography for good reason

focus on people's struggles with these threats. In parallel, the single-family

house areas in the suburbs and in the countryside, that for a long time have

been regarded as perhaps not ideal (costly infrastructure for low density) but

well-functioning settlements, resurfaced on the agenda of planners and of

family housing alike, and with a new topicality: an intensive and growing demand

for knowledge on the transformation of suburban and rural dwelling

and living in Germany in the context of demographic changes, the turn to

asset-based welfare regimes, the introduction of new planning structures of

the governance type, and the implementation of an ecological framework in

resource use and waste management. These issues are pending in all efforts to

deal with single-family houses as a vast, often problematic material heritage in

German suburbia, that consists not only of a historical stock of buildings from

the second half of the 20th century, but in the meantime also of single-family

houses continuously spreading anew to fulfil families' wish to build a new

home.

This prompted our interdisciplinary research association, in which we conducted

comparative ethnographic case studies on single-family home buyers

and builders in a rural, suburban, and urban field site, complemented by

engineers who measured the physical substance of those houses, and by an

exhibition that communicated our findings and an attitude that, other than the

Introduction

7
---
The single-family

home between

politics, consumerism,

and the everyday:

locating the West German case

Elisabeth Timm

12
---
Among the manifold objects of anthropological investigation, the single-fami ly

home is a very practical thing. While anthropologists often must explain their

research topics wordily, everybody realises immediately what is meant when

we speak of a single-family home, notwithstanding many variants of this type

of dwelling and living, be it today or in past times. This clarity got the single-family

home a very prominent place in German social theory and philosophy:

The empirical example, with which Jürgen Habermas in his 'Theo ry

of Communicative Action' sounded out the notion of the lifeworld as 'a basic

concept of social theory' (gesellschaftstheoretischer Grundbegriff), is the construction

site of a single-family home: With the question of how the buil ding

labourers come to an understanding of who will fetch some beer for the upcoming

midmorning snack, Habermas (1989: 121) illustrates his definition of

Lebenswelt (lifeworld): 'From a perspective turned towards the situation, the

lifeworld appears as a reservoir of taken-for-granteds, of unshaken convictions

that participants in communication draw upon in cooperative processes

of interpretation.' (ibid.: 124) Habermas discusses the single-family home

construction site across several pages in the introduction to 'The Theory of

Communicative Action'. This is his explication of the situation where an older

worker asks a younger colleague to go and fetch some beer: 'the expectations

the workers attach to midmorning snack, the status of a newly arrived younger

co-worker, the distance of the store from the construction site, the availability

of a car, and the like, belong to the elements of the situation', while the 'facts

that a single-family house is going up here, that the newcomer is a foreign

Introduction

13
---
Building a house

of our own:

three middle-class variants

of settling and living in

northwestern Germany today

Katherin Wagenknecht

30
---
Why do people prefer building a single-family home and is the family life in

there still the same?

In her song 'Little boxes all the same' (1962), Malvina Reynolds satirically

describes the huge suburbs of the USA that were created on a massive scale

in the 1950s. She expresses the fear that the 'houses mass-produced according

to industrial standards […] would also produce standardized people and

standardized middle-class biographies' (Tomkowiak 2012: 7). In the course

of reconstruction after the Second World War and in the growth decades

of the young Federal Republic, suburban single-family house construction

with social and fiscal support was not simply a 'backbone of urban development'

(Simon-Philipp/Korbel 2017: 106, author's translation). The detached

single-family house corresponded to the 'everyday lifestyle' (Weihrich/Voß

2002; Kudera/Voß 2000) of the male-breadwinner-and-female-homemaker

family: an employed father who commuted by car to a permanent full-time

job, and whose single income enabled him to make a long-term housing

investment, and a mother who was not gainfully employed (or at most parttime),

whose family work was also necessary because public childcare was

offered for a maximum of half a day. Although this form of housing never

dominated in quantitative terms, it became a symbol of respectability and

prosperity in many milieus.This Fordist type of social order is undergoing fundamental

changes since some years. Insecure employment relationships that

at times do not guarantee a living are now experienced in many milieus. All

Built and inhabited: living in a single-family home

31
---
therefore find and establish alternative solutions for coping with everyday life

and childcare. The families in Wolbeck organise themselves without the support

of private networks. Instead, they fall back on permanent, paid professional

support. The Grube family employs an au-pair who lives in the family

house and helps the family with shopping, cleaning and childcare.

This kind of support enables the wife to stay working part-time, but at the

same time, the second (half) income is also necessary to finance the au-pair

(payment, accommodation). Since, as in this case, au-pairs mainly come from

countries with very low wage levels compared to Germany, these families become

part of the 'world market private household' (Hess and Lenz 2001; Hess

2002). Here too, it was not a question of men having to step out of the job

market for a time. Frau Grube clearly described the everyday difficulties:

'That's why we have her [the au-pair, author's note] here now, otherwise it wouldn't have worked at all the

last few years. Well, we don't have a grandma, and a grandpa, not real ones. […] so

it's not possible to look after children without any support from third parties. Absolutely

impossible. […] On the one hand, it's the times that are involved, on the other hand,

when small children get really ill in winter quite a lot. You can't keep arriving at work

and saying, uh, my child is ill, I'm not coming. Then there are three months of school

holidays a year that have to be managed somehow. But that's not possible with six weeks

of leave. Then the kindergarten is closed for further training and this and that. And last

year, my kindergarten went on strike for four weeks. And similar things. So there's always

something. And without help you can't cope, so it's – it's frightening how many, how

many problems can crop up to wreck your life when you've got to look after the children.'

(Wolbeck, Interview 21: 31)

Differences between the research areas can be observed in the field of childcare

and nursing. Similar to building a house, the care of children in rural

areas is also organised on a family basis. And similar to house building, this

is based on all participants reducing their biographical and spatial mobility.

In the small-town environment, on the other hand, the dominant idea is for

everyday organisation to be carried out by the nuclear family. Any recourse

to family or private or neighbourhood networks remains an exception. Here it

is not clear whether the family's attitude towards outside help is a reaction to

the residential location, or whether it already existed before and contributed to

placing the family in such a situation. After all, the families in suburban Wolbeck

rarely had family connections nearby. Thus, daily routines were designed

to meet these deficits by resorting to paid services – an au-pair or help from

neighbours, both of which took on family features.

52
---
Summary

The above analyses have shown that both similarities and differences are concealed

behind the uniform appearance of single-family houses. The results

show that everyday practices and values in single-family houses do not result

solely from the typology of buildings, but are also markedly influenced by the

type of residential settlement. Depending on the type of settlement, families

face different conditions and prerequisites when it comes to moving into their

own four walls. Each location has its own specific cultural and economic structures.

In rural areas, it is the desire to have children that provides planning

security with regard to building a home. Extensive local and private resources

guarantee that families will be able to build their own homes. In both small

and large towns, building a house is primarily considered a financial investment.

Accordingly, financial planning security is a prerequisite for building a

house.

In rural areas, house construction and the organisation of everyday life is

a communal project in which relatives, acquaintances and neighbours play

their part: Together, roofing work is dealt with and birthdays are celebrated,

the children are cared for and differences only become apparent in the way

the house is built, i.e. in rural areas, as a joint local activity amongst relatives,

friends and neighbours, as a result of mobilising specific network resources or

as an anonymous exchange of goods. Whereas a house in a village becomes

an instrument for the accumulation of social capital, in an urban context it is

a self-contained, anonymous transaction without a community-building dynamic.

Housework and child care are the responsibility of wives and mothers in both

rural, small-town and metropolitan areas. They generate time resources by reducing

their paid employment. On the other hand, there are differences in the

concrete arrangements for balancing child care and paid work. In rural areas,

everyday life is organised through family networks that are not only locally

available but also naturally and permanently integrated. In small-town areas,

the maxim is that private support services are the exception rather than the

rule. Here it is not clear whether this is a result of mobility (most of the people

interviewed in Rorup do not have a family in the area) or whether, conversely,

the choice of where to live is also the consequence of a highly intimate idea

of what a family should be. Whatever the case, everyday life here is almost

exclusively organised by the nuclear family. In urban areas, on the other hand,

paid services are used, whereby the income levels of the couples permit them

to have financial and spatial resources (e.g. a room for an au-pair) to take

Built and inhabited: living in a single-family home

53
---
'Young family with child'

or 'where is it the greenest'?

Folke Köbberling

60
---
The Kling Family, Blankenfelde,

two children,

previously living in Berlin-Neukölln

and Berlin-Lichtenrade

Why did you move here?

The trigger was that we had a flat that was also very nice, but relatively

speaking it was not much cheaper than the whole house we are now

living in. Then we thought, well, it's daft, if for just the same as for a fourroom

flat you can have a six-room house, paying 500 DM a month extra.

And that's basically why we decided to buy a house.

You can also describe it a bit geographically or, in principle, it was like we

moved out of the city in stages after the children were born. Previously, we

were in Neukölln, in a very densely populated area, near Sonnenallee,

Harzer Straße there were relatively few green spaces, narrow streets, a lot

of traffic. A social mixture with a relatively high percentage of foreigners,

a high percentage of workers, dirty streets, even people who are sometimes

difficult to deal with, so to speak. And we thought that it would be

better for the children if we looked for a better environment. Then we

moved to Lichtenrade. The first step towards suburbanisation. Then after

three years the step from Lichtenrade to a very nice but very expensive

flat – and it came to the point that we said that we can also move out to

the surrounding area, to the countryside, and we are also very satisfied

with that. Because here you have a lot of open space and live surrounded

by the greenery.

Could you briefly describe where you live here?

This is pretty much on the periphery. The town centre of Blankenfelde with

the church is rather a long way back there. The railway station is a second

centre, and five or six years ago, these were all fields that belonged to the

Protestant church. Then the idea was brought up of various companies

building residential estates here. Now 2000 people live in this area. We

think it's quite good. It is still one of the main roads through Mahlow to

Lichtenrade that we have here. I mainly go by rail, so the connection is

quite good.

Built and inhabited: living in a single-family home

61
---
Jana Büttner, Berlin-Rahnsdorf,

one son,

divorced

Why did you move here?

I moved in here a year and a half ago. My husband at that time wanted

to build a house. An estate agent showed us this plot and we immediately

liked it a lot. I never want to move to the city again.

What is the infrastructure like?

The public transport connections are not so good. There is only a bus

every 20 minutes, you are dependent on a car.

Shopping is still possible, a chemist's, what you need, a drinks shop is not

far away, you can also go on foot. It's OK. Otherwise, if I do something,

it's going into the city, cinema, bars or discotheques. That's an hour's

drive by car, that's fine.

Where do your friends live?

I don't have any friends nearby, because most of the people who moved

here are more like 40-50, I guess. I'm 30. The neighbourliness has really

developed with the people who live at the back. They have a smaller child

and a bigger one, that's really, really nice. It's quite good.

Do you feel lonely living in your situation?

I don't feel lonely at all, there's far too little time for that because I'm busy

all day long. Then the driving. Then I'm happy when I'm at home and

have my peace. Otherwise it's a phone call and then someone comes by.

I just call the babysitter. My sister-in-law then comes by, she thinks it's nice

here, she lives in the city, and in summer she always calls, oh Jana, can I

just drop by.

What kind of people live here?

I think there are still a lot of old people who live here occasionally. The

generation in their forties and fifties. It's well mixed here, we also have a home

for asylum seekers. Probably it's like in the city, but it's not so concentrated.

76
---
Built and inhabited: living in a single-family home

77
---
Where do you spend your spare time?

Mostly I spend my spare time in the city, then I get in my car and drive to

friends. I would never move back to the city again. It cramps me. Before I

moved here, I thought I would find it too stuffy like that in a single-family

house. Now I just feel freer, open the door and there is at least a little

space until the next one. There are no more stairs, no lift and people I

can't stand.

What financial impact does such a house have?

Oh, when it was planned, so to speak as a threesome, if you still have

someone who is earning it works. It has a financial impact when you are

the sole earner. If you are alone, it is quite a burden. If you're paying it

off alone, then most of the income is spent on the house, that's clear. I go

to work for the house. And the beneficiary will be Ramon at some point, I

think. And that's what I'm actually doing it for.

Sometimes when I was doing night duty and drove home, when you

live in the city, you don't even notice the surroundings, the countryside

anymore, you look around, just some concrete, the horizon is relatively

cramped, and it's not like that here at all. And then after the night duty,

I make a small trip to the Müggelsee lake and watch the sunrise, and if

sometimes you are not feeling so good, then that's my place where I go.

I look at the sun and always tell myself, maybe it looks different every

day, everybody is different, too, but the sun always rises, no matter what

happened last night.

How long does it take you to get to work every day?

I did a management course and the employer financed it for me for a

year. That was on condition that I would work there for at least a year,

until next April, and then I have to see what I'm going to do. Because

there is simply not enough time for Ramon and me, because three hours

a day are lost.

I get up at half past four, at five I wake Ramon, at half past five we set off

for kindergarten. I pick him up there at half past four, and if we're lucky,

we'll be home by half past five.

After that I think I'm more tired than Ramon; he's still bouncing around

here and I ask myself, where does he get the energy from?

That's the price.

78
---
The size of the house. If you lived somewhere else, then you just have

state support or something like that, and then it is just 80 or 90 square

metres, and then I feel somehow restricted; it's built up everywhere,

everywhere so cramped, and that's not on.

The 130 square metres are just right now, completely OK. At that time,

I said to my husband, because I knew how important the house was to

him, that as far as I'm concerned he could keep the house, it wasn't so

important to me and it's just material things and I don't want that. The

only thing I want is Ramon and my stuff and then I go too. And then we

talked about it in peace and who could keep up the house at all, and

then we agreed on why we had been doing it in the first place.

Namely, for Ramon, and then we calculated back and forth and it turned

out that I was actually the one who in principle also has support from my

friend.It was more reasonable, although I didn't actually want the house

at first. Now I'm actually very happy about it, now I don't want to miss it

any more.

What will Ramon's school situation be like?

I tried the school because he will be six in August. Then he would have

been able to go to school next year, and that didn't work, because I

wanted him to go to preschool, and preschool in that school is only from

seven until one o'clock, and that doesn't work. And I didn't want him to

go to school with me in the Wedding district either.

You actually go to school where you live, not where your mother works.

So, I initially just put it off, perhaps it's also better like that. It doesn't really

bother me, even if he would start in Wedding, I honestly have to say.

Here in Erkner, there is the asylum-seekers' home and there are a lot of

Albanians in the school. It doesn't bother me at all. Now if it were only

Albanians and he was the only German, that would bother me.

Is there criminality here?

One and a half years ago, there was a wave of break-ins here, but only

in all the new houses, and I remember I was a bit scared, we had just

moved in and settled. Every evening, the police now drive by, and I haven't

heard anything more. They drive past not just because of burglars, but also

because of the wild boars, because here a wild boar attacked an eightyear-old

child. The police are often here and chase away the boars.

Built and inhabited: living in a single-family home

79
---
To investigate this, my research started with the assumption that the spatial

and biographical mobility of families is not determined by uniform, dominant

social patterns, but that dwelling choices rather unfold as a result of the household

types' needs and the individual lifestyle preferences that each specifically

combine employment, schooling, leisure activities of the parents and the children,

child care, and supply. In the following paragraphs I will compare the

different ways in which families living in a suburban home and those living in

an urban flat do this.

By analysing the spatial and temporal dimensions of daily family life in general

and the needs of individual family members in specific, I differentiate between

qualitative (e.g. space for children playing outside safely), quantitative (e.g.

number of rooms), and time-management aspects (e.g. local supply structures

that enable saving time, possibilities to externalise child care, or rationalisation

of activities). The results lead to a catalogue of requirements. With this I

generated a matrix to compare the different types of housing estate structures

and how they fit the families' needs.

needs

caused by size and

heterogeneity of

families

needs

of parents taking care

of their child(ren)

needs

of boys and girls

at different ages

needs

of parents as working

adults

good ratio of sqm/rent, adequate number and

dimension of rooms, storage for the children's

toys and clothes, retreat in the housing unit for

individuals

easy access to the housing unit, easy care and

comfortable living conditions, traffic-calmed

and child-safe environment within sight, child

care and educational facilities nearby, tolerant

and homogeneous neighbourhood

areas for playing outside for children at

various ages, environment that supports the

subjective impression of feeling safe, good

infrastructure for individual mobility (public

transport, cycle path network)

modern and prestigious housing conditions

(including atmosphere), acquisition of property,

good infrastructure for individual mobility

(mainly by car), proximity to parking areas,

supply with convenience goods, workplaces,

and facilities for recreation as well as cultural

and administrative infrastructure, availability of

family and friends

Table 1: Needs of family members (source: Tintemann 2015, with reference to Danielzyk et

al. 2012 and Faller et al. 2009).

In the following context, 'family' describes the social form of two generations

living together in one household consisting of adults responsible for care and

88
---
having parental authority as well as their underage children. Because of their

special social relevance, their heterogeneous structure and the high dynamic

of internal change, families are – compared to other types of households – different.

The biography of family households shows a permanent ongoing change.

Figure 2: Biography of family households (author's illustration).

Since the main effect of changing gender orders is an increasing employment

of mothers, saving or rather gaining time to integrate the different trajectories

in the course of the day is the parents' main task. While the Fordist household

arrangement had implied the mother-housewife as temporally fully flexible resource

to coordinate every need that came up, women are now subject to their

own employment structure and thus no longer available without restrictions.

The same restrictions are valid for single parents, too.

Strategy Effect Example

proximity

flexibility

externalisation

reducing time for commuting

optimising time lapse

with the aim to integrate

more activities in one

timeslot

delegating activities to

save time and to synchronise

several duties

A shop near the workplace

saves time to go on

errands.

Longer opening hours of

shops make it possible to

shop supplies after work.

Catering saves time for

buying and cooking food.

rationalisation reducing activities Bulk buying and stockpiling

minimise the number

of trips to shops.

boundaryextending

behaviour

multifunctional places

help avoid commuting.

Eating at the workplace

reduces commuting time

and work at home.

Table 2: Time saving strategies of employed parents (source: based on Ludwig et al. 2000).

Built and inhabited: living in a single-family home

89
---
don't like that, then it was too yellow, because the outside windowsills are sandstone and

I wanted it exactly that colour, like the sandstone sills, the mortar, you see? So we drove

around a lot and we were busy, busy, busy.'

Frau Schulz's comments show how much detail work the construction required.

From the facing brick to the mortar to the windowsills, every choice was weighed

up separately and compared with other houses. Many weekends, according to

the family, were spent just gathering inspiration for the design of their own new

home. The Sattlers also emphasised the great demands on their time:

Herr Sattler: 'The problem is simply that you really have absolutely no free time for a year, and you're just either

at the building site or at work, and then you're finished, well, put that in quotes. You move

in, and then you – then you've run out of steam, then it's – then you can't do any more,

that's how it is. And that's just how it is, you know, when...' // Frau Sattler: 'But ok, on the

other hand, that means we finished it, doesn't it.'

In this account, the newly built home becomes a project that dominates daily

life, absorbing all energy and potential leisure activities. The Sattlers' life

during the construction phase was a matter of commuting between his workplace

and the building site. Home was only for eating or sleeping, and family

chats or short phases of relaxation fell by the wayside. Remarks such as 'you're

finished' – in the sense that 'you've run out of steam' and 'can't do any more' –

distinguish these accounts from the comments of those buying a second-hand

house, who downplay the family's own effort. Instead, the building phase is

portrayed as a whole chapter in the family's life, marked by self-denial and

constant overwork up to the point of complete exhaustion. 31 For the Müllers in

Ohne, too, the building site became almost a temporary home:

Frau Müller: 'I work shifts, and every now and again I had a day off. So and perhaps, when you finished a

night shift for example, then you went to the building site. My husband always did that

after work. We always met up here, so for a whole year, this was where we spent our life

together. Yes, you can say that, that's right.'

Frau Müller explains how she integrated visits to the building site into the

rhythm of her shift work. Until the couple finally moved in, the building site was

their meeting place. Frau Lutz, who built a house in Ohne with her husband,

recounts how the couple organised the construction work to fit around their

working days:

Frau Lutz: 'It has really stuck in my memory that we spent every spare moment here at the site. That's because

we did a lot ourselves […]. Exactly, yes, we always went to the building site after work.

My husband always went after work or maybe if he had to let someone in or something

like that, then he let them in and then went off to work. I sometimes had late shifts and

then either I was here before I went to work, and maybe I could do a few small things,

maybe tidy up and so on. And otherwise, after work, that's right.'

114
---
Unlike the purchasers of an existing house, these interviewees regard their own

investment of both time and money as very great and arduous, and they say so

unambiguously. For these property owners, the new build has such high value

that many other things become less relevant.

The single-family house as retirement plan or family seat

In the homebuilding legislation of the 1950s, the Federal Republic of Germany's

policy on owner-occupied homes laid special stress on their contribution

to wealth formation (Zimmermann 2001). The period since the 1980s has

seen a restructuring of the German welfare state towards responsibilisation.

In the context of asset-based welfare in this regime, the habit of equating

security with home ownership acquired a new accentuation (see Helbrecht

and Geilenkeuser 2010: 976). The notion that property may provide security

for old age also finds expression in our interviews. Both the owner-builders

and the purchasers of 'second-hand' houses contemplate making use

of their home in their old age, but they aim to realise this goal in different

ways, the distinction being between financial retirement planning and an

actual residence for retirement. Whereas the second-hand home is viewed

more as a present-day place to live and as available capital, the new build

is emotionalised as a home for old age, as a collective family achievement

associated with long-term hopes for the owners' residential situation. 32 The

preference for a new build is intertwined with the idea of being able to live

rent-free and debt-free in one's old age; 33 the owners of second-hand homes

expect a financial benefit that will materialise later when the house is sold.

While owner-builders view their home as a rent-free residence for their old

age, the owners of second-hand houses imagine that in their old age they will

sell the house and move into a smaller apartment. The Golls, for example, are

thinking of selling their modernised home when they reach retirement:

bw: 'Can you imagine selling it one day?' // Herr Goll: 'We might do in the long run, sure! When you're let's say

in your mid-sixties or so, then the garden and all that, to be completely honest, I have to

say I probably won't be wanting to do it, well then I could really imagine' // Frau Goll:

'Either it gets sold or one of the children would get it.'

The owners of second-hand homes not only make compromises with their purchase,

but also show greater flexibility with regard to the use of their house and

a greater willingness for geographical mobility. They can well imagine selling

their house and moving to a different area. In addition, our material shows

Built and inhabited: living in a single-family home

115
---
Old houses become singlefamily

homes: Bausparkassen,

Denkmalpflege and conversion

architecture, 1977–2002

Johannes Warda

126
---
Among the great German home loan banks, the Schwäbisch Hall bank is the

most popular. With its iconic brick logo, the smart fox, and the well-known

slogan 'Auf diese Steine können Sie bauen – Schwäbisch Hall', which roughly

translates as 'you can build on these bricks' 1 , the bank's name has become

the German byword for financing the Eigenheim. 2 While popular memory as

well as urban history for a long time equated the West German system of

financing homeownership by Bausparkassen with sprawling suburban areas

made up of newly built single-family homes, I will elucidate a hitherto unknown

part of these banks' vision of housing.

In 1977, the bank introduced another marketing feature that helped consolidate

the brand's popularity: mosaik, a customer magazine. From 1977

until 2002, it appeared four times a year. The number of distributed copies

ranged between 2.3 and 3.4 million per annum. The magazine was mailed

to all bank customers and was available to take away in the branches of the

Genossenschaftsbanken [German cooperative bank association], located in

city centres as well as in small villages. The very first issue featured the historic

Eltz Castle on the Moselle River as Germany's 'most beautiful' and 'best

preserved' high medieval castle (N.N. 1977). The Eltz Castle article served

as the overture to Schwäbisch Hall's love affair with Denkmalpflege, Altbauerneuerung,

and Stadtsanierung [historic preservation, refurbishment, and urban

renewal]. The home loan bank did not just publish recommendations

for recreational outings to heritage sites. Soon, it seems, mosaik became a

special interest magazine for renovation-related topics. In almost every issue

Home treasures: mining the single-family house

127
---
espondents. The investment of lifeblood is sensible only in one's own property.

Mrs. Meier, who was able to buy a previously rented house after living there

for a few years with her husband, also discussed a similar idea. With the acquisition,

new considerations began to arise, which clearly differed from those

when living in rented accommodation:

'After we purchased the house, we had the possibility to realise all those ideas that we had discussed earlier.

But when you live in rented accommodation you don't do this. You don't invest your money

into something that is not yours. We didn't do it because the house was in need of repair.

It was mainly a beautification, an enhancement. And maybe a bit like building a nest.

One that you like. Adding something of your own, you know? To make it nice for yourself.'

(interview Meier family, 23 June 2016)

For Mrs. Meier, conversions and adjustments to the house were related to her

relationship to the property. The beautification, as she put it, would pay off

only if the house belonged to herself. Only own property thus makes possible

the realisation of living concepts. Following the pattern of interpretation of

economising into one's own pocket makes adjustments seem to be a waste

of money as the results would not become part of one's own possessions.

Living in rented accommodation is therefore understood as a restricted form

of life, because renovations or beautifications would require the permission

of the landlord. The image of nest-building brings beautification processes

into a poetic connection with natural habitation processes. In his La poétique

de l'espace, Gaston Bachelard dedicated a whole chapter to the nest as a

symbol and the spatial ideas connected with it. He gives the image of the nest

a particularly intimate note: 'A nest, like any other image of rest and quiet, is

immediately associated with the image of a simple house' (Bachelard 1994:

98). The metaphor of nest-building therefore includes the desire for security

and intimate well-being, which is accompanied by the desire to return to one's

home: 'It is the natural habitat of the function of inhabiting. For not only do

we come back to it, but we dream of coming back to it, the way a bird comes

back to its nest.' (Bachelard 1994: 99) Furthermore, Bachelard emphasised:

'An intimate component of faithful loyalty reacts upon the related images of

nest and house' (Bachelard 1994: 99). With the image of nest-building, Mrs.

Meier described both the beautification work on her own home and a cautious

attempt to create security for her family. The implementation of their own ideas

in the case of the Meier family took place incrementally, so that they gradually

adapted the house. The house, the garden, and the entrance area, which the

family successively rebuilt after buying the house, document this appropriation.

The appropriation processes also imply a do-it-yourself aspect associated

with the desire to own a home. Silvana Rohner in her research on 'dream

178
---
houses' in the US aptly stated that 'then as now a modern and large house

with possible do-it-yourself views is part of the suburban dream and shapes it'

(Rohner 2012: 57). Similar observations have been made by Julia Gill in her

study on advertising prefab houses. Individualising these mass products is a

central feature of the prefab market:

'The high importance of the "individual" design of the home is reflected in the promise of prefab house manufacturers

that they will help their clients build their tailor-made dream house based on

their personal wishes and ideas, because as a status symbol, the home has above all the

task to represent the uniqueness of its owner's personality' (Gill 2010: 165). 5

Both in the case of Mrs. Meier and the appropriation of the occupied house,

and in the context of the individual design of the tailor-made prefab dream

house, the house itself is understood to express the owner's personality. Mrs.

Meier calls this adding something of your own and to make it nice for yourself.

Living in rented accommodation, on the other hand, stays connected to the

idea of living in the property of someone else.

Conclusion

My sample group indicates an antagonistic perception of renting and home

ownership. While renting is understood as gifting money to a landlord and

therefore wasting money, being a houseowner, on the other hand, is seen as a

rational way to 'economising into one's own pocket'. To amortise a mortgage

is not regarded as being indebted, but rather as part of a circular exchange

that in the end brings back the paid instalments to the person who spent

them. Only one family in the sample group communicated the awareness

that the house is not really the family's property until the loan is fully payed

back. Being a houseowner is widely characterised as a lasting and worthier

way of housing.

The interviewees stated that this attitude towards home ownership has been

adopted from their parents' example. Growing up in a private home is widely

accepted as a role model and a 'way of life'. Episodes in which the family had

lived in rented accommodation disappear behind the main plot of the biography:

growing up in self-own property. Renting, on the other hand, has, at best,

been described as a temporary solution.

Finally, renting and home ownership are believed to offer different ways of

expressing oneself. Renting is imagined as dependence on someone else's

decisions. Home ownership, on the other hand, is believed to give freedom of

choice. The house manifests the personality of its owner, which is reinforced by

Home treasures: mining the single-family house

179
---
Single-family houses

as urban mines – terra incognita

of resource management

Sabine Flamme

Gotthard Walter

184
---
Background

Since industrial modernity, the single-family home has been one of the central

places of private consumption and thus one of the most important anthropogenic

resource deposits of our time. In Germany, the number of single-family

homes has risen to around 15.7 million by 2016, making it the most common

form of home and real estate ownership among private households.

Around a quarter of households in Germany are located in a single-family

house (Statista 2018).

If we look at the single-family house from the point of view of resource efficiency,

the type of construction, mobility as well as living and use are decisive for

determining the consumption of resources along its life cycle. In the following,

we present results of our research project on the development of resource

management in a single-family home and the associated or included circular

economy.

Increasing global demand for resources

Global demand for raw materials is growing unabated and is estimated to at

least double over the next thirty years (SRU 2016). A decoupling of economic

performance and resource consumption has hardly been successful so far. In

addition, new technologies, for example for electronic equipment, for modern

Home treasures: mining the single-family house

185
---
Results

Mass flows

Based on the evaluation of the real estate descriptions and the catalogue of

the prefabricated house manufacturer, a model single-family house was calculated

with the following characteristic values: 1.5-storey construction, without

basement, and a living space of approx. 165 m² (spread over ground floor

and upper floor; see fig. 3).

Kitchen

Dining

Utility room/

building

technology

Hall

Living area

Guest

bath

Home

office

Bathroom

Nursery 1

2,00m

Hall

Bedroom

Nursery 2

2,00m

Figure 3: Room layout in the model single-family house.

192
---
In this model single-family house, considering the different construction methods,

between 115 and 221 Mg of material are used in total, which are divided

between the different trades as shown in figure 4.

[Mg/SFH]

160

140

solid house with

facing facade

Mass flows single-family house

solid house with

ETICS

timber frame

construction

120

100

80

60

40

20

0

shell

facade and

roofing

interior

construction

shell

facade and

roofing

interior

construction

shell

facade and

roofing

minerals metals timber insulation plastics others

interior

construction

Figure 4: Mass flows in the model single-family house.

As expected, mineral building materials (e.g. concrete, plaster, tiles), especially

in solid construction, account for the largest proportion (approx. 90 percent

by weight). The mineral fractions still account for 69 percent by weight for

timber-frame structures. For the 1950s single-family house, which was examined

for comparative purposes, the proportion of these fractions is around

95 percent.

The other fractions, such as metals, wood, and plastics, play a subordinate

role in the mass of solid houses. The wood, (wood fibre) insulation, and other

fractions accounting for 11 percent, 10 percent, and 6 percent by weight are

additionally relevant for the house in timber frame construction. The latter

fraction mainly contains gypsum plasterboard used for interior finishing.

Comparing these results with the quantities calculated on the basis of building

documents and calculations for a residential house of comparable size from

the 1950s, it shows that, due to the significantly higher mineral content, this

house with approx. 520 kg/(m³ of enclosed space) has a value 20 percent

higher than the model single-family house in solid construction.

Home treasures: mining the single-family house

193
---
202
---
Figure 2: Installation view of the

'neues wohnen' Werkbund

exhibition, Cologne 1949.

Source: Rheinisches Bildarchiv

Köln, rba_L000006_41.

Figure 1: Poster

for the 'neues

wohnen'

Werkbund exhibition,

design

by Jupp Ernst,

1949. Source:

Werkbundarchiv

Museum der

Dinge, Inv. Nr.

O12388.

education in the 1960s. The exhibitions ranged from rather small temporary

presentations by local and regional actors and institutions to huge undertakings

like the famous housing exhibition Interbau Berlin 57 which received

international attention for its modern residential buildings that are still existent

and lived-in today. Like the Interbau, some exhibitions invited their visitors

inside new residential buildings that had just been finished, where some of the

flats had been fully furnished and equipped as show homes. Other shows took

place in exhibition halls that were big enough to set up entire small show homes

inside them, where people could peek inside the rooms or even enter them to

experience the spaces and objects of modern home life as close as possible. In

all of these exhibitions, the interior of the home was presented as the intimate

space in which the West German society was supposed to restore itself after

the war. Despite of their differences in size and style, the post-war home exhibitions

seem to have been connected by a certain discourse in which the design

Knowing and showing: documenting and exhibiting houses and homes

203
---
Dream House Factories.

What happened to the dream of

the factory-made house? 1

Julia Gill

218
---
For Le Corbusier, the development of ideal types for certain kinds of buildings,

and their subsequent dissemination as standard types, was one of the most

important tasks of architecture:

'It is necessary to press on towards the establishment of standards in order to face the problem of perfection.

[…] A standard is necessary for order in human effort. […] The establishment of a

standard involves exhausting every practical and reasonable possibility, and extracting

from them a recognized type conformable to its functions, with a maximum output and

a minimum use of means, workmanship and material, words, forms, colours, sounds.

Here we have the birth of style […] Architecture is governed by standards. Standards are

a matter of logic, analysis and precise study. Standards are based on a problem which

has been well stated. […] Standardization is imposed by the law of selection and is an

economic and social necessity.' (Le Corbusier 1927: 123–127)

Out of the alliance between such cultural achievements and social responsibility

grew, as if by itself, as the emergence of the Parthenon demonstrated,

all the superior beauty – for Le Corbusier 'the overplus necessary only to men

of the highest type.' (Le Corbusier 1927: 135–38) Le Corbusier argued here

as a representative of a whole generation of architects who, at the beginning

of the twentieth century – borne along by a still basically positive attitude towards

progress, and against the background of a building industry still strongly

stamped by craftsmanship –, looked upon the potential of industrialisation with

downright euphoria. Convinced by the effectiveness of artistically planned interventions

in the service of a freely developing society, he called for standards not

only on technical and structural design considerations, but also on economic,

Knowing and showing: documenting and exhibiting houses and homes

219
---
prices, which heightens the attractiveness of the offer. At the same time, they

can use the customer's information that steers the configuration process as

input for the development of new products, essentially conducting market research

and thus eventually profiting twice. Here, the internet offers the ideal

interface between customer and vendor: company home pages do not always

restrict themselves to information about the latest offer.

Interactive house configurators additionally enable potential house buyers to

extend different floor plan suggestions with bay windows or winter gardens,

select options like a gabled roof versus a hipped roof, and choose styles from

classic to modern. Within a few seconds the customer can get a fixed price estimate

with a visual simulation from top edge to base plate in 3D perspective. 4

The result often is an eclectic mix of distinct types, styles, and elements. These

refer not only to the architecture of the house itself, but also the catalogue

imagery of the firm, in which claims addressed only to architecture refer to the

appearance, the flair of the house, the ambience of the home.

Standard language

Any marketing of the pre-fab product by catalogue or on the internet to anonymous

customers must necessarily be general. The largest possible range of

houses must be included in order to speak to the greatest number of potential

buyers. Most vendors therefore refer to a broad selection of reference projects,

which they nonetheless by no means want to be understood as readymades.

Thus, the language commonly avoids any vocabulary that might evoke

mass production or pre-fabrication and focuses on terms that might appeal

to fantasies about taste (for example, style directions) and professional status

(for example, draft proposal). The systematic listing of these offerings leads

nonetheless back to the reality behind. Here, at the latest, doubts arise as to

whether the advertised promises to tailor an individual dream house to every

customer can be seriously und feasibly realised.

It is therefore perfectly understandable if vendors want to offer their clients

help to orient themselves and identify possibilities in a very broad and highly

diversified housing market. There are currently over 1,000 house models

alone on the website for vendors listed by the Bundesverband Deutscher Fertigbau

5 . First, melodious names replace factual descriptions for the various

building categories: a double-house becomes a Duett, a Pasodoble or a Twin,

while a one-level retirement bungalow is sold under the label Fifty5. To make

these attributes stand out in the crowd, further names are sought in order to

226
---
offer the client additional information about price categories and design directions.

Key words associated with different lifestyles are often used, for example

Esprit, Ideal, or Sunshine, or perhaps rather Diamant, Prestige, or Royal.

Pointers to geographical-regional styles are also sought, from Småland and

Gomera, to York and Tirol, to Venezia and Florenz. The vendors also pin great

hopes on musical associations through house names such as Jazz or Blues,

Allegro or Forte, Ideenhaus Belcanto or, finally, Turandot, Othello, and Don

Giovanni. Such names should convey substance, purity, and exclusivity as well

as Mediter ranean ease and La Dolce Vita or a youthful outlook paired with

Scandinavian pragmatism. Occasionally, this leads to results like La Grande

mit Wintergarten (La Grande with winter garden), Design Schupfholz (which is

a miniscule German settlement), or Trendy Bielefeld (a town in northwestern

Germany whose name in jokes regularly symbolises not so trendy places in

Germany). However, the arbitrariness of such names doesn't end here, but is

intentionally connected to the established conceptual world of the consumer

goods market. Thus, those names could easily be assigned not only to a variety

of house models, but also to other products, like cars, exercise machines,

and appliances, as well as deodorants, coffee, flour, and ultimately toilet paper

(cf. Gill 2010: 99–103).

What happened to the dream of the factory-made house?

The context-free conception and presentation of the buildings in catalogues

and on the internet corresponds ultimately to the lack of hierarchy of the accumulated

structures and styles. With the re-entry into the sphere of the built

reality, these stamp individual architecture with the character of the whole

domain of single-family houses and transform the city and countryside into

agonies of entropic urban sprawl. At the same time, the possible combinatorics

of components adapted to structural engineering and thermal efficiency

advances impassively. It fosters a bricolage of dreams – from which there is

no awakening.

Thus, the freedom won in manufacturing is neutralised in a collage of boilerplate

images – and nonetheless bought at a high price: indirectly by society

and taxpayers through the spoiled landscape and high development costs,

and directly by the buyer in whose interest all this supposedly transpires. On

the one hand, the vendor pays entirely for the wishes of individualisation. On

the other hand, a fashionable (facade) design rarely contributes to maintaining

or increasing the value of a building. Investment in the largest possible

Knowing and showing: documenting and exhibiting houses and homes

227
---
and future-oriented technologies', it locates these thematically between 'lush

meadows and green forests' and emphasises its own 'sense of responsibility'

(ibid.), which according to the advertising text is also reflected in a long company

tradition. Similar to the tension that appears here between serial production

and manual work, as well as between industry and nature, the advertising

images produced by the precast industry on stability and regional roots also

reveal an antithetical image of flexibility and adaptation options. Among other

things, HM Carport uses the house as an allegory to illustrate the stability of

one of its products:

'The illusion of a traditional building is based on the striking roof shape. Here, the observer recognises familiar

forms and connects them with stability and security.' (Heinrich Meyer-Werke Breloh GmbH

& Co. KG: 51)

Text modules used by HM Carport refer to material properties: Text modules

used by HM Carport emphasise material features like stability, anchorage and

durability: 'Powerfully dimensioned support beams' (Heinrich Meyer-Werke

Breloh GmbH & Co. KG: 17), 'Stable construction' (ibid.: 23), and 'Above-average

solid construction' (ibid.: 84). At the same time, the manufacturer contradicts

stability and fixation/durability with flexibility in the form of adaptation

and individualisation options: 'Expand the use of your carport' (ibid.: 23),

'Many individualisation options' (ibid.: 7), 'Adapt each model entirely to your

preferences' (ibid.). A similar approach can be found at Gussek Haus. Statements

like: 'This is how we combine the advantages of timber frame construction

and solid brick-on-brick facing façade construction' (GUSSEK HAUS,

Franz Gussek GmbH & Co. KG: 35), 'the "solid brick", i. e. massive image of

facing façade construction touches the emotional needs of many prospective

builders' (ibid.) are countered by statements such as: 'Finally, the icing on the

cake is the unique flexibility of prefabricated house construction' (GUSSEK

HAUS, Franz Gussek GmbH & Co. KG: 49).

Idealised social relationships in the family and spatialised gender orders:

the nuclear family

The birth of the first child is an occasion for many couples to build or buy a

suburban family home. 17 So it is no surprise that the proportion of children's

pictures in the Gussek Haus advertising material (a total of 49 photos) is

relatively high in relation to 77 photos of adults. 18 If we follow the pictures

presented in the advertising catalogues examined, the target group of people

interested in building consists of white, handsome, healthy heterosexual

242
---
Figure 7: Heinrich Meyer-Werke Breloh

GmbH & Co. KG (2014), Carports, p. 86/87.

Figure 8: GUSSEK HAUS,

Franz Gussek GmbH

& Co. KG (2017),

Boulevard, p. 14.

Knowing and showing: documenting and exhibiting houses and homes

243
---
Figure 1: Exterior view, Haus Nieaber, 1958,

Bad Salzuflen (Reinhard & Sander architects).

The West German modernist bungalow

While the German term Bungalow until today suggests an Anglo-American

genealogy, the relationship between this German phenomenon and its international

references is less straightforward. The architecture of this single-storey

flat-roofed modernist typology does not refer to the American bungalow with

its Arts and Crafts architecture, large roofs, shingle-clad facades, and rustic

stone bases – a typology which originated in California and became a national

icon between 1880 and 1920. Contrary to what the Anglo-American imagination

associates with the terminology, Bungalows in Germany are inextricably

connected to architectural modernism. Etymologically, the Anglo-American

term acquired new architectural references in post-war West Germany. 2 Until

the late 1940s, the word bungalow had been a technical term in Germany,

used to describe foreign buildings, e.g. colonial architecture in the tropics,

US-American housing, or English country houses. It was only from the 1950s

onwards that the word was used in everyday language and with regard to

local buildings. It acquired the new, more general meaning of 'country house,

266
---
summer house' (Pfeifer et al. 1993: 184; author's transl.). At the same time,

the word Bungalow came to be associated with the modern architecture of

contemporary houses in Germany and abroad whose characteristic features

were large glass panes, cantilevering flat roofs, and wall slabs extending to the

exterior. Architecturally defining for the modernist Bungalow were modern Californian

houses – even if none of these houses were called bungalows in the

USA: the homes by the Viennese architect Richard Neutra, who had emigrated

to the USA in 1923 (Drexler et al. 1982; Hines and Neutra 1982), and those

of the Californian Case Study House programme (McCoy 1962; McCoy and

Singerman 1989), model homes, conceived to embody a new way of life in a

sunny climate using most recent construction methods.

In West Germany, contemporary literature called Neutra's American houses

'Neutra-Bungalows', and praised them as 'dream houses of modern mankind'

and 'the most contemporary and technically most accomplished form of [the

bungalow]' (Betting and Vriend 1959; author's transl.). Modern California

Houses, Esther McCoy's overview about the Case Study House programme

(McCoy 1962), was tellingly titled Wohnbau auf neuen Wegen. Musterhäuser

und Bungalows (New Ways in Housing: Model Homes and Bungalows) in

German in 1964 (McCoy 1964). The use of the term Bungalow in these and

other West German publications (Mittag 1959; Trost 1961; 1965; Swiridoff

and Steingräber 1967) reveals the architectural-semantic difference between

the English term 'bungalow' and the German Bungalow. It also highlights

how quickly the German term had become closely associated with the modern

single-storey single-family house. Until today, for German lay and architectural

audiences alike, a Bungalow is a modernist flat-roofed house; modern

post-war Californian houses are Bungalows; and the true 'American bungalow'

is in fact a house by Richard Neutra – whereas some English-speaking

authors quite rightly use 'like a Case Study House' (Wainwright 2014)

to account for these connotations which are different and unexpected for an

English-speaking audience.

The German Bungalow is thus particular in its modernity and somewhat at

odds with a globalised architectural culture whose terminology it uses. In his

seminal publication The Bungalow. The Production of a Global Culture, Anthony

King established the bungalow as a generic type across the globe and

across centuries (King 1984). His use of the word subsumes different building

types, which are culturally specific, and he refers to architectural characteristics

as well as socio-economic aspects. However, socio-economically,

the situation King describes for bungalow boom times in Great Britain in the

1890s or in the USA at the turn of the twentieth century was largely similar

Comparative and analytical perspectives: regional cases of the single-family home as a global form

267
---
the feeling of 'constantly being on holiday in your own home' (Balser 1959:

276; author's transl.) seems to have been achieved, according to Gia Balser

who reported decades later that – between the agave in the living room and

the banana tree outside – her and her husband's friends always felt 'just like in

California' (Balser and Balser 2012; author's translation).

The significance of modern architecture in West Germany

Descriptions of Bungalows in contemporary media and from a historical perspective

equally praise the accomplishments of architectural modernism – especially

the intense interplay of interior and exterior spaces facilitated by large

glass windows and the cantilevered roof. This strong focus on modern architecture's

successes and achievements has largely shaped how Bungalow architecture

is perceived in (West) Germany until today. Yet it also has to be seen

in the context of the threefold significance that modern architecture in general

acquired in West Germany after 1945. In the 1950s and 1960s, modern

architecture came to signify, firstly, the Bundesrepublik, West Germany as a

young nation, secondly, its connections to Germany's democratic past during

the Weimar Republic, and, thirdly, the Westbindung, the close relationship with

the USA and other Western political allies during the Cold War.

Barbara Miller Lane has shown how the fact that, from the 1930s onwards,

German National Socialists 'saw architectural styles as symbols of specific

political views' (Lane 1968: 2) was a result of politicised architectural debates

about the Bauhaus or flat-roofed housing schemes, which had already established

this connection during the Weimar Republic. During the 1920s, the flat

roof had become the symbol of the new style. It had ignited a debate about the

new, modern architecture between its proponents – who understood the new

style as the expression of a modern industrial age and democratic values –

and its adversaries – who wanted to safeguard preindustrial times and es tatist

society along with traditional building types and forms.

Because architecture had carried such strong political connotations from the

Weimar Republic through the National Socialist regime, architectural discourse

in post-war West Germany inherited an intense political symbolism, and modern

architecture became an aesthetic embodiment of the West German return

to democracy after 1945. Transparent, modernist, and flat-roofed, the Bungalow

expressed its Californian references and the new Bundesrepublik as eloquently

as it referred to the Weimar period. Like modern architecture in general,

it was understood to construct the visual narrative of the historic 'break'

272
---
Figure 6: Plan,

Kanzler bungalow,

1964, Bonn (Sep

Ruf). Literature on the

Chancellor's Bungalow

mostly addresses

the open-plan reception

area in the larger

pavilion (below), and

overlooks the different

spatiality and the

resi dential character

of the smaller pavilion

(above), where

the chancellor lived.

Comparative and analytical perspectives: regional cases of the single-family home as a global form

273
---
of them had a number of homes, in addition to the one in Paris, including

a holiday home outside of the city, by the sea or in the mountains. The fact

that the Paris flat was often just one of several homes makes use of the term

'sec ondary' somewhat problematic. In fact, their socio-economic profile, behaviour

and attitudes are not unlike those of foreign secondary owners, some

of whom had several homes around the world. What distinguished French

from foreign secondary residents in Paris is that they keep or buy one appartment

mainly for family reasons, whereas foreigners tend to leave their family

out of it. Some of them buy an apartment in Paris that their children can use

as students. There are parallels with some French.

When Caroline retired as a researcher, she sold her small house in a gentrified

area of Paris and converted her second home in Brittany, where she

was born and which she later inherited from her parents, into her main

residence. With the proceeds from her town house, she bought out her

sister from the family home and purchased a small studio in Paris which

she uses to visit her daughter and granddaughter.

Dominique and Maurice, a lecturer and doctor, live in a small town in

Eastern France where they own a big house. When their oldest child decided

to study in Paris, they rented an apartment; when their second child

also moved to the capital to study law, they bought a larger apartment

for the two children. They visit them from time to time and enjoy the good

life in Paris. The wife recently bought a small house by the sea shore with

some inherited money.

Parisians who switch their main residence to the countryside are usually middle

class and in their late fifties; they do so when they retire or after their children

left home. Provincials at a similar stage of life buy a studio or small flat mainly

mainly to be used by children studying in Paris.

Franco, an Italian professor, bought a Paris apartment in his fifties, which

he and his wife visit as often as they can. In addition to his apartment in

Milan, he co-owns a family residence by the sea. When in Paris, they go

cycling with Italian friends who also have homes there.

Hillary and her husband, both in their fifties, bought a flat on a timeshare

basis with four other American couples parallel to the Champs Elysees.

Children are not allowed to use the flat. The purchase was made through

288
---
a New York realtor. For most of the owners the flat is just a financial investment.

Hillary and her husband are the only ones who use it regularly.

She prepares these visits in advance from her home in Los Angeles, buying

concert and exhibition tickets online.

Both foreign and French secondary residents get up to similar things in Paris:

It is a city of culture, with convenient access to museums, theatres, cinemas,

etc. They try out new restaurants, sampling national cuisines that don't exist

where they normally live. The city is also a fabulous market place, the 'shopping

capital of the world', as the town council and tourist buses claim – with its

department stores and specialist shops for food, fashion and luxuries. For an

event like a wedding, secondary residents may buy clothes there that are not

available at home. The big difference between the two groups' attitude to Paris

is kinship and especially the role of children in family decision-making. As with

rural secondary homes, for French couples the meaning of a Paris apartment

is often part of a family strategy, to take advantage of access to the capital as

a political, economic and cultural centre in a country that remains Jacobin to

a substantial degree with the best educational opportunities. It usually pays off

to have a 'foothold' in Paris.

In contrast, children play almost no part in the movements of foreign couples:

buying an apartment is normally a project of a couple, with no children involved.

This distinguishes a Paris flat from a home in the countryside and, of

course, from an inherited family house.

Conclusions

This practice of keeping two homes with the focus on being grounded in the

countryside is a fundamental aspect of French kinship. The family house – inherited

or bought – anchors the descent system in material space and contrasts

sharply with other European systems of neolocal residence – of which the

British are the prime example – which tends to cut the later stages of a married

couple's life cycle off from other generations.

French secondary residents often have a Parisian residential project as a way

of keeping their lineage's toehold in the capital of what is still a highly centralised

country. They may either keep an apartment in Paris when they no

longer have to work there or they get hold of one from a provincial base. This

practice of dual residence in city and countryside allows people to combine

several lifestyles that elsewhere might be available only to the relatively rich.

Comparative and analytical perspectives: regional cases of the single-family home as a global form

289
---
Figure 3: Small single-family house,

Pariangan, West Sumatra, 2014.

neglected and derelict or, if they were still in use, were inhabited by small

numbers of people only, often elderly couples or elderly single women, or

in some cases young nuclear families with limited means. Instead of the

multi-family rumah gadang, Kato noted, the ubiquitous house type in West

Sumatra at the beginning of the 1980s were so-called 'small houses' (rumah

kecil); contemporary, more 'modern' looking buildings, roughly cubic, made

of brick, cement or concrete and with simple gabled roofs, that housed single

households rather than the members of large matrilineal descent groups (fig.

3). The omnipresence of such single-family houses has only increased since

the early 1980s, as more and more small houses have been built during the

last 40 years or so, leaving more and more rumah gadang partly inhabited

or deserted.

From rooms to houses

Despite the fact that they are nowadays omnipresent in West Sumatra, the

'small' single-family houses have never received much scholarly attention.

Their emergence and popularity appears related to a process of family nuclearisation

that has been observed among the Minangkabau from at least

300
---
the late nineteenth century onwards. Nuclearisation in this instance refers to

the process whereby single households, made up of a conjugal couple (a

husband and wife) and their children, assume an increasingly important position

in daily life vis-à-vis the larger multi-family matrilineal descent groups

that comprise the members of several nuclear families. As noted before, in the

traditional context (represented in and perpetuated by the popular image),

various nuclear households lived together in one multi-family house, with each

conjugal family having its own dedicated bedroom at the back. The women

were all directly related (that is, they were daughters, sisters or cousins and all

part of the same descent group) and to a large degree shared and pooled

resources. In this traditional context, the members of the matrilineal descent

group (the women plus their brothers) collectively built and maintained the

houses. The husbands of the women visited their wives at night, but invested

their labour and money in the house of their mothers and sisters, that is to say,

their own descent group (Prindiville 1985; Van Reenen 1996).

In the contemporary context, however, the vast majority of nuclear families has

left the multi-family houses to move into their own single-family homes, which

they will have built themselves once their financial situation allowed it, albeit

often with the help of other relatives and professional builders. In contrast to

the traditional situation, a husband now commonly builds a house together

with his wife, rather than just for his sisters. This process, which has been referred

to as a move 'from rooms to houses' (Prindiville 1985: 42), has been

observed in West Sumatra since at least the early twentieth century. It appears

related to an increased desire for levels of privacy, comfort, prosperity and

convenience that the traditional social organisation and rumah gadang could

not offer.

The date that this process of nuclearisation took off and the speed by which it

proceeded differed per region, depending on when the area concerned was

incorporated into the global cash economy. Thus small houses have long been

present in the heartland areas around Bukittingi and Payakumbuh (areas that

have been integrated into the international political economy since colonial

times), where they are today found in large numbers (Tillema 1926). In other

regions in the so-called borderlands (rantau), which remained relatively isolated

until well into the twentieth century, the traditional multi-family houses

remained in use for longer and small houses began to emerge somewhat later

on. By the 1980s, however, the single-family homes were well and truly established

in those areas too, while at the beginning of the twenty-first century they

have become the dominant house form all over West Sumatra; and indeed,

Indonesia more generally (Hanan 2017).

Comparative and analytical perspectives: regional cases of the single-family home as a global form

301
---
and the subsequent devolution of power to the provinces, this expression of

cultural identity and pride, and with it the construction of new vernacular architecture,

has been consolidated.

Like the more standard single-family houses, the new vernacular-style houses

have commonly been regarded in negative terms, as examples of cultural

erosion. Because they are built using modern manufactured materials and

serve as single-family rather than multi-family houses, they are regularly said

to lack authenticity. What is more, because they are often the result of conscious

attempts to appear traditional, they sometimes have been described as

fakes or simulacra: buildings that attempt to represent a popular image that in

itself is already a representation, and reductionist and essentialist at that. The

new rumah gadang are not 'real', as they are not truly traditional, but they are

not completely modern either. They combine traditional vernacular forms and

symbolism with modern, global materials and functions. In the eyes of some

observers this means that, like the other single-family houses, they are not

part of the Minangkabau vernacular tradition. In the eyes of others, however,

including their owners, it is this combination of old and new that makes them

powerful symbols of what it means to be a Minangkabau person in the twenty-first

century: rooted in place and tradition, but simultaneously firmly established

in an increasingly modern and globalised world (Vellinga 2003). From

this latter perspective, the new buildings are as much part of the Minangkabau

vernacular tradition as the old timber rumah gadang or the architecturally

more eclectic small single-family houses.

Questions

In the eyes of many observers, both the 'small' and the 'new vernacular' single-family

houses thus constitute a radical break with tradition. The former are

thoroughly different from the traditional multi-family rumah gadang in terms

of their design and materiality, and are commonly seen to embody a process

of nuclearisation that in itself has often been regarded as a culturally erosive

force because it involves the supposed disintegration of the traditional

matrilineal descent groups. The new vernacular houses maintain the design

features of the traditional multi-family house, but differ radically in terms of

their materiality, use and meaning. Like the small houses, they are owned by

individual households rather than entire matrilineal descent groups. However,

as objectifications of the power, status and ambition of their owners, they are

mostly not used as actual dwellings and seem to embody another form of

308
---
cultural change, in which nouveau riche upstarts attempt to replace traditional

authorities using their wealth and the symbolic power of consumer goods.

In both cases, the standing of the houses is defined in explicit opposition to

the popular image of Minangkabau vernacular architecture, which recalls a

mythical time in the past when Minangkabau culture was traditional, authentic

and untainted by outside, foreign influences, and houses (and other traditional

buildings) with clearly defined and locally distinct design features formed an

integral part of it.

No doubt influenced by the fact that they do not fit into this image, neither

the small nor the new vernacular single-family houses have received much

academic attention. As noted, most literature that deals with Minangkabau

vernacular architecture simply perpetuates the well-known stereotypical popular

image of the multi-family rumah gadang. It either makes no mention of

the single-family houses at all and simply pretends that they do not exist (Navis

1984; Pak 1997; Asri 2008), or it acknowledges their existence (and indeed

prominence) but then continues to pay little to no attention to them (Ng 1993;

Doubrawa, Lehner and Rieger-Jandl 2016). This tendency means that many

questions related to the single-family houses in fact remain unanswered. For

example, little is actually known about the composition of the households that

build and occupy the small or new vernacular single-family homes. Clearly,

the households are different from the matrilineal descent groups that are commonly

associated with the traditional multi-family homes, but whether they

always make up a nuclear family in the classic European sense (that is, one

that consists of a father, mother and children), is not clear. Various studies of

Minangkabau kinship and sociality have warned about a potential Eurocentric

bias in the ongoing debates about the impact of the nuclearisation process on

the matrilineal system (Prindiville 1985).

Nuclear families dominate the popular imagination in the Western world (where

they are often seen to be a 'natural' family type, even if they are not actually

as common today as many people think they are) (Parkin and Stone 2004),

but they do not necessarily constitute the only way to occupy a single-family

home. Many other configurations are possible (elderly man and wife, single

widow, brother and sister, single mother with adopted children, grandmother

and grandchildren) and have in fact been observed among the Minangkabau,

both in the single-family and the multi-family houses. As the traditional role

of the rumah gadang as a multi-family home continues to diminish and as

the single-family houses continue to multiply in number and grow larger and

architecturally more diverse, it is not unreasonable to assume that the variation

in household composition may remain significant, or even increase, as well.

Comparative and analytical perspectives: regional cases of the single-family home as a global form

309
---
Authors

316
---
Christiane Cantauw is a historian and anthropologist. She has been directing

the Folklore Commission for Westphalia in Münster since 2005. Among

her activities are encompassing projects in the field of digital humanities (funded

by the Volkswagen Stiftung and the German Research Foundation) in which

the visual, audio and manuscript collections of the Folklore Commissions have

been digitised and made available for open access (2006-2013). From 2015

to 2018, she directed the project "As if made for us?! The path to home ownership?",

funded by the German Federal Ministry of Education and Research.

Since 2014, she regularly teaches graduate and undergraduate courses in

social and cultural anthropology at the Seminar for Folklore Studies/Cultural

Anthropology at the University of Münster. Among her publications are:

(2017), Von Häusern und Menschen. Berichte und Reportagen vom Bauen

und Wohnen von den 1950er Jahren bis heute. Mit dem Bautagebuch von

Rosemarie Krieger (Münster, New York: Waxmann).

Anne Caplan is a research associate in the Department of Sustainable Production

and Consumption, Research Unit Innovation Laboratories at the Wuppertal

Institute. Her research focuses on housing and home, participation and

citizen science as well as urbanity and urban planning. From 2015 to 2018,

she was Scientific Manager of the research association "The flow of things

or private property? A house and its objects between family life, resource

management and museum", funded by the German Federal Ministry of Education

and Research (www.hausfragen.net). During this time, she realised

Authors

317
---
and conceived various science communication formats for the contents of the

research association. The calendar 'Park+Roll. Carports in Suburbia - von

fliegenden Bauten und ruhendem Verkehr' created by a student project in

cooperation with the MSD, Münster School of Design (Claudia Grönebaum),

was awarded the Gregor Calendar Award in silver in 2018. Among her latest

publications are: together with Katherin Wagenknecht (2018), 'Bauen oder

kaufen? Eine qualitativ-vergleichende Studie zu Wohnpräferenzen in Einfamilienhausgebieten

in Nordwestdeutschland', Forum Stadt 3, 259–273; and

(2018), 'Design Research as a Meta-discipline', in: P. E. Vermaas and St. Vial

(eds.): Advancements in Philosophy of Design (Berlin: Springer), 347–367.

Sophie Chevalier is Professor of Anthropology at the University of Picardie,

France and Director of the "Habiter le monde" Research Centre. Her main interests

are in economic life, consumption and leisure, cities and anthropology

at home. She has carried out fieldwork in Paris and London on domestic material

culture; in Bulgaria on exchange in a privatized economy with no money

in the 1990s; and recently in Durban, South Africa after apartheid, on the new

middle classes with reference to food and shared social spaces. Her recent

books include: (2015, ed.), Anthropology at the Crossroads: The View from

France (co-author, 2013), Paris, résidence secondaire, and (co-editor, 2013),

Norbert Elias et l'anthropologie. She is co-editor of www.ethnographiques.org

and on the editorial board of Ethnologie Française, Espaces et Sociétés, Home

Culture and Social Anthropology/Anthropologie Sociale.

Carola Ebert is Professor for Interior Design, History and Theory of Architecture

and Design at Berlin International University of Applied Sciences. Her

research fields are the West German modernist bungalow, the theorisation

of interior design, and teaching and learning in architecture and design. Her

forthcoming and most recent publications are: (ed. 2020), Theorising Interior

Design. Identity – Practice – Education; (ed. with E. M. Froschauer and Ch.

Salge, 2019), Vom Baumeister zum Master. Formen der Architekturlehre vom

19. bis ins 21. Jahrhundert; (author, 2019), 'Inseln der Selbstreflexion. Drei

Diskurse zur Architekturlehre im 21. Jahrhundert, in: ibid.; (with M. Sonntag,

J. Rueß, L. Schilow and W. Deicke, 2018), Forschendes Lernen im Seminar.

Ein Leitfaden für Lehrende (Berlin); as well as several publications related to

her PhD thesis 'Entspannte Moderne. Der westdeutsche Bungalow 1952-1969

als Adaption eines internationalen Leitbilds und Symbol einer nivellierten Mittelschichtsgesellschaft'.

318
---
Sabine Flamme has been teaching material flow and resource management

at the Department of Civil Engineering at Münster University of Applied

Sciences since 2005. Since 2016, she has been speaker for the management

board of the IWARU Institute for Infrastructure, Water, Resources and Environment,

where she heads the Resources Working Group, which currently employs

15 scientists. Her research activities are currently focused on increasing

added value in the field of urban mining. In this context, she supervises several

research projects on material flows from anthropogenic deposits, on the development

of recycling processes for building materials and constructions, and

on new business models in the construction sector. She is a member of various

working groups and has recently written numerous lectures and publications

on the above-mentioned topics. In addition, she received the Urban Mining

Award in June 2012 and is a founding member of IR Bau and re!source

Stiftung e. V., respectively.

Julia Gill is an architect und architectural researcher in Berlin who teaches

building design, construction and history at the Staatliche Technikerschule

Berlin. Her main research issues are related to the conditions of production

and appropriation of architecture, focussing on questions of individualisation

and standardisation in affordable housing. She has taught at several

universities and institutions, among them TU Braunschweig, RWTH Aachen,

EPFL Lau sanne, AZ Wien, Humboldt Universität zu Berlin and Universität der

Künste Berlin. She is editor of the book series Forum Architekturwissenschaft

(previously published Vol. 1 (2017), 2 (2018), 3 (2019) with Sabine Ammon,

Eva Maria Froschauer and Christiane Salge. Her own publications include

(2010), Individualisierung als Standard. Über das Unbehagen an der Fertighausarchitektur

(Bielefeld: transcript); (2016), 'Edited Standards. A Plea for

Greater Individuality in Standards', in W. Nägeli and N. Tajeri (eds.): Small

Interventions. New ways of Living in Post-War Modernism (Basel: Birkhäuser),

115–118; and (2016), 'Germany's next Top-Modul', Bauwelt 28/29, 14–17.

Johanna Hartmann is a researcher in the fields of art history, architectural

theory and gender studies. Her work centres on concepts of space, subjectivity,

the body and gender in discourses of the home and city. She is working on a

doctoral thesis on housing exhibitions and domestic advice media in post-war

West Germany. Until July 2019, she was a lecturer and research assistant at

the Institute for Art History – Film Studies – Art Education at the University of

Bremen, working in association with the Mariann Steegmann Institute Art and

Gender. Current publications include: (ed. together with K. Eck, K. Heinz and

Authors

319
---
Ch. Keim, forthcoming 2019), Wohn/Raum/Denken. Politiken des Häuslichen

in Kunst, Architektur und visueller Kultur (Bielefeld: transcript); (with N. Jablonski,

Ch. Schmitt, forthcoming 2020), '"Heile Welten" nach 1945: Heimat,

Wohnkultur, Tourismus', in J. Gerstner, J. C. Heller and Ch. Schmitt (eds.):

Handbuch Idylle. Traditionen – Verfahren – Theorien (Stuttgart: J.B. Metzler).

Folke Köbberling is an artist who develops models for interventions in urban

space that transform existing structures and thus challenge routines of dealing

with urban architecture in a subtle, often humorous way. She has been teaching

artistic design at TU Braunschweig since 2016 and has realised projects

and exhibitions together with Martin Kaltwasser, among others at Martin Gropius

Bau and Haus der Kulturen der Welt (Berlin), at ZKM Karlsruhe, Lentos

Museum (Linz) and Ruhrtriennale. Among her publications are: (2017), FULL

STOP (Edition Metzel); (with Martin Kaltwasser, 2009), Hold it! The Art & Architecture

of Public-Space-Bricolage-Resistance-Resources-Aesthetics (Berlin:

jovis). See: http://www.folkekoebberling.de/.

Jakob Smigla-Zywocki has been a junior researcher at the University of

Münster, Seminar for Folklore Studies/European Ethnology since October

2016, where he also teaches undergraduate courses in social and cultural

anthropology. Before that he was a research assistant at the Folklore Commission

for Westphalia in Münster in the research project "The Way to Homeownership".

In parallel to his studies in modern and contemporary history and

social and cultural anthropology at the University of Münster from 2010 to

2015, he worked at the Villa ten Hompel memorial site in Münster.

Elisabeth Timm has been holding the chair for cultural anthropology at the

University of Münster since 2011. Her fields in research and teaching are family

and kinship, theories of culture and the history of folklore studies. She is the

general editor of the Zeitschrift für Kulturwissenschaften (transcript, together

with Karin Harrasser) and of the Anthropological Journal of European Cultures

(Berghahn, together with Patrick Laviolette). From 2015 to 2018 she directed

the research association "The flow of things or private property? A house and

its objects between family life, resource management and museum", funded

by the German Federal Ministry of Education and Research (www.hausfragen.

net). Among her latest publications are: (ed., together with Sonja Hnilica,

2017), Das Einfamilienhaus (thematic issue of the Zeitschrift für Kulturwissenschaften),

and (2019), 'Die Ästhetik der Hysterie zwischen Ritual und Realie,

ca. 1900. Kulturanthropologie und Wissensgeschichte einer Votivgabe', in

320
---
B. Herrmann (ed.): Anthropologie und Ästhetik. Interdisziplinäre Perspektiven

(München: Wilhelm Fink), 55–95.

Inken Tintemann is a town planner who worked and graduated at the chair

"Planungstheorie und Stadtentwicklung", held by Klaus Selle at RWTH Aachen.

Her fields in research and teaching focused on needs and patterns concerning

living and housing within different lifestyles and types of household. Among

her publications are: City oder Suburb – Wohnoptionen für Familien im gesellschaftlichen

Wandel: untersucht in Düsseldorf-Innenstadt und Neuss-Allerheiligen

(Aachen: RWTH, 2015). Inken Tintemann is currently working for the

municipality of Düren (North Rhine-Westphalia) where she is responsible for

social town planning.

Marcel Vellinga is Professor of Anthropology of Architecture at Oxford

Brookes University in the United Kingdom. Holding a PhD in Cultural Anthropology

from Leiden University in the Netherlands, Marcel has extensive

research and teaching experience in the fields of cultural anthropology and

international vernacular architecture studies. Over the years, he has taught

and published on a variety of topics including vernacular architecture, the anthropology

of architecture, rural architectural regeneration, and tradition and

sustainable development. Marcel is the Editor-in-Chief of the second edition

of the Encyclopedia of Vernacular Architecture of the World, to be published by

Bloomsbury Publishing in 2021.

Katherin Wagenknecht is scientific assistant at the Museum für Naturkunde

in Berlin. She coordinates a project on citizen science, funded by the European

Commission, aiming to explore and develop the infrastructure of citizen

science on a European level. From 2015 to 2018, she was a junior researcher

at the Seminar for Folklore Studies/European Ethnology (University of Münster),

where she did research and analysis for the project 'Building a House for

Us', funded by the German Federal Ministry of Education and Research, see

www.hausfragen.net. Katherin Wagenknecht holds an MA in History and Sociology

(Technical University of Darmstadt) and a BA in Cultural Studies (University

of Leipzig).

Gotthard Walter studied civil engineering at the Münster University of

Applied Sciences. He worked as a project engineer at the Münster University

of Applied Sciences and from 1994 as head of department at the INFA

Institut für Abfall- und Abwasserwirtschaft GmbH. Since 1999, he has been

Authors

321
---
leading research assistant in the Resources Working Group at the Institute for

Infrastructure, Water, Resources and the Environment at Münster University of

Applied Sciences. His work focuses on the organisation and coordination of

R & D projects in the field of material flow and resource management.

Johannes Warda currently holds a lectureship in history and theory of architecture

at Erfurt University of Applied Sciences. As architectural scholar he

has taught at the Bauhaus-Universität Weimar, the Akademie der Bildenden

Künste Vienna and at TU Dresden. In 2014, as a grantee of the German National

Academic Foundation, he received a PhD in architecture and historic

preservation from Bauhaus-Universität Weimar. In 2017/18, he was Dresden

Junior Fellow at TU Dresden and research fellow at the Leibniz-Institut für

Geschichte und Kultur des östlichen Europa (GWZO) Leipzig. As a member

of design collectives, he has been working on art and architecture projects,

most recently on the Buchenwald Memorial (with pink tank). Recent publications

include (2018), 'Das Ökohaus – ein technisches Denkmal?', in B.

Weller and S. Horn (eds.): Denkmal und Energie 2019 (Wiesbaden: Springer

Vieweg), 163–173; (2017), 'Keeping West Berlin "As Found". Alison Smithson,

Hardt-Waltherr Hämer and 1970s Proto-Preservation Urban Renewal',

in Á. Moravánszky and T. Lange (eds.): Re-framing Identities. Architecture's

Turn to History 1970–1990 (Basel: Birkhäuser), 275–288; (2016), Veto des

Materials. Denkmalpflege, Wiederverwendung von Architektur und modernes

Umweltbewusstsein (Bosau: Wohnungswirtschaft heute).

322
---
Built and inhabited: living in a single-family home

67