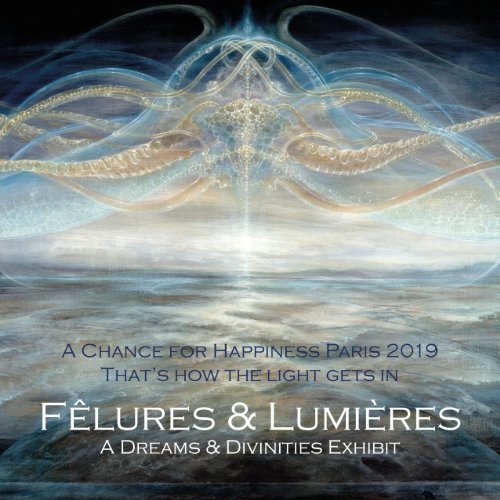 Paris 2019 Charity Art Exhibition
A Chance for Happiness Paris 2019 Charity Art Exhibit presents: Fêlures et Lumières. That's how the light gets in. Curated by Liba Waring Stambollion and Dreams and Divinities www.dreamsanddivinites.com. Vernissage December 2, 19:00-22:00 Finissage December 7, 18:00-21:00 Concert Didier Malherbe 18:30 Open daily from December 2-7, 13:00-18:00. Atelier Gustave, 36 Rue Boissonade, 75014 Paris A Chance for Happiness supports: 1. Enjoyment of life and personal development (happiness research), 2. Intelligent anti-bullying initiatives, 3. Suicide prevention (trans-generational transmission), and 4. Grief counseling for "orphaned families". More infos and updates at www.achanceforhappiness.international Donations account Austria IBAN: AT94 3939 0000 0050 9976 BIC: RZKTAT2K390 PayPal www.paypal.me/achanceforhappiness Member of World Federation for Mental Health www.wfmh.global
A Chance for Happiness Paris 2019 Charity Art Exhibit presents: Fêlures et Lumières. That's how the light gets in. Curated by Liba Waring Stambollion and Dreams and Divinities www.dreamsanddivinites.com.

Vernissage December 2, 19:00-22:00
Finissage December 7, 18:00-21:00
Concert Didier Malherbe 18:30

Open daily from December 2-7, 13:00-18:00.
Atelier Gustave, 36 Rue Boissonade, 75014 Paris

A Chance for Happiness supports: 1. Enjoyment of life and personal development (happiness research), 2. Intelligent anti-bullying initiatives, 3. Suicide prevention (trans-generational transmission), and 4. Grief counseling for "orphaned families".

More infos and updates at www.achanceforhappiness.international
Donations account Austria IBAN: AT94 3939 0000 0050 9976 BIC: RZKTAT2K390
PayPal www.paypal.me/achanceforhappiness
Member of World Federation for Mental Health www.wfmh.global
SHOW MORE
SHOW LESS
Create successful ePaper yourself
Turn your PDF publications into a flip-book with our unique Google optimized e-Paper software.
Fêlures et Lumières
---
Painting by Madeline von Foerster
---
"The wound is where the light enters."<br />
Rumi, 13th century Persian mystic and poet
---
Painting by Boris Indrikov<br />
A Chance For Happiness<br />
Dear ladies and gentlemen, guests and visitors,<br />
We first "met" Liba Waring Stambollion online in January 2014, when we bought two works of art from<br />
our common friend, great visionary artist Otto Rapp, to support "Dreams and Divinities goes to Mexico:<br />
A month-long exhibit of more than 50 artists, starting with a week of films, music, live painting, poetry and<br />
a blessing for peace, balance and love."<br />
Eight months later, in September 2014, our beautiful 18-year old daughter Lisa Louise ended her life by<br />
suicide, joining the millions of some of God's finest creations doing so each year around the world, and<br />
making us and her five brothers one of countless "orphaned families" overnight.<br />
Appreciation and treating visitors with the utmost attention are fixed stars in our universe of interacting with<br />
others. Kindness never runs out of fashion. And in May 2016, when Liba had a solo show in our art gallery<br />
at Lake Wörthersee in the heart of the Austrian Alps, we lodged her in a beautiful turn-of-the-century villa<br />
at the lakeshore, and drove her and her guests to the opening in a stretch-limousine, to make them feel royal<br />
for just a few moments and get a giggle out of them and the audience that night.<br />
During a visit to Salzburg, Lisa had bought herself a special present not long before she left this world,<br />
a modern frock-coat she had only worn once or twice, and we felt inspired to give it to Liba, saying
---
Lisa would be so proud to know that a special piece from her little world was going to be worn by<br />
a brilliant mind and gifted artist in <strong>Paris</strong>. For which, in return, we received a limited edition print of<br />
Liba's painting Passiflore (!). We stayed in touch ever since and the rest is history.<br />
In 2017, after finally beginning to collect what was left of our broken hearts, we registered A Chance<br />
for Happiness as a not-for-profit charity and organized our first annual gala event at Casinos Austria at<br />
Lake Wörthersee. Following in the footsteps of the last decades' successful international initiatives regarding<br />
cancer and HIV/AIDS, our main focus is the promotion of an up to date exchange about the worldwide<br />
phenomenon of increasing suicide - not just on the margins but at the center of society, where it belongs.<br />
Every 15 Minutes, someone dies by suicide in the United States - every 50 to 60 minutes in France<br />
and Germany, every 40 seconds worldwide, with suicide attempts being even more frequent - and every<br />
16 minutes someone is left behind, asking "why?" Why are so many people losing faith in life at a time<br />
when more of us are doing better than ever before? It's a question most of us would rather continue to<br />
avoid. But a complete loss of faith in our current way of living doesn't happen overnight, and everyone who<br />
ends his or her life progresses along a path. Likewise, the bereaved often require years to come to terms<br />
with the loss of their loved ones and to find joy in life again.<br />
To encompass this profoundly human theme in all its aspects, A Chance for Happiness supports suitable<br />
projects, large and small, in the following areas: 1. Enjoyment of life and personal development (happiness<br />
research), 2. Intelligent anti-bullying initiatives, 3. Suicide prevention (trans-generational transmission),<br />
and 4. Grief counseling for "orphaned families".<br />
In 2018, the second charity gala, sponsored by UNESCO Club Vienna, already took place in Austria's<br />
capital city. And now our third main annual event, and "with a little help from your friends", is going<br />
international, as we have always hoped it would, recognizing that this theme is really of worldwide concern<br />
- and of all places to <strong>Paris</strong>, the city of love and light, that also has a special place in our life.<br />
A Chance for Happiness is about the essence of life itself and all of our experiences with it. Nothing more,<br />
nothing less. Approaching suicide and death as nothing gloomy and dark anymore, but embedded in the<br />
framework of a colorful and healing international event is, as far as we know, a premiere. And where will<br />
it be in 2020? London, Berlin, or somewhere completely different? Who knows, but get in touch and join us<br />
in making it happen.<br />
With love, Margot and Harald Walter Azmann<br />
www.achanceforhappiness.international
---
Letter from the curator<br />
I met Harald a few years ago when he sponsored a show I was doing for Dreams & Divinities in Mexico.<br />
I could see right away he was a true gentleman. At the time he had a gallery at Lake Wörthersee,<br />
a chic and popular resort in Austria, and he gave me a solo show. It was successful and he went on<br />
to do other artists from the Vienna Fantastic movement.<br />
Shortly after I got to know Harald and his family, they lost their daughter Lisa Louise to suicide.<br />
This tragedy seemed to bond them in a deep and beautiful way. I have watched them build this charity<br />
from their hearts with deep intention to bring solution and solace to this prevalent problem. Working<br />
with the arts in order to bring attention to the subject and to fundraise seemed a logical step for Harald.<br />
I am honored to be able to bring Dreams & Divinites to their <strong>Paris</strong> <strong>2019</strong> event.<br />
For this spotlight on the tragedy of suicide, we are happy to have the presence and support of two<br />
wonderful French institutions: HEY! Modern <strong>Art</strong> & Pop culture and Naia Museum.<br />
I have gifted my time to put together this catalog so that the beauty in the work and<br />
the message of this event lives on after the pieces continue their journies.<br />
Liba Waring Stambollion
---
Dreams & Divinities<br />
Through a series of books, exhibits and events, Dreams & Divinities offers the public<br />
a window into an emerging planetary movement of 'Conscious <strong>Art</strong>'.<br />
The project unites a culturally eclectic group of artists, writers, musicians and performers, each<br />
with their unique dream of this experience, yet united through artistic collaboration and community.<br />
The quest and expression of Universal Love is a central, unifying theme.<br />
Thematically, the art is inspired by cultural/spiritual references, nature, visions, dreams or<br />
fantasy. Stylistically, most projects are very eclectic, however, all the representation is symbolist.<br />
Dreams & Divinties has published three books and is currently working on a Tarot deck and its book for 2020.<br />
Community building through collaborative projects and events is a central part of Dreams & Divinities.<br />
It offers an opportunity for artists with resonant dreams to find each other, to be inspired by each other<br />
and to unfold our best potential as a global movement.<br />
This exhibit is the 25th event founder Liba WS has curated around either a book theme or a cause.<br />
Dreams & Divinities has worked with a wide range of collaborators, from indigenous Indians of the Americas<br />
like Kogis, Muruwi and Mayan, to museums, cultural centers and galleries in Europe and the Americas.<br />
www.dreamsanddivinities.com
---
Marc Caro<br />
Marc Caro is a French artist-film director. He started his career in the 1970's as a comic book artist<br />
with Heavy Metal (Métal hurlant). Jean-Pierre Dionnet, co-founder of Heavy Metal said of him:<br />
He's a graphic artist, decorator, musician, set designer, a do-it-yourselfer (bricoleur) and I am sure<br />
that he's a bit of a sorcerer. So, first he's a technician, or rather an unparalleled artisan. In the word<br />
<strong>Art</strong> there is always the <strong>Art</strong>-Tisan (...) in his work, he's always coherent.<br />
However one would like to label him, one thing is certain: Caro went on to make his mark in modern<br />
culture. Some of his most internationally acclaimed projects have been in experimental cinema.<br />
He co-directed Delicatessen with Jean-Pierre Jeunet, which won them a few Césars. They went on<br />
to do La Cité des Enfants Perdus (The City of Lost Children), which was presented at the opening<br />
of the Cannes Film Festival. He has also directed his own film Dante 01 as well as a documentary about<br />
robots in Japan. Caro is also known as an artistic director for cinema and includes in his portfolio<br />
Alien resurrection by JP Jeunet, Blueberry by Jan Kounen, and Enter the void by Gaspar Noé.<br />
Outside of the movie industry, he has done posters, music and scenography for choreographers<br />
Regine Chopinot and Philippe Decouflé.<br />
Caro continued to draw and in 2013 he created a silk screened 22 card Tarot deck.<br />
He has since been working on various collections of drawings and his newest works Night Visions<br />
have just been completed in November <strong>2019</strong>.
---
'Night Vision 01'<br />
White pencil on<br />
black paper<br />
14,8 x 21 cm
---
ALAIN BELLINO<br />
I was born in Nice in 1955. In the 80's, I discovered the world of metal and ornamentation<br />
in my father's workshop, where I learned gold and silver plating and bronze restoration.<br />
Around 2010, after many years of practice and technical research dedicated to rehabilitating and<br />
re-composing objects, I started my artistic journey. The ornament that is torn from its original support<br />
becomes the very structure of my sculptures. Bronze ornamentations assembled by extremely precise<br />
welding are my main materials. Weighted with the nobility of the material joined to their own history,<br />
they support a fragmented memory and bring me precious help as well as constraint. I am especially<br />
inspired by the Renaissance period. Vanitas, typical of classical scenes, is one of my favourite themes.<br />
In my work of re-directing and re-assembling, which is both iconoclast and highly rigorous from<br />
a formal point of view, at the crossroads between past and future, I try to rehabilitate the ornamentation.<br />
www.alain-bellino.net
---
'Lucanus Cervus'<br />
Bronze<br />
finition d'or<br />
20 x 25 cm
---
ALAIN Margotton<br />
Alain Margotton is an artist painter who was born in Argenton-sur-Creuse in the Indre, France.<br />
He has been making art since 1966.<br />
Alain started his studies in decorative arts at the Surgères School. He continued his studies in fine arts<br />
at the Van der Kelen Higher Institute of Painting in Brussels, and then at the Ecole des Beaux-<strong>Art</strong>s in Reims.<br />
Before devoting himself completely to drawing and painting, he worked eight years as a graphic designer<br />
at the House of Culture - Andre Malraux in Reims.<br />
<strong>Art</strong> is not destruction but REVELATION.<br />
Currently the concept of Beauty is judged in the world of the so-called obsolete "modern" art. And yet,<br />
the only temporality of artwork lies in its ability to move us. We must neither believe "modern" art nor<br />
"classic" art, but art which is animated, which has a soul. It is for artists to get as close as possible to the<br />
reality of the soul to reveal a universe beyond mere fantasy. Their works thus testify to a spiritual reality<br />
and to a conscious awareness of the sacred. -Excerpts from a text by Hervé Serane - Galerie RÂ <strong>Paris</strong><br />
www.facebook.com/alain.margotton (website in transition)
---
'L'Ange'<br />
Acrylic and<br />
colored pencil on<br />
laminated board<br />
74,5 x 114 cm
---
Aloria Weaver<br />
Aloria Weaver, born in 1979 in New York, is an American oil painter whose narrative work is informed<br />
by historical art movements of the 19th century, including Mythological and Symbolist painting in particular.<br />
She places a strong emphasis on archival practices, handmade materials and process, painting almost<br />
exclusively with her own hand-refined oils.<br />
Aloria Weaver began oil painting in 1993 as an apprentice at the Buffalo <strong>Art</strong> Studios of Western New York.<br />
She then trained in the sight-size method of classical realism through the Loveland Atelier (alumni of the<br />
Florence Academy of <strong>Art</strong> in Italy), later undertaking a post-graduate degree at the Prince's Foundation School<br />
of Traditional <strong>Art</strong>s in London, U.K. Weaver holds several distinct artistic lineages, including traditional egg<br />
tempera and gilding through an unbroken master to student transmission dating back to Fra Angelico in 1430<br />
and Mischtechnik (mixed technique), a process of painting with egg tempera and oil glazes that was<br />
thought to be the secret method of the Italian Renaissance masters.<br />
Weaver's work has been exhibited in prominent museums and galleries both nationally and internationally,<br />
including the Hofburg Palace in Vienna, Austria. Since 2011, Weaver has been teaching private art intensives<br />
internationally with her husband, artist David Heskin.<br />
www.aloriaweaver.com
---
'Luminarium<br />
Liberat'<br />
Oil and 23k gold<br />
on paper<br />
22 x 30 cm
---
Andrew Gonzalez<br />
A. Andrew Gonzalez is an internationally renowned Transfigurative Visionary artist from San Antonio,<br />
Texas, USA and currently living in France. His work can be found in museums, galleries and collections,<br />
both public and private. He's known for the unique sculptural look of his paintings, as well as<br />
their power to move and inspire the viewer.<br />
As a recognized master of airbrushing, Andrew Gonzalez brings together a unique subtractive painting<br />
technique with the classical idealization of the human figure and animal spirits to create exalted imagery<br />
with spiritual and visionary themes. The artist describes his process as "soul work" and inspires<br />
to create "mystical love poems to the soul".<br />
Gonzalez developed his own signature style, pursuing spiritual and visionary themes in graceful figure<br />
drawing, where the female figure expresses mystical states of the soul. Through synchronistic experiences,<br />
dreams and lucid dreams, he experienced a deep creative transformation, intensifying his research into<br />
tantric symbolism, comparative mythology and the frontiers of consciousness.<br />
The artist describes his style as "a revival of the Pre-Raphaelite aesthetic". His focus is on the figure<br />
as both temple and vessel, sublimed by transformative forces. He captures his subjects suspended in<br />
an ecstatic moment, poised on the threshold of a new birth.<br />
www.sublimatrix.com
---
'The Prophet of<br />
Malakut'<br />
Airbrushed acrylic<br />
15 x 20 cm
---
Boris Indrikov<br />
Boris Indrikov was born in Leningrad in 1967 and lives and works in Moscow. From 1991 to 1997,<br />
he was a book designer and worked as an illustrator for the popular science magazine "Chemistry and Life".<br />
He has been a member of the Creative Union of <strong>Art</strong>ists of Russia and a member of the International<br />
Federation of <strong>Art</strong>ists (IFA UNESCO) since 1998. Has exhibited works at a number of shows in Russia<br />
and abroad. He currently works in painting, graphic design and small-form plastic. He works mainly in<br />
fantastic realism. His pictures are in the D'VASKO gallery (Russia), HORIZON gallery (Netherlands),<br />
and private collections in Russia, Sweden, Italy, Germany, France, Switzerland, Japan and the United States.<br />
Boris was presented to art at a very young age and working on a painting is like meditation and a kind<br />
of ritual for him. "An artist is a creator of parallel universes. The language of art is the language in which<br />
we talk to God," he says. His passion for what he does enables him to create art pieces that have captivated<br />
art lovers and followers around the world. His work is influenced by Renaissance paintings, <strong>Art</strong> Nouveau,<br />
Asian art, contemporary science fiction and fantasy, beautifully interlaced into his exceptional style.<br />
"I attended art courses at different studios and taught by professional artists, but my main teachers<br />
are the masters of the European Renaissance, XIV-XVII centuries." Currently, Boris' studio is based<br />
in Moscow, where he continues to work in painting. His collection includes numerous oil paintings,<br />
graphic design, and lately sculpting and fabric design.<br />
www.indrikov.com
---
'LOUIS-XIV'<br />
Oil on canvas<br />
120 x 100 cm
---
Brigid Marlin<br />
Brigid Marlin was born in Washington, D.C. and trained in the National College of <strong>Art</strong> in Dublin,<br />
the Centre d'<strong>Art</strong> Sacre in <strong>Paris</strong>, the Beaux-<strong>Art</strong>s in Montreal and the <strong>Art</strong> Students League in New York.<br />
She now lives and works in England.<br />
After learning the 'Mische technique', embodying the secrets of the Italian Renaissance Masters,<br />
in Vienna from Professor Ernst Fuchs, she began exhibiting her work around the world.<br />
She has painted portraits of the Queen Mother, the Dalai Lama, Lord Longford, Cardinal George of Chicago<br />
and Fr. Garanzini, President of Loyola University. Her portrait of J.G. Ballard hangs in the National Portrait<br />
Gallery, London, and the portrait of Lord Longford in the House of Lords. In 1999 the BBC acquired<br />
the portrait of one of its founders, Cecil Lewis, to hang in the Boardroom of the Directors at Bush House.<br />
She is also represented in the new Phantasten Museum in Vienna.<br />
In 1961, she founded the 'Inscape Group' of imaginative artists in England, which officially changed<br />
its name to "The Society for <strong>Art</strong> of the Imagination" in 1998. It is now an American <strong>Charity</strong> and<br />
holds major open exhibitions around the world. Brigid Marlin is founder and director of the society.<br />
Its website can be seen at www.artofimagination.org.<br />
www.brigid-marlin.com
---
'The Sick Child'<br />
Oil and tempera on canvas<br />
57 x 44 cm
---
Bruce Rimell<br />
"I am human and I am an artist. This is the most astounding thing, an experienced question<br />
which I will spend my whole life discovering. Every single day of my life, it is a mind-blowing joy."<br />
Bruce Rimell is an internationally-exhibited visual artist, poet and independent researcher, based<br />
in Leeds-Bradford in the U.K., who works principally with visionary, ethnographic, archaeological and<br />
cognitive themes. His vibrant imagery springs from the confluence of personal visionary experiences<br />
since childhood, shimmering inner sensations of archaeological prehistories, the humanist interplay<br />
of the cognitive and ethnographic, and dynamics of the queer and the mythical.<br />
His art occupies a liminal space between painting and illustration, with holistic imagery springing<br />
from smooth moving lines, fragmented anatomies and vivid stylised forms. The Dual Image Medium<br />
- in which one image rendered in acrylics, inks and markers is seen by daylight and another, different<br />
painted image is seen on the same canvas under ultraviolet illumination - is a unique and increasingly<br />
central aspect of his practice. These disparate elements are imagistically combined towards a single<br />
artistic aim: Beyond-The-Self Exploration. Multiple themes are enfolded to create a sense of experiential<br />
depth and hyperactive visual engagement, while abstract commentaries and critical positions are<br />
abandoned in pursuit of the simultaneously disquieting, yet intimately familiar foundational currents<br />
within the living, paradoxical and sacred human being. Come and look beyond. What do you find?<br />
www.biroz.net
---
'I Found A Blood Vision Trail That Leads Through The Fire' (Principal Color Red)<br />
'I Crossed A Bridge Of Sorrows No One Else Could See' (Principal Color Blue)<br />
'My Cosmic Salvic Vision Can Only Come Alive In This World' (Principal Color Yellow)<br />
Acrylics, inks and markers on canvas 90 x 90 cm
---
Carrie Ann Baade<br />
Carrie Ann Baade, born in 1974 in Louisiana, is a contemporary painter whose work quotes from,<br />
interacts with and deeply relates to art history. She paints in dialogue with relevant masterpieces from Modern<br />
period to antiquity, in order to reclaim them in a surreal narrative that is simultaneously biographical.<br />
Her work has been exhibited in museums and galleries nationally and internationally, including major<br />
exhibitions at The John and Mable Ringling Museum, the Delaware Contemporary, Mesa Contemporary<br />
Museum, Billy Shire Fine <strong>Art</strong>s in Los Angeles, the Ningbo <strong>Art</strong> Museum in China, and the Museum<br />
of Contemporary <strong>Art</strong> in Jacksonville, Florida.<br />
Carrie Ann Baade received her BFA from the School of the <strong>Art</strong> Institute of Chicago, studied at the<br />
Florence Academy of <strong>Art</strong> in Italy, and earned her MFA in Painting from the University of Delaware. Raised<br />
on the front range in Colorado, she now lives and works in Tallahassee, where she is an Associate Professor<br />
of Painting and Drawing at Florida State University.<br />
www.carrieannbaade.com
---
'Genius Loci'<br />
Oil on panel<br />
30,5 x 46 cm
---
Delphyne V<br />
Born and based in <strong>Paris</strong>, Delphyne V. is a painter specializing in<br />
neo-contemporary painting. Since 2017, she's returned to the capital<br />
after living and working for 3 years in San Francisco, a city to which<br />
she remains emotionally and professionally attached.<br />
She began painting in 2007, after an exploration of careers<br />
in theater and fashion. Since 2009, her work has been exhibited<br />
in national and international galleries.<br />
Her paintings are collected in Europe,<br />
China and the United States.<br />
www.delphyne-v.com
---
Acrylic on<br />
canvas board<br />
15 cm<br />
diameter
---
David Heskin<br />
A lifelong artist, David Heskin began oil painting in 1995. His first 15 years with oils were largely<br />
self-guided, after which time he sought out teachers of artistic techniques that are on the brink of being<br />
lost. Many years later, having studied in numerous master's lineages, his original work has become<br />
an integrated synthesis of traditional renewal. With an artistic focus to elegantly fuse the richness of<br />
symbolic themes with the innovative spirit of a modern polymath, David lives in service to drawing forth<br />
new visions that invite a wide audience to bask in the inspirational light of creativity.<br />
David's paintings are inventive in their forms, as he has taken his art far beyond the limitations of the<br />
status quo into an altogether unprecedented realm. By devising techniques which allow his canvases to<br />
be constructed in nearly any shape, the form of the painting itself becomes suited to adequately fulfill the<br />
depth of his visions. In exploration of creative freedom through elegant forms and impossible angles, his<br />
driving aspiration is to create artifacts and visual experiences which are otherwise unavailable to the human eye.<br />
David Heskin's artwork is exhibited in museums, galleries, cultural centers, theaters<br />
and private collections throughout North America, Europe and beyond.<br />
www.davidheskin.com
---
'The Inner<br />
Smile<br />
of Creative<br />
Liberation'<br />
Egg tempera and<br />
23.5k gold on<br />
panel<br />
28 x 36 cm
---
Emma Watkinson<br />
Emma was born on Dartmoor, Devon, May 1, 1973. After completing a Diploma in Fine <strong>Art</strong><br />
she spent many years traveling and exploring different cultures, and is now based in Sussex, U.K.<br />
Her inspiration comes principally from her explorations in consciousness and esoteric study. She<br />
practices Druidry, Buddhist meditation, Qigong, Kabbalah, and is interested in Jungian psychology.<br />
Initially self taught, researching classical Academy methods of painting, she assisted Ernst Fuchs<br />
(principle founder of Fantastic Realism in 2012 in Vienna, and trained on courses in oil painting in<br />
Italy, Austria and London. She has exhibited widely at festivals, galleries and museums internationally.<br />
The creation of each piece is a journey, initiated by synchronicity, that becomes an invocation of the<br />
chosen archetype or deity, which yields many insights into the nature of the subject as the painting progresses.<br />
This painting is a reflection upon Kali, the Hindu goddess. Kali means "force of time", as she pierces the veil<br />
beyond mortality, birth and death. She is known as the dark blue or black one, like the night sky, her darkness<br />
is the void from which everything emerged and will return. She is fierce, the destroyer of evil forces, and cuts<br />
off the root of fear, anger and all negativity in the human ego, symbolized by the demon with the severed head.<br />
Thus she is the great liberator, freeing us with divine knowledge to attain Moksha. Through all her fury, she<br />
is a compassionate goddess, also known as the Divine mother and protector in her creative and preservation aspects.<br />
Pictured here in her 10-armed form as Mahakali, legend has it she was called into being by Durga to defeat<br />
demons in battle. She went so wild with bloodlust that she couldn't stop raging and started killing the humans and<br />
Gods. So her consort, Shiva, lay beneath her peacefully and the sight of him, her love, calmed her down.<br />
www.emanations.co.uk
---
Work in<br />
progress<br />
'Detail of Kali'<br />
Arcylic on<br />
canvas<br />
Full painting<br />
70 x 100 cm
---
Jade Ansell<br />
<strong>Art</strong> is a portal in which we can experience the divine nature of the natural world. Through these lenses,<br />
we can travel mystical dimensions, growing and deepening our understanding and connection to mother<br />
earth. <strong>Art</strong> is my tool to become enriched in my environment and I believe one can learn more about<br />
their true self through the expression of the subconscious through creative practice.<br />
My artworks depict powerful reflections of my inner goddess. Romantic and mystical, I aim to create<br />
otherworldly experiences for the viewer, which invite them to become absorbed in the power of the divine<br />
beauty that surrounds us. In a world that seems utterly entrenched in chaos, we need art to remind us<br />
that we are still part of something truly sublime. These small moments in time can give us the energy<br />
and inspiration to transform the world we live in. Surely there can be no greater purpose to art than<br />
to offer an individual the chance for transformation.
---
'Goddess Eostre'<br />
Oil on canvas<br />
51 x 76 cm
---
Joaquín Vila<br />
I am a visual artist, muralist and scientific illustrator from Madrid, Spain. My artistic career is governed<br />
by the constant investigation into the connection between the human being and the natural world, focusing<br />
on the study of the processes of transformation, fusion and symbiosis that occur in nature.<br />
My personal work represents hybrid beings, half human, half plants or half animals. This beings<br />
are debating visually and conceptually between the worlds of science, mythology and fantasy. They<br />
refer to the non-material nature, representing life beyond the physical, that which is not seen. It also<br />
shows symbolic elements, glyphs and patterns of different cultures and spiritual paths, creating<br />
a code of visual language that refers to the essence of all of them.<br />
I own a Bachelor of Fine <strong>Art</strong>s in Scenography design from the European University of Madrid<br />
and a Postgraduate in <strong>Exhibition</strong> design in Elisava, Barcelona. Scholarships by Unesco for the<br />
Watermill Foundation in New York and by the MACBA, Contemporary <strong>Art</strong> Museum of Barcelona.<br />
On a practical level, I developed my artistic work especially through paper drawings transposed<br />
into big canvases and large scale murals, ocassionally using other resources. With my art<br />
I try to help people to connect with themselves and the most profound nature of their beings.<br />
For me, each piece of art is a ritual, a ceremony, and an altar in itself.<br />
www.joaquinvila.com
---
'Minotaur: The Seventh Labyrinth'<br />
Acrylic on wood<br />
122 x 122 cm
---
Julia Pandit<br />
Julia Pandit is a Berlin based visionary artist, designer, lightworker and mother. Her work is filled with<br />
patterns and symbols and are a colorful explosion of the metaphysical world. Inspired by ancient mystics,<br />
magical experiences and mainly the spiritual world, her language speaks through geometry, symmetries<br />
and object arrangements which create archetypical and healing energy fields.<br />
Pandit studied fine art in South Germany (FKN Nürtingen) and holds a bachelor in fashion design<br />
(BKS Stuttgart). Since a very young age she used to get occupied with the creative process, trying out<br />
all kinds of mediums to leave her creative trace. At the age of 16, while being very active with graffiti<br />
and street art, she started her first paintings on canvas and very soon was holding her first exhibitions.<br />
In 2012 she started her creative label called AKHILA.LOVE which combines art and fashion and all<br />
of her talents. The range goes from soul-portraits to wall-paintings and hand painted accessories to costume<br />
design for performances. You can book her for Bodypainting and this year she happily started tattooing.<br />
Julias goal is it to create a beautiful, positive reality, to inspire and open the channels to the transcendental,<br />
to unseen spheres and energies. Guided by the power of love and magic, Julia's mission is to love, dream<br />
and create. Her latest project is the "Journey of the Archetypes", the painting and installation of the<br />
21 Archetypes of the Hunab Ku of the Maya tradition as a walk-in oracle.<br />
www.juliapandit.com
---
'Shamanic Healing'<br />
Acrylic on canvas board<br />
60 x 60 cm
---
Liba WS<br />
Liba is a painter, writer and designer. She grew up in Singapore, Philippines, Hong Kong and Indonesia.<br />
She moved to the U.S. in 1976 when she was thirteen years old. This further colored her world with music,<br />
artists, mysticism and causes for social justice and ecology. Causes she still engages in today. She graduated<br />
from The School of the <strong>Art</strong> Institute of Chicago in 1988 and went on to teach art, to exhibit, and work for<br />
a cabinet maker. In 1992 she moved to <strong>Paris</strong> with her husband Pascal. They have two sons. For thirty years<br />
she and Pascal designed handmade eco furniture for individuals including celebrities, hotels, restaurants<br />
and businesses. In <strong>2019</strong> Liba resigned to paint full time, write and organize events for Dreams & Divinities.<br />
Since 2012 she has done around 80 exhibitions in Europe, Canada, USA, South and Central America,<br />
Asia and Australia. These include the Naia Museum, Museum Instituto de Americas, Eco Museum, Brownsville<br />
Museum of <strong>Art</strong>, Iloilo Museum of Contemporary <strong>Art</strong>, Phantasten Museum, Museum Poros, Museum of Aveiro,<br />
Palace of Ega, Museum La Ensenanza, and the Conimbriga Monographic Museum for their 50th anniversary.<br />
She has published four books and made numerous catalogs. Her poems, paintings, furniture designs and<br />
interviews have been featured on TV, in newspapers, magazines, books and numerous articles online.<br />
Liba's paintings masterfully blend highly refined technique, playful wit, meaningful symbolism<br />
and deeply personal yet universal messages. The care she lavishes on each creation reflects her dedication<br />
to her vision as well as her audience. That her work can be appreciated on so many levels is the sure sign<br />
of a great artist. -Painter Steven Kenny<br />
www.artwork-liba.com
---
'Richard's Dream of Continuum' - Central panel of a triptych<br />
Oil on canvas<br />
This panel 75 x 80 cm / Total triptych 200 x 80 cm
---
Luis Tamani<br />
Luis Tamani is a Peruvian artist from the Amazon rainforest. Born in 1983 he grew up on<br />
the banks of the Ucayali River in Pucallpa. His imagination was nourished by the richness of the bioregion,<br />
surrounded by trees, birds and sun. He brings a lot of magic from childhood stories told by his family.<br />
He studied at the <strong>Art</strong> School of his native city, Eduardo Meza Saravia. For five years<br />
he received a very academic training, forming him as an abstract painter, fusing texture and shape.<br />
At this time he became connected to the Sacred Medicine of his ancestors, which he paints<br />
in his own visions and in a very magical way. Today his art represents the communion between man,<br />
plant and animal kingdoms. He is amazed by the deep relationship that man can develop with plants<br />
and animals, which makes the Human a unique being, full of wonderful capacities.<br />
Luis Tamani shares his visions and perceptions of life with the intention of spreading<br />
love and light with simplicity and authenticity.<br />
www.luis-tamani.com
---
'Origen'<br />
Acrylic on canvas<br />
51 x 76 cm
---
Madeline von foerster<br />
To create her unique paintings, Madeline von Foerster uses a five century-old<br />
mixed technique of oil and egg tempera, developed by the Flemish Renaissance Masters.<br />
Von Foerster's artworks are in private and public collections around the world and have been featured<br />
in numerous publications, including "100 Painters of Tomorrow" (Thames and Hudson, 2014) and<br />
an eight-page feature in Germany's "<strong>Art</strong>" Magazine. She was also the subject of a television portrait<br />
on ARTE's "Metropolis" broadcast in Germany and France.<br />
Born in San Francisco, von Foerster studied art in California, Germany and<br />
Austria, and now lives and works in Germany.<br />
www.madelinevonfoerster.com
---
'My Darlingtonia'<br />
Graphite on paper<br />
28 x 35,5 cm
---
Manu Van H<br />
Au départ d'une nébuleuse abstraite teintée d'une émotion immédiate et passagère,<br />
je parcours le chemin fluide et baroque de mes agitations cérébrales...<br />
En recherche perpétuelle dans les méandres de ma psychée, je construis mes visions autour d'une idée,<br />
d'une pensée sortie tout droit de mon cerveau bouillonnant du moment présent et de ses humeurs.<br />
Mon univers est celui de l'humain, de l'image et donc des connections entre l'émotion<br />
et l'intellect. Jeu de va et vient, in et out.<br />
www.naiamuseum.com
---
'Inside'<br />
Acrylic on<br />
paper<br />
70 x 90 cm
---
Marcus Mcallister<br />
Marcus McAllister is a French-American full-time professional artist living in <strong>Paris</strong> for over two decades.<br />
Originally from Little Rock, Arkansas, he received his degree in Fine <strong>Art</strong> from Louisiana State University<br />
in 1991 and has a prolific output, incorporating mixed media sketchbooks and acrylic paintings.<br />
The artist's practice is sketchbook-centered. For more than thirty years, he has carried a sketchbook<br />
with him wherever he goes, using it as a tool for pulling order from chaos. The sketchbook (currently number 117)<br />
organizes random information, digests experiences and memories, ideas and imaginings. The process<br />
secretes meaning. Marcus McAllister's acrylic paintings are developments and expansions of the sketchbookgenerated<br />
ideas. His paintings present dreamlike depictions of figures, characters, animals and cities.<br />
Sometimes there are recognizable forms and places, painted from life or memory, and sometimes the depictions<br />
are more symbolic and abstract. The artist has a characteristic style that combines fine art,<br />
illustration and mysticism - a quality that transcends time and setting.<br />
"I use the individual pages as a template for paintings on canvas. My idea is not to copy the preexisting drawing,<br />
but to use it as a map for exploring formal possibilities of scale and matter. An interesting side effect comes<br />
from the presence of the current sketchbook during this exploration on canvas. As I search for painting solutions,<br />
I naturally take up my sketchbook to think through possibilities on pages that in turn give rise to other paintings.<br />
Paintings become the sketches for sketchbook pages."<br />
www.marcusmcallister.com
---
'Regardez<br />
les Oiseaux<br />
du Ciel'<br />
Acrylic,<br />
gouache and<br />
charcoal on<br />
canvas<br />
46 x 55 cm
---
Mark Henson<br />
Mark was born and raised in Northern California and attended University there, receiving a degree<br />
in studio art in 1973. He has been a professional artist ever since, working with paint, metal, wood,<br />
and computers. He co-founded several gallery ventures, traveled extensively in Asia and elsewhere,<br />
now operates Sacred Light Studio from his home out in the country north of San Francisco,<br />
and maintains a small artist's retreat in Costa Rica.<br />
"My art tends to be somewhat narrative. I like to tell a story or show a state of emotion or consciousness<br />
with my images. I often begin with some sort of idea or theme. This theme might be suggested by anything<br />
at all, or may just drift into the consciousness of an artistic inspiration during my day. I am often asked<br />
if I receive these images while dreaming asleep. Sometimes they do come in dreams, but usually<br />
they are found floating around in my mind, just waiting to be noticed...<br />
I believe that art can have the ability to catalyze positive social and cultural changes. In addition<br />
to stimulating our visual cortex, art has the amazing magical power to evoke profound emotional intensity<br />
as well as to provoke intellectual thinking. My aspiration as an artist is to create compelling images of beauty<br />
and power that serve to promote our conscious evolution as human beings, and to show us how to live<br />
in a peaceful world. To this end I like to present images exploring themes of Awakening Consciousness,<br />
Divine Sexuality, Political Realities and Living in Harmony with Nature."<br />
www.markhensonart.com
---
'On Temple<br />
Steps'<br />
Graphite on paper<br />
20 x 35 cm
---
Martina Hoffmann<br />
Martina Hoffmann's paintings are detailed views into her inner landscapes - imagery that has been<br />
inspired by expanded states of consciousness. The Visionary Symbolism of Martina Hoffmann is decidedly<br />
feminine and places the "Universal Woman" in an intimate cosmos. She transcribes her reflections on<br />
the nature of humanity's connection to the All in a realistic style which marries the fantastic to the sacred.<br />
Martina Hoffmann has spoken on behalf of visionary art and culture at symposiums and<br />
festivals as well as having taught painting workshops worldwide together with her late husband,<br />
Fantastic Realist Robert Venosa.<br />
Her art and photography have been published internationally in books, including<br />
"Modern Consciousness Research and The Understanding of <strong>Art</strong>" by Stanislav Grof.<br />
She has exhibited her work since 1985, with a recent 6-month retrospective at the<br />
HR Giger Museum in Switzerland in 2018, and is represented in the permanent collection of<br />
Naia Museum in Rochefort-En-Terre, France. A world citizen since her childhood in West Africa,<br />
the artist keeps a home and studio in both the U.S. and France.<br />
www.martinahoffmann.com
---
'The Landing'<br />
Triptych<br />
Oil on canvas<br />
3 canvases 212 x 73 cm
---
Michel Bassot<br />
Michel Bassot is a French artist born in 1948 in Moulins. He studied mathematics and economics,<br />
and after studying under Brayer, he obtained the national diploma for engraving. In his earlier years,<br />
he taught at the École des Beaux-<strong>Art</strong>s, painted, wrote, created and restored stained glass. He currently<br />
dedicates his time to writing, painting, sculpture, drawing, engraving and organizing exhibitions.<br />
Bassot has exhibited internationally in galleries and museums. His pieces are in public and<br />
private collections, including the Surrealist Museum (Château de Vaux-le-Pénil) and the Puy-de-Dôme<br />
Contemporary <strong>Art</strong> Fund (le Fond Départemental d'<strong>Art</strong> Contemporain du Puy-de-Dôme).<br />
Né en 1948 à Moulins (France), Michel Bassot étudie les mathématiques et les sciences économiques,<br />
puis (élève de Brayer) obtient le diplôme national de gravure. Il partage sa vie entre l'enseignement à l'École<br />
des Beaux-<strong>Art</strong>s, l'organisation d'expositions, la création et la restauration de vitraux, l'écriture<br />
et ses activités artistiques, peinture, sculpture, dessin, gravure.<br />
Nombre de ses toiles ont été acquises par le Musée du Surréalisme (Château de Vaux-le-Pénil),<br />
par le Fond Départemental d'<strong>Art</strong> Contemporain du Puy-de-Dôme et par des collectionneurs privés.<br />
www.michel-bassot.fr
---
'Petite None'<br />
Oil and gold leaf on canvas<br />
126.5 x 30 cm<br />
Framed 132,5 x 36 cm
---
Pascal Ferry<br />
Pascal Ferry is a French autodidact painter who draws his inspiration from the visionary symbolist<br />
and mystic traditions. His publishing company "Sidh & Banshees" has represented a large group<br />
of international visionary, fantastic and fairy artists from 2000 to 2014.<br />
Pascal Ferry's work has been exhibited in the U.S., Japan, Belgium, Austria, Switzerland,<br />
Germany and in numerous salons and festivals in France such as Lys Salon, Biennale of St Leonard,<br />
Chiméria etc. Since 2015, his work is represented at Naia Museum in Rochefort-en-Terre<br />
in Brittany as part of the permanent collection.<br />
He has also created many CD covers for progressive rock and metal bands as well as magazine covers.<br />
Today Ferry entirely focuses on his personal artistic creations. He lives and works in Carnac, Brittany,<br />
France, uniquely known in the world for its mysterious megalithic stone alignments. His paintings<br />
represent his inner journeys in search of lost civilizations and their spiritual connection.<br />
"As an artist, I see myself doing the work of an archeologist who metaphorically removes the dust<br />
from the raw canvas in order to gradually let my visions of our ancestral memories emerge. Since my<br />
early childhood, I like to think that my utopian dreams are merely the fruits of my future reality..."<br />
www.pascalferry.com
---
'L'Antre-Monde'<br />
Oil on canvas<br />
60 x 60 cm
---
Paul Toupet<br />
Born in 1979 in France. Lives and works in <strong>Paris</strong>, France.<br />
An affiliate of the new European contemporary outsider<br />
pop scene, Paul Toupet followed no formal academic training. The<br />
youngest of three boys, he grew up in a bourgeois and catholic<br />
environment. His parents, devoted amateurs of primitive art,<br />
spread their collection about the family home. This charged<br />
aesthetic, free and rough, influenced the young man who<br />
began altering second-hand dolls and putting them in boxes.<br />
In the 2000s, he made human scale dolls with a mixed method,<br />
perfected over time, which involves a collection of materials<br />
(wax, paper, fabric, rope, leather) whose raw consonances<br />
and autumnal tones he experiments with. These typologically<br />
obsessive characters, full of the melancholic temperament of their<br />
maker, are an infinite repetition of the sacred icon of childhood:<br />
The rabbit. The rabbit dressed as a child, child disguised as<br />
a rabbit, invariably. Tenderness and playfulness are encoded in<br />
the postures, attitudes, and intentions, while strong dynamics and<br />
the energy of these rudimentary materials come in contrast. In<br />
2016, his incredible mastery of papier-mâché helps him trick the<br />
eye and find what he now calls his "ceramic effect", which he<br />
underlines by painting tattoos (often his own and his friends') onto<br />
the creatures in Delft blue. Having escaped a formal education,<br />
the artist works on another objective than that of creating a public<br />
for whom he is both father and child. Since 2010, supported by<br />
HEY! modern art & pop culture where he is regularly published<br />
and exhibited, he is busy with exhibitions, installations and<br />
performances, and his works have entered several private<br />
collections in Europe. Whether they are alone, arranged in little<br />
group scenes, or as an installation, Paul Toupet's "little people"<br />
are to welcome the addition of one "giant", created especially for<br />
HEY! modern art & pop culture - IV at the Halle Saint-Pierre.<br />
www.paultoupet.fr
---
'Discussion'<br />
Paper mâche, plaster, fabric, acrylic,<br />
leather, resin, expanded polyurethane foam<br />
65 x 55 and 75 x 50 cm<br />
Courtesy HEY! modern art & pop culture
---
Peter Gric<br />
In the early nineties, Peter Gric started to discover the possibilities of computer graphics for his paintings.<br />
From then on his organic-surreal visual imagery was enriched by complex architectural structures and artifacts.<br />
Instead of using pencils and his sketchbook, he began to design his compositions with a 3D visualization<br />
software. He started to transfer the virtual reality into painting and consequently found within<br />
this fusion his very unique and distinctive style.<br />
Peter was born in Brno, Czech Republic, in 1968 as the only child of the artist married couple<br />
Ludmila and Jaroslav Gric. In 1988 he came to Vienna and started to study at the Academy of Fine <strong>Art</strong>s<br />
in the master class of Prof. Arik Brauer. During his studies he participated in numerous group exhibitions<br />
and started to successfully sell his paintings. He finished his studies in 1993 and earned a Masters degree<br />
in Fine <strong>Art</strong>s. In 2009 Peter moved from Vienna to Oberhöflein at the Hohe Wand plateau<br />
near the Eastern Alps. He has two daughters, Emilia (2002) and Natalia (2005).<br />
In 2010 Gric has been working on Concept Design for Guillermo del Toro's film project<br />
At the Mountains of Madness. His artwork is also included in the director's private art collection.<br />
From 2011 to 2015 Gric had a teaching assignment at the Vienna Academy of Fine <strong>Art</strong>s.<br />
His works have been exhibited internationally and are found within numerous<br />
private and public collections.<br />
www.gric.at
---
'The Soulless Warrior'<br />
Acrylic on canvas<br />
60 x 50 cm
---
Patrice Hubert<br />
Resembling dangerously unsettling organic shapes such as elongated insects or birds, French<br />
selftaught artist Patrice Hubert creates stunning kinetic sculptures, bent on containing the cosmos<br />
with his formed metal work. All of the pieces contain rotating or moving parts and light, adding<br />
an interesting dimension to the elegant pieces. As testaments to the ever-evolving marriage of nature<br />
and machine, the work also speaks to the fantastical fiction of future science, and its seemingly<br />
limitless possibilities. -JL Schnabel for Hi-fructose magazine<br />
In 2015 he and his partner Manu Van H opened the Naia Museum at Château<br />
Rochefort-en-Terre, presenting the work of 85 international artists.<br />
L' équation "1661235" ou la quatrième dimension.<br />
Ses mains autodidactes et visionnaires façonnent des structures où l'acier palpite et les courbes<br />
se font dards. Dans un jeu mobile et respiratoire, entre ombre et lumière, acier, textile ou verre, il télescope<br />
l'inerte et l'organique, perfuse la cinétique au sein même du métal. Sous la carapace de ses exosquelettes,<br />
la vie se débat et frémit, autonome. -JL Schnabel pour Hi-fructose magazine<br />
En 2015 il ouvre avec sa compagne Manu Van H le Naia Museum au Château<br />
Rochefort-en-Terre, présentant le travail de 85 artistes internationaux.<br />
www.1661235.com / www.naiamuseum.com
---
'Kinetic mecanik n°74'<br />
Steel, textile, motor, LED lights<br />
3 x 3 meters
---
ROKU sasaki<br />
Roku Sasaki is a Japanese artist born on August 11, 1966.<br />
I improvise by automatism<br />
because art is often produced by an archetypal myth.<br />
I do not understand my art<br />
because a painting grows as a nature or a dream.<br />
By the Rorschach test, what do you see?<br />
These show the human traits in the brain. It's interesting and amazing.<br />
What is unexpected is a treasure trove of images.<br />
I use it for my works of art.<br />
Buddhism says that "illusions are all empty".<br />
If it's true, then my works of art are all empty.<br />
Surrounding emptiness is an abundance of energy.<br />
So Ernst Jünger said.<br />
Roku has exhibited internationally in galleries and museums.<br />
www.experimentofthefreedom.blogspot.jp
---
'Titanic Witch'<br />
Tempera and oil<br />
18 x 22 cm
---
Stuart Griggs<br />
Stuart Griggs is a visual artist of the imaginal, originally from Wales in the U.K. and currently living<br />
in Brighton. He has completed a BA in Fine <strong>Art</strong> painting at the University of Wales and has worked<br />
for many years as a graphic designer and illustrator. His work has been exhibited and featured internationally<br />
at galleries, festivals, cultural events, and installation design projects.<br />
Stuart's work explores the intersections between drawing and digital art, synthesising the two into a unique<br />
and idiosyncratic language. He explores and offers a journey into the creative process that immerses<br />
and probes into the psychic pool of collective archetypal energies.<br />
Multidimensional spaces and symbols merge together to manifest the primordial and the transpersonal.<br />
Abstract and representational elements are interwoven with themes of death and rebirth, hope, mysticism,<br />
animism, fertility, ritual and flow. The creative outcome is a crosscultural fusion that utilises new technology<br />
while integrating archaic elements and stylistic influences from symbolism, surrealism, abstraction<br />
and contemporary art. This visionary approach is a mirror of the necessity of our current times to find<br />
new emerging paradigms of interconnectivity within ourselves and nature.<br />
www.stuartgriggs.com
---
'Compassion'<br />
Digital<br />
56 x 90 cm
---
yasmine weiss<br />
Yasmine was born in Algiers, Algeria in 1977 and raised in Brussels,<br />
Belgium, where she currently lives and works.<br />
She started drawing as a toddler, eventually going on to study Fine <strong>Art</strong>s at the Brussels Académie<br />
Royale des Beaux-<strong>Art</strong>s. As Yasmine was finishing school in 1997, she fell into addiction and stopped<br />
making art for eight years. During this time she worked in bars and clubs, and managed to study<br />
art history at the Université Libre de Bruxelles.<br />
She resumed creating in 2005, with a focus on black and white portrait drawing. Her themes<br />
during this period revolved around addiction and marginality, reflecting her inner experience<br />
and perspective of the world around her.<br />
In 2017 Yasmine found recovery and switched her focus to painting, progressively abandoning portrait.<br />
Her new work features full-colored, otherworldly landscapes with eschatological themes.<br />
Yasmine's art has been exhibited in galleries in Belgium, Germany and the U.S. Her drawings and<br />
paintings have been featured in online and print publications, as well as on record covers.<br />
www.yasmineweiss.com
---
'Dawn Patrol'<br />
Oil on panel<br />
80 x 60 cm
---
Zeljko Djurovic<br />
Zeljko Durovic was born in 1956 in Danilovgrad, Montenegro, and completed his painting and<br />
postgraduate studies at the Faculty of Fine <strong>Art</strong>s in Belgrade. He is a member of ULUS and the Ex-libris Society<br />
of Belgrade, and the international group of artists LIBELLULE, France. Working as a full professor, he teaches<br />
drawing and painting at FILUM Kragujevac. He has had 42 solo exhibitions in Serbia and abroad, including<br />
The International Center for Fantastic <strong>Art</strong>, Gruyeres Castle (his works are in the permanent display of the<br />
Gruyeres Museum), the Comparaison Salon, Grand Palais in <strong>Paris</strong>, the Museum of Fantastic <strong>Art</strong> in Vienna,<br />
and participated in the First Fantastic <strong>Art</strong> <strong>Exhibition</strong> Du Fantastique au Visionnaire in Venice, Italy.<br />
He is represented in over 32 books on art like Metamorphosis, Dreamscapes II, Metaphysical Painting,<br />
Imaginaire I, Dreamscapes I, Liba W. Stambollion - Divining the Dream, Serbian Painting of the XX Century,<br />
Libellule Renaissance Contemporaine, and Anthology of Serbian Painting of the XX and Early XXI Centuries.<br />
He has received 12 fine art awards including The winner of the M.C. Foundation Award Echer "for ex libris"<br />
and Momo Kapor's Endowment for PaintingAwards.<br />
Durovic's works are in the National Museum of Belgrade, Cabinet of Graphic <strong>Art</strong>s, International Museum<br />
of Fantastic <strong>Art</strong>, Gruyeres Castle, Switzerland, National Museum of Kragujevac, Non-Aligned Collection,<br />
Podgorica, Montenegro, RTS Belgrade Gallery, and in private collections around the world.<br />
www.zeljkodjurovic.com
---
'Looking for<br />
Susan'<br />
Oil on canvas<br />
40 x 50 cm
---
Didier Malherbe<br />
Didier Malherbe was born in <strong>Paris</strong>, France, in 1943. He studied the saxophone after hearing Bloomdido<br />
by Charlie Parker, and then classical flute after a trip to India. In1969 he met Daevid Allen and was asked<br />
to join Gong, an underground community group that fused rock, jazz and psychedelia. Didier was a member of<br />
different Gong incarnations until leaving in 1978 to return to <strong>Paris</strong>, where he created a jazz-rock fusion band<br />
called BLOOM. This eventually became FATON BLOOM when ex-Magma keyboardist Francois Cahen joined.<br />
In 1989 Didier decided to go solo, producing several albums that mixed different styles of music<br />
from around the world. During this period Didier started to play with Loy Ehrlich and in 1996 they formed<br />
Hadouk, a name that evokes two instruments, the hajouj and the doudouk. Together they elaborated<br />
an acoustic project and the "Vegetal Groove" sound.<br />
The duo became a trio with the arrival of Steve Shehan on percussion. They produced seven albums<br />
and in 2007 they received a prestigious "Victoires du Jazz" (Jazz Victory) award for best group of the year.<br />
The "world-jazz" of Hadouk allowed Didier to perfect his doudouk playing and to incorporate<br />
other unusual wind instruments like the zeff, the khen, the hulusi and even the ocarina.<br />
The Hadouk Trio has now become Hadouk and their recent album entitled "Le cinquième fruit"<br />
(the 5th fruit) further highlights Didier's excellent woodwind playing, where he effortlessly<br />
changes between soprano saxophone, duduk, hulusi and alto flute.<br />
Didier Malherbe is also a poet and has published two books of sonnets,<br />
"L'Anche des Métamorphoses" and "Escapade en Facilie".<br />
www.didiermalherbe.com
---
Alain Bellino