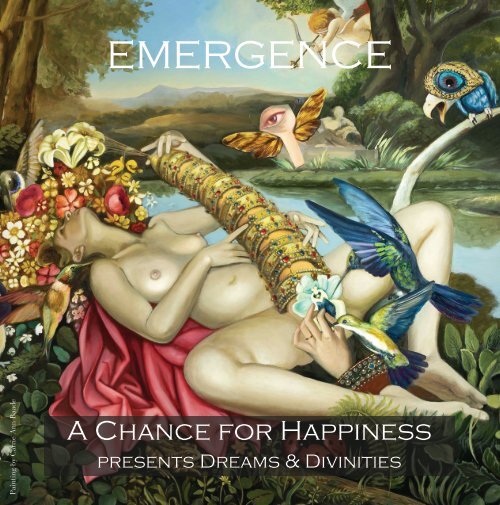 Vienna 2021/22 Charity Art Exhibition
A Chance for Happiness Vienna 2021/22 Charity Art Exhibit presents: EMERGENCE. A series of art exhibitions throughout 2021/22 in cooperation with Laxenburg Castle Concerts, Austria. www.schloss-laxenburg.at Curated by Liba Waring Stambollion and Dreams and Divinities. www.dreamsanddivinites.com Aloria Weaver, USA • Anaël Azüria, France • A. Andrew Gonzalez, USA • Bruce Rimell, UK • Carrie Ann Baade, USA • Clive Hedger, UK • David Heskin, USA • Don Farrell, USA • Emma Watkinson, UK • Jade Ansell, UK • Jason Mowry, USA • Julie Baroh, USA • Krisztina Lazar, USA • Liba WS, France • I Made Aswino Aji, Bali • Mantra Cora, USA • Mark Henson, USA • Marlene Seven Bremner, USA • Martina Hoffmann, France • Martin Stensaas & Sunny Strasburg, USA • Oliver Benson, USA • Otto Rapp, Austria • Philip Rubinov Jacobson, USA • Stefano Ronchi, UK • Roku Sasaki, Japan • Sampo Kaikkonen, Finland • Séverine Pineaux, France • Zeljko Djurovic, Serbia Most visual artists who are currently presented in this continually expanding catalog have already joined us for our Paris 2019 charity exhibition. https://yumpu.com/s/MJoKax3ShZTC5sGy Now, our next big step is introducing www.achanceforhappiness.museum — a brilliant online presentation of carefully selected contemporary artists surrounded by humanity's common heritage of timeless works of art — for personal enjoyment as well as sales to an international audience, and serving as a powerful reminder of our own beauty, but also our universal, daily struggles with grief and mortality. We would be delighted if you feel inspired to join this remarkable initiative in any way you see fit: artists, musicians, dancers, writers, journalists, philanthropists, sponsors, health professionals and worldwide volunteers. It's about the very essence of life and all of our experiences with it. Nothing more, nothing less. And you are invited to simply get in touch at office[at]topcontext.com. With love, Margot and Harald Walter Azmann Because every day is A Chance for Happiness www.achanceforhappiness.international Donations account Austria IBAN: AT94 3939 0000 0050 9976 BIC: RZKTAT2K390 PayPal www.paypal.me/achanceforhappiness Regular charity art exhibitions and auctions at www.yumpu.com/user/achanceforhappiness Coming to screens around the world www.achanceforhappiness.museum Member of World Federation for Mental Health www.wfmh.global
A Chance for Happiness Vienna 2021/22 Charity Art Exhibit presents: EMERGENCE. A series of art exhibitions throughout 2021/22 in cooperation with Laxenburg Castle Concerts, Austria. www.schloss-laxenburg.at Curated by Liba Waring Stambollion and Dreams and Divinities. www.dreamsanddivinites.com

Aloria Weaver, USA • Anaël Azüria, France • A. Andrew Gonzalez, USA • Bruce Rimell, UK • Carrie Ann Baade, USA • Clive Hedger, UK • David Heskin, USA • Don Farrell, USA • Emma Watkinson, UK • Jade Ansell, UK • Jason Mowry, USA • Julie Baroh, USA • Krisztina Lazar, USA • Liba WS, France • I Made Aswino Aji, Bali • Mantra Cora, USA • Mark Henson, USA • Marlene Seven Bremner, USA • Martina Hoffmann, France • Martin Stensaas & Sunny Strasburg, USA • Oliver Benson, USA • Otto Rapp, Austria • Philip Rubinov Jacobson, USA • Stefano Ronchi, UK • Roku Sasaki, Japan • Sampo Kaikkonen, Finland • Séverine Pineaux, France • Zeljko Djurovic, Serbia

Most visual artists who are currently presented in this continually expanding catalog have already joined us for our Paris 2019 charity exhibition. https://yumpu.com/s/MJoKax3ShZTC5sGy Now, our next big step is introducing www.achanceforhappiness.museum — a brilliant online presentation of carefully selected contemporary artists surrounded by humanity's common heritage of timeless works of art — for personal enjoyment as well as sales to an international audience, and serving as a powerful reminder of our own beauty, but also our universal, daily struggles with grief and mortality.

We would be delighted if you feel inspired to join this remarkable initiative in any way you see fit: artists, musicians, dancers, writers, journalists, philanthropists, sponsors, health professionals and worldwide volunteers. It's about the very essence of life and all of our experiences with it. Nothing more, nothing less. And you are invited to simply get in touch at office[at]topcontext.com. With love, Margot and Harald Walter Azmann

Because every day is A Chance for Happiness www.achanceforhappiness.international
Donations account Austria IBAN: AT94 3939 0000 0050 9976 BIC: RZKTAT2K390
PayPal www.paypal.me/achanceforhappiness
Regular charity art exhibitions and auctions at www.yumpu.com/user/achanceforhappiness
Coming to screens around the world www.achanceforhappiness.museum
Member of World Federation for Mental Health www.wfmh.global
SHOW MORE
SHOW LESS
Create successful ePaper yourself
Turn your PDF publications into a flip-book with our unique Google optimized e-Paper software.
EMERGENCE

Painting by Carrie Ann Baade

A Chance for Happiness

presents Dreams & Divinities
---
Emergence
---
"Things are not getting worse,

they are getting uncovered.

We must hold each other tight

and continue to pull back the veil."

Adrienne Marie Brown
---
Painting by Martina Hoffmann
---
A Chance for Happiness

You are not a mistake. You are not a problem. You are not a burden. You are a wonderful human being

that is learning, growing and unfolding, until one day it will understand and embrace everything.

Dear ladies and gentlemen, guests and visitors,

In September 2014, our beautiful 18-year old daughter Lisa Louise ended her life by suicide, joining

the millions of some of God's finest creations doing so each year around the world, and making us and

her five brothers one of countless "orphaned families" overnight.

Every 15 Minutes, someone dies by suicide in the United States — every 50 to 60 minutes in France

and Germany, every 40 seconds worldwide, with suicide attempts being even more frequent — and every

16 minutes someone is left behind, asking "why?" Why are so many people losing faith in life at a time

when more of us are doing better than ever before? And these numbers, due to the current coronavirus

pandemic, are increasing even more rapidly.

Painting by Roku Sasaki

Raising awareness regarding this profoundly human theme in all its aspects through annual charity events

— at Casinos Austria at Lake Wörthersee in 2017, Austria's capital city Vienna in 2018, and Paris in 2019 —

the nonprofit A Chance for Happiness foundation supports suitable projects, large and small, in the following

areas: 1. Enjoyment of life and personal development (happiness research), 2. Intelligent anti-bullying initiatives,

3. Suicide prevention (trans-generational transmission), and 4. Grief counseling for "orphaned families".
---
Most of us, when referring to life, are thinking about our present existence and living on this planet. But life

is much more than that, virtually everywhere, and generally we can all agree that a relatively brief existence

in this world lived with determination and vision is much more impressive than an extended one in cowardice

and boredom. That's why people who have ended their lives by suicide must no longer be shamed and forgotten.

They had a name. They were courageous. They lived and they are loved and live on in our memories.

Of course, it seems impossible to exchange our initial feelings of endless pain regarding the loss of a loved one

with anything life in this world may still have to offer. But given much patience and determination, and the

passing of time, there comes a day when we'll be able to do just that, and realize all the precious experiences

and insights life — here as well as from beyond — still wants to share with us.

In no way can we ever forget the ones we got to know and love and who returned before us, but we'll be ready

to live courageously and tall again, and give ourselves A Chance for Happiness on a much deeper and more

meaningful level. For such is the ultimate gift of life transforming challenges that require not just occasional,

little bits of who we are as humans, but all that we are capable of giving and being. And our experience of life

continues, as ist always has, on entirely new levels.

Most visual artists who are currently presented in this continually expanding catalog have already joined us for

our Paris 2019 charity exhibition. Now, our next big step is introducing www.achanceforhappiness.museum

— a brilliant online presentation of carefully selected contemporary artists surrounded by humanity's common

heritage of timeless works of art — for personal enjoyment as well as sales to an international audience, and

serving as a powerful reminder of our own beauty, but also our universal, daily struggles with grief and mortality.

We would be delighted if you feel inspired to join this remarkable initiative in any way you see fit: artists,

musicians, dancers, writers, journalists, philanthropists, sponsors, health professionals and worldwide

volunteers. It's about the very essence of life and all of our experiences with it. Nothing more, nothing less.

And you are invited to simply get in touch at office@topcontext.com.

With love, Margot and Harald Walter Azmann

Because every day is A Chance for Happiness www.achanceforhappiness.international

Donations account Austria IBAN: AT94 3939 0000 0050 9976 BIC: RZKTAT2K390

PayPal www.paypal.me/achanceforhappiness

Coming to screens around the world www.achanceforhappiness.museum

Regular charity art exhibitions and auctions at www.yumpu.com/user/achanceforhappiness

Member of World Federation for Mental Health www.wfmh.global
---
Dreams & Divinities

Through a series of books, exhibits and events, Dreams & Divinities offers the public

a window into an emerging planetary movement of 'Conscious Art'.

The project unites a culturally eclectic group of artists, writers, musicians and performers,

each with their unique dream of this experience, yet united through artistic collaboration and community.

The quest and expression of Universal Love is a central, unifying theme.

Thematically, the art is inspired by cultural/spiritual references, nature, visions, dreams or fantasy.

Stylistically, most projects are very eclectic, however, all the representation is symbolist. Dreams & Divinities

has published three books and is currently working on a Tarot deck and book.

Community building through collaborative projects and events is a central part

of Dreams & Divinities. It offers an opportunity for artists with resonant dreams to find each other,

to be inspired by each other and to unfold our best potential as a global movement.

EMERGENCE is the 28th event founder Liba WS has curated around either a book theme or a cause.

Dreams & Divinities has worked with a wide range of collaborators from indigenous Indians of the Americas

like Kogi, Muruwi and Maya to museums, cultural centers and galleries in Europe and the Americas.
---
A note from the curator

Entirely supporting this remarkable and universal cause, I curated the Paris 2019

Charity Art Exhibition "Fêlures et Lumières. That's how the light gets in" for A Chance

for Happiness. It was beautiful and moving. With color and beauty, love and joy, we

celebrated our eternal nature. Everyone, audience, artists and organizers, benefitted

from the power it held. So it is with great pleasure that I once more present an eclectic

group of wild, loving, creative and passionate artists, who I am excited to be exhibiting

with. We are ready for another powerful year of healing through beauty and community.

Liba Waring Stambollion
---
Aloria Weaver

Aloria Weaver, born in 1979 in New York, USA is an oil painter whose narrative work is informed by

historical art movements of the 19th century, including Mythological and Symbolist painting in particular.

She places a strong emphasis on archival practices, handmade materials and process,

painting almost exclusively with her own hand-refined oils.

Aloria Weaver began oil painting in 1993 as an apprentice at the Buffalo Art Studios of Western New York.

She trained in the sight-size method of classical realism at the Loveland Atelier (alumni of the Florence

Academy of Art in Italy) . She later earned her master's degree, with distinction, from the Prince's Foundation:

School of Traditional Arts in London, UK. Weaver holds several distinct artistic lineages, including traditional

egg tempera and gilding through an unbroken master to student transmission dating back to Fra Angelico

in 1430, and Mischtechnik (mixed technique), a process of painting with egg tempera and oil glazes

that was thought to be the secret method of the Italian Renaissance masters.

Weaver's work has been exhibited in prominent museums and galleries, both nationally and internationally,

including the Hofburg Palace in Vienna, Austria. Since 2011, Weaver has been teaching private

art intensives internationally with her husband, artist David Heskin.

www.aloriaweaver.com
---
'Völva (Seeress)'

2019

Oil and 23k gold

on paper

22 x 30 cm
---
Anaël Azüria

I was born in Normandy, France. It is here that I started my first paintings about 10 years ago.

Being self-taught, I turned to oil painting early in the game, which I felt very comfortable with.

My inner path, my sensitivity about the invisible world and nature inspire me a lot.

I wish to create bridges between the invisible worlds and painting. Sacred geometry and

music are my keys to start new paintings. They connect me to creation.

I would define my paintings as energy portals in connection with the subtle realms.

Moreover, it is important for me to add a healing intention to my artworks, through beauty

and the reading of the conscious and subconscious mind. I materialize this through many

symbols, including the stars, which I associate with the sacred geometries of the universe.

www.anaelazuria.com
---
'L'intelligence du Centre'

Oil on canvas

120 x 100 cm
---
Andrew Gonzalez

A. Andrew Gonzalez is an internationally renowned Transfigurative Visionary artist from

San Antonio, Texas, USA currently living in France. His work can be found in museums, galleries

and collections, both public and private. He is known for the unique sculptural look

of his paintings, as well as their power to move and inspire the viewer.

As a recognized master of airbrushing, Andrew Gonzalez brings together a unique subtractive

painting technique with the classical idealization of the human figure and animal spirits, to create

exalted imagery with spiritual and visionary themes. The artist describes his process as

"soul work" and inspires to create "mystical love poems to the soul".

Gonzalez developed his own signature style, pursuing spiritual and visionary themes in graceful

figure drawing, where the female figure expresses mystical states of the soul. Through synchronistic

experiences, dreams and lucid dreams, he experienced a deep creative transformation, intensifying

his research into tantric symbolism, comparative mythology, and the frontiers of consciousness.

The artist describes his style as "a revival of the Pre-Raphaelite aesthetic". His focus is on the

figure as both temple and vessel, sublimed by transformative forces. He captures his subjects

suspended in an ecstatic moment, poised on the threshold of a new birth.

www.sublimatrix.com
---
'Madonna and Child'

Airbrushed acrylic

on panel

30.5 x 23 cm
---
Bruce Rimell

"I am human and I am an artist. This is the most astounding thing, an experienced question

which I will spend my whole life discovering. Every single day of my life, it is a mind-blowing joy."

Bruce Rimell is an internationally exhibited visual artist, poet and independent researcher,

based in Leeds-Bradford, UK who works principally with visionary, ethnographic, archaeological and

cognitive themes. His vibrant imagery springs from the confluence of personal visionary experiences

since childhood, shimmering inner sensations of archaeological prehistories, the humanist interplay

of the cognitive and ethnographic, and dynamics of the queer and the mythical.

His art occupies a liminal space between painting and illustration, with holistic imagery springing from

smooth moving lines, fragmented anatomies and vivid stylised forms. The Dual Image Medium – in which

one image rendered in acrylics, inks and markers is seen by daylight and another, different painted image

is seen on the same canvas under ultraviolet illumination – is a unique and increasingly central aspect

of his practice. These disparate elements are imagistically combined towards a single artistic aim:

Beyond-The-Self Exploration. Multiple themes are enfolded to create a sense of experiential depth

and hyperactive visual engagement, while abstract commentaries and critical positions are abandoned

in pursuit of the simultaneously disquieting, yet intimately familiar foundational currents within

the living, paradoxical and sacred human being. Come and look beyond. What do you find?

www.biroz.net
---
'True Words

Of K'awiil in the

Library'

2017

Acrylics, inks and

markers on canvas

50 x 75 cm
---
Carrie Ann Baade

Carrie Ann Baade, born in Louisiana, USA in 1974, is a contemporary painter whose work quotes from,

interacts with and deeply relates to art history. She paints in dialogue with relevant masterpieces from

Modern period to antiquity, in order to reclaim them in a surreal narrative that is simultaneously biographical.

Her work has been exhibited in museums and galleries nationally and internationally, including

major exhibitions at The John and Mable Ringling Museum, the Delaware Contemporary, Mesa Contemporary

Museum, Billy Shire Fine Arts in Los Angeles, the Ningbo Art Museum in China, and the Museum of

Contemporary Art in Jacksonville, Florida.

Carrie Ann Baade received her BFA from the School of the Art Institute of Chicago, studied at

the Florence Academy of Art in Italy, and earned her MFA in Painting from the University of Delaware.

Raised on the front range in Colorado, she now lives and works in Tallahassee, where she is

an Associate Professor of Painting and Drawing at Florida State University.

www.carrieannbaade.com
---
'Notre Dame de

Genetique'

Oil on copper panel

30,5 x 46 cm
---
CLIVE HEDGER

Born in London, UK in 1961, my early artistic inspirations were my grandparents who both painted

with oils and took me to galleries in London to show me the work of the Old Masters. From early age,

I adopted a spiritual path studying meditation, dance and distilling the essense of mystic traditions

from many paths. I taught religious education in schools.

In 2008, I underwent a shamanic awakening and began to paint the visionary world I had entered. I

would describe my art as inspired by dreams, spirit encounters, inner journeys, the dance between

masculine and feminine, the mystery of the heart, and a deep connection to the land, the animals

and plants. It is my wish that my art be an offering of positive change in the world. A remembering

of the sacred in everything and an opening to the mystery and beauty of life.

I am currently living in remote Mid Wales, UK hosting a retreat centre with a focus on

permaculture, arts, music, community, self development and spiritual practice.

www.clivehedger.com
---
'Shamans

Dream' 2017

Tempera and oil

on board

61 x 92 cm
---
David Heskin

A lifelong artist, David Heskin began oil painting in 1995. His first 15 years with oils were

largely self-guided, after which time he sought out teachers of artistic techniques that are on the

brink of being lost. Many years later, having studied in numerous master's lineages, his original

work has become an integrated synthesis of traditional renewal. With an artistic focus to elegantly fuse

the richness of symbolic themes with the innovative spirit of a modern polymath, David lives in service

to drawing forth new visions that invite a wide audience to bask in the inspirational light of creativity.

David's paintings are inventive in their forms, as he has taken his art far beyond the

limitations of the status quo into an altogether unprecedented realm. By devising techniques which

allow his canvases to be constructed in nearly any shape, the form of the painting itself becomes

suited to adequately fulfill the depth of his visions. In exploration of creative freedom through

elegant forms and impossible angles, his driving aspiration is to create artifacts and visual

experiences which are otherwise unavailable to the human eye. David Heskin's work is exhibited

in museums, galleries, cultural centers, theaters and private collections throughout

North America, Europe and beyond.

www.davidheskin.com
---
'Saint Vincent' 2018

Egg tempera and oil on

panel 20 x 25 cm
---
Don Farrell

Don Farrell was born in New Jersey, USA in 1970. He began painting in London, UK around

the age of twenty and, soon after, moved to Seattle, USA where he resides today. This

geographic location, surrounded by temperate rainforest and nestled between two glacial

mountain ranges, has imbued his art with the nature-based spirituality seen in many of his

works. His art is further informed by many years of extensive study in numerous locations

throughout the world, which have brought to his thematic palette a melange of influences,

including the Mayan culture of Central America, the medieval, Islamic, geometric tradition,

15th century imaginative artists such as Hieronymus Bosch, 20th Century surrealists M.C. Escher

and Salvador Dali, as well as contemporary visionary artists like Patrick Woodroffe.

The art of Don Farrell has been exhibited in Seattle, Los Angeles and New York,

and extensively in galleries and museums outside the USA, including Austria, Spain, France,

Germany, Mexico, Colombia, Canada and the UK.

www.donfarrell-art.com
---
'The Triskaidekapus Oracle'

Acrylic glazes on panel

25.5 x 33 cm
---
Emma Watkinson

Emma was born on Dartmoor in Devon, UK on May 1st 1973. After completing a Diploma in Fine Art

she spent many years traveling and exploring different cultures, and is now based in Sussex, UK.

Her inspiration principally comes from her explorations in consciousness and esoteric study.

She practices Druidry, Buddhist meditation, Qigong, Kabbalah, and is interested in Jungian psychology.

Initially self taught, researching classical Academy methods of painting, she assisted Ernst Fuchs,

the principle founder of Fantastic Realism, in Vienna in 2012 and trained on oil painting courses in

Italy, Austria and London. She has exhibited widely at festivals, galleries and museums internationally.

The creation of each piece is a journey, initiated by synchronicity, that becomes an invocation

of the chosen archetype or deity, which yields many insights into the nature of the subject as the painting

progresses. Based on the classical pose of the Birth of Venus,"Aphrodite" is a reflection on the

greek goddess of love and sensual beauty, as well as the magic of music and its effect upon our energy body.

The shape transcribed in gold leaf is the geometry made by the octave of musical notes, which in

platonic philosophy resonates with the heavens. Aphrodite is blown ashore by the Zephyr of the west wind,

who makes music with the breath. My painting of Aphrodite was inspired synchronistically by listening

to the opera hHumanXx by Toni Castells on the subject of loneliness and longing in the age of hyper

digital connection. I realised, after starting this piece, that Botticelli painted his Birth of Venus during the

plague, so it seemed quite appropriate to be painting Aphrodite through coronavirus lockdown.

www.emanations.co.uk
---
'Aphrodite'

2020

Oil on canvas

60 x 97 cm
---
Jade Ansell

Art is a portal in which we can experience the divine nature of the natural world. Through these

lenses, we can travel mystical dimensions, growing and deepening our understanding and connection

to mother earth. Art is my tool to become enriched in my environment and I believe one can learn

more about their true self through the expression of the subconscious through creative practice. My

artworks depict powerful reflections of my inner goddess. Romantic and mystical, I aim to create

otherworldly experiences for the viewer, which invite them to become absorbed in the power

of the divine beauty that surrounds us. In a world that seems utterly entrenched in chaos,

we need art to remind us that we are still part of something truly sublime.

www.jadeansellartist.com
---
'Higher Self'

2020

Oil on canvas

60 x 70 cm
---
Jason Mowry

Inspired by the stories he reads as well as people and times surrounding him, Jason's work blends

myth, personal narrative and symbolic imagery to speak to the larger collective narrative. Growing up

between art museums and comic book shops, he combines the rhythms of each to walk the line between

formal art and the fantastic. Jason lives in Ohio, USA where he keeps a studio and teaches.

www.jasonmowryart.com
---
'The Boy & the Bell'

Watercolor, gouache

30 x 40 cm
---
Julie BarOH

Julie has worked as an artist and commercial illustrator for the last 30 years, with the last decade

focused on gallery curatorial duties in her hometown Seattle, USA. Only recently has she been able

to return to the studio to paint, with her love of traditional Symbolism, dream symbolism,

and her family as a primary source of inspiration.

www.juliebaroh.net
---
'My Darlingtonia'

Graphite on paper

28 x 35,5 cm
---
Krisztina Lazar

Krisztina Lazar is a visionary artist primarily working in oil paint, watercolor and drawing. She is

a Mischtechnik (mixed technique) lineage holder, a mixture of oil and egg tempera painting invented

during the Dutch Renaissance, and revolutionized by modern master Ernst Fuchs. This technique creates

an opalescent under painting that the colors are then glazed over, rendering each painting out of light

rather than shadow, bringing the images to life with fractal clarity.

Utilizing this transformative style, which she learned from visionary pioneer Brigid Marlin,

her current body of work explores painting a hybrid of Mische and Alla Prima to render hyperealistic

sacred art. Combining these techniques, Krisztina creates images of Pop Shamanism, portals and visions

that speak to today's cultural climate of the occult, magic, psychedelics, meditation, pop,

nostalgia, and the environmental movement.

Originally from Cleveland, Ohio, she completed her BFA at Carnegie Mellon University in 2004

and her MFA graduate degree in 2011 at the San Francisco Art Institute New Genres department.

Lazar's paintings have been exhibited in group and solo shows throughout the United States and Europe,

most notably at the HR Giger Museum in Gruyere, Switzerland. Her work has been featured in multiple

articles, galleries and book publications. She teaches her unique styles of painting in group

and private settings and currently lives and works in Northern California.

www.transcendentbird.com
---
'Witch'

Oil & egg tempera

on canvas

38 x 76 cm
---
Liba WS

Liba is a painter, writer and designer. She grew up in Singapore, Philippines, Hong Kong and

Indonesia, and moved to the USA in 1976 when she was 13 years old. From her teenage years to now,

she has been seduced, inspired and proactive in the arts, mysticism and causes for social justice and ecology.

She graduated from The School of the Art Institute of Chicago in 1988 and went on to teach art and exhibit

and work for a cabinet maker. In 1992 she moved to Paris with her husband Pascal. They have two sons. For

30 years she and Pascal designed handmade eco furniture for individuals including celebrities, hotels, restaurants

and businesses. In 2019 Liba resigned to paint full time, write and organize events for Dreams & Divinities.

Since 2012 she has done about 80 exhibitions worldwide in Europe, Canada, USA, South and Central America,

Asia and Australia, including Naïa Museum, Museum Instituto de Americas, Eco Museum, Brownsville

Museum of Art, Iloilo Museum of Contemporary Art, Phantasten Museum, Museum Poros, Museum of Aveiro,

Palace of Ega, Museum La Ensenanza and the Conimbriga Monographic Museum for their 50th anniversary.

She has published four books and made numerous catalogs. Her poems, paintings, furniture designs and

interviews have been featured on television, in newspapers, magazines, books and numerous articles online.

www.artwork-liba.com
---
'Self Portrait with Beluga' 2017

Oil glazes and 22 carat gold leaf on canvas. Hand painted wood frame.

40 cm diameter
---
I MADE ASWINO AJI

Aji grew up in Bali, Indonesia with an artistic family that mixed tradition with the contemporary.

He completed his bachelor of fine art at ISI – The Indonesian Art Institute in Yogyakarta.

Aji's art is reflective of the contemporary bold, fresh and whimsical art movement in Yogya.

He is one of the founders of Art Bali, an international association of artists exhibiting in Bali. He has had

4 solo exhibits in Indonesia and participated in numerous group exhibits in galleries and museums

throughout Indonesia, in Singapore and Australia. Aji currently lives and works in Silakarang, Bali.

www.instagram.com/imadeaswinoaji

www.artbali.co.id
---
'Happy Old

Monster' 2020

Acrylic on

four canvases

90 x 130 cm
---
Mantra Cora

Mantra Cora was born in Gdansk, Poland, relocated to England in 2006 and then to the USA in 2016

with her husband, Prof. Philip Rubinov Jacobson and their daughter, Liya. In 2013, she completed

her BA in the Visual Arts at The University of Salford in England. She has closely studied techniques

of painting with Prof. Phil, and drawing and painting as an Erasmus Exchange Student at the Accademia

di Belle Arti di Macerata. Her time in Italy was followed by a 4-month internship at the Phantasten Museum

in Vienna, Austria where she daily assisted the internationally renowned artist Ernst Fuchs with

his paintings. Together with Prof. Phil, she resided and worked alongside the artist

De Es Schwertberger during this magical time in Vienna.

Mantra co-teaches painting with Prof. Phil and offers a section on Creative & Innovative Grounds

that inspire automatic-imagery and a serendipitous process in painting. Her art has been exhibited

internationally, including UK, Italy, Spain, Switzerland and the USA. In 2016 she co-curated the historical

"A Legacy of Light" art exhibition at Gloggnitz Castle, Austria and co-created the catalog for the show.

www.mantra-cora.tumblr.com
---
'Daphne's Awakening'

2020

Oil, egg tempera and casein on canvas

60 x 50 cm
---
Mark Henson

Mark was born and raised in Northern California, USA and attended University there,

receiving a degree in studio art in 1973. He has been a professional artist ever since, working with

paint, metal, wood and computers. He co-founded several gallery ventures, traveled extensively throughout

the world, operates Sacred Light Studio from his home out in the country north of San Francisco

and maintains a small artist's retreat in Costa Rica.

"My art tends to be somewhat narrative. I like to tell a story or show a state of emotion or consciousness

with my images. I often begin with some sort of idea or theme. This theme might be suggested by anything

at all, or may just drift into the consciousness of an artistic inspiration during my day. I am often asked

if I receive these images while dreaming asleep. Sometimes they do come in dreams, but usually

they are found floating around in my mind, just waiting to be noticed...

I believe that art can have the ability to catalyze positive social and cultural changes. In addition

to stimulating our visual cortex, art has the amazing magical power to evoke profound emotional intensity

as well as to provoke intellectual thinking. My aspiration as an artist is to create compelling images

of beauty and power that serve to promote our conscious evolution as human beings, and to show us

how to live in a peaceful world. To this end I like to present images exploring themes of Awakening

Consciousness, Divine Sexuality, Political Realities, and Living in Harmony with Nature."

www.markhensonart.com
---
'On Temple Steps'

Graphite on paper

20 x 35 cm
---
Marlene Seven Bremner

Marlene Seven Bremner was born in Frankfurt, Germany in 1983. She has a BA in Geography and

Environmental Studies and is trained as a Polarity Therapist by the Institute of Holistic Health Careers.

She is a self-taught oil painter, exploring esoteric themes arising from her study and practice of Hermeticism

and the occult. Her artwork emerges as a synthesis of dreams, visions, revelations, magical practice,

and alchemical processes. Seven developed her painting career in the Pacific Northwest, showing her work

in both group and solo exhibitions along the West Coast, and currently resides in the New Mexico desert.

www.marlenesevenbremner.com
---
'Death of the Profane'

2015

Oil on canvas

91 x 61 cm
---
Martina Hoffmann

Martina Hoffmann's paintings are detailed views into her inner landscapes – imagery that has been

inspired by expanded states of consciousness. The Visionary Symbolism of Martina Hoffmann is decidedly

feminine and places the "Universal Woman" in an intimate cosmos. She transcribes her reflections on the

nature of humanity's connection to the All in a realistic style which marries the fantastic to the sacred.

Martina Hoffmann has spoken on behalf of visionary art and culture at symposiums and festivals,

and taught painting workshops worldwide together with her late husband, Fantastic Realist

Robert Venosa. Her art and photography have been published internationally in books, including

"Modern Consciousness Research and The Understanding of Art" by Stanislav Grof.

Hoffmann has exhibited her work since 1985, with a recent 6-month retrospective at the

HR Giger Museum in Switzerland in 2018, and is represented in the permanent collection of

Naïa Museum in Rochefort-En-Terre, France. A world citizen since her childhood in West Africa,

the artist keeps a home and studio in both the USA and France.

www.martinahoffmann.com
---
'The Landing'

Triptych

Oil on canvas

3 canvases 212 x 73 cm
---
Martin Stensaas &

Sunny Strasburg

Painting together as a couple has been a rich creative experience for the husband

and wife team Martin Stensaas and Sunny Strasburg. Much like a musical duo, there is an

improvisational knowing when to assert and when to allow space for one another's brainstorming

and maneuvers. Martin brings focus, patience and a high level of skill to the work.

Sunny brings more conceptual, figural and archetypal content.

She says, "I believe making art is like casting a spell. My intention is to imbue the work

with the soul and offer visual cues toward the ineffable. For me, art is an experience reflecting

the four directions of alchemy: in the first phase, the idea is organized within the energetic/spirit

realm (North/Sublimatio). The second phase is creating the work, which is pulling the energy

of thought and crafting it into matter – the art piece itself (East/Calcinatio). The third phase

is offering the work to the viewer and sharing in the experience (West/Coagulatio). The fourth

and final phase is connecting both viewer and artist into the greater collective unconscious

through the sublime experience art can provide (South/Solutio)."

Martin combines classical realism with the experience of mystical consciousness.

His distinctive technique combines deep multilayered and colorful glazes, subtractive

maneuvers, and fine line work to build up enchanted figures and otherworldly surroundings.

His works are unique painterly experiences from across the room or a few inches away.

Sunny and Martin's collaborative art exhibitions include Temple of Visions, Phaneros Art,

Bash Contemporary, Sally Centigrade, MAPS fundraising event pop up shows,

Urban Arts Gallery, Pacifica Graduate Institute, and Alex Grey's CoSM.

www.martinstensaas.com | www.sunnystrasburg.com
---
'Omni II'

2016

Oil & acrylic

on canvas

75 x 90 cm
---
Oliver Benson

Due to conditions of my early life, I developed a tendency to work in a self-reliant way and toward

independent goals. I found formal study unsatisfying and have for the most part taught myself the art of painting.

My paintings involve little planning, rather they arise naturally from my physical and psychical interaction

with the materials. Each work is a distillation of that process into an objective record. Through the paintings

I come to know, and would share as completely and freely as I may, my view of the world we all share.

www.alfhari.com
---
'Thalamos Sophias'

2020

Acrylic on masonite

41 x 51 cm
---
OTTO RAPP

Born 1944 in Felixdorf, Austria, Otto lived and was educated in Vienna, where he later worked

as an employee in the transport and insurance business. After service in the Austrian Air Force,

he traveled across Europe, eventually settling down in Stockholm, Sweden in 1965.

As a painter he was first self-taught, studying the various galleries and museums of Vienna.

At the Academy of Fine Arts, he admired the works of the Vienna School of Fantastic Realism,

which were represented there by Ernst Fuchs, Rudolf Hausner and Arik Brauer. From 1965 to 1968

he lived and worked in Stockholm, Sweden. Encouraged by an art dealer in Gamla Stan,

Otto began to paint more seriously.

His travels around 1968 took him to Western Canada, where he eventually settled in Lethbridge,

Alberta. During his years in Canada, Otto was already the subject of numerous critiques and periodicals

as well as local television shows in Calgary and Lethbridge, while he was also active as an artist,

art teacher, curator, studio technician, art critic and juror. In 2009, Otto founded a private network for

Fantastic, Visionary and Surrealist artists, presenting them on his "Visionary Art Gallery" website.

In the summer of 2011 Otto returned to his roots in Vienna, where he currently lives and works

in his studio in the Kunstquartier Wien.

www.artofthemystic.com
---
'Bogomils Landing'

1976-92

Acrylic on canvas

80 x 60 cm
---
Philip Rubinov Jacobson

Professor Phil holds an MFA in Painting and Printmaking, an MA in Painting and Sculpture, and

a Bachelor degree in Studio Arts and Cultural Anthropology. In 1973 he left the USA to study painting under

his mentor, Ernst Fuchs (1930-2015, co-founder of the School of Fantastic Realism in Vienna, Austria.

Their ever-evolving friendship would span 42 years. In 1997 Ernst Fuchs requested that Prof. Phil

formally carry on his teachings in the Mischtechnik (mixed technique) of painting in egg tempera and oil,

and he has been holding his renowned "Old Masters–New Visions" international painting seminars

ever since. In 2012, his wife Mantra Cora joined him in organizing and teaching in the seminars.

Rubinov's travels have been extensive, including India (1975-1980), where he studied meditation

and Eastern philosophy with Muktananda Paramahamsa. In 1995 he founded and directed the New School

of Extended Studies at Naropa University in Boulder, Colorado where he served as Dean from 1991-1997.

He participated in more than 100 exhibitions and his writings have been read worldwide. Prof. Phil is

currently teaching at Barton Community College. Mantra Cora also joined the faculty at BCC. Together with

their daughter Liya, they are living in the Midwest and continue to paint, sculpt, write and teach.

www.mischtechnikseminars.com
---
'Portrait of a Visionary' 2019

Mischtechnik on panel

(egg tempera and oil) 41 x 51 cm
---
Stefano Ronchi 'RONCH'

The main feature of my work is the meticulous attention to detail in microcosms crowded and dense

with situations, through a miniaturist approach, supported by the use of a magnifying glass to define every

square inch of the painting. Urban contexts are dismembered in a dream-like swarm of architecture, forms

and social relations are disrupted, provocatively juxtaposed with no apparent order. Childhood memories and

paranoid nightmares are recomposed with graphite or color on canvas and paper, often through pareidolia,

returning a duel between the freedom of the absurd and arbitrariness of the rule. A butterfly in the bin.

Paradoxes, ugliness, drifts of our social system hidden inside the simple beauty of things: if you have

the time to see this in my paintings, then you have the time to see it in real life. Think, act accordingly.

Stay punk-surrealist. The masters that have most influence on my work range from Leonardo to The Clash,

Brueghel, Dali, from Hieronymus Bosch to Dead Kennedys.

Born in Treviglio, Italy in 1985 and raised in Trezzo sull'Adda – land of gloomy Viscontian memories,

ambiguous Leonardian backgrounds and nocturnal Manzonian passages – our dark Jacovitti attended

Bergamo's Liceo Artistico ("I failed several times, I was really bad at everything other than art history"),

and Brera Academy, where Bernardino Luino disclosed to him the secrets of engraving. In December 2011,

together with other "young romantic artists, symbolists, surrealists and expressionists", Ronchi founded

A.N.S.I.A. (Italian for "anxiety") in the legendary Ca Laghetto, Milan. He lives in London Hackney, UK.

www.ronch.co.uk
---
'Maggie's

Farm'

2018

Acrylic on canvas

40 x 50 cm
---
ROKU sasaki

Roku Sasaki is a Japanese artist born on August 11, 1966.

I improvise by automatism

because art is often produced by an archetypal myth.

I do not understand my art

because a painting grows as a nature or a dream.

By the Rorschach test, what do you see?

These show the human traits in the brain. It's interesting and amazing.

What is unexpected is a treasure trove of images.

I use it for my works of art.

Buddhism says that "illusions are all empty".

If it's true, then my works of art are all empty.

Surrounding emptiness is an abundance of energy.

So Ernst Jünger said.

Roku has exhibited in galleries and museums worldwide.

www.experimentofthefreedom.blogspot.jp
---
'Cocoon' 2009

Tempera and oil

64 x 100 cm
---
Sampo

Sampo Kaikkonen, born in 1975, is a Finnish figurative painter living and working in Oulu, Finland.

His oil paintings respect the technique and style of the Italian and Flemish masters of the Baroque.

Beside dominant human figures, another strong factor in his works is emotion which mediates

through eternal themes, expressions and colors.

Kaikkonen has been painting for more than 20 years and exhibiting his works both in Finland and abroad.

Atelier Gallery Kaikkonen is a big studio and exhibition space built in an old barn of a 200 years old farm

in Northern Finland. It is Kaikkonen's workspace but also open to the public during summer exhibitions.

www.sampokaikkonen.com
---
'King of

Diamonds'

'Jack of Spades'

'Ace of Spades'

'Queen of Hearts'

Oil on

playing cards

6 x 9 cm each
---
SÉverine Pineaux

Painter and illustrator Séverine Pineaux lives near the forest of Broceliande, France. She draws fantastic

worlds, inspired by mythology and tales, and close to the celtic culture. With watercolor or oil, she paints

poetic visions where nature is omnipresent. The theme of tree-men, plant-creatures and fabulous animals

appears regularly in her art. Her work on the enchanted cats brings a touch of sweet humor to this magical universe.

Honored with numerous awards, Pineaux appears in collective art books such as Spectrum, Infected

by Art, and Imaginaire. She is the author of "Ysambre", "Gothic Faërie", the "Secret Book of the Cats",

"Smiles and Cats" and several other books. She exhibits regularly in France as well as England, Belgium,

USA, Russia, Germany and Japan. Some of her works are shown in the collection of Naïa Museum

in France and the Fantasmus Foundation in Denmark.

www.pineaux.com
---
'Duale – A kind of self portrait'

Oil on canvas

80 cm diameter
---
Zeljko Djurovic

Zeljko Djurovic was born in 1956 in Danilovgrad, Montenegro. He completed his painting

and postgraduate studies at the Faculty of Fine Arts in Belgrade and is a member of Association of Fine

Artists of Serbia (ULUS), Ex-libris Society of Belgrade, and the international group of artists LIBELLULE

in France. He works as a full professor, teaching drawing and painting at FILUM Kragujevac. He has had

42 solo exhibitions in his country and abroad, including The International Center for Fantastic Art, Gruyeres

Castle (his works are in the permanent display of the Gruyeres Museum), Comparaison Salon, Grand Palais

in Paris and Museum of Fantastic Art in Vienna, and participated in the First Fantastic

Art Exhibition Du Fantastique au Visionnaire in Venice, Italy.

Djurovic is represented in over 32 books on art like Metamorphosis, Dreamscapes II, Metaphysical

Painting, Imaginaire I, Dreamscapes I, Liba W. Stambollion – Divining the Dream, Serbian Painting of

the XX Century, Libellule Renaissance Contemporaine, and Anthology of Serbian Painting of the XX and

Early XXI Centuries. He has received 12 fine art awards including The winner of the M.C. Foundation Award

Echer "for ex libris" and Momo Kapor's Endowment for PaintingAwards. His works are in the National

Museum of Belgrade, Cabinet of Graphic Arts, International Museum of Fantastic Art, Gruyeres Castle,

Switzerland, National Museum of Kragujevac, Non-Aligned Collection, Podgorica, Montenegro,

RTS Belgrade Gallery, as well as in private collections around the world.

www.zeljkodjurovic.com
---
'Carried by

the Wind'

Oil on canvas

50 x 65 cm
---
Painting by Roku Sasaki
---
Layout and design by Liba WS * 2021
---
www.achanceforhappiness.international

www.dreamsanddivinities.com

Painting by Séverine Pineaux