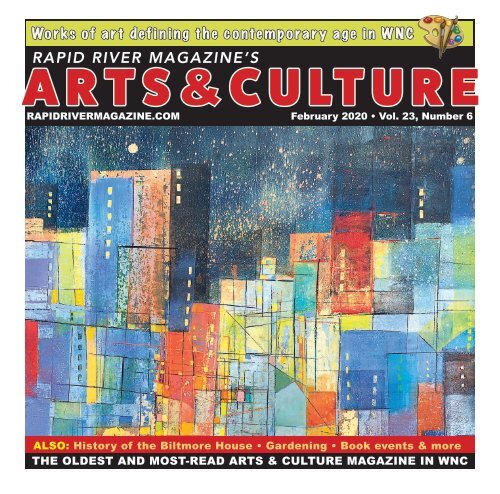 February 2020 Issue
Works of art defining the contemporary age in WNC. Cover: 'Downtown,' 24x24, by Mark Bettis
Works of art defining the contemporary age in WNC.
Cover: 'Downtown,' 24x24, by Mark Bettis
SHOW MORE
SHOW LESS
Create successful ePaper yourself
Turn your PDF publications into a flip-book with our unique Google optimized e-Paper software.
Works of art defining the contemporary age in WNC

RAPID RIVER MAGAZINE'S

CULTURE

ARTS& CULTURE

RAPIDRIVERMAGAZINE.COM

February 2020 • Vol. 23, Number 6

ALSO: History of the Biltmore House • Gardening • Book events & more

THE OLDEST AND MOST-READ ARTS & CULTURE MAGAZINE IN WNC
---
2 |RAPIDRIVERMAGAZINE.COM | RAPID RIVER'S ARTS & CULTURE | VOL. 23, NO. 6 — FEBRUARY 2020
---
FINE ART

Grovewood Gallery presents works

by Asheville native Bryan Koontz

BY STAFF REPORTS • NORTH ASHEVILLE

Grovewood Gallery in Asheville

will present Life Along the Blue

Ridge, featuring landscape oil

paintings by Bryan Koontz, on view

from February 15 – April 5.

The gallery hosts an opening reception

with the artist in attendance

on Saturday, February

15, 2-5pm.

Koontz will return

to the gallery on

February 21 and

22 to demonstrate

traditional oil painting

techniques

from 11-5pm on

both days. The

reception and live

demos are free to

attend and open to the public.

Koontz is an Asheville native who

can date his ancestry in Western

North Carolina back to the late

1700s. His deep appreciation for

mountain culture, heritage, and

the scenery is evident in his work,

which he paints in a realistic style

similar to that of the mid-to-late

19th-century American landscape

painters. Most of his work is begun

en plein air and finished in the studio,

using photos to aid his memory.

Employing traditional methods

and archival materials, Koontz says,

"He aims to produce works of art

that will endure and be cherished

for many generations."

In Life Along the Blue Ridge,

Koontz puts to canvas some of his

favorite places. "Places flavored by

memory, where I have explored,

traversed, raised my family, and

lived my life since youth," he says.

His hope is that he can preserve

a touch of the heritage he loves

through his art.

Koontz first picked up a paintbrush

when

he was about

eight, under the

guidance of his

grandmother,

who influenced

his love of

painting. He

went on to feed

Sunset Over Linville his creative spirit

at Appalachian

State University, where he earned a

degree in commercial design. After

years of working in the print and

graphic design industry, Koontz

became a freelance artist in 2008.

Notable projects have included pen

and ink drawings for the Mast General

Store, as well as their annual

Christmas card paintings, and book

illustrations for author Nadia Dean.

In 2018, he was chosen to create

the artwork for the Biltmore Estate's

Christmas wine labels.

IF

YOU

GO

Grovewood Gallery

Hours are Monday through

Saturday from 10am –

5:30pm, and Sunday from 11am

– 5pm. Free parking is available on

site. For more information, visit

www.grovewood.com.

VOL. 23, NO. 6 — FEBRUARY 2020 | RAPIDRIVERMAGAZINE.COM | RAPID RIVER'S ARTS & CULTURE | 3
---
BEER AND MUSIC

PONDER THIS . . . WITH MARK ABEL

555 Merrimon Ave • 828.424.7868

www.ashevilleravenandcrone.com

Herbal Apothecary • Tea & Reading Room

Essential Oil Blending Bar • Bath & Body

Events & Workshops • Local Artisans

Books • Jewelry • Unique Gifts

•

Visit Us at Facebook:

Asheville Raven & Crone

• •

It was Sunday afternoon, and the

Vikings were engaging the Saints

for a chance to continue their

season in hopes of making it to the

Super Bowl.

I believe it's called Wildcard

Weekend; I'm not altogether sure as

I was more focused on my surroundings,

the bar at Four Peaks

Brewery, loaded with jovial fans

cheering their gladiators. Have you

ever seen it? No, not football. The

cascade of a nitro beer, in my case,

it was the Oatmeal Stout. Elevated

at half arm's length, it churned in

cascading waves of effervescent

froth, overlapping and bursting forth

in a crescendo of pulsating glory

as it lifted to form a thick creamy

cap. Drawing a sip, I savored the

pungent yet silky-smooth libation.

"Incredible." Placing my cold pint on

the coaster, it pricked my ears, and

I realized my thumb and forefinger

were rapping against my knee. The

tune—Feel it Still—by Portugal and

The Man. My head followed my

body, slightly delayed, it rocked side

to side as the music moved me. I

was drifting as I recalled a trip to the

beach from summer's past. And a

thought began to emerge.

Music, it's the universal language

of all cultures and all times. There's

no denying it. Music has always

been with us, whether it be villagers

in the deepest of jungles,

dancing to the flame of drums in

the darkness. Or, Mozart with his

fingers flying across the keys of a

harpsichord. Think about it, jazz

and country, rap and reggae, not to

mention rock and disco, punk and

what is it again, salsa, oh yes and

don't forget classical and big band.

Music has always moved the minds

of humans, mitigating the loads

of life while bringing us together,

even when we don't understand

the language. But when and where

did it all begin? Was there ever a

time without music? I thought of

ancient art and stone carvings, all of

which depict men and women with

instruments in hand, be it drums

or horns, harps, and flutes. And I

thought of the oldest books of all

and how Scripture describes heavenly

creatures who forever praise

The Almighty, singing. "Holy, holy,

holy, is the Lord God Almighty, Who

was, Who is, and is to come." And it

struck me. If God exists and Scripture

is true, it says He created us in

His image, and the music was there

also in the core of our being. Music

has always been and will always be

part of who we are and part of who

He is.

The cheer surged as I drew

another sip, half the room erupting

in ecstasy, and the other in agony

as a Viking caught the winning

touchdown pass. And I continued

to ponder, His love for us must be

quite incredible, certainly beyond my

ability to even comprehend. After

all, He gave us the gift of music to

express our every emotion, whether

it be to lift or drown our spirits

while also bringing us together. I

was smiling, again swaying to the

rhythm, this time my fingers tapping

to the tune — California Dreaming.

And I noticed others swaying with

me, some clad in purple and others

in gold. Now, what does this say

about humanity and who we are,

and more importantly, what does

this say about God's character and

who He is? Stroking my chin, I

nodded and drew another sip.

Mark Abel is an architect by

trade who has dreamed of

becoming an author over most

of his life. He lives in Tempe,

Arizona, with his wife, Cheri. They

have three grown children and one

grandchild. Ephesus: A Tale of Two

Kingdoms represents Abel's debut

novel. His passion for writing

Ephesus — and hopefully more

books to follow—is summarized in his

mission statement as an author: Exploring

the Mysteries of God Through

Story.

INFO

4 |RAPIDRIVERMAGAZINE.COM | RAPID RIVER'S ARTS & CULTURE | VOL. 23, NO. 6 — FEBRUARY 2020
---
CONTENTS

ART AND MORE

FEATURES

COLUMNS /

DEPARTMENTS

February 2020 • Volume 23, NO. 6 15

6

8

12

13

10

11

14

15

16

An art lover's guide to contemporary

art in the RAD

Grace Carol Bomer of Soli Deo

Gloria Studio in the River Arts

District

19 (part three of four)

18

20

How to determine if you need

dental implants

Trackside Studio: Artists

working in contemporary styles

History: Meet the Cecils: The

Legendary Family behind the

Vanderbilt/Biltmore Estate name

310 Art: Being an artist does not

always require a lot of space

Art Classes

Asheville Gallery of Art:

"Spring Awakening" for February

Cover: Two new artists are now at

Mark Bettis Studio & Gallery

Downtown Asheville: TThe

longest-running musical in history,

'The Fantasticks,' comes to ACT this

February

Wild About Waynesville:

Learn to make Valentine's Day

origami gift boxes

Health: Every part of our body is

important

Publisher/Layout and Design/Editor: Dennis Ray

CONTACT US: Rapid River's Arts and Culture

Magazine is a monthly publication in WNC.

Mail: 85 N. Main St. Canton NC 28716

Email: Info@rapidrivermagazine.com

Phone: (828) 712-4752 • (office) 828-646-0071

22

26

21

24

25

27

28

Inside Mark Bettis Gallery

Bill Walz: Managing negative

emotion

Books: February book

picks: 'Home Making' and

'Wilmington's Lie'

Books: Bestselling author, Erik

Larson, visits Malaprop's, February 28

Black Mountain: Flora,

Fauna & Figure at the Red House

Studios and Gallery this February

Rapid River Magazine's

30 Comics

31

What is Contemporary Art? A

candid talk with Jonas Gerard.

Peter Loewer: When Google

tried to get rid of your public library

Creativity: A metaphor for

universal awareness

The Magnetic Theatre offers

comedy, Burlesque and more this

February

Distribution: Dennis Ray/Rick Hills

Marketing: Dennis Ray/Rick Hills

NEXT MONTH

*Red # Contempory Artists in WNC

ADVERTISING SALES:

Downtown Asheville and other areas —

Dennis Ray (828) 712-4752

Dining Guide, Hendersonville, Waynesville —

Rick Hills (828) 452-0228 rick@rapidrivermagazine.com

ON OUR COVER

15

15 15

'Downtown,' 24x24, by Mark Bettis

rapidrivermagazine.com

Online NOW

13

Trackside Studio artists

working in contemporary

styles

MARCH 2020

22

What is Contemporary Art? A

candid talk with Jonas Gerard.

OUR SPECIAL HOME & DECOR ISSUE.

DECORATING WITH LOCAL ART AND

FINE CRAFTS OF WNC. PLUS OUR

ANNUAL SPRINGTIME IN ASHEVILLE

All Materials contained herein are owned and copyrighted

© by Rapid River's Arts & Culture Magazine and the

individual contributors unless otherwise stated. Opinions

expressed in this magazine do not necessarily reflect the

opinions of Rapid River's Arts and Culture Magazine or

the advertisers herein.

© 'Rapid River's Arts & Culture Magazine'

February 2020 • Vol. 23, No. 6

VOL. 23, NO. 6 — FEBRUARY 2020 | RAPIDRIVERMAGAZINE.COM | RAPID RIVER'S ARTS & CULTURE | 5
---
RAD FINE ART

1 2

3

An art lover's guide to

contemporary art in

the RAD

BY CATHERINE CERVAS HEATON •

RIVER ARTS DISTRICT, ASHEVILLE

The River Arts District offers the art of many styles

and genres, including some of the most contemporary.

Whether you are looking for contemporary

art in the flair of abstract, modern, and unusual, or

contemporary in the realm of current, leading-edge

creations--you will find it in the RAD.

These are a sampling of what you can find in the

district. Enjoy!

Second Saturday: February 8, 10 - 6pm Visit

RAD Second Saturdays

Learn about more upcoming events at

RiverArtsDistrict.com Events.

Lori Jusino

Philip DeAngelo

Wedge Building, 1st Floor

Lori Jusino creates mixed media assemblage &

jewelry. For the 2nd Saturday Event on February

8th, she will demo how an assemblage art piece

is made, as she creates another one inspired by

faith, imagination, and whimsy. Spirit Songs Art

Studio: (828) 989-2470

Philip DeAngelo

Wedge Studios / Philip DeAngelo Studio

Philip DeAngelo is a Contemporary Landscape

acrylic painter in the Wedge Building of the River

Arts District. Come visit our studio to see the

vibrant colors and incredible textures for yourself!

6 |RAPIDRIVERMAGAZINE.COM | RAPID RIVER'S ARTS & CULTURE | VOL. 23, NO. 6 — FEBRUARY 2020
---
RAD FINE ART

4

1. "The Majestic One," by Angela Alexander, arylic on

canvas, 20 x 20

2. "Cotton," by Claudia Moore Field, recycled

aluminum wire on handcrafted barnboard, 22 x 22

3. "Ashen Silver," by Tess Darling, mixed media,

20 x 20

4. "Ready for Take-off," by Lori Jusino, Assemblage,

8 x 5 x 9

5. "Joined," by Philip DeAngelo, acrylic painting,

24 x 24

6. "Green Abstract with Red," by Catherine Cervas

Heaton, acrylic, 10 x 20

6

5

Claudia Moore Field

Wedge Studios

Philip DeAngelo Studio

In this wire and metal sculpture, Claudia Moore

Field recreates the beauty of the trees and

animals that are in her backyard. Her work

represents the flora and fauna that she sees all

around her every day here in WNC.

Tess Darling

Northlight Studios

Tess Darling sketches wildlife in various media,

creating a gestural quality that keeps the animals

moving and breathing. There's a study-like nature

to her style, like something from a sketchbook. It

creates a sense of catching something that

happened in a moment, and then it's gone.

Tess Darling Fine Art

www.tessdarlingfineart.com

Catherine Cervas Heaton

Riverview Station

Catherine Cervas Heaton uses quick brush

strokes and splashes of color in her abstract

work, creating a feeling of energy on canvas

with the bold and bright. Visit Riverview Station,

Soul Sidewalk, 191 Lyman Street, upstairs south,

Studio #213.

Angela Alexander

Northlight Studios

Angela Alexander specializes in contemporary

animal art. She uses vibrant colors and broad

brushstrokes to capture the energy of her

subjects. Her studio is located in the River Arts

District. www.angelaalexanderart.com

(828) 273-4494

March 2020 Theme: Home Decor

VOL. 23, NO. 6 — FEBRUARY 2020 | RAPIDRIVERMAGAZINE.COM | RAPID RIVER'S ARTS & CULTURE | 7
---
RAD FINE ART

The Crossing 12 x 12 oil and wax and gold on panel

The Prodigal 48 x 48 inches

Grace Carol Bomer of Soli Deo Gloria Studio in

the River Arts District

BY DENNIS RAY • RIVER ARTS DISTRICT, ASHEVILLE

Asheville artist, Grace Carol Bomer creates

intimate images integrated with words and The

Word. Her work has been called "A silent form

of poetry."

As an English / Art Major, Bomer says, "My

paintings are inspired by poetry, novels (Tolstoy, C

S Lewis, Michael O'Brien, "Island of the World"),

but most importantly by the Scriptures, the Word

of God."

She read Augustine's Confessions, translated

from the original Greek after she received a copy

from the publisher who asked her permission

to use her painting of The Prodigal as its cover.

It was required reading and published for the

philosophy department at the University of South

Florida.

8 |RAPIDRIVERMAGAZINE.COM | RAPID RIVER'S ARTS & CULTURE | VOL. 23, NO. 6 — FEBRUARY 2020
---
This cold wax and oil painting was inspired by a quote from St.

Augustine's Confessions."The House of My Soul Is Too Small For

You To Enter. Make it Spacious. It Is In Shambles. Restore It."

18 x 24 inches oil and cold wax and gold on panel.

The Hebrew word, damah, means a metaphor

that transforms; an art form that starts with a

commonly accepted way of looking at the world

and adds a surprise or unexpected twist that

results in a new perspective to inspire and transform

the viewer. We're surrounded by metaphors

that point us to the unseen world, and the eternal

narrative and The Word made flesh.

Contemporary Art / Word and Image / Incarnation

Words and images are interconnected for us

humans, as Dorothy

Sayers wrote: "…for

man is so made that

he has no way to think

except in pictures." I

juxtapose images and

text to create connections

and metaphors

that may not be

predictable or seen

immediately.

The image interacts

with the foundational

text, allowing the viewer to consider a story transcendent

and always relevant – pointing to the

One who is both Word and Image.

IF

YOU

GO

Grace Carol Bomer

OPEN STUDIO every 2nd Saturday of the

month 140 D Roberts Street in the River

District of Asheville. (828) 545-2451

www.carolbomer.com

RAD FINE ART

VOL. 23, NO. 6 — FEBRUARY 2020 | RAPIDRIVERMAGAZINE.COM | RAPID RIVER'S ARTS & CULTURE | 9
---
310 ART Gallery

Being an artist does not always require a lot of space

BY FLETA MONAGHAN • RIVER ARTS DISTRICT, ASHEVILLE

How can you declutter, downsize,

and add art to your life? It can be

done.

This article is not about the insand-outs

of decluttering; there are

plenty of books and articles about

that. But as you make your life more

straightforward this year, and I bet you

are doing that now, remember you

can always create a space for art. It's

easy and will enhance your life.

First, let me say that everyone has

an artist inside. I hear over and over

the comment, "I just do not have

any talent."

Well, let me tell you that the

concept of talent is a myth.

Learning, practice (even if it is in

short 15 minute segments), and a

joyful, optimistic attitude is all that

is required to make lovely art and

have a fun and peaceful experience

every day. Not sure how to start?

Take some classes.

But for now, let's talk about

creating space — your creative

spot.

First, choose a comfortable

space in your home to be creative.

You will use it if you pick a location

you already use frequently. Find an

art form that suits both you and

Its easy to work on a small tabletop. A small folding table could be the solution. They are lightweight and

easy to fold and slide into a closet when not in use.

your space. Many mediums require

little area to work and store. Some

options are watercolor, pastels,

colored pencils and drawing

materials, oil pastels, small collage,

and small printmaking. Even oils

and acrylics in smaller container

sizes are easy to set up and store.

Explore different materials. Simply

starting with a pencil and pen works

wonders.

Your dining room table might

provide plenty of space to set up in

one section.

An end table can be covered and

used for paints while you have them

out. (Get rid of those knick-knacks).

A small folding table could be the

solution. They are lightweight and

easy to fold and slide into a closet

when not in use. Get a reusable

plastic table cover that you can fold

up and store in your toolbox. Be

creative.

Many artists work flat on a

tabletop, so consider what you

need. There are small tabletop

easels for as little as $10.

10 |RAPIDRIVERMAGAZINE.COM | RAPID RIVER'S ARTS & CULTURE | VOL. 23, NO. 6 — FEBRUARY 2020
---
Shop, Learn, Explore. . . Everyday, All Year Round

Classes at 310 ART

Scratchboard takes up very little space.

Artwork by Lorrel Bacon

Some options for keeping your art supplies

organized might be a suitcase on wheels or a

rolling toolbox. You can move to a corner or

closet when not in use and quickly roll out when

needed.

With these few items, you can set up a simple

work area on a semi-permanent basis for a few

days or a few weeks. For company, you can

quickly pack up your small home studio and put

supplies away in a designated space.

This type of small space studio is suitable for

working in a smaller format. Once your work is

complete, you can put it into a box or portfolio

and slide it under the bed.

Better yet, give handmade gifts, make

donations to your pet charity auctions, or even

think about selling your work.

IF

YOU

GO

An artist, Nadine Charlsen, is working on a three-foot table (the

Burrito is a mixed media artwork and not to eat.)

310 Art

Come see the 2020 Artistic Vision show,

an exhibition of student work. The gallery

is opened every day, 12-4. The closing reception

is Saturday, Feb 29, 2-4 pm. 191 Lyman St

#310 ground floor. See www.310art.com for a

complete class listing and gallery information.

310 ART

AT RIVERVIEW STATION

Marvelous Mondays with Lorelle, Denise, Susan,

and Nadine

Beginner and Up! Open art studios

Mondays with instructor to guide you - start

and continue year round in our Monday

classes, 9:30-12:30pm and 1-4pm. Come the

dates that work for you!

See 310art.com for schedule and sign up.

Beginners welcomed!

Coming Soon

Super Sunday Afternoon Watercolor classes

are resuming this fall.. see 310art.com for

dates, times and to sign up!

Workshops are:

Pastels - Photos to Paintings – Feb 1

Watercolor Beyond Tradition – Feb 15

Beginning Oils – Mar 15, 16

Print it Collage it! – Mar 14

Dont be Afraid of the Dark Watercolor - Mar 15

Linoleum Block Printing – Mar 27

Pastels, Flower Power! – April 4

Beginning Acrylics one day - Apr 24See

2020 listings at 310art.com

Classes for adults at 310 ART, 191 Lyman Street,

#310, Asheville, NC 28801

www.310art.com gallery@310art.com

(828)776-2716 Adult classes, beginner and up,

most materials provided. Register online or at

the studio.

VOL. 23, NO. 6 — FEBRUARY 2020 | RAPIDRIVERMAGAZINE.COM | RAPID RIVER'S ARTS & CULTURE | 11
---
HOW TO DETERMINE IF YOU NEED DENTAL

IMPLANTS

SELF HELP WITH TERI GORE

A missing tooth or a broken one can lower

your self-esteem, especially if it is in the

front of your mouth.

you a permanent solution.

4) Bone Loss in Your Jaw

Missing teeth make eating a problem, and

even dentures do not seem to solve the

problem permanently. So, how do you know

if you need dental implants or not? You can

find an answer from the reasons below.

1) Having a Broken or Cracked Tooth

If general dentists's techniques cannot

restore your broken or cracked tooth, then

an implant can help. You can consult a

dentist from a reputable Denville implant and

cosmetic dentistry center to get a proper

diagnosis. The dentist will advise if you can

salvage the tooth or if it is beyond repair, you

replace it with an implant.

A right clinic will have professional doctors

who can assess the problem and tell

you what procedure is proper for your teeth

condition. It should also have a cost-effective

program that has reduced appointments,

fewer implants and decrease the need for a

bone graft.

— photo by Freddy G. instagram.com/freddygthatsme

Trauma, tooth loss, tumors, among

other reasons, can cause bone loss

in your jaw. To remedy the condition,

you can visit your dentist for dental

implants. The root of a dental implant

tooth contains titanium, which bonds

naturally with your bone tissue.

With the insertion of the implants,

the bonding process takes place and

allows the growth of the jawbone

since the case would be with the

natural teeth intact.

5) Aching Tooth

If you experience a toothache, it

will be best if you visit your dentist.

An aching tooth can be a nuisance,

and it has several remedies. It can

have a filling applied to it, crowned, or

extracted depending on the damage

extent. If it gets removed, the best

solution would be to have an implant.

2) More Than One Missing Natural Teeth

Trying to cover your mouth when you talk or

laugh is a behavior you adapt after losing teeth.

You suffer low self-esteem, and you no longer

find yourself attractive. Luckily for you, a solution

is there since implants can be a perfect replacement

for them.

3) Loose Dentures and Partials

Partials and dentures are a temporary replacement

for your missing natural teeth. However,

they can be embarrassing if they fall or get loose

when you are eating or talking. For loose dentures

and partials, you can have implants to offer

6) Sunken-In Face

Loss of teeth and not replacing them can lead

to your face having a sunken-in look. You may

have dentures, but the jawbone does not recognize

them like real teeth. Loss of bone in the

jaw area starts taking place, and as you age, the

bone loss intensifies, which results in the sunken-in

face.

Dental implants, on the other hand, can solve

the problem. Implants tend to stimulate your

jawbone, causing the bones to grow just as they

would with your natural teeth. You can now enjoy

your smile and be proud to look at the mirror and

smile at the world.

12 |RAPIDRIVERMAGAZINE.COM | RAPID RIVER'S ARTS & CULTURE | VOL. 23, NO. 6 — FEBRUARY 2020
---
Trackside Studio artists working in contemporary styles

BY STAFF REPORTS • RIVER ARTS DISTRICT, ASHEVILLE

The field of contemporary art is vast and varied, and

the Trackside artists working in contemporary styles

and themes represent many of the aspects of its

visionary and experimental nature.

CHALKLEY MATLACK

Matlack is an interdisciplinary

artist, using what

he sees in the world

"Interior," by Matlack

around him to create

and share experiences.

Proficient in multiple media, he combines varied

experimental techniques, exploring the power of

shapes and sometimes layering poetry on painting.

"Encircled," by

Campbell

and darks.

MICHAEL ALLEN CAMPBELL

"A study of the life of shadows" is

Campbell's description of his recent

works of acrylic on canvas.

Placing curated objects, colored

white to emphasize their texture,

onto a white background, he

invites the viewer to consider

and enjoy the interplay of lights

VINCE McGAHAN

"Paint can do astonishing things if you let it drip,

splatter, flow, and move freely." McGahan's abstract

Trackside Studios

work conveys the fluidity of that

movement where colors mix and

blend in fascinating ways. He uses

acrylics to emphasize texture and

create depth within the canvas

boundaries.

DONA BARNETT

"Comfort All Who

Mourn," by Barnett

workshops in printmaking

and drawing and creates

upcycled clothing.

"Celestial Wanderer,"

by McGahan

A printmaker working in

multiple techniques, Barnett

assembles numerous layers

of materials "and always

lots of layers of meaning…

I pair opposites, sometimes

subtly, and work to create

resolution." She also teaches

MARCOS MARTINEZ

Martinez "pays homage to

the beauty of Nature" in his "Bird and Earth," by

Martinez

plein air paintings infused

with surrealism, inspired by

"a state above thought" and dreams. He reminds

us that "part of the purpose of the human experience

is finding joy in the endless beauty around us."

ELAINE LACY

Lacy's wall-mount ceramics

always relate to aspects of the

natural world. "While trained as

a painter, I love working with

clay because I love touching

the earth and representing

its creatures." Her surface

designs are created using

terra sigilata, underglazes,

glazes, and copper wash.

MICHELLE HAMILTON

"The versatile nature of encaustics

has allowed me to delve into

mixed media and texture, opening

my mind and making me feel

even more passionate about my

work," Hamilton says. "I try

"Lost in Space," by

not to limit myself to one particular

theme because I want

Hamilton

to be mutable in my creativity, growing and changing

along with my work and my proficiency."

IF

YOU

GO

Trackside Studios

375 Depot St #4310, Asheville

(828) 545-2904

www.tracksidestudios375.com

"Bird and Earth," by

Martinez

VOL. 23, NO. 6 — FEBRUARY 2020 | RAPIDRIVERMAGAZINE.COM | RAPID RIVER'S ARTS & CULTURE | 13
---
Asheville's Longest Established Fine Art Gallery with 31 Regional Artists

Asheville Gallery of Art 's February Artists

"Spring Awakening" for February at

Asheville Gallery of Art

BY STAFF REPORTS • DOWNTOWN ASHEVILLE

"Travel and art share a powerful partnership in

my life," says artist Terrilynn Dubreuil. "I have

a passion for exploring new places and creating

art that expresses strong emotions and spiritual

sensitivity. I use color, light, and texture to convey

a balance between Impressionism and Realism.

All things are connected."

Dubreuil has taught various media and art techniques

for 30 years. In 2020 she will be teaching

at the Asheville Art Museum.

Lisa Natasha Sousa, with roots in both the East

and West of the US, is influenced by the flora of

these disparate regions.

"I primarily work in oils, slowly building up layers

of saturated color, avoiding the use of solvents and

mediums. My process entails focused attention,

building patience, and fostering appreciation."

Sousa came to painting from working in community

media and film in the San Francisco Bay

Area.

"Capturing the nuances and shifting light of

landscapes in pastel or oils, is always an exhilarating

and challenging experience," says Alison

Webb.

"Much like Renaissance old masters painted

a window in their compositions, I've framed my

paintings of iconic images of familiar landscapes

to evoke windows that look at the outside world."

Webb was a design forecaster and color expert

for major corporations in the international textile

industry.

IF

YOU

GO

Asheville Gallery of Art

For further information about this show,

Clockwise:

"Bowl of Succulents," by

Lisa Natasha Sousa;

"Pemaquid Awash," by

Terrilynn Dubreuil;

"Meadow Pond," by

Alison Webb

contact Asheville Gallery of Art at (828) 251-5796,

visit the gallery website at:

www.ashevillegallery-of-art.com, or their Facebook

page. Asheville Gallery of Art's February show,

"Spring Awakening," features diverse, visually rich

works by three new members, Terrilynn Dubreuil,

Lisa Sousa, and Alison Webb. The show runs February

1-29 during gallery hours, 11-6 pm Monday

through Saturday and 11-4 pm. Sunday. A reception

for the artists will be held on February 7, 5-8

pm at the gallery, 82 Patton Avenue.

14 |RAPIDRIVERMAGAZINE.COM | RAPID RIVER'S ARTS & CULTURE | VOL. 23, NO. 6 — FEBRUARY 2020
---
February's Cover artist Mark Bettis

Clockwise:

Mark Bettis, (photo by Matt Rose);

Victoria Pinney;

Cason Rankin;

"Rolling Sunset," by Mark Bettis;

"Leave a Light In," 40 x 40, by Victoria Pinney;

Inside the Mark Bettis Studio and Gallery

Two new artists are now at Mark Bettis Studio & Gallery

BY STAFF REPORTS • RIVER ARTS DISTRICT, ASHEVILLE

Mark Bettis Studio & Gallery, located in the

heart of the River Arts District, at 123 Roberts

Street, offers contemporary art from emerging

and mid-career artists.

The gallery is easily accessible on the street-level.

His mission is to provide thought-provoking,

museum-quality, beautiful art to the public.

Featuring exceptional paintings, original prints,

and innovative glass and metal sculptures, Mark's

gallery also has art openings throughout the year,

check out his website at www.markbettisgallery.

com for more information.

This year Mark is welcoming two new artists

to his studio/gallery at 123 Roberts Street in the

WEDGE Building. Joining painter Mark Bettis,

glass artist Deb Williams, sculptor, and painter

David Sheldon and collage artist Grant Penny are

Victoria Pinney and Cason Rankin.

Victoria Pinney's brightly colored abstractions

have been shown in galleries from coast to coast

and are in private collections across the country.

Art Galleries and Artists of the South recently

identified Victoria as an "emerging artist".

Pinney says, "I've always been moved by

color and texture. With the elements I use in my

painting - oils, wax, and sand - I build up layers

and layers of 'history' which I scratch through

and then build up again until the image reveals

itself. To me, my paintings feel ancient, as though

they contain all of history. They allow peeks at the

past through erosion of the present - each layer

partially visible through the next. The textured

surface is as essential in appreciating the painting

as color or shape."

Cason Rankin creates paintings of figures and

faces. This can be either people or wildlife. The

emotional impact of a portrait is just as essential

as the image. The painting is exactly right when

it's as if the essence of that person or animal has

entered the room. She conveys the intensity of

what the person or animal is feeling in a single

moment in time.

Rankin has participated in numerous national

and international shows, including the National

Watercolor Society, Transparent Watercolor

Society of America, Florida Watercolor Society

Exhibition, the International Miniature Art Society,

and the World Federation of Miniature Art. She

was also included in the National Watercolor Society

traveling exhibition and have been fortunate

to have received awards in numerous national

and state shows.

IF

YOU

GO

Mark Bettis Studio & Gallery

123 Roberts St., Asheville

(941) 587-9502

www.markbettisgallery.com

VOL. 23, NO. 6 — FEBRUARY 2020 | RAPIDRIVERMAGAZINE.COM | RAPID RIVER'S ARTS & CULTURE | 15
---
More of what Makes Asheville Special: Dining • Shopping • Galleries • Music • Fun

D o w n t o w n A s h e v i l l e

The longest-running musical in history, 'The Fantasticks,'

comes to ACT this February

BY STAFF REPORTS • DOWNTOWN ASHEVILLE

The Fantasticks is a funny and

romantic musical about a boy, a girl,

and their two fathers who try to

keep them apart.

The narrator, El Gallo, asks the

audience to use their imagination and

follow him into a world of moonlight

and magic. The lovers fall in love,

grow apart and finally find their way

back to each other after realizing the

truth in El Gallo's words that, "Without

a hurt, the heart is hollow." The

story is punctuated by a series of

catchy, memorable songs, many of

which have become classics.

The Fantasticks is directed by

Mark Jones with music direction by

Rob Blackwell and choreography by

Jessica Garland Lowe.

The current production at Asheville

Community Theatre stars a cast of

'The Fantasticks' photo by Studio Misha

13 actors from across Buncombe

County. Emma-Leigh Brookshire, a

senior at TC Roberson High School

plays Luisa, opposite Alex Daly as

Matt. Dillon Giles of Asheville stars

as El Gallo. Stan Reeley of Mars Hill

and Brian Weber of Weaverville are

both making their ACT debuts as the

fathers of Luisa and Matt.

The Fantasticks holds the title as

the longest-running musical in history.

It ran for more than 42 years in New

York, for a total of 17,162 performances.

Jones has discovered that

people are eager to see this beloved

show, whether they've seen it before

or not.

Asheville Community Theatre

The Fantasticks opens on the

Mainstage February 7 and runs

through March 1 with performances

Friday and Saturday nights at 7:30

pm and Sunday afternoons at 2:30

pm. Two additional performances are

scheduled for Thursday nights February

20 and February 27 at 7:30 pm.

Tickets are available online at

www.ashevilletheatre.org, over the

phone at (828) 254-1320, or in person

at the Asheville Community Theatre

Box Office.

IF

YOU

GO

16 |RAPIDRIVERMAGAZINE.COM | RAPID RIVER'S ARTS & CULTURE | VOL. 23, NO. 6 — FEBRUARY 2020
---
Downtown/Montford

95 Cherry Street North

Asheville, NC 28801

828.258.2435

South:

200 Julian Shoals Dr

Suite 20, Arden, NC 28704

828.687.8533

VOL. 23, NO. 6 — FEBRUARY 2020 | RAPIDRIVERMAGAZINE.COM | RAPID RIVER'S ARTS & CULTURE | 17
---
WAYNESVILLE

Learn to make Valentine's Day origami gift boxes

BY STAFF REPORTS • WAYNESVILLE

* Extra Virgin Olive Oils

* White & Dark

Balsamic Vinegar

* Infused Olive Oils

* Specialty Oil & Vinegar

* Bread Dip Seasonings

* Specialty Salts & Rubs

* Seasonings

* Handcrafted Pottery

224 Branner Ave. Waynesville, N.C.

828-246-6868 www.cornerstationoliveoil.com

Support

Clean / recyclable

Newsprint

Come to a special craft workshop to help get

ready for Valentine's Day.

Learn to make beautiful origami boxes to hold

Valentine's cookies, candies, trinkets, and treasures.

You will create and decorate four origami

boxes: Four-sided Heart, Box with Rosette Flaps,

Box with Curved Flaps, and Box with Square

base.

The teacher is the popular Margot Dale, who

has extensive experience in origami box making

design and fabrication.

The cost of the

workshop is $28 and

includes all materials. It

will be held on Thursday,

February 6, from

1-4 pm at First Baptist

Church, Waynesville,

100 S. Main St.

IF

YOU

GO

To register or for

more information,

contact Char

at (828) 456-9197 or

charspaintings@msn.com.

Margot Dale

Happy

Valentine's Day

Simple, delicious food with vegetarian

options, Craft beer on draft, great wines,

kids menu, to go menu, daily specials.

112374 7376 Firefly 18 01 17

We're bringing brunch downtown! Sundays 10:30 til 2:00.

Open daily except Wednesdays 11:30-9:00

454-5400

128 N Main Street, Downtown Waynesville

18 |RAPIDRIVERMAGAZINE.COM | RAPID RIVER'S ARTS & CULTURE | VOL. 23, NO. 6 — FEBRUARY 2020
---
HISTORY

Meet the Cecils: The Legendary Family behind the Vanderbilt/Biltmore

Estate name (part three of four)

BY BILL BRANYON • ASHEVILLE

Asheville's New Zoning Czar

While Gascoyne was considered a

leading conservative, another Cecil was

called by historian Susan Pedersen in

her book The Guardians, a "maverick

Conservative and internationalist."

America's largest privately-owned home, the Biltmore Estate. Owned by William

Amherst Vanderbilt Cecil Jr. (Photo in public domain.)

This was Lord Robert Cecil, who

Pedersen claims became [Woodrow]

Wilson's leading British partner in establishing

the League of Nations." The

sixth son of Gascoyne, he was awarded

the 1937 Nobel Peace Prize for his

tireless efforts to establish and make the

League effective.

In his 1912 Memorandum on Proposals

for Diminishing the Occasion of Future

Wars, Robert stated that a world peace league

would need to use "sanctions, including blockade,

… to force countries to submit to peaceful

procedures. If overwhelming naval and financial

power could be combined in a peace system,

no modern State could ultimately resist its

pressure." The rise of Nazism put a major crimp

in Robert's certainty of this. Still, he remained

optimistic enough to enthusiastically support the

establishment of the United Nations to replace

the League of Nations after World War II.

A branch of the Cecil family finally moved to

America and Asheville in 1924 when John Cecil

married Cornelia, daughter of George Vanderbilt

— the Biltmore Housebuilder. According to

Britannica, John was the third son of the third

son of [sic] of the Third Marquess of Exeter. Even

title-mad England balked at granting titles to

third sons twice removed. And John's father was

merely the "Groom in Waiting" to Queen Victoria

and the "Extra Gentleman Usher" to George V.

There was hardly any chance that John was

going to inherit the family mansion called the

Dillington House, but then he met the artistic, enchanting

Cornelia Vanderbilt while serving as 1st

Secretary of the British Ambassador to America.

Thus, when they married in 1924, John became

the titular head of a home almost twice as big

as either of the family leviathans of Burghley and

Hatfield. Those two mansions are about 90,000

square feet compared to the 179,000 square

foot Biltmore House.

According to Denise Kiernan, author of The

Last Castle, Cornelia continued to partly own

the mansion even after she divorced John and

moved to England while changing her hair to

pink and her name to Nilcha. However, in 1950

she received the last payment of a $2 million settlement

completely divesting her of any shares in

the Estate. The Cecil family from thenceforward

controlled the mansion.

America's largest privately-owned home, the

Biltmore Estate. Owned by William Amherst Vanderbilt

Cecil Jr. (Photo in public domain.)

The elder son of Cornelia (Nilcha) and John

was George, who chose to inherit the vast lands

surrounding the Biltmore Estate when John died

in 1954. That left his brother, William, with the

Biltmore Mansion. William returned to America

at the end of World War II, serving with

distinction in the British navy, and continued

his father's legacy of making the

Biltmore Estate the incredibly popular

tourist destination that it is today.

In the book, Lady on the Hill about

the Biltmore House, Howard Covington

tells how William hooked up to America's

de facto royalty — to Camelot

no less — in 1957 when he married

Jackie Onassis Kennedy's first cousin,

Mary Lee Ryan. This proved even

more important when it became known

that the trajectory of a new interstate,

I-40, was headed directly for the Biltmore

House property. William hoped to utilize

his Jackie K. connection to discuss the

road with JFK, but the President was assassinated

before William could arrange it. However,

he did eventually negotiate with the U.S. Department

of Transportation, and the Biltmore Estate

remains the serene oasis it is today. William died

in 2017, and his son, William Jr., currently runs

the property.

It's beyond the scope of this article to track

down how much land the Asheville Cecils

owned. But if you subtract the 86,000 acres,

Edith V. sold to help found Pisgah National

Forest from the 125,000 acres that George V.

originally bought, that leaves 39,000 acres — 61

square miles. The city of Asheville covers only 45

square miles.

It's true that Edith also sold the land for Biltmore

Forest and Village, and some land was lost

to the Blue Ridge Parkway, I-26, and I-40. Still,

her children and grandchildren bought many

additional acres, as well as numerous hotel and

office properties.

Some of this land has been transformed into

'Cecil's' continued on page 23

VOL. 23, NO. 6 — FEBRUARY 2020 | RAPIDRIVERMAGAZINE.COM | RAPID RIVER'S ARTS & CULTURE | 19
---
EVERY PART OF OUR BODY IS IMPORTANT

Your Health

By Max Hammonds, MD

Sometimes it is the little things that puzzle

us the most. Why is that thing there? Of

what use is it? Why not just take it out of

the way?

Such questions have plagued and confused

health care providers for thousands of

years. But we have had to wait for advances

in medicine to help us understand small

parts that we thought were useless – but

weren't. Such as:

The pineal gland is a small, cone-shaped

appendage attached to the base of the

brain, which has stymied anatomists for

hundreds of years. What does it do? Many

thought it served some metaphysical, mystical

function. Some thought it was the seat of

the soul. Others thought it was a "vestigial"

remnant of a now-lost larger organ.

In 1958 a hormone was isolated from the pineal

body and called melatonin – because it was

thought to be useful in treating skin diseases.

Through more rigorous hormonal and anatomical

research, scientists discovered that the pineal

body was a gland that secreted the hormone

that modulates sleep cycles. Besides, this hormone

– still called melatonin – also influences

the pituitary's secretion of two sex hormones –

Those who have had the fifth toe amputated report great difficulty in

walking and a loss of stabilization in the normal step.

— Photo by Tyler Nix

follicle-stimulating hormone (FSH) and luteinizing

hormone (LH) – which affect the ovulation cycles

in females and testosterone production in males.

Most importantly, modern research has shown

that blue light – that which emanates from

tablets, computers, and cell phones – severely

decreases the production of melatonin by the

pineal gland. This particular wavelength of light

interferes with the ability to fall asleep, to stay

asleep, and to go back to sleep once awakened.

Suddenly, the small, mysterious gland at the

back of the brain is essential in our modern

age. And one of our good preventive health

habits is to avoid those "blue-light" emitters

during the last three hours before we go to

bed.

The appendix is a short finger-like extension

of the first part of the colon (the cecum).

It is located in the lower right quadrant of

the abdomen, where it usually sits quietly

– unless it should develop inflammation

(appendicitis) and require removal. Over the

centuries, no one seemed to know what

its function was. Again, many thought the

appendix to be a "vestigial" leftover from a

larger organ now no longer present.

Current medical research tells us that the

appendix is a "safe home" for storing beneficial

bacteria to re-colonize the colon should it

experience a severe inflammation (like cholera)

or an acute loss of its healthy bacteria (heavy

antibiotic use). The appendix is also a significant

contributor of white cells that are stationed there

to defend against deadly viruses and bacteria

that might invade that area of the gut. Who knew

that the lowly appendix was so important?

'Health' continued on page 29

20 |RAPIDRIVERMAGAZINE.COM | RAPID RIVER'S ARTS & CULTURE | VOL. 23, NO. 6 — FEBRUARY 2020
---
MANAGING NEGATIVE EMOTION

ZEN PHILOSOPHY WITH BILL WALZ

"No self, no suffering." - Buddha

Buddha is said to have stated, "I teach suffering,

its origin, cessation and the path to its transcendence.

That's all I teach," but what this is also saying

is that The Buddha taught entering into a deep

examination into negative, problematic human

emotions - what causes them, and the means to

effectively managing them. This is so important

because no matter how "smart" we may be, there

seems very little correlation between the kind

of intelligence that makes a person an expert in

some field of study, in the academic or professional

worlds, and emotional stability. There may

even be, in many cases, an inverse relationship

where with higher and more complex intelligence,

there is little practical wisdom and little of what is

sometimes called "emotional IQ."

The Buddha taught that in all of Nature, humans,

because of their evolved brains, are unique

in their ability to create a virtual reality called

culture and to develop techniques and tools for

living in a complex and exploitive relationship with

Nature. This is a good thing from the standpoint

of greatly freeing humans from the dangers and

limitations of Nature while releasing us to be

creative, making ever-more complex culture and

tools. But Buddha also realized there is a very big

problem connected to this evolutionary human

trait of complex brain function. To borrow from a

modern paradigm drawn from the very complex

tool of cybernetics, humans live in very much

what are virtual realities constructed of information

manipulated by these complex brains, and

this virtual reality generates a sense of a virtual-reality-sense-of-self

that psychology calls ego that

is quite disconnected from our true nature and

from Nature itself with serious consequences for

both us humans and for Nature.

Buddhism teaches a model of mind that considers

thoughts and emotions to be mind-objects

or forms that exist within the formless energy

of mind-consciousness that individuates into

awareness, the faculty for directing consciousness

energy with its inherent intelligence into

the examination of experience. In recognizing

this multidimensional model of mind, Buddhism

then gives us a methodology from which we can

train in building skill at managing the contents of

the mind by directing awareness into this examination.

The Buddha further taught that having

realized this dimension of awareness that can

examine the contents and activity of mind, the

insight becomes natural that we then must not

be the contents, the thoughts and emotions, as

most people assume and our culture reinforces.

Rather, if awareness can examine the contents

and activity of the mind, then who we fundamentally

must be IS this awareness and not the

contents and activity. We are not egos that have

awareness; rather, we are awareness that has

an ego structure so as to engage the world. This

shifts our experience of mental activity from one

that seems helpless in its management to one

that is interactive and opens the way for skillful

management.

While Western education focuses intensely on

feeding the mind full of information and ideas

along with methods of logic for putting these

ideas together effectively for utilitarian application,

it teaches nothing about managing these

contents in a manner so as to maximize mental

stability, serenity and wisdom. The Buddhist

model, on the other hand, emphasizes that we

can manage mind through meditative techniques

where mind examines mind, shining the light of

awareness on the content of mind giving us perspective

and insight, while developing awareness

of awareness, allowing us to explore its potential

for intuitive insight into the nature of existence.

We discover that as awareness, we are free of the

contradictions and imbalance of the egoic mind,

and we can deepen the exploration of life lived as

awareness, the dimension that is the true source

of intelligence, creativity, wisdom and insight.

To continue borrowing metaphor from the

cybernetic world, as the saying goes: "Garbage

in, garbage out" and any crazy thing can be

programmed into these computer-brains of ours,

much of it being completely contradictory and at

odds with actual reality. Most importantly, these

reality-virtualizing brains generating a virtual-self

experiences itself as unique and separate from

all else in the world, and this virtual-self is acutely

aware of its vulnerability and its mortality; living in

a story of itself in time, the past defining us and

the future challenging us. This sense of limitation,

vulnerability and dependency on the external

world for stability and validation, and the too-often

failure of the external world to provide consistency

and validation, causes the contents of mind

to be all too often marked by anxiety, frustration

and unhappiness.

At the core of most negative emotional experience

- of depression, anxiety, anger and loneliness

- is an exaggerated sense of this virtual-self

in personal isolation along with a time-focus in

the past or future. Most of the time, our focus of

attention is on our "self" in our story-line in time

that is too often distressing. Even anger, which

in a given moment seems to be present-moment

activated, has a strong component of residual

past distress and disappointment brought into

the present situation and is often carried quite

inappropriately into the future, the ego chewing

on its grievance over and over. The world, with

the exception of whatever or whoever may be

the focus of stimulating the emotion, has receded

far into the background of our attention. Even

the stimulating event or person is being experienced

principally in its distressing connection to

self, not in its larger context which would give

the experience more sense and proportion, and

thus greater acceptability. The world has to some

inappropriate degree collapsed into the situation,

thoughts and emotions orbiting our focus on our

self.

Buddhism recognizes this and teaches us to

realize the antidote to such a perception is to

'Walz' continued on page 23

VOL. 23, NO. 6 — FEBRUARY 2020 | RAPIDRIVERMAGAZINE.COM | RAPID RIVER'S ARTS & CULTURE | 21
---
ASK THE ARTIST

The Secret of Abstract Art

Many define abstract

art as having nothing

to do with observable

realities in the physical,

mental, emotional,

psychological, or any

conceptual aspect

of what this life is all

about. I agree with that!

That definition explains

what abstract art is not.

The mind views abstract

differently. If it's not

one of the above, then

what's left? It is art created

by one's uneducated intuition, gut feeling, some

inner voice from your soul. It's the same kind of

method that young child creates from, with no

developed 'consciousness,' no duality. The child

has no judgment, so they are free to create from

whatever comes through them. Their actions are

pure and innocent, and innately divine. This is

what abstract art is!

Now that we have learned so much in our

lives, has anyone taught us how to unlearn

"Romancing The Now #2," 36x72 acrylic on canvas, by Jonas Gerard

BY JONAS GERARD • RIVER ARTS DISTRICT, ASHEVILLE

that knowledge?

Picasso did it, de

Kooning did it, and

many other painters

have. If somehow,

we can get to that

point, where we feel

comfortable with

uncertainty, where we

can control the mind

and temporarily shut it down,

then duality disappears. This is

where intuition kicks in — allowing

that gut feeling mentioned

Jonas Gerard

above, which includes having fun

and playing.

It takes practice to trust that voice, which the

child does so perfectly. It is all about allowing the

process of making the art, not about the result.

Again, the child paints 100% as a process. They

are actually in a state of pure bliss and divine

ecstasy — really.

In The Painting Experience Workshop

(www.processarts.com), I once took with Stewart

Cubley, he stated:

22 |RAPIDRIVERMAGAZINE.COM | RAPID RIVER'S ARTS & CULTURE | VOL. 23, NO. 6 — FEBRUARY 2020

'Joy & Delight #14,' 24x36 acrylic on wood, by Jonas Gerard

"In art, to look within is an act of courage."

"To be present requires letting go of judgment."

"The artist's task is to be released from

the pressure of performance, interpretation,

comparison, and judgment."

"True painting is very simple yet, at the

same time, radical. By nature, it's unpredictable,

because we don't plan our destination

ahead of time."

"Allowing whatever needs to happen to

happen, meaningful, and satisfying images

emerge. You don't have to be trained to

experience this; it's your birthright."

'Jonas' continued on page 29
---
'Cecil's' continued from page 19

CONTINUED

elegant subdivisions. In the

last 20 years, the Cecils

have established Biltmore

Lake, The Ramble, Fox

Run, and Southwood —

and even created an entire

spec city in Biltmore Park.

They've built an amazing

3,100 sumptuous housing

units according to their

various web sites.

Compared to many

developments around

Asheville that involve

clear-cutting huge swaths

of forest and jamming

together as many identical

houses and apartments as

Lord Robert Cecil, Winner of the 1938 Nobel

Peace Prize for his work on the League of

Nations

possible, the Cecil's developments

are models of verdant

variety whose bottom line is

gracious living — not profit

maximization. Though their

houses generally start in the

high $300's and can cost up

to $2.2 million, many of the

developments retain almost

50% of the land as green

spaces.

A Cecil would be the

obvious best choice to chair

Asheville's soon-to-be rewritten

Uniform Development

Ordinance — as well as our

Planning and Zoning Commission

and Board of Adjustment.

George V.'s grandson William did just that as

chairman of Asheville's Metropolitan Planning

Commission in the late 1960's, according to Lady

on the Hill.

And given the apparent fact that the Asheville

five-county metro area will continue to have dramatic

increases in population, think how pastoral

it would be, even with a half-million more people,

if the Cecils were made Czars of Zoning for the

entire metro.

Bill Branyon is one of the founding members

of the Western NC weekly, Mountain Xpress.

Now a free-lance historian, his books include

Asheville NC, Circa 2000 AD. Chapters of

this and other books and journalism can be found

at www.BranyonsUltimateFreethinking.com, or

contact at billbranyon@Yahoo.com

INFO

'Walz' continued from page 21

expand the field of awareness to deliberately

include what is NOT about our virtual-self and

our distressing situation, thus preserving context

and perspective. It teaches us to give full

awareness and attention to what is NOT our

emotional quagmire, our self-imposed exile from

Life. Rather, Buddhism teaches that we must

direct attention into the sublime everyday with

such presence that the miracle and wonder, the

interconnectedness of who and what we are with

everything, begins to be increasingly apparent.

Here, we re-enter the flow of Life, and the emotions

associated with our perceived isolation then

fall into the background, realized as either illusory,

or now, much more manageable.

Very importantly, when a human is in this flow

of Life, there is very little of the preoccupation

with the ego or virtual-self. Awareness blends like

a surfer riding a wave with the present moment.

These are the moments of our greatest adaptivity,

balance and skill. In a very real sense, the egoself

disappears, leaving behind what is a genuine

and intelligent human organism that IS the

moment in flowing consciousness. There is no

isolated "self" struggling with "out there." There

is only the blending of self and the moment, of

meeting the challenge.

With training in Buddhist meditation we begin

to transfer our sense of self from the activity of

the mind reacting to the world "out there" into the

awareness that witnesses the activity of the mind.

We move our sense of who we are from the virtual-self

to the authentic-self, a unity with what is

happening. Once this state of being as witnessing

discerning awareness begins to actualize as

our operational self, we increasingly can engage

the world in a manner that Buddhism refers to

as "mindful," and we can begin to live more and

more in a sane and adaptive manner.

We will continue to have negative emotional

states, but now rather than being helpless in their

grip, we know them for what they are and what

they are not. Most importantly, they are not who

we are. We know ourselves as awareness, and

this awareness is trans-personal. In a very real

way we become what Zen refers to as "nobody,"

not identified with the virtual-self. And where

there is no virtual-self, there is, as Buddha said,

no suffering. Yes, there will be pain. Pain is a

natural part of Life, but there will not be as much

suffering over our experience of physical and

emotional pain. Nor will there be this self telling

itself over and over of the unfairness of having

to endure pain. Pain translated into suffering will

not blot out all the beauty and miracle of Life, but

rather the painful takes its appropriate place in

the dance of everything that is real Life, and we

can manage the emotional pain with much greater

skill and acceptance.

Bill Walz has taught meditation and

mindfulness in university and public

forums and is a private-practice meditation

teacher and guide for individuals in

mindfulness, personal growth and

consciousness. Information on classes,

talks, personal growth and healing instruction, or phone

consultations at (828)258-3241, e-mail at healing@

billwalz.com Learn more, see past columns, video and

audio programs at www.billwalz.com

VOL. 23, NO. 6 — FEBRUARY 2020 | RAPIDRIVERMAGAZINE.COM | RAPID RIVER'S ARTS & CULTURE | 23
---
BOOKS

February book picks: 'Home Making' and 'Wilmington's Lie'

BY DENNIS RAY • DOWNTOWN ASHEVILLE

Lee Matalone's Home Making

is simply put — incredible.

Her style is reminiscent of Pat

Conroy and Flannery O'Connor

yet uniquely her own.

Her characters are well-drawn,

and after a few pages, you feel as

if they were old friends coming to

visit for a couple of days.

The book begins in Japan a few years after the

Second World War with Cybil, who is the result of a

brief affair between a young Japanese woman and a

French soldier—who at a young age is transplanted

to Tucson, Arizona, and raised by an American officer

and his rigid wife. After a rebellious adolescence,

she grows up to become a successful ob-gyn.

Chloe, Cybil's daughter, is adrift in an empty house

in the hills of Virginia. Her marriage has fallen apart,

and her estranged husband is dying of cancer.

Room by room, Chloe makes her new house into a

home, always grappling with the real and imagined

boundaries that limit her as a single, childless woman

in contemporary America.

Beau, Chloe's closest friend, is in love with a

man he's only met on the Internet, who lives across

the country. Shepherding Chloe through her grief,

he is often called back to his loud, humid, chaotic

childhood in Southwest Louisiana, where he first

reckoned with the intricate ties between queerness,

loneliness, and place. What is most impressive with

this book is how Matalone weaves the idea of having

a home and what it means to belong through each of

the subplots, without over-emphasizing our human

need not to be alone.

Home Making is more than a metaphor, more than

an idea or a story. It's a piece of literary magic. The

kind that reminds you exactly how enjoyable reading

can be. This book will undoubtedly be on my top-10

list for 2020. It's just that good.

Wilmington's Lie: The Murderous

Coup of 1898 and the Rise

of White Supremacy

By the 1890s, Wilmington was

North Carolina's largest city and

a shining example of a mixedrace

community. It was a bustling

port city with a burgeoning

African American middle class and a Fusionist

government of Republicans and Populists that

included black alder-persons, police officers, and

magistrates. There were successful black-owned

businesses and an African American newspaper,

The Record. But across the state--and the South

— white supremacist Democrats were working to

reverse the advances made by former slaves and

their progeny.

In 1898, in response to a speech calling for

white men to rise to the defense of Southern

womanhood against the supposed threat of

black predators, Alexander Manly, the outspoken

young Record editor, wrote that some relationships

between black men and white women were

consensual. His editorial ignited outrage across

the South, with calls to lynch Manly.

But North Carolina's white supremacist Democrats

had a different strategy. They were plotting

to take back the state legislature in November

"by the ballot or bullet or both," and then use the

24 |RAPIDRIVERMAGAZINE.COM | RAPID RIVER'S ARTS & CULTURE | VOL. 23, NO. 6 — FEBRUARY 2020

Manly editorial to trigger a "race riot" to overthrow

Wilmington's multi-racial government. Led

by prominent citizens including Josephus Daniels,

publisher of the state's largest newspaper,

and former Confederate Colonel Alfred Moore

Waddell, white supremacists, rolled out a carefully

orchestrated campaign that included raucous

rallies, race-baiting editorials and newspaper cartoons,

and sensational, fabricated news stories.

With intimidation and violence, the Democrats

suppressed the black vote and stuffed ballot boxes

(or threw them out), to win control of the state

legislature on November 8. Two days later, more

than 2,000 heavily armed Red Shirts swarmed

through Wilmington, torching the Record office,

terrorizing women and children, and shooting

at least sixty black men dead in the streets. The

rioters forced city officials to resign at gunpoint

and replaced them with mob leaders. Prominent

blacks — and sympathetic whites--were banished.

Hundreds of terrified black families took

refuge in surrounding swamps and forests.

This brutal insurrection is a rare instance of a

violent overthrow of an elected government in the

U.S. It halted gains made by blacks and restored

racism as official government policy, cementing

white rule for another half-century. It was not

a "race riot," as the events of November 1898

came to be known, but rather a racially motivated

rebellion launched by white supremacists.

In Wilmington's Lie, Pulitzer Prize-winner David

Zucchino uses contemporary newspaper accounts,

diaries, letters, and official communications

to create a gripping and compelling narrative

that weaves together individual stories of

hate and fear and brutality. This is a dramatic and

definitive account of a remarkable but forgotten

chapter of American history.

IF

YOU

GO

David Zucchino will be at Malaprop's

Tuesday, 2/11, 6pm

Lee Matalone will be at Malaprop's

February 26 • 55 Haywood St. Asheville
---
BOOKS

Bestselling author, Erik Larson, visits Malaprop's, February 28

PREVIEW BY STAFF REPORTS • DOWNTOWN ASHEVILLE

In The Splendid and

Vile, Erik Larson

shows, in cinematic

detail, shows how

Churchill taught

the British people

the art of being

fearless.

It is a story of political brinksmanship

but also an intimate domestic

drama, set against the backdrop of

Churchill's prime-ministerial country

house, Chequers, and his wartime

residence, Ditchley, where Churchill

and his entourage go when the moon

is brightest and the bombing threat is

highest.

Drawing on a wealth of untapped

sources, including recently declassified

files, intelligence reports, and

personal diaries only now available,

Larson provides a new lens on London's

darkest year through the dayto-day

experience of Churchill and

his family: his wife, Clementine; their

daughters, Sarah, Diana, and the

youngest, Mary, who chafes against

her parents wartime protectiveness;

their son, Randolph, and his beautiful

yet unhappy wife, Pamela; her illicit

lover, a dashing American emissary;

and the cadre of close advisors who

comprised Churchill's "Secret Circle,"

including his dangerously observant

private secretary, John Colville;

newspaper baron Lord Beaverbrook;

and the Rasputin-like Federick Lindemann.

The Splendid and Vile takes readers

out of today's political dysfunction

and back to a time of authentic leadership

when in the face of unrelenting

horror, Churchill's

eloquence, strategic

brilliance,

Jerry King

and perseverance

bound a country,

and a family,

together.

Denise Kiernan,

author, journalist,

and producer

will be there in

conversation with

Larson. Kiernan's

latest book,

The Last Castle

(September 2017),

was an instant

New York Times

bestseller in both

hardcover and paperback

and was

also a Wall Street Journal bestseller.

Her previous title, The Girls of Atomic

City, is a New York Times, Los Angeles

Times, and NPR bestseller and

has been published in seven languages.

She lives in North Carolina.

ABOUT ERIK LARSON:

Erik Larson is the author of seven

books, five of which became New

York Times bestsellers. His latest

Dead Wake: The Last Crossing of

the Lusitania, hit #1 on the list soon

after launch. His saga of the Chicago

Worlds Fair of 1893, The Devil in

the White City, was a finalist for the

National Book Award, and won an

Edgar Award for fact-crime writing; it

lingered on various Times bestseller

lists for the better part of a decade.

Hulu plans to adapt the book for

a limited TV series, with Leonardo

DiCaprio and Martin Scorsese as

executive producers. His In the Garden

of Beasts, about how America's

first ambassador to Nazi Germany

and his daughter experienced the

rising terror of Hitler's rule, has been

optioned by Tom Hanks for development

as a feature film. Learn more at

eriklarsonbooks.com

IF

YOU

GO

An evening with Erik Larson

This is a ticketed event. Ticket

sales are final. Tickets are transferable

but not refundable.

Friday, February 28, 6:30pm

Event address: UNC Asheville

Highsmith Student Union • Blue Ridge

Room • 1 University Heights, Asheville

www.malaprops.com

FEBRUARY 2020

PARTIAL LISTING

We host numerous Readings &

Book clubs, as well as Salons!

Visit www.malaprops.com

READINGS & BOOK SIGNINGS

Phoebe Kilby and Betty Kilby-

Baldwin discuss 'Slavery's

Descendants: Shared Legacies

of Race and Reconciliation'

2/05 - 6:pm

Monette Chilson presents

'Original Resistance:

Reclaiming Lilith, Reclaiming

Ourselves' - 2/06 - 6:00pm

Aleah Wicks presents 'Fat

Dog Farm: Tails of Farm

Failures' 2/10 - 6pm

David Zucchino presents

'Wilmington's Lie: The

Murderous Coup of 1898 and

the Rise of White Supremacy'

02/11 - 6pm

'CRAFT: Andre Frattino, author

of Simon Says: Nazi Hunter

Volume 1' in conversation with

Denise Kiernan at Little Jumbo

02/23 - 3pm

TICKETED: An Evening with

Erik Larson, author of 'The

Splendid and The Vile'

02/28 - 6:30pm

55 Haywood St.

(828) 254-6734 • 800-441-9829

Monday-Saturday 9AM to 9PM

Sunday 9AM to 7PM

VOL. 23, NO. 6 — FEBRUARY 2020 | RAPIDRIVERMAGAZINE.COM | RAPID RIVER'S ARTS & CULTURE | 25
---
BOOKS

When Google tried to get rid of your public library

BY PETER LOEWER • NATIONAL

Last week when somebody told me about the

worth of Google, my deeper memory bank

suddenly opened its vault door.

It allowed me to recall how Google attempted

to start a massive file that would eventually contain

all the books ever written, thus making them

available to all the computer users in America,

and ultimately the world.

Their original plan was to make a deal with the

University of Michigan to provide their library and

a place to install a fleet of scanners and begin

what I called at the time, Operation Scan Scam.

Google's idea began to meet reality in the year

2002 when they would begin digitizing about 25

million books, using books held by major university

libraries, including Harvard, Stanford, and Oxford

universities, and the

New York Public Library.

It was meant to be a

Google-plan, something

that a few wizard Geeks

thought up while enjoying

their Ivory Tower life atop

of the Google Institution,

probably in luxury offices

overlooking the great

Golden Gate Bridge, as

they turned the bridge

into an icon for spreading

knowledge and rescue

humankind from falling

into the pit of ignorance

where it usually wound up in any reading of the

future.

I didn't discover their fascinating attempt at

stealing the worlds' knowledge and putting it all

into a Google Wisdom Bank and, in so doing,

ended any chance of writers making a living from

royalty sales.

Luckily, a friend of mine who knew I had written

a new book about Henry Thoreau looked it up

online to check one of my reference books and

found the entire volume, Thoreau's Garden,

including well-reproduced illustrations, with all

the illustrations reproduced, while the book was

still available for sale in bookstores and from the

publisher.

Amazingly, while I was wondering what to do,

a message arrived from my New York agent,

telling me about Google's plans and because I

had 15 books in print and available in libraries

and often, bookstores, it was necessary for me

to write 15 individual letters telling Google that I

wrote each book in the list, including the date of

publication and the ISBN as it appeared on the

copyright page.

And so, I did. I wrote 15 separate letters and

mailed them to an address my agent had supplied,

and eventually, the books vanished from

sight.

Now, along with that operation,

Google publicly made the

following announcement: "All

libraries would cease to exist

within 15 years. " They would

close their doors because

storing books in publicly-funded

buildings would no longer be

needed, and the books of yesterday

and today, not to mention

tomorrow, would be waiting for

you, the faithful reader, online.

But enter the Authors Guild

(of which I am a member), other

publishers, and other author's

organizations who launched an epic battle that

went on and on and on for years. A settlement

that would have created a Book Rights Registry

and made it possible to access the Google

Books through public-library terminals ultimately

died, rejected by a federal judge who dismissed

the case in 2011.

Unfortunately, in 2013, that same judge handed

Google a victory that allowed it to keep on scanning,

but while these hawkers of dreams scanned

away, the libraries of America began to achieve

greatness again, and new buildings were built, and

new books were published, and new books were

read, and today your local library is there for you,

and will continue to be there as the years go by.

Another victory for the book.

Peter Loewer has been writing about Asheville

gardening and politics, plus the occasional

movie that needs attention, since

1990. He also teaches art courses in Continuing

Education at AB-Tech. His garden comments are

heard on Asheville-FM as The Wild Gardener.

INFO

26 |RAPIDRIVERMAGAZINE.COM | RAPID RIVER'S ARTS & CULTURE | VOL. 23, NO. 6 — FEBRUARY 2020
---
Happy

Valentine's Day

"Jesse," watercolor, by Lisa Steffens "Girl with red hair," by Martin Poole "Poke Weed," by Stephanie Sipp

Flora, Fauna & Figure at the Red House Studios and

Gallery this February

BY STAFF REPORTS • BLACK MOUNTAIN

Swannanoa Valley Fine Arts League's gallery

blooms this February for the show Flora, Fauna,

and, Figure. Enjoy the wonders of the league's

artists, including that of figurative studio artists

and botany-driven journalists, February 11 –

March 9 at The Red House Studios and Gallery.

Reception, Friday, February 14, 5-7pm. Open:

Monday through Saturday, 10-5pm, Sundays, 10

-3pm. 310 W State St., Black Mountain.

www.svfalarts.org

VOL. 23, NO. 6 — FEBRUARY 2020 | RAPIDRIVERMAGAZINE.COM | RAPID RIVER'S ARTS & CULTURE | 27
---
CREATIVITY: A METAPHOR FOR UNIVERSAL

AWARENESS

CREATIVITY WITH MARIJO MOORE

Satire is the trickster of the creative realm. Ambiguous

in nature, the trickster hopes to improve

humanity by exposing what needs to be changed.

The essay below, written by Zoey M. Jaynes - a

senior at TC Roberson High School in Asheville,

who will attend Brevard College to study English

with a journalism concentration in the fall of 2020

- is an excellent showing of the satirical trickster

in action. Her creation joltingly reminds us that we

must listen to our youth. They are the designers of

the future, of which some of us are dreaming.

This is normal: a satirical exposure of

modern society — by Zoey M. Jaynes

In modern-day, our most significant issues usually

stem from one greater source, the political

divide.

Upon hearing others opposing beliefs on

things, we tend to get a nasty taste in our

mouths. This is normalcy now. We have become

accustomed to hating others for opinions taught

to them for generations upon generations. Our

media oversaturates us with false representations

of the other side, vilifying them into horrible monsters

that we must keep our children away from

— pulling their arms in crowded places, pulling

them apart, to keep them safe. We live divided,

with grand prejudice against our own people.

This is normal.

And to celebrate our new-found identities, I

have a grand proposal; we should separate ourselves

into separate societies — What better way

is there to live than that? — completely detached

from those horrible monsters that lurk near your

doorstep. For this grand step forward, we will

again need to split our nation, but indeed a worthy

price to pay for such needed peace. Loss of

family homes, lifestyles, are only a small price to

pay. We shall separate in a way similar to the civil

war division but splitting the nation all the way

and letting California decide upon joining one

side or splitting in two. Oh, what glorious prosperity

we shall soon obtain! We shall fly our flags,

scream our thoughts, wear our armbands, build

our walls never once hearing any opposition, no

other opinion, no voice. This will be normal now.

Oh, but of course, those monsters will be

something we still can't free ourselves from. Our

children will never be safe. They might hear the

old ideals of the other party and become swayed

in their stances, their morality quivering. There

could be spies lurking in the streets, spouting

their nonsense. We must wipe them out of

history books. Out of our history, to protect our

children from the dangerous treachery residing in

the places that we do not dare go.

Our tensions, our disgust, our hatred shall

not die. We will warn our children of that evil,

disgusting monsters, ones of colors, nose rings,

spray tans, what have you. Sitting there typing

hypocrisies, blatant lies against everything we

have ever known, what we have always stood

for — ripping apart our beliefs because they feel

so inclined to do so. But no more shall we stand

for this tyranny, this abuse of free speech. We

must rise against their evil and spare our future

generations; we must wage a most glorious war

that has been dying to break loose since the very

dawn of our dear nation. But this war will have a

victor, a champion to decide our fate. We must

wipe out monsters, the oppressors, the villains,

and start anew. Separate, sophisticated, but so

much better than they were.

Our grand battle will be one of the new age,

a nuclear war. Bombs shall scream through

the skies, and one after one, flag after flag,

wall after wall, home after home the other ugly,

disgusting, hateful side shall fall. All shall fall.

It may take months or even years, thousands

of lives lost in the snap of your fingers. It is a

righteous war, one we've always known would

come upon us. We will have two families chosen,

families of honor or respect. They will fight to the

death, and whichever has

the most or at least one

person remaining shall get

to choose the destination

of the first bomb. The face

of the new nation, a better

one. A normal one.

When the bloodshed has

finally ended, the smoke

clearing, we shall have

drones sweeping the land.

However, many remaining

from each side shall be

called to the designated

quarantine areas, safe from

the nuclear waste, the

decay, the ugly places we

dare not look upon. And

they shall fight to the death

once more; the living side

shall be named victorious,

the heroes of the new pure

nation. And as a prize shall

be responsible for repopulation.

We shall forge a new

government, a whole one

unseparated by beliefs or

ideals.

So will you sign for my

Art copyright © by

modest proposal? And join

MariJo Moore

the coalition to make the United

States exactly as it should be, separate?

MariJo Moore (Cherokee/Irish) is an author/

poet/anthologist/seer/medium. She has authored

over 20 books, the most recent being

Crow Quotes Revisited. Currently, she is working on

an anthology titled Power of the Storm: Indigenous

Voices, Visions, and Determination - Dedicated to

John Trudell, which will be released in early 2020.

She resides in Asheville. www.marijomoore.com

INFO

28 |RAPIDRIVERMAGAZINE.COM | RAPID RIVER'S ARTS & CULTURE | VOL. 23, NO. 6 — FEBRUARY 2020
---
'Jonas' continued from page 22

This is one of the most important

aspects of abstract

art. Once freedom to create

form shows up, it is natural

for the intuition or the soul to

manifest another version of a

similar type of composition.

The soul has now developed

its language, for now. That can easily change in the

next painting because intuition says so.

Transport yourself into a state of being and be

open to allowing the art to flow through you without

involving the ego, if possible. Be immersed in the

process from moment to moment and feel the art

becoming your reason for being

This may sound easy, but it is not! It took me

years to transition from representational art to the

world of abstraction. So many doubts and fears

show up. When we do this work, we begin to

analyze why there is so much fear in making art.

It is a lot easier not to go so deeply within and

paint nicely-staying on the surface. Will the artist

stay true to themself and create deeper, or will

they continue trying to "look good" and stay on the

surface? The true artist will have to face vulnerability,

take bold risks, and the magic will happen.

'Health' continued from page 20

While we do not know how to protect our

appendix from developing life-changing inflammation,

we can choose health patterns that promote

a healthy gut – avoiding pro-inflammatory substances

(excess sugars and saturated fats, red

meats, and highly processed meats) and adopting

a gut-healthy lifestyle (maintaining a healthy

weight and BMI, getting regular exercise, drinking

adequate water intake, and eating a high fiber

diet).

And finally, consider the smallest actor of all

– the fifth toe, the "pinky." Of what possible use

could it be? What if it were amputated, would that

make any difference at all?

The natural action of the foot during a normal

stride is: the heel strikes the ground, followed by

Trust yourself. Taking

risks takes courage, even

if it means painting over

"a nice corner." Fears

will arise with feelings of

uneasiness, impatience,

and lack of trust.

A combination of

deep experimentation, being daring, and being

courageous produces fresh, original, potent art.

Interestingly enough, people are attracted to this art

without having any idea why. Paintings done under

these courageous moments are full of life, the

colors, and composition are divinely inspired. The

work bypasses the intellect and is uncontrollably

targeted directly to the soul of the viewer.

In my humble opinion, that's what art is supposed

to do.

"Children have no judgment,

so they are free

to create from whatever

comes through them. Their

actions are pure and innocent,

and innately divine.."

IF

YOU

GO

Jonas Gerard Fine Art

240 Clingman Ave, Asheville

(828) 350-7711

CONTINUED

Jonas Gerard At Riverview Station

191 Lyman St, Asheville • (828) 255-6300

www.jonasgerard.com

the outside of the foot touching the ground down

to the outside ball of the foot – the fifth toe, then

rolling across the balls of the toes to the great toe

for the push off for the next step. Throughout the

normal stride, the fifth toe provides critical stabilization

for the foot and ankle. Those who have

had the fifth toe amputated report great difficulty

in walking and a loss of stabilization in the normal

step. Even your little toe deserves healthy choices

of correct shoe styles, healthy foot habits, and

caution when walking to protect this small, but

essential body part.

The Designer of our bodies understood that

even small things could have a significant impact

on our health and well-being. Our goal should be

to protect and preserve as best we can even the

least of these.

70 Main Street • Clyde, NC 28721

VOL. 23, NO. 6 — FEBRUARY 2020 | RAPIDRIVERMAGAZINE.COM | RAPID RIVER'S ARTS & CULTURE | 29
---
February Comics

www.brotherrock.net

Ratchet and Spin

By Jess and Russ Woods

Ratchet and Spin © 2020

Corgi Tales

By Phil Hawkins

Best in Show

By Phil Juliano

30 |RAPIDRIVERMAGAZINE.COM | RAPID RIVER'S ARTS & CULTURE | VOL. 23, NO. 6 — FEBRUARY 2020
---
WE LOVE LIVE THEATER

The Magnetic Theatre offers comedy, Burlesque and more this February

BY STAFF REPORTS • RIVER ARTS DISTRICT, ASHEVILLE

The Magnetic Theatre prides itself

on offering a wide variety of original

programming, ranging from

comedy, burlesque, and horror

to new plays about social change.

In each case, we strive to support

creativity in our community, particularly

for emerging artists.

This February, Magnetic is bringing

Asheville fun-filled shows, workshops,

and more.

On February 7 at 8 pm, Deb au

Nare presents Funny & Bare. A delicious

mix of classic burlesque and

comedy featuring headlining stars,

May Hemmer and Evelyn Vinyl.

Hosted by "The Glittering Guffaw,"

Deb au Nare, bringing her signature

mix of wit and sass to the mic as

well as burlesque performances.

Also featuring performances by

Rebel Vitale, Sue Meringue and

Snickersnee. Tickets are $30 and

can be purchased at

debaunare.com/funnyandbare

Deb au Nare is a glamorous,

goofy, and highly professional burlesque

performer currently based

in Asheville. She has been teasing

her way across the country since

2007 and has won awards for her

back-bending chair acts. She is the

headmistress and founder of the

Burlesque Academy of Asheville

and produces several shows locally,

including Risque Monday, Pineapple

Peep Show, and Funny & Bare. With

big hair and an even bigger personality,

her signature style of glamorous

classic burlesque costuming

mixed with hilarious storylines

always leaves the audience laughing

and longing for more.

Stand-up comic and storyteller

Cameron Davis will present his delightfully

satiric and playful one-person

show Lying to Strangers, on

February 8 at 7:30 pm.

This year-in-review show features

character-based stand-up sets, storytelling,

and video sketches created

by Davis.

"When you meet someone for

the first time, you are developing

your character," he says. "You have

the potential to play with people's

expectations because we take

everyone at face value when we first

meet them. This has been a huge

inspiration in developing my solo

characters, that I, too, am another

character who can wander into

someone's life. My truth, personality,

demeanor, are a small sketch of

myself that I imprint on someone as

they drift away and continue with

their lives."

Davis is a writer, producer, and

comedian from Miami. He moved to

Chicago in 2012 to pursue comedy.

Now, 29, he is considered old by

millennial standards. It's all good

though because his favorite phrases

were 'Friends was pretty problematic

looking back on it' and 'Which

ska band did you watch at Warped

Tour 2002?' anyway.

Davis's journey has gone through

the existential poetry phase, straight

into the sloppy college sketch

phase, then into the intellectual

stand-up phase, on to the improv

love-fest phase, and has recently

moved into the silly, bare-boned

world of a solo sketch. At his heart,

he is a lover of performance and will

write until the final, whimsical wisdom,

deathbed phase of his career.

IF

YOU

GO

The Magnetic Theatre

375 Depot Street in the River

Arts District. Patrons can call

the Box Office at (828) 239-9250 or

visiting www.themagnetictheatre.org

For questions, please contact Artistic

Director Katie Jones:

kjones@themagnetictheatre.org or

call (828) 239-9250.

VOL. 23, NO. 6 — FEBRUARY 2020 | RAPIDRIVERMAGAZINE.COM | RAPID RIVER'S ARTS & CULTURE | 31
---
32 |RAPIDRIVERMAGAZINE.COM | RAPID RIVER'S ARTS & CULTURE | VOL. 23, NO. 6 — FEBRUARY 2020