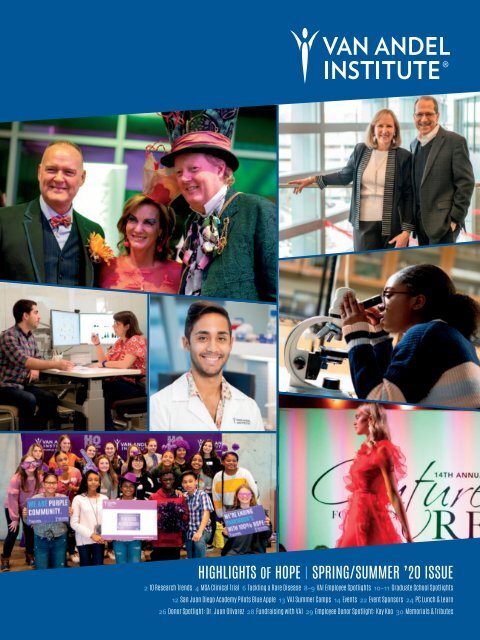 2020 Spring/Summer Highlights of Hope
You also want an ePaper? Increase the reach of your titles
YUMPU automatically turns print PDFs into web optimized ePapers that Google loves.
HIGHLIGHTS OF HOPE | SPRING/SUMMER '20 ISSUE

2 10 Research Trends 4 MSA Clinical Trial 6 Tackling a Rare Disease 8–9 VAI Employee Spotlights 10–11 Graduate School Spotlights

12 San Juan Diego Academy Pilots Blue Apple 13 VAI Summer Camps 14 Events 22 Event Sponsors 24 PC Lunch & Learn

26 Donor Spotlight: Dr. Juan Olivarez 28 Fundraising with VAI 29 Employee Donor Spotlight: Kay Koo 30 Memorials & Tributes
---
RESEARCH

10 RESEARCH TRENDS WE'RE EXCITED TO

WATCH IN THE NEXT DECADE

With a new decade comes a new world of possibility, and

innovation waiting to be unleashed in labs at Van Andel

Institute and across the globe. As we take our first steps into the

2020s, here are 10 promising research trends to keep an eye on

now and in the coming years.

Our understanding of Parkinson's disease will continue to

evolve, spurring new research and breakthroughs

Parkinson's disease has long been considered a movement-related

disorder that originates in the brain. Recent research, however,

suggests that Parkinson's disease might represent a group of

closely related disorders. While they share key clinical features,

they may have roots in different anatomical locations, such as the

gut and nose. Even if the anatomical starting points differ, there is

evidence that cell metabolism, inflammation and poor handling of

certain proteins are common features. In the coming years, these

insights could lead to the development of new therapies to slow or

stop its progression.

Breakthroughs in common diseases like Parkinson's, dementia

with Lewy bodies and Alzheimer's might help us better

understand rare disorders

It's become increasingly clear that an improved understanding of

one disease may provide new insights into another. For rare and

understudied diseases like multiple system atrophy, this provides

a particularly important opportunity to gain the insight required to

develop new diagnostics and treatments.

Inflammation will increasingly be linked to disease — and give

rise to new treatments

Inflammation is a normal part of the immune system, responsible

for marshalling resources to the site of a wound, infection or

disease (like cancer) to help the body fight back. When inflammation

remains longer than needed, it can cause or contribute to a host of

health problems. Researchers are hard at work sorting out exactly

how and why this happens, which could be the findings that serve

as the foundation for new therapies for cancer, neurodegenerative

diseases, depression and many others.

Understanding how the body processes, uses and stores

energy will be critically important

Metabolism powers every aspect of the human body, from

keeping the immune system running to ensuring our hearts have

enough energy to beat. We've known for some time that metabolic

dysfunction plays a central role in diseases like diabetes and even

in cancer, thanks to malignant cells' voracious appetites for energy.

But new breakthroughs also have linked issues with metabolism

to neurodegenerative diseases like Parkinson's and Alzheimer's,

among others. As we better understand our bodies' incredibly

complex web of metabolic processes, it's likely that we will continue

to find metabolism at the center of many disorders — and many

future treatments.

Cancer treatment will harness combinations of medications

designed to give cancer a one-two punch

We now know that cancer comprises more than 100 different

diseases, each with its own litany of subtypes (for example, breast

cancers can be defined based on the presence or absence of

certain molecular receptors). This expansive diversity means that

there is likely no silver bullet cure. Instead, we can expect to see

more combination therapies that utilize multiple medications

whose effects complement or enhance each other's ability to fight

cancers. A prime example is pairing an immunotherapy drug,

which bolsters the body's natural defenses against cancer, with

an epigenetic drug that makes cancer cells more recognizable,

more susceptible to immune attack, and is thought to reinvigorate

exhausted immune cells and get them back in the fight.

We will better understand how the health and diet of one

generation can affect the next

Can a parent's diet, experiences and lifestyle impact their children?

Or subsequent generations? Mounting evidence suggests that

nutrition does indeed have a ripple effect across generations, even

altering individuals' predisposition to disease. Efforts are underway

to better understand how nutrition and other environmental

factors reprogram the genome and epigenome, and how this

information traverses generations. The goal: developing ways

to prevent and treat diseases including diabetes, cancer, and

Parkinson's, and to protect our children from the unwanted

consequences of our own lifestyles.

We will see the translation of structural findings into

actionable therapies

Structural biology seeks to determine the shape and architecture

of life's smallest building blocks, such as proteins. These efforts

are vitally important, helping us understand in intricate chemical

detail how the body works and laying the earliest foundations for

new medications. In the past five years, there has been a boom

in structural research, based on technological advances in cryoelectron

microscopy (cryo-EM), a technique that helps scientists

view molecules down to the atomic level. In the next decade, we will

continue to build on these foundational discoveries, which could

give rise to new treatments.

2 | VAN ANDEL INSTITUTE HIGHLIGHTS OF HOPE
---
We'll learn more about microenvironments and microbiomes

and their role in cancer and other diseases

In many ways, the future will be "micro." Our technology is

miniaturizing; we are able to study the tiniest components of

life in ways never before possible and scientists are increasingly

understanding the importance and diversity of microenvironments,

the mini ecosystems that exist throughout the body. In cancer, the

microenvironment is the area immediately surrounding a tumor,

which can comprise blood vessels, immune cells and structural

cells, among others. These areas offer windows into how specific

cancers grow and proliferate, and may even offer new solutions

for stopping them. We're also learning more about the role of

microbiomes, the host of microscopic organisms such as bacteria

that inhabit specific areas of the body like the gut. For example,

researchers who are sleuthing out the links between the gut and

Parkinson's disease are taking a look at the gut microbiome as a

possible factor in disease onset.

Technology will spur even more innovation

Editing genes using CRISPR. Determining molecular structures

with high-powered cryo-EM. Decoding the genome through nextgeneration

sequencing. The advent of these powerful technological

tools, paired with increasingly robust computational capabilities,

have revolutionized how we study health and disease, and already

have contributed to critical biomedical breakthroughs. With

technology continually advancing, we can only expect the innovation

to continue in years to come.

Big Data will continue to yield new insights

Big Data refers to the massive amounts of information generated

by certain types of research, such as genomics. With technology

improving every day, the amount of data being churned out will only

continue to balloon, presenting opportunities and challenges to

scientists working to get to the root of disease. By closely analyzing

large datasets (a monumental task itself), scientists can look for

patterns linked to disease. A prime example is The Cancer Genome

Atlas, a National Institutes of Health-led effort that molecularly

mapped 33 different types of cancer. These highly detailed and vast

datasets helped identify important variations in cancer types and

subtypes that may form the foundation of new targeted therapies.

To read more about Van Andel Institute's research in these areas, visit

vai.org/10-trends-2020s.

VAN ANDEL INSTITUTE HIGHLIGHTS OF HOPE | 3
---
RESEARCH

CAN A DIABETES DRUG SLOW OR STOP A

DEVASTATING NEURODEGENERATIVE DISEASE?

A NEW CLINICAL TRIAL GIVES HOPE TO PEOPLE WITH MULTIPLE SYSTEM ATROPHY

Philip Fortier is on a mission: to find a cure for multiple system

atrophy, a devastating neurodegenerative disease that lacks

an effective way to halt progression.

For him, it's deeply personal. His brother, Joe, battled MSA for three

years before passing away in 2013. Now, the organization the

Fortier family founded — Defeat MSA Alliance — has teamed up

with Van Andel Institute and others to support a groundbreaking

clinical trial to see if a common diabetes drug called exenatide may

also impede MSA's rapid course.

"There are a great many people around the world suffering from

MSA and there are no drugs known to slow it down," Fortier said.

"Anything we can do to help research — to find a drug that can be

repurposed to help people — is something we should and must

do."

A tough foe

MSA is a quick and cruel disease. Over the course of five to

10 years, it ravages the body, shutting down the vital systems

necessary to keep a person healthy and functioning like the ability

to move, to regulate heart rate and to digest food. Between 15,000

and 50,000 people in the U.S. have MSA. The exact number is

tough to pin down because MSA is notoriously difficult to diagnose,

particularly in its early stages when it often is mistaken for

Parkinson's disease.

In fact, like Parkinson's, many scientists also believe MSA is linked to

a buildup of abnormal proteins called alpha-synuclein, which clog

critical cells and cause them to die. In MSA, these cells are the glia,

which support and protect the brain's nerve cells.

"We now know that MSA, Parkinson's and another related disorder,

Lewy body dementia, are all linked by alpha-synuclein," Fortier

said. "That has given us new hope that, with more research, we can

possibly find something that gives people with MSA more years

with fewer symptoms."

New hope

The pilot trial is helmed by Prof. Thomas Foltynie in collaboration

with colleagues at University College London Queen Square

Institute of Neurology and the UCLH National Hospital for

Neurology and Neurosurgery in London. Two previous small

clinical trials by Foltynie's group have shown that exenatide is

well-tolerated in patients and may slow Parkinson's progression.

Additionally, lab data in models of MSA and post-mortem data from

the brains of people who had MSA indicate that exenatide may

have positive effects.

"There are a great many people around the

world suffering from MSA and there are no

drugs known to slow it down. Anything we

can do to help research — to find a drug

that can be repurposed to help people — is

something we should and must do."

— PHILIP FORTIER

The approach — repurposing a medication developed for one

disease to treat another — is an innovative way to maximize

scarce resources and shave off precious time in the search for

new treatments, said Dr. Patrik Brundin, director of VAI's Center for

Neurodegenerative Science and a Parkinson's expert. Brundin's lab

also studies the origins of MSA and is investigating potential new

therapies, such as another drug developed to treat diabetes as a

possible treatment for Parkinson's and MSA.

"Although they look different on the surface, many diseases are

linked to similar biological pathways. That's why a diabetes drug has

potential to treat neurological disorders like MSA and Parkinson's,"

Brundin said. "Repurposing is another tool for us to work quickly

toward life-changing breakthroughs."

Fortier sees the trial as a bold new step forward in MSA research,

bolstered by a collaborative group of organizations that have united

to take on a particularly challenging adversary.

4 | VAN ANDEL INSTITUTE HIGHLIGHTS OF HOPE
---
VAI CHIEF DEVELOPMENT OFFICER BRETT HOLLEMAN, PHILIP FORTIER,

DR. PATRIK BRUNDIN & VAI POSTDOCTORAL FELLOW DR. WOUTER PEELAERTS

"If we are going to be successful, we need more research and

we need to bring together people from across the scientific

community," Fortier said. "It's a calling — to love and care for one

another and do our best to help people with MSA."

The study is funded by the John Black Charitable Foundation in the

U.K. and Van Andel Institute and the Defeat MSA Alliance in the U.S. The

study is supported by the MSA Trust (U.K.).

ABOUT MULTIPLE SYSTEM ATROPHY

• Between 15,000 and 50,000 people in the

U.S. have MSA

• Symptoms most frequently appear after age 50

• Early symptoms are frequently difficult to distinguish

from Parkinson's disease and include tremor, rigidity,

slowed movement and impaired speech

• Like Parkinson's, MSA is considered to be a

"synucleinopathy," a disease marked by buildup

of the protein alpha-synuclein.

Source: National Institute of Neurological

Disorders and Stroke

VAN ANDEL INSTITUTE HIGHLIGHTS OF HOPE | 5
---
RESEARCH

HOW BIG DATA AND COLLABORATION IS

REDEFINING A RARE FORM OF DEMENTIA

Van Andel Institute's Dr. Rita Guerreiro and Dr. José Brás

have teamed up with more than 100 other scientists from

around the world to take on frontotemporal dementia, a

rare disease that currently has no cure and no treatment

that slows progression.

In late 2019, the group led by Dr. Jonathan Rohrer at University

College London published a wide-ranging study in The Lancet

Neurology that provides new insight into FTD that could one

day shape future treatments. Here's a quick primer on FTD and

breakdown of their findings.

Frontotemporal dementia is rare and tough to define — and

that makes it hard to study

For more than a century, the exact name and definition of

frontotemporal dementia has been in flux. It is best described as

a syndrome — a set of symptoms that often occur together. While

the exact parameters of what constitutes FTD will likely evolve as

we learn more, typical features of the disease include progressive

shrinking of the frontal and anterior temporal lobes of the brain;

that is, the brain's front and bottom regions.

Other FTD symptoms fall into two categories:

• Behavioral changes, such as impulsive or listless behavior,

inappropriate social behaviors, repetitive or compulsive

behaviors, and agitation.

• Difficulties with language, such as problems comprehending

speech or with speaking. Often, these symptoms occur

alongside behavioral symptoms.

About one-third of FTD cases are genetic, meaning the disease can

be directly linked to changes, or mutations, in specific genes.

When it comes to rare diseases, collaboration is critical

Rare diseases like FTD can be tough to study due in large part to

their nature. There often simply aren't enough cases from which to

gather sufficient data. Moreover, while FTD is a rare disease, FTD

caused by DNA mutations is even rarer.

To establish what is typical for each mutation or for each gene,

scientists must have enough cases with the same mutation or

mutations in the same gene. This is only achievable by leveraging

the collective power of research centers around the world. Each

of these centers may only have a handful of cases but, when

analyzed all together, scientists can start seeing patterns that

would have been impossible to identify in the individual cohorts

from each center.

In this study, the team was able to compare data from 3,403

individuals representing 1,492 families — far more than would be

accessible at any one center. The result is a powerful overview of

genetic mutations that contribute to age of symptom onset, age of

death and length of disease in people with FTD.

The findings lay an important foundation for future research

and future treatment

The study focused on the three genes most frequently mutated in

FTD: MAPT, GRN and C9orf72. Here are a few examples from their

findings:

• GRN mutations were more likely to affect women than men.

• People with MAPT mutations tended to be younger at symptom

onset and at death.

• People with C9orf72 mutations had the shortest disease

duration, on average.

Rare diseases like FTD can be

tough to study due in large part

to their nature. There often

simply aren't enough cases

from which to gather sufficient

data. Moreover, while FTD is a

rare disease, FTD caused by DNA

mutations is even rarer.

Overall, the team was able to better characterize what is typical for

rare mutations. This information is particularly important for people

and families living with these mutations, for clinicians managing FTD

and for drug developers assessing progression of disease in clinical

trials.

Additionally, a large-scale, Big Data study such as this allows

scientists to better define disease subtypes by country and,

ultimately, can move the field one step closer to precision medicine.

6 | VAN ANDEL INSTITUTE HIGHLIGHTS OF HOPE
---
DR. JOSÉ BRÁS & DR. RITA GUERREIRO

VAN ANDEL INSTITUTE HIGHLIGHTS OF HOPE | 7
---
RESEARCH

DAN ROGERS — NEW THERAPIES, ONE TRIAL AT A TIME

All new therapies for diseases like cancer and Parkinson's

began in a lab — the culmination of years of research,

scientific testing and rigorous clinical trials.

These trials, which evaluate the safety and effectiveness of potential

new treatments in real people, are the conduit that translate

discoveries from the lab to a point where they can benefit patients.

For more than five years, Dan Rogers, clinical research manager

at Van Andel Institute, has helped organize and manage the

Van Andel Institute–Stand Up To Cancer Epigenetics Dream

Team, a collaborative effort that brings together leading scientists,

physicians, philanthropic organizations and companies to improve

the standard of cancer care. Along with a small but incredibly

talented team of experts, Rogers helps the team to propel the

discoveries made in labs into clinical testing — a critical step to

getting new therapies to the patients who need them most.

"When you hear David Van Andel, VAI's

chairman and CEO, say there are patients

out there right now who are counting on

us to come up with better treatments and

diagnostics, it resonates with me the

urgency of our mission."

— DAN ROGERS

"My dad passed away from cancer in 2016 and was fortunate to

live a long and quality life — even after diagnosis," Rogers said. "I

often think about how the work I am involved in now in advancing

better treatment options for cancer patients have and will have an

impact on people like my dad — extending their lives and giving

them more time with their loved ones. When you hear David

Van Andel, VAI's chairman and CEO, say there are patients out

there right now who are counting on us to come up with better

treatments and diagnostics, it resonates with me the urgency of

our mission."

Rogers grew up in a family surrounded by medicine, science and

the concept of service. His father worked for many years as an

emergency room physician, which gave Rogers an early insight into

the world of patient care.

"As any typical young person, I resisted working in the family

business — medicine — for quite a while. But, after working as an

emergency room tech as a summer job in college, I developed an

understanding of the importance of helping those in need and

DAN ROGERS

I was hooked," Rogers said. "Now, I have this great opportunity

to work for an Institute that can benefit human health, and as a

member of the team I can play a role in clinical trials that bring

new therapies to patients across the U.S. and the world. And

knowing that is really gratifying and humbling."

8 | VAN ANDEL INSTITUTE HIGHLIGHTS OF HOPE
---
BRYN EAGLESON — ONE OF THE

INSTITUTE'S ORIGINAL RECRUITS

When Van Andel Institute's founding

director of research, Dr. George

Vande Woude, started the Institute's

research program in 1999, he recruited

bright, young scientists and experts

to help him build something truly

unique. One of those recruits was Bryn

Eagleson. A director in the Institute's Core

Technologies and Services, her work directly

supports scientists as they uncover new

diagnostics and treatments for cancer,

neurodegenerative disorders and many

other diseases.

Motivated by the Institute's mission to

benefit human health for current and

future generations, and its collaborative,

innovative work environment, Eagleson has

made VAI her professional home for more

than 20 years. After two decades of hard

work, she now understands the role her

work has played in helping shape VAI into

a global epicenter for biomedical research

and education. With no plans to slow down,

Eagleson looks forward to serving the

Institute's mission until she retires.

"My hope is that all of this cutting-edge

research can soon become translated into

new ways to help people in the clinic, and

that our work can have a lasting benefit to

human health," she said. "It's been amazing

to build something from the beginning and

to know my work has contributed to this

incredible research. It is truly something I

am so proud to be a part of."

BRYN EAGLESON

VAN ANDEL INSTITUTE HIGHLIGHTS OF HOPE | 9
---
RESEARCH

ALFREDO REYES OLIVERAS

FINDS WORLD OF POSSIBILITIES

AT VAI GRADUATE SCHOOL

Two years before Alfredo Reyes Oliveras came to Van Andel

Institute Graduate School, he survived a hurricane.

Reyes Oliveras was at home with family when Hurricane Maria

struck Puerto Rico in September 2017. He and his family made it

through, but the deadly Maria caused extreme damage and left

millions without power for months.

"I woke up during the night to get a glass of water and looked

through the window. You could see trees falling," Reyes Oliveras

said. "The house in front of ours disappeared."

Despite the damage, Reyes Oliveras was able to return to his

studies at University of Puerto Rico, Mayagüez Campus, relatively

soon after; the university had escaped the brunt of the storm.

He went on to earn two bachelor's degrees: one in chemistry and

another in molecular biology.

Reyes Oliveras is part of VAI's largest and most international

Graduate School cohort to date. He learned of the Graduate

School while researching programs in molecular biology.

The Graduate School stood out from his other two considerations,

Cornell University and University of Miami, because he viewed

the Institute's small size as an asset. "The Institute offers a more

welcoming experience," Reyes Oliveras said. "You can know

everybody here, and I really like that. You can make connections

easily."

Reyes Oliveras is interested in further exploring cancer research

at the Institute. His curiosity in the field was piqued during an

undergraduate internship at University of Miami, where he studied

pancreatic cancer.

Though he leans toward pursuing cancer research, Reyes Oliveras

had the opportunity to work on immune system research during a

laboratory rotation with Dr. Connie Krawczyk his first semester. The

research he saw impressed him and gave him something to think

about in regard to his future track. Under the Graduate School's

curriculum, he'll choose a thesis and select a research adviser in

spring 2020 — his second semester.

Just one semester in, Reyes Oliveras is already excited about the

possibilities ahead.

"The research at VAI is great," he said, "and so far, I've only been

exposed to a little bit of the science that's happening here."

ALFREDO REYES OLIVERAS

GRADUATE SCHOOL

BY THE NUMBERS

5.3 years average time to Ph.D.

3 seven-week laboratory rotations during

first two semesters

3 years of doctoral candidate thesis

research in a faculty mentor's lab

68% Ph.D. graduation rate

75% total graduation rate (Ph.D. and M.D.)

10 | VAN ANDEL INSTITUTE HIGHLIGHTS OF HOPE
---
GRADUATE SCHOOL 'A STEP ABOVE

ALL THE OTHER PROGRAMS' FOR

DR. NIKKI THELLMAN

For Dr. Nikki Thellman, earning a degree in veterinary

medicine wasn't enough.

A self-described lifelong learner, she wanted to go beyond what

she studied in vet school and tackle pressing problems in the clinic

from a research perspective. "I was already a professional with

clinical experience and a vast understanding of disease diagnosis

and treatment," Thellman said. "What was missing was a deep

understanding of the underlying mechanisms for disease and the

scientific training to tackle unmet medical needs."

After four years of practicing veterinary medicine, Thellman

researched doctoral programs. At a graduate school fair, she

happened upon a booth for Van Andel Institute Graduate School.

Intrigued by its mission and problem-based curriculum, she

applied and was accepted.

"I felt the Graduate School was unique and was truly a step above

all the other programs," Thellman said. "I would be building upon

my skill sets and not just be another student number."

At the Institute, she joined the lab of Graduate School Dean

Dr. Steven Triezenberg, whose research has greatly expanded

understanding of how viruses "wake up" after lying dormant.

Under Triezenberg's mentorship, Thellman began studying herpes

simplex virus, a common pathogen whose two types — herpes

simplex virus type 1 and herpes simplex virus type 2 — collectively

affect more than 4 billion people worldwide. Her task? To develop

a laboratory tool growing sensory neurons in order to study the

molecular and genetic factors that allow the virus to establish itself

in a host, fall dormant and later reactivate.

Thellman successfully defended her dissertation in 2017. She

then spent two years as a clinical development manager at

Zoetis, the largest animal health company in the world, running

companion animal clinical trials for novel therapeutics. She recently

transitioned to a senior scientist role there where she continues to

blend her passions for veterinary medicine and scientific discovery

to make a tangible impact on disease management.

"Van Andel Institute Graduate School trained me to think like a

scientist," she said. "Everyone knows you and is eager to make your

education experience a success."

For more information on Van Andel Institute Graduate School, visit

vaigs.vai.org.

DR. NIKKI THELLMAN

VAN ANDEL INSTITUTE HIGHLIGHTS OF HOPE | 11
---
EDUCATION

BLUE APPLE BRINGS PROJECT-BASED LEARNING TO LIFE

The fifth-grade students at San Juan Diego Academy faced a

choice: should they protect Earth's environment or explore

Mars as a potential home?

The fifth-grade students at San Juan Diego Academy faced a

choice: should they protect Earth's environment or explore Mars

as a potential home?

The students were among the first to pilot a new program called

Blue Apple, created by Van Andel Institute for Education to

increase students' engagement and help teachers who want to

make a significant difference in their students' lives. Blue Apple

provides teachers with project plans and supplies, connections to

real-world experts, cross-curricular content, and the opportunity

to collaborate with other classrooms. The Institute also makes

members of its staff available as project coaches.

"Working with VAI is just something special for us, and we are

really blessed," said Christine Wright, a fifth-grade teacher at San

Juan Diego Academy. "If the Institute did not work with us and

give us these opportunities, there would be experiences our

students would miss out on."

Wright's students undertook Blue Apple's "Dirty Truth" project,

and learned the importance of protecting Earth's environment

and researched the potential of life on Mars. They studied soils

and fertilizers to grow crops, and filmed commercials to raise

money for their causes.

The class divided into two teams — the Red Team for Mars, the

Blue Team for Earth — researched each option, and then taped

commercials urging people to donate for their causes. For the

students — most of them the children of recent immigrants from

Mexico, Central America and South America — the exercise was an

engaging, cross-curricular exercise combining English language

arts, math, science, social studies, and social-emotional learning.

The Red Team raised $205 and donated it to Students for the

Exploration and Development of Space. The Blue team raised $188

and donated it to the Environmental Defense Fund.

Blue Apple, which launched in 2019, has been adopted by more

than 200 schools throughout the Midwest and beyond. Teachers

who have used Blue Apple projects have been very happy with how

their students became engaged and enthusiastic about learning.

"It's always been a part of our mission to impact education on a

national scale. We think Blue Apple is a productive way to do it.

The project really is built around the idea that engagement leads

to achievement," said Terra Tarango, VAI's chief education officer.

"We're really pleased that 100 percent of the teachers said it

increased critical and creative thinking among their students."

For more information about Blue Apple, visit blueappleteacher.org.

SAN JUAN DIEGO ACADEMY STUDENTS

ENGAGING WITH BLUE APPLE

12 | VAN ANDEL INSTITUTE HIGHLIGHTS OF HOPE
---
VAI SUMMER CAMPS

HOW VAI SUMMER CAMPS NURTURE A FAMILY'S LOVE OF LEARNING

Ceci Kovarik, a lively 9-year-old, recently took a trip to Mars.

Ceci attended "Mission to Mars," one of VAI's summer camps,

where she was able to explore the science, engineering and

technology needed to complete a trip to another planet.

Along with students from West Michigan, Ceci made new friends,

developed an understanding of scientific concepts and embraced

her boundless curiosity.

Ceci's mother, Joanna, is a Polish immigrant who met her husband,

originally from the Czech Republic, on a flight from Prague to

Chicago. After they got married, the couple settled on the north

side of Grand Rapids, where they are raising six children together.

Kovarik believes that her children's future and their success lies in

the power of knowledge. "I understood that one of the best ways

you can advance yourself in this country is through education, so I

always encourage our kids to work hard and do the best they can,"

Joanna said. Joanna learned about VAI's educational programs from

a teacher at their middle school, and the recommendation helped

shape the trajectory of her children's lives.

"The Institute really opened up the kids' horizons and enabled them

to work with students from other schools who were also passionate

about science and focused on learning," Joanna said. "The kids

involved in these programs are so empowered to learn, and the

teachers really help them view what they are doing as important

and valuable."

JOANNA, LUCIE & CECI KOVARIK

Lucie Kovarik, a sophomore in high school with a passion for

science, also participated in VAI's summer camps. She enjoyed the

opportunity to meet like-minded students and explore her interests

so much that she has attended the camp for the past three years.

"I am always looking for opportunities to learn, and I really love the

diversity of science," Lucie said. "When you're a scientist, there's just

so much out there to explore."

Joanna is grateful her children were able to participate in VAI's

education programs and hopes the Institute will continue to expand

on education initiatives that have given her children such wonderful

opportunities to experience the joy of learning, explore new

interests and discover the world.

"I credit Van Andel Institute for a lot of my kids' success in school,"

Joanna said. "It's worth the commitment, and when you don't have

access to very many educational resources, a program like this

really means a lot."

For information on Van Andel Institute's student programs, visit

vaei.org/student-programs.

VAN ANDEL INSTITUTE HIGHLIGHTS OF HOPE | 13
---
EVENTS

CURIOSITY HOUR

Parents and children got the chance to rekindle their

childhood during Curiosity Hour. Guests explored Van Andel

Institute's animal habitats, observed science demonstrations

and engaged in hands-on science challenges. The family-focused

event highlighted the many ways VAI is creating classrooms where

curiosity, creativity and critical thinking thrive.

(STARTING AT THE TOP LEFT, GOING CLOCKWISE) KIDS EXPERIMENT WITH FOSSILS AT THE CAN YOU DIG IT STATION;

GUESTS COOL DOWN AT THE KONA ICE TRUCK; TOBY THE TORTOISE IN HER HABITAT; KIDS THINK LIKE ENGINEERS TO BUILD STABLE STRUCTURES;

TESTING STRUCTURE DESIGNS AT THE SHAKE, SHAKE, SHAKE STATION

14 | VAN ANDEL INSTITUTE HIGHLIGHTS OF HOPE
---
VAI GOLF OUTING

Golfers, donors and Van Andel Institute supporters gathered

for a day of fundraising and fun during the Institute's 12th

annual VAI Golf Outing. Held at the beautiful Wuskowhan Players

Club in West Olive, Michigan, guests enjoyed 18 holes on a beautiful

course, lunch, and a dinner and awards presentation featuring

special guest, hockey player and philanthropist Mike Knuble.

Thank you to the Title Sponsor: The Veldheer, Long, Mackay &

Bernecker Group of Merrill Lynch.

(STARTING AT THE TOP LEFT, GOING CLOCKWISE) JACK DOLES, MIKE KNUBLE, DAVID VAN ANDEL & KYLE VAN ANDEL; THE TITLE SPONSOR GROUP

ENJOYING THE DAY; CAROL VAN ANDEL & SUSAN SHAW; SPECIAL GUEST MIKE KNUBLE DISCUSSES THE IMPORTANCE OF THE INSTITUTE'S MISSION;

THE SILENT AUCTION TABLE FEATURING A VARIETY OF RED WINGS MERCHANDISE SIGNED BY MIKE KNUBLE

VAN ANDEL INSTITUTE HIGHLIGHTS OF HOPE | 15
---
EVENTS

COUTURE FOR A CURE

Fashionistas from across West Michigan joined Van Andel

Institute for the 14th annual Couture for a Cure. This year's

event featured a fashion presentation by Leigh's, and a runway

show featuring designer Victoria Hayes Fall/Winter '19 collection,

as well as an Amway Artistry beauty lounge and strolling appetizers

and cocktail stations.

Thank you to the Presenting Sponsor: Leigh's; and the Title

Sponsor: Amway.

(STARTING AT THE TOP LEFT, GOING CLOCKWISE) THE ARTISTRY BEAUTY LOUNGE FEATURING HAIR & MAKEUP TOUCHUPS; GUESTS ENJOY AN

EXCLUSIVE LOOK AT VICTORIA HAYES' FALL/WINTER '19 COLLECTION; CAROL VAN ANDEL SHARES THE INSTITUTE'S LASTEST RESEARCH UPDATES

16 | VAN ANDEL INSTITUTE HIGHLIGHTS OF HOPE
---
(STARTING AT THE TOP LEFT, GOING CLOCKWISE) AMWAY'S CANDACE MATTHEWS EMCEES THE EVENT; A MODEL WALKS THE RUNWAY; FEATURED

DESIGNER VICTORIA HAYES, LEIGH'S OWNER REBECCA WIERDA, SCOTT WIERDA & LEIGH'S SALES MANAGER JOANNA HADJIYANIS;

CAROL VAN ANDEL WITH JANE ZWIERS & YOUNG SUPPORTERS OF THE INSTITUTE FROM HOPE COLLEGE

VAN ANDEL INSTITUTE HIGHLIGHTS OF HOPE | 17
---
EVENTS

HOPE ON THE HILL GALA —

A NIGHT IN WONDERLAND

Hundreds of guests joined Alice, the Mad Hatter, Queen of

Hearts and Tweedle Dum and Dee for Van Andel Institute's

Hope on the Hill Gala — A Night in Wonderland. Guests enjoyed

gourmet cuisine from Grand Rapids' finest restaurants, artisan

cocktails served on hand-carved bars of chiseled ice, an uproarious

magical performance from Piff the Magic Dragon, and a dance

party hosted by AB.

Thank you to the Title Sponsor: Fifth Third Private Bank.

(STARTING AT THE TOP LEFT, GOING CLOCKWISE) JEFFERY ROBERTS, CAROL VAN ANDEL & DAVID VAN ANDEL; GUESTS BID ON

EXCITING PACKAGES AT THE SILENT AUCTION TABLE; PIFF THE MAGIC DRAGON ENTERTAINS THE AUDIENCE WITH HIS UNIQUE

PERFORMANCE; CO-CHAIRS OF VAI'S JBOARD AMBASSADORS, CHAD BASSETT & RACHEL MRAZ;

GUESTS DANCE THE NIGHT AWAY IN WONDERLAND

18 | VAN ANDEL INSTITUTE HIGHLIGHTS OF HOPE
---
(STARTING AT THE TOP LEFT, GOING CLOCKWISE) THE MAD HATTER ENTICING GUESTS TO A TEA PARTY; VAI'S DR. HEIDI LEMPRADL ENJOYS A

CARD TRICK; THE CHESHIRE CAT SMILES AT GUESTS AS THEY CELEBRATE THE EVENING; WONDERFULLY DELICIOUS DESSERTS

VAN ANDEL INSTITUTE HIGHLIGHTS OF HOPE | 19
---
EVENTS

A CONVERSATION ABOUT

METABOLISM AND NUTRITION—

HOSTED BY CAROL VAN ANDEL

A Conversation About Metabolism and Nurition — Hosted by

Carol Van Andel placed a powerful spotlight on the Institute's

exciting new research into how metabolism and nutrition

can play a role in diseases like cancer and Parkinson's.

During this informative event, VAI's Dr. Russell Jones and Dr. Connie

Krawczyk provided information on their research, and how these

biological functions can both prevent and proliferate disease.

The two esteemed scientists also answered questions from those

in attendance.

Thank you to the Title Sponsor: Howard Miller.

(STARTING AT THE LEFT, GOING CLOCKWISE) DR. RUSSELL JONES, DR. CONNIE KRAWCZYK & WOOD TV'S MARANDA; CAROL VAN ANDEL

HOSTING THE EVENT; GUESTS NETWORK BEFORE THE EVENT; VAI'S CHIEF SCIENTIFIC OFFICER DR. PETER A. JONES MINGLING WITH GUESTS

20 | VAN ANDEL INSTITUTE HIGHLIGHTS OF HOPE
---
VAI PUBLIC LECTURE: A FOCUS

ON TRANSLATIONAL MEDICINE

Taking scientific discoveries from the lab to the doctor's office

requires a complex system of testing and trials. Translational

medicine is an important area of research which aims to better

understand scientific discoveries that might be beneficial to human

health. Guests attending A Focus on Translational Medicine learned

how data from basic research and clinical trials is translated into new

diagnostics and therapies that might one day benefit patients.

Dr. Matt Steensma, a scientific investigator in the Institute's Center

for Skeletal Disease Research, and Dr. Stephen Baylin, co-leader of

the Van Andel Institute–Stand Up To Cancer Epigenetics Dream

Team, both presented their work and answered questions during

this research-focused event.

VAI PUBLIC LECTURE: A FOCUS ON

EDUCATION IN AMERICA

Our world is changing rapidly — new technologies, access

to information and the demands of the modern workforce

present students and teachers with an impressive amount

of challenges. Van Andel Institute's chief education officer, Terra

Tarango, presented the various ways the Institute is creating

classrooms where students are prepared to meet the challenges

of the 21st century during A Focus on Education in America. Guests

learned about Common Core Standards, standards-based

grading practices, project-based learning and new ways to create

classrooms that are filled with engaged learners.

(STARTING AT THE LEFT, GOING CLOCKWISE) BRETT HOLLEMAN, DR. MATT STEENSMA & DR. STEPHEN BAYLIN;

TERRA TARANGO; GUESTS PARTICIPATE IN AN INTERACTIVE DISCUSSION

VAN ANDEL INSTITUTE HIGHLIGHTS OF HOPE | 21
---
EVENTS

THANK YOU TO OUR GENEROUS EVENT SPONSORS

To learn more about sponsoring an event, contact Sarah Rollman at sarah.rollman@vai.org.

VAI Golf Outing

Dennis & Barbara Adama

Applied Imaging

Custer Inc.

Erhardt Construction

First National Bank

Gallagher Insurance

Grand Rapids Christian Schools

Ben & Molly Hunting

iHeart Media

Life EMS Ambulance

Macatawa Bank

Making the Turn Against Parkinson's

Merrill Lynch — Veldheer, Long, Mackay &

Bernecker Group

Metro Health — University of

Michigan Health

Midwest Capital Advisors, LLC

Pine Rest

Priority Health

Regal Financial Group LLC.

Rockford Construction

John & Therese Rowerdink

Secrest Wardle

Summit Point Roofing

The John Dykema & Michele Maly-Dykema

Family Foundation

The Sharpe Collection

Thomas & Mary Stuit

US Bank

Dave & Beth Van Portfliet

Brian & Lori Vander Baan

Wells Fargo

Wells Fargo Advisors

West Michigan Woman

Zip Xpress, Inc.

Couture for a Cure

Amway

Bengtson Center for Aesthetics &

Plastic Surgery

Franco & Alessandra Bianchi

Chuck & Christine Boelkins

Cheeky Strut

Consumers Credit Union

Mimi Cummings

Cumulus

CWD Real Estate Investment

David & Carol Van Andel Family Foundation

Deloitte

Brian DeVries & Barbara Pugh

Divani

Eileen DeVries Family Foundation

Eurest

First National Bank

Gallagher Insurance

Jana Hall

Kurt & Madelon Hassberger

Paul & Sheryl Haverkate

Dave & Donna Hockstra

Bill & Starr Humphries

Jandernoa Foundation

Jeffery Roberts Design

Dr. Peter & Veronica Jones

Lake Michigan Credit Union

McAlvey Merchant & Associates

Deb Meijer

Mercy Health

Modern Day Collective

Nothing Bundt Cakes

Tom & Brenda Rinks

Scott Group Studio

The Steve & Amy Van Andel Foundation

Todd Wenzel Automotive

Townsquare Media

Sharon Van Dellen

Mike & Bonnie Walters

West Michigan Woman

Wheelhouse Kitchen & Cocktails

Greg & Meg Willit

Jim & Jane Zwiers

Hope on the Hill

Amway

Amway Grand Plaza Hotel

Anonymous

Aon

Aquinas College

Autocam Medical

Betz Industries

BHS Insurance

Dave & Jill Bielema

Bluewater Technologies

Chuck & Christine Boelkins

BRAVO

Buist Electric

Butcher's Union

Jerry & Suzanne Callahan

Cancer & Hematology Centers of

Western Michigan

Cascade Rental

Center for Physical Rehabilitation

CityFlatsHotel

Colliers International

Crowe LLP

Cumulus Media

Tom & Tracy Curran

Custer Inc.

Davenport University

David & Carol Van Andel Family Foundation

Deloitte

Divani

Jeff & Mary Dixon

Eenhoorn, LLC

Ellis Parking Company

Erhardt Construction

Ferris Coffee & Nut Co.

Fifth Third Bank

Foremost Insurance Company

Fred L. Hansen Corporation

Gallagher Insurance

Grand Valley State University

Martin & Peggy Greydanus

Kurt & Madelon Hassberger

HealthBridge

Hope College

Hope Network

Howard Miller

Huizenga Group

Ice Sculptures, LTD

ICN Foundation

iHeart Media

Independent Bank

Jandernoa Foundation

Julie & Dan Horning Family FUN'd

Craig & Debra Kinney

Kitchen 67

Al & Robin Koop

Blake & Mary Krueger

Lake Michigan Credit Union

Ray & Jeannine Lanning

Leo's

Lighthouse Group

Gary & Vicky Ludema

Macatawa Bank

McAlvey Merchant & Associates

Mercy Health

Merrill Lynch — The Veldheer, Long,

Mackay & Bernecker Group

Metro Health

22 | VAN ANDEL INSTITUTE HIGHLIGHTS OF HOPE
---
Michelle Crumback Jewelry

Michigan State University College of

Human Medicine

MLive Media Group

Modern Day Collective

New Holland Brewing

Norris Perne & French, LLP

Nothing Bundt Cakes

Orthopaedic Associates of Michigan

Owens-Ames-Kimball Co.

Peter C. & Emajean Cook Foundation

Pioneer Construction

Pitsch Company

Plastic Surgery Associates

Priority Health

Quality Air Service, Inc.

Rehmann

Reserve Wine & Food

Rockford Construction

Eve Rogus & Paul Becker

Rowerdink Inc.

Tony & Dawn Semple

Slows Bar BQ

Spectrum Health

Rob & Susan Stafford

Steelcase

Stephen Klotz Family Foundation

Sweetie-licious Bakery

Taconic Charitable Foundation

Terra

The Chop House

The Meijer Foundation

The Sharpe Collection

The Steve & Amy Van Andel Foundation

Thomas S. Fox Family

Townsquare Media

US Bank

Mike & Michelle Van Dyke

Van Eerden Food Service Company

Warner Norcross + Judd LLP

Wells Fargo

West Michigan Woman

Wheelhouse Kitchen & Cocktails

Greg & Meg Willit

Wolverine Worldwide

Women's Lifestyle

Jim & Jane Zwiers

A Conversation About Metabolism

Hosted by Carol Van Andel

Cornerstone University

Gallagher Insurance

Howard Miller

iHeart Media

Jana Hall

Kent County Medical Society Alliance

Leigh's

Townsquare Media

West Michigan Woman

Dr. Bart & Wendy Williams

VAN ANDEL INSTITUTE HIGHLIGHTS OF HOPE | 23
---
PURPLE COMMUNITY

STUDENTS HONE LEADERSHIP SKILLS AT VAI PURPLE

COMMUNITY LUNCH & LEARN

Katie Tietema first heard about the

Van Andel Institute Purple Community

Leadership Lunch & Learn when a

representative from VAI reached out

to St. Paul the Apostle School, where

Tietema works.

Tietema was immediately intrigued by the

event, which brings together dozens of

students and educators to learn about the

biomedical research and science education

initiatives happening at VAI. Tietema helped

assemble a group of 70 students and

teachers to attend.

"Every single student we brought knows

someone in their family or has a close

friend who has been impacted by one of the

diseases being studied at VAI," Tietema said.

"It's sad but true, and it makes the Institute's

mission very relevant to our students."

The October 2019 PC Lunch & Learn was

the Institute's fourth annual and the first

to be open to all schools. Approximately

180 students and educators attended, the

largest group in the event's history.

Attendees were welcomed by WOOD-TV's

Maranda, who emceed the event. Groups

were given tours of Van Andel Institute

for Education's lab nearby, where chief

education officer Terra Tarango explained

the Institute's work and how her team

creates classrooms where curiosity,

creativity and critical thinking thrive.

Students even participated in hands-on

experiments.

WEST MICHIGAN STUDENTS LUNCH & LEARN WITH PURPLE COMMUNITY

Dr. Payton Stevens, a postdoctoral fellow

in the lab of Dr. Bart Williams, hosted

a discussion with attendees about the

biomedical research being done at the

Institute. Stevens shared with students how

community support helps scientists at VAI

pursue breakthroughs that may improve

outcomes for patients with diseases like

Parkinson's and cancer.

Tietema and her group were so impressed

by the event that they decided to partner

with Purple Community for St. Paul the

Apostle's annual Parish 5K & Festival

fundraiser. Tietema said teachers at the

school also plan to attend future Lunch &

Learn events. This year will be the first time

the Institute will host two Lunch & Learn

events; one is in March and another in

October.

"Our students were so excited and asked so

many great questions during the PC Lunch

& Learn," she said. "It was great to see how

engaged and interested they were."

To learn more about Van Andel Institute Purple

Community events, visit purplecommunity.org.

24 | VAN ANDEL INSTITUTE HIGHLIGHTS OF HOPE
---
VAN ANDEL INSTITUTE HIGHLIGHTS OF HOPE | 25
---
PHILANTHROPY

DR. JUAN OLIVAREZ, DONOR

AND TRUSTEE, IS INSPIRED TO

MAKE A DIFFERENCE

Dr. Juan Olivarez discovered the value of

education early in life, and he has been

helping others learn ever since.

"I had a brother with Down syndrome,

and when we were growing up, I was his

protector and teacher," Olivarez said. "I

always loved being there for him and feeling

like I was helping him learn something new."

medicine, research and education. This

place is a miracle."

Olivarez and his son both fought battles

against cancer, and this personal

connection to the Institute's research has

given him a special perspective regarding

the importance of science, awareness and

discoveries that can impact human lives.

A former teacher and clinical psychologist,

an accomplished university administrator

and a generous philanthropist, Olivarez has

supported Van Andel Institute's mission and

education initiatives since 2008, both as a

board member and a donor. While serving

as president of Grand Rapids Community

College, Olivarez met David and Carol

Van Andel. He was inspired by their passion

for biomedical research and science

education and became interested in the

Institute they helped found.

"I knew Carol from working with her on

philanthropic events, and when David asked

me to join the Board of Trustees for

Van Andel Institute for Education, I proudly

and enthusiastically accepted," he said. "I

knew from the beginning that the Institute

is a gem in our community and how very

lucky we are to have it here."

Having lived in Grand Rapids for more than

48 years, Olivarez is amazed by the impact

VAI has had on the region and the city he

and his wife, Mary, call home.

"There is no doubt the establishment of the

Institute in 1996 is a marker for a shift in

the city's skyline, as well as the education

and research infrastructure of Grand

Rapids," Olivarez said. "It's really hard to

believe everything the Institute has done

in such a short amount of time — what

started as the Van Andel family's dream is

now a national and international hub for

"It's really hard to believe

everything the Institute has

done in such a short amount

of time — what started as

the Van Andel family's

dream is now a national

and international hub for

medicine, research and

education. This place is a

miracle."

— DR. JUAN OLIVAREZ

"As a survivor and a person whose family

has been affected by cancer, I am well

aware that we need better treatments and

cures. I also know that if we can continue

to support research with discipline and

tenacity, we will one day find them."

Join Dr. Olivarez and become a VAI donor

today. Contact Brett Holleman at brett.

holleman@vai.org to learn how you can

support the Institute's scientists in their

fight against cancer, Parkinson's and

other diseases.

DR. JUAN & MARY OLIVAREZ

26 | VAN ANDEL INSTITUTE HIGHLIGHTS OF HOPE
---
VAN ANDEL INSTITUTE HIGHLIGHTS OF HOPE | 27
---
PHILANTHROPY

HOW VAN ANDEL INSTITUTE PURPLE COMMUNITY

HELPS MAKE FUNDRAISING EVENTS A HIT

For 13 years, Pat Ringnalda has been

hosting the Bee Brave 5K to raise money

for breast cancer research. Organizing

the event is a heavy lift, but for the last

three years, that work has been made

easier with help from Van Andel Institute

Purple Community.

Bee Brave, which celebrated its 12th run

in 2019, began partnering with Purple

Community after Ringnalda attended a golf

outing to benefit VAI's scientific research.

Ringnalda was impressed by the support

Purple Community gives its community

and corporate partners to carry out

such events. The more she learned, the

more she realized the Bee Brave 5K would

benefit greatly from partnering with Purple

Community.

"I have often said, if God gives you the

nerve to ask people for money to support

great causes, do it!" Ringnalda said. "You

start with the best institutions like VAI,

because they will give you the tools and

support you need to be successful in your

efforts."

The Bee Brave 5K is one of dozens of

community events hosted each year to

benefit scientific research and education

programs at the Institute. Many people who

organize these events begin by wanting to

donate to a good cause, but are unsure

how to get started.

Purple Community makes it easy using an

online application that outlines each event's

needs such as expected event location, size

and fundraising goal. Once the application

is received, it's reviewed to determine how

Purple Community can best support the

event. Examples include setting up online

fundraising portals, designing event fliers

and more.

"Community events are an essential part of

supporting the important work happening

at VAI," said Purple Community volunteer

coordinator McKenzie Hollern. "We want

our organizers to know how much we

appreciate their efforts by offering our full

support and resources to make their events

a success."

To learn more, visit purplecommunity.org.

PAT RINGNALDA (RIGHT)

28 | VAN ANDEL INSTITUTE HIGHLIGHTS OF HOPE
---
KAY KOO HONORS FAMILY LEGACY OF GIVING

When Kay Koo and her husband,

Dr. Han-Mo Koo, arrived in Grand

Rapids from Maryland in 1999, the

city's downtown was a sparse collection

of shuttered businesses, fast food

restaurants and a few beautiful, old

churches. There was not, however, a

research institute back then. Dr. Koo was

one of the first scientists asked by Dr.

George Vande Woude, a cancer research

pioneer and Van Andel Institute's first

director of research, to help build

Van Andel Institute from the ground up.

"I feel a connection with what my husband

started 20 years ago," Koo said. "The

Institute has my heart, and I hope we

continue to grow and come up with new

therapies for diseases that affect the lives

of our loved ones. I really think my husband

would be proud of what the Institute has

become."

"We came here because we respected the

work of Dr. Vande Woude, and even though

there was not a lot going on in Grand

Rapids at the time, we knew it would be

exciting to be part of something new that

didn't exist yet," Koo said.

Dr. Koo served as head of the Institute's

Laboratory of Cancer Pharmacogenetics

until he lost a six-month battle with

cancer in 2004. His work focused on the

identification of genetic targets for anticancer

drug development for melanoma

and pancreatic cancer. He was also

an active contributor to the Institute's

Employee Impact Campaign that supported

his fellow scientists. After his passing, Koo

began working at the Institute as Dr. Vande

Woude's administrative assistant. Like

her husband, Koo continued their family's

legacy of generosity as an employee donor.

"I come from a family of giving. I grew up as

the daughter of a pastor in a family where

giving of yourself was just so natural," Koo

said. "I give to honor my husband's memory

and to support the people who helped me

when he was so sick."

Koo recently surpassed her 15th year as

a VAI employee, and after a decade and a

half of service to the mission, the Institute

is more than a place to work — it's a family.

KAY KOO

VAN ANDEL INSTITUTE HIGHLIGHTS OF HOPE | 29
---
PHILANTHROPY

MEMORIALS

We appreciate your trust in us to fight disease in memory or in honor of

your family and friend s — with hope for a healthier tomorrow. To make a

gift in memory or honor of a loved one, please call 616.234.5552.

Alison "Awesome Ali"

Aardema

Steven & Julie Aardema

Shirley Altoft

James & Frieda Jaynes

Lorrie Jaynes

Dominic "Nick" Amante

Gerald & Mary McDermott

Robert Anderson

David & Lynne Robinson

Jean Atkinson

David & Patti Atkinson

David Barney

Bruce & Carolyn Tuttleman

Keith Bassett

Jean Bassett

Jeanne Bergsma

Jean Swaney

James Breay

David Solis

Chester Bush

David & Carol Van Andel

Family Foundation

Robert Bylenga

William & Jackie Bylenga

Peter Bylsma

Carol Bylsma

Frank Campbell

Paul & Lynn Getzin

Robert Campbell

Jean Swaney

David Christie

Roxanne Anderson

Elizabeth Cobb

Jean Swaney

Patti Ditmar

Florence Barrett

Jack & Rhonda Barrett

Rod & Kerri Brandsen

Joseph & Suzanne Dahms

Lois Dickinson

Ryne & Julie Dickinson

Jan Hall

Stephen Heneveld

Steve & Linda Kammeraad

Joel & Karlene Krause

Maureen Dobson

Lake Michigan Dental

Peerless Steel

John & Lisa Wilson

Kathleen Drennan

Brock & Katie Plumb

Robert DuHadway

Richard & Terri MacKeigan

Bill & Linda Peterson

Terry & Laura Reese

John & Judith Wavro

David & Deborah Wurfel

Mary Kate (Katie) Dutcher

Daniel & Mona Morgan

Sam Smits & Edith

Wehrly-Smits

Katherine Williams

Melissa Eden

Keith & Carolyn Murphy

Charles Emmerich

Charles & Nancy Emmerich

Douglas & Nancy Knobloch

Todd & Cynthia Ross

Patrick & Sue Van Duinen

Francine Erb

Wally & Nina Gorak

Bernard Forystek

James & Kimberle Johnson

Fredrick Gleason

David Bevins

Timothy Haak

Mary Haak

Gisela Kah

JoAnn Crary

Dixie Anderson

David & Carol Van Andel

Family Foundation

The Dick & Betsy DeVos

Family Foundation

Fifth Third Bank

Dan & Lou Ann Gaydou

Gerald R. Ford International

Airport

Greg Northrup & Birgit Klohs

Horst & Margot Lach

Michigan State University

College of Human Medicine

Jon Nunn

The Right Place, Inc.

Ulrich & Martina Schlagwein

Doug Small

Robert Spohr

Jim Teets

Terryberry Company LLC

Mark Kastner

Brenda Kastner

Nathanael Kastner

Frank Krhovsky

James & Florence Bouwman

Renee Kuipers

Gordon & Mary Buitendorp

Sue Chavron

Frank & Kerrie Doezema

Bruce & Esther Drukker

Carl & Sandy Gronsman

Lake Michigan Dental

Evan & Lois Reinders

Sanford Leestma

David & Linda Male

Irma Leonard

Joseph & Margaret Biersack

Victor Leslie

Jean Swaney

Michelle Lunn

Michelle Lunn Hope

Foundation

Jane McConnell

Memorial Alternatives

Philip McCorkle

David & Carol Van Andel

Family Foundation

John Moliassa

Matt & Robin Dhaseleer

John & Ann Moliassa

Charlotte Mulder

Roger & Beverly Mulder

Bruce O'Connor

Wally & Nina Gorak

Thomas Peterson

Anonymous

Michael & Barbara Corey

Jody Davis

Stephen & Lynne Kindy

Erik & Sally Klimek

Debra Landers

Jan London

Eric & Ruth McClure

Michelle Oole

Mark & Jill Smith

Denise Picardat

Brian & Denise Picardat

James Ponitz

Kathleen Ponitz

Jean Prose

Wally & Nina Gorak

Richard Pullen

Ruth Kemp

Neda Raterink

Gary & Neda Raterink

Rose Ray

Eugene & Barbara Gutting

David L. Rossi

Anne Rossi

John & Lucille Ryan

Donald & Patricia Patterson

Amy Schneider

JoEllen Schneider

Rajindeer Singh

Puneet Chowdhary

Cynthia Smith

Christa Cook

Daniel & Evelyn Preston

Larry & Barbara Smith

Doug & Maryln Walton

Keith Smith

Carol Smith

Ben Snoeyink

Baker Perkins, Inc.

Dale & Phyllis de Longpre

Allen & Vivian DeJonge

Gary & Terri Dewey

Mark & Donna Dezwarte

Frank & Kerrie Doezema

Timothy & Kristin Gabrielse

Carl & Sandy Gronsman

Curtis & Kristine Hancock

Laura Palsrok

Jay & Beverly Pruim

Burton & Phyllis Rozema

The Rozema Family Fund

Marianne Stehouwer

Robert & Marjorie Stuit

Eric & Pat Symanski

Dean & Carol Vanbruggen

Charlotte Stein

Keith & Theresa Kiel

Susan Suwyn

Scott Cavanaugh

Ronald Swiderek

Ronald & Alice Swiderek

Daniel Terwee

Brian & Dianne Boelens

Fred & Doris Mowery

Lewis & Nancy Travis

Donald Van Artsen

Timothy & Terri Blanch

Sydney Edlund

Jon & Mary Forslund

William & Marilyn Lundquist

30 | VAN ANDEL INSTITUTE HIGHLIGHTS OF HOPE
---
TRIBUTES

(Donald Van Artsen cont.)

Dick & Connie Murley

James & Lois VanVeghel

Gordon Van Harn

Roger & Susan Bratt

Dale Vanderstelt

Dale & Pamela Vanderstelt

Timothy S. Vanderveen

Ted & Joan Vanderveen

Barbara VanHeulen

Dave & Sally Baker

Shirley Baumgardner

Raymond & Priscilla Becker

Mark & Marcia Borton

Jack & Donna Boukma

Carol Brooks

Gracespring Bible Church

Scott & Peggy Powlus

Karl & Linda Prescher

Susan Reinoehl

Richard & Lori Teft

Frank Vereecken

David & Judy Aniszko

Maribeth Constantine

Frank & Jennifer Edwards

James & Frances Norton

Sally Norton

Arthur & Karen Olson

Sharon Wieland

Albert Walcher

Raymond & Gretchen Meyer

Claudia Azkoul Walters

James & Joy DeBoer

Jennifer Webb

David & Sallie Brinks

Eric Westra

Dianna DeVries

Jack & Sandra Dik

Thomas & Mary Beth Henry

Ben & Robin Ipema

Thomas & Donna Webb

Randy Winchester

Chuck & Lois Winchester

Jerry Wright

John & Andrea Cain

Fishbeck, Thompson, Carr

& Huber, Inc.

Thomas & Julie Wright

Jacob Zagaroli

George & Linda Sharpe

Gabe Amodeo

Catherine Amodeo

Richard Lutz

Margaret Fondren

David & Carol Van Andel

Scott & Maggie Lancaster

Richard & Terri MacKeigan

Evan Beukema

Emma Beukema

Scott Bravata

Universal Forest Products

Inc.

Steven Kruithoff

Edward & Karen Bezilla

Victoria Ludema

Crowe LLP

Thomas Newhof

James & Pamela Hegarty

Ken & Jill Peirce

Christopher & Renee Peirce

George Sharpe

Thomas & Jeannine Rizzo

Greg & Meg Willit

Duke Suwyn

Kimberly Van Stee

Alvin & Joyce Docter

James Veldheer

Greg & Karin McAleenan

These lists represent gifts made between July 1, 2019, and December 31, 2019. The accuracy of

these lists is very important to us. Please contact 616.234.5552 if an error has been made.

Honoring loved ones with a memorial gift to VAI

Our mother, Gisela Kah, was a vibrant, vital woman who passed away this

summer after a decade-long struggle with dementia. We chose to honor

her by creating a memorial fund at Van Andel Institute. These tributes

fund the important research at VAI in a deeply personal, meaningful

way. We take comfort knowing that a gift in our mother's name moves

scientists and society ever closer to finding the next breakthroughs in

treating the diseases that take our loved ones too soon.

— Birgit Klohs

— Greg Northrup

— Astrid Müller

— Julia Müller

VAN ANDEL INSTITUTE HIGHLIGHTS OF HOPE | 31