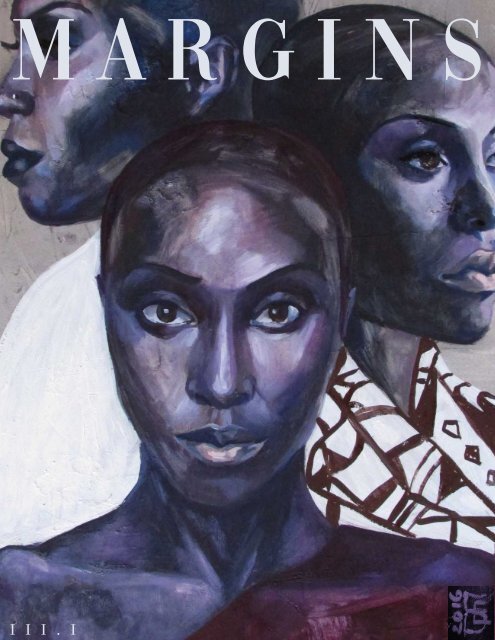 Margins Magazine - Volume 3 Issue 1
2020 has been a year of immense change and upheaval thus far, with our idea around what is normal challenged in the midst of a pandemic. In this midst of these volatile times, our team at Margins Magazine has come together to create Volume 3 Issue 1 of our publication, revolving around the theme of CHANGE. In this issue, our writers have worked hard to bring you pieces that critically discuss the realities of the current moment from advocacy effort across different fields to issues such as domestic violence and colourist. At #UTSC, we connect with Radio FWD and UTERN at UTSC to learn how campus groups are affected during the pandemic and how they are evolving their programming while staying connected with students. We've received amazing creative submissions from members of our local community and around the world that have allowed us to curate this issue with stories that truly represent the heart, soul, and pulse of the current times. Bringing together all these voices in Margins has been a true labour of love. We truly hope that the stories, words, and art within Margins resonate with you. Follow us on Instagram @wtcmargins & LinkedIn https://www.linkedin.com/company/margins-magazine!
2020 has been a year of immense change and upheaval thus far, with our idea around what is normal challenged in the midst of a pandemic. In this midst of these volatile times, our team at Margins Magazine has come together to create Volume 3 Issue 1 of our publication, revolving around the theme of CHANGE.

In this issue, our writers have worked hard to bring you pieces that critically discuss the realities of the current moment from advocacy effort across different fields to issues such as domestic violence and colourist. At #UTSC, we connect with Radio FWD and UTERN at UTSC to learn how campus groups are affected during the pandemic and how they are evolving their programming while staying connected with students.

We've received amazing creative submissions from members of our local community and around the world that have allowed us to curate this issue with stories that truly represent the heart, soul, and pulse of the current times.

Bringing together all these voices in Margins has been a true labour of love. We truly hope that the stories, words, and art within Margins resonate with you.

Follow us on Instagram @wtcmargins & LinkedIn https://www.linkedin.com/company/margins-magazine!
SHOW MORE
SHOW LESS
Create successful ePaper yourself
Turn your PDF publications into a flip-book with our unique Google optimized e-Paper software.
MARGINS

I I I . I

1
---
MARGINS

MARGINS

Equity Statement &

Land Acknowledgement

We shall neither condone nor tolerate behaviour that undermines the dignity

or self-esteem of any individual or creates an intimidating, hostile or offensive

environment in our physical and digital spaces. It is our collective responsibility

to create spaces that are inclusive and welcome discussion. Any form of

discrimination and harassment will not be tolerated. Hate speech rooted in, but

not limited to, anti-Muslim, anti-Semitic, sexist, racist, classist, ableist, homophobic,

or transphobic sentiments and/or remarks will not be tolerated. We all have an

obligation to ensure that an open and inclusive space, free of hate is established.

Any behaviour that does not demonstrate an understanding of these principles

and/or creates an unsafe atmosphere will not be tolerated.

To recognize the land is an expression of gratitude and appreciation to those

whose territory you reside on, and a way of honouring the Indigenous people

who have been living and working on the land from time immemorial. It is

important to understand the long-standing history that has brought you to

reside on the land, and to seek to understand your place within that history.

Colonialism is a current ongoing process, and we need to build our mindfulness

of our present participation.

The first step is to acknowledge that we, Margins Magazine & The UTSC

Women's and Trans Centre, are on the traditional land of the Huron-Wendat,

the Seneca, and most recently, the Mississaugas of the Credit River. We would

like to sincerely pay our respects to their elders past and present, and to any who

may be here with us today, physically, mentally, and spiritually. Today, these

lands are still the home to many Indigenous people from across Turtle Island

and we are grateful to have the opportunity to work on this land.

This map does not represent or intend to represent official

or legal boundaries of any Indigenous nations. To learn

about definitive boundaries, contact the nations in question.

Check out native-land.ca for the interactive map.

Visual Credits: Victor Temprano

2 3
---
MARGINS

MARGINS

Hello & Welcome!

2020 has been a year of immense change and upheaval of our

illusionary standards of normality. Currently, we are in the midst

of a pandemic that has truly challenged our way of living in all

aspects such as accessibility of education, healthcare, and work. These

unfortunate times have revealed the increasing disparities and inequities

among people and has brought an increasing need to thoroughly reevaluate

the broken systems in place. Audre Lorde's words ring true that

"revolution is not a one time event" as we see the masses come together

to mobilize for justice for the Black Lives Matter movement.

In this edition of Margins Magazine, our writers have worked hard

to bring you written pieces that critically discuss the realities of the

current moment from advocacy efforts across different fields to issues

such as domestic violence and colourism. At the University of Toronto

Scarborough, we connect with Radio FWD & UTERN at UTSC to learn

how campus groups are affected during the pandemic and how they are

evolving their programming while staying connected with students.

Through creative submissions from members of our local community

and around the world, we have curated stories that represent the heart,

soul, and pulse of the current times. The different styles and mediums of

creatives globally are highlighted in our artist series. A major shout-out

to Arya Bhat, our Creative Director, who has worked tirelessly to bring

this publication together from across the continent!

Bringing together all these voices in Margins has been a true labor of

love and I am beyond thankful to have such a wonderful team supporting

these efforts to continually create. I truly hope that the stories, words,

and art within Margins resonates with you.

Shagun Kanwar

Editor-in-Chief

Visual Credits: Tom Barrett

4 5
---
MARGINS

MARGINS

MASTHEAD

CONTRIBUTORS

EDITOR-IN-CHIEF

Shagun Kanwar

MANAGING EDITOR

Nadia Adam

CREATIVE DIRECTOR

Arya Bhat

EXECUTIVE EDITOR

Alexa DiFrancesco

EDITOR

Farah Ahmad

EDITOR

Ziyan Nadeem

WRITER

Courtenie Merriman

WRITER

Saman Saeed

WRITER

Sofia Suleman

WRITER

Theevya Ragu

ART AND PHOTOGRAPHY

Amir Ahmad Kheiri

Tashfia Sharar

Kateryna Bortsova

Justyna Przybylowska

Yohannes Soubirius De Santo

Varsha Sureka

POETRY

Abby Kaneko

Anjali Chauhan

Nadya Ibrahim

Raisa Masud

n.a.

Trisha Lochan

Farhat Ullah

SHORT STORIES

Areen Aftab

Alexa DiFrancesco

WRITER

Zachariah Highgate

6 7

Visual Credits: Tom Barrett
---
MARGINS

MARGINS

Table of Contents

24

IN CONVERSATION

WITH: RADIO FWD

Learn about RADIO FWD's history,

present, and future while in conversation

with Ramisa Tasfia, the Operations

Manager of Radio FWD. In this feature,

read about the services offered for UTSC

students and folks in the community,

future programming in the face of

COVID-19, and ways to get involved.

106

ARTIST SPOTLIGHT:

KATERYNA BORTSOVA

Kateryna Bortsova is a painter &

graphic artist with a BFA in graphic

arts and MFA. Works of Kateryna

have been displayed in many international

exhibitions in countries like

Taiwan, Moscow, Munich, Spain,

Macedonia and Budapest.

10

Advocacy During the

COVID-19 Pandemic

68

The Hills are White

16

Gratitude: A Beacon of Light

70

Shifted

58

20

I Am What I Will

72

Hair

IN CONVERSATION

WITH: UTERN AT UTSC

Learn about the University of Toronto

Environmental Resource Network

(UTERN) branch at the Scarborough

Campus while in conversation with executives

Leeza Gheerawo and Raymond

Dang. Read about their thoughts on

different issues and their direct interconnectedness

with the environment.

23

34

38

40

44

An Invocation

Evolving Market Tactics

During COVID-19

A Potluck in Caledon

Backwards Joke

The Shadow Pandemic:

Violence Against Women &

Girls

76

80

86

94

96

A Collection of Poems

How the 2020 U.S. Elections

Will Come Into Play For the

Global Future

Dear Mom: I Shouldn't Have

To Earn Your Trust

You Left A Beautiful Mark

Amir Ahmad Kheiri

50

Identity

112

Yohannes Soubirius De Santo

54

Shading an Identity

118

Justyna Przybylowska

65

No Right Supremacy

122

Varsha Sureka

Visual Credits: Tom Barrett

8 9
---
MARGINS

MARGINS

ADVOCACY DURING THE

COVID-19 PANDEMIC

By Farah Ahmad

The COVID-19 pandemic has changed

the way we view our roles in society.

This change has been apparent in

our interdependence and reliance on the

community to lessen the curve and in our

power for social and political advocacy.

During this pandemic, there has been an acute

focus on systems and structures of power--

namely racism in the police.

The recent death of George Floyd has brought

the Black Lives Matter Movement (BLM)

to the forefront of news headlines, with

millions of people around the world turning

to activism to educate and bring awareness

to systemic racism and police brutality faced

by Black people. Solidarity with the BLM

movement has spurred a series of protests,

conscious shoppers supporting Black-Owned

Businesses, a surge of petitions circulating to

demand reform and attention, and resources

urging community members to contact

government officials, as well as donate to

BLM related organizations.

You've signed petitions, donated, and

contacted your councillors and members of

the provincial/federal parliament. Now what?

• Vote

• Spread awareness

• Continue to support marginalized

communities

• Be proactive in educating yourself about

systemic racism

One of the key takeaways from activism during

the COVID-19 pandemic is that this virus

has disproportionality affected marginalized

communities. Activism has evolved, as

movements and organizations are learning

to adapt their tools and resources to mobilize

people while maintaining social distancing.

One of the adaptations is the movement of

information sharing, such activities have had

monumental impacts. Such networks have

shared immediate life-saving efforts like

mutual aid pods, food banks, housing, and

medical and legal support for protestors and

victims. Although many of these activities go

unnoticed, it is important to recognize these

methods as tools that strengthen society and

push the conversations about reform.

10 11

Visual Credits: Vinicius Henrique Photography, Warren Wong, & Nathan Dumlao
---
MARGINS

MARGINS

Visual Credits: Vinicius Henrique Photography, Micheile Henderson, & Element5

During this time, it is common for people to

experience increased levels of distress and anxiety

as a result of social isolation. It becomes difficult

to navigate the negative mental health effects and

strive to balance normalizing the new normal and

adapting to the new environment of advocacy. A

quote popularly used when addressing activism

burnout said by mental health advocate Kristin

Keim is "rest is not the enemy of change. It is one

part of its fuel." The combination of the resurgence

of the BLM movement and the stress of social

isolation has led to a hybrid mental health crisis

amongst many advocates, allies, and people of

colour. The later of this article explores strategies

and resources for managing mental well-being

while part-taking in the BLM movement.

Addressing Burnout

Being socially distant while unlearning and

recognizing systemic racism has exacerbated

feelings of hopelessness and guilt. In addition

to trying to navigate these political and social

injustices, activists are trying to cope with their

struggles amid a pandemic. Sustaining the

energy and passion on some days can be difficult.

Advocacy burnout referred to the long term, the

accumulative and debilitating impact of activismrelated

stress (Chen et al. 4). As we are all learning

new methods to advocate for ourselves, our peers,

and our communities. Different people have

different strategies for managing burnout, a few

useful examples include:

• Taking breaks in-between big projects:

whether you are reading books, listening to

podcasts, or creating advocacy content, it is

important to avoid jumping from a project

to the next. Doing so will allow you to give

your mind and body a chance to recover.

12 13

• Schedule time for yourself each day: this

might look like taking a couple of minutes

to turn off your phone and other devices,

participating in meditative and breathing

exercises to release the muscle tension in

your body. (Katz Ressler) I love grabbing a

snack and enjoying some funny YouTube or

Tiktok videos.

• SLEEP: When you are well-rested, you will

have more patience, clarity of thought, and

the ability to focus. A great way to develop

a habit of resting and sleep could be to have

a night-time routine- like developing and

investing in a skincare routine!

• Take time to reflect: Whether it's journaling

alone or speaking with a friend, having time

to think about the things you're doing is so

important. This will allow you to identify

your feelings and their underlying causes.

This allows yourself to assess your emotions

and figure out what your next steps are

while prioritizing your mental and physical

wellbeing.

• Separate yourself from the issue:

channeling your passions and devoting your

efforts to a case is extremely admirable. At

the same time, with that much investment to

an issue, there is a risk of tying your selfworth

to the success, progress, and failure

of your cause. You are you, and you are still

human. It is important to use your feelings as

fuel for advocacy but also as an indicator for

when to take a step back and recharge.

• Celebrate the little victories: build on the

little successes and enjoy the low hanging

fruit. These moments are a part of building

momentum for the long journey.
---
MARGINS

MARGINS

The information and guidance provided in this

article are believed to be current and accurate but

is not intended as medical or consulting advice.

All in all, many activists are sensitive to their

work towards furthering the movement in fear

that their burnout will have a significant effect

on progression. However, everyone must work

towards spreading awareness and resources

personally to ultimately relieve the pressure on

activists. Remembering that human rights are not

political, the continued spread of information and

advocacy efforts can be done.

WORKS CITED

Chenoweth, E., & Choi-Fitzpatrick, A. (2020,

April 20). The global pandemic has spawned

new forms of activism – and they're flourishing

| Retrieved from, https://www.theguardian.

com/commentisfree/2020/apr/20/the-globalpandemic-has-spawned-new-forms-of-activismand-theyre-flourishing

Ennis-O'Connor, M. (2019, September 02).

Beating Burnout: Self-Care Strategies for

Patient Advocates. Retrieved from, https://

powerfulpatients.org/2019/08/23/beatingburnout-self-care-strategies-for-patientadvocates/

Managing mental health during COVID-19.

(2020, March 26). Retrieved from https://www.

ama-assn.org/delivering-care/public-health/

managing-mental-health-during-covid-19

Taylor, E . (2020, June 08). How to help

advocate for the Black Lives Matter Movement

at home, throughout Louisiana. Retrieved from

https://www.lsureveille.com/news/how-to-helpadvocate-for-the-black-lives-matter-movementat-home-throughout-louisiana/article_3f0db2e8-

a563-11ea-b861-877c651b83ec.html

Wei Xia Chen. C., & Gorski. P. (2015, September

27). Burnout in Social Justice and Human Rights

Activists: Symptoms, Cause, and Implications.

Retrieved from, http://www.edchange.org/

publications/Activist-Burnout-Chen-Gorski.pdf

14 15

Visual Credits: Vinicius Henrique Photography
---
MARGINS

MARGINS

GRATITUDE: A BEACON

OF LIGHT

By Courtenie Merriman

If we can all agree on anything it is that

2020 has been THE poster child for change.

Month to month it seems like we get deeper

into situations that are all equal parts horrifying,

dramatic and mysterious. With half of the year

feeling like a blur, it is often hard for us to

remember to take a moment to be grateful. I

know being grateful for 2020 does seem strange

but truly this year has set a precedent moving

forward that has made one thing clear - things are

going to change... the way we interact henceforth,

the things we value, the things we think are

important and the things we forget are important.

With everything happening in these scary times,

gratitude is the beacon of light we can create for

ourselves.

Gratitude. The act of thankfulness or gratefulness.

It's more than giving your friend appreciation

for treating you to some good eats or in the

COVID-19 era, thanking them for dropping off

some sanitizer at your doorstep. Gratitude is a

mindset, a state of being that allows for one to

tune into themselves. Often, many of us feel

guilty to be happy for ourselves and instead find

more comfort in beating ourselves down and

calling up our friends to have ironically miserable

pity parties. This type of behaviour does so much

more damage than we are aware of. It allows for

our default reaction to challenges to be solely

negative and acts as a nesting ground for stress

and anxiety. It allows for bad times to seem like a

zero-sum and end-all tragedy.

While we should allow ourselves to feel all of

our emotions deeply and clearly, we should never

make the mistake of wallowing in our sorrows.

Instead we can let go (accept and bless) situations

that are above us and understand that we do not

have the power to control all aspects of life. By

beginning to take the energy previously focused

on things out of our control, we can redirect that

energy to start appreciating and being grateful for

things we do have control over such as how we

react to situations. Also, it is key to understand

that by no means is gratitude fake positivity rooted

in thinking you're better than people. Gratitude is

seen as one of the highest vibrational energies we

can achieve. With benefits physically, emotionally

and mentally, it reconnects us to ourselves and

others.

There are many ways to express gratitude. The

first to me is the most simple; saying thank you.

With everything happening, we might forget that

there are things to be thankful for, but without our

frontline workers in the departments of health,

transportation, food and sales these times may

have been more difficult and depressing. So, the

next time you see or interact with a frontline

worker, express gratitude for them and thank

them, it will make the both of you feel better.

The second method is quite popular - the use of a

Gratitude Journal. This is ideal for early mornings

or late nights, right when you wake up or before

you go to sleep, in order to document things you

16 17

Visual Credits: Sincerely Media
---
MARGINS

MARGINS

are grateful for. From the smallest cup of coffee

to being grateful to be alive, these are all valid in

the gratitude journal. One of the best things about

the gratitude journal is, while you have the option

to buy one with a set agenda for you to document

your journey, you can also make your own. This

is great because it is inexpensive and allows for

you to get as creative as you want. It is also totally

up to you to decide what method of journaling

you will use. Journals you can buy include

Amazon Bestseller "The Five Minute Journal",

this is perfect for individuals who prefer a more

structured approach. This book is key in helping

you to focus on the positive aspects of life. With

five short activities on each page, you have the

opportunity to journal both in the morning and at

night. You begin with listing three things you're

grateful for, then setting positive intentions for the

day and finally ending the morning activity with a

daily affirmation. Then at night you return to reflect

on your day by listing three "amazing things" and

ways you could have made your day better. These

exercises allow you to hold yourself accountable

to ensure that you consistently approach each day

with a grateful heart, mind and attitude.

However, if your journey requires something

a bit more relaxed, you can just grab a pen and

paper and pick a time where you have the space

to meditate on what gratitude really means to you.

Meditations of gratitude allow you to reflect on

and reaffirm all the positive things in your life.

After, you can get to journaling and thankfully

there are many methods that make the beginning

stages of journaling as relaxing and natural as

possible. You can start by listing three to five

things you are grateful for or you can pick one

thing and try to list as many reasons as you can

why you're grateful for it. An example would be

choosing something like your laptop, saying you

are grateful for it and then trying to list as many

reasons why. If this is difficult, imagine your life

without the specific thing and how much things

wouldn't be the way they are without it. This

practice is very beneficial as it helps you connect

with the true deeper meaning of gratitude and it

facilitates a pattern where you can create habits of

looking for the good in everything and everyday.

When your journaling is finished, you can start

your day with affirmations of gratitude that can

be as simple as "thank you for this new day" and

begin to set positive intentions for the day and

behavioural goals whether that be to smile more,

say thank you more or doing good deeds for

strangers.

These are all very trying times, and for most of us

we see no clear end in sight. However, all is not

lost as we can find the hope, we're looking for

inside ourselves. Gratitude allows us to remember

that things are not all bad, and that when we

think there's nothing good going for us, we have

so much happening to help if only we just pay

attention. With all the benefits of adopting these

practices in our everyday lives, we should all be

ready to adopt attitudes of gratitude.

18 19

Visual Credits: Dyu Ha
---
MARGINS

MARGINS

I Am What I Will.

By Rami Naamna

A detective in the poetry, I sought out the answers

"What am I as a cancer, one without patience"

A human walking across a plantation?

What do I dream? If life eludes a villainous scheme, tell me the theme

Corrupt camels in the desert, travelling across the screen,

Dare to ask me the question "Who are we?"

What purpose do we serve if the dirt is rotten?

I am not African American, but my thoughts are stained with cotton

And I'm spotting all these polka dots, opposite of tropical appearance

And so I ask myself the question

"What good am I if my mental space is no bigger than a cup?"

I've asked myself that question dozens of times

I don't know who, but I do know why, and what, so it would seem I'm out of luck

No luck in the crime of toxic masculinity

Don't pity me for wanting to change the concept of divinity

In order to do so, I must accept that all sprouts come in beans, and so-

I am what I will myself to be.

This is because my dreams are an abstract reality.

But life is not always what it seems

Similar, the concept of expired cream

It happens in my sleep, but I know what I see

I will myself to be, what I am. I will myself to be free from captivity

I will myself to be.

And yet you don't dare give yourself a dog treat

Do you see?

Wrapped around your ankles is kelp

You place shackles on yourself,

Almost as if you whip yourself with your own belt

But that is not how compliments is spelt

So don't give up too soon

Your mind frees you, nobody else do

My question is, who are you?

What is your purpose?

Do you destine your fate and purpose? Is your curfew lurking?

You must will a purpose. Even in the dark, mental pandemics condemn your thought

process, and mine

Even though you're running out of time, time can be birthed

It must not be insert, you don't need a mistress

I am a poet who I will to dream a fate of happiness

20 21
---
MARGINS

MARGINS

An Invocation

deviated.muses

I wrote this poem as a nod to the BLM movement and to form some coherence in these

heavily charged and revolutionary moments. I hope the piece captures the painful and

hopeful oscillation that mark this period of uncertainty and change. I hoped it would

provide a moment of pause, and resonate with readers.

Death has a sound.

It appears in the absence,

Weeps,

Shrieks,

Wails,

And violently thrashes waves

Out of a choking throat and

A gaping face—

Death has a dilapidated bird

With smoke swirling in tornadoes;

It will not be snuffed.

Death is rebuking its fate.

This year it performs a revival.

A divine resurrection

Manifests in the image of silence

For silence is ephemeral;

It pummels the gates

Scales the towers

Trails an inferno in its wake.

Silence arrives big-eyed and attentive

It demands to live—

- n.a.

22 23
---
MARGINS

MARGINS

IN CONVERSATION WITH:

RADIO FWD.

By Zachariah Highgate

I had the pleasure of speaking with Operations Manager, Ramisa Tasfia, on all things Radio FWDrelated

recently. It was important for us at Margins Magazine to highlight the work Radio FWD is

doing to connect with the student body at UTSC during these rapidly changing times.

Zachariah Highgate: Hey, Ramisa! Thank you so much for agreeing to sit down with me to talk

about Radio FWD as the manager, I'm so grateful to be speaking with you today. Before we begin,

could you give us a little bit of your background and bio?

Ramisa Tasfia: Sure, thank you so much for having me and for considering me to be a part of your

July issue, especially for the theme of change. I'm the Operations Manager at Radio FWD, one of

two managers, which is a community radio station based at UofT's Scarborough campus. Our office

is located on the second floor of the Student Centre and we have various multi-purpose studios for

creative projects including a radio broadcast room. We have a recording studio with a soundproof

booth by the WhisperRoom company, recording equipment that makes up the entire studio setup. We

have an audio production team that helps people make music and various audio projects. We recently

renovated a podcast studio and we're trying to do more interviews there. We have a variety of

multimedia services and equipment in our office and we try to work with students, clubs, community

organizations, and even local businesses.

ZH: That's amazing, thank you for the work that you do! Could you tell us about what Radio FWD

represents and what it works to achieve as a radio station?

RT: Radio FWD is a campus community radio station and a not-for-profit organization that is

incorporated, which means we have our own board of directors, operating bylaws, and annual

general meetings. What we represent... I would really bring it back to our name as Radio FWD. The

biggest inspiration behind the name came from a cheer that happens during Frosh. Folks would cheer

"Scarborough forward, Scarborough pull up" in a large group and it's based off of a song called "Bad

Man Forward, Bad Man Pull Up" [by Ding Dong]. Honestly, I've been hearing that cheer even before

I was a student, I know many former students that use that cheer. It's very Scarborough, you know?

We always try to put our community forward and those cheers came from unity, togetherness, [and]

starting something new together. They came from being excited about the university experience,

that's what Frosh is about. I think Radio FWD represents the same energy.

When we think about the word "forward" we really want to continue moving forward, working on

being inclusive, working on being safe, being open to working with any and all community efforts,

and working on being conscious. We really have been trying to do more reconciliation at the station.

We've been working on a land acknowledgement project and have had a few students from the

Aboriginal Students Association come in and record with us during the winter semester. Miigwetch

and big shout out to Caeley Genereux and Tianna Tababondung from the Aboriginal Students

Association on campus for being a part of this project. It is great to be a part of that process, but we're

still growing and adding more things to that land acknowledgement before we release it. The idea of

"moving forward" is all about learning, it is all [about] adding more things to our broadcast to make

it better and heighten our quality. We're always taking up new technologies and learning new ways to

make sure what we're broadcasting is safe. I think that's also a part of what Radio FWD represents.

I really like that there's such a large scope of things that people are creating and producing now. It's

great to be behind the scenes to try and help in as many ways as I can. We're sponsoring a short film

releasing this summer, people are making music, people have radio shows... Even you, yourself, are

an artist and host your own independent show, so you have an experience of our station on your own.

I have a new [radio] show in development with other co-hosts.

ZH: I love that it ties back to Frosh because that's such an integral part of the university experience,

especially for freshmen that are just coming in. Knowing what that represents for them and how

that's showcased through the station… I absolutely love that! Thank you for sharing. How important

is it having an in-house studio and a space that artists and students can use creatively? As an

artist yourself, what is it like being a part of such a space on campus?

24 25
---
MARGINS

MARGINS

Your music should be how you create it. Obviously, don't be problematic with your music but like...

there are certain ways you should treat an artist. You need to understand that they have their own

integrity, their own artistic style that they are asking you to be a part of. When you ask a studio to

work with you, you're not asking them to tell you what to do or overstep. I just released my song with

my audio production team at Radio FWD on my birthday. It's called "Snakes" and I just love that

there was zero judgement [during its creation]. The process was very natural, not rushed. Everyone

has their own process and I feel like the team we have can work with everyone. I really think we

have a very flexible audio production team and I'm very proud of us for that, I'm excited to keep

working with them.

ZH: I love that because of the experiences you had, you've ensured that the team you're working

with is making sure that people have a good experience. That is such an important part of the artistic

journey and artistic creation. Radio FWD also hosts and features in a myriad of on campus

events. How important is it to have that relationship with the student body at UTSC outside of

the work that you're already doing through the radio station and through the studio?

RT: On a very personal note, my parents are also musicians so growing up, I saw them try to record

with my uncle, who's an audio engineer established in Bangladesh. Once you're an immigrant and

you come here, your recording resources are very different. I've seen my parents record in bathrooms,

in closets with blankets all over just to get different textures for recording or different sounds... I've

learned so much [from them]. Performing wise, I've been performing with my parents [since] when

I was 3 or 4 years old so I've kind of seen a lot. I learned a lot through them and I've tried my best to

transfer all that knowledge of quality and the things I know would make a difference.

RT: So, because we're a campus radio station, as much as we put on our community, we also want to

show our community that we are plugged in, that we are listening and that we're trying to do our best

to give them what they want.

Our audio production team has two audio engineers and a producer as well as Kajan Ravindran,

our technical manager and my co-manager, who is a genius. We all put our heads together to create

this studio space and such a big part of my heart goes into it. I've learned that a lot of people can

pull off really good quality music in their house, whether in their basement or in their bedrooms. It's

definitely possible, I'm just the kind of person where I like to have help. I love to work with other

people and have their expertise on my sound so I worked really hard to establish a team that I feel

can be comfortable, not just with me, but with other students and community members. We tried to

make sure that everyone on the team was able to work with our community.

I've had negative experiences myself. I've had studio sessions where I've made things and paid for

it but I wasn't happy with the quality. At the same time, I didn't feel comfortable enough to go back

to the producer to be like, "Hey I didn't like this, can you change this?". I'm also marginalized [and]

racialized, [so] there are certain things that I've experienced where people just place expectations on

me. I've had producers tell me, "You should do this. No no, I see what you're trying to do, but do

this" [and] I don't think like that. I don't think anyone should be told what their sound should be.

26 27
---
MARGINS

MARGINS

Our grand launch was last year's Frosh concert. We really wanted to start with a bang and that's why

our event was called "Begins with a Bang". We called on four big Toronto artists, hoping that we can

showcase to our Scarborough community students what Toronto music is like. It was so important to

me that before we put on the headliners that everyone [could] see that Scarborough also has it going

on, you know? So we called upon local talents to open the show. It was really important to me that

we had familiar community acts as well as well known Toronto acts.

ZH: It was a great night, I had a good time.

RT: Honestly, it was a bang. Putting it together was such a

challenge because it seemed impossible until three days before.

You were my friend through the whole process. You were

also a performer so I'm sure you saw me in all the stages of

"everything's fine" and then the high pressure like, "Oh my gosh,

it's showtime we gotta go"... you saw me in all the phases. It was

great to organize, to bring on Houdini, Ramriddlz, Yung Tory, as

well as 3M French. I got news last month that Houdini passed

away and our whole team was just shook.

I look back now and I think we were lucky to get him. Even in

previous years, special shoutout to my colleague, Guled Arale,

who found a way to bring Smoke Dawg on campus as well. He

also passed away so you know, it always comes back to Toronto

talent and that's why it's so important to spotlight the community

because life is too short and unpredictable, we need to give our

artists some love while they're creating, regardless of status.

ZH: Very, very true.

RT: You gotta love the art from where we got it and we've got tons of it.

"We called

on four big

Toronto

artists, hoping

that we can

showcase

to our

Scarborough

community

students what

Toronto music

is like."

ZH: I absolutely agree! You were so great during that event, every step of the way you were

amazing. You were so kind and hospitable so I really appreciated that, my best friend who was there

appreciated that [as well] so I can't thank you enough.

RT: I think that's like the hardest I've ever worked on anything. That was probably the most

complicated event I've ever worked on. That's just starting off, we're hoping that we can do more

moving forward.

ZH: Speaking on this progress, in your role as an Operations Manager of Radio FWD, how

have you seen the station, the studio and its cultural presence grow and evolve over time?

RT: I feel very privileged to be in this position and it was definitely tough to navigate myself to get

here. In terms of seeing culture change, we're at a turning point in campus life right now, especially

because of COVID-19. There's a lot of reliance on online events and holding down the fort until

campus is open again. A huge thing that's been happening more of is online parties so we're planning

more of those. We are supporting more short films.

It's tough to speak on how our cultural presence is changing, I mean we rebranded two years ago

and I feel like our new brand is more fitting to what we're trying to accomplish in terms of cultural

presence. I really think our "Begins with a Bang" concert was exactly what we needed to show our

community what we are trying to showcase more of this year. We are working towards having more

international and Indigenous acts as a part of our programming and this has also been an important

topic of conversation between our radio station and our university community, including respective

student experience departments.

How is it growing and evolving? I feel like it's in a constant state of evolution and I think that's what

Radio FWD is all about. We are constantly growing, evolving, changing, and trying to keep up with

things as we move FWD. Cultural presence is something that we can only follow and try [to] keep up

with. It's tough to say if we're really a part of that culture yet, but we're trying to build and grow that

[in order to] strengthen our presence on campus and in our community.

"We are constantly growing, evolving,

changing, and trying to keep up with

things as we move FWD."

ZH: How has Radio FWD adjusted its programming over the summer months with COVID 19

and with classes beginning online in the fall?

RT: We're moving a lot of radio shows into online podcast formats. We're even trying to do more

training using online broadcasting software [and] trying to create training protocols at the same

time because there's a lot that goes into broadcasting on your own at home [while] making sure that

everyone who's in the show can also be on the same broadcast. Some folks want to use Zoom, but

we also want to teach people how to use other platforms as well so we're working on training people

to use more online formats. We've hosted a Pride party with the UTSC Women and Trans Centre

28 29
---
MARGINS

MARGINS

There's a lot of projects that we're supposed to launch in winter that are being pushed but some of

them are moving online. We have this project with the Doris McCarthy Gallery and it's actually a

farm, city, and radio project with local farmers. This is going to be launching within the next one

or two months and we're doing various interviews and tours of farms in Toronto, including UTSC's

campus farm and our rooftop garden. We're still working on logistics of when we can organize that

tour but because of COVID-19, [there are] a lot of travel restrictions to certain places.

That's one of the projects in the works that was supposed to launch last semester. It was our hope

to launch a Scarborough mixtape this year but that's kind of getting [pushed]. We're going to start

accepting submissions soon but we also want our audio production team to get a chance to go into

the studio and continue working before we launch that. Our Scarborough mixtape is still in the works

but kind of on pause until the studio is open again. Our hope with that is to have a mixtape that we

can send to all the record labels we've [been in contact with]. We receive CDs in the mail from

record labels across the continent and they essentially want us to play their music on the air. Our

music associate, Zachary Osborn, goes through the music and puts some of the music on the air and

we archive it. We share the CDs on our CD rack so anyone can come and take a CD. [The mixtape]

would be sent [out] so that our local artists can have a chance to share their music with some of the

record labels that have sent their mail to us.

[on] June 27th [streamed on Youtube], so we're working on hosting more online parties and music

festivals towards orientation time.

What's great is on YouTube, on the side, you can have a chat and you can also have a little place to

take in donations. We were considering using YouTube or maybe even Facebook live and if we do,

donations [will] go towards community organizations (hopefully) based in Scarborough. These are all

things that are still in the logistics phase as we continue to book artists and work out dates for music

festivals. Everything for orientation this year looks like it's going to be online.

On top of the mixtape project, we have also been thinking of reviving a previous event called

"Scarborough's Best Dance Crew". This was huge a few years ago, especially when I was a student

and there's still a lot of really awesome dance teams on campus [that] we would love to [collaborate

with]. In the same fashion, we want to do something called "Scarborough's Best DJ" with an online

ZH: Okay, good to know. Thank you for letting us now. What are your goals then for this

upcoming school year with everything going on? What are you planning and working towards

when it comes to Radio FWD?

RT: The number one thing is surviving COVID-19. I remember when things were kind of getting...

like when the toilet paper was running out but the office was still open. I remember frantically

cleaning the doorknobs, the knobs on the mixer, all the studio mics and everything. I remember that

I just wanted to make sure everyone was safe. And it's a bit scary to think of people using the radio

booth or even the recording studio. They're such sensitive spaces and I don't want to do anything

that'll harm our artists or creators right now. I don't even want to think of losing anyone that way.

We're trying to do as much as we can to support people's online programming and at the same time

we're moving on towards what we're doing next year. Our audio productive team is working with

audio stems remotely for folks looking into mixing and mastering services.

30 31
---
MARGINS

MARGINS

RT: Especially if you're a UTSC student, once you're opted into our fees, you have a lot of free

resources. You get a free hour in the studio and you can get training on broadcasting. You can [also]

use our podcast room...there's a lot of things you have access to as a member. For non members, we

do have a small fee but as a not-for-profit organization, we try to make sure that our fees are very

low. Some of our audio production associates may operate on a sliding scale, so we try to make sure

that communication is clear. We might have some job postings coming up and the job might even be

remote because there's a lot of coordination going on still, so keep an eye out for that!

Another great way to get involved is through our annual elections. As our own organization, we have

a board of directors, students can apply and get votes to be elected as part of our board of directors.

We have a president, vice president, treasurer, two student directors and a DJ representative. Board

of Directors help make some executive decisions and plan for things. We have meetings on a regular

basis to keep up to date on what we're working on and if there are proposals for new things. For

example, the short film that we're sponsoring came to us through someone reaching out to the board,

which is great!

voting platform. We are going to be launching artist scholarships so keep an eye out for that. We're

going to be hosting radio host, content creator and music workshops. We hosted a workshop with DJ

Sky Scream who showed beginners how to start DJing and provided helpful resources to attendees.

We've also talked about bringing in a well known radio show host to speak to our radio show

hosts about hosting shows and [sharing] their experience on it. We're trying to do more music and

entertainment journalism on our website, we already have been doing things like artist profiles and

we're still updating that and adding more as frequently as we can.

We are asking writers to submit pitches and we have all the information available on our website.

Anyone that's interested in writing, there is an email that you can send a pitch to. Varsha Ramdihol,

our executive director, is a graduate in journalism so she helps with editing and revising pitches.

She's the person you would contact with regards to writing for Radio FWD. We have a writing

program that we hope to establish media accreditation with so we can send our writers to big name

events like an MMVA, Digital Dreams, VELD... A bunch of other music festivals and stuff that

happen in the city. I know I've sent a writer to VELD. She got up close [and] got really up-close shots

of Migos. She told me that it was such a great experience because once you have that media badge,

you get to go right to the front of the line at music festivals. You don't have to be behind the fence

like everyone else, you're in front of the fence with security and you get to take your pictures. But

yeah, it [was] great training writers to do that before we rebranded and [I'm] really happy to do that

all over again [with] new writers and teach them how to go to these events and get coverage on them.

There's a lot that we support, even community efforts. We recommend everyone check out our

website. If anyone has a project idea, event idea, a multi-media project that they feel could use

some help with our equipment or could use a hand because [they're] doing this by [themselves]

or [they] could use some promotion or a platform to share [something]... we are more than open

to collaborating with anyone in our community, especially students. All the information is on our

website, radioFWD.com.

ZH: Thank you so much for your time, Ramisa. Thank you so much for the insight you've given us

[on] all the great things Radio FWD is working on and looking forward to. I'm very excited to hear

about them and I'm sure the students coming in this new year will be as well, so thank you. Thank

you so much for your time.

RT: Thank you again for having me, I'm really glad.

There you have it! It is great to see all the amazing things Radio FWD either has in the works or

is working towards in the coming months! Make sure you check out their website and social media

handles in order to stay in the loop and be a part of this great campus resource!

Follow Radio FWD here:

Follow Ramisa Tasfia here:

ZH: It's great to hear that so many things are in the works! How can interested students get

involved with Radio FWD in the coming year? You've already mentioned some ways that they

can but...

radio_FWD

radioFWD.com

k.u.n.j.o

iamkunjo

32 33
---
MARGINS

MARGINS

EVOLVING MARKET

TACTICS DURING COVID-19

By Zachariah Highgate

The effects of COVID-19 have been widely

documented and illustrated in 2020. In

the last few months, we've seen its global

impact and how it has altered society as a whole.

Across the board, businesses in particular have

had to change and adapt in order to continue

operating during these turbulent times. This is

not only seen in large-scale corporations, but

also in local and growing businesses trying to

service a need in their communities.

Tim Hortons shocked many when they made the

decision to close dining room services in most

of their locations while continuing to operate

in ways that limited exposure and allowed for

social distancing. In their official statement

made on March 17th, 2020, they explained that

"these measures will help us make a difference

for the health and safety of the people we love,

and the communities we live in and care deeply

about, during this public health crisis." While

not halting operations all together, closing major

services across their locations showcased how

serious the pandemic was becoming.

McDonald's would follow suit a few days

later, issuing a statement that they would "no

longer be offering take-out service in [their]

restaurants", meaning their "dining rooms will

now be completely closed." Additionally, they

would "stop offering curbside pickup" while

continuing their delivery and drive-thru options.

This further cemented the fact that preventative

measures were not only being considered, but

actively put forward by large scale corporations

because of COVID-19. They were having to

make adjustments to their business models

in an attempt to limit the spread of the virus.

These actions would not prove fail-safe, as a

McDonald's location in London, Ontario would

close less than a month later "after an employee

reported testing positive for COVID-19"

(Rumleski). McDonald's recommended that

employees working in close contact with the

individual self-quarantine until the matter was

resolved. In this case, changes to McDonalds'

service model were followed with the closure

of one of its locations. Around this time, Tim

Hortons would bring forward new policies that

required employees in their Canadian locations

to wear non-surgical masks and undergo

temperature checks before starting their shifts.

Acrylic protective shields would also make

appearances in front of counters and drivethru

locations to increase protection from the

virus (Fox). We not only saw changes to their

business models, but adjustments were made to

the physical aspects of their locations in order to

continue operating during the pandemic.

Unfortunately, not every business would have

the resources to adjust and continue serving their

clientele in this manner. COVID-19's impact,

and the social distancing measures it prompted,

would deter many from leaving their homes and

attending work. This would cause several small

businesses to close their doors indefinitely.

On May 29th, 2020, Moog Audio announced

the closure of their brick and mortar location in

34 35
---
MARGINS

MARGINS

downtown Toronto, explaining that "due to recent

events, [their] Toronto location is now permanently

closed" (@MoogAudio). The closure was met

with dismay, as their supporters expressed how

sad it was to hear that the store would no longer

be operating out of Toronto. In addition to their

closure, Moog Audio initiated a clearance sale on

equipment from this location, further illustrating

how impacted they were.

They would unfortunately not be alone in this,

as multiple businesses would begin to announce

closures in Toronto. The Westerly, a restaurant and

bar located in the Roncesvalles neighbourhood

was forced to close indefinitely, explaining in a

notice on their door that the "stress and uncertainty

due to the Coronavirus COVID-19 has been

overwhelming in so many ways. The financial

resources to hang in and stay closed indefinitely

until we can re-open are not available. And so,

regretfully, we are now closed permanently"

(Appia). As in the case of Moog Audio, saddened

customers shared their sorrows in response to this

closure. Unfortunately, some local businesses

were ill-equipped to take on the financial burdens

that came with operating during COVID-19.

Some positive changes have also emerged, for

instance, businesses have adjusted their objectives

in order to better serve their community. Spirit of

York Distillery Co., for example, has completely

revamped their production model, focussing their

efforts "toward something Canadians have been

emptying from store shelves: hand sanitizer." By

switching from alcohol to sanitizer production,

this company has completely changed their

model and objective in order to support their

community in combating the virus. Additionally,

"all the proceeds will go to local food banks to

support community members that have limited

access to food or are unable to leave their homes"

(Deschamps). This company not only adjusted

their model to accommodate present demands, but

also supported the local community by investing

in community resources.

There are also a large number of creatives and

professionals tapping into virtual resources in

order to continue highlighting the arts. For artists

and creatives that rely on social spaces and

platforms to showcase their works, this period

of quarantine can prove difficult and financially

challenging. Crystal Semaganis, a Cree artist

and writer, founded the Turtle Island Quarantine

Festival as "an outlet for Indigenous artists to

share and sell their work and exchange tips"

(Lisk). This festival ran for seven weeks and

allowed Indigenous creatives to submit works

for recognition and prizes. Artists were able to

showcase their abilities and receive monetary

rewards in exchange. The importance of creating

virtual platforms that allow for creatives to share

their talents (and be compensated accordingly)

during a time when people are unable to connect

physically cannot be overlooked, and it is inspiring

to see how virtual workarounds are being fostered

to support this.

Entrepreneurs have also found unique and creative

ways to adapt and virtually connect with their

clientele. Afro-Caribbean dance group, C-Flava,

has demonstrated this through virtual dance classes

they facilitate using Zoom. Entitled "Flavaful

Fridays" the group describes the classes as a way

to "keep you flavaful through this quarantine"

(@bookcflava). One of their members, Shakkoi

Hibbert, has also created "Floetry Fitness"

sessions, which are classes meant to support

"black identifying women" with their confidence

and charisma (@needsomekoi). Shakkoi, who is

also a published author, continues to inspire and

encourage her followers with motivational posts on

Instagram that offer potential work opportunities

people can take on during quarantine. Innovative

ideas like these exemplify how creatives have

taken this time to adapt, navigate, and (virtually)

invoke positive change.

Overall, COVID-19 has caused businesses of all

shapes and sizes to change and adapt in order to

survive (and sometimes thrive) in the new market

conditions. As we continue to watch this play

out in real-time, it is important to recognize that

change itself is a constant, and those who embrace

it may find unique and creative ways to do so.

WORKS CITED

Appia, Veronica. "Roncesvalles restaurant

permanently closes due to coronavirus crisis."

Toronto.com, 28 Mar. 2020, https://www.

toronto.com/news-story/9918558-roncesvallesrestaurant-permanently-closes-due-tocoronavirus-crisis/.

Accessed 30 June 2020.

Betts, John. "COVID-19: The latest updates

from McDonald's Canada." McDonalds, 21 Mar.

2020, https://www.mcdonalds.com/ca/en-ca/

about-us/covid19-updates.html. Accessed 30

June 2020.

Deschamps, Tara. "Meet the companies quickly

pivoting to serve Canada's COVID-19 needs".

TheStar.com, 18 Mar. 2020, https://www.thestar.

com/business/2020/03/18/meet-the-companies-

quickly-pivoting-to-serve-canadas-covid-19-

needs.html. Accessed 30 June 2020.

Fox, Chris. "Tim Hortons employees now

required to wear masks in effort to limit spread

of COVID-19." CP24.com, 22 Apr. 2020, 8:41

a.m., https://www.cp24.com/news/tim-hortonsemployees-now-required-to-wear-masks-ineffort-to-limit-spread-of-covid-19-1.4906717.

Accessed 30 June 2020.

Lisk, Shelby. "How Indigenous artists are getting

even more creative during COVID-19." TVO.

org, 27 Mar. 2020, https://www.tvo.org/article/

how-indigenous-artists-are-getting-even-morecreative-during-covid-19.

Accessed 2 July 2020.

Rumleski, Kathy. "McDonalds closes London

restaurant due to positive COVID-19 case."

CTVNewsLondon.ca, 19 Apr. 2020, 5:01 p.m.,

https://london.ctvnews.ca/mcdonalds-closes-

london-restaurant-due-to-positive-covid-19-

case-1.4902953. Accessed 30 June 2020.

The Canadian Press. "Tim Hortons moving

to take-out, drive-thru and delivery only."

CTVNews.ca, 16 Mar. 2020, https://www.

ctvnews.ca/business/tim-hortons-moving-to-takeout-drive-thru-and-delivery-only-1.4854822.

Accessed 30 June 2020.

"Updates on the Current Public Health

Environment". Tim Hortons, 15 Mar. 2020,

https://www.timhortons.ca/importantinformation-about-the-current-public-healthenvironment.

Accessed 30 June 2020.

@Bookcflava. "HAPPY FRIYAY GUYS!!

Be sure to tune into our #FlavafulFridays…"

Instagram, 3 Apr. 2020, https://www.instagram.

com/p/B-hknsYF-Vo/. Accessed 2 July 2020.

@MoogAudio. Closing Announcement.

Facebook, 29 May. 2020, 5:24 p.m., https://

www.facebook.com/moogtoronto/photos

/a.1045628678829999/3151237498269096/.

Accessed 30 June 2020.

@Needsomekoi. "I recently created a space

for black identifying women to release…"

Instagram, 3 Jun. 2020, https://www.instagram.

com/p/CA_PEizlyS0/. Accessed 2 July 2020.

@Needsomekoi. "My people: We SEE the

organizations that fail to hear and see…"

Instagram, 11 Jun. 2020, https://www.instagram.

com/p/CBTwl4Xlen8/. Accessed 2 July 2020.

@SevenWolves. Turtle Island Quarantine

Festival 2020. Facebook, 2 May. 2020,

9:00 p.m., https://www.facebook.com/

events/584089788854463/. Accessed 2 July

2020.

36 37
---
MARGINS

MARGINS

A Potluck in Caledon

By Anjali Chauhan

Here, the forks, cups, plates, and hate are plastic;

recipes don't change but the skill of serving is plastic.

Anjali Chauhan is in third-year Psychology; while she enjoys it, she also enjoys writing

poems, dancing, and overusing Spotify. She's second-generation Indian, hence this

poem. "A Potluck in Caledon" shows how ideas around body image are projected

onto younger-generation Indian women, who think critically about them but are also

impressionable. It's about taking bits and pieces of tradition, which is why it's set at

a potluck with Indian and non-Indian food and is a ghazal that doesn't follow all

the rules of one. Furthermore, each of its couplets end in the word "plastic", which

was chosen for its three meanings: the material of plastic, falseness, and the ability

to change.

Like mothers from daughters (or aunties from aunties), plates

segregate sambhar from sandwiches by septums of plastic.

We choose food like we do sarees; we sit upstairs from our

mothers, curate our seconds, and toss their dated plastic.

Bandhani shrouding gulab-jamun guilt, they say of an actress,

"yeah, the movie was good but now her nose looks too plastic."

Then to me, one commands, "eat more; you need it", eagerly

as some hastily hide biryani in tubs of recycled plastic.

So, I eat leftover confetti cake she left over athanu,

now reddened by sour oil spreading across plastic.

She says, "Anjali, you girls are too quiet", and I bite back a question:

Do they know how we eat traditions, tongues tense and palates plastic?

Visual Credits: Tashfia Sharar

38 39
---
MARGINS

MARGINS

Backwards Joke

By Farhat Ullah

To the bus driver who refused to give me a transfer and thought he was being funny:

No wonder you failed to become a stand-up comedian.

You believe your words are like the wind,

leaving goosebumps on my skin,

But you seem to be so lost

in your world of oblivion.

Being a Muslim is like being a GPS that was tampered with;

You're trying to find the destination,

but you're left with messages like:

"Turn left at nearest anti-Islamophobia protest;

turn right at nearest cliff, and 'take flight.'"

As if I'm some stubborn weed in your backyard,

a plant infected with blight.

I love how they continuously call me a suicide bomber!

Then proceed to think that their theories are right,

like they're the king of the truth.

As lives turn to graves

and act as if they weren't the detonator;

If I wanted to kill myself, I would jump from their ego,

down to their IQ.

You are the type of plant who will defend your territory by

emitting toxins into the soil.

The logic behind it is so you can eliminate

your "competitors" somehow.

It's a dirty game of chemical warfare,

armed vs. defenseless;

I wonder who the terrorist is now?

I've seen clones of you before,

ranging from the lowest to highest intensity.

They wanted to become dinosaurs;

powerful, strong, and mobilized;

They obviously chose to become a thesaurus

as they used "Muslim" and "terrorist" interchangeably.

I don't know what bothers me more,

that it's repulsive or plagiarized?

I continue to stare at you, waiting for the transfer,

when you chuckle and say,

"That face."

Tell me, what face was I making?

Did I look disappointed? Sad? Angry? Shocked?

Did my smile reflect the bellowing of my sanity cracking?

Did my faith in humanity progressing

wring itself like a towel caked with mud?

40 41
---
MARGINS

MARGINS

Is this the reaction you signed up for?

Were you searching for the destruction of my foundations,

forming pieces of debris?

Should I shake your hand and say,

"Hello, nice to meet you, people are calling for my genocide."

I have the opposite reaction from a joke,

laughing harder and harder the more you tell me.

I was learning about population dynamics

the other day, and was taught about how the difference

between intraspecific and interspecific competition is whether or not

the individuals fighting over a limited resource

were part of the same species.

As if you can no longer tell that we're both human.

As if you're arguing over who should breathe,

and who should be left to rot.

As if I don't have a say in your carousel of illusions.

But you love to be guided by your confusion.

You're the love child of a broken record and a hawk;

Waiting to latch onto your next prey

every time a person label themselves as part of a community

no one invited them to,

Then deliberately does something so immoral

so you can repeat your insults over and over.

Laughter can be so exhausting sometimes, I'm literally sweating! Or

are those tears?

I am terrified of failure; I can never mess up.

For others, when they make a mistake, that's reflected on them;

I have 1.6 billion people on my back;

so, if I fall, so does everyone else.

Society is a dandelion, and

the wind blows like never before.

And then I realize that there will never be a punchline to this cruel joke.

Deforestation may be the only thing left in our hilarious future.

Your way of having the last laugh is

to squeeze the life out of my identity with your roots,

and mine is to coexist peacefully.

But maybe,

I just have a strange sense of humour.

42 43
---
MARGINS

MARGINS

THE SHADOW PANDEMIC:

VIOLENCE AGAINST

WOMEN AND GIRLS

By Saman Saeed

For around 243 million women and girls

ranging from ages 15 to 49, their home

adopts the role of a combat zone instead

of the safe haven it is supposed to be (Bettinger-

Lopez and Bro). This unfortunate transformation

can be owed to the drastic numbers of domestic

violence cases around the world. Furthermore,

with the world currently facing one of the greatest

challenges of our generation-the COVID-19

pandemic- these numbers are expected to increase

in what is known as the shadow pandemic:

violence against women and girls. For the sake

of this article, we will focus primarily on the

rise of domestic violence cases in Canada, the

reasons behind this surge and possible solutions

as we attempt to deal with the ramifications of the

COVID-19 pandemic.

According to a recent UN Report, there have been

increased cases of domestic violence and demand

for emergency shelter reported in Canada, the

United Kingdom and the United States (UN

Women). Similarly, there has also been a global

rise in domestic violence by almost 20% especially

in developing countries such as Pakistan, China,

Brazil and so forth. However, these numbers

are often ignored as these countries focus on

attempting to flatten the curve and surviving the

COVID-19 pandemic (BBC News).

"He demanded I stay in a hotel and said, if I

started coughing, he was throwing me out on

the street and that I could die alone in a hospital

room," a caller reported to a domestic violence

hotline (Jagannathan).

"I want you out now or I am going to hurt you

and you know I can kill you," another survivor

revealed the threats she received from her partner

after contracting the virus (BBC News).

These are just a small proportion of the 100,000

cases of domestic violence across Canada, a

number that is expected to escalate during the

lockdown (Waugh). With the lockdown enforced

around the country, people are restricted to their

homes unable to leave unless it is essential such

as for a grocery store run, or a medical emergency.

While this certainly is an inconvenience and

troublesome for people who live in a safe,

comfortable environment, for people who are

in quarantine with their abuser it is a matter of

one's well-being and safety. Being stuck at home

reduces a survivor's opportunity to escape to the

public sphere nor are they able to reach out to the

facilities and people that can help them.

Visual Credits: Jon Tyson

44 45
---
MARGINS

MARGINS

Additionally, the quarantine acts as an excuse for

an abuser to further limit a survivor's freedom by

restricting their ability to leave home, controlling

their access to finances and/or medical supplies.

As Ruth Glenn, president and CEO of the National

Coalition Against Domestic Violence, effectively

stated, "If an abuser will take your checkbook

from you so that you don't have access to your

own finances, if an abuser will take your cell

phone and your keys, why wouldn't they prevent

you from having access to things that will ensure

your healthiness?" (Jagannathan). Another effect

of being constrained by your abuser is the financial

impact of the pandemic: it will be much harder for

survivors to recover after dealing with the cost of

economic abuse such as being forced to quit one's

job, being coerced into sharing bank accounts and

other things of similar nature.

Moreover, another danger that arises from being

stuck at home all day with one's abuser is that it

is difficult to seek help. When one is constantly

around their abuser, it enhances their sense of fear as

they are always under surveillance. Subsequently,

it further deters a survivor from reaching out to

family, friends and/or a domestic violence hotline.

In fact, certain domestic violence hotlines have

actually seen a decrease in the amounts of calls

they receive during the pandemic; however, this is

considered to be misleading (Hoye). Essentially,

even though the reduced numbers of calls during

the pandemic point towards a decline in violence

against women, it in actuality emphasizes the

silent cries for help. This silence can be attributed

to the uncertainty surrounding this pandemic as

women are unaware of the resources and shelters

they have access to during the lockdown.

Other important aspects to consider are the mental

health implications of the COVID-19 pandemic.

This pandemic has caused a rise in anxiety,

depression and stress. According to a survey

conducted by The Centre for Addiction and Mental

Health (camh) the financial stress accompanying

the pandemic as a result of being laid off work or

Visual Credits: Vishwasa Navada K

not having access to one's job caused moderate

to severe anxiety and depression amongst around

46.5% of Canadians. While this in itself is a cause

for concern, in the context of domestic violence

it is known that stress in any form is known to

exacerbate incidents of violence. Concluding, not

only are women unable to reach out for effective

help during the pandemic but they are also at a

greater risk of being abused as opposed to before.

Lastly, while it is necessary to address the

struggles women are facing during this pandemic

it is also equally important to talk about the

resources available during these times. In May,

the Canadian government announced around $40

million to support over 500 women shelters and

sexual assault centres across the country ( Women

and Gender Equality Canada). Maryam Monsef,

the Minister for Women and Gender Equality,

revealed different ways to offer support to families

and survivors such as a helpline for men to call

when they are experiencing stress and/or anxiety

(Patel);this might provide them with a healthy

outlet instead of resorting to violence. Patricia

O'Campo, a professor at the University of Toronto,

is also working with a research team to modify an

app called WithWoman Pathways to aid women

facing domestic violence (Anderson). Experts

also recommend women to create a safety plan

such as packing important documents, locating

nearby shelters, having an emergency fund and

the address of someone willing to take them in.

Finally, I would like to end on the following note:

feelings of loneliness during self-isolation can be

quite overwhelming, to counteract this it can be

helpful to reach out to someone who you know

is facing abuse. This is a simple yet effective

way to play your role in helping domestic abuse

survivors.

46 47
---
MARGINS

MARGINS

Anderson, Scott. COVID-19: U of T researchers

seek to protect women from abuse with re-tooled

safety app. 26 May 2020. 3 July 2020.

BBC News. Coronavirus: Concern over

potential rise in lockdown abuse. 27 May 2020.

Video.

Bettinger-Lopez, Caroline and Alexandra Bro. A

Double Pandemic: Domestic Violence in the Age

of COVID-19. 13 May 2020. 2 July 2020.

camh. "COVID-19 National Survey Dashboard."

camh. 2020. Survey.

Coronavirus: Domestic violence 'increases

globally during lockdown'. 12 June 2020. Video.

Hoye, Bryce. Manitoba domestic violence

shelters see drop in demand amid social

distancing, but problem 'hasn't stopped'. 7 April

2020. 2 July 2020.

Jagannathan, Meera. 'We've seen an alarming

spike in domestic violence reports:' For some

women, it's not safe to leave the house OR stay

home. 19 June 2020. 1 July 2020.

WORKS CITED

Patel, Raisa. Minister says COVID-19 is

empowering domestic violence abusers as rates

rise in parts of Canada. 27 April 2020. 3 July

2020.

Taub, Amanda. "A New Covid-19 Crisis:

Domestic Abuse Rises Worldwide." 6 April 2020.

The New York Times . PDF. 8 July 2020.

The Economist. "Domestic violence has

increased during coronavirus lockdowns." The

Economist. 22 April 2020. Graph.

Waugh, Nancy. Canada faces a domestic

violence crisis. CBC examines the problem. 5

March 2020. 29 June 2020.

Women and Gender Equality Canada.

Government of Canada supports over 500

women's shelters and sexual assault centres

during the COVID-19 pandemic . 16 May 2020.

3 July 2020.

Women, UN. "COVID-19 and Ending Violence

Against Women and Girls ." 2020. UN Women. 2

July 2020.

48 49

Visual Credits: Josh Nuttall
---
MARGINS

MARGINS

'Identity' is about myself and the millions of first-generation children

and children of diaspora growing up in settler nations such as the U.S.

and Canada, who often struggle to find their place of belonging. Often

our places of comfort turn into battlefields where we attempt to navigate

our various identities. The memories of our childhood and the place

of birth (or maybe some of us were born abroad and can still relate)

compared to the pressures to meet the standards of Western culture.

This battle can take years, decades, and even a lifetime to heal from. But

we are the new generation. We are here to build our identities where we

embrace our roots and ancestry while also making amends to the broken

values and unjust/prejudiced beliefs that we may have been taught.

Meanwhile, we also assert our voices as people of color and in sharing

our stories, our struggles, our successes, and by building a community,

we continue to uplift one another to overthrow the dominant narratives

about the subaltern. As Spivak, Mohanty, and countless other feminist

scholars of color have said, we, POC have our voices and values. We are

the majority. 'Identity' is about struggles, growth, and change.

50 51

Visual Credits: Josh Nuttall
---
MARGINS

MARGINS

Identity.

By Raisa Masud

I was uprooted from the land

And soon this will too

Missing the scents

in her glance the mountains collapse

Where my ancestors lay

But they locked up the doors

Of her childhood tiles

with eyes dark like cocoa

And thrown into a box

As I screamed from behind

in her ambiance you find maps

On one bitter day

Please let me in

With two different oceans

that lead you to the memories

I scratched out the edges

I promise I will try

that swallowed her whole

of those red Persian rugs

To escape those walls

To become who you wish

yet she returned

where you spent all evening

Yet I was reminded again

And as you wish I will do

with a shield for a soul

playing with toy trucks

That I was not tall

I will bleach my skin white

she bloomed into the guardian

a diluted version

Enough to clench

And stain my jeans blue

of her own forest

of when two worlds collide

To the thoughts that remained

she slayed the tides of the oceans

she is soft like the clouds yet

Of my sweet little home

When I returned that night

and planted a nest

as strong as the tides

Where we used to play

I saw the anger rise

from where she grew roses

that pull you in closer

The sight of estrangement

mountains and towers

on a full moon night

Now I was to make a house

In my mother's eyes

caressing the memories

Out of this wooden box

She could not reckon

of her childhood showers

go on my love,

Where my tongue got twisted

Who her daughter had become

when Nani would wrap her

the world is yours to claim

So, I used calcite chalks

So, I wept to the lyrics

in her arms oh so tight

two broken traces

A last desperate attempt

Of the songs she once hummed

kiss her head and brush her hair

can come whole once again

To keep holding on

When she would lay me on her chest and

then they flew afternoon kites

To those voices I once knew

I'd fall deep asleep

- r.m.

before long they were gone

Until dawn did us apart

memories get lost

May 18, 2020

And I climbed up again

My hands she would keep

but are never forgotten

To sever my being

As I turned out the lights

the scents of childhood home and

I will revive and

I knew I was alone

all the fights we got in

Gather new meaning

With no one that knew me

she embodies her ma, her Nani, her all

To this thing we call life

Or to call their own

is defined by the boxes

Though all that I knew

Just another tragic

that got far too small

Had vanished before me

Immigrant child

for she is a force of nature

52 53
---
MARGINS

MARGINS

SHADING AN IDENTITY

By Sofia Suleman

Skin lightening brand Fair and Lovely, are dropping the word 'fair' in their products.

However, this marketing tactic does nothing to combat colourism and racist ideologies.

There are always some memories that

jut out more than others. They can take

form through interaction with people

that are in our lives, the books we read, or the

media we consume. My friend, M., distinctively

recalls an advertisement when she was a child

watching South Asian dramas with her family.

"They would show a dark-skinned woman who

wasn't wearing any makeup and her hair was

dishevelled; she'd be portrayed as ugly because

she'd be walking down the street and nobody

would be looking at her. And one day, her friends

would come to save her, and they'd give her Fair

and Lovely and all of a sudden, she was fair and

beautiful. She was wearing makeup; her hair was

[styled]. And when she'd walk down the street,

everyone would look at her and they'd [say] 'oh

she's so pretty.'"

In contrast to M, when I was growing up, I wasn't

exposed to Fair and Lovely, a skin lightening

cream that became available in India in 1975.

Soon after, this success would be followed in

other Asian countries, including Bangladesh, Sri

Lanka, Pakistan, and Thailand (Gajanan 2020).

When I was 11, I remember walking into a South

Asian owned convenience store with my mama

(uncle). As I perused the isles, the aroma of paan

filling my lungs, passing by the colourful and

aromatic spices, my eyes stopped at the beauty

section where I was confronted with the package

of Fair and Lovely cream. My mama saw me

staring at the package, confused. Why was the

fairness of one's skin, related to one's beauty?

Although I wasn't exposed to blatant colourism in

my household—"the idea that we live on a colourcoded

spectrum in which the lighter you are, the

whiter (and therefore, better) you are" (Adegoke

2019)—my Nani (grandmother) constantly

praised my skin colour and always warned me

about tanning. "Make sure you don't get too

dark," she would tell me while stroking my hair

and kissing me on the cheek. My mama walked

up to me and explained that in many South Asian

countries, fair skin was highly praised; therefore,

people would try to emulate fairness using skin

lightening creams such as Fair and Lovely. Though

still perplexed, I nodded my head and dismissed

the thought shortly after.

In high school, meeting more South Asian folks

– including my friends M. and A. – evoked many

topics of discussions, including colourism in

many South Asian communities and how beauty

products, including Fair and Lovely, contribute

to and push colourist ideals and attitudes. M. and

A. told me about their respective Fair and Lovely

usage journeys that consisted of their choices, the

influence of their families and the residual traumas

of colourist ideologies, which is often linked to

the "hierarchies established during the British

colonial era" (Safi 2020). However, scholars

Visual Credits: Kelsey Curtis & Fernando Puente

54 55
---
MARGINS

MARGINS

have also found evidence of preference of lighter

skin colours in the Hindu Vedas, a collection of

religious hymns and texts, guiding the beliefs

of many people of Hindu tradition, as well as

inciting "caste divides and rivalries between north

and south Indians" (Safi 2020).

The killing of George Floyd on May 25, 2020, and

the anti-racism protests that followed have also

ignited conversations about allyship, solidarity,

anti-Blackness in other communities and colourism.

Folks have been broadening the conversation of

racism to include the businesses we support and

products we endorse. As a response, there have

been many criticisms of skin lightening creams,

including Fair and Lovely, which reportedly

holds 70% of the market share of India's skinlightening

industry (Gajanan 2020). One of the

responses includes a petition initiated by Shobia

Ooruthirapathy, a Tamil-Canadian makeup artist

based in Toronto stop the production of Fair and

Lovely and other skin bleaching creams and their

advertisements. Additionally, Ooruthirapathy had

written a letter to the CEO of Unilever's Indian

subsidiary, Hindustan Unilever Limited (HUL)

(Balakrishnan et al. 2020).

On Thursday, June 25, 2020, Unilever announced

the dropping of the word 'fair' from the Fair and

Lovely name; instead marketing the product

to emphasize "glow, even tone, skin clarity and

radiance" (Frayer 2020). Sunny Jain, president of

the company's beauty & personal care division,

said in a statement on Unilever's website: "We

recognise that the use of the words 'fair,' 'white'

and 'light' suggest a singular ideal of beauty that

we don't think is right. Although a new product

name hasn't been announced, the name change

will occur "in the next few months" and will

apply to Fair & Lovely products sold across Asia"

(Frayer 2020).

Reading multiple news articles on Fair and

Lovely's name change, I was intrigued to see if

this would have an impact on reducing the usage

of skin lightening topical products, connoting

the notion of lighter skin equating to beauty and

success. A 2018 study published in Frontiers in

Public Health discovered that "more than half of

1,992 men and women surveyed about product use

in India had tried skin whiteners, and close to half

(44.6%) felt the need to try such products due to

media such as TV and advertisements" (Liu 2018).

Additionally, market intelligence firm Global

Industry Analysts recorded that global demand for

skin whiteners has increased, estimating to reach

$31.2 billion by 2024, from $17.9 billion in 2017,

especially in Asia, the Middle East and Africa (Liu

2018). Although this article was written before

the announced name change and marketing shift,

I believe that the usage of skin lightening creams

and colourism in South Asian communities are

extremely rooted, and this effort won't do much

to change the stereotypes and colourist ideologies.

What posed significant insight from my discussions

with both M. and A. was the normalization of

wearing Fair and Lovely perpetuated by both

family and media, and the trauma caused by the

mere pressure of not just becoming fair-skinned,

but also maintaining it at all costs.

For A, ads with Bollywood celebrities— "people

that you look up to," endorsing the brand, further

normalizes usage of the product. Ironically, many

of the celebrities who have endorsed the cream,

including actors like Deepika Padukone, Priyanka

Chopra Jonas, Disha Patani, and Sonam K. Ahuja,

took to social media to express their solidarity to

the BlackLivesMatter movement (Balakrishnan et

al. 2020).

Radhika Parameswaran, a professor of gender and

media studies at Indiana University Bloomington,

who studies the effects of racism and colorism in

India and across South Asia, said, "Just removing

the word 'fair' is not enough." She continues,

"It's a global phenomenon. There's this idea that

the powerful have always been light-skinned."

According to Parameswaran, it can be seen on the

individual front, within families and institutions,

like workplaces (Gajanan 2020).

M. and A. have since stopped using Fair and

Lovely. M. experienced a moment of selfrealization

after having long discussions with her

darker skin Brown friends in high school: "I realize

that I also don't have to be fair to be beautiful.

That comes from within. That comes from who

you are, and your skin colour doesn't affect how

beautiful you are." A. came across research and

articles, through which she realized the product

"is dangerous and seriously wrong."

Both A. and M. have discussed with me about

the residual trauma of colourist ideals in their

lives. Although M's mom had brought Fair and

Lovely into their home, she hadn't used it until

she received comments from family about her

skin colour and how much more beautiful if she

were fairer-skinned. "To this day, I try to get over

it." However, during the summer months, when

M goes out and she tans, in the back of her mind,

she thinks, "I'm less beautiful than I was during

the winter when I was whiter." Similarly, A said,

"even to this day, it [colourist ideals] follows you.

Like you grow up, and you realize that [is] wrong,

but then every single time you're out in the sun…

you're always thinking 'you're tanning,' and it

sounds like a problem, but you just have to push

it away."

WORKS CITED

Adegoke, Yomi. "Are We Finally Ready to

Talk about Colourism? | Yomi Adegoke."

The Guardian, Guardian News and Media,

9 Oct. 2019, www.theguardian.com/

commentisfree/2019/oct/09/colourism-isfinally-being-taken-seriously-thanks-tocelebrities-like-lupita-nyongo.

Balakrishnan, Rekha. "Not Fair, but Still

Lovely – Is India Actually Changing Its

'Fairness' Narrative?" YourStory.com, 2 July

2020, yourstory.com/herstory/2020/07/fairlovely-hul-colourism-body-positivity.

Frayer, Lauren. 'Fair & Lovely' Skin

Lightening Brand, Popular In South Asia,

To Change Name. 25 June 2020, www.npr.

org/sections/live-updates-protests-for-racialjustice/2020/06/25/883322883/fair-lovelyskin-lightening-brand-popular-in-south-asia-tochange-name.

Gajanan, Mahita. Unilever Fair & Lovely Name

Change and Colorism in Beauty. 27 June 2020,

time.com/5860313/unilever-fair-and-lovelyname-change-colorism/.

Liu, Marian. "Asians Still Love Skin

Whiteners, despite Health Concerns." CNN,

Cable News Network, 3 Sept. 2018, www.

cnn.com/2018/09/02/health/skin-whiteninglightening-asia-intl/index.html.

Safi, Michael. Unilever to Rename Fair &

Lovely Skin-Lightening Cream in India. 25

June 2020, www.theguardian.com/world/2020/

jun/25/unilever-rename-fair-and-lovely-skinlightening-cream-inclusive-beauty.

Unilever Evolves Skin Care Portfolio to

Embrace a More Inclusive Vision of Beauty.

25 June 2020, www.unilever.com/news/pressreleases/2020/unilever-evolves-skin-careportfolio-to-embrace-a-more-inclusive-visionof-beauty.html.

56 57
---
MARGINS

MARGINS

IN CONVERSATION WITH:

UNIVERSITY OF TORONTO

ENVIRONMENTAL RESOURCE

NETWORK (UTERN)

By Alexa DiFrencesco

"University exposes you to different lenses, and they're all connected to the environment."

Executives Leeza [they/them] and Raymond [he/him, they/them] believe The University of

Toronto Environmental Resource Network is the must-try form of self-care.

Sky-scraping trees, a humid wind, the backdrop of a deep summer sky; these are all components

of the extraordinary landscape that University of Toronto student Raymond Dang invites me

to envision. On the Friday evening of our Zoom call, I'm looming as part of this paradise by

residing in a backyard gazebo whose loose netting curtains a flowered garden. The sun is transforming

into fiery red hues as I invite Raymond and their colleague, Leeza Gheerawo, into what is to become a

conversation amongst friends rather than a formal interview.

"You get to experience this because we've created these spaces," Raymond prods, referencing my

surroundings. "But we can't do that any longer. We won't have this resource if we keep abusing it. [The

environment] is a health issue, a gender issue, a housing issue; every possible issue you could name.

Most importantly, it's our issue. We have to deal with any effects that we make. Better now than later."

The effects Raymond addresses are becoming increasingly evident: Torontonians are predicted to see

51 days a year above 30 degrees Celsius by 2050 and 77 by 2100, as opposed to the current average

of 16 (Mortillaro, 2018). The manner in which people respond to this issue is a personal choice;

nevertheless, Raymond and Leeza believe they have the perfect approach; The University of Toronto

Environmental Resource Network (UTERN), which Raymond and Leeza are Networking Executive

Liaison and University of Toronto Scarborough (UTSC) Representative of, respectively. The two

describe their organization as a "funding body", stating that their favourite part of their work is its

accessibility.

"UTERN receives funds from all three [University of Toronto] campuses," Leeza explains. "Folks

who do pay – [a 25 cent fee, which is automatically included in incidental fees amongst each campus

(University of Toronto, 2019)] – can access all our services. We have funding initiatives programs, and

we're also a networking hub for any students who are interested in sustainability and environmentalism."

Given the average student's course load, extra-curricular activities and involvement in the workforce,

it's palpable that volunteering with UTERN may be perceived as overwhelming. While Raymond

admits that activism is oftentimes demanding, they clarify that a hands-on role hasn't left them drained.

58 59
---
MARGINS

MARGINS

Instead, they regard their responsibility in terms of a soul-seeking, therapeutic cleansing: "March 2019,

I felt burnt out from three years of constant work. UTERN allowed me to heal, find a community, give

myself wholly and wholesomely. It brought all this shit to the forefront because there was home to be

found. UTERN was that home."

As with any new home, the process of unpacking one's belongings in an unfamiliar space is undeniably

difficult. Leeza interprets their adjustment to frequent activism as being conscientious of and holding

themselves accountable for previous actions: "A lot of education needs to go into it. Questions like,

'Do I know whose treaty land I'm on?'... You have to come to a community where you can talk about

it, with folks who understand and validate how you're feeling. Everyone's at a different education level

about the environment; some folks are very focused on reusing items like plastic bags which is great.

Another group of folks are focused on the social issues and how they're affecting our environment, the

livelihood of our people. Together, UTERN bridges all these different components of environmentalism

into one to have a discussion."

The discussion Leeza describes can be exhausting to moderate in a tri-campus environment, I point out.

Leeza agrees, explaining that frequent online activity – as a result of the global pandemic, COVID-19

– has allowed UTERN to become more advertised to students. "We know that being at UTSC is a

huge barrier; you know, taking the TTC downtown," they mention. "Now, we have an event where we

have UTSC, St. George [University of Toronto's downtown campus] and UTM [University of Toronto

Mississauga] students all sitting in a room. When programming, we don't have to think about just one

demographic; I can meet UTM students and hear about their campus and their groups. I don't have to

look specifically to the GTA for speakers."

As expected, COVID-19 is an issue which has proven to pose vital environmental questioning. "What

does a green recovery look like?" Raymond illustrates. "We've had those discussions in our first

environmental working group. We've had conversations about equity, about environmental racism;

not everyone has access to technology and not everyone has the ability to cope with all of the demands

and barriers that COVID-19 brings."

The interconnectivity of these problems is shocking, but Leeza assures me that understanding their

complexity can be made easy with one crucial tool; education. "A UTERN team member said to

me recently, 'Let's make sure that the funding is legit for George Floyd,'" they explain. "I thought,

yeah, so many people are reposting information mindlessly; let's take the extra step and let's be

aware of it. A lot of our team is part of the BIPOC community. We need to show support for the

students paying those Levy fees for us." They elaborate that, upon further inspection, evidence of

injustice can be found in our own communities: "Once you start comparing all three campuses, it's

shocking the uneven environmental development you start to see. Little things of lack of water bottle

dispensers and tokenism for Indigenous folks… I ask myself who I'm getting for events. The IDC

Conference, a speaker from First Nations House was like, "You don't know about Scarborough?

60 61
---
MARGINS

MARGINS

There are so many First Nations Peoples here.'"

Raymond elaborates upon their statement by introducing me to Ceteris Paribus, a Latin phrase which

means 'all things equal' (Amadeo, 2019): "Economic circumstances are going to get worse because

the environment is getting worse. It's a lot of damage put onto marginalized communities. It creates a

lot of disasters in our infrastructure. We can't say we're healing every time we go into the environment

if Indigenous people are being dispossessed from their land in the sake of pipelines. We can't say that

water is a human right if FNMI [First Nations Métis Inuit] groups in northern Ontario aren't getting

the drinking water they deserve. Self-care is just an opportunity to self-reflect; the environment is the

gateway to the realization that there is a world beyond you, a wonder beyond your existence."

If the environment is one's portal to a more colossal realm as Raymond suggests, UTERN is, without

doubt, the gateway drug to this understanding. Pertaining to the composition of such a drug, visibility,

legitimacy and capacity are described as its key ingredients. Raymond clarifies: "Visibility in the sense

that we established the first Instagram; UTSC [@utern.utsc] was actually the first account. We reached

out to other clubs, we got them to participate in the environmental working groups so leaders on

campus can establish connections. Legitimacy was establishing us as a funding medium that people

can access, but not just funding, but as a resource they can come and take whenever they need. As for

capacity…I'm going to have to graduate at one point. I have to find a successor. Leeza, my successor

today, felt like the perfect candidate to continue establishing stakeholder groups, to continue working

on constitutional reforms, to offer more representation for UTSC in every funding decision and every

equity decision."

Their statement makes sense, as Raymond has self-identified as a 'rickety, old person' on a handful of

occasions during our interview. The future aspirations of their successor are, simply, common to that

of the average person: "My dream is to be a sustainable mom – you know, like, 'We're going to the

bulk store' – but my family will be educated about the issues happening. We're going to fight for what's

right; living in different places, learning about their environmental issues."

Being seated in my parents' backyard, I'm surrounded by my youth. I am accompanied by a powerless

feeling; dreams such as these seem ways away from becoming attainable. Leeza embodies a reminder

that I do better; that I actively participate to create an intact climate for my future self. "We're almost

at the age where we can be creating policies; we're creating youth forums and youth groups and we're

making an impact. [UTERN] is so broad; we're open to any ideas you have. Come pitch them."

To learn more about UTERN's activism and ambitions, visit their website at http://utern.org/wp/.

WORKS CITED

Amadeo, Kimberly. "Ceteris Paribus Simplifies Economics." The Balance, 10 July 2019, www.

thebalance.com/ceteris-paribus-definition-pronunciation-and-examples-3305723.

Mortillaro, Nicole. "Here's What Climate Change Could Look like in Canada | CBC News."

CBCnews, CBC/Radio Canada, 31 Oct. 2018, www.cbc.ca/news/technology/climate-changecanada-1.4878263.

"Weblogin Idpz: University of Toronto." Weblogin Idpz | University of Toronto, 2020, acorn.utoronto.

ca/sws/#/invoiceAndNetCost/invoice.

62 63

Visual Credits: Ray Hennessy
---
MARGINS

MARGINS

Abby Kaneko is a second-year student currently majoring in English

at the University of Toronto Scarborough. She is an aspiring

author whose works have been featured in UTM's Slate Magazine

and the Legislative Assembly of Ontario's website.

abby.kaneko

Visual Credits: Markus Spiske

64 65
---
MARGINS

MARGINS

No Right Supremacy

By Abby Kaneko

No Right Supremacy

From the moment I open my eyes I see,

All this world's catastrophe.

All those fleeing as a refugee.

All the people who'll never be free.

Free.

What a funny word,

People say it's like being a bird,

And flying away.

But, in my opinion, it's being heard,

It's getting to say,

What you want,

Without fear of being attacked,

Whether you're white, brown, yellow or

black,

Though I know for a fact,

That's not how things are...

I've kept track.

What I do know is that it's white men who

lead,

All their hearts being led by greed,

Who never let people of colour succeed.

There are people who are set in their ways

and stern,

Who will let anyone not their kind burn,

People who deny and refuse to learn.

Like someone I know,

Close to home,

Who says things I can't begin to condone.

They say that people of a certain skin tone,

Tend to be more violence prone.

Really [Redacted]?

I mean no disrespect,

But the last time I went and checked,

It's your kind who colonized, wrecked and

slaughtered,

The lives of certain races,

And imprisoned my grandfather.

So please don't try to deflect,

I'll show you the fact because I know

they're correct.

If it's really people of colour who are cruel,

People of colour who can't keep their cool,

Then why is it always white boys that

shoot up a school?

Uh oh, looks like John from chem's

packing heat 'cause I called him a tool!

Kidding.

Still,

Do you not see?

We never have to decide by proxy,

To know not every white person's a Nazi.

That right there is the hot tea.

Some of you might be snickering,

What do I know?

A half-white girl from Pickering?

Well, I don't know much,

I can't begin to understand,

Every politic that is at hand.

But I do know that things need to change

quick,

The laws shouldn't be made by idiot

pricks,

Who were voted for by confederate hicks,

Along with the likes of conservative dicks.

Ladies, gents, and those in between,

I don't want to sound like I'm too extreme,

Like I'm reaching for justice on a high

beam,

Letting out a voiceless scream.

This isn't a poem with some scheme,

To receive emotion just for a theme,

And of course I would never dream,

To pull people down, or hurt their esteem,

I don't want to sound like I'm being too

mean,

I just want to say...

Fuck white people who think their race is

supreme.

66 67
---
MARGINS

MARGINS

The Hills Are White

By Alexa DiFrancesco

The hills across the valley were long and white. This is a rumour brought to life

as it travelled the gorge, stemmed from the minds of wicked teenagers who get high

too late on a Thursday night. Two of them, Agg and Benj, roll onto the pits of their

bellies, making angels in the dirt which birthed them. Sal, their lonely third, sits on the

riverbank below, twisting his arm at angle so inappropriate an observer would predict

it'd snap.

"Reach the sky with us, Sal," Benj proclaims, offering his arms to the worms

crawling in the bank. "The heroes live in the sky."

"The sky is falling." The sad boy traces a chalky outline of Chicken Little in the

space below his feet.

"The sky is white, and so are the clouds." The friends' echoes ring into the sky,

their laughter clasping onto each syllable. "And the hills."

"You know the hills aren't white, Agg. Benj knows the hills aren't white.

Colorblind asshats think the hills are white, which is what I am." Sal rips a dirtied

paper from his jean pocket and curls it into a ball. Once again, his arm twists at an

inappropriate angle. It flies as a stone normally would. "Got the proof right here."

"Go to hell, Benj. Girls like condoms. Not colorblind asshats."

"Come with me." Agg frowns, sitting up in a daze. She skips into Sal's lap, tugging

to his shirt with rigid fingers. The blushing girl shoves his head into his belly. Though

his eyes are closed, he knows hers are full moons.

"Open your eyes." Agg empties the remainder of her powder onto the grass. She

throws away its pouch. "Now, all I see is white. The hills are white."

"Take the white with us, you'll forget." Benj throws a small pouch to Agg, powder

falling from its seal. He grins. "White to black. Colour theory."

"Fuck is the point of colours when I can't see my surroundings?"

"Well, we can teach you to memorize that. Remember, on dates, hills are green,

not white. Condoms wrappers can be either."

68 69
---
MARGINS

MARGINS

Shifted

By Trisha Lochan

Trisha Lochan is a Canadian born Guyanese woman mixed

with other ethnicities, trying to find her peace in this world.

She is a strong believer in one's self and path. She considers

herself a bookworm meets undercover poet/writer. Her

hobbies include meditation, reading, writing, and painting.

Her go-to book is The Four Agreements by Don Miguel

Ruiz. A quote that resonates with her is, "What is meant

for you, will always be for you, no matter how long the

process takes you."

trishaaala_

From the way you looked at me

Something shifted

Your eyes never meeting mine

You look distant

Where is the sparkle in your eye?

The twitch of your lip has me speechless

Eyes to the sky

Frown in a line

My heart's racing but I'm unsure of why.

70 71
---
MARGINS

MARGINS

Hair

By Areen Aftab

Trigger Warning: mentions of domestic violence

I think of you when I am brushing my hair.

All the chilling ways you ran your hands through it, as if always on the brink of

yanking. The night you lead me to the other side of the fence, then the other side of

the door, you smiled. And I thought I could love you. I thought I could loan someone

happiness and charge a small percentage of interest. Maybe I could earn a profit that

way. But money was never mine to earn.

You toured me around, the cherry dress dragging around upon me, jewels and makeup

smirking on my skin, the diamond clasping my finger. Around stairs that someone had

wiped with their life, to rooms of equal grandeur, lights burning to provide maximum

brightness. At last, the kitchen. It looked like it came out of those home-magazines: all

shining steel, an eager employer. I smiled at my reflection through the steel haze. I take

the smile back.

I think of the emptiness, of the weight of air on my head, like a bejeweled crown

pressing me down, commanding me to straighten my back and wallow in my new-found

strength.

You gave me three pieces of silk and told me to wear them on my head, that my hair

should be covered as your wife. I accepted it. I wrapped it around my hair every

morning before I had to come down to the breakfast table. Well, the kitchen. It took

three minutes. The first, I would wrap my hair around, slip the hair tie from my wrist,

and secure the hair I'd tied up; the second, I would lay the cool silk on my scalp and

stare at the mirror—the silk breathing on my hair; in the third, I would clip it in place

and look at myself again. I bought the silk in many colours.

A child was not on the horizon, and my body knew your frustration. I knew it under

the moonlight after the sun had set. You explained it as your love, that you needed that,

but I knew your sighs: longer and heavier with every beat of the clock against my chest.

My womb finally complied, and I could see your mansion awaking; chandeliers gleaming

once again, like aristocrats sparing the luxury of their welcome. I could picture the

second take of my entrance. I take that hope back.

72 73
---
MARGINS

MARGINS

I think of my new pink hair, how it's proud under the sun. Would it catch your eyes, or

would it deter them? I don't know if I want to know.

You once said black was not my colour. But what was mine? In stolen minutes of

contentment, I decided I was okay. I decided that that was enough happiness for me,

even if it was not profitable. It came at the cost of your anger, not that I cared for

our blueprint of a bridge, but the anger that crossed the ocean anyway—the only cost

allowed to stand on my shoulders.

You held my hand. I gasped. Tears collecting in my eyes. And you said: "I could hit

you, but I am better than that." Somehow, I would have preferred a physical bruise.

Somehow, you achieved the same effect without any trace. A bruise that found no one to

blame, so it blamed the skin. I take the tears back.

I think of the length of my hair, how I could never cut it out. It asks for commands of

your hands, not mine. And never a barber's, of course.

I called my mother. She picked up the third time. She asked why I had called, and then

greeted me. Suddenly, I was angry at you. Enraged, infuriated, resentful. It awoke in me

like passion in the kid who, tired of missing out on account of his anxiety, decides to go

taste the world. I told her. She told me: "let the baby arrive." The kid felt awkward the

whole time, and his thoughts ate him up; so he let the weight of his shoulders drag him

all the way back to his room. I take the anger back.

I think of how you wanted my hair tied. I think of how you wanted me tied.

When I ran, you were there to watch. You took your heir and then slammed the door shut.

I think of doors. How they can be opened to let you in, they can be closed to trap you in,

they can be opened to kick you out, and they can be closed to shut you out. How that wood

held power over me.

So, I got rid of the cloth around my hair to protest.

But I take that silk, along with the three minutes to put it on, back. This hijab belongs right

there, right where you wanted it. Right where my hands laid it down and cherished the

gentle sheath in its vibrant colour. It will never be yours.

74 75
---
MARGINS

MARGINS

The Path

By Nadya Ibrahim

I saw light at the end of a path

A place I wanted to be

A place I thought I'd be happy

So I followed the path

Which got darker and darker but I

followed

The path - it had exits I could've gone

Left

Right

I should've turned around

But I kept following

The path - it had glimpses of hope

The occasional rays of sunshine

Poking through the darkness

The hazel wings of birds

Peeking out their nests

The rose petals

Scarcely scattered on the ground

But my goal only moved further and

further

As the light faded away

Then suddenly

The path - it was no longer there

You look away the road to my goal

I've always known I'd never get there

You wouldn't let us

76 77
---
MARGINS

MARGINS

The Well

By Nadya Ibrahim

Twinkle

By Nadya Ibrahim

I dropped a bucket into the well

And waited

There wasn't a sound

So I peeked into the darkness

And I couldn't look away

I was in a trance

The abyss attracted me

Pulled me in so close

I almost fell in

Looking away was impossible

The darkness was pulling me

Little star shining so bright in the sky,

How many million years ago did you die?

Your legacy lives on during the nights

When you aren't outshone by city lights

Down

Incapable of doing anything else

Snap out of it

Snap out of it

I was screaming

But there was no sound

. . . . .

Splash.

There it was.

78

79
---
MARGINS

MARGINS

HOW THE 2020 U.S. ELECTIONS

WILL COME INTO PLAY FOR THE

GLOBAL FUTURE

By Theevya Ragu

2020 brings the 59th U.S. presidential

election, an extremely important election

for the post pandemic global economy,

for which Democratic nominee Joe Biden, and

Republican nominee President Donald Trump

will be facing the polls on the 3rd of November.

Media coverage and public interest has shown to

be one of the biggest determinants in the results

of the previous elections. With the numerous

pressing issues that flood the media continually,

there seems to be a strikingly different political

climate this year, compared to the 2016 elections.

Concerningly, only 52% of Americans claimed

to be "paying fairly close or very close attention

to news about the presidential candidates"

according to a Pew Research Center survey

conducted in late April this year (Jurkowitz,

2020). Whereas in April 2016, this number was

up to 69% (Jurkowitz, 2020). With the public

attention focused on keeping track of the daily

surge of COVID-19 cases, and the ongoing

war against racial inequality through the Black

Lives Matter movement, the importance of this

upcoming election may have been undermined.

Additionally, in spite of these national dilemmas,

the Trump administration is more committed

to pursuing other political agendas rooted in

America's nationalist rhetoric, adding more

fuel to the fire. This article aims to highlight the

imminent threat posed to America's economy and

their foreign relations, through the work visa ban,

as well as how this election will shape the many

years to come.

President Trump had suspended the issuing of

certain categories of work visas to immigrant

workers, as well as green cards for people applying

from abroad till the end of 2020. The H-1B visa

is a non-immigrant visa available for graduate

level, highly skilled individuals to be employed

by U.S. companies. This visa has been successful

in bringing talented individuals to the technology,

health care and media sectors ("Who All Will

Be Hurt", 2020). Experts have weighed in on

this with their opinion, claiming that this would

instead have detrimental consequences to the

U.S. Economy. Additionally, the H4 visa has been

terminated which bars dependent family members

such as spouses to accompany the worker ("Who

All Will Be Hurt", 2020). Many more work visas

have been suspended including the H-2B visa

which now restricts American companies from

hiring foreigners in industries such as landscaping,

forestry, hospitality and construction ("Who All

Will Be Hurt", 2020). The J-1 exchange visitor

visa which permits interns, trainees, to engage in

work-study programs, as well as the L-1 visa for

managers and executive professionals to transfer

to the U.S. within the same company ("Who All

Will Be Hurt", 2020).

Visual Credits: Joao Marcelo Martins

80 81
---
MARGINS

MARGINS

This strategy has been presumably implemented

to recover the post-pandemic economy and

protect American jobs. Yet, the looming question

that concerns most aspiring migrant workers is,

for how long? For how long will they be barred

from receiving a visa, how long will it take for the

economy to recover, and what will this all mean

if President Trump is re-elected in November?

President Trump's most successful approach in

the previous 2016 election, has been appealing

to the anti-immigration sentiment present among

many of their citizens. Yet, his attempts and

apparent promises at eradicating the immigrant

population from the country has been nothing

short of a failure. Shortly after he took office in

2017, applying for work visas has been made

excruciatingly harder. Applicants have had to

endure an increase in fees, a longer wait time

for the renewal of visa, and a new obligation of

attending in-person interviews for employmentbased

green card applicants. Despite these

obstacles, the tech industry is still heavily reliant

on foreign talents as they hired 138,689 H-1b visa

holders in 2019 alone (Collins, 2020). This new

visa ban which obstructs over 500,000 workers

from entering the U.S. is perhaps President

Trump's final ploy for regaining the trust of his

far right voters prior to the election (Collins,

2020).

While Trump may be using this nationalist

attitude in hope to support his re-election

campaign, Biden is keen on seizing the moment

while the nation erupts from the Black Lives

Matter movement. The former U.S. Vice

President during the Obama administration, did

not hesitate to take a knee with the protesters and

lead the way for young Americans to eliminate

systematic discrimination. Accordingly, 42% of

Americans deem race relations to be crucial in

determining their president at the end of the year

(Dezenski, 2020). With the possibility of Biden

being elected for president, we can expect a much

louder Democratic presence in the Senate and the

Visual Credits: Ratik Sharma

House. We've witnessed this in many occasions

where for example recently, the police reform

bill that was passed in the Democratic House of

Representatives was, shunned by Republicans in

the Senate, to propose a rather lackluster bill of

their own. As strenuous as it is to achieve complete

racial equality in the country, it is just as difficult

to demand congressional action.

The global reach of the Black Lives Matter

movement has once again reminded us of America's

influence in international politics. Similarly,

this upcoming election and the recent work visa

ban, will have drastic repercussions in terms of

foreign relations. The previously flourishing

U.S. and India relations may take a major hit,

as 75% of H1-B visa applications are Indians

(Parvini 2020). The crucial role that China plays

in global security is irrefutable, yet the President

has made careless racist remarks in reference to

the pandemic, forgetting the importance of their

allies. Furthermore, the result of this election will

determine whether the withdrawal of the U.S.

from the World Health Organization, a move

widely criticized internationally, will be reversed

at any point in the next four years.

This election means much more than about who

will reside in the White House for the next four

years. It's about the need for immediate but proper

action, the need for the right experience, the need

for unity, and the need for change.

"Progress is impossible without change, and

those who cannot change their minds cannot

change anything" - George Bernard Shaw.

82 83
---
MARGINS

MARGINS

WORKS CITED

Collins, Yannan. "Trump's Work Visa Ban May Backfire on U.S. Economy." CGTN, 25 June

2020, news.cgtn.com/news/2020-06-25/What-today-s-bailouts-can-do-for-tomorrow-s-economies-

RBw50ceXfy/index.html.

Dezenski, Lauren. "Race Relations Are Now Front-of-Mind for 2020 Voters." CNN, Cable News

Network, 9 June 2020, edition.cnn.com/2020/06/08/politics/race-relations-2020-issue-poll-georgefloyd/index.html

Jurkowitz, Mark. "Americans Are Following News about Presidential Candidates Much Less

Closely than COVID-19 News." Pew Research Center, Pew Research Center, 31 May 2020, www.

pewresearch.org/fact-tank/2020/05/22/americans-are-following-news-about-presidential-candidatesmuch-less-closely-than-covid-19-news/.

Parvini, Sarah. "They Worked in the U.S. on Visas. But Coronavirus and Trump's New Order Split

These Indian Families Apart." Los Angeles Times, Los Angeles Times, 11 July 2020, www.latimes.

com/california/story/2020-07-11/la-me-h1b-visa-india-trump-executive-order.

"Who All Will Be Hurt the Most by Trump's Visa Ban." The Economic Times, Economic Times, 9

July 2020, economictimes.indiatimes.com/nri/visa-and-immigration/who-all-will-be-hurt-the-mostby-trumps-visa-ban/articleshow/76683369.cms.

84 85

Visual Credits: Amarnath Tade
---
MARGINS

MARGINS

DEAR MOM: I SHOULDN'T HAVE TO

EARN YOUR TRUST

Why our first instincts should always be to believe the victim.

Trigger Warning: mentions of rape & sexual violence/assault

Mom:

We were watching reruns of Entertainment Tonight on the morning of Dad's birthday when you

told me. He was pacing the hallway, in the process of taking a phone call. You were chewing on

whole wheat cereal while I swirled a metal spoon through thick strawberry yogurt. Nichelle Turner

was hosting a segment regarding Justin Bieber's recent rape allegations, brought forward by a

younger fan. A fruity chunk had just touched my tongue when yours announced, in a disgusted

tone, "I don't believe her."

About an hour later, we attempted to execute our daily exercise routine. Your elbows were digging

into our uncleaned carpet, your back arching into a sharp curve as you planked. My torso slouched

into my knees as I browsed through Spotify Premium, in search of an upbeat playlist. I glanced at

you, your position sturdy and secure. I dared protest for the first time: "It bothers me that you don't

believe her."

You didn't fall immediately, but you looked at me with caution as you argued. Women lie about rape

so frequently; who's to say she isn't making up a story to earn money? Her claims aren't recent;

what if she stragically waited until abuse became a trend to speak up? He's wealthy, he could

sleep with anyone; do you really believe she's so special that he would force her? Your questions

insulated layers of tension between the walls of my throat; their transformation into accusatory

statements sealing my lips as for no release. I felt your weight compress my vocal cords, only to be

released by the terrifying proclamation: She entered his hotel room; she was asking for it.

I didn't realize that I had been resisting crying until I found myself disappointed by the sense of

water clearing its path through my cheeks. Yours were stern; you focused them towards Dad, who

had re-entered the room. Let Dad settle this. As if this mistruth was arguable, or that one man had

the authority to accredit it worth. You looked at him pointedly, motioned towards me and explained,

"She's upset that I don't believe. She thinks I'm a bad person."

Not A----. Not my name. She. In an instant, you had stripped the value of my opinion as your

daughter. You took away my individualism. You deprived me of my identity. Here, I was to be as

anonymous as the women who dared write their names to be associated with dirtied, stereotyped

claims of sexual assault.

Visual Credits: Adrien Ledoux & Jannis Lucas

86 87
---
MARGINS

MARGINS

Today, I join them by stating my name.

I'll begin by introducing you to the corrupted room that I'd entered.

I was sixteen; too young to have a G2 driver's license.

You'd driven me to that room.

I was going to a man's house for what would be our second date. I call him 'man' because this is what

he was; at eighteen years old, he was legally an adult. Our evening would be similar to the one we'd

shared the week prior. Though I told you we'd be watching television in his living room, we'd actually

be talking in his bed, watching the moon fall through his shutters. He would get high from a bong, and

I'd watch afterwards as he drain tarnished water through his window. He'd pick at the weed residue

with a fork. There would be reruns of nineties cable shows playing on the flat-screen in the corner of

the room.

We would be kissing, but that was all. Before I'd left the house, my best friend had teased me by telling

me to use protection. Though I'd planned to have sex with other people before, it was important to me

that I lost my virginity to someone I loved and someone who'd loved me. You'd taught me that. But he

was physically stronger, and he was persistent. I was afraid of admitting to myself that I was evidently

overpowered if I'd told him 'no', and he didn't respect it.

The first occasion I'd told him 'no', he was on top of me. Our weights had shifted that way after sitting

down and leaning on one another. He'd taken his shirt off. I'd taken my pants off. His pants were still

on. My shirt was still on. My eyes were closed. I didn't notice that he'd tugged down his jeans slightly

and had taken out his penis. I'd felt it press against my underwear. I'd told him that I wasn't ready

yet. He accepted my wishes. He didn't put his penis away. He asked me to hold it for him, so it didn't

accidentally slip in my underwear and into me.

The word 'accidentally' scared me. I didn't want my first time to be an accident. More intensely, I

didn't want to be sent home. So I made a choice. I decided that I was capable of loving him in the

future. I decided that I would make him love me. I decided that, because of his past, he needed to sleep

with me in order to let himself love me. I convinced myself that I could tolerate his penis being thrusted

into me after I'd voiced my discomfort.

Having to be convinced into sex doesn't equal consent. I didn't understand this until much later, until

after our relationship ended. For the next year, I'd bragged to my friends about how I was the first of

them to lose my virginity, about how my boyfriend was two years older, about how his penis was so

large that he couldn't put it all the way inside without excruciating pain. But sex isn't supposed to be

painful. We didn't use foreplay. We didn't use lubricant. We didn't use protection.

Afterwards, he'd taken me downstairs to meet his family.

Harold Kelley's Casual Schemata and the Attribution Process and Fitz Heider's The Psychology

of Interpersonal Relations, explains that there are two categories of attribution: internal and

external. Usually, humans make internal attributions when they recognize a person's characteristics

as the cause of their situation. External attributions identify environment and circumstances

as the cause of a person's behaviour. Victim-blaming is described to occur when people

overemphasize personal characteristics and devalue environmental factors when judging survivors.

Visual Credits: Filip Kominik

88 89
---
MARGINS

MARGINS

Those who make this error regard the victim to be partially responsible for the violence perpetrated

onto them (The Canadian Resource Centre for Victims of Crime, 2009).

I've already illustrated my abuse through an external attribution lens. I'll do you the favour of

entertaining it from an internal one as well.

Intelligence-wise, I was an Honour Roll with Distinction student. I participated in classes such as

Advanced Placement English and Canadian Law; as such, I'd been taught the definitions and attributes

of phrases such as "rape" and "sexual assault". I'd performed in musicals and plays as part of school

drama club. I possessed an abundance of confidence, and was used to telling boys who'd messaged me

online that no, I would not go on dates with them. I knew I was pretty, and I told my friends they were,

too. I told them not to settle for boys who would take advantage of their kindness, and when they did, I

discerned, "Knowing better isn't something that can be taught. They have to be let down and discover

it themselves."

This advice was almost prophetic in expressing my naivety, in my hypocrisy. Yet my friends accepted

it because it was reliable. This was another 'personal characteristic'; trustworthiness. You'd attested it,

when I'd voiced my concern of being doubted should I come forward with an assault story. We trust

you, of course we'd believe you. I'd be willing to fight for you before anyone. In your perspective, why

is trust something victims have to earn?

I know you wanted me to be comforted by your solace. But I wasn't. I was terrified. So when you

rushed to my side and enveloped the woman you'd suddenly remembered as your daughter into your

arms, when you bravely asked if anything had happened to me, I answered no. Instantly, you looked

relieved. Why did you choose to believe the anonymous victim – myself – in the moment? Just like she

had when her assault was perpetrated, she was saying no.

One of my closest friends consistently tells me that I should only share with anyone if their knowing

will cause me peace. Though you knowing will never cause me peace, I would have sacrificed this

peace for change in our family. But I chose not to share this horrific experience with you in that

moment because I didn't believe you would learn from it. I believe you would adapt to withholding

your attitude towards sexual violence in front of me, but bigotry would continue in private settings. In a

room the same style to the one my assault occurred in, I would become an embarrassed conversational

topic as you'd laid beside Dad.

So I fed you the story that said assault was inflicted on a friend. This wasn't a lie. It had happened to her,

too. This is the truth; one in every four North American women will be assaulted within their lifetime.

(Department of Justice, 2019). 60% of these victims are under the age of seventeen; minors, daughters of

women like you. (Department of Justice, 2019). But we don't want to be your daughters. We don't want

biological relationship to be the reason care for our well-being. We want you to care because we're people.

Nearly 80% of sexual assaults or rapes remain unreported. (Kimble, 2018). Though I don't know these

individuals or their rationales personally, I assume this statistic remains absurdly high because they're

not regarded as people.

You take away our status as a person when your first instinct is to impose on us the belief that we belong

to a cluster of lying women who follow a 'trend'. You eliminate our experiences, our validity, when

you defend assaulters for the chance that they're being falsely accused. You take away our humanistic

ability to lapse judgement when you blame us for entering the rooms that we will become survivors to.

Visual Credits: Levi Stute

Edited By: Arya Bhat

90 91
---
MARGINS

MARGINS

"You've already

affirmed that

you'll trust me

in that moment.

That's not

nearly enough.

I'm asking you

to believe all

others should

theirs arrive,

too."

You assume we were never a person in that our minds are incapable of processing information when

you question why it's taken so long for us to share our stories. As John Proctor states in Arthur Miller's

The Crucible, "Because it is my name. Because I cannot have another in my life" (143). Why would

we want our names associated with this uneducated backlash?

@danielleglvn and @ItsnotKadi are the Twitter usernames of the young women who accused Justin

Bieber of misconduct last month (Wallis, 2020). (@danielleglvn's account has since been suspended

by Twitter). Whilst not their legal names, these brave individuals will be identified by their family

members, friends, and followers. Their names will oppose countless backlash from Bieber's supporters,

and are being met with a $20 million defamation lawsuit from Bieber himself. @danielleglvn's story

was the one you and I were informed about via Entertainment tonight (Wallis). Like you, I'd heard

that she met Bieber after a show in Texas, and that she and a friend was invited to his hotel room at the

Four Seasons. Unlike you, I accept that I know neither her internal or external characteristics. I will

never meet her. I will never know her personally; she will not have the opportunity to earn my trust.

But I know she's a person, and so I believe her. And I believe the other woman who accused him of

violence. I will not offer any idea on this page but the fact that they are innocent. They have signed

their names to it.

They give me hope that, one day, I'll be able to sign mine.

You've already affirmed that you'll trust me in that moment. That's not nearly enough. I'm asking you

to believe all others should theirs arrive, too.

A.M.D.

WORKS CITED

Department of Justice. "Bill C-46: Records Applications Post-Mills, A Caselaw Review." Government

of Canada, Apr. 2019, www.justice.gc.ca/eng/rp-pr/csj-sjc/ccs-ajc/rr06_vic2/p3_4.html.

Kimble, Cameron. "Sexual Assault Remains Dramatically Underreported." Brennan Center for Justice,

4 Oct. 2018, www.brennancenter.org/our-work/analysis-opinion/sexual-assault-remains-dramaticallyunderreported.

Miller, Arthur. The Crucible. Penguin Books, 2016.

The Canadian Resource Centre for Victims of Crime. "Victim Blaming." Aug. 2009, pp. 3–3.

Wallis, Adam. "Justin Bieber Files $20M Defamation Lawsuit against Sexual Assault Accusers." Global

News, 26 June 2020, globalnews.ca/news/7111183/justin-bieber-lawsuit-sexual-assault-allegations/.

Visual Credits: Vincent Burkhead

92 93
---
MARGINS

MARGINS

You Left A Beautiful Mark

By Anika Munir

Anika Munir is a student at University of Toronto

Scarborough who is passionate about writing, politics and

law. She has various hobbies including hiking, cooking

and learning new things.

anikamunir

munir_anika

I felt it.

Six months later.

I realized it.

Everything had changed.

Who I was.

What I thought I wanted.

Things did not feel the same anymore.

Maybe it was because you were not here anymore.

Often, people come into your life.

They say things.

They do things.

They chnage you.

For good sometimes.

Sometimes they can even leave a beautiful mark on you.

It can even be a beautiful mark.

One so deep.

One so hopeful.

One that shows you that you have not changed at all.

You have just grown.

94 95
---
MARGINS

MARGINS

ARTIST SERIES I

Amir Ahmad Kheiri

a2_kheiri

Medium: PHOTOGRAPH

Amir Ahmad Kheiri is a 25 years old creative living

in Shiraz, Iran. He graduated from the U of Shahid

Rajaee of Tehran in Graphic design 2 years ago.

Currently, he is a high school art teacher, photographer and

poster designer. He is also interested in film making and

writing.

ABOUT THE SERIES

Time has stopped. The reflection of ambiguous voices

can be heard. All objects around, are suffering from their

meaning disruption and here, exactly in this situation,

humans try to achieve a united definition of themselves. It

can be a long and exhausting way to an unclear destination

of different times and places.

A world with no specific time, place or color will surround

us soon.

This project is about The Unnamable by Samuel Beckett.

"And yet I am afraid, afraid of what my words will do to

me, to my refuge, yet again... If I could speak and yet

say nothing, really nothing? Then I might escape being

gnawed to death." - The Unnamable by Samuel Beckett

The Unnamable 1 By Amir Ahmad Khieri

96 97
---
MARGINS

MARGINS

98 99
---
MARGINS

MARGINS

100 101
---
MARGINS

MARGINS

102 103
---
MARGINS

MARGINS

104 105
---
MARGINS

MARGINS

ARTIST SPOTLIGHT

Kateryna Bortsova

katerynabortsova

bortsova6.wix.com/bortsova

Medium: ACRYLIC

At present time, Kateryna Bortsova is a painter – graphic

artist with BFA in graphic arts and MFA. Works of

Kateryna have been displayed in many international

exhibitions such as Taiwan, Moscow, Munich, Spain,

Macedonia, and Budapest. Also, she won a silver medal in

the category "realism" while participating in the "Factory of

visual art" in New York, USA and the 2015 Emirates Skywards

Art of Travel competition in Dubai, United Arab Emirates.

Kateryna is always open for commission and you can view

her work on Instagram or on her website.

"Phenomenal Woman" By Kateryna Bortsova

106 107
---
MARGINS

MARGINS

"self-isolation"

"transformation"

108 109
---
MARGINS

MARGINS

"phenomenal woman"

"phenomenal woman"

110 111
---
MARGINS

MARGINS

ARTIST SERIES II

Yohannes Soubirius De Santo

soubirius

Medium: PEN, WATERCOLOUR, DIGITAL

Yohannes Soubirius De Santo is an Indonesianbased

artist with numerous exhibitional and artistic

experience including:

• Manik Bumi Foundation "Trash To Art" Exhibition, At

Manik Bumi Foundation Gallery, Buleleng Regency, Bali

Province, Indonesia (2020)

• Collection Of Under Campus Gallery Undiksha "Action",

At Undiksha Campus Down Gallery, Buleleng Regency,

Bali Province, Indonesia (2020)

• "Rong" Guyub Rupa Exhibition, At The Unnes Fine Arts

Gallery, Semarang City, Central Java Province, Indonesia

(2019)

• Photography Exhibition "Tiwikan Tiwiku", At Undiksha

Campus Down Gallery, Buleleng Regency, Bali Province,

Indonesia (2018)

His Life motto is "Really Wrong, Not Pessimistic"

"The Work Chat Sale"

By Yohannes Soubirius De Santo

112 113
---
MARGINS

MARGINS

"the work switch function"

Parents are symbolized as rulers, Children as communities, and Snakes as honey but

actually poison.

In this work, I talk about how the attitudes and nature of the authorities abuse the

office, where the rulers from time to time continue to produce sweet promises such as

honey in order to smooth their way and purpose, but people do not know it is actually

a poison that will make them miserable. The sense of humanity, love, and freedom to

obtain health, education, employment, etc. that has been promised has become very

unlikely to be realized. It is this attitude and nature of these rulers that makes social

problems such as racial, ethnic, religious and cultural differences continue into the

present day. If this continues, humanity, love, and freedom are merely illusions.

"i'm starting to be spotted"

Seeing the chaotic and uncontrolled atmosphere of the house today, as more and more

negative spices continue to enter the house, so that the actual image of the house

has begun to fade from time to time, and slowly the good things in the house only

remain in memories from the past. The work that I created was aimed at conveying

the feelings of people whose homes felt disturbed and spiced by negative herbs into

their homes as I presented these feelings in a visual form, with a work entitled "I

Started to be Tainted".

114 115
---
MARGINS

MARGINS

"the virus chatter sale"

The topic of today's discussion cannot be separated from the discussion

about COVID-19. This is a conversation that can be sold anywhere in the

present. Where I first got the idea to work on this piece was a situation

where many elements began to be centered and confined to a virus.

"the virus chatter sale"

In my work, I made it in the form of panels with used cardboard as a

medium. I based it with paint before I started drawing. On the edges of the

cardboard, I deliberately peeled a portion of the cardboard to give it rise.

Appearing in the distinctive parts of each cardboard, namely in the bumpy

part, I intended to provide an overview of the current situation, where the

current situation has begun to be centered and confined to the virus.

116 117
---
MARGINS

MARGINS

ARTIST SERIES III

Justyna Przybylowska

theprzy

Toronto based photographer Justyna Przybylowska

specializes in still life conceptual photography. Her

education background is in interior design. Creating

custom art for her design clients helped propel Justyna into

photography. Her images are provocative and inspired by

fashion and film noir.

ABOUT THE SERIES

My photography showcases degradation but the strength is

still present. By glamorizing the nasty, messy aspects of life,

I ultimately power through in my work. I draw inspiration

from my own experiences, pop culture and old Hollywood

films, especially the genre of film noir.

By displaying the matrix of bones that resides under

our flesh, my aim with this image is to showcase human

strength and resilience.

"Recherche" By Justyna Przybylowska

118 119
---
MARGINS

MARGINS

"recherche"

"recherche"

120 121
---
MARGINS

MARGINS

ARTIST SERIES IV

Varsha Sureka

varshasureka

varshasureka.com

Medium: ACRYLIC, GOLD LEAF

Varsha Sureka, an Indian settled in Dubai, is a

proactively creative and self-taught artist, with a

Master's degree in Human Resource, a mom, a music

lover, highly energetic and skillful. Her love for art emerged

right from a very tender age and it has been her eternal love

since then.

Varsha brings with her a wide range of art forms which

includes Abstract, Resin, Landscape, Mixed Media and Clay

work. With her art forms, she believes in giving words to the

unsaid, enriching them with life.

Her artworks have been exhibited in major art galleries,

hotels, malls, premium shops and parks all over Dubai,

worth mentioning out of which are her works with "Live

Limitless", "Arab Cultural Club. Sharjah", "Paris-Sorbonne

University, Abu Dhabi", "Oasis Mall, Dubai", & "Dubai Outlet

Mall". She has been invited as a judge and mentor for many

renowned events and competitions all around UAE.

She has also done some amazing works with the NGOs for

the specially abled kids to lift them up and she stands firm

for Equality. The cultural diversity of UAE has always been a

strong area of interest for her and her paintings depicts the

same. She has been the most sought-after artist for "Equality

Paintings" in Dubai.

"Equality Series" By Varsha Sureka

122 123
---
MARGINS

MARGINS

"equality"

Every artwork of Varsha is an infusion of creativity and colours accompanied with

a strong message for society. They are symbolic, have an impeccably planned-out

composition and are often part of a change that she wants to bring to the society. Not

just talking about change but being The Change is portrayed and embossed with her

brush strokes.

This painting of hers exemplifies the same. The different figures stand firm as the

pillars of unity. With this painting of hers, she tries to outline the word "Equality", that

we all are the same, there is no discrimination, our start was the same and the end is

going to be the same as well. Let's have a journey of harmony and togetherness.

United we Stand, Together we are Stronger.

124 125
---
MARGINS

MARGINS

"rising from the dust"

This painting of mine is infused with motivation and courage. We all have had our

shares of descends, and now we rise. Every single step of yours is a journey of a

thousand miles. My artwork portrays the same. I personify the plants, delivering the

message of a life risen up from mud (dust), and the butterflies are the metaphors, that

symbolizes the beautification of those lives. Take the step, it's worth taking it. You

deserve IT.

"freedom"

Ever wondered how it would be, if you could flutter the wings of your imagination in

the sky of opportunity? In our busy lives, we have forgotten to unfurl the child within

us, the freedom within us, the freedom to think, to act, to create, to innovate, to be the

true us, The Freedom to Live.

This artwork of mine portrays the same "FREEDOM". The flying birds are the metaphor

depicting the Freedom of your thoughts and emotions.

The message that I want to depict through my artwork is, "Never be afraid to do the

things that make you feel free and don't refrain to give yourself a chance to be better.

Let that child in YOU crawl out again."

126 127
---
MARGINS

MARGINS

Get Involved!

We welcome BIPOC voices and emphasize our commitment

to providing opportunities for racialized people, especially

Black and Indigenous writers and artists.

Connect with us at wtcmargins@gmail.com!

instagram.com/WTCMargins

facebook.com/UTSCMargins

Visual Credits: Tom Barrett

128 129
---
MARGINS

UTSC Women's and Trans Centre

In-House Publication

130