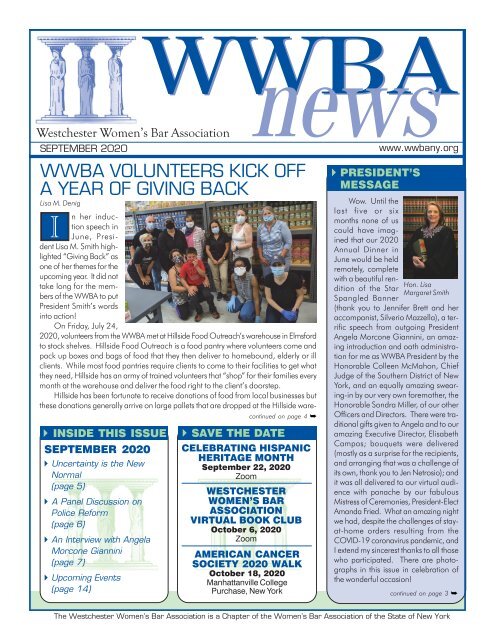 WWBA September 2020 Newsletter
You also want an ePaper? Increase the reach of your titles
YUMPU automatically turns print PDFs into web optimized ePapers that Google loves.
Westchester Women's Bar Association

SEPTEMBER 2020

WWBA

WWBA VOLUNTEERS KICK OFF

A YEAR OF GIVING BACK

Lisa M. Denig

I

n her induction

speech in

June, President

Lisa M. Smith highlighted

"Giving Back" as

one of her themes for the

upcoming year. It did not

take long for the members

of the WWBA to put

President Smith's words

into action!

On Friday, July 24,

2020, volunteers from the WWBA met at Hillside Food Outreach's warehouse in Elmsford

to stock shelves. Hillside Food Outreach is a food pantry where volunteers come and

pack up boxes and bags of food that they then deliver to homebound, elderly or ill

clients. While most food pantries require clients to come to their facilities to get what

they need, Hillside has an army of trained volunteers that "shop" for their families every

month at the warehouse and deliver the food right to the client's doorstep.

Hillside has been fortunate to receive donations of food from local businesses but

these donations generally arrive on large pallets that are dropped at the Hillside ware-

INSIDE THIS ISSUE

SEPTEMBER 2020

Uncertainty is the New

Normal

(page 5)

A Panel Discussion on

Police Reform

(page 6)

An Interview with Angela

Morcone Giannini

(page 7)

Upcoming Events

(page 14)

Westchester Women's Bar Association News

news

www.wwbany.org

continued on page 4 ➥

SAVE THE DATE

CELEBRATING HISPANIC

HERITAGE MONTH

September 22, 2020

Zoom

WESTCHESTER

WOMEN'S BAR

ASSOCIATION

VIRTUAL BOOK CLUB

October 6, 2020

Zoom

AMERICAN CANCER

SOCIETY 2020 WALK

October 18, 2020

Manhattanville College

Purchase, New York

PRESIDENT'S

MESSAGE

Wow. Until the

last five or six

months none of us

could have imagined

that our 2020

Annual Dinner in

June would be held

remotely, complete

with a beautiful rendition

of the Star

Spangled Banner

Hon. Lisa

Margaret Smith

(thank you to Jennifer Brett and her

accompanist, Silverio Mazzella), a terrific

speech from outgoing President

Angela Morcone Giannini, an amazing

introduction and oath administration

for me as WWBA President by the

Honorable Colleen McMahon, Chief

Judge of the Southern District of New

York, and an equally amazing swearing-in

by our very own foremother, the

Honorable Sondra Miller, of our other

Officers and Directors. There were traditional

gifts given to Angela and to our

amazing Executive Director, Elisabeth

Campos; bouquets were delivered

(mostly as a surprise for the recipients,

and arranging that was a challenge of

its own, thank you to Jen Netrosio); and

it was all delivered to our virtual audience

with panache by our fabulous

Mistress of Ceremonies, President-Elect

Amanda Fried. What an amazing night

we had, despite the challenges of stayat-home

orders resulting from the

COVID-19 coronavirus pandemic, and

I extend my sincerest thanks to all those

who participated. There are photographs

in this issue in celebration of

the wonderful occasion!

continued on page 3 ➥

Page 1

The Westchester Women's Bar Association is a Chapter of the Women's Bar Association of the State of New York
---
○ ○ ○ ○ ○ ○ ○ ○ ○ ○ ○ ○ ○ ○ ○ ○ ○ ○ ○ ○ ○ ○ ○ ○ ○ ○ ○ ○ ○ ○ ○ ○ ○

○ ○ ○ ○ ○ ○ ○ ○ ○ ○ ○ ○ ○ ○

WWBA Member Newsletter

SEPTEMBER 2020

Published Monthly by the

Westchester Women's

Bar Association, a Chapter of

the Women's Bar Association

of the State of New York

~ 2020/2021 Officers and Directors ~

President HON. LISA MARGARET SMITH

President-Elect AMANDA C. FRIED

Vice Presidents

NATANYA L. BRIENDEL JENNIFER GRAY JACQUELINE HATTAR

Treasurer

ELIZABETH Z. MARCUS Recording Secretary ELIZABETH Z. MARCUS

Corresponding Secretary JENNIFER ROBINSON

Immediate Past ast President

ANGELA MORCONE GIANNINI

Elected Directors Westchester Board

KIM BERG LISA M. DENIG CARLA GLASSMAN

ANNETTE HASAPIDIS JILL OZIEMBLEWSKI

State Directors Women's Bar Association of the State of New York

LUCIA CHIOCCHIO DEBORAH FARBER-KAISER ANN M. McNULTY

SHARI GORDON ANGELA MORCONE GIANNINI

ADRIENNE ORBACH SUSAN MILLS RICHMOND JANEEN THOMAS

Executive Director ELISABETH CAMPOS

© Copyright 2020 Westchester Women's Bar Association. All rights reserved.

The opinions expressed herein are those of the author(s) only and do not reflect the official position of the Association.

Editor-in-Chief: Jennifer Robinson • Designed and Printed by IPM Media Group, Inc. (516) 809-0501

2020-2021 WWBA Committee Chairs

S T A N D I N G C O M M I T T E E S

By-Laws ................................................................................... Kim Berg

Corporate & Commercial .......................... Lisa M. Bluestein, Virginia Trunkes

Criminal Law ................... Elizabeth Gazay, Hon. Sandra A. Forster, Amy Puerto

Families, Children & the Courts .................... Joy S. Joseph, Lauren Morrissey

Amanda Rieben

Grievance/Ethics .......................................................... Deborah A. Scalise

Judicial Screening ..................... Hon. Sandra A. Forster, Kimberly C. Sheehan

Judiciary .............................................................. Hon. Linda S. Jamieson

Lawyering & Parenting ................................... Joelle M. Burton, Jennifer Gray

Legislation ............................. Natanya L. Briendel, Angela Morcone Giannini

Matrimonial .......................................... Robin D. Carton, Dolores Gebhardt

Lonya A. Gilbert, Andrea Friedman

Annual Dinner ............... Robin D. Carton, Amanda Fried, Andrea B. Friedman,

Jennifer L. Gray, Jennifer Netrosio, Lisa Margaret Smith

Annual Dinner Souvenir Journal ................ Andrea B. Friedmanm Allison Sloto

Appellate Practice .......... Lisa M. Denig, Hon. Sondra M. Miller, Heather Gushue

Archive & Historian .............................................................. Susan L. Pollet

Awards ....................................... Elizabeth Barnhard, Deborah Farber-Kaiser

Bankruptcy ............................. Wendy Marie Weathers, Susan Mills Richmond

Breast Cancer Awareness ............... Adrienne J. Orbach, Hon. Sandra Forster

Collaborative Law ........................... Kathleen Donelli, Hon. Sondra M. Miller,

Lynn J. Maier

Community Outreach .............. Hon. Lisa Margaret Smith, Deborah A. Scalise

Construction Law .............................................................................. TBD

Continuing Legal Education ................................................ Ann M. McNulty

Cyber Law ....................................................................................... TBD

Diversity and Inclusion ........................ Jacqueline Hattar, Stephanie Melowsky,

Janeen Thomas

Domestic Violence ....................... Marian Genio, Beth Levy, Stacey Neumann

Education .................. Allison Morris, Julie P. Passman, , Susan Mills Richmond

Elder & Health Law & Reproductive Rights ..................... Elizabeth A. Cumming,

Moira Laidlaw

Employment Law ........................................................ Kim Berg, Sara Kula

Environmental & Land Use ........................ Lucia Chiocchio, Jennifer L. Gray,

Katherine Zalantis

Gender Dynamics .............................................. Hon. Terry Jane Ruderman

Holiday Party and Boutique ................. Dolores Gebhardt, Jennifer N. Netrosio

Immigration .............................. Karin Anderson Ponzer, Elizabeth Mastropolo

Insurance ........................................... Michelle Kolodny, Julie A. Mickiewicz

Intellectual Property ............. Elizabeth M. Barnhard, Theresa O'Rourke Nugent

A D H O C C O M M I T T E E S

Membership ............................... Sherry Bishko, Marian Genio, Kristen Motel

Networking ...................................................................................... TBD

New Lawyers ..................................................... Katie Wendle, Kristen Motel

Professional Development ............. Susan Edwards Colson, Stephanie Melowsky

Programs ........................................... Natanya L. Briendel, Amanda C. Fried

Public Relations ................................................................................ TBD

Real Property ................. Anne R. Aicher, Allyson Lanahan, Robbin E. Sweeney

Sponsorship .................................. Lucia Chiocchio, Susan Edwards Colson,

Deborah Farber-Kaiser, Marian Genio

Taxation .................................................................. Patricia Rusch Bellucci

Trusts & Estates ...................................... Lonya A. Gilbert, Nancy J. Rudolph,

Karen J. Walsh

Judgment Enforcement & Collections ..... Daniel F. Florio, Jr., Michael Giannini

Litigation .................................. Angela Morcone Giannini, Jacqueline Hattar,

Rebecca McCloskey

Long Range Planning ..................................... Lisa M. Denig, Linda Markowitz

Mediation ......................... Hon. Sondra M. Miller, Abby Rosmarin, Lisa Denig

Mentor ................................................................ Kim Berg, Sherry Bishko

Past Presidents ..................................................... Angela Morcone Giannini

Practice Management ............................................... Wendy Marie Weathers

Pro Bono ................................................... Marian Genio, Natalie Sobchak

Social Media .......................................... Kristen Motel, Jennifer N. Netrosio

Technology/Website ................... Donna E. Frosco, Theresa O'Rourke Nugent

Wellness ........................................ Jennifer Netrosio, Susan Mills Richmond

Women in Leadership ................................................... Adrienne Arkontaky

WWBA

Representatives

Network of Bar Leaders ................................................... Angela Morcone Giannini

Pace Board of Visitors .............................................................................. Lisa Denig

WWBA Foundation President ........................................................... Susan S. Brown

WWBA Representative Director to the WCBA Board ....................... Dolores Gebhardt

WBASNY Judicial Screening Committee .......... Gail M. Boggio, Lisa M. Bluestein

WBASNY Nominations Committee ....................... Gail M. Boggio, Lisa M. Bluestein

WBASNY Awards Committee ............................................................ Deborah Scalise

WBASNY Health Law/Reproductive Rights Committee ........................... Shari Gordin

WBASNY Fundraising Committee .................................................. Andrea Friedman

WBASNY ERA/Women's Civil Rights Committee ......................................... Kim Berg

WBASNY Labor and Employment Law ....................................................... Kim Berg

WBASNY Legislation Committee .................................................... Natanya Briendel

WBASNY LGBTQ+ Committee ...................................................... Adrienne Orbach

WBASNY Domestic Violence Committee .............................. Susan Pollet, Alayne Katz

WBASNY Press and Public Relations ................................ Angela Morcone Giannini

9th Judicial District Representative .................................... Angela Morcone Giannini

Page 2

Westchester Women's Bar Association News
---
○ ○ ○ ○ ○ ○ ○ ○

○ ○ ○ ○ ○ ○ ○ ○ ○ ○ ○ ○ ○ ○ ○ ○ ○ ○ ○ ○ ○ ○ ○ ○ ○ ○ ○ ○ ○ ○ ○ ○ ○ ○ ○ ○ ○ ○ ○ ○ ○ ○ ○ ○ ○ ○ ○ ○ ○ ○ ○ ○ ○ ○ ○ ○ ○ ○ ○ ○ ○ ○ ○ ○ ○ ○ ○ ○ ○ ○ ○ ○ ○ ○ ○ ○ ○ ○ ○ ○ ○ ○ ○ ○

President's Message

from page 1

"I am especially

thrilled to repeat

the goal that I set

during my installation

remarks, that is that

we of the WWBA

must use this year

to 'Give Back.'"

The 2020-21 year thus began for

WWBA with clear recognition that this will

be a year of firsts, and also of formidable

barriers for us to overcome. We have already

held web-based programs that have

been exceedingly successful, including a

presentation by the Education and Wellness

Committees entitled "Uncertainty is the New

Normal: What does that mean for Parents

and Students," and an equally impressive

presentation by the Diversity & Inclusion

Committee entitled "A Panel Discussion on

Police Reform: New York's Executive Order

for Necessary Change." The New Lawyers

Committee is planning to transform

our traditional Red Hat social event into

an online social event to include our law

student mentees from the Haub Law School,

with the possibility of a trivia contest and

prizes! Our Book Club and Coffeehouse

Conversations have been ongoing remotely,

with wide varieties of people participating

in both. In these ways we have begun to

overcome the barriers that face us, and I

have no doubt that we will prevail with

many more events during the coming year.

I challenge our committee chairs and cochairs

to be creative in your use of distance

communication to create CLE events,

social occasions, networking opportunities,

and just plain fun things to do.

I am especially thrilled to repeat the

goal that I set during my installation remarks,

that is that we of the WWBA must

use this year to "Give Back." The individual

neighborhoods where we live, our

community in Westchester County, our

country, and our world, are in crisis, faccontinued

on page 5 ➥

Editor's Note

Westchester Women's Bar Association News

"Don't you love New York in the fall? It makes me want to buy school supplies.

I would send you a bouquet of newly sharpened pencils if I knew your name

and address."

~ Nora Ephron

Making Dates and Getting Published

NEWSLETTER SUBMISSIONS

❑ Deadline for newsletter submissions is the 12th of the month prior to publication (submissions

received after the deadline are subject to the discretion of the editor).

❑ Send submissions as email attachments to Jennifer Robinson at secretary@wwbany.org.

❑ Articles should be 1,000 words or fewer. Remove all pagination, headers, footers or other

formatting, other than bold, underline or italics. Authors are encouraged to submit photographs

for publication with their submissions and include a short biographical statement with

their submissions.

❑ Materials submitted allow the WWBA a limited copyright and full permission to reprint the

material in any WWBA publication or on its website without additional consent.

❑ Photographs must be high-resolution (150 dpi or more) and the subject and all persons in

each photograph must be fully identified.

PROGRAM SCHEDULING

❑ First visit the WWBA website: www.wwbany.org and click on the calendar at the home page to

view scheduled programs. Conflicts in scheduling will be assessed on a case by case basis, with

priority for early submissions.

❑ Contact Jennifer Robinson at secretary@wwbany.org to schedule a WWBA sponsored or cosponsored

program, including committee meetings, CLE programs, etc.

❑ Once you have reserved the date with Jennifer Robinson, proceed with planning your program

and creating your flyer.

❑ Flyers must be approved by the Programs Committee. In advance of the 12th of the month,

please send your flyer to the Program Committee Co-chairs for review and copy the Executive

Director. Once approved, please send your final flyer to the Executive Director, Elisabeth Campos

and the President for publication on the website calendar and the newsletter calendar. The

final flyer will also be emailed to the membership.

❑ We will also consider publicizing programs from outside organizations that may be of interest

to our members.

❑ Post-event: You may report on the success of your program and provide photographs of the

speakers and participants that can be included in an upcoming newsletter. Send your submission

to Jennifer Robinson, following the guidelines above.

A d v e r t i s i n g R a t e s

Full Page Display Ad

5-10 Issues - $525.00 per issue

1-4 Issues - $575.00 per issue

Half Page Display Ad

5-10 Issues - $275.00 per issue

1-4 Issues - $300.00 per issue

Contacts

Jennifer Robinson, Corresponding Secretary and Newsletter Editor-in-Chief: secretary@wwbany.org

Natanya L. Briendel, Programs Committee Co-Chair: tanyabriendel@gmail.com

Amanda C. Fried, Programs Committee Co-Chair: afried@cartonrosoff.com

Hon. Lisa Margaret Smith, President: president@wwbany.org

Ann M. McNulty, CLE Chair: ann.m.mcnulty@morganstanley.com

Elisabeth Campos, Executive Director: executivedirector@wwbany.org

Quarter Page Display Ad

5-10 Issues - $165.00 per issue

1-4 Issues - $180.00 per issue

Business Card Ad

5-10 Issues - $60.00 per issue

1-4 Issues - $75.00 per issue

Classified – office space, furniture/equipment, employment & situation wanted (up to 5 lines)

Members - $50.00 first issue; $25.00 each succeeding issue; Non-Members - $75.00 per issue

Back Cover (3/4 page)

5-10 Issues - $650.00 per issue; 1-4 Issues - $700.00 per issue

Deadline for all ads is the 12th of the month prior to publication. Ads are subject to space limitations.

Contact Jennifer Robinson at secretary@wwbany.org for any questions regarding advertising.

Page 3
---
○ ○ ○ ○ ○ ○ ○ ○ ○ ○ ○ ○ ○ ○ ○ ○ ○ ○ ○ ○ ○ ○ ○ ○ ○ ○ ○ ○ ○ ○ ○ ○ ○ ○ ○

○ ○ ○ ○ ○ ○ ○ ○ ○ ○ ○ ○ ○ ○ ○ ○ ○ ○ ○ ○ ○ ○ ○ ○ ○ ○ ○

○ ○ ○ ○ ○ ○ ○ ○ ○ ○ ○ ○ ○ ○ ○ ○ ○ ○ ○ ○ ○ ○ ○ ○ ○ ○ ○ ○ ○ ○ ○ ○ ○ ○ ○

WWBA VOLUNTEERS KICK OFF A YEAR OF GIVING BACK

from page 1

house. That's where the WWBA

stepped in! After a particularly

large donation by Shop-Rite,

volunteers from the WWBA descended

on the warehouse and

sorted and shelved all of the

items so that the deliverers could

easily create their care packages

the next day. Literally thousands

of cans and boxes were neatly

stacked and arranged during

the roughly two hours that the

volunteers were there. Several

volunteers even broke out their

winter coats and gloves and

happily stocked items in the

walk-in freezer!

Hillside is thrilled to partner

with the Westchester

Women's Bar Association in efforts

like this so watch your

email for future opportunities to

serve. And for more about Hillside

Food Outreach, visit

hillsidefoodoutreach.org. ◗

Giving Back: My Work with Hillside Food Outreach

Lisa M. Denig

[Setting: the basement of

a community center, a

group of people in a circle

of chairs]

"Hi, my name is Lisa D.

and I'm a Chronic Volunteer."

"Hi Lisa!"

Ok, so perhaps there

isn't a support group for my

particular malady but if

there were, I envision that it

would have to meet at 3 AM,

since that is probably the

only free time Chronic Volunteers

like myself have.

However, when WWBA

President Lisa M. Smith

asked if I would write the

inaugural article for the

WWBA Newsletter's "Giving

Back" column, I jumped

at the chance.

○ ○ ○ ○ ○ ○ ○ ○ ○ ○ ○ ○ ○ ○ ○ ○ ○ ○ ○ ○ ○ ○ ○ ○ ○ ○ ○ ○ ○ ○ ○ ○ ○ ○ ○ ○ ○ ○ ○ ○

"Volunteers do not necessarily have the

time; they just have the heart."

~Elizabeth Andrews

While my volunteer exploits

range from walking dogs at the

Animal Haven shelter in New

York City to serving on numerous

non-profit boards and

committees, one that has become

an even bigger part of

my life since the Covid-19

pandemic is my work with Hillside

Food Outreach.

Hillside is not just a food

pantry. Most food pantries require

clients to come to the

pantry and pack up the food

they need. Hillside's mission

is completely different-they deliver

food to the elderly, sick or

shut-ins that do not have the

ability to get to a pantry. They

also focus on providing

healthier alternatives than traditional

food pantries such as

fresh fruits and vegetables and

sugar-free, low-sodium, and

gluten-free foods. This is particularly

important for clients

who suffer from chronic health

issues such as diabetes and

high blood pressure.

My husband, Jim

Carpiniello, and I volunteer

with Hillside as food deliverers.

One Saturday a month,

we pack up boxes and bags

from the warehouse and deliver

them to our five, regular

families. Currently, we can

only drop the food off on the

front step but before the

pandemic, these families

looked forward to our

monthly visit, as many of

them do not have family or

friends who stop by. For

some, we are their only connection

to the outside

world. We have gotten to

know them, their life stories

and situations, and their

food likes and dislikes (one

of our clients hates cereal!).

When the Corona virus

hit with full force, Hillside

took on another role-delivering

food to those who were

ill or quarantined due to

possible exposure. Because

Hillside already had a decontinued

on page 11 ➥

Page 4

Westchester Women's Bar Association News
---
○ ○ ○ ○ ○ ○ ○ ○ ○ ○ ○ ○ ○ ○ ○ ○ ○ ○ ○ ○ ○ ○ ○ ○ ○ ○ ○ ○ ○ ○ ○ ○ ○ ○ ○ ○

○ ○ ○ ○ ○ ○ ○ ○ ○ ○ ○ ○ ○ ○ ○ ○ ○ ○ ○ ○ ○ ○ ○ ○ ○ ○ ○ ○ ○ ○ ○ ○ ○ ○ ○ ○ ○ ○

○ ○ ○ ○ ○ ○ ○ ○ ○ ○ ○ ○ ○ ○ ○ ○ ○ ○ ○ ○ ○ ○ ○ ○ ○ ○ ○ ○ ○ ○ ○ ○ ○ ○ ○ ○ ○ ○

○ ○ ○ ○ ○ ○ ○ ○ ○ ○ ○ ○ ○ ○ ○ ○ ○ ○ ○ ○ ○ ○ ○ ○ ○ ○ ○ ○ ○ ○ ○ ○ ○ ○ ○ ○

○ ○ ○ ○ ○ ○ ○ ○ ○ ○ ○ ○ ○ ○ ○ ○ ○ ○ ○ ○ ○ ○ ○ ○ ○ ○ ○ ○ ○ ○ ○ ○ ○ ○ ○ ○

○ ○ ○ ○ ○ ○ ○ ○ ○ ○ ○ ○ ○ ○ ○ ○ ○ ○ ○ ○ ○ ○ ○ ○ ○ ○ ○ ○ ○ ○ ○ ○ ○ ○ ○ ○ ○ ○ ○

UNCERTAINTY IS THE NEW NORMAL

What Does This Mean for Parents and Students?

Jennifer N. Netrosio, Julie

Passman, Alison Morris, and

Susan Mills Richmond

On July 14, 2020,

WWBA's Education and

Wellness Committees hosted a

virtual lunchtime program via

ZOOM: Uncertainty is the

New Normal: What does that

mean for Parents and Students?

Panelists Sarah Rubin,

Psy.D, school psychologist at

Todd Elementary School in

Briarcliff Manor and Director of

Child and Adolescent Counseling

at The Center for Behavior

Therapy in White Plains, and

Linda Bond, Ph.D., licensed

psychologist specializing the

Cognitive Behavior Therapy,

working with adolescents and

adults. Both psychologists offered

strategies to help parents

manage stress, balance work

with parenting (and possibly

home-schooling again), accept

Linda Bond, Ph.D.

uncertainty, and support the developmental

needs of their children

during this uncertain time.

A prevailing theme from

both panelists is that parents

should prioritize self-care. Both

psychologists agree that the

more care you give yourself the

better able you are to support

your children and family. Selfcare

recommendations: exercise,

practice yoga, meditate,

journal, be aware of your social

needs, and create a new

schedule that fits the family's

needs right now.

Dr. Rubin, who works

Sarah Rubin, Psy.D.

largely with children in grades

K-8, offers parents the following

tips to help young children

cope with frustration and anxiety,

due to uncertainty stemming

from COVID-19:

1. Develop a concrete plan

with your child for when your

child becomes frustrated.

Have your child brainstorm

their top two frustrations along

with strategies to handle those

frustrations; then, write these on

a piece paper and post the

paper on the computer: "When

I get frustrated, I will take deeps

breaths."

2. Name the skills you are trying

to strengthen in your child,

i.e., positive thinking and resilience.

Discuss and explain

those skills in age appropriate

language.

3. Identify negative thoughts

and brainstorm together with

your child a positive replacement

thought. Your child can

keep a journal that they decorate!

4. Parents and children can

keep a daily gratitude journal.

5. Book recommendation: My

Hero is You, How kids can fight

COVID-19! by the World

Health Organization.

6. Acknowledge and empathize

with your child's feelings of uncertainty,

but also remind them

that this is a "temporary" or

"time limited" situation in the

world that will pass.

continued on page 8 ➥

○ ○ ○ ○ ○ ○ ○ ○ ○ ○ ○ ○ ○ ○ ○ ○ ○ ○ ○ ○ ○ ○ ○ ○ ○ ○ ○ ○ ○ ○ ○ ○ ○ ○ ○ ○ ○ ○ ○ ○ ○ ○ ○ ○ ○ ○ ○ ○ ○ ○ ○ ○ ○ ○ ○ ○ ○ ○ ○ ○ ○ ○ ○ ○ ○

President's message

from page 3

ing a once in a lifetime pandemic,

racial unrest and extreme

inequity, and unsettling

political polarization. One

event that jumpstarted our efforts

to Give Back this summer

is highlighted in this newsletter;

on Friday, July 24, a group

of about a dozen WWBA volunteers

gathered at Hillside

Food Pantry to unpack and organize

a large quantity of food

that would subsequently be distributed

to those most in need

of assistance in our County. It

took almost exactly 90 minutes,

and everyone not only felt good

about having volunteered, we

also had a great deal of fun.

Another important WWBA

effort that has recently begun is

to encourage voter registration

across the County, in a bipartisan

way. In this way, too, we

can Give Back to our community,

and to our entire country.

I recently had the pleasure of

swearing in 120 brand new citizens

of the United States, from

countries all around the world.

They were from Bangladesh,

Ghana, the Dominican Republic

and the Philippines, South

Korea and Ecuador, among

many others, and I assure you

that each of them will treasure

the opportunity to cast a ballot

in November. In 2016 only

58.1 percent of eligible voters

cast a presidential ballot. By

comparison 73 percent of the

voting age population of Finland

voted in 2015; 87 percent

of the voting age population of

Belgium voted in 2014; 78 percent

of the voting age population

of South Korea voted in

2017; 73 percent of the voting

age population of New Zealand

voted in 2014; 65 percent of

the voting age population of the

U.K. voted in 2016. We can

and must do better than 58.1

percent. It is crucial that everyone

has a say in selecting

our leaders in government, and

the way to do that is to vote;

the precursor to voting is to register.

So please help WWBA's

efforts in this regard by talking

to your families, your friends,

your book club and dog walking

colleagues, anyone you can

think of, to make sure they are

registered, and that everyone

they know is registered. We

have included registration information

and flyers in a recent

email blast, and WWBA will

happily provide additional registration

documents to any

group, organization, or locale

that you identify. Completed

registration forms should be

delivered or mailed to the

Board of Elections at 25

Quarropas Street in White

Plains, by the registrant.

Mailed applications must be

postmarked no later than October

9, 2020, and received by

the Board of Elections no later

than October 14, 2020 for a

newly registered voter to be eligible

to vote in the November

election. In person registration

must be completed no later

than October 9, 2020. Registration

is the first step, and when

election day comes around

make sure that you encourage

those you know to vote, even if

you disagree with them politically

B because every citizen

continued on page 13 ➥

Westchester Women's Bar Association News

Page 5
---
○ ○ ○ ○ ○ ○ ○ ○ ○ ○ ○ ○ ○ ○ ○ ○ ○ ○ ○ ○ ○ ○ ○ ○ ○ ○ ○ ○ ○ ○ ○ ○ ○ ○ ○ ○

○ ○ ○ ○ ○ ○ ○ ○ ○ ○ ○ ○ ○ ○ ○ ○ ○ ○ ○ ○ ○ ○ ○ ○ ○ ○ ○ ○ ○ ○ ○ ○ ○ ○ ○ ○

WWBA's Diversity and Inclusion Committee Presents:

A Panel Discussion on Police Reform – New York's

Executive Order for Necessary Change

Stephanie Melowsky

On July 22, 2020 the WWBA Diversity

and Inclusion committee hosted a panel

discussion via Zoom on Police Reform:

New York's Executive Order for Necessary

Change. The program was co-sponsored

by the Westchester County Bar Association,

White Plains Bar Association, Brooklyn

Womens Bar Association, Metropolitan

Black Bar Association, Hudson Valley

Hispanic Bar Association and PCSB Bank.

The program, which was very well attended,

is part of the kick off for Judge

Lisa Smith's new term as WWBA President

and mission to strongly promote diversity

and inclusion in the legal profession with

the overarching theme of giving back.

Sitting on the distinguished panel for this

program was Dr. Jim Bostic, TH.DS., Minister,

Author and Executive Director of the

Nepperhan Community Center in Yonkers,

which runs many youth programs and is

the largest provider of afterschool programs

in Yonkers and the surrounding area; Ja-

son Myles Clark Esq., Immediate Past President,

Metropolitan Black Bar Association

and Deputy, New York State Attorney

General's Harlem Regional Office where

he serves a large constituency in Upper

Manhattan and the Bronx by prosecuting

violators of New York State's labor, consumer

and civil rights laws; the Hon. Kitley

S. Covill, Esq, Westchester County Legislator

who represents the Town of Bedford,

Lewisboro, Mt. Kisco, North Salem, Pound

Ridge and part of Somers and chairs the

Legislation committee, and is a member of

the Westchester County Board of Ethics,

Community Service Board and Police Safety

Board; and Prof. Randolph McLaughlin,

full-time professor at Pace University Law

School and Of Counsel, Newman Ferrara

LLP where he maintains a selective civil

rights caseload and has many notable victories.

Serving as moderator was Maria L.

Imperial, CEO of the YWCA of White Plains

and Central Westchester, whose mission is

eliminating racism and empowering

women. Ms. Imperial also serves on the

Board of Directors of Non-profit

Westchester, the Fund for Modern Courts

continued on page 11 ➥

WWBA 2020 VIRTUAL INSTALLATION OF

OFFICERS AND DIRECTORS

June 17, 2020

Hon. Judge Lisa Smith During

Installation Speech

Hon. Judge Lisa Smith taking the

Oath as WWBA President

Hon. Judge Lisa Smith with

Bouquet

Hon. Judge Lisa Smith with

her husband, Bill

Page 6

Westchester Women's Bar Association News
---
○ ○ ○ ○ ○ ○ ○ ○ ○ ○ ○ ○ ○ ○ ○ ○ ○ ○ ○ ○ ○ ○ ○ ○ ○ ○ ○ ○ ○ ○ ○ ○ ○ ○ ○ ○ ○ ○ ○ ○ ○ ○ ○ ○ ○ ○ ○ ○ ○ ○ ○ ○ ○ ○ ○ ○ ○ ○ ○ ○ ○ ○ ○ ○ ○ ○ ○ ○ ○ ○ ○ ○ ○ ○ ○ ○ ○ ○ ○ ○

○ ○ ○ ○ ○ ○ ○ ○ ○ ○ ○ ○ ○ ○ ○ ○ ○ ○ ○ ○ ○ ○ ○ ○ ○ ○ ○ ○ ○ ○ ○ ○ ○ ○ ○ ○ ○ ○ ○ ○ ○ ○ ○ ○ ○ ○ ○ ○ ○ ○ ○ ○ ○ ○ ○ ○ ○ ○ ○ ○ ○ ○ ○ ○

○ ○ ○ ○ ○ ○ ○ ○ ○ ○ ○ ○ ○ ○ ○ ○ ○ ○ ○ ○ ○ ○ ○ ○ ○ ○ ○ ○ ○ ○ ○ ○ ○ ○ ○ ○ ○ ○ ○ ○ ○ ○ ○ ○ ○ ○ ○ ○ ○ ○ ○ ○ ○ ○ ○ ○ ○ ○ ○ ○ ○ ○ ○ ○ ○ ○ ○ ○ ○ ○ ○ ○ ○ ○ ○ ○ ○ ○ ○ ○

An Interview with Angela Morcone Giannini

Susan L. Pollet

Chair of the Archive and

Historian Committee

Q: Your Presidency occurred

during a difficult, challenging

year. What impact did

the coronavirus pandemic

have upon the usual workings

of the WWBA, and how

did you deal with it?

A: There is no doubt that

COVID-19 had an impact

upon the WWBA as it did on

other bar associations and

the entire world. Our Association

was built on the strong

foundation set in place by our

founding mothers and has

continued to remain strong

and dedicated to our mission

because of the fellowship,

comradery and friendships of

our many members. I am very

proud of how quickly we were

able to adapt to a virtual platform

and serve the needs of

our members and community.

We were one of the first Chapters

in WBASNY to hold virtual

board meetings including

our GMM meeting and

voting for our incoming President

and officers. It was clear

to me from the attendance at

the virtual board meetings

that members were eager to

continue the business of the

association and were so

happy to "see each other" and

engage in thoughtful discussion

and share creative ideas

and suggestions about how

to best represent our clients

and practice law during the

pandemic. We learned

quickly that we do not have

to be in the same room to

promote our mission.

Q: What has the WWBA

done to help our members

and the community in the

face of the pandemic?

"My mission during my

Presidency was to have the

WWBA collaborate with other

associations and groups in an

effort to better our community."

A: One of the first accomplishments

of the WWBA during the

pandemic was the establishment

of a COVID-19 Local

Hospital Donation Match Campaign

after member Adrienne

Orbach shared her family members

personal experiences working

on the frontlines in hospital

ERs. The emotional and physical

toll placed upon ER physicians,

nurses and staff during

the pandemic was overwhelming.

The WWBA recognized

their heroism and with the very

generous support of the WWBA

Foundation donations totaling

over $10,000 were made to 8

local hospitals in our county.

While the meals provided

needed nourishment for those

working taxing hours, it was the

recognition and support that

meant so much to the frontline

workers. I am so glad we were

able to be a part of something

that provided encouragement

and made their day a little

brighter in these difficult times.

The WWBA and WWBA Foundation

also made donations for

law students at Pace Elizabeth

Haub Law School who became

displaced during the pandemic

and were in need of housing

and other financial support.

We also addressed the financial

and business hardships

placed upon our members by

COVID-19. Our past president

Kim Berg and Litigation Cochair

Rebecca McCloskey gave

a timely Zoom CLE program

entitled: What Employers and

Employees Need to Know

about New COVID-19 Employment

Laws and Government

Resources. This program addressed

available resources

and loans offered by the government

to assist members in

running their law practices and

helping their clients maintain

their businesses. Importantly,

we also kept our members current

with email notifications of

Executive Orders issued by the

Governor and Court Orders

applicable to the operations of

the Courts in the 9th Judicial

District and statewide.

Prior to the pandemic,

myself and our Wellness committee

cochairs, Jen Netrosio

and Susan Mills Richmond,

held a Heart Healthy Program

for our members given by the

American Heart Association.

The Pandemic brought about

new health concerns for many

beyond the virus including

stress, anxiety, isolation and

depression. Recognizing the

psychological impact caused by

the virus, the Wellness Committee

offered free Restorative

Yoga sessions and I started a

Coffeehouse Conversation

Zoom program. I realized from

the high attendance at the virtual

board meetings that our

members were looking for the

connection they had come to

expect from the WWBA. Simply

put, there is an energy exchanged

between people when

Angela Morcone Giannini

they come together. Energy

given to our members, is energy

received from our members.

Coffeehouse Conversation

has provided that energy

exchange where our

members engage in meaningful

conversations about

practicing law in this very

novel environment.

Q: How do you anticipate that

the pandemic will impact

upon the practice of law in

the future?

A: The virtual, I believe, is now

a reality in the practice of law.

The Pandemic has shown us

what can be accomplished

virtually. It indeed is a change

and change is never easy. But

I do believe that "the virtual"

in some manner will now be a

permanent part of the practice

of law.

Q: What were the highlights

of your Presidency?

A: There were many. My mission

during my Presidency

was to have the WWBA collaborate

with other associations

and groups in an effort

to better our community. It

was important to me to have

our members share their

continued on page 9 ➥

Westchester Women's Bar Association News

Page 7
---
○ ○ ○ ○ ○ ○ ○ ○ ○ ○ ○ ○ ○ ○ ○ ○ ○ ○ ○ ○ ○ ○ ○ ○ ○ ○ ○ ○ ○ ○ ○ ○ ○ ○ ○ ○ ○ ○ ○

○ ○ ○ ○ ○ ○ ○ ○ ○ ○ ○ ○ ○ ○ ○ ○ ○ ○ ○ ○ ○ ○ ○ ○ ○ ○ ○ ○ ○ ○ ○ ○ ○ ○ ○ ○ ○ ○ ○

UNCERTAINTY IS THE NEW NORMAL

from page 5

7. Connect with your school

district to address any concerns

you might have regarding your

child with a disability and/or the

provision of services listed in

their IEP or Section 504 Plan.

8. If you notice marked changes

in your child's behavior, especially

changes in sleep, eating

and anxiety levels, contact the

school district or seek out other

resources for support.

9. Reach out to your school

district to discuss the supports

available for your child.

10. Create a "cozy corner" in

your home where your child can

go when feeling upset, anxious,

or frustrated. You can build into

the daily schedule 15 minutes

of your undivided attention in

the cozy corner with the certainty

that they can voice their concerns

at a set time during the

day.

Dr. Bond offers strategies

for teens and young adults,

many of whom are also navigating

decreased socialization

at a stage in their development

when social circles and interactions

become very important.

Teens and young adults who

moved into a developmentally

appropriate phase of independence

before COVID-19 have

seen their autonomy and individual

decision-making slide

backwards. The abrupt

changes and disruptions to the

social lives and autonomy of

teens and young adults can

bring on depression and sadness.

Dr. Bond suggests the following

to support and encourage

teens and young adults and

help them take ownership of

caring for themselves physically,

emotionally and socially.

1. Offer empathy and listen,

while being mindful not to tip

into victimhood or dramatization

of the circumstances.

2. Be present-focused, and

teach your child to do the

same. Being present-focused

requires you and your child to

stay in the "now" and be mindful

of the present rather than

focusing on what has been lost

in the past or the anxiety that

may arise in the future. This way,

you and your child can practice

being flexible and avoid

rigid expectations of what the

future may hold. The only certainty

is the present, and focusing

on the present generates a

healthier view.

3. As students enter a college

campus either for the first time

or to return, parents may suggest

the following to their child

to assist them during this transition:

○ ○ ○ ○ ○ ○ ○ ○ ○ ○ ○ ○ ○ ○ ○ ○ ○ ○ ○ ○ ○ ○ ○ ○ ○ ○ ○ ○ ○ ○ ○ ○ ○ ○ ○ ○ ○ ○ ○

a. Reassure your child that

that it is completely normal

to experience the array of

feelings they may have -

uncertainty, anxiety, etc.

Encourage them to communicate

with you and others

how they are feeling. If

these feelings worsen or if

they just aren't feeling like

"themselves," encourage

them to call the College

Counseling Center.

b. Stress the importance of

having a routine at school.

Encourage your child to

maintain a consistent sleep

schedule, waking up

around the same time every

day. Most colleges are

incorporating virtual classes

into their regular schedules.

It is important to speak to

your child about not attending

virtual classes on their

continued on page 11 ➥

A Leader in Serving the

Legal Services Community.

That's Sterling.

Expect the highest caliber of personal service and

banking expertise.

Expect extraordinary.

Contact banking professionals experienced in

serving your unique needs at 914-367-9000,

or email team556@snb.com

Jamie O'Connell

Wealth Director

701 Westchester Avenue

White Plains, NY 10604

T 914 299 3050 F 955 498 2839

jamie.o'connell@bnymellon.com

www.bnymellonwealth.com

Larry McElroen, Senior Managing Director

Michael Henderson, Senior Managing Director

Anthony Forgione, Managing Director

Moira Kiernan, Managing Director

Luis Rivera, Associate Managing Director

To learn about Sterling's full suite

of services, visit snb.com.

Member

FDIC

Page 8

Westchester Women's Bar Association News
---
○ ○ ○ ○ ○ ○ ○ ○ ○ ○ ○ ○ ○ ○ ○ ○ ○ ○ ○ ○ ○ ○ ○ ○ ○ ○ ○ ○ ○ ○ ○ ○ ○ ○ ○ ○ ○ ○ ○ ○ ○ ○ ○ ○ ○ ○ ○ ○ ○ ○ ○ ○ ○ ○ ○ ○ ○ ○ ○ ○ ○ ○ ○ ○ ○ ○ ○ ○ ○ ○ ○ ○ ○ ○ ○ ○ ○ ○ ○

○ ○ ○ ○ ○ ○ ○ ○ ○ ○ ○ ○ ○ ○ ○ ○ ○ ○ ○ ○ ○ ○ ○ ○ ○ ○ ○ ○ ○ ○ ○

○ ○ ○ ○ ○ ○ ○ ○ ○ ○ ○ ○ ○ ○ ○ ○ ○ ○ ○ ○ ○ ○ ○ ○ ○ ○ ○ ○ ○ ○ ○ ○ ○ ○ ○ ○ ○ ○ ○ ○ ○ ○ ○ ○ ○ ○ ○ ○ ○ ○ ○ ○ ○ ○ ○ ○ ○ ○ ○ ○ ○ ○ ○ ○ ○ ○ ○ ○ ○ ○ ○ ○ ○ ○ ○ ○ ○ ○ ○

An Interview with Angela Morcone Giannini

from page 7

knowledge and skills not only

with other members in our

association but with our

Westchester community.

Our Annual Law Day /

Take your Children to Work

Day is a perfect example.

Despite COVID-19, with the

help of Past President

Deborah Scalise and President

Lisa Margaret Smith we

were able to host a virtual

event. In collaboration with

the SDNY, we presented a live

webcast program to students

throughout our county which

included a Mock Trial team

presentation on U.S. v. Phoenix

Jones. Magistrate Judge

Lisa Margaret Smith presided,

the Rye Neck High School

Mock trial team played the

roles of prosecutor, defense

attorney and witnesses and

the student attendees throughout

the county participated as

jurors and casted a live electronic

jury vote at the end of

the trial. In addition, there

were presentations by civil and

criminal attorneys on the practice

of law and an FBI agent

on federal investigations. The

program concluded with participants

being presented with

a Proclamation as a remembrance

of their participation

in the "Your Vote, Your Voice,

Our Democracy: The 19th

Amendment." The program

was recorded with closed caption

for the hearing impaired.

It was huge success with over

300 attendees and will be

stored in the 2d Circuit Educational

Archives.

Another example of our

collaborative effort involved

the WWBA's Wellness and

Domestic Violence Committees

hosting a virtual program

via ZOOM: "Intimate Partner

Violence and the COVID-19

Pandemic in Westchester - A

Panel Discussion from Legal,

Law Enforcement, and Mental

Health Professionals." The presenters

included the WWBA,

Putnam Northern Westchester

Women's Resource Center,

White Plains Police Department

and Pace Women's Justice Center.

The program was sponsored

by Sterling National Bank. The

panelists addressed the effect of

"shelter in place orders" on partner

violence and family custody

and support issues. The

WWBA's program not only provided

very important and timely

information to our members, it

permitted the panelists to have

an opportunity to collaborate

with each other and share their

resources to help victims in our

community.

Having been raised the

daughter of a History professor,

I was constantly reminded of the

privilege of living in a democratic

society where one is afforded

the right to vote. It was

instilled in me that we can never

take the right to have our voice

heard for granted. So when

WBASNY called upon Chapters

to take on a voting initiative, I

was committed to our

Westchester Chapter working

hard to promote voter registration.

With the help of student

member Megan Farrell,

Westchester registered the most

voters statewide among all the

chapters in WBASNY and

achieved 1st place in the Voter

Registration Initiative!

Q: What do you believe that

the WWBA should be focusing

upon in the future?

A: I believe that the WWBA

must continue to focus on the

education of our members and

the WWBA's involvement in our

○ ○ ○ ○ ○ ○ ○ ○ ○ ○ ○ ○ ○ ○ ○ ○ ○ ○ ○ ○ ○ ○ ○ ○ ○ ○ ○ ○ ○ ○ ○ ○ ○ ○ ○ ○ ○ ○ ○ ○ ○ ○ ○ ○ ○ ○ ○

communities. We must continue

to increase our membership,

encourage mentorship and develop

creative ways to use the

virtual platform to engage our

members and remain a strong

presence in their lives.

Q. Tell us about your legal

background, and the various

accomplishments of your career?

A: I am a graduate of Pace Law

School and had the privilege of

interning for the late Honorable

Judge Isaac Rubin at the Appellate

Division Second Department.

I also was a summer intern

at the prestigious firm of

Clark, Gagliardi & Miller, PC.

and later hired by the firm. I

was fortunate to become a partner

at CGM and worked there

for 28 years learning each day

under the guidance of renowned

trial attorney, the late Henry

Miller and esteemed plaintiff's

attorney, Lucille Fontana. On

May 1st of 2017, Lucille and I

started our own firm, Fontana

Giannini LLP. Starting a law firm

is an exciting and challenging

endeavor and thanks to my law

partner, it has proved to be very

rewarding. Over the years, I

have mentored many law students

and have truly enjoyed

helping them learn about the

practice of law and establish

their own careers. I have been

fortunate to have been selected

as a Super Lawyer for the past

11 years and inducted as a Fellow

in the International Academy

of Trial Lawyers. Just this

past January, I was honored to

receive the New York State Bar

Association Professionalism

Award, having been nominated

by the WWBA and WCBA.

Q: Tell us about your professional

and personal goals.

A: I look forward to continuing

to represent victims of accidents

in the areas of personal

injury, premise, auto, labor

and medical malpractice for

many years. I also look forward

to participating in the

newly established Court Mediation

and ADR programs

and using my learned negotiation

and settlement skills to

help others resolve their disputes.

I plan to continue my

mentorship of law students and

one day, I would like to return

to the classroom and teach a

law class.

Q: How have you balanced

your family and career over

time?

A: The balance question remains

a topic of discussion not

only for those practicing law,

but for all individuals who work

and have a family. I was very

fortunate to have a great family

network who encouraged

and supported me during my

early career years especially

when my children were very

young. There is no doubt in

my mind that I would not have

been able to achieve the successes

in my career if it were

not for my supportive and loving

spouse, Robert who always

supported my career and encouraged

all my efforts in the

practice of law. Now having

practiced over 30 years, I can

share with you that I have

learned that balance involves

"sway." There is never true

equilibrium of family and career.

Better to embrace "the

sway" and realize that career

and family will never at any

given time be completely balanced.

Doing so gives you

the freedom to do both well

and in fact, for most of us, very

well! ◗

Westchester Women's Bar Association News

Page 9
---
○ ○ ○ ○ ○ ○ ○ ○ ○ ○ ○ ○ ○ ○ ○ ○ ○ ○ ○ ○ ○ ○ ○ ○ ○ ○ ○ ○ ○ ○ ○ ○ ○ ○ ○ ○ ○ ○ ○ ○ ○ ○ ○ ○ ○ ○ ○ ○ ○ ○ ○ ○ ○ ○ ○ ○ ○ ○ ○ ○ ○ ○ ○ ○ ○ ○ ○ ○ ○ ○ ○ ○ ○ ○ ○ ○ ○

○ ○ ○ ○ ○ ○ ○ ○ ○ ○ ○ ○ ○ ○ ○ ○ ○ ○ ○ ○ ○ ○ ○

The WWBA Foundation

Giving Back and Looking Forward!

Susan S. Brown

Our Foundation has always

been a source of great

WWBA pride! My grateful

thanks go out to the dedicated

WWBAF Board and

the WWBA members whose

generous support, over more

than twenty years, made it

possible for the Foundation

to rise to the challenges we

faced in the most difficult

year of our twenty year history.

In 2020, the Foundation

Board took the unprecedented

step of authorizing

the release of WWBAF reserve

funds to make immediate

emergency grants in

response to the COVID 19

pandemic. These grants provided

financial assistance to

adversely impacted Pace Law

Students (whose housing,

food security and jobs disappeared

due to the closure of

campus) and made donations

to eight local hospitals

in support of the WWBA initiative

to fund relief programs

for front line health care workers.

AND despite the downturn

in the economy our annual

Mocktail fundraiser netted

$25,564 which we were

able to disburse to the winner

of the prestigious Justice

Sondra M. Miller Scholarship

(Pace Law Graduate Rebecka

Palm, now known as Rebecka

Levitt) and among 14 deserving

local non-profits that

carry out our mission "…to

eliminate gender bias and

promote the fair and equal

treatment of all people in

society, the workplace,

schools and court system."

We thank all of our generous

donors, in particular the

law firms, title companies,

banks and members who

stepped up as sponsors of this

year's Mocktail fundraiser, that

made this scholarship and

these grants possible.

Finally, I am most proud

to announce that the WWBAF

recently received a generous

grant from the Sterling National

Bank Foundation, which we are

charged to distribute to the local

non-profits we support.

As we look ahead to 2021,

we find that the mission of the

p

PATRONS

BENEFACTORS

Law Office of

Milton M. Kreppel & Julie S. Kattan

FRIENDS

Court Street Abstract, Inc.

WWBA Foundation is aligned

with that of our newly installed

Westchester Women's Bar Association

President, the Hon.

Lisa Margaret Smith who has

challenged WWBA members to

"Give Back". And while the

WWBAF is grateful for your

generous donations in support

of her challenge, I urge our

WWBA members to do more

to help us carry out our mission

"… to eliminate gender

bias and promote the fair and

equal treatment of all people

Dalco

Reporting Inc.

Black, Marjieh & Sanford

○ ○ ○ ○ ○ ○ ○ ○ ○ ○ ○ ○ ○ ○ ○ ○ ○ ○ ○ ○ ○ ○

in society, the workplace,

schools and court system."

Help us identify local non-profits

that are deserving of our

support; send their contact information

to Susan Brown at

sbrown@glassmanbrown.com

and I will provide a Grant Request

form for consideration by

the WWBAF board.

GIVE BACK by looking forward

to another impactful year

in which the WWBA Foundation

makes a meaningful difference!

◗

MARGARET

NEUBART

FOUNDATION

KRAMER KOZEK LLP

ATTORNEYS AT LAW

Hon. Sondra M. Miller

Walsh & Amicucci, LLP

Christopher L. Mangold, PLLC

Welby, Brady &

Greenblatt, LLC

Page 10

Westchester Women's Bar Association News
---
○ ○ ○ ○ ○ ○ ○ ○ ○ ○ ○ ○ ○ ○ ○ ○ ○ ○ ○ ○ ○ ○ ○ ○ ○ ○ ○ ○ ○ ○ ○ ○ ○ ○ ○ ○ ○ ○ ○ ○ ○

○ ○ ○ ○ ○ ○ ○ ○ ○ ○ ○ ○ ○ ○ ○ ○ ○ ○ ○ ○ ○ ○ ○ ○ ○ ○ ○ ○ ○ ○ ○ ○ ○ ○ ○ ○ ○ ○ ○ ○ ○

○ ○ ○ ○ ○ ○ ○ ○ ○ ○ ○ ○ ○ ○ ○ ○ ○ ○ ○ ○ ○ ○ ○ ○ ○ ○ ○ ○ ○ ○ ○ ○ ○ ○ ○ ○

Giving Back: My Work with Hillside Food Outreach

from page 4

livery structure in place and

an army of volunteer deliverers,

the Westchester

County Department of Social

Services began regularly

referring these cases to Hillside.

During the first few

weeks of the pandemic, Jim

and I delivered food everyday

to at least 3 or 4 families

that were not our regular

clients. The numbers

have declined slightly in recent

weeks but we are still

providing this critical service.

We wear gloves and masks

and leave the food on the

doorstep so there is no contact.

We then call and let

the clients know their delivery

is waiting for them. The

"Thank you's" and "God

bless you's" that we get on

that brief phone call - some

choked with tears-illustrates

the desperation so many of

"[W]hen Covid-19 hit our region

particularly hard, we were

honored to be able to step up and

deliver much needed food . . . to

those who were ill or included in

high risk groups who could not

leave their homes."

these families are facing during

this crisis.

I also serve as a Hillside

Hunger Hero, making a regular

monetary donation every

month to help advance

Hillside's mission. Jim and I

have volunteered for food

drives and I have even conscripted

several WWBA members

to help at the warehouse

unpacking food pallets and

shelving items. We also attend

Hillside's yearly Gala

○ ○ ○ ○ ○ ○ ○ ○ ○ ○ ○ ○ ○ ○ ○ ○ ○ ○ ○ ○ ○

Fundraiser in the Fall, although

we assume that it will

be cancelled this year.

Jim and I feel blessed to

have the means and ability to

help those less fortunate than

us on a regular basis, especially

with such an essential

need like healthy food. And

when Covid-19 hit our region

particularly hard, we were honored

to be able to step up and

deliver much needed food

(and Tylenol and disinfectant

wipes) to those who were ill

or included in high risk

groups who could not leave

their homes. We have seen,

firsthand, the devastating toll

this virus has had on our

county, most prominently

among the poor, elderly and

minority communities. We

drive away from every delivery

we make profoundly grateful

for our health, our financial

security and our families.

I am certain that, one day, I

will look back on all the many

accomplishments in my life

and count volunteering with

Hillside-especially during this

challenging time-as one of the

most valuable things I ever

did.

If you would like to volunteer

with or donate to Hillside

Food Outreach, please

visit their website at

www.hillsidefoodoutreach.org. ◗

Panel Discussion on

Police Reform

from page 6

and the Women in the Courts Committee for the Ninth Judicial

District.

This diverse group of panelists all expressed the importance

of this conversation and highlighted several points on police

reform. Key takeaways included that Qualified Immunity needs to

be re-examined and policy needs to be enshrined in law to make

a real difference for victims of police brutality. Another takeaway

is that the phrase "defund the police" is a misnomer. Rather, a

reallocation of resources is necessary so that appropriate resources

are more readily available depending upon the needs of any

given situation. For example, mental health professionals should

be available to address someone having a mental health crisis

rather than being met by law enforcement professionals, who are

not trained mental health professionals. The panel also emphasized

the need to give law enforcement better tools to deescalate

situations.

It was an engaging and educational program that addressed

a timely and difficult topic. Many thanks to the speakers, sponsors

and attendees for their support. ◗

Uncertainty is the New

Normal

from page 8

bed and explain that they will be more productive being dressed

and at a desk as if they were in a classroom. Also encourage

your child to eat three healthy meals per day and try to get in

at least one physical activity each day.

c. Although social opportunities may look different, it is critical

to connect with others and make the effort to be part of those

opportunities. Some students are feeling that they may not want

to join clubs, saying "They are just zoom calls." Encourage them

to participate and try anything and everything that interests them,

regardless if it is "in person" or "virtual."

d. Encourage your child to take time for themselves each day.

Step away from the news, coursework and do something that they

enjoy, and find relaxing or rejuvenating. Although college may

look a little different this year, talk to your child about how exciting

and positive the experience is. Encourage them to take in

every moment, learn new things, meet new people, be presentfocused

and enjoy the experience.

The WWBA Education and Wellness Committees thank the

panelists and the 22 members and guests in attendance. ◗

Westchester Women's Bar Association News

Page 11
---
Chapter News and Announcements

Announcements & Notes on Members

❑ The matrimonial and family law firm of Goldschmidt & Genovese, LLP is delighted to

announce the expansion of its firm to include three past presidents of the WWBA:

partners Kathleen Donelli and Dolores Gebhardt and Chief Counsel, the Hon.

Sondra Miller (ret.). ◗

Urgent Need for Committee Chairs

Have you ever wanted to be more involved in the Westchester Women's Bar Association?

NOW IS YOUR CHANCE! We have need of Chairs or Co-chairs of a

number of committees, please consider whether your talents could be shared by volunteering

to serve in that capacity. Being a Committee Chair or Co-chair is fun, sometimes

challenging, and always looks good on your resumé. The requirements include

attending monthly Board Meetings, currently being conducted remotely at 5:30 pm on

the first Wednesday of each month, sponsoring or co-sponsoring at least one program

during the upcoming year between now and June, and bringing in just one new member

for WWBA during the year. Programs may provide CLE credit or not, that is the

choice of the organizers of the program; they may feature WWBA members or outside

experts in a particular field who are willing to share their expertise; there may be a

charge for the program, in the organizers' discretion.

The Committees currently in need of Chairs or Co-chairs include Networking (desperately),

Public Relations, also Social Media (Public Relations and Social Media could

work together, and keep in mind that our Executive Director, Elisabeth Campos posts a

lot of WWBA's events on social media), Construction, Cyber Law, Practice Management,

and Women in Leadership. Any WWBA member who is interested can volunteer

to serve as a Chair or Co-Chair. We also need Co-chairs for the Past Presidents'

Committee, but of course only past presidents are qualified. Any WWBA member who

is inclined to take on one of these positions, or even just to talk about it, should contact

WWBA President Lisa Margaret Smith at lisamsmith@rocketmail.com. ◗

Giving Back to Our Community

WWBA's Voter Registration Drive

Each WWBA member should have received a flyer in late August about voter

registration procedures and deadlines, accompanied by registration forms in both English

and Spanish. If you have not received it, please email President Lisa Smith at

lisamsmith@rocketmail.com, and she will send you a copy. All members are encouraged

to share the flyer and registration documents with family, friends, and any organization

or group you may belong to, in order to encourage every eligible voter to

register to vote. You may be surprised the reasons people often give for not registering

– surveys show that many people are never invited to register, so they don't; people will

also say they are not interested in politics, or they intended to register but never got

around to it; some will say that no candidate or political issue inspired them to vote, or

that they did not want to register because they are concerned about their personal

information not being adequately protected; one reason given is that registering is not

convenient, or that they do not know how to register. Information from https://

www.pewtrusts.org/en/research-and-analysis/issue-briefs/2017/06/why-are-millions-ofcitizens-not-registered-to-vote,

last checked 9/1/2020. The Voter Registration Drive

being conducted remotely by WWBA is intended to overcome all of those reasons, and

to make it as easy as possible for unregistered citizens to register to vote. They may

register online, by mail, or in person, all of the information is in the previously distributed

flyer and accompanying forms. This is a completely nonpartisan effort. Thank you

for participating in this effort on behalf of WWBA. ◗

Become a New

Member Today

RENEW YOUR

WWBA MEMBERSHIP TODAY

FOR THE PERIOD

JUNE 1, 2020 TO MAY 31, 2021.

RENEW NOW! DON'T WAIT!

WWBA Membership includes

membership to the Women's Bar

Association of the State of New York

(WBASNY).

January 31, 2021 is the closing date in

order to count the WWBA members

towards our certification to WBASNY and

assure our number of delegates.

Renewing before this date will allow our

Westchester Chapter (WWBA) to continue

to be a strong presence in our statewide

organization (WBASNY) while you will

enjoy its many benefits, events,

newsletter and CLE programming.

Hélène Côté, Sherry A. Bishko,

Elisabeth Campos

It is easy to renew by going to the

WWBA Website at www.WWBANY.org.

You can use a credit card or

PayPal to make payment.

Page 12

Westchester Women's Bar Association News
---
○ ○ ○ ○ ○ ○ ○ ○ ○ ○ ○ ○ ○ ○ ○ ○ ○ ○ ○ ○ ○ ○ ○ ○ ○ ○ ○ ○ ○ ○ ○ ○ ○

○ ○ ○ ○ ○ ○ ○ ○ ○ ○ ○ ○ ○ ○ ○ ○ ○ ○ ○ ○ ○ ○ ○ ○ ○ ○ ○ ○ ○ ○

○ ○ ○ ○ ○ ○ ○ ○ ○ ○ ○ ○ ○ ○ ○ ○ ○ ○ ○ ○ ○ ○ ○ ○ ○ ○ ○ ○ ○ ○ ○ ○ ○ ○ ○ ○ ○ ○ ○ ○ ○ ○ ○ ○ ○ ○ ○

Westchester Women's Bar Association New Members

The Westchester Women's Bar Association proudly welcomes our newest members:

TO PROTECT THE PRIVACY OF OUR MEMBERS,

THIS INFORMATION IS AVAILABLE TO MEMBERS OF THE WWBA ONLY.

President's Message

from page 5

who is at least 18 years old can

and should have a say in our

country's future.

How else can you Give

Back? There are things both

large and small that you can do.

I have been reaching out to a

90 year old member of my

church choir who has sheltered

at home during the pandemic.

I have visited her on Sundays,

sometimes bringing a small gift,

or singing to her, or just chatting,

at a safe distance and

masked, of course. I call her

and send her notes, maybe once

every week or two. It is a small

thing but she cherishes those

human contacts, and I get a

great deal of enjoyment from it

myself. Surely you know someone,

perhaps only an acquaintance,

who is likely to be lonely

during this difficult time. Take a

chance, reach out to that person,

your gesture of Giving

Back will mean more than you

can know. Do you have ideas

for Giving Back? Let us know

what they are, and be creative.

Perhaps you can call a local

"Surely you know someone,

perhaps only an acquaintance,

who is likely to be lonely during

this difficult time. Take a chance,

reach out to that person, your

gesture of Giving Back will mean

more than you can know."

elementary school and offer to

read a book over Zoom to a

group of kindergarteners, either

one time or on a regular basis;

perhaps you can take baked

goods or a pizza, to your local

firestation or ambulance corps

or emergency room; perhaps

you can sign up for the first time

to become a mentor to a law

student who undoubtedly needs

extra guidance during this challenging

time; perhaps you can

contact a local youth organization

and offer to give a presentation

about something you are

good at B teach them via Zoom

to knit, or to sew on a button,

or to do calligraphy, or tell them

about the three branches of government;

or just Give Back the

old fashioned way by donating

to the Westchester Women's Bar

Association Foundation or any

other not for profit that satisfies

your personal standards. I am

very certain that whatever you

choose to do, you will get more

in return than you have given,

just as I have gotten so much

warmth and love and caring

from my 90 year old friend.

This organization is at an

important crossroads. We face

a terrific challenge to remain

valuable to our members and

our community, despite the continuing

challenge of the pandemic.

I encourage each of you

to find ways to stretch our

boundaries and our audience,

to come up with new CLE offerings,

presentations, remote networking

and social opportunities.

I know that we can achieve

great things during this year. My

hope and prayer for each of you

is that you stay safe and healthy,

that you find value in your lives,

in family, in work, and in play,

and that you find ways to Give

Back. ◗

Newsletter Correction

Last month's newsletter contained two photographs on the bottom

of page 4. The photograph on the left is from Orange Regional

taken on April 18th while the photograph on the right is from

Montefiore Hospital, taken on May 11th. These two hospitals are not

beneficiaries of the funds raised by the WWBA. "Meals for Medical

Warriors Go Fund Me" was created to garner support to provide

weekly meals to the Emergency Room Staff at Orange Regional Hospital

(Middletown NY) and Montefiore Hospital (Bronx, NY) . ◗

Westchester Women's Bar Association News

Page 13
---
WWBA Schedule of Upcoming Events

COMMITTEE DATE/TIME PLACE TOPIC RSVP (also online at www.wwbany.org)

Hudson Valley Hispanic Bar

Association

9/22/20

6:30 pm

WWBA Book Club 10/6/20

6:00pm

Virtual Book

Club

Board of Directors Meeting 10/7/20

5:30 pm –

American Cancer Society

2020 Walk

7:30 pm

10/18/20

9:00 am –

12:00 pm

Zoom

Zoom

Zoom

Manhattanville College,

Purchase, New York

Celebrating Hispanic

Heritage Month

Hispanics: Be Proud of

Your Past, Embrace the

Future

Book:

The Beauty in

Breaking" by Michele

Harper

While the pandemic has

changed our event plans

for this year, we are still

fighting back boldly

and relentlessly against

breast cancer. Your

support matters now

more than ever, and we

hope that you will join

us for a safe, contactless

drive-through parade at

Manhattanville College

on the morning of

Sunday, October 18th!

We will be inviting

teams to come in shifts

between 9 a.m. and 12

p.m., so stay tuned for

more details coming

very soon.

RSVP to pablo368@hotmail.com

by 9/14/20

Email Lisa Denig for the Zoom

link at lisadenig@yahoo.com

No RSVP necessary

For more information go to

www.wwbany.org

Visit www.wwbany.org for more

information

WWBA is a chapter of WBASNY, which is an approved provider of CLE credit. Full and partial scholarships for CLE programs based

on financial need are available. For information on the guidelines and procedures for applying, please contact the person running

the program. All requests are strictly confidential. All programs are for transitional credit unless the program states otherwise.

Unless otherwise indicated, events are for WWBA members and invited guests only.

The opinions expressed by any program presenter are the presenter's own, and do not reflect

the official position of the WWBA.

REMEMBER, YOU CAN FIND THE WBASNY WEB PAGE

AT WWW.WBASNY.ORG.

PLEASE REMEMBER TO RECYCLE

Connect

with

us

THE WWBA MEMBERSHIP PERIOD FOR

2020-2021 BEGINS ON JUNE 1, 2020.

PLEASE RENEW YOUR MEMBERSHIP TOD

ODAY AT

WWW.WWBANY

.WWBANY.ORG

.ORG