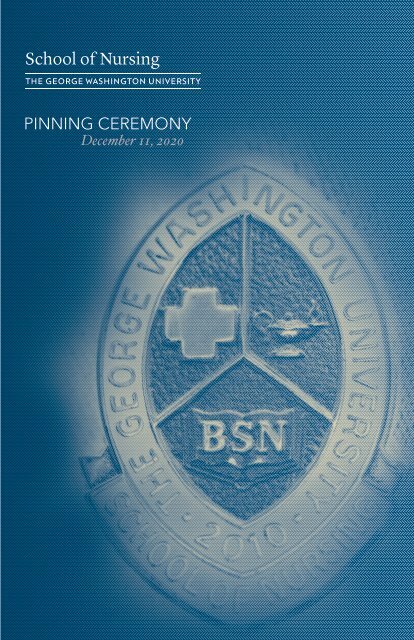 GW Nursing Fall 2020 Pinning Ceremony Program
Do you know the secret to free website traffic?
Use this trick to increase the number of new potential customers.
PINNING CEREMONY

December 11, 2020
---
Introduction & Moderator

Mark Tanner, D.N.P., RN

Assistant Dean, B.S.N. Program

National Anthem

Jenna Chamberlain, Accelerated B.S.N. Cohort 21

Welcome

Pamela R. Jeffries, Ph.D., RN, FAAN, ANEF

Dean, School of Nursing

Special Guest Speaker

Thomas LeBlanc

President, George Washington University

Student Speaker

Paul Challan, Accelerated B.S.N. Cohort 21

Presentation of Awards & Outstanding Student Groups

Pamela Slaven-Lee, DNP, FNP-C, FAANP, CHSE

Senior Associate Dean for Academic Affairs, School of Nursing

DAISY Awards

Veterans B.S.N. students

Washington Squared students

GW Hospital Scholars

ORDER OF EVENTS

Cameron Hogg, D.N.P., APRN, FNP-BC

President, Phi Epsilon Chapter of Sigma

Sigma Global Nursing Excellence

Keynote Speaker

Susan C. Reinhard, RN, Ph.D., FAAN

Senior Vice President and Director, AARP Public Policy Institute

Chief Strategist, Center for Champion Nursing in America

Baccalaureate Pinning

Mark Tanner, D.N.P., RN

Assistant Dean, B.S.N. Program

Alumni Speaker

Patricia Carocci

Associate Vice President, GW Development and Alumni Relations

The Nightingale Pledge

Pamela R. Jeffries, Ph.D., RN, FAAN, ANEF

Dean, School of Nursing
---
GRADUATES

Rebecca Adams

Sarah Adcock ◊

Olatubosun Adepoju *

Josey Alvarez

Andrew Atienza ◊

Crystal Austell ◊

Amanda Avenoso

Jallah Bautista

Lindsay Beattie O'Connor ◊

Shannon Belcher

Hillary Blackbrook

Ashleigh Bowan

Scott Bradley

Hannah Brenneman

Hannah Brown

Kristina Brown

Ashley Carpenter ◊

Paul Challan

Jenna Chamberlain *

Edward Chamberlin

Ahmani Clark

Madison Cooper

Whitney Daniels

Alicia DeMartini

Calli Dukas

Sophie Duster

Jenny Eckert

Amber Fay *

Kristin Fay *

Meagan Ferguson ◊

Tara Flynn

Sarah Forstater

Dean Freitas *

Melanie Abeyta

Heidi Amaefuna

Charles Amara

Lydia Asankomah

Nancy Chen

Angel Chung

Lucia Cisneros

Caroline Corum

Sakina Darab

Alexa Dietz

Molly Dimola

Amy Dunn

Elizabeth Effah

Christian Espanilla

Accelerated B.S.N

Cynthia Getaneh

Jenny Ghosh

Erin Gladish

Erin Ann Glynn ◊

Kate Glynn

Michelle Gold *

Meg Guignon

Tran Ha

Joshua Hanna

Maribel Hernandez

Elizabeth Hsu

Dyonna Sylvia Hydleburg ◊

Michael Irving

Jasmine Jack

Hannah Kahovec ◊

Peter Kaijuka *

Lindsay Klein ◊

Sujata Kumari

Mirine Kwon

Monica Laryea

Ann Lee *

Annie Lee

Nicole Lee

Teresa Leslie

Angela Lin ◊

Chevonne Llamas *

Abigail Maclin ◊

Amanda Masters ◊

Margaret McEnery

Mikayla Miller ◊ *

Kelly Nguyen

Rawan Obaid

Mallory O'Connell

RN Advancement

Erika Fournier

Elena Ghongkedze

Astride Gilles

Jasceline Gonzalez

Amy Helton

Marium Hussein Hussein

Taimur Ikram

Cecile Inis

Priscilla Kamakawiwoole

Ronit Katalan

Amelia Kelly

Courtney Konyk

Sydney Malley †

Woinshet Mandefro

Honors

Erica Paris ◊

Thomas Parker *

Emily Philip ◊

Samantha Rocha

Nicholas Romano *

Christopher Roney

Nadine Rong ◊

Eugenia Rott

Katelyn Russo *

Mary Rutenbeck

Amanda Saymon

Elizabeth Schilling

Maria Seagren *

Regine C. Sibayan *

Stacey Jean Smith

Anna Starosta

Sierra Wagner

Melissa Walker

Kristen Wall ◊

Justin Wears *

Stephanie Weber ◊

Elana Werblin

Jeremy Weyl ◊

Nicole Wheeler

Brittany Wilson †

Christine Wilson *

Alison Woods ◊

Christina Woolwine

Sophia Yang

Jeanyo Yi

Kilhwan You *

Hewan Zena ◊

Lisa Mckean

Molly Milne

Melissa Miranda

Anousheh Mohandes Tarighi

Tinotenda Muvavarirwa

Paula Angeli Pastor

Kimra Patel

Shelby Pleger

Rebecca Schwartz

Diamond Wallace †

Alexa Walling

* — Veterans B.S.N. † — GW Scholar ◊ — Washington Squared

This program is a guide to the ceremony. Although every effort has been made to ensure its

accuracy, the program is not an official record of an individual's degree.
---
The Nightingale Pledge

I solemnly pledge myself in the presence of this assembly

to practice my profession faithfully.

I will abstain from whatever is deleterious and mischievous

and will not take or knowingly administer any harmful drug.

I will do all in my power to maintain and elevate the standard

of my profession and will hold in confidence all personal matters

committed to my keeping and all family affairs coming to my

knowledge in the practice of my calling.

With loyalty and with pride will I devote myself to the welfare

of those committed to my care.