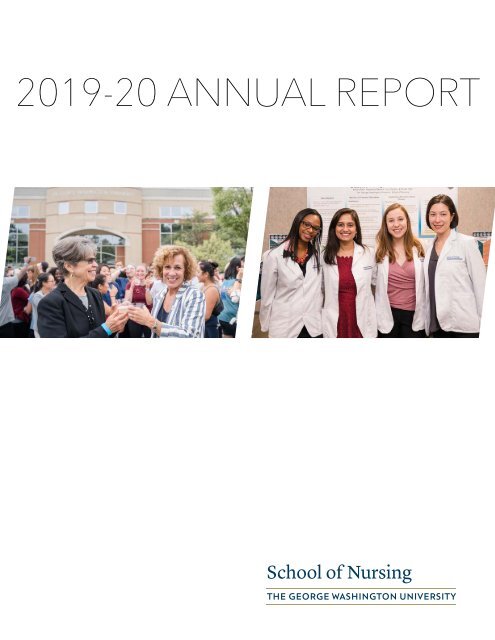 2020 GW Nursing Annual Report
Do you know the secret to free website traffic?
Use this trick to increase the number of new potential customers.
2019-20 ANNUAL REPORT
---
Above: Ten years prior, when the GW School of Nursing formed to become the university's 10th school, faculty shared a small cluster

of offces in this building. Today, the School of Nursing proudly occupies space on all three foors and boasts three state-of-the-art

simulation lab spaces and the newly renovated Student Success Center. As part of the 10th anniversary festivities in 2019, students,

faculty and staff raised a toast to how far the school has come in just 10 years.

Below: COVID-19 has changed much of how we go about our day-to-day lives, and the daily operations of GW Nursing are similarly and deeply affected by the onset

of a global pandemic. Dustin McKague, a student in the school's inaugural Ph.D. cohort, donated his time and energy to sew nearly 400 masks for students in the

Accelerated Bachelor of Science in Nursing program as a gift to welcome them to campus amid this new normal.
---
A MESSAGE FROM THE DEAN

In March of 2020, when our country and the George Washington University were

faced with the reality of an unprecedented public health crisis, it was GW Nursing

faculty, staff, students, alumni and partners who rose to the occasion with leadership,

resilience, teamwork and care.

Dr. Ric Ricciardi, a faculty member and current president of Sigma Theta Tau

International, was deployed to set up a COVID-19 testing operation for the U.S. Army.

Tryphena Lewis, a nurse practitioner student and U.S. Army Reserves colonel, traveled

to New York City earlier this year to spend a month caring for COVID-19 patients at

a makeshift hospital set up in the Javits Convention Center. Dustin McKague, one of

our Ph.D. students, sewed more than 400 masks for our current Bachelor of Science

in Nursing students who returned to campus this fall for socially distant lab courses.

In the early days of the pandemic when local health care organizations were in critical

need of personal protective equipment, we donated nearly $5,000 worth of supplies

to two local care facilities. These acts of service to our country, to our neighbors and

to our colleagues are just a few of many that you'll fnd in the GW Nursing community.

But who could have predicted a year ago that we'd fnd ourselves in the midst of a global pandemic

today? Looking back to the start of the 2019-2020 academic year, both GW Nursing and the greater

nursing profession were preparing for a year of celebration. It was a time to revel in our school's 10th

anniversary and the many successes we've had. And for the nursing profession more broadly, it was a

time to honor the 200th birthday of Florence Nightingale and celebrate the International Year of the

Nurse and the Midwife, as proclaimed by the World Health Organization. However, as life became more

virtual, so too did many of these celebrations, like our 10th anniversary virtual toast on May 14.

As this year continues to unfold, this pandemic reminds our communities of the importance and critical

nature of nurses and other health care workers. And to better meet workforce demands, GW Nursing

launched a revised B.S.N.-to-Doctor of Nursing Practice pathway this year to bolster nurse practitioner

education programs. In an effort to develop and deepen relationships with health care organizations

and partners, Dr. Karen Drenkard was appointed associate dean of clinical practice and community

engagement and is leading the new Offce of Community Engagement.

Over the past year, our school made signifcant progress toward achieving the seven goals outlined in

our three-year strategic plan. Furthermore, we concluded the year with favorable fnancial results despite

the toll the pandemic has taken on higher education. We also received the largest gift from an individual

in the school's history; $2.5 million to support scholarships for more than 60 veterans B.S.N. students over

the next fve years. Our gratitude extends to William and Joanne Conway for this signifcant investment,

as well as our deep appreciation to all of our donors who helped us raise more than $3.14 million this

year.

As our country continues to battle this pandemic, and higher education and health care respond

accordingly, it is clear that GW Nursing is poised to remain a leader within nursing education. I invite you

to join us in celebrating the many accomplishments of the past year, while looking forward to another

year of advancing our mission — preparing leaders and providers to improve the health of all people.

Best,

Pamela R. Jeffries, Ph.D., RN, FAAN, ANEF, FSSH

Dean and Professor

3
---
GW NURSING WELCOMES NEW FACULTY

Ayomide Okanlawon Bankole, Ph.D, RN, joins GW Nursing as a clinical assistant professor and is

a part of the MedStar Washington Hospital Center Washington Squared initiative. Prior to this role,

she practiced as a nurse for over eight years in an acute care setting. She has also educated nursing

students in both L.V.N. and B.S.N. programs. Her research interests are aging, chronic disease selfmanagement,

theoretical approaches to chronic disease self-management and multi-morbidity.

Karen Drenkard, Ph.D., RN, NEA-BC, FAAN, joined the school as the inaugural associate dean for

clinical practice and community engagement and an associate professor. She shared that, "the

biggest appeal is the chance to work with outstanding faculty and university leaders and to have an

impact in this community of D.C. and northern Virginia. We have opportunities to create innovative

partnerships in clinical practice."

Jennifer Hayes-Klosteridis, Ph.D., a visiting professor at GW Nursing, is an educator and researcher

whose work has focused on active learning in science courses, metacognition, and social justice

implications of curricular reform. Her research has led to an understanding of practices that improve

student success and the role gender and student epistemologies play in student learning in reformed,

learner-centered classrooms.

Joyce Knestrick, Ph.D., C-FNP, APRN, FAANP, joined the school as a visiting professor. Dr. Knestrick

works at local, regional, state and national levels to promote NP practice in education, policy

and clinical care. Her research is focused on health and access to care for low-income and rural

populations, particularly women. Dr. Knestrick is also the immediate past president of the American

Association of Nurse Practitioners.

Daisy Le, Ph.D., M.P.H., M.A., has been appointed to a full-time tenure-track position as assistant

professor researching health disparities and oncology. She will continue her research in sociocultural

determinants of health and community-based/-engaged approaches across the cancer continuum

that target minority, low-income, and underserved populations using mobile health technology. She

previously worked in a post-doc for the Johns Hopkins Bloomberg School of Public Health.

Billy Mullins, D.N.P., RN, NE-BC, is a clinical assistant professor for the B.S.N. program and a prominent

leader and educator in the profession of nursing. Dr. Mullins began his health care career as a

corpsman in the U.S. Navy. After his military service, he has primarily worked in teaching hospitals

in the role of licensed practice nurse, registered nurse, nurse manager, clinical specialist, nursing

director and education coordinator.

Cara Padovano, D.N.P., APRN, is the new assistant dean of the M.S.N. program and an assistant

professor. Dr. Padovano comes to GW Nursing from Rutgers School of Nursing. She specializes in

anti-aging, regenerative and functional medicine with a focus on nutritional, metabolic and hormonal

imbalances. She is a fellow of the Anti-aging, Metabolic, and Functional Medicine program through

the American Academy of Anti-Aging Medicine.

Anthony Roberson, Ph.D., PMHNP-BC, RN, FAANP, joins GW Nursing as a visiting professor with

over 17 years of experience in academia as an administrator, educator, researcher and clinician. His

previous experience includes positions at the University of Miami School of Nursing & Health Studies

and the University of Alabama at Birmingham School of Nursing. He has a history of collaboration

with the VA, particularly in meeting the mental health needs of veterans in rural areas.

4
---
New Faculty Spotlights

Ayomide Bankole, Ph.D., RN

Clinical Assistant Professor

Education: B.S.N. (2010), Ph.D. in Nursing (2018)

What classes do you teach?

I coordinate and teach the second pharmacology course in the Accelerated B.S.N. program. I

also teach the nursing transitions course and medical-surgical nursing clinical in the Accelerated

B.S.N. program.

What do you love about teaching?

I love learning new things and fnding patterns in new knowledge. I also like to educate people about the things I

learn about. I have always been in situations where I was educating and mentoring people. Either as a peer advisor

in my undergraduate program, nurse preceptor while working as a nurse or as an instructor in both L.V.N. and

B.S.N. programs. I fnd very rewarding to educate both current nurses and the next generation of nurses.

Tell us a bit about yourself! What's your background?

My background is in cardiac and geriatric nursing, and I have explored multiple roles in nursing. My research

background is in aging, chronic disease self-management and multi-morbidity. Prior to GW, I taught at the University

of Texas Health Science Center and the Galen College of Nursing in San Antonio, Texas.

Who had the greatest infuence on your education and/or career path?

I am blessed to have parents who placed value on education and the importance of giving back to humanity. My

mother is an educator we were raised with an excitement and passion for learning. I also had great mentors and

teachers during my undergraduate nursing education. They greatly infuenced my decision to pursue a doctoral

education, teach and conduct research.

What brought you to GW Nursing?

My recent move to the DMV area coupled with my role in the GW Nursing and MedStar Washington Hospital

Center Academic partnership and scholarship program (Washington Squared program).

What are you most excited about in regards to working at GW Nursing?

I am excited to teach in the Accelerated B.S.N. program and collaborate with other faculty involved within both the

Washington Squared program and the GW Nursing Center for the Aging, Health and Humanities.

When you're not working, what do you like to do?

I like to spend time with my husband and daughters, learn new things and discover new places!

Billy Mullins, D.N.P., RN, NE-BC

Clinical Assistant Professor

Education: D.N.P. (2015), post-graduate certifcate in Nursing Education (2020)

What classes do you teach?

I am the course coordinator for undergraduate psychiatric mental health nursing courses. I

teach the didactic sections and conduct psych clinicals for students at GWU Hospital. I teach

the M.S.N. Evidence-Based Practice and Leadership and Management courses and am cocoordinating

MedSurg 1 clinical with Dr. Michelle Rumble.

What do you love about teaching?

I enjoy interacting with the students. I enjoy watching them grow and develop in nursing knowledge and application

over the course of the semester.

Tell us a bit about yourself! What's your background?

I grew up in a small town as the youngest of fve children. I am a veteran of the U.S. Navy, where my nursing journey

truly began. I am married to a wonderful man, Agnelo, and we have a Australian labradoodle, Bela.

5
---
Who had the greatest infuence on your education and/or career path?

There have been many exceptional mentors in my life both personally and professionally. Professionally, Dr. Bonnie

Sakallaris and Dr. Kate Malliarakis have invested their time as mentors to help further my education and practice

of nursing.

What brought you to GW Nursing?

I am an alumnus of GW Nursing D.N.P. program. I enjoyed the experience and wanted to be a member of an

amazing team of faculty and staff.

What are you most excited about with regard to working at GW Nursing?

I am excited to be a member of an amazing team of faculty and staff that have the opportunity to impart our

knowledge and skill of nursing to future nurses. I am excited to have the opportunity to contribute to the nursing

profession through educating the future generation. It's kind of like passing the torch.

When you're not working, what do you like to do?

I enjoy working in my garden and relaxing on the front porch or back deck with my husband and our dog.

Cara Padovano, D.N.P., APRN

Assistant Dean of M.S.N. Program

Education: B.S.N., M.S.N. (FNP), and D.N.P.

What classes do you teach?

Genetics for Health Care Providers and D.N.P. Project Implementation

What do you love about teaching?

I love mentoring future practice, scholarship and teaching colleagues. I enjoy sharing my

practice and education experiences while guiding students on their journeys toward their career goals.

Tell us a bit about yourself! What's your background?

While in my B.S.N. program, I had already made the decision that I would advance my nursing education and pursue

a career in academia as well as in clinical practice as a family nurse practitioner. Immediately after graduating with

my M.S.N., I secured a faculty position in a nursing program in upstate New York, opened a clinical practice with a

collaborating physician, and also began my D.N.P. program and started a fellowship with the American Academy of

Anti-Aging Medicine. After completing my D.N.P., I moved back to New Jersey to join the faculty at Rutgers School

of Nursing with the goal of eventually securing an academic leadership position.

Who had the greatest infuence on your education and/or career path?

The person who had the greatest infuence over my career path was one of my professors in my M.S.N. program.

She was a full-time faculty member, maintained a clinical practice, and eventually became a dean. She was a

wonderful mentor and friend, and showed me that my career goals were achievable, and was a constant source of

encouragement.

What brought you to GW Nursing?

During my participation in the NONPF Leadership/Mentorship program, I had the fortunate experience of working

with several current GW faculty members. The mentorship I received from these GW nurse leaders had a profound

impact on my professional and personal growth. My experience in the program was a catalyst to explore other

academic opportunities, with the hopeful goal of one day being part of the GW Nursing. Several years later when

the opportunity arose to join the leadership team at GW, my unwavering determination and highest of hopes were

rewarded with an offer to come on-board!

What are you most excited about with regard to working at GW Nursing?

The most exciting part of working at GW Nursing is the abundance of opportunity. There is an unwavering

commitment to forward-thinking, innovation, and expansion.

When you're not working, what do you like to do?

When I'm not working, I enjoy hiking, yoga, baking and spending time outside walking and playing with my Yorkie,

Cecelia!

6
---
FACULTY AWARDS AND HONORS

+ Dr. Catherine Cox received the 2020 GW Morton A.

Bender Teaching Award.

+ Dr. Erin Athey was inducted as a Fellow of the

American Association of Nurse Practitioners (FAANP)

in 2020.

+ Dr. Pamela Jeffries received the 2019 Virginia Nurses

Foundation (VNF) Leadership Excellence Award for a

Nursing School Dean/Director.

+ Dr. David Keepnews was inducted as a Fellow into

the National League for Nursing (NLN) Academy of

Nursing Education in 2019.

Faculty Holding Fellowships

17 American Academy of Nursing (FAAN)

11 American Academy of Nurse Practitioners (FAANP)

3 Academy of Nurse Education (ANEF)

2 American College of Nurse-MidWives (FACNM)

1 National Academy of Practice (FNAP)

1 Gerontological Society of America (FGSA)

1 American Psychological Association (FAPA)

1 Society for Simulation in Healthcare (FSSH)

+ Dr. Karen Kesten received the 2019 Nursing Outlook Excellence in Education Award from the American

Academy of Nursing.

+ Dr. Joyce Knestrick was inducted as a Fellow of the American Academy of Nursing (FAAN) in 2019.

+ Dr. Daisy Le was selected as 2020 Emerging Scholar by Diverse: Issues in Higher Education.

+ Dr. Laurie Posey was awarded a 2019 Fulbright Specialist grant.

+ Dr. Ric Ricciardi began his term as President of Sigma Theta Tau International at the 45th Biennial Convention.

+ Dr. Gretchen Wiersma became a Certifed Healthcare Simulation Educator (CHSE) from the Society for

Simulation in Healthcare in 2019.

DAISY Award® for Extraordinary Nurse Faculty

Carol Lang, DScN, MSc, RN, was selected as this year's honoree for the DAISY Award® for

Extraordinary Nurse Faculty. Nominated by students and colleagues, Dr. Lang, an assistant

professor in the Acute and Chronic Care Community, was lauded for her commitment to

student learning and community engagement, in particular her many years developing

and organizing international learning and service experiences for students and faculty in

Haiti, Costa Rica, Ecuador and Uganda.

Promotion and Tenure

Rhonda Schwindt

D.N.P., RN, PMHNP-BC, PMHCNS-BC

Director, Psychiatric Mental Health Nurse Practitioner Program

Congratulations to Rhonda Schwindt, who received tenure and promotion to associate

professor, effective July 1. Dr. Schwindt joined GW Nursing in 2017 as director of the post-

M.S.N. psychiatric/mental health nursing program. Her research is focused on reducing the

disproportionate impact of tobacco use among high-risk populations. Prior to joining GW

Nursing, Dr. Schwindt was the program coordinator of the psychiatric/mental health nursing

program at Indiana University School of Nursing.

7
---
DEAN'S AWARDS

Faculty Awards

Excellence in Undergraduate Teaching

Megan Brown

Clinical Education Instructor

Excellence in Graduate Teaching

Karen Kesten

Program Director, D.N.P. Scholarly Projects

Excellence in Graduate Student Mentoring

Maggie Venzke

Director, Adult-Gero. Primary Care NP program

Excellence in Undergraduate Student Mentoring

Mark Tanner

Assistant Dean for B.S.N. Program

Excellence in Teaching in a Part-time Appointment

Kristen Stevens

Clinical Education Instructor

Civility Award for Faculty

Sherrie Wallington

Assistant Professor

Staff Awards

Civility Award for Staff

Tina Le

Academic Affairs Manager

Excellence in Service Award

Kyla Arager

Program Associate, D.N.P. and P.h.D.

Impact Award

Marie Brown

Special Advisor to the Dean

Impact Award

Srijana Silwal

Senior Financial Analyst

Unsung Hero Award

Paul Collins

Simulation Technology Associate

Citizenship Award

Chloe Harner

Assistant Director of Admissions

8
---
ACADEMICS AND PROGRAMS

Growing the Washington Squared partnership

GW Nursing expanded its partnership with MedStar Washington Hospital Center

to offer nurse leaders the opportunity to enroll in the Master of Science in Nursing

(M.S.N.) Nursing Leadership and Management program or the Doctor of Nursing

Practice (D.N.P.) Executive Leadership program. Select students will be chosen

by GW Nursing and MedStar Washington to be designated as W 2 Plus scholars.

MedStar Washington and GW Nursing will recruit and admit up to 10 students

into the M.S.N. and D.N.P. programs each fall, and MedStar Washington will, on a

case-by-case basis, offer fnancial scholarships and loans to these scholars equal

to 50 percent of the tuition of the program.

B.S.N. Doctor of Nursing Practice pathway

In anticipation of 2025, the year in which the terminal degree of signifcance

for the nursing industry will shift from the M.S.N. to the D.N.P., GW Nursing has

positioned itself well by creating a more reliable pipeline of students into its

D.N.P. program. The school implemented a new seamless, integrated post-B.S.N.

Doctor of Nursing Practice pathway for the nurse practitioner program options

starting in fall 2020.

"The design of this pathway is consistent with the National Organization of Nurse

Practitioner Faculties (NONPF) recommendation that the post-baccalaureate to

D.N.P. pathway, without a master's exit point, should be the entry-level preparation

for the role of the nurse practitioner across all NP programs," said said Mercedes

Echevarria, assistant dean for the D.N.P. Program.

The pathway has critical learning experiences integrated throughout the

curriculum so that full educational preparation of the nurse practitioner is

achieved only upon completion of the entire D.N.P. program. Upon graduation,

students will be eligible to sit for certifcation.

GW Nursing highly

ranked by U.S. News

This year's U.S. News & World

Report rankings put GW

Nursing's Master of Science in

Nursing tied at 43 and Doctor

of Nursing Practice programs

tied at 37. The school was

ranked in the specialty

category of Family Nurse

Practitioner tied at 16.

In addition to program

rankings, GW's M.S.N. was

again ranked sixth for online

graduate nursing for the

second year in a row.

The school is also ranked

in the new master's-level

rankings of online nursing

specialties. M.S.N.: Psychiatric

Mental Health Nurse

Practitioner tied for fourth,

and both M.S.N.:

Family Nurse

Practitioner and

M.S.N.: Nursing

Leadership and

Management tied

for ffth in their

respective categories.

GW BY THE NUMBERS

NCLEX pass rate

(for B.S.N. programs)

90%

Nurse practitioner certifcation exam pass rates

(certification organization in parentheses)

Adult-Gerontology Acute Care NP (ANCC) 100%

Adult-Gerontology Primary Care NP (ANCC) 94%

Certified Nurse Midwifery (AMCB) 100%

Family Nurse Practitioner (ANCC) 100%

Family Psychiatric Mental Health NP (ANCC) 100%

UNDERGRADUATE

GRADUATE

STUDENT DIVERSITY STATISTICS

ABSN & VBSN

513

RN-BSN

159

MSN

580

DNP

131

Certifcate

41

PhD

6

Total students: 1,430 2019-20 Graduates: 529

White

Asian

African-American

Hispanic/LatinX

Unknown

Two or more

13% MALE 87% FEMALE

60% PART-TIME 40% FULL-TIME

9
---
Diversity, Equity and Inclusion

The Offce of Diversity, Equity and Inclusion pursued a rigorous schedule

of events this year. Assistant Dean for Diversity, Equity and Inclusion Sandra

Davis and several faculty and staff published an article in the AACN Diversity

Digest exploring the role leaders at a school of nursing play in aligning

diversity, equity and inclusion with goals and objectives of the school's

strategic plan. The offce also compiled readings and resources to be

incorporated into course offerings that promote education on topics such

as health equity and social justice.

In addition to scholarship that advances the offce's mission, Dr. Davis and

her team pivoted in the latter half of the year to respond to several emergent

events arising from the COVID-19 pandemic and social unrest.

Dr. Sandra Davis (right) stands with her co-presenters

(from left) Denise Bridges, Hannah Hahn and Christine

Martin at the GW Diversity Summit in 2019.

Continuing the Conversation

Prompted by nationwide protests of police brutality and continued violence toward people and communities of

color, the school saw a need for a forum in which faculty, staff and students at the school could have an open

dialogue regarding race and structural racism. To help students, faculty, staff and alumni process systemic racism

and its impacts on society, Dr. Davis hosted a series of events called Continuing the Conversation.

"We're making the uncomfortable comfortable," Dr. Davis said. "This space is there for us to explore topics with

each other, to listen, to hear, to ask questions and to actually share."

Sessions offered a space for faculty, staff and students to voice and process their thoughts, feelings, hopes and

frustrations amid a supportive and inclusive environment. After hosting more than a dozen such forums for faculty,

staff and students, the offce followed through with plans to continue the series in the fall.

Ventures, Initiatives and Partnerships (VIP)

Now in its fourth year and led by Director Blair Johnson and Associate Director Sabrina Beroz, this unit generates

alternate revenue streams to reduce the school's tuition dependency. VIP creates and curates a wide array of

health care content, professional and leadership development programs and events using the school's expertise,

knowledge and resources to serve health care organizations and professionals, as well as other academic institutions.

Updated Nurses on the Front Line Emergencies

and Disaster Preparedness Series

After serving tens of thousands of users and hundreds

of academic partners over the last 10 years, the original

Nurses On The Front Line series was retired earlier this

year. A new Emergencies and Disaster Preparedness

Series aimed at frontline nurses and other emergency

health care professionals will debut in early fall 2020.

The fee-based model will add new content, features and

benefts and reside on a modern technology platform.

GW Nursing | AANP Leadership Development

Program

VIP developed a residency Nurse Practitioner Leader

Executive Program for the American Association of Nurse

Practitioners (AANP), set to launch in early 2021. This

program develops and elevates participants' executive

mindset, leadership and business acumen, ability to

drive system change, and prepare them for senior

administrative roles within health care and professional

organizations, including the AANP.

Virtual Simulation Content

In response to the ongoing needs of simulation

professionals, academic institutions and health care

organizations, new virtual simulation courses are

being added to the school's portfolio of simulation

programs and consulting services. Faculty and practice

professionals from across the world can participate

in a full suite of simulation learning offerings and

professional development certifcates without having to

travel to a campus or alter their work schedules.

Simulation MOOC

GW Nursing launched Essentials in Clinical Simulations

Across the Health Professions on Coursera last year.

To date, over 5,000 users from across the globe have

taken this Massive Open Online Course (MOOC) aimed

at preparing health care professionals to effectively

incorporate health care simulation into their teaching.

This and other GW Nursing MOOC content can be found

at online.gwu.edu/moocs.

10
---
RESEARCH AND SCHOLARSHIP

This year, GW Nursing secured $4 million in new competitive funding.

GW Nursing faculty were extremely productive in submitting proposals,

with principal or co-investigator status on 37 federal proposals, 31

foundation- or corporation-funded proposals, and 28 intramural

proposals to conduct pilot studies. Of these, 22 were awarded and 40

are still under review.

The COVID-19 pandemic resulted in many changes to the research

endeavor. Face-to-face research processes were put on hold, and the

university began the process of moving to a shared-services model

for research administration services. Despite these uncertainties, GW

Nursing has signifcantly increased its commitment to nursing education

research. Under the direction of Dr. Angela McNelis, the Offce of

Educational Research and Innovation is beginning to take shape. The

new offce consolidates school, university and public resources into one

place for faculty members with research foci on student learning, nursing

as a disciple, and strategies for preparing nurse educators and clinicians

Notable Research Awards

Year-End Total Expenditures and Indirect Costs

Federal vs. Non-Federal

Federal Total

Expenditures

$197.1 M

Non-Federal Total

Expenditures

Federal Indirect

Costs

Non-Federal

Indirect Costs

$33.1 M

FY19

$204.5 M

$32.9 M

FY20

Dr. Christine Pintz

Nurse Practitioner Technology-Enhanced Community Health (NP-TECH) Program

Awarding organization: $2.76 million from the U.S. Health Research and Services Administration (HRSA)

Dr. Angela McNelis

The Impact of Virtual Simulation Use in Family Nurse Practitioner Education

Awarding organization: $287,000 from the National Council of State Boards of Nursing (NCSBN)

Dr. Ellen Kurtzman

Medical cannabis — are nurse leaders prepared?

Awarding organization: $234,000 from the National Council of State Boards of Nursing (NCSBN)

Dr. Tony Yang

A Multimethod Examination of Conditionally Admitted Kindergartners and School Entry Vaccination Requirements

Awarding organization: $128,000 from Merck

Dr. Jeongyoung Park

To what extent is the degree of state scope of practice autonomy associated with malpractice lawsuits fled against nurse practitioners?

Awarding organization: $53,000 from the National Council of State Boards of Nursing (NCSBN)

Dr. Erin Athey

Mental health improvement through studying, teaching, rebranding, embedded education, and technology (MHI Street)

Awarding organization: $43,000 from the Hillman Foundation

Appointments

Associate Professor Ellen Kurtzman completed her Robert Wood Johnson Foundation Health Policy

Fellowship after nearly a year working on Capitol Hill in House Speaker Nancy Pelosi's offce. Since 1973,

the fellowship program has sought exceptional midcareer health professionals and behavioral and social

scientists, placing them in congressional offces to work with politicians and policymakers to shape health

care policy on Capitol Hill.

Dr. Kurtzman's research and scholarship have addressed the effects of federal and state policies and

programs on health care quality and the role of the health care workforce in higher value care. It is precisely

this expertise and knowledge that made her an invaluable asset in Speaker Pelosi's offce.

Associate Professor Ashley Darcy-Mahoney will spend a year as the National Academy of Medicine

(NAM) Distinguished Nurse Scholar-in-Residence, helping to develop federal health policy. Through

interprofessional collaboration and engagement, the position provides nursing perspectives to better

support public health.

11
---
The Offce of Community Engagement

The Offce of Clinical Practice & Community Engagement was created this year to serve as a central resource for

community engagement partnerships and activities coordinated with communities the school serves. Dr. Karen

Drenkard serves as inaugural associate dean for Clinical Practice and Community Engagement, and is leading the

strategic efforts to improve our community involvement, both in clinical practice and volunteer opportunities for

faculty, staff and students. Now included under the umbrella of this new unit are the Center for Health Policy and

Media Engagement; Center for Aging, Health and Humanities; and Offce of Community and Global Initiatives.

The newly created offce aspires to be the central resource for faculty, staff and community partners in providing

student service-learning opportunities, faculty development opportunities, and research endeavors to improve

the health of communities. GW Nursing takes engagement in the community to heart and supports a multitude of

efforts that enrich student scholarship, research and creative activity.

Center for Health Policy and Media Engagement

The Center for Health Policy and Media Engagement continues

to conduct high-impact activities in education, research and

knowledge sharing. The center brings high-profle speakers to

campus for insightful guest lectures, convenes decisionmakers

from nursing organizations to increase representation in news

media for the nursing perspective, and publishes thought

leadership pieces to steer conversations on nursing's role in

health policy discussions.

The center hosted and co-hosted several guest lectures as part of

a suite of offerings that encourage a free exchange of ideas with

a broader community, among them experts in policymaking, a

sitting congresswoman and those on the front lines of addressing

the COVID-19 pandemic. The center also hosted leaders from

more than 20 national nursing organizations and associations to

Rep. Lauren Underwood speaks during a fall 2019 event as part

of the Health Policy Leadership Series.

develop a national blueprint for advancing the strategic use of media to promote nursing perspectives on patientcentered,

value-added policies and care.

Center for Aging, Health and Humanities

The Center for Aging, Health and Humanities (CAHH) has continued to develop, strengthen and explore new

opportunities to engage with its community partners in four core areas: research, health policy, education and

clinical innovations. The center has solidifed its partnership with the D.C. City Council, hosting the University

Seminar Series to explore age-friendly initiatives. Additionally, CAHH Director Melissa Batchelor provided testimony

for the D.C. City Council Health Committee to support B23-0325, the Dementia Training for Direct Care Workers

Act of 2019.

In addition to the center's work advocating for age-friendly initiatives and policies, Dr. Batchelor and faculty

associated with the center have contributed signifcantly to the body of research in the feld of aging, with support

from competitive grants from foundations, the NIH and the university.

Offce of Community and Global Initiatives

Even with challenges and restrictions of a pandemic, the school's community and global initiatives saw expansion

and growth in the frst half of the fscal year with new international partnerships in six countries and renewed

commitment with existing partners in South Korea, Costa Rica, Uganda and Ecuador. These partnerships further

enhance global engagement, international collaboration and expanded opportunities for teaching, education,

professional development, research and scholarship, clinical and community-based practice and service.

This year also saw an innovative response to the onset of a global pandemic with a virtual clinical practicum

experience for Bachelor of Science in Nursing students working with GW Nursing's global partners in Costa Rica,

Slovenia and Uganda. For one project, students made an instructional video recorded in Spanish for children living

in marginalized communities in Costa Rica to help the population easily understand how COVID is transferred and

how to prevent the spread by washing hands and properly wearing a mask.

12
---
FINANCE

The George Washington University's boardapproved

fscal year 2020 budget included

resources to enhance GW Nursing's

operations, with a focus on advances in

academic technologies, the Ph.D. program

and increased work around our culture,

strengths, scholarships, and diversity and

inclusion.

Despite the unanticipated disruption to

operations resulting from the pandemic, the

School of Nursing ended the fscal year with

only a small decrease in projected revenue,

down 4% from FY19 totals.

Tuition from the school's Accelerated B.S.N.

and online programs continue to account for

a large part of the school's revenue streams.

The Accelerated B.S.N. and online programs'

tuition revenue in total made up 95% of the

school's fscal year revenue, which is a 1%

increase from FY19.

The major expenditure in FY20 was faculty

and staff salaries. The school's compensation,

including fringe benefts, made up 64% of

total expenditures, which is a 5% increase from

FY19. As a result of our favorable fscal year

results, GW Nursing was able to purposefully

align 14% of expenditures toward support

and investment funds, an 8% decrease from

funds designated in FY19. These support and

investment funds will be leveraged to ensure

the school is well positioned to continue to

make advances in scholarship offerings and

academic technologies and to meet strategic

initiatives.

University funded scholarships – 5%

Support/Investment – 14%

Capital expenditures – 1%

Equipment – 1%

General expenses – 15%

Salaries and benefts – 64%

REVENUE

EXPENSES

Accelerated B.S.N. tuition – 45%

Fees (e.g., application, course) – 2%

Gifts – 1%

Other income – 2%

Graduate & certifcate

program tuition – 50%

GW Nursing awarded more in scholarships in FY20 than ever before.

GW Nursing provided more than $3.6 million to students throughout

the fscal year, across these categories:

40% GW Nursing Tuition Awards

1% Donor-Funded scholarships

52% Medstar Washington Hospital Center partnerships

7% GW Hospital partnership

FY20 saw a more-than 60% increase in GW Nursing Tuition Awards from

FY19 to FY20!

13
---
DEVELOPMENT AND ALUMNI RELATIONS

For GW Nursing, there was much to celebrate in FY20. We set

an ambitious fundraising goal of $2.4 million and we exceeded

it, ending the fscal year with a total of $3.14 million. Since FY18,

we have seen signifcant growth in our attainment, including a

nearly 200% increase in overall dollars raised and a 3% percent

increase in individual donors to the annual giving fund. This is a

testament to the commitment our alumni, friends, foundations

and corporations have to providing support for our nursing

students, faculty and programs. Here are a few noteworthy gifts

we received this period:

Overall Attainment

FY20 $3.14 million

Goal: $2.4 million

FY19 $3.34 million Goal: $3.0 million

FY18 $1.12 million Goal: $1.0 million

+ $10,000 from Medical Shipment

+ $25,000 from The GW Hospital Women's Board

+ $25,000 from the James T. Johnston Trust

+ $50,000 Anonymous donation

+ $100,000 Endowed Gift from the D.C. branch of the Independent Order of Odd Fellows

+ $2,500,000 from William and Joanne Conway

10th Anniversary Gala

In preparation for the school's 10th Anniversary Gala, originally scheduled for fall 2020 but now postponed until

spring 2021, our industrious team worked tirelessly to secure support for the event. Their efforts resulted in the

following successes:

+ Over $5,500 raised in table reservations for student scholarships

+ Over $1,000 raised in external ticket sales for student scholarships

+ Over $12,000 in in-kind donations for the gala silent auction

+ $50,000 raised via gala sponsorships

Distinguished Alumni Awards

As a part of our 10th Anniversary celebration, we identifed the inaugural recipients of GW Nursing's Distinguished

Alumni Awards. These 10 graduates (photos in order from left to right) have exemplifed the George Washington

University tradition of excellence and brought recognition to GW Nursing by their contributions to nursing, health

care and society. Congratulations again to these alumni!

+ Jennifer Cooper, D.N.P. '16, RN, PHNA-BC, CNE

+ Janet Lynne Douglass, D.N.P. '12, FNP, BC

+ Barbara Jacobs, M.S.N. '09, RN-BC, NEA-BC

+ Carrie Jeffries, D.N.P. '19, M.P.H., RN, ANP-BC, NEA-BC, FACHE, AACRN

+ Simmy King, D.N.P. '10, RN-BC, NE-BC

+ Laure Marino, D.N.P. '16, APRN, FNP-BC, GNP-BC

+ Ann Marie Matlock, D.N.P. '10, RN, NE-BC

+ Stacia Moreno, B.S.N. '15, RN

+ Richard Prior, D.N.P. '12, FNP-BC, FAANP

+ Mary Cres Rodrigazo-Manansala, M.S.N. '19, RN, SCRN

14
---
Cumulative Donors

Those who have given more than $50,000 over the

course of the school's frst decade

Bausch Health

CareFirst BlueCross BlueShield

Alan Schurman Cohn

William E. Conway, Jr. & Joanne B. Conway

Dr. Ellen M. Dawson & Rear Admiral

Howard W. Dawson

GWUH Women's Board, Inc.

Helene Fuld Health Trust

The Hearst Foundations

Caroline Fredricka Holdship Charitable

Trust

Independent Order Of Odd Fellows

Dr. Pamela R. Jeffries & Joseph Jeffries

Drs. Jean Johnson & L. Gregory Pawlson

The Robert Wood Johnson Foundation

James M. Johnston Trust for Charitable/

Educational Purposes

Jonas Nursing & Veterans Healthcare

Ms. Robin Kaplan

Dr. Angela McNelis & Mike McNelis

Florence Nesh Charitable Trust

Sae-A Trading America Corporation

Irene M. Schuler Smith

Conways' $2.5 million gift provides scholarships

for veterans transitioning to a career in nursing

This year, GW Nursing launched the William and Joanne Conway Transitioning

Warriors Nursing Scholars Initiative, which provides signifcant scholarship

assistance to several veteran or active-duty military students each semester.

The Conways' gift, the largest in GW Nursing's history, will support a total of

65 students over the next fve years.

"The Transitioning Warriors Nursing Scholars Initiative is designed to reward

the brave men and women of our armed forces who seek to continue their

service to our country as civilian nurses," said Mr. Conway. "By funding

scholarships and providing fnancial aid for select veteran students at the

GW School of Nursing, we aim to support their educational pursuits at a time

when our country needs them most."

The inaugural cohort of students selected to receive these scholarships

start the B.S.N. program in the fall 2020. Since its founding, GW Nursing has

supported veterans through scholarships, specialized student resources,

credit transfer, an accelerated bachelor's degree option and other unique

pathways to degrees.

"The Conways' commitment to our military veterans is unwavering, and

so is ours at the GW School of Nursing," Dean Pamela Jeffries said. "As we

celebrate our 10th anniversary, its gifts like these that enable us to grow our

veteran student population and provide the resources they need to succeed."

Annual Donors

Those who have given more than $100 in FY20

Dr. Carolyn Allen

Dr. Cynthia L. Allen

Rita Altman

America's Charity

Aida Armaly

Mary Frances Arthur

ATI Nursing

Debbie Awwad

Diane Baruch

Dr. Melissa K. Batchelor

Dr. Sulochani R. Bhati

Dr. Mary Beth Bigley

Dr. Diane M. Billings

Susan Bodin

Denise M. Bridges

Marie Brown

Dr. Linda A. Briggs

Dr. Mary-Michael Brown

Marcia Camden

Dr. Linda G. Cassar

Kimberlee S. Ceballos

Julia Clark

Paul Collins

Tammy Compagnone

Contemporary Electrical Service

Isabel Marie Couto

Dr. Catherine Cox

Bradley J. Crofts

Dr. Ashley Darcy-Mahoney

Dr. Sandra Davis

Dr. Karen Dawn

Samantha DePadova

Dr. Karen Drenkard &

Allan Graham Drenkard

Dr. Mercedes Echevarria

Dr. Majeda El-Banna

Esther Emard

ExamSoft

Crystel L. Farina

Dr. Nikki Gebara

Dr. Jeanne M. Geiger-Brown

Dr. Adriana D. Glenn

Greater Washington

Community Foundation

Dawn Griffn

Dr. Joyce A. Hahn

Hannah Hahn

Dr. Jennifer Hayes-Klosteridis

Dr. Kelsey Herrick

Matthew Hess

Dr. Cameron Hogg

Kevin Hook

Jessica Hopkins

Hord Coplan Macht Inc.

Lucas Huang

Blair Johnson

Christina A. Johnson

Steve Kamp

Dr. David M. Keepnews

Dr. Joyce Knestrick

Siena O. Kramer

Dr. Ellen T. Kurtzman

Laerdal Medical

Dr. Carol S. Lang

Dr. Mayri Sagady Leslie

Elizabeth Linsert & Henry Linsert, Jr.

Emeline Maddux

Dr. Kate Malliarakis

Nikita A. Malliarakis

Dr. Rebecca Mance

Dr. Nadine Montisano Marchi

Dr. Mark S. McClelland

Dustin McKague

Ryan McLaughlin

MedStar Health

Lynn M. Mertz

MidPoint Teck Group LLC

Jesterelden Miller

Philippa Moore

Dr. Jeanne Murphy

Adejoke M. Ogundiran

Dr. Jeongyoung Park

Patner Construction Inc.

Dr. Arlene M. Pericak

Poetry Foundation

Justin Pohl

Dr. Laurie Posey

Dr. Joyce A. Pulcini

Dr. JoAnne Reifsnyder

Dr. Richard Ricciardi

Whitni Richardson

Dr. Michelle M. Rumble

Edward S. Salsberg

Kenneth Schappelle

Dr. Mary Jean Schumann

Kate A. Seabold Brannon

Dr. Christine Seaton

Dr. Julie Settles

Whitney Hodges Shanley

Dr. Pamela Slaven-Lee

Shari Sliwa

Irene M. Schuler Smith

LaQuanta Smalley

Seth Snover

Drs. Janet R. Southby & Richard

Southby

Dr. Valerie Strockbine

Linda Talley

Dr. Billinda Tebbenhoff

The GWUH Women's Board Inc.

TIAA Charitable Inc.

Paula J. Townsley

Vinita Underwood

United HealthCare Corporation

Joseph D. Velez

Dr. Margaret H. Venzke

Jacqueline Wavelet

Beatrice Welters

Glenn West

Dr. Gretchen M. Wiersma

David Frank Wills

Dr. Laurie D. Wilson

Dr. Stephanie K. Wright

Dr. Karen Fraser Wyche

Dr. Y. Tony Yang

Dr. Pearl Zhou

15
---
Fundraising and Scholarships

Meeting our attainment goal matters because it ensures we have the funds address GW Nursing's core priorities.

This includes fnancial aid and scholarships, which are so crucial for us to continue to educate the next generation

of nurses and nurse leaders. Last year, GW Nursing awarded $3.6 million in scholarships, a commitment that would

not be possible without the generous support from members of the extended GW Nursing community. Every day,

life-changing opportunities are made possible by donations to the

School of Nursing General Fund. On this page you can hear from

our scholarship recipients about the impact this fnancial support

has had on their life.

I am incredibly grateful to receive the Helene Fuld Health Trust Endowment Fund Scholarship.

The generous support helped me focus more on attending to my preceptorship experience

in the emergency room. This meant spending more time taking care of patients and less time

worrying about bills.

Mohammad Rahmati, recipient of Helene Fuld Health Trust Endowment Fund Scholarship

This scholarship means everything to me. As a frst generation college student, I am able to

continue to break generational curses by continuing to exceed high scholastic expectations.

Overall, as a single mom of three girls, this scholarship has lightened my fnancial burden,

allowing me to focus solely on school.

Erica Paris, recipient of Power & Promise Scholarship

I am attending the Masters in Nursing Family Nurse Practitioner program at GW. This

scholarship means the world to me as I am currently a self-employed small business owner

and the COVID-19 pandemic has taken a huge toll on my fnances, and this scholarship has

really taken some stress off me and my family during this time. I could not be more thankful.

Jared Moore, recipient of Dean's Scholarship

I was so proud to feel supported by a community that I cannot wait to join. I am a minority, a

single mother, a frst-generation college student, and a disabled veteran. Against all statistical

odds that tell me I should not be here, I made it. I have arrived with your help. And I will keep

pushing forward. So thank you for the impact you have had on my life's story.

Rebecca Ortego, recipient of GW Hospital Women's Board Scholarship

I am beyond honored to be chosen as a recipient of the James M. Johnston Trust Scholarship.

While I receive GI Bill benefts, there are additional costs that are compounded by pursuing

full-time schooling, such as childcare, gas, tolls, vehicle upkeep and more. Thanks to your generous

donation these costs are better managed, which allows me to concentrate on my schooling.

Katelyn Russo, recipient of James M. Johnston Trust Scholarship

The generous support of faculty, staff, alumni and partners allows the school to continue

offering assistance and creating opportunities for GW Nursing students.

Please consider supporting our students in their education.

Support GW Nursing at giving.gwu.edu today

16
---
STUDENT AWARDS & HONORS

The DAISY Award

GW Nursing is proud to be one of over 200 colleges and schools of nursing

partnering with the DAISY Foundation to present The DAISY Award® in

honor of nurse faculty and nursing students who go above and beyond to

make extraordinary differences in patients' and families' experiences in the

clinical setting.

The DAISY Foundation was established in 1999 by members of the family of Patrick Barnes. He was 33 years old and

died of complications of the auto-immune disease immune thrombocytopenic purpura (ITP). Like many families

that go through this kind of tragic loss, the Barnes family wanted to do something positive to honor the special man

Patrick was. So, shortly after Pat's death, they came up with DAISY — an acronym for Diseases Attacking the Immune

System. The family was very impressed by the clinical care Pat's nurses provided, but what really overwhelmed

them was the compassion and kindness that his nurses brought to Pat's bedside day in and day out. As a sign of

gratitude, Pat's family created The DAISY Award® to provide national recognition and appreciation to nurses for

their outstanding work.

Congratulations to the recipients of The DAISY Award® for Extraordinary Nursing Students!

Bradley Crofts

Cohort 18

Alexa Flowers

Cohort 19

Johnny Walker

Cohort 19

Graduation Awards

+ Outstanding Community Service Award:

Karen Hamblin

+ Outstanding Student in Nurse Midwifery Award:

Lilian Stolzfus

+ Adult Gerontology Acute Care Nurse Practitioner Clinical Excellence Award:

Elizabeth Redmond Bailey

+ Adult Gerontology Primary Care Nurse Practitioner Clinical Excellence Award:

Michael Fanelli

+ Family Nurse Practitioner Clinical Excellence Award:

Danielle Seier

+ Psychiatric Mental Health Nurse Practitioner Clinical Excellence Award:

Rebecca Merchiori

+ Doctor of Nursing Practice Scholarly Project Award:

LaKeshia L. Evans

+ The Pam and Joe Jeffries Nursing Innovation Award:

Amanda Bridges
---
STRATEGIC PLAN PROGRESS

We are pleased to share that we will achieve the seven goals, as well as the objectives and

strategies outlined within our current three-year strategic plan by December 2020 six months

ahead of schedule. This achievement is attributed to the consistent work of faculty and staff

across GW Nursing. This achievement is attributed to the consistent and dedicated work of

faculty and staff across the school. Several notable successes occurring over the last year as a

direct result of the strategic plan include:

+ A sustainable plan for program evaluation and course assessment that aligns with

institutional and accreditation standards

+ An orientation for all new faculty and staff hires customized for

the school to complement the university's standard new hire

orientation

+ A repository of all administrative job descriptions and roles

which has streamlined the hiring and recruitment process

+ A newly established Scholarship Administration Team and a

newly hired senior fnancial aid offcer for improved stewardship

of our fnancial resources and service to our students

+ The hiring of an associate dean for clinical practice and

community engagement to develop and expand strategic

relationships with healthcare corporations and organizations

+ The diversifcation of revenue sources and funding mechanisms

to support student scholarships

Across all goals, the school has completed 94% of the goals and

objectives outlined in the 2018-2021 Strategic Plan. The school

will undertake a new strategic planning process in 2021 to chart a

course ahead for the next phase of growth and development of GW

Nursing.

A strategic hire

When President Thomas LeBlanc met with GW Nursing students

for a town hall at VSTC in the fall of 2019, one of the messages he

received loud and clear was their desire for a dedicated fnancial aid

adviser for GW Nursing. Enter Thomas "Cody" Smith, who started

in April as the school's inaugural senior fnancial aid offcer. In this

role, he serves as the primary point of contact for students and a key

member of the school's Scholarship Administration Team.

Mr. Smith brought a wealth of experience, having spent two years as

a student services specialist within the university's Student Financial

and Registration Services. There he helped students with their

fnancial aid, student account and registration needs. Prior to GW, he

worked at Mississippi State University for three years as a scholarship

counselor.

Mr. Smith, whose sister is a nurse practitioner,

said he was confdent the new position

would be a good ft for him.

"It has been a fulflling experience working

with such great students and helping them

achieve their goal of completing their

nursing program and getting out into the

workforce," Mr. Smith said.

Goal 1

Curriculum & Technology

Goal 2

Health Policy

Goal 3

Research & Scholarship

Goal 4

Culture Transformation

Strategic Plan

2018-2021

For more information

about the school's

strategic plan and the

progress to date, visit

go.gwu.edu/stratplan.

Goal 5

Infrastructure, Governance & Fiscal Responsibility

Goal 6

Diversity

Goal 7

Collaboration & Partnerships

New Staff Hires

+ Christopher DeJean

Manager, Clinical Education Operations

+ Craig Farmer

Academic Adviser

+ Molly Fletcher

Administrative Manager, Acute & Chronic Care Faculty

Community

+ Nikki Gebara

Senior Instructional Designer

+ Juliet MacIntosh

Administrative Assistant

+ Christine Martin

Administrative Assistant, Diversity, Equity & Inclusion

+ Jeffrey Richmond

Director, Enrollment Management

+ Kenneth Schappelle

Director, Marketing & Communication

+ Rebekah Smith

Associate Director, Enrollment Management

+ Thomas Smith

Senior Financial Aid Offcer

+ Jessica Taylor

Administrative Assistant, Acute & Chronic Care Faculty

Community

18
---
GW NURSING DEAN'S ADVISORY COUNCIL

Membership current as of the close of the fscal year.

Chair

+ Mary-Michael Brown, D.N.P., RN

MedStar Health

Members

+ Diane Billings, Ed.D., RN, FAAN

Indiana University School of Nursing

+ Alan Schurman Cohn, J.D.

AbsoluteCare

+ Ellen Dawson, Ph.D., RN

GW Nursing

Veterans B.S.N. students don their white coats, a symbol

of their having joined the nursing profession after their

frst semester in nursing school.

+ Patrick DeLeon, Ph.D., J.D.

Retired, Chief of Staff to U.S. Senator Daniel Inouye (D-HI)

+ Lucas Huang, B.E.E., B.A.E.

B-Line Medical

+ Robin Kaplan, M.S.N., RN

Kushner Hebrew Academy

+ Cody D. Legler, D.N.P., APRN, NP-BC, RN-BC, NEA-BC, CNL

MedStar Southern Maryland Hospital Center

+ Lynn Mertz, Ph.D.

AARP Center to Champion Nursing in America

+ JoAnne Reifsnyder, Ph.D., M.S.N., M.B.A., FAAN

Genesis HealthCare

Dean Jeffries poses with Provost Brian Blake and George,

the university's mascot, at a GW basketball game in honor

of GW Nursing's 10th anniversary.

+ Julie Settles, M.S.N., APRN

Lilly USA, LLC

+ Al Shimkus, M.S.N., RN, Capt. USN (Ret.)

Naval War College

+ Janet R. Southby, Ph.D., RN

+ Ambassador Beatrice Welters

AnBryce Foundation

+ Stephanie Wright, Ph.D., RN, FAANP

GW Nursing

The school celebrated the induction of David Keepnews

(middle) as a Fellow of the National League for Nursing

(NLN) Academy of Nursing Education. He is joined by his

husband, Peter, and Dean Jeffries at a reception hosted in

his honor.

19
---
The George Washington University does not unlawfully discriminate in its admissions programs against any person based on that person's race, color, religion, sex, national

origin, age, disability, veteran status, sexual orientation, or gender identity or expression. For available states visit nursing.gwu.edu/states

200928