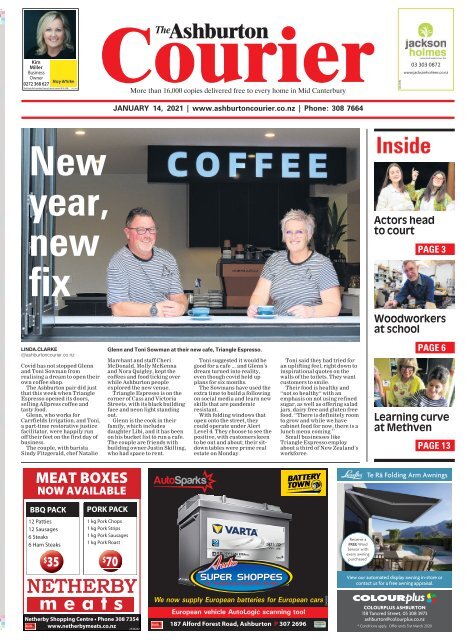 Ashburton Courier: January 14, 2021
Create successful ePaper yourself
Turn your PDF publications into a flip-book with our unique Google optimized e-Paper software.
Kim

Miller

Business

Owner

0272 368627

Real Estate Mid CanterburyProperty Limited Licensed (REAA 2008)

2271678

22343592

03 303 0872

www.jacksonholmes.co.nz

JANUARY 14, 2021 |www.ashburtoncourier.co.nz |Phone: 308 7664

New

year,

new

fix

Actors head

to court

PAGE 3

Woodworkers

at school

LINDA.CLARKE

@ashburtoncourier.co.nz

Covid has not stopped Glenn

and Toni Sowman from

realisingadream to open their

own coffee shop.

The Ashburton pair did just

that this weekwhen Triangle

Espresso openedits doors,

selling Allpresscoffeeand

tastyfood.

Glenn,who works for

Carrfields Irrigation, and Toni,

apart­timerestorative justice

facilitator, werehappily run

off their feet on thefirst day of

business.

The couple, with barista

Sindy Fitzgerald, chef Natalie

Glenn and Toni Sowman at their new cafe, Triangle Espresso.

Marchant andstaffCheri

McDonald,Molly McKenna

andNora Quigley, kept the

coffeesand food tickingover

while Ashburton people

explored the new venue.

Triangle Espresso is on the

cornerofCass and Victoria

Streets, with its black building

face andneon light standing

out.

Glenn is thecookintheir

family, which includes

daughter Libi, andithas been

on his bucketlist to run acafe.

The couple are friendswith

building owner Justin Skilling,

who had space to rent.

Toni suggested it would be

good for acafe... and Glenn's

dream turned into reality,

even thoughcovidheld up

plansfor sixmonths.

TheSowmanshave used the

extra timetobuildafollowing

on social media andlearnnew

skills that arepandemic

resistant.

Withfolding windows that

open onto the street, they

could operate under Alert

Level 4. They choose to see the

positive,with customers keen

to be out andabout; theirsitdowntables

were primereal

estate on Monday.

Toni said they had tried for

an uplifting feel, right downto

inspirationalquotesonthe

walls of the toilets. They want

customers to smile.

Their food is healthy and

''notsohealthy'' with an

emphasis on not using refined

sugar,aswell as offering salad

jars, dairy free and gluten free

food. ''Thereisdefinitely room

to growand while we have

cabinet foodfor now, there is a

lunch menu coming.''

Small businesseslike

Triangle Espresso employ

about athirdofNew Zealand's

workforce.

PAGE 6

Learning curve

at Methven

PAGE 13

MEAT BOXES

NOWAVAILABLE

BBQ PACK

12 Patties

12 Sausages

6Steaks

6Ham Steaks

$

35

PORK PACK

1kgPorkChops

1kgPorkStrips

1kgPorkSausages

1kgPorkRoast

$

70

NETHERBY

meats

Netherby Shopping Centre •Phone 308 7354

www.netherbymeats.co.nz

2346242

NZ'S PREMIUM AUTOMOTIVE CENTRES

We now supply European batteries for European cars

European vehicle AutoLogic scanning tool

187 Alford Forest Road,Ashburton P 307 2696

2345935

Receivea

FREE Wind

Sensor with

every awning

purchased *

Te Ra-

Folding ArmAwnings

Viewour automateddisplayawningin-storeor

contact us forafreeawning appraisal.

COLOURPLUS ASHBURTON

118 Tancred Street, 03 308 3973

ashburton@colourplus.co.nz

*Conditions apply. Offerends31stMarch 2020

*
---
NEWS

2 Ashburton Courier, January 14, 2021

www.ashburtoncourier.co.nz

BUSINESS OWNERS

Build customers,

sales and profits

with us ...

Over 16,065

copies delivered to

EVERYhome,farm,

RD and lifestyle

blocks in

MidCanterbury

news

Linda Clarke

Editor

308 7664

linda.clarke@ashburtoncourier.co.nz

Reporters

Mick Jensen

mick.jensen@ashburtoncourier.co.nz

Toni Williams

toni.williams@alliedpress.co.nz

advertising

Jann Thompson

Sales Manager

308 7664

027 587 6351

jann.thompson@ashburtoncourier.co.nz

Karen Gane

Sales Account Manager

308 7664

021 510 804

karen.gane@ashburtoncourier.co.nz

getintouch

Editorial

linda.clarke@ashburtoncourier.co.nz

Advertising

info@ashburtoncourier.co.nz

Production

murray.thompson@ashburtoncourier.co.nz

Accounts

accounts@alliedpress.co.nz

Distribution/Deliveries

mary.summerfield@ashburtoncourier.co.nz

Office

office@ashburtoncourier.co.nz

03 308 7664

199 Burnett Street,Ashburton

www.ashburtoncourier.co.nz

2311473

2346244

Water gift saves swimmers

LINDA.CLARKE

@ashburtoncourier.co.nz

Fonterra has come to theaid of the

Mayfield community pool, carting

150,000litres of water lastweektofill

it for swimmers.

The pool had to be emptied just

before Christmas so leaks at the

bottom could be fixed, but there was

no water available from the

community supply when it came to

refilling it.

Mayfield has beenonlevel three

water restrictions since December 15,

with hand­heldhosing only between

6pm and midnight. Properties on the

southeast side of Arundel Rakaia

Gorge Road can hose on even dates

andproperties on the northwest on

odd dates.

The AshburtonDistrictCouncil,

whichoperates thecommunity water

supply, was concerned about the

amount of waterleft in the Mayfield

supply,whichwas at its lowestlevel

since 2016.

Mayfield poolcommittee president

Gerald Jacobsonsaidthe pool was

filled earlier in the summerand

opened for businessearly December.

But it had to be emptied so the leaks

could be repaired.

Luckily the closure co­incided with

rainy weather, not usuallysuitable

forswimming.

He said acommunity member

suggested approaching milk

processing company Fonterra for

help and the co­op responded by

sending five tanker­loads of water

BACKTOSCHOOL

at

1. Drop your school list in-store

2. Payfor order

3. Collectorder

Thefollowing Schools StationeryLists areavailable at

www.paperplus.co.nz/backtoschool

AshburtonCollege, AshburtonChristian School,

AshburtonBoroughSchool, Ashburton Intermediate,

AshburtonNetherbySchool, Allenton School,Dorie School,

Hampstead School, Hinds School, Mayfield School, MountHutt College,

Mt Somers SpringburnSchool, MethvenPrimarySchool,

St Joseph's School,Tinwald School,Wakanui School.

212 East Street,Ashburton. Phone 308 8309

Fonterra's Stu Macpherson and Mayfield pool president Gerald Jacobson

supervise the filling of the community pool.

PHOTO SUPPLIED

from its Clandeboye plant. Each

tanker trip moved 30,000 litres.

Mr Jacobson said Fonterra had

saved the day forpool users; there

were about60seasonal key­holders

who usedthe 22mpoolaswellasdayusers.

The water is currently 18

degrees and warming.

''It took awhile to fix the leaks. We

neededthe bottomofthe pool to be

dry anditkept rainingand it slowed

things down.''

The pool's operating expensesare

largely covered by agrant from

council, which provides funds for

pool chemicals and water testing. A

big team of volunteers take turns

testing the water twiceaday.

MrJacobson said thelocalswere

enthusiastic aboutkeeping the pool

runningfor thecommunity, thoughit

might need major attention in the

future. Thepool was built in the

1960s.

Other work thissummer on a

woodenfenceand theroof of the

changing rooms is being fundedby

the Lion Foundation.

Tinwald car yard changes face

Carrfields and Morrison Carsare

combining to run anew Mitsubishi

vehicle sales, service andparts

business from Smallbones

Ashburton.

Thenew joint venture, Morrison

Motors Ashburton, will begin

operating in February andall

Smallbones staffare being offered

jobs in the new business. It will

continue as an authorised agent

providing Holdenparts and service

for the next10years.

Themovewas announcedto

customers in anewsletter at the end

of December.

TheCarrfieldsgroupisinagribusinessand

Morrisonsruns newand

usedvehiclessales and service

centresinChristchurchand

Rangiora.

Until now, the Mitsubishi brand

had onlybeenrepresented in

Ashburton via service agents, said

Smallbones chairman Craig Carr.

''So we are verypleased tonow be

able to offer afull­service sales,

service and partsoperation and

together bring the highly­respected

Mitsubishibrand into our group of

businesses.

''We are lookingforward to

leveragingour shared values,

experience andlocal knowledge to

cement asuccessfuland enduring

partnership.''

Mr Carr said it was also timeto

farewell BobGrant, executive

director of Smallbones and

Carrfields' formerjoint venture

partner withhis wifeDeirdreinthe

Smallbone business.

Mr Grant is retiringafter nearly 50

years of service to Smallbones, first

as an employee, later as a100 per

centowner of the business and in

recentyears as a50/50jointventure

partner with Carrfields Group.

''Bob has been partofthe

Smallbonesbusiness for 48 of the101

years the companyhas been

operating. Bob's philosophyfor

Smallbonesistoconstantly striveto

improve anddobetter for customers,

andhebelieves the businesshas a

veryexcitingfuture in its new

incarnationunder the Morrison

name.''

Mr Grant saidthe succession plan

for the business hadbeen chosen

carefully and he was pleasedwith the

new arrangement.

He saiditwas timetohand over the

reins but was proudofwhat the

business and its staffhad achieved

overthe years.

1. Order online,byemail or phone

2. Paywhen youpickupin-store or

3. Pay&haveyour order delivered

*
---
www.ashburtoncourier.co.nz

NEWS

Ashburton Courier, January 14, 2021

3

Murder mystery heads to court

MICK.JENSEN

@ashburtoncourier.co.nz

Aclassic whodunit, with

suspects and motives aplenty,

has slowly unravelledat

Trott's Garden this week and

there'saformal trial at

AshburtonCourthouse todayto

delve deeper intowho

murderedLady Edna Trott.

Youngstersatthis year's Big

Little Theatre Company

(BLTC)summer drama school

have been having fun with a

script straight out of the books

of AgathaChristieor Ngaio

Marsh.

All 19 cast members were

given bespoke roles ahead of

the startofthe summer school

on Monday andeach has

dressed and actedin

character.

''Everyone has themeans,

motive and opportunity to have

carried out the murder, butnoone

knows who didit,'' said

BLTC director Jackie

Heffernan.

Some 18 clues wereburied

aroundTrott's Gardenatthe

beginning of this week, each

sheddingalittle more light on

the murder mystery.

Today's courthouse trial

would feature barristers,

forensic scientists,

photographers andthe press,

as well as ajurymade up of

family members of the young

actors,Mrs Heffernan said.

It would be the first trial in

the courthouse for2021and

Enjoying the summer drama school and dressed in character are Ben Jurd (barrister), Laura Hyde

(gardener), Maddie Webb (Lady Trott's daughter Mary Rose Butcher), Zoe Ritchie (drama teacher

Tulip Wilting), Dominic Jurd (Dr Angel Trumpet) and Mungo Gormley (Queen's Counsel).

she was very happythatBLTC

had beenallowed to use the

veryappropriate venue.

The classicwhodunit was

her favourite genre and the

young actors had well and truly

embraceditover theweek.

Thecolourfulcharacters in

herscripted play include Lady

Edna Trott's gardener,her

bumbling doctor, her

glamorous daughter anda

disgruntled dramateacher

who hashad her funding

pulled.

The full play will be reenacted

by theyoung actors at

Trott's on Fridayand only then

will Mrs Heffernanreveal who

actually murdered Lady Edna

Trott.

Demand

steady for

covid tests

Ashburton Hospital has been

dealing recentlywith asteady

demand for covid testing, with

between fiveand 10 people

througheachtestingday.

The community­based

assessment centreisonthe

hospitalgroundsand open

Tuesdays, Thursdays and

Saturdays for walk­in testing.

AshburtonGPsare also

continuing to test for covid.

In the past four weeks around

Canterbury, morethan 8000

testshad been carriedout in

the community.

Medical officer of health for

the Canterbury DHB DrCheryl

Bruntonsaid there had been

steady demandrecently.

''It is important to note that

there arenocases of eithernew

variant strain in the community

in NewZealand (as at Tuesday).

All cases that have been

identified have been in

managedisolationand

quarantine facilities.''

Anyone who has cold or flu

symptoms should get atest and

stay home until they have a

negativeresult.

From Saturday,travellers

from most other countries

bound forNew Zealand are

requiredtohave anegative test

before departing.

People areurged to use the

covid tracer app.

NEWYEARBED SALE

GREATDEAL

UltraQueen Mattress and Base

• Qualityinner spring mattress and base

• Ideal studentbed

• Limited stock

Was$1699

$

898 .00

IMMEDIATE

DELIVERY

SAVE OVER $800

Chorus DeluxeQueen Mattress

•Need agreat mattress forastudent's

room or spareroom?

•PillowtopPocket Spring System –

minimises partner disturbance

•Dunlop Foams –For comfortthatlasts

ONLY

$

898 .00

IMMEDIATE

DELIVERY

SAVE$800

SAVE OVER $800

GREATPRICE

Devotion Queen Bed

•Conforma Coil SupportSystem–provides

minimum partner disturbance

•Breathable Knit Fabric –

healthier sleep surface

Was$2699

$

1490 .00

IMMEDIATE

DELIVERY

LIMITED STOCK

Chorus DeluxeKing Bed

•PillowtopPocket Spring System –

Reduces partner disturbance

•Ultra fresh –for allergy support

•Medium comfort

Was$2999

$

1690 .00

IMMEDIATE

DELIVERY

SAVE $1209

SAVE $1309

2346023
---
NEWS

4 Ashburton Courier, January 14, 2021

Peter farewelled

Ashburton's Peter Bain,amanwhose mountain

climbing passion tookhim around theworld,

hasdied, aged 88. His funeral is today.

Mr Bain, also akeen cricketer, grew up on the

family farmatColdstream, with dreams of

being an explorer.He went to AshburtonHigh

School and learnedtoclimb in theSouthern

Alps; he laterclimbed in Pakistanand the

Himalayas and was aradio operator in the

Antarctic.

He methis wife Marie, atrainee nurseat

Ashburton Hospitaland theymarriedin1959.

They raised two sons Alasdairand Robert. Mr

Bain began teachingatAshburtonCollege in

1969, retiring in 1990.

Blithe Spirit

ReviewedbyRowenaHart

In 1941 when Britain was atthe mercy of the Blitz,

the staging of Noël Coward's classic play Blithe

Spirit,acomedy about death, wasconsidered arisk.

But it turned out to be abig hit, with arecord run

in the West End and Broadway beforebeing turned

into afilm four years laterstarring RexHarrison.

Now the director of a new version of the film

and one of its lead actors, Dame Judi Dench, feel

that the "dark space" we are currently in provides

another fittingly gloomybackdrop forthe release of

aproduction thatthey hope will liftpeople's spirits.

Downton Abbey star Dan Stevens, is cast as

bestselling crime novelist Charles who suffers from

terrible writer's block in struggling with his first

screenplay. His stunning new wife Ruth dreams of

leaving London for Hollywood. Seeking inspiration,

he invites Madame Arcati to perform aséance in

his home, only to realise that she has inadvertently

summoned the spirit of his deceased first wife –

the fiery Elvira, who tries to win back his affections,

leading to an increasingly complexlovetriangle.

It is very funnyand will no doubt be enjoyedbyNoel

Coward fans and others wanting to have some time

out.

bookings ph 307 1230

www.regentcinema.co.nz

2345942

www.ashburtoncourier.co.nz

Scouts enjoying aspot of rafting on Lake Camp during the adventure camp from left Andrew Williams (Christchurch),

Liam Sherwin (West Melton), Lulu Webster (Christchurch) and Charlise Franklin (Ashburton).

PHOTO TONI WILLIAMS

Scouts out for adventure

TONI.WILLIAMS

@ashburtoncourier.co.nz

Lake Camp, in the Ashburton Lakes

area, had scores of recreational

users vying for space over the

holiday period, especially as Lake

Clearwater was closed due to atoxic

algae.

Amongthe swimmers, motorised

boats, water skiers and jet skierson

Lake Camplastweekwere scouts

and their leaders doing day activities

as part of their StaveleyAdventure

Camp. It was achance to try new

experiences and learn newskills.

Up to 30 scouts each day, run over

three days last week, tookpart in

sailing, kayaking,rafting, rowing and

paddleboarding.

The camp, based at Staveley

happenseverythree years, andhad

more than 350scouts andventurers,

from Canterbury­wide. They came

from as far away as Wellington,

Greymouth and Waimate, aged

between 11 and 17 years old, doing a

mix of 40 activities aroundthe

districtand beyond.

Activities includedcanon caving,

fishing,mountain biking, rafting,

bush camping,shooting, craft and

flying.

www.auricelectrical.co.nz

• Domestic electrical services

• New house wiring

• House rewiring &maintenance

SUPPLIERS AND INSTALLERS OF LEADING BRANDS

Clearwater warning stays

Ahealth warning remains on Lake

Clearwater after apotentially toxic bluegreen

algae (planktonic cyanobacteria) was

found in the lake.

The lake is apopular holiday destination

for hutholders and campers but also

recreational users such as day trampers,

mountainbikers and fishers.

Water testing has shown high

concentrations of Synechocystis, which could

cause skin rashes, nausea, stomach cramps,

tingling and numbness around the mouth and

fingertips.

Despite the warning windsurfers and

kayakers were still seen on the water early

last week. However Canterbury District

Health Board has not received any reports of

health issues associated with Lake

Clearwater as of late last week.

An Environment Canterbury spokesperson

said there had been speculation about the

cause but it was not always easy to establish.

''There are likely several sources of

• TV &Datawiring

• Solar installation

• HeatPumps

Call todayfor an obligation free quote

0800287 423

2331178

nutrients to the lake as well as other

contributing factors. What we do know is that

Lake Clearwater is enriched in nutrients; the

Trophic Level Index (TLI) has been either

mesotrophic (above three) or eurotrophic

(above four) every year since 2006.

''Higher than usual levels of algal biomass

were measured last summer, which have

again been exceeded this summer.''

The regional council was testing the water

weekly for cyanobacteria in addition to their

standard summer programme testing for

E­coli. The warning will remain in place until

two consecutive weekly tests were recorded

at safe levels for contact recreation.

''Heavy rain can remove cyanobacteria

from lakes, but can also contribute new

nutrients for future cyanobacteria growth, so

the recent heavy rain may or may not help

resolve the problem.''

The issue is also arecurring one at nearby

Lake Emma which degraded and became

turbid and supertrophic in around 2000.

Despite reservation of the lake edge land

after 2000, it has still not reverted back to a

healthy clear water state.

''Lake Emma appears to be trying to 'flip'

between aturbid, green, phytoplankton­rich

state and aclearer, aquatic plant­dominated

state. Once degraded, lakes can take alot of

time to respond to decreased nutrient

loading and other pressures.''

The algae had potential to be transferred

between lakes by recreational users but

needed favourable environmental conditions

to grow to nuisance levels. It liked nutrientrich,

warm, calm waters.

ECan has received numerous complaints

about excessive growth of aquatic plants in

Lake Clearwater, which had impacted on

recreational uses like angling and boating

and had become ahealth and safety issue.
---
www.ashburtoncourier.co.nz

NEWS

Ashburton Courier, January 14, 2021

Off­road affair helps walkway

IN BRIEF

LINDA.CLARKE

@ashburtoncourier.co.nz

A4WD safari into the Mid

Canterbury high country on

Valentine's Day will generate

some lovefor the Mt Somers

Walkway Society.

The fundraisingsafari on

February 14 will support the

work of the walkway society,

which is currently working on

anew tracktoSharplin Falls.

The old track has been closed

sinceFebruary 2015 because

of rockfall danger.

The safarinext month will

run from Lake Heronto the

south branchofthe Ashburton

River and back, offering views

of the spectacular countryside.

Vehicles meetatMtSomers

first.

It is being co­ordinatedby

the Ashburton 4WD Club and

opento low­ratiovehicles with

high clearanceonly, because

of the nature of the terrain to

be crossed.

Entry is $80per vehicle.

Along convoy of vehicles is

expected, with stoppingpoints

scheduled alongthe route for

photos.

Society chairman Charles

Ross saidthe Sharplin Falls

track workinggroup hasbeen

progressing plans for the new

track over the past month,

including complex

Cam Bissett, of D&E Track and Trail, undertakes aprescriptive

track assessment on the proposed new route to Sharplin Falls.

PHOTO SUPPLIED

environmental requirements

necessaryfor the assessment

of environmental effectsand

the budgetary aspects of the

project.

The working groupwas

currently working on the

design of the two bridges

neededtotraverse Bowyers

Streamtoget to the falls.

Working group member Sam

Polson of EDCEngineers,

Christchurch,has been asked

to review the initialbridge

design. It is likely the bridges

will be 38.8 metres long and

made of galvanised angle iron.

Mr Ross said it was

necessary to finalise this

aspect of thetrackfor the

assessmentofenvironmental

effectstobecompleted.

The reportwill then be used

to gain iwisupport, resource

consent andthen Department

of Conservation approval.

The environmental

assessmentisbeing funded by

agrant from the Ian Glassey

Fund, held by the Advance

AshburtonCommunity

Foundation, andisbeing

undertaken by environmental

scientist Fred Overmars.

The working group includes

walkway society members

Alan Totty, Robert Schikker,

Barry Austin andCharles Ross

and well­known local Jack

Allan, who is undertaking the

fundraisingrole.

Providing excellent and

active support to the working

groupare the preferred

contractors for theproject

includingShane Reynolds,

contracting manager,Fulton

Hogan, Ashburton (bridge

installation); Cam Bissettof

D&E Track &Trail (track

building); and Colin Hunt of

ERL Engineering, Ashburton

(bridgemanufacturer).

Mr Ross said the preferred

contractors were all most

experienced in their

respective fields andthe

working groupremained

enthusiastic about returning a

trackto the falls.

Vehicleswanting to go on the

February 14 safari will meet at

Mt Somers Domain between

8am and 9am to registerfirst,

with the convoy moving off to

LakeHeron after 9am.

Peopleare advisedtobring

lunch, drinks andsunscreen.

Cultural Bite to be held in domain

Ashburton's ethnic

celebration Multi Cultural

Bite on February 6has a

change of venue this year, with

the Ashburton domain set to

host the popular event.

It will be held at the corner

of Walnut Avenue and West

Street, close to the domain

paddling pool and playground,

from 10am until 2pm.

It will be followed by

Waitangi Day at the Pa, at

Hakatere Marae, from 3pm.

Multi Cultural Bite is an

award­winning festival that

provides an opportunity for

different ethnic groups within

the community to showcase

their culture. This year will be

the 12th running of the

popular event.

Performing arts, interactive

children's activities and

ethnic food stalls, selling bitesized

portions of their typical

national dishes, will operate

throughout the day.

Organisers are encouraging

the community to continue

celebrating the day at

Hakatere Marae, where there

will be food, waiata (songs),

games, bouncy castles and

other family­oriented

activities.

Multi Cultural Bite trustee

Selwyn Price said food stalls

would be organised in regional

groups with acentralised stage

that encouraged the notion of a

virtual tour of the world

through food.

There would be astreet

market feel to things and

stallholders were encouraged

to take to the stage.

Other local cultural groups

were also lined up to perform.

Mr Price said the domain

was an ideal venue that

offered more space to spread

out than the usual site on East

Street.

He and his fellow trustees

were looking forward to Bite

and the event at the marae,

which would help

commemorate and celebrate

New Zealand's national day

and its bi­cultural foundations.

The public is encouraged to

bring picnic blankets and

chairs and to enjoy the food

and performances on offer on

the day.

5

RIVERTRAIL

The whole LakeHood River Trail

has reopened for bikers and

walkers.Asection of the track from

Boundary RoadtoGrove Farm

Road wasclosedlastyearwhile the

Ashburton District Council

undertook a$7.7 million wastewater

project.The trail starts at the

northern end of LakeHood andruns

to the Ashburton bridgeonState

HighwayOne.

ART WORKSHOP

Award-winning artist Vashti

Johnstone will run atwo-day acrylic

painting workshopinAshburton in

early March. The workshopwill

allowparticipants to explorethe

median under the guidanceofthe

former Methven-basedartist.

Numbers on the course are capped

at 10 and it will be held at the

Ashburton Society of Arts' Short

Street studio on March 5and 6. It

costs $110 for ASAmembersand

$120for others.Toregistercontact

RozLedingham on 021 718633 or

email ashsocart@gmail.com.

COUNCIL BUILDER

Naylor Love has beenconfirmedas

the preferredcontractorfor

construction of the Ashburton

DistrictCouncil's new library and

civiccentre.

Detailed contract negotiationsare

under way with the outcomeof

thesetobeannouncedassoon as

possible.

The announcementofNaylor

Loveasthe preferred contractor

follows an open tender process and

assessment of thesetenders by a

panel includingcouncillors, senior

council staff, andindependentthird

party experts.

The building on BaringSquare

Eastwill costaround $51.6 million.

METHVEN POOLFUN

The Methven CommunityPoolwill

hostabacktoschool party and

corporatechallenge eventon

January 30. Funracesstart from

3pm andwill be followed by the

annualcorporate challenge at 4pm.

There is an early bird specialof$20

for thecorporate challenge andif

you signupwith another businessat

the same time, justone entry fee is

payable.There is alsofreerace

entry for sports clubsand schools

with the early bird special, which

runsuntil January 23.Email teams

to methvenpool@gmail.com with a

team contactphonenumber.

SUMMER SALE

HALF

PRICE

Sleepyhead Swisstek

PHONE 03 550 7000 ADDRESS 28-32 MOORE STREET, ASHBURTON WEBSITE WWW.BEDSRUS.CO.NZ

2346026
---
NEWS

6 Ashburton Courier, January 14, 2021

Teacher nails job satisfaction

LINDA.CLARKE

@ashburtoncourier.co.nz

Ever fanciedmakingyour own

chest of drawers or coffee

table?

Night woodworking classes

are about to restartat

AshburtonCollege andtutor

Chris Thompson said there

was ahugeamountof

satisfaction in building your

own furniture.

Theretired college

woodwork teacher has been

teaching eveningclasses for 15

years. His students range from

novices to master carvers.

Theclassesare held on

Tuesdays from7pm until 9pm,

with eight classes aterm(four

termsinthe year); the cost is

$180 per term.

Chrissaid the class was able

to use the specialty

woodworking facilities at

college and so had access to

industrialmachines, fit for big

and small jobs.

''People can come along and

learn how to make something

and havethe equipmenttobe

able to make it.

''The equipmentis

industrial­sized. Thereisabig

saw finisher that can cut full

sheetsofplywood and a

thicknesser, whichmachines

timber to aspecific thickness.''

Thestudents chose all

mannerof projectsand Chris

teachesthemthe skills they

need to do the job.

Woodwork tutor Chris Thompson is ready for anew group of night students.

''Thereisalot of satisfaction

in building your own furniture.

Insteadofbuyingacoffee

table,you get the timber and

build it from scratch.

''Thereishuge satisfaction

for me too watchingpeople

walkout proudlywiththeir

work.''

Chris said covid over the

past 10 months had led to many

people rediscovering the

challengeofdoing things for

themselves andhehoped some

newwoodworkers would be

keen to join his class.

Thewoodwork masteris

workingonachallenge

himself, completing afolding

table for asuperyacht

currently being completedin

Whangarei.

Thecomplicated job has

taken about 70 hours so far and

involves differenttimbers,

careful grain selection and

PHOTO LINDA CLARKE

features necessary for alife at

sea. He is relishing the work,

which takeshim back to days

as aboatbuilder before he

becameateacher.

The first Ashburton evening

woodwork class starts on

February 9. Prospective

students shouldcallChris on

027 434 668 to discuss their

projectideas or emailhim on

chris@thompsonwoodworking.nz

IN BRIEF

RETAILER TO PAY

Aliquorretailer and directorwho

onceoperatedbottle stores in Mid

Canterburyhas been orderedtopay

$125,000 for worker exploitation.

TheEmployment Relations

Authority has ordered Nekita

Enterprises Limited, abusiness that

operated up to 15 bottle stores

across Canterbury, to pay$90,000

in penalties for breaching

employmentlaws. Its director, Harjit

Singh hastopersonallypay a

further $35,000asaperson

responsible for the breaches.

The penaltiesare in additionto

$21,390thatNekitaEnterprises has

already paidout to four former

employeesinoutstanding minimum

wageand holiday pay entitlements.

WATER DEMAND

Cooler and wetter conditions have

kept waterdemandin Ashburton

relatively low over the pastfew

weeks andthereare no plansto

impose water restrictionsat

present.

Peak wateruse dayswere

tracking belowconsented limits,

and unless asevere hot and dry

spellcame along,AshburtonDistrict

Councildid notexpect water

restrictions in Ashburton/Lake

Hood, said infrastructure services

groupmanager Neil McCann.

Rain over theChristmas and New

Yearperiod hadrestoredwater

levels in thegalleries and mostof

the bores.

The exception wasMayfield,

whichhad not recovered

sufficiently, buthad not deteriorated

mucheither.

SEASIDE SUMMER DAYS IN TIMARU

This FREE classroom based course will help you

re-familiarise yourself with traffic rules and safedriving

practices.Itwillalsoincrease your knowledge about other

transportoptions and help youremain independentfor

longer.The course is free but thereisa$10 koha to cover

catering (morning teaand lunch).

DATE: 22 January2021

TIME: 10.00am -2.30pm

VENUE: AshburtonSenior Centre, 206 Cameron Street

PHONE: 03 308 6817

EMAIL: ageconcernashburton@xtra.co.nz

Get your friends and whānautojoin

you for summer fun in Timaru.

Plan your activities at welovetimaru.nz

FORANURBAN ESCAPE-WITHOUT THE BIG CROWDS -HEADTOTIMARU

TIMARU|GERALDINE|TEMUKA |PLEASANT POINT |PEELFOREST
---
35

Gardena

$

each

Oscillating Sprinkler

High qualitysprinkler forprecise,evenwatering

of small lawn areas.

Made and designed in Germany.

362875

We are here to help keep your outdoors

looking great.

98

2

$

5 6

$

7

4Piece

Hose Set

Number 8

$ $

kit

EXCLUSIVE

Number 8

Pyramid

Sprinkler

Perfectfor small lawn

areas and easy to

use.

Fits 12mm hose

connectors.

238281

Hose

Hanger

10 10 14 11

Fitted Hose 12m

Drip Irrigation

StarterKit

Number 8

Neta

$ $ $ $

WaterTimer

Convenient

hose fitting

storage slots.

Easy wall mount.

Weather resistant.

238274

ImpulseSprinkler

Fits12mm click-on hose

connectors.

Adjustable spraypattern.

20m diameter coverage area.

each

Double reinforced PVC

each kit each

EXCLUSIVE with braided polyester or 2 for$20

or 2 for$15

thread.

4hose fittings included. EXCLUSIVE

EXCLUSIVE

$

7

Neta

Lo-pol

Irrigation

Tube

Qualitytube for

water supply.

13mm x15m

irrigation pipe.

Durable and long lasting.

277039

$

22

EXCLUSIVEE

Number 8

30m Hose

Durable

reinforced PVC

hose with braided

polyester thread.

238109

999

each

each

Packk includes: hose nozzle.

Twohose connectors and

tap adaptor.

238267

236445

Number 8

each

EXCLUSIVE

Controlled watering up

to twohours.

Fits 12mm hose connectors.

238283

$

10

EXCLUSIVE

Jobmate

Dial Sprinkler

8Pattern

Number 8

238231

kit

EXCLUSIVE

23 piece set, 13mm x15m polytube.One stop

watering solution. Easy to set up and install.

Jobmate

Jobmate

TwoWay

Tapwith

Shut OffValves

Includes tap adaptorto fit 18mm and 25mm taps.

$

6each

Number 8

Soaker Hose

7.5m

PVC material,

UV resistant.

248638

50

98 98 98

each

8different spraypatterns.

Suitable forsmall to medium

sized lawns.

Fits 12mm hose connector.

238282

$

40

EXCLUSIVE

Jobmate

each

Electronic Water

Timer 2Dial

Controls frequencyand

run time forwatering

up to twohours.

Fits 12mm hose connectors.

238286

248629

$

10

EXCLUSIVE

Jobmate

each

7Pattern Spray Gun

7different sprayfunctions

including full,mist, jet,

shower, fan, centreand cone.

Fits 12mm hose connector.

238237

99

79each

Gardena

$ ComfortFLEX

Fitted Hose

Powergrip profile.Pressureresistant.

Kink resistance 8/10. 236284

238258

each

EXCLUSIVE

98

or 2 for$12

EXCLUSIVE

Big Range,

Low Price,

Local Advice

ASHBURTON MITRE 10 MEGA

West Street, Ashburton

PHONE 03 308 5119

Offers valid till January31st, or while stocks last.

TIMARUMITRE 10 MEGA

23 Bank Street, Timaru

PHONE 03 687 2033

OAMARUMITRE 10MEGA

DeeStreet,Oamaru

PHONE 03 434 9860
---
NEWS

8 Ashburton Courier, January 14, 2021

Rakaia's icy past

www.ashburtoncourier.co.nz

Sue's new helpingrole

Afield tripwillrun in March to

exploreand understandthe

recent glacialhistory of the

Rakaia basin.

It is organised by the Hororata

CommunityTrust, which will run

abus tourwith on board

geologists to lookatthe landforms

and glacial sediments that record

the extentand historyofthe last

period of glaciation.

Therewill be explanationsof

how to identifyglacial features

andinformation given to help

understand the geological

processes that have shapedthe

unique landscape.

Mid/South CanterburyContinuous Spouting

TM

TM

TM

TM

Askabout our large capacityspouting for

commercial and farmbuildings

Residential –fascia, gutter and downpipes

Snowprotection our specialty

Geologists willalso talk about

thelatestresearch techniques

that havehelped unravel the

timing of glacialevents and how

our local glacial history

correlates with similar events in

other parts of the world.

Tickets for the March 7field day

arelimited and cost $55.They

include lunch.

The tourwill leavethe Hororata

Domainat9am, returning at 4pm.

People interested in going

should contact KarenMeares by

email at info@hororata.org.nz or

by phone on 318 6959 formore

information.

The Original

Spouting Specialists

Serving

Mid/South

Canterbury

for over

26 years

Your new spouting proudly installed by

Craig or Josh

John Tull ...providingoutstandingservice,

afterinstallation care and pricing requirements!

Phone him on 021 288 8290

Email: john@canterburycontinuous.co.nz

www.continuous.co.nz Freephone 0800 50 1993

2344842

TONI.WILLIAMS

@ashburtoncourier.co.nz

Encouraging youth

involvement, expanding

rural connections and

building on existingworks

are someofthe goals of new

NeighbourhoodSupportcoordinator

SueAbel.

Drawn to the challenges

offered in theco­ordinator

role, Sue has been settling in

over thepast month and

relocating to officeswithin

the AshburtonPolice station.

Sue has alsobeen getting

up to speed with thework

doneby former co­ordinator

Christine Richards, who

steppeddown in August, and

the set up of AshburtonGets

Ready.The programme, set

up with Civil Defence, is a

database to allow regional

warningstobesent through

emergencymobile alerts. It

has been joined by people at

4931 addressesinthe

AshburtonDistrict. It's part

of aco­ordinated community

response that can be used

when hazardous events such

as fire, flood or earthquake

happens.

Neighbourhood Support

was alsopart of the

AshburtonCivil Defence

Local Welfare Committee

which provides welfare

assistance duringan

emergencyevent so Sue has

spent time learning the ins

and outsofhow the

organisation works withCivil

Defence. She has gained

valuable insight from Civil

New Neighbourhood Support co­ordinator Sue Abel.

Defence managerJames

Lamb andfrom trainingwith

those in similar roles in

Rolleston.

Sue was drawntothe

challenges offered in the coordinator

role.

It was an established role

withgreat potential but it

could still be developed

further, she said.

On the horizon was more

engagement withyouth and

furtherreach with outlying

areas of the districttomake

it betterconnected to the

community, she said.

Neighbourhood Support

reliedoncommunity

support, which in turn

helpedcommunity wellbeing

as it brought people together

to create safe andresilient

environments. There were

alsoplans to partnerwith

Police to reducecrime as a

way to support the

community.

Suehas worked in avariety

of supportroles in the

community in the past

including as Plunket carseat

rental co­ordinator at

Plunket and workedfront of

houseatIdea Services.

She alsospent many years

working behind thescenes

for her husbandLeigh's

plastering business.

Nowtheir adult children

hadflownthecoop she was

lookingforward to getting

betterfamiliarised with the

community through hernew

role.

People wanting

information cancontactSue

on 3083558 or sign up online

at www.ashburton.getsready.

net

Free polarised lenses

in your second pair when you choose

two pairs for $299 or above

Ends 3

February

Save

$

150

Eliminates 99.9% of horizontal glare

and provides full UV protection

Specsavers Ashburton 58 Cass Street (next to Kiwi Bank) Tel 307 6071

Now open Sunday

Book an eye test online

Both pairs for the same person. Price includes single-vision lenses. Other lenses available at an extra cost. Use with other offers restricted. Offer valid 7January –3February 2021.

FPOL21_ASH_HP
---
NEWS

Ashburton Courier, January 14, 2021

9

Compromise needed

on freshwater reforms

IAN MACKENZIE

ECan Councillor

I'd like to report that

after just over 12

monthsasyour ECan

councillor Ihave

sortedeverything and

the world or at least

this district is abetter

place.

Ican't and Ihaven'tand it

isn't!

The challenges we faceare

diverse and complicated and

politicians and their politics

tend to add to those

complications.

The biggest threat our

community faces is the raw

implications of government's

Essential Freshwater reforms

(EFW).

The requirements of these

reforms in terms of meetinga

very low nitrate status in all our

freshwater bodies meansthat

farming of any kind on much of

the plains will have to stop.

Some extensive ranching

could be permitted.

The consequential loss of

hundreds of millionsofdollars a

year from our district's economy

will have adevastating effecton

our whole community.

Richard Fitzgerald's reportto

the Ashburton District Council

gave us awarning as to the

magnitude of that impact

especially on thosethat relyon

servicingruralbusinesses.

Not surprisingly leaders in

our community including our

national,regional and district

politicians, are working on

developing acase for some

compromise to the EFW in the

hope thatwecan persuade those

in charge to agree to that

compromise.

Compromise is important.

We needtocompromise

between allowing some of the

effects of human occupationon

our environmentand trying to

maintain ahealthy

environment. Without some

compromise then all past and

futuredevelopment, both rural

and urban may be at risk.

Think of the risktolife,

property and businessesiffor

the sakeofthe environment we

pulleddown the floodbanks to

let the Ashburton riverflow

wherever and whenver it likes.

This need for compromise was

evident at ameeting up

at LakeClearwater the

other day to discuss

what couldbedone to

address the problems

with the lake.

The lakehas flipped

to apoor stateafter

years of decline in

health. Mostofus

would have hoped and thought

thatretiring over90per cent of

the lake'scatchment to

conservation park fromfarming

13 years ago would haveatleast

halted the decline and

protected the lake but it hasn't.

It wouldappear thatthere

may be multiplecausesfor the

decline; from farming in the

catchment to sewerage from the

village, warmer winters, the

effects of the floods up there 15

months ago, and legacy issues

fromback in time.

It may even be that shutting up

mostofthe catchmentin

conservation park has

contributed in various waysto

the problem.

The meeting, thatconsisted

mainly of across section of the

Ashburton community, was for

the most part constructive and

reasoned. They want to identify

whatiscausing the problems up

there by working with the

districtand regional councils,

theyalso wanttoensure that

theyare minimising their own

effects, and theywant to find

solutions.

Theywant to see the lake

return to ahealthy status but

theyalso wanttoretain their

ability to live in and interact

withall thatthe Ashburton basin

has to offer.

The wider Ashburton

community is no different. We

all wantboth aprosperous

economy and ahealthy

environment. If we push

economic and recreational goals

too hardthen the environment

may suffer.

If we pushenvironmental

goals too hard then we risk

destroying our community. We

need to compromise!

I'll be tryingtoget those

compromises in some sort of

appropriate balance so that our

community can prosper across

all the wellbeings.

Your constructiveand

reasonedadviceand help to

achieve that is appreciated.

COLLECT

ALL 3

Useyour outdoor living areas all year round

SPEND $30 OR MORE AND

RECEIVE A FREE BEESWAX

WRAP. WHILE STOCKS LAST.

CALL FOR A

FREE QUOTE

• Warm &dry in winter • Stylish &permanent

• UV protection forsummer • 5year warranty

Call your local installer

BrentPatterson based in Geraldine

MID &SOUTH CANTERBURY

Freephone 0800 777 855 l www.archgola.co.nz

2128195

Promotion runs from 04/01/2021 -17/01/2021

Spend excludes tobacco, Lotto and gift cards.See foursquare.co.nz for more information.
---
Family Notices

Deaths Deaths Deaths Deaths Deaths Deaths Deaths

ALLAN, Maurice Charles

(Morrie). Promoted to Glory on

his 94th birthday, December 20,

2020, at Terrace View Retirement

Village, Ashburton. Dearly loved

husband of the late Chris. Much

lovedDad of Brian (Australia), and

Pauline and Colin Read. Treasured

Grandad of Michael Opele, Kevin

and Louise Opele, and Elisa and

Peter Weir. Great Granddad of

Georgia, and Finn. Messages to

the Allan family c/- POBox 472,

Ashburton, 7740. Many thanks

to the staff at Terrace View and

Dr Penny Holdaway for their

excellent care and unconditional

love of Dad and the family over

the years. A Memorial service to

celebrate Morrie's life has been

held.

Paterson's

Ashburton

FDANZ

03 307 7433

BAIN, Peter Lachlan

MacKinnon: On January10, 2021

peacefully at Radius Millstream,

Ashburton. Aged 88 years.Dearly

loved husband of the late Marie.

Much loved father and fatherin-law

ofAland Karen, and Bob

and Alayna. Treasured Gramps/

Grandpa of Kate, and Maddy;

and Lachie. Messages to the Bain

family c/- P.O. Box472, Ashburton

7740. A service to celebrate

Peter's life will be held in our

chapel cnr East and Cox Streets

Ashburton onThursday January

14 commencing at 2.00pm,

followed by cremation at the

AshburtonCrematorium.

Paterson's

Ashburton

FDANZ

03 3077433

DAVIDSON, Malcolm (Sandy),

on January 7, 2021. Peacefully at

Tuarangi Home, Ashburton, aged

70 years. Dearly loved husband

of Liz. Loved father and fatherin-law

of Shane and Julia, Tim

and Rachel, Cody and Georgie,

and Anna and Jamie.Loving Pops

to Phoenix, Angus and Elliot.

Messages to the Davidson family

c/- POBox 472, Ashburton 7740.

Aservice to celebrate Sandy's life

has been held.

Paterson's

Ashburton

FDANZ

03 3077433

de WYS Nick, on December 30,

2020 at Coldstream Lifecare,

Ashburton, aged 70 years. Passed

away peacefully with his family by

his side. Loving husband of Hilda

and father of Roberta, and Blair.

Father-in-law ofGreg, and Laura,

and Grandad of Edwin, Barbera,

Gerald, James, and Aachie.

Messages to the de Wys family

c/- POBox 472, Ashburton 7740.

AMemorial Service for Nick has

been held.

Paterson's

Ashburton

FDANZ

03 3077433

GREEN, Freda, on January5,2021

at Radius Millstream, Ashburton.

Passed away peacefully

surrounded by her loving family,

aged 100 years. Dearly loved

wife ofthe late George. Much

loved mother and mother-inlaw

of Bryan and Eileen, and

Alison and TedMoore. Treasured

Nana of Andrew, Sheryl, the

late Jeffrey, and Megan; Gene,

Kerryn, Emma and their partners.

Loved great Nana of her 11 great

grandchildren.

Messages to the

Green family c/- P O Box 472,

Ashburton7740. In lieu of flowers

donations to Ashburton StJohn

would be much appreciated

and may beleft atthe service. A

servicetocelebrateFreda's life has

been held.

Paterson's

Ashburton

FDANZ

03 3077433

Complete

Local Care

Since 1982

GREEN, Freda, on January 5,

2021. Dearly loved Nana of Gene

and Amanda Moore, Kerryn and

Nathan Hurrell and Emma and

Graham Todd. Adored Gran to

Tāne, Moana, Ashton, Taylah, Jett,

Millar and Riley.

"Your life wasablessing,

Ourmemories areprecious.

You're lovedbeyond words,

Andmissedbeyond treasures".

Foreverloved, and alwaysinour

hearts xxx

HANRAHAN, Catherine Joan

(Joan), on December 24,

2020. Passed away peacefully

at Rosebank Hospital and Rest

Home, Ashburton, aged 90 years.

Loveddaughterofthe late Patrick

and Mary Hanrahan. Much loved

sister and sister-in-law ofBeatrice

andthe late Iain Weir,Monica and

the late BrianHanrahan, and Mary

Hanrahan (Sister Mary). Dearly

loved aunt ofall her nieces and

nephews and great aunt of all

her great nieces and nephews.

Special thanks to the Rosebank

residence and staff for their love

and careofJoan. Messages to the

Hanrahan family c/- POBox 472,

Ashburton7740. ARequiem Mass

to celebrate Joan's life has been

held.

Paterson's

Ashburton

FDANZ

03 3077433

Birth notices listed by

parents will continue

to be free in the Family

Notices column. The

initial death notice

lodged by a funeral

director will be listed

without charge. There

will be asmall charge

of $15 for subsequent

notices related to the

same death, up to a

maximum of 35 words

and on aper-line basis

after that. The same

low charges apply to

other family notices,

such as engagements,

acknowledgements, in

memoriam notices and

anniversaries.

HARGREAVES, William

Robert (Bill): Passed away

peacefully surrounded by family

on January 9th, 2021 at Tuarangi

Home. Aged 87 years. Dearly

loved husband of Helen, much

loved father and father-in-law of

Grant and Barb, Trudy and Alan

Tarbotton, Rachel and Bryce

Prendergast. Loving grandad

of Sam and Bryce, Luke, Alex,

George and the late Gemma,

Joshua and Hannah, and greatgrandad

of Maia. Many thanks

to all staff at Princes Court and

TuarangiHome fortheir excellent

careand unconditional love to Bill

and family over the last fewyears.

AcelebrationofBill's lifehas been

held."Avery special man now at

peace."

Paterson's

Ashburton

FDANZ

03 3077433

HODGKINSON, Marie June

(June): Peacefully with family,

in the loving care ofthe staff at

Radius Millstream, Ashburton on

Thursday, January 7, 2021 aged

83 years. Dearly loved wife of

the late Peter, cherished mother

and mother-in-law of Michelle

and Peter Rumping (Ashburton),

Cherie and Carl Marshall

(Birdwood, South Australia),

and Marie and Bob (Southland).

Adored Nana of Michael and

Angela, Claire and Kurt; and Holly

and Morne, loved great Nana

of Anna, Lucia, James, Sophia,

Matthew, Christopher, Peter, and

Leon, and Holly's babyonthe way.

Loved sister of the late Paul

Purton, Dorothy and the late

Charlie Timlin, Jimmy Purton, and

Ann Purton, and loved aunty of

Cath, and Rose.

Messages to: The Hodgkinson

family,c/- PO Box6035, Ashburton

7742.

In lieu of flowers donations to the

Westpac Rescue Helicopter would

be appreciated and may be made

at the service.

ARequiemMass forJune has been

held.

0800 2MEMORY

027 637 1229

HYAM, George Samuel John:

Passed away peacefully at

Terrace View Retirement Village,

Ashburton onJanuary 6th, 2021.

In his 100th year. Dearly loved

husband of the late Valerie.

Loved father of David, and

Greg. Dearly loved father-inlaw

toKaryn. Loved Grandad to

Jonathan, Samuel, Nicole, and

Jessica. Loved great Grandad to

Charlie,Eden, and Lincoln. Thank

you very much to Terrace View

staff for their wonderful care of

George. Messages to 16 Albert

Street, Netherby, Ashburton

7700. A private cremation for

George has been held.

Paterson's

Ashburton

FDANZ

03 3077433

KERR, Veronica Lucy, on

December 23, 2020. Passed away

peacefully at Coldstream Lifecare,

Ashburton, aged 90 years. Loved

daughter ofthe late Annie and

John Kerr.

Much loved sister of

Bernadette (Ashburton), and

Arthur, Anne, Molly, Jim, Joe,

Bill, Lex, and Sister Maureen (all

deceased). Loved Aunt ofall her

nieces and nephews. Messages

to the Kerr family c/- POBox 472,

Ashburton7740. ARequiem Mass

to celebrate Veronica's life has

been held.

Paterson's

Ashburton

FDANZ

03 3077433

KING, James Graham (Jimmy):

Passed away in Karen's (Skinny's)

arms. Peacefully after a brief

illness at home Ashburton on

December 22, 2020. Loved

brother of Les, Alan, the late

Ronny, Roy, Paul, Rebecca, and

their families. Loved son-inlaw

ofDoug and Ruby Jack and

brother-in-law ofAlyson, Warren,

and their families. Special thanks

to Dr Penny Holdaway, Caitlyn,

Katherine,and theDistrictnursing

team for their love and care of

Jimmy. Special thanks to Barry at

Paterson's Funeral Services for his

guidance and care. At Jimmy's

request aprivate cremation has

been held.

Paterson's

Ashburton

FDANZ

03 3077433

MEYNELL, Cecil, on January 5,

2021. Peacefully at Terrace View

Retirement Village, Ashburton.

Aged 86 years. Loving father of

Rose, and Joe. Loved Grandad of

all his grandchildren and great

grandchildren. Loved brother

to all his family.

Messages to

the Meynell family c/- POBox

472, Ashburton 7740. At Cecil's

request aprivate cremation has

been held.

Paterson's

Ashburton

FDANZ

03 3077433

Family

Notices

Enquiries phone

Mary,Jann or

Karenon

308 7664 or

call into

199 Burnett Street

Family owned,

locally owned

22 MooreStreet,

Ashburton

0800 263 6679

Supporting thecommunity

2343604

MOLLOY, Morris Henry, on

January 5, 2021. Passed away

peacefully at Terrace View

Retirement Village, Ashburton,

aged 79 years. Much loved

husband of Margaret. Loved and

respected father and father-inlaw

ofDavid and Sonia, Hamish

and Lisa, Robert and Barbara

(USA), and Grant and Allister.

Loved and admired Granddad to

Emily,and Julia; Olivia,Samantha,

and Josh; Austin, Hunter, and

Sheldon(USA)and theirpartners.

Messages to the Molloy family

c/- POBox 472, Ashburton 7740.

Aservice to celebrate Morris' life

has been held.

Paterson's

Ashburton

FDANZ

03 3077433

ROONEY Brian Francis, on

5 January 2021. Passed away

peacefully at Princes Court

Lifecare, Ashburton, with his

family beside him, in his 93rd

year.Loved husband of Kathleen.

Loved father and father-in-law of

Kathleen and Kevin Bargent, Pete

Rooney and Wendy Wills,Sue and

Rolfe Stevens. Loved grandfather

of all his grandchildren. Messages

to the Rooney family c/- P O

Box 472, Ashburton 7740. Our

grateful thanks to the staff at

Princes Court for their loving

care ofBrian. In lieu of flowers

donations to St John Ambulance

or St Vincent dePaul would be

much appreciated and may be

left at the service. A Requiem

Mass to celebrate Brian's life has

been held.

Paterson's

Ashburton

FDANZ

03 3077433

ROONEY, Brian Francis, on

5 January 2021: Loved son of

Michael and Jessie Rooney

(ate of Winchmore.) Brother of

Doreen Jekyll, Valda Holland, and

Adrienne Newton. Brother-in-law

of Josephine Rooney. Brother and

brother-in-law of Jim and Dot

Rooney, Des Rooney, Ralph Jekyll,

Stan Holland and Garry Newton

(all deceased). Loved uncle of all

his nieces and nephews.

STONE, Beverley Joan, on

December 18, 2020.Passed away

peacefully at Coldstream Lifecare,

Ashburton. Aged 82 years. Loved

mother and mother-in-law of

Warren and Tracey, Grant and

Jennifer, Deborah, and Sharyn.

Loved grandmother of her 12

grandchildren and three great

grandchildren and beloved sister

of Pat Scobie. Messages to the

Stone family c/- P O Box 472,

Ashburton 7740.

At Beverley's

request aprivate cremation has

been held.

Paterson's

Ashburton

FDANZ

03 3077433

THORNLEY, Thomas Eric

(Tom), on December 29, 2020.

Peacefully at Tuarangi Home,

Ashburton, aged 82 years.

Dearly loved husband of the late

Dorothy. Much loved father and

father-in-law ofPeter and Rolien

(Auckland), Owen and Justine,

the late Warren, and Hamish

and Kathleen (Australia). Loved

and respected Grandad of Blake

(China), Todd and Randi (USA),

and great Granddad of Rori.

Lovedbrother and brother-in-law

of Doug and Jackie, and loved

best mate of Judy.

Messages

to the Thornley family c/- P O

Box 472, Ashburton. Donations

to Ashburton StJohn would be

appreciated. Special thanks to the

staff of Tuarangi Home for their

loving care ofTom. Aservice to

celebrateTom's lifehas been held.

Paterson's

Ashburton

FDANZ

03 3077433

WALKER, Ewan John (Snow):

Peacefully at Ashburton Hospital

surrounded by family on

Wednesday, December 30, 2020

aged 81 years.

Dearly loved husband of the late

Mamae (Kris), cherished Dad and

father-in-law of Jan and Gavin

Begg (Ashburton), Trudy and

Peter Shaw (Australia), Philip

(Australia), and Robert and Trudi

(Australia), and abeloved Poppa

and great-Poppa.

Messages to: The Walker Family,

c/- PO Box6035, Ashburton7742.

Aservice tocelebrate Snow's life

has been held.

0800 2MEMORY

027 637 1229

Acknowledgement

IRVINE, Colleen Mary: Bob, Ross

and Penny, Barry and Jennifer,

Murray and Kyle and their families

would like to sincerely thank all

those who sentflowers, cards and

messages of sympathyatthe time

of our loss of amuch loved wife,

Mum, Gran and great Gran. A

special thank you toTerrace View

RetirementVillage for their loving

careofColleen.

"All we havetodoisthink of youand

our world becomes brighter"

WELLMAN, Owen Donald:

Diana along with her family, wish

to thank everyone for the care

shown to them on the sudden

loss of a much loved husband,

father and grandfather. Thankyou

for the visits, phone calls, flowers

andbaking. Specialthanks to the

WestpacHelicopterandthevaliant

effort of Christchurch Hospital

I.C.U. team. Please accept this as

apersonal acknowledgement of

thanks to all.

"He will liveoninour hearts forever."

In Memoriam

ESKER, Ricky: Rick you are loved

and missed each and everyday

Foryou aresomeone special who

meantmorethan wordscan say.

Take caretill we meet again.

Love Always

ESKER, Rick:

The memories Ihave Rick, bring

tears and asmile

Imiss youevery day

Love Always

Ange

96 Tancred Street, Ashburton.

Phone307 8317

Real Estate MidCanterburyProperty Limited Licensed (REAA 2008)
---
www.ashburtoncourier.co.nz

Second water report on way

Ashburton District Councillors

have called for asecond report

on theimpact of Government's

newnational policy statement

on freshwatermanagement,

andthey expect it to be more

direthan the first.

Areport last month said

farmprofitability wouldfall by

$57.9million per year and farm

expenditureby$139.9m as

farmers changed their systems

to meet Canterburytargets of

6.9mg of nitrate alitre in

waterways. The second report

will look at the impact of

meeting Government's new

2.4mg target,levelledacross

the whole of New Zealand.

Councillors know the news

will be worse as the second

reportwill also takeinto

account thespinoff of that

reduced profitabilityand

spendingonthe wider

community, which includes

retailers in Ashburton and

those businesses supporting

farmers.

In their last meeting of 2020,

councillors asked their new

agriculture adviser Richard

Fitzgeraldtoget on withthe

second report. It will cost

around$70,000.

Thereport will look at the

cost of meeting the 2.4mg level

in MidCanterbury, and its

flow­on effect in the district.

Other options were more

expensive reportslooking at

meeting all theNPS

freshwatertargets in Mid

Canterbury(there are 23),and

in Canterbury.

Farmers across the district,

most helped by their irrigation

schemes andoperating under

farm environment plans,are

already working towards

reducing nitrate leaching.

They arealso leadingprojects

such as the managedaquifer

recharge scheme, which

injects clean river water into

underground aquifers to dilute

nitrate concentrations and

raise groundwater levels.

Mr Fitzgerald said there had

been alot of discussion around

the flow­on effectsonthe

economy of meeting thenitrate

targets.

The report looking atthe

impact of all NPS targets on

Mid Canterbury could be

nearly $150,000 and the wider

Canterbury report around

Ted Wood (left) receives his sapphire pin from Ashburton Rotary

Club president Rodger Letham.

PHOTO SUPPLIED

Giveyour leftovers

anicer place to live.

Mayor Neil Brown

$200,000.

He said themethodology

usedinthe Mid Canterbury

reports could be easilyapplied

by other Canterbury councils

to see theeffects in theirareas.

Ashburtonmayor Neil

Brownsaid council was

pushing back on nitratelevels

it felt wereunachievablein

MidCanterbury. While

nitrates were an issuehere,

other councils wereconcerned

about other targets in the NPS.

Theone­size­fits­all

approach was widely criticised

by farmers duringthe

consultation stage of the new

Government policy.

Canterbury mayors have

already formed aworking

group to look at the impact of

thefreshwater policyontheir

districts.They have seen the

firstAshburton reportand are

awaiting the second.

Cr Angus McKay saidthe

Ashburton council could

pressurethe regional council

on its NPS implementation

timetable but it neededfacts to

support its case.

He said councils all around

thecountry wouldnow be

lookingathow theNPS would

affect them.

Cr Stuart Wilson saidit

wasn't just farmers who were

affectedby the freshwater

targets; the economic effects

would be felt by retailers and

the''social fabric'' of the

district.

Mr Brown said farmers

needed time andscience to

meet thetargets.''We just want

to dispute theoneswecan't

achieve.''

Rotary rewards

Ted's 50years

Ted Wood has joined aselect

group within Rotaryand is now

the proud recipient of a

sapphire pin.

The pin marks 50 years as a

member of AshburtonRotary

Club and was formally handed

over just beforeChristmas.

The accolade and service

acknowledgement came as a

surprise to the formerdentist,

who wasput forward for the

pin by the club.

Mr Wood, who is 86, said he

was proudto have been

involved with Rotaryover five

decades anddelighted to

receive the pin.

''Rotary has given me the

opportunity to meet people

and make friends over the

years and also to do some good

in the community.''

He was club presidentin

1976­77 andhad been secretary

and director in histime and

had thoroughly enjoyed his

involvement.

''I still go to the weekly

meetingsand I'm not planning

on stepping backfrom the club

anytime soon.''

Ashburton RotaryClub

president Rodger Letham said

Ted Wood had givenan

enormous amount of service to

hisfamily, his communityand

to Rotary.

He had always been ahuge

supporter of the club's auction

andwas now astalwart of

annualfundraiser Bookarama,

where he sortedbooks and was

behind the microphone

advisingthe buyerswhat do to

andwhere to look.

As wellashis careerasa

dentist, Mr Wood is aqualified

accountant andformer

member of Ashburton Borough

Council. He andhis wife Pearl

have brought up five children.

NEWS

Ashburton Courier, January 14, 2021

11

CBD

works

continue

Thanks for your support and

keepshoppinglocally is the

message from Ashburton

retailersasthey prepare for a

new trading year.

Health 2000 ownerBob

McDonald said feedback from

business owners indicatedgood

supportfrom localshoppers in

the lead­up to Christmaswith

somecustomers deliberately

choosing to spend only in

Ashburtonasasign of support.

After ayear of Covid­19 and

CBD roadworks, it was

important thatlocal support

continue, he said.

An ongoing challenge wasthe

beautificationwork in theCBD,

with contractors finishingupon

TancredStreet andnow moved

on to EastStreet.

People are beingadvised to

drivewith care as parking and

traffic flow will be affected.

Another challengecould be

reducedfarmerspending on

the back of work to meetnew

freshwater regulations.

TheAshburton District

Councilisspending$15 million

revitalising the town centre and

Mr McDonald said Tancred

Street waslooking goodafterits

treatment.

Tru­Line Civilwill complete

footpathpaving and concreting

thereinthe week starting

January 18. Thefinaltouches,

including streetfurniture,

lights, gardensand parking

sensorswill be completed late

Januaryorearly February.

Work on EastStreet will not

requirethe same level of

underground work and will

begin with new stormwater

infrastructure in four key

locations; someintersections

will be temporarily closed.

East Street trafficmovements

and parking willbeaffected by

thework,sodrivers should be

aware of changes. Detours will

be in place andpedestrian

access remains.

Work on BurnettStreet will

also beginthismonth,

beginning with new footpath

outsidethe former Braided

Rivers building.

Burnett Street will become

permanently one way(entering

from Cass Street) fromlate

February.

Upgrade the kitchen in oneeasystepwithour

range of whiteware,in-store or online today.

smithscity.co.nz

SCWK38AC1
---
Becoming your ownboss!

Advertising feature

CLUB NEWS

12 Ashburton Courier, January 14, 2021

Chances are, if you're reading this rightnow,you know

about Caci and who we are. Butdid youknowthat we'rea

franchise?Did youknowthat youcould ownaCaciclinic?

Yes, you!

Keep reading as we giveyou the 101 on what it takes to

ownaCaci, including the benefits, the locations available,

and howtotakethe first steps towardsbeing an owner!

What arethe benefits of owning aCaci?

Caci re proud to be aNew Zealand owned and operated

business with over25yearsofexperience, Caci is New

Zealand'sbiggest group of skin clinics from Whangarei to

Invercargill! With Caci, youcan feel confidentinvesting in

ahousehold name thatNew Zealanders love.

Being apartofanestablished franchise also means you

have access to systemsthatare proventowork, and you

can enjoythe support of people who aretheretomake

sureyou succeed. With our provenbusiness model,

morethan 64% of our clinics haverevenues in excess of

$1million annually.

Results arelargely determined by motivation, but over the

years Caci have mastered what is needed tocomeout

on top,and have built asupport packagethat provides

Join New Zealand's best looking

business and be your ownboss!

We're looking to open clinics

in your region and wewant you.

Join us for aFranchiseeInfoDay:

WHEN: Friday January29

WHERE: Christchurch

WHEN: Saturday January30

WHERE: Ashburton

RSVP: franchisesales@fabgroup.co.nz

Learn more about owning aCaci

clinic at www.caci.co.nz/franchising

everything needed toset up and maintain successful,

beautiful businesses.

What kind of support would Ihaveaccess to?

Franchisees receivededicated support include marketing,

sales, accounting, technology,and atraining academy.

Thesupport team is committed toproviding clinics with

comprehensivetraining, helping clinics getestablished,

maintaining open communication and monitoring clinic

success.

What locations areyou looking for?

With over50clinics, we arewell on our waytomaking

Caci clinics accessible to all corners of NewZealand.

We have currentopportunities in Northland, Auckland,

Waikato, BayofPlenty, Central NorthIsland, Whanganui,

LowerNorth Island, Tasman, West Coast, Christchurch,

Ashburton, Oamaru, Timaru, Otago, and Southland.

Okay,I'm interested! What's next?

Areyou motivated? Ready to put in the effort and enjoy

the rewardsofowningasuccessful,beautifulbusiness?

Learn moreabout franchising with Caci,

visit caci.co.nz/franchising

Rakaia Rugby Club

The Rakaia Rugby Club annual

general meeting was held in

December. The meeting was well

attended.

Prior to the start of the meeting

Ralph Cornelius, along­time

member of the club, was

inducted as club patron by the

club president, Mark Hanrahan.

Election of officers: President,

Mark Hanrahan; vice­president,

Warren Jones; secretary/

treasurer, John Lawler; JAB

captain, Dean Ford.

Committee: David Boag, Mark

Boag, Kyle Gray, Richard

Stewart, Chris Burrows, Jason

Eaton, Malcolm Chubb, Garth

Fechney, Tom Blyth, Bruce

Perry, Murray Burrowes, Philip

Rushton.

In his report Mark Hanrahan

summarised on the events during

the year that had impacted on the

club's normal functions and

events. It is important to look

ahead to the challenges that will

require addressing.

The financial report showed

that the club is in asound

position. The fundraising

committee's activities continued

to maintain the club's financial

status.

Prior to Christmas members

responsible for the open grade

and JAB teams have started

putting their plans for 2021

together. Their aim is to foster

rugby in our community.

Parents, former players and

people interested would be

welcome to participate in Rakaia

club rugby. Feel free to call John

Lawler, club secretary, your

interest will be forwarded to the

appropriate people (03­3027328).

At the conclusion of the AGM,

Mark Hanrahan presented a

special trophy to John Lawler

recognising 50 years of

continuous service as secretary

of the club.

Ashburton Bowling Club

We are all up and running now

into 2021, anew year, with a

somewhat dubious one being left

behind us!

Our 2021 Friday Triples on

January 8, sponsored by Toyota,

started with 2full greens and not

one cancellation from the

original entries! Akeen breeze

blew but the bowling was well up

to standard. The results are as

follows:­

1st BHarper BMayson M

Foggo –3wins, 15 ends, 37 points

2nd MAnderson JKewish G

Crack –3wins, 15 ends, 28 points

3rd GBishop LMills JMills –3

wins, 14 ends, 37 points

4th RBennett SHoldom B

Holdom –3wins, 13 ends, 36

points

5th CDennis JArgyle C

Cleghorn –2wins, 1draw, 13

ends, 28 points

6th RHerriott DMurcot W

Herriott –2wins, 1draw, 12 ends,

22 points

7th DKinvig DPrendergast P

Quinn –2wins, 17 ends, 32 points.

Our Saturday Rollover Triples

suffered in numbers from men's

and women's competition entries

and volunteer markers. More can

be expected to take part next

week. 1st with 2wins, 18 ends, 14

points were TWatson, CCross, B

Wilson and 2nd with 1win, 8

ends, 13 points were ABlain, R

Keeling, MCampbell. (Not

recorded before, on December 19

numbers were certainly down

due to the time of year, but 1st

were TWatson and MCampbell,

2nd were BWilson and M

Knudsen.

Also on Saturday the qualifiers

for the Nan Marsh Ladies Singles

Section Play took place at

Allenton. Agood quota of

Ashburton ladies took part and

played very well. Four, namely

Wendy Suttie, Wendy Herriott,

Alison Gibbs, Barbara Skilling

have qualified for January 16. In

the 1st round Barbara Skilling

plays Wendy Herriott, while our

other 2players have byes into the

2nd round.

And also on Saturday the

Lowry Cup Men's Singles Section

Play took place at Hampstead

and Ashburton. Brentton

Donaldson and John Kewish

have qualified. Abig thank you

goes to all our men who

volunteered as markers for this

day.

Agood contingent of Ashburton

men and ladies entered the Subcentre

Over 60's competition at

Allenton on Monday.

Our Ashburton Ladies

Handicapped Singles was played

on Tuesday.

Acontingent of Ashburton

ladies traveled to Methven

yesterday for the Edna Low

ladies fours.

Tomorrow the Friday Triples,

sponsored by Toyota, will again

be played at Ashburton.

Happy New Year everyone,

good bowling, stay well, stay safe!

Ashburton Golf Club

Abig field took to the course on

Saturday thanks to the fine

weather. The course was in

immaculate condition, not a

breath of wind, so if you failed to

play well then there was only one

thing to blame. The less said

about this writer's round the

better. Sorry Gav!

Dave Morrison lead the way

with avery impressive 41 points,

Idare say he would have had to

shoot under par gross to get that.

He pipped Dylan Stoddart and

Bruce Ferriman on countback, so

well played all of you.

The great scores that Dave and

Dylan got also catapulted them

into the final of the Property

Brokers shootout. Everyone was

watching the scoreboard

carefully in the clubrooms as all

the scores were entered. Some

players jumped up, many fell

down, but after the dust settled

we had the final 19 sorted out.

This year's final 19 for the

Property Brokers Shootout are

Bev Chinn, Dylan S, Bevan

Wilson, Blair Snowball, Richard

Mc, Grant Smith, Craig Bain,

Terry Molloy, Barry Jury, Pete

Morrison, Dave M, Ray Lambert,

John Power, Jeff Hewitt, George

Brown, Bruce Day, Paul May,

Cheryl Yates and Tuffy Sa.

This really is avery strong

field. By my reckoning we have

half of them playing off single

handicaps, one previous winner

and acouple of beaten finalists.

It is going to be agreat game to

watch and there will be lots of

chip offs in store.

Aform guide has been written

and is available in the club for all

to read and should be on the

website soon. Hamish will be

holding an auction this Saturday

after golf and the big race kicks

off Sunday week the 24th at

10am. Pop along it is always a

great spectacle.

This Saturday we have club

opening day, this is amixed day

playing Canadian Foursomes

Pairs. Mixed pairs for the AC

Browne Cup and Men's Pairs for

the Smith salver. The mixed days

are always alot of fun down at

the Brandon, the clubrooms

seem to have adifferent vibe

when everyone is there. Normal

start times.

Quick note to beware of

runaway electric trundlers, we

seem to have quite afew of these

at the course now and they do

have atendency to flick

themselves on now and again.

The latest sighting of this

phenomena was on the second

hole last Saturday when poor old

Dave Robertson's little legs were

going ten to the dozen and he

tried to run down his trundler

heading up the third. At least we

don't have any water hazards to

lose them into.

Till next week, good golfing.
---
www.ashburtoncourier.co.nz

Feedback positive for

popular summer school

METHVEN SUMMER SCHOOL

Ashburton Courier, January 14, 2021

13

MICK.JENSEN

@ashburtoncourier.co.nz

Another successful

programme has beenticked

off by the committee that

works hard to organise the

long­running Methven

Summer School.

Running for over35years,

this year's summerschool

offered more than 25 courses

and over 200 participants.

Summer school chairperson

Sandy Redmond said feedback

had been very positive and

numbers on par with previous

years.

People had been veryhappy

with the workshops they had

taken and what had been

offered.

Mrs Redmond said it was not

easy task to line up courses,

tutors and then take entries,

but positive feedback made

the taskworthwhile.

The organising committee of

10 volunteers was made up of a

mix of personalities who

offered adiverse range of

viewsand course suggestions.

''There are not too many

summer schools left running

thesedays,soweare proud of

whatwe are able to offer.

''Every year like­minded

people sign up to tackle

courses, have fun and extend

themselves, which is great to

see.''

Mrs Redmond said the

summer school ran at only a

small profit, which covered

the costs of aco­ordinator.

''We were lucky that the 2020

summer school wasall

wrapped up before covid hit

and that we were able to go

ahead as usual with this year's

programme.''

She believed the learning

opportunity and convivial

atmosphere at the summer

school was good for mental

health, especially after a

challenging year.

The summer school

committee wasvery grateful

for the support of Mount Hutt

College which generously

offered its facilities every

year, she said.

New look with chalk paint

Dorie resident Carol Hayton

stylishlytransformeda

commode boughtfor $2, while

others tackleddated mirror

frames, bedsidetables,stools

and drawers at achalk paint

workshoprun at therecent

Methven Summer School.

The drab and

undistinguished looking

commode was bought from

Wastebusters.

It was cleaned and then had

chalk paint and adeerdesign

stencilappliedtogive it a

completely new andunique

look.

''I lovedthe process of

taking anot very pretty piece

of furniture and giving it new

life,'' said Mrs Hayton.

The process of applying

chalk paint had been

explained, she had achosen a

colour and had gonefor it.

Addingher own stencil

designhad further

personalised the piece.

The summerschoolcourse

attracted eight students and

includedSouthCanterbury

resident Anne Laing who

broughtalong adrab, brown

reproductionVictorian mirror

stand andsurround.

She appliedagrey/black

chalk paint andthen sealed

the piece withwax to give it a

Carol Hayton works on applying her stencil to the wooden

commode she bought for $2.

PHOTO MICK JENSEN

stylishnew look.

The one­day workshop was

run jointly by SuzyMcPherson

and Amanda Beswick.

Mrs McPherson said the

course was about

demonstrating how youcould

easily transform afamily

treasure,give old furniture a

new life andturn something

old and dated into something

stylish and shabby chic with

justacoatofchalk paint.

Chalk paintwas aversatile

furniturepaint, neededno

sanding or priming, and could

be brushed on to wood, metal

and laminate.

Working together with chocolate are Methven residents (from left)

Heather Shearer and Wendy Carter.

PHOTO MICK JENSEN

Chocolate heaven

There was aheady smell of

chocolate in the air as you

walked intothe food and

nutrition classroom at Mount

Hutt College last week.

Chef and tutor Steve Le Corre

shared his passion and

knowledgewith 10 enthusiastic

women at achocolatemaking

workshop held as part of the

Methven Summer School's 2021

programme.

Thechocolatier explained the

origins and variousqualities of

chocolate and demonstrated

how to temper chocolate

couverture.

Students then got to work on

coating almond florentines with

chocolate, making hand coated

truffles and then coating arich

Watercolours tackled

Local art identity Susie

Millichamp sharedher skills

and knowledge of watercolours

at arecent two­daypainting

courseinMethven.

TheAlfordForest­based

artist had nine students in her

class and shared her ideas on

composition, colourand

techniques.

Artists brought their own

materials andpainted from two

landscape photostaken in

Otago and Canterburyonthe

first day andthen of landscapes

from Marlborough and Tasman

on day two.

Mrs Millichampsaidher aim

was to create arelaxed

environment where artists

could ''get in the zone'' and

work on their projects.

It was her fourthtime

tutoring at the Methven

Summer School.

Vienna torte with chocolate

ganache.

Mr Le Corre saidNew

Zealand­made Whittaker's

chocolate was asgoodasany of

the fancy european chocolate

for working with.

He usually usedaa

combinationofmilk and dark

and preferred his dark to be 62%

cacao.

''Once you start using over

72% cacao the chocolate starts

to get quite bitter and loses its

natural sweetness,'' he said.

Mr Le Corre has apassionfor

pastry work and is atutor at Ara

Institute in Timaru. He ran a

similar chocolate class last year

at the summerschool and will

be back next year.

Artist Susie Millichamp (at rear)

watches on as Sam Jenkinson

works on her watercolour.

Havingababyjust

got abit cheaper.

20%off Nursery *

Ninemonths sincelockdown. No prizes for

guessing what yougot up to.

Check out our range of MountainBuggy &

Phil&Teds Nursery in-storeoronline today.

smithscity.co.nz

*Discount is offour full retailprice, notavailable in conjunction with anyotheroffer. ExcludesArloBaby.

SCWK38AC2
---
NEWS

14 Ashburton Courier, January 14, 2021

www.ashburtoncourier.co.nz

Juniors on stage at rehearsals at the summer singing school.

Love of singing draws 100

Around 100 young singers have

been putthrough their paces at

the Mid Canterbury Summer

Singing School.

The week longsinging school,

now in its21st year, ended with

two impressivepublic concerts

at the event centre.

The iconic summer school

drew singersfrom the

Canterbury region and divided

them into two sections ­junior

andseniors.

Singing school director Jo

Castelow saidthoseattending

had alove of singingand

musicaltheatre.

They had sangamix of

familiarsongs and other less

knownsongs from thelikes of

SpringAwakening and Coco.

Juniors had tackled complex

songsfrom Frozen2,while

seniors were tested withsome

trickymedleys.

Mrs Castelow said many of

the 50 seniors had attended

previoussingingschools.

Themusical repertoire also

includedpieces fromMoulin

Rouge the Musical andHarriet

Tubman, an impressivemedley

of songs by Elton Johnand the

classic LedZeppelin tune

Stairway to Heaven.

Mrs Castelow saidjuniors

had impressed with two­part

harmonies, while seniorshad

pulled off four to sixpart

harmonies.

Singingschool alumni Julia

Bell was the guest

choreographerthis yearand

shared her stagecraft and

movement knowledgewith

singers.

Other alumniwill be invited

to choreograph at future

singing schools.

Mrs Castelow said anumber

of singing school alumni had

gone on to furtherstudies and

she enjoyedkeeping in touch

withthem.

Ashburton cadet Sebastian Van Rooyen up high on the ropes

course at Burnham.

PHOTO SUPPLIED

Cadets tackle ropes

Ashburton CadetUnit

membersenjoyed thethrills

of tacklingthe highropes

courseatBurnhamMilitary

Campbefore their Christmas

break.

Some25cadets wereupfor

the challengeand usedthe

courseasanend ofyearteam

building activityand

confidence builder.

Anumber of the group had

issueswithheights and the

activities were challenging

for some, said Ashburton

CadetUnitleader Major

CezarneRodgers.

All of the memberspushed

themselves past their comfort

zone andcompletedthings

with the support and

encouragement of other

members.

The lasttime unit members

tackledthe testingcoursewas

in 2015.

Health

&

Wellbeing

AshburtonChiropractic ...resolving spinal discomfort

AshburtonChiropractic is achiropractic clinic based in the

heartofAshburton.

Owner operatorDrDebraCurtin has been helping resolve

pain and discomfortinMid Cantabrians formorethan 10

years.

''Pain is the body's basic alarmsystemand tells us that

something is not working as well as it could,''she says.

Chiropractic is the fastest growing drugless healing profession

in the worldwith people visiting achiropractorfor many

differentreasons including neck pain, back pain, headaches/

migraines,injuries (workplaceorsport), general health and

wellbeing,improvesleep,pregnancyand babies and ageing.

'Aschiropractors we arelooking forparts of your spine and/

or body wherethereisalack of proper movementand will

adjust youthere–so don't worryifitisnot whereyou feel the

pain,'' Debrasays.

Chiropractic adjustments change the function in the partof

the brain called the "prefrontal cortex."

It's the partofyour brain thatisinvolved in pain perception

and is wherepain is perceived as acuteorchronic pain

episode.

It's about having ahealthyspine to allowfree-flowof

Injury Prevention

HolisticHealth

• Relief from

back/spinalpain

• Improvedhealth and

injury prevention

• Move, heal,rest,

digestbetter

• ACC registered

03 308 9516

www.ashburtonchiropractic.co.nz

First Floor Smith &Church Building

Moore Street, Ashburton

nerve signals to the whole body and have the body free of

subluxations which allowthe body to move with ease.

Avertebral subluxation is the result of chemical,emotional

and physical interferencethatdisrupts the messages to and

from the brain.

Chiropractor'sare trained in the detection and correction of

vertebral subluxations by using specific adjustments to the

spine.

If youwanttoknowmore, or have afreechiropractic screen,

phone 308-9516 or book online at

www.ashburtonchiropractic.co.nz

2345919

ARE YOUSTRESSED?

DO YOUNEED SUPPORT?

Ourteam of communityadvocatesare available to

assist youwith awide range of issues including:

• Workand income

• Employmentissues

• Tenancy

• Family disputes

• ACC

• Health practicesand organisations

• Any meeting/appointmentwhereyou needa

supportperson

Ourvolunteer advocatesare available free

of charge.

Call AdvocacyCoordinator, Warren James

Phone 0272200 400

Email: Advocacyashburton@anglicancare.org.nz

2345951
---
www.ashburtoncourier.co.nz

Athletes off to Colgate Games

Ashburton youngstersare

primed and ready to compete at

the 43rdannualColgate Games,

the country's largest junior

athletics competition.

Sometwenty athletesfrom

the AshburtonAthleticsClub

will competeatthe South

Island event in Nelson,which

starts tomorrow. The North

Island equivalent was held last

weekend.

Close to 900athletes from71

clubs will run, throwand jump

atthe three­dayevent at the

Saxton Field Sports Complex.

AshburtonAthletics Club

spokesperson AlanaPeck said

club athleteshad enjoyed a

great seasonsofar.

The club had 94 juniors, aged

from eight to 13 years, and 20

would make the trip north to

compete in up to five events

each.

Thoseevents includedshot

put, discus, long jump, high

jump and running events

rangingfrom60m to 1500m,

said Mrs Peck.

Theclub also had six relay

teams entered, includingtwo

medley teams that would

feature two 100m runners, a

200m runner, 400m runner and

800m runner.

Pictured at last week's Lovelock Junior Classic in Timaru are

some of the 20 athletes from Ashburton Athletics Club

competing at the Colgate Games in Nelson from tomorrow.

PHOTO SUPPLIED.

SPORT

Ashburton Courier, January 14, 2021

DRAW

15

Squash

invite

AshburtonSquash Club is

invitingbusinesses to sign up

for asocialcompetition starting

on February9.

Thecompetition will run

every Tuesday night for a

minimumofsix weeks andis

aimed at regular and new

players to the sport.

Each business team will

consist of three individuals,

one of whichislikely to have

played squash before. Each

team canhave alist of substo

call upon as well.

Therewill be threequickfire

matchesagainst opposing

business team playerseach

weekand competitors willbe

graded accordingtoability to

ensure games are evenly

matched.

The cost of ateam is $120 and

entries closeonFebruary 2.

Emailentries to

ashburtonsquashclub@hotmail.com

and includeplayer

names and contact details.

Ashburton Golf Club

Saturday,January16:

Theclub opening day is

scheduled with the AC Browne

Trophyfor Mixed pairs and the

Smith Salver formen'spairs.

Starting Times: Morning8am

and afternoon report at noon

for a12.30pmstart. Nine hole

golfersfrom 1.30pm.

RESULTS

Rowers in the boys eight boat head back to the boat shed after atraining session at Lake Hood.

Busy schedule ahead for rowers

Ashburton College rowers have

been training hard in

preparation for five regattas

lined up over the next nine

weeks.

Around 25 rowers will

compete at the Canterbury

ChampionshipsatLake

Ruataniwha, near Twizel this

weekend. Two weeks later the

South Island Club

championships willbeheldat

the same venue and then Lake

Hood will host the Canterbury

Juniorregatta at the end of

February.

The racing continues in early

March with the three day South

Island Secondary Schools

Championshipsand wraps up

with the pinnacle regatta, the

NZ Secondary Schools event

(Maadi) at Lake Karapiro,

Cambridgetwo weeks later.

Ashburton College rowers

have steppeduptraining over

the holiday break doing up to

six morning sessions andtwo

evening sessions aweek.

Training is on the water in the

mornings and focused on land

fitnessinthe afternoons.

The team is coached by

Justin Wall andhas been

fundraising tomeet the costs of

travelling to Maadi.

Ashburton Golf Club

The Radius Care winner over the field was

David Morrison with 41 pts on c/b. Other

winning scores were: Bruce Ferriman and

Dylan Stoddart 41; Bevan Wilson, Paul May,

Richard McKernan, Rodney O'Neill and Kevin

McStay 39; Terry Molloy 38; Shaun Hope, Jeff

Hewitt, Steven Richards, Al Jopson, Tim

Newton and Tufuga Sa 37.

Twos: Peter Morrison, Paul May, David

Morrison, Logan Tasker and Terry Kingsbury

(2).

Nearest the pins: The 3Stooges: Peter

Morrison; Docks Bar and Seafood Grill:

Sebastion McMillan; Value Plus Processing:

Terry Kingsbury; South Island Seeds: Gavin

Johnston; Property Brokers #6: Paul Clark;

Ton's Thai Longest Putt #9: Dylan Stoddart;

Alluvial Restaurant Tinwald Spot Prize: Peter

Morrison.

Nine Hole Results:

The Harvey Bakehouse winner of the day

was Tonee Hurley with 22pts. Other winning

scores were: Mitchell Leith 20, Peter Wright 19

and Hughie Murchie 18.

Dreamingofthe kids

being back at school?

Startplanning forit.

Aimingtoactually get BYOD tech sortedbeforethe

school year starts -sussitearly at SmithsCity.

Check outour range of smartphones, tablets,

laptops and accessories in-storeoronline.

smithscity.co.nz

SCWK38AC3
---
COUNCILBRIEF

5Baring SquareWest,Ashburton |POBox 94, Ashburton, NewZealand 7740 | Telephone (03) 307 7700 | Website ashburtondc.govt.nz

East Street upgrades kick off

Week of 11 January2021 |ISSUE 11

LakeHood River

Trailremedied

Major improvements to Ashburton's

town centre are now only 12months

away from completion ascontractors

begin the newyearonEast Street.

The two-year streetscape revitalisation

project has already transformedCass and

Tancred Streets with wider footpaths, new

street furniture, plantings, a new road

surface and one-way access along some

streets.

The Tru-Line Civil contractors began

working on East Street this week,

installing new underground stormwater

infrastructure atthe Kermode and East

Ashburton bus

stop moves to

WalnutAvenue

If you're planning to catch the bus in

Ashburton or need to pick someone up

from their trip, make sure you head to

WalnutAvenue, not East Street.

The Ashburton bus stop has temporarily

moved next to the Ashburton Domain

to allow for the major CBD streetscape

upgrades to continue along East Street.

The relocated bus stop can be found

near the public toilets towards the

north-eastern corner of the Domain. It

was officially moved onWednesday 13

January.

Signs have been placed at the East Street

bus shelter advising people that the bus

stop has moved to Walnut Avenue, and

bus companies are advertising the new

location on their online booking sites.

Street intersection. Installations will

continue moving north toMoore Street

before switching to the Tancred, Burnett

and HavelockStreetintersections.

Residentsare being advisedthat the work

will force East Street tobeone-way only

(northbound traffic) while the work is

happening, but detourswill be in place.

New kerbs, gardens and footpaths will

then begin construction as the contractors

move back to the southern end of the

streettowards the start of February.

Learn more about the CBD streetscape

upgradesatashburtondc.govt.nz/cbd

Bikeriders willhaveaneasier time using

the recently reopened section of the

Lake Hood River Trail, after work was

completed last week toremove excess

shingle on thetrack.

The trail between Boundary Road and

Grove Farm Road had been reinstated

after the completion of the Ashburton

River Crossing &Pump Station project,but

riderswereinitially unabletobikethrough

the newly laid shingle veryeasily.

Seipp Construction, working on behalf

of the Council have gone back to fix the

issue, leaving the track primed for walks

and rides all the way from Lake Hood to

the Ashburton bridge.

Clean up at

Pendarves

Council is working totidy up some of

its old unused pits, with the Pendarves

pitonthe corner of Chertsey Kyle Road

currentlybeingcleared.

Many of the pits are untidy and

overgrownwithillegaldumping taking

placeonthese sites.

Council is keen to clean up the sites

while it considerspossible future uses.

1 ashburtondc.govt.nz

Week of 11 January2020 |ISSUE 11
---
PuddingHillRoadrepairs on theway

A2.1 kilometre section of Pudding Hill

Road outside Methven will beonthe

receivingend of rehabilitation workthis

month, fixing problems with the road

bitumen that had been failing inhot

conditions.

The Council has awarded the $430,000

contract to Fulton Hogan who will

complete the road works for 2.1km east

from the Drayton Road intersection.

Work is programmed to start mid-

January and is expected to be completed

in two months.

Pudding

Hill

72

77

Drayton Rd

77

Once finished, Fulton Hogan will move

to Fairfield Road West outside Fairton to

reconstruct almost half akilometreofthe

road betweenState Highway One and the

railway crossing.

The $150,000 project will repair pavement

failures as well as remove abuild up of

excess bitumen on the road surface.

View aninteractive map of road works

in the Ashburton District on the Council

website ashburtondc.govt.nz

KEY

Road work

COMMUNITY

NOTICEBOARD

ROAD CLOSURE

Pursuant to the Transport(Vehicular

Traffic Road Closure) Regulations

1965,noticeishereby given that for

the purpose of allowing the Festival

of Pipe Band Music to hold astreet

march the following roads will be

closed to ordinaryvehicular traffic

(withthe exception ofemergency

vehicles) forthe period indicated

hereunder.

Roadtobeclosed:

• ELIZABETH STREET, from Walker

Street to Grigg Street

• GRIGG STREET, from Elizabeth

StreettoPhilip Street

• PHILIP STREET, from Grigg Street

to Wills Street.

Period of Closure: From 11.30am

until 1:30pm on Sunday,14February

2021.

It will be an offenceunder the above

regulations forany person otherwise

than under authority of an authorised

permit to use the roads forordinary

vehicular traffic during the period of

closure.

Neil McCann

InfrastructureServicesGroup Manager

Pudding Hill Rd

Health warning reminder -LakeClearwateralgal bloom

Residents are being reminded to avoid

the water inLake Clearwater following

ahealth warning being issued bythe

Canterbury DHB's Community and

Public Healthunit last month.

Potentially toxic blue-green algae

(planktonic cyanobacteria) was found in

thelake,whichissituatedintheAshburton

Lakes Basin area.

The type of cyanobacteria currently

present in high concentrations is

Synechocystis.

People shouldavoid the lakeand animals,

particularly dogs, should not be allowed

near the water until the health warning

hasbeen lifted.

Dr Ramon Pink Canterbury Medical

Officer of Health, saysthe algal bloom can

produce toxins harmful to humans and

animals.

"People should avoid contact with the

wateruntil further notice.

"Exposuremay cause skin rashes,nausea,

stomach cramps, tingling and numbness

around the mouth and fingertips. Ifyou

experience any of these symptoms visit

DIP RD

RDR

Pudding Hill Rd

77

Methven

your doctor immediately and please let

your doctor know if you have had contact

with the lakewater," Dr Pink says.

No one should drink the water from the

lake atany time. Boiling the water does

not remove the toxin.

Animals that show signs ofillness after

coming into contact with the water or

algal scums should be taken toavet

immediately.

PROPOSALTO

CLOSE ROADS

Pursuant to the Transport(Vehicular

TrafficRoadClosure)Regulations

1965,noticeisherebygiven that

CJM'sEvents Limited,for the

purpose of holding Ride the Rakaia

event,proposes toclose the following

road to ordinary vehicular traffic for

the period indicatedhereunder.

Road proposedtobeclosed:

• RAKAIA BARRHILL METHVEN

ROAD between Baker Road and

Rakaia Domain

Period of Closure: 8.00am

and 3.00pm on Saturday,

20 February 2021

• RAILWAYTERRACEEAST between

Rolleston Street andMain South

Road (SH1)

Period of Closure: 6.00am

and 8.15am on Saturday,

20 February 2021

Anyperson objectingtothe proposal

is called upontolodgenoticeoftheir

objection and grounds thereofin

writing or email to Council by 4.00pm

on 18 February2021.

Neil McCann

Infrastructure Services Group Manager

11:15am

Text your postcode to

'4196'

to receive important Ashburton District

Council alerts. FREE SERVICE

To opt-out, simply text 'STOP' to 4196.

100%

ashburtondc.govt.nz Week of 11 January2020 |ISSUE 11

2
---
18 Ashburton Courier, January 14, 2021

EDUCATIONAL FEATURE

www.ashburtoncourier.co.nz

Ashburton College builds for the future

As alarge,local college we haveonoffer

the full range of academicand

vocational subjects appropriate to the

needs of your child.

We are also able to offer asignificant

menu of culturaland sporting

opportunitiesand activities, including

participationand competition at all

levels fromgive something agothrough

to competing in the national champs.

We encourage our students to get

involvedinsomething that is of interest

to them.

As acollegeweare looking at two

major changes, both of which are

reflective of similar societal and global

trends.

It has becomeclear that the worldof

employmentisgoing to be different in

the future. Attributessuchascreativity,

collaboration, problem­solving and

being an effective oral communicator

will increasingly be essential in the

workplace.

Thecovid crisis last year gave many of

us ataste of howthe world of work may

differ. With these developments in mind

we recognise that, looking to adifferent

future, we need to alter our

programmes.

As part of this changewehave offered

theinnovation stream to all students in

Years 9and 10. These changes willlink

into alterations pendingwith NCEA,

due forimplementation in 2022.

Theother change is that we are

striving to continue to be more

culturally accepting and welcoming as

ourcollege's populationbecomes

increasingly diverse.

We recognise the desire to embrace

this diversity and become increasingly

culturally responsive and welcoming of

families, especially withthe planned

arrival of refugeestoour region.

Of course our other development is

planning for our new build.

The plans for our newcampus are

close to being finalised and these will be

shared withour community oncewe

have relevant costings approved. The

first of the earthworks should begin this

year.

However some things willalways

remain relevant. Our AshburtonCollege

valuesofPride, Quality and Respect are

promoted under theheading of the

''AshColl Way''.

These valuesare aconstantthat

prepare our students to make apositive

contribution to thefuture of ourregion

andbeyond.

Thank youfor yourcontinued support

of Ashburton College. We remain

gratefulfor our ongoing community

engagement.

Right:Ashburton College

Principal Ross Preece

AshburtonCollege

Individual ExcellenceinaSupportive Learning Environment

COMMENCEMENT OF COLLEGE YEAR 2021

NewEnrolments: AllYear Levels (Students) and Adult Students.

From Monday25January, by appointment

If your student isnot yet enrolled at the College or, asanadult student you are not enrolled, please

phone theCollege Office (308 4193), from Monday25January,tomakeanappointment.

Leavers sinceend of 2020

Any students not returning to College and who have not notified this, please make contact with the

College Office (308 4193), from Monday25January.

Course Confirmation Arrangements: ForselectedYear 11, 12 and 13 Students

Dates: Thursday28, Friday29and Monday01February,10:00am-5:00pm.

Venue: College Library.

AllYear11, 12 and 13 parents/caregivers and students will receiveanemail next week confirming their subject

choices. Families without email will receivealetter in the post.

ONLYstudents with agap/clash, or course entrypre-requisitematters will requireameeting.

Thereisnoneed to makeanappointment, please come at atimewhich suits. Parentsandcaregivers are

also welcome.

If,due to genuine circumstances,astudentisunable to attend on the abovedates

please email info@ashcoll.school.nz or phone 308 4193.

An alternativedate/time will be arranged.

Year LevelInformation and Return Dates

Reminder

• Students, ofany year level, not yet enrolled are required todoso-refer to above information and

please phone foranappointment.

• Specific Year 11, 12 and 13 students: Course Confirmation -refer to above information.

• NewYear10studentswho have enrolled. Please reportdirectly to the StudentOffice.

NewStudents'Induction -Monday01February

• NEW Year 11, 12 and 13 students areinvited to attend aseniorstudentinduction: 10:30am-12:20pm.

Please reportfirstly to the StudentOffice.

• For further information -email Abbey Bruce, Head of Senior School, on br@ashcoll.school.nz

Year 9Students –Thursday04February

• All Year 9students attend,inuniform(College year starts).

• Please reporttothe Auditorium at 8:45am.

Year 13 Students -Thursday04February

• All Year 13 students attend,inuniform(College year starts)

• All Year 13 students reporttoAuditorium at 10:00am (notelatestart).

• New Year 13 students reportdirectly to StudentOffice.

• Year 13 students will be released at 12:25pm unless course confirmation meeting required.

Friday05February

•Year 13 students to College Period3(11:25am).

To timetabled classes Periods 3, 4, 5.

•Tuesday 09 February

Year 12 and 13 students - 9:00am, to House Assemblies.

Blue House – Large Gym;

RedHouse – Upstairs Café;

Orange House – Auditorium;

Green House – Mini Gym.

CommunityEntry Programme Students -Thursday04February

• Interviewswith families and students to prepareIndividual Learning Plans begin Monday01February.

• Families and studentswill be contactedinadvancebythe Community EntryProgramme Manager to

arrange appointmenttimes.

• Any questions–pleasephoneDenise on 027 308 4193.

Kōhanga Students -Thursday04February

• All Kōhangastudents return.

• Year 9students reporttothe Auditorium at 8:45am.

• Year 10 students reporttothe Kōhanga at 9:00am.

• Friday05February – Kōhanga interviews, from 9:00am. Kōhanga closed forinstruction on this day.

Te WhareManaakiStudents –Thursday04February

• All year level students attend,inuniform(College year starts).

• Transportstarts today.

Year 10 Students –Friday05February

• All Year 10 students attend,inuniform(College year starts).

• All Year 10 students to Ako timeat9:00am.

• New Year 10 students reportdirectly to StudentOffice.

Year 12 Students -Friday05February

• All Year 12 students attend,inuniform(College year starts).

• All Year 12 students reporttoAuditorium at 9:00am.

• New Year 12 studentsreportdirectly to StudentOffice.

• Tuesday09February –9:00am: to HouseAssembliesasper information above forYear 13 students.

Year 11 Students –Tuesday09February

• All Year 11 students attend,inuniform(College year starts).

• All Year 11 students reporttoAko group at 9:00am. Please check the Kamar portal forrooms and

teachers.

• New Year 11 studentsreportdirectly to StudentOffice.

What Do Students Bring On Their First DayToCollege?

AllYear Levels -onday one please just bring arefill pad and pens (thereisnoneed to bring all books), and

all students –please bring your device.

StationeryRequirements 2021:

• Year 9: Students were issued with astationerylist during new entrants' visit.

• Year 10: Astationerylist wasincluded with Year 9Reports postedatthe end of 2020.

Forboth year levels stationerylists arealsoavailable on the College web-site:

www.ashburtoncollege.school.nz

• Years 11-13: Students will be advised bytheir subject teachers as to what stationery they are

required to have as they attend each subjectclass.

Please access timetablesvia the Kamar App.

Bring Your OwnDeviceRequirements 2021 -all students:

Areminder thatweare asking all students to bring their owndevicetoschool.Specifications have beenissued

to families.Alimited number of devices will be available forstudents not able to provide their own.

College Uniform Clothing Shop

• Open from Monday 25 January, during officehours: 8:00am-4:30pm.

• Pleasecome to the College Office.

Newand Returning International Students -Enrolments/Orientation:

Friday29January - Subject/Course Confirmation and College Orientation

• 10:00am –2:00pm.

• Meet at the StudentOffice.

Monday01February -Induction With AllNew Senior Students

• 10:30am-12:20pm

• Meet at the StudentOffice

• Remain in College until 2:00pm.

Wednesday03February -DayTrip

• Details to be advised.

Year 12 Peer SupportStudents -Thursday04February

• Meet in Upstairs Café at 11:25am (Period 3) forbriefing.

• Pleasewear College uniform.

• Peer SupportofYear 9students Period 4(12:25pm).

• 1:20pm -sausagesizzle provided forYear 9, and Year 12 Peer Supportstudents.

• Year 12 studentsleave College at 1:50pm.

Buses -Mid CanterburySchool TransportSystem(MCSTS)

• AllCollege bus runs commenceMonday01February.

These include Ashburton Intermediate School students and Primary students of schools which use the

MCSTSService

Enrolment-ifnot already completed,please action by Monday18January

• Existing bus students -wedorequireMCSTStobenotified if continuing to use the bus service.

Please advise via email (admin@mcsts.co.nz) -[anytime], or phone: 307 2420.

• Enrolmentofstudents newtothe bus service -please completethrough the web-site www.mcsts.co.nz.

Note: Newbus students arerequiredtoenrol with the bus servicebefore theycan use the buses.

• Parents/caregivers will be notified via email, orbypost where email isnot available, when enrolment is

complete.

Note: Bus Routes –information forall currentusers

Bus routes continue the same as they were at the end of Term Four,2019. Thereare no changes.

College Office Hours

Theofficewill be open from Monday25January,8:00am -4:30pm.

Other Dates

• Leadership Camp (Year 13 students who areconfirmed as attending)

- Wednesday27-Friday29January

• Teacher Only Days - Tuesday02Februaryand Wednesday03February

• WaitangiDay public holiday - Monday08February

• Pōwhiritowelcome new staff and students(11:30am) -Tuesday09February.

– College field in frontofTeWhare Wānanga.

– Parents/Caregivers/Communitymembers welcome to attend.

COLLEGE CONTACTDETAILS Phone:(03)308 4193

Email: info@ashcoll.school.nz

Web-site: www.ashburtoncollege.school.nz

2340999
---
www.ashburtoncourier.co.nz

Striving high at

Mayfield School

MayfieldSchool is adecile 7coeducationalstate

full primary

school (U2 grade) cateringfor

new entrants to Year8students.

At the end of 2020 ourrollwas 91

students.

Mayfield School is very much

at the heart of theMayfield

community.

We are surrounded by

mountains, notably Mt Somers,

Mt Hutt, Mt Peeland Surrey

Hills. These form the names of

our four house groups we runat

school and give us our local

identity.

In 2021,wewill be afive

classroom school,all withlow

pupil­to­teacher ratios.

We haveasupportive boardof

trustees, who fund an extra

teacher and runaschool farm

and an active home and school

committee whoorganise

fundraising activitiesand social

events.

We are proud of our

recreational facilities, which

include fouradventure

playgrounds, extensive playing

fields and schoolgardens.

Our school mottoisStriving

High. Thismottois what Mayfield

Schoolisabout,aswestrive high

in everything we do andthis is an

expectation forour students,

staffand school community.The

schooliswell­equippedwith the

latesttechnologywith 25 iPads

andalaptop each forthe

childreninthe senior class.

Aspecial featureofour school

is the clubprogramme we run in

winterfor asix­week block. This

involves staff, parents and

community members sharing

theirinterests andexpertise to

givethe children meaningful and

fun learning experiences.

For moreinformationabout

our wonderfulschool contactthe

principal, Richard Kidd.

Email to

principal@mayfieldschool.co.nz

or visit our website: www.

mayfieldschool.co.nz

Methven's digital showcase

Methven PrimarySchoolisan

excitingand vibrant place for

childrentodotheir learning.

Ourteachers arecommitted to

providing stimulating learning

programmesboth inside and outside

of the classroom.

Within our rich andbroad

curriculumthereisabeliefthat

beingable to read, writeand do

maths successfullyisatthe core of a

child's learning needs. To do thiswe

are increasingly usingStellar (our

school­ownedbus) to transport our

childrentolearning opportunities

within our local environment.

Ourlocation allowsustorun an

extensivesnow sports programme in

Term3.Students take partinclass

tripsandseniorstudents canopt into

aweekly programme to further

develop their skiingand

snowboarding skills.

Students striving to achieve to their

potential is expressed in our vision

"Preparing for our futurethrough

making pathways to the stars".

Our learnersare collaborative,

innovative communicators who are

able to self­regulate andmanage

theirwellbeing.

We have modern, attractive

learning spaces across our school.

Studentsare supported to establish

theirgoalsand work towards these

throughaccessing the curriculum in a

variety of ways.

As the only Microsoft Showcase

Primary Schoolinthe South Island,

we providearange of digitallearning

experiencestoallow students to use

and create withtechnologies.

We have agreat teamofteachers

and support staff, supportedbya

proactive boardoftrustees.

We provide avariety of

programmes for children who need

specific learning goals.

Forfurther information, please

contactSue Furndorfler at

principal@methven.school.nz

Longbeach supports the six Cs

LongbeachSchool offersYear 1to8

students asafe learningenvironment

where differences areacknowledged,

accepted and supported.

We strive to ensureeverystudent

achievestothe bestoftheir ability.

LongbeachSchool has six wellresourced,excellent

learning

environments,wherethe stafftake

the timetoget to know eachchild,

care for themand challenge them to

be thebest they canbyreaching for

theSTARS.

Ourteam approach ensureswe

deliver the bestteachingand

learning programmes we can to meet

the needs of all our students.

Over the years we havedeveloped

manyexcellent teachingand learning

programmeswhich are obtaining

very goodachievement results for our

students.

We believe that establishing

trusting and honestprofessional

relationshipswith students is

paramounttolearning.

This is because truelearning

requires studentstotakerisks.And

so, risk­taking requires trust and trust

is developed when positive

relationshipsare established.

Underpinning all that we do are

our six Cs ­Citizenship,

Collaboration,Communication,

Clothing store

says thank you

TotstoTeens hasbeen afamily­run

Ashburton institutionfor over 40 years and

new owners Sarah, Bruce, and fantastic

staffPhil,Belinda, Paulineand Bethplan

on continuing thisgreat legacy.

Their values arebasedaround excellent

customer service, providing the community

withquality schooluniforms,fashion,

footwear and toys forour little people and

delivering afabulous shopping experience

to all their supporters.

''Wehavebeen busyrenovating the shop,

openingitupand creating new changing

rooms.There is plenty moretocomeand we

hope youall enjoy thechanges.

''We havealsocreated anew website

www.totstoteens.nz and our Facebook and

Instagram pagesare as active as ever so

there areplenty of ways to makecontact

and stay in touch.

Sarahand Bruce wouldlike to takethis

opportunitytothank the Ashburton

communityfor welcoming them and

supporting Tots to Teens. Theyhave been

overwhelmed by everyone's supportand

havemet some very special people in their

firstyear, including managerPhil

MacGregor andstaff BelindaCawte, Beth

Cairns and Pauline Bell, the Ashburton

Arcade community, PamBelland staff from

schools.

Character, Creativity,Critical

Thinking.

We live andbreathe these values to

ensurethatour schoolremainsasafe

and positive place to learn while

developingessential lifelongskills in

our learners.

Ourstrongfocus on ateam

approach,where teachers and

students work together to implement

our richand exciting learning

programmes, ensuresour students

from Year1to8becomewellrounded

citizens who are more than

readytomove on to secondary school.

Formore information please visit

www.longbeach.school.nz

EDUCATIONAL FEATURE

Ashburton Courier, January 14, 2021

19

L2D Driver Training

Cars and bikes

Teaching driving skills

and road craft

Allstages –beginnertofull

Blockbooking discounts

Dave Campion

027 543 7632

StartofYearInformation

New Enrolments

Wednesday27January,9:00am -12:00pm

Ourofficewillbeopenfor newfamilies

wishingtoenrol theirchildren

Class Lists Available

Wednesday 27 January, 3:00pm

Availablevia ourschool'sHeroapp

Office Opens

Friday 29 January, 8:30am -3:30pm

Students First Day

Monday1February,includesawelcome

KickstartBreakfast (providedbyFriendsofMPS)

forfamiliesfrom8:00am -9:30am

Visit methven.school.nzfor more details

Tinwald School

2021 Back toSchool Dates

Office open for inquiries and enrolments

Thursday 28 and Friday 29,

January 2021, 9am-12pm

Students return Monday, 1February,

classes begin 8.55am

Tinwald School offers excellent education

opportunities for New Entrant

to Year 6children.

We welcome all enquiries and are happy for

prospective families tovisit the school and

see learning in action.

For further information contact the

Principal -Peter Livingstone.

School Wiki is the site to see

Visit the school wiki to see our

school in action;

www.tinwaldschool.weebly.com

2343924

131 Thomson Street, Tinwald, Ashburton

03 308 4555 admin@tinwald.school.nz

2341016

Stockists of all local school uniforms

and quality footwear

Mayfield School open forenrolments

Monday, February1,2021

SCHOOLBEGINS

Tuesday, February2,2021

Everyone reaching for the stars

•CITIZEN •COLLABORATION •COMMUNICATION

•CHARACTER •CREATIVITY•CRITICAL THINKING

StartdateTuesday2nd February2021

Ourofficeisopen from the

25th of January9am -3pm

PHONE 303 6214

office@mayfieldschool.co.nz

2343387

office@longbeach.school.nz or ph 3026643

Principal Neil Simons

2340971

2329913

The Arcade, Ashburton 03 307 7340 www.totstoteens.nz
---
Forkliftand Dangerous GoodsCourses

NZTAApproved Course Provider,MITO&Competenz Assessor

Classes 2&4,Endorsements F&D

ForkliftF&OSH, Saturdays and other days as requested

Dangerous Goods Course,½day Mondaymornings

CommunityHouse,Ashburtonoryour work place

Forfurther information

Phone Christine 027 245 2563

Commencementof

2021 School Year

School officeopen from

Friday29th January

Pupils commence

Monday, 1st February, 9am

Formoreinformation:

Phone 308 9205

Email: office@fairton.school.nz

Principal: Mike Hill

Pride Integrity Excellence Strength

Installing Prideineverything we do.Celebrating

and learning through the values of:

P=Perseverance

R=Responsibility

I=Integrity

D=Diligence

E=Excellence

Enrolments welcome to our family orientated

school from Wednesday, 27 January2021

Pupils and classes resume from Monday1February.

We areproud to be a'Positive Behaviour 4Learning

and Duffy Book School'.

Contactdetails: Phone 308 5799

office@netherby.school.nz

Principal: Phil Wheeler

2343431

Aotearoa

FREECourses

Introducon to Compung

2hrs perweekfor 10 weeks

Windows 10,FileManagement, Email, Internet,

Word Processing andSpreadsheets

WorkplaceCompung

3hrs perweekfor 10 weeks

MS Word,Excel Outlook, File Management

andOffice365

2343418

Literacy

Smartphone/Tablet

2hrs perweekfor 10 weeks

Learn howtouse your smartphone,tabletand/oriPad

IntensiveLiteracy andNumeracy

5hrs perweekfor 20 weeks

to raiseadults'literacy and numeracyskillsindifferentcontexts

to enable them to engage meaningfullyinNew Zealandsociety

ContactAlisontobookon027 7212002

amacgregor.312@literacy.org.nz

2345885

Starng8Feb2021

EDUCATIONAL FEATURE

20 Ashburton Courier, January 14, 2021

Montessori tuition available

Brenda Fox has been helping

childrenimprove their chancesof

academic success offering private

one­on­oneteachingfor many years.

Sheoffers individualeducation

programmestochildren aged from

preschool to Year 8, usingproven

Montessori techniques and

equipment,whichshe brought to

Ashburton and has taughtfor more

than 25 years.

Brenda specialisesinEnglish,

mathand geographyand hasa

passionfor teaching.

Sheiskeen to givechildren solid

learningfoundations for their

ongoing education and offers a

ONE

tailored curriculum, suited to each

child.

Outcomesteach childrenhow to

decode words, understand the

relationship between mathand

language in everydaylife and givethe

basic skills of mathand English,

building up the child's confidence in

theirown abilities.

Montessori can helpall children

achieve,giving the child the

confidence and skills they cantake

withthem through life,she says.

Brenda accesses achild's learning

and helps to make it easierfor them.

Hertuition lesson times can be

tailored to suit.

Connect at Fairton

FairtonSchoolencourages its

studentstobeconfident, curious

and connected learners andoffers

low studenttoteacher ratios within

agreat family atmosphere.

Thesmall rural primary school,

on Fairfield Road,Fairton, justa

short distance northofAshburton,

caters to learnersfrom new

entrants to Year6.

It has afantastic teamofstaff

providing stimulating learning

activitiesfor students to encourage

and develop their educational and

social development.

''Weprovide high­quality

teachingand learning opportunities

for our students as partofaschool

communitythat maintainsthat

family dimension so evident in rural

communities.

''Weencourage our children to be

confident, curious and connected

learners who graspthe

Small

class

sizes

opportunitiesofferedand

challenges provided. ''Weseek to

makeapositive differencetoboth a

child's character development as

wellastheir curriculum

understanding.''

The schoolhas arich long history

­itopened in 1901­and continuesto

be afocal point for the Fairton

community.

It is set on large spacious grounds

and is equipped withmodern

resources and facilities to aid

educationalgrowth.

Thereisalso aheated swimming

poolonsite.

Avan/shuttle service operates for

transportingstudents from townto

school.

Any queries or requests to visit

are most welcomeand can be made

by contactingthe schoolofficeby

email at office@fairton.school.nzor

by phoneon03308 9205.

Driving big rigs

If it'sgot wheels, Christine Jones will drive it!

Christine started her career in driver training

at the YMCA in 1996and has worked hard to gain

experienceand achieve her goalofbeing an

independentcourseprovider for NZTA andITO

IndustryAssessor.

She is alicensed driving instructor and

assessor,has national qualifications in adult

education andTESOL,and is the owner/ operator

of CJ's Driving School.

She has spent most of herlife driving all sorts of

heavy vehicles from tractors and farm machinery

to forklifts, trucks and buses.

She is excited about training the next

generationofdrivers andhelpingtoalleviate

New Zealand's huge skills shortage of qualified

and professional heavyvehicle operators.

on

ONE

•English

•Maths

•Geography

The most important years are from three to six years.

make these important years count; itwill pay off in the future

Call Brenda today tobook your child's tutoring for2020.

There are limited spaces available in themornings and afternoons.

Phone 307 8255 or 027 229 7540

It is important that children know

the fundamentals of both mathand

language.

They needthe building blocks in

place before theycan build on those

skills,Brenda says.

It's like bakingacake,before

putting the icing on top.

If childrendon'thave the basic

skills theycan struggleatschool and

have theirself­esteem and

confidence plummet.

Don'twait for this to happen.Give

Brenda acall for achat and arrange

atime to meet in person.

Brenda can be contacted on 307

8255or027 229 7540.

Support

for adult

learners

AshburtonLearningCentre,centrally

located at 71 Park Street in Ashburton,

has staffavailable to assist you with

yourlearning needswhether it's for

education,employment or social

opportunities.

We offersupporttopeople in need

of helpwithdifferentlevels of

literacy, numeracy and computing

skills.

Forthose looking to improve on

basic English literacy (spelling and

writing) and basic numeracy (maths)

skills, our English for newcomers can

help people seeking to improve their

English language skills,either

throughour English classes or by

speakinginEnglish,and can open up

further opportunities forhigher

online study.

Forpeople looking to gainNCEA

literacyornumeracy creditslevel one

or apprentices wanting support to do

theirindividual qualifications, we can

help.

Ourdigital support can also help

people looking to becomemore

confidentcomputer users.

All our courses are freetoNew

Zealandresidents.

TheAshburtonLearningCentre also

offers driver licence support, classes

in Te Reo Maori and foundation

learningtosupport people lookingfor

employment opportunities.

To see whatwecan offer you check

out our website at www.

ashburtonlearningcentre.co.nzorget

in touch withuson03308 5322.

TUTORING

with Brenda Fox

Personalised

learning to meet

every child's needs

Individual

programme

using

Montessori

2342087
---
www.ashburtoncourier.co.nz

Kindies extend thinking

AshburtonKindergartens is agroupofwellestablished,

not for profit, professional

kindergartens basedinthe Ashburton

community, offeringpre­school educationfor

two to fiveyear­olds.

Thekindergartens ­Allenton, Tinwald

Aubrey Mason, Hampstead, NetherbyMerle

Leask and Thomas Street ­maintainahigh

quality programme,which is taught by

qualifiedand registered teachersinEarly

ChildhoodEducation and supported by a

managerand board.

Theteachersextend your child's thinking

and choices throughindividual programme

plansand provideaneducational

environment and appropriate resourcesto

supportyour child's learning needs.

Theprogrammeisbased on the early

childhoodcurriculum Te Whaariki,an

inclusiveapproach to achild's development.

Children benefit from the wealth of

educationaland play resources, while in a

safe and securepurpose­builtenvironment.

We promote highself esteem and

confidence for happy childrenbring happy

parentsand families.

All kindergartens areaccepting

enrolments now and offer sessions of up to

six hours aday, 30 hoursaweek,with no fees.

Formoreinformation,ortoenrolyour

child, contact your nearest kindergarten

directly or calluson03308 3779.

Mount Hutt's key values

We are all looking forward to meeting our

new students and staff as they start at our

Year7­13 school for 2021.

It willbeexcitingtosee the summer

projects thatour property staffhave been

workinghard on, including several

improvements to the school grounds for our

students.

Thekeystone to the Mount Hutt College

way is our PRIDEvalues.

Principal JackSaxonspoke to new entrants

and parents whentheyvisited the school last

November anddescribed our values as:

We are passionate and take

opportunities.

We respectothers, care for others and be

kindabove all else.

We show integrity andhave the courage

to stand­upfor those thatneedsupport.

We celebrate diversity, we embrace

difference and usethis to enrichour school.

We strivefor excellence but recognise

this looks different for each and everyoneof

us.

Adding to this in 2021 is an 'Upstanders

with Integrity' focus.

As 2020 ended our seniorstudents stepped

forward to takeup2021 leadership positions

and start preparations for 2021.

There willbefurther opportunities early in

2021 forthem to continue this mahi,

includingduring the first two days backat

school for Years 11­13 whenthey willbe

preparingfor asuccessful 2021year.

Interest hasbeen high in engagingwith

peersupporttraining in particular.

During 2020, despitethe unusualyear,

there was successful community

consultation, led by theschool's board of

trustees.

The year2021 will see our schoolvision

built fromthe inputofstudents, staff,parents

andour widercommunity,and shapedinto

our schooldirectionand developments.

Training learner drivers

L2D DrivingSchool traininginstructor Dave

Campionhas more than50yearsof

international drivingexperience.

He has driven everythingfrom trucks, to

tractors,farm machinery to motorbikes and,

in his trustySuzukiSwift dual control car,is

keentopass on his skills to learner drivers in

the district.

TheL2D DrivingSchool motto is teaching

driving skills and road craft.

Instruction is available to people at varying

stages of their learning whetheritbe from

beginner to advanced.

Dave provides an initialassessmentand

will designaprogramme to suit.

Thelessons aregiveninthe Suzuki Swift

which is amodern automatic vehicle.

''Learning to driveinthe past, we were

taught the basics starting,stopping,turning

andhow to usethe handbrake, so Istart with

themand move on fromthere,''hesays.

Students also learndefensive driving

techniques along with hazardperception,

hazard awareness andbeingaware of

potential risks.

If you are lookingwell ahead you are aware

of what's coming up, he says.

Driving acar is easy, it'slearning theskills

to seethe big picture and checking what

other driversand roadusersare doing

around you that's the hard part, he says.

Anyonewanting to bookanassessment or

lookingfor more information can contact

Daveon027 5437632, emailhim at dave.

c@outlook.co.nz or checkout the L2D

Driving School Facebook page.

2345675

EDUCATIONAL FEATURE

Ashburton Courier, January 14, 2021

WhereChildren Learn

ALL KINDERGARTENS COMMENCE

ON TUESDAY,JANUARY 19, 2021

21

Up to 30

hours FREE

ECE available at

all kindergartens

&nofees

Enrolments from Monday, 18 January2021

Kindergartenstarts Tuesday, 19 January2021

•Allenton: 46 Allens Road.Phone 308 7896

•Aubrey Mason (Tinwald): 136 Thomson Street.Phone 308 4379

•Hampstead: 44 Cambridge Street.Phone 308 3954

•Merle Leask (Netherby): 34 Davis Cresent. Phone 308 3337

•ThomasStreet: 21 Thomas Street.Phone 308 9587

Contact: Kindergarten Association Manager

Phone308 3779. Emailassociation@ashkindy.co.nz

Visit: ashburtonkindergartens.org.nz

Services offered:

Ashburton Learning

Centre

ACE Provider of the Year 2018

Trust Power Community Awardee for BOOST 2018

NZQA Category One Provider

Digital Literacy

Individual support within a group class setting.

Morning

Evening

Mondays 10:30am – 12:30pm -

Wednesdays 9:00 – 11:00am 6:00 – 7:30 PM

Workplace Literacy/Numeracy Support

Work Readiness classes

Health and Safety at Work Unit Standard 497

Apprenticeship Support

Reader Writer Support

Specific Learning Difficulty (SLD) Tutoring

CV and job seekers support

Driver's Licence Support

At no cost to NZ residents

PELT (Prepaid English Language Tuition)

Accredited PTE to deliver English tuition for Immigration NZ requirements

ESOL (English to Speakers of Other Languages)

One-to-one classes at times to suit and group classes available.

Small fee for non-residents

Mondays Intermediate Level 7:00 – 8:30 PM

Tuesdays Beginning Level 7:00 – 8:30 PM

Advanced Level /

Wednesdays

7:00 – 8:30 PM

IELTS Preparation

Fridays Intermediate Level 10:00 – 11:30 AM

For inquiriesand more information, please contact:

Phone : 03 3085322 Mobile:027226 9496 Email : adult.literacy@xtra.co.nz

71 Park Street, Ashburton(CnrHavelock Street, oldStJoseph's School Bldg)

2346626

MountHuttCollege 2021

SENIORS -YEAR 11, 12, 13, 14

Make an appointmentfor

Wed27 th January 12pm -4pm

to choose or change subjects for2021

FIRSTAID COURSE -YEAR 12,13, 14

Monday25 th andTuesday26 th January

FIRSTFULLDAY -YEAR 11, 12, 13, 14

Thursday28 th January

It's allhere!

Contactoffice@mthutt.school.nz, (03) 302 8437

Te Kura

oŌpuke

YEAR 7, 8, 9, 10 ORIENTATION

AND ACTIVITYFULL DAYS

Year 7: Friday29 th January

Year 8(new):Friday29 th January

Year 9, 10 (new): Thursday28 th January

SURF SAFE DAY-ALL YEAR 9

Friday29 th January

Whāia te iti kahurangi, ki te tuohukoe,

me he maungatete

Seek the treasure youvalue most dearly, if you bow your head,

let it be to alofty mountain

Office open from Wednesday20 th January

Timetable forall students starts Monday1 st February

Formal welcome begins at 8.40am. Allparents arewelcome

furtherdetails: www.mounthuttcollege.co.nz
---
RURAL

22 Ashburton Courier, January 14, 2021

Redmonds win trophy at

prime cattle competition

www.ashburtoncourier.co.nz

Ashburtonfarmers David and

Lynley Redmondwon the HTJ

Thacker Trophy for the single

steer withanAngus in therecent

Canterbury A&P Association

prime cattlecompetition.

The couple also placed third

for the Floridale Trophy witha

pair of steers (Angus).

John McDrury of Dunsandel

placed second and third in the

single steer competition category

with Limousin and Angus steers

respectively.

Mr McDrury also went on to

take out the supremeaward,

winning the Silversteam Trophy

for apair of Limousin heifers,

the Springbrook Trophy for

single heifer(Limousin), the

Floridale Trophy forpair of

steers (Angus) and the

CountdownTrophy for local

trade pair(Limousin).

John Totty has an eye to the future and alighter cow with less environmental impact.

PHOTO SUPPLIED

TottygrowingJerseyherd

• DairyNZ accredited

EffluentPondDesign

andConstruction

• Pond Constructionand

Irrigation Development

• Hedgeand Stump

Removal

• Farm Conversions

• DairyTracks–

Lime or Gravel

• PumpHire

• Wellsand Galleries

• Bulk Earthworks

• Subdivisions

• Site Works

• Tree Shear

• Transportation

2346082

Jersey cows have featured

prominently overthe years

amongthe fourgenerations

on John Totty's 465­hectare

property at Staveley.

The Staveley Jersey stud

was founded by John's

grandfather,apassionate

Jersey breeder, in the early

1960s.

Back then the farmmilked

150 cows and ran dairy

replacements, sheep, beef,

and crop.

When John's parents took

overthe business the farm

was expanded, purchasing a

neighbouring property in

1995which was converted

the following year. A

Friesian herd was

purchasedand for 20 years

the property supported a

750­cow herd while

continuing to run young

stock.

John purchased the dryland

farm in 2015, which

today milks 1000 cows across

twosheds with young stock

grazed off­farm.

Seven years ago the farm

had50:50 Jersey and

Friesian genetics, today it

wasabout 70 percent Jersey

genetics and breeding back

towards afull Jersey herd.

Thetransition to Jerseys

hasbeen an easydecision,

John said.

"Every season we have

increased theJersey content

of theherdand managed to

hold or increase percow

production without any farm

system changes. Thisseason

we have increased

production by 15 percent

while only increasing cow

numbers by 10 percent."

The ultimate goal was to

achieve efficient, profitable

production.

"We are aiming to gettothe

point where we produce a

kilogram of milksolids for

every kilogram of liveweight,

while keeping farm working

expenses under $4."

"Sevenyears ago, with a50

percent Friesian herd, we

were doing 265,000 kilograms

of milksolids, now we are

achieving 385,000 kilograms

of milksolids with a

predominantly Jersey herd,

at alower cost. Our Fonterra

cheque is always ahead of the

company average too."

Rural

Ealing 188 AdamJackson Road

Dairy PropertiesWanted

Havingjust soldthis202 hectareproperty at Ealing andfrom

having goodenquiry forthe marketing of it,wenow requirenew

properties to market. It appearsthe ruraldairymarketmaybe on the

move again and it could be agreat time to consideryour options.

Foraconfidential chat about what your options maybe,

givemeacall.

Chris Murdoch

Rural/LifestyleSales Consultant

M 027 434 2545

P 03 307 9191

E chris@pb.co.nz

650

Property Brokers LtdLicensed REAA 2008 |217 West Street, Ashburton | pb.co.nz

Proud to be here
---
www.ashburtoncourier.co.nz

PUZZLE PAGE

Ashburton Courier, January 14, 2021

23

CRYPTIC CROSSWORD

15/1

Across

1. Fueldidn't weigh much, which was

illuminating (8)

4. Takesapart from Cats maybe (4)

8. Aperson, indefinite, whoissingular (3)

9. It flowsasresultofmotoristlosing

his head (5)

10. In Spain,9causes no endof

disturbance(3)

11. Bird may be nutsabout51(7)

12. Putitacross king willgiveone a

hiding (5)

13. Moult, surely, yetinan uncertain

way(11)

17. More than enoughcan be made out

of maple(5)

18. Soldier who keepshimself to

himself? (7)

20. 'And is therehoney stillfor

__?'(Brooke)(3)

21. What cheek,findingitinaboat on

board (5)

22. Being on-targetitisabig success(3)

23. How one drunkmay move in a

dance (4)

24. Spindle, spunbydaughter,isvery

fine (8)

Down

1. Puts togethersome musical

ensembles (6)

2. Atrickofwork is to name it letter by

letter (5)

3. Own the North to be aplace of rest

(5)

5. Liar,cut in such away,mustcut it

short (7)

6. Piledupinthe cornfield, they are jolts

to thesystem (6)

7. Is in strong demand, totreat highflyingaircraftso(10)

9. It will pay oneback to see men crop it

in suchaway (10)

14. Twomaterials to putback(7)

15. Haggle with thesaloon to get ahalf

of bitter (6)

16. Beinginagirdle, hadabash (6)

18. Giveall one's votesfor the

pleasantly-rounded (5)

19. Personal assistantturnedupand

concealedaninsect (5)

SUDOKU

Fill the grid so that every column, everyrow and 3x3

box containsthe digits 1to 9.

QUICKCROSSWORD

Across

1. Romantic song (6)

4. Permanentlyfrozen

area (3,3)

9. Misunderstanding

(3-2)

10. Clothing (7)

11. Non-religious (7)

13. Piece of cash(4)

14. Stateof

hopelessness (11)

17. Old (4)

18. Genuine(7)

21. Puttogether (7)

22. Picture(5)

24. Sweetpastry(6)

25. Amalgam (6)

Down

1. Baffle (6)

2. Slack(3)

3. Disgust (5)

5. Mimic (7)

6. Meateater (9)

7. Wan(4)

8. Stylist (11)

12. Church minister (9)

15. Tantrums(colloq)

(7)

16. Myth (6)

19. Loud (5)

20. Sour tasting (4)

23. Ventilate (3)

CODECRACKER

QUICK CROSSWORD

Across: 1. Ballad,4.Ice cap, 9. Mix-up, 10.Apparel,11. Secular,

13. Coin,14. Desperation, 17. Aged, 18. Sincere,21. Combine,

22.Image,24. Danish,25. Hybrid.

Down: 1. Bemuse, 2. Lax, 3. Appal, 5. Copycat, 6. Carnivore, 7.

Pale, 8. Hairdresser,12. Clergyman, 15. Paddies,16. Legend,19.

Noisy,20. Acid, 23. Air.

CRYPTIC CROSSWORD

Across: 1. Gaslight4.Acts8.One 9. River 10.Rio 11.Pelican12.

Spank13. Tremulously 17.Ample 18. Private20. Tea21. Sauce

22. Hit23. Reel 24.Splendid.

Down: 1. Groups 2. Spell 3. Haven 5. Curtail 6. Shocks 7.

Pressurise 9. Recompense14. Replace15. Barter 16.Belted 18.

Plump 19.Aphid.

TARGET

alto dolt dost dots last

loot loots lost lots lotto

oast salt slat slot soot stoa

stoat stood stool tats toad

TOADSTOOL toast told tool

toot toots total totals

MEDIUM HARD

EASY

TARGET

T O S

O T A

D L O

Good 15

Very Good 20

Excellent 25+

ALL PUZZLES ©THE PUZZLE COMPANY

How many words of four letters or more can you

make? There is at least one nine-letter word.

Each letter may be used only once and all

words must contain the centre letter.

No words starting with acapital, no plurals

ending in sunless the word is also averb, e.g.

Home andHeart

The room where theysleep. The floor where theylearn to crawl. The

garden where theyplay. Your home helps makememories.

Ray White Mid Canterbury Ashburton •Tinwald•Methven• rwashburton.co.nz

Real Estate MidCanterbury Property Limited Licensed (REAA 2008)
---
SATURDAY 16TH JANUARY

45 Manchester Street,Ashburton 9:45-10:15am 3 1 2 AHB22821

51 Wilkin Street,Ashburton 10:00-10:30am 3 1 2 AHB22978

15 Parkdale Close, Ashburton 10:00-10:30am 4 2 2 AHB22965

23 Wakanui School Rd,Ashburton 10:30-11:00am 3 1 2 AHB22988

18 Wakanui Road, Ashburton 10:30-11:00am 3 1 3 AHB22929

122 Barkers Road, Methven 11:00-11:45am 5 3 2 AHB22908

58 Creek Road, Ashburton 11:15-11:45am 3 2 2 AHB22514

3Reighton Drive,Ashburton 12:00-12:30pm 4 2 2 AHB22930

74 Cambridge Street, Ashburton 12:45-1:15pm 3 1 1 AHB22973

12 Charles Street,Ashburton 1:00-1:30pm 4 1 1 AHB22540

17 Davis Crescent, Ashburton 2:00-2:30pm 3 1 1 AHB22982

SUNDAY 17TH JANUARY

NO OPEN HOMES TODAY

View our listings online at: rwashashburton.co.nz

99 Walnut Avenue, Ashburton

The home has been architecturally designed with feature

ceilings and superior interiors throughout, ideal for

entertaining with two sopisticated indoor living areas both

with timeless features and natural warmth and connecting

to the sheltered outdoor spaces with the outdoor fire place

and swimming pool taking centre stage and has been a

family favourite.

Outside the abundance ofentertainings spaces is awell

considered large accommodation wing which has supported

agrowing family and nowenjoys the extended family and

large family fun filled gatherings.

ForSale

$890,000

View

by appointment

4 2 2

Kim Miller

027 236 8627

rwashburton.co.nz/AHB22802

Real Estate Mid Canterbury Property Limited Licensed (REAA 2008)

Open Home

3Reighton Drive, Ashburton

This 1990s home is set onaPrime 777sqm section

and boasts ample room forparking the camper, boat

or trailer along with alarge double internal access

garage tomake life easy. Properties like this are selling

extremely quickly, soyou should contact me today.

ForSale

by negotiation

View

Saturday12:00 -12:30pm

4 2 2

Armandvan der Eik

021 597 527

Real Estate Mid Canterbury Property Limited Licensed REAA (2008)

rwashburton.co.nz/AHB22930

Real Estate Mid Canterbury Property Limited Licensed (REAA 2008)

Open Home

12 Charles Street, Ashburton

*Great investor or first home buyer opportunity.

*Insulated top and bottom with anewheat pump.

*Large open plan kitchen/dining/lounge +conservatory.

*Separate single garagewith several out buildings.

*Fully fenced section and nice easy-care garden.

*House well positioned forapotential subdivision.

rwashburton.co.nz/AHB22540

Real Estate Mid CanterburyPropertyLimited Licensed (REAA 2008)

ForSale

Price onapplication

View

Saturday1:00 -1:30pm

4 1 1

Mark Totty

021 664 113

Open Home

18 Wakanui Road, Ashburton

Thevendor has moved onand has left this lovely home in

superb presentation.

If you are looking foryour first home, anew start or adding

to your propertyportfolio, this home ticks the boxes.

Afabulous 722 sqm section that iswell fenced for security,

children and fur babies.

rwashburton.co.nz/AHB22929

Real Estate Mid Canterbury Property Limited Licensed (REAA 2008)

ForSale

$315,000

View

Saturday10:30 -11:00am

3 1 3

Armandvan der Eik

021 597 527

Kim Miller

Sales Consultant

027 236 8627

Denise Russell

Sales Consultant

0274 329 717

ChrissyMilne

Sales Consultant

027 236 8627

Cheryl Fowler

Sales Consultant

027 461 2614

Margaret Feiss

Sales Consultant

021 751 009

ShirleyFitzgerald

Sales Consultant

027 220 1528

Denise McPherson

Sales Consultant

027 242 7677

Janene McDowell

Property Manager

027 287 3388

Armand vander Eik

Sales Consultant

021 597 527

Lynne Bridge

Sales Consultant

027 410 6216

Mike Grant ncre

Sales Consultant

021 272 0202

Mark Totty

Sales Consultant

021 664 113

BruceMcPherson

Sales Consultant

027 438 4250

JustinWaddell

Sales Consultant

027 437 1111

Carey VonLubke

Property Manager

027 697 6948

96 TancredStreet, Ashburton 03 307 8317 Main Road,Tinwald 03 307 8317

rwashburton.co.nz

36 McMillan Street,Methven 03 303 3032
---
trusted

2020 GUIDE

trades &services

To book your spaceinthis guide,phone KarenGane 308 7664 or email karen.gane@ashburtoncourier.co.nz

Need storage?

we CAN STORE it!

Convenient, affordable

self storage solution

Phone 307 0213

•185 Alford Forest Road •behind

2331258

FREE LEGAL HELP

Help in person by appointment

Thursday9.15am -1.45pm

Ph 0508 CANLAW

(0508 226 529) to makean

appointment.

Help by phone Infoline

03 371 3819 or 0508 226 529

215 Tancred Street,Ashburton

2331304

GODSELL

BRICKLAYING

•Houses

•Feature Walls

•Fences

•Blocklaying

Chris Godsell

027 274 2533

AH 308 7117

godsell@xtra.co.nz

2331315

RESIDENTIAL &

COMMERCIAL SPECIALISTS

Phone Quentin andPhilon

027 282 8908 or 027 2828909

Interior and Exterior Painting

Interior Plastering

Wallpapering

2331055

Lubes WOF

Allmechanical repairs

TRIANGLE

GARAGE LTD

Victoria Street,

TheTriangle,Ashburton

Phone: (03) 308 6772

2331333

PROFESSIONAL

PORTRAIT AND

COMMERCIAL

PHOTOGRAPHER

PICTURE FRAMING

GALLERY &STUDIO

179WEST STREET

0800 881122

emmily@emmilyharmer.co.nz

www.emmilyharmer.co.nz

2344396

2344373

JukeBox Hire

Weddings,21st,

PrivateFunctions

Sound Systems &Lighting Hire

Phone DJ Dave

03 308 5106

027 251 0015

www.soundmanagement.co.nz

2346679

BUS WITH ATOMIC&SAVE

CHC CHC ASH DN

Book online

atomictravel.co.nz

Phone021-0867-6001

Bus Service-Charters

2346681

FOR ALL YOUR

ADVERTISING

REQUIREMENTS,

GIVE

Jann or Karen

acall on

308 7664

•

•

•

•New builds •Renovations

•All types of engineering

•Small or large projects

Letthe team at

Insideout takecareof

all your painting and

property maintenance

• Painting

• Carpentry

• Renovations

• Projectwisdom

• Maintenance&repairs

2331299

Rob021 124 4268 l Sam022 5428927

email: robsue@hotmail.co.nz

2331331

2010 LTD

Call Shane todayon03307 7071

2344407

GREAT

RATES

PC Repairs, Set-up andTutoring

Icome to youday or evening!

NewPCs

and Laptops

forsale

4WD Diesel &ElectricScissorlifts

Rough terrain and electric lifts available

On site collection or deliveryavailable

Nowat6Range 403 West Street St,Riverside

PO Box 60, Ashburton 7740

Phone: 03 308 8155

Mobile: 0273 529909

Email:sales@nee.kiwi.nz

2331328

Alarms|Monitoring|Guards|Locks|Fire Protection|Compliance

•Securityalarms •Firealarms

•Alarmmonitoring •Fireextinguishers

•Documentdestruction •Locksmithing

120 MooreStreet,Ashburton

307 7199 (24 hours)

2339861

•PCRepairs/Sales •Networks/Servers

•Firewalls/Security •Spyware Clean-up •Training

20 YearsExperience Microso Cerfied Professional

NETWORKS FIREWALLS AND PCS LTD

Robin Johnstone 67 Aitken Street, Ashburton

P: 03 308 1440 C: 027 768 4058

robinbj@xtra.co.nz

2329049

ALL THINGS CANVAS &PVC

*Awnings/Shade sails/Dropblinds*Auto seat covers &repairs

*Hay &bin covers *PVC covers &repairs

*Ute tonneau covers *Furnitureupholsteryrepairs

*Commercial

PHONE TRAVIS HOWDEN 027 922 4544

2331321

2331332
---
trusted

2020 GUIDE

trades &services

To book your spaceinthis guide,phone KarenGane 308 7664 or email karen.gane@ashburtoncourier.co.nz

115 Archibald Street,Tinwald,Ashburton

Phone /Fax: (03) 307 2354

Email tincanup@xtra.co.nz www.tinwaldcanvas.co.nz

WILSONS

WINDSCREENS

WE WELCOME ZEK

FROM WINSTONES

TO JOIN OUR TEAM

We areyour one stop glass shop for

AUTO and HOUSE

REPAIR or REPLACE 152 Wills Street,

"Your placeorours"

2331334

2346686

Ashburton

Ph.308 8485

We service and repair all makes and models

of sewing machines and overlockers

Your local Bernina

service team

John Robbie Rachel

OPEN 7DAYS9.30am -4.30pm

Main South Road, Tinwald Ashburton | Phone 307 6277

www.anniesquilts.co.nz

•Manufacturer and supplier of

Rylock aluminium windows and doors

•Retrodouble glazing installers foradrier,

warmer,quieter home

Forafreequote, contactDavid &Lorayne Oakley

PHONE 308 8493. EMAIL: owdrylock@gmail.com

8A John Street,Ashburton

2346693

2344292

Restoration

2344410

Modifications Repairs

16 Cass Street,Ashburton l 03 308 0387

johnsons.panelpaint@gmail.com

Ashb

hbut

rton,R Rolles

leston

ton&Ch

Chrit

ist chu rch

•Paving •Irrigation •Lawns

•Planting •Fences •Pergolas

•Water features •Outdoor fires

•Raised planters •Decks

•Stonework•Brick &blockwork

•Artificialgrass and more...

Email –Aaron@theoutdoorspace.co.nz

Phone0800 688 365 /021 542 402

www.theoutdoorspace.co.nz

2344420

Solar powerwhenyou need it most

We are experts at installing solar

power systems for motorhomes.

• SOLAR PANELS • BATTERIES • DC MANAGEMENT

• CAMERAS • TV SATELLITE • PUMPS • REFRIGERATION

AAA

Solar

&SUN POWERPLUS

South Island

4McGregorLaneAshburton

03 307 4777 -027 4423103

ashsolarpower@xtra.co.nz

aasolarsouthisland.co.nz

2330944

2344369

ASHBURTON

GLASS LTD

Experts in glass

308-3918

214Wills Street

Ashburton

www.ashburtonglass.co.nz

office@ashburtonglass.co.nz

UNDER NEW LOCAL OWNERSHIP

Forall your tyre requirements,

see the localexperts

•Wheelalignments

•Wheelbalancing

197Wills Street,Ashburton l www.neumannstyres.co.nz

Phone 03 308 6737 (24 hrs –after hours call out applies)

234415

We offer the following:

• Gutter and DownpipeCleaning • Weed Spraying

• Moss,Mouldand Lichen Spraying • Spider Proofing

• Gorse and BroomSpraying • FenceLineSpraying

• Chimney/Flue Cleaning $75 • Heat Pump Service$90

MENTION THIS AD WHEN BOOKING FOR A10% DISCOUNT

ON GUTTER AND DOWNPIPE CLEANING

Call Allan on 027 209 5026 an let us know howwecan help

Your Digital

TV Experts

• Aerial/Dish installations and repairs

• Prewirefor TV/Audio and controlsystems

• TV wall mounting • Cell phone aerials

• Home theatreinstallation

• Authorised SkyTVtechnician

Servicing

Ashburton Geraldine

Methven Rakaia

andeverywhere in between

ASHBURTON

TV &AUDIO

PH 308 7332 /027 277 1062

ashburtontvandaudioltd.co.nz

2344372

2330936

"we clean to a

standard,

not aprice"

UNDER NEWAshburton

OWNERSHIP

Same exceptional CleaningServices

level of service

&quality cleaning

• regular full house cleans

• one off spring cleans

• farm houses

• builders cleans

•

03 307 2656

www.ashburtoncleaning.co.nz

ashburtoncranes2015@gmail.com

100% LOCAL

FOR ALL YOUR ADVERTISING

REQUIREMENTS, GIVE

Jann or Karen acallon

308 7664

2344365

2328949

Phone 308 1366 Mobile 027 433 3601

E: patsumm@xtra.co.nz

•All domestic and commercial wiring

•New build andalterations

•Freequotes

Once younoticeit,

ovus it

On-sitecameracalibration

Courtesy car available

Stone chips while youwait

Mention this advertatyour next repair and receive

Novus glass cleaner FREE

65 South Street,Ashburton7700

Phone 307 4413

ashburton@novus.co.nz

2344418

2334925
---
NEWS

Ashburton Courier, January 14, 2021

Busy year ahead for

Ashburton council

Happy New Year, everyone.

Ihope you enjoyed a

refreshing break over the

holidays ready to take on

another year; one which we

all hope will be alittle more

normal than the last.

On the council front, there

is alot on our agenda from

major infrastructure

projects right through to

advocacy and research on

some key issues for our

district.

With the new wastewater

pump station and

underground pipeline across

the Ashburton River now

complete, council is moving

on to our next big wastewater

project to help future­proof

the town.

We are set to receive

government funding as part

of the three waters reform

programme to help install a

new sewer relief system that

will be built to increase the

capacity of our wastewater

services.

This project will begin

shortly in north­east

Ashburton and at the site of

the recently installed river

crossing pipeline, which the

new sewer relief pipe will

connect to.

The year 2021 is hugely

significant for the Ashburton

Library and Civic Centre as

construction is set to begin.

Late last year, Naylor Love

were confirmed as the

preferred contractor for the

build after an open tender

process. Detailed contract

negotiations are now under

way.

Roading will continue to

be abig focus of our services

this year and our new fiveyear

maintenance contract is

now under way with HEB

Construction.

ACL have also been busy

this summer period

resealing several roads as

part of their new two­year

resurfacing contract.

We are very excited to now

be in the second and final

year of the Ashburton town

centre upgrades, with work

now starting on East Street.

Final touches will be made

to Tancred Street towards

the end of this month and

work will be continuing on

Burnett Street as well,

including underground

pipeline installations and

footpath construction.

As you might be aware, one

of the council's big

considerations this coming

12 months is around water.

The first issue concerns

the Government's three

waters reform, which is

signalling big changes to the

way drinking, stormwater

27

and wastewater is delivered

in New Zealand.

To put it simply, there is

the potential for these

services to be taken out of the

hands of councils and placed

with new larger governing

bodies, which is avery big

change for the sector.

There will be further

details on this in the coming

months, and the final

decision will only be made

after extensive consultation

with the community.

The second issue is in

regards to the impact of the

Government's essential

freshwater regulations

adopted in September 2020.

We've learned through our

recent economic impact

report that in theircurrent

formthe regulations will

haveahugeimpactonour

local economy.

Council is now moving

forward withproducing a

moredetailedreportabout

how the nitratetargets in the

regulations willimpact our

community, and we will

continue to keep you

updated on our workinthis

space.

There is certainly a

diverse and busy work

programme aheadofusthis

yearand we are eager to

diveinto it.

Keepup­to­dateonour

progress on the council

website ashburtondc.govt.nz

or Facebookpage

(@AshburtonDC).

PHOTOGRAPHS

FORSALE

Have youhad

your photo

taken by our

reporters?

Order aPhotoToday!

¼Page*

$6

*approx 6x4

A5

$8.50

FOR LEASE

A4

$16

Ph: 308 7664

199 Burnett St,Ashburton

AWESOME office space for

lease, rent or hire. Park like

setting. Indoor and outdoor

areas. North West town

boundary. Must view.

Phone 0274 754 241

STORAGE available, Ashburton.

Self storage, variety

of sizes. Phone Rainbow

Storage 03 307 0401

STORAGE:Secure self storage

units available, long or

short term. Ashburton Storage

Facilities. Contact us

on 0274 362 636 or www.

ashburtonstoragefacilities.

co.nz

FOR LEASE

RENT ME!

Ideal as an extra

bedroomoroffice.

Fully insulatedand

double glazed forwarmth.

Threeconvenientsizes:

Standard3.6m x2.4m,

Large 4.2m x2.4m

Xtra-large 4.8m x2.4m.

Visit our displaycabin

418WestStreet or callfor a

freebrochure.

www.justcabins.co.nz

2343596

0800 58 78 22

RAFFLE RESULTS

RAFFLE RESULTS

HospiceMCChristmas Raffle

Christmas Cake

Ham

Hamper

Side of Lamb

Side of Lamb

Rangi

LKenny

NDean

JSmith

GClucas

All winners notified.

MEETINGS

ANNUAL

GENERAL

MEETING

SENIORNET

ASHBURTON (INC)

Thursday21January

2021

Sinclair Centre,

Park Street,

Ashburton.

Commencing at

1:30pm

All welcome

J.W. Burn, Chairman

EveryHome

EveryWeek-that's

Phone 308 7664

199 Burnett Street

Ashburton

LOCAL LISTENING

2346437

2346152

Covid reduces core income, fees

Covid­19 pushed the

AshburtonDistrictCouncil

to a$1.9 millionlossfor the

yeartoJune 30, 2020.

Council'sannual report,

just out, showstotal revenue

was about $5 million below a

budgeted$68.5m.Building

consents andlevies were

down $700,000 and fees and

charges throughfacilities

like theEANetworksCentre

wereabout $600,000 down.

The recreation centre,

museum and librarywere

closed for seven weeks in the

covid lockdownand

patronage was slow to

recover, with May and June

receipts wellbelowbudget.

Subsidies from theNew

Zealand Transport Agency

were $1.7m below budget;

duetothe delay in

completing subsidisable

roading and footpath work.

Operating expensesfor the

yearwere$65.2m, higher

thanthe $59.4m predicted.

Personnel costswere $16.1m

(higher than the$15.7m

budgeted for), depreciation

was $16m (higherthan

$15.6m budgeted for) while

other expenses were $1.4m

greater than expected.

Mayor Neil Brown said

covid had aripple effect on

council business andstaff

worked hard to ensure

essential services were

delivered.

Hoops l 6am to 10am

2346619

SUMMER 2021

P 03 435 1809

E Reservations@hermitage.co.nz

www.hermitage.co.nz

*T&C's apply: Offer expires 31st January 2021

Available for stays up until 30th May 2021

Available with any Bed and Breakfast Package
---
CLASSIFIEDS

28 Ashburton Courier, January 14, 2021

2345996

ENTERTAINMENT

Gypsy Jazz Duo–Arts on Tour

28th January 2021 7-30pm $25 (fees apply)

Violinist Fiona Pears and guitarist Connor Hartley-Hall share alove

of Gypsy jazz. This music was originally made famous by legendary

guitarist Django Reinhardt and French virtuoso

violinist Stéphane Grappelli, when they formed

the 'Quintette du Hot Club de France' back

in the 1930s. Fiona and Connor will play two

45 min sets. Come and enjoy and evening of

beautiful music.

Setting Up Camp –The SoldiersTale –

NewZealand SymphonyOrchestra

Sunday 7th March 2pm

Adults from $27 /Child/Student $15

(fees apply)

An ensemble from the NZSO and dancers

from Royal New Zealand Ballet presents

Stravinsky's The Soldier's Tale. Based on a

Russian folk tale, it tells the story of asoldier

who makes adeal with the devil in exchange for aviolin.

ENTERTAINMENT ENTERTAINMENT ENTERTAINMENT

BOOK

NOW

Tutus on Tour

For more information

www.ateventcentre.co.nz

March 11th 6-30pm Tickets Adults from $27 /

Child from $12 (fees apply)

Tutus on Tour is achance for ballet lovers

to indulge in their passion for dance. This

enchanting summer programme, with two

familiar favourites and two brand new ballets,

has something for everyone.

TheNew Zealand String Quartet,

4Suits and aSoprano

April 17, 7:30pm, Tickets Premium $89.90 /A-Reserve $79.90

New Zealand's most accomplished

performers, Dame Kiri Te Kanawa protégé Ipu

Laga'aia, tenor Chris McRae, musical theatre

stars Sophie Morris and Rutene Spooner, and

music legend Laughton Kora join forces with

The New Zealand String Quartet.

03 3072010 211A Wills Street, Ashburton 7700 admin@ateventcentre.co.nz *Service fees apply

NevilleWilkins &TheViscounts

Saturday16th January, 8pm

THE JACKSON'SBISTROOPEN THUR &SAT EVENINGS

Courtesy van

runs every

Thursday, Friday

and Saturday

from 4pm

Join the RSA (the friendly club)

12-14 Cox Street, Ashburton. Phone 308 7175

Members, guests and affiliates all welcome

POULTRY

BROWN SHAVER

PULLETS FOR SALE

Point of lay pullets $30 each

Willowby Phone 0272 033 007

LIVESTOCK

2345852

2346011

SOUTH Suffolk 2th Rams,

Averages; Wean.W 47kg,

Scan 06/03/20 Weight

64kg, EMA 21Cm -Just 3

singles in lineup. Achieved

dryland pasture only. One

life-time drench only. Thrive

or Cull, 1in4makes final

cut. Phone/Text 027 776

1814, or 03 302 6055

GARDEN SUPPLIES

PAUL'S Garden Nursery,

101 Harrison St, Allenton,

Ashburton, has leek and

swan plants available. Any

enquiries to Paul 027 278

1354. Open 7days.

STOCK FOOD

MEADOW Hay from $8. per

bale. 22 Melrose Rd, Ashburton.

Phone 027 229

5027.

FRUIT &PRODUCE

NEW Season Potatoes;

Nadine $2.50kg. Phone 03

308 3195 or 027 531 9103.

81 Elizabeth Street, Ashburton.

POTATOES Ilam Hardys,

New Season $2kg. Minimum

order 2 1 ⁄2kg. Large

size $1.50kg. Delivered in

Ashburton and Tinwald

Friday afternoon. Ph 302

7272

WANTED TO BUY

METAL, heavy etc. Free

light-grade metal in-yard

dumping 9am-5pm weekdays

&9.30-11.30am Saturdays.

Ashburton Scrap

Metal Recyclers, 117 Alford

Forest Rd, (behind

PlaceMakers). Phone 03

308 8033 or 027 249 6625.

PRE 1990's vehicles suitable

for resurrection and restoration,

not wrecking. Anything

considered, dead reg

ok. Ph 021 227 6878.

TAXIDERMYBIRD

Looking for exotic taxidermy

birds such as birds of paradise.

0210651671

SELL

CHURCH Pews :StDavid's

Church have pews for sale.

For details contact Carl

Ruddenklau, Ph 027 220

9963 or 308 1852.

LPG REFILLS

9kg cylinders

$27.50

Askaboutour

deliveryservice

Anysizecylinder filled

17 Grey St,Ashburton

Phone 307 2707

2343594

AUTOMOTIVE SERVICES

QualityEuropean

Vehicle Servicing

•Advanced

Diagnostics

•Experienced

Technicians

SITUATIONS VACANT

BAKER

SITUATIONS VACANT

PharmacyTechnician

Netherby Pharmacy is seeking a Qualified

Pharmacy Technician to join our team.

It is apermanent full time position (part time 25+

hours aweek is alsoan option).

This position requires a responsible and selfmotivated

person who works well in a team

environment and has excellent people skills.

Experience with Toniq dispensary system

is an advantage but not necessary.

This will be a rewarding position in a friendly

community pharmacy where we are very

passionate about providing excellent customer

service.

To apply,please emailyourCV, coverletter and

relevant work references to Grantat

grant.hastie@xtra.co.nz

NetherbyPharmacy

214 Chalmers Avenue

Ashburton7700

AUTOMOTIVE SERVICES

•Collection/Delivery

'Free of Charge'

in Ashburton

Bruce McIlroy Limited

309MethvenHighway, Ashburton7776

Tel: 03 3087282•E:bruce.mcilroy@xtra.co.nz

MTAAPPROVED

SELL

LPG

REFILLS

Small LPG cylinders

Off Street Parking

Available

Arthur Cates Ltd

26 McNally Street

Ph 308 5397

Riverside Industrial Estate

MOTORCYCLES

ORNSBY Motorcycle Training.

CBTA licensing and

training (Ashburton). Ride

Forever courses in Ashburton

and Geraldine. Call

0508ORNSBY(0508 676

729) for more info or visit

motorcycletraining.co.nz

CARS FOR SALE

1993 Honda Civic; white,

automatic, 254,985kms.

Current Rego and WOF.

Very economical and

reliable. Great run-about.

$1,500 ono. Phone Lyn 027

457 1683

Mr Man'sBakeryand Cafe is looking foraBaker. This

position requires someone who is fully committed with

3yearsofexperience. This is afulltime position starting

from 3am on MondaytoSaturday.

This job involves cooking, preparing food, cleaning

and customer service. It will require preparing pastry

fillings, mixing and shaping dough and pastry goods.

Must be able to operatebakerymachines and check for

cleanliness of equipmentbeforeproduction.

This position requires relevant experience in

Cambodian/Asian fusion cooking, therefore the

successful applicant will be proficient inall aspects of

Cambodian food preparation, cutting meats,vegetables

and making sauces.

Applicantmust have aclean policerecordand mustbe

able to pass apre-employmentdrug test.

Please email your CV to savonnman@yahoo.com or

drop it into the shop at 183 Burnett Street,Ashburton

MR MAN'S

BAKERY &CAFE

Call us for a

FREE

QUOTE

2345932

2346779

2343597

2346540

www.ashburtoncourier.co.nz

SITUATIONS VACANT

SITUATIONS VACANT

SCAMMELL

PAINTING &DECORATING LTD

APPRENTICE &QUALIFIED PAINTER

Theteam at Scammell Painting &Decorating are

looking foranapprentice(training will be given)

and aqualified painter.

If youworkwell in ateam environment, have agood

eyefor detail andhave pride in the qualityofwork

produced,then we would like to hear from you.

We offer excellentworking conditions and awide

varietyofwork.

Apply to office@scammellpainting.co.nz

ASHBURTON COLLEGE

'Individual ExcellenceinaSupportive

Learning Environment'

Learning SupportAssistant–

Te WhareManaaki(SLSU)

Support(both educational and personal cares) of

students with high to very high learning

and physical needs.

This is afixed-term, term-time only position

forthe 2021schoolyear,

forcommencement3February2020.

Hours: 15 hours per week (over3days),

to be confirmed with successfulapplicant.

Employmentisunder the SupportStaff inSchool's

CollectiveAgreement, Grade B.

Initial paymentstepcommensurate withexperience.

Applications close noon, Tuesday19January2020

Information package enquiries andapplications

please contact

Jodee Ross,Principal's Secretary

Phone (03) 308 4193 ext809

Email: rj@ashcoll.school.nz

2344205

Looking for a change in 2021? Keen to either

continue your experienceinthe agri-sectororjump

aboardonour journey?

Dairy Holdings Ltd isaSouth Island based dairy

farming operation in Ashburtonwith over 60 dairy

farms and support blocks that has been operating

for close on 20 years. Wepride ourselves on our

approach that isbased around our people, our

process,and our pasture.

As we are continuing to grow, wehave an exciting

opportunity for a motivated and organised

Administrator to join our team to assist our Health

&SafetyManager and Farm Systems Coach.

Daytoday,thisrole will:

•Provide key administration support.

•Take ownership for organising our training

calendar and programme.

•Assist with organisation of in-house events

such as discussion groups and development

opportunities forour operators.

•Get amongst our data and information to provide

real time updatesand reporting.

To be successful in our role you will at times, pull

on the gumboots or pick up the phone, and have

direct communication with our DHL team, or

operators, toassist us with providing exceptional

services and timely communication.

We are looking for someone who has excellent

communication skills, can outshine us on a

excel spreadsheet, can juggle a few balls with

exceptional time management and can work both

independently and collaboratively. Previous dairy

experiencewould be abonus.

Sound like this mightbefor you? Please send your

CV to jane@dairyholdings.co.nz with acovering

letter outlining whythis role is your next step.

EntitlementtoworkinNZisrequired,along with a

full driver's licence. Ashburtonbased.

2346587

2346942
---
www.ashburtoncourier.co.nz

SITUATIONS VACANT

SITUATIONS VACANT

SUPERLIQUOR ASHBURTON

Superliquor Ashburton is seeking to hire a

new staff member to work in our busy bottle

store in Ashburton.

Therole:

• Inwards good receipting, unpacking and

stocking of both warehouse and retail store

shelves

• Some retail work in-store (serving customers,

and working at the check-out)

• Able todeliver exceptional customer service

experience while monitoring and upholding

the store's legal obligations with respect to

the sales of alcohol legislation

• The applicant will require the highestlevelof

honesty and integrity alongside ateam spirit

supporting rostered shifts across days,nights

and weekends.

What are we looking for?

• Ideally, some previous experienceworking in

retail or hospitality environments

• Duty Manager and current liquor control

qualification, or be willing to obtain these

promptly

• Energetic, and physically fit (as you will be

required to unpack, lift, move and stock

shelves in warehouse and retail store)

• Understand principles of stock control, and

rotating of stock through retail store (or be

willing to learn)

• Able tooperate aforklift (with appropriate

experience orqualification)

• Good communication skills, with apassion

for customer service

• A team player who can work with minimal

supervision

• Anappreciationofwine, spirits and beer and

ageneral understanding of the industry

• We also require your commitment in upskilling

your knowledge

What's in it foryou?

• Variety ofhours

• Competitive hourly rate plus variety of team

benefits including discounts in our retail

store

• Arole withinasupportiveteam environment

• Industry training and development

opportunities

For more information, contact Karyn Leckie,

Manager. Email ashburton@superliquor.co.nz;

phone (03) 308 7149 or call into

266 Havelock Street, Ashburton.

2346627

Rainer Irrigation was established in 1989. We are

aleading Irrigation provider, powered by quality

brands and passionate people with acommitment

to delivering excellentcustomer service.

We are searching for a well-rounded office

administratortojoinour busy Ashburtonteam.

If you are looking to work with agreat team, love

variety and require achallenge we want to hear

from you.

Duties will include:

• Bank deposits and reconciliation

• Accounts receivable

• Accounts payable

• Invoicing

• General reception and officesupport

The successful applicant will have good computer

and customer service skills. Knowledge of Simpro

and Xero programs would be greatbut not essential

as training will be given. They will also have ahigh

degree ofdetail and accuracy and the ability to

communicate effectively with avarietyofpeople.

If this sounds like you, if youwantachallenge,ifyou

want to be apartofaforwardthinking and positive

team cultureplease apply to admin@rainer.co.nz or

phone 033079049.

Applicants for this position should have NZ

residencyoravalidNZworkvisa. 2346977

SITUATIONS VACANT SITUATIONS VACANT SITUATIONS VACANT

Office Manager –

Seed Processing Business

Norwest Seed Processing is afully integrated, independent, progressive family

seed company. Formoreinformation visit

https://www.norwestseed.co.nz/norwestseed-processing

Theopportunity

Based at our office, ahandy 30 minutes from Ashburtonand less than 10 minutes

from Methven, the Office Manager will provide akey supportrole to the Directors

and PlantManager.

In addition to general administration duties your key responsibilities will include:

• Invoicing and accounts payable;

• Creatingand maintaining effectiveofficesystems;

• Managing and updating recording and reporting software;

• Assistingwith seed sampling and testing

• H&S and Human Resourcesadministration;

• Anticipating customer needs and exceeding their expectations.

Your skills and experience

Youwill:

• beanorganised person with the ability tomanage your work to meet

deadlines;

• havestrong attention to detail and acommitmenttohigh work standards;

• use your excellent communication and relationship building skills to ensure

internal and external customer satisfaction; and

• bring experienceofasimilar role.

What you'll get in return

Youwill receiveacompetitivesalary, training andsupportand the opportunityto

work in asmall and positiveworkenvironment that is constantly evolving.

Afull position description can be viewed here:

https://www.peoplemad.co.nz/current-jobs

To apply

Submit your resume and coverletter by email to

sarah@peoplemad.co.nz. Applications close Monday1st February2021.

ASHBURTON COLLEGE

'Individual ExcellenceinaSupportive

Learning Environment'

Learning SupportAssistant –

Te WhareManaaki(SLSU)

(2 positions)

Support(both educational and personal cares) of

students with high to very

high learning and physical needs.

This is afixed-term, term-time only position forthe

2021 school year,

forcommencement3February2020.

Hours: 20 hours per week (over5days),

to be confirmed with successfulapplicant.

Employmentisunder the Support Staff in School's

CollectiveAgreement, Grade B.

Initial paymentstepcommensurate with experience.

Applications close noon, Tuesday19January2020

Information package enquiriesand applications

please contact

Jodee Ross,Principal's Secretary

Phone (03) 308 4193 ext809

Email: rj@ashcoll.school.nz 2344207

RECEPTIONIST –PART TIME

We arelooking forafriendly receptionist to join our

busy team; we are alarge modern practice with 5

clinicians.

Youwill be well presented, be people focused with

excellent computer and communication skills, with

flexibilitytocover forother staff when required.

Drivers license and apolicecheck arerequirements.

Applicants forthis position shouldhaveNZresidency

or avalid NZ work permit.

Apply in person or email your coverletter andCVto:

Bernie Jopson

PracticeCo-ordinator

bernie@parksidenz.co.nz

Applications close on Monday 25th January 2020

at 5pm

2346678

SITUATIONS WANTED

2346894

EXPERIENCED Caregiver/

house cleaner available.

Phone or Text 027 876

2801

SITUATIONS VACANT

CLASSIFIEDS

Ashburton Courier, January 14, 2021

HEALTH &BEAUTY

29

HEALTH &BEAUTY

URGENT CARE CLINIC

WEEKEND DUTYDOCTORS

IN THE EVENT OF AN EMERGENCYPHONE 111

Forall othermedicalassistance outside of normal

hoursplease phone your generalpracticeteam,24/7,

to speak withahealth professional whowill giveyou

free health advice on what to do or wheretogoifyou

need urgentcare.

If youdon't have aregular generalpractice, call any

GP team 24/7 forfreetelephone health advice.

All non-residents and visa holders please bring your

passporttoyour surgeryappointment.

New Zealanders'tobringsome form of ID.

TheAshburtonDutyPractice for ...

Saturday16th January is

ThreeRivers Health, 7-11 Allens Road.

Consultations will be by appointmentonly.

To make an appointmentcallyour regular GP 24/7.

Sunday17th January is

ThreeRivers Health, 7-11 Allens Road.

Consultations will be by appointmentonly.

To make an appointmentcall your regular GP 24/7.

Methven and Rakaia: Formedical attention on the

weekend and public holidays please telephone

MethvenMedical Centre on 03 302 8105

or Rakaia Medical Centre on 03 303 5002.

Details foraccessing the afterhours services will be

on the answer phone.

PHARMACIES

Wises Pharmacy,CountdownComplex,

East Street will be open on ...

Saturday from 9.00am until 1.00pm

Sunday from 10.00am until 1.00pm

At Geraldine: TheGeraldine Pharmacywill be open

normal trading hours during the week,and on

Saturdaymorning from 9.30am to 12.30pm.

Closed Sundays and Public Holidays

Forfree24hour Telephone Health Advice

Phone the healthline on 0800 611 116

Brought

toyouby

CountdownComplex, East Street, Ashburton

Phone: 03 308 6733 Fax: 03 308 6755

SITUATIONS VACANT

SPRAY PAINTER/PREPPER

Afull time position has become available in our

Panel and Paintshop foraQualified Spray Painter.

Theposition requires

• Good work ethics

• Have ahigh standardindetail and finish

• Tobereliable

• The abilitytoworkunsupervised

• Toworkinateam and meet production deadlines

• NZresidencyorvalid NZ work visa

Please send resume and coverletter to

TheGeneral Manager

Bus and Truck Body Work Ltd

PO Box51, Ashburton7740

Phone Keith on 0274 274 007 or 307 0378

Email busandtruckbodywork@xtra.co.nz

PANEL BEATER/COACH BUILDER

Afull time position has become available in our

Panel and Paint shop for apanel beater orcoach

builder.

Theposition requires

• Good work ethics

• Have ahigh standardindetail and finish

• Tobereliable

• The abilitytoworkunsupervised

• Toworkinateam and meet production deadlines

• NZresidencyorvalid NZ work visa

Please send resume and coverletter to

TheGeneral Manager

Bus and Truck Body Work Ltd

PO Box51, Ashburton7740

Phone Keith on 0274 274 007 or 307 0378

Email busandtruckbodywork@xtra.co.nz

2345905

2345902

TRADE &SERVICES

ALTERATIONS. Sewing,

mending and trouser hemming,

curtain alterations

and curtain making. Call

Michelle on 027 352 7248.

BUILDER - specialising in

home renovations and

repair work. We also do

decks, fences and retaining,

plastering and painting,

gardening, landscaping

and tree removal. Call

Gavin 021 267 1979

CARPET cleaning. Powerful

equipment and fast drying.

Upholstery, mats and rugs.

Experienced owner/operator.

Phone John Cameron

at Supersucker. 027 435

1042 or 308 1677.

CARR'S Chimney Cleaning,

servicing Ashburton and

surrounding districts, $60

per chimney. Phone

Rodney on 03 324 2999

and leave amessage.

CHARLIES Blind Cleaning

Service -same day service

and repairs. Charlie can

supply new blinds and

tracks and will hang

drapes. Ph 03 307 1936 or

020 4169 0342

COMPUTER Problems? For

prompt reliable computer

servicing and laser engraving,

contact Kelvin, KJB

Systems Ltd, 4 Ascot

Place, Ashburton. Phone

308 8989. SuperGold discount

card accepted.

COMPUTER repairs, sales,

training, setup wirelessnetworks,

spyware

cleanup. On-site day or

evening. Low fees. Call

Robin Johnstone, Networks

Firewalls and PC's Ltd, 308

1440 or 027 768 4058

DENTURES; Dr Peter

Rumping repairs existing

dentures and also provides

new dentures. Phone 027

220 9997
---
CLASSIFIEDS

30 Ashburton Courier, January 14, 2021

TRADE &SERVICES

DRIVEWAYS, Patios and

Paths, Plain Concrete, Coloured

Concrete or Exposed

Agregate Concrete.

Paveco, 13 Robinson

Street. 100% local. Phone

307 6466 for aquote.

ENGINEERING repairs, fabrication,

farm equipment

service and maintenance,

WOF repairs, machining

and welding. Odd jobs a

speciality. Mobile workshop.

Can collect. Phone

Malcolm 0274 754 241.

FURNITURE Removals. For

all your household removal

needs - urban, rural lifestyle,

office relocations -

call Nudges Furniture

Removals, phone 027 224

0609

GUTTER and downpipe

cleaning and repairs.

Spider and fly treatment.

Phone 03 394 6166 or 027

209 5026, ask for Allan. AA

Performance Services.

INTERIOR

PLASTERING

New or existing,

level 4finish, full skim

plaster or repairs

The Finishing Company

03 307 8870 2343602

LAWN Mowing. No job too

small. Call Les Smith, From

The Ground Up, for a

competitve quote. Ph 027

840 0201 or 03 308 1500

LOCKSMITH/Door repairs.

Keys/locks, sliding and bifold

door roller repairs.

Mobile service. Call Nigel at

Doors and More. Ph 027

516 7104

ON-FARM firewood

processing. Phone 027 247

5577

PAINTER for all your painting

needs. No job too small,

inside or outside. Professional

friendly service.

Phone Pete 03 308 1672 or

027 200 1619.

GEEKS ON

WHEELS.

WECOME

TO YOU.

BOOK NOWAND GET

$50 OFF YOUR FIRST

APPOINTMENT.

We'reproud to be

everyday Geeks,helping

everydayKiwiswith

"Every dayIT".

We deal with awide

rangeoftechnical

issues including:

•PC&Laptop Repairs

•Email

•Internet &WiFi

•Computer Upgrades

•File Recovery

•VirusRemoval

•Setup &Installation

•Geek Hotline

0800424 335

2335350

PUBLIC NOTICE

3DAYS

20, 21 &22

January2021

8am -5pm

Mania ORotoPark,

Chalmers Avenue,

Ashburton

PUBLIC NOTICE

Tramping,

biking plus

1night

camping

$60 forthe 3days

Suitable forgirls and boys ages 10-13 years.

Non scouting children welcome.

Good to average physical fitness.

Forenquiries,please emailturkeys@xtra.co.nz

Phone 308 5678 binghamfamily@outlook.com

TIMARU

SHUTTLE

Operating door to door service

Timaru -Christchurch &return

Monday-Friday

Pick ups from Timaru, Temuka, Geraldine

&Ashburton. PrivateTransfers 7days

021 344 780

ctcresv@gmail.com

ONLINE BOOKINGSON

WWW.TIMARUSHUTTLE.COM

Have youheard?

SPCAAshburton's Centre has moved!

We arenow on 4Seafield Road and theentranceis

beside the cemetery.

This move is an exciting one and will help us better

carefor the animals in our community who need

us.

We arestillopen TuesdaytoSaturday10am to 1pm

andwecan be contactedon033071019 or via

email ashburton.info@spca.nz

Pleasespreadthe word!

Do youwantto

learn to playbridge?

Bridgeisanexcing

card game.

Join afriendly club–the

AshburtonBridgeClub and

makenew friends.

Lessons areonMonday

evenings, starng Monday

1stFebruary, at 7pm.

Theygofor at least

10 weeks. Totalcostis$50,

which includes

1styear's subscripon.

Fordetails,ring KayRobb

on (03) 308 6838

or 027 682 2091.

TRADE &SERVICES

2345874

SUN Control Window Tinting:

Privacy, UV, glare, heat

control for homes, offices

and cars. Phone Craig

Rogers 307 6347, member

Master Tinters NZ. www.

windowtinter.co.nz

TINT-A-WINDOW, fade, UV

block, glare, heat control,

safety, security, privacy,

frosting films, solar protective

window films. Free

quotes, 20 years local service.

Phone 0800 368 468

now, Bill Breukelaar, www.

tintawindow.co.nz

2343247

2338841

2342527

Mr Kool icecreams is

back in town, available

forbirthdayparties,

school fairs,corporate

and social events.

Will also be carrying out

street sales,solisten

out forthe bells!

Please text me on

0210 467 467.

2341050

DRIVING Lessons. Take

your skills to the next level

with L2D; Beginner to

Advanced. Phone or message

027 543 7632

HOME SERVICES

ROOF COATINGS: All roof

types, specializing in

Decramastic and Long Run

Iron, Coloursteel etc, steep

roofs not a problem. —

Spraymaster 027-433-7780.

PUBLIC NOTICE PUBLIC NOTICE PUBLIC NOTICE

THE MID CANTERBURY

CONNECTOR –

NEWCOMMUNITY

TRANSPORTSERVICE

• DoyouliveinoneofthesmallertownsorruralareasaroundAshburtonDistrict

and want to come into Ashburton Township for medical appointments,

doing business with Council, seeing family and friends, shopping, using

governmentand social services,etc?

• Doyou have no transportoraccess to transport?

• Then hop onto the "Mid CanterburyConnector"!

THE MID CANTERBURY CONNECTOR operates twice aweek, commencing

Tuesday12th January, 2021 forasix-month trial period.

On Tuesdays the Mid Canterbury Connector picks you upfrom MtSomers,

Staveley,Methven, Winchmoreand drops youoffintownfor 2-3 hours,before

taking youhome.

On Wednesdays the CommunityConnectorpicks youupfromRakaia, Chertsey,

Fairton/Hakatere Marae, Wakanui, down to Hinds and drops youoffintownfor

2-3 hours,then takes youhome.

Drop off points in town are Ashburton Hospital; Ashburton District Council

offices and AshburtonLibrary; EA NetworksCentre; and Work and Income NZ/

CommunityHouse MidCanterbury.

FOR INFORMATION ON PICK UP PLACES AND TIMES, FARES AND TO BOOK

CALL SAFER MID CANTERBURYON03308 1395 ext225

NOTE:

If youwanttobook on the Tuesdayrun, youneedtolet us know by 2pm on the

Mondaybefore.

If youwanttobook on the Wednesdayrun, youneedtolet us know by 2pm on

the Tuesdaybefore.

My Pick This Week

Open Home: Saturday 16th, 10:00am -10:30am

1/19 Tancred Street Set Sale. Offers over

$334,000

•Designedfor oldercitizens

•Spaciousopen planliving

•Two doublebedrooms

•Wet areabathrooms

Tuesday-Saturday

9:30am -noon

Phone 308 4432 or

027 332 9286

Helena Ratten Mobile 027457 7998

We put you first

SBWDevelopmentsLtd

Licensed AgentREAA 2008

Tabbykittens

ready now.

6year old

British Blue cat

available

Food donations appreciated.

Kindly sponsored by

2345985

2346002

180216

www.ashburtoncourier.co.nz

2343971

We can supportyou and

your family to make

everyday count.

Allservices arefree.

PUBLIC NOTICE

Thurs 14th &Fri 15th

10.00 Dragon Rider

10.00 Elfkins

11.30 TheWitches

11.50 Dreambuilders

1.30

1.40

3.20

3.30

5.30

6.00

8.00

8.15

TheCroods 2

Dragon Rider

ACalltoSpy

BlitheSpirit

Wonder Woman1984

Monster Hunter

TheDry

Promising Young Woman

Sat16th &Sun 17th

10.00 DragonRider

10.00 Elfkins

11.30 TheWitches

11.50 Dreambuilders

1.30 ACalltoSpy

1.30 TheCroods2

3.20 Rams

3.50 BlitheSpirit

5.40 Promising Young Woman

5.50 TheDry

7.50 Wonder Woman1984

8.10 Monster Hunter

Mon18th, Tues 19th

&Wed 20th

10.00 Dragon Rider

10.00 Elfkins

11.30 TheWitches

11.50 Dreambuilders

1.30

1.40

3.20

3.30

5.30

6.00

8.00

8.15

TheCroods2

Dragon Rider

ACalltoSpy

BlitheSpirit

Wonder Woman1984

Monster Hunter

TheDry

Promising Young Woman

PG

PG

M

PG

PG

PG

PG

PG

PG

M

M

R18

PG

PG

M

PG

PG

PG

PG

PG

R18

M

PG

M

PG

PG

M

PG

PG

PG

PG

PG

PG

M

M

R18

NO COMPS

Dragon River, Dreambuilders,

TheDry,Elfkins,

Monster Hunterand

Promising Young Woman

BURNETTSTRANSPORTCATCH UP

Calling all former Burnetts workers,

partners &clients

Remembering thedaysatthe old Burnetts yards

Saturday16January2021

2pmonwards

Ashburton Racecourse

$5 perperson

Bank: JMNaish38-9015-0134176-09

(useyour first and last name as reference)

or paydirectly to namesbelow

Jane Naish –033082272orText0275265808

tonyjanenaish@gmail.com

Maurice Wotton –027 484 1115

BYODrinks

Kindly sponsored by Wilsons Windscreens

WILSONS

WINDSCREENS

HospiceMid Canterbury

Dealing withalifelimiting illness?

Phone 307 8387 or 027 227 8387 email manager@hospicemc.nz

www.hospicemc.nz facebook hospicemidcanterbury

LET'S GET BACK ON THE BUS

17 January - Christchurch Rebuild Tour,CityCentre/

Sumner/Lyttleton

03 February - OperatunityConcert"TheCrooners"

11am Caroline Bay, Timaru

18 February - Howard Morrison QuartetTake Two,

James HayTheatre@7.30pm

27 February - Solo MioInConcert,

Christchurch Town Hall @7pm

Forbookings

308 7646 l 027 249 1827

2345873

2346051

2346689
---
The place where farmers gettheir quality

agricultural replacement parts and equipment

Arable Plough

Parts

Gregoire

Besson

Kuhn

Skimmers

Kuhn Points Overum Parts Dale Shares

Tungsten

Kuhn Points Overum Points Kverneland

Shares

Plough Share

Rebuilds Plough Shares Plough Discs

Kverneland

Points

Dowdeswell

Shares

Lemken

Shares

Harvest

Parts

Header

Fingers Mower Blades Mower Skids Mower Skids

Slasher

Blades

Clip on Lifter Bolt on Lifter Floating Lifter

Lifter Buttons

Cultivation

Parts

Points

Simba Points

Goliath

Points

Bellota Grubber

Point 12'' x2.5''

Bellota

Grubber Point

10'' x2''

Kverneland Accord Vicon

TS Coulter Point

Vaderstad Rexius Point

Yeoman

TBolts

50 mm Topdown

Points

Points

Simba ST

Point

James

Aerator Point

Coil Tines

Springs

Panaerator

Point &Wing

Twisted

Points

Yeoman Clamp

Coil Tine

Clamp

Goliath

Springs

STines

Goliath Legs

Jackpot Tines

Simba

Wings

HARVEST

SPECIALS

On Clip On Lifters

and much much more!

The Bird scarer

Card

Bossweld X-Series ST 141X MMA

and DC LiftTIG Welder

Bossweld X-Series MST 188X

MIG/Stick/TIG Inverter Welder

Bossweld P-40 Inverter

Plasma Cutter

Bossweld X-Series MST248X

MIG/Stick/TIG Inverter Welder

BONUS ITEM!

UNIVERSAL

WELDING TROLLEY

$299

$869 $999

$1149

34 Robinson Street,Riverside Industrial Park,Ashburton. Phone 308 6509

34 Robinson Street,Riverside Industrial Park,Ashburton. Phone 308 6509

2344289