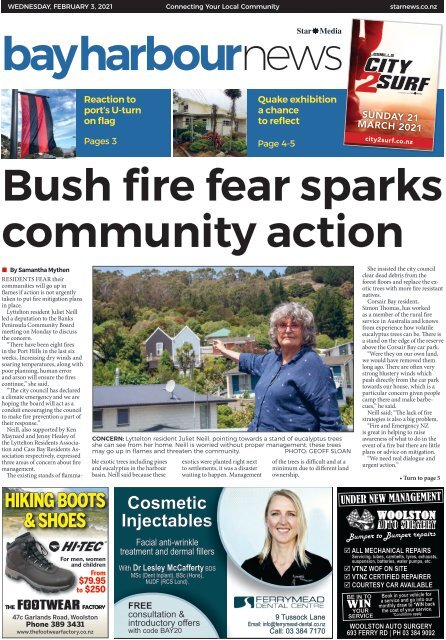 Bay Harbour: February 03, 2021
Create successful ePaper yourself
Turn your PDF publications into a flip-book with our unique Google optimized e-Paper software.
WEDNESDAY, FEBRUARY 3, 2021

Connecting Your Local Community

starnews.co.nz

Reaction to

port's U-turn

on flag

Pages 3

Quake exhibition

a chance

to reflect

Page 4-5

Sunday 21

March 2021

city2surf.co.nz

Bush fire fear sparks

community action

HIKING BOOTS

& SHOES

For men, women

and children

From

$79.95

to $250

47c Garlands Road, Woolston

Phone 389 3431

www.thefootwearfactory.co.nz

CONCERN: Lyttelton resident Juliet Neill, pointing towards a stand of eucalyptus trees

she can see from her home. Neill is worried without proper management, these trees

may go up in flames and threaten the community.

PHOTO: GEOFF SLOAN

• By Samantha Mythen

RESIDENTS FEAR their

communities will go up in

flames if action is not urgently

taken to put fire mitigation plans

in place.

Lyttelton resident Juliet Neill

led a deputation to the Banks

Peninsula Community Board

meeting on Monday to discuss

the concern.

"There have been eight fires

in the Port Hills in the last six

weeks. Increasing dry winds and

soaring temperatures, along with

poor planning, human error

and arson will ensure the fires

continue," she said.

"The city council has declared

a climate emergency and we are

hoping the board will act as a

conduit encouraging the council

to make fire prevention a part of

their response."

Neill, also supported by Ken

Maynard and Jenny Healey of

the Lyttelton Residents Association

and Cass Bay Residents Association

respectively, expressed

three areas of concern about fire

management.

The existing stands of flammable

exotic trees including pines

and eucalyptus in the harbour

basin. Neill said because these

Cosmetic

Injectables

Facial anti-wrinkle

treatment and dermal fillers

With Dr Lesley McCafferty BDS

MSc (Dent Inplant), BSc (Hons),

MJDF (RCS Lond).

FREE

consultation &

introductory offers

with code BAY20

exotics were planted right next

to settlements, it was a disaster

waiting to happen. Management

of the trees is difficult and at a

minimum due to different land

ownership.

9 Tussock Lane

Email: info@ferrymead-dental.co.nz

Call: 03 384 7170

UNDER NEW MANAGEMENT

WOOLSTON

Bumper to Bumper repairs

þ ALL MECHANICAL REPAIRS

Servicing. lubes, cambelts, tyres, exhausts,

suspension, batteries, water pumps, etc.

þ VTNZ WOF ON SITE

þ VTNZ CERTIFIED REPAIRER

þ COURTESY CAR AVAILABLE

BE IN TO

WIN

YOUR

SERVICE

She insisted the city council

clear dead debris from the

forest floors and replace the exotic

trees with more fire resistant

natives.

Corsair Bay resident,

Simon Thomas, has worked

as a member of the rural fire

service in Australia and knows

from experience how volatile

eucalyptus trees can be. There is

a stand on the edge of the reserve

above the Corsair Bay car park.

"Were they on our own land,

we would have removed them

long ago. There are often very

strong blustery winds which

push directly from the car park

towards our house, which is a

particular concern given people

camp there and make barbecues,"

he said.

Neill said: "The lack of fire

strategies is also a big problem.

"Fire and Emergency NZ

is great in helping to raise

awareness of what to do in the

event of a fire but there are little

plans or advice on mitigation.

"We need real dialogue and

urgent action."

• Turn to page 5

Book in your vehicle for

a service and go into our

monthly draw to *WIN back

the cost of your service.

*Conditions apply

WOOLSTON AUTO SURGERY

693 FERRY RD | PH 03 384 9092
---
PAGE 2 BAY HARBOUR

Latest Canterbury news at starnews.co.nz

Wednesday February 3 2021

what's on

this week

GENERAL INQUIRIES Ph 379 7100

CLASSIFIED ADVERTISING Ph 379 1100

Star Media, a division of Allied Press Ltd

PO Box 1467, Christchurch

starmedia.kiwi

NEWS

Samantha Mythen

Ph: 021 919 917

samantha.mythen@starmedia.kiwi

ADVERTISING

Jo-Anne Fuller

Ph: 364 7425

jo.fuller@starmedia.kiwi

Rob Davison

Ph: 021 225 8584

rob.davison@starmedia.kiwi

The best-read local newspaper,

delivered to 10,514 homes every week.

Brookhaven • Heathcote • Ferrymead

Redcliffs • Mt Pleasant • Sumner • Lyttelton

Diamond Harbour • Governors Bay • Akaroa

Ferrymead

News of the World

by Paulette Jiles

In the wake of the Civil War, Captain Jefferson Kyle Kidd

travels through northern Texas, giving live readings

from newspapers to paying audiences hungry for news

of the world. In Wichita Falls, he is offered a $50 gold

piece to deliver a young orphan to her relatives in San

Antonio. Four years earlier, a band of Kiowa raiders

killed Johanna's parents and sister; sparing the little girl,

they raised her as one of their own. Recently rescued by the

U.S. army, the ten-year-old has once again been torn away from the

only home she knows. Their 400-mile journey south through unsettled territory

and unforgiving terrain proves difficult and at times dangerous. Johanna has

forgotten the English language, tries to escape at every opportunity, throws

away her shoes, and refuses to act "civilized." Yet as the miles pass, the two

lonely survivors tentatively begin to trust each other, forming a bond that marks

the difference between life and death in this treacherous land. Arriving in San

Antonio, the reunion is neither happy nor welcome. The captain must hand

Johanna over to an aunt and uncle she does not remember—strangers who

regard her as an unwanted burden. A respectable man, Captain Kidd is faced

with a terrible choice: abandon the girl to her fate or become—in the eyes of

the law—a kidnapper himself.

This Wonderful Thing

by Adam Baron

From the author of bestselling and Carnegie-nominated debut BOY

UNDERWATER comes a moving and hilarious novel for 10+ readers about

friendships, family secrets, mystery – and life-changing hidden treasure…

Jessica is playing with her family at the river when she finds a dirty,

bedraggled teddy bear in the water. She has no idea that it will change

everything, forever. Meanwhile, Cymbeline comes home from school to find

that his mum's house has been broken into – and the thieves seemed oddly

focused on his toys. Thank goodness he had Not Mr Fluffy, his Bear of Most

Extreme Importance, with him. Soon, Jessica and Cymbeline find themselves

swept up in a mystery that spans decades, threatens their families, and turns

their lives upside down. But sometimes, just maybe, a new life can be a really

wonderful thing…

WIN THIS BOOK

ENTER TO

WIN

THIS BOOK

Sumner Bridge Club

Monday 7.15pm, Wednesday 1pm

57 Dryden St, Sumner

For fun, friendly and competitive

Bridge. If you have any questions,

send an email to sumnerbridgeclub@

gmail.com

Steadfast Stream Weeding

Wednesday, 5.30pm-7.30pm

Cass Bay Pl, Lyttelton

Conservation Volunteers NZ are

working with Whaka-Ora Healthy

Harbour and need your help. The

Steadfast Stream re-vegetation project

aims to restore habitat for native

birds, lizards and insects, and provide

refuge for native fish species such as

the banded kokupu. A tasty barbecue

at the end will be the reward. Wear

study shoes and take a water bottle.

Create n Connect Art and

Craft Group

Thursday, 10am-12pm

St Andrews, 148 Main Rd, Recliffs

Company and creativity. Take your

project to work on, or if you are stuck

from inspiration, the group can help

you find some. $3 per session. Phone

Beth for more info 022 678 1252

Akaroa Farmers Market

Saturday, 9.30am-1pm

St Patrick's Catholic Church, 29 Rue

Lavaud

The local growers and producers of

the Banks Peninsula sell their fresh

fruit and vegetables, free-range eggs,

meat, cheese, bread, herbs and plants

book

release

We have one copy of News of the World to give away, courtesy of Take Note Ferrymead. To be in the

draw, email giveaways@starmedia.kiwi with News of the World in the subject line or write to Take Note Book

Giveaway, News of the World, Star Media, PO Box 1467, Christchurch 8140. To be eligible for the draw, all

entries must include your name, address and contact number. Entries close Tuesday, Feb 16, 2021. The book

winner for Box 88 is Elizabeth Guthrie of Sumner.

Waitangi Day at Rāpaki The people of Te Hapū o Ngāti Wheke

are hosting a commemorative event on Waitangi Day alongside the city

council to remember and reflect on the historic day. The communities of

Whakaraupō and the Port Hills to are invited to Rāpaki Marae to share in

the day. Email demi.tikaocoulter@ngaitahu.iwi.nz for more information

at the market every week. Support our

locals, everyone is welcome.

Lyttelton Farmers Market

Saturday, 10am-1pm

London St, Lyttelton

The local growers and producers of

the Banks Peninsula sell their fresh

produce. Many of the vendors are

from Lyttelton, with many more all

living within 50km of the village.

Support our locals, everyone is

welcome.

Shabby Chic Market Day

Sunday, 11am-3pm

Rochester Villa, 21 Connal St, Woolston

Christchurch's longest-running

vintage market is back again on

the first Sunday of each month.

Vintage goodies, crafts, clothing, art,

furniture and homewares. Artisan

breads and pastries, baking, treats

and fresh produce.

oN sAle Now!

Now only

$35.80

Plus $5 P&H per copy

AvAilAble from stAr mediA:

Level One, 359 Lincoln Road

Addington, Christchurch

Phone 379 7100

HEAT PUMP

SALE NOW ON!

Amazin' Summer Specials!!

90%

SubSidy

Warmer KiWi HomeS

Programme

*Eligibility criteria apply

Taylors Mistake Surf Lifesaving

Clubhouse Opening

Sunday, 3pm

Taylors Mistake Surf Lifesaving Club

A formal opening and celebration

of the new clubhouse at Taylors

Mistake. All are welcome.

Expressions of Nature

Friday, Saturday, Sunday and

Monday 10am-4pm

Stoddart Cottage, Lower Waipapa Ave,

Diamond Harbour

Stoddart Cottage Gallery is proud

to present new works by Galina Kim,

Aleksandra Basiuk, Yulia Krauze and

Natasha Hawkins; four friends from

former Soviet countries, all talented

artists. Go and meet the artists at

the opening celebration between 2

and 4pm on Saturday. Gallery open

10am-4pm every Friday, Saturday and

Sunday. Good parking, free entry,

friendly volunteers.

• We will offer you the best quality brands and

option of heat pump for your home/business

YOUR LOCAL

ACCOUNTANT

I COME

TO YOU

Financial Statement Preparation

Tax Preparation & Compliance

Xero & MYOB Specialist

Steven Clarke Ltd. 7 Margot Lane

Mount Pleasant, Christchurch

Phone 03 384 4633 Cell 021 677 670

steven@sclarke.co.nz

• Providing Heat Pump solutions for over 18 years to Cantabrians

• We personally guarantee all our products & installs for 5 years

(providing annual maintenance has been completed)

Phone us today for your free consultation & quote

41A SHAKESPEARE RD, WALTHAM

PHONE 03 366 0525

www.enviromaster.co.nz

"A local team for local people"
---
Wednesday February 3 2021

Latest Canterbury news at starnews.co.nz

BAY HARBOUR

PAGE 3

'Flag it' – this is not good enough either

•Have your say on this flag above.

Email your views to samantha.mythen@

starmedia.kiwi

• By Samantha Mythen

CHRISTCHURCHNZ

has done a U-turn over

its controversial move to

Christchurchise Lyttelton.

But the city council's tourism

and economic arm appears

to have made another

public relations blunder – it

has replaced the contentious

Christchurch and Ōtautahi

street flags with the red and

black of Canterbury.

Lyttelton

Harbour

Business

Association

chairwoman,

Vicki Tahau-

Paton, said

Vicki Tahau

Paton

the change to

red and black

flags was an

inadequate

response to the community's

concerns.

"The businesses in Lyttelton

have worked incredibly

hard to keep their identities

unique. Their hard work and

successes is not because they

belong to the city council

but because they are in Lyttelton,"

she said.

Bay Harbour News readers

and Facebook posters want

the street flags to display the

te reo Māori name for Lyttelton,

Ōhinehou.

ChristchurchNZ's change

comes after it said two weeks

ago there was no budget to

change the wording of the

flags. But the Canterbury

flags appear to have come

at no cost. They have been

dragged out of storage.

The Canterbury flags

were flown in Lyttelton last

year before being replaced

with the Christchurch and

Ōtautahi.

John

McLister

Said

Lyttelton

resident John

McLister: "So

in response

to Lyttelton

wanting a flag

that represents

the town,

Christchurch-

NZ gets the

Crusaders flags out of storage.

"If the lads were coming

to the port for a game, great.

But as this is unlikely. Again

we have flying in the heart of

the village something of no

relevance to our place.

"Time to flag it ChristchurchNZ."

Tahau-Paton said the red

and black flags were "pretty

generic."

Last year, she spoke to to

Deputy Mayor and Banks

Peninsula Ward city councillor,

Andrew Turner about

whether the Canterbury

flags would be replaced.

Tahau-Paton said other

business owners were not

surprised with the generic

flag replacement.

"It is the council's attempt

to keep the peace," she said.

Turner met with

ChristchurchNZ last week

and now believed the main

issue had now been resolved.

"The immediate problem

has been solved by replacing

the Ōtautahi flags with

something more generic,"

he said.

"The reality is that currently

there are not Lyttelton

specific flags available at the

moment.

"Other parts of the city

may expect something more

specific then too if the flags

were Lyttelton specific.

"If the opportunity for

Lyttelton specific flags arose

in the future, I would welcome

this discussion."

He was pleased

ChristchurchNZ had

taken on the community's

concerns and had acted

quickly in resolving the

main issue.

"This shows the value of

community involvement

and the importance of the

community speaking out

and sharing their concerns,"

Turner said.

A ChristchurchNZ

spokesperson told Bay

Harbour News: "We are continually

assessing our street

banners strategy, including

how we may incorporate the

individual character of city's

various localities."

Care &

Compassion

We pride ourselves on the

very highest level of service

If you are thinking about the future,

we can help you explore pre-payment

and pre-planning options. Contact us

for a Free Information Pack.

We offer funeral information talks to

groups. Please call us for a speaker to

come to you.

Mark Glanville

Manager &

Funeral Director

(03) 379 0196 | www.simplicity.co.nz

Mike Chandler

Funeral Director

Nick Allwright

Funeral Director
---
PAGE 4 BAY HARBOUR

Latest Canterbury news at starnews.co.nz

Wednesday February 3 2021

Quake exhibition a chance to reflect and

• By Samantha Mythen

TEN YEARS after the February

22, 2011, earthquake devastated

Mt Pleasant, the community is

curating an exhibition to reflect

and remember.

Made up of their own stories,

photographs and artwork, the

exhibition

will reflect

Mt Pleasant

locals' experience

of the

earthquake.

Linda

Rutland, a

resident of

Linda Rutland

27 years,

was president

of the Mt Pleasant Memorial

Community Centre & Residents

Association in 2011. Rutland was

in charge of their earthquake

recovery co-ordination and is

helping organise the exhibition.

"We are hosting the exhibition

to help the community take

stock of what happened at the

time and reflect on the recovery

over the years. It's also important

to remember the residents in our

local area who died,'' she said.

"It will bring all of our individual

stories together to present the

whole picture of how important

community is."

REAL ESTATE

As Is Real Estate Rarity

139a Taylors Mistake Road

Auction: 4 March 2021

(Unless

Sold Prior)

5 bedrooms, 2 bathrooms, 3 living - SM0453

Make no Mistake, this truly is a once in a

lifetime opportunity for one lucky buyer to

secure a large family home with the most

intimate views overlooking Taylors Mistake

Beach, there is no vista quite like this.

This 5-bedroom multi living room home is

being offered up for sale as is where is.

Located down a private lane off the road the

only noise you will hear are the waves and bird

song from the natives and fruit trees planted

on the approx. 1237sqm of well-established

land, this breath-taking property also boasts

two open carports providing plenty of offstreet

parking.

Upstairs features a huge open plan kitchen

with scullery, dining and living with superb

indoor-outdoor flow to the wrap around

decking, master bedroom and ensuite, and

library/third living room.

Downstairs there are 4 large bedrooms, large

living, family bathroom and large laundry

which could easily accommodate a kitchenette

which adds further scope to house large

family's, adult children or frequent guests.

This area has its own entrance, so it also makes

a great work from home space.

The exhibition will be held

at the Mt Pleasant Community

Centre during the weekend of

February 20 and 21.

Tony Aldridge is one exhibitor.

He has walked around the area,

mapping what houses were

demolished, then rebuilt and

who has moved back over the

years.

He was inspired to start the

survey, firstly by the inconsistencies

between reports from the

Government saying there would

Deemed a repair this truly is an opportunity

that won't be seen again.

If you have a love for the outdoors or are

wanting to find seclusion for the quiet life but

still want to be close to the action then this

must be seen, this is a lifestyle like no other!

It's no wonder this is a one owner home, built

in 2007 and lived in since the earthquakes this

is a very hard property to leave but having

already purchased this is for definite sale and

will be sold on or before auction day.

Call me now for more info.

Shaun Davey

Mob. 027 953 8860

Harcourts Grenadier Sumner

Phone 03 384 7950

(Licensed Agent REAA 2008)

be a quick recovery and the reality

on the ground.

He also saw a statement made

by Rutland in the media that one

third of houses would have to be

rebuilt in Mt Pleasant. Disbelieving

it would be that high, he

then decided to set forth into the

streets of Mt Pleasant to find out

for himself.

After surveying the 1700

residences, he realised Rutland's

estimate was about right.

"After 10 years, Linda was

DISASTER:

The original

Mt Pleasant

Memorial

Community

Centre after

February

22, 2011,

earthquake. It

was significantly

damaged and

has since been

replaced with a

new building.

PHOTO: GEOFF

SLOAN

only a couple of percentages out.

She was far more accurate than

anything reported by the Government,"

Aldridge said.

Aldridge hopes that the exhibition

will become an archive of

lessons for the future.

"We lacked knowledge of how

to cope in a disaster such as the

earthquake and the recovery

afterwards. I'm hoping we have

learned something for the future

when a big disaster occurs

again."

Mt Pleasant was located

close to the epicentre and

situated directly along the fault

line which meant the quake

caused extensive damage to the

area.

Rock fall, landslides and

tension cracks along Mt

Pleasant's tussock covered cliffs

meant many

houses in the

area had to be

evacuated.

Sewer

pipes were

broken, the

area saw large

Tony Aldridge

amounts of

liquefaction,

and residences

were without electricity and

water services for a week.

In spite of the ongoing

dangers to residents, there

was a significant increase

in community spirit. The

community centre was destroyed

and as it was owned by the

resident association, they had

to fundraise for its rebuild

themselves.

Said Rutland: "The earthquake

was absolutely dreadful and it

woke our community up making

us realise that we depend on

each other."

ADVERTISING FEATURE
---
Wednesday February 3 2021

Latest Canterbury news at starnews.co.nz

BAY HARBOUR

PAGE 5

remember

She senses this community has

begun to weaken and is hoping

the exhibition will remind people

how important a strong community

is for resilience, especially

to cope with potential future

disasters.

They are hoping at least 100

people will submit their story

ensuring the exhibition can be

a rich and full account of what

happened.

Marty Henderson, who was

chairman of the Mt Pleasant

School board of trustees during

the earthquake and recovery, is

helping to involve the school and

its students in the exhibition.

The residents' association

is currently calling for more

submissions from local residents.

You can submit photos of house

or street/area damage, personal

stories, poetry or artwork related

to your earthquake experience.

•For more information see

https://www.mpcc.org.nz/

earthquake-memorialexhibition

or email linda.

rutland@xtra.co.nz.

SIGNIFICANT: Damage on Main Rd after the February 22,

2011, earthquake.

Fire management plan

for Lyttelton wanted

• From page 1

The group would like to see

a fire management plan put in

place for Lyttelton and the surrounding

areas.

Of final concern was power

lines running through pine

forests with high winds causing

them to brush again the trees.

This was the cause of the

January 19 fire in Cass Bay (right).

Said Healey: "It is ridiculous

that back-up power lines are

being used when there are such

high winds."

FENZ area commander Dave

Stackhouse said there was a

meeting in early December with

Lyttelton residents to talk about

fire mitigation methods.

"We are also planning similar

meetings in Akaroa, Sumner and

other local communities."

Banks Peninsula Community

Board Lyttelton member Tyrone

Fields said the meeting in

December primarily focused on

what individual homeowners

can do to mitigate fire risks.

The deputation told the community

board on Monday it

wants to see larger plans put in

place by the council in relation to

their climate change response.

Neill said: "We do not want

to see everything we love go up

in flames. The problem of fires

is not going to disappear, it is

only going to get worse. Climate

change is of huge concern and

there needs to be more planning

for fire mitigation."

She called for the board to

pressure the city council to act

urgently.

A city council spokesperson

said the increasing wildfire risk

on the Port Hills and Banks

Peninsula has been highlighted

as an issue in its climate change

risk assessment.

"It will be a part of a number

of work programmes in our

climate change strategy that goes

to council later this year," the

spokesperson said.

Swap a can of food for a

free Resene testpot!

SALE STARTS NOW!

JOIN US NOW!

See website for details

Bring a can of food into your local Resene owned

ColorShop and we'll give you a FREE Resene

testpot (worth up to $5.80). All cans of food will be

donated to local Salvation Army and community

foodbanks to give to Kiwi families in need.

Te Ope Whakaora

HUNGER FOR COLOUR

Start gathering up those cans and bring

them into your local Resene ColorShop.

Addington, Ferrymead, Hornby, Lichfield St,

Northwood, Rangiora, Shirley, Tower Junction

resene.co.nz/hungerforcolour

Limit of 7 free testpots 60-80ml per household. Maximum of 1 testpot per Resene

colour. Food can must be at least 200ml/gm of food or more. Hunger for Colour runs

from 1-28 February 2021 or while testpot stocks last. See details in store or online.

03 322 4548 | Easy Parking

17 Lillian Street, Halswell

Open Mon-Fri 9.30am - 5.00pm

Saturday 10.00am - 1.00pm

LAYBY WELCOME

Sign up to Smart Deals & be in the monthly draw for a $100 Dress-Smart gift card!

Open 10am-5pm, 7 Days 03 349 5750

CHRISTCHURCH 409 Main South Road, Hornby

www.dress-smart.co.nz
---
PAGE 6 Wednesday February 3 2021

BAY HARBOUR

Latest Canterbury news at starnews.co.nz

CENTRAL

OTAGO

Pathway completion

step closer thanks to

community support

Apricots, Nectarines or

Peaches Loose

Product of New Zealand

Galaxy Camembert, Brie

or Blue 100-125g or Mini

Cinnamon Sugar Donuts

13 Pack

$

6 49 kg

Pams Fresh Baby Leaf

Lettuce 100g OR Ready

To Eat Fruit 150g Prepack

$

3 49 ea

Good

Good Good

Good

Sport

Sport

Sport

$200 $200

Summer $200 Summer

Hamper Summer Hamper * *

Hamper *

$200

Summer

Hamper *

$

3 79 ea

SEE INSTORE

FOR MORE

INFO

Hellers Fresh Burgers

4 Pack OR PRE–COOKED

SAUSAGES 1kg Plain

(excludeds Flavoured Variants)

$

8 99 ea

Pams Fresh NZ Chicken

Kebabs 8 Pack or Prawns

Cooked & Peeled 300g

$

8 49 ea

Famous Four Square

Pizzas or Mixed

Savouries 24 Pack

A UE WONDERBOOM

RRP

$

120

BE IN TO WIN

BUY ANY 2

V 500ML CANS *

FILL OUT AN

ENTRY FORM

PLACE IN ENTRY

BOX IN-STORE

www.foursquare.co.nz

$

12 99 ea

1 TO BE WON PER STORE

facebook.com/FourSquareNZ

Specials available South Island only from Monday 1st February until Sunday 14th

February 2021 or while stocks last. Wine and beer available at stores with an off

licence. Wine and beer purchases restricted to persons aged 18 years old and over.

NEW

SEE

INSTORE

FOR MORE

INFO

THE FINAL link in Te Ara Ihutai

Christchurch Coastal Pathway is a step

closer following strong community

support for the proposed design and a

lower speed limit in Main Rd.

The Linwood-Central-

Heathcote Community Board

has approved the detailed design

and construction phase of the

Moncks Bay section – excluding

a speed limit change – following

community consultation late last

year.

It has recommended that the

move to 40km/h from the present

50km/h go to the city council's urban

development and transport committee for

approval.

Board chairwoman Alexandra Davids

said a "complete coastal pathway is now in

sight much earlier than planned thanks to

the Government's 'shovel-ready' funding".

"The Moncks Bay section is integral to

the success of the wider coastal pathway,

completing the last gap in the route and

Alexandra

Davids

A PROPOSED plan to

lower speed limits in Banks

Peninsula – including Akaroa

and Lyttelton – is now open

for public feedback.

Residents can have their say

on the draft plan, including

the proposed 40km/h speed

limits for sections of the two

main townships, and Cass

Bay.

The proposal also includes

a 40km/h limit in Waipapa Ave, Diamond

Harbour, and significantly lower speeds –

from 100km/h to 60km/h – along many

winding rural roads.

Said city council head of transport

Richard Osborne: "Speed dictates both

crash probability and severity. The higher

a vehicle's speed, the greater the risk of a

crash and the bigger the consequences on

impact.

"Banks Peninsula has a complex network

of winding roads and steep inclines,

adding an extra hazard layer for motorists.

These roads can be challenging for even

showcasing the unique scenery of the

Moncks Bay area," she said.

"The community response to the proposed

section design has been overwhelmingly

positive, with only a few tweaks

to the project plan regarding 'no

stopping' lines and the removal of the

proposed angle parking in Cliff St and

Bayview Rd."

The pump station car park layout

also now allows car and trailer parking

for boatshed users.

"The final section has required

detailed planning in order to successfully

navigate the construction of a

potentially very busy corridor alongside

the water's edge," said Davids.

"Most people have welcomed the proposed

lower speed limit, new pedestrian

islands and intersection upgrades for

Main Rd to help keep everyone safe as

more pedestrians and cyclists travel

through the area."

Work on the Moncks Bay section is

expected to start by the middle of the year.

Feedback called for over

lowering speed limit plan

the most experienced drivers,

along with those who

take major risks to pass

trucks, caravans or cars

pulling trailers.

"Accident figures show

that there are significant

benefits from reducing

speed limits from 50km/h

to 40km/h in townships."

Among the proposed

changes are lower speed

limits – from 100km/h to 60km/h – for

the Purau to Port Levy route and parts

of Pigeon Bay, Puaha Valley, Little River,

Okuiti Valley, the Southern Bays and

Birdlings Flat.

Feedback to the city council closes on

February 25.

If approved, the speed limit changes are

expected to be in place by the middle of

this year.

HAVE YOUR SAY

What do you think of the reduced

speed limit plan? Email samantha.

mythen@starmedia.kiwi
---
Wednesday February 3 2021

Latest Canterbury news at starnews.co.nz

BAY HARBOUR

PAGE 7

2021 Scholarships &

Awards Applications

Locals

Helping

Locals

The Sumner Ferrymead Foundation is seeking

applications for a range of scholarships and awards.

Full details on the criteria and conditions, along

with application forms, are available on our website.

Applications close on April 15th, 2021.

$5000 Science

Scholarship

$5000 Humanities

Scholarship

$5000 Health

Science Scholarship

Scholarship for a 2nd year student

studying the sciences at university.

The scholarship is in memory of

Michael McMullan B.Vet Sci

(Sydney University)

Scholarship for a 2nd year student

studying the humanities at university.

Scholarship for a 2nd year student

studying the health sciences at

university. Scholarship funded by the

O.A. Brauer Family Trust.

Outward Bound

Leadership

Programme

Outward Bound

Adapted

Programme

$3000 Environment

and Sustainability

Award

Funding for a 21 day classic

leadership programme for

18-26 year olds

Outward Bound Adapted course

for people with disabilities

Up to $3000 Awarded to an outstanding

project or concept in the

environmental realm.

Apply today or make a donation

sumnerferrymeadfoundation.co.nz
---
PAGE 8 Wednesday February 3 2021

BAY HARBOUR

Latest Canterbury news at starnews.co.nz

RUNOUT

OUTLANDER LS 2.4L 2WD

$31,990+ORC *

christchurchnissan.co.nz

The 7 seater Mitsubishi Outlander brings

everything you would need in a family

SUV: safety, technology, comfort, unrivaled

economy and that all important space, plus

a 10 Year Powertrain Warranty † .

Call 03 379 0588 or visit

christchurchmitsubishi.co.nz

RRP WAS $41,990 +ORC

*Price listed is for Outlander LS 2.4L 2wd and excludes on road costs of $650 which includes registration, WoF and a full tank of fuel. Available while stocks last.

†

Visit mmnz.co.nz for full Diamond Advantage warranty conditions.

CHRISTCHURCH MITSUBISHI

386 Moorhouse Avenue, Christchurch | 03 379 0588 | christchurchmitsubishi.co.nz

NAVARA

RUNOUT

PER

FROM $91WEEK*

48 MONTH | 10% DEPOSIT | 60,000KM | NFV

FUTURE VALUES VARY BETWEEN MODELS

+ HUGE RUNOUT BONUSES!

NISSAN 150,000 KM'S

FACTORY

5YR

WARRANTY

WITH NISSAN

FUTURE

VALUE

Finance ooer available to approved applicants of Nissan Financial Services. Ooer based on selected new Nissan models at a vehicle price of $35,990 plus on road costs of $1,240 for Navara 2WD RX-R Manual

(D23UMOP), $34,990 plus on road costs of $1,240 for Navara RX Double Cab 2WD Manual, $76,990 plus on road costs of $1,240 for Navara N-Trek Warrior 4WD. Financed over maximum 48 months with monthly

repayments for Navara 2WD RX-R Manual of $417.57, $3,599 deposit and a nal balloon payment of $19,000, Navara RX Double Cab 2WD Manual of $397.27, $3,499 deposit and a nal balloon payment of $19,000,

Navara N-Trek Warrior 4WD of $972.09, $7,699 deposit and a nal balloon payment of $33,429. Final balloon payment is based on the guaranteed future value of each vehicle (subject to adjustments) (NFV).

Total amount payable over the term $38,643.59 for Navara 2WD RX-R Manual, $37,671.64 for Navara RX Double Cab 2WD Manual, $79,587.28 for Navara N-Trek Warrior 4WD. Fixed Interest Rate 3.9% p.a. 15,000

per year kilometer allowance. This ooer includes an establishment fee of $375 and PPSR fee of $8.05 and $10 per month account keeping fee. If you choose to return your vehicle at the end of the term

Nissan will pay you the NFV (subject to meeting vehicle condition and servicing requirements and agreed km allowance and less remediation costs) which will be applied to your nal balloon payment.

Terms and conditions apply. Excludes all lease and some eet purchasers. Ooer available on eligible vehicles ordered and delivered by 28 February 2021 or while stock lasts. Nissan reserves the right to vary,

extend or withdraw this ooer. Not available in conjunction with any other ooer.

CHRISTCHURCH NISSAN, 321 Moorhouse Avenue, Christchurch

Ph: 03 595 6820

www.christchurchnissan.co.nz

nissan.co.nz
---
Wednesday February 3 2021

Latest Canterbury news at starnews.co.nz

BAY HARBOUR

PAGE 9

Surf lifesaving club's new building to open on Sunday

• By Samantha Mythen

AFTER 10 years of development,

the Taylors Mistake Surf Living

Saving Club will open the doors

to its new clubhouse on Sunday.

Said club president Viv

Bickley: "It is a fantastic

achievement at the end of a long

journey. The clubhouse is a huge

asset to members and the wider

community."

The original clubhouse had

been out of action since earthquake

damage on February 22,

2011. In its place, the club had

been functioning out of three

Portacoms on site.

Alongside allowing the club to

continue is lifeguard work, Bickley

explained the purpose-built

clubhouse would aid in lifeguard

development and training.

The new facilities include a

ASSET: The Taylors Mistake Surf Lifesaving Club's new

building will be opened on Sunday.

patrol room where lifeguards

can monitor the beach, changing

rooms and toilets, a kitchen,

administration room, family

room and lounge. There is also

a decked out first-aid room with

a hospital bed, defibrillator and

oxygen access.

The main pavilion featured

can also be used by community

groups.

Finally, there is a purpose-built

gear shed.

"Our clubhouse has the same

footprint as the old building in

that it is small, but it has everything

we need and more," said

Bickley.

On January 23, Māui Stuart of

Te Hapu O Ngati Wheke in Rapaki

had blessed the clubhouse

in a dawn ceremony giving

Mauri (life-force) to the new

building.

"The significance of this blessing

was to awaken the Mauri

that had been resting, and that

all those who walk the path

which we walked for the first

time that morning, may do it

with pride and dignity," said

Stuart.

Said Bickley: "The club has

enjoyed working with Ngāti

Wheke throughout the building

process, and is committed

to doing so on an ongoing

basis. Our members and the

public that attended the blessing

found it very moving, and fitting

for the occasion."

The opening event will feature

the gifting of a pare by Stuart.

Carved out of kauri, which has

a significant connection to the

sea, the pare was designed and

created by Damian Mackie, also

of Te Hapū o Ngāti Wheke.

The club has over 350 members.

This summer, the lifeguards

have performed over 1821 patrol

hours, completing 2100 preventative

actions involving around

4000 members of the public.

All are welcome to attend the

opening.

ESTUARY MATTERS

Work continues to improve habitat for wildlife

The Avon-Heathcote Estuary Ihutai Trust is a

non-profit organisation formed to protect one of

New Zealand's most important coastal wetlands.

Each week, board members will discuss matters

regarding the estuary, its rich history and what

makes it unique. This week Tanya Jenkins writes

about the islands in McCormacks Bay

SANCTUARY: Each of the three islands in McCormacks Bay

has a name and a purpose.

DID YOU know that the three

small Islands in McCormacks Bay

Reserve (inland of the causeway

and at the base of Mt Pleasant)

have official names?

In 1993 plans by the city council

were implemented to improve

the habitat for wildlife. Native

trees and shrubs were planted,

and three islands constructed

to provide safe areas for birds to

roost.

The city council agreed to allow

the then Sumner-based environment

group Friends of the Estuary

to organise a name the islands

competition.

As a result the islands are now

called Torea Island, which is the

Maori name for a commonly

found estuary bird the oystercatchers;

Rescue Island, for the

role it plays in preventing bird

decline by providing a safe area

for birds to roost; and Geoffrey de

Thier Island, to pay tribute to the

late de Thier who was a founding

member of the now defunct

Combined Estuary Association.

He was a major player in saving

McCormacks Bay from being

filled in which was being considered

in the 80s.

Six years ago, the Avon-Heathcote

Estuary Ihutai Trust collaborated

with city council park

ranger Andrew Crossland and

as a result developed a plan to

further improve the bay, providing

birds with sedges planted in

the mud to safely hide amongst

while feeding.

A group of local residents,

Ferrymead Rotary and trust

members under the supervision

of park ranger Matt Rose meet

every third Sunday afternoon of

each month between 2-4pm.

The groups weed, plant, mulch,

prune, water plants and collect

litter receive updates from Matt

and share afternoon tea.

As a reward for these working

sessions more birds can be spotted

in and around McCormacks

Bay than ever before.

Spoonbills are seen regularly on

the islands, increased numbers

of white-faced herons, pied stilts

and kingfishers have shown the

success when city council and

communities work together.
---
PAGE 10 Wednesday February 3 2021

BAY HARBOUR

Latest Canterbury news at starnews.co.nz

The Chills, Zed to fill void at Selwyn Sounds

AUSTRALIAN-based Jon

Stevens and his band have

had to pull out of the Selwyn

Sounds fifth anniversary music

festival because of Covid-19

restrictions.

He has been replaced by

the addition of two New

Zealand music icons in The

Chills and Zed for the big music

festival at Lincoln Domain on

March 6.

Promoter David Parlane said

Stevens had no choice but to stay

in Australia because of the Covid-19

restrictions and changes in

Australia and New Zealand.

Stevens said he was "absolutely

gutted" he wouldn't be able to

headline Selwyn Sounds.

"As a proud Kiwi, I truly appreciate

all the support I receive

from my home country and look

forward to returning home soon

… Te Aroha ki te katoa"

Zed and The Chills will be part

of a who's who of some of the

best New Zealand music talent at

Selwyn Sounds.

They will join Stan Walker,

The Jordan Luck Band, Annie

Crummer, Jason Kerrison – OP

Shop, Che Fu – Super Groove,

Rodney Fisher - Goodshirt, The

Lady Killers – Tina Cross, Jackie

Clarke and Suzanne Lynch, Hello

Sailor and the Automatic 80s.

Zed (above) and The Chills will join a stellar line-up at

Lincoln Domain on March 6.

Said Parlane: "New Zealand is

extremely fortunate to be in this

situation and many countries

around the world, artists, fans

can only wish to once again have

live music.

"The health, safety, and wellbeing

of our ticket-holders is

our No 1 priority and several

new measures have been added

to ensure this. But they can also

help by scanning the QR codes,

ensure hands are sanitised,

Bluetooth on and let us make it a

day for us all to remember. "

• For tickets go to www.

selwynsounds.co.nz

Approximate times for

Selwyn Sounds

11am – Hello Sailor

Noon – The Chills

1.35pm – Kiwi 7 – Annie

Crummer, Jason Kerrison,

Rodney Fisher, Che Fu and

The Lady Killers – Tina Cross,

Jackie Clarke and Suzanne

Lynch

3.10pm – Auto 80s

4.40pm – Zed

5.55pm – Jordan Luck

7.30pm – Stan Walker

Readers respond to the

debate over the Otautahi

and Christchurch flags in

Lyttelton, and whether

'Wh' should be added to

Akaroa.

Christchurch City Council

continues to apply its 'one

size fits all' policy in relation

to Te Pātaka o Rākaihautū/

Banks Peninsula. Installing

banners around Lyttelton,

saying nothing more than

"Christchurch", is in my view a

waste of $22,124 of ratepayers'

money as well as being

ineffective advertising and/or

branding by ChristchurchNZ.

When the 'Welcome to

Historic Akaroa' sign was

installed in 2012 containing an

image of the museum's French

cottage, complete with fleur-delis

and 'au revoir' on the back,

it was criticised as not being

"French" enough. The inclusion

of harere mai was thought by

some to be inappropriate.

The use of Otautahi/

Christchurch is now well

established. It is time to use

both Maori and European place

names with regard to Ohinehou/

Lyttelton and Whakaroa/Akaroa

working in association with

Ngai Tahu and Christchurch

City Council. – V Andrews

Not just the wrong names,

but a complete lack of

creativity – white letters on

a red background – a carbon

copy of every car yard's sale

sign. They look like someone is

trying to flog off a thing called

Christchurch at a discount price.

– J McLister

We want to hear your views

on the issues affecting life

in Canterbury

Send emails to:

barry@starmedia.kiwi

Letters may be edited or rejected at Star Media's

discretion. Letters should be about 150 words.

A name, postal address and phone number

should be provided.

Please use your real name, not a nickname, alias,

pen name or abbreviation.
---
$15,999

h tp: /kaywa.me/8aVdQ

download the Kaywa QR Code Reader (A p Store &Android market) and scan your code!

my Kaywa QR-Code

w.valuecarswarehouse.co.nz

Ce l 021 8 5 84

Cnr Main South Rd and Epsom Rd, Christchurch

Ph: 03 348 4129 | avoncityford.com

h tp: /kaywa.me/8aVdQ

download the Kaywa Qr Code reader (a p Store &android Market) and scan your code!

My Kaywa Qr-Code

w.valuecarswarehouse.co.nz

Ce l 021 8 5 84

FROM

ONLY:

h tp: /kaywa.me/8aVdQ

download the Kaywa Qr Code reader (a p Store &android Market) and scan your code!

My Kaywa Qr-Code

w.valuecarswarehouse.co.nz

Wednesday February 3 2021

Latest Canterbury news at starnews.co.nz

BAY HARBOUR

PAGE 11

Classifieds Contact us today Phone our local team 03 379 1100

Cars Wanted

$$ CASH PAID $$

Buying damaged cars for

wrecking. Ph / txt Zac 021

1056 797.

Childcare &

Domestic Help

BEFORE or AFTER

SCHOOL CARE.

Offered by mature lady

Exc references. Ph 021

238 4413

BEFORE or AFTER

SCHOOL CARE.

Offered by mature lady

Exc references. Ph 021

238 4413

Trades & Services

Services available from Ferrymead

to Taylors Mistake and Lyttleton

FOR ALL YOUR

★Garden Clean-ups

★Pruning

★Lawn Mowing

★Garden Maintenance

Call us today for a FREE quote

PH 0800 4 546 546

(0800 4 JIMJIM)

Trades & Services

ELECTRICIAN

JMP Electrical.

Experienced & registered..

Expert in all home

electrical repairs &

maintenance.Call James

027 4401715

ELECTRICIAN

Andrew Martin Electrical.

25 years experience.

Specialize in home

renovations, repairs and

maintenance. Call Andrew

0274 331 183

GUTTER CLEANING

Gutter cleaning special

from $99 plus gst for a

whole house clean"".

Free Quotes, call Morgan

Thomas today 022 375

8506

PAINTING

DECORATING

All types of int/ext

painting undertaken. 30 +

yrs exp. Ph Michael 027

665 4654

PLAN ESTIMATING

Get your plans priced now.

All building projects E

mail eqcshedbuilders@

gmail.com

RENOVATIONS

Small jobs, second hand

kitchen installs incl stone

bench tops, sleepouts and

home maintenance. Call /

txt Greg 022 475 8227

SPOUTING & GUTTER

CLEANING

For a professional reliable

service call Greg at A1

Spouting Cleaning 027

616 0331

STONEMASON, BRICK

BLOCKLAYER,

Earthquake Repairs, Grind

Out & Repoint, River/

Oamaru stone, Schist,

Volcanic Rock, Paving,

all Alterations new & old,

Quality Workmanship,

visit www.featureworks.

co.nz or ph 027 601-3145

Wanted To Buy

AAA Buying goods

quality furniture, beds,

stoves, washing machines,

fridge freezers. Same day

service. Selwyn Dealers.

Phone 980 5812 or 027

313 8156

To Let

RENT ME!

Ideal as an extra

bedroom or office.

no bond required

Fully insulated and double glazed for warmth.

Three convenient sizes from $80 a week:

Standard 3.6m x 2.4m

Large 4.2m x 2.4m | Xtra-large 4.8m x 2.4m

FOR ALL YOUR

PLUMBING,

GAS &

DRAINAGE

• Bathroom repairs

• Renovations

• Leaks

• Blocked drains

• Gas and drainage

Visit our website

www.justcabins.co.nz

for display cabin locations

www.justcabins.co.nz

Your local professional

Carol and Chris

Phone 376 5322 or email

chcheast@laserplumbing.co.nz

SCRAP METAL

Dominion Trading Co Ltd

• Scrap metal buyers

• Canterbury owned & operated

• Top prices paid $$$

• Open Saturday morning

Open Mon-Fri 8am – 4.30pm Sat. 8.30am-12.30pm

www.happyscrappy.co.nz

03 343 9993 333 Blenheim Rd

WINDOW TINTING

tintawindow

advanced film solutions

99% uv block

fade protection

heat control

reduce glare

25 Years Experience

privacy films

frosting designs

non-darkening films

Workmanship Guaranteed

Lifetime Warranties on Most Films

UV

block

Free Quotes Canterbury and Districts

03 365 3653 0800 368 468

Entertainments

PICK IT UP...

DRIVE AWAY

Incorporating

ISSUE 651 | FrIday 31 JUly 2020

The biggest range of vehicles in one location

2015 mazda demio

See page 4

for more info!

32 Moorhouse Ave | P: (03) 366 7768 | www.valuecarswarehouse.co.nz

GET THAT

PEACE OF MIND

VEHICLE INSPECTIONS

free

best motorbuys

261 stanmore road, Christchurch For more, see their advert on page 25

$149

FROM

ONLY:

www.gRCAudIO.CO.Nz

PH 03 web

www.drivesouth.co.nz

Incorporating

ISSUE 652 | FrIday 7 aUgUSt 2020

2016 NIssAN LeAf 24s

$17,990 FACELIFT MODEL

lEd headlights, heated seats &

steering wheel, Bluetooth/USB

audio, 21,000km with Japanese

service history. Includes New

NZ charging cable & OrC.

1996 toyota Landcruiser

Prado $8,990

7 seater, 3.0 litre diesel,

very rare find!

See inside for this week's

4WD feature!

40 Years Finance

Experience

Cannot be Beaten!

• Talk to us about finance for your next

motor vehicle purchase

Specialising in Finance for Private Purchases

Very quick approvals, sensational interest rates

• From no deposit (terms & conditions may a ply)

Dyna spares

C h r i stC h u rCh

Now Available @ NZ Van Spares

location: 68 Falsgrave Street, Woolston, Christchurch

email: nzvanspares@hotmail.com | phone: 03 379 3932 / 0508 698 267

41 Sandyford Street

0800 400 040

• www.kickthetyres.co.nz

CAR AUDIO CAR SECURITY

AUDIO VISUAL CELLULAR

free

best motorbuys

REVERSE CAMERAS

RADAR DETECTORS

PH 03 web

MOBILE INSTALLATION SERVICE 0800 212 777

www.drivesouth.co.nz

331 blenheim road, Christchurch For more, see their advert on page 25

The biggest range of vehicles in one location

2006 mitsubishi outlander

$11,999

See page 5

for more info!

32 Moorhouse Ave | P: (03) 366 7768 | www.valuecarswarehouse.co.nz

2004 BMw 530d Nz NEw

151, 0kms, black leather interior, very

economical, reliable vehicle, in exce lent

condition. Exce lent buying at only

A fordable new parts available for BMW / MERCEDES BENZ / AUDI

454 St Asaph Street, 03 378 1818 or 021 480 201

$11,999

INCLudINg ORC

Incorporating

ISSUE 653 | FrIday 14 aUgUSt 2020

40 Years Finance

Experience

Cannot be Beaten!

• Talk to us about finance for your next

motor vehicle purchase

Specialising in Finance for Private Purchases

Very quick approvals, sensational interest rates

• From no deposit (terms & conditions may a ply)

Cnr Main South Rd and Epsom Rd, Christchurch

Ph: 03 348 4129 | avoncityford.com

PARKING SENSORS

AERIALS

see inside for this week's

Hybrid & electric feature!

Hilux, HiAce &

eVerytHiNg iN betweeN

68 Falsgrave Street, Woolston W: nzvanspares.co.nz

E: nzvanspares@hotmail.com Ph: 03 379 3932 / 0508 698 267

GET THAT

PEACE OF MIND

VEHICLE INSPECTIONS

See inside for this week's

motorcycle feature!

CHRISTCHURCH

MOTORCYCLES LTd

The biggest range of vehicles in one location

2013 peugeot 4008

$19,999

See page 5

for more info!

32 Moorhouse Ave | P: (03) 366 7768 | www.valuecarswarehouse.co.nz

$149

USED CARS | TRUCKS | VANS

COMMERCIAL VEHICLES | SUVS

MOTORCYCLES | CARAVANS

BOATS | AUTOMOTIVE SERVICES

Available for FREE every

Friday at convenient

pick up points near you!

PLUS check out this week's

edition, plus past issues

online now at

bestmotorbuys.co.nz

INCORPORATING besT mOTORbuys

www.drivesouth.co.nz

DASH CAMERAS

GPS/TRACKING

See our ad on page 2

free

best motorbuys

Ce l 021 8 5 84

PH 03 web

www.drivesouth.co.nz

For more, see their advert on page 22

40 Years Finance

Experience

Cannot be Beaten!

• Talk to us about finance for your next

motor vehicle purchase

• From no deposit (terms & conditions may a ply)

Specialising in Finance for Private Purchases

• Very quick approvals, sensational interest rates

Cnr Main South Rd and Epsom Rd, Christchurch

Ph: 03 348 4129 | avoncityford.com

Hilux, HiAce &

eVerytHiNg iN betweeN

68 Falsgrave Street, Woolston W: nzvanspares.co.nz

E: nzvanspares@hotmail.com Ph: 03 379 3932 / 0508 698 267

41 Sandyford Street

0800 400 040

• www.kickthetyres.co.nz

2008 Victory Vegas

Customised x USa

arlan Ness themed

$12,999

Public Notices

Reserve Management

Committee Meetings -

February 2021

The February meetings of the Banks Peninsula Reserve Management

Committees will be held as below:

Date Time Committee and Venue

3 7.30pm Cass Bay Reserve Management Committee, Steadfast

Community Hall, Governors Bay Road, Cass Bay

8 7.00pm Lyttelton Reserves Management Committee, Community

Board Room, 25 Canterbury Street, Lyttelton

9 5.30pm Okains Bay Reserve Management Committee, Okains Bay

Community Hall, Okains Bay Road, Okains Bay

9 5.30pm Garden of Tane Reserve Management Committee,

Coronation Library, 103 Rue Jolie, Akaroa 7520

15 5.30pm Duvauchelle Reserve Management Committee,

Duvauchelle Community Centre, 6039 Christchurch

Akaroa Road, Duvauchelle

15 6.00pm Lyttelton Recreation Grounds Reserve Management

Committee, Community Board Room, 25 Canterbury

Street, Lyttelton

18 4.00pm Pigeon Bay Reserve Management Committee

Meeting, Pigeon Bay Hall, Wharf Road, Pigeon

Bay

21 4.00pm Le Bons Bay Reserve Management

Committee, Le Bons Bay Domain Hall

Members of the public are welcome to attend any of these

meetings.

RESOURCE MANAGEMENT

ACT 1991 CHRISTCHURCH

DISTRICT PLAN

PROPOSED PLAN CHANGE 5

PACKAGE OF CHANGES

SUMMARY OF SUBMISSIONS FOR FURTHER

SUBMISSIONS

A summary of submissions on Proposed Plan Change 5 to the Christchurch

District Plan and a copy of the submissions, are now available for public viewing

online at ccc.govt.nz/plan-change-5 or during normal opening hours at any of the

our service centres or libraries. For details of your nearest service centre or library,

please telephone 941 8999.

Further submissions in support of, or in opposition to, the submissions received

may be lodged at the Civic Offices or at any of our service centres or libraries

before 5pm on Friday, 12 February 2021.

A further submission may be made only by a person representing a relevant

aspect of the public interest or by a person who has an interest in the plan change

that is greater than the interest of the general public and must be limited to a

matter in support of, or in opposition to, any submission made to the Council.

All further submissions must be in writing on the appropriate form (Form 6 in the

Resource Management (Forms, Fees and Procedure) Regulations 2003). This form

is available from all Council offices and online at ccc.govt.nz/HaveYourSay. Forms

should be addressed to: Christchurch City Council, City Planning Team, PO Box

73012, Christchurch or emailed to: PlanChange@ccc.govt.nz.

Any person making a further submission in support or opposition is required

to serve a copy of his or her further submission on the person whose original

submission is supported or opposed no later than five working days after the

day on which the further submission is provided to the Council.

At a later date all those who have made submissions and those who have

made further submissions in support or opposition to the proposed

plan change will be advised of the hearing date and will be sent

information regarding that process.

Brendan Anstiss

General Manager

Strategy and Transformation Group

ADVERTISE YOUR BUSINESS HERE

Phone for further details

(03) 379 1100
---
PAGE 12 Wednesday February 3 2021

BAY HARBOUR

Latest Canterbury news at starnews.co.nz

STOREWIDE SALE

NOW ON. ENDS 8.2.21.

EXCLUSIONS APPLY.

Valletta 6 Piece Outdoor

Lounge/Low Dining Set

WAS $

2499

NOW

$

1999

SUPER DEAL!

ALL LOUNGE ALL DINING ALL OUTDOOR ALL BEDROOM

ON SALE! ON SALE! ON SALE! ON SALE!

Rivo 2 Seater

Electric Recliner

WAS $

2399

Rivo 3 Seater Electric

Recliner

WAS $

2699

NOW

$

1999

ON SALE!

NOW

$

1799

Buy NZ MAde!

SUPER DEAL!

SUPER DEAL!

Nero Electric Recliner

WAS $

799

NOW

$

599

Serene Trundler Bed Set

WAS $

897

NOW

$

698

Sono Boxed Mattress – Queen

Medium Feel

WAS $

599

NOW

$

399

Shop

Online

Nationwide

Delivery

Finance

Options

SUPER DEAL!

more super deals online & in store!

SUPER DEAL!

STOREWIDE SALE ENDS 08.02.21.

Come & check out

our new STORE!

targetfurniture.co.nz

250 Moorhouse Ave, Christchurch

Ph: 0800 TARGET (0800 827438)

Offers and product prices advertised here expire 08/02/21.

Sale excludes Manchester and Accessories.
---
M10 Afterpay XX POS A1H Size.indd 6

M10 Afterpay XX POS A1H Size.indd 6

26/11/20 11:06 AM

Wednesday February 3 2021

Latest Canterbury news at starnews.co.nz

BAY HARBOUR

PAGE 13

we've got you sorted for

those long weekend projects

Black+Decker

Heat Gun

1750 Watt

Ideal for stripping

paint, varnishes and

adhesives.

219674

Was $39.95

now

Big range, low price, local advice

$34 95

Makita

Circular Saw 185mm

Soft grips for added control

and comfort. Single actions

lever for quick adjustment of

cutting depth.

270605

Bosch

DIY Router 1200 Watt

Enables DIYers to rout

grooves, edge profiles, or even

special mouldings.

267216

power through your project!

Black+Decker

Electric Line Trimmer 550 Watt

Has an innovative automatic line feed

system. 28cm cutting swath for fast,

efficient cutting.

333982

$155 $169

Black+Decker

Drill Driver Kit 18 Volt

Includes 1.5Ah battery and

400m charger.

348328

Karcher

Full Control Deck Waterblaster

Ideal for cleaning patios, decks, fences,

outdoor furniture and cars.

347451

Black+Decker

Hedge Trimmer

600 Watt

Ideal for medium sized

hedges. Cuts branches

up to 35mm thick.

333984

$79 99 $99

$93 99

Was

$329

$349

now

Sort your project now.

Sort your project now.

Pay it in 4.

Always interest-free.

On purchases between $50 - $2000.

Complete purchase through Afterpay App (download may be required). Afterpay terms & conditions apply, visit afterpay.com for more details. Excludes purchase of gift cards,

on-account purchases and split payments. Maximum spend limit is set by Afterpay, up to a maximum of $2000. Visit mitre10.co.nz/afterpay for more information.

Bahco

Hand Saw

475mm. 8 point.

253732

Tajima

Heavy Duty Knife

Includes 3 spare blades in storage

case. Super heavy duty. Ultrasharp

25mm wide x 0.7mm thick.

251470

$12 93 $18 98

get hands on this long weekend!

Number 8

Adjustable Wrench Set 3 Piece

Includes 150mm, 200mm and 350mm.

229281

Fuller

Heavy Duty Staple Gun

6-14mm. Suitable for insulation,

house wrap, roofing, wiring,

carpeting, upholstery and many

other jobs.

276074

$21 88 $29 97

Pay it in 4.

Always interest-free.

On purchases between $50 - $2000.

Complete purchase through Afterpay App (download may be required). Afterpay terms & conditions apply, visit afterpay.com for more details. Excludes purchase of gift cards,

on-account purchases and split payments. Maximum spend limit is set by Afterpay, up to a maximum of $2000. Visit mitre10.co.nz/afterpay for more information.

Lufkin

Tape Measure 30mm x 8m

Toughest tape to ever hit jobsite. Ability to survive a 30m drop.

353042

Jobmate

Metal Folding

Saw Horse

500kg weight bearing

capacity. H: 757mm, W:

1055mm, D: 593mm.

349747

Workpro

Kitchen Tool

Kit 100 Piece

Assortment of tools

for common DIY jobs.

363791

Earn & spend

$49 98 $59 them here! 98

$68 97

Mitre 10 MEGA Ferrymead

1005 Ferry Road. Christchurch

Phone: 366 6306

Find us at: /MEGAFerrymead

Opening Hours:

Monday–Friday:

7am–7pm

Saturday. Sunday & Public Holidays:

8am–6pm

www.mitre10.co.nz/local/MegaFerrymead

Ferrymead
---
PAGE 14 Wednesday February 3 2021

BAY HARBOUR

Latest Canterbury news at starnews.co.nz

Spruce up the house

inside and out

BUy 2

AND GET

25% OFF

Get 25% off all Wattyl paints, primers, sealers, stains

and oils when you purchase 2 of the same Wattyl item.

Terms & Conditions apply. Valid from 4-28 February 2021. In-store only, while

stocks last. Excludes accessories, cleaners, 8Ls, aerosols and accent paints.

Wattyl

Forestwood Deck and

Furniture Oil 5 Litre

Ideal for use on most decking a

garden furniture. It adds colour

to the timber but allows the

grain to show through.

360275

Was

$56

$76.98

now

98

Wattyl

Solagard

Exterior Semi-

Gloss Paint 10

Litre

Tough and durable

exterior acrylic paint

which offers protection

for your home in any

weather or climate.

360243

$179

PAL

Fencemaster

Block Brush

130mm. To use with fence

paint or stains. Soft grip.

Easy clean. Easy flow.

219560

Accent

Roller Kit 5 Piece

Ideal for smooth surfaces.

Recommended for use

with water-based paint.

Easy clean roller sleeve.

174932

ScotchBlue

Painters Masking Tape

18mm x 55mm. Removes cleanly. Medium adhesive.

364022

Accent

Methylated Spirits 1 Litre

Cleaner of most surfaces including floors,

glass and some painted surfaces.

362156

Was

$10

$13.53

now

$7 99 $4 98

Valspar

Interior Low Sheen Paint 10 Litre

Designed to protect and decorate your home. Ideal for

covering most interior surfaces.

277533

Selleys

No More Gaps

Multipurpose Sealant

Weather resistant. Easy water

clean-up. Low toxic, low odour.

370661

$12 04 FREE Resene Thermo Bottle!

Number 8

Paint Brush Set 10 Piece

Leaves a smooth finish. Brush sizes: 2 x 12mm, 2 x 25mm, 2 x

38mm, 2 x 50mm, 2 x 63mm.

287458

Werner

Work Platform

Platform legs lock securely in place when in use and fold

underneath platform for compact storage. H: 510mm, W:

300mm, L: 1000mm.

187520

Was

$116

$155

now

25

$5 83 $13 98 $110

Resene

Ceiling Paint

Waterborne Flat

10 Litre

For use on ceilings in

living rooms, bedrooms

and dining rooms.

Inhibits mould growth.

Not recommended for

bathrooms, kitchens

and laundries.

355092

Resene

Low Sheen Interior

Paint 10 Litre

Suitable for use on timber,

wallpaper, wallboards,

concrete and plaster in

bedrooms or living areas.

356538

$129 $209

Buy 8 litres or more of

Resene Premium Paints,

Wood Stains, Primers or

Seaters and get a FREE

Resense Thermo Bottle!

Terms & Conditions apply,

Limit 1 per customer.

Big Range, Low Price, Local Advice
---
Wednesday February 3 2021

Latest Canterbury news at starnews.co.nz

BAY HARBOUR

PAGE 15

Garden and

landscape projects

Fiskars

Softgrip Wavy Blade

Hedge Sheers

Ideal for trimming hedges and bushes.

120893

Taurus Garden

Compost bin 240 Litre

Easy to assemble. Supplied

with comprehensive

composting guide. Made

in NZ from recycled

polypropylene.

235400

Buxus Sumpervirens

Graham Blandy

Needs little trimming to maintain shape.

343435

Tui

All Purpose Potting Mix

40 Litre

Formulated to give the best start

to your indoor and outdoor plants

in pots, containers and hanging

baskets.

139613

$39 98

$22 98 $77 60

each

$28 PER

$45 99 $84 98 $11 98

Tesselaar

PAC

Osteopermum

Number 8

Comprosma

Geranium Cassiopeia

Blushing

Weedmat

Sunrise 2.5 Litre

150mm Dark Red

Beauty 1.5 Litre

Premium grade, spunbounded

Striking, evergreen plant

Tolerates dryness. 40cm high

Will grow in any

weedmat, ideal for commercial

growing to 1m high.

tall. Full sun.

climate and has

and domestic gardening jobs.

321530

319144

a strong weather

Suppresses weeds.

293859

tolerance. Very free

flowering and easy to

grow. Perfect for pots

and garden beds.

369580

$18 47 $14 79 $18 89

$17 88

Number 8

Walk-In

SUPPLIES FROM OUR LANDSCAPE ZONE - 987 FERRy ROAD

Greenhouse

Sturdy, space

saving design. Easy

GARDEN SLEEPERS

BULk BINS- WE hAvE OvER 40!

assembly. Protects

against pests and

Macrocarpa Sleepers

the weather. H:

Various lengths Great for

195cm, W: 143cm,

raised gardens, garden

Medium Prem Nuggets

D: 73cm.

edging, or low retaining walls

340697

and other non-structural

landscaping projects.

$79 99

$29

From

67

each

$34 PER

SCOOP

Kiwicare

Turfclean Ultra

Railway Sleepers

Concentrate 200ml

2.1m length. Great for raised gardens,

Selective weed control.

garden edging or low retaining walls.

Kills more weeds faster.

Visible effects within hours.

Garden Mix

368964

Forest Floor

$28 PER

SCOOP

Oamaru Pebble

$65 PER

SCOOP

Big Range, Low Price, Local Advice
---
PAGE 16 Wednesday February 3 2021

BAY HARBOUR

Latest Canterbury news at starnews.co.nz

Don't have the equipment for your project? Handy Hire has you covered!

HIRE EQUIPMENT

From wheelbarrows to tip trucks, water blasters to diggers,

we've got you covered for all of your hire equipment needs!

We've Got:

Kato

1.7 Tonne Digger

Hino

5 Tonne Tip Truck

• Compactors

• Water Blasters

• Pumps

• Tanks

• Generators

• Concrete Mixers

• Concrete Cutters

• Concrete

Breakers

• Paddle Floats

• Concrete

Vibrators

• Concrete Tools

• Diggers And

Excavators

• Self Loading

Dumpers

• Tip Trucks

• Rotary Hoes

• Chippers

• Wheelbarrows

• Lawn Rollers

• Lawn Mowers

• Chainsaws

• Hedge Trimmers

• Scrub Cutters

• Blowers

• Trailers

• Electrical

Accesories

FROM

$

80

Dewalt

Cordless Mitre Saw

FROM

$

20

Mikasa

Trench Rammer

FROM

$

60

Mikasa

Medium Plate Compactor

FROM

$

28

Subaru

Petrol Waterblaster

Sample Image

LOADS OF BULK SUPPLIES.

FERRYMEAD

STORE ENTRANCE

FROM

$

40

GARDEN

CENTRE

HUMPHREYS DR

Stihl

Diamond Asphalt and Concrete

Cutter 700-350mm

ENTRY / EXIT

TO HUMPHREYS DRIVE

FROM

$

48

Husqvarna

Chainsaw

DISPATCH

BUILDING

SUPPLIES

FROM

$

70

FROM

$

40

ENTRY / EXIT

SERVICE ENTRY

ENTRY / EXIT

FERRY ROAD

N

We deliver • Dumping available • Free courtesy trailer • Open 7 Days.

Now located in our Landscape Zone, 987 Ferry Road.

03 373 6551 admin@handyhire.co.nz

visit www.handyhire.co.nz for more info