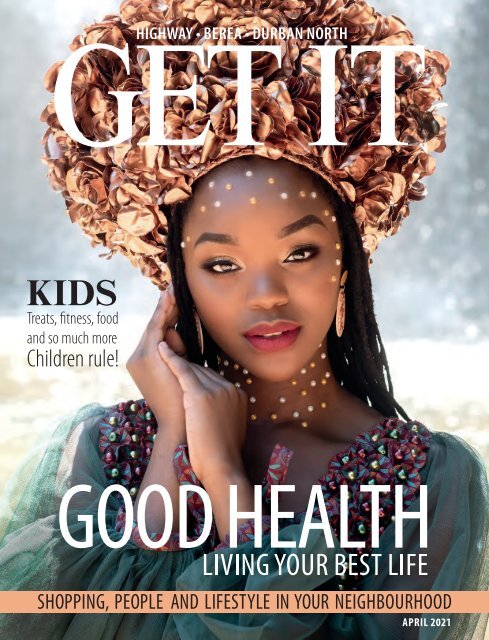 Create successful ePaper yourself
Turn your PDF publications into a flip-book with our unique Google optimized e-Paper software.
DurbanApril_Cover (002).indd 2

2021/03/17 12:06:16 PM
---
Inside Front Cover.indd 2

2021/03/17 12:05:14 PM
---
01 Contents.indd 2 2021/03/18 02:22:57 PM
---
2&3_Diary.indd 2

2021/03/18 02:24:33 PM
---
A SHOPPING CENTRE LOVED BY

THE COMMUNITY IT SERVES

2&3_Diary.indd 3

2021/03/18 02:24:48 PM
---
4&5_Bookclub.indd 2

2021/03/18 02:26:01 PM
---
4&5_Bookclub.indd 3

2021/03/18 02:26:16 PM
---
6&7_Wishlist Durban.indd 2

2021/03/18 02:28:15 PM
---
6&7_Wishlist Durban.indd 3

2021/03/18 02:28:36 PM
---
Nonkululeko Mdluli, Menga

Nhlabathi, Tashinga Muchineripi

Ash-Leigh "Lex" LaFoy and Asante the MC

Craig Goveia and Marlon Pretorious

Photos: VUSI MKHABELA

Stuart Bradford

and Alice Rasas

Sbahle Monica

Sphume Mahlobo and DJ Lab

08 Get It Highway • Berea • Durban North April 2021

8&9_Social.indd 2

2021/03/18 02:21:06 PM
---
MARKETING

TIPS

To grow your business,

increase your clients & boost your sales.

WEBSITES • NEWSLETTERS • SEO • GOOGLE ADS • BLOGS • BROCHURES • LOGO DESIGN • EMAIL MARKETING • SOCIAL MEDIA

1. ROCK SOLID BRANDING

So, what is branding and why is it important

for your business? A brand is how your

business is perceived, it is the impression

that people have of your business and

tells them what they can expect from your

products or services. Branding is all about

building relationships, it is the promise

to your customer which can drive new

business. Building your brand establishes credibility, builds trust,

helps to share your message and attract your ideal clients.

2. EFFECTIVE & ENGAGING VISUALS

Humans are visual creatures, and in our

easily distracted world it is essential for

your business to portray memorable design

and great visuals. It all starts with a solid

foundation. Logos, colours and graphics

that express your personality and the

quality of your work. Make an impact with

your marketing tools, such as a customerfriendly

website, company profile, product brochure, etc. You are

important, make sure you look it!

3. CLEAR CONCISE VOICE

As an expert in your field you have valuable

insights and a unique perspective to

share. Make sure your message is crystal

clear, authentic, easy to understand and

communicates what your target audience

needs to hear. Share the valuable nature of

your service or product, aligning you as the

expert, and communicating exactly why

they should choose you. Avoid any possible confusion, what may

be obvious to you is not necessarily clear to your potential client.

4. KNOW YOUR USP

Your Unique Selling Proposition (USP)

is what differentiates you in a way that

will make clients choose you over your

competition. What are you great at? What

value do you create? Understand what

makes your offering unique, and position

your brand as a solution to your ideal client's

problems. Be the solution!

5. UNDERSTAND YOUR AUDIENCE

You can't be everything to everyone. Focus

on creating an unforgettable experience

for those that are hungry for what you have

to offer. The more you know about your

audience, the more value you can give

them. Learn to describe them in as much

detail as you can: are your customers male

or female? What is their age? What do they

value? All these details will help you better understand how to

market to them effectively.

6. CONSISTENCY IS KEY

Consistency builds trust and makes a brand

more memorable; both are critical when

cultivating a loyal audience. Even though

you might be growing tired of your brand's

voice, look and feel, it is important to

remember that a portion of your audience

has only just come to discover your brand.

When they see you a second time, you want

to make sure there's no confusion about who you are. Consistency

contributes towards a solid foundation for your brand.

Odélle Hadnum (Director)

7. THE SECRET IS IN THE SOURCE

Ready to take charge of your brand and the

impression you give your target market?

There is just one secret we have to share

- Chilli Source Design. Our team is just as

passionate about your brand and its success

as you are. If you are ready to build your

brand and grow your business, let us help

you stand out from the crowd.

FREE BRAND ANALYSIS

Limited Offer | T&C's Apply

Let's assess how your brand

is performing on and offline.

Walk away with actionable

plans to improve your brand

awareness.

031 035 1173 • hello@chillisource.co.za

8&9_Social.indd 3

2021/03/19 08:19:22 AM
---
10&11_Jeanne.indd 2

2021/03/18 02:30:11 PM
---
10&11_Jeanne.indd 3

2021/03/18 02:30:24 PM
---
12&13_Dale.indd 2

2021/03/18 02:32:12 PM
---
14&15_Dale.indd 2

2021/03/18 02:36:09 PM
---
MY FINANCIAL BILLBOARD

BROUGHT TO YOU BY MY FINANCE PARTNER

WHAT THE 2021

BUDGET SPEECH

MEANS FOR YOU

A Roundup Of Key Takeaways

The Minister of Finance delivered his annual budget

speech on Wednesday, 24 February, and these are

some of the key takeaways from the speech that

My Finance Partner believes will impact businesses

and individuals in the year ahead.

SARS WILL COLLECT R213.2 BILLION LESS FOR THE

2021 TAX YEAR

Total tax collections are estimated at R1.2 trillion, a shortfall

of approximately R213.2 billion in comparison to the initial

budget and the largest shortfall ever recorded. Treasury

has acknowledged that Covid-19 has led to many business

closures and job losses, and in the interests of supporting

households, businesses and the economy, government will

not be introducing new measures to increase tax revenue.

PERSONAL INCOME TAX

Estimated to contribute R482 billion (40%) of the total tax

collections, personal income tax remains the single biggest

contributor to Government's budget.

In terms of relief offered to taxpayers, it was announced that

there will be an above inflation adjustment of 5% to the

individual tax brackets and annual tax rebates from 01

March 2021. This will result in the tax-free threshold

increasing from R83,100 to R87,300 for taxpayers under 65

years of age.

COMPANY INCOME TAX RATE TO REDUCE TO 27%

The National Treasury has, for some time, been all too aware of

the fact that South Africa's Company Income Tax (CIT) rate (at

28%) is relatively high when compared with similar countries

and our trading partners, and that this acts as a hindrance to

economic growth by reducing competitiveness. Aside from

this, a higher CIT rate also creates an incentive for profit shifting

to jurisdictions with lower tax rates, like Mauritius, thereby

affecting SARS' efficiency in administering CIT and ultimately

reducing revenue collections overall. Government has taken

the first step in making SA more competitive by lowering

the corporate tax rate to 27% for years commencing

01 April 2022.

SARS GETS R3 BILLION TO ASSIST WITH TAX

COMPLIANCE

An additional R3 billion was allocated to SARS to

modernise its technology infrastructure and systems, and

expand and improve the use of data analytics and artificial

intelligence capabilities to lower costs of compliance, simplify

tax administration and improve collections.

GOVERNMENT WAGE BILL

Government is (again) promising to address SA's rapidly rising

public sector wage bill, budgeting to cut it by R265 billion in

the next three years. The cost of the SA public sector as a

proportion of its economy is 50% above the US, UK and

the global average.

The State's wage bill has grown by 4% p.a. in real terms over

the past decade compared with economic growth averaging

1,5%. Reversing this is a critical aspect of Treasury's

goal to balance the nation's books by 2025 (i.e. bringing

non-interest spending inline with total tax receipts).

THE COVID RESPONSE

Bringing the current allocation up to R10.3 billion, the

Minister announced in his budget that a further R9 billion

will go into South Africa's much-anticipated Covid-19

vaccination programme.

Of the new R9 billion allocation for the vaccine roll-out, the

Department of Health will be allocated R6.5 billion to procure

and distribute vaccines and a further R2.4 billion will be going

to provincial health departments "to administer vaccines".

Visit our website

for more information

www.mfpartner.co.za

Our Services

Bookkeeping, Financial Statements, Payroll, Company

Registrations & Statutory Services, Advisory Services, Tax

031 941 4770 | info@mfpartner.co.za | www.mfpartner.co.za

14&15_Dale.indd 3

2021/03/18 02:36:10 PM
---
16&17_Ashling.indd 2

2021/03/18 02:37:22 PM
---
16&17_Ashling.indd 3

2021/03/18 02:37:43 PM
---
18&19_Fashion.indd 2

2021/03/18 02:40:32 PM
---
18&19_Fashion.indd 3

2021/03/18 02:40:47 PM
---
20&21_Fashion.indd 2

2021/03/18 04:00:32 PM
---
April-Accentuate half page.indd 2

3/15/2021 3:46:10 PM

20&21_Fashion.indd 3

2021/03/18 04:00:49 PM
---
22&23_Beauty.indd 2

2021/03/18 04:44:58 PM
---
22&23_Beauty.indd 3

2021/03/18 04:45:31 PM
---
April-Action Coach.indd 2

24&25_Spa.indd 2

2021/03/16 12:37:16 PM

2021/03/18 03:58:26 PM
---
24&25_Spa.indd 3

2021/03/18 03:58:42 PM
---
26&27_Spa.indd 2

2021/03/18 03:57:07 PM
---
CAN I FORCE MY

EMPLOYEES TO

GET VACCINATED?

Compulsory Vaccinations In The Workplace

PROPERTY LAW | FAMILY LAW | COMMERCIAL LAW | LABOUR LAW | TRUSTS & ESTATES | LITIGATION

This is a truly relevant and loaded question at present. The

answering of which will depend largely on the specific

circumstances of each working environment and will involve

the careful balancing of a number of fundamental rights.

Currently, there is no law in place making the COVID-19

vaccine obligatory, this has been confirmed by both the

Minister of Health and Cyril Ramaphosa. Further, there is the

Constitution which guarantees us the right to bodily integrity, as

well as freedom of religious ideas and a number of other rights,

which an employee may invoke as a reason for not wanting

to take the vaccine. Not to mention, the National Health Act

confirms that prior to any medical treatment there must be

"informed consent".

However, and even in light of the above, the Occupational

Health and Safety Act requires employers to both provide

and maintain a safe working environment for both

employees and members of the public. This would include

putting into practice as many preventative measures to prevent

COVID-19 from spreading, the argument here is does the

vaccine not fall into this bracket?

The short or general answer is that as the law stands now there

is no way to force an employee to get vaccinated. A safer

approach is to encourage and educate the employee as to

the benefit of such a vaccination. With this being said each

workforce and environment is different, and as such has different

requirements some of which may justify a vaccination.

We would highly recommend Brookes Attorneys,

efficiency and professionalism at it's best. Together

with their support and guidance, our CCMA case

was a success. Thank you Brookes Attorneys.

LABOUR SERVICES

Compliance

Ensuring compliance in all aspects, employment

contracts, policies, etc. as well as handling Department

of Labour audits.

Disciplinary Action

Performing investigations, running disciplinary

hearings, counselling employees, issuing warnings and

handling dismissals.

Representation

CCMA representation and engaging with unions

and the relevant councils (should this be required) on

your behalf.

Organisational Change

Interviewing potential employees & assisting with

retrenchments.

Drafting Documents

Drafting of company-specific employment contracts,

policies and other documents.

Employee-Related Issues

We're here to help you with any other employeerelated

matters, including dealing with Workmen's

Compensation issues.

RETAINER SERVICES

Be proactive with your legal counsel, get customisable

retainer agreements that you can budget for, without

any hidden costs.

NICOLE SADLER | THIRST BAR SERVICES

GET YOUR FREE ON-SITE LABOUR AUDIT

We will assess the state of and advise on your contracts

of employment, company policies, code of conduct,

disciplinary processes, hours of work, council compliance,

union queries, health and safety protocols, and any

current employee issues.

Justin Erasmus (Labour Lawyer) and Jonathan Brookes (Director)

031 035 1055 | admin@brookes.co.za | www.brookes.co.za

26&27_Spa.indd 3

2021/03/18 03:57:08 PM
---
28&29_Health.indd 2

2021/03/18 03:52:39 PM
---
28&29_Health.indd 3

2021/03/18 03:52:55 PM
---
30&31_Fitness.indd 2

2021/03/18 03:50:58 PM
---
SPECIAL OFFER!

R2000 FOR

10 PRIVATE SESSIONS

METAFIT DURBAN | SATURDAY 17 TH APRIL

LAUNCH MARATHON - HIIT IN ITS PUREST FORM

Private Personal Training Sessions in your very own Fitness Studio

No Gym Fees! Pay only for your Workout

Centrally Located at Prime Human Performance Institute, Moses Mabhida Stadium

WE OFFER:

Specialized Functional Fitness Training for Athletes

Metafit classes - 6am & 6pm daily (R100 per class)

Total Body Transformation Programs

Focused Fitness Training for Longevity

Yoga & Pilates

Boxing Fitness

Brendan - 078 081 3869

Brendan@FunctionalFitnessWorkouts.com

INCREASE RESTING

METABOLIC RATE

BURNS FAT

BUILDS MUSCLES

YOU'LL BE BURNING

CALORIES FOR THE

REST OF THE DAY!

VENUE: OLD SNAKE PARK,

NORTH BEACH (GRASS PATCH)

TIME: 7AM - 10AM

CONTACT DETAILS:

LATASCHA: 0731623710

BRENDAN: 078 081 3869

BRENDAN@FUNCTIONALFITNESSWORKOUTS.COM

@METAFITDURBAN

30&31_Fitness.indd 3

2021/03/18 03:51:13 PM
---
32&33_Riversmead.indd 2

2021/03/18 04:48:07 PM
---
32&33_Riversmead.indd 3

2021/03/18 04:48:27 PM
---
April-Gym 34&35_Wine.indd Warehouse.indd 2 2

2021/03/18 03:46:07 04:50:19 PM
---
3:46:07 PM 34&35_Wine.indd 3 2021/03/18 04:50:41 PM
---
36&37_Food.indd 2

2021/03/18 03:19:27 PM
---
36&37_Food.indd 3

2021/03/18 03:19:59 PM
---
38&39_Decor.indd 2

2021/03/18 03:17:19 PM
---
38&39_Decor.indd 3

2021/03/18 03:17:32 PM
---
40&41_Decor.indd 2

2021/03/18 03:15:38 PM
---
BEAUTIFUL ESTATE SHUTTERS

Trellidor has made it even more affordable to get gorgeous, custom-designed, aluminium louvre shutters for your home

at a price you can afford. All without compromising on strength. Our brand-new shutters in a colour of your choice will

add style and elegance to your interiors, so fit them to all your doors, windows and around your patio.

CONTACT TRELLIDOR TO FIND OUT MORE ABOUT THIS BEAUTIFUL NEW ADDITION TO OUR SHUTTER RANGE.

BALLITO / DURBAN WEST / NORTH DURBAN 031 569 5000

DURBAN CENTRAL & SOUTH 031 201 7927 | HIGHWAY 031 765 3567

www.trellidor.co.za | Trellidor and The Ultimate Crime Barrier are registered trademarks of Trellicor (Pty) Ltd.

40&41_Decor.indd 3

2021/03/18 03:15:52 PM
---
42&43_Gardening.indd 2

2021/03/18 03:14:17 PM
---
KwaZulu Natal

The ultimate in

smart home

security

SECURECONNECT

The smartest way

to secure your home

Dial *120*310*14# and follow

the prompts. *Standard USSD rates apply.

086 12 12 100 | adt.co.za

Keeping you safe, securing your assets.

42&43_Gardening.indd 3

2021/03/18 03:14:30 PM
---
April-Mantellis.indd 44-55_Kids.indd 2 2

2021/03/18 3/16/2021 12:27:14 01:27:41 PM
---
2:27:14 PM 44-55_Kids.indd 3 2021/03/18 01:27:58 PM
---
0

44-55_Kids.indd 4

2021/03/18 01:28:52 PM
---
from

R150

from

R110

082 720 8399 sarah.whitaker@live.co.za

44-55_Kids.indd 5

2021/03/18 01:29:15 PM
---
44-55_Kids.indd 6

2021/03/18 01:30:19 PM
---
44-55_Kids.indd 7

2021/03/18 01:30:39 PM
---
44-55_Kids.indd 8

2021/03/18 01:32:14 PM
---
44-55_Kids.indd 9

2021/03/18 01:32:29 PM
---
44-55_Kids.indd 10

2021/03/18 01:33:40 PM
---
44-55_Kids.indd 11

2021/03/18 01:33:53 PM
---
44-55_Kids.indd 12

2021/03/18 01:34:26 PM
---
April-Paul Derby Wade.indd 1

3/17/2021 April- Pheka.indd 2:50:47 PM1

3/12/2021 1:58:18 PM

GET

LOCAL MAGAZINES

IT& GET IT KIDS

April-Get It Kids Filler.indd 1

3/17/2021 AApril-Jennifer 3:25:35 Gaul.indd PM 1

3/8/2021 2:38:09 PM

Mechanical Bull

Super Tube Slide Sumo Wrestling

Rocket Jumping Castle Zorb balls

Strict COVID 19 Protocols in place

Phone us NOW!

Contact Linda 082 789 3966

Email - jumpingmaniacastles@gmail.com

www.jumpingmania.co.za

Kids Pares

Adult Pares

School Fun Days

Team Building

April- 44-55_Kids.indd Complete organics.indd 13 1

3/9/2021 12:45:30 PM

2021/03/18 01:34:43 PM
---
Tango's turnaround

Tango, a two-year old Africanis began life in misery,

infested with ticks and worms. A Facebook page, one man's

commitment and a Swiss supplement changed his fate.

His owner, Daryl, explains: "Two years back, a sick puppy was

brought in a little blue bucket to KZN Valley Dogs' weekly

feeding station in the KwaNgcolosi township. The pup's

condition was dreadful, hundreds of ticks hung like grapes

from his ears and between his toes. He had scabs on his

body from tick bites and the beginnings of mange. Given

his severe malnutrition, the vet could only estimate he was

between six and eight weeks old. KZN Valley Dogs named

him 'Bucket Boy' and began looking for an adoptive family

through Facebook.'

"When I saw the photos, I thought 'That's my dog,' so I

adopted him. Wanting to honour the little guy's fight

against all odds, I decided to give him a name worthy of

his struggle, and so 'Bucket Boy' was renamed 'Tango' (well

actually, his full name is Tango Sunshine Bucket Boy).

Tango was lethargic and weak. Adamant to make a

difference in his life, my immediate action was to get some

weight on him. He improved in the first few weeks but was

nothing like a normal pup, despite being fed premium

puppy food. I worried there might be some underlying

problem. A friend suggested Anima-Strath, saying it would

improve his condition and build his immune system. So

Tango started getting Anima-Strath four times a day. This

was the tipping point. In about a week, Tango changed into

a playful, inquisitive pup. Within four weeks, he started filling

out and developed a shine to his coat. He still takes it today

and the dog I feared wouldn't live is my happy, healthy,

content best friend. In fact, 'Bucket Boy' soon fell off his

name, just like the last dead tick. Now he's simply 'Tango',

the 'Sunshine' to our lives." - Daryl

Support your pet's recovery

with a boost, from nature!

We're for the life in your pet. In order for your pet to feel

healthy, happy and full of life, they need to be well. Their

immune system plays an integral part in maintaining health

and wellbeing.

Anima-Strath ® acts directly on the immune system,

strengthening it before and during infection, and promoting

a quicker recovery. It creates a state of homeostasis which

helps protect the body against the negative effects of

stress, exercise and ageing, and improves physiological

functioning. Anima-Strath ® is also proven to significantly

improve the uptake of dietary micronutrients, ensuring that

your pet is absorbing and able to process the goodness from

their diet better.

Anima-Strath ® assists with:

• Strengthening the immune system before and during

infection and disease.

• Convalescing and ageing animals.

• Physiological stress such as training and performance.

• Recovery time reduction.

• Breeding.

• Maintaining health

and wellbeing.

ENHANCES + MODULATES

www.anima-strath.co.za

AnimaStrathSA

Available from your nearest vet.

56&57_Pets.indd 2

2021/03/18 03:08:35 PM
---
l

ir

h

,

g

h

f

l

y

t

.

56&57_Pets.indd 3

2021/03/18 03:08:51 PM
---
58&59_Muddy Dog.indd 2

2021/03/18 03:48:17 PM
---
58&59_Muddy Dog.indd 3

2021/03/18 03:48:34 PM
---
60&61_Pets.indd 2

2021/03/18 03:00:59 PM

April-Mee
---
60&61_Pets.indd 3

April-Meet the Vet.indd 2

2021/03/18 03:01:13 PM

2021/03/17 02:36:12 PM
---
62&63_Travel.indd 2

2021/03/18 02:54:36 PM
---
YOUR SAFETY IS OUR PRIORITY

At Lake, Smit & Partners, our purpose is to serve our patients and partners in the

medical community by offering the most advanced diagnostic care possible. We've

set a benchmark for ourselves in equipment, patient care and ongoing radiographic

and radiologist training which ensures that you are in capable hands at all times and

that we remain leaders in diagnostic and interventional radiology.

Our Services

• Mammography

• CT Scan

• MRI Scan

• PET CT

• Nuclear Medicine

• Ultrasound

• X-Ray

• Bone Mineral Density

• Interventional Radiology

BOOK AN APPOINTMENT WITH US

CROMPTON

HOSPITAL

Tel: 087 310 4981

Fax: 087 236 0681

ENTABENI

HOSPITAL

Tel: 087 310 4983

Fax: 087 236 0683

GATEWAY PRIVATE

HOSPITAL

Tel: 087 310 4985

Fax: 087 236 0685

HILLCREST

IMAGING CENTRE

Tel: 087 310 4991

Fax: 087 236 0691

KINGSWAY

HOSPITAL

Tel: 087 310 4980

Fax: 087 236 0680

DIGITAL MAMMOGRAPHY

CENTRE

Tel: 087 310 4990

Fax: 087 236 0690

ONCOLOGY

CENTRE

Tel: 087 310 4989

Fax: 087 236 0689

PARKLANDS

HOSPITAL

Tel: 087 310 4986

Fax: 087 236 0686

WESTVILLE

HOSPITAL

Tel: 087 310 4982

Fax: 087 236 0682

ST AUGUSTINES

HOSPITAL

Tel: 087 310 4984

Fax: 087 236 0684

@lakesmitpartners @lakesmitpartners

Lake, Smit & Partners www.lakesmit.co.za

62&63_Travel.indd 3

2021/03/18 02:54:46 PM
---
64_Spoil.indd 2

2021/03/18 02:41:54 PM
---
Space Space saving saving essentials

essentials

K IT, PACK STACK IT, STORE IT, PACK IT IT, STORE IT

LARGE RANGE LARGE OF RANGE OF

TOOLBOXES TOOLBOXES

STA

ambo ambo s s

SHOP ONLINE

SHOP ONLINE

mambos.store mambos.store

STORAGE STORAGE & HOME& HOME

KWAZULU NATAL: KWAZULU SPRINGFIELD: NATAL: SPRINGFIELD: 031 054 5822 031 054 5822

Springfield Retail Springfield Centre, 2 Ilala Retail Ave, Centre, Springfield 2 Ilala Park, Ave, Springfield Durban, 4001 Park, Durban, 4001

WESTERN CAPE: RETREAT: WESTERN GREEN CAPE: POINT, RETREAT: SANDOWN, GREEN KENILWORTH, POINT, SANDOWN, CAPE GATE, KENILWORTH, BELLVILLE, CAPE PAARL, GATE, SOMERSET BELLVILLE, WEST, PAARL, GEORGE. SOMERSET WEST, GEORGE.

EASTERN CAPE: BEACON EASTERN BAY, BAY CAPE: WEST, BEACON EAST LONDON. BAY, BAY FREE WEST, STATE: EAST LONDON. BLOEMFONTEIN, FREE STATE: LANGENHOVEN BLOEMFONTEIN, PARK LANGENHOVEN PARK

Inside Back Cover.indd 2

2021/03/17 12:04:29 PM
---
C

M

Y

CM

MY

CY

CMY

K

Back Cover.indd 2

2021/03/17 11:53:22 AM