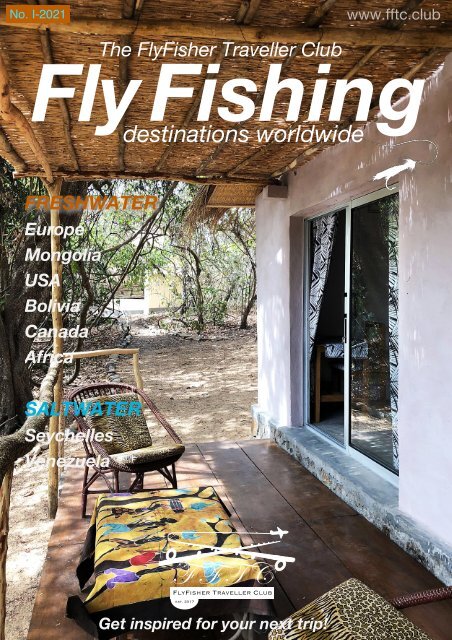 Fly Fishing destinations worldwide - FFTC.club Magazine issue I-2021
This digital magazine is made for those fly fishers, who loves to explore new destinations. You can explore new fly fishing destinations everywhere. This is the passion we love to share with you! We at FFTC love to travel for fly fishing. The FFTC presents 120+ pages full of information about worth-to-know fly fishing destinations around the globe. We invite you to read our digital magazine, and the best thing is that it will be totally for free for all readers. No registration or subscription is needed. Please share this magazine with your fishing buddies to get inspired for your next fly fishing trip. Always tight lines, Alexander Founder of the FlyFisher Traveller Club – worldwide
This digital magazine is made for those fly fishers, who loves to explore new destinations.
You can explore new fly fishing destinations everywhere. This is the passion we love to share with you!
We at FFTC love to travel for fly fishing. The FFTC presents 120+ pages full of information about worth-to-know fly fishing destinations around the globe. We invite you to read our digital magazine, and the best thing is that it will be totally for free for all readers. No registration or subscription is needed. Please share this magazine with your fishing buddies to get inspired for your next fly fishing trip. Always tight lines, Alexander
Founder of the FlyFisher Traveller Club – worldwide

SHOW MORE
SHOW LESS
You also want an ePaper? Increase the reach of your titles
YUMPU automatically turns print PDFs into web optimized ePapers that Google loves.
No. I-2021

www.fftc.club

The FlyFisher Traveller Club

Flydestinations worldwide

Fishing

FRESHWATER

Europe

Mongolia

USA

Bolivia

Canada

Africa

SALTWATER

Seychelles

Venezuela

F F T C

FlyFisher Traveller Club

est. 2017

© ℗ FFTC.club 2020

Get inspired for your next trip!
---
No. I-2021

Cover photo: Bungalow front of the camp on the banks of the Faro river

- a fishing trip with Faro Sportfishing, Xavier-Frank Vannier

destinations

FRESHWATER

Fl

Europe

Germany - Alpine Angler.............................................6

Slovenia - Krka Mayfly Lodge....................................14

Mongolia

Murun - The Four River Lodge..................................36

USA

Texas - FlyFishing Rockport......................................44

Bolivia

Arapaima Paradise Lodge..........................................54

Canada

Yukon - Dalton Trail Lodge........................................74

Africa

Cameroon - Faro Sportfishing & Safaris...................82

2 contact@fftc.club
---
www.fftc.club

The FlyFisher Traveller Club

yFishing

destinations worldwide

editorials

Cameroon - wild(life) by night.................26

Interview - with Wayne McGee...............60

Brands inside - ArcticSilver....................95

destinations

Seychelles

SALTWATER

Astove..................................................................104

Venezuela

Los Roques.........................................................114

videothek.........124

www.fftc.club

3
---
The FFTC.club

Founded for the worldwide

passion to travel for fly fishing

Our passion is the same as

yours: traveling for pure flyfishing!

All FlyFishers have their home spots and for sure we love

to fish and spend our fishing time there. We know every

stone, sometimes every fish in every pool. For sure we

are all in love with our home spots but there are so many

other foreign and attractive spots all over the world.

Some of them are either in the direct neighborhood not

far away from our home or just over the next border and

you can reach them either by driving or flying for a

couple of hours.

Others are overseas, in a completely different country

with a foreign language, far away from home. The charm

to explore new destinations or to catch a new species of

fish is enormous for the TRAVELLING FLYFISHER. We

spend hour by hour in internet to organize and book a

trip. The FFTC.club helps you to get this done quickly.

The idea of founding the FlyFisher Traveller Club was

born in March 2017 and it's growing very, very fast in my

head and in my heart! I decided to use different

professional resources to realize the idea and to make

the dream come true that the FFTC will be the biggest

FlyFisher Club and the fastest growing FlyFisher

community worldwide. A well organized membership

area brings together what must be together.

The FFTC Members Area will offer a direct access to a

huge number of the most experienced FlyFisher Guides

and all the worthwhile freshwater and saltwater

destinations all around the globe. There are so many

great destinations out there - we are hungry to explore

them - hand in hand with a guide who is familiar with the

water to make our visions of unforgettable moments

become real!

We are proud to present a selection of worth-to-know fly

fishing destinations around the globe in this digital

magazine. We hope you enjoy reading our brand-new

magazin. For more details about the FFTC.club please

visit www.fftc.club - our BLOG or register for free to get

unlimited access to the FFTC Members Area.

Always tight lines, Alexander

F F T C

FlyFisher Traveller Club

est. 2017

4 contact@fftc.club
---
Editor's letter

April, 2021

Editorial

We are very proud to present the third issue of our

brand-new FFTC Magazine. This digital magazine is

made for those fly fishers, who love to explore new

destinations.

Of course the years 2020 and 2021 are totally terrible

because of Corona pandemic. We launched our

FFTC magazine exactly during this time. But we

decided to keep going with this project. Of course,

travelling in general is difficult and extremely limited

now.

In fact it is nearly impossible for the most of the

countries worldwide. This is not really easy for

passioned world travellers, isn't it?

In normal years we at FFTC love to travel for fly

fishing. Not only to get an idea about foreign cultures,

to meet interesting new people, see impressive

landscapes and chase new fish species.

The all-in-one experience drives us.

With this publication we will present you some

worth-to-know destinations around the globe in a

traditional way - as a magazine.

With the mission to try to keep your dreams alive.

No matter when the "new normal" allows us to travel

again. We add new destinations to our bucket list.

Our digital magazine is clickable.

Do not hesitate to use this feature, watch embedded

videos, and follow links to get more details about the

particular country or destination.

Meet you at the water.

Always tight lines,

Dear Reader

Dear FFTC Member

Alexander

Publisher

FFTC.club - FlyFisher Traveller Club

powered by

andante media DIGITAL

ENTERTAINMENT CLG

3 Cavendish Row, Dublin 1

D01 KV26 Dublin / IRELAND

Register No. 643231

GERMANY

andante media DIGITAL

ENTERTAINMENT CLG

Leopoldstrasse 2-8

32051 Herford

VAT ID/Umsatzsteuer ID:

DE32291620

phone/fax

toll free (national DE)

0800 - 724 3205

FFTC.club office (south of Germany)

phone international

+49 (0)8151 950 1521

email: contact@fftc.club

editor in chief & director

Alexander Dachlauer

email: alexander@fftc.club

www.fftc.club

5
---
EUROPE

Guide

ermany

GBAVARIA - Alpine Angler

If you have Germany on your Bucket

list - you have to come to Bavaria! Fly

fish the Alps ... get the best!

Trust our years of experience. As a

specialized fly fishing supplier in the

Alpine region, we have the know-how!

The Alps are a source of countless

watersheds and among them are

some little-known dream destinations

where we can put you. Fly fish the

Alps ... get the best, is therefore the

motto of our individual Guiding

packages, which will be customized

according to your preferences. You

want to catch big wild trout or

grayling, a brook or rare marbel trout,

pike, carp or even a taimen on fly?

Based on your targets, you

can choose between several waters

and areas, not only here in Southern

Bavaria, but also in Italy and Austria.

We also arrange conveniently located

accommodation corresponding to

your demands. And about everything

else you don't have to care about, e.g.

which rivers to fish depending on the

season, the weather and the

prevailing conditions, where to get

the fishing licenses, etc., because

all these services are included in the

package.

...

6 contact@fftc.club
---
More than 20 years ALPINE ANGLER

- we are already in our 21th fly fishing

season!

At the turn of the millennium, the

company ALPINE ANGLER was born

out of the idea to inspire even more

people for the finest way to fish. But

even for those who are already

fascinated by the best sport in the

world, we would like to offer our help.

That is to ensure that you are able to

enjoy your passion best in these fast

days where free time is a real value.

The Home Waters

ALPINE ANGLERS guides on many of

the waters in the south of Bavaria in

front of the Alps, for a variety of

species. But our home water will

always be the ISAR River. We also fish

a number of other waters in Bavaria.

For Lake Trout the Lake Walchensee,

the river Singold, Loisach and the

famous river Weisse Traun.

ALPINE ANGLERS can craft the

perfect Bavarian Fly Fishing trip for

you.

SEASON

Season is from Mai to November for the ISAR

Lake Walchensee starts in March and other

rivers in April

RATES

Accommodation on request - Guiding from

EUR 500 full day for 1 Angler

FFTC Member Advantage

FFTC Voucher available - 25 USD

off for FFTC Members / fisherman /

booking guiding services

www.fftc.club

7
---
8 contact@fftc.club
---
B avaria

is known for its traditional

culture and its beauty

www.fftc.club

9
---
EUROPE

Guide

ISAR River - A jewel runs through

the Bavarian Alps

The upper reaches of the Isar river are

one of the last wild river landscapes in

Europe. The upper river in the socalled

"Isar angle" below Sylvenstein

reservoir is one of the most beautiful

flowing river sections of Bavaria with

breathtaking scenery, wide gravel

banks and clean water - ideal for fly

fishing! The rainbow trout stock can

be described as good but brown trout

occur as well. Prime fish species

however is the grayling, whose

existence is gratifying constant

thanks to year-round protection.

Caddis, mayfly and stonefly

imitations, terrestrials and streamers

lead to success in the variety of

classic riffles, runs and pools of the

mostly natural river course.

For guest fishermen there are 2 river

sections available - 17 km in total

length.

Best time to fish is early May to mid

July and then especially the fall from

early September to mid-November.

WEISSE TRAUN - River

A Gin-clear perl in the front of the Alps.

This river is one hour´s drive away in

the south of my home base. If the

water is higher on the ISAR we can

avoid to Weisse Traun river. The water

level there is not affected by normal

rainfalls. This river offers its anglers a

great spot for sight fishing for big

Brown and Rainbow Trout.

A delicate presentation and the right

pattern of a dry fly let you enjoy a great

fishing day.

...

10 contact@fftc.club
---
LAKE - Walchensee

The lake Walchensee gives you the

opportunity for sight fishing for Lake

Trout. Especially on the beginning of

the season at early March is the

chance to hook one of the shy Lake

Trout really perfect. In this time

normally they patrol the lakesides and

later in the season they prefer the

deep water. We will guide you for this

special experience.

You'd like to try for other fish

species with a fly?

We also offer guided fly fishing for pike

and carp from the boat or belly boat on

pristine Bavarian lakes. This offer is

also interesting for the novice in fly

fishing for pike and carp. Suiting

equipment for these fish and special

flies can be provided at no extra

charge. Contact us, if you want to go

for big fish!

Accommodations for your stay

Situated in close proximity to the

towns of Bad Tölz, Wackersberg,

Arzbach and Lenggries there is a

variety of accommodations of all

categories. We are happy to help you

with the accommodation.

Bring your partner! The magnificent

"Isarwinkel" provides versatile leisure

opportunities for non-fishing

companions.

Our partner on site - the Fellerhof in

Lenggries

The lovely **guest house Fellerhof in

Lenggries is our long-term partner on

site for guest anglers who come for fly

fishing on the river Isar. This quietly,

within easy reach of the village center

situated guest house of the family

Seibold is set to fly fishing.

www.fftc.club

11
---
EUROPE

Guide

12 contact@fftc.club
---
FFTC Member Contact

We help you to plan your trip - just contact us!

We appreciate to help you to make your

dreams come true.

Alpine Angler eK

Owner / Headguide

Andreas Pfirstinger

Seiboldweg 22

83646 Wackersberg / GERMANY

phone: +49 (0)8041 799 694

email: info@alpineangler.eu

web: www.alpineangler.eu

13
---
EUROPE

lovenia

SKrka Mayfly Lodge

Chalk stream Trout and Huchen fishery, ethereal landscapes

and peacefulness

Slovenia Mayfly Fly fishing Lodge

sits perched on a hilltop above the

Krka River, in the heart of the Lower

Carniola region, south eastern

Slovenia.

Located at rural countryside - far from

the bustle of urban life, and right in the

middle of breath-taking landscapes.

The Krka is characterized by a

riverbed sunk into the soft limestone

terrain of the Lower Carniola Hills.

Waters spilling from one pool into the

other, across tufa deposits cascades

overgrown with green moss, which

provide ample shelter to fish.

River Krka is a waterway renowned

for its chalk stream Trout and Huchen

fishing. From our Lodge we have

access to the most spectacular

crystal-clear rivers in this part of the

world: Soča, Idrijca, Kolpa, Savinja,

Unica, Gacka.

14 contact@fftc.club
---
www.fftc.club 15
---
EUROPE

THE LODGE

Vintage

During recent eco-renovations, the

historic beauty of the stone house,

founded in 1885, was preserved to

maintain the rustic ambiance of the

rural countryside with all the luxury of

modern times.

Eco

The Eco-lodge offers a private

getaway of rural charm for our guests

to enjoy. You will find intact nature,

peacefulness of rural environment,

local food, cosy rooms and relaxing

atmosphere - escape in ancient

times.

Antique

The ground floor treats you with two

double rooms furnished with antique

furniture, terracotta tiled hallways and

bathroom, while in the chalet styled

attic two single rooms and an antique

style open lounge area await you.

A wild fishing

experience

Go Fly fishing Slovenia

guides offer

professionally guided fly

fishing trips in Slovenia

for anglers of all skill

levels.

Slovenia Mayfly Fly fishing Lodge -

enjoy exclusive chalk stream haven

for small groups of discerning

anglers!

Our backyard boasts some of the best

fly fishing Europe has to offer and it's

our guides' mission to bring you the

best experience possible. The great

variety of Slovenian waters includes

chalk streams, freestone's and lakes.

This small but beautiful country

has hundreds of kilometers of fishable

water, which makes Fly fishing in

Slovenia a fly-fisherman's dream.

Whether you are a seasoned and

experienced angler or a first timer who

wants to learn to fly fish, our guide

team will match your capabilities and

desires to the right waters.

...

16 contact@fftc.club
---
The famous home waters of Krka Mayfly Lodge

The SOCA River

Fly fishing Soca river - fishing in a dream

Soca, simply stated the "first lady" of Slovenian rivers, is one of the most iconic rivers

in Slovenia. A crystal-clear emerald beauty, starts its journey through the breathtaking

Trenta Valley in the Julian Alps. Its upper parts in Triglav National park, painted

with emerald blue pools, exchanging with faster stretches, that are easily accessible

from the road. The stunning alpine river then weaves its way through several canyons.

The beauty of the Soca River takes your breath away, no matter whether you are a firsttime

or returning visitor to this sacred space.

The fish populations are plentiful throughout the Soca. Including the native Marble

trout and Adriatic Grayling, a sub-strain with bluish accent of fins, but also a rainbow

trout for times when the activity is low. Also, the many smaller tributaries Lepena,

Koritnica and Tolminka are delight for any serious fly fisherman.

The KRKA River

Best Fly Fishing Guide Service at Krka River, professionally guided trophy trout tours

at Krka Valley, Slovenia.

Located in south-eastern Slovenia, the Krka is a right tributary of the Sava River and

is characterized by transparently green pools and numerous tufa cascades. Hence its

second name, the Slovenian Green river. The water rich in limestone has formed

countless brittle tufa deposits in its channel. Under cascades the pools are forming,

providing a perfect keeping place for salmonid fish species. The Brown

Trout and Rainbow Trout feel at home in the river's source stretch, joined downstream

by the Grayling and Danube salmon.

Our fishing agency may offer you an exclusive stay at vintage Mayfly Lodge, ready to

accommodate uncompromising fly fisherman and Huchen angler. Nearby spring

creeks provide ample opportunities for a peaceful fly fishing.

The fishing season is open from April to the end of October, and the only fishing

method allowed is fly fishing. Huchen may be pursued by fly fishing or spin

fishing. Eager to experience relaxed chalk stream fly fishing in Slovenia.

www.fftc.club 17
---
EUROPE

S oca

18 contact@fftc.club
---
The mystic

R iver K rka

www.fftc.club

19
---
EUROPE

I drijca

20 contact@fftc.club
---
The IDRIJCA River

Idrijca River is the largest Soca River tributary, still beholding solid populations of

native marble trout and grayling. Idrijca springs in Idrijca Hils and after joining with

Belca it becomes a fishable water. In upper parts dominated by brown and marble

trout. This light green river pools are a fisherman's heaven. The population of marble

trout and hybrids below town of Idrija are dense and the fish trive on healthy insect diet.

The Idrijca is easily accessible from the road that runs parallel to it throughout its entire

length. Abounding with fish, the river offers enjoyable fishing throughout the fishing

season. Don't count off enigmatic confluences Kanomlja and Cerknica, they may well

surprise you.

Marble trout – marmorata from Idrijca is the marble sub-type Idrijca, showing off a

unique pigmentation pattern for this river. A reason more, for the visiting fly fisherman

to put also Idrijca marble subspecies on your bucket-list. Besides Marble trout, Idrijca

hides other beautiful fish as well. You can catch yourself a Brown trout, Hybrid trout

a cross-breed of brown and marble, Rainbow trout and Grayling.

LAKE - Stillwater Fly fishing

Most of the fisherman who have fished or have a notion to fish Slovenia, are focused

on breath taking gin-clear Rivers or prominent chalk-streams. Passing on the notion

of coming to Slovenia to fish a lake, could be an opportunity wasted. The ones who

dip into this realm and get to experience the Slovenian lake – catching up a title

"Jurassic lake" - come back to us from the day fishing with ear to ear grins and a phone

filled with big fish photos! We could vouch for the lake to be one of most prolific trophy

wild trout waters in Central Europe.

Perhaps the least boring factor is the big fish potential. Every year our clients and

guides catch 6-8-pound trout and sometimes even larger. We have yet to meet a client

that had a bad time watching a 2-plus foot Rainbow or Brown trout cruise the flat,

taking the midge pupa and jump start into backing. Besides, these fish are no hatchery

fish! They are wild trout, as a result of natural reproduction and get huge on the

bountiful food supply that this lake produces.

Our mission

Your host will take care of every detail, with a solely mission to provide first

class Slovenia fishing or outdoor adventures for smaller groups, let it be

family and friends, creating memories to last a lifetime.

We believe that the only way to ensure customers' safety, satisfaction and

success is for the owners to be present and hands-on in absolutely every

aspect of the adventure - that is our key and a promise.

www.fftc.club 21
---
Most chased fish species

Marble trout - a Queen of Slovenian Rivers

Marble trout (Salmo marmoratus) native to Adriatic basin, can only be found in rivers

flowing into Adriatics. Known for its marbled pattern - also referred to as Adriatic river

ghost, is considered the pride and symbol of Slovenian fly fishing. Last two decades

have seen the recovery of marmorata population, which was facing a near extinction

due to release of Brown Trout into their habitat in 20th century resulting in

crossbreeding. With the effort of Slovenian fishing enthusiasts, the "Marmorata"

population has well recovered.

Smaller Marble Trout rely on insects and are a common catch on nymph or dry fly,

while bigger ones feed mostly on fry, small fish and make a desired trophy. The big

ones grow to 130 cm (51 inch) and weight up to 22 kg (55 lbs). Realistically all fish over

70 cm (26 inch) may be considered a very good catch. Its colouring and marbled

pattern changes from river system to river system.

Experience Huchen fishing in pristine Rivers of Slovenia

Huchen or Danube salmon (Hucho hucho), magnificent salmonid known as the king

of the rivers, is closely related to Mongolian Taimen. The fish of up to 90 cm (35 inch)

are regular catch, while it is specimen over 110 cm (44 inches) attributed as the trophy.

In former times, a Huchen hunt has been reserved as a game of nobility, but nowadays

has become accessible also to the public.

We pursue fly fishing for Huchen, but in adverse conditions rely on spinning too. It can

only be found in the Danube river basin streams and the fishing is permitted in pairs

only, with a professional to ensure a proper release, on most waters under the watchful

eye of fishing club companion or a fishing guide.

Go Fly Fishing Slovenia guides are well versed in Huchen predatory habits and provide

you with special flies, but also lures imitating their prey, mostly fish, minnows, mouse.

22 contact@fftc.club
---
Slovenia

is the home of the mystic

Marble

Trout

www.fftc.club

23
---
EUROPE

SEASON

Most anglers can find excellent fly fishing

between late March through end of October.

RATES

Full service packages available - from approx.

3 Nights stay / 3 Days guiding for EUR 1.020

SPECIAL OFFER FOR FFTC MEMBERS

FFTC Member Advantage

FFTC Voucher available - 100 USD

off for FFTC Members / fisherman /

booking

FFTC Member Contact

We help you to plan your trip - just contact us!

We appreciate to help you to make your

dreams come true.

Krka Mayfly Fly Fishing Lodge

Go Fly Fishing Slovenia

Jama pro Dvoru 5

8361 Dvor pri Zuzemberku

Go Fly Fishing Slovenia

Sasa Erlih - Owner and Head Guide

WhatApp: +386 (0)41 360 016

phone: +386 (0)41 360 016

email: info@goflyfishing.si

24 contact@fftc.club
---
Advertisement

With the Field & Fish waders

rediscover the pleasure of

going fishing!

Exclusive to

Field & Fish!

New! Undress your waders on the

same easyway as you put them on!

5-Layours breathable with a smart

suspender system.

319 € *

watch video

*use code FFTC at checkout for 10% discount.

FISHING GEAR - TECHNICAL & ETHICAL

Webshop: www.fieldandfish.com

phone: +33 (0)4 50 09 01 92
---
Guest editorial

by Greg Ghaui and Stuart Harley

26 contact@fftc.club
---
Cameroon

wild(life) by night

One pre season evening, I walked

downstream out of our half built camp

along the river bed. A few days back

Stu and I had come with 9-weights to

prospect for Tiger-fish, and had been

pleasantly surprised as we rotated

positions fishing our way along a fiery

looking cut that you could only ever

dream of holding fish, our increasingly

sparse fly patterns attracting plenty of

action along the way. Near the bottom

of the run, as we debated following the

channel where it crossed to the other

side, we had seen a couple of rows of

elephant tracks, and this is what has

loosely drawn me back here. There is

no shortage of tracks anywhere within

the river bed arena, but there have

been big elephant shaped gaps in

many of the classical river vistas we

have been in, and I keep waiting for my

eyes to snag on a swinging trunk in the

distance.

www.fftc.club

27
---
Guest editorial

by Greg Ghaui and Stuart Harley

This place just has pachyderms

written all over it, so when the huge

round sinkholes trailing up out of the

water and along the beach for once

don't take on the form of hippo pugs,

then it feels like we're finally on the

brink of completing a puzzle.

To come here again hoping to see

them is a long shot, more of an excuse

to get out of camp but at least it

provides a motive and some direction.

Besides, if elephants don't make an

appearance, there is a very good

chance something else will, and even

better odds on it being completely

worthwhile anyway.

Sitting chest deep in a diminutive mid

channel rock's only redeeming

feature, a small clear pool in its wake,

I notice that I've cropped up on quite

a few radars already.

Three separate monkey species seem

to have similar agendas to me this

evening, and Guereza Colobus,

Tantalus monkeys and Olive baboons

are raising varying levels of curiosity

and caution from the trees above,

banks and the beach opposite me

respectively. Between them on the

river's edge is a bushbuck ewe lying

folded but with her head upright and

alert. I'm not exactly sure why, but I

decide then that I will only leave when

she does, and it is immediately

reassuring to be on her watch.

28 contact@fftc.club
---
Respite from immediate responssibility,

heat, flies and dust allows me

a sudden break from the present too,

and in my mind I slow pan up and away

from my rock pool until I can get some

wide angle perspective on how I find

myself in this rather fortunate position

facing the startling Atlanticus

Mountains near the Cameroon/

Nigeria border.

We spent the whole of last week

fishing and exploring a section of the

Faro river and trying to get a handle on

its vital signs, and what they could tell

us about catching the huge Nile Perch

here. We took an incredible amount

on board in a very short time, mostly

because we had to, it was all there

happening and we just plugged

ourselves right into the middle of it.

Fishing the pre dawn chill and deep

into the night, plus everything in

between, we raced through the bases

quickly and are strangely familiar with

the river in no time, and all that tells us

is just how much there is still to know.

Ed caught a truly massive fish one

night in ludicrous circumstances, and

it gave us all a glimpse of what we

came here hoping for, and what was

really possible. Just what that fish

stands for in the bigger picture of the

future of this river basin is a whole

other issue that it is becoming

increasingly hard to ignore. For it to

have happened at all, and to have

been there to experience it first hand

was one thing, but if that fish could

represent a chance through fly fishing

to pull back a few punches for an area

that is on it's knees fighting for survival

without even knowing it, how special

would that be?

The bushbuck is suddenly nearly back

at the bank thicket, and already quite

hard to see in the fading light. The

content cercopithecoids are also

gravitating towards the tall timber,

and in my minds eye I can still see the

giant released fish paddling out of our

torchlight and back into whatever

world it came from. Just in these three

events, the Faro has briefly looked me

in the eye, acknowledged me and

turned back to once again steadfastly

face the oncoming era, and whatever

it brings, with or without me.

Since that early season evening we

logged many more hours of intimacy

with the Faro, and although Elephants

did make some appearances, the

Perch (and plenty of other fish) made

many more memorable features.

While going about our simple and

single minded business of trying to

catch fish on flies for fun we were

completely taken in by this special

river and valley that keeps it. The river,

the rocks and the heat are your closest

companions here and each deserve a

special mention for their outstanding

qualities in their respective fields.

www.fftc.club

29
---
Guest editorial

by Greg Ghaui and Stuart Harley

30 contact@fftc.club
---
The Faro

The Faro itself is a ragged, raw, clean

gash of different shades of blue and

green, shallow and light over the sand

like a graze or deep and dark where it

punctures into the gorges. The rocks

are a range of rampant scabs and

keloid scars of python-patterned

Gneiss clinging to the channel. Others

that look like the massive high water

swell and chop has been galvanized,

forged and left in place while the

channel recedes.

Sometimes it feels like they are the

most alive and thriving entity, and that

it's their metabolism that makes them

too hot to touch in the hostile high sun

hours.

www.fftc.club

31
---
Guest editorial

by Greg Ghaui and Stuart Harley

The heat too has a geological quality

to it, like it is laid down consistently

every day in thin sedimentary layers,

compressing out any moisture and

accumulating a full igneous density

that actually hums around your ears

and cures wrist thick Lord Derby Eland

steaks into prime biltong (jerky) in less

than 60 hours.

We clocked 42 degrees Celsius in the

shade while having lunch on the final

day of the season, and if you consider

your supporting casts include the

fastest tsetse flies on the planet, an

insatiable thirst, and the Harmattan (a

prevailing dust cloud of varying

intensity), you have to find something

to cling to to remind yourself why you

are here. Luckily, like everything else

here attached to the river, you never

have to look far.

The Faro is a type specimen oasis,

fringed with fresh foliage and deep

shade, and sheltering a staggering sub

surface biomass. The sparkling clear

water lays a lot of it startlingly bare

(wading is like herding clouds of

baitfish that billow out with each step),

but there is still so much mystery that it

seems like the visibility is only a small

concession for the fly fisher's benefit.

There is an unbelievable amount on

offer to the itchy angler who is willing

to meet it and fish it on it's terms. This

river has exactly what you want, and

only it really seems to know what that

is. All it asks is some curiosity and

persistence, which combined with a

bit of strategy and adaptation can

wreak all kinds of carnage. If seeing is

believing then ignorance is

sometimes bliss-I wouldn't have

believed most of what did happen

without having front row seats to it.

32 contact@fftc.club
---
There is a wild and loose energy that

dares anything to go down, and fly

fishing is the perfect catalysts it

seems. The chronicle of Ed's

exploratory fish, or how we came to be

in possession of an entire pelt of the

best natural but illegally traded tying

material might be the best examples

to try to sum this up, but they would fill

whole articles of their own. There is

just not much that is conventional

about any of it, too many contrasts

that keep it from being classified.

Wading Patagonia style free stone

channels and sight fishing, for three

species of Tigerfish. Bouncing

between tippets from 5X to 80lb in a

session. Nymphing braided runs

lottery style for fish species never

caught on fly before. Throwing huge

flies for big Nile Perch, but then

retrieving them cautiously

and stealthily, gently trying to coax an

eat out of something that could fit your

head in its mouth. In the dark. With 50

hippos letting off steam somewhere in

front of you.

Everything you love about fly fishing

are the only things you will recognise

about it here, because there is just no

template for fishing like this. Catching

fish this big, in water this small, at

night, on foot, in big game country.

With this many moving parts, the

permutations for what is possible are

limitless.

Nowhere else can match this

for sheer accessibility to Nile

Perch on fly, and it is an

astounding fishery without even

considering them.

www.fftc.club

33
---
Guest editorial

by Greg Ghaui and Stuart Harley

34 contact@fftc.club
---
Lines, flies, leaders, approaches,

retrieves, it's all open for experimentation,

adaptation and invention

with glorious rewards at stake.

The Tigers are absolutely electric and

borderline impossible to handle on a

rod. The Barbs are subtle, spooky and

abundant. The Perch are just an

enigma. These and everything else are

the open book of entertainment face

you every day on the Faro.

My early season quest for elephants,

and the season long pursuit of Perch

distill down the equation to its

simplest formula. In many ways they

are the Faro, the two mega faunas

dominating the spheres of land and

water that define the valley. They sit

balancing atop the rock solid

foundation of ecology that is needed

to support healthy populations of

anything this big, starting with the

multitudes of earthworms whose

activity and casts have bizarrely

shaped almost every square meter of

undisturbed terrain, performing

services that have allowed every

subsequent level in the ecological

hierarchy to thrive. The equilibrium

and level of complexity that has been

attained here is in stark contrast to

what is happening in Cameroon, and

much of Africa and the developing

world.

Returning to the river side after

spending a few days in Garoua buying

camp building equipment hammered

home how this ecosystem is by far the

most complete, pristine and

functional entity that we encountered

in a place now defined by chaos,

inefficiency and gross imbalance.

It deserves to be protected solely as

an example and reminder that peace

and stability, balance and complexity

are not foreign concepts but are in fact

a part of the local heritage, and not a

remote destination at the end of the

long road we seem to be hurtling

down.

The elephants are hanging in by a

thread, but at least there is a space still

there for them, and while the Perch are

very much present in awesome force,

they are tied to the same precarious

fate as they only can be. To ask either

of them to take an interest in our

squabble to protect or condemn them

would be well below their standings.

The Faro is in the elite bracket of

wilderness that still exists as it does

because it alway has, entirely

removed from our influences until

now. It is going to have to be us who

will have to manoeuvre to decide

which way its fortunes will fall.

By picking up our fly rods, we are

throwing ourselves into the fray

together, and in doing so, buying time

and creating awareness in the hope

that they bring with it the lifeline

needed to protect this amazing area.

It seems that in uncovering the first

truly great Perch fly fishery, we are just

in time to try and save the last one.

What an incredible opportunity, and

what a journey it will be.

www.fftc.club

35
---
MONGOLIA

M ongolia

The Four Rivers Lodge

Record sizes Taimen -

catch of the Lifetime

Mongolia is three times larger

than France and has 2.3 million

inhabitants, 1 million of whom

live in the capital, Ulan Bator.

The Mongolian people are mainly

nomads, with huge herds of

cows, horses, sheep, yaks and

goats, all grazing on the steppe.

The Four Rivers Lodge is

one of the most

comfortable and

welcoming place for

fishermen in Mongolia.

It is just a four-hour drive from the

small town of Moron and lies at the

junction of the most beautiful four

rivers of the region - the Chulut, the

Delgermoron, the Selenge and the

Ider. 8 fishermen, 4 guides and 4 jet

boats equipped with Mercury engines!

Something not to be missed in

Mongolia!

36 contact@fftc.club
---
The lodge where you will be staying is

set in a unique location at the junction

of four rivers: the Chulut, Delger, Ider

and Selenge. The pools can be

reached easily by jet boat and offer

excellent fishing conditions. Some

spots are even within walking

distance from our camp for those of

you who are early birds or who want to

make the most of fishing at the end of

the evening. Whatever the time of day,

the pools always manage to surprise

us!

The lodge is just the right size and can

accommodate 8 fishermen at any one

time. Two fishermen share a boat and

a guide and the rivers are fished in turn

to make sure that no stretch is overfished.

This is one of the secrets of our

successful river management as,

unlike its migratory cousin, the

salmon, taimen are sedentary and

care must be taken to avoid too heavy

fishing.

Thanks to our extensive system

covering four rivers, to the mobility of

the jet boats and to the limited number

of fishermen allowed during the

season, we can guarantee first-class

fishing in an unspoiled environment.

www.fftc.club

37
---
MONGOLIA

38 contact@fftc.club
---
www.fftc.club

39
---
MONGOLIA

40 contact@fftc.club
---
www.fftc.club

41
---
MONGOLIA

Mongolia is considered today

as the new El Dorado for

fishermen.

How could anyone not be enthralled

by these vast open spaces, void of any

civilization, and by rivers which have

kept the magnificence of the day of

their creation? Mongolia really can be

the trip of a lifetime if you are willing to

take an interest in its people and are

ready to enter a culture so different

from our own.

Pools in abundance

Our fishery covers 150 km rich in

interesting pools. Most of the

stretches have barely been fished

before and your fly might very well be

the first to be cast.

We have already explored a number

of locations and each week new spots

are discovered, often with a trophy fish

being taken on the fly.

The Fishing Experience of a Lifetime

Fishing for taimen is a particularly

exciting challenge. Each cast gives

you a chance to catch a huge

specimen of this local member of the

salmon family. It may even be the

catch of a lifetime!

Big taimen

The Taimen - as the Huchon is called

in Mongolia - can reach record sizes.

The average size of 80 cm is already

impressive so just imagine that a lot of

fish are over 1.20 m and that the

largest can reach 1.50m

42 contact@fftc.club
---
THE FISHERY

A surge of adrenalin

Taimen like big flies, preferably those with lots of glitter. You can also try imitation mice

on the surface and we can guarantee that surge of adrenalin when the taimen explodes

on your mouse. However, each attack does not end up with a fish on the riverbank -

playing a taimen takes a lot of skill and know-how - and a lot of them are lost during the

fight or simply miss the fly in their explosive attack. We think that one taimen out of four

is actually landed.

Don't forget about the lenok and grayling!

Taimen are not the only fish in Mongolia and the waters you will fish are full of lenok

trout and grayling. The lenok measure on average between 30cm and 70 cm and the

larger ones will take taimen flies. Most fishermen heading for Mongolia only think about

taimen and forget all about these magnificent trout but they're well worth your attention

if you enjoy fishing dry flies, nymphs and streamers. Grayling are also present, moving

in shoals in the river currents.

SEASON

June to end of September

FFTC Member Contact

RATES

(9 nights/ 8 nights in lodge / 7 days

fishing):

aprox. EUR 3.000 shared room in

double base occupancy. Upgrade

single room and boat on request

Important information about transfers in

Mongolia

Traveling in Mongolia is a little bit

special. It's a vast country with more

tracks than roads and you may have to

make a stop in a ger on the way to your

destination.

We help you to plan your trip - just contact us!

We appreciate to help you to make your

dreams come true.

p.a.c voyages & Piam

Anne-Lore Guillemaud

22 route de Mâcon - 01310

POLLIAT / FRANCE

FFTC Member Advantage

FFTC Voucher available - 100 USD

off for FFTC Members / booking

phone: +33 (0)4 78 33 48 70

email: contact@pacvoyages.fr

43
---
USA

Guide

exas

TFly Fish Rockport

Welcome to the Texas Coastal Bend.

44 contact@fftc.club
---
Surrounded by the crystal clear

waters of Copano and Aransas Bays,

and nearby San Antonio and

Matagora Bays, Rockport, TX is our

home and base of

operations. Rockport fly fishing is

some of the best on the entire Texas

Coast. With excellent year-round

populations of Redfish, Speckled

Trout and Black Drum. Or occasional

opportunities for other species such

as Jack Crevalle and Tarpon. There

are fish to challenge any angler.

Rockport is centrally located along

the Texas Coast, surrounded by the

excellent fisheries of Port Aransas,

Laguna Madre, and Port O'Connor.

Nearby Corpus Christi provides easy

airport access, as well as all the

conveniences of a larger city.

Rockport is a small beachfront

community, but still offers plenty of

amenities for our fly fishing guests.

We look forward to showing you what

our Rockport fly fishing trips is all

about and look forward to your day on

the water with us.

Head Guide - Captain Jeff Johnson

My love of fishing began at an early

age. Growing up along the banks of

the Yakima River, in Central

Washington, it became pretty obvious

that fishing was in my blood. In 1997,

I moved to Bozeman, MT to attend

college a little, and fly fish a lot. This is

where I really began to hone my skills,

eventually trout bumming for entire

summers on the Missouri and other

area rivers. After years of freshwater

guiding and vacations to saltier

climates, I decided to expand my

business to the salt, and the Coastal

Bend of Texas.

"One of the things that

makes Rockport, Texas

such as premier fly fishing

destination is that it is right

in the heart of some of the

best flats fishing that can

be found in the Gulf. "

www.fftc.club

45
---
USA

Guide

With world class fly fishing in every

direction, Rockport, TX is poised

perfectly to offer any variety of angling

experiences.

We specialize in fly fishing and light

tackle sight fishing for trophy Redfish,

Trout, Black Drum and other species.

Fly Fish Rockport can ensure your

Texas angling experience is top

notch.

46 contact@fftc.club

The waters along the coastal bend are

known for a variety of species. With

plentiful redfish, speckled trout and

other area species, on numerous

expanses of flats, there is truly no

place we would rather be.

With Fly Fish Rockport you also fish a

number of other waters along the

Coastal Bend. We regularly spend a

considerable amount of time roaming

the flats near Aransas Pass, Port

O'Connor and the Upper Laguna

Madre.
---
www.fftc.club

47
---
USA

Guide

Whether you prefer to sight fish for

technical tailing redfish or work on

newer fly fishing skills, Fly Fish

Rockport can craft the perfect trip

location for you.

In the event that your fishing trip

requires more than one boat to

service your angling group, Fly Fish

Rockport hires only the best and most

professional Captains/Guides.

Our guide staff all boasts many years

of fly fishing and guiding experience

and are able to teach anglers of any

ability new skills.

Whether it be selecting the right rods

and reels, flies or even casting

instruction, our guides will have you

taken care of.

48 contact@fftc.club
---
Weather by Season in Rockport

Spring

Spring weather typically begins in

mid February. The winds are more

commonly from the southeast,

bringing with them warmer air.

Daytime highs return to the mid 70s,

with warmer overnights as well. We

do tend to see a few rain showers

beginning in mid March and early

April. But these are typically warm

weather patterns and very brief.

Summer

Our summer weather has typically set

in by late May. Long days with plenty

of sun are the norm here. Our

prevailing winds are from the

southeast and also bring warm air

with them. Overnight temps are

typically in the 70s, with highs during

the days reaching the 90 degree

range commonly. Being this close to

the water, the humidity isn't too bad

and we usually have a light breeze to

keep it comfortable.

SEASON

February to December

RATES

Guiding Rates available for:

half day guided fishing

for USD 450

full day guided fishing

for USD 650

Stay & Fish Package starts from:

1 night hotel room / 1 day guided fishing

for USD 700

FFTC Member Advantage

FFTC Voucher available - 25 USD

off for FFTC Members / fisherman /

booking guiding services

Fall

Our fall season begins towards the

end of September. The hotter days

and nights of summer start subsiding

and cooler evening temperatures

make it very comfortable. Overnights

remain in the 60-70 degree range,

with daytime highs typically in the 80s,

but with much less humidity then the

dog days of summer.

Winter

Winters begin around the end of

December. By this time, the days are

shorter and the overnight temperatures

can dip into the upper 40s fairly

consistently. Winds from the north

become a little more common, but

usually don't blow too hard. Our

typical daytime highs are right around

70 degrees.

www.fftc.club

49
---
USA

Guide

THE FISHERY

Rockport offers some of the best saltwater fly fishing on the entire Texas Coast. The

city is surrounded by the crystal clear waters of Copano Bay, Redfish Bay, Aransas

Bay and nearby San Antonio and Matagorda Bays. There are excellent year-round

populations of Redfish, Speckled Trout and Black Drum, and occasional

opportunities for other species such as Jack Crevalle and Tarpon. There are fish to

challenge every angler.

In and around Rockport, fly fishing typically consists of sight fishing shallow water

areas, or flats. These range from sand flats to mud flats, grass flats or flats composed

of crushed oyster shells. Most of our sight fishing will be done in less than two feet of

crystal clear water, making the fish very visible to the trained eye.

We often fish around grass banks. Our redfish and trout love to ambush their prey, and

shallow grassy banks are the perfect place to do it.

In this scenario, we will sight fish that are cruising these grassy banks, typically in very

shallow water. They will often times swim deep into the grass in order to chase after

baitfish.

Another popular location to sight fish, while fly fishing in Rockport, is along oyster

beds. Baitfish love to congregate on very shallow oyster shell reefs. Typically, the

redfish or trout will not be too far behind them. In this scenario, we commonly search

along the edges of these oyster beds for fish awaiting the opportunity to ambush

baitfish.

50 contact@fftc.club
---
LODGIN

Fly Fish Rockport is proud to work with the following lodging providers. Guests fly

fishing Rockport are sure to fine comfortable accommodations to meet your specific

needs. All of our guests are offered preferred rates at any of our lodging partners. Let

them know you are fly fishing Rockport with us. Or, let us know and we would be happy

to help arrange the lodging for you.

Restaurants

Coastal charm, with exceptional cuisine from all over the globe. Rockport boasts the

finest cuisine on the entire Texas Coast, hands down. Here are a few of our favorite

places for food and drink after we fly fish Rockport.

Best food in town! Very quaint spot, with exceptional food and drink. They also have

our favorite happy hour. We recommend the Pedro to drink.

OUTDOOR ACTIVITIES

Birding

Over 75 different bird species can be spotted in the marshes and along the sandy

beaches throughout the year. The whooping crane is an endangered species and the

nearby Aransas National Wildlife Refuge is their winter home.

Rockport Beach

Visit Texas' first mile-long Blue Wave Beach with picnic cabanas, walking trail,

restroom facilities, wildlife sanctuary, boat ramps, fitness trails, fishing piers, sand

volleyball court, and a fantastic playground for children.

Aransas National Wildlife Refuge

Aransas National Wildlife Refuge is a 114,657 acre protected area situated on the

southwest side of San Antonio Bay along the Gulf Coast. The rugged landscape is host

or home to many amazing wildlife species, including whooping cranes, Kemp's Ridley

sea turtles, reddish egrets, alligators and coyotes.

Lighthouse Lakes Paddling Trails

The Lighthouse Lakes Paddling Trail was the very first Texas paddling trail and is

actually a series of four loops ranging in length from 1.25 miles to 6.8 miles. Paddlers

can glide through mangroves and seagrass flats that provide outstanding bird

watching and fishing for red drum, spotted seatrout and flounder in the maze of tidal

channels and flats.

www.fftc.club

51
---
USA

Guide

FFTC Member Contact

Capt. Jeff Johnson – Outfitter / Head Guide

• U.S. Coast Guard Master Captain

• IGFA Certified Captain

• Licensed and Insured TDWB Guide

Please feel free to contact me at any time, by phone

or email. Please note that I am on the water most

every day, and I will not be immediately available.

But I will do the best I can to return all messages the

same evening as they are received.

Fly Fish Rockport

Captain Jeff Johnson

PO Box 315

Rockport, TX 78381

Phone 001 361.420.3262

Email: jeff@flyfishrockport.com

52
---
Special Gift - The FFTC GIFT VOUCHER for Fly Fishers

"A small gift with a great value for every traveling Fly

Fisher"...

If you are searching for a really special gift for a fly

fishing buddy or family member - here it is!

C A R T O O N

© 2020 FFTC.club

www.fftc.club

53
---
BOLIVIA

B

olivia

Arapaima Paradise Lodge

Arapaima Gigas - The Holy Grail

of all Amazon fish on fly

Our exciting and brand-new Bolivian

Adventure Fishing Trip offers solo

anglers, couples, fishing partners and

families (with kids of 12yrs and above)

the once-in-a-lifetime chance to

catch real wild Giant Amazon River

Monsters that have never been

hooked before.

Following up on rumours of giant fish

deep in the jungle, a couple of recce

trips earlier in 2017 led us to over 50

untouched lakes, filled to the brim

with massive Arapaima Gigas.

54 contact@fftc.club
---
These shallows lakes are hidden in a

private Fazenda inside an Indian

reservation covering thousands of

hectares in Bolivia's Amazon

rainforest.

There are so many of them that it's fair

to say that we believe this destination

offers the best untouched arapaima

fishing left in South America or indeed

the world.

This is the only place that we have

heard of where you will, if you wish to,

catch a wild arapaima on the fly,

something very few anglers have

achieved.

"And it could easily be a fish

of 250lb or more."

www.fftc.club

55
---
BOLIVIA

Not only did we find huge Arapaima in

great numbers, but we also delved

deep into the river system and located

many large holes that hold the largest

Jau Cats we have ever seen, Surubim

Catfish, including the stunning Paleta

or Firewood Surubim, Dorada Cats,

Red Tail Catfish and much more.

The Lodge

The Arapaima Paradise Lodge is now

complete at the privately-owned

Fazenda to accommodate

a maximum of eight anglers, and we

are taking bookings for the first time,

with the key season being midsummer

to November. Four twin

rooms with en-suite bathrooms, a

dining room, fully stocked kitchen and

bar and a large lounge area will find

our anglers in complete comfort

during their stay.

Cold beers and soft drinks/water etc.

are all included in the package, along

with daily laundry, all meals, transfers,

flights from Manaus, Brazil through

Porto Velho into Guyamarin in Bolivia

and onto the Fazenda.

We have a large comfortable boat

with a 140hp engine for transfers to

the ponds along the river each

morning and anglers will fish from

skiffs made especially for Arapaima

fishing that will be in the lakes waiting

and ready with your guides.

56 contact@fftc.club
---
Arapaima Gigas

This mighty leviathan is the one fish

that every angler wants to catch. It

lurks in the many shallows ponds,

lagoons and lakes here in on this

Bolivian reservation. This beautiful

fish is prehistoric in every sense. It's

an air breather, but it's an incredibly

delicate fish for its size at the same

time.

We have found many lake systems to

fish for these huge Giants of the

Amazon.

Arapaimas 'roll' on the surface to gulp

air and they easily give their presence

away. With our strict catch and

release policy, ALL Arapaima are

returned unharmed. They are revived

carefully and released quickly to fight

another day.

These incredible river monsters grow

in excess of 4.5m and reach over

500lb!

www.fftc.club

57
---
BOLIVIA

The areas where we fish hold many Arapaima, more than we have seen

anywhere else, and we target them using big lures and flies, lures or

with live, cut or whole dead baits.

To catch an Arapaima on a fly must be up there with the ultimate fishing

experience to be had by any angler in the world! Heavy 10-12wt. outfits

and big flies are a must here.

We also fish 'lighter' outfits with medium-sized lures to trigger amazingly

strong and aggressive strikes from big Arapaima. A heavy or mediumheavy

set-up with 65lbs braid provides some of the best sport fishing for

these leviathans.

It's breath-taking fishing that is simply unforgettable, as the skiffs drift

silently through the shallow waters or hold up on poles waiting for one of

these giants to show themselves within casting range. The rest is up to

you, and the takes… well they are like no other on the planet.

We can also target the huge Pirarucú / Arapaima in the lake systems on

cutbait or large lures and flies.

In the Semauma Falls an hour's boat ride above the lodge, the Payara

action is spectacular and these sabre-toothed silver missiles can be

caught on flies.

58 contact@fftc.club
---
SEASON

Mid June to November

FFTC Member Contact

RATES

Weekly program (8 nights in lodge,/ 1

night in hotel / 6 days fishing):

USD 4.500 per angler

• Included: 9 nights, with one night at hotel on 1st

day of arrival in Manaus, Brazil, return flights

Manaus/Porto Velho/Guyamarin/Fazenda,

seven nights at lodge with six full days

guided Arapaima and Cat fishing, daily

laundry, local transfers, all meals, water, soft

drinks and beer.

• Not Included: International airfares, tipping

(suggested USD $250 per person to be divided

between guides and lodge staff), meals and drinks

other than in lodge or when fishing, liquor or other

drinks other than above, costs associated with

medical advice and medications for your trip, lures,

fishing tackle etc.

FFTC Member Advantage

5 % OFF the regular rates

We help you to plan your trip - just contact us!

We appreciate to help you to make your

dreams come true.

WORLDWIDE FISHING ADVENTURES

LIMITED

Suite 205A

Saffrey Squarem Bank Lane & Bay

Street

P.O. Box N-4244, Nassau, Bahamas

EU & rest of the world: +351 917812328

US and Canada toll free: 1 866 920 2814

email: info@amazon-angler.com

59
---
INTERVIEW

nterview

I23 questions

to Wayne McGee

Owner of ATA Alaska Trophy Adventures Lodge

USA, Alaska

1. In which country where you born and where did

you grow up?

"I was born in the United States and grew up in a southern suburb of

Chicago."

2. When did you start fishing?

"I started fishing at a young age when we would visit my

grandmothers home in the countryside. My father would take my

brother and I fishing at a local reservoir that was used for the trains

that would stop in town. We were mostly fishing for panfish (bluegill

and sunfish), largemouth bass as well as catfish using bait (worms)

and an old Zebco rod and reel with a hook and bobber."

3. Do you remember your first catch?

"While I do not remember my first catch, I do remember bringing a

basket full of the fish we caught back to the house for my

grandmother to cook up so the whole family could eat them for

dinner. These are some of the fondest memories of my childhood.

I believe that this is where my love for fishing wasn't instilled.

..."

60 contact@fftc.club
---
The young McGee Family - from left to right: Wayne McGee, son Jacob, son Tayler

and Sue McGee.

One fishing experience I remember as a young lad was while visiting

family friends in Virginia. We went fishing off the pier in the ocean

and we're catching a lot of fish called Croakers. They were called

that because they would make croaking noises when out of the

water.

While we were there a school of bluefish started chasing bait fish

back-and-forth under the pier. It was very exciting for me because

these fish were aggressive and strong and had sharp teeth. They

often cut through the line we were using because we didn't have the

right equipment. The fishing was manic and there was only one net

attached to a long rope, that had to be lowered from the pier down

into the water to try and net the fish. This was all very memorable to

me and a lot of fun.

Later in high school we began to fish for steelhead coming out of

Lake Michigan into the small streams of northern Indiana. My most

memorable fish was 20 pounds and gave me the fight of my life

jumping like crazy and taking long runs while using light spinning

tackle on a "noodle rod".

4. Who taught you how to fish?

" It was my father, as I mentioned, what is the first person to teach me

how to fish.

..."

www.fftc.club

61
---
INTERVIEW

with Wayne McGee

"Many years later when I was in my early 30s I taught myself to fly

fish when planning my first trip to Alaska with my father. Alaska was

a destination that my father and I had always talked about doing a

father-son trip to one day. We never managed to do it until I was

about 35 years old, when we planned a trip to the famous Kenectok

River in northern Bristol Bay, southwest Alaska.

Unfortunately we were never able to do that float trip because of

bad weather and had to change plans and floated down the Togiak

river instead. We caught three species of Pacific salmon and a lot of

wild rainbow trout, arctic char and Grayling. Sleeping in tents on

gravel bars and fishing with the Bears was one of the biggest

highlights of my fishing career up to that time."

5. I know that you left USA heading to Africa in the age

of 19. What was the reason for this?

"I went to Africa for the first time after my sophomore year at college.

It was a type of volunteer work, to help the poor. That theme has been

a lifelong sense of direction for me."

...to the "Heart of Africa - the Congo". I guess

this was a really big adventure for a young guy at

this age, wasn't it?

62 contact@fftc.club
---
After a year and a half in the Congo I returned to the United States

after having eloped with my college sweetheart in Kenya. After

finishing my studies at university, with my young family we returned

to Africa to what was then the country of Zaire. We lived in a small

village in a mud hut with no running water or electricity for many

years until we had to leave because of the Civil War.

We consider this time the "wonder years", because despite the

hardship and difficulty, we loved the people there and felt a part of

the community that we were serving. It certainly was a big

adventure.

While there I was able to fish in the rivers of the jungle for things like

goliath tiger fish, "nika" which is a type of electric catfish, and large

"Kalimba" catfish, as well as many other unique and tropical species

only found in the Congo river basin.

We were using techniques that the local fishermen used.

Sometimes a chunk of meat was attached to large hook and tied to

a tree branch overhanging the river with a rope. After leaving it

overnight we would return in a dugout canoe to see if anything had

been caught. You had to be very careful because sometimes there

might be a Nile crocodile that had eaten the bait.

Another method was to use balsa wood to create independent

flotation devices to which a piece of string about 2 feet long was

tied in the center. Cut bait would be put on the small hooks. There

would be about 50 to 100 of these balsa wood independent floats

that would be put in the river while paddling across it in the dugout

canoe. When you saw one of the floats bouncing up and down you

knew a fish had been hooked and you would paddle over and pull it

into the dugout and put another piece of bait on the hook and drop

it back in the river. The primary fish we were catching was called

"penda kuala", which in Swahili means love to eat because they

were so delicious.

There were also a rapids in the river near the village where large

baskets, that look like large horns of plenty, were attached to poles

that had been lodged in the rocks of the rapids using jungle vines.

As fish would be swept through channels in the rapids where these

baskets were suspended, they would be trapped in these baskets.

Another interesting method of catching fish was to take the bark of a

certain tree and pound it so that the sap would ooze out. This

concoction was toxic and would paralyze any fish that breathed it

through their gills.

www.fftc.club

63
---
INTERVIEW

with Wayne McGee

That compound would be put in the river at the top of the rapids,

and then the villagers would scramble around and collect the

paralyzed fish as they floated to the surface in strainers. Fish that

were not captured would eventually recover and the toxic substance

did not affect the flesh of the fish for human consumption.

Obviously these techniques were not types of sportfishing but rather to

provide food for the village.

While vacationing on the Kenya coast I was able to realize a lifelong

dream of doing some deep-sea fishing for tuna, sailfish, wahoo, dorado

(mahi mahi), and marlin.

6. What was the next step stone in your life - you

went back to Africa, right?

"After we left Zaire, because of the Civil War, we went to the

country of Mali in the Sahara desert of French speaking West Africa,

to oversee a project there as I spoke French. So we went from the

tropical rain forest on the Congo river basin to the deserts of the

Sahara. I was able to fish there for Nile perch in the Niger River."

7. How did it come that you searched for a fishing

lodge in Alaska - why Alaska?

"As I have mentioned earlier my "trip of a lifetime" fishing trip to Alaska

opened my eyes to what fishing there was like. "Once in a lifetime"

quickly became "once will never be enough". And I begin to plan my

next trip with my son Jacob who had just finished secondary school,

back to Bristol Bay, Alaska. Bristol Bay is home to the largest migrations

of wild salmon left anywhere on the planet as well as a huge population

of resident fish like rainbow trout arctic Grayling and char.

64 contact@fftc.club
---
"We fished on the NakNek river and visited the world famous Brooks

Falls, where bears catch salmon jumping over the waterfall. I was

hooked on Alaska. My son got a job working at that lodge and went

back every year to work for them as a fishing guide. I began to take

annual trips to visit him and to fish in the region. It was during this

period that we decided we would like to find our own place to run

our own fishing lodge in this amazing part of the world.

Finally after many years, we found an opportunity at ATA Lodge on

the wild and scenic Alagnak River. Now my son Jacob and I are the

co-owners of ATA Lodge on this pristine and prolific salmon and

trout river in Bristol Bay!"

8. So, now you operate this lodge for many years

with your family - especially your wife, your daughter

Megan, and your second son Jacob, the co-owner

of your business, right? What makes the difference

of a family business in your opinion?

"We are about to start our sixth season as the owners of ATA

Lodge. From the beginning we have run it as a family business and

I've had the privilege of working with most of my family, including

my youngest son Cameron who you did not mention in your

question about by name.

I believe that a family run business provides a much more personal,

congenial and family style environment that enhances the

experience of our guests because of the personal care that we

provide to each and everyone of them. We pride ourselves on

making them feel like part of the family while they are there with us."

9. Do you remember your first guest(s)?

"Our very first guests came from the lower 48 of the United States

and were a pair of brothers named Dan and Mike. One of them lived

in California and the other in Colorado. Dan also brought his son

Bradley who had just graduated from high school. They remain

good friends to this day. In fact many of our guests from that first

year return every year now and feel like an extended part of our

family."

www.fftc.club

65
---
INTERVIEW

with Wayne McGee

10. What is the philosophy of ATA Lodge?

"Our philosophy at ATA Lodge is that our Guests are our main

priority and we try to ensure the highest quality of experience

possible while they are there with us. It's our desire to help them

create memories that they will cherish for the rest of their lives with

the loved ones that accompany them. I believe this is why we have

become the number one rated lodge in the region according to

TripAdvisor."

11. How do you select a new fishing guide?

"All of our fishing guides are US Coast Guard captains and we have

gone through a screening process to make sure that they are a good

fit to our business, our philosophy and are competent both at boat

handling safety as well as helping our guests catch as many fish as

possible."

12. How do you select a cook for your lodge

kitchen?

"When considering a chef we also take great care when considering

the resumes and references and work experience of those that apply

for the job before we hire them."

66 contact@fftc.club
---
13. Besides USA, which other countries have you

visited for fly fishing trips?

"As I have mentioned I have fished in both central, east and west

Africa. In fact I failed to mention that I had a charter boat, deep-sea

fishing business based in Dakar, Senegal where we targeted Sailfish,

Tuna as well as White and Blue Marlin for a number of years. I have

also finished in Norway, Ireland, Scotland, and England for sea trout,

brown trout, and Atlantic salmon. This has mostly been in rivers as

well as some of the famous chalk streams of southern England."

14. Outside the fishing season in Alaska I know

you live in Europe. In London. Do you also travel

for fishing in Europe - if so, what's your favorite

spot?

"That's correct. I do always enjoy any time I spend on a Scottish

river, and I have had many memorable days, mostly in the

Highlands."

15. What was the most memorable moment in

your fishing career?

"My most memorable moment was fighting a 600 pound blue Marlin

off the coast of Senegal with only a belt but no harness or fighting

chair. It took me an hour and 45 minutes to bring the beast to the

boat. I also remember fondly a day spent out about 30 miles off the

coast of Dakar, where we were surrounded by a super pod of 1000's

of dolphin that were feeding on schools of bait fish, as were the tuna

that we were catching.

But I think the one moment I remember most is the first time I

stopped into a tributary of the Togiak river on my first fishing trip to

Alaska. There was a driving rain, and a mother bear and two cubs

was looking at me across the river, while I was catching one large

wild rainbow trout after another. That's the moment I realized that

once would never be enough.

..."

www.fftc.club

67
---
INTERVIEW

with Wayne McGee

"Another memorable day in Alaska was when I caught six king

salmon over 20 pounds each along with lots of other smaller kings in

one day, all on a black and blue intruder pattern."

16. What do you think about the "catch of the

lifetime" - have you already done it or are you still

waiting for it?

"As I've said, I've had very many "catch of a lifetime" types of fishing

experiences. But one thing I'm hoping to do is to fish for sea trout

in Patagonia, as well as target roaster fish in the Baja."

17. What country is still on your bucket list and

why you wanna go there?

"I have not been anywhere in South America or the Caribbean.

There are many places on that continent I would like to fish including

Argentina, Chile, and Brazil as well as Bolivia for jungle river Golden

Dorado. I would like to target bone fish and permit, as well as

Tarpon on the fly in the Caribbean. I have fished for Tarpon in the

Florida Keys as well as bonefish in Hawaii. And I wouldn't mind

trying to fish in Panama and Costa Rica as well."

18. How would you describe a memorable fishing

day?

"For me a memorable day fishing is about the whole experience not

just the fish that were hooked and lost or caught. Of course it's

always great to catch a lot of fish. But what I like about a ATA

Lodge is that you have the whole package. There is the pristine and

remote nature of where we are located surrounded by millions of

acres of roadless wilderness. The only way to get to us is to fly into

our airstrip on the property. The scenery is beautiful with the

Aleutian range visible on the horizon upstream. The perfect blend of

rustic yet comfortable lodging and great meals together with the

fantastic camaraderie at the lodge makes a great fishing trip into a

memory that will be cherished forever. It's the kind of place that

makes grown man cry when it's time to leave. Many people

appreciate that there is no competition on the river for fishing spots

and you can spend all day without seeing another fisherman."

68 contact@fftc.club
---
19. Do you tie flies? (what patterns you prefer / to

tie / to fish)

"I don't tie my own flies personally as I don't have that particular

type of bent. But I particularly love skating mice pattern for a hungry

trout in June before the salmon arrive. I also love dry fly fishing with

a caddis pattern for one Grayling after another on a lightweight three

or four weight rod.

When it comes to salmon, I certainly enjoy swinging a double

handed spey rod with a intruder pattern on a sink tip for large king

salmon that can get up to 40+ pounds on our river. There's a little

greater thrill than to hook one of these big chinook salmon and feel

their immense power. Who doesn't like catching a big fish!"

20. What is your preferred fiy fishing method?

"I must say that I much prefer fly fishing while wading in the river.

Wading in the river allows you to feel the most in contact with both

the river and the fish."

21. Do you find enough time to go fishing

yourself?

"I am lucky enough to find the occasional moment to go fishing on

our river during the course of the season; but I enjoy just as much,

seeing a guest that I'm guiding having the time of his life catching

more fish than he/she ever thought possible!"

22. Do you like saltwater fly fishing and if so, what

is your personal experience with this?

"Most of my experience in saltwater fishing has been deep-sea

fishing, but I hope to be able to I have the opportunity in the future

to do some flyfishing for saltwater species."

www.fftc.club

69
---
INTERVIEW

with Wayne McGee

23. The COVID-19 pandemic effects the world

and last but not least the travel industry. For

example the FFTC has cancelled its already

planed Hosted Trip in 2020. This was a really sad

decision. How do you handle these challenges

and what action will be taken for the upcoming

season?

"COVID-19 has had a huge impact on our business with bookings

due to cancellations and travel challenges were down by 80% last

season. Fortunately we have rescheduled most of those

cancellations for the upcoming season and hope to welcome them

to the lodge this year. We follow the mandates dictated by both

local and federal government, and we have a COVID plan in place,

as we did last year, to ensure the safety of our guests while staying

with us. For those who did manage to come to us last year, they had

an incredible experience; and thankfully we had no incidence of

Covid during the entire season."

AD-FFTC: ..Wayne, thank you! This is an impressive Bio. Take

care of you and your family. I hope we will meet again

in Alaska at ATA lodge and we will spent time on the

water and beside. All the best for the upcomming

seasons.

70 contact@fftc.club
---
www.fftc.club

71
---
Advertisement

SPINNING RODS

FLY RODS

REELS

FLY LINES

LODGES

www.zpey.com
---
We live in lodges by river banks

We have two Zpey Lodges; one in Norway by Todalselva (Toåa)

and one in Denmark by Skjern River.

Our lodge in Skjern is located less than 400 meters from the river bank

and it is also here, we have our head office.

Zpeylodge Toåa

Zpeylodge Toåa

Zpeylodge Skjern River

Zpeylodge Skjern River
---
CANADA

C

anada

Yukon - Dalton Trail Lodge

The Yukon territory is

Canada's 'Last Frontier' -

you can catch 12 different

species

This territory is located in the northwest

of the country. It's a

mountainous forest-clad region

which is bordered by the Beaufort Sea

to the north, by Alaska to the west, by

the Northwest Territories to the east,

and by British Columbia to the south.

The Yukon is divided in two by the

river of the same name which comes

from the Mackenzie mountains.

Mount Logan (5959m) in St Elias near

the border with Alaska is the secondhighest

peak in North America.

500.000 km2 of unspoiled nature with

only 30.000 inhabitants.

Hardy and Trix's - your hosts -

hospitality will be combined with

great fishing in crystal-clear waters.

The Yukon territory will give you an

unforgettable fishing experience in

this quiet and fascinating Canadian

province.

Hardy and his wife Trix set up Dalton

Trail Lodge in Dezadeash in 1987.

With its location in the North American

wilderness, surrounded by an

astounding panorama, it's heaven on

earth for anglers, whether they fly-fish

or spin. At the foot of the lodge you

can have a go at a variety of species

such as salmon, lake trout, arctic

grayling, pike, rainbow trout, dolly

varden and whitefish during the

season for each.

74 contact@fftc.club
---
www.fftc.club

75
---
CANADA

It may be in the middle of the wilderness

but the Dalton Trail Lodge still

manages to have all the comfort you

could dream of in such a setting.

Each room has a private bathroom

with shower or bath. The fine cuisine

is renowned far beyond the territory's

boundary and the bar is the perfect

place to tell your breathtaking stories

about the salmon you just caught!

Fishing is not the only activity on offer.

The lodge has a tennis court, a pool

table and table soccer. If you want to

relax, you can try the cosy fire in the

living-room or enjoy a book from the

library. The lodge is made of cedar

and the wood adds to the warmth of

the atmosphere.

Thank to their rich experience, both

on the river bank and in the lodge, Trix

and Hardy are real specialists of

fishing in the Great North. They know

where, when and how and their

hospitality will make your stay a

memorable one.

The day begins with a large breakfast :

home-made bread, fresh fruits,

cereals, cold meats, cheese and eggs

and bacon. Lunch is not usually eaten

at the lodge as you can enjoy your

delicious packed lunch by the river. If

you want to eat your fish, the lodge will

provide you with the utensils you

need. Dinner (several courses) is topnotch

cuisine.

76 contact@fftc.club
---
Steak, lamb and fish are just a few of

the chef's specialties and they are

served with a large choice of fresh

salads at the buffet. The lodge's cellar

has some of the finest wines from

California, Australia and Chili. You can

also eat your day's catch in the

evening. Just ask the chef.

The Fishing

The Sixmile River, which flows out of

the lake, has pike and whitefish;

Kathleen River (about 15 mins away)

has top-class fishing not far from the

Lodge.

In summer, a guide will take you to the

fishing spots by jet-boat.

In autumn, the best spots on the River

Namaycush for rainbow, whitefish

and big grayling are within walking

distance.

During your stay a motor-boat is

available for your use on the 16km

long lake which belongs to the lodge.

As soon as you get there, try a few

casts during your first outing at dawn.

The Dezadeash Lake has excellent

possibilities for lake fish, pike and

grayling – and that's just outside your

door!

We can also organise a 3-day

wilderness tour – with all the comfort

you need, a grilled steak on a wood

fire, and all the fishing you could

dream of, without the stress of daily

life. The lodge has several log cabins

on the most beautiful lakes in the

region, miles away from civilization.

All you need to do at the end of a

fruitful day's fishing is bask in your

success around a camp-fire with a

juicy steak and a glass of wine for

company.

www.fftc.club

77
---
CANADA

78 contact@fftc.club
---
www.fftc.club 61 79
---
CANADA

The Seasons

From mid-May to mid-June: Great lake fishing for lake trout and pike. Fishing is also very

good on the Kathleen River for rainbow and on the Sixmile for grayling and pike. Good

grayling fishing around Kathleen , Dezadeash and Frederick lakes. Long outings (you can

fish until after midnight), and temperatures from 10° to 20°. Kokanee, on lake Kathleen

is a magic spot at this time of the year. Excellent sockeye fishing on the East Alsek River

(by plane)

From mid-June to the beginning of July: Generally as above. Melting snow can affect

fishing (on Louise and Frederick lakes) but only at some specific locations and not on

Kathleen or Sixmile. Sockeye fishing is excellent on East Alsek and Akwe rivers (3-day

tours by plane, booking necessary). This is the time of the year for lake fishing. The

weather is usually hot with temperatures sometimes over 30°C. Fishing at Kokannee on

Lake Kathleen is still good.

From the beginning of July to 24th July: Lots of King salmon in Tatshenshini and Takanne

Rivers. The Akwe and East Alsek rivers are great for Kind and sockeye. It's also a good

time to fly-fish for big grayling in Lake Dezadeash. The snow has gone and the weather

is usually good with temperatures up to and over 30°C.

80 contact@fftc.club
---
From 24 July to 15 August: Lots of rivers with excellent fishing around the Lodge. It's the

perfect season for big lake trout on the fly. The weather is usually good. Good Chum

fishing in the Italio River.

From 15th August to 15th September: Indian summer with temperatures around 20°C.

The weather is usually pleasant and stable but there may be some wind. Good fly-fishing

in the rivers and pike fishing in the lakes. Trout fishing in the lake becomes more difficult

(except on Lake Mush, Kathleen and Louise). As if to make up for it, this is the moment

when the River Kathleen has lake trout. Good runs of Sockeye on the Tatshenshini. The

1st September is the start of the hunting season. Excellent silver salmon fishing in the East

Alsek River(by plane)

From 15th September to the beginning of October: The Kathleen RIver is outstanding for

big grayling, rainbow trout and whitefish. Good fly-fishing for pike. Lake trout fishing is

more difficult. Sockeye fishing on the Tatshenshini is still good. Fishing for silver on East

Alsek (by plane) is extraordinary. Autumn temperatures range from 0°to 12°C. Weather

is unstable and there can be strong winds.

This is the perfect stay for nature-lovers who want to enjoy all the comforts that civilization

brings. Perfect service, a wide range of fishing possibilities and in an amazing setting -

what more could you wish for?

SEASON

FFTC Member Contact

June to end of September

RATES

(7 nights in lodge / 6 days fishing):

Stay in shared room in double base

occupancy.

Rates and upgrade single room and on

request - depends on the season.

Note: 50% discount for children under 16

on lodge rates (not including transfers)

We help you to plan your trip - just contact us!

We appreciate to help you to make your

dreams come true.

p.a.c voyages & Piam

Anne-Lore Guillemaud

22 route de Mâcon - 01310

POLLIAT / FRANCE

FFTC Member Advantage

FFTC Voucher available - 100 USD

off for FFTC Members / booking

phone: +33 (0)4 78 33 48 70

email: contact@pacvoyages.fr

81
---
AFRICA

C

ameroon

Faro Sportfishing & Faro Safaris

The Faro River is a true

multi-species destination,

with anglers rigging 5wt,

9wt and 12wt gear each

day to cover all the species

and situations on offer.

82 contact@fftc.club

Fishing for Nile perch, on foot, in big

game territory, is as wild an

experience as you are likely to

encounter with a fly rod in hand.

Added to this, the prime Nile perch

fishing times are sunset until 21h30

when the sounds of the African night

are amplified by the darkness, which

means most anglers will be

experiencing a fly fishing trip like none

they have encountered before.

Fishing is with single handed, 12wt 9ft

rods.
---
FARO SAFARIS

Since 1971, four generations have

succeeded each other with the

ambition to make FARO SAFARIS a

leader in the West African Safari

industry.

Thanks to our comprehensive

knowledge, extensive field experience,

rigorous anti-poaching

efforts, cutting edge game

management and our boundless

passion, we are the keepers of a great

diversity of wildlife and pristine

habitat. In Cameroon, our longtermmonitored

sanctuaries are the last

refuges of a world of shrinking wildlife

heritage.

Partnered with AFRICAN WATERS

(former known as TOURETTE FISHING)

African Waters is a dedicated team of

African fishing-travel experts and

professional guides. We specialise in

developing and managing unique

fisheries in Africa's most pristine

wilderness areas. Based on sound

fishery management protocols,

community benefaction projects, and

stringent conservation practices, all

guests can be assured their visit is

contributing to the longterm protection

of these wild places, and benefaction

to the rural communities with whom

we work.

" Our unfailing ambition is to

contribute to the longterm

conservation of the habitat, fauna

and flora in the Faro

Valley through sustainable

tourism in the form of fly fishing,

fair-chase hunting and ecotourism.

"

Xavier VANNIER

www.fftc.club

83
---
AFRICA

The Faro River Basin and

the Faro Conservation

Association (AFC)

The Faro Fly Fishing product is now

adding incredible value to the area by

helping to ensure sustainable and well

managed fly fishing is able to

contribute significant funds towards

conservation and anti-poaching

strategies in the area and build

towards the longterm goal to facilitate

and coordinate a unified and allencompassing

Faro River Basin

conservation plan.

The revitalization of the

Cameroonian-registered NGO, the

Faro Conservation Association (AFC),

starting in 2019 is one of the first steps

to achieving this goal.

All fly fishing guests to the area can be

assured that they are contributing

valuable resources to allow us and our

partners to protect one of the last

remaining West African Savannah

habitats and the fauna & flora it is

home to.

Funds from fly fishing tourists are

dedicated to the private conservation

efforts such as the Faro Conservation

Association and private antipoaching

teams employed

throughout the year, as well as various

government departments responsible

for the longterm protection

of this area.

84 contact@fftc.club
---
The Lodge

This area offers adventurous fly

fishermen a unique glimpse into an

almost untouched West African

savannah environment. Signature

game such as Lord Derby eland, north

western buffalo, western roan,

Kordofan giraffe, western hartebeest,

red river hog, elephant, western kob,

red flanked duiker, colobus monkey,

western lion and leopard, hippos and

crocodiles, amongst others, are

found in our operational areas.

Although not a game viewing

destination, many of these animals

and their signs are seen on a daily

basis when driving between camp

and the fishing beats.

ACCOMODATION

The permanent camp, run in

conjunction with long established

conservation and hunting operator,

Faro Safaris, is situated in the deep

shade of mature riverine forest. The

camp is inspired by local architecture

and the rooms are large, open

rondavels, tastefully decorated with

local fabrics and soft furnishings.

Bathrooms are en suite. This haven

under the trees is complimented by a

beautiful dining area, lounge, deck

and fire pit overlooking the Faro River.

Meals are prepared by the talented

camp chef in a simple camp kitchen.

Continental breakfast, eggs and tea/

coffee are taken before heading out

from camp each day. Lunches are

generally picnic style on the river

banks between fishing sessions.

www.fftc.club

85
---
AFRICA

The Fishing

ALL FISHING IS DONE ON FOOT

– STRICTLY CATCH & RELEASE

– FLY FISHING ONLY – SINGLE

DE-BARBED HOOKS ONLY

The fishery is divided into set beats.

These are rotated and managed to

ensure sustainable and consistent

fishing results.

Please respect these rules, they are in

place to ensure you experience the

best trip possible.

Nile Perch

Nile Perch (Lates niloticus) are

arguably one of Africa's greatest fly

fishing targets. Habitat destruction

and all forms of over-fishing has

severely impacted the distribution

and density of Nile perch populations

today.

One of the largest fresh water fish on

Earth, it reaches sizes of up to 2m,

weighing up to 200kg's.

We consider trophy fish as fish over

100cm TL, with fish up to 162cm

being taken on fly thus far.

Tigerfish

Guests target tigerfish in the daytime

morning & afternoon fishing sessions,

leading away from, and up to the prime

Nile perch fishing sessions. Fishing

floating lines and surface flies, as well

as sink tip lines and tigerfish baitfish

patterns is standard practice.

86 contact@fftc.club
---
Average Fishing Day

The average fishing day starts with

breakfast in camp at 07h30.

Yellowfish

The periods of highest sun, at the end

of the morning sessions, and start of

afternoon session, are used to sightfish

to yellowfish in rocky runs, deep

gorges and fast riffle water. Fishing is

technical and all sight-fishing. 5wt

Rods, floating lines and a selection of

dry flies and nymphs are the typical

tackle.

Niger barb up to 9 kg's have been

sighted, with the biggest one landed

to date on flying weighing just over 3,5

kg's. Labeo species up to 3,5 kg's,

and African large-scale tetra up to 1

kg, make up the rest of the usual

sight-fishing targets.

At around 9h00 the group and their

guides, accompanied by armed game

scouts head out in a 4×4 vehicle to the

allocated fishing area for the day. A

simple base is set up in a shaded spot

on the river bank.

The mid-morning session is generally

spent targeting tigerfish and

yellowfish, with a little time dedicated

to nile perch fishing if the conditions

and water dictate.

The group returns to the riverside

base at around 14h00 for a late lunch

and a siesta, where anglers are

encouraged to rest, rehydrate, and

swim in order to be revived and fresh

for the afternoon session.

www.fftc.club

87
---
AFRICA

88 contact@fftc.club
---
The group will generally head out

again at around 16h00. The first part

of the afternoon session will be spent

hunting tigerfish in the deeper water

you'll be fishing the same evening and

allows for the angler to familiarise

themselves with the lay of the land of

the river section they will be fishing

into the night.

Once the sun gets low to the horizon,

and in preparation for the start of the

Nile perch bite, anglers will switch

from the 9wt tigerfish outfits to heavier

12wt outfits and much bigger, waterpushing

flies. Fishing for Nile perch

continues into the darkness. Your

guide will generally call lines up at

around 21h00 each evening,

whereafter you will return to camp for

a late dinner and some drinks before

heading to bed.

www.fftc.club

89
---
AFRICA

Trip Itinerary

SUNDAY: Arrive in Douala, connect to Garoua. Depart Douala around 16h00, arrive

Garoua around 18h15 (internal flights covered in tour costs) where you will be met

by transfer driver and Tourette Fishing representative and driven to a local hotel.

Overnight in Garoua, single rooms (overnight accommodation is covered in tour

costs). All meals are at your own expense.

MONDAY: Breakfast (own expense), followed by 4-5 hour drive to camp. Settle in

and then meet in the mess area for a late lunch and full tour briefing by your guides.

Tackle set up after lunch. Evening fishing session time allowing.

TUESDAY to SUNDAY: 6 fishing days

MONDAY: Breakfast, followed by 4-5 hour transfer back to Garoua. Regional flight

from Garoua to Douala (covered in tour costs). Depart Garoua @ 18h15. Arrive

Douala @ 20h50. Connect to international flight home, or overnight in Douala for

connection on Tuesday. Tour Ends.

90 contact@fftc.club
---
FFTC Member Contact

SEASON

January - April

RATES

Rates are per person sharing. Departs for 7

nights stay and 6 fishing days.

USD 9750 per person per night (sharing)

For further details please check the FFTC

profile to see what is included, and what is

not included.

FARO SAFARIS

Xavier-Frank Vannier

Manager

Phone: +33 6 32 40 24 32

email: farosportfishing@gmail.com

FFTC Member Advantage

10 % OFF the regular rates

AFRICAN WATERS

Phone: +27 33 342 2793

email: info@africanwaters.net

51 91
---
MEMBERSHIP FOR FLYFISHERS

It is really easy to become a member in our club.

There is no entry regulations or any committee you have to pass and

every active FFTC Member enjoys the same privileges.

We invite every FlyFisher in the world to be a part of the fastest

growing FlyFisher Community worldwide.

You love to travel for flyfishing - perfect - we do too!

What we are not!

F F T C

FlyFisher Traveller Club

• We are not a travel agency for a FlyFisher

• We are not a poor directory page with tons of links

• We are not a local Club

• We are not a snobbish Club

• We are not a new tackle shop or outfitter

• We are not a new competitor to any local FlyFisher Club, established tackle

shop or specialized travel agency for FlyFishers

• We are not a portal website with blinking advertising banners

What benefits can you expect?

est. 2017

• Unlimited and free access to the FFTC Members Area

• Membership available for 1, 3 or 5 years

• Your personalized Member Card

• Vouchers from 25 USD up to 75 USD of single value exclusively for FFTC

Members from Guides & Destinations all over the world

• Special offers exclusively for FFTC Members up to 15% OFF of the

regular rates

• The FFTC Newsletter

• Exclusive access 'members only' section at FFTC Members Area

92 contact@fftc.club
---
F F T C

FlyFisher Traveller Club

est. 2017

Your Membership contains:

• 1 Year Membership (12 month)

• Unlimited access to the FFTC.club Members Area

• All privileges of FFTC.club Membership

• Membership ends automatically after the chosen period

(valid date on your FFTC Member Card)

• NO subscription with automatical extension of the Membership

USD 59.00 per year

save all advantages

Get a FFTC Membership

www.fftc.club

93
---
Advertisement

Our boxes over the years have not only become

collectors items they have become synonymous

www.richardwheatley.co.uk

FREE ENGRAVING*

*USING CODE FFTC2020FOCENGRAVE FFTC2021RWENGRAVE Expiry 31/3 2021
---
B

rands inside

Inside ArcticSilver

by Dr. Katharina Fugger, CEO ArcticSilver, Norway

Surrounded by the small Salmon

River Vigda, a few kilometers from the

next village, lies an idyllic Norwegian

farm. It gives the impression that the

clock is still ticking slower than

anywhere else. You can almost see

the main door opening and an old farm

maid coming out with a milk can in her

hand... BUT inside the white and the

red tree house a busy, international

company has established itself. We

are talking about the Scandinavian fly

fishing brand ArcticSilver Innovation

AS.

In 2014 ArcticSilver hit the

Scandinavian fly fishing marked with a

small selection of fly fishing products

but has grown to be a well-known

brand in the international

fly fishing market in the last 3 years,

with a broad product portfolio,

operating in 12 countries, a solid

dealer's network, 6 agents and 48

ambassadors worldwide.

Gone are the days where ArcticSilver

was driven from the attic of that idyllic

farm; but now the business occupies

several stories of the mansion, the old

red farmhouse was rebuilt as a test

laboratory and guest house for

ArcticSilver partners.

An EU warehouse was established

and in the USA the distributor

ArcticSilver USA holds its own

storage of ArcticSilver products for

the US-market.

www.fftc.club

95
---
ands inside

by Dr. Katharina Fugger

So, what happened the last 3 years?

When CEO Katharina Fugger entered

the company in 2019 she had a clear

goal: to build a solid, professional and

international business. With her

judicial and economical background,

many years of experience from

working with small and medium sized

companies and her passion for fly

fishing, ArcticSilver was the perfect

company for that!

Structure, professionalism, service

and high-quality products had to

become a number one priority. Key

partners and resources had to be in

place with clear values, communicated

and followed.

So let us dive into an everyday day

at the headquarters of ArcticSilver

Innovation AS:

Katharina just got off the phone with

ArcticSilvers new product

development manager

"Mathias Lilleheim". Mathias has been

an icon in the fly fishing business for

decades and started in ArcticSilver in

the summer of 2020.

Mathias told Katharina, that he just

had an idea on how to make rod

development and prototyping much

easier and more sufficient in the

future.

96
---
Mathias Lilleheim is one of the most experienced product

developers in the European fly-fishing industry and has for the past

15 years been product developer for three well-established

European fly-fishing brands.

He already discussed this new

approach with their fly rod factory, and

they agreed to the approach. For the

prototypes he just ordered for new

premium rod series of ArcticSilver that

is planned for spring 2022 the factory

agreed to go ahead with this method

so they will receive the prototypes for

this series already next month!

Katharina confirms and tells Mathias

that those prototypes are being

measured for the right classification

and desired action curve by Sven

Fugger in the new testing facilities

next door, as they speak. In addition,

these revised prototypes have to be

tested by Mathias and they have to be

distributed to some chosen ProStaff

members with high expertise in

"predator" fly fishing to test them in

real conditions!

Just a few minutes later, Sven enters

the main building again – the

measurements for the new prototypes

show, that they are just spot on!!! Of

course, he has also test-casted them

on the large field on the opposite side

of the farm, already!

Sven Fugger has been chasing silver all

his life. Has become an indispensable

asset for ArcticSilver for product testing,

quality control, repair and assembly.

Which brings Mathias to his next

question: how about the prototypes

for the new predator fly rod series that

is planned for release in autumn

2021? Mathias heard from the factory,

that the revised prototypes arrived at

the ArcticSilver headquarters today!

www.fftc.club

97
---
ands inside

by Dr. Katharina Fugger

The smile on his face speaks

volumes – this new predator fly rod

series just shoots big flies out

there with almost no effort AND

beautiful presentation!

Whooohoooo!

This is Katharina's keyword to get in

touch with the 3 chosen ProStaff

members, who shall give those

predator fly rods a rough real

conditions check!

The Pro Staff members and ambassadors of ArcticSilver are the actual heart of

ArcticSilver and they call themselves the ArcticSilver family. The ArcticSilver family

includes 48 highly skilled fly fishers with different fly fishing backgrounds from different

countries. They do not only test new products they are also involved in many other

topics regarding the future development of ArcticSilver! In a private online forum all

members of the ArcticSilver family can ask questions, propose ideas and take part in

discussions on fly fishing, marketing, branding, future values and many other topics that

are of importance to develop ArcticSilver further! This group is priceless for ArcticSilver

to make the right strategic decisions. 48 passionate fly fishers that live and breathe fly

fishing!

98 contact@fftc.club
---
But back to the everyday

business day!

Sven is already on his way to his

car. He is heading for the Fjord

only five minutes' drive from the

ArcticSilver headquarters. In

addition to the new predator fly

rod prototypes, he wants to

give the new Compact 2.0 and

GreenVelvet fly lines a last

quality check.

Several thousand of these fly

lines arrived at the headquarter

a few days ago! Fly lines

approved for production will

always undergo a final check

inside the laboratory and under

real fly fishing conditions when

mass production arrives!

www.fftc.club

99
---
ands inside

by Dr. Katharina Fugger

Not only in Norway, but they are sent to at least one ArcticSilver Ambassadors in each

country ArcticSilver operates in. As fly lines behave differently in different countries due

to the waters salt content, current stream and temperature even the final product has to

be tested once more before the final release. These factors can affect the sinking speed,

softness or stretching ability of a fly line.

As Sven heads off to the Fjord, 5 minutes down the road, to doublecheck if the fly lines

behave as planned in the very cold and salty water of the Norwegian fjords;

Katharina has time to check in with ArcticSilvers 1% for the planet projects!

Katharina signed ArticSilver up for this membership as soon as she entered the company!

Through this network ArcticSilver returns 1% of its sales to local projects that work with

river preservation!

Not 1% of the annual result, but of all turnover. So even if ArcticSilver is going with

negative results a year, 1% of the turnover will still go to the 3 local preservation projects

in Norway, Denmark and Germany which ArcticSilver has chosen. To join the 1% for the

planet network was a real matter of heart for Katharina – "it is a lot of fun to build a

company, it is a lot of fun to work with my hobby – but it is even more fun to

make an impact on something so important as our beautiful nature!" And the

whole ArcticSilver family stands 100% for this decision – as many of them are also

personally involved in preservation projects!

ArcticSilver has dedicated all their tapered leaders to their

1% for the planet projects. You will find their story on the

back of each packaging!

100

contact@fftc.club
---
The 1% for the planet projects are just

doing great and Katharina has her

next meeting scheduled already – a

videocall with some Team members

to discuss the communication of

ArcticSilvers values throughout the

whole organization and out to the

marked.

Quality, honesty, respect, and a very

deep care for mother nature are sure

values that ArcticSilver stands for. But

there is one more major value

ArcticSilver stands for, which is often

misunderstood:

ArcticSilver fly rods look different than

any other fly rod; modern, futuristic,

industrial. While some fly fishers think

of this as "exciting" and like progress

and innovation others see this as

"disturbing" and are not comfortable

to break with "tradition".

Out there in nature with your fly

rod. Your complete focus is on

the moment: the cast, the landing

of the fly, the take and the fight –

true magic!

AND ArcticSilver likes to ask: "how

can we make these magic moments

by the water even more enjoyable?

How can we make fly fishing and fly

casting easier and more effective?

Can we make that moment of fighting

the fish even more intense?"

ArcticSilver likes to challenge

boundaries and break them for the

better. They love progress and are

driven by innovation.

But ArcticSilver stands very

much for fly fishing tradition, too:

this feeling that lets you forget

everything else.

To create something, that truly assists

fly fishers in their endless hours of fly

fishing. Help them improve their fly

casting technique, let them feel a

success in their fly casting they have

never experienced before!

www.fftc.club

101
---
ands inside

by Dr. Katharina Fugger

And the Free-Flex system does exactly that. It helps you "time" your fly casts

much better and "timing" is what fly casting is all about! And well that feeling when

you got "fish on" and you can feel its fight directly in your palm – Whoohoo!

Rounding up the videocall with the team members they all agree.

technologies often look different and the ArcticSilver family is proud of their futuristic

and modern design, as it is driven by technology!

So ArcticSilvers new slogan just has to be: "Tradition powered by technology"!

102

contact@fftc.club
---
JUNGLE BLUES BOOK

The Best Fly Fishing

Book in Years

Advertisement

Is called "Jungle Blues" and

it's written by Stu Tripney,

I've read the book, and I

think it's some of the most

compelling "adventure

angling" writing out there—

and that's been my bailiwick

for years.

Angling trade magazine -

May19/2019

KIRK DEETER- EDITOR

"I tried to ask the shopkeeper what the fish was called and he

tore the corner off a cardboard box and wrote in English, 'Pla

Chado' – the giant snake-headed fish."

From his rural home in the South Island of New Zealand, selfprofessed

fly-fishing geek Stu Tripney designs flies and runs the

New Zealand Fly Fishing School. But every now and then, a fish

swims into his dreams …

Jungle Blues is Stu's first

travel memoir, recounting his

strange adventures while

living in the jungles of

Malaysia. A story about the

environment, human nature

and strange friends, this

hilarious tale will appeal to

anyone who loves the thrill of

travel and adventure.

Shop NOW

10% discount

with #jungleblues code.
---
SEYCHELLES

S

eychelles

Astove Atoll

104

Astove is breathtakingly

beautiful.

It is a world filled with colour, where

the daily dramas of a pristine

ecosystem play out in front of your

very eyes.

Astove offers a rare privilege

opportunity to gaze into a world which

has changed very little in the years

that have passed. The Astove Wall is

described as gazing down into the

Grand Canyon.

contact@fftc.club

It consists of the large flats and reef

dropping a vertical 90 degrees, from

ankle deep water to water over a

kilometre deep. This unique feature

makes it a perfect dive site.

The atoll also has a rich and desolate

history and is the cause of countless

shipwrecks dating back to 1500 AD. It

is also famous for the acclaimed

underwater documentary "The Silent

World", filmed by Jacques Cousteau.
---
www.fftc.club 105
---
SEYCHELLES

106

contact@fftc.club
---
www.fftc.club 107
---
SEYCHELLES

Astove Atoll is the place for catching

the largest flats-caught Giant

Trevallies in the Indian Ocean as well

as many other species.

Its shallow lagoon, surrounded by

sheer drop-offs, makes the

experience unique.

This lagoon is a sanctuary for both

juvenile and trophy size fish that feed

on the shallow white sand flats. Aside

from big GT's, Astove offers

innumerable opportunities for

bonefish, permit, bluefin trevally,

triggerfish, barracuda and milkfish.

The offshore fishing starts metres

from the edge of the flat where anglers

can test their skills against yellowfin

tuna, dogtooth tuna, wahoo and

sailfish.

The Lodge

Uninhabited since 1969, Astove

makes for a wild experience. To

ensure that the atoll stays pristine,

Astove Island Lodge only caters to 6

guests per week.

The newly renovated lodge is very

comfortable, accommodating its

guests in single air-conditioned and

en-suite rooms that surround the

central courtyard.

The lodge has a comfortable lounge

as well as an indoor and outdoor

dining area for guests' relaxation in the

evenings.

You'll enjoy attentive service as well

as exquisite dining.

The menu usually comprises of an

English breakfast in the morning, a

packed lunch choice to take to the flats

and a Creole buffet dinner served

either on the beach or in the outside

dining area.

The Astove Island Lodge staff

includes an Alphonse Fishing

Company manageress and local IDC

staff, and is operated in such a way as

to maximize fishing time.

108

contact@fftc.club
---
www.fftc.club 109
---
110
---
S

imply

a paradise

111
---
112
---
RATES

One week (7 nights / 6 days fishing)

shared guide and room: USD 10,555

for neap tide - USD 13,950 spring tide

Included

• 7 Night package with all meals included

in shared accommodation

• Scheduled return charter flight

• Six days fully guided fishing with 2 anglers

to 1 guide

• Tender boat and fuel

• Fishing License and Landing Fees

• Water, soft drinks, coffee and tea

• A glass of house wine with dinner

• Laundry

• Fly fishing rod and reel rental

• Complimentary Wi-Fi in the lounge

Excluded

• Single supplement of USD 700

• International Flights

• Ground transfers on Mahé

• Conservation Donation of USD 175

• All other alcoholic beverages

• items of a personal nature, telephone

and email charges

• Travel and medical insurance

• Tackle and flies

• Gratuities

FFTC Member Advantage

2,5 % OFF the regular rates

FFTC Member Contact

We help you to plan your trip - just contact us!

We appreciate to help you to make your

dreams come true.

pukka destinations

Owner Carsten Dogs

Nernstweg 5

22765 Hamburg / GERMANY

phone: +49 1778086466

email: info@pukka-destinations.com

web: www.pukka-destinations.com

84 113
---
VENEZUELA

V

enezuela

Acuarela - Los Roques

For the saltwater fly fisherman Los Roques offers a

lot of variety.

Main fish is the bonefish in sizes of 3-5 pounds on average and good chances to fish

over 10 pounds, depending on the season and tides are added to fish species such

as Tarpon and (huge) Permit.

By-catches are Jacks, Barracudas, Snapper, Snook, Bonitos etc. The flats fishing on

Los Roques takes place mainly wading.

Bonefish, and this is one of the factors that makes Los Roques so special, can be

caught in a variety of ways. On the one hand, there are the so-called pancake flats -

small flats made of turtlegrass, where you often fish for tailed fish. Not always easy, but

exciting. Then there are larger sand flats over which you can walk hundreds of meters.

114

contact@fftc.club
---
www.fftc.club 115
---
VENEZUELA

116

78 contact@fftc.club
---
VENEZUELA

118

80 contact@fftc.club
---
www.fftc.club 119
---
VENEZUELA

Last but not least there is beach fishing

for cruising bones hunting for small fishes

(Minnows). These are sometimes even

with floating Minnowimitationen to catch

- so to speak dry fly fishing on Bonefish in

tropical salt water!

Depending on the season and tides

you will encounter these different

types of fishing. Talk to us about these

differences, through our own travels

we know the peculiarities very well.

For all types of fishing you fish with a

guide. There are no skiffs, but socalled

Pangas, with which one

reaches very well all beaches and

Flats.

Each panga also has a boatman who

picks up guide and fisherman at the

end of the flat (so you do not have to

run back).

120

contact@fftc.club
---
The Lodge

The lodge is amongst the finest accomodations on the island. The chef offers the finest

cuisine and makes sure you are treated well before / after the fishing.

www.fftc.club

121
---
VENEZUELA

122

contact@fftc.club
---
RATES

One week shared panga, guide and

room: USD 4,250

Single angler per boat: on request

SEASON

Los Roques is a saltwater destination that can be

visited all year round; High season is from January to

May. Due to its location close to the equator you do

not need to be scary about hurricanes, which is

another advantage.

FFTC Member Advantage

2,5 % OFF the regular rates

FFTC Member Contact

Please note: due to the political situation

in Venezuela there is little pressure on the

archipelago, which leads to possible

discounts for guests coming. Los Roques

still is the paradise it has always been,

there is nothing felt from the political crisis

on the mainland. Our partners operate as

reliable and perfect as always. Los

Roques is a beautiful fishing destination

and offers salt water flats fly fishing at its

best. No doubt about it! But we want you

watching the international news before

you do any booking.

We help you to plan your trip - just contact us!

We appreciate to help you to make your

dreams come true.

pukka destinations

Owner Carsten Dogs

Nernstweg 5

22765 Hamburg / GERMANY

phone: +49 1778086466

email: info@pukka-destinations.com

web: www.pukka-destinations.com

123
---
VIDEOTHEK

G

ermany

lovenia

SKrka Mayfly Lodge

124 contact@fftc.club
---
VIDEOTHEK

M ongolia

exas

TFly Fish Rockport

www.fftc.club

125
---
VIDEOTHEK

B

olivia

Arapaima Paradise Lodge

C

anada

Yukon - Dalton Trail Lodge

126 contact@fftc.club
---
VIDEOTHEK

C

ameroon

Faro Sportfishing & Faro Safaris

S

eychelles

Astove Atoll

www.fftc.club

127
---
VIDEOTHEK

V

enezuela

Los Roques

128 contact@fftc.club
---
Members only - service

We keep working on the content of our FFTC members area

and additional service portfolio. Our goal is to get you

inspired for your next fly fishing trip. But after you made your

choice, you need to organize your travel to the destination

you chose.

We offer a great full service solution that allows you to

book domestic or international flights including additional

hotels before and after your fishing holidays - rental cars and

latest we added a booking engine for FERRIES as well. All

important travel options in one place. No need to leave the

FFTC members area.

smart applications for

direct booking

FLIGHTS | HOTELS | RENTAL CARS | FERRIES
---
F F T C . c l u b

e s t . 2 0 1 7

T h e F l y F i s h e r T r a v e l l e r C l u b - w o r l d w i d e

Get inspired for your next trip!

DISCOVER INTERACTIVE

℗© all rights reserved by FFTC.club - copyright 2021!

© photograph AD - Patagonia, Argentina - 2019!

p o w e r e d

a n d a n t e m e d i a D I G I T A L E N T E R T A I N M E N T C L G

b y