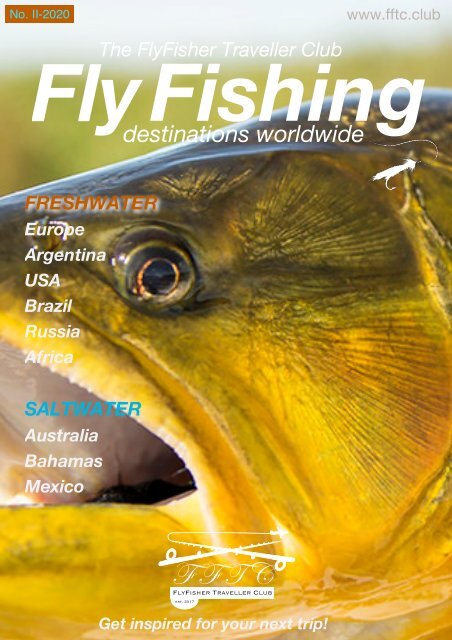 Fly Fishing destinations worldwide - FFTC.club Magazine issue II-2020
This digital magazine is made for those fly fishers, who loves to explore new destinations. You can explore new fly fishing destinations everywhere. This is the passion we love to share with you! We at FFTC love to travel for fly fishing. The FFTC presents 100+ pages full of information about worth-to-know fly fishing destinations around the globe. We invite you to read our digital magazine, and the best thing is that it will be totally for free for all readers. No registration or subscription is needed. Please share this magazine with your fishing buddies to get inspired for your next fly fishing trip. Always tight lines, Alexander Founder of the FlyFisher Traveller Club – worldwide
This digital magazine is made for those fly fishers, who loves to explore new destinations.
You can explore new fly fishing destinations everywhere. This is the passion we love to share with you!
We at FFTC love to travel for fly fishing. The FFTC presents 100+ pages full of information about worth-to-know fly fishing destinations around the globe. We invite you to read our digital magazine, and the best thing is that it will be totally for free for all readers. No registration or subscription is needed. Please share this magazine with your fishing buddies to get inspired for your next fly fishing trip. Always tight lines, Alexander
Founder of the FlyFisher Traveller Club – worldwide
SHOW MORE
SHOW LESS
Create successful ePaper yourself
Turn your PDF publications into a flip-book with our unique Google optimized e-Paper software.
No. II-2020

www.fftc.club

The FlyFisher Traveller Club

Flydestinations worldwide

Fishing

FRESHWATER

Europe

Argentina

USA

Brazil

Russia

Africa

SALTWATER

Australia

Bahamas

Mexico

F F T C

FlyFisher Traveller Club

est. 2017

© ℗ FFTC.club 2020

Get inspired for your next trip!
---
No. II-2020

Cover photo: Golden Dorado at the Paraná River, a fishing trip with Golden Dorado River Cruiser

from Brickhouse Creatives and El Encuentro Fly Fishing, Argentina

destinations

FRESHWATER

Fl

Europe

Estonia - Estfly Guiding Service...................................6

Spain - Rio Tormes.....................................................12

Argentina

Corrientes - Golden Fly Fishing Lodge......................28

USA

Alaska - Alaska Trophy Adventures Lodge................36

Brazil

Amazon Roosevelt Lodge...........................................44

Russia

Kamchatka - Icha River Camp..................................58

Africa

Namibia - Ichingo Chobe River Lodge......................66

2 contact@fftc.club
---
www.fftc.club

The FlyFisher Traveller Club

yFishing

destinations worldwide

editorials

Estonia - explore wild brown trout..............18

Interview - with Benjamin Beale.................48

Product review - Fly Rod 4wt....................77

destinations

Australia

SALTWATER

Ningaloo Reef...........................................................84

Bahamas

Crooked and Aklins Island......................................90

Mexico

Punta Allen Fishing Club........................................100

videothek.........107

www.fftc.club

3
---
The FFTC.club

Founded for the worldwide

passion to travel for fly fishing

Our passion is the same as

yours: traveling for pure flyfishing!

All FlyFishers have their home spots and for sure we love

to fish and spend our fishing time there. We know every

stone, sometimes every fish in every pool. For sure we

are all in love with our home spots but there are so many

other foreign and attractive spots all over the world.

Some of them are either in the direct neighborhood not

far away from our home or just over the next border and

you can reach them either by driving or flying for a

couple of hours.

Others are overseas, in a completely different country

with a foreign language, far away from home. The charm

to explore new destinations or to catch a new species of

fish is enormous for the TRAVELLING FLYFISHER. We

spend hour by hour in internet to organize and book a

trip. The FFTC.club helps you to get this done quickly.

The idea of founding the FlyFisher Traveller Club was

born in March 2017 and it's growing very, very fast in my

head and in my heart! I decided to use different

professional resources to realize the idea and to make

the dream come true that the FFTC will be the biggest

FlyFisher Club and the fastest growing FlyFisher

Community worldwide. A well organized membership

The FFTC Members Area will offer a direct access to a

huge number of the most experienced FlyFisher Guides

and all the worthwhile freshwater and saltwater

Destinations all around the globe. There are so many

great Destinations out there - we are hungry to explore

them - hand in hand with a Guide who is familiar with the

Water to make our visions of unforgettable moments

become real!

We are proud to present a selection of worth-to-know fly

fishing destinations around the globe in this digital

magazine. We hope you enjoy reading our brand-new

magazin. For more details about the FFTC.club please

visit www.fftc.club - our BLOG or register for free to get

unlimited access to the FFTC Members Area.

Always tight lines, Alexander

F F T C

FlyFisher Traveller Club

est. 2017

4 contact@fftc.club
---
Editor's letter

Editorial

November, 2020

We are very proud to present the second issue of our

brand-new FFTC Magazine. This digital magazine is

made for those fly fishers, who loves to explore new

destinations.

Of course this year 2020 is totally terrible because of

Corona pandemic. Travelling in general is difficult and

extremely limited in this year. Later this year it is

nearly impossible for the most of the countries

worldwide.

But you can explore new fly fishing destinations

everywhere even in your home country without

crossing the borders.

In normal years we at FFTC love to travel for fly

fishing. Not only to get an idea about foreign cultures,

to meet interesting new people, see impressive

landscapes and chase new fish species.

The all-in-one experience drives us.

With this publication we will present you some

worth-to-know destinations around the globe in a

traditional way - as a magazine.

With the mission to try to keep your dreams alive.

Our digital magazine is clickable.

Do not hesitate to use this feature, watch embedded

videos, and follow links to get more details about the

particular country or destination.

Meet you at the water.

Always tight lines,

Dear Reader

Dear FFTC Member

Alexander

Publisher

FFTC.club - FlyFisher Traveller Club

powered by

andante media DIGITAL

ENTERTAINMENT CLG

3 Cavendish Row, Dublin 1

D01 KV26 Dublin / IRELAND

Register No. 643231

GERMANY

andante media DIGITAL

ENTERTAINMENT CLG

Leopoldstrasse 2-8

32051 Herford

VAT ID/Umsatzsteuer ID:

DE32291620

phone/fax

toll free (national DE)

0800 - 724 3205

FFTC.club office (south of Germany)

phone international

+49 (0)8151 950 1521

email: contact@fftc.club

editor in chief & director

Alexander Dachlauer

email: alexander@fftc.club

www.fftc.club

5
---
EUROPE

E

Guide

stonia

Estfly Guiding Service

Fly Fishing in Estonia?

Estonia is covered with beautiful,

clean, undisturbed rivers with wild

brown trout and grayling. It takes an

hour drive from the centre of the

capital, Tallinn, to fishing waters

where you will find wild brown trout,

bear trails, and rarely see any other

fishermen.

You can find brown trout in more than

one hundred rivers and streams, and

in most of them, the trout are wild.

About Estfly

Estfly is the first and most

experienced fishing guide in Estonia.

We have served fly fishers from all

over the world since 2007. We aim to

introduce beautiful Estonian nature

and brown trout rivers to fly fishers

from abroad.

Whether you are a beginner looking to

learn the basics or a seasoned angler

in search of new secrets, our guides

will personally tailor the best fly fishing

experience Estonia has to offer.

...

6 contact@fftc.club
---
Our guides are expert anglers and

have extensive experience with our

brown trout rivers. We will plan the

trip, arrange the licenses needed for

the fishing tour, pick you up and take

you back to the hotel or airport, and

provide fishing gear and flies if

needed. Feel free to contact us with

your questions and inquiries. We

would be happy to share our

knowledge and experience.

We customise all our fishing trips

based on our clients' needs. Let us

know what species you are most

interested in, what type of river you

like, if you are into quantity or trophy

hunting, if you prefer easy access or

true wilderness, and how many days

you would like to stay.

We visit the rivers almost every day

during fishing season, so you can rest

assured that our fishing spots will

offer the best experience that

Estonian trout rivers can offer during

your stay.

SEASON

Season is from Mai to September, the

warmest months are July and August. Prime

weeks in both months, and these are much

sought after.

RATES

Accommodation on request - Guiding from

EUR 200 half day - EUR 300 full day

FFTC Member Advantage

FFTC Voucher available - 25 USD

off for FFTC Members / fisherman /

booking guiding services

www.fftc.club

7
---
8 contact@fftc.club
---
E stonian

nature is very peaceful

www.fftc.club

9
---
EUROPE

Guide

Forests and mires make up more than

half of the territory of Estonia. To

preserve this diverse nature, the

government created an extensive

network of protected areas,

protecting 22% of Estonia's land.

Rare animals like bears, wolves, and

lynx inhabit our forests. Because our

trout rivers flow through the wildest

parts of Estonia, it's very common to

spot a moose, beaver, or roe deer

while fishing. Even if you don't see the

animal itself, you can find moose

droppings, beaver-chewed logs, and

even fresh bear trails, which are all

signs of a wild and healthy

environment.

The best time for fly fishing in Estonia is

from May until September. It's possible

to catch brown trout during the winter

months and in the early spring, but the

weather is very unpredictable and water

levels are high, so it might not be so

enjoyable.

Summer transforms the winter wonderland

into a lush summer paradise that is

perfect for fishing.

The Rivers

Estonia is covered with beautiful,

clean, undisturbed rivers with wild

brown trout and grayling. It takes an

hour drive from the centre of the

capital, Tallinn, to fishing waters

where you will find wild brown trout,

bear trails, and rarely see any other

fishermen. You can find brown trout in

more than one hundred rivers, and in

most of them, the trout are wild. Due

that fishing in Estonia is memorable

and unique experience.

Brown trout is the main reason why fly

fishers come here. Our rivers hold wild

brown trout, which is very rare in most

European countries. Our trout is very

healthy and fat with a beautiful pattern

and colour. They are strong fighters

and selective.

10 contact@fftc.club
---
FFTC Member Contact

We help you to plan your trip - just contact us!

We appreciate to help you to make your

dreams come true.

Estfly

Owner / Headguide Vahur Mäe

Paasukese 11

44315 Rakvere / ESTONIA

phone: +372 5645 2789

email: vahur@estfly.com

web: www.estfly.com
---
EUROPE

S

pain

Rio Tormes

You will be well taken care of in old, Spanish rural houses

where you will be served classic Spanish cuisine and wine.

Spain might not be on the typical

map of the destination angler.

However, it has a long history in fly

fishing.

There are several species you can

fish for: Iberian barbel aka the

freshwater bonefish. Huge brown

trout. Spooky sea trout and Atlantic

salmon in their most southern

location. Huge pike as well as black

bass.

The Rio Tormes offers great brown

trout fishing. There is private fishing

as well as public fishing available.

The river itself looks a bit like an

English chalk stream.

Fishing can be done in reservoirs as

well as gin clear (chalk) streams for

trout, sea trout and salmon.

12 contact@fftc.club
---
EUROPE

14 contact@fftc.club
---
The beautiful

R io T ormes

and Iberian barbel in reservoirs

www.fftc.club

15
---
EUROPE

SEASON

Season starts in March when the big fish

are caught. In autumn there is great

fishing again, but the fish are usually

smaller compared to spring.

RATES

Full service packages available - from approx.

EUR 2.500 /week

FFTC Member Advantage

2,5 % OFF the regular rates

FFTC Member Contact

We help you to plan your trip - just contact us!

We appreciate to help you to make your

dreams come true.

pukka destinations

Owner Carsten Dogs

Nernstweg 5

22765 Hamburg / GERMANY

16 contact@fftc.club

phone: +49 1778086466

email: info@pukka-destinations.com

web: www.pukka-destinations.com
---
Advertisement

With the Field & Fish waders

rediscover the pleasure of

going fishing!

Exclusive to

Field & Fish!

New! Undress your waders on the

same easyway as you put them on!

5-Layours breathable with a smart

suspender system.

319 € *

watch video

*use code FFTC at checkout for 10% discount.

FISHING GEAR - TECHNICAL & ETHICAL

Webshop: www.fieldandfish.com

phone: +33 (0)4 50 09 01 92
---
Guest editorial

by Vahur Mäe

18 contact@fftc.club
---
Chasing

wild brown trout in Estonia

Estonian nature is unspoiled and

diverse - deep forests, picturesque

lakes and rivers are just some of its

treasures. Estonia has an area of

45,215 km² - almost as large as

Denmark and the Netherlands, but

with a population of less than 1.4

million. This small population density

has enabled the country to preserve

the natural environment better than in

densely populated West European

areas.

Estonia is known for its beautiful

Nordic nature, for its Tallinn medieval

old-town or perhaps as a country

where Skype was born. But few know

that Estonia is covered with beautiful,

clean, undisturbed rivers with wild

brown trout and grayling.

www.fftc.club

19
---
Guest editorial

by Vahur Mäe

It is only an hour drive from the centre

of the capital, Tallinn, to fishing waters

where you will find wild brown trout,

bear trails, and rarely see any other

fishermen. This is one of the most

unique aspects of Estonia. Wild

nature and beautiful rivers with trophy

trout are just a short drive away from

the biggest towns. You can find brown

trout in more than one hundred rivers,

and in most of them, the trout are wild.

Because trout rivers flow through the

wildest parts of the country, it's very

common to spot a moose, beaver, or

roe deer while fishing. Even if you

don't see the animal itself, you can

find moose droppings, beaverchewed

logs, and even fresh bear

trails, which are all signs of a wild and

healthy environment.

Estonia isn't a widely-known fly

fishing destination yet, but every

year more travelling fly fishermen

visit the country. Still, due to so many

rivers to choose from, you rarely meet

other fishermen while fishing.

Small in form, but rich

in content

We Estonians like to say that our

county may be small in form, but it is

rich in content. That means that in this

small country you can find Siberia

taiga like forests, crystal clear rivers

and streams, wide wetlands, more

than 2000 islands, our historical

folklore, best-preserved medieval city

in Northern Europe and much more.

20 contact@fftc.club
---
Estonia is a modern technology

oriented country, even called the

start-up nation of Europe, but as soon

as you leave Tallinn, you can find

yourself on a gravel road, between

large forests.

Estonians love their forests, bogs and

all the creatures that live there such as

lynxes, brown bears, wolves and

moose. We even like to call ourselves

a forest nation, because many

Estonians love to pick berries from our

forests, gather mushrooms, go fishing

or hunting. Collecting food from

nature might be forgotten in many

other countries in Europe, it is still in

our roots and natural for us. In that

sense, we are still very traditional, but

at the same time couldn't imagine a

life without our modern digital society.

From voting to signing documents

online, Estonia implements a hassle

free and modern approach to running

one's errands.

Estonia is the first e-government in the

world and offers e-residency to

people from all over the world. Some

of the recipients of Estonian e-

residency include Angela Merkel and

Barack Obama.

Trout rivers of Estonia

By European standards, Estonian

rivers are small to mid-size.

Although land is relatively flat, there

are beautiful, fast-running rapids that

flow through virgin coniferous forests,

which are often called an extension of

the Siberian taiga in Estonia. The fastrunning

stretches hold a good amount

of fish, but the biggest trout tend to be

in the slower and deeper stretches of

these rivers.

Therefore, typical fishing water is

slow- to medium-running chalk

stream surrounded by meadows, old

forests, and marshes.

Estonia has a suitable type of water for

every fisherman. There are spots with

easy access from a car and where you

don't need to cover more than a few

hundred meters to have good and

productive fishing. And there are

plenty of spots for adventurous fly

fisherman where you can either hike

for hours to get to wild and untouched

rivers or you could fish upstream for

days without seeing any signs of

civilization.

What to catch?

Estonian rivers hold wild brown trout

and grayling. Estonian brown trout

is very healthy, fat and with a

beautiful pattern and colour. They

are strong fighters and selective. The

average size of a brown trout is 35-40

cm.

A good-size trout in Estonia is around

50 cm. Although catching fish in this

size is challenging, it is rather

common. A trophy-size brown trout

in Estonia is 55–65 cm. Trout that big

aren't rare, but catching them requires

good skills, perfect timing, and luck.

Grayling is present only in a handful of

rivers, but in these, they are thriving.

Average grayling size in some rivers is

even bigger than that of an average

brown trout. They often range in size

from 35 cm to 40 cm, but 45 cm

graylings are rather common.

... 21

www.fftc.club
---
Guest editorial

by Vahur Mäe (photo below)

You can even find graylings up to 50

cm.

Although brown trout and grayling

offer most interest to travelling

fisherman, Estonia also has good

sea trout and salmon run. Stocks of

salmon and sea trout are getting

better every year, but it is rather hard

to plan a fishing trip for these two

species nowadays.

Just because weather is becoming

more unpredictable and salmon and

sea trout rise to the rivers when

water is high and cold, but in recent

years' suitable conditions could arrive

as early as September or as late as in

November.

As we don't have mountains and our

summers are rather warm, we don't

have trout in lakes, but they hold a

good population of pike, perch and

other lake fishes.

Fishing season

The best season for fishing in Estonia

begins in May. Then the waters flow

at the normal level, nature is in bloom,

the weather is warm, and both brown

trout and grayling feed actively.

The peak time for fly fishing is the

mayfly hatch which is in June.

When the mayfly hatch is over, fish

look towards the surface till the end of

summer.

July and August are the warmest

months and offer the most stable

weather. These months are the most

convenient for fly fishers and offer

exceptional fishing. Small- to mid-size

trout are very active in the rapids and

feed on smaller mayflies that hatch all

summer long.

22 contact@fftc.club
---
Big fish in the deeper stretches are

always ready to bite a tasty terrestrial

fly, but their most active feeding

period starts in the late evening when

large caddis flies are hatching. Brown

trout season ends in mid-September.

Mayfly hatch - beginning of

summer and remarkable

trout fishing

Mayfly hatch is the most awaited

period for every fly angler in Estonia.

Danica hatch begins usually in early

June and lasts three weeks in different

rivers. Our Danica hatch is very dense

and most of our brown trout and

grayling eat from a surface very

actively throughout this period. It is

the best time for brown trout fishing in

Estonia, but for me it's not so

important and special just because of

good fishing. For me it's a symbol. It

marks the beginning of summer and

remarkable trout fishing.

Our winter and spring are long, cold

and windy. Beautiful fishing weather

arrives just before the mayfly hatch.

Also, our nature is in full bloom and

green by the beginning of this big

hatch. Estonian trout feed underwater

for most of the year and in spring you

rarely see any movement or activity on

the surface. But as soon as the first

mayflies are hatching rivers spark

alive.

My favourite fishing days are the first

days of the hatch because every trout

seems to feast on mayflies as much as

they can.

On a first day the hatch isn't so intense

and due to that trout takes every fly

which is floating by. They chase them

several meters, sometimes hit the fly

with a huge splash or even jump out of

the water to catch one. It's a beautiful

sight to see these fat and wild trout

feeding undisturbed on a food they

have waited for so long. On these

days, you can see beautiful fish after

every few meters and trout take

presented flies very well.

www.fftc.club

23
---
Guest editorial

by Vahur Mäe

24 contact@fftc.club
---
They haven't seen other fishermen yet

and almost every trout takes the fly as

soon as it hits the water.

July and August – terrestrial action

Mayfly hatch is a trigger for a surface

activity and due to that fish continues

to rise even when the mayfly hatch

period is over. Trout are eager to take

mayfly patterns, because single

mayflies continue to hatch long after

the main period is over. Also, we have

a large amount of terrestrial flies which

land on water during hot summer days

and make daytime fishing very

thrilling. Mid-summer is the time of

grasshoppers, damsels and different

beetles. Although windy days don't

offer best conditions for fly fishing,

wind pushes different terrestrial flies in

the water and could offer very thrilling

fly fishing. Best spots during these

days are slow running stretches which

meander through grassy fields. Even if

you don't see a rising fish, a good size

hopper and skating-sedge technique

will draw the attention of every fish.

Matching the caddis hatch

In a second half of the summer,

different types of sedges are hatching

and in late evening they come to a river

to lay their eggs. This is a very

interesting time in our rivers. During

the hottest days rivers seem to be

dead quiet, but when you wait till the

time when sun disappears between

the woods, the river comes to life. You

can see caddis flying around and soon

you see first strong splashes and flies

chasing fish. This is a very attractive

time for fly fishing.

That means that you cast a fly to a

water and instead of dead drift you

pull fly slowly so it leaves a V shape to

a water. When dry fishing like this,

trout wouldn't rise carefully and slowly

like they usually do. Instead they rush

toward the fly and hit it hard. It's a

remarkable view and very thrilling.

Often fish misses the fly, but there is

often enough hungry fish around to

catch.

This action lasts from late evening till

complete darkness. Fishing in pitchblack

conditions is an experience of its

own, although you need to know the

river very well. Using the same

technique during the night time

means that you don't see a rise, you

just need to strike when you hear the

splash.

Where to fish in Estonia?

You can find trout rivers and streams

all over Estonia, but the best rivers are

mostly located in the middle of

Estonia, on a north coast and in south

Estonia. Rivers are rather different in

these three regions, so is the

landscape. Middle-Estonia rivers are

spring creeks with a very clear water

and most of these are chalk stream

type of waters where current is slow

and water deep. Rivers mostly flow

through meadows and wetlands and

have thriving insect life and brown

trout grows very large in these waters.

Biggest brown trout of Estonia

which weighed 6,3 kg were caught

from one of these small spring creeks.

Catching brown trout from these

rivers isn't easy. There is no current,

water is extremely clear and trout is

wary and selective.

www.fftc.club

25
---
Guest editorial

by Vahur Mäe

These small rivers truly test fly

fisherman skills because careful

stalking and perfect presentation is

required for success. When you

succeed, and get a bite, you will get a

fight to remember. These wild and

large fish wouldn't give up easily.

North-Estonia rivers offer more

variety. Upper parts of these rivers

offer similar conditions as Central-

Estonia rivers, but middle and lower

stretches have beautiful and wide

rapids and rivers flow through large

coniferous forests. Besides brown

trout, these rivers also have

grayling and salmon run in autumn.

South-Estonia is our hilliest region,

and due to that most of the rivers are

fast running and rather shallow.

Several rivers of this region flow

through sandstone canyons and offer

spectacular views together with good

fishing.

Species in this region are brown trout,

grayling and chub, which is perhaps

not so highly valued target species for

fly fisherman, but it is an interesting

bycatch when fishing for trout.

Most Estonian fly fishermen like to

keep their fishing spots secret and

due to that it's not possible to find

much information on the internet.

Reason for that is the fact that rivers

are rather small and don't handle

crowds and Estonians like to spend

their time in nature alone rather than

meeting anyone else.

To get to the best rivers as a traveller

you need to have plenty of time for

exploring or you could hire an

experienced fly fishing guide who

knows all the secret spots.

26 contact@fftc.club
---
Estfly guided fishing trips

Estfly is the first and most experienced

fishing guide in Estonia. In 2007, we

sat by the fire on a bank of our

favourite trout river and decided that

we would like to share our favourite

and secret spots with other fishermen

and Estfly was born. Before that there

were very few foreigners who had

fished the Estonian trout rivers and

Estonia was unknown in the world of

fly fishing. Estonia is still off the beaten

track for travelling fly fisherman, but

the ones who have been here have

had very memorable fishing days and

some well-travelled fly fishermen have

even said that Estonia might be one of

the best spots in Europe for catching

wild trophy brown trout.

All our fishing trips, whether it is for a

day or for a week are custom made

based on our clients wishes and our

guides' field-knowledge. Our fishing

guides are expert anglers and have

extensive experience with our brown

trout rivers. We spend most of the

days at the river side, and always pick

the fishing spots which currently work

the best. For preparation of the trip we

ask about the type of water our client

likes to fish, is it easy fishing or hike to

an unmolested wilderness, quantity or

trophy hunting and based on this

knowledge we plan the trip.

Most of our clients arrive to Estonia by

plane. We meet our clients at the

airport and take them to a cosy

countryside hotel near the fishing

waters. Every fisherman will have a

nice and clean room, can have a hot

sauna after the fishing day, and enjoy

a barbecue in the backyard after a

good fishing trip.

Restaurant of this hotel is serving

traditional Estonian meals and those

meals have been very valued by our

guests. Accommodation is budgetfriendly,

situated in the peaceful

countryside, and located a maximum

of 30 minutes from our favourite

fishing spots.

If needed, we will provide necessary

fly fishing gear and suitable flies. Also,

our guided trips include all required

fishing licenses. There are three types

of fishing licenses that trout

fisherman need to know for fishing

in Estonia. First is the general

fishing license which covers most

of Estonian water bodies. It is very

cheap and it is possible to buy this

online. Current cost for a week is 3

euros. Extra license is needed for

middle-Estonia trout rivers, which

is 6 euros for a day. Last but not

least is a salmon and sea trout

rivers license, which is needed for

the rivers and stretches where

these two species are spawning.

This license is 9 euros a day.

Although it is called salmon and sea

trout license, it is also needed when

fishing for brown trout from these

rivers. Foreigners can buy these two

licenses from the post office.

Currently online booking for these two

isn't available.

During the fishing days, our guides

take our guests to our favourite spots

and share all their knowledge from

finding the fish, how to approach the

fish, how to do a perfect presentation

and what flies to use. For novice

anglers, we are happy to give casting

lessons and give casting instructions

throughout the trip. Beautiful fish

caught by our client is always our best

reward.

Guest editorial by Vahur Mäe, ESTONIA © 2020 all photos www.estfly.com

www.fftc.club

27
---
ARGENTINAC orrientes

Golden Fly Fishing Lodge

A bucketlist

experience

A unique fishing trip in untamed clear

waters featuring gourmet food,

personalized service by family

owners, in a cozy and welcoming

lodge with rustic-elegant interiors.

Come face to face with the Tiger of the

River, surrounded by Golden waves

as you set the hook, a Golden Dorado

with a scowl on his face angry as hell,

will suddenly jump three feet in the air

showing his teeth before diving back

into the river, busting your reel with his

aggression.

Take the challenge. What are you

waiting for?

The Golden Fly Fishing Lodge is

located in Corrientes on the best

clear water section of the

upper Paraná River, home to

record size Golden Dorados.

28 contact@fftc.club
---
Colonial-Estancia style

fishing lodge

Guests are welcomed into a private

and friendly atmosphere at our

colonial-estancia style lodge that lays

on the pristine Upper Parana River,

dense with mature, regional trees.

As a true Italian-Argentinean family,

we're devoted to good cuisine. We

offer 4-course meals featuring

international and regional specialties,

such as our famed beef and traditional

Asado (BBQ), prepared by a Personal

Chef for each group of anglers, paired

with fine Argentine wines from the

renowned Mendoza region.

The building offers 4 cozy and unique

style rooms, with private bath & airconditioner,

a salon decorated with

wood furniture and a fireplace

creating a friendly atmosphere where

fishing stories come to life. Our lodge

provides on-site Fly Shop and Flytying

table, dining room and outdoor

barbecue facing the garden where

Howler Monkeys and Tucans enjoy

eating flowers and fruits from mature

trees.

www.fftc.club

29
---
ARGENTINA

30 contact@fftc.club
---
www.fftc.club

31
---
ARGENTINA

32 contact@fftc.club

www.fftc.club

13
---
The

T

iger of the river

www.fftc.club

33
---
ARGENTINA

The Rio Paraná

Grand Slam

Challenge the three most coveted

and voracious species of Argentina

and achieve the freshwater Grand

Slam: Golden Dorado, Pirá Pytá

and Pacú. You can also expect to

catch several other sporty species.

The Tiger of the River

Golden Dorado

This is the most exciting freshwater

species in South America. It has

Tarpon-like tendencies and is

known for its aggressive strikes,

finger-burning runs, acrobatic

fights, and overall beauty.

34 contact@fftc.club

The Elusive Species

PACÚ

This treasured species is as difficult

to find and catch as the saltwater

Permit. Found only from December

to April, it's a highly coveted fish by

serious anglers who seek to

complete the Golden Fly Fishing

Grand Slam.

The River Salmon

PIRÁ PYTÁ

With Bonefish-like speed, this

freshwater fish is known for its lineripping

runs and fierce fighting. It is

undoubtedly one of the most

exquisite fishing experiences that

our region offers and requires the

your utmost focus and precision

casting dry flies.
---
Golden Fly Fishing is a family business built by two brothers born on the

banks of the High Paraná River in Argentina.

Trip extensions & Ecotours

Jurassic Lake Patagonia

Jurassic Lake & Golden Fly Fishing merged to bring to you the best combined fishing

trip in Argentina, the beauty of biggest trouts in the world with the most pristine fishing

for the beast Golden Dorado.

Iberá Natural Reserve

The planet's greatest freshwater wetland

One of the most fascinating regions for wildlife safari enthusiasts and for lovers of

virgin nature. This wetland of more than 3 million acres comprises swamps, marshes

and lagoons holding an abundance wildlife, including caimans, capybaras, big otters,

anacondas, swamp deers, approximately 1,600 variety of plants and more tan 350

bird species.

SEASON

September to May (excl. November)

FFTC Member Contact

RATES

Paraná Grand Slam (7 nights/ 6 days

fishing):

USD 3.950 in double base occupancy

Upgrade single room 500 USD / week

Upgrade single room and boat 50%

surcharge

Half week (5 nights/ 4 days fishing):

USD 2.895 in double base occupancy

Combo: Paraná Grand Slam + full

week Jurassik Lake, Patagonia:

USD 9.720 in double base occupancy

Upgrade single room 700 USD / week

We help you to plan your trip - just contact us!

We appreciate to help you to make your

dreams come true.

Golden Fly Fishing Lodge

Botta Brothers

Phone: +54 9 (3624) 76 9014

(within ARGENTINA)

FFTC Member Advantage

10 % OFF the regular rates

Phone: +001 (702) 5 GOLDEN

(USA only)

E-mail: info@goldenflyfishing.com

35
---
USA

A

laska

Alaska Trophy Adventures Lodge

Fly-Fishing in Alaska is more than just a sport or

passion - it's a way of life.

36 contact@fftc.club
---
Once you have been bitten by the bug,

you're "hooked". So beware – fish the

Alagnak River at your own peril,

because once you've been there,

once will never be enough. This is

attested to by our many clients that

come back every year to get their "fix"!

A stay at ATA Lodge provides you with

one of the most remote and stunningly

beautiful locations on the planet to

experience the very best of what

Alaska Fly Fishing has to offer.

Whether it be the sensation of a

35+lbs King Salmon pushing a double

handed rod to its limits or seeing a 26-

inch rainbow trout rise to crush a

mouse pattern tied the previous

evening or just the feeling that no one

has ever fished these beautiful waters

before;

it has to be said that fishing on the

Alagnak River is something very

special. It brings us back to the reason

we started fishing in the first place

when we were children. For the sheer

joy of it! For the thrill of a tight line, and

the sound of a reel's drag screaming!

"We are home to what is

one of the largest runs of

all five species of pacific

salmon to be found in the

same river anywhere in

the world."

www.fftc.club

37
---
USA

ATA is situated on the remote banks of

Alaska's first ever designated Wild

and Scenic River. Our location on the

Alagnak Wild River makes ATA Lodge

the perfect wilderness fishing retreat.

Boasting a world-famous run of all five

species of pacific salmon, the Alagnak

is also home to a host of resident fish

as well, such as leopard rainbow trout,

arctic char and grayling.

38 contact@fftc.club

This prestigious river is located within

the Katmai National Park, with its

headwaters in the surrounding

mountains and flowing into Bristol

Bay.

It is also famously known as "The

Branch River" for its seemingly

endless braids, where 10 miles of river

can easily contain 30 miles of fishable

waters. With such exclusive river

access you are sure not to be bothered

by any crowds.
---
www.fftc.club

39
---
USA

For many, Alaska has always been a

dream destination, somewhere they

envision coming to only once in a

lifetime. But once you get up here and

experience all of what we have to

offer, it will be hard to stay away.

There is something about catching a

huge Alaskan rainbow trout or

salmon, surrounded by beauty

beyond compare, that I believe calls

to the deepest part in all of us.

For the indoctrinated who have never

heard of Bristol Bay, you could be

forgiven for not realizing how this

region stands head and shoulders

above the rest. Those "in the know",

have discovered that Bristol Bay,

in Southwest Alaska is hands

down, the best fresh water

salmon and trout fishing on the

planet.

40 contact@fftc.club

The Alagnak River

This prestigious river is located within

Katmai National Park, with its

headwaters in the surrounding

mountains and draining into Bristol

Bay. It is also known as the Branch

River, for its seemingly endless

braided river channels. Wading and

fishing are made easy on the many

small natural islands and gravel bars,

which the river flow creates. The

Alagnak has world-famous runs of

all five species of Pacific salmon,

and is home to a host of resident fish,

such as leopard rainbow trout, arctic

char and grayling, lake trout and pike.

The Nonvianuk River

The Nonvianuk River runs 11-miles

from its mouth at Nonvianuk Lake to

where it meets the Kukaklek River to

form the Alagnak. The Nonvianuk river

is mostly class 2 technical water, with

many bolder gardens and shallow

sections.
---
The Kukaklek River

Flowing out of Kukaklek Lake the river

runs 19-miles through mostly fast

flowing technical water until it reaches

the confluence and joins with the

Nonvianuk river to form the Alagnak.

The Kukaklek is well known for its

short section of narrow, class 3 rapids

contained by steep canyon walls.

What is less known is that a section of

this rapids creates a small waterfall

with an easily accessible, natural

overlook which is perfect for viewing

feeding bears in the height of the

salmon run.

SEASON

June to September

RATES

Loding & Guiding Rates available for:

7 Nights stay / 6 days guided fishing

for USD 5.750

Camping & Guiding Rates available for:

7 Nights stay / 6 days guided fishing

for USD 3.495

Cabins:

Comfortable heated riverfront cabin

with access to toilet and hot showers

only a few steps away from your cabin

door, or en-suite toilet and hot

showers.

FFTC Member Advantage

10 % OFF the regular rates

www.fftc.club

41
---
USA

FFTC Member Contact

We help you to plan your trip - just contact us!

We appreciate to help you to make your

dreams come true.

42

Alaska Trophy Adventures Lodge

phone contacts

Wayne McGee (McGee Family)

phone: 001 877 801 2289

phone: 001 907 519 6820

phone: 044 7775 602 424

Email: atalodge.wayne@gmail.com
---
Special Gift - The FFTC GIFT VOUCHER for Fly Fishers

"A small gift with a great value for every traveling Fly

Fisher"...

If you are searching for a really special gift for a fly

fishing buddy or family member - here it is!

C A R T O O N

© 2020 FFTC.club

www.fftc.club

43
---
BRAZIL

B

razil

Amazon Roosevelt Lodge

A Fine Lodge On The Rio

Roosevelt

The Amazon Roosevelt Lodge is

located just upriver on the Rio

Roosevelt where it flows into the

Rio Aripuanã.

It is constructed totally from

sustainable timber and natural

resources. There are eight private

rooms that can sleep up to three

anglers.

44 contact@fftc.club

Easy to get to from the city of Manaus,

the gateway to the mighty Amazon

and its tributaries, in the State of

Amazonas, this very comfortable

lodge offers great meals, has friendly

staff and top service, and being on the

river itself, is really close to the action!
---
The Fishing

Fly fishing is a wonderful way to

search out many species with

amazing results. Most of the fastwater

species like Bicuda and Payara will rip

line off your reel at a blistering pace

and stripping gloves must be worn to

avoid cuts and burns. Peacock Bass

congregating around the rocky

islands and banks of the river will

attack flies with abandon.

We can also target the huge Pirarucú /

Arapaima in the lake systems on

cutbait or large lures and flies.

In the Semauma Falls an hour's boat

ride above the lodge, the Payara

action is spectacular and these

big sabre-toothed silver missiles can

be caught on flies.

This incredibly beautiful area is

studded with boulders and rock

gardens with many braids, rapids and

falls.

Anglers can also try for some huge

Piraracú/Arapaima in one of the lakes

on flies, but these fish are shy and very

difficult to catch here.

"A great jungle adventure is awaiting

you. Spectacular catches and the

untouched jungle surrounding match

every adventurous soul."

www.fftc.club

45
---
BRAZIL

46 contact@fftc.club
---
SEASON

June to November

FFTC Member Contact

RATES

Weekly program (7 nights in lodge,/ 1

night in hotel / 6 1/2 days fishing):

USD 3.990 per angler

• Included: Pick up and transfer to hotel

and overnight, return flights

Manaus/Apuí, car transfer to river

and boat to lodge, all food and

standard beverages while at

lodge and while fishing, daily

laundry, 6 1/2 days guided fishing

based on double occupancy.

• Not Included: International and internal

flights to and from Manaus except as

stated above, any extra hotel stays,

transfers other than stated above, visas,

meals and drinks while not at lodge, any

tips, hard liquor, wine.

FFTC Member Advantage

5 % OFF the regular rates

We help you to plan your trip - just contact us!

We appreciate to help you to make your

dreams come true.

WORLDWIDE FISHING ADVENTURES

LIMITED

Suite 205A

Saffrey Squarem Bank Lane & Bay

Street

P.O. Box N-4244, Nassau, Bahamas

EU & rest of the world: +351 917812328

US and Canada toll free: 1 866 920 2814

email: info@amazon-angler.com

47
---
INTERVIEW

nterview

I21 questions

to Benjamin Beale

Owner of El Encuentro Fly Fishing, Lodge

and Brook Trout Base Camp, Chubut, Argentina

1. In which country where you born and where did

you grow up?

"I was born in the small town of Esquel, Chubut, Argentina and raised

on the banks of the Rio Grande/Futaleufu, where all my family enjoyed

the outdoors and Fly fishing as the family activity."

2. When did you start fishing? (please also mention

the type of fishing you started with…)

"I started fly fishing at the age of eight and has been fishing passionately

ever since. I always watched my grandfather and father head off fishing,

and I would beg to be invited out with them!"

3. Do you remember your first catch?

"No, I don't remember it. But I do remember when I was very young

around 8 years old, a day out on the Futaleufu river where I caught over

20 fish that day. After that day I was hooked with fly fishing for life,

obviously the next day I went out again and it wasn't as productive.

That's all you need, an outstanding day of fishing to fall in love with the

sport."

48 contact@fftc.club
---
The Beale Family - from left to right: Michael Beale (dad), Benjamin, Cecilia, Tomas,

Antonia, Nicolas and Jane (mum).

4. Who taught you how to fish?

"My grandfather, my father and I also learned a lot from anglers that

visited us from all over the worlds in the days that social media and

communications were not at the tip of your fingers as they are

today, I was very lucky to guide renowned anglers that just by

sitting on the same boat one would learn a lot!"

5. When did you start guiding?

"I started guiding at the age of 15, taking fishing longtime guests

of the Lodge that were like family and were up to fish with me. It

wasn't until I was 18 years old when I became a certified fishing

guide."

6. Do you remember your first guiding

experience? (Where was it and who was your first

guest / from which country he/ she was?)

"Mr. and Mrs. Fout from Virginia, US were the two first guests that

were brave enough to go fishing with me. They used to come for

over three weeks of holidays staying at El Encuentro Lodge, so

they were truly like family."

www.fftc.club

49
---
INTERVIEW

with Benjamin Beale

7. When did you start to manage the El Encuentro Fly

Fishing?

"I took over the reins of the family business in 2012. I remember it

was a year after the Chaiten Volcano in Chile had erupted and we

had had a couple of years were not many anglers were visiting the

area."

8. What is the philosophy of El Encuentro Fly Fishing?

"With decades hosting anglers, El Encuentro knows that a

memorable experience goes well beyond the catching of fish. It's

the friendships that develop with you and your guide, your lodge

hosts, and our staff that stay with you long after you have returned

home. Our team understands this and works hard to nurture an

amazing experience for you, every step of the way – including the

delicious meals artfully created with fresh ingredients from our

kitchen garden, your guide sharing local history as you drive to a

new fishing spot, and that it's ok when the fish seem to outsmart

you on every cast...

50 contact@fftc.club
---
...Once you choose to come with El Encuentro, we are always

proud to consider you a new friend, with an enduring friendship

that goes beyond our days together in Patagonia."

9. How do you select a new fishing guide?

"For El Encuentro the team of guides is one of our strengths and

it is very important. We understand that our guests will be spending

most of the day with our guides so at the moment of adding new

guides to the team we seek in them more than just a good

fisherman. Apart from being passionate about this sport they need

to be able to provide a fun and entertained day sharing their

knowledge about our area, culture, flora and fauna all while

catching fish.

Our guides are career professionals, dedicated to the sport,

constantly raising the bar of knowledge and technique in

Patagonia Fly Fishing. They love nothing more than to share their

skill and expertise with visiting anglers. They are all hard workers

and speak English very well."

10. How do you select a cook for your lodge kitchen?

"Pinky, EEFF Chef, loves cooking professionally, and has truly

found his passion working with El Encuentro's big family and

getting to reconnect with our returning guests over the years. He

has been working at EEFF for six seasons now, and each one

brings new challenges and new recipes to showcase Argentine

cuisine.

At El Encuentro Flyfishing we take great pride in our culinary

program. "Farm to Table" isn't just a trendy hashtag for us, it's a

necessity, a way of life handed down from generation to

generation, rich in Argentine tradition. Our head chef, Pinky, and

his team craft exceptional meals featuring fresh ingredients from

our own expansive organic gardens and orchards, as well as

locally sourced organic meats from neighboring estancias. Wether

dining at our home lodge overlooking the blue green waters of the

Rio Futaleufú, or at our remote Brook Trout Base Camp on the

banks of the Rio Corcovado, you are sure to experience a true taste

of Patagonia! ...

www.fftc.club

51
---
INTERVIEW

El Encuentro Lodge on Rio Futaleufu

EEFF proudly grow most of the organic vegetables in the one-acre

kitchen garden and serve eggs from their own chickens. Lamb,

beef and other products are locally sourced from family and local

markets. Breads are baked daily at the lodge. Not to be forgotten,

superb Argentine wines are served at lunch and dinner, even when

you have lunch on the riverside. Guests are treated to a traditional

Patagonian "asado" (barbecue) with the family and all the guides

– a most memorable dining experience!"

11. Beside the beautiful country Argentina, which

other countries have you visited for fly fishing

trips?

"I have been very lucky to have fished in many other countries and

locations. That is one of the great benefits of this activity. My

brothers and I try to take a year trip all together to fish for all the

famous species that are great value for fly fishing. We try to

combine saltwater and freshwater trips and this has taken us to

different countries around the world such as: Alaska, Canada,

Mexico, diverent spots in the United States, Cuba, Brazil, Belize,

Chile, New Zealand, Great Britain among others."

12. The north of Argentina is also known for Golden

Dorados - what is your personal experience with this

great sport fish?

"The northeast of Argentina, among other provinces, offers some

of the best Dorado fly fishing experiences. Dorado fish is one of the

few at the top of my list of species to catch with a fly. I try to get up

to the northeast as often as I can as Dorados is a beautiful fish that

puts up an amazing fight and they are addictive."

52 contact@fftc.club
---
13. What was the most memorable moment in your

fishing career?

"As a lodge owner and a Flyfisher for me the most reward I get from

fly fishing is sharing the dinner table with guests/anglers after a

great day of stories and experiences."

14. What do you think about the "catch of the

lifetime" - have you already done it or are you still

waiting for it?

"The more you get out there, the more chances to get a catch of

a lifetime. I don't want to brag but I feel that I am very lucky, and

I have caught many fish of a lifetime. Nevertheless, there is always

one more cast to do with the hope to catch the big fish of the pool."

15. What country is still on your bucket list and why

you wanna go there?

"One of my favorite species to catch on a fly is the Atlantic salmon

so countries such as Iceland, Norway, Scotland are at the top of

my bucket list to go after this species. Also, coming from a part of

the world where winters are very long but with beautiful summers

and great trout fishing, for me a good family vacation is to visit

Central America and go after saltwater species such as tarpon,

permit, bonefish all combined with beautiful beaches."

16. How would you describe a memorable fishing

day?

"To me a memorable fishing day starts the evening before, the

excitement of preparing the gear and equipment already sets the

expectations for the following day. To me a great day of fishing is

having the opportunity, while enjoying with friends, to try different

techniques and chase different species throughout the day. It's

also nice to know that the big fish could happen at any cast.

Nothing compares to beginning a day of fishing in new and

unknown waters."

www.fftc.club

53
---
INTERVIEW

with Benjamin Beale

17. Do you tie flies? (what patterns you prefer / to tie /

to fish)

"Although I can tie flies and I have done it a lot in the past these days

it's hard for me to find the time and the patience to tie my own flies.

I would have to be honest and say that most of my flies I buy from

great tiers that can do a much better job than me. I don't mind tying

the one or two patterns of which I am running short and I know that

are working. But just to fill in the gaps!"

18. What is your preferred fly fishing method?

(wading, drift boat, rafting, river or lake fishing)

"I have to say that I love them all. I like the possibility to identify what

is working well and use the right technique at the right time in the

right place. I do have a small inclination to stripping streamers to

big fish."

19. Do you find enough time to go fishing yourself?

"Yes, there is always time to get some fishing done. It's hard to take

a whole day of fishing unless one is on vacation but slipping out to

the water regularly for one or two hours of fishing in the area we live

is very easy."

54 contact@fftc.club
---
20. Do you like saltwater fly fishing and if so, what is

your personal experience with this?

"Saltwater fishing is also great! I love the contrast to freshwater

fishing, and I try to go once a year at least. I love the strength and

size that fish get to in the sea and catching them on a fly is truly a

battle. If one analyzes that most saltwater fishing is also on a

beautiful setting with sandy beaches, hot weather and beautiful

sea."

21. The COVID-19 pandemic effects the world and

last but not least the travel industry. How you handle

this challenges and what actions will be taken for the

upcoming season?

"It is our focus to implement procedures that ensure the safety,

health, and well-being of both our employees and our customers.

This is a fluid situation requiring an adaptable plan, and we will be

updating these procedures as the season and situation

unfolds. Our Goals are basically to:

-Ensure the health and safety of our employees and customers

-Implement procedures that prevent and minimize the

transmission of Covid-19

-Comply with federal, state, and various government agency

mandates

We continue to wait for official communication from the

government to know when the borders will be reopened and what

the travel restrictions will be. At this point, we find it hard to think

of welcoming all our friends during November and December due

to the strict traveling measures taken in regards to COVID19. At El

Encuentro we are fine, carrying out a subsistence economy and

committed to be ready for our friends when it is safe to travel

again."

please note after the interview we get updated: the season 2020/21 is cancelled!

AD-FFTC:

..Benjamin, thank you! Take care of you and your

loved ones. I hope we will meet again in Argentina

and we will spent one more time on the water and

beside.

www.fftc.club

55
---
Advertisement

SPINNING RODS

FLY RODS

REELS

FLY LINES

LODGES

www.zpey.com
---
We live in lodges by river banks

We have two Zpey Lodges; one in Norway by Todalselva (Toåa)

and one in Denmark by Skjern River.

Our lodge in Skjern is located less than 400 meters from the river bank

and it is also here, we have our head office.

Zpeylodge Toåa

Zpeylodge Toåa

Zpeylodge Skjern River

Zpeylodge Skjern River
---
RUSSIA

KIcha River Camp

amchatka

Kamchatka - the wild peninsula

of volcanoes, geysers and -

fantastic (fly) fishing!

Kamchatka is located in eastern

Russia, is slightly larger than

Germany, but has just over 300,000

inhabitants, two thirds of whom live in

the capital Petropavlovsk.

In terms of tourism, Kamchatka is

best known for its unregulated and

overwhelming nature.

Every year tourists travel to the

peninsula for the Kamchatka

volcanoes (more than 160, 29 of

which are still active) or its geysers

of the Dolina Geiserow valley.

Similar to the Kola Peninsula,

Kamchatka has only been accessible

to tourists since the Cold War. And

analogous to the Kola Peninsula in

northwestern Russia, the fish stocks

on Kamchatka were able to develop

undisturbed.

58 contact@fftc.club
---
www.fftc.club

59
---
RUSSIA

60 contact@fftc.club
---
www.fftc.club

61
---
RUSSIA

62 contact@fftc.club
---
www.fftc.club 61 63
---
RUSSIA

More than 12000 rivers (!) meander

through the peninsula, and represent

a fishing paradise for fishermen who

are after salmonids. Rivers,

landscapes, and climate are very

similar to that of Alaska, but far fewer

guests are fishing here.

STATIONARY CAMP

The rustic and comfortable Icha River

Camp is idyllically located directly on

the Icha River, surrounded by forest. It

is far from the nearest civilization and

can accommodate up to 18 guests.

The guests sleep in wooden cabins.

The cabins have electric heaters and

some have river views.

The camp also has a heated drying

room for waders, toilets, sauna and

showers with heated water. Breakfast

and dinner are taken in a separate hut.

At lunchtime, the guides prepare

meals right on the river.

ICHA River

Guests fish exclusively on 50km

stretch of the Icha River in the

spectacular landscape of Kamchatka

(25km upstream and 25km downstream

from the camp).

The river has its source at Icha

volcano and then flows wildly and

unregulated towards the sea, has

crystal clear water and is perfect for fly

fishing. The riverbed consists

mostly of fine gravel, so the river is

easy to wade.

64 contact@fftc.club
---
Target Species

The target fish species are 6 Pacific salmon species (king salmon, silver salmon,

sockeye salmon, dog salmon, humpback salmon and endemic and only to be

found here on the west coast of Kamchatka: the cherry salmon), wild rainbow trout,

arctic char, Dolly Varden char and Kundjas (a species of char also endemic in

Kamchatka ).

The main target fish in July are king axis (chinook) and rainbow trout. The water level

is mostly high, two-handed rods up to class 9 and sinking lines are usually fished.

August offers the best chance for a particularly large number of fish species.

Rainbow trout, char and salmon are in the river. The water level is usually much

lower, you fish with single-handed rods of classes 8-9 with floating lines and sinking

tips.

In September it is already significantly cooler, the main target fish are now rainbow

trout, Kundjas and silver salmon (Cohos). The water level is still low, the same

device is used as in August. The forests are turning into wonderful autumn colors.

FFTC Member Contact

SEASON

Season is from 15th of July to 15th of

October - prime time is July-September

RATES

9 nights / 6,5 days fishing - special

promotion rate EUR 3.190

FFTC Member Advantage

2,5 % OFF the regular rates

We help you to plan your trip - just contact us!

We appreciate to help you to make your

dreams come true.

pukka destinations

Owner Carsten Dogs

Nernstweg 5

22765 Hamburg / GERMANY

phone: +49 1778086466

email: info@pukka-destinations.com

web: www.pukka-destinations.com

65
---
AFRICA

N

amibia

Ichingo Chobe River Lodge

EXPERIENCE FISHING, GAME

VIEWING, BIRDING AND MORE

ON THE BANKS OF THE CHOBE

RIVER AT ICHINGO CHOBE RIVER

LODGE

The scenic Chobe River region is

world-renowned as one of Africa's

best fly-fishing destinations. And a

stay on one of the three Chobe

Princesses or at Ichingo Chobe

River Lodge is the best way to

experience it. Catch everything

from African pike, tilapia, catfish

and yellowfish to the legendary

Tigerfish on your unforgettable

river safari.

Ichingo Chobe River Lodge offers

the ideal location to experience all

that the Chobe has to offer with the

added benefit of being on the

Namibian side of the river. Quieter,

more secluded and personalised

the lodge is ideal for families,

couples or groups.

Our eight large air-conditioned

Meru safari tents give you all the

excitement of a safari adventure in

Africa each with an en-suite

bathroom and private balcony.

There is also one family tent

available which is a main tent with a

connecting smaller children's tent

to offer parents peace of mind.

The lounge, bar and open air-dining

room set above the flowing waters

of the Chobe River provide the

ultimate in comfort allowing you to

completely unwind and enjoy the

sights and sounds of a true African

river safari experience.

Nestled on Impalila Island in

Namibia, Ichingo Chobe River

Lodge is a tented lodge surrounded

by breathtaking scenery, abundant

wildlife, birdlife and ideal fishing

conditions.

66 contact@fftc.club
---
Ichingo Chobe River Lodge

features eight large air-conditioned

Meru safari tents set on a secluded

island beneath a riverine canopy on

the banks of the Chobe River. Step

out on to your own private balcony

to listen to the rapids, relax on your

sumptuous bed and then head to

the dining room or bar for

something delicious to eat or drink.

Ichingo Chobe River Lodge is also

perfect for families and welcomes

children of all ages.

Ichingo Chobe River Lodge offers a

2 or 3 night itinerary which includes

a variety of activities for you to

experience during your stay. These

include game viewing by boat along

the banks of the Chobe National

Park, an excursion through the

beautiful Kasai Channel to see the

mighty Zambezi River and a guided

walk on Impalila Island to visit our

famous ancient Baobab tree.

Fishing for the legendary Tigerfish

is also a great activity option.

Because of its unique geographic

location, the game viewing and

birdwatching in and around Ichingo

Chobe River Lodge is second to

none. Plus, you can get up close

and personal with the wildlife as

you glide towards them silently on

the tender boats.

www.fftc.club

67
---
AFRICA

The lodge's location is particularly

well known for its high quality

fishing in over 100kms of the Chobe

and Zambezi Rivers, where you can

hook a tiger fish, bream and several

other fresh water species.

At the same time, because you're in

a tent you won't lose that feeling of

being in the thick of the African

bush, as you listen to the sounds of

the Chobe River flowing past you

and the call of fish eagles in the

distance.

Our safari tents are all airconditioned,

so you get welcome

respite from the African heat which

means you can truly relax and

unwind. Our bathrooms have all

been renovated with new floors,

vanities, shower heads and taps so

you don't have to miss out on

modern luxuries while you're on

safari.

Experience all the

chobe has to offer

Ichingo Chobe River Lodge offers a

variety of activities for you to

experience during your stay which

guests can select upon check-in. A

vehicle based game drive in the

Chobe National Park on the day of

departure is also included in the

itinerary.

Activities On Offer

Elephant Bay Guided Game

Viewing is an evening tender boat

activity into the Chobe National

Park and Caprivi Wetland areas, to

the aptly named Elephant Bay. This

natural harbour is away from the

very busy river sections and allows

you to enjoy the magnificent Chobe

Sunset with the possibility of

watching elephants playing and

swimming in the Chobe River.

68 contact@fftc.club
---
Zambezi River Excursion is an

absolute must. The Kasai Channel

is a small, beautiful waterway that is

filled with a huge variety of birds, the

occasional hippo and wonderful

views of the Caprivi floodplains. It

meanders from the Chobe River,

ending at the majestic Zambezi

River which is an iconic African

river.

Guided Fishing (catch and release

basis) in over 100kms of the Chobe

and Zambezi Rivers for tiger fish,

bream and several other fresh

water species. The tiger fish is

Africas great river sport fish and

provides thrilling fun for those

looking for an adrenaline surge. It is

also a great excuse to spend a few

hours peacefully on the waterways

watching the birds, hippos and

crocs at play. All fishing equipment

(conventional and fly), bait and

fishing licences are supplied.

Guided Walks on Impalila

Island give you an insight into the

life of local inhabitants, introduce

you to the stark beauty of the area

and amaze you with the enormity of

the Baobab trees. The end point of

the walk is to an ancient (over 2000

years old) Baobab tree which the

more energetic can climb to see

where Namibia, Zambia, Botswana

and Zimbabwe meet, and the great

Chobe and Zambezi Rivers

converge. You will then be driven by

vehicle back to the lodge.

www.fftc.club

69
---
AFRICA

The Fishing

The legendary Tigerfish is well known

for being one of the most thrilling

challenges for any fly fisher.

Renowned for their speed and

strength, these ferocious predators

never fail to put up a spectacular fight.

But what exactly does it take to catch

these powerful prey? We spoke to

Jonathan Boulton from Mavungana

Flyfishing, who shared some of the

expert insights he's learned over 25

years of fishing the waters of the great

Chobe River region.

When is the best season for a

Tigerfishing safari?

While it's true that Tigerfish can be

caught throughout the year, I've

found that late May through

September have the best conditions.

The water is clear and starts to warm

up just after winter.

70 contact@fftc.club

As water recedes back off the

floodplains it causes baitfish to be

drawn back into the main channel,

providing the perfect hunting ground

for Tigerfish.

Is there a preferred time of day to go

Tigerfishing?

Absolutely. We call it the Golden Hour,

just before and after sunset and

sunrise. Tigerfish are opportunists

and hunt using the element of surprise

in low light. Tigerfish can hunt their

prey far more effectively in the low

light.

What else do you take into

consideration before planning a trip?

At Mavungana Flyfishing, we only

book trips during a new moon.

Tigerfish struggle to hunt in complete

darkness, so when there's no light

from the moon they're less likely to

catch any prey.
---
In the morning when the sun starts to

rise, they're ravenous and readily

attack anything that looks like prey.

Where are some of the best places to

go Tigerfishing in the Chobe River

region?

It depends on the season, but there

are a few hot spots I've discovered

over the years. In May and June, when

the water levels are high, the main

Zambezi is a very active area for

Tigerfish. I often head upstream for

Golden Pond and Jojo's Village.

Alternatively, in August, the water

levels in the Kasai Channel get very

low, and the mini Barbel run begins.

Barbel hunt in packs and prey on

baitfish hiding beneath the papyrus

reeds. The Tigerfish take the

opportunity to follow the run and feast

on all the leftovers in the Barbels'

wake.

At the same time, water levels just

south of Impalila Island can be very

low, and Tigerfish can concentrate

around rapids south of Ichingo Chobe

River Lodge where the Kasai and

Chobe Rivers meet.

What kind of boats do you use?

You want a lot of deck space to move

around freely when you hook the

Tigerfish. Ichingo Chobe River

Lodge's boats have space for two

anglers on each boat, and plenty of

storage room to keep your gear and

other belongings out of the way.

Lastly, what's one of the most

amazing things you've seen on

your Tigerfishing expeditions?

What always impresses me is just how

savage these fish are. I once landed a

Tigerfish that was cut clean in half by

one of its own kind driven into a

feeding frenzy. They're not known as

the most voracious freshwater fish for

nothing.

...

www.fftc.club

71
---
AFRICA

Combination Options

Zambezi Queen or Chobe Princess

Staying with the Zambezi Queen Collection will be the highlight of your trip to

Africa, whether you stay on one of our four houseboats or at our tented Ichingo

Chobe River Lodge.

Victoria Falls Safari Lodge

Our suggested combination package includes a stay at the award-winning Victoria Falls

Safari Lodge which offers guests an unforgettable experience.

Experience the Big 5

A stay at Hwange Bush Camp ties in perfectly with a stay on board one of the Chobe

Princess houseboats or Ichingo Chobe River Lodge within the Zambezi Queen

Collection.

Special rates on request - it depends on your individual travel plans. We will help you to

organize your stay to explore the beautiful African destinations you wish.

As a guest on the Zambezi Queen, you'll enjoy a truly unique and luxurious river safari

holiday in complete comfort and elegance. We offer two-night and three-night itineraries

that depart every Monday, Wednesday and Friday.

72 contact@fftc.club
---
SEASON

LOW SEASON: December - Februar

HIGH SEASON: March - November

FFTC Member Contact

RATES

Rates are per person sharing. Departs for 2

nights or a 3 night stay.

LOW SEASON: December to Februar

aprox. USD 324 per person per night (sharing)

HIGH SEASON: March to November

aprox. USD 350 per person per night (sharing)

FFTC Member Advantage

5 % OFF the regular rates

The Mantis Collection.

Zambezi Queen Collection.

1st Floor Westlake Lifestyle centre

Westlake, Cape Town

Kirsty Coetzee -Sales Managerkirsty@zqcollection.com

Phone: +27 21 715 2412

51 73
---
MEMBERSHIP FOR FLYFISHERS

It is really easy to become a member in our club.

There is no entry regulations or any committee you have to pass and

every active FFTC Member enjoys the same privileges.

We invite every FlyFisher in the world to be a part of the fastest

growing FlyFisher Community worldwide.

You love to travel for flyfishing - perfect - we do too!

What we are not!

F F T C

FlyFisher Traveller Club

• We are not a travel agency for a FlyFisher

• We are not a poor directory page with tons of links

• We are not a local Club

• We are not a snobbish Club

• We are not a new tackle shop or outfitter

• We are not a new competitor to any local FlyFisher Club, established tackle

shop or specialized travel agency for FlyFishers

• We are not a portal website with blinking advertising banners

What benefits can you expect?

est. 2017

• Unlimited and free access to the FFTC Members Area

• Membership available for 1, 3 or 5 years

• Your personalized Member Card

• Vouchers from 25 USD up to 75 USD of single value exclusively for FFTC

Members from Guides & Destinations all over the world

• Special offers exclusively for FFTC Members up to 15% OFF of the

regular rates

• The FFTC Newsletter

• Exclusive access 'members only' section at FFTC Members Area

74 contact@fftc.club
---
F F T C

FlyFisher Traveller Club

est. 2017

Your Membership contains:

• 1 Year Membership (12 month)

• Unlimited access to the FFTC.club Members Area

• All privileges of FFTC.club Membership

• Membership ends automatically after the chosen period

(valid date on your FFTC Member Card)

• NO subscription with automatical extension of the Membership

USD 59.00 per year

save all advantages

Get a FFTC Membership

www.fftc.club

75
---
Advertisement

Our boxes over the years have not only become

collectors items they have become synonymous

www.richardwheatley.co.uk

FREE ENGRAVING*

*USING CODE FFTC2020FOCENGRAVE Expiry 31/3 2021
---
P

roduct

by

review

Alexander Dachlauer

There is a wide range of

products from different

brands for every single

gear

Some products and brands are wellknown

others are not. You can get the

best idea about the (new) product not

only from personal experience but

also from a detailed product review.

You can find such reviews in editorial

sections of fly fishing magazines or on

YouTube. Most of them are published

shortly after the launch of a new

product, in the very beginning of the

active promotion period. "Long-term"

reviews are seldom and if you find

them, then they will only cover one

year of product use. Of course "longterm"

reviews are often more helpful,

especially in regards to durability of

the product.

First hands-on reviews are often

driven by brand's marketing using

their own product descriptions that

deliver a limited first impression.

Talking about fly rods, you will

definitely find reviews for well-known

brands and their top, mid-price and

beginner rods. But you can rarely

come across reviews for "exotic" or

"specific" rod series, as well as for rod

series from less known brands.

This editorial section

provides you real long-term

product review (at least two

seasons and more). Of

course only for products still

available to buy.

So, what do I use or how I will name it:

my personal long-time experience in

praxis with…

www.fftc.club

77
---
product review

by Alexander Dachlauer

Douglas Outdoors -

Upstream Lightweight 8.8"

4wt - 4 pieces Fly Rod.

Some seasons ago. I participated in a

local dealer fly fishing event in 2017.

This was the first time I got my hands

on this interesting and at that time new

rod series from Douglas Outdoors,

Inc.. This young industry brand was

founded in 2014 and became wellknown

for a wider audience in 2016

thanks to its highly recognized

Douglas Sky rod series. The Douglas

Sky won the legendary 6wt shootout

from Yellowstone Anglers, published

online in 2016. By the way I guess this

is the one and only fly rod and fly reel

test address with nearly scientific

measurements to all criteria.

George Anderson, his son and

rotating staff from Yellowstone

Anglers are always doing an amazing

job during these helpful shootouts.

Everything is done highly professional

with attention to any detail.

But let's get back to the Douglas

Upstream and the fly fishing event I

visited. Of course I paid attention to

these rods weeks before in a window

display because of the eye-catching

tiny slim and in case of the 6 piece rods

very short rod tubes. But on the day of

the event I took one of these models -

the 4wt, 4 pieces 8.8" - to the casting

green for the first time.

There wasn't a fitting reel and line

available so I went to my car and put

my own reel on (Orvis CFO II spooled with a Rio

Gold 4wt line I normally fished on my SAGE SLT, 8.0/4wt).

78
---
I cast all day long with this rod and

then handed it over to other visitors

always keeping an eye on it because

of my own line & reel. The rod always

found its way back to me and I cast it

actively and well concentrated with a

lot of small talk in between just for fun.

At the end of the show, at the time

when I rigged the rod down I

immediately understood that I

wouldn't give it away anymore.

This is when I bought my first Douglas

Outdoors Upstream fly rod. And I do

not regret this spontaneous decision

due to the rod's features.

"I was so impressed from the

first cast on. I really feel the

difference to all other modern

graphite fly rods."

I will of course explain to you, what the

major difference is.

First of all the rod has an incredibly

light weight (1.72 oz / 49 gram) and

the blank gives you such a straight

feedback of every single movement.

"No matter if you accelerate or

slow down your cast. No

matter if you are a beginner or

an expert."

It is a full flex rod with a kind of a

feeling of a traditional bamboo. Or

is it more of the feeling of an old

fiberglass from the 1970th?

This is difficult to answer.

"I guess you will find the soul of

both technologies in this fly rod."

But it is made of the most up-todate

material - graphite.

What makes this rod

so special?

My opinion is that this rod combines

the best of all three worlds of

materials. The full flex of a split-cane

rod. The elastic power and durability

of an old fiberglass rod and finally the

recovering speed and light weight of a

modern graphite fly rod. Simply the

best of all technologies in one single

fly rod model. Normally when it comes

to testing a fly rod everything is about

performance and of course this is an

important criterion. But there is one

often forgotten and simply underrated

criterion - the fun-to-fish factor.

The Douglas Outdoors Upstream

series is not a casting machine for

long distances over 70 feet like other

rods and you won't cast this rod into

the backing line. Certainly not. This is

not what this rod is made for. We

won't compare this rod with top

models like the G-Loomis NRX, or a

Scot Radian, a Hardy Zephrus, Orvis

Helios or any other top-notch rods

from other brands. And not even with

the Sky from Douglas itself, which is

also a high-end top rod. No, of course

we won't compare the Upstream with

this kind of rods and also their price

ranges. All of them are modern fast

action rods. The Upstream rod

slows you down and it is presenting

the fly very, very delicate not only in

closer ranges. More than other midaction

rod series will do. Up to 30 feet

you won't find any other rod doing

this range so easily perfect. You

cast without any effort with an always

helpful, sensitive feedback from the

blank in the most important trout

distance up to 45 feet.

www.fftc.club

79
---
product review

by Alexander Dachlauer

This action is made for extra long

leaders and fine tippets. Everything

is possible because of its sensitivity

and flexibility. You won't even loose a

fish by broken tippets. If you now think

this rod is only made for small streams

to cast only dry flies or light nymphs on

short distances, you will be surprised.

This is definitely not the case.

You can cast nearly everything with

this rod up to slightly bigger and

heavy trout streamers. Open the

loop and you can cast everything

effortless usual for trout fishing with

much fun. Please remember that I'm

talking about the 4wt 8.8 feet rod

model.

The series contains 8 models starting

from 2wt up to 4 wt., 2 piece rods up

to 6 pieces (!!) models made for

travelers, backpackers or urban fly

fishers using public traffic to reach the

down-town fishing spot in the

evening. The rods have an incredibly

light weight starting from 1.13 oz up to

1.72 oz and the pricing is affordable.

For more details please check the

Douglas Outdoors website.

Let's talk about the swing weight,

which is also an important point about

the feeling. Yes, any fast action or stiff

rod offers a different feeling but if you

imagine that this rod feels like a

fiberglass and you get the full-flex

features of a bamboo rod you will be

surprised that the swing-weight of the

Upstream is totally different to these

old materials.

The swing-weight seems to be

covered by the counter-weight of the

reel, and completely eliminated by the

graphite composite, which provides

the high recovery speed and the

overall light weight of the rod. This is

what makes this fly rod series so

unique and so special.

For the perfect balance I personally

choose a Sage 4230 fly reel. By the

way a great looking, large arbor and a

very good sealed trout reel with a high

durability. I'm a friend of in-weight

lines. That means I prefer to use a 4wt

line on a 4wt rod. After a long search in

the mass of fly lines I always end up

using the Rio Gold for trout settings,

which is to be honest a little bit

overweighted from the AFTMA. But I

think that besides SA MPX the Rio

Gold (not the intouch with lower

stretch - the traditional one) is one of

the best all-round fly lines for trout

fishing in the market. We are not

talking about any special use fly lines.

Anyway this SAGE reel balanced my

rod perfectly. The platinum model

also perfectly fits the color of the

traditional down locking reel seat. The

former reel I used, the Orvis CFO, was

also doing this very well but I prefer the

large arbor on fast waters if I use the

rod as my every day rod. In

combination with the right fly line it

is an effortless casting dream.

No matter if you do air or water casts

or mendings. The rod has unexpected

lifting power and you can also reach

impressive distances with roll-casts.

Simply fun to fish.

You enjoy fishing by slowing down

and get the typical direct feeling of

casting a split-cane rod. Every

mending is very easy as it can be like

any other casting action with the rod.

No matter if you hook a small or bigger

fish. You get the feedback directly and

even a 2inch trout is feeling fighting on

this sensitive stick. Pure fun for

casting und catching most any sizes of

fish.

With the Douglas Upstream you get

all these great features combined

in one single modern fly rod series.

80 contact@fftc.club
---
I fished this rod for 4 seasons

now and I have to tell you that

this is the my favorite trout

rod in case of fun-to-fish fact

I ever had cast in my life.

I guess there is no other rod in

the market which combines all

these great features of the three

different worlds of rod materials

in one single rod.

The combination of these

features creates an

unbeatable fun-to-fish rod

series for trouts.

Every single fly fisher, whom I

handed this rod over for some

casts or fishing, was surprised

about this rod feeling and totally

agreed with me that this is the

rod for fun-to-fish.

Everything in regular troutdistances

goes very easy,

delicate and accurate. Starting

from tiny, tiny dry flies up to

heavy trout streamers. The

casting makes always fun.

The durability, flexibility and the

recovery speed of the blank is

unmatched. Please feel free to

get your hands on it and maybe

you will also get afire with this

rod series like I did.

In the same year I bought a

second Douglas Outdoors

Upstream Lightweight.

A 8.0 feet 2wt rod for smaller

spring creeks in the alps.

At the end of the last season

I caught a 22 inch hard fighting

Rainbow trout with my 4wt

Upstream fly rod. There was no

problem to handle this proper

fish in the middle of a fast

current in my home river ISAR in

the front of the Bavarian Alps.

www.fftc.club

81
---
product review

by Alexander Dachlauer

At the end I want you to know that I do not get paid for this article. Douglas

Outdoors has no advertisements in this magazine. This is my own opinion and

experience with this fantastic little fly rod. By the way one more subjective opinion.

I love the traditional design of the rod and downlocking reel seat made completely of cork

and the very outstanding color of the blank. It's something I will call light olive. Matched

great with the sage and yellow color of the Rio Gold. So, your eyes won't get nervous.

Anyway looks great.

All craftsmanship including the transparent wraps around the rings are done very

accurately. The rod comes with a pretty cool and remarkable tiny diameter aluminium rod

tube and a branded rod sock in green with separate spaces for each rod section. In 4

seasons I never had to reset rod sections. Everything sits perfect after a long day

of casting and catching fish. A great package with a lifetime warranty for original

owners for an affordable price for an outstanding rod series. And please don't forget:

Fun-to-fish is unpayable.

Product review written by Alexander Dachlauer, Lake Starnberg, DE © 2017-2020 all photos of this product

review done by Alexander Dachlauer on normal fishing siutations. No extra photo-shooting.

82 contact@fftc.club
---
JUNGLE BLUES BOOK

The Best Fly Fishing

Book in Years

Advertisement

Is called "Jungle Blues" and

it's written by Stu Tripney,

I've read the book, and I

think it's some of the most

compelling "adventure

angling" writing out there—

and that's been my bailiwick

for years.

Angling trade magazine -

May19/2019

KIRK DEETER- EDITOR

"I tried to ask the shopkeeper what the fish was called and he

tore the corner off a cardboard box and wrote in English, 'Pla

Chado' – the giant snake-headed fish."

From his rural home in the South Island of New Zealand, selfprofessed

fly-fishing geek Stu Tripney designs flies and runs the

New Zealand Fly Fishing School. But every now and then, a fish

swims into his dreams …

Jungle Blues is Stu's first

travel memoir, recounting his

strange adventures while

living in the jungles of

Malaysia. A story about the

environment, human nature

and strange friends, this

hilarious tale will appeal to

anyone who loves the thrill of

travel and adventure.

Shop NOW

10% discount

with #jungleblues code.
---
AUSTRALIA

A

ustralia

Ningaloo Reef

The Ningaloo Reef - Sight Fishing

at it´s Best

The map of Australia shows a

peninsula extending northward from

its northwest corner.

This approximately 75 mile long

peninsula is known as the North West

Cape and is home to the town of

Exmouth and the Ningaloo Reef.

The spectacularly clear waters of the

Indian Ocean lap upon the shoreline

of this isolated and remote outback

desert coastline.

The rich marine life here has recently

made this area a popular tourism

destination. Indeed, the marine life of

the Ningaloo Reef is becoming world

famous and, in our experience, is only

rivaled by the Seychelles pristine

atolls of Alphonse and St. Francois.

Coincidently, an equally outstanding

shallow water fishery has been

discovered headlined by Indo-Pacific

Permit, Bonefish, Giant Trevally, and

Golden Trevally.

84 contact@fftc.club
---
www.fftc.club 71 85
---
AUSTRALIA

86 contact@fftc.club
---
www.fftc.club

87
---
AUSTRALIA

This fishery has two distinctly

different aspects.

On the western coast of the cape, are

the crystal clear, tourquiose waters of

the Indian Ocean and the Ningaloo

Reef. On the eastern side, is the

Exmouth Gulf, a totally different

marine environment. The waters on

both sides of the cape provide an

outstanding number of shallow water,

sight casting opportunities. It's

always a good idea to split the days

fishing equally between both sides of

the cape.

How to get there?

Overall, itinerary planning for

Australia is a personalized process

because of the options, budgetary

considerations, and different

approaches.

It depends where you coming from. If

you come from Europe or USA or from

Australia itself, and if you like to make

a trip combination of a couple holiday

with a stop over at the Fiji Islands or

fishing only.

A trip to Australia Ningaloo Reef is

also a great combo tie-in with NZ.

Both in same part of the world so you

maximize your travel time

and budget.

If you have the time, you can combine

the world class trophy trout stalking in

NZ crystalline streams and rivers with

some of the best saltwater fishing on

the planet. It's a good idea to spend

time in NZ in combination on your

personal trip.

A couple's itinerary is for the Ningaloo

Reef also attractive because of the

maritime non-fishing activities.

Accommodations range varies. For

example the Exmouth Beach Resort.

The Ningaloo Reef offers a worldclass

saltwater fishery and is every

trip worth!

88 contact@fftc.club
---
The

E

xmouth

Beach Resort

FFTC Member Contact

Fly Fishing Adventures

Don Muelrath

Phone: 888-347-4896

001-707-254-8684 (outside USA)

Fax: 001-707-255-3812

E-mail: flyfish@napanet.net

FFTC Member Advantage

2,5 % OFF the regular rates

89
---
BAHAMAS

B

ahamas

Crooked Island and Acklins

With nearly 50000 acres of flats, the islands of the Bahamas have the

largest bonefishing area in the world.

These great fish, often sizeable, thrive on the nutrients produced by one of the richest

environments of our planet, the flats and mangrove areas are irrigated on a daily basis

by the rich waters of the Atlantic and the Gulf of Mexico, flowing along and between the

700 islands and 2500 cays.

90 contact@fftc.club
---
www.fftc.club

77 91
---
BAHAMAS

78 92 contact@fftc.club
---
www.fftc.club

93
---
BAHAMAS

80 78 94 contact@fftc.club
---
www.fftc.club

81 95
---
BAHAMAS

The Target Species

BONEFISH

It's our bread- and butter fish, found

on almost every flat in the area and

fished for from a boat or simply

wading the hard-bottomed flats and

lagoons. The average size will be in

the 3- to 4-pound range, yet bigger

specimen of 5- to 7- lbs are caught

regularly. Double-digit fish are a

possibility, the island record being a

17,6 lbs whopper!!

Fly fishing opportunities are endless.

Besides busy New Providence and its

capital Nassau and Grand Bahama

Island, the Out Islands as they are also

called, are only sparsely populated.

You will discover two islands that are

probably among the most pristine and

least known, Crooked Island and Acklins.

These two islands form a vast atoll with a

circumference of just over 140 miles.

Located in the southeastern portion of

the Bahamas, the "Bight of Acklins" and

its huge lagoon are encompassed by

Crooked Island, Acklins and Long Cay,

totaling some 108 square miles! The

islands are located less than 60 miles

from the Haitian and Cuban coastlines,

respectively… Crooked Island with its

280 inhabitants is quite, "out of the way"

and tranquil place.

TARPON

While the Bahmas are not a tarpon

destination per se, we do have a

population of resident fish, in baby

sizes of 10 to 30 lbs, all year long,

while some areas will have migratory

fish in larger sizes from 40 to 100

pounds, notably in the turtle sound

lagoon from may to october.

Nature is particularly pristine and

beautiful. On many occasions will you be

able to spot pink flamingos on the flats.

Landing at Crooked Island is a superb

and impressive experience, as the water

depth of the huge lagoon does not

exceed 10 feet so the vistas are truly

breathtaking.

80 78 96 contact@fftc.club
---
TRIGGERFISH

Sometimes called the "poor man's permit", they remain a very interesting species to

fish for with fly tackle: the triggerfish are wary yet will readily eat a bonefish shrimp or

a small crab fly while tailing on the flats. They are a great catch and definitely great

practice for permit fishing!

BARRACUDA

Barracuda are numerous on the flats and often big. We advise our customers to always

keep a 10-weight rod rigged up and ready in the boat. 'cudas can also be caught with

spin gear on stick baits or poppers.

JACKS

We have several interesting, hard-fighting jack subspecies at hand to keep fly and spin

anglers happy; horse eye jacks, yellow jacks, bar jacks as well as pompano will keep

light tackle anglers amused.

SHARKS

Sharks might not be on everyone's list yet they are superb fighters on fly and spin

tackle. You will find a very health shark population, ranging from smaller species (20

lbs) to huge monsters (several hundred pounds) in and around the lagoon and we will

organize specialized shark-fishing trips upon request. Tigers, lemons, silkies,

hammerheads, gray reef sharks… everything is possible!

www.fftc.club

97
---
BAHAMAS

The Lodge

Located right on a white sandy beach, the

Crooked Island and Acklins Trophy

Lodge is very nice and comfortable. Run

by a very friendly couple, the lodge has 5

large air-conditioned double rooms with

bathroom and bath tub, sitting area,

refrigerator, Wifi, dresser, chest, etc…

Meals will be taken at the bar/restaurant

where cold beers will welcome thirsty

anglers, returning from the flats. Food is

varied with local specialties like a very

tasty conch salad. It is a small, quiet and

private lodge, away from large scale

tourism. No crowds will be encountered

at this superb atoll!

Once you leave Nassau, you will soon be

landing at our vast atoll which is over 140

miles in diameter. You may not realize it,

but you have just discovered a very

remote location that is largely isolated,

time-forgotten and magnificent.

Just to give you an idea about its size:

you could fit the better part of all of

Cuba's shallow-water fishing areas

into the lagoon. All this but without the

same amount of fishing pressure!

Miles after square mile of pristine

sand or coral flats, surrounded by

crystal clear waters which are some of

the clearest in world.

The 280 inhabitants of Crooked Island

live in only two or three tranquil and

peaceful villages, typical for the area.

Three consecutive cars following

each other on the road are considered

a traffic jam here!

The lodge gives access to a large part

of the vast lagoon where colonies of

pink flamingos are breeding in

season.

80 78 98 contact@fftc.club
---
RATES

One week shared skiff, guide and

room: USD 3,490

Single angler per boat: USD 1,500

supplement

SEASON

This saltwater destination can be visited all year

round; High season is from November to August.

FFTC Member Advantage

2,5 % OFF the regular rates

FFTC Member Contact

The lodge gives access to a large part of

the vast lagoon where colonies of pink

flamingos are breeding in season. Many

areas are a snorkeler's heaven; beachgoers

will fall in love with the fine sand and

many a coral cave is waiting to be

discovered in the hills. There are quite a

few blue holes in the lagoon, some of

which are connected to the open ocean,

miles away!

We help you to plan your trip - just contact us!

We appreciate to help you to make your

dreams come true.

pukka destinations

Owner Carsten Dogs

Nernstweg 5

22765 Hamburg / GERMANY

phone: +49 1778086466

email: info@pukka-destinations.com

web: www.pukka-destinations.com

99
---
MEXICO

exico

Punta Allen Fishing Club

MFly Fishing in the world-famous Ascension Bay

100 contact@fftc.club
---
www.fftc.club

101
---
MEXICO

102 contact@fftc.club
---
Punta Allen Fishing Club is located about 50m from the beach.

"Mi casa es tu casa" is lived here par excellence and leads to a cozy atmosphere with a high

feel-good factor. It has 5 rooms for guests and a large lounge where there is a bar and

where guests have their meals.

The managers themselves are avid saltwater fly fishermen, the lodge serves

multicultural cuisine (including Mexican specialties).

From November to March the lodge can accommodate 8 guests (3 double and 2

single), from April to July for 10 guests (3DZ, 2EZ and a suite with space for 2 fishermen

or one family).

Two anglers share a guide and a boat (panga); The Pangas are about 6m long, but

despite their size they are very well suited for fly fishing from the boat. In front there is

a big casting platform for the angler. All boats have reliable engines, coolers, rod

holders, etc. on board. The first flats are accessible about 10 minutes from the lodge.

Naturally, wading opportunities also exist.

www.fftc.club

103
---
MEXICO

104 contact@fftc.club
---
The Pangas are about 6m long

www.fftc.club

105
---
MEXICO

106

SEASON

The season is year-round (except August-

October). Permit, Bonefish, and Tarpon as

well as Snook, Jacks, Barracudas, Ladyfish

and Snapper are catching throughout the

season.

RATES

4 nights / 3 days fishing - shared guide

and room: USD 1.980

7 nights / 6 days fishing - shared guide

and room: USD 3.480

FFTC Member Advantage

2,5 % OFF the regular rates

FFTC Member Contact

We help you to plan your trip - just contact us!

We appreciate to help you to make your

dreams come true.

pukka destinations

Owner Carsten Dogs

Nernstweg 5

22765 Hamburg / GERMANY

phone: +49 1778086466

email: info@pukka-destinations.com

web: www.pukka-destinations.com
---
VIDEOTHEK

selected & written by Alexander Dachlauer

F

The healing power of Fly Fishing

ly fishing life

"Common Lines" - a short film from Jonathan Conti & Chad Case

There is no doubt about it. Fly fishing is more than a sport. This short film

shows us a great example of the healing power of fly fishing. Fly fishing connects

people in a unique way. My guide Julian from my trip to Patagonia in 2019 said

a remarkable thing to me: Fly Fishing makes friends! And of course this is

absolutely true!

Please take your time to watch this great short movie about different aspects of

fly fishing in the beautiful scenery of USA, Montana. By the way, Jon (one of

the film makers) told me in July 2020 that he met Jake (the marine from the film)

only one week ago in Boise, Idaho - he is still fishing and stays well. These are

the good stories of life.

www.fftc.club

107
---
VIDEOTHEK

stonia

EEstfly Guiding Service

pain

SRio Tormes

108 contact@fftc.club
---
VIDEOTHEK

C orrientes

Golden Fly Fishing Lodge

laska

AAlaska Trophy Adventures Lodge

www.fftc.club

109
---
VIDEOTHEK

B

razil

Amazon Roosevelt Lodge

KIcha River Camp

amchatka

110 contact@fftc.club
---
VIDEOTHEK

N

amibia

Ichingo Chobe River Lodge

A

ustralia

Ningaloo Reef

www.fftc.club

111
---
VIDEOTHEK

B

ahamas

Crooked Island and Acklins

M

exico

Punta Allen Fishing Club

112 contact@fftc.club
---
Members only - service

We keep working on the content of our FFTC members area

and additional service portfolio. Our goal is to get you

inspired for your next fly fishing trip. But after you made your

choice, you need to organize your travel to the destination

you chose.

We offer a great full service solution that allows you to

book domestic or international flights including additional

hotels before and after your fishing holidays - rental cars and

latest we added a booking engine for FERRIES as well. All

important travel options in one place. No need to leave the

FFTC members area.

smart applications for

direct booking

FLIGHTS | HOTELS | RENTAL CARS | FERRIES
---
F F T C . c l u b

e s t . 2 0 1 7

T h e F l y F i s h e r T r a v e l l e r C l u b - w o r l d w i d e

Get inspired for your next trip!

DISCOVER INTERACTIVE

℗© all rights reserved by FFTC.club - copyright 2020!

© photograph AD - Patagonia, Argentina - 2019!

p o w e r e d

a n d a n t e m e d i a D I G I T A L E N T E R T A I N M E N T C L G

b y