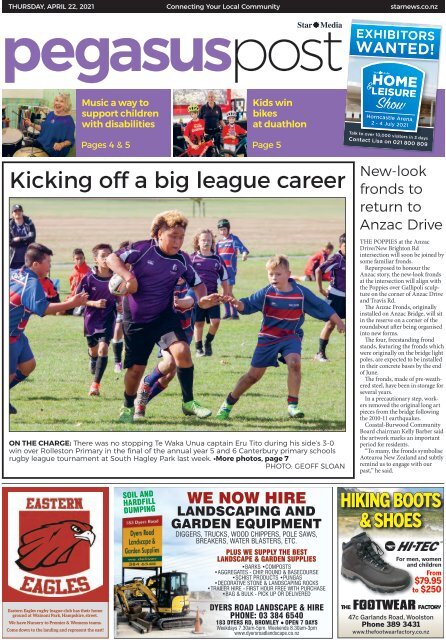 Pegasus Post: April 22, 2021
Create successful ePaper yourself
Turn your PDF publications into a flip-book with our unique Google optimized e-Paper software.
THURSDAY, APRIL 22, 2021

Connecting Your Local Community

starnews.co.nz

Music a way to

support children

with disabilities

Kids win

bikes

at duathlon

Pages 4 & 5 Page 5

Talk to over 10,000 visitors in 3 days

Contact Lisa on 021 800 809

Kicking off a big league career

ON THE CHARGE: There was no stopping Te Waka Unua captain Eru Tito during his side's 3-0

win over Rolleston Primary in the final of the annual year 5 and 6 Canterbury primary schools

rugby league tournament at South Hagley Park last week. •More photos, page 7

PHOTO: GEOFF SLOAN

New-look

fronds to

return to

Anzac Drive

THE POPPIES at the Anzac

Drive/New Brighton Rd

intersection will soon be joined by

some familiar fronds.

Repurposed to honour the

Anzac story, the new-look fronds

at the intersection will align with

the Poppies over Gallipoli sculpture

on the corner of Anzac Drive

and Travis Rd.

The Anzac Fronds, originally

installed on Anzac Bridge, will sit

in the reserve on a corner of the

roundabout after being organised

into new forms.

The four, freestanding frond

stands, featuring the fronds which

were originally on the bridge light

poles, are expected to be installed

in their concrete bases by the end

of June.

The fronds, made of pre-weathered

steel, have been in storage for

several years.

In a precautionary step, workers

removed the original long art

pieces from the bridge following

the 2010-11 earthquakes.

Coastal-Burwood Community

Board chairman Kelly Barber said

the artwork marks an important

period for residents.

"To many, the fronds symbolise

Aotearoa New Zealand and subtly

remind us to engage with our

past," he said.

Eastern Eagles rugby league club has their home

ground at Wainoni Park, Hampshire, street.

We have Nursery to Premier & Womens teams.

Come down to the landing and represent the east!

SOIL AND

HARDFILL

DUMPING

WE NOW HIRE

LANDSCAPING AND

GARDEN EQUIPMENT

DIGGERS, TRUCKS, WOOD CHIPPERS, POLE SAWS,

BREAKERS, WATER BLASTERS, ETC.

PLUS WE SUPPLY THE BEST

LANDSCAPE & GARDEN SUPPLIES

•BARKS •COMPOSTS

•AGGREGATES - CHIP, ROUND & BASECOURSE

•SCHIST PRODUCTS •PUNGAS

•DECORATIVE STONE & LANDSCAPING ROCKS

•TRAILER HIRE - FIRST HOUR FREE WITH PURCHASE

•BAG & BULK - PICK UP OR DELIVERED

DYERS ROAD LANDSCAPE & HIRE

PHONE: 03 384 6540

183 DYERS RD, BROMLEY ● OPEN 7 DAYS

Weekdays 7.30am-5pm. Weekends 8.30am-3pm

www.dyersroadlandscape.co.nz

HIKING BOOTS

& SHOES

For men, women

and children

From

$79.95

to $250

47c Garlands Road, Woolston

Phone 389 3431

www.thefootwearfactory.co.nz
---
2

Thursday April 22 2021

GENERAL INQUIRIES Ph 379 7100

CLASSIFIED ADVERTISING Ph 379 1100

Star Media, a division of Allied Press Ltd

PO Box 1467, Christchurch

starmedia.kiwi

NEWS

Bea Gooding

Ph: 021 911 576

bea.gooding@starmedia.kiwi

ADVERTISING

Frank Greenslade

Ph: 364 7441

frank.greenslade@starmedia.kiwi

Your local community news

delivered to 17,598 homes

within The Star each week.

Linwood • Avonside • Richmond • Shirley • Bexley

Burwood • Dallington • Wainoni • Bromley

Aranui • Avondale • New Brighton • Northshore

Queenspark • Parklands • South Brighton

what's on

this week

Autumn Bunting

Thursday, Friday, Saturday, Sunday,

Tuesday, Wednesday, All Day

Shirley Library

Jazz up your space – go along and

create a string of paper leaves made

from recycled materials. Add notes

and photos to brighten up your

room. Suitable for teenagers. Free, no

bookings required.

Kawhe & Kōrero

Thursday, 10-11am

New Brighton Library

Build your confidence in te reo

Māori skills with other fellow

learners. Free, no booking required.

SeniorNet

Thursday, Tuesday, Wednesday,

10am-noon

202 Marine Pde, New Brighton

Go along and learn how to use

modern technology. Bookings

required. Phone 382 6048 to register.

New Brighton Seed and Bulb

Swap

Thursday-Wednesday, 9am-6pm

New Brighton Library

Take your spare seed or bulbs to the

library and swap them for something

new for your garden. All welcome,

even if you have no seeds to share.

SAYGo Falls Prevention

Exercise Class

Friday, 10-11am

New Brighton Library

Steady As You Go (SAYGo) is

an exercise class designed to help

Latest Canterbury news at starnews.co.nz

Rise Above by Beth Moore, Thursday to Wednesday, All Day, New

Brighton Library Recently retired occupational therapist Beth Moore shares

her joy of painting with a collection of acrylic on canvas and paintings on

silk. ​

older people reduce their likelihood

of having a fall. Free, no bookings

required but places are limited.

Phone Age Concern on 366 0903.

JP Clinic

Friday, noon-2pm, at Parklands,

Tuesday, 10am-1pm, at Shirley

Parklands and Shirley libraries

A justice of the peace will be

available to witness signatures

and documents, certify document

copies, hear oaths, declarations,

affidavits or affirmations, as well

as sign citizenship or rates rebates

applications.

Rotary Market

Sunday, 8.30am-12.30pm

Woolston Club, 43 Hargood St

A variety of stalls will be available,

including fresh produce, jams and

preserves, and recycled clothing,

books and tools. Every fine Sunday,

with all proceeds supporting the local

PEGASUS POST

community. For site inquiries, phone

Vance at 022 382 0086.

North Beach Bridge Club

Wednesday, 1-4pm

St Andrews Anglican Church,

Marriott's Rd, North New Brighton

Go along and join other friendly

members of the bridge club, who

meet every Wednesday. Phone

Margaret Keall at 382 0274.

South Brighton Voices Choir

Wednesday, 7.30-9.30pm

New Brighton Methodist Church

If you love singing, go along

and join the friendly choir each

Wednesday. New members,

especially tenors and basses, are

welcome. Reading music is helpful,

but not essential. Phone 388 3727 for

more information.

Not-for-profit organisations can

send their What's On listings to

pegasus@starmedia.kiwi

ATTENTION BUSINESS OWNERS

Do you sell products that are eco-friendly or sustainable?

You could feature in the Eco-

Zone at the 2021 Star Media

Home and Leisure Show this

July and reach over 10,000

attendees across 3 days!

Beeswax Wraps • Reusable Products • Natural Cleaners • Skincare &

Make-Up Organics • Compost • Upcycled Furniture • Recyclable Products

If this sounds like you,

contact Lisa now on 021 800 809 or email lisa.lynch@starmedia.kiwi for a no obligation quote.

Payment options available. Terms & Conditions apply.
---
PEGASUS POST Latest Canterbury news at starnews.co.nz

Thursday April 22 2021 3

Public speaking trophy for Marian College

ACHIEVEMENT: Archbishop Paul Martin with Marian

College students who took out the top spot at a public

speaking competition across the Canterbury diocese. ​

MARIAN COLLEGE has

won the Bishop Lyons' Shield

Competition for 2021.

The annual competition was

held at St Thomas' College with

teams from the seven Catholic

secondary schools in the Canterbury

diocese competing in

public speaking events for the

coveted title.

While the Marian College

team had taken out some

early points including second

in impromptu speech, third in

the junior prepared speech and

first in senior prepared speech, it

wasn't until the final events that

the students realised they might

just win the competition.

"We were in fourth place most

of the weekend, and then when

Valelia Taaso won the scripture

reading, suddenly we moved into

the top spot. It was then we realised,

if our religious questions

team got a placing, we would win

the shield," student Taylor Fasi-

Fidow said.

"We felt the pressure going

into that," Amy Williamson,

who was part of the religious

questions team said.

The religious questions participants

had studied hard over

the past month, learning about

interreligious dialogue which

they say ignited a renewed passion

for their faith and a fresh

perspective of what it means to

be Catholic in 2021.

"We prayed, a lot, going

into the competition," student

Malaika Sequeira said.

"Praying just gave us this

oN sAle Now!

sense of calm as we went out to

compete."

The team won the religious

questions competition, and the

Bishop Lyons' Shield became

Marian College's once again.

This is the fith time Marian

College has taken out the shield

since the competition's inception

in 1945.

While the win was a great

achievement, the Bishop Lyons'

team insist it wasn't what they

went there for.

"Going into the competition,

we weren't thinking 'we want to

win this,' we were just excited

to meet other Catholic students

who share our faith, and we

spent most of the weekend cheering

other teams on," Amy said.

"It was so great just meeting

other students and because it was

a public speaking competition,

no one was particularly shy and

we found it really easy to mix

and mingle with everyone."

"What made this different to

other competitions where you're

in it to win it, is the fact that we

really felt like we came to know

the other competitors – it was

like getting a little glimpse into

each other's lives particularly

through the speech competitions,"

she said.

Amy Regenvanu, who was

part of the debate team, said the

experience has brought the participants

closer together in their

own friendships.

"Even within ourselves, we

were really cheering each other

on as we knew how much effort

we had each put into preparing

for our events. As a team, we

really were so positive and supportive

and we celebrated our

wins. We've become so much

closer."

Scripture reader Valelia Taaso

said the camaraderie between

the schools was overwhelming.

"When I finished doing the

scripture reading, the girls came

up and sung a waiata. Then when

the results were announced,

Whaea and Taylor a performed

a haka and some others from

other schools joined in, including

my cousin who was MC for

St Thomas'. I was just speechless.

It was very emotional."

For several of the team members,

participating in Bishop

Lyons was extra special as they

had mothers and siblings who

had also previously competed in

the competition.

"It's cool we now become part

of that history."

Final results for Marian College

First – senior prepared speech:

Taylor Fasi-Fidow

Religious questions: Malaika

Sequeira, Amy Williamson, Danielle

McKenzie

Scripture reading: Valelia Taaso

Second – impromptu speech:

Madeline Kriigsman

Third: junior prepared speech –

Ellen Scott.

join the flight

Linwood Keas welcomes all

players & their whanau to play for

our club this year.

We offer teams in the following

grades: Nursery, 6, 7, 8, 9, 10, 11,

12, 13, 14, 16, 18, premier, reserves,

womens and masters.

Find us on Facebook: LinwoodKeasRLFC

Now only

$35.80

Plus $5 P&H per copy

AvAilAble from stAr mediA:

Level One, 359 Lincoln Road

Addington, Christchurch

Phone 379 7100

Give your trees

the care they

deserve

Free no-obligation quote.

Work from large tree

removals to fruit tree pruning

and hedge trimming

by an experienced arborist.

●INSURED ●QUALIFIED

●PROFESSIONAL

Special Branch Tree Care

PH 021 062 4463

david@specialbranchtreecare.co.nz

www.specialbranchtreecare.co.nz

Sign up to a contract today for

Special fixed LPG gas prices,

12 months free rental

and Flybuys!

Call us today to find out more!

0800 4 ELGAS 0800 435 427

New Zealand

Hon Poto WILLIAMS

MP for Christchurch East

For information and advice:

P 03 382 0288

E poto.williams.mp@parliament.govt.nz

Electorate office:

Level 1, Eastgate Shopping Centre.

Authorised by Poto Williams, Parliament Buildings, Wellington
---
4

Thursday April 22 2021

Latest Canterbury news at starnews.co.nz

PEGASUS POST

Musical therapy a way to support children

IN HER NEARLY three-decade

tenure as a musical therapist,

Julie Wylie reckons she's

witnessed a miracle every single

day.

Music plays an integral part of

life at the Champion Centre in

Burwood – a non-profit organisation

providing early intervention

for babies and children with

disabilities, or born prematurely.

Looking back, she has seen

a child sing their first words,

take their first steps, and even

helped a four-year-old boy on the

autistic spectrum find his voice

through music.

But after 28 years, it is time for

Wylie to pass over the conductors'

baton.

"Every child I've met has

taught me so much. It's not about

their limitations, but about how

children can fly musically," she

said.

"When you allow them to find

their voice and let them be the

leader, they take you on the most

miraculous journey."

The centre supports children

and their families with disabilities

or whose developmental

progress is at risk through its

early intervention programme at

Burwood Hospital.

Children with Down's

syndrome and other genetic disorders,

cerebral palsy, epilepsy,

IN SYNC: After nearly three decades, it's time for Champion Centre musical play therapist

Julie Wylie to hand over the conductor's baton.

PHOTO: GEOFF SLOAN

developmental dyspraxia, autism

spectrum disorder or brain injuries

were usually referred to the

centre by paediatricians.

During the 1990s, Wylie and

the centre's speech-language

therapists studied how music

affected the brain and the wellbeing

of child and parent.

Neuroscience discoveries

showed elements of music

could be used in specific ways

to promote well-being and

regulation.

Said Wylie: "I started writing

and reflecting after every session,

then I came across an amazing

book on music and the mind and

I thought, 'this is the beginning.'

I could see that music could

bring parent and child into synchronicity."

When a child is in a calm,

regulated space, "then they can

learn."

Music rhythm, melody, tune,

dynamics such as "loud or soft,"

music with a clear beginning,

middle and end, and the harmony

of instruments impacted

systems in the brain.

Depending on how they were

used, they can either contribute

to regulating or deregulating a

child's systems.

"Music that has a steady beat,

close to a resting heart rate, encourages

lower parts of the brain

and the body to come into synch

and produce a feeling of calm,"

Wylie said.

Wylie referred to herself as

a conductor, not the leader.

Parents were the leaders as they

could carry on the music at

home.

And ever since music was

introduced to the Champion

Centre, children and parents

have flourished.

ATTENTION

BUSINESS OWNERS

Do you sell products or services that

enhance outdoor spaces?

You could feature in the Innovative Outdoor Living Area

at the 2021 Star Media Home and Leisure Show this July

and reach over 10,000 attendees across 3 days!

Louvre System • Bbqs • Heating • Hammocks

Trampolines • Spas • Pools • Decking Pizza Ovens • Shade

Systems • Water Features • Outdoor Furniture • Fencing

Read local

If this sounds like you,

contact Lisa now on 021 800 809 or email lisa.

lynch@starmedia.kiwi for a no obligation quote.

Payment options available. Terms & Conditions apply.
---
PEGASUS POST Latest Canterbury news at starnews.co.nz

Thursday April 22 2021 5

with disabilities

"Looking back, I have probably

seen a miracle every day," she

said.

"There was one little boy on

the autistic spectrum, aged four.

He looked like an angel and

had the most incredible voice.

Nobody was seeing anything

cognitively, but music seemed to

make a remarkable impact on

him.

"This little boy has such strong

musicality. I asked his mother to

play him Mozart and he stood

with his ear to the radio."

A parent could be full of grief,

but "something hilarious" could

happen during the music session.

"The parent then has a good

belly laugh and comments that

they haven't laughed like that

since the baby was born," Wylie

said.

"It's a cathartic experience for

parent and child."

Many graduates of the centre

who once used music as a form of

therapy have gone on to pursue it

either in their careers or through

study.

Graduate Thomas Eves is

now the chief trumpeter at the

Christchurch Symphony Orchestra,

and Jasmine Butcher was

studying music at university, she

said.

"Another boy, Rohan Soper,

aged 17, who was born premature,

has been learning percussion and

has sat an exam through Trinity

College," Wylie said.

"India Neville, now 21, is

studying at a music academy in

Canada."

'I've done everything

I've been asked to and

wanted to do, and now

it's time to bow out.'

– Julie Wylie

Just because Wylie was retiring

from the centre, it did not mean

she was saying goodbye to the

world of music forever.

She will continue to run her

music school, the Julie Wylie

Institute of Musical Play, and

educate the next generation of

therapists through the Postgraduate

Certificate in the Psychology

of Musical Play – a qualification

she developed.

"When I started at the

Champion Centre, I was crying

out, 'please consider music.' Now

wherever I go, people are singing

and using music," she said.

"I've done everything I've been

asked to and wanted to do, and

now it's time to bow out."

THRILL: Toby

Hair and

Francesca Russ

with Garden

City Rotary

duathlon

committee

member, Gavin

Walter after

receiving their

bikes. ​

Big turnout at youth duathlon

THE GARDEN City Rotary

McDonalds Youth Duathlon

was held at South Hagley Park

last Sunday, 1200 seven to

15-year-olds took part in the

24th running of the annual

event.

It is the major fundraiser

for Garden City Rotary,

to support Rotary Youth

programmes and a new

venture – Youth Hub

Christchurch.

It will be built in the city

with a vision to enable all

young people in Otautahi

the opportunity to lead

healthy, safe and valued lives,

fulfilling their potential and

vibrantly contributing to their

community.

Two lucky draw bike

winners were Francesca Russ, 7,

and Toby Hair, 12.

Autumn specials

Mattresses

Domestic & commercial Matting

20%

OFF

20%

OFF

Foam interlocking tiles

20mm thick

was $42.99

NOw $34

99

carpet

Factory

Seconds

Indoor

Carpet

FroM

$15

per mtr

Garage

Carpet

FroM

$25

per mtr

* 2 mtrs wide

para

rubber

Matipo

blenheiM

clarence

Matipo

Sale finishes 2 May 2021

127 Blenheim Road

03 343 9820

www.pararubber.co.nz

No rainchecks. Cash sales only. All items available while stocks last.

OPEN: Monday - Friday 8.30am-5pm, Saturday 9am-4pm & Sunday 10am-4pm
---
6 Thursday April 22 2021

Latest Canterbury news at starnews.co.nz

LEST WE FORGET

ANZAC DAY

SUNDAY APRIL 25, 2021

Remembering our Anzacs

"The darkness, calm and chill of the early morning;

the sound of the single tap of the drum of the parade;

the emotionless faces of the catafalque guard, and

the mournful notes of Last Post sounded by a lone

bugler, combine to give a feeling of deep solemnity. It

is the intensity of the symbolism which contributes to

its powerful impact upon participants; indeed what

underlies its popularity. In a country with few public

rituals, the Dawn Service continues to provide a sense of

occasion as a meaningful ritual of remembrance."

rsa.org.nz

Every year Anzac Day is observed on April 25 by

communities throughout New Zealand and Australia to

remember those who have served and those who lost

their lives in war. The term ANZAC is the acronym for

Australian and New Zealand Army Corps, and was first

used in World War 1. These groups of soldiers back then

were known as 'the Anzacs'.

Anzac commemorations may consist of one or more

ceremonies – one at dawn (timed to coincide with the

initial landings at Gallipoli by Australian troops who were

the first ashore) and/or one later in the morning. The

ceremonies are rich in tradition and generally begin with

a parade of returned servicemen and military personnel

followed by cadets, youth groups and local dignitaries.

War veterans, proudly sporting their medals lead the

Thursday 16th of April

Friday 17th of April

Saturday 18th of April

Wednesday 22nd of April

Thursday 23rd of April

Friday 24th of April

Saturday 25th of April

parade, which leads to a local cenotaph or memorial gate

where the ceremony includes a service with hymns, laying

of wreaths, dedications, prayers and the Last Post played

on a bugle. Morning tea follows and allows people to share

memories and catch up with friends and neighbours.

Anzac Day was first observed by servicemen in 1916 to

mark the anniversary of New Zealand and Australian

soldiers landing on the Gallipoli Peninsula in 1915. It soon

became a day where all New Zealanders and Australians

took time to remember the men and women who

perished in the Great War. In 1921, Anzac Day became an

official holiday and by 1922 it was declared a full public

holiday where shops, banks and hotels remained closed

for the day.

Symbol of remembrance

The red (or Flanders) poppy is a symbol of remembrance

and hope all over the world and, in some countries, is

worn on Armistice Day, however in New Zealand the red

poppy is commonly worn on Anzac Day. The first Poppy

Day appeal was on April 24 in 1922, where funds from

the sales of small and large silk poppies helped relieve

suffering in war-ravaged northern France. A paper version

of the poppy is now sold by the Royal New Zealand

Returned Services Association on Poppy Day to raise

awareness for Anzac Day and funds for returned soldiers

and their families and local communities.

Proud to support 2021 ANZAC remembrance

PEGASUS POST

ANZAC DAY CEREMONIES

& SERVICES 25 APRIL 2021

Dawn Parade & ANZAC Service

Cranmer Square, Christchurch

6.15am

The Parade March, beginning from the RSA on

Armagh Street to Cranmer Square

6.30am

The Service Ceremony commences, including

a minute silence

Citizens' Service

Transitional Cathedral, Latimer Square

10.00am

Service commences

Guardians of the 19th Battalion and

Armoured Regiment Memorial

8.00am

Next to the memorial stone at the 19th memorial site

in Victoria Park, Christchurch

Papanui RSA

10.00am

1 Harewood Road, Papanui, Christchurch

Banks Peninsula RSA

11.30am

March from Akaroa Fire Station, 49 Beach Road, Akaroa

to Service at Akaroa War Memorial, 80 Rue Lavaud

Sumner/Redcliffs RSA

10.50am

Parade March from corner of Arnold Street and Wakefield

Avenue Sumner to lay a wreath at the RSA War Memorial

Gates, Wakefield Avenue

11.00am

The Commemorative Service begins

'They shall grow not old, as we that are left grow old:

Age shall not weary them, nor the years condemn.

At the going down of the sun and in the morning

We will remember them.'

SOCKBURN ROUNDABOUT

Christchurch City, Rolleston

Christchurch Airport

NEW HEARING CLINIC OPENING SPECIALS

6 Hearing Aid Batteries only $5

MenzMedical 60 Hearing Aid Batteries For $40

The Doctors For Men

www.menzmedical.com

912 Colombo St. Ph: 981 8181

FREE Hearing Aid Clean & Check

Call today at: 03 974 1658

MUSGROVES LTD

Tower Junction, Hornby, Marshland

SHOP 125, THE HUB, HORNBY, CHRISTCHURCH - WWW.HEARAGAIN.CO.NZ

164 Kendal Ave. Ph 358 9399

Bush Inn

Bush Inn

Caltex Hornby

Amazing

Auto

AAE Electric

Premium

Tyres &

AuTo
---
PEGASUS POST Latest Canterbury news at starnews.co.nz

Thursday April 22 2021 7

Waka Unua School from Woolston beat Rolleston Primary

3-0 in the final of the annual year 5 and 6 Canterbury

primary schools rugby league tournament at South Hagley

Park last week.

Hornby Primary edged out St Bernadette's 4-2 to take

third placing .

Canterbury Rugby League development officer Dom Tola

said a number of pupils got their first taste of the sport at the

tournament, which was timed to lead into the club season.

He said it provided a great opportunity for those new to

rugby league to give it a try before deciding whether or not to

sign up with a local club.

Te Waka

Unua captain

Eru Tito and

Pewhairangi

Morgan with

the trophy.

Jaivan

Tuiloma

makes

a strong

midfield run.

WINNERS ARE GRINNERS: The tournament-winning Te Waka Unua rugby

league team.

Atamai Kennedy gets

the back line away.

Mana-Soul Williams finds a gap in the

Rolleston defence. PHOTOS: GEOFF SLOAN

NUMBER ONE SUPPLIER

TO THE NZ JET BOATING

COMMUNITY FOR OVER

50 YEARS

SERVICING

• Part Boats & Hulls

• Turn Key Packages

• New Jet Units

• Custom Fabrication

• Expert Advice

• Spare Parts Retailer

• Jet Unit Refurbishment

• Engine Tune-Ups

• Insurance Repairs

• Impellor Reconditioning

Peter Tonkin

03 962 0505

peter.tonkin@hamiltonjet.nz

Purchase a

shower and

receive FREE

Enduroshield

coating
---
8 Thursday April 22 2021

Latest Canterbury news at starnews.co.nz

continuing education

PEGASUS POST

What will you

learn at the

WEA in Term 2?

Papanui High School

Term 2, 2021 nightclasses

As daylight saving ends and the

evenings become longer why not take

the opportunity to take up a new hobby,

learn a new skill, meet some new people

and have fun at the same time. Come

along to Papanui High School and enrol

in one of our exciting range of Adult and

Community Education Courses beginning

from 10 May.

One of our new courses for Term 2

is an Introductory Course in Modern

Herbalism. This course taught by Rebecca

Barrett will teach students the basics

of plant medicine including common

herbs and essential oils for the health and

wellbeing of yourself and your family.

We also have a wide range of other

courses on offer for Term 2 from

Languages, Woodwork, Dressmaking, Art,

Cooking, Cake Decorating, Yoga, Pilates,

Beekeeping, Ukulele, Photography, English

for Speakers of other Languages, Barista,

Yoga and more. We guarantee you will find

something to appeal regardless of your age

or interests. Most of our classes are held

in the evenings but we have a range of

weekend workshops available in Millinery,

Upholstery, Patchwork, Cheese Making

and Baking using hand raised bread

products.

For further information and enrolment

in these or any of our courses please visit

our website www.papanui.school.nz or

email rpb@papanui.school.nz or telephone

our office on 3520701.

With over 50 events happening in Term

2 at the WEA, there will be something

for everyone, with topics including: arts

and crafts, dance, movement and music,

environment and science, history, language,

literature, philosophy and more.

There are regular groups and clubs,

including Pod-Cast-On, who knit for

babies at NICU and PIPS while listening

to fascinating pod-casts; Craft for a Cause,

making items to support causes and groups

around the city; Book Group, meeting

monthly to discuss an interesting read;

WEA Norwest Branch, meeting every

Friday in Papanui with a varied schedule of

speakers; WEA Outdoor Painting Club who

paint at various locations; and WEA Field

Club, offering monthly trips to encourage

outdoor activity and enjoyment of the

natural environment.

Some highlights this term include Social

Activism – Local and Global, a six-part

course delving into social activism here in

Aotearoa and abroad; All About Eid, an

introduction to the Festival of Eid which

celebrates the end of Ramadan; Afternoon

Tea with Sara Templeton, Councillor

for Heathcote Ward; and The Belief

Continuum – an introductory talk on the

origins of six major religions, what they

have in common and what sets them apart.

Courses are held throughout the week

in daytime, evenings and weekends, with a

strong focus on social and environmental

justice – if it's good for the people and

planet – then it's good for the WEA.

On a busy day we can have up to eight

events happening, with dozens of people

coming and going or sitting chatting with

a cuppa in our sociable kitchen space. Our

community is diverse and includes people

from a variety of cultures and ages, coming

together to learn and share skills and

experience, and make friends. As well as

our central city location we also hold classes

in Lyttelton and New Brighton. Committed

to keeping our prices affordable, we offer

some free talks and workshops each term.

Visit us at www.cwea.org.nz to find out

more. Or drop into the WEA office at

59 Gloucester Street between 9:30am and

3:00pm Monday to Friday.
---
PEGASUS POST Latest Canterbury news at starnews.co.nz

Thursday April 22 2021 9

continuing education

Risingholme's Adult and

Community Education

Courses for Term 2, 2021

Spaces are

limited so enrol

now to avoid

disappointment!

autumn is here and with this term 2 is just

around the corner! now might be a good

time to learn something new!

With the cooler weather upon us have you

considered enrolling in a cooking course? For

Term 2 we are offering a wide range of cooking

courses – Egyptian Cuisine, Indian Cuisine

Beginners, Italian Cuisine and Thai Cooking.

We are also excited to be offering a new

cooking course for Term 2 –

• Simple, Healthy Meals on a Budget.

Over five weeks you will learn how to make

five different healthy, easy, low cost tasty meals

you can cook at home for yourself, family and

friends.

If you have been thinking of extending your

Pattern Drafting skills, we are offering in Term

2 Pattern Drafting and Pattern Manipulation

– Own Project course. This course gives you

the opportunity to start creating your own

designs.

We are expanding our programme by

offering some new and exciting courses from

Term 2 onwards. Topics offered

are varied including a new

cooking course, a range of new

art courses, and a job readiness

course.

Our full range of courses

and their locations can be

viewed on our website

www.risingholme.org.nz

If you have an enquiry, please

do not hesitate to email us at

info@risingholme.org.nz or

telephone the office on 03 332 7359.

Course brochures

are available at the

Risingholme office

and CCC public

libraries.

Adult and Community Education Term 2, 2021

Come learn with us

Risingholme Community Centre offers

a wide range of short courses, each

term, at a range of venues.

Risingholme Community Centre

Art (Creative Art, Mixed Media, Painting with Acrylics, Drawing

& Sketching), Fabric & Craft Skills, Guitar, Pottery, Sewing Skills,

Upholstery, Using your Overlocker, Sewing Retreat, Yoga, Wood

Sculpture, Woodwork, Woodwork for Women, Zentangle, Fermented

Foods, Te Reo Maori, Patchwork and Quilting, NZ Sign Language, Reiki,

Junk Journal, Designing Water Colours, Upcycling Furniture Workshop

Christchurch Girls' High School

Te Reo Maori, Drawing & Sketching, German Language, Painting with

Acrylics, Spanish & Go, NZ Sign Language, Pattern Drafting, Spanish

and Go, Simple Healthy Meals on a Budget

Hornby High School

Te Reo Maori, NZ Sign Language, Thai Cooking

Riccarton High School

Calligraphy, Indian Cuisine For Beginners, Italian Language, NZ Sign

Language, Russian Language, Te Reo Maori, Photography, Egyptian

Cuisine, Italian Cuisine, Sewing Skills

Full details available on www.risingholme.org.nz

Risingholme office at 22 Cholmondeley Ave, Opawa, Chch

Phone 03 332 7359 | Email info@risingholme.org.nz

www.risingholme.org.nz
---
10

Thursday April 22 2021

Latest Canterbury news at starnews.co.nz

PEGASUS POST

ATTENTION

BUSINESS OWNERS

Do your services make homes

warm and cosy?

You could feature in the Cosy Zone at the 2021 Star

Media Home and Leisure Show this July and reach over

10,000 attendees across 3 days!

Central Heating • Diesel Heating • Fires • Curtains

+ Blinds • Underfloor Heating • Double Glazing • Solar

Bedding • Merino • Heat Pumps • Airflow Solutions

If this sounds like you,

contact Lisa now on 021 800 809 or email lisa.

lynch@starmedia.kiwi for a no obligation quote.

Payment options available. Terms & Conditions apply.
---
h tp: /kaywa.me/8aVDQ

my Kaywa Qr-Code

w.valuecarswarehouse.co.nz

h tp: /kaywa.me/8aVDQ

h tp: /kaywa.me/8aVDQ

my Kaywa Qr-Code

w.valuecarswarehouse.co.nz

my Kaywa Qr-Code

w.valuecarswarehouse.co.nz

PEGASUS POST Latest Canterbury news at starnews.co.nz

Thursday April 22 2021 11

Classifieds Contact us today Phone our local team 03 379 1100

Pets and Supplies

Trades & Services

Trades & Services

Discover Christchurch's

best priced pet

accommodation

• Daycare - all breeds

• Boarding

• Long stay/short stay

Call now to book

in your cats &

dogs, inspections

welcome anytime!

aLameDa

kenneLs & cattery

271 Dyers Road

Ph 384 1297 or 0274 587 067

www.alameda.nz

Community Events

ALCOHOLICS

ANONYMOUS, If you

want to have a drink that's

your business. If you want

to stop, we can help. Phone

0800 229-6757

Wanted To Buy

TOOLS Garden,

garage, woodworking,

mechanical, engineering,

sawbenches, lathes, cash

buyer, ph 355-2045

TOOLS Garden,

garage, woodworking,

mechanical, engineering,

sawbenches, lathes, cash

buyer, ph 355-2045

Incorporating

ISSUE 667 | FrIday 20 novEmbEr 2020

See inside for this week's

4WD feature!

Trades & Services

FOR ALL YOUR

★Garden Clean-ups

★Pruning

★Lawn Mowing

★Garden Maintenance

Call us today for a FREE quote

PH 0800 4 546 546

(0800 4 JIMJIM)

free

best motorbuys

www.drivesouth.co.nz

ROOF REPAIRS

Locally owned & operated with

over 30 years experience.

• Extensions & repair • Roof coating

• Concrete & clay tiles • Butynol

• Malthoid • Asbestos Certified

• Coloursteel • Old iron • Guttering

Phone Dave 981 0278

or 021 223 4200

E: dave@beaumontroofing.co.nz

BEAUMONT ROOFING LTD

Trades & Services

BRICKLAYER

George Lockyer. Over

40 years bricklaying

experience. UK trained.

Insurance work, EQC

repairs. Heritage

brickwork & stonework

a speciality. No job too

small. Governers Bay.

Home 329 9344. Cell

027 684 4046. E mail

georgelockyer@xtra.co.nz

CARPET LAYING

Exp. Repairs, uplifting,

relaying, restretching.

Phone John on 0800

003181, 027 240 7416

jflattery@xtra.co.nz

Trades & Services

ELECTRICIAN

Prompt & reliable

registered electrician with

24 years experience for all

residential and commercial

work, new housing and

switch board replacements.

Phone Chris 027 516 0669

GUTTER CLEANING

Gutter cleaning special from

$99 plus gst for a whole

house clean. Free quotes,

call Morgan Thomas today

022 375 8506

VHS VIDEO TAPES

& all camera tapes

converted to DVD or

USB. Video taping

special occasions, www.

grahamsvideo.co.nz ph 03

338-1655

SCRAP METAL

Dominion Trading Co Ltd

• Scrap metal buyers

• Canterbury owned & operated

• Top prices paid $$$

• Open Saturday morning

Open Mon-Fri 8am – 4.30pm Sat. 8.30am-12.30pm

www.happyscrappy.co.nz

03 343 9993 333 Blenheim Rd

WINDOW TINTING

tintawindow

advanced film solutions

99% uv block

fade protection

heat control

reduce glare

25 Years Experience

privacy films

frosting designs

non-darkening films

Workmanship Guaranteed

Lifetime Warranties on Most Films

UV

block

Free Quotes Canterbury and Districts

03 365 3653 0800 368 468

We've got your

ADVERTISE YOUR BUSINESS HERE

Phone for further details

Motoring

(03) 379 1100

Incorporating

One Owner!

2015 IsuZu D-mAX

4WD Ls D/CAb

NZ new, 3.0 intercooled turbo/dsl,

auto, rare flatdeck with ladder/pipe

racks, reverse cam, service history.

$34,995 $192pw

free

Covered!

ISSUE 668 | FrIday 27 novEmbEr 2020

13 sherborne st, edgeware

e biggest range of vehicles

one location!

house Ave | P: (03) 366 7768 | www.valuecarswarehouse.co.nz

.co.nz

2011 Jaguar

XF Premium

$18,999

www.eurofinance.co.nz

See page 4 for more info!

CAR AUDIO

AUDIO VISUAL

Download the Kaywa Qr Code reader (A p Store &Android market) and scan your code!

275 Colombo street, Christchurch

For more see their advert on pages 6 & 7

The biggest range of vehicles

in one location!

2013 Volkswagen

TiguAn TSi

$20,999

CAR SECURITY

CELLULAR

32 Moorhouse Ave | P: (03) 366 7768 | www.valuecarswarehouse.co.nz

454 St asaph Street, 03 378 1818 or 021 480 201

MOBILE INSTALLATION SERVICE

Affordable new parts available for BMW / MERCEDES BENZ

Finance with an edge

See page 5 for more info!

2013 LexuS

LS460 F Sport

Only 79,000kms, black leather

interior, 10x airbags, sunroof,

very smart & very rare.

$39,999 incL

orc

Cell 021 855 884

Incorporating

ISSUE 669 | FrIday 4 dEcEmbEr 2020

See inside for this week's

Classic Car feature!

PH 03 web

REVERSE CAMERAS

RADAR DETECTORS

best motorbuys

For more see their advert on page 31

40 Years Finance

Experience

Cannot be Beaten!

• Talk to us about finance for your next

motor vehicle purchase

• Specialising in Finance for Private Purchases

• Very quick approvals, sensational interest rates

• From no deposit (terms & conditions may apply)

Hiace spares

Cnr Main South Rd and Epsom Rd, Christchurch

Ph: 03 348 4129 | avoncityford.com

Now Available @ NZ Van Spares

Download the Kaywa Qr Code reader (A p Store &Android market) and scan your code!

PARKING SENSORS

AERIALS

0800 212 777

Cell 021 855 884

PH 03 web

DASH CAMERAS

GPS/TRACKING

See our ad on page 2

www.drivesouth.co.nz

40 Years Finance

Experience

Cannot be Beaten!

• Talk to us about finance for your next

motor vehicle purchase

• Specialising in Finance for Private Purchases

• Very quick approvals, sensational interest rates

• From no deposit (terms & conditions may apply)

Hiace spares

Cnr Main South Rd and Epsom Rd, Christchurch

Ph: 03 348 4129 | avoncityford.com

Now Available @ NZ Van Spares

• Cars • Campervans • Caravans • Motorbikes • 4WD's

• You name it, we finance it!

• Phone 0800-888 188 - Stu, David or Mark

See inside for this week's

marine feature!

free

best motorbuys

Cell 021 855 884

PH 03 web

www.drivesouth.co.nz

2.4 auto, alloys, ABS, twin airbags.

2005 toyota rav

$9,990

493 blenheim road, Christchurch For more see their adverts on pages 10 & 11

The biggest range of vehicles

in one location!

2011 Peugeot

3008 Premium

$10,999

32 Moorhouse Ave | P: (03) 366 7768 | www.valuecarswarehouse.co.nz

See page 5 for more info!

Download the Kaywa Qr Code reader (A p Store &Android market) and scan your code!

Hilux spa

Now Available

40 Years Finance

Experience

Cannot be Beaten!

• Talk to us about finance for your next

motor vehicle purchase

• Specialising in Finance for Private Purchases

• Very quick approvals, sensational interest rates

• From no deposit (terms & conditions may apply)

Cnr Main South Rd and Epsom Rd, Christchurch

Ph: 03 348 4129 | avoncityford.com

2.0lt Petrol, 5 Dr Station wagon,

Climate Control, ABS Braking,

Automatic. $34.63pw.

2008 bmW 320i

$10,974 NoW $7,974 + orC

FREE

magazine

out every Friday

at pick up

points near

you!

The South Island's leading motoring

resource, filled with news, reviews

and dealer listings.

From family cars

to work trucks, and

supercars to SUvs.

no matter what

you're looking for,

you can find it all

with drivesouth.

drivesouth.co.nz
---
12 Thursday April 22 2021

Latest Canterbury news at starnews.co.nz

PEGASUS POST

BUY

NOW

2 BEDROOM VILLA WITH GARAGE/CARPORT

472 LINWOOD AVENUE

2020

2019

2018

2017

2016

2015

Linrose Village offers:

• Archer Group are Award winners and finalists as top Villages and

Homes in the South Island – as voted by residents, families and

friends

• Our Linrose Villas all comprise of 2-bedrooms with walk-in garages

• Weekly fees are fixed for life

• Lovely, spacious gardens

• Maximum RVA certification achieved

• Free weekly Wellness Clinics

• Make new friends, feel supported and safe

• We are 100% non-profit & locally owned

• The Archer Village Leisure Centre is used by residents from our 3

sites. It includes an auditorium, cafė-styled lounge, indoor heated

pool and spa, gym and meeting room

• Rest home & dementia care at Thorrington with hospital care

available at Archer Village

• Our full-time care service offers either Standard Rooms with

no additional daily room fee or a Premium Care Suite with

additional daily room fee

For inquiries: Sue (Sales Manager)

M: 021 902 626 W: 03 943 6006

E: sue@archer.org.nz www.archer.org.nz

ONE ONLY!

$349,900