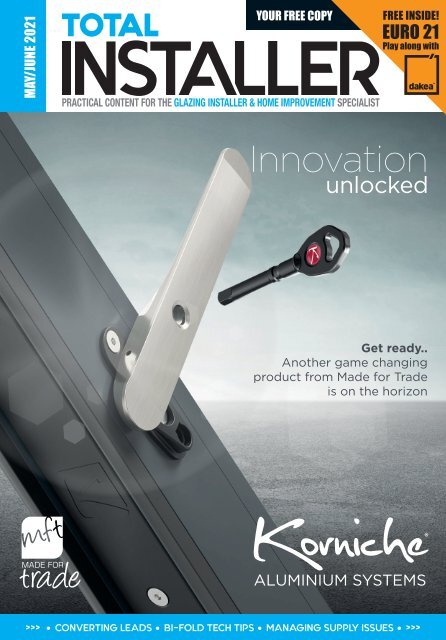 You also want an ePaper? Increase the reach of your titles
YUMPU automatically turns print PDFs into web optimized ePapers that Google loves.
MAY/JUNE 2021

PRACTICAL CONTENT FOR THE GLAZING INSTALLER & HOME IMPROVEMENT SPECIALIST

FREE INSIDE!

EURO 21

Play along with

Innovation

unlocked

Get ready..

Another game changing

product from Made for Trade

is on the horizon

ALUMINIUM SYSTEMS

Total Installer Cover May/June 2021.indd 1 27/04/2021 07:

>>> • CONVERTING LEADS • BI-FOLD TECH TIPS • MANAGING SUPPLY ISSUES • >>>
---
CONTEMPORARY, HIGH-PERFORMANCE BI-FOLDING DOOR

Slim Sightlines PAS24: 2016 Colour-Matched Hardware

Fully Open Corners Modern Square Look Fully Adjustable Jamb

FAST QUOTES, FREE DELIVERY TO SITE

MARKET-BEATING PRICES, ORDER NOW!

Watford: 01923 803 923

London: 020 8889 6821

arkaywindows.com

sales@arkaywindows.com
---
LATEST INNOVATON IN COMPLETELY FRAMELESS ROOFLIGHTS

Flushed-Glazed External l Fully Thermally Broken l Rapid Installation

Frameless Internal Finish l Walk-On Glazing Option l Motorised Opener

FAST QUOTES, FREE DELIVERY TO SITE

MARKET-BEATING PRICES, ORDER NOW!

Watford: 01923 803 923

London: 020 8889 6821

arkaywindows.com

sales@arkaywindows.com
---
NEW

ULTRA SLIM SLIDING DOOR 35MM INTERLOCK

+ Ultra Slim 35mm Interlock

+ U-Values from 1.2 W/m²K

+ Double or Triple Glazing

+ Modern-Square Look

+ Max Transparency

+ Colour-Matched Hardware

+ FAST QUOTES

+ FAST LEAD TIMES

+ FREE DELIVERY TO SITE

+ MARKET-BEATING PRICES

+ ORDER NOW!

Watford: 01923 803 923

London: 020 8889 6821

arkaywindows.com

sales@arkaywindows.com
---
Editor's Comment

SOPHIE STEVENS

EDITOR

SOPHIESTEVENS@MEDIA-NOW.CO.UK

Innovation

unlocked

Get ready..

Another game changing

product from Made for Trade

is on the horizon

With supply chain issues continuing to pose a challenge for the entire

industry, relying on others to ensure promises to customers are fulfilled

can be a great source of frustration.

One supplier who knows the benefits of self-sufficiency only too well, is

Northern-Irish doormaker, Apeer. On page 34 of this issue, the company's

MD, Asa McGillian, says the business has been largely unaffected by local

challenges – on top of those already imposed by Covid-19 – because it

manufactures its own blanks and glass units, using locally-sourced materials

and components from the UK and Ireland. "We have no problems in getting

our completed doors to our customers," insists Asa.

While the efforts of many companies in the sector to uphold lead times and

maintain a good service is evident, unfortunately some suppliers still fail,

and it's the consumer-facing installer who tends to bear the brunt. On page

24 of this issue, Selecta's Andy Green highlights the damaging knock-on

effect on installation businesses. He notes "an increase in installers

wanting to be in control of their own destiny", with 'why wait, when you can

fabricate?' the philosophy.

Elsewhere in this issue, Sternfenster's tech guru, Kev Wallis, kicks off a new

feature with some top tips for installing bi-folds (page 20); Eurocell explains

how you can get in on the garden room boom with a step-by-step installation

guide to its new Kyube range (page 62), and we're also pleased to bring you

our Euro 2021 fixture planner and sweepstake kit, sponsored by Dakea, so

you and your friends can play along with the roof window specialist!

Read on for all of this and much, much more...

I hope you enjoy the issue.

Sophie

ALUMINIUM SYSTEMS

Total Installer Cover May/June 2021.indd 1 27/04/2021 07:10

Cover courtesy of Made For Trade: Read more from Made For Trade

on page 18 and find out more at www.madefortrade.co

FOLLOW US @INSTALLERTOTAL

SIGN UP FOR YOUR REGULAR E-BLAST AT

WWW.TOTAL-INSTALLER.CO.UK

Editorial Director: Matt Downs

DD: 01892 732047

Mob: 07963 330774

Email: mattdowns@media-now.co.uk

Advertising:

Publishing Director: Andy Dunn

DD: 01892 732047

Mob: 07963 330777

Email: andydunn@media-now.co.uk

Commercial Manager: Jake Roxborough

DD: 01892 732047

Mob: 07956 133314

Email: jakeroxborough@media-now.co.uk

The content of Total Installer magazine (and website) does not necessarily reflect the views of the editor or publishers and are

the views of its contributors and advertisers. The digital edition may include hyperlinks to third-party content, advertising, or

websites, provided for the sake of convenience and interest. The publishers accept no legal responsibility for loss arising from

information in this publication and do not endorse any advertising or products available from external sources. No part of this

publication may be reproduced or stored in a retrieval system without the written consent of the publishers. All rights reserved.

Registered office: 1 Forstal Road, Aylesford, Kent, ME20 7AU

Supported by:

find us on facebook

FROM

ONLY

£345

per leaf

Including

delivery

Aluminium Bi-Fold

make the smarter choice

Doors

* Per leaf price is unglazed and may vary depending on size and specification of

the door. Lead time is based on a standard colour. Postcode restrictions apply

*

Quote turnaround

within hours

Up to 1200mm sash

widths

Stock colours:

White, Black, Grey,

Grey on White

Call: 01642 610799

www.madefortrade.co

* Discount applies to new trade customers and first,

single item purchase only of the Korniche Roof Lantern.

NEW

CUSTOMER

10%

DISCOUNT

QUOTE REF:

TI-B01

CONTRACTOR NOW_66x190mm_Bifold 2020.indd 1 17/12/2020 07:29

PRACTICAL CONTENT FOR THE GLAZING INSTALLER & HOME IMPROVEMENT SPECIALIST

MAY/JUNE 2021 TI 3
---
Contents

ISSUE HIGHLIGHTS

34

22 FINISH FIRST

Continuing demand from the retail sector means

increased interest in colour and finish says

systems house Aluplast

34 BUSINESS AS USUAL

From Brexit to Covid, Apeer MD Asa McGillian

tells Total Installer why self-sufficiency pays off

in a turbulent world

48 FIT AND READY?

The FIT Show's organisers offer up their top tips

to optimise your experience ahead of the event's

return to the NEC this September

18

FEATURES

16 FAILURE TO LAUNCH

Origin's Victoria Brocklesby reflects on the Green

Homes Grant scheme, what was promised, and why it

failed to deliver

64

24 TAKING BACK CONTROL

With installers vulnerable to the knock-on effects of

supply chain issues, Selecta Systems' Andy Green

asks: 'Why wait when you can fabricate?'

30 SMARTER OPPORTUNITIES

Kubu's Lauren Bromley, explores the significant sales

opportunities created by doors and windows that are

equipped with smart-sensor technology

40 REPUTATION IS PARAMOUNT

Stephen Nadin of Endurance Doors explains what it

takes to create an 'outstanding' customer experience

62 GARDEN ROOM BOOM

Eurocell outlines the key considerations when installing

its 'Kyube' garden range

72 ONE BATTERY FITS ALL

Makita looks at the benefits of investing in cordless

tools that share a common battery platform

4 T I MAY/JUNE 2021 PRACTICAL CONTENT FOR THE GLAZING INSTALLER & HOME IMPROVEMENT SPECIALIST
---
REGULARS

14 THE BUSINESS

PILOT BAROMETER

Business is booming, but there are challenges on

the horizon according to Neil Cooper-Smith

18 MFT: IN GEAR

Made For Trade's Tommy Fielding is back on

the racing track and he's faster, slimmer and

stronger, just like the Korniche lantern...

20 KEV'S TOP TIPS

Kev Wallis kicks-off his new column with some

advice on fitting bi-folds, and he starts with 'RTFM'

70 XPERT ADVICE

A bad workman blames his tools, but what if those

tools really are to blame? Window Ware ponders...

INDUSTRY NEWS

6 BRING IN THE TROOPS

BOS partners with military transitioning agency to help

bridge the industry skills gap

9 PASS IT ON

Deceuninck's Rob McGlennon urges surcharges to be

passed right down the supply chain to the end-user

SECTIONS:

WINDOWS

22

DOORS

34

GLAZED

EXTENSIONS

52

HOME

IMPROVEMENTS

62

VEHICLES, TOOLS

& WORKWEAR

6

70

PRACTICAL CONTENT FOR THE GLAZING INSTALLER & HOME IMPROVEMENT SPECIALIST

MAY/JUNE 2021 T I 5
---
News Roundup

GGF URGES CAUTION

For more news and the latest updates, visit www.total-installer.co.uk

SKILLS GAP: BOS BRINGS IN THE TROOPS

As lockdown restrictions continue to ease

around the UK, the Glass and Glazing

Federation (GGF) is advising all companies

to be cautious and still adhere to the GGF

and Government's guidance to make sure

that employees and customers stay safe.

John Agnew, GGF managing director, said: "It

is with some relief for all consumer facing

companies that the restrictions are now being

eased. With all the Government statistics

going in the right direction, the GGF advises

all companies re-opening retail premises

to operate under the GGF and Government

Covid-secure guidance."

James MacPherson, GGF health, safety and

environment manager, added: "It's great to

see the Government's testing and vaccination

programme having a significant impact

and numbers of cases, hospitalisations

and fatalities are coming down. However,

to make sure that we don't slip back into

another lockdown, it is vital that everyone

behaves responsibly and takes the necessary

precautions. If companies need any support

or guidance on this, I urge them to utilise

the GGF website and check our Covid safe

guides." www.ggf.org.uk/

Building Our Skills (BOS), the initiative set up

to make fenestration a career of choice, has

partnered with a military transitioning agency as

part of its aim to bridge the industry skills gap.

The partnership with FrontFoot, specialists in

re-introducing service personnel into mainstream

industry, follows the recent launch of BOS's

'Inspiring the Future' campaign which aims to

engage with the education sector.

BOS ambassador, John Ogilvie, said: "Engaging

with FrontFoot to bring military service personnel

into the fenestration industry is the latest in a

growing list of key strategic partnerships we are

forming to help us bridge the skills gap, and we

are delighted to bring this one to fruition.

"As we continue with our longer-term journey

to engage with the education sector to impart

knowledge of our industry into the minds of the

future workforce, we have very high hopes that

this new relationship will help those looking to

add to their workforce right now.

"Our first initiative with FrontFoot is to ask them

to identify service personnel who would like to

become window and door installers.

"We will be building hands-on GQA-accredited

practical training courses into the recruitment

process, along with 12 months of ongoing support

for both the recruit and the employer, to ensure

that we are delivering a sustainable solution for

all parties. We want employers who engage to

know they will be getting installers who have

been given outstanding basic training in all the

key elements and are ready to contribute to their

business from day one."

For more information on engaging service

personnel or to request a copy of a prospectus,

email: sayhello@buildingourskills.co.uk ,

or visit: www.buildingourskills.co.uk

BUILDERS SEE ENQUIRIES RISE AS MATERIAL SHORTAGES BITE

The Federation of Master Builders (FMB)

has reported that the first three months

of 2021 saw enquiries with local building

firms increase at their fastest rate in a

decade, fuelling significant difficulties with

construction material shortages – including

roofing and glazing products.

The latest FMB State of Trade Q1 2021 found that

workloads, enquiries and employment all grew

between January and March 2021, with enquiries

growing at their fastest pace in more than 10

years. Activity in all sectors grew, but repair,

maintenance and improvement saw the strongest

performance with 55% of respondents reporting

increased workloads. Of those builders surveyed,

93% said that material prices were rising.

Brian Berry, chief executive of the FMB, said:

"The worrying impact of these material price

increases is that quality builders are at risk of

being undercut by unscrupulous traders offering

lower quotes to homeowners. Consumers must be

aware that the cost of building works may change

in the months ahead, as access to materials

continues to cause a headache for 93% of

Britain's builders."

Berry concluded: "With the construction skills

shortage slowly creeping back up the agenda,

it's clear that there is significant capacity in the

sector to take on new entrants and create muchneeded

jobs.

"I am bitterly disappointed over the decision to

cancel the Green Homes Grant scheme, which

offered an opportunity to not only bring more

people into construction but also to tackle climate

change.

"The Government's answer to this must be a

long-term National Retrofit Strategy, that has the

backing of industry from the outset."

www.fmb.org.uk

6 TI MAY/JUNE 2021 PRACTICAL CONTENT FOR THE GLAZING INSTALLER & HOME IMPROVEMENT SPECIALIST
---
ROOF

LANTERN

FITTED

IN

MINUTES

SUPPLY & INSTALL

THE MULTI-AWARD

WINNING ALUMINIUM

LANTERN

STRONGER

3m x 2.5m possible with no mid rafters

Premium seals, class leading thermals

SLIMMER

Uninterrupted SLIMMER Sight Lines

Seamless joints and cappings

SUPPORT

The best trade lantern

www.madefortrade.co

Tel: 01642 610799

10%

NEW CUSTOMER

DISCOUNT

QUOTE CODE

TI-K01

FASTER

Average installation under 30 mins

WARMER

Easy installation

Competitive pricing, reliable, fast

lead times & delivery

find us on facebook

* Discount applies to new trade customers and first, single item purchase only of the Korniche Roof Lantern.
---
News Roundup

CERTASS DELIVERS

FIT SUPPORT HUB

£10M RECYCLING FACILITY INVESTMENT

Certass is creating a live forum at the

Installer Support Hub (Stand H40) at FIT

Show 2021 in September.

The Installer Support Hub is a 'must visit'

stand for installers to find expert advice

on all aspects of their business, including

certification, competency, insurance, finance

and business support.

Jon Vanstone, chair of Certass and FIT Show

ambassador (pictured above), said: "With

the success of our members-only Facebook

forum over the last year, we wanted to use

our FIT Show stand as an opportunity to

bring the forum to life, and that's where the

Installer Support Hub idea came from.

"As well as having the Certass team on

hand to talk about certification, MTC, the

latest information from Government and the

massive benefits that come with Certass

membership, we are inviting our key partners

from the industry to support installers with

other areas of their business."

Visit the Installer Support Hub at FIT Show,

from 26-28 September 2021.

www.certass.co.uk • www.fitshow.co.uk

Rehau has invested £10m in, PVCR, a stateof-the-art

recycling facility, located in the

North of England, as it unveils a broader

vision to raise public awareness of the critical

impact window recycling has on the UK's

sustainability agenda.

Millions of windows are replaced in the UK each

year, on average, as frames become time-expired

or property owners look to upgrade. In order to

significantly reduce the many tonnes that still go to

landfill, Rehau says it is committed to the circular

economy and a 'planet before profit' mantra.

With this in mind, the company has invested more

than £60m in recycling infrastructure across the

Rehau Group, with its new window recycling facility

described as 'a shining example of this commitment

in action, and key to the organisation's highly

ambitious sustainability targets'.

Based in Runcorn, PVCR is the largest PVC-U

recycler in the North West, salvaging and

processing 1,000 metric tonnes of post-consumer

polymer windows and doors every month. The

company recently moved to its new purposebuilt

site as part of its continued investment

into upgrading its PVC recycling capability and

improving overall sustainability.

Martin Hitchin, CEO at Rehau said: "The UK

public is becoming more familiar with the benefits

PVC windows bring to our buildings, but more

work needs to be done to raise awareness of

recyclability beyond single-use plastic. In order

for window recycling to become commonplace,

industry needs to collaborate, inform and educate

around its importance.

"Sustainability is much more than a hot topic at

Rehau – it is a driving force within our strategy. It

is something we act on and invest in, so we hope

industry will join forces with us in making window

recycling a mainstream process."

www.pvcr.co.uk

8 TI MAY/JUNE 2021 PRACTICAL CONTENT FOR THE GLAZING INSTALLER & HOME IMPROVEMENT SPECIALIST
---
For more news and the latest updates, visit www.total-installer.co.uk

INSTALLER LOOKING TO

GROW FITTING TEAM

Despite an unprecedented trading period

brought on by the Covid-19 pandemic,

double glazing installer Global Windows

has experienced a record year, and is

now carrying out up to 80

installations a month.

And, thanks to a

boom in demand for

home improvement

products, the

Sheffield-based

company – which

specialises in PVC-U windows

and doors, composite doors, aluminium bifolds

and patio doors – is seeking to expand its

team and invest in new installers.

Global Windows joint managing director

Liam Hulme (pictured above, right) said: "At

Global Windows, we're looking to grow and

strengthen our talented team of installers,

and in turn, we can offer a great working

environment, on the job training with

dedicated support, as well as competitive

pay within a booming industry."

PASS SURCHARGES TO END-USER, URGES MD

Rob McGlennon, managing director at

Deceuninck, has written an open letter to the

industry urging surcharges to be passed on to

the end-user, as the supply chain struggles to

keep up with demand.

Rob (pictured below) writes:

'The pressure on the availability of resin isn't

a challenge exclusive to the window and door

industry – it's effecting every industry which uses

plastics, from food packaging to plastic carrier

bags. Polymer is in short supply.

'The price of polymer has increased every month for

the last 11-months. Systems companies can absorb

some of the hits, but the reality is that some of those

increases are temporarily going to have to be passed

on to fabricators in the form of surcharges. What is

vital is that they are passed on by fabricators,

right down the supply chain to installers and

ultimately – the end-user. Surcharges are never

going to be palatable but they are necessary. And

if we do what we should and pass them onto the

end-user, things remain sustainable.

'Homeowners are seeing their property values

rocket. According to estimates by the Bank of

England Monetary Policy Committee, consumers

are sitting on savings of £125bn, so I don't believe

that they are going to bat an eye lid if they have

to pay a couple of hundred quid more for their

windows now than they would have done twoyears

ago – if it even registers!?

'What they will notice is their windows not turning

up because of availability of product. We're as

prepared as we can be. We have scale, purchasing

power and reach. But we are also paying more and

we are not immune from the pressures faced more

widely, not only in the UK window and door industry

but globally.

'We will do our best, we know that our customers

will, and we hope their customers will follow

suit, but there will be bumps in the road. As we

face them, we could all do well to remember

that there are worse challenges to face than

exponential growth in demand for our products

and our services.'

"The past year has been an incredibly

challenging time for anyone looking for a job,

and we want to invest in skilled people in our

area, helping to strengthen our growing team.

"If you're interested in finding out more about

Global Windows and what we have to offer,

we'd be delighted to hear from you."

www.global-windows.co.uk

PRACTICAL CONTENT FOR THE GLAZING INSTALLER & HOME IMPROVEMENT SPECIALIST

MAY/JUNE 2021TI 9
---
Company News

For more company news and updates, visit www.total-installer.co.uk

VBH GAINS KITEMARK

Hardware specialist, VBH, says it is among

the very first companies to have been

awarded the new BSI Kitemark in respect of

hardware used in windows and doorsets.

To achieve the Kitemark, VBH submitted

various window and door samples to BSI for

testing to all the relevant UK quality standards.

The hardware covered includes products for

the manufacture of outward opening, and tilt

& turn windows, residential doors, bi-fold

doors, lift slide doors, inline sliding patio

doors and the greenteQ Invisifold slide & fold

door system. As well as the company's own

greenteQ hardware, the Kitemark also covers

products from many of VBH's partner brands

including AGB, Yale and Roto.

VBH business development manager, Rob

Norman, said: "Naturally, it takes a lot to

achieve this Kitemark but the benefits to

us and our customers are many. Not only

is the Kitemark a badge of quality for our

products but it also gives added credence to

our Q-secure consumer guarantee, as all the

hardware on our Kitemark schedule is also on

our Q-secure Approved Hardware list."

www.vbhgb.com

ISO-CHEMIE OPENS NEW WEBSHOP

Window and door foam tape sealants

specialist, ISO-Chemie, has opened a new

online store, enabling UK customers to order

products 24/7.

Accessible via an office PC, laptop, tablet or

mobile device, the 'easy-to-use and versatile'

webshop – available at ISO-Chemie's web

portal – provides comprehensive application

information and specification detail on the

company's extensive range of foam tape sealants

and associated products, such as BIM services.

Products can be viewed and ordered at the touch

of a button via an interactive display to save time

and ensure accuracy. Associated documents are

also available for downloading and viewing, while

orders can be tracked. In addition, ISO-Chemie

offers planning, calculation and installation tools

via its ISO-Portal.

The ISO-Chemie webshop is part of ISO-Chemie's

Baufage 4.0 concept, marking the company's

40th anniversary year. www.shop.iso-chemie.eu

'AMAZON-STYLE' SELF-SERVICE PORTAL

AdminBase has extended the 'easy

functionality' of its installer management

system with the addition of a new feature that

'quite literally allows retail customers to help

themselves'.

The new portal is offered to all new and existing

users of the web-based version of AdminBase at

no additional cost.

By allowing customers to log in, track their order

and carry out other key tasks for themselves, the

new feature means installers can free-up busy

personnel for other tasks. Customers can enjoy an

immediate response any time of day or night; and

installers reduce costs whilst improving customer

satisfaction ratings.

The new feature will allow window, door and

conservatory installers to offer 'Amazon-style'

self-service facilities. Easily added to and

accessed through existing websites, homeowners

can check the progress of their order as often as

they wish and at a time to suit them.

Customers may also confirm survey and

installation appointments and, when their

installation is complete, raise a service call for

any 'post-installation snagging'. Customers may

also settle invoices through the facility, again

providing convenience for them and saving time

and effort for the installer.

The AdminBase Customer Self-Service Portal will

be included on all new AdminBase installations

from the beginning of May 2021, with all existing

customer systems being progressively updated

from that date. www.abinitiosoftware.co.uk

GLAZING PUTTY JOINS REVAMPED GEOCEL MATE RANGE

Geocel has marked the relaunch of its popular

Mate range with the introduction of Glazing Putty

– a premium solvent-free acrylic for glazing

timber and metal frames, offering 'excellent

adhesion and temperature resistance'.

The Mate range, which includes all of Geocel's

Trade Mate and Joiners Mate products, is an

extensive portfolio of professional sealants and

adhesives 'created to tackle every challenge a

tradesperson might encounter on site'.

The new Glazing Putty has been introduced to the

Trade Mate range alongside Nail Power; an instant

grab gap filling adhesive which eradicates the need

for nails and screws and is suitable for bonding

most porous and non-porous surfaces.

The Trade Mate range encompasses 23 products

that are used across general building, plumbing,

roofing and glazing applications.

With new premium packaging as part of the

relaunch, each product's intended application

has been accentuated to make it even easier to

identify on the shelf. www.geocel.co.uk

10 TI MAY/JUNE 2021 PRACTICAL CONTENT FOR THE GLAZING INSTALLER & HOME IMPROVEMENT SPECIALIST
---
We do things differently

At Kestrel our supply of quality aluminium extrusions for the fabrication of windows

and doors is a little different. With our advanced powder coating facility we can not only

offer more than 1000 colour options but do so far quicker than the industry norm.

Whatever your requirements Kestrel's technical knowledge, developed over more than 30 years,

enables us to produce a variety of gloss levels and dual colours, all providing the highest standard

of durability and colour retention to guarantee lasting performance.

WINDOWS DOORS ROOFING SHOPFRONT CURTAIN WALL BRINGING LIGHT INTO LIVING

www.kestrelaluminium.co.uk
---
Contract The View Talk from Certass TA

DESTIGMATISING MENTAL HEALTH

Jon Vanstone, Chair at Certass Trade Association, talks about the mental health crisis.

I

write this on the first day of Mental Health

Awareness Week – the UK's national campaign

for mental health and well-being. The last year

has taken a toll on all of us, in some way, shape or

form and if the stats weren't worrying before, they

certainly will be now.

Jon Vanstone

To mark this year's campaign, the Association

for Project Management has released the results

of a survey which found that 87% percent of

project professionals agree that "their mental

well-being has been negatively impacted by their

main project".

Another report released today by financial

services firm Close Brothers has found that more

than half of employees have seen their mental

health worries worsen during the pandemic, with

finance worries, concerns about physical health

and seemingly endless lockdowns all cited as the

biggest causes.

A report carried out by the Building Engineering

Services Association (BESA), the Electrical

Contractors Association (ECA) and 25 other

construction trade bodies for Mental Health

Awareness Week 2020 found that 90% of

construction bosses have suffered from mental

health problems because of late payments. A

massive 92% of respondents said their business

faced payment issues, which led to stress,

depression, anxiety, panic attacks, extreme

anger and insomnia, with 10% reporting suicidal

thoughts due to late or unfair payment.

The construction sector is one of the industries

that is most affected by mental health. Suicide

rates for UK construction workers is more than

three times the national average and suicide

remains the single biggest killer of men under 45

– so we have much more to tackle in our maledominated

industry.

In 2019, almost half of the construction workers

who took part in the Construction News Mind

Matters Survey said they had taken time off work

due to 'unmanageable stress and mental health

issues', yet only 28% of those respondents were

honest with their employer about the reason for

their absence.

This is really indicative of the wider issue

that's at play here and as employers, and

as an industry, I think we all need to have

clear strategies on how we can destigmatise

conversations about mental health in the

workplace.

I think we also have to be mindful about how

the last 12-18 months has affected us, from

uncertainty over jobs, finances, even the future of

businesses to now, in the recovery, working longer

and longer hours to play catch-up, especially for

those who are running installation businesses

and wearing multiple 'hats'.

Certass TA combined with the Lighthouse Club

charity in December 2020 to produce a small

video aimed at installers who are often isolated

by mental health programmes aimed more at the

office-based people. The message of 'Ask Twice

Think and Be Kind' is still so poignant to our

industry as no construction worker or their family

should be alone in a crisis.

Too often, we avoid difficult conversations –

whether that is because of our old British 'stiff

upper lip' or because we are fearful of judgement

– but talking about how we feel can make such

a difference. If you know someone who may be

struggling, offering a friendly ear is a great thing

to do for your friend or colleague, with countless

stories in the media of this simple act being the

differentiator between life and death.

We have a direct responsibility to our employees

and our industry peers and encouraging these

conversations should be the first step for us.

Luckily, there are many organisations out there

who can offer support and advice at levels – from

employees to board level.

If you are struggling, I would urge you to look at

Lighthouse Club website (www.lighthouseclub.

org) or download the Construction Industry

Helpline app or visit mentalhealth.org.uk. If you

feel you have no one to talk to but want to chat

to someone, then please call the Construction

Industry helpline on: 0345 605 1956.

Contact Certass Trade Association:

01292 292 095

certassta.co.uk

@CertassTa

12 T I MAY/JUNE 2021 PRACTICAL CONTENT FOR THE GLAZING INSTALLER & HOME IMPROVEMENT SPECIALIST
---
AS COMMITTED TO YOU,

AS YOU ARE TO THE TRADE.

DAKEA

ROOF WINDOWS

ARE BUILT

FOR THE TRADE.

At Dakea, we pride ourselves on delivering

high-quality, affordable roof windows that

are easy to install and backed with a 20-year

guarantee.

Find out more at dakea.co.uk

Or give us a call +44 20 3970 5080 to discuss your project.

DakeaChannel

@HiDakea

Dakea_UK
---
Contract The Business Talk Pilot Barometer

CRUNCH TIME FOR RETAIL?

Business is booming but according to Neil Cooper-Smith, senior analyst at Business Pilot,

there are challenges on the horizon that make proper business management critical...

Business Pilot Barometer Edition 16: February/March/April 2021

"Covid-19 may still be with us, but the world we now occupy today is a very different one to

that of 12-months ago. In April 2020, things felt apocalyptic. We were in our first national

lockdown, factories had shut their gates and like the rest of retail, installers were forced to

close their showrooms. Fast forward to April 2021, and things look and feel very different!

The UK-economy is forecast to see its greatest growth since the post-war period and the

construction sector is seeing an unprecedented boom.

"This is reflected in the figures we're seeing in this month's barometer. Average sales were up

9% in April on March – but a staggering 55% on the same time in 2020.

"New leads for April 2021 held firm on figures for March - and were 273% higher than April

2020. Conversions also held steady last month, up 3% on March.

"This reflects the wider bounce in the UK economy which shows that it is back to where it was

pre-Covid-19 and with forecast growth in GDP of 7%, seeing its strongest gains since 1945!

"Increased consumer confidence, plus demand generated by the Stamp Duty holiday meant that

house prices also grew at their fastest rate for 17-years last month, up 2.1% in April.

"According to mortgage lender Nationwide, this represented the biggest monthly rise since

February 2004 and was 7.1% higher than in April 2020.

"There are, however, challenges on the horizon. The price increases trickling, or perhaps more

accurately, cascading through the supply chain, make cashflow forecasting and business

management critical.

"This pales into insignificance in the face of significant disruption to component supply from

PVC-U resins, to laminates and glass, to hardware and steel.

"With systems and float glass manufacturers warning of supply chain challenges, it is only a

matter of time before fabricators do the same.

The Business Pilot Barometer offers a monthly analysis of the key trends

defining window and door retail, drawing on real industry data collated

by the Business Pilot customer relationship management system (CRM).

"This makes effective lead management, increased forward visibility of order books and effective

job scheduling increasingly important for installers. Having the right processes in place in your

business and the visibility of where leads or jobs are in your sales pipeline or operational schedule

- plus financial reporting - is going to be very important in the coming months as installers juggle

continuing high levels of demand and unprecedented pressure on their supply chains."

Business Pilot uses cloud-based technologies to give installers complete

visibility of every element of their operation from leads and conversions to

job scheduling, cost of installation, service calls, and financial reporting.

www.businesspilot.co.uk www.businesspilot.co.uk/barometer

14 T I MAY/JUNE 2021 PRACTICAL CONTENT FOR THE GLAZING INSTALLER & HOME IMPROVEMENT SPECIALIST
---
Delivering Certainty

Everything Aluminium

Delivered Fast

£1.5 Million Stockholding

Direct to Site

Right First Time

Call 01706 260700

for a quick quote

Bi-fold Doors | Sliding Doors | Windows

Rooflights & Lanterns | Entrance Doors

www.alufolddirect.co.uk
---
Viewpoint

FAILURE TO LAUNCH

Victoria Brocklesby, COO at Origin, the UK manufacturer of aluminium doors and windows,

reflects on the Green Homes Grant scheme, what was promised, and how it failed to deliver.

The UK Government introduced

the Green Homes Grant scheme

in September 2020, designed to

help homeowners and landlords make

essential energy-saving upgrades

to their properties. The scheme was

prioritised after reducing household

emissions was identified to be essential

for the Government to meet its net-zero

emissions targets by 2050.

The idea was that the Government

would supplement the upgrades with

vouchers to cover a proportion or, in some cases,

all of the cost. However, the scheme did not go to

plan and has subsequently been scrapped a year

ahead of schedule.

There is no denying that the concept of the

scheme was strong. The improvements to homes

across the country would help homeowners save

money on their energy bills, promote energy

efficiency and in turn, reduce the UK's carbon

footprint. It was also hoped that the scheme

would have the knock-on effect of creating jobs

amid the coronavirus pandemic. However, the

execution was severely lacking.

Little information

When the initiative first launched, there was very

little information made available to explain how

it would work, both for those working within the

industry and for homeowners who were interested

in taking part.

Additionally, there were certain caveats which

made it difficult for homeowners to carry out

the work they really wanted. For example, the

scheme outlined two distinct categories, classed

as primary and secondary measures – it is

the secondary measures which related to the

fenestration industry. However, for a homeowner

to qualify for a secondary measure, such as

"There is no denying

that the concept of the

scheme was strong...

However, the execution

was severely lacking"

double or triple glazing, secondary glazing or

upgrading to energy efficient doors and windows,

they would first have to apply for at least one

primary measure, which included solid wall

insulation, cavity wall insulation, roof insulation,

or putting in a biomass boiler.

This meant that any initial excitement that

those of us working in the fenestration industry

had about the Government's revolutionary new

scheme was quickly snubbed out, knowing that

homeowners would have to apply for at least

one primary measure before even thinking about

glazing, doors, and windows.

This isn't where the issues ended with the

scheme either. Installation was another issue.

Once a homeowner was set on proceeding with

upgrading their doors and windows, they would

search to find a list of accredited tradespeople

who were registered to carry out work under

the scheme and could claim for the vouchers.

Origin's Victoria Brocklesby

However, it was only tradespeople

registered for TrustMark or

Microgeneration Certification Scheme

accreditations that could carry out

work under the initiative. It is a timeconsuming

process to achieve these

specific certifications, on top of those

that they have already obtained, and

with demand – especially for secondary

measure work – being limited, many

installers didn't bother registering. So,

finding a registered tradesperson to do

the work was difficult.

We saw proof of these shortcomings directly at

Origin. When the scheme was first announced,

we witnessed a significant spike in web traffic

with people searching to improve their homes. But

once more information on the scheme was made

available and it was clear it would be a complicated

process for them to upgrade their doors and

windows, this quickly dropped off and we received

minimal enquiries connected to the scheme.

Benefits outweighed

The initiative was fantastic in theory, there is no

denying that. But there were some serious kinks

in the chain which prevented it from being a real

success story. Had it been easier to understand

the details and simple to execute through the

many thousands of talented tradespeople in

the UK, then homes up and down the country

could have been transformed to be more

energy efficient. Instead, the effort outweighed

the benefits and I'm not surprised that the

Government has withdrawn the scheme early.

Contact Origin:

0808 168 5816

ww.origin-global.com

@Originbifolds

16 T I MAY/JUNE 2021 PRACTICAL CONTENT FOR THE GLAZING INSTALLER & HOME IMPROVEMENT SPECIALIST
---
www.vbhgb.com

ORION

proteQ10

PREMIUM

PREMIUM
---
MFT: In Gear

BACK ON TRACK

Following last year's thrills and spills on the tarmac, Made For Trade's aspiring motorcycle

racer, Tommy Fielding, hits the circuit for his second season...

Last year was my 'rookie' season on a fullsize

motorcycle and it went with a great deal

of success, punctuated with a fair amount

of crashing.

My speed improved – which was evident through

regular podiums towards the end of the season

– and with it, my attitude before the race. I was

much more relaxed, which I learnt was key to

performing well under pressure.

Due to Covid, we only ended up with a fourround

championship, where I finished 4th overall

with two pole positions, one second place and

three third place finishes. 2021 sees an almost

complete calendar in the No Limits motorcycle

race series, which will feature seven rounds after

the initial season opener was dropped due to

lockdown restrictions. This year I have worked

very hard with my fitness and have shed a

considerable amount of weight, despite the fact I

did not have that much to lose in the first place.

This will hopefully pay some dividends in the

closing laps of the races when endurance fitness

can make a significant difference.

Racing a motorcycle is an extremely physical

MFT's Tommy Fielding is 'faster, slimmer and stronger' for the

2021 season, not unlike the company's Korniche lantern!

activity and often people don't realise that trying

to get a 170kg motorcycle to change direction

between a set of corners at over a hundred miles

an hour takes a huge input from the rider, corner

after corner, lap after lap.

At the time of writing, I've just got back from the

first round of the season at Donington Park.

Due to lockdown, practice on the bike before

the race meeting has been

severely limited, meaning

I was not going there with

high expectations. I am

also moving up a class

(Protect My Income Cup

600 Championship) and will

need to ride even faster than

in my newcomer season.

The shared feeling in the

paddock on this first race

weekend was one of nerves!

Caused mainly by low

track temperatures leading

to reduced grip and the

thought of the infamous Craner curve. Craner is

a 4th gear left hand corner with an apex speed of

around 120mph downhill and a 'blind' approach.

That might sound terrifying in itself, but if you get

it wrong there – the chance of which is increased

exponentially in the colder months – your bike is

going to be a write off.

Barrel-roll or somersault

Riders usually get away relatively unscathed but as

the sliding bike leaves the tarmac on its side, when

it reaches the grass, the handlebars or foot pegs

tend to dig in, causing it to violently barrel-roll or

somersault into the air. This is quite a sight for the

spectators but usually leaves the rider with a hefty

repair bill and is often the end of their weekend.

My sponsor, Made for Trade, has joked that I am

mirroring the Korniche Lantern's USPs of being

faster, slimmer and stronger this season! I just

can't wait for it to be warmer...

Now to the actual racing: I went out for

qualifying – which is just a short 10-minute

session – and came home in 4th position, which I

was pleased about.

18 T I MAY/JUNE 2021 PRACTICAL CONTENT FOR THE GLAZING INSTALLER & HOME IMPROVEMENT SPECIALIST
---
Contract Talk

"I am mirroring the

Korniche lantern's

USPs of being faster,

slimmer and stronger

this season! I just

can't wait for it to be

warmer..."

Race 1

A poor getaway from the line with too much

wheelie meant I dropped back to 6th place when

it came to closing the first lap, I was able to

muscle myself back to 5th place as we crossed

the line after 10 laps.

Race 2

I should have started from 5th on the grid,

however, due to a technicality, myself and another

front runner were forced to start from the back!

Without a warming-up lap or sighting lap, I pulled

my Yamaha R6 onto the grid in the 40th grid slot.

This was my first time starting any lower than

6th place and I can assure you, it was a daunting

prospect. The start of the race is probably the most

dangerous part, as it is not uncommon for a bike

to stall with the rest of the riders trying to avoid

the stricken rider at high speed. If this happened,

I would be at 80mph by the time I reached a

potentially stationary bike, which can be invisible

in the pack, until you're on top of it. You don't ever

want to see it, but you can imagine the aftermath

of such an impact.

The first race of the season took

place at Donington Park in April

Thankfully, the start went well, with me launching

it away from the line, overtaking eight-10 bikes

before even exiting the first corner! For the rest

of the race, I was trying as safely as possible to

overtake the many bikes in front. Riders from the

mid field and towards the back of the grid are not

as predictable as the experienced ones near the

front – they are more prone to crashing and don't

always ride on the conventional racing line, so

this offered a good challenge after the frustration

of having to start from the back.

Throughout the race, three riders went down

directly in front of me, all in separate incidents,

two were at more than 100 mph – not the kind of

thing I wanted to be anywhere near! Into the final

chicane, I managed to pass a competitor who

appeared to running out of fuel, which bumped

me up to 6th place as I crossed the line. All things

considered this was a brilliant result.

Race 3

The following race posed less drama but just as

much excitement from my point of view, where I

managed to get another 5th place from starting 7th.

Race 4

The final race saw a real dog fight between myself

and another rider, where I narrowly held the upper

hand as we crossed the line to finish 4th.

Korniche sponsorship

All sponsorship is a huge help as racing, even

at this level, is hugely expensive. Without the

backing of my sponsors, Exersci and Korniche, I

would not be able to do what I love.

Korniche is providing sponsorship for the second

year, so if you want to benefit from a 10%

discount on aluminium bi-folds, sliders and

lanterns, give them a call and use code NLR10

when you get a quote.

Should you wish to follow my progress through

the season, then this is the place to do it, as well

as checking out my Facebook page:

@tommyfieldingracing

Contact Made For Trade:

01642 610799

www.madefortrade.co

@MadeForTrade1

PRACTICAL CONTENT FOR THE GLAZING INSTALLER & HOME IMPROVEMENT SPECIALIST

MAY/JUNE 2021 TI 19
---
Kev's Tech Tips

'READ THE F*****G MANUAL!'

After 40 years at Lincoln-based fabricator Sternfenster, technical sales manager

Kev Wallis is well-versed in solving customers' technical and training issues. In his

new column for Total Installer, Kev kicks-off with some top tips for fitting bi-folds...

When I was asked to come up with my top

technical tips for installers, one of the

most important pieces of advice I can offer

can be summed up in four simple letters: RTFM.

Or in other words, read the f*****g manual!

Most fitters are men and we are programmed,

genetically, to not read instructions. This applies to

DIY at home as much as it does to fitting on site.

How many men reading this have put up flat pack

furniture without looking at the instructions with a

'how hard can it be, I'll just work it out' attitude,

only to find themselves with a wonky wardrobe and

a load of left-over nuts and bolts for their efforts? I

guarantee it's pretty much all of you!

"It turns out that he had

fitted the doors upside

down – with the rollers

at the top!"

The same applies when installing windows and

doors. I was called out to site once because

the customer was complaining that the bi-fold

doors he had ordered from us were not working

properly. He was absolutely adamant that he'd

done it properly and was pointing the finger at

us for supplying a defective product. It turns out

that he had fitted the doors upside down – with

the rollers at the top! This is an extreme example,

but it goes to show that life is a lot easier when

you read the instructions. All our doors are tested

and subject to strict quality control before they

go out – and they come complete with an easy to

understand installation guide.

On the subject of aluminium bi-folds, this is

one of the most common products for technical

issues. I should point out that's it's very rare for

it to be a problem with our doors! In fact, with

the investment we have made in our aluminium

factory, which includes six-figures on a Schirmer

machining centre and four head crimper from

FOM, the quality – and the volume – of product,

has never been higher.

More often than not, with a bi-fold, issues arise

because fitters don't check their levels properly.

I've seen installers who have been in the trade

for 30-years and they still make simple mistakes

like this.

It's a vital step – no matter the size of the bifold

– but for anything over 3m it's imperative

that you use a laser or a 6ft level to make sure

everything is plumb and level.

If you don't, then you run the risk of a sag in the

head, or a bump in the cill and the door will not

operate properly. It could pull the gaskets out when

you open and close it and it's a time consuming

and therefore costly mistake to put right.

There's an old proverb 'measure twice and

cut once'. That might have originated from the

carpentry trade but the message still applies here.

Prepare properly, take time to do your levels, and

you'll save yourself time and money in the long run.

Contact Sternfenster:

01522 512525

www.sternfenster.com

@Sternfenster

Don't forget that we have put

together a wealth of training

material at Sternfenster. This

can be downloaded for free via

our Sternfenster Plus portal

and includes video tutorials

on how to fit all our products

properly. Sternfenster Plus also

includes downloadable data

sheets and marketing material,

and a regularly updated news

feed. It even has a live production capacity feed

of our PVC and aluminium lines that allows you

to check on the capacity of all our products from

the minute you place an order. You can also use

Sternfenster Plus to check on order and delivery

updates – that makes it easier for us to manage

your expectations, and it's perfect for keeping

homeowner customers updated on when to

expect their new windows and doors as well!

20 T I MAY/JUNE 2021 PRACTICAL CONTENT FOR THE GLAZING INSTALLER & HOME IMPROVEMENT SPECIALIST
---
VISOFOLD 1000

BI-FOLD DOORS

from

£345

PER

LEAF

10%

NEW CUSTOMER

DISCOUNT

QUOTE CODE

TI-B01

EASY INSTALLATION

Market leading trade Bi-fold Door

LARGE SASH WIDTHS

Up to 1200mm wide

STOCK COLOUR CHOICE

White, Anthracite Grey, Black & Dual Colour

PRE-HUNG & QA CHECKED

SLIMMER

Safer Uninterrupted site delivery Sight Lines

www.madefortrade.co

Tel: 01642 610799

SUPPORT

The best trade lantern

Competitive pricing, reliable,

fast lead times

find us on facebook

* Per leaf price is unglazed and may vary depending on size and specification of the door. Lead time is based on a standard colour. Postcode restrictions apply

* Discount applies to new trade customers and first, single item purchase only of the Visofold Bifolding Doors
---
Article Colour & Finish

COLOUR: AN ONGOING TREND

Record-breaking activity in the property market will mean continuing demand from the retail

sector, including increased interest in colour and finish, says Aluplast. Total Installer reports.

enjoyed an

extremely strong

"We've

start to 2021,"

says Ian Cocken, director of

sales and marketing, at Aluplast.

"Any initial suggestion that the

market would cool off following

the surge in demand for home

improvements last year has been

put to rest – we have doubled our

turnover, year-on-year, for Q1!

"That has been driven by demand

for colour," he continues. "Foils

now account for as much as 50% of our total

order volume. Consumers are looking to enhance

their properties with foiled finishes, especially on

premium products such as flush sashes or wide

span patio doors.

"Covid has certainly played a part in accelerating

demand from the retail sector," adds Cocken.

"The Stamp Duty holiday extension, new

initiatives for first time buyers, a more permanent

shift to working from home – it's resulted in

a rush for more space, away from traditional

commuter belts. That's only going to create more

activity in the window and door industry further

down the line, especially for premium products

and for colour."

Record-breaking

This outlook follows a record-breaking period for

the property sector. While Spring usually marks

the start of the buying season, March 2021

proved to be the busiest month for a decade,

with 9.1million people clicking on the Rightmove

website in a single day.

By April, higher value homes were being snapped

up even before they were marketed, and estate

agencies were buckling under unprecedented

demand for properties with multi-million pound

asking prices. In the South West, there were

reports of five figure deposits being paid just to

secure a viewing, and in the Cotswolds, it was

estimated that around 50 people were chasing

every £2million family home.

Gold rush

"It's good news for the industry and especially

for those that will be in a position to respond to

this gold rush for home buying," says Cocken.

"Our customers are well placed, firstly because

they have a market leading portfolio of products,

but also because they can combine these with a

comprehensive range of foils.

"This includes a selection of popular finishes,

such as anthracite grey on white, anthracite grey

on both sides with a grey substrate and smooth

options that are kept in stock in the UK. Our

bespoke options are also available on a highly

competitive 20-day lead time, and that is made

possible thanks to the investment we have made in

manufacturing and the scale of our operations."

Aluplast's production facility houses state of

the art foiling lines and the latest CNC foiling

technology – that has dramatically reduced the

time it takes to process product. This, explains

Cocken, has afforded the company much

greater flexibility on output, resulting in cost and

efficiency savings that can be passed

on to its customers.

"We have an advantage over other

PVC system suppliers because of

our production capacity – Aluplast

processes over 90,000m of foiled

product every day – but also in the

quality of our offer. We have over 40

finishes, and that includes Woodec

and Aludec, which are next generation

foils that accurately replicate timber

and aluminium," he continues.

Aluminium alternative

"Even up close, you would be hard-pushed to

tell the difference between Woodec and the real

thing, it looks and feels just like timber. And

the same can be said for Aludec as a genuine

alternative to aluminium. You can match it

with our new fl ush casement or our Ideal 4000

system, and you have a contemporary offering

that can, for instance, be sold into a project that

specifi es an aluminium bi-fold or entrance door.

Alternatively, you can combine Aludec with our

Smart-Slide patio for a product that can be sold

directly against aluminium.

"The growth we have seen in colour and finish

to date is evidence of an ongoing trend for higher

value, higher margin products," concludes Cocken.

"If the strength of the property market is anything

to go by, we are expecting demand from retail to

continue, and the market share of foiled product

will follow suit. If they haven't already done so,

then fabricators and installers should make sure

they are in a position to benefit from that."

Contact Aluplast:

01684 273401

aluplast.co.uk

@aluplastsystems

22 T I MAY/JUNE 2021 PRACTICAL CONTENT FOR THE GLAZING INSTALLER & HOME IMPROVEMENT SPECIALIST
---
Aluminium done

the Emplas way

• New range of AluK windows, doors, bi-folds and patios

• Get instant quotes and order online 24/7 using EVA

• Single source supply for PVC-U and ali

• Complete customer support package including WindowCAD

Find out more 01933 674880

info@emplas.co.uk www.emplas.co.uk
---
Manufacturing

'TAKING BACK CONTROL'

With installers often vulnerable to the damaging knock-on effects of supply chain issues,

Selecta Systems' sales director, Andy Green, asks: 'Why wait when you can fabricate?"

We've all had to adapt our lives over

the last 12 months, when confronted

with the damaging and heart-breaking

effects of a global pandemic. From an industry

point of view, we have prospered heavily with

a new-found boom in the home improvement

market. This, in turn has generated its own

issues, with the supply chain under severe

pressure due to increased demand, and the

knock-on effects of the pandemic and Brexit.

Although recent times have been good, from an

industry perspective there have still been some

high-profile casualties over the course of the

last 12 months. There have been large trade

fabricators and profile systems suppliers whose

business models were insufficient to see them

through these times. Casualties like these have

increased the pressure on the supply chain as the

home improvement boom continues.

What is interesting, is that Selecta has seen an

increase in both installers and new businesses

moving into fabrication, with the clear reasoning

from installers being to 'take back control' of

their business, whilst others have seen it as an

opportunity to benefit from the increased interest

in consumer demand.

Reputation

The rationale in 'taking back control' has been

clear and concise. Installers have recognised

that 'buying in' manufactured products removes

control over the fabrication, quality and service

provided by the trade supplier and any vendor

failings can significantly affect their installation

business' reputation. Being almost at the end of

the supply chain has had its issues and so taking

out the 'middleman' has been seen as a positive

step forward for some.

We appreciate that in these times there has been

increased pressure on delivery timescales, but

these pressures can also contribute to poorly

or incorrectly fabricated products, causing

installation headaches which installers have

no control over. This has a damaging knock-on

effect on installation business, not only in terms

of reputation, but also on the efficiency and

effectiveness of their operations.

Selecta's Andy Green

"We have certainly

seen an increase in

installers wanting to

be in control of their

own destiny"

There's nothing worse for installers than booking in

a job, their customer having time off work, and then

the product doesn't arrive, or is damaged during

transit, or there are mechanical and fabrication

problems when fitting on site. Some issues cannot

be resolved by the installation company, whereas

if they themselves were fabricating, they'd have

the opportunity to apply their own corrective

actions. More importantly, greater control over

what goes out of the door and when, is a key factor

of fabrication. As for manufacturing and delivery

timescales, the philosophy seems to be: why wait

when you can fabricate?

Quality businesses

I'm not saying this is the case everywhere, as

there are a lot of quality fabricator businesses

providing a first-class service, but we have

certainly seen an increase in installers wanting to

be in control of their own destiny.

We have also seen an increase in other

construction-based businesses looking at

diversifying their businesses to start fabricating.

Selecta has a strong and successful history of

setting up fabricators and fabrication facilities

from scratch and assisting in all aspects of the

process, from layout and floor plan design, to full

blown training, with your own personal technician

making the transition as smooth as possible.

With the Advance 70 System now firmly recognised

as one of the leading and most versatile window

and door profile systems, whether you are

fabricating, installing or both, you can be sure of a

quality and comprehensive range of window and

door solutions at your disposal.

It is vitally important whether you're a fabricator,

installer or both that you have not only the right

window and door profile system, but also the

right supplier that can service and support you

and your business during the good and bad

times. This, I believe, is essential in building a

successful business partnership. That's why

fabricators are choosing our Advance 70 System

and Selecta, as they become #partofthefamily.

Contact Selecta Systems:

0121 325 2100

www.selectasystems.com

@SelectaSystems

24 T I MAY/JUNE 2021 PRACTICAL CONTENT FOR THE GLAZING INSTALLER & HOME IMPROVEMENT SPECIALIST
---
Unrivalled security

performance

Your home is at the heart of your family,

creating moments you will treasure forever.

Our Rio flush fit window is PAS24 security

accredited, giving you peace of mind that

your home and family are protected by an

added level of security.

Windows. Reinvented for modern life.

www.rehau.uk/rio
---
Door & Window System

Door & Window Systems Trade Only Supplier

Contact us us now to to find out how we

Call:

Call:

0116

0116

236

236

4656

4656

email: trade
---
s Trade Only Supplier

ms Trade Trade Only Only Supplier Supplier

Quick quote system and trade dedicated team

Trade prices to increase your sales capabilities

Trade technical, marketing and sales support

State of the art equipment = precision engineered products

Innovative product range that inspires your customers

Trusted Brands - One

Trusted Stop Trusted

Brands for Doors Brands - One

- One and

Stop for Doors and

Stop for Windows Doors and

Windows

Windows

can make your 2020 vision profitable

e can make your 2020 vision profitable

n make your 2020 vision profitable

@uws.co.uk visit: www.uws.co.uk

de@uws.co.uk

email: trade@uws.co.uk visit: www.uws.co.uk visit: www.uws.co.uk

uws.co.uk visit: www.uws.co.uk
---
Updates

Profine Group's Kömmerling brand, together with Rolladen Müllers GmbH & Co. KG, has just completed a

commercial project featuring ReFrame windows made of 100% recycled PVC-U, as part of a pilot project.

ReFrame windows are made entirely of recycled PVC-U but feature a 'luxurious' UV-resistant surface,

high-quality technical properties and a high thermal insulation value. 57 ReFrame windows and doors in the

Kömmerling 76 double seal system were installed in Stone Grey (outside) and white (inside) at a children's

day-care facility in WohnBau Mönchengladbach, Germany.

Dr. Peter Mrosik, owner and CEO of Profine Group said: "Sustainability is a cornerstone of our corporate

policy, from the use of lead-free stabilisers to comprehensive recycling solutions. That is why we see

our ReFrame profiles as a logical component with regard to the goal of a complete circular economy and

sustainable solutions for generations." www.koemmerling.com/en/

For further window updates visit www.total-installer.co.uk

'LUXURIOUS', UV-RESISTANT, AND 100% RECYCLED

PERFORMANCE AND VERSATILITY WITH ALUMINIUM

Following on from 'booming demand' for its Lineal range of PVC-U flush casement windows, fabricator

Central Window Systems has expanded its product portfolio to include an aluminium option – the

58BW flush casement window from AluK.

Incorporating 'all the high-quality functions you'd expect from an aluminium flush casement window', the

58BW combines weather resistance, 'advanced' performance, 'incredible' versatility and 'excellent' security,

and as a durable alternative to timber and steel window systems, it's suitable for contemporary new-builds

and refurbishment projects. Thanks to its thermally broken design which offers a low U-value of 1.5, the 58BW

flush casement also offers excellent protection against bad weather, while the window's double rebate and

friction stay features also add to its advanced weather performance. www.centralwindowsystems.co.uk

LOCK 'BENEFITS FABS AND FITTERS ALIKE'

Hardware supplier ERA's new Double Cam Window Lock is an advanced locking mechanism that 'simplifies

fabrication and installation, reducing manufacturing time and cost'.

Exceeding PAS 24 requirements, the lock features up to three sets of unidirectional double-locking cams, securing the sash

tightly to the frame to deliver what ERA describes as 'unrivalled protection and strength across the window'. The lock also

features an innovative 'Super Keep' that is combined with a central anti-lift fixed pin to prevent jemmying attacks on the

window and eliminates the need for shootbolts. The keep's wrap around reinforced steel top plate and composite underbelly

deliver four-point fixing for additional security, while using minimal components for 'clean' window aesthetics. James Wilson,

product manager for ERA, said: "The new ERA Double Cam Window Lock provides a shootbolt-free PAS 24 solution on a

simple cost-effective platform designed to benefit fabricators, installers and homeowners alike." www.eraeverywhere.com

QUICKSLIDE TREATMENT FOR HIGH-END NEW-BUILD

Frithsden Construction, a family-run business specialising in high-end residential homes, completed a

Georgian period-style new-build with heritage vertical sliders supplied by Quickslide.

Frithsden's husband and wife team, Anthony and Julie Hayes, originally wanted timber windows, before

discovering Quickslide's heritage woodgrain-effect vertical sliding sash PVC-U windows made a great, energy

efficient, secure and low maintenance modern alternative. In particular, they praised the authentic look of the

woodgrain effect and run-through horn details.

Frithsden highly recommended Quickslide on completion of the project, not just for its quality products, but for

the whole buying process, which they commended as being straightforward and easy – particularly praising sales

manager, Jess, for being 'very helpful and always available for any queries or advice'. www.quickslide.co.uk

28 T I MAY/JUNE 2021

PRACTICAL CONTENT FOR THE GLAZING INSTALLER & HOME IMPROVEMENT SPECIALIST
---
Do the maths!

Co-extruded

pre-inserted gasket.

Glaze leaves in as little

as 5-minutes per unit

x2 fully adjustable

jambs offer up to 14mm

tolerance for out of

square brickwork

Heavy duty rollers.

Individual sash

weights of up to 200kg

Marine grade finish.

Textured and dual

colour options

Win more business. Fit and glaze

2hrs!

doors start to finish, in less than

Decalu by Deceuninck Aluminium

Call 01249 816 969 or email info@deceuninck.co.uk to find out more.

DUAL

COLOUR

AS STANDARD

FAST

FIT

PRE-INSERTEDGASKETINFRAME,VENTANDGLAZING BEADS

Deceuninck Aluminium

Stanier Road • Porte Marsh • Calne • Wiltshire SN11 9PX

T +44 (0)1249 816 969 • F +44 (0)1249 815 234

info@deceuninck.co.uk • www.deceuninck.com

Aluminium Hardware PVCu Hardware Composite Door Hardware Tools & Consumables

OUR NEW WEBSITE HAS LANDED

You talked. We listened.

20

YEARS

OF OUR

ONLINE STORE

Now we've made it even faster and simpler to find

the hardware you need!

Visit windowware.co.uk now

FINALIST

Call 01234 242724

E: sales@windowware.co.uk

W: windowware.co.uk

PRACTICAL CONTENT FOR THE GLAZING INSTALLER & HOME IMPROVEMENT SPECIALIST

MAY/JUNE 2021 TI 29
---
Smart Technology

SMARTER OPPORTUNITIES

Lauren Bromley, head of brand for Kubu, talks about the significant sales opportunities

created by doors and windows that are equipped with smart-sensor technology.

By definition, a smart home has a central

hub (a smart speaker, control panel, or app)

that's linked to at least two devices – for

instance, a smart bulb and smart plug, with around

half of these homes also embracing smart heating

controls. The smart home concept is a £multibillion

marketplace, with an estimated 2.22 million

smart homes in the UK.

These statistics are based on YouGov's 2018

survey which also showed that 23% of Britain's

66.44 million people have a smart item, while

Smart Home Week has also reported that 57%

of homes in Britain now contain a smart device.

The fact is the smart home market is a huge

opportunity, and that's why the likes of Amazon,

Apple, Google and Samsung are heavily involved

in its evolution, adoption and development.

It's also hugely opportunistic for the door

and window market where the same, proven

smart-sensor technologies can be integrated

into product design with little effort through

the supply chain. Kubu was developed over 18

months ago as a smart-sensor platform for doors

and windows, and we're already seeing daily

activations of our door smart-sensor

We've redeveloped the multipoint locks under

our Avantis brand to provide a captive slot in

preparation for any upgrade to the Kubu smartsensor.

This means additional works at the point

of production are minimal, and there are no other

requirements or costs at the point of installation.

The doors – and soon to be windows – are only

activated once the Kubu smart-sensor has been

inserted, much in the same way as installing a

new SIM card for a mobile phone.

Smart opportunities

Installation companies can buy Kubu kits at

trade price and then add a mark up, or offer

the technology as a means to close a bigger

deal. Activation is done via the hub and our app

(available for Android and Apple devices), with

the whole process taking a matter of minutes.

Other companies are using the smart-sensor

opportunity as a sales USP and a means to

future-proof the installation for later activation.

Kubu tells you whether your windows and doors

are locked or unlocked, and there's also a clever

geo-fencing feature that uses your GPS location

to notify you if you have left your house unlocked

when you leave the boundary of your home.

With security more

important than ever

before and reported

burglary numbers up, it's

also the perfect security

upgrade for consumers.

In such a fast-developing

marketplace, we're

getting enquiries by

the day from installers

looking to partner up as

the market emerges. Kubu

has taken time, from

concept to adoption, and

Kubu's

Lauren Bromley

the software, firmware and hardware has been

done within Avantis, which boasts experience in

the smart sensor market with the likes of Brita

water filters, producing 120 million sensors for

them over the last 10 years. We can also boast

ISO accredited clean rooms and dedicated

production lines, much like large multi-national

electronics brands do, albeit on a smaller scale.

The smart opportunities for both manufacturers

and installers are here now and it's important

for everyone to future-proof their respective

business. We've got a full marketing programme

to entice consumers and will happily set these up

for our Kubu Pro Installers.

With little direct cost and minimal requirements

through the supply chain, it's a wonderful sales

opportunity for those companies looking to enjoy

part of the smart home market, which could well

form the future direction of this industry.

Contact Kubu:

0330 555 9545

kubu-home.com

@KubuSmart

30 T I MAY/JUNE 2021 PRACTICAL CONTENT FOR THE GLAZING INSTALLER & HOME IMPROVEMENT SPECIALIST
---
REFRESHING

NEW BRAND.

'WINSDAYS'

NOW WE HAVE YOUR ATTENTION...

DISCOVER WHAT WE

REALLY DO IN GLASS.

We're celebrating our 'refreshing' new look with

'Whitesales Winsdays'! We'll be giving away some

great prizes every Wednesday from 2nd June to

25th August – visit winwithwhitesales.com (T&Cs apply)

GET MORE IN YOUR GLASS!

whitesales.co.uk | sales@whitesales.co.uk | 01483 917580
---
Smart Technology

SMART SUPPORT, SMART SUCCESS

As we enter an 'exciting new phase' in our industry, installers carry the ultimate responsibility

to create, react to, and fulfil consumer sales demands – but that doesn't mean that suppliers

should offload the sales burden, says Smart Ready's Giovanni Laporta...

The installers on the frontline

are one of the most

important elements of our

industry – and they don't get as

much recognition as I think they

should. After all, they are the ones

marketing and selling our products

and services, day in day out.

It's installers that carry the

ultimate responsibility to create,

react to and fulfil consumer sales

demand. But that doesn't mean

that suppliers should offload the

sales burden. In fact, it's quite the opposite.

Businesses further up the supply chain should

invest heavily in time, expertise and money

to give installers every sales tool they can to

facilitate the greatest success possible. This is

precisely what Smart Ready, in partnership with

Sac and Hug Technology, have spent the last 18

months doing.

Making selling easier

Smart Ready has been established to help

consumers and businesses navigate the

emerging market of smart technologies within

the door and window industry. By promoting

the easy adoption of smart products through a

set of simple requirements, and working with

certified suppliers, consumers and homeowners

can simplify and improve life around the home.

Smart Ready will be the bedrock on which all

future smart windows and doors will be sold by

installers.

Profits for the taking

Global predictions for 2021's smart home market

suggest smart technologies will grow to nearly

£80bn. With the UK forecast as one of the fastest

growing adopters, the fenestration industry, and

particularly installers, are primed to benefit. As

with any emerging market, more forward thinking

businesses will do their research and pay due

diligence about who they should choose to help

navigate the new world. These kind of businesses

are unafraid to look to the future, embrace

change and commit to the highest levels of

customer satisfaction.

The boom that came off the back of the first

lockdown took us all by surprise, and the

momentum that we have seen through the

subsequent lockdowns has meant the industry

has survived better than many. Those glory

days can't last though. Consumers will be close

to having done everything they can through

traditional renovations and extensions, and now

we are entering a new, exciting and innovationdriven

phase in our industry.

Invented with installers in mind

Installers are at the forefront of our sector. They

are the professionals having the hands-on sales

conversations with the consumer and as such,

are in the driving seat of understanding their

needs and desires. This puts them in a powerful

and influential position. As product designers, we

rely on the expertise of installers

to inform and guide us on how

customers will engage with

products and are deeply grateful

for their insight. In turn, Smart

Ready and certified hardware

and tech partners such as

Sac and Hug, have taken

considerable steps to ensure

that installers are provided

with solutions that will meet

their own needs, and those of

their customers, by being super

simple to fit, both at the time

the windows and doors are installed, or years

afterwards. On top of that, we've created a brand

that is appealing to consumers and a product

that has a clean, sleek design, with extensive

features, offering security-enhancing services. It

takes all the hard work out of selling. This is what

Smart Ready is all about for the installer.

Talent spotting

The team behind Smart Ready are very aware of

the significance of the installer's role within the

fenestration industry, and we want to take our

support of installers further and make sure the

retail sector has everything to embrace the dawn

of a new smart door and window market.

The Smart Ready brand will make you stand out

from your competitors. If you'd like to know how

Smart Ready and its partners can support the

success of smart within your business, see us at

the Fit Show in September; you will be impressed.

Contact Smart Ready:

smartready.com

@hellosmartready

www.linkedin.com/company/smartready

32 T I MAY/JUNE 2021 PRACTICAL CONTENT FOR THE GLAZING INSTALLER & HOME IMPROVEMENT SPECIALIST
---
CREATING BRIGHT FUTURES

97mm

Sightlines

Designed

to redefine

We're proud to unveil the iconic Luminia F82 Bifold Door, fusing minimalist

design with class-leading performance, security and thermal efficiency.

It redefines the benchmark for high-end residential projects.

from

0.9

U-Values

Made in

the UK

Less is more with ultra-slim sightlines of 97mm and class leading U-values

Power to create with multiple configuration options, including a floating corner

A better fit with a range of sub cills mean the F82 can be positioned in virtually any construction

Built to last with beautifully functional hardware tested to simulate 80 years of use

Redefine your projects today with the iconic Luminia F82 from AluK.

Visit alukgb.com/F82 for more information.

ALUKGB.COM/F82
---
Composite Doors

JUST ANOTHER DAY AT THE OFFICE

From a global pandemic to Brexit border obstacles, it's been one hell of a year – but

business has never been better for Northern Irish doormaker, Apeer. Below, Asa McGillian,

the company's MD, tells Total Installer why self-sufficiency pays off in a turbulent world.

Considering the catalogue of momentous

world events during the past year or so,

it's a wonder that any of us are still in

business, let alone thriving, as is the window and

door replacement industry. Living in an atmosphere

that might be scripted by the producers of

any Hollywood disaster movie, the Covid-19

pandemic has levelled the global playing field of

catastrophes, while a series of other headline

events has sought to further chip away at our

collective resilience.

Paradoxically, in the UK and Ireland, this awful

disease has somewhat bizarrely struck a nerve:

the most profound response to the pandemic has

been to improve our homes; almost as if in doing

so we are protecting ourselves from the virus. For

those involved in home improvements, therefore,

the life changing and often tragic circumstances

of the spread of Covid-19 have also brought

extraordinary stimulus to the market.

And that's the case for doormaker Apeer. Based

in the Northern Irish town of Ballymena, the

region is experiencing additional local challenges

to compound those we are all facing. For Apeer,

and pretty much every business in the region,

the scramble to complete the exit from the EU

and resultant Irish Sea Border, has presented

potential obstacles that threaten to be as

disruptive as the pandemic.

But for the company's MD Asa McGillian,

it's just another day at the office: "It creates

more of a nuisance than anything. There is

no question that the import of goods into the

province and especially fresh produce, has

been affected. Lovers of 'Stinking Bishop' have

had to go without," he says, referring to the

reported shortages of English cheeses suffered

throughout the region. "But any problems that

we have experienced as a manufacturer concern

difficulties that some mainland-based suppliers

of materials and components have had with the

paperwork. We have made it our duty to work with

them to overcome what are minor admin issues

and this is no longer a problem. I have even been

able to get hold of the small sauna I have had my

eye on for some time," he says with a grin.

"Lovers of 'Stinking

Bishop' have had

to go without"

"Sending goods to our retail installers in our

main markets of England, Scotland, Wales and

Southern Ireland, is not a problem," he explains.

"In fact, whilst there are reports of some door

manufacturers experiencing severe delays due

to problems with the supply of door blanks from

the Far East, we are still able to supply doorsets

in 12 to 15 days from order. This is because we

manufacture most of our own blanks and glass

units and use materials and components all

sourced locally from the UK and Ireland. There

are global supply problems with a number of

components and materials, which the latest

disaster, the blockage of the Suez Canal – can

you believe it? – further disrupted. But so far, we

have been largely unaffected," Asa adds.

Apeer operates from a modern, 120,000ft 2

factory, which it shares with sister brand Lumi

windows, and Ace Fixings, out of which Apeer

grew more than 16 years ago. The factory, the

area's second biggest employer, provides a

convenient 30-minute drive to the ports that

provide excellent access to its key mainland

markets: "We have no problems in getting our

completed doors to our customers," insists Asa.

"We have become largely self-sufficient as a

company. It has always made commercial sense

to us to be in control of as many of our processes

as possible. It's just smart common sense," he

says. "We want to sell as many doors as we can.

That's all the incentive that we need."

Contact Apeer:

0345672 9333

www.apeer.co.uk

@ApeerDoors

34 T I MAY/JUNE 2021 PRACTICAL CONTENT FOR THE GLAZING INSTALLER & HOME IMPROVEMENT SPECIALIST
---
Innovation comes built-in

60

Quotes

available in

60 minutes

LIGHT AND SHADE

MADE EASY

Choose ScreenLine integral blinds: unrivalled performance and

the most stylish option for controlling light in all window and

door applications including bi-folding and sliding doors.

Morley Glass & Glazing Ltd

Unit 3

Leeds 27 Industrial Estate

Bruntcliffe Way

Leeds LS27 0HH

morleyglass.co.uk

0113 277 8722 sales@morleyglass.co.uk
---
The new range of Lumi aluminium

windows has been created after

listening to the wishes of window

installers. The new range is a

lighter, slimmer window that

still retains its designer good

looks but now makes it a perfect

replacement option for the home

improvement market.

LIGHT WEIGHT,

BUT NOT A LIGHTWEIGHT

Lumi's iconic 'frameless' look and

super-slim sightlines are now available

in easier-to-handle aluminium units.

They are everything that's good about

Lumi, just lighter.

PROTECTS OUR PLANET

PROTECTS THEIR HOME

Lumi windows are filled with Argon gas,

use low E-glass and have internal thermal

breaks to retain more heat. That's good

news for your customers' fuel bills and

brilliant news for the environment. We also

believe that striving for the ultimate window

shouldn't compromise security. That's why

every Lumi window has a high-security

locking system and anti-leverage hinge bolts

as standard across the range.

EASY DOES IT

Lumi's light, slim windows are easy to

install, especially as they arrive on-site

fully assembled, with no cutting required.

And because of their new, slim profile

they slot straight into the cavity left by

the windows you're replacing.

To find out more, call our sales team

on 03300 415 014 or email sales@lumiwindows.com

www.lumiwindows.com
---
Aluminium Bi-folds

A SLICE OF THE PREMIUM SECTOR

AluK says that its F82 bi-fold is the ideal product for customers who want to tap into the

'£250bn savings mountain' accumulated by affluent households after more than a year of

Covid restrictions. Here's why...

Launched at the FIT Show in 2017, AluK says

its Luminia F82 bi-fold set a new benchmark

in the sector for aesthetics, performance,

security and thermal efficiency – and gave

fabricators an opportunity to differentiate their

premium offering from the 'me too' section of the

mass bi-fold market.

Now 'tested, tried and trusted' in the premium

sector of that market, AluK says that the F82 is

the ideal product for customers who want to tap

into the £250bn savings mountain which the

Bank of England estimates affluent households

have accumulated after almost a year in various

forms of lockdown.

In terms of aesthetics, the F82 is packed with

contemporary design features. The most obvious

is the slim sightlines, which measure a consistent

97mm all the way round the frame, cill and jamb

and just 122mm at the interlock. This creates a

bigger expanse of glazing to let more light flood in,

with a distinctive square bead emphasising the

minimalist lines.

There is also a distinctive pop-up T-handle on the

traffic door which, says AluK, helps to set the F82

even further apart from less premium offerings.

Available in white, black, anthracite, silver and

brushed stainless steel, this bespoke handle

has been rigorously tested to 25,000 cycles,

equivalent to around 80 years of regular use.

Class-leading

When it comes to performance, heavy duty 150kg

capacity stainless steel compact rollers on the

bottom of the F82 ensure that it opens and closes

smoothly and effortlessly time after time; while

class-leading weather performance (up to Class 4

air permeability and Class E900 water tightness)

guarantees that the door will withstand anything

the British weather can throw at it.

The AluK F82 bi-fold has achieved PAS24 security

accreditation, ensuring that it can be fitted in

new-build projects which require compliance with

Approved Document Q, and it boasts impressive

U-value performance to satisfy even the most

demanding specification (1.34 W/m 2 K double

glazed and 0.9 W/m 2 K triple glazed).

Like the rest of the AluK bi-fold range, the F82

is extremely versatile. There are open-in and

open-out, left and right options available for

doors between two and seven panels in sizes up

to 1200(w) x 2600(h), as well as corner posts to

suit almost any configuration.

Fitter-friendly

For installers, it is as consistently fitter-friendly

as the rest of the AluK range and includes two low

sightline cill options as well. Integrated cills have a

new outer frame profile, which can be easily clipped

onto either side of the frame, rather than sitting on

top, and an extensive range of sub sills mean the

F82 can be positioned in virtually any construction.

Contact AluK:

01291 639 739

www.aluk.co.uk

@AluK_GB

38 T I MAY/JUNE 2021 PRACTICAL CONTENT FOR THE GLAZING INSTALLER & HOME IMPROVEMENT SPECIALIST
---
Membership

just £24.95 +VAT

per month

Job registrations

from £1.50 +VAT

It's time to switch to

The certification body that's on your side

Direct line to our Chair through

Facebook forum

Heads-up on future regulation &

Government position

Free Certass Trade Association

membership

Free listing on our

"Find an Installer" search

Free unique company profile

page

Free customer ratings

Legal, Tax, HR & Health and

Safety advice

Technical & installation advice

Free Covid secure procedure pack

JOIN US

TODAY

Call

01292 502 398

Email

info@certass.co.uk
---
Composite Doors

INVESTMENT, COMMITMENT, CULTURE

With business reputations on the line amid product shortages, Stephen Nadin, managing

director of composite door manufacturer, Endurance Doors, tells Total Installer what it takes

to create an 'outstanding' customer experience.

Alongside the current, unprecedented

demand for composite doors, the sector

has suffered from glass, hardware, profile,

– and now GRP slab shortages. Many businesses

are stretched and tomorrow's focus is a careful

balance of satisfying short-term demand, while

implementing a long-term strategy.

Stephen Nadin

The reputations of businesses in this sector are

coming under increasing scrutiny for a multitude

of reasons including product quality, availability,

communication and ultimately, the level of

customer care.

In recent years, Endurance Doors has made a

significant commitment to the development of a

business culture that is completely focussed on

an exemplary customer experience.

We believe that communication is key to

developing and maintaining strong and profitable

relationships with our Installer Partners and

suppliers alike. Throughout the pandemic, we

have regularly updated our customers on our

position and managed expectations wherever

necessary. We've also been in daily contact with

our key suppliers to ensure we limit the impact of

potential stock issues.

Product performance is at the core of our offering

and that's why we introduced a three-step wet

glazing process last year, which has contributed

to the reduction of product quality issues

associated with leaking cassettes, to near on

zero. We've also implemented a 3mm bowing

guarantee for our solid timber core slab, the only

company in this segment to do so, again helping

to build confidence and trust in our brand from

our Installer Partners – and the consumer too.

Reputation is paramount for us, and our 4.7

'Excellent' rating on Trustpilot is the highest of

any of the composite door brands, while the trade

comments elsewhere on social media are very

favourable too.

£1.1m investment programme

Our growth plan to support the business – which

very recently has gone through a management

buy-out with myself and other co-directors – will

help cement our long-term vision in terms of

growth and opportunity, and we're already putting

in place a £1.1m investment programme to help

re-classify us as a world class operation.

This will see the building of a new 30,000ft 2

distribution hall, featuring a new product routing

system through the factory, along with new

vehicles and a new mezzanine floor to add further

office space.

We're also increasing our CNC machines to

seven, along with two new vac formers and a

new extraction system, which will provide the

infrastructure to support growth for the longterm,

beyond the current accelerated levels of

consumer demand.

Each door we manufacture is made to order

without the use of generic blanks. We use an LVL

slab that's carefully sourced, fully traceable and

used elsewhere in the construction sector, which

means we have more manufacturing processes

and procedures than most others.

It's also why we've recently committed £200k

to the adoption of 'Big Change' software, to help

transform the business from one which has been

paper-led, to one that's run and measured with

digital technologies and corresponding KPIs,

which will help make us more adaptive, efficient,

and effective.

In many ways, we view Endurance Doors as a

manufacturing entity with a wonderful culture and

the manufacture of bespoke solid core composite

doors is the result of our efforts.

We're taking inspiration from outside the industry

so that we can harness best practice and modern

manufacturing techniques to improve what we

do, with customer care and the provision of an

outstanding experience the real focus.

Contact Endurance Doors:

01652 659259

endurancedoors.co.uk

@EnduranceDoors

40 T I MAY/JUNE 2021 PRACTICAL CONTENT FOR THE GLAZING INSTALLER & HOME IMPROVEMENT SPECIALIST
---
BRUNDLE

F.H.BRUNDLE

SERVING THE TRADE SINCE 1889

For more information

01708 39 80 22

sales@brundle.com

www.fhbrundle.co.uk

PRO-RAILING ®

BALUSTRADE

SPECIALISTS

The stainless steel

handrail & component

system.

Stainless Handrail

The widest range of

innovative and stylish

handrail & balustrade from a

single supplier.

Glass Clamps

Stand-Offs

Whatever the project,

we have a cost

effective solution.

Spigots

NEW 2021

CATALOGUE

OUT NOW

Wire Rope

Frameless Glass

724 PAGES OF SALES

OPPORTUNITIES

OVER 30 PAGES OF

NEW PRODUCTS

ORDER ON THE PHONE

OR ONLINE 24/7

FREE DELIVERY ON

ORDERS OVER £150

10,000 PRODUCTS

FROM STOCK

0333 050 7506 info@businesspilot.co.uk

The digital business

management tool

designed by

installers for

installers.

SCAN ME

Claim your instant

one-month free trial at

businesspilot.co.uk/free-trial

Drag-and-drop' job scheduling | Your office, anywhere!

A single system for all your admin | Understand profitability on every job

PRACTICAL CONTENT FOR THE GLAZING INSTALLER & HOME IMPROVEMENT SPECIALIST

MAY/JUNE 2021 TI 41
---
Advertorial

SLIDING TO SUCCESS WITH VISOGLIDE

MFT continues to invest in growth with the aluminium Visoglide Plus sliding patio door.

I

t's safe to say that Made For Trade (MFT) know

a fair bit about bi-folding doors, having spent the

last eight years perfecting the balancing act of

price, quality and service. They can now say that

they are one of the largest door manufacturers

in the UK, delivering an ever-growing number of

quality-checked doorsets, direct to site, every

single week. Now they have got that down to a fine

art, they are planning on repeating the process with

the Visoglide Plus sliding patio door.

Sliding patio doors fill the same spaces, but

offer a slightly different solution to bi-fold

doors. Sliders can be more suited to smaller

spaces which might not have the room for the

perpendicular stacking of the bi-folds when they

are open. Compact opening then, along with the

advantages of larger glazed areas make them a

great option when choosing between products –

and customers like options! Modern aluminium

sliders don't come with any of the bulk and

distortion issues associated with PVC options and

the product area is enjoying a bit of a renaissance

now that properly thermally broken systems are

the norm.

Bradley Gaunt, managing director of MFT,

commented: "As a leading aluminium systems

manufacturer we often get asked for price

comparisons on sliding patio doors. Historically,

bi-fold sales have dominated the market and

we favour volume production to deliver the

best value for our customers. Over the last

year or so though, the voices asking for sliders

have increased to a point where we believe the

demand is there to warrant setting up a dedicated

MFT production facility to supply it, and that's

exactly what we've done."

MFT have invested £500,000 in acquiring and

kitting out a 50,000ft 2 facility in Hartlepool,

initially creating around 20 new jobs in

the process. The new site is capable of

manufacturing 100+ doorsets per week, with

phased expansion plans to quadruple that

number as market demand dictates.

MFT's proven manufacturing recipe comes

straight from the bi-folding door factory, with

100% QC checks taking place on every completed

product, before it is carefully packaged and finally

loaded onto one of MFT's next generation delivery

vehicles for its journey to your site.

MFT's Chris Wann answers the question 'Why

Visoglide?': "We chose to fabricate the Smart

Visoglide Plus as the product shares the Visofold

reputation for being a hassle-free trade offering,

especially when it's been precision fabricated by

us! Our company mission statement is 'the best

products at the best prices with the best service'

and we always apply it with the trade customers

in mind! When it comes to trade products, the

customers need to be confident that the product

they have chosen will be fit and forget! And of

course it's got to be at the most competitive price

point in the market!"

MFT's initial trade-oriented offering will be 2

track doors of multiple configurations, up to 6.4m

wide and 2.5m high, which could be extended if

the market demands. Stock colours include white,

grey, black, dual colour grey on white – and those

willing to wait a little longer for their product

can order in any RAL colour they like. Hardware

will be offered in white, black, grey or brushed

stainless steel.

The configuration options chosen allow all doors to

be supplied fully assembled, unless you specify a kit

form option, and all can be glazed after the door is

installed, as opposed to having pre-glazed panels.

Glass units are available through MFT, but will be

delivered direct to site from the glass supplier.

Further details, brochure and quote forms at:

www.madefortrade.co/visoglide-patio-doors/

Contact Made For Trade:

01642 610799

www.madefortrade.co

@MadeForTrade1

42 T I MAY/JUNE 2021 PRACTICAL CONTENT FOR THE GLAZING INSTALLER & HOME IMPROVEMENT SPECIALIST
---
VISOGLIDE PLUS

SLIDING DOORS

NEW

SAVE

GET A

PRICE

COMPARISON

10%

NEW 1st ORDER

INTRODUCTORY

DISCOUNT

FROM

QUOTE CODE

TI-VG01

THERMALLY BROKEN ALUMINIUM

Slim profile, Lipped outer frame, Sobinco locks

INDUSTRY LEADING CUSTOMER SERVICE

Comprehensive install guide & support

LARGE SASH WIDTHS

Up to 6.5m wide in 2 panes. 2-4 panes available

www.madefortrade.co

Tel: 01642 610799

SLIMMER

Uninterrupted Sight Lines

STOCK COLOUR CHOICE

White, Anthacite Grey & Black, Dual Colour

FROM

SUPPORT

The best trade lantern

2 WEEK LEAD TIMES

Reliable safe site delivery

find us on facebook

* Per leaf price is unglazed and may vary depending on size and specification of the door. Lead time is based on a standard colour. Postcode restrictions apply

* Discount applies to new trade customers and first, single item purchase only of the Smart Visoglide Plus Sliding Doors | Image for representation ony
---
Updates

Tommy Trinder is enabling installers to determine which composite doors are added to its comprehensive

composite door sales app, Framepoint, by putting it to the vote.

Every month, Framepoint users are being asked to take part in a poll to rank a selection of composite doors from one

to 10, based on the designs they sell most. The team at Tommy Trinder then count and verify the votes and upload the

winning styles to the platform.

Founder and CEO of Tommy Trinder, Chris Brunsdon, said: "The benefit for installers is that they get all the composite

doors they need, regardless of manufacturer, and they can quote these seamlessly in one app alongside all their other

products; casements, bi-folds, patios, sash windows."

Framepoint also features a popular 'makeover tool', allowing installers to overlay new windows and doors onto an

image of the client's house – a feature that Chris says is "really helping installers win orders." www.tommytrinder.com

For further door updates visit www.total-installer.co.uk

COMPOSITE POLL PUTS INSTALLERS IN CONTROL

THE 'IDEAL' BI-FOLD CHOICE FOR GARDEN ROOMS

Alutech says the versatility of its BF73 aluminium door range has made it the 'ideal choice'

for the boom in home offices and garden rooms.

Approved Alutech fabricator, William Woods, MD of IDF Aluminium, has incorporated the system

into his new range of aluminium garden rooms, sold and delivered by Aliwoods.

William commented: "Having fabricated Alutech for a few years now, there was no doubt in using

their BF73 system for the bi-folds. We are offering three garden room size options, which all come

fitted with a set of Alutech bi-folding doors as standard. We began by installing three show models

but have already started selling them and are currently in the process of updating our website, so

please visit our Facebook page." www.alutechsystems.co.uk

EASIER INSTALLATION WITH SELF-CLOSING FITTING

Bohle has launched an improved version of the Alva self-closing hydraulic patch fitting, which offers 'a sleek

and stylish solution' for the controlled operation of glass doors.

According to Bohle, the new Alva patch fitting is now even easier to install because it can be secured with just two screws

instead of four. In addition to using fewer components, the updated design means there is now 29mm between the first hole

in the baseplate and the wall, which gives fitters more room to position a drill. Once in place, four grub screws can be used

to fine-tune the vertical alignment of the door and the zero position setting, with horizontal adjustment offered via one easily

accessible screw. Suitable for both interior and exterior applications, a stand-out feature of Alva is that all the technology

required for operation is packaged in one slimline unit. This means it can be fitted directly onto the floor, instead of creating a

recess to house an underfloor box, which presents further time savings for installers. www.bohle.com

'THE PERFECT HIGHER-SECURITY OPTION'

Jack Aluminium can now offer fabricators and installers a premium security accredited, large remote access

control double doorset option, after its TD68 thermal commercial door passed STS202 – BR2 testing, with a

new hardware offering on a 2.5m high double doorset.

STS202 – BR2 accredits doors for protection against continuous attacks using hand tools and levers, focusing on the

glazing, beading and locking systems.

Jeff Pearson, Jack Aluminium's sales and marketing director, said: "In the commercial market there is an increasing

demand for more secure door options… The TD68 continues to perform and pass testing standards, remaining one of

the most secure and robust aluminium commercial doors available. It is the perfect option for where a higher-security

standard door is needed." www.jackaluminium.co.uk

44 T I MAY/JUNE 2021

PRACTICAL CONTENT FOR THE GLAZING INSTALLER & HOME IMPROVEMENT SPECIALIST
---
Super Slim Sightlines

Modern Square Look

Colour-Matched Hardware

Fully Adjustable Jamb

PAS24:2016

Fully Open Corners

FAST QUOTES, MARKET-BEATING PRICES,

FREE DELIVERY, ORDER NOW!

Watford: 01923 803 923

London: 020 8889 6821

arkaywindows.com

sales@arkaywindows.com
---
Glaze Tube: Video Content

PRESS PLAY ON QUALITY

CONTENT FOR YOUR SECTOR...

Glaze Tube is the new platform for digital content from the leading players in your sector.

Easily accessible on any device, Glaze Tube is packed full and constantly updated with

practical, informative and entertaining video content, including how-to's; project and

product focuses; installation advice; training and webinars; plus interviews and opinions

from those operating throughout the glazing and associated products supply chain.

With new FIT Show dates in

place, hear why VEKA feel it's

such an important event in the

industry calendar...

See how you can be 'fitting in

minutes, glazing in seconds… and

having a brew before you know it'

with a demo of Made For Trade's

Korniche Lantern...

E

TUBE

PRACTICAL CONTENT

INTERVIEWS & OPINIONS

INSTALLATION ADVICE

THE ONLINE

COMMUNITY FOR

INSTALLERS AND

FABRICATORS

46 T I MAY/JUNE 2021 PRACTICAL CONTENT FOR THE GLAZING INSTALLER & HOME IMPROVEMENT SPECIALIST
---
See how Rehau's

investment in Runcornbased

PVCR is boosting

recycling capacities to

improve sustainability

throughout the supply

chain....

'Catch up with your new

best Mates', as Geocel

relaunches its popular

portfolio of professional

sealants and adhesives...

So head over to www.glaze-tube.co.uk to view all these videos and so much more, or

if you'd like to make the most of your digital content, contact Andy or Jake on

01892 732 047 to put your company and products in front of your potential customers.

GLAZE

TUBE

FIND US AT WWW.GLAZE-TUBE.CO.UK

PRACTICAL CONTENT FOR THE GLAZING INSTALLER & HOME IMPROVEMENT SPECIALIST

MAY/JUNE 2021 T I 47
---
FIT Show 2021

ARE YOU FIT AND READY FOR FIT?

With showrooms and pubs re-opened, and the UK vaccine rollout marching ahead, it's time

to get ready for the biggest business event of the year, as FIT Show returns to the NEC this

September. Below, the show's organisers offer up their top tips to optimise your experience.

1

Save the date!

We've all been there. Turned up to the wrong

job, on the wrong day and then missed out

on a day's work on the back of it. Save yourself

time (and the embarrassment of walking into an

empty hall at the NEC) by locking FIT Show 2021 –

September 26 - 28th – in your calendar now!

Visitors can pre register for free entry at: www.

fitshow.co.uk, and registering early means that

you'll be first in line to receive updates about the

show, such as all the amazing and exclusive show

discounts and offers, before everyone else. We'll

even send you a reminder to turn up (just in case)!

2

Plan your visit...

Failing to prepare is preparing to fail! For

the first time ever we will be opening FIT

Show on a Sunday. That means less time off the

tools for you, and why not plan your trip early to

make a weekend of it?

The NEC is the UK's number one venue for trade

and consumer events, with on-site parking,

access via air and rail and more than 2,000 hotel

rooms on site within Resorts World, which is a

24/7 leisure destination. But have you visited

Birmingham city centre? Make a weekend of your

trip to FIT, spend time shopping in the Bullring

or tasting the delights of the famous 'Curry Mile'

before you get down to business at FIT Show from

Sunday 26th September.

3

Do your homework...

Your trip to FIT Show really will be your biggest

business day (or days) since our last event in

2019. Don't just rock up and get swept away by all

the shiny new stuff – and trust us, there is going to

be plenty of shiny new stuff! It really does pay to do

your homework before you visit.

Pictured above: The FIT Show late night is 'a notoriously relaxed affair' with exhibitors often hosting their own drink receptions

"It's been a long time

since the industry has

got together, and we're

predicting a lot

of excitement"

Take advantage of handy tools such as our new

product trails. Use the search function on the FIT

Show website to plan your visit, see which brands

are exhibiting and highlight which products you

don't want to miss. If you register now, we'll send

updates and reminders to help you maximise your

time in the halls and make your visit to FIT as

profitable as possible.

4

Lock in the late night!

As well as opening FIT Show up on a

Sunday for the first time, we're going to

be running our late night opening on Monday

27th September too. This is an extra chance for

you to make a visit to FIT Show after your usual

business day and have an 'after hours' preview

of all the latest products and services on display.

This is a notoriously relaxed affair with our

exhibitors hosting their own drink receptions and

mini events on their stand. Don't be surprised

if you see a marching band heading through the

aisles alongside a display of the best bi-folds or

sliding sash windows!

5

Raise the Bar!

We are anticipating that this year's FIT

Show is going to be pretty epic. It's been a

long time since the industry has got together, and

we're predicting a lot of excitement. We urge you

to drink responsibly (start your training now and

build up slowly!).

And when you've visited all of those stands,

reconnected with all your business chums and

had a good play with all of the latest products and

tools that are on display, we'll see you at the bar!

Contact FIT Show:

0207 886 3100

fitshow.co.uk

@fitshow

48 T I MAY/JUNE 2021 PRACTICAL CONTENT FOR THE GLAZING INSTALLER & HOME IMPROVEMENT SPECIALIST
---
helping people

embrace light,

air and space.

rooflights.com is a proud UK manufacturer and supplier of architectural quality

rooflights and roof windows. With 25 years worth of knowledge, rooflights.com

can offer you a selection of high quality products at online prices.

Flat & Pitched Rooflights

Free UK Nationwide Delivery

BBA Approved

Secured by Design

LPS 2081: Issue 2

Cert/LPCB ref: 1347a

CALL US: 0333 016 4273

EMAIL: info@rooflights.com
---
CRM Systems

EASIER CONVERSIONS

Business management tools don't just improve your business efficiency, they can also help

increase conversions, as installer Thames Valley Windows can testify. Total Installer reports.

"I

think that we have tightened up - I don't

just think I know," says Paul Mills, senior

design manager, Thames Valley Windows.

"Our lead to sale conversion rate was 2.3 for the

year before we introduced Business Pilot. It went

to 1.8 last year - that's a 22% increase.

"Business Pilot has made us more efficient as a

business - that's not only how we run jobs but also

how we sell."

Thames Valley Windows switched to Business Pilot

in 2019, having previously run on another CRM

and accompanying management tools. As a cloudbased

business and installation management

tool, Business Pilot brought everything together

into a single platform, supporting Thames Valley

Windows in managing the lead to sale process, job

scheduling installation and aftercare and finance.

Business Pilot also provides an overview of

performance through its Sales Dashboard. This

tracks leads, demos, daily, weekly and monthly

sales, plus closing ratios.

"There's a lot that Business Pilot does to support

operations, the drag and drop scheduling facility,

so you can move jobs around without having to

make multiple changes, but it's also transformed

our approach to sales and making us much more

effective as a team," Paul explains.

"Other than top level figures as to how we were

performing at a business wide level, we weren't

really tracking data and performance.

"Now we can go far deeper and be much more

effective in our analysis. For example we used to

hand out leads to the sales team based on a rough

sense of how busy they were but without really

understanding value.

"We now attribute an initial value and so I can see

that if Rob has £700K of leads and Marcus has

say, only £250K, I maybe need to allocate more

leads to Marcus.

"We can also see conversion rates and how people

are progressing against each job."

New capability, introduced in February this year,

also makes the sales process flow even better. The

new Business Pilot Status Progression tool is an

easy-to-use, but powerful addition to the Business

Pilot platform, which at its simplest, allows you to

map your lead-to-contract or contract-to-delivery

process digitally.

Saving time

That simplifies things for team members; they're

prompted as they go to do each thing that they

need to do to get the job done, and because

everyone is following the same process, managers

have full visibility of where a job is at any time. It

allows you to automate certain processes, saving

you and your team time.

"You have much better visibility of the customer

right through their journey," says Paul. "That

delivers a number of benefits.

"For example, as a sales team we tend to remain

the first point of contact for customers. Until we

introduced Business Pilot, we'd end up taking

calls about operational issues and say that we'd

call [the customer] back. It might be something

relatively straight forward, but we'd still need to

speak to operations.

"Now we just look. We see exactly where we are

and explain that to the customer in minutes, rather

than having to go back a couple of hours later.

"That reflects incredibly well on us because it

Paul Mills, Thames Valley Windows

reassures our customers that they're dealing with

a very professional company where everyone has

visibility of what's going on...

"If we're going to call Mr Smith on Friday afternoon,

we make sure that we do. It's flagged for us so

when we call Mr Smith as promised on Friday, he's

'oh, wow, this is an amazing company'.

"We have other customers who need stuff to go

through planning, so frequently we've got cases to

call back two-months three-months down the line.

"Frankly, in the 'bad old days', they would have

simply slipped through the cracks. Now, I can say

to a customer, 'OK, you're not ready now, when will

be a good time to call back?' and I set myself a

note to do so in a couple of months. We call back,

they get a sense of how well we're run - and it

makes conversions far easier to achieve.

"My success as a manger here is completely

interconnected with the introduction of BP. As

we and our team use it over a longer period, we

continue to extract more and more efficiencies from

it, and it delivers more."

Contact Business Pilot:

0333 050 7560

www.businesspilot.co.uk,

@BusinessPilotUK

50 T I MAY/JUNE 2021 PRACTICAL CONTENT FOR THE GLAZING INSTALLER & HOME IMPROVEMENT SPECIALIST
---
Product Focus

A 'SHORTCUT

TO SALES'

NEW GARDEN ROOMS SHINE BRIGHT

As well as 'stunning good looks and

outstanding technical performance',

Ultraframe says its garden rooms can

also offer installers 'a shortcut to sales'

thanks to a comprehensive marketing

support package.

Marketing director, Alex Hewitt, said: "We

didn't just want to create a compelling

product offer, we also wanted to be sure

that our garden room customers were also

fully-equipped to sell, with a professional

marketing support package that makes

selling easy. Working closely with our

digital partner, ICAAL, we have created an

extremely strong package of tools to help

our customers generate and convert garden

rooms leads and be set-up to do so within a

matter of days."

A free of charge 'online designer' allows

homeowners 'to walk step-by-step through

the process of designing their ideal garden

room'; a tool that, according to Ultraframe,

would cost an installer thousands of pounds

to produce themselves.

In addition, a new retail brochure provides

'all the information a homeowner needs

to reassure them that an Ultraframe

garden room is the best choice for energy

efficiency, brightness, durability, low

maintenance, and fade-free components'.

The brochure can be personalised through

Ultraframe's Cuckoo online marketing

system, where a selection of imagery can

also be accessed.

Garden room specification and installation

guides are also available, along with an

installation video that can be viewed on the

Ultraframe You Tube channel, as well as via

the Ultraframe installer app.

Ultraframe has launched a new range of

contemporary garden rooms, which like all

Ultraframe systems, offers 'an interior space

that is flooded with natural light'.

A unique selling point of both The Studio and The

Pavilion styles are the full length glazed panels

which can be situated at various points in the

roof, making them what Ultraframe claims are

'the brightest garden rooms on the market'.

Ultraframe's marketing director, Alex Hewitt, said:

"When we started designing our garden rooms,

light was a key consideration for us – as it is on

all Ultraframe systems. We know that whether

people use them for working, working-out, or

relaxing, that natural light is vital to create the

perfect interior ambience.

"Ultraframe garden rooms are available in two

styles – the Studio with its reverse lean-to roof,

and the Pavilion with its Georgian style roof – and

it is a key unique selling point that both styles can

feature stunning full length glazed panels in the

roof. These can be situated in various locations,

dependent on where the homeowner would like to

bring natural light into the room below."

The front elevation of Ultraframe garden rooms

feature French doors and full-length windows and

further full-length windows can be added into

the side walls, if desired. The full-length glazing

panels are designed to ensure that the room

will maintain a comfortable temperature all year

round, as well as protecting furniture within from

fading.

While the glazing panels in the roof are very large,

Ultraframe claims that its garden rooms are twice

as energy efficient as other premium garden

rooms, and says the roof and the walls are warm

enough to meet Building Regulation requirements

for home extensions.

Quick to build

With all sizes and configurations available on a

10-day lead time, Ultraframe garden rooms are

also fast to fit, thanks to familiar components that

ensure a speedy build.

Alex added: "When we were developing our new

garden room range, we really focused on the

speed at which they could be delivered and built.

"Both styles of Ultraframe garden room use

components already familiar to our installers and

can be watertight in just one day. As they are familiar

components, no additional training is required,

although we are running a series of webinars to

ensure that anyone who wants further information

has a forum to learn and ask questions."

www.ultraframegardenrooms.co.uk

52 T I MAY/JUNE 2021

PRACTICAL CONTENT FOR THE GLAZING INSTALLER & HOME IMPROVEMENT SPECIALIST
---
GREAT

PROFIT MARGINS

REPLACEMENT ROOF MARKET,

A PERFECT OPPORTUNITY FOR INSTALLERS.

QUICK LEAD TIMES

EASY TO INSTALL

COMPETITIVE PRICES

FREE TRAINING DAYS

REGISTERED SCHEME

MARKETING SUPPORT

ADVANCED PRODUCTS

MARKET LEADING SYSTEM

01772 828060 | SALES@SUPALITEROOF.CO.UK | WWW.SUPALITEROOF.CO.UK
---
Updates

For further glazed extension updates visit www.total-installer.co.uk

SUPALITE UPHOLDS LEAD TIME

SupaLite has reported that it is upholding

its usual 7-10 day lead time, despite

an influx of new business – and a sales

increase of 59%

With increased market demand in 2020, 2021

has seen continued success for SupaLite, with

the company beating its record for the number

of orders in one week at the end of February,

'and still continuing to climb'.

The growing demand for the SupaLite tiled roof

system was matched with improvements to

the company's operations, allowing SupaLite to

successfully manage the influx of orders.

The company also invested in a second Haffner

machining centre, costing approximately

£300,000, enabling it to improve efficiency.

Further to this, new manufacturing software

has advanced productivity when prepping jobs.

In addition, the company, which also

manufactures the SkyVista glass panel

system, strengthened its workforce with the

rearrangement of roles, and the introduction

of several new-starters to effectively meet the

increased business demand.

Steve Hacking, managing director of SupaLite,

said: "The desire for home improvements has

sky-rocketed since the start of the coronavirus

pandemic, and at SupaLite we pride ourselves

on being able to keep up with the new demand."

"With the additional business we have been

lucky to achieve, it is important for us to

maintain the level of service our customers

have been accustomed to receiving, and to

ensure the many new businesses who have

joined SupaLite are satisfied with our service,

so they continue to work with us."

Alan Watters, technical director at SupaLite,

added: "The success we are having with

maintaining our lead times at SupaLite is

testament to the strength of our supply chain

partnerships."

Working alongside installers and home

improvement companies nationwide, SupaLite

says its tiled roof and SkyVista systems 'continue

to shine as both quality retro-fit systems to

replace and improve existing conservatory and

orangery roofs, and effective high-performance

solutions to the new-build market'.

www.supaliteroof.co.uk

IMMERSIVE 3D CONSERVATORY SELLING FROM ARC

Augmented Reality Creations (ARC) has

reported 'huge demand' amongst the home

improvement industry for InPlace, its

new app, 'with installers reporting a large

number of customers opting to use its unique

features after experiencing the benefits'.

With technology at our fingertips, it's no longer

effective for installers to sell conservatories

using generic images from a brochure or

online says ARC – thanks to smartphones

and websites like Pinterest, homeowners

understand the market better than ever,

meaning they're less likely to commit to a big

investment without first clearly seeing the

value of their purchase.

As a result, more and more installers are

looking for new ways to help them win more

sales, and ARC reports that InPlace has been

'taking the market by storm'.

Using augmented reality software, InPlace

is an app that allows installers to show their

customers virtual, explorable, life-size 3D

models of their conservatory, helping them make

a decision and ultimately winning more sales.

The app virtually places an installer's

conservatory design in their customer's

garden or attached to their home, helping them

visualise where it will end up and how it will

look in real life.

Installers can also use the app to

demonstrate different conservatory designs

in their showroom, without the need for any

additional space.

ARC COO and co-founder, Andrew Clear,

commented: "The conservatory market is

booming at the moment, but despite that,

homeowners are still having to rely on simple

computer drawings to make important – and

costly – decisions.

"InPlace transforms these drawings into

immersive 3D experiences using their

mobile phone or tablet – installers can offer

their customers a much better experience,

ultimately increasing their order values and

conversion rates.

"InPlace is simple, affordable and easy to use,

and as an installer, it's the app you need to

step into the future."

Visit the App Store/Google Play Store to

download InPlace.

arc-solutions.co.uk/

54 T I MAY/JUNE 2021

PRACTICAL CONTENT FOR THE GLAZING INSTALLER & HOME IMPROVEMENT SPECIALIST
---
sales@britmet.co.uk | 01295 250998 | www.britmet.co.uk | #TheBritmethod

Low-Pitch

Lightweight

Sustainable

Liteslate

designed with the environment in mind

Lightweight Composite Slate | Lightweight Granulated Tile Panels | Lightweight Tile Effect Sheets | Flat-to-Pitch Roof Systems

Structural Liner Trays | Door Canopies | Decorative Exterior Paint

RAISING THE STANDARDS IN LIGHTWEIGHT ROOFING
---
Orangeries

The King family had a dated conservatory in need of a revamp – and

also wanted to add extra space to enjoy open plan living. They were

keen to add a large, contemporary glass roof to their extension

and worked with their local Ultraframe installer, Niddal Windows

and Conservatories, to design an orangery extension featuring the

Ultraframe Classic Roof.

Homeowner Mr King said: "When we started to think about demolishing our

existing conservatory and creating an open plan extension, we knew that the

roof was key. We wanted something that looked modern and after doing our

research, we soon found that Ultraframe was the best option, with the Classic

roof and its new slimline ridge fitting the bill perfectly. We love the open-plan

space and the light it has brought into the back of our home is fantastic."

The new slimline ridge was launched in January along with a number of other

enhancements to Ultraframe's Classic system, including a bi-fold support

beam, super bolster, chambered box gutter and enhanced structural design

guide. Unsurprisingly, the slimline ridge has proved extremely popular with

Classic users since its launch, as it reinforces Classic's status as the ideal

roof for large span contemporary orangeries and extensions.

Commenting about the new slimline ridge, Ultraframe marketing director, Alex

Hewitt, said: "The new slimline ridge offers a much more modern look than

the usual Classic radius-end and looks similar to a lantern-style ridge-end.

For further glazed extension updates visit www.total-installer.co.uk

AN ORANGERY INSTALLATION FIT FOR KINGS

This new slimline look, coupled with the external aluminium option makes

Classic a fantastic choice for modern conservatory designs, especially those

featuring aluminium bi-folds.

"While the Classic system has been around for almost 40 years, the new

slimline ridge has brought it bang up to date in terms of aesthetics, while still

offering all the configurability and technical benefits that it always has."

BLURRING THE LINES BETWEEN HOME AND GARDEN

The Renshaw family live in a beautiful Arts and Crafts-style house

in Lymington, Hampshire. While their home was already large, the

family wanted a new living space to blur the lines between their

home and garden and add a contemporary twist to their home.

Their local Ultraframe Ultra Installer – Forest Edge Home Improvements – is

located a stone's throw from the property and they were able to design a

stunning orangery-style extension using the newly-enhanced Classic roof.

The Classic system benefited from a series of enhancements in January

2021, including the new slimline ridge which features on this project.

Explaining more about the project, homeowner Mrs Renshaw said: "We

really wanted to enjoy the views of our garden and we decided that an

orangery would be a beautiful way to do this.

"After meeting with James from Forest Edge Home Improvements, he

showed us the new look Ultraframe Classic roof, the internal pelmet

system, and the external cornice. Together, they allowed us to create the

effect we wanted, but in a much more cost-efficient and contemporary

way than a traditionally built orangery."

Forest Edge designed a contemporary extension which is an impressive

8m wide. Topped with a Classic aluminium roof in contemporary black, the

extension also features a two-tier black cornice. The overall effect is that of

a stunning, modern orangery that has become the hub of the home. Black

aluminium bi-folds span the full width of the extension, ensuring a seamless

link to the garden and perfectly complementing the aluminium Classic roof.

Mrs Renshaw added: "Not only have we gained a lot of extra square

footage, but our new extension also has the wow factor due to the glass

roof and bi-fold doors which let in lots of natural light, whatever the

weather. We love it and now spend all our time in the new room! The

customer service from Forest Edge Home Improvements was excellent

throughout and we would highly recommend them."

Also launched for the Classic roof in January 2021, in addition to the new

slimline ridge, are a bi-fold support beam, super bolster, chambered box gutter

and enhanced Structural Design Guide. To find out more about the industry's

original conservatory roof system, visit www.ultraframetrade.co.uk

56 T I MAY/JUNE 2021

PRACTICAL CONTENT FOR THE GLAZING INSTALLER & HOME IMPROVEMENT SPECIALIST
---
Press play on quality

content for your sector

Free

content that

is constantly

updated

Easily

accessible on

your desktop,

mobile or

any device

Subscribe

to channels

for your specific

areas of

interest and

expertise

THE HOME OF

METAL GUTTERING

Online ordering -

pay securely by

credit card or PayPal

Next day delivery on

a huge choice of

stocked items

Take-off service,

quotes and

technical advice

Unrivalled

customer service

The new platform for digital content from the key players in

your sector, including: How-to's; Projects and product focuses;

Installation advice; Training and webinars; Interviews and opinions.

www.glaze-tube.co.uk

In association with Total Installer and Total Fabricator magazines.

To discuss showcasing your video content, contact Andy or Jake on:

01892 732 047

or email andydunn@media-now.co.uk / jakeroxborough@media-now.co.uk

COPPER

ZINC

HIGH QUALITY

LONG LASTING

CONTEMPORARY & STYLISH

SELFBUILD OR REFURB

0800 644 44 26 www.rainclear.co.uk

Experts in

Hardware

" We've steadily increased the

range of hardware we buy from

Carl F Groupco over the last

16 years. Their product range,

service level and support

has proven them to be our

preferred hardware supplier…"

Julie Warner

Product Manager

Carl F Groupco

Get in touch

and speak to

one of our

experts today:

t. Peterborough:

01733 393330

t. Cumbernauld:

01236 721557

e. sales@carlfgroupco.co.uk

w. www.carlfgroupco.co.uk

Scott Dowling

Cairngorm Group

PRACTICAL CONTENT FOR THE GLAZING INSTALLER & HOME IMPROVEMENT SPECIALIST

MAY/JUNE 2021 TI 57
---
Contract Customer Talk Service

REAL PLUS POINTS FOR INSTALLERS

Sternfenster says it is redefining the traditional role of a fabricator with its 'next

generation' service offering, Sternfenster Plus. Total Installer spoke to sales director,

Nathan Court, to find out the benefits for installers...

Q: What is Sternfenster Plus?

Nathan Court (NC): Sternfenster Plus is an

online portal that gives our installer customers

access to a huge amount of information, designed

to help them run their business more efficiently.

In addition to a regularly updated news feed, they

can check the status of all their quotes, contracts

and deliveries, access training and marketing

materials and even tap into a live production feed

that provides real time data on the capacity of our

PVC and aluminium factories.

Q: Can you explain why you developed

Sternfenster Plus?

NC: We developed it primarily as a

communication tool for our customers, one that

enhances our existing customer service and

business management support.

Over the last 12 months or so, lockdown has

served to generate significant demand, but it has

also created huge challenges in the supply chain.

Sternfenster Plus has enabled us to provide

additional support to our customers, to improve our

service and a big part of that is because we are

now better equipped to manage their expectations.

Sternfenster's Nathan Court

We've gained a huge amount of traction with new

and existing customers because of it.

Q: How does the Sternfenster Plus news

feed differ from regular industry news

channels?

NC: The news feed is updated on a regular basis

and is also emailed to our customers directly. It

includes content that helps to keep them up to

speed on current affairs in the industry, but it also

provides insight into working life at Sternfenster.

We have used it to pass on advice from the

GGF, such as the latest Covid-related health

and safety guidance, but we can also make our

customers aware of issues that we are facing as

a business. These could be to do with the supply

chain, delays on certain materials, lead times

or price fluctuations, but we also use the news

feed to provide updates on other challenges here

at Sternfenster. For instance, there have been

occasions where as many as 15 members of staff

would be self-isolating due to the virus, in which

Continued on page 60

58 T I MAY/JUNE 2021 PRACTICAL CONTENT FOR THE GLAZING INSTALLER & HOME IMPROVEMENT SPECIALIST
---
UK'S BIGGEST

AND BEST TRADE SHOW

FOR THE WINDOWS, DOORS, GLAZING & COMPONENTS INDUSTRY

ALL

INTO ONE SHOW

SEE THE BEST IN THE INDUSTRY, BE THE BEST IN THE BUSINESS.

NEC BIRMINGHAM,

26-28 SEPT 2021

For more information on how to exhibit at

FIT Show, visit www.fitshow.co.uk/exhibit

FITShow.co.uk | #FITShow21

REGISTER

FOR FREE
---
Customer Service

Continued from page 58

case we could be as much as 600 hours down on

production time over the course of a week. That

obviously puts additional strain on our production

schedule and the news feed gives us an excellent

means to communicate that.

Q: How much information can customers

access with the live production capacity

feed?

NC: Our production capacity feed is a real standout

feature of Sternfenster Plus, and as far as we

are aware, it is unique in the industry. It gives

our customers complete visibility of both our

PVC-U and aluminium production facilities, in real

time. Again, this is about making the most of an

opportunity to communicate with our customers.

We are not just saying to our customers 'demand

is high, so you will have to wait a bit longer for

your order', we are giving them precise, live

information on the status of our production lines,

broken down into product type. Currently, in our

PVC factory, you can see that we are operating

at a relatively high capacity on certain products,

but you can also see how much capacity we

have in our aluminium factory, which is why we

are currently offering five-day lead times on our

Smart Visofold and Alitherm 300 window. This

time last year, this wouldn't have been possible,

we were much closer to our limit, so this is a

very neat way of demonstrating the value of

the investments we have made in aluminium

production since then.

However, while competitive order to delivery times

are important, the transparency we have with our

production feed has actually allowed us to steer the

conversation away from headline lead times.

Again, it's put more of a focus on how we are

managing the expectations of our customers,

of improving service – advantages that can be

passed on to homeowner customers as well.

Q: Would you agree that Covid has been

a catalyst for change in fabrication and

supply?

NC: Sternfenster is a family run business and those

family values have always been reflected in the

service we provide to our customers. But the last 12

months or so have absolutely reinforced the need for

better communication and increased support.

It's why we've been so comprehensive with what

we offer through Sternfenster Plus, it's much

more than just a portal to track the progress of

orders or view production capacity, it literally

gives our customers everything they need to run

their business.

They can access images, brochures and posters

to help with marketing, or they can download our

accreditations, certifications and data sheets that

outline all the technical information relating to our

product offering.

It even provides training, with guidance on how

to use our online ordering systems, right down

to video tutorials on how to correctly install our

products!

Fabrication is now more than just the

manufacturing and supply of product, it's about

working in a smarter, more efficient way with a

supplier who can provide a broader, more holistic

level of service and support.

Contact Sternfenster:

01522 512525

www.sternfenster.com

@Sternfenster

60 TI MAY/JUNE 2021 PRACTICAL CONTENT FOR THE GLAZING INSTALLER & HOME IMPROVEMENT SPECIALIST
---
QUITE SIMPLY, THE

UK'S MOST AUTHENTIC

TIMBER-ALTERNATIVE

SASH WINDOW

Seamless

run-through

horns

Seamless

no horn

option

True

mechanical

joints

Optional

deep

cill

01234 712 657

trade@roseview.co.uk

www.roseview.co.uk
---
Article Garden Rooms: Step-by-Step

ROOM TO GROW WITH KYUBE

The addition of a garden building to provide extra living space is on the rise. Below, Eurocell

outlines the key considerations when installing its 'Kyube' garden range, and lists the top five

reasons why the product is a great choice for installers looking to add a new revenue stream.

The popularity of garden buildings has grown considerably over the past year. From gyms, to home offices and children's playrooms, the versatility of a

garden room has seen them pop up around homes across the country.

With a wide array of garden buildings available, it can be difficult to decide which garden room is best suited to your portfolio. However, the Eurocell

Kyube range comes with many different benefits for both the consumer and the installer, making it a great choice.

The following considerations are key when installing the Kyube:

1 2 3

Preparation

First, ensure you've taken into consideration the health and safety aspects. Check if planning permission is required and check building regulations.

The concrete base

Confirm the garden building's position prior to the installation, and ensure that there is good access all around. Make sure the concrete base is level and

measured correctly.

The flooring frame & insulation

Ensuring the base of the garden building is level and secure is very important. Insulation is required as well as a green polythene vapour membrane, which

needs to be stretched across the entire floor and secured around the perimeter.

The walls and the roof frames

The walls need to be carefully fitted into position with flush joins and bolted securely together.

The roof frame needs to be fitted with overhang on the front, rear and each side. Offset the beam join with any joins in the roofing section for strength, and

secure the roof down with L-brackets.

Pack the roof with Rockwool insulation and fit an OSB across the entire roof. Sand down when fitted to remove any imperfections and apply foil tape to the

perimeter of the roof frames to reduce water exposure.

4 5 6

62 T I MAY/JUNE 2021 PRACTICAL CONTENT FOR THE GLAZING INSTALLER & HOME IMPROVEMENT SPECIALIST
---
7

A kerb trim will also need to be fitted

around the front edge and down two

sides, along with a gutter trim along the

back edge. Clip the corner and join the

trims into place.

The front step

Position the step frame in place, fasten to the garden room and to the concrete base.

The step needs to be edged with cladding and the decking panels, and it will also need to be

framed and edged.

The external walls

Insulate the external walls, packing all voids. A PIR will need to be fitted around the perimeter

walling with door and window spaces cut around.

The building will be wrapped in Tyvek wrap and wrapped into the holes of the windows and doors.

Timber battens need to be fitted on the outside of the building, ensuring they're on every corner

and edge of any apertures.

Fitting the doors and windows

Fit the chosen doors and windows into place. Ensure they're fitted correctly and use expandable

foam to close any gaps.

The external cladding & guttering

When fitting the external cladding you will really start to see the garden building come together.

Check each cladding panel is level as you fit each row. Bond a final strip of the board to the top to

hide fittings and finish the cladding.

Fit the window and door trims to create the finished exterior look.

Finally, the guttering will need to be fitted, to help with the drainage of water. Fit the gutter at either

end of the garden room and ensure it sits flush with the bottom edge of the roof.

9

8

Contact Eurocell:

03301 731 847

www.eurocell.co.uk

@eurocellplc

PRACTICAL CONTENT FOR THE GLAZING INSTALLER & HOME IMPROVEMENT SPECIALIST

MAY/JUNE 2021 TI 63
---
Article Roofline & Cladding

CUSTOMERS AT THE HEART

Colin St John, commercial director at roofline and cladding manufacturer, Freefoam, talks

to Total Installer about economic recovery in the wake of Covid, the benefits of a customercentric

approach and why honesty's the best policy when it comes to lengthened lead times.

TI: Can you tell us a bit about Freefoam, the

company's offering and the types of projects

your products are used on?

CS: Freefoam is an independent manufacturer of

PVC-UE roofline and PVC-U rainwater and external

cladding. We also supply interior panelling systems

for bathrooms and wet rooms. We sell exclusively

through a national network of independent stockists

and merchants for the home improvement, housing

repair maintenance and improvement (RMI) and

new-build housing markets.

TI: How are the various sectors that you're

involved with currently performing?

CS: It's hard to take stock of the past 12 months

but despite all the disruption of Covid-19, the

sectors we operate in are doing very well. The

housing market quickly bounced back and both

new-build and RMI are doing very well.

TI: A number of surveys and forecasts are

pointing to positive workloads for those

operating in the home improvement and RMI

sectors – is that what you're experiencing?

CS: Most definitely. While Covid-19 has had a

"We've seen a massive demand

for cladding – either for garden

offices and studios or as an

easy, low-maintenance way of

transforming homes"

devastating financial impact on entire industries

and countless individuals, those with job security

and savings may have actually found they're

better off. The last report I read said consumers

had amassed £100bn in savings by the end

of 2020. That's a huge amount, and they will

have saved even more when we come out of

lockdown in the summer. The Bank of England is

forecasting they'll have £250bn. We haven't been

able to spend money on holidays or meals out, so

people are spending on improving their homes to

make them more comfortable and convenient, or

adding much needed living and working space.

Many of our installer customers say they've

never been busier and there's no sign of demand

slowing down. We've seen a massive demand for

cladding – either for garden offices and studios or

as an easy, low-maintenance way of transforming

homes. Last year our top stockists had sold an

average 38% more cladding than in 2018, and

we expect this trend to continue.

TI: Have lead times been affected? And how

are you working to ensure installers are

delivering on their promises to customers?

CS: Lead times for materials such as timber,

concrete roof tiles, insulation for example have

been stretched greatly at times. When the world

shut down last March, no-one knew when or

how we would reopen. We were very lucky in this

industry that demand quickly recovered but it

inevitably impacted on lead times. I've found the

best approach is to be honest with customers,

do our best to deliver products when they need

them, and keep open lines of communication.

We'd encourage installers to do the same with

their customers.

TI: Following one of the most testing periods

for construction, with the Grenfell tragedy/

Hackitt Inquiry, Brexit and Covid-19, is there

anything you've learned that you'll take with

you going forward?

CS: Last year was a huge learning experience,

probably the biggest of my career to date. I'm

incredibly proud of the Freefoam team, including our

customers, and our ability to pull together and adapt

Continued on page 66

64 T I MAY/JUNE 2021 PRACTICAL CONTENT FOR THE GLAZING INSTALLER & HOME IMPROVEMENT SPECIALIST
---
Introducing the ultimate marketing blueprint.

Only from Purplex - the PR, digital and

creative agency for ambitious companies.

Discover why more companies choose Purplex as their marketing

and digital partner. Book a Zoom call, telephone 01934 808 132,

email grow@purplexmarketing.com

or visit purplexmarketing.com

Scan here to book your

free Zoom marketing

consultation
---
Roofline & Cladding

Continued from page 64

to ever-changing circumstances. We've always

placed customers at the centre of the business,

and I'd say the events of 2020 have taught me

this approach is critical for long-term success.

TI: What are the key benefits of Freefoam's

Registered Installer Scheme?

CS: We set up Freefoam's Registered Installer

Scheme years ago to help installers gain a

competitive edge and win more business. Since

then it's become more and more popular with

installers because our marketing support helps

them build their brand in their local area. We also

provide quality leads for them through our two

consumer-facing websites: www.myfascia.co.uk

and www.mycladding.com. Perhaps one of the

biggest benefits installers get through the scheme

is the Extended Lifetime Guarantee, which

extends the 20-year guarantee on white roofline

to 50 years, to give our registered installers an

extra boost. If the homeowner moves home the

guarantee can be transferred to the new owners.

Homeowners say it's a great incentive to buy

Freefoam and it gives them extra peace of mind.

Registered Installers have always loved it.

TI: How have the roles of manufacturer and

supplier developed over the years, and how

have installers' requirements changed?

CS: From Freefoam's perspective, success comes

from helping customers grow. Successful suppliers

need to offer more than just products, they need

to create mutual partnerships with customers.

It's also very true that the way installers

promote their business has evolved. Being able

to promote your brand online and on social

media is essential. It can be hard to know where

to start, so we've just launched new social

media guidelines to help installers. We've also

developed a range of short, easy-to-follow videos

to show installers exactly what to do.

TI: The public are more knowledgeable about

products and materials nowadays – has this

put pressure on installers?

CS: I agree, homeowners are much more

knowledgeable, and we see it as a positive thing

for installers. It's so much easier to explain

product features and benefits if consumers

have a good, basic understanding. The days of

the typical 'hard sell' are gone and the most

successful installers are those who communicate

clearly and honestly with their customers.

TI: We often hear of rogue tradespeople, but

sometimes customers can be too demanding,

rude and unreasonable. What would your

advice be to installers who come across

customers like this?

CS: Earlier on in my career, I joined Laing Homes

as a customer care officer. We were known as

Care Bears, and to be honest I quite liked that.

We were there to ease customers into their

new homes and make the transition as easy

as possible. The job gave me an invaluable

grounding in customer service and taught me that

in moments of angst, people can lose a sense

of reality. As my career progressed I learned

customer service boils down to delivering what

has been promised. My advice to installers would

be to keep this in mind at all times.

TI: What are some of the most common

mistakes that contractors / installers make

when it comes to installing cladding?

CS: It's easy to think you can have a go, but

we'd strongly recommend referring to the

manufacturer's guide and getting advice from your

supplier if you're unsure. Incorrect fixing centres

and lack of ventilation are the cause of most

installation problems, so we have a dedicated FAQ

page on cladding (www.freefoam.com/professional/

technical-faqs) and our technical advisors are

always happy to help with any queries.

TI: Can you tell us about some of the projects

that your products have been utilised on?

CS: We've seen some fantastic transformations

with cladding. For example, Freefoam Fortex

weatherboard cladding in Misty Grey was used

to enhance the front elevation of a detached

property in Cheshire (pictured on previous page).

The cladding was used in conjunction with a

render finish to create a smart contemporary New

England look. Another beautiful makeover came in

a renovation of a three storey house in Falmouth,

(pictured above) where our Fortex Double

Shiplap cladding in Colonial Blue replaced tired,

discoloured pebble dash to transform the property

and give it a coastal feel.

TI: After a challenging period for construction

and the public – are there reasons to be

positive moving forward in 2021 and beyond?

CS: No-one can predict the future but, as the

latest Consumer Confidence data from GfK

shows, consumer confidence is returning and

the wider construction industry will continue to

recover. We're focused on putting the customer

at the heart of Freefoam and giving them the

products, service and support to do well.

Contact Freefoam:

0800 00 29903

freefoam.com/professional

@freefoam

66 TI MAY/JUNE 2021 PRACTICAL CONTENT FOR THE GLAZING INSTALLER & HOME IMPROVEMENT SPECIALIST
---
Expert Witness Service

When you need expert backup

for a fenestration dispute.

When a dispute between an installation company and a

homeowner cannot be settled, specialist expert advice

and reporting can be the best way forward.

Our RICS accredited experts can help. We can act as

a single joint expert or as a party appointed expert

and produce a high quality report in line with the Civil

Procedure Rules for expert witnesses.

• Domestic window and door installations

• Building regulation compliance inspections

• British Standard 8213-4

• Specification disputes

☑

☑

☑

☑

☑

RICS accredited

Window and door

installation specialists

Party appointed expert

Single joint expert

CPR 35 compliant reports

Call 0800 085 3032

Email expertwitness@risaltd.co.uk

RISA are specialists in domestic window installations. As part of the Glass and

Glazing Federation Group, we are able to call upon the resources and expertise

of the entire GGF Group for the benefit of our clients.

risaltd.co.uk/expertwitness
---
Updates

WINNING TRANSFORMATION FROM PENRYN PLASTICS

Penryn Plastics was named as a recent winner of Freefoam's monthly transformation competition.

Using Fortex Double Shiplap cladding in Colonial Blue, Penryn Plastics transformed a three storey

detached property in Falmouth (pictured right), fitting cladding around the upper storey of the

pebble-dashed property over a two-week period.

Alex Ottaway, from Penryn Plastics, said: "We've worked with the Fortex range on lot of properties.

We find it easy to fit, but pebble dash can be trickier than smooth render as it is more uneven. We had

to spend extra time adjusting the battens to make sure they ran flush with each other over the uneven

surface. Once complete, we simply fitted the cladding to the battens. It's important to create an air gap

behind the cladding to stop it over heating, especially here in Cornwall where we get more sun, but the

Freefoam range comes with a starter trim with built-in ventilation which makes it very straightforward."

www.freefoam.com

For further home improvement updates visit www.total-installer.co.uk

LOFTY AMBITIONS: DAKEA PRESENTS LATEST GUIDE

Roof window manufacturer Dakea's latest Trade Matters factsheet is available to download on the

company's website, with a focus on the use of roof windows in loft conversions.

The monthly Trade Matters campaign is designed to offer installers and homebuilders expert advice to help

them grow and improve their business.

The latest factsheet is a guide to helping installers advise clients on loft conversions, providing 'all the facts

around roof windows in loft conversions that installers should know'. The factsheet also includes information on

the benefits of a loft conversion; how to ensure homeowners get enough light into their loft conversion; achieving

the right ventilation in a loft conversion; ensuring a new attic room is energy efficient; and why installers should

choose Dakea roof windows. Download the factsheet at: dakea.co.uk/trade-matters/

HIGH PRAISE FOR CANOPY SYSTEM

Swisspacer's La Pensilina glass canopy system has received a stamp of approval from Staffordshirebased

customer, Montane Projects, thanks to its high-quality design and performance.

Montane Projects recently supplied and installed six La Pensilina canopies across six blocks of apartments at

Blythe Valley Park, a Crest Nicholson housing development in Solihull.

The canopies were required to be large enough to shelter people coming in and out of the buildings – and

provide cover for the access panel and entrance. Montane Projects tried other canopy solutions but struggled to

find a system that was strong enough to support the weight of the glass needed. La Pensilina proved to be the

perfect solution. Swisspacer provided a quick and efficient service, while offering an option that not only met the

size requirements of the project but was weatherproof and stayed fixed in position. en.swisspacer.com

ALL YOU NEED TO KNOW ABOUT SOCIAL SELLING

Freefoam Building Products has released new guidelines to help roofline and cladding installers promote their business and services on

social media.

This includes information about a free online Facebook course, ideas on how to target an audience when advertising, tips on adding tracking code (so that

Facebook shows adverts to the right people) and advice on scheduling (to ensure adverts

Social Selling

Toolkit 2021

Top tips for running Facebook and

Instagram social media adverts

are shown when the chosen audience are most likely to see them). And that's not all!

Freefoam is also developing a series of short videos to show installers exactly what to do,

which are available to view on YouTube and via Freefoam's social media channels.

The new guidance will be emailed directly to all Freefoam installers, included in

newsletters and is also available to download from freefoam.com. www.freefoam.com

68 T I MAY/JUNE 2021

PRACTICAL CONTENT FOR THE GLAZING INSTALLER & HOME IMPROVEMENT SPECIALIST
---
The

Sponsored by Epwin Window Systems

100 Cycling Challenge

COULD YOU:

GATHER a team of 6 riders?

CYCLE 100 miles in a day?

FUND a £1,000 per company

entry fee?

RAISE a minimum of

£1,200 in additional

sponsorship per team?

GIVE UP a day on 8th

August 2021 to take part?

in aid of

Hope House

Childrens Hospice

Proud Sponsors

Epwin

Window Systems

Think you've got what

it takes to enter a team?

Email Gary now

gary@gmfundraising.co.uk

Terms and Conditions

Company entrance fee of £1,000

A minimum of £1,200 from individual/team sponsorship

Minimum of 6 people per team

100 mile(s) cycle ride. This can be done collectively or individually or both

Just Giving pages will be set up for your company representation

T Shirts and drinks bottles for riders and photography

Share your training and the actual event on social media channels

Certificates for Company and individuals
---
Xpert Advice

SOMETIMES, IT REALLY IS THE TOOLS

In his regular column for Total Installer, Karl Williamson, Window Ware business

development manager, explains why general-purpose tools just won't cut it for specialist

glazing tasks – and why it pays to opt for the 'Xpert's' choice.

We've all heard the saying: 'a bad workman

blames his tools'. Admittedly, it's far

easier to attribute a poor job to the tools

used rather than any lack of skill or experience.

The right tools for the job: Xpert tools are specifically

designed for window fabricators and installers

But there are exceptions to every rule, and in

some cases it really is the fault of the tools rather

than the person wielding them. The specialist

nature of the glazing industry means that door

and window fitters and fabricators are more

prone to falling foul of ill-suited, inappropriate kit.

If you build or install windows, you need

equipment that's specifically designed for the

job in hand. Without them, you're not only doing

your skills and expertise an injustice, but you

might also have to work twice as hard to get the

finish you want and, if the job isn't up to scratch,

you could harm your chances of winning further

business in the future.

The right tools, on the other hand, are more likely

to suit your preferred way of working and help

you tackle jobs with greater efficiency, to give you

better results in less time and with less effort.

Designed by experts for experts

Over 10 years ago, me and a team of likeminded,

experienced, professional window fitters

realised that many of the tools used within the

glazing industry were not actually intended for

that purpose.

Fed up with having to make do with generalpurpose

equipment, we tasked ourselves with

filling this gap in the market by creating a

dedicated range of tools specifically designed for

the fenestration industry. That's when the Xpert

brand was born.

Xpert tools are designed with insider knowledge

and hands-on experience of how they are really

used by fabricators and fitters in the workplace,

including the bad habits! The result is practical,

proven kit preferred by trade professionals

because it consistently delivers the desired

results and eliminates many of the irritations

associated with employing general-purpose tools.

"If you build or install

windows, you need

equipment that's

specifically designed

for the job in hand"

Realise your best work

It's essential that fitters have tried-and-tested

tools, hardware and equipment they can rely on

to get the job done right, day in, day out. After

all, a lot is riding on their ability to turn out a

perfect installation every time. Security and

mechanical performance, lifespan, aesthetics

– and your company's reputation can all be

adversely affected by something as simple as

inadequate apparatus. That's why Xpert's range

of specialised tools can make all the difference.

Fitters can really bring out the best in every

installation with high quality hand tools including

everything from chisel knives and moon knives

to gasket shears, foam guns and mastic guns, as

well as glass gauges, tape measures, glass lifters

and glazing shovels.

Finally, for those impeccable finishing touches,

the best solvent and glass cleaners will remove

any trace of dirt or residue to leave doors and

windows spotless.

Don't wait

Now that we're a part of Window Ware's

growing product portfolio, customers can access

Xpert's quality glazing tools, consumables, and

accessories faster and more conveniently than

ever before, especially as there are now over 200

stockists in the UK. So whatever your fenestration

forte, there's never been a better time to make

sure you tool up for success with some specialist

kit from the Xpert Tools range. You'll never go back

to general-purpose tools again!

Contact Window Ware:

01234 242 724

www.windowware.co.uk

@WindowWare / @XpertTools

70 T I MAY/JUNE 2021 PRACTICAL CONTENT FOR THE GLAZING INSTALLER & HOME IMPROVEMENT SPECIALIST
---
Does your secondary glazing supplier

leave you in the dark?

Switch.

Secondary glazing is simplicity itself.

It's simple to sell, survey and install. It offers great acoustic and

thermal performance. It has great profit margins. And it gets you

into projects you couldn't normally get into.

So why make it more complicated? Call Roseview today and ask

about adding Incarnation secondary glazing to your range.

phone: 01234 712657 | email: hello@roseview.co.uk | web: roseview.co.uk
---
Makita: Tool Talk

ONE BATTERY FITS ALL

Kevin Brannigan, marketing manager at Makita, looks at the benefits of investing

in cordless tools that share a common battery platform, including greater efficiency,

cost savings and cutting down on kit.

Cordless tools have been growing in

popularity for many years and advances in

tool, motor and battery technology mean

they are now suitable for the vast majority of

tasks. One of the key reasons for this increased

popularity, is the flexibility and efficiency that

they offer compared with corded tools: There

is no need to manage the routing of the power

cables to the work area, operators are able to

manoeuvre around tasks with ease and possible

trip hazards are eliminated by removing the need

for the cable.

Most cordless tool manufacturers will use

different batteries for different tools and may

even offer many different battery voltages for

each. This is because the battery, charger and

tool are often designed to operate as a system

together and will include features to maximise the

life of the product and provide protection against

damage. For example, Makita batteries and tools

are designed to communicate with each other to

provide overload and thermal protection as well

as prevent over-discharging of the battery, which

can be damaging and costly.

By investing in a family of tools that share

a common battery platform, work can be

streamlined, especially on jobs where there is a

need to swap between tools throughout the day,

depending on the task. If every tool uses the

same type of battery, then it is simply a matter of

switching the battery to the required machine to

carry out the next task. It also means that there is

only one type of charger needed, minimising the

amount of kit needed on-site.

Investing in a battery platform that can be utilised

across a number of tools within a wide portfolio

of products also allows new tools to be purchased

more cost effectively, by taking advantage of

'body-only' tool options.

Choosing the right battery platform is essential

to maximise the variety of tools available.

For example, Makita 18V LXT batteries can

be used on more than 270 different products

including rotary hammers, combi-drills, saws,

impact drivers and impact wrenches, as well as

worklights, radios, fans, cleaners – and even a

coffee maker!

Furthermore, when selecting tools for more

demanding tasks, it is worth looking for products

that feature a twin 18V system to supply the more

powerful 36V models. In contrast to a tool that

uses a specific 36V battery, these systems utilise

two 18V batteries to deliver the 36V power. This

offers users the simplicity of staying within the

same battery system, while benefiting from the

greater power and longer runtimes required for

high-drain applications.

Also, well-designed twin battery systems will

allow batteries with different capacities and

levels of charge to be used together. For example,

a 6Ah battery and a 5Ah battery can be used to

create 36 volts of power and the tool will simply

stop when the lower capacity battery is empty.

Simple adapter

For demanding tasks where more powerful tools,

such as 40V and above are required, it will be

necessary to use a different battery platform, but

there are advantages to remaining within the same

family of products. For example, Makita 18V LXT

batteries can be charged using the 40VMax XGT

fast charger with the use of a simple adapter.

Cordless tools offer a number of advantages

including ease and flexibility of working and

improved safety. With a wide range of products

now available, there are very few tasks that

cannot be completed cordlessly. However, using

tools that require many different types of battery

can present its own challenges. Investing in a

single system will make things easier, especially

where there are options for twin battery tools that

deliver improved performance within the same

battery platform.

Contact Makita:

01908 211678

www.makitauk.com

@MakitaUK

72 T I MAY/JUNE 2021 PRACTICAL CONTENT FOR THE GLAZING INSTALLER & HOME IMPROVEMENT SPECIALIST
---
USE INSIGHT DATA TO

DISC

VER

THE BEST

CUSTOMERS

CONNECTWITH

DECISION MAKERS

PERF

RM

WITH

BUSINESS INTELLIGENCE

01934 808 293

hello@insightdata.co.uk

@insightdata

www.insightdata.co.uk

502 Worle Park Way, Weston-super-Mare, BS22 6WA
---
Updates

For further vehicle, tool & workwear updates visit www.total-installer.co.uk

'EVERYMAN VAN' BERLINGO IS SMALL BUT MIGHTY

Citroen's Berlingo has scooped 'Best Small Van' in this year's Business Motoring

Awards, while the VW Transporter and Mercedes Sprinter took the best medium and

large categories respectively.

Popular with fleets and the used buyer alike, the Berlingo was described as the 'everyman

van' by the judges. Launched in 2018, the Berlingo has since become the vehicle of choice

for thousands of van users, thanks to its award-winning features and excellent load

capability and economy. It also features some of the lowest fuel consumption in its class.

Celebrating the very best in design, service and practicality, other Business Motoring

award-winners included Isuzu D-Max (Best Pick-Up), Citroen Dispatch (Best Electric Van),

Mercedes-Benz (Van Service) and VW Commercial Vehicles (Best Used Van Programme).

SUMMER SHIRTS WITH 'VERIFIABLE SUSTAINABILITY'

Snickers Workwear has integrated improved 37.5 fabric technology and 'verifiable sustainability' into its

t-shirts and polo-shirts, helping workers to stay cool, comfortable 'and to do their bit for saving the planet',

this summer.

The new AllroundWork styles are made from highly functional waffle-structured 37.5 fabric for optimal ventilation,

cooling and moisture transport 'to keep you feeling fresh for longer'. And, with the aim of 'being at the forefront of

sustainability in workwear', the new lightweight polo and t-shirts are made of 100% recycled polyester with a biobased,

anti-odour finish, smooth texture and 'efficient moisture transport'.

Snickers says the garments can also offer 'street-smart' body-mapping designs for an 'amazing fit, outstanding

functionality and long-lasting comfort – all day, every day'. www.snickersworkwear.co.uk

DART HITS THE TARGET WITH CONSUMABLES RANGE

Specialist window and door fastener supplier, Rapierstar, has boosted its range of complementary

products for manufacturing and installation with the addition of DART power tool accessories.

DART is a global brand offering 'superior performance' drill bits, screwdriver bits, saw blades and other

daily-use consumables, plus equipment such as PPE gloves. Its 'Your tool, but better' ethos sums up the DART

approach to product design and quality, 'with a range that not only matches but often exceeds the performance

of leading brands at a far lower cost', according to DART.

Rapierstar is partnering with DART as their exclusive supplier to the door and window sector, offering a wide

range including DART HSS ground twist drill bits, SDS (slotted drive system) masonry drill bits and high-grade

screwdriver bits." www.rapierstar.com

COOL AND COMFORTABLE SHORTS

Snickers' brand new men's and women's work shorts for the flexible working environment are designed for

'superior comfort and freedom of movement'.

Combining four-way stretch fabric that promises to deliver working comfort all day with 'street-smart', slim-fit

designs, Snickers says its work shorts are 'great for grafting in the warmer months'.

These lightweight garments feature a body-mapping design and are made from a self-ventilating stretch fabric with

Cordura reinforcements for durability and all-round mobility 'when you need it most'.

The men's FlexiWork lightweight work shorts come with flexible gusset seams, as well as easy-to-access holster

pockets with zip compartments, an expandable stretch cargo pocket and a ruler pocket. The AllroundWork women's

multi-purpose slim-fit shorts have four-way stretch panels for consistent comfort. www.snickersworkwear.co.uk

74 T I MAY/JUNE 2021

PRACTICAL CONTENT FOR THE GLAZING INSTALLER & HOME IMPROVEMENT SPECIALIST
---
Press play on quality

content for your sector

Easily

accessible on

your desktop,

mobile or

any device

Free

content that

is constantly

updated

Subscribe

to channels

for your specific

areas of

interest and

expertise

The new platform for digital content from the key players in

your sector, including: How-to's; Projects and product focuses;

Installation advice; Training and webinars; Interviews and opinions.

www.glaze-tube.co.uk

In association with Total Installer and Total Fabricator magazines.

To discuss showcasing your video content, contact Andy or Jake on:

01892 732 047

or email andydunn@media-now.co.uk / jakeroxborough@media-now.co.uk
---
Innovation

unlocked

Get ready..

Another game

changing product from

Made for Trade is on

the horizon

ALUMINIUM SYSTEMS