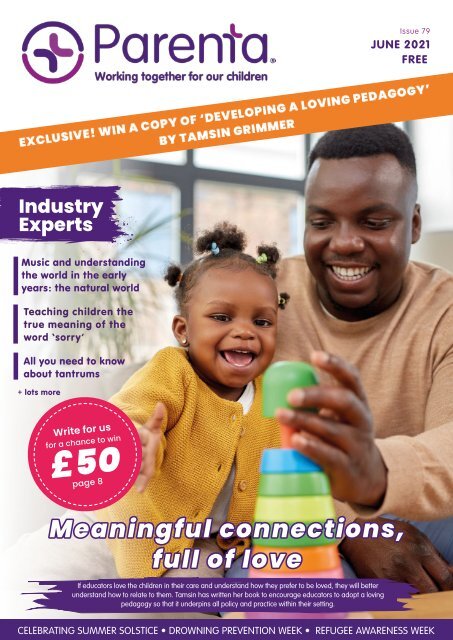 June 2021 Parenta Magazine
Create successful ePaper yourself
Turn your PDF publications into a flip-book with our unique Google optimized e-Paper software.
Issue 79

JUNE 2021

FREE

Industry

Experts

Music and understanding

the world in the early

years: the natural world

Teaching children the

true meaning of the

word 'sorry'

All you need to know

about tantrums

+ lots more

Write for us

for a chance to win

£50

page 8

Meaningful connections,

full of love

If educators love the children in their care and understand how they prefer to be loved, they will better

understand how to relate to them. Tamsin has written her book to encourage educators to adopt a loving

pedagogy so that it underpins all policy and practice within their setting.

CELEBRATING SUMMER SOLSTICE • DROWNING PREVENTION WEEK • REFUGEE AWARENESS WEEK
---
hello

welcome to our family

JUNE 2020 2021 ISSUE 79 67

IN THIS EDITION

Regulars

Hello and welcome to the June edition of the Parenta magazine!

We are in June already - which means we're almost half-way through the year… and the end of this academic year

is drawing closer by the week! What better time than now to start getting ready for September before the madness

of the holiday season starts? Don't panic if you've not even started thinking about this yet – help is at hand. Turn to

page 12 for some top tips we've created to help you get organised so that you can be fully prepared for the new term.

June is also the month when we expect to be enjoying some warm weather! The lighter evenings are a welcome

return, and the Summer Solstice on 21st - also known as Midsummer's Day - is the longest day of the year, officially marking the start

of summer. Even if the sun doesn't make an appearance, this is still the perfect time to celebrate everything warm and sunny with the

children – and we have some fabulous ideas to help your little ones celebrate the beginning of what we hope will be a lovely summer for

everyone.

Inside this month's issue, guest author, Tamsin Grimmer, gives her valuable advice on meaningful connections and explores a loving

pedagogy in her new book, "Developing a Loving Pedagogy in the Early Years: How Love Fits with Professional Practice". We are very

lucky to have three copies of this insightful book to give away - turn to page 14 for details. Once again, we have a packed edition and our

industry experts cover many hot topics, including tantrums, drowning prevention, dyslexia and dyscalculia, teaching children the meaning

of 'sorry', and so much more!

As always, all the advice and guidance in our magazine is written to help you with the efficient running of your setting and to promote the

health, happiness and wellbeing of the children in your care.

Please feel free to share the magazine with friends, parents and colleagues – they can sign up to receive their own copy here!

Please stay safe, everyone.

Allan

Getting ready

for a new

academic year

12

The new academic year

brings changes and now is

the time to be thinking about

getting ready for September.

18

Music and

understanding the

world in the early

years: the natural

world

Nature-themed songs and

activities for your children.

18

SEN: dyslexia and

dyscalculia

20

Two separate learning difficulties that

can cause children to have problems

with literacy, writing or numeracy, and

are relatively common.

8 Write for us for the chance to win £50!

8 Guest author winner announced

17 Congratulations to our learners

24 Reveal pictures - part 2

25 Lemony lemonade

News

4 Childcare news and views

6 A round up of some news stories

that have caught our eye over the

month

Advice

12 Getting ready for a new academic

year

16 EYFS activity - physical development

20 SEN: dyslexia and dyscalculia

30 Celebrating Summer Solstice

34 Drowning Prevention Week

38 Refugee Awareness Week

Industry Experts

14 Meaningful connections, full of love

18 Music and understanding the world in

the early years: the natural world

22 Celebrating difference and

neurodivergence - part 3

28 Violence against women: the role of

the early years in preventing gender

stereotypes - part 2

32 Teaching children the true meaning of

the word 'sorry'

36 All you need to know about tantrums

Celebrating difference and neurodivergence - part 3 22

Violence against women: the role of the early years in

preventing gender stereotypes - part 2 28

Drowning Prevention Week 34

Refugee Awareness Week

38
---
Childcare

news & views

Free sports class for all children

attending a nursery in England

A £1 million 'early years sports fund' has

been launched by the government to give

every child attending nursery in England

the chance to have a free sports and

activity class.

COVID funding crisis causes

cut in services at state-funded

nurseries

A survey by leading unions and charities

has revealed that government-funded

nurseries are facing a survival-threatening

crisis due to COVID funding.

They are losing an average of £70,000 of

income but have to spend an extra £8,000

for additional COVID-related costs, the

poll by Early Education, NAHT, NEU and

UNISON says.

A third of maintained nurseries, which

are financed and controlled by local

authorities, are cutting staff and services

because of the impact of coronavirus,

and uncertainty over the funding they will

receive in the next school year, the survey

found.

Read the full story on the Parenta website

here.

Early years settings fear they

will have to turn parents away

due to staffing crisis

A recent report from Nursery World shows

that many early years settings fear they

will need to turn parents away due to staff

shortages, caused by an increased lack of

qualified Level 3 child practitioners.

The DfE temporarily disapplied some

specific staffing requirements within the

EYFS where COVID restrictions prevented

providers from meeting them, which the

Department for Education has confirmed

will end in August. But early years

settings wanting staff to work as room

leaders and requiring them to have a

Level 3 qualification, are finding staffing

particularly hard. The DfE has launched

Level 3 funding for those aged 24 and

over, who do not already hold any Level 3

qualification.

Read the full story on the Parenta website

here.

Urgent funding review needed:

Early Years Alliance

Following the findings of a recent survey,

the Early Years Alliance is urging the

government to undertake an urgent review

of early years funding in England.

Its latest survey revealed that just one

in ten parents believe that early years

childcare providers (both nurseries and

childminders) are properly funded. 91%

of survey respondents agreed that early

years professionals should be paid on a

similar scale to school teachers.

Only 12% of parents surveyed believed

that the current offer was financially

sustainable for the early years sector, with

65% agreeing that it was not enough to

sustain settings and professionals, placing

early years providers under threat.

Neil Leitch, chief executive of the Alliance,

commented: "While there is no doubt

that the COVID-19 crisis has had a hugely

detrimental impact on the early years

sector, many of the financial difficulties that

nurseries, pre-schools and childminders

are currently facing existed long before the

pandemic.

"We in the sector have long argued that

these challenges are a direct result of

sustained government underfunding, and

as these results show, parents are well

aware of this too, with the vast majority

recognising that the government's support

for early years providers is not enough for

them to remain financially viable.

Read the full story on the Parenta website

here.

Ministers urged to focus on

pre-schools during COVID

recovery

Leading education charity, The Sutton Trust

is urging the UK government to put early

years at the forefront of the post-COVID

education recovery programme; warning

that schools in England "will pick up the

pieces if early years are not prioritised".

It is calling for increased funding for

the sector, and states: "The pandemic

has reminded us how crucial the early

years sector is for the functioning of our

daily lives and our children's futures. But

it also laid bare the fragility of a sector

which comprises many small and poorly

funded private and voluntary providers,

particularly those in less well-off areas."

In a YouGov poll commissioned by the

Trust, 20% of the 570 parents of two to

four-year-olds who took part said they felt

the pandemic had had a negative impact

on their child's physical development. 25%

said the same of their child's language

development, and 52% said their child's

social and emotional development had

been negatively affected. 69% felt that not

being able to play with other children had

had an adverse effect on their child.

The government is shortly due to

announce its long-term plans for

education recovery and funding postpandemic.

It has already pledged £1.7bn

for short-term catchup, including a £350m

national tutoring programme providing

one-to-one and small group tutoring

for those most severely affected by the

disruption to education.

Read the full story on the Parenta website

here.

Specialist training available to

help children falling behind in

language and communication

All state schools in England that have a

Reception class are now able to apply for

training and resources to help Receptionaged

pupils who are struggling with

language and communication skills, due

to the pandemic.

Government-funded early years catchup

programme, Nuffield Early Language

Intervention (NELI), has been developed

by researchers from the Universities of

Oxford, Sheffield and York. It gives specific

language support to small groups of

pupils offering catch-up language teaching

sessions run by either a trained teaching

assistant or early years professional. The

government spent £9m on launching the

first wave of the NELI programme and has

now invested an extra £8m in the second

wave of the programme.

Read the full story on the Parenta website

here.

With many early years settings facing

financial challenges during the pandemic,

the £1 million early years sports fund has

been created by Super Star Sport UK to

provide every child who attends an early

years setting in England an opportunity to

take part in a sports and activity session.

The aim is to impact as many children's

lives as possible through participation in

sport - following multiple lockdowns over

the past year or so.

The class will follow the early years

foundation stage guidelines and is

specifically designed to ensure every child

can participate - as well as to aid learning

and development.

The early years sports fund (EYSF) has

committed to ensuring all of the costs

involved are covered, ensuring the children

at the nursery receive a 45-minute sports

and activity lesson at no expense.

Founder of Super Star Sport UK, Angelo

Ciccarelli, said: "Following the COVID-19

pandemic and multiple national

lockdowns, we have seen many early

years providers hit financially. We

understand the strain they have been

through and so wanted to launch a fund

that can support them.

Read the full story on the Parenta website

here.

4 June 2021 | parenta.com

parenta.com | June 2021 5
---
A round up of some news stories that

have caught our eye over the month

Story source and image credits to:

Day Nurseries, Nursery World, B31 Voices, Lancashire Post,

Birmingham Mail, North Wales Chronicle, Children & Young

People Now.

Ofsted inspectors answer burning

early years questions in Q&A session

On 14th May, Parenta hosted a live Q&A

session with Ofsted inspectors,

Wendy Ratcliff HMI and Phill Minns HMI.

The most popular questions were around

Development Matters and the new Birth

to 5 Matters, Inspections, COVID-19; and

adapting to the new EYFS coming into effect

in September.

Boris Johnson paid for son's

childcare costs, confirmed by

Downing Street

At a press brIefing by the PM's

spokesperson, he was confronted with

claims that Conservative donors were

asked to help fund for a nanny.

Watermead post tribute of the

Duke of Edinburgh to the Queen

After hearing the sad news about the

late Prince Phillip a group of children

and resident artist, Max, created the

masterpiece pictured above, which is

now with her Majesty the Queen.

Peaky Blinders star, Charlotte

Riley, aims to launch a nursery for

film-working parents

The star is aiming to launch the UK's

first mobile nursery on a double decker

bus. It will be the first of its kind, and will

travel to filming sites.

Shenley Fields Daycare & Nursery

have the Gold award by UNICEF

The Gold award is the highest award by

UNICEF UK and shows commitment to

children's rights. The Birmingham-based

nursery is only the 4th early years provider

to achieve Gold in the UK.

Nursery Head teacher urges

parents to enrol children after

seeing effects of the pandemic

Chorley-based Head teacher, Susan

Conron, expresses concern of pandemic

impact on language and other key skills,

such as physical activities.

The full session can be watched here.

Click here to send in

your stories to

hello@parenta.com

Busy Bees Ltd expand

nurseries in Italy

Using research from customers and

staff, the Staffordshire based group have

now started a nursery in Milan and also

another setting in Como.

Farah Kawal opens new nursery

in Birmingham at 22 years old

Despite a few parents questioning her

age, Farah started working and gaining

childcare qualifications at 18 and is proud

to own Toddler's Den, Bordeslet Green.

Plant Parciau Nursery raise

£3000 for Wales Air Ambulance

90 nursery children between six months

and 3 and a half all took part in various

activities to fundraise. They also joined

in educational indoor exercises including

walking a mile a day.

Queen announces that the

Government are to 'prioritise

early years'

The Government announce the sector will

be prioritised, as the UK recovers from

the pandemic. The strategy for the sector

is yet to be announced.

Bertram Nursery Group changes

branding with an outdoor

learning focus

The nursery group has now changed

their name to Thrive Childcare and

Education. They have also launched a

sub-group, Nature Kindergartens.

6 June 2021 | parenta.com

parenta.com | June 2021 7
---
Write for us!

We're always on the lookout

for new authors to contribute

insightful articles for our

monthly magazine.

If you've got a topic you'd like to write about,

why not send an article to us and be in with a

chance of winning? Each month, we'll be giving

away Amazon vouchers to our "Guest Author of

the Month". You can find all the details here:

https://www.parenta.com/sponsored-content/

Congratulations

to our guest author competition winner, Gina Bale!

WIN A COPY OF

TAMSIN'S NEW BOOK,

"DEVELOPING A

LOVING PEDAGOGY"

Congratulations to Gina Bale, our guest author

of the month! Her article "Movement is for ALL

children" encouraged us to consider how to

introduce movement to children of all abilities and

included some brilliant activities that could be used

in nursery settings. Well done Gina!

A massive thank you to all of our guest authors for

writing for us. You can find all of the past articles

from our guest authors on our website:

www.parenta.com/parentablog/guest-authors

We have three copies of Tamsin's new

book to give away. We want to hear from

our readers who have adopted a loving

pedagogy in their settings. Please send in

your stories and anecdotes about how you

demonstrate love to the children in your

care. We will publish them in a future edition

and three lucky readers picked at random

will receive a free copy of her book!

Even if you are not a lucky winner, you

can still purchase Tamsin's book here and

enjoy 20% discount too!

Discount code: SMA04

Send to marketing@parenta.com

by Friday 25th June 2021

8 June 2021 | parenta.com

parenta.com | June 2021 9
---
What our customers say

I am writing today to express my thanks to Jeanette Arnold.

She has been a fantastic support to our apprentice, Shani Brookman, and has given Shani more

support in the last few months than any of the many previous assessors before her.

My name is Erica Salé and

I have recently passed my

TQUK Level 3 Diploma for the

Children's Workplace (Early

Years Educator) (RQF). I would

like to express my sincere

gratitude to Jeanette Arnold

for her calm and relaxed

manner in which she guided

me through the course. I

found it challenging during

these extraordinary times,

obviously during COVID-19,

I was unable to learn or be

taught face-to-face, but with

the professionalism, clarity

and well-laid-out tasks of

Jeanette, I managed to get

through. Whenever I spoke to

Jeanette for either queries or

professional discussion, I felt

confident and at ease, which

you will see from my feedback

recordings, post discussions.

Again, many thanks to

Parenta, but especially

Jeanette, who is a true asset

to your company in these very

unprecedented and difficult

times.

...

Erica Salé

I attended the "Supporting children with SEND"

webinar today. I have to say it was utterly

inspirational and would like you to pass on my

gratitude to all ladies leading the sessions today,

they were all brilliant! Sadly I had to leave the

webinar early and just missed the end of it but I'm

really looking forward to receiving all the info via

email so I can match them up to my notes and pass

on everything to my team. Great work guys, thank

you again.

...

Sally Ward

Jeanette is a pleasure to work in partnership with and is always transparent and honest. She

gives praise and achievable targets that really filled Shani with the self-belief that she could

complete and become an amazing practitioner.

I am not confident Shani would be in the same position now if it wasn't for Jeanette's

commitment and encouragement all the way.

It seems very clear to me and I'm sure you would wholeheartedly agree, Jeanette is a complete

asset to your team and every apprentice she works with.

The only shame is that she doesn't cover my area often or I would absolutely be requesting her

for ALL our learners.

...

Amy

My previous assessor, Pippa, was fantastic.

Since doing my qualifications with Parenta and

going through my apprenticeship with them, I've

now gone on and have been given a place at

university.

I have been accepted at two universities with

unconditional offers. Considering I had to retake

my Maths and English with Parenta and retrain to

get my qualification in childcare, whilst struggling

with my dyslexia, to now be going to university is a

really big change to my life.

Pippa has changed my life completely and is the

most inspirational person I've ever met. I will be

eternally grateful for everything she has done.

...

Dawn Carter

10 June 2021 | parenta.com

parenta.com | June 2021 11
---
Getting ready for a new

academic year

It's June, which means we're already nearly halfway through the calendar year and are drawing

to the end of the academic year, with all the changes, transitions, goodbyes, and hellos that that

brings. In schools, children usually sit exams and look forward to the long summer holidays and

the adventures that a new term will bring. In the early years sector, the new academic year brings

changes and now is the time to be thinking about getting ready for September before the holiday

season kicks in and it is too late to order that latest piece of furniture or recruit the best staff!

Plan your year

One thing that successful companies do

is to put together a marketing plan for the

year ahead, and you could think about

doing this in your setting to maximise

your time and budgets. Decide when

things need to be ready, and then work

backwards so that you are not running

around at the last minute trying to create

a Facebook post or a video guide on

the day it needs to be published. You

could consider outsourcing some of your

marketing or check if your staff have

hidden skills in this area that you can

make use of and offer them some new

career opportunities too.

Get on top of recruitment

If you are hoping to employ new staff in

September, make sure you are advertising

well in advance, especially if you are

making use of the government-funded

apprenticeship schemes. School leavers

will be looking for jobs early in the year

and you may have secured your new

recruits then, but remember too that many

school leavers are waiting for exam results

that come out in August before deciding

on their next move. Parenta can help you

with all your recruitment needs. Just call us

on 0800 002 9242 and leave yourself time

for all the safer recruitment checks you

need to do too.

September when you are dealing with all

manner of new people and challenges.

Order your stock

Everyone will be ordering for the new

year at this time, so make sure you get

your orders in early so that you are not

disappointed and waiting for games/

chairs/tables when you need them most.

Update your training

Plan your CPD schedule for the forthcoming

year – are there courses that you'd like to

attend, or can you schedule in some CPD

each month? Parenta have a number of

CPD courses so you could diarise a few

over the year to help you plan. See cpdelearning-courses.parenta.com

for more

information.

Calendars

Update your annual calendar and get

yourself prepared – put in awareness

days/weeks you want to follow, add your

staff and statutory holidays and have

curriculum items marked on such as

religious festivals, days out, and special

days like Halloween or St George's Day, or

even highlight the time you suspect Ofsted

will be round!

Top ten checklist

1. Check all fire and first aid equipment

making sure it is still in date and

replace as necessary

2. Clear your book corner and replace

any lost or damaged books

3. Check your stationery cupboard and

order new items

4. Organise your recycling centre – can

you recycle anything else?

5. Clear your outside space – how about

creating a vegetable garden or a

nature corner?

6. Get your filing done and sort all your

teaching resources so things are easy

to find

7. Set up any new computer/tablet

software and train your staff on how

to use it

8. Revamp your display boards

9. Update your social media accounts

10. Rename or relabel pegs or lockers with

new student names

And remember, "Time flies when you're

having fun" so although it may only be June

now, September will soon be here so follow

our advice and get ahead of the game!

Update your policies and admin

files

With so many changes happening this

year (lockdown ending, social distancing

easing, and the economy opening up

again), it would be easy to miss some

important things, so we've created an

'aide memoire' to help get you organised

and ahead of the game.

All change in the EYFS and Early

Learning Goals

The new EYFS Framework and new Early

Learning Goals become statutory in

September. Hopefully, you will have been

following our articles over the last few

months and will already have begun to

incorporate some of the new requirements

into your settings. If not, look back through

our last few magazines where we have

explained the changes and what they

mean for you. Remember to look through

the new Development Matters and Birth to

Five Matters advice documents too.

Fill those spaces

Each June/July, children leave nursery and

prepare for the transition into the Reception

year. This can leave gaps in your books

(and in your income) come September if

you have not thought ahead and been

marketing your setting effectively. Many

parents begin looking for nursery places

early in the year, months or even years

before they need them, so make sure your

marketing and social media sites are up

to date and that they show your nursery in

the best possible light. You might consider

advertising on different media to fill your

places or ask parents to spread the word

to potential new parents, family and

friends. Think about making use of free

'advertising' as well – such as sending

in news stories and images to the local

paper – they are often looking for local

interest stories to fill their pages and a

report of your setting's summer fete might

be just the one they need.

The summer months are a good time

to update and review your policies and

protocols and update all admin files ready

for the start of the term. There are usually

updates to safeguarding advice each year

and many councils also update their own

policies at this time of year too. Look out

for updated guidance and advice from

children's services, safeguarding partners,

Ofsted, industry organisations and the

Department for Education.

Check your buildings/rooms

Is it time to update your spaces? Do they

need a lick of paint or is this the time to

build that sensory corner you always

wanted? Some settings don't operate in

the summer holidays giving them time to

refurbish areas, and others sometimes see

a drop in numbers during the holidays. By

thinking ahead and getting any changes

done now, you will save yourself stress in

12 June 2021 | parenta.com

parenta.com | June 2021 13
---
Meaningful connections,

full of love

I wonder why you began working with

young children? For me, it was because

of my connection and ability to bond with

them. From an early age, I seemed to be a

magnet for younger children, I remember

looking after them during coffee time at

church and my first job as a young teen

was babysitting. I clearly remember my

first-night babysitting because the parents

of our charges were having dinner with my

parents up the road, and my friend and I

had been asked to look after their children

to enable them to go out. There were

four children all under about 5 and the

youngest was a tiny baby - I remember

holding him and feeling really honoured

that their parents trusted me with their

children. I enjoyed playing games with

them all until their two-year-old decided

to have a tantrum instead of going to

bed and then I remember sitting behind

their sofa with her at one point. I don't

know what I said or did, but I remember

enjoying their company and thinking it

was great because I was also earning

some pocket money!

I'm still really passionate about young

children today – I love their company and

can't stop myself looking into a pram and

cooing at every baby I see. Meaningful

connections are full of love and, with

this in mind, I'm really excited to share

that my new book is now available, it's

called "Developing a Loving Pedagogy:

How Love Fits with Professional Practice".

I strongly believe that if educators love

the children in their care and understand

how they prefer to be loved, they will

better understand how to relate to them

and will do so more appropriately, which

in turn will enable the children to learn

more effectively. I have written my book

to encourage educators to adopt a loving

pedagogy so that it underpins all policy

and practice within their setting.

14 June 2021 | parenta.com

Unfolding a loving pedagogy

Defining love

The Collins Online Dictionary defines the

verb 'to love' as involving more than just

emotions, "You say that you love someone

when their happiness is very important

to you, so that you behave in a kind and

caring way towards them" (Collins Online

Dictionary, 2020). So to love someone

includes action – it is not a passive

emotion, but an active set of behaviours.

Love and loving are not words that we

always use in relation to early childhood

settings. They might be viewed as

inappropriate or out-of-bounds in some

way because of their connotations with

sexual intimacy. Part of the problem lies

within the English language where we use

Type of Love

Agápe

Philia

Storgē

Xenia

Pragma

Holding in mind

the same word to express our love for our

family, our children, our friends, our lovers

and even our food! In other languages

and cultures there are a wealth of words

that mean these different aspects of love.

The ancient Greeks had many different

words to describe love, for example,

agápe, éros, philía, philautia, storgē,

xenia, ludus and pragma. It is helpful to

unpick some of these different terms when

thinking about our settings. Agápe, philia,

storgē, xenia and, to a certain extent,

pragma are all types of love which may be

relevant to us as educators. They describe

different aspects of how we might love

the children in our care and have been

explored in the table.

Example from practice

Our love does not depend on the children's behaviour, it is

unconditional. We genuinely want the best or the greatest good

for the children in our care.

We build up attachments with children which are strengthened

through shared interests and experiences. Our children depend

on and trust us and we encourage them to build strong

friendships with both educators and their peers.

We are acting in loco parentis, protecting children and helping

them to feel safe and secure. Many settings are described as an

extended family, and many educators naturally feel love for the

children in their care.

We offer our children hospitality in our settings, by feeding

them and providing a safe, stimulating and engaging learning

environment. We ensure that we respect others and role model

being kind with caring behaviours.

We have a practical duty to safeguard children and protect

them and ensure that our environment is safe and secure. Also,

putting risk assessments in place is an example of pragma in

action.

The phrase that I have found most useful when defining what love means within settings

is 'holding children in mind' (Read, 2014). This reminds me how important it is for us as

educators to be attuned, respond sensitively to children and hold them and their individual

circumstances in mind. In practice, it's the little things that make the different, for example,

asking about their recent visit to their grandparent's house or noticing the dragon on their

T-shirt.

Ways that we can be attuned and hold

children in mind include:

• Supporting the child in the moment,

responding sensitively

• Observing and noticing things they are

interested in

• Genuinely listening and acting upon

what we hear

• Co-constructing ideas during play

• Being fascinated by what our children

are doing and wanting to find out more

• Considering the 100 languages of

children

• Using a mosaic approach to better

understand our children

• Interacting sensitively, with our focus on

the child, not our agenda

• Planning interventions for particular

children

• Providing specific resources based on

our knowledge of the children

• Working out our children's love

languages (see The Language of Love

Parenta article)

• Adopting a loving pedagogy

Actively listening to children

When we hold children in mind we are

actively listening to them, which helps us

to truly appreciate what children want

and need, plan for this and support them

appropriately. Article 12 of the United Nations

Convention on the Rights of the Child (UNICEF,

1989) explains that children have the right to

have their views taken seriously, particularly

in all matters affecting them. Many educators

endeavour to give their children a voice,

however, occasionally we can be so used to

hearing our children's voices that we forget

to actively listen to them.

When we are actively listening we are able

to not only tune into any words or sounds,

but also to respond sensitively to the child's

body language and way of being. In this

way, we are attempting to better understand

our children. There are various ways we can

demonstrate that we value the children we

work with and actively listen to them. For

example:

• Try to see the world from their

perspective

• Listen to their words

• Notice their behaviour and actions

• Interpret their facial expressions and

body language

• Act upon things that they say

• Take their views into consideration

• Plan with their interests and

fascinations in mind

• Include them in the conversation

• Never talk to other adults over their

head

• Get down to their level

• Mirror their actions or body language

• Comment or provide a commentary

about what they are doing

• Observe them whilst playing alongside

• Act as a co-player when invited to join

their play

Meaningful connections with children need

to be full of love: we must keep in mind that

we need to actively listen to them; and be

aware of their needs and interests at all

times. This sums up what I consider a loving

pedagogy to be about: a caring ethos and

approach which underpins our practice; and

allows the children to remain central to all

we do.

References

• Read, V. (2014). Developing attachment

in early years settings: Nurturing secure

relationships from birth to five years.

(Second edition) Abingdon, United

Kingdom: Routledge.

• UNICEF (1989). United Nations

Convention on the Rights of the Child.

Retrieved from http://www.unicef.

org.uk/Documents/Publication-pdfs/

UNCRC_PRESS200910web.pdf

WIN A COPY OF TAMSIN'S NEW BOOK

"DEVELOPING A LOVING PEDAGOGY"

We have three copies of Tamsin's new book to

give away. We want to hear from our readers who

have adopted a loving pedagogy in their settings.

Please send in your stories and anecdotes about

how you demonstrate love to the children in your

care. We will publish them in a future edition and

three lucky readers picked at random will receive

a free copy of her book!

Tamsin Grimmer

Tamsin Grimmer is an experienced early

years consultant, author and parent who

is passionate about young children's

learning and development. She believes

that all children deserve practitioners

who are inspiring, dynamic, reflective

and loving. Tamsin particularly enjoys

planning and delivering training and

supporting early years practitioners and

teachers to improve outcomes for young

children.

Tamsin has written four books –

"Observing and Developing Schematic

Behaviour in Young Children" , "School

Readiness and the Characteristics

of Effective Learning", "Calling all

Superheroes: Supporting and Developing

Superhero Play in the Early Years",

and "Developing a Loving Pedagogy

in the Early Years: How Love Fits with

Professional Practice". She is currently

working on her next two, "Supporting

Behaviour and Emotions" and "Self-

Regulation in Early Childhood".

You can contact Tamsin via Twitter,

her Facebook page, website or email

tamsingrimmer@hotmail.co.uk

Even if you are not a lucky

winner, you can still purchase

Tamsin's book here and

enjoy 20% discount too!

Discount code: SMA04

Send to marketing@parenta.com by Friday 25th June 2021

parenta.com | June 2021 15
---
EYFS activity –

physical development

Children undergo so much physical development from birth to age 5 that clearly, we are not able to

cover all these changes in one article. We have therefore narrowed it down and focused on how you

can work on an important physical attribute which we think may sometimes be under-estimated

when it comes to looking out for physical development, and which, if not developed properly, can

lead to lots of problems later in life. We're talking about:

Good posture is vital – the placement of

the skeletal bones and the ability of the

muscular system to support them, has

an impact on our ability to move freely

throughout life. A sedentary lifestyle and

poor posture can contribute to problems

with back pain or arthritis, so helping

children develop a good posture in the

early years is important. Obviously,

children will develop their strength, core

muscles, body control and balance as

they get older, through general and

specific play, practice, and by running,

skipping, jumping etc. But how much

attention are you paying to their posture?

A lot of children nowadays spend

many hours in front of a screen, which

can exacerbate poor posture because

children may slump forward over their

devices or fail to sit in an upright position

when using a keyboard (as do many

adults).

What is good posture?

A child with good posture will have their

weight placed evenly over both hips and

feet when standing. Their back should

be straight with their shoulders back and

chin raised off their chest. Their head,

shoulders, hips, knees and ankles should

be in one straight line. This allows for

the greatest freedom of movement with

the least strain or compensation of one

muscle group over another.

When sitting, the child's back should be

straight with their shoulders back. Their

buttocks should sit back in the chair

allowing their spine to sit in a natural

slight "S" position. Often children will shift

16 June 2021 | parenta.com

POSTURE

their hips forward in their chairs, allowing

their pelvis to slide forward slightly,

their back becomes rounded and their

shoulders roll forward. This slouching

position puts a strain on the lower back

and also constricts their ability to breathe

fully using their diaphragm.

Fun ways to practice good

posture

1

Remember the old debutante trick of

walking with a book on their head? Well,

rather that using a book, why not ask

children to walk around keeping a bean

bag on their head. You can mark out a

flat 'obstacle' course on the floor using

masking tape and get the children to

walk along the lines, balancing the bean

bag. Vary the direction so they have to

turn at intervals, and you could have a

spot where they have to turn 360˚ or even

get them to walk backwards, slowly. You

can develop this activity by changing the

object – can they walk balancing a paper

cup instead, or a plastic ruler? Can they

do it to music, stopping when you stop

the music? You can also bring in some

cross-curricular links and tell some stories

of people in other countries who carry

water or goods on their heads to keep

their hands free!

2

Another way to encourage children to

develop a good posture is to use animals

that they know to point out the differences

between them so that the children start

to learn and feel what is a good posture,

and what is not. Asking them to walk

around "as tall as a giraffe" or "as proudly

as a lion" will generally help them to pull

up out of their back, for example.

3

Practice rising up onto tip toes and walk

around with arms out to the side and

keeping their back straight.

If you notice a child with poor posture,

give a gentle reminder and praise children

you see sitting up straight. If you suspect

a child has a scoliosis of the spine, tell

the parents and recommend they see a

specialist.

See also:

• https://elht.nhs.uk/application/

files/6315/8860/9005/Good_posture_

V4.pdf

• https://www.hss.edu/article_sittingposture-for-kids.asp

• https://www.rehabmart.com/post/7-

amazing-tips-to-help-improve-yourchilds-posture

• https://morleyphysio.com.au/

uncategorized/how-to-teach-yourkids-good-posture/

Congratulations

to all our Parenta learners!

Congratulations to all these Parenta learners who completed their apprenticeship

in April and have now gained their qualifications.

These range from Childcare Level 2, Childcare Level 3 and Team Leading

to Level 3 and Level 5 Management – that's a huge achievement in the

current climate.

All that hard work has paid off – well done from all of us here at

Parenta Training!

Did you know?... Parenta has trained over 20,000 apprentices within the early years sector!

Our Level 3 success rate overall is almost 10% higher than the national average.

That's down to great work from you, our lovely Parenta learners!

If you have a learner with us who has recently completed their apprenticeship, please send in

a picture to hello@parenta.com to be included in the magazine.

M. Bowden

M. Brightwell

L. Brown

S. Brown

M. Cox

S. Dispinseri

J. Edwards

K. Ellis

D. Erazo Vasquez

April's wall of fame!

M. Fonseca Da Silva

A. Grantham

E. Hearn

D. Hyam

C. Mackelden

V. Martinez

C. Meepegama

A. Prickett

A. Quarmby

K. Rose

S. Seager

B. Smith

I. Ucrainet

L. Underwood

E. Williams

V. Yardley

parenta.com | June 2021 17
---
Music and understanding the world

in the early years: the natural world

Children are fascinated with the natural world and gladly spend hours watching (and trying to play

with) the creatures and environments around them – usually when we least have time! By creating

opportunities for children to explore insects, plants, and animals around them, we allow them to

discover their own hidden interests and abilities.

Over in the meadow in a hive near a door

Lived an old honeybee and her little bees

four

"Buzz!" said the mother; "We buzz!" said

the four

So they buzzed and they buzzed in the hive

near the door

Over in the meadow in a warren so nice

Lived an old mother rabbit and her little

bunnies five

"Hop!" said the mother; "We hop!" said the

five

So they hopped and they hopped in their

warren so nice

Over in the meadow in the stream near the

bend

Lived an old mother fishy and her school of

fishes, ten

"Swim!" said the mother; "We swim!" said

the ten

So they swam and they swam in the stream

near the bend

This song can be explored with younger

children all acting out the actions and

voices of the animals. Older children may

have the patience to begin with one child

and gradually add more children to their

number as they act out each animal.

The ways that we can explore nature

includes recognising the similarities and

differences between the natural world

and other environments. Natural changes

include the colour changes of leaves

from green to orange to brown, showing

the change of seasons, as well as the

changing states of matter, like ice to water

to steam. Songs and musical games

are great ways to remind children of the

natural phenomenon that they find.

Kellert (2002) found that despite

occasional references by biologists

and poets to the wonder that children

experience in nature, actually, very little

had been studied on the experience of

children in nature. Instead, "ecology"

referred to the immediate environment,

e.g. Bronfenbrenner's (1979) Ecology of

Human Development, where ecology

referred to the increasing influence of

relationships on children.

Kellert suggested that interactions with

nature could affect children's:

• Emotional and feeling capacity

• Thinking patterns and problemsolving

skills, and

• Development of values, beliefs and

moral perspectives

The extent of the impact that nature had

on children depended on whether they

learn:

• Directly, though spontaneous physical

contact and play

• Indirectly through organised activities,

like museums, farms and zoos, or

• Symbolically/vicariously, through

pictures, cartoons/films and books

Preparing children for their encounters with

nature helps to reinforce their experiences,

from singing "rain, rain, go away, come

again another day", through to "Incy Wincy

Spider". Here are a few more ideas for

songs about nature.

Frosty Weather

Frosty weather

Windy weather

When the wind blows we

All stick together

This lovely wintry song could be played as

simply as walking in a circle for the first

three lines and all coming together to the

centre of the circle for the last line. Older

children may like to stand opposite each

other, and have one person walk around

the other (do-si-do) for the first line, the

other walks around the first for the second

line, and then link arms, walking around

each other in the last two lines. Lightweight,

transparent scarves would be a

nice touch!

Over In The Meadow

Over in the meadow in the sand, in the

sun

Lived an old mother tiger and her little tiger

one

"Roar!", said the mother, "I roar," said the

one

So they roared and they roared in the

sand, in the sun

Over in the meadow, where the stream

runs so blue

Lived an elephant mother and her little

calves two

"Stomp!" said the mother; "We stomp!"

said the two,

So they stomped and they stomped where

the stream runs so blue

Over in the meadow in the sky near a tree

Flew an old mother bluebird and her little

chicks three

"Fly!" said the mother; "We fly!" said the

three

So they flew and were glad in the sky near

the tree

Over in the meadow in a shed near some

sticks

Lived an old mother cow and her little

calves six

"Moo!" said the mother; "We moo!" said

the six

So they moo'd and they moo'd in their shed

near the sticks

Over in the meadow, where the grass is so

even

Lived an old mother mouse and her little

pups seven

"Squeak!" said the mother; "We squeak!"

said the seven

So they squeaked and were glad in the

grass soft and even

Over in the meadow by the old mossy gate

Lived a brown mother fox and her little cubs

eight

"Hunt!" said the mother; "We hunt!" said the

eight

So they crept and they hunted near the old

mossy gate

Over in the meadow where the quiet pools

shine

Lived a green mother frog and her little

froggies nine

"Croak!" said the mother; "We croak!" said

the nine

So they croaked and they splashed where

the quiet pools shine

Spontaneous experiences of nature

continues to massively decline with

each generation. This is because of the

increase in population, buildings and

infrastructure, as well as changes in family

traditions and recreational activities. Kellert

found that indirect and vicarious contact

did not produce the same experience

as direct contact. Forest Schools have

come some way in returning children to

natural environments, with varying levels

of freedom, depending on the school

context. Songs about nature not only help

to reinforce learning but often stay with

people well into adulthood, with fond

memories.

All songs found on Musicaliti's account on

Soundcloud and YouTube as part of the

Learning With Music series.

References:

• Bronfenbrenner, U. (1979). The ecology

of human development: Experiments

by nature and design. Harvard

University Press.

• Kellert, S. R. (2002). Experiencing

Nature: Affective, Cognitive and

Evaluative Development in Children.

In Children and Nature: Psychological,

Sociocultural and Evolutionary

Investigations (pp. 117–151). MIT Press.

Frances Turnbull

Musician, researcher and author,

Frances Turnbull, is a self-taught guitarist

who has played contemporary and

community music from the age of 12. She

delivers music sessions to the early years

and KS1. Trained in the music education

techniques of Kodály (specialist singing),

Dalcroze (specialist movement) and Orff

(specialist percussion instruments), she

has a Bachelor's degree in Psychology

(Open University) and a Master's degree

in Education (University of Cambridge).

She runs a local community choir, the

Bolton Warblers, and delivers the Sound

Sense initiative "A choir in every care

home" within local care and residential

homes, supporting health and wellbeing

through her community interest

company.

She has represented the early years

music community at the House of

Commons, advocating for recognition

for early years music educators, and her

table of progressive music skills for under

7s features in her curriculum books.

Frances is the author of "Learning with

Music: Games and activities for the early

years", published by Routledge, August

2017.

www.musicaliti.co.uk

18 June 2021 | parenta.com

parenta.com | June 2021 19
---
SEN: dyslexia and

dyscalculia

Dyslexia and dyscalculia are two separate learning difficulties that can cause children to have

problems with literacy and writing, or with numeracy, and are relatively common in children. It

is estimated that 10% of people have some degree of dyslexia. Although these are not the same

condition, they both come under the umbrella of neurodiverse conditions and there are similarities.

Some dyslexic people also have dyscalculia and vice versa.

There are a number of different types of

dyslexia such as:

• Phonological dyslexia (difficulty

breaking speech into individual

sounds)

• Surface dyslexia (takes longer to

process language)

• Visual dyslexia (the brain does not

receive the full picture of what is seen)

• Primary dyslexia (an inherited

condition)

• Secondary dyslexia (occurs as a result

of a brain problem in the womb)

• Acquired or trauma dyslexia (occurs as

a result of brain trauma or disease)

Some children present with delayed

speech and language and this would

need further help. If you suspect a child

may have dyslexia, it is important to tell

the parents and your SENCo so that testing

can be arranged. Extra help may then

be given and if this is insufficient, then it

may be possible to gain a more in-depth

assessment from a specialist dyslexia

teacher or an educational psychologist,

either through the setting/school or directly

through the British Psychological Society or

via a voluntary organisation, such as a local

branch of the British Dyslexia Association.

These tests may examine a child's:

• Reading and writing abilities

• Language development and

vocabulary

• Logical reasoning

• Memory

• Visual and auditory processing speeds

• Organisational skills

• Approaches to learning

Although quite difficult to pick up in the

early years, the earlier that a diagnosis is

made, and help becomes available, the

more effective help is likely to be. Strategies

can be implemented so the child does not

miss out on learning which can include 1-1

teaching support and help with phonics,

as well as technology such as the use of

speech recognition software which can help

children record their thoughts and answers

instead of using traditional writing. Some

people use coloured overlays over typed

text which helps the words to stop 'jumping

around' on the page.

Dyscalculia

Dyscalculia is a condition that affects a

person's ability to acquire arithmetical and

mathematical skills. People with dyscalculia

may have difficulty understanding simple

number concepts and lack an intuitive

grasp of numbers. They may struggle to

learn number bonds to 10 and 20 and the

mathematical things they are able to do are

often done mechanically and without much

confidence. In comparison to dyslexia,

dyscalculia is less prevalent, occurring

in 3% – 6% of the population. Dyslexia

is sometimes missed in schools, but

dyscalculia is often even more overlooked.

In the early years, a child with dyscalculia

may struggle to count and/or connect

a number to an object such as knowing

that the number "4" can be applied to the

number of wheels on a car, or the number

of legs a cat has, for example. They may

also struggle to recognise patterns or

shapes so they may not be able to

re-arrange blocks in order of size. In

Reception class, they may display difficulty

in recalling basic number bonds and

understanding the four basic maths

functions (addition, subtraction, division,

multiplication). Dyscalculia is not the same

as maths anxiety, however many children

with dyscalculia can develop maths anxiety

too.

How to help

In an early years setting, it can sometimes

be more difficult to recognise some of

the symptoms and signs of dyslexia and

dyscalculia because of the development

stage of the children, and the basic nature

of the maths and literacy taught at this

stage. However, settings can look out

for students who they feel may be falling

behind their peers in simple literacy or

number tasks, and alert parents to any

concerns as soon as possible. There is a list

of some simple signs to look out for on the

BDA website, and practitioners should also

be looking out for speech and language

difficulties that can be a precursor for

literacy problems later on. Looking out for

children who have difficulty in counting or in

recognising different values or patterns, is

also important.

What is vital though, is to remain patient

with children and focus on the progress

they are making with their effort rather than

simply their attainment. Praise children

for trying rather than just achieving an

outcome (e.g. count to 10), and you will

be developing a growth mindset in the

children, rather than reinforcing a negative

belief that they 'just can't do' maths or

reading. The biggest strategy you have

at this age is to guard against imprinting

children with a fixed mindset about a

particular issue, which can lead to low selfesteem

and cause further anxiety.

For more information, see:

• https://www.geniuswithin.co.uk/whatis-neurodiversity

Dyslexia

Dyslexia is a lifelong problem and

although there is no 'cure', there are

strategies that people can use to help

overcome some of the difficulties they face.

Having a diagnosis of dyslexia does not

mean people cannot succeed, although

many may not do as well as their peers at

school, due to some of the problems they

face with reading and writing. However,

there are many very successful people

who are dyslexic, such as Sir Richard

Branson, Tom Cruise, Jamie Oliver, and

Stephen Spielberg, and many people

with dyslexia have skills and abilities in

other areas such as creative thinking and

problem-solving.

Dyslexia often comes to light when

children first begin to learn literacy or

writing skills. They may confuse the

order of letters in words and put letters

the wrong way round such as writing

"b" instead of "d" or "p" instead of "q".

However, many younger children also do

this when they are first learning letters or

mark-making, so identifying it can be tricky

in the early years. Problems with phonics

and spelling may come to light later, and

as with other special educational needs,

children with dyslexia may have problems

following a set of instructions or may seem

disorganised.

• https://www.dyslexia.uk.net/

• https://www.nhs.uk/conditions/

dyslexia/

• https://www.dyslexicadvantage.org/

• https://www.dyslexia.uk.net/specificlearning-difficulties/dyscalculia/thesigns-of-dyscalculia/

• https://www.parliament.uk/

documents/post/postpn226.pdf

20 June 2021 | parenta.com

parenta.com | June 2021 21
---
Celebrating difference and

neurodivergence - part 3

Other people are different on the inside

This article is the third article in a series of six from Sensory Engagement and Inclusion Specialist,

Joanna Grace, the activities described in each article build up to form a toolkit for celebrating

difference and neurodivergence within your setting in a way that will benefit both the children and

the adults. Joanna runs online training courses focused on strategies for supporting differently-abled

children and promoting inclusive practice. Click here for more information.

In articles one and two, we explored simple

activities to get children thinking about

their internal and external differences and

we have repeatedly challenged ourselves

to discuss these differences with children

using non-judgemental language. A

challenge, those of you who have taken

it, I am sure will have discovered is harder

that it first appears! The activity associated

with this article is going to extend that

thinking for the children even further, as

they consider not just their own differences

but the differences of others. But before we

move on to that, it's worth stopping to ask

why we are doing this.

Recognising and accepting difference

allows everyone to be more authentically

themselves. In addition to this, there

are two big reasons why it is especially

valuable for neurodivergent people, and

especially so in the early years.

Firstly

When we publicly acknowledge that the

internal workings of people's brains are

different, and we do this in an open and

pragmatic manner, we protect against the

misunderstandings that occur when people

presume all brains work in the same way.

I always like to draw the analogy between

different types of computer software

and hardware. Imagine you have two

different computers: one Apple machine,

one Windows. Both work. But they do

so in different ways. When you try to run

a Windows programme on the Apple

computer, it doesn't work. Not because

the computer is broken, or the programme

is wrong, but simply because of the

mismatch.

A lot of neurodivergent people grow up

in environments set up for neurotypical

people, receiving instructions that work

for neurotypical people. When those

environments and teaching strategies do

not work for them, they are labelled as

broken or disabled, when in fact, what

they are, is different. Think about how

careful you have been being about talking

about difference using non-judgemental

language. As you reflect on the impact of

the misunderstanding described above

you can appreciate the value in your

carefully chosen words.

Secondly

Tremendous damage is caused by

the narratives that develop around

neurodivergent people. I am a big

research geek, if you follow me on

Twitter (@Jo3Grace) you will know how

much I value researched-based practice

and how much research I consume. When

you explore the long term outcomes for

neurodivergent people, so many of the

struggles they face in later life are not

a consequence of their difference but

a consequence of the narratives that

surround their difference.

Here is an example. A child is born with

a neurodivergent condition. One aspect

of this condition is that they have different

sleep patterns (this is a common feature

of many neurodivergent conditions). Of

course they look externally like any other

baby, and no one knows as yet that they

are different on the inside. They struggle

to sleep, they are described as a "fussy"

baby. They get older, in their toddler

years the way they process language

is different to their neurotypical peers

(again this is common for neurodivergent

conditions) receiving instructions they

struggle to follow they often do not do

as they are told. The adults around them

refer to them as "naughty" and they

receive various punishments. They move

on to primary school where their sensory

processing differences (again common

in neurodivergent communities) make it

difficult for them to sit still and focus on

their work. The adults around them refer to

them as "difficult". All the while the story is

developing that the problem is them. "Of

course he is a naughty child, he was such

a fussy baby what did you expect?" "He's

being difficult again, he's always been like

this, even as a baby he was so fussy."

When they hit their teenage years, their

understanding of self is made up out of

these stories. They believe themselves

to be wrong in some way, to be lesser,

to be bad. Their self esteem is low. They

notice their difference from their peers and

interpret it in the same way that the adults

they have experienced in their life have

taught them to do so. They witness their

peers achieving and themselves failing,

and they blame themselves.

It is no surprise that when I read the

research surrounding these populations,

I find increased rates of mental ill health,

greater likelihood of self-harm or substance

abuse, greater risk of dying by suicide,

lower rates of employment, and so on.

It starts small but the language we use

around difference is the beginnings of these

stories. It is the stories, not the conditions,

that cause the low self esteem and the

mental health difficulties; these stories are

dangerous.

For a wonderfully positive example, I

remember a young man who showed me

around the special school that I worked at

when I was a newly qualified teacher. He

was about 14 when I started at the school

and as a member of the school council, he

had been tasked with giving me, the new

teacher, a tour of the school. He started

out by smartly introducing himself, clearly

proud of the responsibility he had been

given. He then immediately said "I have a

learning disability, it can take me longer to

understand things, and it helps me if you

show me anything you want to explain as

well as tell me about it." And in his next

breath he went on to talk about how good

he was at swimming.

I was so impressed. Here was a child who

had been openly talked to about their

difference, in his first utterances to me, he

had already given me strategies I could

use to support his understanding, and he

had celebrated his abilities. That young

man will have faced struggles in his life as

he attempted to learn new skills, but the

confidence he had in himself, knowing who

he was and how his brain worked will, I'm

sure, have equipped him to meet those

struggles and overcome them. Imagine

who he would be if he had felt that his

difficulties in learning were in some way his

fault? Which leads me on to why this is so

important in the early years:

Early years

Often times, in early years settings you are

supporting children who may be diagnosed

with a neurodivergent condition later on in

their lives. The differences between children

become more apparent with age. But

the impression we make and the stories

we tell when children are small are the

foundations for the stories other people will

tell. Do you describe the child as "bossy"

or as having "leadership skills"? Do you

say "Peter always fidgets" or "Peter's body

likes to move"? The differences are subtle

but they set a direction now that points to

where that child might end up. The nuances

matter.

Imagine a start point, and an arrow

pointing out from that start point. We direct

this arrow with our utterances. It points to

where that child ends up. The difference

between "Peter always fidgets" and "Peter's

body likes to move" is small but the nuance

matters. "Peter always fidgets" blames

Peter, it is something he does, and it always

has a notion of value judgement. Add to

that the tone in which it is said and the

arrow points very definitely in one direction.

"Peter's body likes to move" is very different,

it's now not Peter himself, but his body, and

the "likes to move" could be used positively

in a different context; "Let's choose Peter for

this game because his body likes to move."

The arrow points in a different way. Your

words set the direction. The child grows and

moves in that direct, a difference of a few

degrees now can make a huge difference

between where that child ends up.

So set yourself that challenge again, that

I have set you in all three of these articles:

How can you tweak how you talk about

difference to remove the judgement?

Explore different turns of phrase, which

would be best? Where do they lead?

The task for the children is to make a reveal

picture as before, but this time, not of

themselves but of someone else. It could be

fun to do one for a child in a book so that

everyone is thinking about the same child.

The question the children are answering

is "What do you think they are thinking?" It

is a very hard question, and you can offer

support by giving possible answers. You

could pair them up with friends and ask

them to draw their friend thinking about

their favourite food. The children could

then find out what each other's favourite

food is and draw that. What we are

aiming for them to appreciate, is that the

other person maybe thinking differently to

themselves. And whilst they are doing that,

we are going to support them by talking

about difference using non-judgemental

language: good luck!

Jo provides in person and online training to

settings looking to enhance their inclusive

practice for more information visit www.

TheSensoryProjects.co.uk where you can

also find resources to help you include

children of all abilities. Jo is active on social

media and welcomes connection requests

from people curious about inclusive

practice.

Joanna Grace

Joanna Grace is an international

Sensory Engagement and Inclusion

Specialist, trainer, author, TEDx speaker

and founder of The Sensory Projects.

Consistently rated as "outstanding" by

Ofsted, Joanna has taught in

mainstream and special school settings,

connecting with pupils of all ages and

abilities. To inform her work, Joanna

draws on her own experience from her

private and professional life as well as

taking in all the information she can

from the research archives. Joanna's

private life includes family members

with disabilities and neurodiverse

conditions and time spent as a

registered foster carer for children with

profound disabilities.

Joanna has published four practitioner

books: "Multiple Multisensory Rooms:

Myth Busting the Magic", "Sensory

Stories for Children and Teens",

"Sensory-Being for Sensory Beings"

and "Sharing Sensory Stories and

Conversations with People with

Dementia". and two inclusive sensory

story children's books: "Voyage to

Arghan" and "Ernest and I". There is

new book coming out soon called '"The

Subtle Spectrum" and her son has

recently become the UK's youngest

published author with his book, "My

Mummy is Autistic".

Joanna is a big fan of social media and

is always happy to connect with people

via Facebook, Twitter and LinkedIn.

Website:

thesensoryprojects.co.uk

22 June 2021 | parenta.com

parenta.com | June 2021 23
---
Reveal Pictures - part 2

Lemony lemonade

This craft is in relation to the "Celebrating difference and neurodivergence - part 3" article by

Joanna Grace, and was created with her son imagining what his baby brother might be thinking

about. This is similar to the activity associated with the previous article.

This recipe has been

kindly supplied by

Katherine Houghton, from

her wonderful cookbook

"Early Years Recipes for

Children", available to

purchase here.

You will need

Instructions:

• Paper

• Pens/crayons/coloured

pencils

• Glue sticks

• Optional: Cardboard (some

packaging boxes that books

or DVDs are delivered in

are perfect for this as we

discovered)

1. Fold an A4 piece of paper

so that the two end quatres

meet in the middle of the

length, hiding half of the

page.

2. Take a second piece of

paper and attach it to the

first so that it folds down

covering the half page.

3. You now have three layers:

1) the folded outside, 2) the

covering flap 3) the inside.

4. Draw the outline of a head

on the first and third layer.

On the middle layer draw a

brain or alternatively, print

a brain drawing. We have

a free template you could

download here.

5. Ask the children to draw

their own face on the

outside layer.

6. Invite them to colour in the

brain that is revealed when

they look inside their heads:

7. Ask them what their friend

might be thinking and have

them draw this below the

flap.

What do you need?

• 10 x lemons

• Sugar

• Sparkling water

Instructions

1. Wash the lemons

2. Cut the lemons into halves

3. Squeeze the lemons, twist and turn until all the juice is out

4. Add a cup of sugar and stir

5. Pour in a bottle of sparkling water and mix

6. Enjoy the best ever lemonade!

24 June 2021 | parenta.com parenta.com | | June 2021 25
---
Paediatric First Aid Course

CPD courses….

Parenta is always looking at new ways to support the Early Years Sector. We

are pleased to announce that we now offer Paediatric First Aid training to all

those who work in early years, in partnership with Co-operative Childcare.

Whether you're a manager looking to support your staff by enhancing

their knowledge, or looking at developing your own career, when you

study one of Parenta's online CPD courses, you study in your own time

and at your own pace – all from the comfort of your own home!

3

£

The course meets the requirements of

Ofsted, under DfE's guidance (April 2017),

complying with the framework for the Early

Years Foundation Stage

The certificate is valid for 3 years from

date of issue

This course offers a blended approach

(6 hours online + 6 hours face to face

training)

It costs only £120 per learner

Nationwide training venues are

available. Alternatively, we can

deliver the training in your setting

(minimum 6 students)

Improve staff morale

and motivation

Maximise individual

potential and promote

development

Allows you and your

team to gain brand new

qualifications in many

different policies,

procedures and

practices

Enables you to keep

abreast of industry

changes by constantly

updating skill sets

Support your staff by ensuring they

have the right skill sets and training

to maintain the safety of all children

within your care.

Book your Paediatric First Aid Training today

For as little as £120 + VAT you can get the qualification you need to be Ofsted ready and

maintain the highest level of safety within your setting.

By ensuring your team undergoes relevant, regular refresher training, they'll always be up-todate

with the latest policies, procedures and practices – and it doesn't need to be expensive!

With CPD courses from Parenta costing as little as £7,

what are you waiting for?

Log on and learn today!

0800 002 9242 hello@parenta.com

0800 002 9242 hello@parenta.com
---
Violence against women: the role of the early

years in preventing gender stereotypes - part 2

'Gender equality is a human fight, not a female fight.' - Frieda Pinto

Last month we looked at violence and how a collaborative effort in the early years can transform

stereotypical attitudes and behaviour in boys, and help reduce violence against women and girls.

This month we look at how we can best support girls to become women of purpose and resolve.

A girl's identity is informed by her

genes, temperament, parents, home

environment, friends, and the world

around her. Early years providers have the

opportunity to help girls become robust

and confident individuals in their early

years, impacting resilience for life.

Social roles and norms are formed

early and stick around for life unless

challenged. 'Boys will be boys,' 'Girls are

sissies.' Girls are often seen as 'bossy'

or 'interfering' when displaying their

confidence or assertion. Boys, on the other

hand, are more likely to be praised for

being assertive. What a contradiction!

In a recent meeting with several early

years, primary and secondary teachers,

the conversation turned towards girls'

Age in

months

Outcome

12 She laughs and interacts with people she loves

18

She engages with her parent/carer in her daily

routine

24 She enjoys showing some independence

30

36

She is confident enough to deliberately seek and

keep an adult's attention

She has the confidence to state her own preferences

and interests, even if different from others

42 She enjoys carrying out small acts of responsibility

48

54

60

She shows confidence by talking freely to familiar/

unfamiliar girls or boys when playing

She has the confidence to independently choose an

activity and then gather and use all the materials

needed

She has the confidence to talk positively about herself

and others

60+

She shows confidence in speaking out, trying out

new activities, asking for help, and sharing ideas

confidence throughout school. It was every

teacher's experience that girls speak up

less and 'let the boys do the talking.' In

short, boys dominated. Even in a gender

equality lesson, it was observed that the

boys answered the questions or debated

the point. The girls were silent. Why

were girls less likely to speak out? The

teachers' collaborative view was that girls'

confidence gradually weakened as the

girls got older, with a pronounced dip in

secondary school.

Building skills that counter

violence

Young girls need to know that that they

can thrive not only irrespective of, but

because of their gender.

Not yet

reached

Nearly

reached

Reached

Providers need to ensure that girls have a

keen awareness that they are true equals

in every aspect of their development.

This begins with the skill of confidence.

Confidence grows with support and

flourishes when encouraged. It is vital that

we start this process right at the start of a

child's life.

Gauge the confidence levels of every girl in

your setting. This is a crucial starting point,

as the self-reliance that accompanies

a strong sense of self is key to creating

women who feel empowered.

Start the process by completing

the confidence outcomes below for

each girl. (1)

Suggested support

Provide daily one-to-one interactions, filled

with warmth and laughter

Have a predictable and deeply enjoyable

daily routine

Always be warmly and lovingly responsive to

her social and emotional cues

Continue building a special and warm

relationship

Always be alert to her facial and postural

cues by interpreting and labelling them

Provide plenty of genuinely enjoyable

opportunities for her to help with

Encourage enjoyable and exciting

collaboration with some highly appealing

group activities

Provide highly appealing activities and

events that follow her keen interests

Create a responsive environment, full of

praise and encouragement, always following

her effortful attempts with positive feedback

Create plenty of opportunities for group

activities where she can enjoy collaborative

work with others

How did they do? Have you noticed a

pattern? If each girl's confidence levels

are strong, keep doing what you are

doing. If there are gaps, then follow the

activities, and then re-assess the girls

after a few weeks.

Choice and voice

Empowerment is the expansion of choice

and the strengthening of voice through

the transformation of power relations, so

women and girls have more control over

their lives and futures. (Eerdewijk et al

2017)

Girls' habits and practices around choice

and voice are key to their identity. For girls

to be truly empowered, we need to ask

ourselves the following questions:

Does the provision:

• Support girls in making choices and

having control over their actions?

• Empower girls to act and realise

aspirations right from the start,

regardless of social norms, so that

they have achievable hopes and

desires?

• Encourage girls to express

themselves?

• Encourage girls to negotiate?

A new social norm

Social norms are subtle, insidious, and

potentially toxic. They are the breeding

ground for shaping rules about behaviour

and habits that may well be harmful

to both boys and girls. They potentially

devalue the potential of girls across

many areas of learning, particularly later

on in school, where girls may perceive

themselves as not 'smart' enough for

science or maths choices.

We need to embrace a mindset where

we are keenly sensitive to all gender and

social norms, ensuring that they never

impact the learning of girls or the future

potential of women. Awareness must

be planted deep within the framework

of what is taught and shared with our

youngest citizens.

Attitudes around girls or women being

weak, or in need of protection, or striving

harder to get ahead are myths based on

the social and gender norms that have

shaped our society for centuries. Such

stereotypical assumptions based on

'shared' traits should have no place in our

education system.

Helen Garnett

Helen Garnett is a mother of 4, and

a committed and experienced early

years consultant. She has a wealth

of experience in teaching, both in

the primary and early years sectors.

She co-founded a pre-school in 2005

where she developed a keen interest

in early intervention, leading her into

international work for the early years

sector. Helen cares passionately

about young children and connection.

As a result, she wrote her first book,

"Developing Empathy in the Early Years:

a guide for practitioners" for which she

won the Professional Books category

at the 2018 Nursery World Awards,

and "Building a Resilient Early Years

Workforce", published by Early Years

Alliance in June 2019. She also writes

articles for early years magazines, such

as Nursery World, Early Years Teacher

Organisation, QA Education, Teach Early

Years, and Early Years Educator.

Helen is the co-founder and Education

Director at Arc Pathway, an early years

platform for teachers and parents.

Helen can be contacted via LinkedIn.

Everyone is different. Everyone is diverse.

Everyone is an individual. Our shared

traits are to be celebrated, not conformed

to. This is our new social norm!

References

1. Arc Pathway

28 June 2021 | parenta.com

parenta.com | June 2021 29
---
Celebrating Summer Solstice

June is the month of the year when we all look forward to enjoying some warm weather, lighter

evenings, and a long-awaited summer holiday. It is also the month of the Summer Solstice – the

longest day of the year which officially marks the start of summer.

A little bit of astronomy

Our earth revolves around the sun once

every 365.25 days, which we know as

a year. However, as well as orbiting the

sun, the earth also spins on its own axis

(the imaginary line running from the

North to the South Pole), taking 24 hours

to complete a full rotation and creating

hours of daylight and darkness, which

we call day and night. But that doesn't

explain why we get seasons (spring,

summer, autumn, and winter), or why we

have some days that have more daylight

(in summer) and some days that have

less daylight (in winter).

This happens because the earth is not

in an upright position relative to the

sun, but is tilted at an angle of 23.5

degrees from the vertical. As the earth

revolves around the sun, the tilt of the

axis remains the same. So, when it is

summer in the northern hemisphere, the

northern hemisphere is tilted towards

the sun, whilst the southern hemisphere

is tilted away from the sun, thereby

experiencing winter. When the earth gets

to the opposite side of the sun in its orbit,

the situation is reversed, and it is winter

in the northern hemisphere and summer

in the southern hemisphere. That's why

the Australians can enjoy their Christmas

lunch on the beach, while we build

snowmen and snuggle up with a hot

cocoa! The earth's tilt also explains why

we have seasons and why the amount

of daylight we get varies throughout the

year. There's a good video for children

which explains the movement of the

earth and why we have seasons here.

So, what is the Summer

Solstice?

The Summer Solstice marks the point

in the year where the earth reaches

its closest inclination to the sun (which

is not the same as its closest distance

from the sun, however). In the northern

hemisphere, this will be on Monday, June

21, 2021. This will be the Winter Solstice

in the southern hemisphere. It is also

the day that the UK receives the most

hours of daylight during the year, but the

exact amount of daylight we get varies

according to location. The North Pole

has constant daylight at this time of year

as it is angled towards the sun, whilst

the South Pole experiences continual

darkness. Daylight at the equator is

constant throughout the year with equal

amounts of daylight and darkness.

At Stonehenge in Salisbury, thought by

some to be an ancient astronomical

calendar, Midsummer's Day will see the

first rays of sun at 04:52 and say goodbye

to them at 21:26 giving almost 17 hours

of daylight. Although, as we well know

in the UK, daylight hours are not the

same as sunshine hours, as our weather,

clouds, and rain can get in the way of

that, but even if this happens, the sun is

still out there….somewhere!

How to celebrate Summer

Solstice in your setting

Summer Solstice is the perfect time to

celebrate everything warm and sunny

with your children, so here are 17 different

ideas to help your little ones celebrate

– one for each hour (or part hour) of

daylight on Midsummer's Day!

1. Make a sun and earth mobile using

pom-poms or simple circles of

coloured card

2. Plant some seeds – cosmos, dianthus

and nasturtiums are easy to grow,

and should do well if planted at this

time of year

3. Make some sunshine headdresses

or masks or use some face paint to

create representations of the sun and

the earth – then create a dance or act

out the earth moving around the sun

and spinning on its axis

4. Listen to some classical music –

Vivaldi's "Summer" from his "Four

Seasons" is calming and evokes long

summer days

5. Celebrate with a Midsummer fete or

festival – make sure you serve the

quintessential British summer treat of

strawberries and cream

6. Press some summer flowers and

make them into a solstice greeting

card

7. Create some sunrise or sunset

pictures – you can use different

shades of paper cut out in increasing

sized semi-circles to create the

sunrise/sunset

8. Watch the sunrise live at Stonehenge

via a live link on Facebook here (if you

are up early enough) or watch it in

your setting later on YouTube (so you

can have some extra time in bed!)

9. Make some fairy peg dolls and

have the children create a dance

on Midsummer's Day – in folklore,

Midsummer is traditionally a day

when magic is strongest, and fairies

and pixies can get up to mischief!

10. Make a simple sundial by using a

long stick and some coloured or

painted stones. Push the stick into the

ground outside in the full sun and use

the stones to mark where the shadow

falls each hour. You can find some

instructions here

11. Make some summer-inspired treats

such as lemon fairy cakes, butterfly

cakes or decorate some pancakes

with sunny faces using bananas,

strawberries, grapes, and raisins

12. Learn some English country dances

based on the idea of circles and

rotation

13. Tell a simplified version of

Shakespeare's "A Midsummer Night's

Dream" in storytime or read some

educational books based on summer

such as "What can you see in

summer?" by Sian Smith, or "A Perfect

Day" by Lane Smith

14. Make a daisy or dandelion chain,

or a flower headdress to mark the

occasion

15. Meditate with your children, giving

thanks for the day, and incorporate

some simple yoga poses to

strengthen balance and body

awareness

16. Sing some songs that celebrate

summer – a YouTube search using

"summer songs for kids" brings up

many favourite songs as well as

some new ones you might like to try

17. And finally, sit around a small bonfire

(following all safety precautions,

of course) and toast some

marshmallows – the perfect end to a

perfect summer's day!

And if all that fails, and it does rain….

make a colourful fake fire inside and

eat the marshmallows anyway!

30 June 2021 | parenta.com

parenta.com | June 2021 31
---
Teaching children the true

meaning of the word 'sorry'

After a few stand-offs with my toddler, trying to force him to say 'sorry' (for walloping his sister

around the head with a toy and calling her 'poopy head'), I decided to take a step back and

actually question my approach.

Through my business, Early Years

Story Box, I deliver training in the

childcare sector about how the mind

is programmed in early childhood and

how this silently guides us through life.

Quite often our intention as a parent

and practitioner versus the message we

are delivering is inadvertently different.

We can also often get caught up in

subconsciously repeating parenting

patterns and approaches of the

generations before us.

Knowing this, I often analyse my own

actions and question if there is a better

approach than the one I am using and

when I actually sat back and thought

about it, I realised that what I was

teaching my son by forcing an apology

was actually the opposite of my intention.

I wanted to teach him to take

responsibility and to understand the

impact of his actions. However, I realised

that by forcing him to say 'sorry' (when

he clearly showed no remorse at all) was

doing the exact opposite. Really it was

just teaching him that 'sorry' was a magic

word that can be said in order to avoid

consequences.

After this realisation, I decided to ditch

the forced apologies and take a different

approach that I have now broken down

into 4 steps:

Step 1 - Calmly ask what

has happened and LISTEN

Behaviour is communication, therefore

there is always a reason or trigger for

children to act a certain way. When I

asked my son why he had smacked his

sister and called her 'poopy head', it

turned out that she had been winding

him up. Now this does not justify his

actions, however, by knowing this it

gave me a chance to teach him how

to manage his feelings in a more

appropriate way. By simply forcing an

apology, this would have skipped this

whole process.

Step 2 – Acknowledge

EVERYBODY's feelings

Quite often in this situation we would

naturally focus on the child who has been

hit. However, by also acknowledging my

son's frustration with his sister winding

him up, it made him feel heard and

opened the lines of communication.

You rarely get the best out of people

when they feel attacked or backed in a

corner and children are no different. By

acknowledging that his actions hurt his

sister (which wasn't okay), as well as

saying that I understood that his reaction

was caused by frustration, my son felt

understood and therefore was more open

to hear what I had to say.

Step 3 – Identify people's

feelings

Once I had my son's attention and he was

calm, I then asked him how he thought his

sister might have felt when he hit her and

called her names. At first, he struggled to

answer this question so I turned it around

and asked him how he would feel if his

sister hit him every time she felt frustrated

with him. He immediately said that it

would make him feel sad so I asked him

if he could see that this would have made

his sister feel the same way. He agreed.

In this moment he realised that his actions

had an impact on others. I also asked

my daughter the same question about

winding her brother up so that she knew

this wasn't okay either.

Step 4 – Find an

alternative/solution

After going through this whole process

I asked my little boy if he could think of

things he could have done instead of

hitting and name-calling when he felt

frustrated. He said that he could have told

Mummy, which I agreed would have been

better. I then asked him what he could do

to make things right. His response was "I

know, Mummy, I could call her 'Unicorn

Girl' instead". His sister's eyes lit up and

we all laughed and agreed that this was a

far nicer name than 'poopy head'.

Step 5 - Model the apology

I then asked my little boy if he wanted to

say sorry for hitting and calling his sister

names. Most of the time this leads to an

apology, but on the odd occasion that

it doesn't, I say sorry on his behalf and

model the apology by saying something

like "I'm sorry your brother hit you and

called you names because I know he is

kind and wouldn't want to hurt you".

At the end of the day 'sorry' means

nothing without action. I used to put so

emphasis on this word, when in reality

it is the smallest part of an apology. This

process has not only helped to teach my

children about the true meaning of the

word 'sorry' but has also developed their

ability to take responsibility, empathise,

and have compassion. I too have regained

my sanity by avoiding the tireless 'say

sorry' stand-offs, that let's face it, we rarely

win!

SORRY!

Stacey Kelly

Stacey Kelly is a former teacher, a parent

to 2 beautiful babies and the founder

of Early Years Story Box, which is a

subscription website providing children's

storybooks and early years resources.

She is passionate about building

children's imagination, creativity and

self-belief and about creating awareness

of the impact that the early years have

on a child's future. Stacey loves her role

as a writer, illustrator and public speaker

and believes in the power of personal

development. She is also on a mission

to empower children to live a life full

of happiness and fulfilment, which is

why she launched the #ThankYouOaky

Gratitude Movement.

Sign up to Stacey's Premium Membership

here and use the code PARENTA20 to get

20% off or contact Stacey for an online

demo.

Email: stacey@earlyyearsstorybox.com or

Telephone: 07765785595

Facebook: https://www.facebook.com/

earlyyearsstorybox

Twitter: https://www.twitter.com/

eystorybox

Instagram: https://www.instagram.com/

earlyyearsstorybox

LinkedIn: https://www.linkedin.com/in/

stacey-kelly-a84534b2/

32 June 2021 | parenta.com

parenta.com | June 2021 33
---
Drowning Prevention Week

Death has been in the headlines continually in the last year. However, one statistic you might not

have heard, is that on average, 402 UK and Irish citizens die each year of accidental drowning,

deaths which the Royal Life Saving Society (RLSS) argue are completely preventable, stating that

"Even one drowning is one too many". And they are on a mission to change it.

From the 19th to the 26th June, the

RLSS is organising Drowning Prevention

Week as part of their mission to help

everybody enjoy water safely. The

campaign encourages schools, parents,

leisure centres, water sports providers,

and the wider community to use water

resources safely and to take the time

to teach people the skills they need to

enjoy a "lifetime of fun in the water". The

campaign is needed more than ever this

year because a lot of time and education

has been lost during the pandemic with

swimming pools closed and swimming

lessons cancelled, revealing a large

education gap in water safety.

What is even more worrying is that in

some communities, where engagement

with water safety activities and swimming

has been traditionally low, this gap

seems to have increased and there needs

to be a large and more focused effort to

reach out to these communities and get

the messages across.

Some of these under-represented

communities include the Black community

where 80% of children and 95% of adults

do not swim. Other groups where the

society is keen to get safety messages

across are in younger people, particularly

males since over 80% of those who

drown accidentally are male and 23% are

aged between 16-30, with a massive 46%

reported as never intending to go in the

water.

Sharing is caring!

On July 31 last year, a ten-year-old boy,

Ravi Saini survived for more than an hour

using floating advice he had remembered

seeing on a BBC TV documentary, after

being swept out to sea whilst enjoying

a day out at a beach near Scarborough.

His RNLI rescuers praised him when they

found him floating on his back, with his

arms and legs spread, shouting for help,

and were convinced that his 'Float to live'

technique (see below) had saved his life.

34 June 2021 | parenta.com

One of the best things you can do to help

the campaign, therefore, is to spread the

simple water safety messages, and to

raise awareness of the issue among your

staff, parents and friends.

Last year, the RLSS educated nearly

two million people with essential water

safety advice, and this year, they are

hoping to reach many more. You can

show your support by downloading and

sharing images, templates and banners

from their website to add to your social

media accounts, and use the following

hashtags and Twitter tags with messages

of support:

• #drowningpreventionweek

• #enjoywatersafely

• @RLSSUK

The society is also producing a range of

educational materials and a toolkit to use

in your settings and there are resources

aimed especially at pre-schoolers,

primary, and secondary schools too. The

toolkit includes suggested social media

posts, example emails, and blogs to

advise parents about the week, so a lot

of the work has been done for you. It is

just a matter of getting the message out

to the people you know. And there's a

prize draw for everyone who uses the

hashtags/tags, giving them the chance to

win a Dryrobe changing robe, so there's

an extra incentive to get the message out.

What are the main messages?

This year, there are 3 main messages:

1. Throughout 2020 and 2021, young

people have vitally missed out on

the opportunity to swim, leaving a

dramatic gap in school swimming

and water safety education

2. Drowning is preventable – even one

drowning is one too many

3. Through free, accessible education

and training, everyone can enjoy

water safely

Follow the Water Safety Code

The Water Safety Code is a simple code

to follow whenever you are near water

and is the backbone of all water safety

education. Its messages are simple and

aimed at helping people make the right,

early critical decisions around water,

as well as telling them what to do in an

emergency.

However, water safety is not just about

going swimming and their advice extends

to keeping people safe at home, using the

bath, paddling pools, swimming pools and

aquaparks, and whilst walking near water

in winter too. Check out the website for lots

of helpful advice for families and people

of all ages, and you can even learn how to

gain lifesaving qualifications or participate

in lifesaving competitions.

Below are some of the main messages

and advice to follow.

OPEN WATER SAFETY

• Check water sites for hazards, and the safest places to swim,

and always read the signs

• Take time to check the depth and water flow of open water

sites

• Swim with any children in your care – it's more fun and you

can keep them close and safe

• On beaches, check the high/low tides and ensure you will not

be cut off by the rising tide

• Learn to identify and stay away from dangerous rip-currents

• Do not use inflatable dinghies or lilos in open water

• Do not swim near to, or dive from rocks, piers, breakwater or

coral

• Always swim parallel to the beach and close to the shore

'Float to live' advice from

the Royal National Lifeboat

Institution (RNLI)

People are urged to follow this potentially

lifesaving advice if they find themselves in

trouble after falling into cold water.

ALWAYS FOLLOW THE

WATER SAFETY CODE

Whenever you are around water:

STOP AND THINK

STAY TOGETHER

In an emergency:

CALL 999 OR 112

FLOAT

1. Fight your instinct, not the water

– meaning don't try to swim hard

or thrash about as this can lead to

breathing in water and drowning,

especially if people are suffering from

cold water shock

Look for the dangers.

Always read the signs.

Never swim alone. Always

go with friends or family.

Shout for help and phone

999 or 112.

If you fall in, float or swim on

your back. Throw something

that floats to anyone who

has fallen in.

WATER SAFETY AT HOME

• Empty paddling pools as soon as they have been used

• Always turn paddling pools upside down once empty

• Always supervise your children around water, including bath

time

• Never leave children unattended near water, even for a

moment

• Always use gates, fences and locks to prevent children from

gaining access to pools of water

• Securely cover all water storage tanks and drains

2. Instead, relax and float on your back,

spreading your arms and legs out

like a starfish until you have regained

control of your breathing

You can find more advice on the RNLI's

website including videos on how to teach

children to float.

parenta.com | June 2021 35
---
All you need to know about tantrums

If there's one simple word that strikes fear into the heart of both parents and carers, it has to be the

word "tantrum". After all, they are almost impossible to avoid, difficult to understand, and in the heat of

the moment, can be hard to handle.

place where others are not watching and

where you can deal with it more calmly –

out of the public gaze.

Stay close and be calm. Remain nearby

but don't try and reason with the child

initially.

At what point are toddler

tantrums a worry?

Seek some professional help if the

tantrums are becoming regularly very

numerous.

Here Tanith Carey, author of "What's My Child Thinking? Practical Child Psychology for Modern Parent",

with clinical child psychologist Dr. Angharad Rudkin, shares research from the book.

Are tantrums normal? How

common are they?

Yes, they are a normal and necessary part

of a child's development.

In that moment, the child is handling the

situation the only way they know how,

which is using their bodies and crying.

Tantrums are usually caused by feelings of

overwhelm, powerlessness, or frustration.

All these feelings are common for a small

child, who doesn't yet have the words to

express how they feel and gets told what

to do all day by adults at a time when they

want to explore the world and become

more independent.

Are tantrums a sign of bad

parenting or childcare?

No, tantrums are not a sign of bad

parenting.

But parents can sometimes react - with the

best intentions – in ways that make them

more serious and last longer!

For one thing, I think the shame that

parents often feel when other people see

their child having a tantrum can make

things worse.

This is because the parent's brain also

goes into fight-or-flight mode – or they try

to 'showboat' firm parenting in a bid to

show 'who's in charge.'

This often makes it harder to respond in a

more calm way, which is what your child

needs now.

So I'd say to any parents, be kinder to

yourself and reframe how you think of

tantrums.

Avoid seeing them as a sign of defiance,

or naughtiness, designed to make your life

harder.

Toddler tantrums and the terrible

twos – when do they start?

Why are children at this age

particularly prone to throwing

tantrums, is there any science

behind this?

You are likely to start seeing tantrums

between the age of 18 months and two

years.

At this age, they are also starting to master

control of their bodies and becoming more

independent. However, the fast pace of

this physical development is racing ahead

of their emotional development – hence

the fireworks.

Throughout our lives, our reasoning and

emotions are governed by the frontal

lobes, which also put the brakes on

emotional, impulsive behaviour. But at

this age, this part of the brain is only just

getting wired up. So toddlers can't slow

themselves down, without help.

What exactly causes tantrums?

Are they caused by the child's

brain/external factors?

Children at this age want to be the boss

but they're also learning that the world

is a place where not everyone does their

bidding and that's why tantrums start to

happen now.

At two, they also understand far more

than they can say at this age, which adds

to their frustration. At the start of this year,

they usually have a bank of between 50 to

200 words.

As their vocabulary lags behind what they

want to express, this leads to irritation -

they are not being understood, which can

manifest as tantrums.

Are some children just 'better

behaved' than others?

Some children are more reactive or more

'wired' to react and some find it more

difficult to communicate than others. These

children need more help from grownups to

notice their triggers and work out what to do

to handle them.

So it's not really about being 'badly

behaved.'

Is there anything you can do, as an

adult, to avoid tantrums?

As a parent, you can reduce the number of

tantrums and how long they last by staying

calm, providing reassurance, and helping a

child to feel heard.

Look for flashpoints like transition times –

when they are switching from one activity to

another – like going from playing with their

toys to having to have a bath.

These can be difficult - and feel like a real

wrench to a toddler engrossed in a play

- so give them lots of warnings. Say you

understand they are sad to have to do

something new, so they won't feel the need

to protest as much. Also, give them some

time to finish what they are doing and

prepare them for the next step by giving

gentle and firm warnings like: "One more

turn making a Lego tower and then it's bathtime."

As a child gets older, get them to notice the

signs they are about to blow.

Help them imagine their anger as a volcano

or something outside themselves so they

find it easier to talk about.

Give them some words to express

themselves. Suggest when they feel like they

are going to get angry, that again he tells

you first: 'I'm tired, 'I'm hungry', 'I need some

quiet time' or 'I want you to listen'.

What are some of the most

effective ways to handle a tantrum?

First, make sure the child won't get hurt.

In public, try to gently take them to a quiet

When the worst has passed, and the child

starts to settle, get down on their level, use

a soft voice and a gentle touch to soothe

and encourage them to respond more

calmly.

How can I head off a tantrum

before it happens?

You will never be able to avoid tantrums

completely, but you can reduce how often

they happen and how long they last.

To head off tantrums, also give a child

more 'safe' power so they feel less of the

need to exercise their will via a tantrum.

For example, if a child is refusing to wear

their coat to go outside tell them: "I can see

this is hard for you today. I can help you

decide what to wear outside if you like".

By allowing them to say what they want,

they are more likely to relax. Or offer them

the choice of two coats so they feel they

have some input. After a tantrum, don't

shame or tell a child they have been

naughty.

Chat to your child about what you both

could have done differently – and let them

try to express, even if only in basic words,

how they felt then and how they feel now.

What are some phrases to avoid

and use during a tantrum?

Don't tell a child to "Stop this now" and

"You're OK. Say things instead like' I'm

here".

Use short simple sentences "Big breaths"

– to remind them to breathe deeply and

calm themselves - and offer a cuddle

when they are starting to calm down.

Is it ever okay to 'give in' to a

tantrum?

I don't think 'give in' is a helpful way of

looking at it. It frames the tantrum as a

battle of wills between parent and adult.

Hold onto reasonable limits and manage

the situation and use distraction instead

which still works well at this age.

So five to ten tantrums are a sign of a bad

day. But if these bad days are the norm,

then it might be time to seek some outside

help.

Researchers have found the average

tantrum lasts about 11 minutes though

it probably seems longer than that. But

when a child's typical tantrums last more

than 25 minutes – and they are regularly

deliberately hurting themselves, then it's

wise to get the situation looked at.

Is there any advice for keeping

calmer yourself when a child has

a tantrum?

It will be a lot easier to remain calm if you

see tantrums as a necessary phase of

development - a sign that a child's physical

development has raced ahead of their

emotional development.

It's not a sign of 'naughtiness' or 'bad

behaviour'. It's a sign a child is becoming

more independent and learning through,

trial and error, how to manage their

emotions.

Understand instead that at this age their

higher brains just aren't developed enough

yet to deal with the powerful feelings they

are experiencing. While it's happening,

take some deep breaths and view it as

like a cloud flying overhead. It will soon

pass. Remember that a child doesn't enjoy

having a tantrum. What they want most is

to feel safe and back in control.

With your help and time, these outbursts

will get less and less. See it is a necessary

phase that a toddler will pass through.

Tanith Carey

Tanith Carey writes books which offer

a lucid analysis of the most pressing

challenges facing today's parents and

childcarers – by looking at the latest

research and presenting achievable

strategies for how to tackle them. Her

books have been translated into 15

languages, including German, French,

Arabic, Chinese and Turkish. Her 2019

publications are "What's My Child Thinking?

Practical Child Psychology for Modern

Parents" and "The Friendship Maze: How

to help your child navigate their way to

positive and happier friendships".

An award-winning journalist, Tanith also

writes on parenting for the Daily Telegraph,

The Times, the Guardian and the Daily

Mail, in which she also serialises and

promotes her books. She is also a regular

presence on TV and radio programmes,

including the NBC Today Show in the US

and Radio Four Woman's Hour and You

and Yours.

Her full bio can be found on her website at

www.cliomedia.co.uk and you can follow

her on social media channels @tanithcarey.

From "What's my child thinking?

Practical Child Psychology

for Modern Parents" with Dr.

Angharad Rudkin, published by

DK.

36 June 2021 | parenta.com

parenta.com | June 2021 37
---
Refugee

Awareness Week

Most of us have suffered during the pandemic in one way or

another: we've been in lockdown, perhaps lost some income

and have been prevented, temporarily, from seeing friends, and

family. But what if that was a permanent change? What if we

had lost everything we ever owned, had travelled thousands of

miles to find a safe place for ourselves and our children, and

had left behind all our family and everything we knew, with little

or no prospect of ever seeing them again? Understanding this

dilemma is going some way to understanding the challenges

faced by the tens of thousands of people who become refugees

each year through no fault of their own.

It would be easy to think that the life

of these refugees is one of misery and

suffering, and there is no doubt that

many people suffer as a result of being

a refugee. But refugees often have

incredible strength, resilience, and

fortitude and can use their experiences

to help others through telling their stories,

finding their voices, and expressing their

creativity.

Refugee Awareness Week is a weeklong,

UK-wide festival, coordinated by

Counterpoint Arts, which seeks to go

beyond the stereotype and celebrate the

"contributions, creativity and resilience of

refugees and people seeking sanctuary."

It was founded in 1998 and is held every

year around the 20th June, which is World

Refugee Day. This year in the UK, the

week runs from the 14th – 20th June with

the theme "We cannot walk alone". This

is a reference to a line from Martin Luther

King's iconic "I have a dream" speech,

which describes the interconnectedness

and interdependence of all humans.

During the pandemic, we have heard the

line "no one is safe until we are all safe",

which also underlines a fundamental fact

of human life – that we must all ultimately,

rely on each other to thrive; for by making

the world a better place for our fellow

humans, we also make it a better place

for us.

The organisers understand that we are

also not all the same; that there are still

differences in experience and access to

power and resources that exist, but that

these different experiences are part of

a 'bigger us' which we can use to our

advantage. Refugee Awareness Week

is, therefore, as much about celebrating

the stories of refugees through the arts,

culture, sporting, and education events,

as it is about raising awareness of their

plight, fighting negative stereotypes, and

educating people about the reasons why

people become refugees in the first place.

As the website states:

"Refugee Week is a platform for people

who have sought safety in the UK to

share their experiences, perspectives, and

creative work on their own terms."

It is a partnership project coordinated and

managed by Counterpoint Arts, working

with many national organisations such as

the British Red Cross, the NEU teaching

union, UNHCR, Refugee Action, various

national refugee organisations, and

Amnesty International, to name but a few.

How to get involved in your

setting

There are many ways to get involved in

Refugee Week, and you do not have to

have refugees in your setting in order to

take part. The idea is that you are making

people aware of the refugee issue and

celebrating their contribution; this could

be locally, nationally, or internationally.

As lockdown eases, it is becoming easier

to hold events again so you might want

to organise something or plan to visit

another event. You can find out what's on

in your locality by looking on the website

at the events calendar or you can upload

your own event as well. There are also

lots of promotional posters, postcards

and downloadable resources you can

use on the official website which can be

downloaded here.

Simple acts

One of the things that the organisers want

people to promote are some 'simple acts'

that everyone can do, such as starting a

conversation or reading a story. These are

things that could easily be adapted for

an early years setting by simply doing the

things you normally do, but focusing on

refugee stories or the theme of "We cannot

walk alone". We've listed these acts below

and adapted some of them for pre-school

children.

The simple acts are:

1. Sing a song - learn and share a song

related to togetherness such as "The

More We Get Together" which you can

find on YouTube here or a song about

saying "Hello" in different languages,

which you can find here

2. Watch a film – you can hold a film

event for adults and watch some of the

films recommended on the website or

find some younger age-appropriate

animations that introduce children to

the plight of refugees

3. Have a chat - start a positive

conversation about some of the things

that refugees can bring to a new

country – think of things like food, art,

clothes and culture and stress the

benefits for everyone of cross-cultural

collaboration

4. Read a book – use your storytime to

read some related stories such as "Lily

and the Polar Bears" by Jion Sheibani

or "My Name is Not Refugee" by Kate

Milner

5. Say it loud – create a message

board with messages of support

and welcome – it could be a physical

board in your setting for people you

know, or it could be an online version

that can reach everyone

6. Play a game/learn something new –

play some games which encourage

everyone to join in or are ice-breakers

– it could be a circle game (see here

for a list), or you could learn a new

dance from another country

7. Walk together – on 20th June, one of

the events is the 'Great Walk Together'

where you can join others celebrating

inclusion and togetherness either as a

setting or as different families

8. Join the movement – extend the week

to last all year by planning other

events at different times and make

sure that you are promoting tolerance,

understanding and inclusion

throughout the whole year

Remember, 'refugees' is a collective term

but each person is different and their

experiences are unique, and as such,

each will have a unique insight and

different gifts to offer, so celebrate those.

And whatever you decide to do, remember

to tell us your news and send us your

stories and pictures to hello@parenta.com.

38 June 2021 | parenta.com

parenta.com | June 2021 39
---
The cheapest all-in-one,

easy-to-use, cloud-based

early years software

package you can buy!

No setup fee – save a massive £2395! | No hidden costs!

All inclusive | Limited time offer | Unlimited support

For only £99

per month

(paid annually)

with a MASSIVE

saving of £2395

(No setup fee)

Book a Demo Today!

What's included?

• Cloud-based Nursery Management

Software for easy and quick invoicing,

reporting & ratios

• User-friendly EYFS development

tracking software

• Daily Diary to record activities, naps,

meals and nappies

• Parent engagement app –

maintaining social distancing

guidelines

• Go paperless and limit the spread

of germs

• Accurately record baseline

observations

• Photo Editing, Tagging & Blurring

Technology (GDPR compliant)

• Easy Ofsted reporting

• Unlimited phone & email support

plus videos and help files

Monthly direct debit option available on request

0800 002 9242 hello@parenta.com