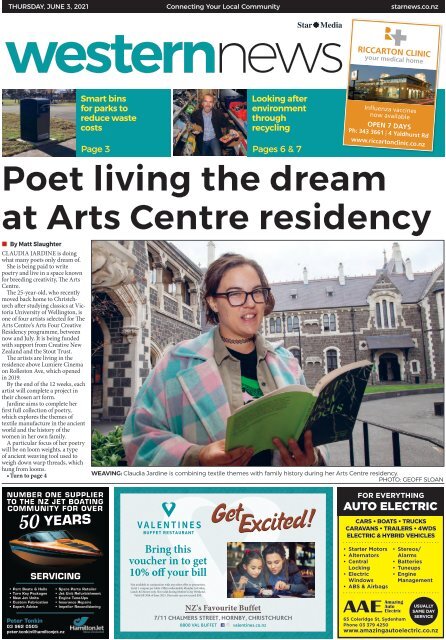 Western News: June 03, 2021
Create successful ePaper yourself
Turn your PDF publications into a flip-book with our unique Google optimized e-Paper software.
THURSDAY, JUNE 3, 2021

Connecting Your Local Community

starnews.co.nz

Smart bins

for parks to

reduce waste

costs

Looking after

environment

through

recycling

Influenza vaccines

now available

OPEN 7 DAYS

Ph: 343 3661 | 4 Yaldhurst Rd

Page 3 Pages 6 & 7

www.riccartonclinic.co.nz

Poet living the dream

at Arts Centre residency

• By Matt Slaughter

CLAUDIA JARDINE is doing

what many poets only dream of.

She is being paid to write

poetry and live in a space known

for breeding creativity, The Arts

Centre.

The 25-year-old, who recently

moved back home to Christchurch

after studying classics at Victoria

University of Wellington, is

one of four artists selected for The

Arts Centre's Arts Four Creative

Residency programme, between

now and July. It is being funded

with support from Creative New

Zealand and the Stout Trust.

The artists are living in the

residence above Lumiere Cinema

on Rolleston Ave, which opened

in 2019.

By the end of the 12 weeks, each

artist will complete a project in

their chosen art form.

Jardine aims to complete her

first full collection of poetry,

which explores the themes of

textile manufacture in the ancient

world and the history of the

women in her own family.

A particular focus of her poetry

will be on loom weights, a type

of ancient weaving tool used to

weigh down warp threads, which

hung from looms.

• Turn to page 4

WEAVING: Claudia Jardine is combining textile themes with family history during her Arts Centre residency.

PHOTO: GEOFF SLOAN ​

NUMBER ONE SUPPLIER

TO THE NZ JET BOATING

COMMUNITY FOR OVER

50 YEARS

• Part Boats & Hulls

• Turn Key Packages

• New Jet Units

• Custom Fabrication

• Expert Advice

SERVICING

Peter Tonkin

03 962 0505

peter.tonkin@hamiltonjet.nz

• Spare Parts Retailer

• Jet Unit Refurbishment

• Engine Tune-Ups

• Insurance Repairs

• Impellor Reconditioning

Bring this

voucher in to get

10% off your bill

Not available in conjunction with any other offer or promotion.

Limit 1 coupon per table. Offers redeemable Monday to Friday,

Lunch & Dinner only. Not valid during Mother's Day Weekend.

Valid till 30th of June 2021. Discount can not exceed $50.

For everything

AUTO ELECTRIC

CARS • BOATS • TRUCKS

CARAVANS • TRAILERS • 4WDS

ELECTRIC & HYBRID VEHICLES

• Starter Motors

• Alternators

• Central

Locking

• electric

Windows

• ABS & Airbags

• Stereos/

Alarms

• Batteries

• tuneups

• engine

Management

Amazing

Auto USUALLy

AAE Electric SAMe DAy

ServiCe

65 Coleridge St, Sydenham

Phone 03 379 4250

www.amazingautoelectric.co.nz
---
2 Thursday June 3 2021

Latest Canterbury news at starnews.co.nz

GENERAL INQUIRIES Ph 379 7100

CLASSIFIED ADVERTISING Ph 379 1100

Star Media, a division of Allied Press Ltd

PO Box 1467, Christchurch

starmedia.kiwi

NEWS

Bea Gooding

Ph: 021 911 576

bea.gooding@starmedia.kiwi

ADVERTISING

Alana Powell

Ph: 962 8753

alana.powell@starmedia.kiwi

Your local community news

delivered to 24,894 homes

within The Star each week.

Templeton • Islington • Hei Hei • Broomfield

Halswell • Oaklands • Westlake • Hornby • Ilam

Wigram • Sockburn • Church Corner • Avonhead

Hyde Park • Russley • Riccarton Park • Riccarton

what's on

this week

JP Clinic

Thursday, 9.30am-12.30pm, at

Hornby, Saturday, 10am-noon, at

Fendalton, Tuesday, 10am-1pm, at

Halswell and Upper Riccarton

Fendalton, Hornby, Halswell and

Upper Riccarton libraries

A justice of the peace will be available

to members of the community

to witness signatures and documents,

certify document copies, hear oaths,

declarations, affidavits or affirmations

as well as sign citizenship, sponsorship

or rates rebates applications. This

service is free.

Knit 'n' Yarn

Thursday, 10.30am-2.30pm,

Tuesday, 1-3pm, at Upper

Riccarton, Thursday, 1.30-3.30pm,

at Fendalton, Saturday, 1-3pm, at

Halswell, Tuesday, 10am-noon, at

Hornby

Fendalton, Halswell, Hornby and

Upper Riccarton libraries

Take your knitting, crochet, stitching

or any other handcraft and enjoy

the company of others. Share skills

and be inspired.

Citizens Advice Bureau

Thursday, Friday, Tuesday,

Wednesday, 9am-5pm

Hornby Library

Citizen's Advice Bureau provides

free, confidential advice to everyone.

They take the time to listen and equip

you with information, options and

support that fit your needs. Free,

phone 349 5236 for more information.

GenConnect

Thursday, 1-1.45pm

Upper Riccarton Library

If you have questions about your

smartphone or tablet, ask an expert

for advice. Free, no bookings required.

Free Legal Advice

Thursday, 6.15-8.15pm

Hornby Library

A lawyer will be available to answer

your legal questions. Take relevant

documents. Free. No bookings required.

Afternoon Euchre

Friday, 1.15-3.30pm

Halswell Bowling Club, Halswell

Domain

Join in for an afternoon of playing

Euchre with other like-minded people.

Hot beverages on offer. $3 entry,

$2 raffle. Phone Noel on 322 8636 for

more information.

WESTERN NEWS

Friends of the Library

Book Talk, Tuesday,

1-2pm, Fendalton Library.

Chessie Henry will speak

about her memoir, We Can

Make A Life, exploring

her family history and

the psychological cost of

heroism. Her father – a

doctor – crawled through

the burning CTV building

to rescue those who

were trapped hours after

the February 22, 2011,

earthquake. ​

Wā Kōrero-Storytimes

Tuesday, 10.30-11am, at Fendalton,

Wednesday, 10.15-10.45am, at

Hornby

Fendalton and Hornby libraries

Storytimes is an interactive programme

including books, songs,

rhymes and play. Recommended for

children 2-years-old and up.

Family History

Wednesday, 11am-1pm

Upper Riccarton Library

A volunteer from the Riccarton

branch of the New Zealand Society of

Genealogists will be available to help

you with finding your family history

online.

Matariki Craft

Wednesday, 3.30-4.30pm

Hornby Library

Celebrate Matariki, the Māori New

Year, with special Matariki crafts.

Create a paper globe and a star box to

take home.

Not-for-profit organisations can

send their What's On listings to

western@starmedia.kiwi

A place to make your next home. A range of options to

suit your ever changing needs. Owned and operated

by a family with over 25 years experience of providing

quality care in Christchurch.

Intimate, boutique hospital

that encourages and supports

an environment of self worth,

empowerment and flexibility.
---
WESTERN NEWS Latest Canterbury news at starnews.co.nz

Thursday June 3 2021 3

Rubbish bins that will cut down costs

'SMART' BINS are being

installed in community parks

around Christchurch as the

city council moves to reduce

maintenance costs in the city's

public spaces.

"We have been trialling smart

bins in the Botanic

Gardens,

Hagley Park,

Akaroa and other

popular parks

and attractions

Andrew

Rutledge

around the

city and Banks

Peninsula for

the past four

years and they have proven a

very successful and cost-effective

way of managing waste,'' says city

council head of parks Andrew

Rutledge.

"As part of the city council's efforts

to keep costs down for ratepayers,

we are now starting to

install smart bins in our community

parks. The switch to these

smart bins will save ratepayers

$300,000 a year because they

need emptying less frequently

than the old-style rubbish bins.''

The city council has banked

the savings year-on-year to help

keep annual rates increases

down.

Smart bins have a larger capacity

and sensor technology which

TIDY: One of the bins that are being introduced to Christchurch parks. PHOTO: NEWSLINE

provides the city council's maintenance

contractor with daily

data on how full each bin is. The

data means the contractor only

needs to send crews out to empty

the bins when required, saving

time and money.

The smart bins are also

more secure than traditional

open top rubbish bins, which

means that it is unlikely that

rubbish will get disturbed by

scavenging birds and rodents or

blown around in strong winds.

This should result in fewer litter

complaints.

"We are spending $830,000

on installing the new smart bins

but with the annual savings of

$300,000 they will pay for themselves

in three years,'' Rutledge

said.

Community parks, with high

levels of usage, such as those

used for sport and open spaces

such as beach fronts are being

prioritised for the 'smart' bins.

"Not all of the 840 old-style

bins that we are taking out of

parks will be replaced with a

'smart' bin,'' Rutledge said.

"The majority of customer

service requests we receive relate

to litter dumping, most of which

occurs when people place rubbish

beside bins, and assume that

is okay as someone will pick it

up.

"In parks and areas where we

don't have bins, or have very

few bins, such as regional parks,

issues associated with litter are

minor,'' Rutledge said.

"In low use neighbourhood

parks we will be removing

litter bins entirely and instead

encouraging people to take any

rubbish home with them to

dispose of in their red wheelie

bin as part of our kerbside

collection service.

"People really bought into this

approach during the Covid-19

Lockdown when we asked

people to 'take it home'.

"Just as people enjoying the

great outdoors are encouraged

by the Department of Conservation

to carry out their rubbish

in order to protect the environment,

we want residents to help

us keep our parks tidy by taking

their rubbish home with them,''

Rutledge said.

The roll-out of the new smart

bins is expected to be completed

in August.

WE'LL HELP YOU NAVIGATE

YOUR NEXT DESTINATION.

Thanks so much for a great auction result.

The whole process with you all has been so

professional and an absolute dream.

My advice to anyone is always employ the best and

just let them do their thing.

- Darren -

Phone or text 027 555 7079

REINZ Salesperson of the Year across all brands in NZ

cameron.bailey@harcourts.co.nz

No.1 Harcourts Canterbury 2012-2021

No.1 Harcourts New Zealand 2017-2021

www.cameronbailey.harcourts.co.nz No.1 Harcourts International 2017-2020

Licensed Sales Consultant REAA 2008
---
4 Thursday June 3 2021

Latest Canterbury news at starnews.co.nz

WESTERN NEWS

Textile traditions at heart

of poet's new creations

• From page 1

Jardine said: "My sort of

research-poetic job is like a

poetic essay on the loom weights

research and how it relates to my

own life and my own relationships

with women in my family.

"It's highly likely that mothers

were passing on loom weights to

their daughters.

"There are still these connotations

around textile manufacture

in the modern world as being

sort of a woman-centric job, and

it's an interesting relationship to

explore."

Jardine developed a passion for

poetry as a student at Cashmere

High School and said it is growing

in popularity in Christchurch

and New Zealand-wide.

"I think that, although New

Zealand has always had quite a

rich writing scene, poetry in particular

is really hot right now. I

think more people are writing it,

more people are appreciating it."

Jardine's poems have been

published before, including in

Auckland University Press's AUP

New Poets 7, which was the number

nine best selling book in New

Zealand at one stage in August

last year.

Some of Claudia Jardine's poems from AUP New Poets 7

Sulpicia 3.16 – Nina Simone

how nice it is

your surrender to apathy

me

in decay

let you have your harlots and

their baskets

pinned down in a pile of their

own togas

not this daughter of Servius

sting of the pessimists

fancy me giving in

to a nameless bed

Sulpicia 3.17 – Madonna

surely surely

your piety extends to the temple

of your girl

altars afire with fever?

why choose to conquer

wretched infection

you not wishing it too

what is the use in evisceration

if you can stomach it

heart unmoving?

Jardine is also a accomplished

musician, who released her first

ep, North, in 2019.

The other artists completing

the residency are Jo Burzynska, a

High Functioning

I'm being eaten by my feelings

face down in the mud

like a farmer with a brain

aneurysm

surrounded by piglets

face down in the mud

nudged and kneaded

hither! the scoffing piglets

me?

fat pheasant flushed from the

thicket

nudged and kneaded

tossed mid-air between kārearea

flat present smushed under a

winglet

ex-lab rat on pingers on a

treadmill

receiving Aro Park autopsy by

absent-minded accipiter

like a farmer with a brain

aneurysm

chewed by swine and birds and

rodents

I'm being eaten by my feelings

Lyttelton multi-sensory artist, Ana

Iti, a visual artist from Wellington

and Julie Hill, a playwright,

essayist and documentary maker

based in Auckland.

Get your tickets

early for KidsFest

IF THE prospect of keeping the

kids entertained over the winter

school holidays has you shaking

in your boots, jump online

now and get tickets sorted for

KidsFest.

The popular children's festival

has been keeping Christchurch

kids occupied over the winter

school holidays for the past three

decades.

Tickets for this year's KidsFest

are now available,

While many of the events and

activities during KidsFest are offered

at no cost, tickets are often

still required because of the limited

amount of space available.

"If you want to make sure

you've got lots of activities lined

up for the kids over the school

holidays, I strongly advise you to

get in early and secure tickets,''

says city council events and arts

manager Tanya Cokojic.

"If you leave booking tickets to

the last minute, you might miss

out because we expect there will

be high demand for many of the

events and activities that we have

lined up over the course of the

two week festival.''

Christchurch Symphony Orchestra's

presentation of Roald

Dahl's Little Red Riding Hood is

FUN: Let your children

immerse themselves in the

world of helicopters at Air

Force Museum.

one of the events that could sellout

fast. It is a musical adaptation

of Dahl's Revolting Rhymes.

"Another event that we expect

to spark large interest is the

free helicopter fun day at Air

Force Museum on July 21. Kids

will be able to see real air force

helicopters and climb aboard an

Iroquois.

"There will be craft activities

for the kids and demonstrations

of drones and radio controlled

helicopters. Fortunately, this is

one event that you don't need to

book for,'' Cokojic said.

WINTER WARMERS...

AT THIRSTY LIQUOR

$15.99

EACH

Jim Beam Gold

CC Premium

7% 330ml 6pk cans

$19.99

EACH

Barrel 51 / Tui & Soda

5% 12pk bottle range

$21.99

EACH

Cruiser

12pk bottle range

$22.99

EACH

Jim Beam & Cola/CC

(incl zero) 4.8% 10pk cans

Jim Beam Gold 7% 8pk cans

$22.99

EACH

ODD Company

10pk can range

$23.99

EACH

Major Major

10pk can range

$24.99

EACH

Effen Vodka

10pk bottle range

$26.99

EACH

Smirnoff Ice 5% 10pk bottles

Coruba & Cola Zero 330ml 10pk cans

Coruba & Cola 7% 250ml 12pk cans

$29.99

EACH

Cody's

7% 18pk cans

$32.99

EACH

Woodstock

7% 250ml cans

5% 330ml bottles all 18pks

$33.99

EACH

$38.99

EACH

$11.99

EACH

$12.99

EACH

$12.99

EACH

$12.99

EACH

$13.99

EACH

$14.99

EACH

2 FOR

$25.00

$35.99

EACH

$36.99

EACH

$36.99

EACH

$38.99

EACH

Jack Daniels & Cola

4.8% 330ml 12pk bottles

$39.99

EACH

Long White

15pk bottle range

$40.99

EACH

Taylors Promised

Land range

$46.99

EACH

Stoneleigh

Marlborough /

Lighter ranges

$49.99

EACH

Villa Maria Private Bin

range (ex PN/Syrah)

$50.99

EACH

Arrogant Frog range

Da Luca Prosecco

$55.99

EACH

TWO FOR

$100

19 Crimes

range

Wither Hills

range (ex reds)

Canterbury

Cream

$11.99

EACH

Malibu/ Kahlua

(incl salt caramel) 1L

HOT

PRICE!

Blackheart /

Woodstock 1L

$21.99

EACH

Gordons Pink /

Sicilian Lemon 700ml

Gordons &

Smirnoff 1L

$22.99

EACH

Jack Daniels

(lncl Honey, Apple & Fire)

El Jimador range (Ex Anejo)

Old Forester all 700ml

$22.99

EACH

Haymans

London Dry /

Old Tom /

Sloe Gins 700ml

Absolut/

Ballantines

Beefeater 1L

Beefeater 24 700ml

JB 1.125ml /

JB Devils Cut /

JB Black 1L

Makers Mark

700mls

Malfy 700ml range

Jameson 1L

Tanqueray 1L

& flavoured 700ml

range

JB Double Oak 1L

Haku Vodka /

Roku Gin

700ml

Jagermeister /

Mt Gay Eclipse 1L

Tito's 750ml

or $52.99 each

Chivas Regal 12yr $49.99

Chivas Regal 15yr $74.99

Chivas Regal 18yr $89.99

all 700ml

Kingfisher Strong

6pk cans

Tiger / Tiger Crystal

12pk bottles

Orchard Thieves

12pk range

Somersby

12pk bottle range

$24.99

EACH

$25.99

EACH

$25.99

EACH

$26.99

EACH

$26.99

EACH

$31.99

EACH

$36.99

EACH

$40.99

EACH

$41.99

EACH

Heineken

12pk bottles

Monteiths Batch

Brewed

(ex classics range) 12pk range

Carlsberg

15pk bottles

Promotion period between 1/06/2021 to 30/06/2021. While stocks last. Promotion only available at participating stores – please contact your local store to confirm

whether they are participating in the promotion and check the pricing in-store prior to purchase. Online pricing will vary.

DENNYS THIRSTY LIQUOR

Tui/Export Gold/Extra/

DB Draught

15pk bottles

670 MAIN SOUTH RD, ISLINGTON

03 349 7337

Export 33

15pk bottles

Haagen

24pk bottles

Lion Red / Waikato / Speights

Summit or Low Carb

24pk bottles

Asahi

24pk bottles

BLACK BULL LIQUOR WIGRAM

3/187 WIGRAM RD, HALSWELL

03 322 4000

thirstyliquor.co.nz

ASK ABOUT

LOYALTY CARD

BENEFITS &

GIFT VOUCHERS

Steinlager

24pk 330ml bottles
---
WESTERN NEWS Latest Canterbury news at starnews.co.nz

Thursday June 3 2021 5

Further progress on city to Rolleston cycleway

• By Susan Sandys

CYCLING safely from the city

to Rolleston is one step closer

with construction of a path to

Templeton under way.

City Care has been contracted

by the Selwyn District Council

and construction of a 1km section

of cycleway has started. It

runs from Dawsons Rd, between

Rolleston and

Templeton, to

meet up with

an existing

path at Globe

Bay Drive at

Templeton.

District

Mark

Chamberlain

council

transportation

asset

delivery manager Mark Chamberlain

said the $190,000 project

was due for completion next

month.

The 2.5-3m wide, asphaltsealed

path for pedestrians

and cyclists, would match and

link up with what Waka Kotahi

NZ Transport Agency had

provided from Rolleston –

along Jones Rd up to Dawsons

Rd.

The construction project

included safety fencing along the

railway reserve boundary.

The district council and city

council plan for the cycleway

to eventually connect with the

South Express cycleway from

Kirk Rd at Templeton, about

580m away.

Construction of the South

Express cycleway, to run from

Templeton to Hagley Park, is

under way.

City council acting head of

transport Lynette Ellis said

work was currently under way

at the city end of the South

Express.

"Construction on the first section

from Deans Ave to Craven

St will be completed later this

year and work will progress

towards Templeton.

TAKING

SHAPE: A

section of a

pedestrian

and cycle

path under

construction

will ultimately

connect

Rolleston to

Hagley Park.

The cycleway is expected to

be completed in late 2022 and

will be just under 15km. How

long that would take to cycle

is dependent on a variety of

factors," Ellis said.
---
6 Thursday June 3 2021

Latest Canterbury news at starnews.co.nz

WESTERN NEWS

Using science and recycling as a way

• By Bea Gooding

RUDY KRAMERS considers

himself a bit of a mad scientist.

"I love blowing things up. I

used to spend a lot of time at

my kids' school doing science

demonstrations – the bigger the

bang, the more excited they got."

For as long as he can remember,

science and technology have

run through his veins. And while

most people shied away from live

electricity, Kramers gravitated

towards it.

It is what made him the

perfect fit to join the team at

Molten Media Trust, a charity

that promotes the ethical

recycling of electronics by refurbishing

devices destined for

landfill.

Said Kramers: "I love the idea

of electrons running through

a wire, you can't see it, but you

know it's there. And if there's

enough of it, you can feel it, even

if it means getting an electric

shock."

Molten Media stopped 30

tonnes of electronic waste from devices for the trust to repair or A software developer by

going to landfill last year.

refurbish.

trade, Kramers' arrival as a

Eighty to 90 per cent of

They are often stripped for trustee last year came at a time

dismantled component parts parts that are either sold through when the charity was entering

are also diverted away from the the trust's online store or put "dangerous territory" as a result

dump.

260

towards building

x

something

180

new of Covid-19.

People and businesses donate to donate to community groups It was on the brink of closure

unwanted TVs, computers, who cannot afford brand new after operating for more than

phones, printers and other devices, like computers.

two decades. Income dropped

ZERO WASTE: Rudy Kramers is the perfect fit as trustee of Molten Media because science

and technology run through his veins.

PHOTO: GEOFF SLOAN

to "almost nothing" during the

lockdown as donations stopped

flowing in.

Excluding the trustees, there

were only two staff on hand to

process a massive backlog of

electronics needing to be taken

apart.

Tasks like separating plastic

away from steel were timeconsuming

enough as it is.

"Covid was the final nail in the

coffin. Having the money to pay

rent each month was the crux of

whether the place was viable or

not," Kramers said.

"Trying to sell stuff is getting

harder because companies like

PB Tech and Noel Leeming are

selling stuff so much cheaper

than they ever have.

"We'd be lucky to get $50 for a

second-hand TV."

Selling parts and refurbished

devices to help cover funding

shortfalls got more challenging

because people were willing to

pay less.

"Metal prices are trending

downwards," said Kramers.

"Countries like China who are

big buyers of steel and scrap were

paying less for it, so the amount

of money we were getting from

metal recyclers has [also] gone

down.

But following personal cash

injections from the pockets of

trustees, Kramers felt confident

the trust can be self-sufficient

again without relying on grants,

which were hard to come by.

His confidence derives from

a place of wanting to see the

charity succeed and a passion for

sustainability, even if it did come

with its frustrations.

Need Heat Fast?

The Fastest, Warmest Indoor/Outdoor Heater You Will Ever Own!

Buy One Get One Free! *

+Plus

Free

Floor

Stand!*

worth

$199.99

• Heats Up Instantly

• Suitable for Indoors or Outdoors

– In Rain, Fog, Wind or Snow

• Carbon-Fibre Bulb Technology

*Call for Terms

& Conditions

• Multi-Directional Stand

• Includes Remote Control &

Built-In Timer

• Motion Detection Function

1.8m High

• Commercial Grade

• Multi-Directional

• Easy Install

• Portable

• Indoors & Outdoors

CALL NOW! 0800 665 665
---
WESTERN NEWS Latest Canterbury news at starnews.co.nz

Thursday June 3 2021 7

to look after the environment

If only businesses took more

steps to reduce waste by being

actively involved in where it went

next and ensuring products were

made to last in the first place.

Things like household appliances

produced en masse to be

sold in chain stores may lower

the cost for consumers, but not

the cost it has on the environment.

Said Kramers: "I'm disappointed

that we haven't dealt with this

sooner because it's a problem that

people have talked about for a

long time, everyone keeps sweeping

it into the too hard basket.

"It blows me away what comes

through the door, you can tell

someone purchased it earlier in

the year and it's already in the

bin."

Kramers channels this energy

into educating the next generation

the reason why organisations

like Molten Media exist.

He has been involved with the

trust since its early days to enable

better access to raw materials for

this purpose.

Along with teaching children

how to code, the workshops allow

them to experiment with recycled

parts.

It could be using a motor that

used to power a printer – perfect

for building robots.

After all, they are the ones who

have to deal with the waste later

on, he said.

"It gives kids an opportunity to

see what happens to old computers

when they die, and we can

explain to them how much bad

materials are inside them.

"I think phones are one of

the worst as far as the number

of toxic chemicals that go into

building it.

"One of the things they enjoy

the most is ripping something

apart or throwing too many volts

into something and finding out

how much it takes before smoke

comes out."

A portion of laptops and desktop

computers are donated back

to charities.

This was something Kramers

was proud of, particularly when

helping vulnerable families have

access to technology through a

partnership with 0800 Hungry,

Canterbury's largest foodbank.

But ultimately, the most rewarding

part was when people

SCRAPS:

The Molten

Media Trust

promotes

ethical

recycling of

electronic

equipment

and last year,

it diverted

30 tonnes of

waste away

from landfill.

made an effort to reuse waste.

"I really like that side of it

where people come in and want

to do the right thing," said Kramers.

Even though he was "spreading

himself a bit thin" juggling a day

job, raising three children with

his wife and helping the trust

survive, he enjoyed what he did

more than he ever has.

What kept him going was the

ability to combine his love of

building electronics with giving

'It gives kids an

opportunity to see

what happens to old

computers when they die'

– Rudy Kramers

back to the community.

A fascination with artificial

intelligence meant his latest project

was building a robot, but that

was still a work in progress.

In the meantime, Kramers had

a few simple messages to consumers

about the power they had

to instil change.

"When you're buying something

always go for the next

model up, never go for the cheapest

item. It will find itself in our

waste stream much quicker," he

said.

"More pressure on the council

on what they're doing about

waste minimisation would hopefully

mean people like us are

brought to the forefront."

•If you want to donate

electronics, phone the

trust on 377 1154 or email

dispatch@molten.org.nz in

the first instance. There is

usually a minimum charge

of $5 depending on what is

being received to help the

trust with overhead costs for

recycling.

bespoke, upscale & personalised care

The reassurance of quality is built in to everything we do at The Russley Village. However, nowhere

is the requirement for reassurance more important than within our new Ashley Suites Care Facility

– setting new standards in care, comfort and security. Our highly appointed care suites offer private

ensuite and a kitchenette with refrigerator, microwave and refreshment making facilities –

providing a sense of residence. This boutique facility is truly unique, and offers personalised rest home

and hospital care within an elegant residential setting.

rest home & hospital level care
---
8 Thursday June 3 2021

Latest Canterbury news at starnews.co.nz

The importance

of air quality

HOME & HEATING

Keep cosy with

RD Petroleum

this winter

WESTERN NEWS

Pick up some pork and

try something different

Pork is often

considered a treat,

but there are many

ways to present this

versatile meat

Sirloin roast pork

with stuffed baked

apples

Ingredients

Serves 3-4

500g trim pork sirloin

roast or mini roast

1 tbsp olive oil

Salt and pepper to taste

4 small apples

3/4 cup fresh breadcrumbs

2 tbsp finely chopped sage

leaves

1 shallot, diced

1tsp crushed garlic

2 tbsp table spread

Directions

Preheat oven to 200 deg C.

If using a traditional

roast, brush it with oil

then season with salt and

pepper.

Core apples with an apple

corer. Using tip of a sharp

knife, cut through skin

around the circumference

of each apple.

Combine breadcrumbs,

sage, garlic, salt, pepper and

shallot. Mix in 1 tablespoon

of spread. Stuff apples with

this mixture.

Dot tops with remaining

tablespread.

Place in a roasting pan

with pork. Cook roast

for 35min according to

packet instructions. Cook

traditional roast for 10

minutes at 200 deg C.

Reduce heat to 160 deg C,

and continue cooking for

35-40min.

Cover and rest roast for

10min before carving.

Remove apples once soft

and cooked. Keep warm.

Great served with a kumara

mash and steamed green

beans.

Pork sirloin and stuffed apples are a good

combination for the dinner table.

Mustard and

pomegranate BBQ

pork

Serves 4

Ingredients

500gm pork steaks

1 tbsp wholegrain

mustard

¼ cup pomegranate glaze

1 tsp Chinese five-spice

Directions

Cut steaks into four portions.

Combine mustard,

pomegranate glaze and five

spice.

Brush over cutlets. Cover

and refrigerate for 30min.

Preheat a barbecue or grill.

Remove steaks from fridge,

scraping off any excess

marinade. Grill on mediumhigh

for about 8-10 minutes

depending on thickness,

turning often.

Brush with reserved glaze

near the end of cooking.

Great served with risotto or

creamy polenta.

Schnitzel with Asian

flavours

Serves 4

Ingredients

300-400gm pork schnitzel

½ cup flour

Flaky sea salt and freshly

ground black pepper to

taste

1 large egg

2 tbsp coconut milk or

plain milk

1 cup dried breadcrumbs

3 kaffir lime leaves,

deveined and finely

chopped

2 tbsp each: chopped

coriander leaves, mint

2-3 tbsp rice bran oil

Directions

If necessary, pound

schnitzels with a rolling pin

until thin.

Combine flour, salt and

pepper in a shallow dish.

Whisk egg and coconut

milk or milk in another

shallow bowl.

Place breadcrumbs, kaffir

lime leaves and chopped

herbs in a third shallow

dish.

Coat schnitzels with flour,

dip in beaten egg, then coat

with crumb mixture. Chill

for 5min.

Heat oil in a large,

non-stick frying pan on

medium.

Add schnitzels. Cook

for 1-2 minutes each

side, until golden. Serve

immediately.

RD Petroleum (RDP) is a familiar sight

for farm and rural residents around the

Canterbury region, however now days urban

residents also enjoy the same excellent

customer service for which RDP is known for

in rural communities, through their home

heating diesel.

RDP began its home heating diesel delivery

service to the lower South Island's main urban

centres of Christchurch, Timaru, Dunedin

and Invercargill a number of years ago.

Customer demand has continued to increase

year upon year, and RDP has responded

with specialised improvements to its delivery

equipment.

The trucks that deliver RDP's home heating

diesel in each urban centre are drawn from

the company's extensive vehicle fleet. This

means they have the latest communication

and GPS tracking technology on board, so

the operations team always know where they

are and how far away they are from their next

delivery stop.

RDP's home heating diesel trucks come

equipped with a specially-designed hose,

through which the diesel is pumped from

the truck into house tanks. The length of

the hose allows the trucks to access tanks

without having to enter the property, avoiding

damaging the driveway. RDP is the place to

go if you require diesel conveniently delivered

to your home and as a loyal RDP customer

you're offered discounted pricing and can

become eligible for value-added benefits.

For all enquiries please phone

0800 44 00 14, or visit the RDP website at

https://www.rdp.co.nz/home-heating or

signup at apply.rdp.co.nz/home-heating
---
WESTERN NEWS Latest Canterbury news at starnews.co.nz

Thursday June 3 2021 9

HOME & HEATING

Ground moisture barrier

under low sub-floor

Now with the colder and wetter weather on

its way, home owners are focusing on ways

to make their homes comfortable, warm

and healthy for their families throughout

winter. Rising damp is an issue that affects

many of our older properties which suffer

from poor, or no, ground moisture barrier.

In Canterbury especially, post-quake, many

people have relocated to homes that suffer

from rising damp which can be associated

with health problems. Independent tests have

shown that up to 40 litres of water can rise

from the ground and enter a house every day,

leading to mildew, mould, condensation and

musty smells. Moulds can produce various

allergic reactions and the frail, elderly and

very young are especially vulnerable.

Canterbury Foam Concrete Ltd is a

locally owned and operated firm. The team

understands the problems caused by rising

damp and are there to help. They will come

to your damp home and pump a lightweight,

flowable foam concrete under your timber

floored home.

While insulation is important, it has been

recognised that it is dampness that is the real

villain in the house. The new Healthy Homes

Standards introduced by the government

effective from the 1st July 2019 now has

a requirement to install ground moisture

barriers, a key element in the armory to fight

moisture in the home.

Dr Larry Bellamy BE (hons) PhD in a

report dated 1988: Foam Concrete Under

Timber Floors: An Energy Analysis assessed

the effects of placing Foam Concrete over

damp soil and had this to say: Condensation

on the underside of a timber floor can occur

where the floor is suspended over damp

ground and the inside air temperature falls

close to the crawl space air temperature.

Much energy is required to vaporize moisture

that penetrates the structure. By avoiding

underfloor condensation, foam concrete can

reduce floor heat losses by up to 90%.

• Canterbury Foam Concrete Ltd can in most

cases, install a Ground Moisture Barrier

under the suspended wooden floor of your

home, even when there is no crawl space.

• BRANZ Appraised; Appraisal Number 961

• Members of the Insulation Association of

New Zealand.

• We offer a free measure and quote in the

Canterbury region with no obligations.

• Assessments can be made in all other

regions by arrangement.

Contact Canterbury Foam Concrete Ltd

now for your free, no obligation quote and

complimentary appraisal of your underfloor

ground moisture barrier needs.

Phone 03 376 4608, 0508FOAMCO or

www.foamconcrete.nz for more information.

The importance

of air quality

The quality of the air we breathe affects

our health and ability to perform. We

breathe in and out approximately 20,000

litres of air every day. It is therefore very

important to ensure good air quality

indoors through adequate ventilation.

Ventilation is the process of air exchange

to provide the necessary air quality that

meets the needs of the occupants for clean,

fresh air. Low oxygen with high carbon

dioxide causes stuffiness in the room

and occupants can feel drowsy. Invisible

harmful substances like a high content

of dust and tobacco smoke are harmful

and can cause various diseases. Even bad

smells can cause discomfort or irritate the

nervous system.

In summer, it's easy to open windows

for cross ventilation, however as winter

approaches, we start to shut up out houses

to trap in the heat and as a

result, air quality can decline.

Ventilation includes both

the exchange of air to the

outside as well as circulation

of air within the building. It

is one of the most important

factors for maintaining

acceptable indoor air quality

in buildings. Filtered air

supply for summer and

filtered and warmed air in

winter creates a healthy

environment in which to live

and work. In cases with poor

or insufficient air intake from

outside, the oxygen content decreases,

humidity and dustiness levels increase. If

exhaust ventilation is not provided or it is

not effective, polluted air, smells, humidity

and harmful substances are not removed.

To ensure the quality of your air, contact

the experts. Smooth-Air Products can

calculate the required air exchange for

your building requirement. Smooth-

Air offers a wide range of ventilation

equipment, from air vents to ducting

for fans, for both the commercial and

domestic markets.

They have an extensive range of fans

and ventilation components in-store but

they can also provide innovative solutions

tailored to differing requirements.

You can contact Smooth-Air on

0800 SMOOTH (0800 766684).

ATTACK RISING DAMP

Smooth-Air

Ventilation Equipment Suppliers

to

trade

&

retail

Domestic

Commercial

Industrial

T. 03 376 4608 E info@foamconcrete.nz

W. www.foamconcrete.nz

HEAT PUMP

SALE NOW ON!

Amazin' Winter Specials!!

Centrifugal

inline fans

Axial inline fans

Axial fans Axial fans Bathroom fans

Window fans

80%

SubSidy

Warmer KiWi HomeS

Programme

*Eligibility criteria apply

• We will offer you the best quality brands and

option of heat pump for your home/business

• Providing Heat Pump solutions for over 19 years to Cantabrians

• We personally guarantee all our products & installs for 5 years

(providing annual maintenance has been completed)

Phone us today for your free consultation & quote

41A SHAKESPEARE RD, WALTHAM

PHONE 03 366 0525

www.enviromaster.co.nz

"A local team for local people"

0800 SMOOTH

(0800 766 684)

sales@smooth-air.co.nz

the

right

264 Annex Rd

Riccarton

Christchurch

03 343 6184

for the

product

job

Monday - Friday

7.30am - 5pm

www.smooth-air.co.nz
---
10

Thursday June 3 2021

Latest Canterbury news at starnews.co.nz

WESTERN NEWS

Be inspired with thousands of ideas under one roof!

Christchurch Arena, 2-4 July 2021

IN ASSOCIATION WITH

Explore the different Zones:

Eco, Taste, Tiny Homes,

Leisure, Landscaped!

Complimentary

goodie bags!

show-only specials

and giveaways!

Live AUCTION!

Courtesy of

This MEGA tiny home

could be yOUrs!

A 2016 Nissan Leaf

worth $ 22,000!!

2 - 4 July 2021 • 10am - 5pm • Christchurch Arena • www.starhomeshow.kiwi
---
WESTERN NEWS Latest Canterbury news at starnews.co.nz

Thursday June 3 2021 11

Classifieds Contact us today Phone our local team 03 379 1100

Book Fair

Trades & Services

Trades & Services

Trades & Services

Trades & Services

Annual

Book Sale

Friday-Saturday

11-12 June 2021

9am to 4pm

in the Parish Hall

Books for ALL ages

$2 and less per book

Cash and Eftpos

St Peter's

Anglican Church

22 Main South Road,

Upper Riccarton,

Christchurch

Gardening

& Supplies

Gardener available for

maintenance, weeding

pruning, spraying,

planting, advice. Qual &

exp.Pensioner discount

25%. Ph Richard 0274 918

234, 03 349 4022

Gardener available for

maintenance, weeding

pruning, spraying,

planting, advice. Qual &

exp.Pensioner discount

25%. Ph Richard 0274 918

234, 03 349 4022

ADD SOME

COLOUR

TO YOUR ADVERT!

kitchen renovation

Kitchen looking tired?

Revitalize with new colour at a

fraction of replacement cost

• Alterations & Hardware available

• Laminated Kitchens no problem

• 'On Site' finishing available

• Over 20 years experience

• Free Quotes with no obligation

• All Joinery & Furniture repair & Spraycoatings

PABLO'S PAINTWORKS

27 Birmingham Drive, Middleton

03 338 6280 | 021 541 323

pablospaints@xtra.co.nz

www.pablospaintworks.co.nz

Painters and Decorators Ltd

Canterbury Owned and Operated

A husband and wife team

Specializing in:

• Roof Painting

• Interior/exterior

residential

• Small commercial

painting

PAINTERS

Noel 027-411-3596

kemp.painters@gmail.com

kemp painters and decorators

We offer

free quotes

Quality not

Quantity

SCRAP METAL

Dominion Trading Co Ltd

• Scrap metal buyers

• Canterbury owned & operated

• Top prices paid $$$

• Open Saturday morning

Open Mon-Fri 8am – 4.30pm Sat. 8.30am-12.30pm

www.happyscrappy.co.nz

03 343 9993 333 Blenheim Rd

TREE SERVICES

CRAIGS

TREES

Our services include:

Tree felling

Branch chipping

Trimming and pruning

Crown reduction

Stump grinding

P: 027 2299 454

E: craigstrees@xtra.co.nz

www.craigstrees.co.nz

Fully insured

WINDOW TINTING

tintawindow

advanced film solutions

99% uv block

fade protection

heat control

reduce glare

25 Years Experience

privacy films

frosting designs

non-darkening films

Workmanship Guaranteed

Lifetime Warranties on Most Films

UV

block

Free Quotes Canterbury and Districts

03 365 3653 0800 368 468

Trades & Services

Trades & Services

BATHROOM

Renovations, complete

LAwNMOwING -RIdE

ON

service from start to finish, Commercial and

free quotes, ph Dave 027

residential

334 4125

South west Christchurch

BRICKLAYER

Other areas considered

George Lockyer. Over

40 years bricklaying Free quotes

experience. UK trained. Ph 02102935054

Insurance work, EQC PAINTING

repairs. Heritage Indoor / Outdoor, over 30

brickwork & stonework yrs exp, same day quotes,

a speciality. No job too ph Steve 021 255 7968

small. Governers Bay. ROOFING REPAIRS

Home 329 9344. Cell

Fully qualified, over 40

027 684 4046. E mail

yrs experience. Ph John

georgelockyer@xtra.co.nz

027 432-3822 or 351-

CARPET LAYING

Exp. Repairs, uplifting,

9147 email johnchmill@

relaying, restretching. outlook.com

Phone John on 0800 STUMP GRINdING

003181, 027 240 7416

jflattery@xtra.co.nz

Best price guarantee Tony

0275 588 895

TILING

Flooring - Splashbacks -

Wall incl tile removal, reg

master tiler, ph Dave 027

334 4125

VHS VIdEO TAPES

& all camera tapes

converted to DVD or

USB. Video taping

special occasions, www.

grahamsvideo.co.nz ph 03

338-1655

Wanted To Buy

fridge freezers. Same day

service. Selwyn Dealers.

Phone 980 5812 or 027

sawbenches, lathes, cash

AAA Buying goods

quality furniture, beds,

stoves, washing machines,

313 8156

TOOLS Garden,

garage, woodworking,

mechanical, engineering,

buyer, ph 355-2045

FREE FIRST XV SEASON PREVIEW MAGAZINE INSIDE

MAY 2021

SEILALA MAPUSUA INTERVIEW: HIS VISION FOR MANU SAMOA

JUNE 2021

TONY JOHNSON

ON THE COMING OF

MOANA PASIFIKA

dAN

CARTER

REFLECTING ON A

GREAT CAREER

CRUSADERS

FIVE OF THE BEST

BE IN TO WIN

A SONY x90h ANdROId Tv WORTh $2,500!

Subscribe to New Zealand's premier rugby read for six issues or

more to go in the draw. Ten lucky subscribers will also win one

of five All Blacks jerseys, Lone Star and Joe's Garage vouchers.

AARON SMITH

'WHY I RATE

DUPONT'

TONY

JOHNSON

CAN THE

SABBATICAL

JEROME

KAINO

SORTED FOR

LIFE AFTER

RUGBY

SAM CANE

SEAN FITZPATRICK

'WE NEED MONEY TO

SUSTAIN THE GAME'

rrp $10.99

9 416770 121325

*Competition runs till July 31st

2021. Offer only applies to NZ

residents and subscription

periods of six issues or more.

BEEGEE'S

DREAM

• PHIL GIFFORD: THE BEST

SCHOOLBOY STARS HE SAW

• DARYL GIBSON: HIS VISION

FOR THE BOP STEAMERS

WHY MOANA

PASIFIKA WILL BE A

GAME-CHANGER

rrp $10.99

9 416770 121325

THE LONG

ROAD BACK

WAYNE PIVAC

FROM THE OUTHOUSE

TO THE PENTHOUSE

• WHERE ARE THEY NOW:

MATTHEW COOPER

• SARAH HIRINI:

BRINGING THE MANA

SIx ISSUES

$39

SAvE 41%

+ ChANCE

TO WIN A Tv

& mORE!

SUBSCRIBE AT RUGBYNEWS.CO.NZ OR 0800 77 77 10 | AvAIlABlE AT All GOOd BOOkSTORES ANd SUpERmARkETS
---
12 Thursday June 3 2021

Latest Canterbury news at starnews.co.nz

WESTERN NEWS

Richmond discount FuRnituRE

The Best Little Furniture Shop in Town

BEDS TALLBOyS MIRRORS CABINETS CHESTS STORAGE SHELVES

BOOKCASES BuFFET uNITS DINING TABLES HALL TABLES SIDE CABINETS & MORE!

Ther-a-pedic Mattress & Base

Reversible pillowtop innersprung.

Single

$549

King Single/Double/3/4

$649

Queen

$749

Queen

Frame &

Pocketspring

Mattress

ONLY

$699

Sleepyhead Base & Mattress Set

Single

$399

Legacy

Single

Frame

Bed

Mattress not

included.

ONLY

$300

Bedside Cabinet

With metal runners.

Also available in Black.

7 Drawer

Scotch Chest

1140 x 800 x 410.

Also available in black.

Midi 7 Drawer

Scotch Chest

975 x 760 x 410. With metal runners.

Also available in Black.

Lowboy 6 Drawer

1130 x 410 x 820.

Legacy

Duchess

with

Mirror

Duchess

with

Mirror

1090 x 410 x 820

NZ made.

Large

690H x

460W x

410 D

$179

Small

510H x

460W x

410 D

$140

ONLY

$329

ONLY

$299

ONLY

$499 eaCh

ONLY

$599

ONLY

$599

Jumbo 4

Drawer Chest

1140 x 800 x 400. NZ made.

Metal runners. Also available in black.

Tallboy 4 Drawer

600 x 400 x 900.

Towerboy 6 Drawer

1260 x 460 x 410.

With metal

runners.

Also available

in Black.

'Pre-Loved' Solid Rimu 9

Piece Dining Suite

1800 x 900 x 755H

7 Piece

Dining

Suite

1500 x 900

emma 5 Piece

Dining Suite

ONLY

$299

ONLY

$239

ONLY

$249

ONLY

$1999

ONLY

$749

ONLY

$549

White Shelving Units

Tall 1980H x 800w x 300

Medium 1600H x 800w x 300.

Bookcase

7 Drawer

TV/

DVD

Chest

760 x 1140 x 410.

(Gap 150)

7 Piece

Dining

Suite

1500 x 900

Medium

$199

Tall

$249

$269

ONLY

$329

ONLY

$749

Bedside Cabinet

620H x 400 x 320

Legacy Bedside

Cabinet

Coffee Tables

1200 x 650 x 400H 1200 x 550 x 430H

ONLY

$199

ONLY

$149

White hall Table

1050 x 760H x 420.

Student Desk

Available in black or white.

1000w x 690h x 500d

ONLY

$99

$129

ONLY

$349

ONLY

$349

Legacy

6

Drawer

Chest

entertainment Unit

1100 x 400 x 480.

3 Piece Dining Suite

750 x 750.

Tundra

entertainment Units

White 2 Drawer

entertainment Unit

1115 x 480H x 400D

$499

ONLY

$299

ONLY

$399

1600x420x450

$599

233 STANMORE ROAD • PHONE 03 389 0536

WE ACCEPT EFTPOS, VISA AND MASTERCARD... PARKING AT REAR

OPEN MON-FRI 10AM–4.30PM SAT 10–1PM

ONLY

$299