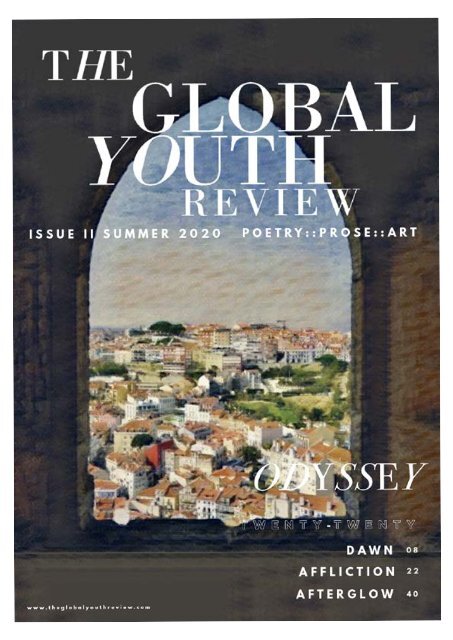 ISSUE II: Odyssey
"Odyssey" is The Global Youth Review's second issue, whose structure is loosely based on Homer's "Odyssey" and consists of three chapters: 1) Dawn, 2) Affliction, and 3) Afterglow. We warmly welcome you into a space filled with talented creatives hailing from over 20 countries, all united in their efforts to express through literature the various emotions, ideas, and thoughts that defined their 2020. Designed by Sena Chang
"Odyssey" is The Global Youth Review's second issue, whose structure is loosely based on Homer's "Odyssey" and consists of three chapters: 1) Dawn, 2) Affliction, and 3) Afterglow. We warmly welcome you into a space filled with talented creatives hailing from over 20 countries, all united in their efforts to express through literature the various emotions, ideas, and thoughts that defined their 2020. Designed by Sena Chang

SHOW MORE
SHOW LESS
Create successful ePaper yourself
Turn your PDF publications into a flip-book with our unique Google optimized e-Paper software.
THE GLOBAL

YOUTH

REVIEW

Issue to

YOUTH
---
ISSUE II

-II-

-TWO-

-

THE GLOBAL YOUTH REVIEW

By VELIBOR BAĆO
---
2 0 2 0

O D Y S S E Y

ISSUE II 2021 Y.

T H E G L O B A L Y O U T H

R E V I E W

EDITORIAL STAFF

Ibra Aamir

Dua Aasim

Abdulmueed Balogun

Sena Chang

Steven Christopher McKnight

Lisa Degens

Joshua Ellis

Zo Estacio

Ella Fox-Martens

Rowan Graham

Arianna Harris

Talha Hasan

Bianca J

Ziqing Kuang

Gabrielle Loren

Krittika Majumder

Ivaana Mitra C.

Shreya Raj

Avantika Singh

Helena V

Lake Vargas

Yvanna Vien Tica

George White

CONTRIBUTORS

MP Armstrong

Velibor Baco

Andrea Balingit

Waffa Batool

Sylvia Bonillos

Delilah Brumer

Elizabeth Corallo

Silent Chemical

Thanisha Chowdhury

Nicolas Correa

Shiksha Dheda

Katherine Ebbs

Jordan Gaines

Ishita Ganguly

Madi Giovina

Talha Hasan

Raina Koshal

Archana Kshatriya

Sophia Kunkel

Olivia Lathrom

Oskar Leonard

Diarmuid Maolalaí Ó

Faith McKinnon

Guna Moran

Will Nuessle

Saóirshe O'Neill

Arun Paul Kapur

Halle Preneta

Robert Rittel

Anthony Salandy

Alex Shenstone

Thee Sim Ling

Thomas Stockley

Sarah Syed

For advertising inquires contact: theglobalyouthreview@gmail.com

Cover Image: The Global Youth Review

Magazine Designer: Sena Chang

P

A

G

E

1

BMDDIGITAL.COM
---
2 0

CHAPTERS

Table of contents and a letter from

the founder --

1

INTRODUCTION

Spring 2020--

2

DAWN

the odyssey

Trials and tribulations--

3

AFFLICTION

A beacon of hope--

4

AFTERGLOW

Featured contributors and

acknowledgements --

5

CLOSURE

2

1

P

A

G

E

3

BMDDIGITAL.COM
---
P. 10

P. 22

C O N T E N T S

P. 17

In My Backyard —

Thee Sim Ling

Democracy is

Fragile —

Archana Kshatriya

P. 43

Suburb in the Sky —

MP Armstrong

P. 26

20 20 —

GYR

NO. II

— the odyssey

Restlessness —

Delilah Brumer

P. 50

P. 76

Visual Art—Velibor Baco, Untitled

P. 69

Paralysis —

Sylvia Bonillos

The Hourglass —

Shiksha Dheda

A Part —

Andrea Balingit

P. 79

Collpased

Conversations—

A.R. Salandy

P. 86

Even Tragedies

Need Reflections —

Olivia Lathrom

BMDDIGITAL.COM

P

A

G

E

4

P

A

G

E

5

BMDDIGITAL.COM
---
By ANONYMOUS

On twenty-twenty

Waffa Batool, Contributor

Hong

Kong protests; Australia 's

declaration of emergency; A U.S drone

strike at Baghdad airport ; A worldwide pandemic.

This whole year was a challenge but there are few

unhighlighted things that were not reported but were seen.

Though isolation caused frustration I learned that the connection

with loved ones grew dense—many grandchildren and grandparents

were reunited under a single household, and a bond was reestablished. I

admit that we all lost a bond with someone who we thought would be part

of our life in the future, but it's part of our growth and development—a

natural phenomenon of life—and thus, we were introduced to our

improved selves; the version who took online workout classes, cut

their bangs, made dalgona coffee, the version that started their

small business venture. All I experienced was growth; I saw a

child take his first steps, I heard laughter in the neighborhood,

I found once long-forgotten young girls playing with her

skills, intriguing her students, and mentoring their

minds; I felt proud of this human race—I saw life.

Alas! a new instinct of life was formed.

Waffa

Connect on

Social —

media

By ARUN PAUL KAPUR

#GLOBALYOUTHREVIEW

@GlobalYouthRev

#GLOBALYOUTHREVIEW

@theglobalyouthreview

BMDDIGITAL.COM

P

A

G

E

6

P

A

G

E

7

BMDDIGITAL.COM
---
CHAPTER

dawn

DAWN

"When we least expect it, life sets us

a challenge to test our courage and

willingness to change..."

Paulo Coelho

By ARUN PAUL KAPUR

BMDDIGITAL.COM

P

A

G

E

8
---
Prose

DEMOCRACY

Fragile

IS

"I realized how easily we turn a blind

eye to the great gift of Democracy

that our freedom fighters handed us

as a birthday gift..."

By ARCHANA KSHATRIYA

BMDDIGITAL.COM

By SOHYUN C.

P

A

G

E

10

P

A

G

E

11

BMDDIGITAL.COM
---
PROSE

PROSE

I

belong to a

country that broke

through shackles

of Imperial rule

and became a

free country in 1947. Being home to

more than 1.36 billion people my

country faces enormous challenges

on daily basis and my existential

crisis isn't one of them. Also known

as the largest democracy, elections

take place and thanks to multiparties

and their ever-changing

coalitions, in absence of a clear

majority, multiple parties team

up and form a government 'of the

people, by the people, for the people'

even when they were clearly not the

people's first choice. But we Indians

are pretty much comfortable with

the idea of arranged marriages and

therefore accept such off-shoots of

democracy without many rebels. No,

I am certainly not against democracy.

Why would anyone be? It gives me an

opportunity to at least have a say in

who runs the country when I have

absolutely no say in my personal life

choices (those are the consequences

of being born to an Indian father and

a Nepalese mother).

But in the past one year,

when the pandemic postponed my

exams and put a gigantic semicolon

to the great plans of my life

(hyperbole intended) I realized how

easily we turn a blind eye to the

great gift of Democracy that our

freedom fighters handed us as a

birthday gift. Yes, the gift-wrap was

a little torn, its color had slightly

faded, but it was a gift after all. And

just like those gifts which our Dads

got for us after searching for hours

in stores, we complained that it was

just not "exactly" what we wanted and

whined about it for hours. Or at times

just tossed it away, disregarding the

effort, patience and sacrifice that our

dear Dads had to make.

To the readers who braved

the title and the first two paragraphs

and reached this very sentence,

my hearty congratulations. You

did not take the idea of Democracy

for granted and chose to pay heed

instead of skipping it like another

topic from Political Science. So why

did 2020 – a horrid, marred, dreadful

year of the Pandemic force me to take

a step away from the life-saving shows

of Netflix and instead ponder how very

fragile our Democracy is? Yes, it has to

do a lot with the USA and Mr. Trump,

but it wasn't the only country that

forced me to appreciate Democracy.

Belarus a.k.a. White Russia held its

presidential elections in 2020 and

its implied Dictator Alyaksandr

Lukashenka defeated his opponent and

scored a landslide victory. But that's

not the end of the story. His title of

"implied Dictator" does have a cameo.

He has been in power since 1994. At

the very beginning of the elections, he

jailed his opponents but undermined

a woman - Svyatlana Tsikhanouskaya,

who he did not perceive as a threat

and allowed to register as a candidate.

Now Mrs. Svyatlana is the wife of Mr.

Sergei Tikhanovsky. Mr. Sergei was a

blogger and a potential presidential

candidate. He was imprisoned by

Lukashenka at the very beginning of

the election campaign. Mrs. Svyatlana

decided to continue to fight for the

cause that her husband stood for and

went ahead to contest the elections.

She was supported by the people of

Belarus – who demanded change –

and she drew record crowds in her

rallies. However, Lukashenka won the

elections. But some polling stations

claimed that, in fact, Svyatlana had won

the election. This outraged the people

and drew protestors in large numbers

in Minsk – the country's capital. But

hey, 'a Dictator gotta do what a Dictator

gotta do'. Mr. Lukashenka shook

hands with his friend Mr. Putin – who

promised him support and stood as tall

as he could. Consequently, Svyatlana

had to flee the country for fear of

imprisonment. But in my eyes, she did

not lose. On the contrary, she awakened

many from their slumber, she ignited a

fire and instilled a dream – a dream that

promised democracy in its truest glory

which is neither a farce nor a facade

but pristine. The people protesting on

the streets of Belarus like never before

are Svyatlana's greatest achievement.

Will their hunger for Democracy

satiate and their thirst for a change be

quenched? Well, it depends on how far

they are willing to go to attain a true

Democracy. As 2020 shall leave a mark

in pages of the history of Belarus, it did

teach me a vital lesson – elections are

a prerequisite but not evidence of the

Democracy.

The story repeated itself

yet again. This time its center stage

shifted from Europe to Africa. Bobi

Wine (What a fascinating name!) –

singer turned politician challenged

Yoweri Museveni in the Ugandan

elections of 2021. Mr. Museveni won

the election but Mr. Wine contested

it on the grounds that he had

evidence about rigged elections. Mr.

Wine has been placed under house

arrest. The Government forced an

internet shutdown on the eve of the

presidential election. And might

I add – Mr. Museveni has been in

power since 1986 after toppling the

then-dictator Idi Amin by a coup

and uttered the words that he seems

to have forgotten – "The problem

of Africa in general, and Uganda

in particular, is not the people,

but leaders who want to overstay

in power." If the claims of rigged

election are indeed true then it would

imply that Mr. Museveni has indulged

in the very sin that he accused others

of committing. Whether the elections

were truly fair can be proved only

after allowing contesting the same in

the courts.

Power changes people. And

we don't need to turn to the history

books but look right at the present

to find a perfect epitome. Aung San

Suu Kyi, a human rights activist

who spent 15 years under house

arrest for demanding democracy

for the people of then Burma, now

Myanmar, and succeeded in doing

so after making great personal

sacrifices. She could not meet her

dying husband in London and stayed

away from her children. All for

the sake of Democracy – a system

which advocates equal voice to every

person of the country. The world

acknowledged her sacrifices and

applauded for her when Democracy

finally arrived in Myanmar. She

was awarded the Nobel Peace Prize.

But then fast forward to 2017 –

Myanmar's army cracked down on

a minority community of Muslims

called Rohingya and caused a forced

exodus of men, women and children

leaving their country and their homes

By SOHYUN C.

behind to save their lives.

Imagine a hectic day at work; loads

of assignments, the pressure to meet

deadlines, surviving office politics,

fear of superiors lashing out – but

when we come back home after a

tiring day, take a shower and lie

down on the bed – we feel relieved.

The problems haven't disappeared.

The deadlines are yet to be met. The

ill-mouthed people have to be dealt

with. The bossy superiors have to

be greeted again the next morning.

But none of that forbids us from

feeling relieved in the comfort of

our homes. Our home sweet home

gives us a sense of security. What if

one fine day you were pushed out

of that very house and forbidden

from ever returning? Isn't it unjust?

That is exactly what happened to

the Rohingya Muslims in a Buddhist

country of Myanmar. And what

did the human rights champion,

a Nobel Peace Prize laureate, the

State Counsellor of Myanmar do?

She defended the actions of the

Myanmar army at the International

Court of Justice. People drunk with

power dance to a different tune than

their sober rebel selves.

At the same time when

the world watched the plight

of the Rohingyas, stories of yet

another ethnic cleansing surfaced

– the Uighurs. Unlike democratic

Myanmar, the Uighurs suffered

the misfortune of being residents

of Xinxiang, China – a socialist

democracy where the word

democracy is certainly misplaced.

There are no elections in China and

the Chinese Communist Party (CCP)

is the sole governing political party.

But could the injustice inflicted

on Uighurs be blamed on lack of

democracy? If yes, then how can

one explain the state of Rohingyas

in Democratic Myanmar? Certainly,

the democracy of Myanmar isn't for

"all" its people.

If democracy which is

perceived as a fortress to the voice of

its people fails to accomplish the very

goal, of what use is such a democracy?

In fact, it is not democracy at all.

Forget the past; the present teaches

us how feeble, like the wings of the

butterfly, a democracy is. All of us

who live with it, cherish it, (the

Umbrella Movement in Hong Kong

and the crackdown of the Chinese

Government on these protestors

have reflected how far the people

are willing to fight to protect their

democracy) and those who don't,

they dream of it. But democracy is

indeed a beautiful dream – it may be

imperfect, yet beautiful. But like the

wings of the butterfly, as soon as it

is grabbed by wicked hands its death

is inevitable. That made me wonder

BMDDIGITAL.COM

P

A

G

E

12

P

A

G

E

13

BMDDIGITAL.COM
---
PROSE

PROSE

if there are any safeguards to protect

democracy. And yet again, 2020

brought more stories of it.

Peru, a country in South

America witnessed impeachment

of its president Mr. Martín Vizcarra

over allegations that he handed out

government contracts in return for

bribes. Sounds like a great story.

Karma punished a corrupt official.

But I hope I could have ended it

there. Before we delve further into

this story, it is important that we

know a little about Mr. Vizcarra and

the Congress that impeached him.

Vizcarra is a politically unaffiliated

centrist who is popular with the

voters owing to his fight against

corruption in a country marred with

corruption and scandals. On the

other hand, the Congress does not

enjoy confidence of the people and

have locked horns with Vizcarra in the

past over anti-corruption reforms

proposed by Vizcarra. To push his

anti-corruption agenda forward,

Vizcarra forced his Members of

Congress to cooperate with his

proposed actions, even threatening

with Dissolution of Congress, which

''To our dismay, no Superhero

is coming to save us: we have

to become the heroes of our

own stories."

election. With the pandemic ravaging

the nation, an impeachment caused

sudden change of leadership and

instability at a time when the people

needed a strong political leadership.

This drove thousands of Peruvians

on the streets of the capital (Lima)

to protest against what they call a

coup. Vizcarra denied the allegations

but decided to step down and not

contest the impeachment. Could it

be possible that a leader who decided

to protect the democracy against the

evil of corruption was thrown away

by the corrupt sitting in Congress?

If so, the safeguard itself backfired.

Why did Vizcarra not fight against

this impeachment? Was he really a

corrupt politician who tricked people

to believe that he was their savior

while he served his self- interests?

I'm afraid I have no answer.

But I have yet another story

where the safeguards put in place

to protect a democracy were yet

again exploited. But in this story

the Congress did not remove its

president, instead protected him

from removal. In fact, they even went

to the extent of blocking witnesses

and forbidding the civil

servants from participating

in investigations. Yes, it's

time to reflect upon the most

talked about event of 2020 -

The infamous impeachment

of US President Donald J.

Trump. Apart from making

lives of comedians easier,

Trump has managed to be in

the news every day thanks to

his obsession with Twitter.

He made the mockery of all the

relations the US had fostered with

its allies such as NATO and reduced

its leadership from every platform

possible by withdrawing from the

Paris Agreement and WHO, while

abandoning the Kurds; his sweetand-sour

relation with Kim Jong

Un, his complicated relationship

with Vladimir Putin, profiting from

the presidency, the presidential

pardons issued to the ultra-rich and

the last nail in the coffin – inciting

an insurrection and causing riots

on the Capitol – these are just a

few in the long list of controversies

Trump managed to stir during his

he eventually did. To his dismay, the

re-elected Congressmen too weren't

keen on being his friends. (I wish

Mr. Oli of Nepal could have learned

a lesson - Dissolution of Parliament

does not ensure winning over one's

rivals.) Vizcarra was impeached twice

within 2 months, ousting him out of

office just months before the end of

his term in 2021. Now, it is pertinent

to note that the impeachment was

based on investigations showing

signs of corruption by Vizcarra

during his time in regional

government more than a decade

ago. Further, Vizcarra had made it

clear that he would not run for represidency.

Though it's full of drama,

the bottom line of discussing Trump

is realizing that the impeachment

which was intended to throw Trump

out of office was not supported by a

fair trial but instead he was acquitted

thanks to the Republicans who

decided to choose the President over

their constitutional duties.

Contesting an election

is not wrong. If that was the case,

I would be contradicting myself

after having favored the same in

the case of Belarus and Uganda.

But after having failed to establish

the allegations of rigged election in

several courts and being drenched

in narcissism unwilling to accept the

loss, causing misinformation and

sowing racial divide, look at what

has been the consequence of letting

him off the hook the first time.

The Republicans watched Trump

perform his misdeeds, applauded

and praised him as he intensified

the racial divides. They even

spewed nonsense in his favor with

the dreams of running for 2024 by

having Trump's voters on their side.

The country that enforces itself upon

other nations by selling the idea of

Democracy and idealizing itself as

an epitome of one, crumbled under

the weight of racism, antisemitism,

bigotry, xenophobia, Islamophobia,

to name a few. The Black Lives

Matter movement that spread

throughout the USA after the death

of George Floyd was a wake-up call

to the divisions that lay unsealed,

uncovered and naked for the world

to watch. Yes, the US has turned the

page and is willing to move ahead

with the first female Vice President

who is black and of South-Asian

descent, and with the most diverse

and inclusive team that could have

ever existed, but it still has to combat

the division that Trump exposed

before the world.

Certainly, India is not

perfect in any sense. I have a long

list of problems with my country and

my Government. But can I criticize

the Government, unafraid of dire

consequences? I wish I could say yes.

People who criticize the government

or a minister through Twitter and

other social media are often arrested.

By ARUN PAUL KAPUR

And that forced me to ask myself:

can I not criticize the ministers I

have elected for governing my own

country? Because if I cannot then we

aren't that different from Thailand,

which set a draconian precedent of

its lèse-majesté law whereby a civil

servant was sentenced to 43 years

of imprisonment for criticizing

monarchy (she had shared audio

on Youtube and Facebook with

comments that were deemed critical

of the monarchy).

The arrests of comedians

being made for hurting religious

sentiments has made me further

question the dangerous mingling of

religion with democracy. To those

that disagree, the present has an

example for us. Poland, a European

country which has its conservative

government closely tied with the

Catholic Church, banned abortion,

thus snatching away the right of a

woman over her own body. How is

it related to religion? Because the

religious conservatives perceive

abortion as murder of someone yet

to be born but ridicule the existence

of the one living and walking on

the face of the earth. That is the

consequence of mixing religion with

governance. As far as artistic liberty

is concerned, freedom of speech

and expression does make one

pay. The beheading of a teacher in

France over displaying the cartoon

of Prophet Mohammad by Charlie

Hebdo is enough evidence about the

need of the society to be secular first

for the fruits of democracy to be

borne.

I seem to have visited the

turmoil in many countries despite

being locked inside the four walls of

my house. Suffering from anxiety,

panic attacks, sleepless nights and

depression served with the inability

to communicate about my mental

health with my parents, (Add it to the

list of perks of being born in a humble

orthodox Indian family,) I lost all my

friends because I was too ill to make

an effort to talk to them. Drowning

in my dystopia, these petrifying and

vile incidents taking place all over

the world easily caught my eye. They

brought a sense of normalcy to my

prevailing state of havoc because

they hinted to an Armageddon. It

may seem like I am romanticizing

these horrible events of the modern

world but to the mind that finds

peace in poetries of Edgar Allen Poe

and loses her soul in the dark lyrics of

Billie Eilish, these weren't terrifying

but all the more assuring that my

problems are, after all, tiny amidst

such colossal problems that people

have been facing all over the world.

Being killed because of the color of

your skin or being thrown out of the

country for being a minority or facing

a state-sponsored rape or having the

inability to decide if one wishes to

embrace motherhood or not – where

could any of my problems possibly

rank amidst these stories – nowhere.

Alas! All these stories are

actual events taking place as we

breathe. They are certainly not a plot

revolving around a group of villains

doing the bad stuff and who are going

to be kicked down by a Superhero. To

our dismay, no Superhero is coming

to save us: we have to become the

heroes of our own stories.

The first step towards

tackling a problem is to acknowledge

that a problem exists, and then after

having substantiated it with facts,

finding solutions to the problem. I

hope I have enabled the first step by

making you realize that if you reside

in a country which has Democracy

– don't take it for granted. It could

slip away through your fingers

like sand. All we have to do is stay

vigilant and ensure no one snatches

away Democracy from us. Because

Democracy is not undefeatable, but

extremely fragile. It can protect us as

long as we protect it.

BMDDIGITAL.COM

P

A

G

E

14

P

A

G

E

15

BMDDIGITAL.COM
---
POETRY

2

Y O U

D O N ' T

B E L O N G

H E R E

IN MY

backyard

By THEE SIM LING

Y O U ' R E

S

O

K I N D

W I M B Y

I S W H A T

W E S T A N D

F O R

By ARUN PAUL KAPUR

0

2

1

" This poem is based on the Not In My Backyard syndrome in Singapore. Some citizens have expressed reluctance at allowing 'migrant

workers' from foreign countries, such as India and Bangladesh, to live beside them, and during the Covid-19 pandemic, one such

citizen blamed these workers and their 'poor hygiene habits' for spreading the virus."

N

ot

In My Backyard

You don't belong here

You come from another country

You're so backward, noisy and dirty

NIMBY is what we stand for

It is our right to live as we choose

We don't want you as our neighbors

You are basically just our workers

The system is already working so well

Why should we fix what is not broken?

Stay in your little enclaves

You, NON-CITIZENS

And don't you dare

Step into my backyard

Not In My Backyard

Welcome In My Backyard

You deserve a place to stay

You travel here to feed your families

You're so kind, resilient and forgiving

WIMBY is what we stand for

You have a right to live here too

We would love you to be our neighbors

You build our roads and homes

It's time to change the system

It's time to right the wrongs

Share our neighborhood with us

You, the guests of Singapore

And you will always be welcome to

Step into my backyard

Welcome In My Backyard

P

A

G

E

17

BMDDIGITAL.COM
---
PROSE

PROSE

OPEN LETTER

By ARUN PAUL KAPUR

TO DISNEY

Channel

«You are limiting us to a box with set expectations.»

Dear Disney Channel,

550 million viewers. That is how

many children watch your channel.

550 million little kids learning how

to conduct themselves, how to acclimate to society,

and how to engage with others through your screen.

550 million children idolizing your characters

and absorbing their behavior. I would expect with

such preeminence one would be more attentive or

at least conscious of the impact their characters

and plot have on the cultural, personal, and social

development of our youth, yet almost the opposite

has been happening.

I, like the majority of my generation, grew up

watching shows like Jessie and Phineas and Ferb

that attempted at displaying a diversity of cultures—

including mine. One of my first encounters with

Indian representation was with your character

Ravi Ross. There was so much excitement when I

first saw him: for the first time ever, someone who

looked like me on the screen. I watched as he was

always the outcast and was portrayed with the most

typical Asian stereotypes: extremely smart, weak,

and socially inept. In addition to his hackneyed

By RAINA KOSHAL

character, he was the laughing stock of the group,

always being mocked or used. Looking back, the

bigotry is overwhelming. At such a young age,

unknowingly, I accepted the anti-Indian sentiment

of your shows to be how all of society views my

culture and the rightful way to treat ethnic cultures.

I had unintentionally become conscious of and

embarrassed by my ethnicity. I never talked about

my good grades, played dumb, and hid when my

mom packed me Indian food because I was too

scared to fit into the deprecating stereotypes you

had accentuated.

This fear of becoming the Asian stereotype was

not all in my head. Your shows had created an

environment in which micro-aggressions towards

ethnic cultures are normalized and emphasized.

Growing up as one of the only South Asian students in

the classroom, one of my many experiences of these

micro-aggressions was having different academic

expectations than my peers. It was presumed that

I always had my homework completed early and my

classmates would coerce me into sharing answers.

Through this, I too began holding myself to higher

intellectual standards and felt disappointed and

stressed by my failure to reach them. My "small"

accomplishments never impressed my peers and

started to lose my appreciation as well.

It is intriguing to think about the similarity between

Ravi and the character Baljeet from Phineas and

Ferb. The issue with having the only two South Asian

characters in your network be portrayed as perfectly

fitting into the Asian stereotype of awkward and

smart, having thick Indian accents, and being

disrespected is that it creates connections for the

viewer that leads to unconscious stereotyping and

groupings of South Asians. You are limiting us to a

box with set expectations.

One of Ravi's greatest characteristics was his accent.

Perhaps if you had glorified Indian accents as you do

French or British, mocking Indian accents would not

be normalized or tolerated. What particularly angers

me is that with the misrepresentation of my culture

and with the mocking of our accents, you couldn't

even correctly pronounce your characters' names

- conveying to an entire generation that the bare

minimum of respecting one's name is unnecessary.

Now, having a corrected perception of Indian culture,

I am able to recognize the direct impacts of your

channel to my life and equally to that of my peers.

I have talked about Ravi from Jessie but the show

contains many other stereotypes as well: Emma is

presented as the shallow, rich, dumb blond, Zuri as

the loud, sassy black girl, and Luke as the popular

but dumb and messy white boy. It doesn't stop there:

the spinoff, Bunk'd, has Tiffany Chen who is an Asian

who plays the violin, is always worried about her

studies, and has strict parents. And this is just one

show. I simply can't understand why it is acceptable

to have shows that perpetuate such stereotypes that

terrifyingly overpower and categorize our youth by

their looks and ethnicity, stunting their individuality

and creating unnecessary apprehensions.

So, Disney Channel, as a fifteen-year-old Indian

American I have experienced normalized microaggressions

and direct stereotyping an unacceptable

amount of times and I blame a large portion of this

normalization on you. It breaks my heart that my

journey to becoming proud and confident of my

identity was so long and full of doubt. When I told

my friends about this letter, they had their own

experiences and thoughts to add- all my friends, of

different cultures and backgrounds, had faced some

sort of mistreatment that they correlated as a result

of what your network presents.

My hope is that you can work towards more

" It breaks my heart

that my journey to

becoming proud

and confident of my

identity was so long

and full of doubt."

respectful and correct representations of all ethnic

cultures so future generations don't feel the need to

hide parts of their identity to fit in. I do recognize

these efforts in new shows like Mira, Royal Detective;

I appreciate how it displays the beauty of Indian

culture and there is a South Asian main character

who is well rounded. But in order to move past shows

that were not as cognizant, I feel it is necessary to

recognize the faults and ignorance of them- these

shows are still streamed on your network and still

do affect our youth.

Sincerely, Raina Koshal

By ARUN PAUL KAPUR

BMDDIGITAL.COM

P

A

G

E

18

P

A

G

E

19

BMDDIGITAL.COM
---
POETRY

POETRY

By ARUN PAUL KAPUR

By ARUN PAUL KAPUR

IMAGE

OF A PERSON

By SAÓIRSHE O'NEILL

A

GENERATION

I

relate myself to a blurred image.

Something out-of-touch

and faded by the sun.

No fine lines, nothing clear-cut.

Just blurred colours

that you can't quite imagine resulting in a person.

That is what I think of myself.

And I have this reoccurring dream

Where I melt into the floor

And I'm screaming, watching my legs

Evaporate, until there is just

Nothing.

And I can't feel anything anymore.

I wonder if that's how I'll be remembered.

Like a half-forgotten

dream.

Blurry and worn from each time

I tried to refine it.

By SAÓIRSHE O'NEILL

Hopeless youth ranting

On small rectangle machines

Drinking dark and sweet and musty

Green tea,

And the old are fearful

Of the new

As they always

Seem to be.

Watching old movies

That make you feel

Seventeen,

Hoping you can

Write, paint, sing, scream

A new anti-society

For people to read.

We are all disenfranchised.

Our governments fail us

And we consume too much

For our own good.

But isn't that just

Being carefree?

A generation of people

Told they were different,

Each of us

Doing the same things.

By ARUN PAUL KAPUR

By ARUN PAUL KAPUR

By ARUN PAUL KAPUR

By ARUN PAUL KAPUR

BMDDIGITAL.COM

P

A

G 20

E

P

A

G

E

21

BMDDIGITAL.COM
---
PROSE

suburb in

the sky

By MP ARMSTRONG

golden shovel from the article "nasa and nokia are putting a 4g

network on the moon"

why do we need to defile the moon if

man hasn't been there since 1972? nasa, you're

failing when i trusted you. i'm unable

to trust any part of the government, i guess, or to

believe that this isn't inevitably a war. get

this: in twenty years, i could be floating around a

lunar habitat, astral citizen down to the cell.

there's an american undertone to a ringing phone,

& that must be the logic. it'll be a signal

to the little green men on jupiter or mars that whenever

they're ready, they're lucky, for you

& your nation have an outpost where they can walk

along neat sidewalks & look upon your

perfect flowerbeds, newly painted front door, dog

barking a greeting. they'll come around.

the entire galaxy will come around & see that the

people who annihilated the pesky block

to intergalactic communication & constructed this

suburb in the sky are superior, surely. will

i think so too? or will i sing its praises while i really

want to rip apart the flags & try to make

peace with those we alienated? & will you, or watch your

husband wash his hands of someone's blood

while you wait in the kitchen, bringing a pot to a boil?

BMDDIGITAL.COM

P

A

G

E

22

By ANONYMOUS

P

A

G

E

23

BMDDIGITAL.COM
---
POETRY

March

13, 2020

By ELIZABETH CORALLO

By SENA CHANG

DOWN

DEEP

By SYLVIA BONILLOS

I shut my eyes to the darkness only to find more in

my mind Along the valleys and mountains, in the

deepest oceans of my soul

I never dare dive in

because I know what's at the bottom

winking at me in the faintest light of

the sun or

of the moon

T

he last normal day

I'll ever have.

The last normal day

before a pandemic, a reallife,

sci-fi movie inspired, worldwide,

pandemic

changed the course of life.

Freshman to sophomore: the year it took

me to learn how to walk through the hallways

of school

without staring at my feet. 365 days

for my reality to adjust to the new world, the

sci-fi inspired,

Mean Girls induced, puberty-driven

world

I entered.

365 days to recover from change,

but only took one day to destroy everything

all over again.

It took one virus,

one person,

to destroy the world's reality.

365 versus one, an impossible equation.

of teachers wiping sweat from their foreheads

because they've been kept out of the loop,

of refreshing Google and CNN, of holding

onto friends (just in case),

of administrations afraid to shut down.

Too soon or too late?

What's going to happen to us?

Will the track season be canceled?

What happens to Spring Break?

No, no, it will be over in two weeks.

Two weeks?

Or 365 days?

How long does it take to recover from a

disaster?

One day to destroy, 365 to clean up. A familiar

algorithm.

Algebra II and the SAT prepared us for this.

But how would we know?

The leaders of this world

cannot tell us how long it takes to clean up

the mess of unexpected change, and the

transition from

middle school to high school cannot be

compared to

the transition of moving life to frozen chaos.

Across the United States, it was a day of

confusion,

But metaphors worked when life was normal,

so why shouldn't 365 days?

P

A

G

E

25

BMDDIGITAL.COM
---
T H E

By VELIBOR BAĆO

PROSE

STORM

INSIDE

S K Y

S C R E A M S

A G A I N

" The sky screams again. She

wants to scream with it. She wants

to scream and cry and just do

something."

By SYLVIA BONILLOS

The cool wind blows through the bare branches of the tree. A girl

watches it bend and shake and snap. One of the top limbs falls

from the weight of the growing mistletoe and the pressure of the

wind. The clouds darken the sky and it is lit for just moments by

electricity. Amidst the fury, they sob, letting go of the sadness bottled up within

them, showering down on the world. The clouds scream and lash out with their

lightning, their electric fingers burning the ground, the trees, the people.

SHE LONGS TO BE THAT

STORM.

BMDDIGITAL.COM

The girl sits quietly in her window. She longs to be that storm. To let her emotions run

wild. To cry, to hurt, and to hurt others because they couldn't possibly understand.

Not her parents, not her friends, no one in the world would understand her pain.

She reaches out and touches the window. Her fingers follow the streaming water on

the cold pane of glass.

P

A

G

E

26

By VELIBOR BAĆO

'STORM INSIDE'

P

A

G

E

27

BMDDIGITAL.COM
---
PROSE

P

eople

are talking around her. They have been since that night.

Always around her, never to her. "Oh, she's too young," they say,

"she shouldn't hear these things." But she wanted to. She needed to.

She needs to know.

What happened to my sister?

Why hasn't she come home?

The girl's hand drops into her lap and grasps tightly to the black fabric. The sky

screams again. She wants to scream with it. She wants to scream and cry and just do

something. Something to make it stop. Something to make everything stop hurting.

Because her sister isn't coming home.

She never will. The two would never be able to watch their favorite movies together

or sing every song from High School Musical at the top of their lungs or have their

mini sleepovers just so they could be close. Never again.

The girl's mother is keeping a straight face for now, but behind closed doors, she

has gone through box after box of tissues. She has soaked through the fabric at

the shoulder of her husband's shirts for the last week. And that husband has sat in

the dark while two of the women he loves slept. He has sat on the bed of the third

woman, tears falling from his eyes onto the purple duvet, the one she had refused

to give up since she was ten.

Because that woman is gone.

The sky crackles with electricity as they carry her out. They hold umbrellas over the

carefully carved wood, even though they know it would be buried soon. The girl and

her parents follow the box. The stand around the muddy hole it's placed over. The

rain splashes their cheeks as they each go forward and place a purple flower on top.

Because they were her favorite color.

By VELIBOR BMDDIGITAL.COM BAĆO

P

A

G

E

28

P

A

G

E

29

BMDDIGITAL.COM
---
CHAPTER

affliction

AFFLICTION

"Wherever there's hope there's a trial.

Hope, however, is limited, and generally

abstract, while there are countless trials,

and they tend to be concrete."

Haruki Murakami

By VELIBOR BAĆO

P

A

G

E

31

BMDDIGITAL.COM
---
Prose

JESSIE'S

S P E C I E S

"Then she'd heard the howl. Rising

from the distant mountains, from

unknowable forest depths, like an

air-raid siren or tornado warning

the howl rose, swelled, echoed..."

By WILL NUESSLE

BMDDIGITAL.COM

By YONGJIN C.

P

A

G

E

32

P

A

G

E

33

BMDDIGITAL.COM
---
PROSE

PROSE

one

The notebook-sized platform swayed

slightly in the wind as Jessie sat, long

legs dangling over the twenty-story

fall, unmindful and unafraid.

Two hundred feet of

KESV Channel 12 antenna tower

was anchored at the summit of

the Aliquippa ridge, which added

another thousand feet of steep drop

to the valley below. The view was

spectacular, taking in thirty miles

of southern Washington forest.

The evergreen blanket rippled in

the breeze, as if to stir the sleeping

giants of the mountains.

A stray lock of chestnut

hair slipped free from her careless

ponytail, whipping at her face in the

breeze. Jessie tucked it back absently

as she listened.

Call to me again. Please.

She was startled by the

sudden shadow as a blue-gray

peregrine falcon shot past almost

at her shoulder. The bird cheeped

with pleasure at the surprise,

rolling over in mid-air to peer

at Jessie, wingtips fluttering.

Jessie stuck her tongue out at her

friend. "Showoff!"

The bird rolled back

upright and found a thermal,

rising into the afternoon sun.

Stretching on her perch, Jessie

looked out across the Cascades,

forgetting falcons, listening with all

of herself.

As she did the years fell

away, and she was nine years old

again, fifty feet up the evergreen tree

in Gamma's backyard. She'd torn her

itchy party dress in the climb, and

Mama would be angry when they

found her.

Clinging to the pinescented

trunk she had stared out

across the forest, lifting her face to

the breeze ruffling her hair, pulling

at the braids and bows Gamma had

spent all morning arranging…

Then she'd heard the howl.

Rising from the distant

mountains, from unknowable forest

depths, like an air-raid siren or

tornado warning the howl rose,

swelled, echoed off the hills. As

quickly as it had come it was gone.

Leaving a little girl forever changed.

A decade later Jessie still

longed desperately to hear it again.

Just once more. Please.

When she heard the approaching

car, Jessie stiffened. KESV's mastercontrol

station was tucked away up

in the boonies; nobody ever came up

there.

Looking way down, biting

her lip with the thrill of the height,

Jessie saw a midnight-blue luxury

sedan being flogged up the bumpy

dirt road. Oh, crap. Her hands were

suddenly sweaty. The sedan slid to

a neat stop beside Jessie's dented

olive-green pickup, gravel bouncing

off the white camper shell. A second

later the driver's door opened.

Jessie wiped her hands on

her jeans, grabbed the edge of the

tower ladder and waited. A firmly

''...from unknowable forest

depths, like an air-raid siren

or tornado warning the howl

rose...''

shut car door; five steps across the

dusty ground; the creak as the outer

door opened… Now.

Pivoting smoothly from

the platform to the ladder, Jessie

climbed down as fast as she could.

She walks through the tape room, into

master-control, greets my coworker.

The rungs flashed past her face.

Maybe she'll think I'm in the bathroom.

Maybe she needs to talk to Jeremy.

There was an outside

chance, if she could climb fast

enough…

In the rush of her frantic

descent Jessie didn't hear the outer

door open again, but couldn't

miss the Boss bellowing her name.

"Jessica Delgado!"

Jessie stopped climbing,

panting, distantly pleased with

herself she'd made it almost twothirds

of the way. She looked down

the remaining sixty feet or so at

KESV General Manager Amanda

Birdsong. Best defense was a good

offense. "Hey, Boss! What brings

you here?" It's perfectly normal and

reasonable I would be halfway up the

tower. Honest.

"Boots on the ground, Delgado!

Now!"

Jessie resumed her climb,

carefully and sedately, giving her

time to consider her defense. Would

you believe I was sleep climbing? No.

Because it was there? Too cliché.

Thought I saw smoke, wanted to check

before I called the Forest Service wasn't

bad. Less crazy than the real reason.

As her sneakers hit the

tower's concrete pad, Jessie

suddenly wondered what might bring

the Boss out to the edge of the world.

Mild panic at the trouble she was in

battled with excitement about the

possible news. She unobtrusively

rubbed her sore biceps, pushing

through the gate in the fence

surrounding the tower. The Boss

waited; arms crossed. Though

the Lexus behind her now needed

a wash, none of the dusty road

clung to Birdsong's form-fitting,

midnight-blue dress. It wouldn't

dare.

Why else would she come all

the way out here? They've decided.

Jessie's mouth curved into a smile as

she walked. She cleared her throat

and tried to look contrite. Get out of

the hot water first. Celebrate later.

The Boss tapped a metal

sign zip-tied to the chain-link fence.

"I forget, Delgado, did the hiring

interview include a reading test? You

can read?"

Gee, that was three years ago,

who can remember? "Yeah, boss, I can

read just fine."

A slight smile curved her

employer's lips.

"Then I presume you saw

the signs."

The signs that said No

Trespassing and Danger! Radiation!

"Yes, ma'am."

"And yet I find you halfway

up the tower."

"You would not believe

the view." A confident grin for good

measure.

The Boss's eyes were like

light-blue marbles. "I've seen it;

perfectly good picture in the Channel

12 lobby, taken by an engineer who

was supposed to be on the tower.

Takes up an entire wall."

And you're on solid ground

when you look at it. Not at all the same.

Jessie knew better than to say this.

"Setting aside the potential

ten-story fall, you do understand

prolonged exposure to RF radiation

could seriously injure you?"

"I checked with Engineer

Kevin; he said that less than half an

hour was no danger. Anyway, I was

only up there, like, ten minutes?"

The Boss tilted her head

back, shading her eyes with a

perfectly manicured hand. "How do

you stand it? I'm getting dizzy just

looking up from here."

"I like heights. Always have."

"Bird Girl," Birdsong said

absently, shaking her head as she

looked down, making eye contact. "I

don't want to see you up there again,

are we understood?"

"All out of my system, boss,

I swear." Change the subject. "How's

Emerald?" If Birdsong noticed the

lack of actual promise she let it go,

laughing shortly. "Fine, thank you.

She sends Hero her regards."

"Who knew having a pet cat

and a bird of prey on the same studio

set would be so good for ratings?"

"Lucky Hero was so well

trained. For your job, especially."

Not my fault you let your pet

streak past my peregrine.

"Speaking of jobs…"

Birdsong checked her silver

wristwatch bracelet. "Your shift's

about to start, will Jay cover the

break?"

Without question. Whether

Jessie wanted to owe him any favors

was an entirely different question.

"Yeah, probably." Whatever. If the

news was what she thought it was,

she wouldn't be pulling many more

3-11 shifts out here with the mice and

boredom and lovesick coworkers.

Jessie smiled again, as the tips of her

fingers tingled.

The Boss sighed. "Good! I

wanted to speak with you before

your shift."

In that second, the way

her employer was smiling, Jessie's

fingers stopped tingling. "The, uh,

field-reporter job."

"Yes."

"You went with Nellie."

Birdsong nodded, setting

her turquoise hoop earrings

swinging. "For what it's worth, and

I'll understand if it's not worth

much, it was a close call and you

were always our second choice."

Meaning I was never your

first choice.

The Boss kept talking

as she opened the door to the

slightly run-down, mildly spiderinfested

building boasting KESV's

tape storage and Master-Control

operations, pulling Jessie in behind

her with the sheer force of her

personality. "Nellie has several

years on you, she has a Masters in

Broadcast Journalism—she's the

better choice this time around,

Jessica." Jessie knew all of this; didn't

make it any less of a failure.

"Her name is Nellie, Boss."

Like out of Little House in the

Prairie. Doesn't that get your Native

American blood up even a little?"

Plus, c'mon, you know I'm way hotter

than her. Give the public what it wants.

About to push open the swinging

door between the rooms, Birdsong

favored her with a full-on steel-eyed

glare. "Just because you have nonwhite

ancestry doesn't mean you can

make light of mine."

With effort Jessie managed

not to glare back. "Was just a joke,

Boss."

"You're young, Delgado,"

Birdsong said by way of forgiveness.

"You'll have other chances." She

pushed the door open to the glory

of the Master-Control Operations

room, splintering shelves, faded

newspaper articles, mismatched

chairs and all. "Besides," she joked

to lighten the mood, "how could you

give up all this?" The Boss's eyes

flicked at the bank of televisions

coworker Jeremy was monitoring,

pretending he couldn't hear every

word. "I'm assuming I can trust your

professionalism?"

Jessie felt the fire blaze

in her eyes. She managed to keep

the sudden anger out of her voice.

"Boss, you don't—I'm professional."

I can push buttons with the best of

them. "You're also a hot-blooded

Hispanic, Delgado, who I just found

dangling from the antenna tower."

Birdsong rested her hand on a dusty

tape carousel. "I know how much you

wanted this."

Flustered, hating it when

others could read her, Jessie fidgeted

with the silver crucifix necklace her

abuela had given her. "It's fine, boss."

Birdsong turned away,

sweeping through the long, narrow

room to the television monitors and

rack of videotape machines.

Following her was the last

thing Jessie wanted to do.

two

Jessie checked the clock by

the door. 03:05. The on-air monitor

showed Judge Judy pointing a finger

at a hapless plaintiff.

"Thank you for covering,

Jay," the Boss called as she

approached. "It's my fault she's late."

Jeremy swiveled on the

MCO stool, all freckles and rumpled

flannel and blonde hair tumbling into

his eyes. He put down a comic book

as he turned. "N-n-no problem, boss.

Always h-h-h…" the words came out

in a rush as he concentrated, "happy

to serve."

"I appreciate it, Jeremy."

Jessie snatched her timecard out of

the gray metal rack, handing it to her

boss, who glanced over at Jeremy and

back, a slight smile curving her lips.

Jessie kept her face blank through

long practice. If she pretended to

be unaware of his adoration, there

were fewer fumbling matchmaking

attempts by the KESV Cupid Corps.

Invite him to walk you out, Jessie

thought as hard as she could at her

boss.

Birdsong handed back the

timecard, which as Jessie glanced

at it said 02:45 under Time In. She

looked up, surprised.

"You said you were up there ten

minutes?" A slight, proud smile. I

can't officially endorse your behavior,

BMDDIGITAL.COM

P

A

G

E

34

P

A

G

E

35

BMDDIGITAL.COM
---
PROSE

but good for you, Jessie interpreted.

She offered a small smile of her

own in return. "Thanks, Boss." It

was small comfort but just now

she would take what she could

get. Invite him to walk you out.

No

such

luck. "Jay, see you for

the dinner tonight?"

" F - f - f a r

as I know, b-boss."

Jessie's Species | 8

"Glad to hear it.

You." The Boss pointed

at Jessie. "You enjoy not

working overnight shifts?"

The 11-7 shift

would be awful even if she

liked watching television.

"Yes, ma'am." "Yes, ma'am."

"Then stay off the damn

tower." With a last wave

she left, singing "Don't do

anything I wouldn't do," as a

parting shot before the door

swung to behind her. Jessie

wondered if the Boss would

meet a peregrine falcon

on the way out; hopefully

Hero would stay in a tree

until the coast was clear.

"And then there were

two," she said in an attempt

at breezy, leaning on the

elevated MCO desk. "How's

life, Jeremy Wolff? All the

equipment working today?"

Grimacing, he

waved at the Tower of

Videotape Recorders, two

of which had gaffe tape

haphazardly covering their

gaping mouths. "Down to just

t-t-two VTRs today. J-Josh is

out of town until S-s-s-—"

Saturday. Just

say the word Saturday.

She knew he hated it

when people finished his

sentences, and she hated

herself for getting annoyed.

" — S u n d a y , "

he finally managed.

To cover her shame Jessie glanced

at the closest tape carousel, where

the On-Duty MCO was supposed to

stack the night's shows. It annoyed

her to see that Jeremy had already

arranged her evening tapes. It was

a kindness some Operators did for

others and he always did for her

and she always wished he wouldn't.

She sourly noted the

blank tape between Jeopardy and

By ARUN PAUL KAPUR

'' And at the end of the

day, you feel nothing.

And at the end of the day,

you can still do nothing.''

Dateline Wednesday she would use

to record the live six o'clock news

broadcast. The one where she would

be on the wrong side of the screen.

"I hope I d-d-didn't get

you into trouble with the b-boss?

When she came in l-looking for

you, I didn't know w-what to say."

Couldn't he just leave? "What

were you supposed to say? I was

up the tower." He looked at her

in amazement and admiration.

"You're r-r-really brave, Bird Girl."

Jessie

laughed

noncommittally, checking

audio meters that

didn't need checking,

wishing he would go.

"The view must be s-s-s—"

"It's amazing," Jessie

interrupted, hoping

hijacking his sentence was

less insulting than finishing

it. "The Boss suggested I'd

be better off enjoying the

picture in the station lobby."

"Less r-radiation." He

cleared his throat. "S-sorry

about the r-reporting job.

I was rooting for y-you."

"Yeah, thanks, so was I,"

she clipped in response.

She didn't want to be mean

to him, but she did very

much want to be alone with

her failure. Just go, Wolff…

Finally, Jeremy began

sliding his 7-3-shift whatnot

into a blue and red backpack.

If there was a You'll g-gget

'em next time waiting in

the wings, it went unsaid.

She bit her lip, hating

herself. Turn my skin

green, call me the Wicked

Witch. "Uh, thanks for

pulling my tapes, Jeremy."

"Sure. Hey, what's it g-gonna

take to get you to c-c-call me

'Jay' like everybody else?"

An act of God. "I just, you

know, want to treat you

professionally." She gave him

a warm smile. See, I don't

want to hurt your feelings…

He looked disappointed,

and she hated disappointing

people; so against her will,

as Jeremy slung the bag over his

shoulder, Jessie offered, "Gonna

dress all snazzy tonight, ask out

Channel 12's newest on-air talent?"

At the door, Jeremy

looked back, his face red. "Oh, um.

N-n-nellie's okay but she's never

BMDDIGITAL.COM

By ARUN PAUL KAPUR

P

A

G

E

36

P

A

G

E

37

BMDDIGITAL.COM
---
PROSE

PROSE

been very p-patient with me. Not like

s-some people." He swung through

the door, leaving an embarrassed

smile behind.

15:21:07. Jessie needed to

get the three-thirty break ready. She

had just long enough to use the one

machine not currently playing Judge

Judy to cue her three commercials

and 15:30 show, double-check the

insurance commercial loaded in

VTR-4 and watch Judy's credits

with one eye and the clock with the

other. At 15:28:27 she hit Play on -4,

counted two seconds and tapped the

Crossfade button on the router.

"Are you struggling to find the

right homeowner's insurance?"

"I so am…" Jessie said

absently, with a calm but frantic stab

at the Eject button on VTR-3. She

waited the endless five seconds for

the spools to unclench and spit out

the previous tape. Judge Judy could

cool her Betamax heels on the dusty

desk for now; grab the next tape and

slide it in and pray not to see read

ERROR 08-032, especially with only

one working VTR, as the greater

Seattle-Tacoma area waiting for The

People's Court would endure thirty

seconds of black screen.

At which point the phone

would start ringing, since everybody

and their sainted mother had the

unlisted Master Control number.

"Why's my screen blank?"

"What happened to the

signal?"

"Didn't you air that Judge

Judy episode last Thursday?"

Fortunately, Attorney

Marlys Mathews was nice to her and

loaded, as did the Seattle Mariners

promo and praise be to Clare patron

saint of television, Judge Koch was

soon handing out justice. Twentyseven

minutes of peace and relative

quiet until the next frantic ninety

seconds. At least the four-to-five

program was a nice, hour-long show.

As was the 6 O'clock news.

And the 9 O'clock news.

"It's fine," she told herself.

"I like my job. It's quiet. Can you

imagine if I had to drive to some

newsworthy location right now with

lights and a camera, do something

meaningful and important rather than

making sure everybody gets to tune

into the latest stupid episode of the

stupid People's Court?"

She tapped her fingers on

the desk, stewing over it, until the

four o'clock break. Once Days of Our

Lives was well underway, Jessie used

somebody's forgotten ten-pound

barbell to jam open the door to the

outside world, make sure it didn't lock

behind her, not wanting to go through

that again.

Reaching in through the open

passenger window, Jessie grabbed the

heavy leather gauntlet, tugging it onto

her left hand. Jeremy's chocolatebrown

car being long gone, she had the

mountain to herself.

Almost. Doubling her tongue

behind her teeth, Jessie whistled down,

up, down and within seconds her best

friend backwinged to a gentle landing

on her gauntleted wrist. "Hey, you,"

she said, as Heronimus suffered having

the feathers behind her eye ridges

scratched. "Having fun without me?"

Hero breeted in answer, her huge, dark,

yellow-rimmed eyes regarding her

master calmly. "Well," Jessie laughed,

"don't let me hold you back." With an

upward sweep of her arm she launched

the falcon into the air, watching her love

climb into the sky for the thousandth

time. The sight left her breathless for

the thousandth time.

Keeping an eye on the flight,

Jessie crossed the dirt road into the tall

grass. Hero shouldn't be too hungry, but

the falcon would be indoors all evening;

good to get her some supper now.

As her legs rustled against

white-blossomed yarrow, a little wood

thrush was startled from its repose,

shooting into the open air. The brownon-white

flitter wasn't halfway across

the meadow before the blue-gray

thunderbolt descended, predator

taking her prey as Jessie's heart leapt.

I will never tire of seeing that.

Of seeing anything you do, my love.

Leaving Heronimus to her

meal, Jessie decided her promise to the

Boss denied her another tower ascent,

today at least. She settled for perching

on a boulder overlooking the ravine.

The same breeze whipped the same

lock of hair around her eyes again; she

she pushed it back once more

and sighed.

Birds of prey had it so

easy. Target, dive, consume.

Repeat as needed. You missed

your strike, you flapped back

into the sky to seek another

opportunity. Sure, there were

powerlines, hunters, eighteenwheelers

to watch out for, but to

take wing and soar thousands of

feet above the clawing, grasping

earth, free of the chaos and the

crowds…

Jessie turned on her

perch to watch the falcon, as bits

of wood thrush disappeared into

the razor-sharp beak. "Trade

you," she whispered.

Looking back out over

the sun-drenched evergreens,

part of her listening as always,

hoping as always to hear the howl

one more time, Jessie considered

using bird-of-prey tactics for her

own problems.

That was a thought.

Invite Nellie up to the ridge, get

her to walk by the tower and

at just the right moment… "I

pounce!" She yelled into the void.

"Pre-reet?" Hero looked

up from her meal, alarmed.

"Sorry," Jessie

apologized to her love, who

clacked her beak, returning to

her meal. Embarrassed, Jessie

ran her hands through her long

dark hair before retying the

heedless ponytail. One problem

with her hawklike plan—it would

require help. "And I know just the

guy who would volunteer, too,"

she grumbled. Another problem.

One she'd assumed getting the

KESV field reporter's job would

solve.

Another thrush flew

unmolested out over the expanse,

diving between towering

trees. "They were supposed to

choose me," she whispered to

the mountain, hands wrapped

around her knees.

The Boss said there'll be

other chances.

In what? Six months,

a year? Another year pushing

buttons, cursing snarled

videotapes, pretending she didn't

know her stuttering coworker

carried an Olympic-sized torch for

her. Night after night watching Nellie

Madison, Girl Reporter.

No. Through the waves of

failure the fight inside flamed up,

the anger. Who talked her way into

this professional television job with

zero experience?

"Me," she answered herself.

Who just now sat fearlessly

atop a two-hundred-foot television

tower?

"Me."

Who did a world-class job training a

peregrine falcon without assistance of

any kind?

"To be fair, Mom kept the

Fish and Wildlife perros at bay."

WHO?

"I did." The fire deep inside

crested and she rode it once again,

perched on the granite outcropping

taking in half of southern

Washington. "It was me. And I will

get 'em next time." She would find a

way.

Meanwhile, looking at her

wristwatch, Jessie saw Kermit's hand

getting dangerously close to the big

5. She called to Hero, cleaning her

beak on her feathers. "Wanna go

watch Wheel of Fortune?"

three

After grabbing her old

black backpack out of the truck,

Jessie whistled. Her love astride

her arm, she carefully shouldered

the outer door open, carrying the

falcon inside. Hero settled on the

tape carousel, watching everything

and woe betide any mouse making a

break across the floor.

Back at the MCO desk Jessie

pulled off the gauntlet and grabbed

a paperback, her notebook, and a

large sealed Tupperware container

out of the backpack. After the top

of the hour break, Jessie left Hero

to breet at Pat and Vanna, as she

strode down the claustrophobic,

narrow hallway past the occasionally

cleaned bathroom to the kitchenette.

Her grilled-cheese sandwich would

be safe enough on the counter, but

like all good station scavengers she

checked the tiny fridge. Surprisingly,

four cans remained of a six-pack of

soda, along with a note:

It's a Boy! Have a drink on me.

- Adam

So Sarah had finally popped

out the kid. Last time Jessie had talked

to Adam his wife was a week past due

and 'Godzilla-like'. Jessie considered

snagging one but they were the Triple

Caffeine version. "I'd be awake 'til

Sunday," she said to nobody, grabbing

several paper towels instead.

Returning to her post, she

piled them strategically on the floor

behind her best friend. Jeopardy always

got Hero worked up.

Jessie prepped the 17:30 break,

glancing at her love, the flickering screen

reflected in her endless dark eyes. Then

she cleared the MCO desk, moving Shift

logs and FCC Regulation books, making

room for the Tupperware container.

Carefully opening and setting the lid

aside, Jessie considered her prize.

An abandoned bird's

nest. Probably, judging by size and

consistency, a yellow-billed cuckoo.

"I'm a brown-eyed cuckoo to

still be doing this," she sighed, pushing

the stray lock behind her ear again.

"Least it keeps me off the streets. And

TV towers." Trying not to feel ridiculous

as she bent to this impossible task yet

again, Jessie started gently pulling it

apart, one piece at a time, carefully

logging in the spiral notebook anything

noteworthy.

Everybody knew birds made

nests of twigs and leaves, but most

avians weren't picky; they'd use pine

needles, feathers, cobwebs. An urban

nest might include shredded paper or

grass clippings. Jessie had once found

the string of a yo-yo.

But Jessie was not looking

for grass clippings, or feathers, or

cobwebs. Examples of such, along with

the more traditional twigs and leaves,

were tossed into the empty container

and forgotten.

Her heart rate increased

slightly with the first piece of fur—but

no. Gray wolf. An interesting find – the

species had almost been destroyed

in the 1900s – but it was not what she

wanted. Neither was coarse black bear,

or sleek oiled river otter. There were

several shaggy tufts of bobcat fur;

Bobby was prepping his winter coat

early this year. Gonna be a cold one.

Another frantic two-VTR station

break later Jeopardy replaced Wheel

and Jessie continued pulling apart

her bird's nest, vaguely aware of

the flickering On-Air monitor and

nearly muted answers in the form of

questions.

There was a lot of deer fur

in that particular nest. Washington

being well-stocked with deer, after

dozens, hundreds of nest demolitions

Jessie could identify deer from feel

alone, from smell, even blindfolded.

But people had found

deer. And bobcats. And river otters.

Discovered them, named them,

classified them.

She was searching,

impossibly, ridiculously, for

something…else.

Something whose howl once

echoed across a forest.

It wasn't a large nest,

and only a third remained to be

picked through when at 18:00:00

she hit record on VTR-2, the Studio

Signal button on the switcher and

nudged the Room Volume slider

up halfway. For the next fifty-eight

minutes Channel 12's broadcast was

somebody else's problem.

She didn't want to pick at a

stupid bird's nest, Jessie realized. She

didn't even want to be in this room,

and technically she didn't have to

be, unless something in Seattle went

wrong and she had to throw on an old

Andy Griffith Show they kept sitting

around for emergencies, anything

being better than dead air.

That hadn't happened in

ages, and if she wanted to take her

falcon and walk out for more fresh

air, nobody would ever know.

Granddad Levar looked into

the camera again. "With the recordbreaking

heat this summer has come

increased wildfire danger. For more

on this, we go in the field to Channel

12's newest reporter, Nellie Madison."

And then Jessie and the

greater Seattle-Tacoma area were

looking at Nellie "Oh My God, Right?"

Madison, standing at a ranger station

somewhere in the mountains. That

would've been my shot. My story.

BMDDIGITAL.COM

P

A

G

E

38

P

A

G

E

39

BMDDIGITAL.COM
---
PROSE

"Thanks, Levar. It's been

a long, dry summer here in the

Cascades, and firefighters are

struggling to contain several large

blazes." Nellie twitched her long

flame-red hair over one shoulder,

turning to point to a Bear sign, the

one with the Fire Danger level pegged

at VERY HIGH. "As you can see, my

friend Smokey here is definitely

concerned…" As Nellie went on,

Jessie caught herself eyeing the

switcher. Past Studio Signal, VTRs

1-5 and SMPTE color bars there was

an ironically white button labeled

BLACK; one little button that would

spare the greater Sea-Tac area from

any more of sweet Nellie's sweet face.

I don't need this job that badly, right?

The button was maybe three inches

from her fingertips. Nobody

could prove it wasn't a system

glitch. Signal dropout. Solar

flare. Happened sometimes.

B u t … s h e ' d

given her word.

So instead of

punching the white BLACK

button Jessie swiveled on

the stool, turning her back

on monitors, nest, Nellie.

Hero's eyes looked right

back at hers. Always aware

of her mood, the falcon

tilted her head sideways.

"I'm not a failure,"

Jessie reminded herself

softly. "Just look at you."

Hero chirrupped in

agreement while Jessie swung back

to have a long pull at her water bottle.

From the room speakers: "—and

with little to no rain in the forecast,

there's plenty of hot, dry summer

days ahead. Reporting from the

Cascades, I'm Nellie Madison." As

she signed off, Hero ruffled her

feathers and muted right onto the

paper towels. When Jessie was done

laughing, she went for more towels to

wipe her spit-take off the MCO desk.

Despite Hero's perfect timing, as

Channel 12 News segued into Weather,

then Sports, Jessie's dark mood

descended again as she halfheartedly

returned to her perhaps pointless,

almost certainly hopeless task.

But it was something to do.

She pulled out more twigs

and leaves, some raccoon fur, trying

not to remember how She pulled

out more twigs and leaves, some

raccoon fur, trying not to remember

how long it'd been since the last

truly remarkable find, revealed as

wolverine hair. The most interesting

item she found in thirty minutes

was dried snakeskin, looked like bull

snake. Then it was the second half of

the newscast, and Jessie was still very

aware of Nellie Madison's Fire Bad

recap, now delivered next to a greenand-white

Forestry Service truck.

So aware, she nearly missed them.

Twined around a cedar

twig, half-obscured by cobweb,

were six long, red-golden hairs.

Jessie almost dismissed them as

'' As she held those six

long, red-golden hairs up

to the cheap, fluorescent

MCO room lighting, deep

inside, across a decade,

she heard the howl again."

dog, maybe collie or Lhasa apso…

but they were too coarse. Much too

long to be bear, or mountain lion,

despite the faint but pungently wild

smell her nostrils could discern.

They sure weren't human.

Seven years, nearly, she'd

been risking eyestrain and madness

with these absurd nests. As she held

those six long, red-golden hairs

up to the cheap, fluorescent MCO

room lighting, deep inside, across

a decade, she heard the howl again.

Once the monitor faded up

on the Dateline set, Jessie could take

a breath, say a prayer of thanks to

St. Helena, patron of archaeologists,

and try to remember where on

God's earth she'd put the tiny bag.

The perfect little evidence bag she'd

swiped from Uncle Officer Theo.

Hero's head was cocked again.

"I found something, my

love." She rooted around onehanded

in her backpack past cheap

paperbacks, gum, fire-starting kit,

then finally felt smooth plastic.

Pulling the bag out she carefully,

reverently tipped the hairs inside.

Not about to let the

precious little bundle go far, Jessie

tucked it into her bra, next to her

heart. Then she was free to head

to the kitchen, suddenly starving.

The museum opened at nine.

Fourteen

hours.

Along with her sandwich

Jessie snagged the bottle of hot sauce

and to hell with the stereotype; on

another whim she grabbed

one of the triply caffeinated

sodas as well. She danced

through the dark hall back

to the MCO desk, dug her

battered cassette player out

of the backpack and plugged

it into the room speakers.

She took a big bite of grilledcheese

sandwich with liberal

hot sauce, washed down with

a generous swig of artificially

flavored sugar as the opening

notes to Whitesnake's "Still

of the Night" filled the room.

Turning the sound down a

bit for the sake of her falcon's

incredibly sensitive hearing,

Jessie saw Hero eyeing the

can. "Why not," she justified the

caffeine ecstatically, feeling the

tiny plastic bag brush her teta.

"Not like I'll be able

to sleep tonight anyway."

BMDDIGITAL.COM

P

A

G 40

E

By SOHYUN C.

P

A

G

E

41

BMDDIGITAL.COM
---
Die Tired

By Nicolas "The Withdrawn" Correa

My body feels heavy.

My mind feels heavy.

Am I just tired, or is it something more?

I know that when we speak of always being tired,

we invite always being tired.

My mind and body still use their own language to yell it out even when the

words may not escape from my mouth.

The matter of the fact is I am f**king exhausted.

Exhausted because every single day I feel guilty about something that I

shouldn't, or maybe I should, or maybe it has something to do with my brain's

wiring, or maybe cause I've been listening to the devil's word a little too closely

instead of God's.

You can't act outside of the way you normally do without it seeming like

something's wrong.

Sometimes the life of the party just needs to stop drinking and chug some

f**king water.

I'm alert to the lack of vitamin D—the absence of sun.

I almost wish I didn't have a job right now so that every day I could be in it.

I've gotten better at going outside now, cause I wouldn't even allow myself to

go for a simple walk without feeling guilty.

As if I'm one of the people contributing to COVID-19.

Police brutality and corona sparking up my anxiety.

Isn't it odd how we want to move with groups of our people to protest against

these unjustified killings, AND corona hits the hardest against the people of

MY community?

Like we really have to say that in addition to this, the virus is also killing us.

You would think it's working hand in hand with the police.

I need to breathe for those who no longer have the chance to.

I know I have God by my side forever and always,

but I feel bad for admitting that right now I am feeling spiritually weak.

I crave a week with absolutely no human contact.

I wish it were that easy, but this weekend dedicated to God and myself will be

exactly what my soul needs.

And that much

I know.

R E S T L E S S

N E S S

Delilah Brumer

I'm a witch. Transcripts and classes are my

raspy-voiced enchantments and midnightcolored

charms. I ward off insanity with grades

and essays. My avoidance-laced potions have

side effects

unfortunately. They get rid of the pacing-backand-forth

boredom and replace it with foottapping

stress. I never have enough time to

sitdownandrelax. Tranquility isn't achievable

when I'm too busy

avoiding it. Productivity is

imperative. Without it I'm too busy thinking

about

lifeandstuff. I don't like being

a light switch that's stuck after being played with

by an over-excited toddler. I'm like a time-lapse

of a flower begrudgingly sprouting in a nature

movie except for the fact that movies can be

turned off. Why don't we just sit here and

exist for a little while? No magic involved.

BMDDIGITAL.COM

Die

P

Tired

A

G 42

E

P

A

G

E

43

By CAITLIN SIEVERS

BMDDIGITAL.COM
---
POETRY

I

I'VE BEEN SEEING

SO MUCH OF MYSELF

LATELY

By MADI GIOVINA

F

rom the couch, I can see the full-sized bed

we share, dressed in white with

mismatching

pillowcases. And the back of my

full-length mirror. The one I watch myself

dress in: me, sucking my stomach in, and

me, weighing my breasts in the palms of my

hands, always too heavy to imagine

them being held by someone else. Either

way, it's always me in the mirror.

And still from the couch, I see my front door,

the only exit, which is neighbors with

my bookshelves, the ones made out of stacked milk

crates. Then there's the TV on the shoe rack,

which serves as a TV stand. It was

supposed to be temporary, but

isn't everything? And there, on the dark

TV, is my reflection again.

By ARUN PAUL KAPUR
---
POETRY

P OETRY

C L E A R

PLASTIC

FOOD

CONTAINER

By ELIZABETH CORALLO

(circa. 2020)

My hair is past my shoulders again,

The brown curls clawing over each other

Like the swirls of paint I brush across the canvas

Of the Paint-By-Number sunflowers.

The Made-in-China pots of color that

Smell of melted plastic and remind me of

The Argan Oil used to straighten my hair into

Golden-brown plated sheets, confining me

To the roots of the sunflower.

My hair was once above my shoulders, but the

Sunlight stopped kissing my scalp when lockdown

I

am the clear plastic food container

That sits on the kitchen counter, unlidded

And untouched. There are no parties or

Gatherings, no need to fill the container

With cookies or pasta or salad or sandwiches

And waltz it to a celebration of life when all

The dancing is now done by death. The people

Are trapped inside their homes as the plastic

Food container is trapped inside the moldy

Wooden cabinet of my kitchen,

Waiting in the dark with only the hum of

The dishwasher reminiscing of the movement

That continues around her, the attempt at normalcy

Of fellow appliances who are stuck in the same

damning

Cycle of a lifeless year. A year where she is

Clothed in dust and shrouded in a

Repetition of days and nights, living in a world of

Never-ending, never-opening cabinet doors.

Never is the theme of the world in 2020.

Never has the plastic food container

Seen the smiles of friends this year,

Not once has she been full.

PAINT-BY-NUMBERS

sunflowers

By ELIZABETH CORALLO

Began. No need to hide my hair, no need to change

Frame and elongate my naturally puffy face, then

The colors and texture of my natural state when

Maybe, maybe

There was nobody but me to see it.

The sunflowers will bloom beside my bed, and

That's when I discovered the petals of the sunflower.

the light will permanently illuminate

Honeybees and peaches, light permanently

my body, my face, my curly hair.

Illuminating the painted petals, my hair permanently

My hair is past my shoulders again,

Curly with no more room for pretend.

But I don't plan on cutting or straightening it.

I could not stop the growth of my hair,

And if I accept the sprouting wisps that

BMDDIGITAL.COM

P

A

G

E

46

By CAITLIN SIEVERS

P

A

G

E

47

BMDDIGITAL.COM
---
POETRY

POETRY

A

L

L

T

H

E

THINGS

THAT MAKE ME

miss you

they say that when you're on a ladder

you should maintain three points of contact

to be truly safe

but with you, i find so many more than that

spread across the day:

By THOMAS STOCKLEY

i find you in every mention of iceland

pip people

(we will be

orchards)

By THOMAS STOCKLEY

in this unprecedented dent

on our collective lives

space is growing for some of us

to bloom.

space for we, the chronically anxious

the bent and abandoned

we who never fit in this world anyway;

and now the world doesn't fit itself.

we, whose idea of a good time

is taking the toaster to a water park

just to see what happens.

we, who have been waiting for a kinder world

since our hearts were first broken.

we, who have been tenderised

by the meat mallet of modern living.

the furloughed and forgotten

the ones who thought ourselves rotten to the core

are realising that,

all this time,

we were full of pips

tiny cases of infinite potential

sewn in some kind of rubble.

and i know that we'll bloom,

that we will be orchards

when all of this

is over.

and i remember your mother tongue.

in every song that we once shared,

i remember the rest of your mouth.

i stare into the light that falls

on either side of the day

until it belongs to someone else.

i present every meal to myself, alone

and wish you were there to appreciate the plating.

i think of you with every new street cat i befriend

and even the ones that walk away

still remind me of you.

you are here, almost physically

with every bottle of mid-price red wine in a plastic glass

and anything that could remotely be considered a picnic.

i see you in the spectrum of colours

that traces the food in our fridge

and i miss you most

in the knowledge that sundays are less fun

without you.

By ARUN PAUL KAPUR

BMDDIGITAL.COM

P

A

G 48

E

P

A

G

E

49

BMDDIGITAL.COM
---
POETRY

LOCKDOWN'S

HTHE

HOURGLASS

By SHIKSHA DHEDA

The days turned into weeks, the

weeks turned into months,

the months

into years.

I still felt

like

I

was

stuck.

I thought

time had been cemented.

with me. That it was trapped

in an endless hourglass just like I was.

But when I finally looked up, realising that I had not smelt your petrolinfused

overalls in eons, I saw that time had changed everything.

E

x

c

e

p

t

me.

NOT

MUCH

FUN

this time

this time round,

we knew what it would be like

that there would be no more surprises

that we would have only what we held.

we knew that the postman would be our best friend,

every parcel a life line to the outside world.

we knew that every meal would be a ritual,

a tribute to the gods we'd lost.

we knew there'd be more outfit changes

than nights out.

this time, we were not surprised

and the sun did not come through the windows.

we sat, dusty and folded like the curtains

that we no longer needed.

this time, when we heard ourselves laugh

it was a sacred, seldom heard noise

that we clung to as it washed over us,

like the salmon climbing waterfalls to find their home.

this time, hygiene is a monument

because some days, that's all there is.

this time, we did not sit and laugh in public parks

and doorstep conversations were not a novelty,

they were all we have.

every child splashing in puddles

every smile from a stranger

every dating app match

every housemate hug

every text from friends that are not quite forgotten

mean a lot.

this time, it's tougher.

and there are some days when i don't know

if i'll see another.

but yet i know

there are still small joys,

tiny miracles

that keep us safe until it passes.

By TOM STOCKLEY

By SOHYUN C.
---
POETRY

INSIGHT

By GUNA MORAN

F

or some reason

you are upset with me

for a couple of days

Although I don't know the reason

I guess it right

You haven't spelled it out

I too haven't asked you

We have taken opposite positions

Silence is chatting between us

Maybe the conversation is called

the battle of nerves

Bloodless

without arms

this is the most difficult battle

On earth it is the best person

who wins this battle again and again

It is the one who ends this silent battle

is ever defeated

You want to be the winner

Me too don't want to be the loser

So the distance between us is widening

* * * * *

(Original Assamese poem titled

By SOHYUN C.

"Antardarshan")
---
POETRY

PROSE

PROSE

D E L U D E D

K A T H Y

Hindsight gave way to creeping despair

As reflective anxiety corrupted

Eager words now writhing

By A.R. SALANDY

But bare witness still, to a woman

One dimensional, and contorted by irrelevance

Deep in those jaded halls,

A B U N D A N C E

o f

A N

t a s t e l e s s

tequila

With long gone discontent

In memory of a delusion,

Or rather a being self-deprecating.

Never-ending, and pacified

By men whose power rises to the fore,

If only to demoralize women and children,

By FAITH MCKINNON

But, cheap cigarettes enveloped academic air

With that all so familiar gratification

Immediate, and self-preserving

Where reproducers of indoctrination

Do find momentary reprieve

From grandiose narcissism,

If only to prove, that paltry wages spoke

A thousand deadly truths,

A thousand critical theories,

All amounting to nothing, but betrayal and

conjecture.

There is an abundance of tasteless tequila in my glass; now, I

believed this to be a reputable place.

A hole-in-the-wall sizzling with the passion of a theatre town, it

ought to have good tequila.

One would think.

W

C

R

O

S

S

R D

not feeling lately

so very inspired.

all poems

just coming out

horizontal

crossword clues.

Home to Shakespeare festivals and a buzzing culture, while black

and white westerns rampage across a tiny television in the corner.

And those splendid tacos we eat just before "As You Like It" while the

sheriff mounts his steed and fires smoke from a dark pistol, and the

lady melts in his arms.

He rides off into a sunset made of charcoal and gray and white and

steel and titanium and black and ash and soot and cinders and snow,

all the colors of which there is no color.

Inside the hole-in-the-wall restaurant, however, any color goes, and

goes where it wants—sky blue, violet, tangerine, goldenrod, peptopink,

red, navy, sunshine, forest green, lime…

I am reminded of the lack of lime in my glass.

So the tequila, nevertheless, sits in its indignity; it is ashamed.

By DIARMUID Ó MAOLALAÍ

It is ashamed that it is only water in a glass posing rebelliously

beside a tequila bottle long since emptied of its enticing contents.

By CAITLIN SIEVERS

BMDDIGITAL.COM

P

A

G

E

54

P

A

G

E

55

BMDDIGITAL.COM
---
POETRY

POETRY

By ANONYMOUS

ANI'S

D R U N K

By DIARMUID Ó MAOLALAÍ

ROUTINE

ani's drunk. for once

we've thrown covid

to the windows – hosting

a christmas party

for some friends

of my fiancee. I know,

I do know it – but look,

we've been good,

and it wasn't my idea;

just our apartment's

biggest. and ani's drunk

and doesn't know anyone

so she's bothering my fiancee –

complaining of drinking

too quickly, how she'll never end up

going home. it's understandable –

I get it, I do get it – it's christmas,

she misses her parents

and her friends in argentina.

and plus, it's a pretty

dull party – a drunk

always helpful

to discuss. around 11

the dog must be walked;

I take her out

to walk with me.

she's still rambling,

while the dog pisses,

about how she's so much

very lonely – for a second

I get worried

she might lean in

for a kiss.

I

hear voices in the cracks of the walls,

Clawing their way to influence.

My mind is Tartarus and looks like

him too.

It burns hotter than scarlet fever.

My goldfish told me

To take my medication.

Muffling the words through loud bodies of

water.

I swirl it with my hands,

Watch the water pendulate.

He feels at home.

I put the pill to my mouth,

Hear it screaming,

By SAÓIRSHE O'NEILL

"Please, no

Don't eat me"

I flush it down the toilet.

Still screaming,

It has no hands to hold itself,

No nails to tear on the bowl.

Flush.

A swirl.

That's where the goldfish will go.

ANXIETY

By JORDAN GAINES

My mouth is open screaming,

Hands fisting at my hair

My chest is taught and sharp

Breathing between choked sobs

My pulse speeds up

palms cold and clammy

My eyes are filled with tears

Cheeks rubbed raw from the tears

I'm alone to drown

Drowning in the unknowns

The changes, the fear

It's overwhelming and alarming

I'm expected to brush it off

But they don't see

The silent screaming

Screaming for someone to see

To know

To tell me it's all going to be okay

BMDDIGITAL.COM

P

A

G

E

56

P

A

G

E

57

BMDDIGITAL.COM
---
CHAPTER

afterglow

AFTER

GLOW

"Hope is the thing with feathers that

perches in the soul - and sings the tunes

without the words - and never stops at all."

Emily Dickinson

BMDDIGITAL.COM

P

A

G

E

58

By FAITH MCKINNON
---
POETRY

POETRY

M U S I N G

My stub and stage watching the light changing

horizon,

from the ceasing day pursuing thoughts arise in.

Splendid sight by silver rising moon summer

ending,

thoughts that burst intellectual feeling.

Like silent streams become an exited river,

with falls that make tall trees quiver.

Some hidden path behind and deep cave,

the un-whispered tale of thoughts in rave.

In admiration of silent and intense,

By ROBERT RITTEL

stories from to soul to soul magnificence.

My hammock now suspended by other dreams,

lady Jane charms and subtle intervenes.

Some train in that sparkle firmament,

calls for more stimulus entertainment.

Being so far up high where no device can reach,

mentus corpus and its tragic impeach.

The art of dreaming illusion like a movie house,

and gently drifting into darker douse.

CONTAMINATED

I haven't seen another person's nose

in nine months. I barely recognize

myself without a mask on. The

algorithms have the same problem. My

bangs have grown out, my body has grown

thicker, my skin more paltry. I have

morning breath through the afternoon and

early evening. I am not complaining;

this is just how things are now.

By MADI GIOVINA

mayodia

By GUNA MORAN

O Mayodia heaven of bliss

Standing on the high snowy peak

I'll stretch out my hands towards

the white clouds of the sky and whoop

Oh Firmament

Let me blend into your horizon

Making lunar balls I will cuddle them close

Carefree I'll dance thrilled by the feel of snow

In the grand court of whiteness sorrow will sit by

Deep in my heart love will ripen

Taking a dip in the icy stream on impulse

I'll drink in the beauty of the Mayodia sky

With the sun moon and stars I will play

The smiling stars will take me around

The moon will flirt with me in her lap

The sun will keep the day mild with warm kisses

* * * * *

Note: Mayodia, which means "Shrine of Mother Goddess",

is known for its scenic beauty. It is located in Arunachal

Pradesh, with an elevation of 2,655 m, above sea level.

BMDDIGITAL.COM

P

A

G 60

E

By SOHYUN C

P

A

G

E

61

By SOHYUN C

BMDDIGITAL.COM
---
POETRY

PROSE

POETRY

Deus ex machina;

A god from a machine.

COGNITION

A nurse; a cog in a machine.

Forced to keep going,

Even when about to break down.

Overworked, meltdown, turn around,

And in a blink of an eye a life lost.

The machine is rigged.

A system that consumes people whole.

Protection; a word heard too often,

But not listened to.

Take time to take care, to be overcareful.

Protect them by protecting yourself.

Show that outer strength.

A disguise; unrecognisable and dehumanised.

The personal armour of PPE.

Blue plastic gloves holding your hand.

Blue plastic gloves shielding the face

Of a nurse chocking back a sob of sorry

That turns into a cough.

Uncle Jay working in intensive care;

Spread across twelve floors.

There is a flaw in the engine.

The intensity has become critical.

On his commute home, on the train,

He replays the trauma of the day.

Only to walk in the door to his husband

And slap on a brave face.

Tired eyes sagging under goggles;

Exhausted from personal risk.

Battle wounds indented his face,

And they won't fade because of crisis.

Huge numbers hit him hard.

Helplessly, striving to maintain

That NHS grit. It's hard.

By KATHERINE EBBS

Although he is thinking,

'I don't get paid enough for this!

This isn't what I signed up for.

They didn't teach me this in med school.'

He carries on – a keyworker.

He's dealing with the unimaginable.

A conveyer belt of bodies.

Some things you just can't speak about.

The sheer scale of suffering indigestible.

People just dying and dying and…dying.

Nervously acting.

Who gets the oxygen tank,

When seven people's breathing falters?

A patient moved across the country,

Just so they can breathe.

There's no time to take a sigh of relief,

Not with the night terrors.

Trapped in a cage with the water rising.

Beds constantly filling up and all are gasping.

There's no room for errors.

There's no room, full-stop.

A bed; a priceless possession.

He heals you, but he can't

Heal himself from this.

Death gives no lunchtime breaks.

Inner turbulence revealed;

Cracks finally break.

A face mask finally falls apart,

And there is no longer perplex left.

The fragile machine finally

Runs out of fuel.

It's running on empty.

A little girl finds her Mum crying

Whilst she dries her hair.

She said the hospital called.

Nan wasn't coming back.

She had broken on the phone,

And it wasn't the landlines fault.

Helen was sixty-four.

They didn't get to say goodbye,

Not even through a screen.

She was oblivious to night and day.

Cared for by scared strangers,

Who turned her over,

So her scarred lungs filled up

With air.

Turning, turning, turning,

Day after day.

But then her levels plummeted.

It's about what comes with a death too.

Each person with their own story.

Dignity plummeted.

They had to wear masks

To Helen's funeral.

On the way, they passed

Five ambulances.

The blue lights flashing fast –

A warning sign to others

Not to end up like them.

No hymns to be heard.

A silent desperation in the sunrise.

Red anger. Danger.

The last rays of her last days

Of the last sun.

The girl lay by her Nan's side

A bunch of purple heather.

Levels rising; it has reached its peak.

She isn't just another Covid statistic.

She is someone's relative,

Someone precious, someone who gave light.

It isn't right, that another line went flat.

She isn't just a line on a graph.

And the little girl murmured,

(When she told her schoolteacher

Her Nanny had died),

'That's a sad story isn't it?'

This bereavement was avoidable.

Boris takes a seven-mile bike ride.

Celebrities go to Dubai 'on business'.

Hancock plays footie.

There's blood on their hands.

Mass casualties caused by the Tories.

They chose to ignore, and merely applause.

They cut down on medical restrictions.

They made cuts and arrived far too late.

They chose capital at

The costly expense of lives.

Failing to lead as people fail to breathe.

You aren't forgiven.

We won't look away.

Conscripted to fight on the frontline;

It's your battle too, and right now,

You're fighting on the side of the enemy.

Colleagues working side-by-side.

Soldiering on.

Hooking up people to their new

Breathing machines.

When will those people wake up?

No one knows. The virus is real.

Wake up and see.

You sit and clap for keyworkers

As their reward.

But they can't hear you –

They're stuck on a ward.

A planet mourning

The life that could've been,

A life that was, and lives lost.

A reunion that will never happen;

The giant mourner.

It comes in waves.

How many waves will it take

Until it drowns you and

You can't come up for air?

The daily death toll; it isn't fair.

Death has taken its toll.

Tiers and tears.

Stop this from staying the same

For years and years.

Stop the dread of death.

Stop the invisible danger

From getting scarier and bigger.

Don't hesitate to do the right thing.

The NHS is our body of tubes.

Our life support is them.

We are all a cog in the machine;

We can't stop it from turning.

A god from a machine;

Deus ex machina.

BMDDIGITAL.COM

P

A

G

E

62

P

A

G

E

63

BMDDIGITAL.COM
---
POETRY

Chitralekha

By GUNA MORAN

H

aving painted on both eyes

suddenly vanished

Chitralekha the enchantress

She planted

in heart

the garden of Babylon

It is swaying

in heart

heavenly flowers are blooming

Everyday we hear

melodious calls of painted birds

You are the gardener

of the hanging garden

I know you won't come back again

Yet amidst the clouds

will be shining

the radiant smile of the sun

* * * * * *

(Original Assamese poem titled "Chitralekha")

Note: Chitralekha was the boon companion of Usha, the

daughter of the King Baan of the Sonitpur kingdom in

Assam (India) of the Mahabharata era. Chitralekha had

magical skills at painting and portraiture in particular.

By

By

ARUN

YONGJIN

PAUL

C.

KAPUR
---
POETRY

POETRY

MAYBE

THE NEXT

DAY

"Maybe the next week will be

better

Maybe the next month will be

better

Maybe the next couple of days will

be better,

Maybe tomorrow will be better. "

By SARAH SYED

T

he image echoed through my head

Playing in my mind like a recorder

As realizations dawned upon me

I took a glimpse at the mirror

And saw on the reflection,

My view of the world became narrowed by the walls I saw every

moment.

Subconsciously,

My dreams became emotionless

The sun was only the phenomenon of nature,

Nothing to help break free from the same old routine.

Remembering the Blue Jays song

Finding dark clouds part paint the sky

As the timid breeze breathes

Through the curls of my hair ee thoughts,

Sitting on Zoom,

Waiting in my room

Hoping for flowers to bloom

But everyday was nothing but gloom.

Subconsciously,

My dreams became emotionless

The sun was only the phenomenon of nature,

Nothing to help break free from the same old routine.

Remembering the Blue Jays song

Finding dark clouds part paint the sky

As the timid breeze breathes

Through the curls of my hair

The sound of the rocks and twigs crunch underfoot

Free thoughts,

Only one thought

Life was good.

Suppressed thoughts so rooms didn't become cluttered

And losing our minds isn't what people are afraid of nomore,

Because outlets are almost non-existent

As we lay in bed and feel grey

Echoes

Those are the echos during these arduous times

Arduous for the mind

Echoes

As the encapsulated borders of the world

Those are the echos during these arduous times

Have been shrunk to the depths of a tiny room

Arduous for the mind

Reflecting like surrounded by mirror paned high walls

Reflecting like surrounded by mirror paned high walls

Resulting in every turn,

But Having to repeat the same routine each day.

Where you run into yourself.

At least the calm voice has not slipped out the door

Because these are all echoes

To be a thin glass away from the outside world

But having to repeat the same routine each day.

Maybe the next week will be better

Maybe the next month will be better

Maybe the next couple of days will be better,

Maybe tomorrow will be better.

Like a grey and white painting from the olden days

It's confusing, all that used to be amusing

Simplest acts of kindness taken for granted

Simple smiles of strangers were taken for granted.

There at least is a calm voice

A voice that says to smile more

A voice that says count your blessings

instead of your loss

Months have passed

Days are passing

Minutes seem longer now

Each second past is a blessing

I know it's not easy but we can make it work

Just as long as you smile

Raise your head up high and smile

Life is still good.

A new mentality is what we need

An affirmation a day

Hope is always on the horizon

BMDDIGITAL.COM

P

A

G 66

E

P

A

G

E

67

BMDDIGITAL.COM
---
POETRY

POETRY

PROSE

S O N G

O F T H E

broken

By ISHITA GANGULY

I have lived in darkness,

I have been numb for years.

Yes, parts of me are still broken,

S O F T

H O R I Z O N

The breeze of silken dawn blew free,

scintillation of stars so many more to see.

Tide of time by flow in crystal serenity,

low blooming glistening deep alchemy.

Sparkling arches dispensing mirage,

eternal fountain flow of soul to soul courage.

Distinct dark blue sphere overhead,

vivid lights leaping in that grace of spread.

Realm of pleasance observing prime,

dazed vision unaware by the same.

By ROBERT RITTEL

The almightiest sensitive obscurities,

dewy dawn of timeless memories.

Gleaming wealth of open hearts confined,

longing richness in the garden of mind.

In sweet dreams and by soft gentle kiss,

eternal imprint of what we miss.

The light in that great presence and cope,

hands that feel like the glow in infants hope.

If you watch me close you can see those cracks.

My heart has bled so much,

It might never be healed.

Though I might appear quite sorted,

The truth is I have not yet been fixed.

PARALYSIS

Some nights my pillow is wet,

By SYLVIA BONILLOS

Some mornings I question my existence.

There are days I question my sanity,

As I keep seeking answers to unasked questions.

My tears laugh at me trying to write meaningful words,

I keep writing though I know my poetry is flawed

I still write.

I keep writing.

And I keep moving on.

I can feel it before I see it

This pressure on my body

This presence holding onto me

I force my eyes open and pray for emptiness

For nothing but warm air hugging me tricking

my sleepy mind

But it's there

A long wriggling centipede sits on my stomach

The long legs grip onto my thin blanket

Onto the skin of my neck and cheeks

It burrows into me through my ears

though my eyes

through my nose

through my mouth

and all I can hear is the tick tick tick of its legs

as it climbs

The body is never-ending

It just keeps going

deeper and deeper and deeper into my body

It runs around my stomach

and stirs my organs in the dark

It presses every bit of air from my lungs until

the pain is gone

Until the only movement is under my skin

Until the only sound is the wet gurgle of my

flesh being torn to bits

BMDDIGITAL.COM

P

A

G 68

E

By SOHYUN C

P

A

G 69

E

BMDDIGITAL.COM
---
POETRY

POETRY

A

By ARCHANA KSHATRIYA

By ANONYMOUS

SHAKESPEARE,

WILLIAM

By ALEX SHENSTONE

N

ow is the winter, so shaken as we are.

O for a Muse of fire before we proceed any

further.

Good morrow, two households,

You do not, in sooth, open your ears.

M

E

S

S

A

G

E

Darling I know the sorrows you bear,

Your fears and your nightmare;

Your silent sobs at nights alone

Don't you put that fake smile now,

To me they are all known.

But let me say a little about you

You are a warrior, a soul too true.

By ARUN PAUL KAPUR

You are brave in your battles at day

At nights you keep your demons at bay.

The world hurts you at every moment,

But you don't capitulate to its torment.

Who says you are a coward, a wimp?

You scale mountains even when you limp.

Know your worth, rise and shine,

Be You – the best version of mine.

-Your Inner Self

By ARUN PAUL KAPUR

Learning

TO LIVE

Who is there, amidst you, that would ascend?

By OSKAR LEONARD

You are both alike in dignity and well met,

Apparently.

But when you all then meet a man but frowns,

You are so wan with care.

I know not why I am so sad.

Hear me speak of our discontent.

Locked in a hot-pink bedroom—

blame my child self, the teen

covered the colour in posters—

I learned to live without losing.

No more failed conversations,

fizzling out. No following a vague

group around like a little lost lamb,

or a puppy, or a cliché.

Just group chats I could close,

a dog who always listened,

endless time to sleep and write

and love myself—finally.

It took being forced into four walls

to discover the soul beneath my skeleton.

BMDDIGITAL.COM

P

A

G

E

70

P

A

G

E

71

BMDDIGITAL.COM
---
By YONGJIN C.

BRIDGES

T

he sun leads the

way down the

street, deserted

b u t

for the

occasional stranger that

moves to the opposite

side when I pass. I cast

my eyes down when

they do, an unspoken

agreement. You can't

smile from behind a mask.

I keep my gaze

on my legs, almost alien

as they move in their back

and forth, back and forth

rhythm, wandering on their

own. When they stop, I'm

at the pond. The cattails

look just as surprised

to see me. They beckon

me forward either way.

The last time

my shoes grazed this

grass was in early March,

accompanied by two

pairs I haven't seen since,

except walking away from By ANONYMOUS

strained hellos and averted

eye contact when we

accidentally crossed paths.

The virus was just another

name on the news back

then, worlds away. It could

never touch us. Nothing

could. Not when we had the

entire world in our hands.

This little patch of

thin-branched trees and

an artificial pond, this was

where we were gods every day

until our parents called us

home for dinner. We waded

through the stormwater

tunnels and named ourselves

explorers, decorated logs we

hauled to the clearing and

named ourselves creators.

The shade of the willows

kept us immortal, and the

rainwater that dripped

from the honey locust

leaves was our ambrosia.

I reach the dip in the land

where water sits shining and still. The

sun stares back at me in the reflection.

PROSE

By THANISHA CHOWDHURY

One hop, and I'll have crossed it.

But that was our biggest problem

once, the six inch distance between

''Maybe our three shadows

under the willow trees

will meld back into one

someday. Maybe the world

will heal and we'll all be as

okay as we were when it

began.''

where we were and what we wanted.

So we made a bridge. We gathered

sticks and rocks and dug grooves into

P

A

G

E

73

the mud with old plastic spoons we

found littered around the bus stop.

Stupid jokes, afternoons bleeding

into evenings, and then we

were done. It was an ugly

little thing, but it did the job,

and we had made it, and we

had made it together. We

used it even on dry days,

just to feel the pride of our

own work beneath our feet.

And it was where we could

be without worries, dirt on

our hands, smiles on our

faces, before we all aged

decades within months. I

think of the waning group

chats and tight-lipped

smiles we give each other

now in passing. Do they

remember being twelve

and thirteen and in love

with feeling important?

I look over at the bridge,

overgrown with yellowed

grass and half-submerged

in rainwater. The strip of

bark we'd placed over it lies

on its side a few feet away.

I lean over and take it in

my hand, let the roughness

of it graze my skin.

Maybe I do want to stay

a kid forever. And maybe

it's even possible, if I fill

in the blanks around me

with bright enough colors.

Maybe change doesn't mean

drowning your creases and

tears in seas of gray. Maybe

our three shadows under

the willow trees will meld

back into one someday.

Maybe the world will heal

and we'll all be as okay as

we were when it began.

I place the bark over the

sticks. It lies crooked, but

that doesn't matter. The

thin wood shakes as I take

one step, then another,

and cross the bridge.

The water ripples under my

weight. I turn my face to the sky.

There's nowhere left to look but up.

BMDDIGITAL.COM
---
PROSE

POETRY

S H A T T E R E D

time

WINDOW

O F

D R E A M S

By HALLE PRENETA

By ROBERT RITTEL

When we are born, the crystal of time is formed, a purple crystal that

glimmers in the moonlight. The soft sound of bells plays in the background,

releasing all tension in your muscles as the crystal's edges prick your finger

on its sharp edge at every hour, reminding you of the inevitability of death.

On birthdays, the crystal gets smaller as people grow closer to their ends of

time, the color of the crystal fading as light gradually fades from your cheeks.

The smell of rotting flesh grows as the crystal shrinks. Your time is almost up.

You don't know if you just want the end to come or if you want the crystal to

come back. To regrow.

For your time to restart.

You frantically look around in the black synapse you find the crystal

in, the moonlight guiding you to reach out for anything that will make your

time restart. To make the crystal grow and for its color to come back. As you

frantically reach for anything around you, your bloodied hand knocks against

the crystal, causing it to shatter into pieces.

Like crystals, time is precious. We'll never know when we won't have

anymore left. You stare down at the shattered crystal as you feel your body

sink into the synapse you find yourself in, the moonlight soaking up your

dying soul.

Your time is up. You brought it upon yourself trying to restart the clock. Death

has its traps and you fell for them, now only existing in the void time calls

home.

The visions beyond the enduring crisp of

firmament,

wishes of ideal and escape into mental decadent.

Dreaming vacancies to the holy sane,

loving aspiration forever by gratitude of reign.

Childhoods play and magical thought wonderland,

where the impossible is the golden rule to

understand.

Enchanted places and many self that only oneself

really knows,

myriad of creatures in foreign worlds with all its

bestows.

Wonder of heroic wealth by its absolute power

trace,

image simulation molded and caught in

transcendental space.

Q U A N T I F Y I N G

an

ILLNESS

By SHIKSHA DHEDA

The dream weaver holds the levitating rotating

globe at hand,

destinies favorite muse conducting with the

magical wand.

The law of loves beauty in its own delicate

retrospect,

never looses its enchanting wonder and surprise

effect.

The castle of indomitable presence and sacred

ground,

the worst of worst for recuperation found.

Shared stories sensing itself to the turning point of

matter,

creating synchronized universes distinctive blue

and flatter.

Seeing clearly know for all makes perfect sense,

the tincture of spheres colliding with residue of

love immense.

(Formerly featured on NeuroLogical Blog)

254 days since I left my house.

At all.

255 days since I have petted my dogs.

619 days since I have given or received a hug.

2444 days since I watched a movie

At the cinema.

2460 days since I ate

in an actual restaurant.

2150 days since I have eaten takeout .

Pizza was the last, I think.

34 days since I have had a proper shower.

2 hours since I have washed my hands.

1.5 minutes since my last intrusive thought.

By FAITH MCKINNON

By ARUN PAUL KAPUR

By SOHYUN C.

BMDDIGITAL.COM

P

A

G

E

74

P

A

G

E

75

BMDDIGITAL.COM
---
By ANONYMOUS

Prose

A

PART

Exploring the

COVID-19 pandemic

through vignettes

By ANDREA BALINGIT

By ARUN PAUL KAPUR

March 13, 2020

[Redacted]

8 hrs

'See you tomorrow'—we didn't know

that was the last time we would see

our classmates and teachers.

Like Comment Share

[Redacted]

4 hrs

NO CLASSES, YES!!!

Like Comment Share

[Redacted]

3 mins

Us: school sucks

2020:

Like Comment Share

March 15, 2020

We would like to announce that

the graduation ceremonies of the

elementary department, senior highschool

department, and the colleges

have been suspended until further

notice following the Executive Order

released by the city government. We

ask for your understanding.

Sent 7:30am

March 20, 2020

"You're returning? But there's a virus

out there!" My mother said over

dinner.

"They'll surely impose

a strict lockdown. If not here,

then there," I added to no one in

particular before I filled my mouth

with a spoonful of fish and rice.

"I need to go to work. It'll be

over soon." My dad responded, not

raising his head from his plate. "I'll

get you and

the kids next

month, like

we planned."

He slurped his

soup.

April 4, 2020

"Did you get the food rations?" Our

neighbor asked when he passed

by the red gates that bounded and

separated our house from the others.

''It'll be over soon. I'll get you

and the kids next month, like we

planned..."

I looked up from my book.

My mom stopped sweeping

our front yard and stood straighter.

"No. They were giving out food

rations?"

"Yeah! 25 kilos of rice and

a handful

of canned

goods!" He

was clutching

a white plastic

bag against

his chest. "Ah,

these are the

canned goods. My brother carried

home the rice." He added when he

saw us staring at his bag.

"Where did you get it? How did you

BMDDIGITAL.COM

P

A

G

E

76

By ARUN PAUL KAPUR

P

A

G

E

77

BMDDIGITAL.COM
---
PROSE

POETRY

C O L L A P S E D

CONVERSAT

By ARUN PAUL KAPUR

By A.R. SALANDY

Ostracization can be cruel

But Nadz says that some 'peak' in high school,

I O

you know? No one told us."

The afternoon sun slit

through the trees that towered above

us.

"We were given a paper to

fill up earlier. You didn't get

anything?"

"No."

May 15, 2020

"Enhanced Community Quarantine

will be extended until May 30, 2020.

Anyone below 21 years old and

above 60 years old are prohibited

to go outside. Any person seen

outside without a valid quarantine

pass will be detained. Please follow

the protocols and guidelines

accordingly," the reporter for the

evening news narrated over a video

of a group of people sitting with

handcuffs on their wrists.

May 20, 2020

"Happy birthday, Daddy!" I pushed

my face into the phone's camera.

My father's video feed was

grainy but I could clearly see him

in his red crisp shirt, the empty

backseat of his car and a glimpse of

the steering wheel at the edge of his

video.

"What are you doing for

your birthday? Are you cooking

something?" My mother asked.

"Maybe I'll eat a burger."

I sat beside my mother.

"We'll make some spaghetti in honor

of your birthday, Daddy!"

"I'd love that."

June 6, 2020

"You sit around all day, doing

nothing. The least you could do is

come with me and help me buy the

groceries for the next two weeks.

Do you think I can do this alone? I

shouldn't be the one doing this but

I'm the only adult in this family. Do

you think you can do this alone? I

think not. Unless you want to starve,

stand up and stop complaining!"

July 7, 2020

How many months has it been? I

rarely get out, except those days

when I accompany my mother to buy

groceries. But I don't mind not going

out at all. I have always loved staying

inside but now… it's different. I get

lonely when I'm inside our house.

It suffocates me. Is it because I no

longer see the streets brimming with

people? Everyone is trying to bring

back the normality they had before

the pandemic. They chat, smile

and laugh. But there is something

hampering them, resisting against

them, and they are hopeless against

it.

I have never liked going

outside and I often avoid the crowds

but now I miss them. I miss the

events, the boisterous activities of

the city. I miss hearing the static

raucous noise of the malls, or the

chatter and shrieks of children

playing outside.

July 24, 2020

"Happy birthday, sweetheart!"

August 16, 2020

"I'm so tired! I'm tired of taking care

of three children on my own. I'm

tired of doing all the errands alone.

I have no one else to turn to. If only

you were here, it would have been

so much easier—no, don't tell me

you need to work. You could have

found work here! We could have

set up our own business, like those

online businesses today. They're

everywhere. We would have made it

work—no, you're too greedy. Are you

going to prioritize your—"

I rammed my earbuds in

my ears and set the music to the

maximum level, drowning out the

noise around me.

noise around me.

October 9, 2020

The Philippines has the most strict and

the longest lockdown in the world—the

radio chattered in the background as

I accepted my father's evening video

call.

"Daddy, when are you going

to get us?"

The country has recorded

334,770 COVID-19 cases, 275,307

recoveries, and 6,152 deaths.

"Daddy, I miss you."

Out on brick red grounds

Where taunts locked this body tight

In endless battle,

For lament as one does on action,

Only true planning

May succeed to break engendered fear

Grown on subtle propaganda

And teased with tokenism lofty,

For in muted academia

Can capitalist gain be seen to overtake

Any sense of victory I say,

But one can argue some are simply

Born cold hearted,

And in their predictions lose humanity

To jealousy and vain infatuations,

For some may rise to the fore

And some may gain meritocratic success,

But most remain jaded

In fantasies educational.

By FAITH MCKINNON

N

S

BMDDIGITAL.COM

P

A

G

E

78

By ANONYMOUS

P

A

G

E

79

BMDDIGITAL.COM
---
POETRY

POETRY

TO

By ARUN PAUL KAPUR

FIND

M E T H E

SUN

By SOPHIA KUNKEL

Find me the sun in the dead of winter,

As the sky blushes an ashy gray

and my thoughts dampen, splinter,

decay.

Find me hope in the middle of a pandemic,

As the world descends into torrential panic

And my mind fractures, dents,

I am purely volcanic.

Find me the sun in the dead of winter,

As the leaves curl under glisteningly dangerous frost—

To be imprisoned in my unceasing worry,

Is this what 2020 costs?

FEEL

By SYLVIA BONILLOS

The moon was gone today. It

left an empty hole in the sky.

Devoid of my bright friend and

the others that pass by. So I let

him in,

just to feel something.

Even if it was his icy hand

holding onto my bleeding heart

By VELIBOR BACO

By VELIBOR BACO

A dialogue with the

E V E N I N G

s t a r

By ROBERT RITTEL

Above the twilight faintest glimmer,

end-summer evening turning to reddish dimmer.

The lonely star of love in dusky shine,

into the ocean of faint and far to prime.

Some sensing of splendor in awe as trail,

soft gleam and tender wonder bale.

I bow my heart in humility,

"Speak to me; I want to know your secret",

a sweet voices spoke softly in spirit.

"My dear one, you are itself the art of love,

and the art to be beloved whom you adore".

"Reflections from heaven on to earth,

that turn earthly desires into spirits of faith".

"That freedom of space is found in the formless,

sparks, glance and dewdrop fortress".

"Your presence in that immensity of space,

shows me your majestic providence".

"The dimming of my light only in mourn,

when loving souls are in destinies storm".

"The opportunity in life becomes a great pity,

when realized a too late reciprocity".

"Thank you little star of mystic beginning,

and no ends in phenomenon mental spinning".

BMDDIGITAL.COM

P

A

G 80

E

P

A

G

E

81

BMDDIGITAL.COM
---
PROSE

Even Tragedies Need

REFLECTIONS

By OLIVIA LATHROM

Do tell me, 2020, why must you practice such evil tendencies?

You made this year a living hell for the world's participants,

and unearthed tragedies only bodies underground could

understand. As we stand, 2020, your time is almost up. Your older

counterpart, 2021, is about to take to the stage. And I believe I speak

for all of us when I say we hope next year is better. Quite honestly, our

standards are at an all-time low, my bar is on the ground. As long as

we don't greet the year with threats of a Third World War, I'll be swell.

I hope, 2020, that you've had your fun. You've packed unnecessary

events to create a historical masterpiece of a year, however tragic. But

we also thank you, 2020, for the year to remember. We learned things

about ourselves in the forced isolation, one of which being that online

school doesn't fly and too much time with loved ones drives you mad.

But we learned what it was to be connected in ways other than physical.

We singled out our true friends and learned that masks are not only

a fashion statement, they are a tool that saves lives. We learned that

ballots take forever to count and that movements can blow up within

hours, inspiring the world to change. We learned many things this year,

2020, and for that we are grateful. I simply ask that the new year doesn't

bring nearly as much anxiety.

BMDDIGITAL.COM

By VELIBOR BAĆO

P

A

G

E

82

P

A

G

E

83

BMDDIGITAL.COM
---
SHORT FILM

0:15

0:24

0:51

1:09

Short Film

2 0 2 0 : IT GETS

LIGHTER

1:34

"2020 : It Gets Lighter" encapsulates

the ups and downs of the COVID-19

pandemic through the medium of

film and cinematography."

1:39

1:44

By ARUN PAUL KAPUR

P

A

G

E

85

BMDDIGITAL.COM
---
WRITING

IS THE

GEOMETTRY

OF THE

SOUL

P L A T O
---
CONTRIBUTORS

CONTRIBUTORS

We are beyond honored to

showcase the work of many

talented photographers, artists,

and writers in our inaugural

issue.

Over 20 countries are

represented in our magazine,

including India, Japan, and the

U.S.

studying business

ISSUE TWO

studies as her majors.

Her country, her religion

of Islam, and her life

experiences have

Contributors

always been sources of

inspiration. As an only

child, her need to liaise

were turned into reading

and writing, which later

fostered her passion for

writing and generating

literary content.

POETRY

MP

ARMSTRONG

MP Armstrong is a

disabled queer writer

from the United States,

studying English and

history at Kent State

University in Ohio.

Their work appears

or is forthcoming in

Perhappened, Prismatica

Magazine, and Hominum

Journal, among

others, and their debut

chapbook, "who lives

like this for such a cheap

price?", is forthcoming

from Flower Press. Find

them online @mpawrites

and at mpawrites.

wixsite.com/website.

This piece reflects on

the news that Nokia and

NASA are joining forces

to establish 4G on the

moon, incorporating

that space will become

as suburbanized as

Earth--a terrifying idea,

since the suburbs on this

planet are scary enough.

VISUAL ART

VELIBOR BAĆO

Born 1985 in Bosnia,

Velibor came to Austria

as a war refugee. After

studying law in Salzburg,

Austria he worked in

the banking and law

field. Currently living

in Vienna, Austria he

paints abstracts and

writes German, English

and Bosnian poems and

prose texts.

PROSE

ANDREA BALINGIT

Andrea Balingit is a

student and writer from

the Philippines. She

started to write fiction

at the age of 15, but

only started to submit

her pieces to different

literary journals this

year. The pandemic

changed her life, leading

her to decide to take part

in the literary world and

bring with her stories

of her country. With her

piece 'A part', Andrea

shares a story that most

of her countrymen still

face today, but even

though they are all apart

due to the pandemic,

they will always be a part

of one community.

PROSE

WAFFA BATOOL

Waffa Batool is

seventeen-year-old

girl who belongs from

the city of light Lahore

situated in Pakistan.

She's in O'level 3

POETRY, PROSE

SYLVIA BONILLOS

Sylvia Bonillos is a young

writer, amateur poet,

artist, and the Editing

Director Internal for The

Young Writers Initiative.

Based in California,

she loves to help fellow

young writers and artists

through TYWI and its

various programs and

projects, including the

recent Winter Write-athon!

POETRY

DELILAH BRUMER

Delilah Brumer is a

high school sophomore

from California. She is a

student-journalist and

aspiring poet. When

not writing, she can be

found reading or playing

with her three dogs.

Follow her on Twitter at

@BrumerDelilah.

POETRY

ELIZABETH CORALLO

Elizabeth Corallo is a

high school student

and emerging writer

from New Jersey who

focuses on poetry, book

reviews, and short

fiction. She currently

runs a book review blog,

SeaglassBookNook,

and serves as the Co-

Summer Programs

Director at The Young

Writer's Initiative.

When she is not writing,

Elizabeth enjoys playing

tennis, hanging out with

friends, and drinking

way too much coffee.

VISUAL ART

SILENT CHEMICAL

This piece comes from

the artist Caitlin Sievers,

a young artist of African

American, Filipino, and

Norwegian descent that

takes pride in her ethnic

background. Throughout

her school years Caitlin

took time to hone her

art and find a way to

translate the trauma

experienced in all those

years into something

beautifully put onto a

canvas. That trauma

being what spurs her

inspiration has now also

become what can bring

on a sort of calm to her

mind as she continues

to further her artistic

journey with exploratory

pieces.

PROSE

THANISHA

CHOWDHURY

Thanisha Chowdhury is

a Bangladeshi-American

writer from Northern

Virginia. She is currently

in her freshman year of

high school. Thanisha

has been reading since

she could recognize

letters and writing since

she could form them

on paper. She writes

almost out of necessity,

since she often feels

that the words will

overflow out of her if she

doesn't. Her personal

essay "Bridges" is about

growing up and growing

apart from friends

during the COVID-19

pandemic, reflecting on

the afternoons they used

to spend at their local

pond. Thanisha hopes

that others will relate

to and be inspired by

her writing, and create

something marvelous of

their own.

POETRY

NICOLAS CORREA

Nicolas "The Withdrawn"

Correa is a multitalented

artists from

the Lower East Side

of Manhattan. He has

been writing for about

17 years, believing that

creativity in the arts

serves as his truest form

of self-care. He started

off as a kid writing

raps, poems and comic

books, and still has all

the art saved in a safe

place today. There's

no sign of imagination

slowing down anytime

soon, especially since he

writes every single day.

His piece, "Die Tired,"

was written and inspired

by Jhené Aiko's "Born

Tired" off of her third

studio album, Chilombo.

POETRY

SHIKSHA DHEDA

Shiksha Dheda is a

South African of Indian

descent. She uses poetry

(mostly) to express her

OCD and depression

roller-coaster ventures.

Mostly, however, she

writes in the hopes

that someday, someone

will see her as she is;

an incomplete poem.

Sometimes, she dabbles

in photography,

painting, and baking

lopsided layered cakes.

Follow her on Twitter:

@ShikshaWrites

POETRY

KATHERINE

EBBS

Katherine's love for

writing began just before

lockdown and helped her

get through the difficult

days. Britain is the place

she is most attached to.

She feels lucky to have

the NHS and recognises

that we must fight for

the people who fight for

us. Her poem is intended

to highlight the reality

of what is happening

that many people cannot

see. Her Uncle works as

a frontline nurse with

Covid-19 patients, and

her poem is dedicated to

him, his colleagues, and

all keyworkers.

POETRY

JORDAN GAINES

Jordan is a young teen

fiction writer from the

United States. Her focus

is primarily on dark

fantasy and fiction,

though she also enjoys

poetry. She grew up with

a small school that was

focused on sports, but

instead, she found solace

in writing. It is both her

passion and emotional

and creative outlet, and

is something that has

completely changed her

life for the better. When

she's not writing or

doing school work, she

enjoys baking, reading,

and sketching. Her piece

depicts the struggles

of anxiety during the

pandemic, and the

emotions that go along

with it.

BMDDIGITAL.COM

P

A

G 88

E

P

A

G 89

E

BMDDIGITAL.COM
---
CONTRIBUTORS

CONTRIBUTORS

POETRY

ISHITA GANGULY

Ishita Ganguly is a writer

from India. She is the

author of the book,

"Stories from the City

called Kolkata" and coauthor

of 3 international

anthologies. She has

written over 100 articles

on distinguished

platforms.

A double master's degree

holder, a corporate

professional turned

educator turned fulltime

writer, Ishita loves

the written word.

She is a book lover who

believes words have

immense power and

writers can make a huge

impact in the world!

POETRY

MADI GIOVINA

Madi Giovina writes

poems and stories.

She is a co-editor

for Backslash Lit,

submissions coordinator

for What Are Birds?

Journal and the founder

of Perennial Press. Madi

lives in Philadelphia with

her feisty cat, Shrimp.

PROSE

RAINA KOSHAL

Raina Koshal is

a Sophomore in

Highschool from

Chicago, Illinois. She

plays lacrosse, runs

a nonprofit which

equips at-risk youth

with essential learning

supplies, and, you

guessed it- loves to

write! Her favorite way

to channel her thoughts

and self-express is

through personal

reflections on current

BMDDIGITAL.COM

social issues and starting

a discussion within

her community. As an

Indian American, this

piece was written to

start a conversation on

the largely unexamined

topic of the anti-Indian

sentiment in Western

media and its effects on

our youth. Throughout

the piece, she shares

personal anecdotes

and illustrates many

viewpoints on the topic.

PROSE, POETRY

ARCHANA

KSHATRIYA

Archana Kshatriya is an

Indian poet and writer.

She began writing

poems at the age of 13 to

combat her battles with

her demons. Her poems

often explore the dark

side of the human mind.

For her writings she

firmly believes in the

principle "Keep It Simple

Silly" and endures to

make them easy to read.

Her poem "A Message" is

an acknowledgment of

the personal struggles

one endures and

conceals from others

with the fear of being

ridiculed.

Her piece "Democracy

is Fragile" looks closely

at the reasons for the

several protests taking

place world-wide.

PROSE

RAINA KOSHAL

Raina Koshal is

a Sophomore in

Highschool from

Chicago, Illinois. She

plays lacrosse, runs

a nonprofit which

equips at-risk youth

with essential learning

P

A

G 90

E

supplies, and, you

guessed it- loves to

write! Her favorite way

to channel her thoughts

and self-express is

through personal

reflections on current

social issues and starting

a discussion within

her community. As an

Indian American, this

piece was written to

start a conversation on

the largely unexamined

topic of the anti-Indian

sentiment in Western

media and its effects on

our youth. Throughout

the piece, she shares

personal anecdotes

and illustrates many

viewpoints on the topic.

POETRY

SOPHIA KUNKEL

Sophia Kunkel (she/

her) is a literature-lovin'

high school senior in

Pennsylvania with a

passion for writing. She

is editor in chief of the

newspaper at her school,

Marketing Director

for The Young Writers

Initiative, and co-owner

of a popular writing tips

account on Instagram.

When Sophia's not busy

with writing related

opportunities, she

enjoys picking up a good

book and sipping on a

piping hot cup of tea,

running cross country,

and hanging out with

her mini goldendoodle,

Bielka. You can find

Sophia at her website,

www.writing life.blog.

PROSE

OLIVIA LATHROM

Olivia Lathrom is a

fourteen year old lover

of everything writing.

She resides in the depths

of the Pacific Northwest

and stays true to the

stereotype that people

from Washington adore

the coffee and rain that

comes along with the

Evergreen State. Her

favorite author is Adam

Silvera and she passes

time by sobbing over

his books, listening to

musicals, reading, and

writing, of course.

POETRY

OSKAR LEONARD

Oskar Leonard is a

transgender selfpublished

author and

poet from the UK, as well

as a senior editor at The

Altruist and a poetry and

prose editor at All Ears

India. He has written

six books: three novels,

two poetry anthologies

and a novella. His pieces

have been featured

in publications like

FOURALL Magazine,

Take Care Zine, Ogma

Magazine, Fever Dream

Journal and The Young

Writers Initiative

Literary Journal:

Juvenile.

POETRY

DIARMUID Ó

MAOLALAÍ

DS Maolalai has been

nominated eight times

for Best of the Net

and five times for the

Pushcart Prize. His

poetry has been released

in two collections, "Love

is Breaking Plates in the

Garden" (Encircle Press,

2016) and "Sad Havoc

Among the Birds" (Turas

Press, 2019)

PROSE, VISUAL

ART

FAITH MCKINNON

Faith McKinnon is a teen

writer, logophile, lifelong

reader, unconventional

artist, athletic nerd, and

a passionate Christfollower

in the western

United States. She enjoys

soaking up sunshine,

life, and wild laughter.

She is a member of

Write the World, and

her favorite words are

sonder, meliorism,

anemoia, and ambedo.

Her piece "An Abundance

of Tasteless Tequila" is

based on author Erin

Morgenstern's idea

of snapping a photo

of a scene brimming

with stories to tell and

writing one possibility

for those stories in just

ten sentences.

POETRY

GUNA MORAN

Guna Moran is an

Assamese Poet and

critic. His poems are

published in more than

a hundred international

magazines, journals,

webzines, blogs,

newspapers, anthologies

and have been translated

into thirty languages

around the world. He has

three poetry books to his

credit. He lives in Assam,

India.

PROSE

WILL NUESSLE

Will Nuessle of the

United States holds a

third-degree brown

belt in ninjitsu, rides

a Harley, primary

caregives three small

boys and claims he

can recite the alphabet

backwards in less than

ten seconds. He also

writes occasionally; his

words have appeared

in Boundless Journal,

the Lothlorien Poetry

Journal, the premiere

issue of Portmanteau

Magazine and he recently

won second place in

Page Turner's Short

Poetry contest with a

drinking song about

dragons. His featured

piece is an excerpt from

a full novel; rest assured

something waits out

there for Jessie to find...

POETRY

SAÓIRSHE O'NEILL

Saóirshe O'Neill (she/

her) is a poet and short

story writer from

Mayo, Ireland. She is

currently studying

creative writing and

the National University

of Ireland, Galway. She

enjoys drinking copious

amounts of coffee and

listening to music. Her

work focuses primarily

on subjects of identity,

culture, and death.

Saoirshe's work has been

previously published

in the Neuro Logical

Magazine, the Fahmidan

Journal and the Vox

Galvia.

VISUAL ART

ARUN PAUL KAPUR

Enigmatic. Passionate.

Charismatic. Lover of life

and all truth that binds

us together. England

based from the city of

Wolverhampton, Arun

Paul Kapur is a mental

health advocate that uses

the arts to tell stories of

life. His love for poetry

and visuals aims to

raise the voices of the

unheard.

P

A

G

E

91

PROSE

HALLE PRENETA

Halle is from the US and

enjoys writing short

stories and poetry! She

gets her ideas from

random life experiences

and fanfiction. When

she's not writing, she's

either watching YouTube

or playing Animal

Crossing. She also enjoys

theatre, music, and

petting her cat and is

very passionate about

various social justice

issues. She's had works

published in The Hearth

Magazine, Write Now Lit,

and Tealight Press and

has works upcoming in

the B'K, Potted Purple,

Fahmidan Journal, and

more. Her Twitter handle

is @YaTheatreNerd and

you can check out more

of her work here: https://

medium.com/@halleee

POETRY

ROBERT RITTEL

Robert grew up in a St.

Franciscan orphanage

at Maria Laach, where

his schooling and

talents created an

apprenticeship to

become a chef.

Robert developed a great

sense for textures and

flavors with resonance,

while timing and

discipline proved

itself with given

responsibilities.

By 35 Robert met his wife

from South Africa and

operated a restaurant

in Franschhoek, the

Gourmet Capital in

South Africa.

A powerful new horizon

opened his spirituality

by being introduced to

Astrology.

The language of

symbolism and celestial

imagery fuels his

creativity and poetic

expression.

POETRY

A.R. SALANDY

A.R.Salandy is a mixedrace

poet & writer

whose work tends to

focus on social inequality

throughout late-modern

society. Anthony travels

frequently and has spent

most of his life in Kuwait

jostling between the UK

& America. Anthony's

work has been published

140 times.

Anthony has 1 published

chapbook titled

'The Great Northern

Journey' 2020 (Lazy

Adventurer Publishing)

& 1 upcoming Chapbook

'Vultures' 2021

(Roaring Junior Press).

Twitter/Instagram: @

anthony64120

POETRY

ALEX SHENSTONE

Alex S (he/him) is a

young, transgender

student and writer living

in the UK. He enjoys

writing in a multitude

of formats, including

poetry, prose and comic

book scripts, and enjoys

watching films and

TV shows on different

streaming services at a

constant rate. He likes to

delve into darker themes

and stories, whilst trying

to create poignancy to

make readers experience

something meaningful

and existential from his

writing. His piece here,

"Shakespeare, William"

is meant to be seen as

BMDDIGITAL.COM
---
CONTRIBUTORS

ABOUT US

a deconstruction of the

bard's language, leading

to a construction of

worldly contemplation.

He's on Twitter at @

AlexakaSatan.

POETRY

THEE SIM LING

Thee Sim Ling (she/

her) is a young writer

in Singapore who has

placings in several

competitions and has

been published in

Overachiever Magazine,

BAZOOF! and Skipping

Stones. She is also a

writer for websites

such as Gen Z Writes

and Plastic-Lite SG.

Being autistic with

mild scoliosis, she is

passionate about writing

about disability hot

topics. She is currently

addicted to puzzlesolving

and website

building. lucindathee.

com

POETRY

TOM STOCKLEY

Tom Stockley is a queer

artist, poet and activist

known on stage and

page as T.S. IDIOT. They

write about mental

health, identity politics

and the sadness and

small joys we find in

the cracks of every day

life. They cut their teeth

in the DIY punk and

queer communities of

the UK, and over the last

decade have performed

and published their

work everywhere from

national museums to

toilet cubicles.

POETRY

SHIKSHA DHEDA

Sarah Syed is an

enthusiastic activist,

public speaker, and

student researcher

who is eager to bring

a positive impact to

the world around her.

In her spare time, she

loves to write poetry

and short stories, which

have been awarded

at national level and

received international

recognition.She has

been published in two

youth books and in

London. She explores

many opportunities

in STEM and has been

awarded countless times

at school, regionally and

was a finalist for national

and international

competitions. Sarah

hopes to pursue a

career in pediatrics

while also advocating

for social justice and

environmental issues.

A SPECIAL

THANKS TO:

Our internal staff, along

with our community on

Twitter and Instagram,

who have relentessly

supported us, despite

the many obstacles we

faced with curating this

issue.

THe global youth review IS A literary

and arts MAGAZINE THAT is dedicated

to amplifying the voices of the youth,

especially those that are traditionally

marginalized.

THE

G L O B A L

Y O U T H

REVIEW

Founded in 2020, we use words as a vehicle

with which we unify and empower young

voices. Our mission is to combat divisive

narratives and bridge cultures, people,

and ideas together.

BMDDIGITAL.COM

P

A

G

E

92

P

A

G

E

93

BMDDIGITAL.COM
---
THE GLOBAL YOUTH

REVIEW

ISSUE II

JUNE 2021