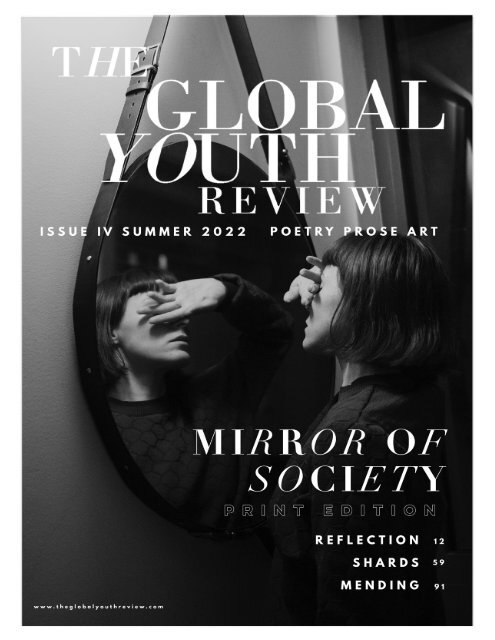 ISSUE IV: Mirror of Society
"Mirror of Society" is The Global Youth Review's fourth issue, which revolves around themes of social injustice, inequity, and inequality. We warmly welcome you into a space filled with riveting prose, poetry, and photography from creators across five continents. Designed by Sena Chang
"Mirror of Society" is The Global Youth Review's fourth issue, which revolves around themes of social injustice, inequity, and inequality. We warmly welcome you into a space filled with riveting prose, poetry, and photography from creators across five continents. Designed by Sena Chang
SHOW MORE
SHOW LESS
You also want an ePaper? Increase the reach of your titles
YUMPU automatically turns print PDFs into web optimized ePapers that Google loves.
PRESENTING ISSUE FOUR

-IV-

FOUR

-IV-

THE GLOBAL YOUTH REVIEW
---
2 0 2 2

ISSUE IV 2022 Y.

M I R R O R

O F S O C I E T Y

T H E G L O B A L Y O U T H

R E V I E W

EDITORIAL STAFF

Ibra Aamir

Dua Aasim

Abdulmueed Balogun

Sena Chang

Steven Christopher McKnight

Lisa Degens

Joshua Ellis

Zo Estacio

Ella Fox-Martens

Rowan Graham

Arianna Harris

Talha Hasan

Bianca J

Ziqing Kuang

Gabrielle Loren

Krittika Majumder

Ivaana Mitra C.

Shreya Raj

Avantika Singh

Helena V

Lake Vargas

George White

CONTRIBUTORS

Adrija Jana

Alex Shenstone

Anna Nixon

Anoushka Swaminathan

Arbër Selmani

DC Diamondopolous

Eneida P. Alcalde

Fasasi Abdulrosheed Oladipupo

Felix Otis

Halle Ewing

Ilana Drake

Jaiden A

Jen Ross

Katherine Ebbs

Leela Raj-Sankar

Mantz Yorke

Matt Hsu

Natasha Bredle

Oladejo Abdullah Feranmi

Ray Zhang

Rebecca Colby

Sandra Kolankiewicz

Sheeks Bhattacharjee

For advertising enquiries contact: theglobalyouthreview@gmail.com

Cover Art: Milada Vigerova

Magazine Designer: Sena Chang

P

A

G

E

5

THEGLOBALYOUTHREVIEW.COM
---
A table of contents and a letter from

the founder —

1

INTRODUCTION

Pulling back the curtains of

society —

2

REFLECTION

Shattered fragments that make up

the mirror of society —

3

SHARDS

Mending the shattered; healing from

the broken shards

4

MENDING

Featured writers and

artists —

5

CLOSURE

THEGLOBALYOUTHREVIEW.COM

P

A

G

E

6
---
TABLE OF

CONTENTS

THEGLOBALYOUTHREVIEW.COM | LITERARY MAGAZINE

8

EDITOR'S LETTER

WRITTEN BY SENA CHANG | A note of

gratitude to all editors, contributors, and

team members involved

17 GROWTH

WRITTEN BY NATASHA BREDLE | A freeverse

poem detailing one's growth after a

series of tribulations in life

22

THE VIRUS

WRITTEN BY ADRIJA JANA | A powerful

poem placing emphasis on the centuries-long

virus of racism

102

25

THE LOCKET

WRITTEN BY ILANA DRAKE | An bittersweet

free-verse poem focusing on

themes of loss and nostalgia

126 CONTRIBUTORS

A comprehensive list of all 23 contributors

of the magazine, with biographies that

provide further insight into their craft

70

72

88

95

77

THE MESTIZA

BURDEN

WRITTEN BY HALLE EWING | A story

grappling with themes of identity loss and

ostracization

BOTTLE BABY

WRITTEN BY MATT HSU | A short story

that describes a reality where babies are

sold, covering themes of racism, commodification,

and human trafficking.

WOULD RECOGNIZE

WRITTEN BY SANDRA KOLANKIEWICZ | A

poem focusing on the importance of individuality

in a world filled with preordained

assumptions

32 WED

WRITTEN BY JEN ROSS | A poignant story

highlighting the issue of child marriage

through the portrait of a young girl

60

LIFE IS A STAGE!

WRITTEN BY SHEEKS BHATTACHARJEE |

A critique of the growing disaffection and

disconnect present amongst members of

our society

JUDGEMENT DAY

WRITTEN BY JAIDEN A. | A piece exploring

the inadequacies and failures of the

modern criminal justice system through a

short story

COVER ART

The cover art for this issue used

a photograph taken by Milada

Vigerova. She can be found on

Instagram at @milivigerova.

P

A

G

E

7

THEGLOBALYOUTHREVIEW.COM
---
BY

SENA CHANG

Editor's

LETTER

T

here is no doubt that the modern

political system is shrouded by

corruption, cronyism, and nepotism—

all hidden within the everyday

idiosyncrasies of life. From Putin's unprovoked

invasion into Ukraine to the January 6th Capitol

riots that threatened the very concept of

democracy within the U.S., 2022 has blatantly

revealed the many inefficiencies and corruptive

structures present within the political system

that masquerade themselves as justice, equity,

and other morales. The many issues that plague

our politics and justice system have come out of

the shadows this year, demonstrating to us the

fragility and temporariness of democratic ideals.

Yet, many issues have still remained untouched,

hidden behind curtains that are rarely pulled

back in modern society.

In this issue, we set out to find bold

writers and artists unafraid to pull back

this rhetorical curtain—steadfast in their

commitment to speaking truth to power and

shattering traditionally hegemonic narratives.

Having closely read the works of each of our

contributors, I firmly believe that we have

achieved this goal through the powerful

storytelling of our writers and poets. Reading

through this issue, you'll see the braveness and

freshness with which these selected contributors

face societal issues such as child marriage,

racism, and commodification. These stories

collectively reach into a rawness and profundity

rarely found in today's society; these stories

plant a seed of hope within me that someday, our

society will stand upon the pillars of true justice,

equity, and transparency, instead of the distorted

definitions of these morales that we have created

in our world today. So, without further ado, I

warmly welcome you into issue four of The Global

Youth Review—a space abundant with talent,

rawness, and truth about the most pressing

matters facing us today.

THEGLOBALYOUTHREVIEW.COM

P

A

G

E

8
---
"writing

is the

geometry

of the

soul.

Plato

(429–347 B.C.E.)
---
Magazine

MIRROR

of SOCIETY

We warmly welcome you into The

Global Youth Review's fourth issue,

which focuses on what lies behind

the curtains of society.

By THE GLOBAL YOUTH REVIEW

THEGLOBALYOUTHREVIEW.COM

P

A

G

E

10
---
ISSUE IV

P

A

G

E

11

THEGLOBALYOUTHREVIEW.COM

BY ERICK BUTLER
---
CHAPTER

reflection

REFLECTION

" One of the most destructive things

that's happening in modern society

is that we are losing our sense of the

bonds that bind people together."

Alexander McCall Smith

THEGLOBALYOUTHREVIEW.COM

P

A

G

E

12
---
BY SNOWSCAT
---
CHAPTER

"...rocking gently back and forth /

in the wake / of our wasted youth,

lost..."

"Growth"

Natasha Bredle
---
BY JONATHAN CHEN
---
G R O W

T

H

G R O W

T

H

G R O W

T

H

WAS THE WORLD EVER MEANT

TO BE TOUCHED BY OUR

CALLOUSED HANDS?

Natasha Bredle

BY AARN GIRI
---
POETRY

GROWTH

By NATASHA BREDLE

Battle wounds displaced, we are

a myriad of lovers, seekers in/out of touch

with the world, but tell me

was the world

ever meant

to be touched by our calloused hands?

Purpled fingers, bleeding cuticles

charred nails that corresponded with

the fruit of our labors, dazzling shades of

sugar, citrus, everything

in moderation has never failed,

only we fail to see this

when we mistake more for more, or

less for more, or

either reciprocal.

Pursuing extremes, time slips

through the cracks of our fingers to leave us

rocking gently back and forth

in the wake

of our wasted youth. Lost

laughter, fostering lips abridged

dopamine receptors, abundant eyes

caged seeds, fertile which might have become

great forest trees destined one day to shade

a weary traveler, or merely

pump necessity into the atmosphere.

Recognition is the greatest gift

we give those unfulfilled possibilities of the past—

recognition, and a promise

to not fling the future behind us

in the same blind-sighted way.

The scars peppering our skin will remind us, striving

for our different path, intending

to see the sun that set too early

rise again.

We were birthed from the shadows.

We will not turn our ancestors into the enemy,

but allow their enlightenment to cascade

over us like the light of day:

barely perceivable, but overwhelming.

P

A

G

E

17

THEGLOBALYOUTHREVIEW.COM
---
POETRY

WAKING UP

AFTER A PANIC ATTACK

By NATASHA BREDLE

Invisible clouds of cotton

amass beneath your eyes, materialized

during the night perhaps to soak up those inconsolable tears,

and they did the job, but now your face

might as well have been in a fist fight, bulging bags

blurring your vision. But what is there to see

when all you feel is the aftermath

of your flight or fight perception?

The heat, the bile rising in your throat,

heart racing with palpitated rhythm. God, not again.

Forget, forget, forget.

But how can you carry on when the memory

lies just behind the bend, along with the certainty

of attacks planned ahead?

Look around you, look,

did the sun still rise? Can you feels its rays on your skin,

oblivious to the terror that rattled your bones

in the precedent hours of night?

Is the Earth still spinning?

Is your mother still driving to work at a school

whose hallways are patrolled by buff men

with tasers and badges?

Are politicians still hollering on the morning news program?

Are children around the world still huddling

in the dusky corners of their homes, sucking their fingers

until red welts appear?

Are men still pacing jail cells, running their fingers

along cold bars, struggling to recall the feel of sunshine?

Are boys and girls still waking up in emergency rooms

with their wrists stitched up like paper maché,

tasting air and realizing

they never wanted to stop breathing?

Yes, the answer is always yes.

You carry on when you keep moving.

P

A

G

E

18
---
BY ORFEAS GREEN
---
BY ANNIE SPRATT
---
POETRY

FEMININE

By ADRIJA JANA

If I wear my Father's shirt, do I become a boy?

If I cut my hair short, do I cease to be Feminine?

What is Feminine anyway?

Must Femininity stand with downcast eyes and cover her head?

Must Femininity lower her voice and sit in a particular way?

Must Femininity sweat in the kitchen and cater to the Man's every whim?

Must Femininity close her eyes, and cast aside every dream?

Must Femininity not protest for her due, a placard in hand?

Must Femininity not vote in a democracy, or as a candidate in an election stand?

If that is what Femininity is to you,

Then I'm sorry to say

I'm not Feminine

And you, my dear critic, are not suited to the present times.

And yes, I'm a girl

But I don't need to prove that

By wearing clothes you choose

By sitting the way you want me to

By wearing my hair the way you ask

If I wear my father's shirts, you say

People might start to think I'm gay

So what if they do?

I know myself

And for me, that's enough.

And being gay- that is not something bad

It's your thoughts that are caged in a box.

I don't need your validation, nor your advice

I choose to exercise my freedom of choice, my Right

And I don't need to be feminine for love

And I will not change myself

For those who truly love me

Will accept me for who I am.

P

A

G

E

21

THEGLOBALYOUTHREVIEW.COM
---
POETRY

THE

viRus

"It's an epidemic that been ravaging,

Not a year or two but for centuries now..."

By ADRIJA JANA

Icould be a mother, a daughter, a sister, a wife,

Or a father, a son, a brother, a husband,

I might be a little one that's yet to walk

Or established in my own job.

But none of it matters

For when you look at me,

My skin colour is all you see.

No, you're not too open about it

But oh so subtle!

And you did notice:

My skin tone is a shade too dark.

The way you shifted to the other end of the train seat,

The way you shifted the resume to the discarded pile,

Just by looking at the picture

Oh! you definitely did notice.

It's an epidemic that been ravaging,

Not a year or two but for centuries now

And the virus has now perfected its art.

No mask, no hand wash, no sanitiser

Can now stamp it out

Because it is now comfortably settled

Into the deepest recesses.

Of your heart, mind and soul.

Into the very stem cells of your brain

So that you see feel and act upon the skin colour,

And not upon the thought, merit or feeling

Of the person before you

And you and only you

Can root this virus from within yourself

Of course if you're willing.

THEGLOBALYOUTHREVIEW.COM

P

A

G

E

22
---
P

A

G

E

23

THEGLOBALYOUTHREVIEW.COM

By CARSON ARIAS
---
POETRY

I A M

THE MODERN

REINCARNATION OF OPHELIA

By ANNA NIXON

I am the modern reincarnation of Ophelia

And I will not be hearing you

If I am running down the road

And you wind your window down

to tell me to run faster

Take this lavender you bastard

I am the modern reincarnation of Ophelia

I was just picking up a fork

So why the f**k did you stroke my hand

Did you have something slightly less charming planned?

Take this clover, cuz your life is a sham

I am the modern reincarnation of Ophelia

And I will not be going near

A man who comments on the smell of my hair

As his breath moistens my ear

With god knows what disease

Take an ice plant because I hope you freeze

I am the modern reincarnation of Ophelia

And please don't ever make me fear

Opening messages when your name appears

Just in case, instead of a text it is

A sickening picture of your d**k

I am the modern reincarnation of Ophelia

And I just went for some fresh air

When you stopped me in the park to stare

And ask if I would gladly share

A better view of my bunda

Your flower's ten feet in the ground that I wish you were under

I am the modern reincarnation of Ophelia

And why would you tell me that you'll give

Me milk everyday cuz you know where I live

Stalking is not something easy to forgive

So take this foxglove, and garnish your morning milk with it

I am the modern reincarnation of Ophelia

On vacation I was chilling when

You grabbed my arse from behind

Thinking I wouldn't see or mind

Then turned to your friends and smiled wide

Take this ivy and eat it, it's deadly inside

I am the modern reincarnation of Ophelia

And don't scapegoat me cuz I'm not mad

I am the modern reincarnation of Ophelia

And the patriarchy is my controlling dad

Take the rose without the flower, cuz you're a prick

THEGLOBALYOUTHREVIEW.COM

P

A

G

E

I am the modern reincarnation of Ophelia

And I am beautiful but I don't need you to tell me that

I am the modern reincarnation of Ophelia

And I'm not drowning because of any lad

24
---
P

A

G

E

65

THEGLOBALYOUTHREVIEW.COM

By SAEED SIDDIQUI
---
RECOVERY

By NATASHA BREDLE
---
BY

NATASHA BREDLE

By LOGAN WEAVER

it is inexplicable

the handprints on my body:

one per thigh, face smothered, stomach marred

until

i lift up my hands and see the blood painting my skin.

the ancient scrolls say to cry out to the sky:

i returned your stars,

when will you shine on me again?

upon its muted response, the waiting commences.

throw in a dabble of sleepless nights, go searching

for estranged serotonin and when i repeatedly

turn up empty, may the realization emerge

that i have found other necessities,

such as

the words to describe this ambivalent recovery.

'better' is not the pellucid term they exalt it to be:

will i recognize you when we meet?

many welcome strangers have passed through here,

as well as the hostile, whose aura lingers

like a curated scent.

pressed wisteria or burnt candle wicks,

alluring, but with the capacity

of untamable destruction which i

have wrought on myself:

water, please wash away these crippling stains.

i promise i will not forget.

for now the handprints remain,

but the sky gives me solace. the blood

runs through my veins, hailed as remnant of the war.

P

A

G

E

27

THEGLOBALYOUTHREVIEW.COM
---
Poetry

on my

identity

By ANOUSHKA SWAMINATHAN

perhaps i am a demon

perhaps i am here, with my dirty claws and brittle teeth and mangled

hair

to ruin everyone's life

perhaps the reason that the way that i love upsets some is because

they are perfect and god-fearing and pure and devoted and nothing in any

way like me

perhaps the reason that my in-between, my out-of-the-box is so terrible

to some is because

i go against their nature

perhaps the reason that my skin, my history, என் மக்கள்* create such a

tangible hatred in some is because

we should have stayed in our own nation, browns and whites should not

mix

or perhaps those people are just overgrown bullies

who can't fathom the existence of those

different than them

perhaps i am the god, the monarch, the deva

perhaps my 'kind' should do what we want without taking into consideration

what will be said by a bigot

perhaps our demonic nature is just that to someone who has never left the

seat near their fireplace, staring into the flames with our imprints in their

gaze

*என் மக்கள், pronounced 'en makkal', means 'my people' in Tamil

THEGLOBALYOUTHREVIEW.COM

P

A

G

E

28

By VLADISLAVE NAHORN
---
P

A

G

E

29

THEGLOBALYOUTHREVIEW.COM
---
By VALENTIN BEAUVAIS
---
POETRY

What the Night

Means to a Refugee

WBy FASASI ABDULROSHEED

OLADIPUPO

Another room is ready to move my old memories

and latest griefs.

This is what I do all night, moving my childhood and

its mistakes, my womanhood

Before I become an outcast, moving my widowhood

into the night,

What used to caress me; soft full of songs, hard full

of sensation

And these taking spirits out of my body now, tiring

my existence.

A carb in my pajamas, every falling star like a child

who left without

Owning a name; I have named them all Ibrahim,

every moonless night

Like my husband taking away the light, like the

beginning of all these turmoil.

Every night is a new insurgent, a fresh war

somewhere in my head.
---
PROSE

Jen Ross

WED

"Nahla's mother...put her to bed

by herself to give Nahla the earthshattering

news: "Nahla, my dear,

you are going to be wed."

THEGLOBALYOUTHREVIEW.COM

P

A

G

E

32
---
By THATSELBY
---
PROSE

Staring up through the tall grasses at the clouds rolling by, Nahla

takes a deep breath, inhaling the fragrance of the date palms

swaying gently in the breeze above her. The scent reminds her of

afternoons playing in the fields with her brothers, and the sweet

date pastries her mother made a few weeks ago for her 13th birthday.

Savoring this rare time alone, lying still in the morning

tranquility, she digs her fingers into the earth beneath her, palming its

freshness, as if feeling it for the last time. Her brow furrows. She knows

today is the day everything will change. Today is her wedding day.

***

Nahla could usually be found in these fields, running around

playing games with her brothers, or sometimes with friends from

her village, Al Roda, on the banks of the mighty Nile River in Upper

Egypt. Her family lived on the outskirts of town, on a small plot that

received just enough river run-off to cultivate a variety of vegetables

and dates, which they sold at the village market. Along with her two

brothers, Nahla would help with the planting and harvesting, between

her studies.

Although it hadn't always been so, all three siblings had

attended school for the past few years. It was the part of her day that

Nahla looked forward to most. There, she could play jump-rope and

handkerchief games with her many friends in the schoolyard, and

they would tease and whisper to each other about boys whenever the

teachers weren't within earshot. But mostly, Nahla loved her classes –

science, history, and geography in particular – which made her dream

of what life was like in the world beyond her village.

She'd once professed that her favorite book was her geography

textbook – which garnered a chorus of laughter from her classmates

and an approving smile from her teacher. Nahla would often leaf

through it when she'd finished her schoolwork and was waiting for the

other children to finish theirs. Its glossy pages detailed the different

plants, trees, soils, and animals in Egypt and other countries around

the world. Nahla had memorized their names in both Arabic and Latin

– and yearned to learn more about how farmers managed their crops

in other countries. She hoped this knowledge could help her improve

her family's own way of farming.

This year, the harvest had not been good. Many of the plants

were diseased and the rains were getting fewer and farther between,

which meant ever more frequent trips to the receding riverbed to fetch

water. Beyond the dates and vegetables they farmed, her mother and

father had struggled to put food on the table as there was no money for

milk or meat.

Her parents always seemed to have worried looks etched

across their faces. But that didn't stop Nahla's father from telling them

bedtime stories about ordinary men whose hard work and persistence

would be rewarded with bountiful harvests and riches beyond their

wildest dreams. While her brothers always looked on wide-eyed,

arguing about who would be richer when they grew up, Nahla just sat

silently, wondering why her father never talked about ordinary women

getting rich.

A week ago, Nahla's mother had exceptionally come

THEGLOBALYOUTHREVIEW.COM

P

A

G

E

34

By FILIPP ROMANOVSKI
---
PROSE

to put her to bed by herself to give Nahla

the earth-shattering news: "Nahla, my

dear, you are going to be wed."

Although it was common for girls in

her village to marry young, Nahla had

hoped to be one of the lucky ones who

managed to marry later.

"Mother, no! Please! I want to

finish school!" she protested.

"That might be possible," said

her mother, frowning and looking at

the floor, "but it will depend on your

husband's wishes."

"Why now?" pleaded Nahla.

"Can't we wait until I'm older, like

cousin Mona? She was 18."

"I am afraid we cannot," said

her mother, no longer trying to hide the

pain on her face. "You know the harvest

has not been good this year. There is a

man from Minya who is willing to pay a

good sum."

The words were piercing.

Nahla suddenly understood what it

must feel like to be one of those goats

at the market, and paraded around to

fetch the highest price for their masters.

Staring at her mother

intensely, she took a deep breath to

stop herself from saying something she

would regret. Then her face softened

and she sighed. She knew her family

was in need. After a long pause, she

reluctantly asked: "Who is he?"

"Well, we know he works in a

bank and he is a very respected man."

"How old is he?" was Nahla's

next question.

"Does that matter?" asked her mother,

defensively. "It has already been

decided and your father has made

the arrangements for a customary

wedding."

Nahla stirred, her eyes betraying the

fear brewing inside. Faced with her

silence, her mother finally responded:

"He is 33 years old."

Nahla gasped audibly. Ever

since the day the blood had appeared

in her panties, she had feared that her

life would change in ways she would

not welcome. It had been almost a year

since that day and she was now 13.

P

A

G

E

35

THEGLOBALYOUTHREVIEW.COM
---
PROSE

She kept repeating the man's

age in her mind: 33. That was

just five years younger than

her father. How could she

marry a man 20 years her senior?

What would they have in common?

What would she possibly speak to

him about? She had seen girls in

her village marry older men. Those

girls looked so sad all the time.

***

A few days later, it came

time to meet her husband-to-be

and his family. It was a Thursday

afternoon and her mother and

aunts hurried her into the house

after school and began brushing her

hair, applying make-up for the first

time, and dressing her in an

elaborate gown.

When Nahla caught

a glimpse of herself in a

mirror, her mouth dropped

at the sight of herself in the

long bright pink dress beaded

with intricate flowers. It was

stunning. She ran her fingers

along the silky fabric, circling

the crystalline flowers.

"It is a gift from your new

family," her aunt Hiba whispered.

When Nahla looked up to

inspect her face she almost didn't

recognize herself. Her eyes were

rimmed with dark lines and her skin

looked much whiter than usual. She

touched her cheek and felt a faint

powder.

"Do not touch!" barked

her aunt Hiba. "You will ruin your

makeup. It is time to go."

Her family rushed her into a car she

didn't recognize, with a driver who

shuttled them to a neighborhood

closer to the city. As Nahla stared out

the window, the houses grew larger

and more well-kept by the block.

She tried to imagine the face of her

husband-to-be. Might he be a goodlooking

man? What if he looked like a

goat? Would he be a nice man?

They finally pulled into

the driveway of a large two-story

white house, trimmed in bright blue

paint, which was believed to protect

against the 'evil eye'—a curse cast

by an envious glare. Although Nahla

had never been superstitious, she

couldn't help thinking to herself that

she really didn't need such protection

now, for who could possibly

envy a girl getting married at 13?

Her parents walked her to

the arched patio entrance, followed

by her aunts, who had come in

another car. Just past the gate, a crowd

of people Nahla didn't recognize

was greeting one another excitedly.

When she arrived at the front door,

an older couple who looked about the

age of her grandparents greeted her

'' ...who could possibly

envy a girl getting married

at 13?"

warmly.

"Nahla: meet your new

parents," announced her mother,

smiling widely.

"Hello," said Nahla

tentatively, unsure of what else to

say to these strangers she was now

expected to call 'parents'.

"Welcome to our family,"

said the older woman, extending

her arms, which were adorned in

thick gold bangles, and pulling her

in for a hug. Nahla got a brief whiff

of her strong rose-like perfume

as the woman proceeded to usher

her inside the house, steering her

towards an elegant long white sofa.

"Please sit."

There, Nahla waited as her

father came to stand next to her, and

a bearded man wearing a black suit

approached from the other side, to

stand and face her father.

"I would like to formally

ask for your daughter's hand in

marriage," the man said, in a low,

husky voice.

So, this was her husbandto-be.

Nahla examined his dark,

piercing eyes, high forehead, and

long nose. He was not particularly

attractive, but neither was he ugly.

He was tall and looked older than her

father, perhaps because of his beard.

He did not shift his gaze to make eye

contact with Nahla as she stared at

him.

A bushier-bearded Imam

entered the room and began speaking

of how the Prophet Muhammad had

honored his wives.

"Men should

honor women and women

should serve and honor their

husbands."

As he said this,

several women nodded

approvingly, while Nahla

gawked. How unfair was it

that women also had to "serve",

rather than simply honor their

husbands? she thought to

herself.

The Imam proceeded to

ask the man if he would follow this

advice. He nodded. Then he looked to

her father, who also nodded to show

he accepted the marriage proposal.

Then he sat down next to Nahla on

the long sofa, while the groom sat

on his other side. Another man she

did not recognize appeared with the

Islamic holy book, the Qu'ran, and

handed it to her father. The bearded

man then placed his hand on Nahla's

father's and they read the Fatha

passage in unison.

When they had finished, the

man stood before Nahla, and for a

split second, he met her gaze. It was a

fleeting glance, but with an intensity

that frightened her. Then he took

her hand and mechanically placed a

golden band on her right ring finger,

handing her a larger ring in her left

THEGLOBALYOUTHREVIEW.COM

P

A

G

E

36
---
By KATERYNA HLIZNITSOVA

P

A

G

E

37

THEGLOBALYOUTHREVIEW.COM
---
THEGLOBALYOUTHREVIEW.COM

By JOEYY LEE

P

A

G

E

38
---
PROSE

hand. After an awkward pause, he

motioned for her to place the ring

on his finger. Nahla blushed and

took his thick, hairy finger, fumbling

with the ring clumsily. She'd never

touched a man's hand who was not

a relative. Applause soon rang out

from the dozen or so guests.

Moments later, a belly

dancer decked in gold sequins

emerged and began swaying her hips

to the ever-quickening beats of two

drummers behind her. Meanwhile, a

few women dressed in blue smocks

entered, offering the guests trays

of fruit and flower-scented sweets,

which Nahla declined. She could feel

her stomach churning.

"Fares! We are so happy for

you!" called out an older woman that

Nahla did not recognize. So, that was

his name: Fares.

"We thought you would never settle

down," laughed the woman, who he

quieted with a stern look.

The party went on for hours,

without the newly engaged couple

exchanging a single word. When it

was time for Nahla to leave, Fares

simply cocked his head politely.

On their way home, Nahla's father

was the first to break the awkward

silence, saying: "What a wonderful

party. I think this will be a good

family."

Nahla did her best to muster a smile

but could not bring herself to speak

the entire drive home. Staring out

the window, she circled the sparkly

pink flowers adorning her dress, and

silently shed a tear.

***

Nahla did not see Fares

or her new family again before the

wedding.

One evening, all the women

and girls in Nahla's extended family,

and three of her closest friends from

school, descended upon her house

for Laylat Al-Hinna – a customary

party to decorate the bride's hands

and feet with henna the night before

the wedding.

There must have been at

least 50 women and girls gathered

there to celebrate and wish her

well. It was the first time a couple

of her school friends were visiting

and Nahla felt a little embarrassed

by her modest two-bedroom home

with sparse furnishings. But her

mother-in-law had brought some

fancy hanging decorations to liven

the place up, and even her normally

stuck-up friend Sanaa didn't seem

out of sorts.

"Remember all those

times we acted out tales of princess

maidens and dragons at recess?"

Saana reminded Nahla. "Now you

will get to live your own fairytale!"

she said, batting her eyelids

dramatically.

The pair had been school

friends since kindergarten, although

By ALEX CHAMBERS

their parents were not. Nahla's

mother once told her that Sanaa's

family was "too high class for her".

Strange, Nahla thought, that her

family was suddenly open to her

marrying someone from that class.

Nahla's aunt Maryam, ever

eager to be the center of attention,

took it upon herself to do the henna

painting. She began by tracing a

delicate floral pattern surrounded

by curvy, intricate designs around

her wrist. The henna looked black

and raised at first, but Nahla knew

that when it was ready, it would leave

a temporary brown die for several

weeks.

The girls plucked dozens of

sweets from stacked, shiny plates.

They laughed themselves silly while

playing games, then danced and

sang songs. Meanwhile, the mothers

and older family members clapped

and took turns smoking a shisha

pipe. Nahla lost herself for a while in

the joy of the henna party, reveling

in the rare congregation of females.

She sighed and sat back to savor the

feeling of safety, and love she felt in

being at the center of such warmth

and attention.

"You are so lucky to be

getting married," crooned her

10-year-old cousin Dina, who had

always been close to Nahla, mostly

because she defended her against

an older brother's teasing. "What a

dream come true!"

Reminded of what was

to come, Nahla smiled awkwardly,

feigning excitement. She didn't want

to seem ungrateful or reveal her

feelings of impending doom. She was

to wed the following day. After going

to bed late, she barely slept a wink

that night.

***

The next morning, Nahla

lay still between the tall grasses near

her home, staring up at the sparse

clouds and savoring the tranquility

and her last hours of freedom – the

last hours of the life she had always

known.

Although she could hear

voices calling for her in the distance,

she dared not move. Perhaps if she

stayed here, hidden between the

grasses, her family wouldn't be able

to find her and the wedding would

have to be called off. What if she just

rested here for a while? She was so

tired and her eyelids felt heavy…

Nahla had no idea how

much time had passed when her

P

A

G

E

39

THEGLOBALYOUTHREVIEW.COM
---
PROSE

mother found her and angrily pulled her from the field.

"Nahla, how could you? We were looking everywhere for you! The wedding

starts in an hour! We need to get you dressed; we need to do your hair; we need to

get to the groom's house…" her mother shrieked.

A dozen frenzied women crowded around her to dress and make her up –

her aunt Hiba chastising her for the dirt beneath her nails and the grass in her hair.

Meanwhile, Nahla tried to keep her eyes closed so tears wouldn't be shed.

The venue was Fares' home again, which now looked like a flower shop –

splattered with dazzling bouquets of pink peonies, cream-colored roses, and salmon

dahlias. Nahla had been wowed by the engagement party decor, but this display

was lavish beyond what she could have imagined. She bit her lower lip nervously as

Fares appeared by a raised table in the courtyard.

Clutching the protective arm of her father, Nahla took slow and careful

steps toward him. Beads of sweat were forming on Fares' forehead and he fidgeted

with the sleeves of his fancy black tuxedo. Nahla had barely looked at the beautiful

white gown she was wearing, but now noticed that it was so long she nearly tripped

over it in her tediously high silver heels.

As she reached Fares, he carefully lifted the thin transparent veil that hung

over her face, running his hand gently over her forehead as he did, his first act of

tenderness.

Fares and Nahla's fathers stood next to them, placing their hands together

and a religious official man, called the shaykh, covered their hands with a white

handkerchief while he read a passage from the Qur'an. He had them repeat a couple

of words and then he removed the handkerchief – which made the transaction for

Nahla's hand official. Nahla had watched this done before, at her cousins' weddings,

but witnessing her father gift her away in this fashion, under the guise of religion,

left a deeply unsettling feeling in the pit of her stomach.

This ritual was followed by an eruption of music. The clanging tambourines,

blaring trumpets, and pounding drums were loud enough to compete with Nahla's

racing heart. The couple was surrounded by guests as the procession began. The

band performed traditional wedding songs and the women wailed in high-pitched

ululations.

The new bride and groom slowly made their way towards a

flower-laden stage set up with two chairs, where they were to greet their guests

and pose for photographs. As they sat, without speaking, Fares handed Nahla an

envelope and a small golden box which he motioned for her to slip into her purse.

A few of Nahla's friends and cousins approached to pinch her knee, for

good luck in their own hopes of being the next to marry.

The ceremony was everything a customary Muslim Egyptian wedding was

meant to be.

The party ended late into the night and Nahla was exhausted, nearly falling

asleep several times. Fares led her to a bedroom in what was now her new home

and laid her on the bed. Then, he began slowly undoing the buttons of her wedding

dress. Gripped with fear but not wanting to offend him, Nahla pretended to be

asleep.

After removing her dress, nudging, and turning her over a few times, Fares

seemed to give up and quietly left the room. Despite her exhaustion, Nahla could not

sleep for several hours, out of fear that he would return to her bed in the middle of

the night. As his wife, she would now be expected to "serve" him, in all ways.

***

Three months later, when Nahla came home to visit her parents, they could

hardly recognize her. Her hair was disheveled and there was no longer any spark in

her eyes.

THEGLOBALYOUTHREVIEW.COM

P

A

G 40

E

By HISU LEE
---
P

A

G

E

41

THEGLOBALYOUTHREVIEW.COM
---
PROSE

By CAMILA QUINTERO FRANCO

Nahla did her best to stay

positive despite her stormy new

home, reminding herself to be

grateful that she had no want for

food or shelter, nor did her parents

and brothers.

She learned to play dominos

with her father-in-law and tried

to get to know the servants. In her

mind, she would replay memories of

happier times – of Eid celebrations

at her grandparent's house, of the

rotten lettuce fights she'd have with

her brothers during harvest, or

of her dragon-slaying days in the

schoolyard with Sanaa.

A few months later, Nahla

began feeling tired and nauseous.

When she didn't bleed at her normal

time of the month, her mother-in-

She sat down with them.

"Mama, papa…," she said,

with tears welling in her

eyes. "I want to go home!"

Taken aback, her father

asked: "Why? What is wrong?"

"I haven't been to school

since the wedding," lamented Nahla.

"I miss my classes. I miss my friends."

"Yes dear, we understand.

That is natural," interjected her

mother. "But this is a new life stage

for you."

"Fares doesn't speak to

me," she continued. "He only seeks

me out when he wants to take me to

the bedroom to have his way with

me. And… he is not gentle. He hurts

me!"

Nahla's father took a deep

breath and shook his head. Her

mother looked at him, searching for

a reaction, but he seemed at a loss for

words.

She held Nahla by the hand

to comfort her. "I am so sorry."

Hearing her, Nahla's father's

pained expression turned to a scowl

and he sat upright: "Unfortunately,

this is the way things are. You must

obey your husband. Your marriage

was necessary."

Nahla looked down at the

floor, then up and around their

now-well-stocked kitchen – at the

meat, her mother was preparing on

the counter, at the pitcher of fresh

milk on the table. Her family was no

longer struggling to make ends meet.

But why did her happiness have to be

the price?

***

law accompanied her to the doctor's

office.

They sat silently in the

waiting room. Far from being like

a 'mother' to her, Nahla considered

her more like an overseer, always

barking orders at her, as though she

were one of the servants. She never

showed Nahla any love or tenderness

and would turn a blind eye when

Fares yelled at her. And Nahla was

sure she could hear her cries and

screams from the neighboring

bedroom, but she did and said

nothing.

But today her mother-inlaw

looked oddly happy, and even

tried to hold her hand, which Nahla

retracted after feigning a sneeze.

The doctor asked Nahla

several questions before having

her lie down on a large reclining

table. He wheeled over a machine

and placed a cold, jelly-like goo on

her belly then gently ran a rounded

plastic wand over the goo. Suddenly

the sound of static came from the

machine – almost like what you

would hear when switching between

radio stations – and then a light

thumping sound.

"There it is!" said the doctor

THEGLOBALYOUTHREVIEW.COM

P

A

G

E

42
---
PROSE

By JAKAYLA TONEY

said to her mother-in-law. "That is

your grandchild's heartbeat!"

Nahla's eyes bulged and she

stopped breathing.

The doctor looked down at

"This [fright] made sense—she

was only 13, petite, and barely

had a woman's body."

her and said: "Congratulations dear.

You are going to be a mother!"

Her look of sheer confusion,

followed by panic, made it obvious

that this was not welcome news to

her, so the doctor addressed her

mother-in-law for the rest of the

visit.

After he had finished with

the machine and handed Nahla some

paper towels to clean up the goo, he

took her mother-in-law to a corner

of his office and lowered his voice to

a whisper. Nahla tried not to crinkle

the paper so she could overhear and

was able to make out: "there are risks

because she is so young".

Still trying to process the

idea that there was a baby growing

inside her, the thought that there

could be risks because of it frightened

her even more. This made

sense – she was only 13,

petite, and barely had a

woman's body. She looked

over at her mother-in-law

and the doctor – wishing

she could scream out loud

that she wasn't ready to be

a mother. Not yet. Not now.

Not with Fares!

She had seen other

young mothers in the neighborhood

and they always looked so forlorn.

Nahla had always imagined it was

because they couldn't continue with

school. But now she knew it must be

more than that. They'd be stripped of

their choices in every way.

The thought of it all

triggered a deep resistance to what

was happening inside her. Babies

were cute, yes, but she had no clue

how to change diapers or feed a baby

or make them sleep. She had played

dolls, sure. But a real tiny human

that she would be responsible for

was something completely different.

P

A

G

E

43

Now, more than ever, Nahla longed

to be back home playing with dolls

instead or running around in the

fields with her friends, going to

school, and simply enjoying her own

childhood. Not a child raising a child.

Before they left the doctor's

office, Nahla's mother-in-law

hugged her for the first time since

the wedding.

"Nahla, thank you! We are

so thrilled that you are bringing us a

grandchild!"

Lost in thought, Nahla

smiled unconvincingly but said

nothing.

***

Seven months later, Nahla

awakened to intense pain in the

middle of the night. Fares ran for his

mother as Nahla lay panting in the

bed. Fares was yelling and looked

frightened. The baby wasn't expected

for another month.

He carried her

briskly to the car and they arrived at

the hospital within minutes. By that

time, Nahla was crying from the pain.

It is unlike anything she had ever

felt. It was like magnified menstrual

THEGLOBALYOUTHREVIEW.COM
---
PROSE

cramps but with her insides being squeezed out.

The nurses and doctors hurriedly strapped a band around

her arm that inflated and squeezed her. Saying something she couldn't

understand about her blood pressure, they wheeled her into a closed

room. Something was terribly wrong.

As the pain intensified unbearably, she started screaming.

Overcome by flashes of cold, then hot, then terrifying dizziness, Nahla

fainted. Foam began frothing at her mouth as her body started to

stiffen and shake violently.

Once Nahla had stopped seizing, the doctors prepared her for

an emergency c-section to remove the baby. They injected the base

of her spine with an epidural to numb her lower body and told her to

look in the other direction while the surgeon began cutting through

the layers of skin and muscle beneath her panty line.

The smell of blood almost made her vomit and her head

began spinning anew. Nahla lost consciousness again just as the baby

was emerging.

***

When she regained consciousness, the room was quiet and a

doctor was standing nearby speaking to Fares and her mother-in-law.

Relieved that the intensity of the pain has passed, and by now anxious

to meet the child she'd been growing inside her all these months,

Nahla searched the room for her baby.

Noticing that she was awake, the doctor came to her bedside.

Speaking in a hushed voice, he said: "Nahla, I'm glad to see you are

back with us. You nearly died."

Cringing, Nahla closed her eyes and thanked Allah that she

had survived. Then her thoughts quickly turned to her baby.

"And my baby? Is it a boy or a girl?" she asked, expectantly.

The doctor hesitated, looking over at Fares and his mother,

who gave him a nod.

"I'm so sorry but your baby died during the birth. Its oxygen

supply was cut off and…."

After the word 'died', Nahla did not register anything

else. The baby she had so dreaded having a few months ago had become

a part of her as it had grown in her belly. Although she still resented

her age and lack of choice in this pregnancy, she had come to accept it,

even growing excited and imagining what her baby would look like. She

was eager to give it a name and to dress it in the tiny doll-like clothes

she had picked out herself.

"Oh, and it was a girl," added the doctor, as he left the room.

A girl. Of course. Nahla had always imagined it would be.

A baby girl with curly black hair and big, beautiful brown eyes. She

had secretly wished it would be so, even though she knew her family

wanted a boy. They always did. Surely they wouldn't be as disappointed

as they would have been, had she lost a boy.

As Nahla stared at her deflated belly, for a fleeting moment, she wished

that she too would have died with her.

***

Nahla decided to name her baby Alya, which means "from

heaven" in Arabic. She held a small ceremony with her parents to bury

THEGLOBALYOUTHREVIEW.COM

P

A

G

E

44

By JESSICA FELICIO
---
PROSE

her body in the fields near her parents' home. Fares and

her in-laws had tried to had tried to convince her not to

do so and did not attend. But it was better that way.

As Nahla's body slowly recovered, her heart also

began healing from the pain of losing her daughter. After

watching her lie listlessly in bed for weeks on end, at

the insistence of Nahla's mother, Fares had allowed her

to join a village support group for women who had lost

children and husbands.

The support group helped Nahla grieve and

open up to others about her experience. She even

made friends with another girl, with whom she vented

her frustrations and confided the difficulties she had

at home with the husband she so despised. She also

secretly began taking English language classes after

the support sessions with one of the women who was a

teacher. This reignited Nahla's thirst to return to school

and learn about the world beyond her town.

A few months later, at a follow-up medical

checkup, Nahla's doctor explained everything that she

had been too distraught to hear that fateful day: that

Nahla was very young, which carried certain health

risks for her and for the baby. He explained that she

had developed a blood pressure condition called

pre-eclampsia that sometimes kills women and girls

during childbirth. She had gone into labor more than a

month early, which was common with young expectant

mothers, but the baby's organs had not fully developed

yet, and the baby suffered a critical loss of oxygen during

her seizure.

With an indifferent expression, the doctor

reassured Nahla that if she waited a few years, the next

time would likely be easier.

Next time? By now, she was 14 and the last thing

she wanted was to go through that experience again!

Nahla sat fuming, her mind flooding with a

thousand ill thoughts that she was not allowed to voice.

She thanked the doctor and left the clinic with her

mother-in-law.

"Do not worry. You will succeed next time.

Perhaps it will even be a boy," her mother-in-law

reassured her.

The words felt like a punch, deep in her

abdomen. Nahla darted her mother-in-law a stinging

look before getting into the car. But as they pulled out

of the parking lot, Nahla realized that her mother-inlaw

was right. If she stayed in this hollow life with Fares,

history would repeat itself. She would be expected to

produce an heir, no matter what the toll on her body or

her happiness.

And it was with this realization that Nahla resolved to

leave – no matter what the consequences.

After a long silence, she asked: "Would you

mind dropping me off at my parents' house? I need to

talk to them."

P

A

G

E

45

THEGLOBALYOUTHREVIEW.COM
---
T

THEGLOBALYOUTHREVIEW.COM

By GEORGE CHATZHMHTROU

P

A

G

E

46
---
PROSE

DC Diamondopolous

The Bell

OWER

"Born and raised in Montgomery,

Reverend Penniman had a hard

time staying relevant, what with

tattoos, body piercing, rap music,

not to mention homosexuals

getting married and reefer being

legalized..."

P

A

G

E

47

THEGLOBALYOUTHREVIEW.COM
---
THEGLOBALYOUTHREVIEW.COM

By ALI BERGEN

P

A

G 48

E
---
PROSE

Reverend

Langston

Penniman sat on the edge

of his bed, stretching his

black fingers. Everything

had either twisted up on him or

shrunk except his stomach. Once

six-foot-five, he now plunged

to six two, still tall, but not

the imposing dignitary he

once was standing behind

the lectern in front of his

congregation.

His parishioners aged,

too. So hard nowadays to

attract the young, he thought

standing from the bed he

shared with his wife of fiftytwo

years. His knees cracked.

He'd gotten his cholesterol

under control, but at seventyfive,

his health headed south

as his age pushed north.

Born and raised in

Montgomery, Reverend

Penniman had a hard time

staying relevant, what with

tattoos, body piercing, By SHANE HOVING

rap music, not to mention

homosexuals getting married

and reefer being legalized.

For a man his age, changing

was like pulling a mule uphill

through molasses.

The smell of bacon

and eggs drifted down

the hall. He heard the

coffeemaker gurgle. How

he loved his mornings with

the Montgomery Daily

News—not Internet news—

something he could hold in

his hands, smell the ink. He

even enjoyed licking his fingers to

separate the pages.

Off in the direction of the Alabama

River, he thought he heard a siren,

not far from his church.

"Breakfast ready," Flo shouted

from the kitchen.

Flo was the sweetest gift the Lord

ever bestowed upon a man. Oh, he

was fortunate, he thought, passing

her picture on the dresser bureau

and the photo of their three boys and

two girls. Proud of his church, he was

even prouder of their five children.

Three graduated from college, all of

them respectable citizens.

"It's gonna get cold if you don't

'' There's a girl up on the

bell tower of your church.

Says she's gonna jump,'' the

black officer said.

come and get it."

"I'm a comin. Just let me wash up."

The siren sounded closer.

The Alabama spring day was

warmer than usual. At nine in the

morning, it was headed off the

charts, as the kids say nowadays.

Reverend Penniman washed and

dressed. At the bureau, he brushed

back the sides of his white hair, his

bald crown parted like the Red Sea.

When his kids teased him about

looking like Uncle Ben, he grew

whiskers just as white. His boys

joked he looked like Uncle Ben with

a beard. He chuckled. He would have

preferred Morgan Freeman.

"I'll feed it to the garbage

disposal if you don't come

and get it."

"I'm a comin now, sweet

thing."

He heard the siren turn

the corner at Bankhead and

Parks.

Reverend Penniman

looked at the cell phone lying

on his dresser. He'd yet to

master how to get his thick

fingers to press one picture

at a time, or type on that itty

bitty keyboard. He couldn't

even hold it in the crook of

his neck.

He hurried down the hall.

The floorboards of the fiftyyear-old

house creaked just

like him. Not quite shotgun,

his house did have a similar

layout what with add-ons for

the three boys.

The siren was upon them.

"Lord have mercy," Flo

said as she put the food on

the table. "That sure sounds

angry."

"Sure does. Let me take a

look," the reverend said from

the kitchen's entrance.

He went to the living room

window and saw a police car

pull into his driveway, the

siren cut-off. Two uniformed

police officers, one black, the other

white, got out of the cruiser and

headed up his footpath.

He opened the door.

"Are you Reverend Penniman?"

"I am. What's the problem?"

"There's a girl up on the bell tower

of your church. Says she's gonna

jump," the black officer said.

"Good Lord!" Flo cried, standing

behind her husband.

P

A

G

E

49

THEGLOBALYOUTHREVIEW.COM
---
PROSE

By JONAS JAEKEN

"Let me get my keys," the reverend

said.

"No time, sir. Come with us. You'll

get there faster."

Flo took off and came back with

"Reverend Penniman felt like

he was up on that bell tower,

on the edge, with his arms

stretched out..."

the reverend's cell phone. "Here

baby. I'm gonna meet you there

soon as I shut down the kitchen. You

should at least have your toast. I can

put it in a baggie for you."

"No time," he said as he hurried

out the door with the officers.

Reverend Penniman sat in

the back of the car with a screen

separating him from the policemen.

"Who is she?" he asked.

"Don't know," the young white

officer answered.

"What's she look like?"

"Black teen, skinny, baggy pants,

chain hanging from the pocket,

hoodie pulled over a ball cap."

"Akeesha."

"You know her?"

"Like one of my own." The

reverend looked out the

window as the car pulled

away. He clasped his hands

together and said a quick

prayer for the troubled girl.

Lord, help me help her, he

repeated to himself. "Did

she ask for me?"

"No."

"How'd you find me?"

"Your name is on the

marquee of your church."

"Oh, right."

"I'm Officer Johnson," the older

man said. "This is

Officer Perry."

Officer Perry reached

forward and turned

on the siren. The noise

deafened everything,

including the pounding

of Reverend Penniman's

heart.

They drove toward

downtown Montgomery

along the banks of the

Alabama, the RSA tower

soared above the city's skyline.

The speed limit was forty. The

reverend guessed they were doing

twice that. His right knee pumped

like the needle on Flo's sewing

machine.

The siren screamed. The lights

blinked and rotated flashing red and

blue on the hood of the car. Reverend

Penniman felt like he was up on that

bell tower, on the edge, with his arms

stretched out, his body holding back

the weight of all his parishioners

who had wept in his arms.

At the corner of Graves and

Buckley, the cruiser slowed, the

siren cut-off. Officer Johnson made

a right turn. People rushed along the

sidewalk their cell phones pressed

By DYNAMIC WANG

THEGLOBALYOUTHREVIEW.COM

P

A

G 50

E
---
PROSE

By JULIA KADEL

against their ears.

Halfway down the block, Reverend

Penniman saw more people standing

outside his church than he ever had

inside. A fire truck parked in the lot

with men unloading a ladder.

The police car jumped the curb

and drove to the side of the brick

building. He saw Greaty, Akeesha's

great-grandmother in her burgundy

wig, mussed like a tornado whirled

through it. She cupped her black

hands on the sides of her mouth

screaming and crying at the roof. Her

pink housecoat hung open revealing

her cotton nightie.

Before the car came to a stop, the

minister jumped out.

Greaty saw Reverend Penniman

and ran to him. "You get my baby off

the roof, you hear, Reverend? She

done gone and have a meltdown."

"We'll get her down. Just craving

attention like all teenagers."

"She cravin' nothin' but death. She

gonna jump. She all I have!"

He ran to the front of the church.

Greaty followed. The reverend

gasped. "Good Lord." Akeesha

teetered on the edge of the bell's

shelter. Her baggy pants flapped in

the breeze.

Two firefighters carried a ladder

to the roof. They propped it against

the gutters.

"Get away," Akeesha screamed.

"I'll jump, you try to get me." Her

voice carried over the mob.

"I know the child. I can get her

down."

"Don't think so, Reverend."

The minister turned to see Officer

Johnson standing beside him. "Then

why'd you get me?"

"It's your church. I thought you'd

be younger."

"I'm young enough and I'll get

her down." He gazed up at the girl.

"Akeesha!" he shouted using his

pulpit voice. "I'm coming to you,

child." He sprinted around the side

of the church, to the back, amazed

at how his body complied with his

will. Officer Johnson's leather holster

crunched with each matching stride.

Akeesha had broken the frame of

the door and busted in.

"If I have to cuff you Reverend, I

will," Officer Johnson said.

"You really want to save this

child?" Reverend Penniman asked.

"I've known her since she was four.

I'm the only father she's ever known.

Now you let me do my business."

He pushed open the door when he

heard car wheels on gravel.

"Langston," Flo yelled out the

window. "Where do think you're

going?" She slammed the driver's

door.

"Good Lord, woman, I don't need

you pestering me too."

Flo ran up to her husband. "Officer,

you arrest this man if he so much—."

"You gotta save her . . . she's

my baby—she all I have!" Greaty

screamed coming around the corner.

"Calm down," Reverend Penniman

said.

Greaty wiped her face with the

sleeve of her house coat. "She never

been so upset. She so angry. Them

girls who beat her up. Them punks

who tried to rape her."

The reverend looked at Officer

Johnson. "Get all those people away

from the front of my church. And

tell those firemen to take down the

ladder."

"I'm the one in charge here,

Reverend."

"How about we get Captain

Martinez?" Officer Perry asked.

"They can secure the reverend

with a rope and harness." Before

his superior had a chance to argue,

P

A

G

E

51

THEGLOBALYOUTHREVIEW.COM
---
"The reverend glanced at the

Alabama River. The spectacular

Montgomery skyline was like a

masterpiece God painted."

By DC DIAMONDOPOLOUS

By SVETLANA GUMEROVA
---
PROSE

young Perry ran off.

"Thank you," Reverend Penniman

shouted.

"She a good girl except for her

sin," Greaty sobbed.

Flo put her arm around Akeesha's

great-grandmother.

"Flo, take her to the car," Reverend

Penniman said. "I'll be okay."

"Keep him safe, Officer. Don't let

him do anything foolish," Flo said as

she led Greaty away.

Reverend Penniman heard the

whirling blades of a helicopter.

"Good Lord. A child's life is at

stake and this is turning into

a circus," he said entering the

back of his church.

"How'd she get up to the bell

tower?" Officer Johnson asked.

"There's a room with pulleys.

A stairway curls around leading

up to the bells." Reverend

Penniman could kick himself

for letting Jake show Akeesha

the inside of the tower.

Officer Johnson shot up the

stairs.

"Wait! You can't go that way.

You'd come out behind her. I

swear, man. You let me handle

this my way or that girl is going

to die."

Officer Johnson turned on

the landing.

The reverend had him in an

eye-lock. "Please," he said, not

used to the sound of the word or the

helpless feeling that it carried.

"Why is she up there?" the

policeman asked.

"She's a homosexual."

"My brother's gay," Officer Johnson

said.

The minister watched how the

cop's eyes captured a memory,

something powerful enough to

soften his features.

Reverend Penniman climbed the

fourteen steps to the landing. He'd

always been proud of his bell tower,

right now he'd wished his ancestors

never built it.

Officer Perry returned with

Captain Martinez and a boyish

looking black man. Both men held

gear as they took the steps in three

strides.

"Well Johnson, your call," the

captain said.

"We'll feed Reverend Penniman

below her, on the roof."

"Thank you."

The reverend led the men around

a corner to a loft with stairs to the

church roof.

By JAKUB PIEROZYNSK

"Got your Nikes on, I see,"

Martinez said. "Good."

"Now put that contraption on me

and let me out there."

The firefighters held the harness

for the reverend to step into. They

hooked the cloth rope to the straps,

gave it a tug jolting the reverend

backwards, then tossed the rope

to another man who waited below.

"Side-step going down the incline.

It's not steep, but we got you no

matter what."

"Get rid of the ladder and the

lookyloos. And stay well below. I don't

want her knowing you're around."

"We'll be down on the first

landing," Captain Martinez said.

"I've had enough talk, gentlemen."

Reverend Penniman took the steps

to the roof praying as he went, for

Akeesha, for Greaty, but most of all

for himself. That he'd say the right

thing, be sincere, because Akeesha

had the gift of honesty. He prayed,

asking the Holy Spirit to fill him with

wisdom.

The door to the roof was ajar. He

gently touched it. He felt the rope tug

the harness. The door swung

open.

The roof slanted and leveled

out several feet down. The area

around the tower was flat.

He smelled the fumes from

the asphalt as he stepped

sideways onto the shingles,

planted himself and managed

the incline. He took his time

placing his right foot, then his

left, and held for a moment.

He did it again until the roof

flattened out.

Applause and shouts broke

out. "Get back!" Officer Johnson

shouted. "Everyone!"

The reverend glanced at the

Alabama River. The spectacular

Montgomery skyline was like a

masterpiece God painted. Then

he looked below. He saw the

van of a local TV station, the

helicopter off in the distance;

the crowd herded across the street

by young Perry, and so many cell

phones held up to the bell tower it

looked like Beyonce held court.

He heard sniffles, then crying.

"Akeesha. I'm here to talk, child."

"Won't do no good."

"Well, I didn't climb all the way up

here thinking it wouldn't do no good.

You and I have a way together, now

don't we?"

"Prayin' don't work. I'm still gay."

"No reason taking your life." He

thought back to the convention when

one minister said, let the gays kill

themselves.

P

A

G

E

53

THEGLOBALYOUTHREVIEW.COM
---
PROSE

We need to protect our children. Only problem with that was

all the molesting he knew came from men with little girls.

He left those conferences feeling tired and old, the same

men year after year with their stale jokes and self-righteous

rhetoric. He felt trapped by the old ways and frightened by the new.

"Everyone knows. It's on Facebook." Akeesha whimpered." My

girlfriend broke with me."

Reverend Penniman made his way around the side of the bell tower

feeling the tug of the harness. He looked up at the teenager.

Her hoodie covered all but the bill of her ball cap. She wiped her

tears with the black leather band she wore on her wrist. "I wanna die."

She inched forward to the lip of the shelter. Her hand left the arch.

"No!" Reverend Penniman yelled his arms stretched out as if he

could catch her.

The crowd oohed.

He moved slowly around the tower until his back was to the mob.

"Sit on the ledge baby."

"I'm goin to hell when I die. Bible says so." Her voice quivered.

"Greaty found out. Said I'd bring shame on her house—more than my

mama in jail. Said a woman's body parts were made for a man to make

babies." Her voice trailed off.

"Greaty loves you, child. She's running around screaming and

bossing, telling us to get her baby off the tower. You hear me, child?"

He watched horrified as she balanced herself on the rim of the tower.

A slip and she would die.

"They callin me a freak."

"Sit down now. We need to talk."

"Jump faggot!" someone hollered across the street.

Reverend Penniman looked back at the crowd. Officer Johnson

grabbed the man. Perry hauled him away.

"They all stupid." Akeesha sobbed.

"We can work this out."

"Don't dish with me, Reverend. Talkin's no good," she shouted.

He lifted his head up to see her lip quivering. "Can be," he said.

"I'm goin to hell. Might as well get it over with."

"Now, don't talk like that." He thought of all those times they

knelt together holding hands. Their eyes shut tight, the way Akeesha

repeated his words to rid herself of the sin of homosexuality. When

they were through, her face was wet with tears. He'd never forget how

she'd wipe her fingers several times across her jeans like she'd been

holding hands with a leper. He knew then she'd yet to be cured.

He talked to his daughter about it. Rose told him the gay people she

knew said they were born that way. She told him his generation treated

the Bible like a deli, picking and choosing what to live by, who to hate

and the nonsense of fearing God. His conversations with his middle

child made him reflect. That's all it did. He loved his children equally,

but Rose had the gift of benevolence.

"Akeesha."

"What?"

"You jump, I'll try to catch you. Then I'll die trying to save you. You

know that'd make Flo mighty mad, child." He took a careful step back

to get a look at her face. She gazed out at the Montgomery horizon. Her

calm scared him.

THEGLOBALYOUTHREVIEW.COM

P

A

G

E

54

By MICHAEL OLSEN
---
PROSE

He remembered the first time Greaty

brought her to church. She was four,

always carrying her dump truck and

running it along the pews. During the

sermon, she'd nestle into Greaty's

bosom, thumb in her mouth. Her short

hair braided. When she got older, she

sang in the choir. For extra money she

gardened around the church. He'd take

her to McDonald's afterwards. They

talked. She was a good girl—even if she

did look like a gang banger— thoughtful

and quiet, never swore, didn't do drugs.

But she suffered at school. It showed in

her grades, and she finally dropped out.

He was the only man in her short life,

and she clung to him like a daddy. Her

great grandmother looked after her like

a one-eyed cat watching two rat holes.

She ain't goin to end up in jail like her

mama, or dead like her granny. She

gonna be respectful, yes, indeed, she

gonna be a fine woman when she grow

up.

"Akeesha," he said with a stern voice.

"You want to give Greaty a heart attack?

I told you how worked up she is."

"She always worked up."

"She loves you."

"Quit lyin!" She spread her arms out.

"I'm not lying. You've seen her

below. Running around. Now you hold

onto that post." The noon light threw

no shadows. The wind rippled his shirt.

He felt the sun beating down on his bald

spot. "God loves you."

"Then how come we pray to change

me?"

"Cause you wanted to be like other

girls. Remember? I'm not a psychiatrist.

Praying is all I know."

Reverend Penniman took out his

handkerchief and wiped his brow. In

the 1980s, he buried a young man who

died of AIDS. He'd never forget how

his boyfriend threw himself on top

of the casket crying and shouting the

dead boy's name. He never thought

homosexuals had feelings until he

witnessed that young man's grief.

"We prayed to make your life easier.

So you'd be happy."

"Didn't work. My life be easier if

P

A

G

E

55

THEGLOBALYOUTHREVIEW.COM
---
By SAM BARBER

THEGLOBALYOUTHREVIEW.COM

P

A

G

E

56
---
PROSE

people left me alone."

"You're probably right, child." The

reverend wiped his mouth with the

handkerchief and put it in his pocket.

Even if his heart struggled with what

he was going to say, perhaps he

could save her. "Maybe God made

you perfect the way you are," he said,

thinking of Rose.

"You lyin so I don't kill myself."

"No child. I'm saying it cause God

has a reason for you being here."

He heard sniffles. Then he saw her

skinny hand swipe across her face.

"Oh baby, come down and let's have

a good cry together."

He watched for any movement

from her feet.

"Quite a view up here," he said,

trying to sound casual. "We live in a

beautiful city. Don't you think?"

"I wanna go to California."

"Now, why would you want to

do that? What about Greaty?"

"What about her?"

"Girl, I'm getting a crick in my

neck looking up at you. I haven't

eaten today. At my age, I'm on a

schedule, and I get awfully tired

if I'm hungry. We can talk better

down here. Sit behind the tower.

Alone. I want to talk to you like a

grown-up."

"I am grown up." She shifted and

pulled the hoodie off her head so it

fell around her neck. "Jalissa broke

with me. Who gonna love me?"

"Child, there's a whole lot of

people in the world. There's got to be

one just for you."

"You not being honest." She tugged

the hoodie back up. "You wanna boy

to love me. I don't wanna boy."

"Darlin baby, I admit I don't know

much about such things. All I know

is that I love you, and that love is

greater than any judgment I cast

upon you." He hesitated, and thought

about the words that flowed out of

him so effortlessly. It sounded like

something coming from Rose's lips,

not his.

He looked up. "Akeesha!" Where'd

He circled it fearing she jumped from

the other side. "Akeesha!" he cried.

He didn't dare to take that part of

the roof. The slant angled too steep.

He felt weak, a little dizzy but his

adrenalin rushed. He went back the

way he came, the harness tugging.

Sweat poured into his eyes.

The door to the roof creaked open.

"What you wearing Reverend?"

Akeesha stood in the archway.

"Lord have mercy, child!" His

heart felt like a bowl of confetti.

Instead of fearing the worst, she had

climbed inside the tower and took

the stairs to the roof. "You could

have answered me when I called. You

done scared the daylights out of me,

child."

"What you mean, your love greater

than your judgment?" Akeesha asked.

"Oh, oh, my darlin baby—we

"No child. I'm saying it cause

God has a reason for you being

here." He heard sniffles."

should enjoy this magnificent view of

our city and thank the good Lord for

the beautiful child that you are."

"I'm not beautiful."

"In God's eyes and mine you are."

"You lyin'."

"I swear on my sweet Flo's life."

"Then why we waste all that time

prayin when I'm already okay?"

He caught a glint of the stud that

she wore in the center of her tongue.

"You not as smart as you think,

Reverend."

Reverend Penniman let out a

hearty laugh. "Well, I'll tell you a

secret, Akeesha, I don't have all the

answers. Sometimes I have to make

it seem like I do or no one would

come to my church."

"They won't come anyway, lyin and

all."

He thought about what Rose

said, how the young have turned

away from religion. "You know

my daughter, Rose? She'd agree

with you. You know she's studied

in India. Traveled the world. Says

God is always expanding—not

sure what that means." He walked

slowly toward the girl. "You know

something, Akeesha?"

"What, Reverend?"

"You taught me something." His

voice fractured. "You taught me,

child. And I'm truly grateful."

"Taught you what?"

"Can we sit here, for a minute? I'm

really tired." He slid down the wall.

The harness grabbed at his thighs as

he sat.

Akeesha walked like she'd been on

the roof a hundred times, maybe she

had, he thought. She sat next to him.

"You taught me to accept you."

He slowly pulled the hoodie down

so he could see her face. "I've

always thought of you as one of

my own. Flo, too."

Akeesha took his gnarled old

hand. She spread each of his

fingers to include hers. He felt

love in her fingertips.

The confetti in his heart flung

out over his beloved Montgomery.

It showered like a vital rain. "I think

there's only love in God's house," the

reverend mused. "So much of life is

good."

"Can we go to KFC?"

Reverend Penniman smiled.

"Not McDonald's? We always go to

McDonald's."

"No. KFC."

"Sure enough. My treat," he said. "I

could take you to a fancy place where

we sit at a table with a white cloth

and linen napkins. We can order ribs.

They have finger bowls with water so

our hands don't get all sticky. Eat as

much as we want."

"No. KFC," she said, standing

and holding her hand out for the

reverend to grasp.

P

A

G

E

57

THEGLOBALYOUTHREVIEW.COM
---
BY VITALIY ZALISHCHYKER
---
CHAPTER

shards

SHARDS

" There is one, and only one, thing in

modern society more hideous than

crime namely, repressive justice."

Simone Weil

P

A

G

E

59

THEGLOBALYOUTHREVIEW.COM
---
By TESLARIU MIHAI

Prose

a

JUDGEMENT

D Y

"My freedom flies away

like a hawk disappearing

into the night sky."

By JAIDEN A.

By TESLARIU MIHAI

Imagine

wavelengths

of colour striking the

surface of my skin as the

bright light slowly enters

my eyes. The sun caresses my face

with its warm, unwavering, gentle

hand. My eyelids flutter as the light

extends its arms, softly opening my

eyes as it unveils the world around

me. The gentle serenity of the sun's

golden rays fade away, retreating

bitterly into the shadows as my eyes

adjust to the greyness of the setting.

Broken shards of glass lay limp

beside me and the TV is full of static.

I imagine its beating heart about to

give out as the crispy buzz from the

screen slowly fades away like the last

heartbeat. If it weren't destroyed,

the room would be quintessentially

mundane.

My mind starts to become a

little foggy. The thoughts flowing in

and out become slurred, my vision

clouded. That's when the panic sets

in like an alarm clock going off in my

head and I realize…

…I don't know who I am. I don't know

where I am, whose room this is, or

what my name is.

The living room downstairs doesn't

make sense either. The couch is

THEGLOBALYOUTHREVIEW.COM

P

A

G 60

E

By TESLARIU MIHAI
---
flipped upside down. The light bulbs

are smashed. The photo of the happy

family is unrecognizable. But the

girl is holding something that seems

familiar, a

phone.

''I don't know who I am. I don't know

Phone.

where I am, whose room this is, or

I frantically

reach into my

what my name is..."

pocket but

there's no

phone, only a piece of ID. A woman

with frizzled blonde hair, ghostly

eyes, and a plump smile is encased

within the photo. The name Stellar is

listed on top.

I pick up a shard of glass

and look into its reflection.

"So I'm Stellar."

Saying those

words out

loud makes

my name seem

true as if the

wavelengths

of sound that

float around

screaming, "I'm Stellar" into the

atmosphere make my identity hold

weight in the real world. But when

the sound fades into emptiness,

P

A

G

E

61

THEGLOBALYOUTHREVIEW.COM
---
PROSE

thoughts rush into my mind as a river of memories plunges my

consciousness underwater.

"Look, Stellar, I'd appreciate it if you kept this quiet." A man in a crisp

suit stands in front of me. "Plus nobody is going to believe you," he adds.

I can't speak. I can't even move my hands. But my eyes start to process my

surroundings. Bottles of medicine line the shelves, papers are stacked on

the desk, and empty pill bottles litter the trash.

Medicine, medicine is what I need.

As my mind is pulled out of my ocean of thoughts, finally

having a chance to breathe, I decide to head out to a pharmacy to

get medicine. It's as if this plan was meant to be. There are keys in

my jacket pocket that unlock the car. The navigation system shows

Gregorie's Grocery Store as a recent destination that's been searched.

As I start to drive the roads are clear. This plan seems too perfect to be

true.

I notice that it's awfully quiet outside.

But the silence is a gift, the first dose of medicine that soothes

the throbbing headache, increased heart rate, and foggy vision that

plagues me. As I continue to drive, something catches the corner of

my eye. A sinister shadow. The glimpse of a man holding a camera. A

bright flash. I tell myself I'm making this all up, that once the medicine

enters my body everything will be alright. That it will all make sense…

The parking lot is empty. My car invades the lonely pavement

like an insect. As my feet gently massage the ground a scream pierces

the quiet of the day.

"Come here, you."

I turn around and a tall, startling figure is present. I

don't know if I can even call him a man because his features have been

twisted. His skin is patched with purple, his eyes glow a deep, misty

yellow, as if they are dying stars, and his voice is slurred. It's as if death

has sucked all of humanity out of his soul.

"I'm…I'm sorry sir, I'm not sure I can help you." I take cautious

steps back.

"You should be sorry for what you've done,"the man blurted.

"You deserve this."

"Deserve what? What does that even mean?" I whisper to

myself.

Then it happened. The man pulled out a gun from his pocket. His eyes

lock into mine like a predator toying with its prey. His grey teeth shine

as he smiles a wicked smile. It's the look of a monster. The gun's barrel

stares judgingly into my soul and it's all I focus on. My legs aren't mine,

my hands stay locked in place, my heart stops beating. Frozen in fear I

lose control of my body. The hypnotic state is fascinating. The way that

time seems to stand still, the way all the vibrance in the world, once an

oasis of colour becomes a desert stinking of death.

A bullet pierces the air, cutting through the flesh of the

atmosphere and as I look in front of me, I see the man crumple on the

ground. He doesn't scream. He doesn't say anything. But his eyes. His

eyes are open, the bright yellow pupils stare at me with fascination and

judgment, as if they are looking at a monster.

A woman's voice booms like a thunderstorm,

"C'mon we gotta go." Her arms grasp my shoulders, pulling

THEGLOBALYOUTHREVIEW.COM

P

A

G

E

62

By TESLARIU MIHAI
---
PROSE

me towards her car and my legs follow

in pursuit. I do nothing, I let her guide

me into the passenger seat as the

neurons in my brain try to send signals

to process what's happened. But I still

don't understand.

"What just happened?"

My voice sounds ghostly.

"What's been happening for the past 587

days if I'm correct," she calmly replies.

"No please stop the car,

this isn't right, I need to go back for

medicine," I demand.

"It's a death trap in there",

the woman states, "You'd get killed the

moment you enter."

"But where's the police? Why

are these people doing this? What

was wrong with that man?" So many

questions linger, they float like stars in

a galaxy, burning brighter and brighter,

waiting to be noticed.

"Jeez you don't know, do you?"

"No, I woke up in this strange

house with nothing but my ID." Even

as the words leave my mouth they

dissipate into the air like a vapor trail.

The woman looks at me with a skeptic's

awe and all I can hope is that she

believes me.

"Well, I'm Moria. It's

complicated but around 2 years ago

a parasite was released. It clawed

into the minds of civilians, turning

innocent people into deranged, killing

machines." Her voice didn't waver, its

flat sound dully gliding across the air.

It's as if she's said this before.

She continues, "The few who

are unaffected are looking for a vaccine,

apparently the scientists who caused

the outbreak stashed a few in their labs

before everything went wrong."

Scientists. Lab.

Those words are like a stone

being dropped into the ocean of my

mind, sending ripples of thoughts that

scramble to the surface. The electrons

in my brain begin to panic as they try to

process a new memory.

"You crossed a line by touching me like

that. It was inappropriate."

P

A

G

E

63

THEGLOBALYOUTHREVIEW.COM
---
THEGLOBALYOUTHREVIEW.COM

By CHRIS YANG

P

A

G

E

64
---
PROSE

Ihear my voice boom with the

energy to spark a supernova.

Wisps of anger are evident.

"Common Stellar,

stop freaking out." It's the same man

again.

"No. You need to face the

consequences of your actions."

"Hey, are you still there?"

The memories fade away like mist

in the wind, dissipating into the

atmosphere. My eyes open wide and

the bitter afternoon light brings me

back to the harshness of the day.

"Yeah. I'm fine," I added.

"Like I was saying we're

heading to a lab up North to find

a cure. We should be there soon".

Click! The sound of a camera.

"Hey, are you taking

photos?" I ask. Moria shakes her

head but her eyes tell a different

story.

"It's probably your

headache playing tricks on you," she

explains.

The lab looks out of place.

Its metallic shine contrasts against

the dull, matte sky. The tall white

doors seem to demand respect

from the people who entered, but

there was no respect given to the

crumbling bricks on the wall or to

the cracked windows.

"Here," Moria whispered, grabbing

a key from her bag and opening the

door. Something seemed off, the

plan was again too perfect…

"How do you have -"

"It doesn't matter", she

replies. "Hurry up."

Inside the lab, there weren't

the expected bright white lights or

chitter-chatter between scientists. A

cave of darkness seemed to surround

us, like a murderer enclosing in on its

victim. As we entered the room at the

end of the hall I heard a noise from

behind. The crunching of broken

glass was evident, the deep breaths

of a person rang louder in my head.

"Watch out," Moria

screamed.

A woman with skin blotched

with purple and eyes as yellow as

the sun grabs onto my shirt. Then I

see it. The screwdriver in her hands

starts to spin like a tornado coming

to life.

This time I don't freeze, I

run. My feet carry me forward faster

now, the terror still ringing in my

head like a leech.

"Help," Moria shrieks, her

voice slicing through the calmness of

the atmosphere.

There's nothing I can do, I tell

myself. I feel guilty but that thought

is the only justification I have to keep

running.

Her muffled voice is choked

off.

I reach the end of the

hallway. Left or right, which way to go?

"Hey there beautiful,"

whispers a man, holding a knife. I

can see that it's stained with what

By EVIE S.

appears to be dried blood.

"Please, no, please don't

hurt me," My voice drips with fear.

"It's ok darling", he says,

walking closer. That's when I run

when my legs bolt down the hallway.

I see a light. Its golden gleam cuts

through the darkness around me.

The rays glisten with warmth and all

I can think about is the safety that it

will offer. I approach the light, I take

a deep breath, close my eyes…

…"Bravo! She's entertaining,

wouldn't you all agree?" a man asks.

As I open my eyes, as I

let the light trickle and bring my

world to life, my heartbeat slows

and I realize that I'm no longer in

the lab. The courtroom I appear to

be in stares judgingly into my soul.

The jurors in front of me all laugh,

chuckling with a sinister sense of

humor. The judge at the front smiles

as the jury continues to whisper and

laugh uncontrollably. I notice a giant

screen in the middle of the wall. On

it is a photo of me in the house I woke

up in.

What's going on?

"Darling are you alright, what's the

matter?" the judge asks in a snarky

manner.

"The infected were chasing me, they

killed a woman!" I tell them.

"The infected?" the judge chuckles.

At that very moment the guy from

the grocery store, the woman with

the screwdriver, and the man with

the knife walk into the courtroom. It

was like seeing ghosts from my past.

Except they looked fine. The purple

splotches were gone. Their eyes were

no longer gleaming with yellow. The

seemingly dead man was now alive.

"Can we have a bravo for

these brilliant actors?" the judge

questions. A round of applause

echoes like dynamite as it explodes

harshly into the atmosphere.

"And how can we forget the one and

only, Moria?" the judge chanted.

Moria walks into the courtroom.

It's as if the court has now become

a stage. I notice that the red stain on

her shirt is gone.

"Now last but not least, we have the

accused, Stellar Hymen!" The jury

doesn't give me a round of applause.

Instead frowns trickle onto their

faces and looks of disgust plague the

courtroom. One word seems to hang

on longer than the others: accused.

"Well even if we don't love Stellar

herself, I must say that she was

entertaining," the judge exclaims.

"I don't understand,'' I whisper. But

the whisper turns into a crescendo

P

A

G

E

65

THEGLOBALYOUTHREVIEW.COM
---
PROSE

By MARIANNA SMILEY

as I shout, "Moria should be dead.

The 3 infected should be trying to

kill us, why are you even in this lab,

what's going on?!"

"We thought you might

ask," Moria replies. She looks at the

judge who seems to nod.

He presses a button and a video

plays.

It's a news report from a

month ago.

"Yesterday at noon judges,

lawyers, and jurors met at the

supreme court to discuss the case of

Stellar Hymen, a pharmacist from

NewTechLabs. Back in May, Stellar

was seen accusing the CEO, George

McGreggor of sexual assault, a bold

assertion that threatened his career."

Memories started to trickle

back in. I could remember the incident

now, I could feel his hands pressed up

against mine with the strength of a

lion, his lips slithering against my lips

like a snake poisoning his prey. And his

eyes. The way his eyes pierced my heart

as if he were staring at a piece of trash

that would later be discarded.

The broadcast continues,

"The police launched an

investigation and found that no such

allegations were true. George Mcgregor

took Stellar to court due to the public

chaos that threatened his company as

a result of her false accusation. His

lawyer, Kenneth, one of the world's

best, saw that Stellar should be tested

to see if she was worthy of redemption."

So this was a test? I suddenly

remembered how the pieces of the

puzzle clicked together. The weird

house I woke up in, the way the GPS

led me to the grocery store, the fact

that Moria drove me to this lab.

"To explain more we have

Helen Larson, the founder of the

company NewTechTrials that carries

out this modern form of justice."

The camera pans to a woman

dressed in a business suit. Her lips are

glossy, her eyes stained with joy from

what she's about to say. "Well thank

you. NewTechTrials is the future of

ensuring that our nation gets the justice

it deserves. Stellar harmed the science

community, and as requested we've

been tasked to design a test to see if she,

despite being guilty, is deserving of a

second chance. We've been developing

a new memory-draining serum so that

3 months from now Stellar will awake

with no recollection of who she is.

Viewers will be able to livestream and

enjoy some sense of punishment as we

bring her into an apocalyptic world."

She didn't lie, I thought.

This world was apocalyptic and

my memories were groggy. The

details about the court case seemed

fabricated. When I searched my mind

I could recall nothing about those

events. The trial seemed to have

faded from existence like a lonely,

lost winter day. I kept listening with

intrigue.

"To make this interesting

we've hired some of the world's best

actors including Moria Donahue,

Angel Arkams, Jason Leskts, and

Matthew Ferris! As well some of the

best cameramen, stage directions,

and makeup artists will be featured.

In the end, the jury and judge will

decide whether or not Stellar deserves

to be free. But stay tuned to see what

happens. NewTechTrials promises you

justice."

The video cuts to thousands

of people chanting and clapping,

holding up signs with my face printed

on them, some with an X crossed

through, others with flames around

my head. So the memories about the

office, about the abuse, about the

fight with George were true.

THEGLOBALYOUTHREVIEW.COM

P

A

G 66

E
---
PROSE

By IAM OS

"Well folks," the judge chuckles, "The

expression on her face is priceless.

But it's time to see what the jury

thinks!" I look over to see the faces

of the jury. I notice how each of

"...as if the veil of lies that

covered the legal system had

been removed, I could see the

truth now..."

them is lavished with rich, luscious

clothes, and how their teeth shine

with a sparkling white. Watches,

necklaces, and gems litter their skin

like shimmering stars amidst the

universe. It seems that the rich and

powerful would be judging me. It was

as if I was playing a casino game, one

that was rigged, that I was destined

to lose. A woman with blonde hair

responded, "We the jury unanimously

find Stellar undeserving of a second

chance and guilty."

Guilty. The word lingers

in the air like a dead song. As if it's

attached to an anchor, it seems

to weigh me down as my mind

starts to break under the weight,

as I feel my consciousness sinking.

Another memory flows in like the

tide. The day of the court,

the day George stared me

in the eyes as I was judged,

as he smiled wickedly the

moment I was found guilty.

These people were wicked, I

thought. They were cruel

vultures, desolate, greedy

creatures for how they

found happiness in seeing

my pain. Only a monster

would make me go through

this apocalyptic test to see if I could

be saved. But perhaps then, everyone

in the justice system was a monster.

My mind snaps back to

the courtroom.

"Thank you jury," the judge

responds. "Today it is clear that

Stellar failed 3 tests. First, she let

her greed consume her as she stole

a car." I rolled my eyes, of course I

would take the car! The whole test

was practically designed in a way

that required me to do so. This

wasn't justice, I knew I was innocent.

"Second she willingly broke

P

A

G

E

67

into a lab, showing her inability to

follow the law." I didn't say anything,

I didn't even beg or plead as I heard

those words. I knew that nothing I

said would ever change their mind.

As if a blindfold was lifted off of my

eyes, as if the veil of lies that covered

the legal system had been removed,

I could see the truth now: The justice

system was stained with injustice.

"Finally, Stellar chose to be

selfish as she let Moria die, a perfect

example of a narcissistic individual

that shouldn't be let into society. I, as

the judge, sentence Stellar to infinite

time in prison." The gavel hits the

desk. Moria smiles at me. The jury

claps in glee.

The last ripple of a memory

that flows through the now-dead

ocean of my mind is where this all

started. I remember the room I

awoke in, the shards of glass laying

on the floor.

The justice system was

just like those shards: a fractured,

broken, useless tool. I smile as the

reality of the world shines brighter

than it ever did. I cling onto that

thought as my freedom flies away

like a hawk disappearing into the

night sky.

THEGLOBALYOUTHREVIEW.COM
---
i s s

u

mirror of society

e

f

poetry & prose

photography & art

o

u

issue four

r

THEGLOBALYOUTHREVIEW.COM

By ANDRE BENZ

P

A

G 68

E
---
By JAKOB ROSEN

Poetry

THEY

COMPOSED

US.

In The End.

By ALEX SHENSTONE

Ludovico Einaudi is the name

of experience.

Hans Zimmer—he created time.

Ramin Djawadi crowned our

conqueror of the night.

Danny Elfman taught us

the art of war.

Giona Ostinelli and Sonya Belousova showed us

a kingdom's last blooming rose.

Carlos Rafael Rivera taught us how to

win the final game.

Justin Hurwitz gave us such an epilogue—

an epilogue of we artists all.

P

A

G 69

E

THEGLOBALYOUTHREVIEW.COM
---
By MATEO AVILA CHINCHILLA

Prose

T he

MESTIZA

BURDEN

"A white teacher looks at me and

says, "Now, aren't you glad we changed

things for you over there?" I ask him

what he means."

By HALLE EWING
---
PROSE

M

estiza:

mes·tiz·a

noun:

1. (In Latin America) a woman of

mixed race, especially one having

indigenous or Spanish Descent (Oxford

Languages).

2. A racial classification used to refer to

a person of combined European

and Indigenous American

Ancestry. The term was used as

an ethnic/racial category for

mixed-race castas that evolved

during the Spanish empire

(Wikipedia).

I am born into the

entropy of 2006 North Carolina,

cradled in the palms of white

women, woodland phlox and

Sweetgum trees the same color

as my mestiza hair. A shiny

spoon of white-passing clickclacks

against my growing teeth

while my mother is dismissed

as nanny, servant, babysitter.

This Filipino telenovela fades

into the background with a

choking cough when the halohalo

comes out of the ice-block

freezer. It thaws in my throat.

I reach for it with baby hands.

I am dumped into

the palmetto fronds of coastal

California. I am sitting under

the tangerine tree when my

uncle, my mother's brother,

brushes bangs off my forehead

and says I got the pretty genes.

He peels open my eyelids and

admires the swamp green, the

same color as where I was born,

and my mother tells him thank you.

"Mestiza," He says. "She is

so beautiful."

I look at my mother and ask

why I look more like Daddy when I'm

equally hers.

She says, "Manahimik ka (be

quiet). Eat your oranges."

The next time it happens is

By LIANE

when I am in second grade. I wear

my Filipino clothing to school on

Cultural Day and people say I look

like a little white girl playing dressup.

A white teacher looks at me

and says, "Now, aren't you glad we

changed things for you over there?"

I ask him what he means.

He ruffles my hair and says, "You

wouldn't be this beautiful if we didn't

help you out."

I tell my mother this. She

sighs and says, "My little white girl."

I say, "Why do I look like

Daddy and not you?"

She says. "Ano Ka Ba?

Kainin ang iyong pagkain at itigil ang

pagtatanong."

(What's wrong with you? Eat your

food and stop asking questions.)

It takes her two more years

before she explains that while I am

Filipino, I am also European because

horrible men decided to taint

pure brown bloodlines with their

whiteness. I scrub the floor with a

sponge.

She says, "If you go to the

Philippines, they will say you

are magunda (pretty)."

I say, "Because I look

white?"

She says, "Linisin ang mga

sahig (clean the floors)."

I am in fifth grade. I am

lying next to her in my parents'

wide queen-size bed as she

explains a war I have never

heard of and says, "The United

States thought we were too

savage to govern ourselves."

I say, "Why?"

"Dahil sila ay masama (Because

they are mean)." She says,

"Masyado kang maraming

tanong (You ask too many

questions). Go to sleep."

(I ask my dad the same

question. He says he hates

white people.)

I am in seventh grade. My

mom drives me to school on

the way to the hospital. She is a

doktor.

I am proud of her. I tug

on her green scrubs and say,

"Mahal Kita." (I love you.)

My family sits under that

tangerine tree. My Filipino

uncle sits next to me again. He

brushes mestiza bangs off my

forehead and peels open my green

eyes and says, "You're a beautiful

girl, you know. Very American."

I say, "I am Filipino,"

He Laughs and Laughs and

Laughs.

He says, "No, you're not."

P

A

G

E

71

THEGLOBALYOUTHREVIEW.COM
---
PROSE

By MARIKA VINKMANN

BOTTLE

BABY

By MATT HSU

They presented Mom with a

barrage of bottles, swollen

like milk jugs, corked with

burnt cardboard. The nurse

held a clipboard in one hand and a

clementine in the other. Mom had

an hour to scan the reports, to raise

the bottles to her eyes, to sing to the

babies dormant behind glass. We

left the hospital half an hour after

entering, a bottle baby in Mom's

elbow crook, and the receipt in her

skirt's back pocket.

The pricing system

is rote, yet still speculative. Babies

are awarded a value based on their

longevity, their looks, their predicted

personality;, anything that appears

on the atomic-level scanner. Blonde

babies are the most expensive.

Blue eyes add a two-thousanddollar

premium. Gene patterns

that indicate obedience push the

price upwards, while neurodiversity

causes it to plummet to nearly zero.

The cost used to be fixed, but supply

and demand tossed the bottle- baby

economy into financial entropy.

We're not wealthy, so our new baby—

who we've decided to call Lucas—is

small, angry, and Chinese.

In his early days, Lucas

is treated much like a hunk of raw

poultry. He soaks in warm water for

several weeks, as his limbs unfurl,

his face takes shape, his umbilical

cord floats away like bread in tomato

soup. We season the water with

nutrient packs, bought in bulk from

the nearby supermarket. A lightbulb

hangs over his tub, casting light over

his scrunched fingers for twelve

hours per day.

Mom pulls Lucas from the

bath at 7:00 a.m. on September 16,

which I suppose is now his birthday.

The moment his head emerges from

the water, he begins to wail. Not a

gentle coo, not a miracle cry—a fullout,

five- alarm, pineapple- cake,

donkey-on-the-mountain wail. It

shakes the shutters off our windows,

turns our pecans into pie, grabs Dad

by the collar and dumps him in the

THEGLOBALYOUTHREVIEW.COM

P

A

G

E

72
---
PROSE

backyard. Mom tries everything,

rocking and bouncing and steamed

milk, but he just won't shut up.

I create a small barricade in my

room, made of pillows and stuffed

penguins, but Lucas' cries drive right

through it.

It's five o'clock the next

morning, and he's still going. Lucas

has not gotten louder, but he's

definitely shriller, frillier than the

night before. Mom and Dad have

turned a muddy yellow from the

stress. Their fingernails bend away

from the noise, and the hairs on their

heads have begun to wither away. All

three of us have crusts contouring

our cheekbones, black smudges

beneath our eyes. My oatmeal tastes

like tears.

Mom's on the phone when

I get back from school, pressing

her lips against the receiver. Across

the house, Lucas continues to wail,

screeching as if silence would cause

the world to stop spinning on its axis.

Several moments later, Mom taps the

handset back into the dial pad. She

tells me we need to take Lucas to the

hospital. Dad tucks Lucas' old bottle

into a cloth bag, along with a turkey

sandwich and a stack of manila

folders, before ushering us into the

car. Lucas continues to cry.

The doctors say no

refunds. Lucas can be returned,

but his valuation has dropped

significantly. They apologize, say that

malfunctions don't usually occur, but

jab at the waivers Mom signed when

she protests. Dad and Mom and the

doctors disappear into the room

next door, shouting over Lucas, who

they've left with me. I take him in my

arms, lifting his chin beside mine.

Soon Mom and Dad finish

their conversation with the doctors.

They disappear for a while, then

reemerge in the hallway, a handheld

cradle hanging below their hips.

There's a baby inside. They wink

at it, cover their eyes, bobble their

tongues, shower its head with

caterpillar fingers. I try to make

eye contact with them through the

door's glass pane, but they keep their

heads fixated on the exit as they walk

away. The baby's name is Luther.

My name is Theresa.

The doctors come back into

the room. They stuff a purple rag into

Lucas' mouth, and he stops crying at

last.

By SANMEET CHAHIL

P

A

G

E

73

THEGLOBALYOUTHREVIEW.COM
---
THEGLOBALYOUTHREVIEW.COM

By RAGHU NAYYAR

P

A

G

E

74
---
PROSE

A

Farewell

TO

HARM

"A Farewell to Harm", inspired by the

Rift Valley region of Kenya, depicts

how execution and banditry is

influenced by poverty and corruption.

By FELIX OTIS

"S

he was right Tor, damn

it..! " John Bett was

saying laughingly to

his wife, patting her.

She laughed with a wide, affectionate

smile and hugged the sleeping boy

child between them closer against

her ribs. The child stirred. The car

was trundling towards the gateway

between the pleasant rows of Nile

tulips and Nandi Flames which

sprayed the shade beneath with

their gay flowers in the gentle

rainstorms and winds of the season.

The headlights revealed in the dark

the aesthetic display that this action

created.

"Easy lad," said the mother.

"You'll soon be lying in your bed."

By REDD

Their laughter was of

happiness rather than humor,

and stemmed from Dr. Kiprono's

assurance last August that Tor's

medication to stem out a nascent

tumor in her left breast would be

successful. This evening he had just

done a scan at Eldoret Hospital and

declared her cancer-free.

"You're very lucky, Mrs. Tor

Bett," said the doctor, as he watched

her and her husband and son sip the

coffee a nurse had brought them.

"The tumor was found out early.

Otherwise it's usually fatal."

"What do we do, doctor,"

asked Bett, "to keep healthy?'

"Grow and eat lots of

vegetables. Fruits. Less purified

sugar. If possible avoid sugar

altogether. Seek regular check-ups."

The sound of honking had intruded

P

A

G

E

75

THEGLOBALYOUTHREVIEW.COM
---
PROSE

into the valley's quiet nightlife

when suddenly the rainfall and

the drone of an approaching

motorbike assailed them. They

were two bikes and the damp faces

of the men in dark jackets in the

passenger seats looked into both

windows and pointed gun barrels.

"Get out, quick!"

"What do you want?'

"I said fucking get out!"

Suddenly, gunshots were

heard that shook the heart of the

valley and made the male domestic

who was opening the gate start. The

force of bullets threw the couple out

of the car into the rain, floodlights

and gore that had suddenly ganged up

over the array of flowers and leaves

that daily the labor of trees sprayed

their drive with, and the domestics

curled into a heap and barrow and

consigned to the bin pit with equal

kindness. A backseat window was

pistol-whipped, elbowed, and the

sound of breaking glass rang in the

silence. A damp, rough hand grabbed

the backpack in the seat. The watery

leather jacket arm appeared to

glisten with infernal guilt under the

light of the interior. Then the bikes

turned and roared away into the

dark night.

Everyone scrambled to the

gate from the farmhouse where a

young daughter's birthday was in

progress with friends, wine, cake and

music. A bottle of wine was spilt and

an apple slipped from the table and

dropped after the gathering down

the stairs to the door. Their cries met

only bodies and rain and gore. The

rain-like sweat bathed their hair and

trickled down their miens as they

witnessed the nightly, dismal end.

Two days later, a mediumbuilt

man in his late thirties boldly

walked into General Atea Maximum

Security Prison and requested

to speak to Gerald Sando. One of

the warders drinking tea in the

reception, dressed in their green

khaki uniforms and black berets,

flipped his HP laptop and searched

the name.

"Gerald Sando… Gerald

Sando," he repeated under his

breath. Large bold characters of

the name appeared on the screen

with smaller details listed under

it. "Gerald Sando. Robbery with

violence. Third time. First taken for

shoplifting. Second time for cattle

rustling. Last time for cattle rustling.

Slapped with 25 years. Doing his

last three years. Suspected to be in

constant communication with his

gangs that terrorized Rerech Valley,"

the prison policeman looked up, the

look on his face none too pleased.

"What's your name?"

"Kipell Bet."

"Kipell Bet," the warder

typed. "Related by any chance to

the Bett killed with his wife and son

yesterday in the valley in cold blood?'

He handed Bet a printed, stamped

By SUSAN WILKINSON

slip.

"No. My name is spelt with

one t at the end."

"Sorry but I've used two ts.

Visiting hours are close to an end. Go

straight along that corridor. Present

that slip to the officers at the office

to the right. Good luck, and be flash

about it.'

Bet walked briskly along the

corridor. A lot of friendly noise came

from a canteen to his left where cops

drank coffee, tea, soda.

"You want to talk, or just see

him?" the stern little woman with a

small pistol in her holster asked.

'Talk."

Two armed warders,

chatting casually about the weather,

were summoned from the canteen.

They conducted him to a chair,

indicated the telephone on the little

wicket in the wall grilled with bars

and withdrew. One of them looked at

his wristwatch.

"You got ten minutes, and

that's clement."

While he was being

conducted to the telephone Gerald

Sando was sitting on another chair

on the other side of the bars while

two burly warders withdrew five feet

or so. Sando lit a cigarette. He was a

sleek, hard, smiling man. He raised

the telephone.

"Success," Bet said.

"How much?"

"Nine-hundred."

"Good. 150 to all. The dregs

for King Gerald. How's that?"

"Perfectly understood."

They rose together like it

was a ceremony, and the cops on

both sides of the iron curtain came

behind them concurrently and saw

them out.

The three sleek coffins were

nearly covered in fresh, luscious

flowers. They were real flowers from

the fields of the valley. The valley

teemed with trees and flowers. The

catafalque was bathed in tears and

sunshine. Among the mourners was

Fredrico Maconi. He was bowed,

humbled, tall, but still with his white

skin and long golden locks he was

prominent beside Annabelle, his

wife. Maconi would never forget till

the day of his death the sorrow and

tears that accompanied the three

coffins and the red soil into the pit.

Only three months ago he had come

to the valley following a section in

Safari. He had been in the south

coast with Annabelle drinking coco

water reclining on beach chairs

reading in the tropical sun.

THEGLOBALYOUTHREVIEW.COM

P

A

G

E

76
---
By RAZIE HOSSEINI

P

A

G

E

77

THEGLOBALYOUTHREVIEW.COM
---
PROSE

He decided at once to buy a

plot in this little paradise

if only to please Annabelle.

And now beside the brook

in the valley looking out on

the emerald fields where residents

grazed their cattle was rising

the first expansion of his resorts

outside Europe, La Emeralda. And

the fields were alive with antelopes

and elephants. But how would he

tell Annabelle that the kindhearted

man that had sold them the land

was murdered in cold blood in that

very paradise? She never believed it.

Even right there in the cemetery she

still obviously couldn't believe it. He

cried in his handkerchief and when

he raised his damp eyes to look at the

padre the pits were being filled.

One spring morning,

Maconi looked out of the third floor

of La Emeralda. A drizzle ensued.

Fundis was alighting in the yard to

give their last touches to the interiors

of the five floors. They wore helmets

and reflector vests and boots. They

conversed in casual drawls as their

feet echoed up the vacant stairs. He

was admiring the African tulip with

its floral flames in the sunrise beside

the brook close to where he had set

up a large greenhouse to provide

ready veggies for the resort's needs.

That week he had ordered batteries

worth 150000 shillings to supply him

with his own ready chickens and

eggs.

He gradually became aware

of a large herd of cattle, including

camels, approaching the valley from

the other side of the rill. They were

hundreds and their AK47-wielding

herders drifted across the northern

frontier looking for greener pastures.

They were the Turkana, a nomadic

tribe of the Nilotes. They wore beads

and cloaks and plaited hair and were

very friendly. They wore daggers too,

and sometimes during the safaris,

they provided security and guidance

due to their special discipline which

had made the country create them

a sort of legendary symbol for its

hospitality sector. In the nation's

tourism ads they were popular as

accurate props and models for the

face of the tourism industry.

Suddenly, the herdsmen

were attacked by five gunmen on

motorbikes and Maconi heard

gunshots and saw game and the herd

scatter. One of the gunmen fell and

three of the herdsmen also fell then

from behind a police Land Cruiser

braked abruptly and six anti-robbery

squad policemen pushed through

their doors with guns corked, barrels

rising. Just when they were accosting

the bandits more gunmen sped from

behind and opened fire on them

and Maconi watched their bodies

scattered there on the field like offal

in a slaughter. He grabbed his phone

and dialed, but when he raised his

face again a missile flew into it, and

with its force he was thrown back

into the room against the approach

of a scared Annabelle, who was just

arriving from touring Lake Turkana

five miles away.

"Darling," she said in

Italian, leaning over him, shaking

him. "Are you okay?"

Then, she saw the red spot

between his eyes. A crimson rill

flowed gradually from it. Then the

little source became a river. He had

been shot by a stray bullet. Annabelle

looked out of the window. The

rustlers were driving the great herd

away across the rill. There were two

silver rills sourcing from her own

eyes through which she watched this

daylight terror.

Inspector General Jeff

Ochieng was a fat, dashing man close

to his retirement. He was painfully

conscious of the perils of his job. He

had been for close to forty-five years.

A meeting was underway in the

conference hall of the National Police

Headquarters. He had convened it.

Arrays of shaken police inspectors

sat around the glossy mahogany

table in piece suits. Some of them

wore berets, while the rest wore

crew cuts. Mineral water bottles

By CLAY BANKS

THEGLOBALYOUTHREVIEW.COM

P

A

G

E

78

By MATT FLORES
---
PROSE

and clipped print chapbook reports

were laid before every inspector for

reference. The Inspector-General

walked straight to the front. Against

the wall was a large computer screen

that showed the Reret Valley. He

indicated this, and for a moment he

looked lost for words.

"This, as you all know," he

said," is Reret Valley. This beautiful

valley in the purlieus of Lake

Turkana has been lately the scene

of violence and murder. What is

hard to understand is, who gives

us away every time we attempt to

stand between the residents and the

bandits who've wreaked havoc in the

valley? Only a week ago we lost near

eight of our officers when robbers,

obviously having been tipped by one

of us, surprised them unexpectedly

from behind. They were surrounded

between two gangs of cattle rustlers

and executed

point-blank.

An Italian

businessman

who has

invested

heavily in

the country's

tourism was killed by a stray bullet.

Crime in the area has become an

eyesore of national concern, scaring

investors."

An inspector raised his

hand. The IG nodded to him.

"Somebody has been

making an income from betraying the

force. Someone very unscrupulous

and very dirty. Apart from the loss

of our officers in the valley and the

lamentable loss of civilian lives,

a page of these chapbooks states

clearly how a tapped line between

a convict and his visitor appears to

point to underhand deals."

Another inspector raised

his point.

"Am for watching this

convict scheduled to be released. His

much-hyped resolve to live crimefree

should be totally disregarded.

He will lead us to whoever has been

"Crime in the area has become

an eyesore of national concern,

scaring investors."

betraying the force, and this tapped

chat, if am not mistaken, confirms

that Gerald Sando was still very

much in control of his gangs from

prison."

"Good," said the IG. "From

tomorrow we set up a special

commission to investigate the rot in

our midst. Good afternoon."

Two burly prison warders

were seen marching briskly one

autumn morning along the corridor

that led to the dungeons of General

Atea Maximum Security Prison. A

heavy bunch of ancient-looking keys

jingled between them. They met at

one of the gates, neighboring the

wicket where the visitor had engaged

with the prisoner three years ago,

the turnkey, who returned their

salute with casual condescension.

He turned his back to them, and keys

and heavy chains were heard to grate

deftly against

the metal of

one gate after

another. They

were black

gates mounted

with spikes

in high walls

of concrete in turn mounted with

broken bottles.

In a yard of the prison,

hundreds of convicts in the gray and

white striped uniform breakfasted

on tea and toast. In a second yard

behind that another hundred

convicts breakfasted, the stewards

busy at their heads with cauldrons

and ladles. The place was crowded

and noisy. They stood in smaller

groups within the crowd chatting

apparently without the slightest

scruple in the world. Among the

convicts and stewards were warders

attentively keeping order.

"Listen here," said one of

the cops, producing a slip. "If I call

your name step forward. Dolla Golla.

Wait over there."

One of the burly officers

conferred briefly with one of the

warders.

P

A

G

E

79

THEGLOBALYOUTHREVIEW.COM
---
PROSE

hey walked through the

T

noise and crowd to the

noise and crowd in the

yard behind. The turnkey

again tussled with the

keys against chains and

lock. Inside the gate, the second

burly cop read aloud from a slip.

'Our Duka.'

A not very good-looking

man stepped from the crowd.

'Stand aside. Gerald Sando."

Gerald Sando was a tall,

strongly built man in his early fifties.

He had a mischievous smile upon his

slick, pleasant face.

"Step aside."

"Kyalo Kazu."

Finally, the cop folded the

paper and lit a cigarette. His partner

walked up to the three mentioned.

"Get your possessions and

follow us. Better hurry or you'll have

to resume your time."

Ten minutes later at the

reception Gerald Sando, among the

four, was seen to smile, a small holdall

hugged under his armpit.

"What you gonna do now,

Sando?" the female cop asked. "

Resume crime?"

"No. I'll start farming in the

valley."

"You're said to still regularly

correspond with your old gangs. Is

that true?"

"No."

He was handed a form and

shown where to sign.

A quarter of an hour later, he

was seen to emerge outside the Gate.

To the press that accosted him owing

to the infamy of his youthful days

he told curtly he would have a word

with them not very long. He would

expose the rot in the security organs.

The two burly warders watched him

get into a waiting Toyota RAV4 which

sped once it gained the highway. Bet

lowered the window.

"Where are you driving me,

Bet?"

"To The Pearl. On Lake

Turkana. The guys are waiting.

There'll be a warm bath and a change

of clothes and breakfast. And a bottle

of wine."

The free convict stared

at the landscape. It had changed

greatly. Twenty-five years was

an eternity. The road was a dual

carriageway now, and down in the

beautiful valley, he saw a new yellow

tiled resort surrounded with ivy and

bougainvillea from a new bridge over

the rill. There were cars in the yard

and tourists. In the distance, the lake

lay wide and glossy like a leviathan

mirror.

They were silent for

the five miles, and Bet was quiet

to allow his friend to take in the

breathtaking scenes and change

that time and social ventures had

wrought. Sometimes, they slowed

down to give way to great herds of

cattle that belonged to the pastoralist

residents. The Pearl was a sprawling

granite edifice overlooking the lake,

standing on nine acres of land.

The land was arid and the dust

drank deeply the heat of the sun,

prompting tourists to seek the cool

of the lake. As their car left the road

they spied tourists and locals along

the lake. There were boats on shore,

and more offshore. Some of the men

rowed, while others were engine

vehicles that parted the waters with

their prows in their speed. Along the

shore, some fishermen mended or

prepared fishing nets. Annabelle was

among a party of tourists who got in

a boat excitedly headed for a remote

island with guides to see animals.

She now ran La Emeralda. Her resort

shared a lot with The Pearl. Her only

child with Maconi, a blonde, blueeyed

man of twenty-four named

Mike, was among the party with his

Swedish girlfriend, Judy, of the same

age. She was the daughter of the

Swedish Ambassador. She was very

pretty with long cascades of red hair.

Mike had just joined UNHCR and

drove one of the organization's relief

supply trucks.

THEGLOBALYOUTHREVIEW.COM

P

A

G 80

E

By FER MORENO
---
P

A

G

E

81

THEGLOBALYOUTHREVIEW.COM
---
PROSE

ando shaved in the expensive salon on the ground floor. It was

Sin the boutiques that served mainly wealthy tourists. There

were massage salons, wines, and spirits. Beautiful girls,

employed there no doubt, went about the place. He denuded

in the toilets, and Bet came and binned the clothes and shoes.

He bathed in a large white bathtub, savoring the luscious water and

foam with his eyes closed. For a long time, he had missed this very

freedom that the rich enjoyed, that inspired his reign of terror as a

criminal in these parts. Now he was out of prison and his bank account

was fat and he would have it all.

Sando surprised the gathering in the third-floor suite like he

was just in. There were bottles of wine and beer over the table but no

one was drinking heartily, obviously pending his reception. He let go of

his little hold-all and a very buxom, beautiful woman sprang out of the

corner seat and ran into his arms, followed by a youth of twenty-five

dressed in jeans and short sleeves.

"Sando."

"Njoki. Who's this?" as he spoke the little youth hugged him,

and the uncouth audience looked on touched, their silence redolent of

the sort of awe peculiar to people of very mean ideology who otherwise

hold it in very high esteem.

"Kennedy. Your son."

They disengaged, and looked into each other's eyes. There

were a striking resemblance and tears. Now one of the men rose. He

had a tummy. He also wore a baseball cap. He was older. One of the

ladies filled glasses all around. Everybody raising their glasses, the

corpulent man said earnestly :'To dear old Sando's health."

Glasses clanked.

"I hear there's a job this afternoon, Jack," said Sando, after a

while, eying Bet and the older man.

"A group of wealthy tourists, including the present owner of

La Emeralda, are out in the lake. They're camping in one of the islands."

"Kennedy, you will join the team. Learn to fend for yourself in

this jungle of a place. Got it?"

The youth nodded. From his hold-all, the father who had just

regained his freedom produced a new little revolver. He handed it to

Kennedy.

The island was sandy, and sunny. Where they made tent was

grassy, and overhead was a near-canopy of acacia and other Nile tulips

and other native trees that they could not give names to. Frederick

Dickens, a widower in his late fifties and the manager of a travel agency,

presided over the grille in the tent yard that roasted dik-dik meat

supplied by the natives. Poaching was illegal but the occasional game

wardens wandering in speed boats had respect for White Hunters and

class privilege. Mike and Judy served warmed sausage and grilled dikdik

and a Chinese spinster in her mother's company and an African

girl with whom they were on very good terms served the wine.

"Let's get out of here, Mike," said Judy. " It's so sequestered."

"I can't leave mother. We'll go together," they were walking

along the lake now, away from the party. Judy clung with both hands

on Mike's elbow. " Besides, after so long in the camps among disgraced

crowds it's great ambling freely where there's only trees and sunshine

– and you."

At two, they got into the boat to watch crocs. They were

THEGLOBALYOUTHREVIEW.COM

P

A

G

E

82

By WOLFGANG HASSEL
---
PROSE

looking out over the rails in groups

of twos and threes when out of the

horizon they were surrounded by three

boats with gunmen.

"Slow down or you all die!"

shouted one of the masked gunmen in

the boat that blocked their way. As well

as the others his gun was pointed at the

tourists. " Turn back to the island." He

indicated the island by making little

jerks suggesting the direction over

their back. Finally, he fired overhead.

The women shrieked and screamed and

sought cover.

When they got back to the land

they were rounded and held hostage

inside the tent. The bandits feasted on

the remains of the dik-dik and drank

the wine vigilantly securing the place.

One of the men walked in and grabbed

Annabelle by the hair, roughly. Mike

was furious but he could do nothing

about it.

"Take out your phone. Make

a call to La Emeralda," Annabelle was

crying. She couldn't believe this. A gun

was pointed at her head. " Tell them to

send one million."

The same cruel process was

repeated on every head under siege.

That evening, Sando was

abducted by four gunmen outside The

Pearl. His wife reported to the police

immediately. At the gate, four Jeeps

belonging to the Flying Squad were

leaving for the lake island. From the

hotel balcony, Njoki saw the vehicles

trundle into the Ferry.

It was seven-thirty.

"Hands up, and surrender.

The island's surrounded," boomed a

voice through a megaphone.

They were afraid and started

running. Boats strategically placed

around the place flooded the island

with headlights and heavy gunfire

ensued. Four of the hostages were held

as shields by four gangsters.

"You get closer and they're

mincemeat," threatened the corpulent

leader, his shield tussling to get free to

little avail, and a pistol was held to his

head, for it was Mike.

But presently, more policemen

P

A

G

E

83

THEGLOBALYOUTHREVIEW.COM
---
THEGLOBALYOUTHREVIEW.COM

By YASMINE ARFAOUI

P

A

G 84

E
---
PROSE

walked up from behind and held

guns to the gangsters' heads in turn,

and they were outmatched.

"Place the darned things

down," said the foremost policeman.

Closer to the shore some of the

cops inspected dead and injured

members of the gang when the

exchange had died down. The leader

of the squad, Inspector General Jeff,

pistol-whipped a casualty nursing a

leg shot, who groaned and rose.

"Haroun handcuffs them,

then huddle them in one of the boats,"

he turned to the cops walking with

him to the newly subdued bandits. "

Two of the bastards escaped."

"Is everyone okay?"

The tourists were hurdled

in the tent yard, still very shaken

with terror. A couple of them gave

first aid to old Dickens, who was shot

in the shoulder by a stray bullet.

"Get up, everyone. Help him

up. Get back into the boat."

Sando's bullet-riddled body

was found on a remote shore by

fishermen rising early to check their

nets. He had been tortured and he

was pinioned with plastic rope. Bet

saw his friend's body. He became

afraid. At midday, the Inspector

General announced amnesty to

gangsters that would give up their

unlawful weapons on KBC. Bet was

seen surrendering his AK-47 early

the following day. The IG declared

him forgiven, and this grace was

echoed by religious leaders across

the country. Bet became a reformed

taxi driver.

He had a beer in a bar

in town the fateful evening. Two

strangers engaged him at the bar.

They mixed their brandy with ginger

soda and drank standing up, and

tipped the beautiful girl behind the

bar who passed the orders through

the wicket in spirits of good feelings.

"Hola," said one of them

to Bet, after ascertaining he was a

taximan, " is that far from here?"

" Seven KMs, roughly," said

Bet.

"How much would that be?"

asked the other. " Would you take five

hundred a head?"

"That'd be a surcharge.

Three-fifty is fair fare to you and fair

business to me."

One of them slapped a one

thousand shillings note over the bar.

Bet's bullet-riddled body

was found by a goat-herder the

following day at sunrise. He had

been violently interrogated. He was

pinioned. The media was buzzing

with suspicions and conspiracy

theories. Almost everyone suspected

the police. The Catholic Archbishop

declared on TV that it was evil to

murder indiscriminately a man

already forgiven by society. The IG

refuted the claims, adding that he

only wished the police had been

able in all that time to bring an end

to these terrorists who had held a

By MARTIN FENNEMA

whole nation hostage with their reins

of terror.

"In any case, God forgives,"

he concluded. " That can't be said of

a policeman."

Annabelle finalized

the sale of La Emeralda to Moha

Duresh, a wealthy businessman of

Indian descent at Phillip and Milly

Advocates, an attorney's office

in Nairobi. Duresh's firm made a

transfer of three-hundred million

shillings to Annabelle's bank account

P

A

G

E

85

immediately. Annabelle drove

from the attorney's at Three in the

afternoon. She met Judy and Mike

for lunch in one of the suburbs.

The youths were going to announce

their engagement. Mike had ordered

shrimps, salad, and a bottle of Four

Cousins.

"You're distracted, Mrs.

Annabelle," observed Judy.

"She appears to be

sorrowing," said Mike, pensively.

"It's this place's

atmosphere, Children. I can't take it

anymore."

Later that week, Mike

is seen leaving Judy on the coach

and following his mother through

the rooms. The look on his face is

quizzical.

"You're not leaving, mum."

Annabelle is throwing

things in a huge trunk.

"But I am, Mike. Am sick of

everything. Am not the kind of soul

to live every day looking over my

shoulder for gods sake."

"They're building a police

station, and beefing up security."

She rose, and zipped up the trunk.

"Sorry, but that won't

change my mind. Am fed up."

Mike was dressed in sidepocket

britches and a t-shirt. His

hands were in his pockets.

"Every poor woman and

child need the investment you're just

now leaving with mom. They need

it. Badly. I've worked in the camps

and the inner city and I know how

badly these people need an improved

economy."

"I don't give a damn

anymore, Mike."

Her plane left JKIA in the

afternoon, and the two youths left

behind, rode silently through the

streets wondering whether it was

still wise to assume a possibility of

surviving these streets.

"Am afraid," said Judy, and

snuggled up closer, tightening her

arms around Mike.

"Don't worry. We'll go back

to Europe. Then we'll marry."

THEGLOBALYOUTHREVIEW.COM
---
PROSE

ut my dad won't

"B

hear of it. Calls this

slaughterhouse a

paradise. He reads

Gurna, and Achebe."

"It's a paradise alright.

Perhaps you can't say the same of its

people."

"Say that in the streets and

you're a racist. And it's not everyone.

Every nation has a crime rate. Take

care."

The traffic sign ahead

showed red. They braked behind a

snarl-up of cars.

"I don't care. Besides, you

don't have to be your father's disciple

Judy. It's enough he sired you without

your consent."

"Mike, I love him."

"So do I."

Mike returned to UNHCR

and the camps. He wondered if he

should serve

the poor and

''But my dad won't hear of it. Calls

displaced or go

back to Europe this slaughterhouse a paradise. He

and find work

in some snug reads Gurna, and Achebe."

office and

marry Judy.

When summer came he was still

thinking.

Kennedy walked with the

frame to the door and back. His

mama clapped happily. She took the

new crutches from one of the hired

medical people and gave them to

him.

"Try these. They're at 5"5."

A petite nurse and two

pretty paramedics adjusted them

for him until they were two inches

higher. He crutched to the end of the

long corridor, to the loos.

"That's his accurate height,"

said the petite nurse.

"He will be like his

father," said a male voice over their

shoulders. Everybody except Njoki

withdrew. " In fact, he's very much

like him."

"Yes," laughed Njoki. "He's

the very chip of the blue block,

Inspector Jeff."

The Inspector General had

his black beret folded and stuffed into

the buttoned part on the shoulder

of his khaki shirt. He had one of his

hands in his pocket. They stood side

by side and gladly watched the youth

crutch back towards them.

"How's that leg now, Ken?"

"Better."

"You need a good rest," said

the Inspector General, turning to

Njoki. "Let them give him a cup of

coffee."

They watched Kennedy,

askance, crutch himself towards his

bedroom.

"He had a metal screwed to

his femur," said Njoki.

"All the more hopeful."

Without another word,

they walked side by side down the

external, steel stairwell.

"Have

you found

out whether

Sando and

Bet perished

in the hands

of the Police,

or from the

betrayal of their own brethren in the

underworld, Inspector Jeff?"

Inspector Jeff hesitated in

his walk, bringing them to a halt, and

face to face. There was in Njoki's eyes

a thirst for information that might as

well have been the unpredictability

of her newfound love for him. But it

was also an emotional salad of guilt

and despair.

"Could have been anybody,

Njoki. Police to save their face, their

brethren to stem rivalry. The job is

just as risky as mine," he shrugged

his shoulders. "What's for sure is that

we'll probably never know, Njoki."

In the yard of the suburban

house, Njoki allowed the Inspector to

kiss her cheek.

"I'll see you at The Pearl in

the evening, Njoki."

She watched him drive

away with a lot of uncertainty.

By ALEX AZABACHE

THEGLOBALYOUTHREVIEW.COM

P

A

G 86

E

By OLADIMEJI ODUNSI
---
P

A

G

E

87

By MILTIADIS FRAGKIDIS

THEGLOBALYOUTHREVIEW.COM
---
POETRY

WOULD

RECOGNIZE

By SANDRA KOLANKIEWICZ

I

'm not sure what to say of the grim-faced men

pushing people up the steps of the trains we

were so thrilled to see updated, modernized

cars floating on magnetic tracks at a speed

unimaginable to my grandmother

who never would have believed you could ride the

Staten Island ferry with a phone in your

pocket. My earliest memory's of pointing

to the great lady with the torch, appearing

both gigantic and small under a grey sky,

withstanding the raindrops that fell as we moved

below to sit in our scratchy, woolen coats.

A year in Chicago after her hasty

marriage, from the window of their new high rise,

they watched a tornado plow the city on

the other side of town and wanted to go

home. Who can blame them for knowing a lake was

not the sea, for craving neighborhood grit, for

missing their mothers and aunties, thinking a

bay their home, an island their oasis? She

never left again, knitted socks for soldiers

in two wars, could admit drawing a line and

holding was the same as losing, claimed painful

events are sometimes meant to be forgotten,

would recognize what is happening today.

THEGLOBALYOUTHREVIEW.COM

P

A

G 88

E

By DEV ASANGBAM
---
P

A

G 89

E

THEGLOBALYOUTHREVIEW.COM
---
BY ANNIE SPRATT
---
CHAPTER

mend

MEND

"You must not lose faith in humanity.

Humanity is an ocean; if a few drops

of the ocean are dirty, the ocean does

not become dirty."

Mahatma Gandhi

P

A

G

E

91

THEGLOBALYOUTHREVIEW.COM
---
POETRY

T H I S

HAS

ALWAYS

"and still after, supposedly innocent questions

and jokes, / piling up year after year and I just

/ sit and smile and endure, take it just like the

other browns and yellows..."

By ANOUSHKA SWAMINATHAN

even though i'm growing up in

silicon valley

in the

21st century

wow, super advanced in terms of everyone's rights, right?

i wasn't even double-digits when donald trump was

elected president of a whole goddamn country.

i was already aware at age seven that

people with my 'privates' and my color aren't

safe.

and even before, i was in kindergarten and

another little kid said to me that he

didn't want to be friends because i'm

indian and

my brown might

rub off, my

culture dangerous.

and still after, supposedly innocent questions and jokes,

piling up year after year and i just

sit and smile and endure, take it just like the other browns and yellows

'where are you really from?' here.

'haha, your rat's nest curls' they're natural, and nobody taught me to

B

THEGLOBALYOUTHREVIEW.COM

P

A

G

E

92

By LUKE STACKPOOLE
---
POETRY

take care

'you being good at math doesn't matter,

it's probably just because you're indian'

'your home food is disgusting. why

would you bring that?'

whispered from the other table to the

new kid: 'don't go near her. she's indian,

so her hygiene sucks' (when i would

shower daily and they were proud to

remember once a month.)

(and yet these are the 'good'

stereotypes.)

and then, years later for me, discovering

black lives matter and

intersectional feminism and

queer pride, all

these concepts that had been right

outside of my grasp, unnamed and

amazing, but

they're still worth lesswe're

still worth lessthan

one wrinkling

predator's voice.

so, i've always known america isn't

great.

those who didn't are the ones who

have always benefited.

they 'didn't know' because they didn't

have to, didn't

learn it the hard way, relearn

every day.

i feel no love for my country because

it has never loved those like me

EEN MY

A M E R I C A

P

A

G 93

E

THEGLOBALYOUTHREVIEW.COM
---
hy do they always teach us

hat it's easy and evil to do

hat we want and that we

eed discipline to restrain

urselves? It's the hardest

hing in the world - to do

hat we want. And it takes

he greatest kind of courage.

mean, what we really want.

hy do they always teach us

hat it's easy and evil to do

hat we want and that we

THEGLOBALYOUTHREVIEW.COM

P

A

G

E

94

eed discipline to restrain
---
By TAPIO HAAJA

Poetry

LIFE IS A

STAGE!

"What the all don't see / are the strings

carrying each of them after all, they are in a

large sea / of puppets..."

By SHEEKS BHATTACHARJEE

AMan walks across the darkened street His

footsteps hitting the ground with rhythm

producing a monotonous, steady beat and

looking through the colorful tainted prism.

A woman is sitting on her bed,

reading a novel she's read before

and thinking, what if i'm really dead? but, she buries herself

into her novel once more.

A child is playing in the park,

their mother sitting far behind.

But, before long, the sky turns dark

The poor mother, it turns out, is blind.

What they all don't see

are the strings carrying each of them after all, they are in

a large sea

of puppets who the puppeteer has condemned.

P

A

G

E

95

THEGLOBALYOUTHREVIEW.COM
---
By SARAH

Poetry

WHO IS TO

BLAME?

By OLADEJO ABDULLAH FERANMI

Descending from the body

Comes the head of he who perished a nicer

way

In the hands of the men who seek fort in the

bush

But attention was paid more to emotional internal affairs

Staking the souls of teens, fathers

To face death in its vault. Who is to blame?

Round, they sit now and then, fiddling

Their games are from both standpoints. Unmasked,

conspiracy

Became the pass to rule, forgetting it's not to reign,

The eternal curses, the souls of their puppets,

The tears for their beloved, the dead man's mother

Sets the suns even before dusk. Who is to blame?

Who is to blame? The soil, a lot we met,

Governed by our fathers, now pools blood. interstate,

Religious disputes, with disputes in places

Not worthy of calling home. Sit and pounder,

You're the case, and it all emanated from you

Labor on yourself before inquiring; "Who is to blame?"

THEGLOBALYOUTHREVIEW.COM

P

A

G 96

E
---
PROSE AND POETRY CONTEST

ENTER OUR WRITING COMPETITION!

By MATEUS CAMPOS FELIPE

July. 2022

The Global Youth Review, alongside Coexist Lit and SeaGlass

Lit, is hosting a prose and poetry competition open to

youths aged 13 ~ 24! Check out our socials to get updates

on our free workshops, opportunities to publish, and a

giveaway—all held during the duration of the contest!

ONLY YOUTHS AGED 13~24 ELIGIBLE

9 / 30

METAMORPHOSIS

P

A

G

E

97

THEGLOBALYOUTHREVIEW.COM
---
THEGLOBALYOUTHREVIEW.COM

By DARIO MUELLER

P

A

G 98

E
---
Poetry

AS HERSELF

E

V

E

N

though

"Raised above you, her gaze outward

/ and away, she cries like a maiden

bound to / the prow of a ship, bent

on a voyage..."

By SANDRA KOLANKIEWICZ

The first light came like an infant who hasn't

slept the night, the sky red and screaming from her

toothless, cherry mouth. Arrange her over your

shoulder, away from your ear, and she wails at

the past, the wave you leave behind in your wake

as you walk the floor, upsetting the air and

making a path for silent molecules to

follow. Raised above you, her gaze outward

and away, she cries like a maiden bound to

the prow of a ship, bent on a voyage toward

a future she resists. Children are poor

metaphors for experience, the nurse told

me after the operation which was meant

to fix what happened in a country where they

sterilized me for free. Man, woman, rich, poor

rendered inert except for the energy

in their own lives, no taking on the privilege

of another, having survived the kind of

love that lets you see a baby as herself

even though she's yours and wailing at the dawn.

P

A

G 99

E

THEGLOBALYOUTHREVIEW.COM
---
POETRY

NUCLEAR

Winter,

FATED

DEATH

By LEELA RAJ-SANKAR

First published in warning lines

I. Watch, first: from between the

hands of

two bodies lying on a stripped bed in

a dingy, airless apartment,

light spills as if from an open wound.

In the distance, a siren blares. On the

street below, a woman

whispers breathlessly to her

companion: something is coming

to save us. I don't know what. But it's

almost here.

So the city settles down to wait. The

seasons pass. In a decaying bed in a

decaying apartment on a decaying

street,

the lovers' hair falls out in chunks.

Flies circle the ceiling fan. The lovers'

teeth rot in their open mouths.

They're

not dead, just sleeping, in a city of

people who are

not dead, just sleeping, anticipating a

messiah who will never come.

An hour or a year passes. The two get

up and dance, and it's just like they

II. Suppose, for a moment, that in the

huge dark empire made of money,

the sun never rose. That we spent

years pressed desperately together

because

all we had was our own feverish

heat—

Suppose, for a moment, that I loved

you. That this was

how we brought summer back to

life; the empire to its knees.

A film of sweat. The winding of a

metronome.

Overripe fruit. Laughter. We were

happy and that was

our one great act of political

rebellion.

III. Stay sitting right there by the

window,

where the light catches on your

face—

Whatever you do, don't move, don't

make a sound, don't leave this room:

I'm going to save you even though

that doesn't mean anything. I'm

going

to save you even though it's too late

and you are Lazarus half-risen, a

decomposing,

corroded thing that doesn't know it's

already dead.

The poet and the muse. The lyre and

the love song.

The eulogy written in lieu of digging

you a grave. Verse.

Chorus. Wend and repeat. Wend and

repeat.

IV. I'm sorry I looked back. I'm sorry

I threw it all away just because

I needed to make sure you were still

behind me, still following

footstep after damned footstep, from

the belly of this hell into the mouth

of another.

I'm sorry there's not enough oxygen

in the story to breathe and I'm sorry

that

as soon as it ends we are just brought

back to the beginning. I'm sorry that

we have nothing left to carry. We have

nothing left to will into existence.

THEGLOBALYOUTHREVIEW.COM

P

A

G

E

100
---
By CASEY HORNER

P

A

G 101

E

THEGLOBALYOUTHREVIEW.COM
---
By CHAI CHAI

BY

ILANA DRAKE

the

LOCKET

«love that extends, love that extends beyond the miles»

hold onto my words like the times we

spent together before before you left,

two feet

moving onto the train & i had to say

goodbye, hands clasping the locket you gave me

with a picture of you to remember to

remember these times while you are gone.

i remember how in high school, everything felt so

right,

you were there at the volleyball games & i would

cheer you on with posters made with magic

markers

at your football games

& our prom proposal put everything together.

like a locket, love that extends, love that extends

beyond the miles

of distance we travel with eyes focused on the

new surroundings

of farms & cattle & of skyscrapers & streets

which have been walked

too many times & which now hold cracks that

need to be fixed.

& we come back we come back to our town on

break.

& everything seems different they say we are

young,

they say that everything can be fixed and what is

meant to be will be,

but i do not know where the words can start and

form sentences,

sentences which can lead into paragraphs about

the journeys.

& we become two parallel roads

& a heart that breaks like a locket,

a locket which now reminds me

of the last part of us.

THEGLOBALYOUTHREVIEW.COM

P

A

G

E

102
---
OF FARMS & CATTLE & OF

SKYSCRAPERS & STREETS / WHICH

HAVE BEEN WALKED / TOO MANY

TIMES...

By DHRU J.

EXCERPTS FROM

the locket

& A HEART THAT BREAKS LIKE A

LOCKET, / & A LOCKET WHICH NOW

REMINDS ME / OF THE LAST PART

OF US.

By KEVIN MATOS
---
andromache

By LEELA RAJ-SANKAR

originally published in Ex/Post Magazine

broken promise friday morning,

heat rising off blacktop like

a ghost trying to find its way back home. a thousand boys

standing on street corners

naming themselves nothing, yes,

the ones holding their breath, yes,

hands like bird's wings and a dream like lavender

that we don't remember, wait--

what was his name? how old was he? what did he sound

like

when he laughed? no, scratch that,

i want you to bring him back, tape his body together

and give it to his mother as

a christmas gift. do you remember?

do you remember? do you

remember? every time that sentence leaves someone's

mouth

a gun fires somewhere, but

don't think about that now, please, mind the gap,

step back, put your hands up before you

end up like him too, before they hand you another hat

or identity and you end up like him too, dear, please forget

there's a word other than alive to describe him,

just imagine him laughing in a home that isn't this one,

reborn on someone's scarred shoulders, do you

remember? do you remember? friends and romans and

countrymen, i interrupt with more news, of

a lynching, and another, and another,

though that doesn't happen anymore! we're just being

THEGLOBALYOUTHREVIEW.COM

P

A

G

E

104

By VLADIMIR GLADKOV
---
POETRY

melodramatic! a million crows on the powerlines.

a million

worn-out sneakers and broken ribs and

hearts pouring from bloody noses and the tension

that snaps like a string. do you

remember? do you remember that

we lived here? do you remember that you existed?

in the summer silence, our

frilly white dresses,

loose collars, too-big suit jackets, every

pearl of water, perfect body outlined in

one-way glass. the july that said, don't call me a

casualty, the july reborn on hands and knees,

concrete

bones and eyes like knives and

lungs that refused to give out. when the gun goes

off it spills

marigolds and water lilies and carnations, but

do you remember? do you remember the crimson

roses? the sleepless nights? the day you came home

to your

mother, grinned with all your teeth and said,

look, ma! not a single exit wound! while the city

burned

behind you? boyhood means searching. girlhood

means writhing.

growing up on fire means learning to breathe

through the smoke, your blood

the songs of lost saints. this town made of chlorine

and

oak trees and cigarettes. the mecca we built for an

unfeeling god

in the hollows of our cheeks. i want you to look at

this place and say,

now, everywhere, always. i want you to look at this

place and

think of bruised hips and overripe fruit. i want you

to look at this place and say,

do you remember? do you remember? do you

remember? do you

P

A

G

E

105

THEGLOBALYOUTHREVIEW.COM
---
THEGLOBALYOUTHREVIEW.COM

By VEETERZY

P

A

G

E

106
---
Poetry

Money

Tree

By RAY ZHANG

i. devotion

Edges of vermillion sun

refract upon my skin.

Evening crickets drowned

by pulsating radios.

Mutters of prayers

arrive–each phoneme

carry an intoxicating beat.

Harmoniously

wishing for more.

ii. despise

If only you knew petals drift down

like roots of eucalyptus trees,

then, you eyes wouldn't mirror

possums,

playing dead before a fight.

Your gentle prayers no longer rhyme

with

drips of a stream; they gush out like

waves among the

Congo. Stipped down to your

bare stems, all that's left is to

move one foot in front of the

other.

iii. despire

I know you sold everything,

that grandmother's pearls were

gone, and that your smoker's lung

have given up –

only weeping for the tree of ténéré

when it has fallen.

P

A

G

E

107

THEGLOBALYOUTHREVIEW.COM

By VLADISLAVE NAHORN
---
Poetry

MIND

OVER

Matter

"Inescapable torture

confines me in my

conscience."

By REBECCA COLBY

Push me away and pull me right back again;

tug of war twine stretched carelessly thin.

Zero in on the light blemishes patterning my skin.

Like flecks of paint splattered violently by your despicable hands.

A twitch of the wrist and the bruises fade

a cruel trick fashioned by an even crueler mind.

By JORGE SIMMONS-VALENZUELA

Your vindictive words puncture gaping holes,

ripping sinew and tendons to enigmatic shreds.

Inescapable torture confines me in my conscience.

The gnawing creatures from within come out to feast

upon myself and my anxieties,

tearing my still heart from my empty chest.

Time shared with my demons is no better than death herself.

Ivory claws dig excruciatingly deep into my permeable flesh,

leaving no perceptible destruction in their wake.

A tangible hurt is resistant to discovery,

without painful illusions of a wandering mind.

THEGLOBALYOUTHREVIEW.COM

P

A

G

E

108

By ZONGNAN BAO
---
P

A

G

E

By ZAHRA NOSRATI

109

THEGLOBALYOUTHREVIEW.COM
---
By JC GELLIDON

Poetry

Russian

DECEPTION

The Global Youth Review would like to note that "Russian

Deception" contains sexual themes that are intended for

mature audiences only. Viewer discretion is advised for

younger audiences.

By ARBËR SELMANI
---
POETRY

I

am in the seventh heaven.

For God's sake, I am the

favorite dish of seven men!

I am the drink that is poisoning the

peak of seven souls

Within these walls seven melodies

are being played

From one angle to another,

Fourteen hands treat me like as if I

were the most beautiful harp on the

universe.

I am a man,

But I am feeling like the queen of the

order of every state.

One of them is Chekhov,

He takes me and writes to me

literally,

He peels off the shell from my

body

He knows well how to write

a verse, he knows where the

feelings sting

I bump into him in the corners

of this bed,

Around my mouth I have Russian

juice, from the saliva of this

passionate man.

He will fall in love with me by

tomorrow night,

I am the sauna where he heats up, I

am the fountain where his thirst is

quenched.

Pyotr Tchaikovsky is the most

beautiful tonight,

He asks me to be one of the swans

He tastes me like the last vodka, like I

was a lead treasure,

He touches my eyebrows, and the

curtains of the room are flying with

the breath

I roll with him on the table where the

food is eaten,

The vases are broken to pieces, all

because of this brave Russian.

Tchaikovsky will fall in love with me

by tomorrow night,

This Russian exploded with the

symphony I love

I want to rest, but how can I say no to

Pushkin

He begs me on his knees, he seems to

have lost his muse

My arms tremble when this man

approaches me

He gets hard on from my smile, from

my seductions,

Since the other one left him, his days

are just a lie

I surrender, on the piano, to all what

this man represents,

I surrender over his face.

He'll fall in love with me by tomorrow

night,

He will feel that he belongs to me, I

am his running water on piano, like a

stream.

''I am the drink that is poisoning

the peak of seven souls / Within

these walls seven melodies are

being played..."

Nabokov is sad, fragile, very jealous

He has little hair, smokes of a lot of

cigarettes, we reconcile while he

squeezes me

hard to himself

I made every butterfly in his belly, in

his bones,

I caused every earthquake to happen

in Russia tonight,

He tells me about lullabies, about

children, he kisses me and his lips

tremble wet

We are in the bathroom, I give myself

madly to him, two books forgotten on

the floor,

With water, destroyed.

He'll fall in love with me by tomorrow

night,

He protests strongly, then he is afraid,

he tells me that I have to love him.

Stravinsky looks out the window,

stuck behind me and my neck

He lists the dreams of nights in

Moscow,

He kisses my waist with pleasure, my

right ear is inside his tongue,

He gives me honey and wormwood,

he feeds me, with the opera heard in

background

He invites me to the Russian sea, I

give him no reason.

Stravinsky will fall in love with me by

tomorrow night.

The fifth man who is touching me

tonight, he comes to me like a well of

kissing,

like a freshwater spring.

Tonight I turned to Gogol in every

character in the book,

We touch each other, we argue,

we kill each other, then he

caresses my feet,

I hate him, I like him.

Between the pillows, two glasses

of wine are waiting to be drunk

This Russian man, he will drink

me first and then his worries

He will start by praising me, the

classical hymn, turning me into

a prophecy

Gogol will fall in love with me by

tomorrow night,

He started crying, this man is crying,

but there's no chance that I'd say to

him 'I love you'.

My body glows with coconut oil, it's

Dostoevsky's fault

Everyone leaves the room, the two of

us were left alone,

He slaps me lightly on the face, he

sees that I am as icy as a storm

Like frost I open myself to this man, I

surrender to him like a strong wind,

like lightning, like rain

This big-chested Russian laughs, he

thinks he owns me

Quickly, with his woolen hand, he

shakes me as he pleases.

Dostoevsky will fall in love with me

by tomorrow night,

Even if he goes crazy, he won't

swallow me like a quince next fall.

P

A

G

E

111

THEGLOBALYOUTHREVIEW.COM
---
POETRY

Grandma's

APPLES

GBy RAY ZHANG

"An apple a day keeps the doctor away" she mutters,

Juice splattering as

freshly peeled skin fall

near old dusted shoes.

Serene, she sculpts.

Hunching over,

apple bits touch my hands

Peels stained with brown stellates, cascading its sides

Dark stars

dotting up and down

Chunks

carved and diced–

not an even slice.

A basket of apples

each perfectly round

Shining crisp skin

Apples and hands

wrinkle, craving away.

away from fresh apples.

As every morning before

crisp red apples

became

brown soft mush

while muttering,

"An apple a day keeps the doctor away"
---
By PAWEL CZERWINSKI
---
POETRY

ON THE

MORNING

OF

YOUR EXECUTION

By ENEIDA P. ALCALDE

S

enators gather for English

breakfast—colonial crumpets & clotted

cream,

blood orange marmalade on white

toast—

sweetness stuck on sticky smiles pleased with

the latest financials for their pockets & conflict

mistresses' jewels prim & proper

jackals occupying the House

built by the people

but not for the people,

history's dust sifting beneath hard-toed

shoes polished by laymen paid a pittance,

sweat salty like yours tracking down

your back saved from the lash

unlike your neck.

Senators play tug of war, sing

London Bridges indifferent

to your life, collateral

for the rule of law,

while your mother holds vigil,

THEGLOBALYOUTHREVIEW.COM

P

A

G 114

E

knees sinking into damp earth,

hands grasping candles,

teacup flames trembling

under monsoon skies,

fury clamouring

to burst.

No storm will wash away the ink

commandeering your final moments.

No stay of execution will be granted

like all others declined since independence.

Senators will go on to the House

via the manicured fields, play poker.

They will not witness the rope constrict.

Your mother's wails

traversing the east west winds.

Their President will close the Book,

set the royal stamp on the cherry wood desk,

wash his hands at the sink,

reapply powder, and offer a trained

smile when he greets the Press.
---
e

g

egos

e

g

By ENEIDA P. ALCALDE

o

bullets

poll numbers

makeovers

invisible hands

pull

red tape

polished suits

princes and

profits

push

bolded and constant

plastic

puppets

politics

power plays

o

s

s

By MATEUS CAMPOS FELIPE

P

A

G 115

E

THEGLOBALYOUTHREVIEW.COM
---
I AM

THE MAIN

By ARBËR SELMANI

TW: Contains mature themes

Understandably,

I am the main prostitute of this city!

I steal from the petals of every flower.

I live because they drink me, curse me and eat me.

I am the bee that bites the most painfully in hive

I am the cure, the sweetest milk in the spring

I am every torn dress, every sting, every slap that cracks

I buzz, I keep this city alive.

Through the streets, alleys, phone booths

Under the bridges, near the sidewalks

In bar kitchens, in neighborhood cafes

Beaten by night lights, in terrible settlements,

Even in the middle of the day, between cars

I put lull minds to sleep, nervous tongues,

The crown on my head, I am a monarch, I am that bird that never cries,

I swallow, I keep this city alive.

I am an observer of misery,

In university buildings, in green parks

In hot saunas, in muscle pools,

At gas stations, in toilets with enough luxury

I lose myself, I even lose the men who pay

I am part of things, actions and meetings

I delay hugs, I exclude caresses, even kisses, I hate it all

I am the most dangerous woman, with charisma that does not kill

I scream, I keep this city alive.

I hear boredom to every moonlight

Some women hate me, others envy me

I step between the legs of the poor, I let the poor enjoy me

I am the captain of morality, the first one to be called by every politician,

I am the most beautiful with Japanese eyes, I am the sultan woman

I break every law, every article, every code and every norm

THEGLOBALYOUTHREVIEW.COM

P

A

G 116

E

By ADIL JANBYRBAYEV
---
POETRY

I break my neck, I get desperate, I get

wet all over

I am the train station, a stop, a queen

without a king

I poison, I keep this city alive.

I face the storms, north winds, I am

surrounded by an amazing aura

I have no gender in my face, I am a man

under my skin, always a useful woman

I see hell, I see heaven, I kiss who I want

In a bakery, in a hidden motel of a

remote village

On the tables of theater buffet, on the

floor,

No part of my skeleton is flawed

They want to wipe me out, then we

make love, I'm the craziest shark in the

sea

I am steel, I keep this city alive.

I've opened up, and I am animated,

I am the main prostitute of this city!

Drunk I bow to those who see me as a

threat,

I am the anxiety of happy men, I am a

body sunk in wandering

I am a thin membrane that turns every

man, every woman, every river bed

Under the waterfall, in the mud, in

important administrative offices

I have rushed, like a mad mother, to

every tie, to every single poor one.

The eyes of the priests see me, the eyes

of poorly grown children.

Shepherds and housewives and

lutenists see me,

Watchmakers see me, both blacksmiths

and peasants want to enjoy me.

I don't like my lips when they have

nothing to do, without any blessing

I shake, I shiver, in red heels I keep this

village alive,

No,

Together with the city.

PROSTITUTE OF

THIS CITY

P

A

G 117

E

THEGLOBALYOUTHREVIEW.COM
---
POETRY

P R O U D

COLOURS

By KATHERINE EBBS

CW // Queerphobia

Red sky at night shepherd's delight, and queer herds are delightful.

Red life screams that it's about the person, not the pronoun.

Red stop-sign cries that it could be Adam and Steve, and also Eve.

Red ladybirds land in spaces where faces accept their spots.

Orange chocolates heal queer heartbreak, no matter the gender.

Orange autumnal leaf piles reject all the other seasonal norms.

Orange lifejacket keeps those afloat who aren't quite sure what

Orange boat to board, but soon realise the boat doesn't need to be labelled.

Yellow rubber duck dives into his own depths, and discovers he likes drakes.

Yellow sunlight hit the balcony window, and his eyelashes were a ray of vision to

him.

Yellow sunflowers he bought will never wilt. They only ache when he misses his

Yellow ball of sunshine because he loves him for all his mistakes.

Green hills drag them up and into nature to escape gender conventions.

Green, healthy conversations about not feeling at home in their body.

Green fingers link to uproot and re-plant our shoddy cis-earth, and to make a

Green fluid world. The waves are as crystal clear as

Blue artificial vodka sipped through her plump lips. A mouth whispers

Blue melody and harmony about the first time she was kissed properly.

Blue bruises linger at the spot she last missed her.

Blue tac forever holding up flash shots they took on a disposable camera.

Purple pictures made by mixing blue and pink. Spilt ink over the kitchen sink to

find a

Purple spirit. Not always just a fifty-fifty split, but sometimes it is.

Purple silk handkerchiefs and purple petalled violets; the secret language of queer

love.

Purple, peace dove tweets love who you love because love is love is love.

THEGLOBALYOUTHREVIEW.COM

P

A

G 118

E

By H. HEYERLEIN
---
P

A

G 119

E

THEGLOBALYOUTHREVIEW.COM
---
By DAN MEYERS

THEGLOBALYOUTHREVIEW.COM

P

A

G

E

120
---
POETRY

UNION JACK

"Great Britain has lost an Empire and has

not yet found a role." - Dean Acheson, US

Secretary of State, 1962

By MANTZ YORKE

A

globe splattered with pink:

a proud testament to heroism and the gift of civilization,

so my first school taught. As did my dad,

starting a scrapbook of the royals' South African tour

with newspaper photographs of the battleship Vanguard

'showing the flag'.

At high school I learned more about Britain's victories,

the benign governance of colonies

and the moral superiority gained from noble commitments

like ending the trade in slaves.

SERVE AND OBEY, the blazer's badge commanded,

a motto so clear in its intent and yet too vague

for youngsters to appreciate its relationship to learning

skills of soldiery in juvenile platoons.

The day the King died, the theme of the solemn assembly

'Service to the state', brought out the implications

as the Head insisted Russia threatened war

and we should all prepare ourselves to play our part.

Later, archival digs exposed

some monstrous building blocks in imperial foundations –

famine met with indifference, pillaged resources,

severed communities, colonial atrocities.

The sun long set on empire, the UK continues

the conceit of potency – aircraft carriers, nuclear subs,

troops engaged in wars abroad, a seat on the Security Council –

and yet its pretension to military clout is undercut

by trimming expenditure on soldiery, ships and planes.

The pink on the globe spoke truer than we knew:

the bold red of a coat has faded in the glare of day,

and the Union Jack, now the grubby white of Jasper Johns' flag,

is a standard fraying in the wind,

its cloth beyond repair.

P

A

G 121

E

THEGLOBALYOUTHREVIEW.COM
---
WRITI

TH

GEOM

OF T

SO

P L A
---
NG IS

E

ETRY

HE

UL

T

O
---
EAD NOW

READ NOW

EAD NOW

READ NOW

EAD NOW

READ NOW

EAD NOW

Heritage

ISSUE III | 2021: HERITAGE

FALL 2021 EDITION

THEGLOBALYOUTHREVIEW.COM

P

A

G

E

124
---
Follow us on

social

media

The Global Youth Review

#THEGLOBALYOUTHREVIEW

@THEGLOBALYOUTHREVIEW

P

A

G 125

E

THEGLOBALYOUTHREVIEW.COM
---
CONTRIBUTORS

ISSUE FOUR

ADRIJA JANA is a bibliophile with a natural eagerness to learn new things, Adrija enjoys

writing, music, dancing, acting, event management, communications, and public relations.

An international award winning recently published poet, she has established herself in the

national and international Model United Nations (MUN) circle. Being an empathetic soul,

Adrija loves to take care of stray animals and devotes much of her time to social services.

She has worked with several magazines and youth organisations across the globe and is an

ardent and committed activist in the field of advocacy against Period Poverty and Education

Inequity.

ALEX SHENSTONE is a transgender, UK-based Creative Writing Masters student. He

spends most of his time on binge-watching TV shows, adores the Marvel

Cinematic Universe, and his poem "They Composed Us. In The End" was

inspired by the composers that have really moved him in his favourite films

and shows. His debut poetry collection "Jack of All Tales" is out with Alien

Buddha Press, plus he has other work out with Pastel Pastoral, Ghost Orchid

Press, Green Ink Poetry, The Minison Project and others. He can be found on

Twitter at @AlexakaSatan.

ANNA NIXON is an aspiring writer and poet from Manchester, England.

In her poetry, she is especially interested in the relationship between our

phycological and physical environment and seeks to find images in her

surrounding nature to capture emotion. Outside of her poetry she enjoys

swimming, reading and getting two-pint-tipsy in sunny beer gardens with

friends. More of Anna Nixon's work, including poems, newspaper articles and

spoken word performances, can be found on Instagram at @annanixonwritings.

ANOUSHKA SWAMINATHAN is a queer Indian-American 7th grader from

Northern California. They love reading all genres, but primarily write realistic

fiction and sci-fi, as well as poetry. They have previously been published in Ice

Lolly Review, Chasing Shadows Mag, and YAWP Journal. When not reading or

writing- so barely ever- xe dances Bharatanatyam, yearns endlessly, and does

debate. Xe also may have a mild addiction to writing in second-person. Both of

their pieces have been inspired by personal experiences as a queer girl of color.

ARBËR SELMANI is a journalist and poet from Pristina, Kosovo. He has

published four books. His poems and stories have been translated to Italian,

Slovenian, German, Bosnian, Serbo-Croatian, Greek and lately in English

for Songs of Eretz Poetry Review, Zoetic Press, Ethel Zine, The Impossible

Archetype, Rhodora Magazine and Changes Review. He enjoys swimming and

travelling, reading James Baldwin and likes to think one day he might visit

Japan.

DC DIAMONDOPOLOUS is an award-winning short story, and flash

fiction writer with over 300 stories published internationally in print

and online magazines, literary journals, and anthologies. DC's stories

have appeared in: Penmen Review, Progenitor, 34th Parallel, So It Goes: The

Literary Journal of the Kurt Vonnegut Museum and Library, Lunch Ticket, and

others. DC was nominated twice in 2020 for the Pushcart Prize and in 2020

and 2017 for Sundress Publications' Best of the Net.

THEGLOBALYOUTHREVIEW.COM

P

A

G

E

126
---
CONTRIBUTORS

CONTRIBUTORS

ENEIDA P. ALCALDE's poems have appeared in literary outlets

such as riverSedge, Birdcoat Quarterly, and Magma Poetry. She

graduated with an MA in Creative Writing & Literature from

Harvard University's Extension School and is the Managing Editor

for Oyster River Pages. Born in Chile, Eneida fled the Pinochet

dictatorship with her family as a child. This life event underlies

her passion for social justice, a recurring theme in her poetry. Eneida also

draws inspiration from her Chilean-Puerto Rican heritage and the places

she has called home—from Chile and the United States to Bolivia, Abu

Dhabi, and Singapore. Learn more at www.eneidaescribe.com.

FASASI ABDULROSHEED OLADIPUPO is a Nigerian poet who loves every

goodness carved out of words, he sees poetry as storytelling thus tells the

stories of leaving, of vanquishing, of desert and its horrors, of oceans and

bodies becoming griefs and flotsam, stories of stigma and having to live

as homeless. Fasasi sees poetry as a graffiti of metaphors.Fasasi has been

published at Southern Humanities Review, South Florida Poetry Journal,

Oxford Review of Books, Stand Magazine, Olongo Africa, The Citron Review, Scrawl

Place, Short Vine Literary Journal and elsewhere.

FELIX OTIS Felix Otis is the pen name of Felix Otieno. Felix Otis lives in

Mombasa, Kenya. He's a casual worker and writes poetry, short stories and

novels. "A Farewell To Harm" is a crime/literary fiction inspired by a real valley

deep in the Rift Valley region of Kenya. It depicts how death and banditry in the

small, resource-rich location is influenced by poverty and unemployment, and

police corruption; how after using unsuspecting bandits to murder and plunder,

they kill them in the most cold-blooded extrajudicial killings ever seen.

HALLE EWING is 15 years old and from Southern California. She has boundless

love for the written word, and their previous publishings can be found in Paper

Cranes Literary Journal, Crossed Paths, Cathartic Youth Literary Magazine, the

Weight Journal, Second Chance Literary, Ice Lolly Review, and the Blue Marble

Review. Their Instagram handle is @halleewingg.

ILANA DRAKE is a freshman at Vanderbilt University, and she

is a student activist and writer. Her work has been published in

Ms. Magazine, YR Media, and The 74 among others. She is also the

recipient of multiple Scholastic Art & Writing Awards. She can be

found on Twitter @IlanaDrake_ and her website is https://ilanadrake.

wixsite.com/mysite/projects

JAIDEN A. is a student from Vancouver, Canada passionate about

social justice, academics, and learning about the world around him. He

loves how poetry and prose can be used as an outlet to untangle and

express the knot of thoughts in his head. Jaiden hopes that readers are

able to see the repercussions of his themes in reality and pause and think about the world

around them, even if it's just for a second.

MANTZ YORKE lives in Manchester, England. His poems have appeared in print magazines,

anthologies and e-magazines both in the UK and internationally. His collections 'Voyager'

and 'Dark Matters' are published by Dempsey & Windle.

P

A

G 127

E

THEGLOBALYOUTHREVIEW.COM
---
ISSUE FOUR CO

CONTRIBUTORS

JEN ROSS is a Chilean-Canadian

journalist and former foreign

correspondent. She spent 10 years working

in communications for the United Nations,

including UN Human Rights and UN

Women, before taking a break to write

fiction about her passion: girls' rights and

empowerment. She speaks six languages

and has travelled to more than 50

countries, including Egypt. She now lives

in Aruba and works as a university lecturer,

writer and editor.

REBECCA COLBY is a sophomore at Littlet

School in Littleton, a small town in the Unit

enjoys writing poetry and prose, as well as d

scriptwriting. Her steadfast writing compan

cup of tea and her sticker-clad computer.

NATASHA BREDLE is an emerging writer

based in Ohio. She likes sunsets and the

quiet, and is the caretaker of several exotic

pets. You can find her work in Peach Mag,

Full House Lit, and Anti-Heroin Chic, to

name a few.

KATHERINE EBBS is currently in her third

year of reading English Literature at the

University of Sheffield. Her writing tends to

tackle issues of queerphobia and injustice

within society. As a lesbian, she aims to

emphasize the oppressions that queer

people still face, even as society progresses

forward. Her poetry also questions

structures of power, particularly concerning

patriarchal structures of abuse.

LEELA RAJ-SANKAR is an Indian-American

teenager from Arizona. Their work has appeared

in Mixed Mag, Warning Lines, and Ghost Heart Lit,

among others. In his spare time, he can usually be

found playing Scrabble or taking long naps. Say hi to

her on Twitter @sickgirlisms.

MATT HSU is a student from San Franci

His work has been nominated for the Pus

and he's published or forthcoming in The

Dynamite Poetry, Sine Theta Magazine, an

Currently he's querying his first novel: a

mystery about a crafty assassin. You can

Twitter at @MattHsu19.

THEGLOBALYOUTHREVIEW.COM

P

A

G

E

128
---
CONTRIBUTORS

on High

ed States. She

abbling in

ions are a warm

SANDRA KOLANKIEWICZ's work has appeared in

Fortnightly Review, Galway Review, The Healing Muse, New

World Writing and Appalachian Review. She is the author

of Turning Inside Out, The Way You Will Go and Lost in

Transition. These poems are about our sense of home and

the kind of love and commitment that helps parents raise a

child to fledge and be themself in a world full of preordained

assumptions about what we are supposed to do or become.

SHEEKS BHATTACHARJEE is a first-year college

student at the Pennsylvania State University and

is the co-founder/EIC of Vocivia Magazine and a

nonprofit organization (Astral Cognition). They have

published poetry in Coexist Lit, music pieces in the

Harmonic Mag, and Young Poets Unite's Instagram

page! All of her work can be found on her website

(thecreativitydumpyard.tk) and she's on Twitter and

Instagram as @mildlysomewhat.

NTRIBUTORS

sco, California.

hcart Prize,

B'K, Kissing

d Paddler Press.

twisty, thrillerfind

him on

RAY ZHANG is an Asian American poet. His work has been

published in Teenink, Bow Seat Ocean Awareness, and the Blue

Marble Review, among others. Ray's poetry has been recognized

in the Benvenuto Poetry Competition, SCC Writing Contest,

Scholastic Art and Writing, etc. In his free time, Ray enjoys hiking

through the midwestern wilderness.

OLADEJO ABDULLAH FERANMI is a Nigerianbased

writer, poet, orator, and undergraduate at the

University of Ibadan. He has been trying to pursue

his passion for writing by writing multiple genres.

He resides presently in Ibadan, Nigeria where he

enjoys reading and writing indoors.

P

A

G

E

129

THEGLOBALYOUTHREVIEW.COM
---
THE GLOBAL YOUTH

REVIEW

ISSUE IV

JUL 2022